Lane County Oregon – Covered Bridges, Waterfalls & Wine
In a state that has far more to see and do than almost any other in the lower 48, it's hard to single out one county as being exceptional, the best of the best as it were, but I'm going to do just that in this post. I nominate Lane County as being the most interesting in all of Oregon and here are the reasons why.
First let's look at a map of Lane County – this one doubles as a covered bridge finder as well, and I'll be visiting a number of those. Lane County starts pretty well at the mid-point of Oregon's Pacific coast and then travels up and over the coastal range, down into the Willamette Valley and then back up into the Cascades. Along the way there are lighthouses, waterfalls and wineries to visit, not to mention the 20+ covered bridges. It is definitely a county of contrasts, not only in terms of land and seascapes, but weather wise as well. So hop in and we'll find out if I know what I'm talking about.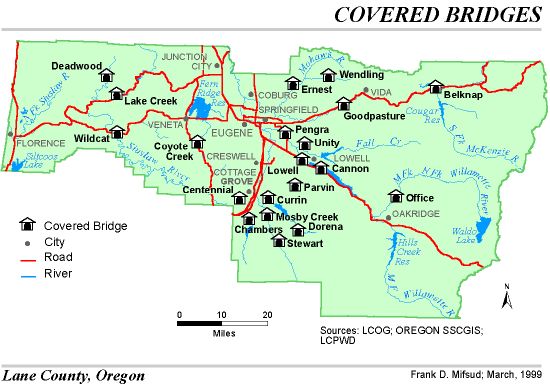 I actually made two trips to Lane County in the fall of 2017. The first was on an SATW post conference tour hosted by Jaime Eder from Travel Oregon and Stephen Hoshaw of Travel Lane County. My second trip was with Alison after she joined me in Portland and we took a leisurely month long drive down to L.A. This post is a combination of both trips.
Heceta Lighthouse B&B
Jaime picked us up at the Portland hotel we were staying at and offered the choice of the fast or the scenic route down to the Lane County coast. Being travel writers we naturally chose scenery over expedience, so we traveled on secondary highways through the Willamette Valley which is simply beautiful in the fall. One doesn't usually think of grape vines turning to colour in the fall, but believe me, they do.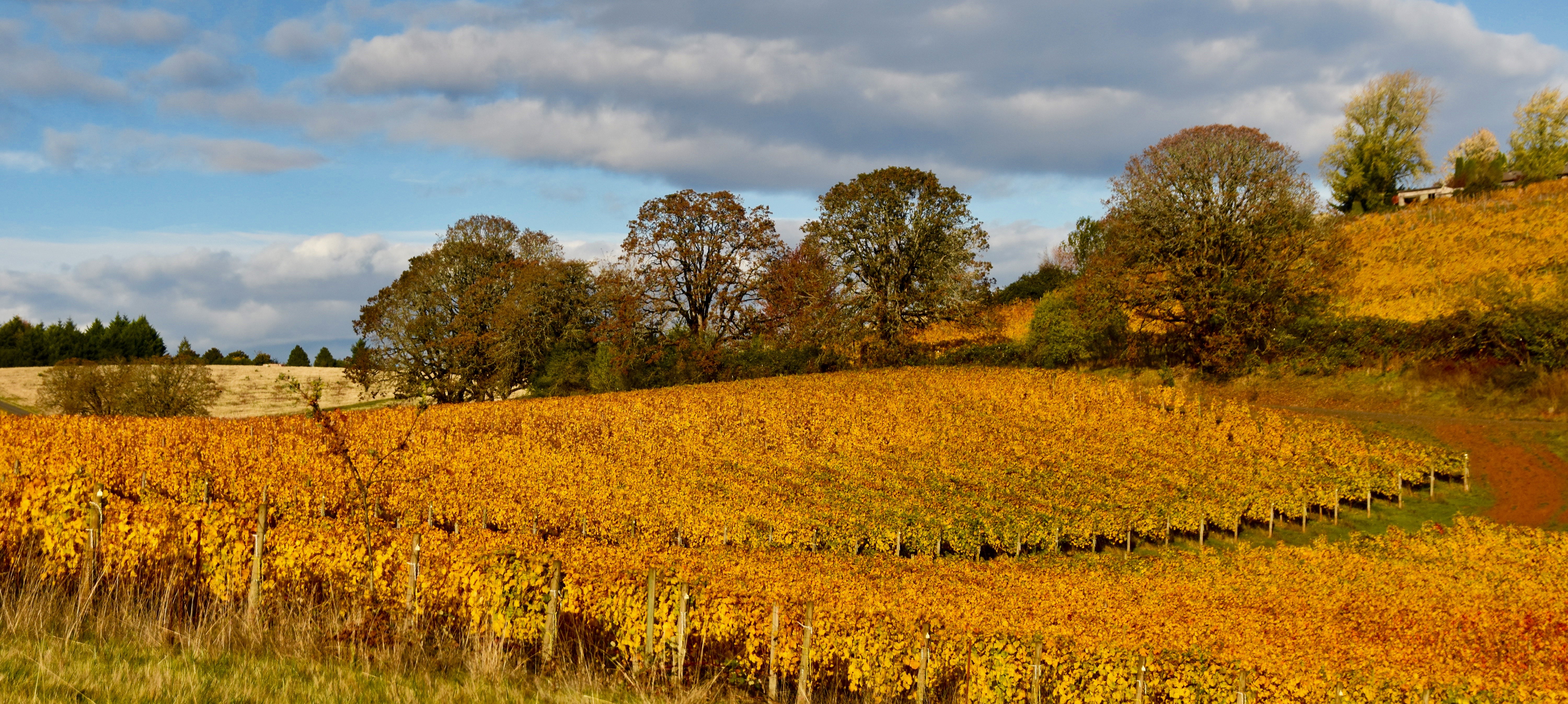 Unpicked grapes also make for great photos.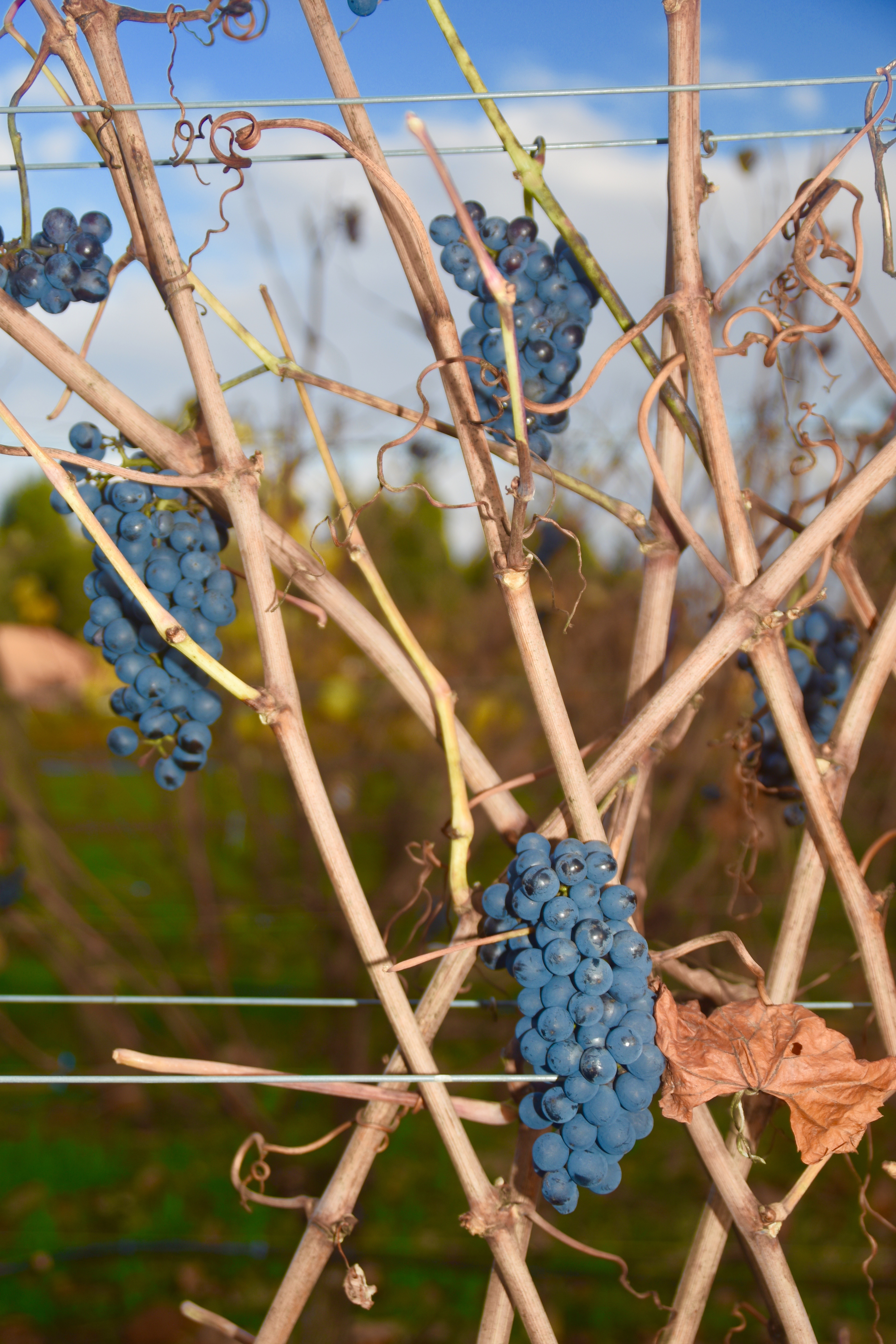 Our destination was Heceta Lighthouse B&B which was a good four hour drive from Portland, so we stopped for a fantastic feed of Dungeness crab at Local Ocean Seafood in Newport. If you've never tried this northwest Pacific delicacy then you haven't lived. It is seriously addictive.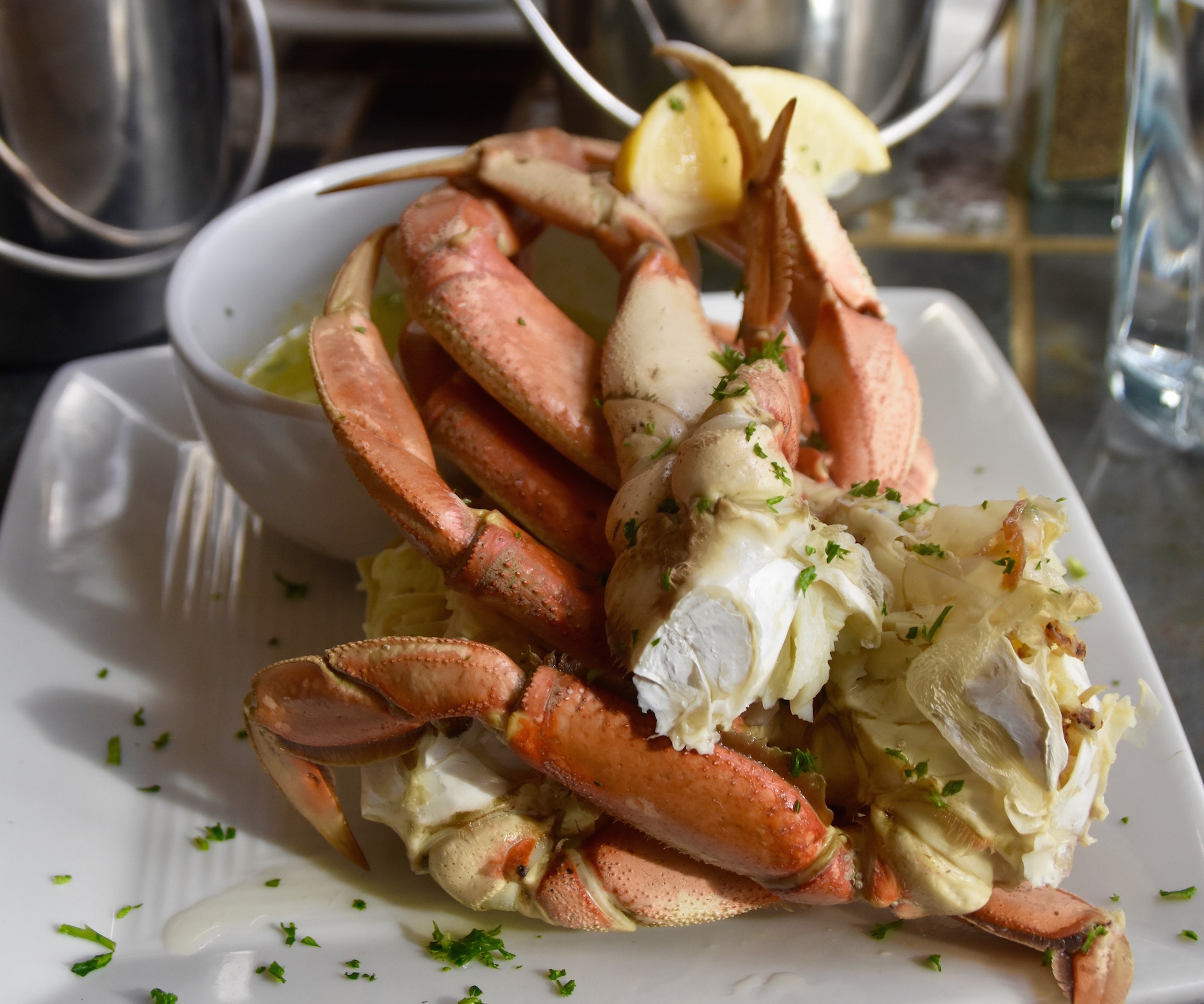 We arrived in Lane County and Heceta Lighthouse B&B about 3:00 in the afternoon. I was so impressed with this place that I have written a separate post on it which you can read here. There are lots of great photogenic lighthouses along the Oregon coast, but according to Travel Oregon, Heceta Head is the most photographed, not just in Oregon, but in the entire U.S.  Score one for Lane County. Here's a photo I took from the lookoff just south of the lighthouse which shows both the light and the B&B.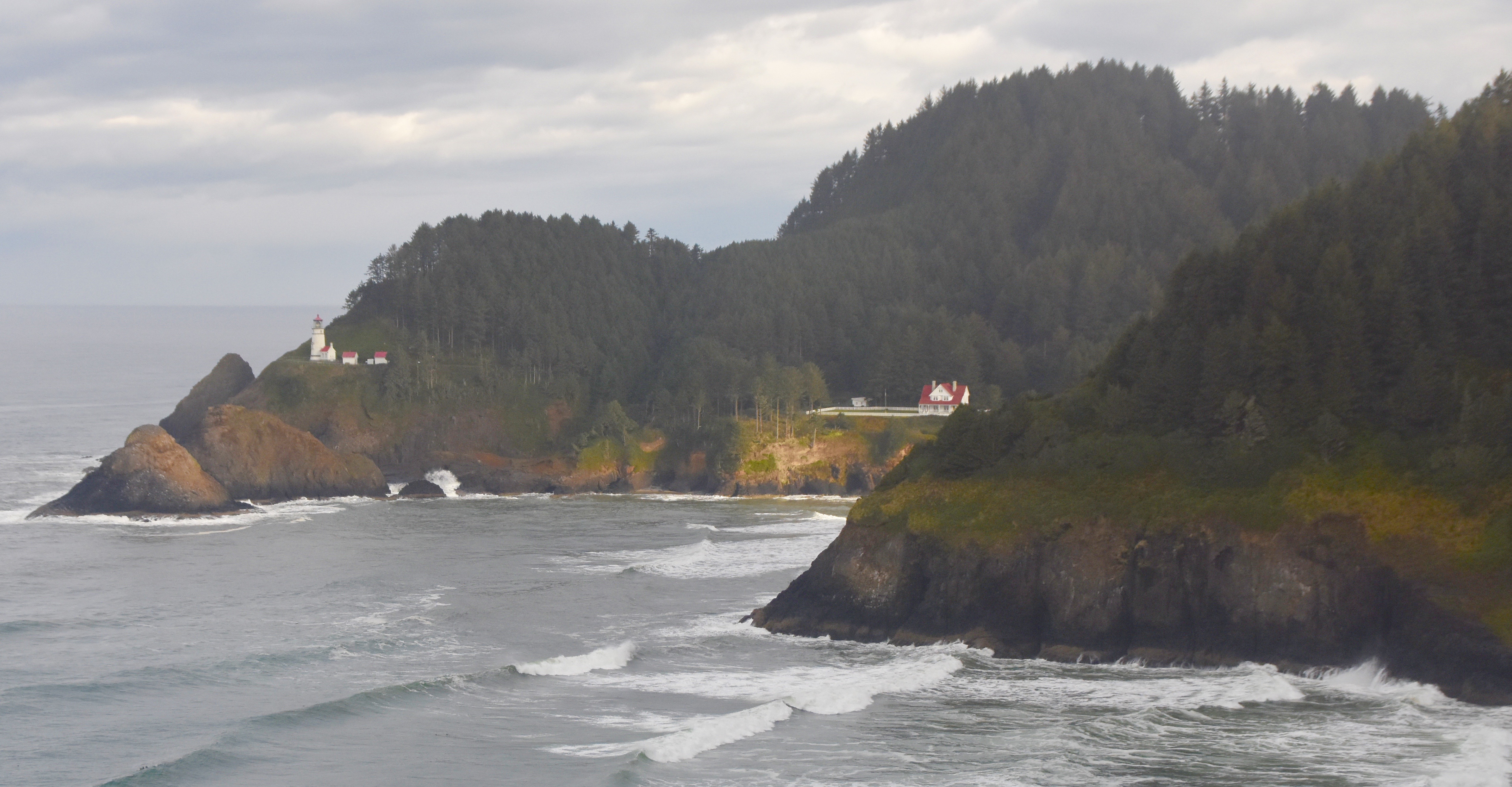 One thing I didn't mention in the Heceta Lighthouse post was where we ate that night. Jaimie drove us 30 minutes south to the historic town of Florence where we met Stephen at the Bridgewater Fish House. I could easily have tackled a second Dungeness crab of the day, but not wanting to abuse the hospitality of my hosts, opted for Pacific cod fish & chips instead. Coming from the east coast where fish and chips are what makes or breaks a seafood restaurant, I can say that Bridgewater would have no problem competing there. Not only was the fish perfectly done in a light batter, but the chips were excellent as well. Too often they are a frozen afterthought. Oh, and they make a great martini as well.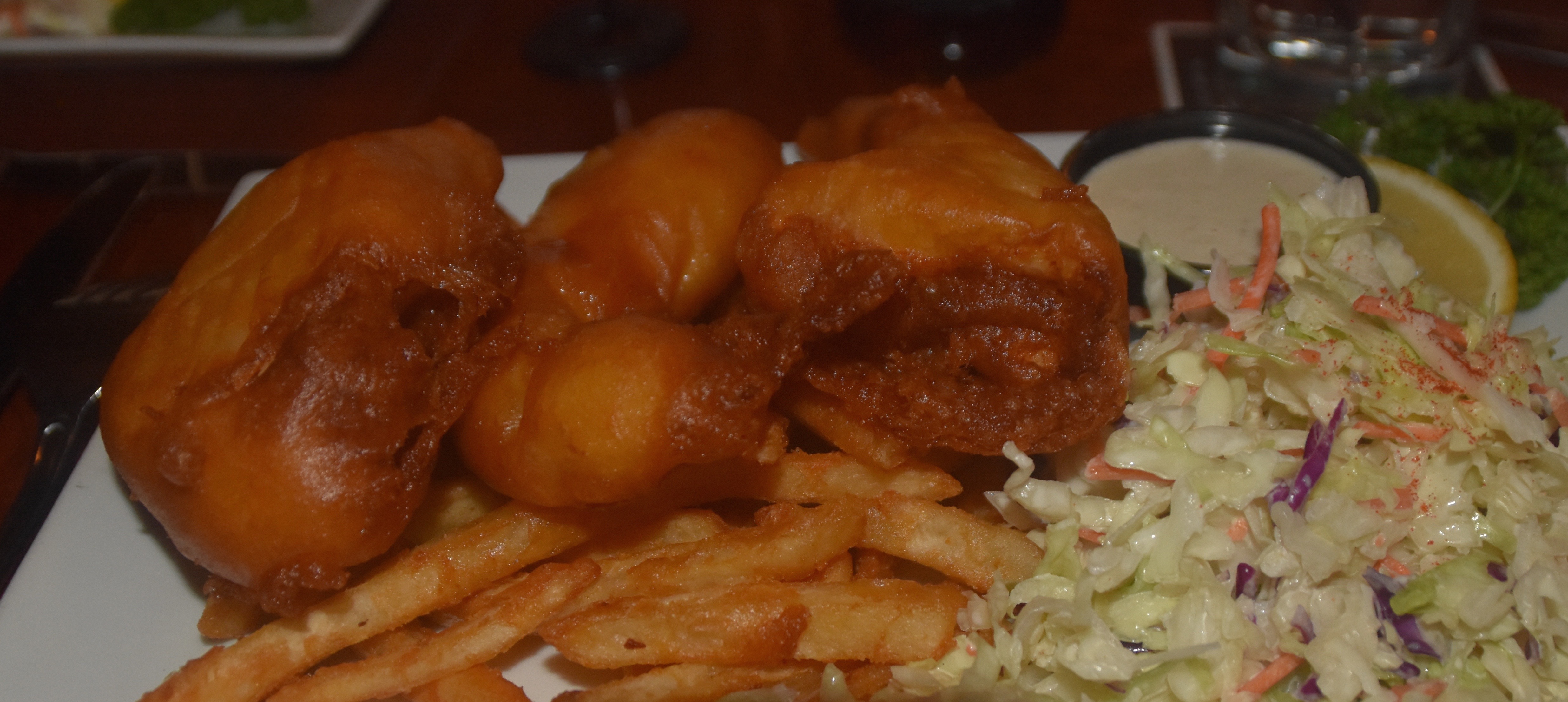 Covered Bridges of Lane County
The next morning after the seven course mega-breakfast served at Heceta House we headed back to Florence and then inland to covered bridge country and the welcomingly named town of Cottage Grove.  Now I have nothing against Madison County, Iowa making a name for itself because of its covered bridges, but the reality is that there are only seven covered bridges in Madison County, compared to over twenty in Lane County. However, Madison County is the birthplace of John Wayne and Oregon can't take that away from them.
The first bridge we came to was Wildcat Creek, one of the nicest little covered bridges you will find anywhere and on the National Register of Historic Places. Built in 1925, it's just off Highway 128, spanning a tributary of the Suislaw River. Unlike most covered bridges you can still drive through Wildcat Creek. I can just imagine an old Model T cranking through here at a speedy 30 m.p.h. when the bridge was first opened.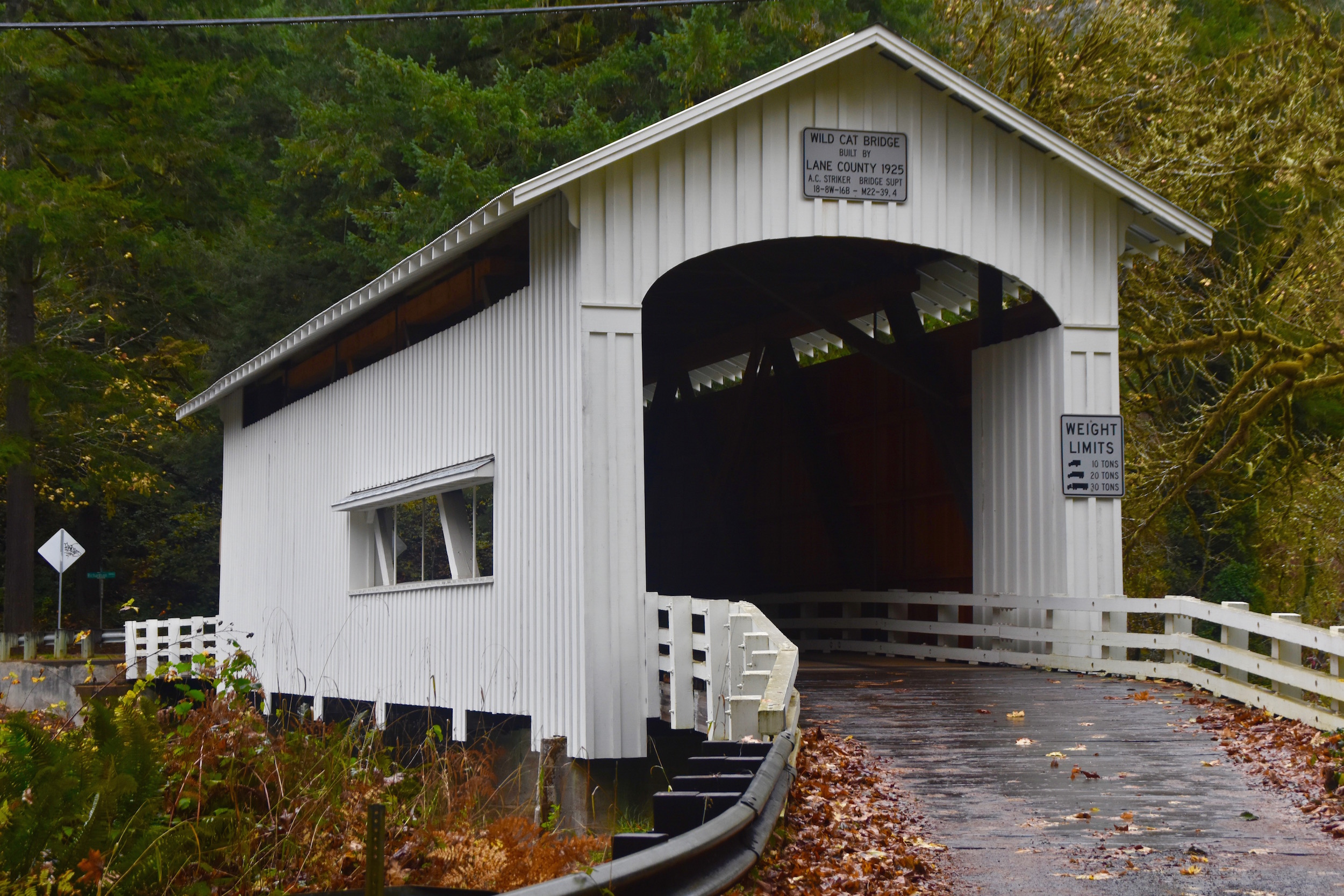 BTW, the reason that Lane County has so many covered bridges is because the county is smart enough to know that these are big tourist attractions and maintaining them is worth the time and effort. The county actually owns most of the bridges and uses various methods, including selling commemorative coins with images of the bridges, to help raise funds.
Arriving in Cottage Grove, which is as pretty as the name suggests, Stephen was there to meet us and took us on a tour of a number of covered bridges in the area. These included the Currin Bridge over the Row River. Built in 1925, it's the only covered bridge in Oregon that is two-toned.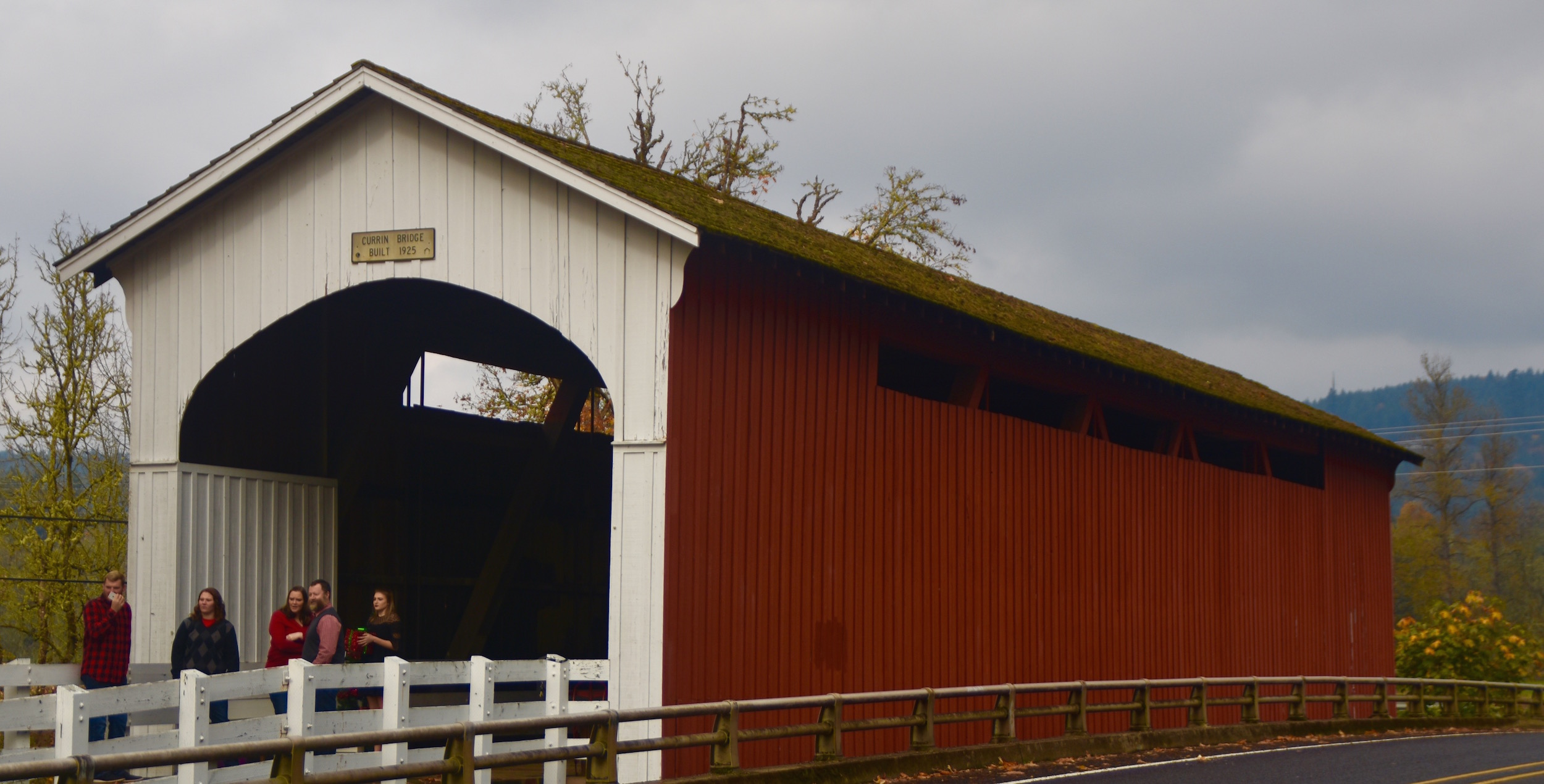 And the Stewart Bridge over Mosby Creek.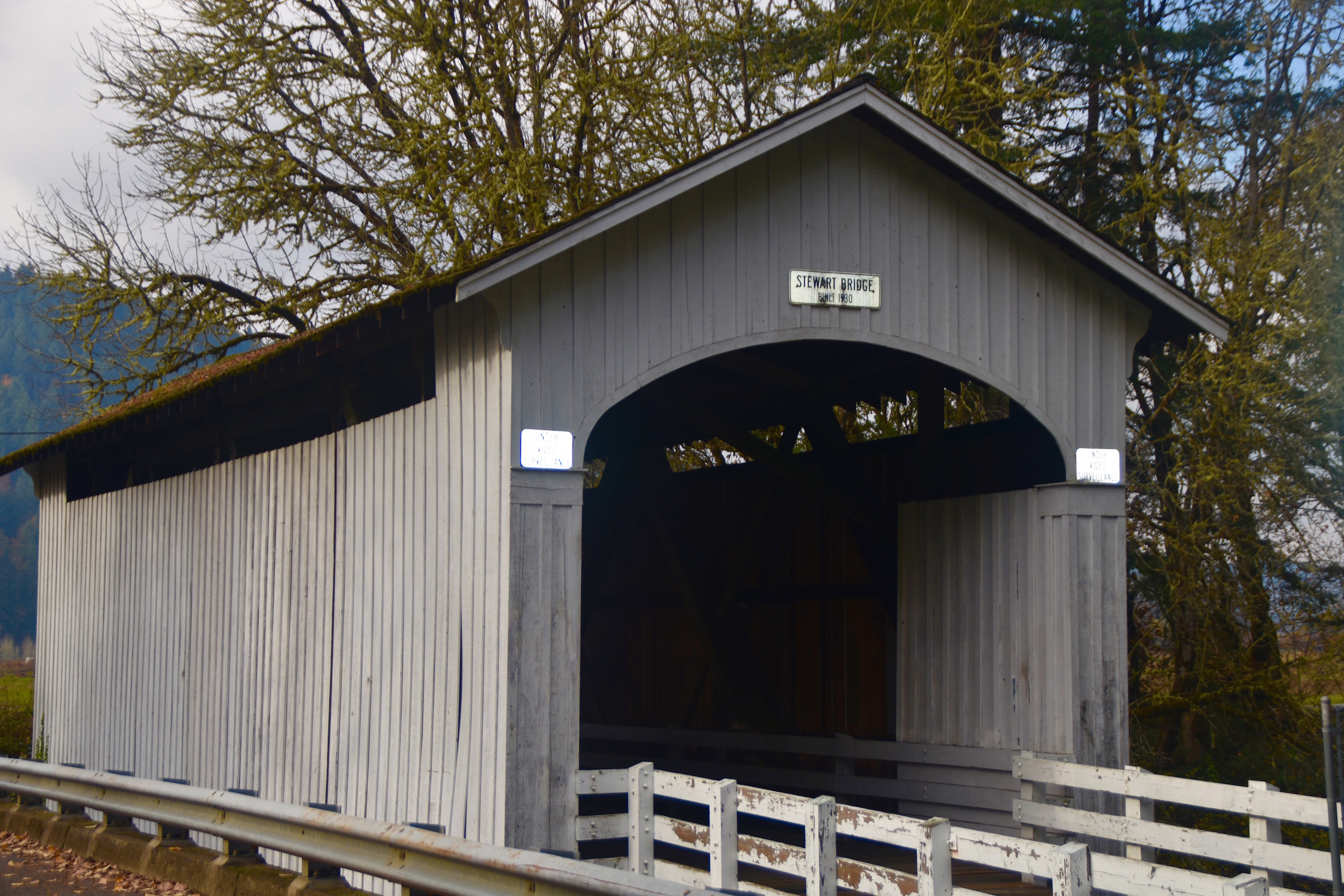 And this very unusual one right in Cottage Grove. It's not the most elegant of covered bridges, but that's because it was built for trains and not automobiles. Somehow I never thought of coal or wood fired steam engines as being compatible with covered wooden bridges, but what do I know? This one has been rebuilt, but exactly resembles the original.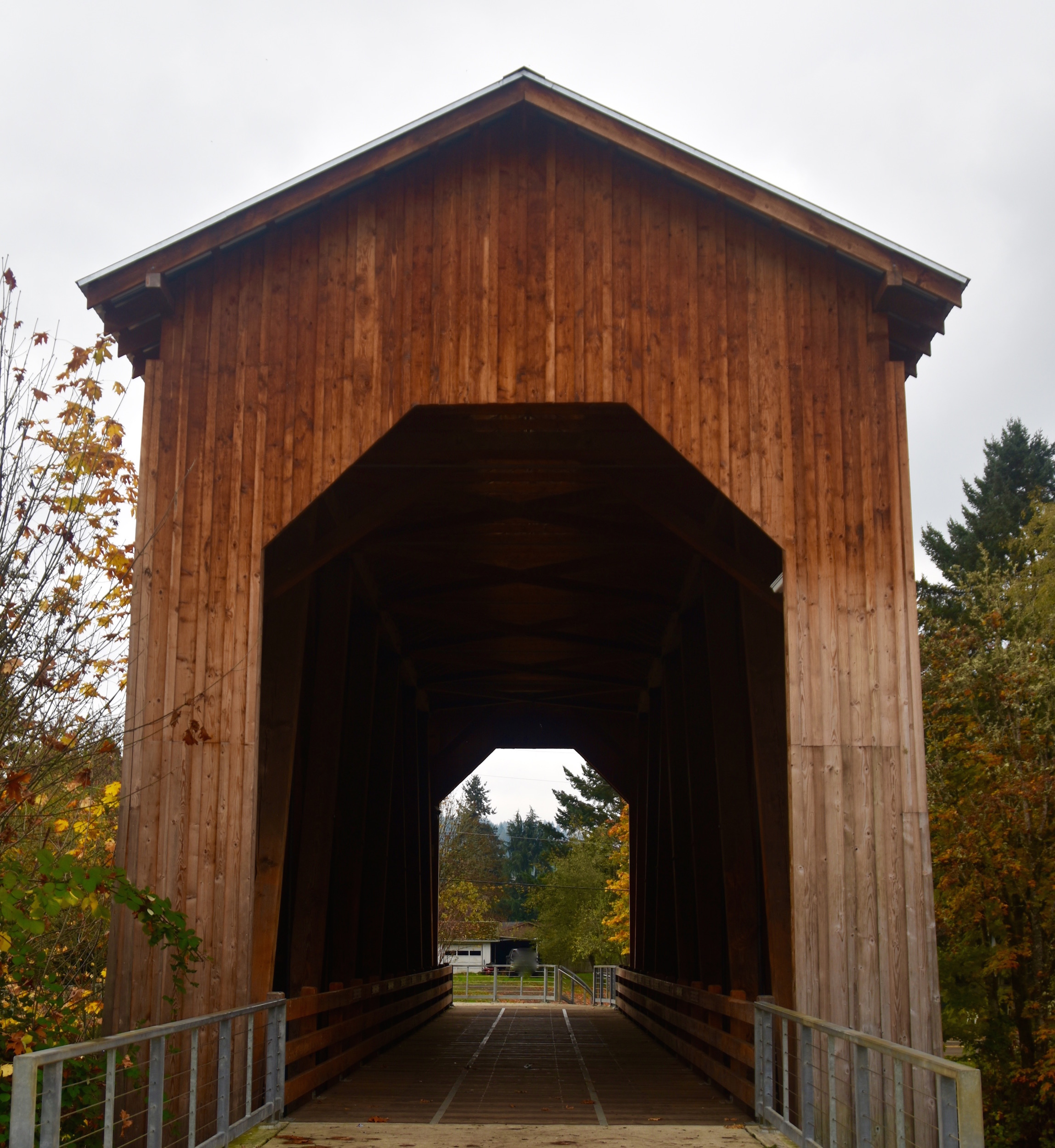 What I really would have liked to do was ride the 36 mile (58km.) Covered Bridges Scenic Bikeway which starts and ends just on the other side of the Chambers bridge. You can follow a paved bike path all the way out and back or make it into a loop by returning on a paved side road. Either way it would be a great day's ride and there would be plenty of covered bridge photo ops – definitely on my 'reasons to return to Lane County' list.
King Estate Winery
I have mentioned in previous posts on Oregon, how much I love the pinot noir and pinot gris wines that have really put Oregon on the world wine making map. Outside of Albany we visited tiny Springhill Cellars which produces only 1,200 cases a year. You can read about my description of Springhill Cellars and other things to do around Albany, Oregon here. Today we are going to the opposite end of the spectrum – King Estate Winery is the largest in Oregon with an extensive selection of wines to taste and a great restaurant where you can put your food/wine pairing skills to the test. Or do what I always do – let the experts decide.
King Estate, founded just in 1991 by Ed King, has rapidly expanded over the next two decades; the reason being is that their pinots are so damn good that everybody wants to buy them. The current winery could double as a Franciscan monastery in Umbria. I didn't bring a helicopter with me so I got this photo off the web. It's pretty impressive both outside and in.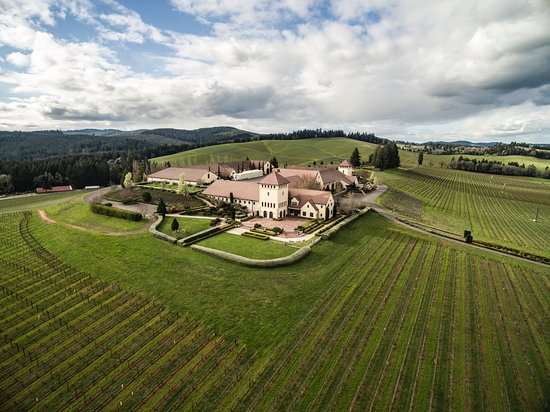 This is what you see after coming through the entrance – a grand tasting counter where we were handed gleaming glasses with our favourite pinot (gris in my case) before embarking on a quick tour of the winery before lunch.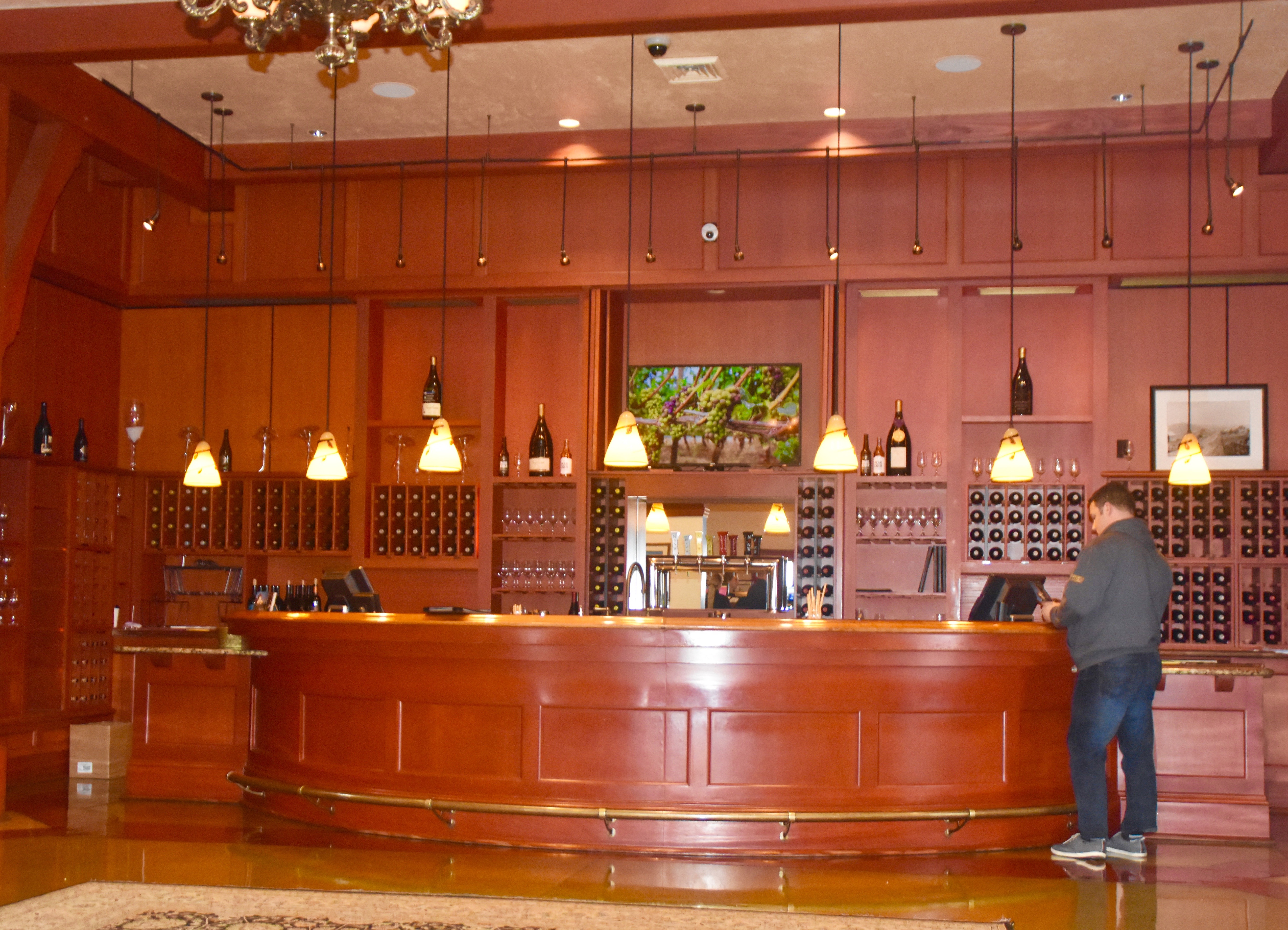 Just like I can never have enough pictures of covered bridges, so with oaken wine barrels. There's just something about their colour, shape and symmetry that is naturally pleasing to the eye and King Estate delivers this up very well. Whether it be one barrel.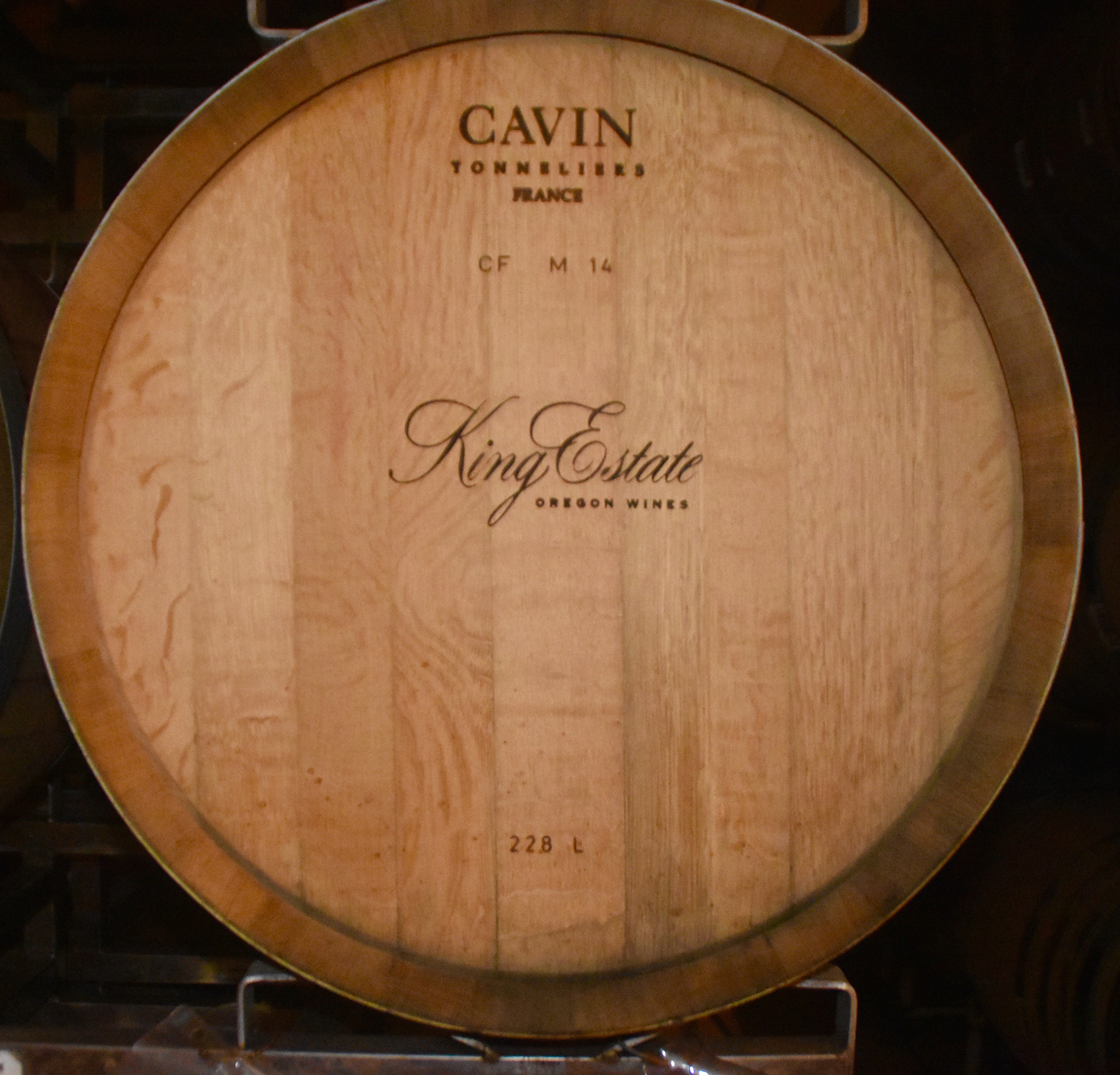 Eight of them.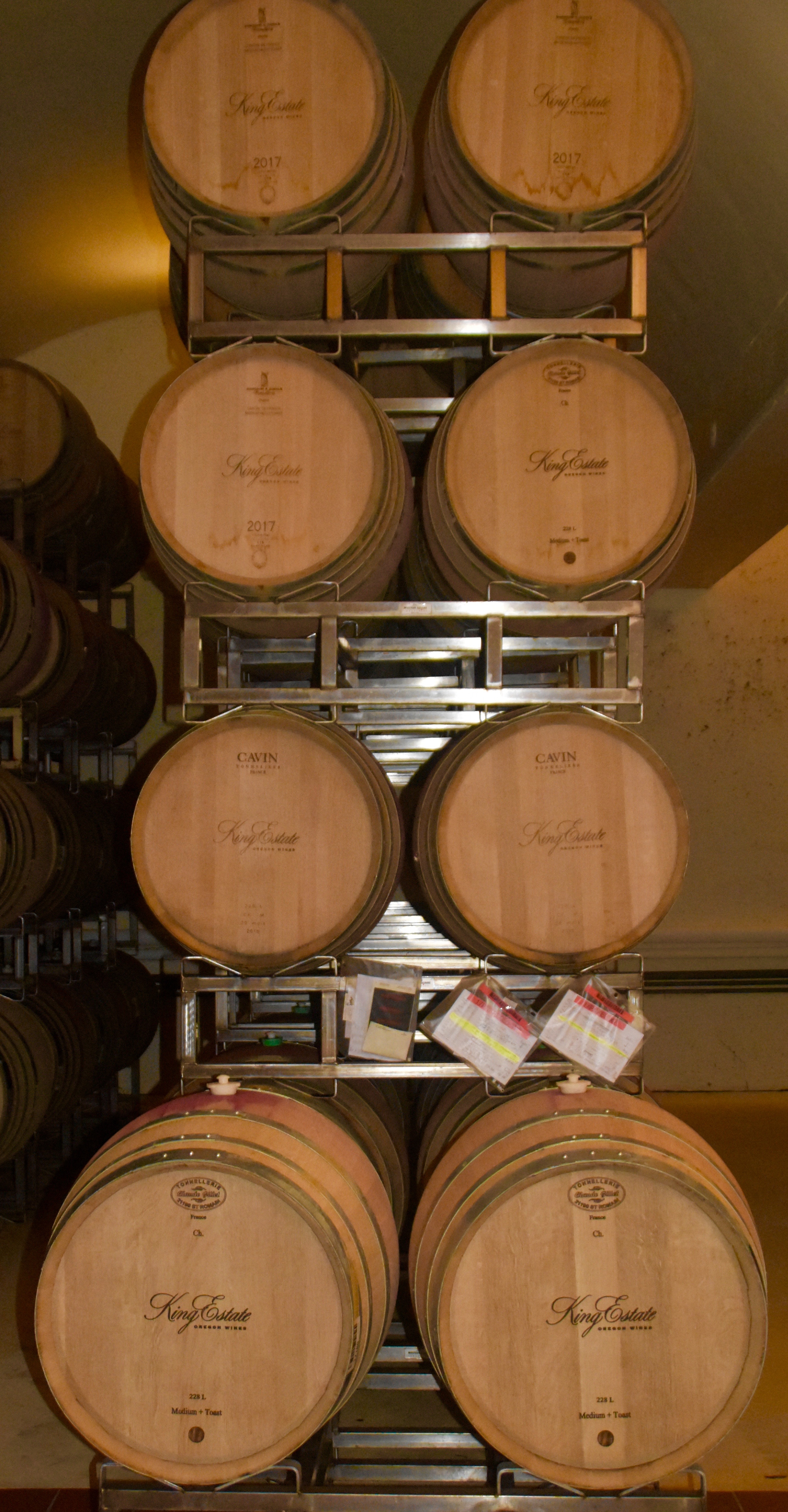 Or a  cellar full.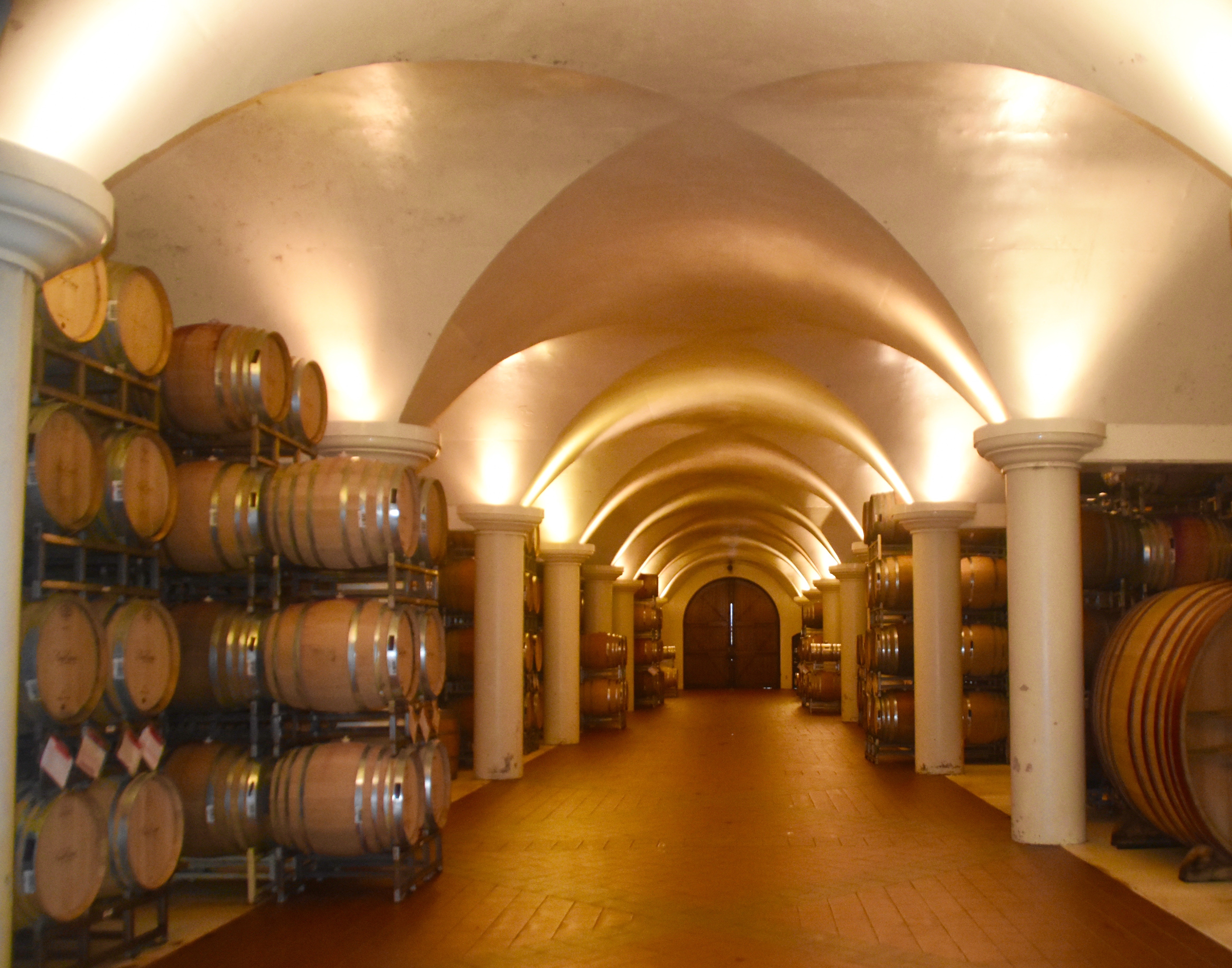 Despite being almost mid-afternoon, the restaurant was very busy and after eating here I can see why. The menu is a cornucopia of Lane County produce. The mushroom tart I had was superb.
After securing the purchase of a few bottles of pinot gris that you can only buy at the winery, it was time to continue exploring Lane County. Crossing the Willamette River and somehow avoiding Eugene, the largest city in Lane County, we headed into the foothills of the cascades following the course of the wild flowing Mackenzie River. As route 129 climbed higher and higher, the signs of civilization grew fewer and fewer. Entering Willamette National Forest, a massive 1.67 million acre preserve, the temperature was dropping steadily toward the freezing point. Our destination was the  hamlet of Mackenzie Bridge where Jaime had arranged for each of us to stay in what I thought would be a rustic fishing camp, but in reality was a fully equipped two bedroom house right on the riverbank, in the middle of nowhere. Nothing but the roaring of the river, a houseful of fishing rods, antlers on the walls and King Estate pinot gris in the fridge. I felt like I was in heaven or maybe A River Runs Through It.
After about an hour Jaime returned to pick me up and we had a late supper at an honest to goodness general store, the likes of which I haven't been in since my last trip to northern Maine. Was this really the same county that is the home of Nike and the University of Oregon, less than an hour away? You bet.
In the morning I awoke to a winter wonderland. Snowflakes the size of small doilies were falling and the tree branches were bending to the point of breaking with heavy, wet snow. At breakfast we again met up with Stephen who had dutifully driven all the way back to Eugene, on a dark winding road and then returned, unimpaired by the fact that the road was all but impassable for the last twenty miles. Our discussion at breakfast was whether or not we would try to get into Sahalie Falls which was the major reason they had brought us to this area in the first place. Although I didn't really have the footwear for breaking trail in the snow, my answer was an emphatic "Yes!".  Add waterfalls to my list of irresistible things to be photographed no matter what the conditions. We then transferred to Stephen's van and headed out. Route 129 was actually closed not far past Mackenzie Bridge, but we did get to the Sahalie Falls trail head and Jaime led the way, brave woman.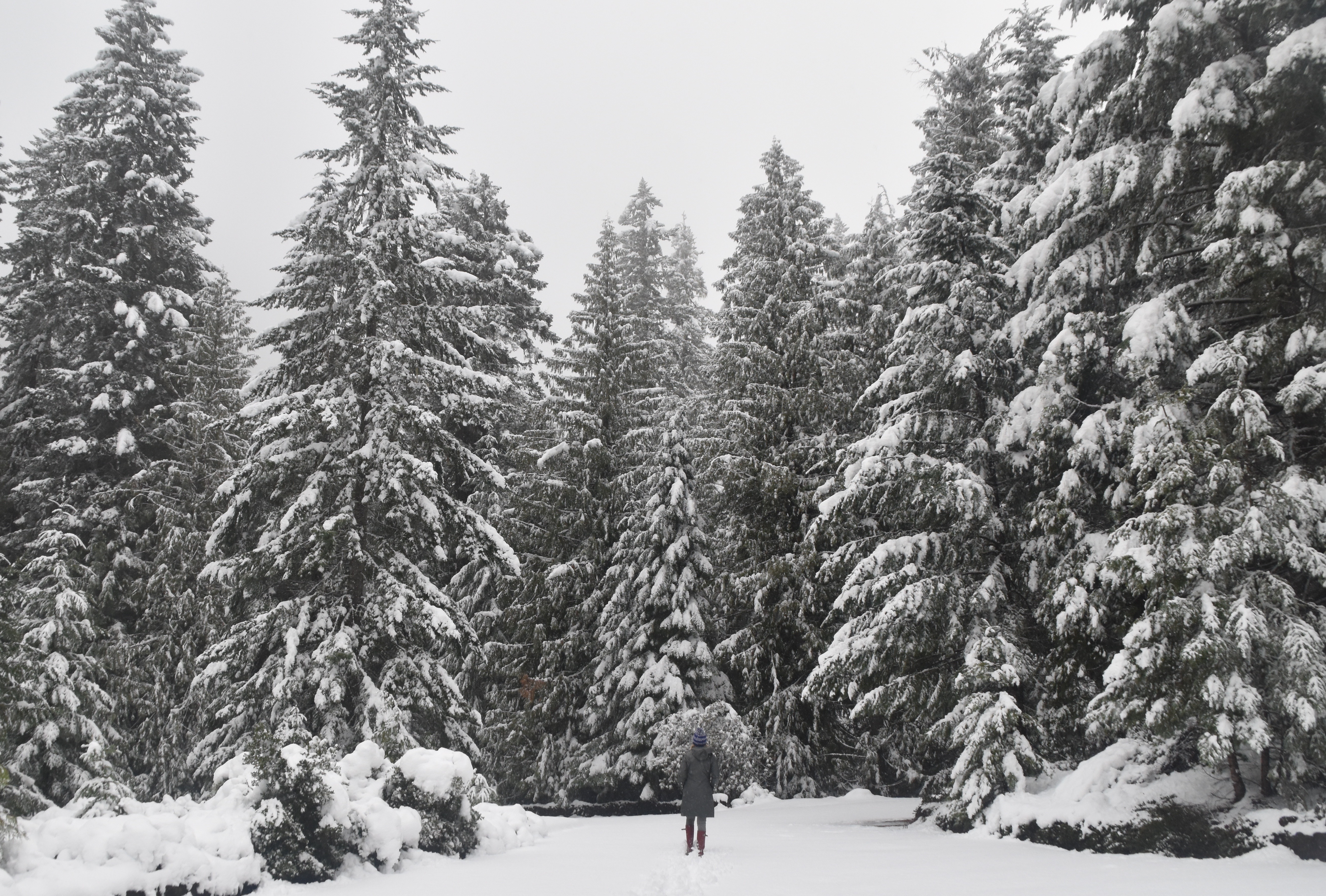 I'd be lying if I pretended the walk into Sahalie Falls was in any way long, rugged or steep, but it was pretty slippery. Here I am at the falls – wouldn't have missed it for the world.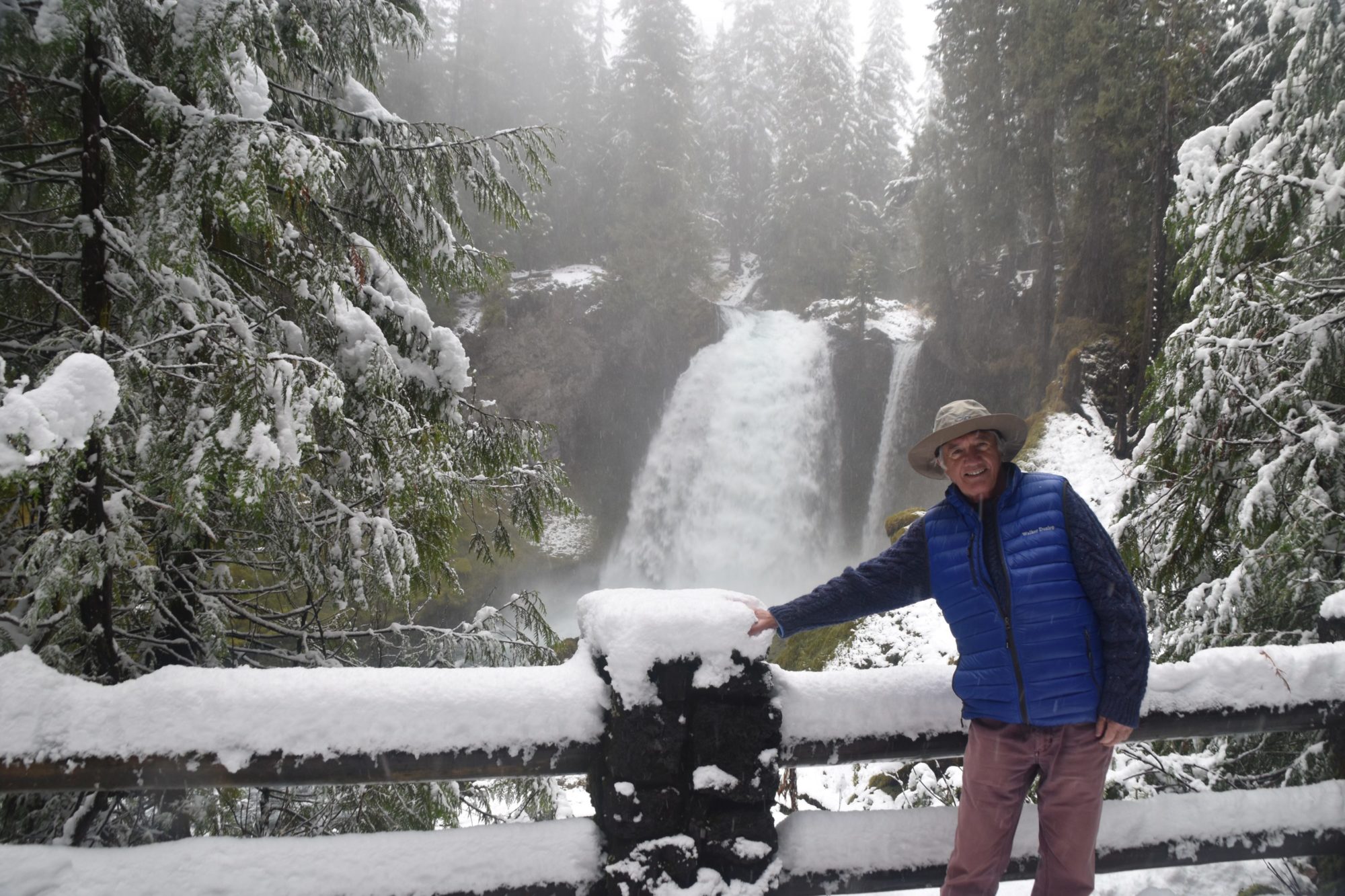 This was my last Lane County stop with Jaime and Stephen as the tour then turned north into neighbouring Benton County, but as I wrote earlier, I did return to the Lane County coast with Alison a few days later.
We had hoped to stay in Heceta Lighthouse B&B, but it was booked solid until I think about 2018. Instead we stopped at the State Park parking lot and hiked up to the lighthouse. Here's the proof.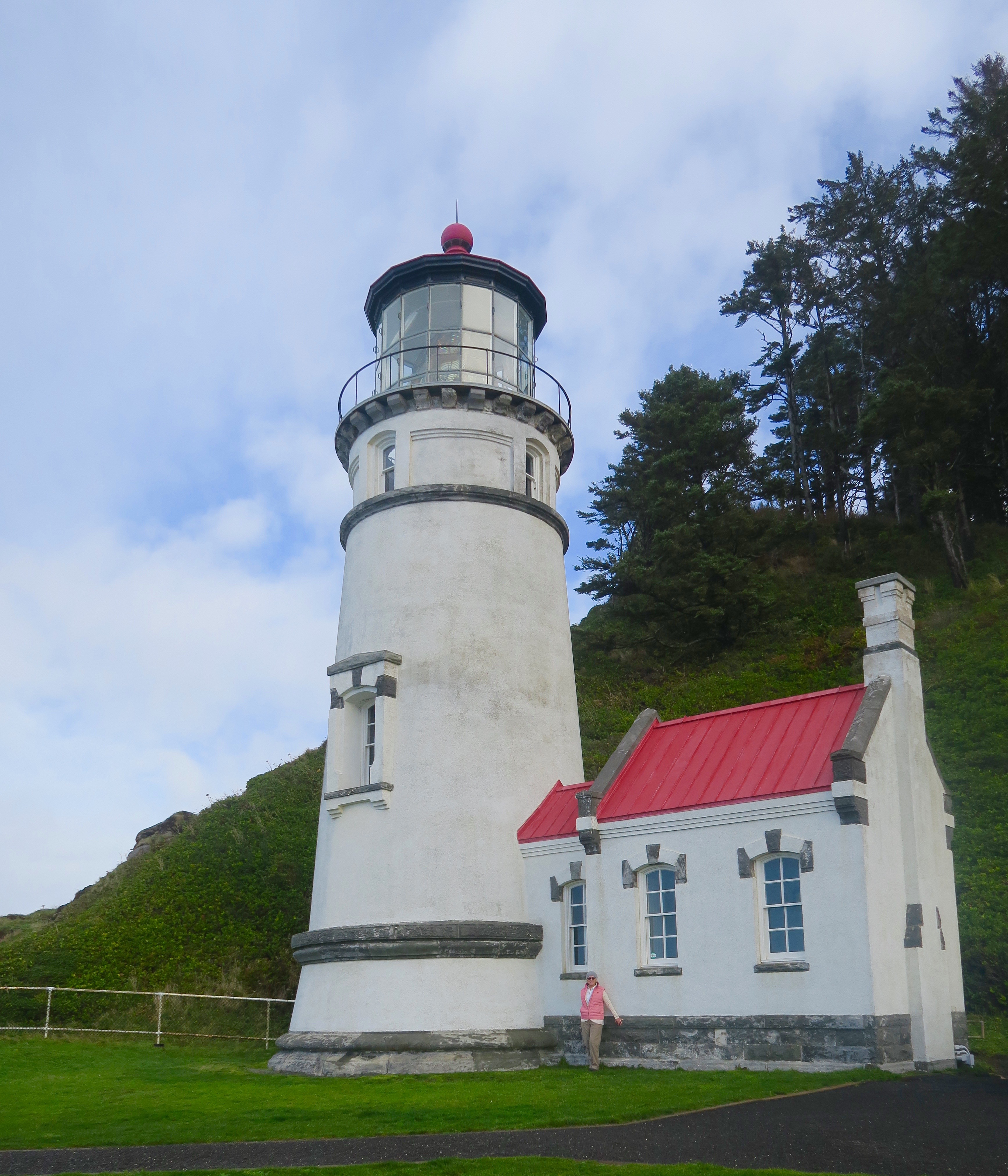 Not far from Heceta Head the highway climbs dramatically to a State Scenic Viewpoint where I took the photo of both the lighthouse and the B&B. Not far from this spot is Sea Lion Caves, a private operation that owns the largest sea cave in the U.S. In season, it is also home to hundreds of Stellar's sea lions. Even though it was not sea lion season, we decided to go in anyway. These were the only sea lions we saw. These sculptures are life size. The Stellar's sea lions make their California cousins look like those tiny Mexican wrestlers in comparison to say, Andre the Giant.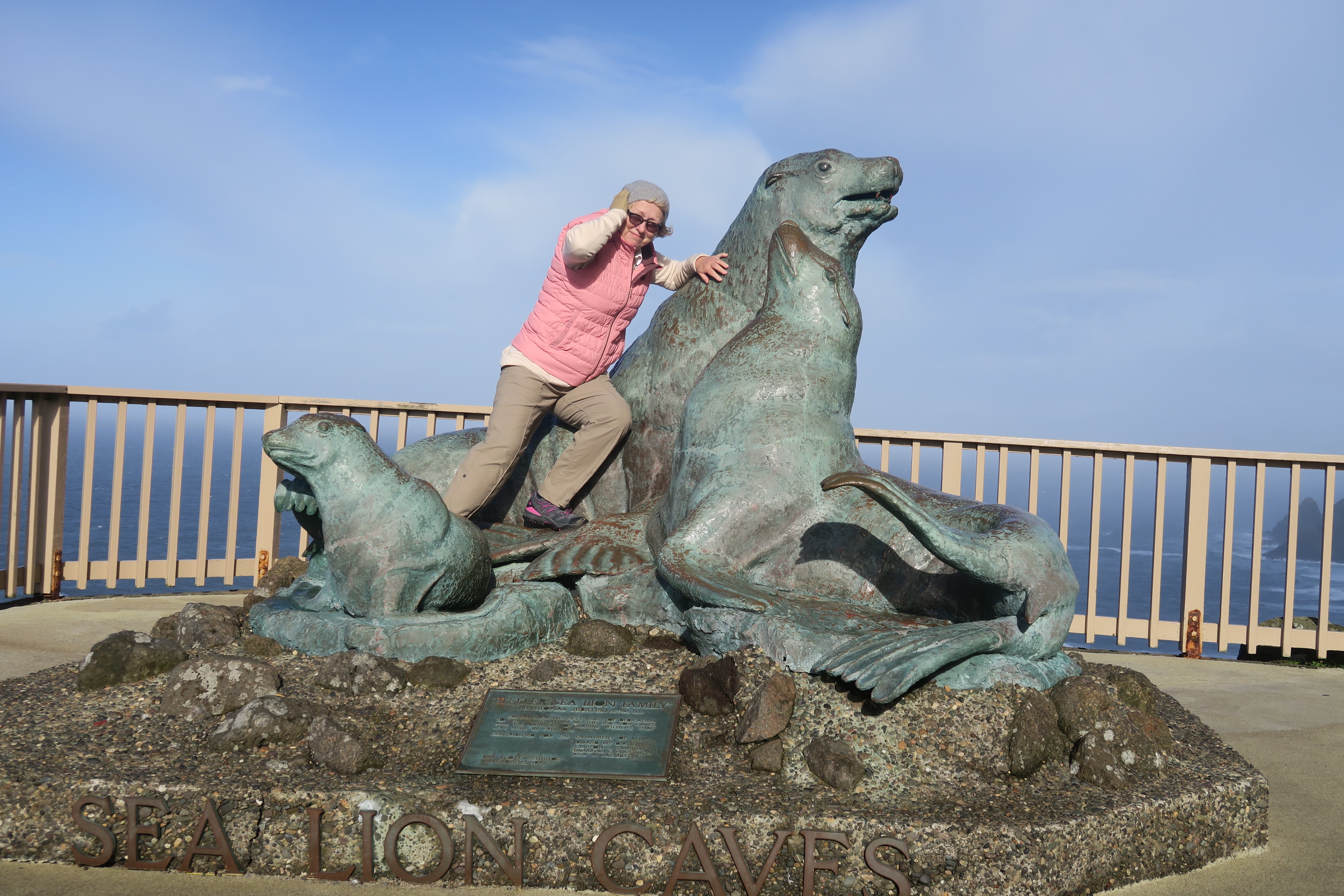 To get to the actual cave you take an elevator down what seems like twenty stories and view the cave through plexiglass. If you are here when the sea lions are this is what you can expect to see.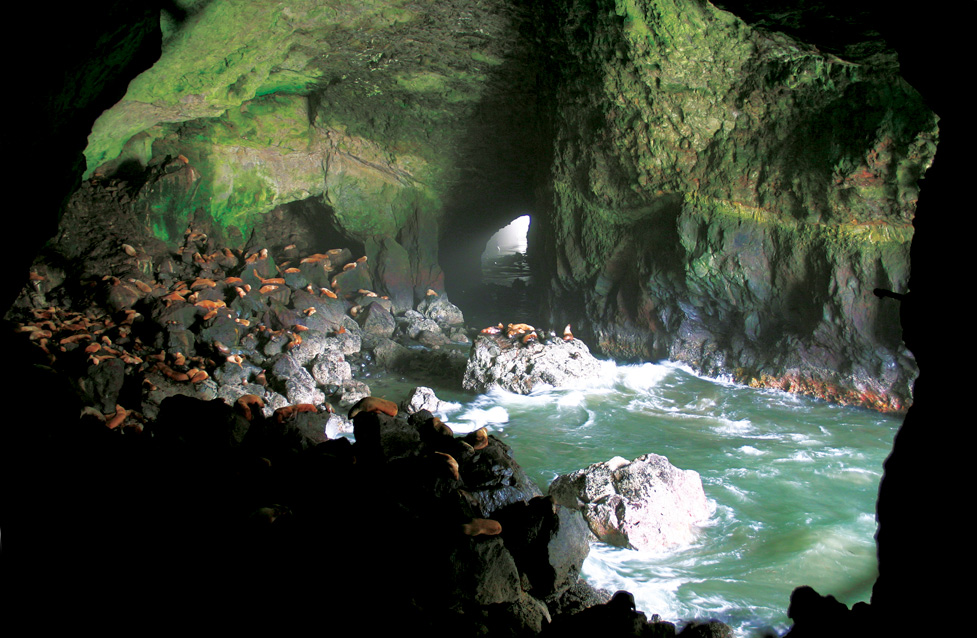 Oregon Dunes National Recreation Area
My last stop in Lane County was maybe the most awe inspiring, Oregon Dunes National Recreation Area runs forty miles along the coast starting just below Florence. This is the first view you get of these dunes as route 26 descends from the highlands to sea level.
The thing about these dunes is that there is nobody here. I might as well be on a beach in Labrador. Check out this short video.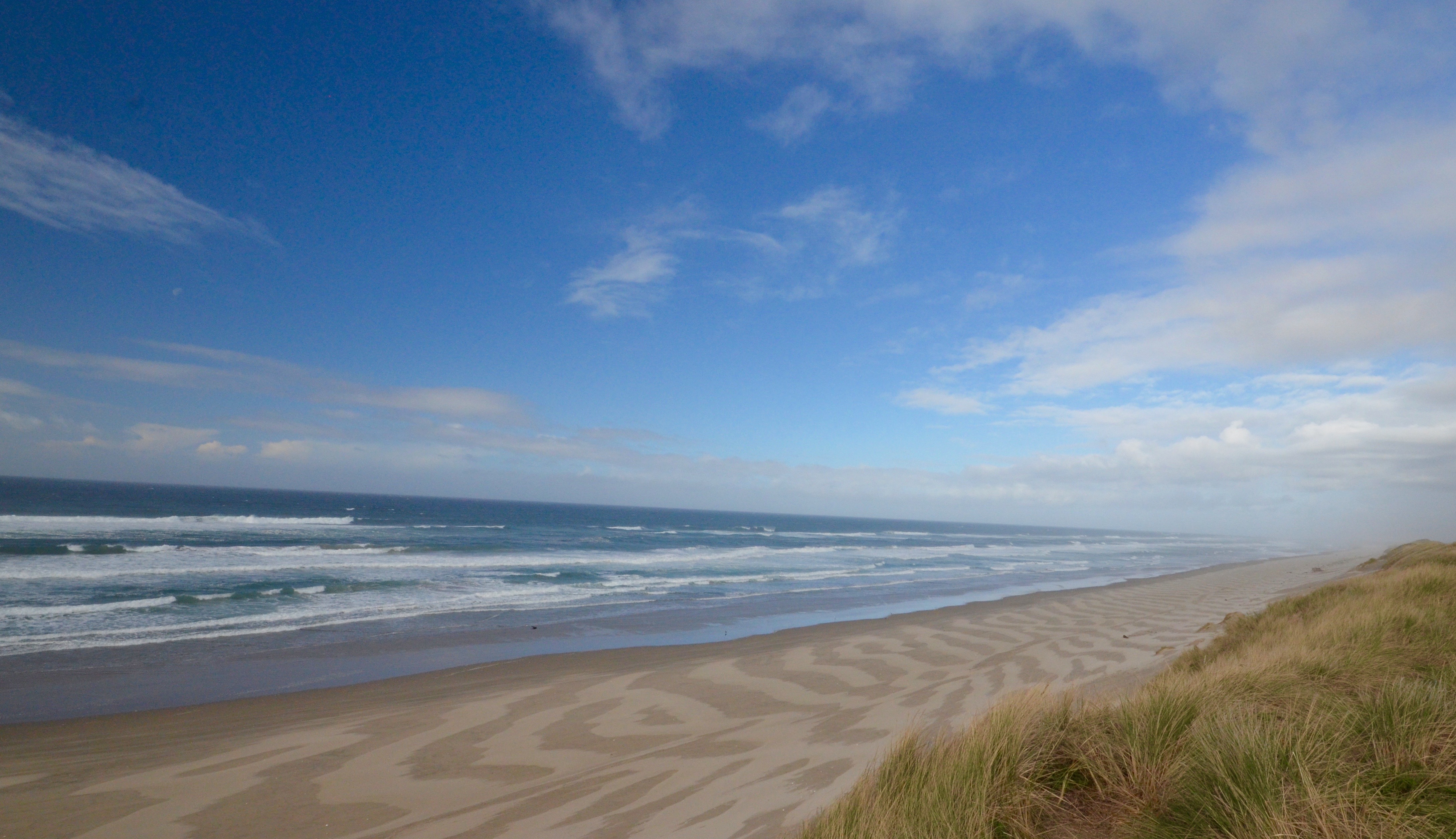 It's been a blast visiting Lane County and I thank Jaime and Stephen for making it all happen.