Valle de Cocora – Unique Wax Palm Landscape
This is my ninth post from a recent trip to Colombia with my favourite travel company, Vancouver based Adventures Abroad. In the last post, after traveling by plane and bus to the remote town of Salento, we visited the nearby El Ocaso coffee farm and I finally got a taste of just how good real, fresh coffee can be. In that post I commented that I wasn't that enthused in advance about the coffee farm visit, but certainly changed my mind after being there. The subject of this post is just the opposite. From the time I looked up 'hiking in the Valle de Cocora' on my web browser after seeing it on the itinerary, I thought it would be a highlight of the trip and I can now confirm that it was. Please read on and I'll explain why.
Valle de Cocora
The Valle de Cocora was apparently named for a pre-Columbian Quimbaya princess and translates as 'star of water' and the upper reaches of the area being a cloud forest with almost perpetual water vapour in the air, it makes sense. However, don't let that description put you off. While the tops of the Andean foothills might be steeped in cloud most of the time, the valley can equally be bathed in sunlight. The photos that follow will give a better picture.
What makes the Valle de Cocora so alluring is that it contains a landscape that is unique on earth. Let me emphasize that – there is no other place on the planet like this valley. Why? One thing, a tree, the wax palm. Now don't be thinking, "If you've seen one palm tree you've seen them all". There are in fact over 2,500 species of palm trees and one has to be the biggest and in many people's opinion, including mine, the most beautiful. I used to think it was the stately royal palms that grace MacGregor Boulevard in Fort Myers, but after seeing the wax palms of the Valle de Cocora, I've switched loyalties. OK, time to get moving.
The Valle de Cocora is about a fifteen minute ride from Salento plaza and virtually everyone gets to it by taking one of the fleet of Jeep Willys that are stationed there. They are lots of fun and you can stand up along the way, just be wary of the frequent jolts that can send a camera or smart phone flying out of you hand.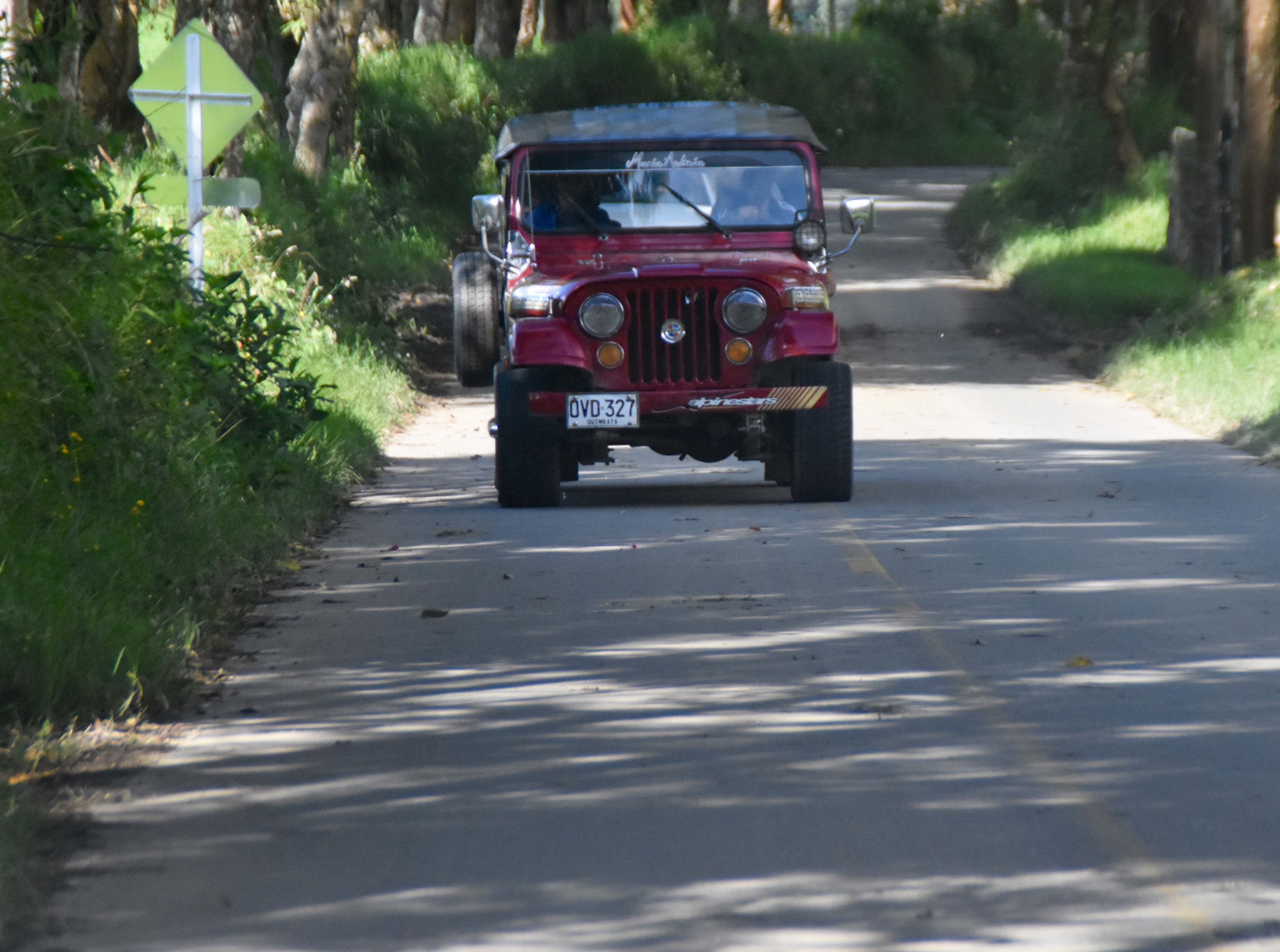 The pavement runs out as you get near to the end of the road and the Willys driver lets us off in a pretty muddy field and then lines himself up with others in a colourful array, waiting for enough people to warrant a return trip to Salento.

That could be a while because every one here seems to be getting ready to head out and not back to town. There is quite a mishmash of various groups including quite a few Colombian, or at least Spanish speaking, teenagers most of whom are getting saddled up to head out on horseback. While they were waiting for the orders to ride out, this mule came nonchalantly along without anyone leading him and calmly picked his way through the crowd heading for some destination only he knew.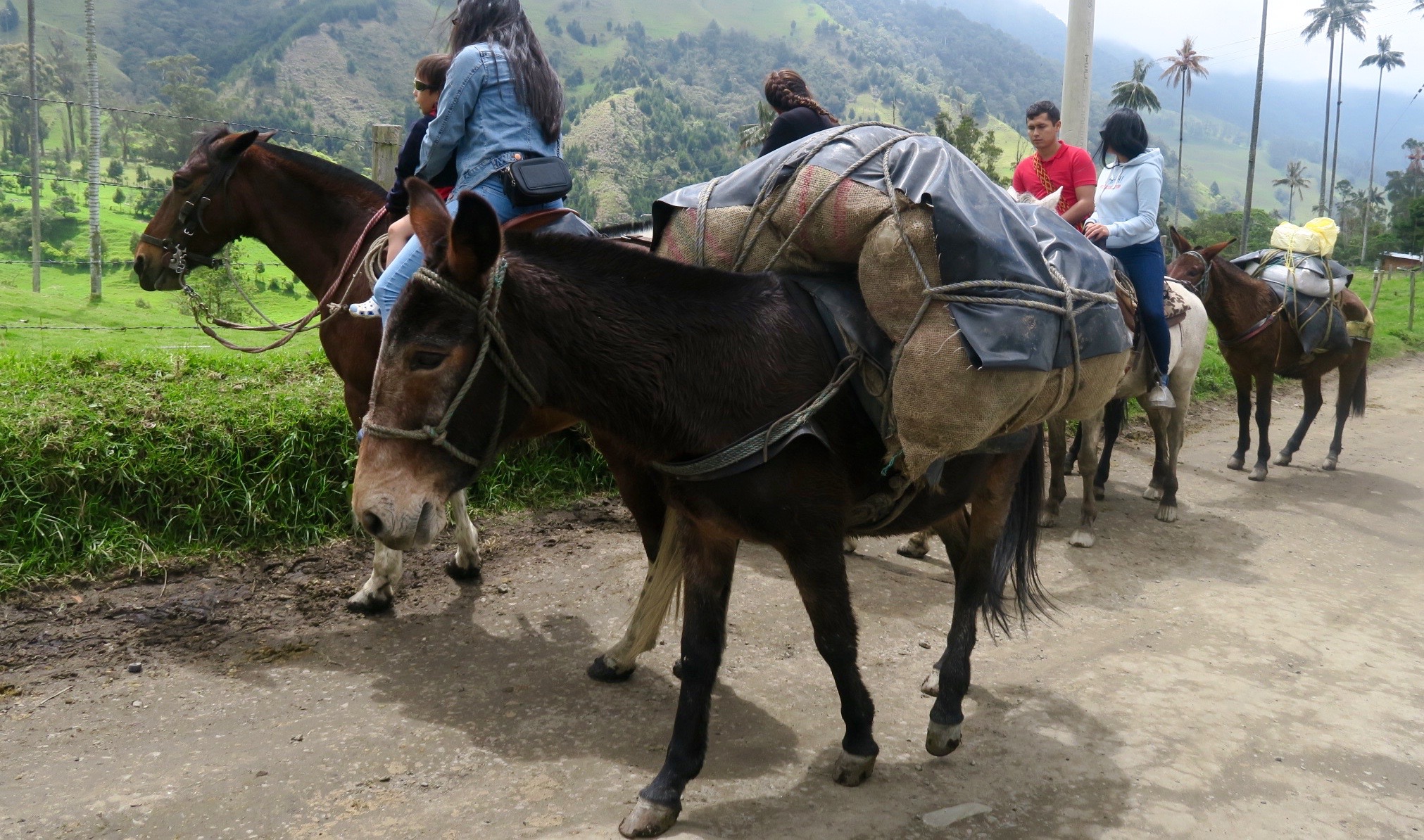 George González, the Valle de Cocora Wax Palm Whisperer
Adventures Abroad always provides a dedicated tour guide who stays with the group from beginning to end as well as numerous local guides that have a level of expertise and passion that only a local person could have. In the case of our visit to the Salento area it was George González who is an official guide for the Rutas del Paisaje Cultural Cafetero or in English, the Coffee Culture Landscape Routes. This is a non-profit organization that is seeking to promote tourism to the area of Colombia that is most closely associated with coffee growing, but also includes other landscapes such as the Valle de Cocora.
George is clearly passionate about his job and in particular the fact that he is one of the few guides who is also, in effect, a park ranger in charge of overseeing the continued survival of the Valle de Cocora wax palms. He ushered us over to the base of a huge tree and explained why he is dedicated to ensuring their survival.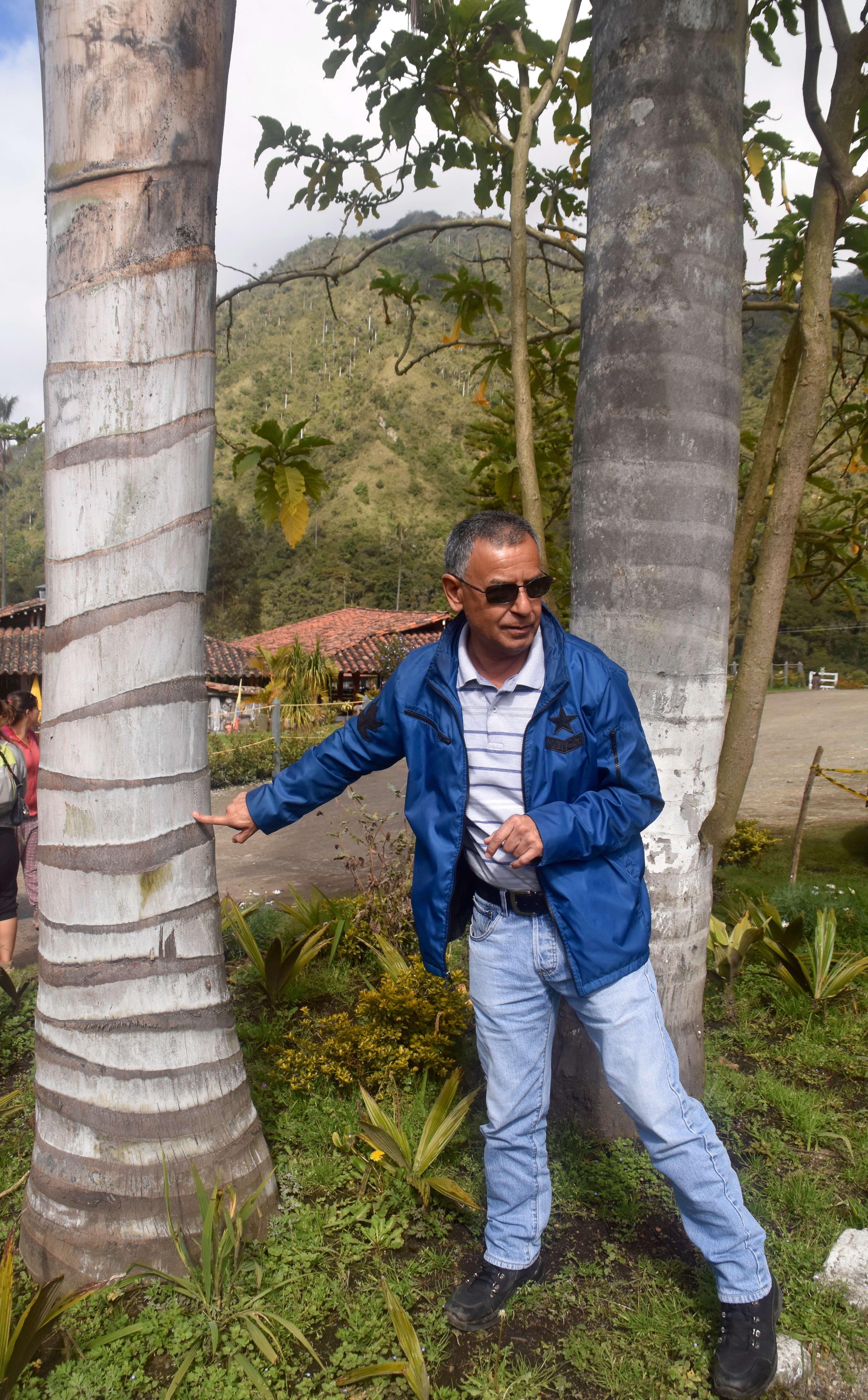 Aside from the fact that wax palms at 200 ft. (60 m.) top out as the tallest of the palm species and are simply beautiful trees, they also have the unique ability to produce a wax that indigenous people have been using for thousands of years to make candles. I had no idea that pre-Columbians even had candles. The rings on the tree that George is pointing to represent former leaf placements and when one rubs them with a coin, as George did, sure enough you get wax. Up until the 1980's the wax palms were in serious trouble for a number of reasons – loss of habitat, over harvesting for wax and wood and what has to be the stupidest reason possible and one more arrow in my quiver of reasons to despise organized religion. Believe it or not people would cut down these majestic trees just so they could cut off the fronds and wave them around like ninnies on Palm Sunday. A tree that takes eighty years to reach sexual maturity might be cut down just for a one day celebration.
Colombians finally realized what they were about to lose and with the co-operation of the Catholic church, the practice was stopped. The wax palm was declared a national symbol and Valle de Cocora was recognized as being the last place where there was a thriving population. Yes, you can see wax palms in other places in Colombia, but nowhere near as concentrated as here.
So with this build up from George, we are ready to hike among the wax palms. Before setting out I can't help but notice this sign on a nearby fountain.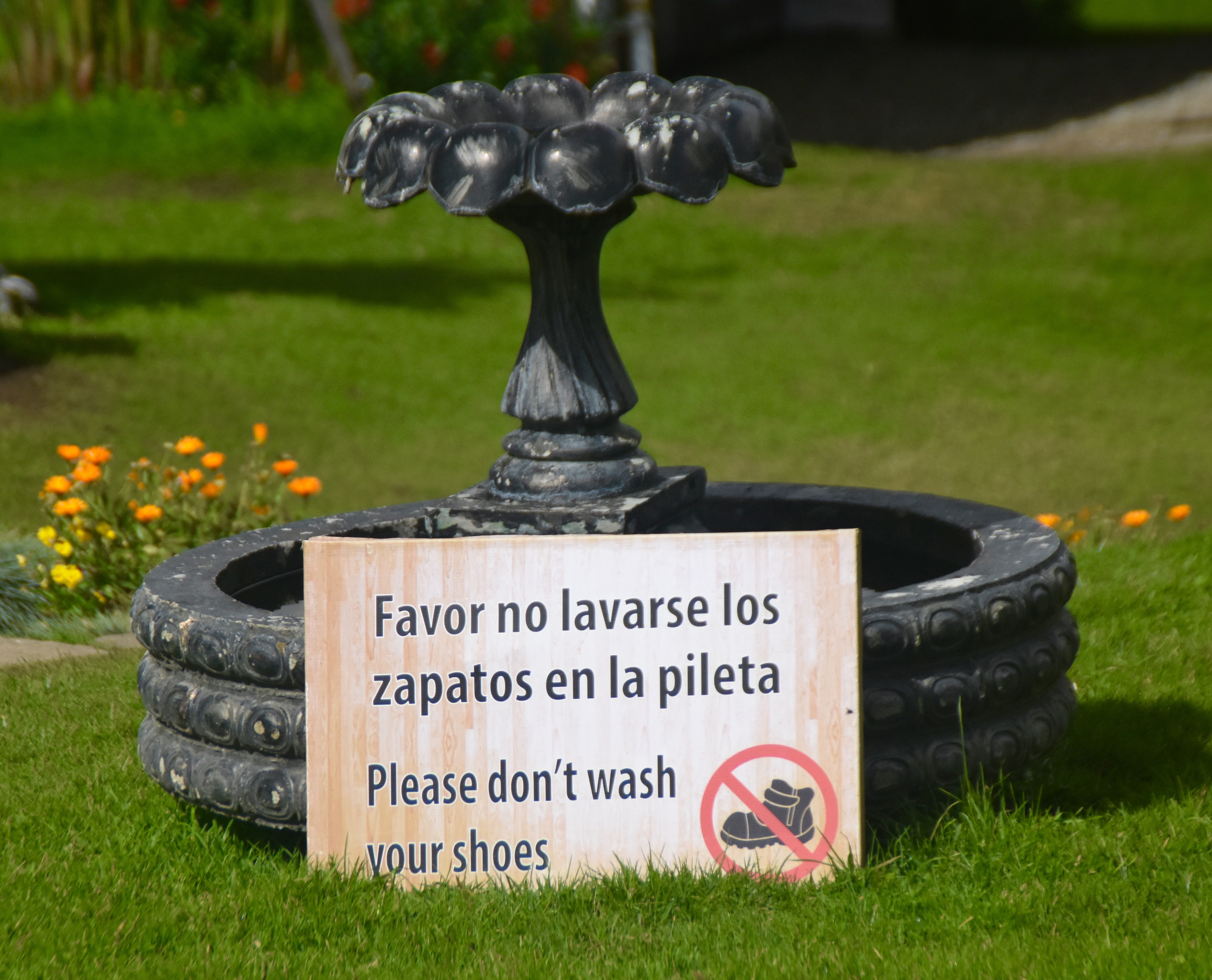 It doesn't take long to realize that the sign is no joke. Because there seems to almost as many people heading out on horseback as on foot, the track is a muddy and shitty mess. If you glean anything from this post, make sure to bring a good pair of hiking shoes and a walking stick or two for balance. I saw more than one person who had fallen and their butts were ignominiously covered in horse dung. However, I don't want to scare anyone off. The first part of the track was bad, but the further away we got from the start, the easier the walking became although it does get steeper.
It's impossible to describe the beauty of the Valle de Cocora so I'm going to let the photos do the job. First of all, the wax palms almost look like they must have been deliberately planted because they are spaced almost symmetrically, but George assured us that this is how they grow. The ground cover is basically pasture land and farmers let their cattle and horses roam freely between the trees and it doesn't seem to do them any harm (the trees that is).
Looking straight up you can appreciate the almost perfect spacing of the palm fronds, although it's bloody hard on the neck.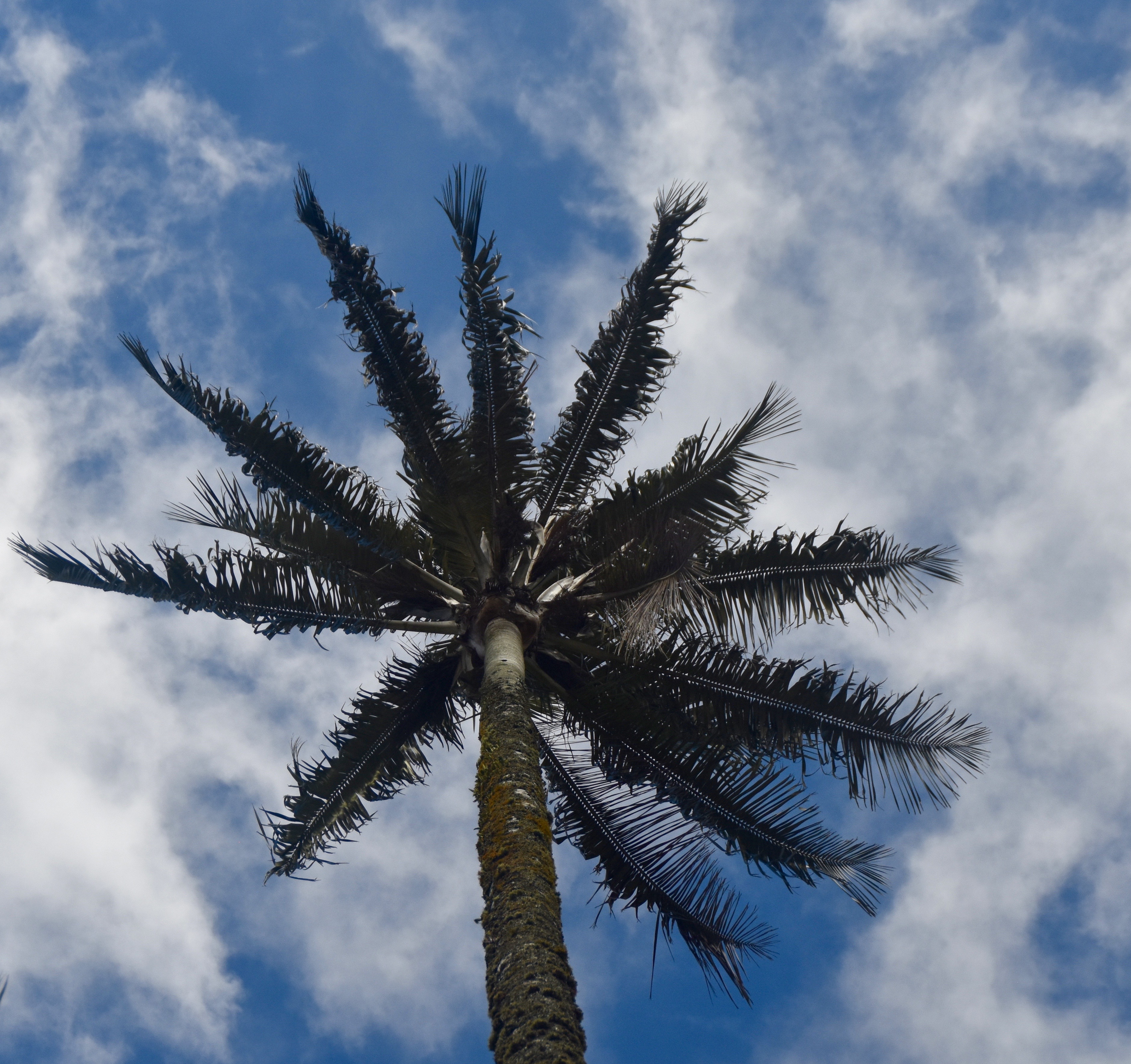 Next a few photos that give a better idea of the type of views and scenery you will see in the Valle de Cocora.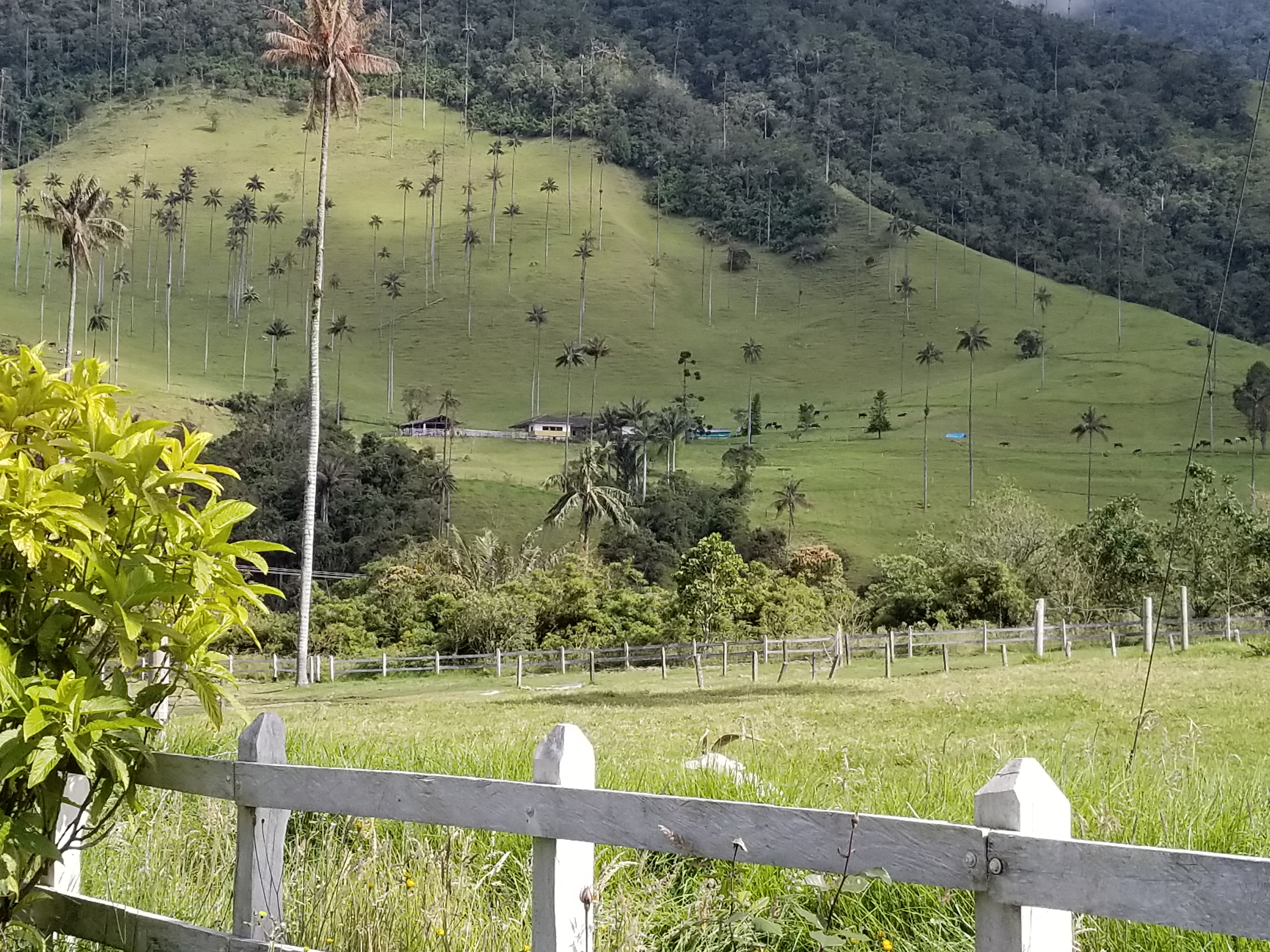 The red blobs on the top of some trees are actually the ripe fruit of the wax palm.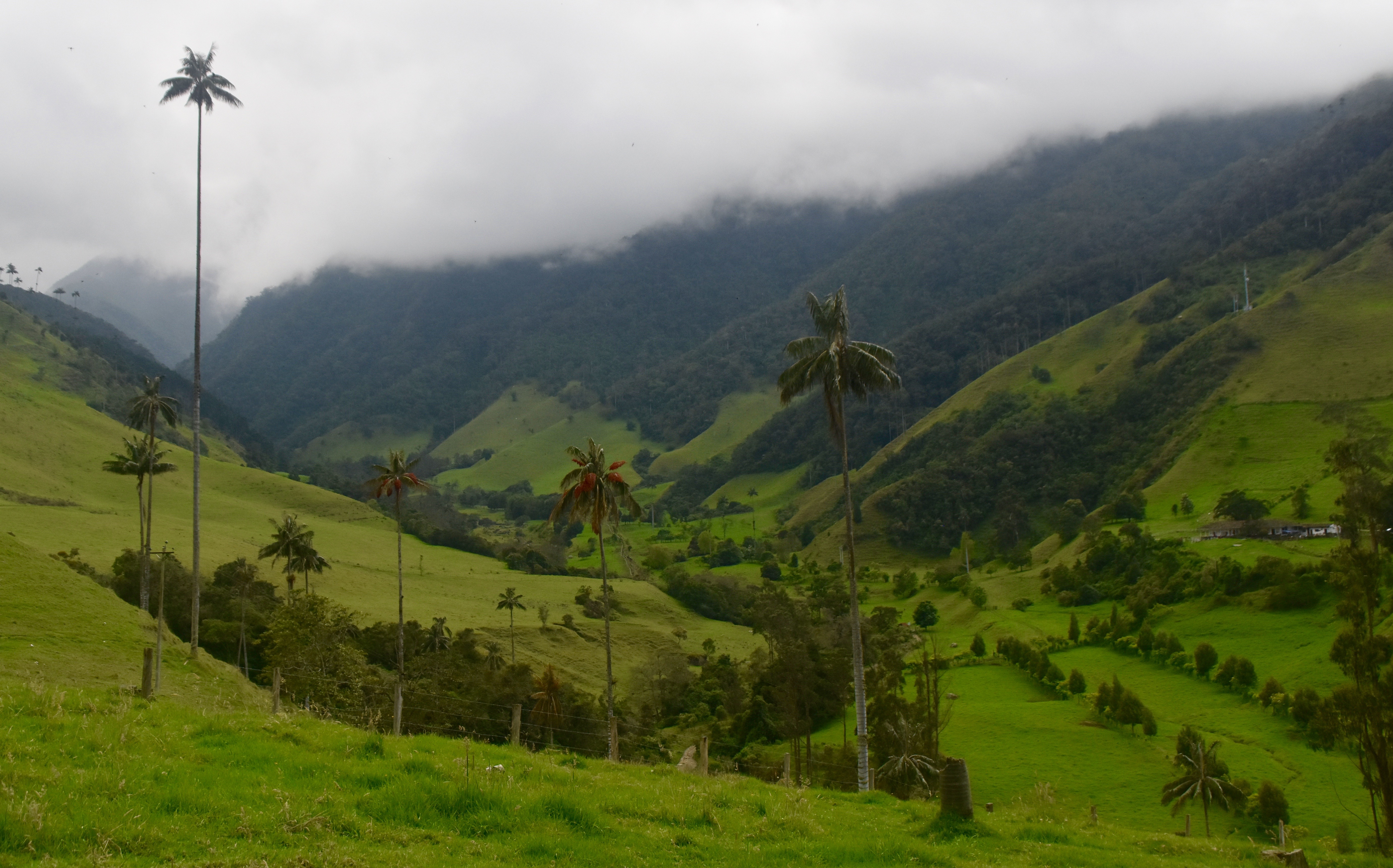 Notice the clouds in the background in the photo above. Numerous times these would descend down the valley wall and suddenly this is all you could see.

This type of grey landscape is perfect for black and white photos.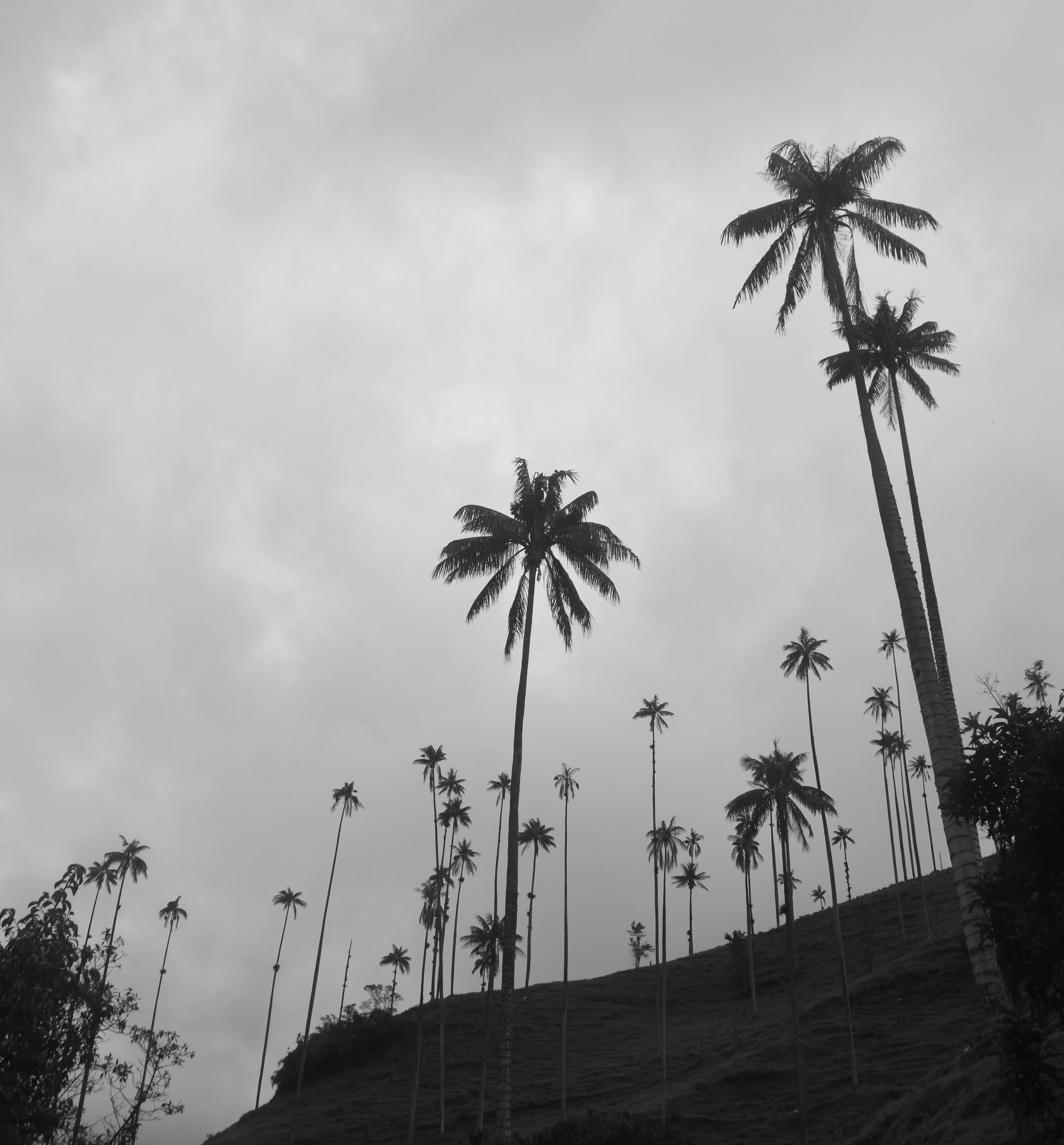 While we did get a few sprinkles of rain when the clouds came down, just as quickly they would retreat up the mountains and it would be sunny again. After walking for about an hour we came to part of the track that started steeply upward to what George said was the top of the pass between the Valle de Cocora and the neighbouring valley. He asked if we were interested in going this far and about half the group was willing. The other half decided just to chill out in the  wax palm pastures.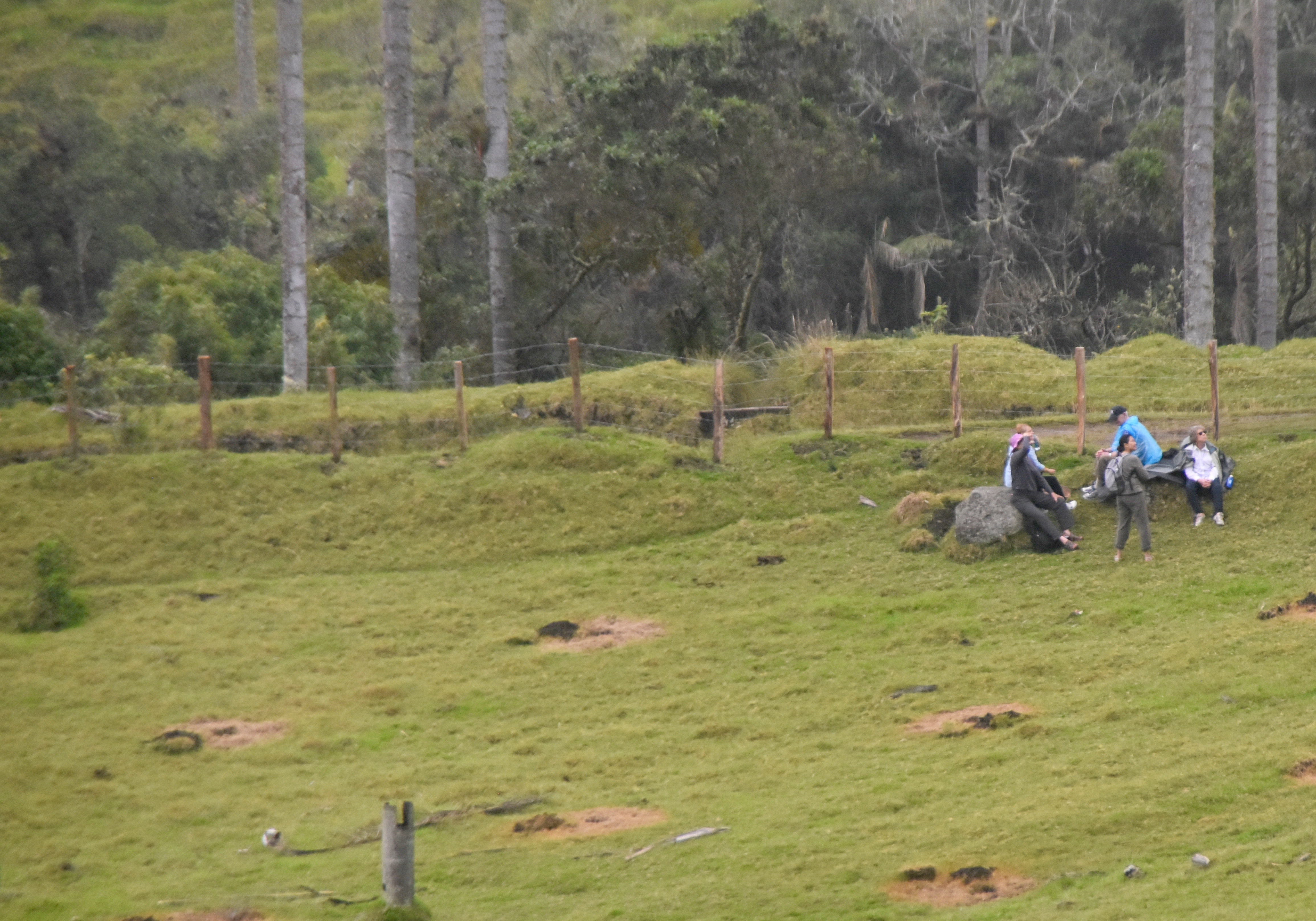 I don't want to leave the impression that the Valle de Cocora is just about the wax palms, it's not. On the way up to the pass, Andrés Fernández, our tour leader, did some serious birding and we got to see some truly beautiful birds, but they wouldn't sit still long enough for decent photos.
Alison did get this shot of a cooperative moth.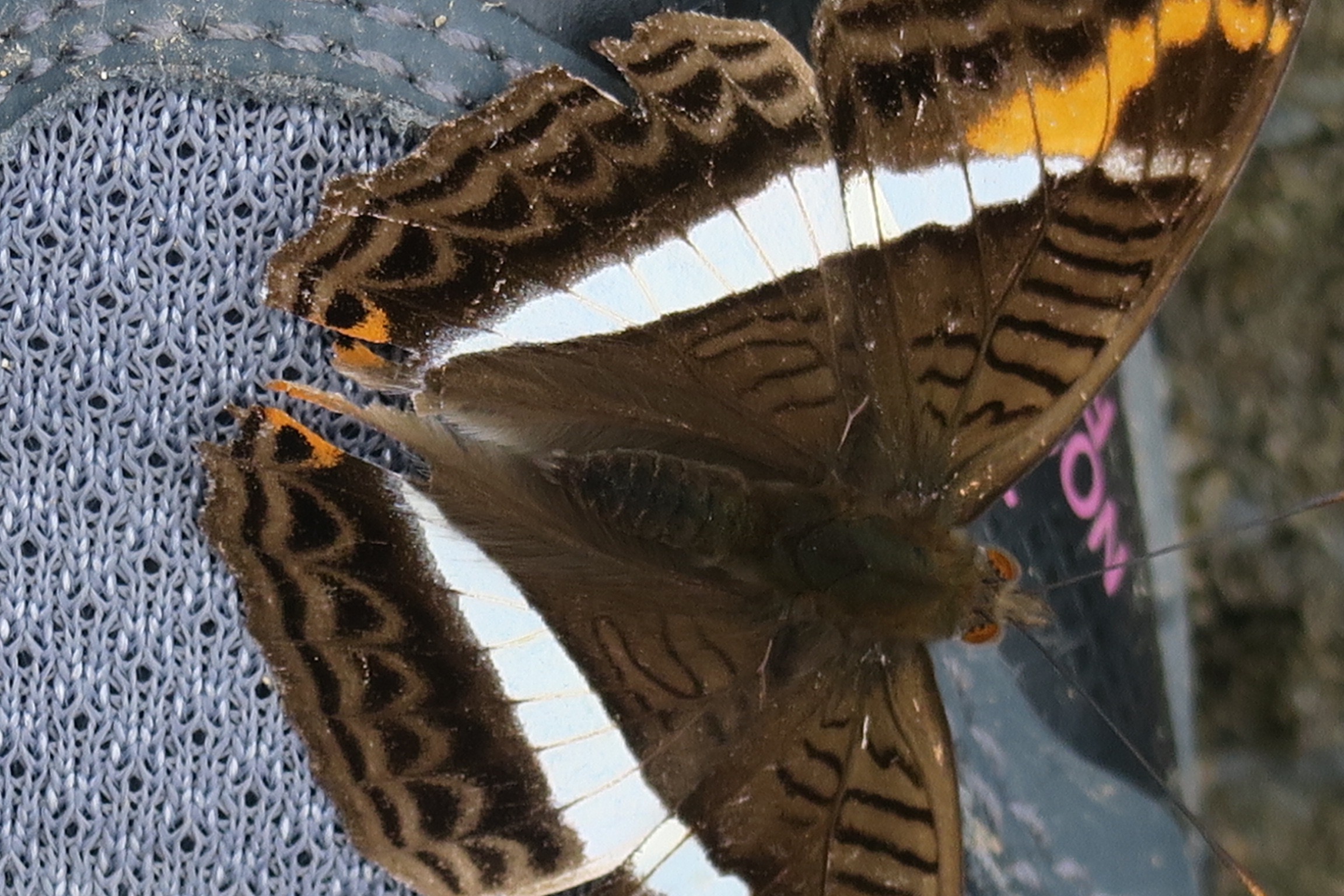 The trek to the top was really not that onerous, although quite slippery in parts, but the more than worth the effort.
If we were on our own, we could have continued down to the valley below and completed a loop back to the starting point, but that would have taken all day and involved a number of river crossings over what George described as very unstable bridges. Alison and I were happy just to have George take our picture to to prove that we had hiked in the beautiful Valle de Cocora. Unfortunately there's nothing I could do about looking like a doofus in that stupid hat.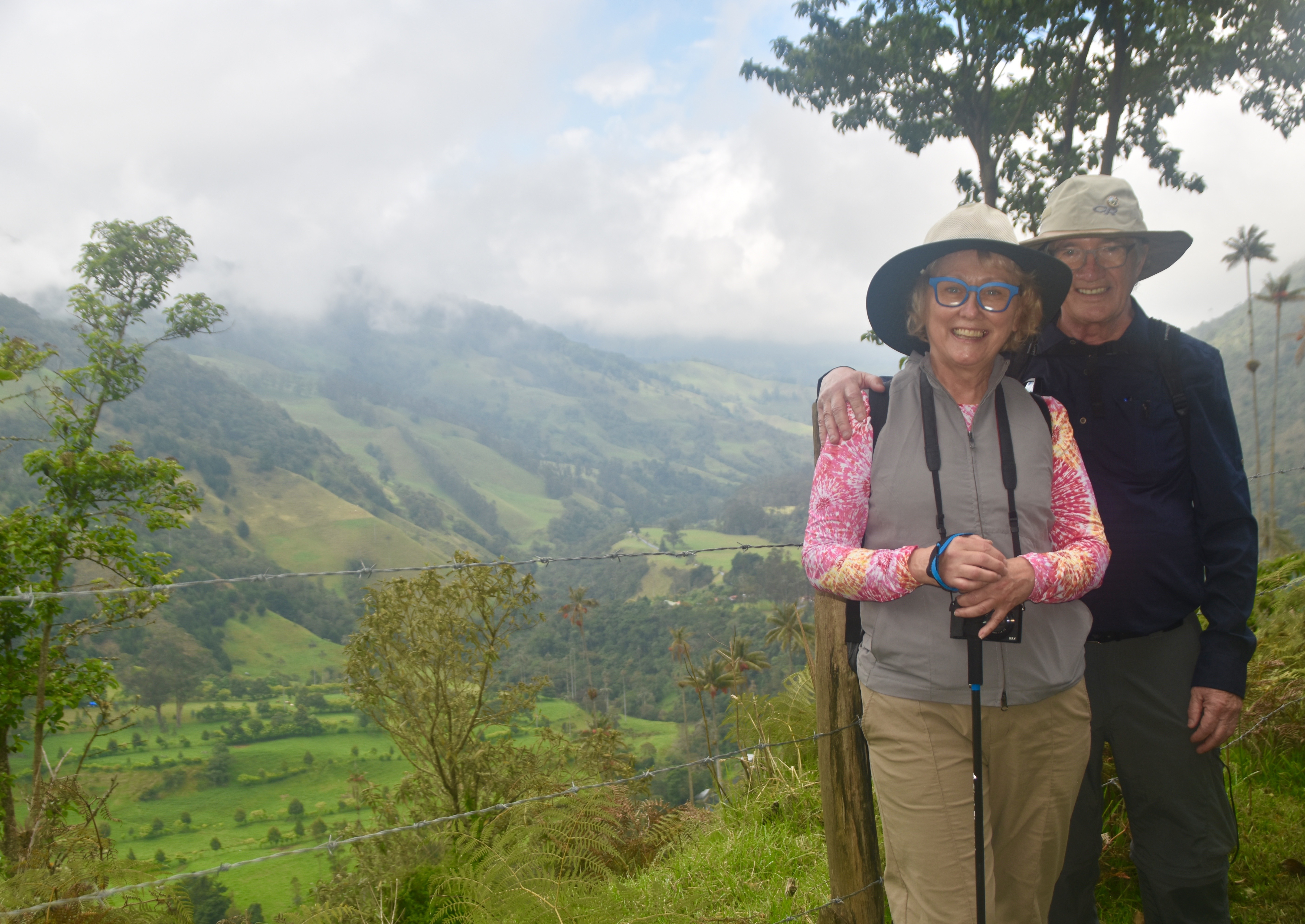 We had a couple of treats waiting for us once we got back to Salento. The first was to a cafe where Andrés predicted we would find the coffee even better than at El Ocaso.
Café Jesús Martín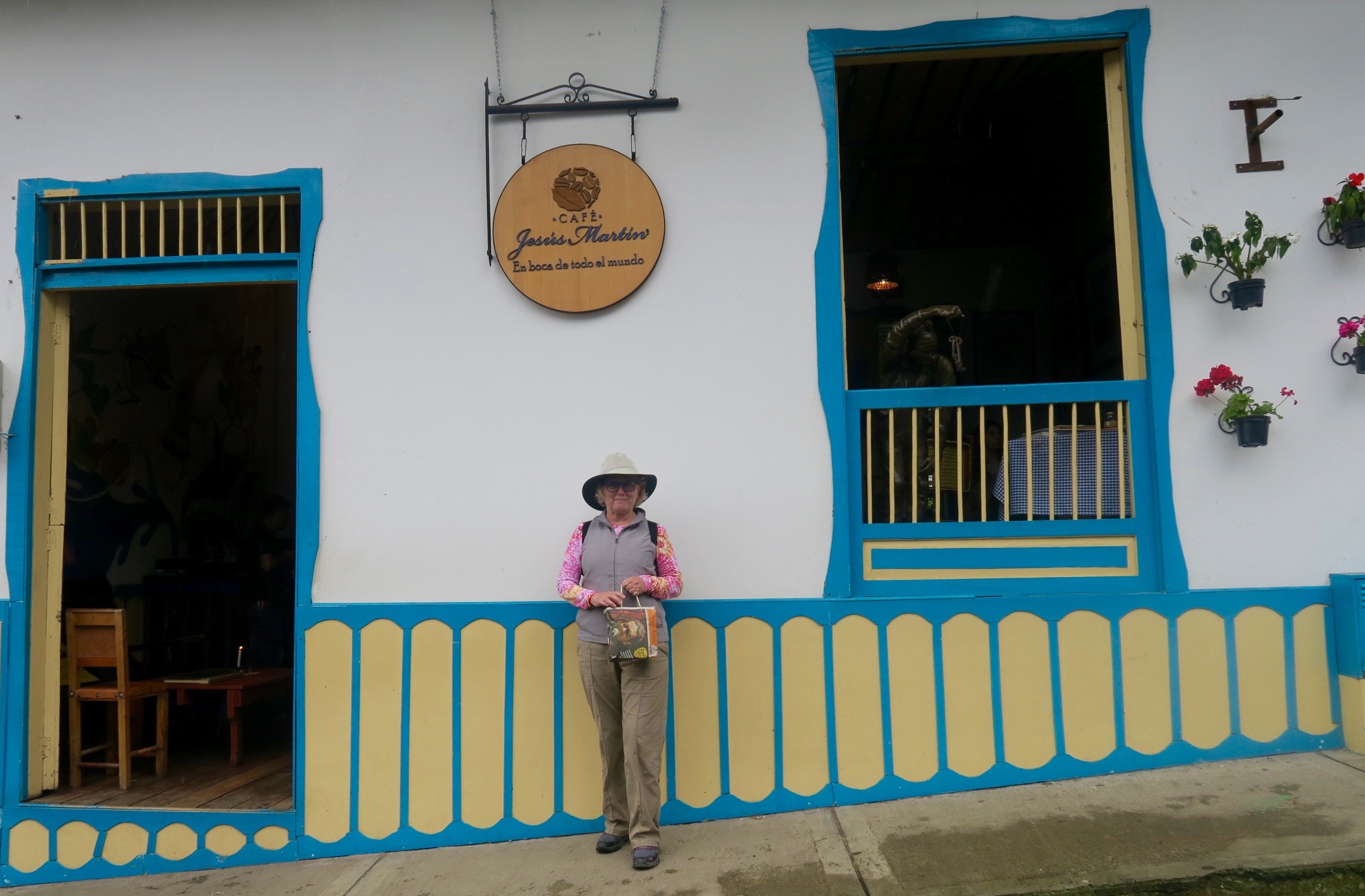 Unlike me, Jesús Martín had enough sense to get out of his law practice and do something important – try to find and sell the best coffee in the world. He already knew that the area around Salento was producing some of world's finest coffee beans so it was only natural that he set up his business on the main street and wait for the customers to come to him. Andrés has brought our group here to meet Jesús and sample his single origin coffee, which I gather is the coffee equivalent of single malt scotch.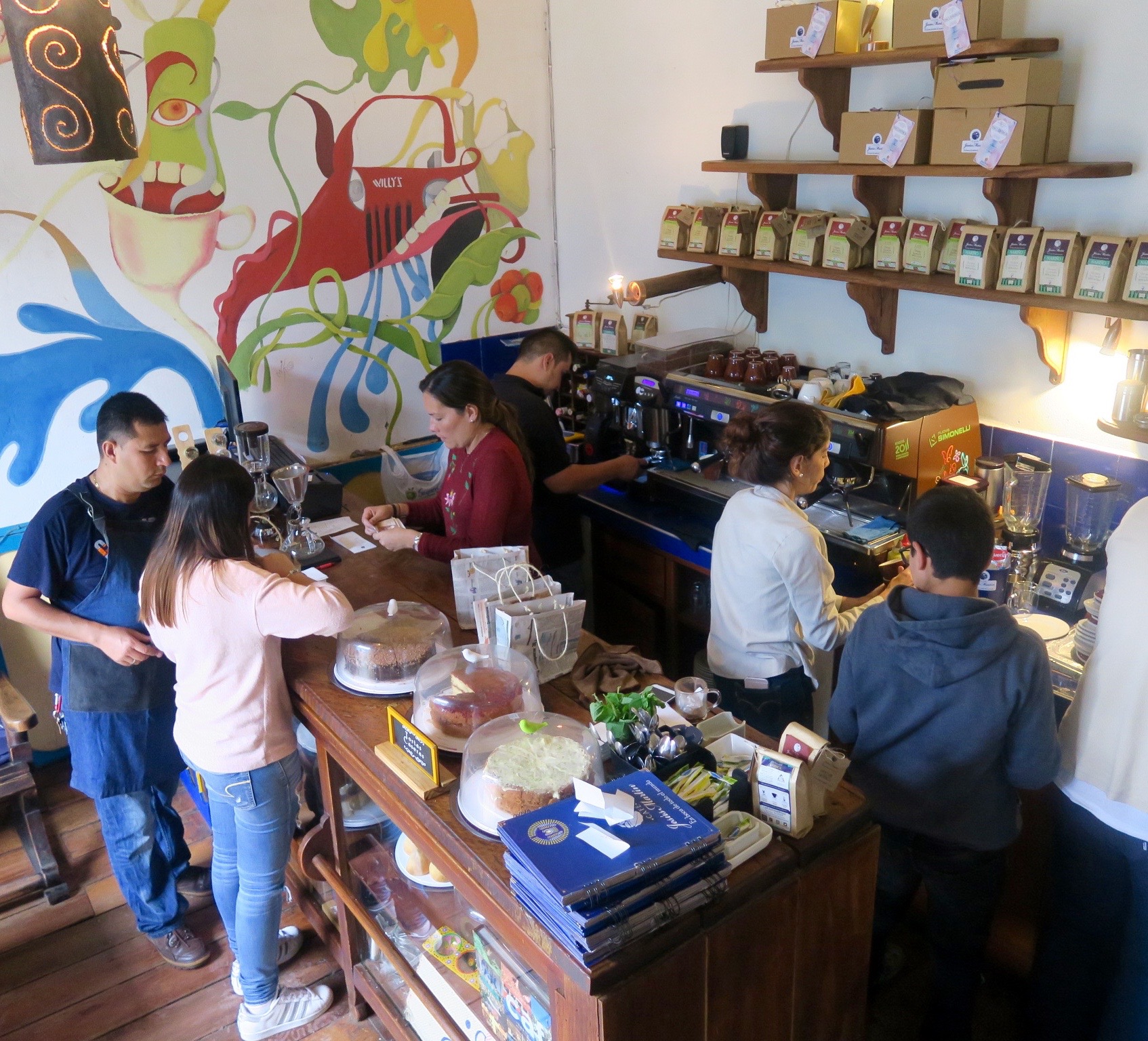 This is Jesús, on the left,  explaining why he gave up a lucrative law career to run what, at first sight, seems like a very simple café.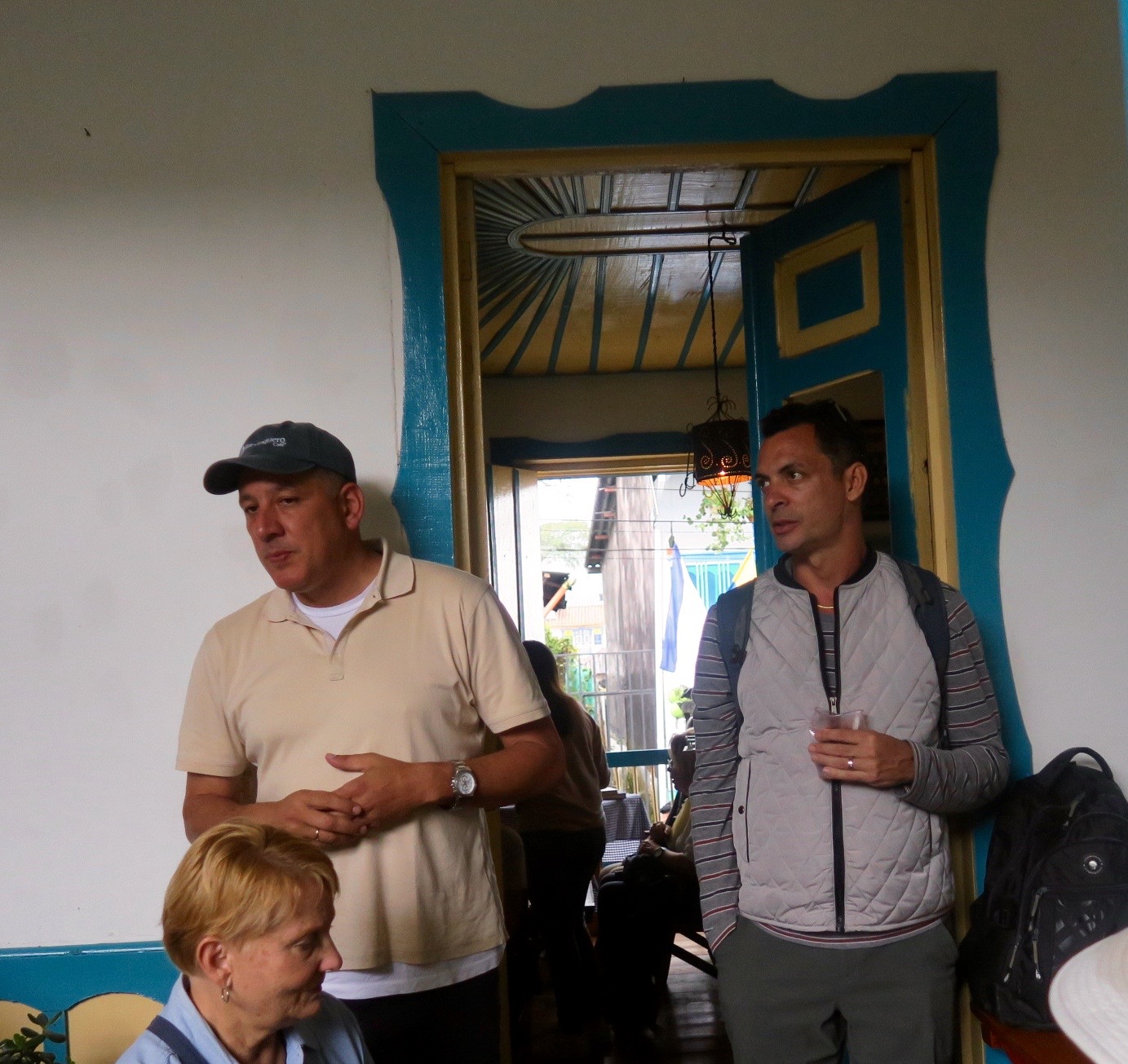 The answer as to why he gave up law for coffee becomes apparent the moment you take your first sip of his coffee – it is simply superb, although in fairness, the El Ocaso brew was equally good. The bottom line is that if you really want to taste great coffee, come to Salento.
Jesús is no coffee nazi, insisting that it only be taken tinto or black as we would say. He has a macchiato artist on hand who produced these beautiful looking and tasting creations.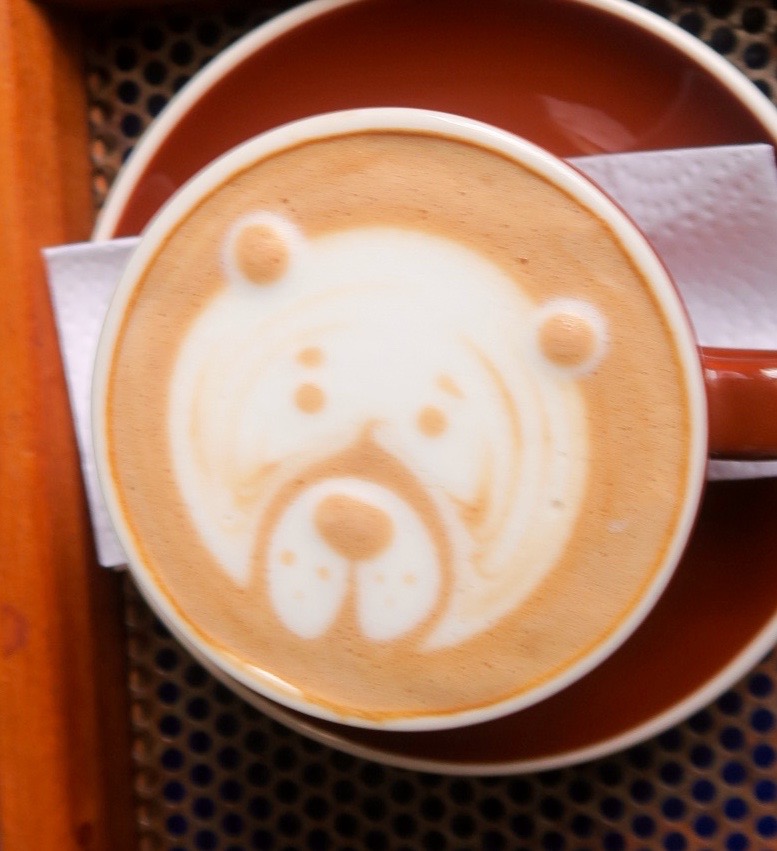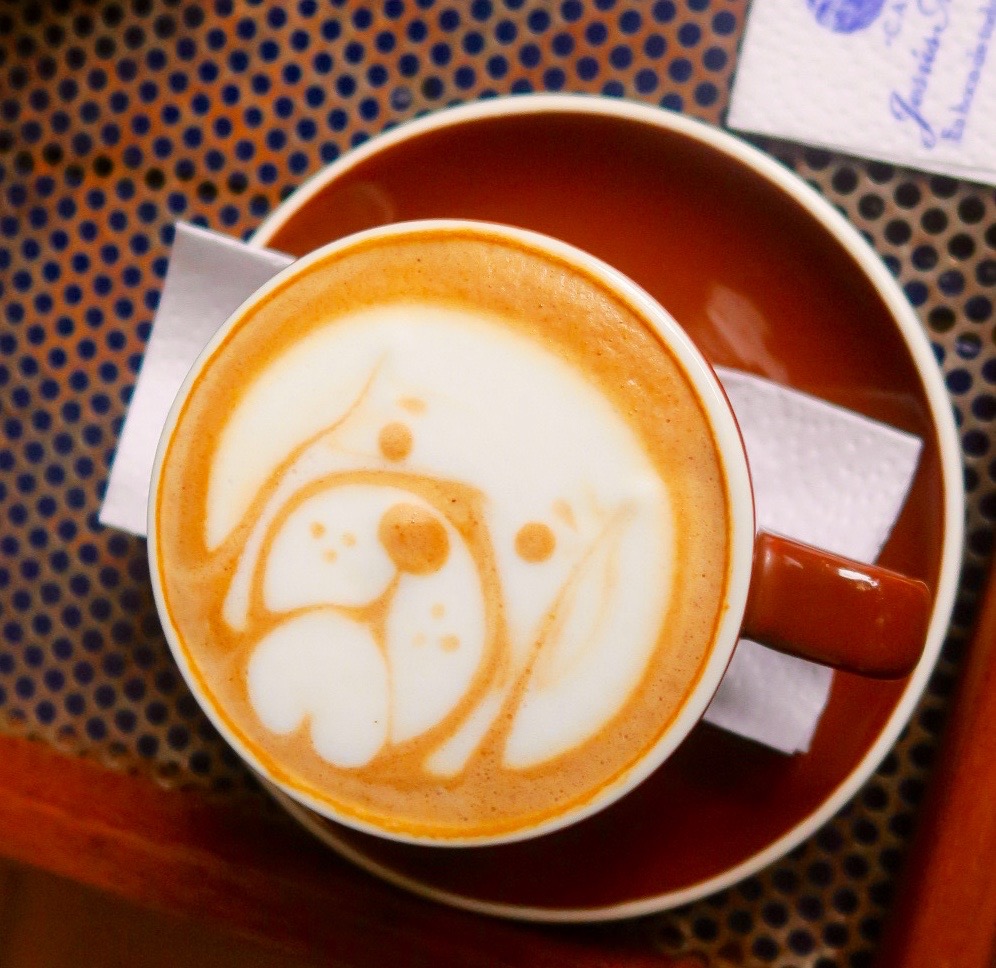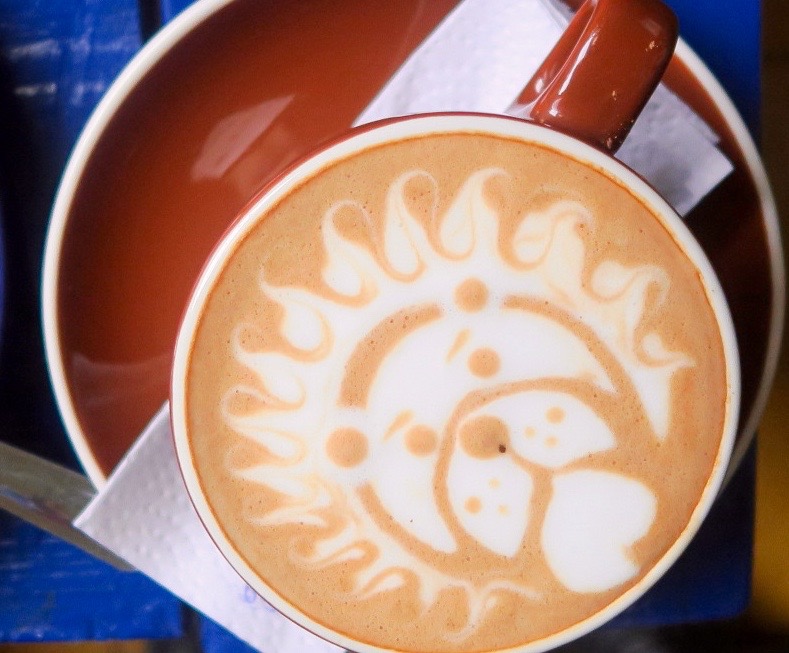 Donde Laurita
Our next gustatory treat was a visit for dinner to Donde Laurita, a family run restaurant in Salento which is a folk art feast for the eyes and serves great food to boot. Here are a few samples of the interior decoration.
Each of the chair backs has its own original folk art scene.
Even the toilet seat gets special attention.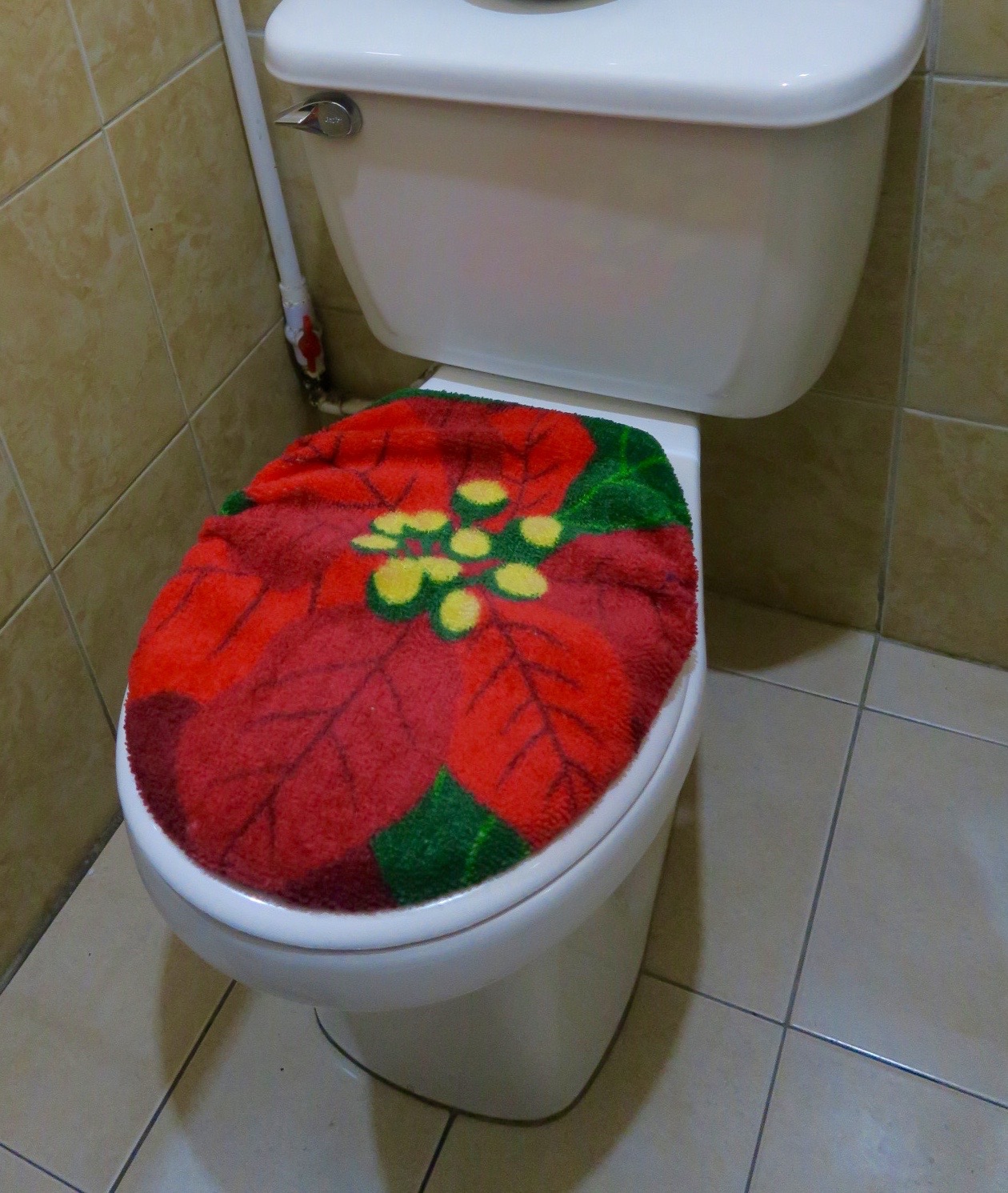 However, the real star was this Salento street facade with its great detail – as fine a piece of folk art as you'll find anywhere.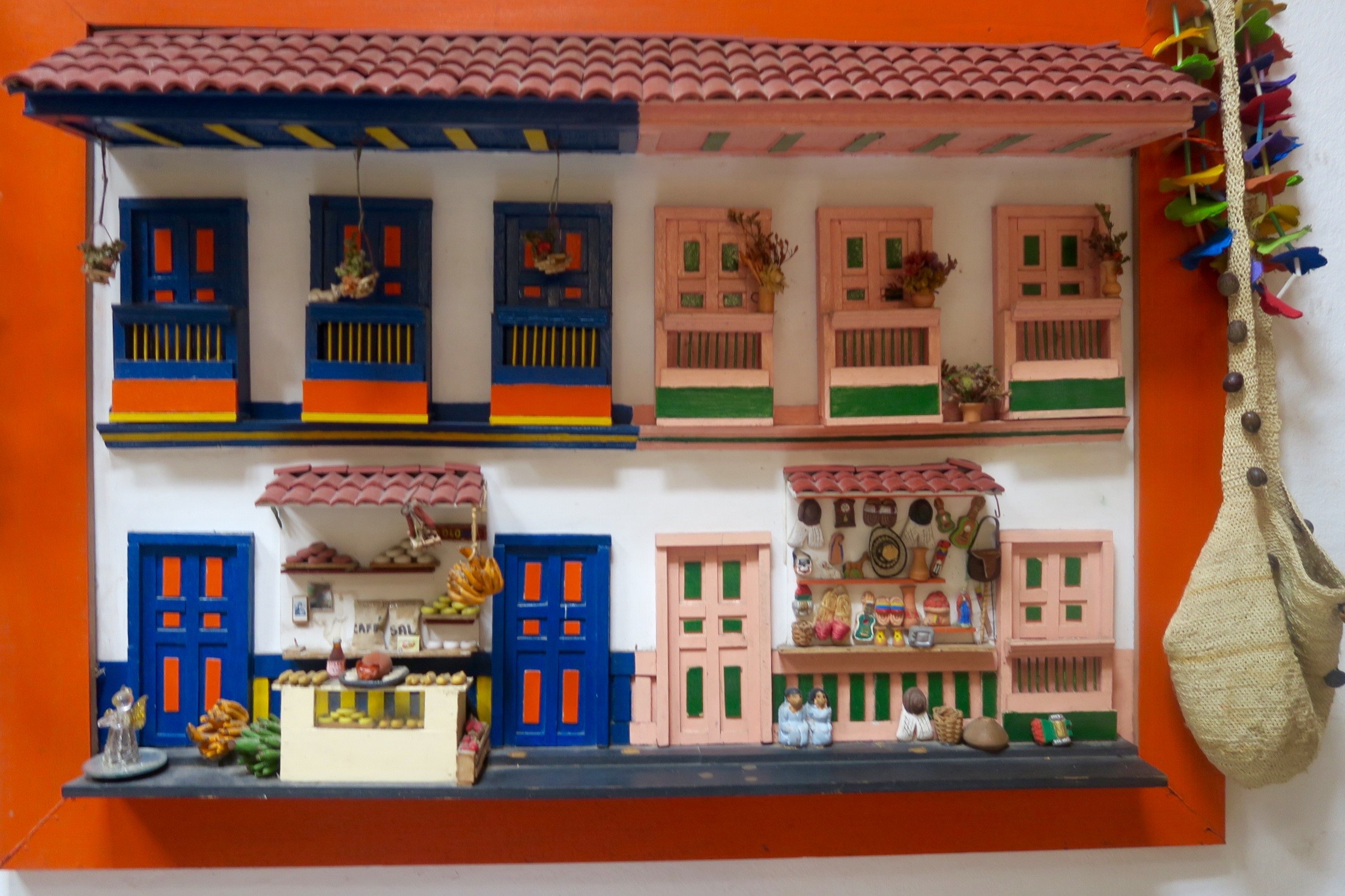 Aside from coffee, Salento is also well known for its native trout which once abounded in the mountain streams that run down from the Andean foothills. The trout are still there, but not in numbers that could sustain the local restaurant demand, so most of what is served at Donde Laurita and other Salento restaurants is farmed nearby. Donde Laurita offers trout served about seven or eight different ways. Two that I can vouch for are the trout with garlic.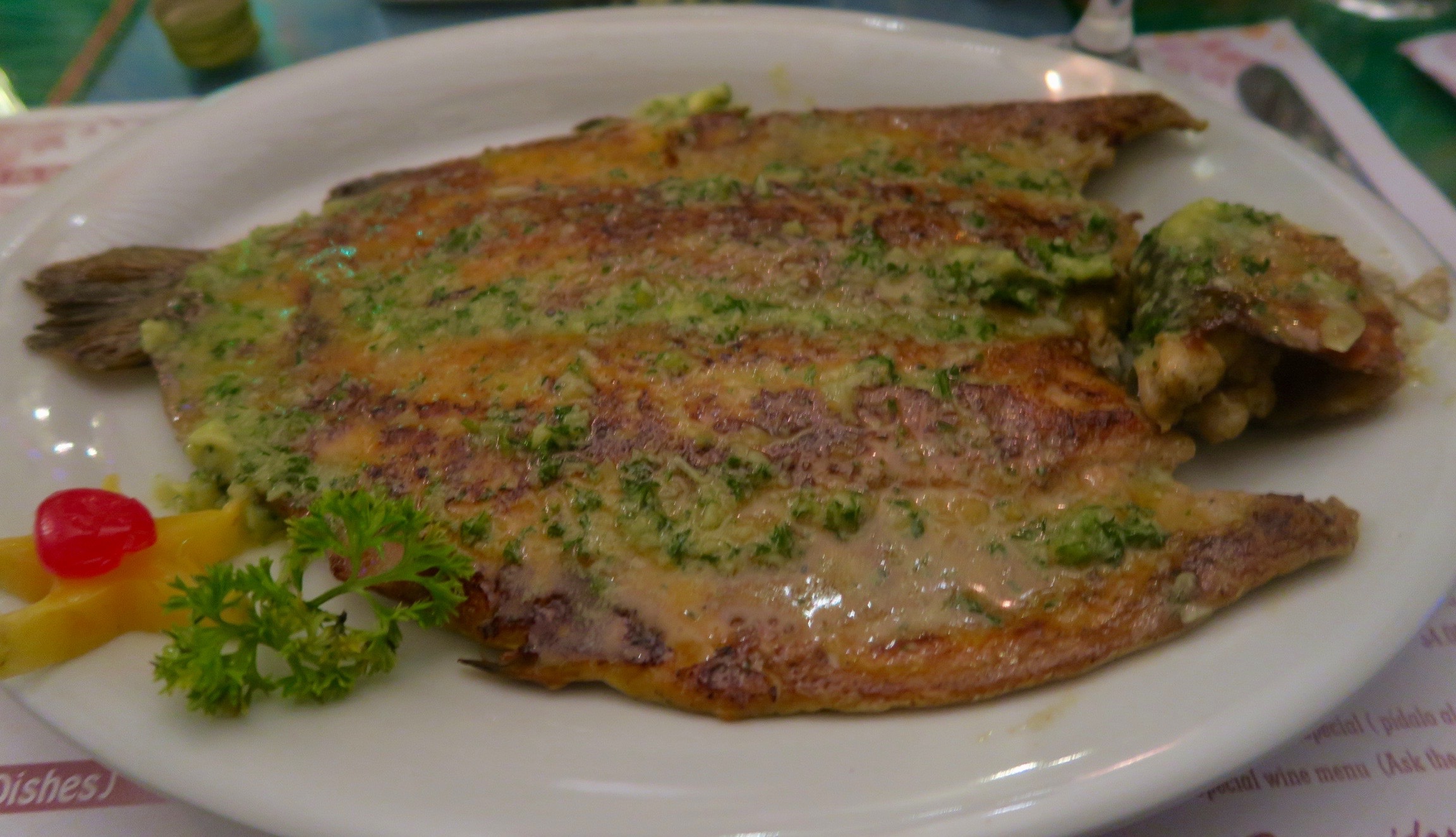 And the trout almandine. As you can see, you get a very generous portion.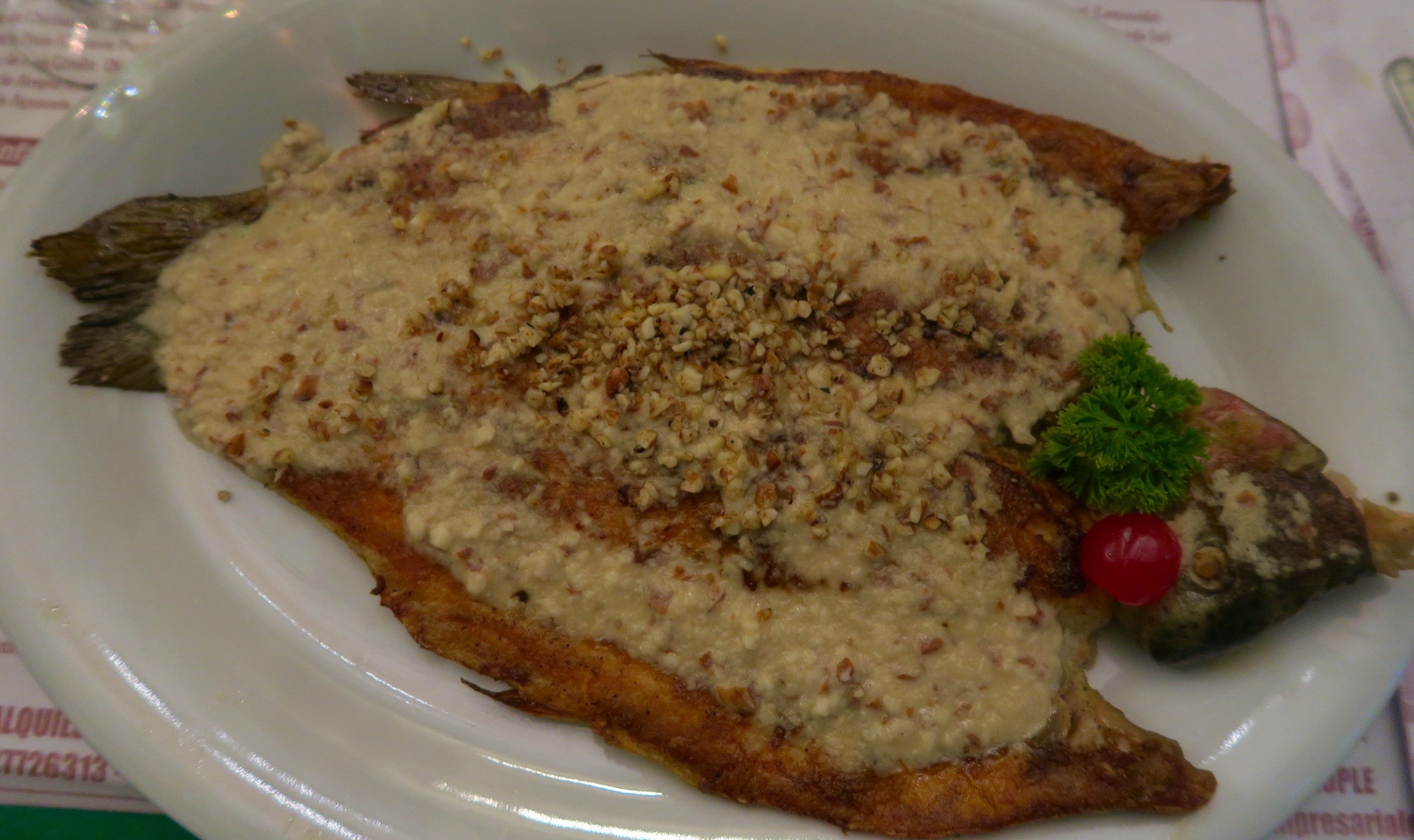 However, if there was one dish I would return for again and again it would be the combination plate of beans, sausage and a whole bunch of other things. Those pork rinds you see on top were absolutely the best I've ever tasted.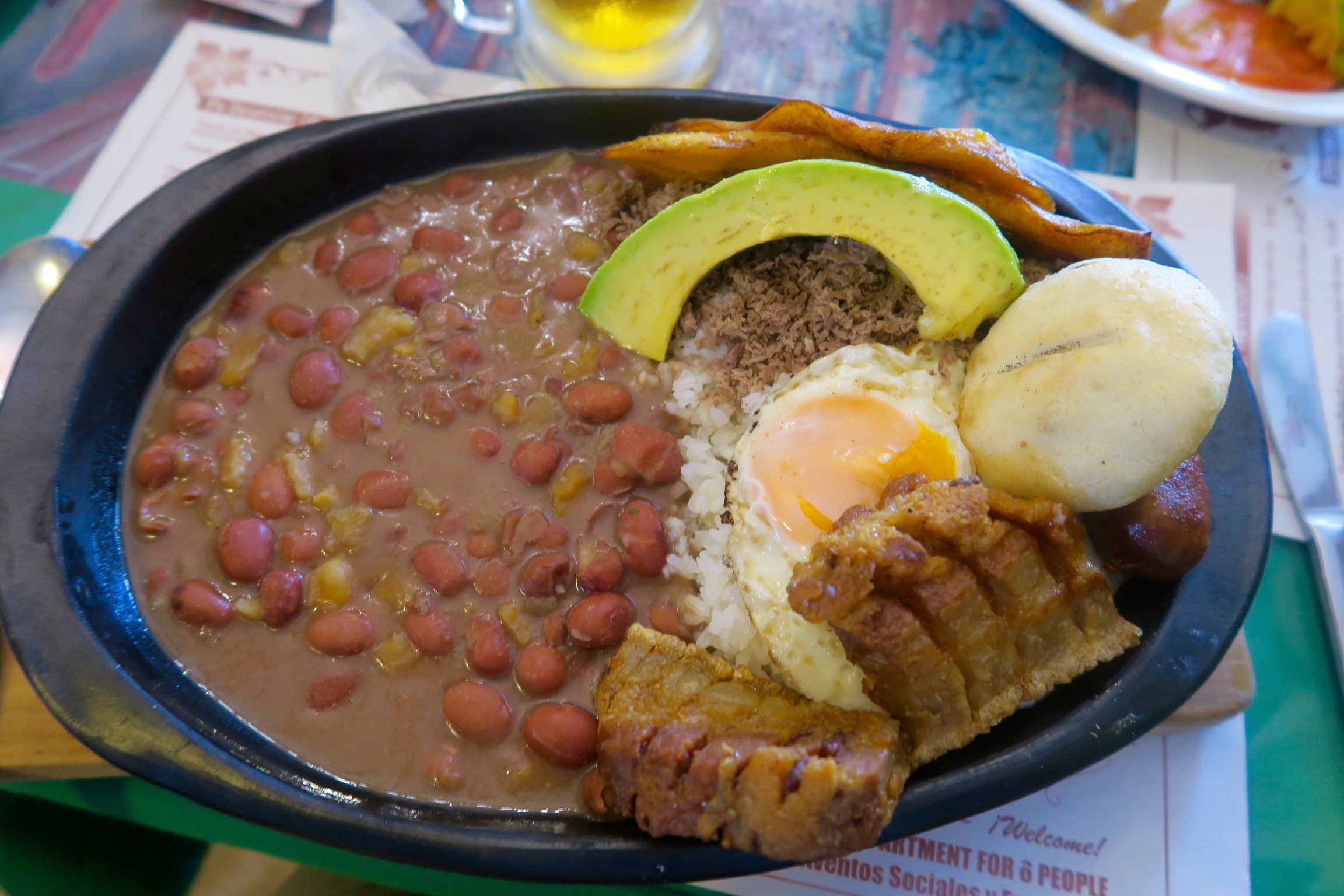 Donde Laurita was understandably very busy, almost all with either locals or Colombian tourists some of whom come to the Salento area just for the trout and other local specialties. Also, the prices were extremely reasonable for what you get.
So that's the end of our second day in Salento. Tomorrow it's a long drive to the town of Jardin. I hope you'll come along for the ride.