Jardin Colombia – Worth the Effort to Visit
This is the tenth post on a recent trip to Colombia with Canadian based travel company Adventures Abroad and before leaving I wrote this post querying whether or not visiting Colombia was really a good idea or not. Now, having been in the country for almost a week, I can say unequivocally that it was the right time to visit. The Colombian people have bent over backwards to express their appreciation that tourists are at last returning to this extraordinarily beautiful and friendly country. This post is about the small town of Jardin which I originally was not going to write about because it was so damn hard to get to. However, on reflection and looking at my photos and the memories they generate, I realized that Jardin is exactly the type of place I should be writing about. It is not your typical tourist town, but I'm not sure it will stay that way once upgrades to the highway system make it more accessible. Here's why you need to go now.
You can see from this map that Jardin is not that far from Salento, only 176 kms. (109 miles) by the shortest route, but the driving time is almost five hours which doesn't make a lot of sense until you actually try to drive it. The route we took was the longer one marked in grey because the shortest route includes an extremely narrow mountain road not really suitable for a full size bus. We had no problem getting through the city of Pereira and then by-passing Manizales, but after that things came to an almost complete stand still. The reason is that Colombia is spending a fortune trying to upgrade its highway system and almost the entire way after Manizales involved one long wait after another. To his credit our tour leader Andrés Fernandéz had warned us that it would be slow, but even he was surprised at how long it took to get to Jardin.

The ride took almost ten hours, but we had numerous stops to stretch our legs and had a great place for lunch high over the Cauca River.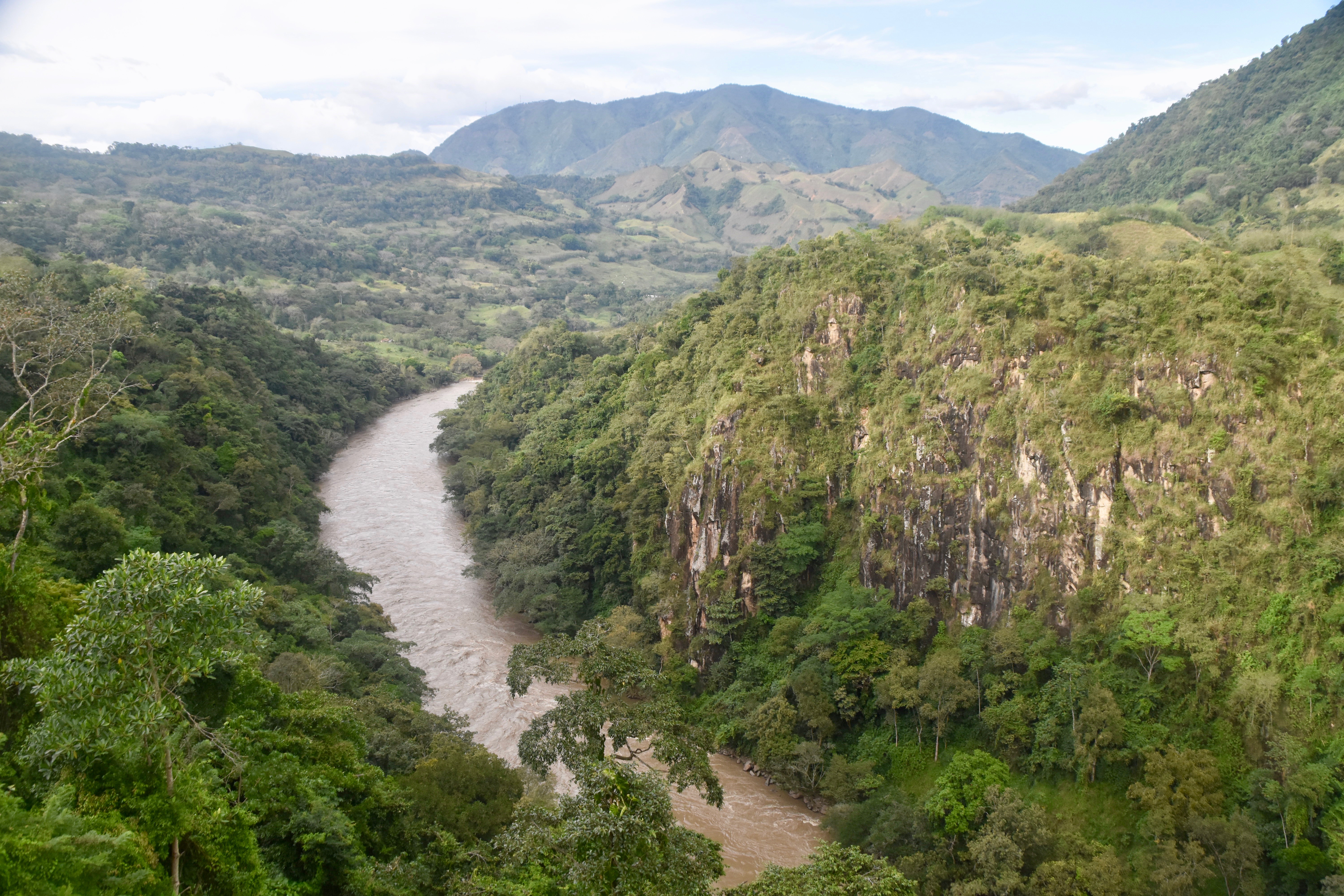 It was also the first time I saw leaf cutter ants going about their business, something that would become a common sight for the rest of the trip.
Andrés called ahead to make sure the restaurant in Jardin would be ready for us and when we did arrive around 7:30 our pre-ordered meals where on the table in no time as was a cold beer.
After dinner Andrés tucked us into tuk-tuks, the preferred method of public transportation in Jardin and we were whisked off to the Hostería el Paraíso for the night.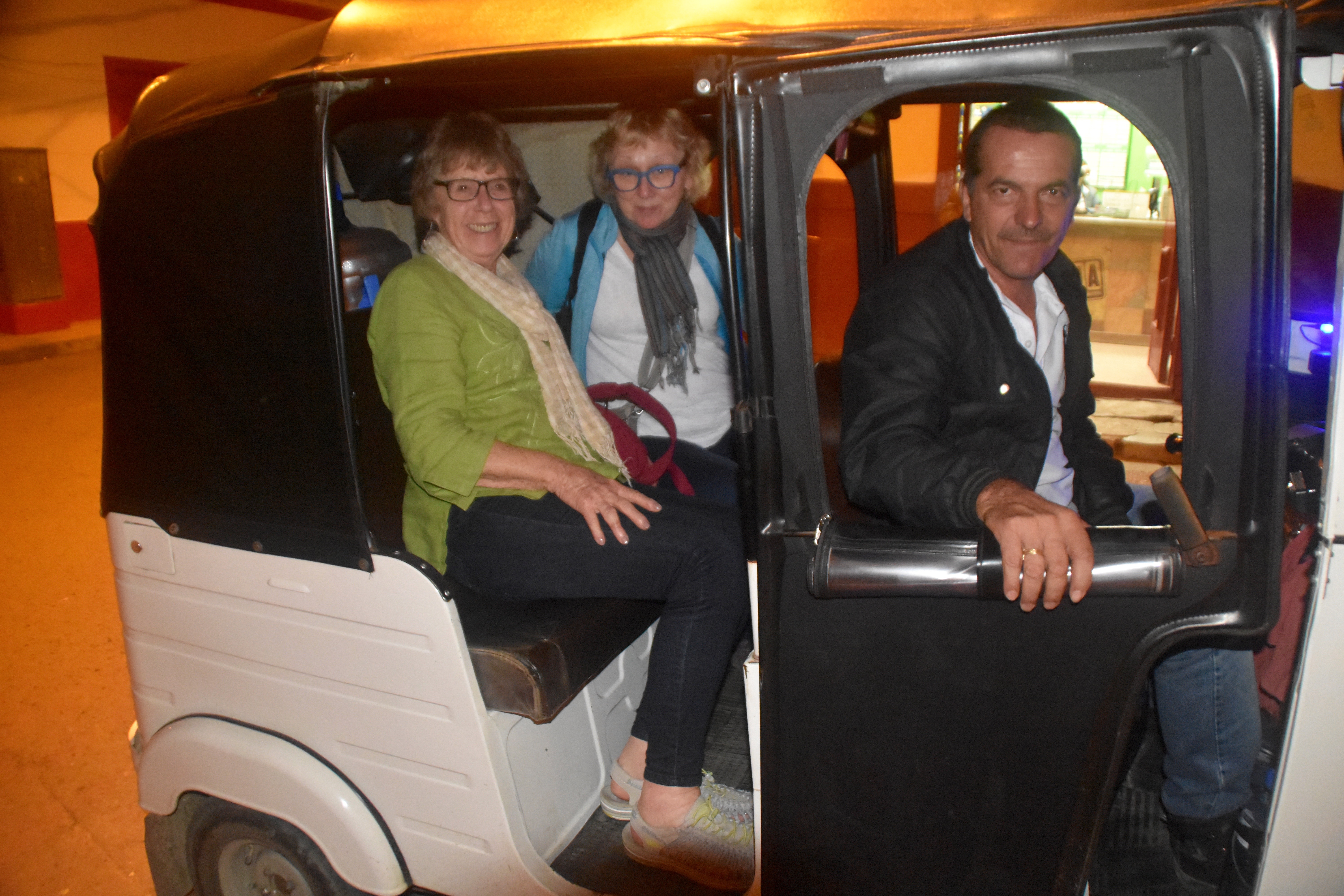 Hostería el Paraíso
I have to admit that after a ten hour bus ride, a lot of us were in a pretty bitchy mood going to bed and wondering if this side trip to Jardin was worth it, but getting up to bright sunshine in the morning this is basically what we saw.

I took this picture off the hotel website as it captures perfectly the colourful little wonderland that are the hotel grounds. The rest are my own photos.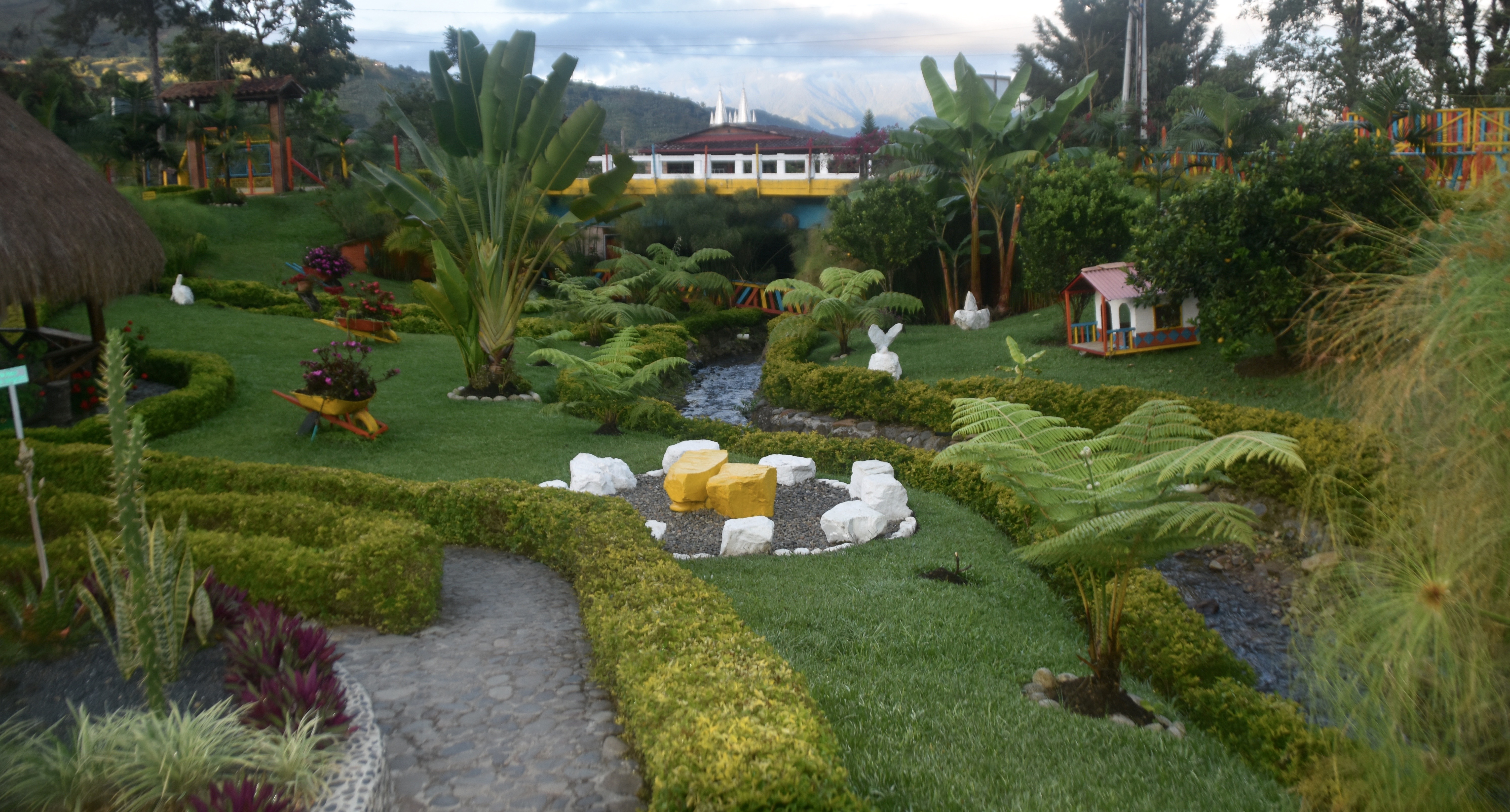 How could you not have an extra zip in your step starting out the day in such a beautiful spot?
It's no secret that Colombia is one of the great birding destinations in the world and time and again we would come across bird feeders that were attracting species that were entirely new to me; for example, this blue-grey tanager that was pigging out at one of the many feeders on the hotel grounds.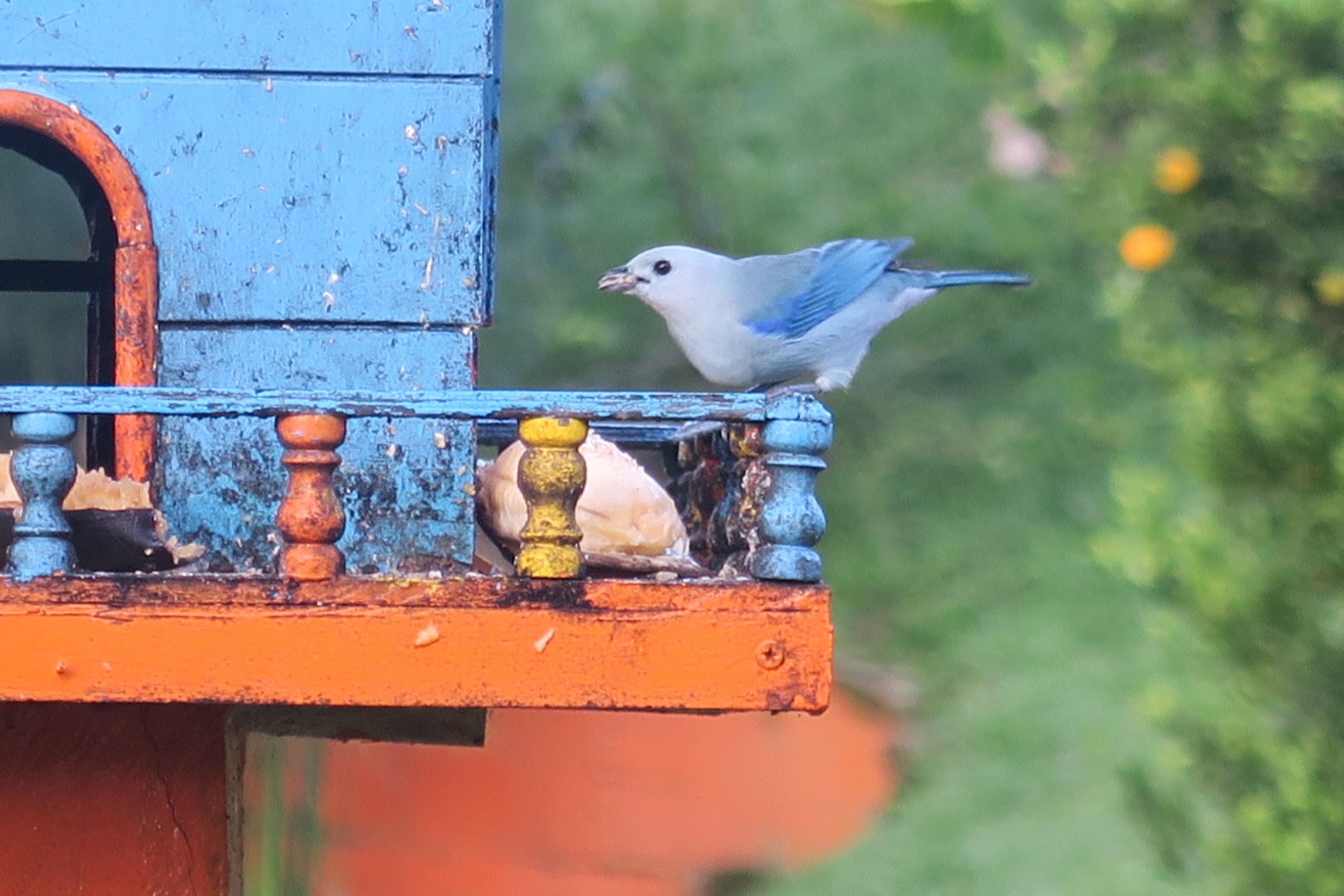 At breakfast Andrés announced that we would have time for our walking tour of Jardin that was originally scheduled for the previous afternoon and still get into Medellin, our next stop, pretty much at a reasonable time.
It was still quite early so Alison and I decided to take a preliminary stroll into Jardin before the official walking tour began.
Jardin
So why is it worth visiting Jardin, (which incidentally is pronounced har-deen and not the way I was taught in French class)? Well, to use a vastly overused word in describing certain towns and villages, it's 'unspoiled'. By that I mean that it remains largely the way it was first constructed over 140 years ago. It's not a colonial settlement, but a post independence Colombian town that remains the centre of a large area almost solely dependent upon agriculture. The people of Jardin go about their business largely as they have done for generations. Of course, cars and tuk-tuks have replaced horses and mules and everyone has satellite tv and the internet, but I found Jardin to be a great example of how having access to the most modern technology does not necessarily mean abandoning a more traditional lifestyle. Add to that, Jardin's Edenic setting in the Andean foothills and you have the makings of what seemed to me a great place to live.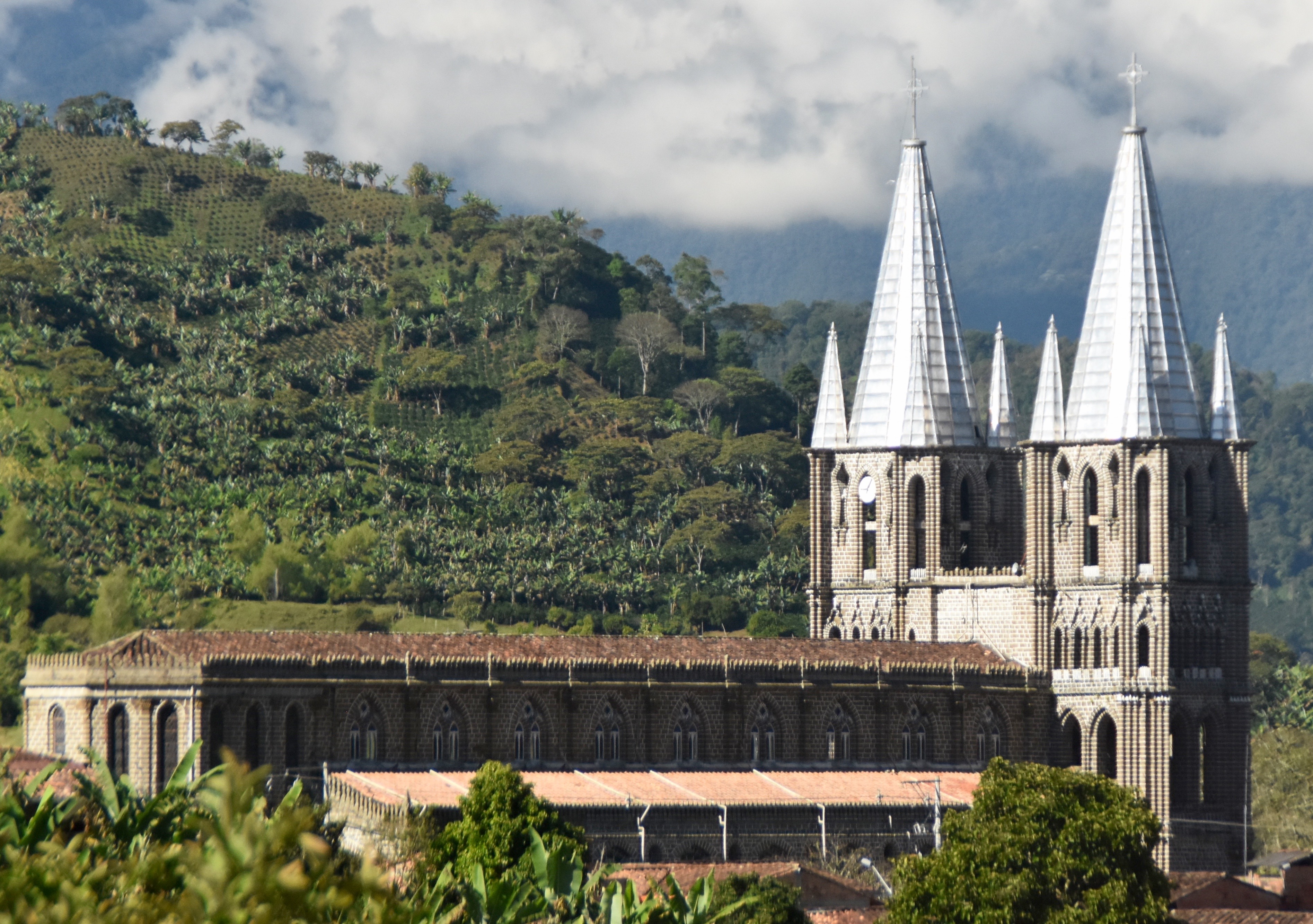 And then there's the church. This huge structure dominates the view of Jardin from almost every angle. It reminded me very much of the many, hundreds actually, of small towns in the province of Quebec which in the 1800's, managed to build monstrously outsized churches, most with gleaming argentian spires like this one. The irony is that today Quebec is probably the most secular of all Canadian provinces, having thrown off the yoke of the Catholic church during the Quiet Revolution. Walking into Jardin I wondered if the same applied here or if the church was still a major force in the community. Coincidentally it was a Sunday, certainly the best day to find out.
Reaching one of the main streets that leads to the town plaza I noticed this piece of street art on the side of the fence on the soccer pitch. I had to look twice to notice it wasn't just a representation of the church facade. I'm assuming it's a protest against increasing presence of 'turisticos', particularly Americans, in Jardin and the role of the church in this alleged 'sell out'. Food for thought.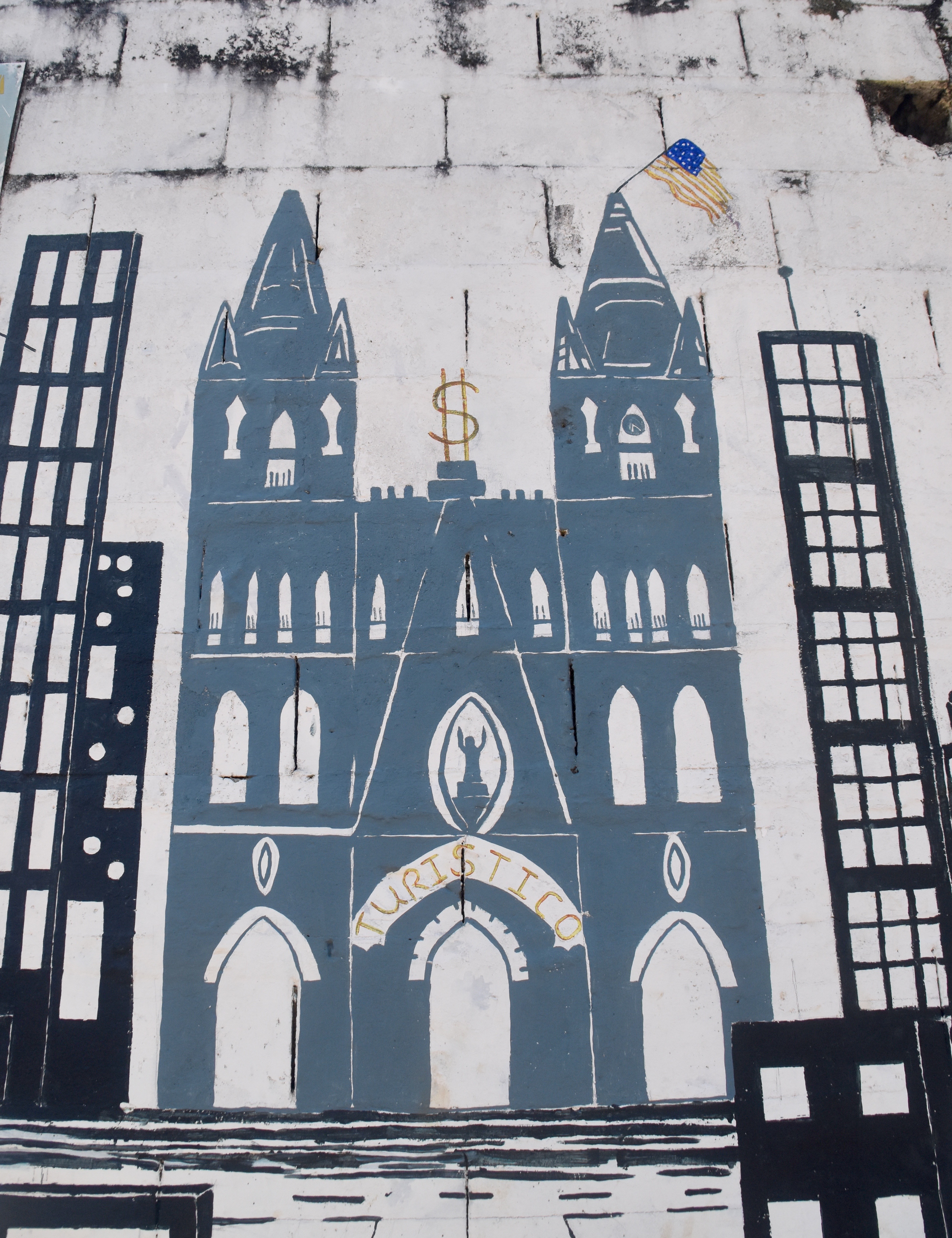 To be fair, this was absolutely the only thing I saw in Jardin that could be construed as in any way negative toward the presence of tourists. As Alison and I walked further into town we were basically ignored as residents went about their business. I mentioned earlier in this post that Jardin remains very much as it was first constructed in the latter part of the 19th century. Here's what I mean.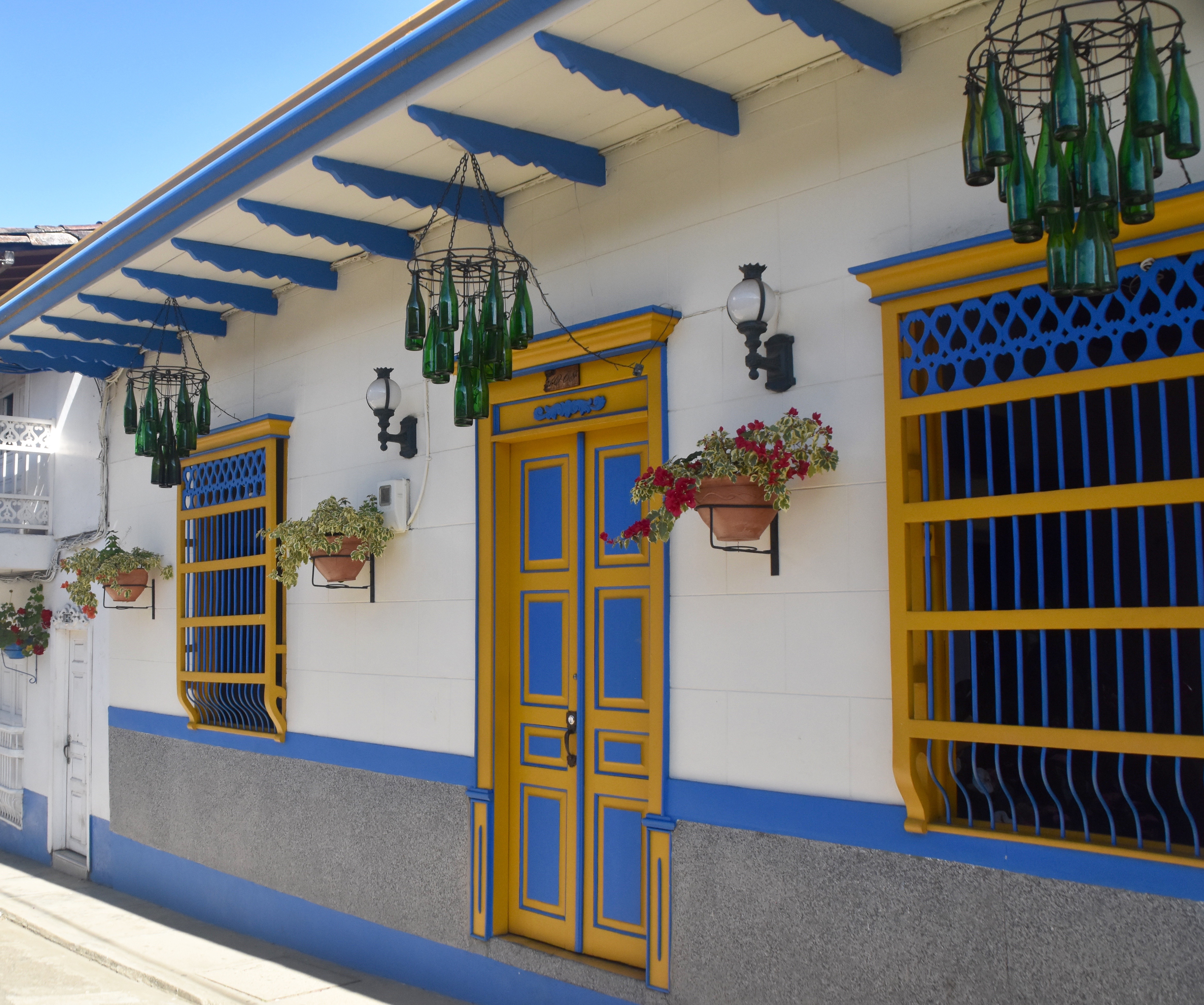 There is a pride of place about Jardin that is palpable. House after house was brightly painted in contrasting colours, festooned with flowers and spotlessly clean. You could look inside many to see an inner courtyard where a family might be sitting down to breakfast, not at all concerned about passersby.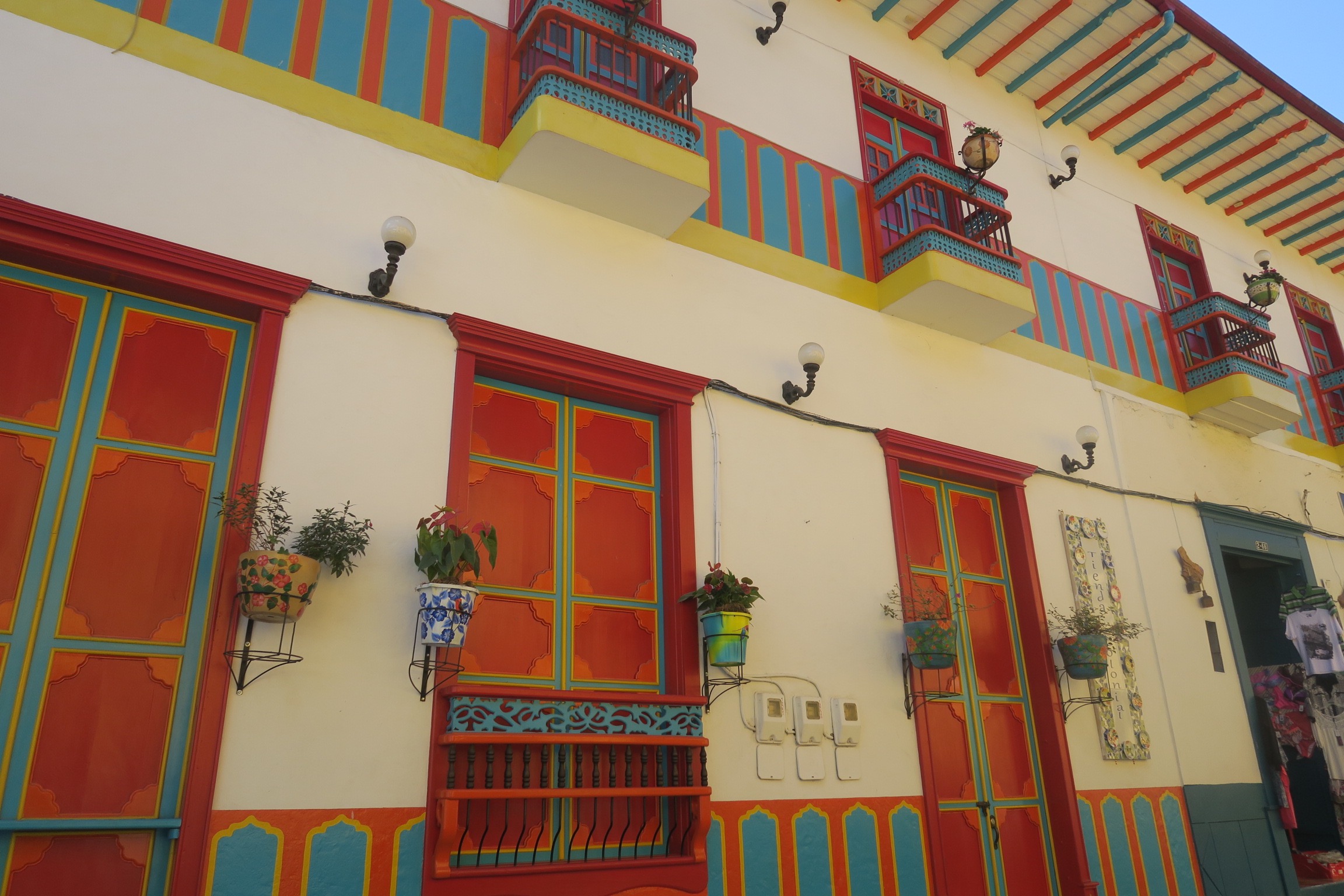 The immaculate painted woodwork extended to business as well like the Balcony Hotel just off the main plaza.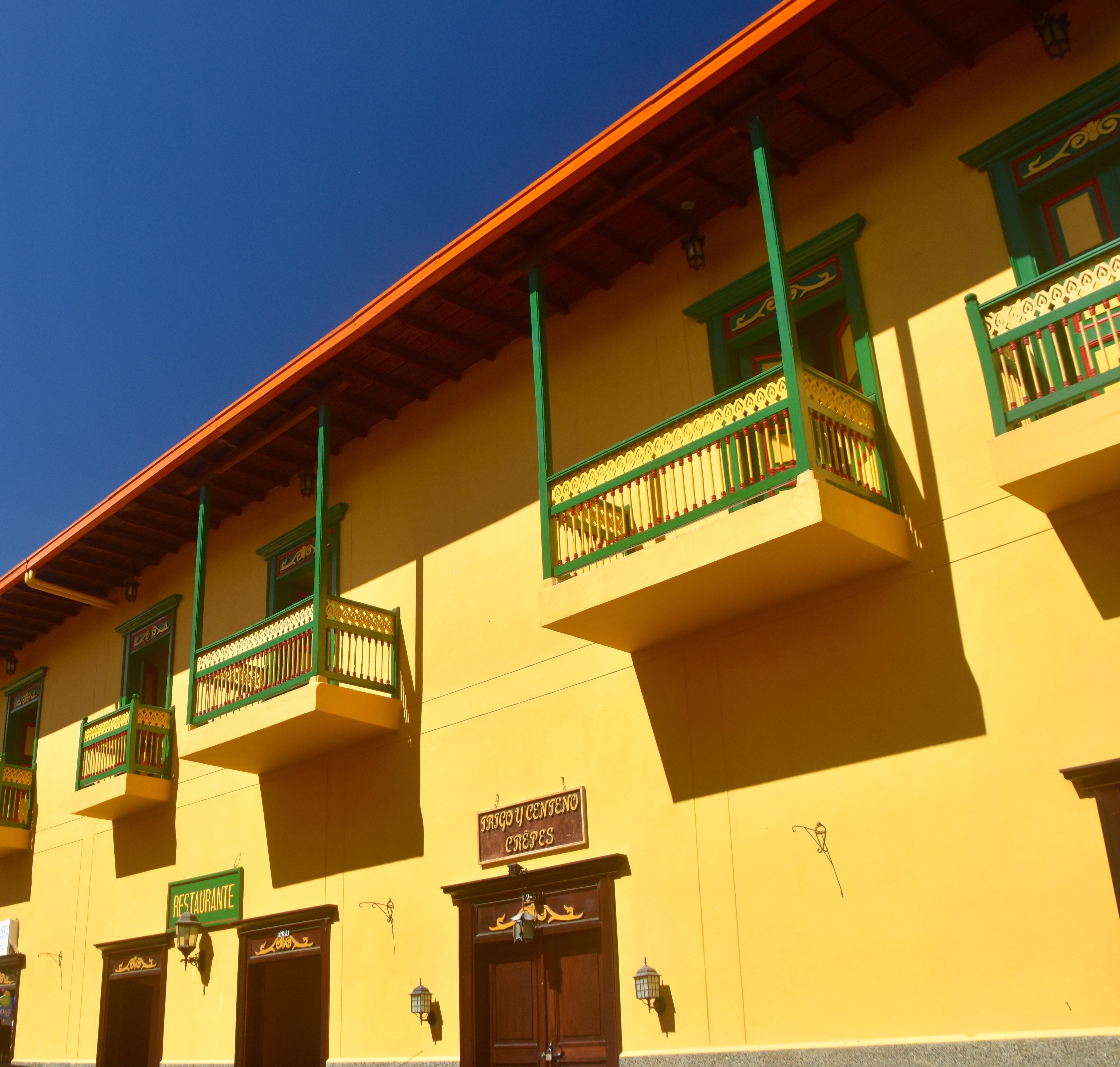 Only a few shops were opened, but some that were had wares for sale that seemed to be in competition with building exteriors for colour and brightness, like these traditional Colombian mochila hand bags.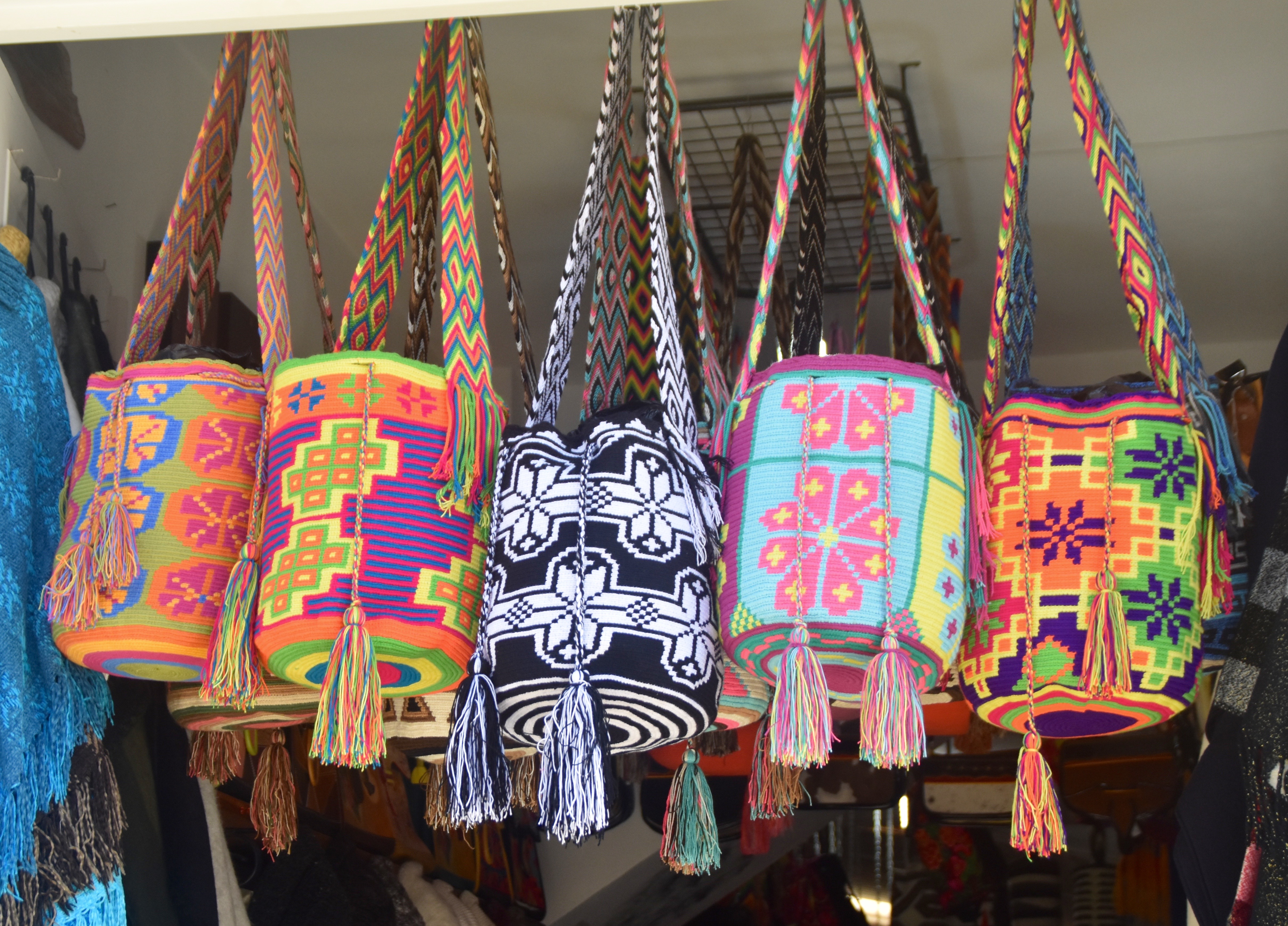 Or these carriels which are worn by the men of Antioquia province of which Jardin is a part, and don't you dare call them 'man purses'.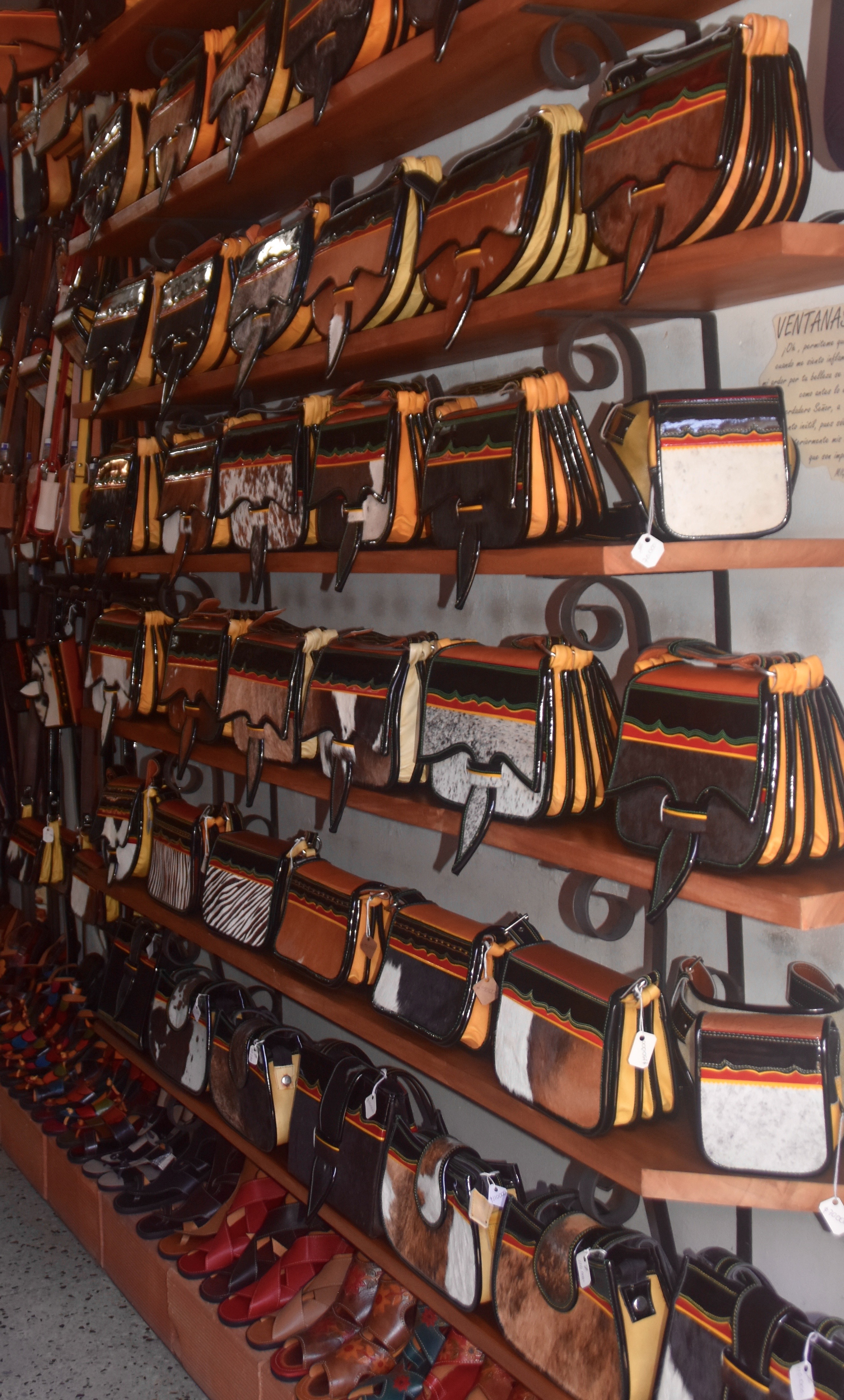 We did get to the main plaza which was just coming to life, but it was time to return to El Paraíso to join the rest of the group on the walking tour.
Our walking tour was led by two local guides, one a veteran and the other just learning the trade, having returned to Jardin after deciding that the big city life was not for him. We rambled at a Sunday morning pace through much of the town and everybody couldn't get enough shots of the painted exteriors. As mentioned on our first walk into town, you could look right into many of the homes that had their shutters pulled back and I was a bit surprised at just how nosy some of my walking companions were, almost sticking their heads right through the open windows to gawk around. However, the last laugh was on me as two elderly ladies upon whom the gawkers were unabashedly staring in at, came to the door and beckoned us to come on in. It was an unscripted moment and a gesture of pure friendship with absolutely no ulterior motive. They were proud of their house and they wanted us to see it and we did.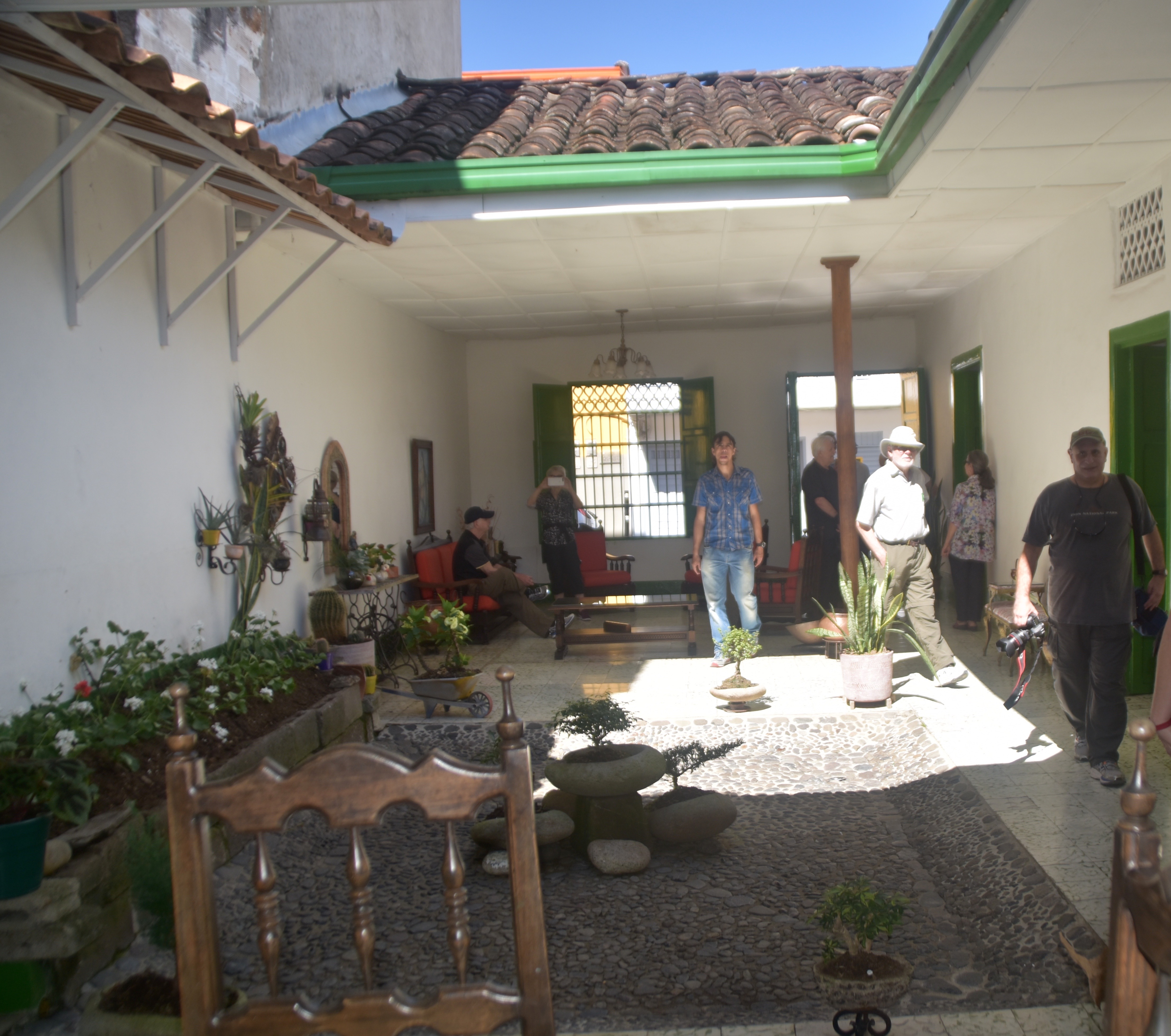 I can't possibly imagine this ever happening in Canada or the US.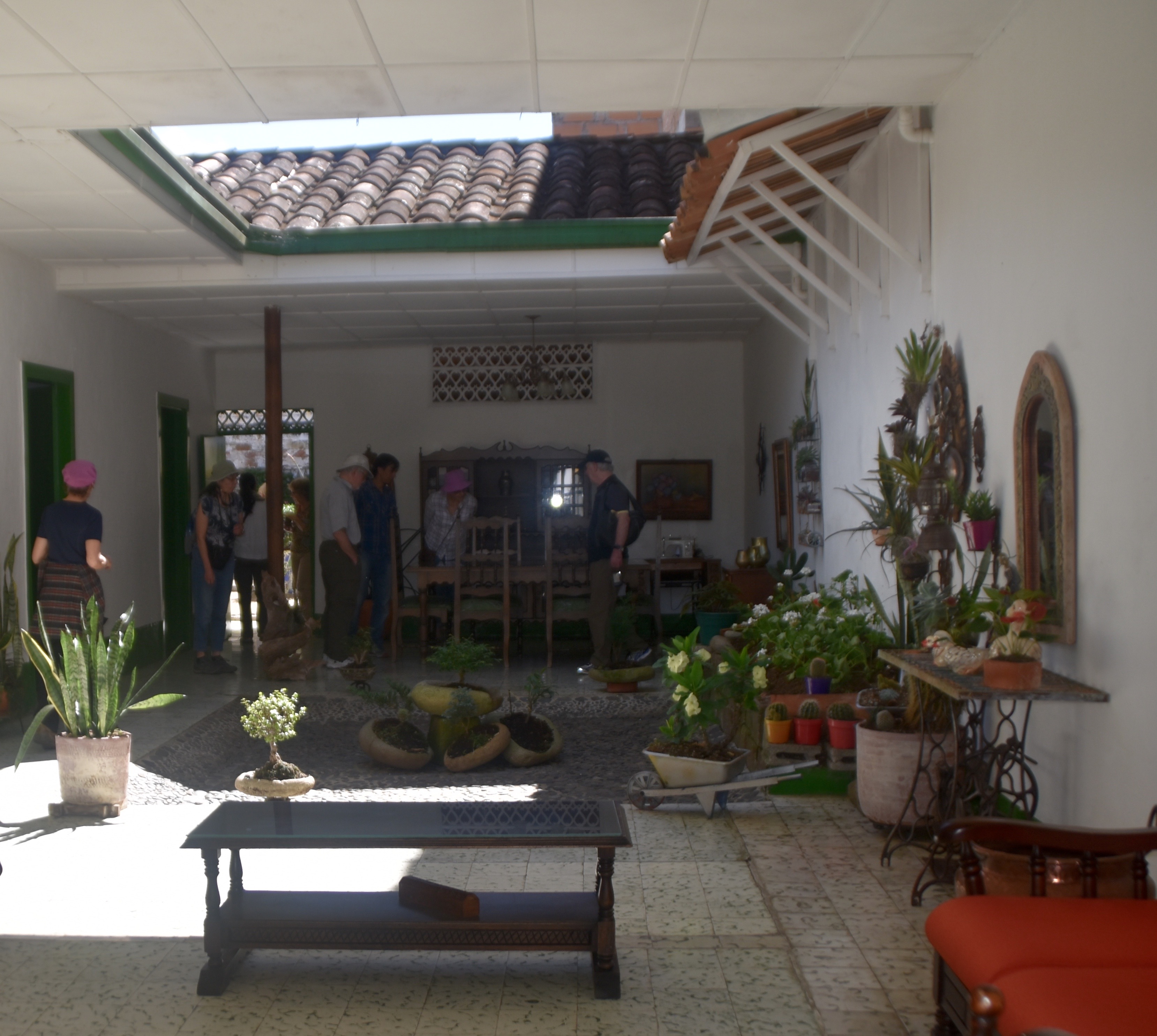 They were especially proud of their collection of Madonnas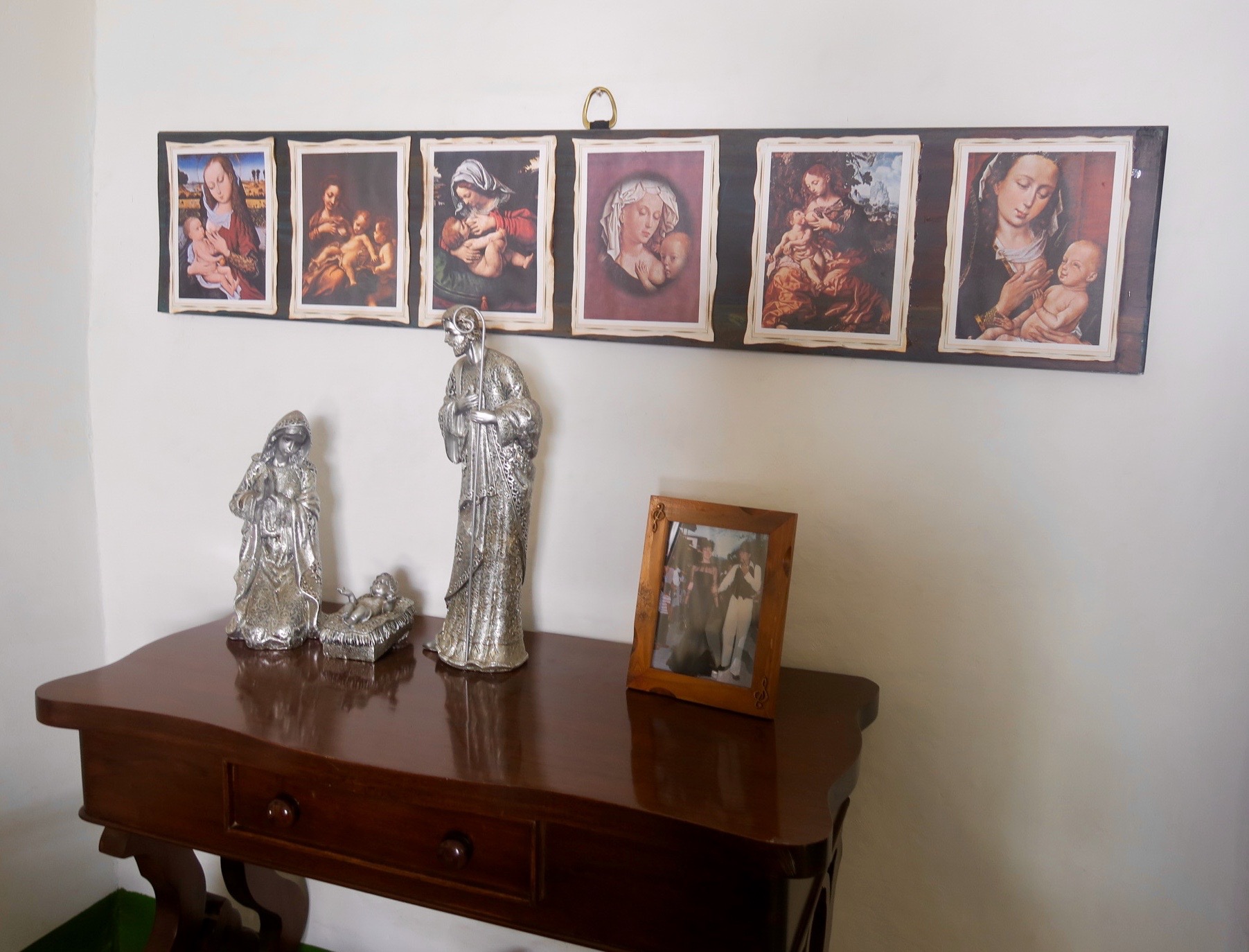 Getting back to the question of how big a role does religion still play in the lives of rural Colombians, I would say a lot and I don't mean that pejoratively. Perhaps because it was Sunday, we saw quite a few people in religious garb including this priest who was headed to one of the smaller churches away from the plaza.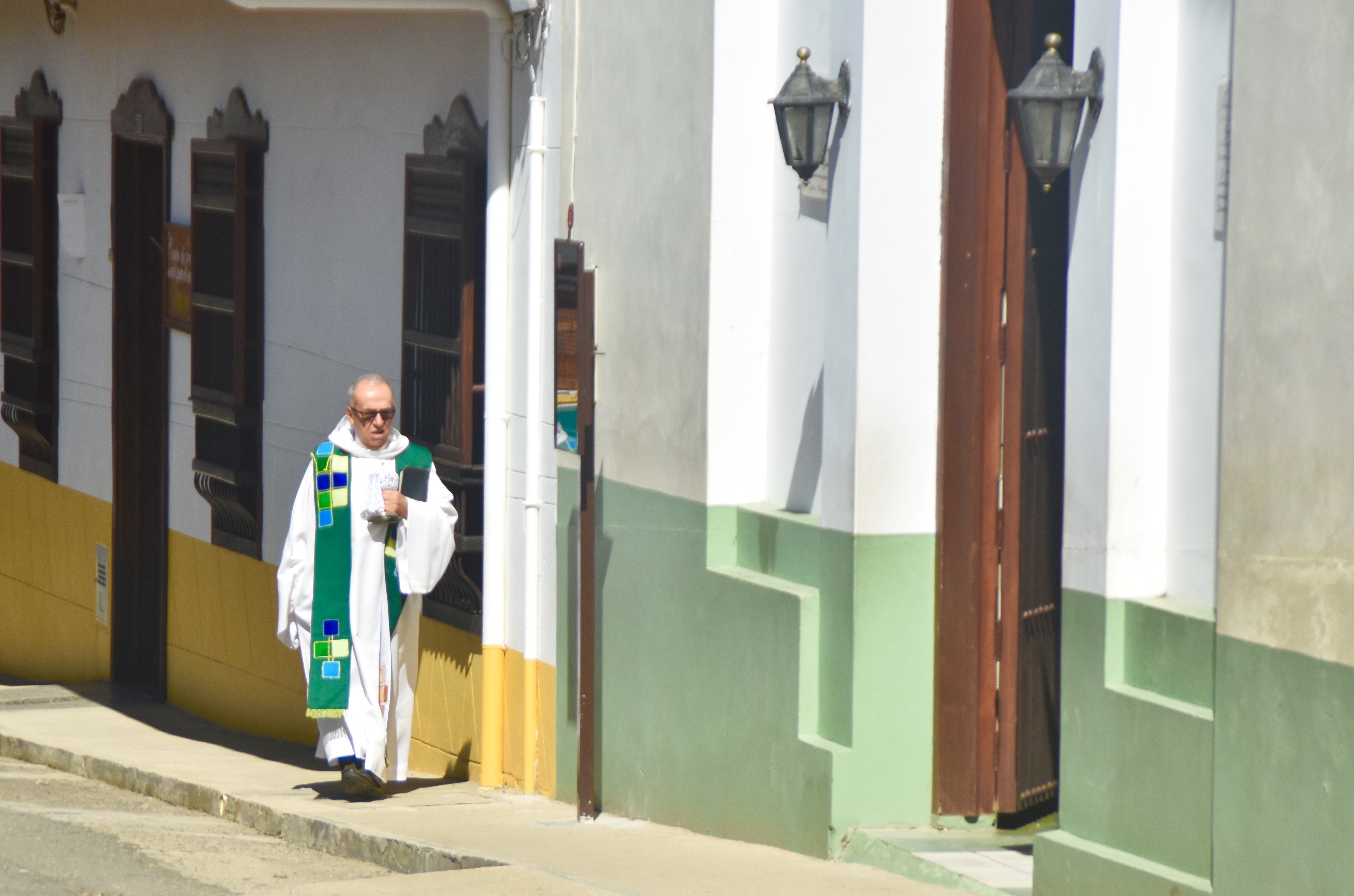 We also saw a few nuns who, unlike in Canada, were not over seventy years old and learned that Jardin still has an active convent and that most of the young nuns are recruited from the rural areas of Antioquia province. The convent had this eerily compelling modern exterior mural that reminded me of some of Salvador Dali's religious works.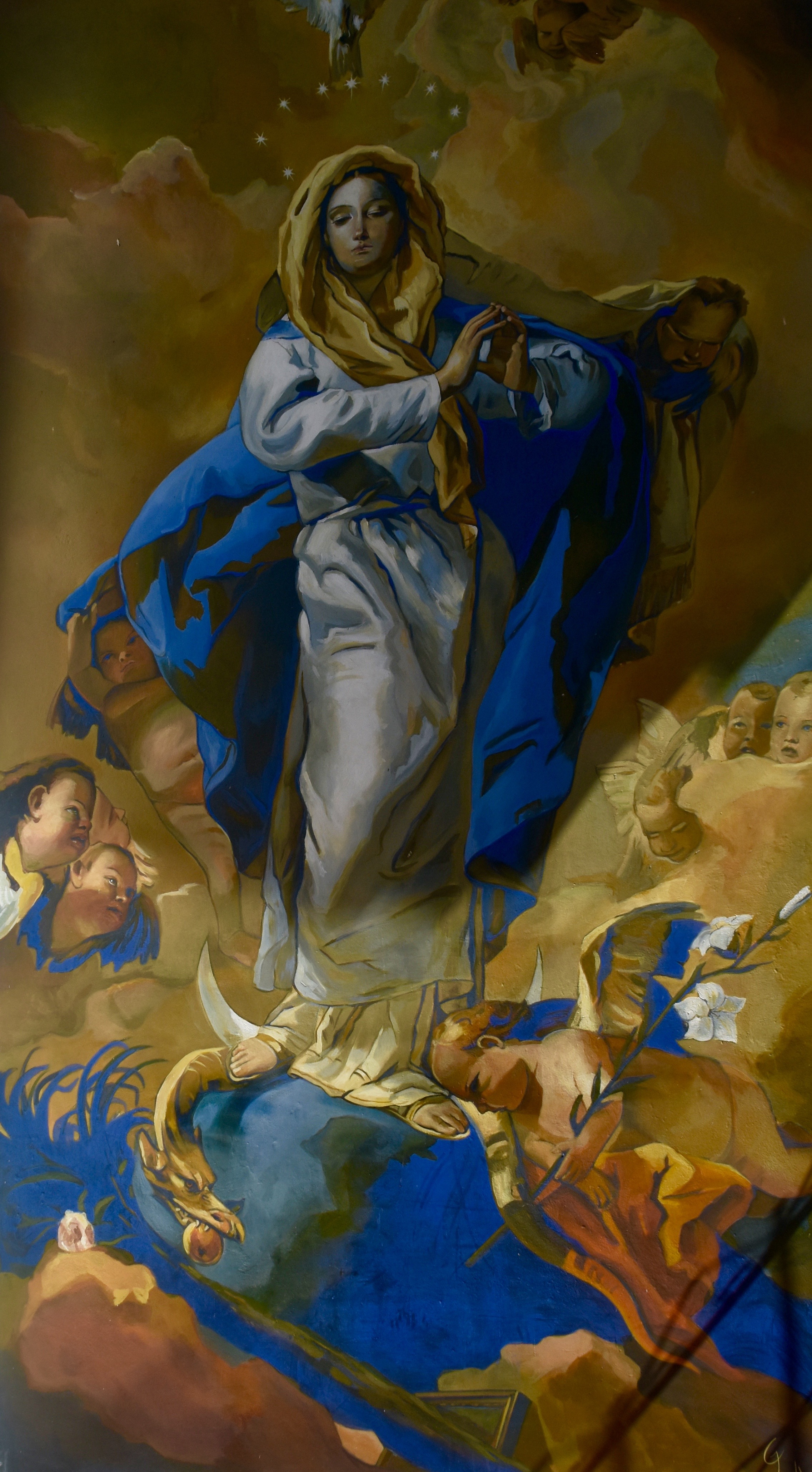 By now it was mid-morning and the plaza was a beehive of activity, with the facade of the Basilica of the Immaculate Conception dominating everything. It is an impressive building in the neo-Gothic style that incredibly was not completed until 1940. I especially liked the statue of Jesus on top giving the touchdown signal.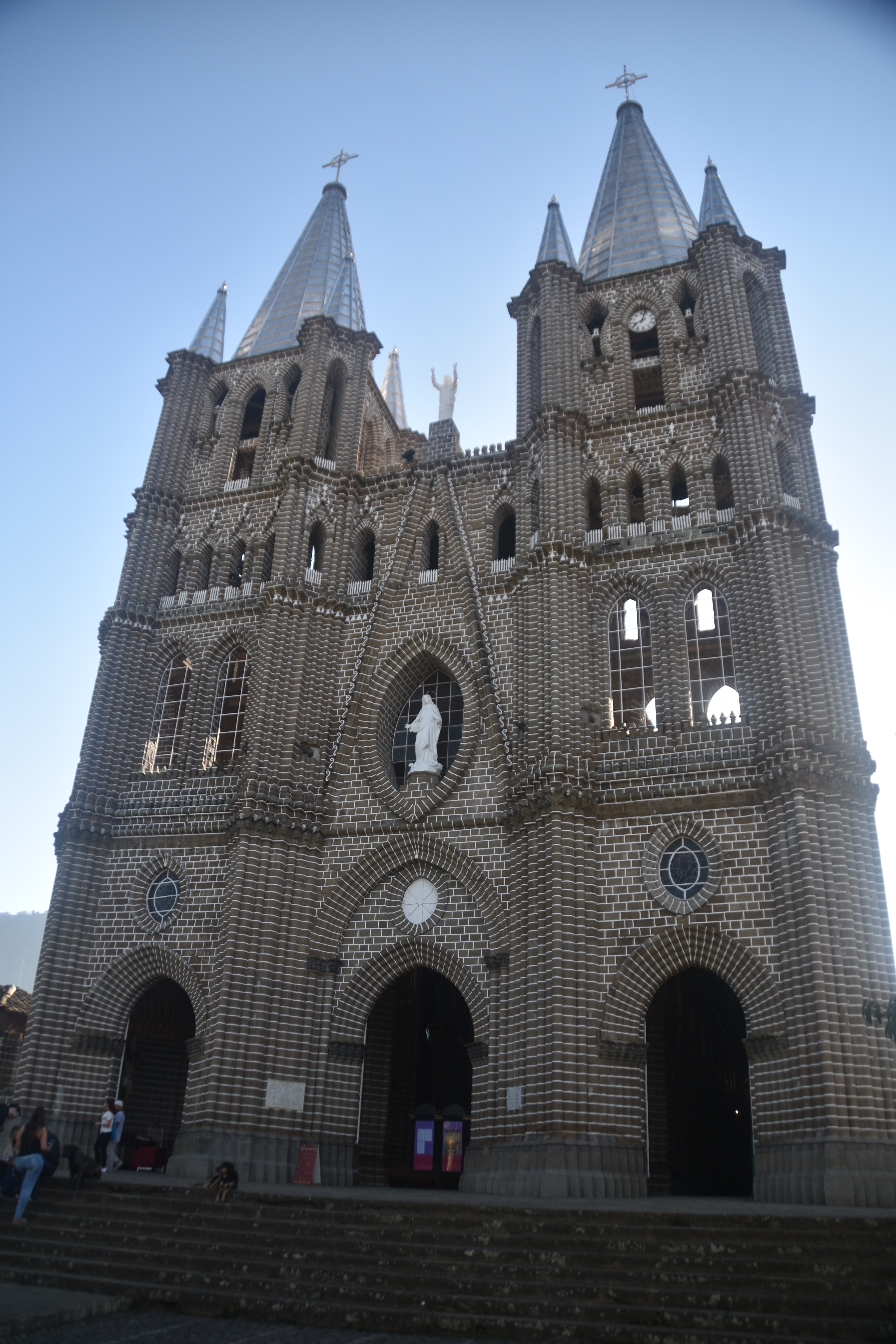 There were a number of priests milling around in front of the church and they seemed to be selling tickets for something. Whatever it was, they were doing a booming business as people were lining up to hand them bills in exchange for the tickets. Frankly, I enjoyed being a touristic voyeur in the plaza, watching the interactions among the people, none of whom seemed to be tourists, more than sticking my head into someone's private home.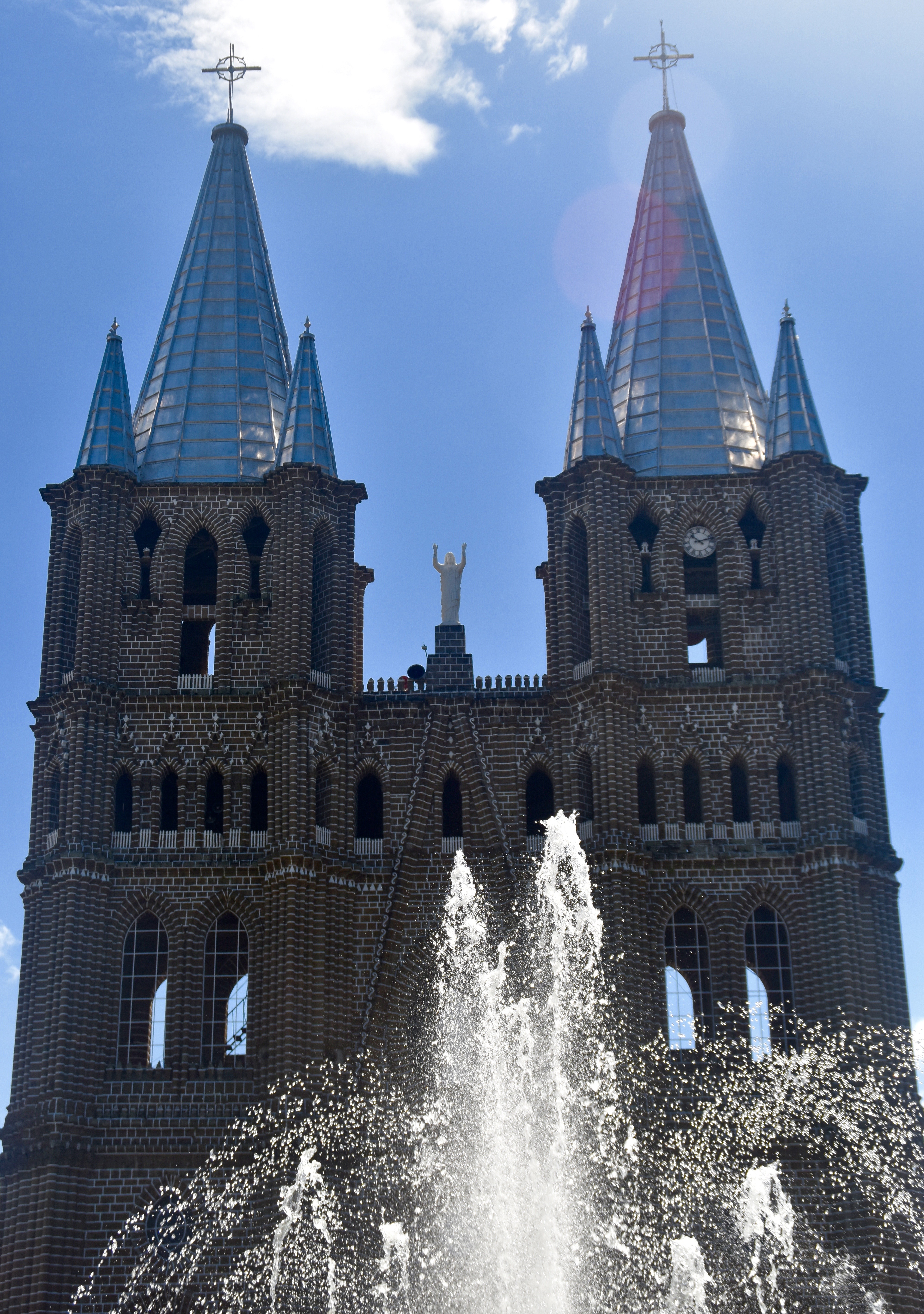 I could have sat in the plaza sipping great Colombian coffee and just watching life in Jardin evolve around me for at least another hour, but Andrés announced that we had to go. As I got up I noticed these little red hearts beneath my feet, some of which seemed to have blood on them, but most didn't. Was this a sign that Colombia's bloody past was just that, a thing of the past? I'd like to think so.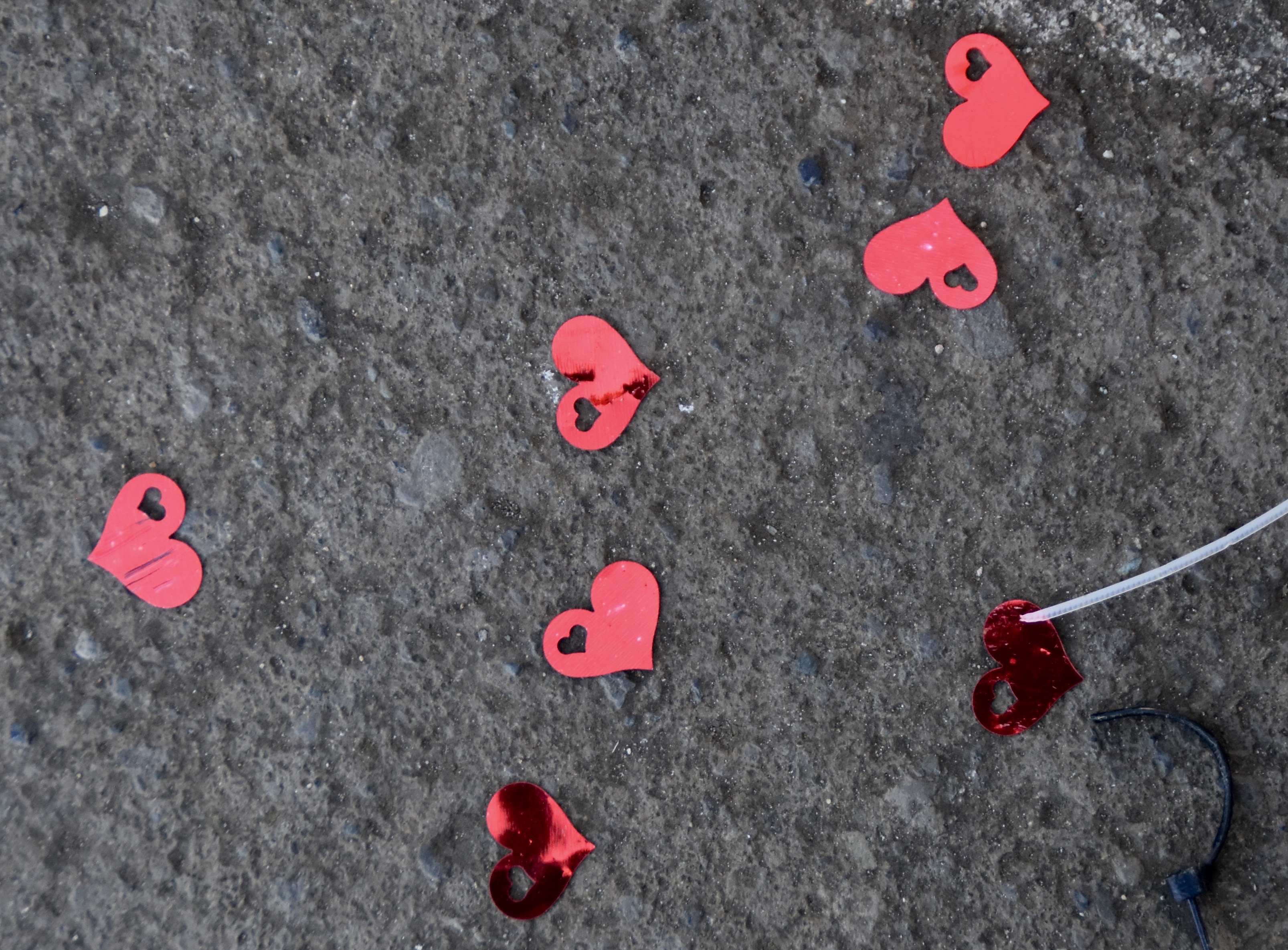 Jardin is a wonderful place and you should get there before the rest of the 'turisticos'.
Next we are headed to Medellin, once one of the most dangerous cities on earth, but now known as much for its flowers as its narcos. Join us as we visit the Familia Londono.