Landhuis Jan Thiel – The Place to Stay in Curacao
Curaçao is a Caribbean island that was taken by the Dutch from the Spanish in 1634. The island's economy for hundreds of years was based on a system of landhuis or estate plantations of which about 80 remain today on the island although their land holdings have long been broken up and tourism has supplanted agriculture. While some of the landhuis have been converted into museums, most are closed to the public and as far as I can tell, only one, Landhuis Jan Thiel, offers accomodations for visiting guests. My daughter and I were very fortunate to spend a week in the Red Cottage on the estate and found it to be one of the nicest places we have ever stayed on vacation. Here are seven reasons why it is the ideal base for a Curaçao vacation.
History of Landhuis Jan Thiel
Landhuis Jan Thiel, named after early owner Jan Thielen, dates back over three hundred years. It once comprised over 3,000 acres just east of Willemstad and was a principal producer of salt from the extensive salt pans found on the property. At one time it also had over 1,000 goats, 450 cattle and was a major producer of fruit for export. The landhuis proper and out buildings sits high on ridge that overlooks the salt lake below. The property extended as far as the shores of what is now Jan Thiel bay and in the 1920's the owners developed one of the first resorts on the island.  Today that development has expanded exponentially and Jan Thiel is one of the major housing and resort developments on Curaçao. Fortunately much of the original plantation lands have remained undeveloped and are now a nature preserve which stretches right to the back gate of Landhuis Jan Thiel. While the original landhuis fell into disrepair for years, in 1997 it was restored and the current owners, the Evers Lesschen family, are in the process of making it a haven for a small number of guests. There are currently six rooms in the original landhuis plus the two bedroom Red Cottage which is where we stayed.
Here are eight reasons why we loved our stay at Landhuis Jan Thiel
1. Location
During our week long stay in Curaçao we toured most of the island and stopped in at many of the resorts and I couldn't find one that I would prefer to Landhuis Jan Thiel. The city of Willemstad is definitely interesting and worth visiting more than once. I particularly recommend taking the city walking tour with a stop at the Kura Hulanda Museum a must. However, I wouldn't want to spend a week there, particularly when it gets overrun by visitors from the cruise ships. From Landhuis Jan Thiel Willemstad is an easy 15 minute drive.
OK then, why not stay at the beach? 95% of Curaçao's coastline is rocky with actually not that many resorts right on a beach. There are a number of resorts west of Willemstad, but they are quite isolated and unless you just want to lay by the pool, eat at the same place every day and take the occasional ocean dip then I think most people would find them confining and frankly, boring, after a day or two. The one oceanfront resort I would consider staying at is the Papagaya Beach Resort which is also in the Jan Thiel area. However, as a Landhuis Jan Thiel guest you get full access to the resort anyway which is only a five minute drive away. For me, the peace and tranquility of Landhuis Jan Thiel outweighed the necessity of staying right on the beach.
Aside from its easy access to Willemstad and Jan Thiel beach, Landhuis Jan Thiel is close to many good restaurants, the boats that leave for Klein Curaçao from Caracasbaai and the snorkeling at Tugboat. In other words, you aren't giving up much by not staying directly on the water.
2. The Landhuis Experience
As mentioned, I think Landhuis Jan Thiel is the only one of the original landhuis that actually has accommodations for visitors. It is a self-enclosed property that has the feel of something authentic. This is the original landhuis which is a unique type of architecture found only in the Dutch West Indies.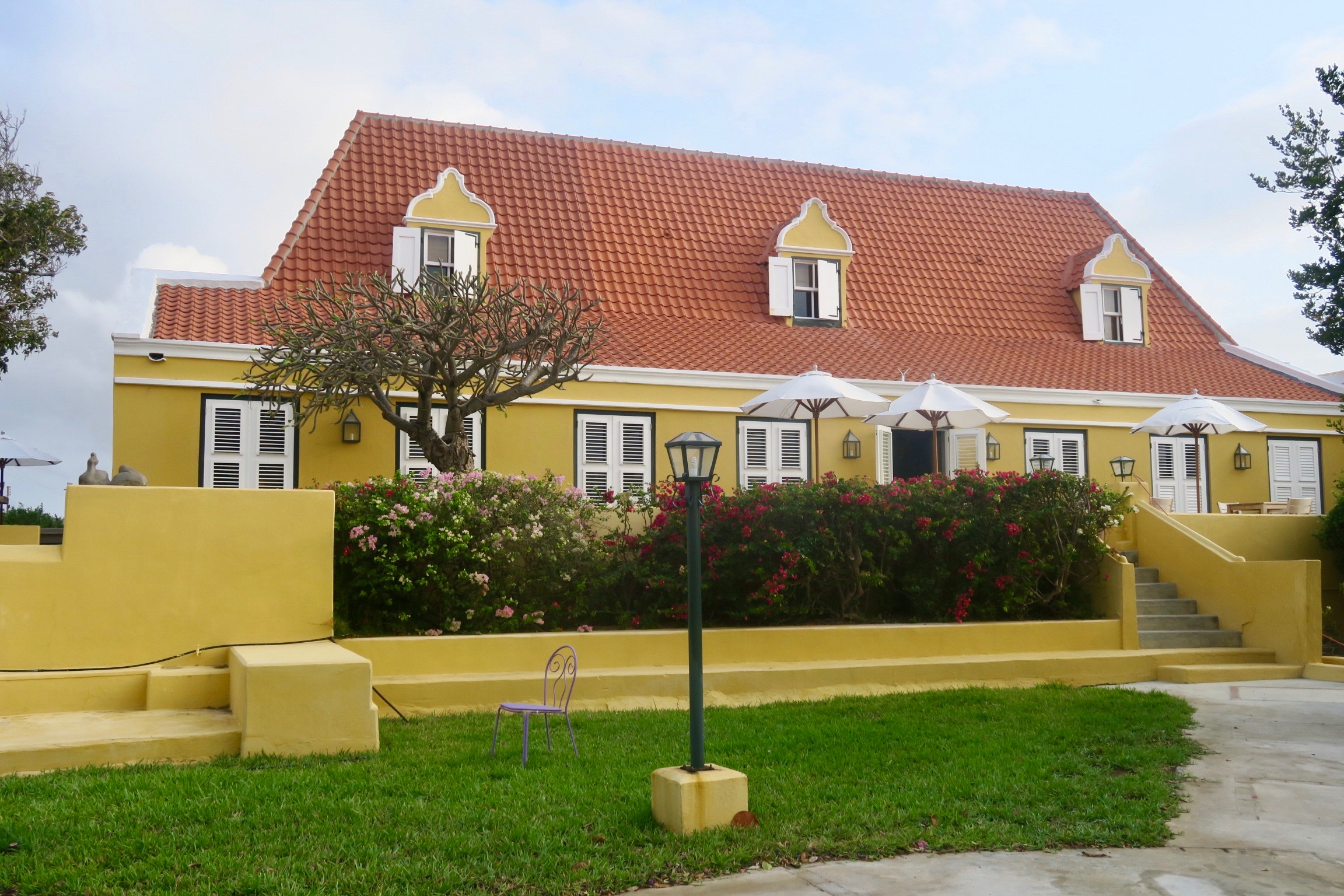 The property has free roaming chickens, Digger the resident golden lab who comes to visit regularly, a few cats, lots of brightly coloured blue tailed lizards, geckos, Olivia and Timmy two young lambs just adopted during our stay and even two horses. If these things freak you out, stay at the beach (you'll still get the lizards), but otherwise we really enjoyed walking around the property and mingling with the animals.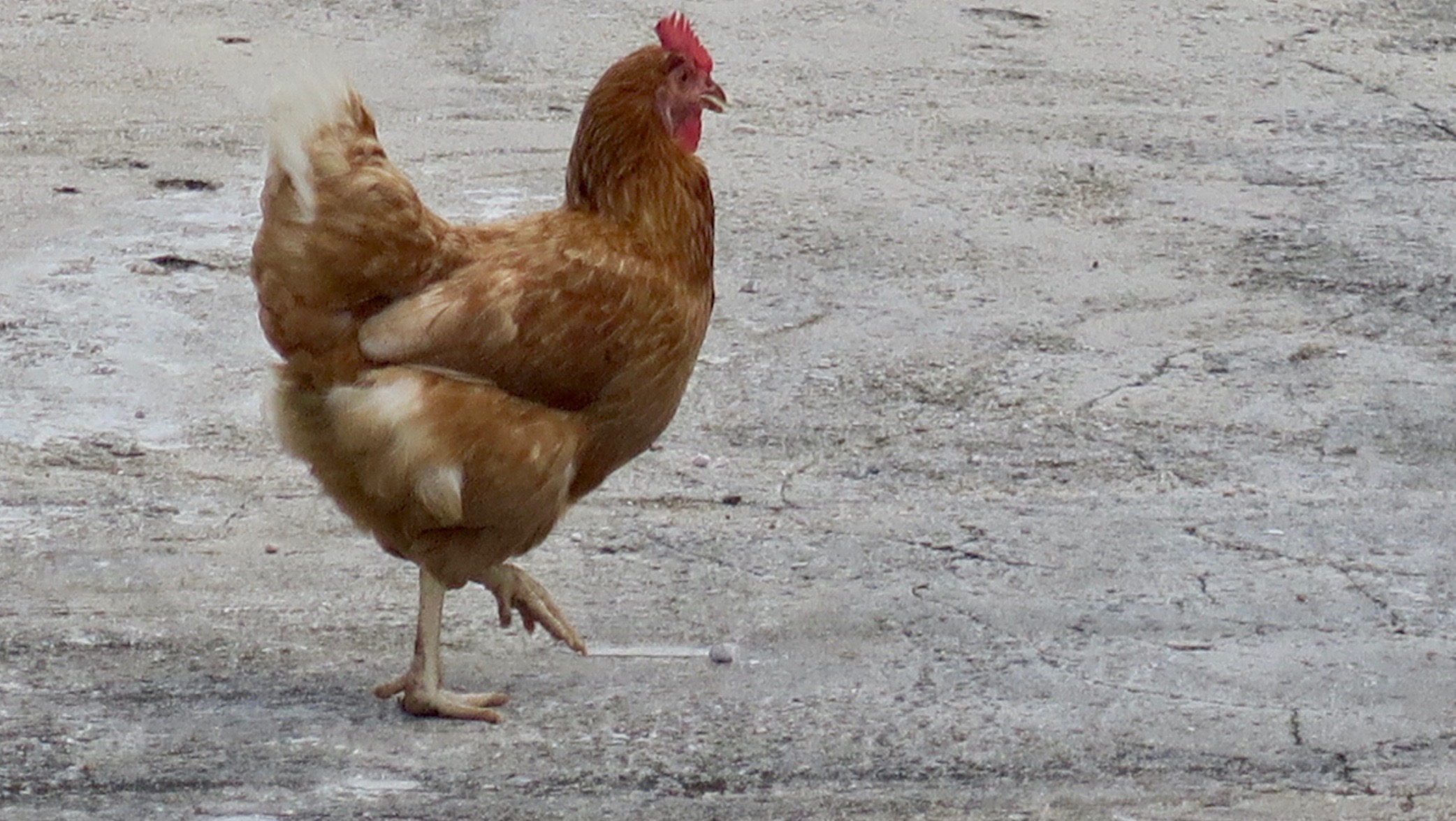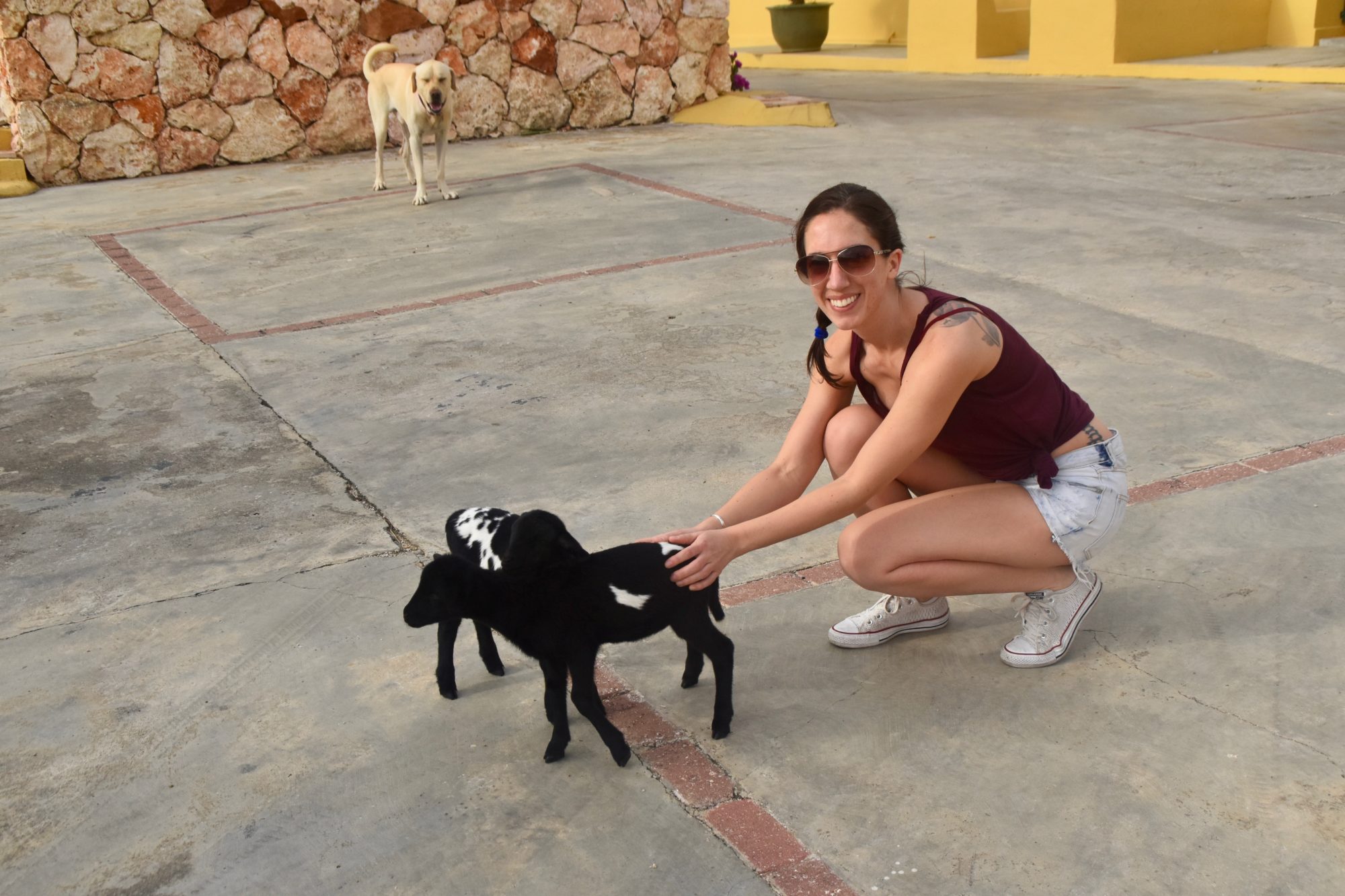 Lenore even got to feed the lambs.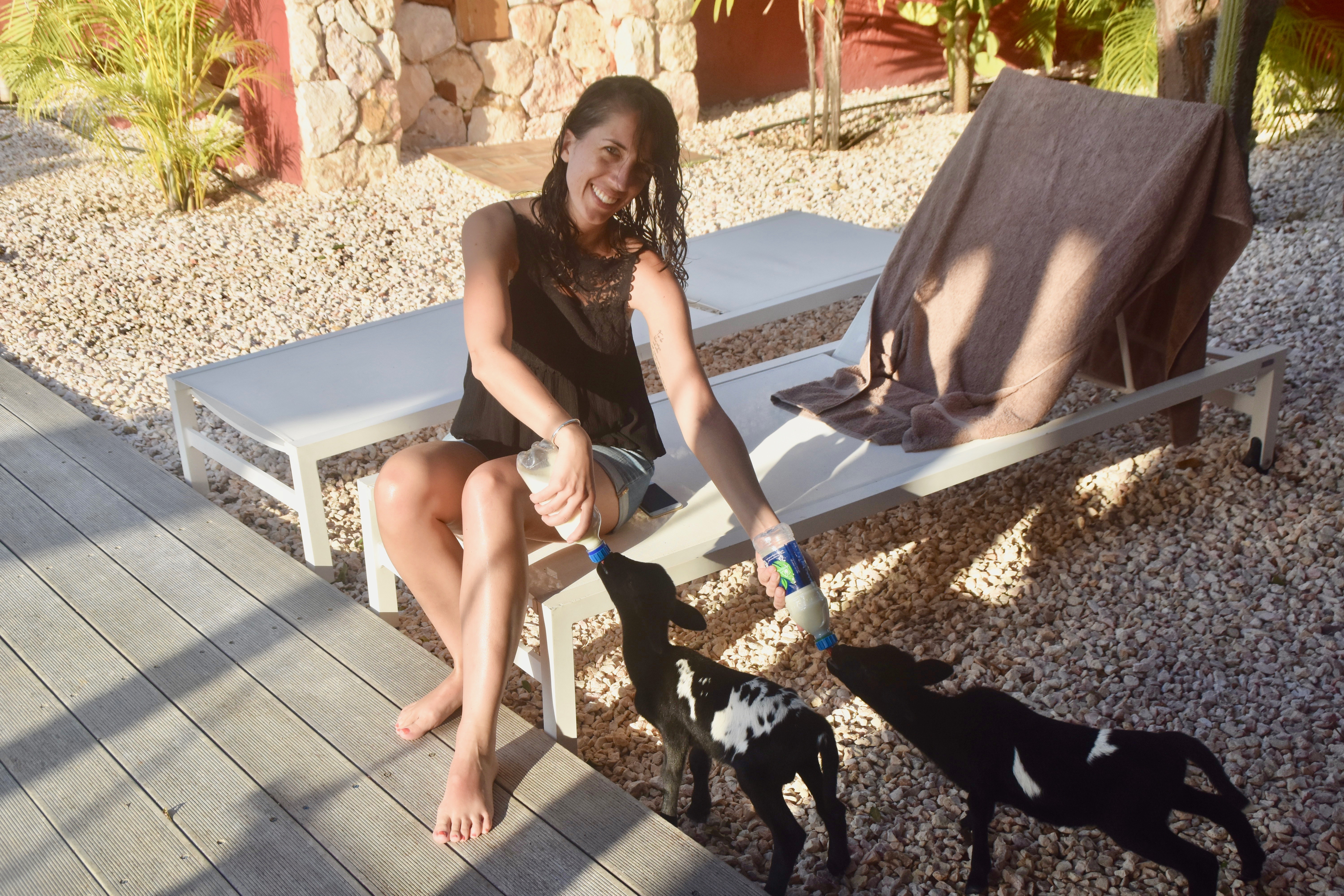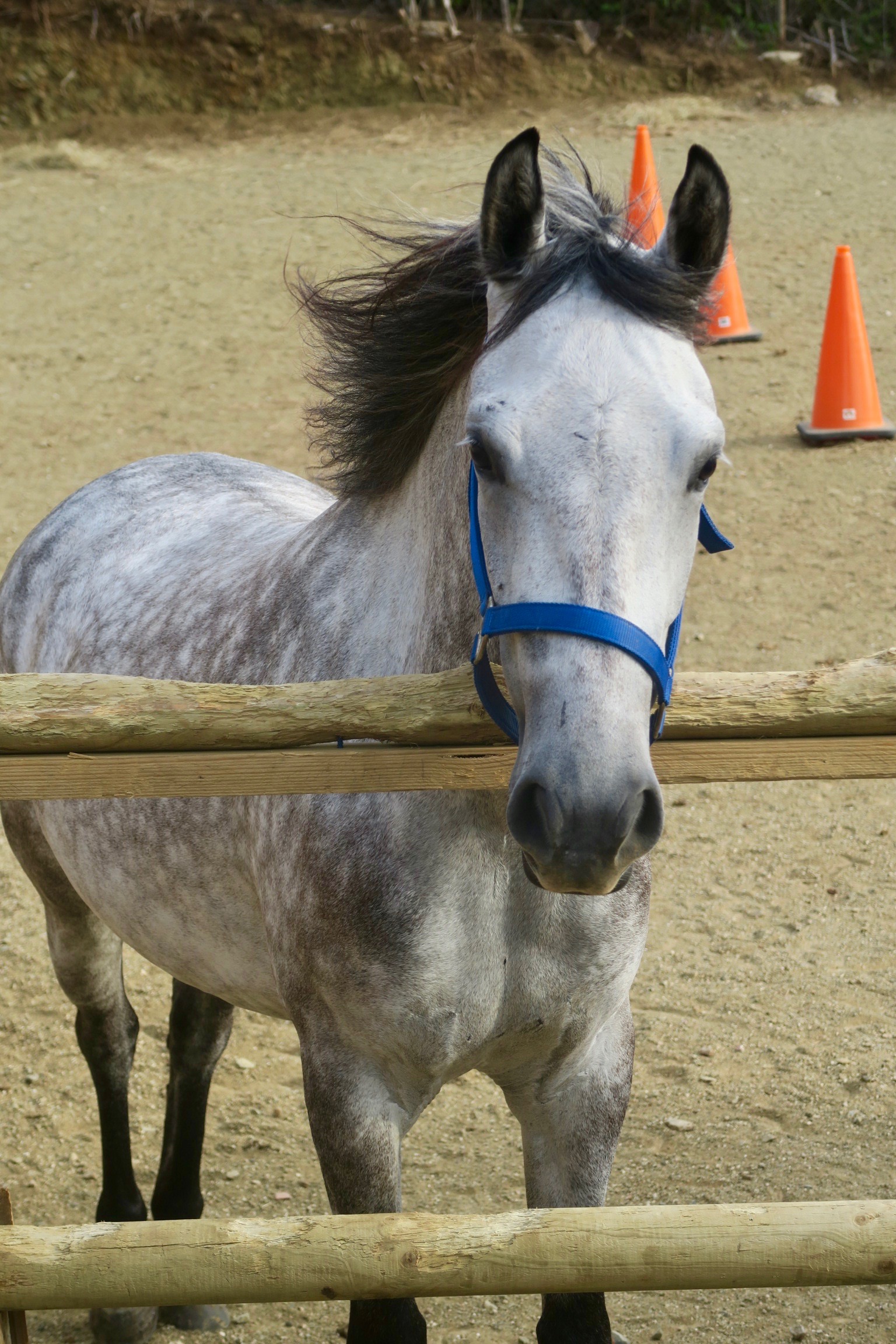 3. The Red Cottage
Simply put, this is one of the most relaxing places I've ever stayed. I'm not usually one to lay about in a hammock or a pool, but I did here (at least lore than I would anywhere else). Here are two videos that will give you a better idea of why the place is so nice.
The bathrooms at the Red Cottage are very modern with a great overhead shower.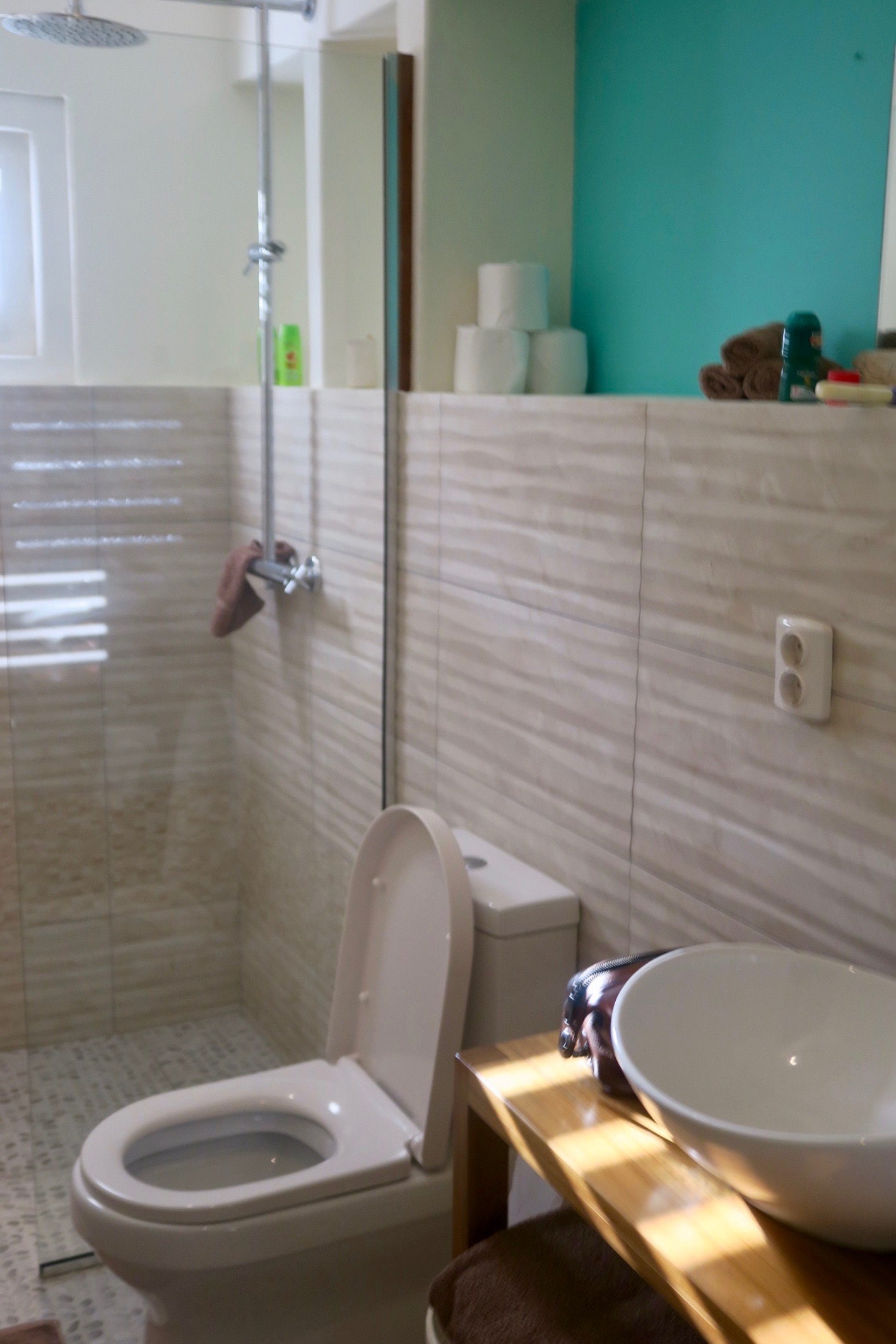 There is no TV thank goodness, buy if you must watch one there is a large screen in the main building. However, there is great wifi and I wrote this post and others sitting outside with birds flitting all around and a cool breeze blowing.
There is a larger pool which Lenore used daily and usually had to herself.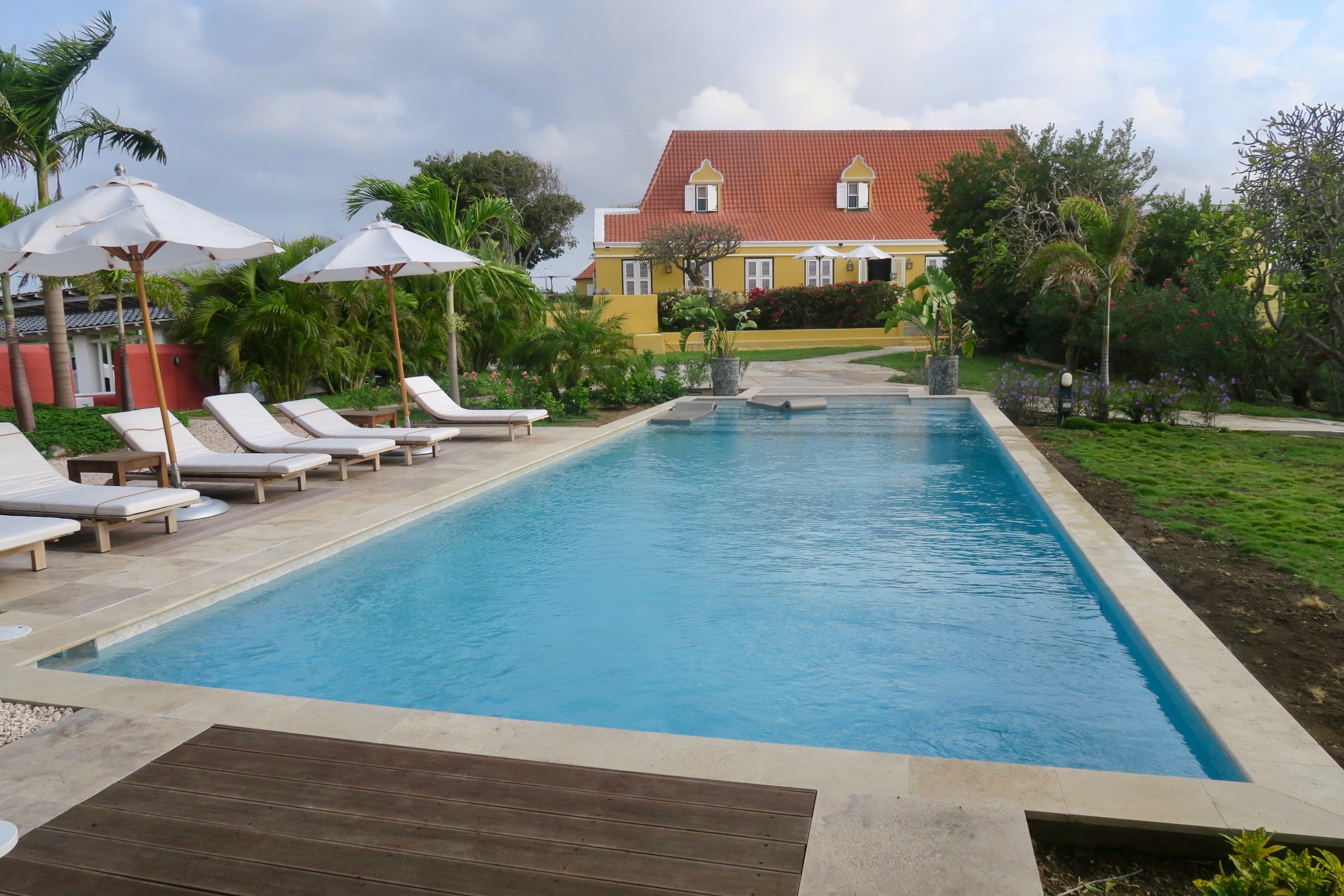 There's also an outdoor barbecue close by.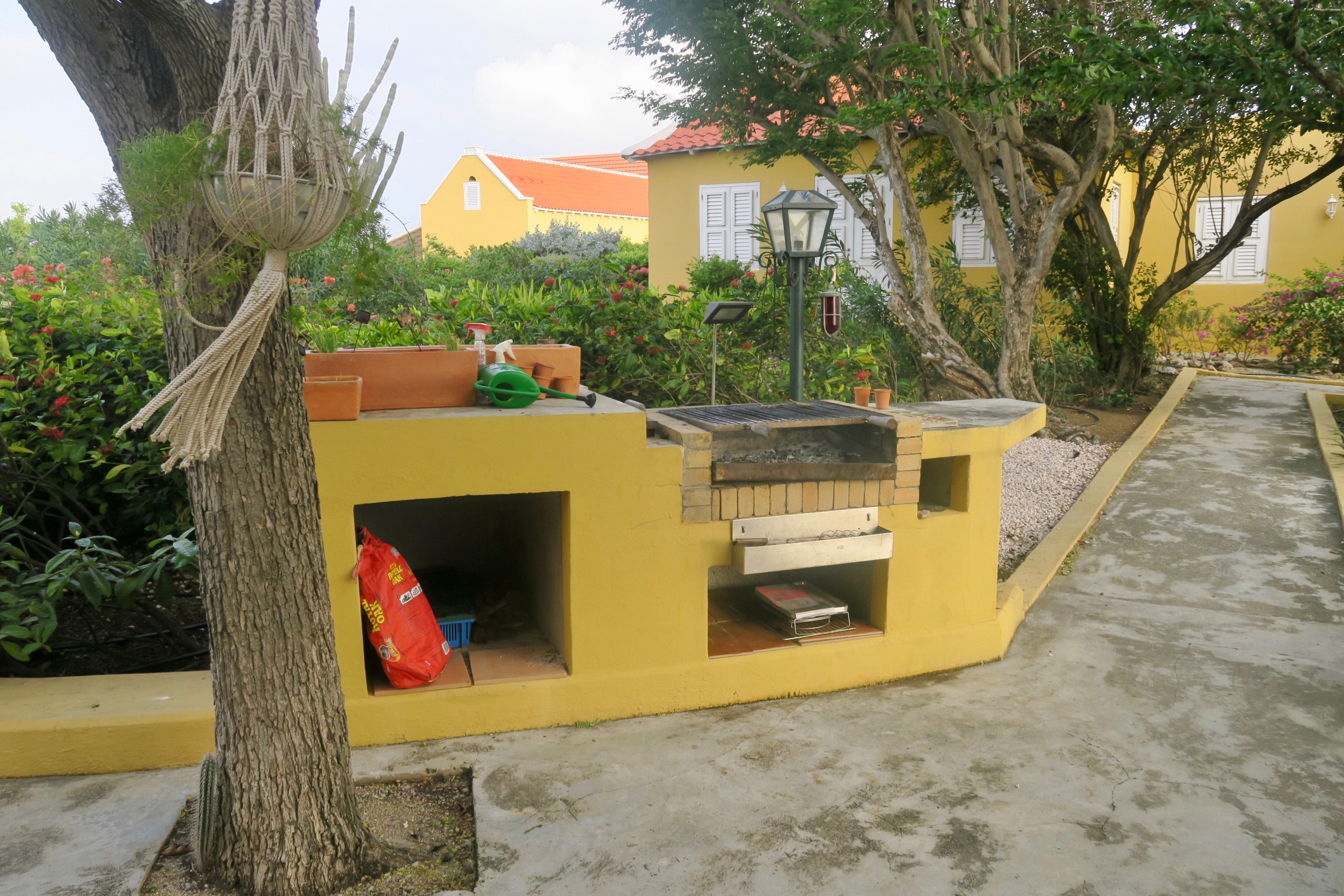 4. The Little Extras
Most of the time when you rent a place for the week you don't expect daily maid service, but you get it at Landhuis Jan Thiel. What you definitely don't expect is to have the fridge stocked with beer, wine, eggs (from the landhuis hens), cheese, breads, yoghurt etc. all at no extra charge. That is what we found upon our arrival and allowed us to settle in at once without the necessity of going on an initial shopping expedition. There are also mountain bikes that you can borrow to ride the salt pan trails, a pool table, expresso machine in the main building for something more exotic than the coffee and teas already provided.
5. Jan Thiel Beach
This was the nicest resort we visited in Curaçao and as a guest of Landhuis Jan Thiel you get a free pass that let's you use all the facilities there including a large resort style pool, several small beaches with great snorkeling, a good grocery store and no less than five beachfront restaurants, all with different menus and themes. You can also rent snorkeling or scuba gear and take diving lessons if you want. It's an easy five minute drive from the landhuis.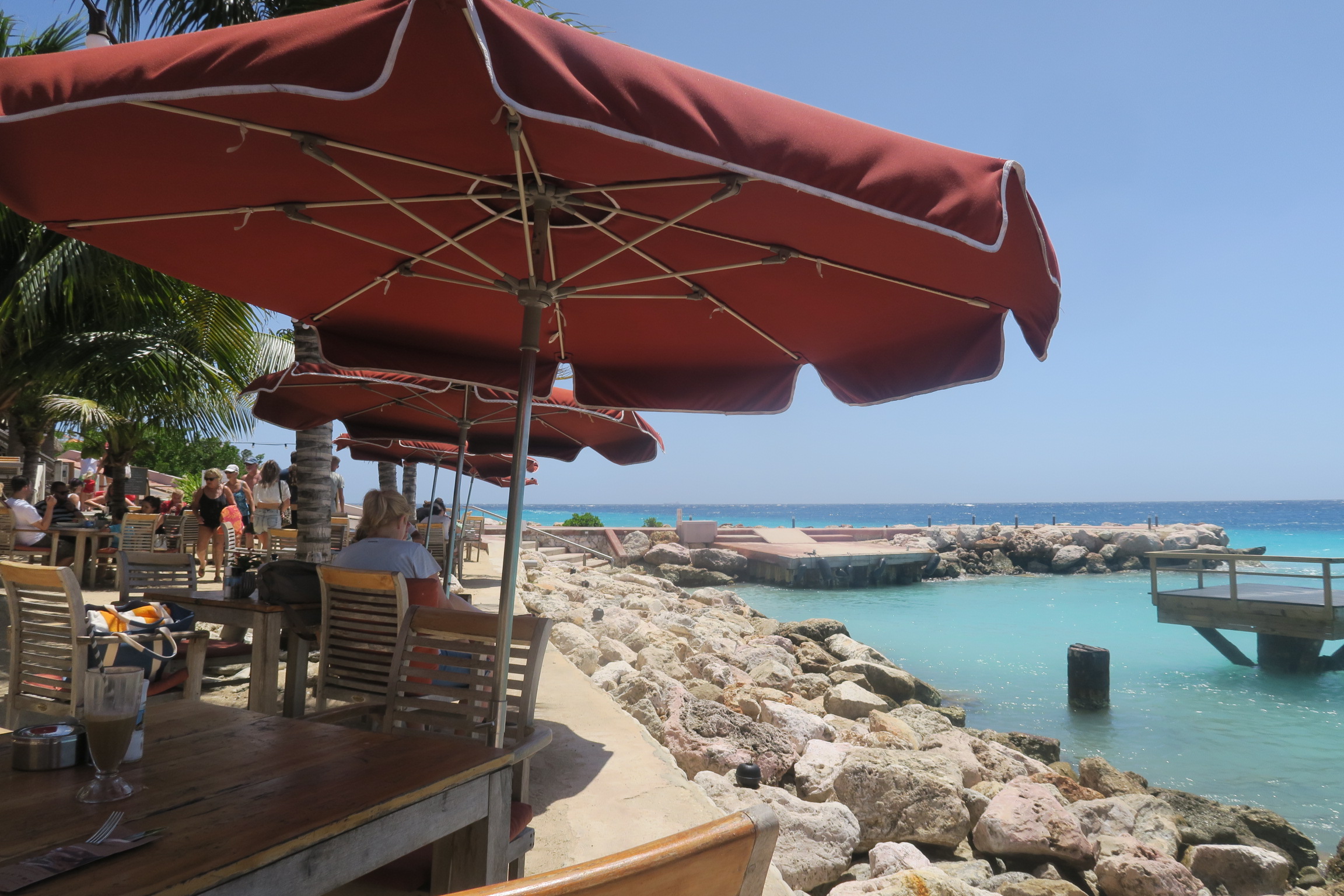 You can even get decent vegan choices.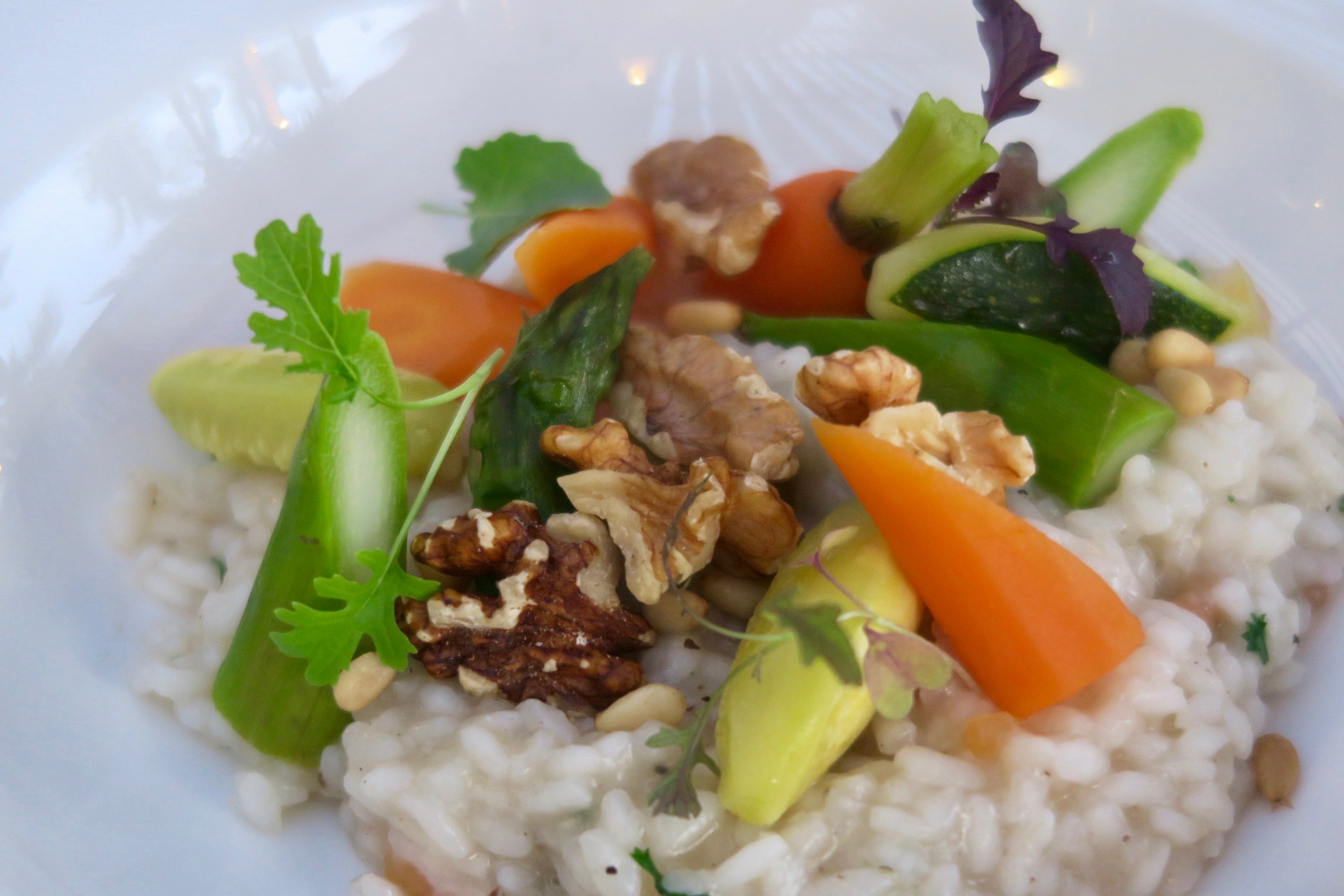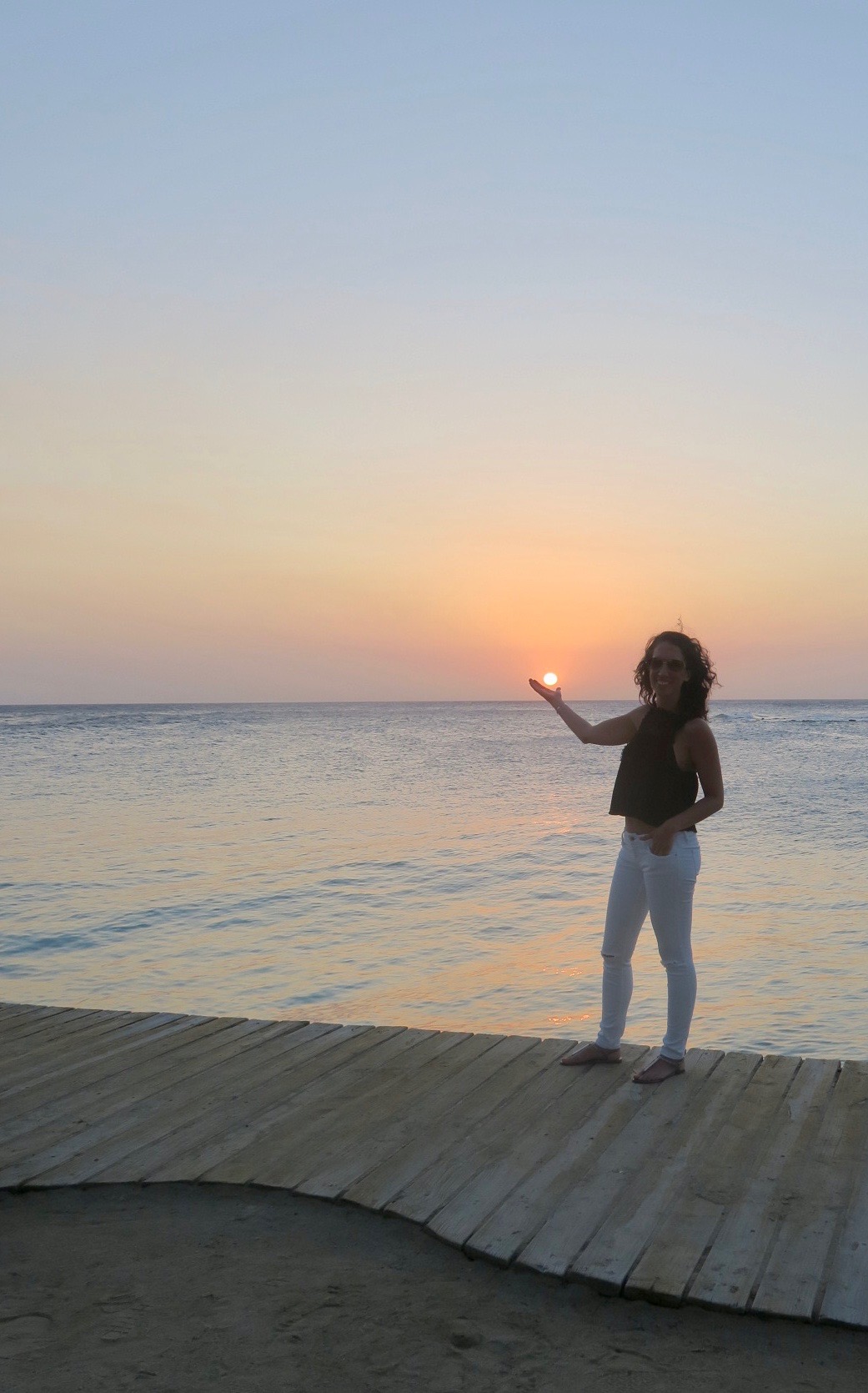 6. Into the Wild at Landhuis Jan Thiel
As mentioned Landhuis Jan Thiel borders upon hundreds of acres of nature preserve.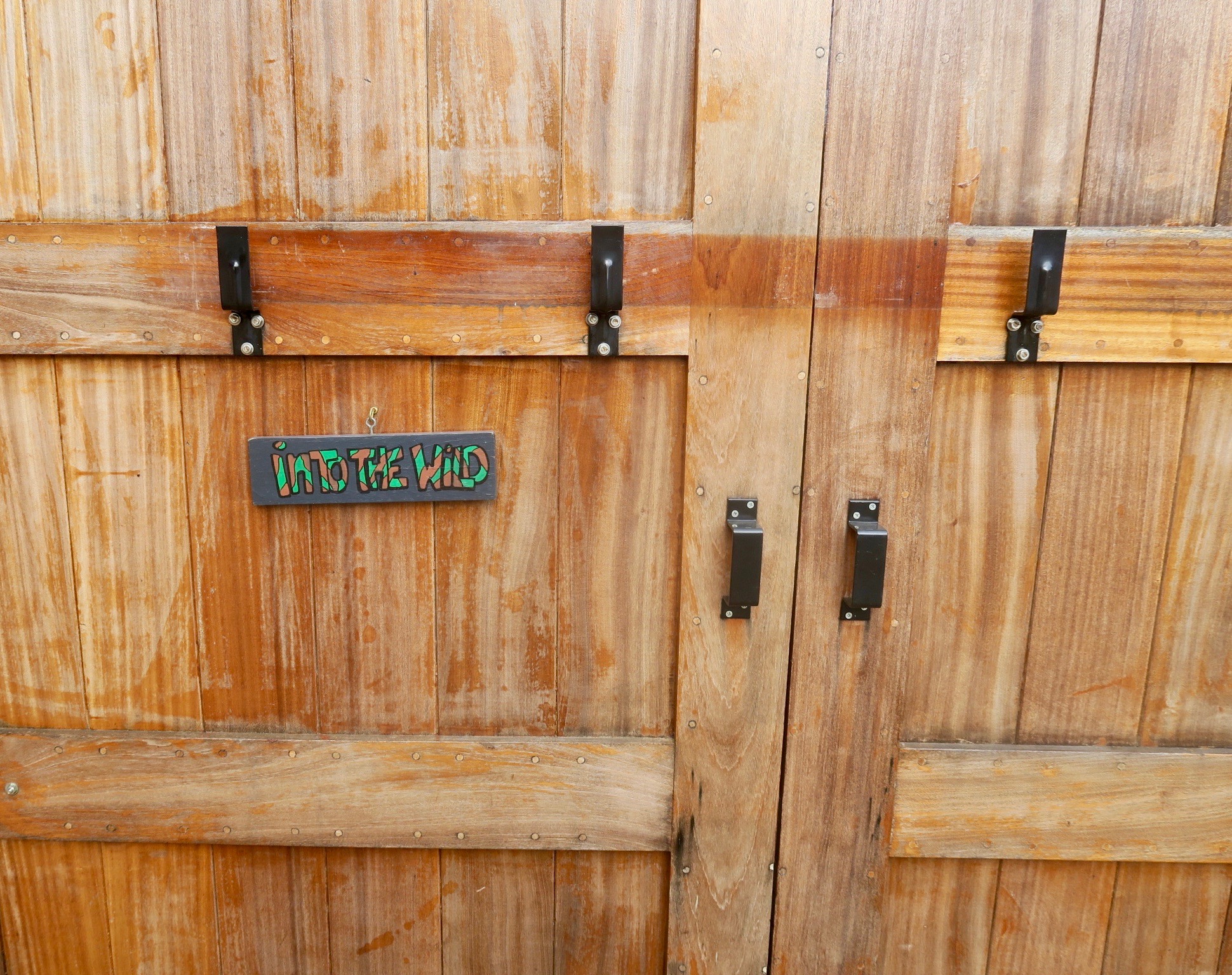 You pass through this back gate and have an easy ten minute walk down to the salt pans. I took this walk on several mornings, often accompanied by Digger the golden lab who loved to chase the many lizards and iguanas on the way until, being a lab, he had to dash into the water at every opportunity. How often do you get the experience of a walk with a pet dog when you had to leave yours at home?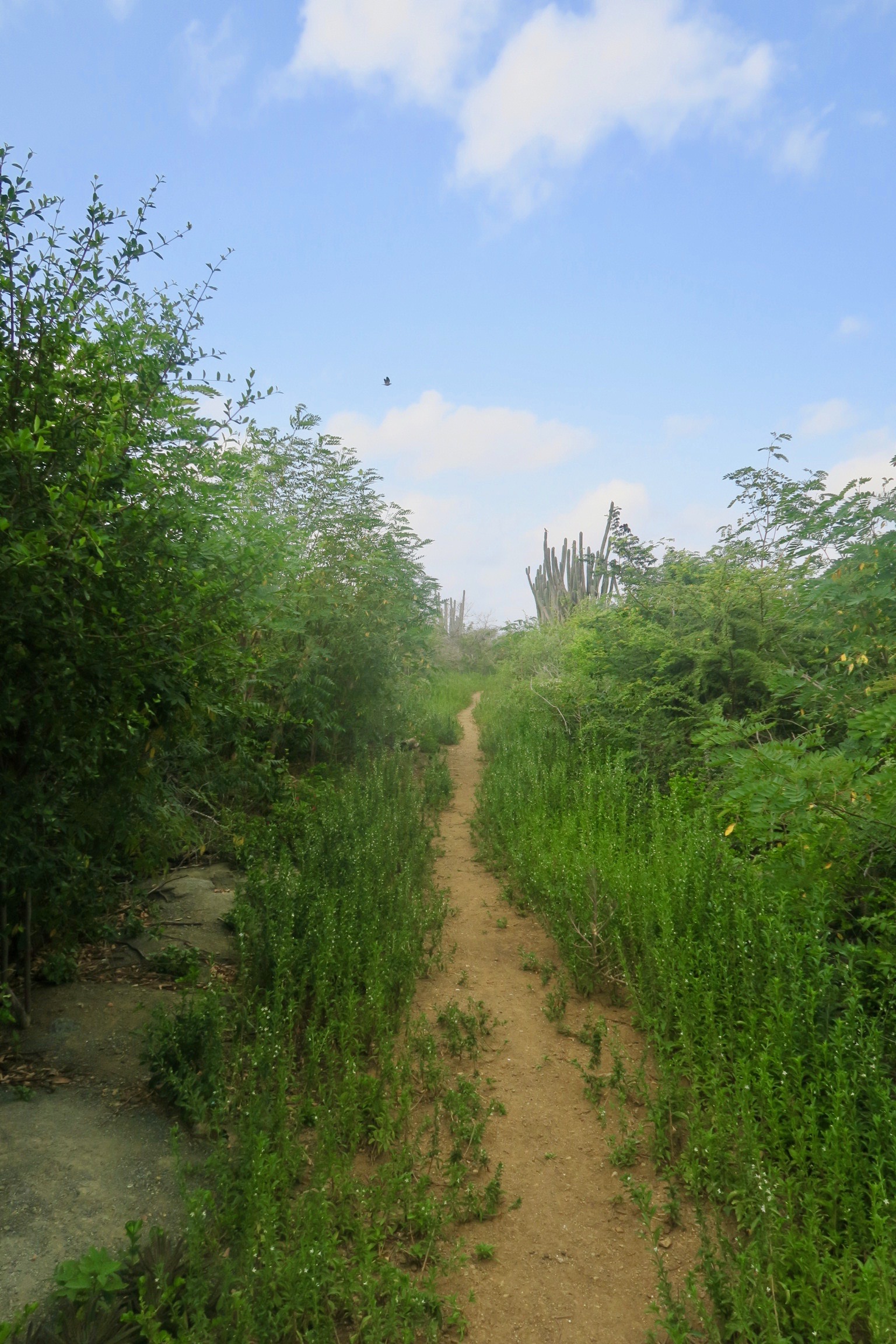 The salt pans are home to the endangered Caribbean flamingo which are just about as bright pink as any I've ever seen.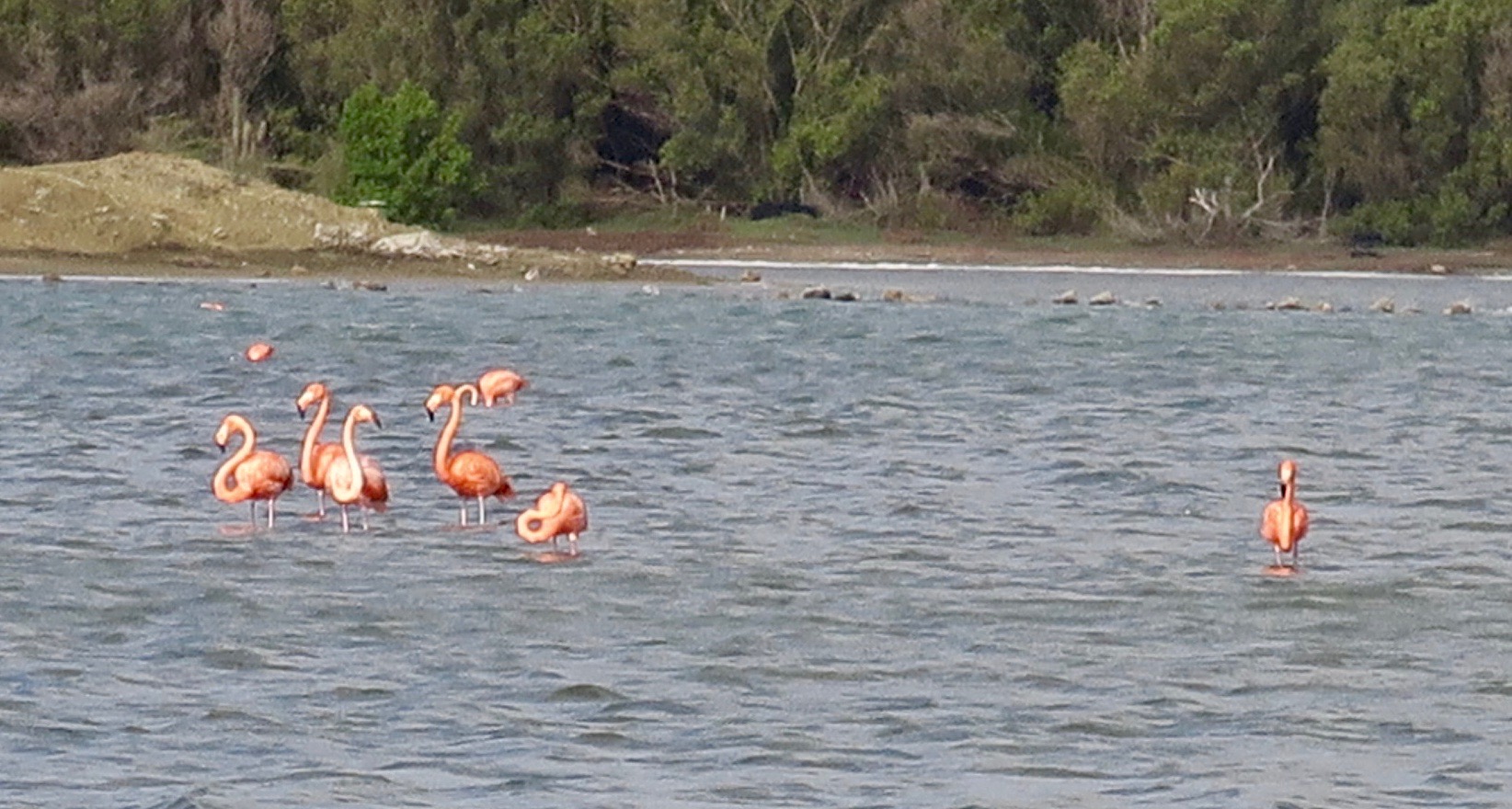 7. Loeki Ter Steege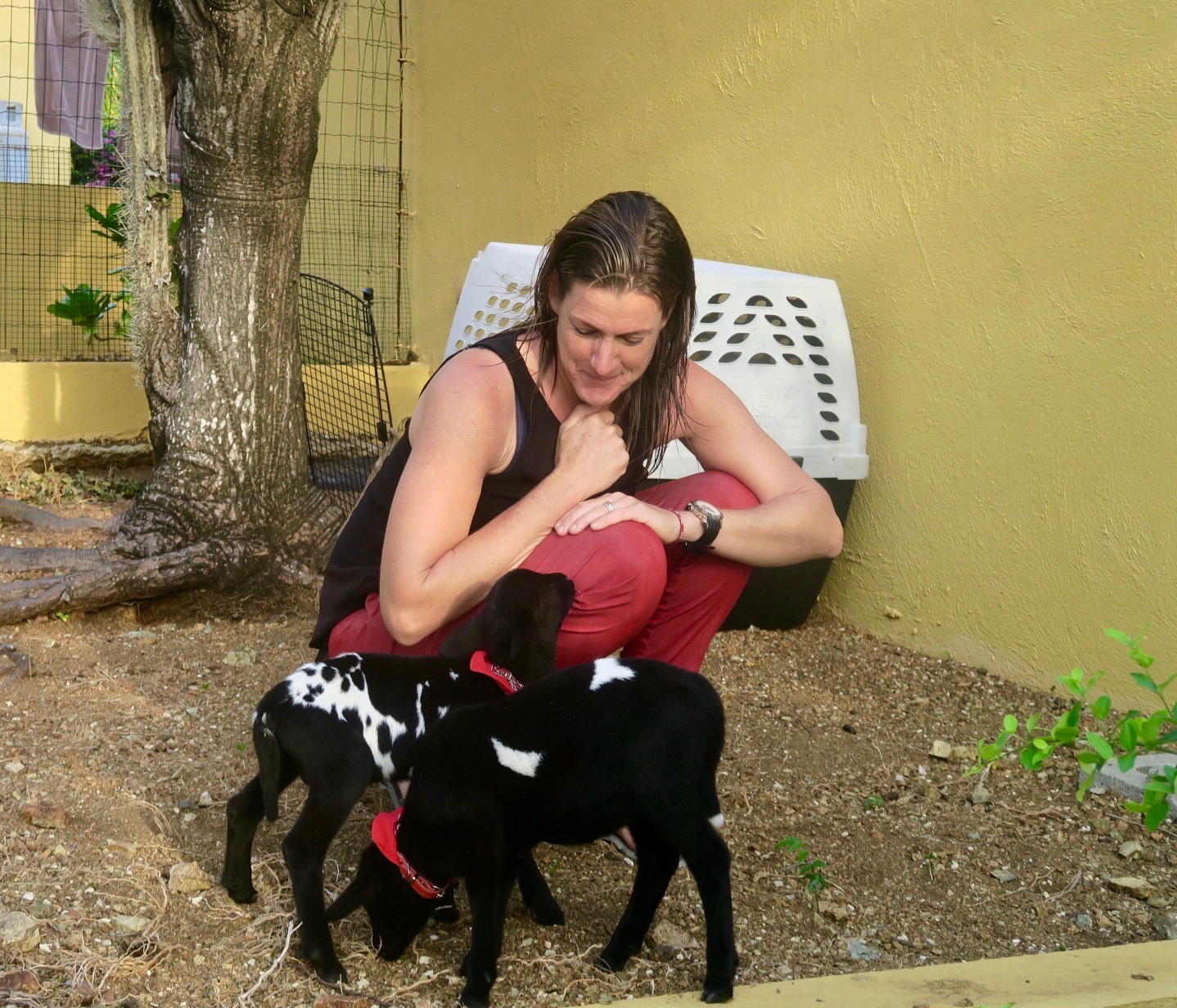 I've saved the best for last. Loeki is a Dutch national who has lived in the Dutch West Indies for many years and is the live in property manager at Landhuis Jan Thiel. I cannot stress enough how much her knowledge, helpfulness and genuine desire to make sure we got the most out of our stay, made it an unforgettable experience. She made us feel like we were genuine members of the landhuis community from the moment we arrived. Thank you Loeki.
The Red Cottage rents for $275 USD a day which I think is a bargain for high season in the Caribbean. If you are interested and if you aren't, I've failed in writing this post, contact her at [email protected]
I've already booked our next stay when I'll return with my wife Alison in October.
Update
Alison and I returned to Landhuis Jan Thiel as promised in October along with our friend Don Harding. If possible, I found things even more pleasant than on the first visit, mainly because the strong winds of the spring had abated and as it was the end of the rainy season things were much greener. Little Olivia had grown into a full blown sheep (and I thought she was a goat!), but unfortunately her brother Timmy succumbed to a disease.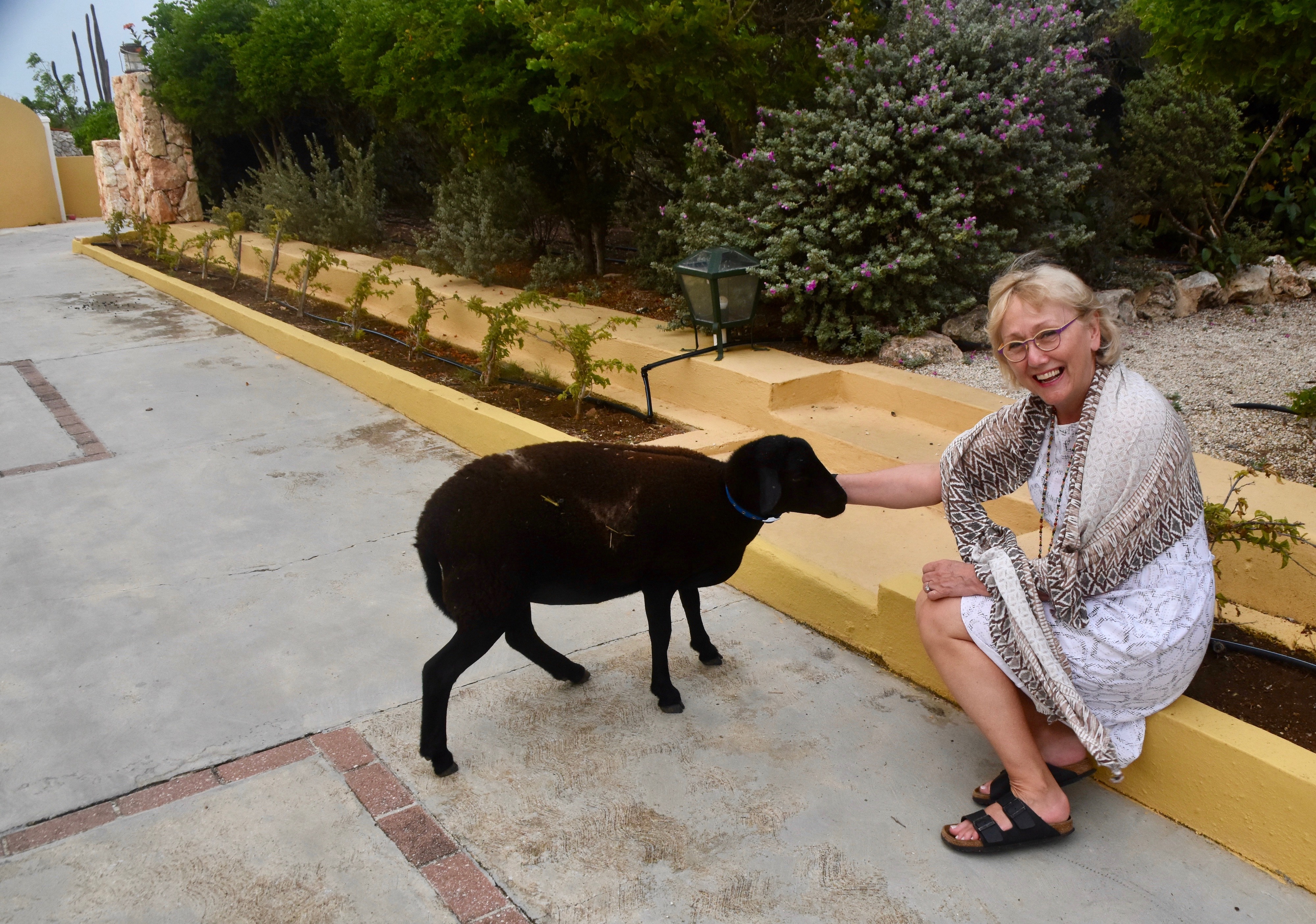 Digger, the golden lab came for his daily visits.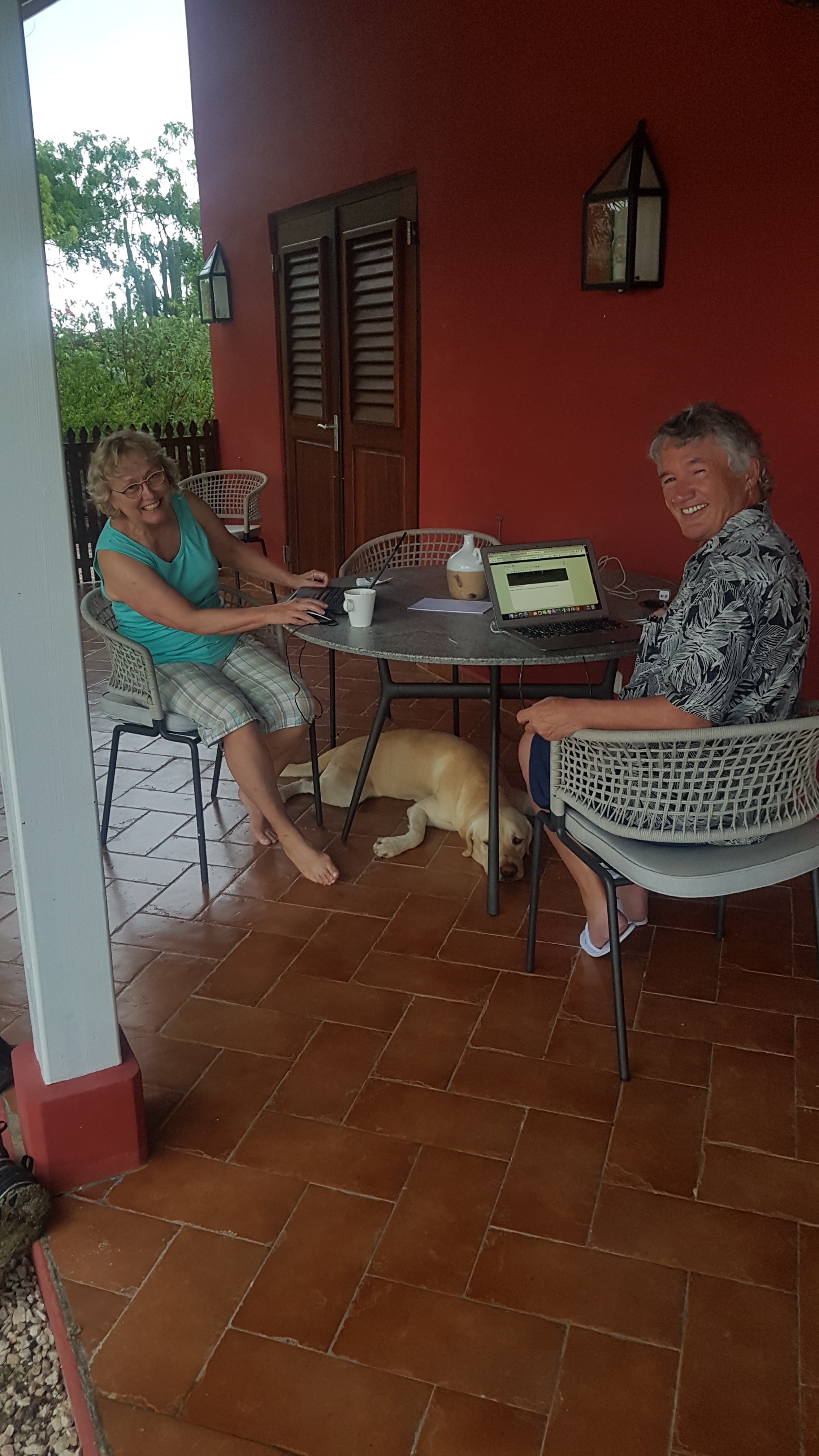 Don got great use of the bikes on site, cycling almost every day.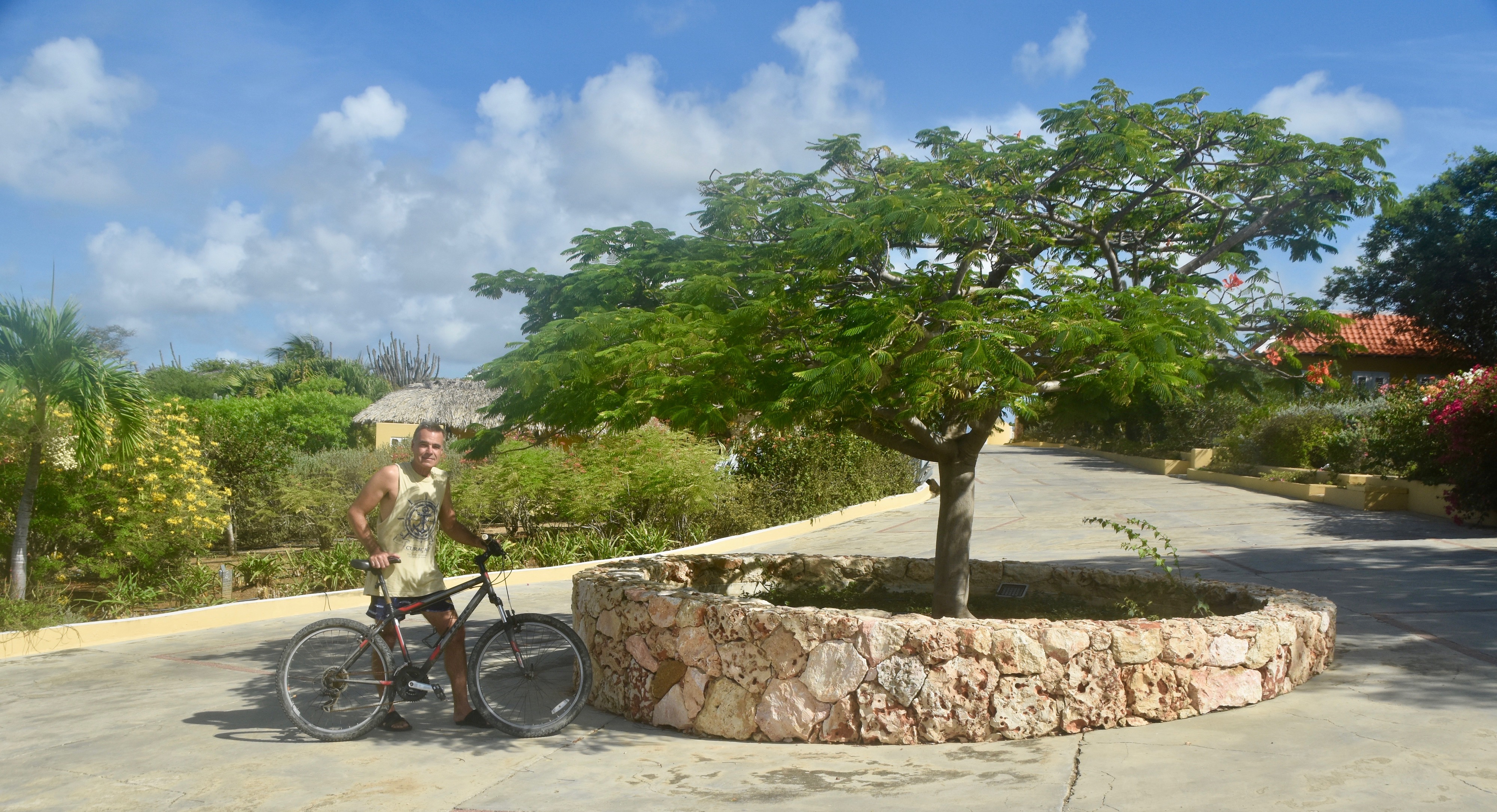 We got to eat the fabulous beef, chicken and shrimp skewers at the Friday Night Feast at Equus, just down the lane.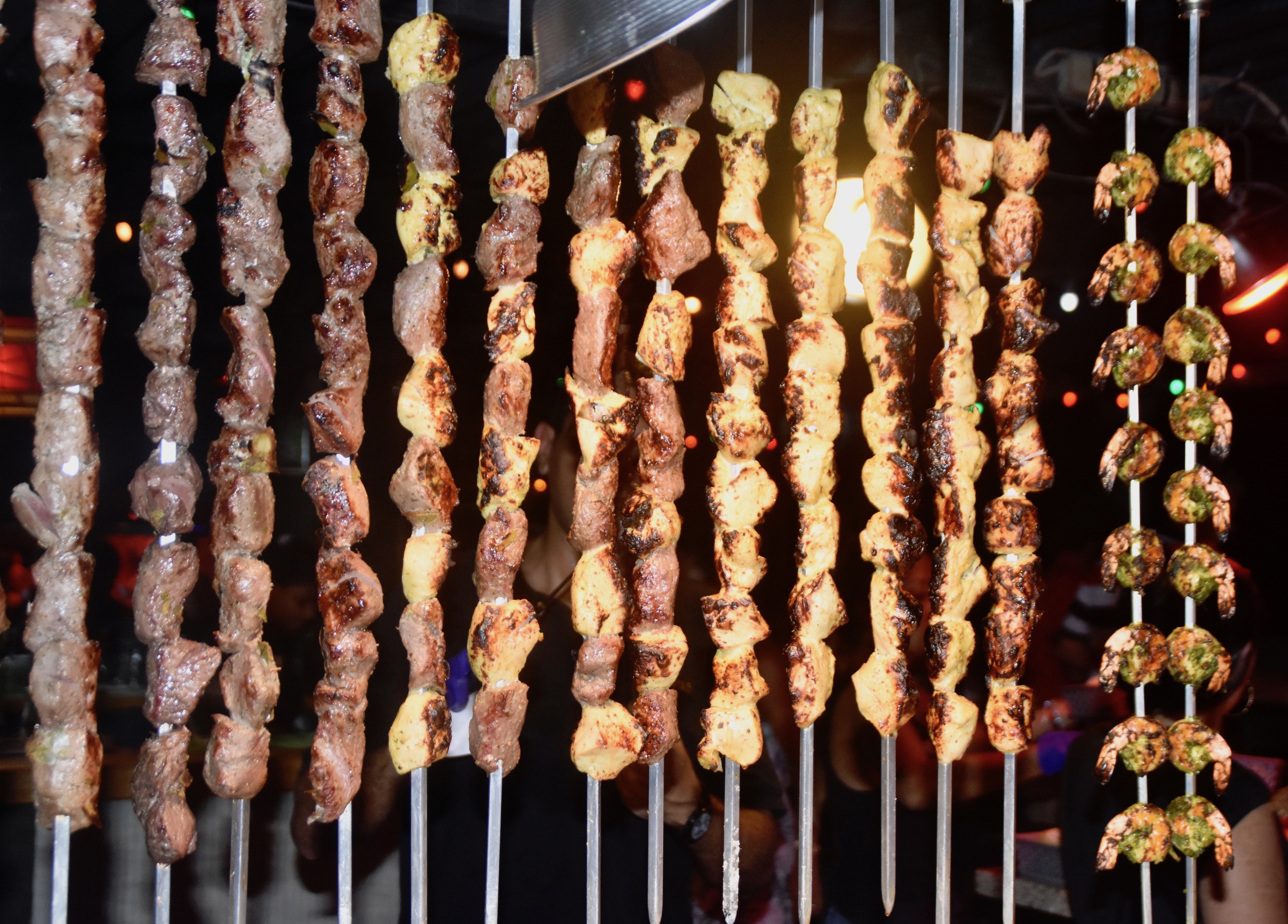 I took Alison and Don to Tarboosh where we met the owner Martin den Dulk who, at age 18, won the contest to design the Curaçao flag. He also serves up great Caribbean food in a nice waterside setting.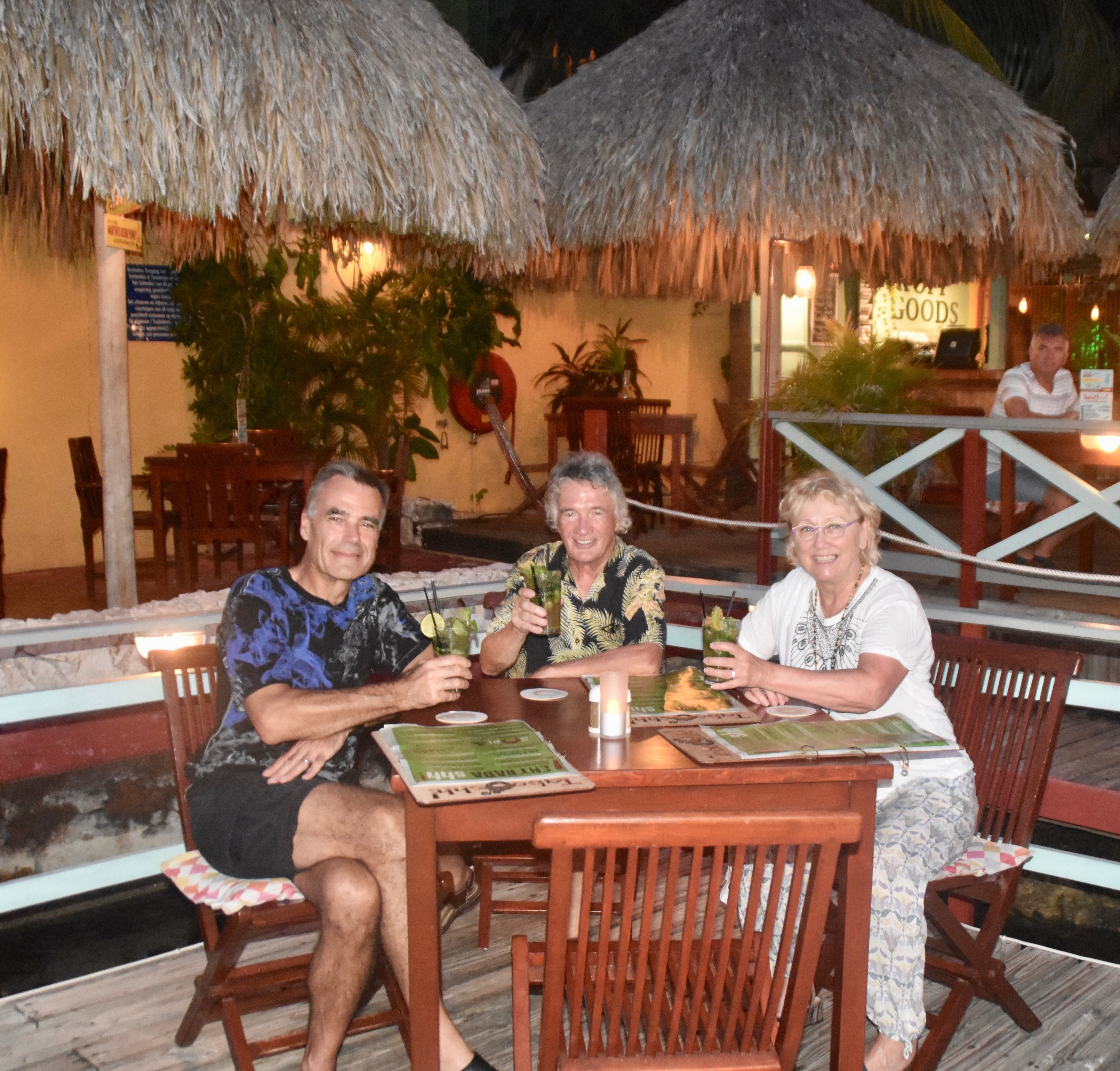 We got to play the wonderful Pete Dye designed Old Quarry Golf Course which I described hole by hole in this post.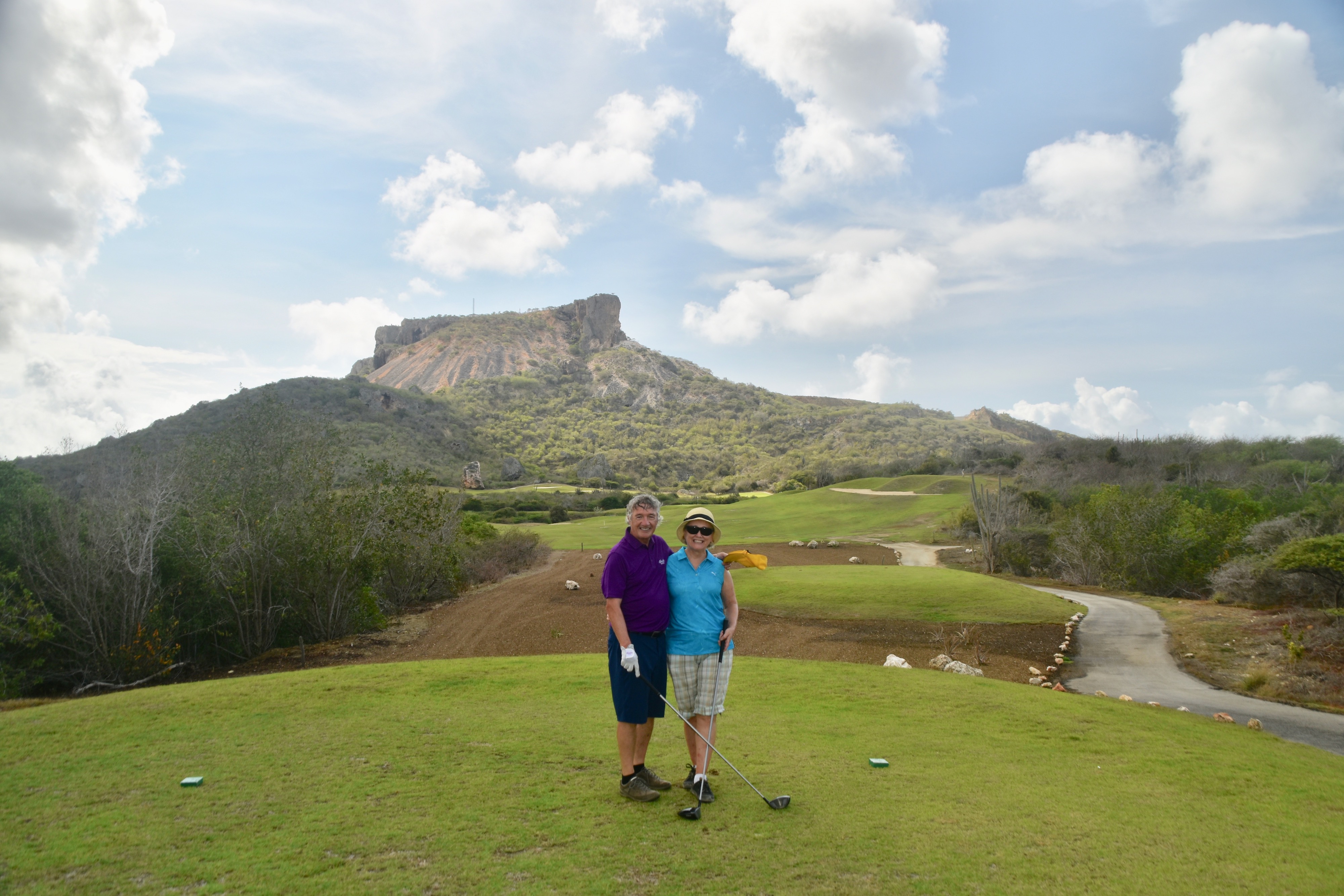 Foiled on my first trip, I did get to Klein Curaçao on a fantastic day trip with Blue Finn Charters which I wrote about in this post.
Lastly we discovered some amazing new places to snorkel not that far from Landhuis Jan Thiel, but I'm keeping those a secret. You'll have to visit on your own and maybe Loeki will let you in on where they are. I know the three of us will be back next October and for as long after as our health and/or wallets hold out.