Old Quarry G. C. – A Pete Dye Masterwork
I've been playing golf longer than I care to remember and at courses around the world I do care to remember. Among golf architects, Pete Dye has always been my favourite, although I know others who abhor his signature railroad ties and the difficulty of some of his courses. My personal favourites about which you will find posts on this site are the River Course at Blackwolf Run and Whistling Straits. Other favourites include the Ocean Course at Kiawah Island, Harbor Town on Hilton Head and the very much under the radar Gasparilla Golf Course in Boca Grande Florida. These courses all have one thing in common – water, and lots of it. Whether it be a river, a lakeshore or the seaside, Pete Dye knows how to get the most out of naturally beautiful locations on the water. So when I learned that Pete Dye was the architect of the Old Quarry Golf Course on Curaçao in the Dutch West Indies, I knew I had to play it. Here's my hole by hole description of yet another Pete Dye masterwork.
Santa Barbara Resort
The Old Quarry Golf Course is one of the amenities on offer at the Santa Barbara Resort in Curaçao, but you don't have to be a guest to play it. I was in Curaçao with my wife Alison and friend Don Harding in the mid-October shoulder season and getting a tee time was no problem and we saw very few people on the course the day we played. I suspect the fact that Santa Barbara is in quite a remote location from most of the other resorts on the island is probably a factor in this. The course has three distinct elements- the open Caribbean Sea, the protected waters of Spanish Water bay and the gorgeous desert like terrain at the foot of Mount Tafelberg.  Here's a map that shows the course layout.
Dye has blended these elements into something that is greater than the sum of its parts, a truly unique and memorable golf course.
From the name you would guess that much of the land was once a quarry and there are old quarry buckets to be found on various parts of the course.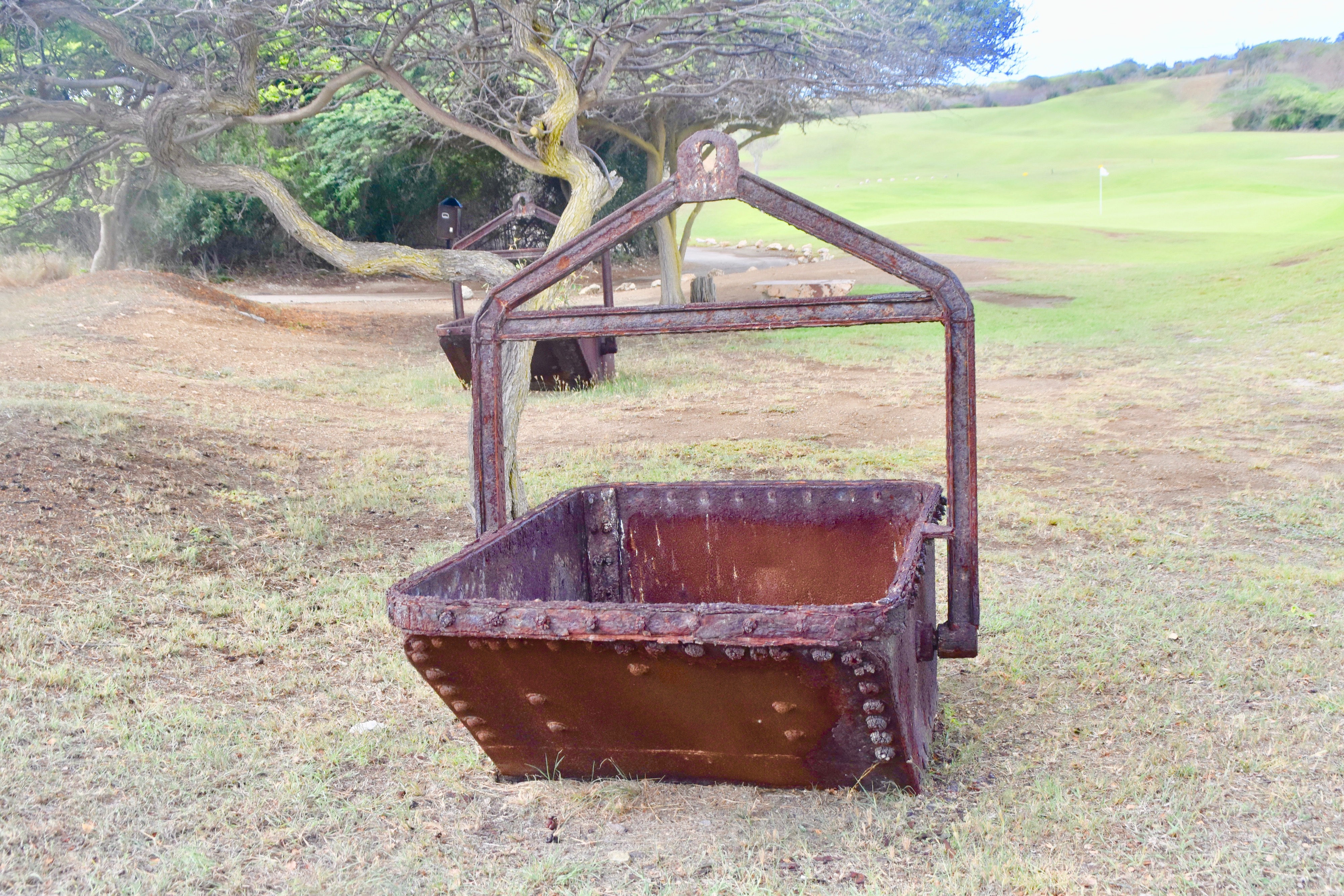 However, I could find no information about the history of the course on the website and no clear indication from playing it, that it was once a quarry. That being said, Mount Tafelberg has been the site of a quarry for centuries that is still in active operation today so maybe that's the inspiration for the name.
The pro shop at the Old Quarry is not large, but does carry a good selection of everything one might need if you arrive sans any golf apparel or equipment.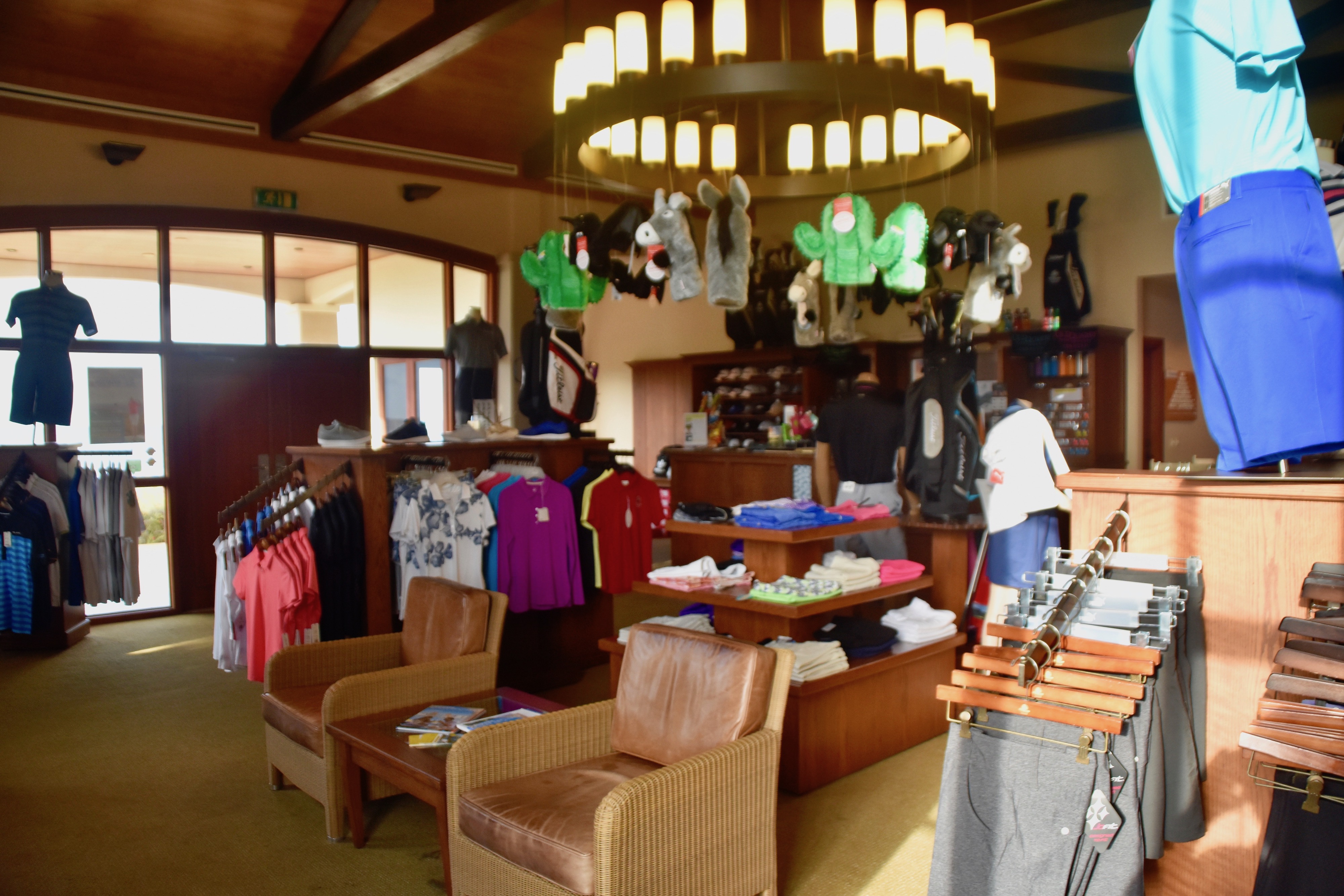 Due to the small number of golfers that day, there was no refreshment cart on the course. The lady at the counter suggested we each purchase a bottle of water which we could refill at a number of stations along the course. This was good advice as in the Caribbean heat I think I drank about five bottles all told.
The rental clubs were good quality Titleist with Scotty Cameron putters. No excuses for having bad clubs.
Old Quarry is not a walking course with great distances between some holes. The carts do not have GPS, but the sprinkler heads are marked with yardages. I did not buy a course guide for $8.00, but that probably would have been a wise investment. OK, let's play Old Quarry.
Old Quarry #1 – 336 Yard Par 4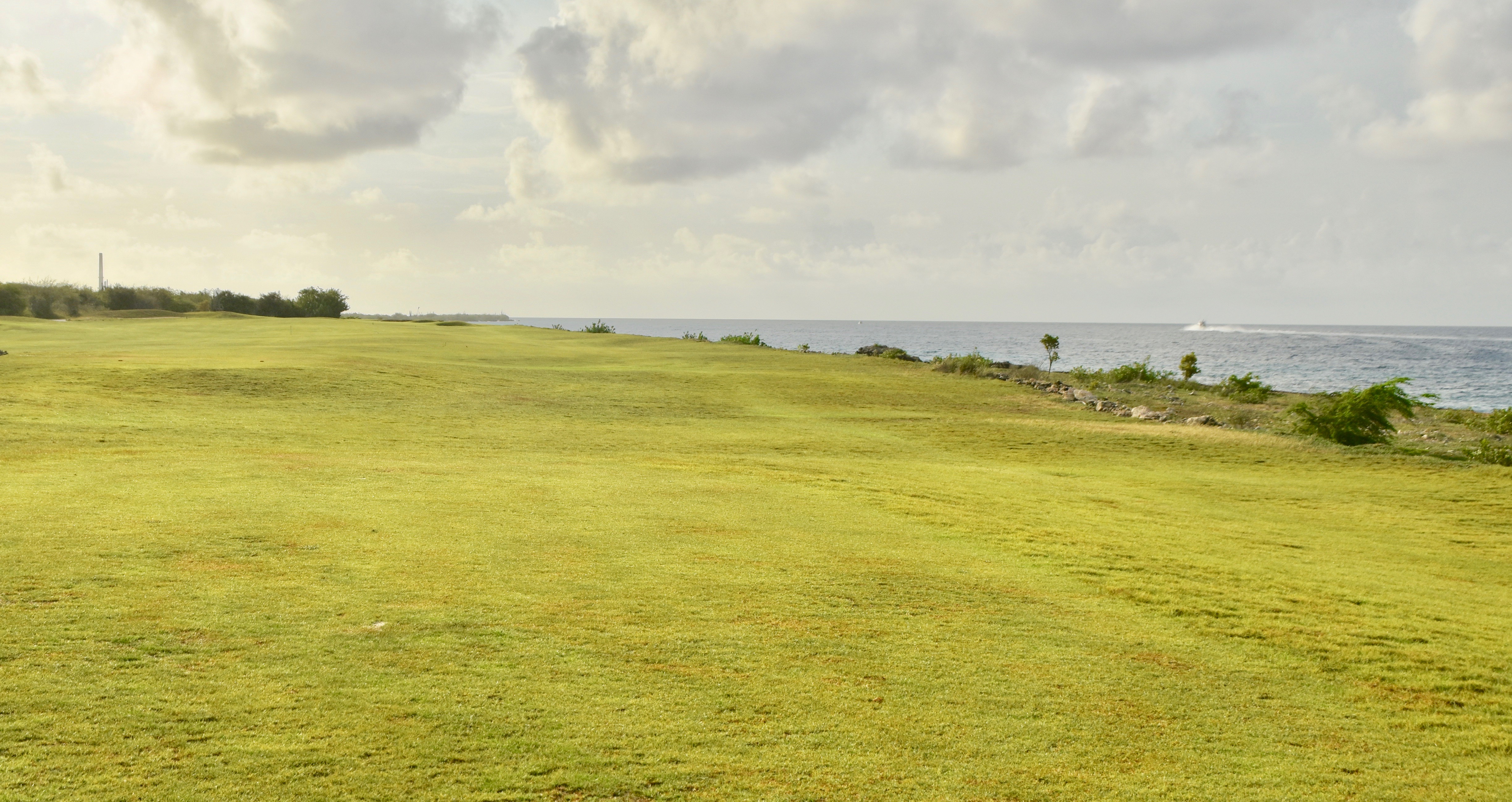 Although the course can play as long as 6,946 from the tips, I am playing the yellow tees for a much more reasonable length of 6,179 yards.
The first hole has the Caribbean Sea down the entire right side, but the fairway is wide enough for chickens like me to hit it well left and still stay in play. Ordinarily this would be a beautiful starting hole, but at 8:00 AM the sun is directly in your eyes the entire hole as it is on #2 as well. I actually got a better look at both these holes from the catamaran we took to Klein Curaçao the next morning.
The hole is absolutely dead flat and the fairways give you a lot of roll. As far as conditioning goes, the fairways were spotty in places, but mostly quite good. The greens were all in very good condition, medium speed and reading them was not an issue – making the putt is another matter. All in all a good starting hole that doesn't play as difficult as the 5 stroke index would suggest.
#2 – 487 Yard Par 5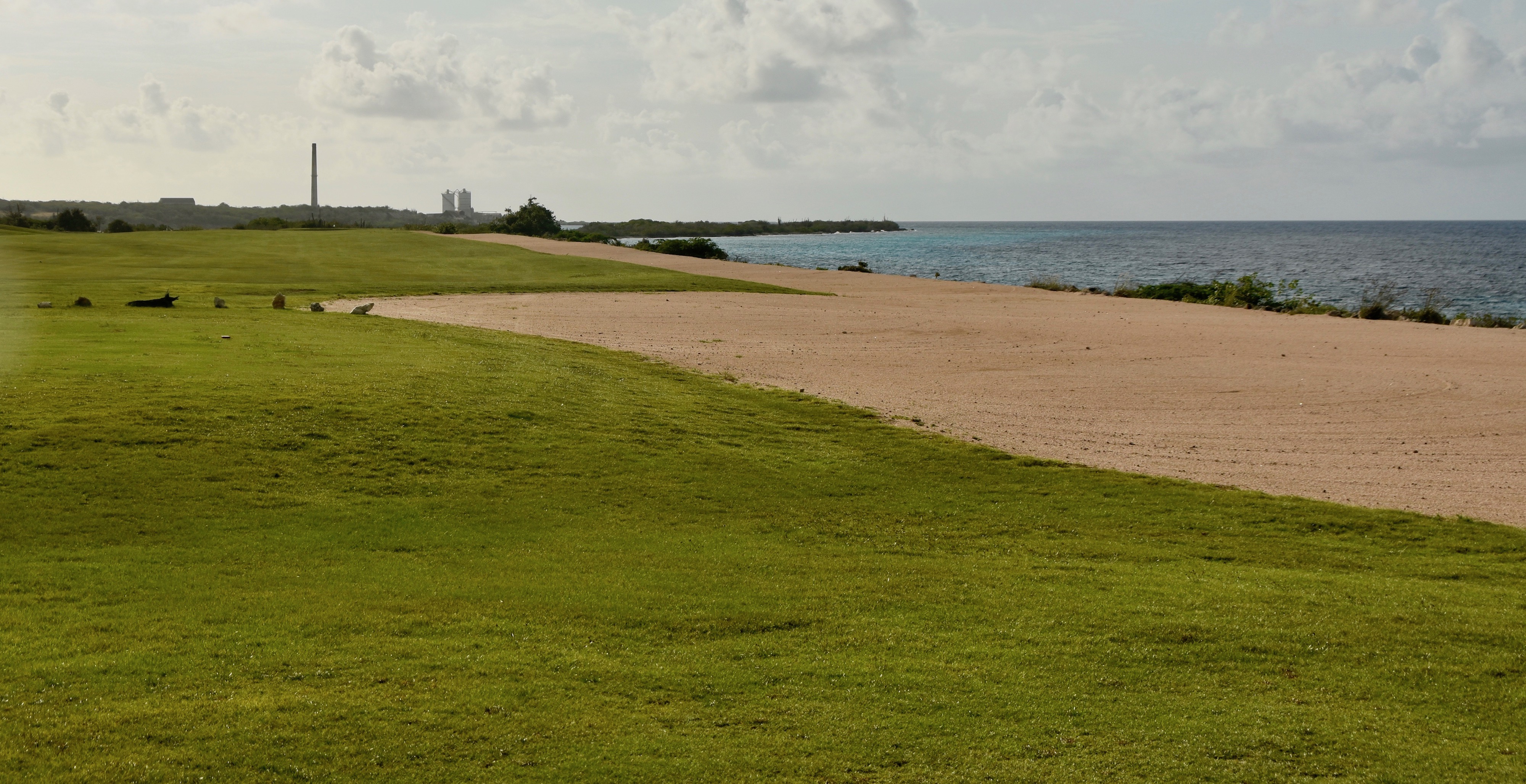 This is the second of the two holes at Old Quarry that plays beside the Caribbean Sea. It features another of Pete Dye's signature design features – huge waste bunkers between the fairway and real trouble. In this case I was quite glad of it because the sand in the waste bunker prevented my ball from going scuba diving. Not a hard par five, but it requires two decent shots and then a controlled wedge to an elevated green, a feature that was to appear again and again on Old Quarry.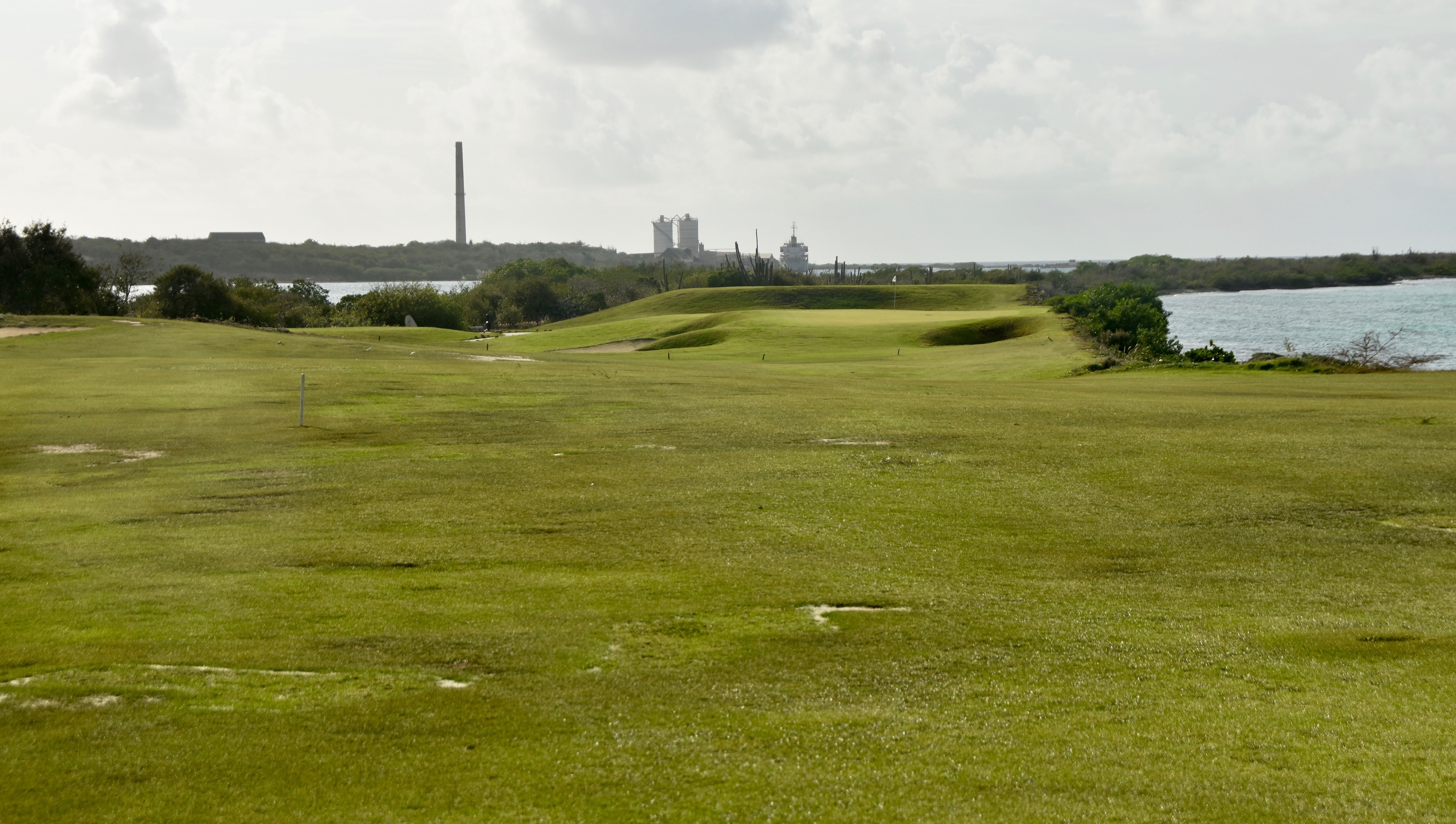 In this photo you can see the sketchy parts of the fairway I was referring to and the plant in the background that crushes the limestone excavated from Tafelberg Mountain.
Old Quarry #3 – 152 Yard Par Three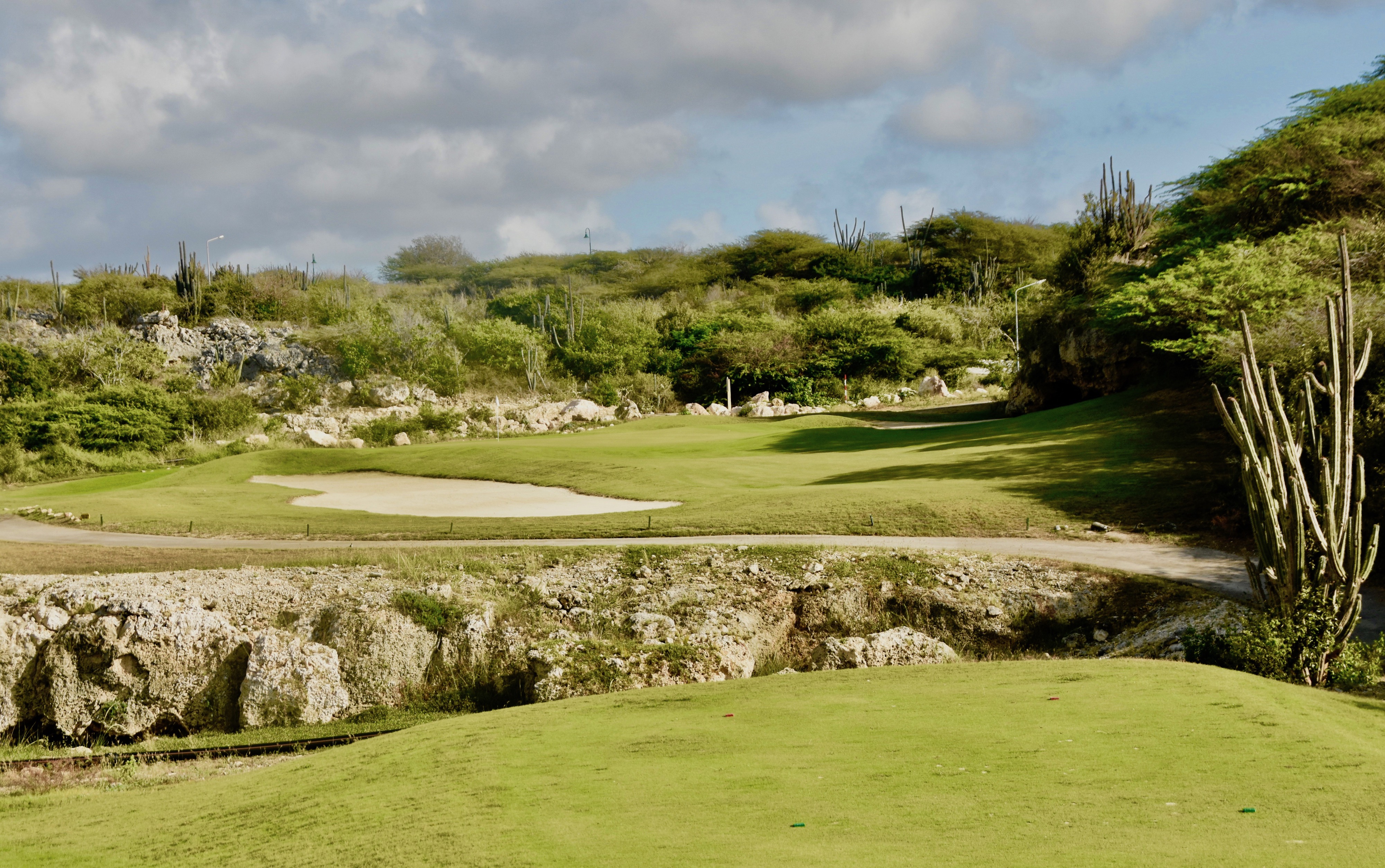 This is the first of many holes that, with the cactuses and thorny shrubs, one might confuse with a course in Arizona. Again, not a hard par three by any means with a huge green to hit. The reality is that the starting holes at Old Quarry are very fair and your game won't be ruined right off the bat like many courses I've played.
#4 – 311 Yard Par Four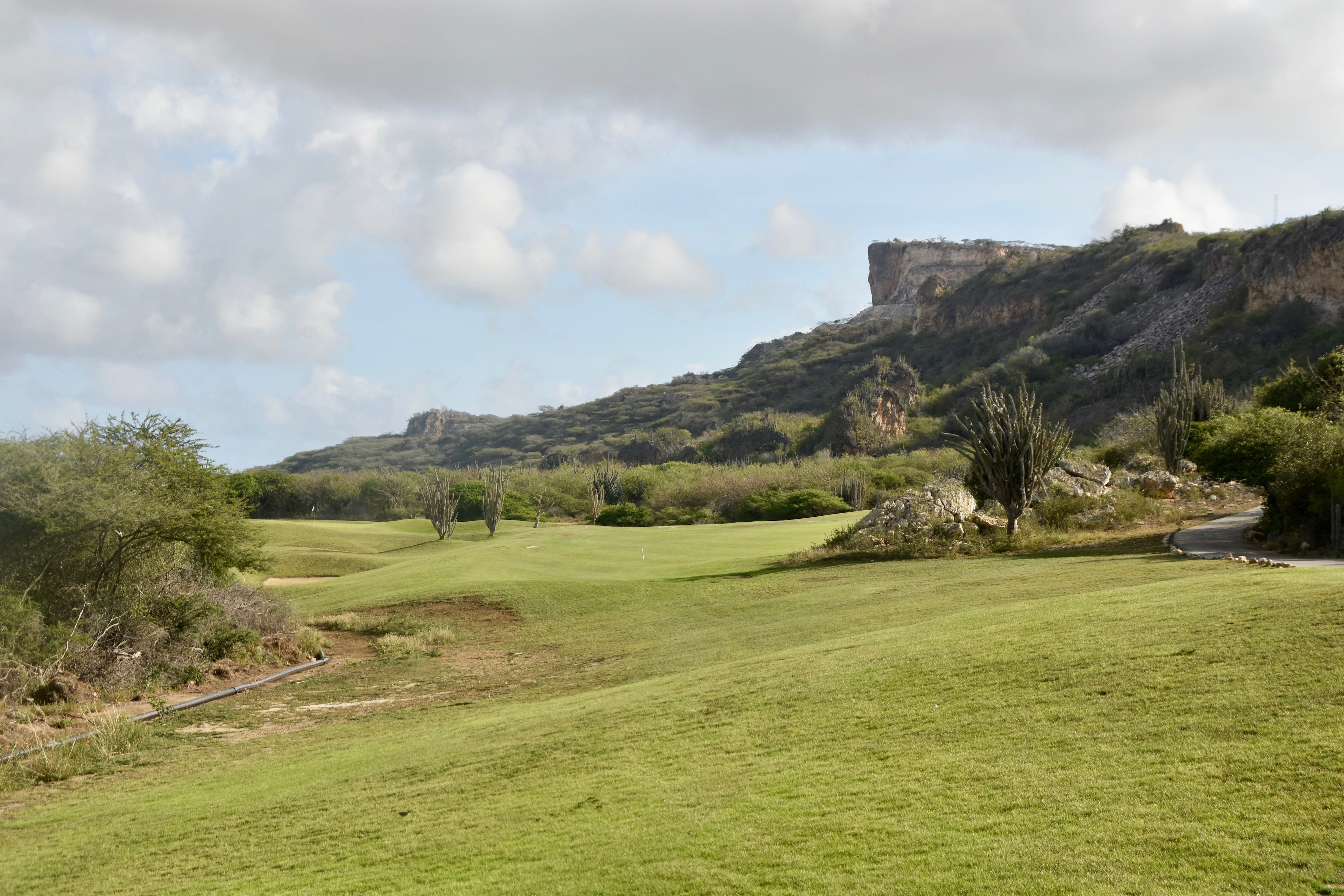 This is the first of many short par fours on Old Quarry that require accuracy over distance. It's also the first of many holes where Mount Tafelberg as a backdrop adds immensely to the pleasure of playing the hole. I think this is one of the prettiest at Old Quarry.
The fairway is wider than it looks and one can easily drive it straight over the rock to the left of the cactus and then have a short iron in. I love short par fours that don't require John Dalylike talent to get a par or even a birdie opportunity.
Old Quarry #5 – 428 Yard Par 4
Just after praising Pete Dye for his short par 4s he throws this monster at you. However, there is a catch – if you nail a drive here, which by some miracle I did, it will catch a downslope and roll forever. More great views of Mount Tafelberg to take your mind off the difficulty of this hole.
 #6 – 291 Yard Par 4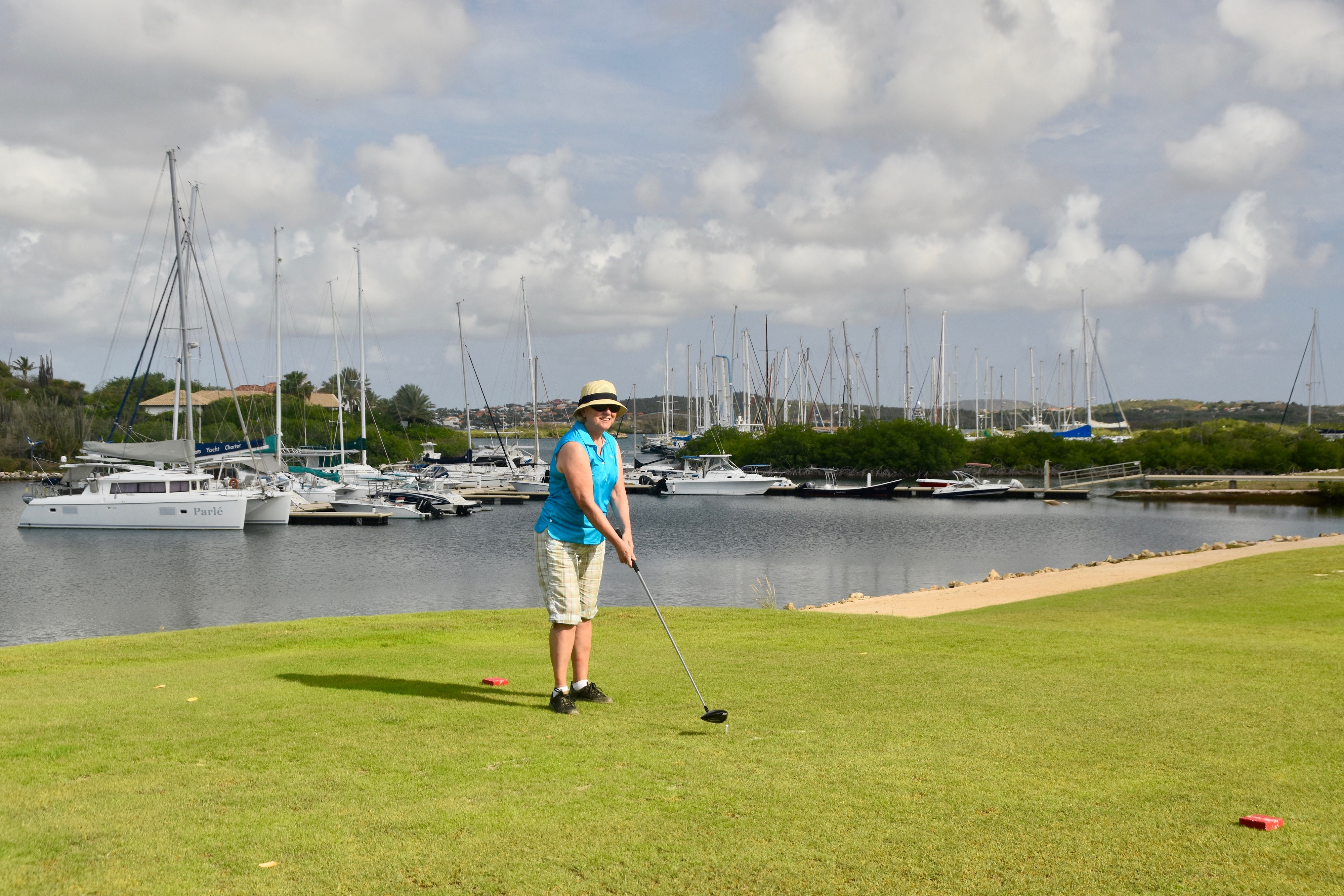 At # 6 you reach the marina portion of the course with water now to the left on this almost drive-able par 4.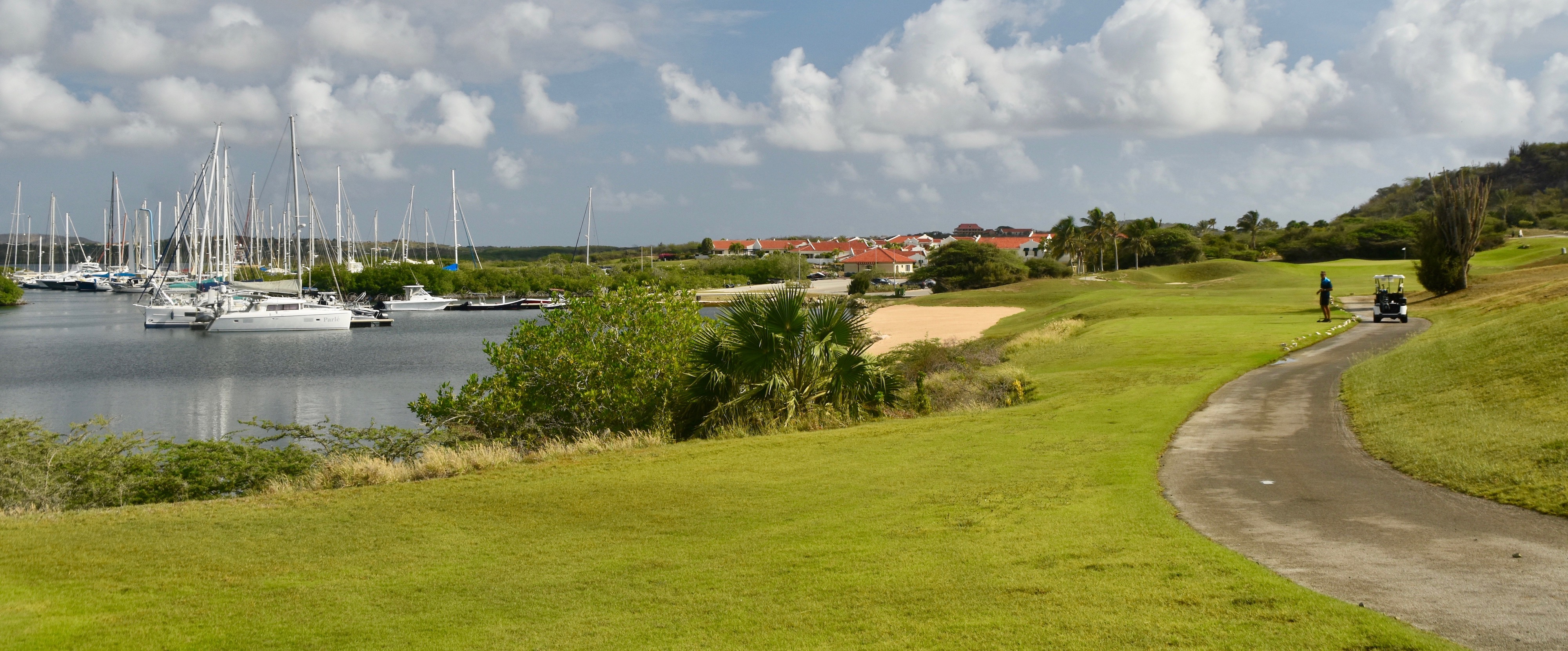 This is a really nice respite after #5, just don't go left. The smart play is just to hit maybe a 5 wood or a hybrid out to the right for an easy wedge in for what should be a birdie putt. Holes like this are good for a golfer's ego.
Old Quarry #7 – 115 Yard Par 3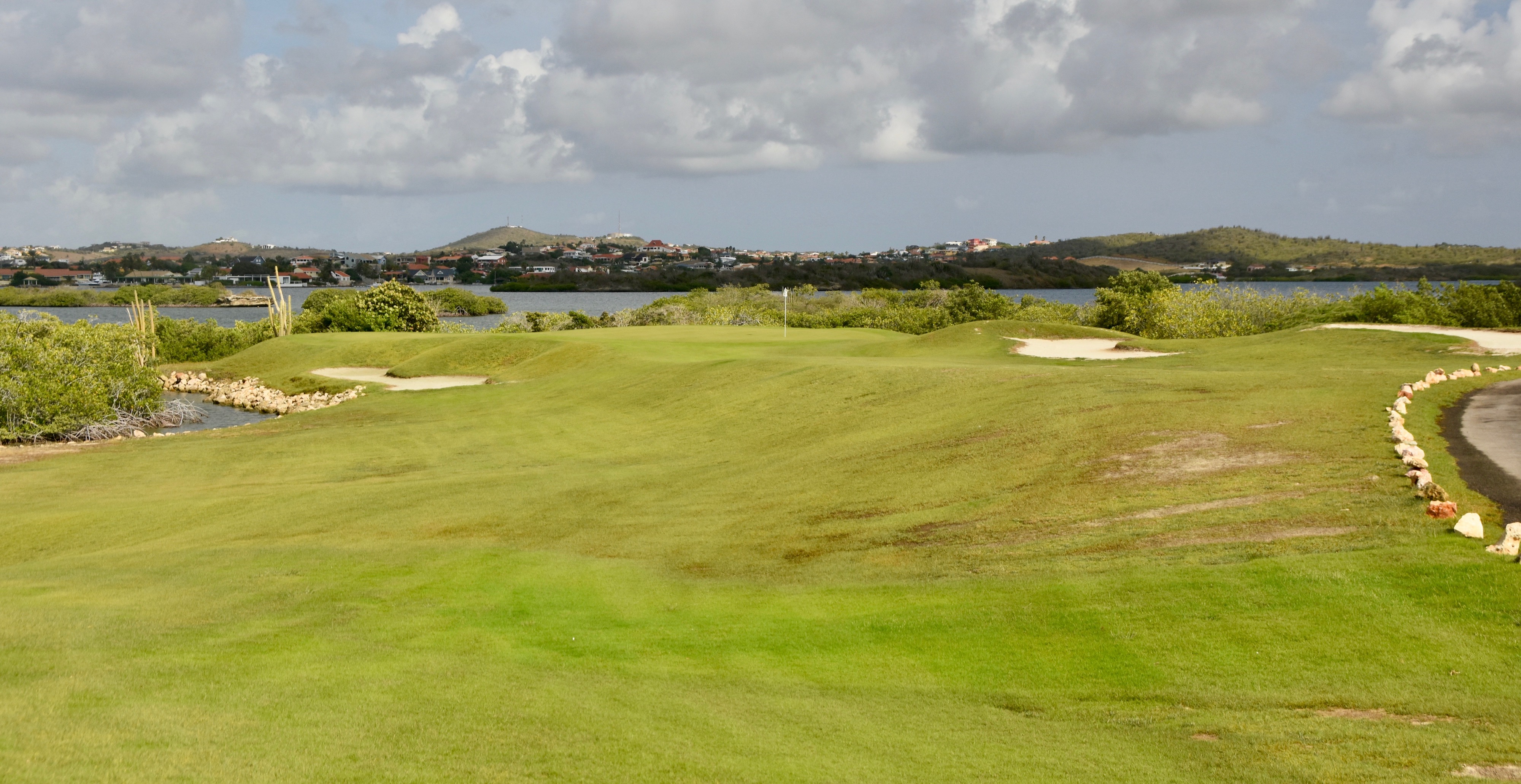 The shortest par 3 on the course has a lovely backdrop of Spanish Water Bay. Another relatively easy hole if you can hit a straight high short iron.
#8- 511 Yard Par 5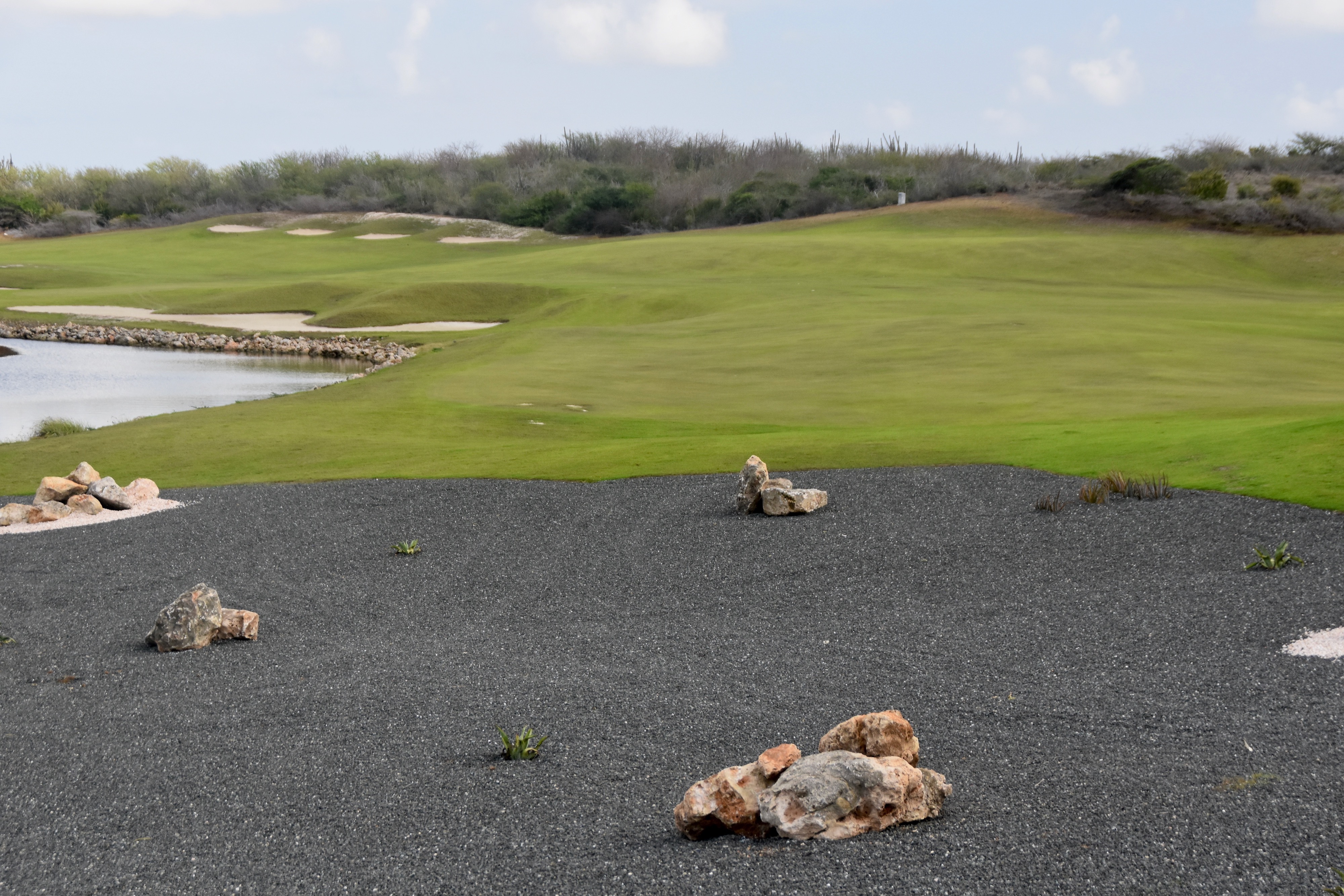 I'm a fan of par 5's that favour a three shot approach, regardless of length, over straight away par 5's that tempt one to over swing on the second shot in an almost always vain attempt to reach the green in two. #8 is one of the former – an almost U-shaped hole that requires a good, but not necessarily long drive. There is water all down the left side and only an idiot would attempt to clear it on the second shot. However, the landing area for the second shot is quite narrow. Go long and your in a trap or worse, in the scrub where the thorns await. Stay short and you still have a long approach in over water and sand. The Goldilocks second shot was a hybrid trouble wood which still left an eight iron in, but took both the sand and the water out of play. I really liked the design of this hole where you could get anything from a four to a ten.
 Old Quarry # 9 – 355 Yard Par 4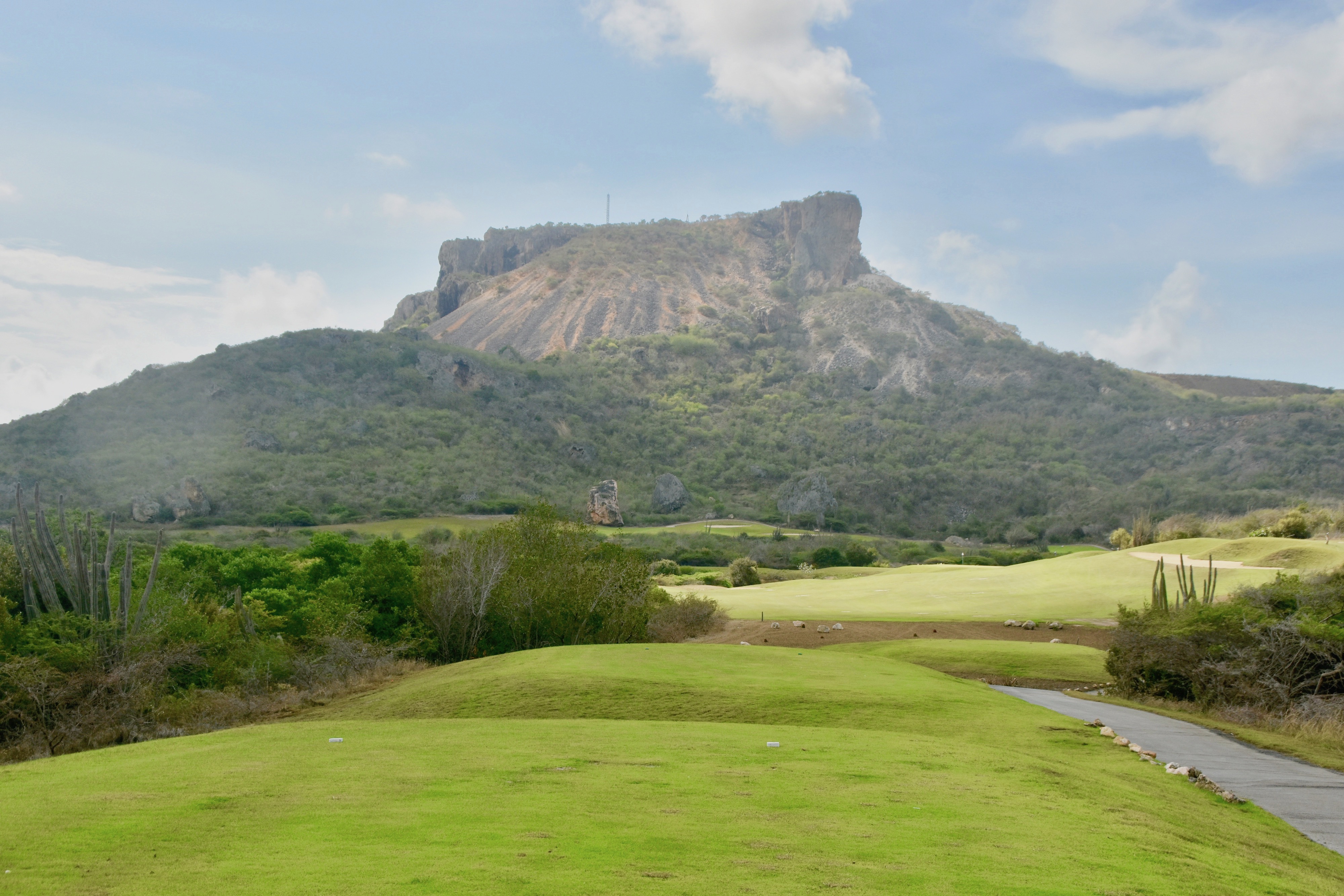 For a course with a lot of beautiful looks off the tees, I thought #9 with Mount Tafelberg directly ahead, was the nicest. In fact if you want to get the classic photo of yourself on the course at Old Quarry I'd recommend this tee box.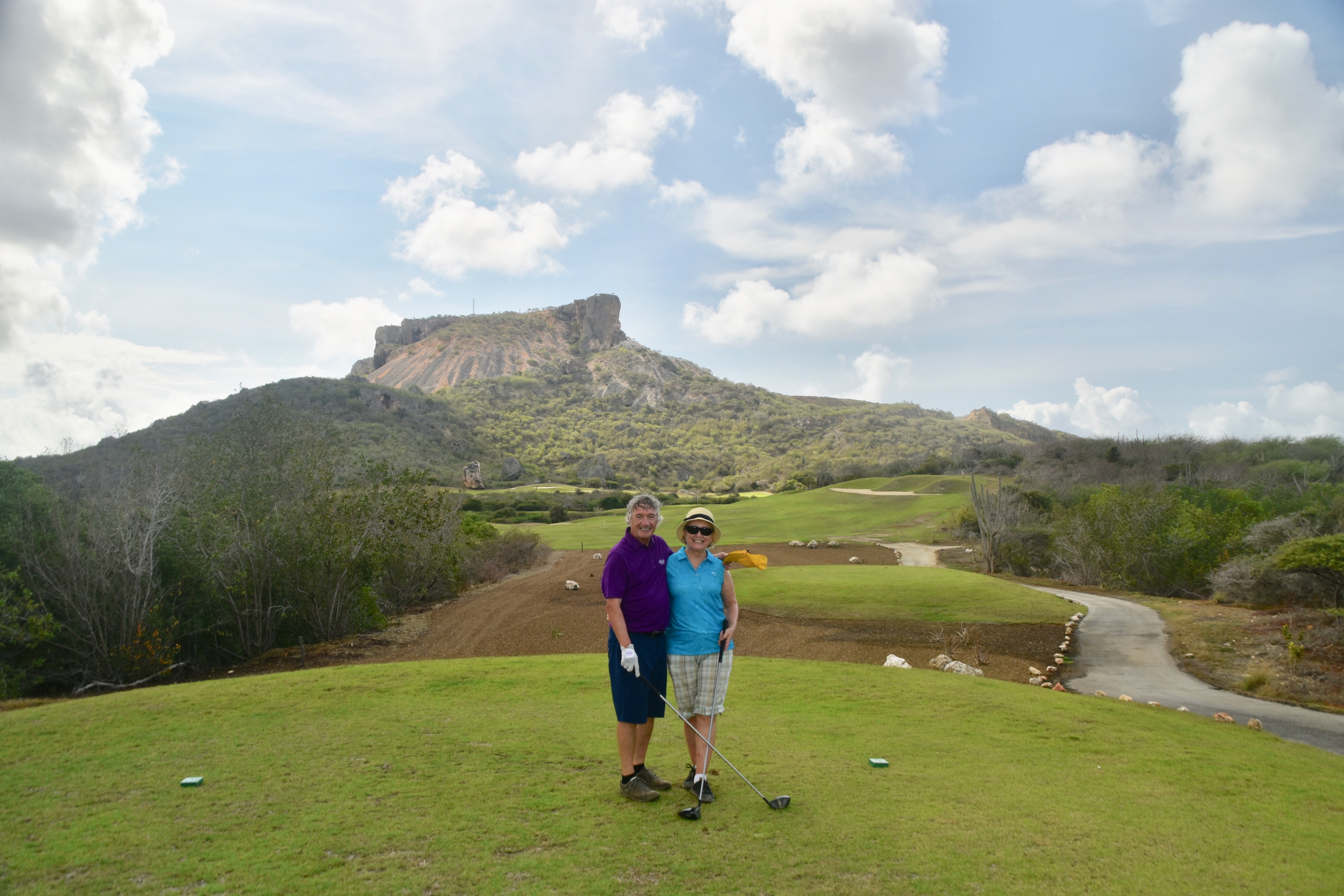 This was a bit of a tricky par 4 to play as the wide fairway slants quite steeply right to left forcing the drive to a position where you have a blind second shot to an uphill green. A really good drive well to the right could stay up top making for an easier approach, but risking disaster if you go too far right. You wouldn't know this the first time you played this hole (unless you bought the course guide), but the second time around this becomes a real thinking man's drive – risk the right hand side or chicken out and go left and pay the price on the second shot. A good hole no matter how you judge it.
 #10 – 358 Yard Par 4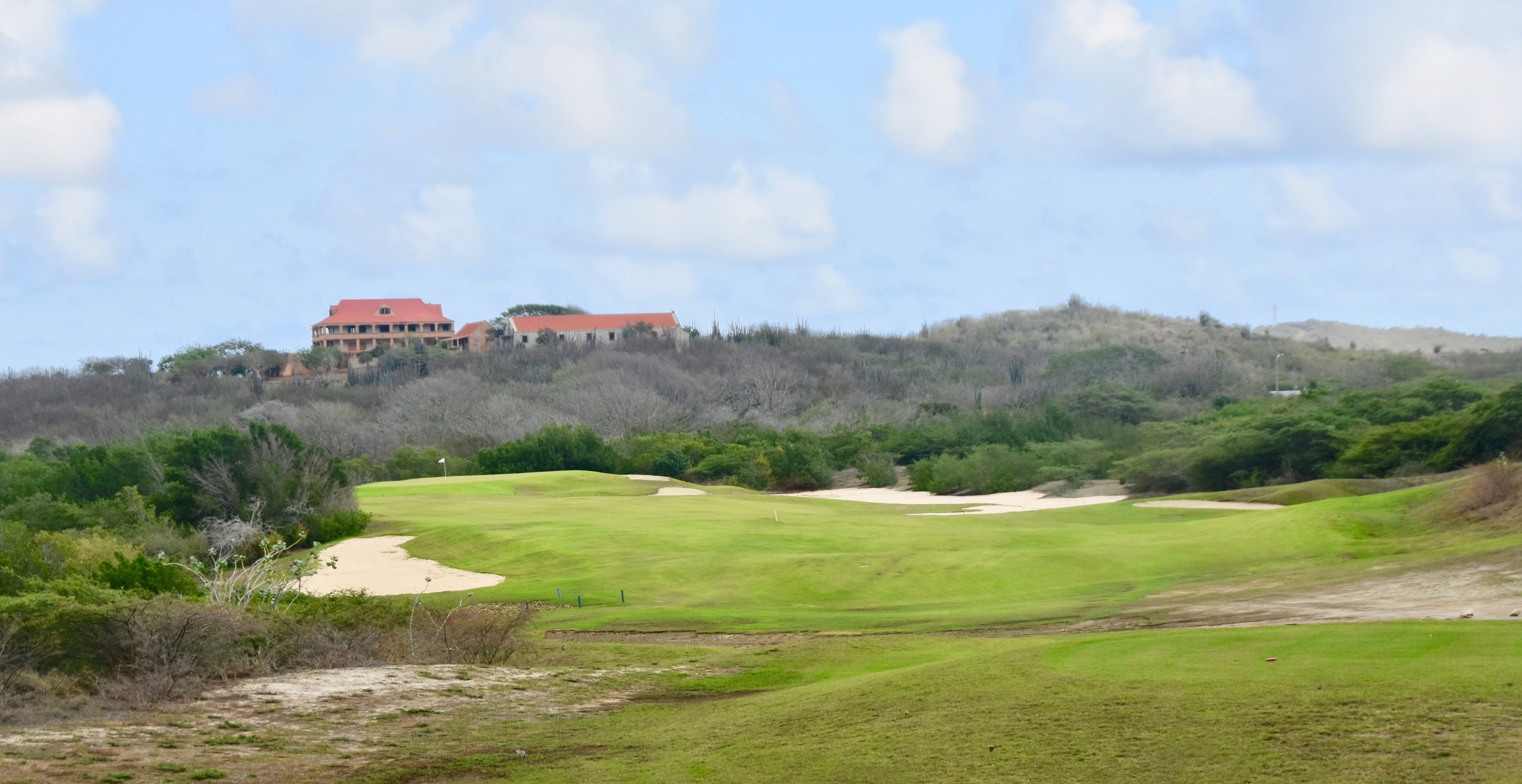 This is a course that does not return to the clubhouse after nine. The tenth hole has yet another different look to it than any other hole at Old Quarry. Instead of water, a mountain or desert you get this great view of the Santa Barbara Plantation Landhouse or landhuis as they are called on Curaçao. At one time all of the land that makes up the Santa Barbara area was controlled by the owners of this plantation and the plantation was only feasible with the use of slave labour. Now descendants of slaves and slave owners play this course built on land that had a much less happy past than present.
As far as playing #10, after you're finished contemplating the landhuis, it requires a decent drive and good second shot to an elevated green.
Old Quarry #11 – 400 Yard Par 4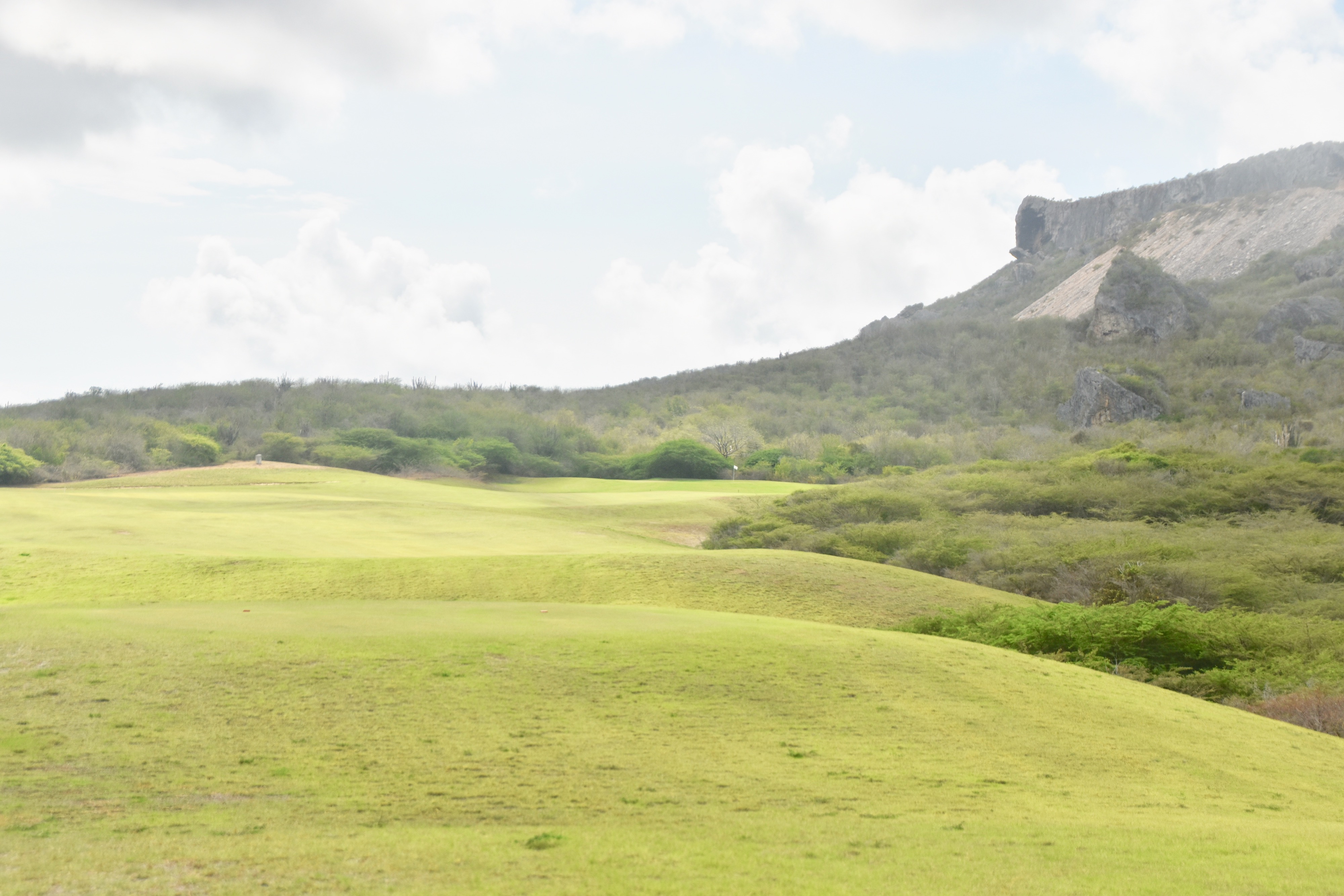 #11 is a bit of a brute at 400 yards and that's into the prevailing wind. As you can see the fairway slopes off steeply to the right as the hole doglegs in that direction. The ordinary golfer should just give in on this hole and play for a bogey, because if you get off the fairway anywhere on this hole you're screwed – then a bogey would look great.
#12 – 526 Yard Par 5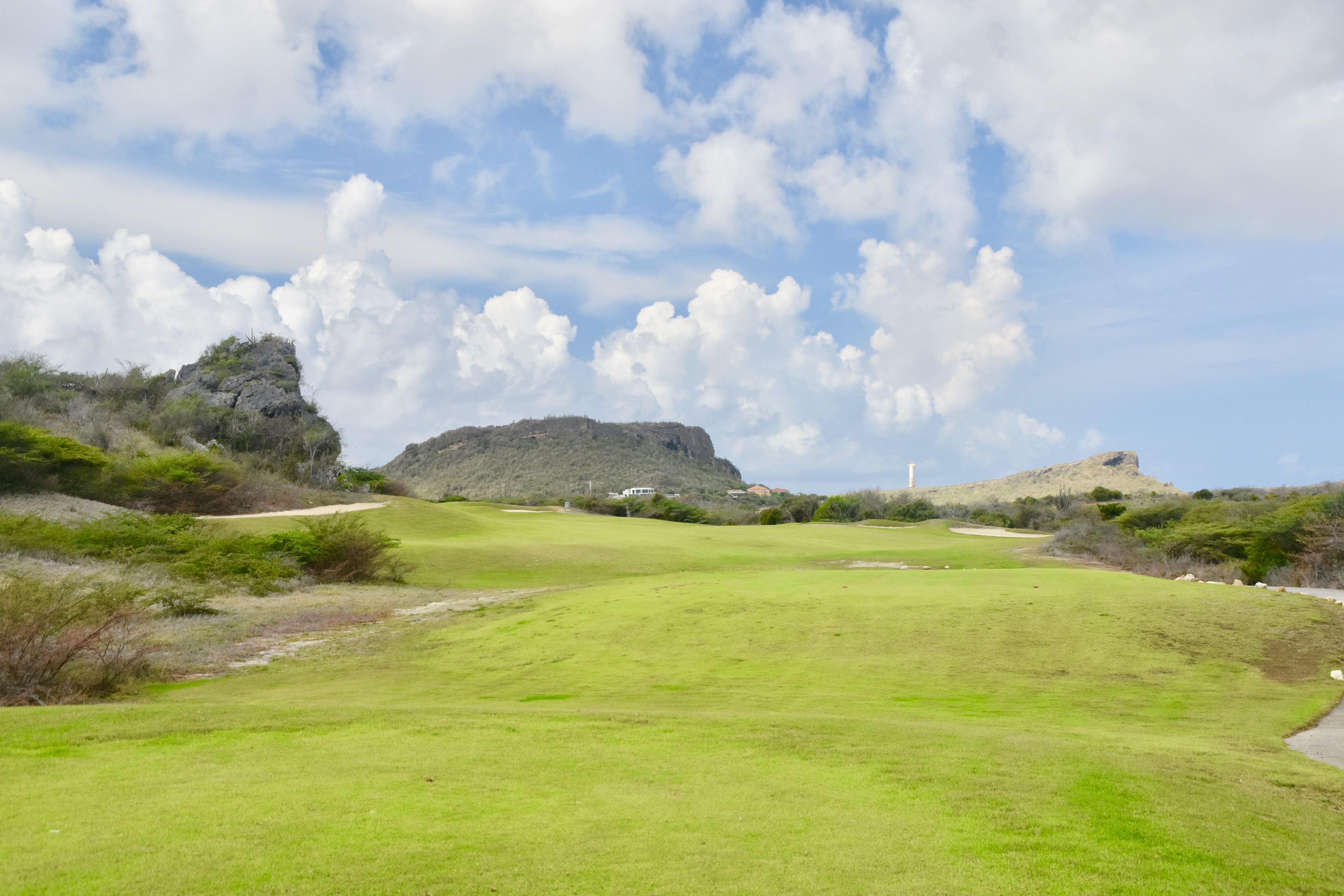 This is a long uphill par 5 that plays right along the foot of Mount Tafelberg on the left. It's a three shot hole to the green for sure so take your time and enjoy the scenery like some of the giant boulders that line this hole.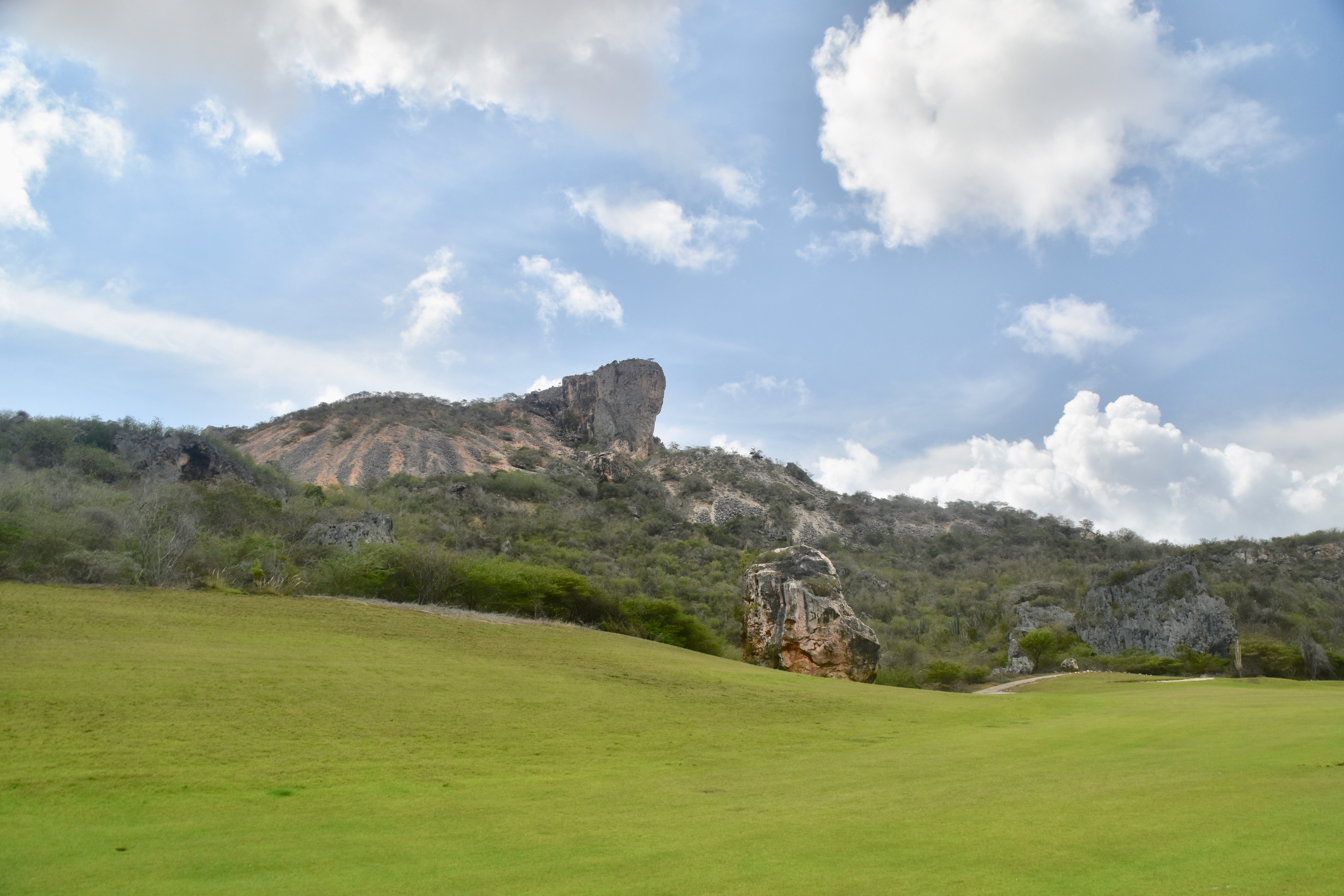 Old Quarry #13 – 175 Yard Par 3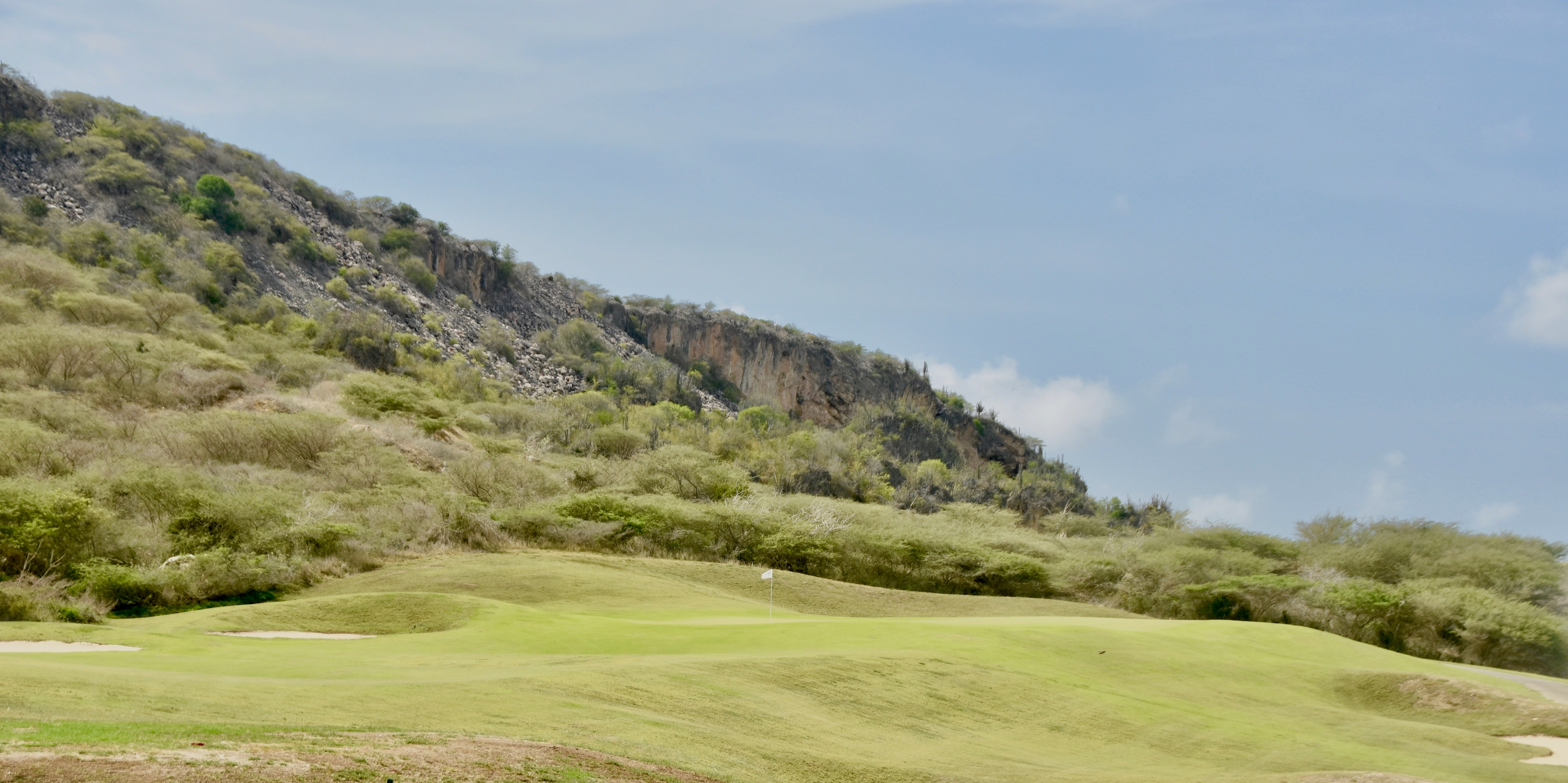 This is the longest and by far the hardest par three at Old Quarry. It plays considerably uphill and far longer than its official length of 175 yards. Don't be ashamed to hit a wood from the tee as everything short falls off to the right for a blind second shot. You don't get that too often on a par three.
 #14 – 322 Yard Par 4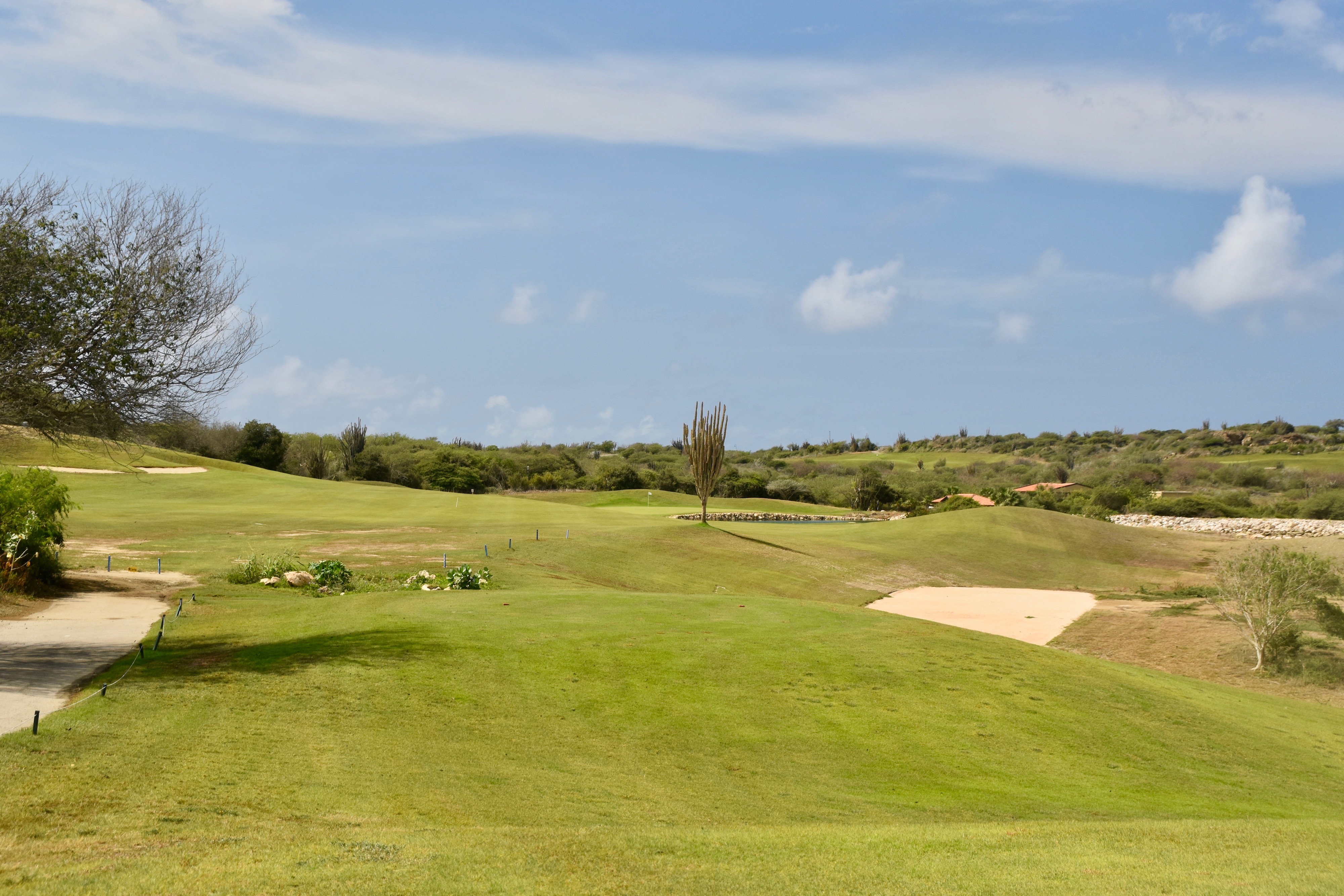 This is the easiest hole on the course and actually plays shorter than its already short length. There's a ton of room to the left from where it's an easy wedge in. The best shot for a birdie at Old Quarry.
Old Quarry #15 – 423 Yard Par 4
#15 is another visually attractive hole in the desert motif. It's also the hardest hole on the course as it plays very steeply uphill, particularly around the green. There is no way the average golfer is getting home in two. The green is ridiculously long. With the pin placement in this photo you could easily have a 100 foot putt. Good luck with that and thank goodness we have a cart.
 #16 – 148 Yard Par 3
Before teeing off on #16, the highest point on the course, look back for this great view of Mount Tafelberg, the marina and many of the holes on the back nine.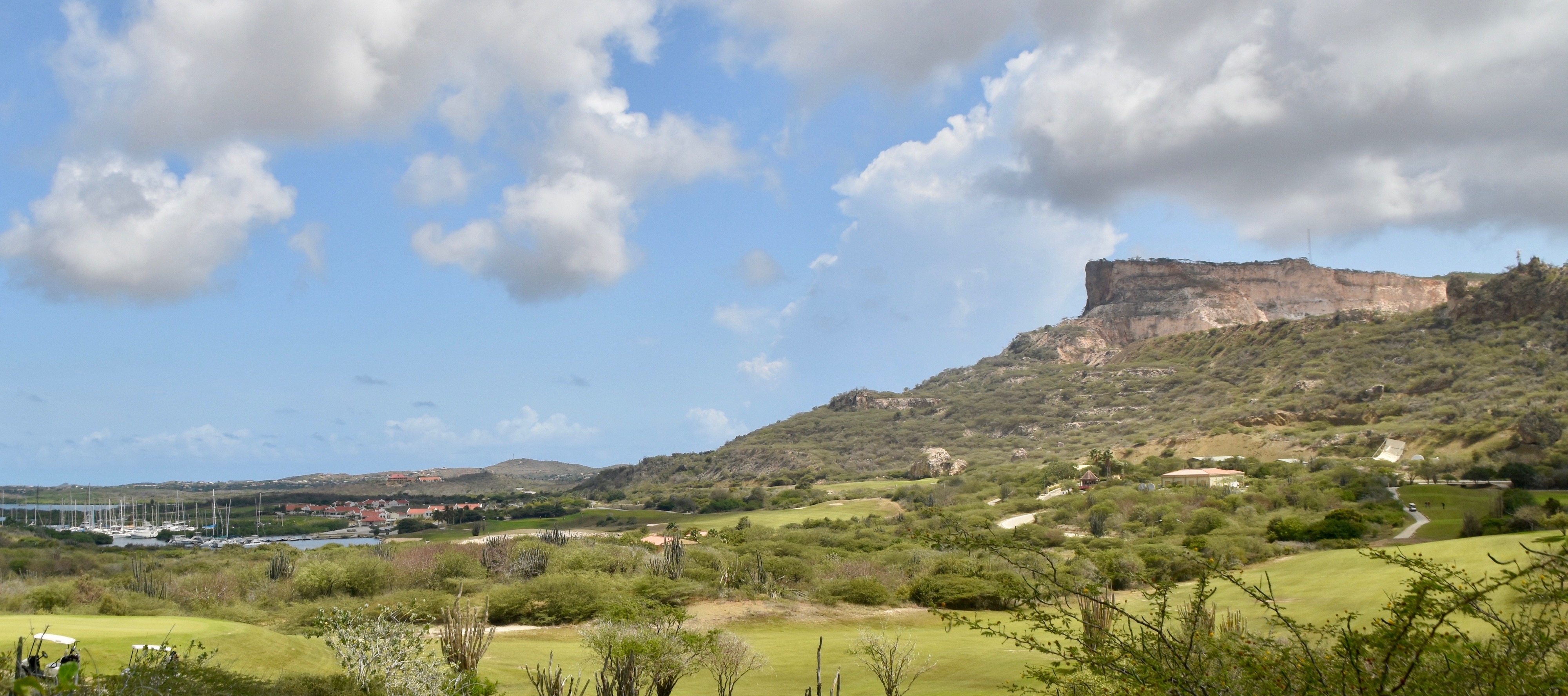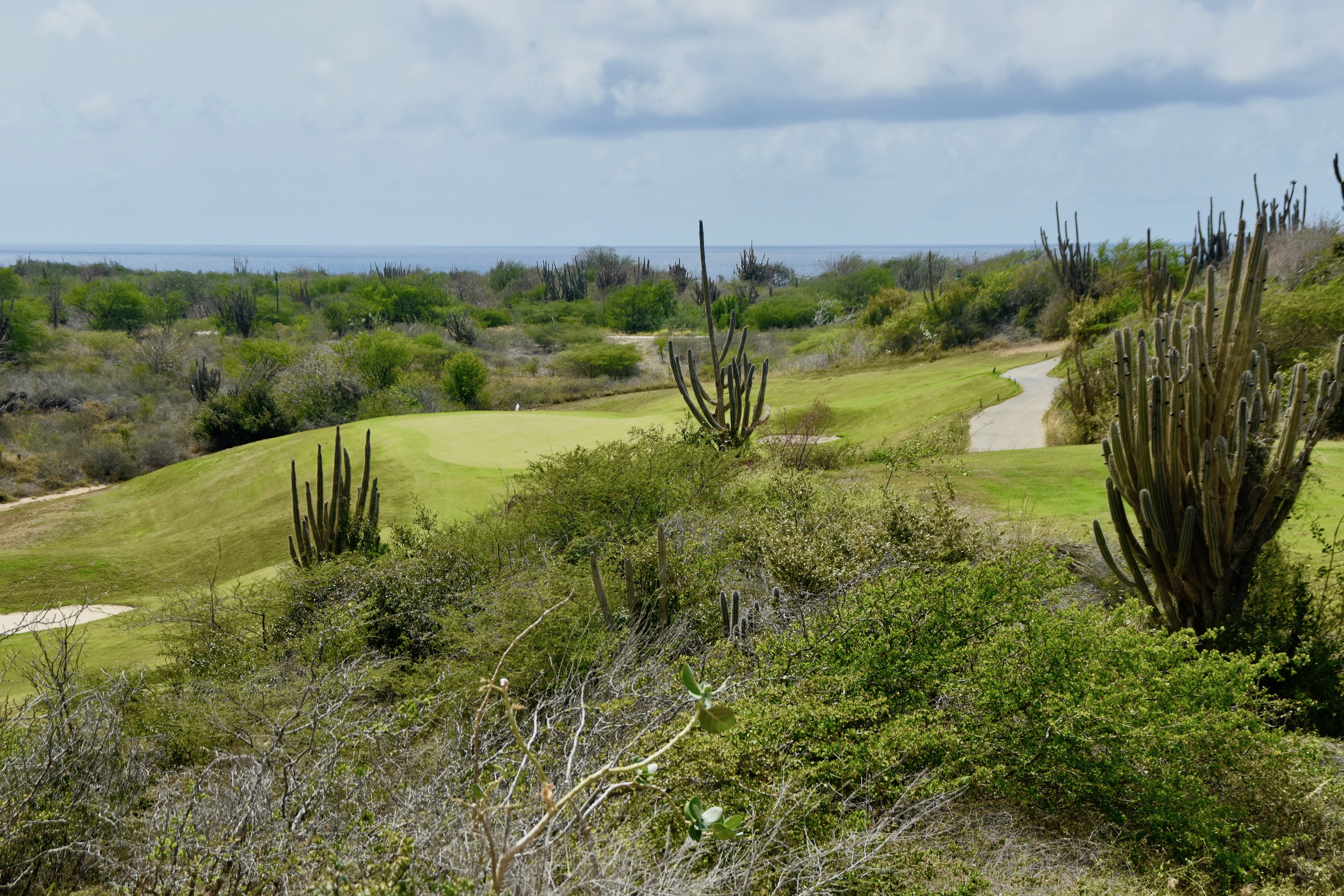 The final par 3 at Old Quarry is interesting to say the least. How often do you have this kind of mess directly in front of the tee box? It's really more of an intimidation factor than a real threat because the tee shot requires a lofted club that should take even the tall cactus out of play. Still it presents a poser the first time you play it.
Old Quarry #17 – 437 Yard Par 5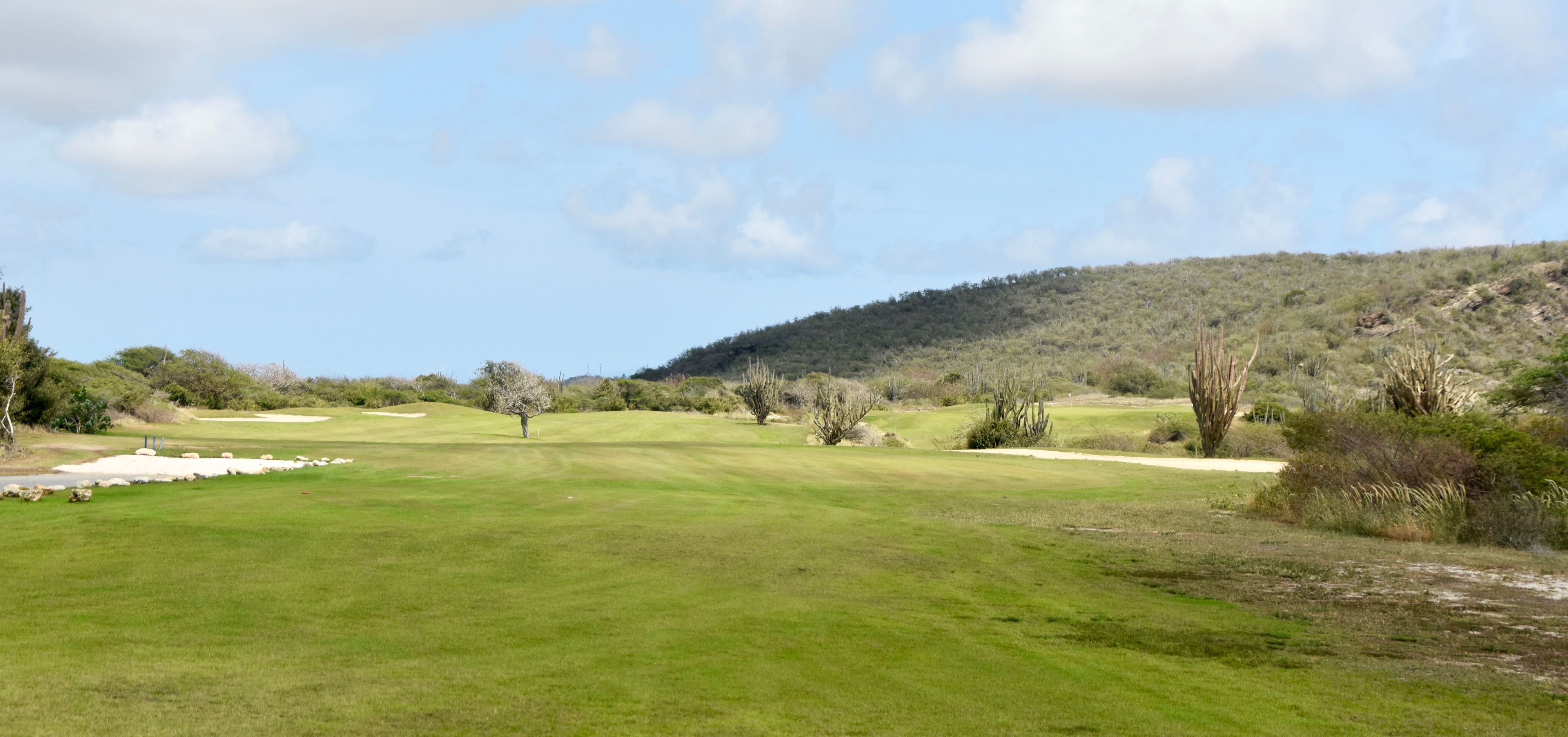 I had to do a double take when I saw this hole listed as a par 5. As a par 4 it wouldn't be harder than 5, 11 or 15 so why a 5? To top it off it has an insanely wide double fairway. The best tee shot is to the right side which gives a decent shot at getting home in two and a putt for an eagle. The one thing you don't want to do is hit a great drive and get blocked out by the farthest cactus, which is exactly what I did. With some course knowledge (like using the course guide?) this should be an ego boosting birdie chance.
 #18 – 404 Yard Par 4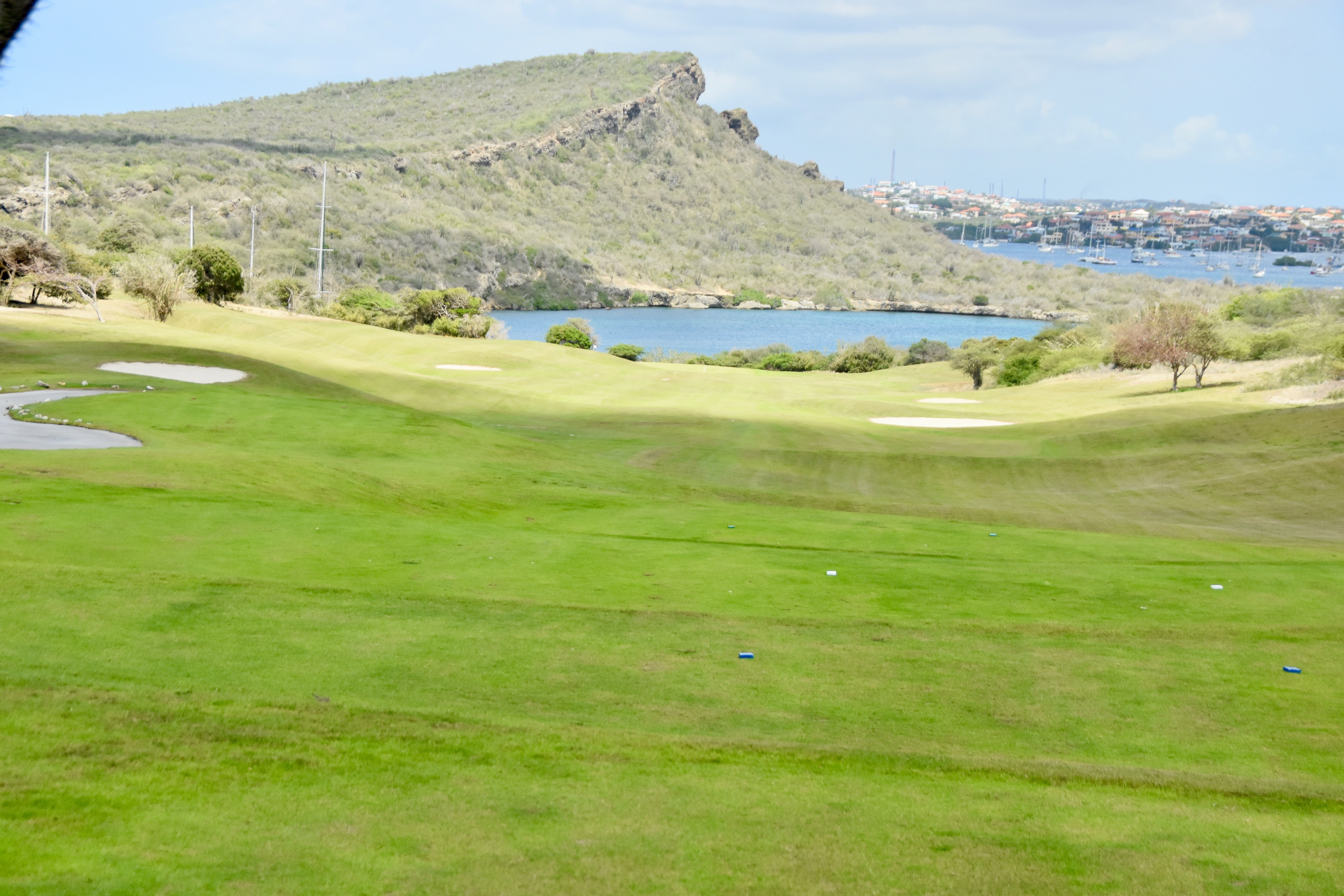 This is a great finishing hole with more great views from the tee box. All downhill with a bowled fairway, your drive will roll for miles leaving an easy second shot for a possible birdie ending to the round. Thanks Pete, for making the last two holes ego boosters and making everyone want to return for another round.
Old Quarry advertises itself as the #1 course in the Caribbean according to USA Today. I haven't played enough courses in the Caribbean to judge, although Apes Hill and the Green Monkey, if you can get on it, are certainly the equal of Old Quarry, but very different layouts in different ecosystems. The bottom line is that if you are a golfer and find yourself in Curaçao, you must play this course.