Longwood Gardens – Fantastic Forest and Flowers
To the amazement of some of my friends, all male ones I might add, I love flowers – looking at them, smelling them, photographing them and, of course, growing them. When traveling, visiting gardens is always one of my top priorities. Longwood Gardens had long been at or near the top of great gardens in North America that I would like to visit, but hadn't had the opportunity to do so, until last week. Driving from Nova Scotia to Florida this spring Alison and I decided to take the time to stop in the Philadelphia area for a few days and see some of the great attractions of that city, of which there are many. Longwood Gardens was high on the list and the first place we stopped on the way into the city. Here's why it exceeded my expectations in every way despite the fact we were visiting in what was really the off season.
History of Longwood Gardens
Longwood Gardens didn't come into existence as the result of a conscious decision by one person or organization to create a great outdoor attraction, but rather a series of events that, taken collectively and stretching well over a century, led to what today is over 1,000 acres of gardens, arboretums, fields and ponds. Longwood Gardens is located in the Brandywine Valley, an area of great natural beauty and fertile soil that has been inhabited for thousands of years. In fact, in Peirce-Du Pont House you can view arrowheads found on the gardens property that are older than the Egyptian pyramids. In terms of eco-regions, the area is at the southern edge of the Northeastern coastal forest and the northern edge of the Middle Atlantic coastal forest, which is a fancy way of saying that the Brandywine Valley has a natural embarrassment of riches when it comes to flora and fauna. I guess you could say that Longwood Gardens has 'good genes'.
The first European settler was George Peirce (yes that's spelled correctly) who received a grant for over 400 acres in 1700 and in 1730 his son, Joshua cleared the land and built the first edition of what evolved into the present day Peirce-Du Pont House. The first inclination the area might become a world famous garden started in the late 1700's when Joshua's grandsons, Joshua and Samuel began collecting specimens of trees and shrubs for a small arboretum. With gifts from other botanists adding to the collection, the foundation for Longwood Gardens was in place. The trees and shrubs flourished, grew tall, flowered in spring, coloured in fall and soon people from all over the Phildelphia area were flocking to the Peirce property to picnic among them. This lasted for most of the 19th century, but then the interest in botany in the Peirce bloodline waned and the grounds were not kept up. Incredibly to us today, but not at all unusual then, the property was sold to a lumberman who saw great potential in felling and milling what were by now huge and beautiful specimen trees. Fortunately, Longwood Gardens had a guardian angel in the person of Pierre S. du Pont, one of the great philanthropists of the 20th century and also a resident of the Brandywine River Valley.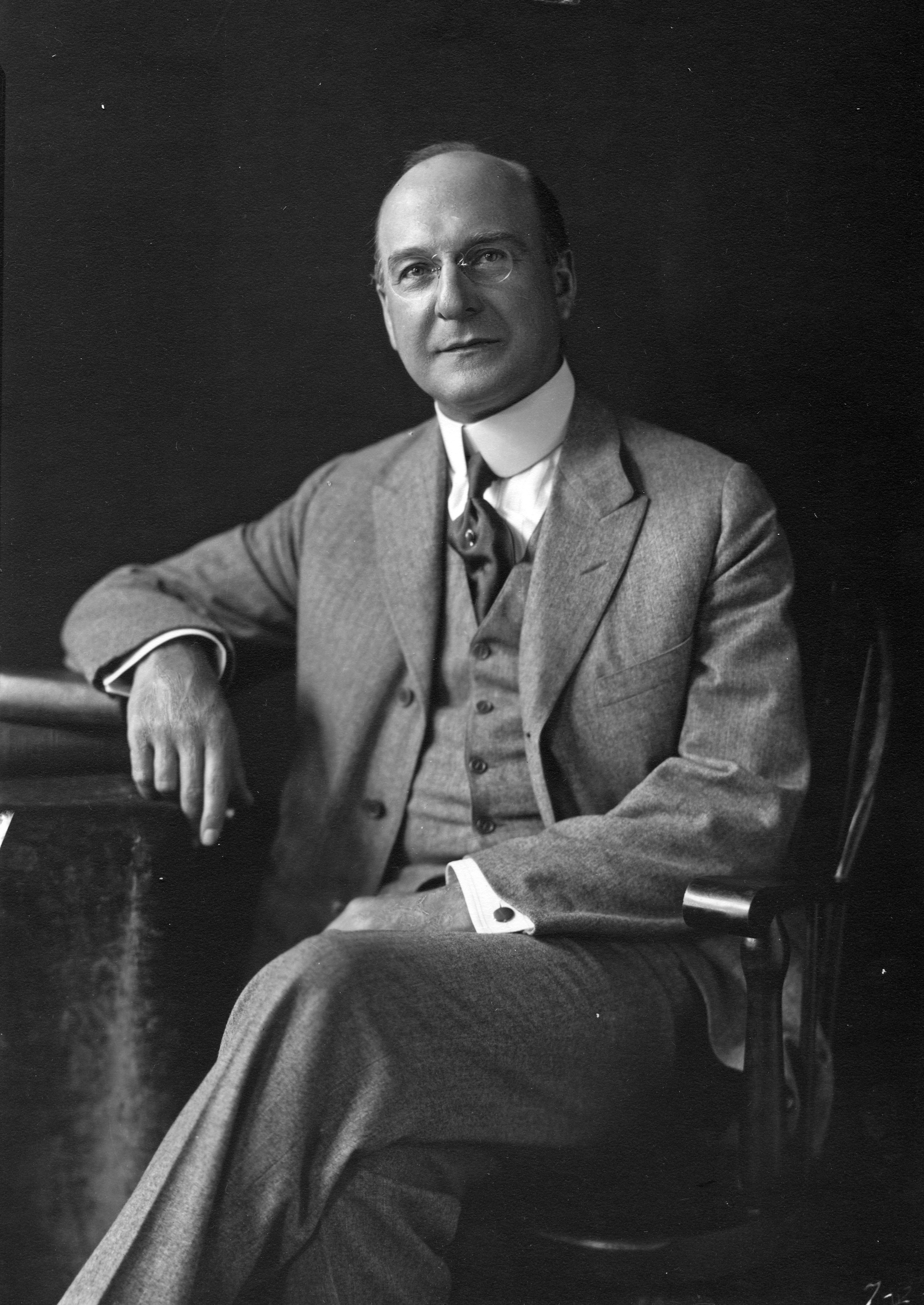 Taking time out from running both the DuPont chemical companies and General Motors, he bought the old Peirce holdings, expanded them substantially and added feature after feature that put Longwood Gardens on the bucket list for all gardeners, horticulturalists, botanists and people who are nuts about fountains. When he died in 1954 he left the place to the public with a large endowment to make sure it continued to thrive and it has – in 2017 over 1.5 million people visited.
Visiting Today
As I mentioned earlier, our visit to Longwood Gardens was actually well before most of the flowers, trees and shrubs would be in bloom and a good month before the fountains that are one of the main attractions, were turned on. Spring in 2018 was well behind schedule and the morning of our visit it was chilly, but sunny. Frankly, I was prepared to be disappointed. While I'm sure that a visit when everything was in bloom and the fountains were operating would be amazing (and we will definitely be returning for that), as it turned out there was more than enough going on to satisfy even the most jaded visitor.
Longwood Gardens is enormous – over 1,000 acres, and there are walking paths through a number of different eco systems and we started off by simply rambling, enjoying the many specimen trees that were first planted by the Peirce brothers over 200 years ago. I had no idea that cypress trees could grow this far north and had always associated them with the cypress swamps of Georgia, Florida and other southern states, but here was a grove of bald cypress that was clearly thriving without benefit of wet feet or warm weather. You can see the tiny cypress knees, for which these trees are known, poking out on the left side of the photo.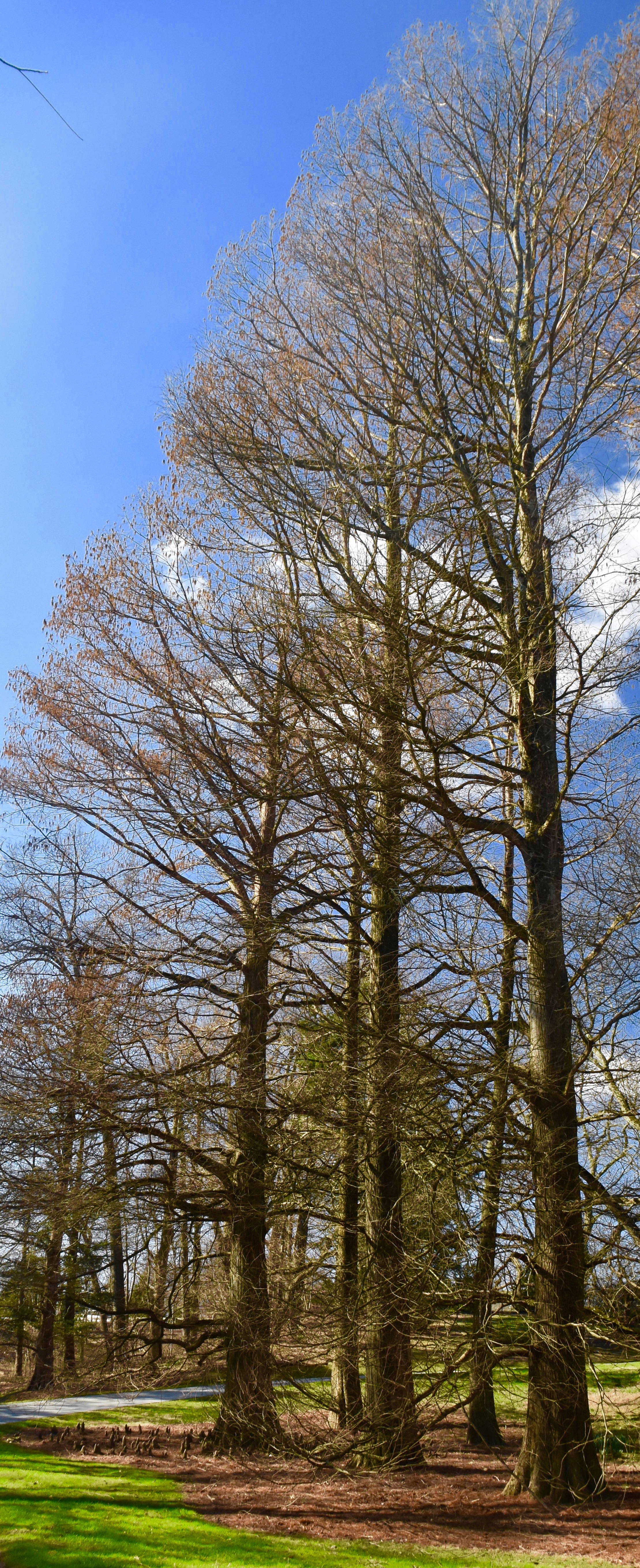 Likewise, we found many other mature specimen trees that you would not expect to see in this 'neck of the woods'. Our walk took us to Peirce-Du Pont house which is a combination of the original Peirce brick home from the mid 1700s and the additions made by Pierre du Pont much later on, including a small conservatory.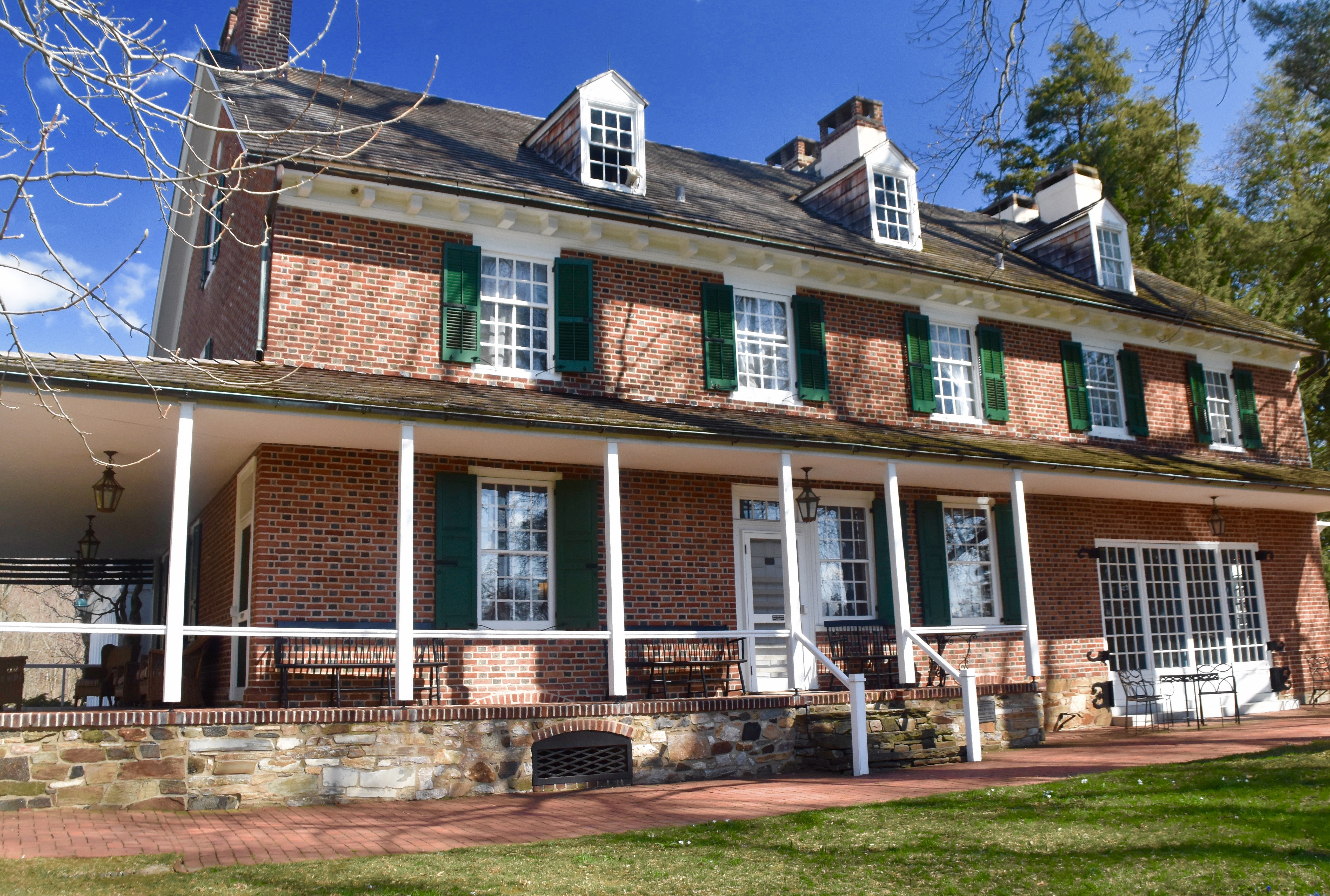 The conservatory was a good place to warm up for a few minutes.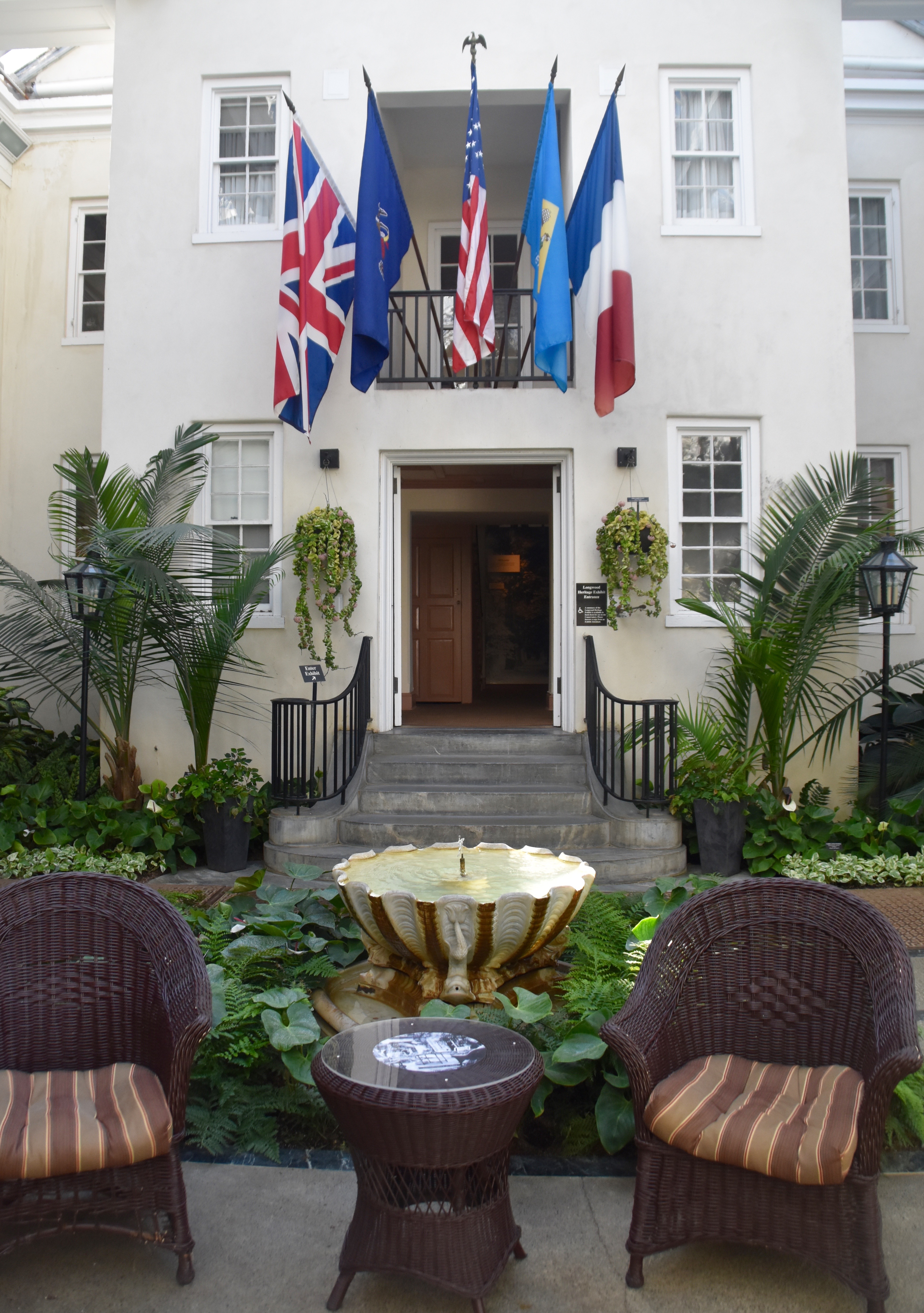 Just outside the house we started coming across early spring bulbs in profusion like this Siberian squill, also called scilla, scattered amid the bright yellow dogwood branches.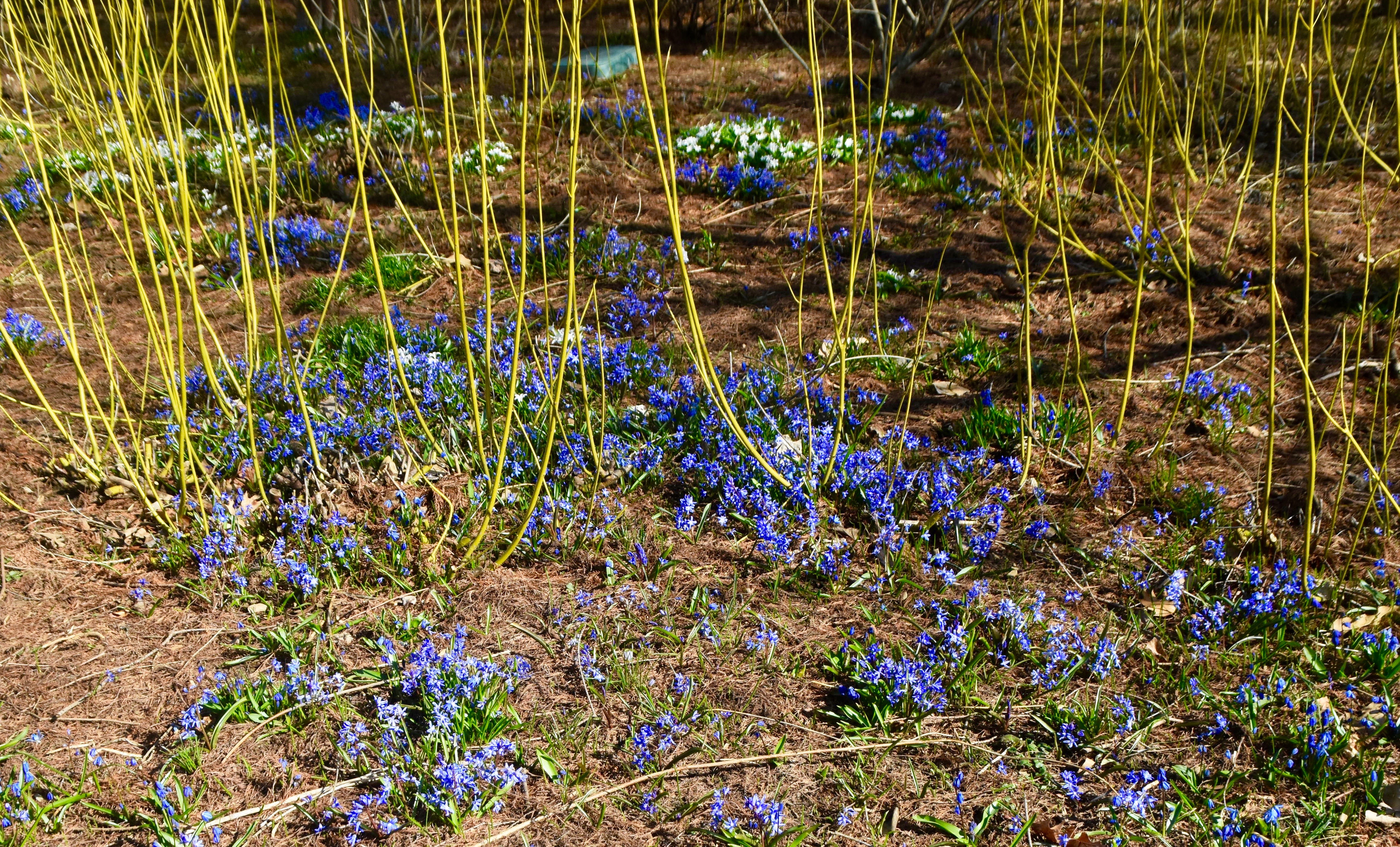 Approaching the area called the oak and conifer knoll the ground became a carpet of blue.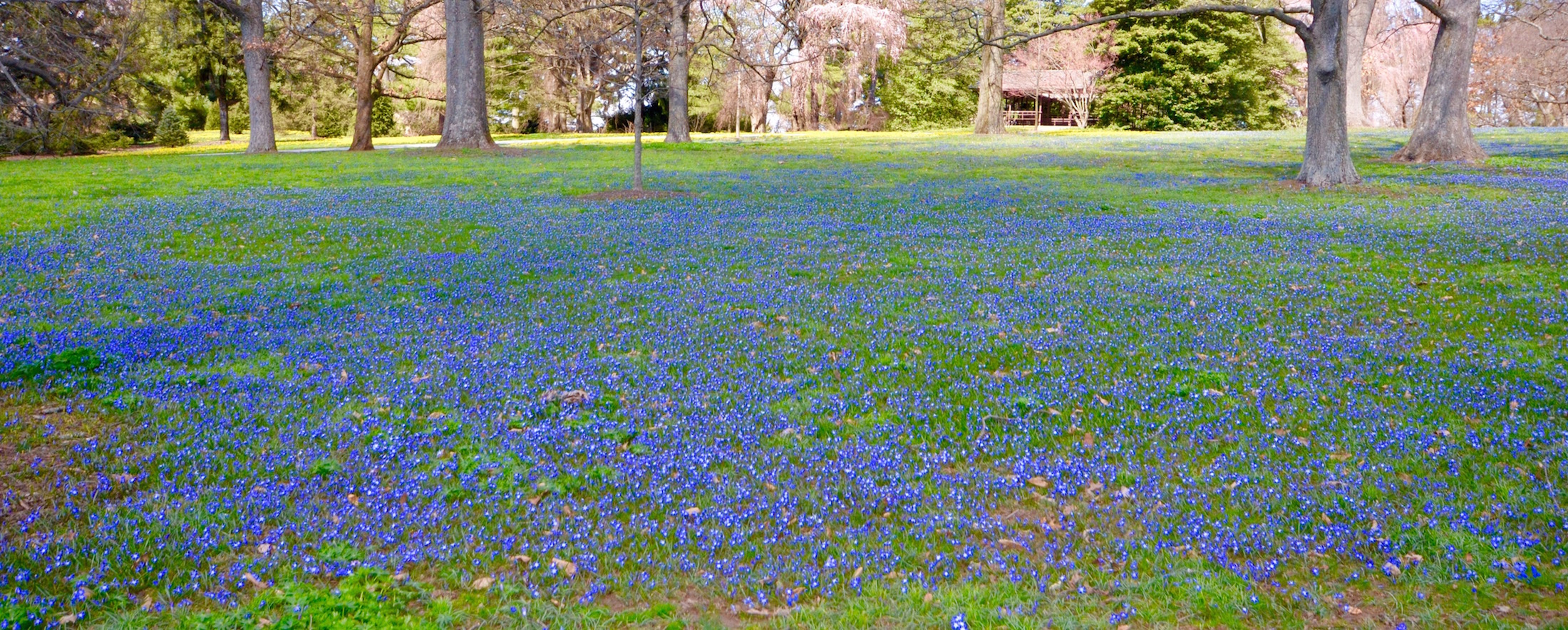 Although not great in numbers there were a few patches of my favourite early spring bulb, the leucojum.
And then this magnificent scene underneath cherry trees that were just days away from bursting open.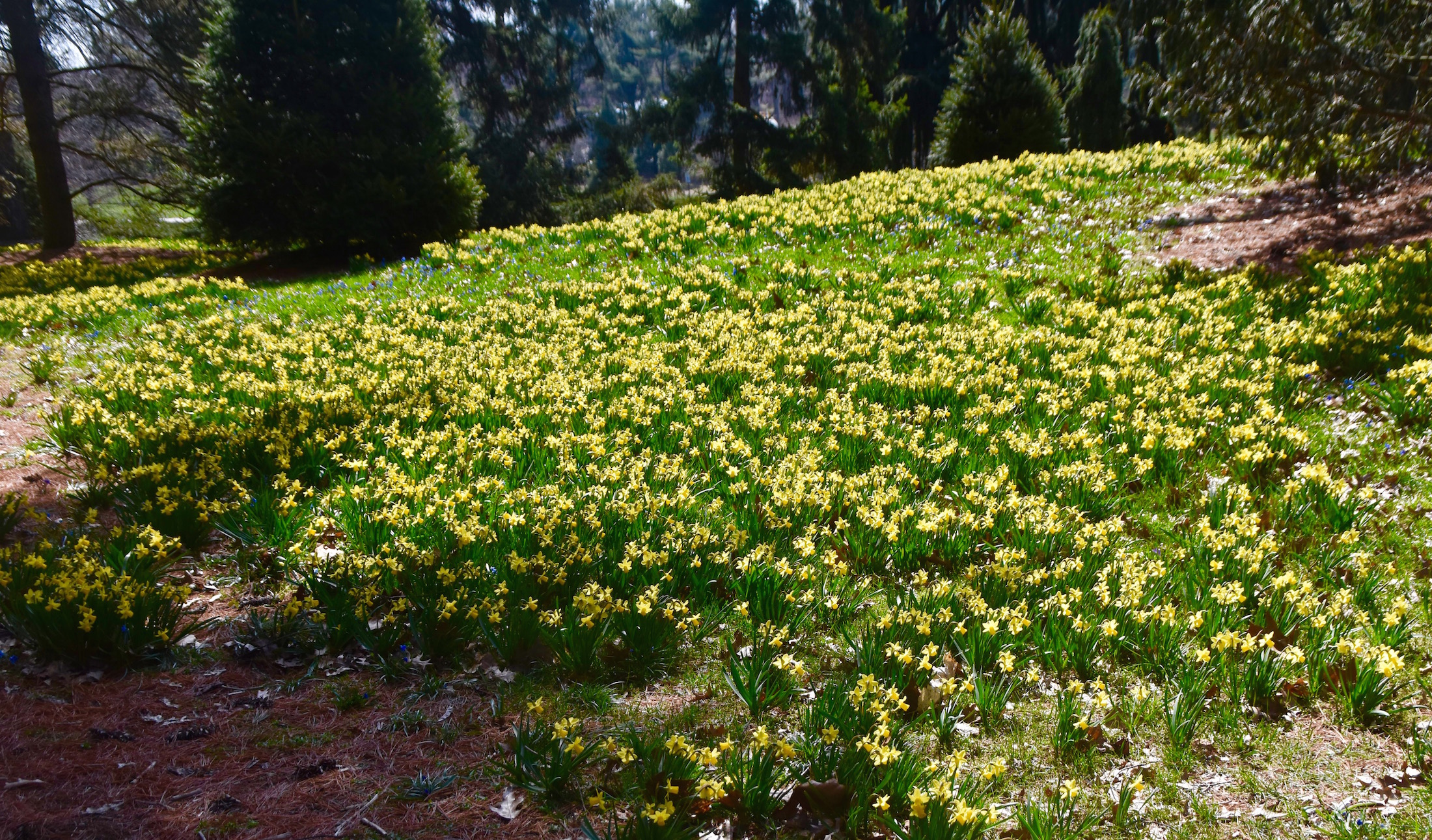 These are tete-a-tete narcissi which are really miniature daffodils and they are just about the most cheery sign of spring you will find anywhere. I couldn't help but thinking of Wordsworth's poem I Wandered Lonely as a Cloud. I think it captures perfectly the joy that flowers can bring just by looking at them.
I Wandered Lonely as a Cloud
I wandered lonely as a cloud
That floats on high o'er vales and hills,
When all at once I saw a crowd,
A host, of golden daffodils;
Beside the lake, beneath the trees,
Fluttering and dancing in the breeze.
Continuous as the stars that shine
And twinkle on the milky way,
They stretched in never-ending line
Along the margin of a bay:
Ten thousand saw I at a glance,
Tossing their heads in sprightly dance.
The waves beside them danced; but they
Out-did the sparkling waves in glee:
A poet could not but be gay,
In such a jocund company:
I gazed—and gazed—but little thought
What wealth the show to me had brought:
For oft, when on my couch I lie
In vacant or in pensive mood,
They flash upon that inward eye
Which is the bliss of solitude;
And then my heart with pleasure fills,
And dances with the daffodils.
The Conservatory at Longwood Gardens
By now we were working our way toward the formal part of Longwood Gardens where the massive conservatory dominates the landscape. First opened in 1921 it has been expanded many times and no doubt will be expanded more in the future. If the conservatory was the only thing to see at Longwood Gardens, it would be more than worth the price of admission; it is simply one of the greatest horticultural buildings on the planet and one could spend days exploring and photographing its thousands of species of plants.
This is the view upon passing through the doors above. You immediately forget about what going on in the outside world and are transplanted into fantasyland of colour, scent, water and light.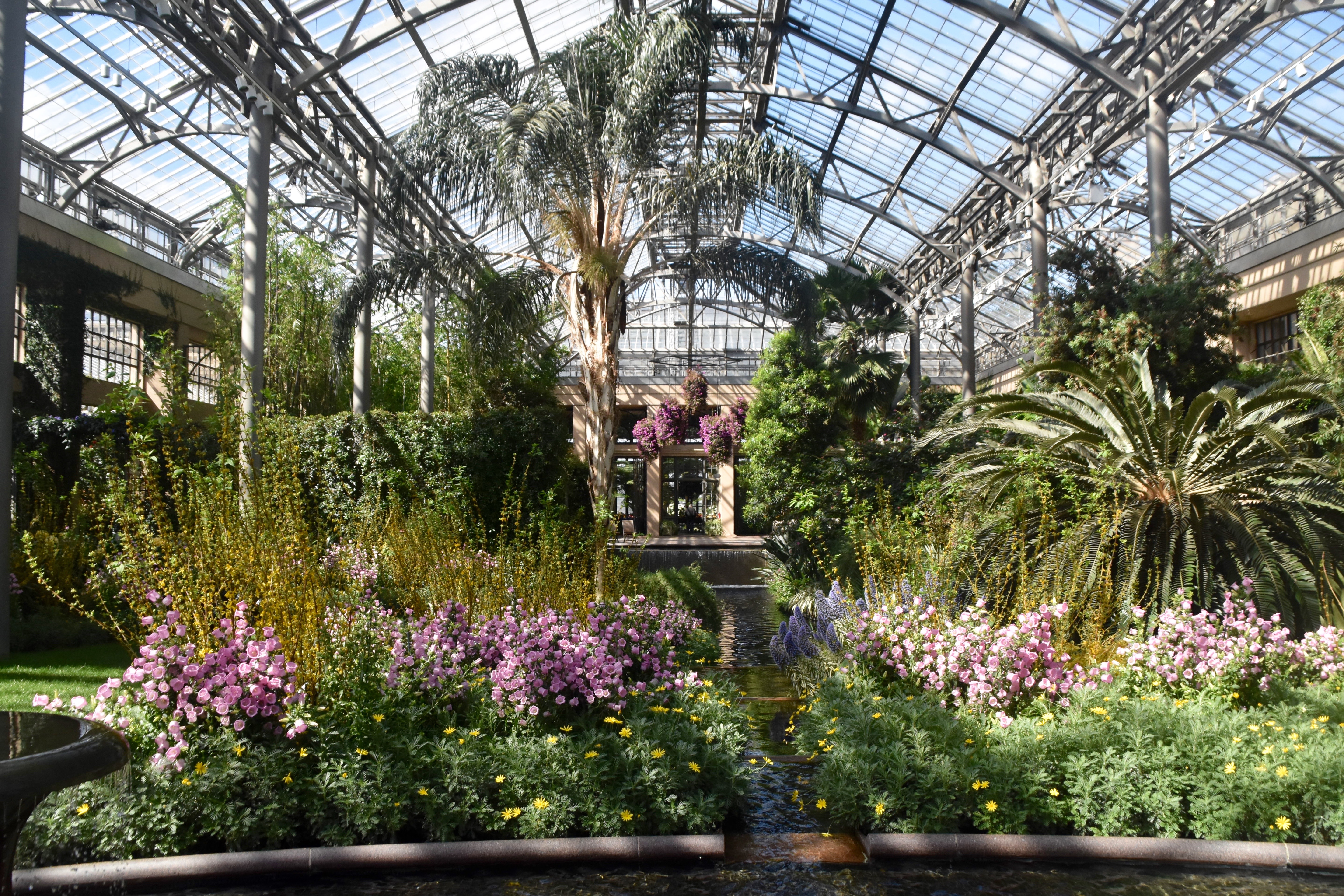 The conservatory is divided into many different types of specialty gardens, each one worthy of lingering in, but lest this post go on forever, I must limit my description to a few.
The enlarged children's garden just opened in 2007, but it has rapidly become the focal point for families visiting the conservatory. Everything in it has been scaled down to a child's eye view and it is a place of innocence and whimsy.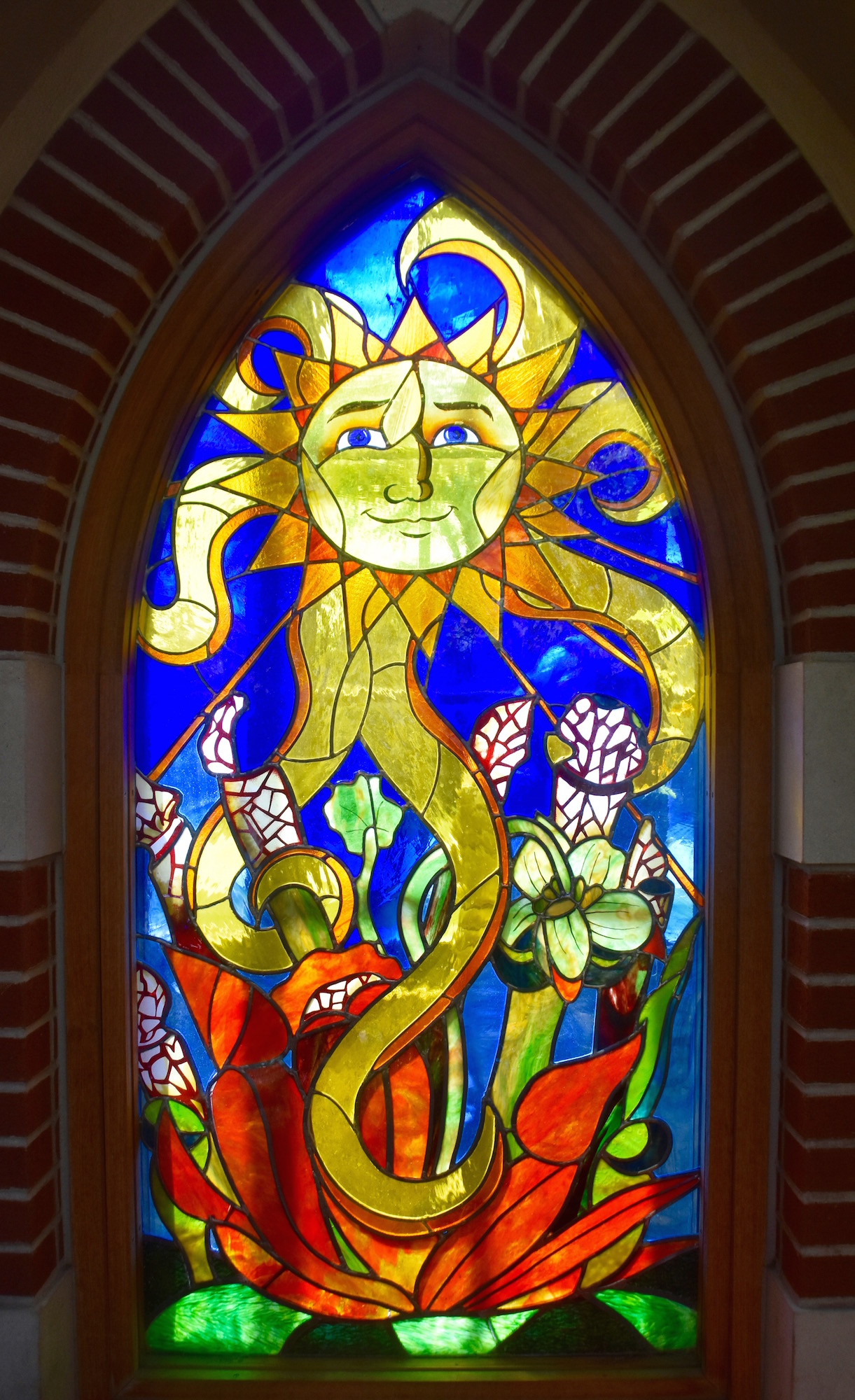 It is full of miniature fountains like this fanciful peacock.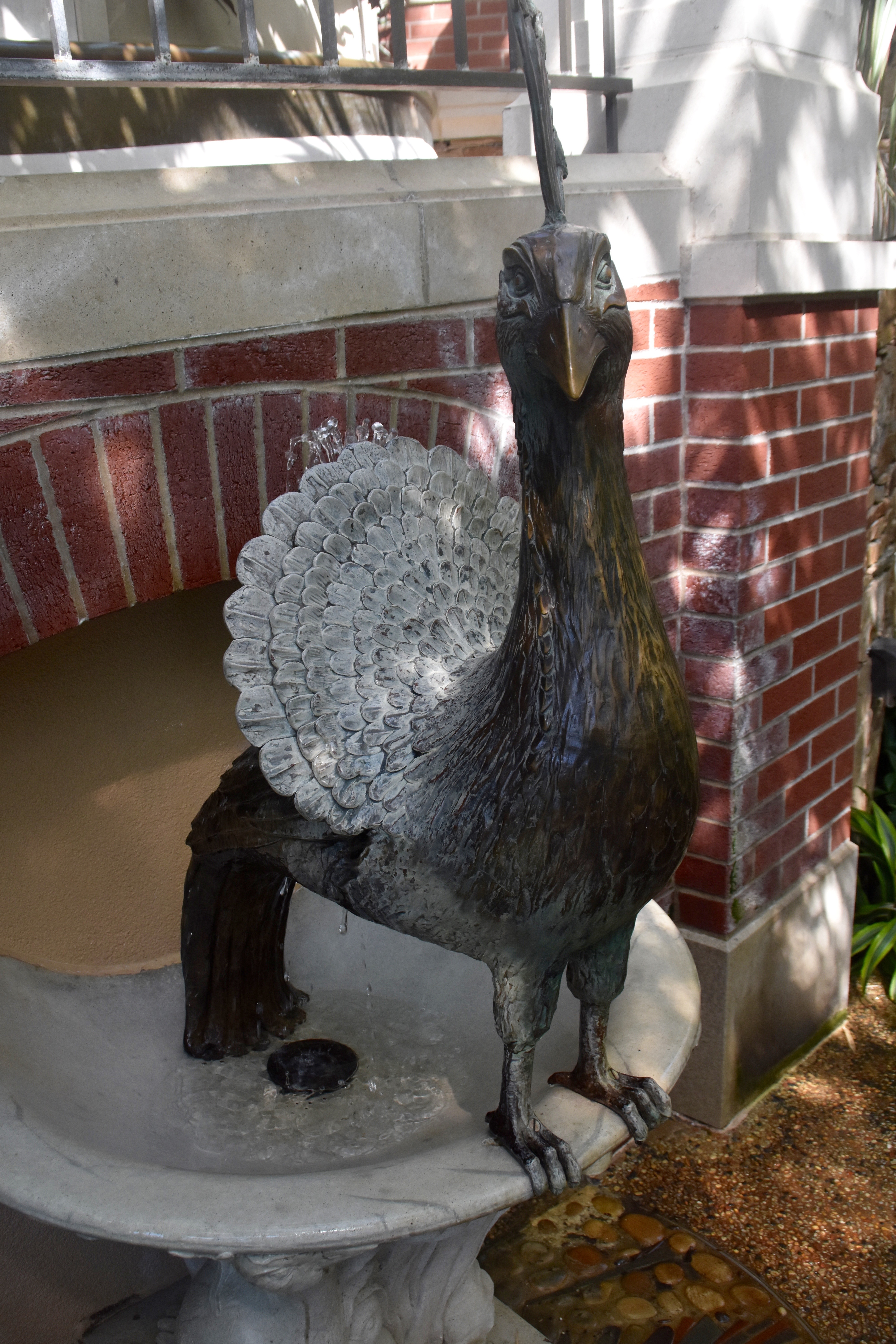 Although the tulips are not yet in bloom outside, they sure are inside.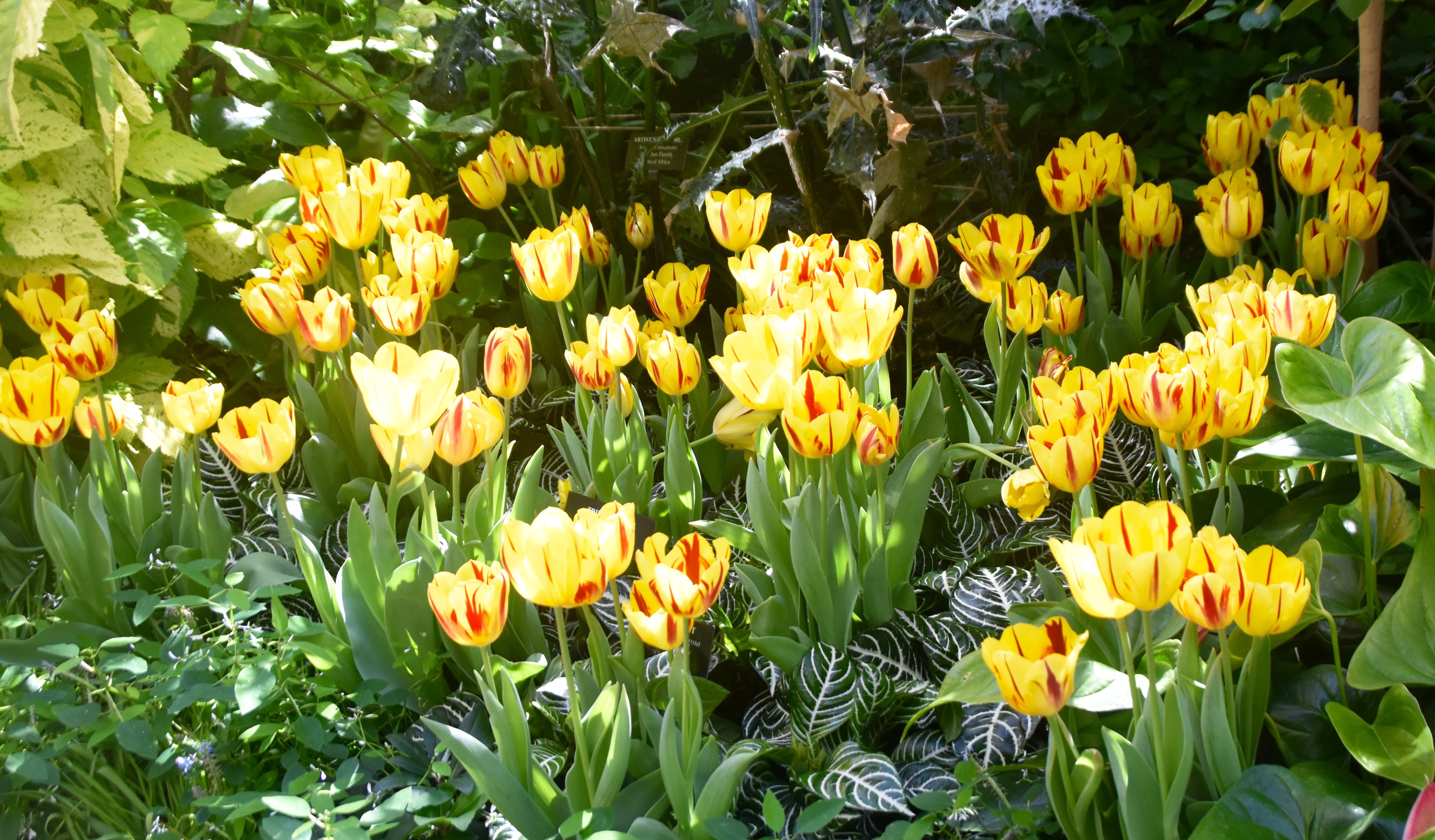 So are Siberian iris.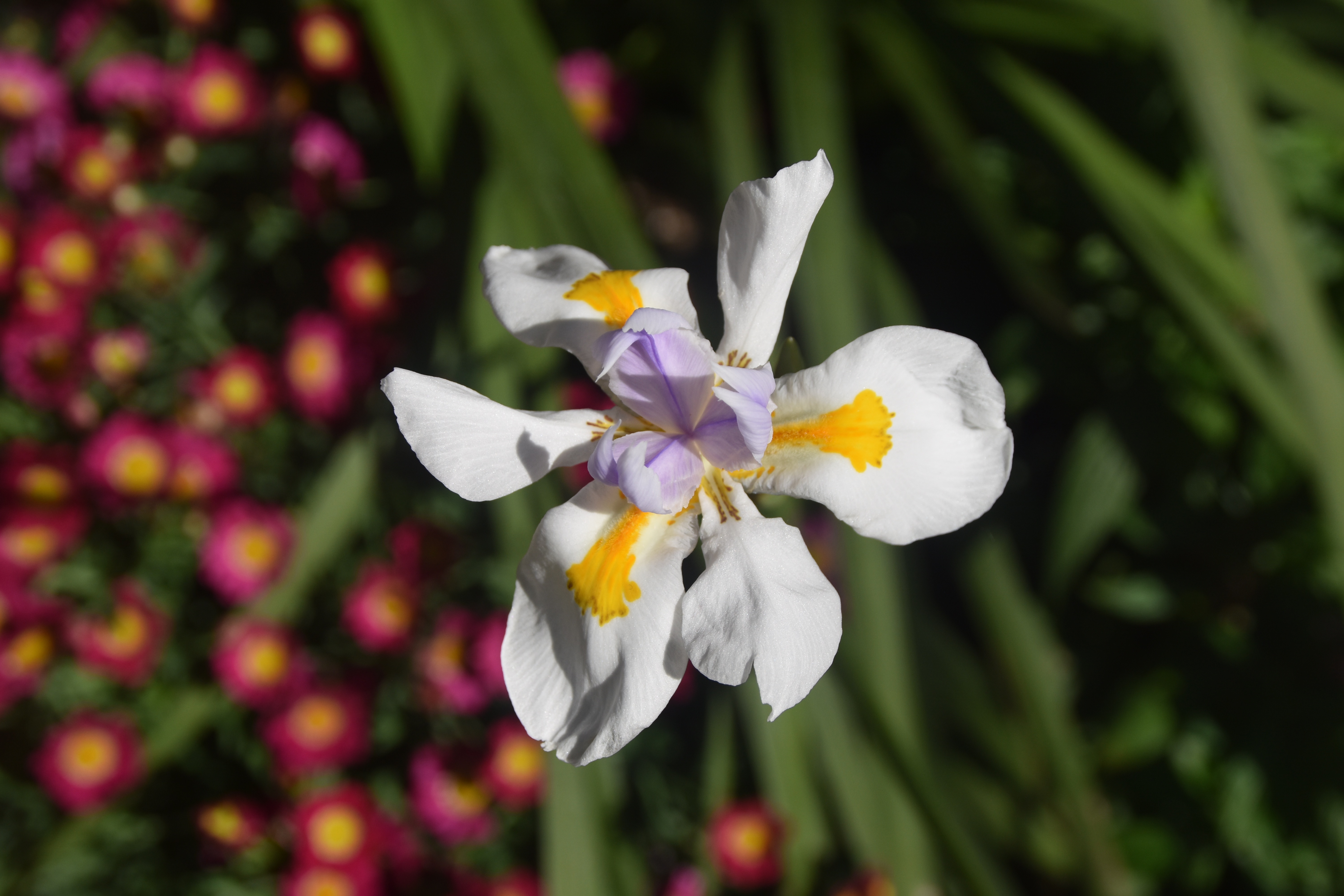 Normally late summer blooming hydrangea.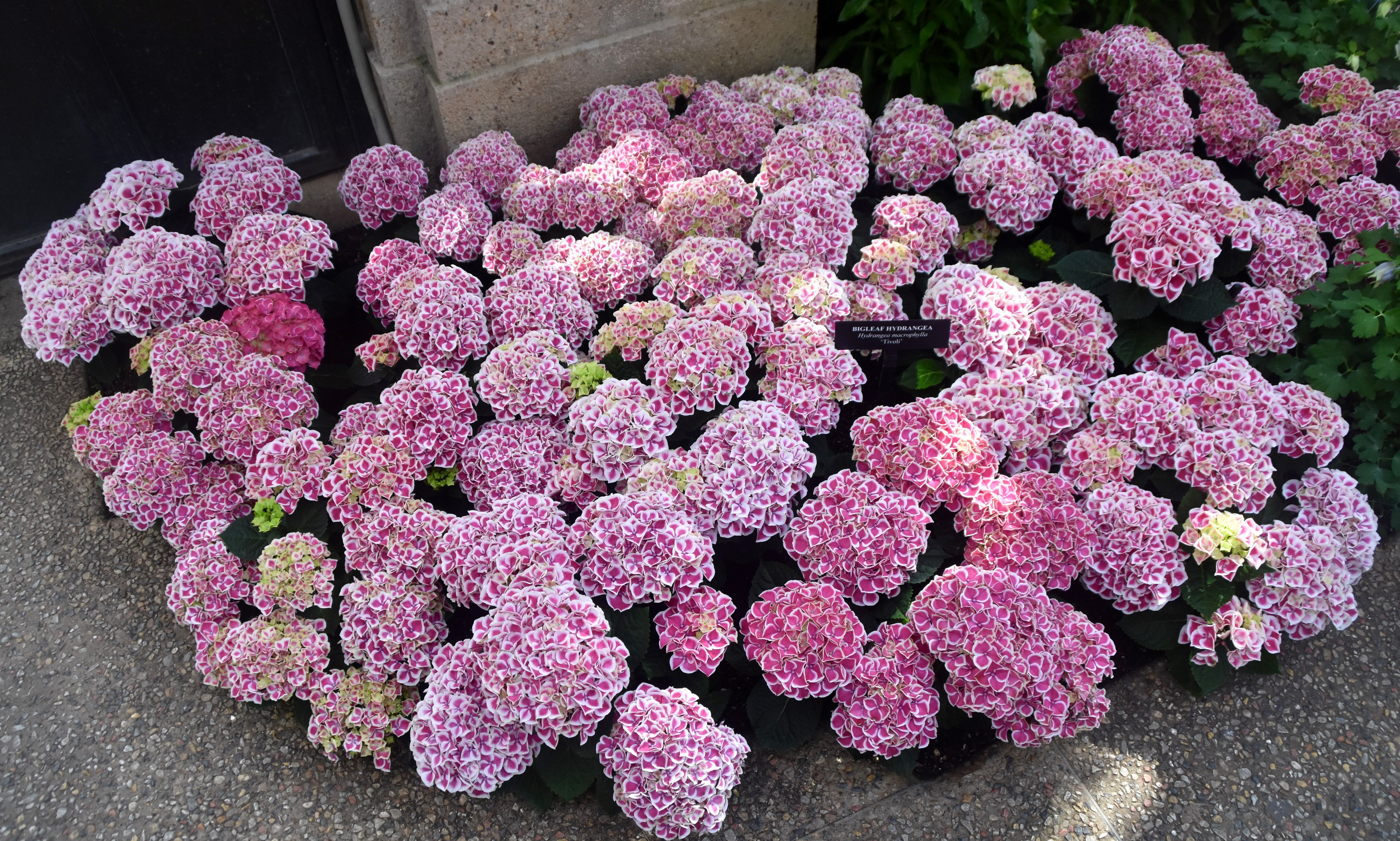 The lupine in large pots are a wonderful example of pastel colours.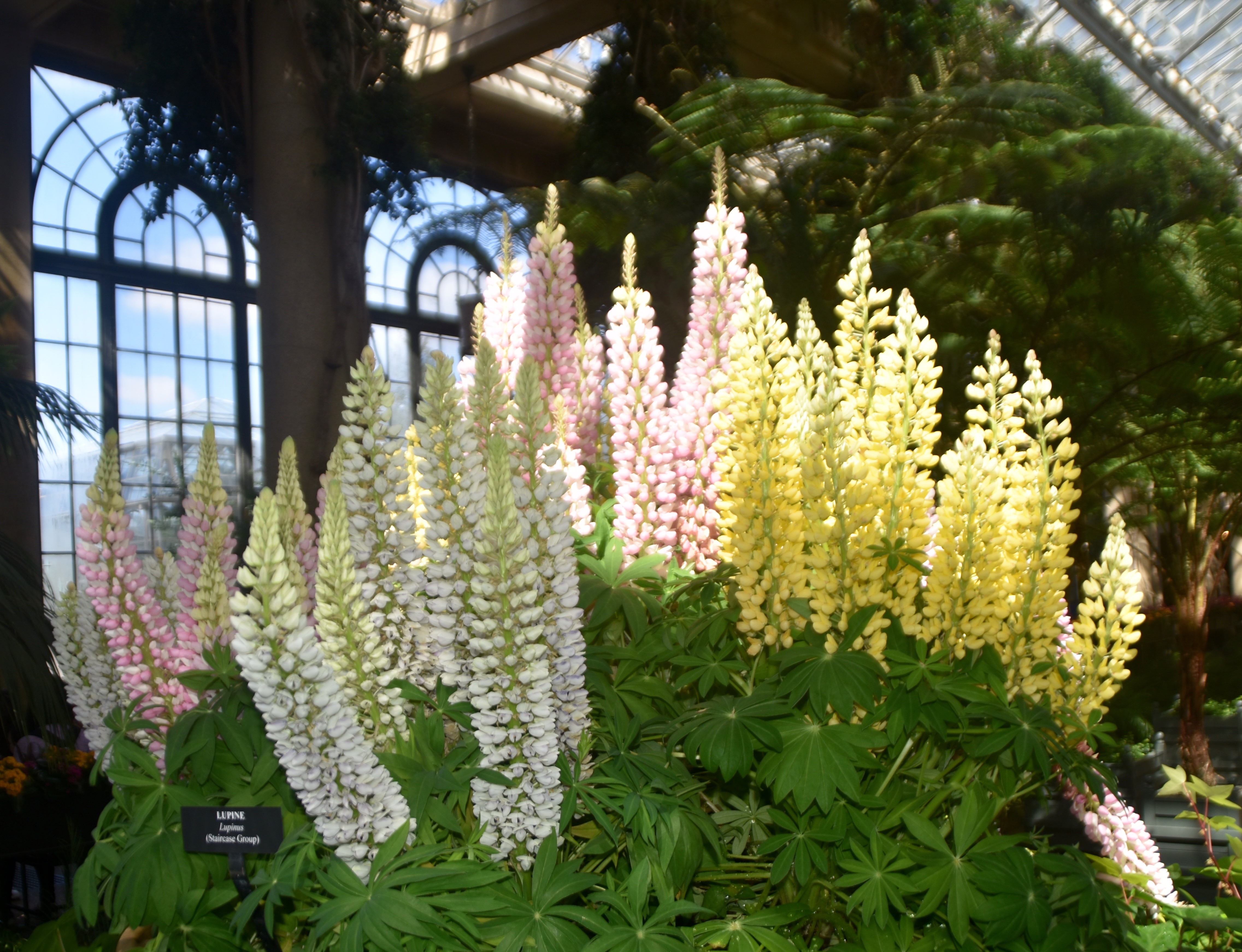 There is an entire room dedicated to hibiscus varieties from pure white.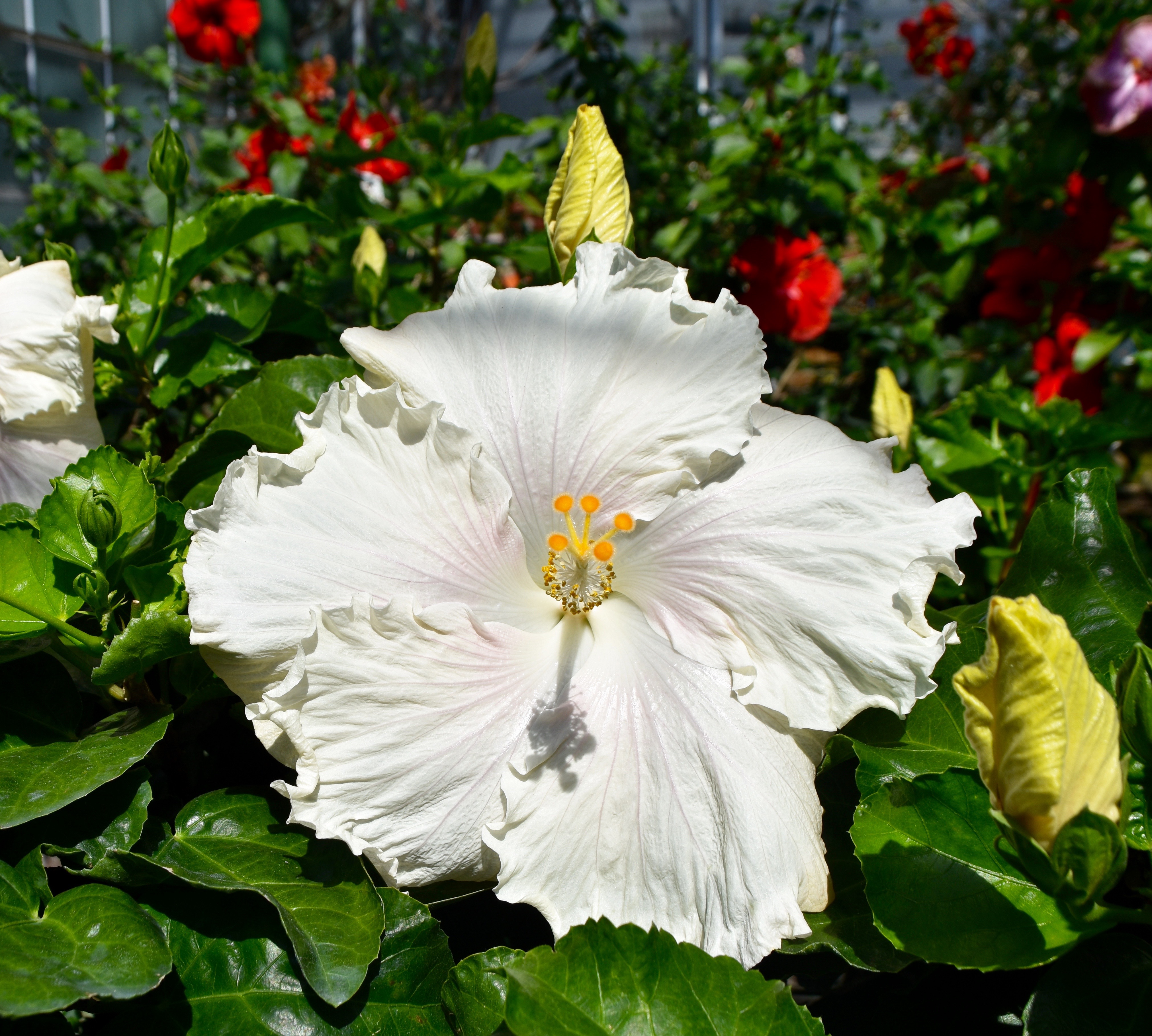 To multi-coloured with a red face.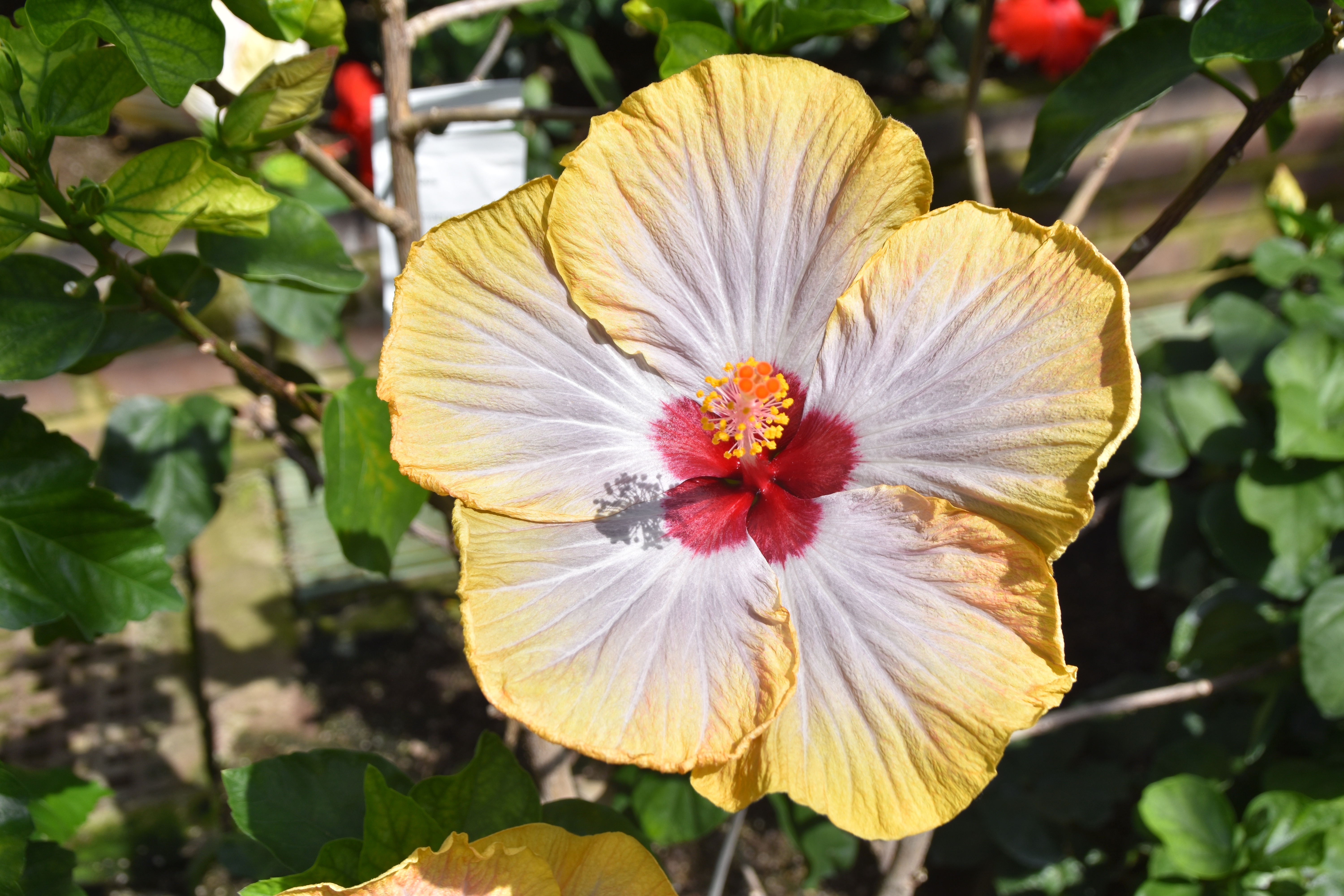 If you love orchids then you could spend hours taking pictures of the dozens of varieties on display. Here's only one – clearly bred to resemble a daffodil.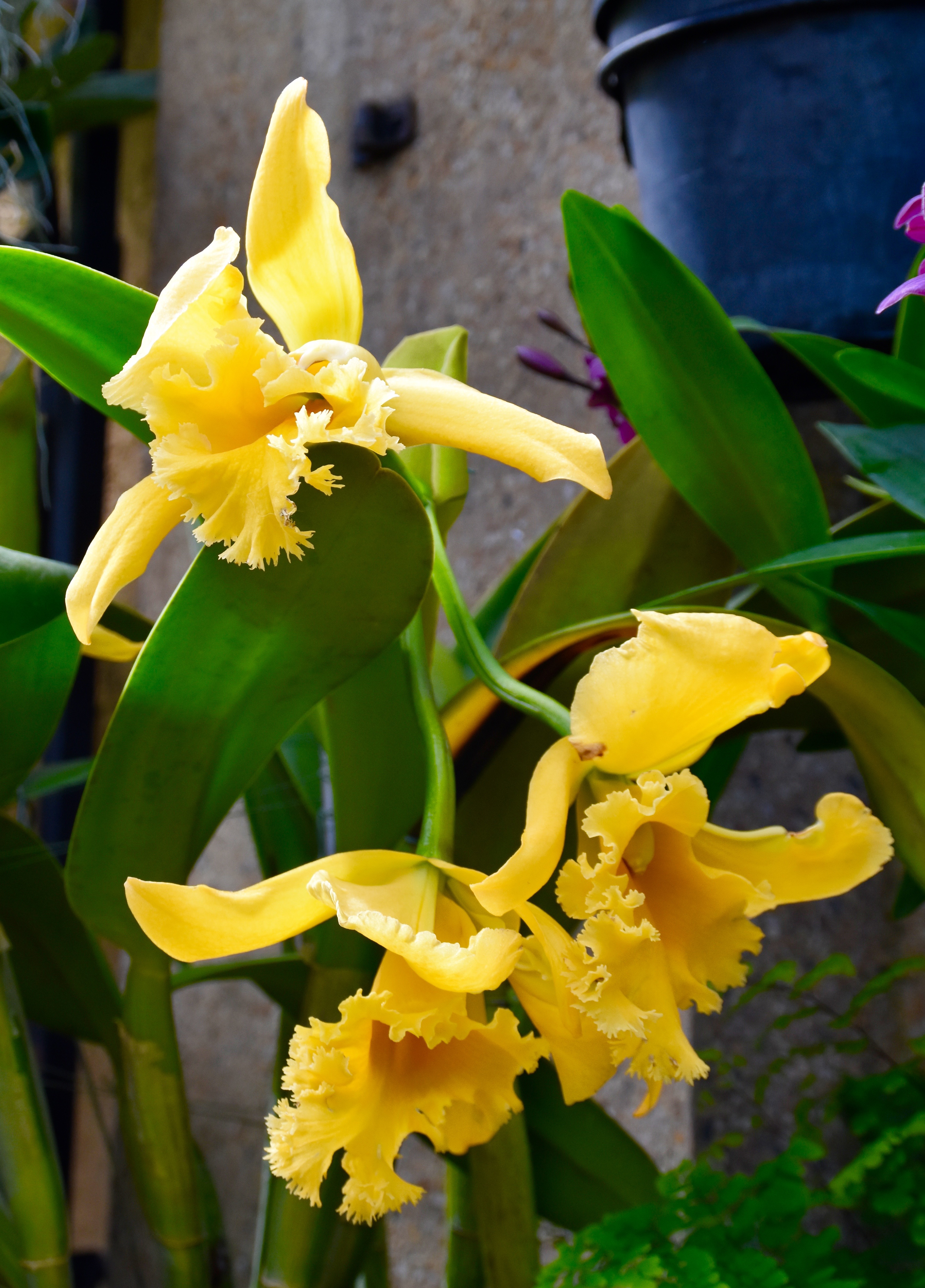 Seeing camellias is a rarity for a Canadian, but they've got lots at Longwood Gardens.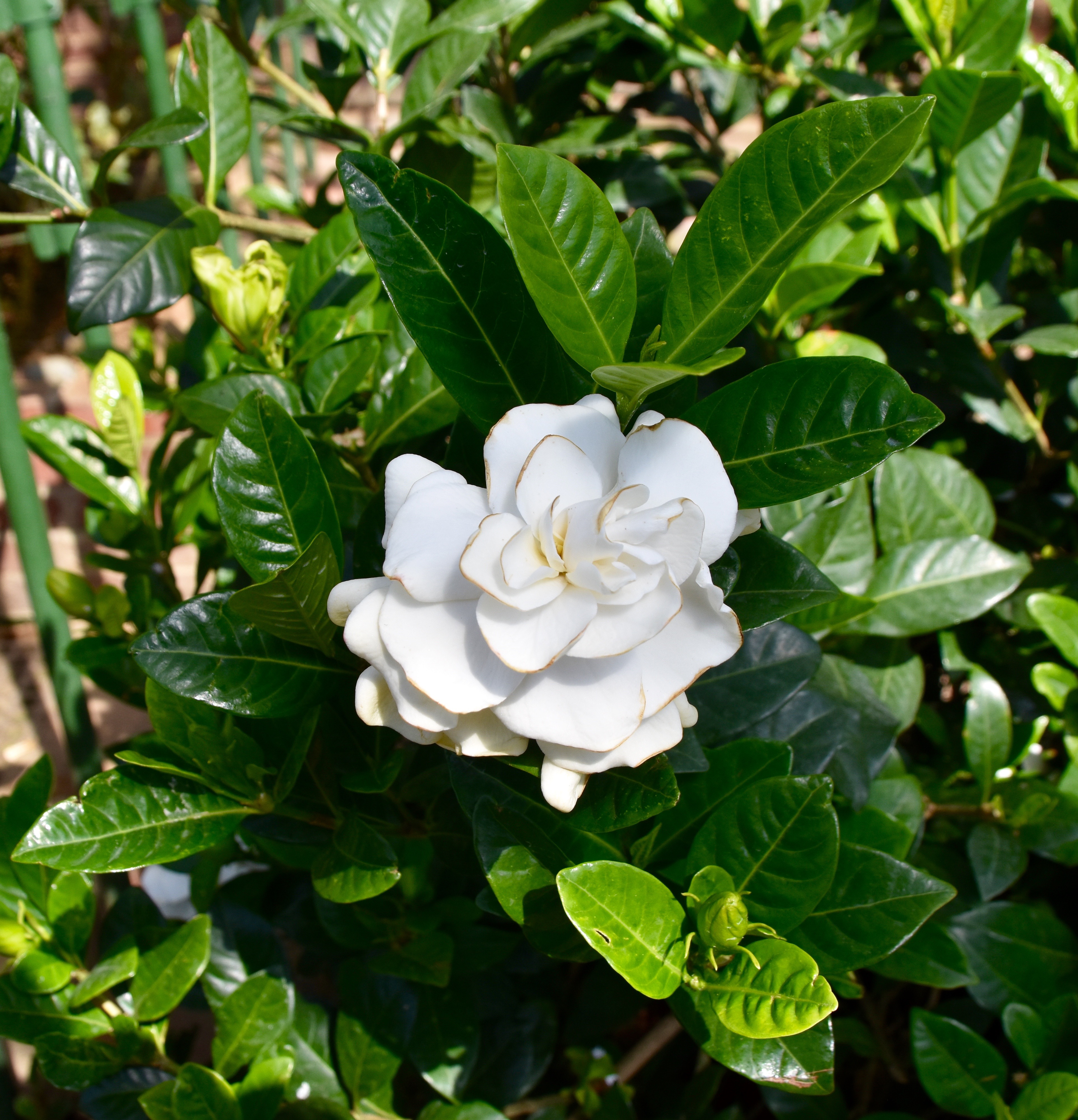 I'm usually pretty good at identifying flowers, but this beauty had me stumped.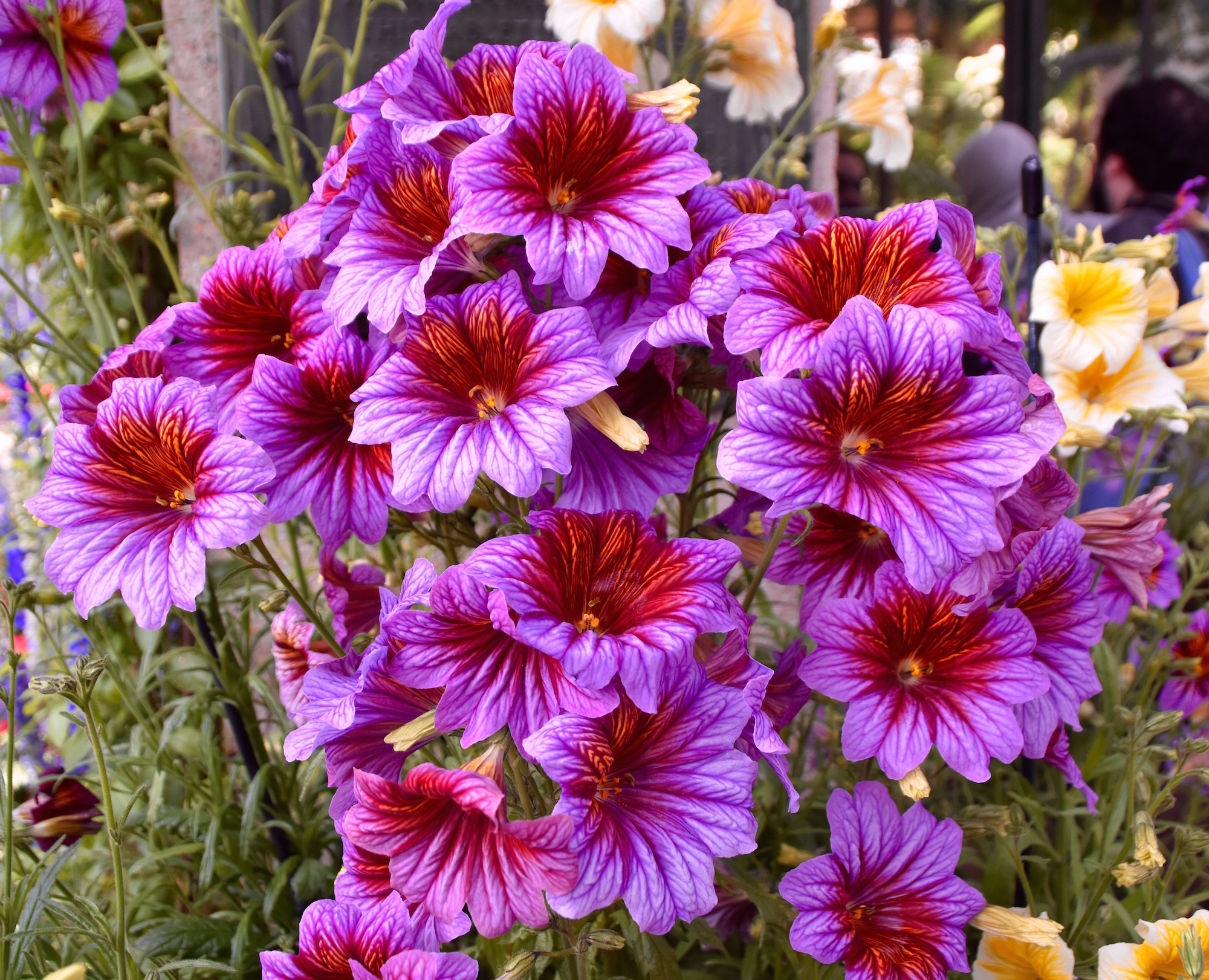 Daffodils and pansies are always a good collaboration.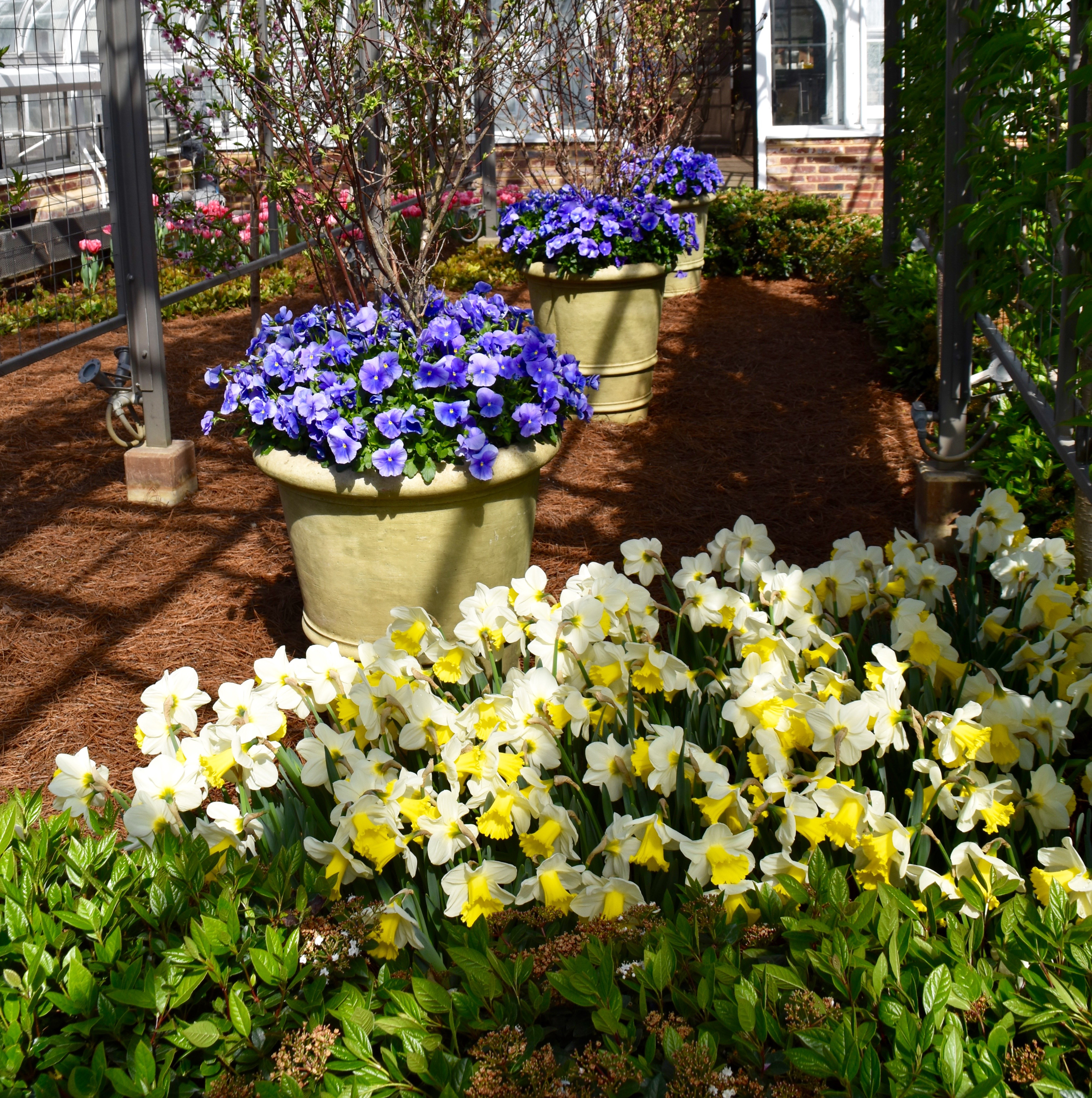 This picture gives no hint of just how big the flowers on these Easter lilies actually are – 9″ across at least.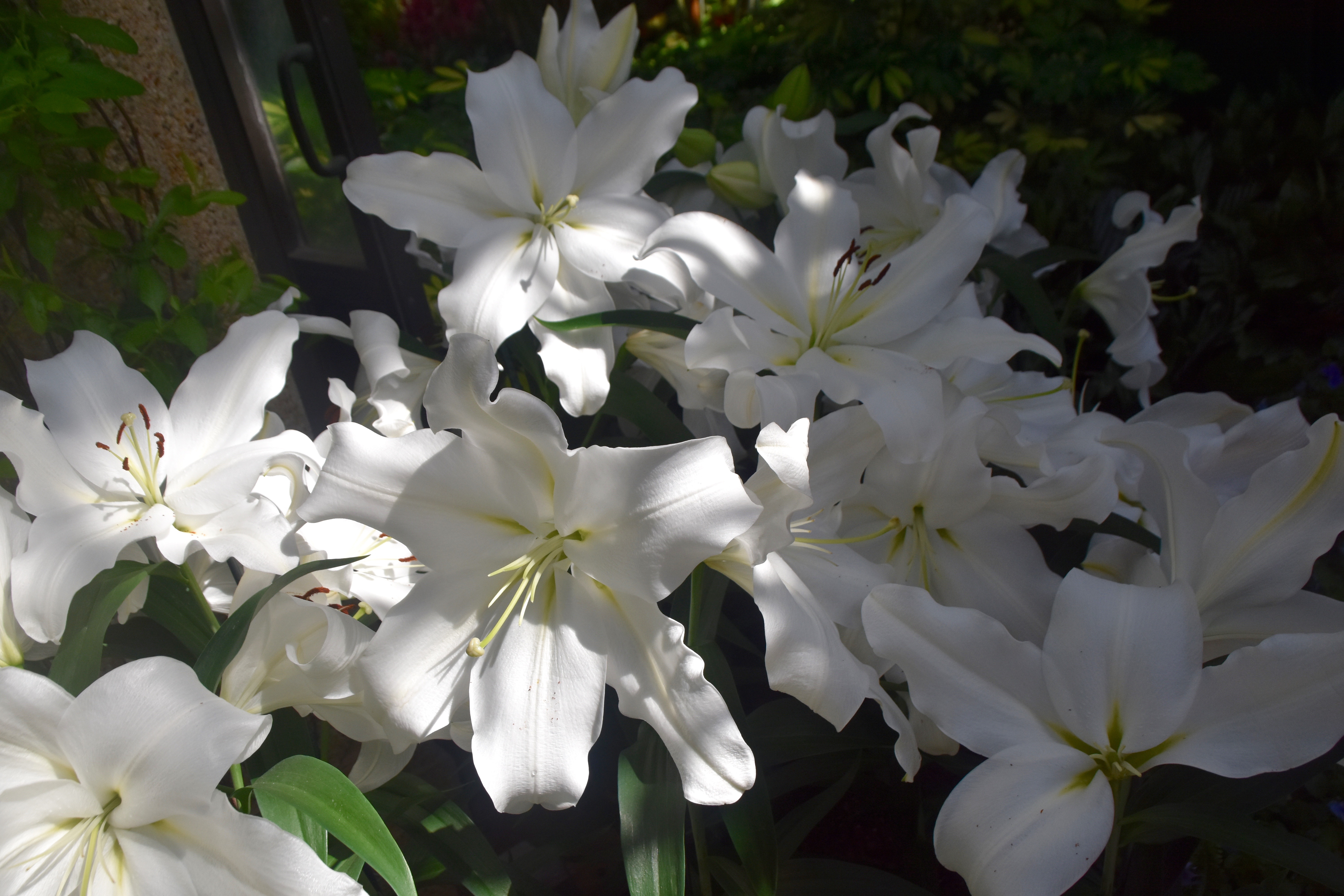 Room after room of colour and fragrance.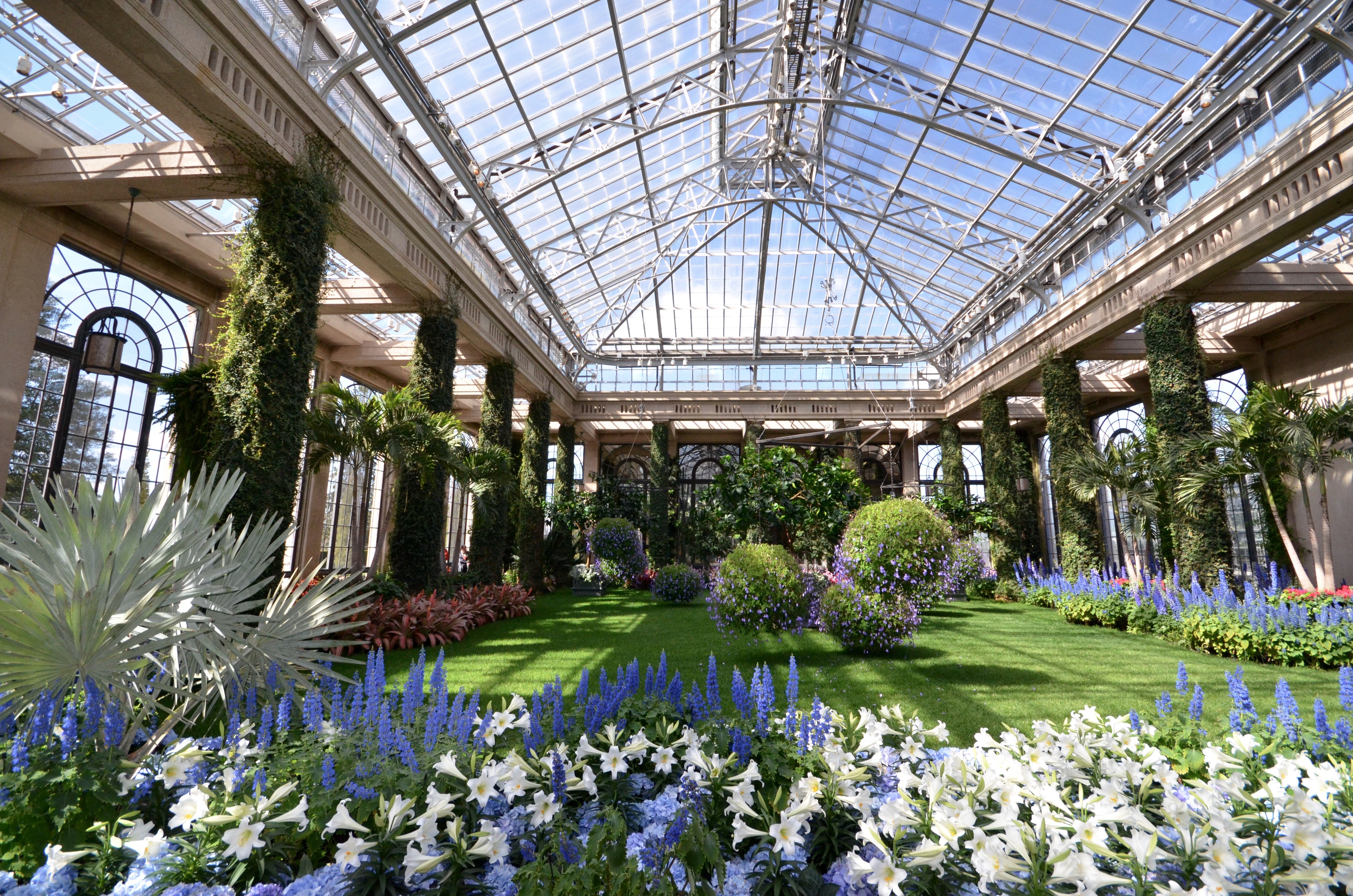 Some with the added touch of water.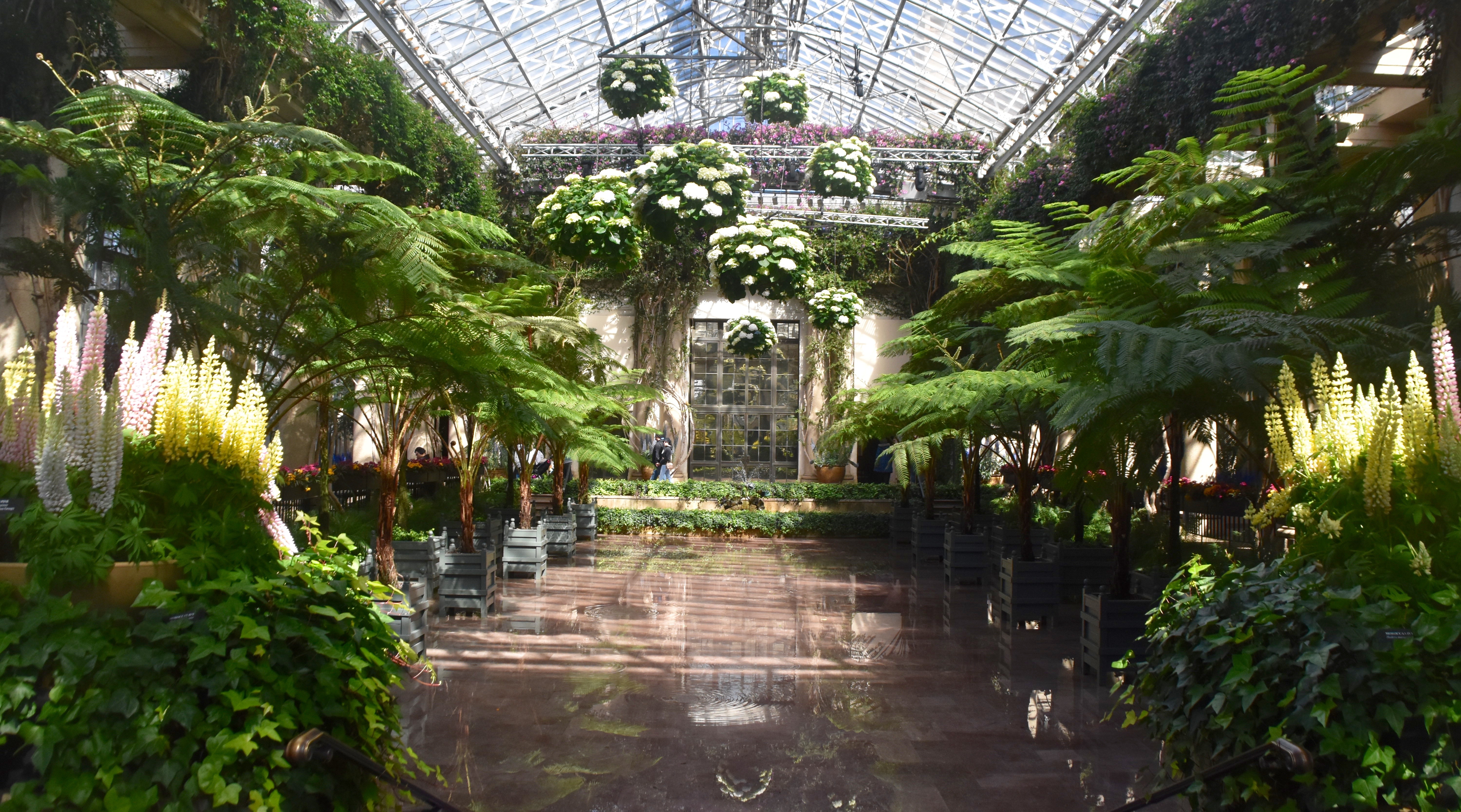 As I said, I could go on and on and post hundreds of pictures, everyone of different flowers, but all good things must come to an end.
Writing this post on a chilly day in Myrtle Beach (will spring ever come?) I think of the narrator in Wordsworth's poem and the beautiful flowers of Longwood Gardens do appear on my inward eye. Thank you Longwood for not just living up to my expectations, but wildly exceeding them. I'll be back when the fountains are playing.
If you are looking for a really different type of place to stay in the Brandywine Valley area I highly recommend the Montchanin Village Inn which is a collection of former Dupont workers homes in what was then a model community.