Montchanin Village Inn- A Great Place to Unwind
Alison and I had just finished up a nice two day stay in Charleston, South Carolina and were faced with the prospect of a three day drive back to wintry Nova Scotia. This is how we ended up staying, almost on a whim, at the fabulous Inn at Montchanin Village or as I am going to call it from hereon, Montchanin Village Inn, as that will get better results on search engines. Our schedule was reasonably flexible so we have decided to break up the trip by spending a couple of days in the Brandywine Valley (what a wonderful sounding name!), which straddles the Delaware/Pennsylvania border. The intention was to visit the great estate of  Winterthur, former home of the legendary DuPont family and now a world renowned museum and garden. It's always been on our bucket list. So where to stay?
One of the first places I check these days is the Small Luxury Hotels website. When we are just moving as fast as possible to get somewhere, then we usually stay in either a Homewood or Fairfield Suites, but if we are looking for an experience then I look for something both different and more upscale. Recently we've had great success with Small Luxury Hotels members and as luck would have it the Montchanin Village Inn is right in the Brandywine Valley, not far from Winterthur.  From the description on the website, the place sounds intriguing.
UPDATE:
The Inn at Montchanin is no longer affiliated with Small Luxury Hotels, but I stand by my review.
History of Montchanin Village Inn
Anyone who knows anything about Delaware knows that it once, and some people would say, still is, almost a personal fiefdom of the DuPont family. Eleuthere Irenee du Pont emigrated to the U.S. in 1802 and started a business producing gunpowder on a small mill in the Brandywine Valley. The rest, as they say, is history. The Du Ponts went on to create one of the largest and most profitable chemical companies in the world, recently merging with Dow Chemical to create DowDuPont. The family accumulated massive wealth and used it, not just to build places like Winterthur and Longwood Gardens, but also on philanthropic enterprises. Long before the robber barons were squeezing the life out of their workers, the Du Ponts were treating their employees fairly and trying to provide decent housing for them. Montchanin Village Inn is a product of that thinking.
Not an inn in the traditional sense, the property consists of a series buildings that date as far back as 1799. Built by the Du Ponts to house workers, Montchanin really is a tiny village. The reception area and spa is located in what was once a large barn, while the restaurant, Krazy Kats, is in the former blacksmith's building. The lodgings are spread throughout the rest of the buildings which are all former houses. All told their are 28 separate places to stay on the property, many of them larger suites. One of the things I like about Small Luxury Hotels is that if you join their loyalty program, The Club, you automatically get upgraded if there are rooms available. This is what happened at Montchanin Village Inn when I booked a room online at what was a pretty decent rate. Instead of just a room we got almost a full blown house as you'll see from the pictures coming up.
Northern Delaware is a very industrial place with huge refineries and chemical plants seemingly everywhere. Approaching Wilmington it's a bit hard to imagine that there will be an oasis of a sorts in the midst of this industrial conglomeration, but immediately on turning onto Montchanin Road the city disappears and the green rolling landscape of the Brandywine valley appears. There are some huge estates and then the entrance to Montchanin Village Inn appears.
The Belin Suite at Montchanin Village Inn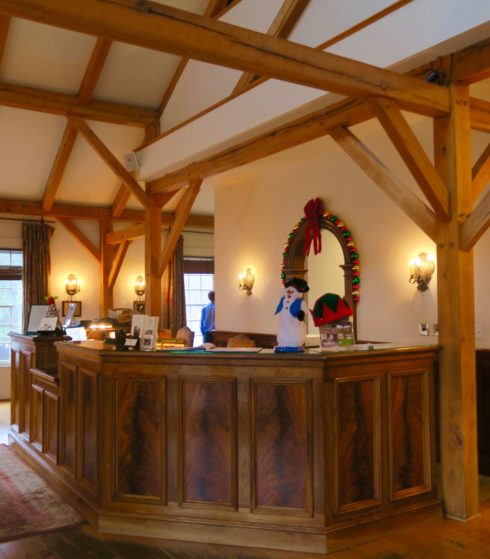 Check in was simple and we did get the upgrade. We were assigned the Belin cottage which was one of two suites in a house on the corner of Montchanin Road and Kirk Road. I was a bit concerned about traffic noise, but the place was quite sound proofed and noise wasn't an issue. However, on a next visit I would ask for a place more removed from the road.
The one thing that I think sets Montchanin Village Inn apart from many other historic places to stay is that there is a definite sense of whimsy at play here. It is the very opposite of fusty and sedate. You notice that right off the bat. Here is the cottage marker, which is actually a plaque from the early days of fire insurance companies, before fire protection was organized by local governments. These would be placed on a door to symbolize protection by a certain unit of firefighters. I still see them on the outside of some older buildings in my home city of Halifax, Nova Scotia.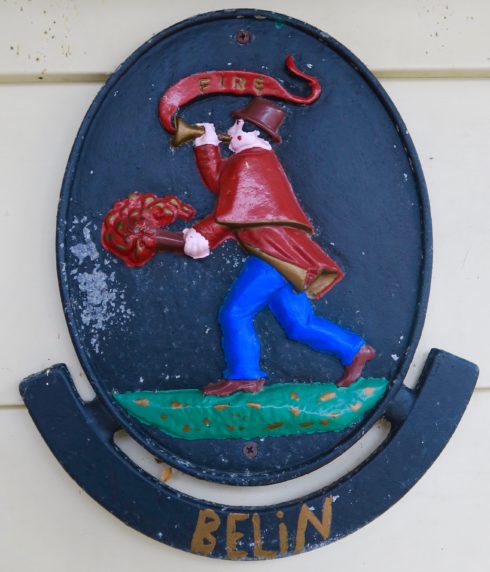 Also different is this door mat with the Montchanin Village Inn motif of a crow sitting on a leaping cow.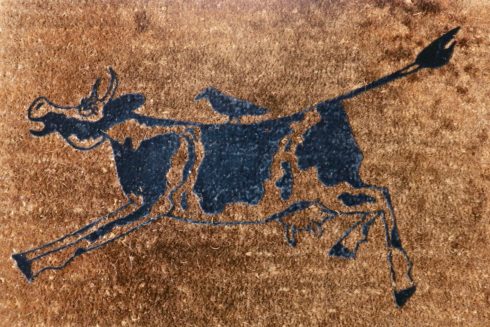 Belin cottage consists of a downstairs living room with kitchen. The fridge was stocked with complementary water, juice and soft drinks. Beer would be nicer.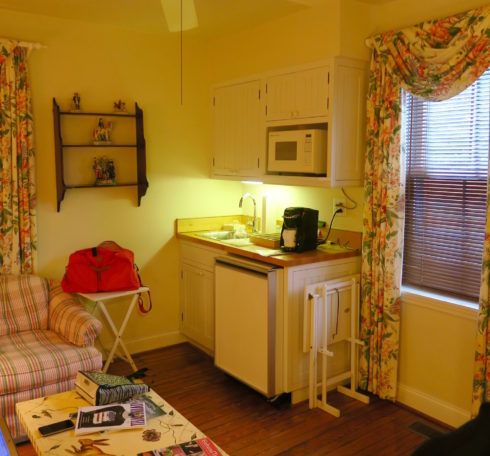 There was a gas fireplace that we used to get the chill out of the air as the weather had turned damp and foggy.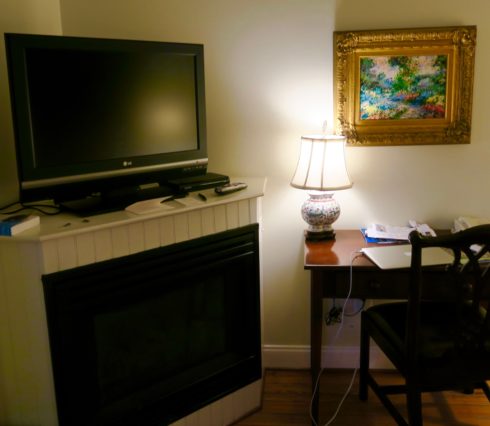 Over the settee was this painting of a monkey and fruit. Monkeys, it turns out, are another whimsical theme at Montchanin Village Inn.
The Belin cottage is not suitable for people with disabilities as there are steep stairs up to the bedroom on the second floor.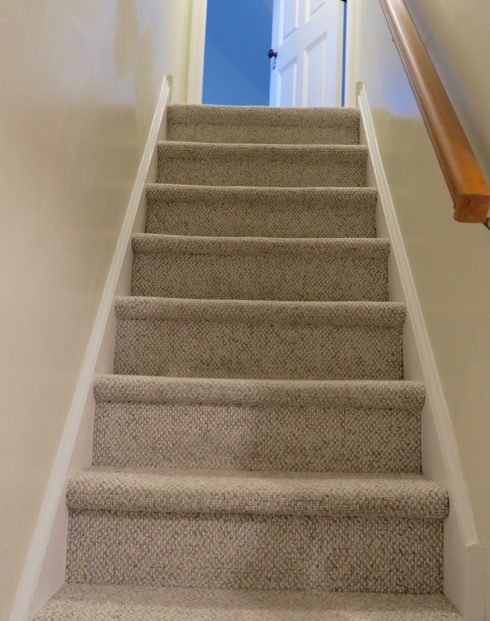 However, once you get to the second level there is this lovely sleeping area. How the heck did they get that king-sized bed up here?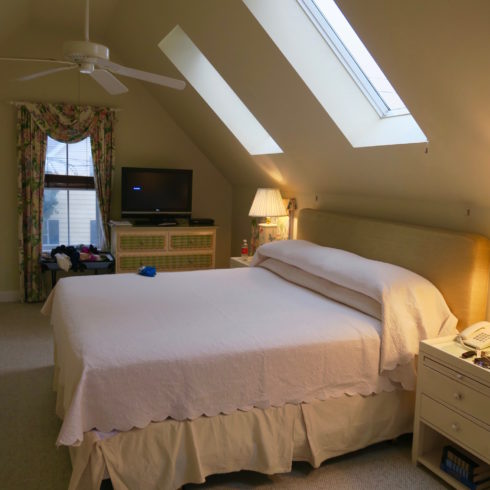 The real star of Belin Cottage is the large marble bathroom.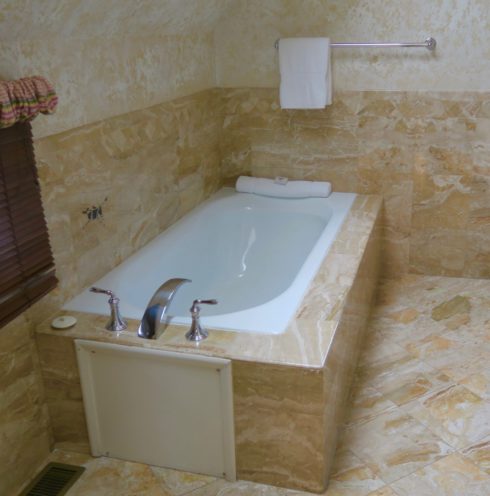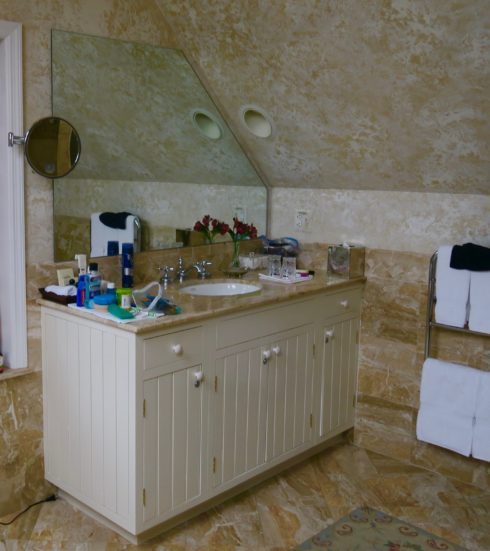 Alison loves to soak in a tub and I love the feel of a good hot shower. Belin cottage provides for both.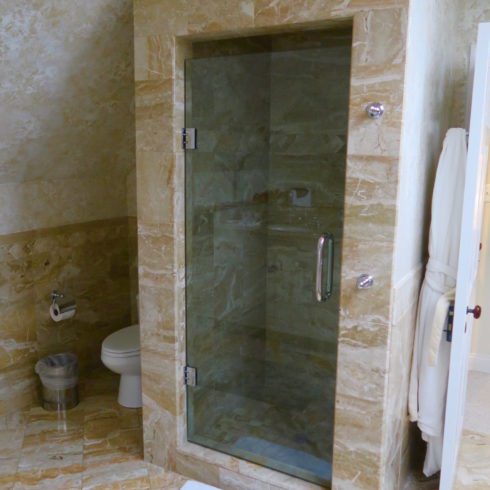 Something you seldom find in North American hostelries are heated towel racks and when you do, they usually don't work. Not so with these one which heated up almost instantly when turned on.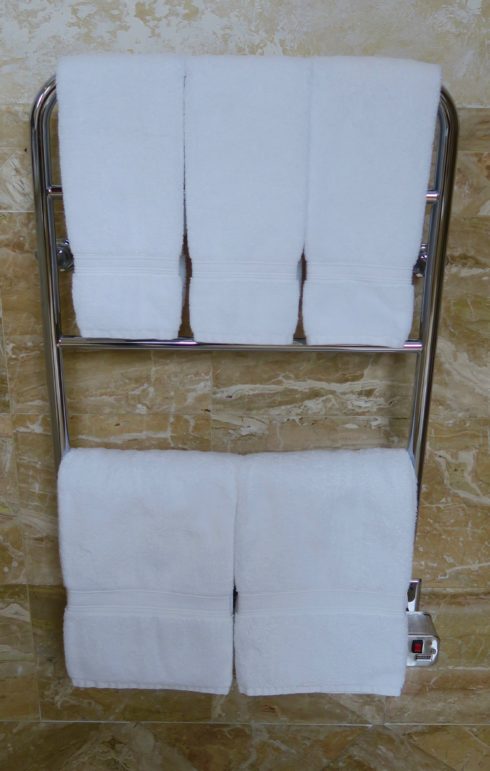 The toiletries were high quality and featured the crow on cow motif on the labels. I find what often makes the difference between a good and a great stay is the bathroom and in the case of Montchanin Village Inn this bathroom was great.
After getting settled in I wandered over to the reception area to have a look around and make reservations for dinner at the restaurant. I picked up a glass of hot cider and a biscotti, which are complimentary along with tea and coffee, and checked out the preparations for the holiday season.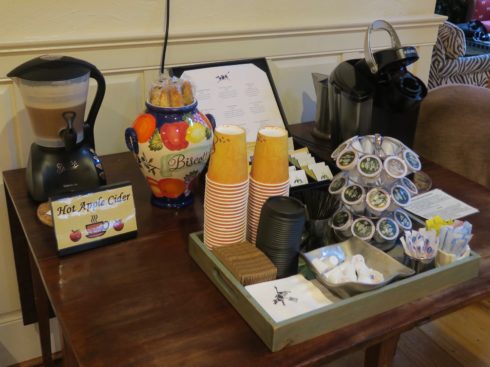 As I mentioned, the reception area used to be a barn so there was no problem putting up this 12 foot tree.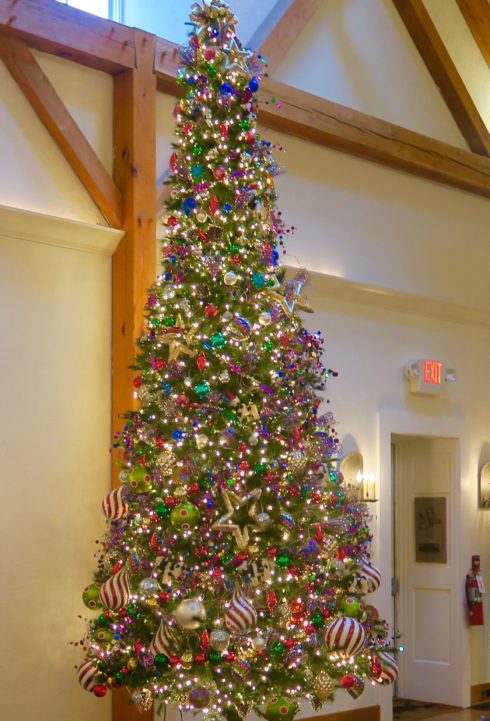 The common area contained a collection of art and artifacts that I can only describe as eclectic with again, a strong dose of whimsy. Have a look.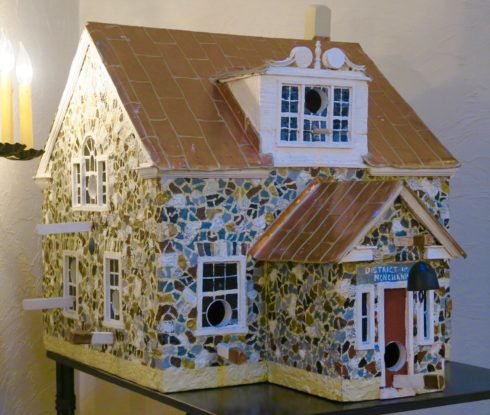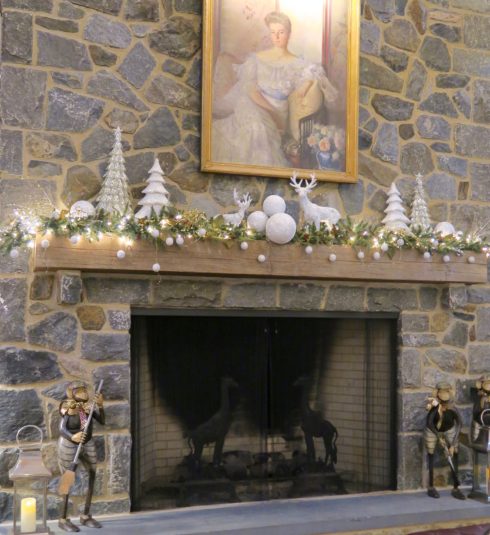 The monkey theme was prominent as evident by this frolicking monkeys screen beside a very dour looking little girl.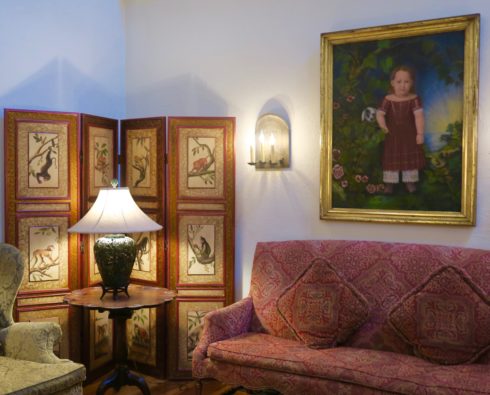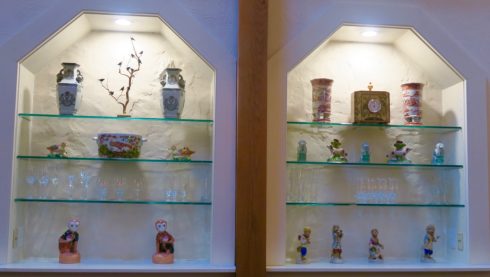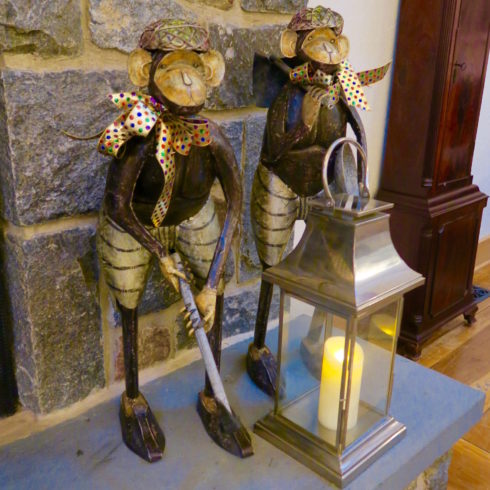 However, the best piece was this set of dog and cat lamps which I think are a fabulous bit of anthropomorphic art.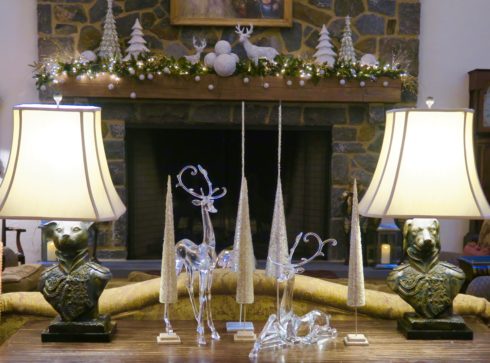 Krazy Kats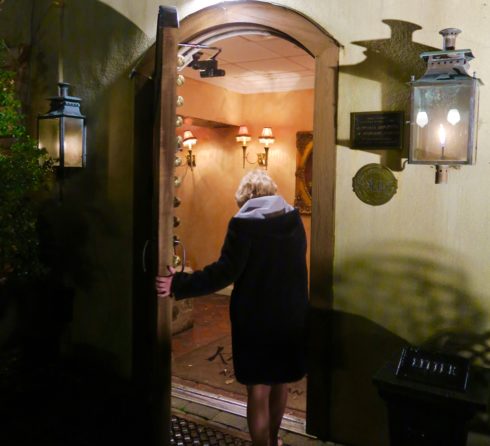 The sense of fun that permeates Montchanin Village Inn continues at Krazy Kats, the on site restaurant.The first thing you see as you enter the dining area are these two paintings. Normally you would just assume that the cat is the female and the dog the male, but on a closer look it's the other way around. Mrs. Dog is wearing a tiara.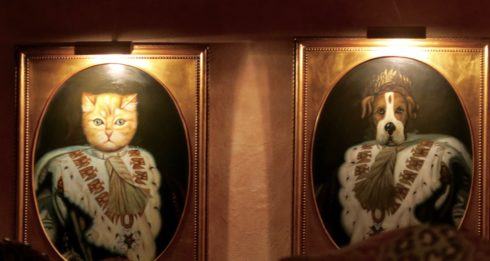 The Krazy Kat theme continues with this pre-Raphaelite looking portrait of a lady with leopards. I don't know which is more languid, the lady or the leopards. I'm sure Freud would have gone to town on a picture like this.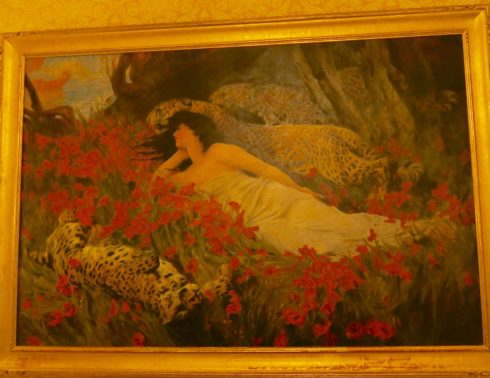 The roles of cat and dog are reversed on the washroom doors, although on closer inspection maybe they're both cats, Krazy Kats.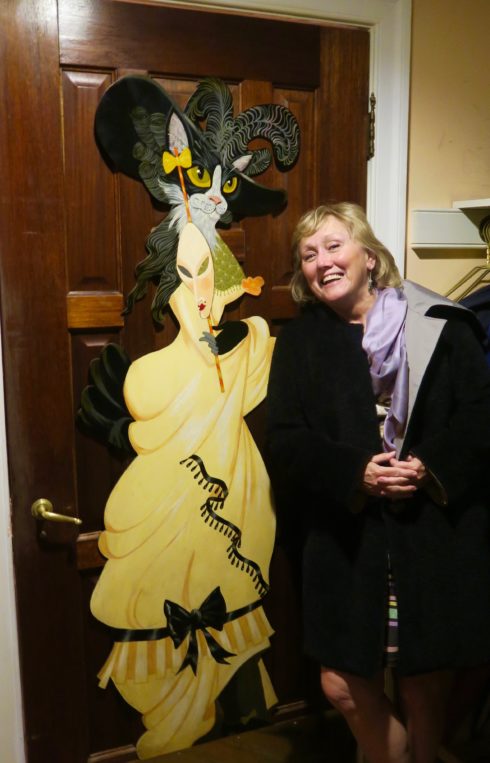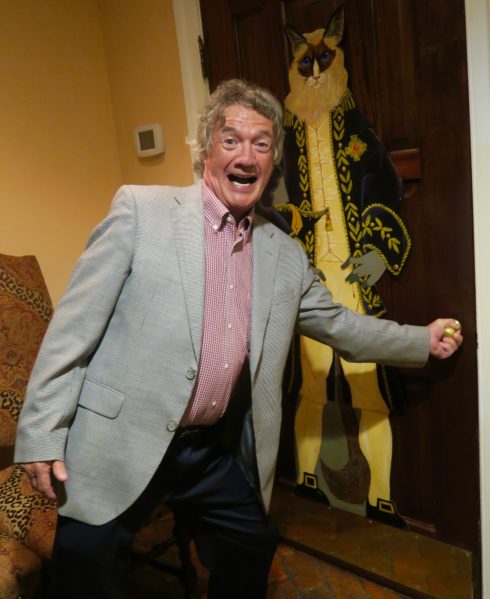 While the decor is fanciful, the food at Krazy Kats is just plain delicious and at very decent prices. We ate dinner there twice and not a thing we tried didn't live up to or exceed expectations. This is the fourth Small Luxury Hotel property we have stayed at in the last half of 2016 and every one of them has had a top notch restaurant. Here are photos of some of the things we loved.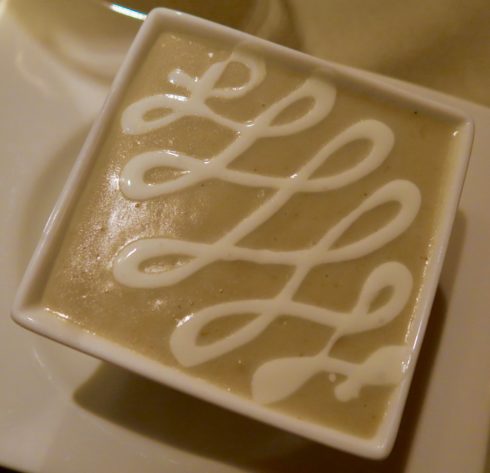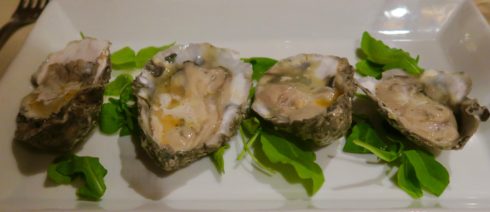 Halibut is Alison's favourite fish and as it turns out it was the special on the first night.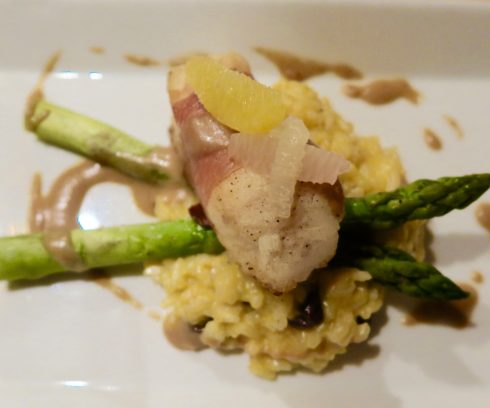 This rack of wild boar was as good as any rack of lamb I've ever tried. Simply amazing taste.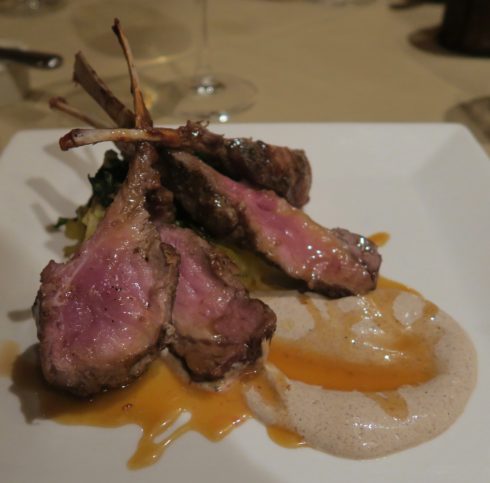 I cannot resist creme brulee and Krazy Kats' version was classic with no attempt to deviate from what to me is the ultimate dessert.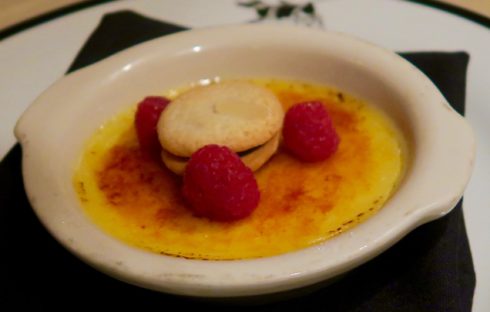 Alison just wanted some simple ice cream and that's what she got, three scoops of wonderful French vanilla.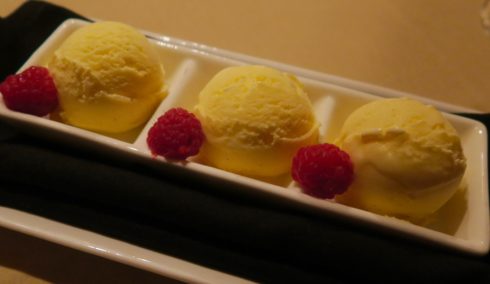 The second night Krazy Kats was offering a three course prix fixe for $35.00 plus decent bottles of wine for $20.00 – who could resist that? If we had ordered the appetizer, salad and main course off the menu the price would have been much higher. Again the quality of the food was excellent.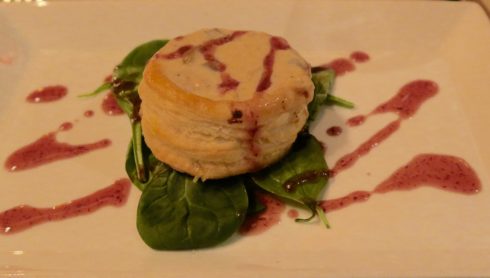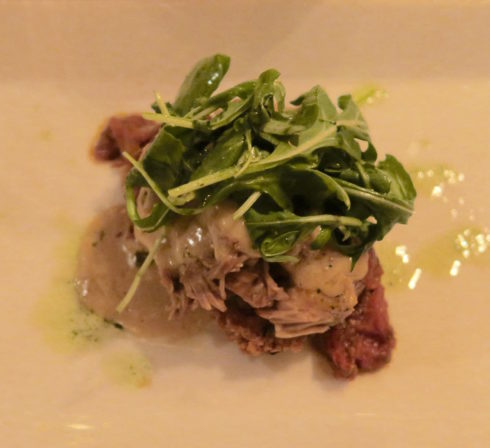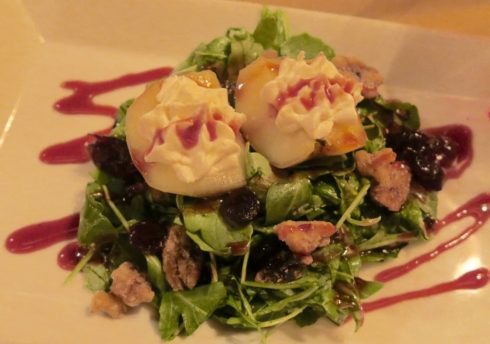 For my entree I had a  very nice filet mignon which in most restaurants would cost $35.00 or more on its own. For dessert I resisted the creme brulee (barely) and we split a lovely bread pudding.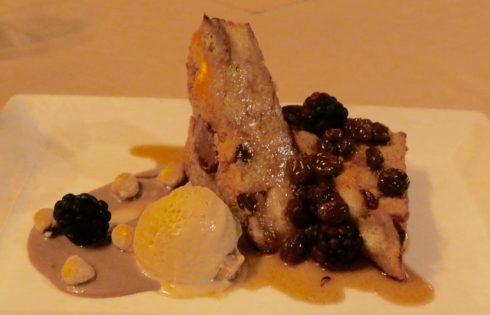 We had planned to go sight seeing on our full day at Montchanin Village Inn, but the weather didn't cooperate and we decided to check out the spa instead. We each spent a very relaxing two hours plus there being coddled, massaged, detoxified, you name it. Again, I was impressed that the prices were quite reasonable compared to many spas which seem to think only millionaires require their services. Back in the room we just vegged out with the gas fireplace driving away the chilling dampness that gets in your bones on cold, wet days in late fall.
Deciding to stop at Montchanin Village Inn for a break from the long drive back to Canada was a very good decision on our part and we plan to make it a regular stop on our future travels from Canada to the southern U.S. You really should check it out.
If you do stay here in more clement weather I strongly recommend using it as a base to explore the fantastic Longwood Gardens which are not far away and which we explored the spring following our stay at Montchanin Village Inn.