Philadelphia – A Day in the City of Brotherly Love
On our most recent mid-Spring journey to Florida from Nova Scotia Alison and I decided to stop in Philadelphia for a few days as we'd never spent any time in what is one of America's truly great cities. Our visit began at beautiful Longwood Gardens which I wrote about in this post and ended with a way too short visit to the fabulous Museum of Art. In between, we spent a perfect day exploring the historical and gastronomical treats of downtown Philadelphia. It is this one memorable day that is the foundation for this post which hopefully will convince you the reader to visit Philadelphia in the near future.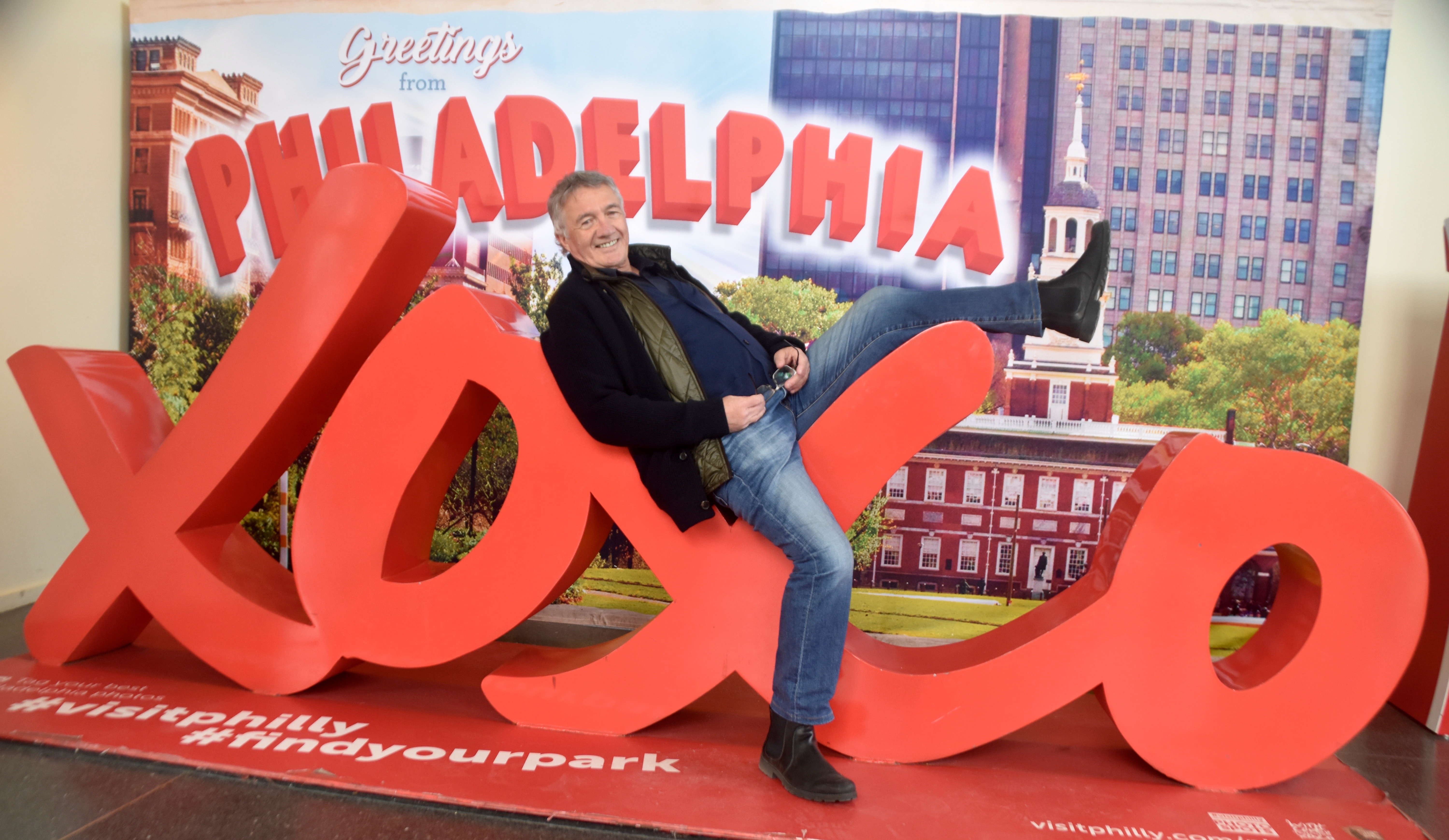 Morris House Hotel, Philadelphia
Every great day starts with waking up in cheerful and comfortable surroundings followed by a decent breakfast. These creature comforts are the main reason we chose Morris House Hotel as our place of residence in Philadelphia. It is a fine looking late 18th century brick building on the edge of the historic district within easy walking distance of most of the city's major attractions. The common areas are decorated in much the style as it might have been when the Morris family lived here for almost 130 years. The lamps are electric now and not oil, but not much else is changed –  it's the very definition of a cozy inn.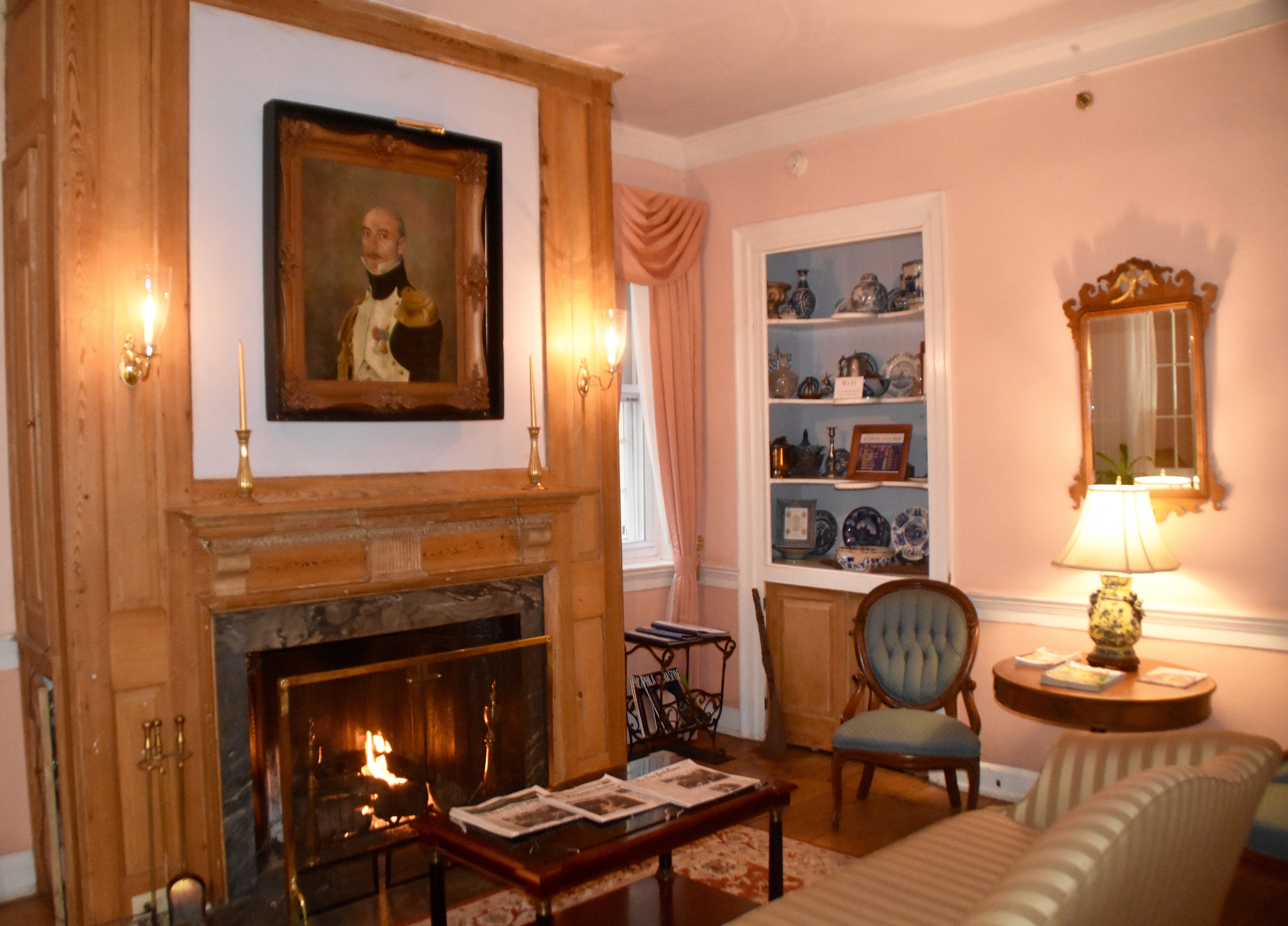 Breakfasts at the inn are taken in a room with this painted scene over the mantle.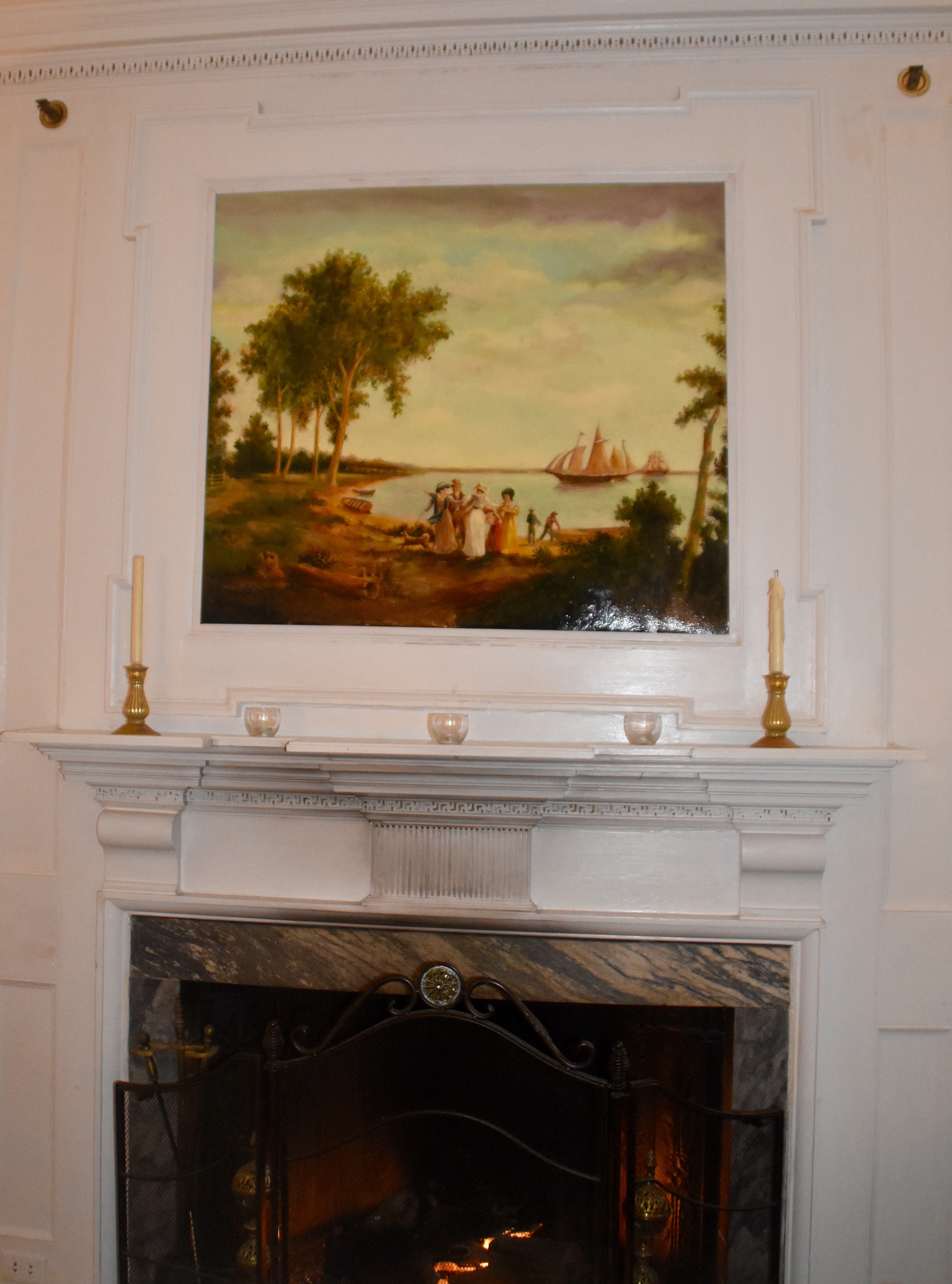 Alison takes her morning coffee with one of the Morris clan looking over her shoulder.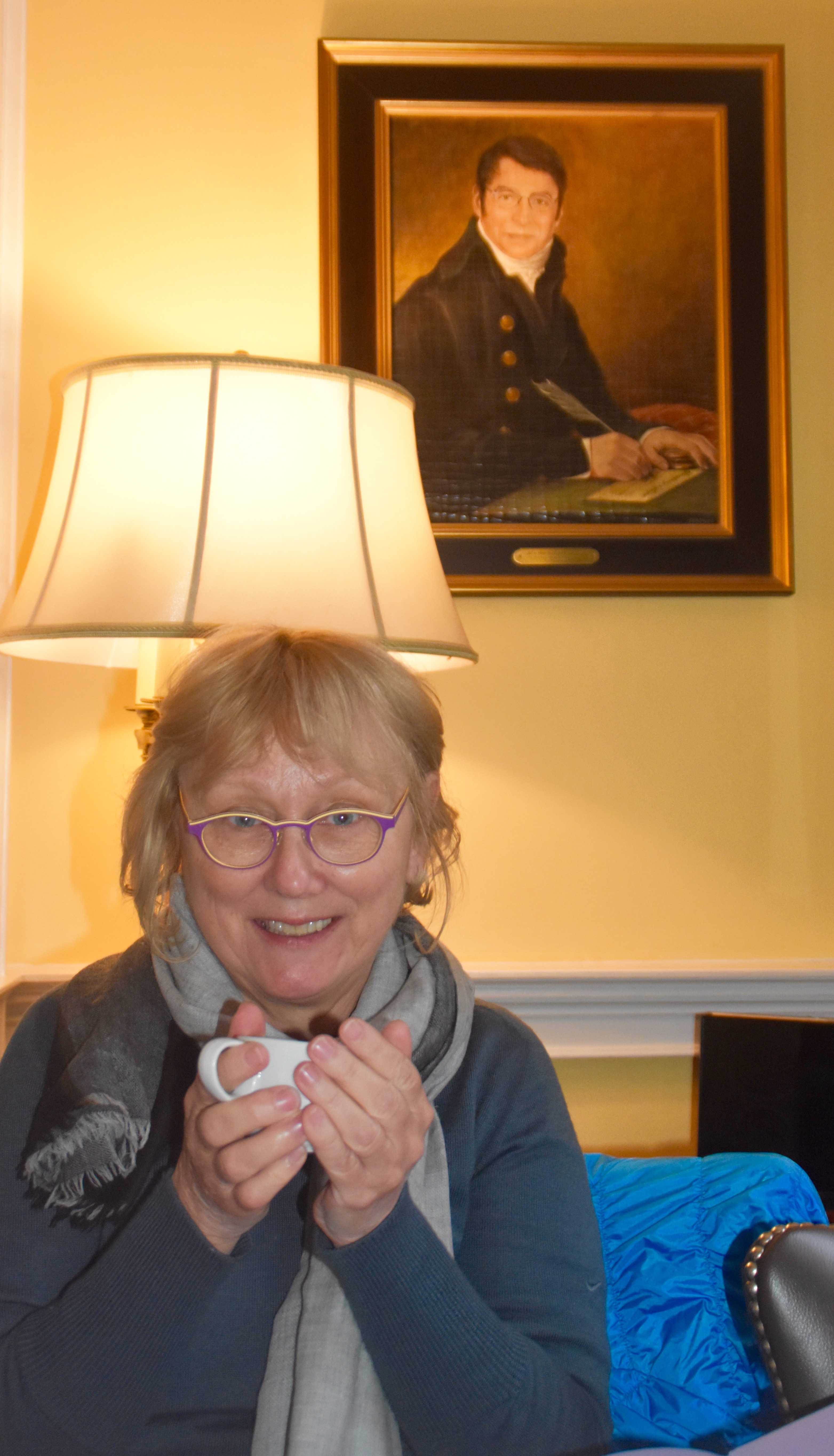 Walking Philadelphia
Next on the agenda was donning a good pair of walking shoes and heading out to spend the day exploring a city never visited previously. I always get an anticipatory adrenalin rush on mornings like this, especially when I know that there will be more than enough history, culture and food to digest. Our first stop is nearby Washington Square where George Washington still presides over the site of a former Revolutionary War encampment and later unmarked graveyard of thousands of the United States' first veterans.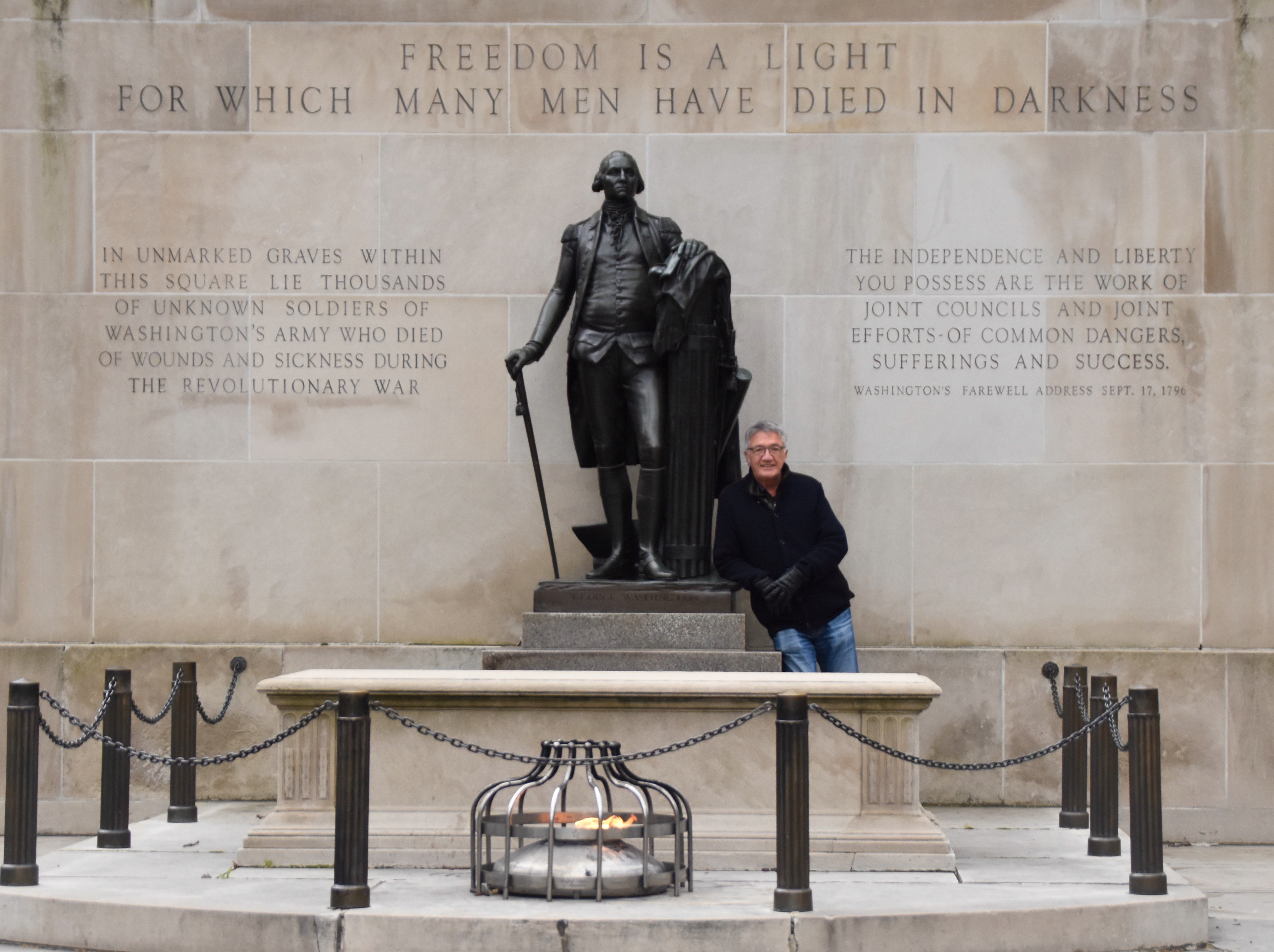 Independence National Historic Park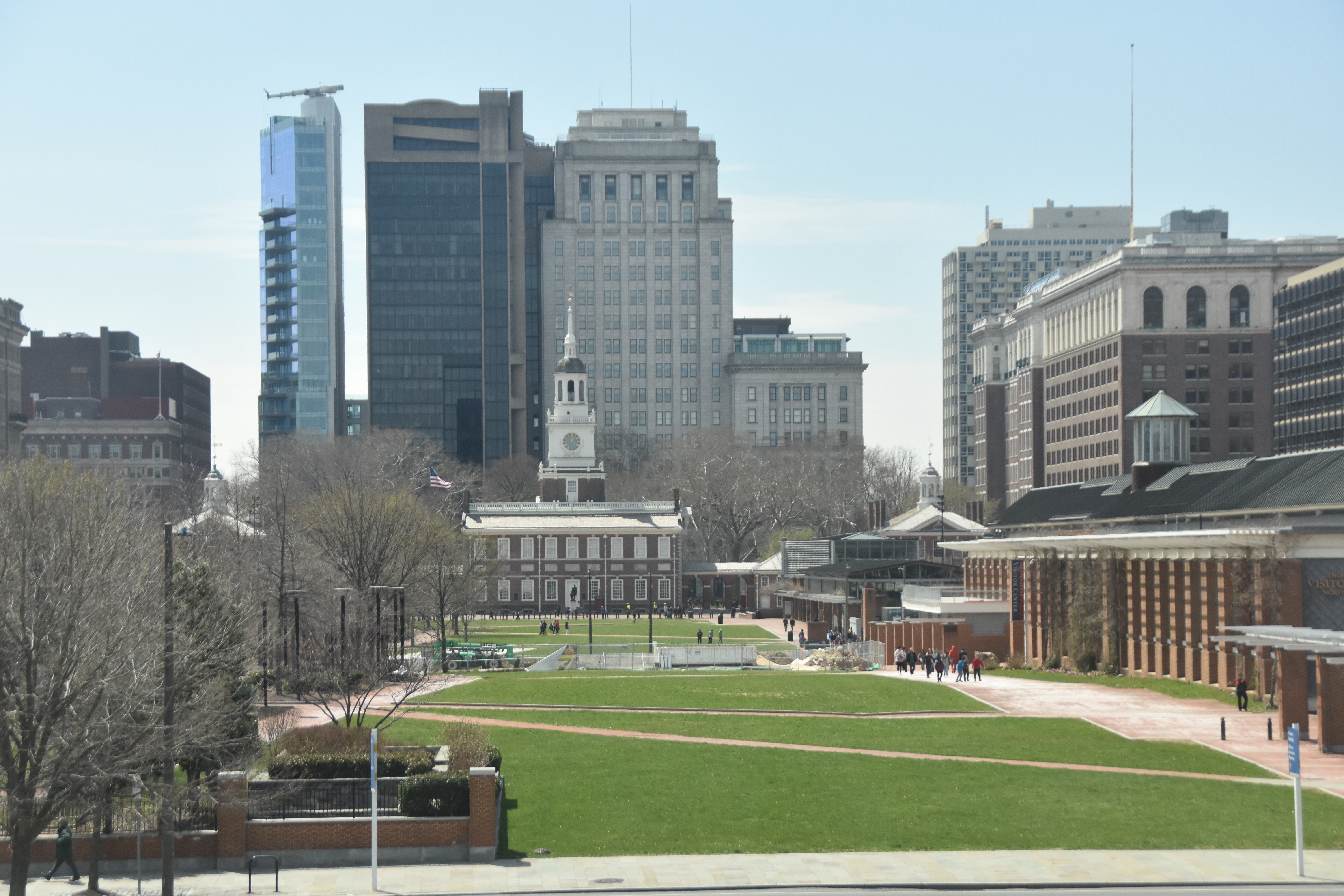 Our next stop is the Visitor Center at Independence National Historic Park which features three of United States' most important historical sites – Independence Hall, Congress Hall and the Liberty Bell. Here we pick up free tickets for the first guided tour of the day. We were so taken with our visit to this hallowed ground that I wrote this post on the details of what to see and do on a visit to Independence N.H.P. In just over two hours we saw where the Declaration of Independence was signed, where the Constitution of the United States was created, where the Bill of Rights was enacted and, for good measure, the Liberty Bell.
Carmen's at Reading Terminal Market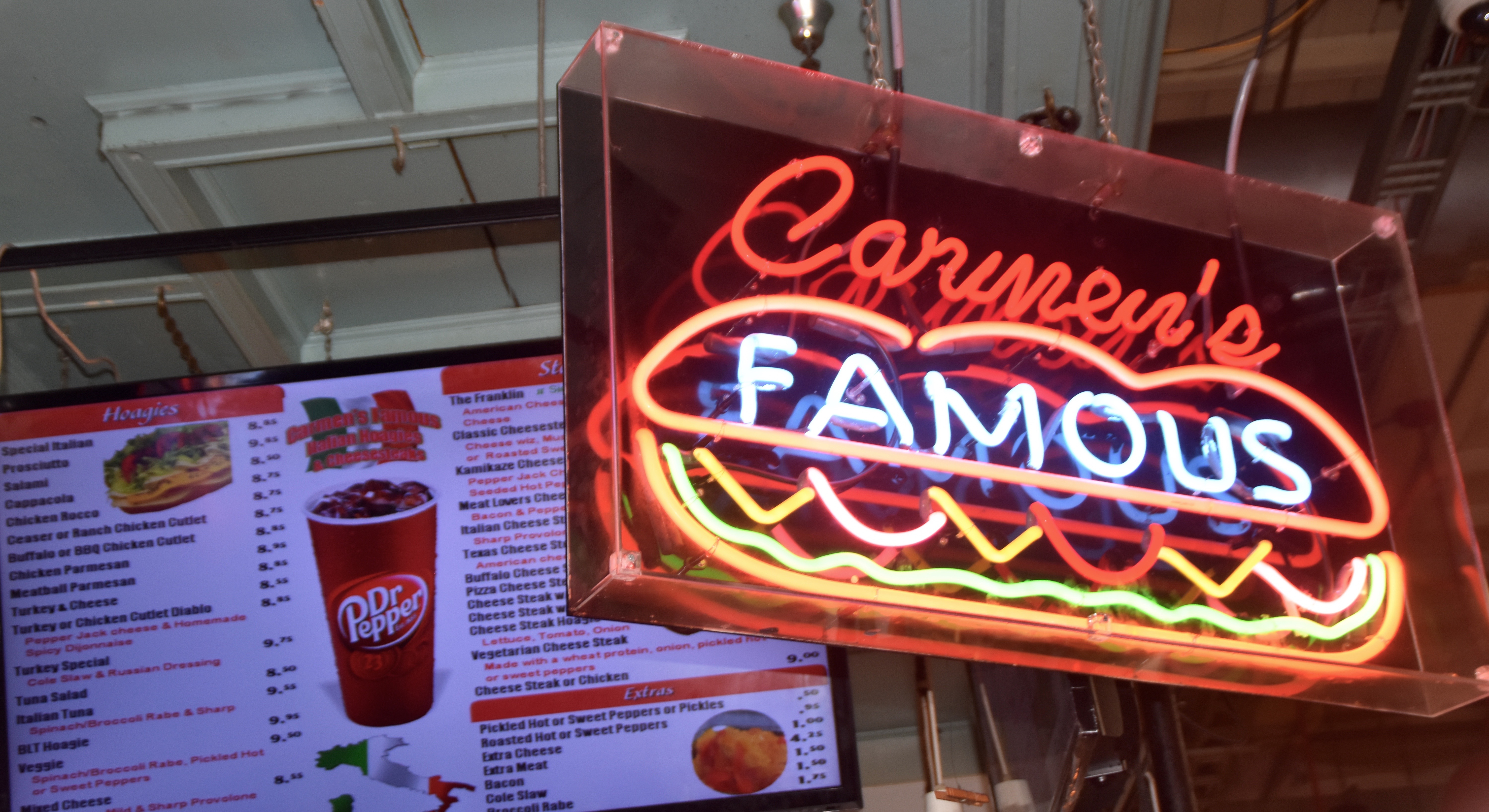 Feeling peckish, we walked a number of blocks from the Liberty Bell Center to Reading Terminal Market where you can get just about anything to eat that you could imagine. However, we were looking for that Philadelphia favourite, the Philly cheesesteak. There are a number of providers of this much sought after, if cripplingly caloric delicacy, in the market, but we were seeking out out one in particular – Carmen's.
Naturally Carmen's had the biggest lineup, but Alison got one of about ten stools around the small booth. I waited in line and got progressively more hungry watching the cook preparing one cheesesteak after another. Finally, I order one large cheesesteak with hot peppers on one half. When cut in two it's more than enough for both of us. Was it worth the wait? Judging from the look on Alison's face I think you can guess the answer. This was the real deal on a Philly classic.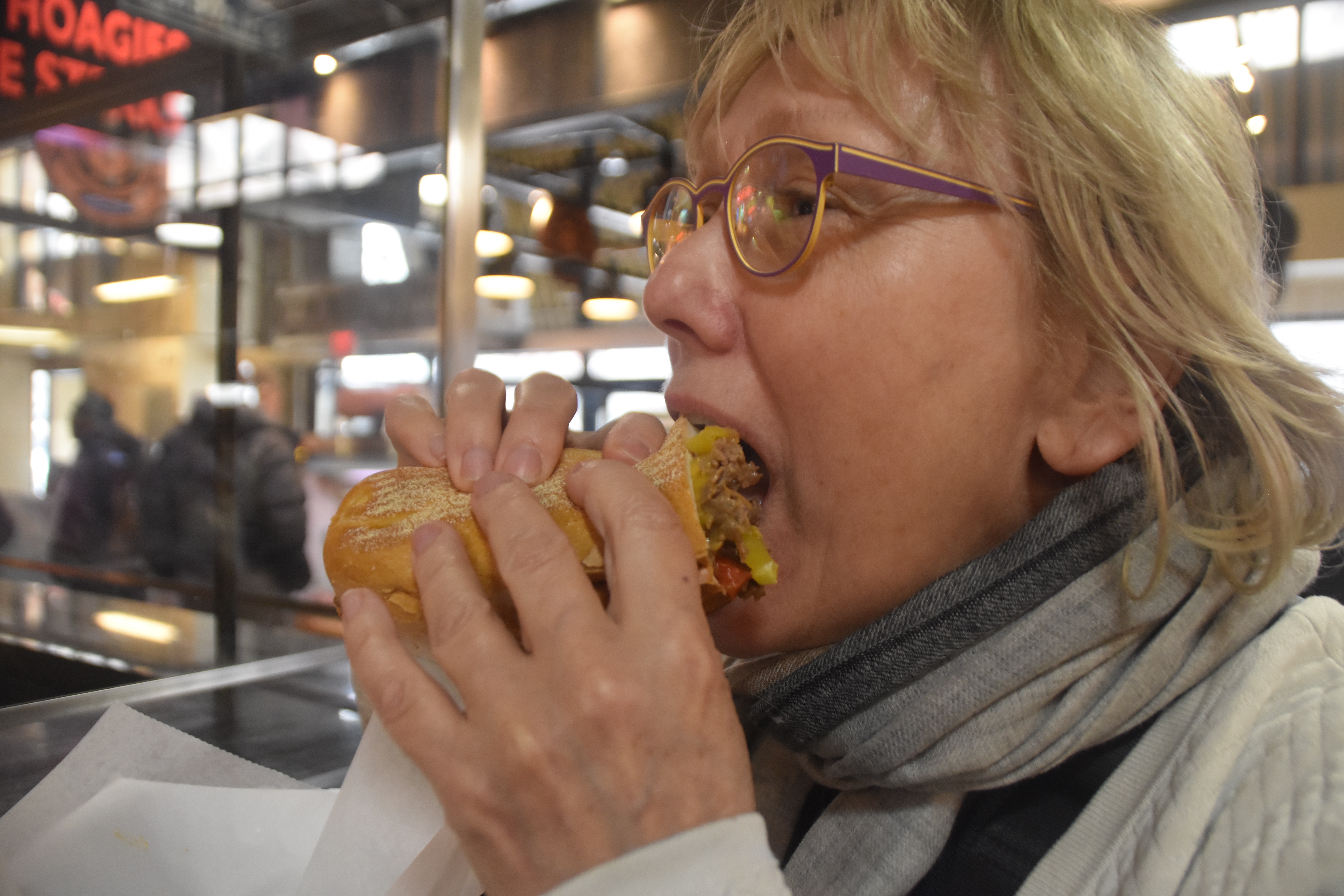 National Constitution Centre, Philadelphia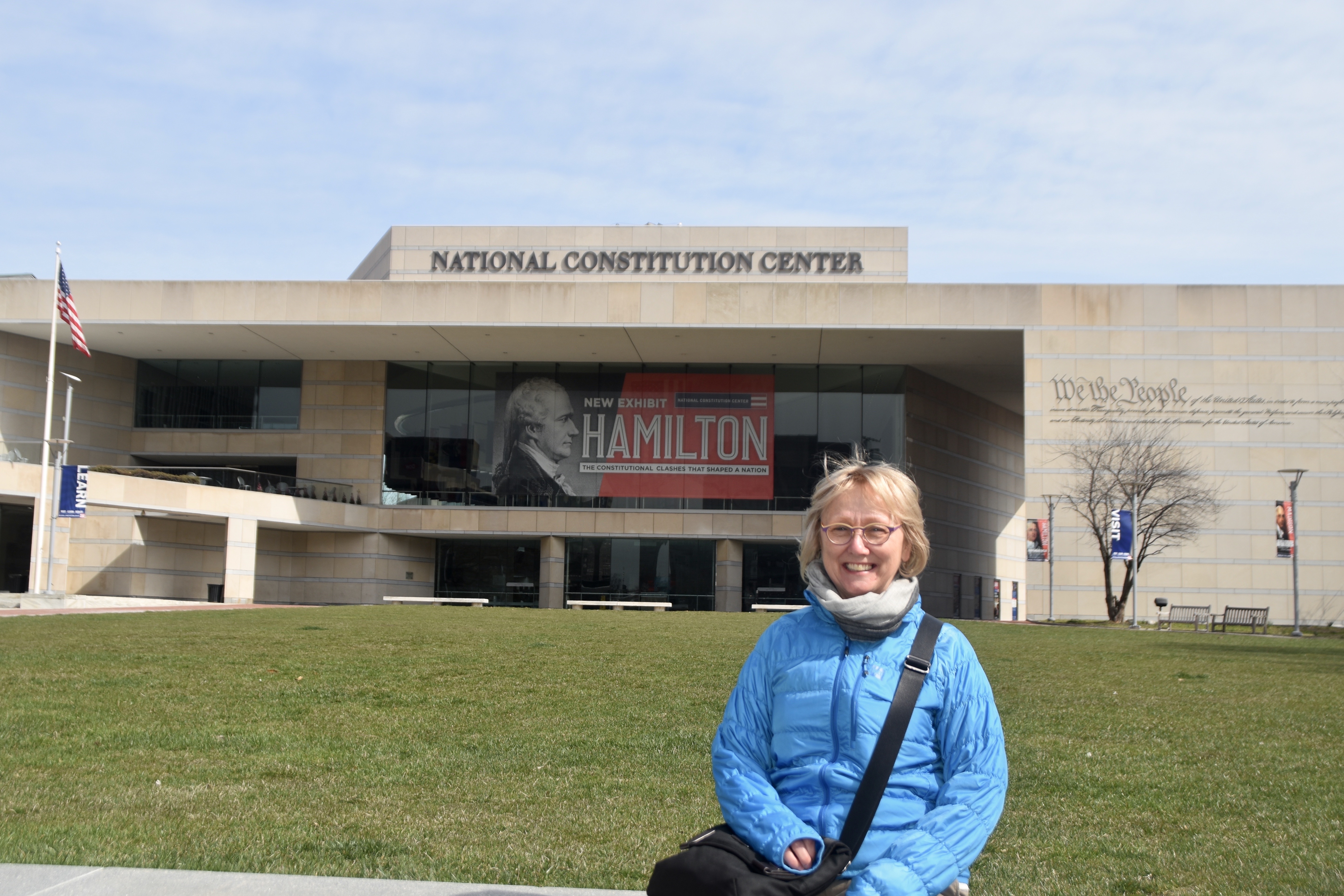 After lunch, we poked around the many stalls and booths in Reading Terminal Market, picking up some specialty cheese, pickles and smoked meats that we can eat at leisure as we continue our journey south. Then it was time for one more visit to a major Philadelphia attraction, the National Constitution Center. This is the nation's only museum dedicated solely to the American constitution. It tells the story of that founding document from the 1700's to the present day and elaborates on the causes and consequences of each constitutional amendment. You simply cannot come to Philadelphia and not visit the Constitution Center as I explained in this more detailed post.
By now we were pretty exhausted and decided to walk back to Morris House and chill out before heading out to dinner. Morris House has complementary wine for a couple of hours each day and it's nice to put your feet up before one of the many fireplaces and just sip wine while reading the day's news.
Talula's Garden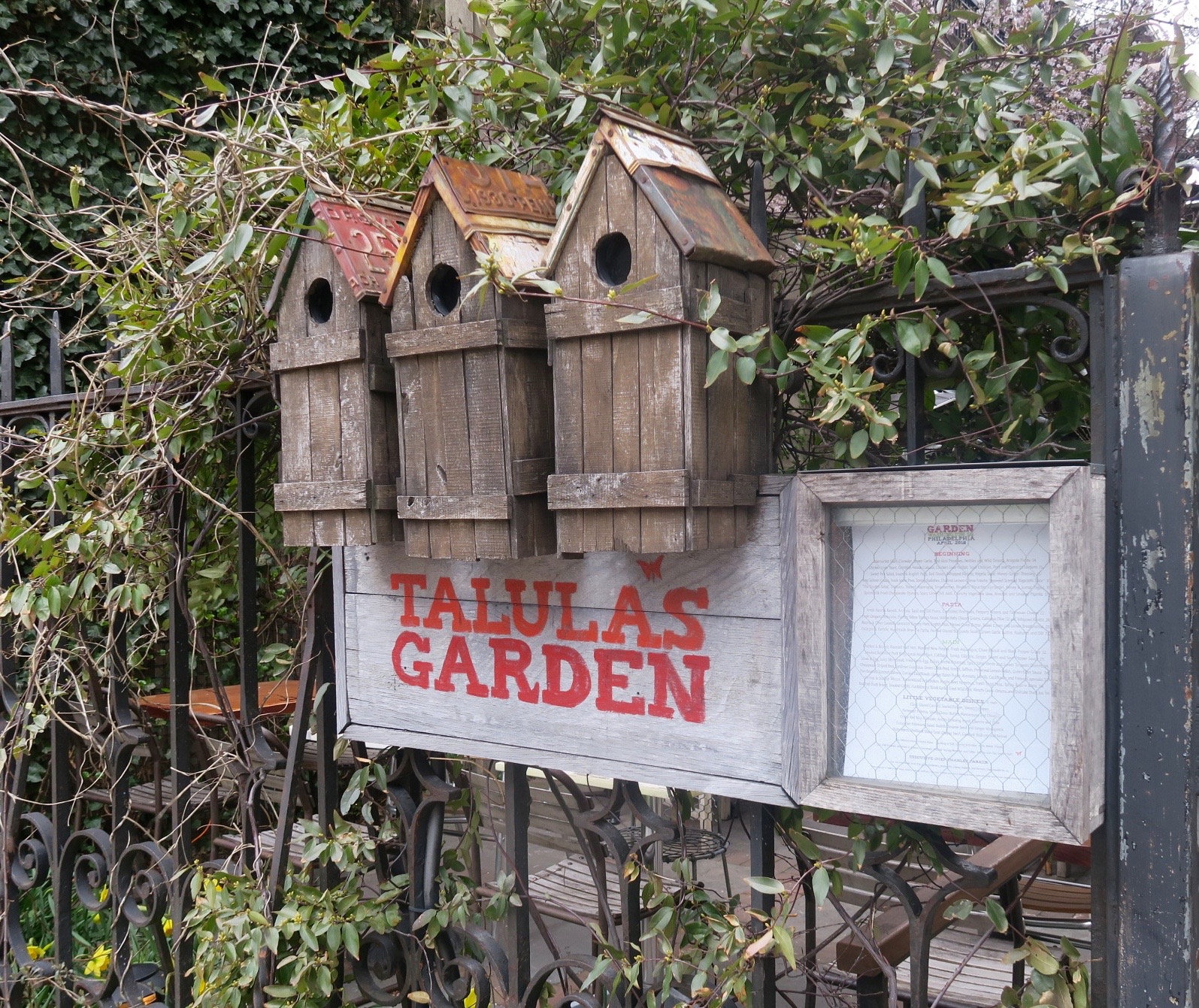 Ordinarily we would have tried to get a table at Morris House's award winning M Restaurant for dinner, but it was closed on the Monday we were there. The staff at the hotel recommended Talula's Garden which was only a few minutes walk away on Washington Square and boy are we glad they did. Put simply, the meal we had at Talula's was among the best in recent memory, maybe any memory, it was that good.
The restaurant is bright and decorated in a somewhat whimsical style as demonstrated by this painting over our table.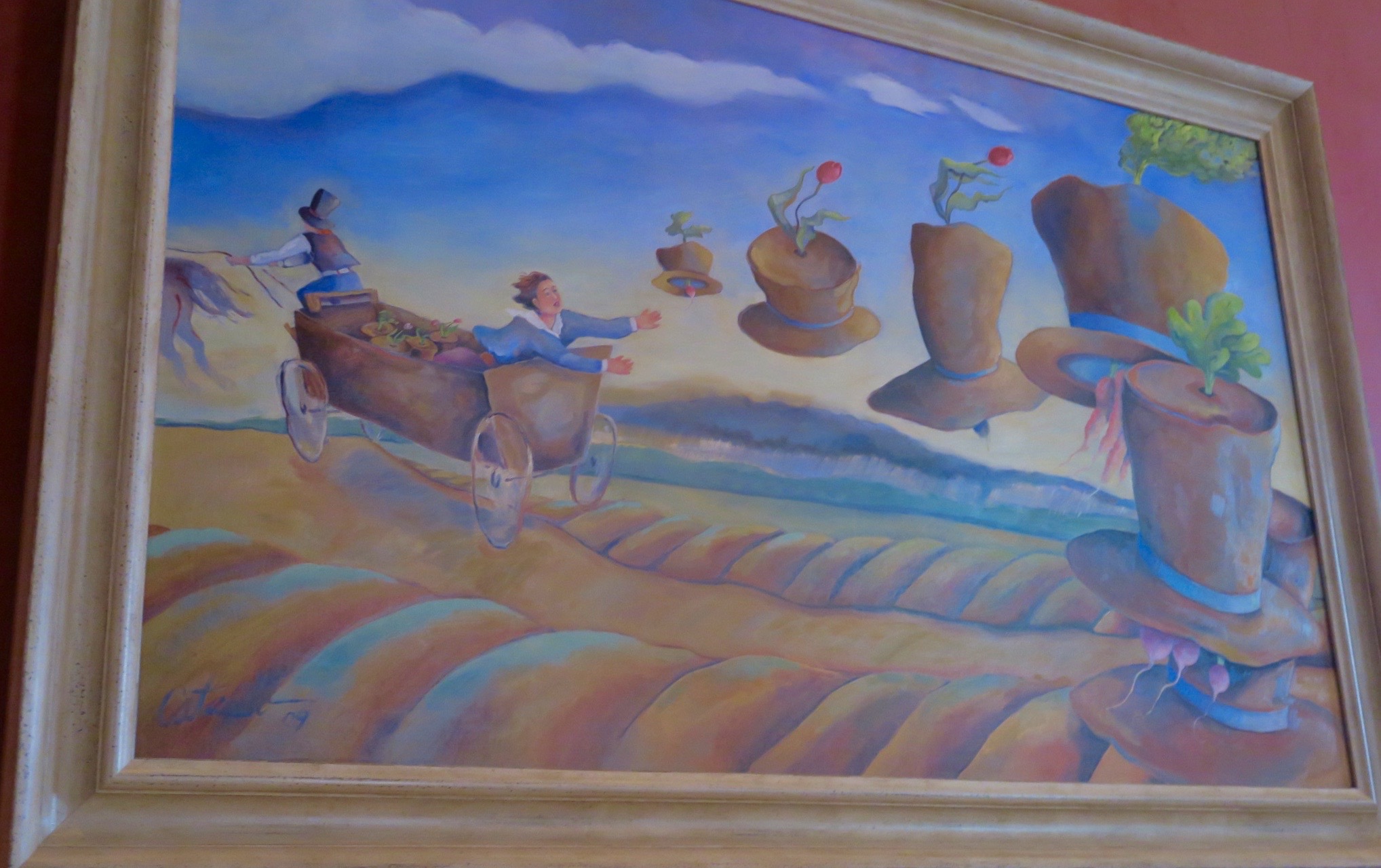 Here are photos and descriptions of the various dishes we tried.
Ok, I know beet salad is very trendy right now and probably over represented on restaurant menus, but if you tried this ruby beet salad with a goat cheese swirl, candied walnuts and fresh fennel, you would hope to find it on every menu. I think the secret was that the beets were perfectly done – not too hard and not mushy.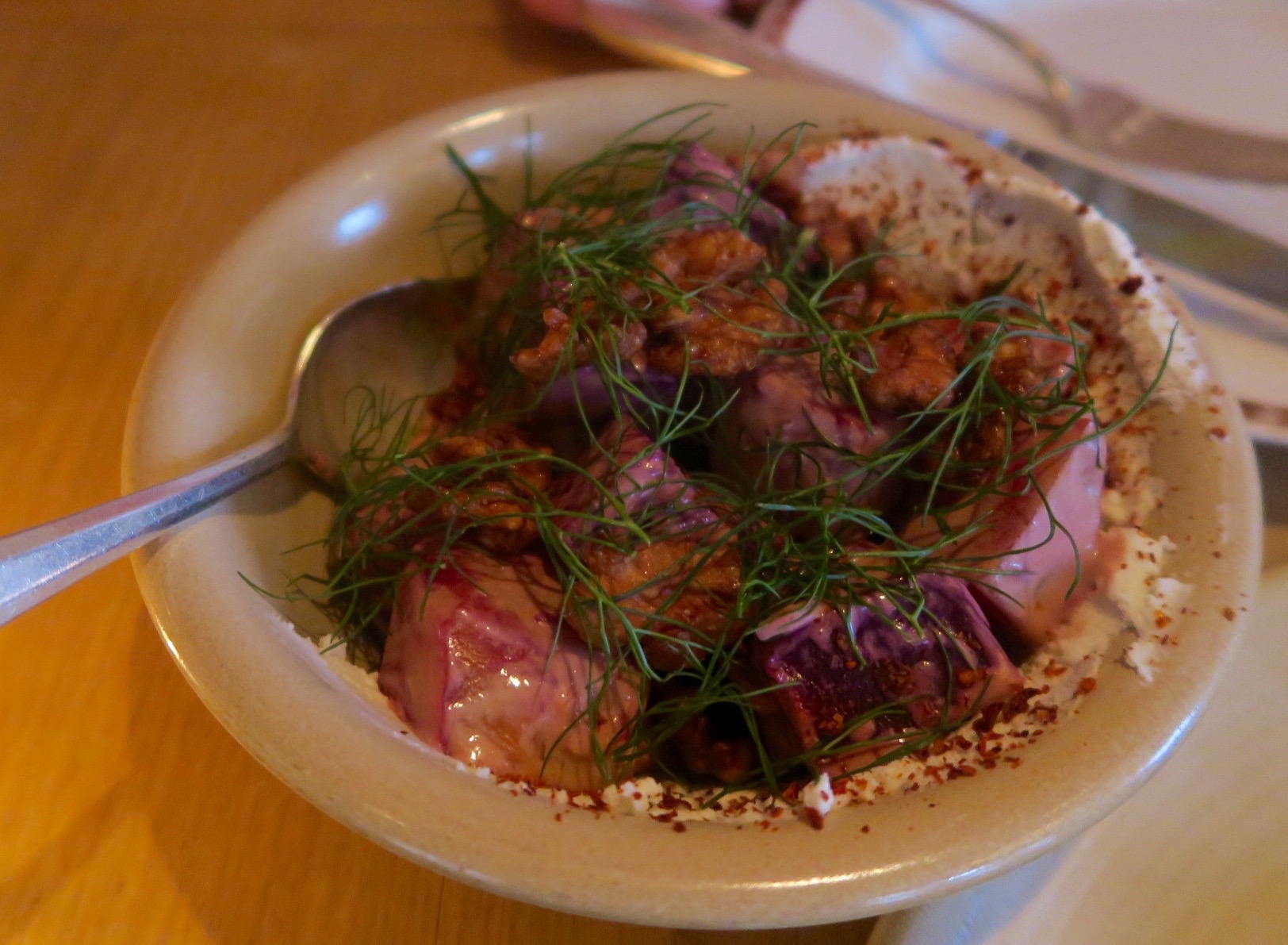 Now this next appetizer you won't find on many menus. This is chicken liver toast which is a chicken liver parfait on top of a griddled ciabatta covered in sour cherries, port and pancetta lardons. This dish looks positively sinful and trust me it is, but in a good way if you get my drift.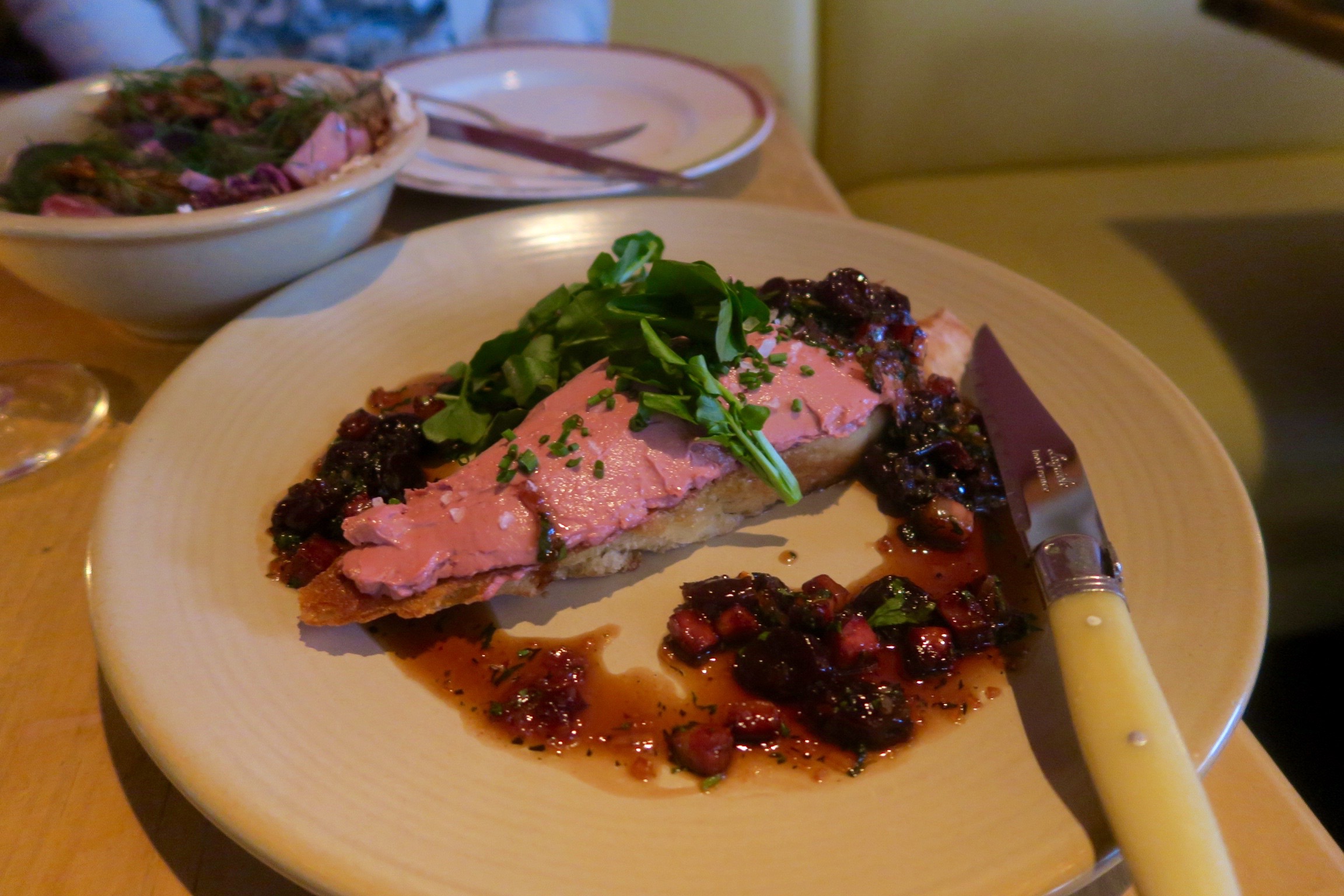 In for a penny, in for a pound, as I opt for yet another amazingly rich dish, this entree of farfalle with escargot and radish in a butter based sauce.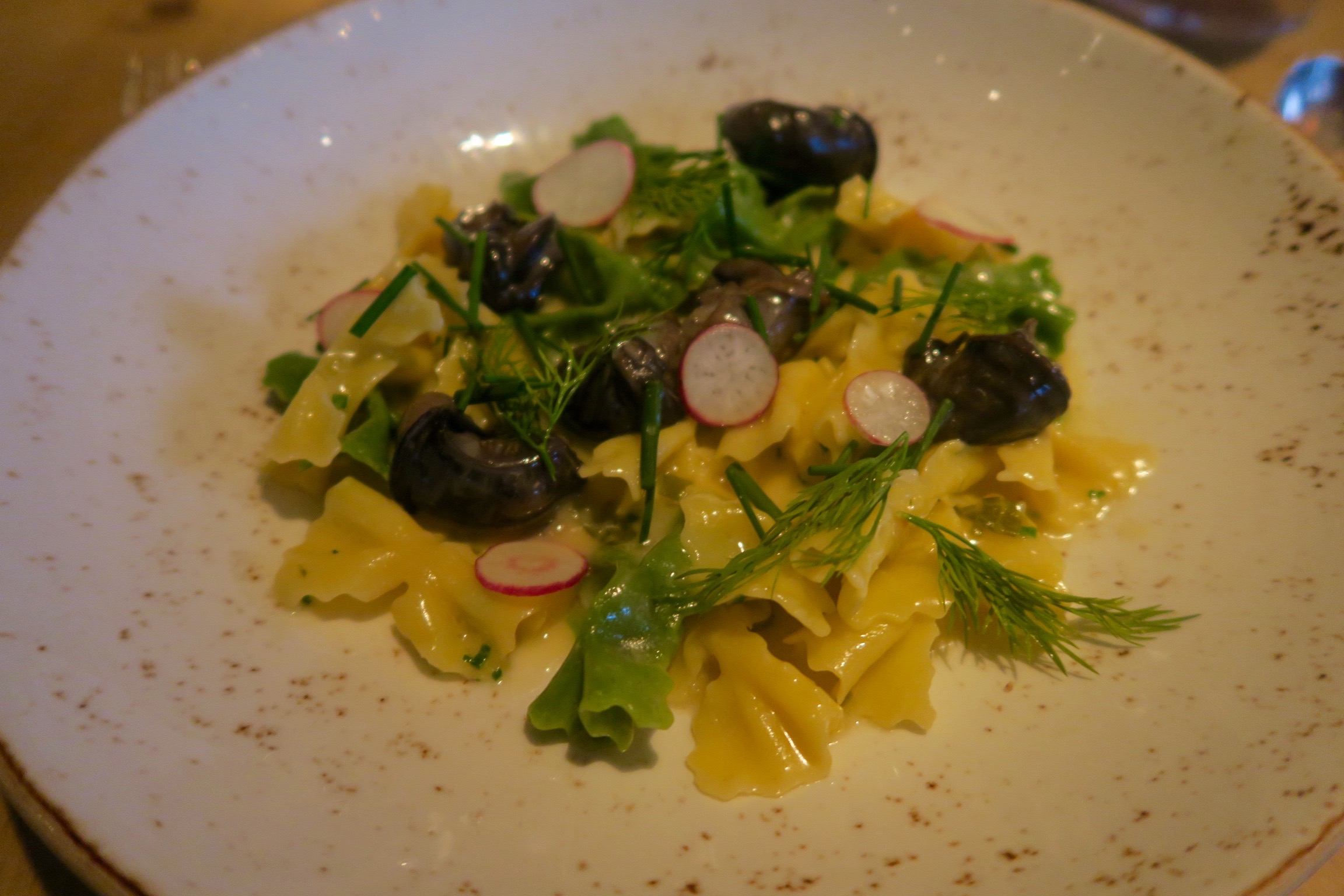 For dessert we split something at first blush, seems completely innocuous – butterscotch pudding. However, once you tasted this butterscotch pudding you knew instantly that this was butterscotch as it was meant to taste. For something that's really just butter and sugar, it's amazing how many places don't manage to get it right. At Talula's Garden they have it down perfectly. You won't ever have bad dreams about that awful thing called instant butterscotch pudding once you've tasted a real one.
We finished off this grand meal with a glass of port and made our way back to Morris House Hotel secure in the knowledge that we had just had a day to remember for the rest of our lives. Philly really delivered!
After Philadelphia we will be heading to Williamsburg, Virginia which we will use as a base to explore Colonial National Historic Park which contains both Jamestown and Yorktown, two of the most famous places in American history.
For a post on another great American city please read this one on Boston.