Butchart Gardens – Canada's Garden of Eden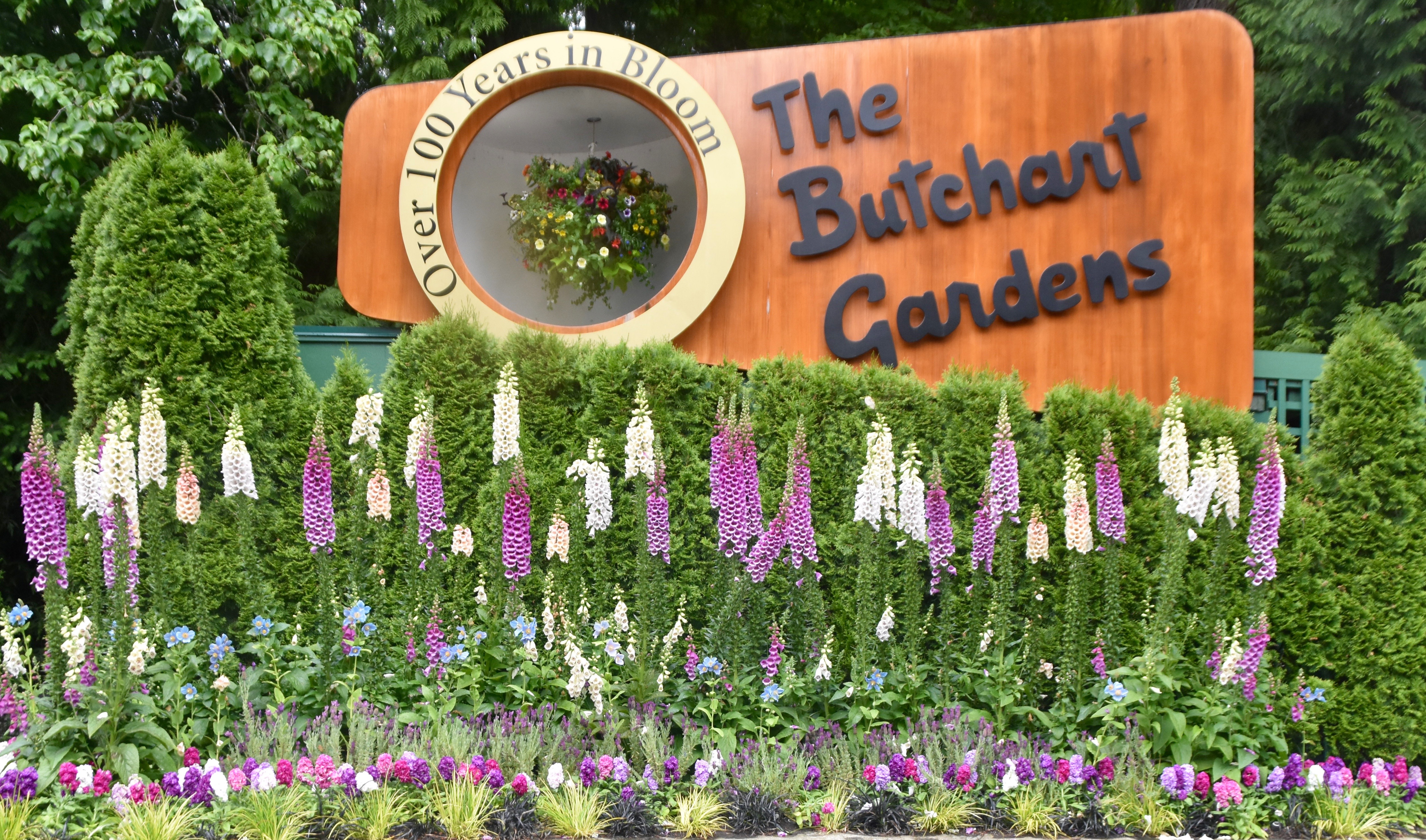 Gardening runs in my family and is one of my favourite pastimes, but so is visiting famous gardens such as I recently did in Philadelphia's Longwood Gardens and South Carolina's Brookgreen Sculpture Gardens.  I first learned of Butchart Gardens from a grade 4 or 5 reader that featured stories of life in Canada from coast to coast to coast. Living in a Northern Ontario mining town at the time, it just did not seem possible that there could be a place in this country where flowers could bloom all year round and I vowed to see it for myself one day. Well that one day took over fifty years, but it did come early in June of this year. Now that I've seen the place with my own eyes I'm kicking myself for waiting so long because Butchart Gardens not only lived up to my expectations, but exceeded them – wildly. Here's why, but first some practical stuff.
Getting to Butchart Gardens
Many people mistakenly believe that Butchart Gardens is in the city of Victoria when it's actually much closer to the seaside town of Sidney which is where Victoria airport and the ferries from the mainland can be found. So if you are coming by plane or boat you might want to consider spending a day in Sidney rather than heading straight to Victoria. I can highly recommend the Sidney Pier Hotel & Spa which is right on the waterfront of this very pleasant town.
If you are staying in Victoria there is a dedicated bus that runs from just in front of The Empress Hotel to Butchart Gardens. You can buy a one-way or round trip and your entrance fee to the gardens from the ticket vendor on site. The trip takes about twenty minutes with a stop at the Victoria Butterfly Gardens on the way.
In terms of when to go, I would definitely try to avoid the peak tourist season of July and August. Spending a week in Victoria in late May and early June, the weather was great and while there were plenty of other tourists around, it was not totally insane. Like almost all worldwide tourism hotspots, which Butchart Gardens definitely is, I recommend getting there as early as possible. Since there is a dedicated path to follow, there should not be great crowds ahead of you. Also, check to see if there are any cruise ships in and try to avoid visiting on those days.
History of the Gardens
In 2004, on the hundredth anniversary of its founding, Butchart Gardens was named a National Historic Site(follow the link for more details). Incredibly, it all started with the hard work and dedication of one woman – Jennie Butchart who turned a three and a half acre hole left from quarrying limestone into one of the floral wonders of the world. The property has remained in the Butchart family since its inception and each generation seeks to add something new that will enhance the gardens reputation and encourage repeat visitors. Today its flowers, fountains and fireworks draw visitors from literally around the globe to experience, "the most beautiful gardens in North America" as a recent PBS program proclaimed and after visiting in person, I say, not without reason.
Touring Butchart Gardens
Here is a map of Butchart Gardens and although at first sight it looks a little confusing, there's actually a pretty defined route that takes you in a clockwise direction through the various specialty gardens.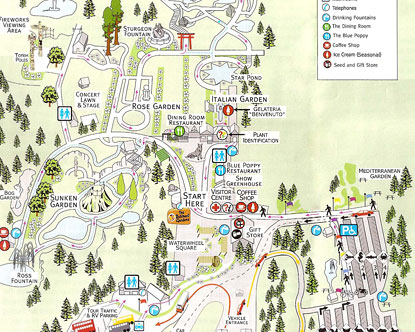 Some surprising good news for dog lovers – you can bring you canine companions with you to Butchart Gardens, and that's exactly what many visitors were doing on the day I visited.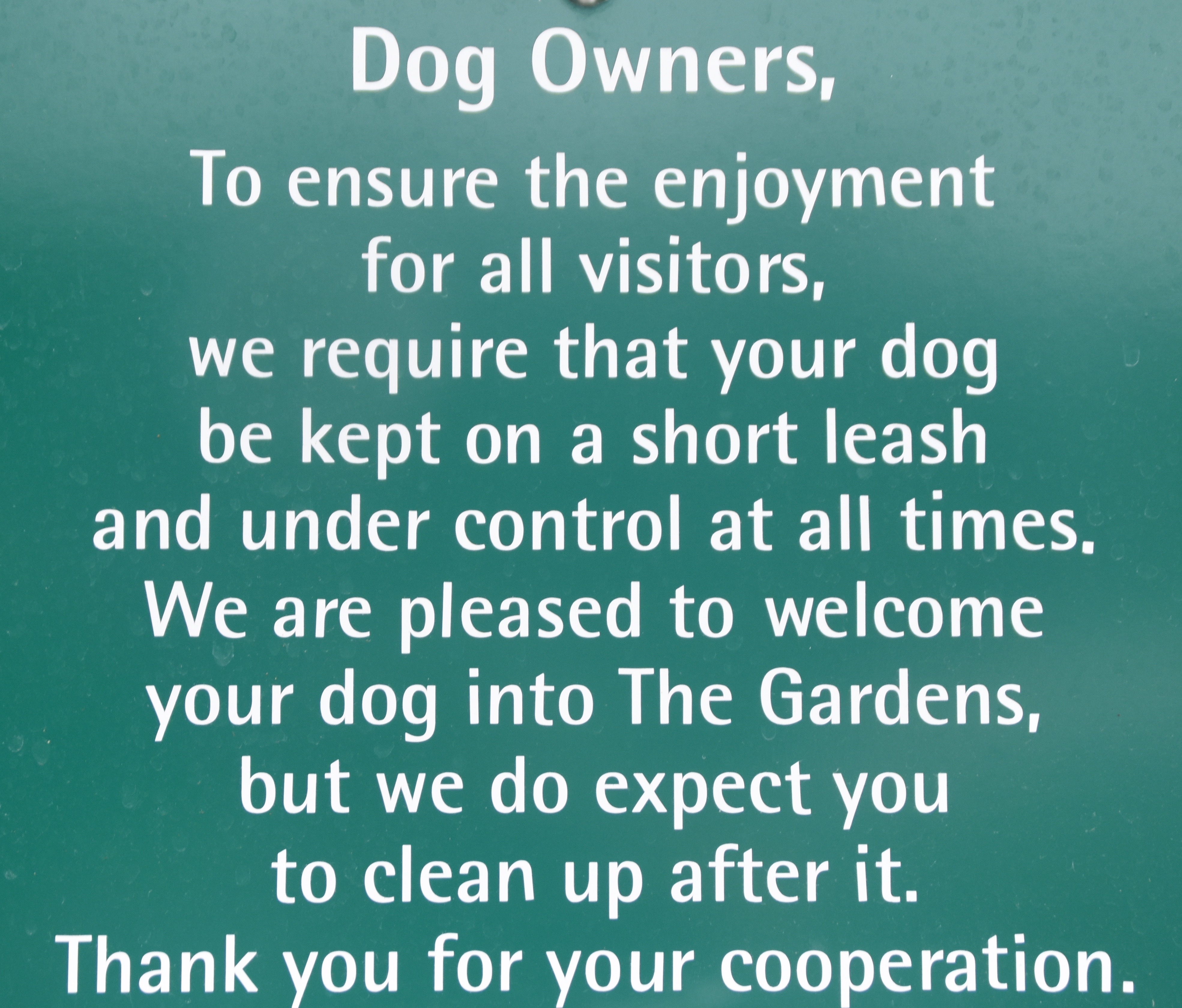 Alright, after this overlong intro, let's go look at some flowers and fountains starting with this whimsical snail fountain.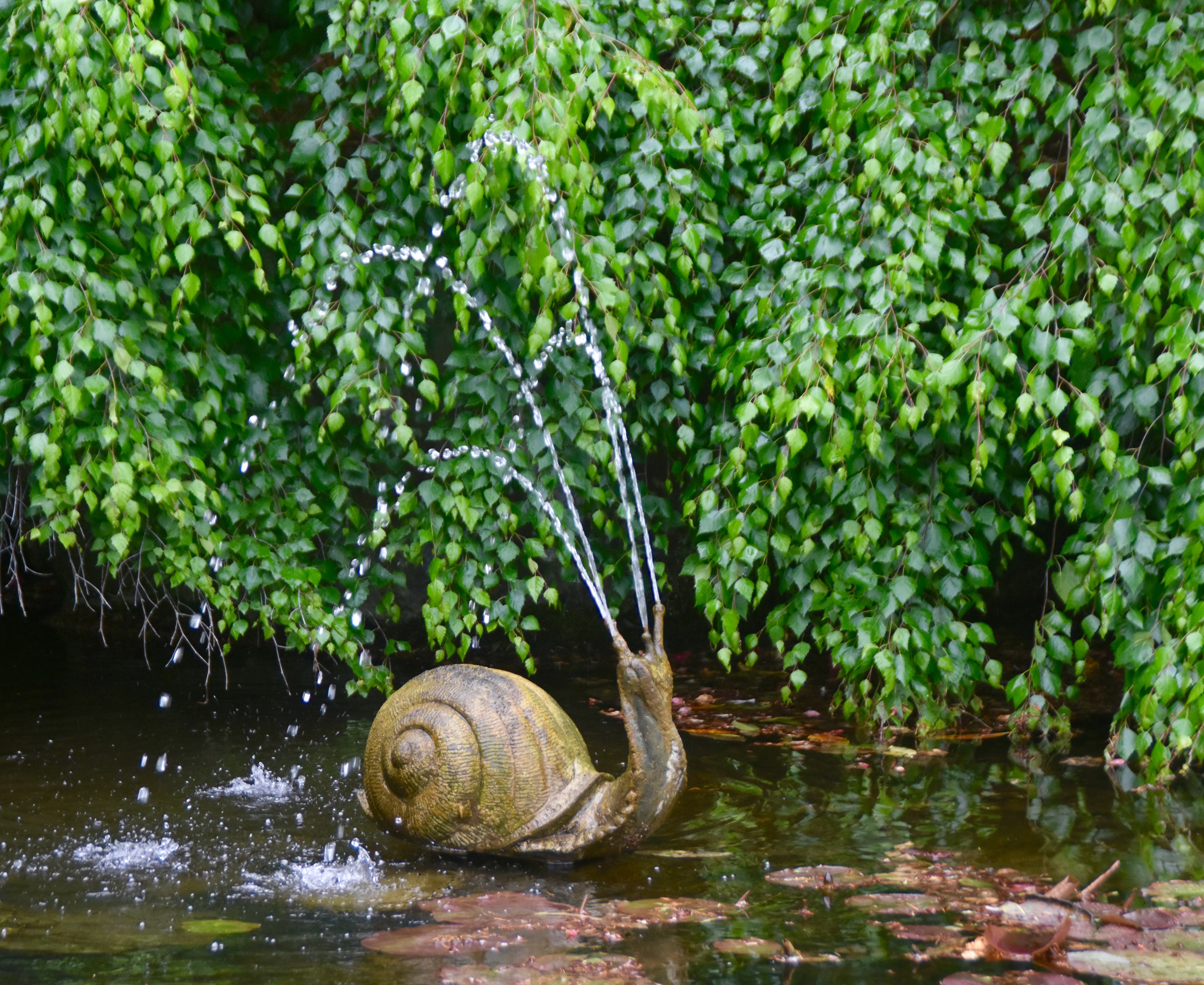 In most of Canada you can see only one type of hummingbird, the ruby throat and while they are beautiful, it would be nice to have more than one species to look for. Just into the start of the Butchart Gardens there are a great number of hanging baskets, including these fuchsias which have evolved to the point that their flowers are best pollinated by hummingbirds.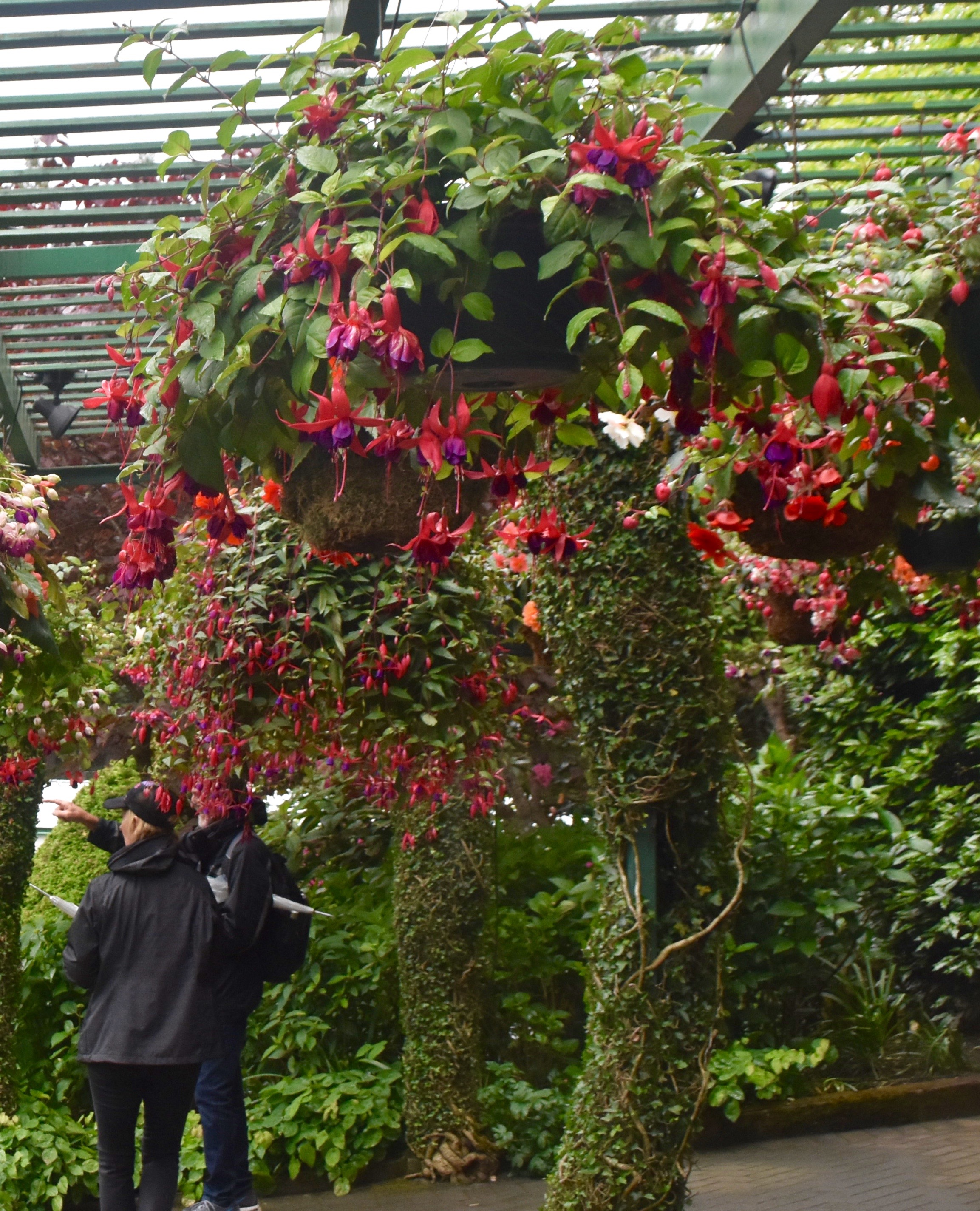 And not surprisingly this part of the gardens is alive with hummingbirds, particularly the rufous hummingbird, which was a good sighting for an eastern birder. I sat for a good ten minutes just watching these little birds buzz around the feeders amidst the fuchsia plants.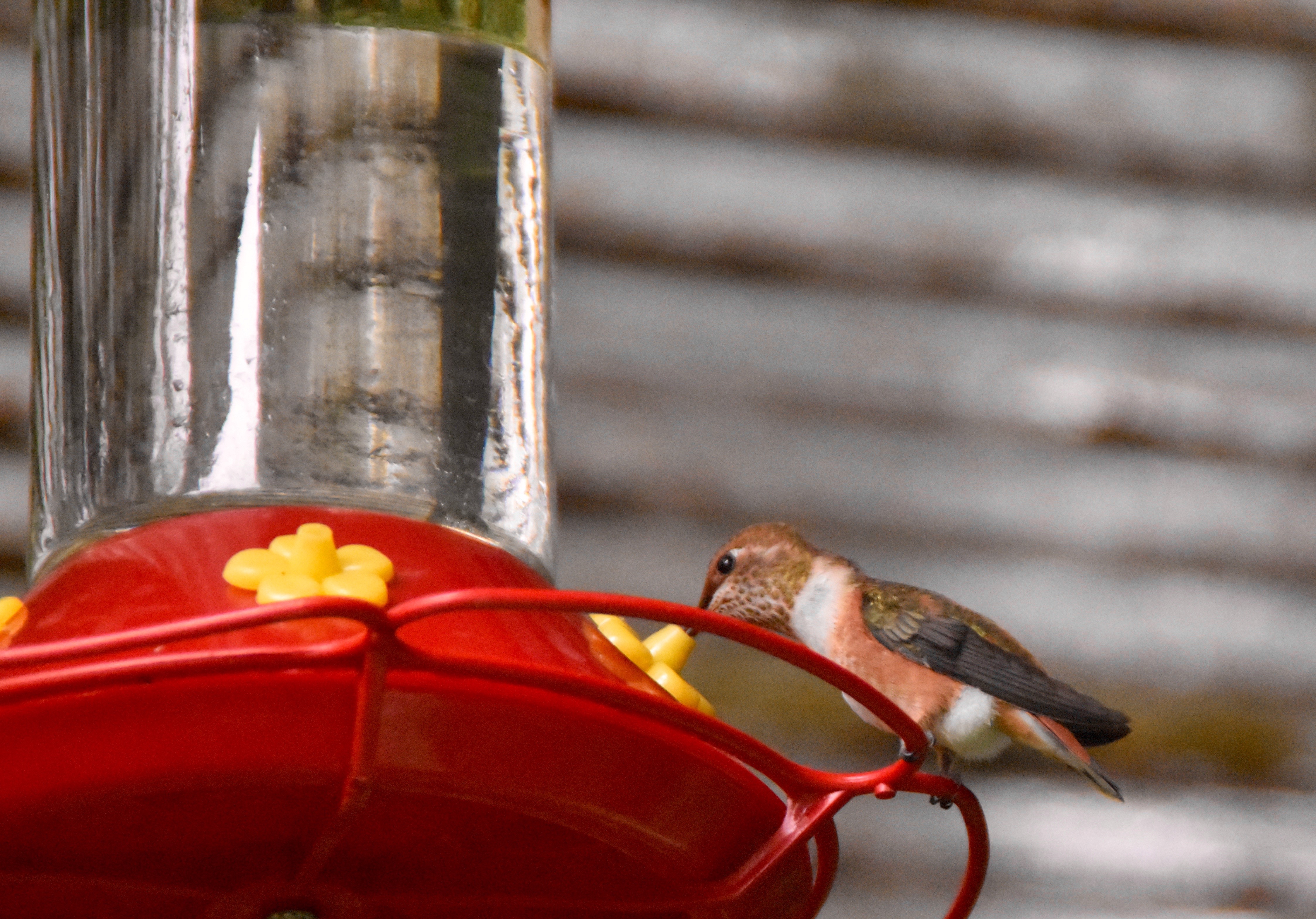 I think almost anybody who has seen pictures of Butchart Gardens will be most familiar with the view over the Sunken Gardens – that was the picture in my elementary school reader and the one that  stuck in my mind for over fifty years. Words simply cannot describe the beauty of this garden and the palpable gasp of wonder that overtakes one on first seeing this sight in person. I've visited many great gardens on six continents and I'll put this over view of the Sunken Garden up against any of them for 'best spot to get a great garden photo'.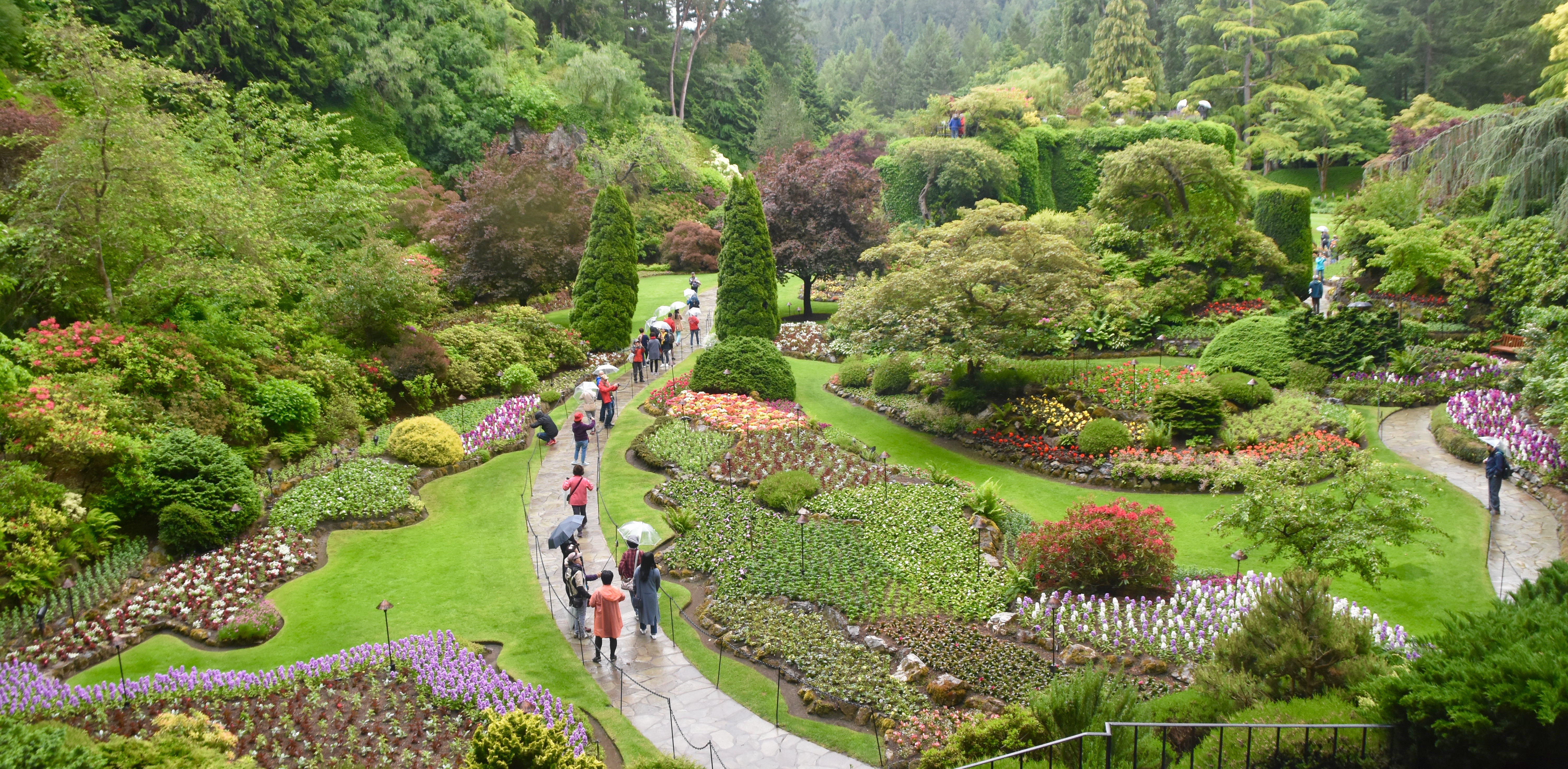 The view from within the Sunken Garden is almost equally remarkable. As you can see it was drizzly on the day I visited, but flat light often tends to enhance rather than diminish the overall impact of massed plantings.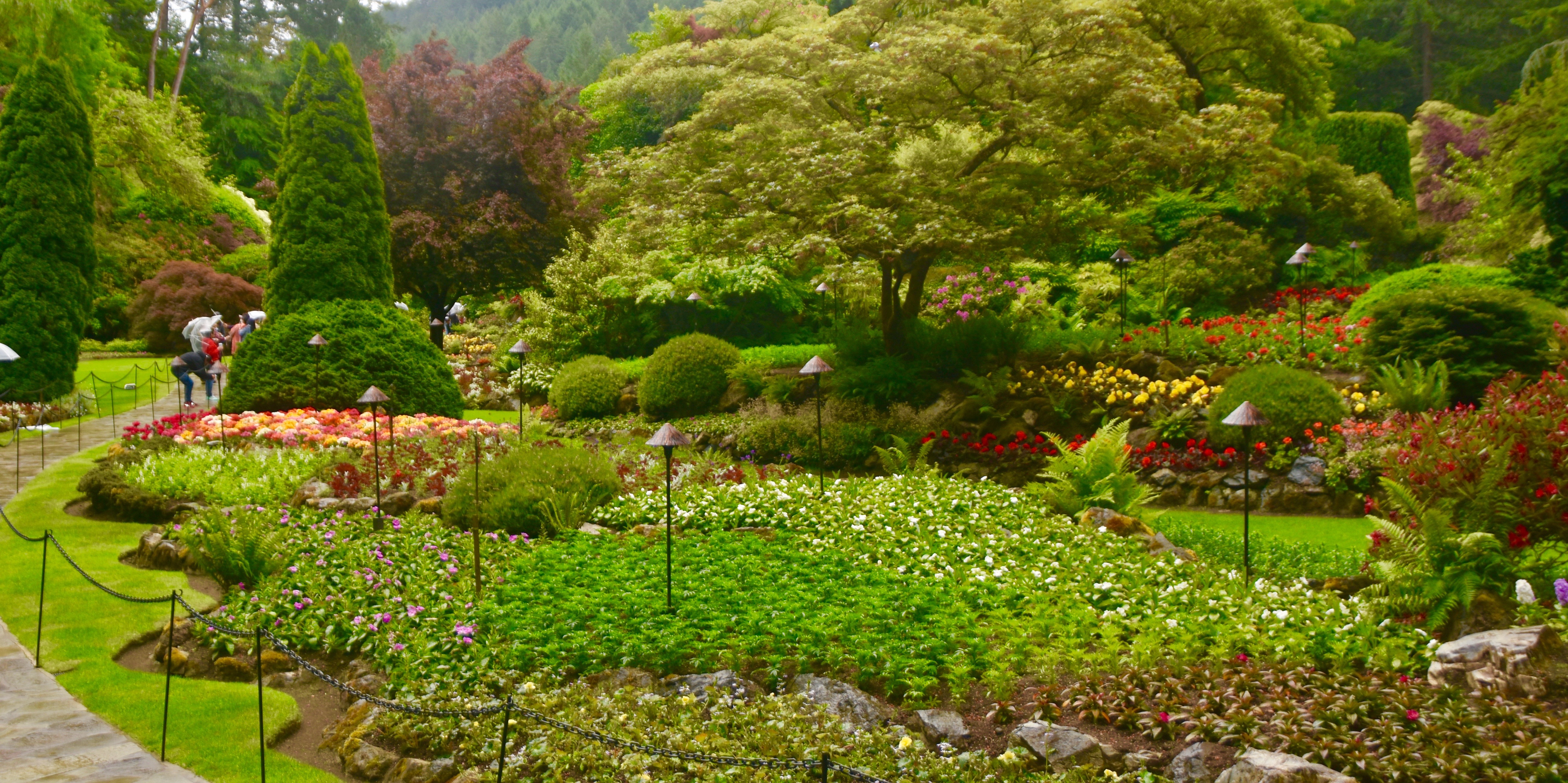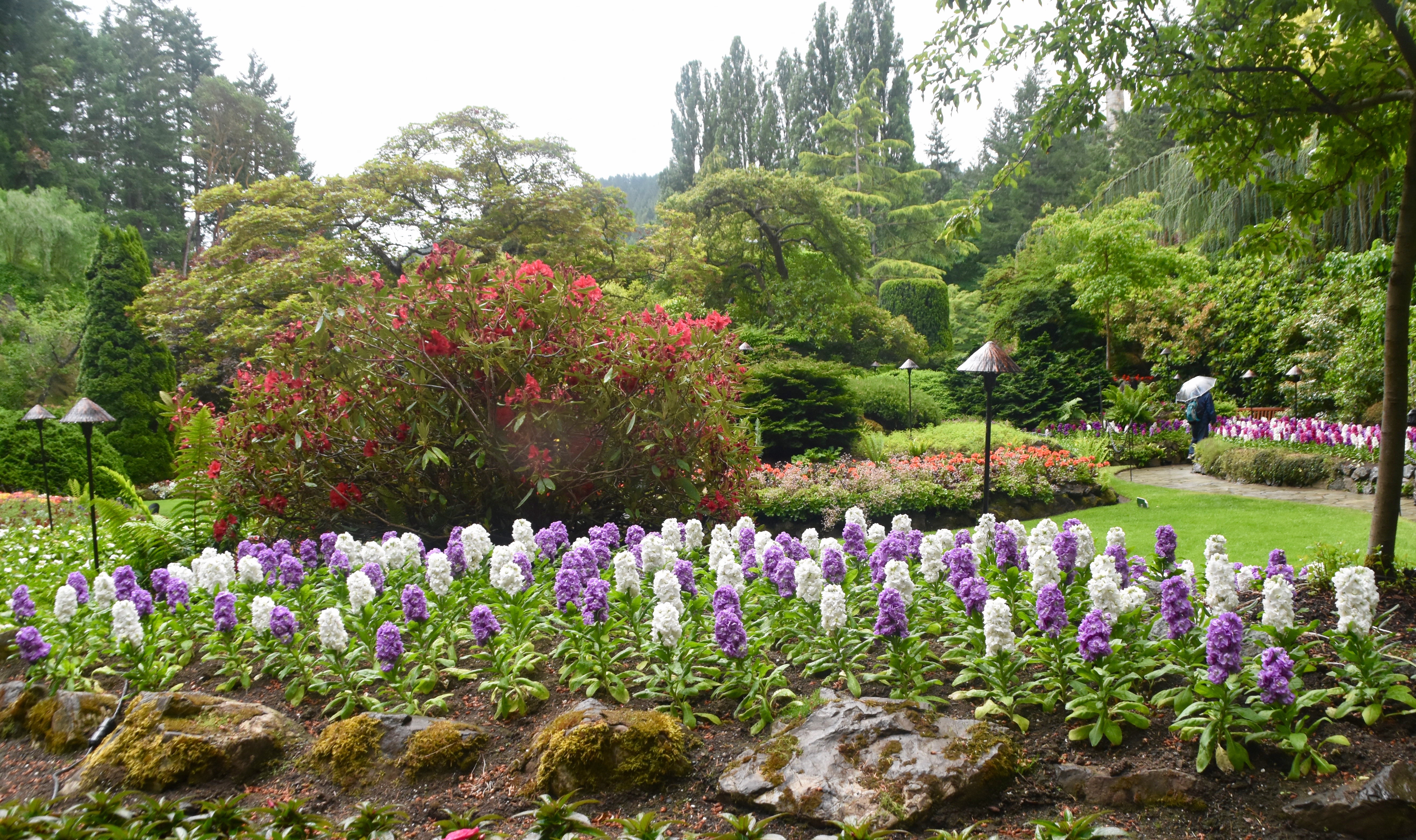 I was particularly impressed by this planting of double stock, one of the most fragrant of all annual flowers.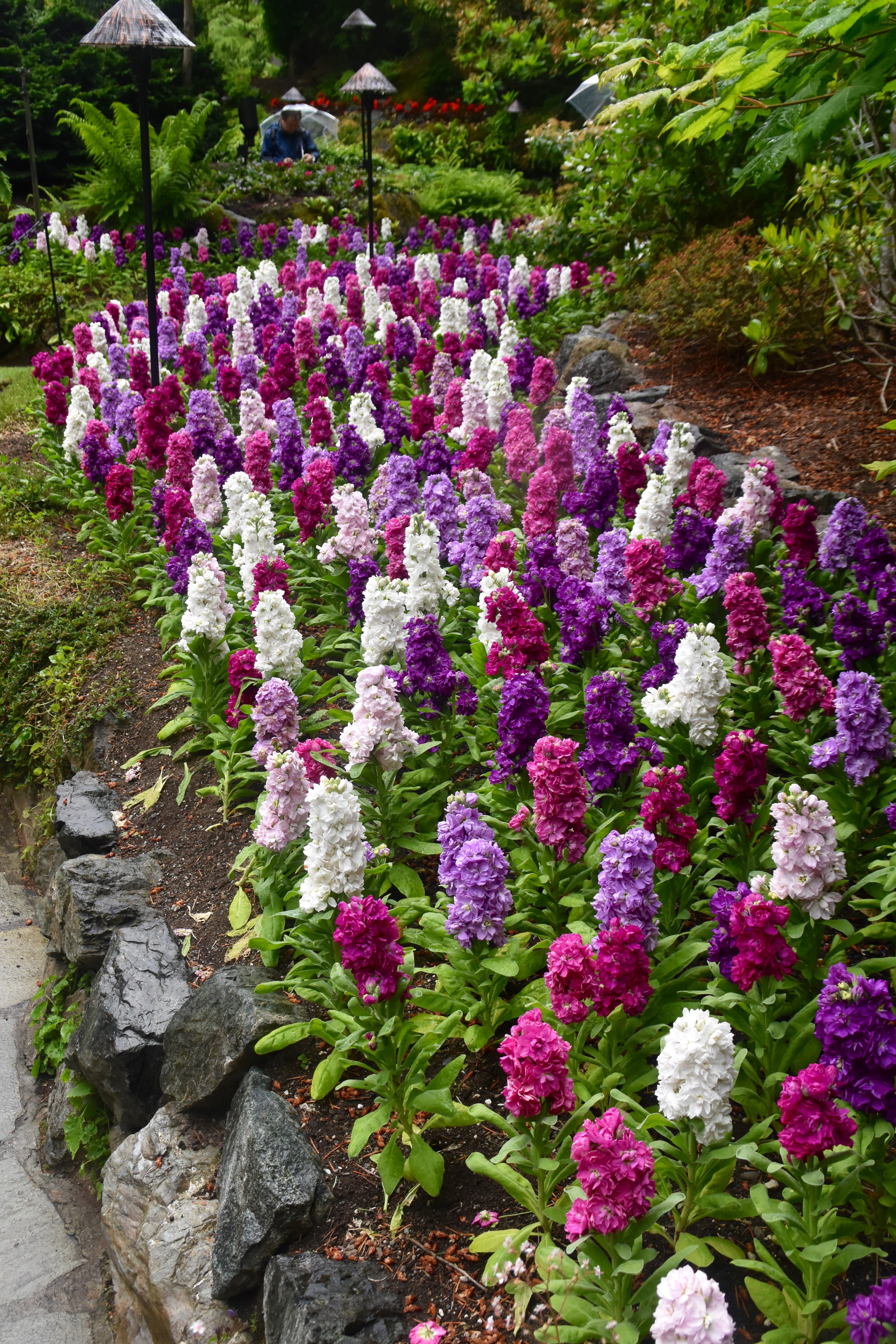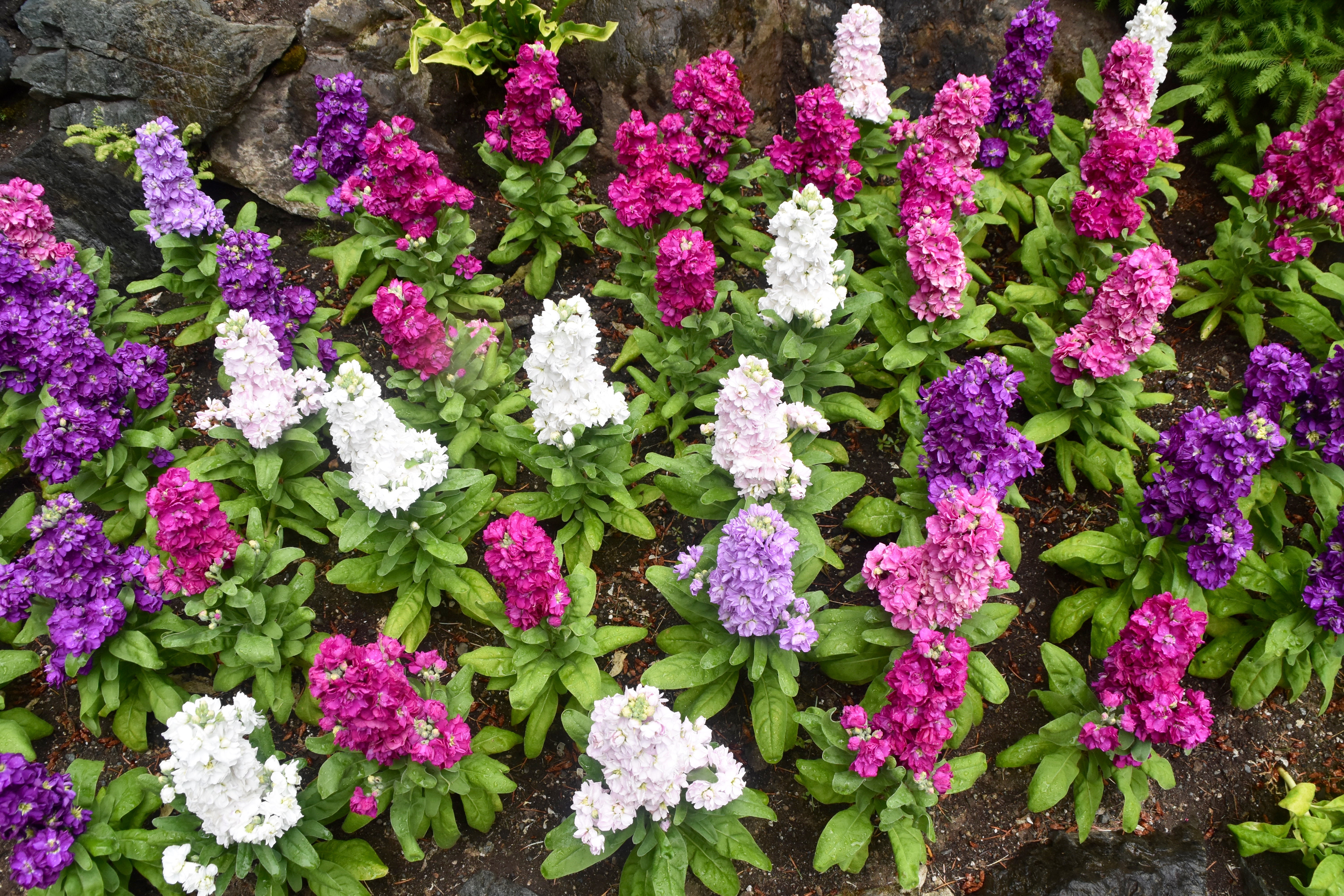 I was so impressed that I even made a short video.
One thing you quickly realize about Butchart Gardens is that it's not just about the flowers; the trees, shrubs and ferns are as integral a part of the picture as the flowers. The contrast in colour, shape and texture between these Japanese maples and plants around them is remarkable.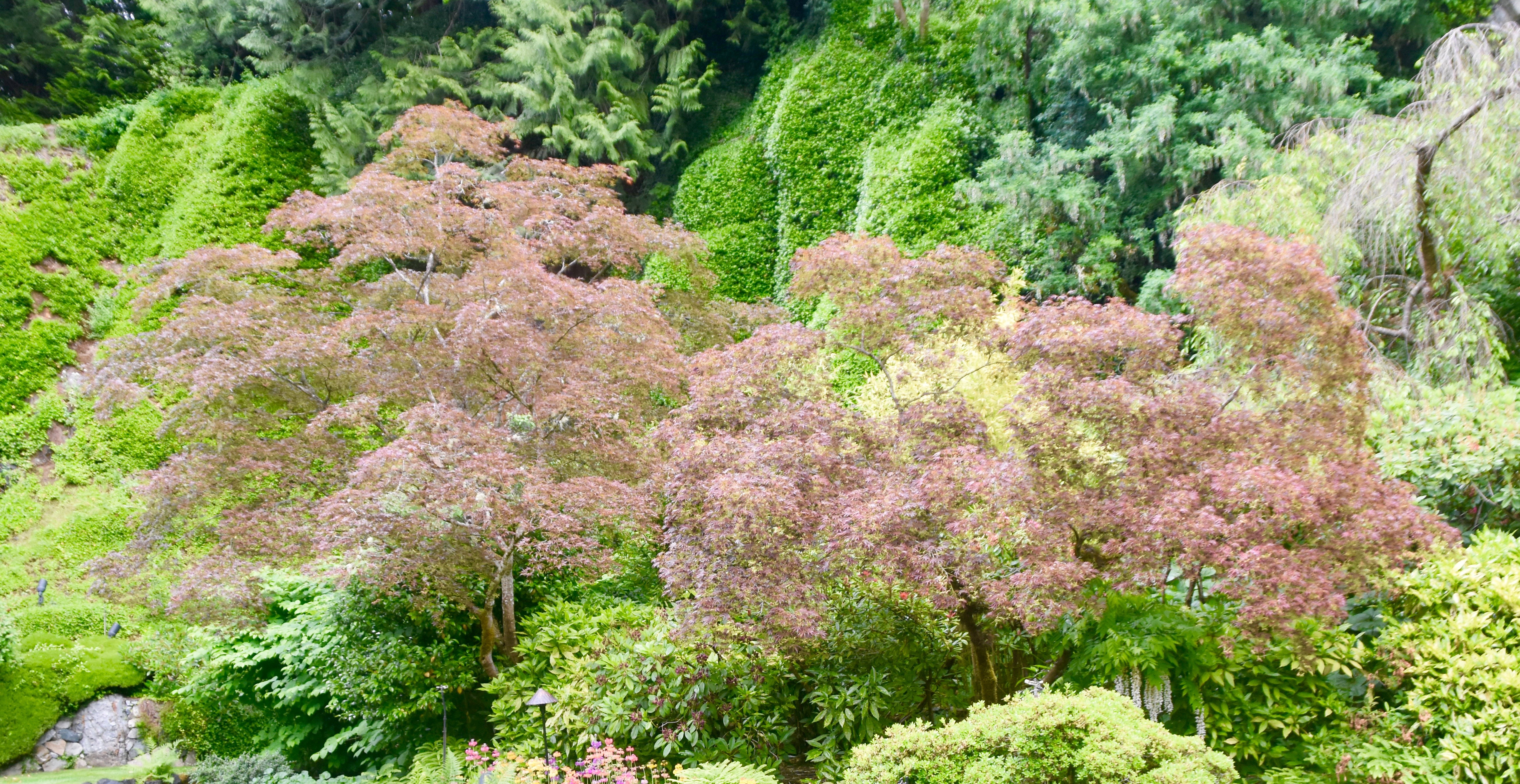 The Sunken Garden path leads to a third element that is vital to the inevitable sensory seduction brought about by Butchart Gardens – water. This is the reflecting pond.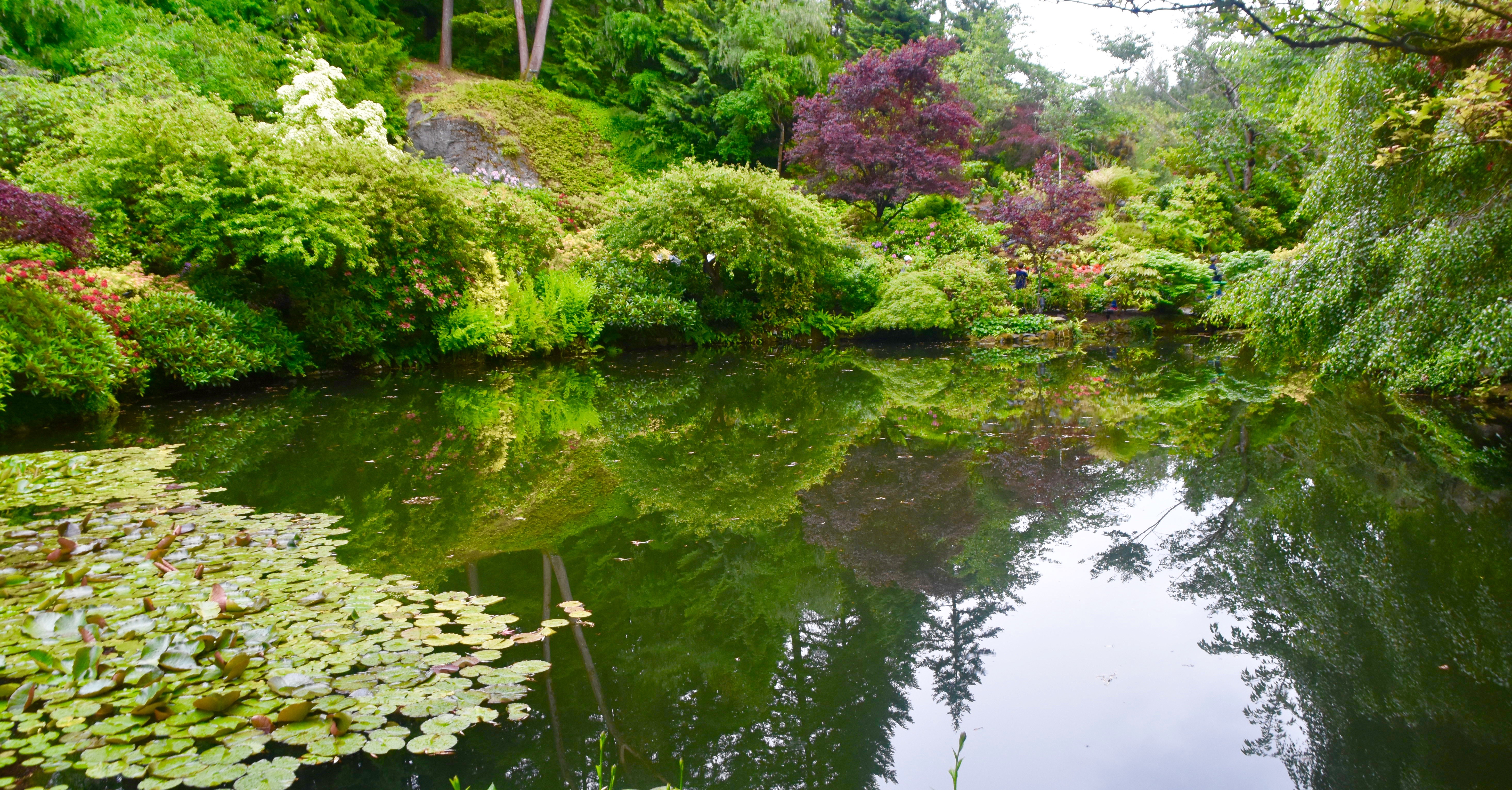 In the middle of the Sunken Garden is a steep mound which you can ascend via a circular path and get this view from the top.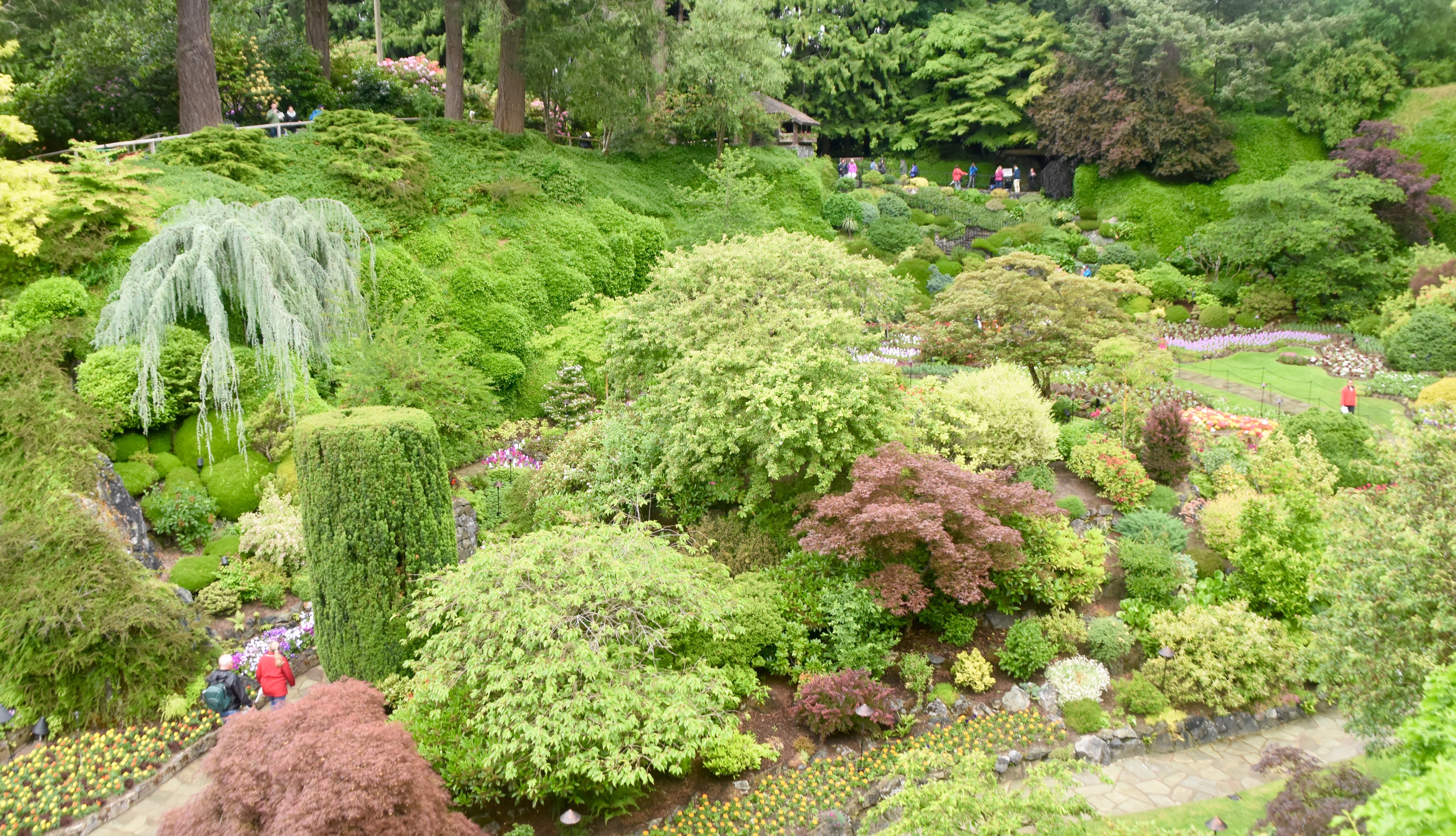 And this.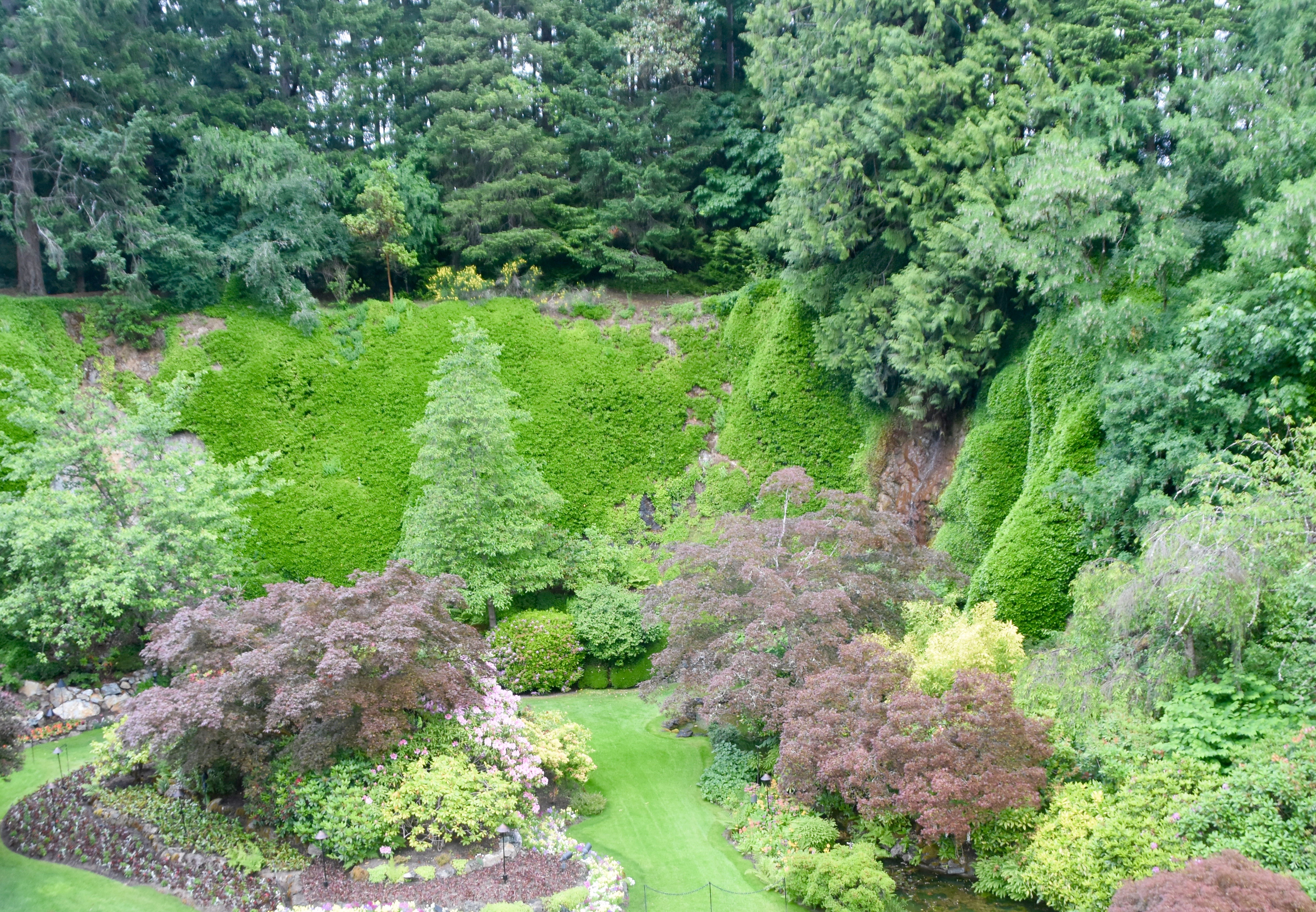 And this in another direction.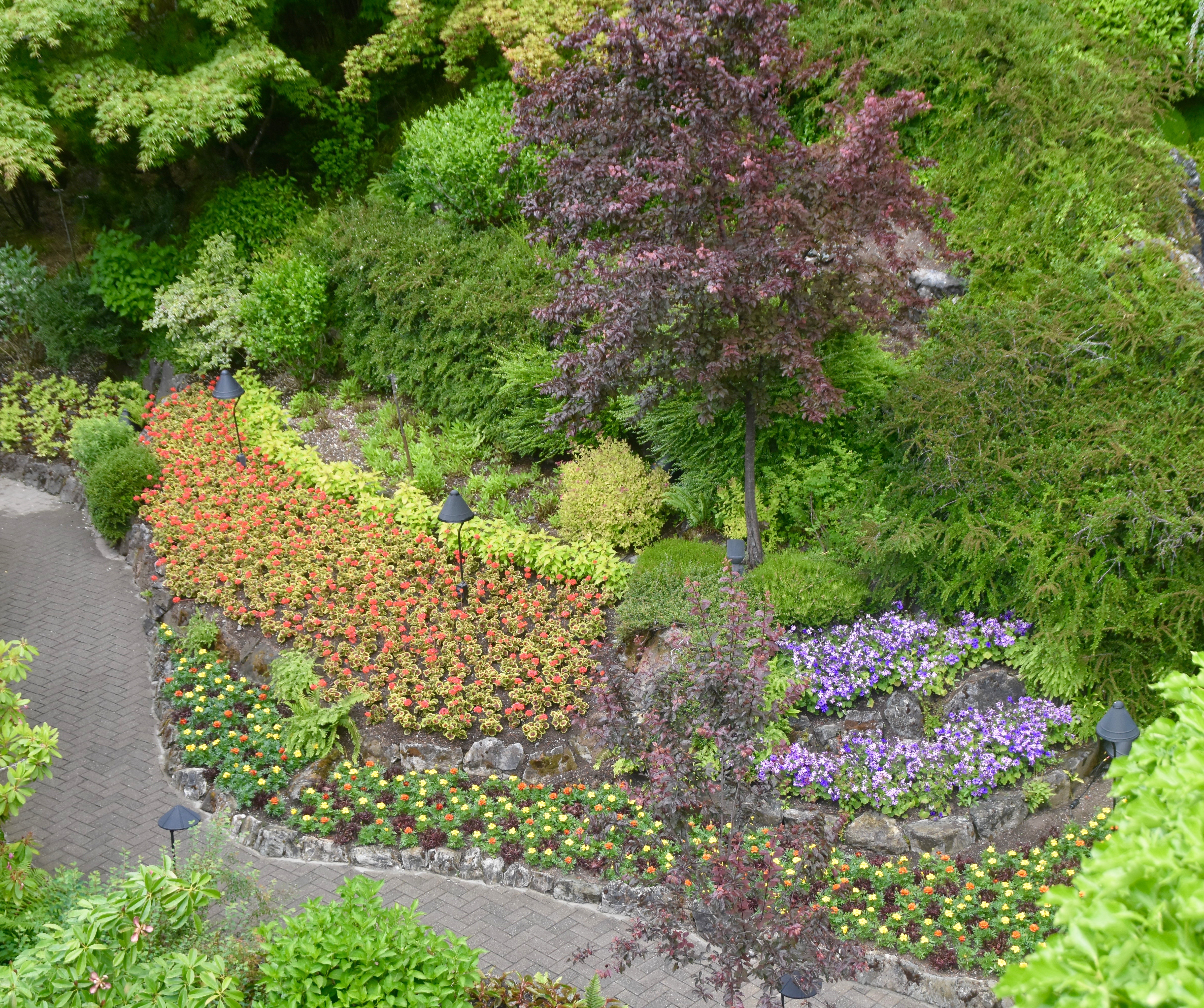 Clematis is on of my personal favourites and this picture shows why. There are dozens of varieties of clematis throughout Butchart Gardens.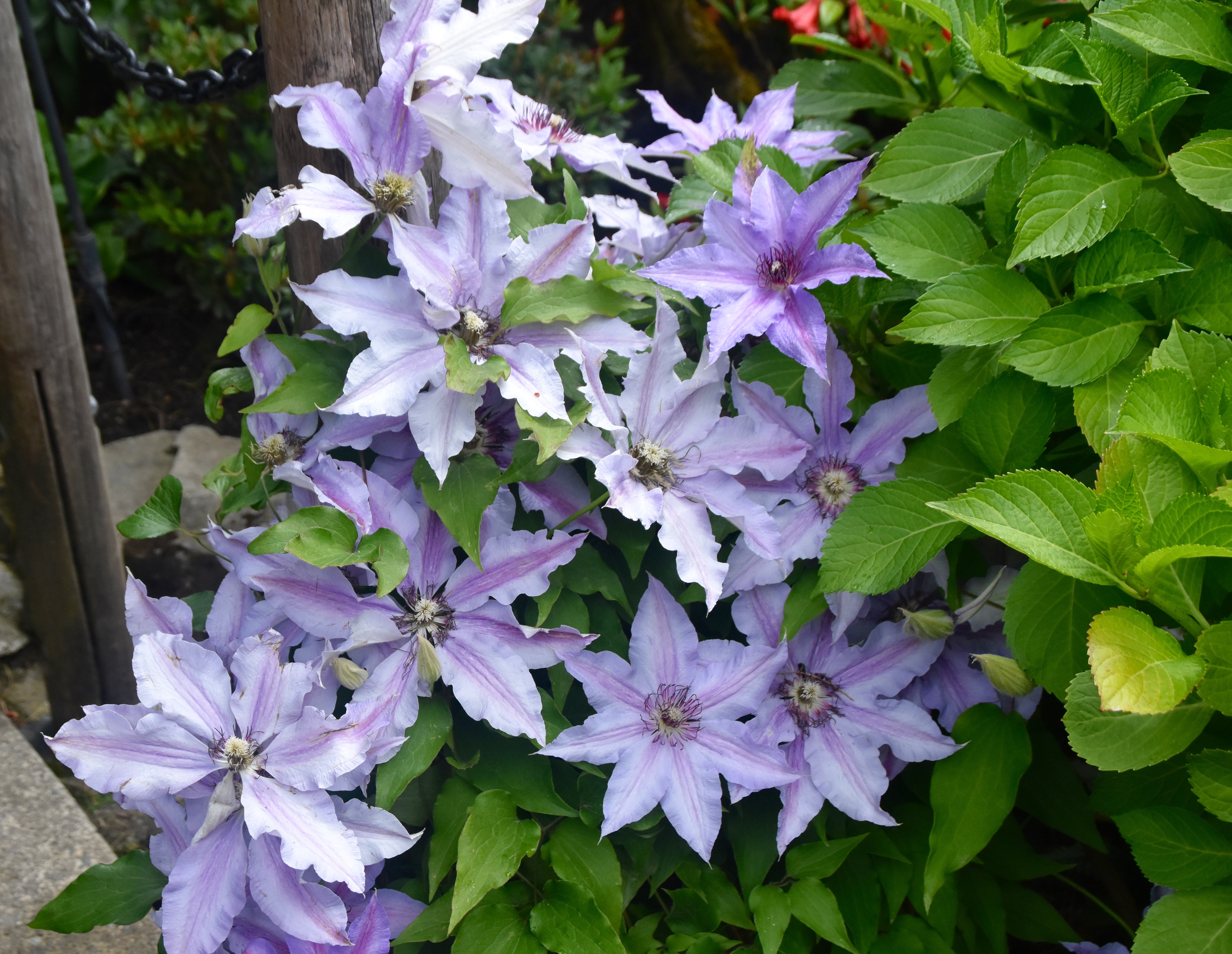 More massed plantings, this time painted daisies.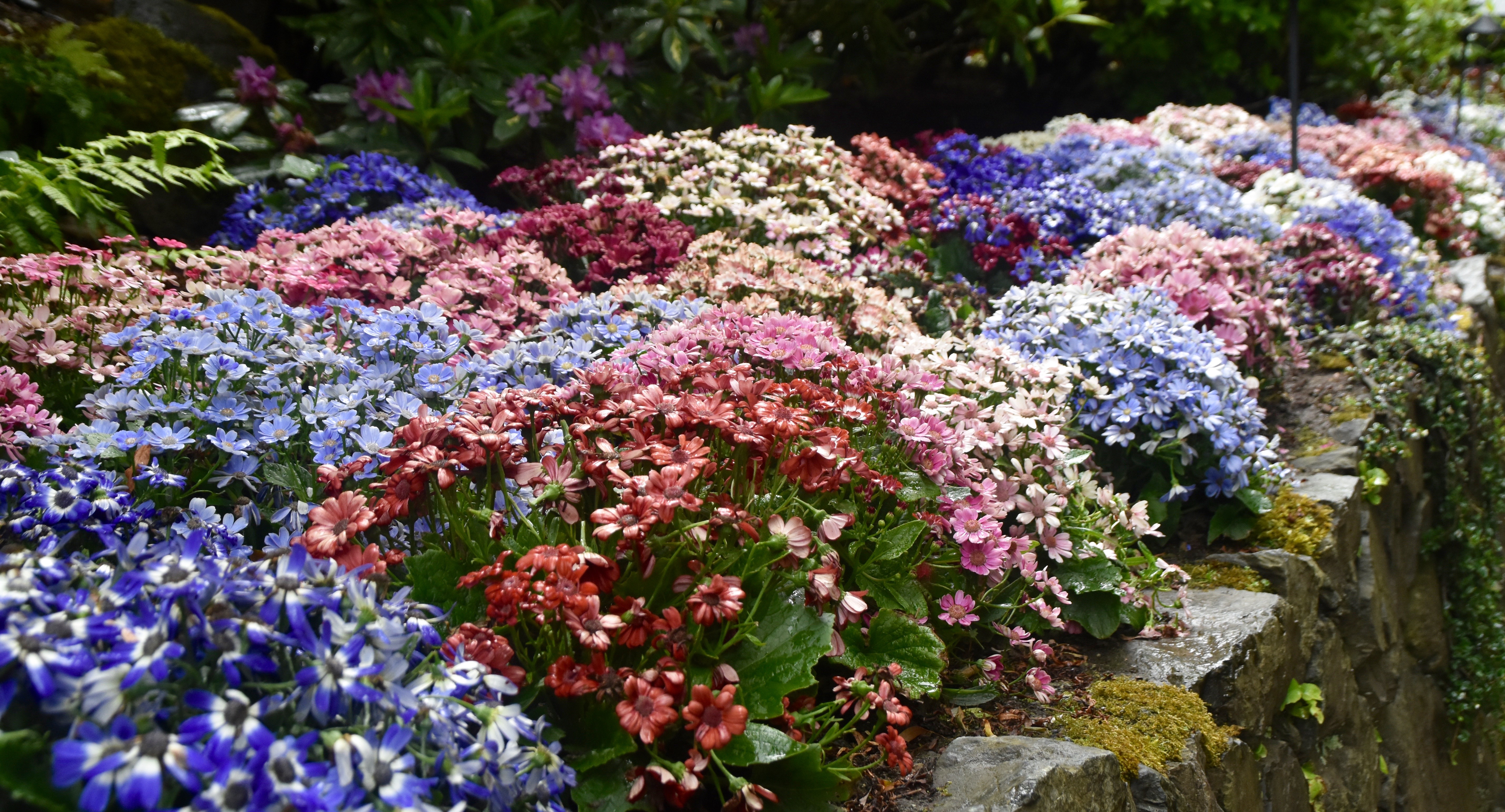 At the far end of the Sunken Garden you come to the amazing Ross Fountain.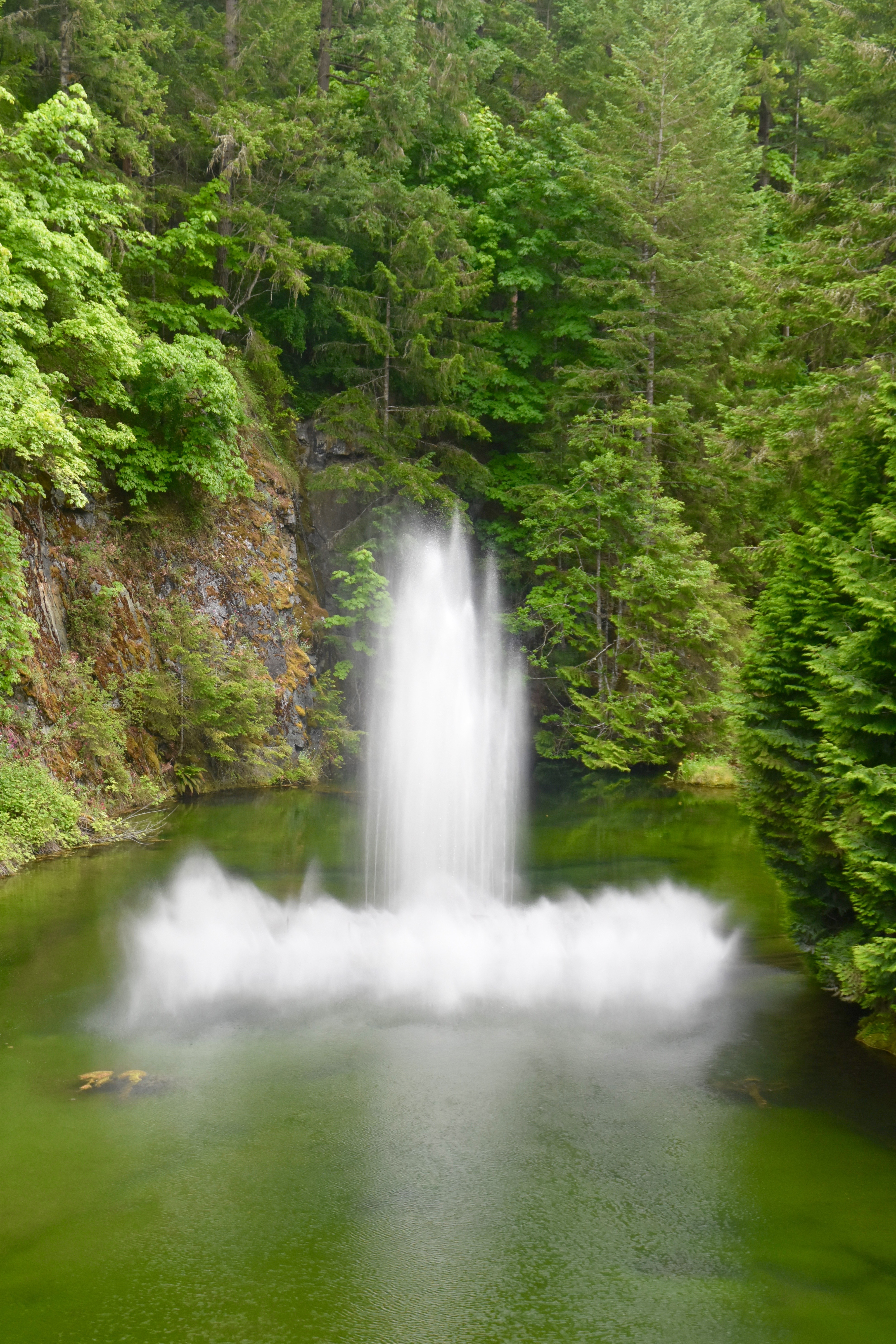 But you really need to see it live.

Leaving the Sunken Garden, you come to this old-fashioned carousel which seemed to be big draw for family's with young children who might not appreciate the botanical attractions as much as their parents, but sure would like a ride on that scary looking lion.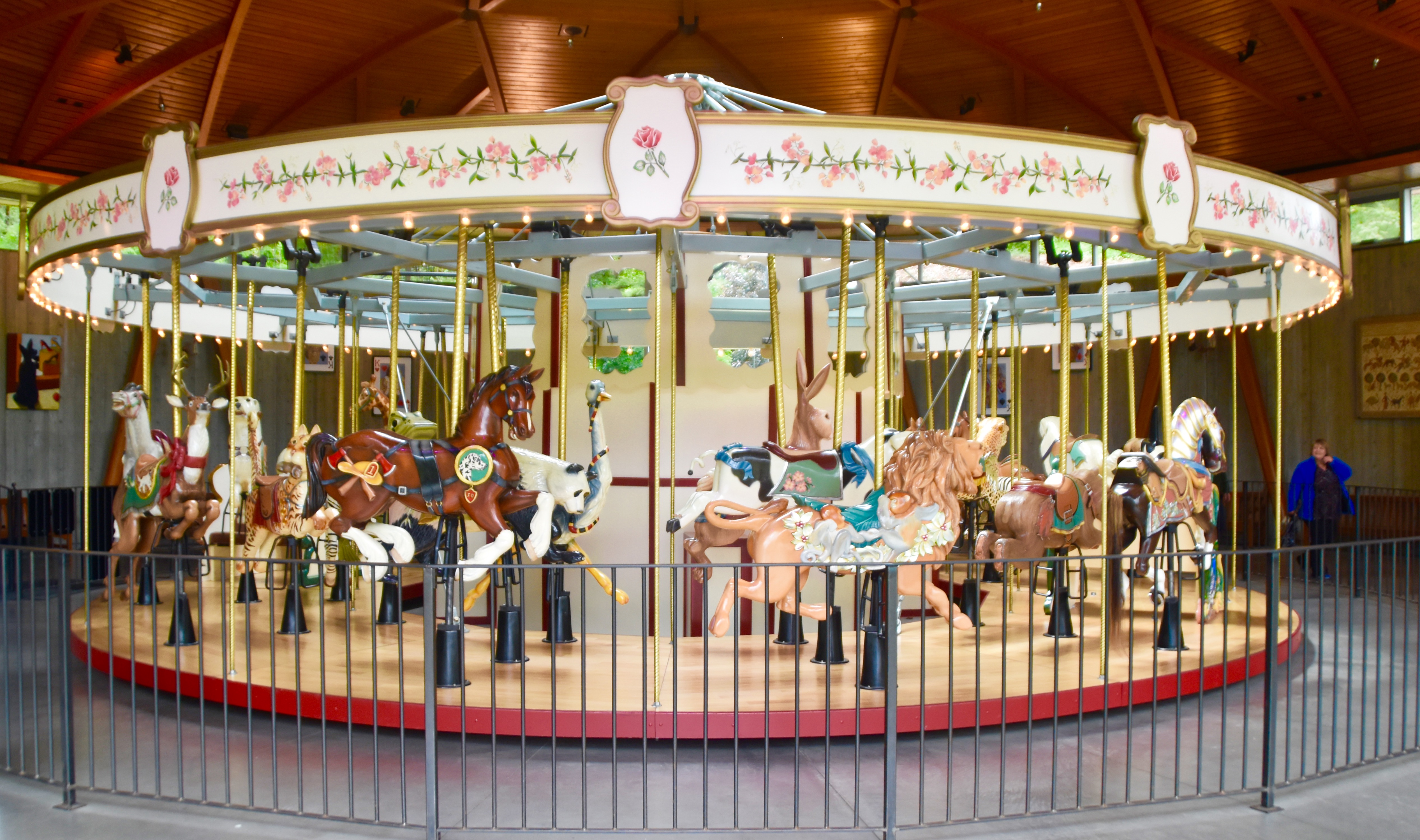 Leaving the Sunken Garden, you come to this old-fashioned carousel which seemed to be big draw for family's with young children who might not appreciate the botanical attractions as much as their parents, but sure would like a ride on that scary looking lion.
Next up is the Dragon Fountain, a gift from Victoria's sister city Suzhou, China which is also famous for its beautiful gardens.
More close ups of some of my favourite flowers starting with this Beared Iris.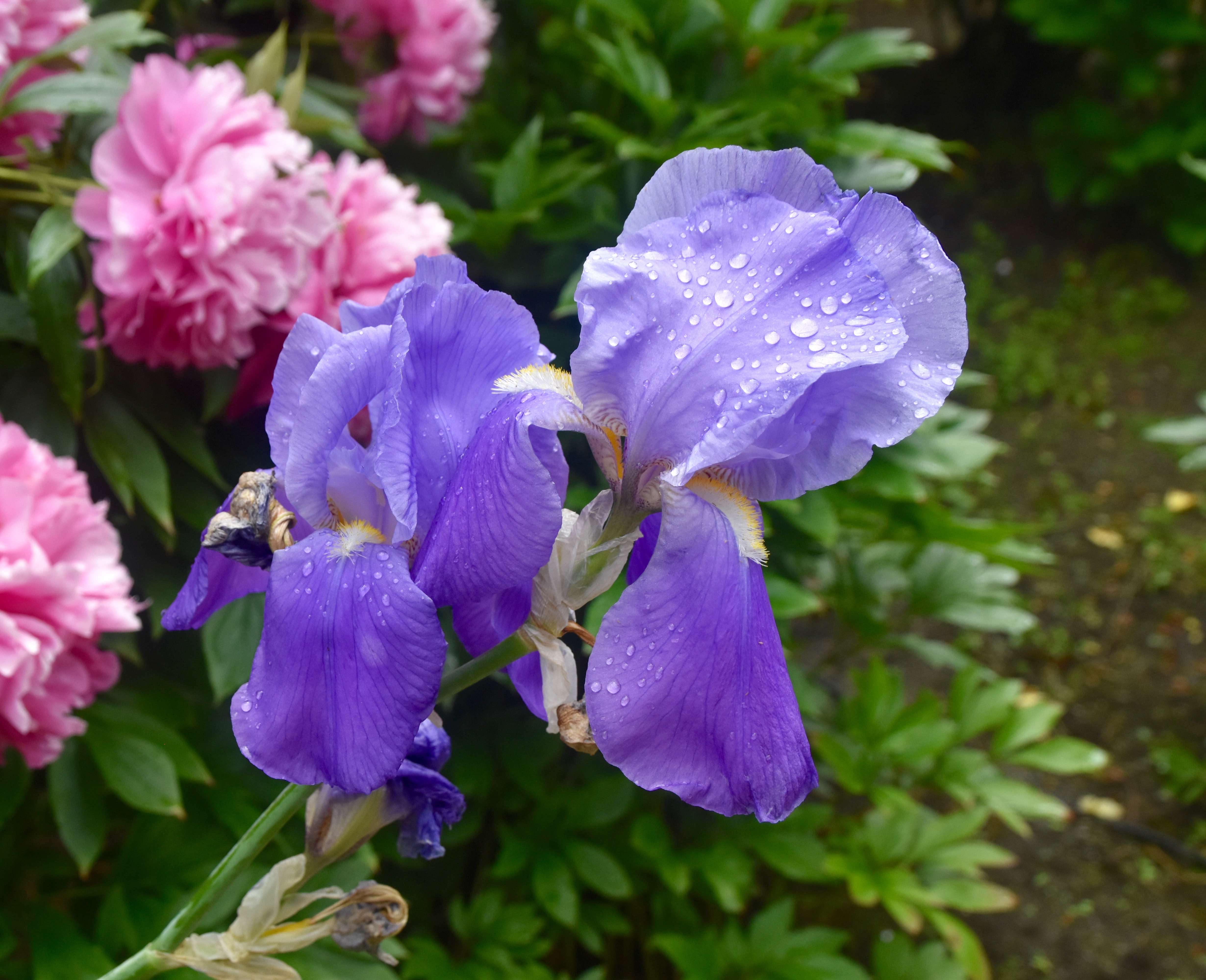 And these almost neon coloured peonies – talk about showy!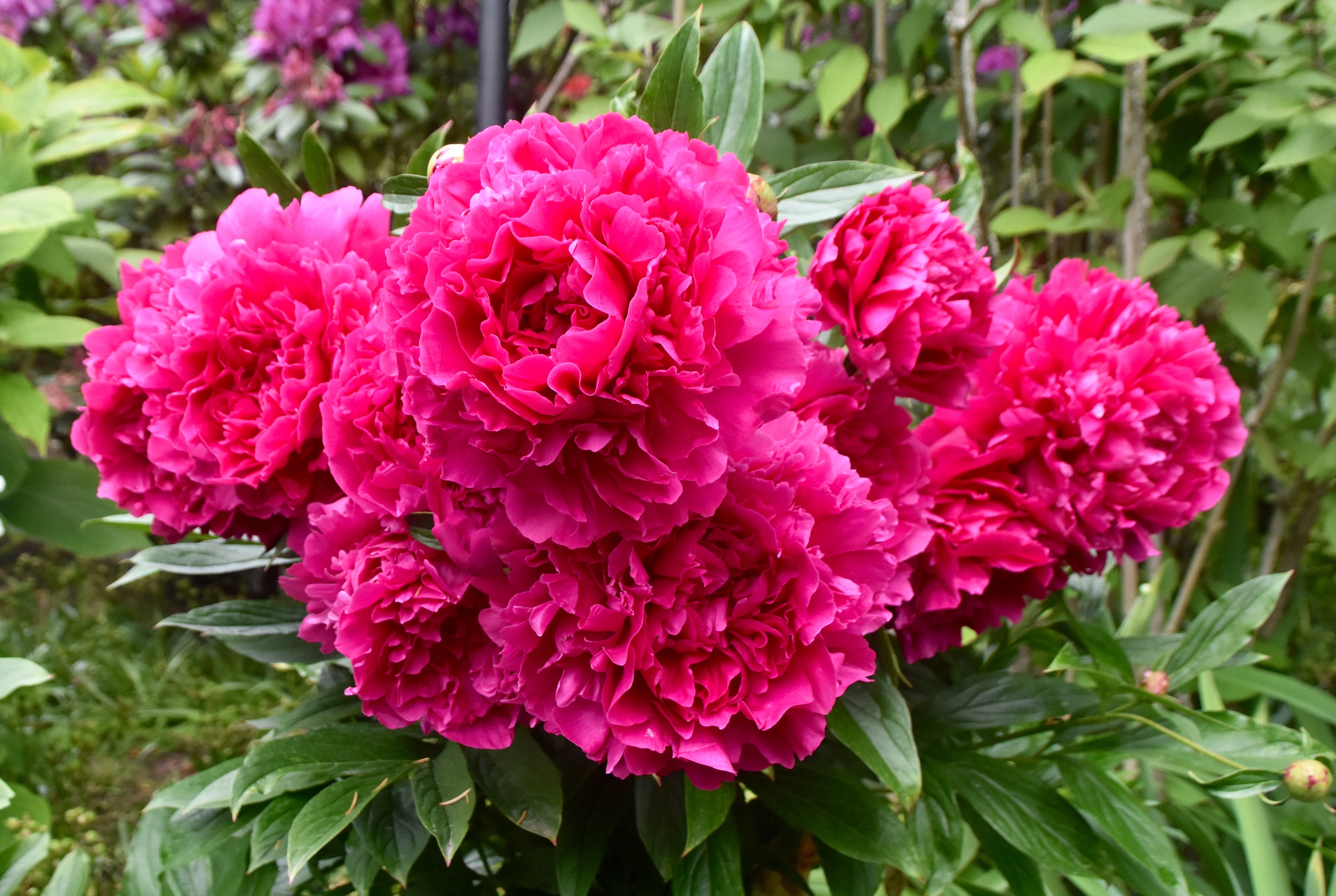 And some more whimsy.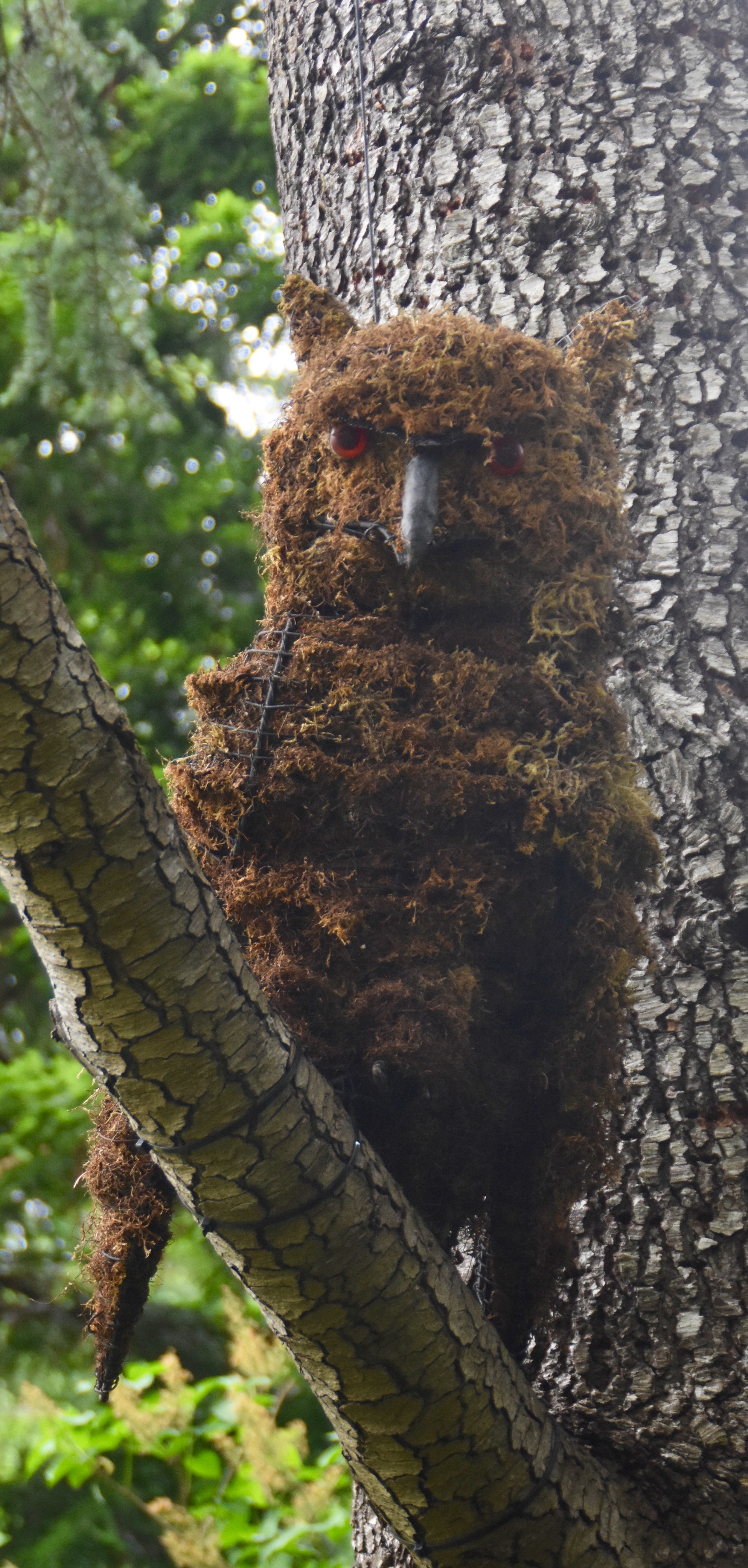 I mentioned how fragrant stock flowers are, but they probably take a back seat to the utterly perfume like scent of sweet peas.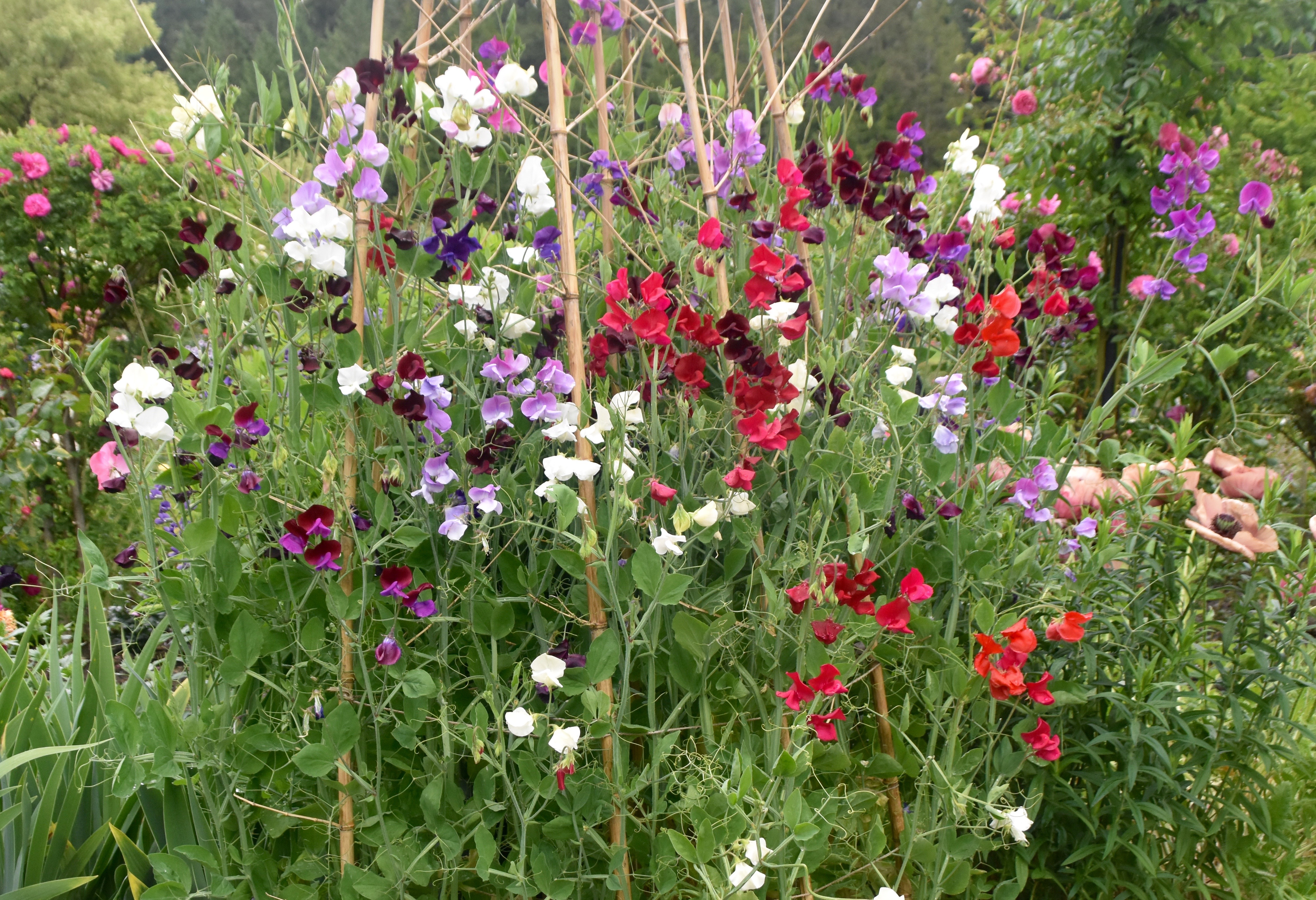 And then there are the roses – hundreds of them in every possible cultivar. Trying to pick just one, I settled on this golden beauty.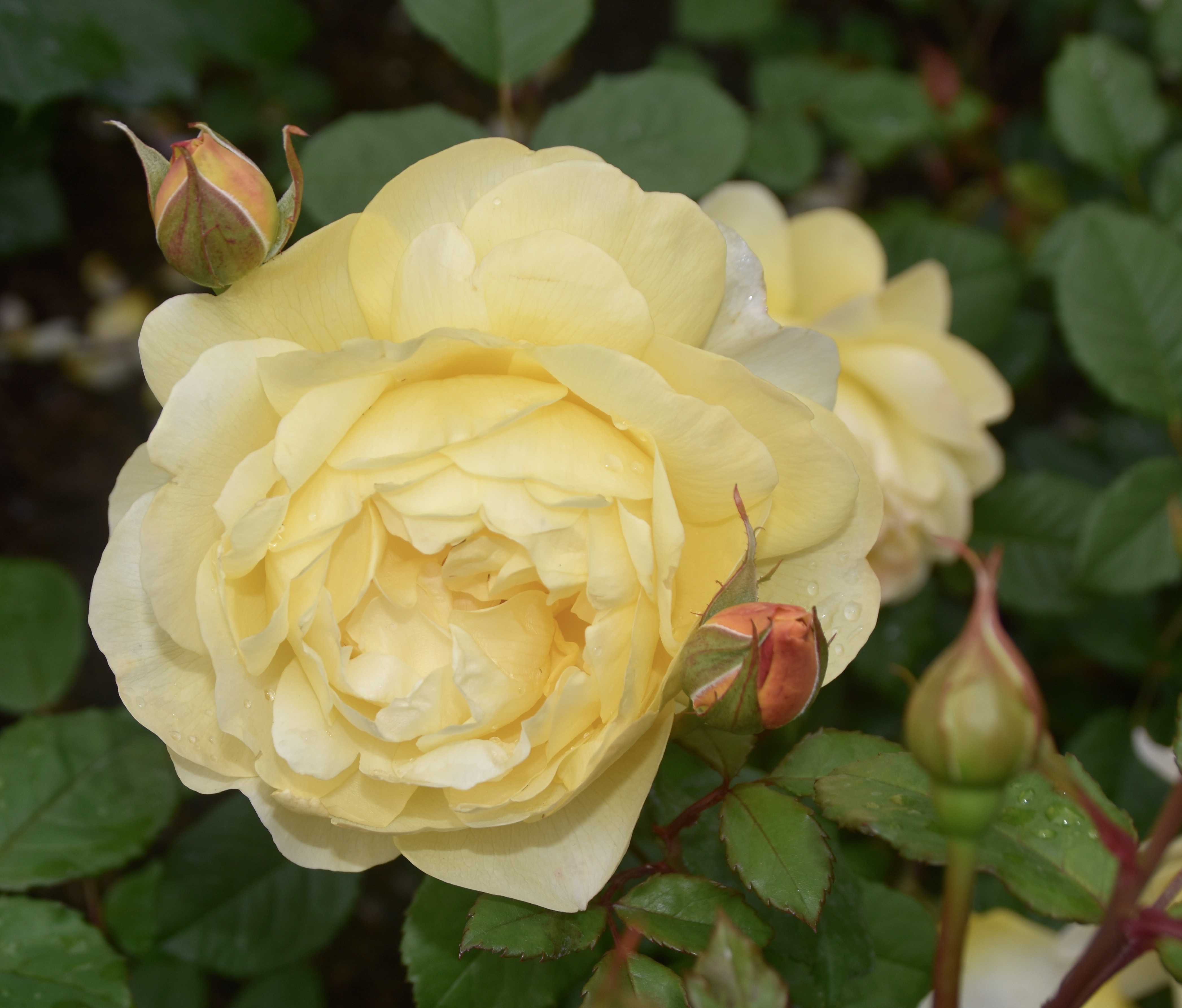 The official flower of British Columbia is actually not a flower, but a tree, the Pacific dogwood and I don't think you could find a better representative than this one.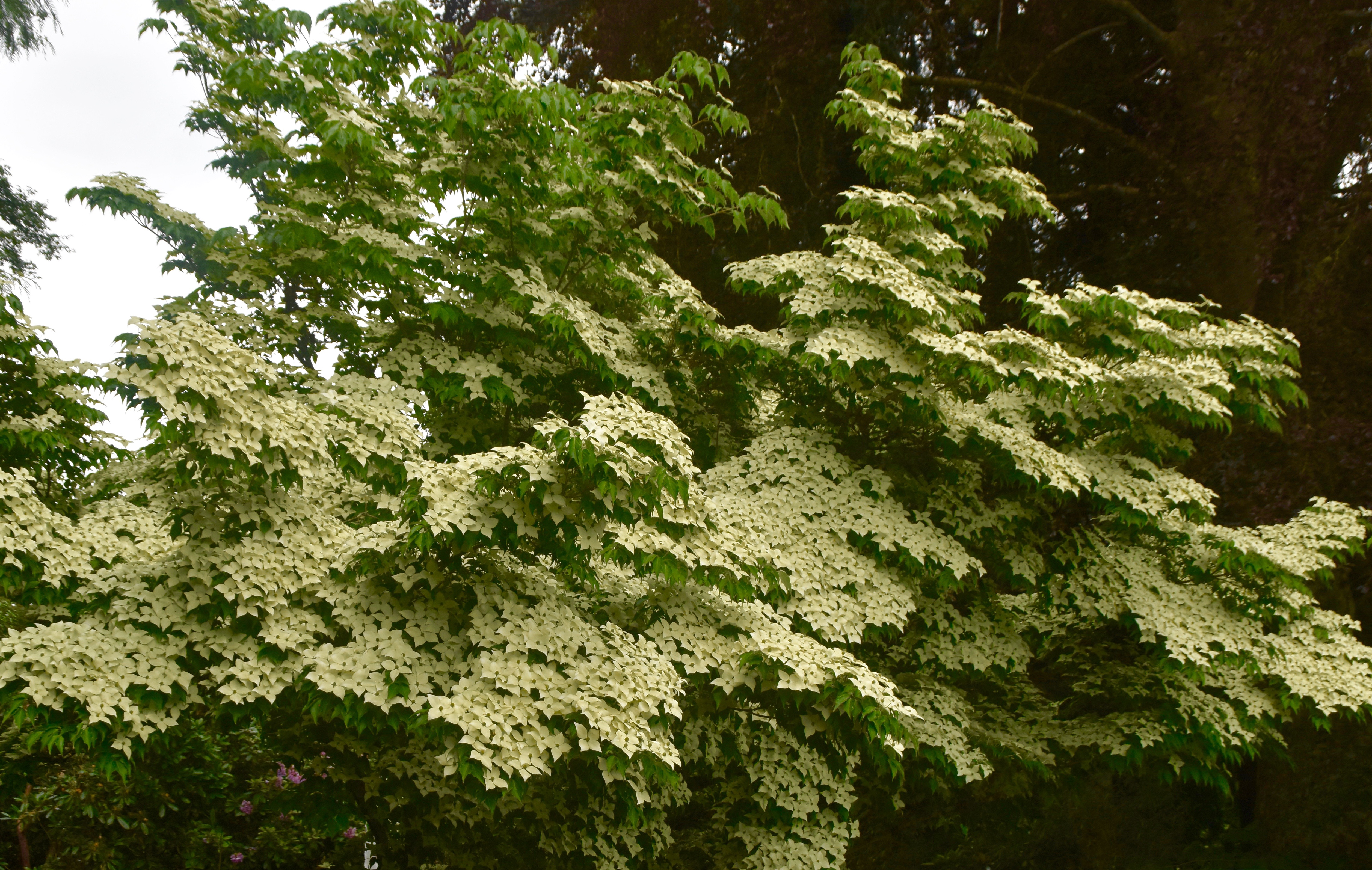 Time for another fountain – this time The Sturgeon. White sturgeon are huge, incredibly long lived and crtically endangered. At one time abundant in B.C.'s rivers, they are now severely depleted, although the Fraser River recently yielded an 11 foot, 1,000 lb. specimen which thankfully was caught and released. The sturgeon in the fountain are not an exaggeration of their true size – they really are this big.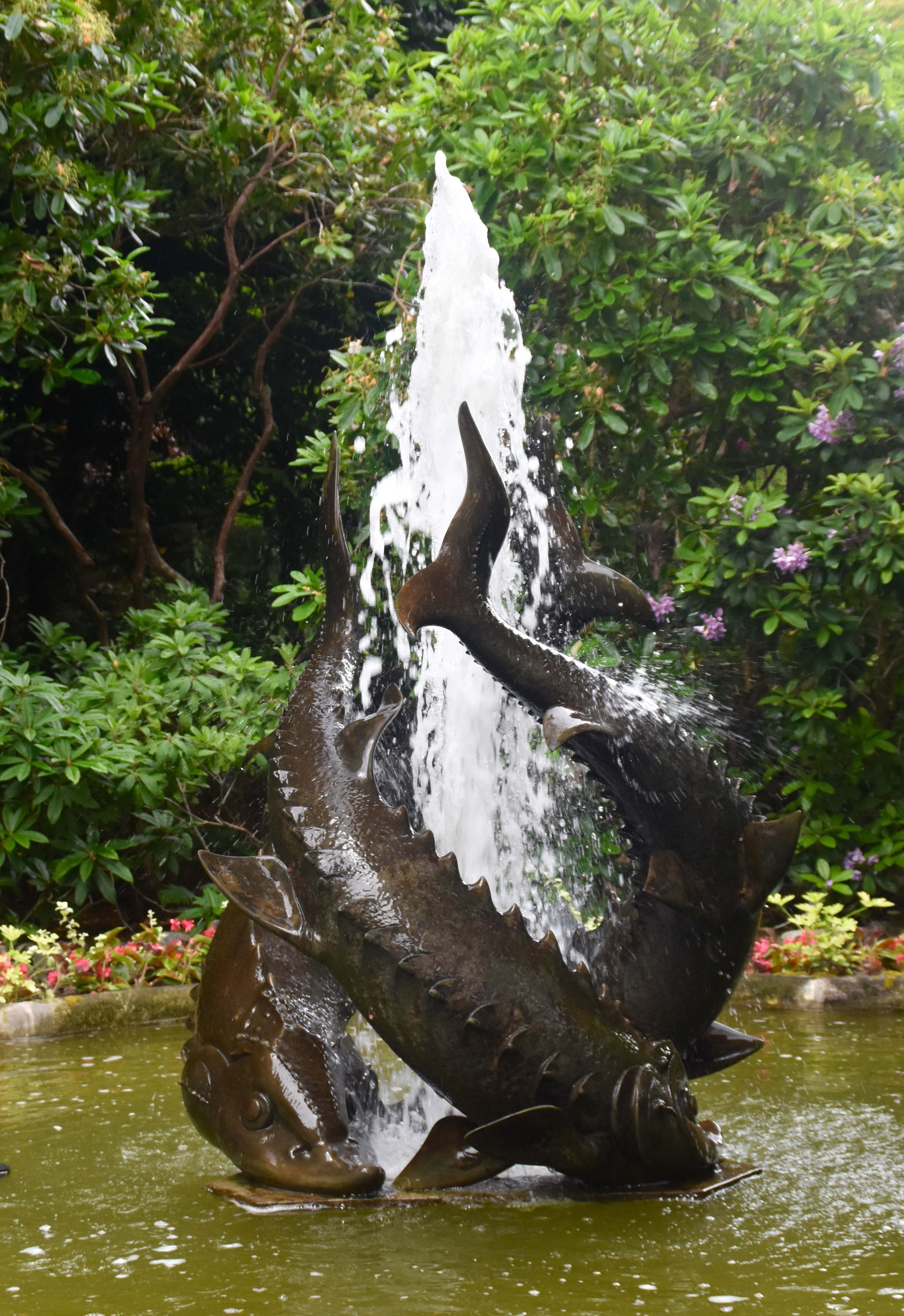 Just past the Sturgeon Fountain is the entrance to the Japanese Garden.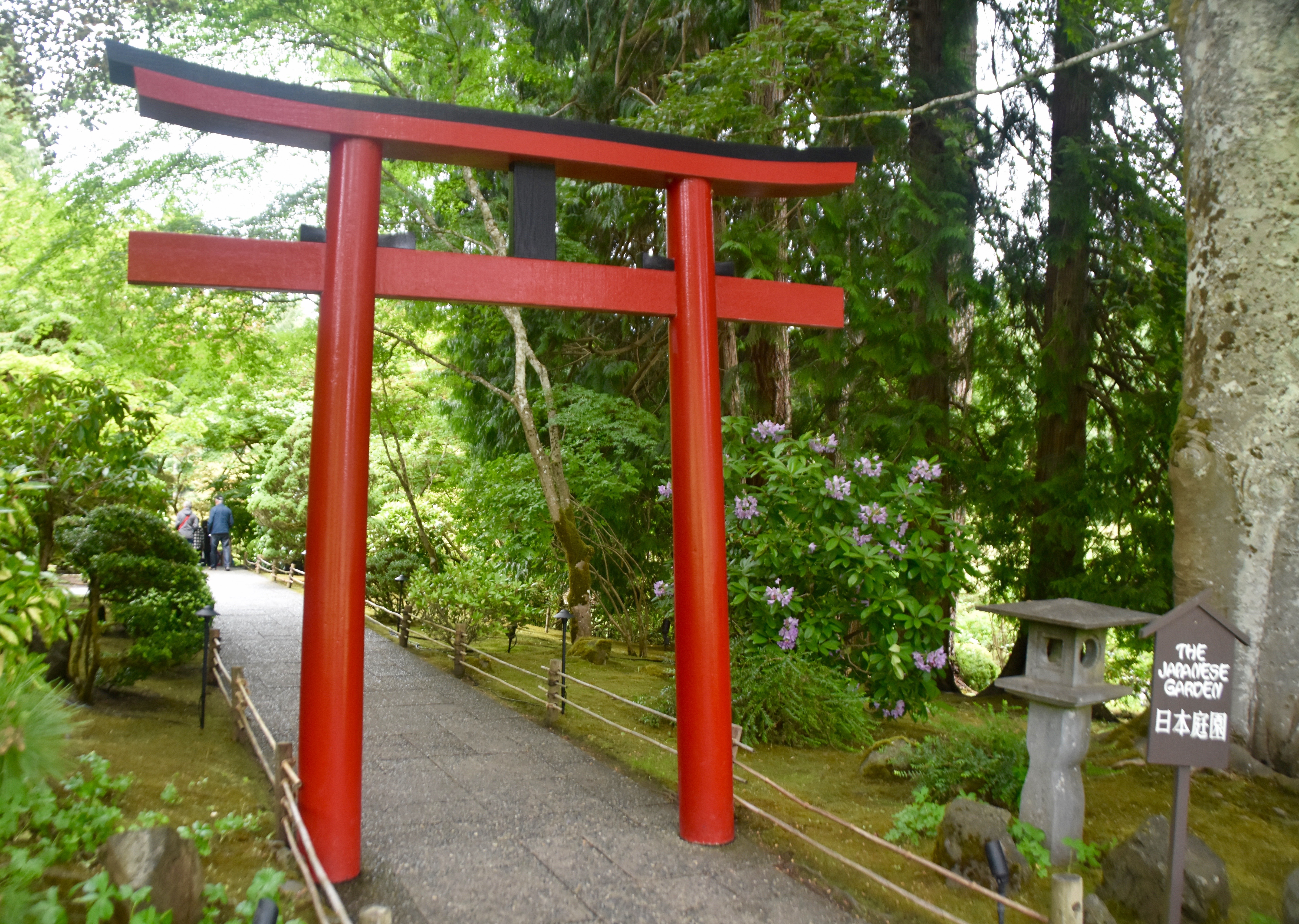 Here a path leads down to Butchart Cove where boat rides are offered, although not in this fishing boat moored across the way.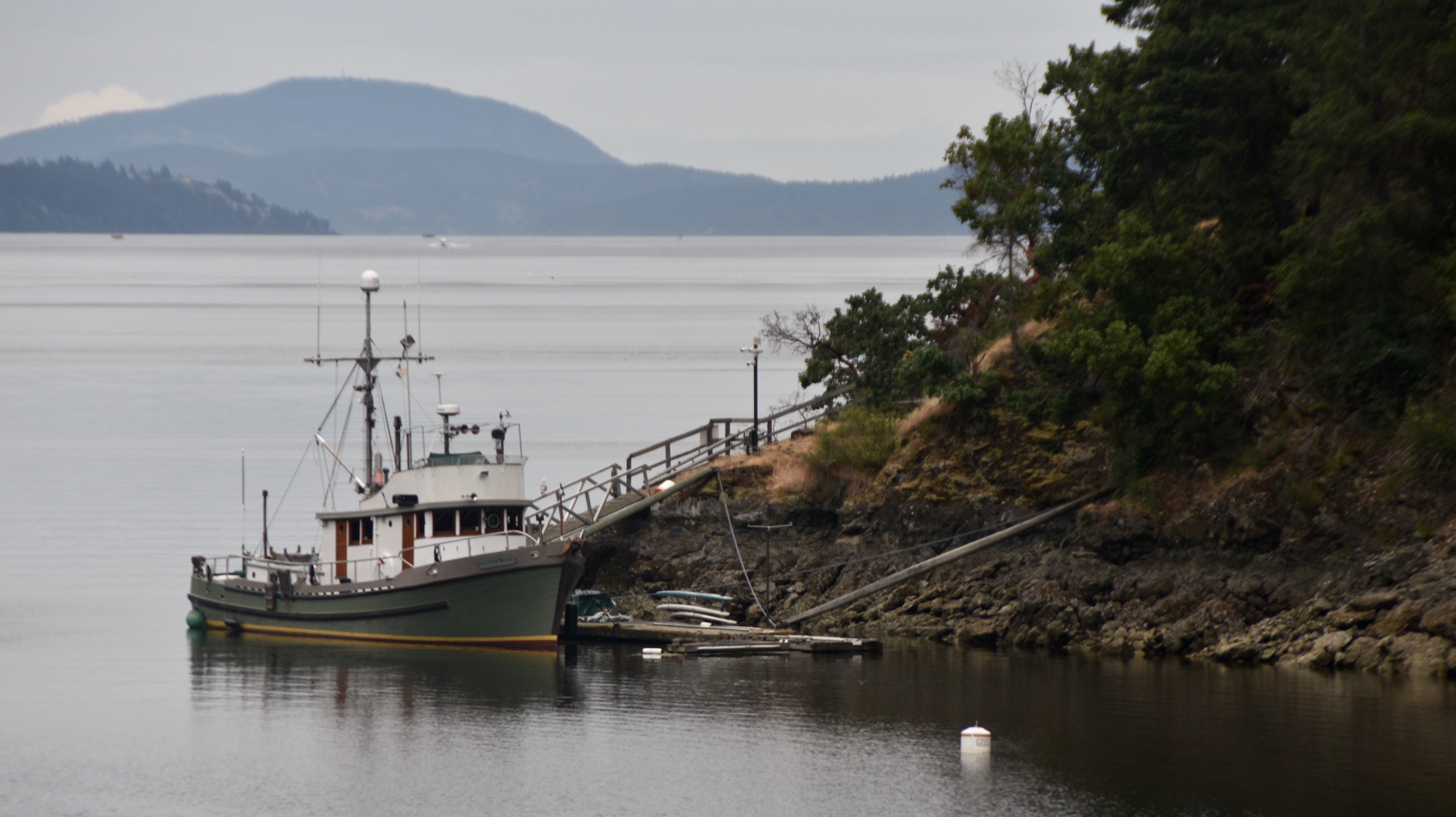 Exiting the Japanese Garden you come upon the Star Fountain.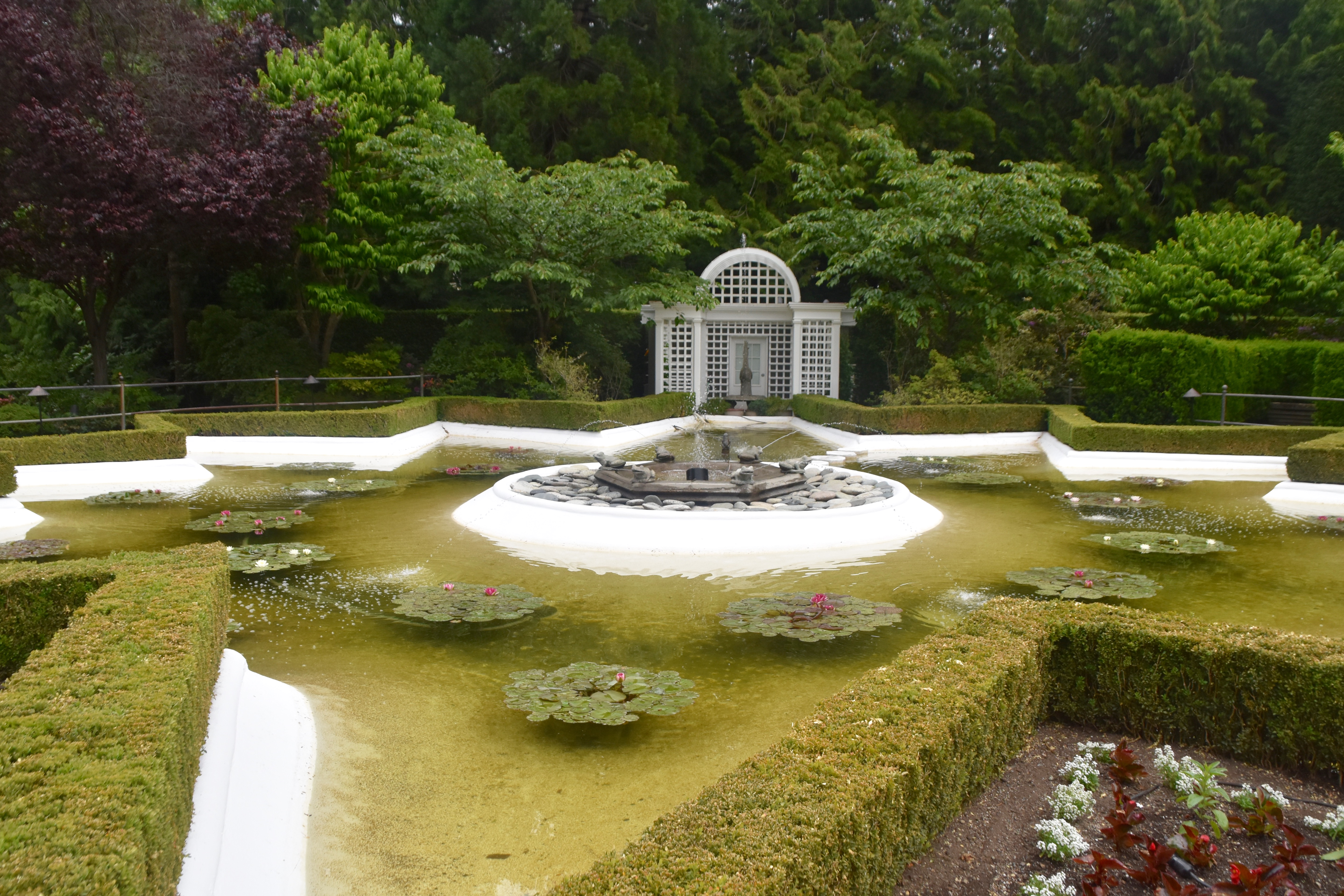 And near the end, the Italian Garden with a design that goes all the way back to Roman villas 2,000 or more years ago, proving that love of flowers and fountains is timeless and will never go out of fashion.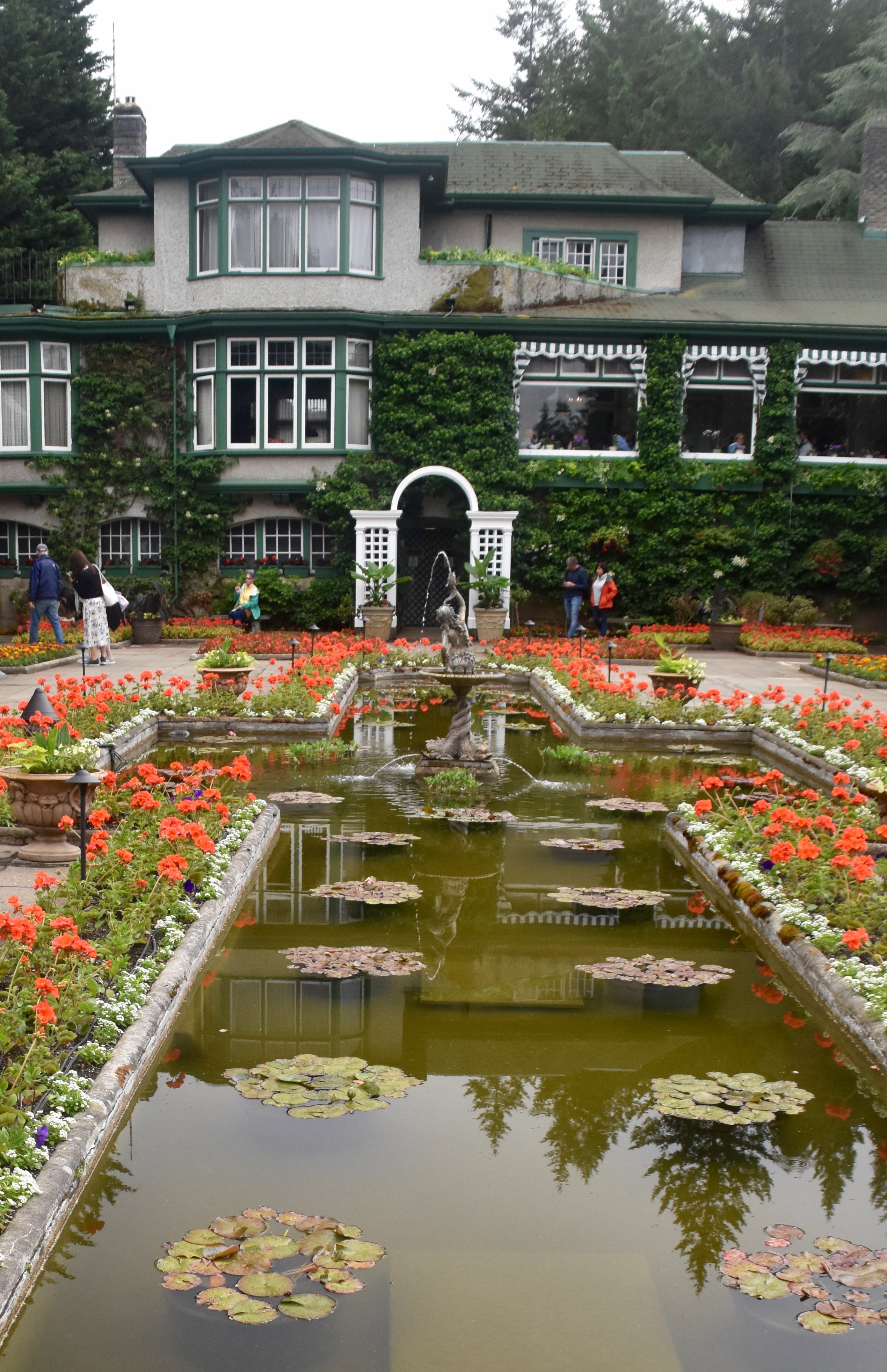 This was the perfect spot to grab a pistachio gelato from the Gelateria Benvenuto and sit and just review, in my mind's eye, the many great things I had just seen over the past two hours. However, there is one last ritual to be performed before leaving Butchart Gardens – rubbing the nose of Porcellino. Full disclosure – for some reason I cannot get WordPress to upload my photo of Porcellino so I poached this one from the web.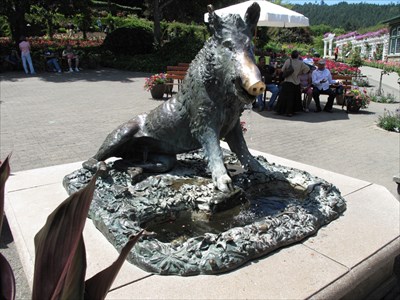 Porcellino is a replica of the bronze original which I have seen a number of times in Florence. Legend has it that if you rub his nose then you will return to Florence. So far it's always worked for me and I presume the idea is the same at Butchart Gardens, so I give porky a good nose rubbing and can't wait to return to Canada's Garden of Eden.
Another great way to spend a day in the Victoria area is to take an Indigenous culinary tour with Chef Shirley Lang where you will not only gain a lot of knowledge, but also visit some of the most interesting places in the region.