Reykjavik – First Impressions of a Booming City
Alison and I have just arrived in Iceland on what I would hesitate to call an overnight flight from North America, but rather an inconveniently short half-hop across the North Atlantic that gets us in to Keflavik airport (which services international flights to Reykjavik), at the ungodly hour of 4:30 AM. Mind you, given the time of year and Iceland's location near the Arctic Circle, it's daylight by the time we land. I have no one to blame for this situation but myself as I knew these facts when I booked the flight and put them aside because I wanted to take advantage of Icelandair's great stopover policy. This allows customers to stop over in Iceland for up to a week before continuing on to Europe without any additional cost – in fact, it was cheaper than flying direct to the UK on either Air Canada or Westjet.  It's been so successful for Icelandair that they put it on their wing tips. BTW, that's the moon and not the sun, just a few hundred miles east of Iceland.
So here we are, with no place to stay for the next ten hours before we can check in to our hotel. Here's how we dealt with it and learned why Reykjavik is such a great city, while doing so. Hope you're interested, because this could help you through a similar situation.
Arriving in Iceland
Keflavik is Iceland's only international airport so if you're going to Iceland your first stop is almost certainly Keflavik and you'll need to find a way to make the 50 km. (30 mile) journey into Reykjavik that averages about forty minutes. Fortunately, even in the early hours of the day this is not really a problem. After breezing through customs (no forms to fill out or BS about why we're here), our luggage is on the carousel and our pre-arranged driver is waiting just outside the arrivals door and we are on our way to Reykjavik. These Icelanders are efficient and not paranoid. Nice to see that some countries are still that way. However, here's the rub. As everyone knows you can't check into hotels earlier than expected without making prior arrangements and that will often cost you. I had made just those enquires of our hotel and was notified that the night before was completely booked so, unfortunately, a really early check-in was not in the cards. I had visions of sitting around the hotel lobby in a dazed stupor often brought on by trans-Atlantic flights, until two or three in the afternoon.
I had chosen the Skuggi Hotel  for this stay because of its location (close to the waterfront and the older part of the city), its price (mid-range for Reykjavik) its style (boutique) and its rating on TripAdvisor (mostly excellent). Turns out it was a wise choice because from the moment we arrived the desk clerk started staring intently at his computer screen and clicking his keyboard like a man on a mission, and he was. Within a few minutes he had found us a clean room and allowed us to check in a good nine hours before the usual check in time – at no extra cost. This allowed us to get the few hours sleep we needed to get adjusted to the time in Iceland – three hours earlier than Halifax.
A Walk Around Reykjavik
Reykjavik is a small city by international standards – 122,000 in the city proper and 220,000 in the metro area, but that's almost two thirds of all the people in this country which is larger than England. It's also a very modern city with little evidence of the fact that Vikings first landed here over 1,100 years ago. Pretty well everything in the city dates from no later than the late 18th century and most it from the 20th century. So don't come here expecting some kind of quaint old wooden medieval Norse city.

The very first thing I noticed on driving into Reykjavik is that it's currently in the midst of an insane building boom with dozens of construction cranes dotting the skyline. This surprised me because only as far back as 2008 Iceland went through one of the most spectacular financial meltdowns in western history. Fully 95% of Icelandic businesses went bankrupt. The causes were complex and worth learning about as you can from this excellent article. 
Let's just say that there was a lot of grifting going on and a lot of Dutch and British investors lost many billions. Apparently someone must not be afraid of a repeat because Iceland alone could not possibly finance the scale of the development that is going on in Reykjavik today.
So that was the first surprise. The second was just how green a city Reykjavik is. The area around Keflavik where you land is totally volcanic, mostly flat and completely barren, which is kind of what I expected. It looked more like the area around Iqaluit on Baffin Island than anything else I could think of. However, just outside the city trees started to appear along rolling hills and things got greener and greener. Virtually every species of tree that grows in Nova Scotia also grows around Reykjavik.
Here is a backyard garden in Reykjavik – definitely not what I was expecting.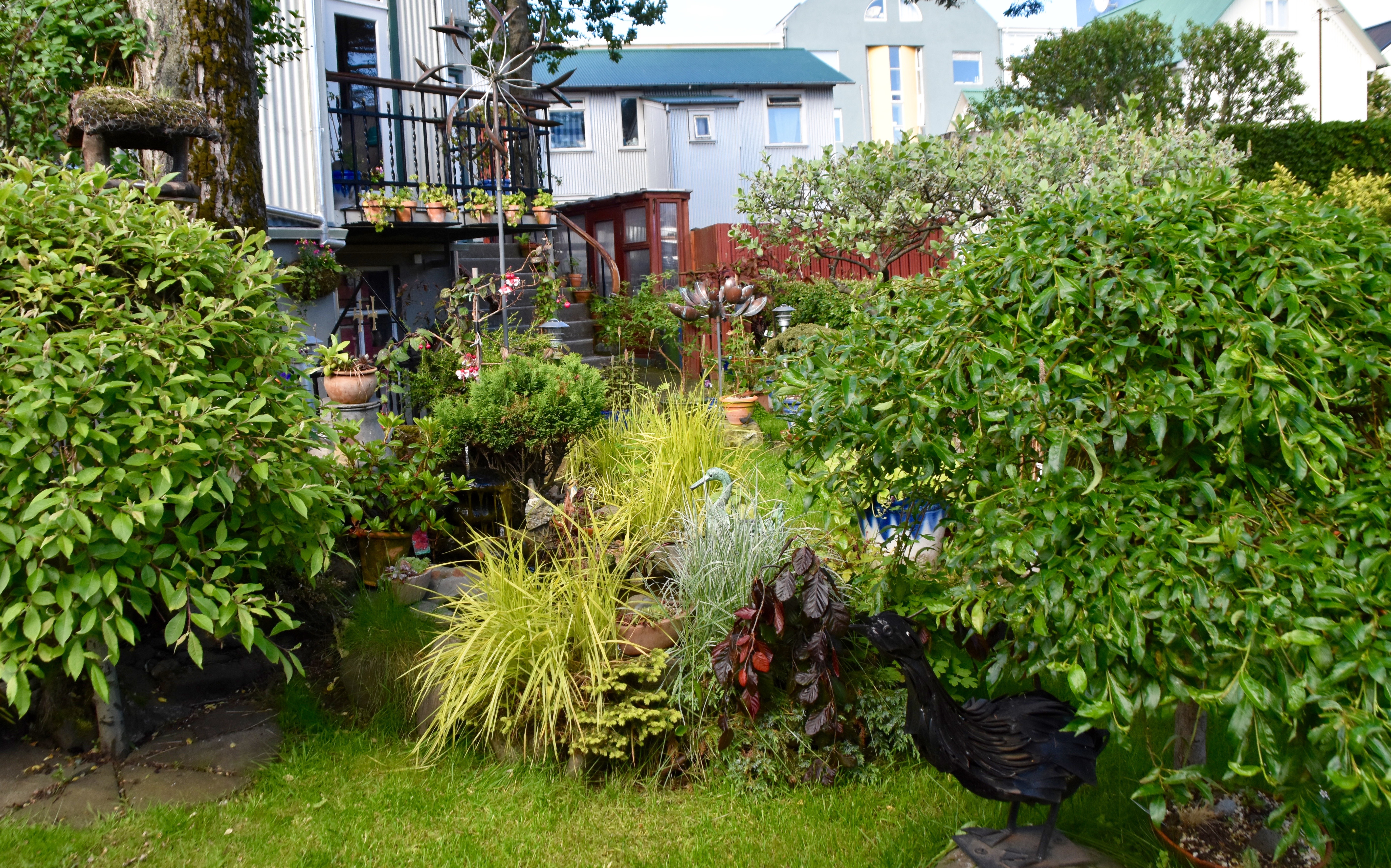 Here is a tourist map of the city which you will find in all the hotels. In terms of walking, pretty well everything you need to see is within the square on the left which is the older part of Reykjavik. The hi-lighted streets are the main shopping and restaurant areas and where you'll find 90% of the tourists congregating. Walk just a block or two away from there and you are in residential neighbourhoods with quiet, clean and safe streets and Icelanders going about their daily business.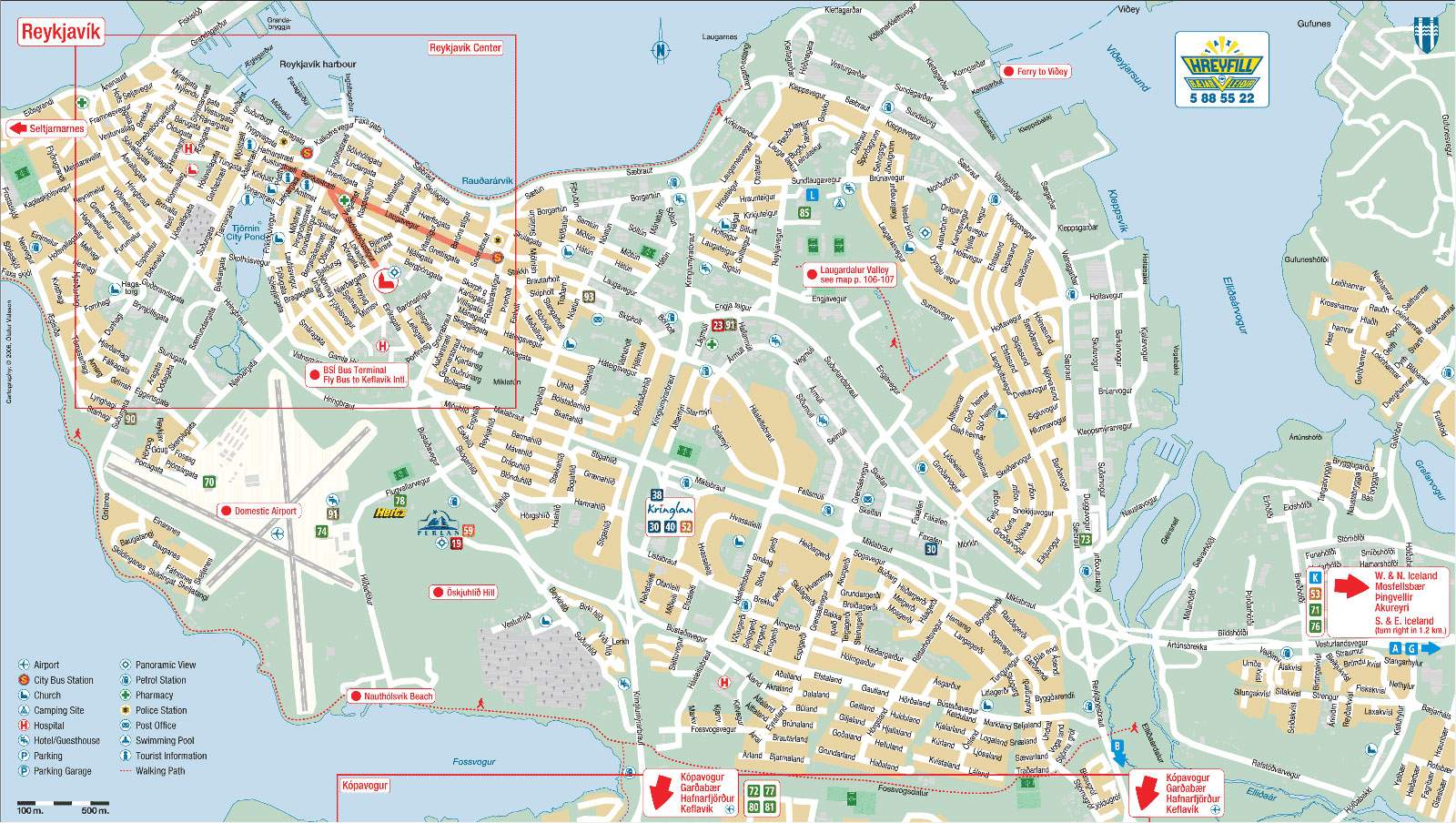 With that introduction, let's take a leisurely stroll around Reykjavik starting on the waterfront.
As skylines go, Reykjavik's is not going to win any contests, but I'm sure it would look less foreboding if the sun were shining.

Walking along the waterfront you can't miss the Solfar Sun Voyager which is as nice an interpretation of a Viking ship as I've seen.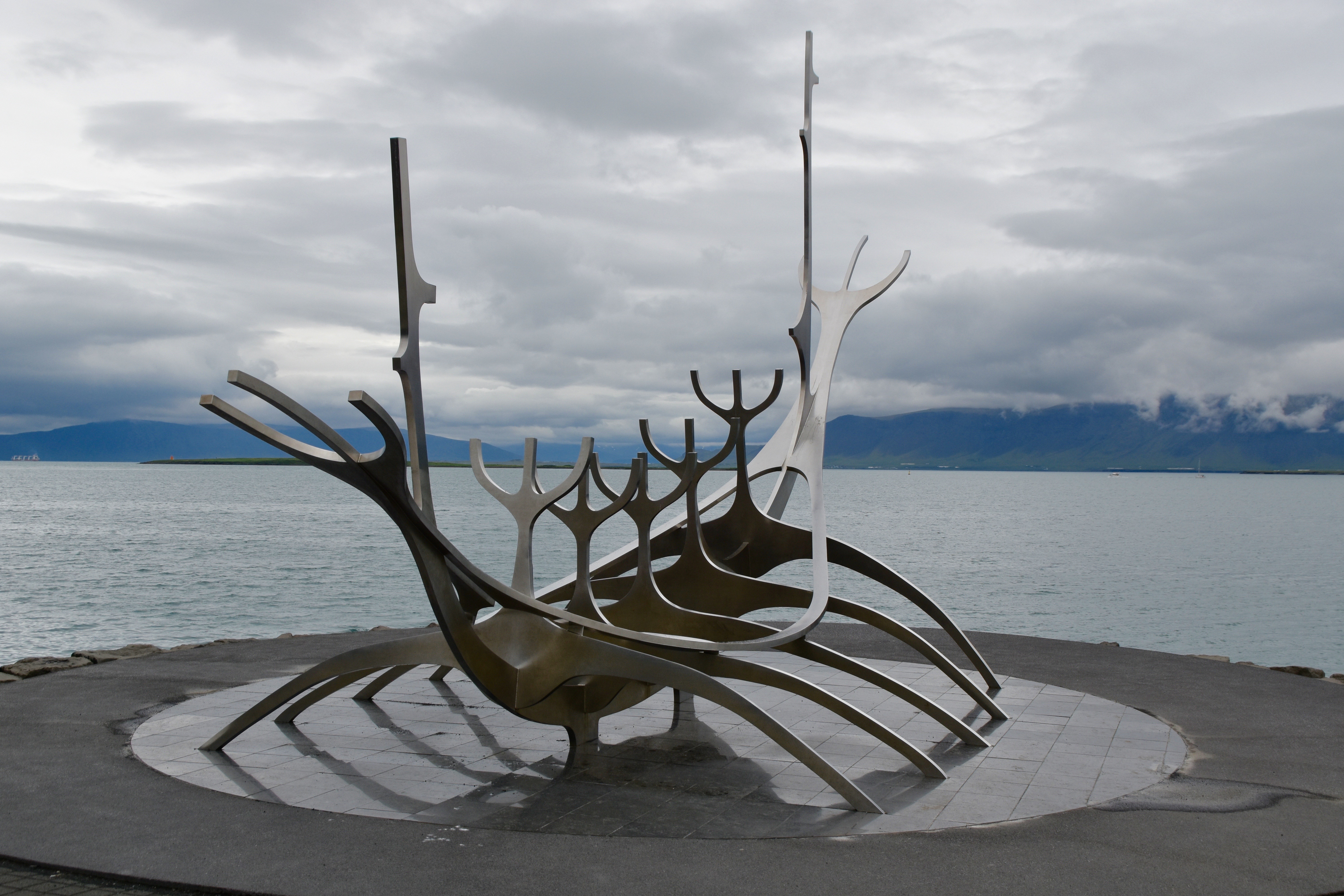 The craze for creating inukshuks has not spared Iceland. As you approach the massive Harpa concert hall, there is an area along the shore line covered with small rocks which people have transformed into hundreds of tiny stone creations. This picture does not give an indication of just how many there in the space behind Alison.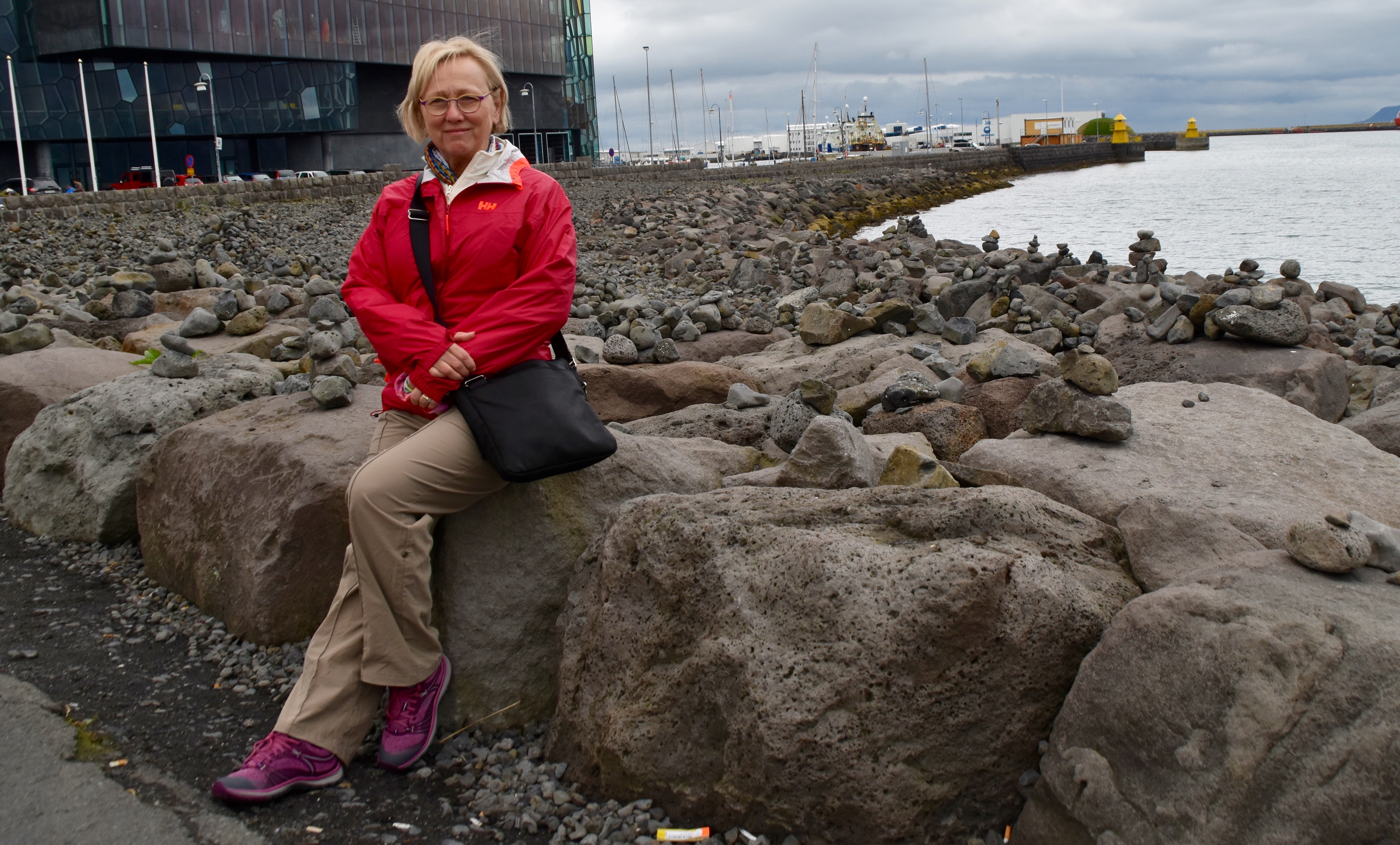 The Harpa concert hall almost, but not quite, overwhelms the Reykjavik waterfront. It was the winner of the 2013 European Union Prize for Contemporary Architecture and deservedly so. From every angle this building is amazing and apparently the interior and in particular, the acoustics are equally fabulous which has attracted top orchestras and singers from around the world to play at this venue. The Icelanders took a huge gamble on building the Harpa amidst the height of their recession and it's paid off handsomely. Its presence on the waterfront more than makes up for the otherwise somewhat mundane skyline shown in my first photo.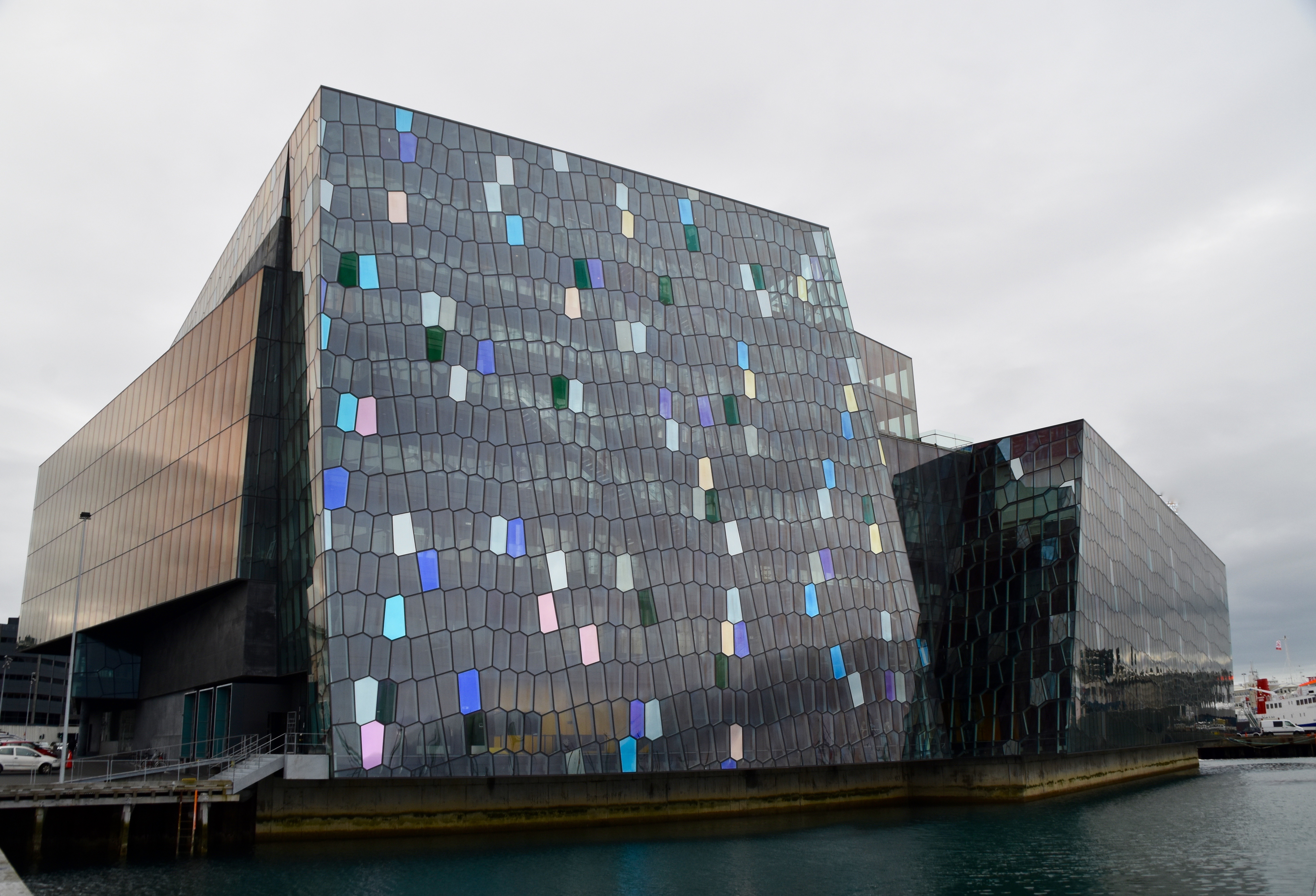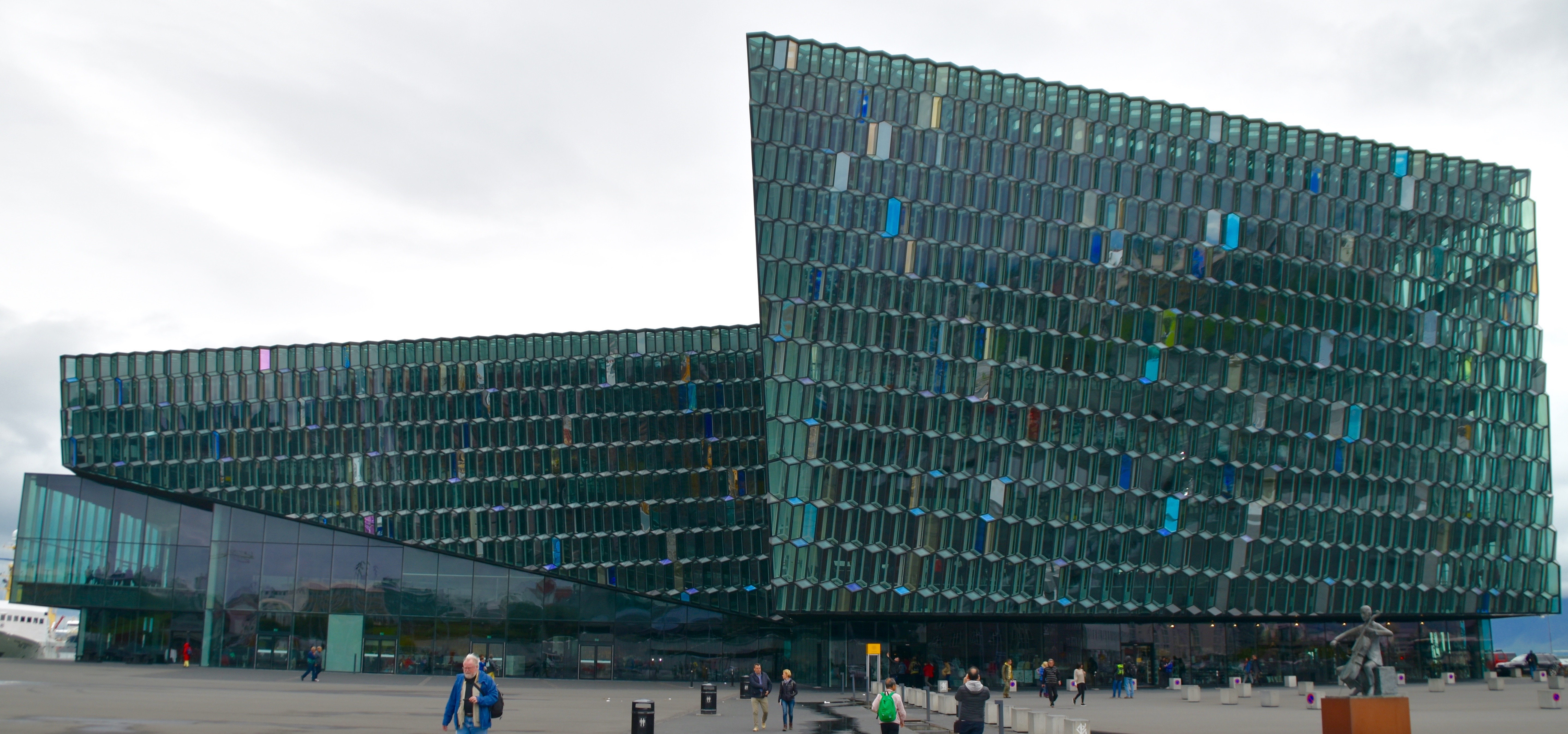 Since Iceland was founded by, and remains today, a city of Viking descendants, you won't have any trouble finding an appropriate Viking statue to get photographed with. In case you're thinking that this guy's on a weird looking horse, you'd be right. Icelandic horses are smaller and allegedly tougher than your normal horse breeds having learned how to survive the Icelandic winters.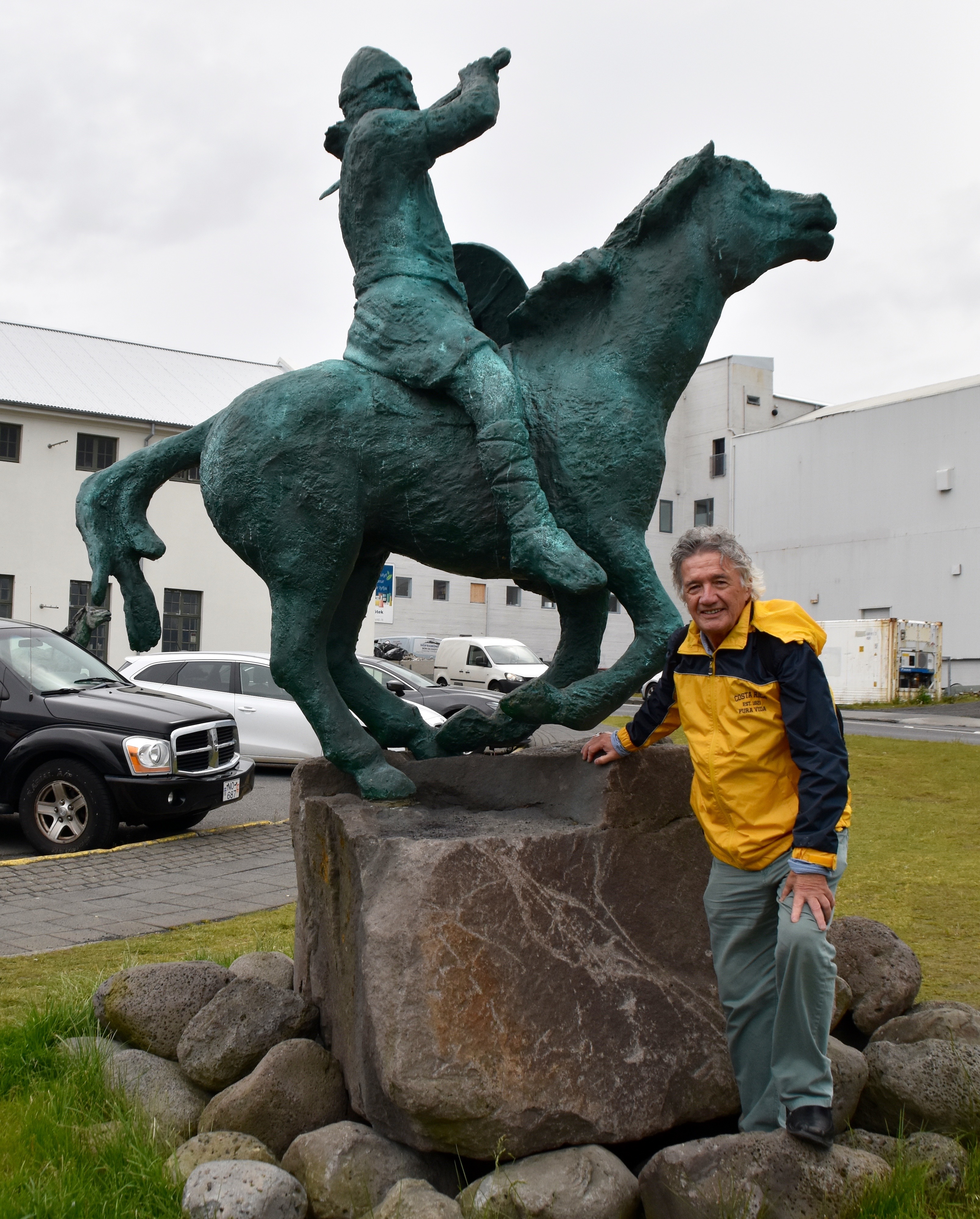 For its small size, Reykjavik has an abundance of museums. This is just a scouting mission for a future trip so we don't have time to visit any of them. Alison was very disappointed at not getting to this one.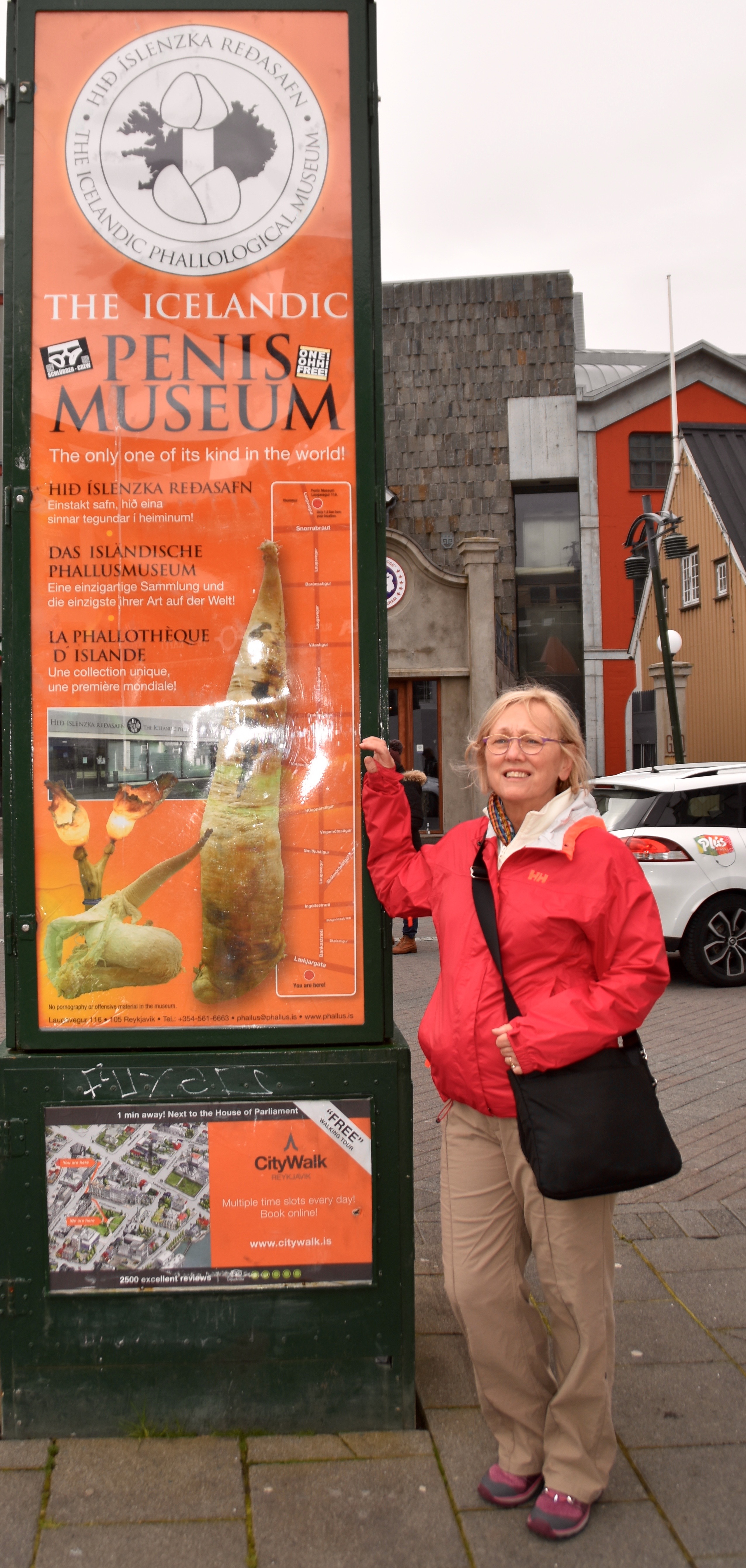 By now it was time for lunch and as Iceland has one of the great fisheries of the world, there was no doubt it would seafood. We settled on Reykjavik Fish which looked like it had been around for a while; turned out to be a great choice.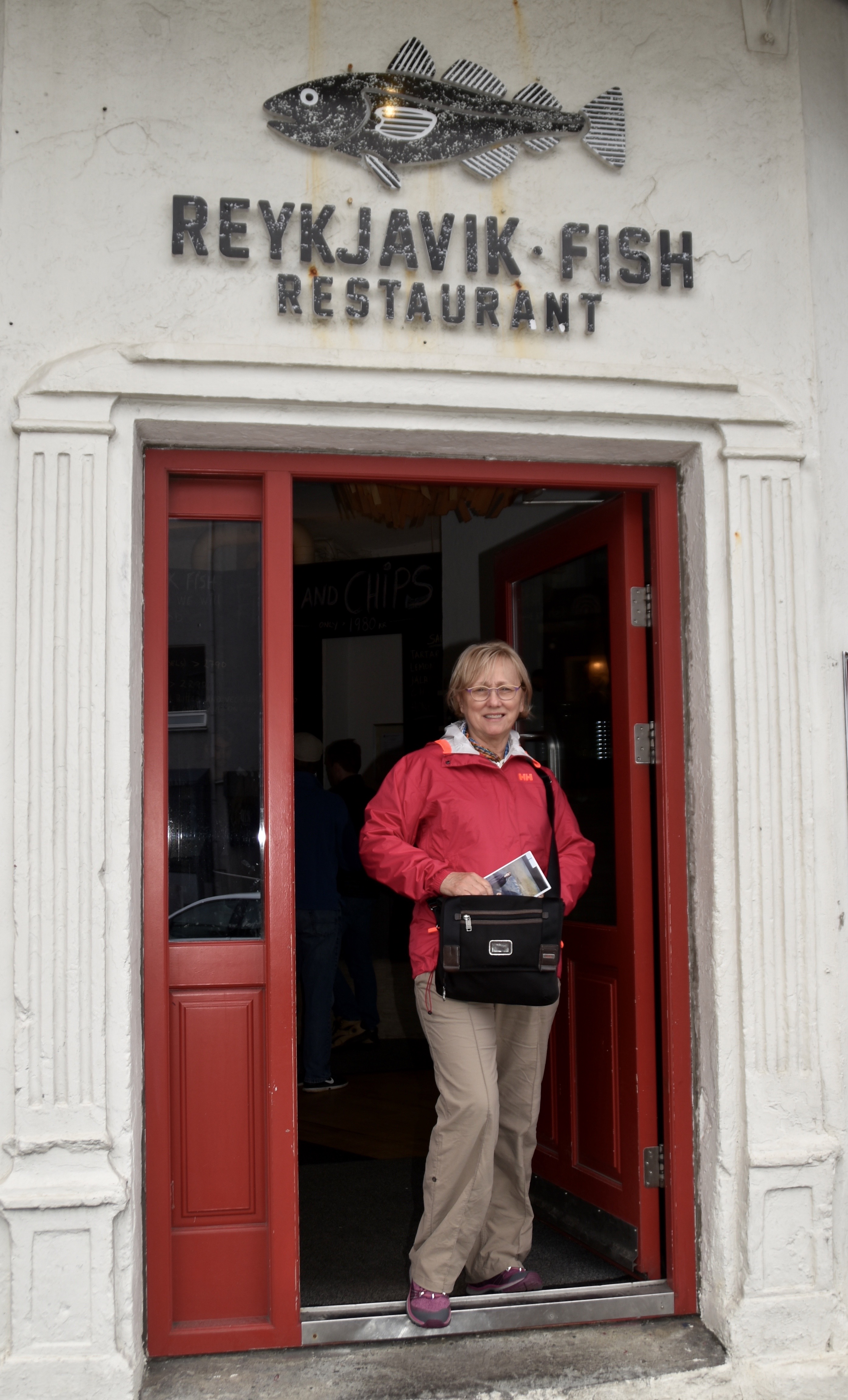 We decided on fish & chips, but at the last minute I changed my mind and went for plokkari aka plokkfiskur, when I saw these Polish construction workers in front of me all order it.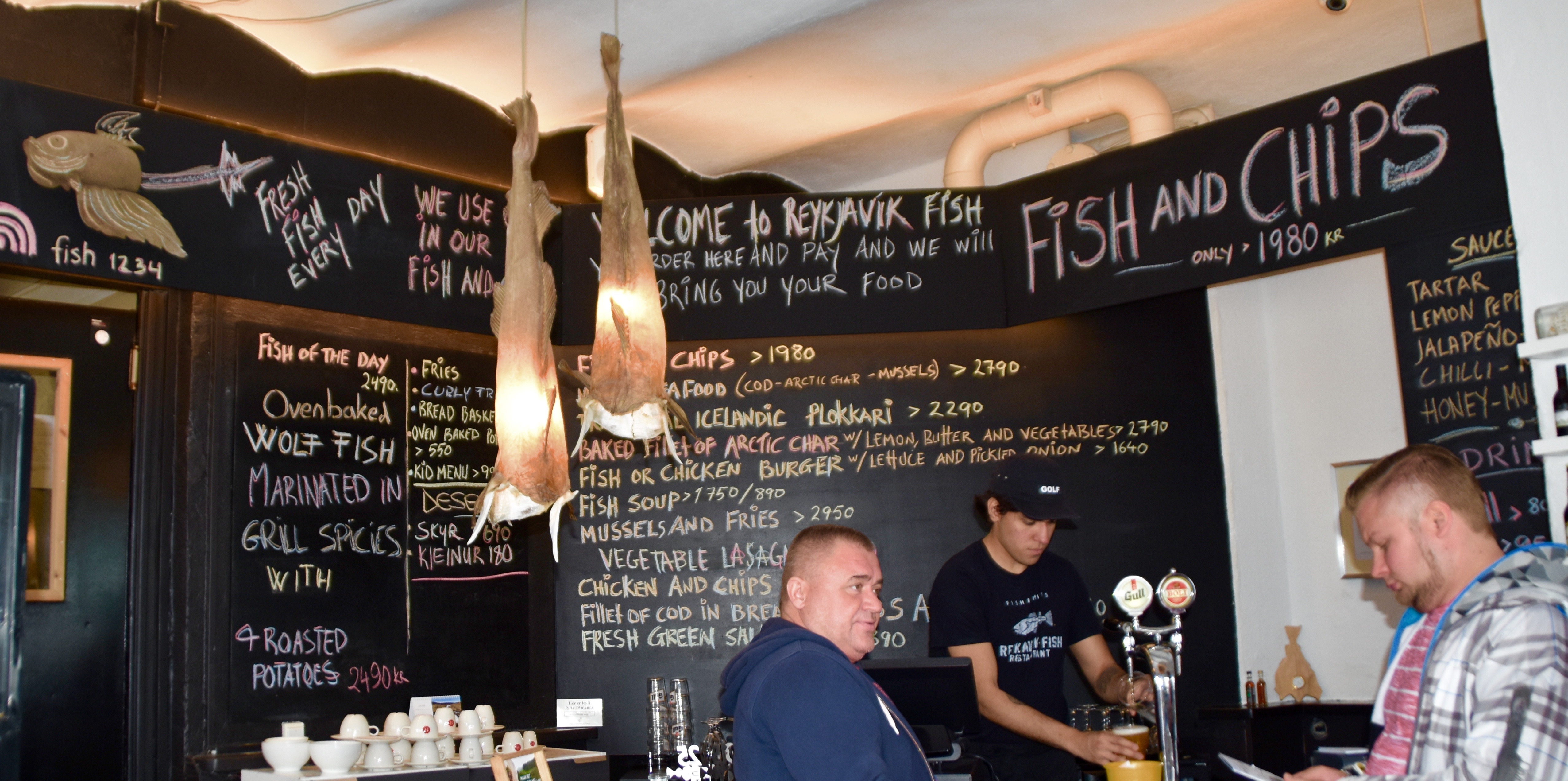 However, the first order of business was to try some Icelandic beer, after all Scandinavians love their beer right? True, but believe it or not beer was illegal in Iceland until 1989, even though wine and spirits were available. The theory was that beer drinkers would inevitably turn into lager louts, which certainly has been proven true of English soccer fans. Thankfully the Icelanders overcame their fear of beer and now make all kinds and varieties of the stuff, including this Gull lager which pairs very well with fish.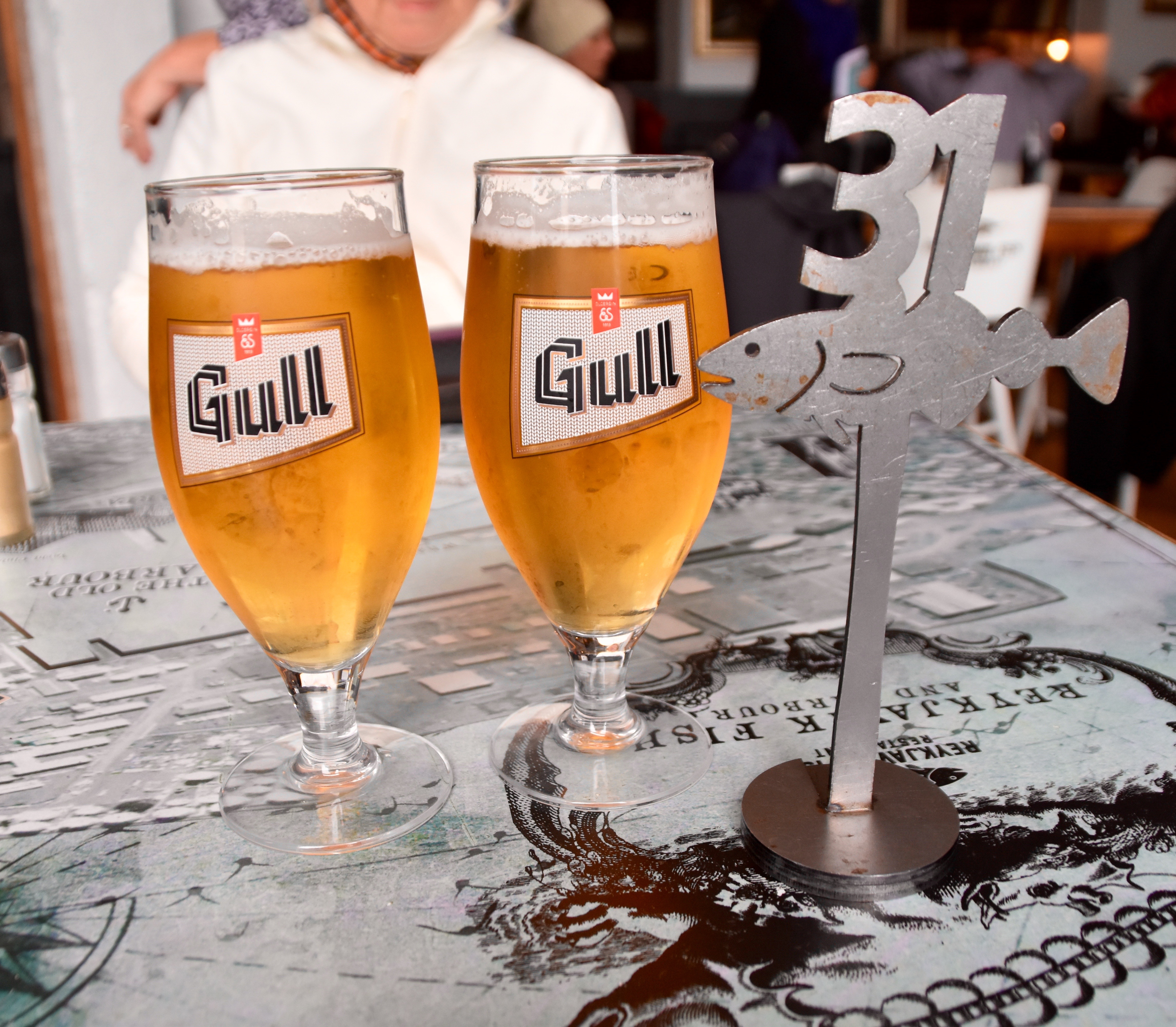 Both the fish & chips and the plokkari were great. The fish batter was light and the fish was perfectly done – not at all greasy. Chips were good too.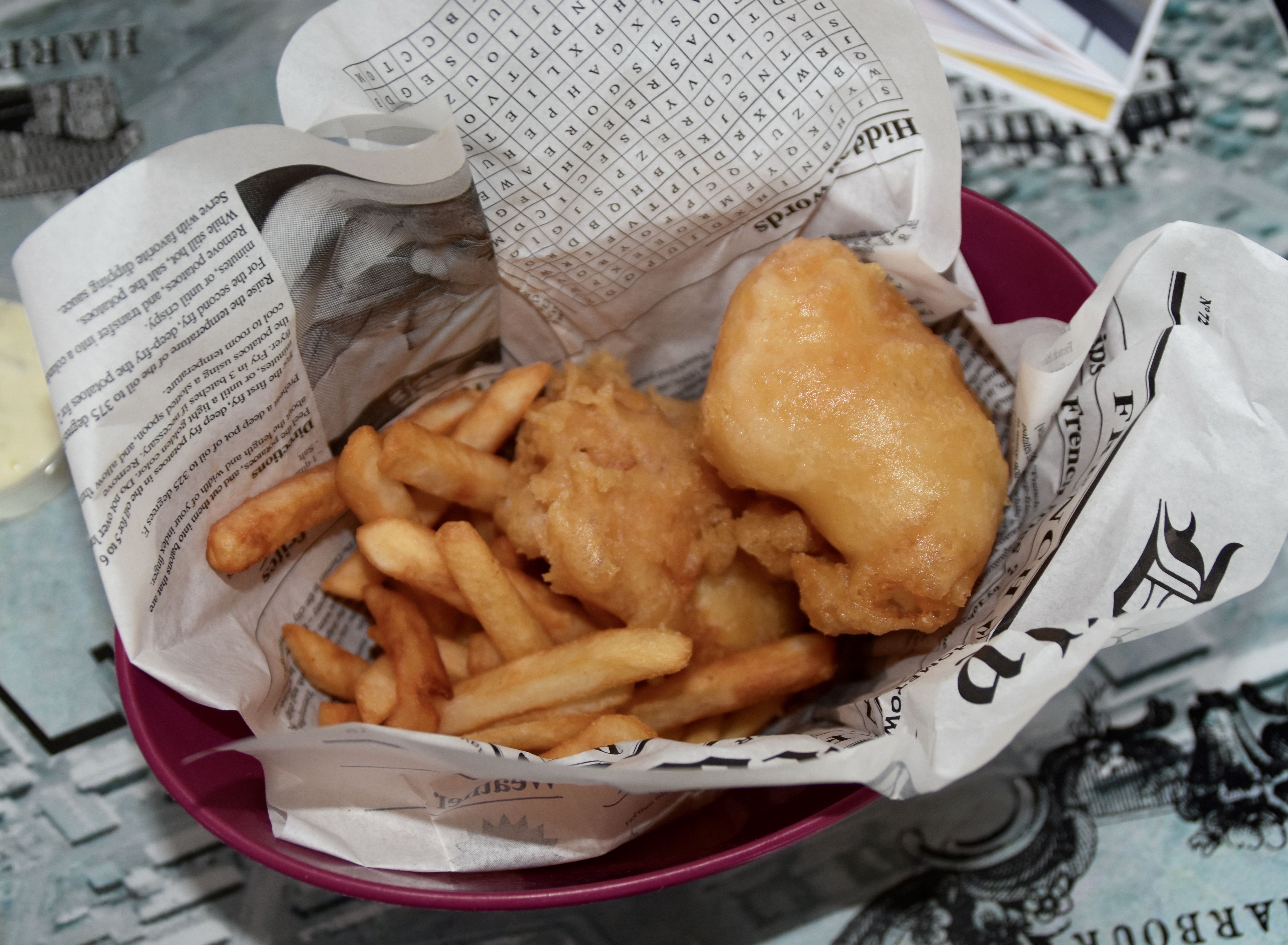 Alison and I each had a piece of fish and then split the plokkari which, although unappetizingly translated as 'mashed fish', was more like a giant fish cake and a delicious one at that.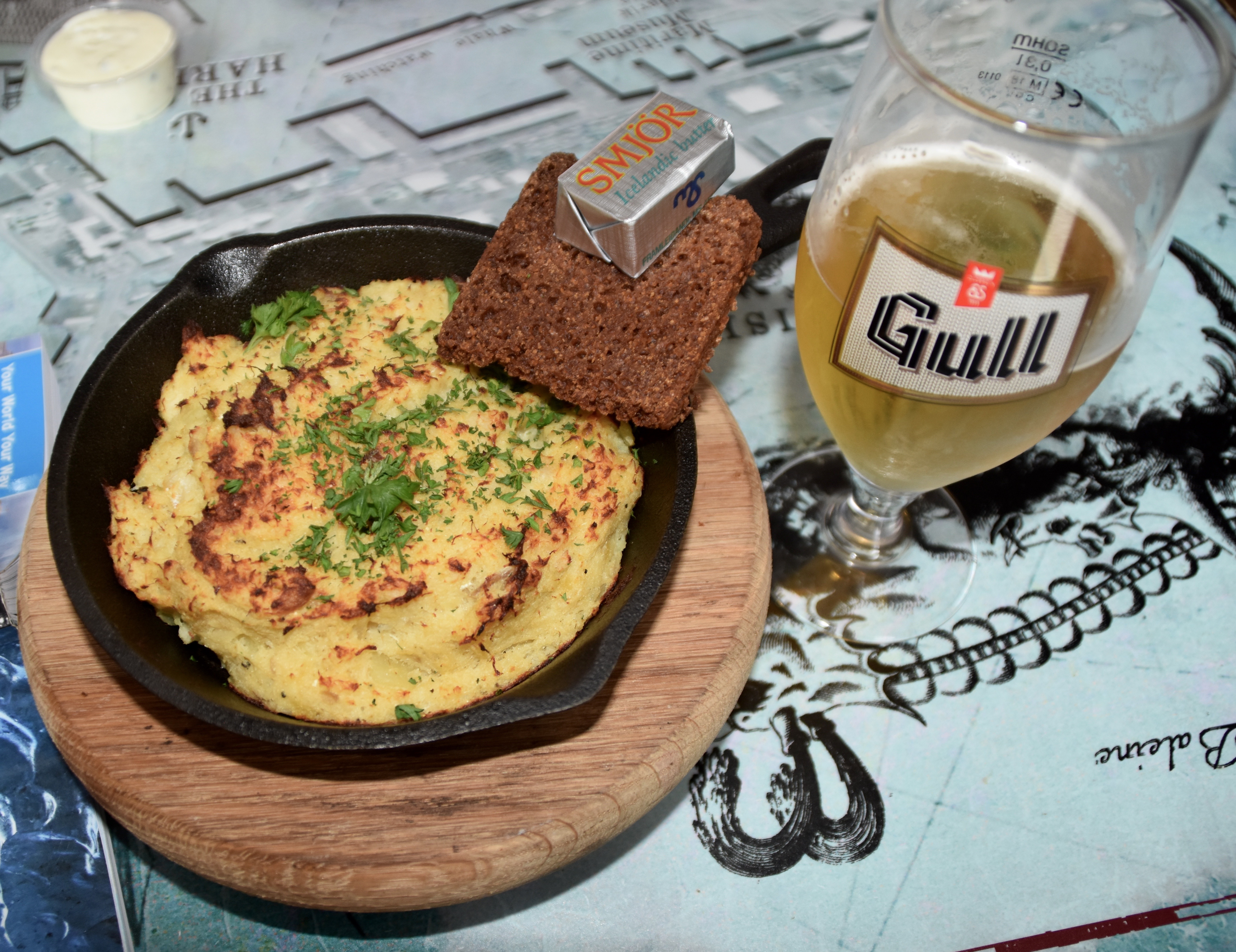 You'd think a building that looks like this, the tallest in Iceland and sitting on the highest point of land in old Reykjavik would be easy to spot. Amazing not, if you found yourselves wandering pretty aimlessly through older Reykjavik residential neighbourhoods, as we were after lunch. Eventually we did find it, simply by always turning uphill.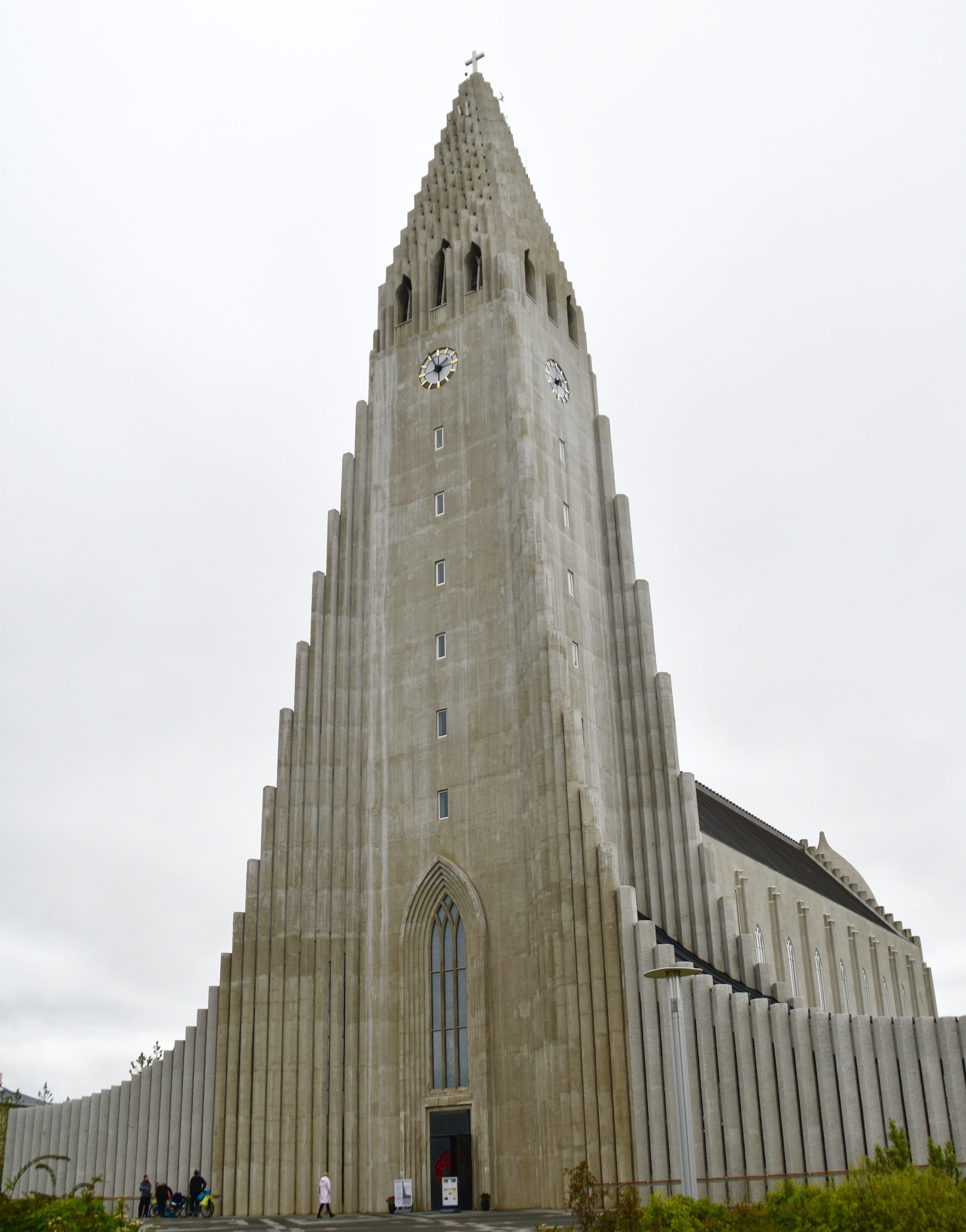 This is the Hallgrimskirkja, the Lutheran equivalent of St. Peter's Basilica for Icelanders. It broods over Reykjavik from a high hill and is a mandatory stop on any tourist walking itinerary. Inside it is the very definition of austere. If you have patience to wait in line for at least 30 minutes, you can go to the top in the six person elevator – we didn't. Maybe next time.
There was a lot more that we saw on our walking tour including the City Hall that sits atop a city pond. Its bare concrete walls reminded of the Brutalism that has thankfully been consigned to the architectural waste bin. Likewise, the Icelandic Parliament is less than impressive. I had to check my map and bearings at least twice to convince myself that it was was the national place of assembly. Hint to to Icelanders – in the midst of this building boom set aside some money for a decent looking Parliament building.
There was also the tourist shopping streets lined with mostly not too tacky souvenir shops with some nice ones selling traditional Icelandic sweaters and lots of restaurants, most of which were not remotely connected to Icelandic cuisine. These streets were pretty packed with tourists, many from cruise ships, who don't seem to mind seeing the same things over and over again at every stop. Very few managed to wander into the much more interesting residential areas just a block or so away.
As I said, this visit to Reykjavik and Iceland was a reconnaissance for a more in depth visit some time in the future. We just wanted to experience the Icelandair stopover to see if it was worth it and it was, in spades. From here they have direct flights to places as exotic as Chania in Crete and Lanzarote in the Canary Islands. I'm thinking that it would be perfect to fly into in the winter to see the Northern Lights and then get out of Dodge to warmer climes. Here's hoping it happens.
Tomorrow we will be taking a whirlwind tour of Iceland's famed Golden Circle Route. I hope you'll join us.