Golden Circle Route – Iceland in a Day
I first wrote this post in August 2018 and suspect that if you are able to get to Iceland post Covid-19 that a tour of the Golden Circle Route will be a lot more pleasant experience than it was when we toured it then. The natural and historical highlights will remain as good as ever, without the hordes. Probably Reykjavik will look more like the small city it really is than having its hotels and main streets bursting at the seams. What follows is the original post, unabridged.
For better or worse Iceland is experiencing an unprecedented boom in tourism. For better because Iceland is a country of incredible natural beauty and surprising diversity that well deserves to be a popular tourist destination. For worse because this nation of less than 350,000 people is simply being overwhelmed by over 2,000,000 visitors a year. While Icelandair's Stopover program, which allows passengers flying to Europe from North America or vice versa to spend up to a week in Iceland at no extra cost, is responsible for some of the increase, that's only part of the story. In 2018 almost one hundred and fifty cruise ships will dock at Reykjavik disgorging over 200,000 passengers and crew. And guess what? Almost all of them will want to take a bus tour around Iceland's fabled Golden Circle Route, turning what should be a great day of visiting amazing sites into a circus like Tower of Babel experience where the obese, impolite and ignorant outnumber the young and the restless by two to one. If that introduction hasn't totally turned you off, here's my description of the good, the bad and the ugly about the Golden Circle Route.
What is the Golden Circle Route?

Put simply, the Golden Circle Route is a 237 km. (just under 150 miles) triangular route that starts and ends in Reykjavik. It includes three of the most popular tourist sites in Iceland, þingvellir National Park, Gullfoss waterfall and the geothermal activity at Geysir, plus a couple of optional stops that can vary depending upon which tour you decide to take. The catchy title to the route is simply an advertising gimmick that has no historical importance and allows cruise ship passengers to say they have 'done' Iceland, when in reality, it covers only a tiny portion of the country. But who am I to judge as I'm only here for two days myself on the way to Britain from Canada? Everybody has to start somewhere and the Golden Circle Tour is as good a mini introduction to Iceland as you are going to get.
There are a slew of tourism operators in Reykjavik offering Golden Circle Tours. If I had to do this again, I would almost certainly have rented a vehicle rather than take a bus tour, but hindsight is 20/20.  Instead I had booked a Gray Line tour before leaving Canada at a quite reasonable cost of €55 or about $65 USD. The bus picked us up at a numbered bus stop not far from our hotel and after a number of other stops delivered us to the Gray Line terminal on the edge of Reykjavik where we transferred onto a full size tour bus that held about 60 people. It was full to the point that not everyone who had booked could get on and some had to wait for the next tour departure in about an hour. I would estimate that 80% of the people on the bus were from cruise ships. How I know this is that after the tour was over we stopped at the cruise terminal first and nearly everybody got off.
Our guide was actually the same woman shown in the Gray Line advertising brochure. Her English was good, but not fluent. Some of the Icelandic place names are almost impossible to understand and I had to look them up to get the correct spelling for this post.
þingvellir National Park, Golden Circle Route
No your eyes are not playing tricks on you. That thing at the front of the place name is called a thorn and is pronounced like 'th' so you would hear it as Thingvellir, although during the tour I had no idea what the guide was saying. It is a national park and arguably the most important historical site in Iceland, which also just happens to be one of the significant geological points on earth. It is the first stop on the Golden Circle Tour.
However, before getting there one cannot help but notice that huge portions of the Icelandic landscape are covered with lupines, making for a lovely blue/green quilt of flowers. These are Alaska lupines, deliberately brought in during the 1960's to help eliminate the erosion caused by the decimation of Iceland's forest by early settlers. It worked, but only at the expense of overwhelming native plant species, including the bilberry, one of Iceland's favourite wild berries. Our guide estimated that 10% of Iceland's arable land was now covered by this invasive species. This article from the Reykjavik Grapevine explains more about the conundrum of the Alaskan 'Wolf'.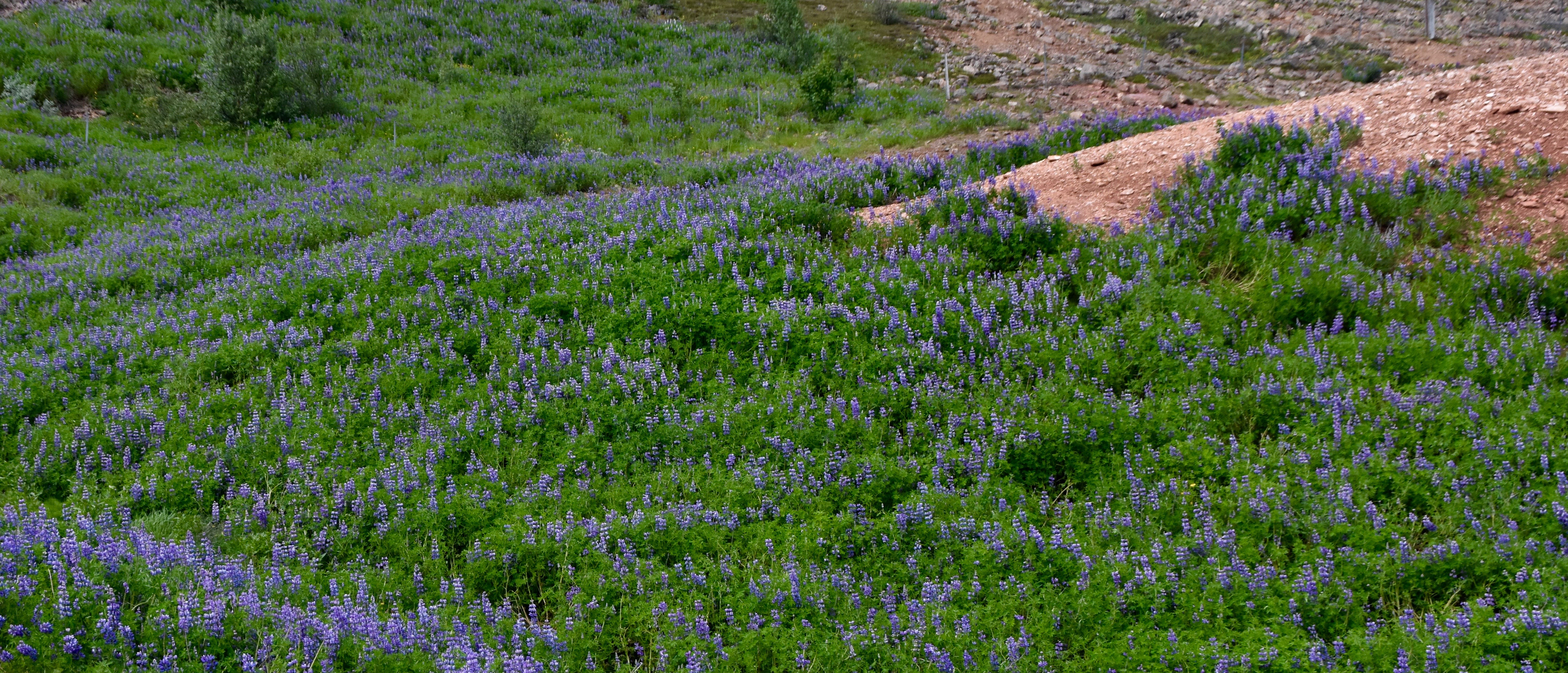 þingvellir National Park is a UNESCO World Heritage Site and unusually for such sites, qualifies on both cultural and physiological grounds. These are the reasons as defined by UNESCO that þingvellir was listed as a cultural landscape of significance in 2004.
Þingvellir (Thingvellir) is the National Park where the Althing, an open-air assembly representing the whole of Iceland, was established in 930 and continued to meet until 1798. Over two weeks a year, the assembly set laws – seen as a covenant between free men – and settled disputes. The Althing has deep historical and symbolic associations for the people of Iceland. The property includes the Þingvellir National Park and the remains of the Althing itself: fragments of around 50 booths built from turf and stone. Remains from the 10th century are thought to be buried underground. The site also includes remains of agricultural use from the 18th and 19th centuries. The park shows evidence of the way the landscape was husbanded over 1,000 years.
In 2011, Iceland submitted þingvellir for inclusion in the landscape category with this description:
The Þingvellir area is also a natural wonder on a global scale, with the geologic history and the biota of Lake Þingvallavatn and its catchment area forming a unique entity, a magnificent showcase in geology and biology and an extraordinary ecosystem. The area is part of the world rift system which is normally a sub-oceanic feature. Being subaerial, Iceland is a rare exception of a mature oceanic rift system. This is caused by high volcanic production associated with an upwelling mantle plume beneath Iceland. Being able to witness the evolution and formation of new species of life in Lake Þingvallavatn – the diversification of the Arctic charr (Salvelinus alpinus) into four different morphs, is of immense value, as is the recent discovery of two new species to science of blind "cave" animals, the subterranean amphipod crustaceans (Crymostygius thingvallensis and Crangonyx islandicus), inhabiting spring fed groundwater inlets in the catchment area.
So in a nutshell, þingvellier has, at the same time, the oldest parliament in the world, a lake that is a laboratory for studying the evolution of fish and one of the few places on earth that you can actually stand on the divide between two continents as new land is created beneath your feet. To top it off, it's actually really beautiful. This is Lake þingvallavatn from the American side of the Mid-Atlantic ridge. By that I mean that I was standing on the North American tectonic plate and looking down at the Mid-Atlantic Ridge with the Eurasian tectonic plate on the other side.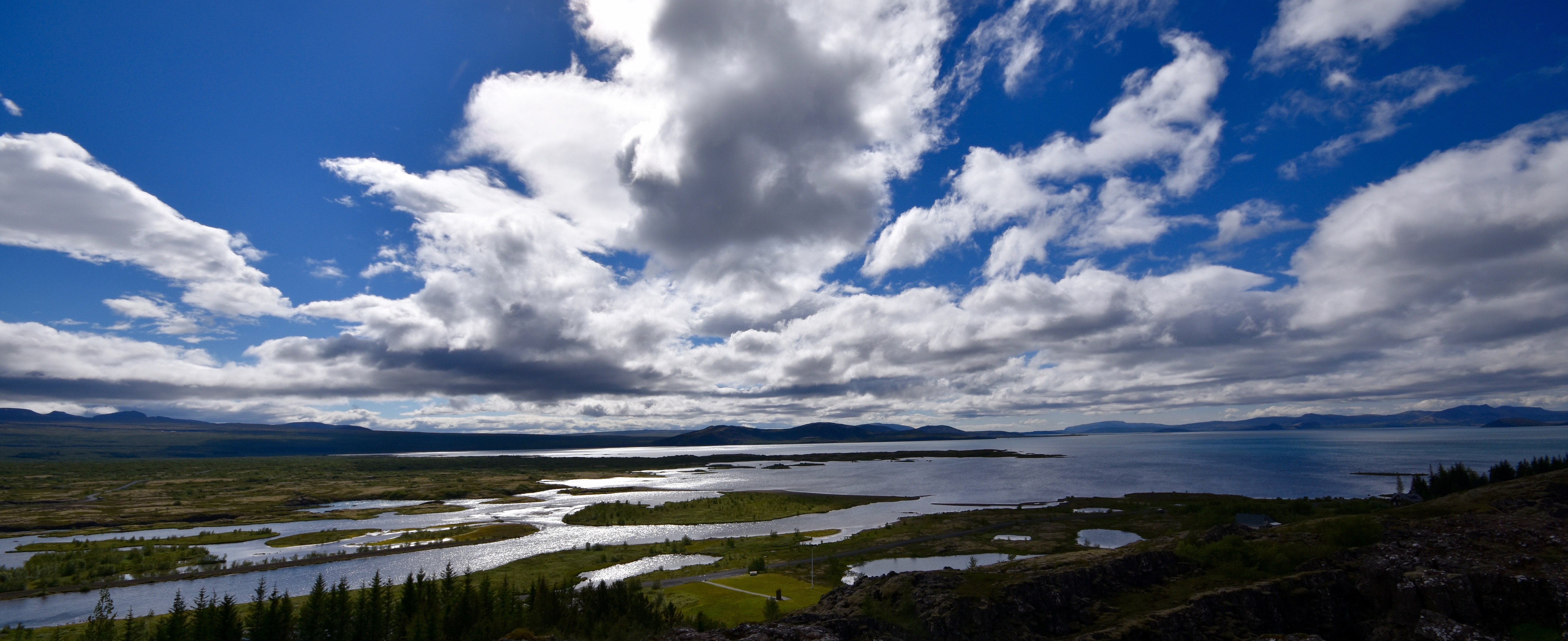 After getting a look over Lake þingvallavatn the bus descends into the Mid-Atlantic Ridge where one can get a better idea of how the two tectonic plates are spreading apart. Here is Alison walking between the two plates. Amazing! Since almost all tectonic plate activity occurs deep in the oceans, Iceland is one the few places on earth you can witness this phenomena without hiring a submarine. Mind you, the word 'witness' as a bit misleading because these plates are spreading apart at about an inch a year. Still, I really did feel something truly unique about the landscape of þingvellir.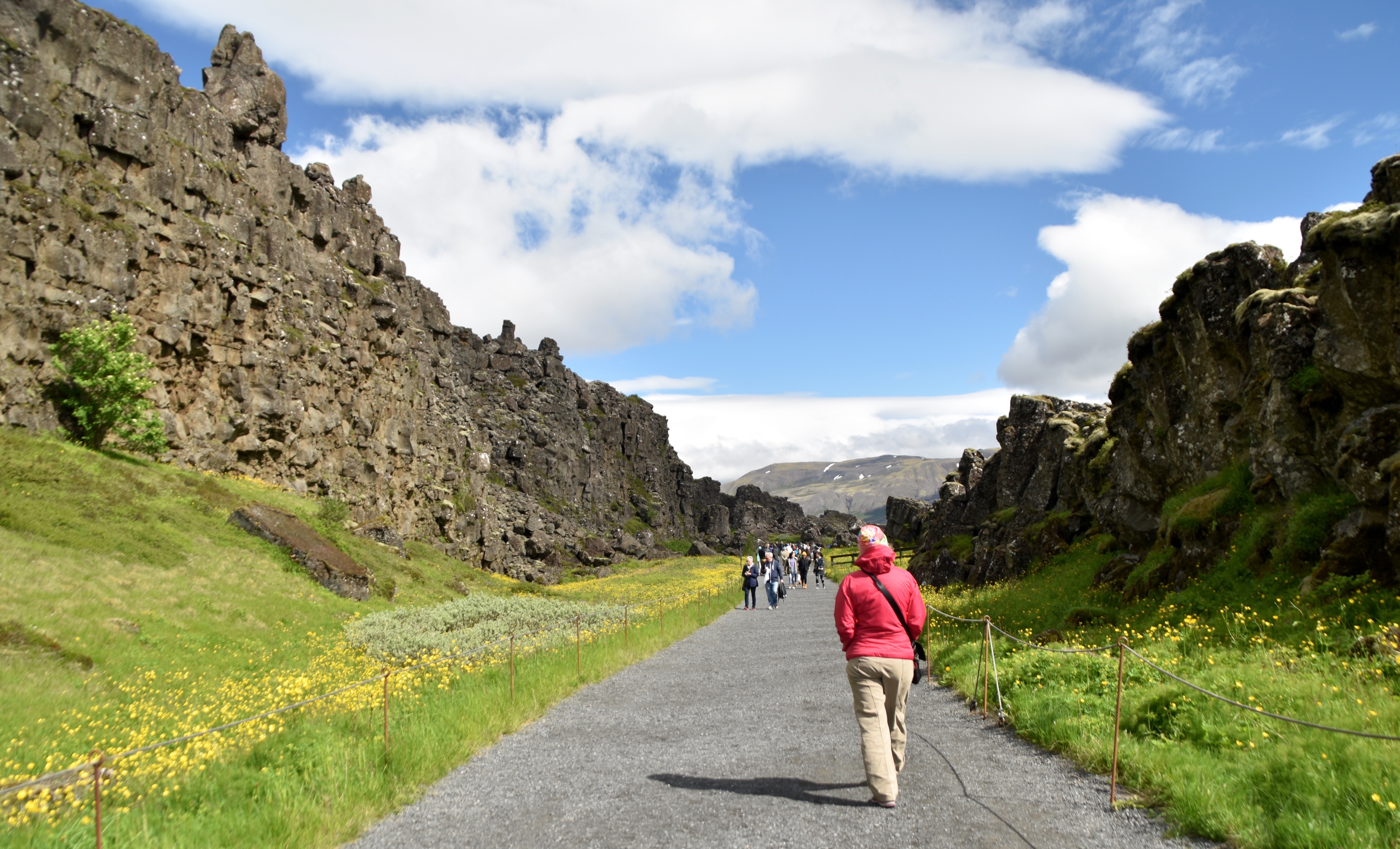 Now on to the historical part. This is the site of the annual Icelandic Althing,a general assembly of Viking leaders who first met here in 930 and continued to do so until 1798 when the Danes, who at that time controlled Icelandic, abolished it. It is considered by most to be the oldest true parliament in the world and is the most sacred historical site in Iceland.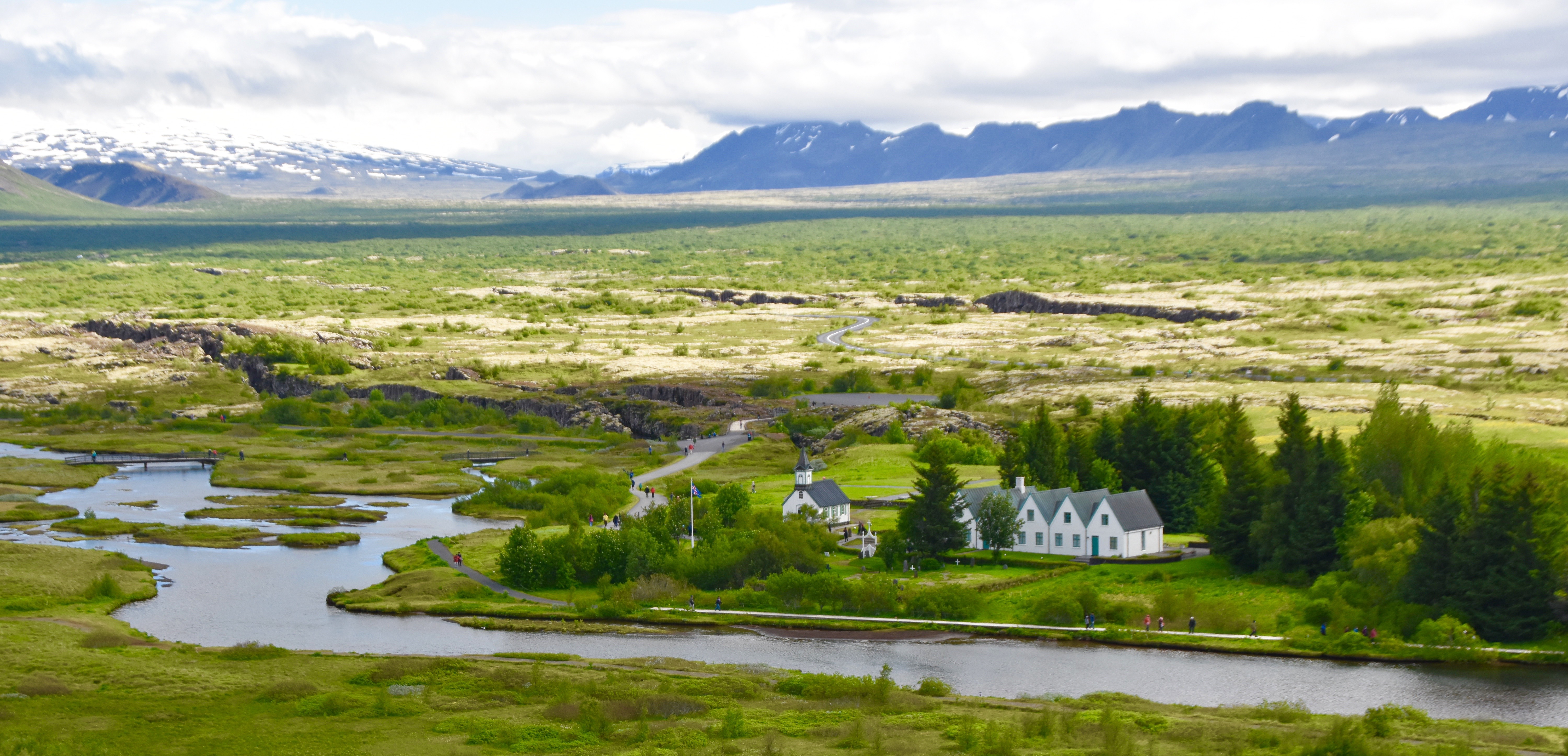 The Althing did not meet in the buildings on the site, which are fairly modern, but on that round circle of land that you can see on the left of the photo. There is still archaeological evidence of the different camps the leaders would set up each year on the banks of the Öxará River which is in the foreground.

However, all was not sweetness and light at þingveller – it never is with the Vikings.

It all stated with the Great Edict of 1564 which was part of Iceland's Reformation. Instead of actually reforming anything, Iceland's answer to Oliver Cromwell's Puritans, levied ridiculously harsh and cruel punishments for even the most minor transgressions. Eighteen women are documented to have been drowned on purpose in this deceptively pretty little spot. In addition there were beheadings, hangings and burning at the stake, all carried out in the immediate vicinity.
Ironically, today Iceland ranks first in the world for gender equality. No one need fear the drowning pool anymore or the damn puritanical religious zealots, at least in this country.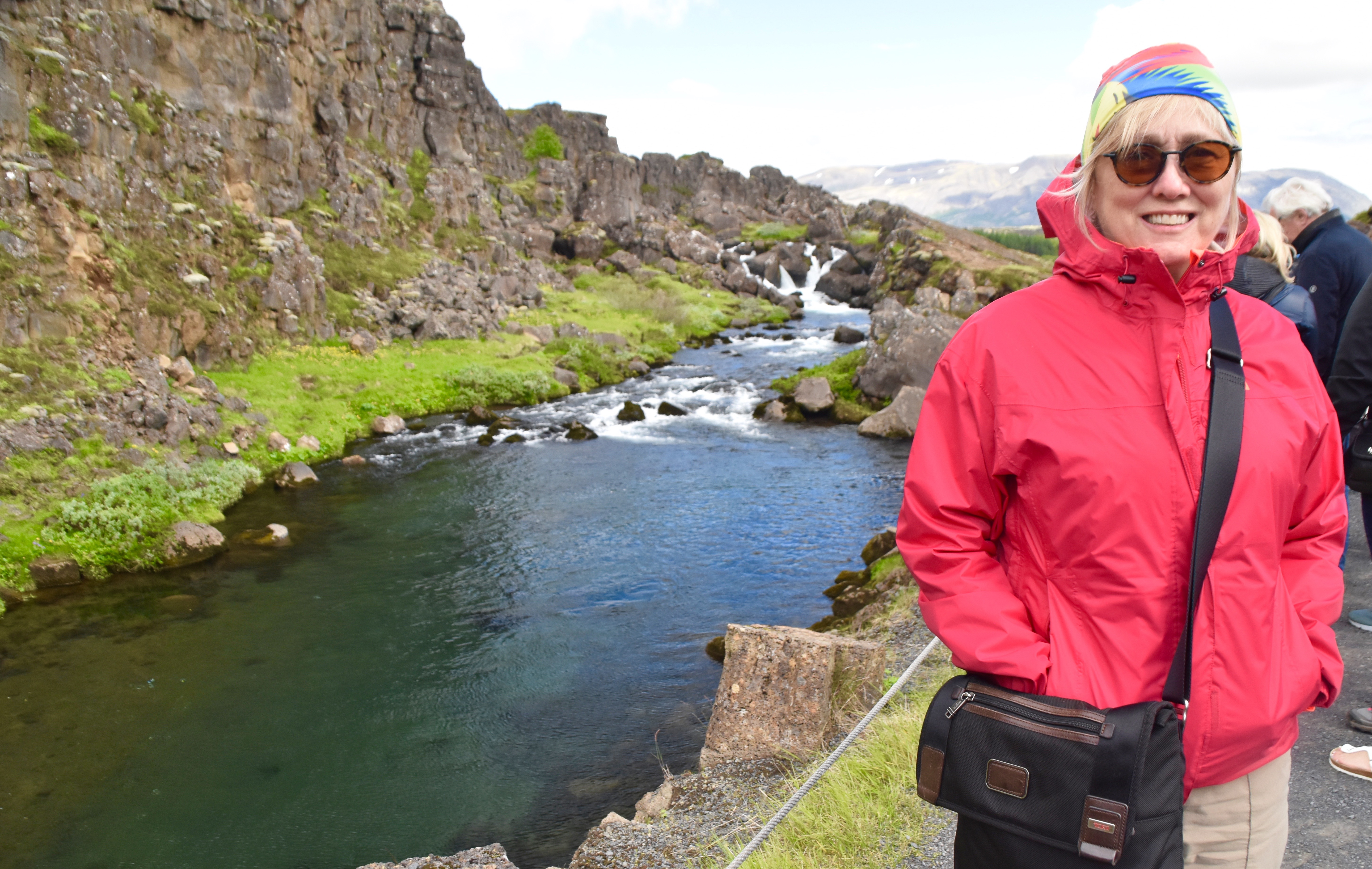 Gullfoss Waterfall
Iceland is justly famed for its many beautiful waterfalls and none is more visited and appreciated than Gullfoss, which is the second stop on the Golden Circle Tour. While þingvellir was spread out enough to absorb the crowds, Gullfoss is not. The parking lot was jammed with at least thirty tour buses and the restaurant, washrooms and gift shop were simply a horror show of humanity. But, that doesn't mean the falls are not magnificent and well worth the hassle of visiting.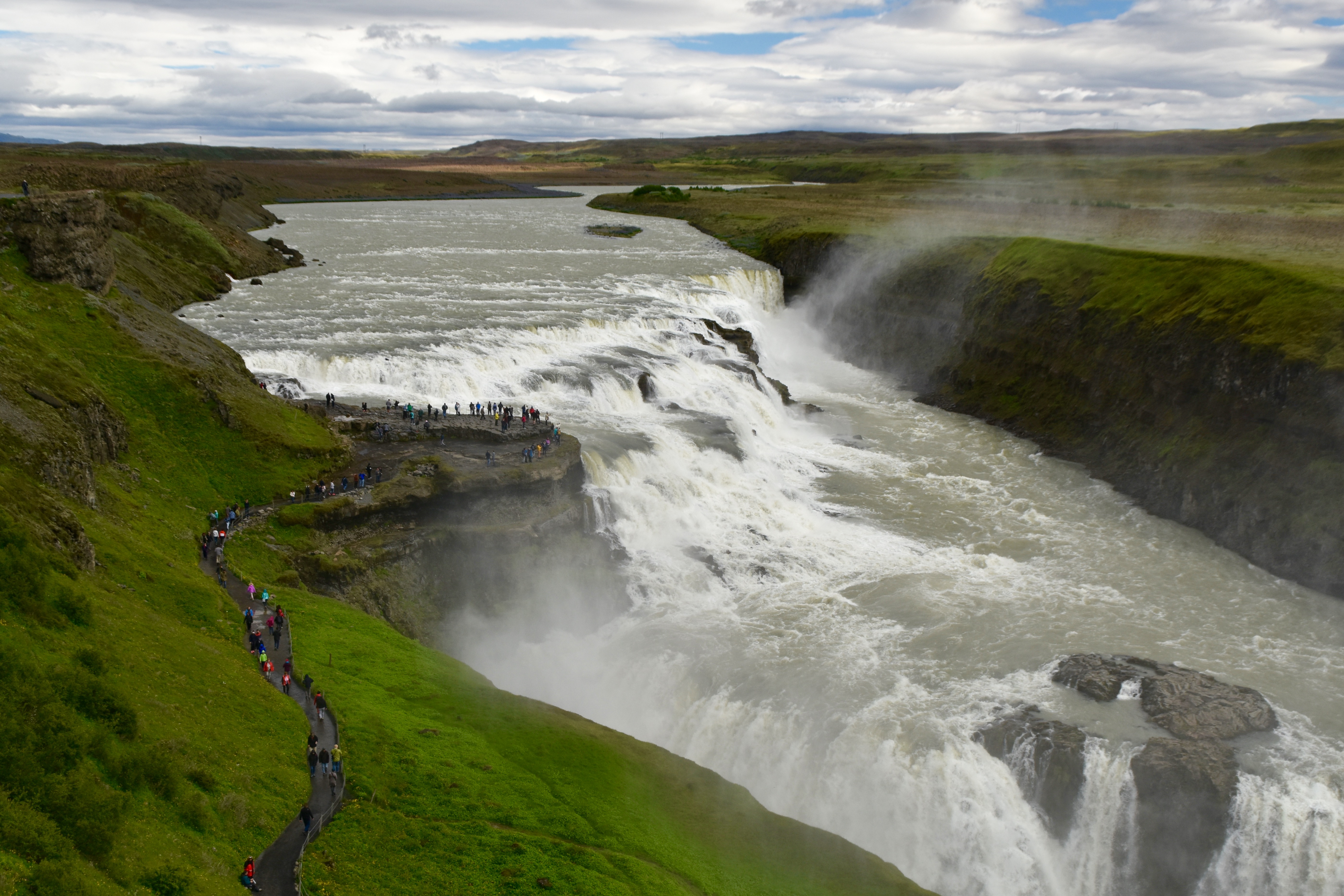 It is a short walk to the falls where you have the option of taking stairs down to see the falls up close as these people are doing in what seems to be pretty dangerous proximity.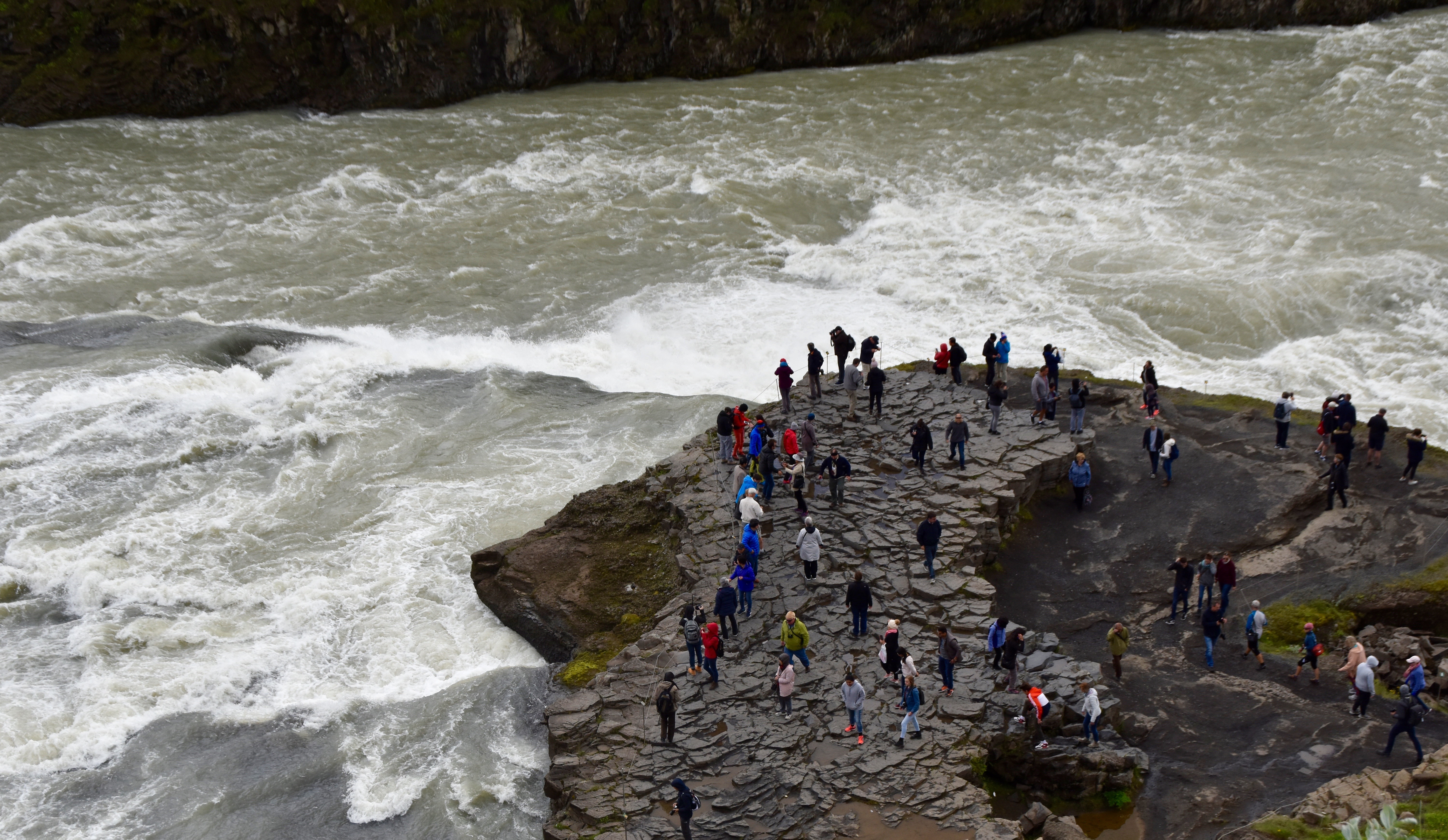 Or you can stay up top and observe the falls from above and see how the glacial melt that forms the Hvítá (White) River plunges over 100 feet in two sections into a deep canyon below. I strongly recommend doing both. There were actually only a fraction of the people going to the top observation area as opposed to the bottom, so if you want to avoid the crowds make sure you include that in your visit. The Gray Line tour gave us plenty of time to do both.

This is the lower falls which projects enough mist into the air that you will get a bit of a soaking on the way to the lower observation point.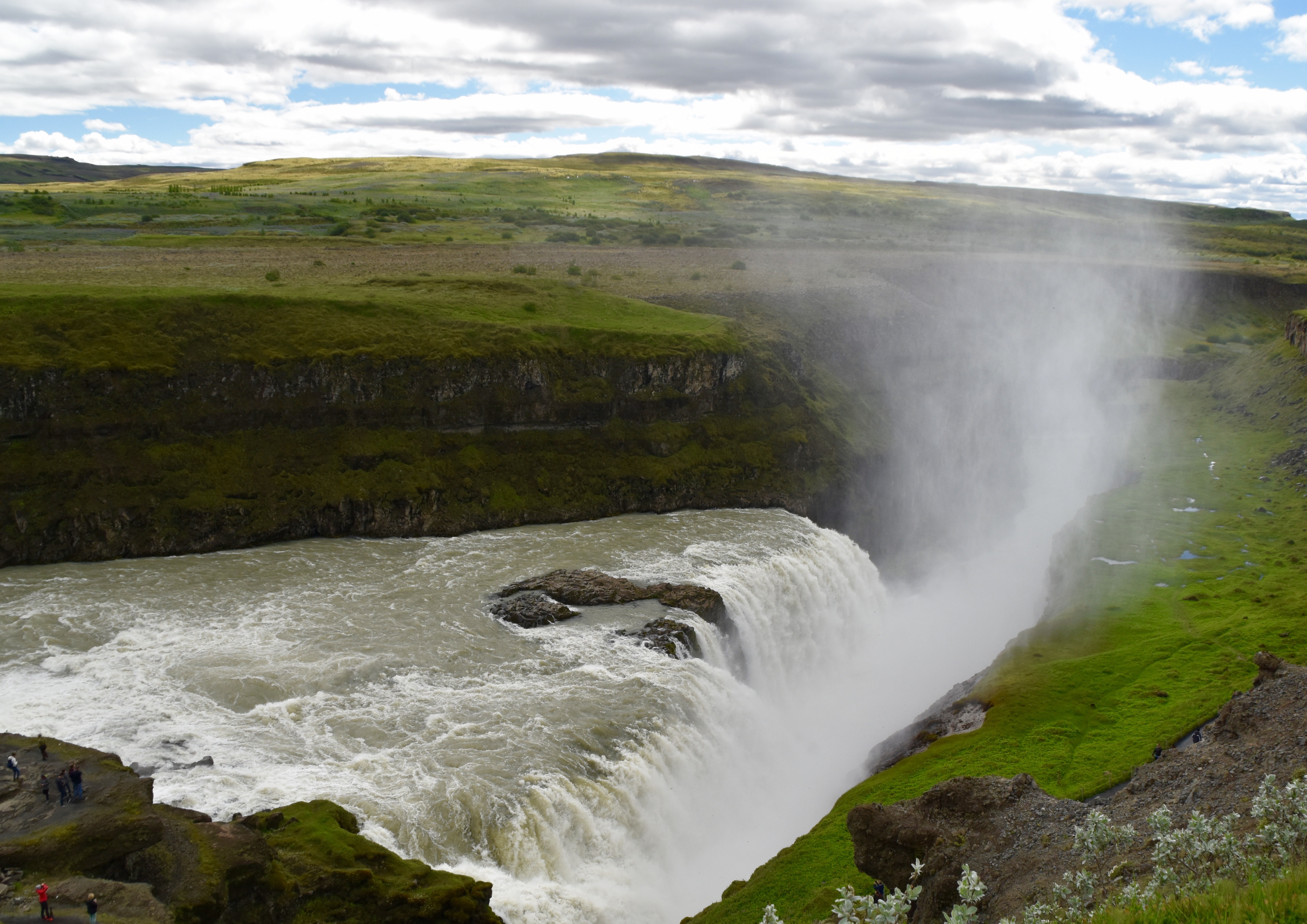 Gullfoss is a good example of how Iceland is being overwhelmed by cruise ship day trips. Thankfully they are doubling the size of the centre which looked like it was almost finished, but really it's all about the falls and not the facilities.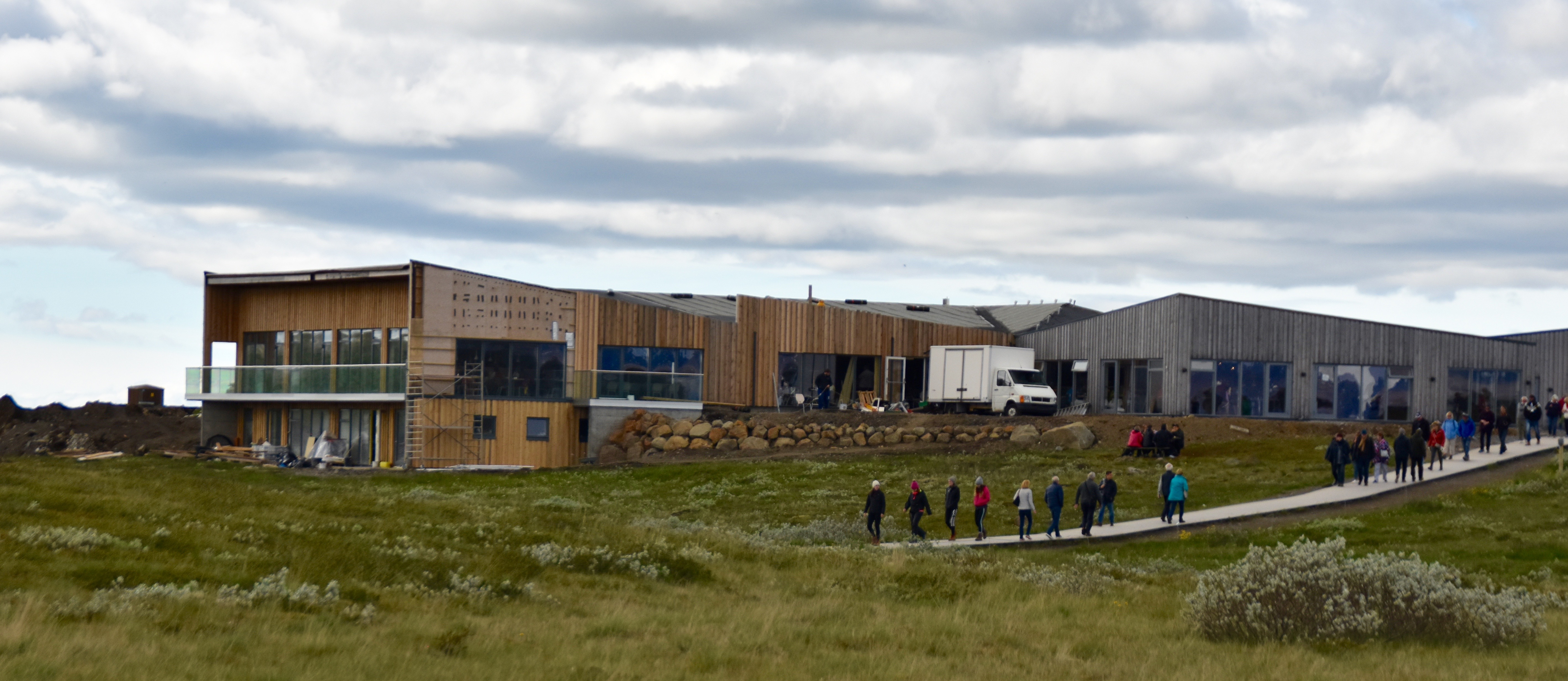 Geysir
The third stop on the Golden Circle tour is the Haukadalur Valley and in particular the tourist centre at Geysir. Once again the centre itself and the parking lot were insanely busy with throngs of people going every which way it seemed. The reason for this stop is to observe some of the geothermal activity that Iceland is justly famous for, including the mother of all geysers, Geysir.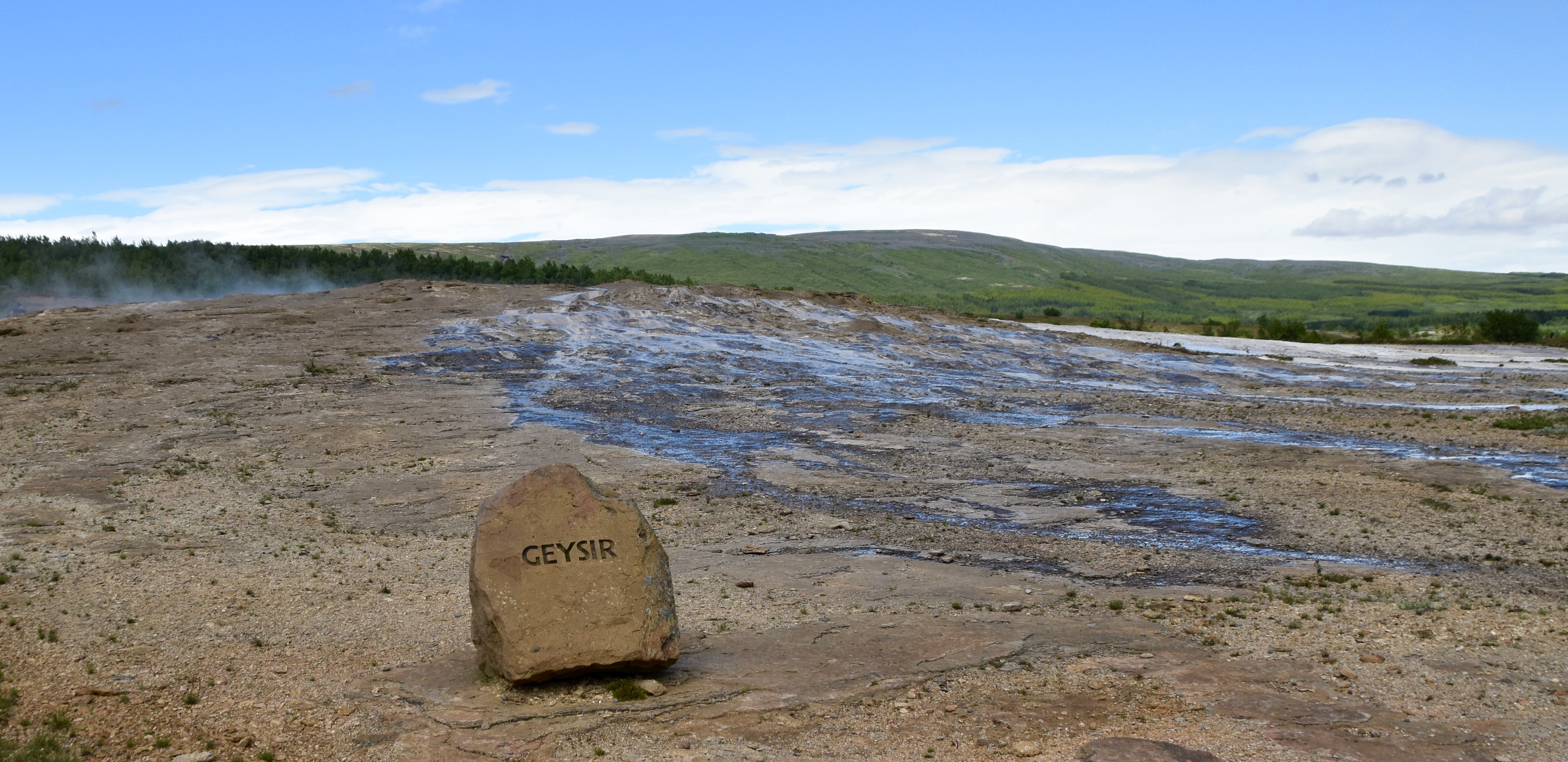 Alas, after spouting for hundreds of years and lending its very name to the phenomenon of spouting jets of boiling water, Geysir is there in name only. He/she stopped spouting with any regularity after a series of earthquakes in the 2000's. So don't expect to see anything like this on your visit. Since Geysir does apparently sometimes still go off, the promotional literature for the Golden Circle Tour doesn't tell you that Geysir is in fact on its deathbed, if not totally dormant. However, there is an alternative.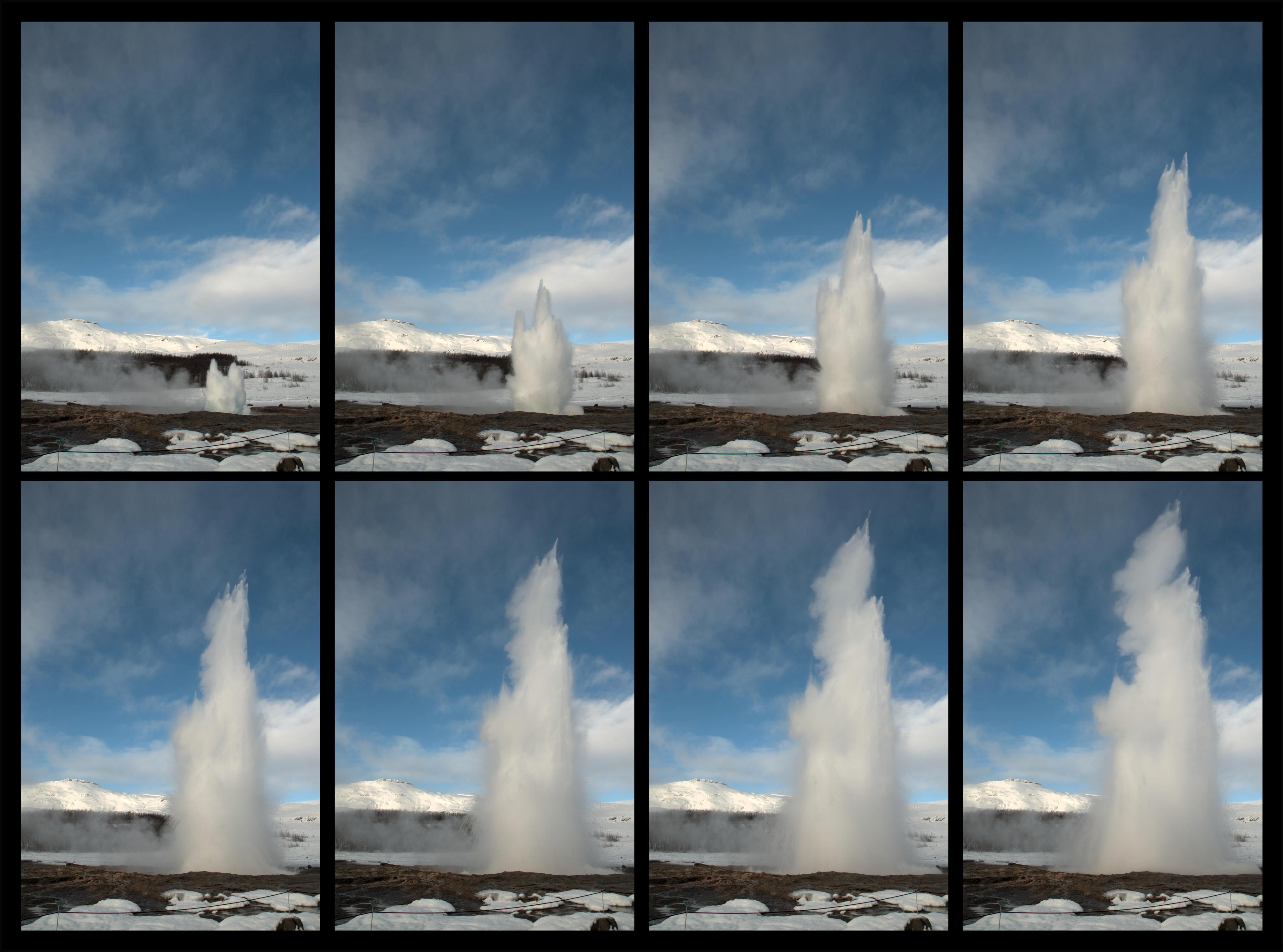 Strokkur, which is only a short distance from Geysir, does go off with great regularity, although not as grand as Geysir once was.
You have to be ready with your camera because there is no warning of when Strokkur will go off, just that it happens about every eight minutes. You can see the crowds that gather round in anticipation and then what you get is really just a puff of water that lasts only a second or two. Any ideas of seeing an Old Faithful type blast should be put to rest. Frankly, the visit to Geysir was the one part of the Golden Circle Tour that did not live up to expectations.

If you are interested in less spectacular geothermal activity you can visit one of a number of 'hot pots' in the Geysir area such as this one. I was assured that not a week goes by that some idiot doesn't stick his hand or foot in to see if it's really as hot as it looks. It is, of course and those dolts will have the scars to prove it.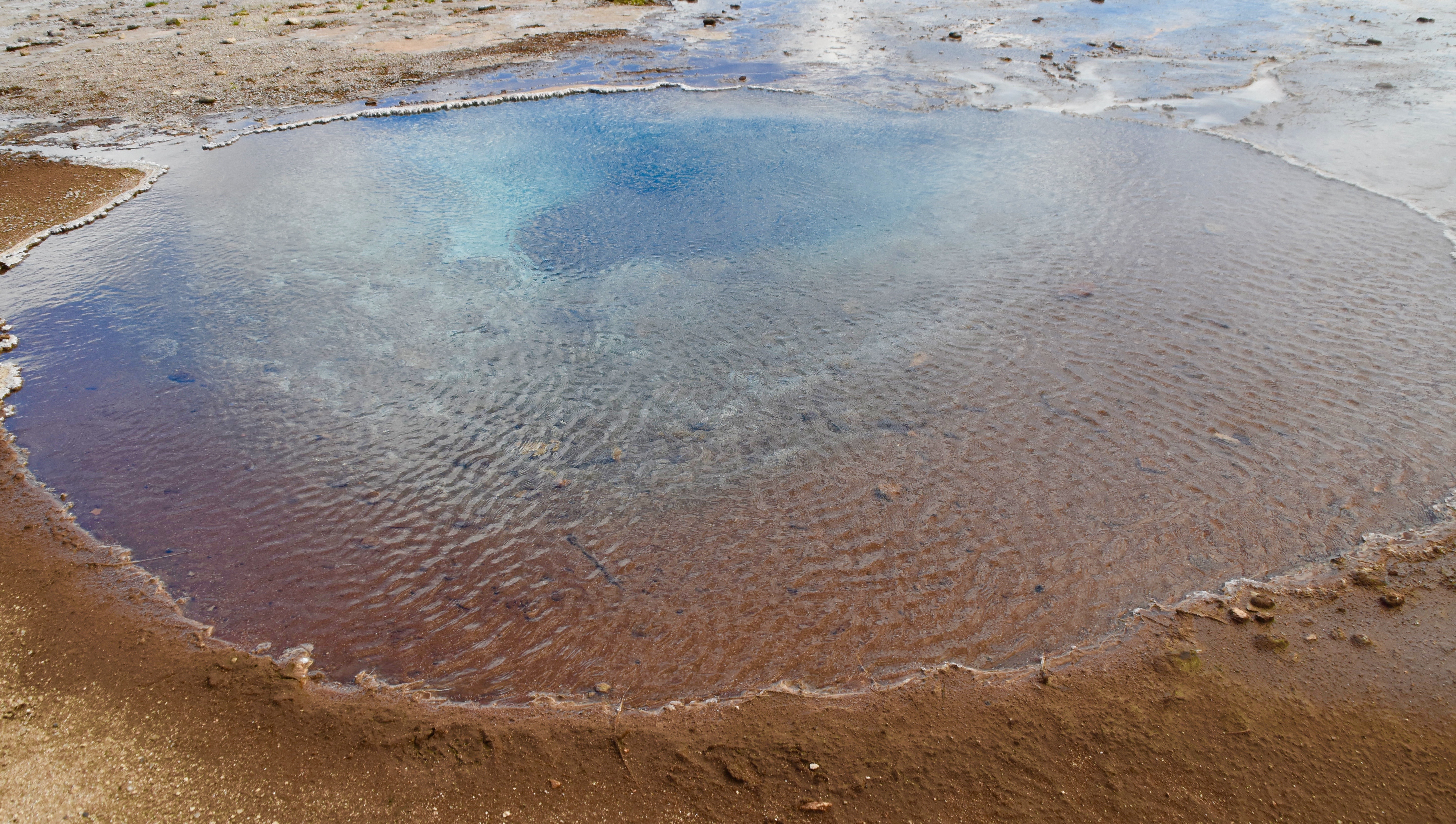 Faxi Waterfall
So that's the big three on the Golden Circle Route, but it was not all to see by any means. On the way to our next stop we passed through a landscape as starkly beautiful as I've seen anywhere, populated only by sheep and the strange looking small horses that reminded me exactly of the Sable Island ponies, which are also pint size horses. The harsh weather conditions has made them evolve into a smaller, tougher breed of horse that Icelanders have a great fondness for.
Does this photo remind you of anything? Many of the Beyond the Wall scenes from Game of Thrones were filmed in Iceland. Can't you just imagine the White Walkers crossing this plain?

Faxi waterfall is nowhere near as grand as Gullfoss, but it has something or rather doesn't have something Gullfoss has – hordes of tourists. For once on the Golden Circle Route we were able to view something in relative peace. If this waterfall were anywhere, but a place like Iceland it would be a big draw on its own.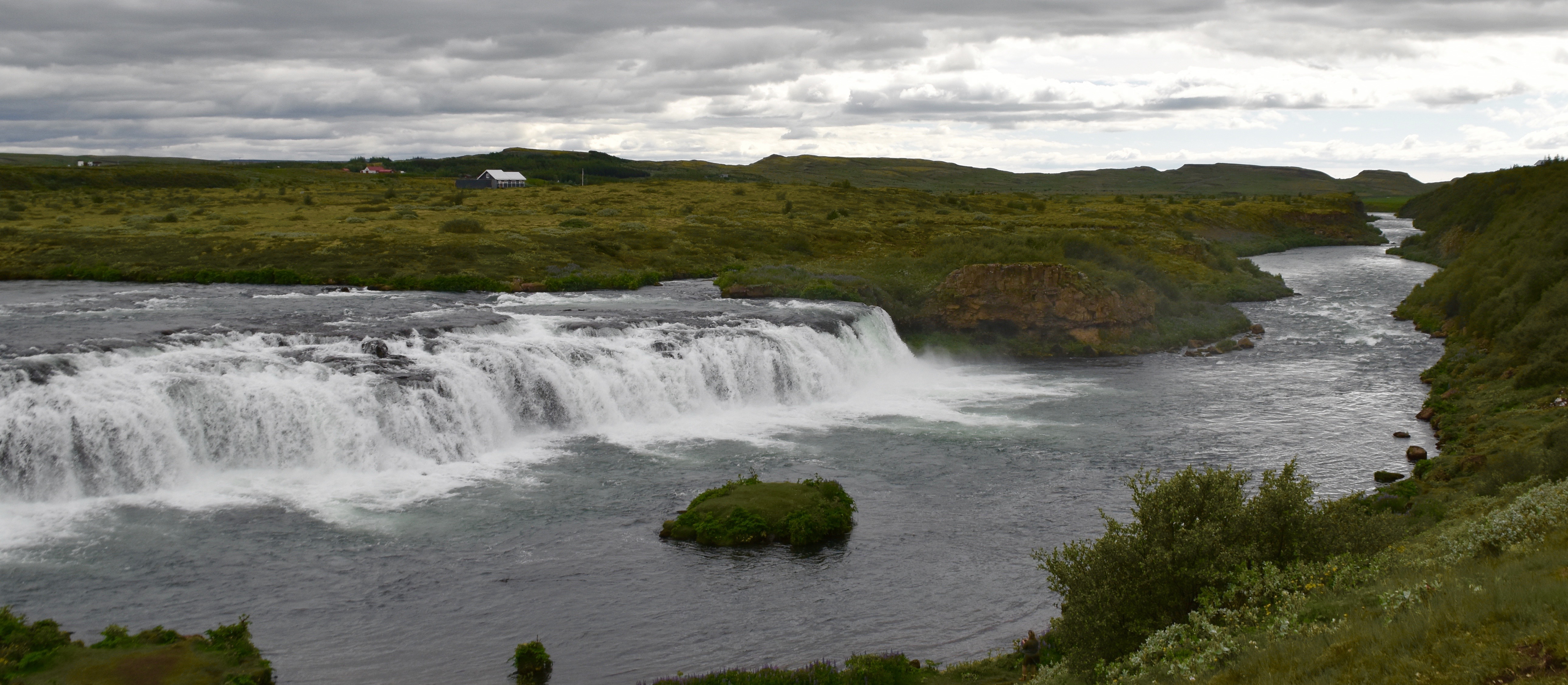 Right beside this waterfall there was a large sheep pen used to help separate each owner's sheep and to facilitate in their shearing which reminded me that, outside of Reykjavik, Iceland is still a largely rural country where raising sheep is a way of life and has been for a thousand years.
All told the Gray Line Golden Circle Tour took about eight hours from beginning to end. Would I do it again? Not on a bus tour and not during cruise ship season, but in a heartbeat with my own vehicle and in the shoulder season. You should too.
Our whirlwind stop in Iceland is over and tomorrow we fly to Manchester after which we will make our way to Liverpool for a customized Beatles' tour with Beatles expert Paul Beesley. Should be fun.