Joshua Tree National Park – Two Beautiful Deserts
On a recent spur of the moment trip to Las Vegas, which did not overwhelm us, Alison and I decided to explore some of the southwest's natural wonders starting with Death Valley, which was truly amazing in winter. We followed that up with a drive to Palm Springs and then Indio which we used as a base to travel to Joshua Tree National Park as it has no in park accommodation. Here's why we were just as blown away by Joshua Tree as Death Valley and would rate both as among the best national parks in the United States.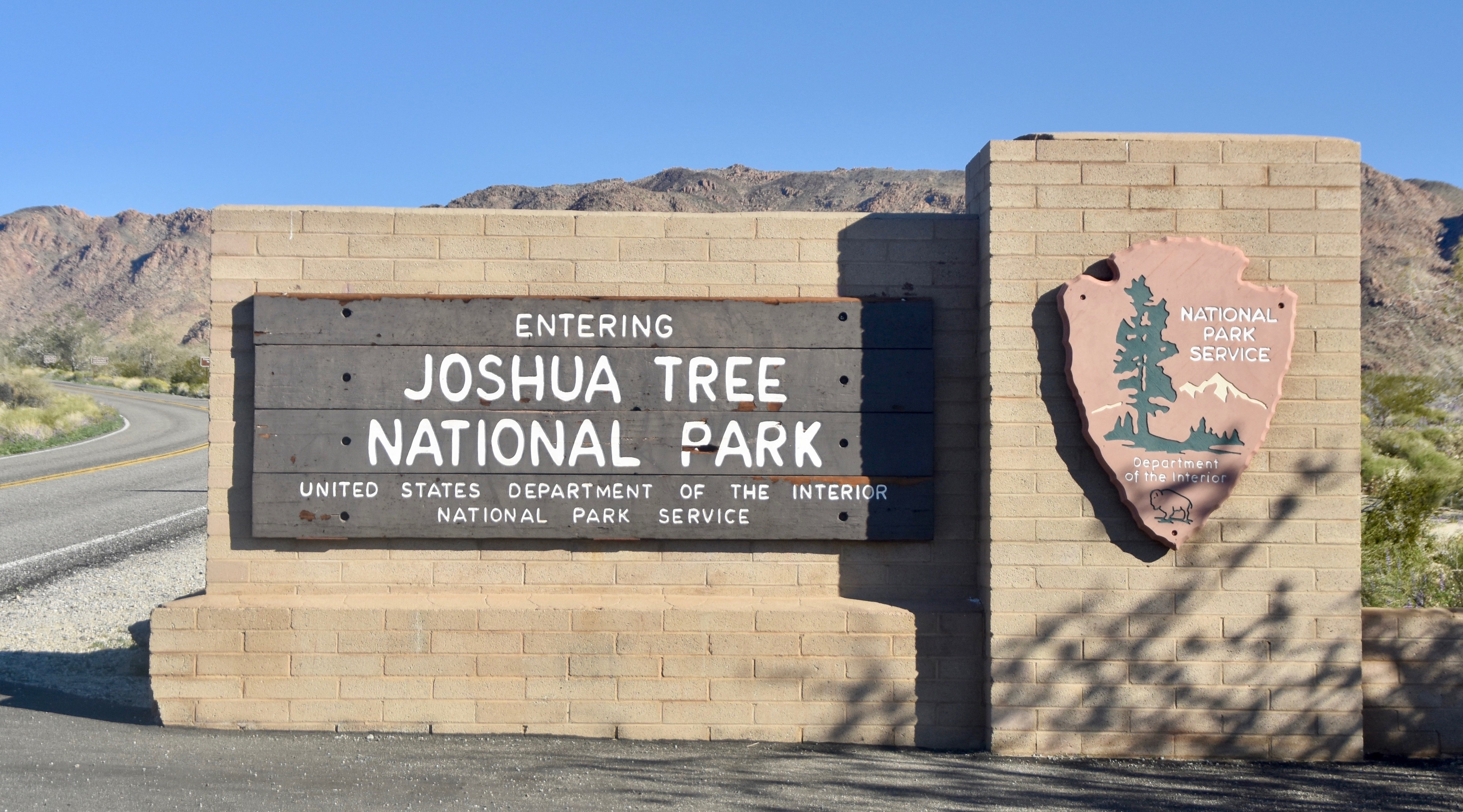 History of Joshua Tree National Park
Despite the fact that present day Joshua Tree National Park is only hours away from Los Angeles, San Diego and Phoenix, it really has had very little human interaction, at least in relative terms. Most of that is explicable because it is a desert, two actually, and thus water or the lack thereof has always been an issue for humans. The result is an amazingly large area of almost 800,000 acres that is preserved much as it would have been thousands of years ago. Of course, there are imprints of man's intervention, including hundreds of old mine workings, but I was genuinely surprised by how untouched most of the park appeared.
Humans have lived in the park since at least 8,000 years ago, beginning with the Pinto culture followed by several other Amerindian groups that still have a presence in the area today around Twenty-Nine Palms. Somewhat surprisingly the first Europeans never got here until 1772 when a group of Spaniards from San Diego became the first to see a Joshua tree. After the Americans stole California from the Mexicans, various enterprises were tried here, including ranching, mining and even real estate development, but all petered out and eventually people came to realize that the best thing to do with Joshua tree was just leave it alone. At the height of the Depression, FDR made it a National Monument and in 1994 it was elevated to the status of a National Park preserving an area larger than Rhode Island. Today it gets almost three million visitors a year, but despite those numbers it's big enough that it's still pretty easy to find a place to yourself.
Perhaps the most famous recent association with Joshua Tree was a group of rock musicians on a drug-fueled trip here in 1972 that resulted in them coming up with the name for their band, the Eagles. This was their first album cover.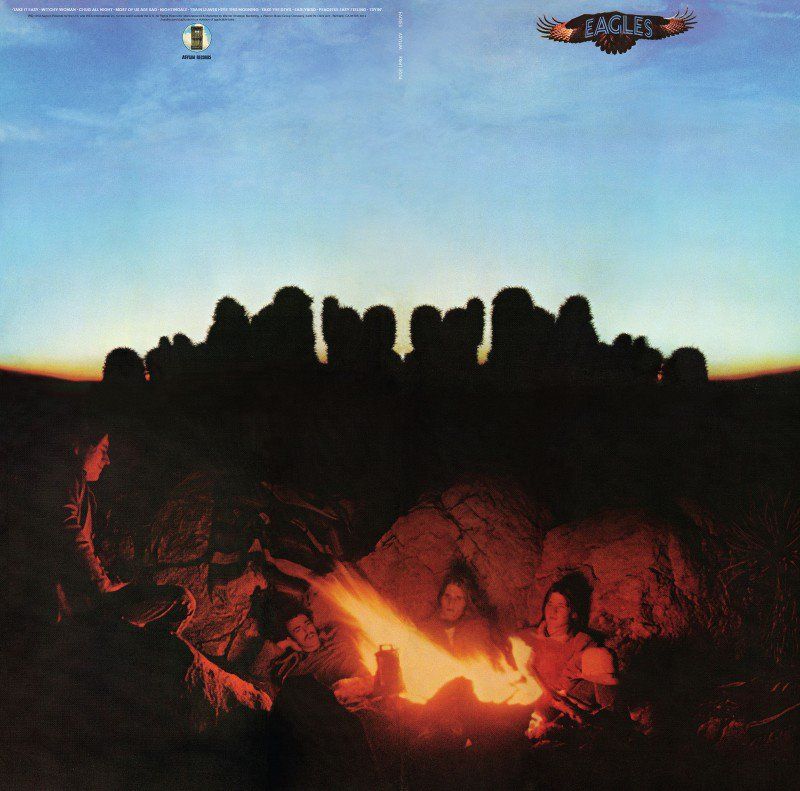 Another famous band, U2 did have an album called Joshua Tree, but the album photo was not taken within the park, but hundreds of miles away.
Visiting Joshua Tree National Park
Joshua Tree has no accommodations other than campgrounds, so most people come here on day trips and given the layout of the highway system within the park it is perfectly feasible to get a decent appreciation of the place on a one day visit. This is a map of the park with paved roads outlined in red. There are three principle entrances – from the south just off I-10 and from the north at Twenty-Nine Palms and Joshua Tree. We were staying with friends in Indio in the Coachella Valley at the southwest end of the park so it was very convenient to make a circular tour by entering at the southern portion and exiting at the northwest corner. With short detours to Twenty-Nine Palms and Keys Ranch Overlook we got a very good introduction to the various ecosystems that make Joshua Tree so unusual. If you are staying in Palm Springs, the same route would work as well.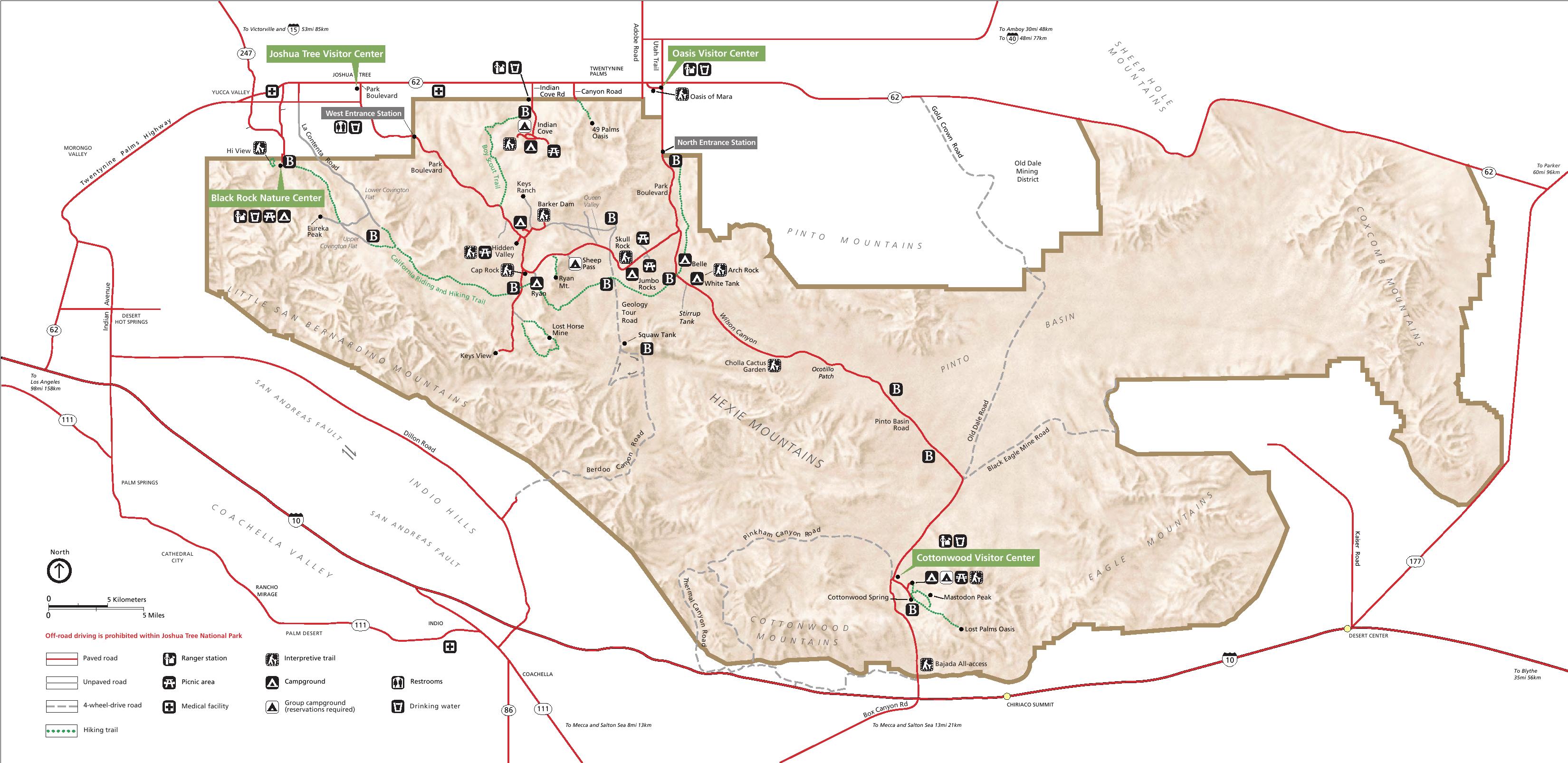 The Colorado Desert
Joshua Tree National Park is comprised of two very distinct deserts, the Colorado which covers the eastern portion of the park at elevations below 3,000 feet (910 metres) and the Mojave which occupies the higher and cooler western portion. The Joshua trees are found only in the Mojave desert so, if like us, you enter through the southern entrance don't expect any Joshua trees for quite a while. However, what you see will not disappoint.
There is no entrance kiosk where you would normally buy a park pass. You are expected to do that at the Cottonwood interpretive center which is about seven miles inside the park. A 7-day entrance pass costs $30.00 which might seem a bit steep at first, but trust me, after you get out and explore even a tiny bit of what there is to see in Joshua Tree you'll more than get your money's worth. Also, make sure to buy some water at the center if didn't bring some with you. There's no other place to get it within the park.
Almost immediately upon entering the park and well before the Cottonwood centre, there is a small wheelchair accessible trail called Bajada which is a must stop. Here you will find a great variety of plants native to the Colorado desert including the ocotillo, which is Spanish for little torch. We were fortunate enough to be here after a rare rainfall and the result was that the ocotillos, ordinarily looking like just an overgrown bunch of thorny stems, had put out their torches.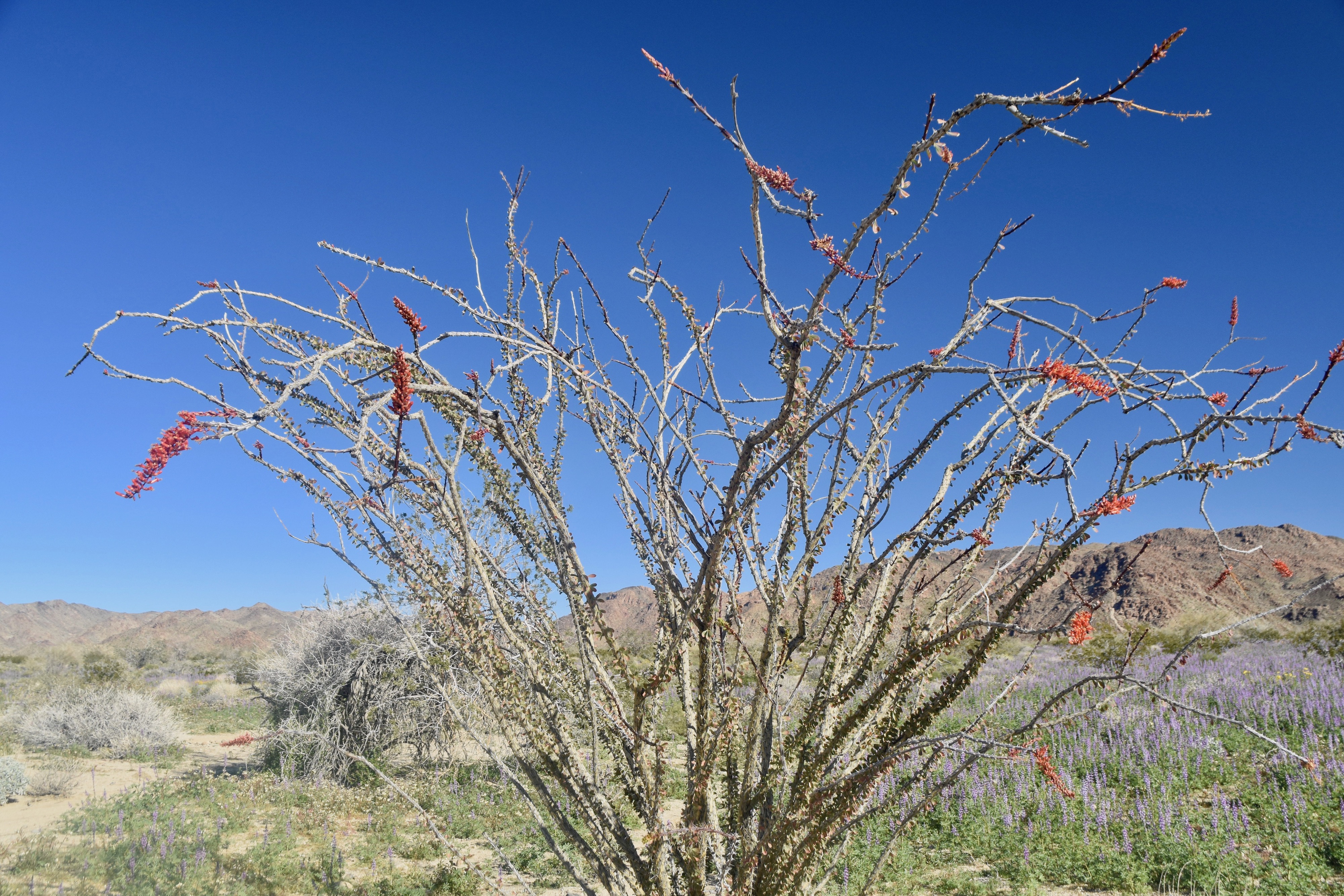 Even more surprising was a host of flowering lupins covering vast areas of the desert in the Bajada area. These have to be among the most adaptable plants on earth. Earlier this year we saw them blanketing the hills of Iceland and now here they were in the middle of one of the hottest places on earth.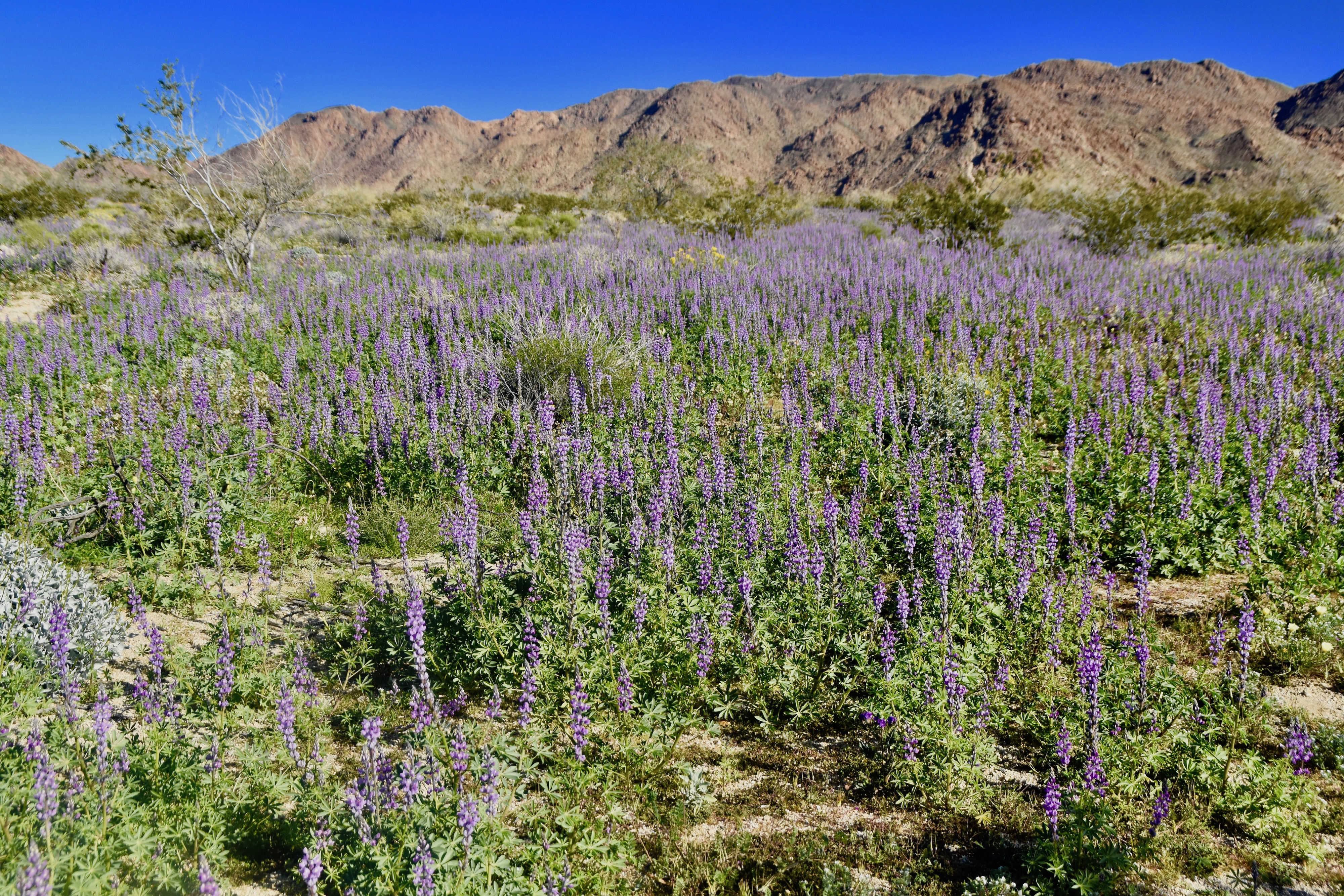 For trees like the various types of oaks that try to survive in this environment, life is tougher and you are more likely to see the skeleton of a long dead one than a living example.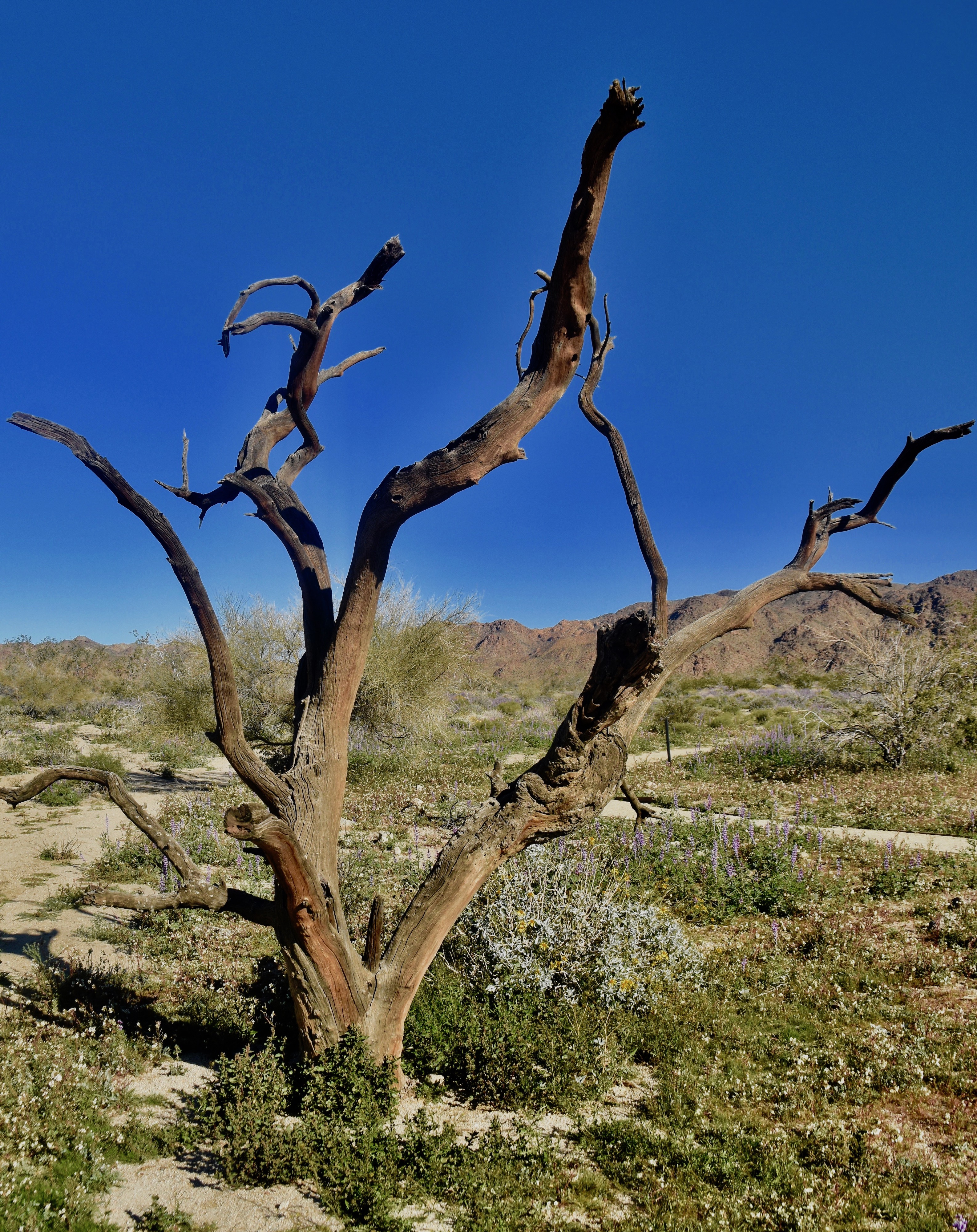 There are many opportunities in Joshua Tree to take unpaved side roads and if I were to return it would definitely be with a four wheel drive SUV so I could explore roads like this one. And I thought I was the only 'Old Dale'.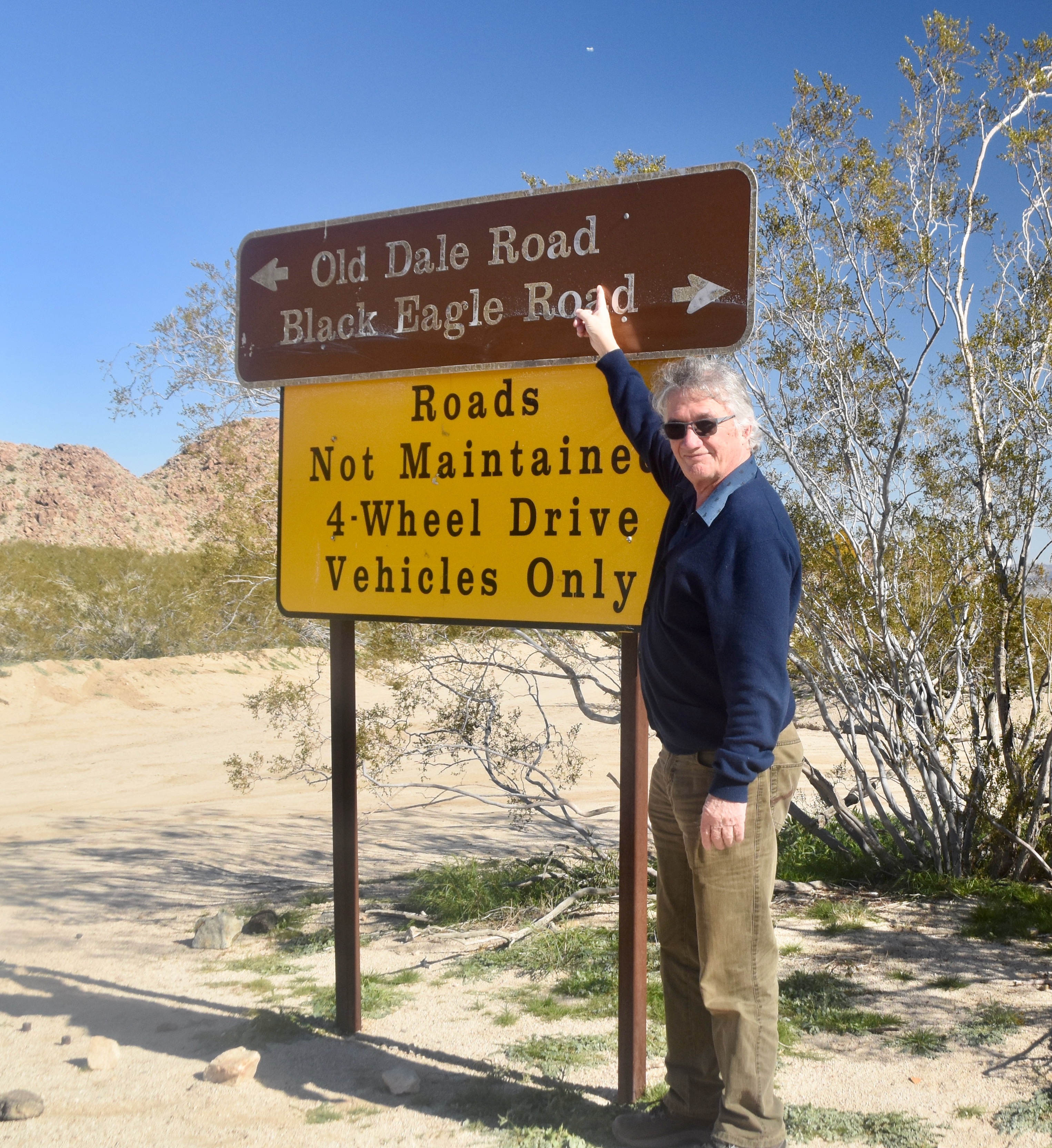 Perhaps the most interesting plant in the Colorado Desert portion of Joshua Tree is the Teddy Bear cholla which may look cute and cuddly, but is in fact a notoriously bad actor. Here's what one looks like close up.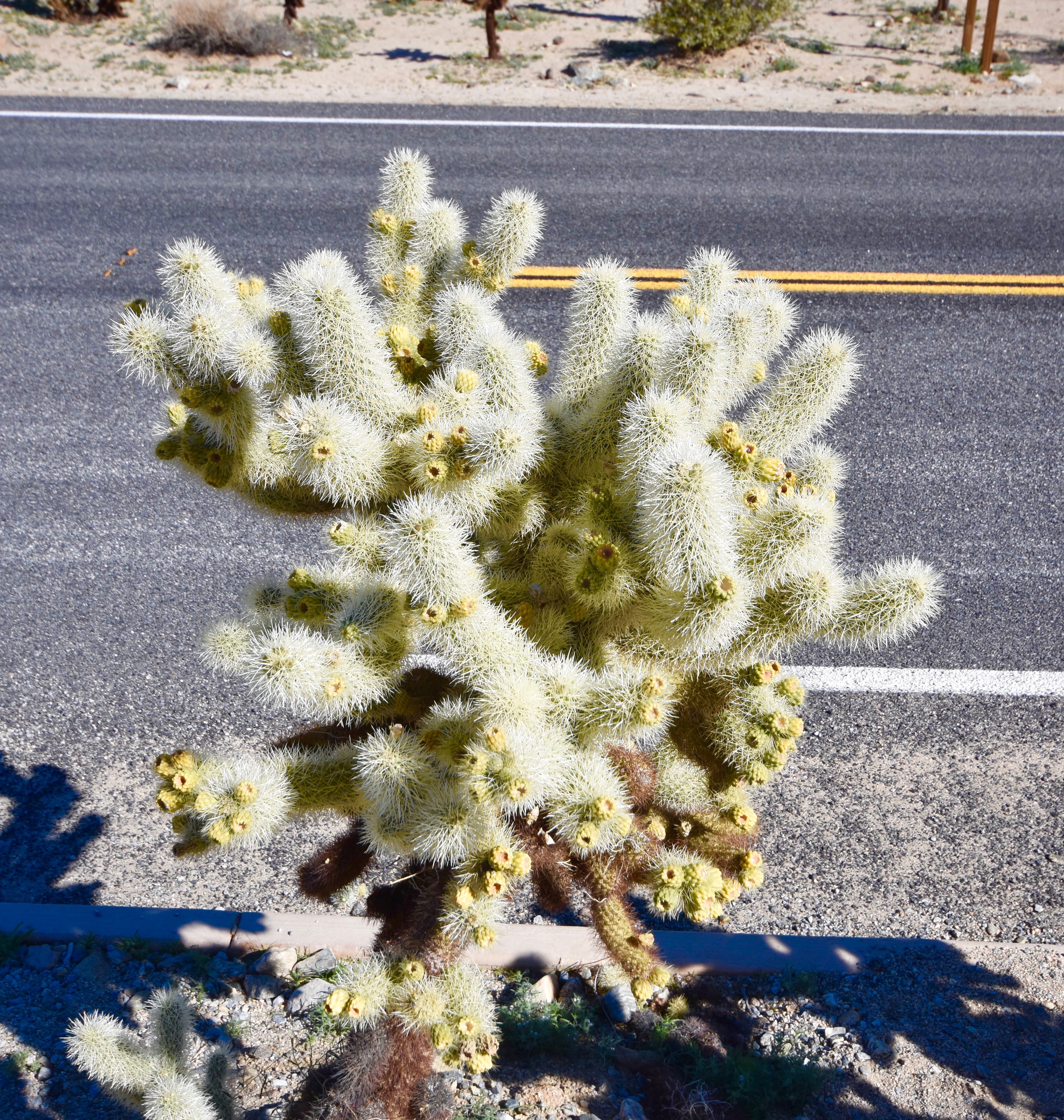 The Cholla Cactus Garden is another must-stop destination in Joshua Tree where you can get immersed in one of the largest concentrations of these plants on earth.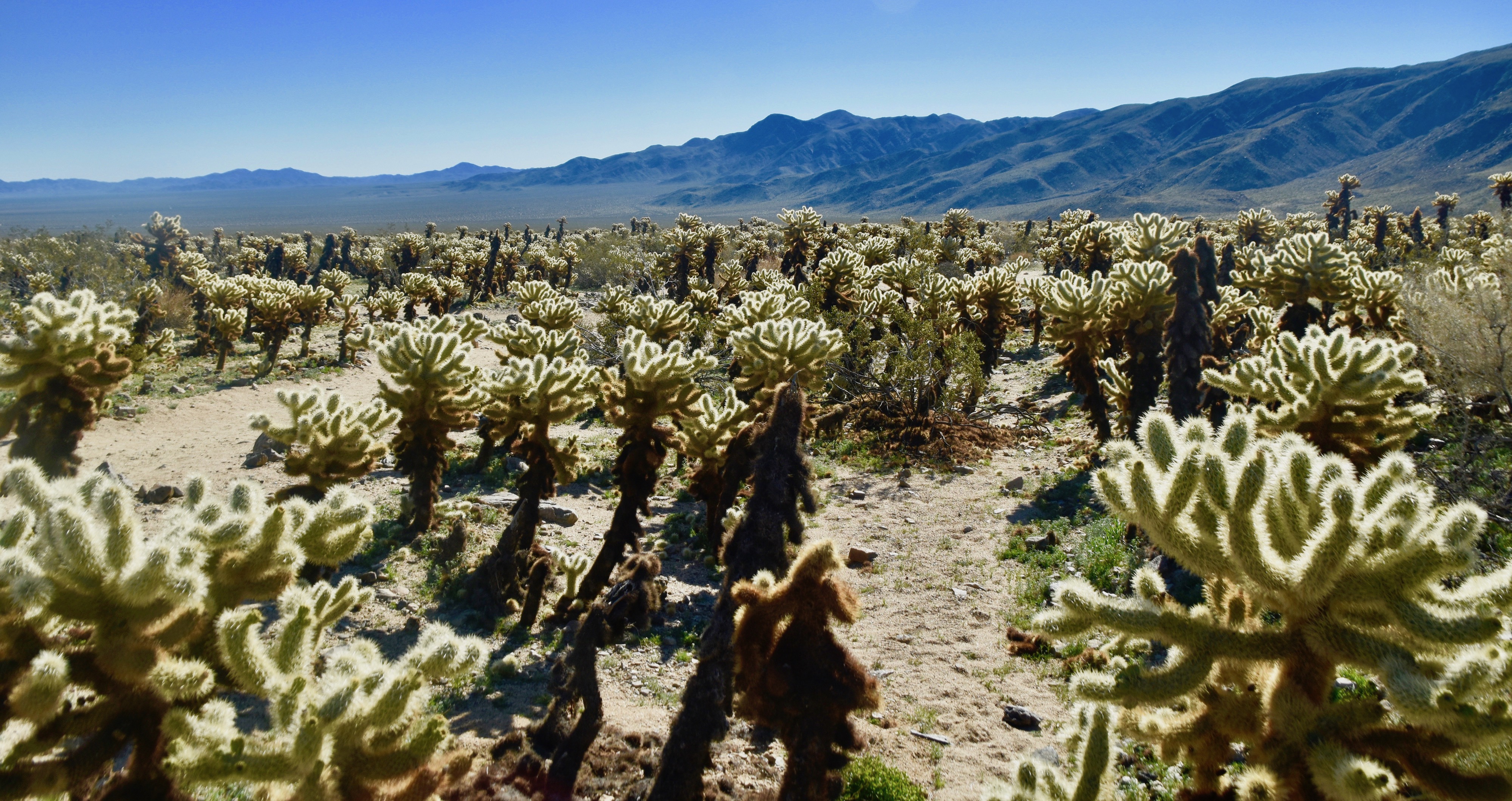 So why do I call them bad actors? Well those little fuzzy balls at the end of the cholla stems are really a mass of razor sharp spines that detach at a mere brush.  Years ago at the beginning of a round of golf in Gold Canyon Arizona the course marshall was explaining to our group the dangers of coming close to these plants when, as usual, one guy didn't listen and wandered off. We soon heard screams and language unfit for a drunken sailor. A cholla bud had gone right through the bottom of his golf shoe and he was hobbled for the rest of the trip. So as beautiful as the cholla garden is to look at, take extreme precautions.
Mojave Desert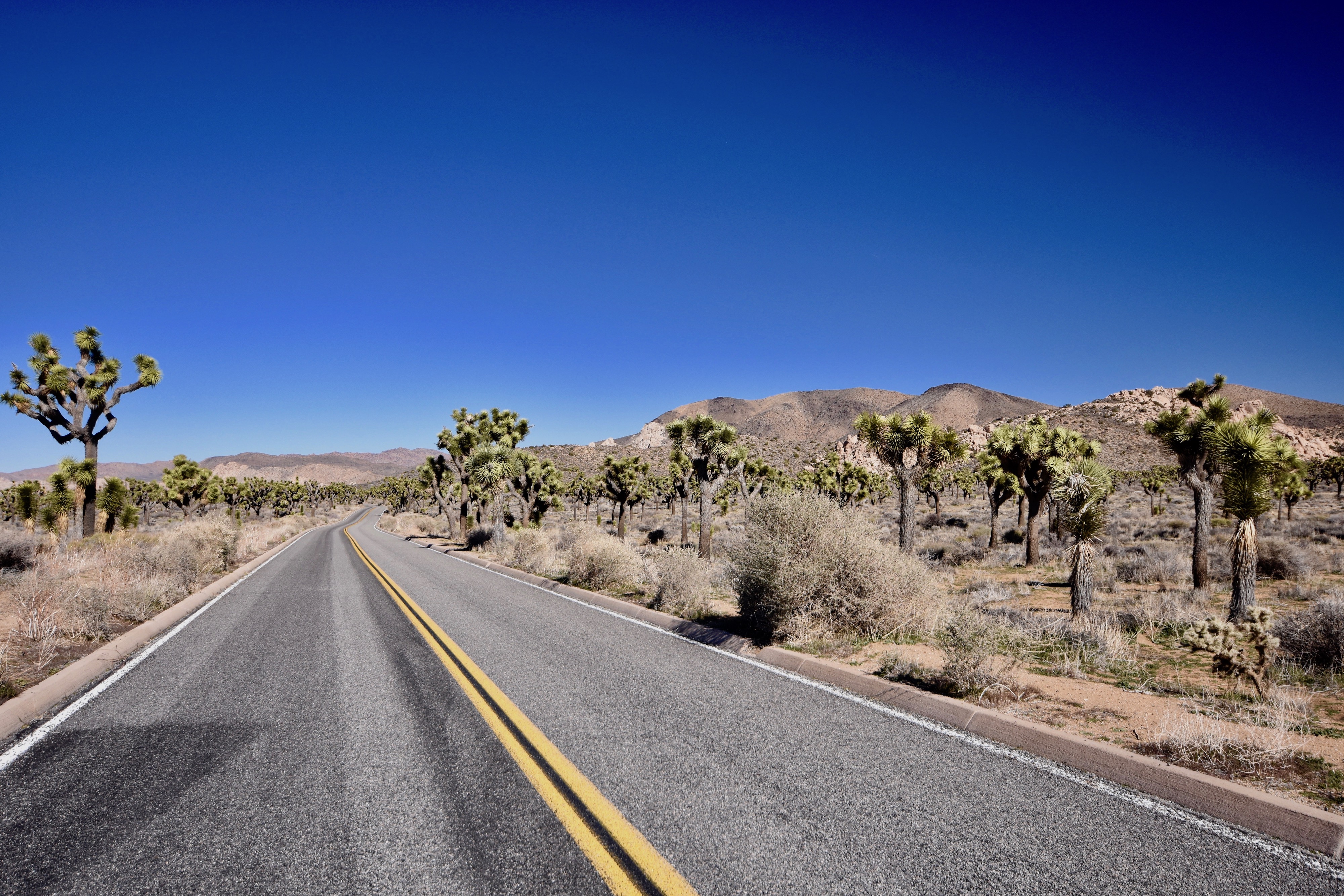 Shortly after the cholla garden the road climbs steeply and takes you up to the high plateau that is the Mojave Desert and the Joshua trees make their appearance in a landscape that is close to surrealistic. The most interesting thing about Joshua trees, other than their strange looks, is that they are not trees at all, but giant yucca plants. They are found only in the Mojave Desert and a tiny part of Mexico so you are driving through an environment that is pretty special.

While I expected to see Joshua trees in a national park named for them (Doh!), I was not prepared for the incredible rock formations that attract climbers from around the world.
There are a number of trails that you can hike that will take you through small arroyos surrounded by these unusual rocks, with Skull Rock Trail being the most popular. This is Skull Rock up close.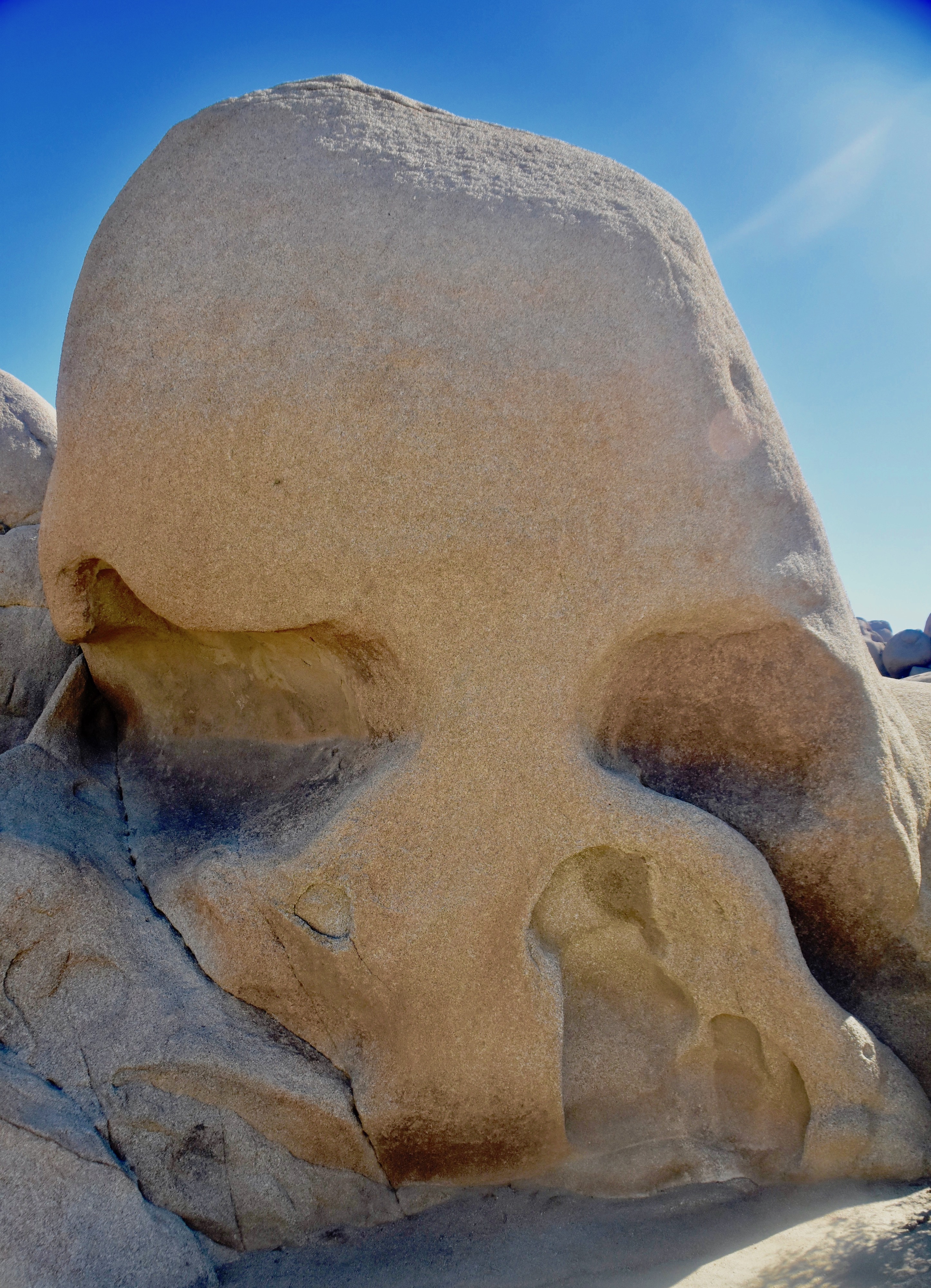 You'll also find this formation on the same trail. For the young and the restless these are inviting targets to climb, but our climbing days are long behind us. Just photographs now.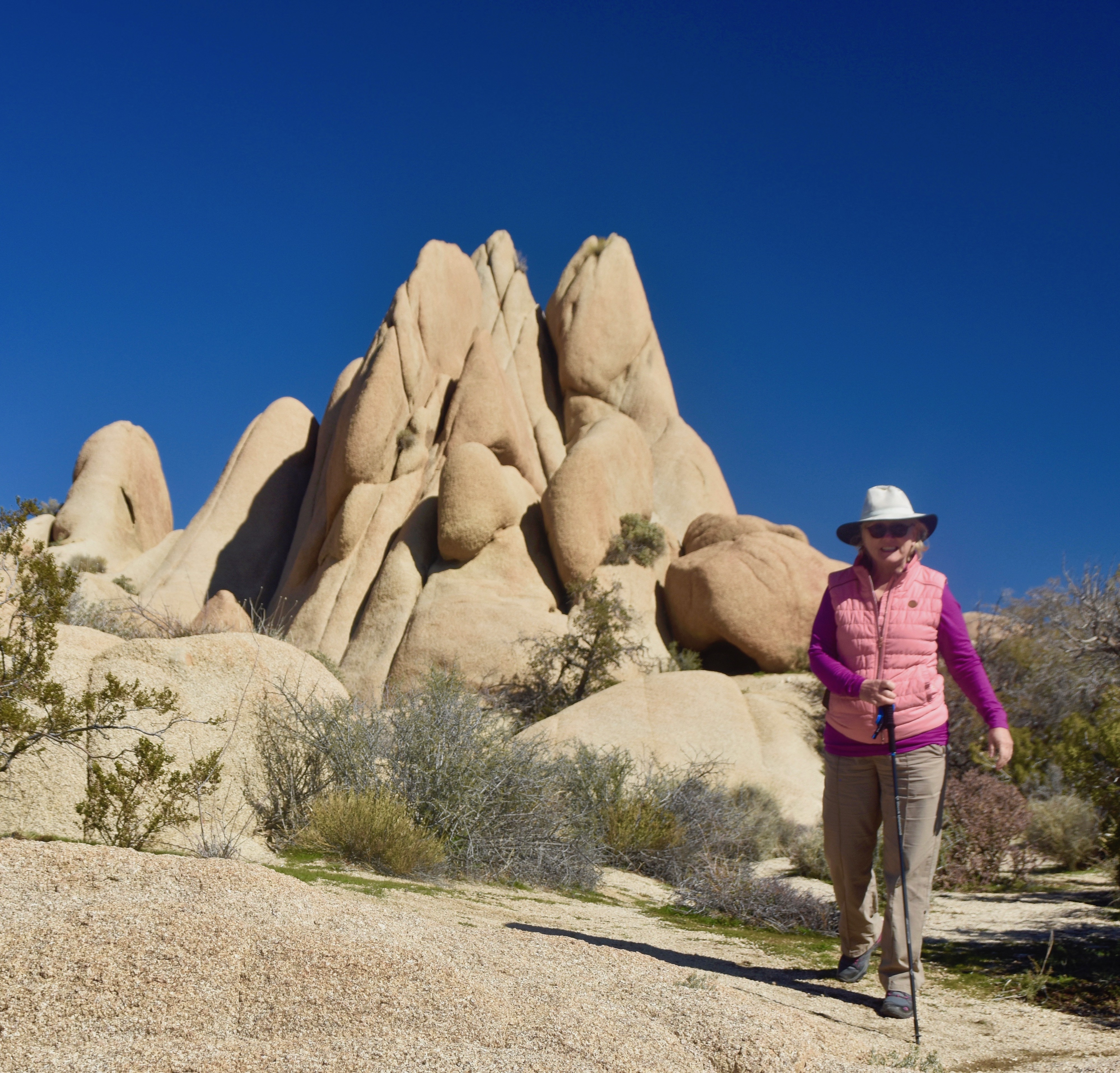 This is Cap Rock on the way to Keys Ranch Overlook.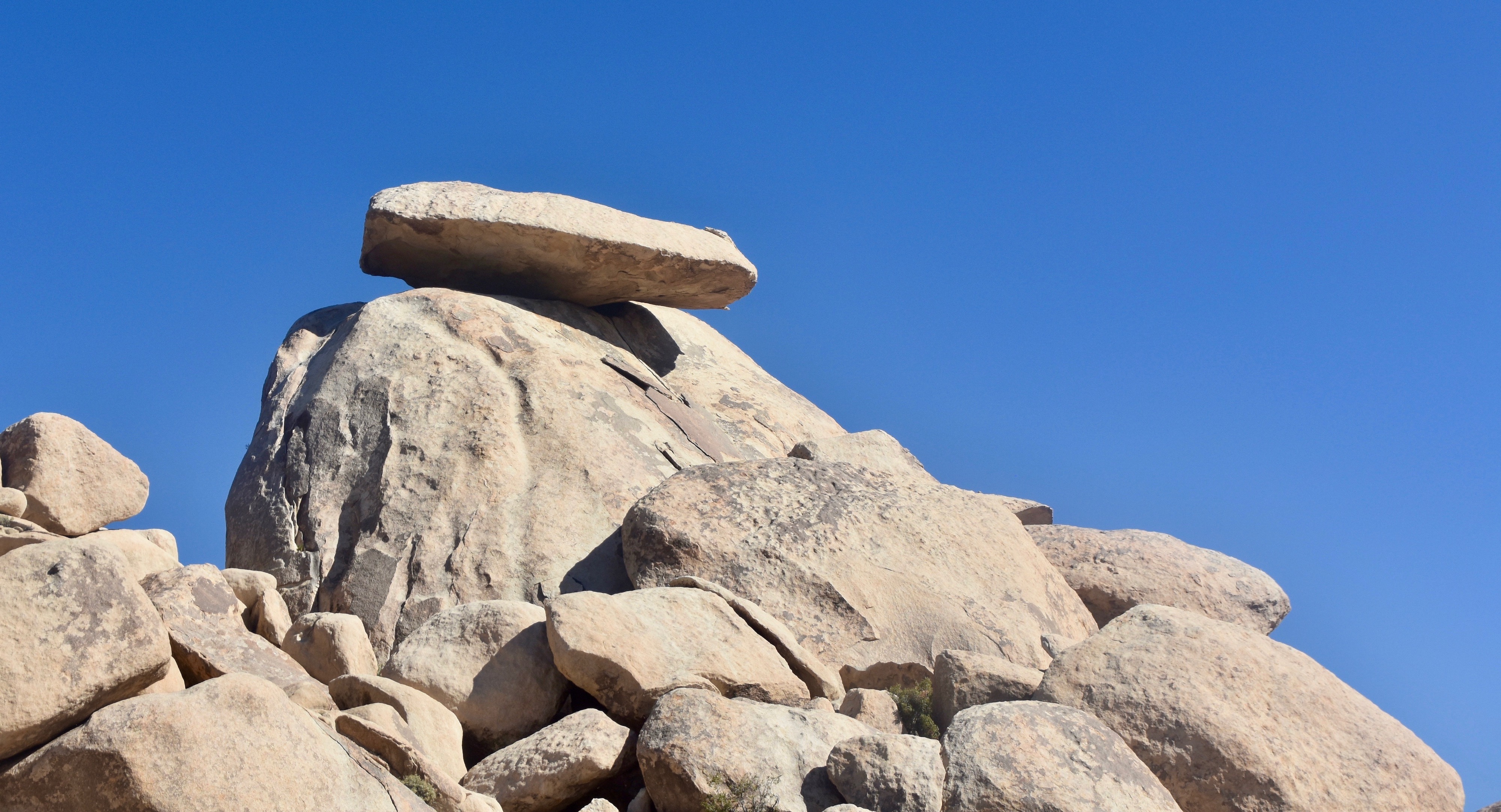 Here's another rock jumble with Joshua Trees.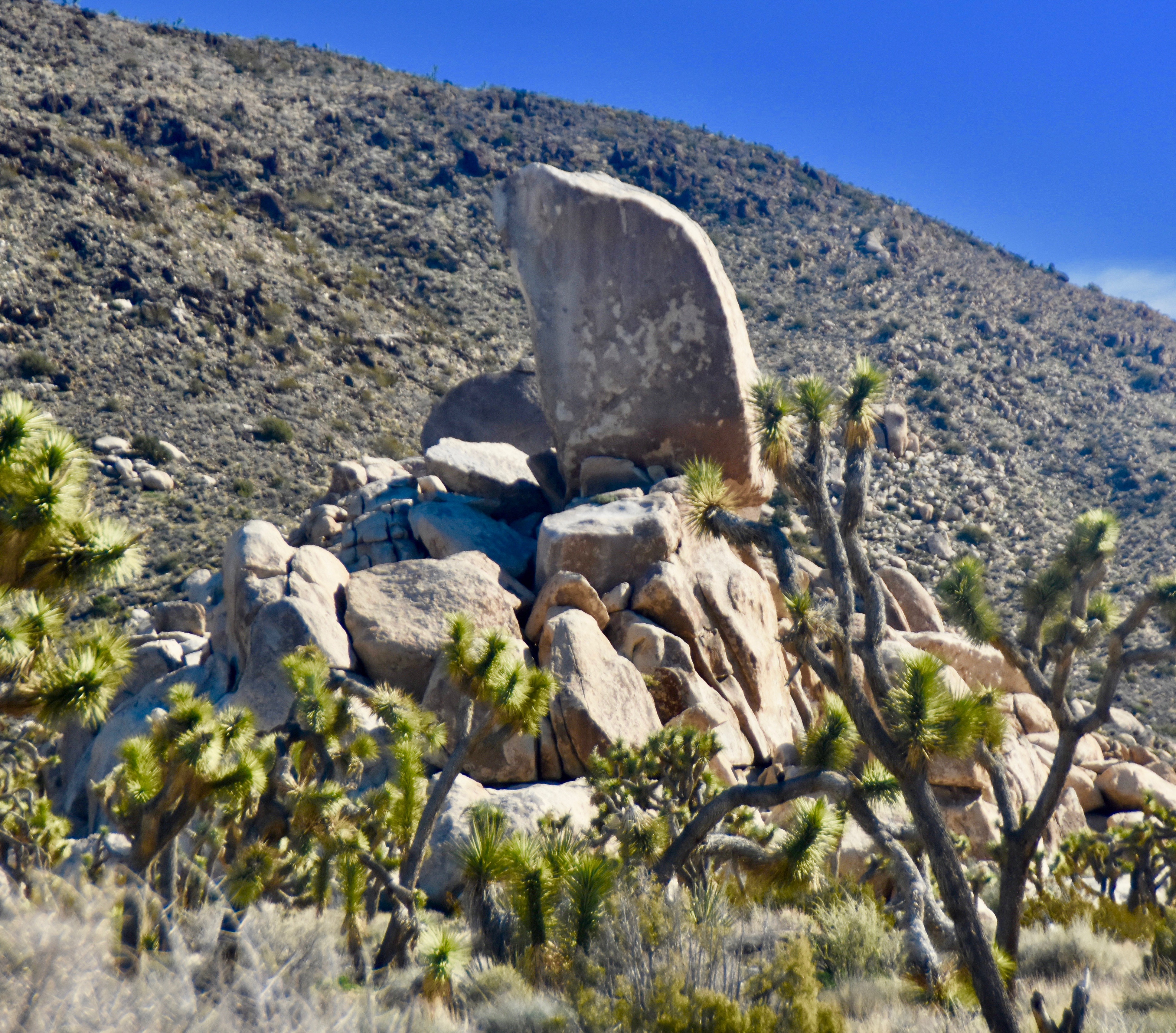 One final must stop is at the end of the road to Keys Ranch where there is a short walk up to a vantage point from where you can look down at the Coachella Valley and the Salton Sea. It was a bit too hazy for my shots to come out so I borrowed this one from the NPS site. It gives one a good idea of just how far up the Mojave Desert is from sea level – the Salton Sea is actually 227 feet below sea level.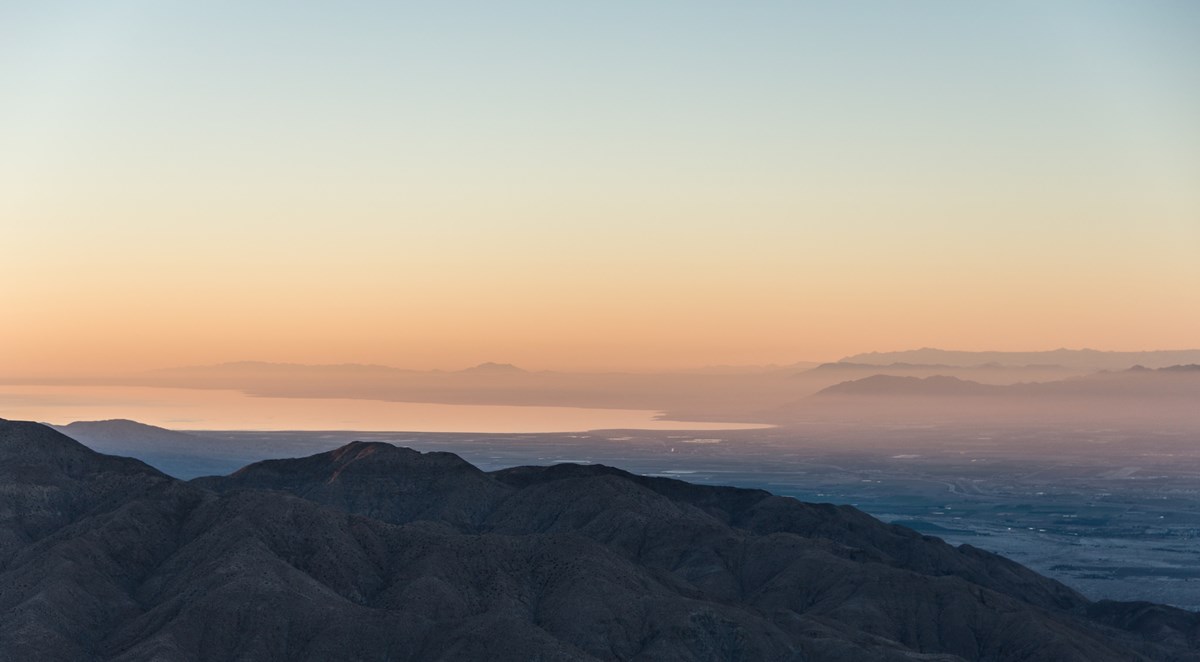 Exiting Joshua Tree N.P. via the town of Joshua Tree you realize what a special place this really is as you pass mile after mile of ugly strip malls and Walmarts in the Yucca Valley. All I can say is, thank God they left Joshua Tree alone and FDR was smart enough to protect it. Let's hope Trump doesn't try to undo it. He would see no use in a Joshua tree or a cholla and that, in an American president, is sad.