Universal Studios VIP Tour – Worth Every Penny
Anyone who has read many of the posts on this website will know that I am not a big fan of the artificial and that includes theme parks. You will find only one other post on a theme park and that is about a trip to Legoland in Florida with my oldest grandson two years ago. The deal was that when he turned ten he could ask to go anywhere within reason and I would take him. He chose Legoland and we had a blast along with my son Dale and his partner Karrie. Fast forward two years and it's grandson number two's turn. Charlie chose Universal Studios in Los Angeles. After some research and with a little trepidation at the cost, I opted to go with the VIP Tour. Here's why it was worth every penny and to my way of thinking, the only way to get the most out of a visit to Universal Studios.
OK, here's the tough part. The Universal Studios VIP Tour is $349 a pop or for our group of Charlie, his aunt Lenore who was the unofficial chaperone, Alison and me, almost $1400 USD. That's a lot of dough for Canadians. However, for that you will get a full day experience that gets you into every single attraction with virtually no waiting. It's worth a lot to me to avoid waiting in line for up to 45 minutes for a three minute ride and doing that over and over. The bottom line is that you can't possibly experience all that Universal Studios has to offer on an ordinary one day ticket.
My advice is to consider this a once in a blue moon extravaganza and book the VIP package which you can do here. In terms of choosing a day for your visit avoid weekends and holidays. Tuesday is usually one of the least crowded days and that's what I picked.
The Universal Studios VIP Tour kicks in before you even enter the park as you get valet parking at the Frankenstein parking area which is the closest to the entrance. It is a short walk from there to the VIP entrance where you meet your guide and are escorted into a smallish room for a continental breakfast along with the other people on VIP tours. I would estimate there were no more than thirty guests altogether. This is Charlie with his VIP pass and chocolate on his face.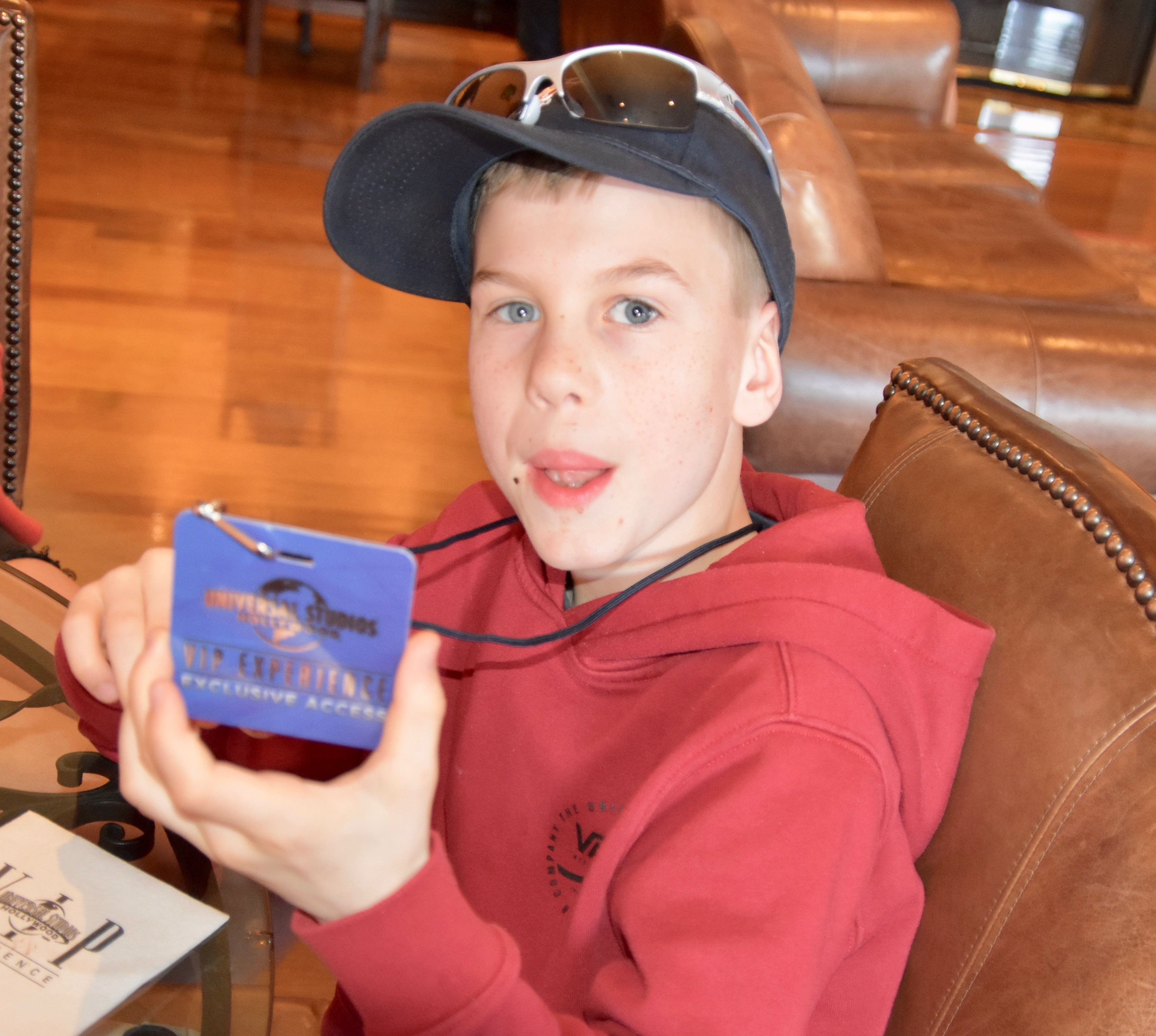 Our guide was Doug who has been doing this for twenty-five years and has absolutely the right personality for the job. He was funny, had a great way with kids and kept us on a pace that wasn't hectic, but moved along fast enough to make sure we got in everything we wanted to see. There is no set agenda for the VIP tour and Doug was free to take us anywhere we wanted to go, but the reality was that he knew the place a lot better than us so we let him decide the itinerary. By we I mean a group of a dozen who were Doug's guests that day. They included us four Canadians, four New Zealanders, two Australians and a couple from San Diego. Charlie immediately hit it off with a kiwi kid named C.J. and they became fast friends for the day.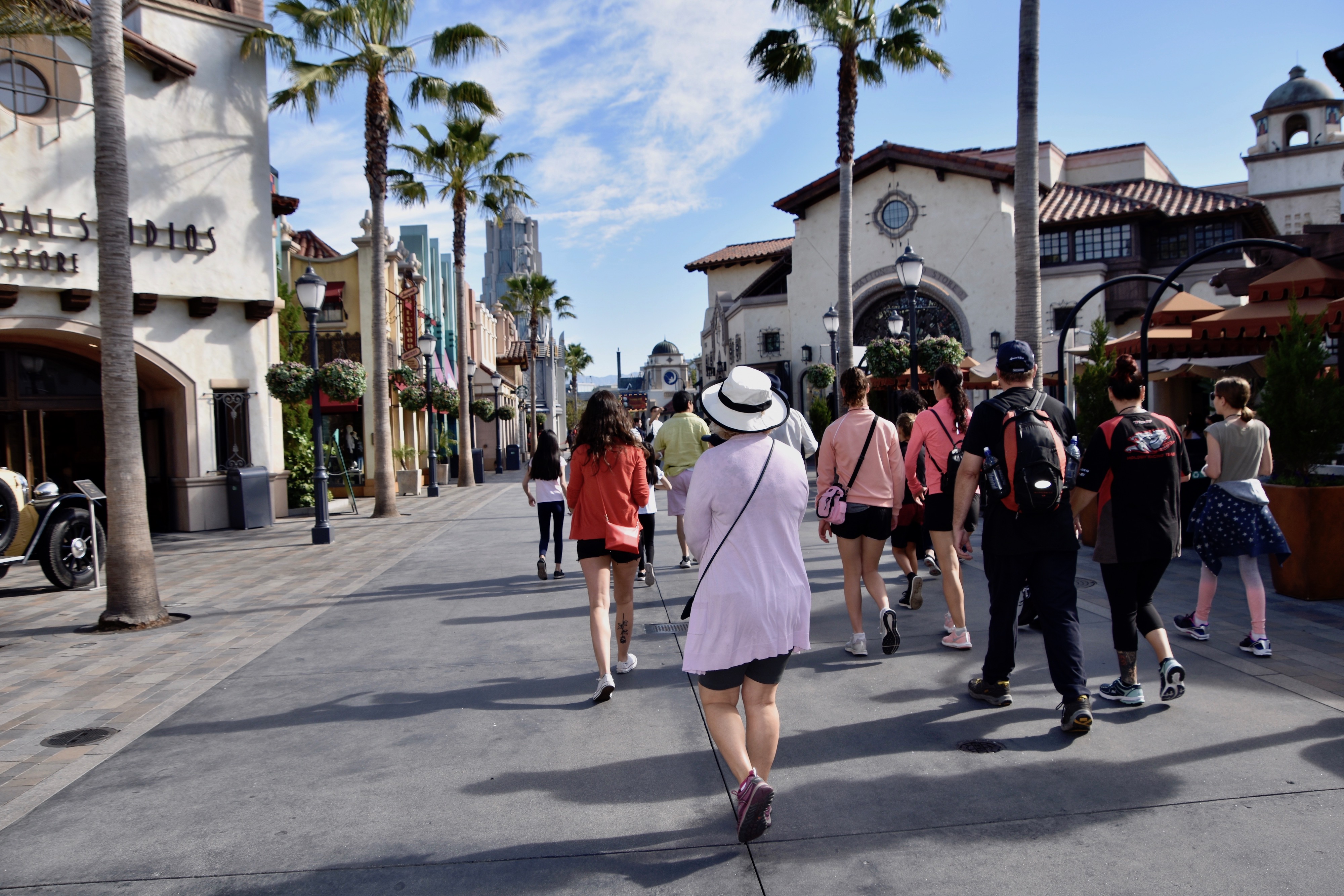 This is our small group heading into Universal Studios before the gates open for general admission. It was a good chance to see the park before it became inundated with visitors. We walked through Springfield.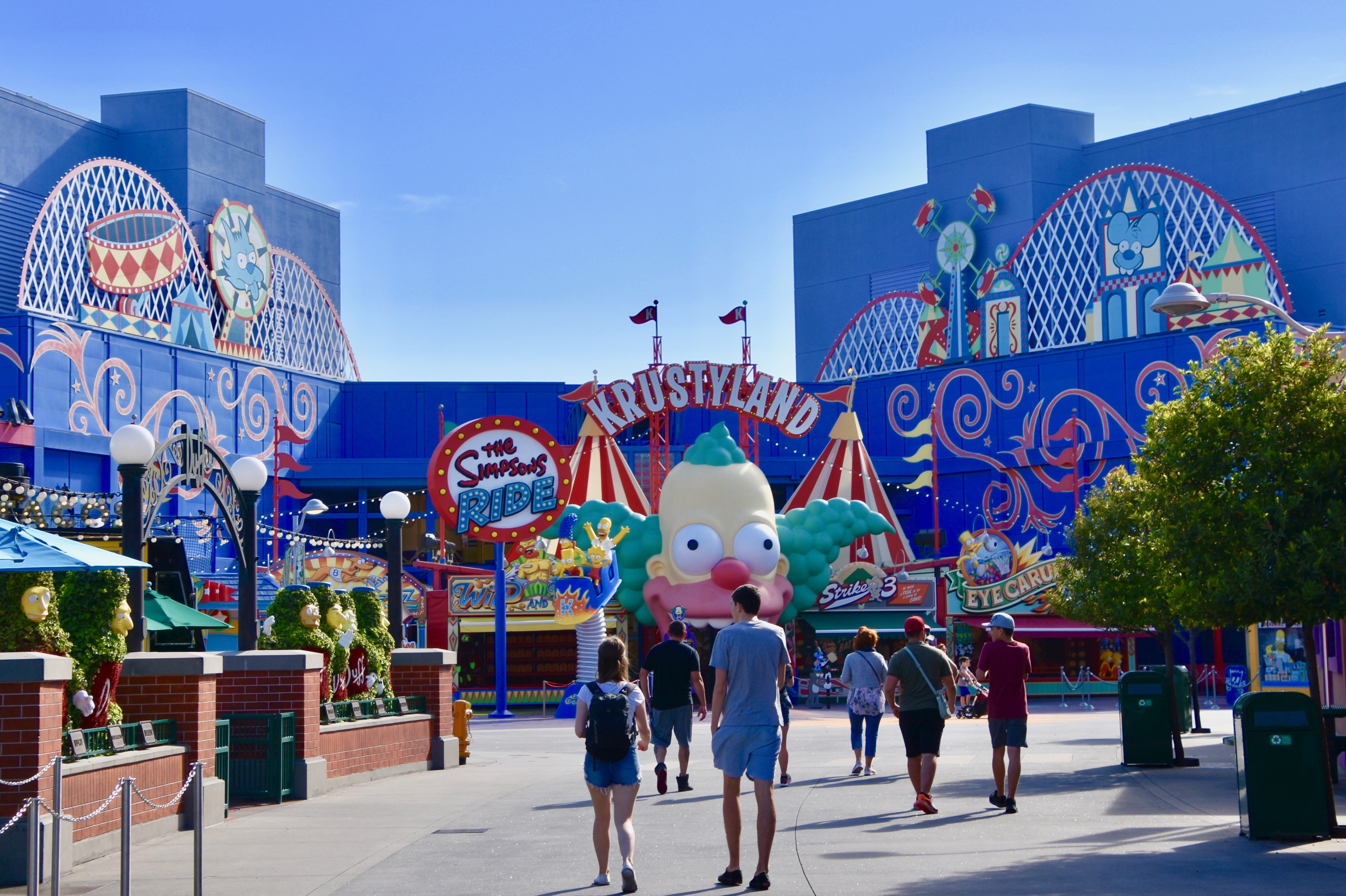 And looked up at Hogwarts Castle, before taking the escalators down to the lower part of the park where the actual movie and tv studios are located along with several of the rides. Doug assured us that we would return and see everything in the upper level before the day was done.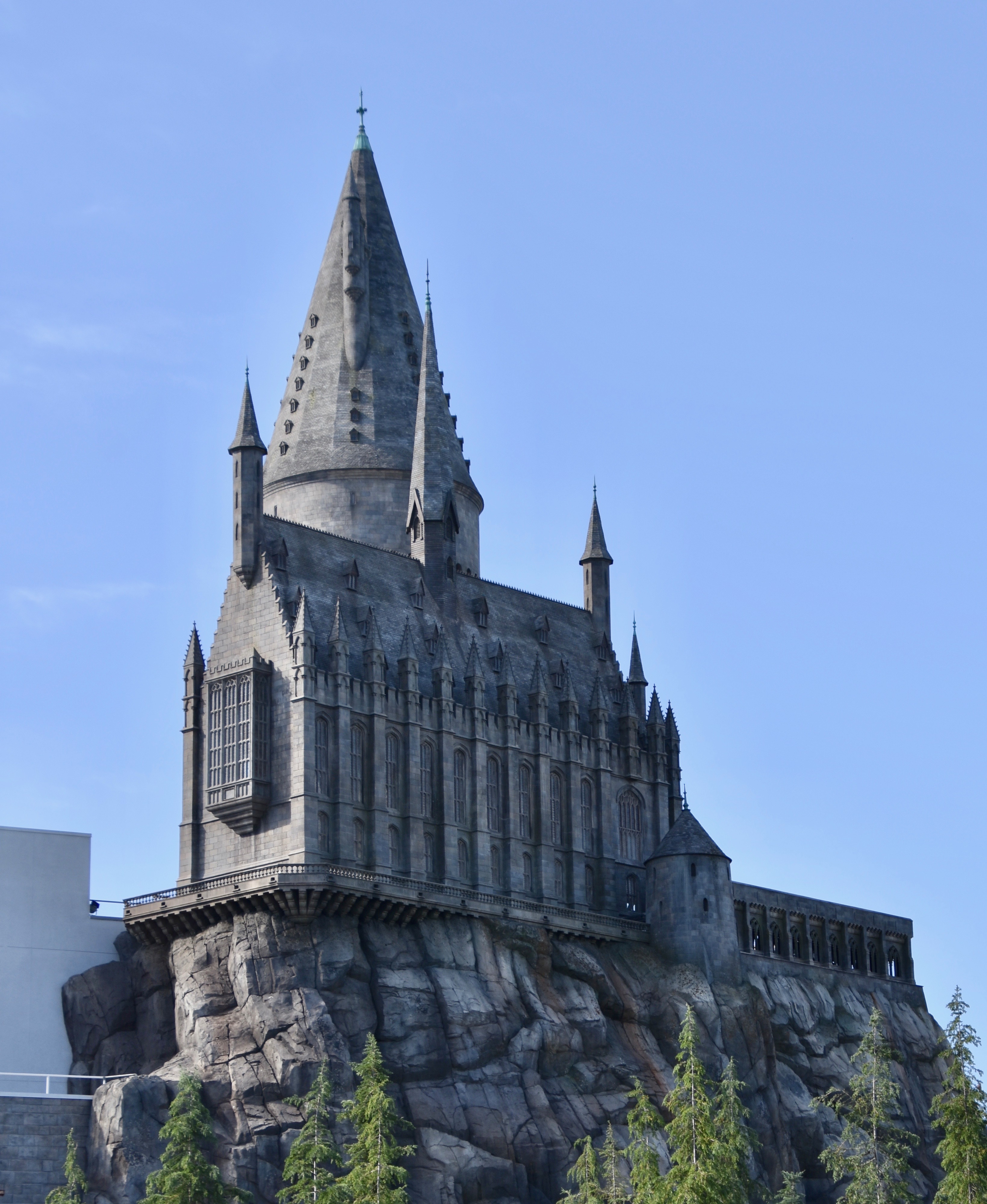 Our first stop was the Revenge of the Mummy ride which was a blast. Here's a video which shows you what to expect. It's from the Universal Studios in Florida, but the one in Los Angeles is similar.
After this adrenalin inducing start we boarded a small bus for the studio tour. Regular visitors go on a much larger tram that does not stop to let the guests walk around some of the sets that have been used in various Universal Studios movies and tv series.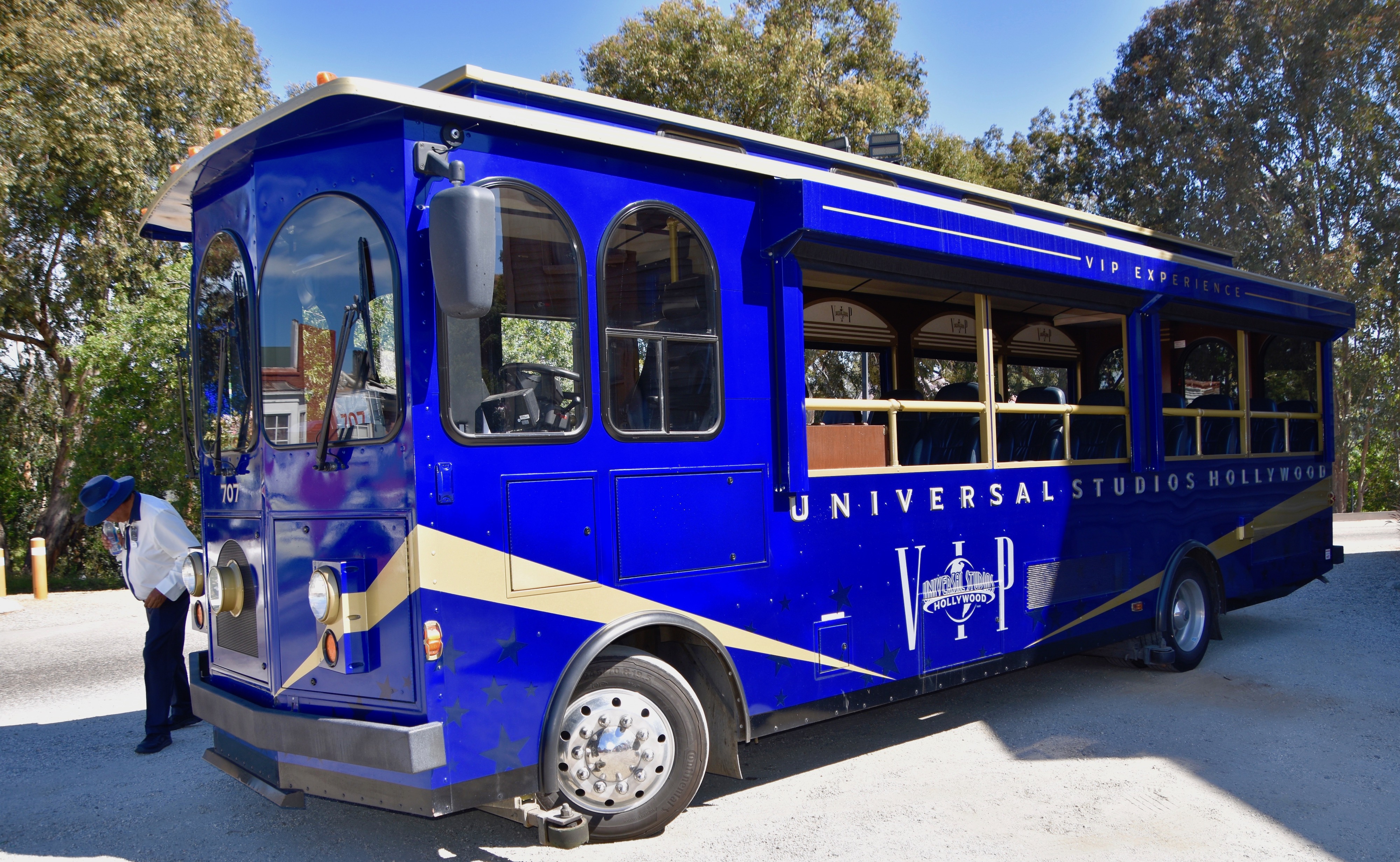 This is Doug or as he was now calling himself, 'Dougie West Coast' while Charlie was now 'Charlie East Coast'.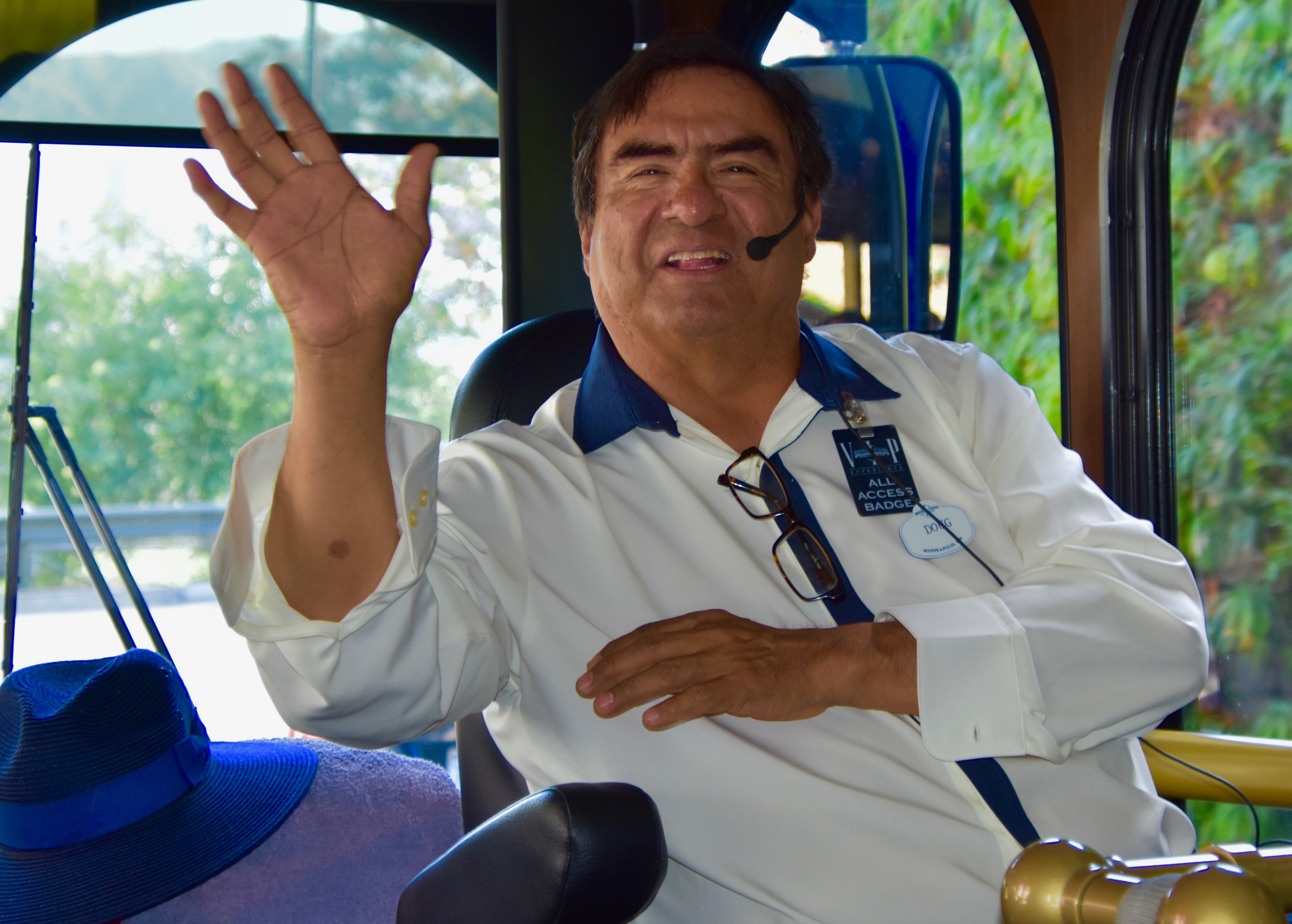 Our first stop was the Daily Shooting Schedule which included many popular network tv shows including one that Alison and I really like – The Good Place with Ted Danson.
We stopped at the set of Superstore which I'd never heard of. It's a realistic recreation of a Walmart or Costco without all the crowds. Since I hate the damn things I was glad it was just a fake. We did learn a lot about product placement as well as the trompe l'oeil effects that studios use to make you think you are seeing something that is real, like aisles that seem to go on forever.
The studio tour is designed to include a number of attractions that break up what could be a bit tedious for the younger kids who just want action. The first is Skull Island where King Kong battles dinosaurs. The bus pulls into a tunnel and here's what happens next.
After everyone's heartbeat returns to normal the tour continues stopping at several famous sets starting with one that could be upsetting to some because it's so realistic. This is a picture of the downed jumbo jet in one of the opening scenes of Steven Spielberg's War of the Worlds.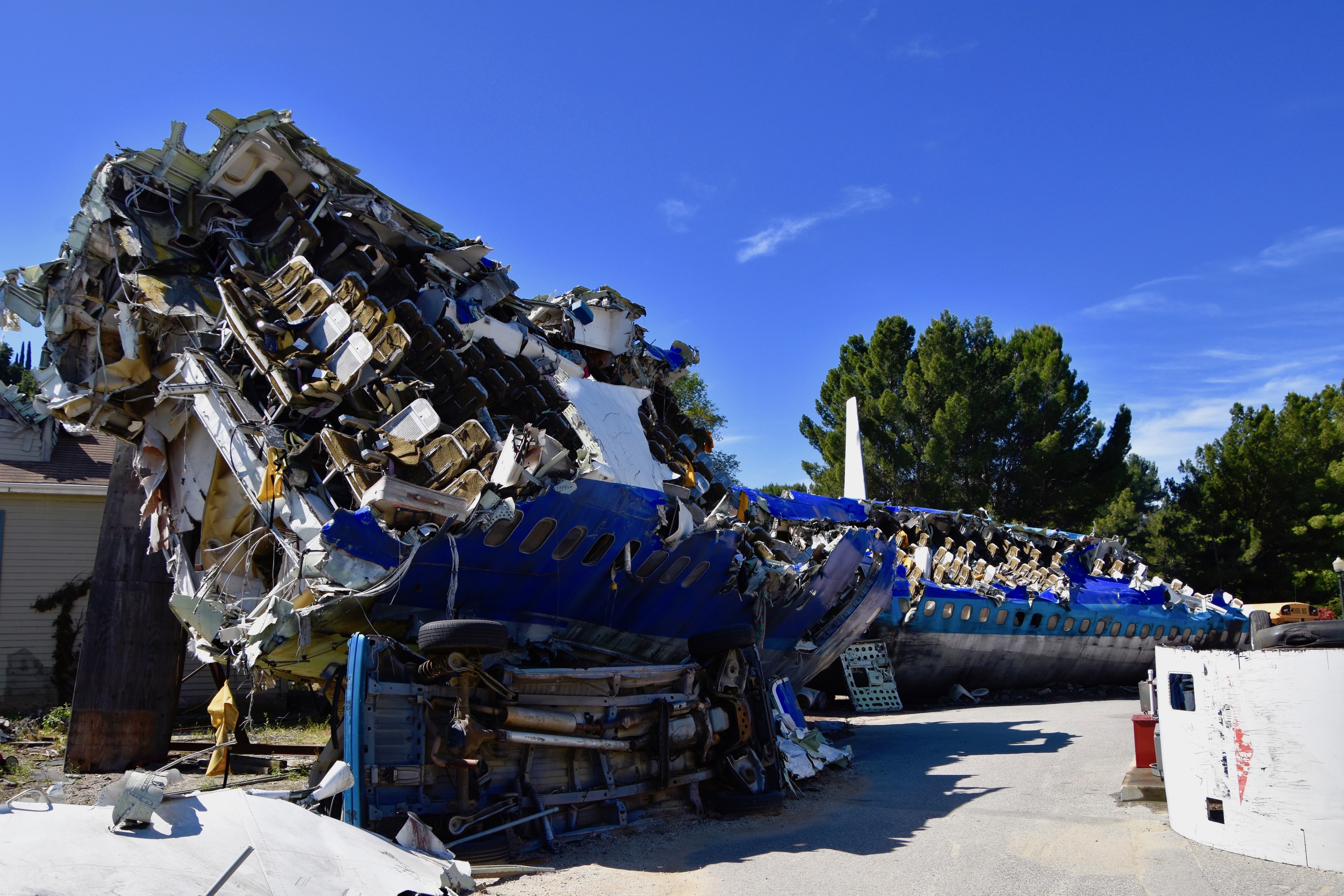 Spielberg bought a real jumbo jet and transported it here to shoot a scene that last only about two minutes and features Tom Cruise coming out of the wreckage of his home to find the world gone mad. Examining the plane wreck up close you can see details that would never appear in the movie like a child's shoe or ripped open suitcases. This tail part of the plane never appears in the scene.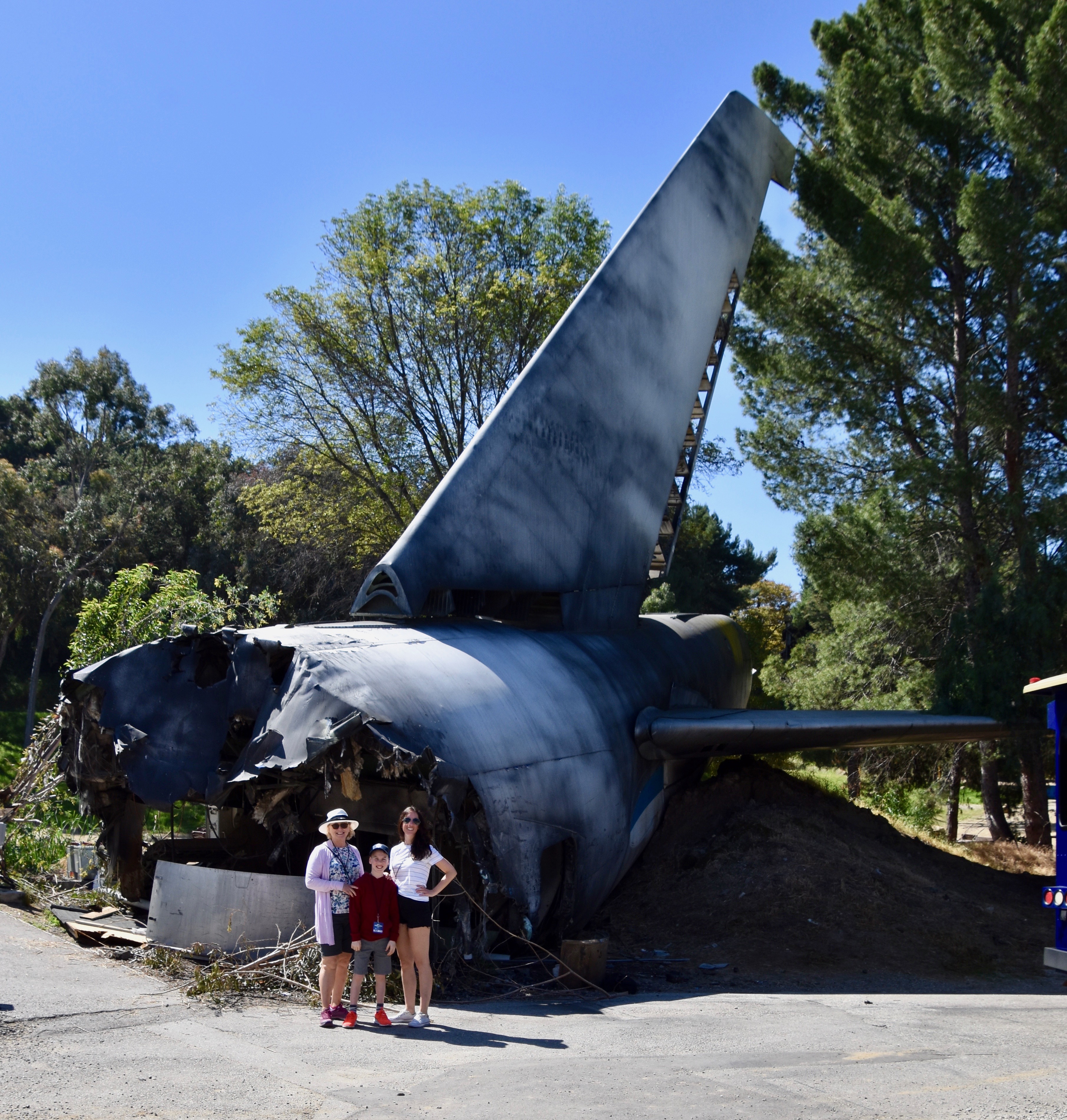 Across from the plane are these destroyed houses. Spielberg's attention to details is legendary and goes a long way to explain the popularity of his movies.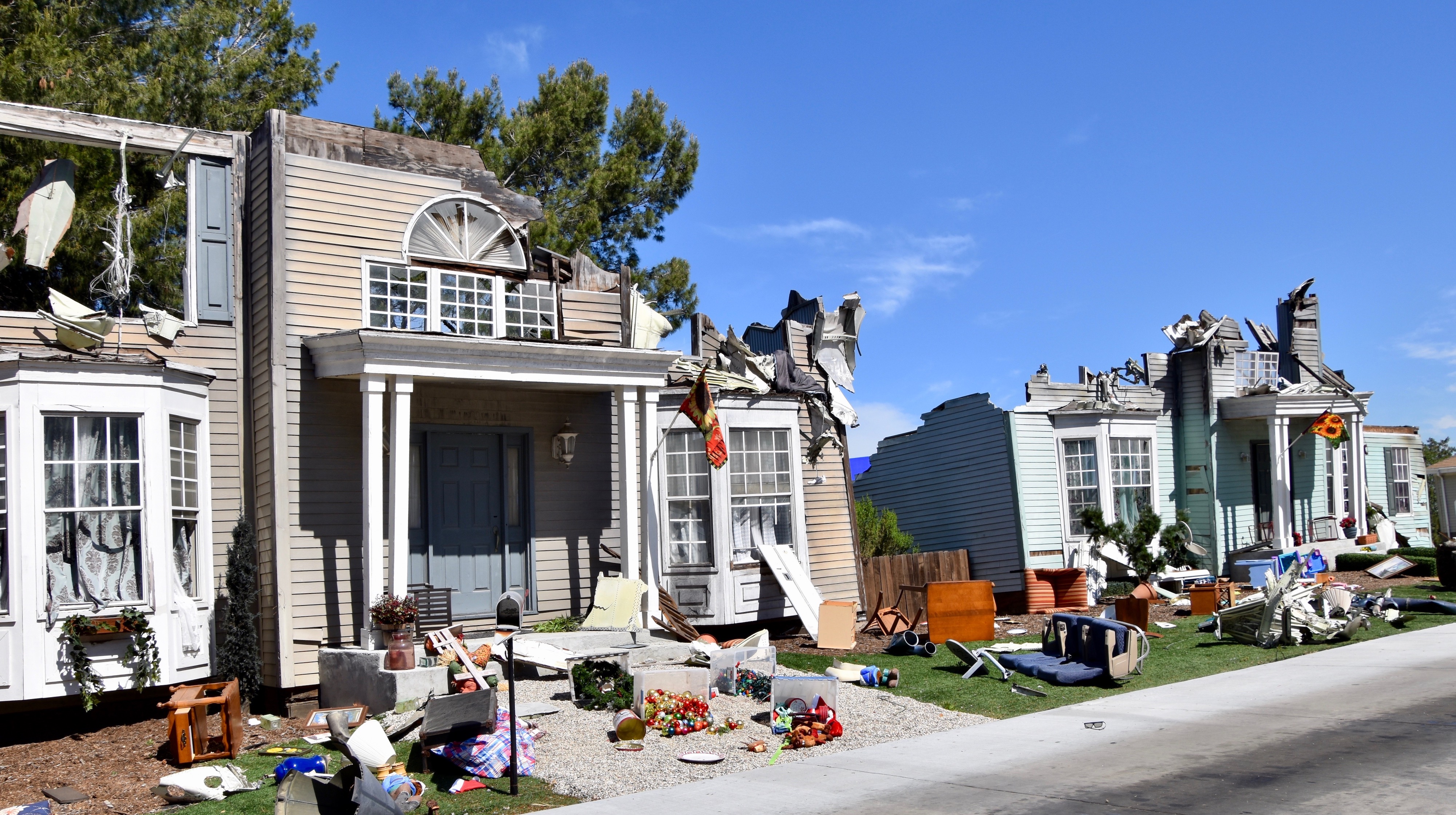 In fact, they even named the street after him.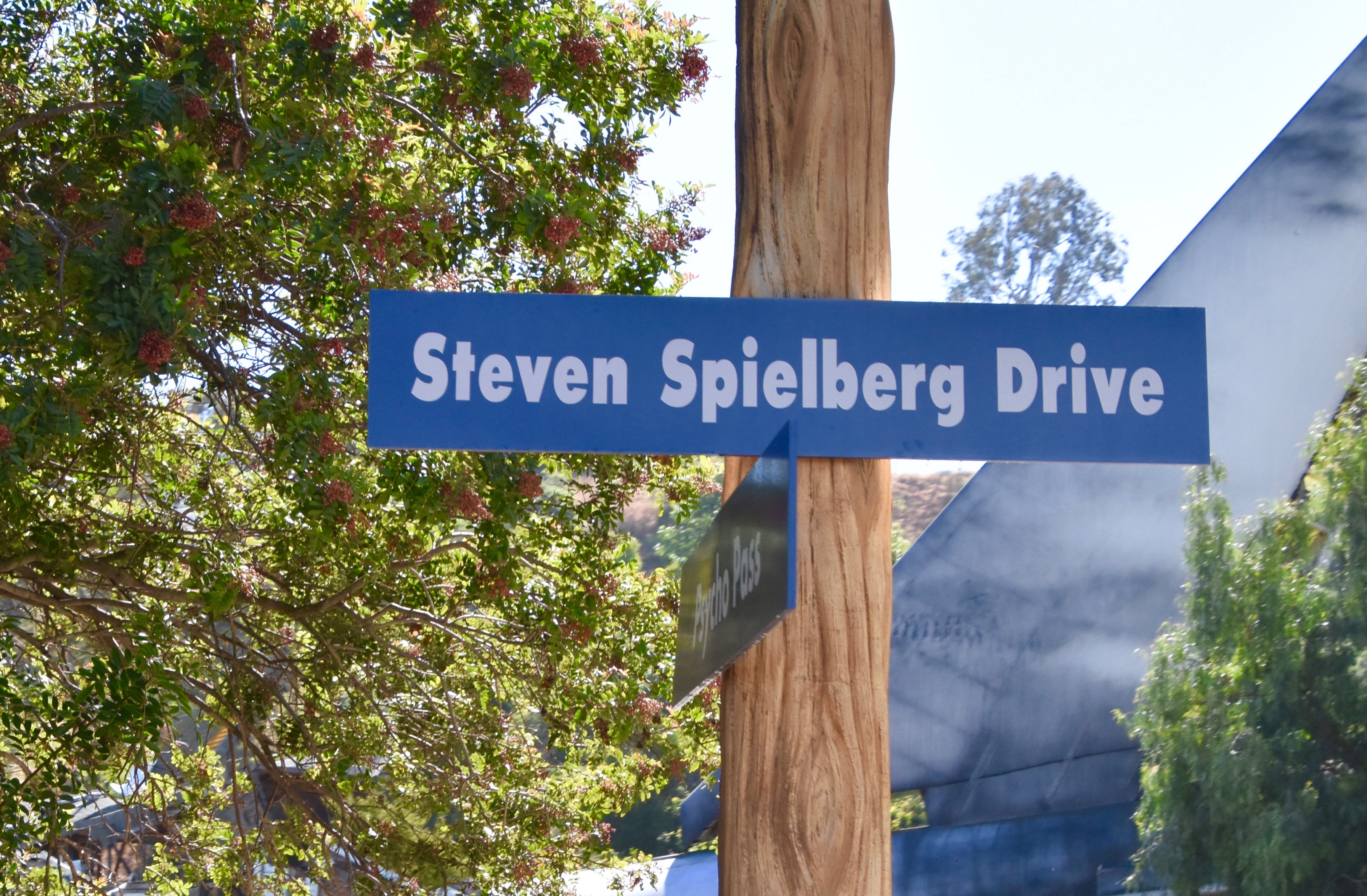 Close by the War of the Worlds set is the house from Psycho and the Bates Motel. Around the corner is Cabot Cove from the long running tv series Murder, She Wrote. As Dougie pointed out, there were over 200 murders in Cabot Cove during the series. The town was only supposed to be home to about that same number of people. The only logical conclusion was that Jessica Fletcher was the one causing the mayhem.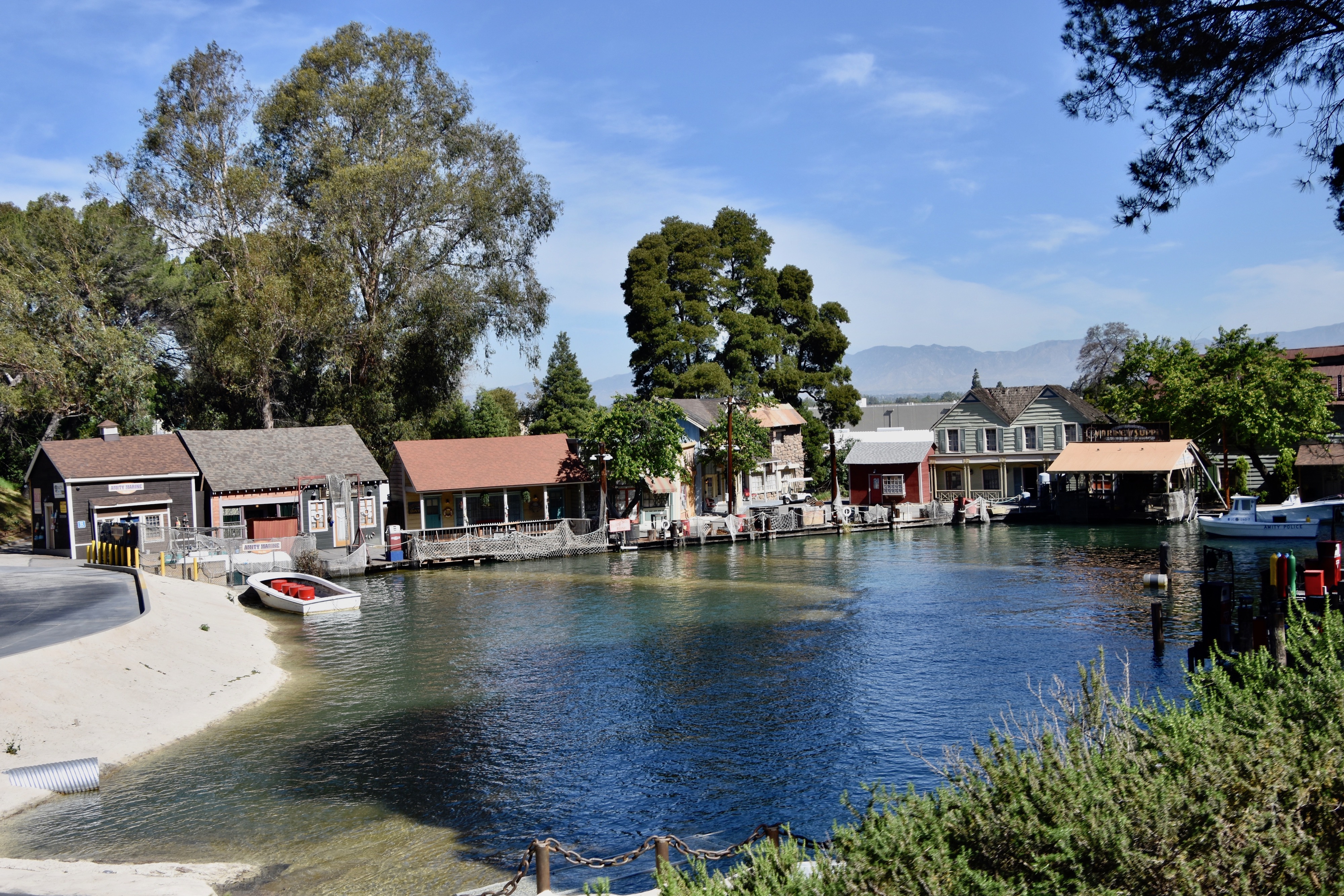 Cabot Cove also doubled as Amity Island in Jaws and poor Bruce, the infamous great white shark from that movie who at one time was a major attraction at Universal Studios is now relegated to an also ran attraction, not really scaring anyone anymore.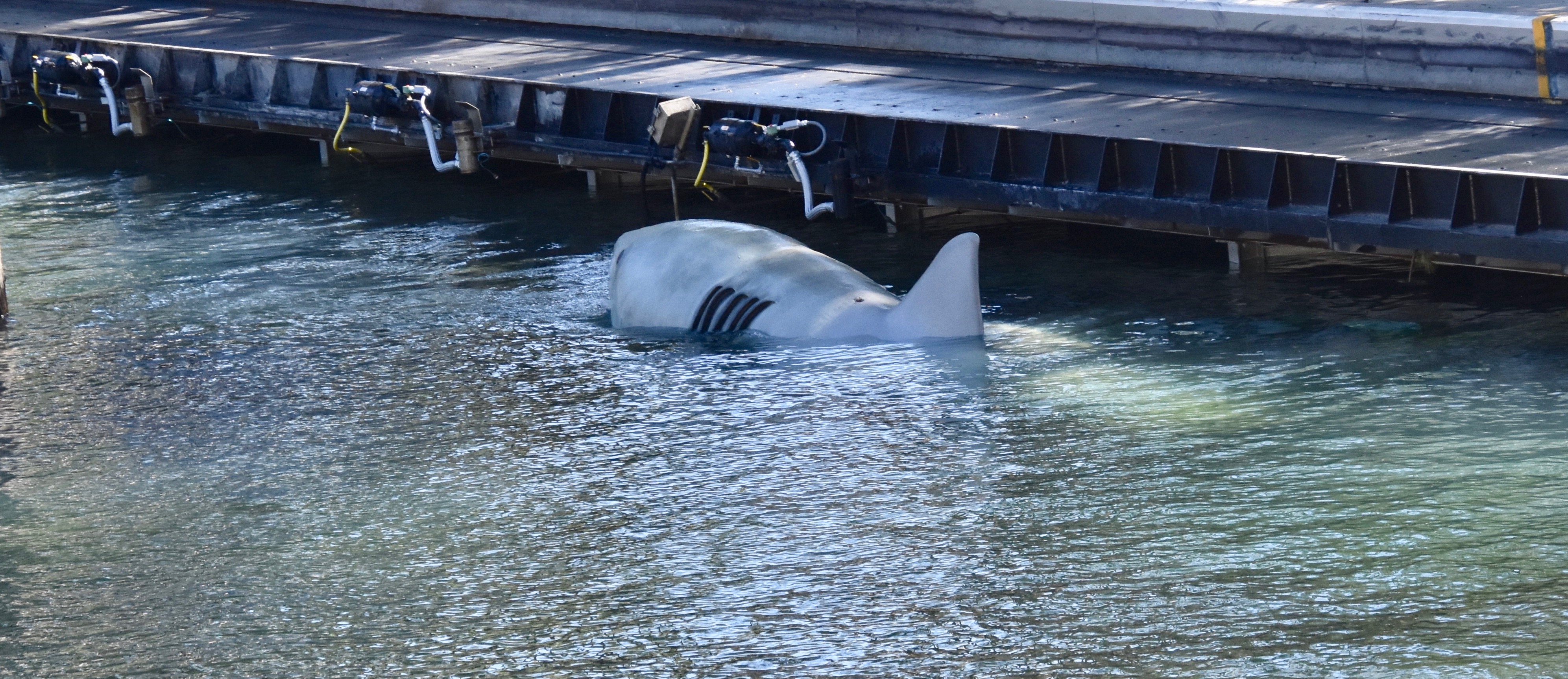 Time for more action, this time an earthquake featured in this video from Steven Lange.
Continuing with the on again off again adrenalin rush we drove by some of the more famous vehicles used in Universal Studios movies including these two from The Flintstones.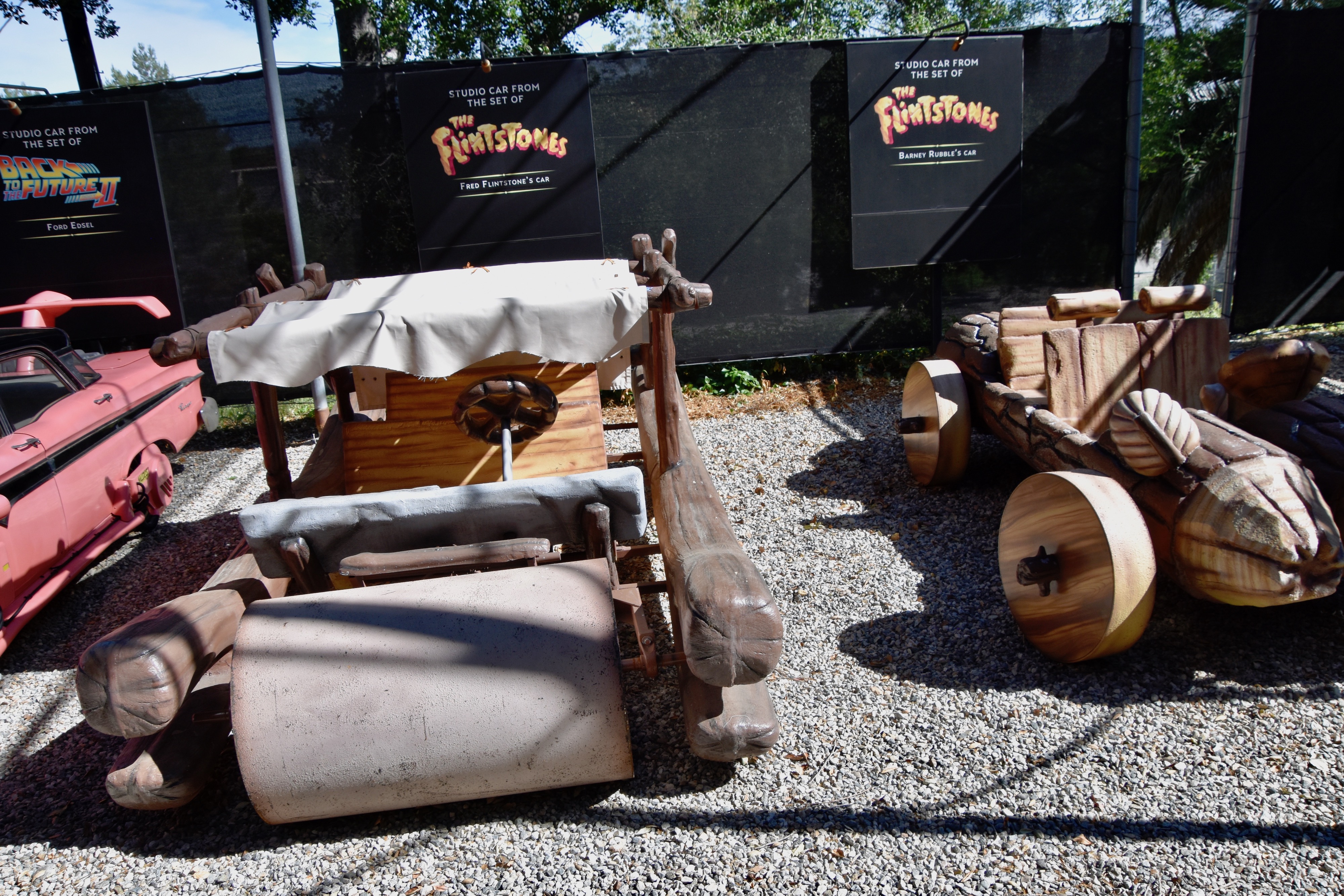 This is the working set from The Good Place which Alison and I both recognized as the Yogurt shop. Unfortunately neither Kristen Bell or Ted Danson came out to play.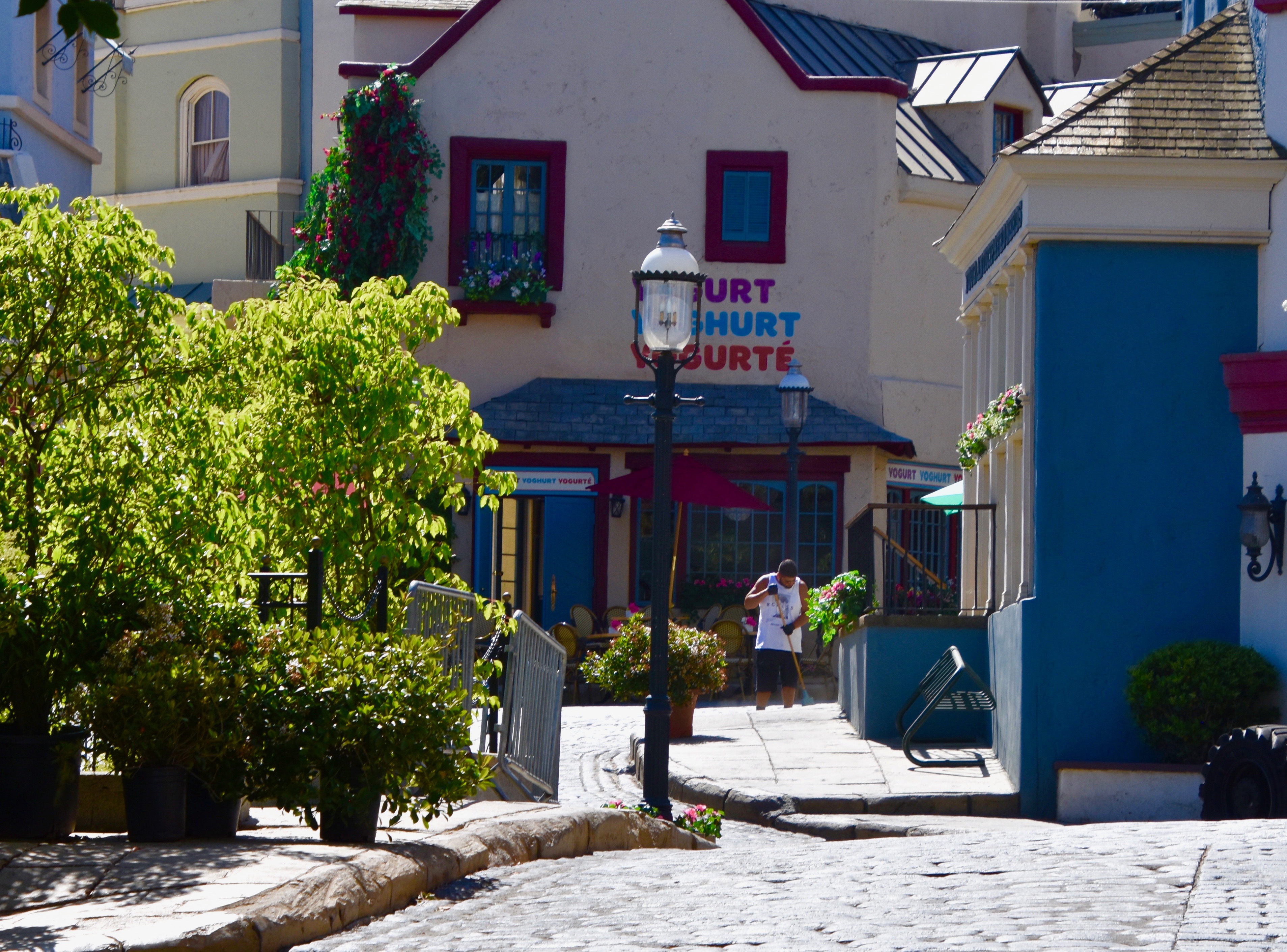 Next stop was the huge Universal Studios prop department which has thousands upon thousands of props representing every possible era. This is Charlie with the original E.T.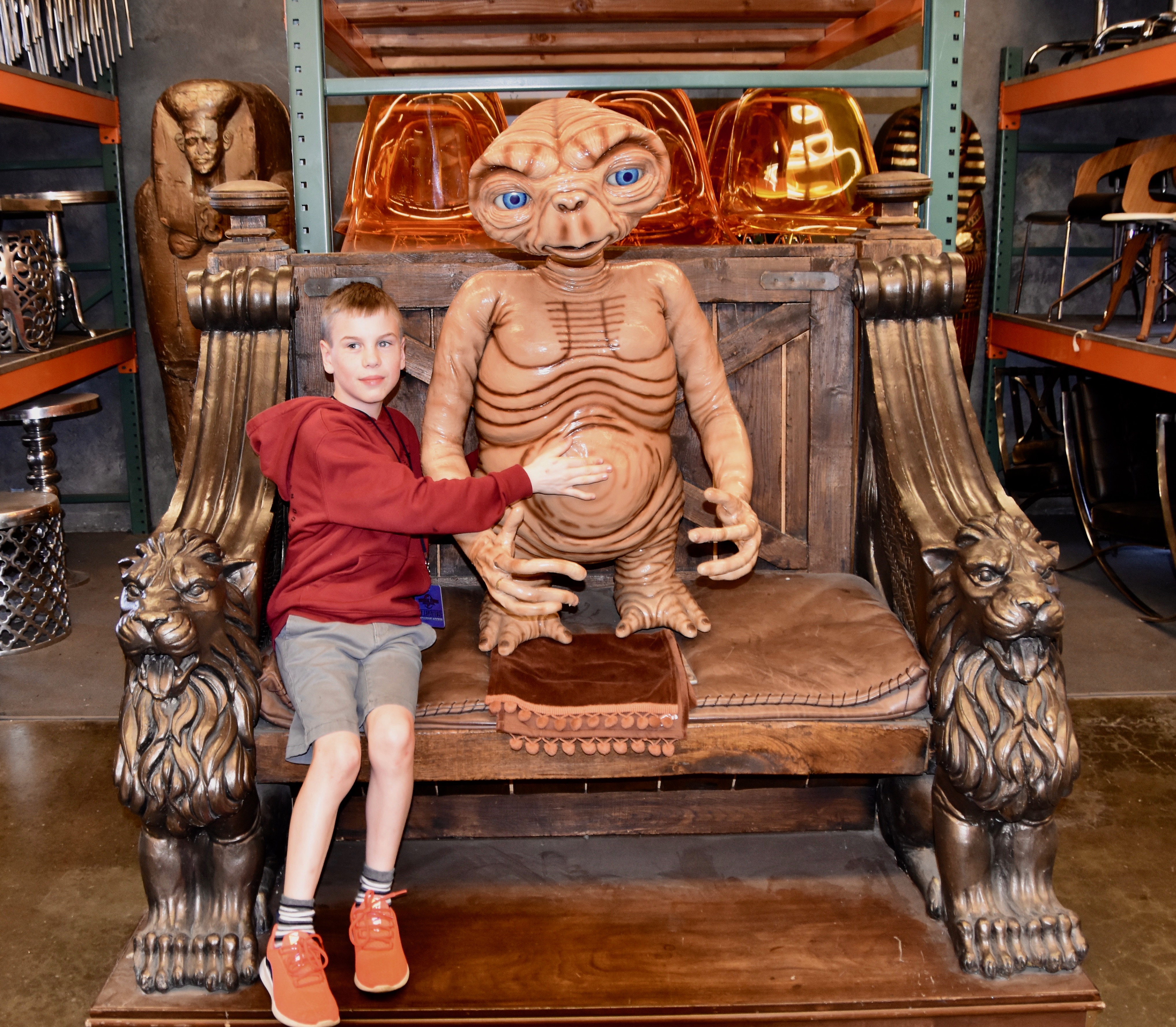 By now it was almost time for lunch, but we weren't getting back up top without one more 'experience', this time from The Fast and Furious franchise.  It involves a series of vignettes featuring Dwayne Johnson, Vin Diesel and others before breaking out into a full blown car chase that the series is known for.
Then we made our way back up to the top passing this mural of famous Universal Studios monsters along the way.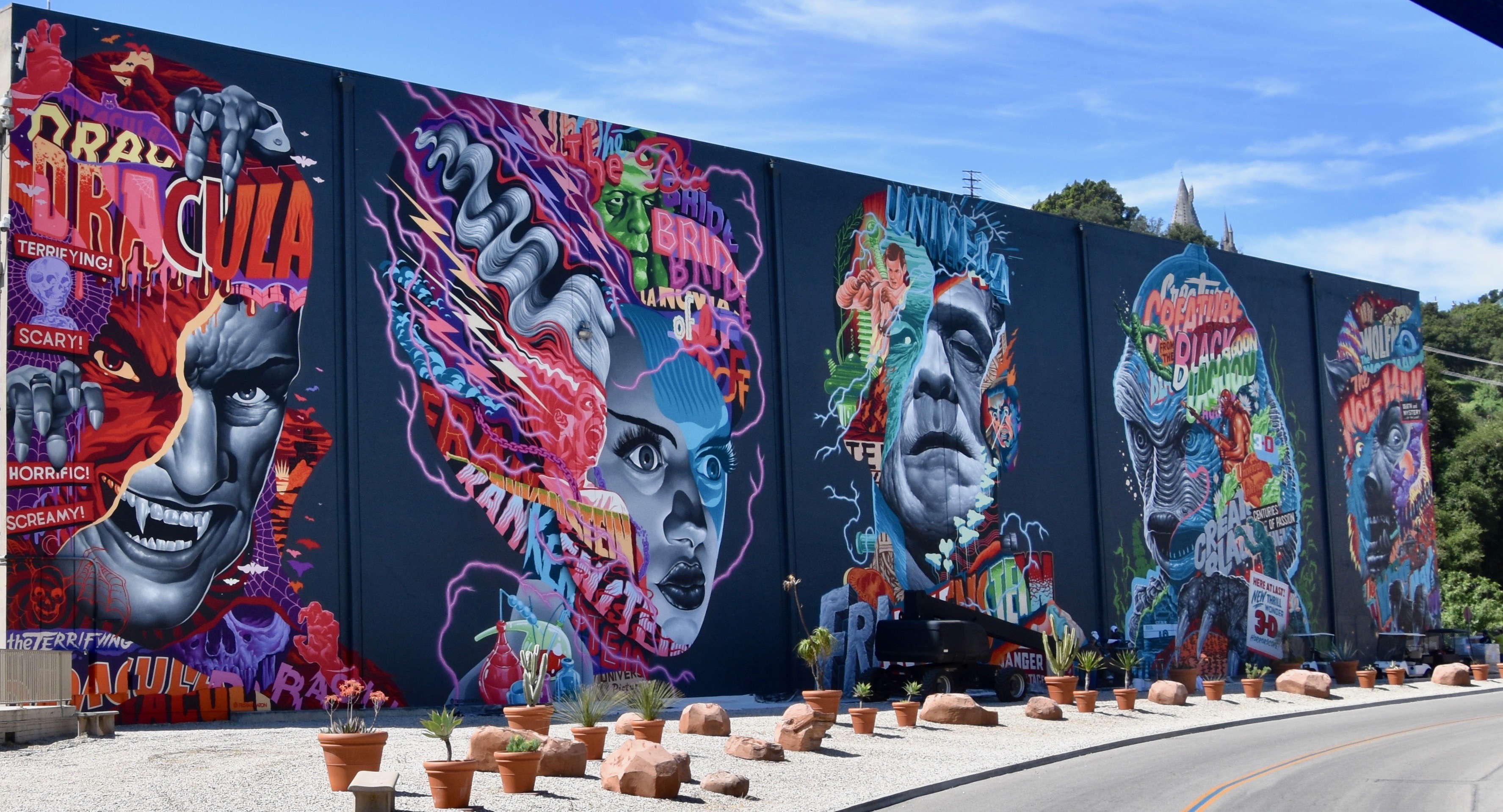 The buffet lunch is in a french themed restaurant only open to VIP patrons. We were greeted at the door by an I Love Lucy lookalike and shown to an outdoor table with a great view of the valley below. The food here was no afterthought, but a really excellent selection of foods from around the world. There was no long line up and everything we tried was fresh and delicious. I was very pleasantly surprised with how good the buffet was.
After lunch it was one great ride after another. It was hard to pick a favourite, but mine was probably Harry Potter and the Forbidden Journey where you follow Harry and Ron as if you are flying on a broomstick. The ride is quite dark and although there are a few videos on YouTube that try to catch the essence of the ride, none of them really do.
The Flight of the Hippogriff is an old-fashioned roller coaster ride that takes you high over the park with great views of Hogwarts. It's quite short and probably won't turn the crank for die-hard roller coaster nuts, but it's just fine for most people. Here's a video from YouTube giving you a better idea.
The next attraction was not a ride, but a walk through. However, it was unlike any walk through I've ever experienced. It's The Walking Dead, one of the scariest shows ever made. You simply enter and try to avoid the zombies that are truly scary as they are almost all real actors and not animatronic dummies. Charlie and CJ screamed their heads off the entire way and you can't help stepping up the pace just to get out. And who said getting the s*** scared out of you wasn't fun.
By mid-afternoon we were ready for a sit down and were ushered to front row seats for the Special Effects Show which lasts 25 minutes. Charlie was entranced by the demonstration of street fighting that left two thugs tossed into a dumpster after doing their best with fists, knives and a baseball bat to take out their intended victim. Equally interesting was watching a stuntman prepare to be lit on fire and then stagger around almost totally engulfed in flames for 18 seconds.
If Harry Potter was my favourite ride, Springfield was my favourite locale in Universal Studios. Just seeing all those iconic figures and establishments that have now become intergenerational as The Simpson's hits its 25th season, was an experience.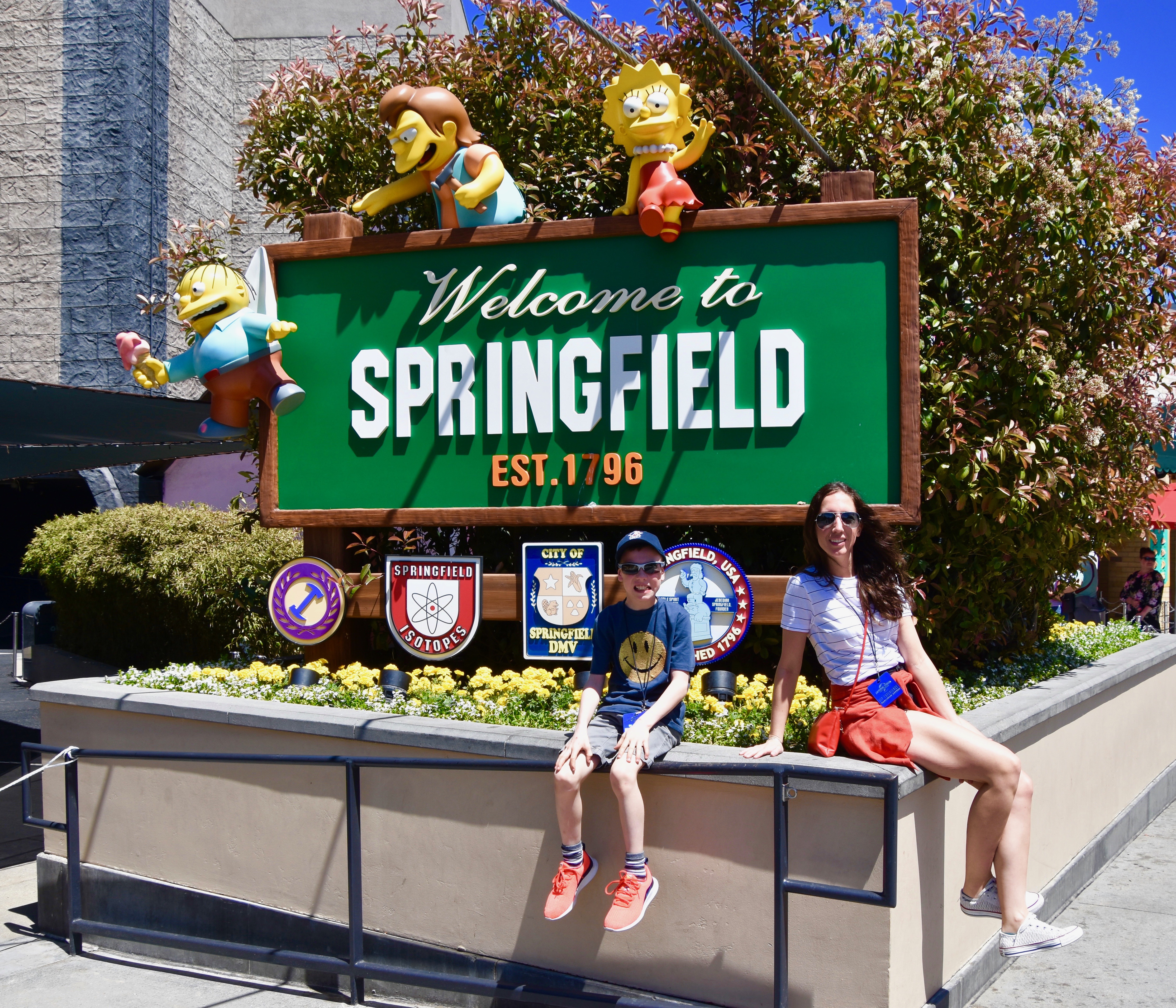 Lenore and I just had to duck into Moe's Tavern for a Duff's beer while Charlie and Alison checked out the Kwik E Mart.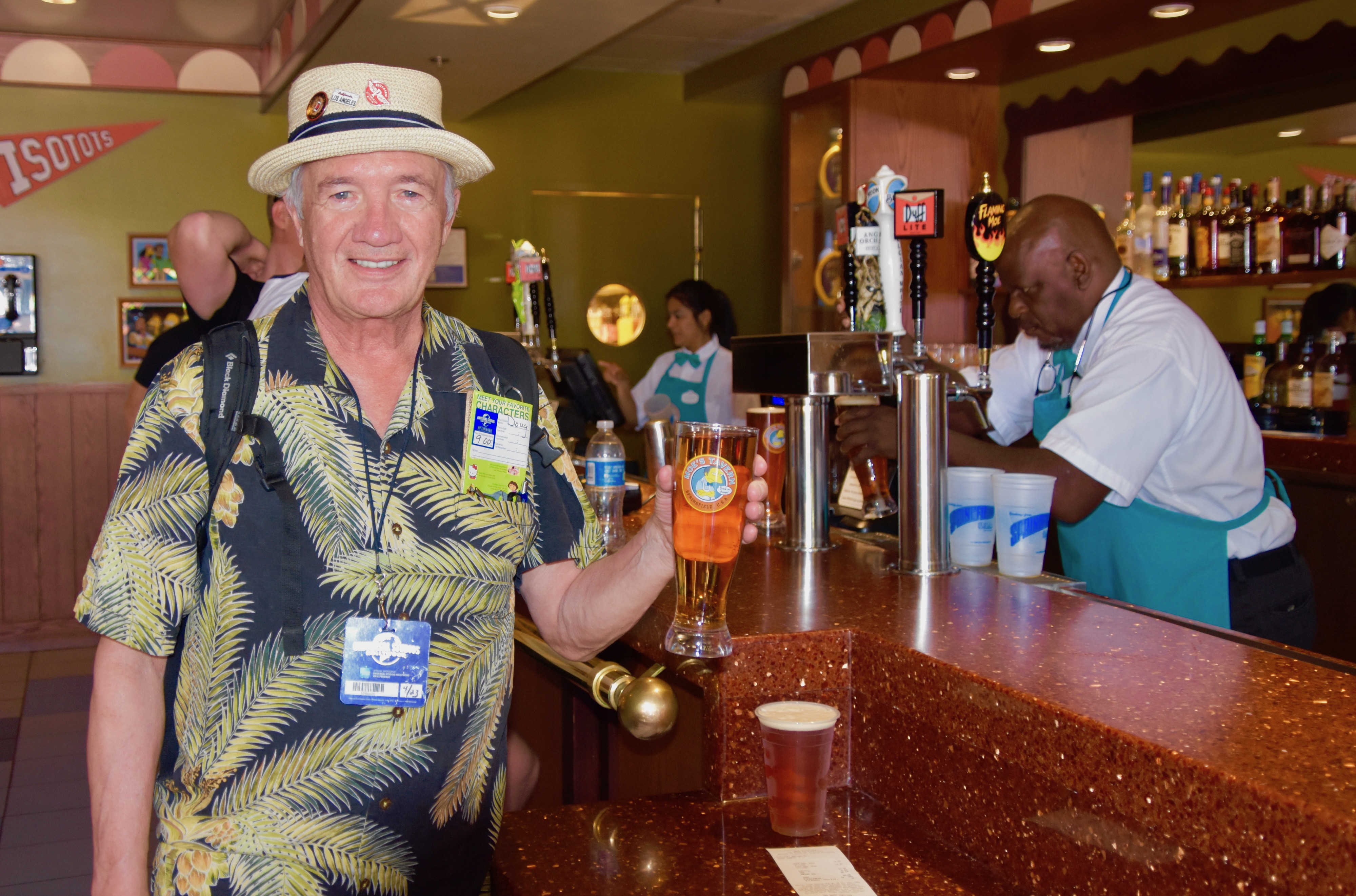 The Simpsons Ride is right up there with Harry Potter and is probably the longest at Universal Studios. Enjoy!
Time for another sit down, this time at Waterworld where they've recreated the set to one of the most expensive flops in movie history that is slowly gaining a cult following.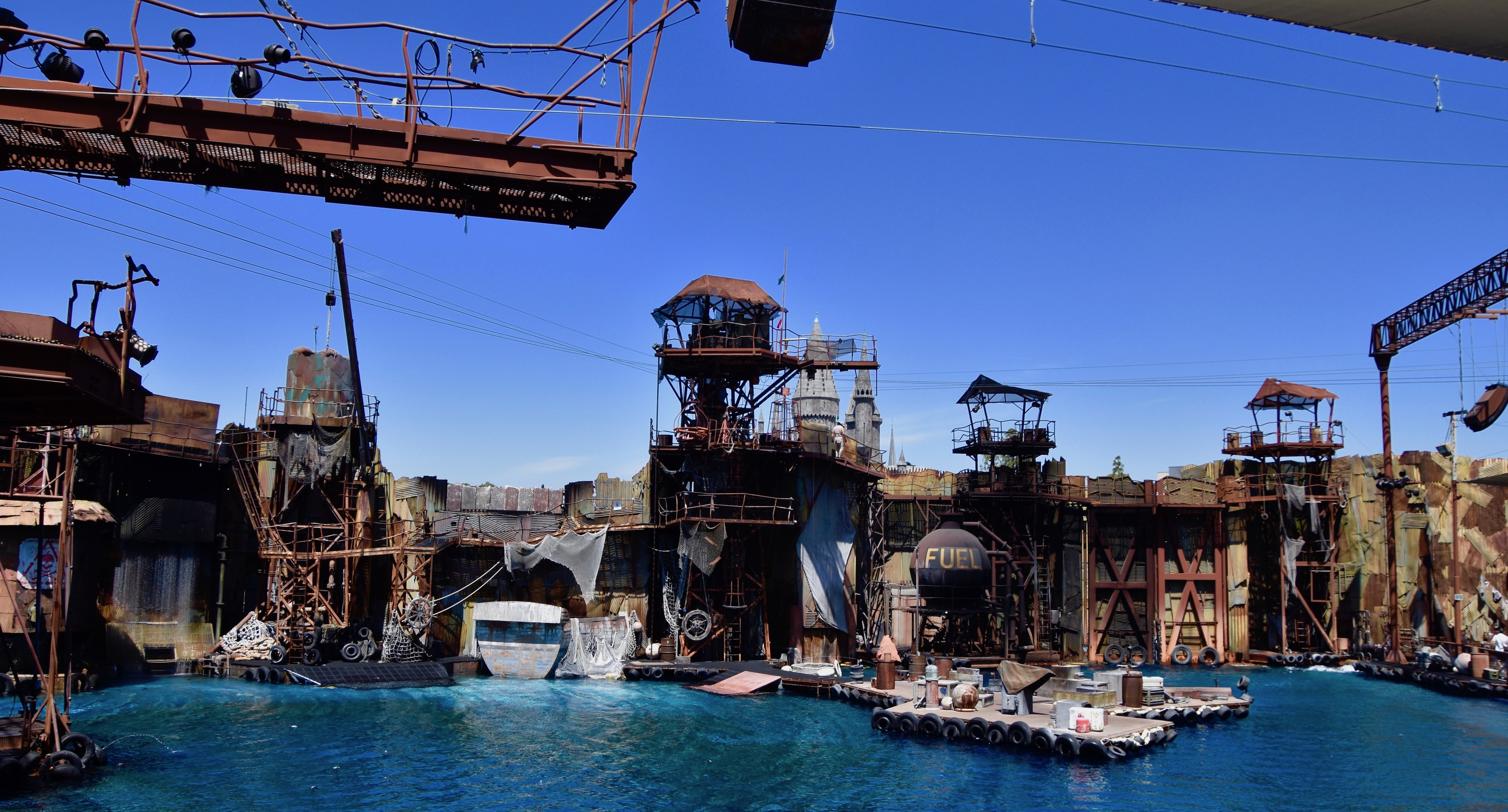 It's an interesting show with live actors and plenty of stunts including a great one at the end which I won't reveal. You can choose seats where you'll get wet as Charlie and CJ did, or you can watch it from the dry section as the rest of us did.
Here's the villain of the piece before he gets his comeuppance.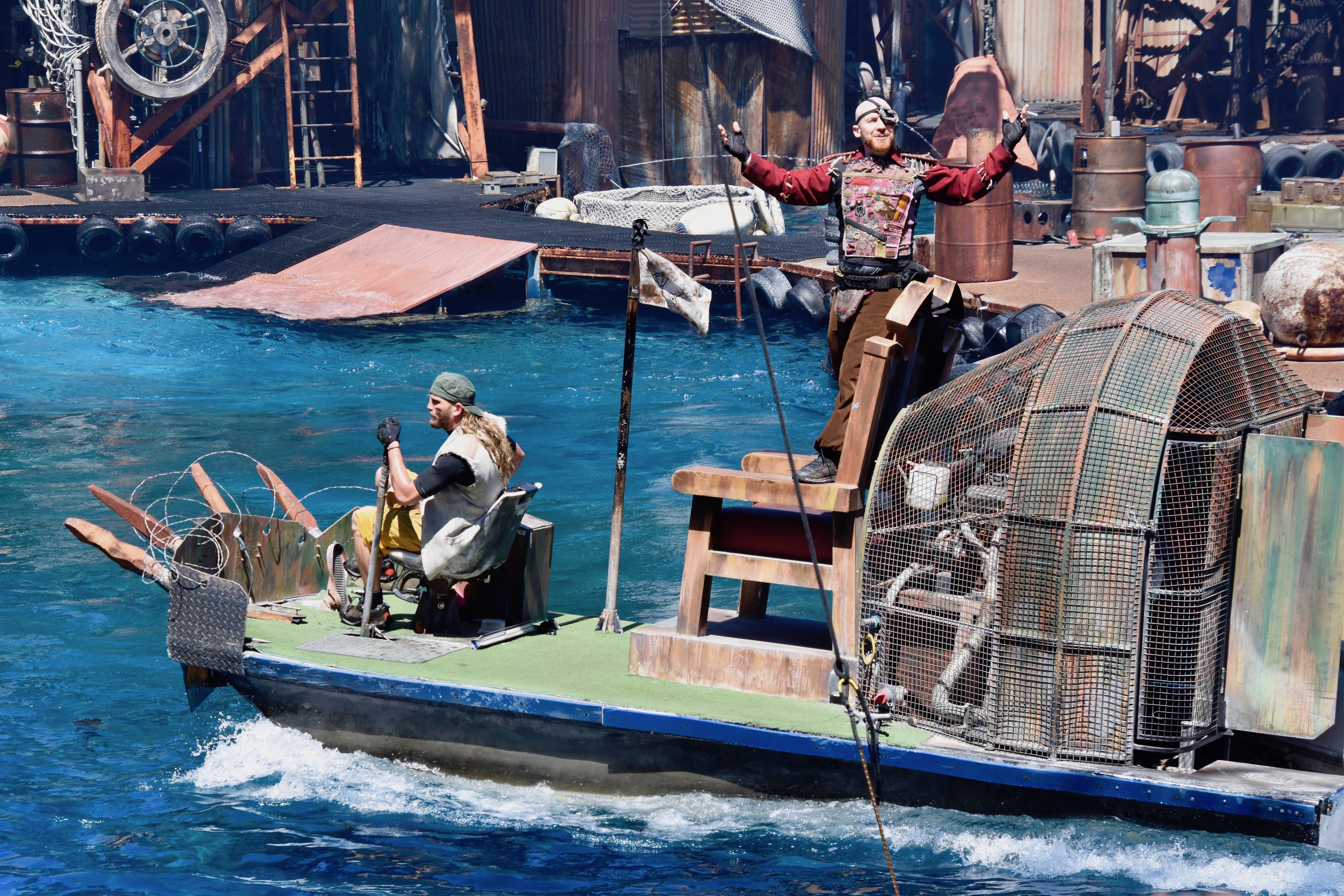 By now we were in the home stretch with only a few rides to go.  The lineups for those without VIP passes were now all 45 minutes or more and I realized just how much time standing in line we were avoiding. I also realized my dislike of theme parks stemmed from the waiting and not so much the parks themselves.
Next up was Minion Mayhem. My first reaction was, "What the hell is a Minion?", but once we got inside I recognized the characters even though I've never watched a second of them on TV or the movie screen. It's amazing how these things become so permeated in modern culture that you recognize them even without knowing it.
There is a fairly long build up to this ride which is yet another 3D experience like many of the rides at Universal Studios. The videos can't do them justice.
We had just one more ride to say we had done them all – Transformers which was the final 3D experience. I knew about transformers from the toys that have been around forever, but nothing about the movies. Suffice it to say it was another great hit with Charlie and CJ.
By now it was 5:00 and although we were free to stay until closing time and do as many more attractions as we wanted to, even Charlie was worn out. We said our goodbyes to Dougie and thanked him for an absolutely wonderful day at Universal Studios.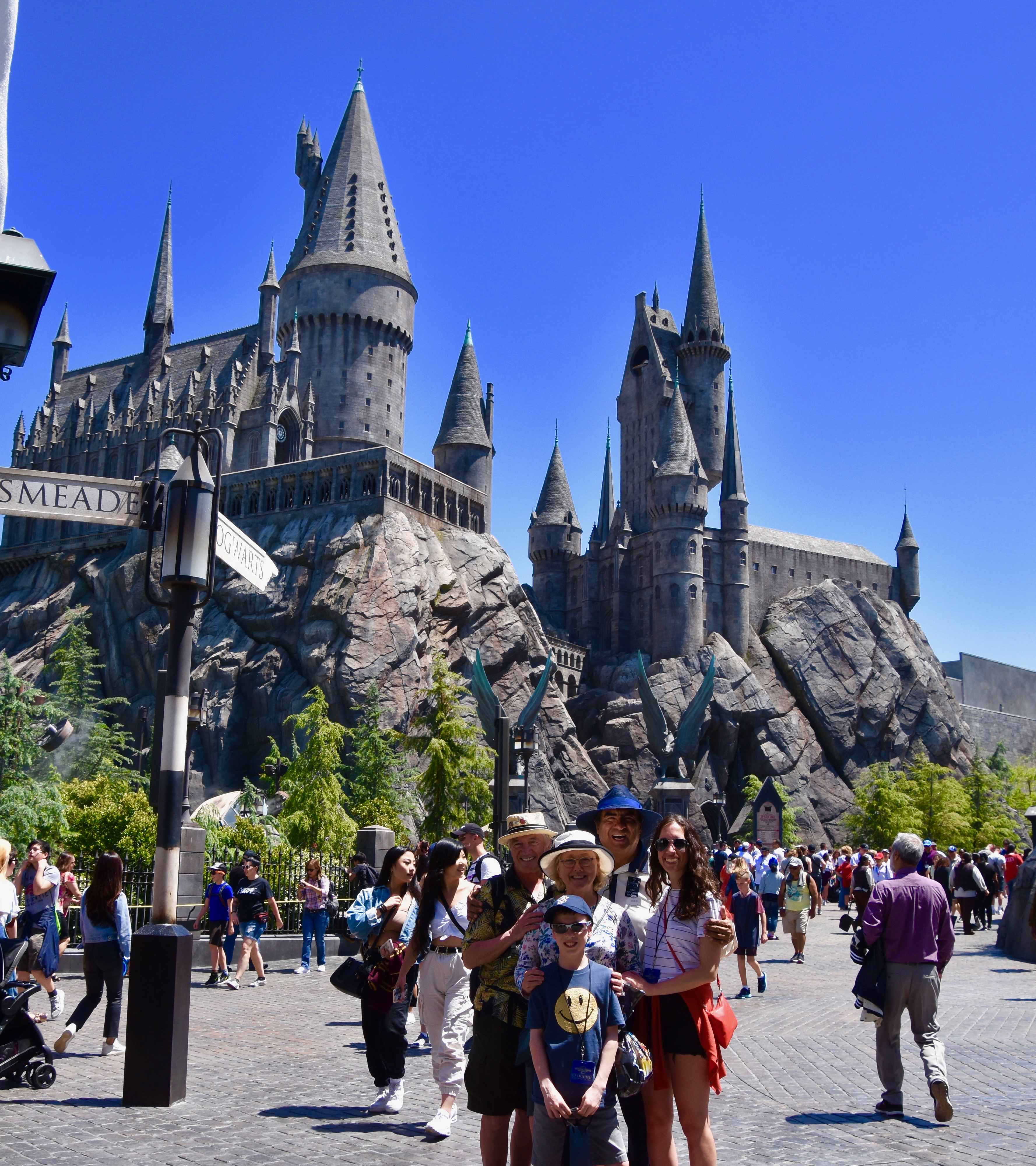 Universal Studios had exceeded my and more importantly Charlie's expectations. It couldn't have happened without the VIP Tour and a great guide.
One of the most interesting things to do in LA is to visit one of the cemeteries where a lot of celebrities are buried. Join me on a tour of Westwood Village Cemetery where we'll find Marilyn Monroe and dozens of other past greats.