Okavango Odyssey with Adventures Abroad
Up until about twenty years ago I had never heard of the Okavango delta in northwestern Botswana, but once I learned that it was a truly unique place on earth I knew I had to go there. Recently Alison and I got to fulfill that dream on a solo trip planned just for us by Canadian tour company Adventures Abroad. For those of you familiar with Adventures Abroad you are probably thinking, "Wait a minute. AA does small group travel, but not so small as one couple". Technically that's true and we were on an extended trip titled Namibia and Botswana with Victoria Falls and had spent most of it with about fourteen other people in Namibia and then only five more in Victoria Falls. However, we booked our trip quite late and upon booking were advised that for the Botswana part of the trip we would be staying in a different lodge than the other guests. That was no big deal, we have been on lots of trips where not everyone stays in the same accommodation. What we didn't realize was that not only would we not be staying with the other group, we would be having our own personal guide and our own itinerary. To say we felt like we were getting the Royal treatment is an understatement. Our trip to the Okavango far exceeded anything we had a right to expect. Here's the first of two posts on why.
It all started in Chobe National Park which lies entirely within Botswana, but can be accessed from the Namibian Caprivi Strip which is just across the Chobe River from Botswana. While the other five in our group who were on the Botswana portion of the trip joined a fair number of other guests in a lodge on the Botswana side, Alison and I literally had the Chobe Savannah Lodge on the Namibian side to ourselves and toured the park entirely by boat. It was an amazing experience which I described in this post. For the next portion of the journey we were to fly from the small Botswana city of Kasane to our lodge in the Okavango. In the morning our great Chobe River guide Felix Sitengu dutifully motored us down the river to the customs post on the Botswana side where a vehicle was waiting to take us to the Kasane airport.
Once again my thoughts about what to expect in so-called Third World countries were shown to be completely in error when we arrived at the airport. I was expecting some rundown old style aerodrome with no air conditioning and battered furniture and maybe even a gravel runway. Instead we drove up to a large modern terminal that would be the envy of any small Canadian city the size of Kasane. It was bright, capacious, air conditioned and to my delight even had a private lounge similar to Air Canada's Maple Leaf lounges which I could access for free with my AMEX card. There I had my first St. Louis Premium Export beer which is brewed in Botswana. This day was starting off just fine.
We reuned with our five missing companions and found out we were all on the same flight so we would be back again as one team. A lot of people are very leery of flying in small planes, and they can be quite rough at times, but I am not one of them. My father was in the mining exploration business in northern Manitoba and I grew up flying on Beavers, Otters, Norsemen and Cessnas, landing on lakes, both fresh and frozen and sometimes even dry land. I'll never forget my first flight on a tiny four seater Cessna taking off on a choppy lake near Cranberry Portage. Just after takeoff the a gust of wind skewed the plane to the left and the wing started clipping the water before we got fully airborne. I thought it was quite delightful until I saw the ashen look not only on my father's face, but the pilot's as well. Apparently, it was a close call.
The plane we would be flying in today was a jumbo jet compared to that Cessna I noted as it landed at Kasane, discharged its passengers and the pilot beckoned us onward from the airport. This photo is of the same plane taking off after we were safely aground in Okavango. The airport at Kasane does in fact have a nicely paved runway.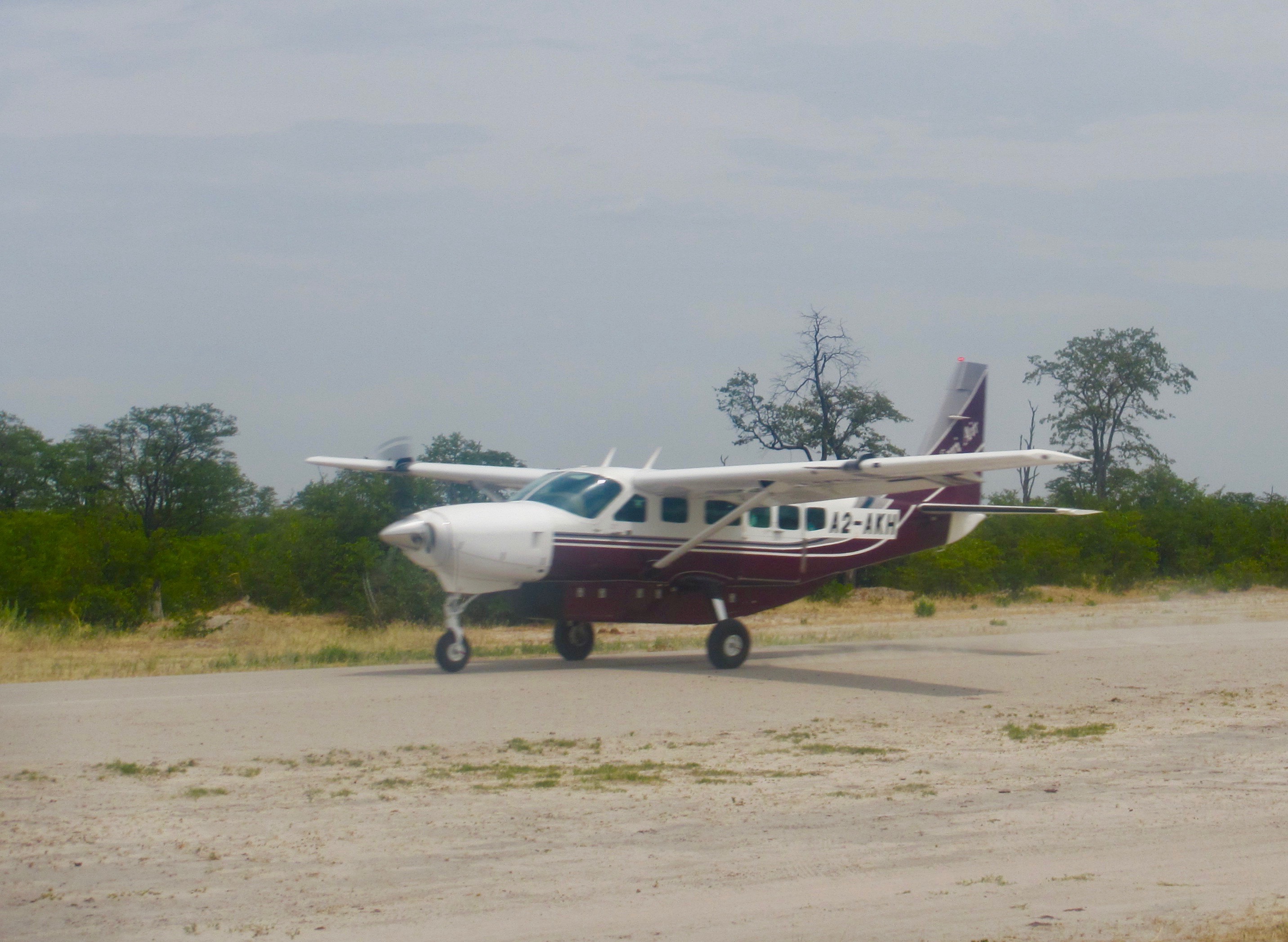 We had been warned that there could be concerns about how much luggage we could take to the Okavango, but it turned out that in both this and the much smaller plane we took to Maun out of Okavango, there was plenty of room in the cargo hold.
We managed to get the seats right behind the pilot and had the same view ahead of us as he had. After about half an hour of flying over very flat and dry land we started seeing the distinct forms of elephants a couple thousand feet below and shortly began our descent followed by a quite gentle landing on a sandy runway. We all hopped out and began grabbing our luggage when the pilot told Alison and I that this wasn't our stop. Deja vu all over again as for the second time we said goodbye to our five erstwhile companions. Standing as they were, in the middle of nowhere I hoped there weren't any lions around.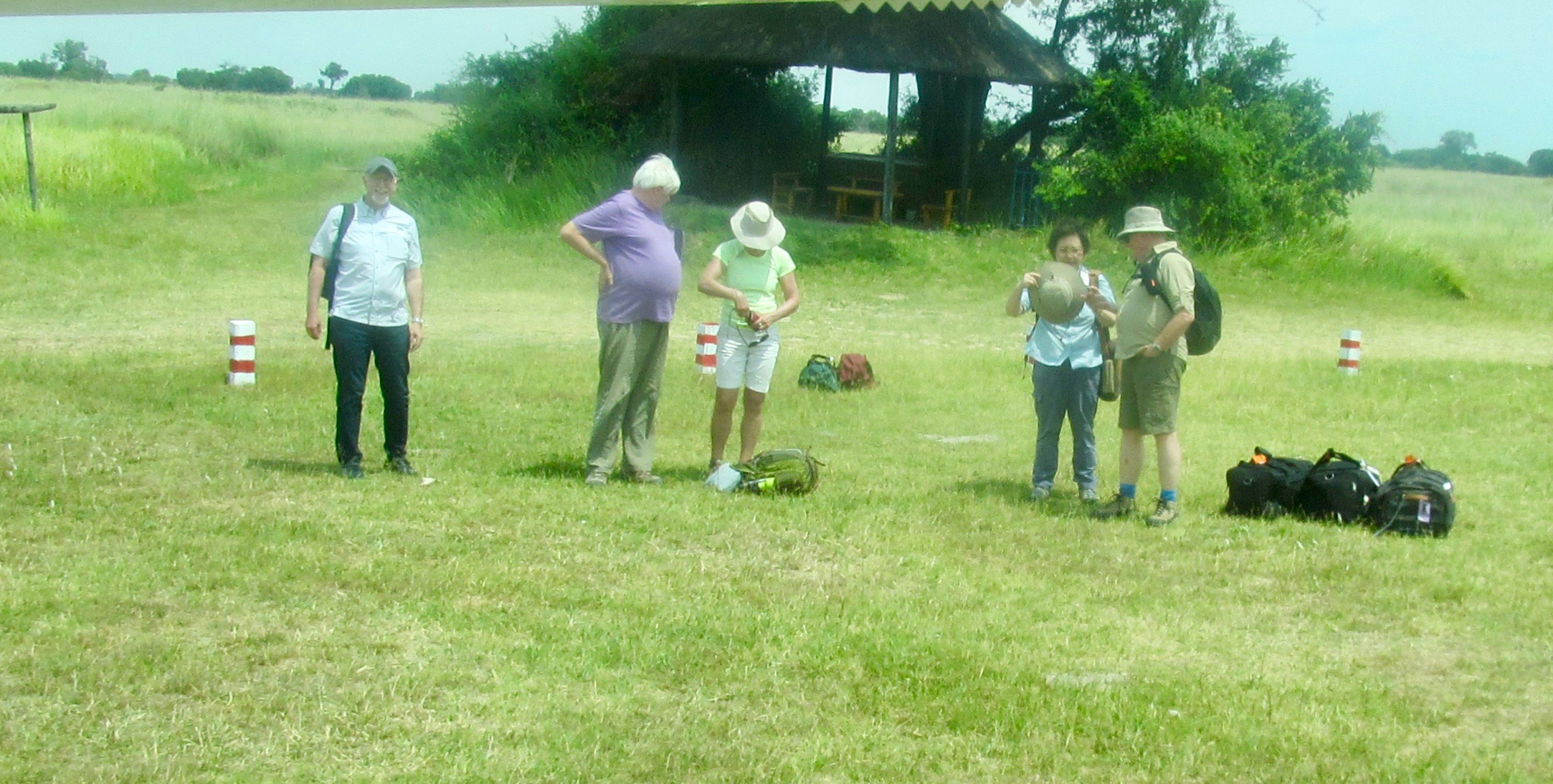 There was one other couple and they got off at the next stop about ten minutes away and then it was just us and the pilot. This is the view of our runway as we approached it another ten minutes later. As you can the area is quite forested without a lot of signs of water which calls for an explanation as, after all, isn't this supposed to be a delta?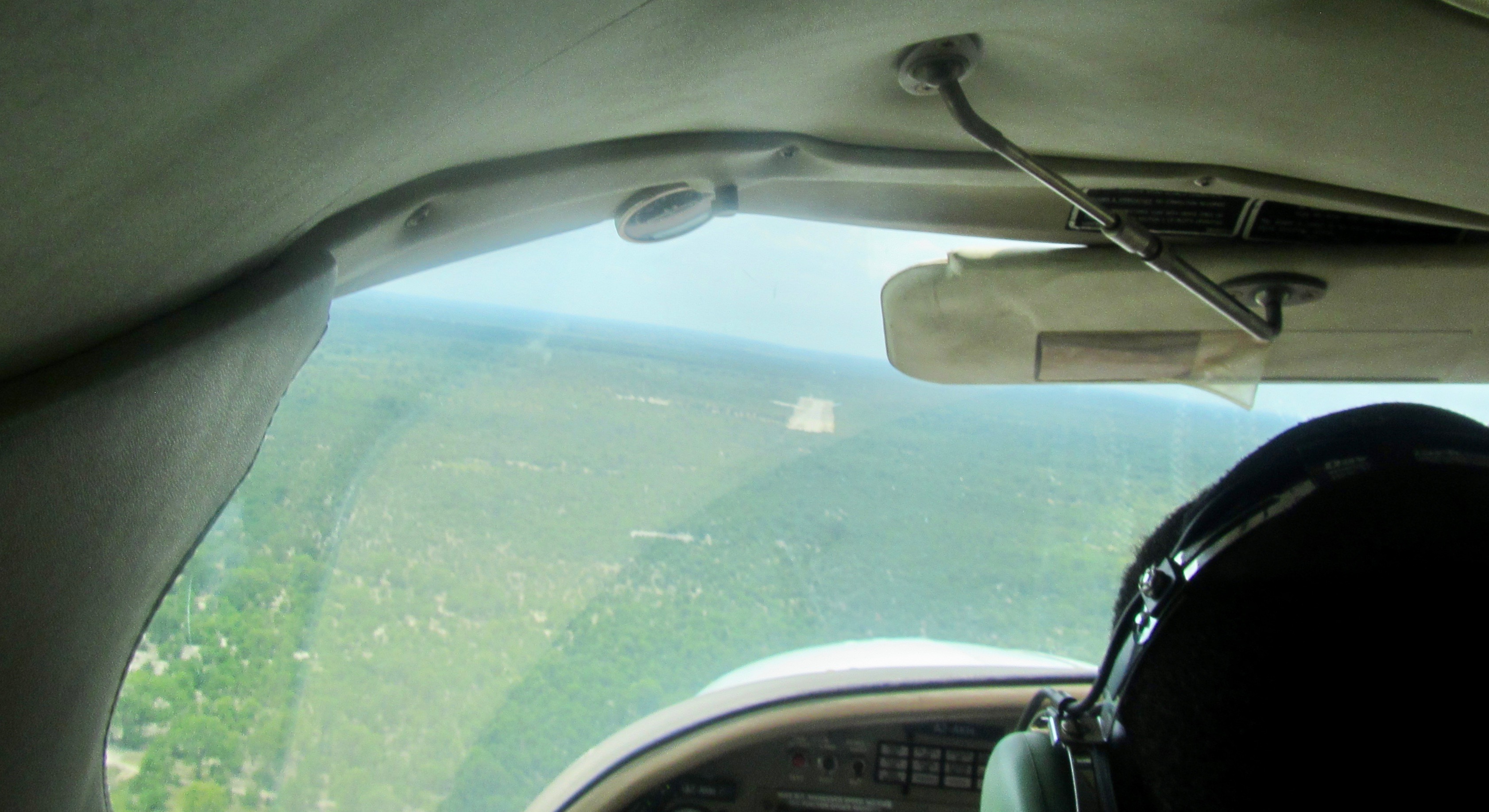 About the Okavango Delta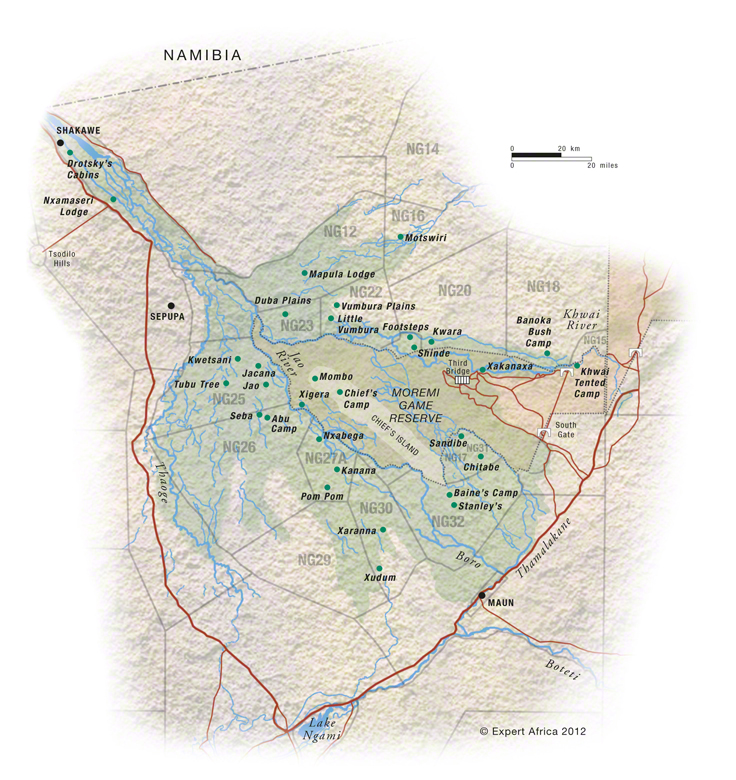 This is a map of the Okavango delta and the first question most people ask is "Where's the body of water it drains into?" There isn't one, which is why it is so unique. The Okavango River starts in the Angolan highlands and flows gradually south until it runs square into the Kalahari Desert where between the water removed by plant roots above the Kalahari – those forests you could see from the plane and evaporation, less than 2% of the water actually makes it into Lake Ngami at the bottom of the map. So technically it is what is referred to as an alluvial fan and not a true delta such as we associate with the Mississippi or the Nile.
The second important thing to know about the Okavango is that the water levels vary drastically between the wet season which runs from May to October with the most water in June, and the rest of the year when the area is mostly dry. Look at the map again and see the area outlined in light green which represents the area that is flooded at high water. In the middle is Chief's Island which does not flood as far as I can learn. The green dots are the various lodges in the area which come in three types – ones that provide exclusively water based safaris, ones that provide only land based safaris and ones that provide both. The one we are headed to is Xakanaxa which is located on the mid-right of the map just past Third Bridge. The red markings are roads and they show that only Xakanaxa and a couple of others are directly accessible from the outside by motor vehicle.
Most of what you might have seen on TV documentaries or internet videos will show Okavango during the wet season, because that's when the wildlife viewing is at its most unusual. For example, the photo header for this tour on the AA website portrays a swimming lion and if you go on their October trip you will might see something like that. You will certainly see the herds of elephants, giraffes and buffaloes wading through the flood waters. However, we are here in January and there is no great amount of water, but I knew that in advance. Strangely enough Victoria Falls, which I insisted on seeing in its fullest and most powerful flow, is at its best in January which I wrote about in this post. So, in picking the dates for this trip, I chose Victoria Falls over a swollen Okavango delta. It's true, you can't have your cake and eat it too, but seriously, in planning your dates to visit the Okavango keep these facts in mind.
That being said, Okavango at any time of year is simply an amazing place and I don't regret for one minute being here in the dry season.
In 2014 the Okavango became the 1000th UNESCO World Heritage Site. Here's the description of why it was inducted into this most prestigious of international clubs.
This delta in north-west Botswana comprises permanent marshlands and seasonally flooded plains. It is one of the very few major interior delta systems that do not flow into a sea or ocean, with a wetland system that is almost intact. One of the unique characteristics of the site is that the annual flooding from the River Okavango occurs during the dry season, with the result that the native plants and animals have synchronized their biological cycles with these seasonal rains and floods. It is an exceptional example of the interaction between climatic, hydrological and biological processes. The Okavango Delta is home to some of the world's most endangered species of large mammal, such as the cheetah, white rhinoceros, black rhinoceros, African wild dog and lion.
So with that introduction, let's get exploring.
Camp Xakanaxa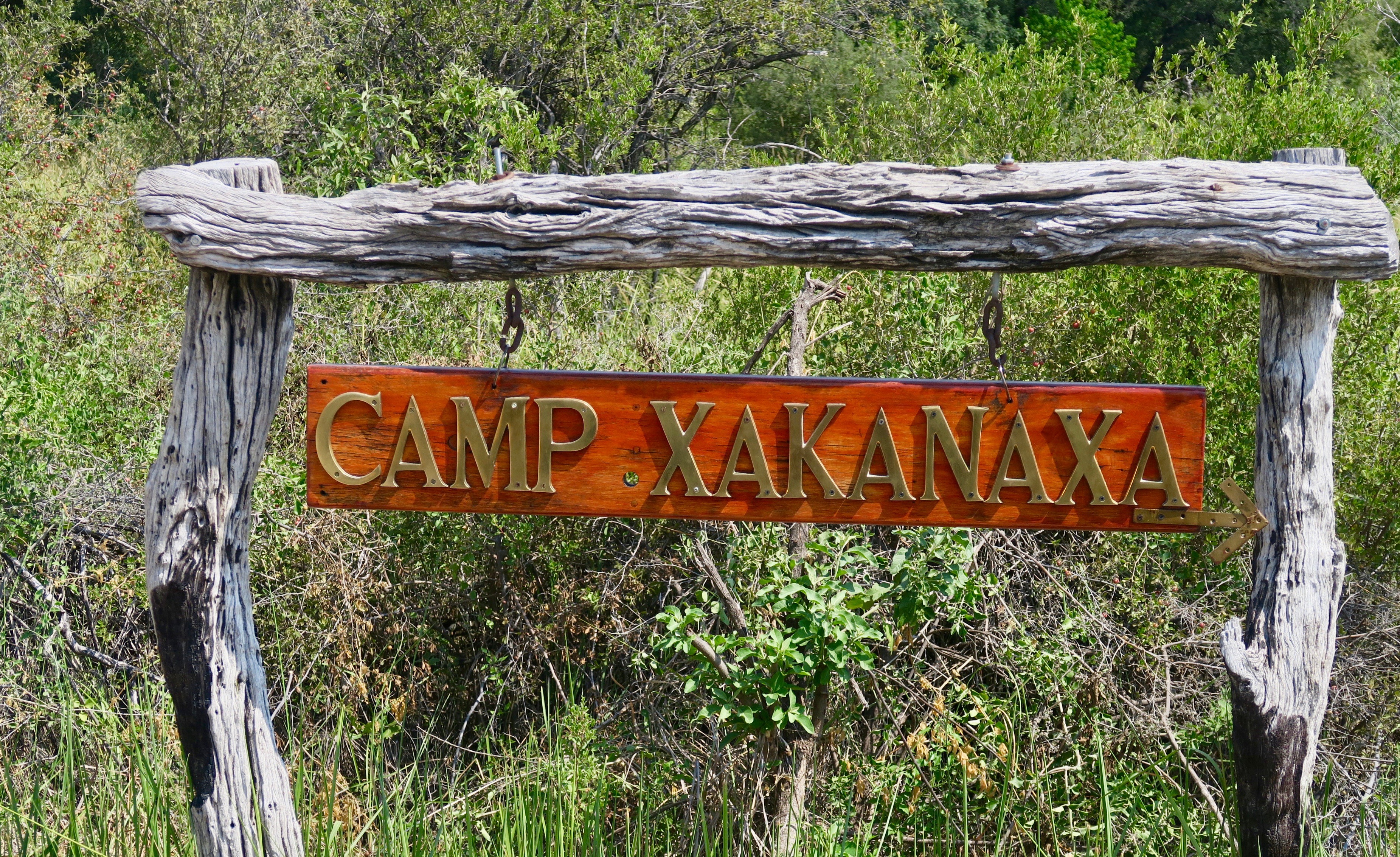 We were met at the landing strip by a polite young man in an open bodied Land Cruiser and driven along a very primitive road through a pleasant dry forest for about twenty minutes until we pulled into Camp Xakanaxa. It is owned by Desert & Delta Safaris, the same company that owns Chobe Savanna Lodge where we had such a wonderful stay in the Chobe area. The camp is on the Kwhai River making it one of only a few in the Okavango that offers both water and land based touring. The area around the camps, the main lodge and the swimming pool is fenced in and we found a good reason why on the second day as a huge young male elephant decided he was going to drop in for a visit. He was halfway through the open gate before three guides, waving their arms and shouting wildly, convinced him that the hospitality here was not for pachyderms. Unfortunately, I didn't have a camera with me to provide photographic evidence.
Once again, Alison and I lucked out. There were only a few other guests and the camp was pretty well ours to explore. Before taking us to our camp we were taken on a tour of the open air lounge, dining area and bar.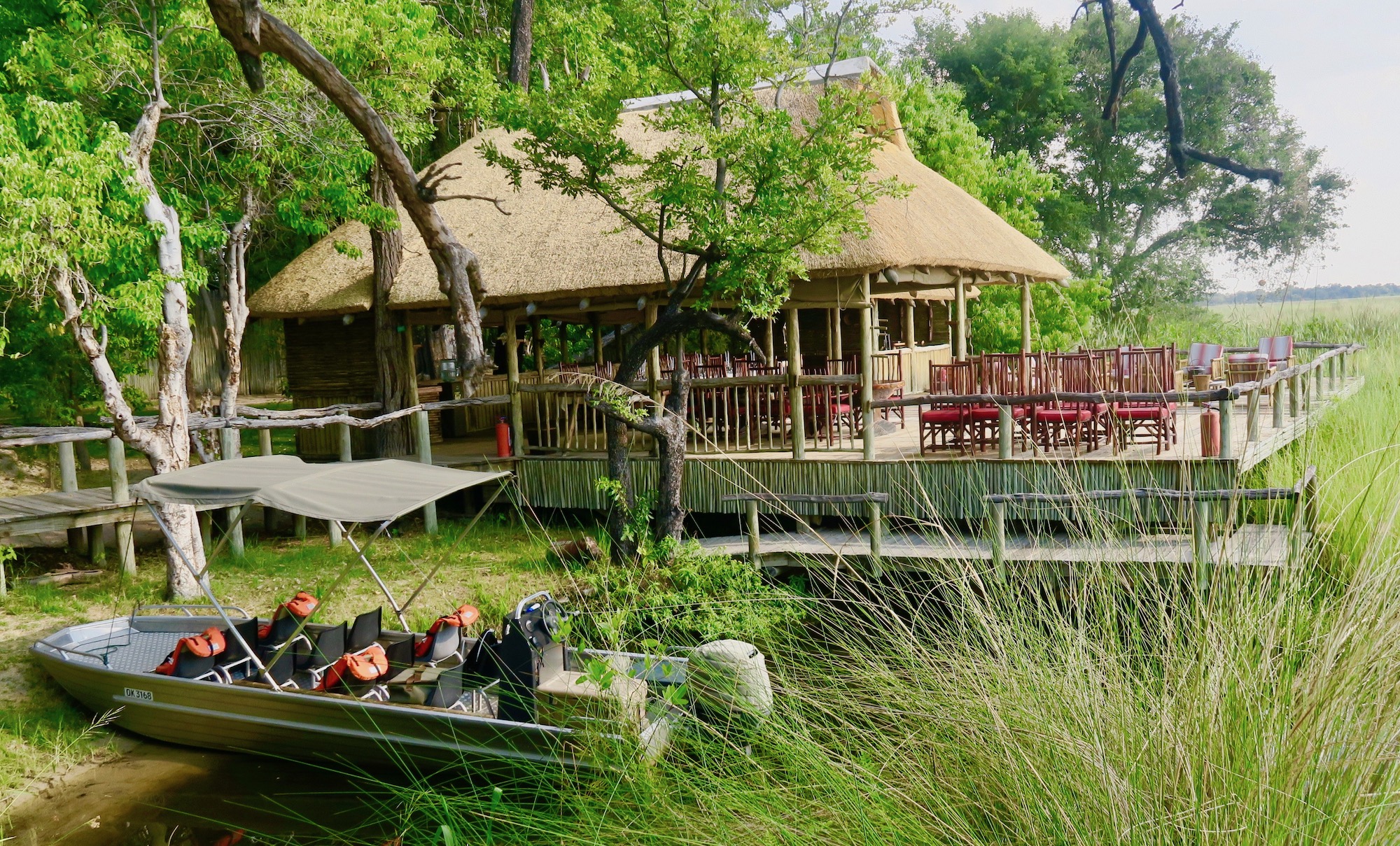 The lodge extends on piles over the river and by the standards of other lodges we had stayed in, much smaller and more intimate. We were shown a spot right beside the boat where a semi-tame hippo would often come for a visit although we didn't see him during our stay.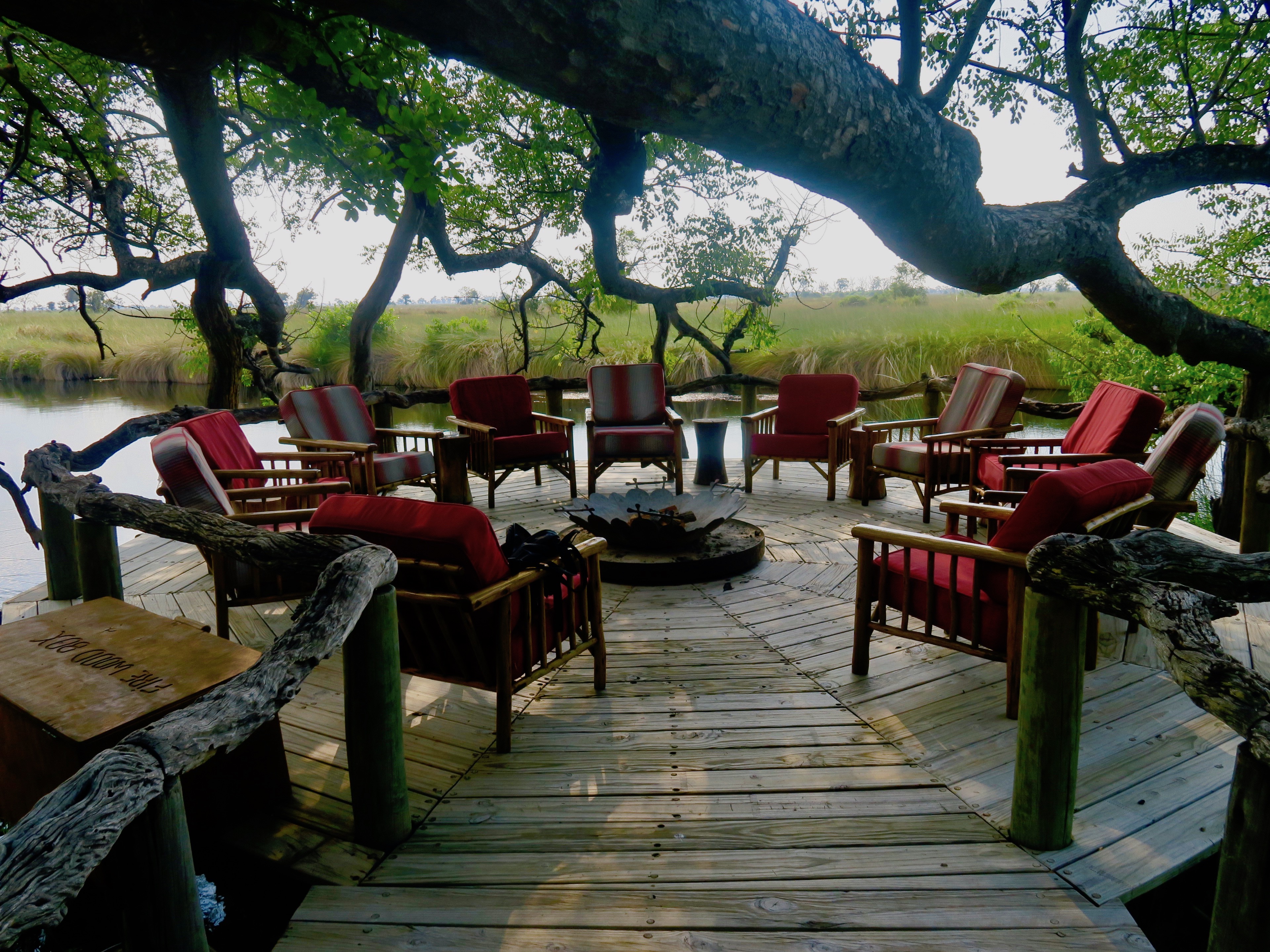 This outdoor lounge under the shaded branches of a mopane tree is a great place to relax with a drink in one hand and binoculars in the other as the birdlife at Xakanaxa is excellent. Speaking of drinks, this is the bar where you just help yourself.
Every afternoon tea is served along with a selection pastries and fruits. The tea comes hot or iced. Very civilized!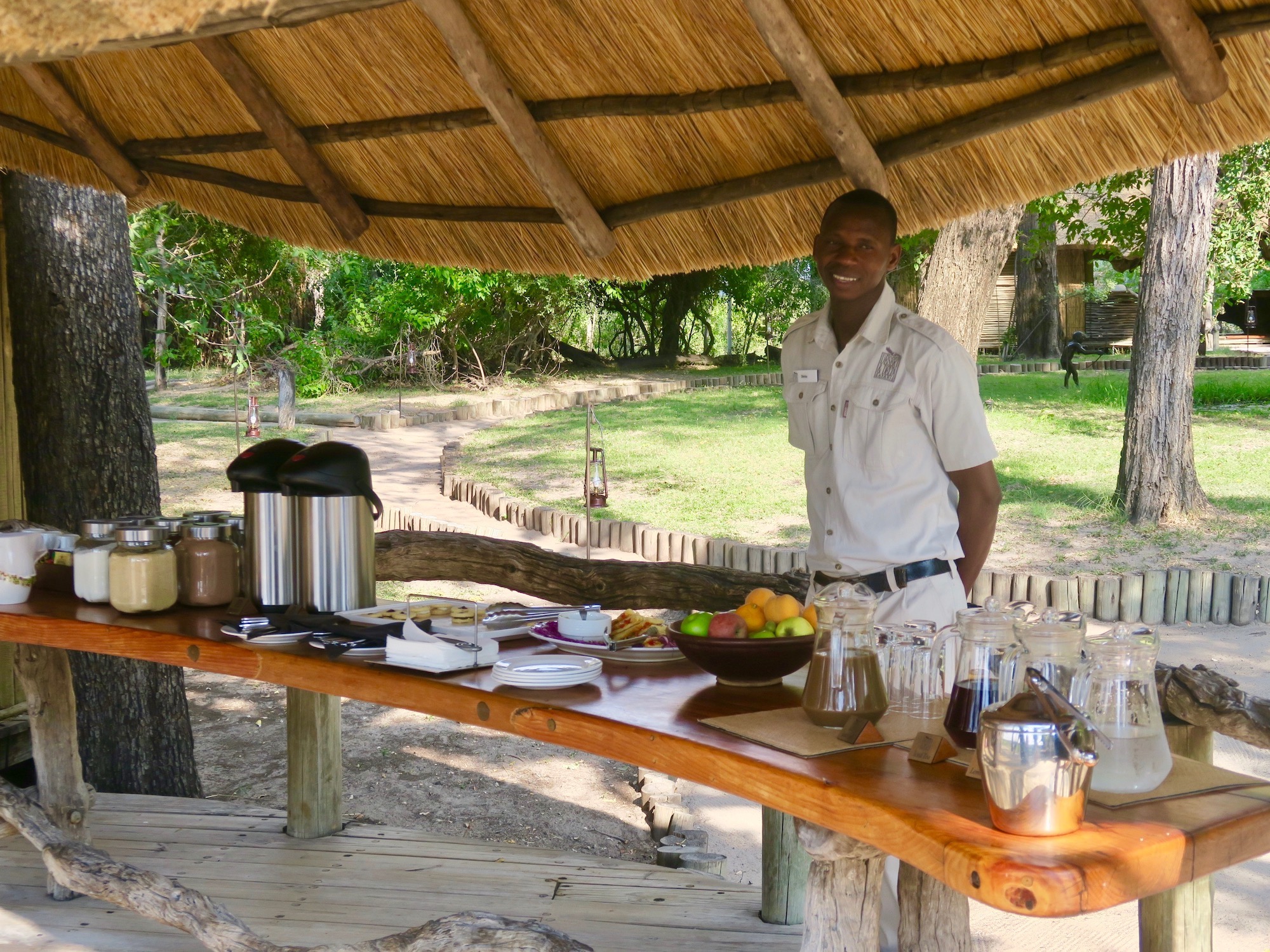 This is Alison enjoying an iced tea on the banks of the River Kwhai.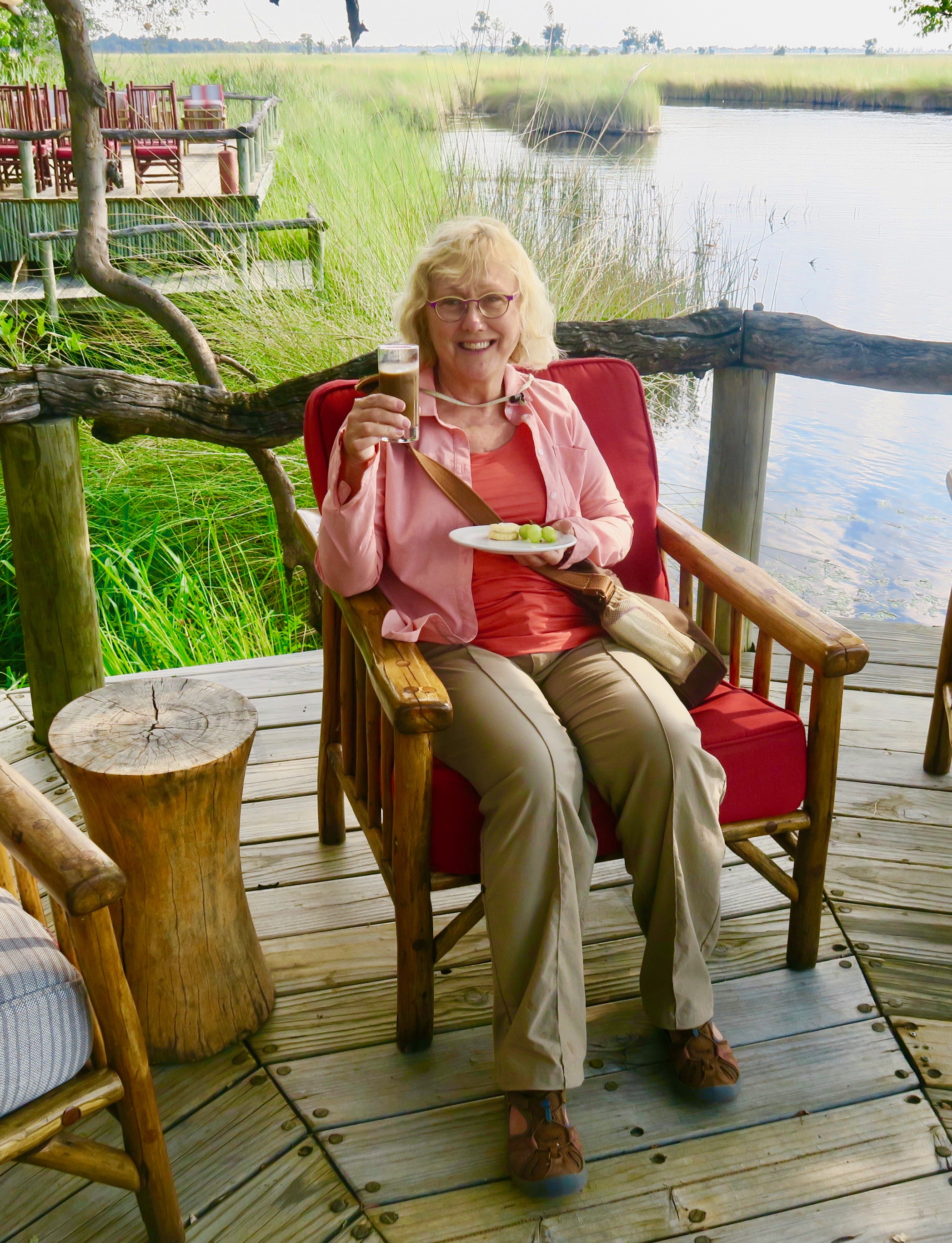 There are only a dozen camps at Xakanaxa and each one has a different animal at the entrance path. We had the giraffe suite.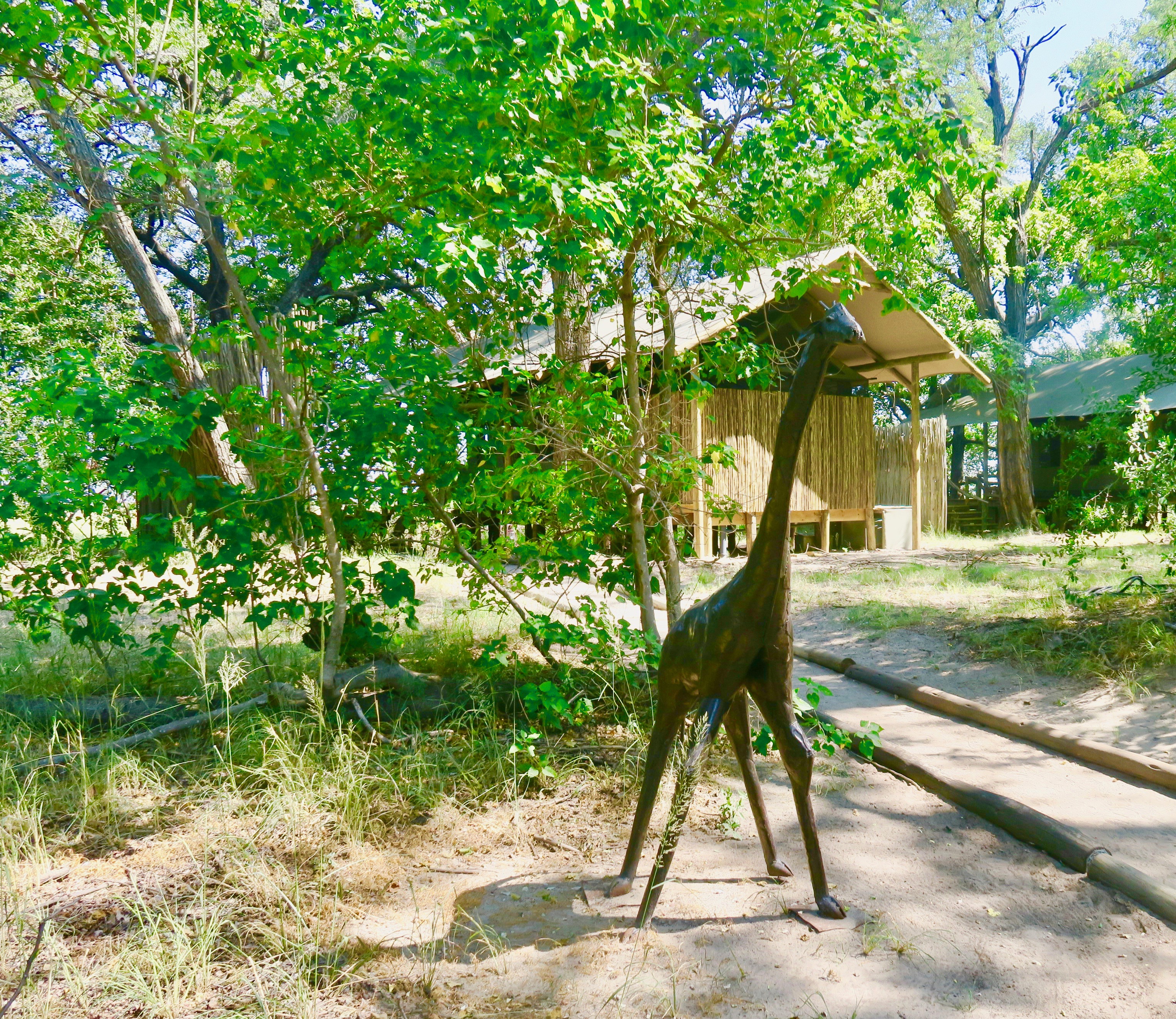 This is the exterior of the Giraffe Suite and as you can see, this is definitely more a genuine tented camp than some of the ultra luxurious places in the Okavango where the daily accommodation rates are truly staggering. The camp is only about twenty feet back from the river and the outdoor deck became my favourite place to just watch the river flow gently by.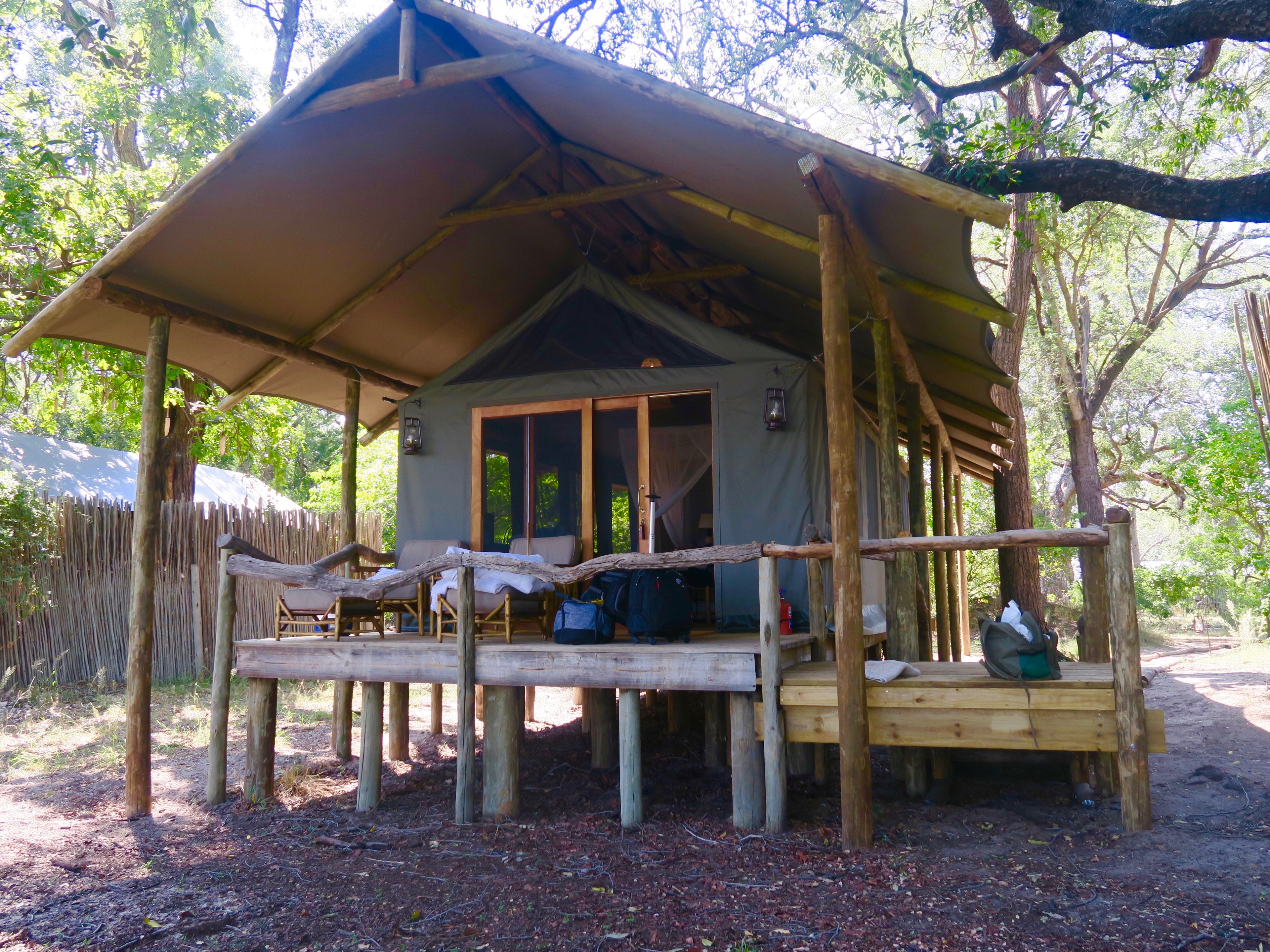 Inside, the tent has everything you need for creature comforts – an en suite bathroom, a nice bed and a decent area for work.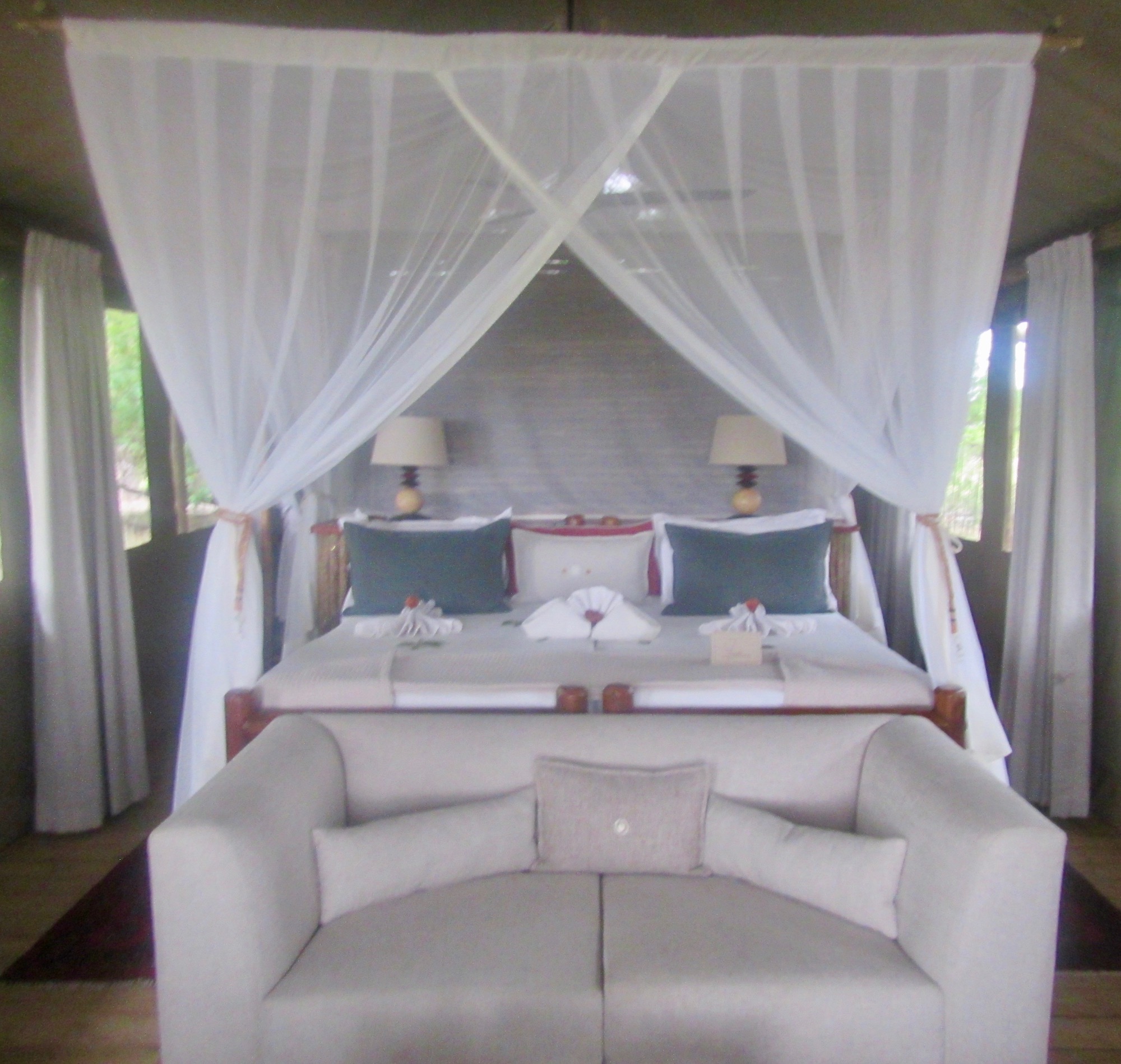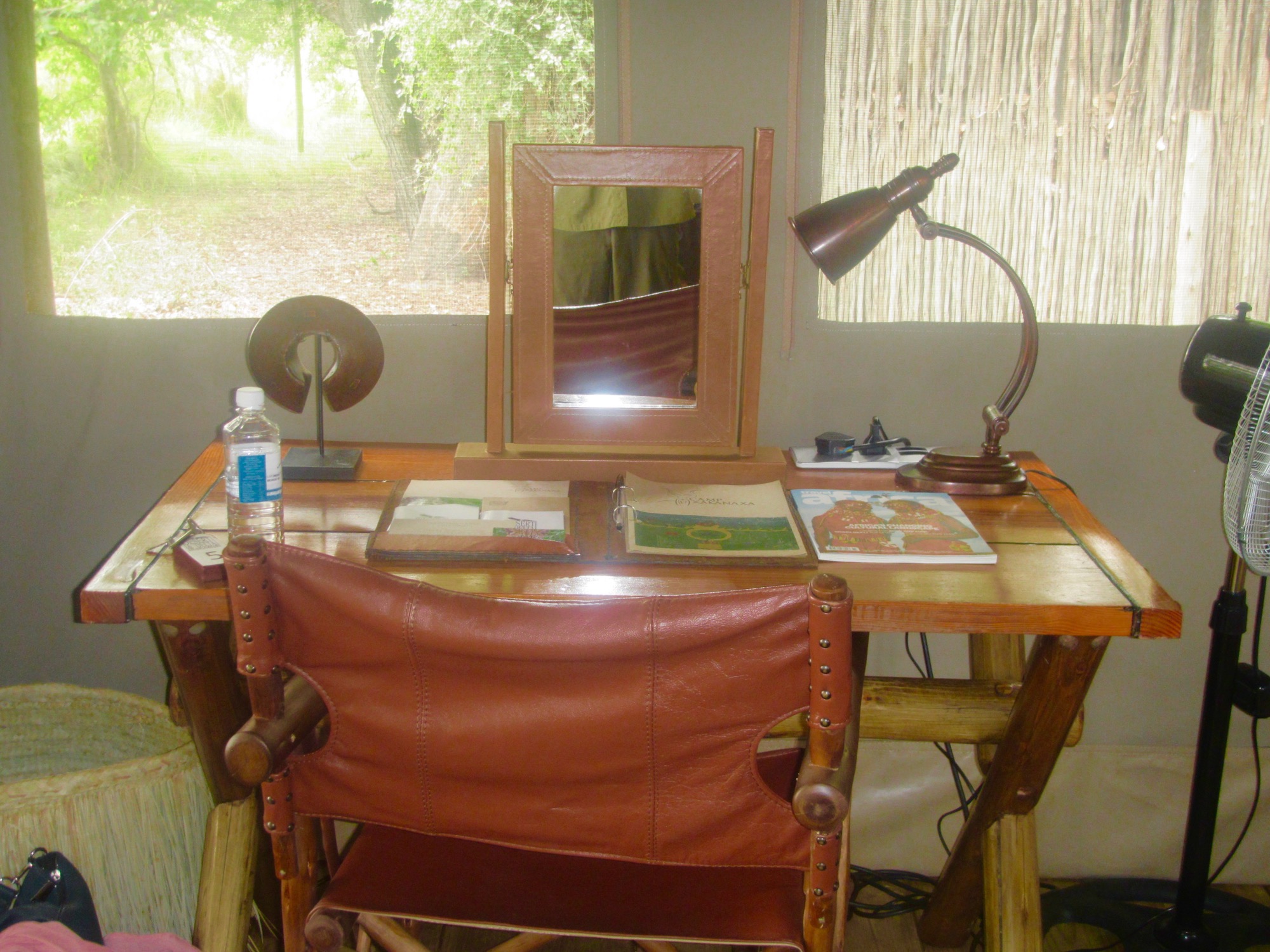 Okavango Game Drive Day One
Despite the fact that we had already used three means of transportation to get here and cleared customs in two countries there was still time to go for a short late afternoon game drive. We were introduced to our personal guide Pound and the three of us soon were headed out from camp. He had a very specific destination in mind so there wasn't much wildlife viewing along the way although we did come across this herd of buffalo.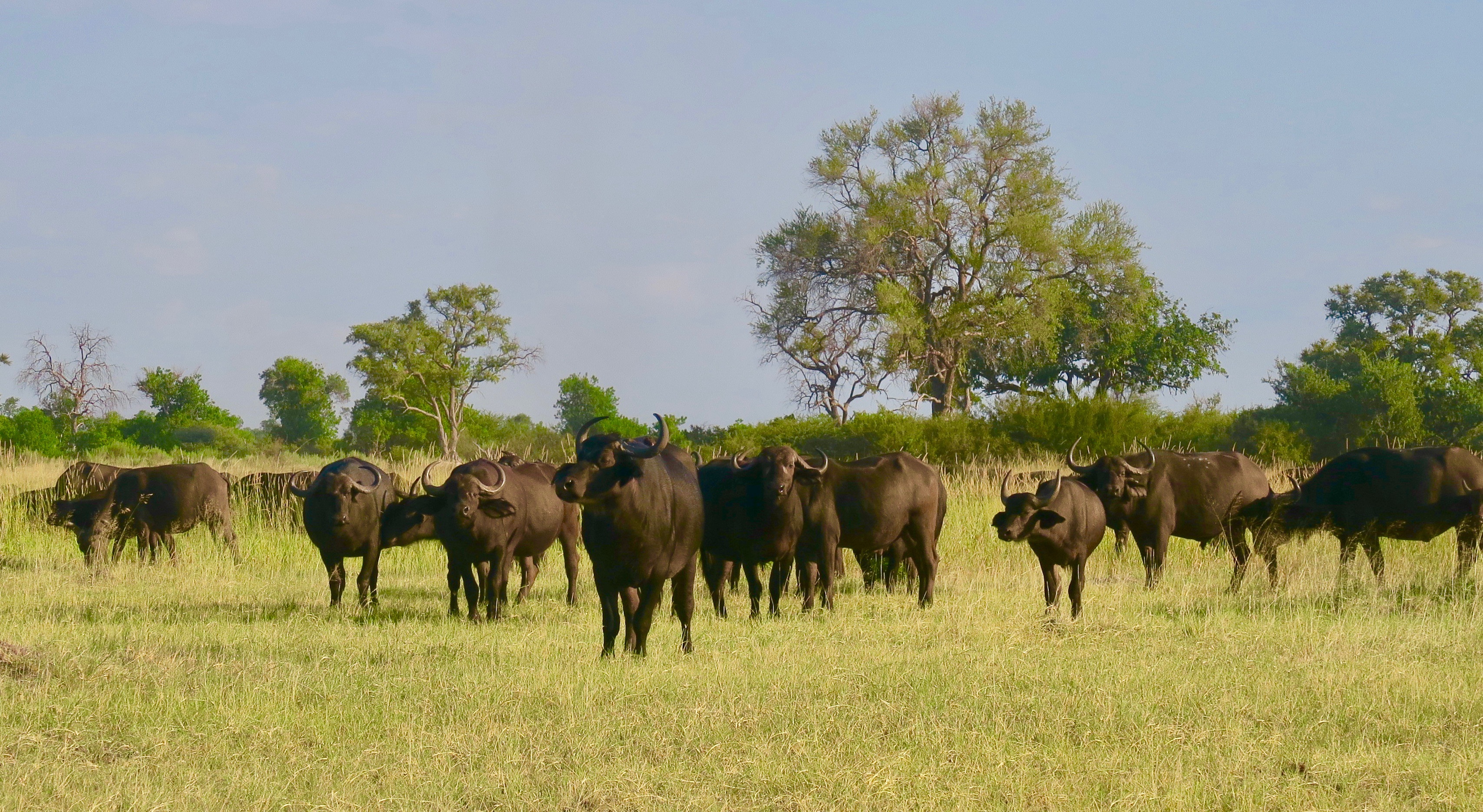 Unlike previous game drives on this tour, we were, for the first time, in an open vehicle which is a completely different experience than being in the confines of an enclosed one.  In an open vehicle there is absolutely nothing between you and the wildlife including any lions we might come across. It sounds a bit scary, but actually it's not. You just learn to be very still and quiet.
Nothing to fear from this female bushbuck – is that an oxymoron?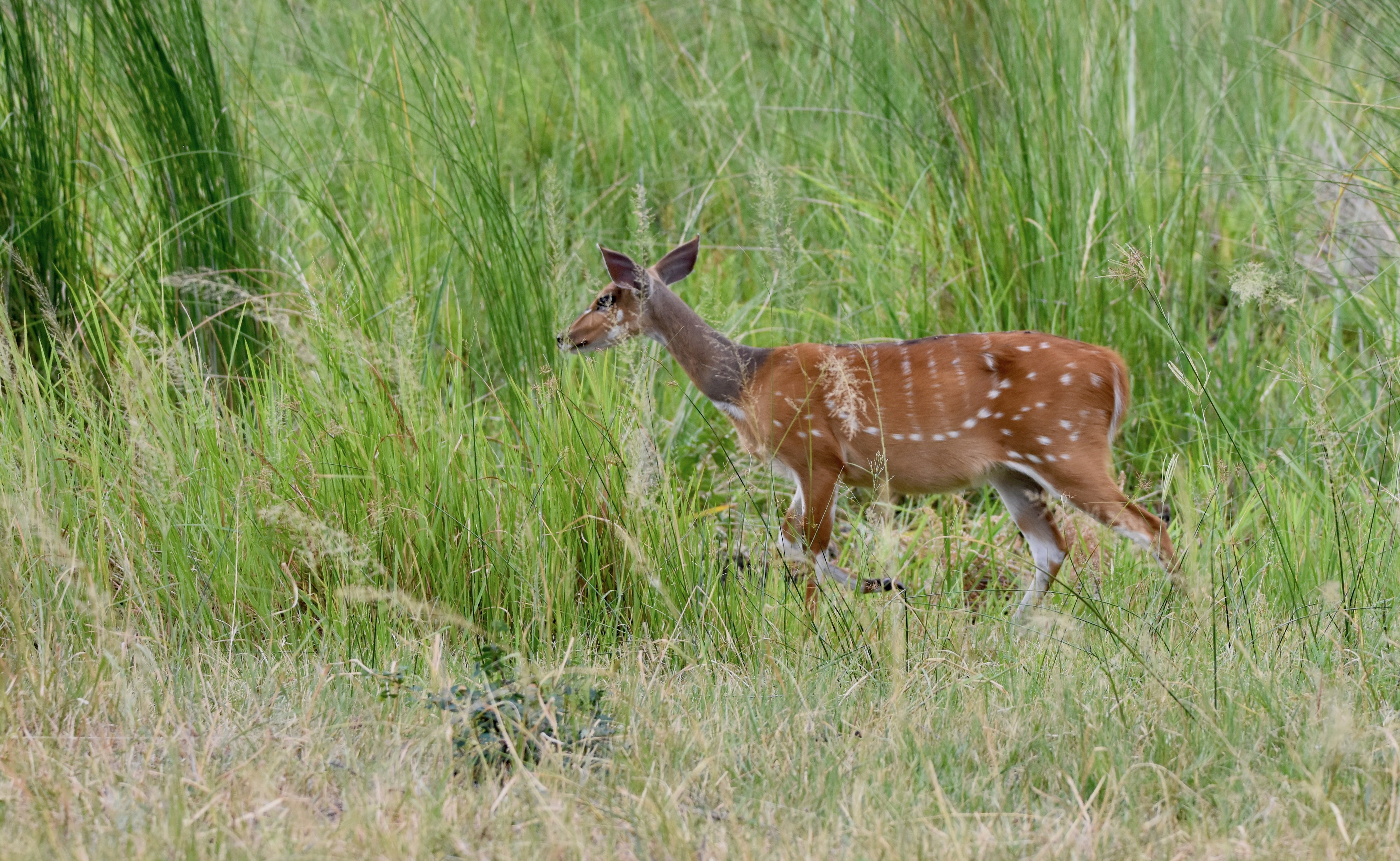 Or this red lechwe, a species endemic to the Okavango and one we had never seen before. They thrive on the grasses that grow in profusion after the rainy season is over. Pound noted that they are also a favourite prey of the Okavango predators,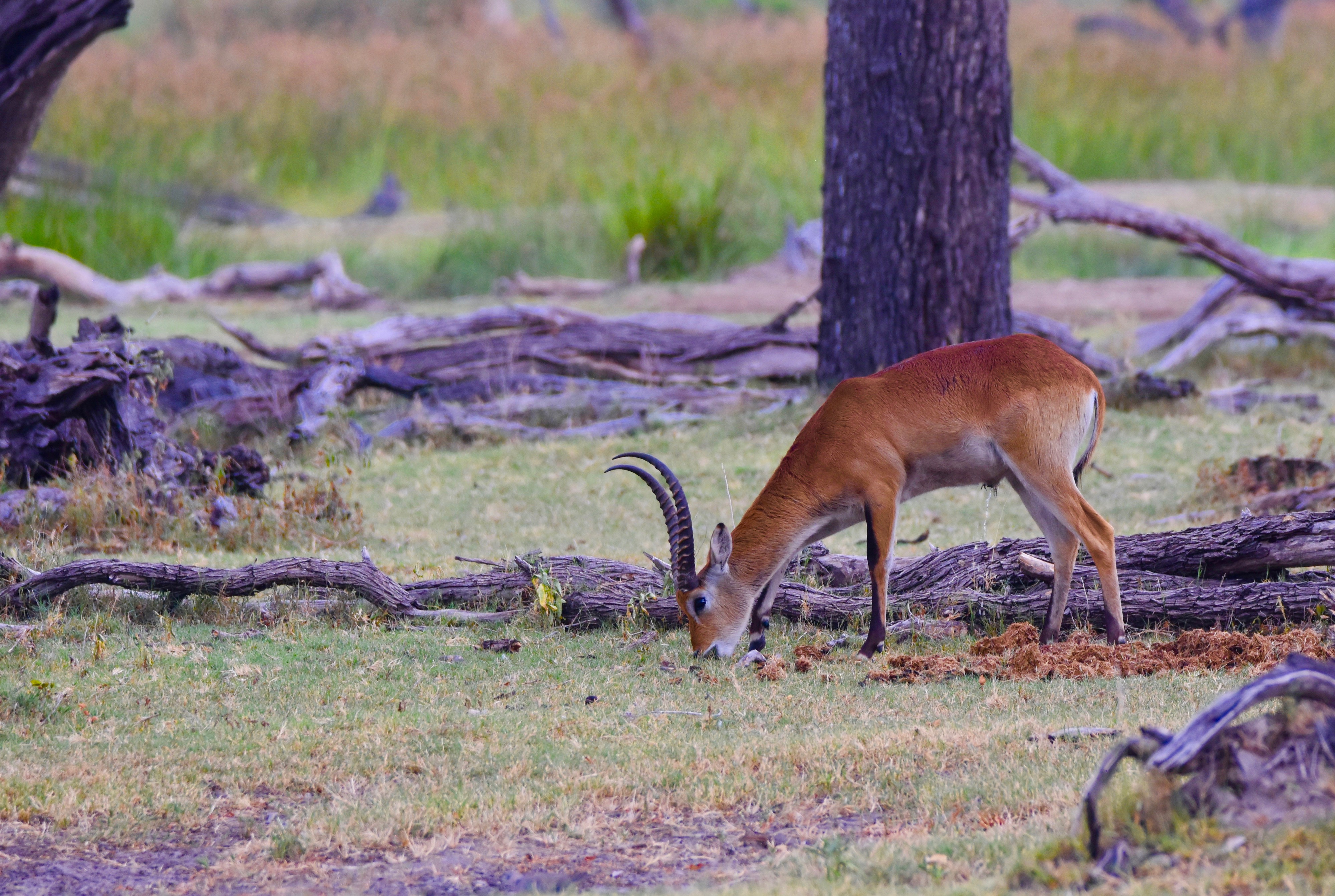 However, when this huge bull elephant starting giving us the eye, I wondered just how fast the Land Cruiser could go. There is a thrilling feeling being this close to a wild elephant with nothing between you and him but a few feet.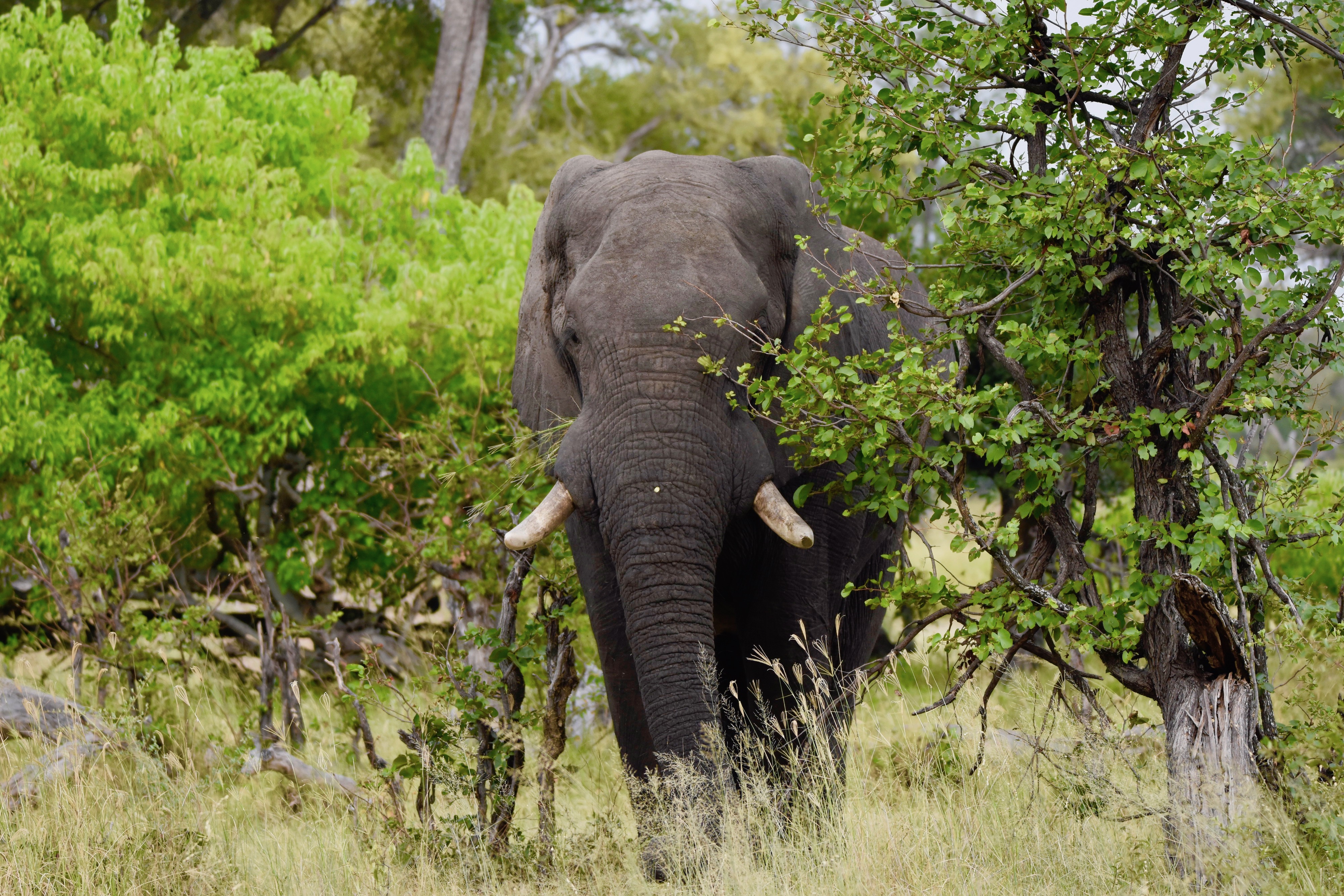 We saw a number of interesting birds on our way to Pound's secret destination some of which were firsts for us, including this green wood hoopoe, a really stunning bird. They feed on termites and there was no shortage of termite mounds in this area.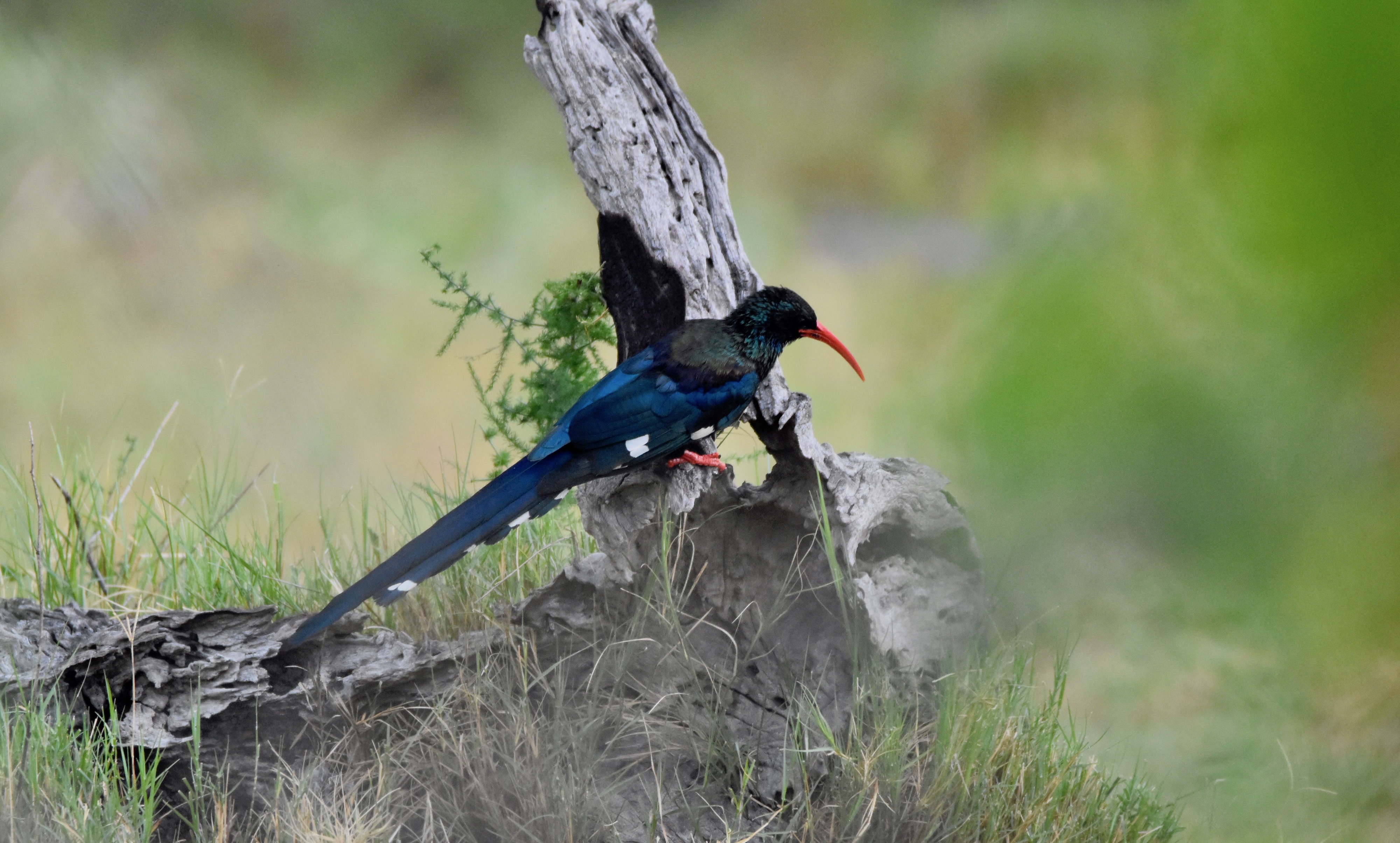 After about a forty minute drive, mostly completely off road, we arrived at what Pound wanted us to see and boy was it worth it. Meet Danko the leopard in all his glory. His name means Mr. Nose in the local dialect because, just like tomcats at home, he's been in a few fights and come out of them with a bit of a nose job. Pound explained that he is the alpha male leopard in this area of the Okavango and has a number of offspring who have staked out their territory nearby including a daughter whose hunting grounds include the area around Camp Xakanaxa.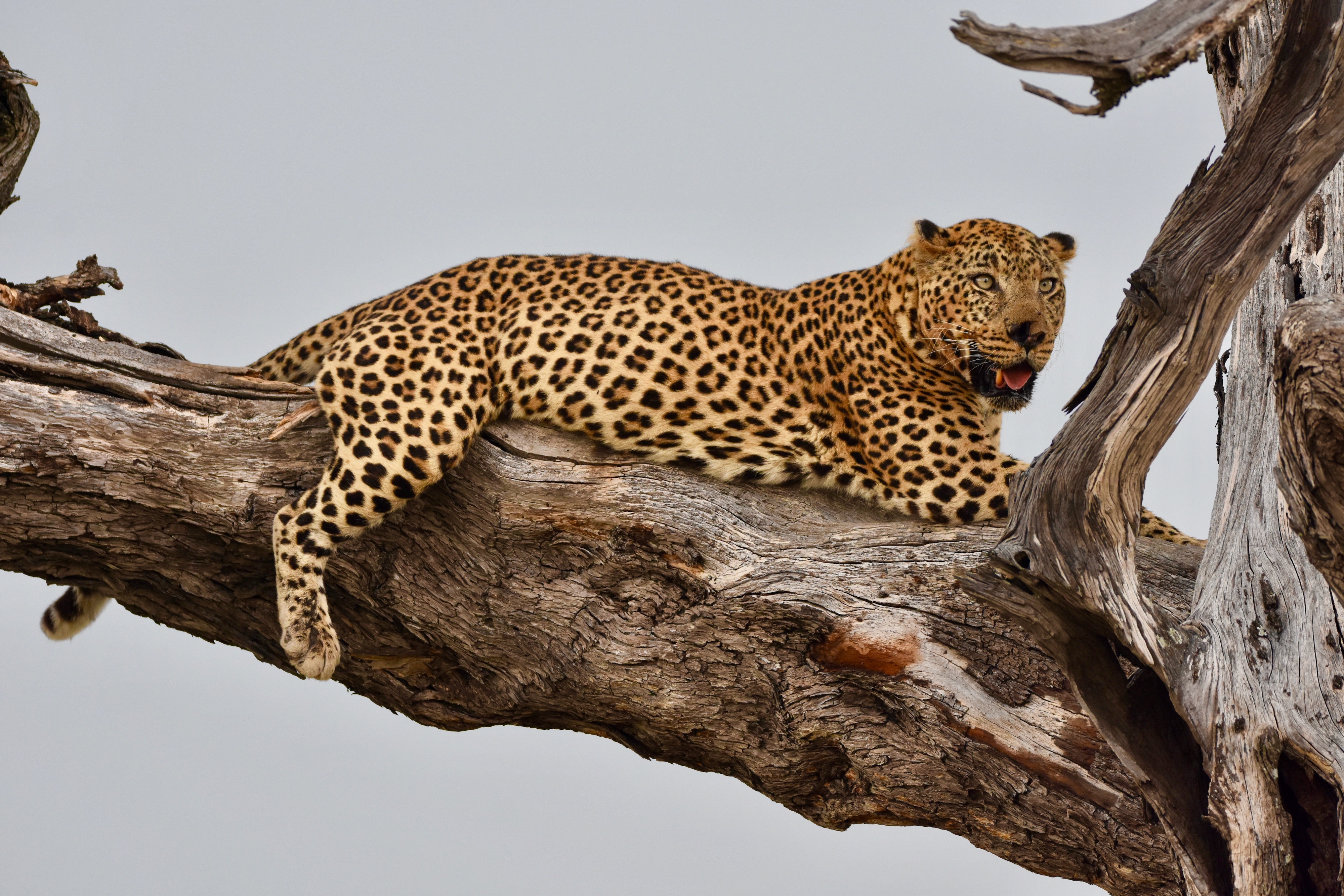 We'd only seen one leopard in the wild before and that was one lying under a bush in Kenya. However, seeing a huge leopard like Danko in the habitat you expect to see leopards i.e. up a tree was one of the absolute highlights of the entire trip. Not only did he complete the Big Five, but he was simply one of the most majestic animals I've ever seen.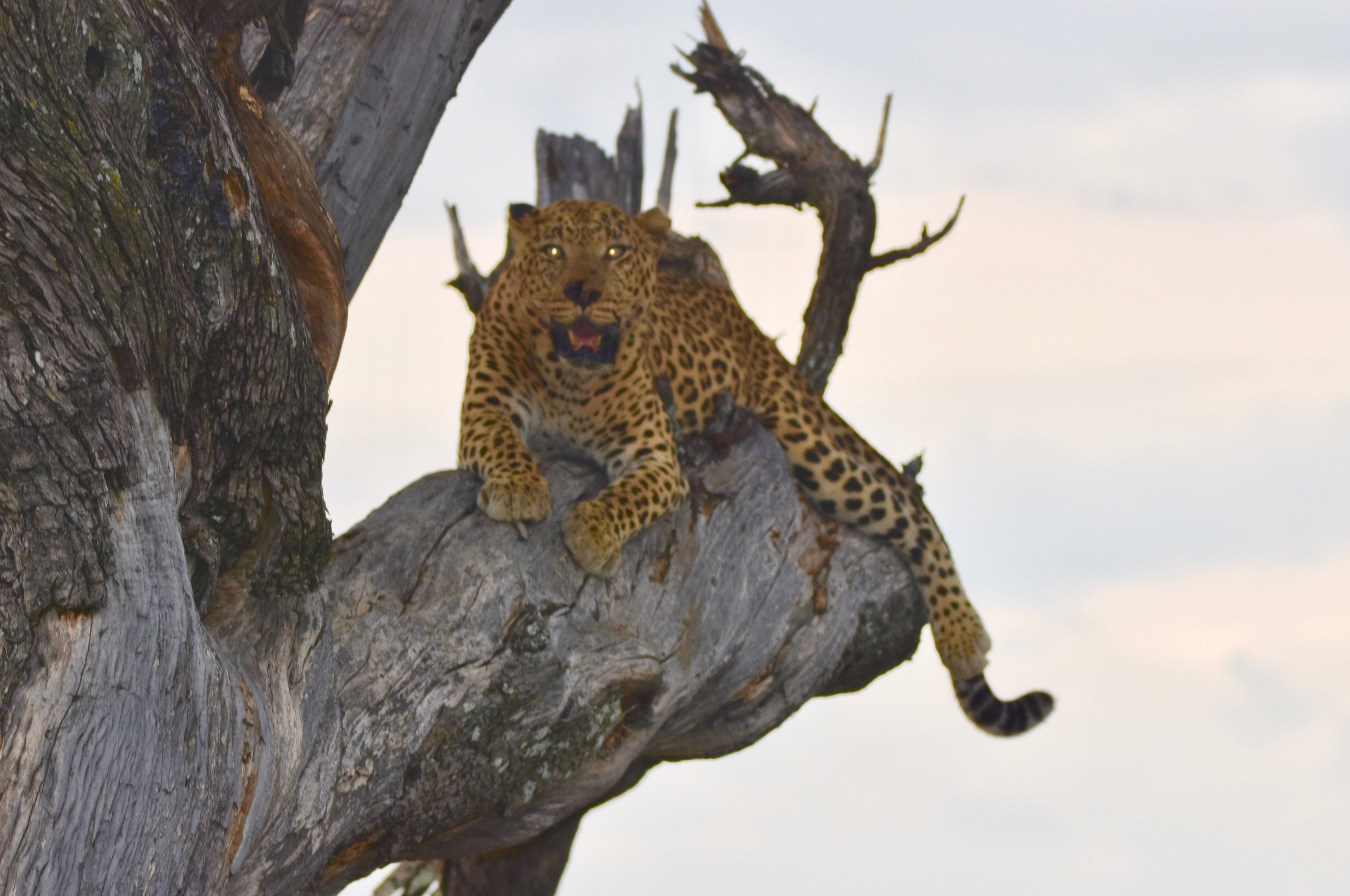 Now you might wonder why we weren't freaked out when Danko looked directly at us and could easily have jumped from the tree into the vehicle in a matter of seconds. I can't answer that other than to say that with an experienced guide like Pound you just feel that you are safe.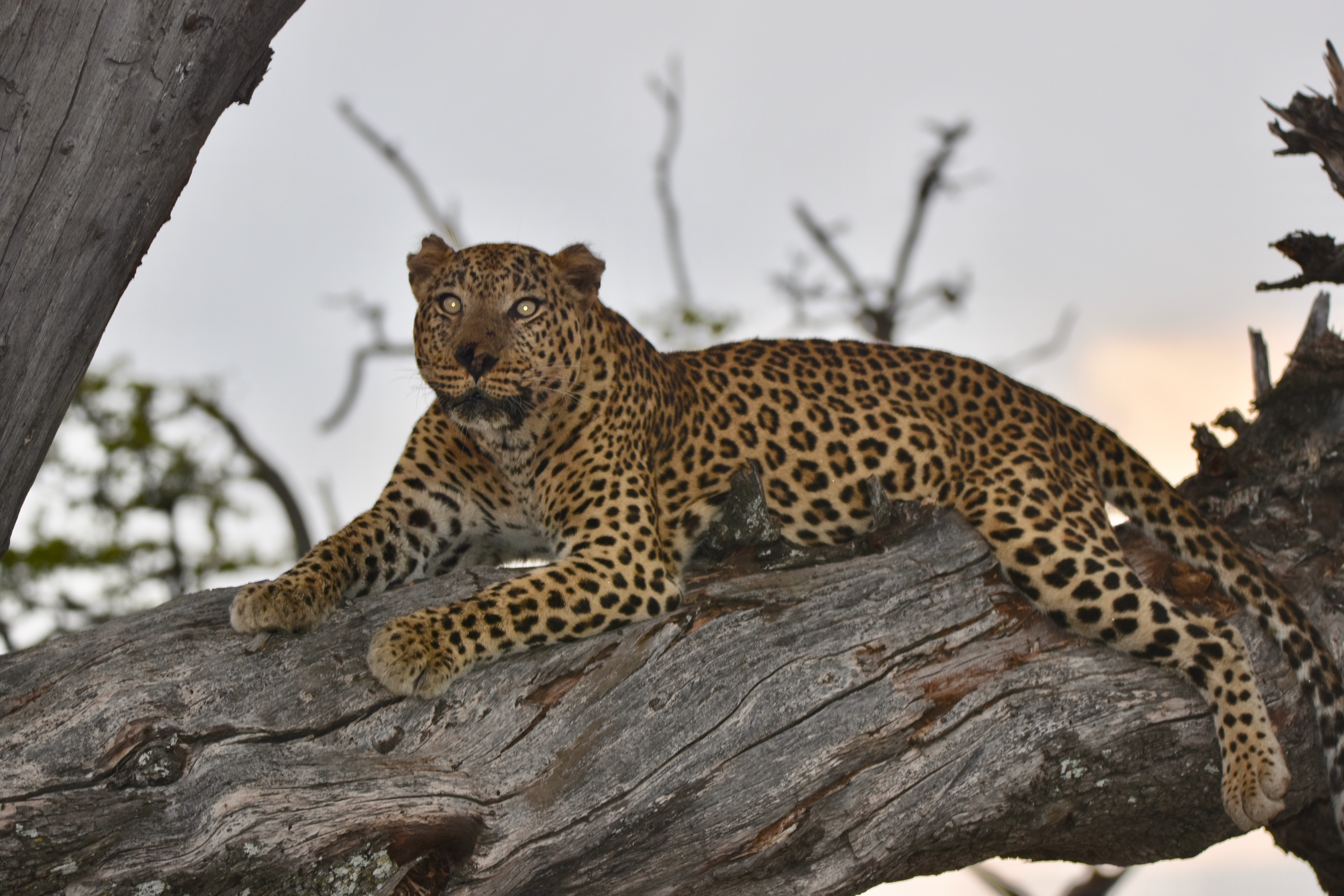 Ears of a Battler
In this photo you can see that Danko also has the ears of a battler. We stayed under this dead tree for about twenty minutes, just the four of us, looking at each other. We in wonder, or at least Alison and I, and who knows what Danko was thinking? This truly was one of those moments that you hope will happen when you go on an African safari, but I never expected that it would be so intimate. Oft times when an animal as rare as a leopard is spotted hordes of Land Cruisers will appear almost out of nowhere and it feels more like you are in a zoo than in the wild. But not today, this was a once in a lifetime experience we will always cherish.
The sun was starting to think about setting so we had to head back, but halfway home Pound stopped the vehicle and said it was time to celebrate our private leopard viewing. He brought out a cooler and prepared two perfect gin and tonics.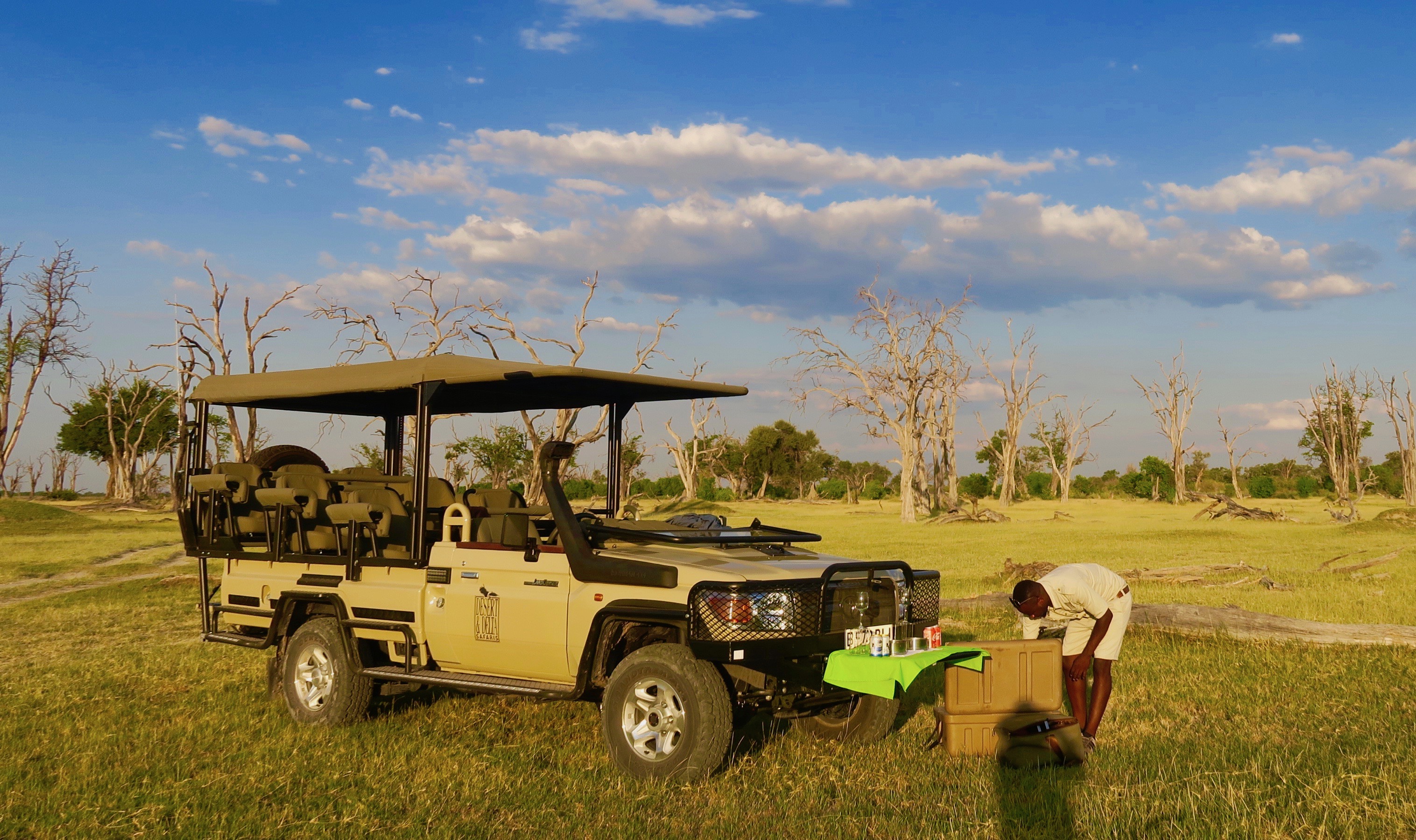 What a way to end the day. Here's a toast to Pound, the Okavango and Adventures Abroad for making it all happen.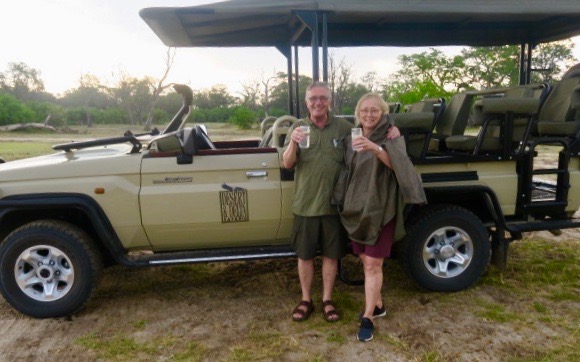 We still have a couple of more game drives to go and hope you'll join us on them.