San Miguel de Allende – Meeting Old Friends
This is my seventeenth post on last year's Adventures Abroad tour of Central Mexico with ace guide Victor Romagnoli and although it is getting near the end, there are still a number of truly magical places to visit. In this post I'll feature the small city of San Miguel de Allende.
In the last post we visited the now deserted city of Tula, home of the legendary Toltec Empire, and were amazed by the Atlanteans, four giant statues atop a very steep pyramid. From there we drove to one of the towns I was most anxious to visit on this trip, San Miguel de Allende, arriving in the late afternoon.
San Miguel de Allende
San Miguel de Allende has a long and interesting history starting with its name which is a combination of the first colonial city San Miguel and then the addition of de Allende in honour of Ignacio Allende who was from here and despite being Spanish and not Mexican, was a key figure in the early fight for independence. He was executed for treason in 1811 and his head was put on display at the Guanajuato Granary which we will visit later on this tour.
The colonial city of San Miguel de Allende was founded in 1555 at its current location after an earlier settlement failed. By a lucky coincidence it was just around the time that the fabulously rich silver mines of Guanajuato, San Luis Potosi and Zacatecas were just being discovered. Although it was never a mining town, San Miguel de Allende prospered as a supply centre and by the mid 18th century it was larger than Boston and New York with a huge number of wealthy merchants building ever grander mansions, most of which still stand. However, when all the silver was mined out by the end of the 19th century and the mines closed, San Miguel de Allende very quickly became almost a ghost town, which had the positive effect of preserving most of its grand buildings.
In the 1930's the place was rediscovered by artists and since then has become known as one of Mexico's great cultural cities, attracting an influx of arts and craft people from around the globe starting with a surprising number of ex-G.I.'s after WWII who came to study art under the auspices of the G.I. Bill. In 2008 San Miguel de Allende was designated a UNESCO World Heritage Site with this description for its induction:
The fortified town, first established in the 16th century to protect the Royal Route inland, reached its apogee in the 18th century when many of its outstanding religious and civic buildings were built in the style of the Mexican Baroque. Some of these buildings are masterpieces of the style that evolved in the transition from Baroque to neoclassical. 
Today San Miguel de Allende is not only a haven for artists, but given its beautiful location and reputation as one of the country's safest cities, has a very large ex pat population of Americans and a surprising number of Canadians. One of the reasons I was looking forward to seeing the place was because I'd heard its praises sung by a couple of different Canadian friends, some of whom now live here year round.
From the moment you pull off the main highway and head toward the centre of the old city you know that there is a different vibe to this place. The number of obvious North Americans and Europeans walking the streets compared to other Mexican cities we have visited is surprising. The number of art galleries, jewelry and craft shops, most of which seem to be high end, is also noticeable. The nearer we got to the city centre, the narrower the streets until finally the bus could go no further and we needed to walk the rest of the way. The picture above was taken from the area where the bus was parked and our hotel was only a short distance from the cathedral.
In truth it was no hardship walking the narrow streets, some of which were wide enough for cars and others that were not. It was certainly worth it when we walked into the lobby our hotel and saw this oasis.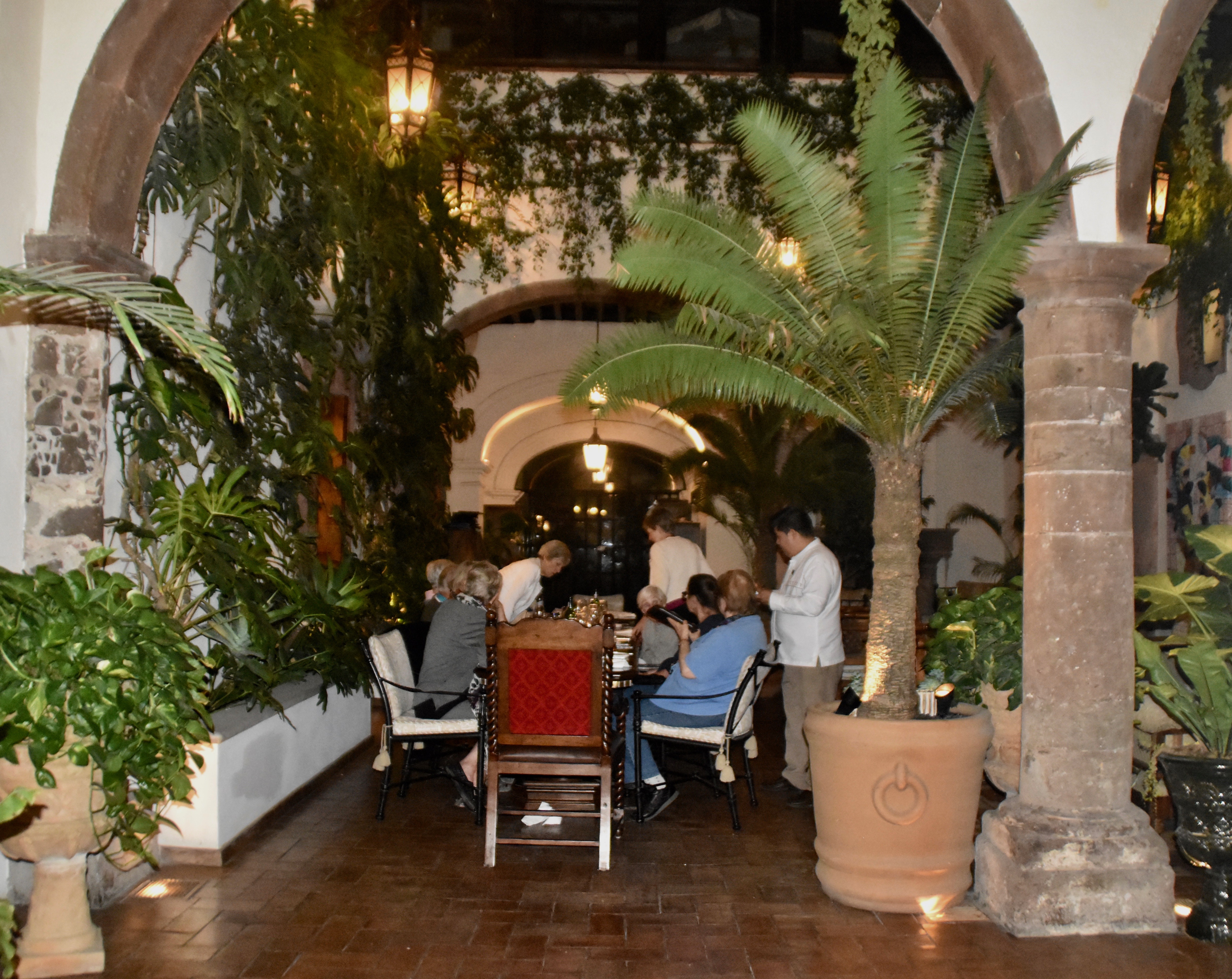 Casa de Sierra Nevada
Although Adventures Abroad does not market itself as a luxury tour company, i.e. a thousand bucks a day and up, it always surprises me with the quality of the accommodations it comes up with at some venues and San Miguel de Allende was one of those. The Belmond Casa de Sierra Nevada is not a single building, but a collection of well preserved mansions that San Miguel de Allende is famous for.
We arrived in time for a late lunch and quickly found out that the hotel has a great chef as evidenced by these delectable dishes. I'm a sucker for octopus, but all too often it is too chewy and tough. Not here. It was not only delicious tasting, but you could cut it with a fork.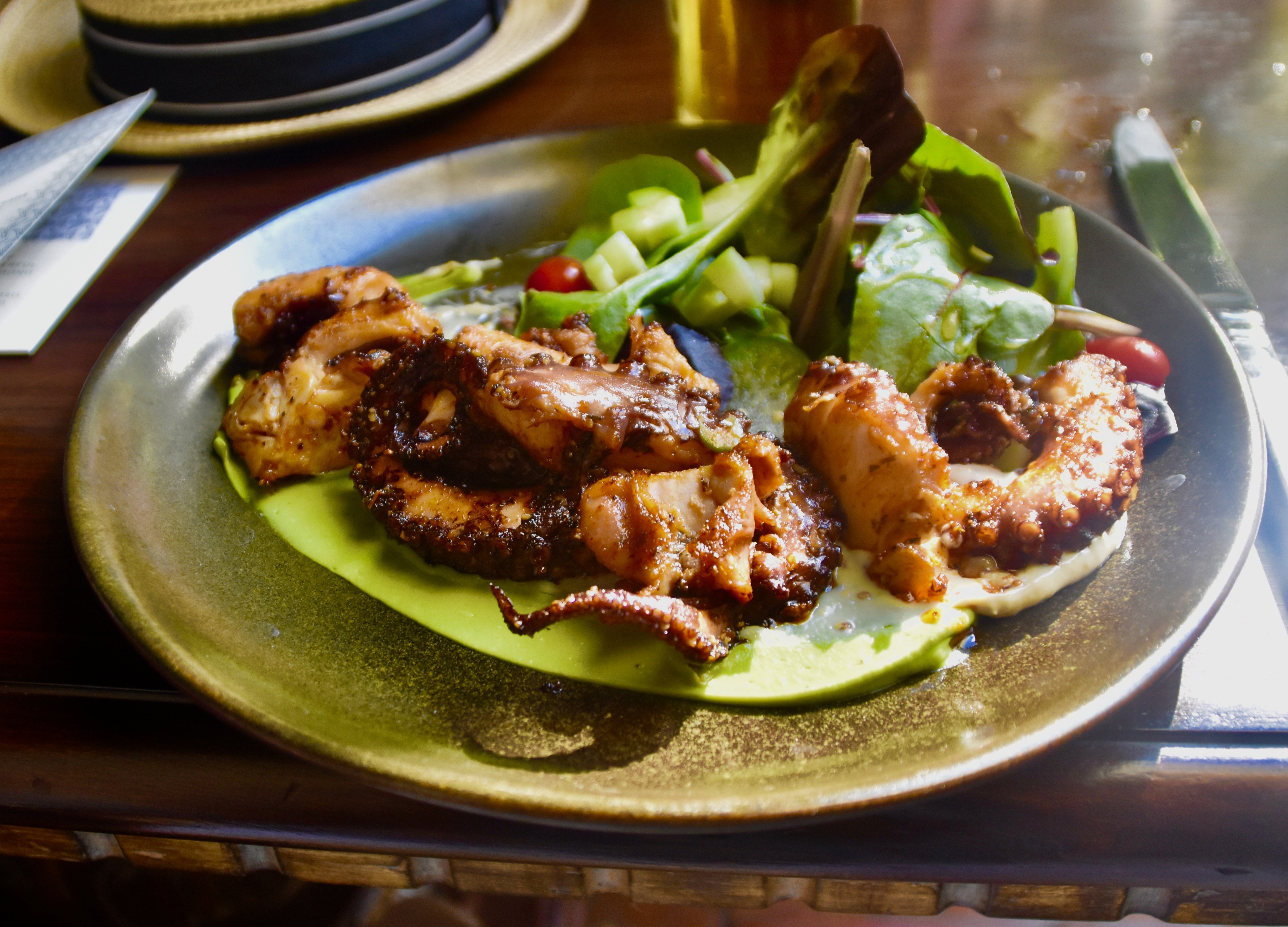 Empanadas is another dish I'm often leery about because, like most samosas, they are often all dough and no show. Again, not here. These empanadas were the best I've ever had and yes, they are hiding under those tomatoes and parsley.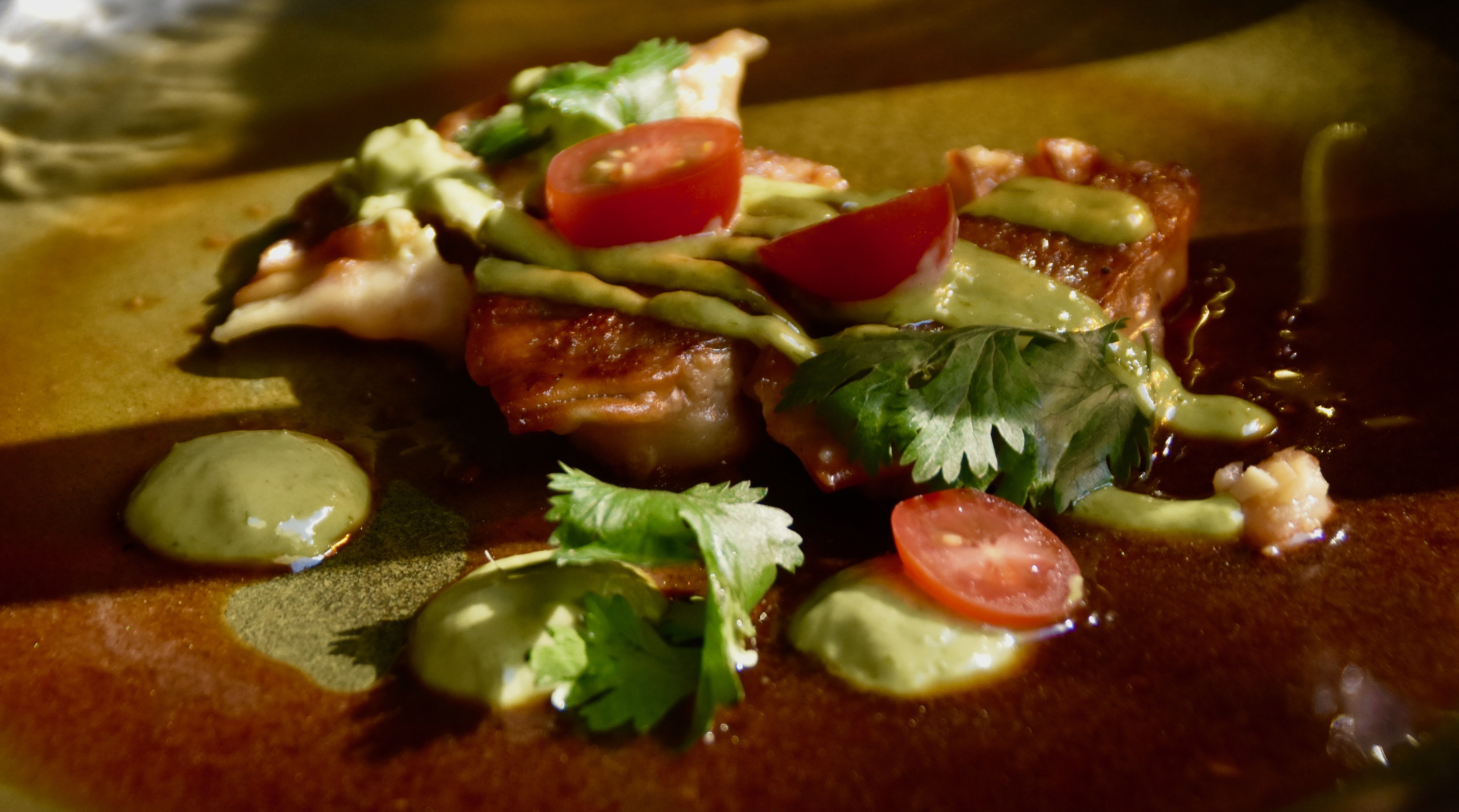 After lunch the bellman took us across the street and opened the door to a courtyard and led us up a set of stairs to a simply wonderful room.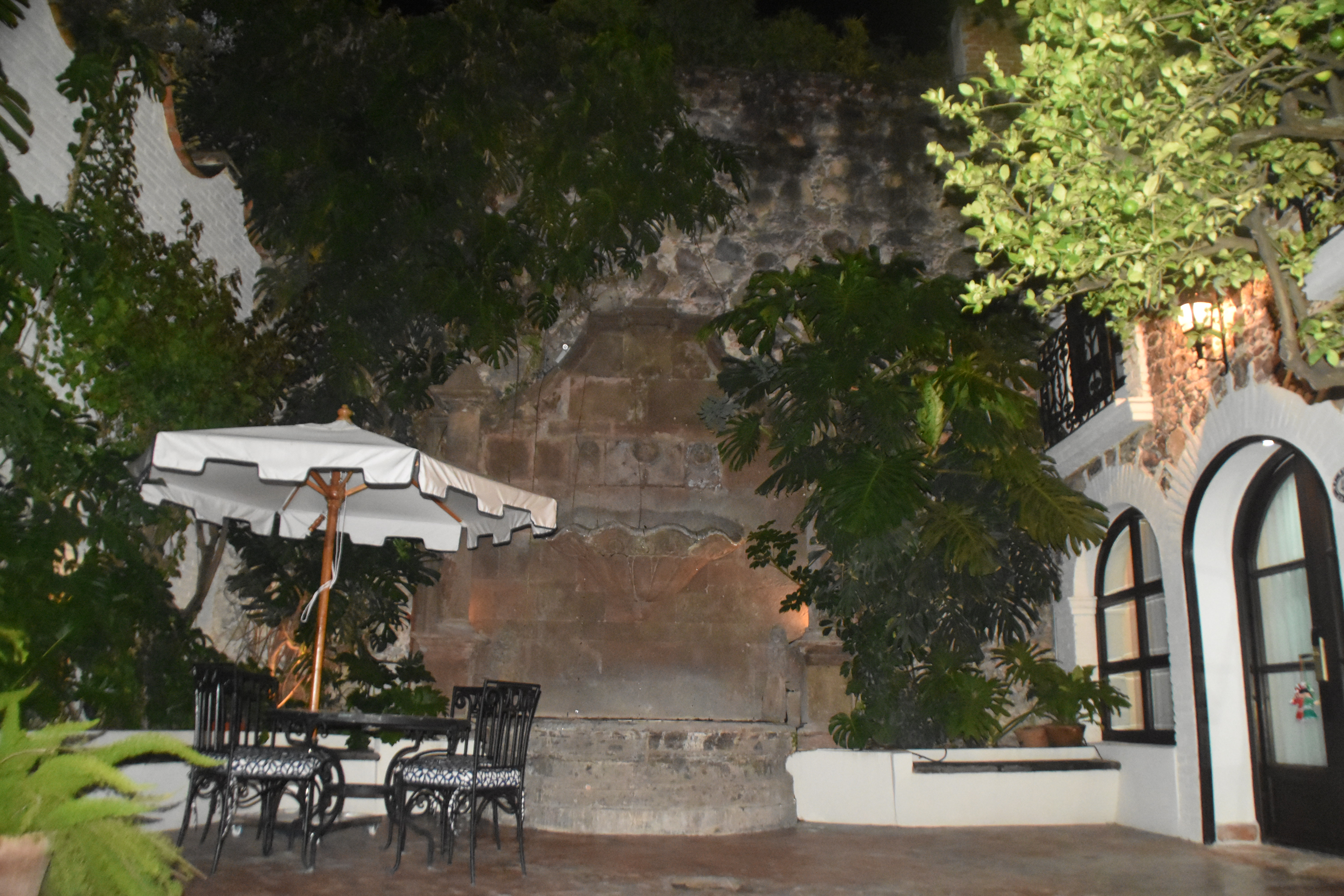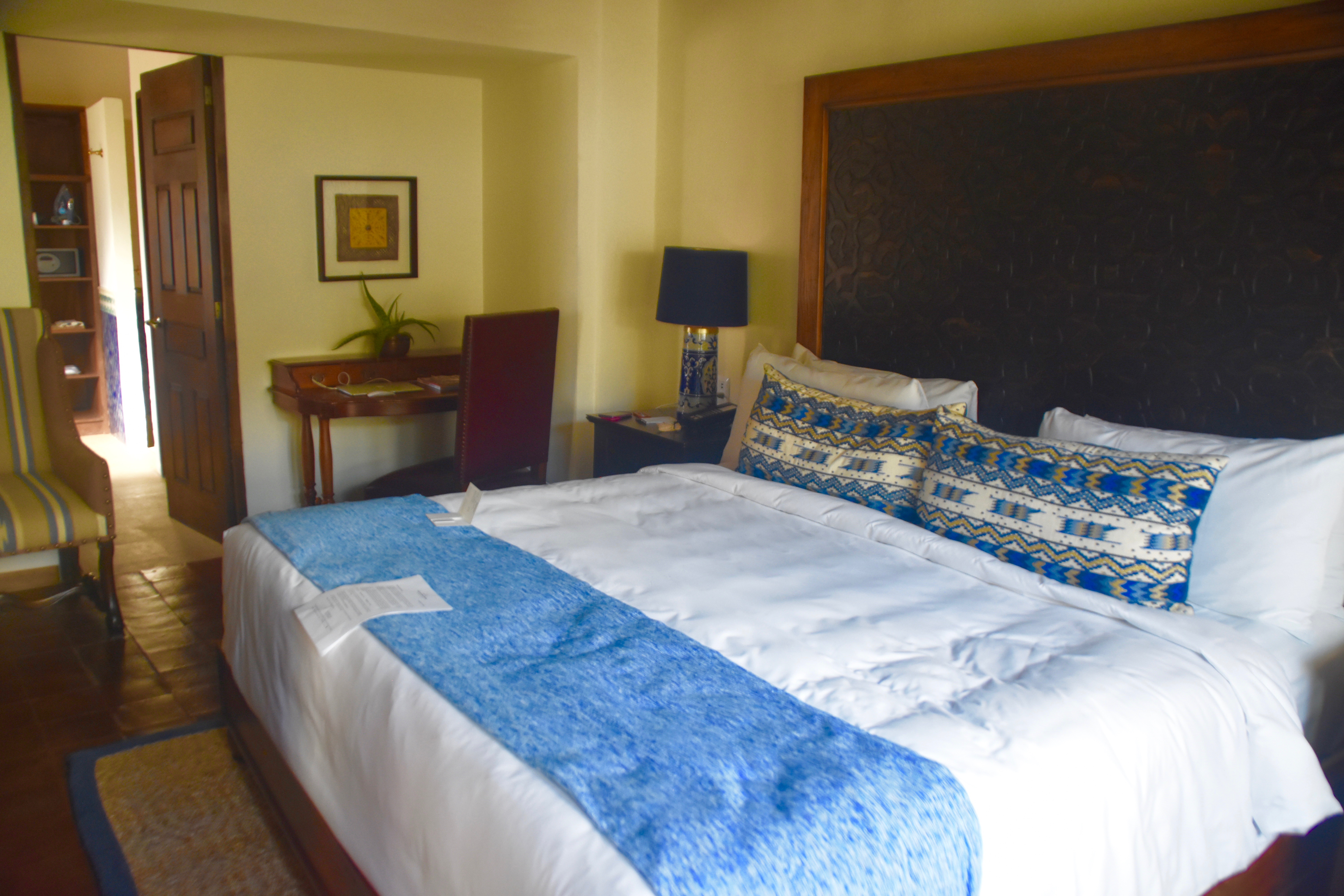 It had the largest bathroom I've encountered in quite some time with a lovely porcelain sink.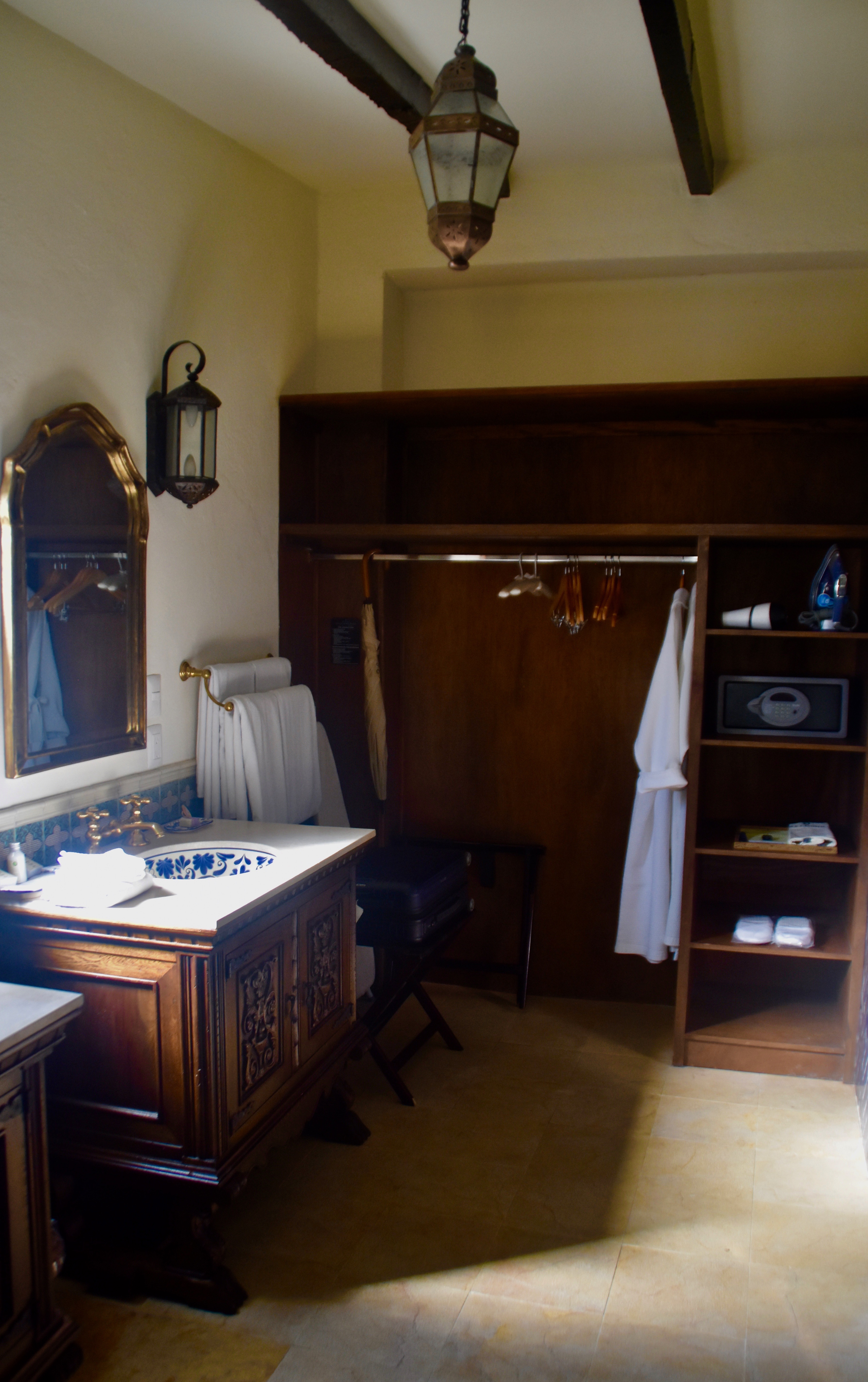 Talking to other members of the tour I learned that everyone was delighted with their rooms which were all unique and quite large.
Unfortunately, both Alison and I had conference calls that we had to take so we were not able to accompany Victor on the walking tour of old San Miguel de Allende. However, we did get out to visit the cathedral which although not really that old, is quite unique. Parroquia de San Miguel Arcangel has what has been described as a wedding cake tower that was designed by a native stonemason in the late 19th century. It dominates the city skyline in the same way as the Sagrada Familia does in Barcelona and I can't help but think if Antoni Gaudi had seen images of this church before taking over the work on that cathedral in 1883. But that's impossible as the two buildings are almost exact contemporaries – more a case of great minds thinking alike.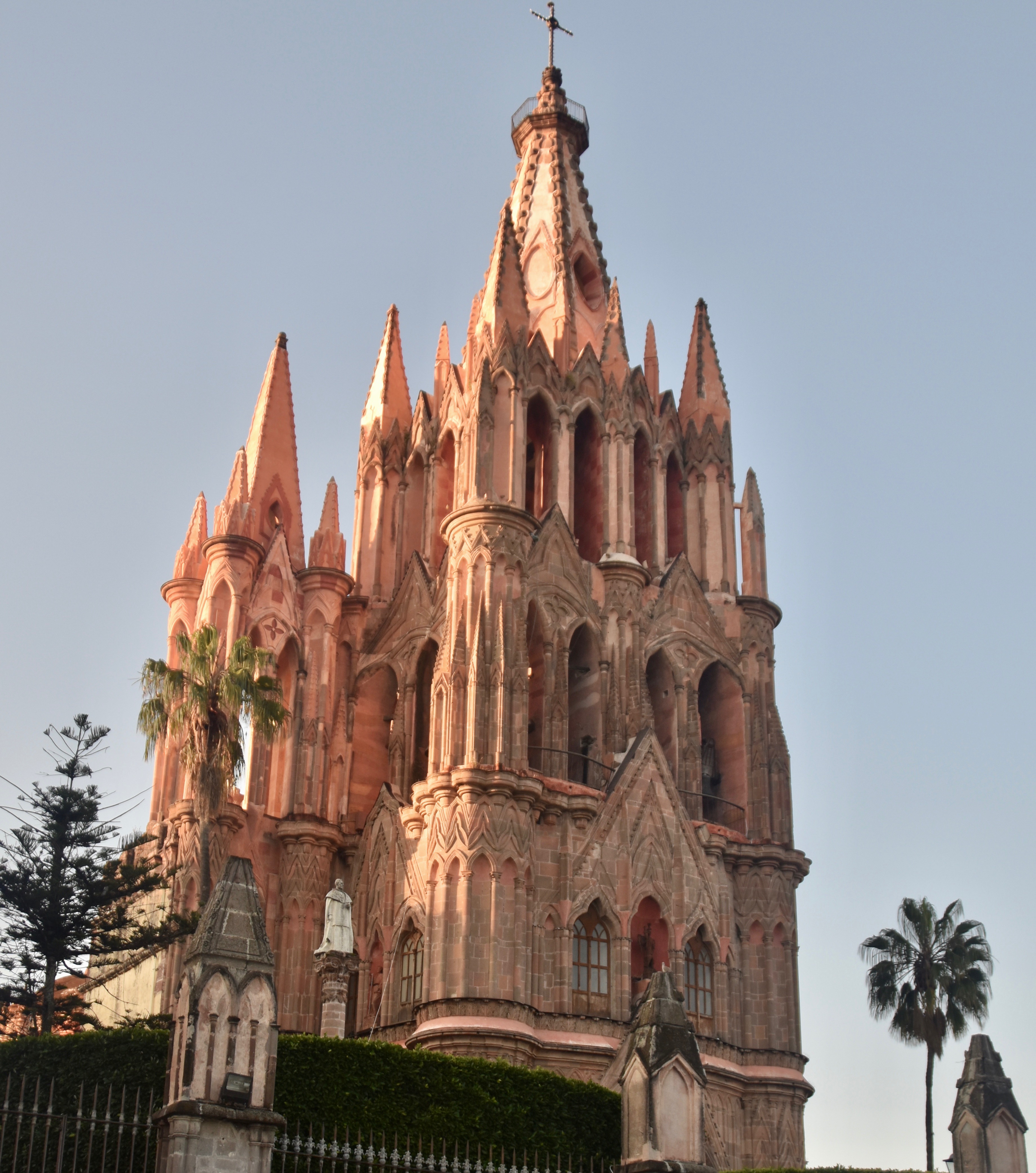 I know some travel writers who first visited San Miguel de Allende when it was just being 'discovered', think it has become almost a parody of itself and is just too touristy, but not having seen the city back then, I have no complaints although it really doesn't need a Starbucks almost across the street from the Parroquia.
I mentioned that we have friends who live in San Miguel and having really enjoyed our lunch at the hotel, we invited them for drinks and dinner there. Once again the food was outstanding, as demonstrated by this absolutely delicious pork belly, another dish that can be awful in the wrong chef's hands.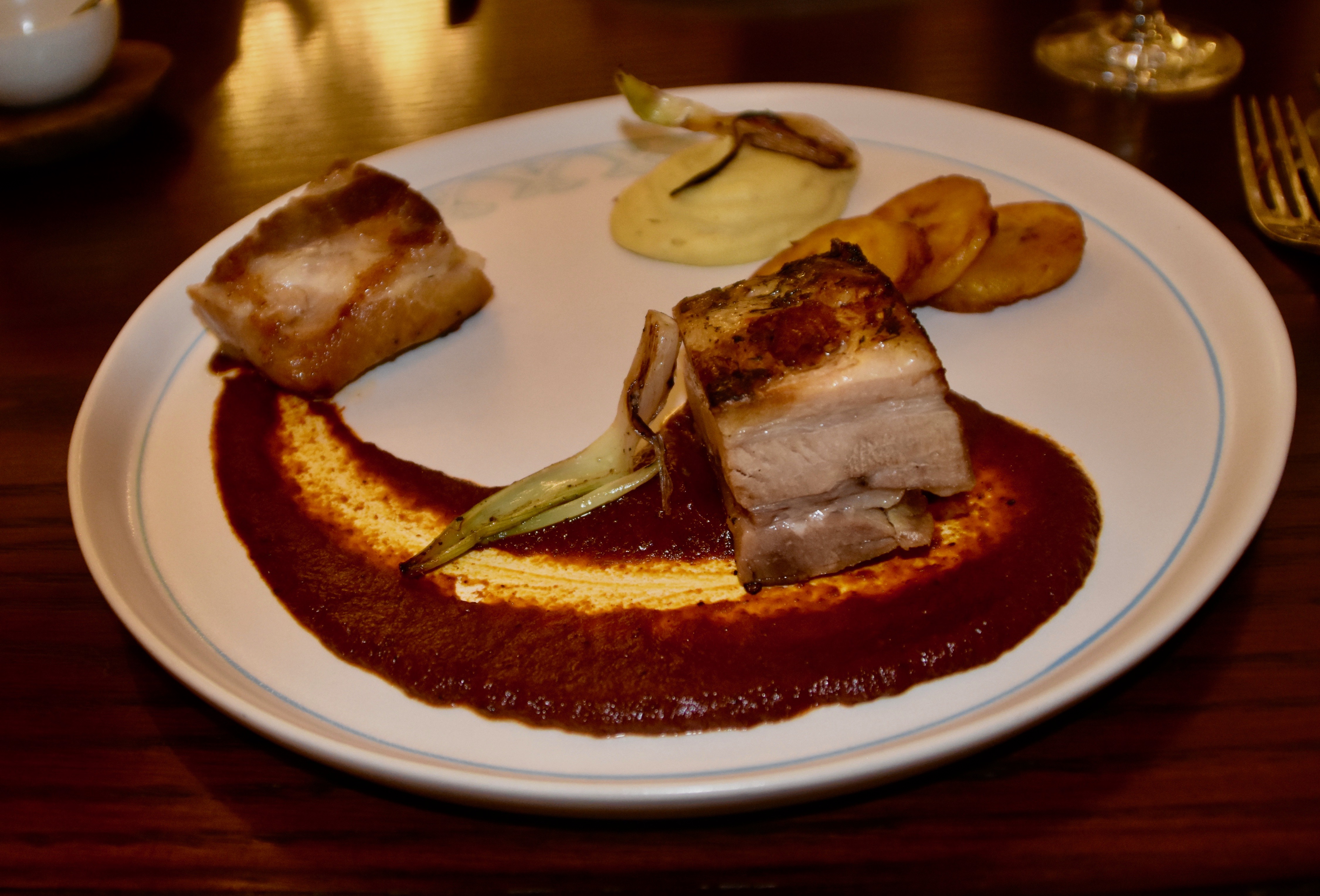 Or this lavender mousse for dessert.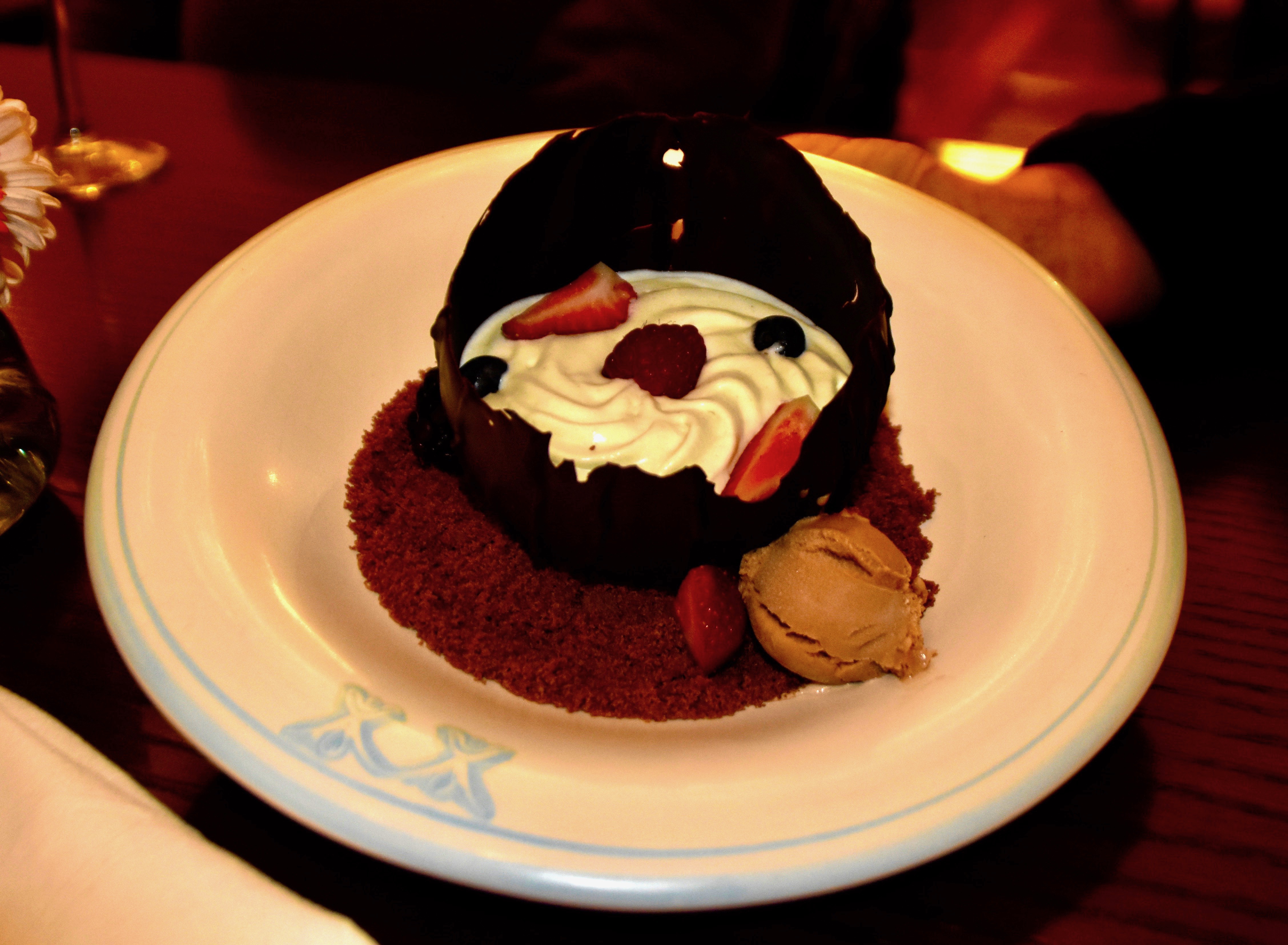 One of the critics who thinks San Miguel de Allende has lost its mojo, also lamented the lack of any good restaurants in the city. Well he clearly didn't make it to the Casa de Sierra Nevada.
On that note I'll end this short post with our friends Kent, Valerie and Craig.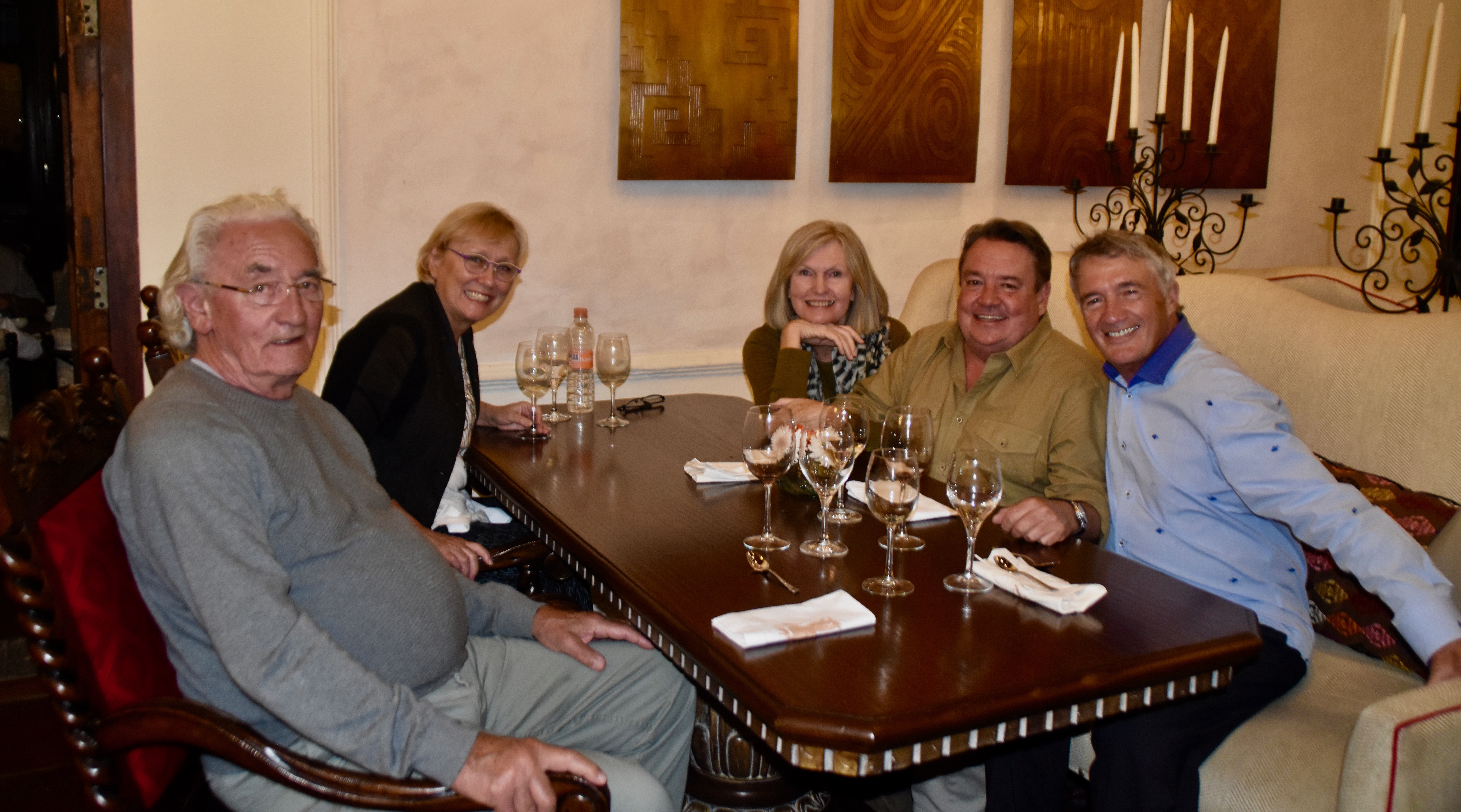 Readers should be aware that the 2019 tour will be staying at a different hotel, but if its close by I seriously recommend dropping into the Casa de Sierra Nevada for at least a drink.
Next up, perhaps the most pleasant surprise of the trip, the city of Guanajuato. See you there.