El Chepe – Mexico's Last Great Train Ride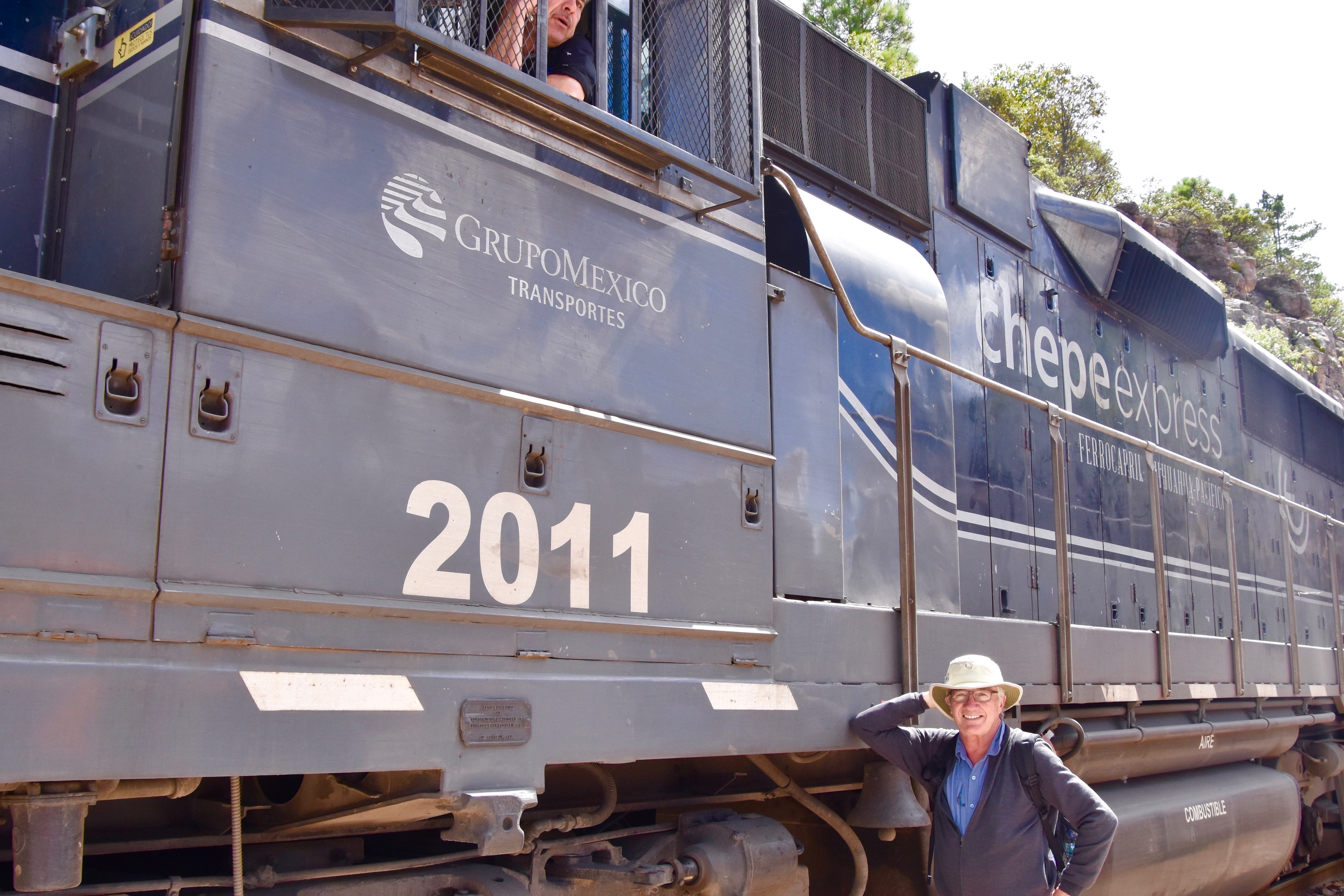 The 2019 SATW conference in El Paso produced some very nice surprises, including the city itself, but nothing surpassed the train ride to Copper Canyon on El Chepe.
Mexico once used to be criss-crossed with passenger trains from the Gulf of Mexico to the Pacific and from the United States border to the Yucatan peninsula. A quick look on Wikipedia lists thirteen different train services that are now all gone – just memories for those who used to ride them to get from place to place in this great country. Now there is only one left; the fabled El Chepe that since 1961 has been operating between the city of Chihuahua and the Pacific coastal city of Los Mochis, a total distance of 635 kilometres (395 miles). On the journey it crosses 37 bridges and goes through 86 tunnels, but its real claim to fame is that is passes through Copper Canyon, the largest canyon system in the world and twice as deep as the Grand Canyon. Recently I had the chance to ride El Chepe from Chihuahua to Posada Barrancas, the principal stop for Copper Canyon hotels. It was a journey I will never forget. Here's why.
How to get to El Chepe
One of the reasons that El Chepe is so famous is that it's not that easy to get to one of it's two starting points, particularly Los Mochis on the Pacific side. The overwhelming number of tourists who take this train do it from the city of Chihuahua in the state of the same name in northern Mexico. Chihuahua is a beautiful late colonial city that is definitely worth getting to at least a day before embarking on El Chepe. It has some great murals in the State Capital building, a lively zocalo and a very untouristy feel.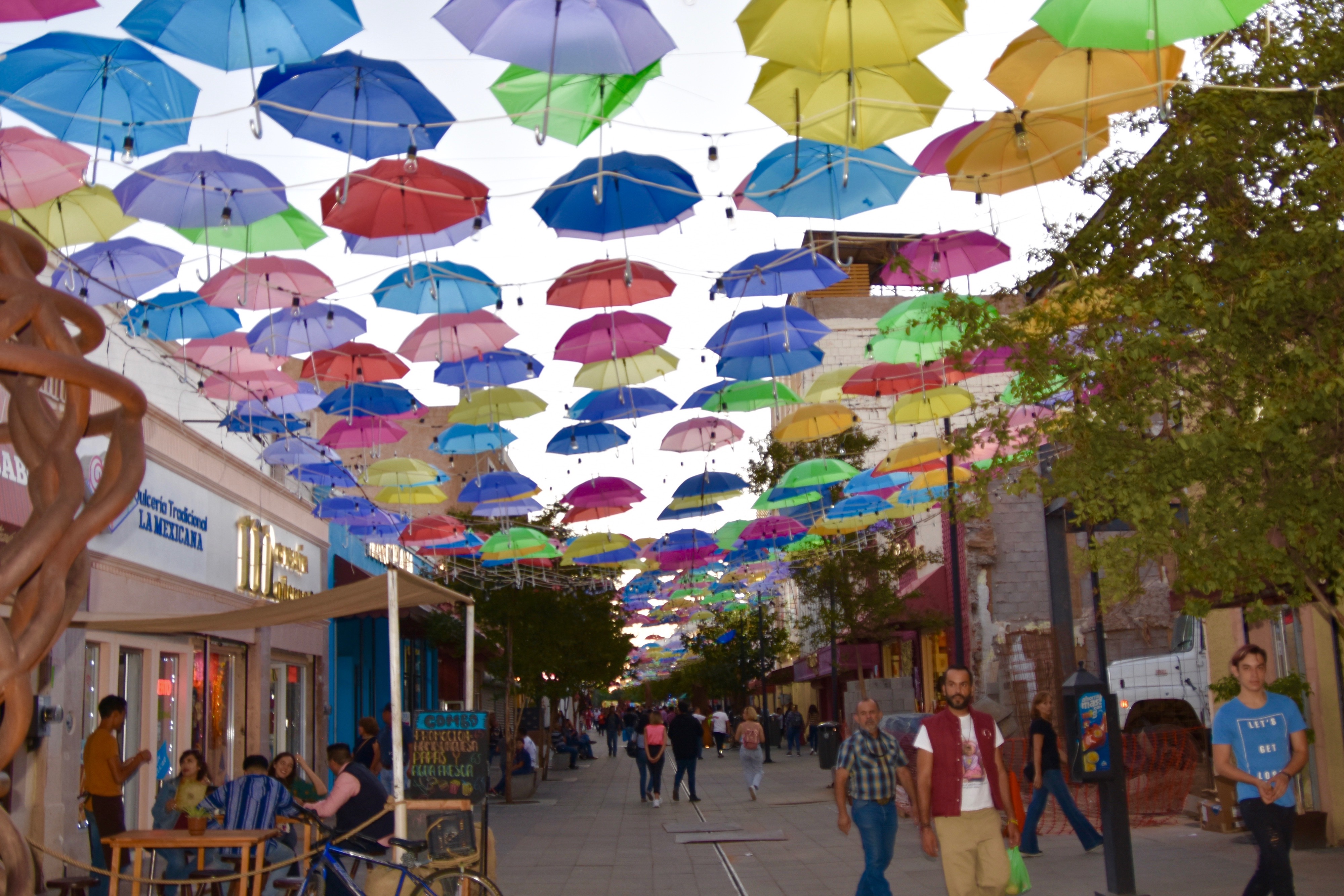 You can get to Chihuahua by air from Dallas or you can drive south for four hours from El Paso which is what I did on an small organized tour as part of the 2019 SATW Conference. The highway is double lane and the scenery quite interesting, particularly around the sand dunes of Samalayuca.
You will need to spend at least one night in Chihuahua as the train departs at 6:00 in the morning. There are two classes of passenger cars – Tourist which is for, guess what – tourists and Economy which is used by the ordinary Mexicans who are using El Chepe to get back and forth to their home villages. A tourist class ticket from Chihuahua to Posada Barrancas costs 1981 pesos which is just over $100 USD.  Now here's the catch – trying to actually buy a ticket on El Chepe is near nigh impossible. Our tickets had been purchased in advance by the tour company so I had no idea how difficult it would be to buy them on our own. The El Chepe website would seem the logical place, but no way. The process is so convoluted that I had to go to this excellent post from Can Travel Will Travel to get the answers. The bottom line is, if you want to visit Copper Canyon via El Chepe and book on your own, make sure you plan well in advance.
Getting to the Chihuahua train station in the dark at 5:30 in the morning we found quite a lineup of Mexicans waiting for the gates to the station to open just before six. Many were loaded down with provisions to take back home including one poor fellow who had a case of red wine in a cardboard carton. I say poor fellow because once the doors were open, it somehow got kicked over and there was the sound of breaking glass and red wine trickled out onto the pavement. He looked as if the oozing wine was his own blood flowing from his body. What a shitty way to start a trip.
Our start was much better as we made our way to the front of the train where the tourist class cars were located. While the interior of the El Chepe cars are fine, they are in no way luxurious. There is no wifi, tvs or other amenities many train travellers take for granted. There is a restaurant car which serves simple breakfasts on a car by car rotation.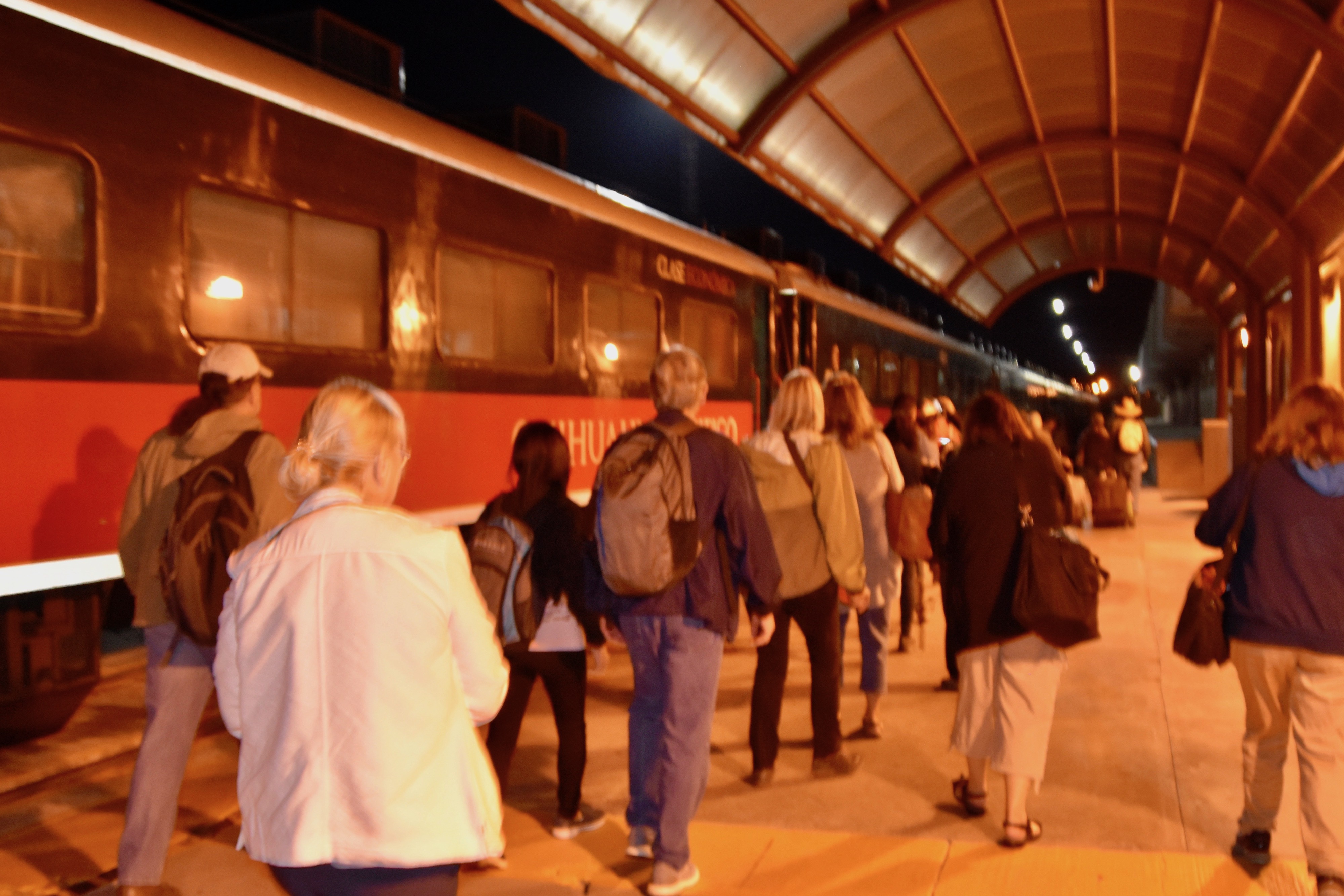 The train got underway on schedule and soon we embarked on this journey which would take us through a multitude of different ecosystems and altitudes, ending at just under 8,000 feet in Copper Canyon.
This is a map showing the route from Chihuahua to Divisidero. Posada Barrancas a only a few kilometres past Divisidero.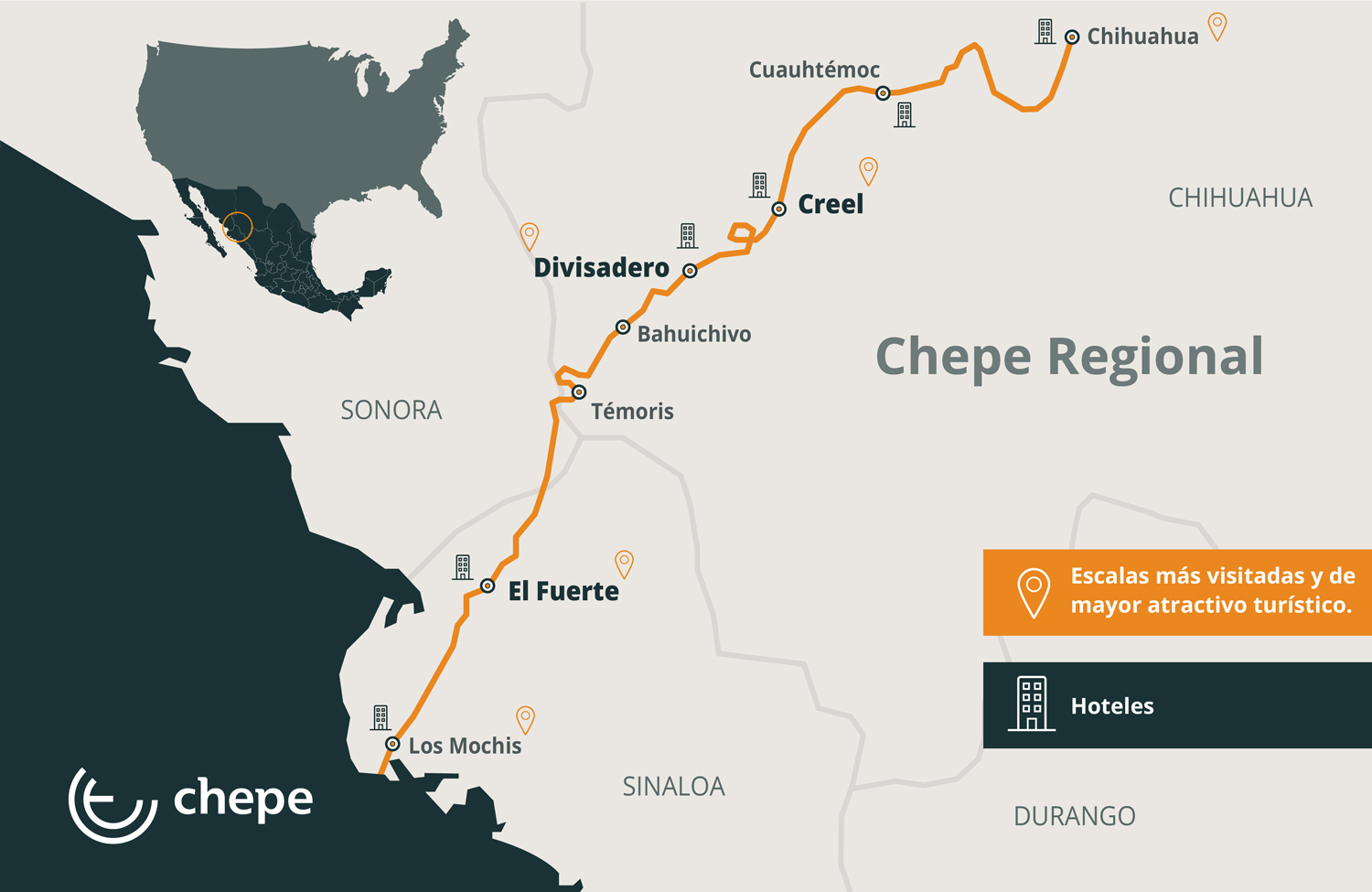 What follows is a photographic explanation of the changing scenery you will see once you leave the city of Chihuahua and the sun rises over the eastern hills. I was a bit concerned that as it became lighter it was also quite cloudy as shown in this photo. This area is famous for its continual sunshine and the last thing our group wanted was a cloudy day.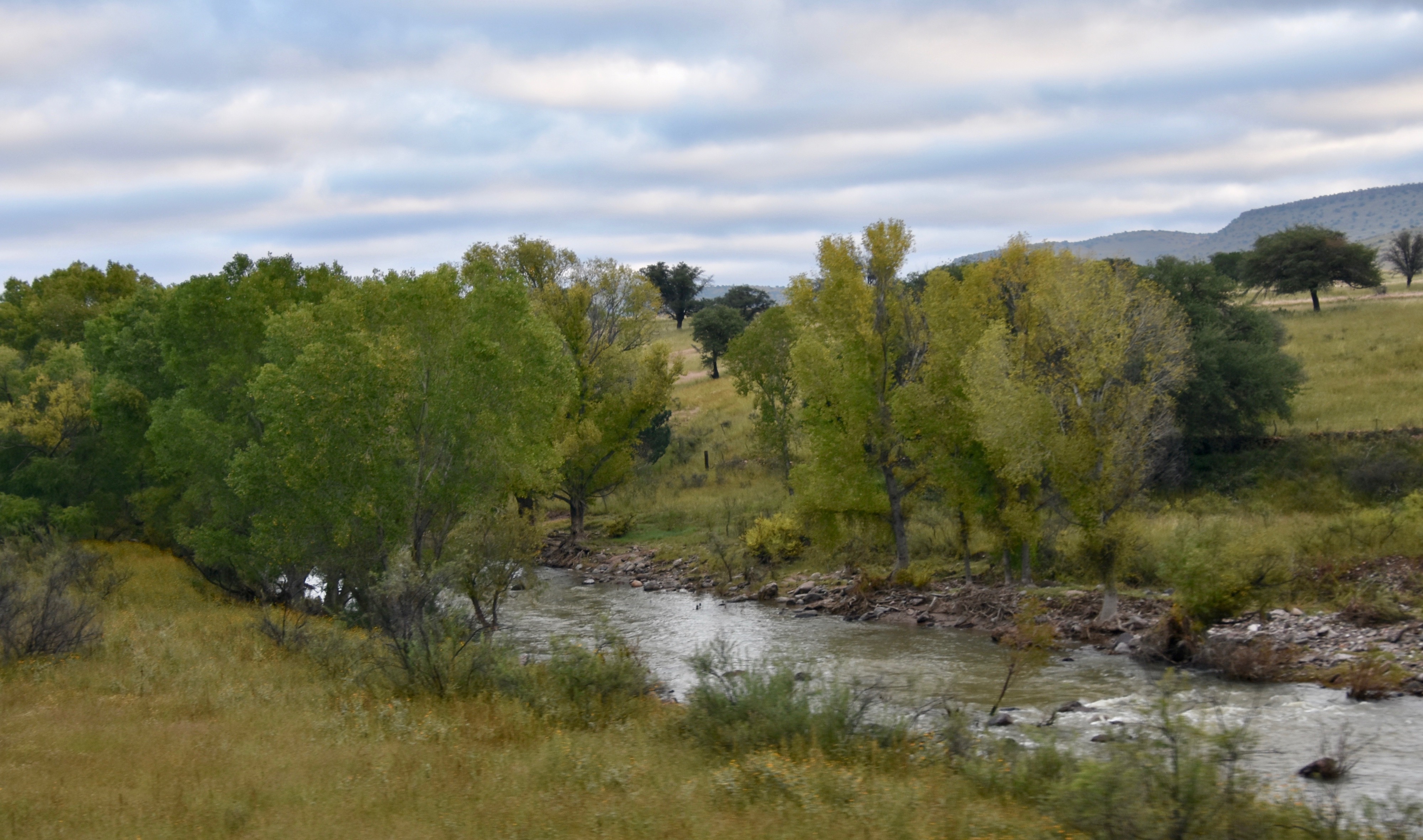 This was the entrance to the first of four tunnels.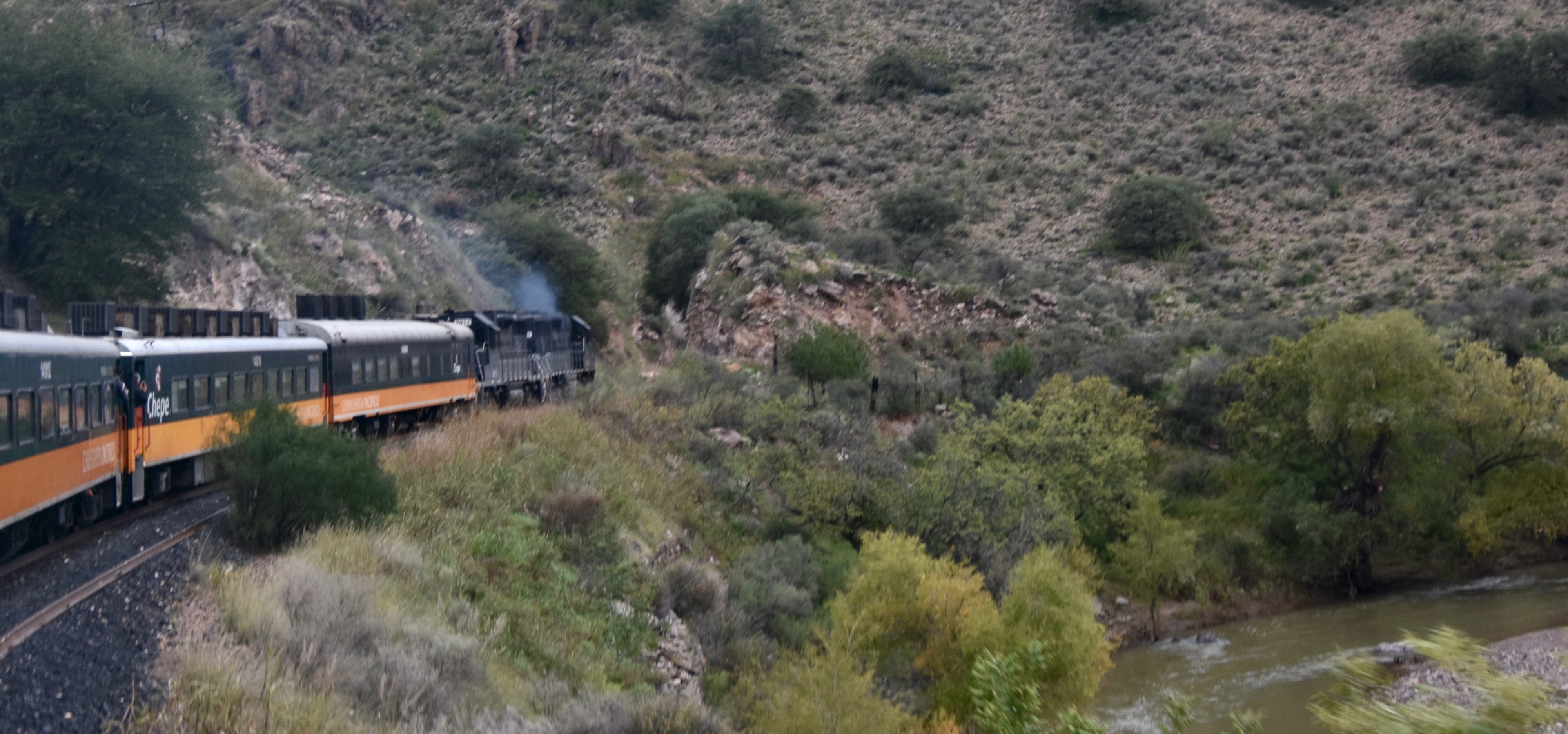 As the sun got fully up it appeared that the clouds were breaking up – yeah! BTW to take decent photos on El Chepe you need to stand between the cars where there are openings, but you really need to be careful about leaning out as in places the tree branches come right up to the sides of the train. More than one person has lost their smart phone while taking a selfie by holding it outside at the wrong time. Also, be prepared to fight for a good photo spot whenever there's a real good patch of scenery as everyone rushes up from their seats to get outside. Better to just take up a good position and stay there.

This is one of the larger trestles on the way to Copper Canyon. If you are afraid of heights do not lean over and look down when you cross over of these as it appears there is nothing between you and the valley floor below and in fact there isn't. The train actually is wider than the trestle. Don't even let the thought of a derailment come into your head.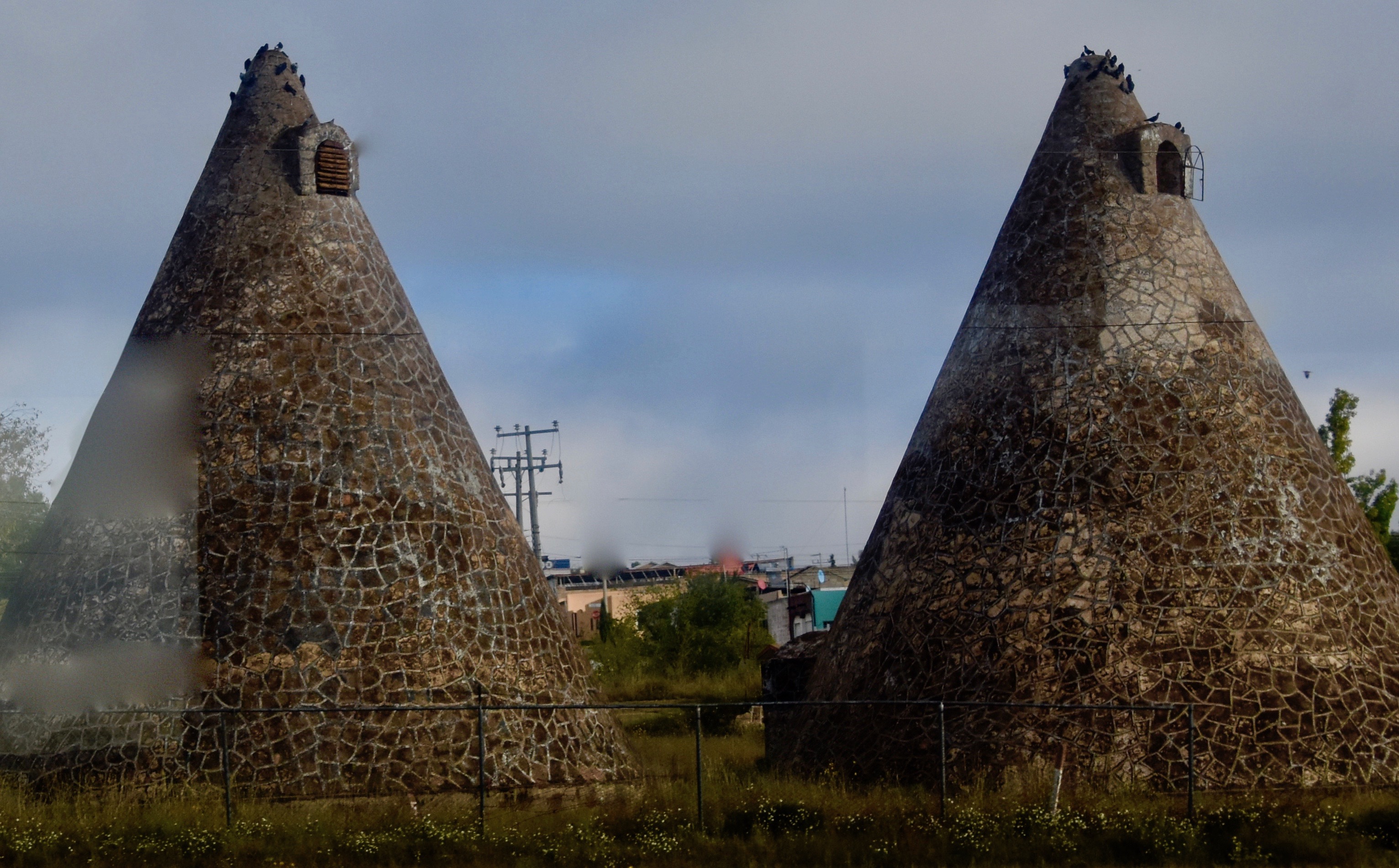 These are pigeon traps which I first encountered on the Nile delta in Egypt. They provide nice nesting places for wild pigeons that enter through the small opening at the top and being pigeons, begin screwing their brains out and producing more pigeons. When it's time to harvest a few, the opening is closed and the trapped pigeons are simply caught in a net and voila, roast squab is on the menu. Little do those unsuspecting birds know of their impending doom – kind of like Hansel and Gretel.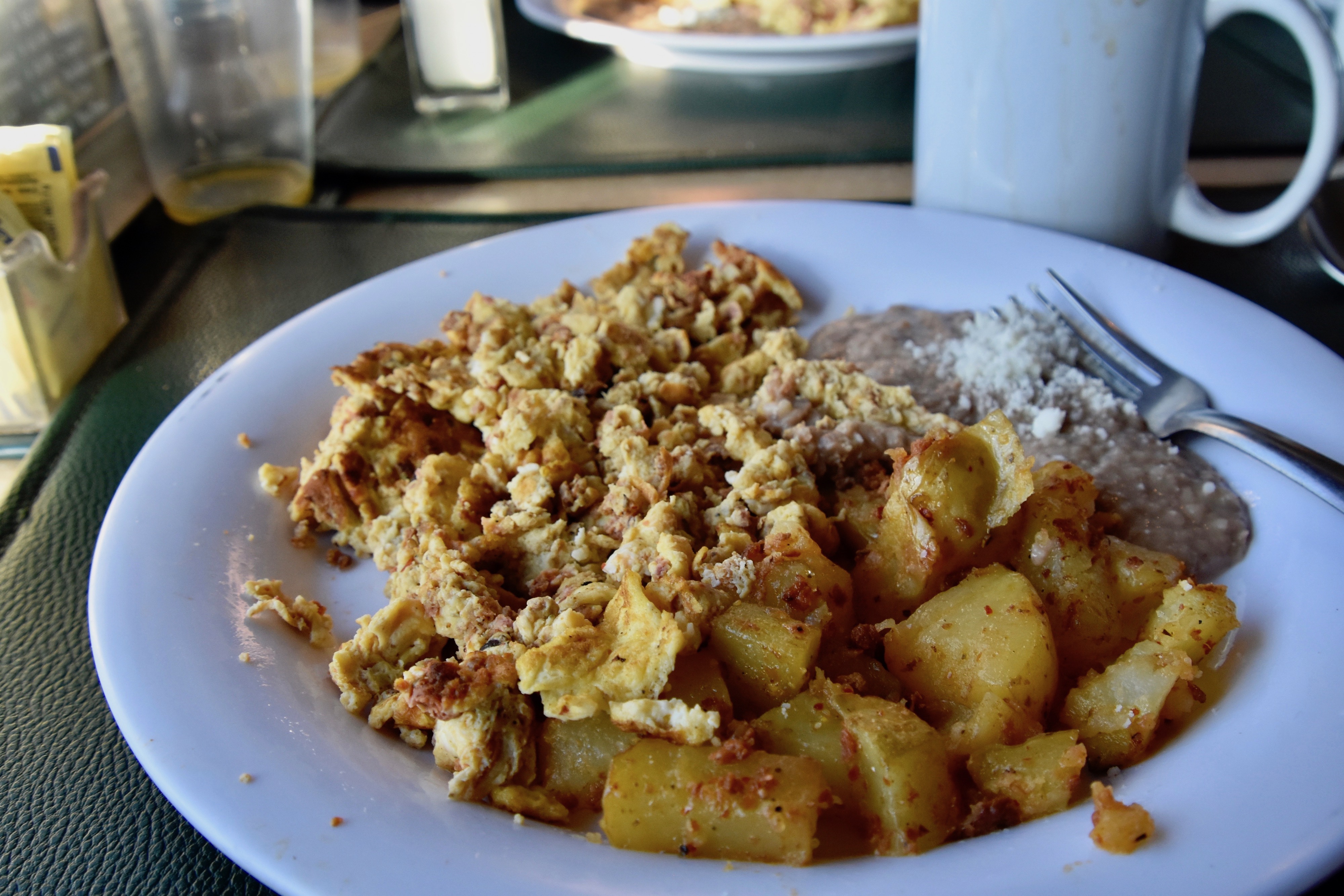 Our breakfast time was 8:00 and we were served a hearty meal of scrambled eggs with chorizo, potatoes and refried beans washed down with lots of coffee.
Did you know that Mexico grows apples and a lot of them? I didn't until we began seeing mile after mile of gala, granny smith and delicious apple orchards. Chihuahua produces the majority of Mexican apples, but it requires some special efforts to grow them.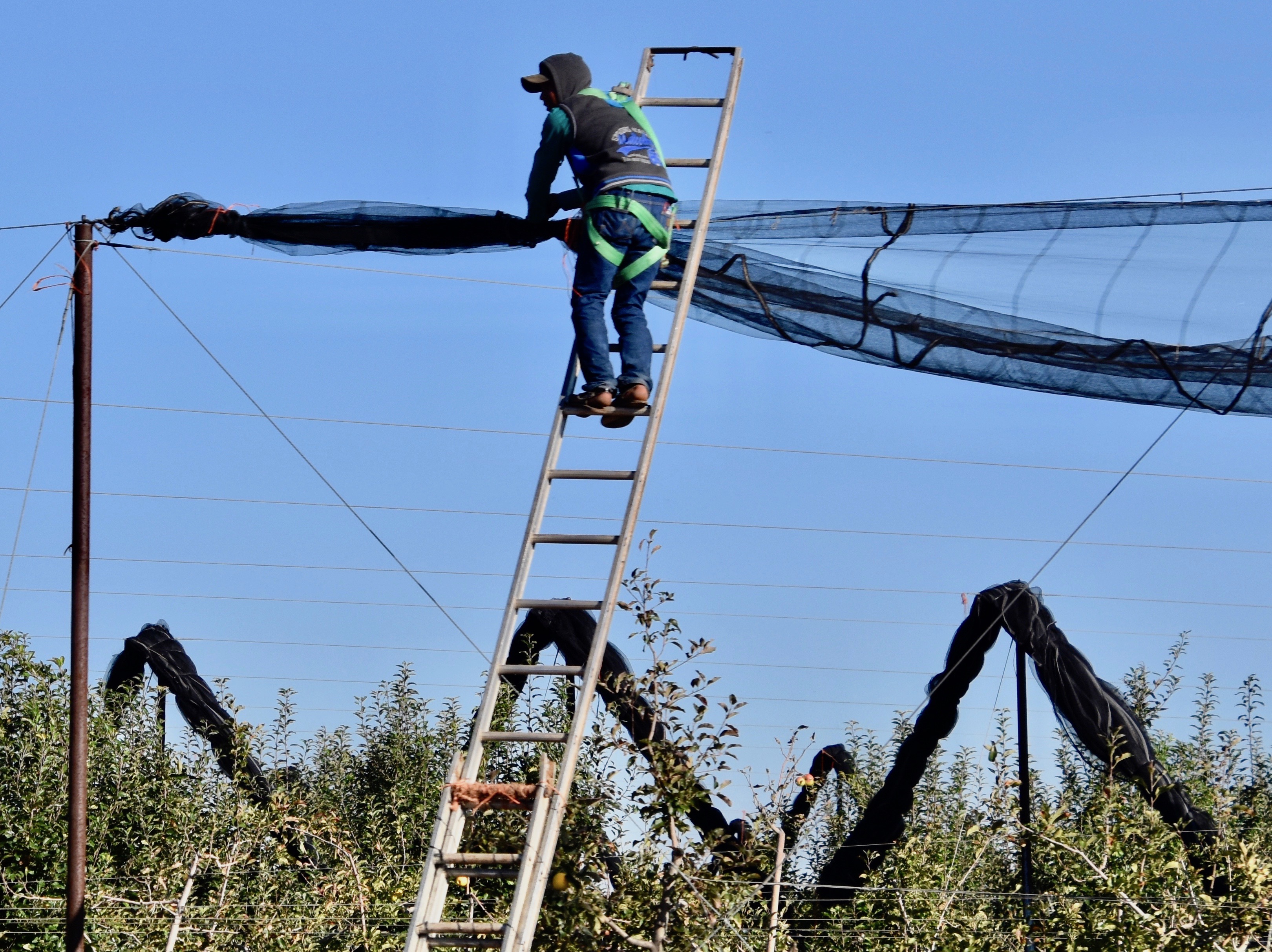 The apples need to be covered in netting, which I at first assumed was to protect them from birds, but it turns out that hail is the problem, not birds.

This is what the orchards look like after being covered. You can also see that the clouds have completely disappeared and it's turned into a glorious day.

El Chepe now entered a high plateau where there were miles and miles of corn fields. If not for the distant hills it could have been Iowa or Kansas.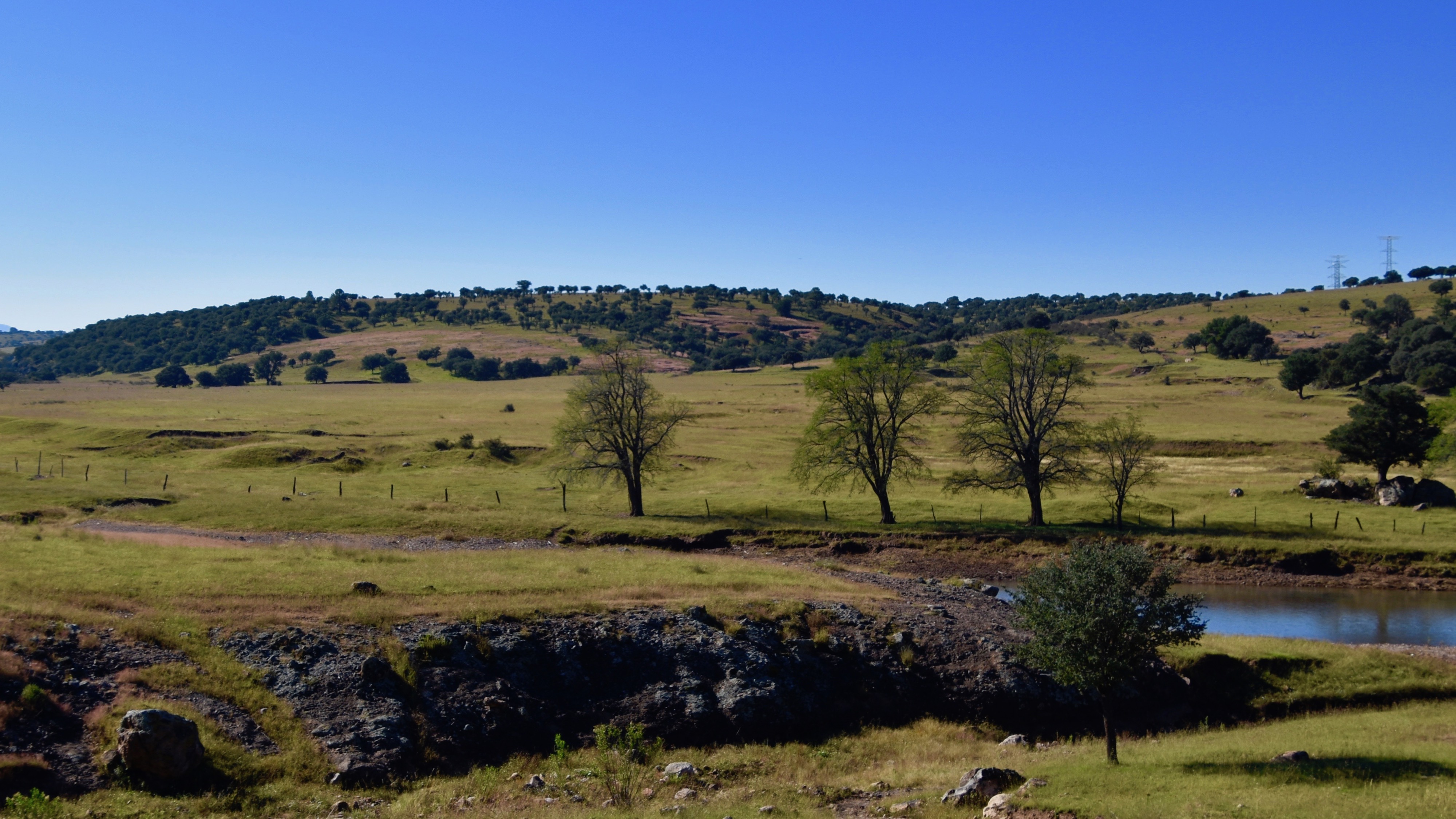 Then, quite abruptly we left farming country and entered ranch country with rolling hills covered in various grasses and deciduous trees and curious cows.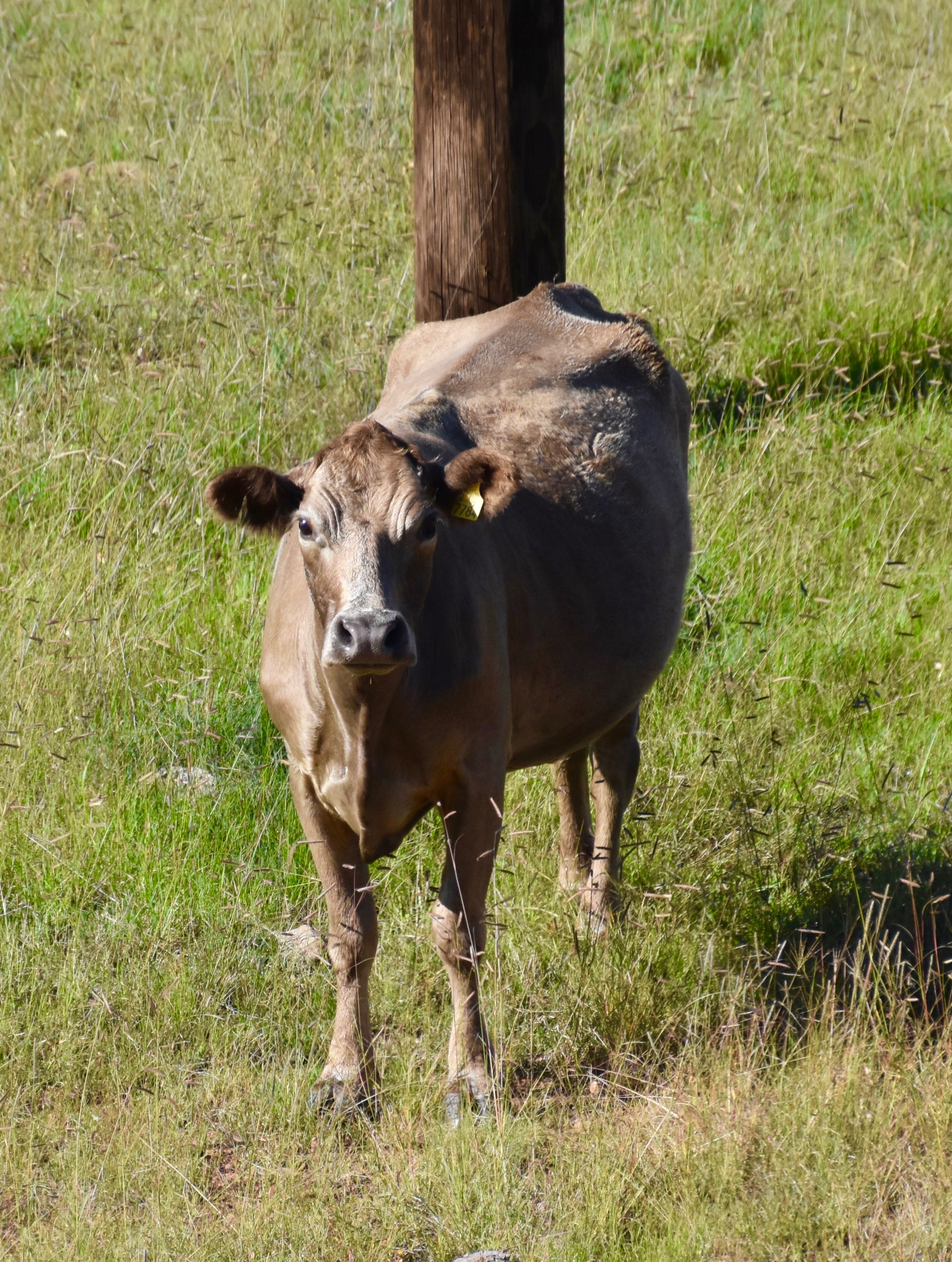 The scenery was also getting better and much more natural looking than the corn fields and apple orchards we had just passed through.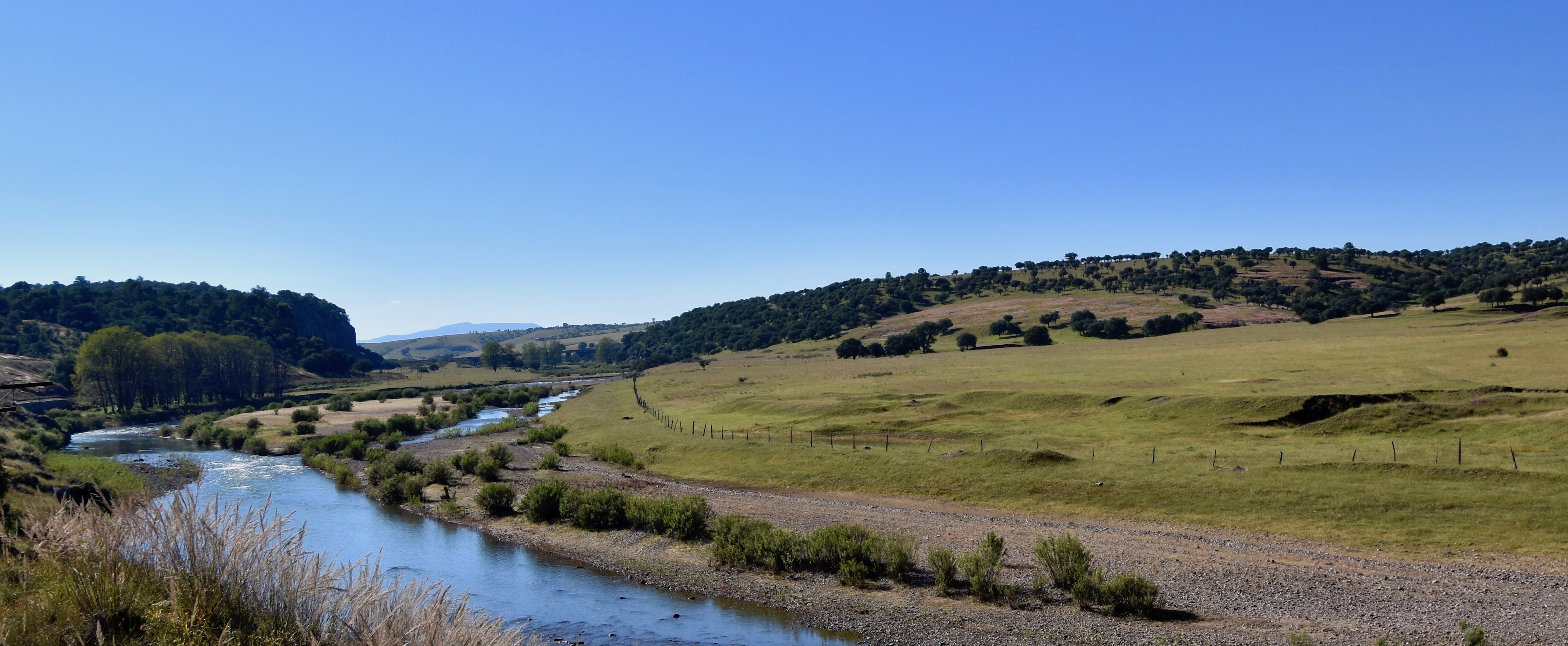 Following the river, the walls started to close in on El Chepe in places and we now started our ascent into canyon country. We saw our first unusual rock formations which many people call hoodoos and almost without noticing, we were now in scented pine forests that would predominant the vegetation for the rest of the journey.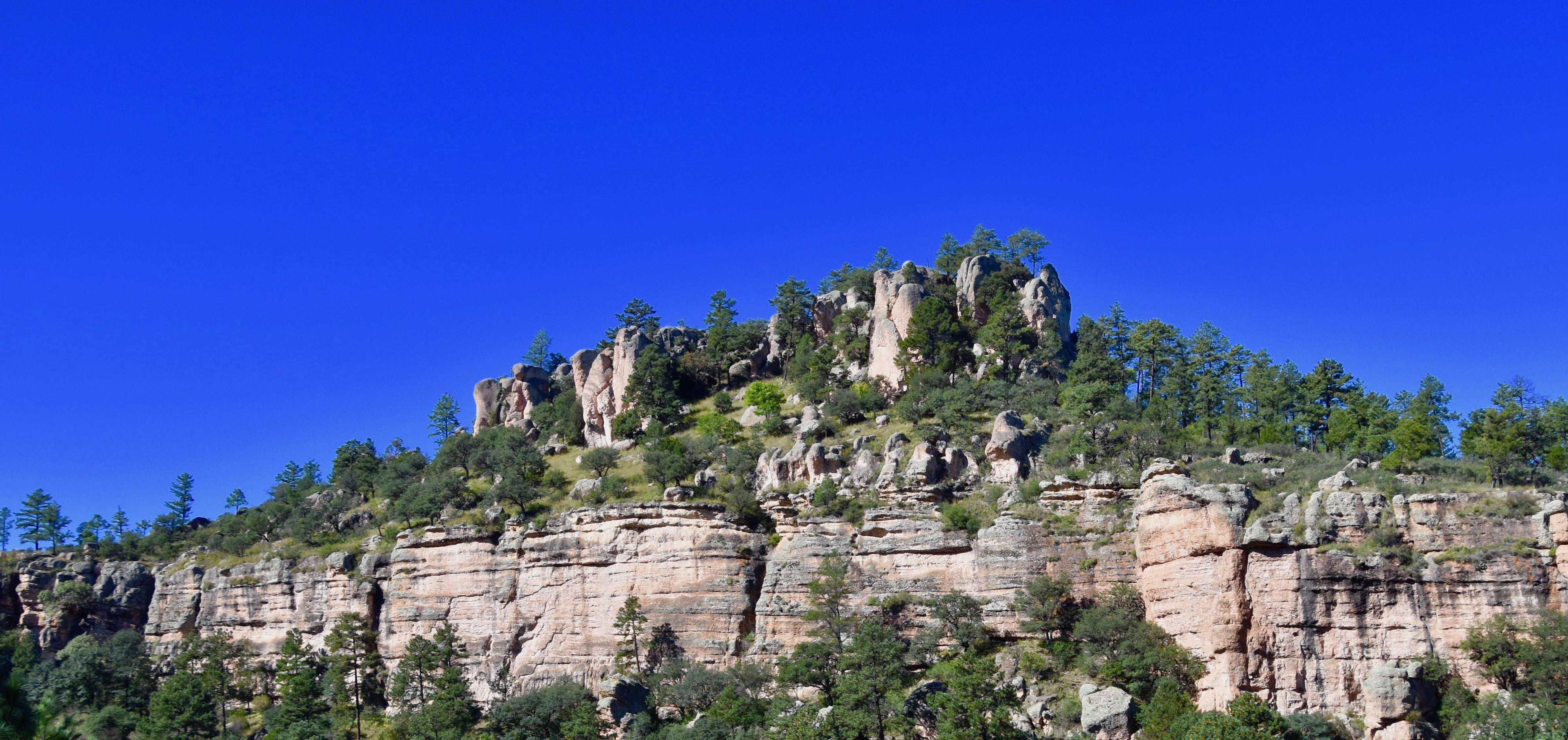 There were few towns on this route of any note, although there were two brief stops in Cuaehtémoc and San Juanito, allegedly the coldest town in Mexico. After that we passed by places with simple churches like this one that did not denote a community of any prosperity.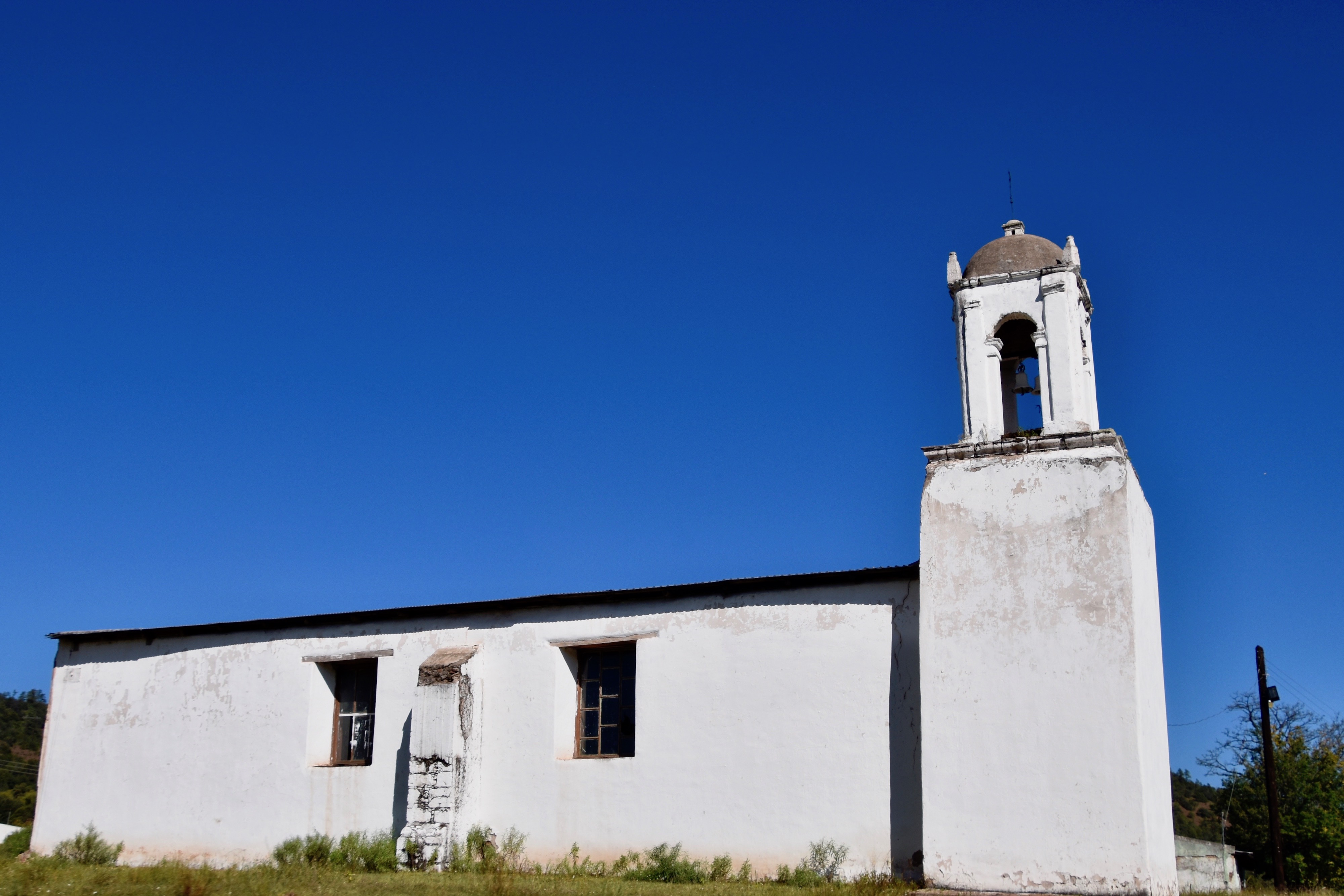 One thing that surprised me about El Chepe was how fast it could go on an uphill grade. Having been a brakeman too many years ago to admit, I was used to freight trains grinding almost to a halt on any type of grade, but El Chepe seemed to almost pick up speed and roar along whenever it was challenged.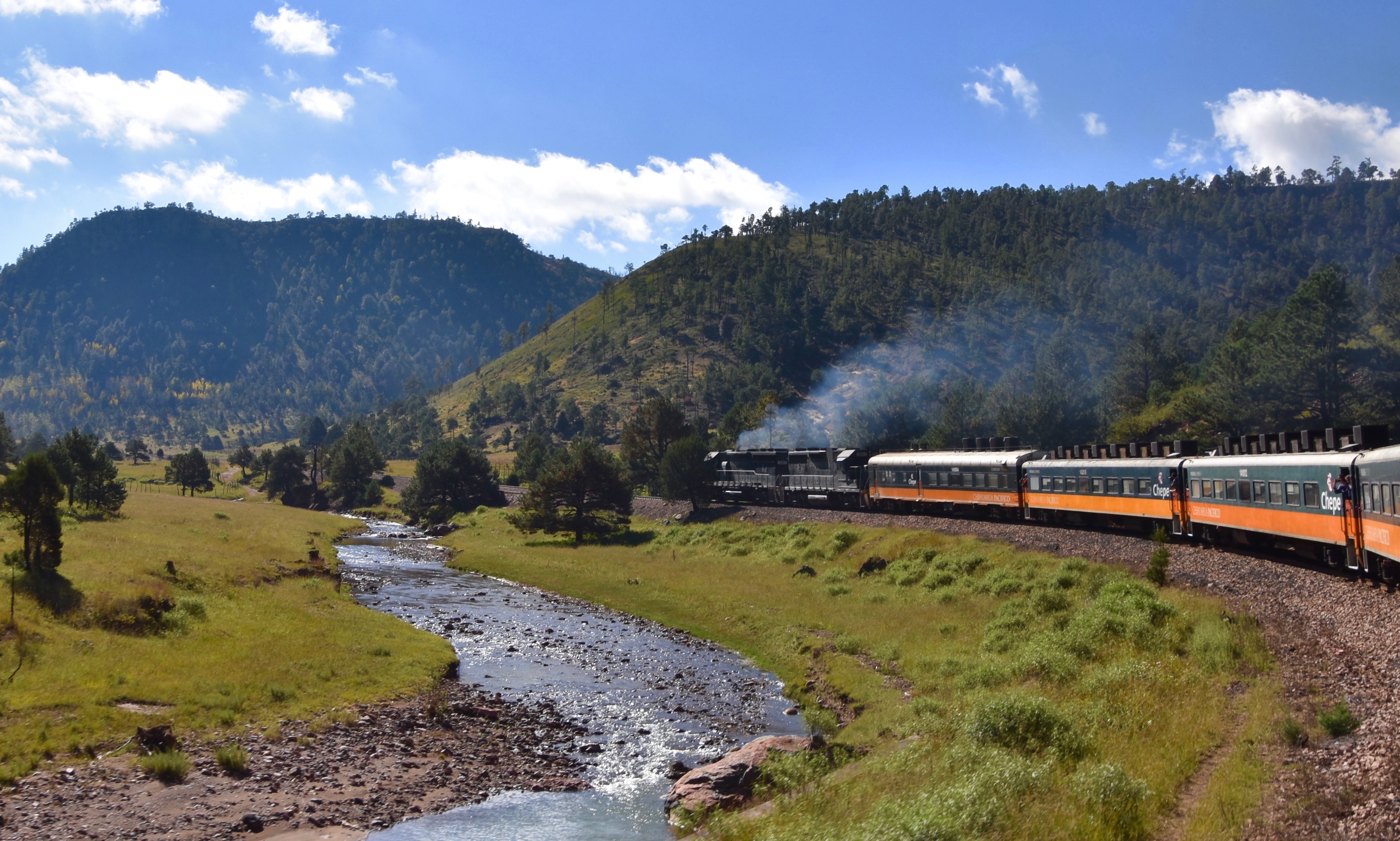 Speaking of grade, we were now climbing significantly as you can see from this photo were the train line was well above this rock formation.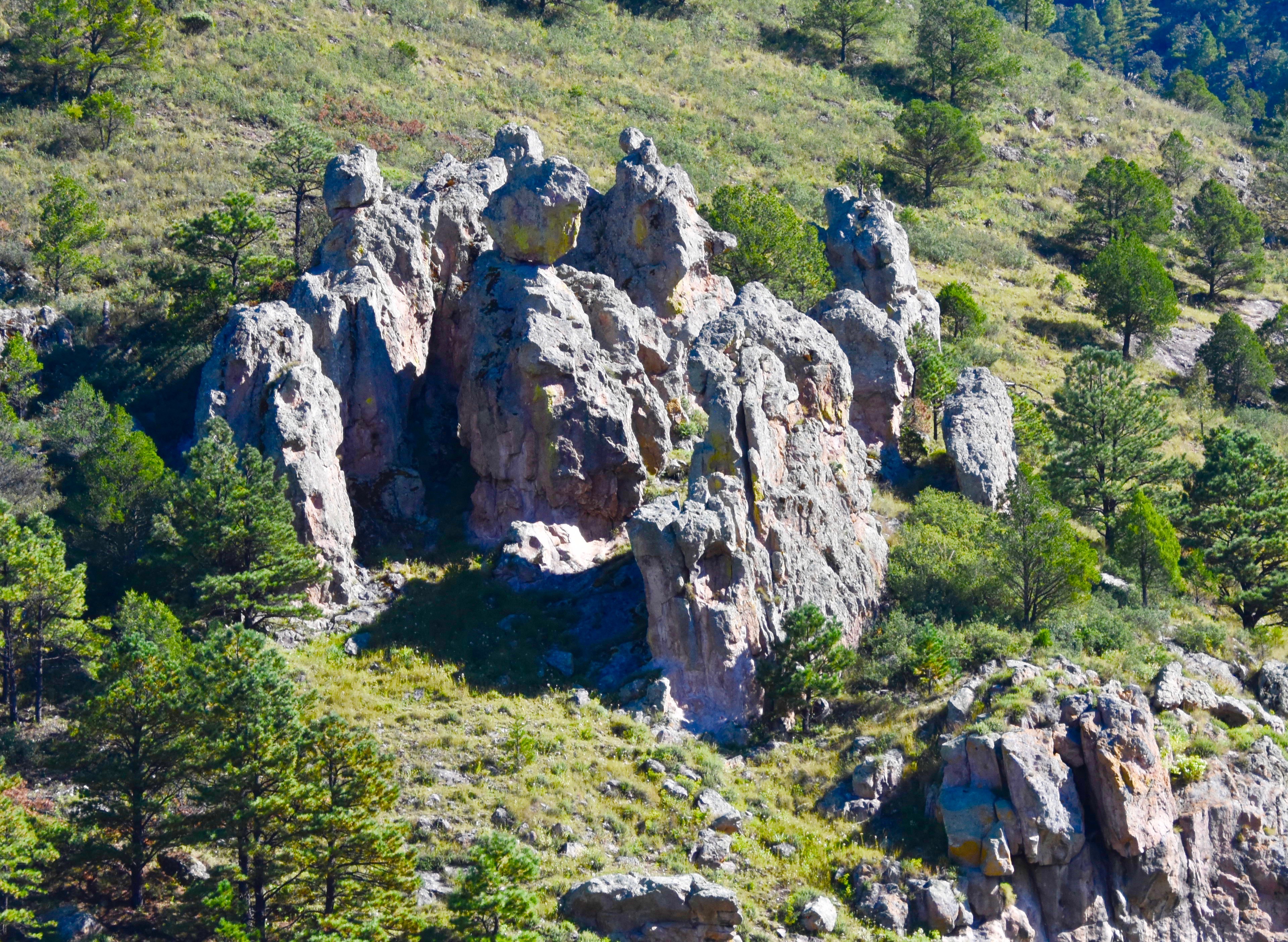 This was horse country as evidenced by these five having a drink in the river.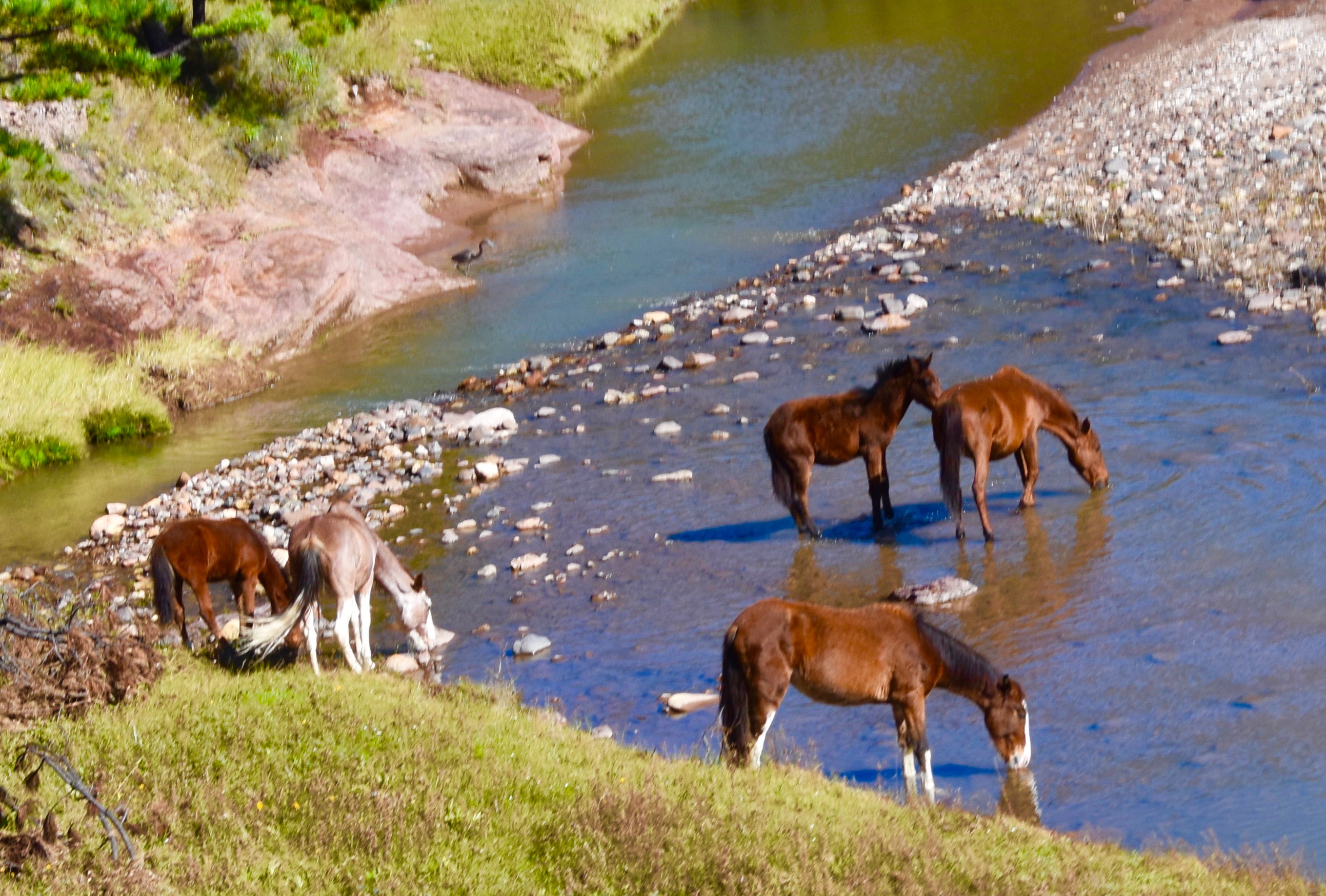 This lone vacquero looked up at us as we whizzed by at 50 mph.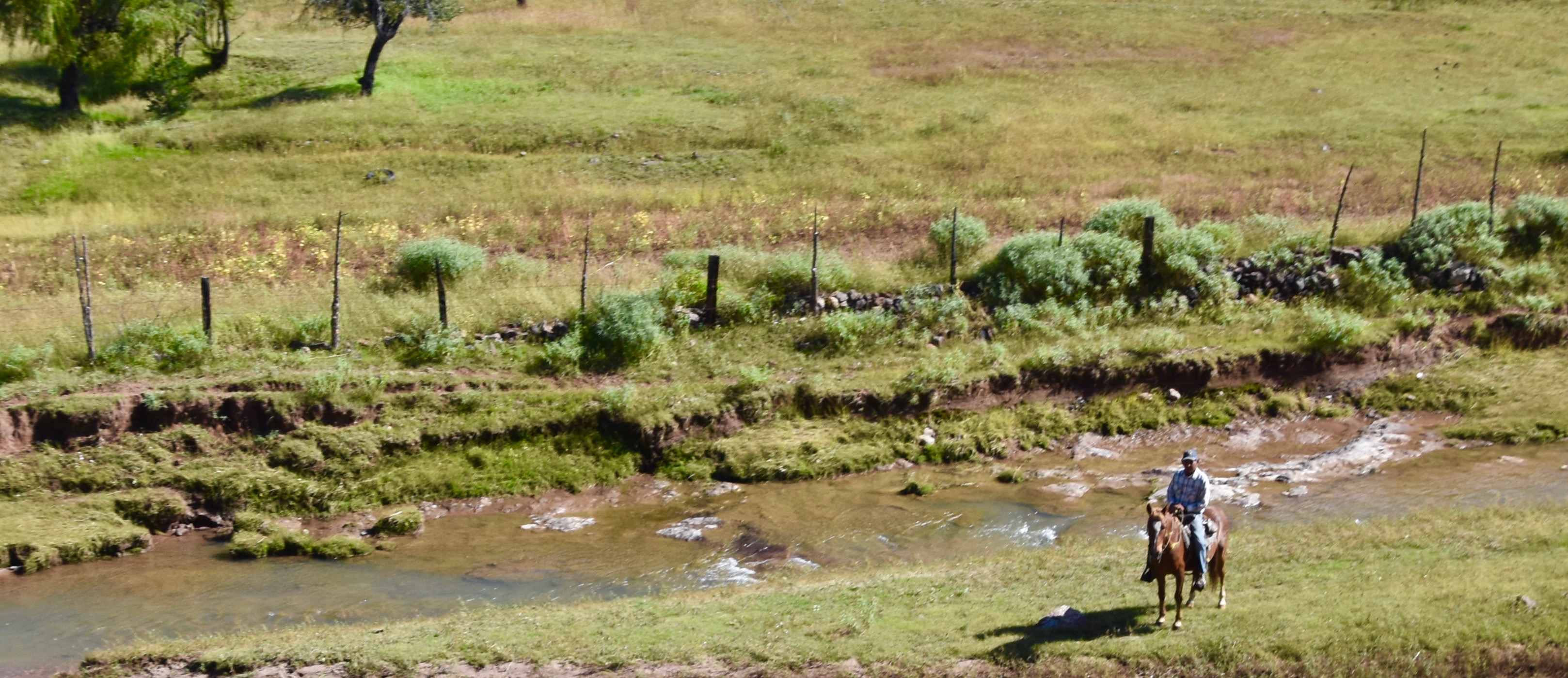 Not to be left out of the proverbial Mexican rural scene was this little burro, surprisingly one of only a few we saw on the trip.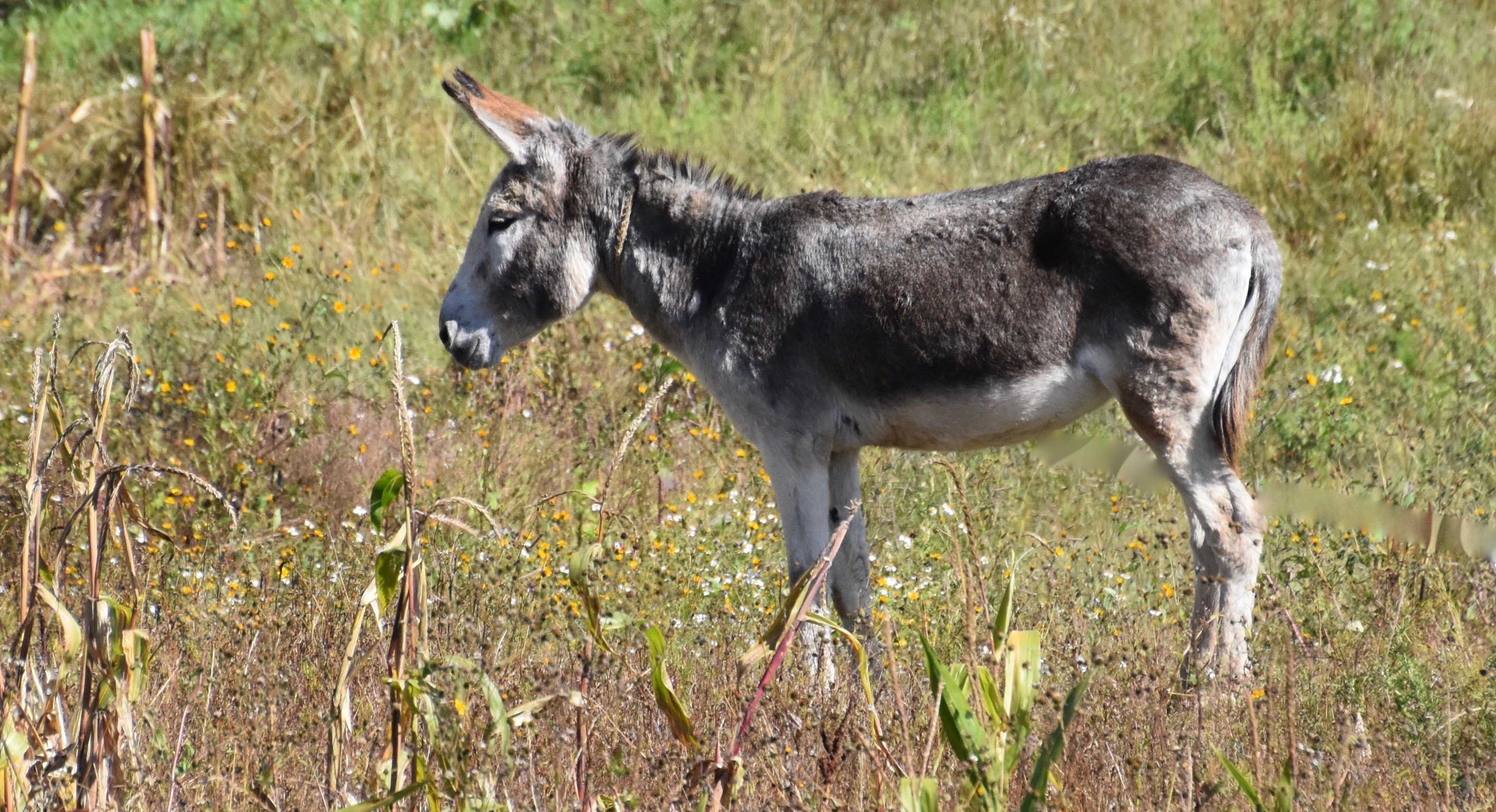 El Chepe is now approaching the town of Creel one of Mexico's Pueblos Mágicos or Magic Towns.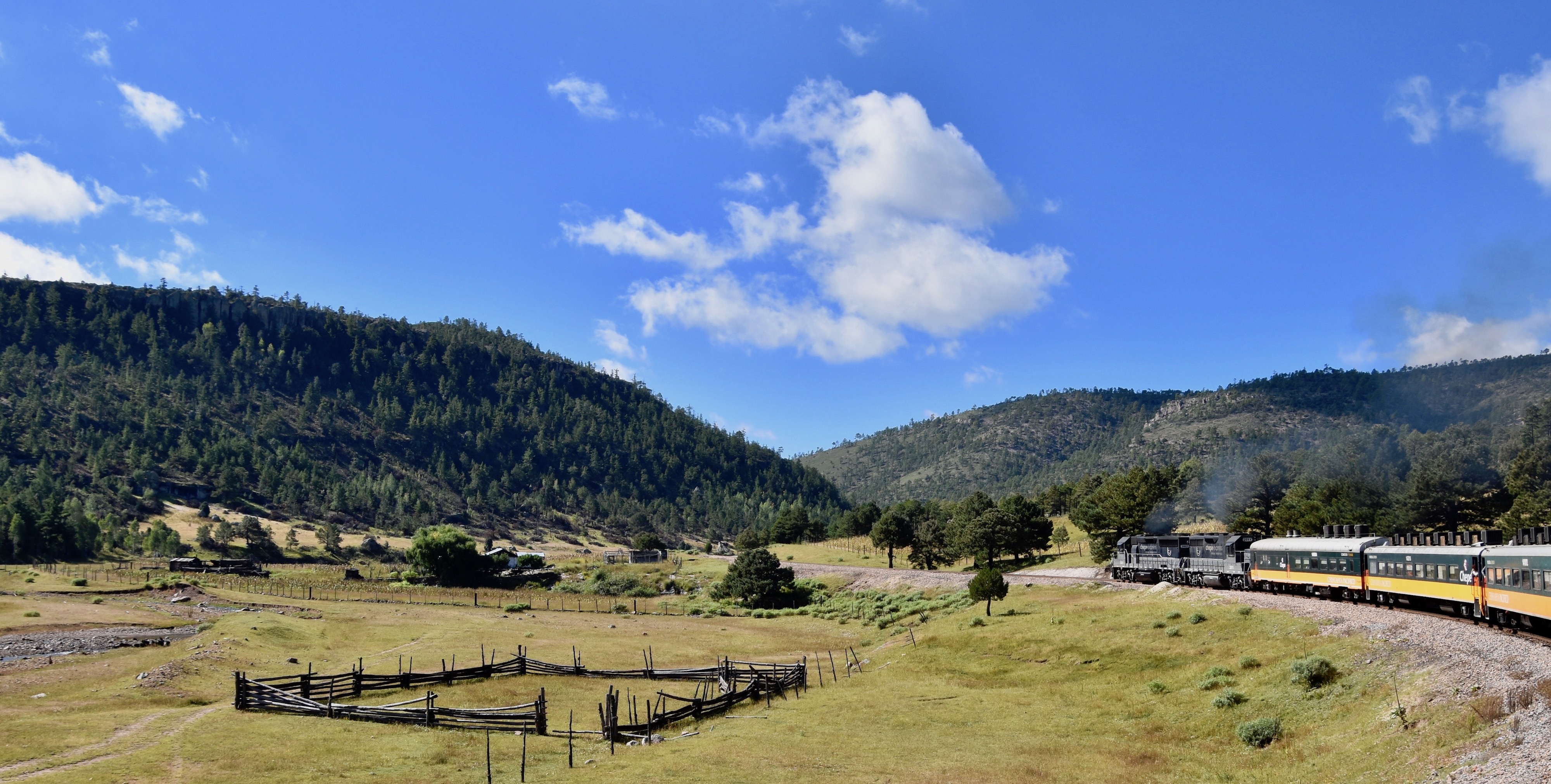 But first you need to pass through tunnel #4, the longest on this trip at 4,134 feet (1262 metres) where you will find more interesting rock formations on the other side.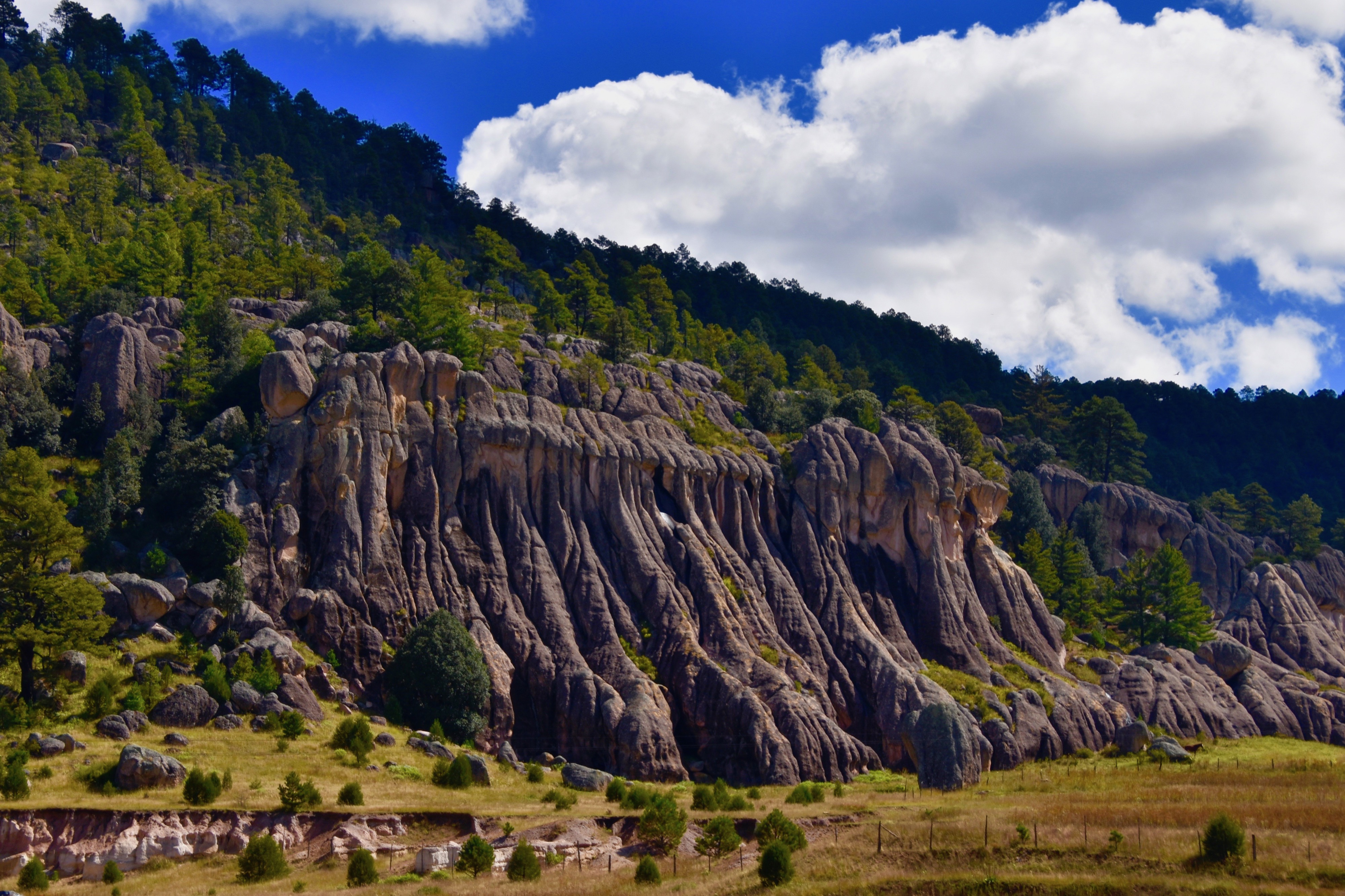 Despite being a magic town, Creel doesn't really look it from the vantage point of the train. Only on returning a few days later was I able to get why Creel is so popular with tourists.
Even though the Continental Divide has already been crossed twice and at San Juanito, reached an elevation of 8,000 feet (2438 metres), it doesn't really feel like the real excitement of this ride begins until the train leaves Creel for Divisidero and the Copper Canyon area.
You may wonder how it could be that I could take a picture of the tracks well below without getting out of the train. It's because we are now in El Lazu or The Lasso where El Chepe does a complete 360° turn while climbing steadily to the rim of the canyon.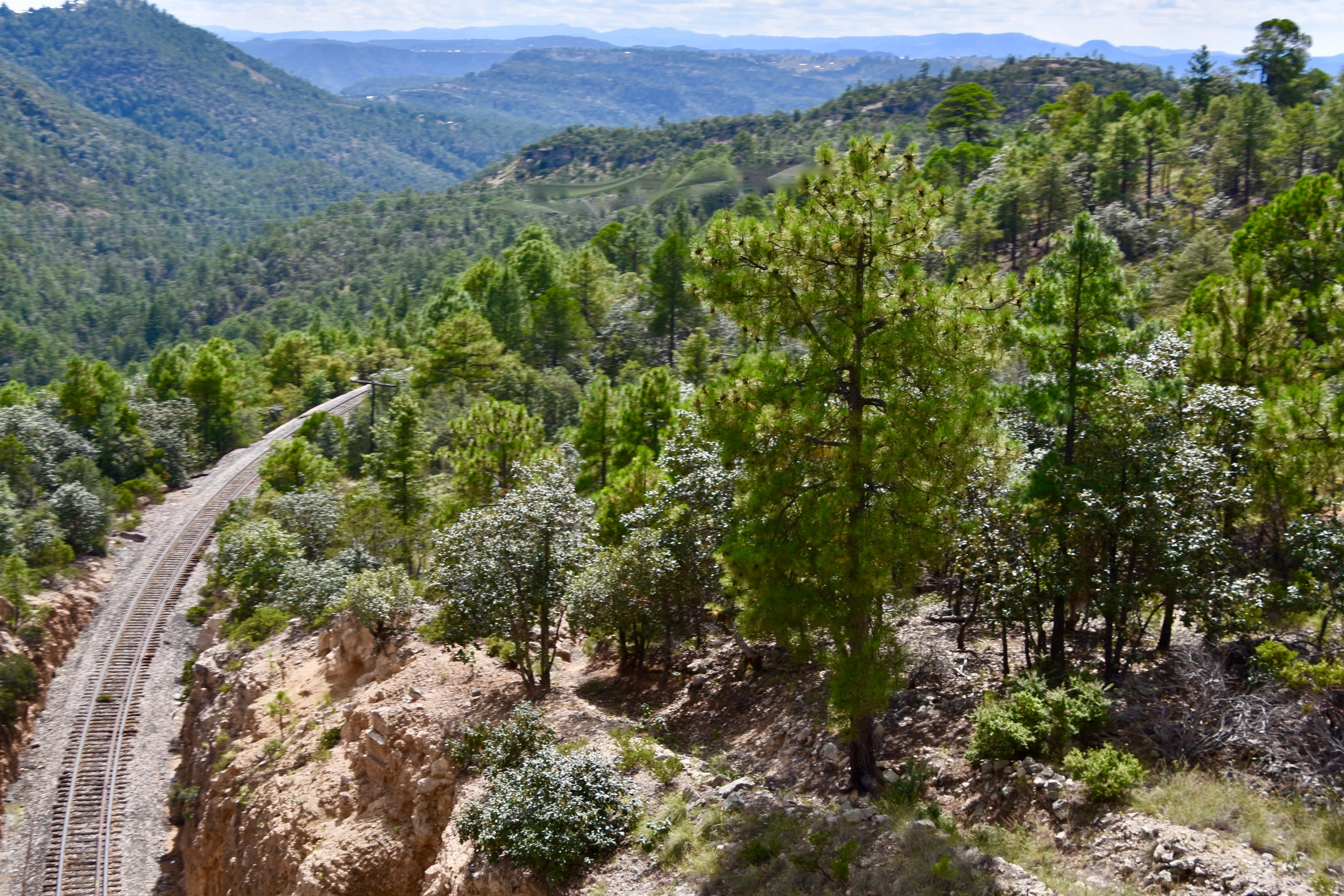 The landscape continues to get more dramatic and in places there are drops of well over a thousand feet to the valley floor below.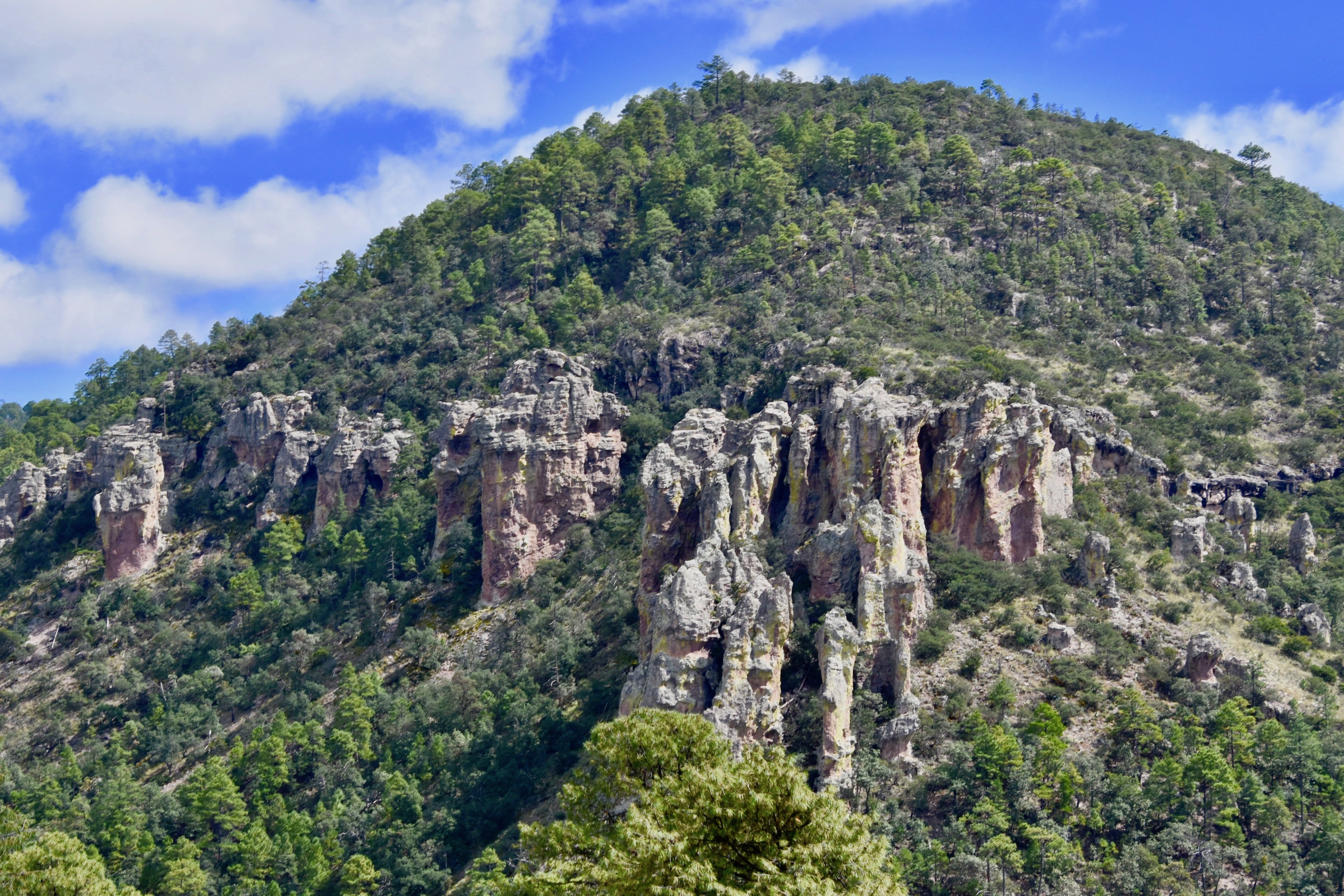 However, now is the time I must break some of the myths about El Chepe. First of all, as is apparent from the photos, it is not a train that follows the canyon floor so you're not going to see huge canyon walls on either side. Secondly, while it does make its way along the top of the canyon, common sense dictates that it's not going to be built right on the rim, but as far back as possible for safety's sake. Ergo, while there are more than enough great views of the canyon, these are fleeting and usually blocked by trees by the time you get your camera ready. That's why I have no great shots of the canyon from the train.
Arriving at Divisidero which is the final crossing of the Continental Divide El Chepe stops for twenty minutes to allow passengers to wend their way through the Tamahumara Indian vendors to the mirador for the first real look at Copper Canyon. It is spectacular, but not as good as you can get from hotels built right into the canyon rim at Posada Barrancas which is our final stop.
Here is a video shot from the mirador.
However, everyone will want their picture taken at this famous place that is so hard to reach.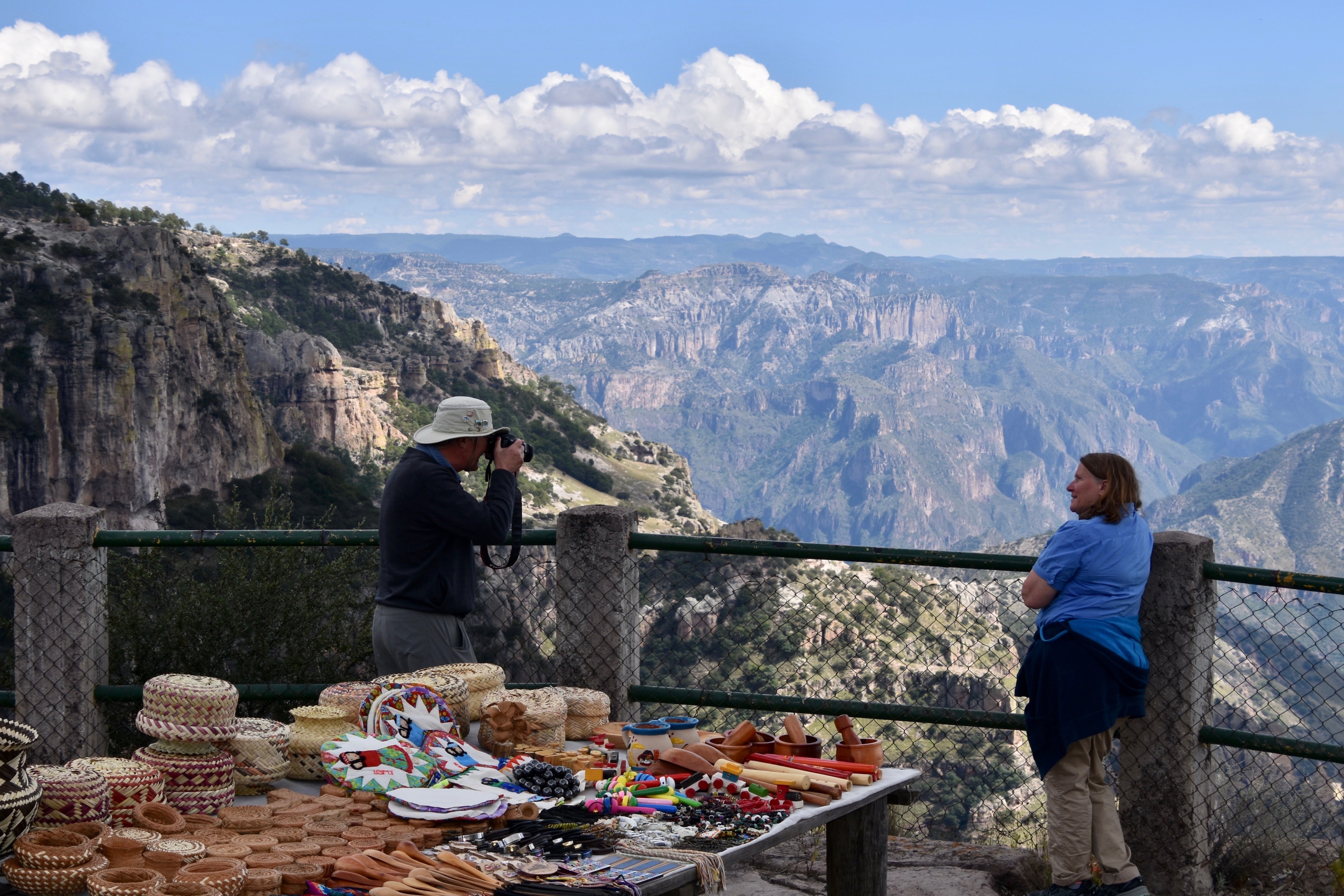 Just five kilometres away is Posada Barrancas station where buses await to carry guests to the nearby hotels and El Chepe continues on to the Pacific.
We say goodbye to the conductor and shake our heads in disbelief that we have just travelled over some of the most famous railway tracks in the world.