El Paso – Be Prepared to be Surprised
When El Paso was announced as the 2019 SATW conference site in Barbados in 2018, I know a few eyebrows went up. After all this organization has been hosted by New Zealand, China, Iceland, Germany, Mexico, Bermuda and a number of much bigger American cities to name only a few. Was El Paso, at less than a million people and frankly, quite off the beaten path, really up to the task? Well I'm here to tell you that El Paso, in cooperation with its partners, the Mexican state of Chihuahua and Las Cruces, New Mexico were more than up to it and I think opened a lot of eyes (and lowered those eyebrows) about the tremendous tourism potential of west Texas, southern New Mexico and Chihuahua. I've already written three posts on the amazing pre-trip to Chihuahua state featuring the last passenger train in Mexico El Chepe, Copper Canyon and the magic town of Creel. Over the coming weeks I'll be writing many more on Alison and my explorations in Texas and New Mexico after the SATW conference, but in this post I just want to concentrate on some of the many reasons we loved El Paso.
I won't be focusing on the events that were attended by most SATW delegates as I'm sure these have been more than adequately covered in social media and elsewhere, but rather on experiences I sought out before, during and after the conference starting with wonderful murals in the Arts District.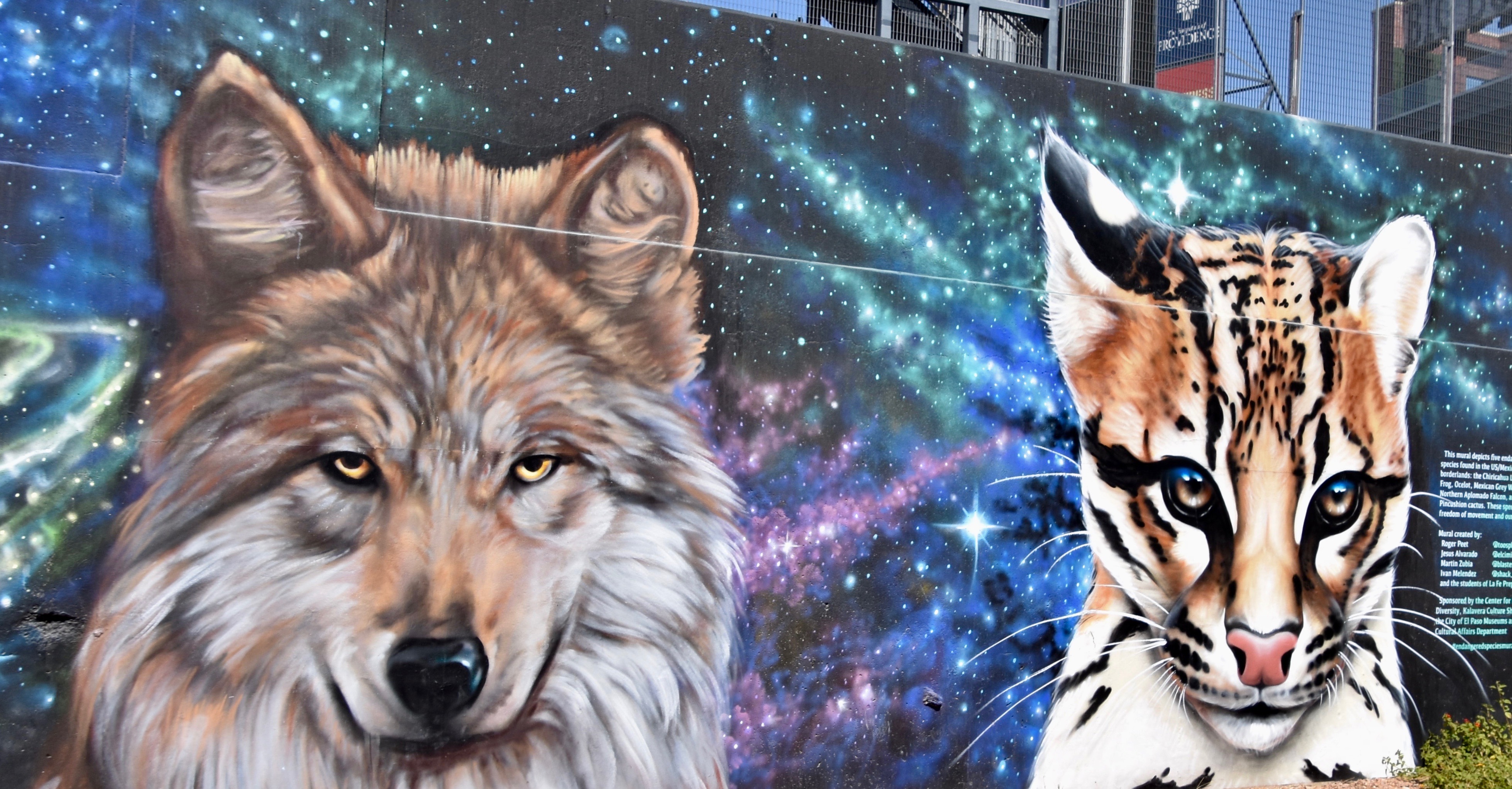 El Paso has done a really good job of concentrating many of its top attractions in an area that is easily walkable from the principal hotels, including the great looking AAA Chihuahua's ball park, the convention center, the El Paso Museum of Art and the History Museum. Making things even more interesting are a series of very well done murals that feature a number of topics including endangered species of the area like the Mexican gray wolf and ocelot above and the Chiricahua leopard frog and Aplomada falcon below.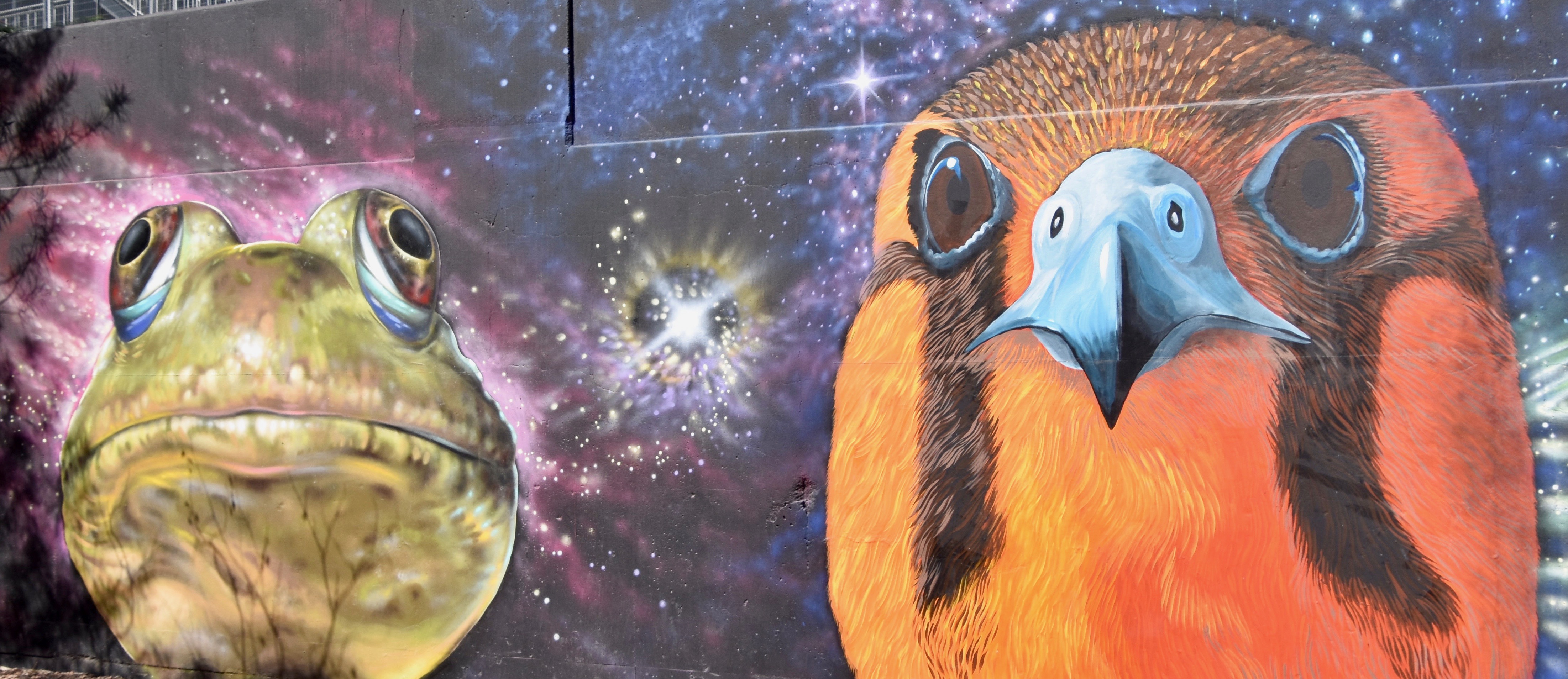 Others are more whimsical like this weird tired car.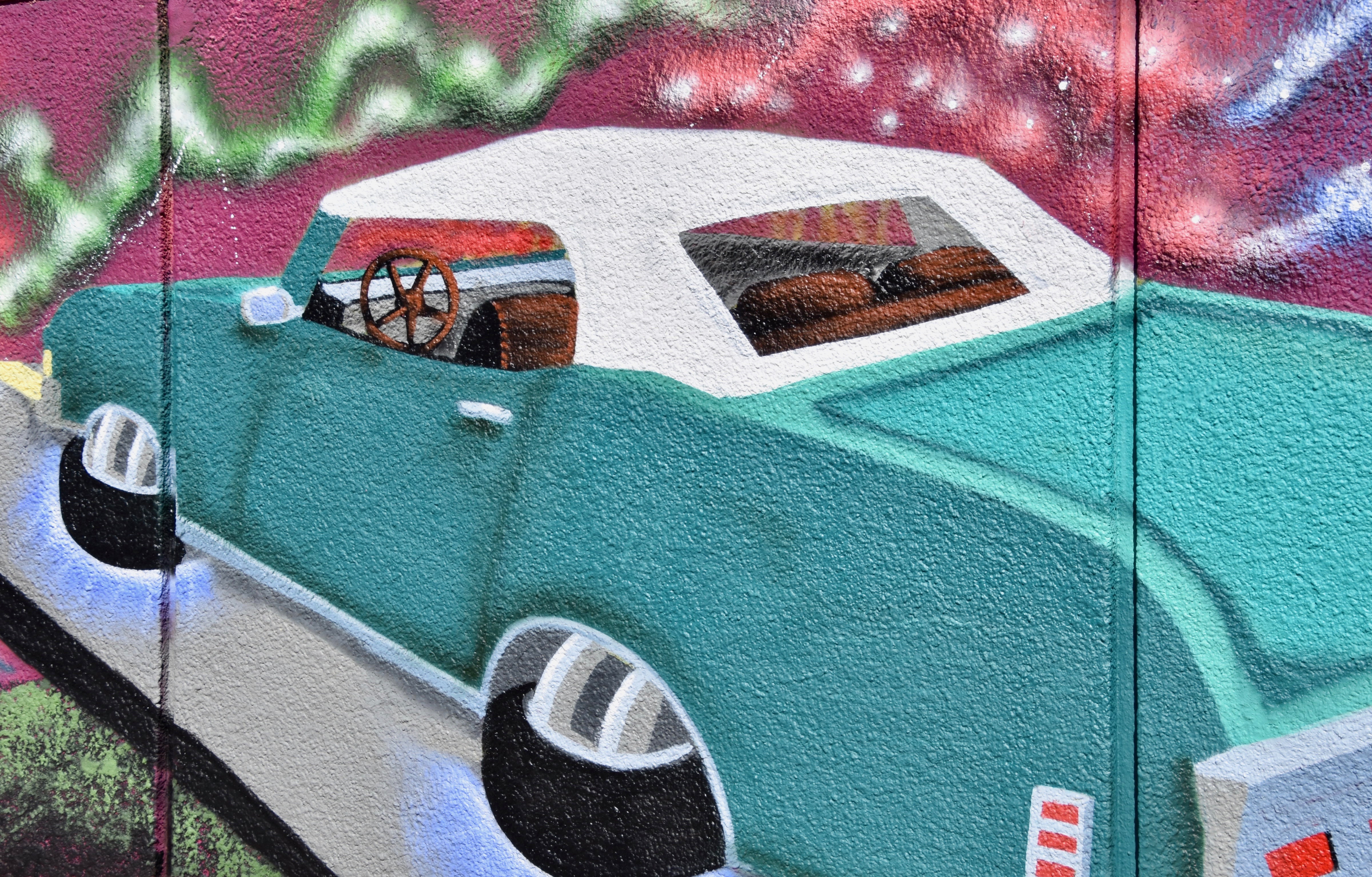 While others are clearly more spiritual in nature.

These photos barely touch the surface of the many fine murals you can find in El Paso. To see a lot more of them check out this post by Brittany B which was written before the ones in the Arts District were commissioned.
El Paso Museum of Art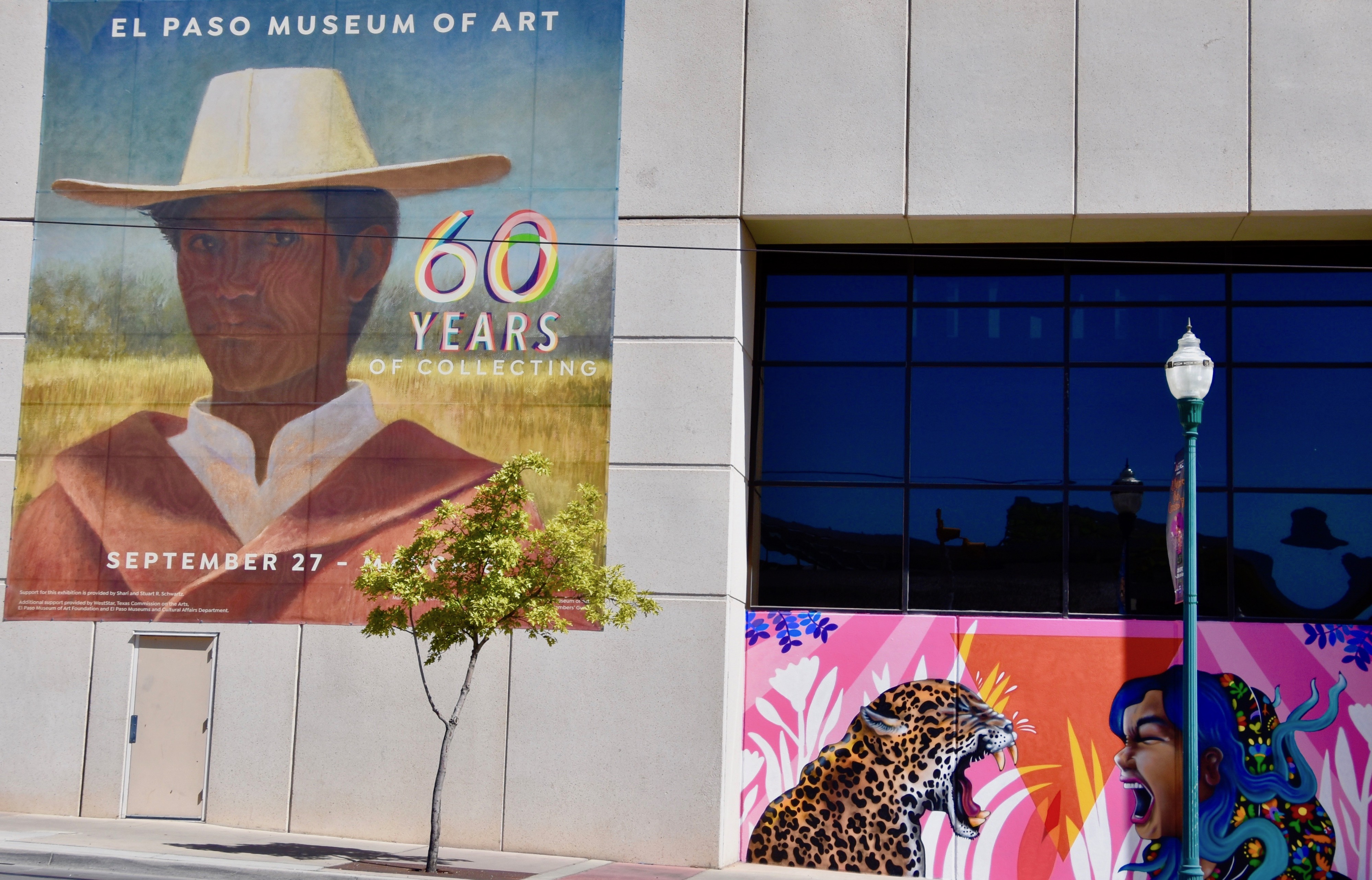 Over many decades of visiting art galleries around the world I have learned that you should never judge a gallery by its reputation, but rather by the experience you have in visiting it. The Louvre, Rijksmuseum and Uffizi are all uber famous, but frankly the experience in visiting them can be hellish. Art is not a product to be consumed  – Mona Lisa, seen it, The Night Watch, seen it, The Birth of Venus, seen it. Rather it should be savoured and with any luck, in an atmosphere that is quiet, uncluttered and free of selfie sticks. That is why I always seek out lesser known galleries to see if they can offer this experience. Sometimes, in fact lots of times, they don't, but in the case of the El Paso Museum of Art it delivers in spades, showcasing historical and modern paintings, sculptures and photographs as well as mixed media.
Admission is free, which is as it should be for public institutions, and encourages visitation by young families and others who ordinarily would not have the means to include art appreciation in their daily budget. During our visit we saw more of what appeared to be local visitors than tourists which means the place is doing its job. Yes you want to let the world know what you have to offer, but first and foremost you want your own people to learn about and be proud of what there is right here in El Paso. In addition there is an art school right in the museum where prospective artists of all ages can hone their craft. This was a neat display of their work just outside a room where students were hard at work.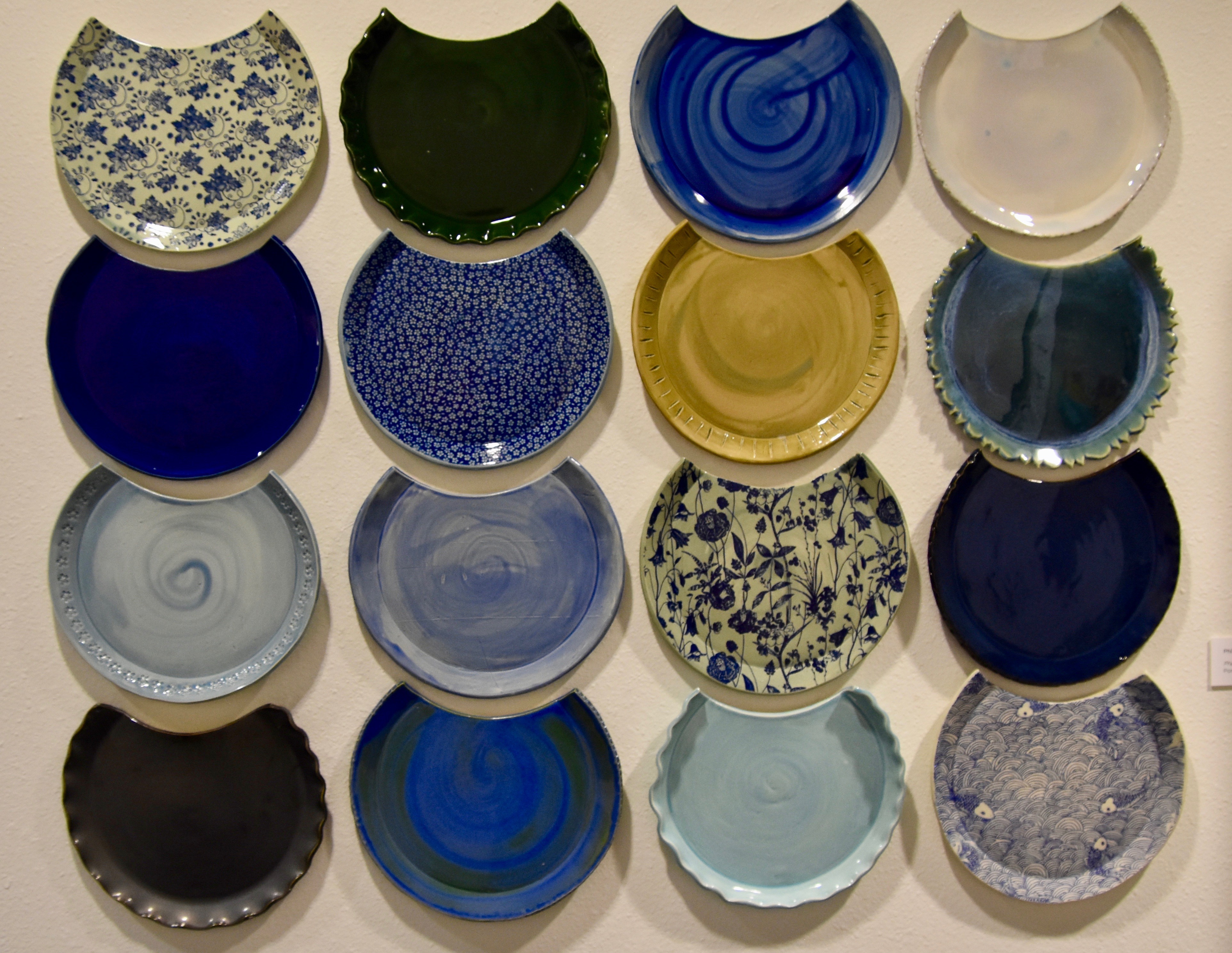 Apparently for many years, one copy of El Paso born Luis Jimenez' iconic sculpture Vacquero stood outside the entrance to the museum, but was only on loan and eventually taken back by the owners to be replaced by this work which seems to be an echo of Mexican artist Sebastian's  massive 'X' that dominates the skyline across the river in Cuidad Juarez.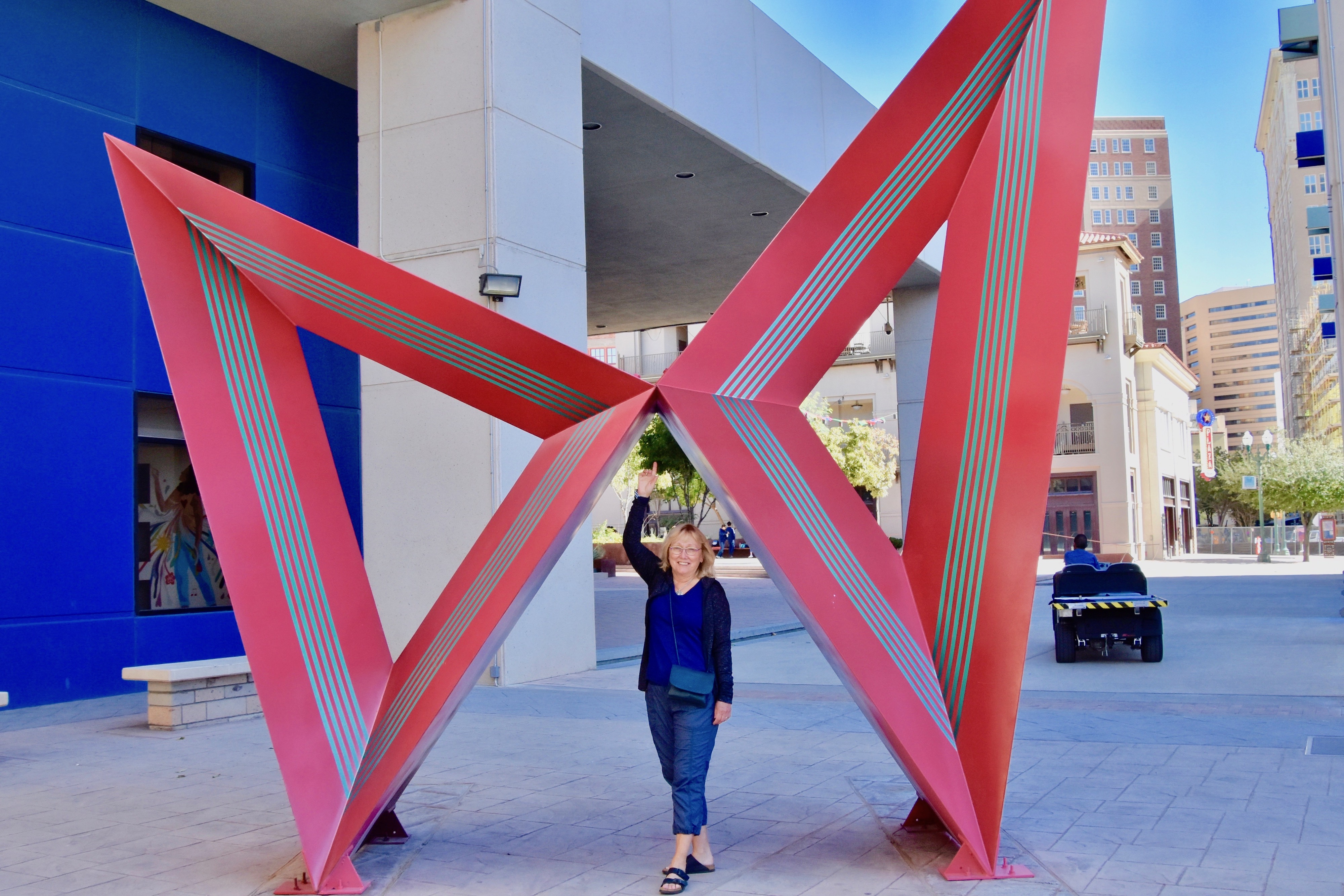 However, for those regretting the loss of Vacquero there is an immediate fix upon entering the atrium where this massive fibreglass sculpture Sod Buster by Luis Jimenez dominates the floor and personifies the strength of both the oxen pulling the plow and the determined man behind it.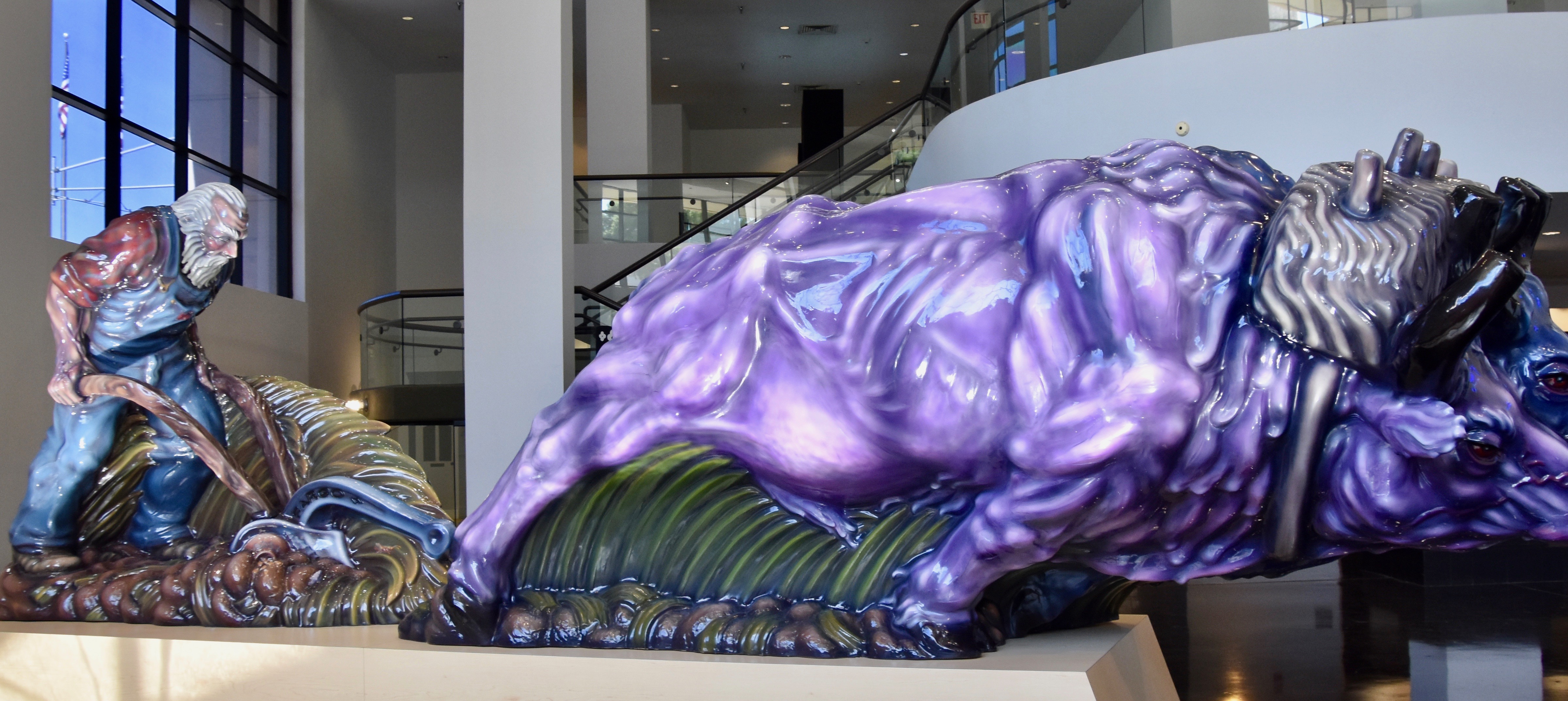 Looking up there is this neon sign with the word 'belong' flashing off and on. It cannot be a coincidence that Jimenez' father was a neon sign designer and that the issue of family separation is so timely in this area of the country.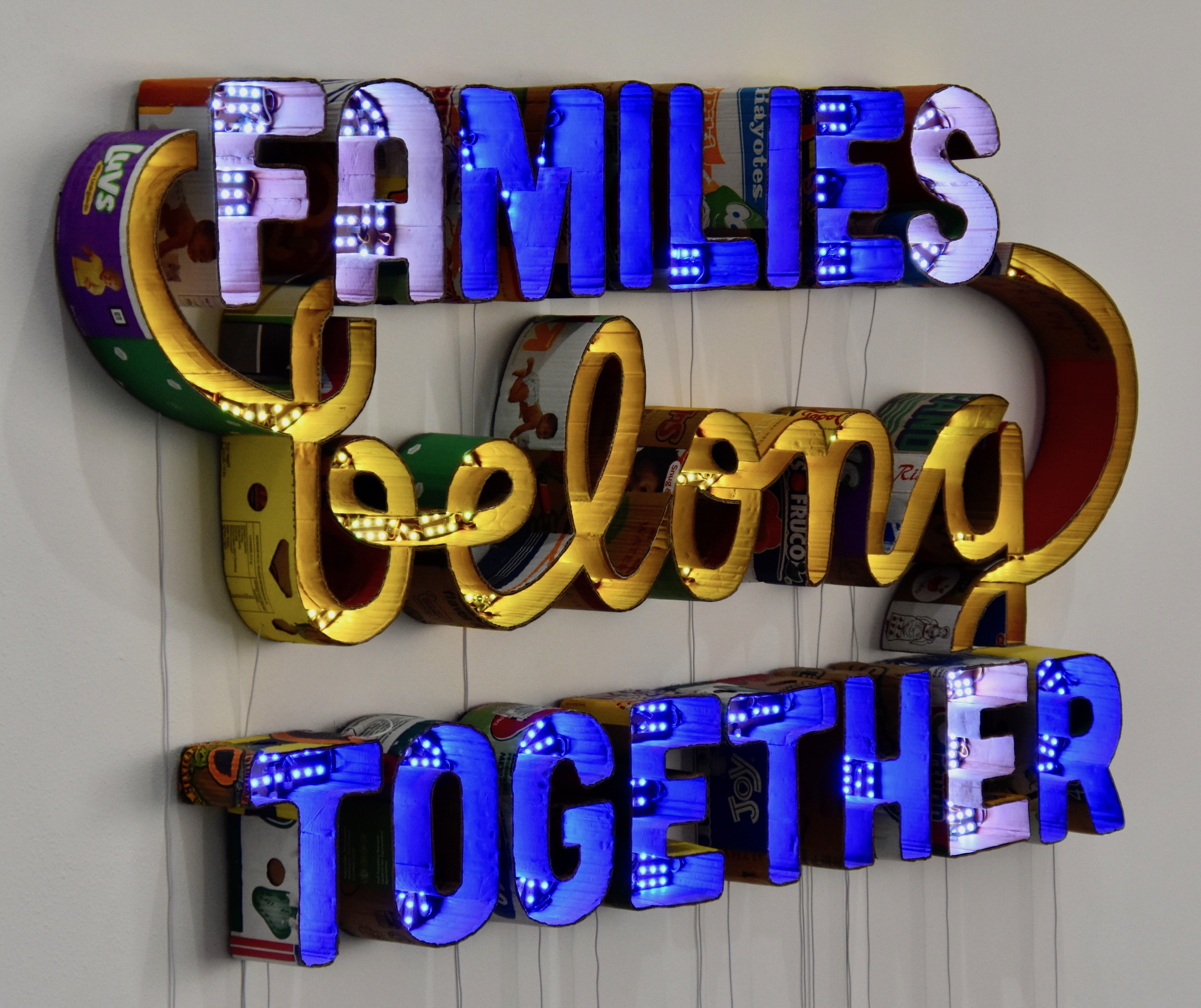 Also in the atrium was an ofrenda or Day of the Dead altar as English speakers call them, built a few weeks before the two days, November 1 and 2nd when Latin Americans and increasing others, salute and commune with departed children and adults. These inevitably include a variety of painted skulls among offerings, photographs and other paraphernalia that are not nearly as creepy as those not familiar with the reasoning behind these ofrendas might think. I found this black and white skull particularly photogenic.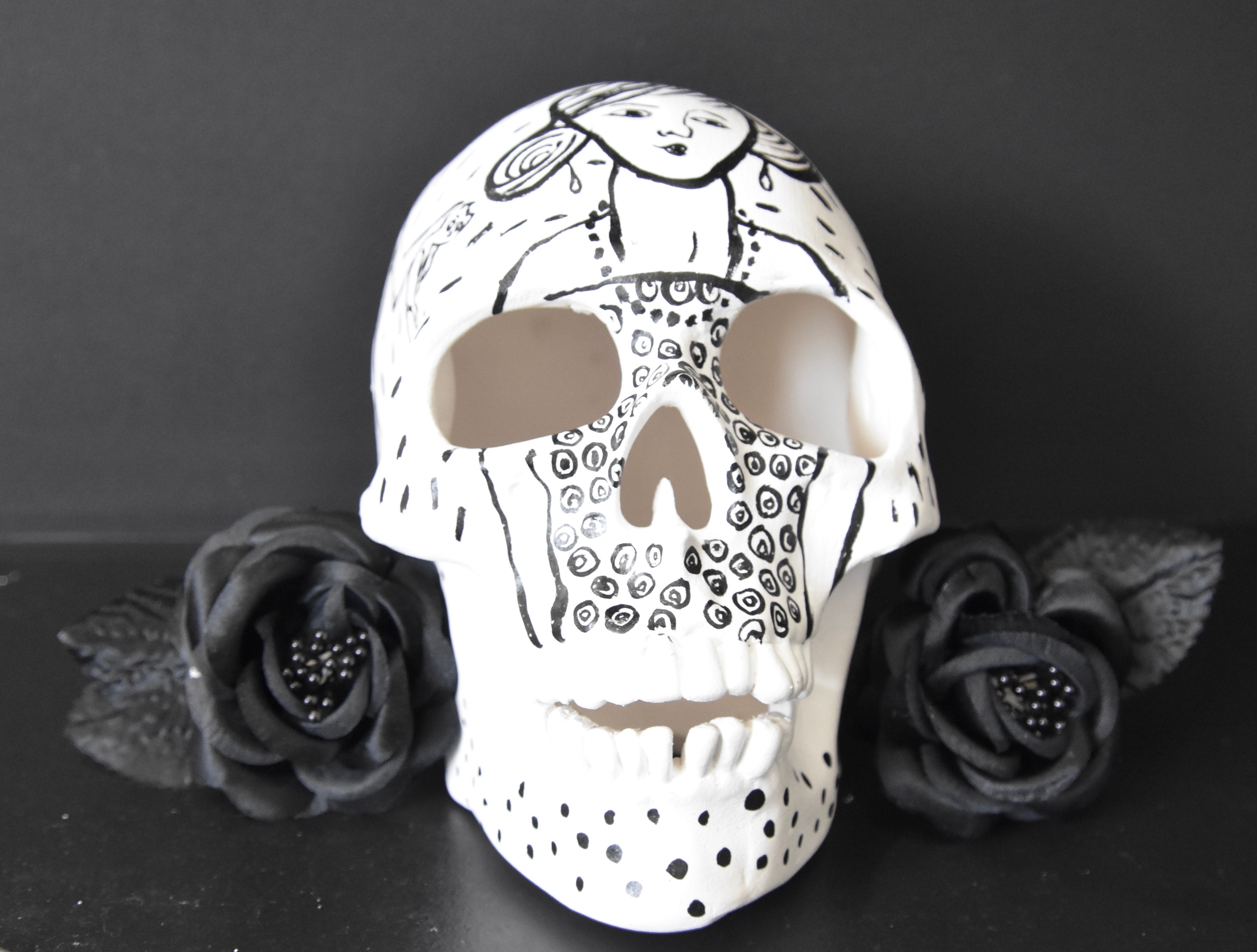 The El Paso Museum of Art always has a number of temporary exhibitions as do all galleries and there was one by another famous El Paso artist, Tom Lea that was both a pleasant and unpleasant surprise. Tom Lea was, among other things, a famous WWII artist who painted graphic scenes from the fighting between the American and Japanese forces in the South Pacific that were featured in Life magazine. This painting of a marine about to go ashore is one of the most iconic of all war time art and to see it in person was a gripping experience. The look in this young man's eye is riveting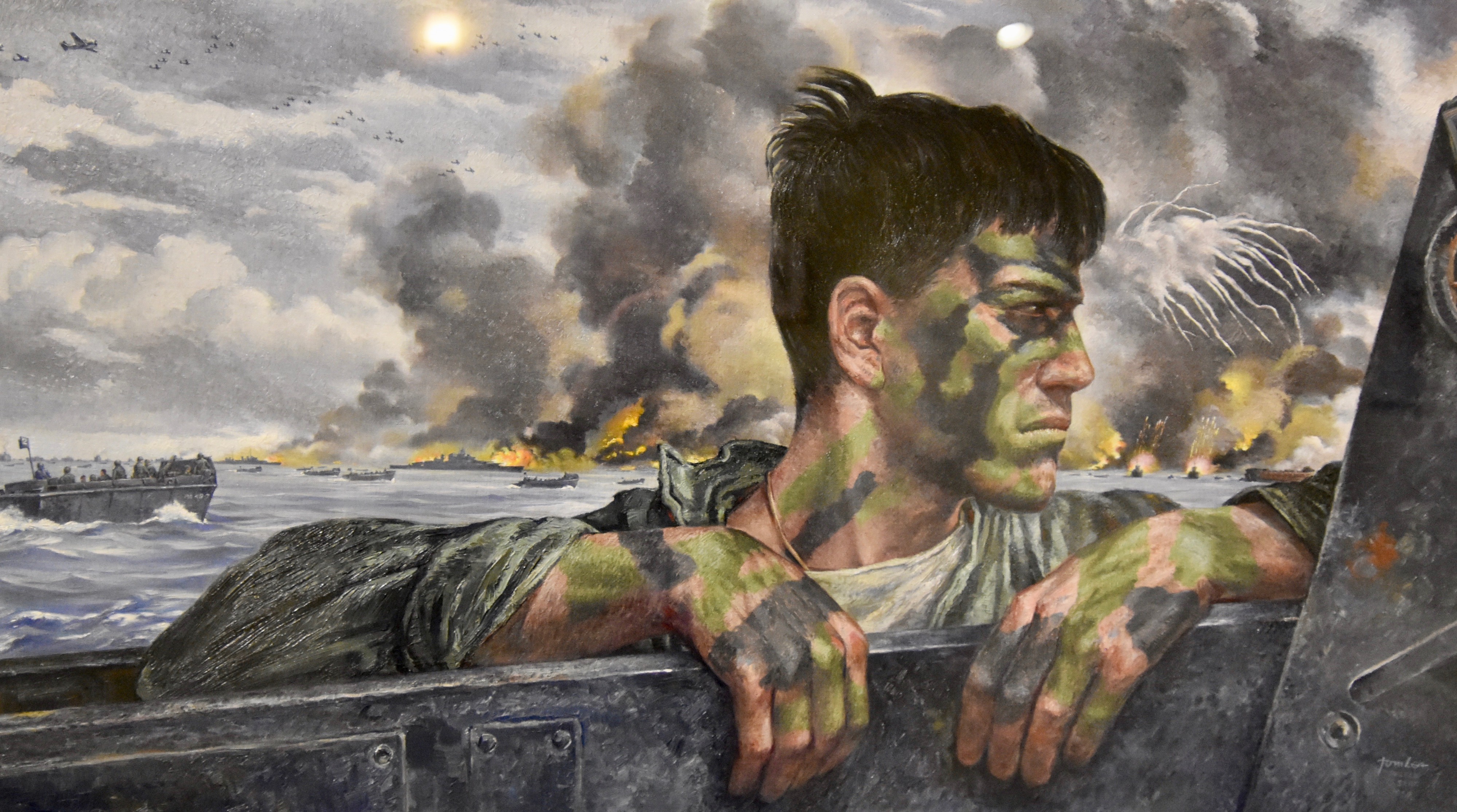 When I wrote that seeing the Tom Lea exhibit was both pleasant and unpleasant it was because Lea pulled no punches in the realism of his paintings and a number of them depict dead and dying American combatants with absolutely horrific wounds; so much so that I was surprised that Life was allowed to publish them at the height of the Pacific war. However, the purpose of great art is not about making the viewer feel good, although sometimes that's the object, but rather in Lea's case with these paintings to make the viewer understand the true horror of war.
The permanent collection of the El Paso Museum of Art is a combination of European, American, Latino, religious, southwestern and modern works. I'll highlight one or two from each collection.
Canaletto is known as one of the great cityscape painters of European art and particularly his scenes of Venice. This one of the Doge's Palace and the Grand Canal in the El Paso Museum of Art is one of the best I've seen anywhere and quite a surprise to find it here in El Paso and not Houston or Dallas.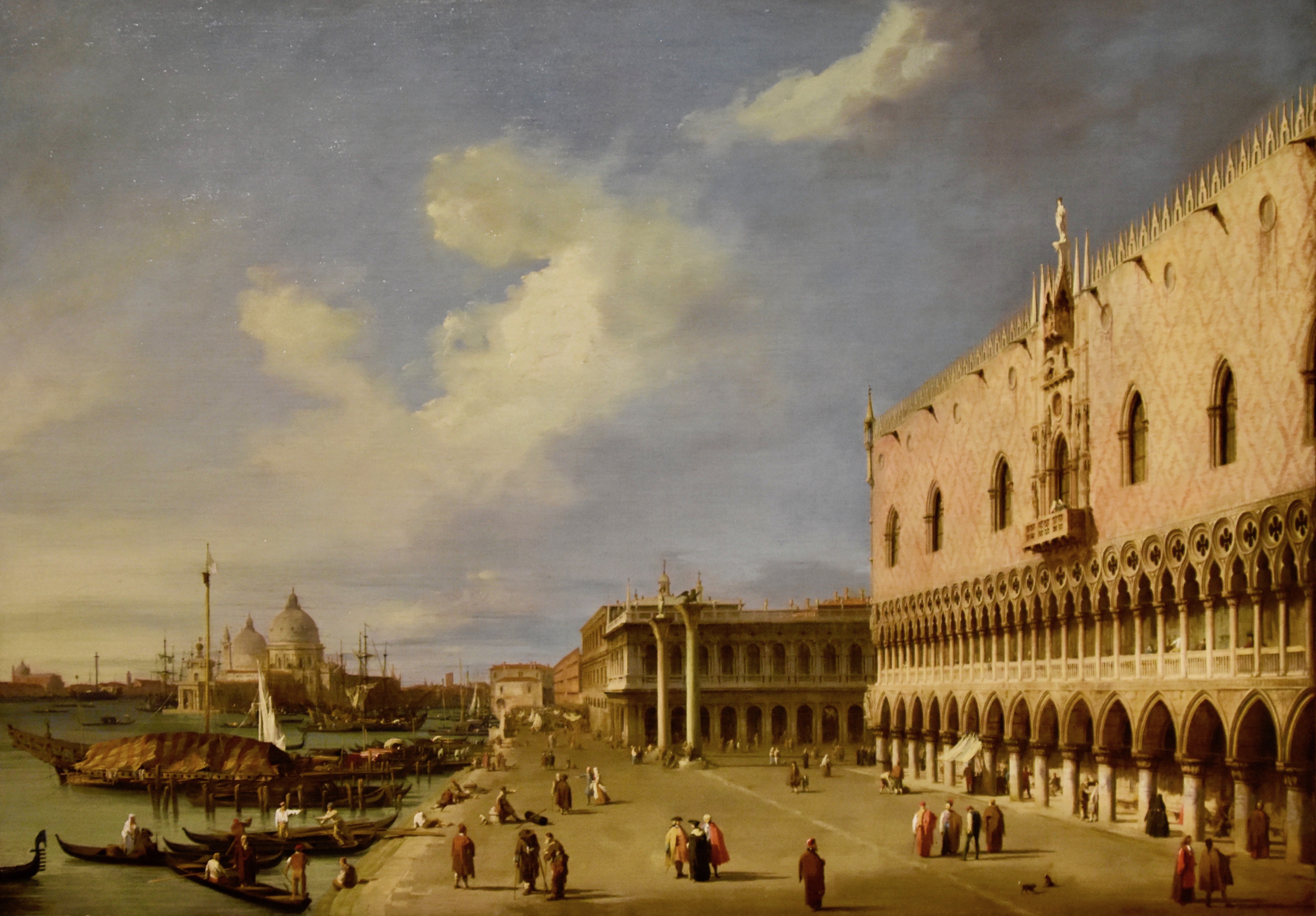 The most iconic portraits in all of American painting are surely Gilbert Stuart's many depictions of George Washington of which El Paso has a fine example. Washington was famous for his wooden false teeth which caused him to grimace rather than smile and Stuart has captured that perfectly in this portrait.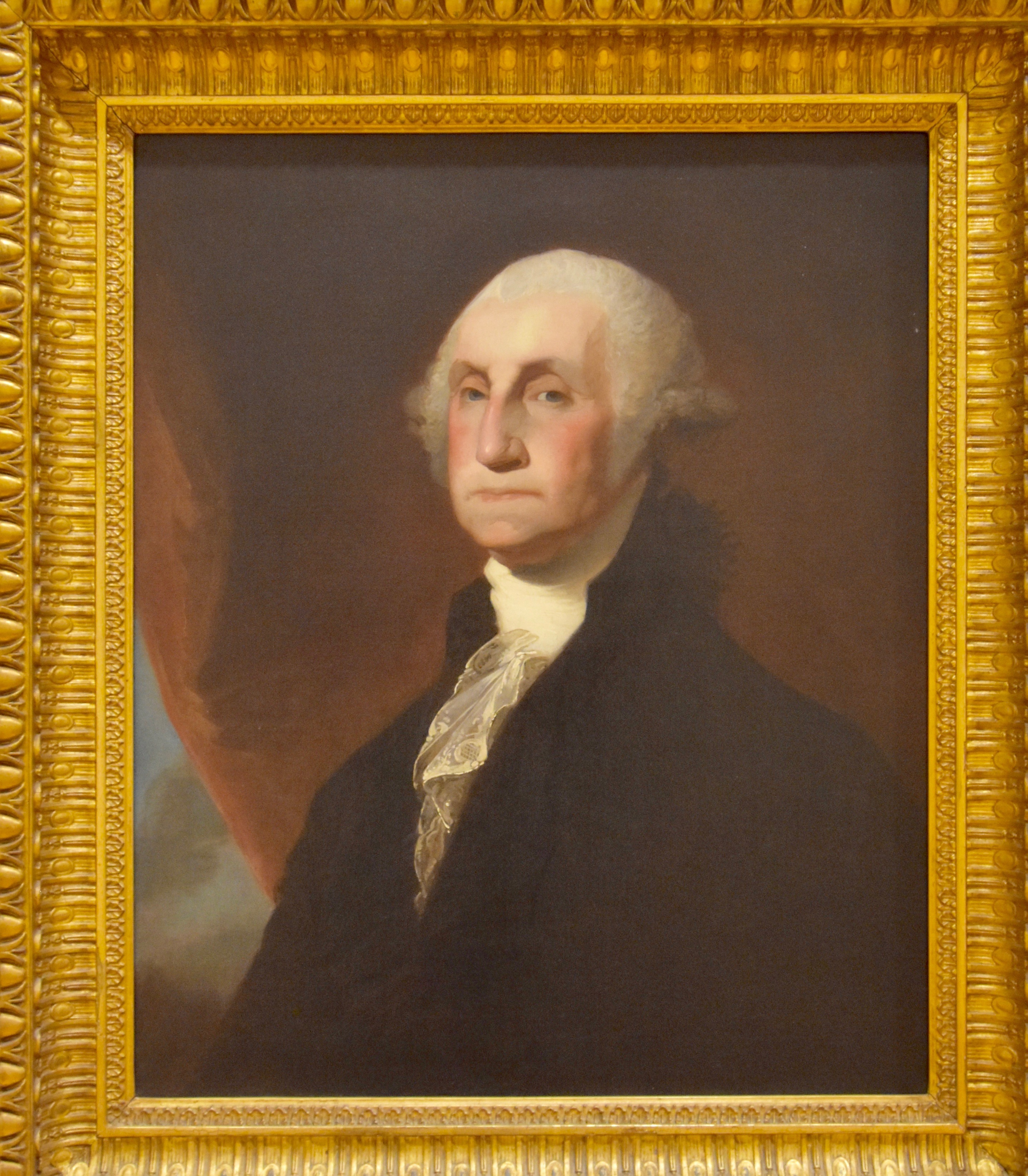 In terms of religious art, much of it does not turn my crank, but products of historical folk artists who were not deliberately trying to paint or sculpt in the naive style are a different matter. They have an honesty and simplicity that can be quite moving like this head of Christ by an unknown artist.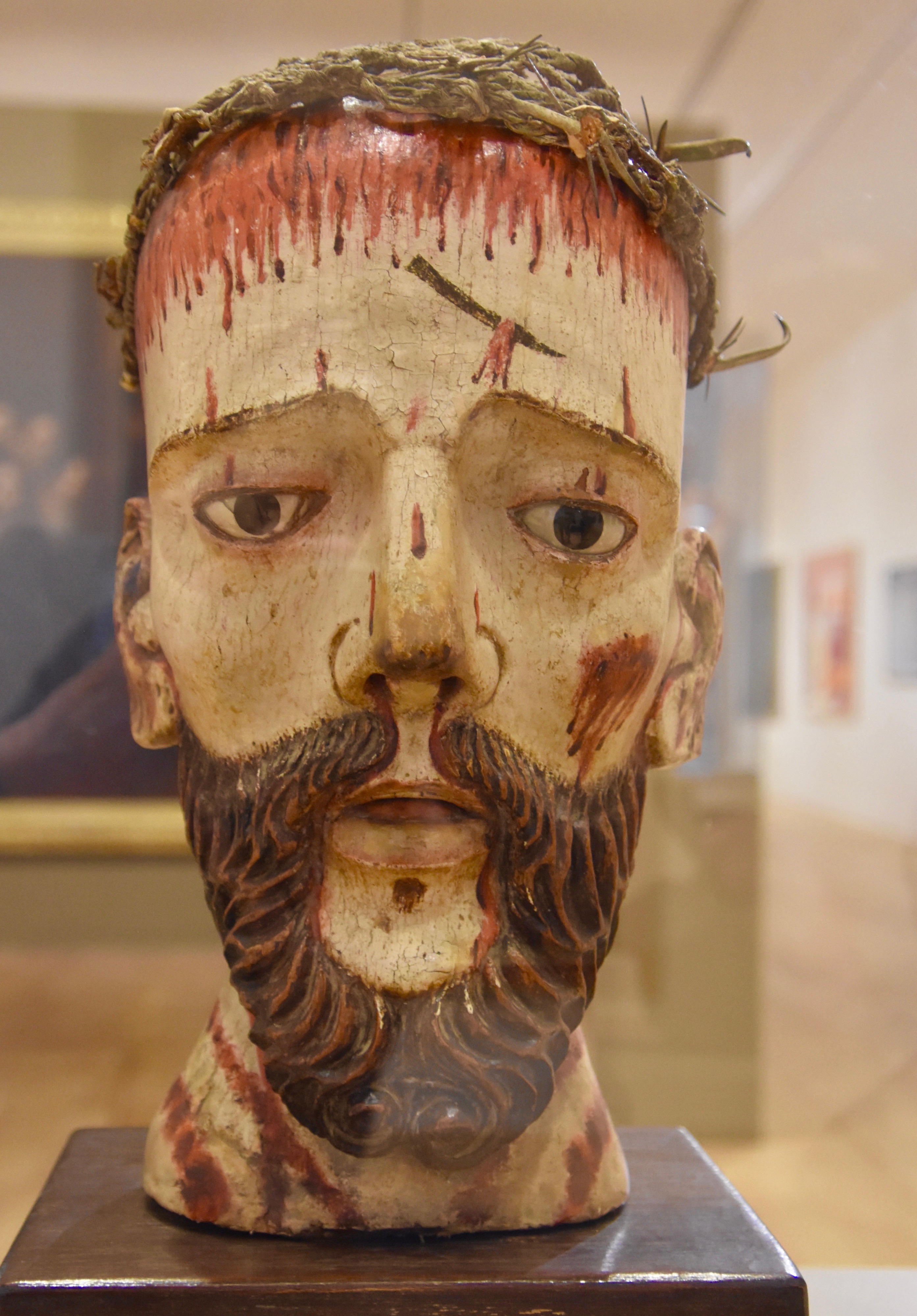 Of course, one of the things you would expect to find in any decent American western art museum are some great examples of the so-called 'Cowboy Artists' of whom Frederic Remington is considered one of the best. This painting titled The Mystery or A Sign of Friendship is from the latter period of his relatively short life when he began experimenting with a more impressionistic style than his earlier realism.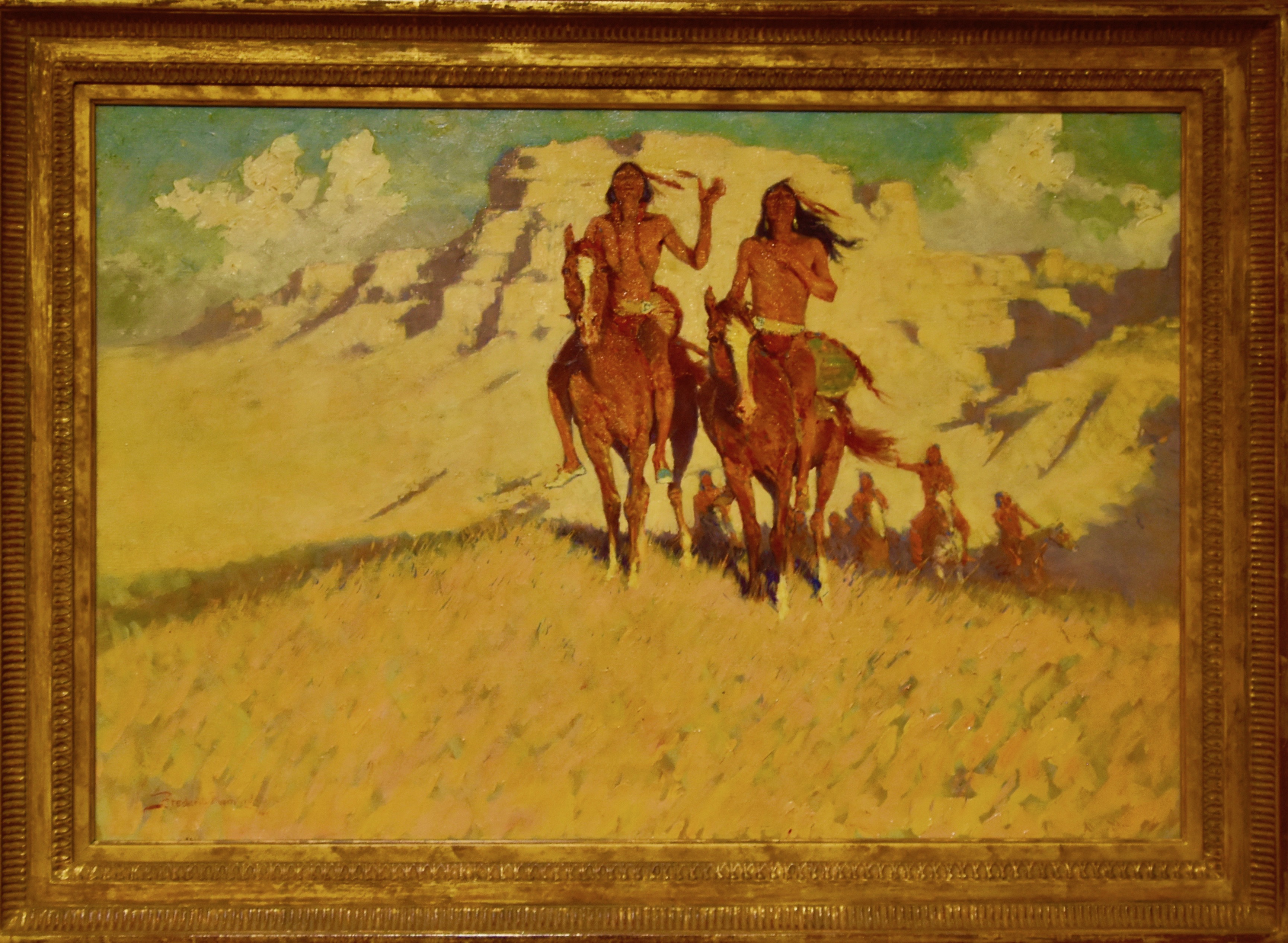 My favourite painting in this section was by yet another El Paso artist, Audley Dean Nicols whose El Paso at Sunset is a tour de force of this genre of western landscape painting.

If there is one thing you will surely remember about the El Paso Museum of Art it is this huge room that contains sculptures, paintings and other art media with no central theme other than perhaps eclecticism. Here are two views.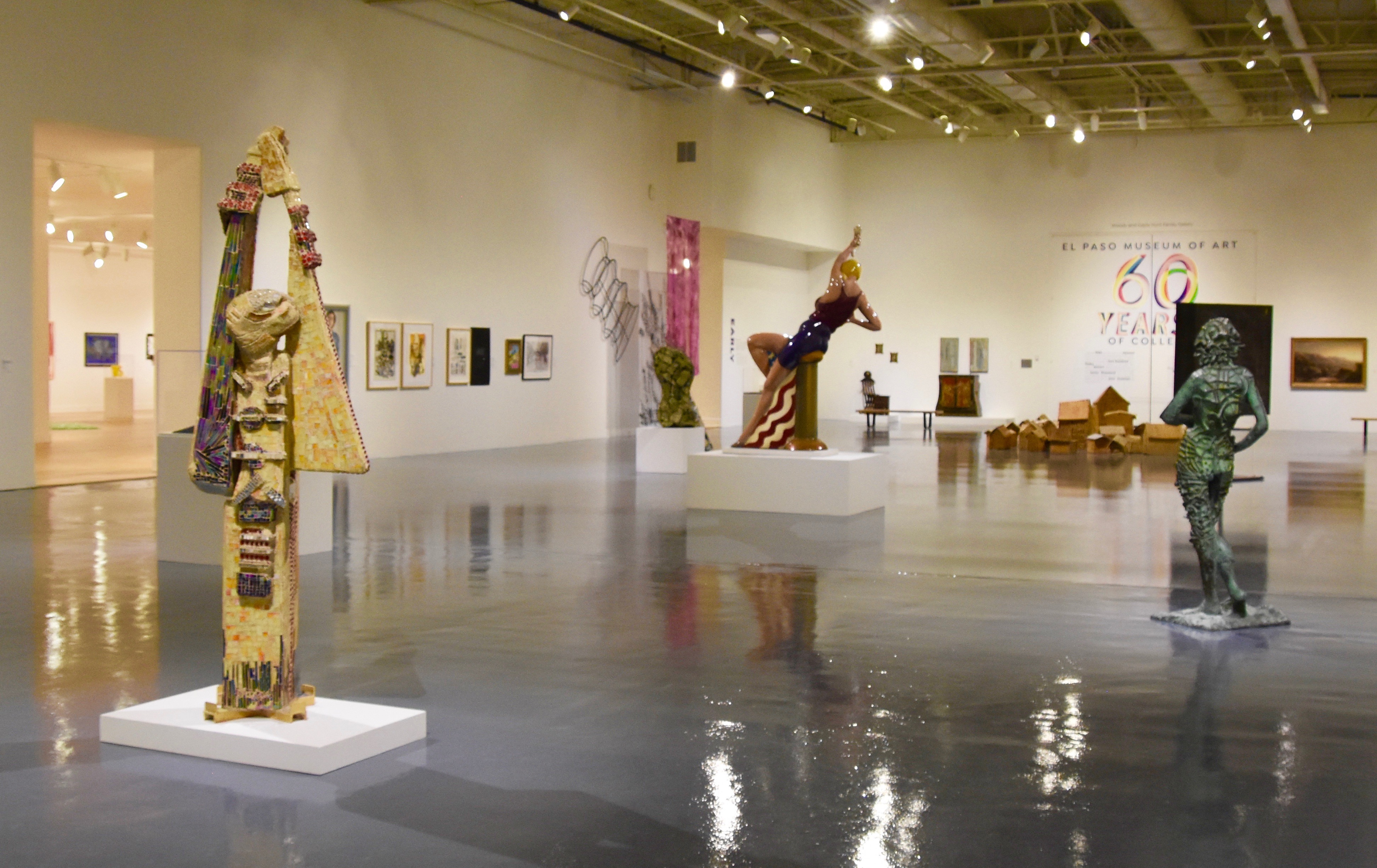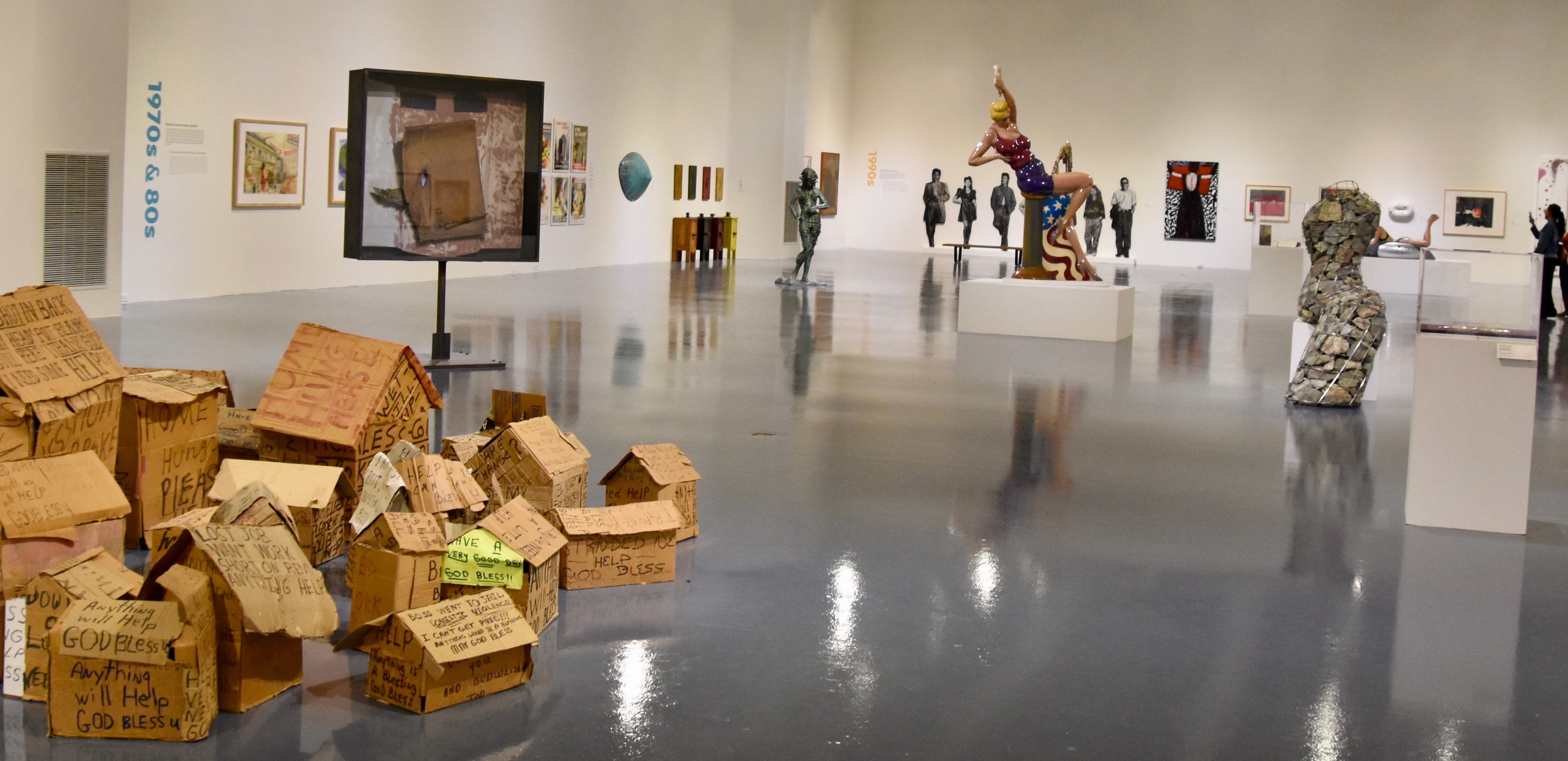 In the centre is another work by Luis Jimenez, Barfly Statue of Liberty. The name says it all.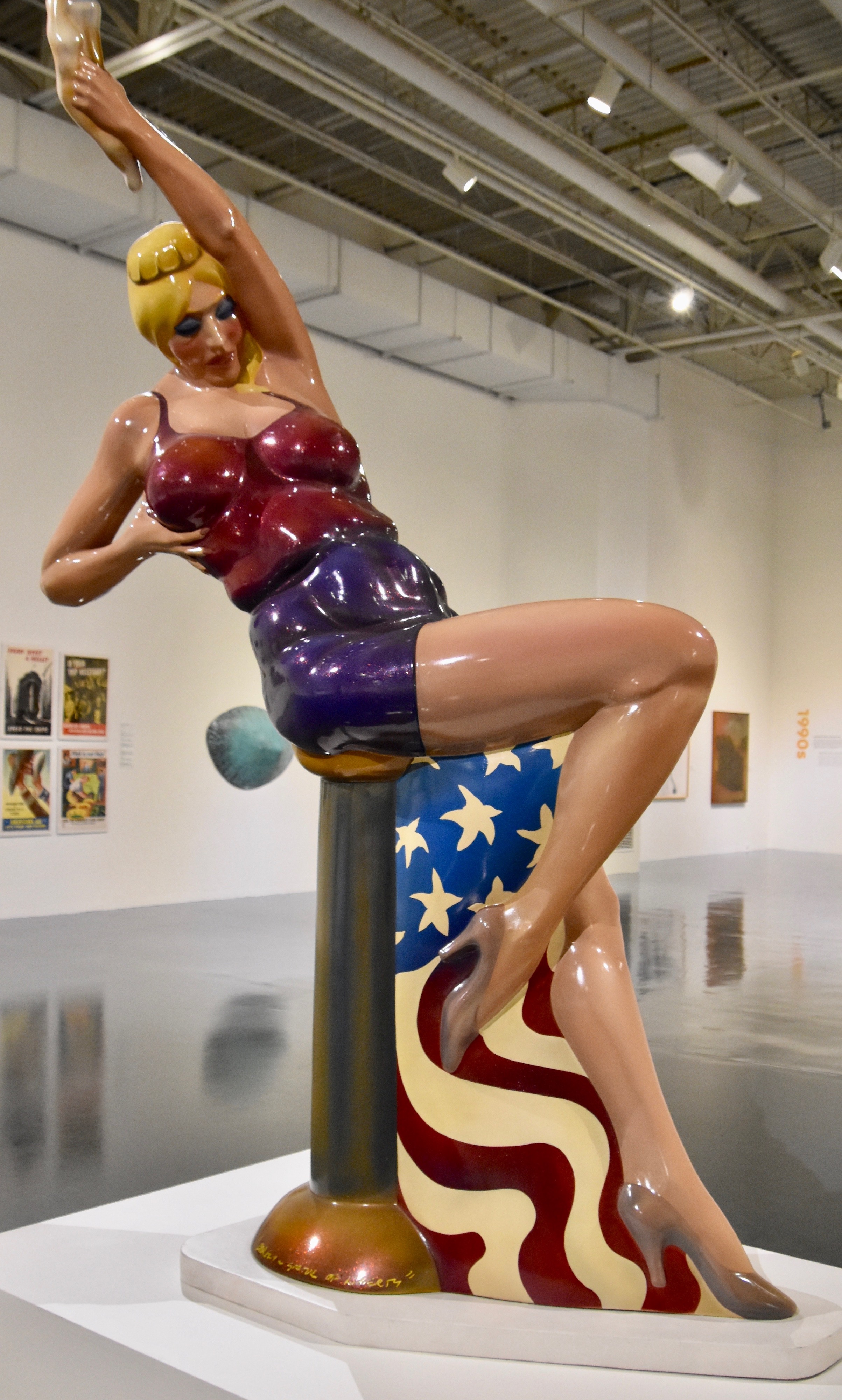 On one of the walls is Mexican born, but El Paso based Manuel Acosta's  The Red Serape which you will have first seen in gigantic form on the outer wall of the museum.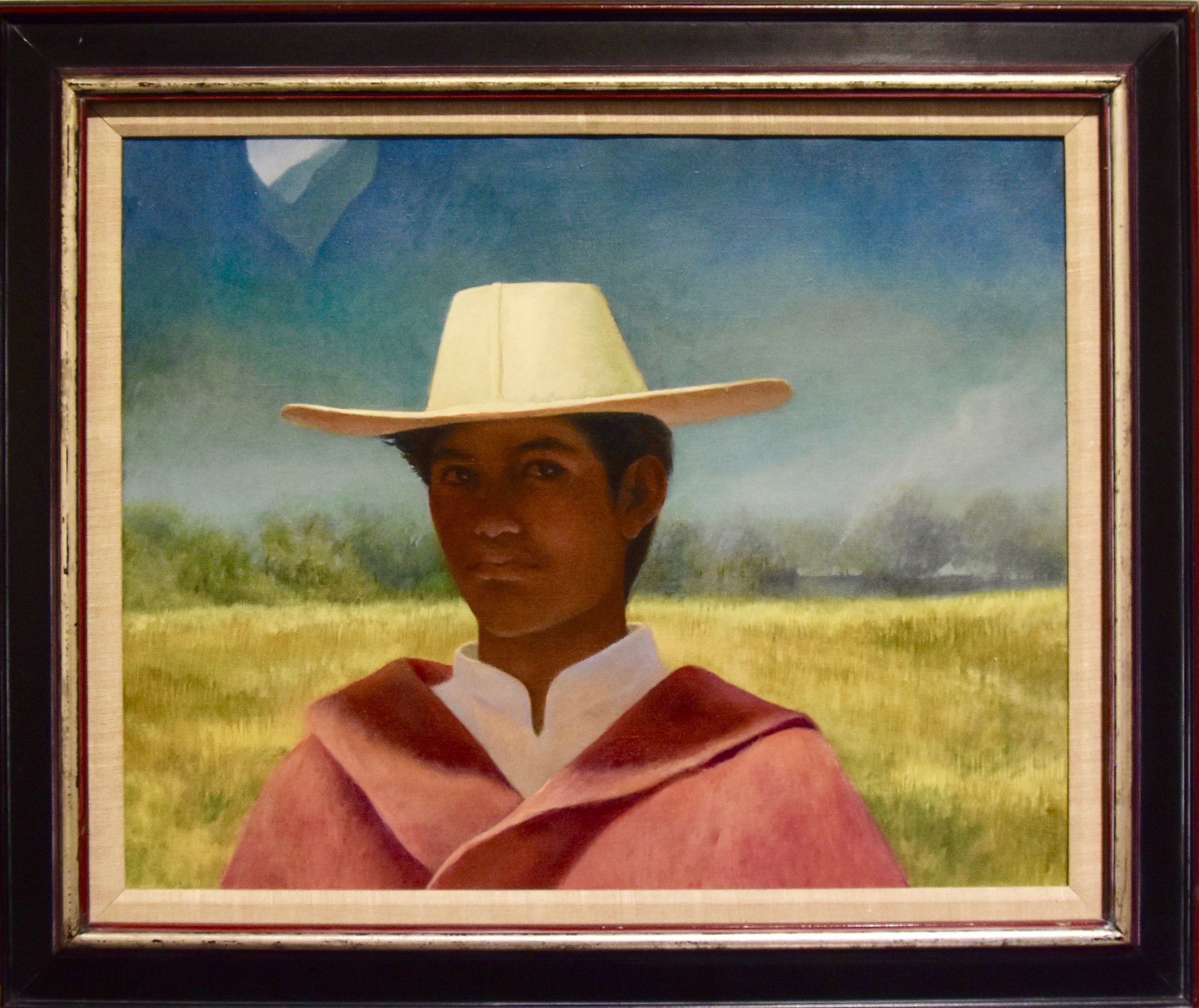 To write this section of the post on the El Paso Museum of Art I had to winnow down dozens of photographs to what I thought were just a few highlights and I'll end with this one by Carole Feuerman one of the originators of the Hyperrealism school of modern sculpture, which I thought was excellent.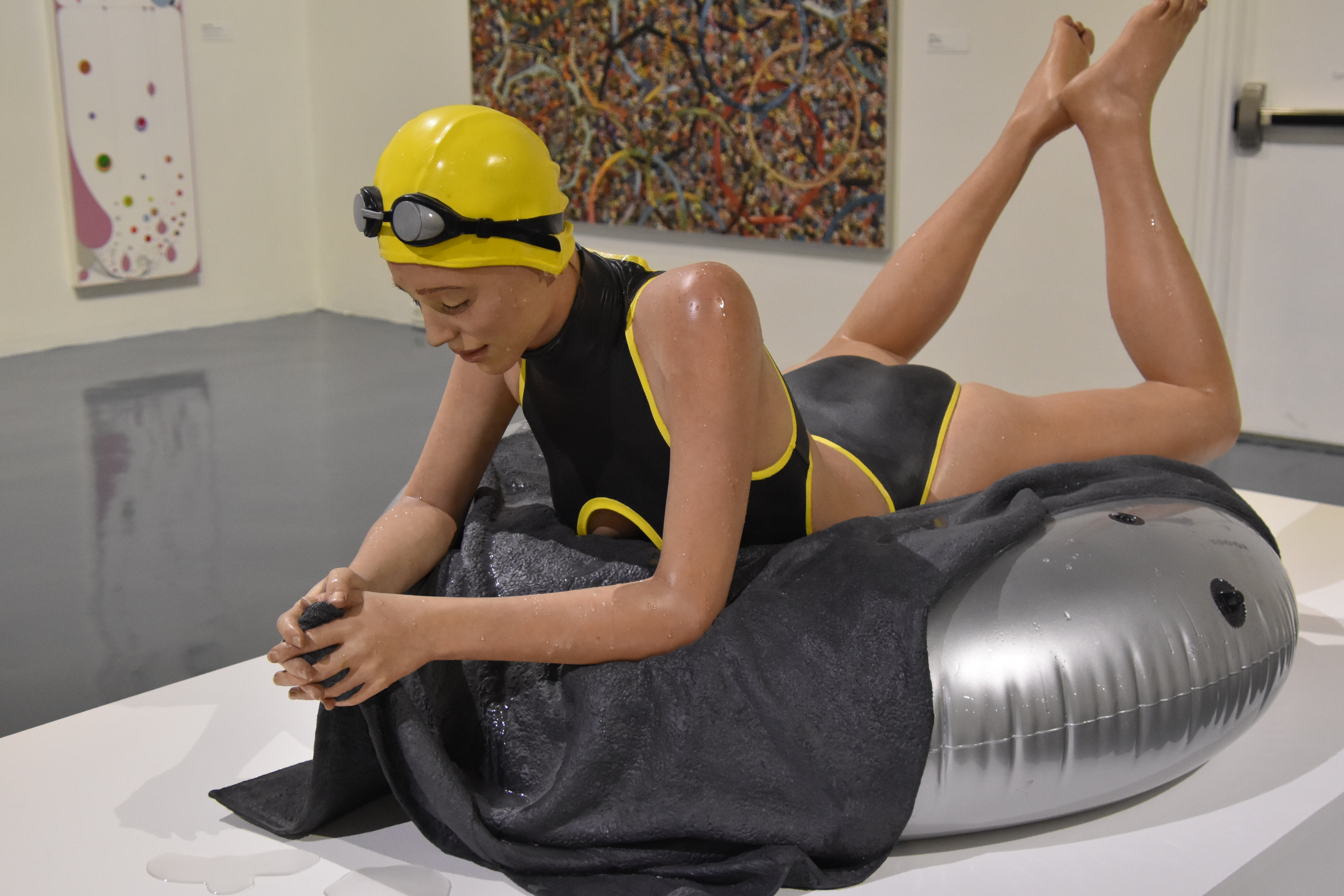 The great thing about the El Paso Museum of Art is that it is not so big that you become mentally and physically exhausted visiting it, but that there is more than enough to keep you captivated for a two hour visit.
The Museum of History
Just up the block from the art museum is the El Paso Museum of History which is also free. I'm not going to go into the same detail about the exhibits as I did on the art gallery other than to say that it too is worth seeing.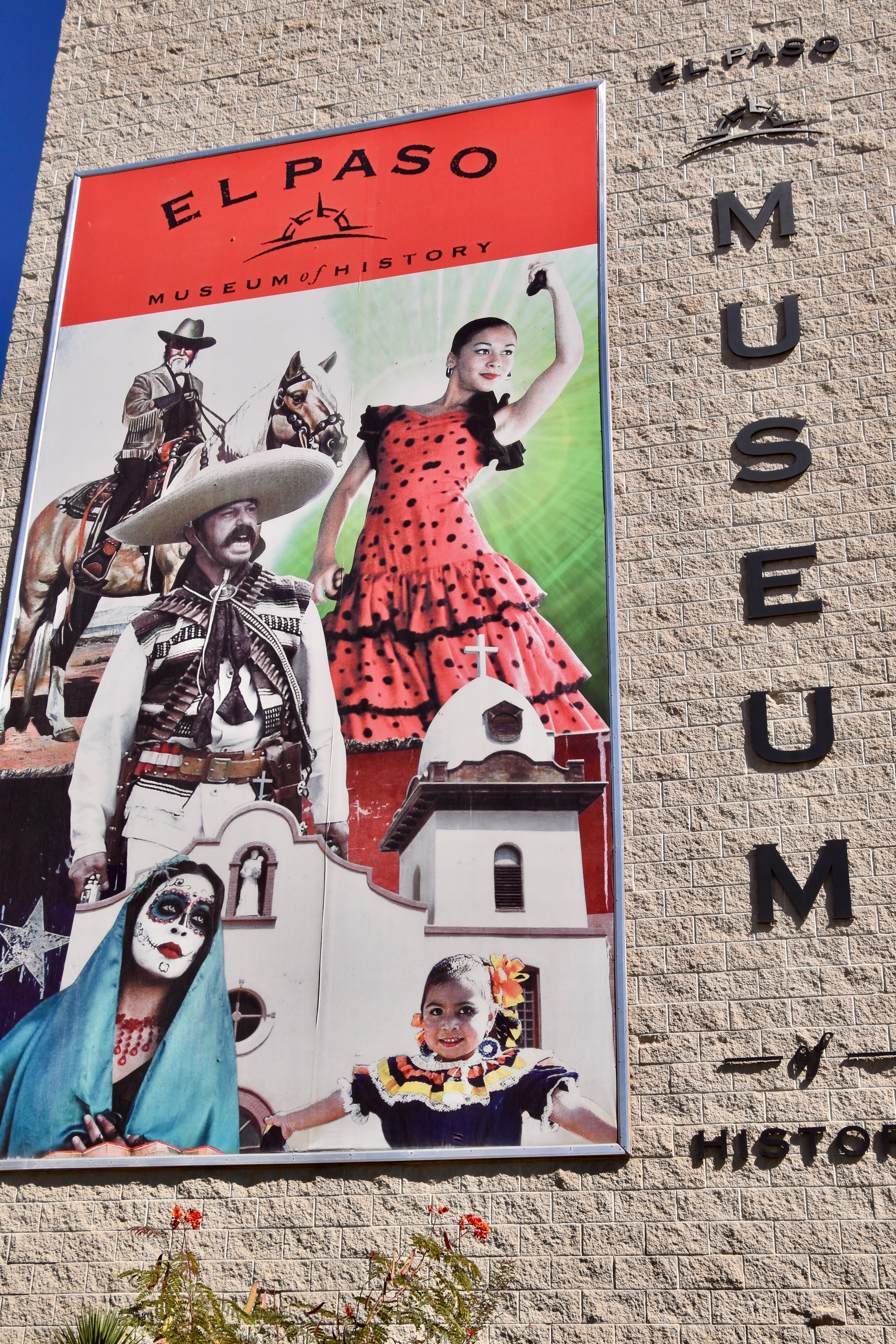 Even if you don't have time to visit the museum stop by the Digital Wall or DIGIE on the outside wall by the entrance. It is an interactive experience with hundreds of photos and videos about El Paso that's a lot of fun to experiment with. You can even upload your own El Paso experiences to the wall using the DIGIE website. It is all based on a concept invented in Copenhagen and as far as I can tell El Paso is the first city in North America that is replicating it.
Inside you'll find a number of galleries that will help you understand how El Paso came to be and why it is such an interesting city.
Eating in El Paso
During the evenings at the SATW conference we were able to sample the many flavours of El Paso, especially on the closing night at McKelligon Canyon where the variety of cuisines available was astounding. However, I do feel obliged to single out two food venues, one super famous and one not so that I thought captured the essence of El Paso eateries.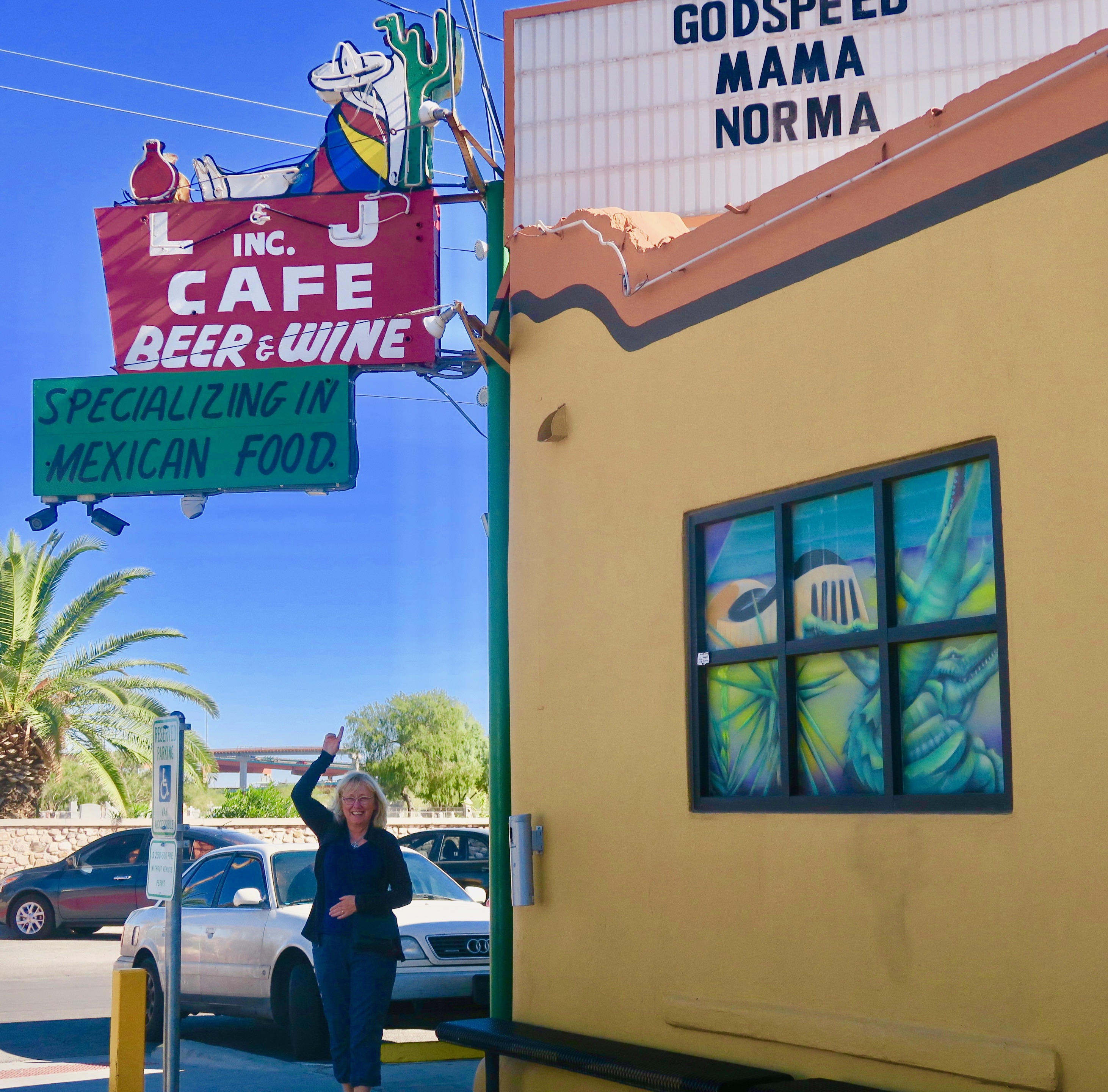 The first is L and J Cafe which has been around since 1927 and consistently is at or near the top of Trip Advisor and other ratings sites reviews. It's not in the downtown area, but an inexpensive Uber ride from there. BTW, we found the Uber service in El Paso excellent and quite reasonable. We liked the place so much that we ate here twice and avoided the crowds by having a late, late lunch both times.
Unlike many 'famous' local eateries L and J does not coast on its reputation, even if it could given the huge number of celebrity visitors whose photos line the walls. The starting point is the fresh baked tostadas with red and green salsas. The difference between a real good tostada and what passes for one at most Tex-Mex places is striking.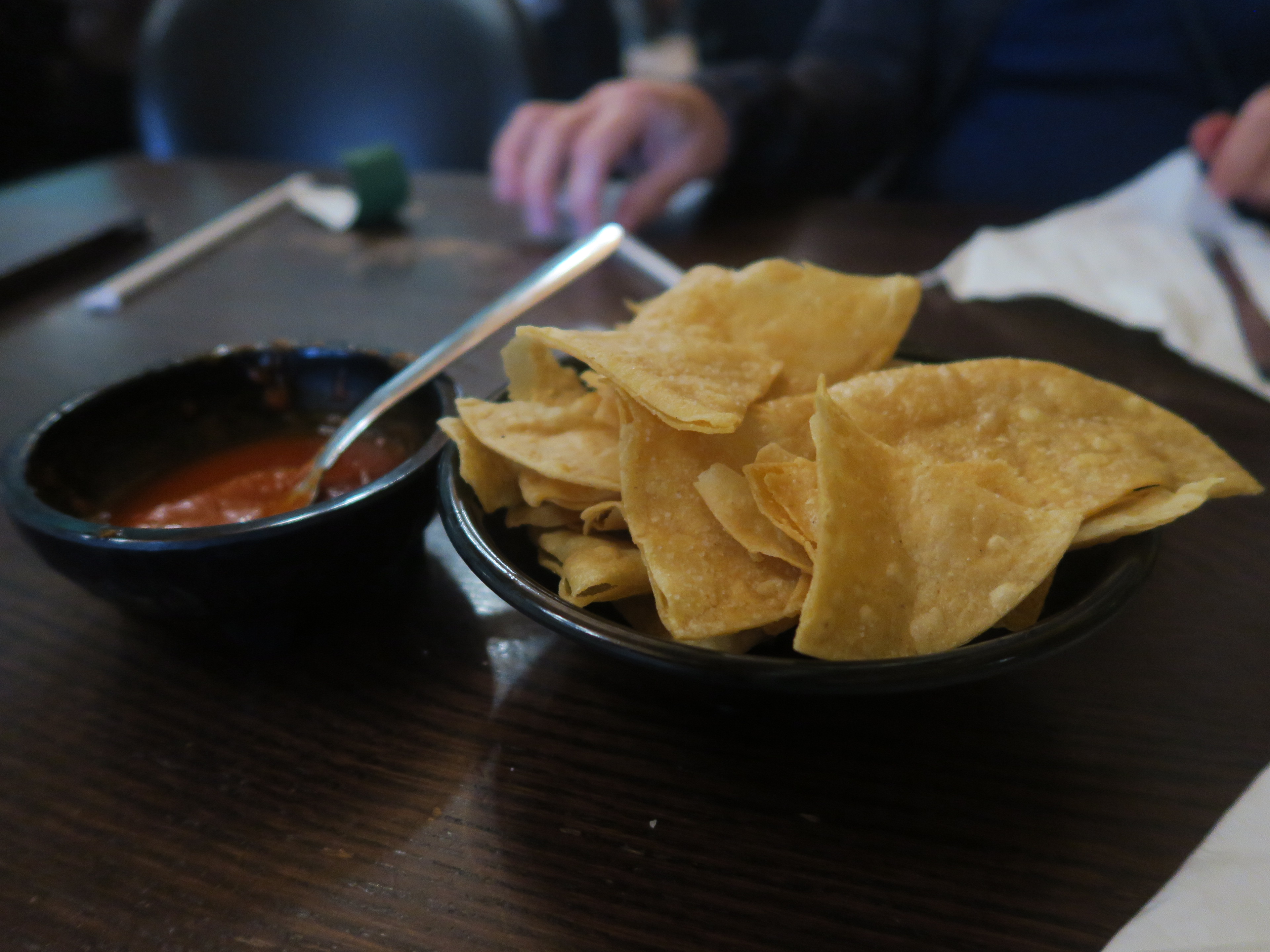 Not being able to return here again and again I opted to have the Mexican Combo Plate, something I would normally avoid like the plague, but got rewarded with a delicious plate of food of which the best thing was small bowl of caldo de res or Mexican beef stew. It was so good that when we returned I ordered a full bowl.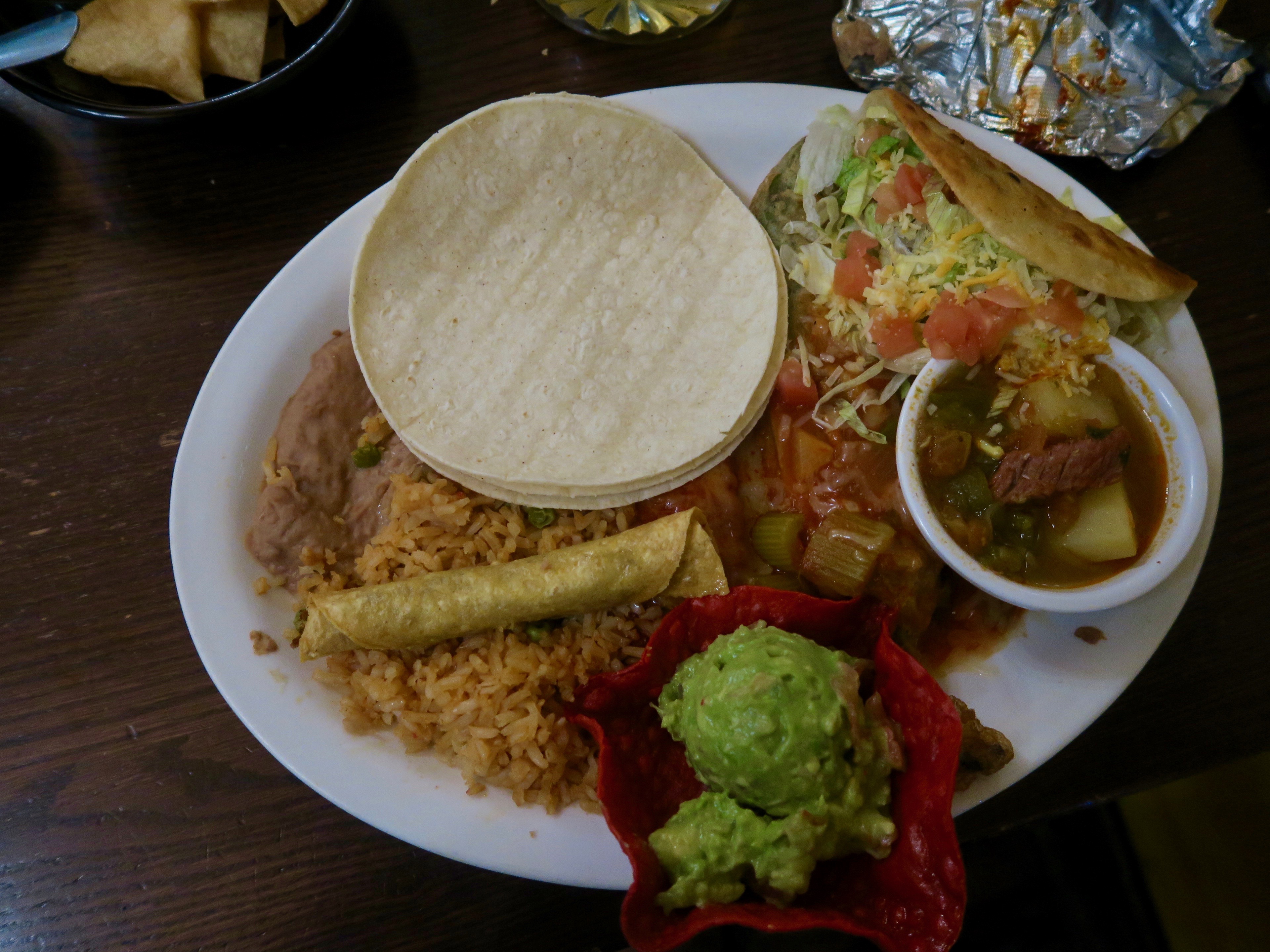 Alison had the chicken enchilada which she said was the best she had ever tasted, and yes there is an enchilada under there.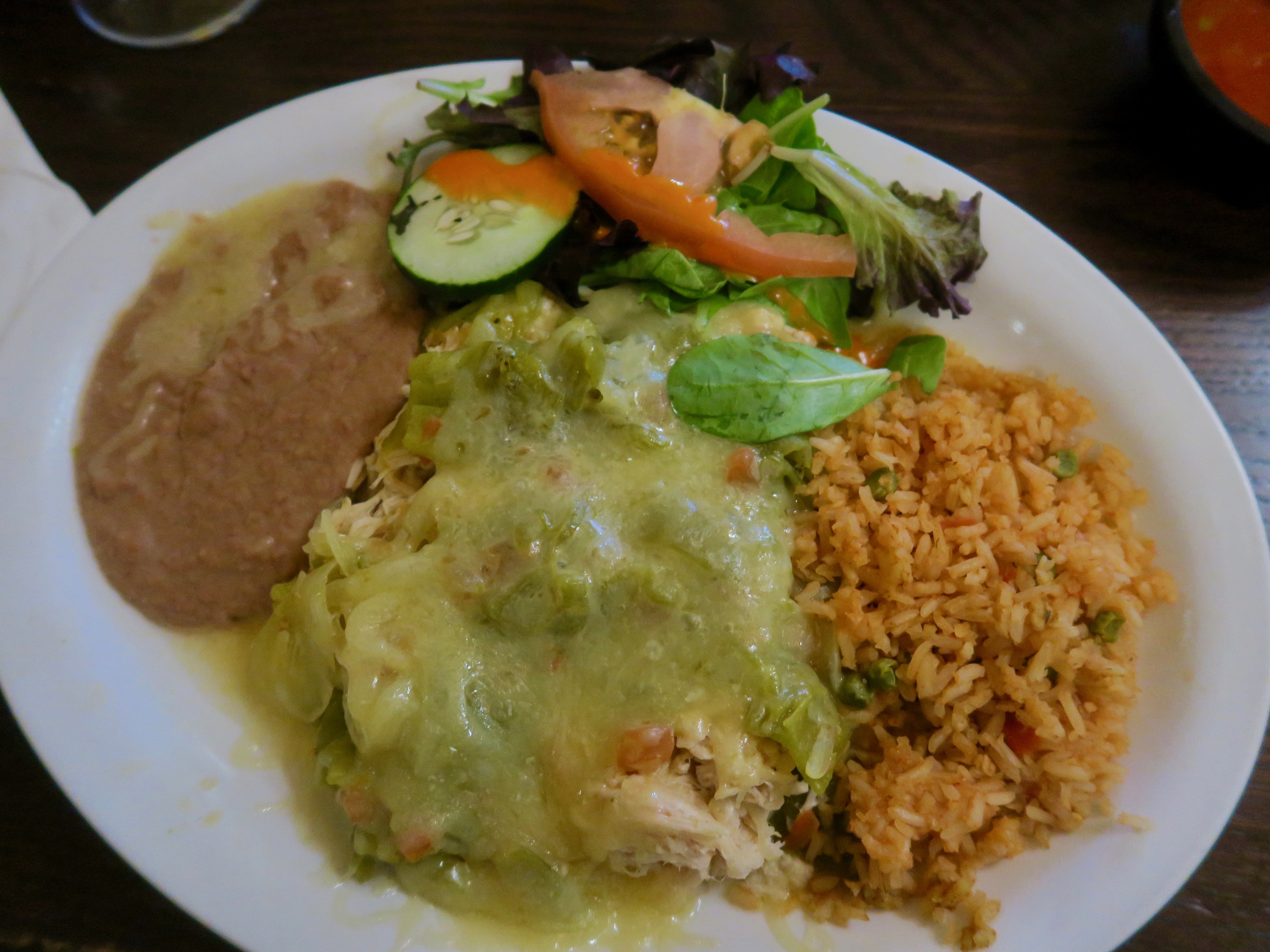 For dessert you can seldom go wrong with good old Mexican flan and the L and J version was more than up to par.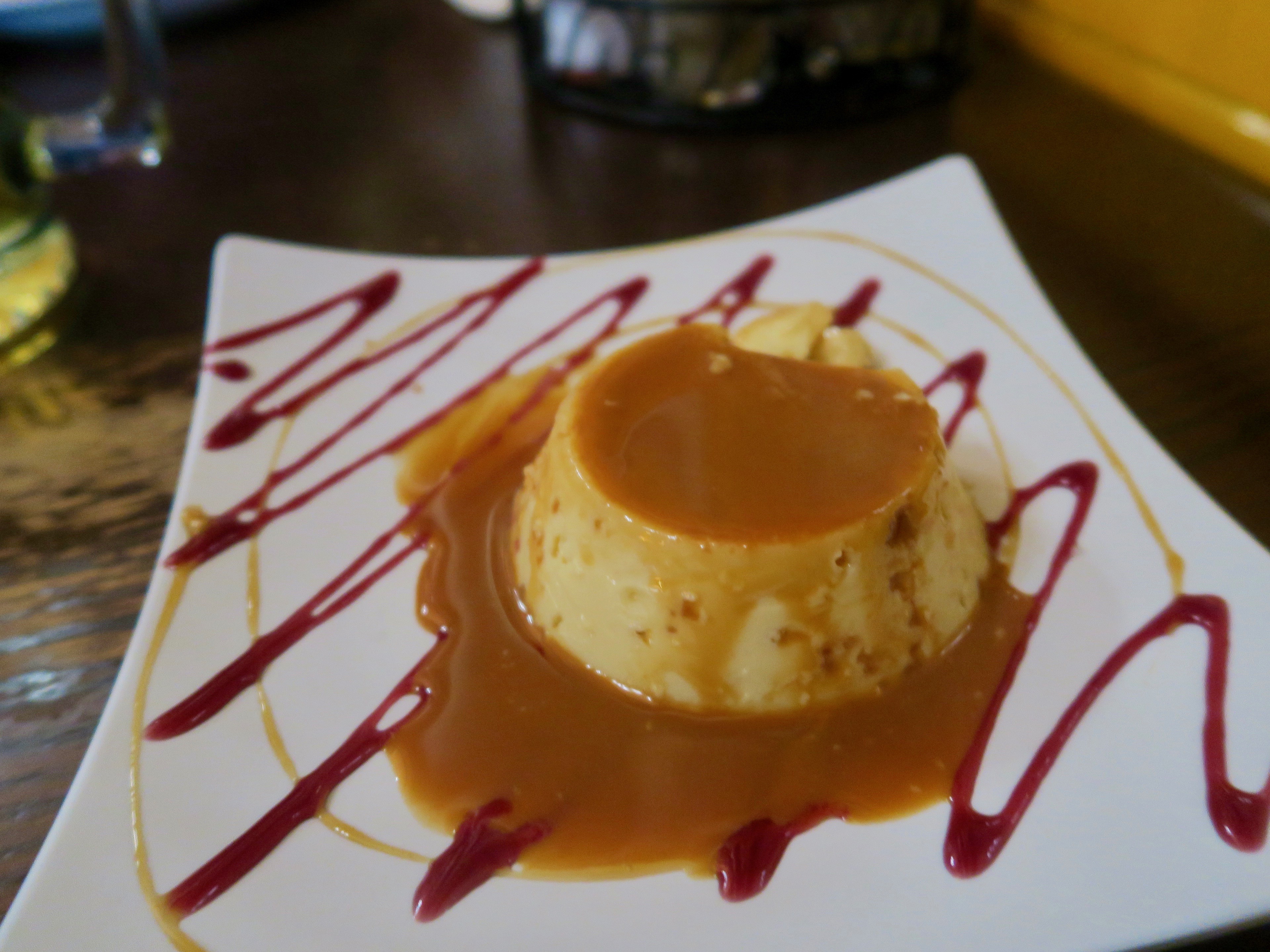 Total cost for our meal which included a 20 oz. Dos Equis and two glasses of wine was $60.00 with tip. Not only do you get good food and service here, but great value as well.
The second place I'd recommend is in downtown El Paso and while popular with locals, seems to be off the tourist path, or at least when we were there. Pike Street Market sounds like it would be a big place, but instead it's a hole in the wall lined with books on East Mills Street. If you are looking for a delicious breakfast sandwich at an insanely good price then forgo the $12.95 variety at your hotel and head here. Made to order with really fresh bread and stuffed to the limit, they come in at around $5.00 and are far better than anything I've had at a hotel restaurant.
Other Interesting El Paso Things
Staying at the Indigo Hotel  we got the chance to walk by or through San Jacinto Plaza a number of times on the way to SATW events and each time we seemed to find something new. Of course it's impossible to overlook Luis Jimenez' (yes him again) three alligators statue that commemorates the real alligators that were a staple of the plaza for many years. Unfortunately, a certain U.S. President may have been inspired by this statue to suggest stocking the Rio Grande with real alligators to keep unwanted visitors at bay.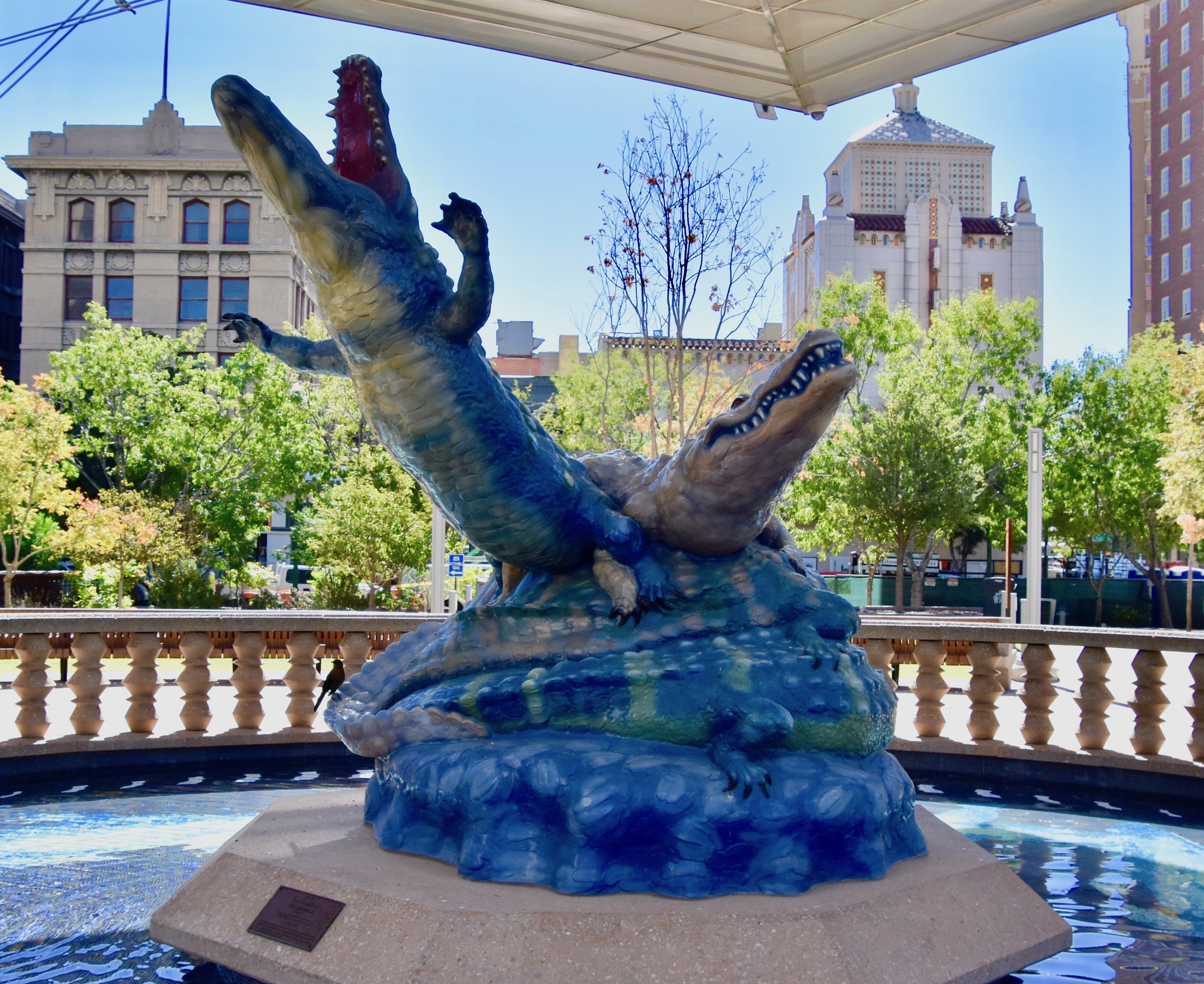 L and J Cafe calls itself the 'The Old Place by the Graveyard'. That would be Concordia Cemetery and it's definitely worth a visit if you want to see a real life Boot Hill type burial ground.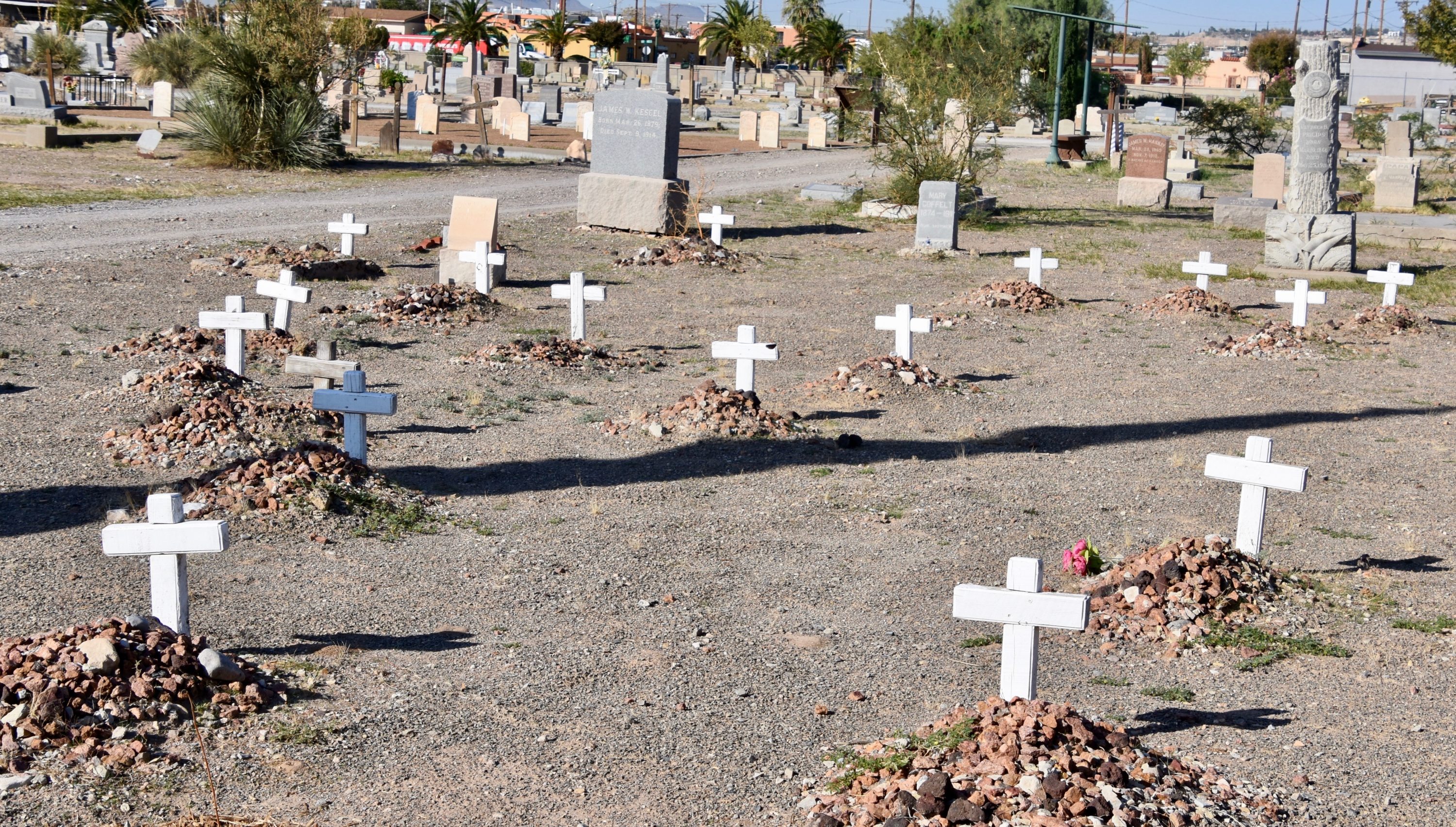 Here you will find special sections just for Masons, Mormons, Jews, Blacks, Chinese, Jesuits, Military and even outlaws like the infamous (or famous if you believe every man he killed was in self-defence) John Wesley Hardin who went from notorious gunslinger to reformed lawyer, eventually shot in the back of the head by lawman John Selman, who is also buried here. Unfortunately, due to vandalism and other stupidities like stealing the whole headstone, graves like this need to be fenced in. Billy the Kid's is the same in Fort Sumner, NM.

I've written many posts just on cemeteries and if I'd had the time could easily write one on Concordia. Here's one example of the many interesting graves found here. In March 1916 Pancho Villa attacked the border town of Columbus, New Mexico and killed 19 Americans including Trumpeter Harry Davidson precipitating a fruitless two year incursion into Mexico by General Pershing.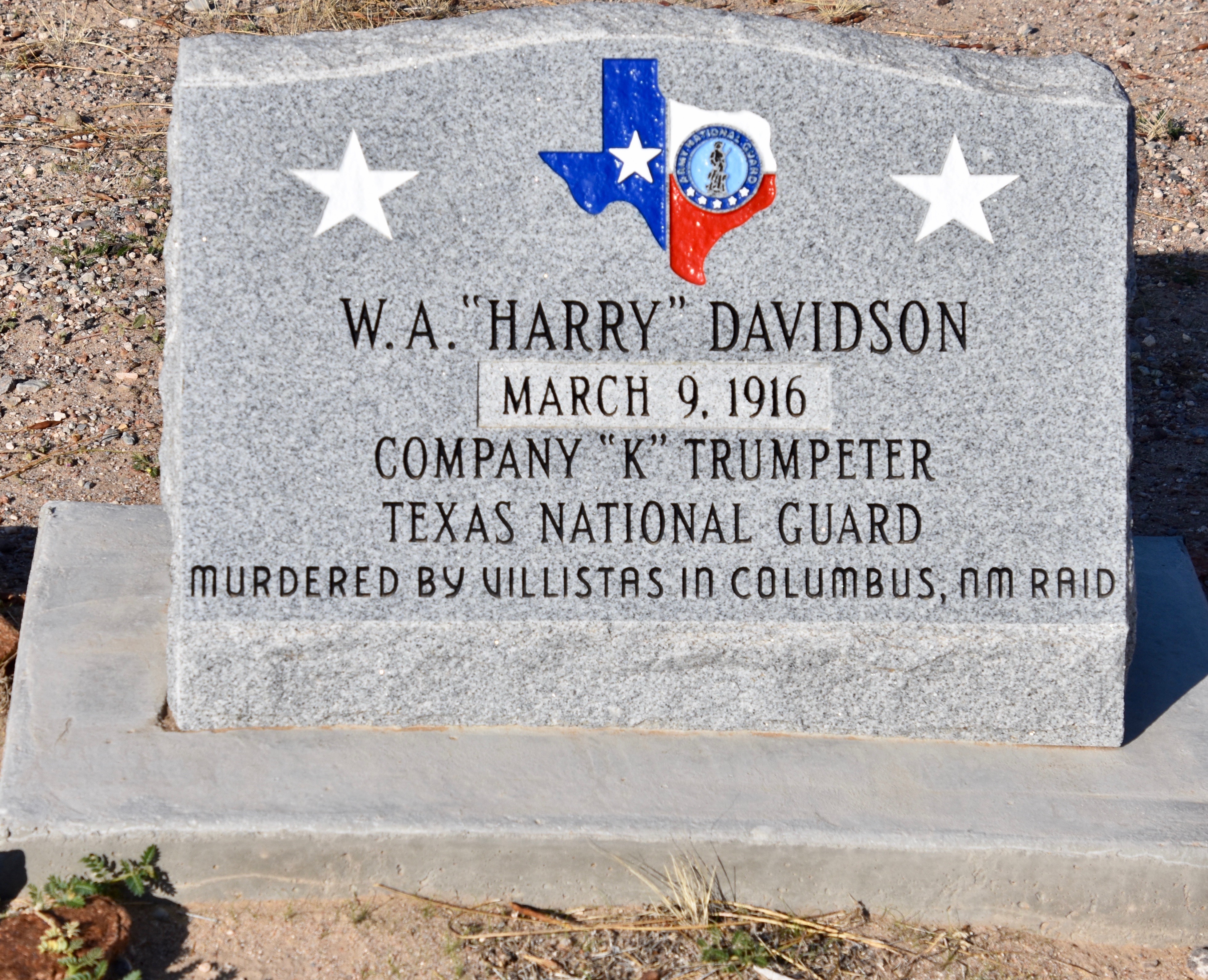 So that's my summary of just a few of the other things I found fascinating about the city of El Paso. Oh, I almost forgot, there really is a Rosa's Cantina on the Camino Real on the outskirts of El Paso, but I don't think Felina hangs around there anymore.
This is not the last of my posts from west Texas. Stay tuned for Hueca Tanks SP and Guadalupe Mountains NP.