Gila Cliff Dwellings National Monument
We had just wrapped up our visit to southeastern New Mexico with a visit to Carlsbad Caverns  and White Sands National Monument and it was now time to start heading southwest. Gila Cliff Dwellings National Monument in southwest New Mexico is not easy to get to, but well worth the effort as you will be rewarded with being able to actually get inside some of the former cliff dwellings, something that is prohibited on your own in better known parks like Mesa Verde. There's also nowhere near the climbing required to get there that there is at Mesa Verde or Bandelier. Here's how to get there and what you'll see when you do.
Getting to Gila Cliff Dwellings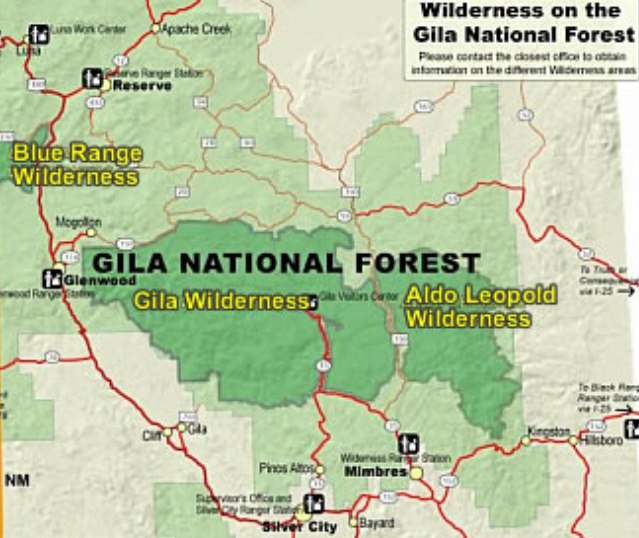 The nearest town to the Gila Cliff Dwellings is the fabled mining town of Silver City which is 45 miles (72 kms.) away which doesn't sound like much, but it will take you the best part of 90 minutes to get there. In fact there is park signage at the beginning of the narrow road that leads into the park indicating it will take two hours from that point until you arrive. That is probably correct if you happen to get stuck behind an RV or a someone pulling a trailer. The road is so narrow and winding that there are very few places to pass. My recommendation for avoiding that hassle is to visit Gila Cliff Dwellings in the late fall when the weather is still good and the number of visitors drops to almost none. In fact, this was the case for my entire visit to New Mexico.
On the eastern outskirts of Silver City you take a left onto New Mexico 15 and just follow it the entire way to the Interpretive Center.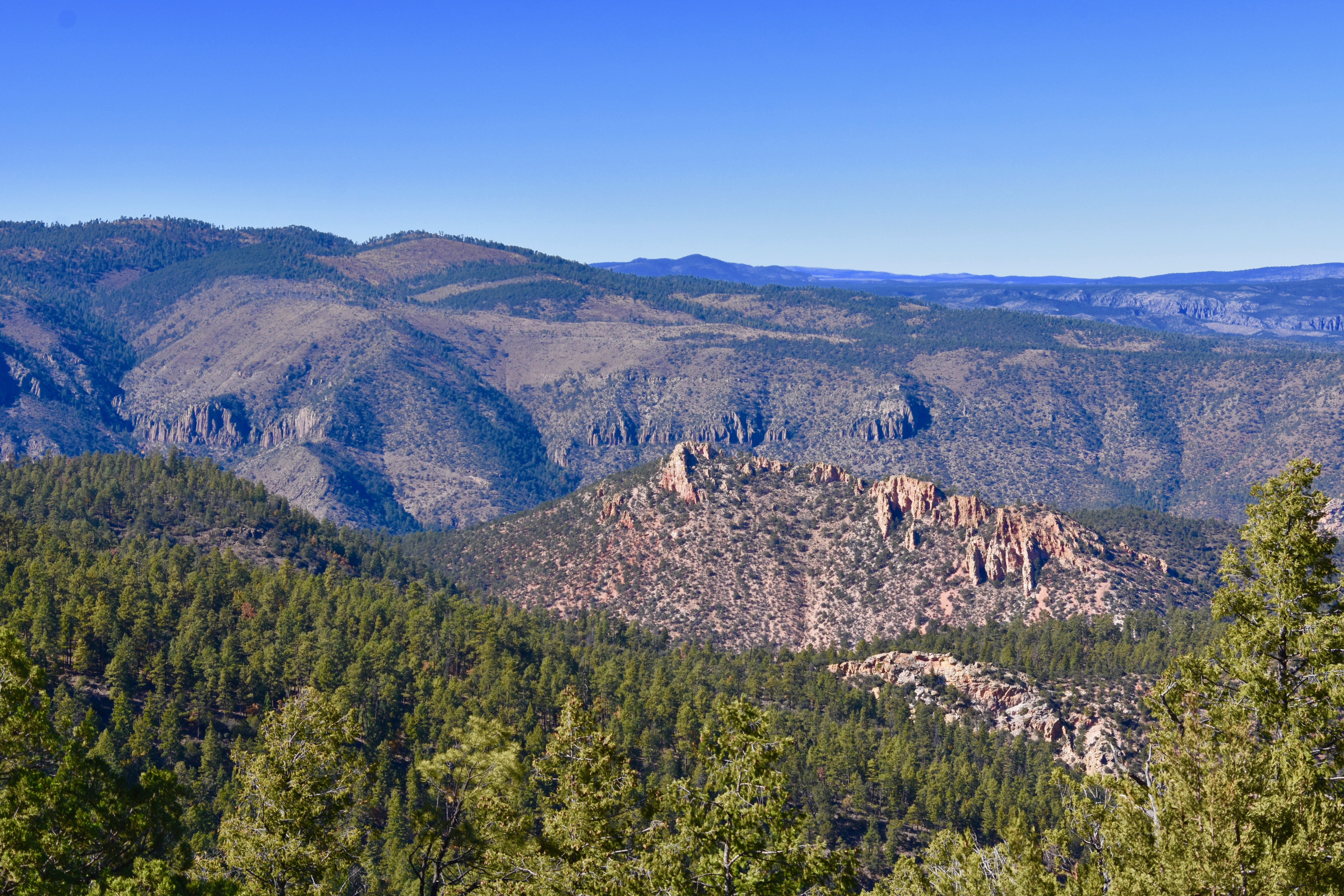 While the road is slow going the consolation is the the scenery is terrific including this view of Copperas Creek Volcano. NM 15 travels much of the way through Gila National Forest with its combination of pine and aspen forests, the latter beautiful at this time of year. There are virtually no services once you get onto NM 15 until you get almost all the way there where you'll find a store and RV park. There is no cell coverage.
Entry to Gila Cliff Dwellings National Monument is now free. Don't ask me why it's free here and $25.00 per car at Bandelier and Chaco Canyon, but just mark that up as another reason to visit.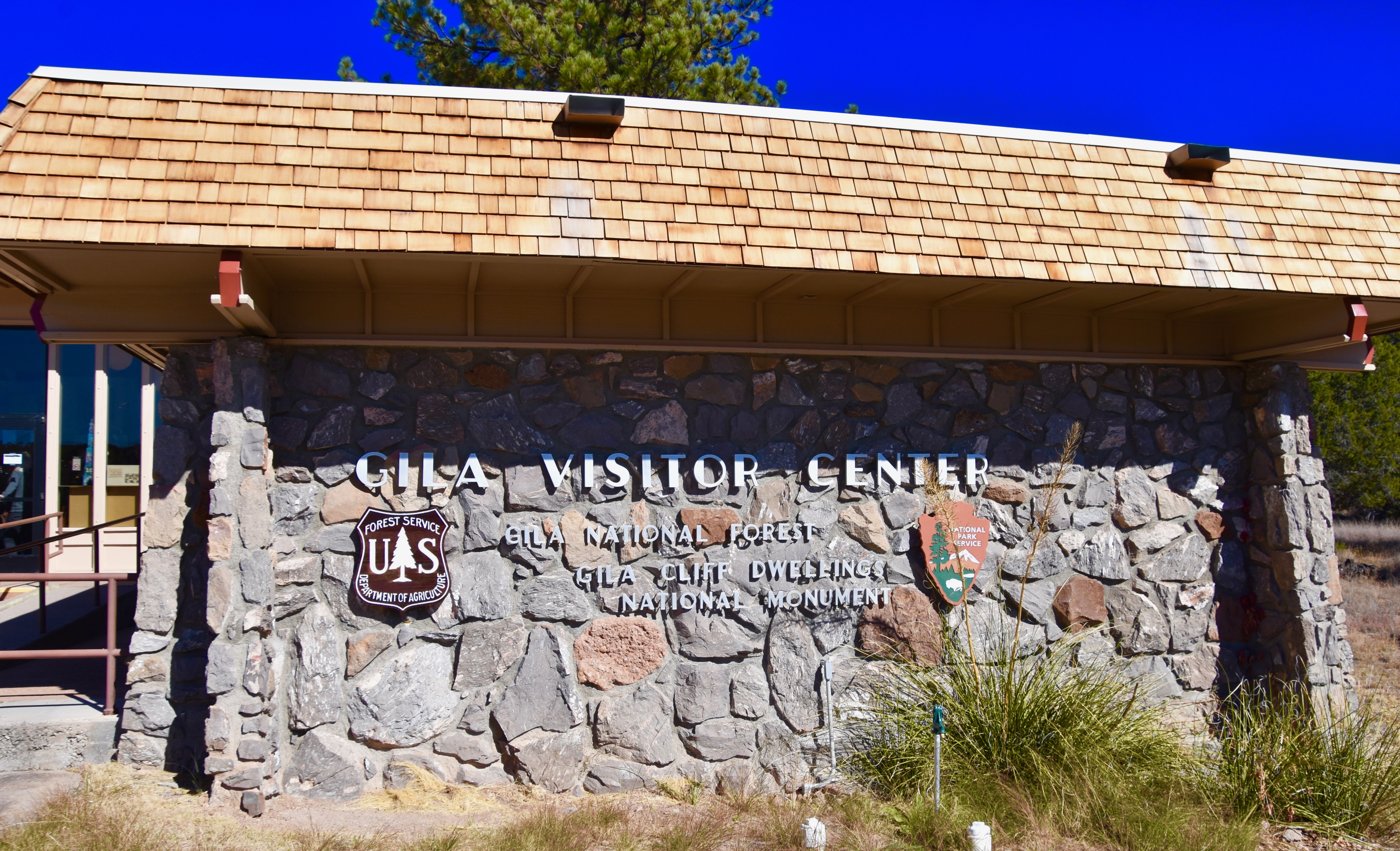 The Interpretive Center at Gils Cliff Dwellings is pretty modest and warrants only a short visit. The ranger on duty will then direct you to drive the short distance to the trail head where another ranger will give you a trail map and give you the rules regarding visiting the cliff houses. However, before getting back into you car look for this cairn which let's you know you are in Chiricahua Apache country and that their legendary fighter Geronimo was born in this area.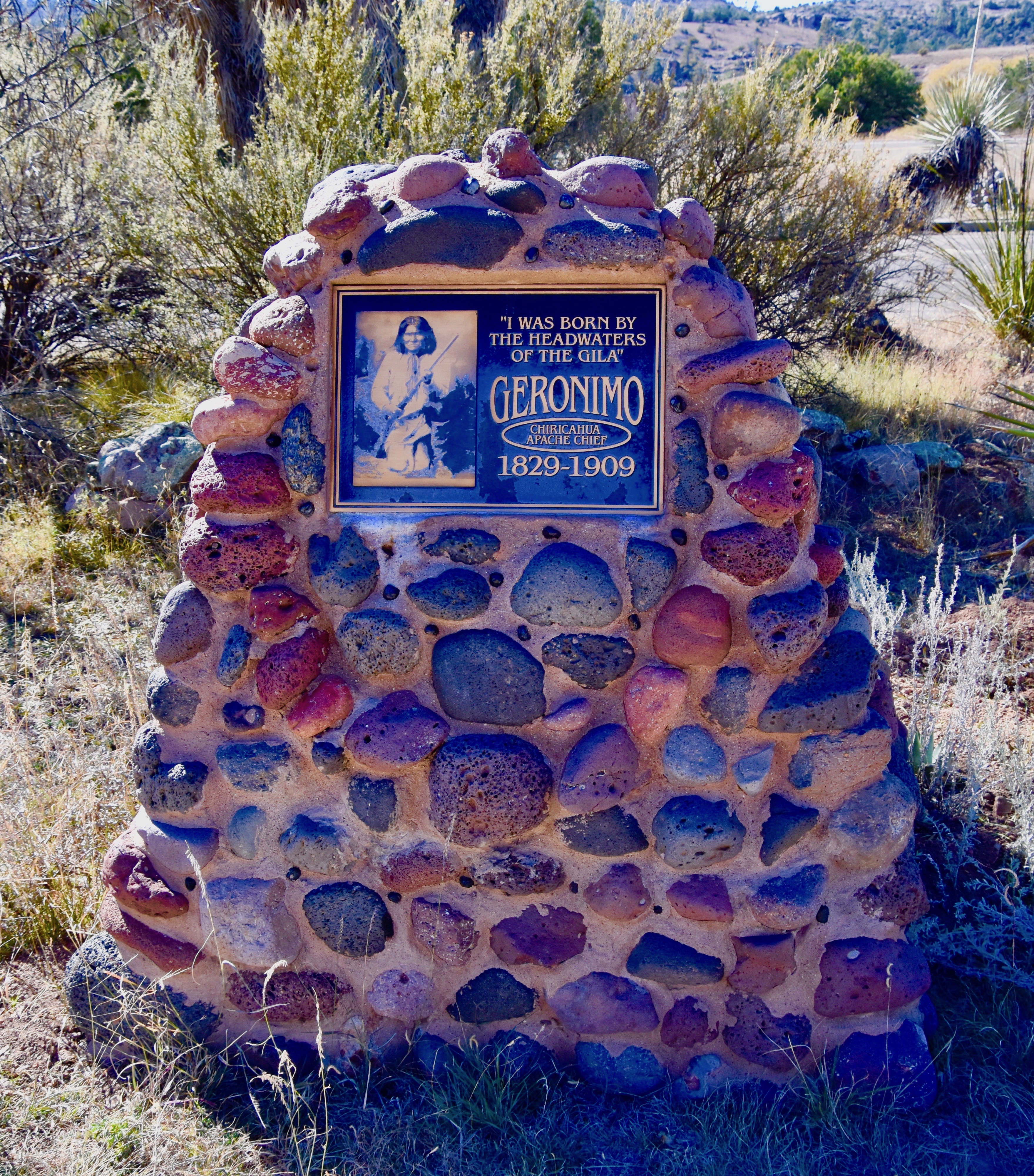 History of the Gila Cliff Dwellings
The Gila Cliff Dwellings were created by a people known as the Mogollon culture that occupied much of southwestern New Mexico, southeastern Arizona and a much larger swath of northwestern Mexico extending as far as the Sea of Cortez. They are known from a period as early as 200, but where they came from remains an archaeological mystery. Beginning as hunter gatherers they gradually transformed into agriculturalists and their living habits evolved with this change. The earliest Mogollon structures were pit houses that eventually gave way to larger pueblos by the time of their arrival in the upper Gila River region in around 1275. The Gila Cliff Dwellings were initially occupied seasonally simply as alcoves, but for a a very short period of only about 25 years the alcoves were converted into permanent dwellings whose age can be measured quite precisely using the dating technique of Dendrochronology which uses tree rings to determine age. Why the Mogollon people stayed here for such a short period of time before abandoning the place remains another mystery.
While the Indigenous people who replaced the Mogollon's certainly knew of the existence of the Gila Cliff Dwellings, they were unknown to the outside world until 1878 when a group of prospectors from Silver City stumbled upon them. They quickly became an archaeological sensation and in 1907 Teddy Roosevelt made them one of the first national monuments in the country.
Visiting Today
Once you arrive at the trailhead you can tour the small museum and view some of the artifacts found in the area. Various items such as sea shells prove that trade routes stretched long distances well before the Spanish introduced horses, mules and oxen to the New World.
When you are ready to visit the dwellings you will be given this very basic map which shows a 1.2 mile loop that involves about 150 feet of elevation change. It should take no more than ninety minutes to two hours to walk the trail and spend as much time as required inside the actual buildings. A walking stick is helpful, but not necessary, but water is. While there is a small ladder to descend, anyone in reasonable shape should be able to handle this trail easily.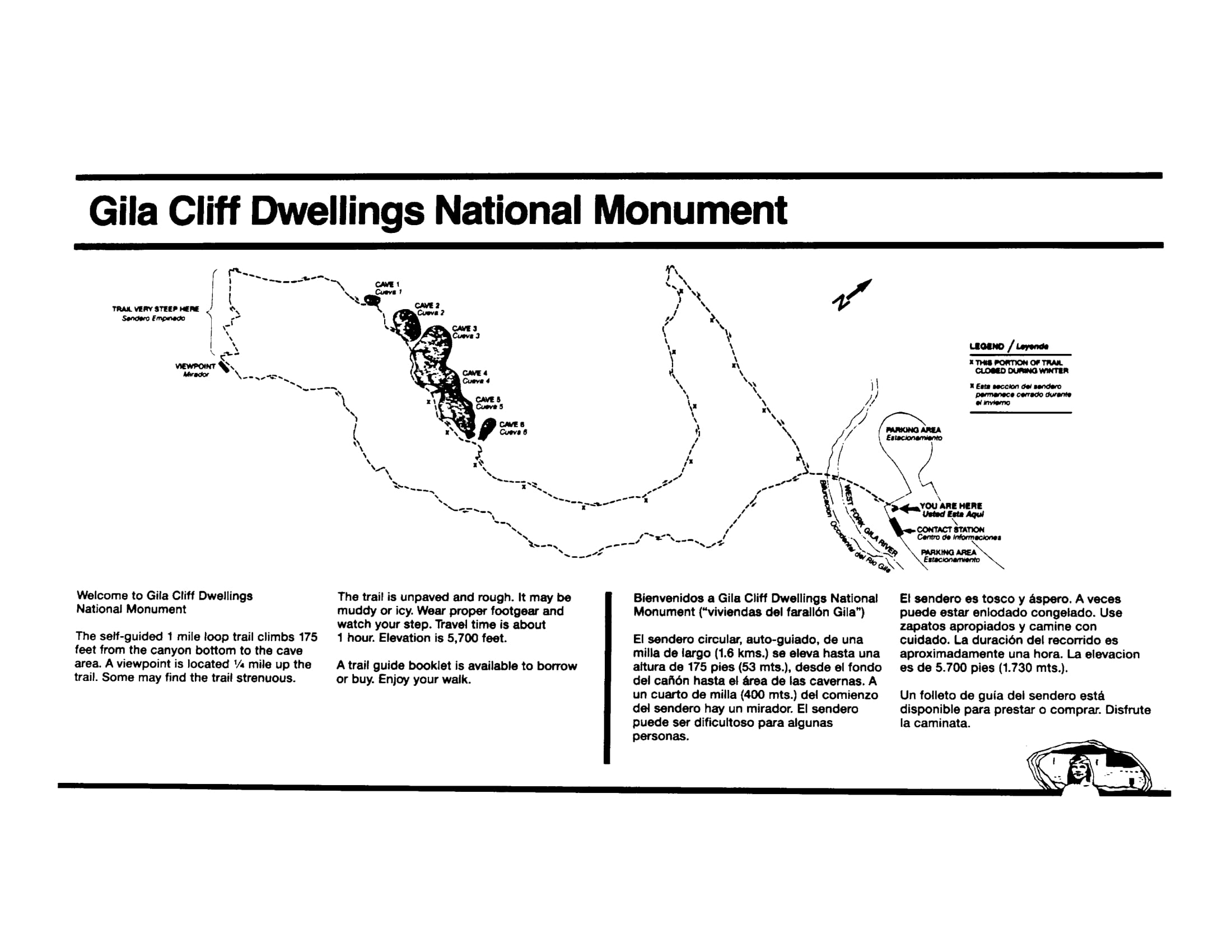 Here is a description of the trail and lots of photos to accompany it.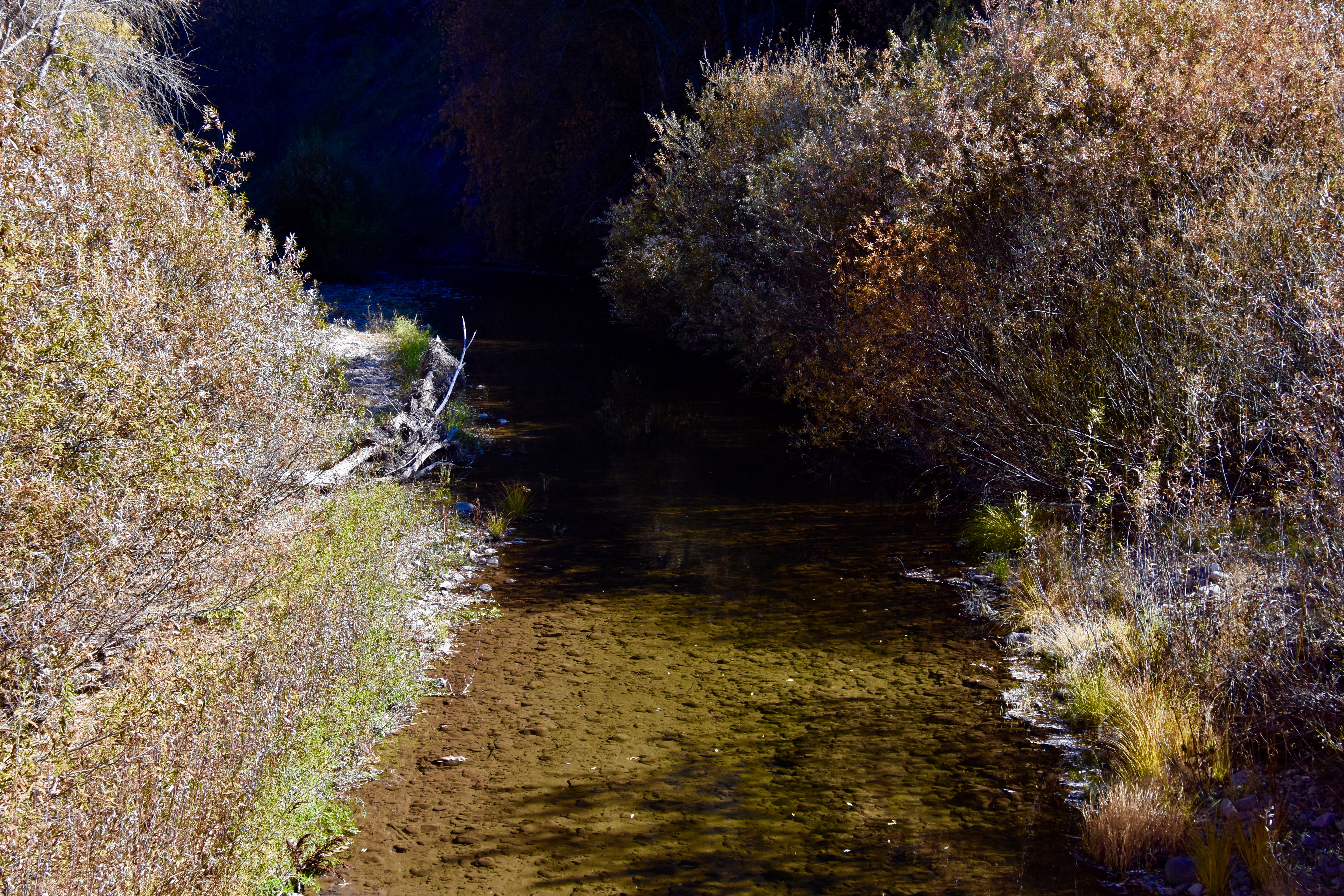 You start off by crossing the Gila River and then following a gently ascending trail up the canyon above which are the Gila Cliff Dwellings although they are not in view yet. When you get to the point on the map where the trail turns abruptly to the right and starts a fairly steep climb, you get your first views of the openings in the cliff. This is not the best place to photograph them. This comes at a point when you are almost up to the top of the climb and you will get this view.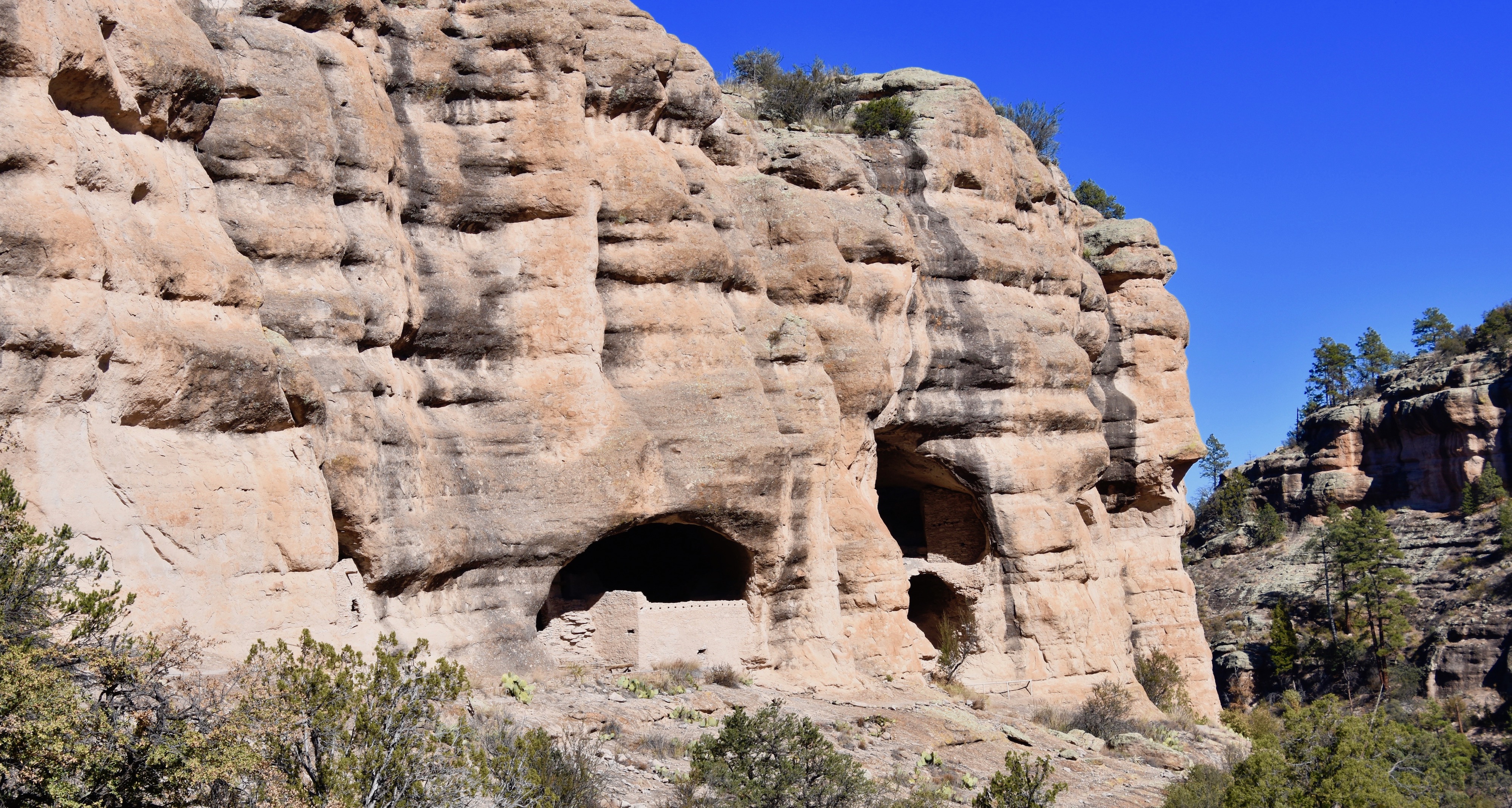 It's also where you will want to take a photo to prove you were there.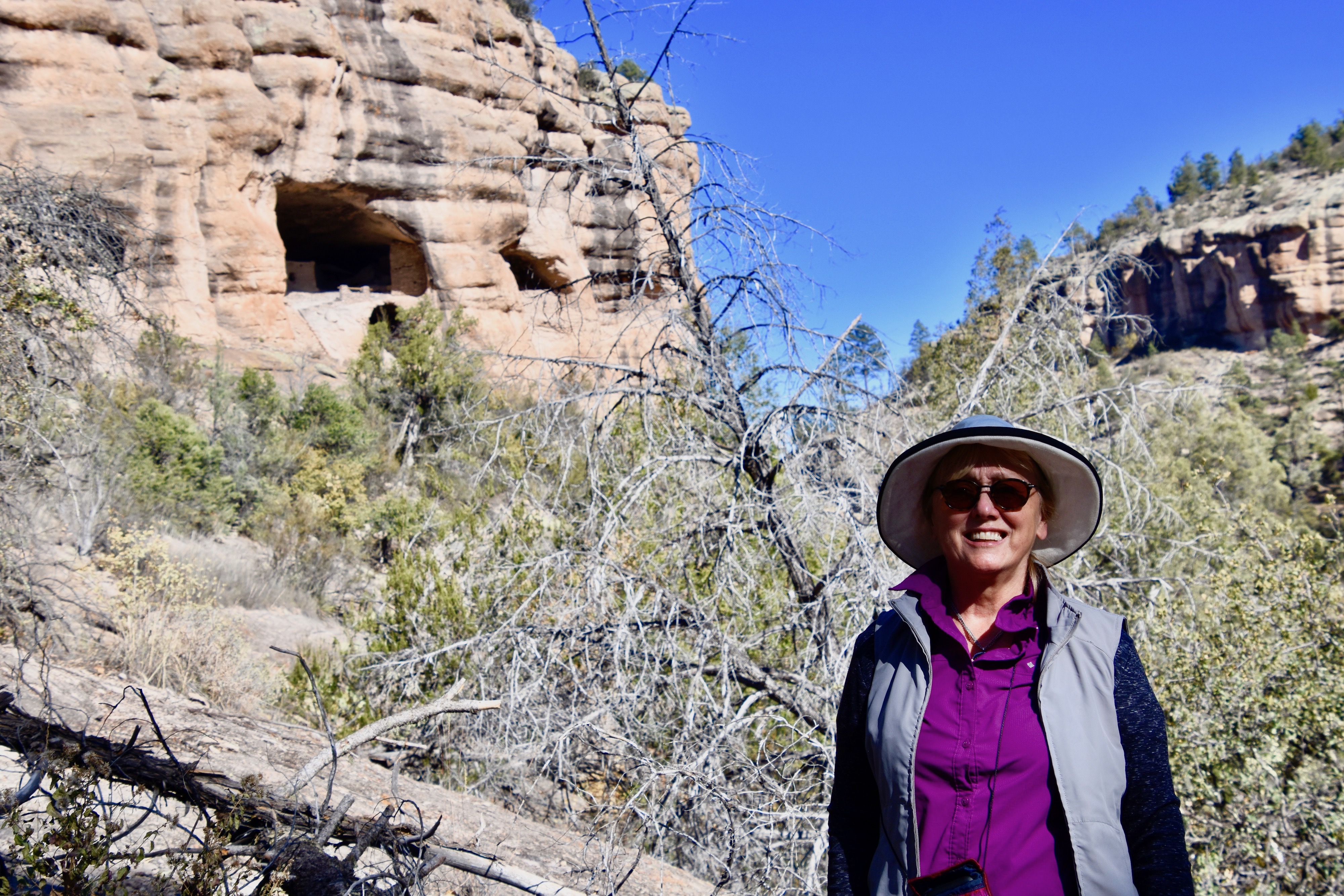 The first two of the five buildings are closed to entry, but not to worry the next two are open.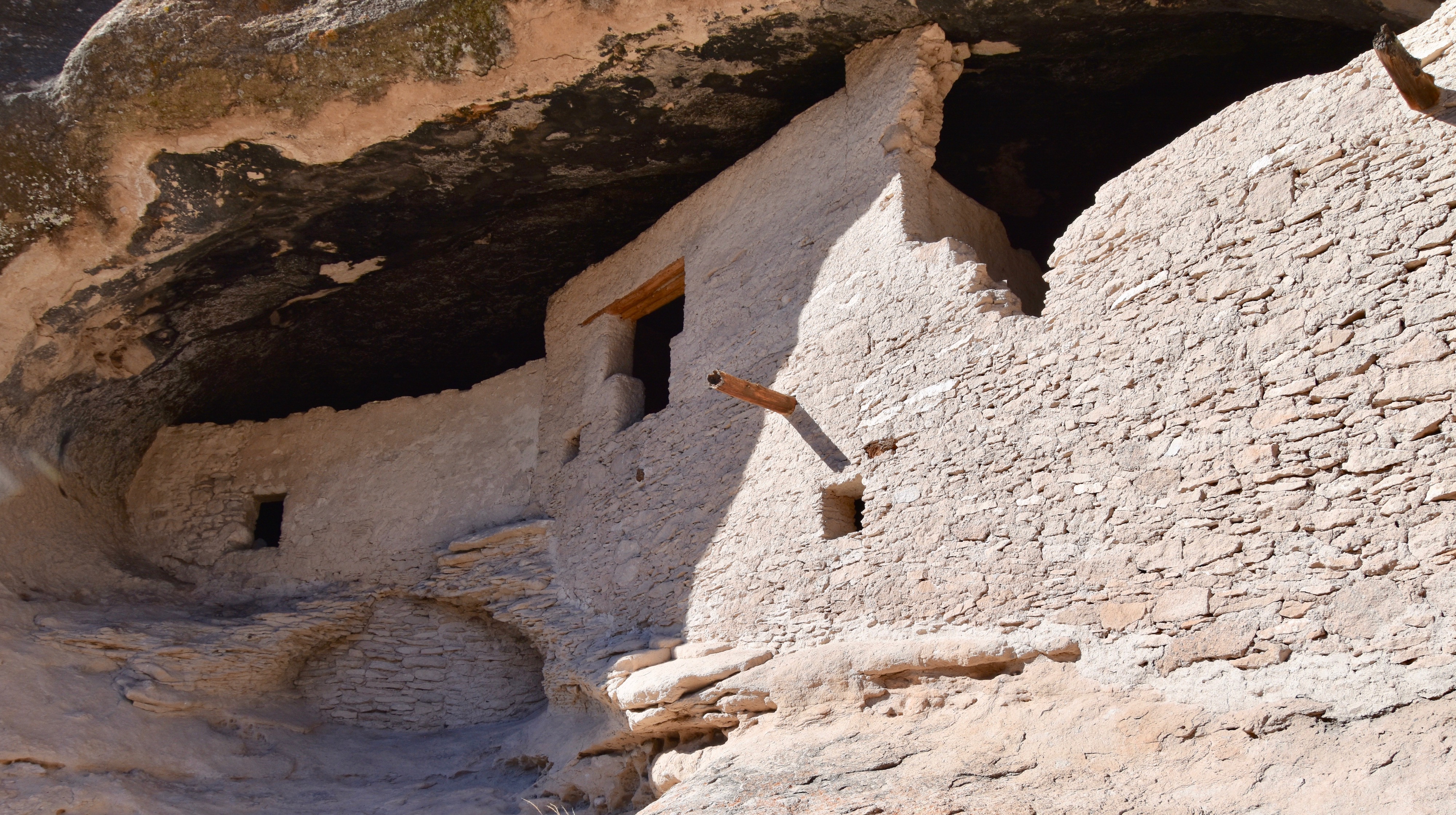 This is the entry way to building three which is a large complex that once housed many rooms and extended families.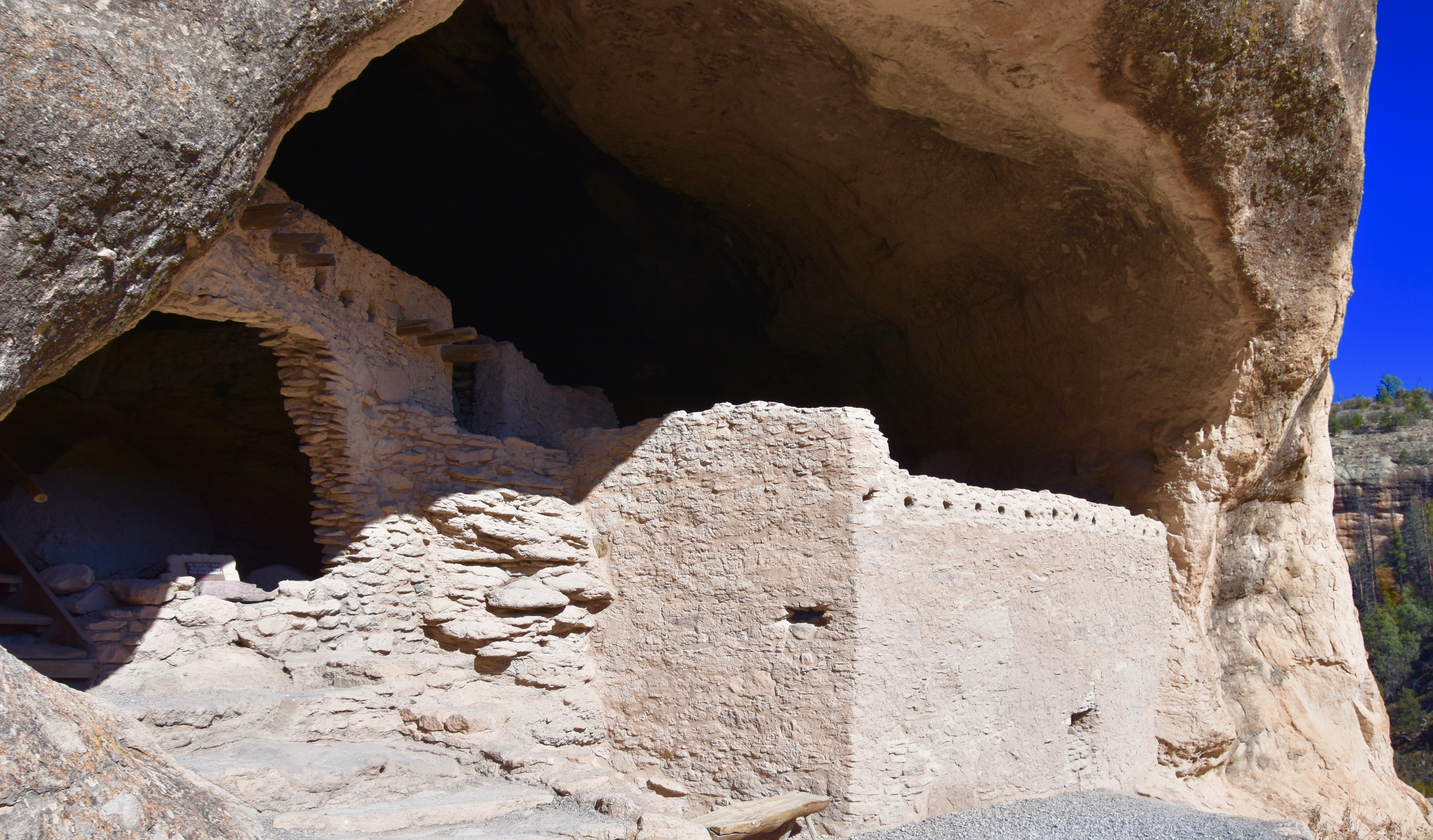 This is a room inside Building Three. The temperature here is at least fifteen degrees cooler than outside and helps explain why these cliff dwellings were a place of refuge during the blazing heat of summer.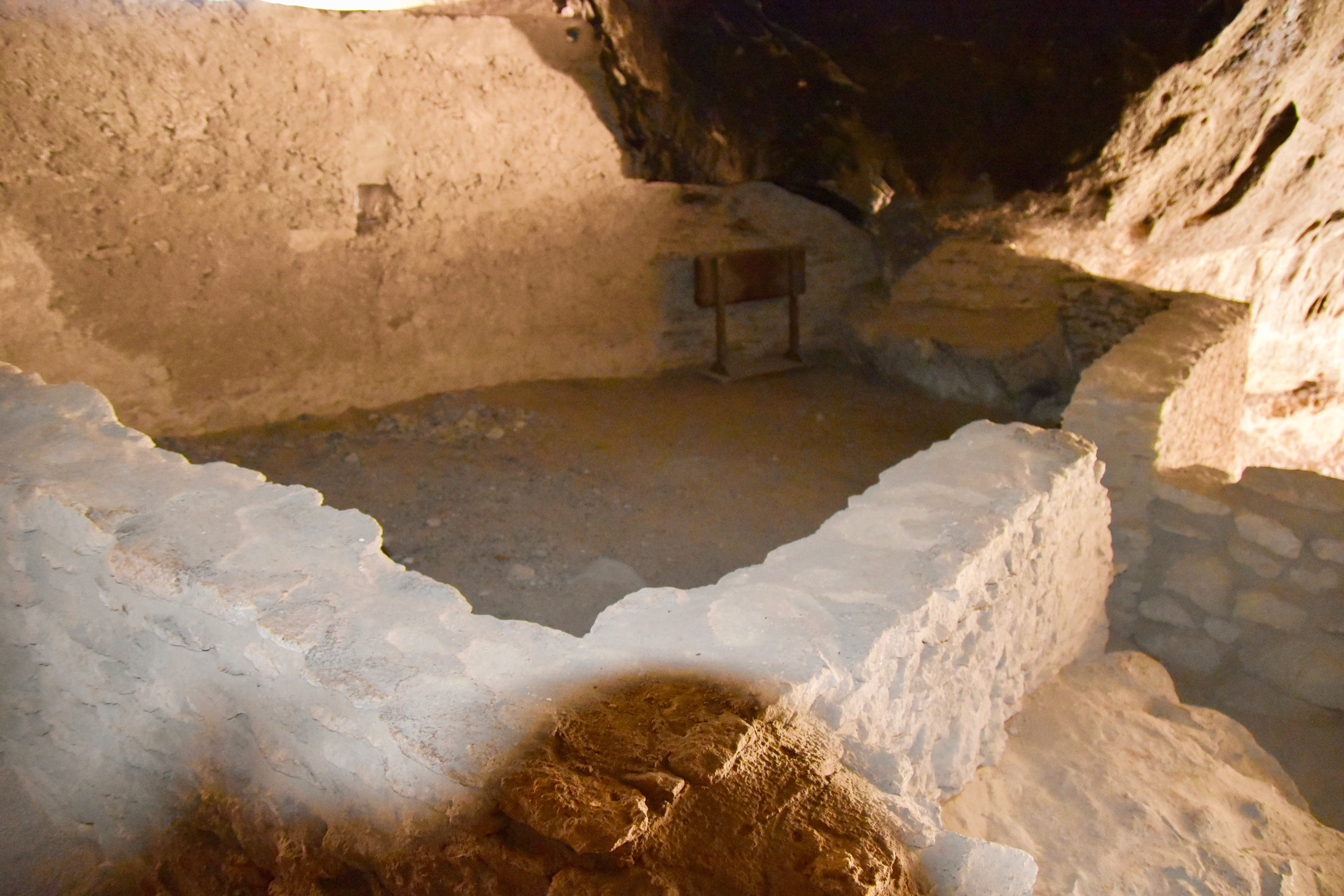 In addition to the air conditioning effect of living in this complex there were also killer views. How's this for a picture window?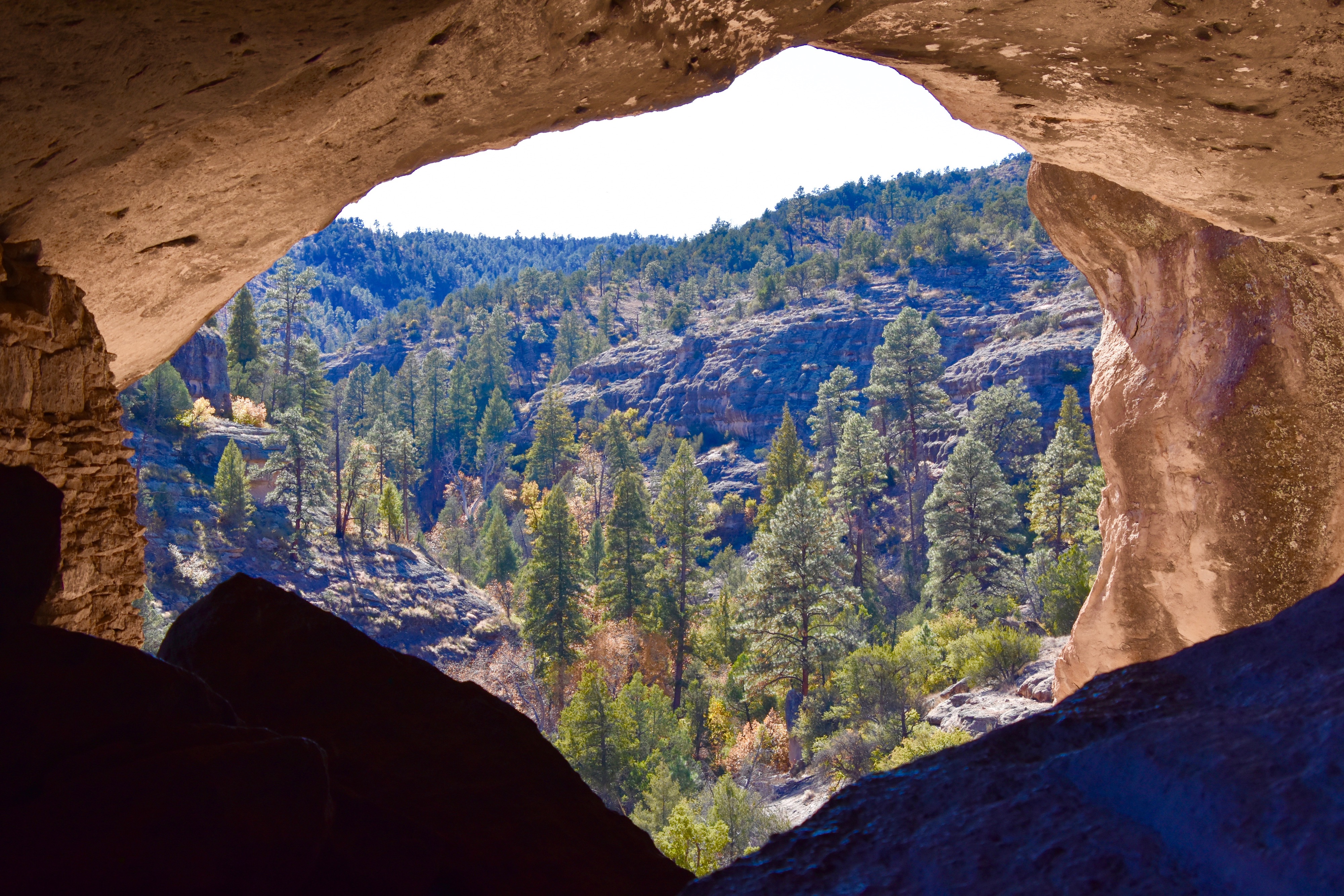 Building Three segues into Building Four, the largest and most interesting of the Gila Cliff Dwellings.
Here you can get deep inside the alcove and appreciate just how large this dwelling was.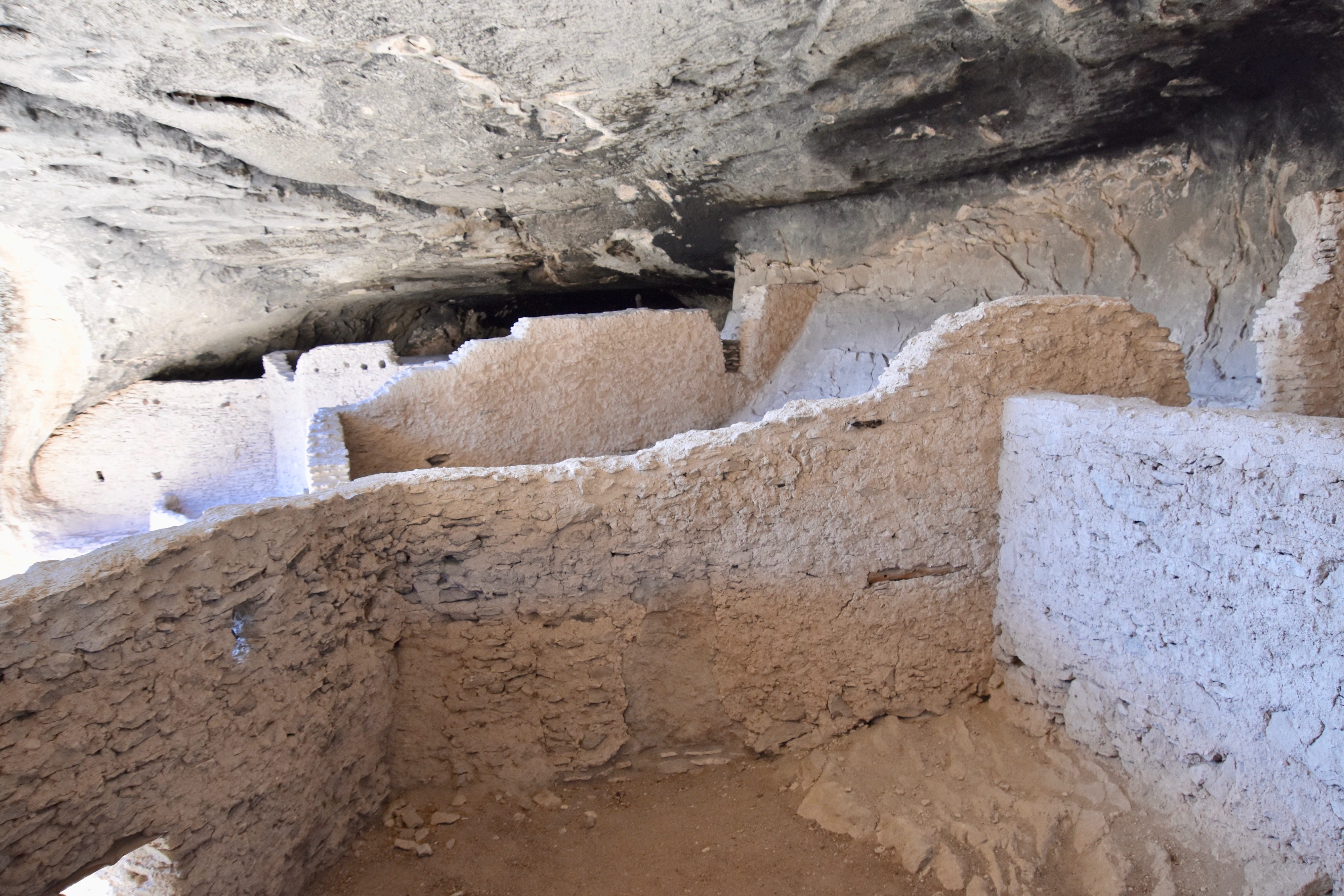 This is a photo of Alison just arriving at Building Four.

This is also the only building where I noticed pictographs high on the roof of the alcove. There was one of a red snake and this one of a red man. Luckily they were high enough up that the usual assholes who like to defile these with their own graffiti couldn't reach them.
As you reach the end of Building Four you have the choice of taking a ladder down or retracing your steps through Building Three and avoiding the ladder. I chose the ladder.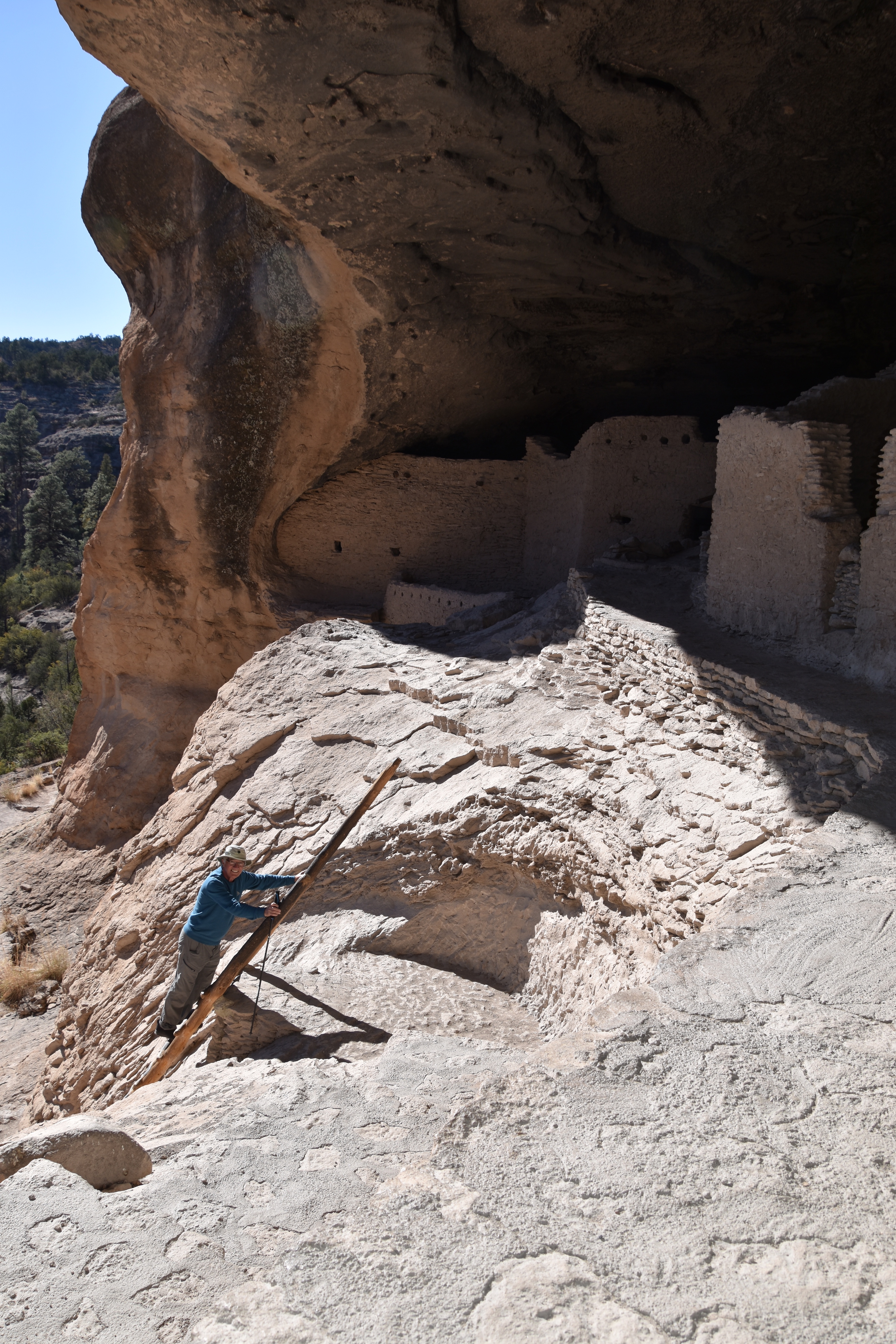 Here's what it looks like from below.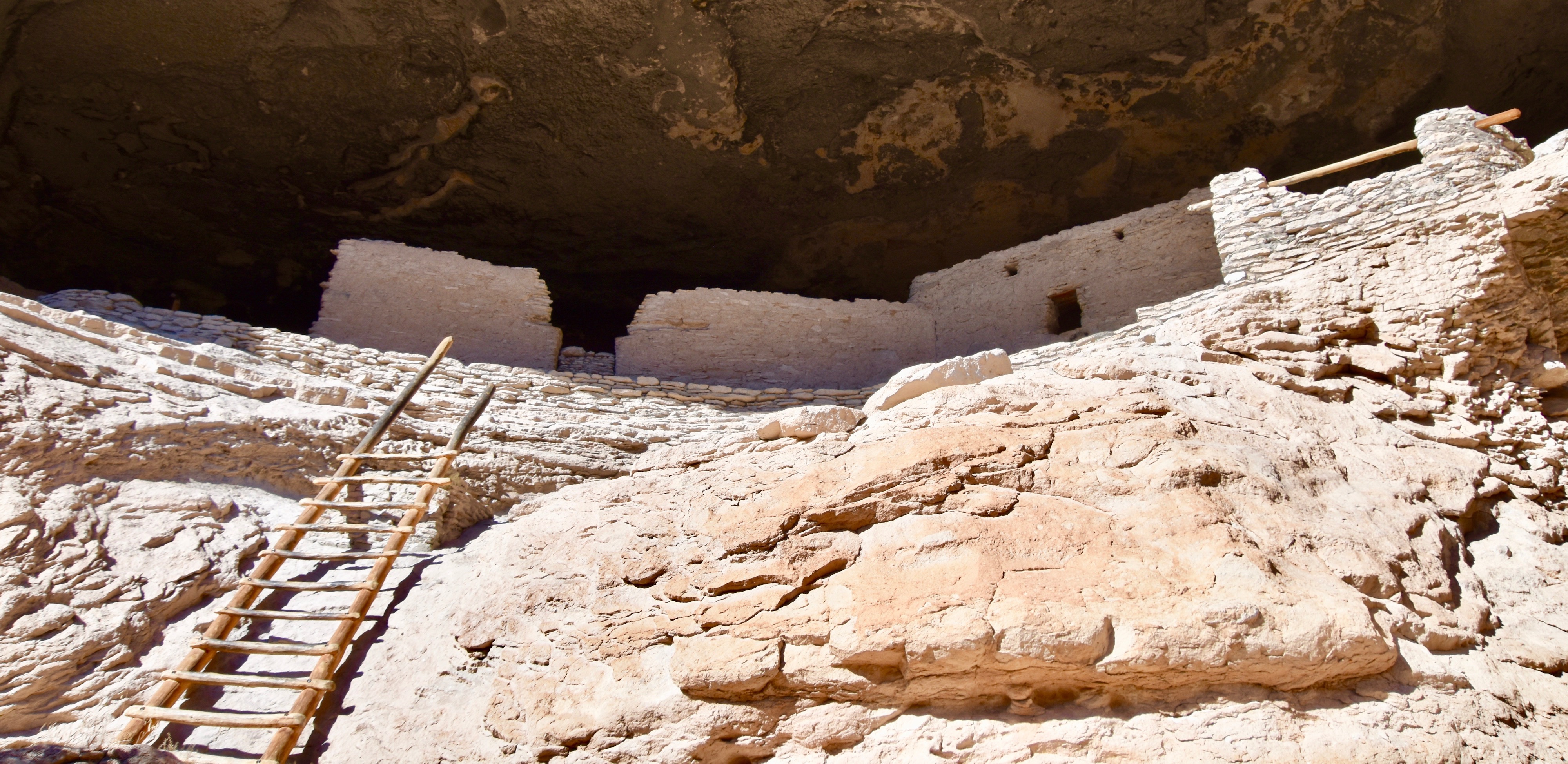 There is one final building that is not open and well above the trail.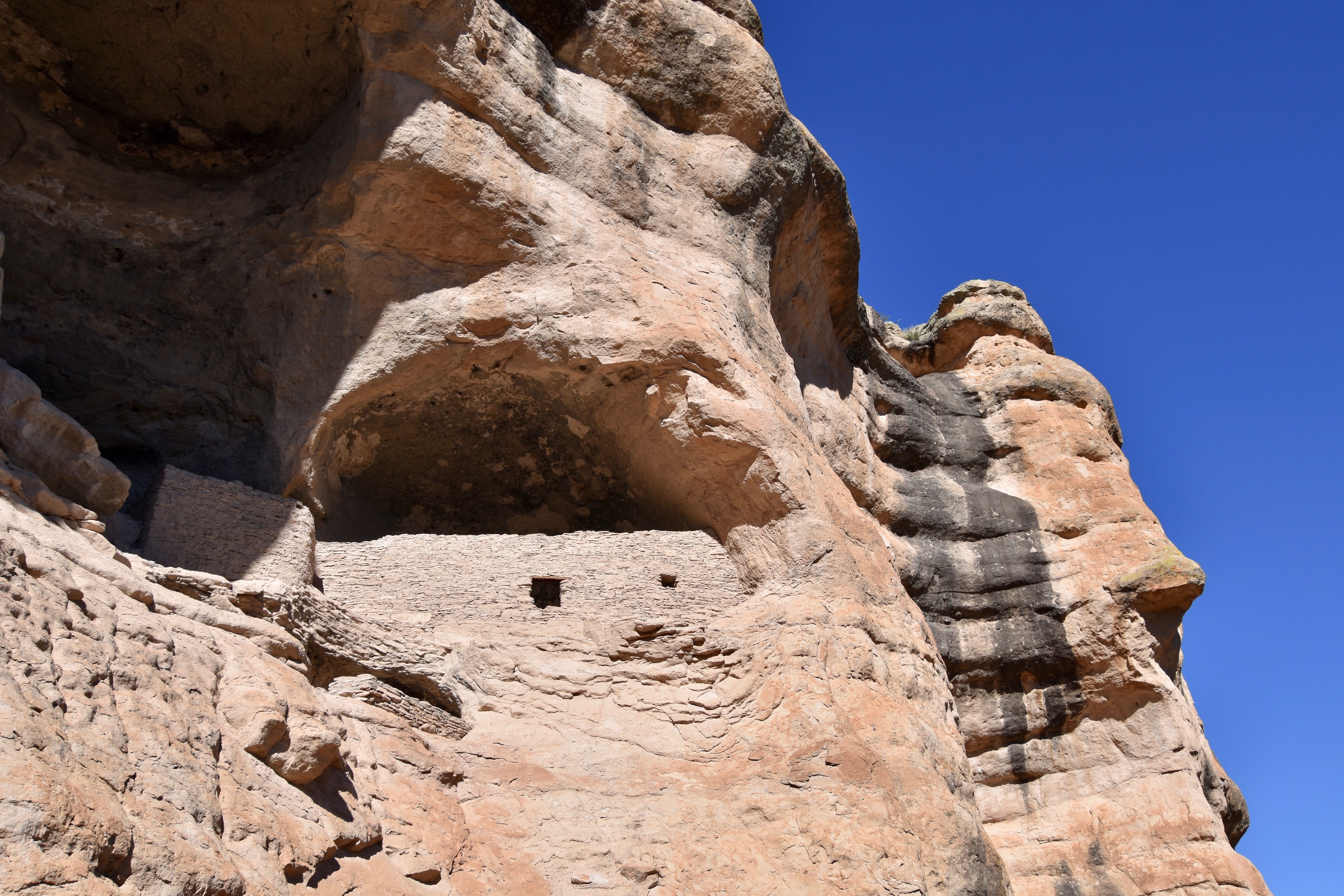 From here on you get a great view across the canyon.
And then it's all the way down to the bridge and the Gila Cliff Dwellings become another check on the bucket list or, more accurately, a really great memory. Either way this place is another magical place in the Land of Enchantment.