Copan & the Stairway to Heaven
Our journey with Victor Romagnoli through Central America on behalf of Adventures Abroad continues as we make our way into the fifth country on the itinerary, Honduras. Our destination is the legendary lost Mayan city of Copan deep in the jungle and far, far away from the troubled cities of Tegucigalpa and San Pedro Sula where gang violence is still rampant and tourists are wise to avoid. In order to get to Copan we need first to cross over into Guatemala from El Salvador where we have spent the last three days. There we got our first taste of Mayan ruins as the sites of San Andres and Tazumal. Frankly, before I signed up for this trip I was not even aware that there were Mayan ruins in El Salvador so I was not really disappointed that they paled in comparison to Chichen Itza and Tulum, the two Mayan sites I had visited in the past. Copan, however, is a different matter. It has long been famous for its stelae, the unique hieroglyphic staircase and the Rosalila monument so I am really psyched about this visit. Why not join us and see if our expectations are met?
Getting There
We had spent the night at the tiny mountain village of Concepción de Ataco surrounded by volcanoes and coffee farms. In the morning we made our way back through Santa Ana, El Salvador's second largest city and then up to the border crossing at the Rio Anguiatú where things went smoothly and we were into Guatemala. There was an alternate route that would involve crossing directly into Honduras from El Salvador, but Victor made it clear that the less time spent on Honduran roads the better. The route we were taking would cross into Honduras from Guatemala only about twenty kilometres (14 miles) from Copan Ruinas the town just outside the ruins where we would be staying for two days. Arriving at the border crossing at El Florido we disembarked and walked across the border, stopping on the way for a group shot in both countries. Not sure what Victor is looking at.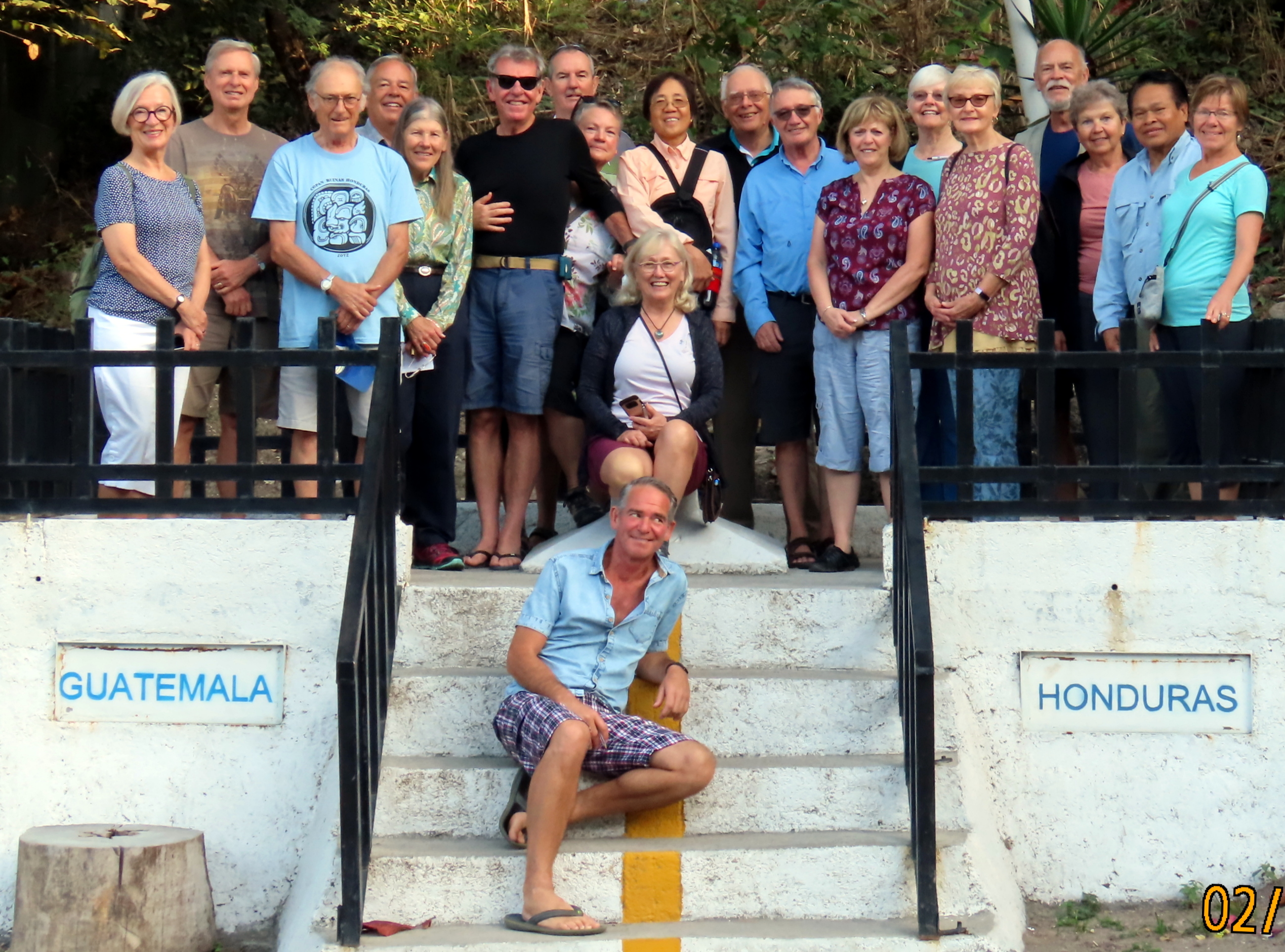 There was a bit of confusion at the entry point as apparently the woman in charge wanted a bribe, but Victor told her to shove it and after a little delay we got our Honduran passport stamps and got back on the bus for the short ride to Copas Ruinas.
Hotel Marina Copan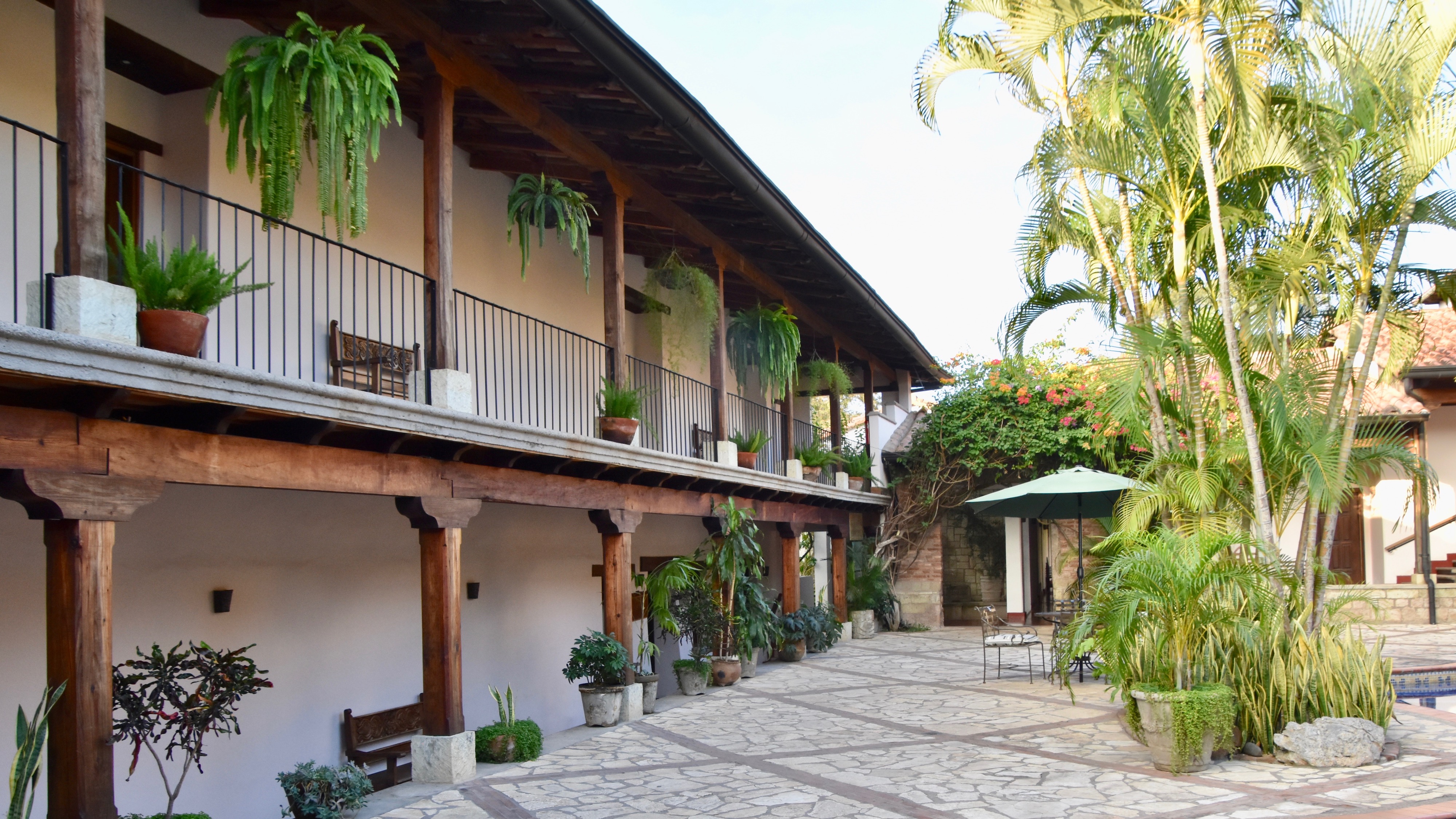 Once again Victor outdid himself with the choice of hotel for our stay in Honduras. The Hotel Marina Copan is an oasis of wood, brick, tile and greenery that has large rooms and a swimming pool that many in our group took advantage of, as we had the rest of the day to relax and explore the town.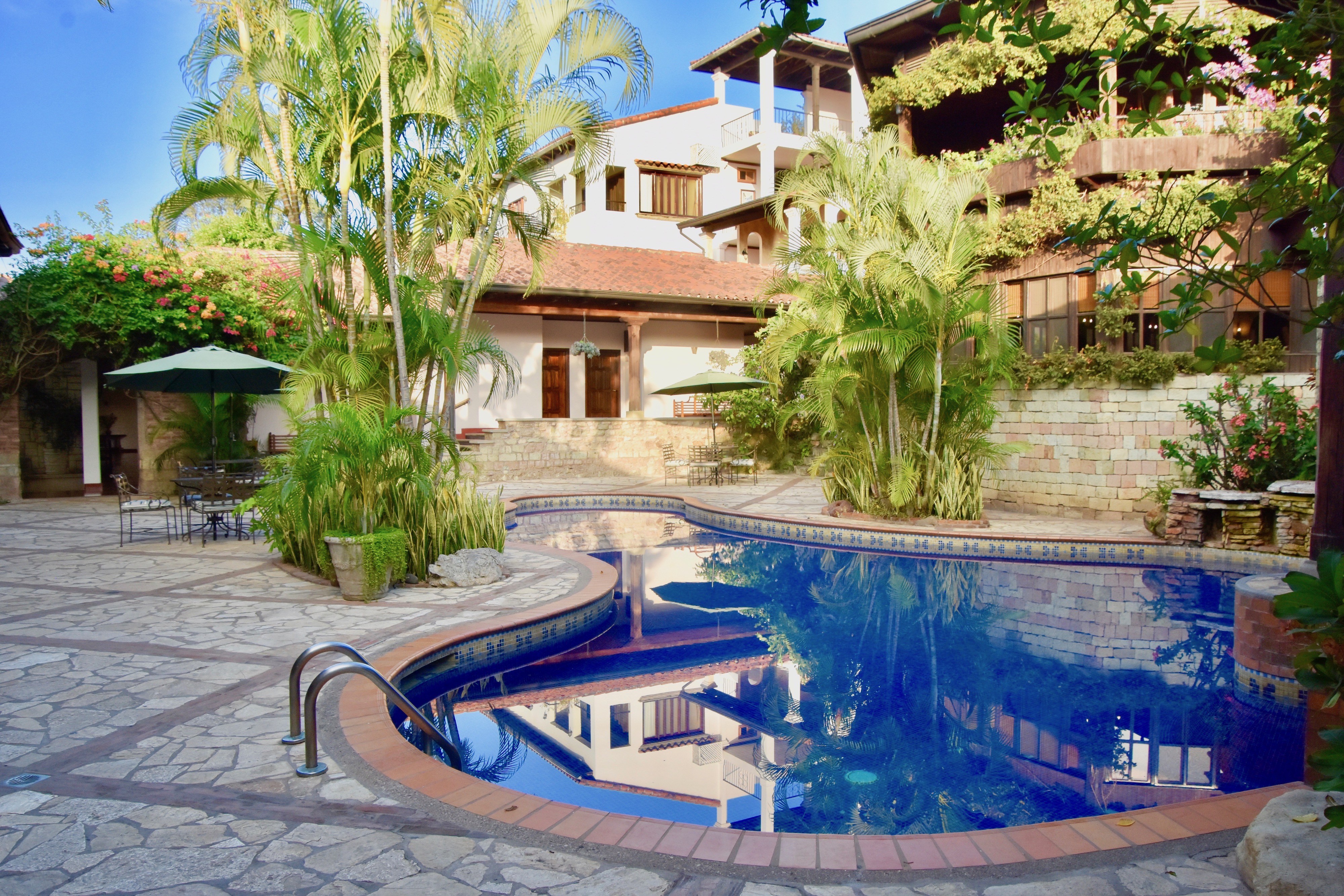 Copan Ruinas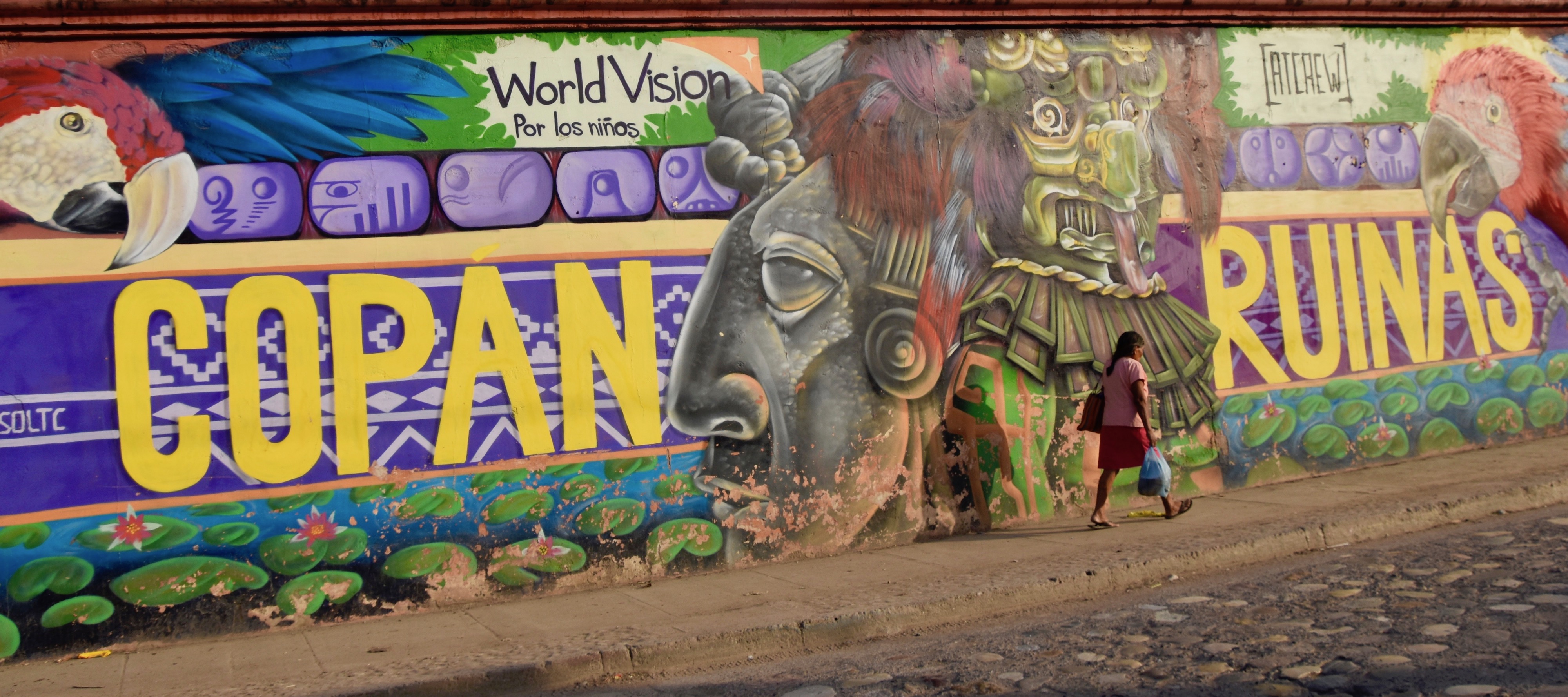 The town of Copan Ruinas was developed around the tourists attracted by the nearby ruins and as such is a rarity in Honduras, a hot spot for foreigners. At least it was until the violence that plagues Honduras got so bad that the tourism industry has almost completely dried up. There was only one other group staying at the hotel and the streets of Copan Ruinas were deserted of tourists, but not of the locals who, despite the obvious downturn in business seemed quite cheerful and upbeat. Victor assured us that it was quite safe to walk around on our own and Alison and I did without feeling any qualms. It was interesting that we had become used to seeing armed guards everywhere in El Salvador and so their absence in Copan Ruinas added an extra level of relative safety.
This is a typical street in the small town. There are not a lot of cars, but lots of tuk tuks and motorcycles, reflecting the relative poverty of Honduras where the gross annual income is only $2330 USD, ahead of only Nicaragua and Haiti in all of Latin America and the Caribbean.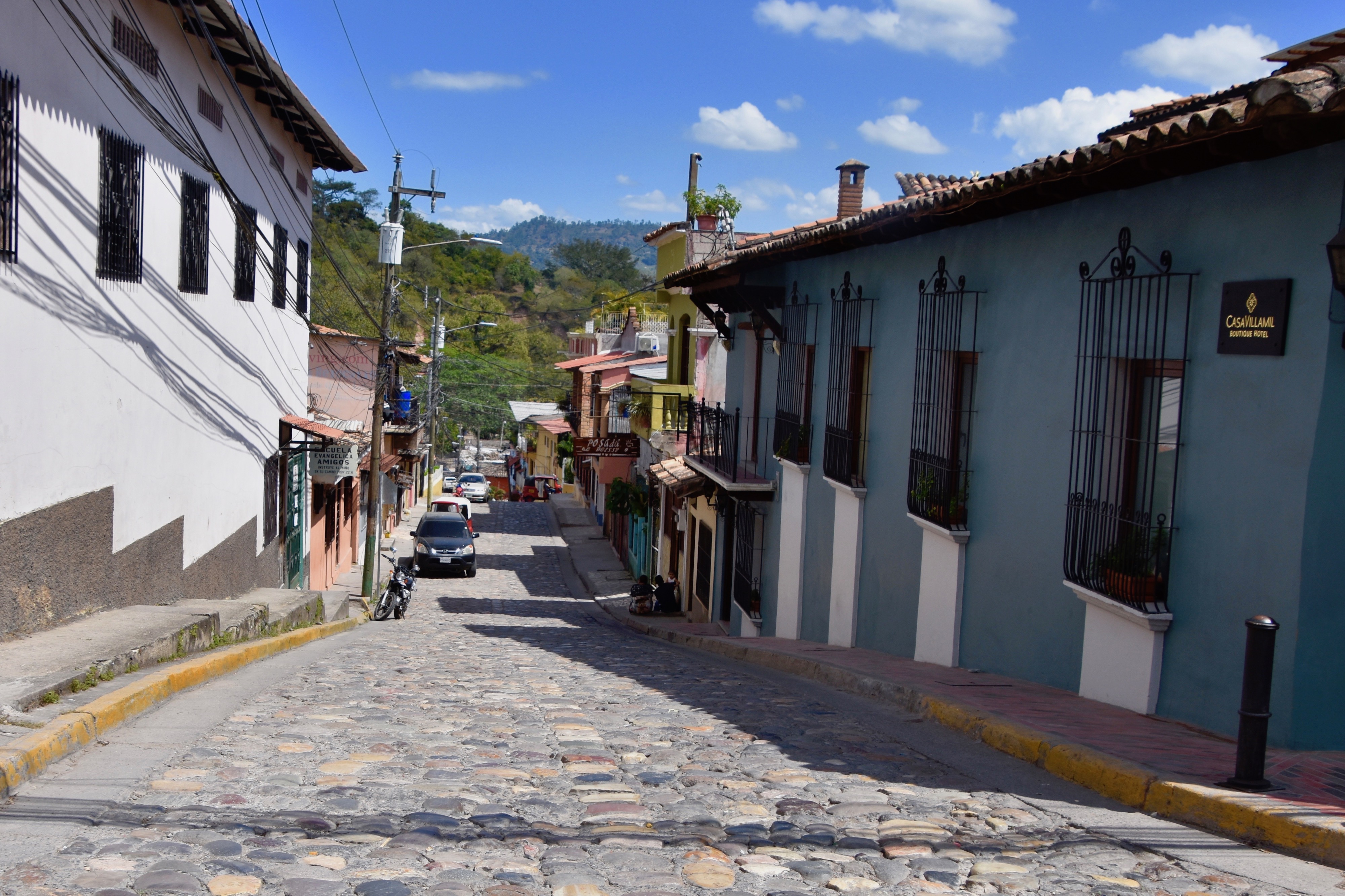 We were hungry and after checking out a few places settled on Tipicos la Pintada which looked like a family operation serving typical Honduran food. A pupuseria is a place that sells pupusas which are the national dish of El Salvador, but widely popular in Guatemala and Honduras as well. They are essentially tortillas on steroids which are stuffed with anything you can name, but I have to confess that I much prefer the thinner tortilla which doesn't overwhelm the ingredients with breadiness. So I won't be ordering a pupusa.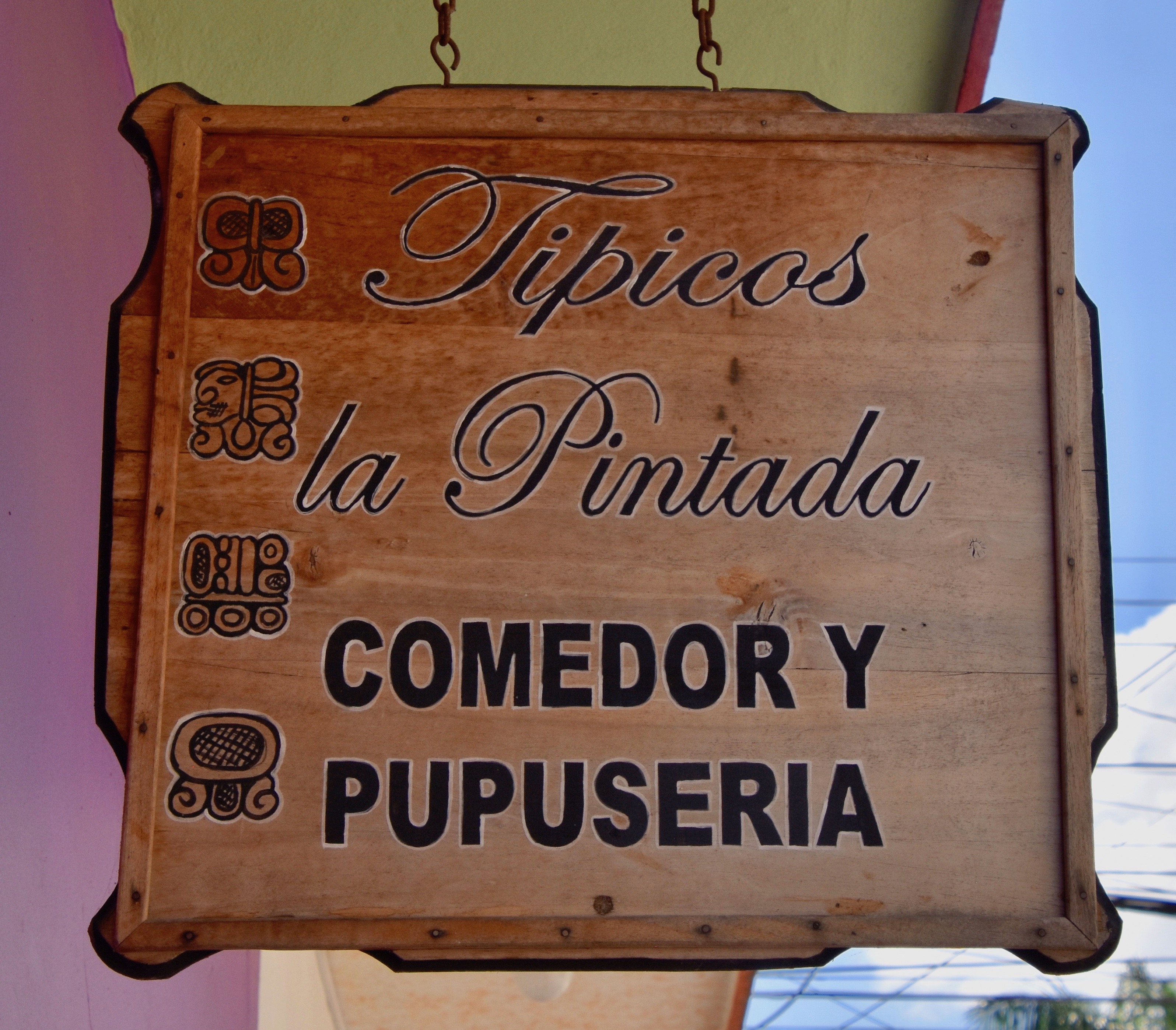 I will be ordering a Port Royal Export which is a Honduran lager in the Pilsener style that is typical of Central America and goes down well served ice cold.
The menu has Honduran style fajitas so Alison goes for chicken with the other Honduran made beer, Salva Vida which is the most popular in the country. Tell me that plate of food doesn't look great.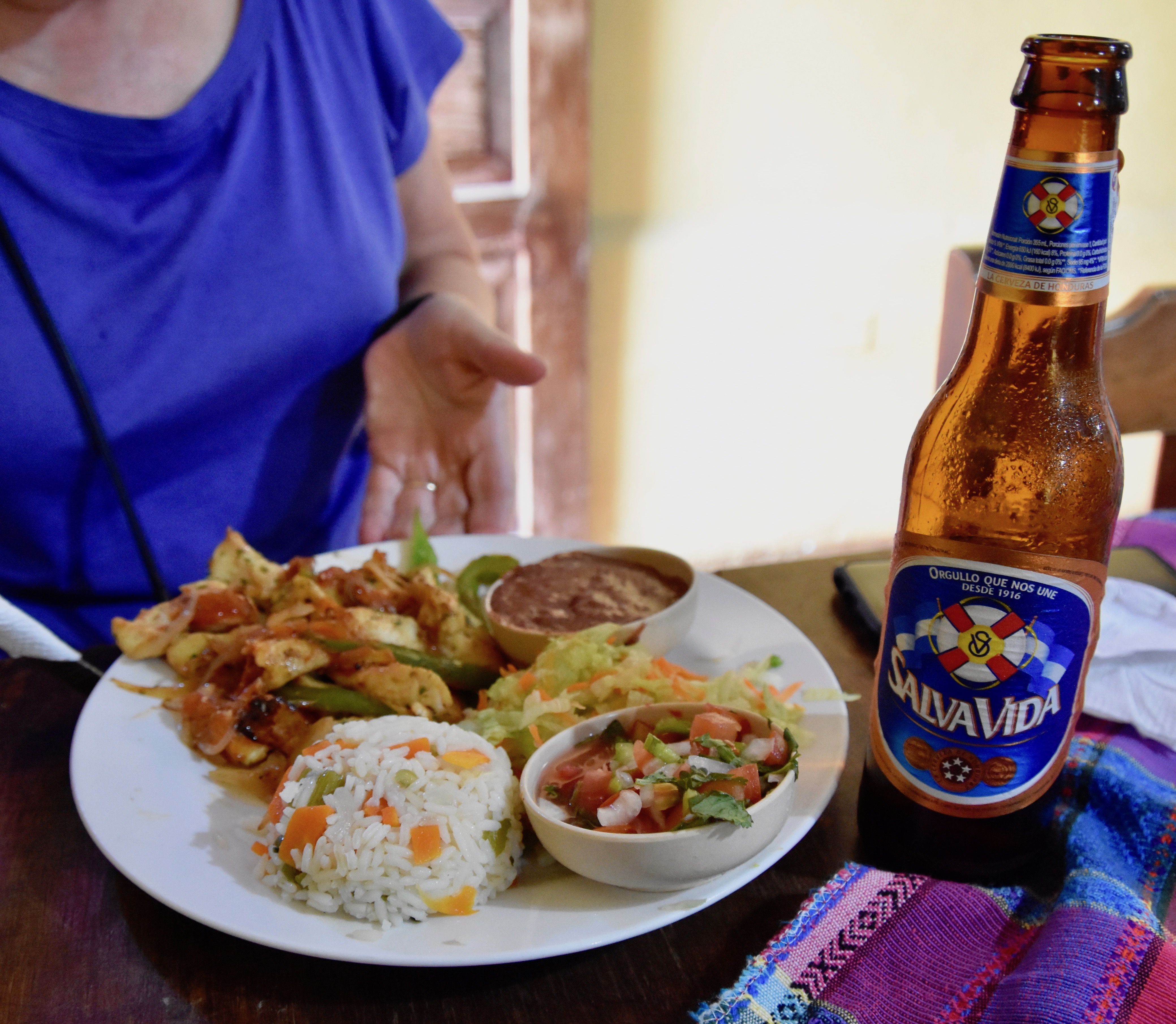 I go for the mixed bag fajitas and they are delicious as well. There is enough food on this plate to satisfy even the hungriest of appetites and the good news is that these two meals cost only about $7USD. If you can tear yourself away from the fried chicken joints and try some of the restaurants serving food like this you will be healthier and wealthier and maybe even wiser.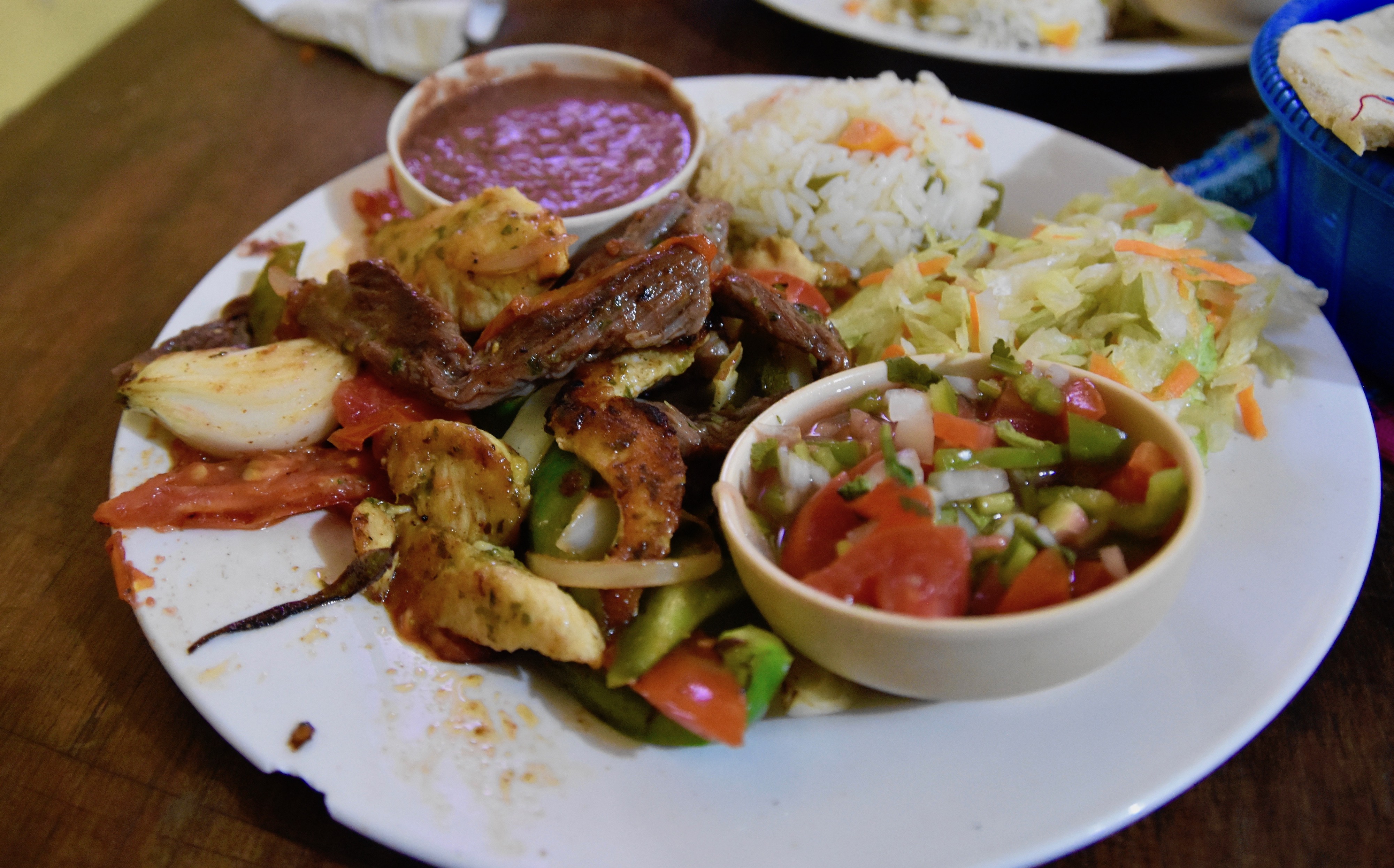 After this big meal we wandered around town, spent some time sitting in the main plaza and found the only bottle of gin in town, a litre of Tanqueray covered in a layer of dust in an understocked liquor store across from the church. Time to get some tonic water and relax by the pool, tomorrow is going to be a big day.
A Little History
I always find that the more you can learn about an archaeological site before you visit, the more informative and interesting your visit will be. In the case of Copan, aside from boning up from a number of online sites I listened to the lecture on its history by Professor Edwin Barnhart in his series From Maya to Aztec: Ancient Mesomerica Revealed.
Barnhart was one of the archaeologists who was on hand for one of the greatest discoveries in modern archaeology – the tomb of  K'inich Yax K'uk Mo' or Great Sun First Quetzal Macaw, the founder of classical Copan. In a nutshell this is what I learned from these various sources.
Human habitation of this area, which is actually a valley in the Honduran uplands at an elevation of 2300 feet (700 metres), dates as far back as 1500 B.C. with stone structures as old as 1000 B.C. However, not much is known about ancient Copan before 426 A.D. when K'inich Yax K'uk Mo' arrived here from Tikal, either as conqueror or to reestablish a city and create a dynasty that lasted 400 years through sixteen kings. Now here's the strange part that shows that history is never as clearcut as some text books would have us believe. Analysis of Kinich Yax K'uk Mo's remains revealed that he was not a Mayan, but a much larger individual. Figurines which are believed to represent him show him dressed as a native of the great Mexican city of Teotihuacan, over a thousand miles away, have been found at Copan. We visited that site with Victor and Adventures Abroad in 2018 and in my opinion it is the most impressive in all of Mesoamerica as I wrote in this post.
It is now believed that a group of warriors from Teotihuacan first conquered the Mayan city of Tikal in 378 and from there send the expedition under K'inich Yax K'uk Mo' to Copan a few generations later. The irony is that Teotihuacan collapsed almost overnight in about 550 when it was burned for reasons unknown, while Copan flourished for another four hundred years or so.
Analysis of the skeleton of the woman believed to be K'inich Yax K'uk Mo's wife showed her to be a native of the Copan area so that the dynasty that followed was a mixture of both peoples and both Mayan and Teotihuacan architectural influences are found here. As noted in earlier posts, the Mayans were the only people in the Western Hemisphere to develop a system of writing and it was because of that we know so much about Copan. It is considered to have the finest collection of Mayan stelae anywhere with the most detailed and beautiful sculpture work adorning them. These along with the great hieroglyphic staircase that has the largest Mayan inscription in the world have left a written record of the kings of Copan and their deeds.
Add to this a huge number of temples, altars and tombs in a city forgotten in time for hundreds of years and you have the perfect magnet for real and armchair archeologists as well as a few lucky souls like us who will get to visit Copan today.
Practical Information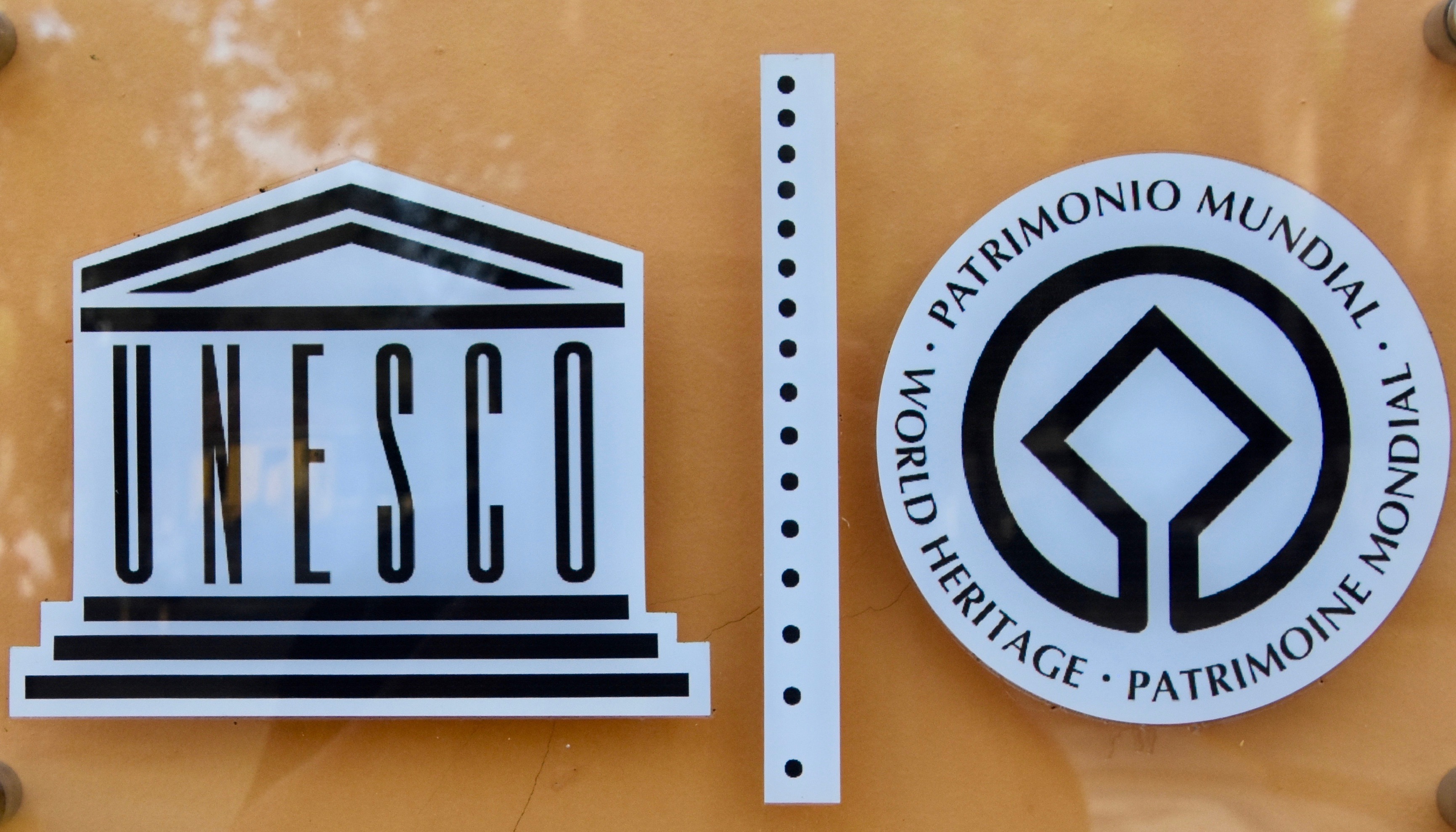 In 1980 Copan was designated by UNESCO as a World Heritage Site with this criterion:
              The design of the site, with its temples, plazas, terraces and other features, represent a type of architectural and sculptural complex among the most characteristic of the Classic Maya Civilization. The Maya site of Copan represents one of the most spectacular achievements of the Classic Maya Period because of the number, elaboration and magnitude of its architectural and sculptural monuments. The stelae and altars at the Plaza form one of the most beautiful sculpture ensembles in the region. In both the design and execution of monuments, the Maya bequeathed a unique example of their creative genius and advanced civilization at Copan.
The site is administered by the Honduran government and is open from 8:00 to 6:00. Admission is $15 USD for the grounds, $8 USD for the museum and a further $15 USD if you want to go into one of the tunnels dug into ruins. We are going to do the first two, but not the tunnels.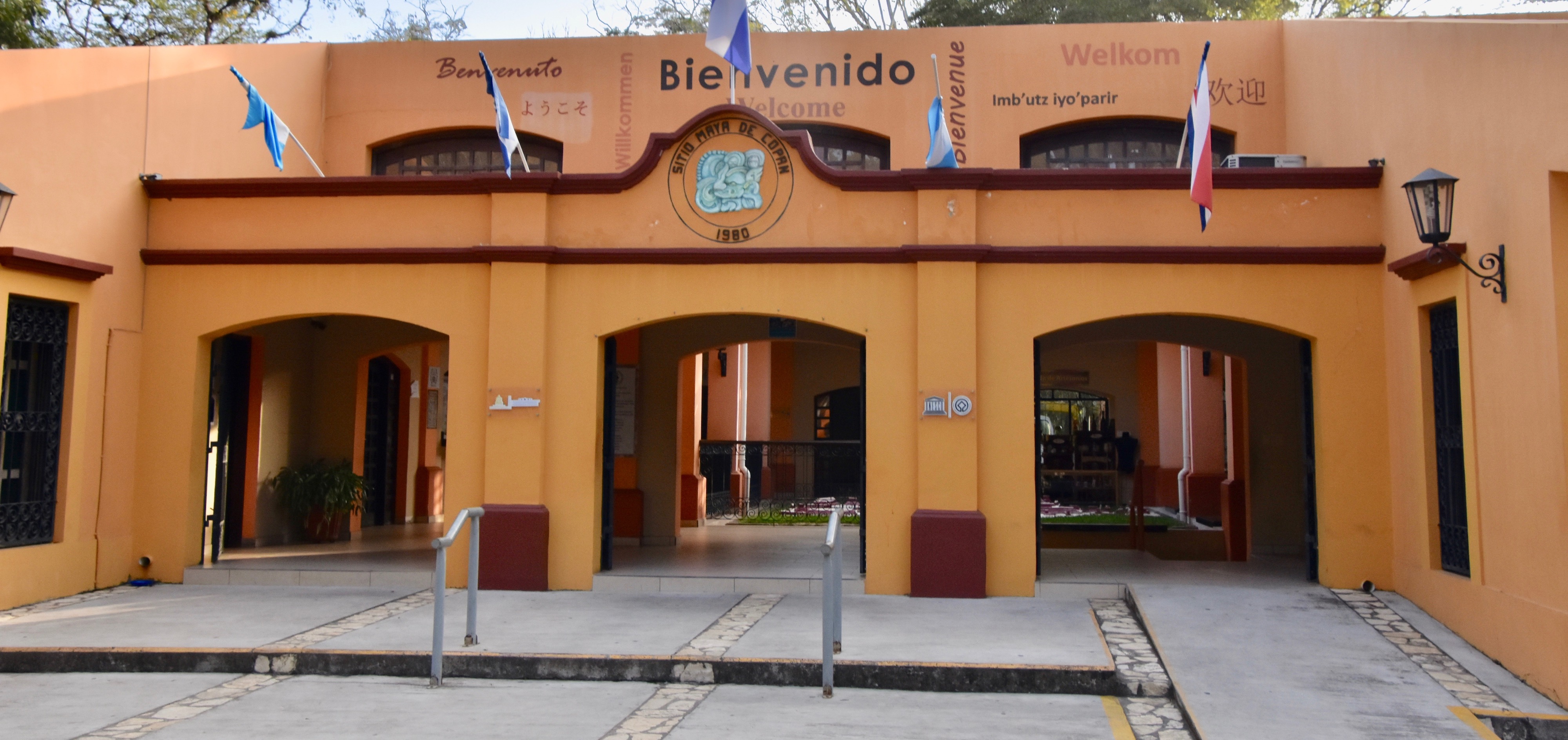 We are here just before opening time and as you can see there's nobody else around. Once inside we meet our guide for the day Juan Carlos Calderon, one of only four registered guides who will be working today I later learn from him.

The first stop is at this model of Copan and as you can see this is a huge complex with lots to explore.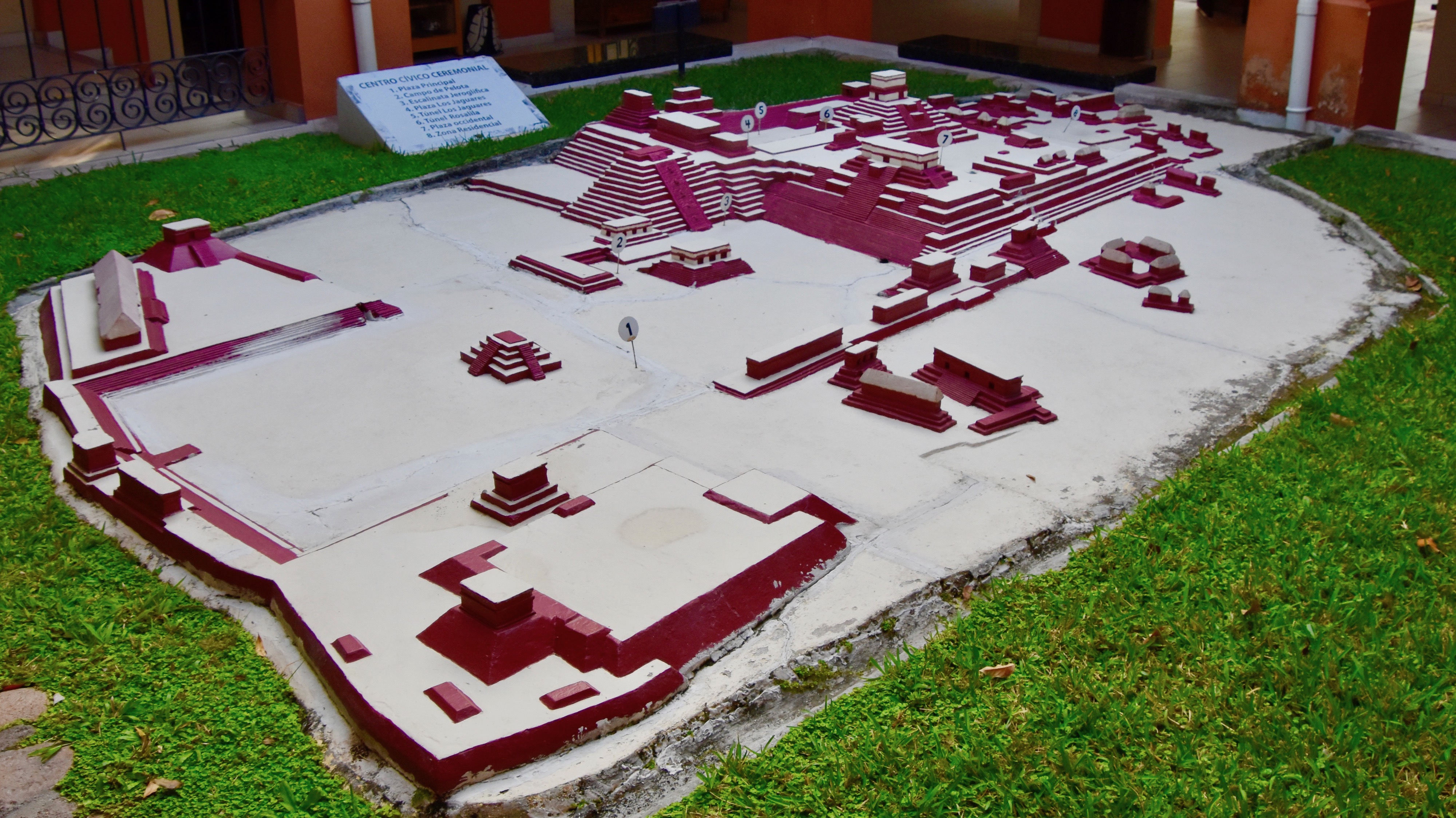 One thing I've learned about visiting archaeological sites in Mesoamerica is that they often double as great birding spots as well and this sign at the entrance to the lane that leads into the site confirms that.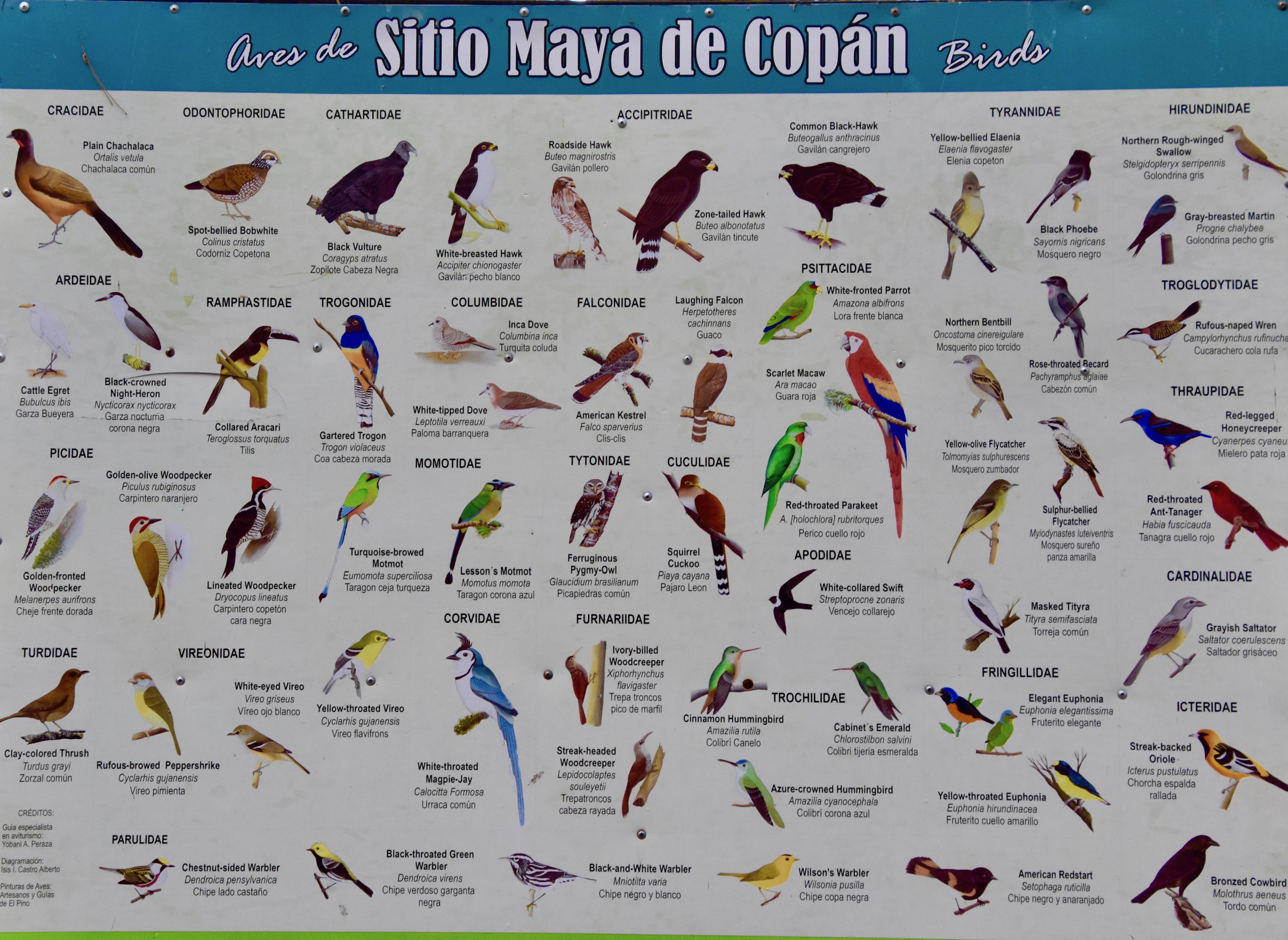 Right off the bat we spotted this scarlet macaw, which is a good omen because these birds were sacred to the people of Copan and we will be seeing images of them at both the site and the museum.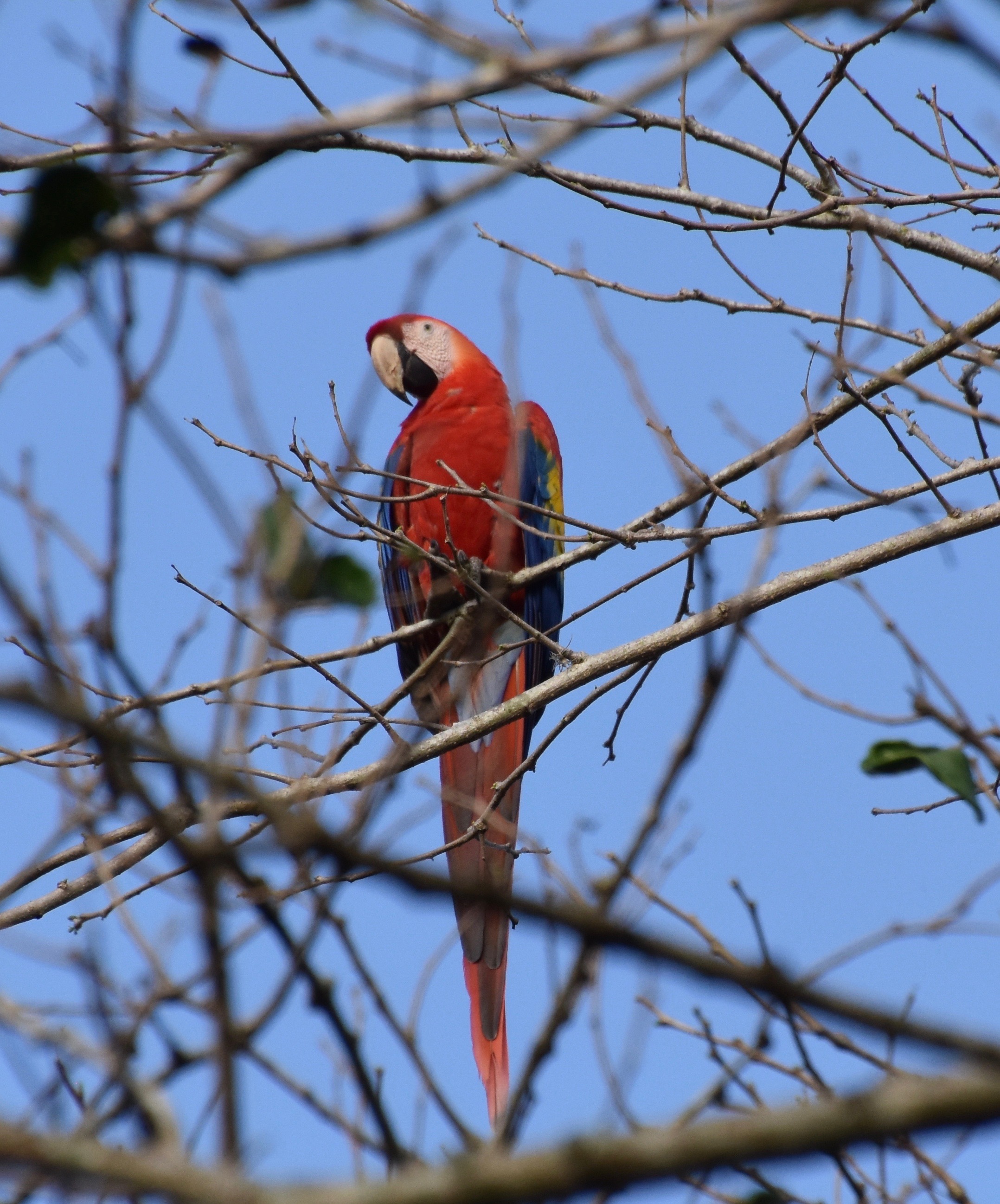 It's not just birds that frequent the site, but agoutis and squirrels as well.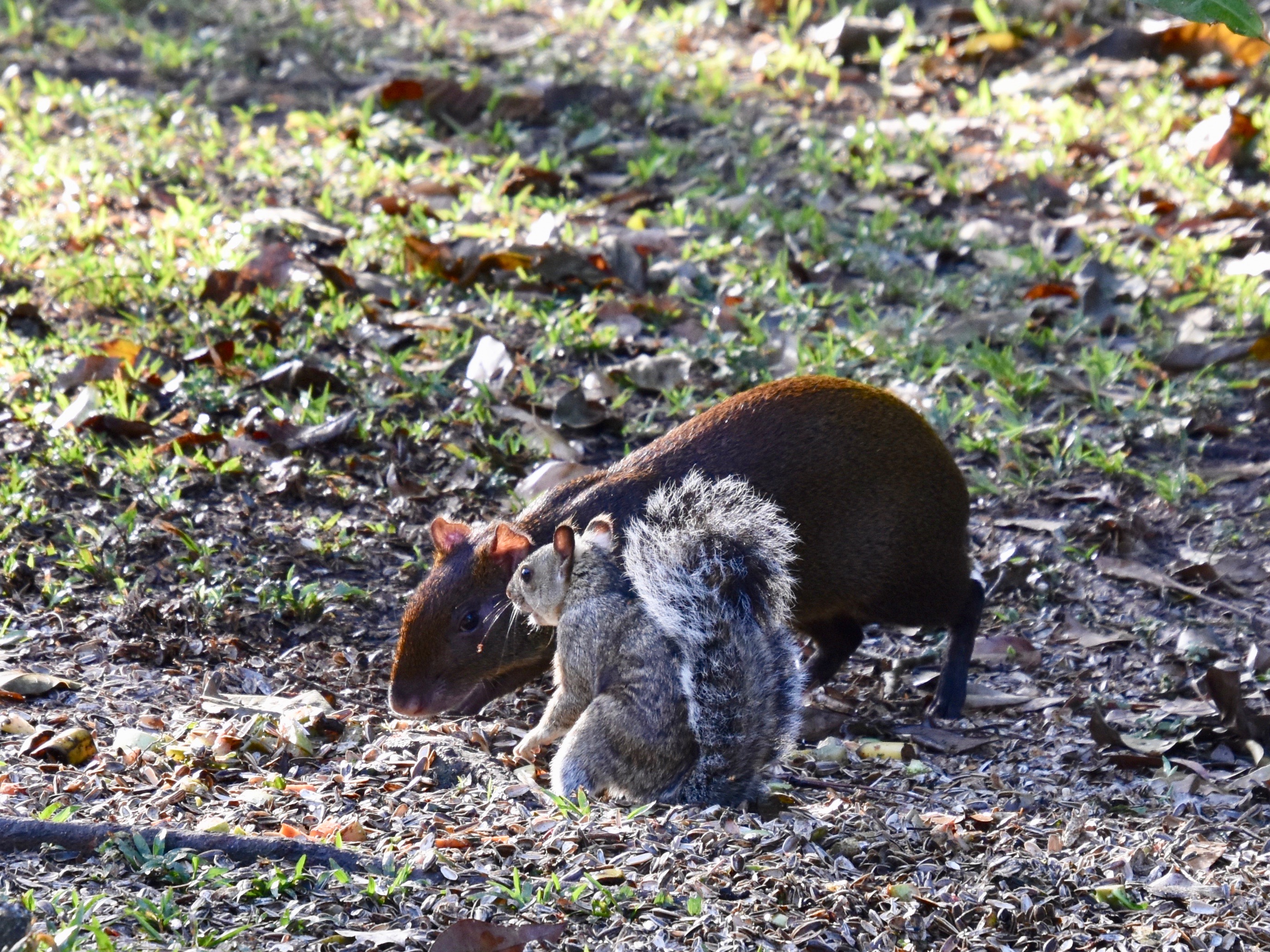 Visiting the Site
Ok, enough dicking around let's see some ruins!
Here is a map of Copan with the stelae marked by letters and/or numbers and the structures by names or numbers. We enter the Great Plaza from the right side.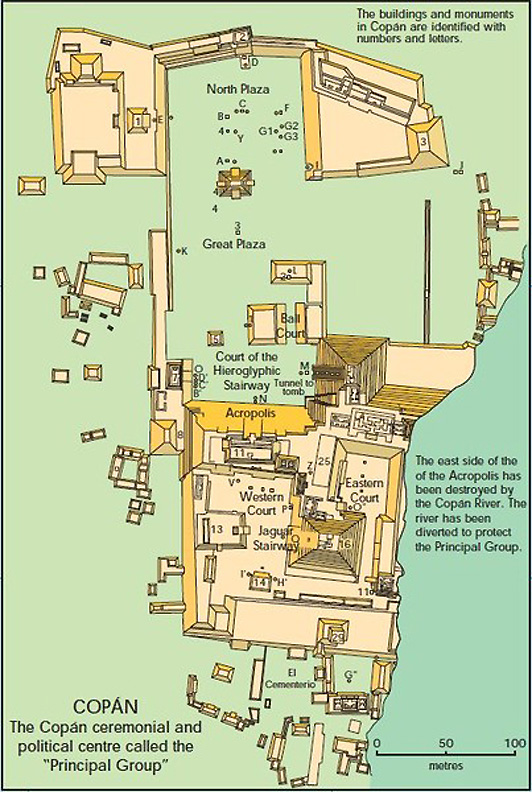 What follows is our trip around Copan in the order that Jose presented it to us starting with Structure 4 which is a truncated pyramid with stairs on all four sides in the middle of the large open area. It is believed to have had some astronomical significance, but nobody knows for sure why it was built.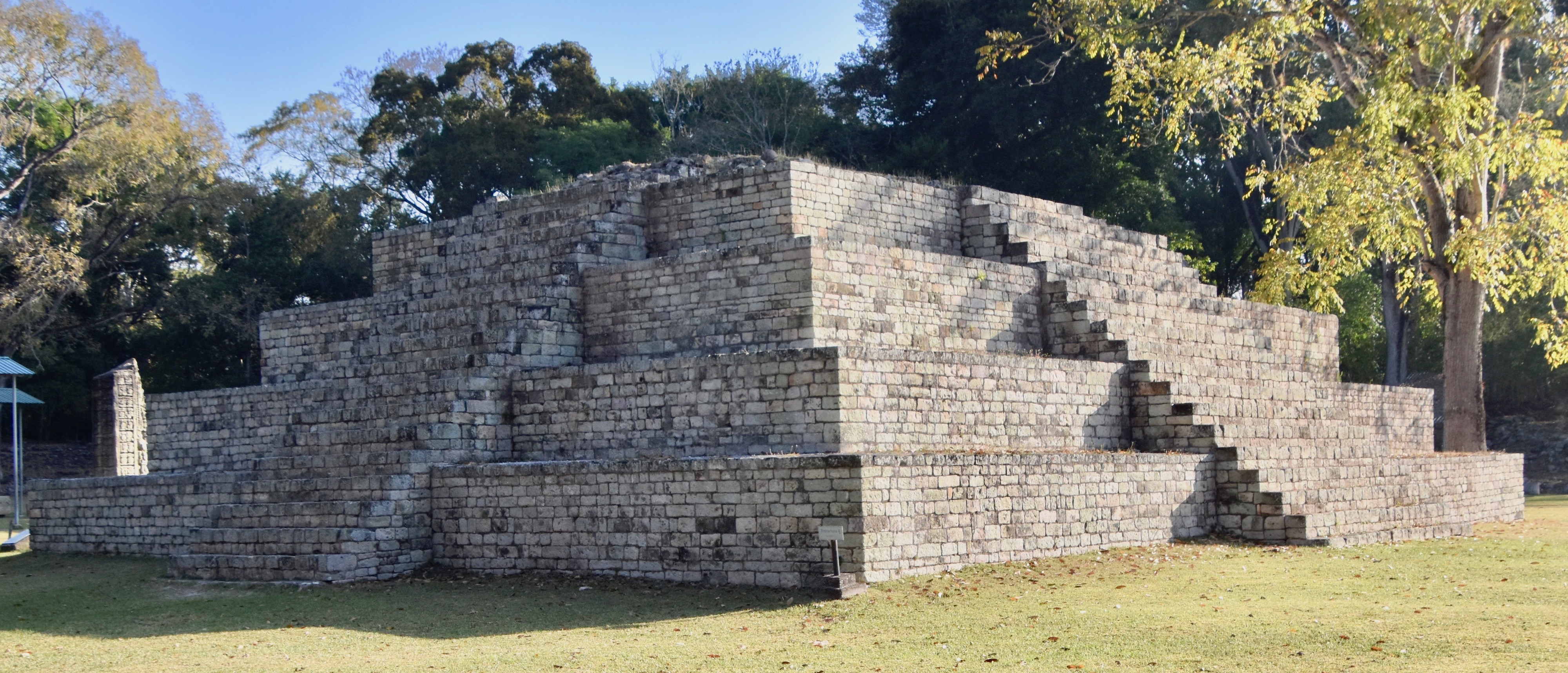 Next Jose takes us to a series of stelae grouped around the plaza starting with this one erected by Uaxaclajuun Ub'aah K'awill better known as 18 Rabbit (probably because nobody could pronounce his real name). He was considered the greatest of the kings of Copan for the many additions he made to the city and because, like Ramses II in Egypt, he made sure everyone knew about his accomplishments by building many stelae in the city to himself. Each one tells a definitive story that could have been read by his subjects, often related to important events in the Mayan calendar.

18 Rabbit met an ignominious fate when he was captured and beheaded by the ruler of the tiny vassal city of Quiriguá apparently in league with the much larger city of Calakmul which was a sworn enemy of Tikal and Copan.
This is Stela B and it was also erected by 18 Rabbit. Showing him in immensely ornate attire, it has become a favourite of crypto-historians. See those curly things at the top of the sculpture?  Well according to the same people who believe that a stone sculpture in Palenque shows an ancient astronaut, those things on this stela can't be anything but – wait for it – elephants! Since they are obviously elephants then everything we thought we knew about the Mayans is wrong and the guy portrayed here is really from Asia. Believe it or not the Mormons think this sculpture affirms a portion of the Book of Mormon that asserts that not only elephants, but horses and asses existed in the New World long before Europeans arrived. Elephants and horses I doubt, but there has never been any shortage of asses anywhere.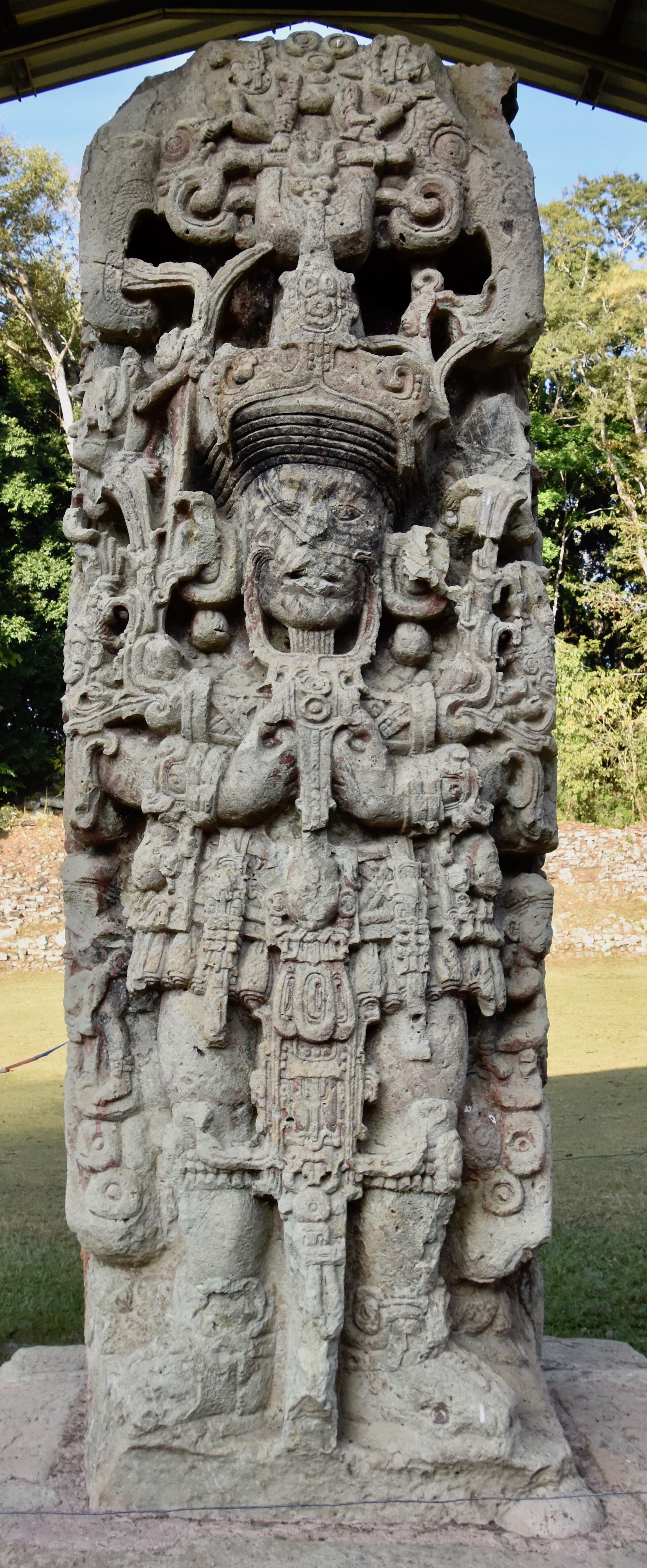 I prefer to think of it as one of the great works of Mayan art, nothing less and nothing more.
This is Stela C, the first of the seven 18 Rabbit had erected in the plaza and it still has traces of the paint that would have made these sculptures even more remarkable at the time they were first unveiled. This is a Janus like sculpture with one side facing east and portraying a young man and this one facing west showing him as an old man with a beard. The sun rises in the east and sets in the west after a long journey so the symbolism is pretty obvious.

We'll take a break from stelae for a while and check out this giant turtle altar that faces Stela C and also has two heads, one looking young and this one the old head.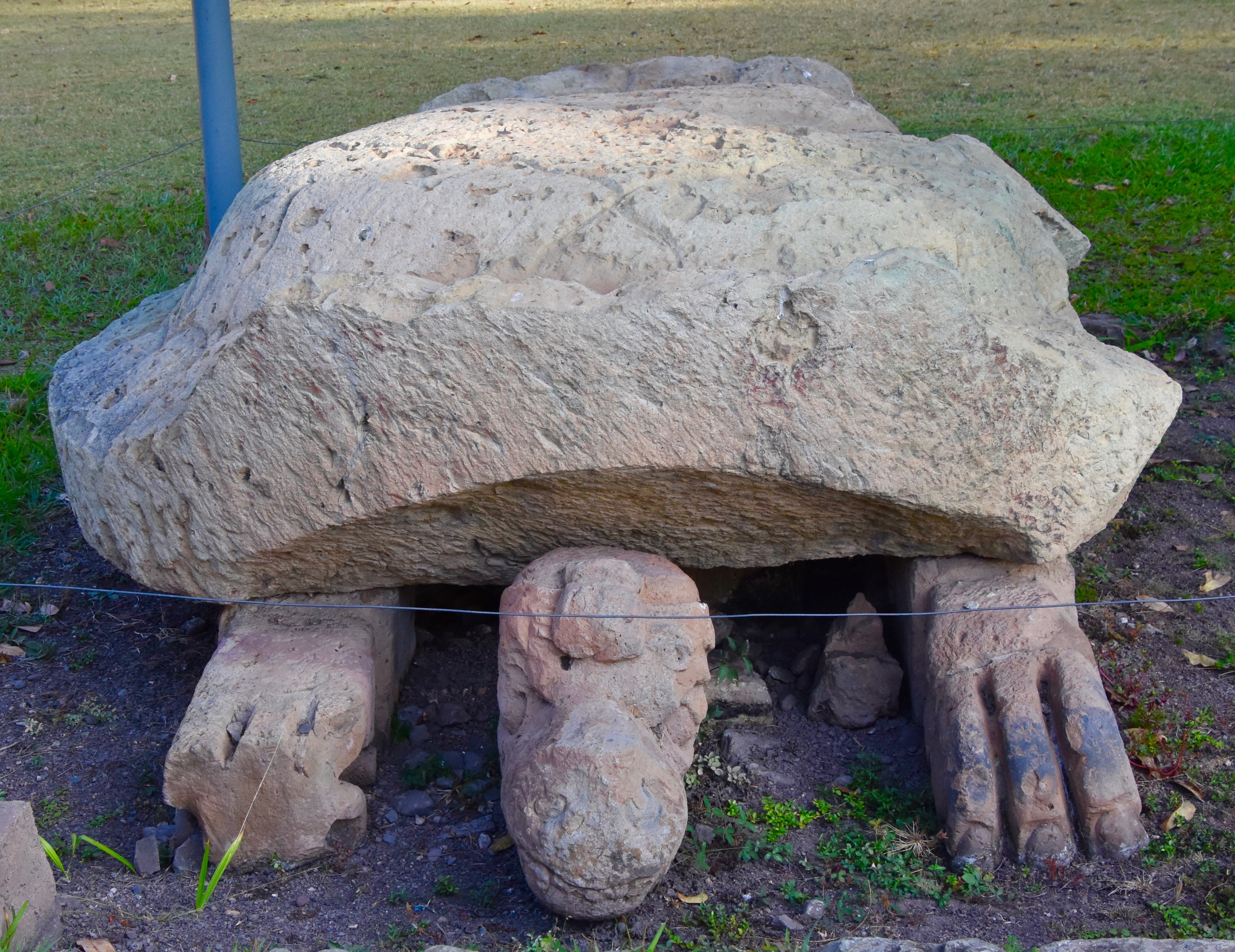 You could actually spend hours in the Great Plaza if you had someone like Juan Carlos to explain the significance of what you were seeing at each stela or altar. This photo also gives a persepective on just how large these stelae are.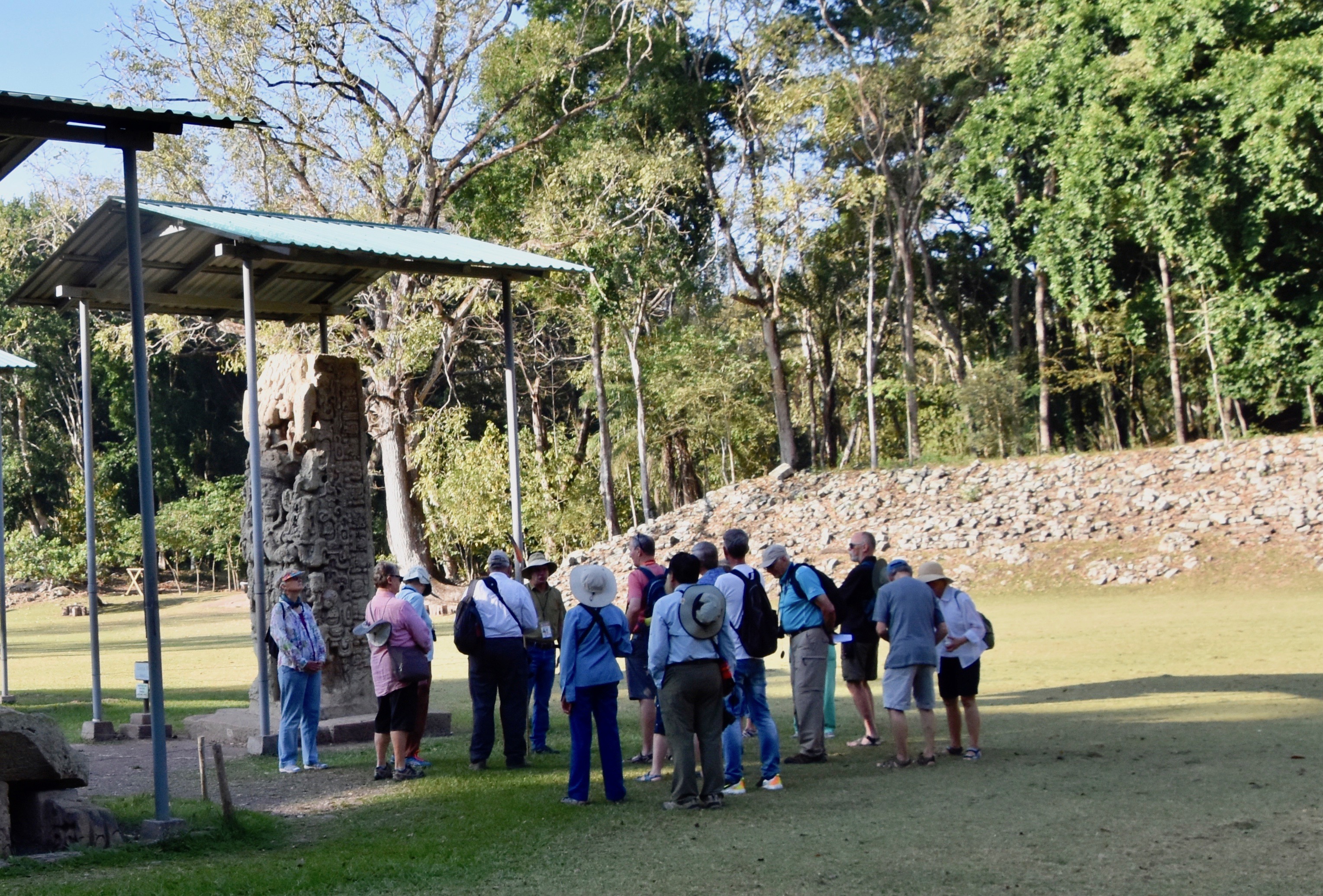 This is enigmatic Altar A which Juan Carlos explains is a turtle meant to represent the world, a theme quite common in lots of parts of the world, but others think it is a flying saucer. There are no end of nuts in this world.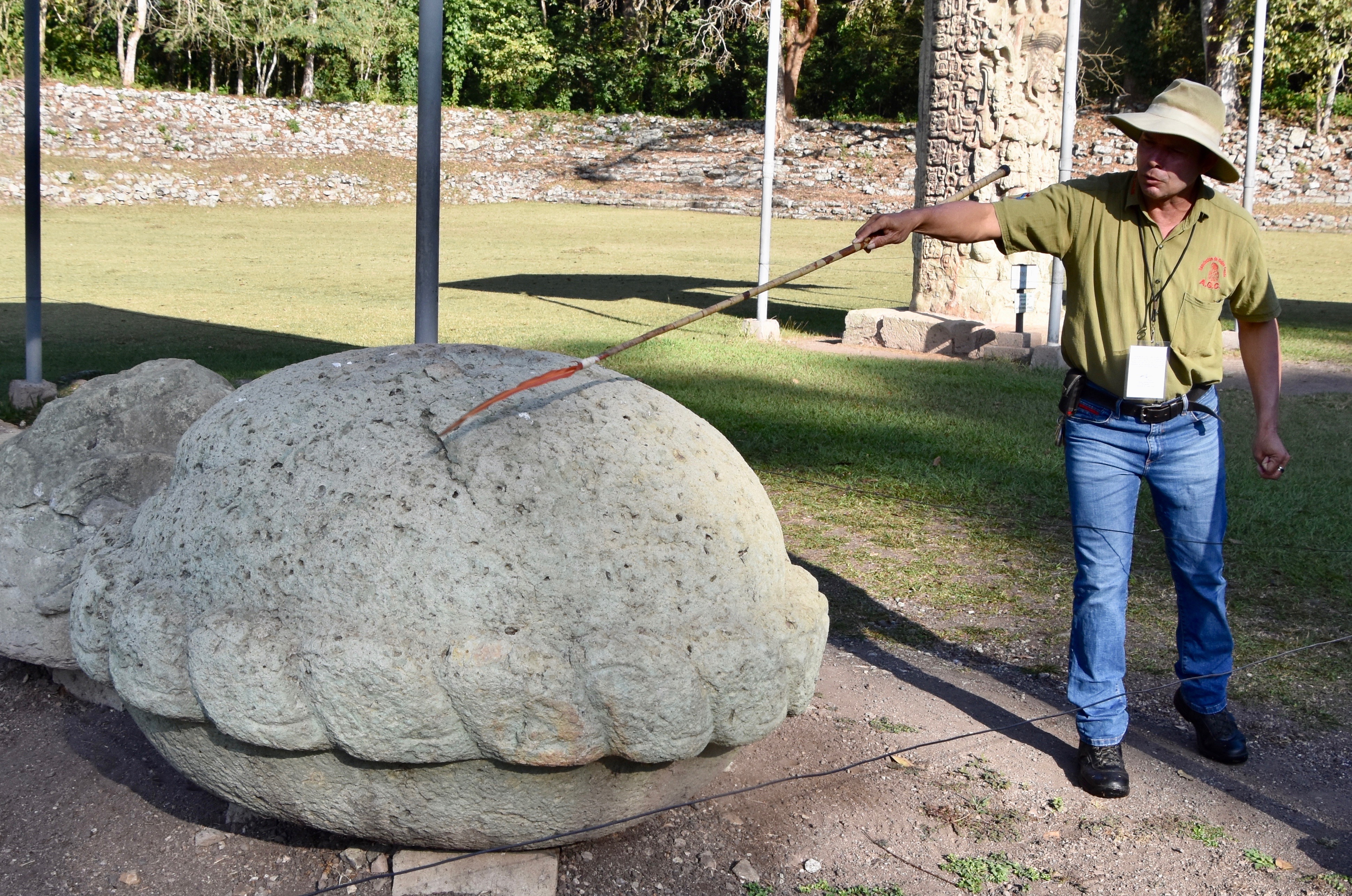 Let's look at another altar that is among the latest works at Copan. It depicts Kukulcan the feathered serpent god who plays a prominent role in Mayan theology and is one of a series of three dedicated to him.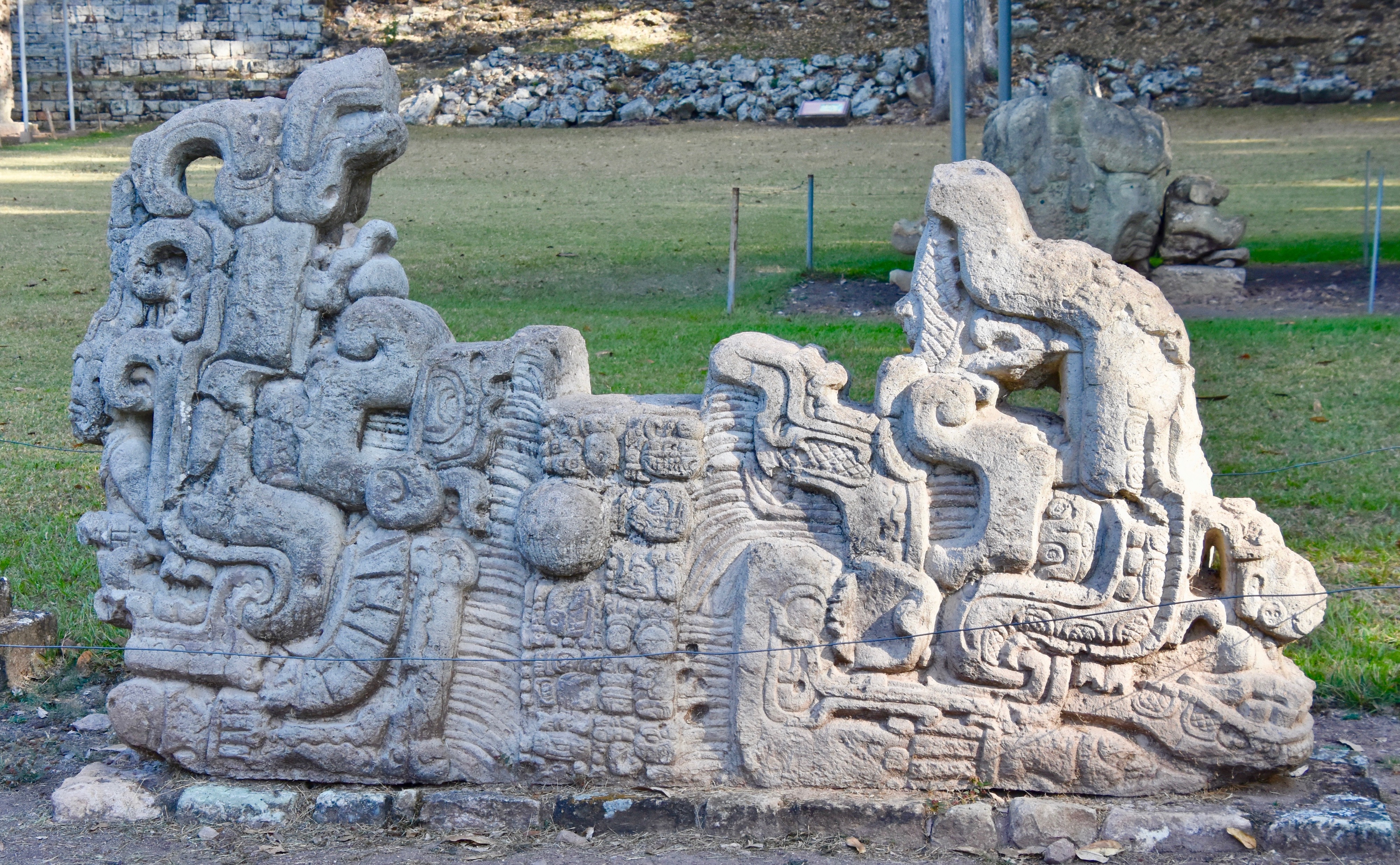 As we conclude our tour of the stelae and altars of the Grand Plaza and head toward the major structures I look back and realize just how deserted Copan really is.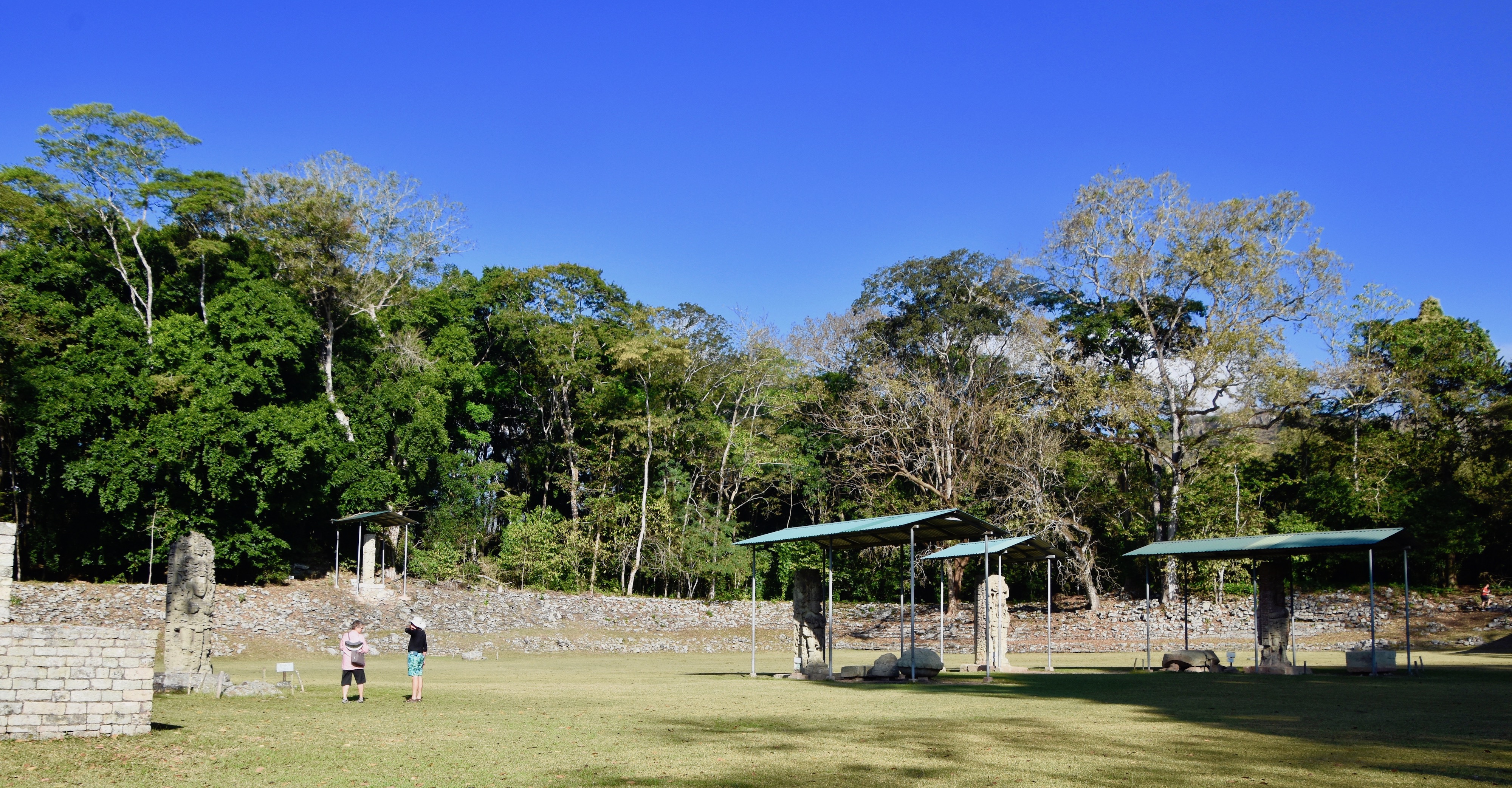 Juan Carlos and Victor then lead us to one of the most important buildings in Copan, the ball court. We first saw one on this trip at Tazumal and I explained the significance of the ball game to the Mayans, so I won't repeat it here. This is the third and final version of the Copan ball court which was dedicated in 738. It is one if the largest in the Mayan world, reflecting the status of the city.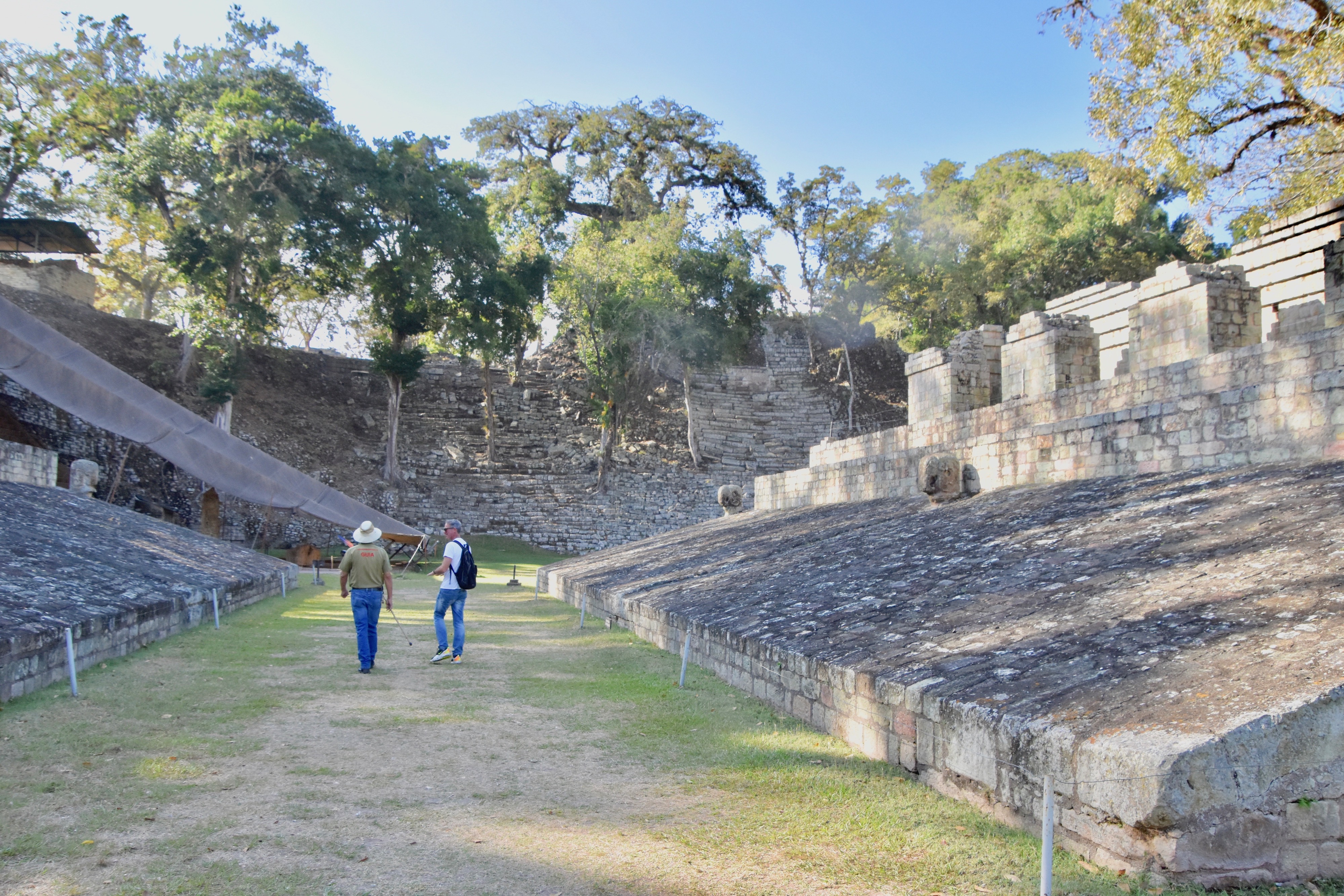 Where other ball courts usually have rings through which the ball would need to go through in order to score, here the markers are in the shape of macaw heads.
Near the ball court is this macaw representation, the original of which we will see in the museum.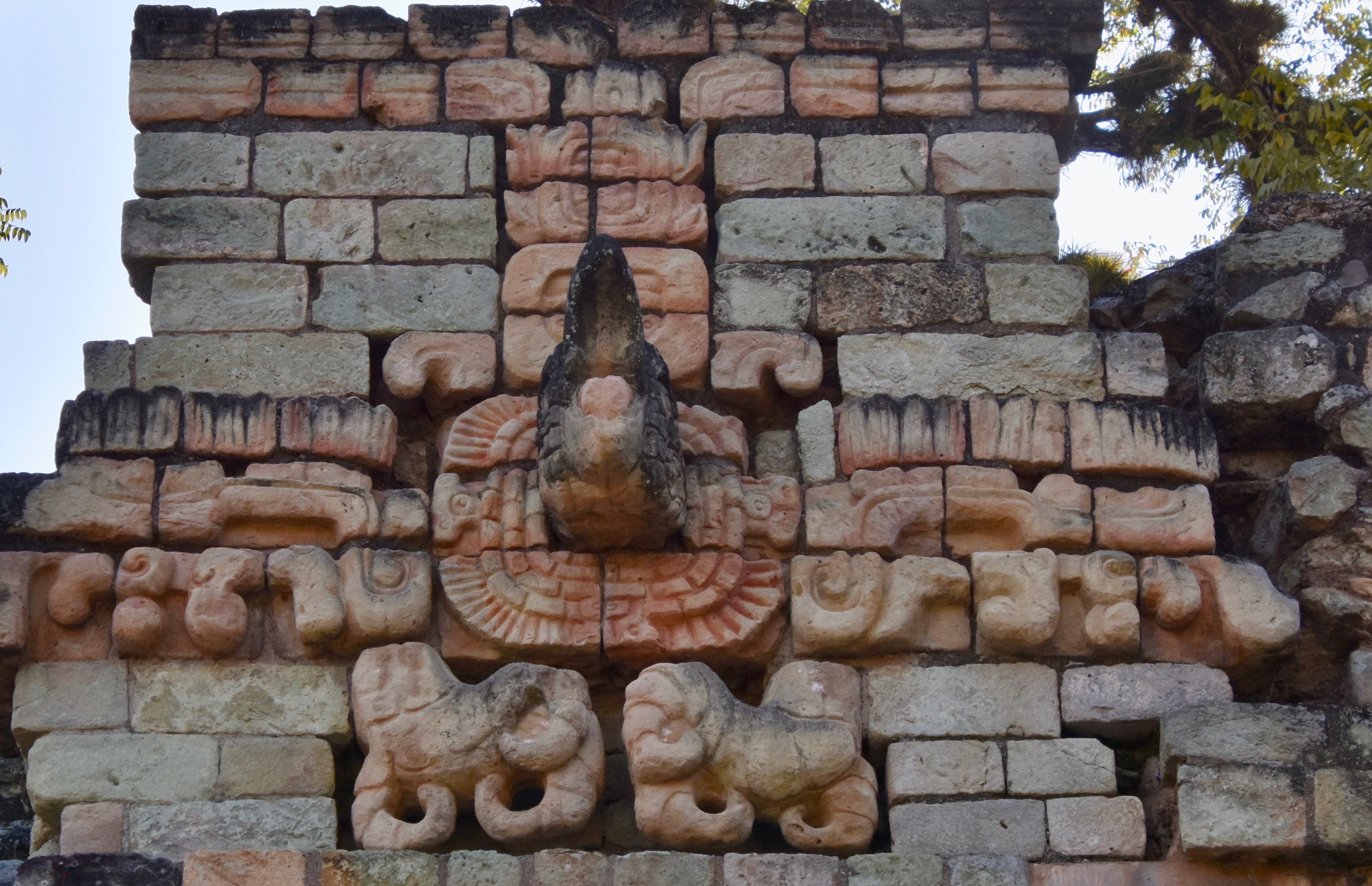 If the only things at Copan were the beautiful stelae, altars and ball court it would be considered a major Mayan site, but we are only now getting to the temples for which are equally famous. This is the view of the north side of the acropolis with some huge ceiba (kapok) trees growing right out of it in and looking like something right out of an Indiana Jones movie.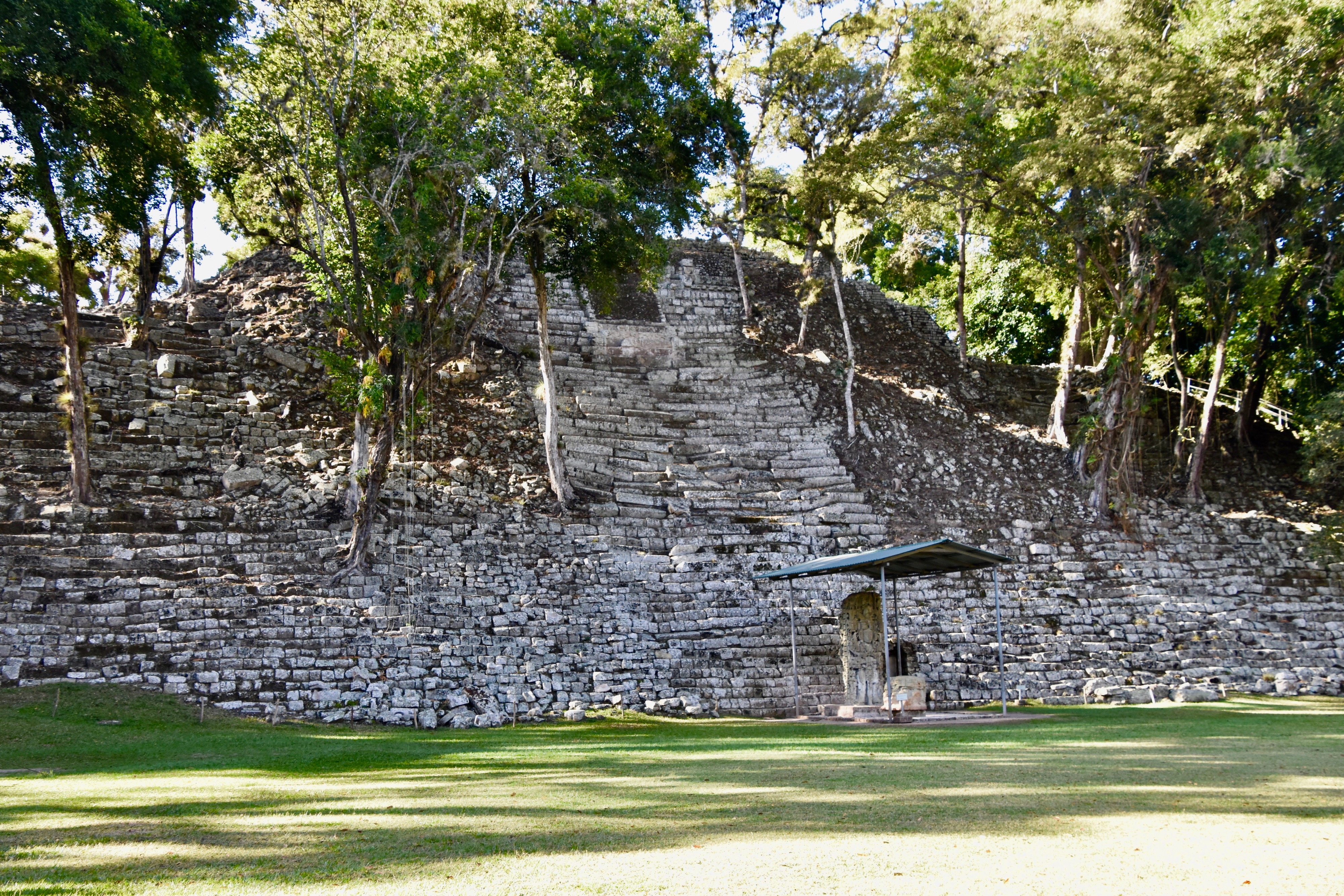 Directly to the left of this is Temple 26 and the Hieroglyphic Stairway which has been covered to protect it from the elements. Let's look inside.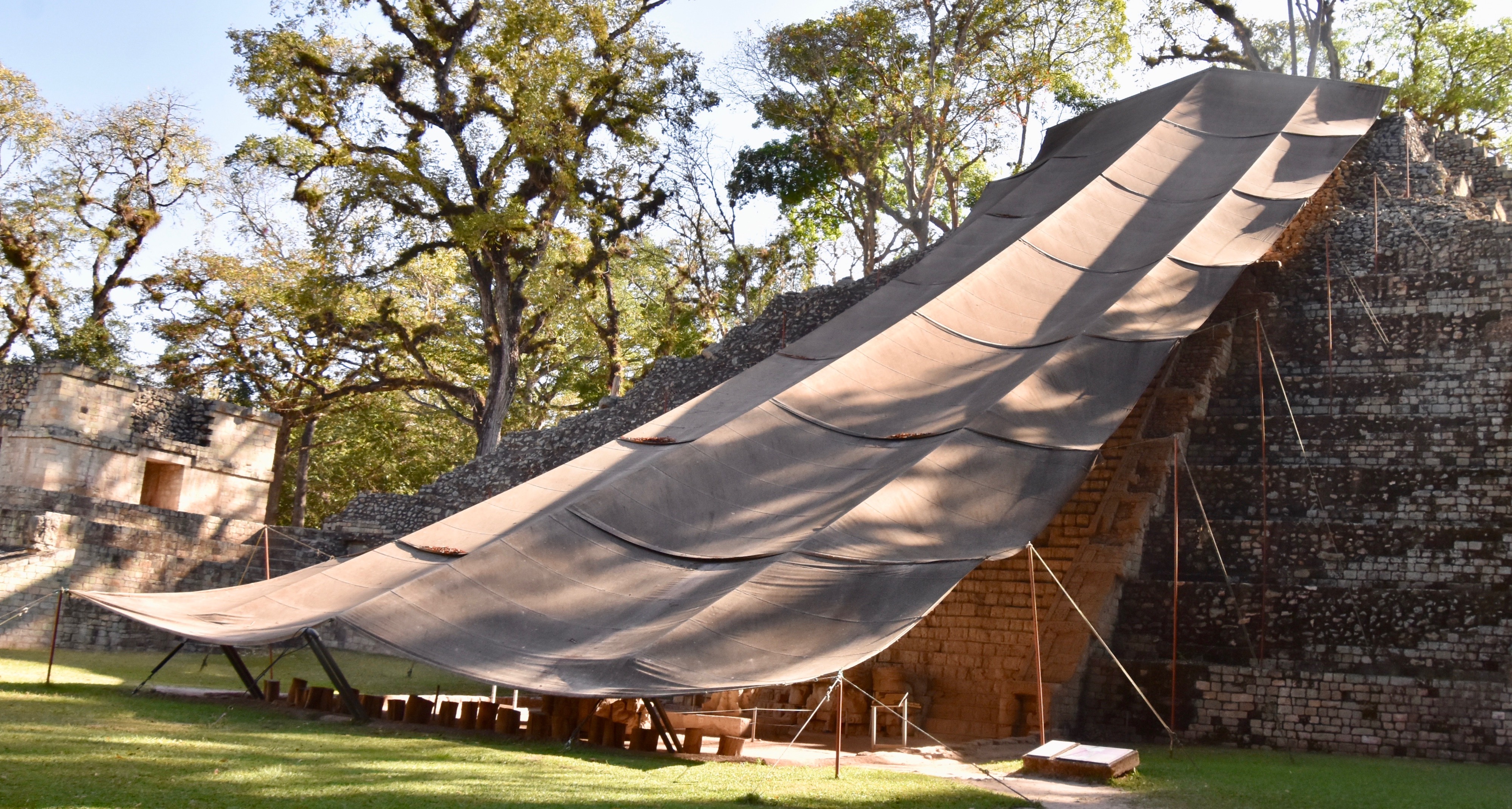 This is Stela M representing K'ak Yipyaj Chan K'awiil aka Smoke Shell, the Copan ruler who completed work on the hieroglyphic stairway in 755. He is dressed in the uniform of a ball player as are a number of the 18 Rabbit and other stelae figures at Copan.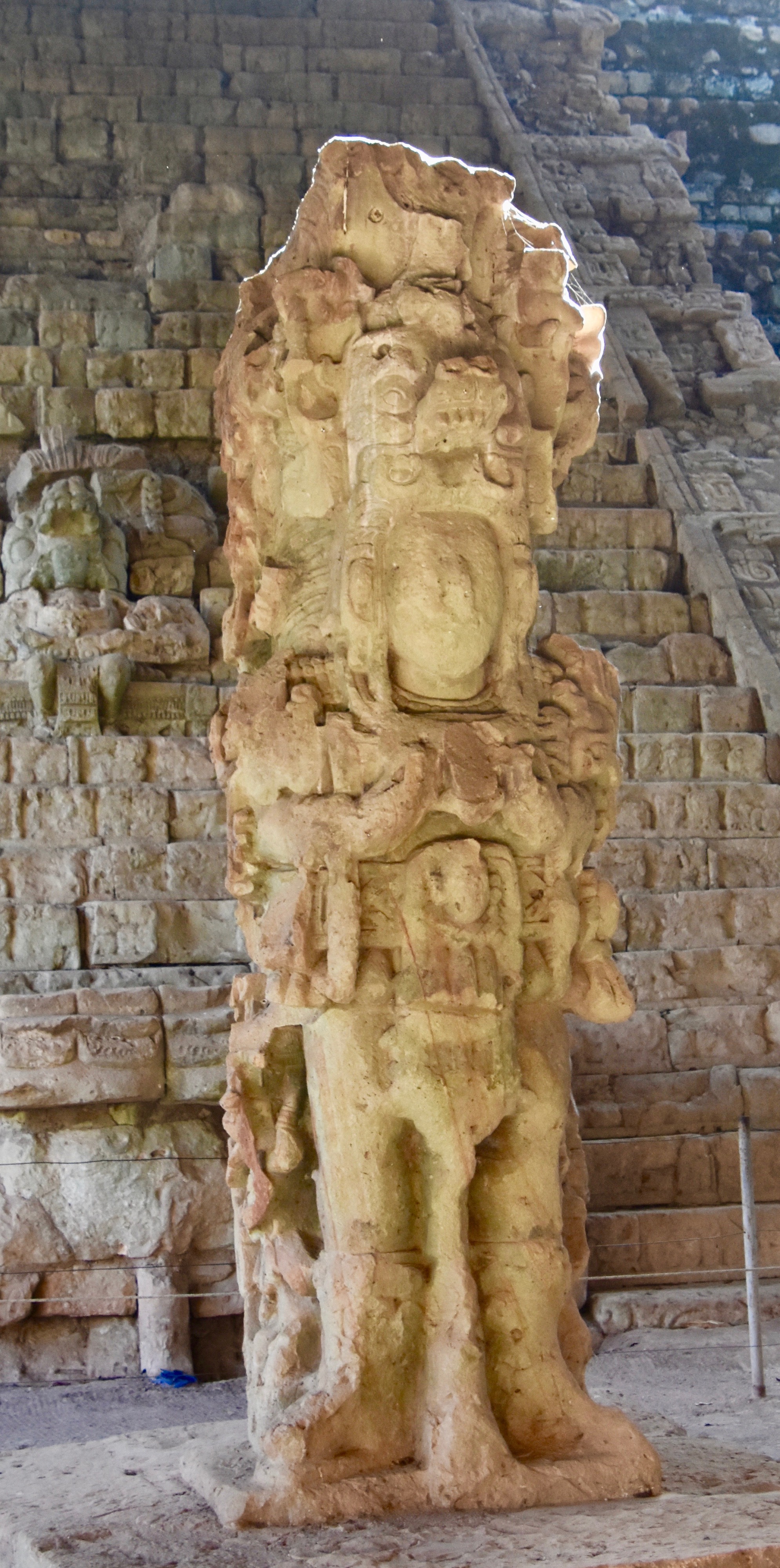 And here is the hieroglyphic stairway, one of the wonders of the Mayan world.  It is a 10 metre (33 foot) wide staircase with sixty-two steps each composed of a series of stone blocks which collectively form the largest single Mayan hieroglyphic inscription ever found – 1,250 blocks with over 2,000 hieroglyphs. Together they tell the story of the Copan dynasty, but only the first fifteen steps are in the right place. The rest had fallen apart when it was reconstructed by archaeologists in the early 20th century, but at that time the Mayan hieroglyphs had not been deciphered so they just put each stone wherever they felt it would fit. The result is that the stairway is mostly one giant jigsaw puzzle that will takes decades to properly put together.
BTW if you are wondering why I titled this post Copan & the Stairway to Heaven, it's not because Led Zeppelin ever had anything to do with it, but because the Greek word 'hiero' means sacred. I figured any stairway covered with sacred hieroglyphs was metaphorically leading to a higher place.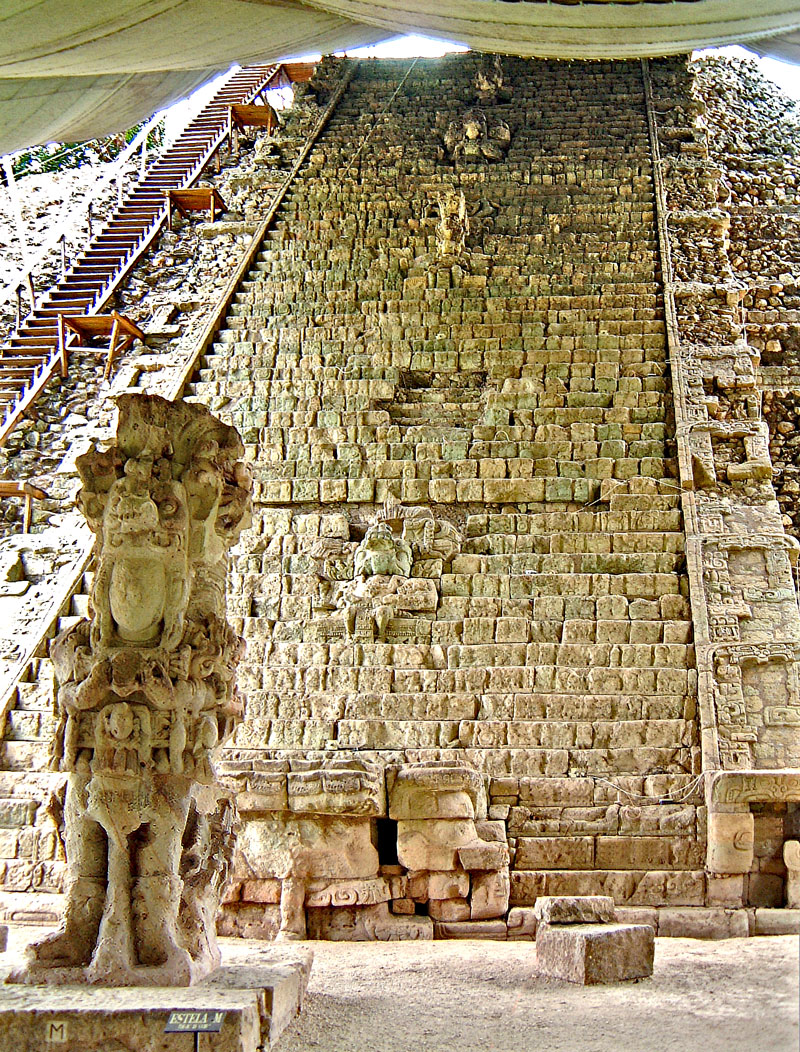 The temple on which the stairway is built was first constructed very early on in Copan and then subsequently covered over with larger and larger temples for the next four hundred years in seven different stages. It contained the tombs of a number of, as yet, unidentified persons including a woman who was buried with three heads of decapitated men and a man who was buried with a child that had been sacrificed.
Now it was time to climb to the top of the acropolis via a rocky path to the right side where we passed this stone skull along the way. This was to be the first of many precarious climbs to come over the ten days or so.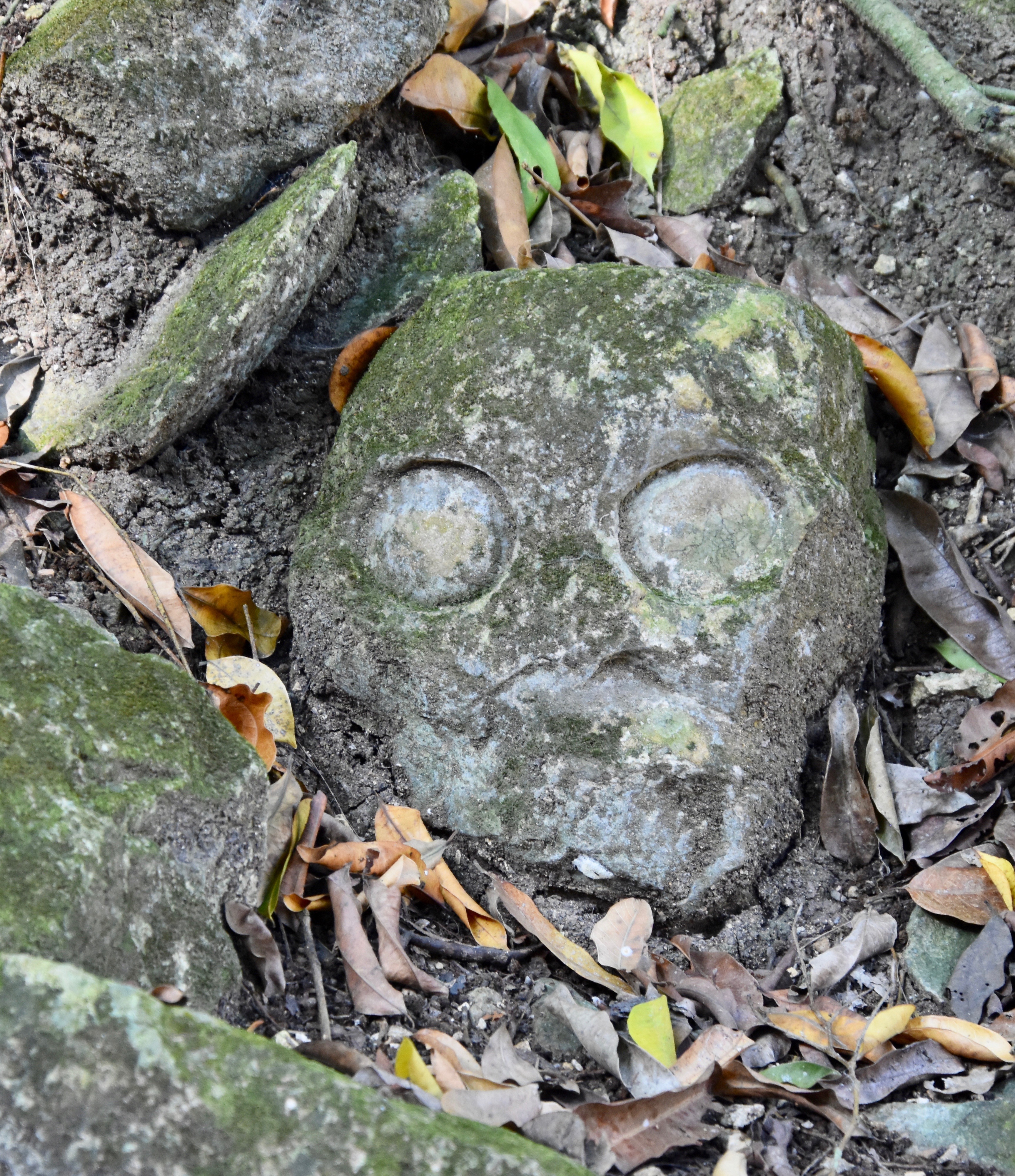 Once at the top you get a great view of the ball court below and another opportunity to observe that we have Copan almost entirely to ourselves.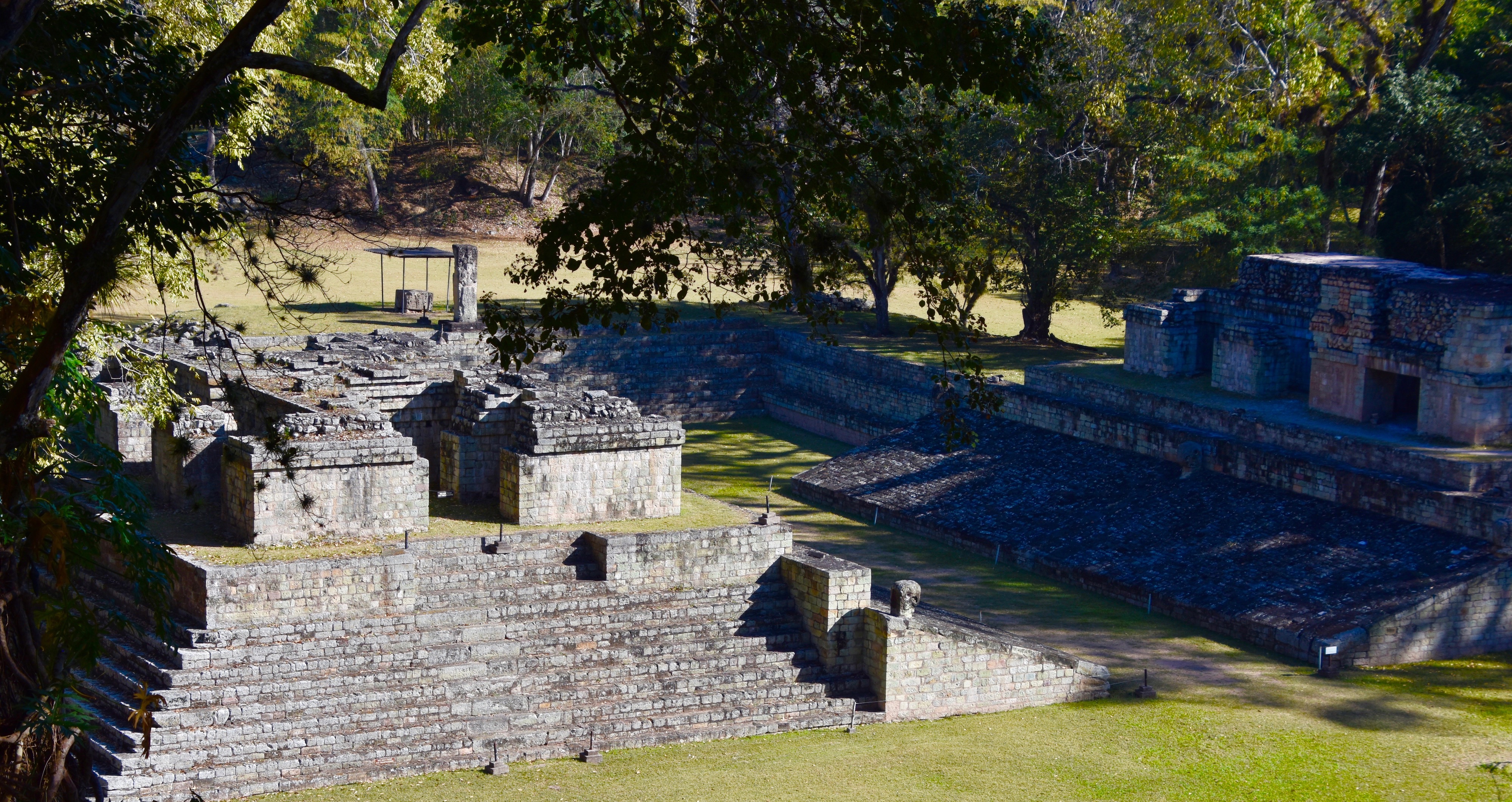 Here's a shot of Alison on the highest spot in Copan. About half the group ascended this high, while others opted for the relative safety of the main trail through the acropolis.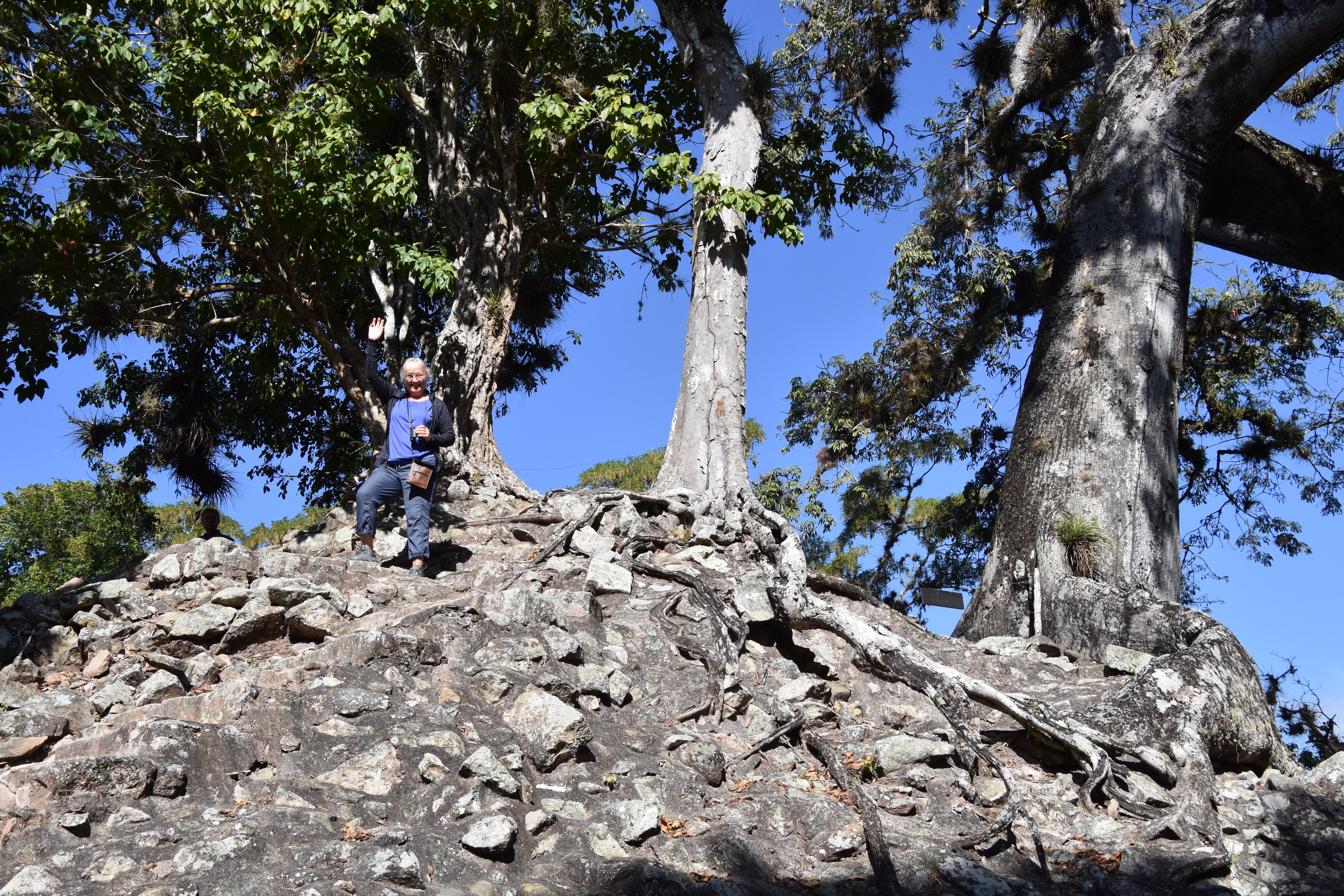 Although not much remains of the temple that stood at this end of the acropolis there are some very interesting things including this giant head often referred to as The Old Man of Copan. More correctly, this is a pauahtun named for the head dress he is wearing which is called a pauah. This is believed to be one of four that would have been placed just under the roof of the temple representing the four Bacabs who the Mayans believed held up the sky. It's actually pretty amazing and unlike anything I'd seen before at any Mesoamerican site.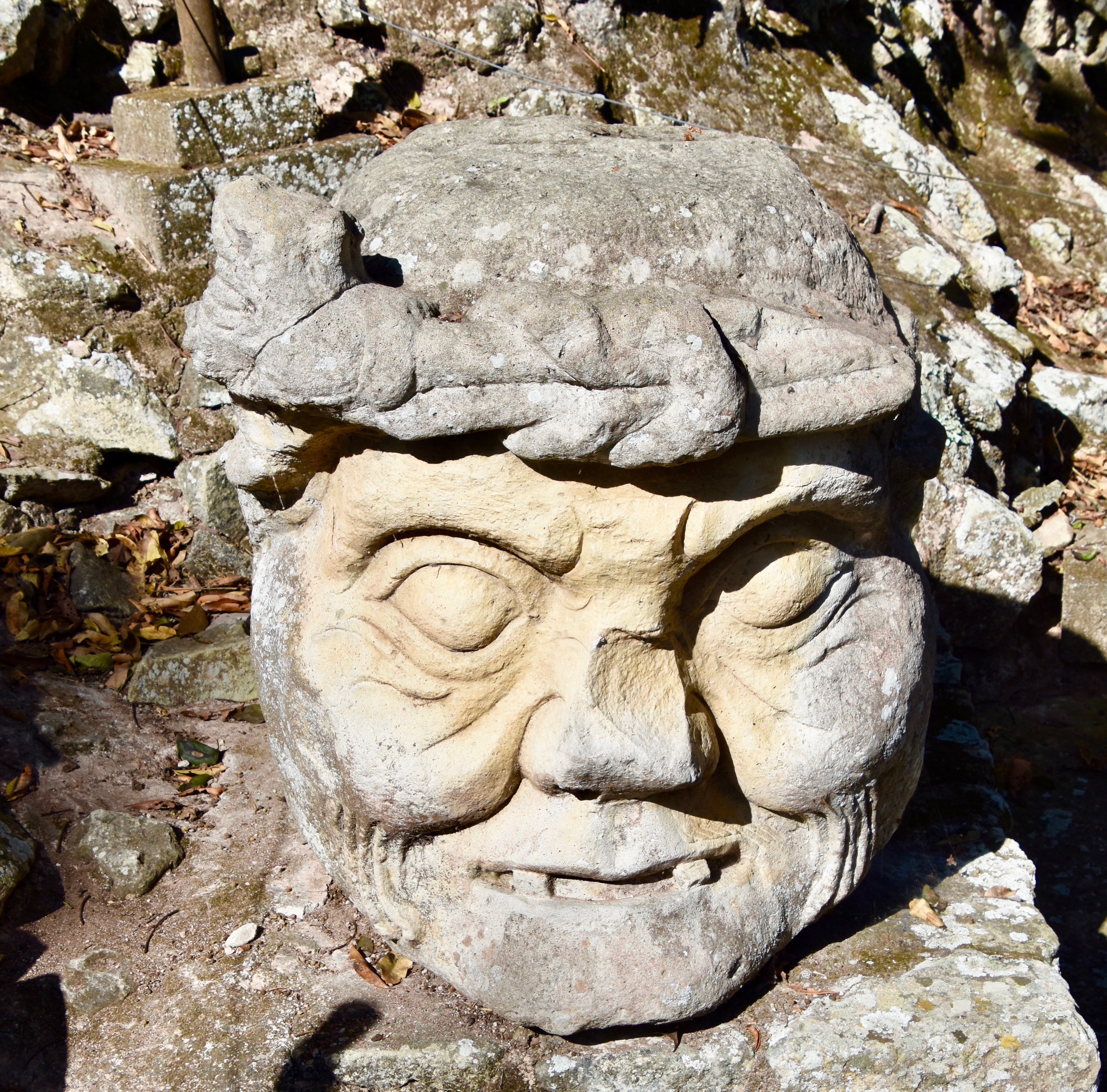 Next we walked to an overlook of the Patio of the Jaguars which has some really interesting things to see.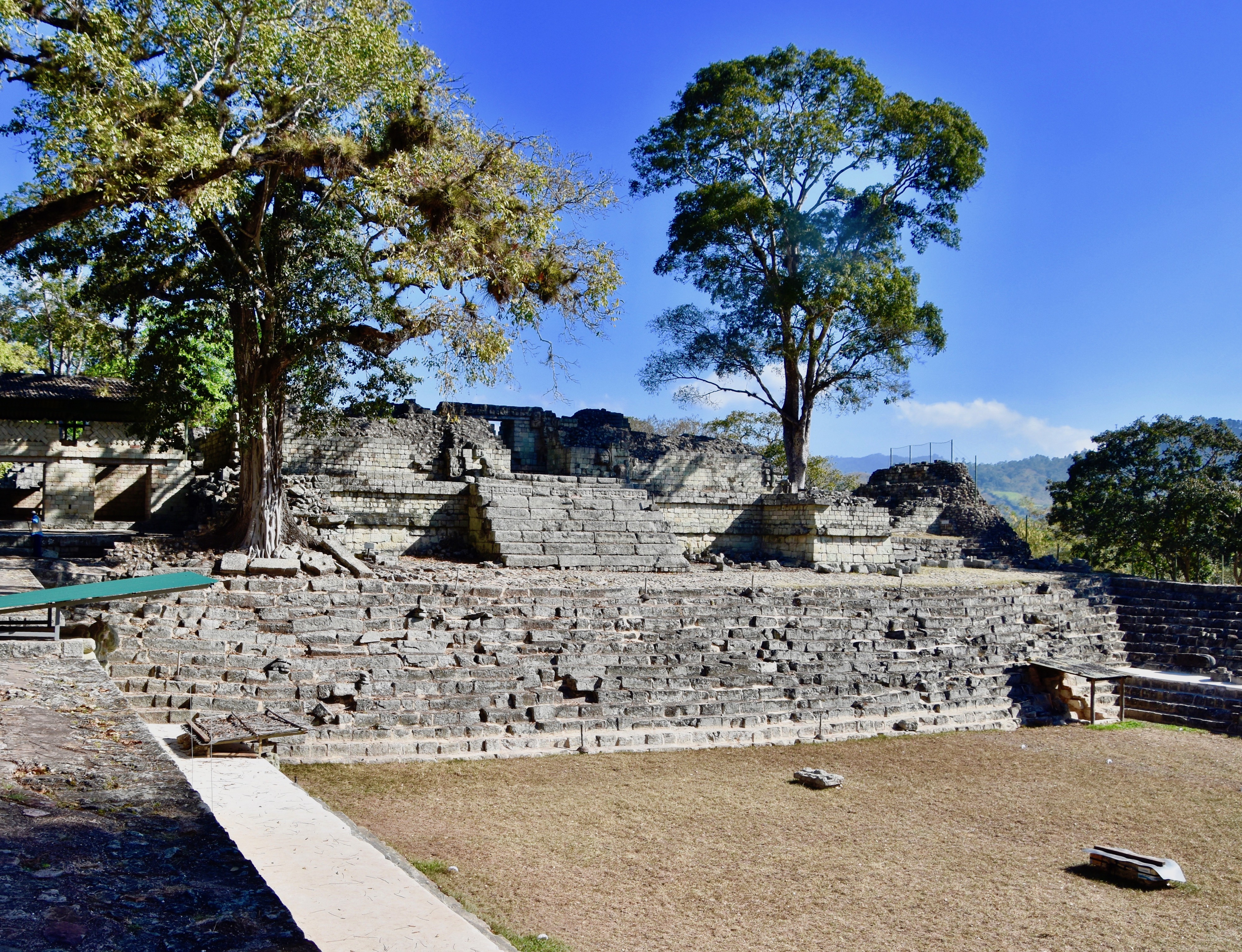 However, getting down there is easier said than done. One of the great mysteries to me is why the Mayans who are normally quite short built steps that even Wilt Chamberlain would have found daunting? These are the steps leading down to the Patio of the Jaguars.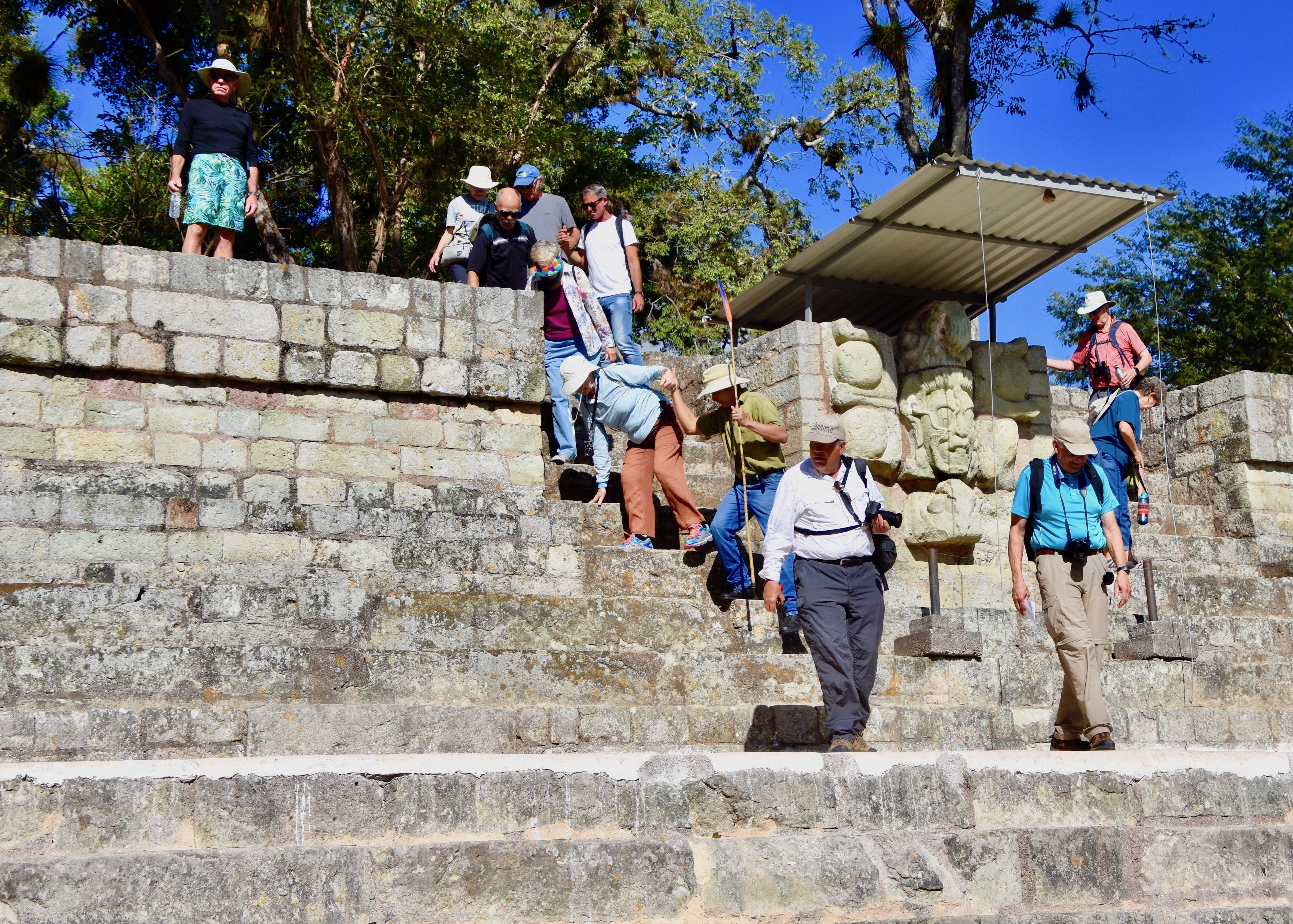 Once inside the patio there are a number of protected monuments including this scary looking guy who I believe is the Sun God, K'inich Ahau.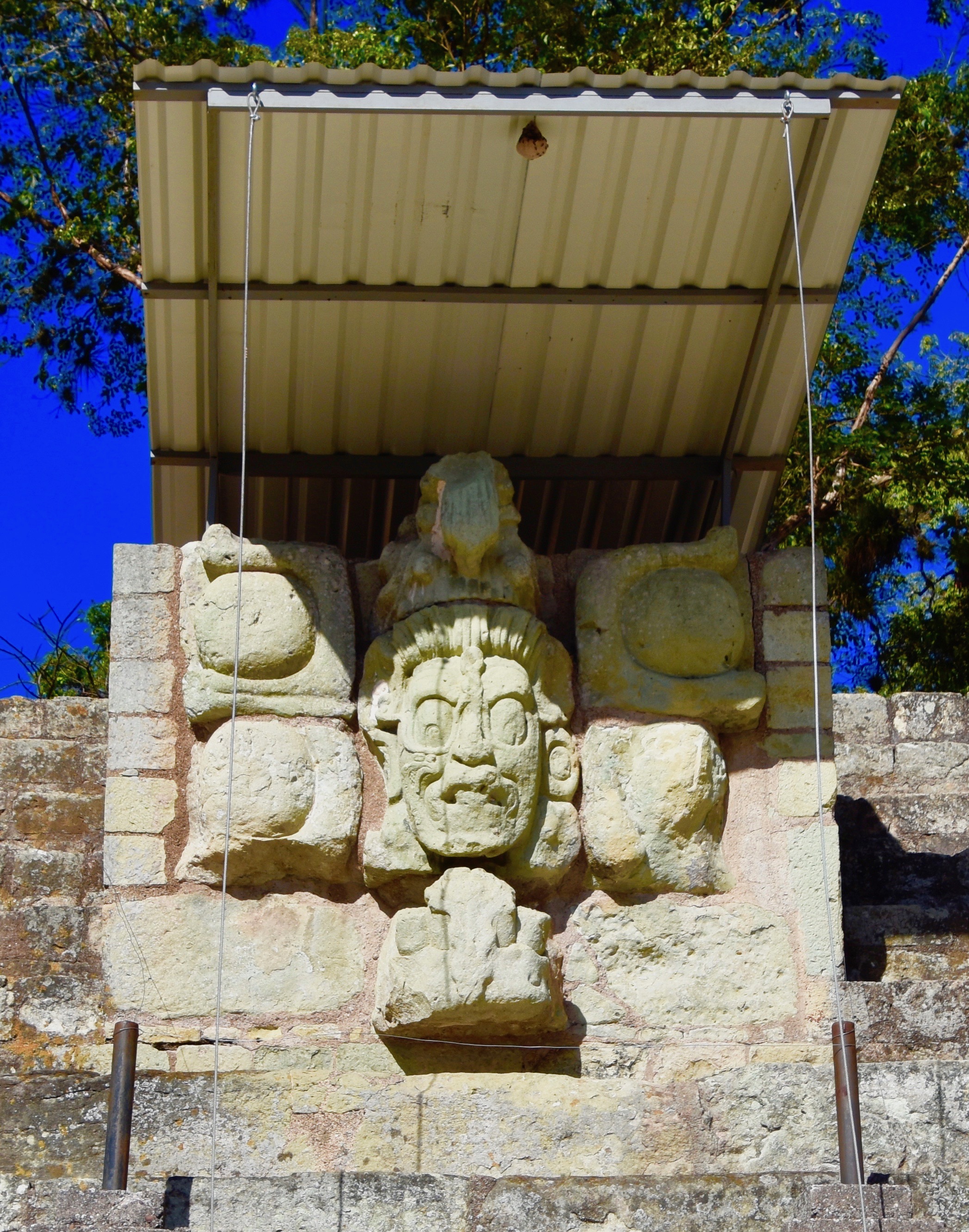 Now given their bloody sacrifices, you don't usually associate the ancient Mayans with a sense of humour, but you have to see this next sculpture to believe it. This is Dancing Jaguar and boy does he have moves! The holes in his arms once held obsidian discs. I will refrain from making any comments on the world's first disco dancer.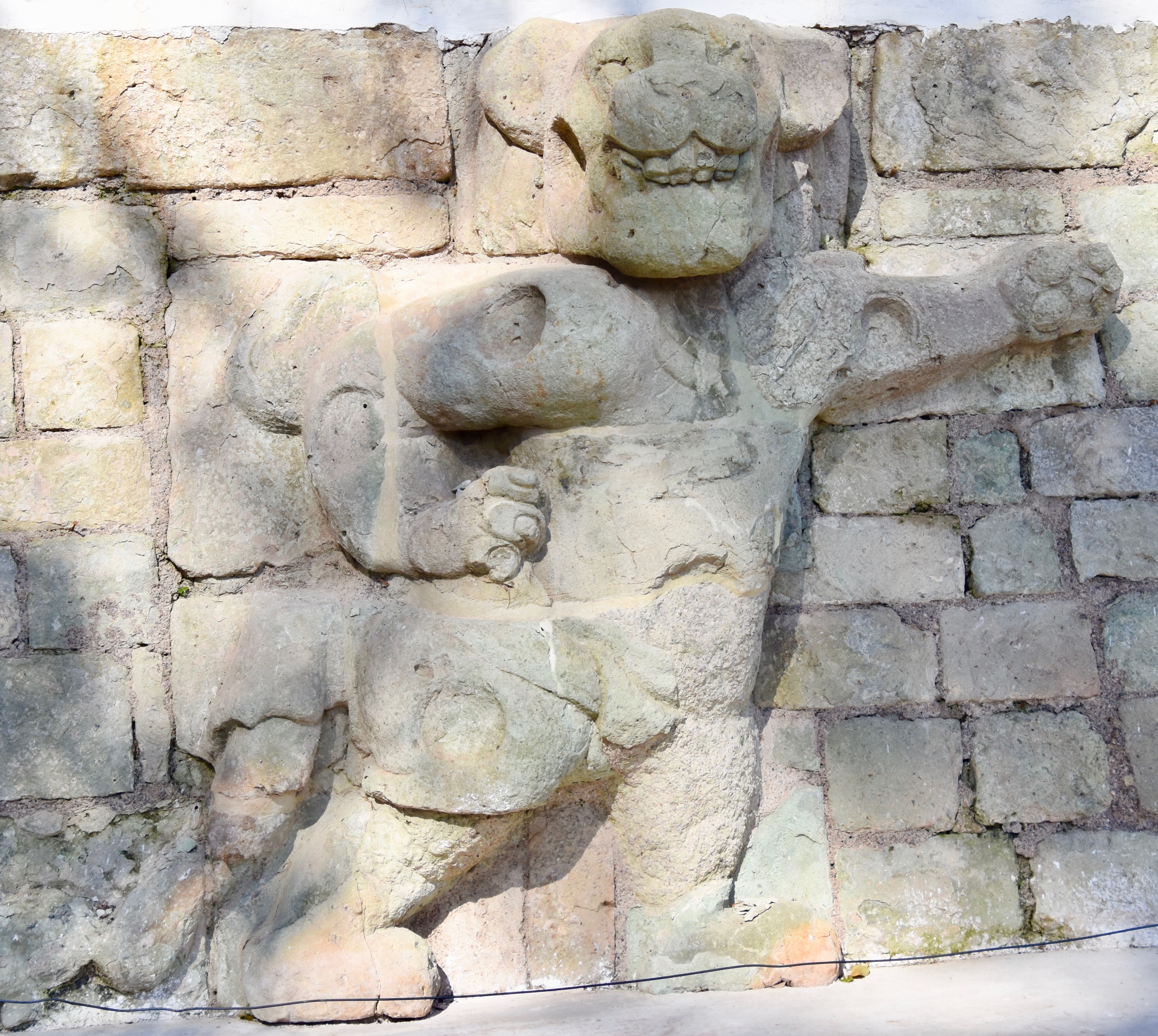 Something was nagging at my mind about this guy – he somehow seemed familiar. Then it hit me – Snagglepuss, the pink predecessor to the pink panther who loved to dance and was also known for his moves, including exit stage left.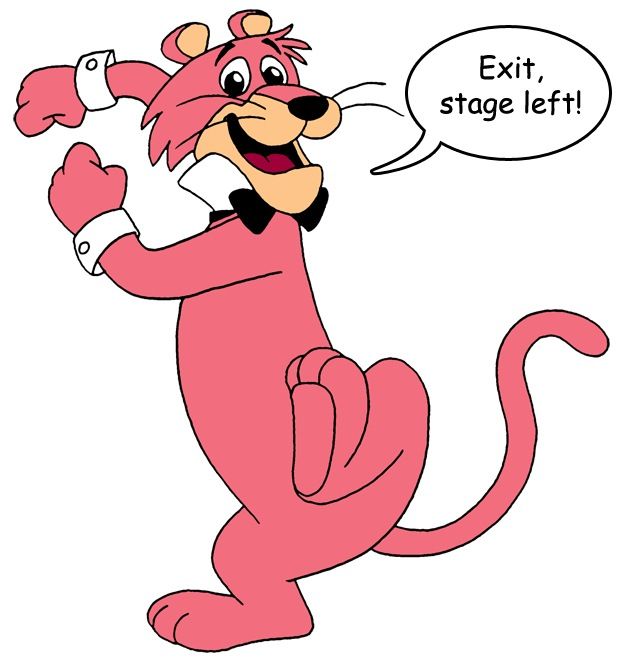 Heavens to Murgetroyd, what will Copan come up with next?
How about arguably the most famous burial pyramid in the New World? Unlike the Egyptians, only a few of the Mayan pyramids were actually designed as tombs; most were purely temples. This is Temple 16 at Copan which is the culmination of a five stage structure that was started by K'inich Yax Ku'k Mo' and finished two hundred years later by 18 Rabbit. Here in 1995, underneath the oldest structure that lies deep within this pyramid were found the remains of K'inich Yax K'uk Mo'. Earlier excavations had discovered the remains of his wife in a tomb that encased his and above that an amazing temple called the Rosalila that covered them both. A complete life-size copy of the Rosalila has been built in the museum and we will see that later. Just remember that the real thing is beneath these stones.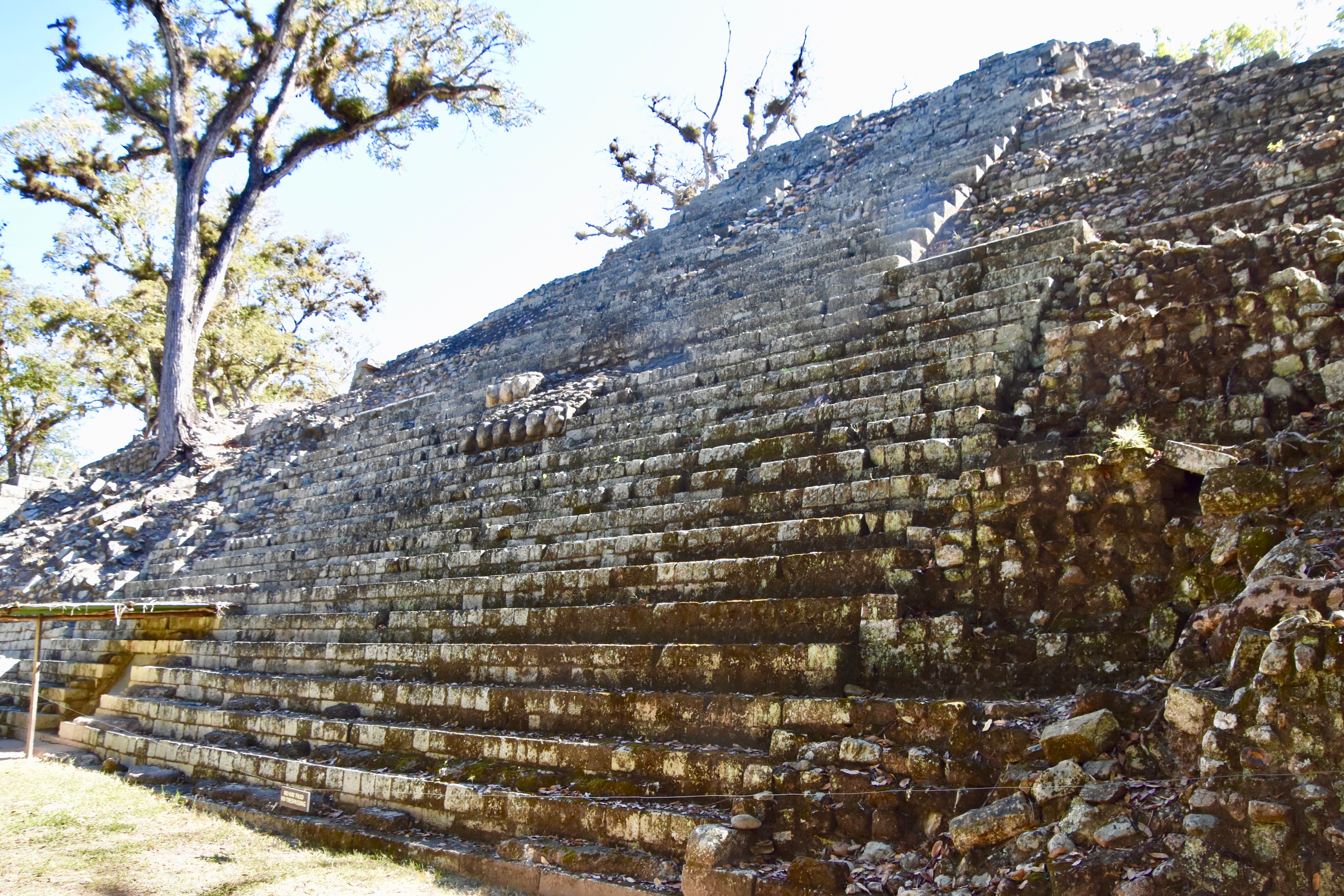 Here is a row of six skulls over the entrance to the tunnel at Temple 16 that leads to Rosalila, some of them looking more simian than human.

We are almost finished our visit to the ruins of Copan with only a few more sites of importance. These are the royal residences which are behind the acropolis. Even at its height Copan had at most 9,000 people living in or close to the ceremonial centre with a population of around 20,000 in the Copan valley. The people who frequented the areas we visited today were the 1%, except on ceremonial days when thousands would flock to the temples to observe the rituals.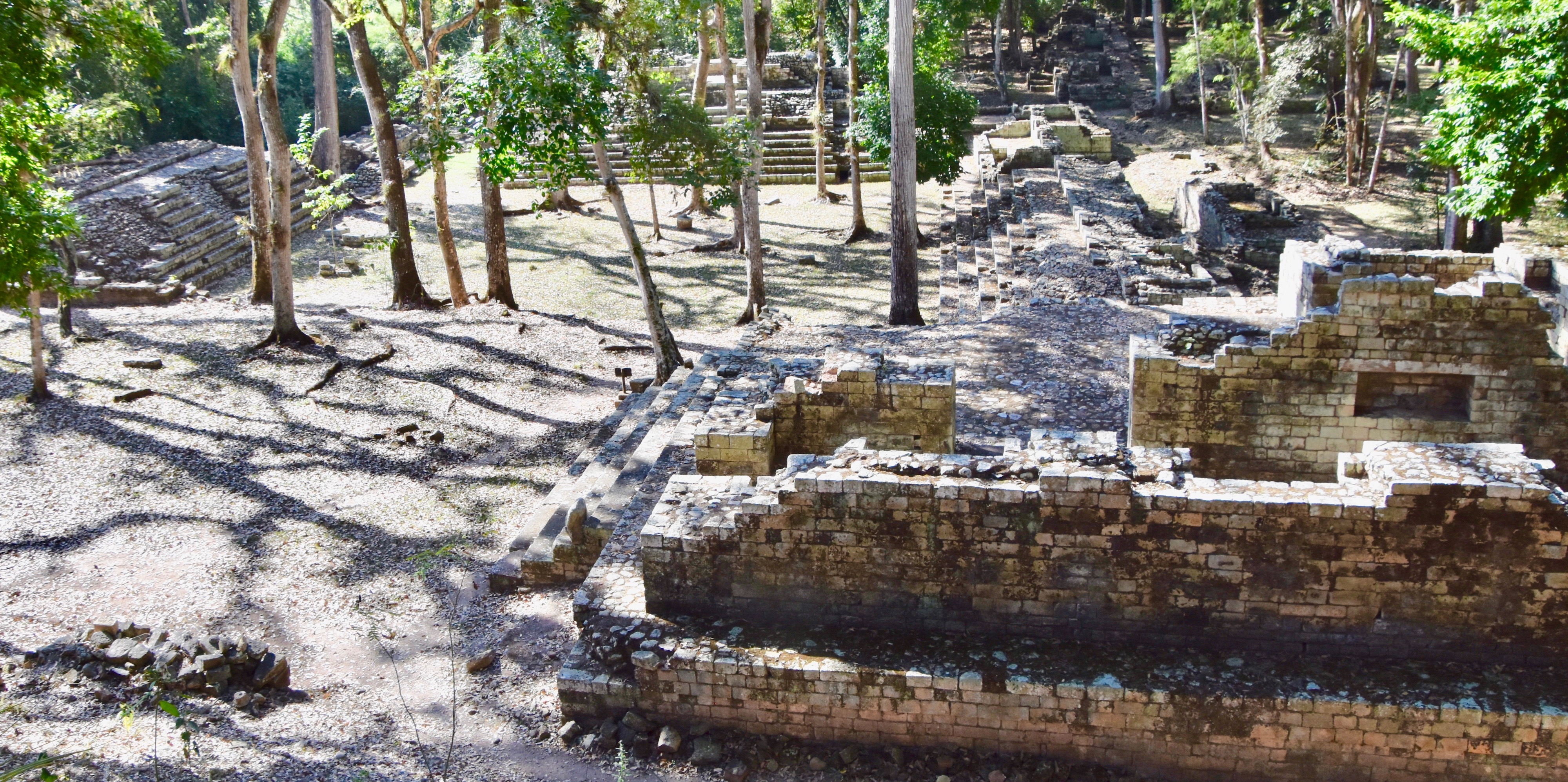 The last building of note is Structure 11 which is believed to have been the royal residence of Yax Pasaj Chan Yopaat, the 16th and last known ruler of Copan.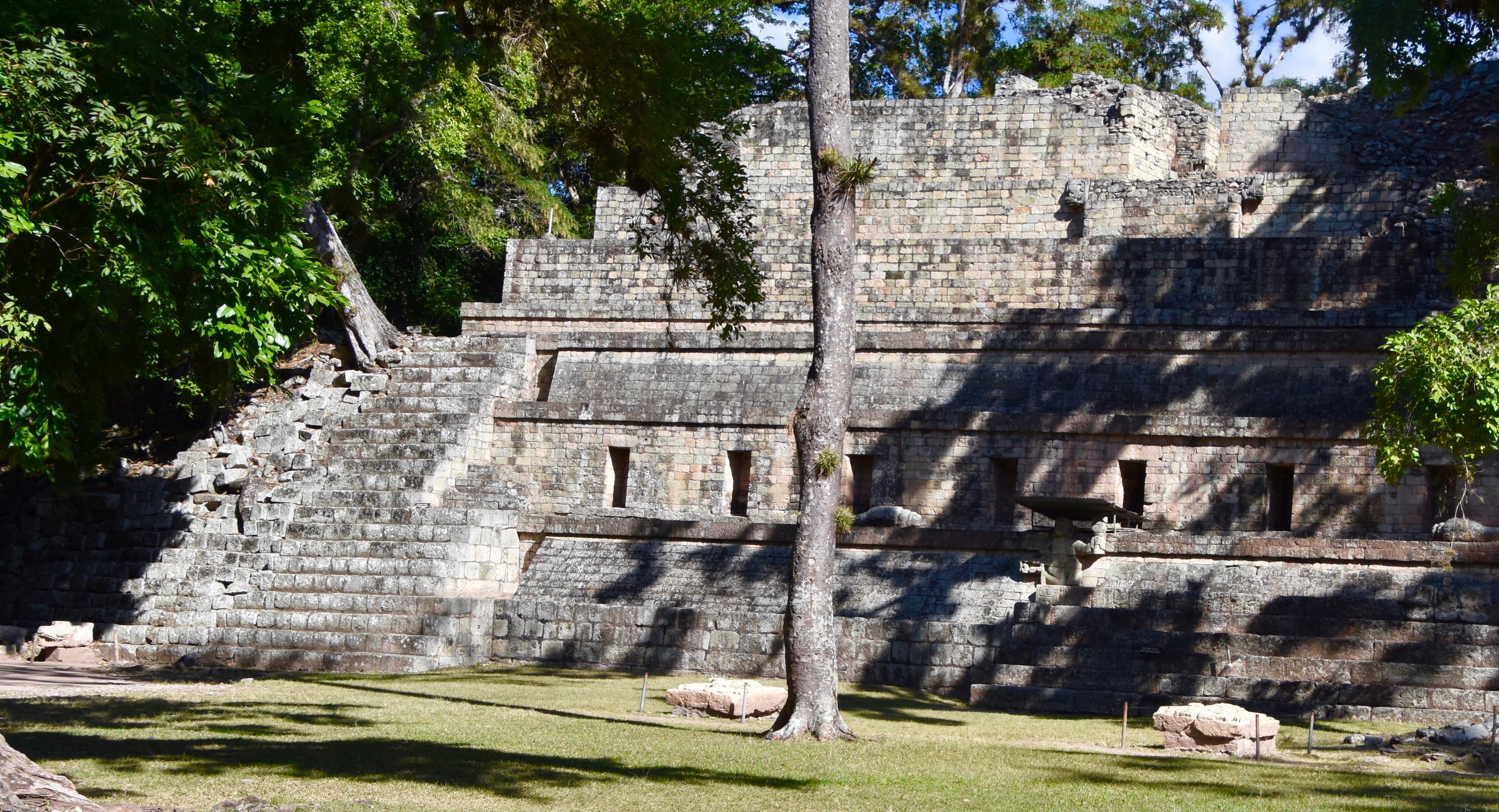 So we have come full circle from the first to the last rulers of Copan in the best documented line of succession in the Mayan world.
Nobody can say for sure why Copan declined and was completely abandoned, but it was a slow process that took over four hundred years. There was no destruction by foreign invaders or civil tumult that resulted in the cataclysmic ends of cities as great as Teotihuacan. Almost certainly it was the gradual environmental degradation brought on by deforestation and soil exhaustion through over cultivation, but that's still a theory and not an historical fact. There is a lesson to be learned from Copan, but I'm pretty damned sure nobody in authority is interested in learning it, yet alone heeding it.
The Sculpture Museum at Copan
Now, if your not too tired let's finish our visit by going to the museum, because it's something you really don't want to miss.
The museum was opened in 1996 to house the most endangered of the stelae and altars as well as thousands of artifacts from Copan, found both outside and inside of the temples and tombs. The most ambitious project was the full size recreation of the Rosalila monument. That would require a huge amount of interior space, but there was a hitch. Since Copan was a World Heritage Site nothing could be built that would in any way detract or interfere with that status i.e. no obvious large building. The solution was to build the museum inside a natural hill so that from the outside, you barely know it is there and that has worked marvellously.
This is the entrance, a symbolic serpent's mouth which the Mayan's believed would take you to the netherworld.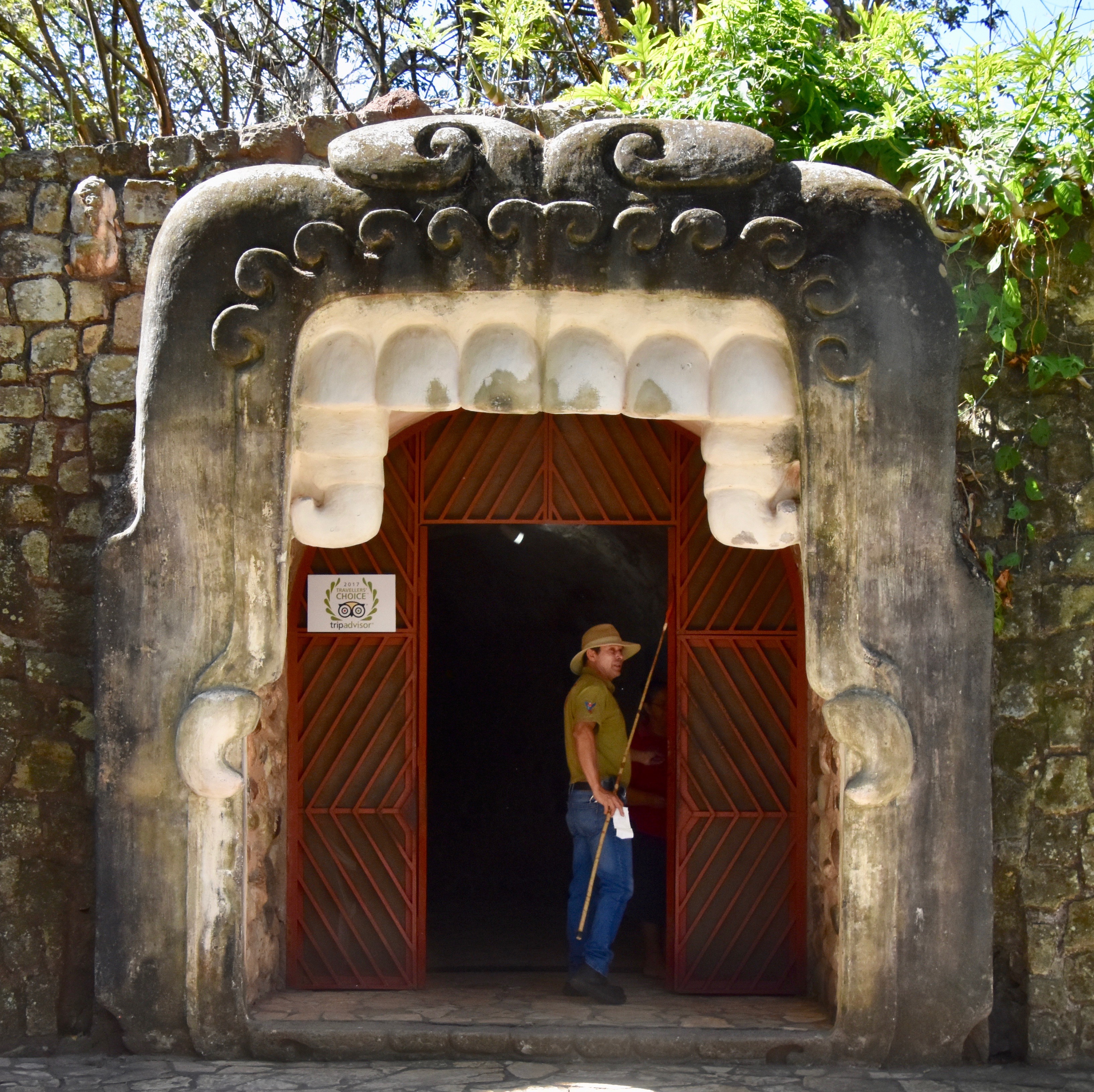 That illusion continues once inside as you wend your way through the serpent's body.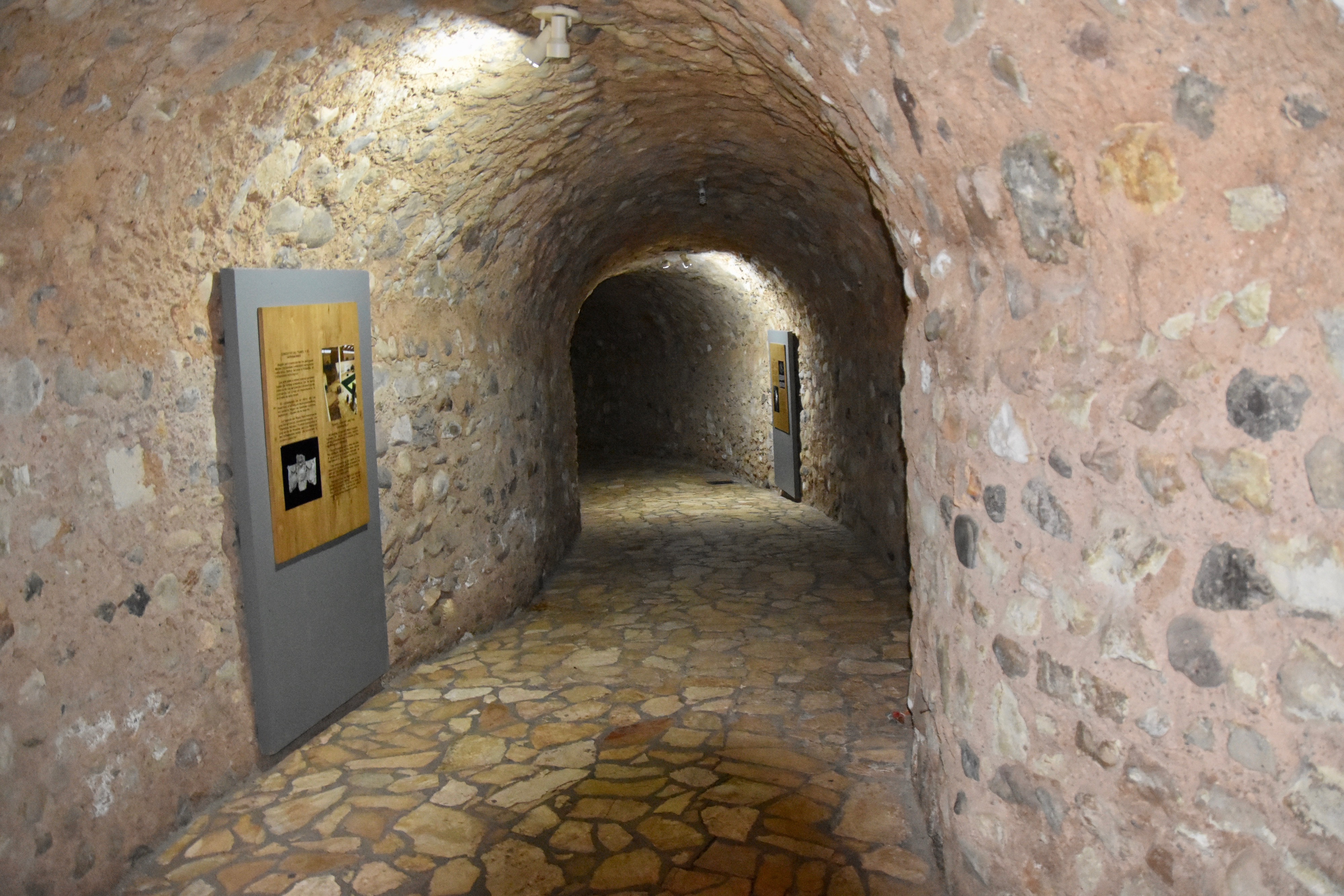 And then you come out into a massive space, open at the top and face to face with the Rosalila monument. Seldom in my life can I remember a more dramatic entrance to any museum or gallery. Rosalila is not a person's name, but a reference to the rose/lilac colour of the exterior of this monument, the original of which lies deep within Temple 16 which we were standing beside not twenty minutes ago.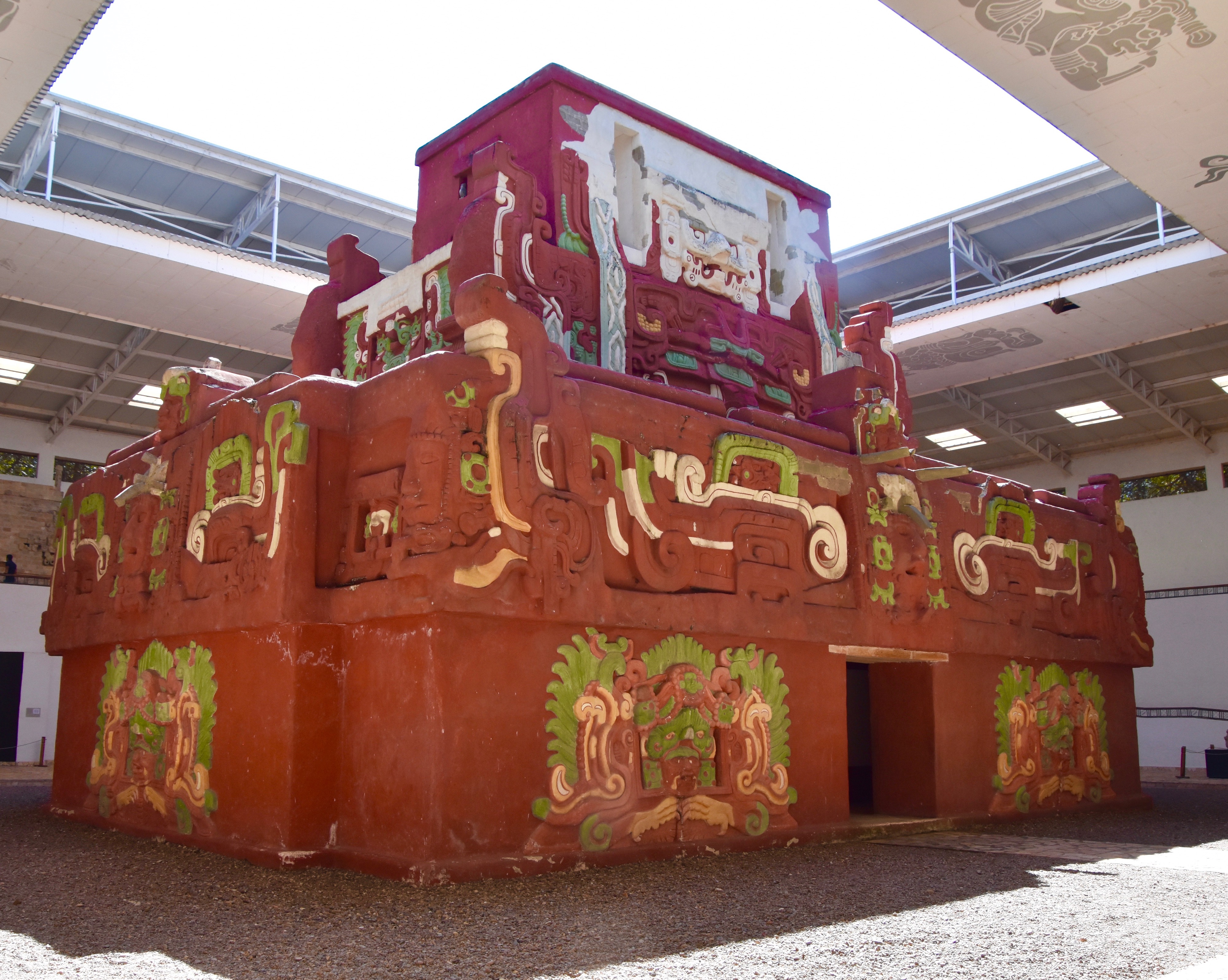 Can you imagine the astonishment of the first archaeologists who, tunnelling into Temple 16, suddenly came upon this magnificent work of art? Somehow the builders of this museum have almost managed to recreate that feeling for anyone entering the museum for the first time.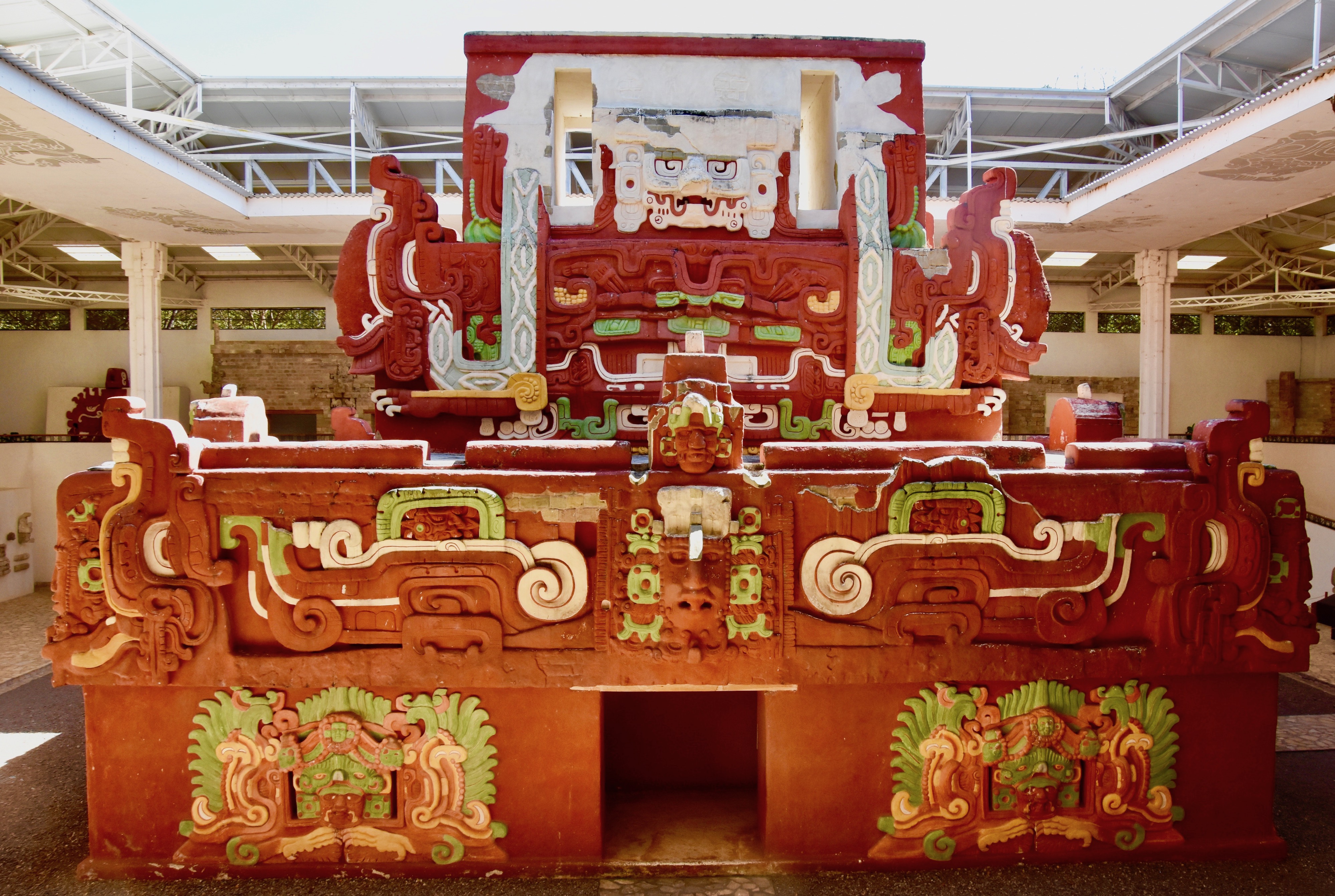 The museum has two floors that allow you to see Rosalila from all sides and angles and it will hold your attention, believe me. You will for sure want to get your picture taken with Rosalila.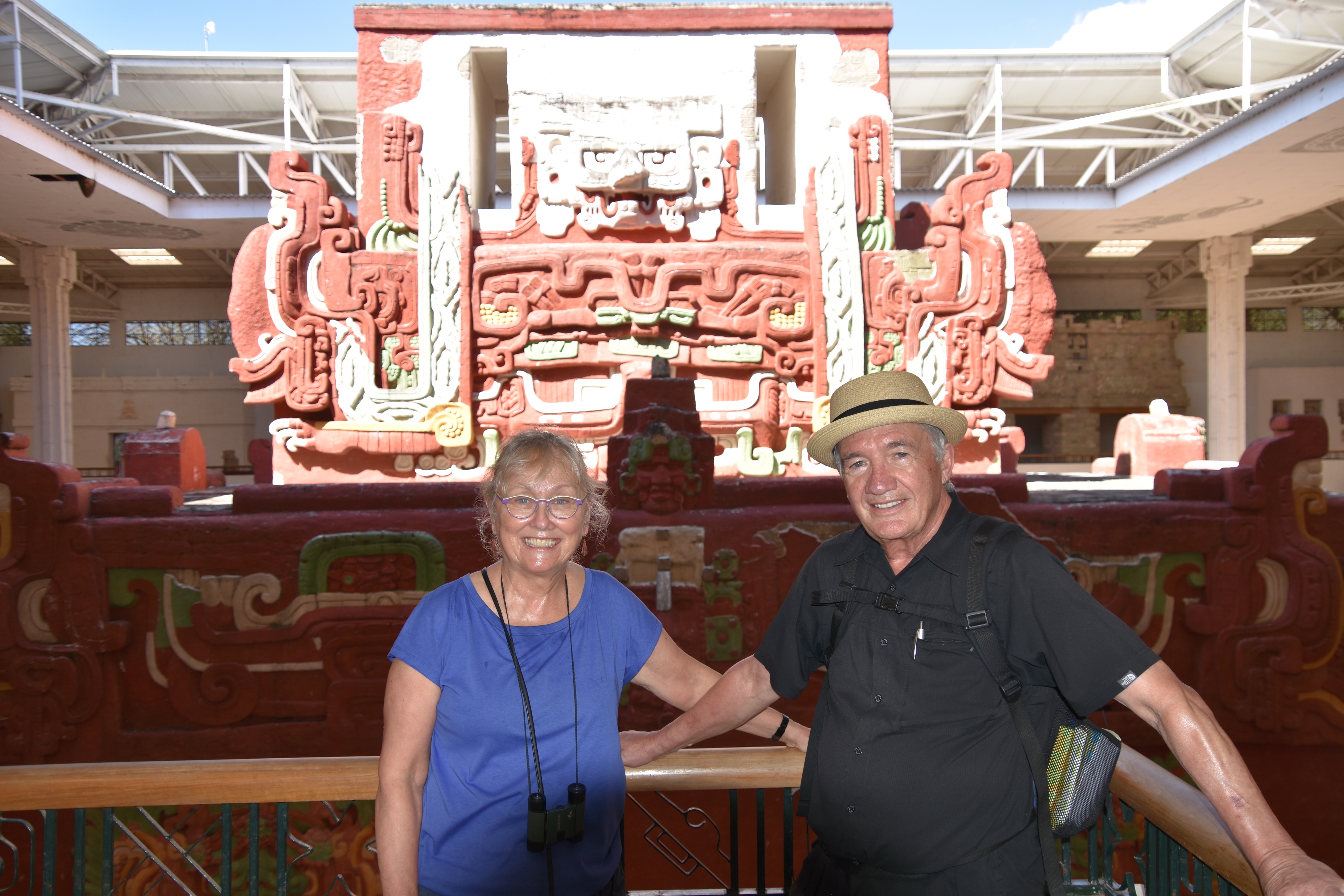 But, there is much more to see in this great museum and I have included only a few of the best works starting with the original Altar Q which I couldn't get a good picture of so I've borrowed this one from Felix Kupprat.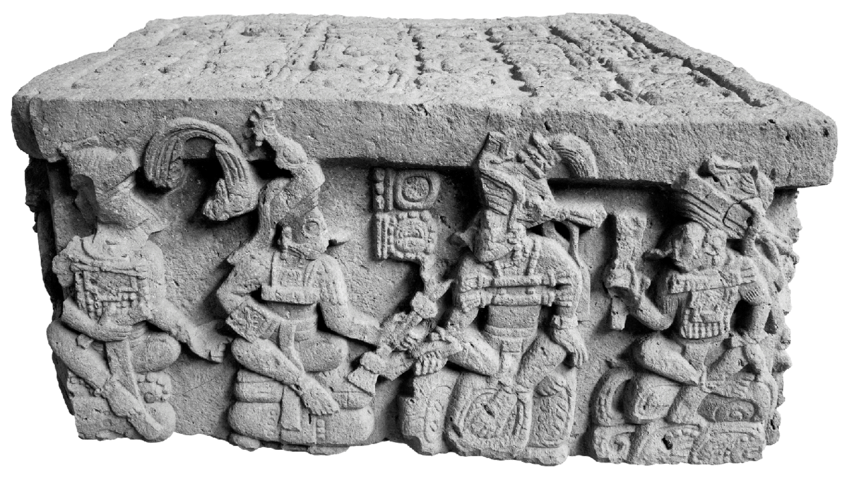 This altar is the equivalent of the Rosetta Stone for Copan. It was commissioned by the last dynastic ruler of Copan, Yax Pasaj Chan Yopaat in 776 and depicts all sixteen of the Copan rulers with their names in hieroglyphs identifying each one. It was this one work that allowed archaeologists to learn the chronology of Copan and to use the hieroglyphs from this altar to help decode their meaning and develop an understanding of ancient Mayan writing. This is an incredibly important artifact.
This is the original of the macaw that we saw at the ball court.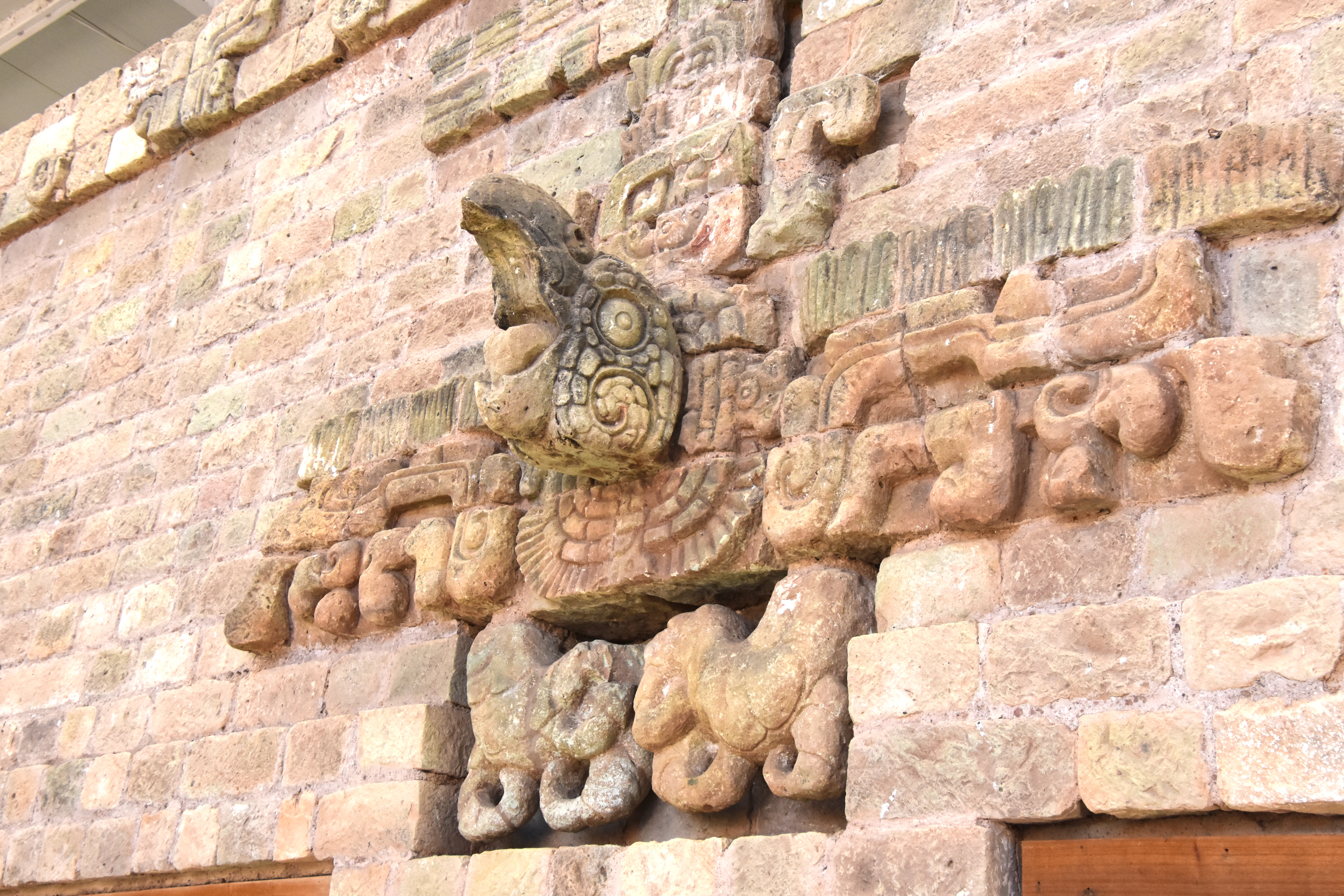 This is Camazotz the killer bat that decapitated one of the sacred twins in the Mayan creation book Popol Vuh and was scaring the bejesus out of people long before Dracula.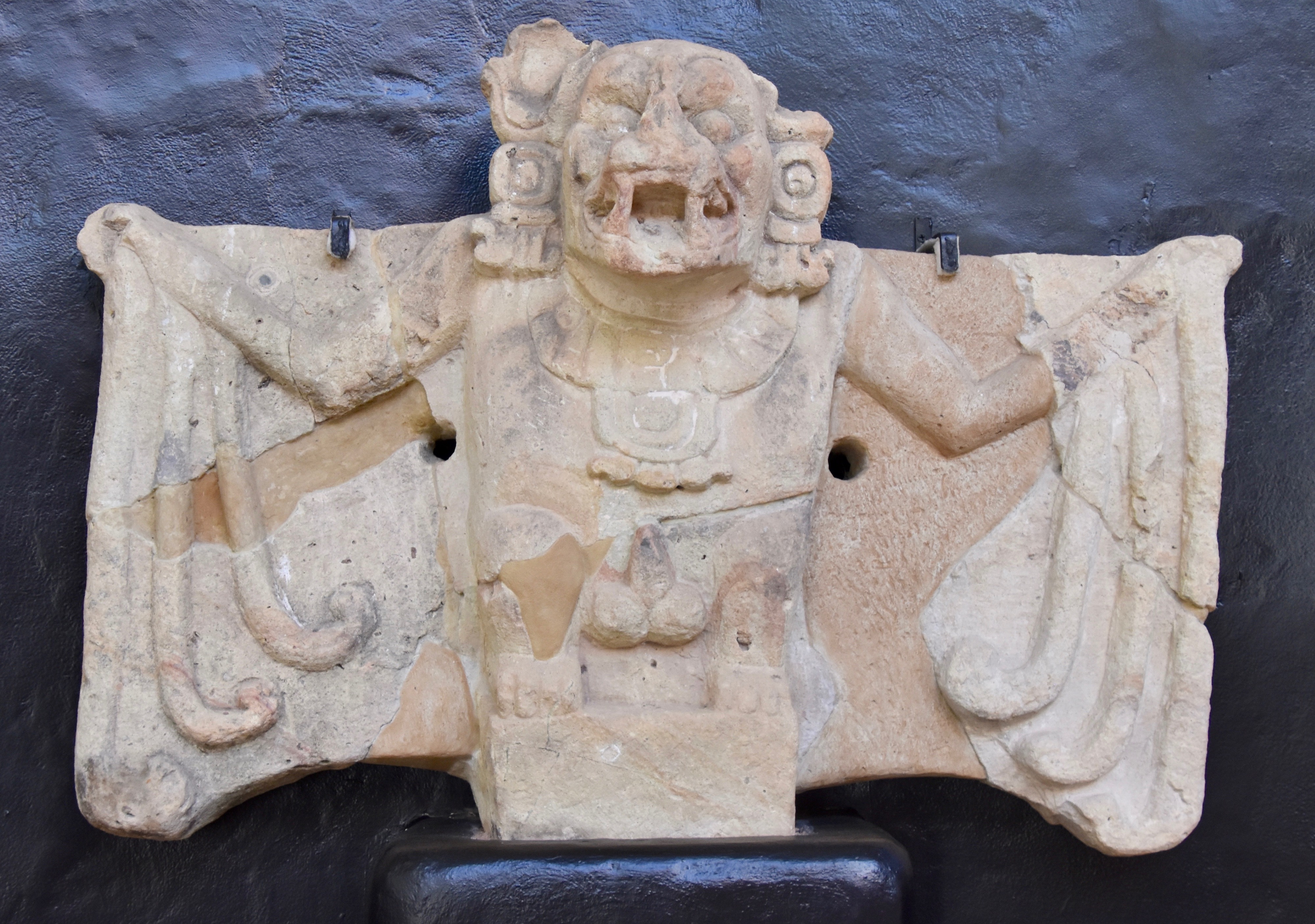 This is a sample of just a few of the many sculptured heads found in the museum and that once adorned the exterior of buildings in Copan, each representing what would have been an identifiable person, god or other entity, no different than would you would have found in ancient Greece or Rome.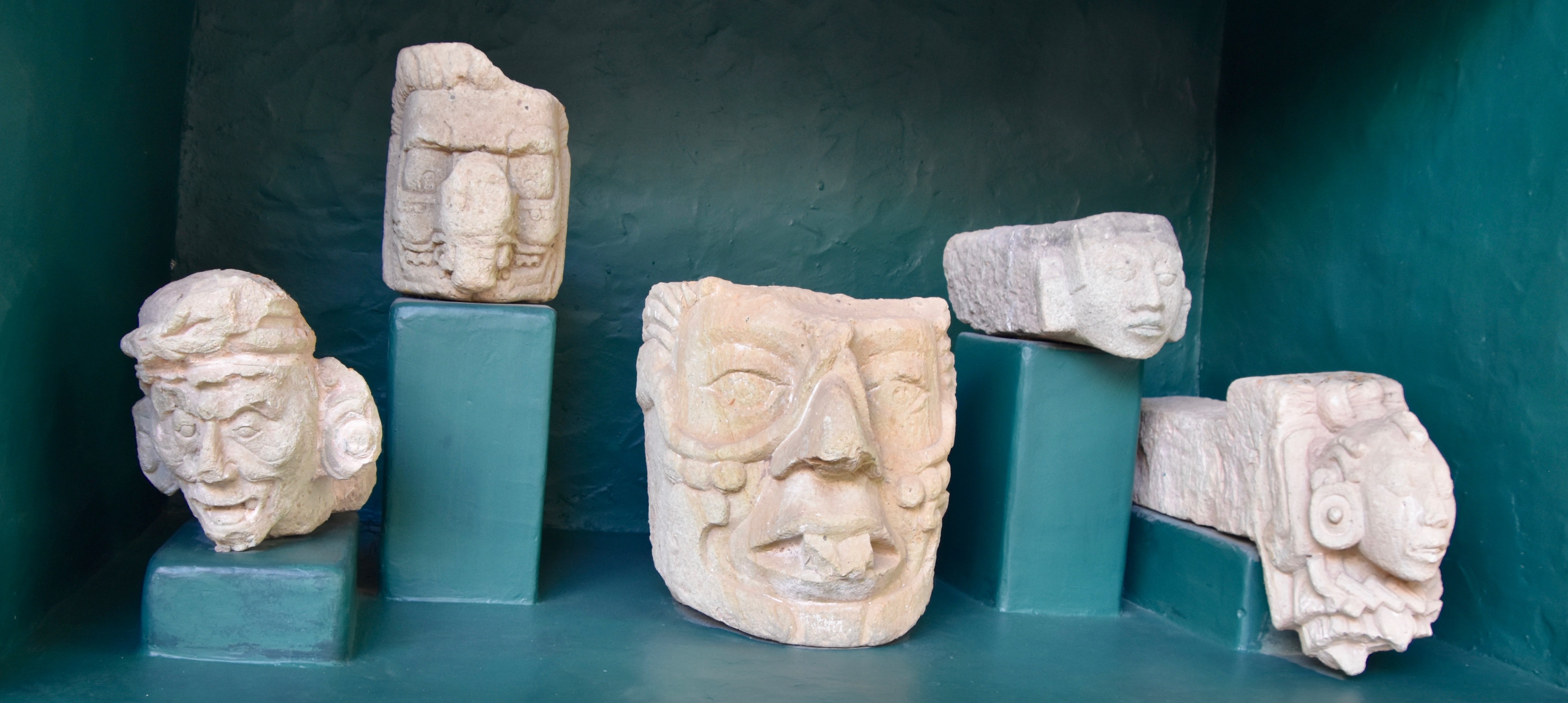 I found this head with the ghastly looking bird head dress particularly interesting because it looks more like something you would see on a temple in Bali than in Honduras.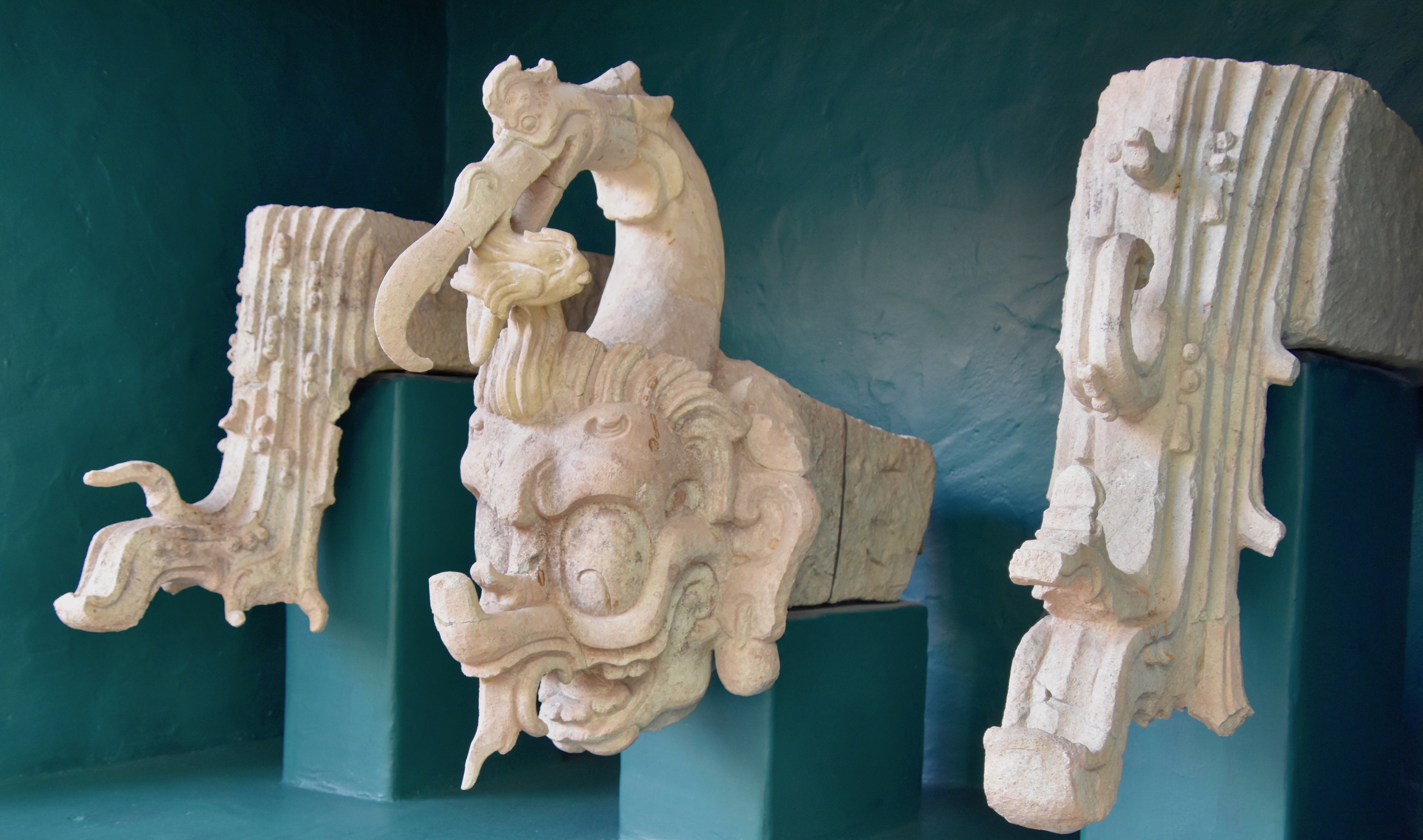 I could go on and on, but this post needs to end at some point. I hope I have convinced you that Copan is a must-visit for anyone with an interest in Mayan civilization or archaeology in general.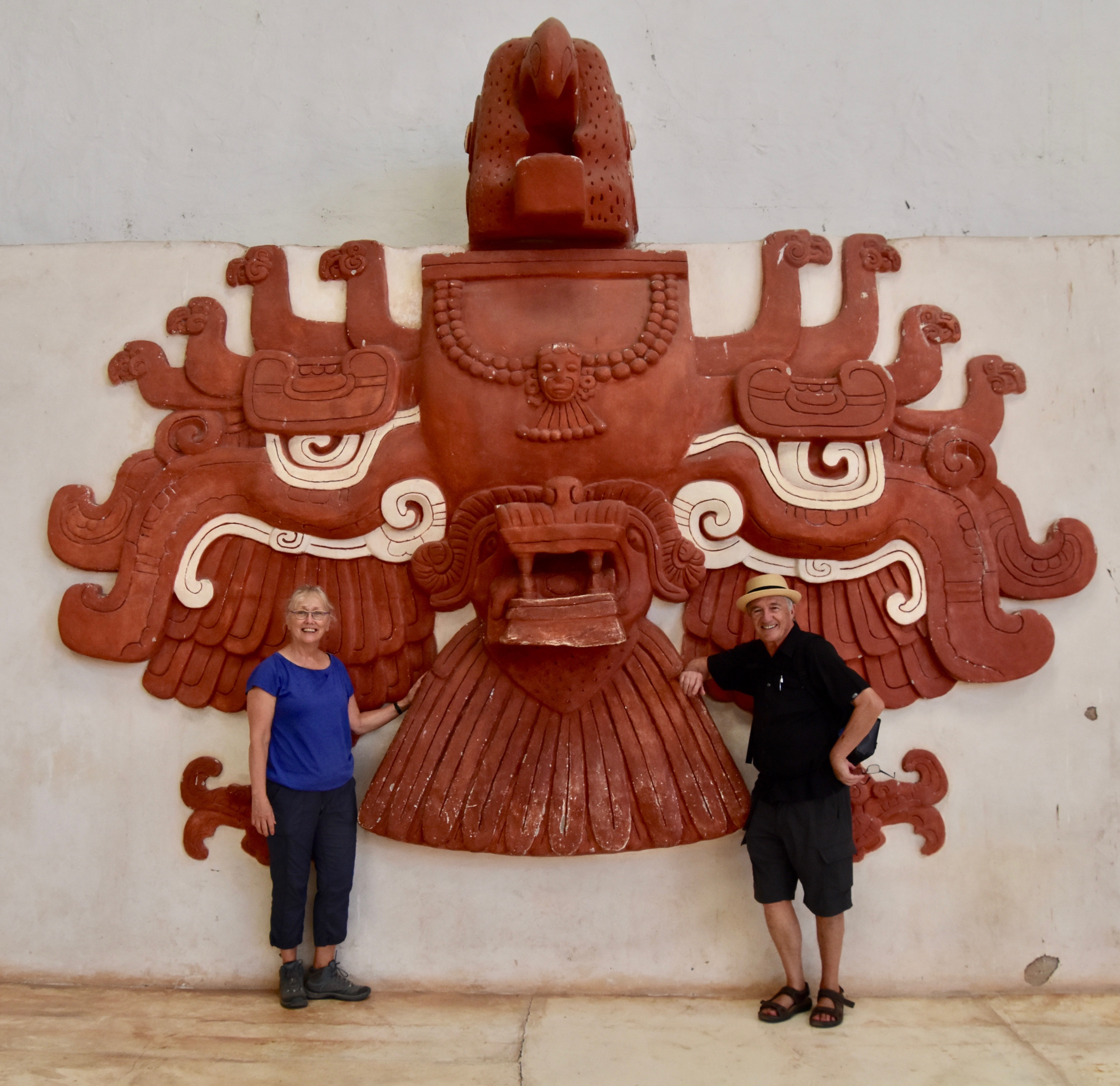 Next we are off to Guatemala starting with a visit to the highlands and the amazing market of Chichicastenango. Hope to see you there.