K Club – Incredible Golf, Incredible Luxury
This is my final post from last September's golf trip to Ireland. We started off playing the out of this world Old Head of Kinsale in absolutely perfect conditions and we will be finishing at Ireland's most luxurious golf resort, the legendary K Club in Kildare, not far from Dublin. During our stay we will play both the Ryder Cup course which I will review hole by hole and the Smurfit course. Please join our group of eight Maritime golfers as we end our third golfing expedition to the Old Country.
History of the K Club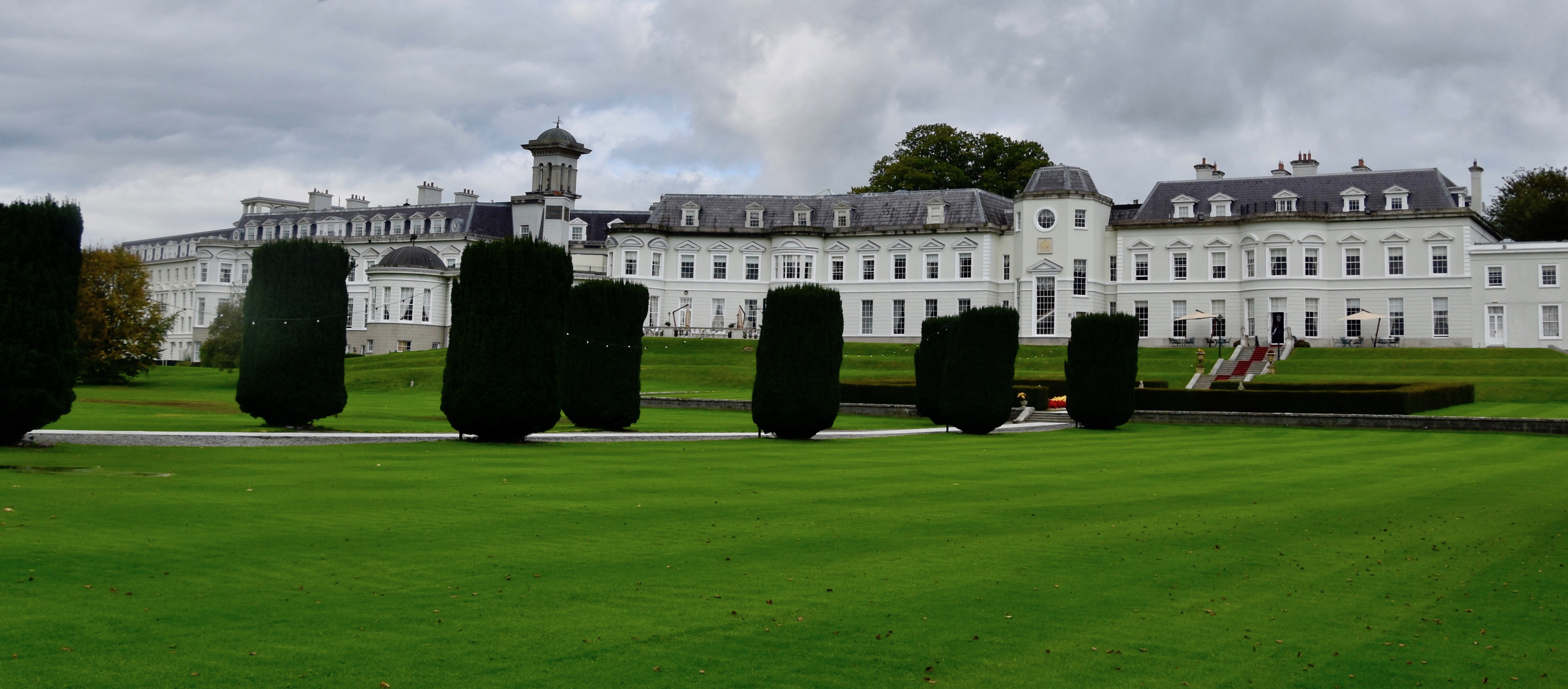 As you can see from the picture above the K Club hotel is massive and looks like a French chateau on steroids. That's not unintentional. The portion with the bell tower was built in 1831 by Hugh Barton of the famed Barton and Guestier wine merchants who specialize in Bordeaux wines which are still sold around the world today. Barton named it Straffan House for the nearby village of the same name. It remained in the Barton family until 1949 and then went through a series of owners until in 1988 a group let by developer and paper packaging magnate Michael Smurfit bought it with the express purpose of building an uber luxurious golf resort capable of hosting the Ryder Cup. The resort opened in 1991 with two Arnold Palmer designed courses including the one that hosted the Ryder Cup in 2006 which the Europeans won handily. The name K Club is actually a shortening of the real name, the Kildare Club.
In what has to be one of the luckiest timed sales in history, Smurfit sold the K Club in November 2019 for a reputed €70 million only months before Covid – 19 put the tourism industry into a tailspin. I don't know what the future of this resort will be, I'm just glad we got to play and stay here when we did.
After checking in I did some exploring among the hallways of the place that seem to go on forever. The walls are lined with both modern and historical art and you could spend days just wandering around looking at paintings and antiques.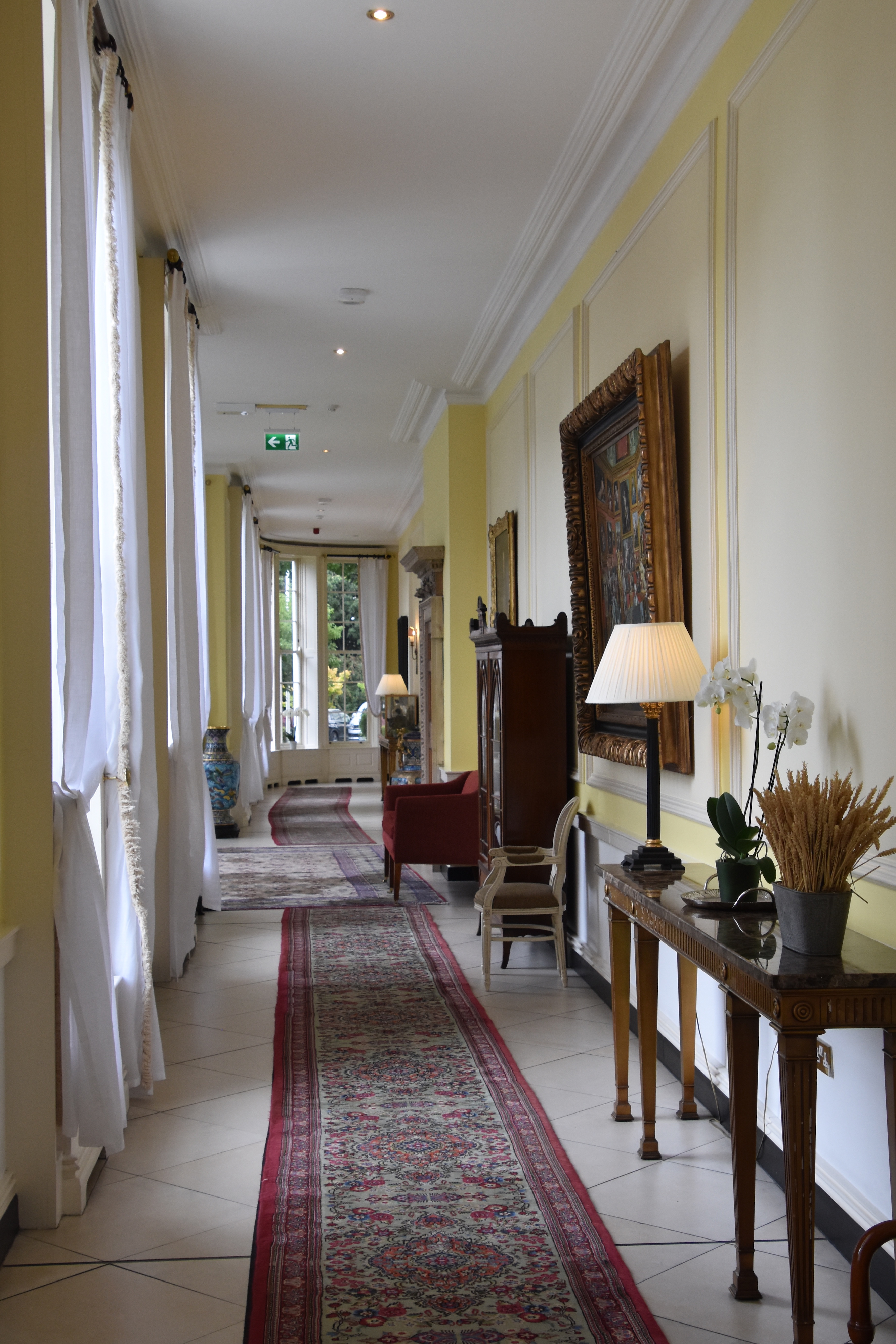 I was particularly intrigued by this painting of a bunch of French noblemen in a salon decorated with recognizable works of art by various artists. The nude at the forefront is Titian's Venus of Urbino.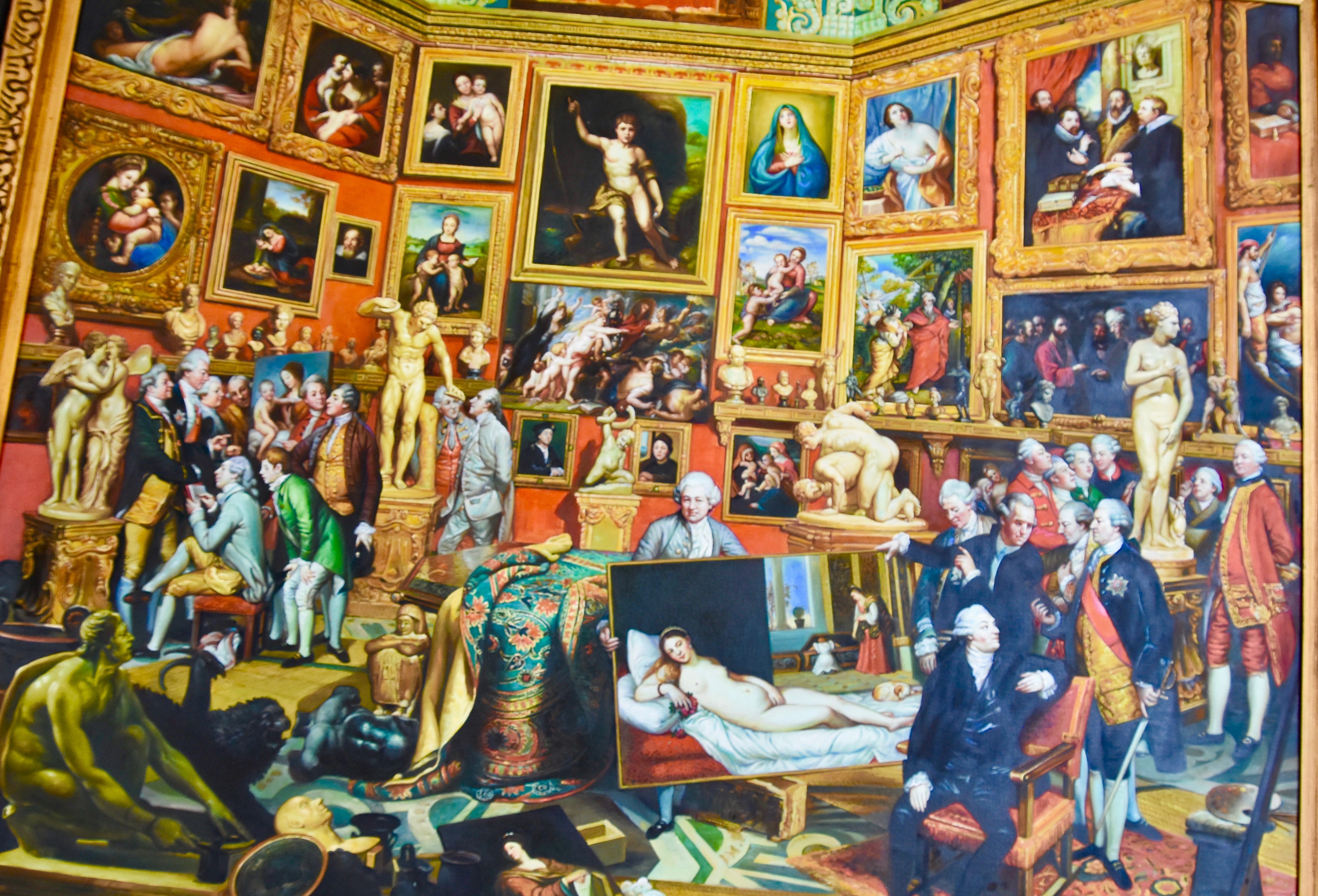 This cubist tapestry could have been done by Picasso or Miro.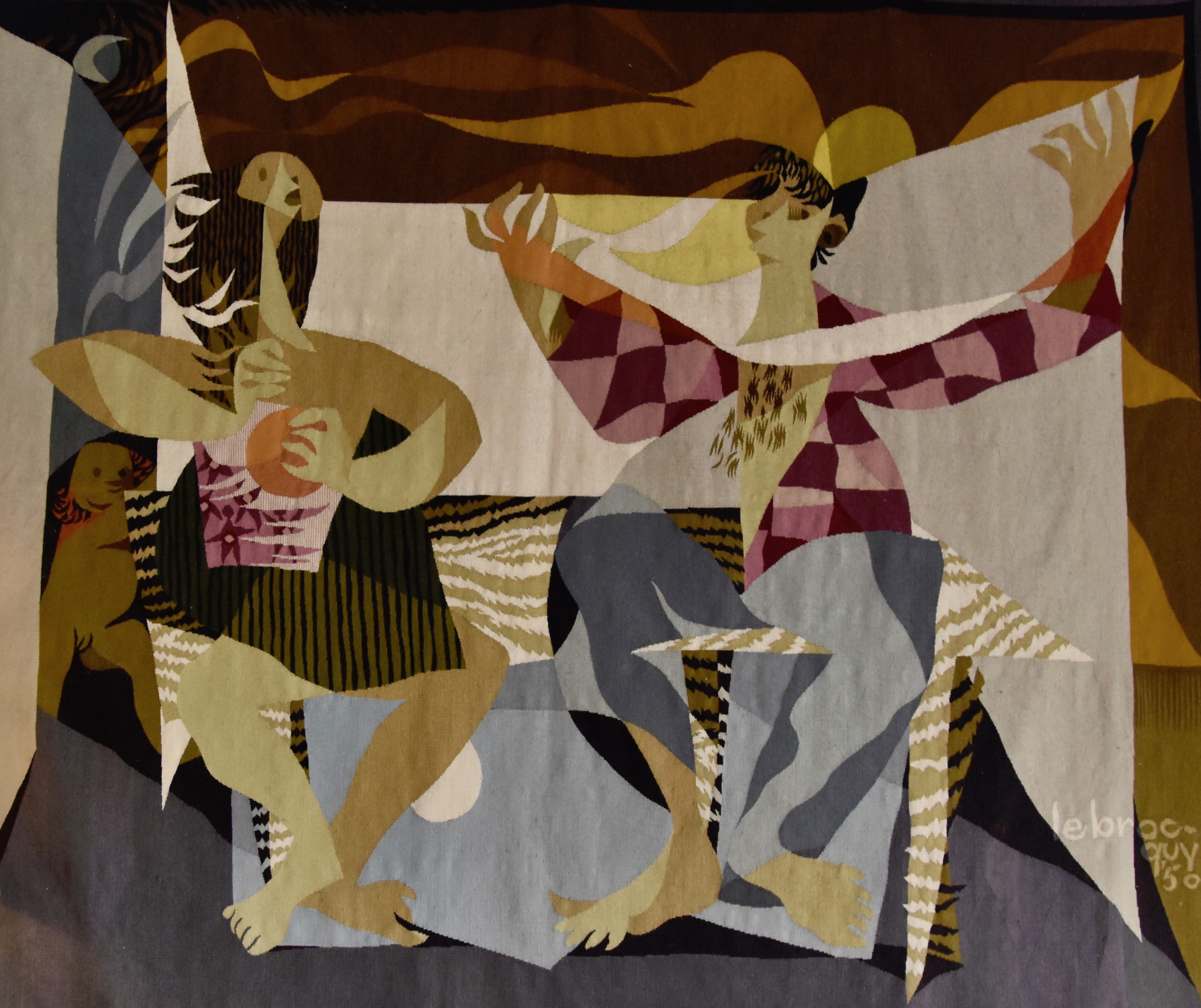 The view from the rooms is of the River Liffey which flows around the back of the property in a pastoral setting that reminds me that all great golf courses don't have to be links courses. This is as nice a parkland setting as I can imagine.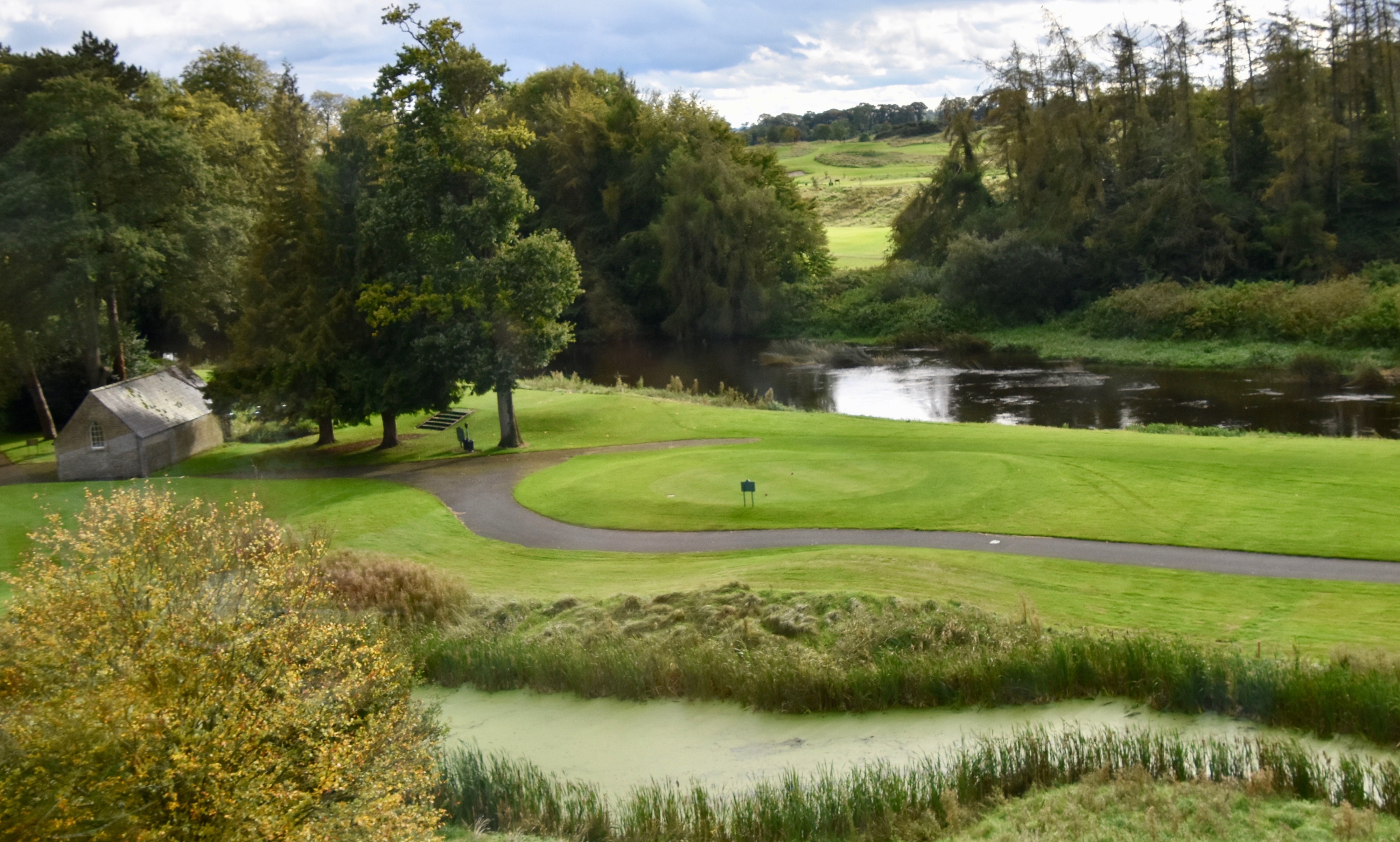 The grounds of the K Club are immaculate and formal a la the French chateau theme.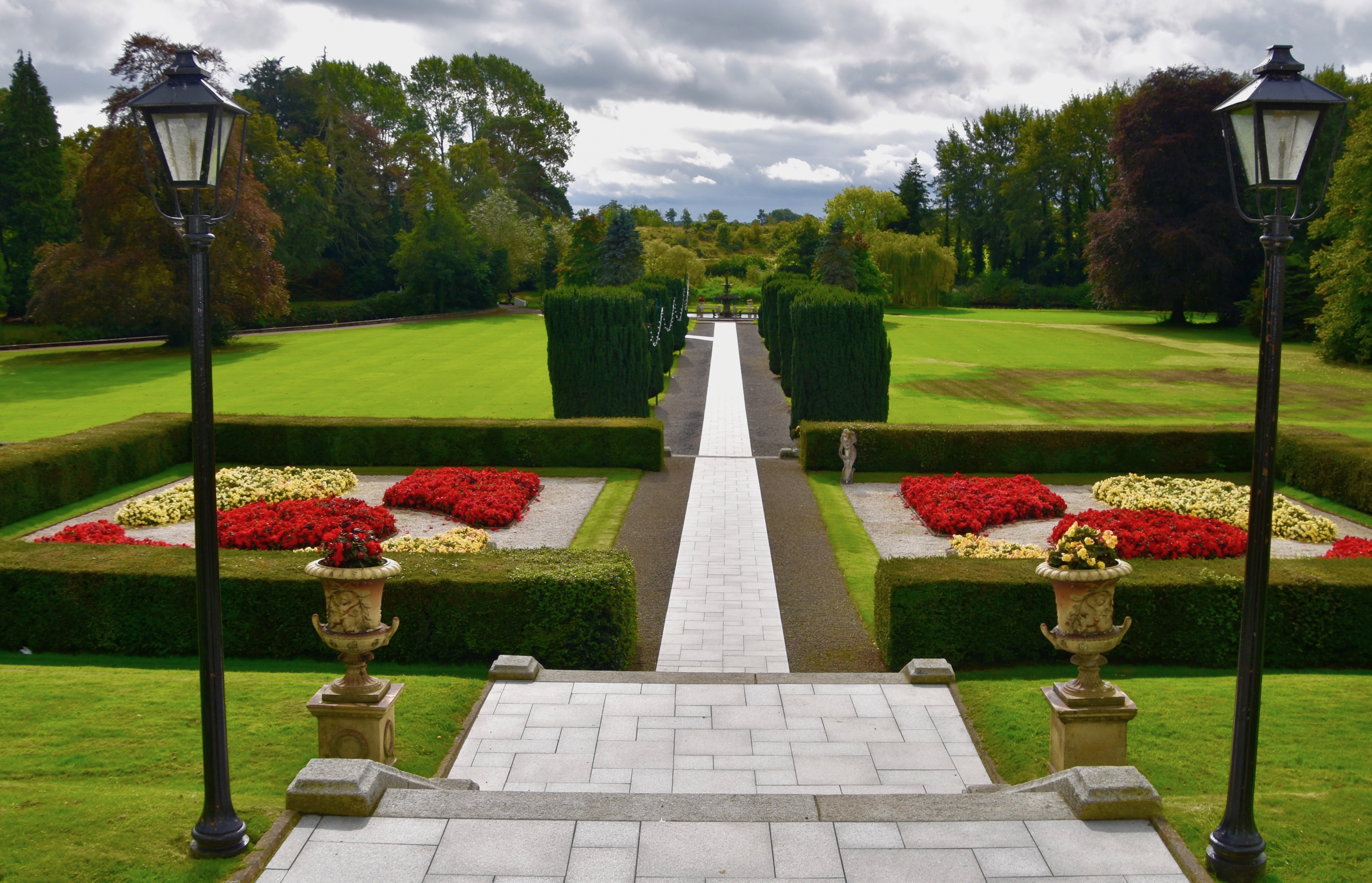 There are a number of restaurants both on site and in the nearby village there is the Straffan Inn which is owned by the resort.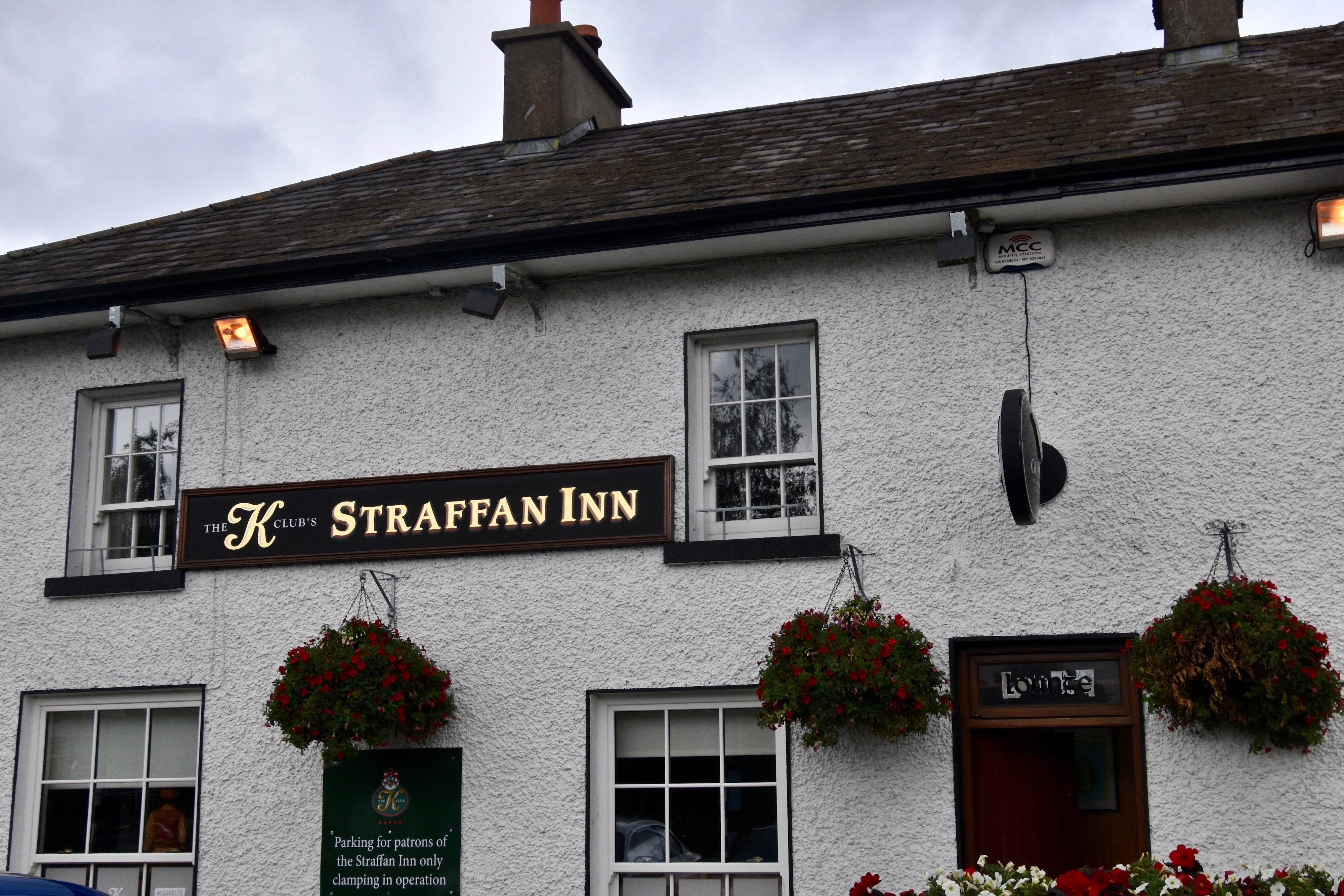 Inside there is a grand selection of Irish whiskeys and drafts on tap, including Coors Light. WTF?
The bottom line is that everything about the K Club is exactly what you would expect from a five star resort. So let's play some golf.
The Ryder Cup Course Hole by Hole
We've already played one Arnold Palmer course on this trip, the excellent links at Tralee and we'll play two more here at the K Club starting with the Ryder Cup Course. Not only has it hosted the 2006 Ryder Cup but an Irish Open won by Rory McIlroy and thirteen European Opens with winners ranging from Bernhard Langer, Lee Westwood, Darren Clarke, Retief Goosen to Colin Montgomerie. So a lot of good golf has been played here, not that I need to worry about that.
As you would expect there is a first class pro shop with items for sale at first class prices.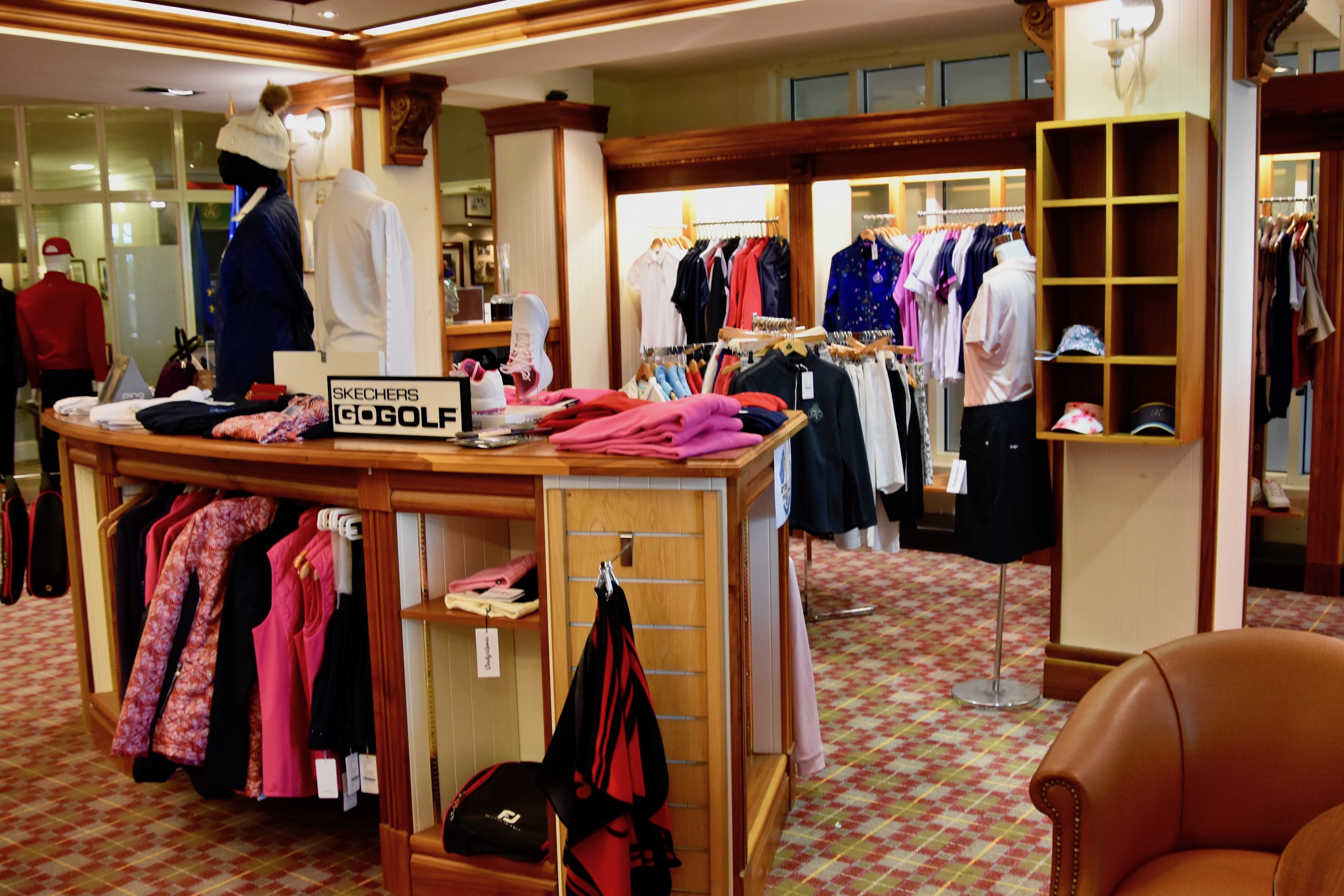 However, staring at the Ryder Cup won by the Europeans here is free.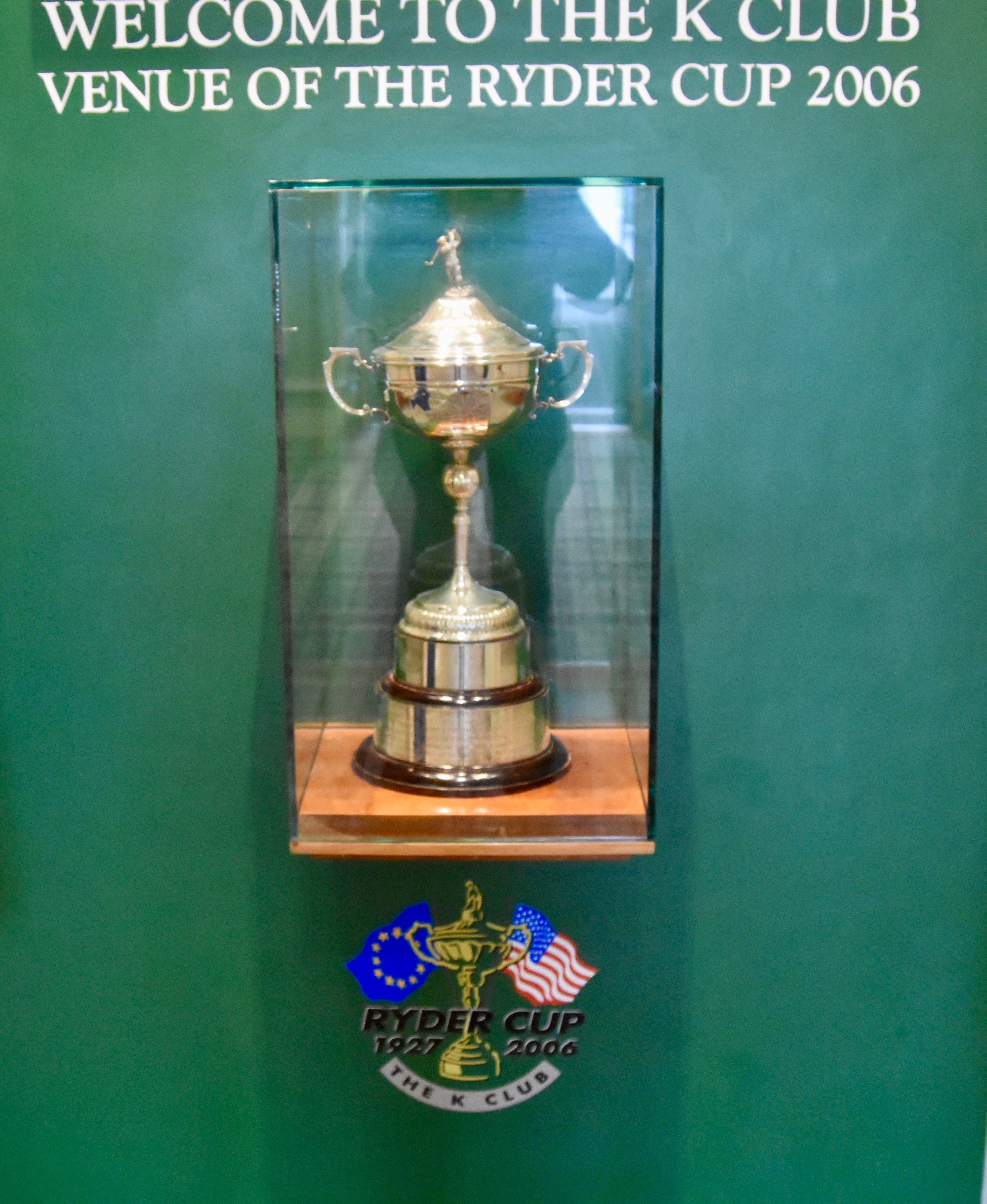 The course can play as long as 7,350 yards, but today we are playing the greens at 6,351 which is plenty long for most of us. We do have a forecaddie, but some of us have had enough of walking over the past week and would like buggies which are usually available. Not today due to heavy rains in the days preceding our visit. So walking it is. Unfortunately the day is overcast so my photos won't be as sharp as on some of the other course reviews.
This is a map of the course and as you can see there is a lot of water and the River Liffey flanks a number of holes.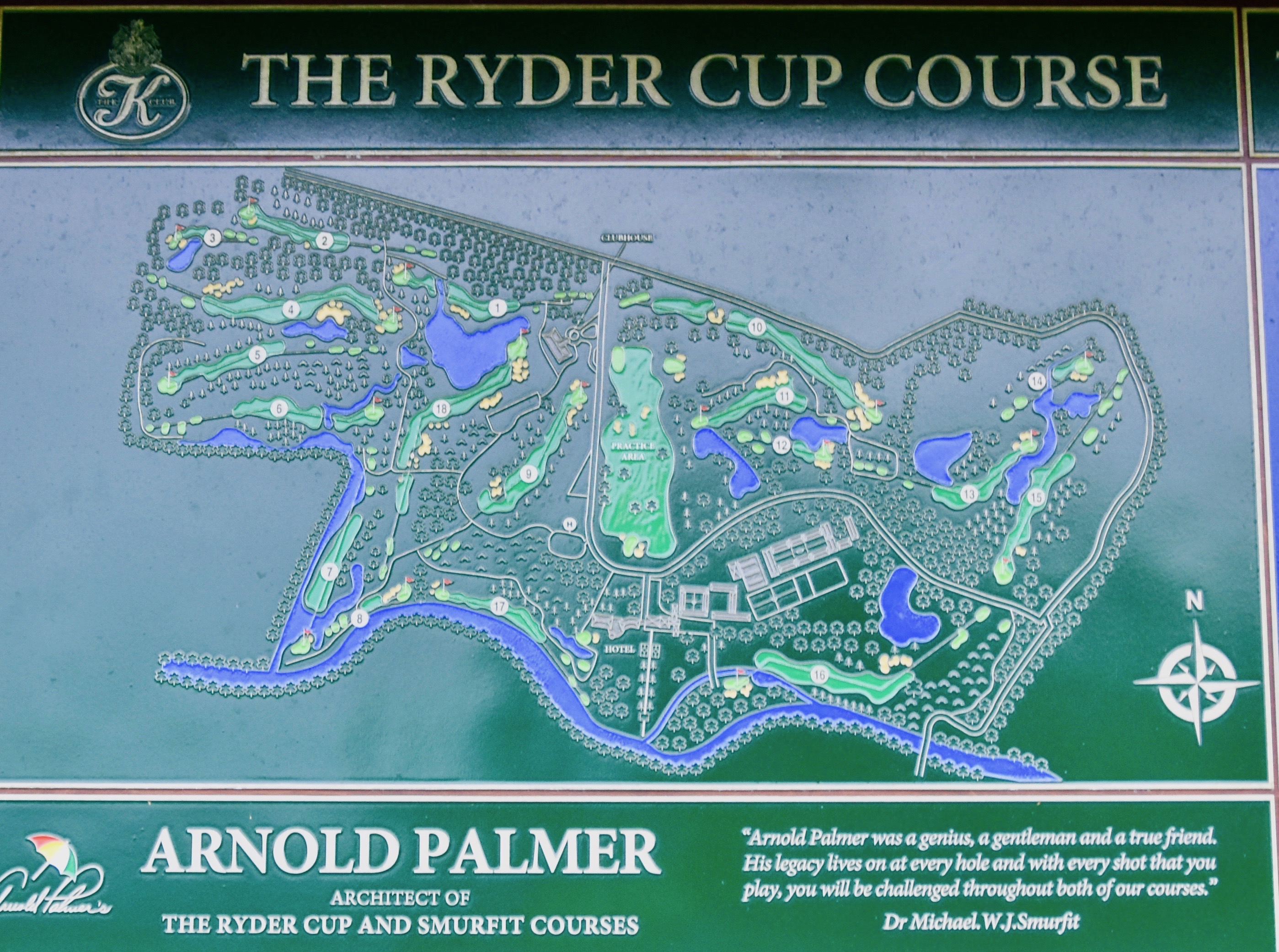 No. 1 Bohreen Road – 361 Yard Par Four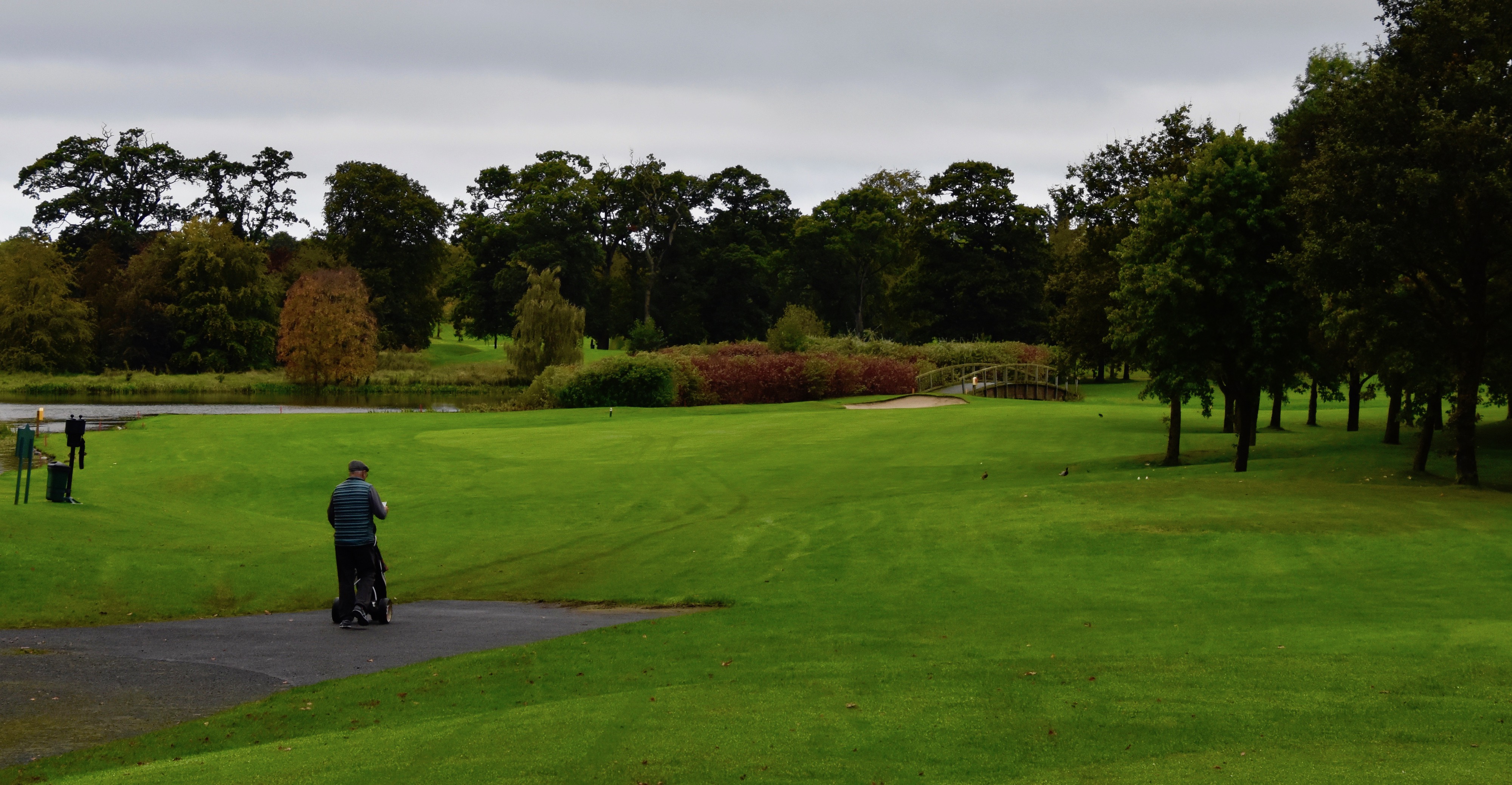 This is a great starting hole both visually and from a challenge point of view. You need to hit it far enough to clear the woods on the right in order to have a second shot over the water to the green. For lefties the water on the left shouldn't really be in play, but Tiger Woods did manage to find it during the Ryder Cup.
This is the second shot where you get a first glimpse of the many deciduous trees that make this a classic parkland course. The other thing you notice right off the bat at the K Club is just how green everything is compared to the links courses where browns and yellows tend to be the dominant colours. The fairways were immaculate and the greens much less firm than the links courses. A ball well struck will stay where it lands.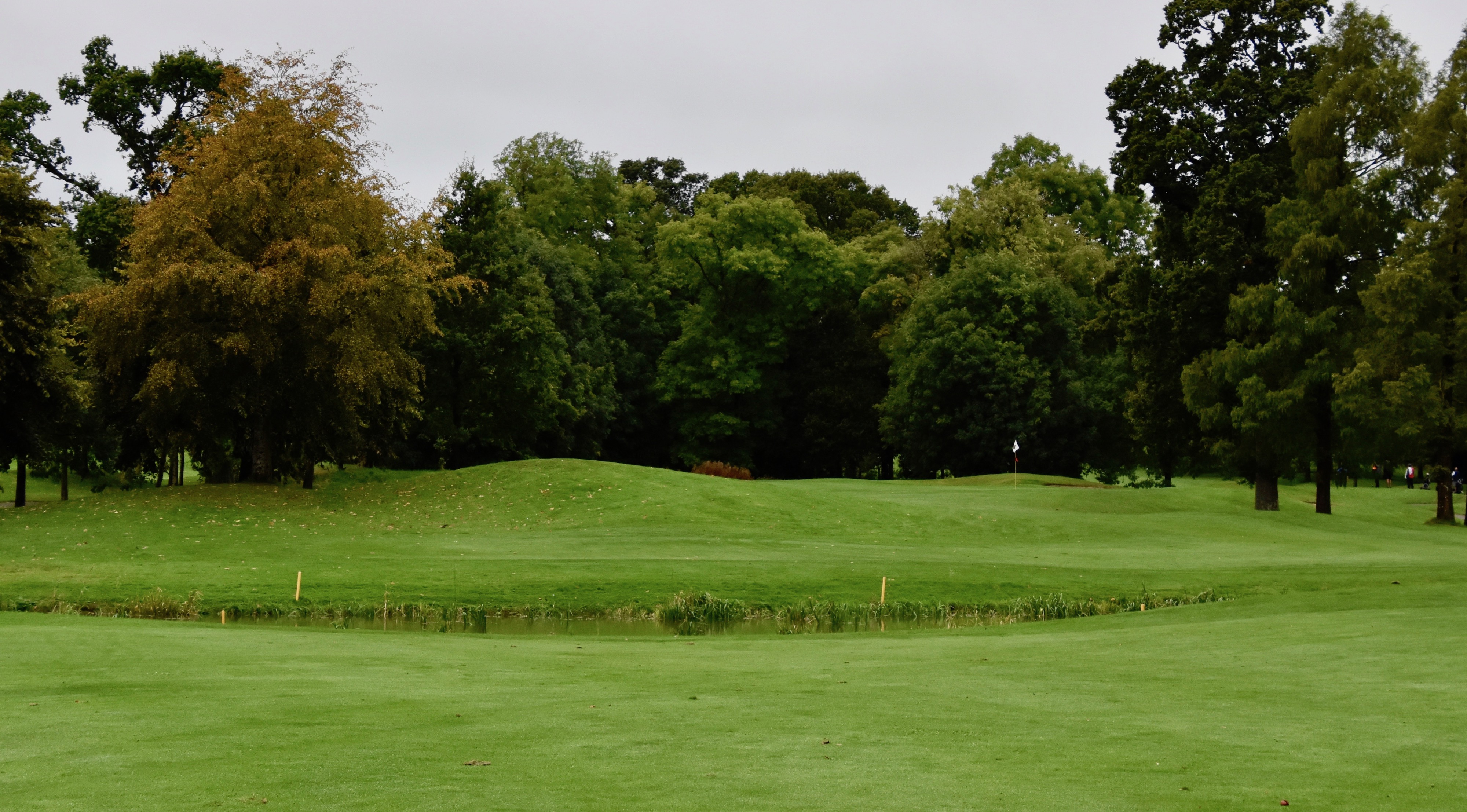 No. 2 – The Tunnel – 361 Yard Par Four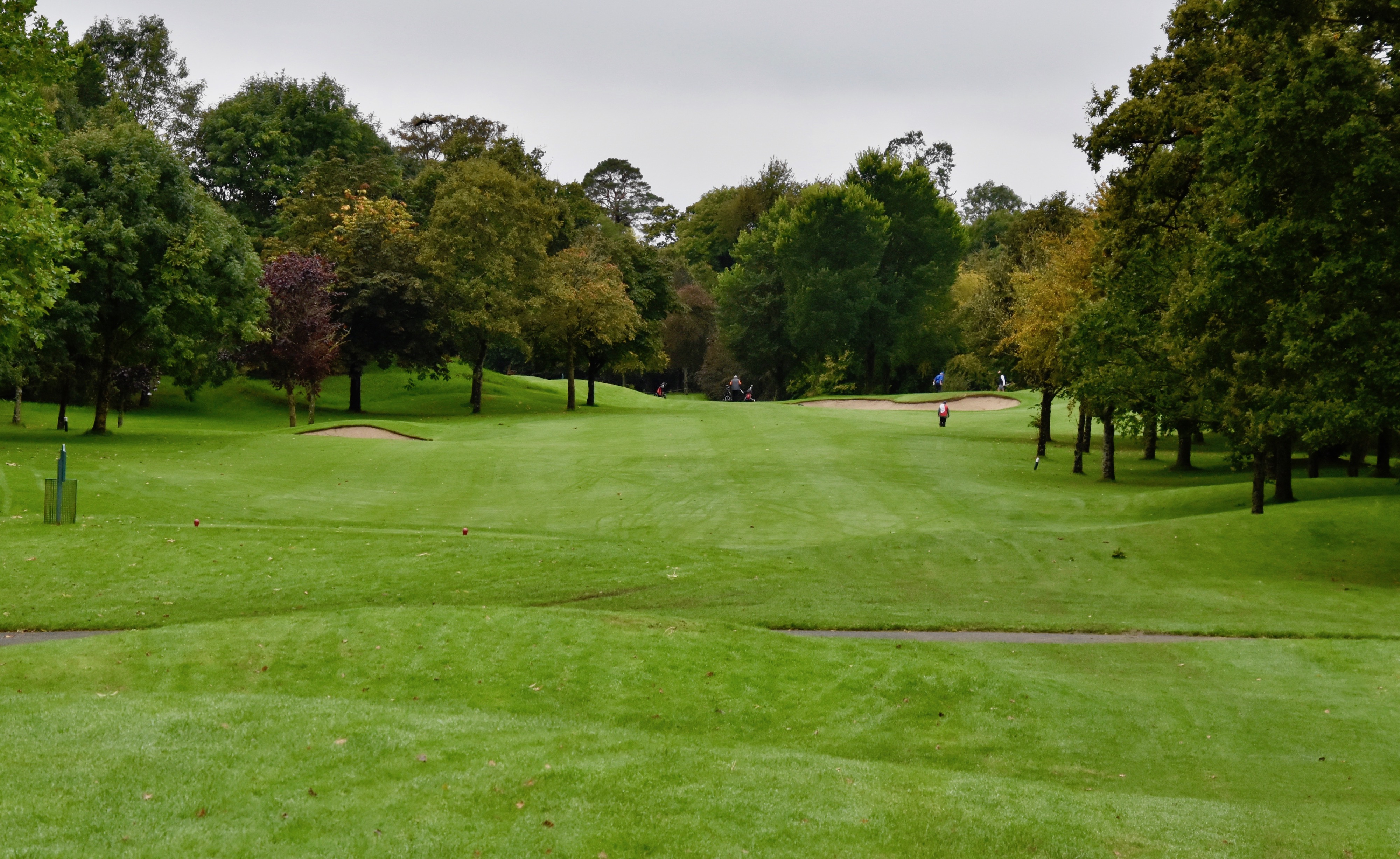 Not much doubt why this hole got its name. There is simply no room for error either off the tee or on the approach shot. The front of the green is guarded by a massive trap that demands your attention. Of course I was in it, but by now I was getting used to playing out of sand and these bunkers were child's play compared to those on the links courses.
No. 3 – The Island Beach – 142 Yard Par Three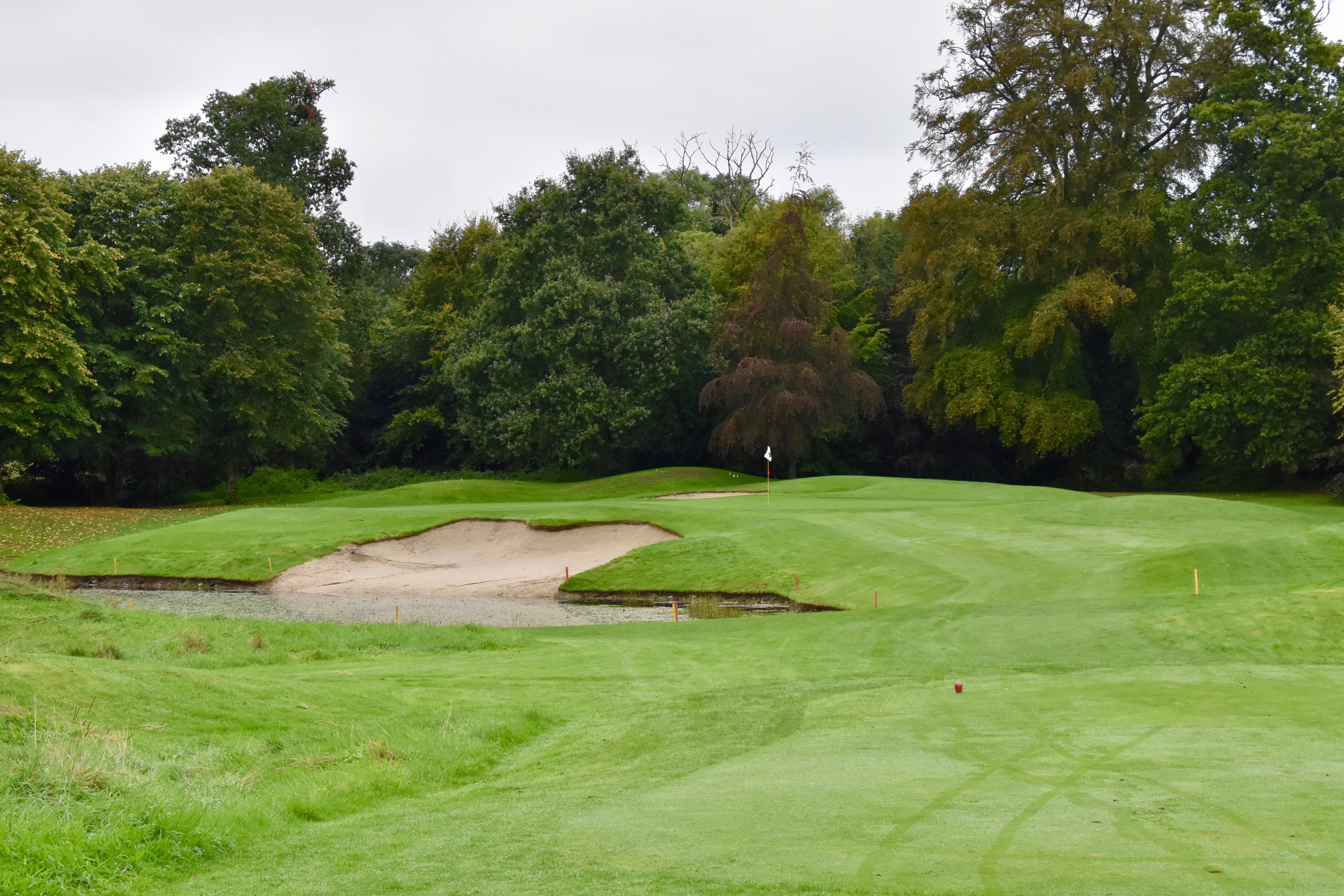 This is a hole that one of my playing partners will remember well because he landed in that very unusual bunker that literally is a beach. How do you like your traps – with or without sand or water or maybe in this case, both. Just after saying that the bunkers here were not that difficult, Brian simply couldn't seem to get out of this one. Aside from that, it's a very nice par three.
No. 4 – Arnold's Pick – 518 Yard Par Five
The first of the par fives is a double dogleg with a nice view of the clubhouse from the tee box. If you play it sensibly it really is not that hard of a hole – ranked 15th on the scorecard. The danger comes when you try to cut off the doglegs to shorten the hole. There are plenty of traps, water and trees to punish a failed effort. I can certainly see why this was Arnie's favourite hole on the front nine.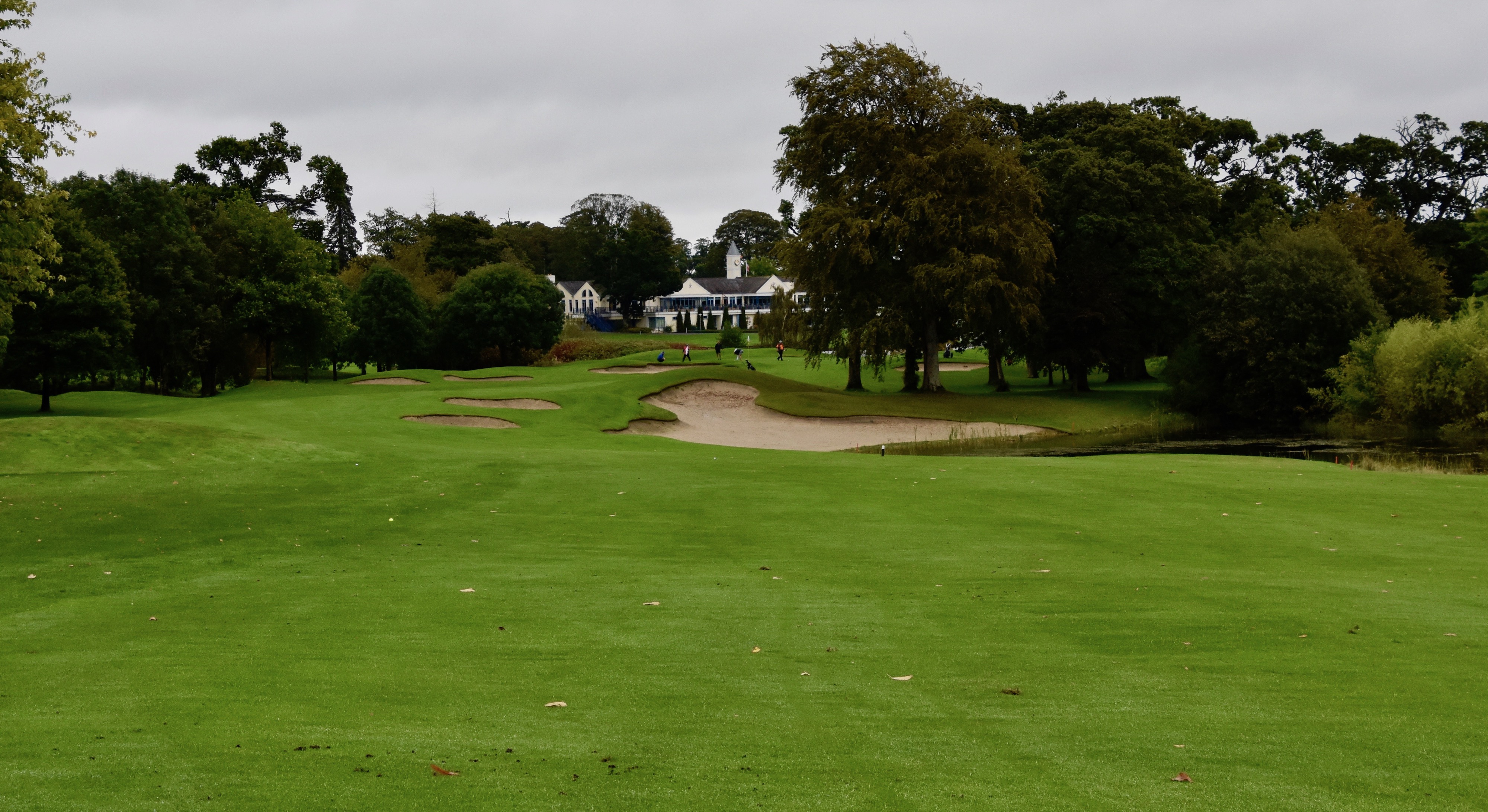 No. 5 – Square Meadow – 374 Yard Par Four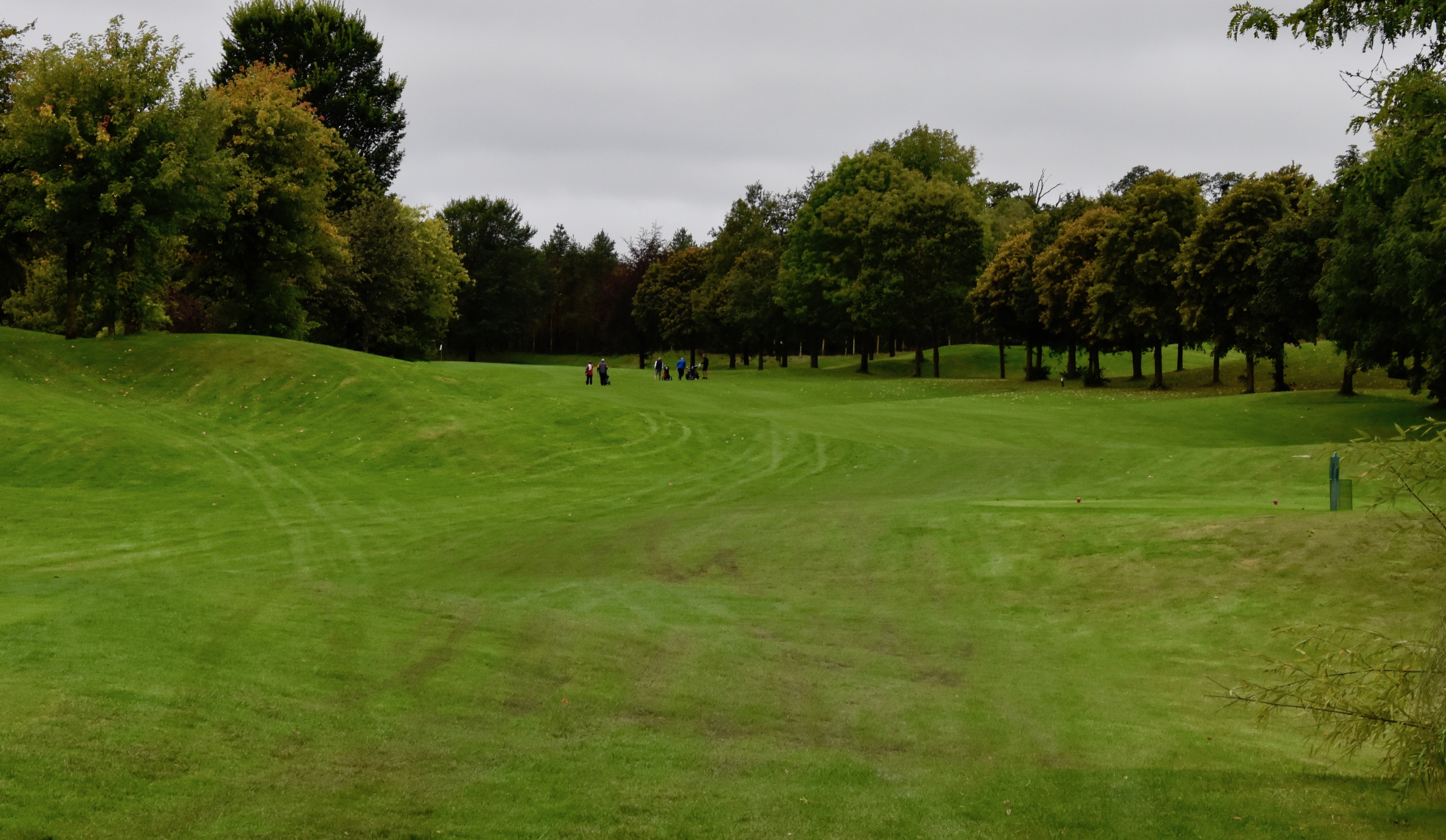 After a reasonably gentle start things start to get a bit tricky at No. 5 which has about as much elevation change as you are going to find at the K Club. After the incredible dunes we have been seeing for the past week that's not a bad thing. The difficulty in this hole is the approach shot to an elevated green. You can see the tracks that the pull carts are making even well into the late morning which explains why the power carts are not out.
No. 6 – Liffey Stream – 383 Yard Par Four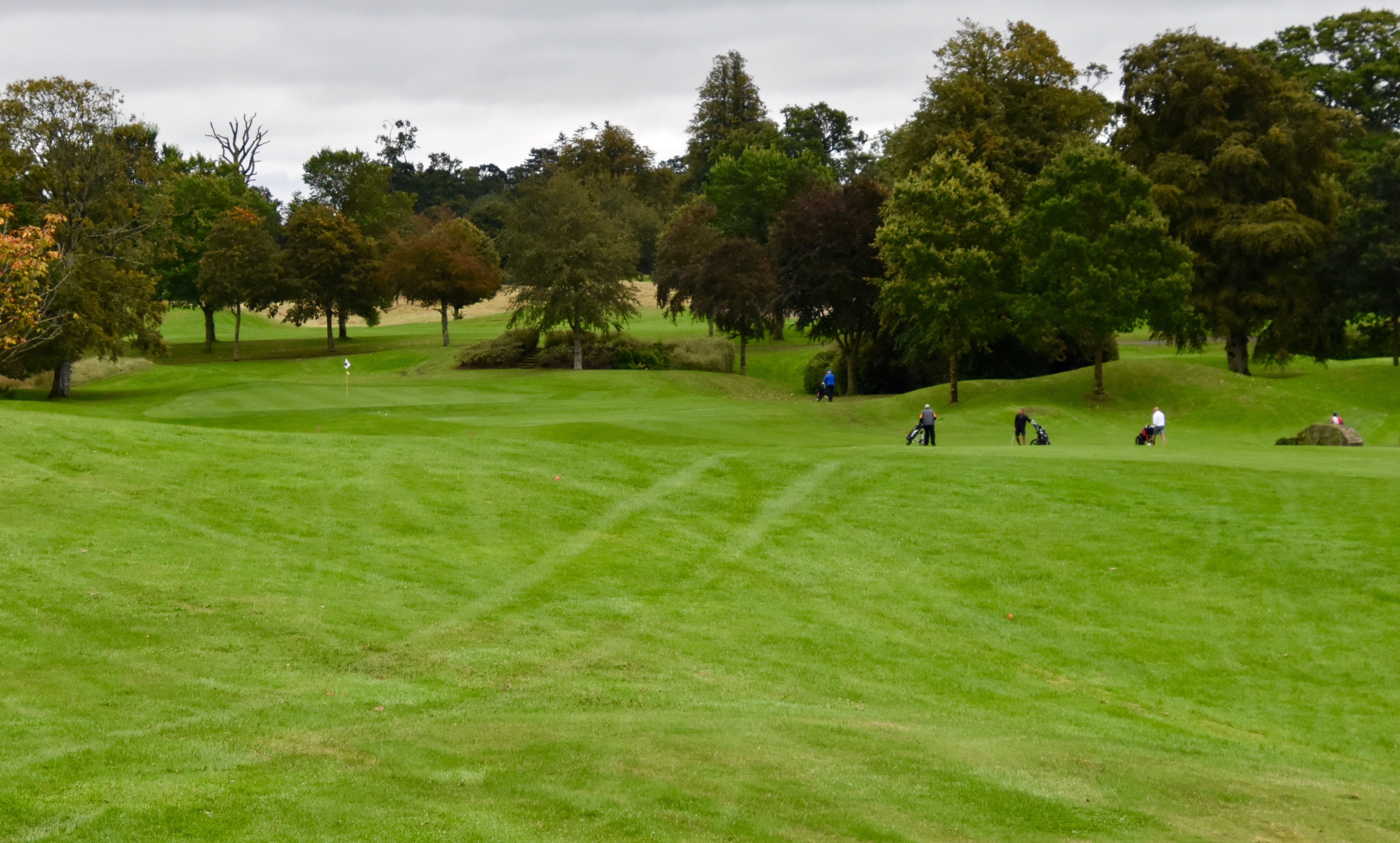 From the tee box this hole looks pretty benign, but looks are deceiving. This is a very tough hole and it's length is just part of it. I forgot to mention until now that because of the wet conditions we are getting zero roll so the course is playing way longer than it would be if it was dryer. Since most of us geezers are not long hitters to begin with, that is making any hole over 340 yards a challenge to reach in regulation.
Even though there has been water in play in most of the holes so far, this is the first one where the River Liffey makes its appearance. This is a beautiful looking approach, but anything remotely left is dead. And if you go too far right the trees get you.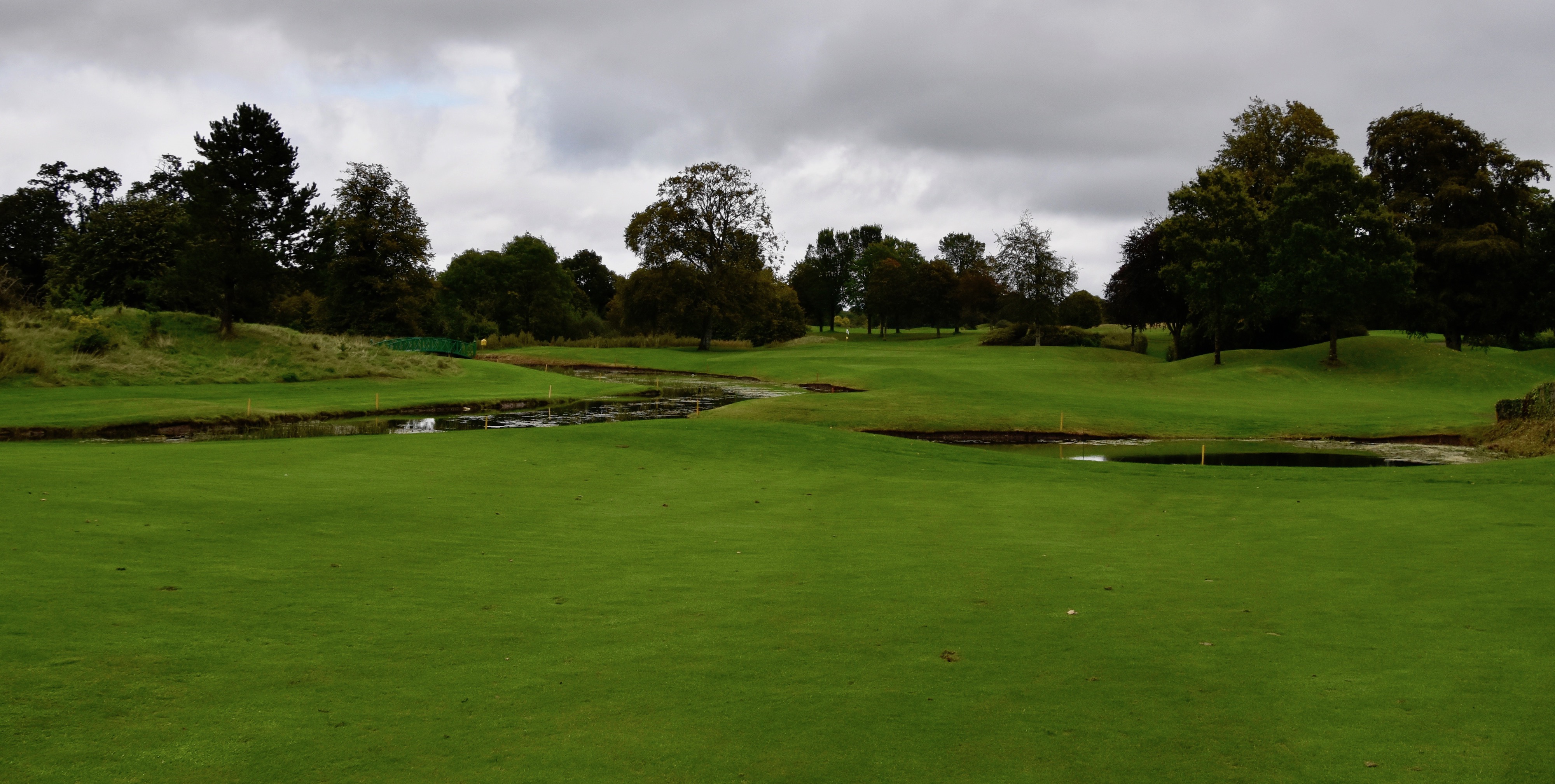 No. 7 – Michael's Favourite – 371 Yard Par Four
This is the hardest hole on the course and it starts with having to clear this water hazard from the tee. It's way longer than it looks in this photo. Let's assume you do make it and have time to admire the swans that making their living retrieving golf balls for the leprechauns to sell.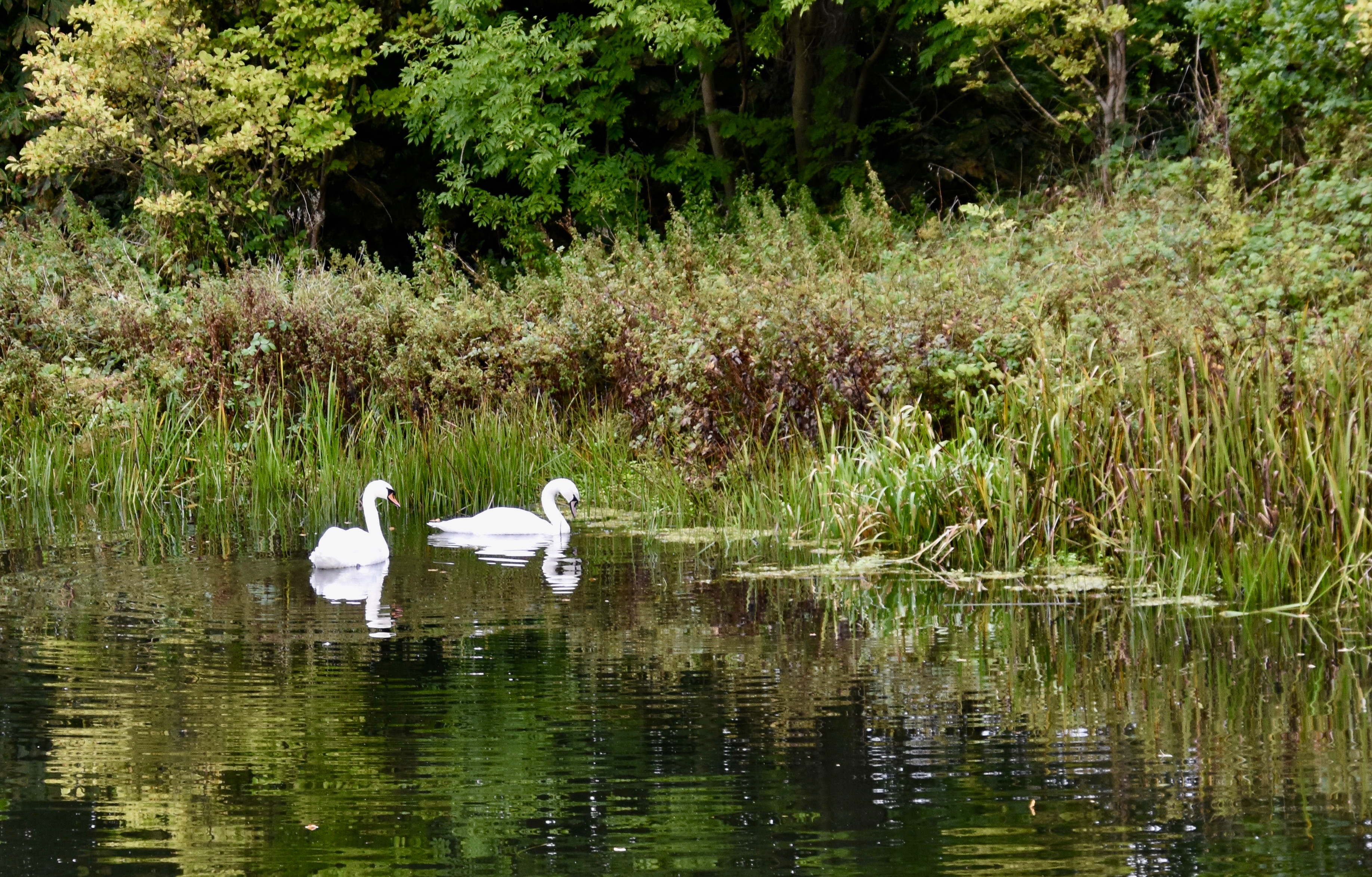 Then you still have this as your approach shot. Another long carry over water. I know what to do. Take two extra clubs and make damn sure I clear it. Oh shit! There's water at the back too. I don't know who Michael is, but he's a goddamn masochist if this is his favourite hole. Mind you it is very pretty to look at – just like a poisonous sea anemone.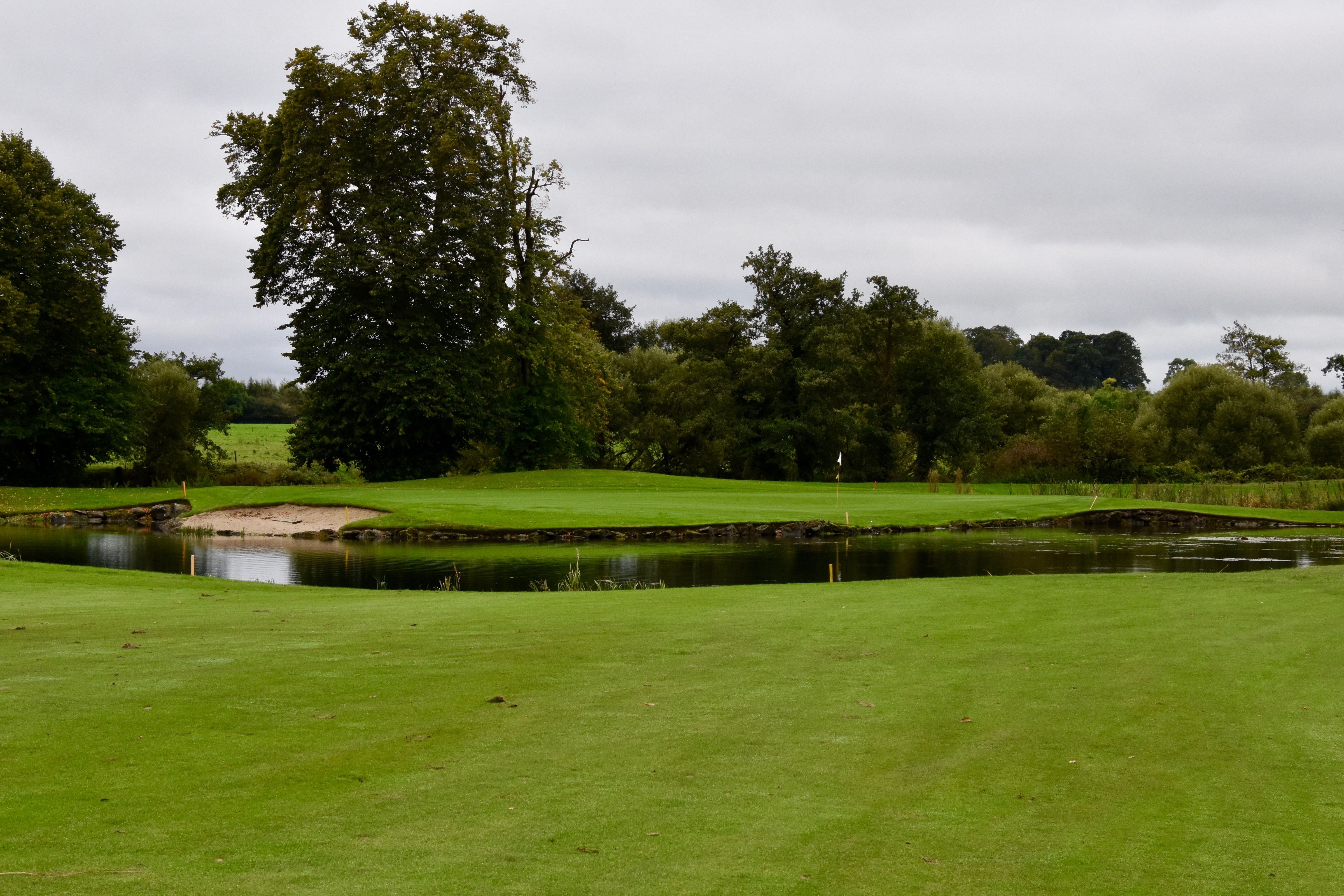 No. 8 – Mayfly Corner – 155 Yard Par Three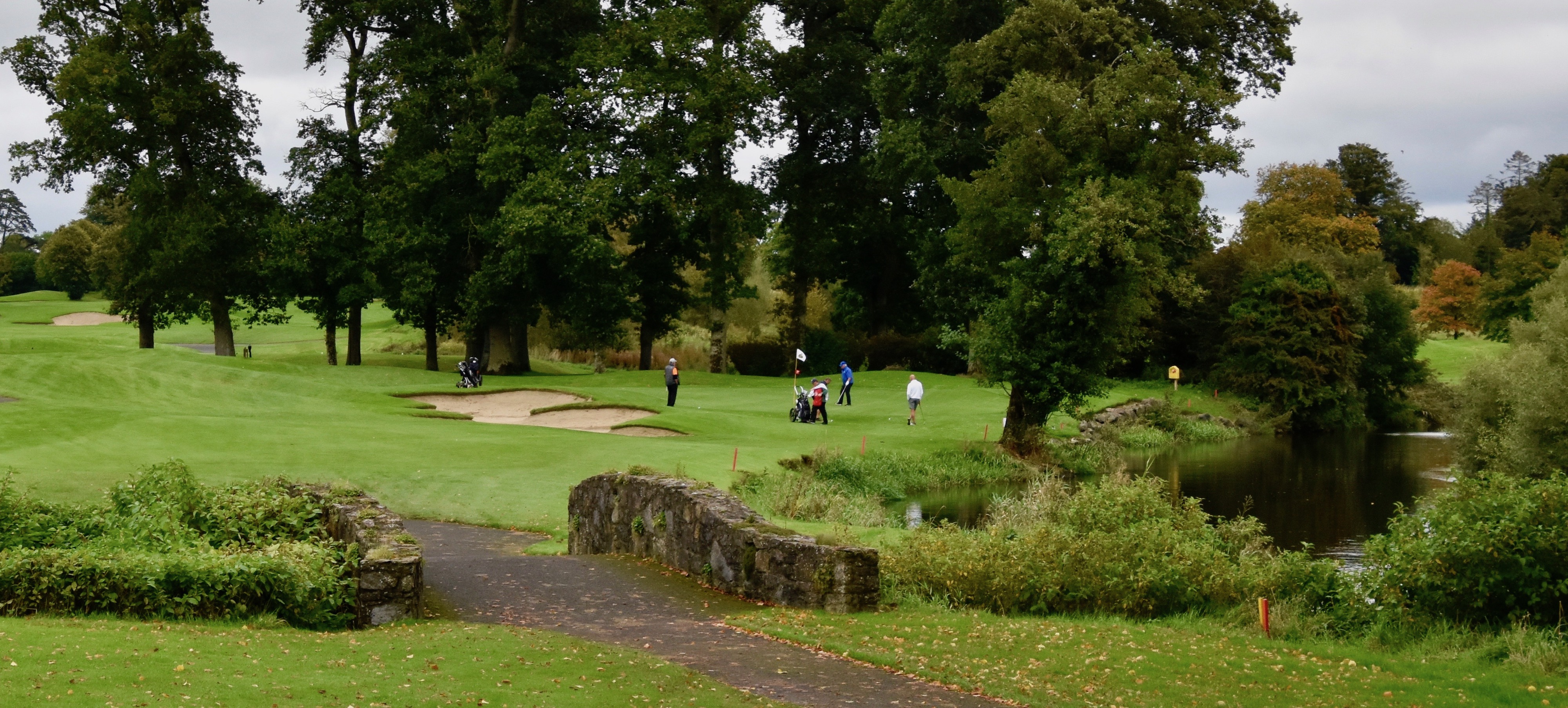 This is another gorgeous golf hole that ate my lunch. I was in the water. I was in the sand. I was in the woods. The easiest hole on the front nine was exactly that for the others in my group who all had pars while I had – never mind. If it wasn't for the way I played it I would say that this would be my favourite hole on the front nine.
There is a nice view of the hotel and the River Liffey from the eighth green.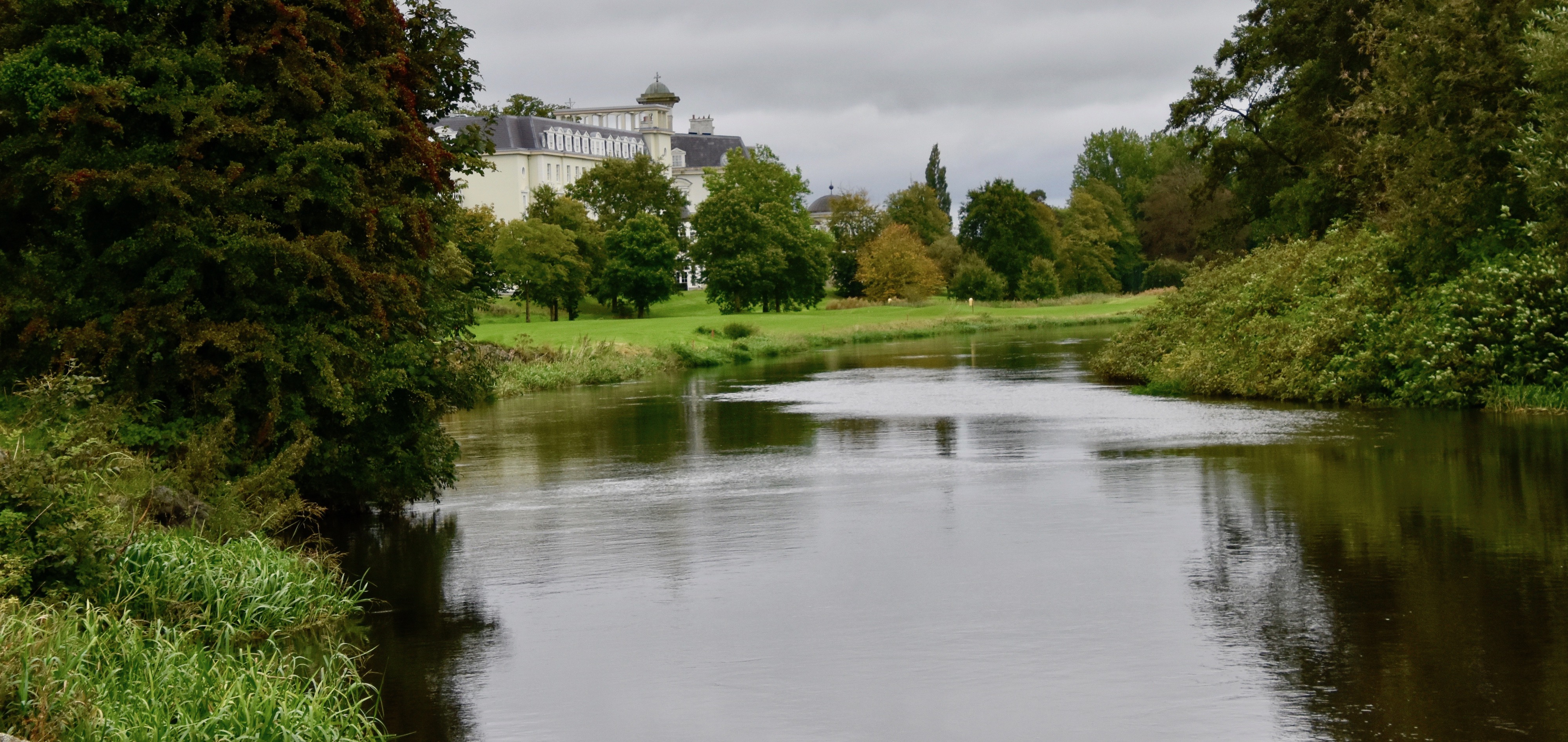 This is the view looking back to the tee box. You can see that they have life rings to throw to golfers who throw themselves into water after getting a horrendous score on this easy hole. Trust me, I thought of it.
No. 9 – Eye of the Needle – 404 Yard Par Four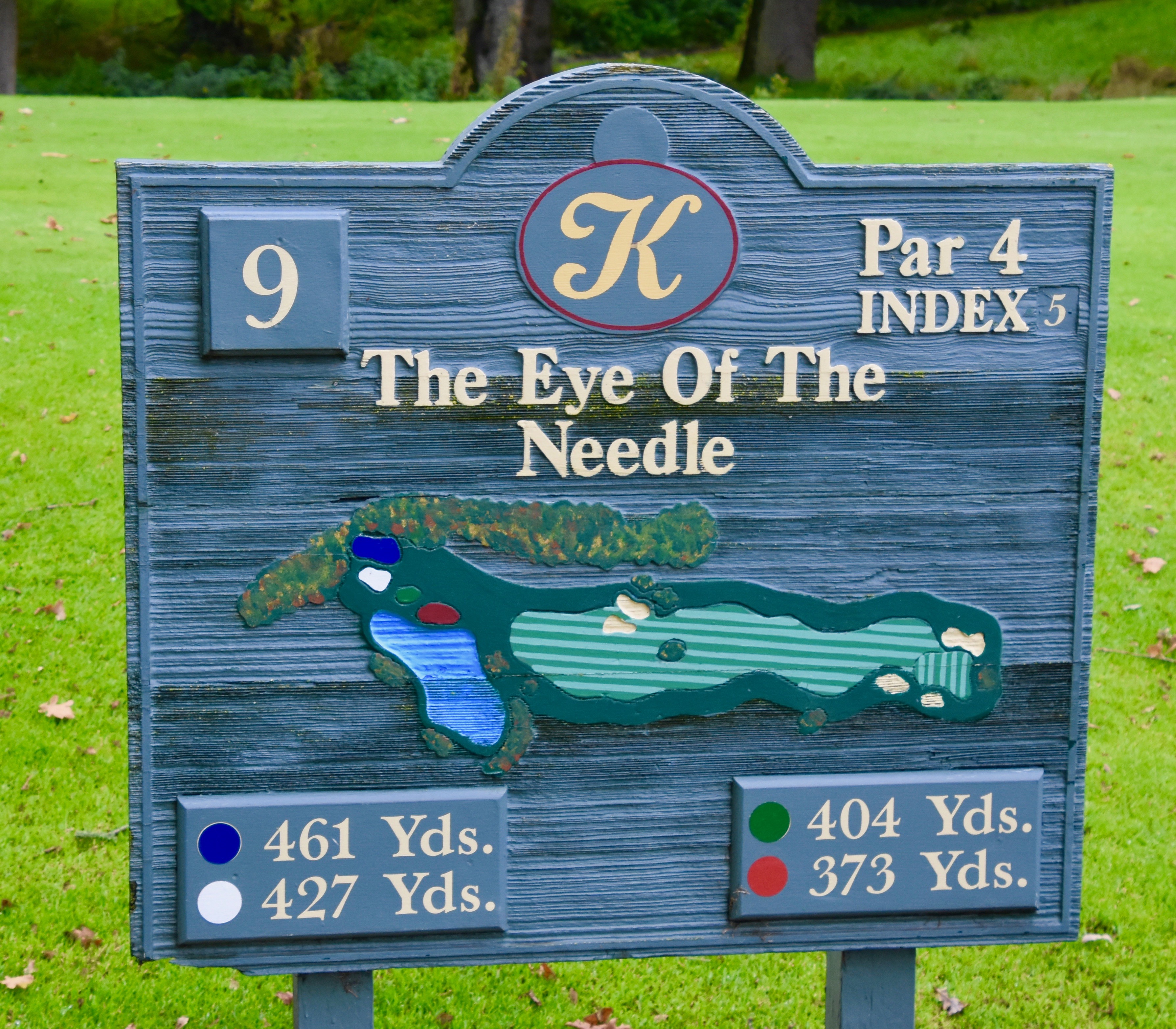 For some reason I took a picture of the sign and forgot to take one of the hole. Guess I was still thinking of the disaster on the last one. At 404 yards in these conditions this hole was a killer, but I had a better score than on No. 8.
No. 10 – Mick Holly – 534 Yard Par Five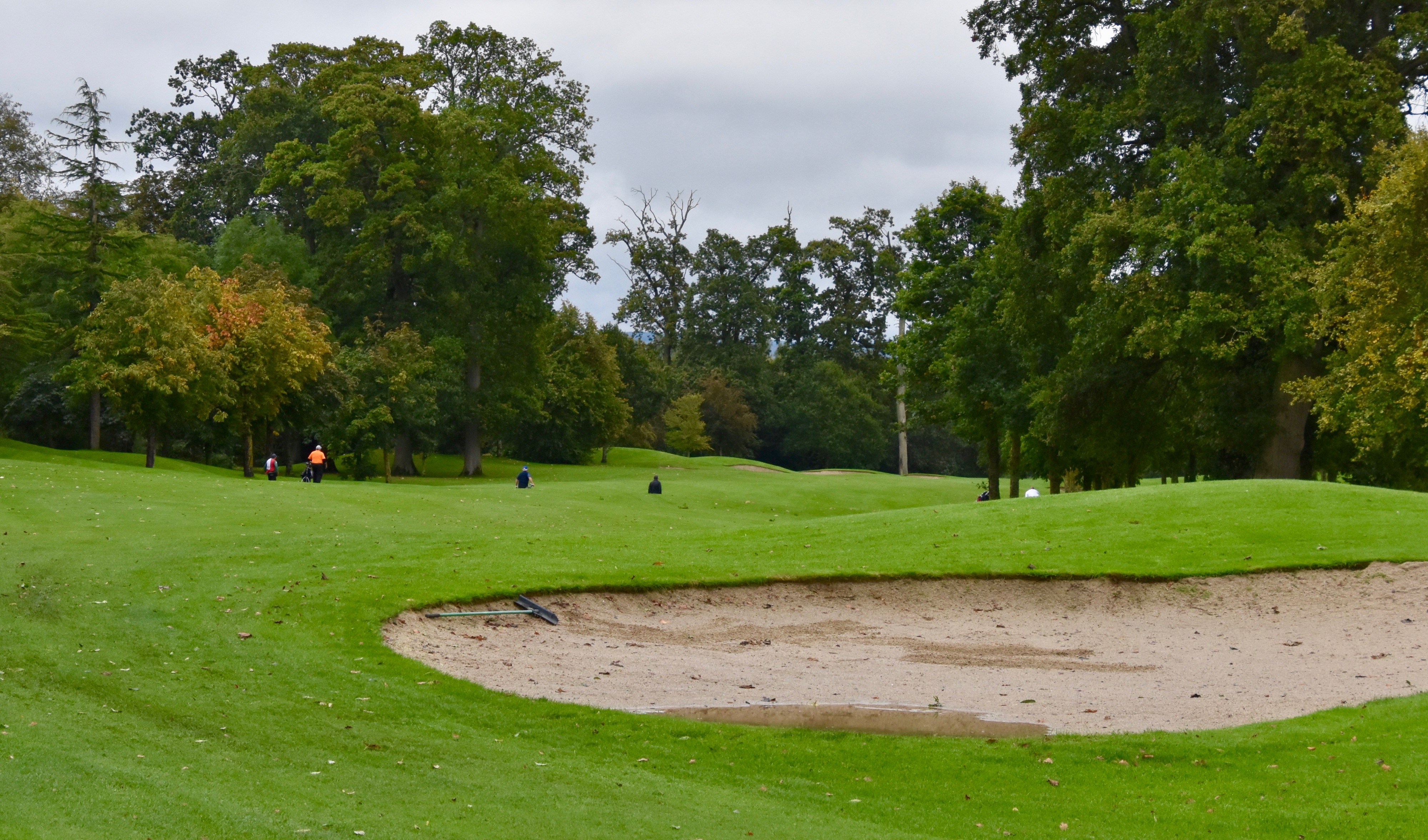 You might have noticed that there was only one par five on the front nine and since this is a par 72 course that can only mean three on the back. Generally I don't mind par fives if they are not ridiculously long like the 599 yard fourth hole at Doonbeg, but in no roll conditions like today they are all going to be too long. Here you can see standing water in the trap which tells you a bit about drainage or lack thereof. This is another rather narrow par five with a single dogleg left at well past two hundred yards from our tee box.
Once you do get there this is the long approach to the green with huge traps on either side of the fairway. More standing water. Well, this is Ireland after all.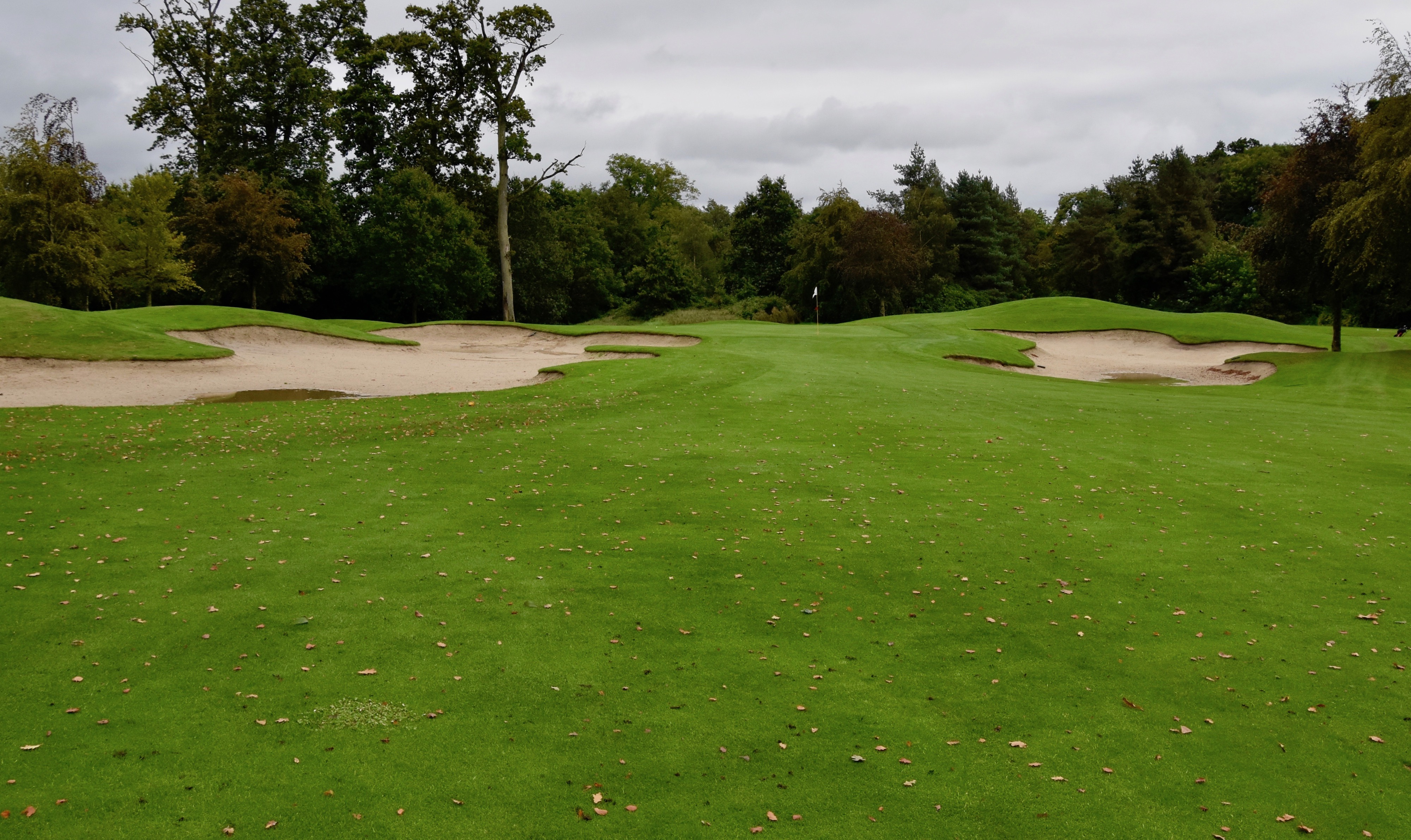 No. 11 – Lily Pond – 367 Yard Par Four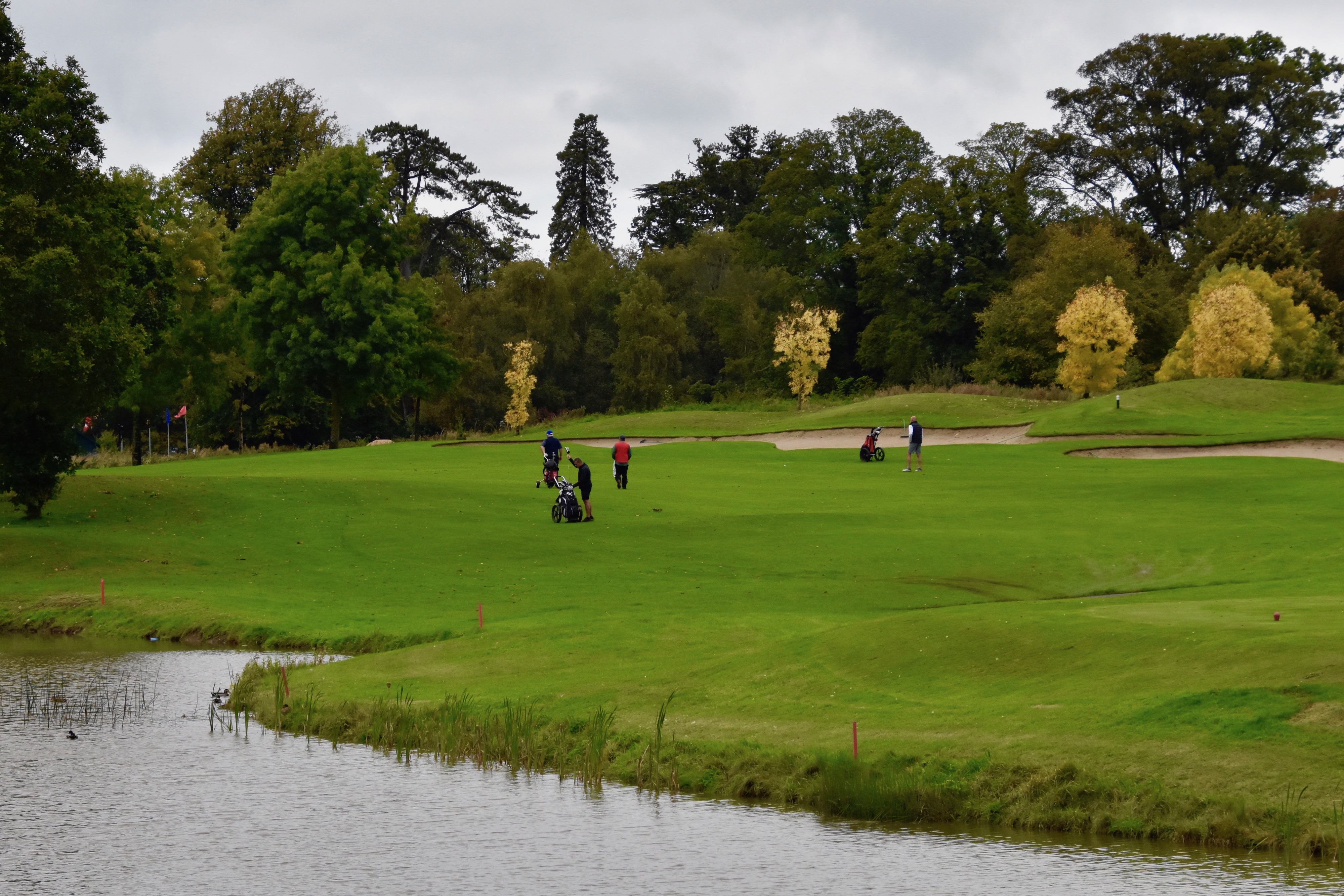 Lots of potential danger for lefties off this tee as the water runs a fair ways down the side of the fairway. The guys in front are right at the 150 yard marker so they've all hit decent drives and have a clear view of the green on this sizeable dogleg left.
This next shot is taken from where they were standing and shows the lily pond for which the hole is named. This is a pretty tricky green to hit because there is no room for error left, right or back. If it weren't for the fact that there is no roll, this would be a candidate for a bump and run approach. Overall, a very nice par four.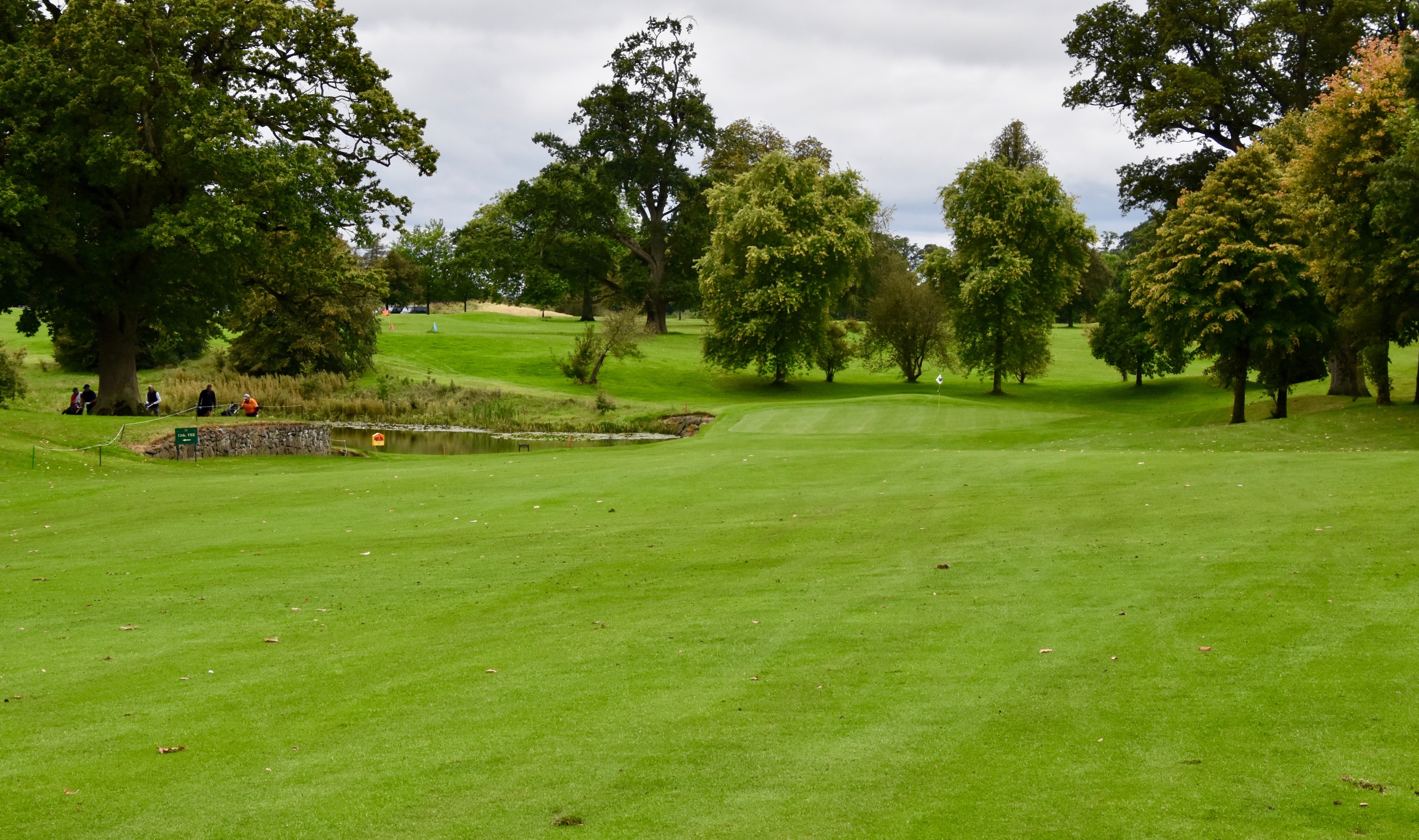 No 12 – The Domain – 150 Yard Par Three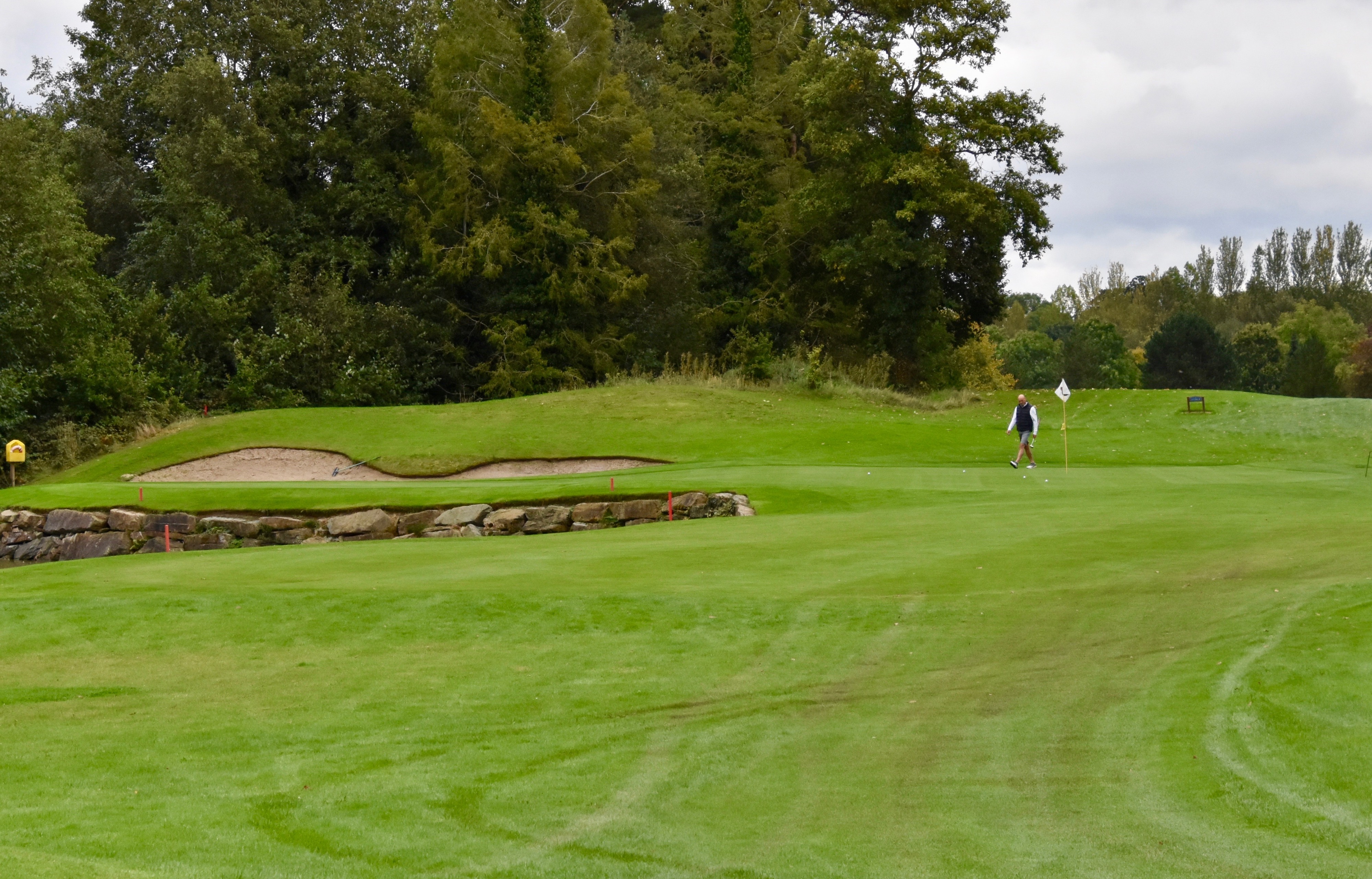 By now I'm starting to think that Arnie had it in for left handers as there always seems to be more trouble to the left than the right. This hole is a perfect example. You need to take enough club to clear the water, but not enough to reach the trap. It plays much longer than its length as it is deceptively uphill. Supposedly the easiest hole on the course, but still not a gimme par if you get anywhere on the left side. This pin placement takes much of the trouble out of play, but imagine if it was on the left side.
No. 13 – Laurel Haven – 346 Yard Par Four

Another big dogleg left with water on the left. Actually if you play a fade, which I once did when I was a decent golfer, these type of holes are great for lefties. Just aim the ball straight down the right side of the fairway and let the fade take it around the corner for an easy seven iron into the green.
You'll have a second shot that looks like this. Hey, trouble on the right for once, but of course trouble on the left as well. One of the few holes I played as it was meant to be played and got my par.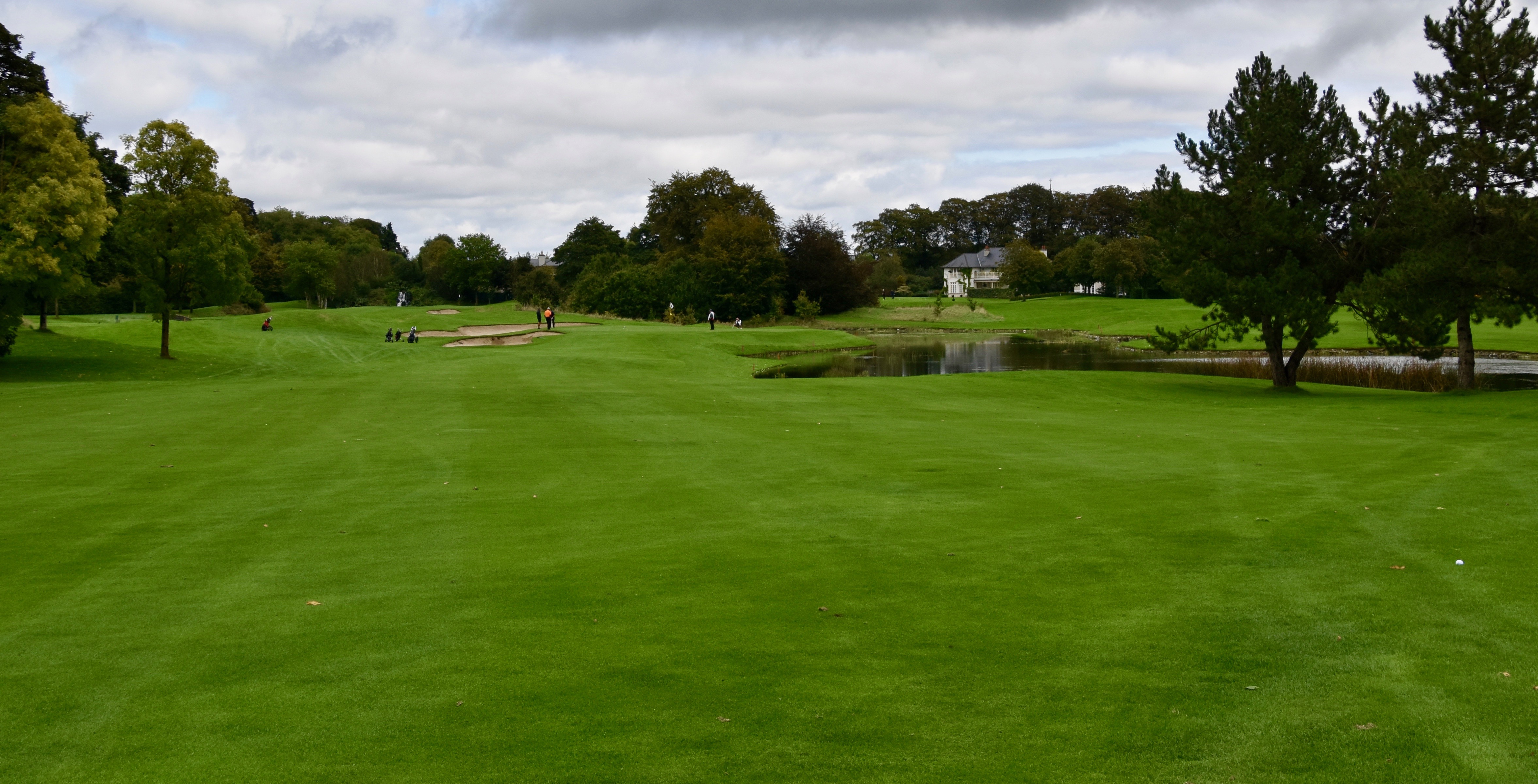 No. 14 – Church Fields – 184 Yard Par Three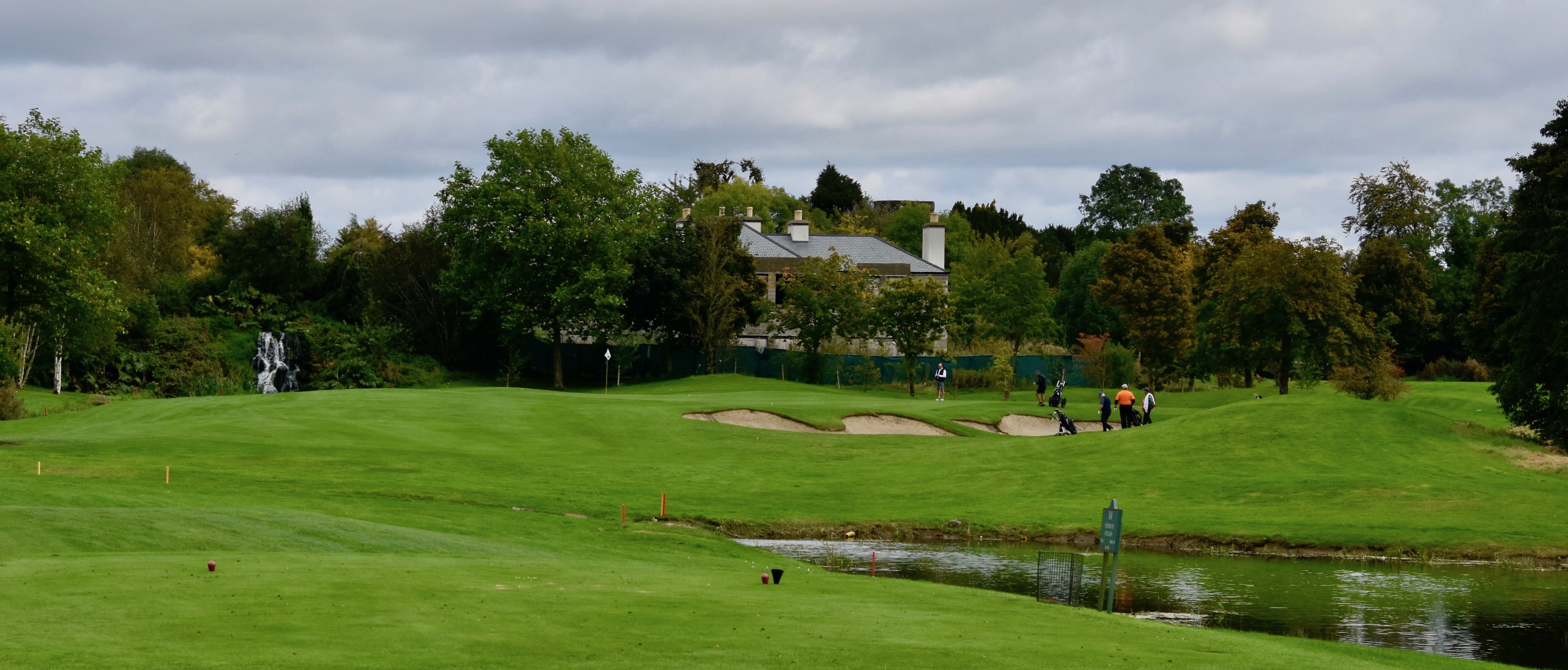 The longest of the par threes at K Club is also the most scenic with an Augusta like stone bridge and a waterfall. The pin was way at the back and I was not embarrassed to hit a three wood here. I was embarrassed that it didn't get there.
Here's a closeup of the bridge and waterfall.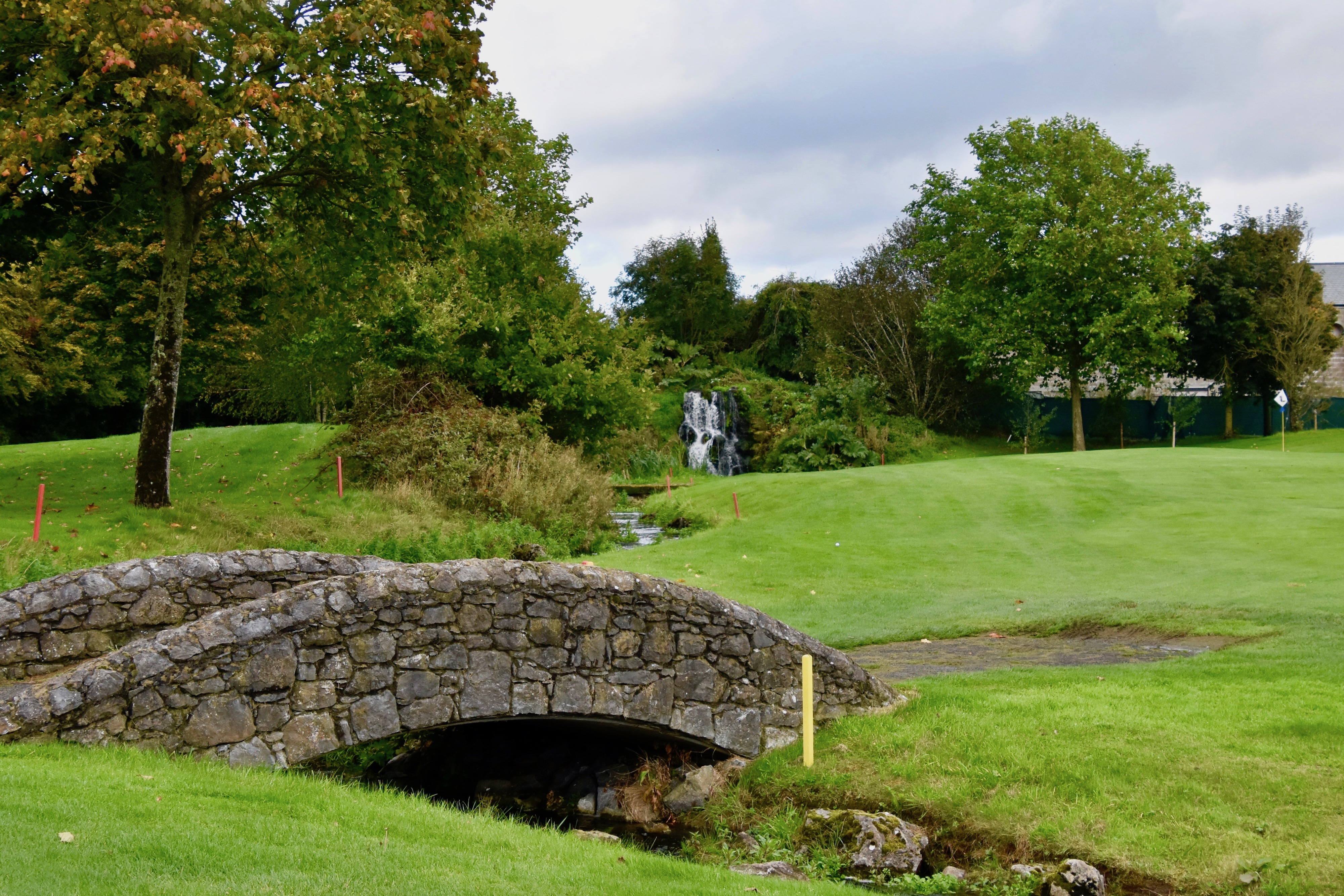 No. 14 Bridge & Waterfall
For the first time we started to see houses lining the fairway including this one that our forecaddie said belonged to Michael Smurfit. Given his name, I thought it would be blue for some reason.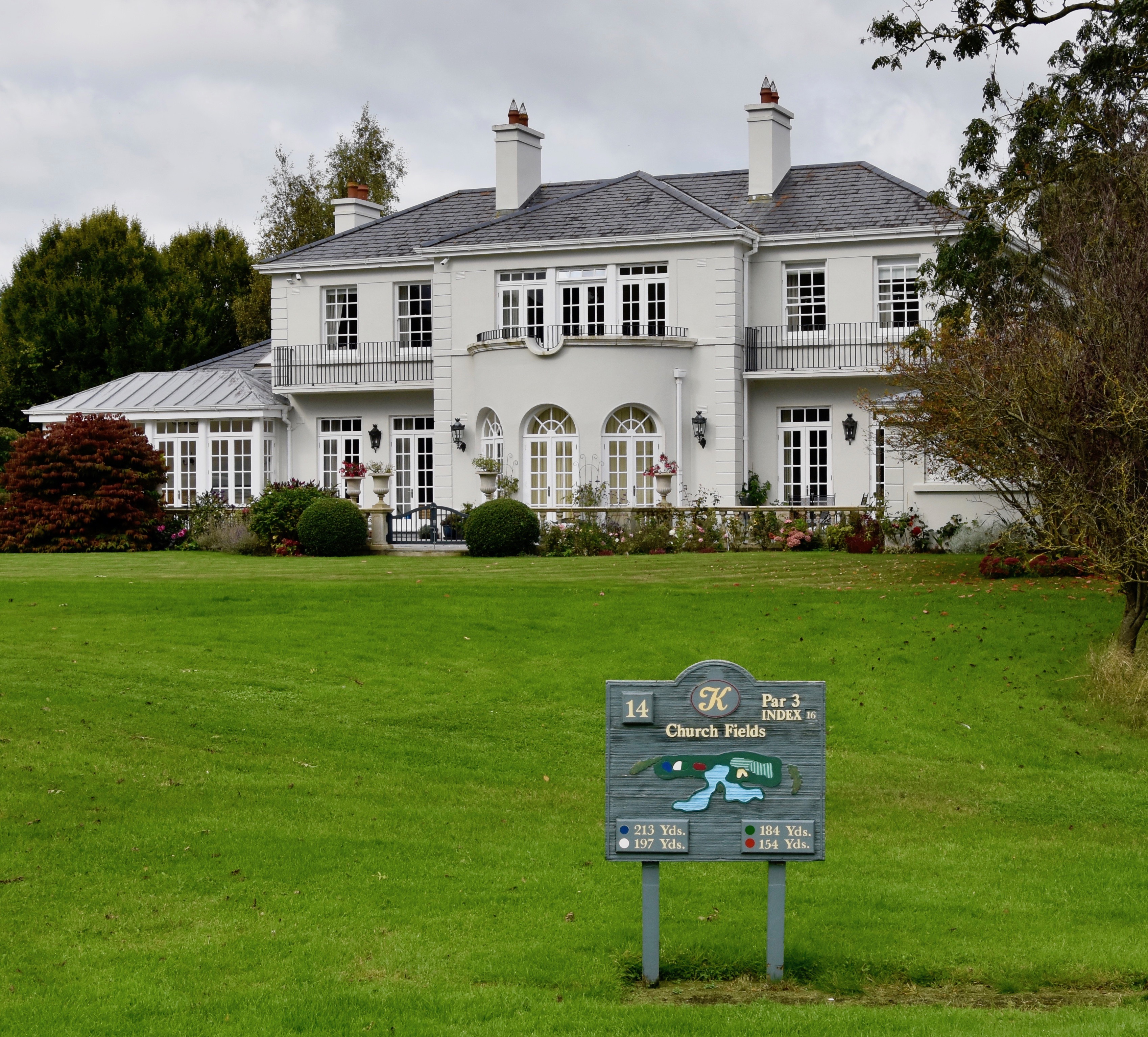 No. 15 – Pheasant Run – 382 Yard Par Four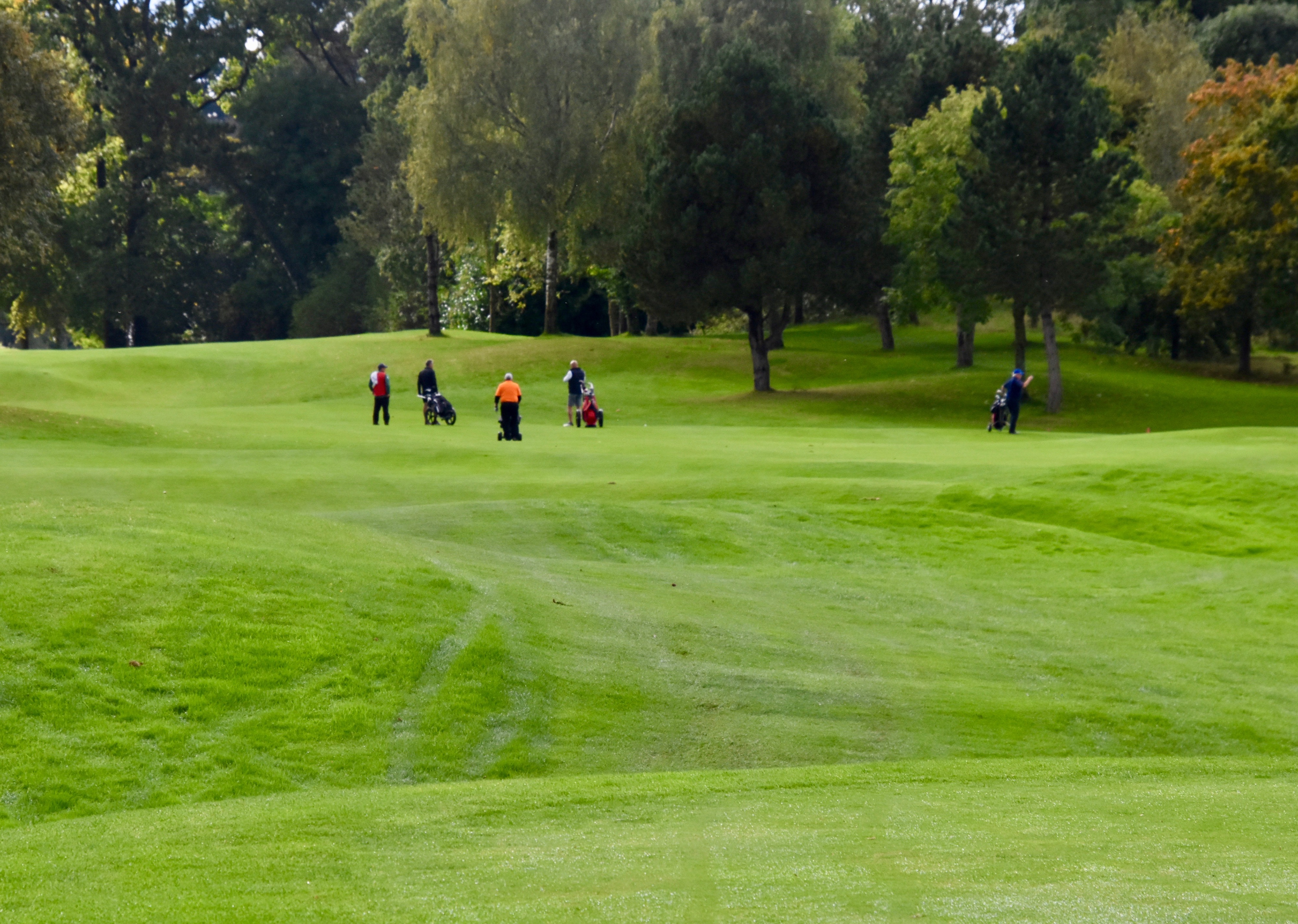 A lengthy par four that has an uphill blind shot to the green which is why it is the fourth hardest hole on the course. A nice looking hole with a great variety of different hardwoods, some just starting to don their fall colours.
No. 16 – Inish More – 505 Yard Par Five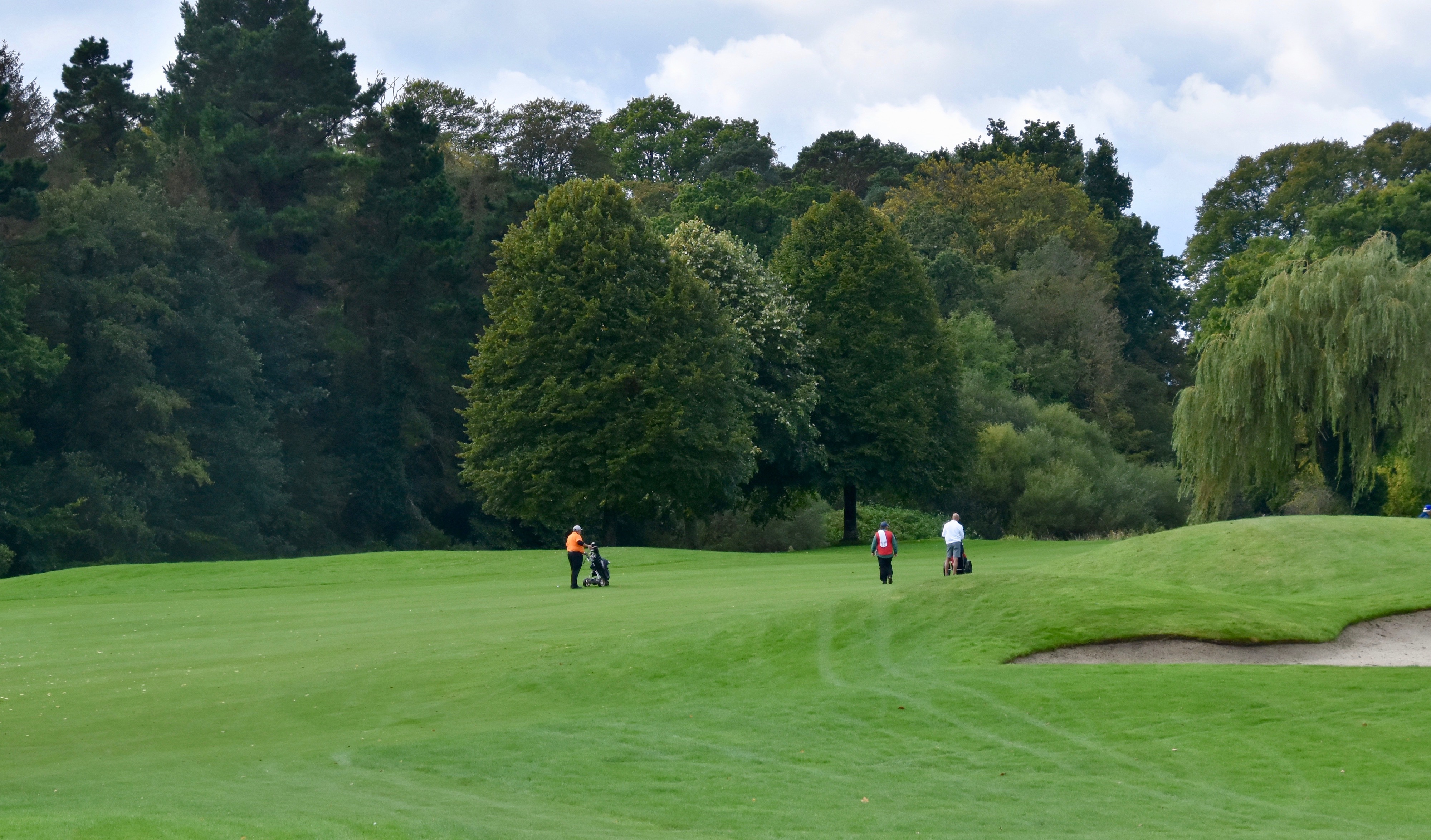 By now the damp conditions and lack of sunlight are beginning to take their toll and the fact that two of the last three holes are par fives is not particularly heartening. What is heartening is that this hole is the scene of one of the greatest shots in golf history and its the signature hole to boot. The first thing you need to do is get to this dogleg which is not an easy task. From there the ordinary golfer will advance the ball to a position for the third shot which needs to cross the water to reach what almost seems like an island green.
The best way to understand the difficulty is with this aerial view. The golfers below are in position for the third shot and you can see from that the pin placement is severe with water and sand in play.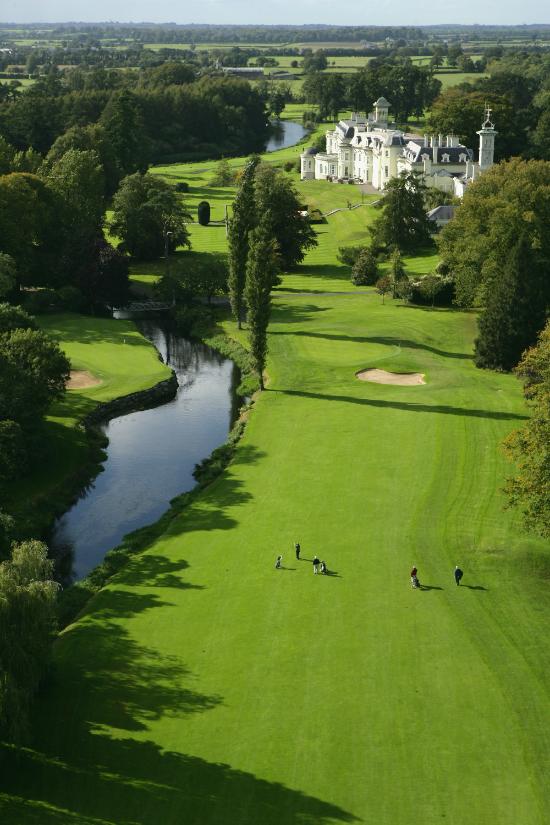 Now this is the view that Rory McIlroy had in the final round of the Irish Open in 2016.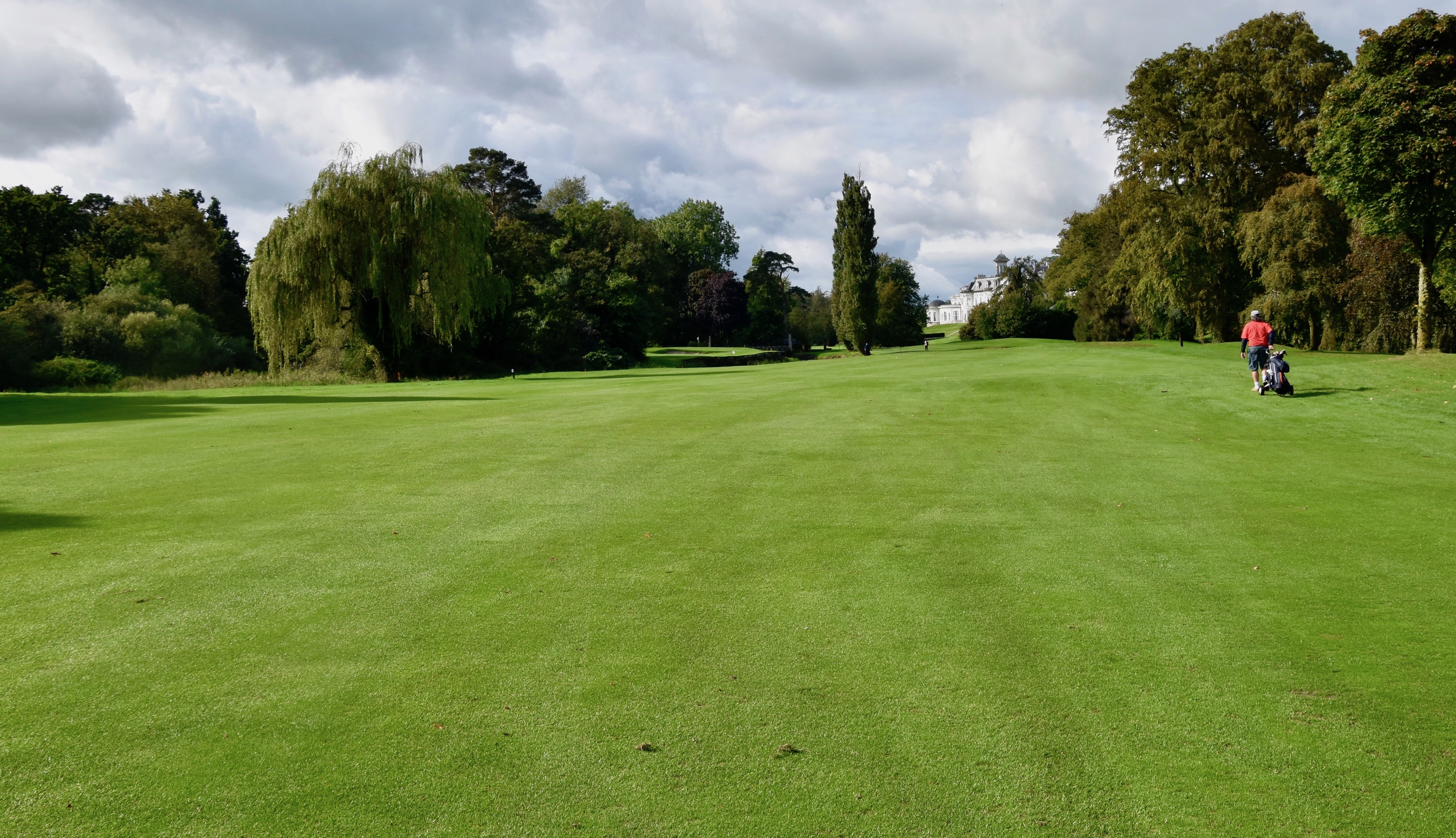 I know that because I'm standing on top of this plaque. Trailing Russel Knox by a stroke Rory decided to risk the entire tournament on one shot.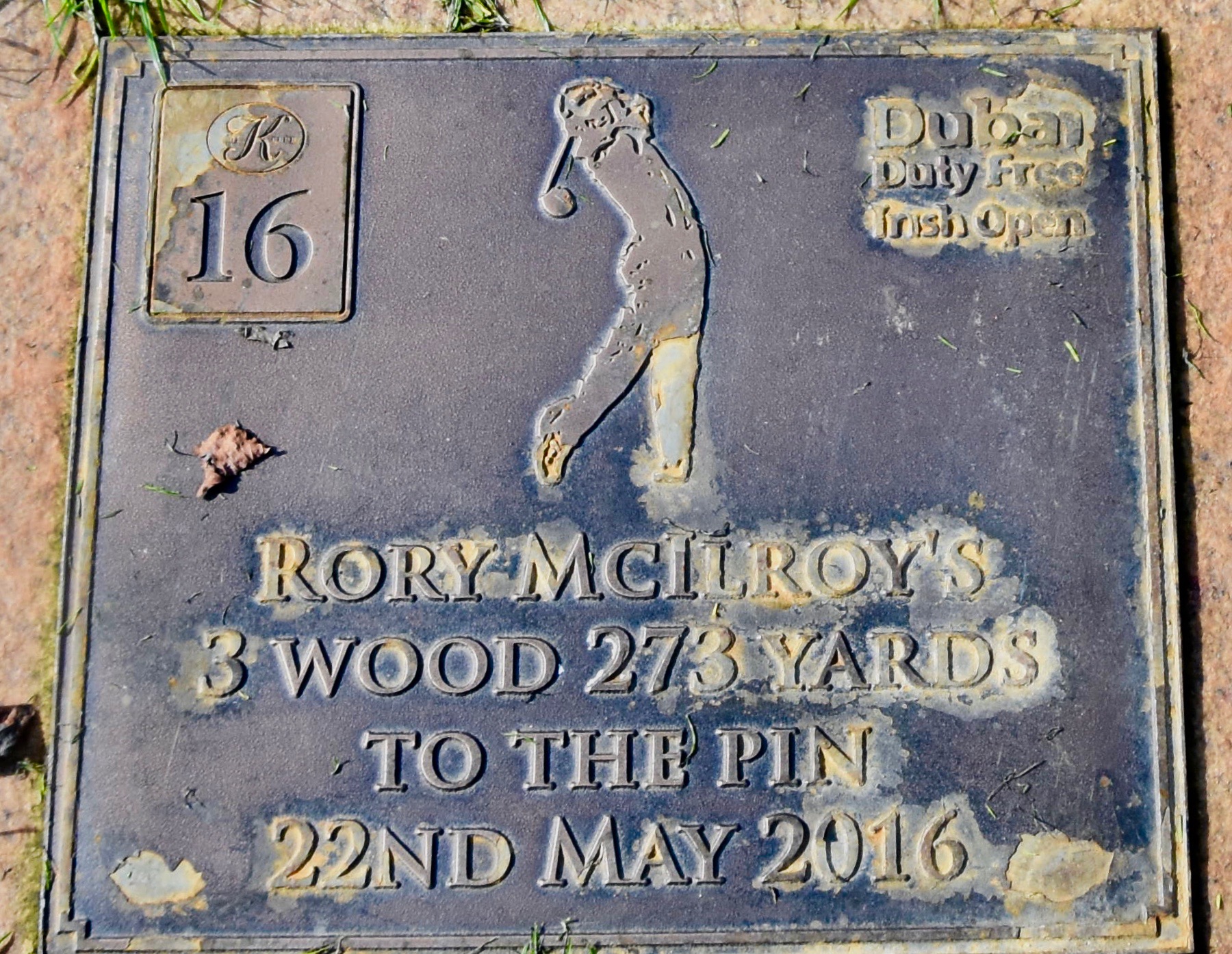 Now you have to see this shot to believe it.
Wow! I always get a kick out of standing on the spot where a famous golf shot was made and of all of them, I think this was the toughest.
Back to reality, this is the third shot mortal golfers will face and it's still pretty daunting, but a beautiful setting for a green.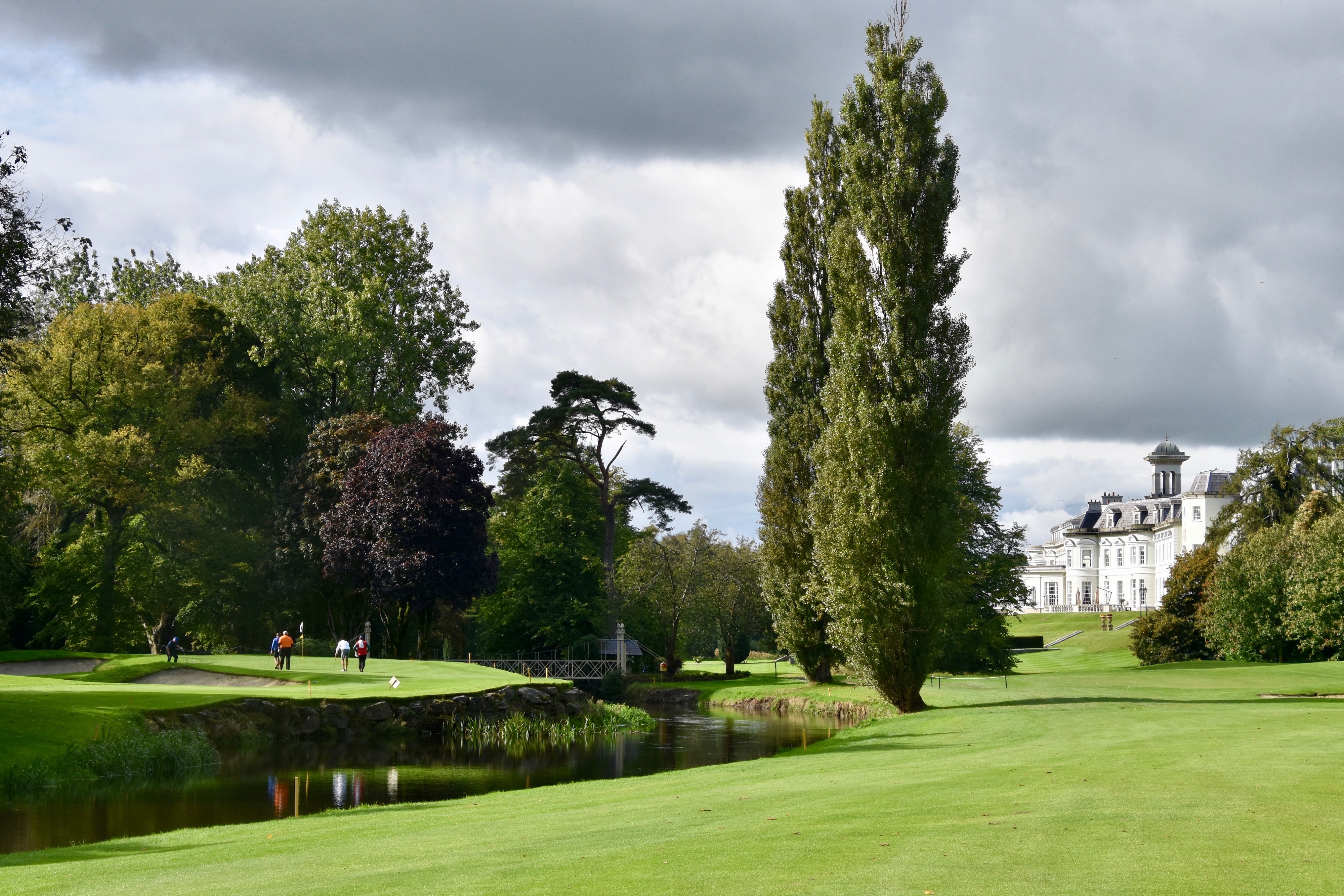 This is a small suspension bridge you once needed to cross to get across to the other side and it predates the K Club by a century and a half. Beside it is the modern bridge which golfers take. Everything about this hole is first class.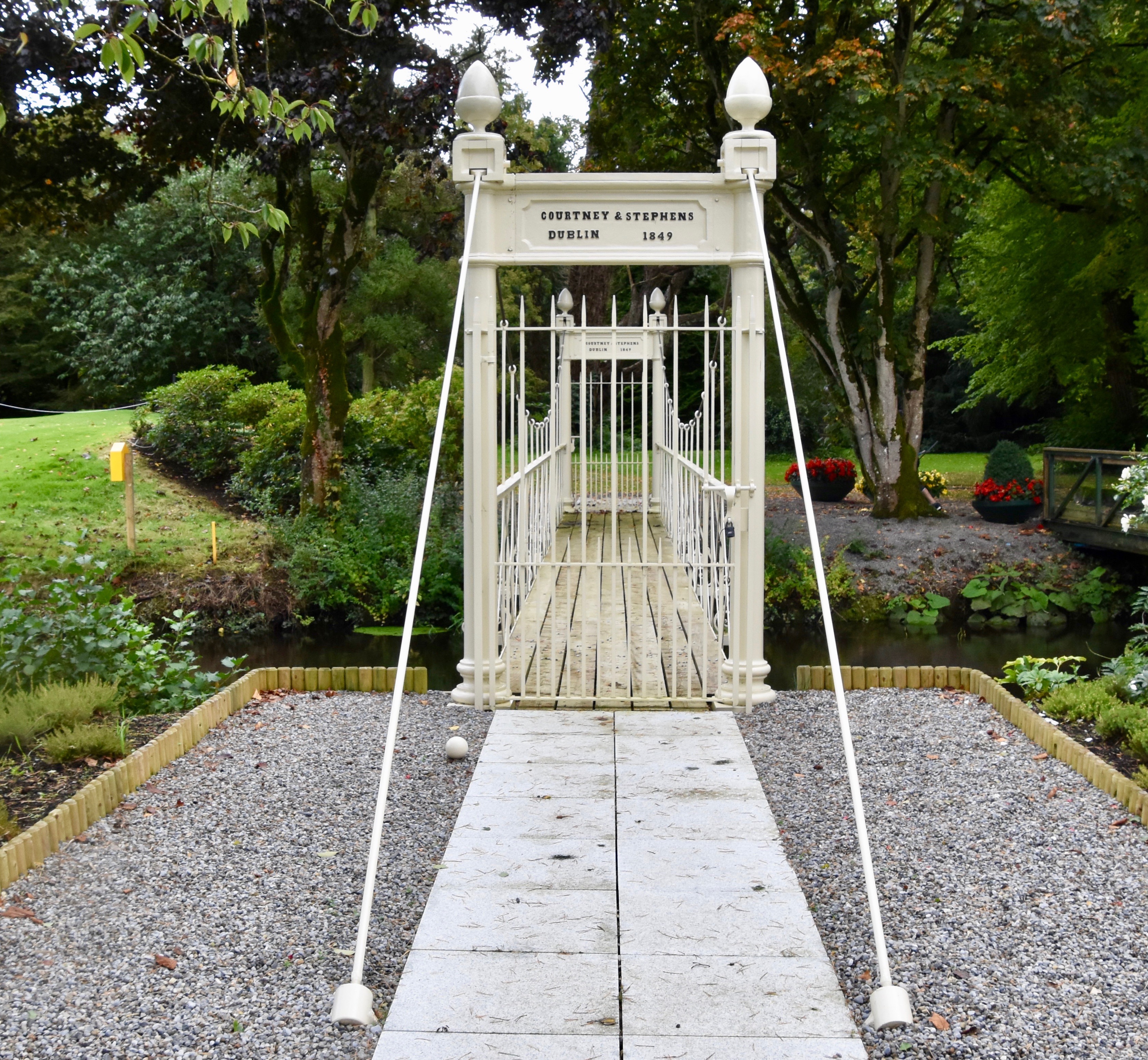 No. 17 – Half Moon – 327 Yard Par Four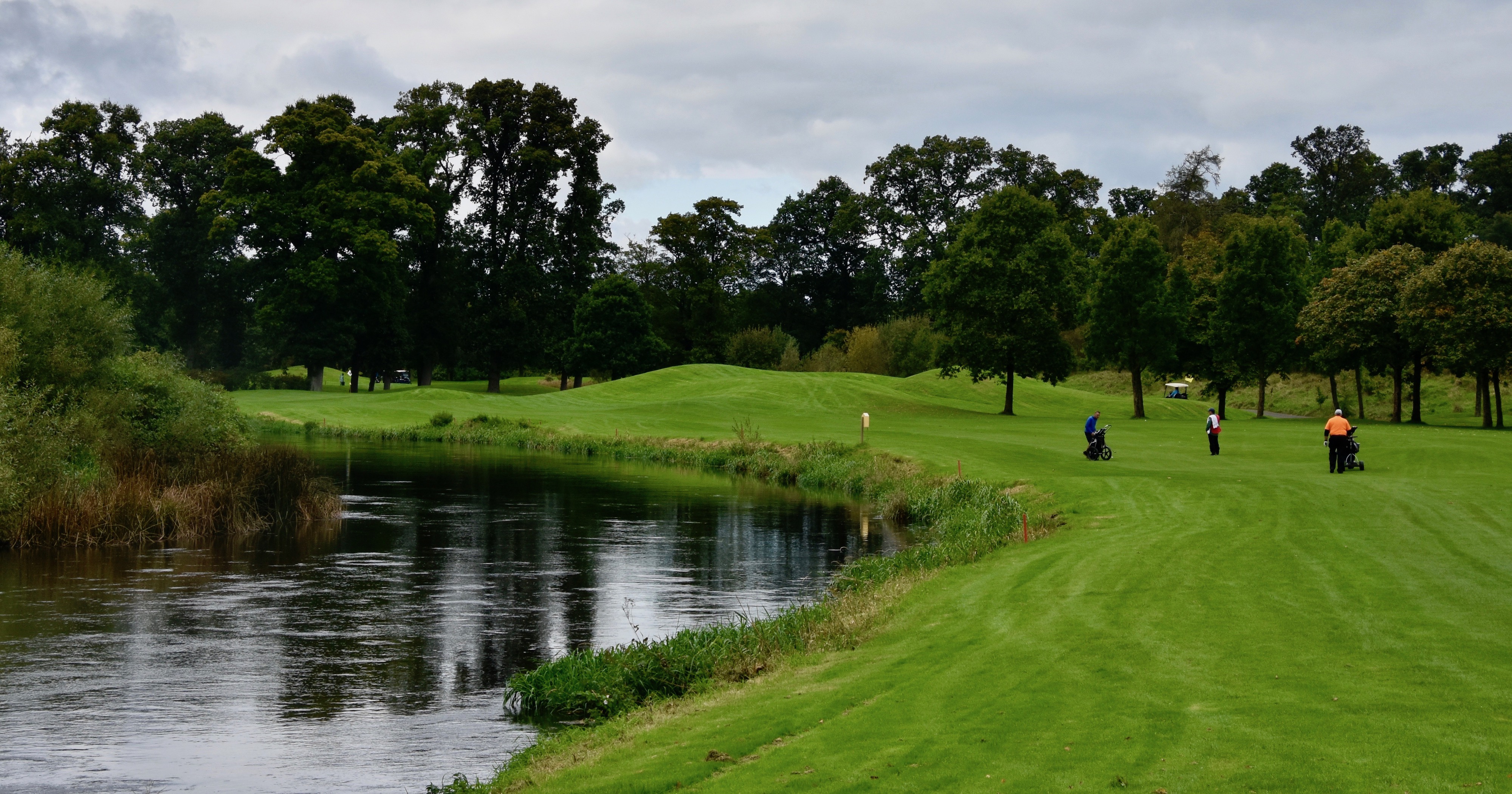 This was my favourite par four at the K club. It was short and had a dogleg that was perfect for what is now my slice. On top of that its another of the very scenic holes on the Ryder Cup course.
No. 18 – Hooker's Graveyard – 478 Yard Par Five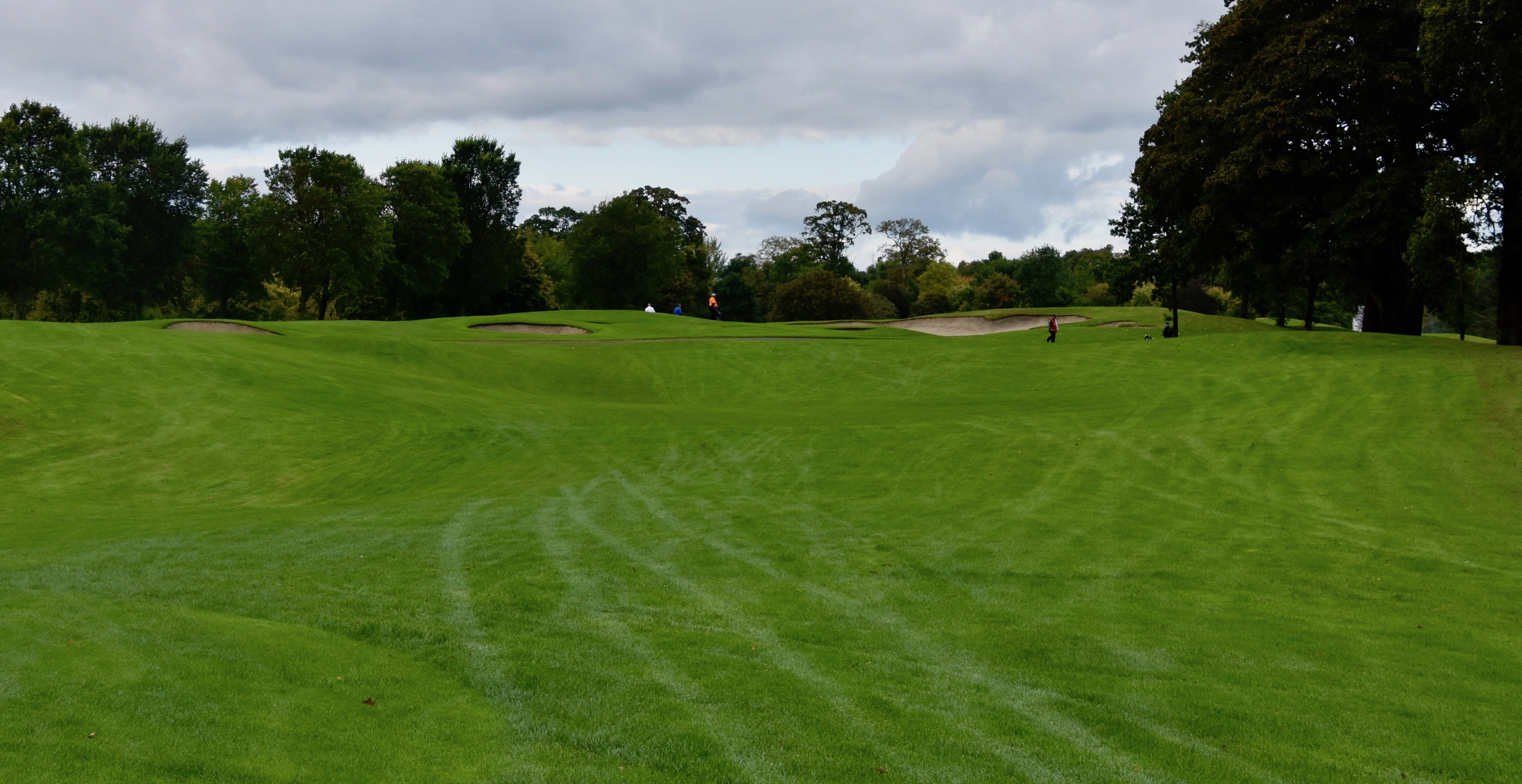 This is the view from the tee box which doesn't exactly give you an idea of what this hole is all about. Like 16, you need an aerial view for that. Although it's a short par five the second shot lay up is quite tricky with a very narrow landing area.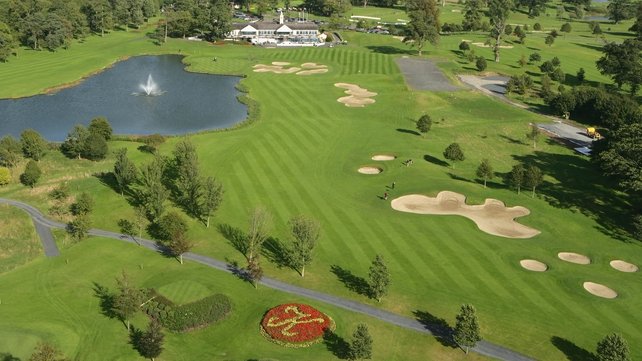 Assuming you do make it safely this is the third shot. Pretty nice with the clubhouse in the background. A really strong finishing hole on a stretch of great holes.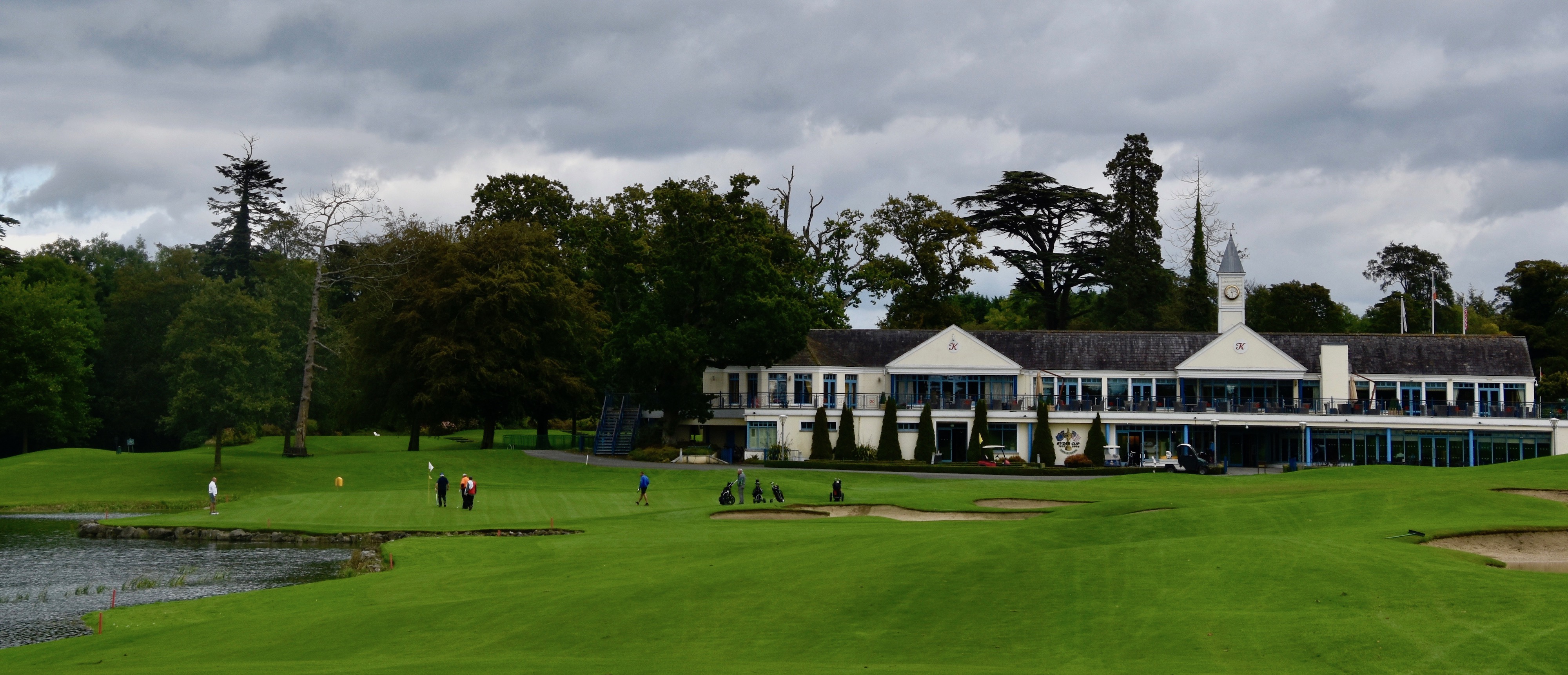 The next day we played the Smurfit course which is completely different than the Ryder Cup course. It is much more an inland links style with very little parkland. Unfortunately it rained on and off the entire round so I didn't get great pictures and will not be doing a review.
Overall the K Club more than lived up to my expectations and those of my travelling companions. It was a fitting end to a golf trip that we'll all remember for the rest of our lives. We have already decided that we will return to Scotland in 2021 to play a few more of the best courses in the world. Hopefully the Covid-19 pandemic will not have changed the world to such a degree that golf trips overseas will no longer be possible.