Antigua – Guatemala's Magic Ruined City
Alison and I are continuing our journey through every country in Central America with guide Victor Romagnoli leading the way on behalf of Canadian tour company Adventures Abroad. We just spent two amazing days in the Lake Atitlan area which I describe in this post and now we are headed the short distance to the famed colonial city of Antigua Guatemala. On the way we dropped into the shrine of San Simon, which was an other worldly experience to say the least. We are now leaving the domain of the various Mayan peoples who dominate most of the Guatemalan Highlands and entering an area where there are more mestizos than purely Indigenous peoples. And although we got our first taste of a true tourist town in Panajachel on Lake Atitlan in quite some time, Victor tells us to expect Antigua to be much more crowded.
History of Antigua Guatemala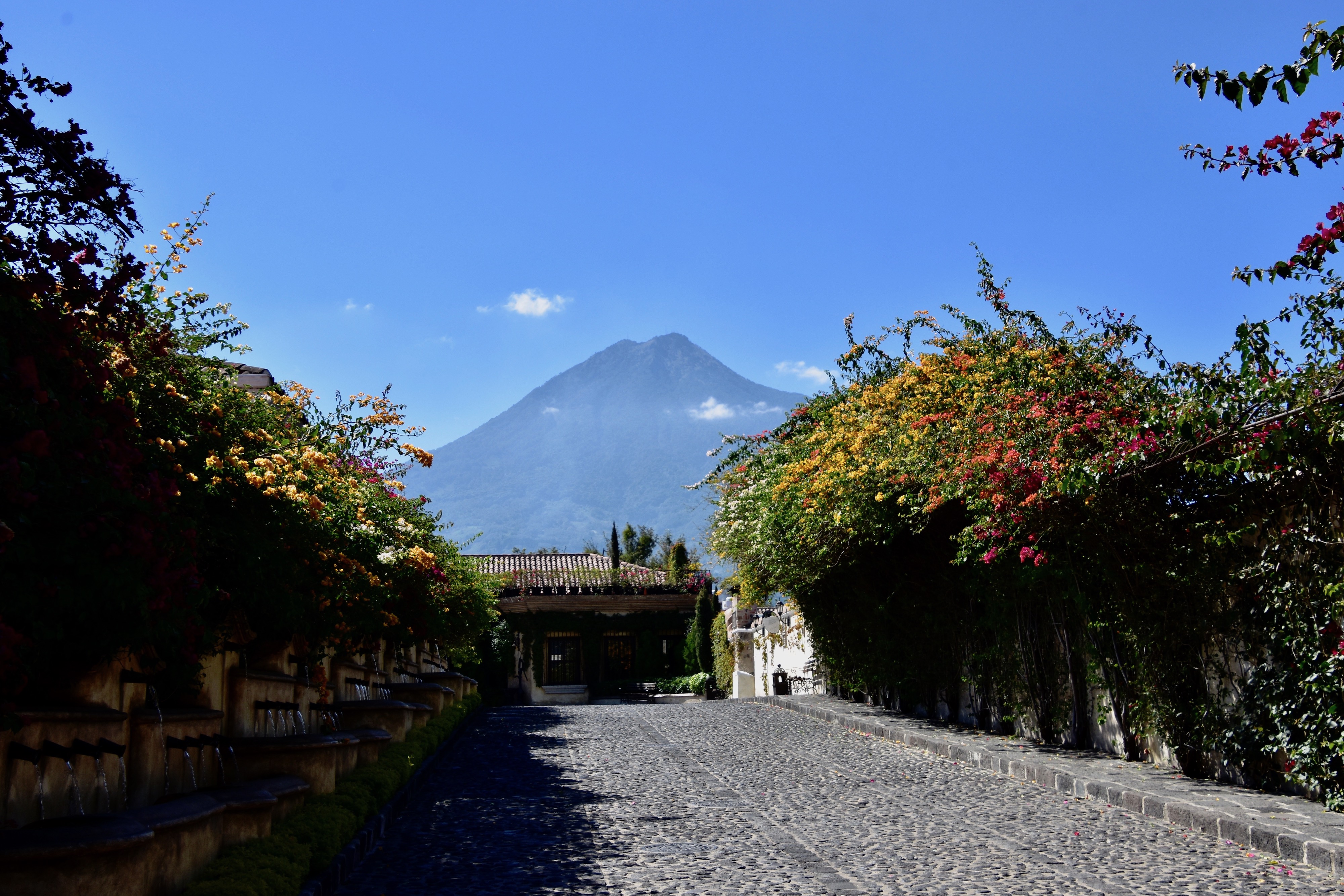 Anyone familiar with Spanish will know that Antigua means 'old' or probably more accurately 'ancient' which is kind of ironic because, unlike many Spanish colonial cities, Antigua Guatemala was not built on top of a much older Indigenous settlement. It's chronology of continuous occupation is actually much shorter than many other Guatemalan cities, but by New World standards it's still pretty old. It was founded in 1543 as Santiago de los Caballeros, the third attempt by the Spanish to build a city in the area under shadow of Vulcan de Agua. The first had to be abandoned due to attacks by Mayan warriors and the second got wiped out by a huge volcanic mudslide in 1541. Sounds familiar – we saw the same thing at Leon, in Nicaragua.
The third city was founded five miles further away from Vulcan de Agua in the apparent belief that this would be far enough to ensure the city didn't get buried a second time. The Spanish picked a nice flat spot at the base of a wooded hill (now Cerro de la Cruz) and laid out the city in a perfect grid, making it just about the easiest both physically and spatially to navigate in the country. You'd have to really work at getting lost in Antigua.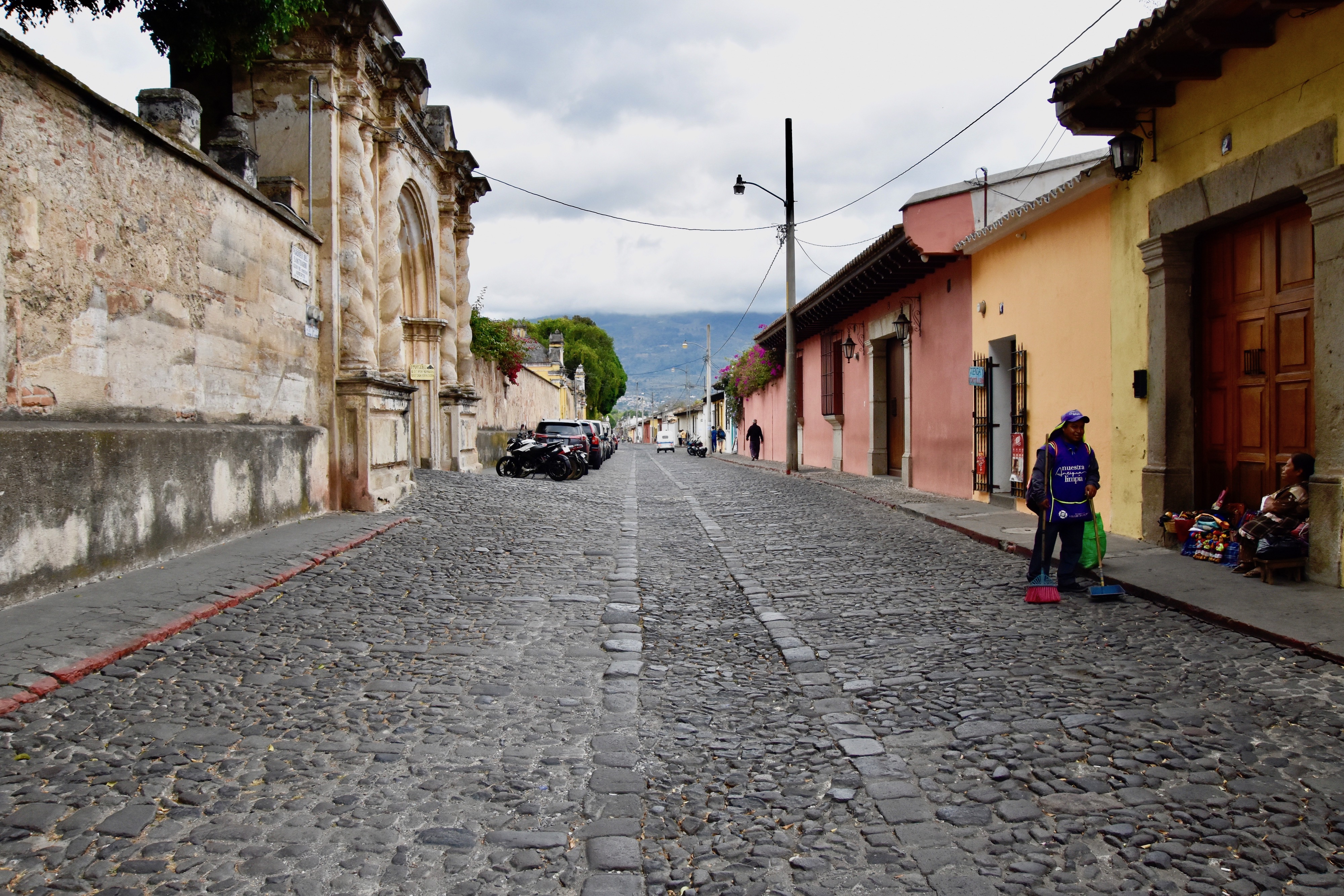 In 1549 Santiago de los Caballeros was named capital city of the huge province of Guatemala which included every present day country in Central America except Panama, as well as a good chunk of southern Mexico. That turned out to be a great magnet for religious groups who began pouring into the city, starting with the Franciscans and followed by just about every other major religious order of the day. Like the old adage, you can't swing a cat in Antigua without hitting a church, monastery or convent. None of these groups seemed to bothered by the fact that almost like clockwork, every ten years or so there would be an earthquake that would destroy much of what they had built since the last earthquake.
During the 1600's earthquake activity tapered off and there was an explosion of baroque architecture, both ecclesiastic and lay that made Antigua one of the most beautiful cities in the New World. The city prospered and by 1770 had a population of over 60,000. But those damn earthquakes kept happening. in 1717, 1751 and finally in 1773, virtually levelling the city in the process.
By 1776 the Spanish had had enough and ordered everybody to get out and move to what is today Guatemala City. Most did and Santiago de los Caballeros was given a new name, pretty well by accident – Antigua Guatemala. In the 1800's less than 10,000 people remained living in a city of 'beautiful ruins', many of which remain to this very day.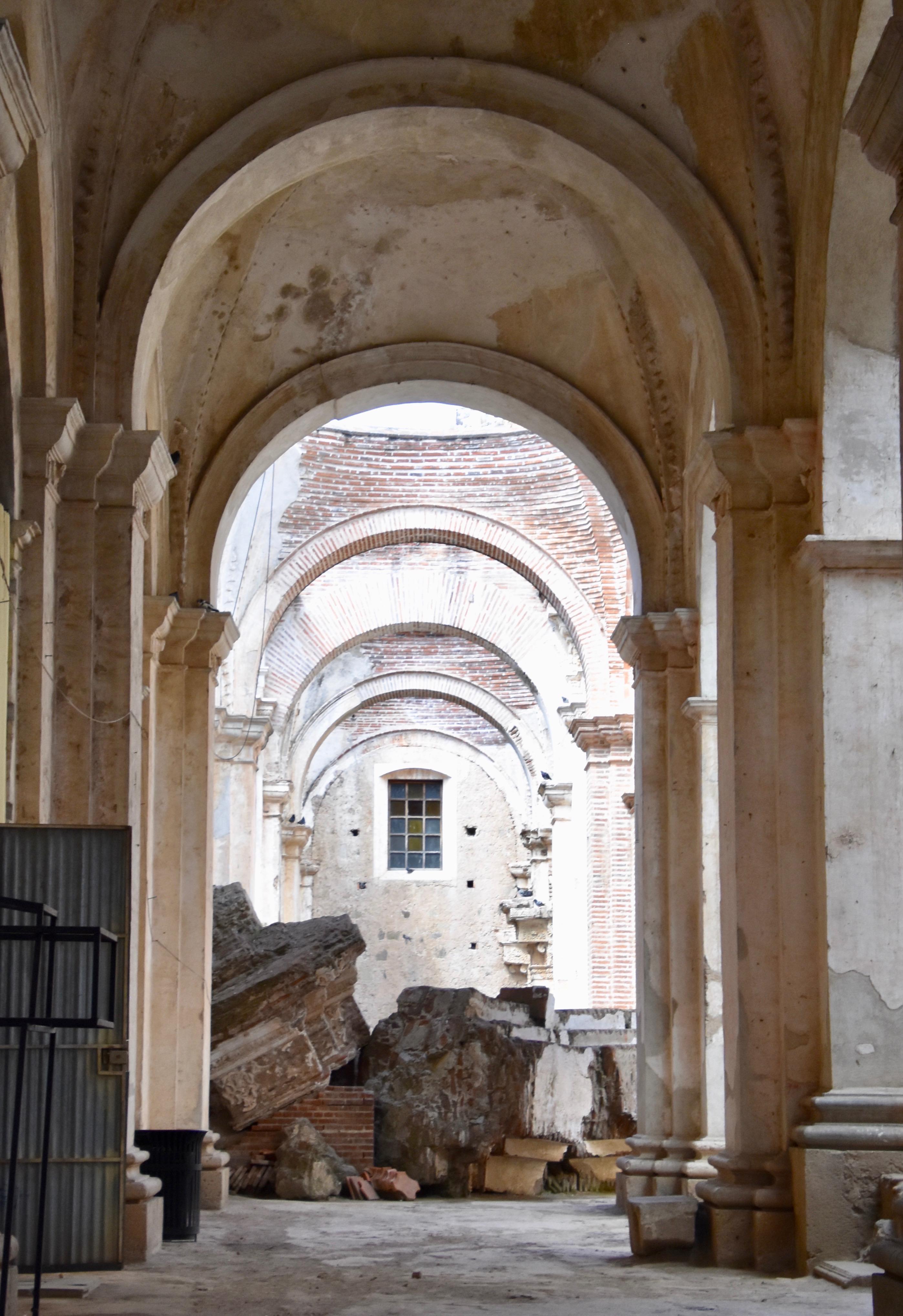 In the 20th century the city was rediscovered by artists and language schools who found it a perfectly romantic place to learn to draw or paint or to learn Spanish. This in turn brought other types of tourists, like our group. In 1979 UNESCO named it a World Heritage Site describing it as follows:
    The pattern of straight lines established by the grid of north-south and east-west streets and inspired by the Italian Renaissance, is one of the best examples in Latin American town planning and all that remains of the 16th-century city. Most of the surviving civil, religious, and civic buildings date from the 17th and 18th centuries and constitute magnificent examples of colonial architecture in the Americas. These buildings reflect a regional stylistic variation known as Barroco antigueño. Distinctive characteristics of this architectural style include the use of decorative stucco for interior and exterior ornamentation, main facades with a central window niche and often a deeply-carved tympanum, massive buildings, and low bell towers designed to withstand the region's frequent earthquakes. Among the many significant historical buildings, the Palace of the Captains General, the Casa de la Moneda, the Cathedral, the Universidad de San Carlos, Las Capuchinas, La Merced, Santa Clara, among others, are worth noting.
Today there are about 35,000 people living in Antigua, just over half the number almost 250 years ago, most making a living as a result of the ruins people come to see and the destruction that drove the original population away in the first place. There's definitely some irony in that.
Hotel Camino Real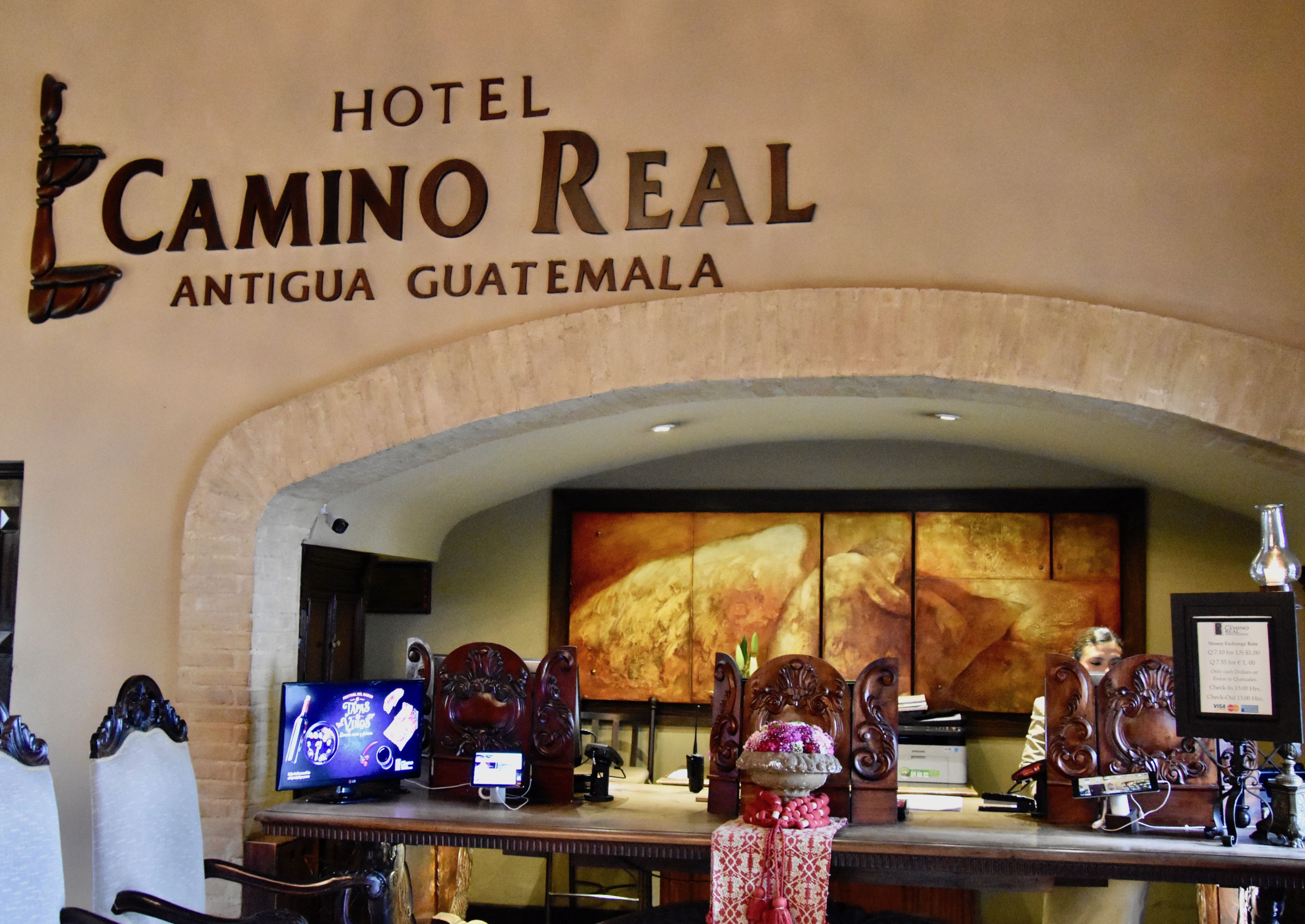 Once again Victor has outdone himself in the selection of our hotel for our stay in Antigua. From the moment you walk into the Hotel Camino Real you are greeted with the sight of flowers everywhere like this display in the lobby.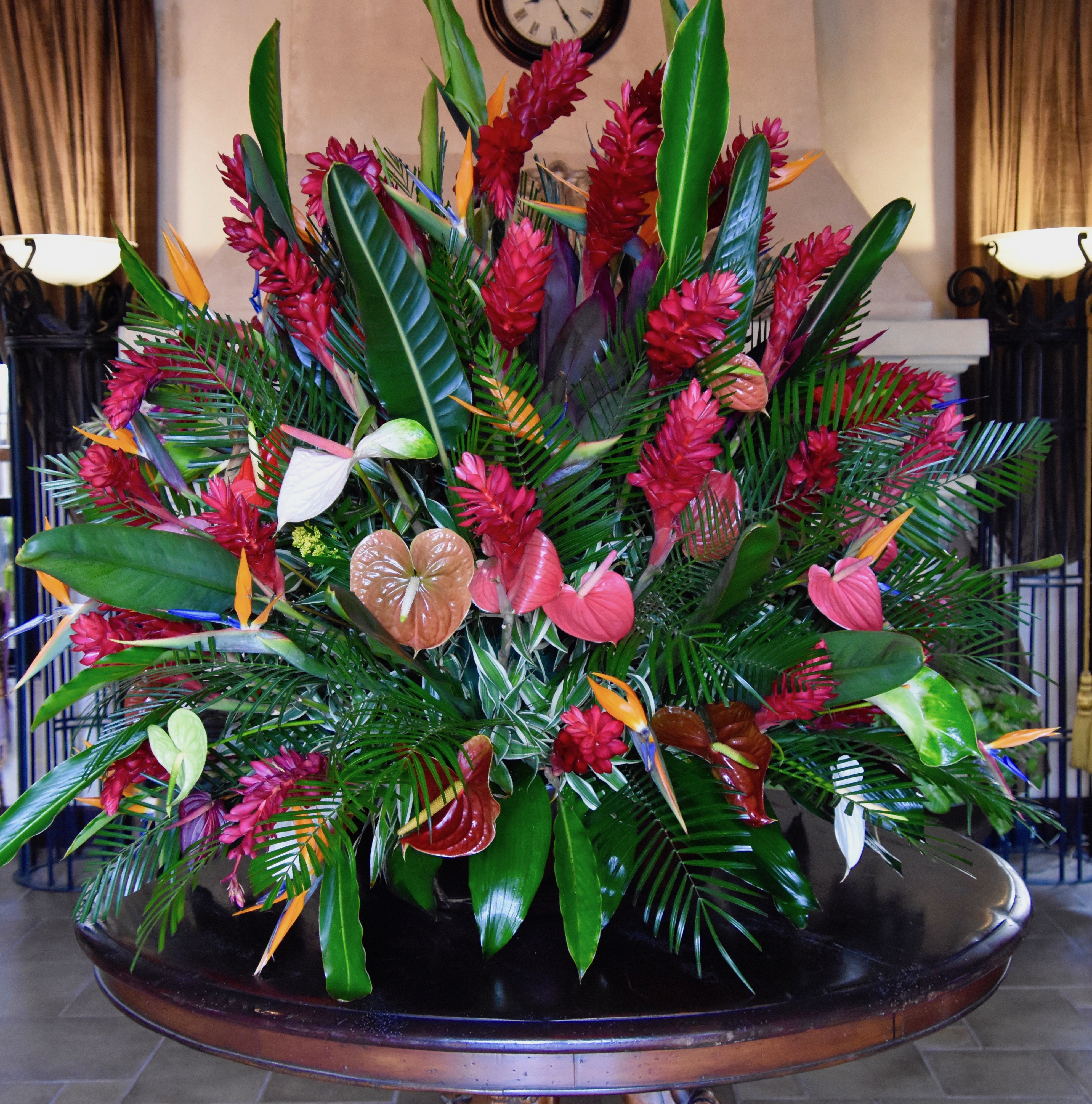 It is a modern hacienda style hotel that has interesting nooks and crannies to explore where you find things like this old cart festooned with flowers.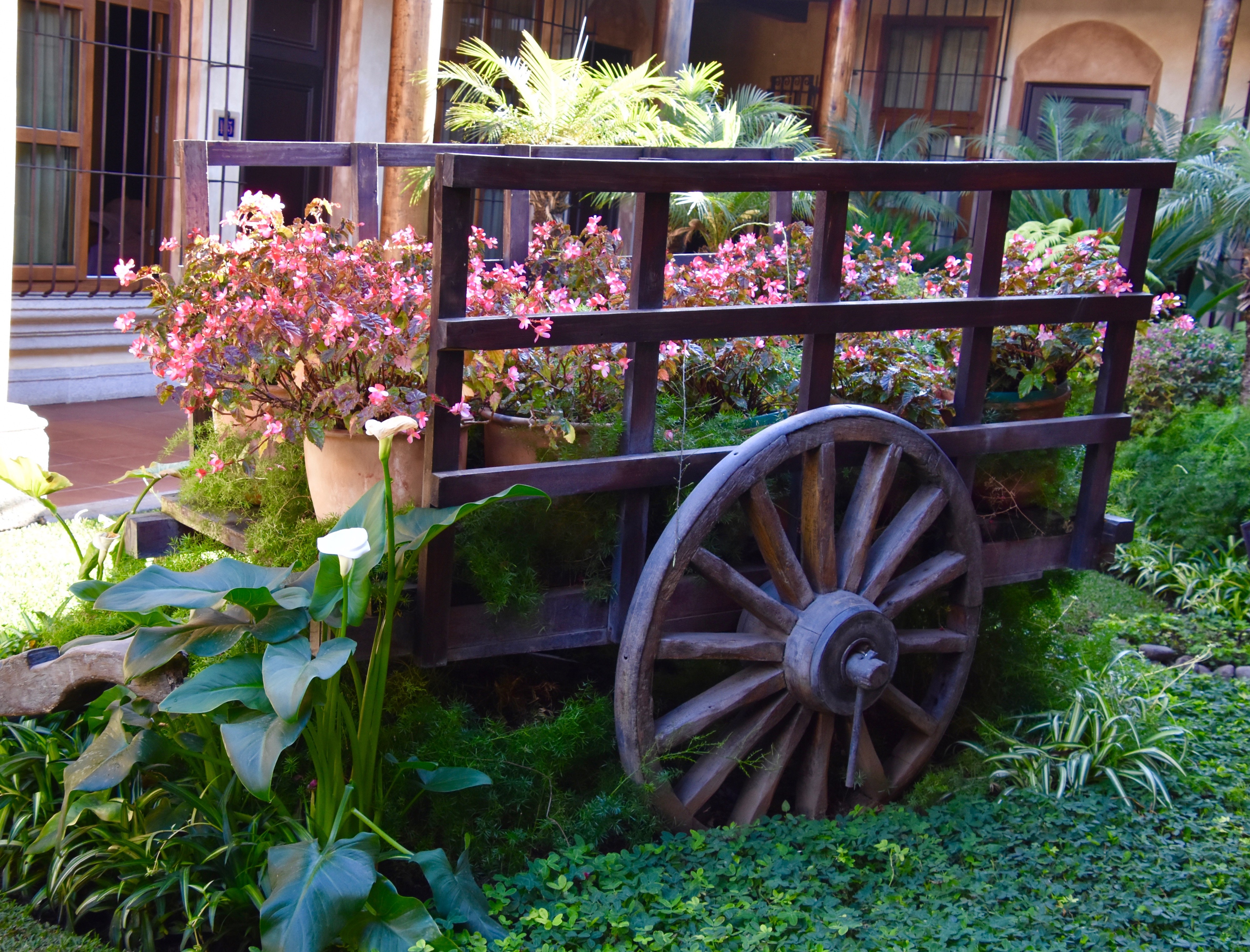 Or this courtyard fountain.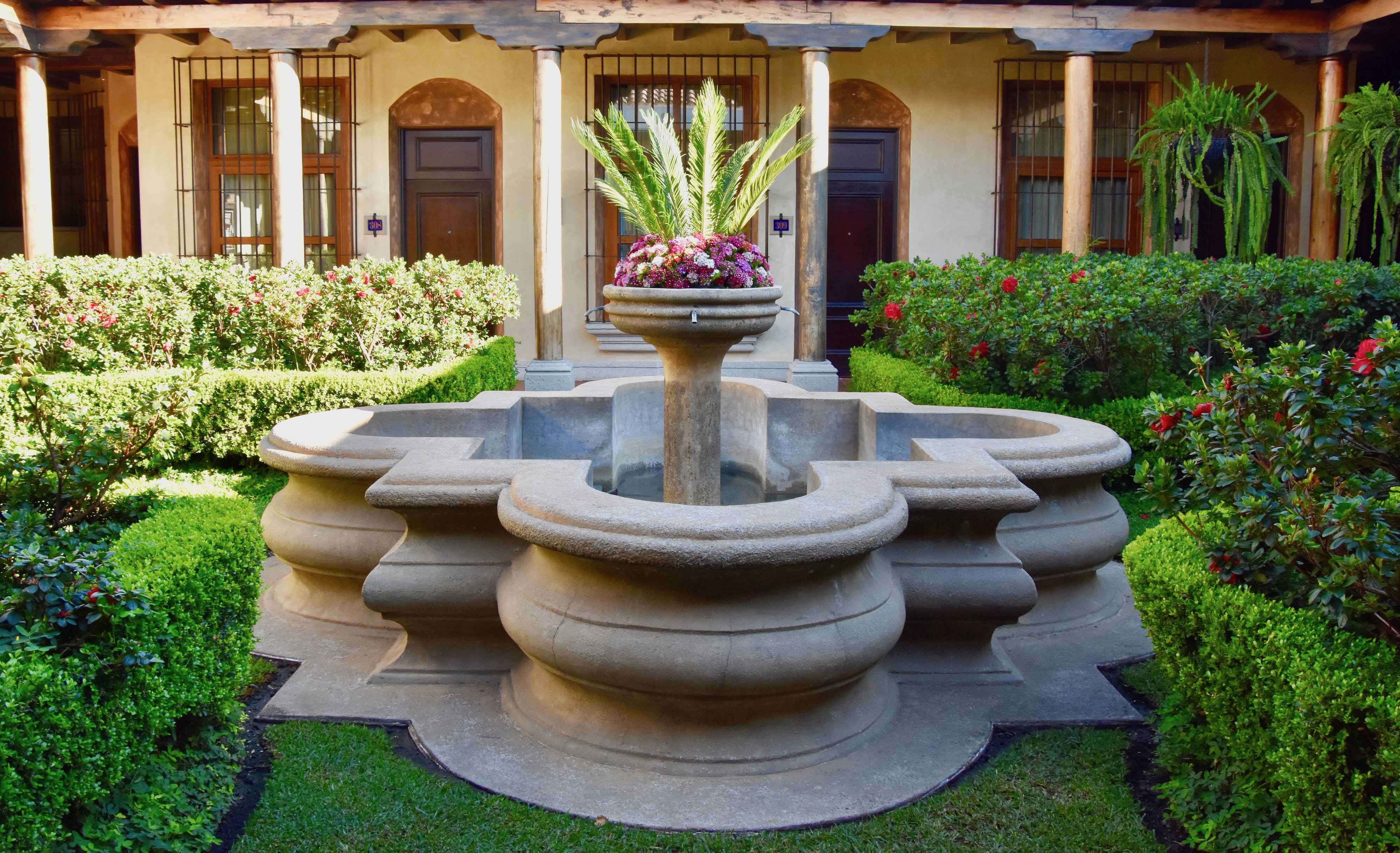 The rooms are spacious with all the modern amenities, but designed in a manner that you do feel you are staying in a hacienda.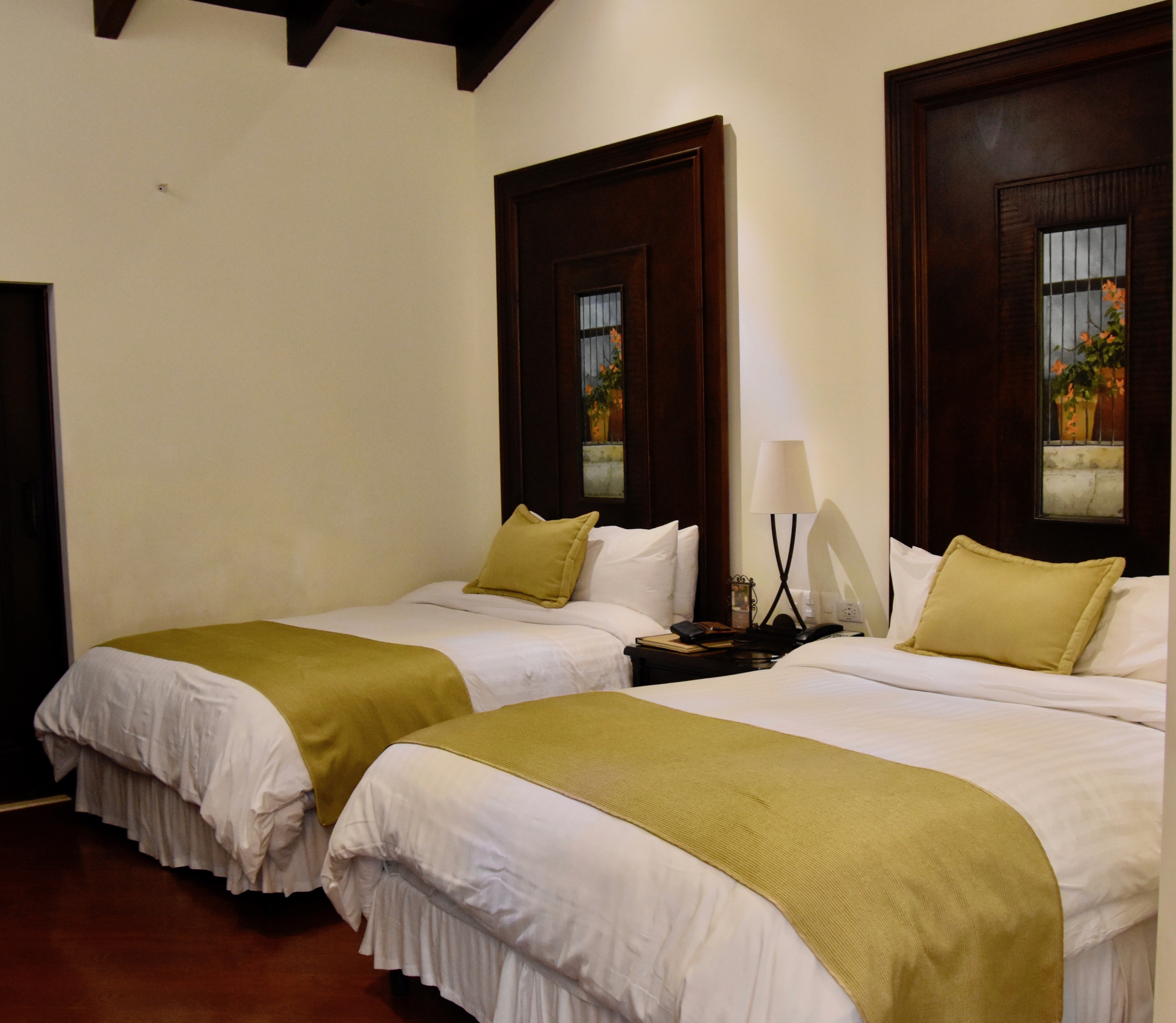 The breakfast buffet at La Velas restaurant was outstanding, probably the best on the entire trip and why I didn't take a picture of it I don't know.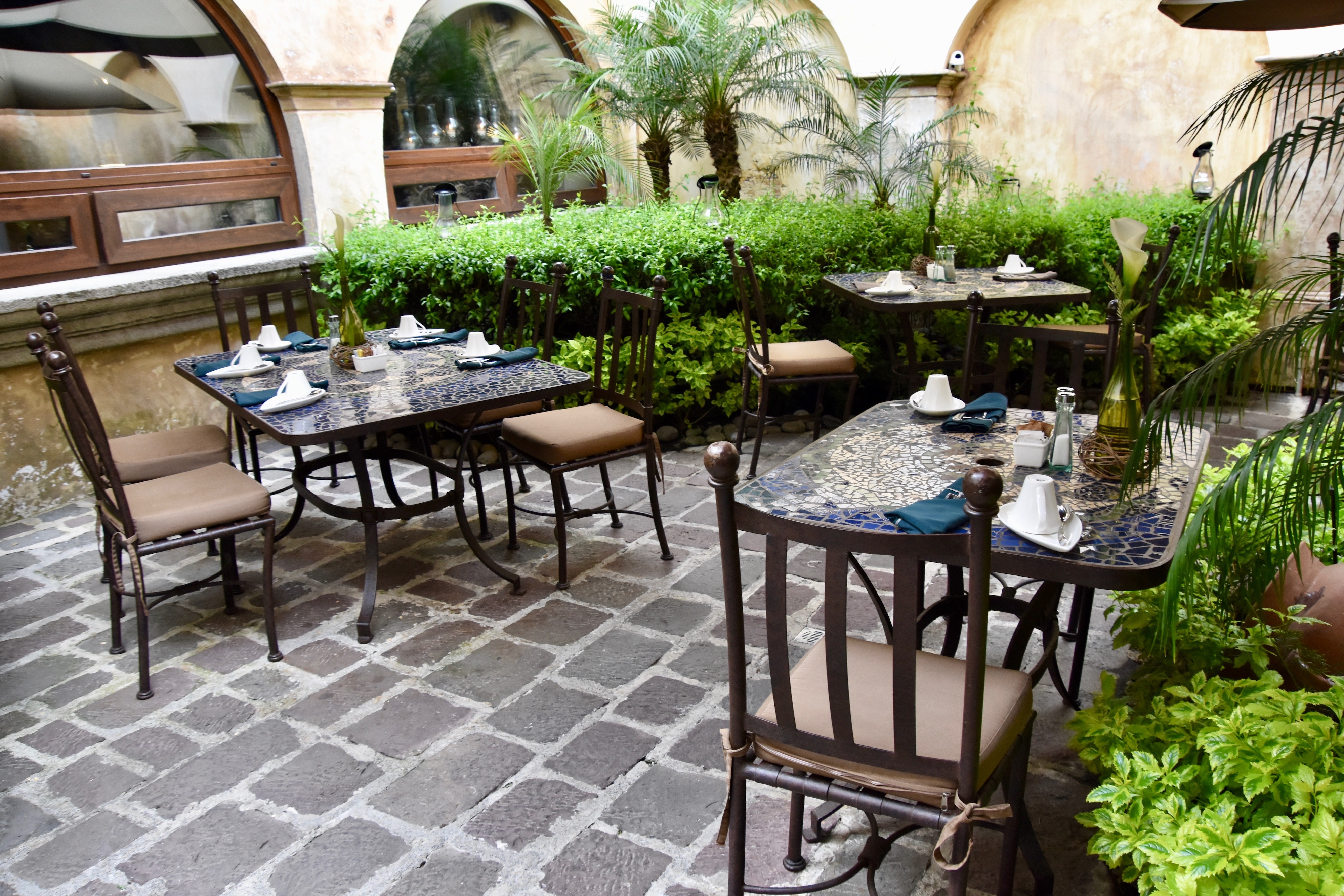 And of course it has a really cozy bar where you can also get a meal.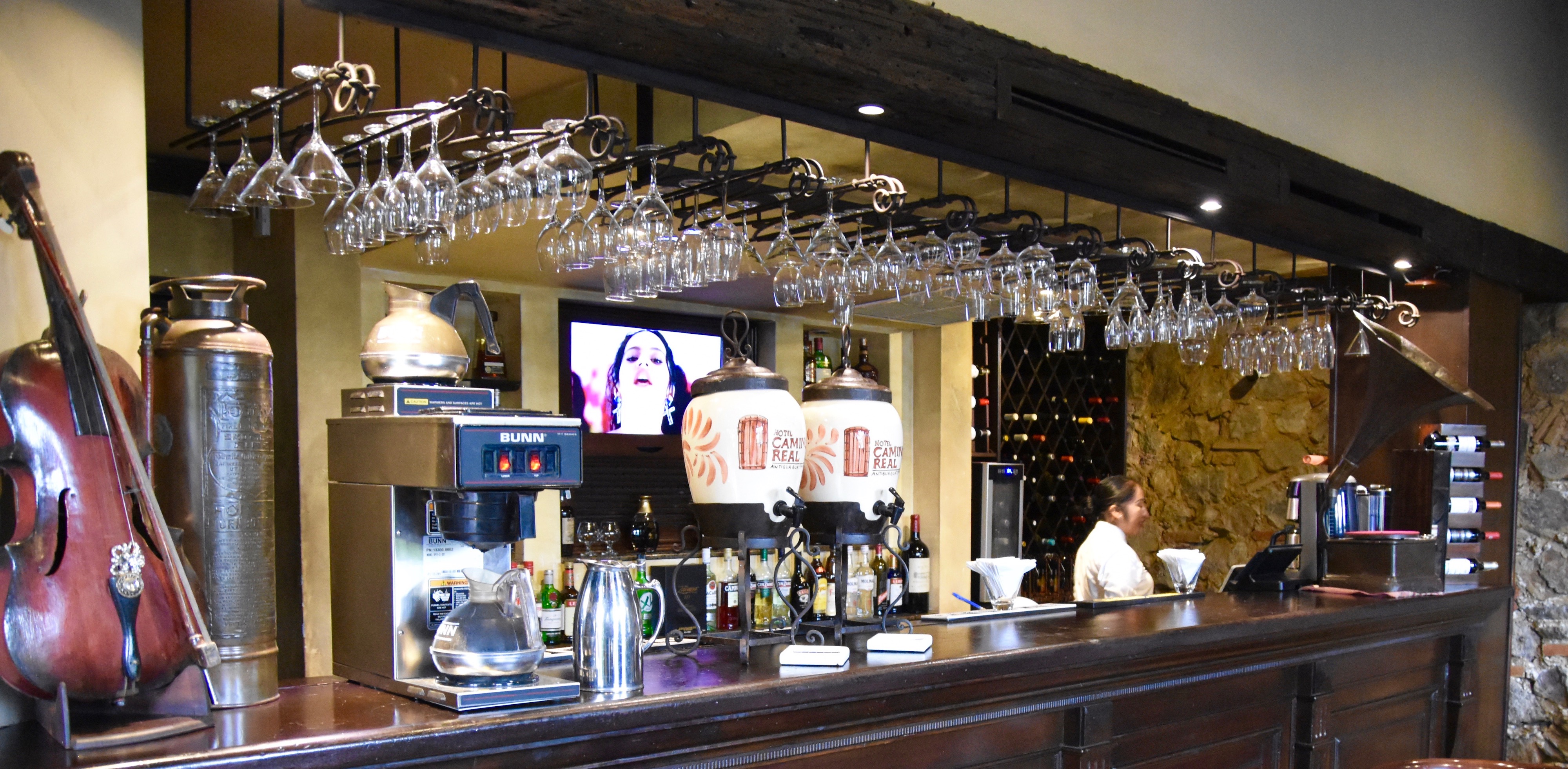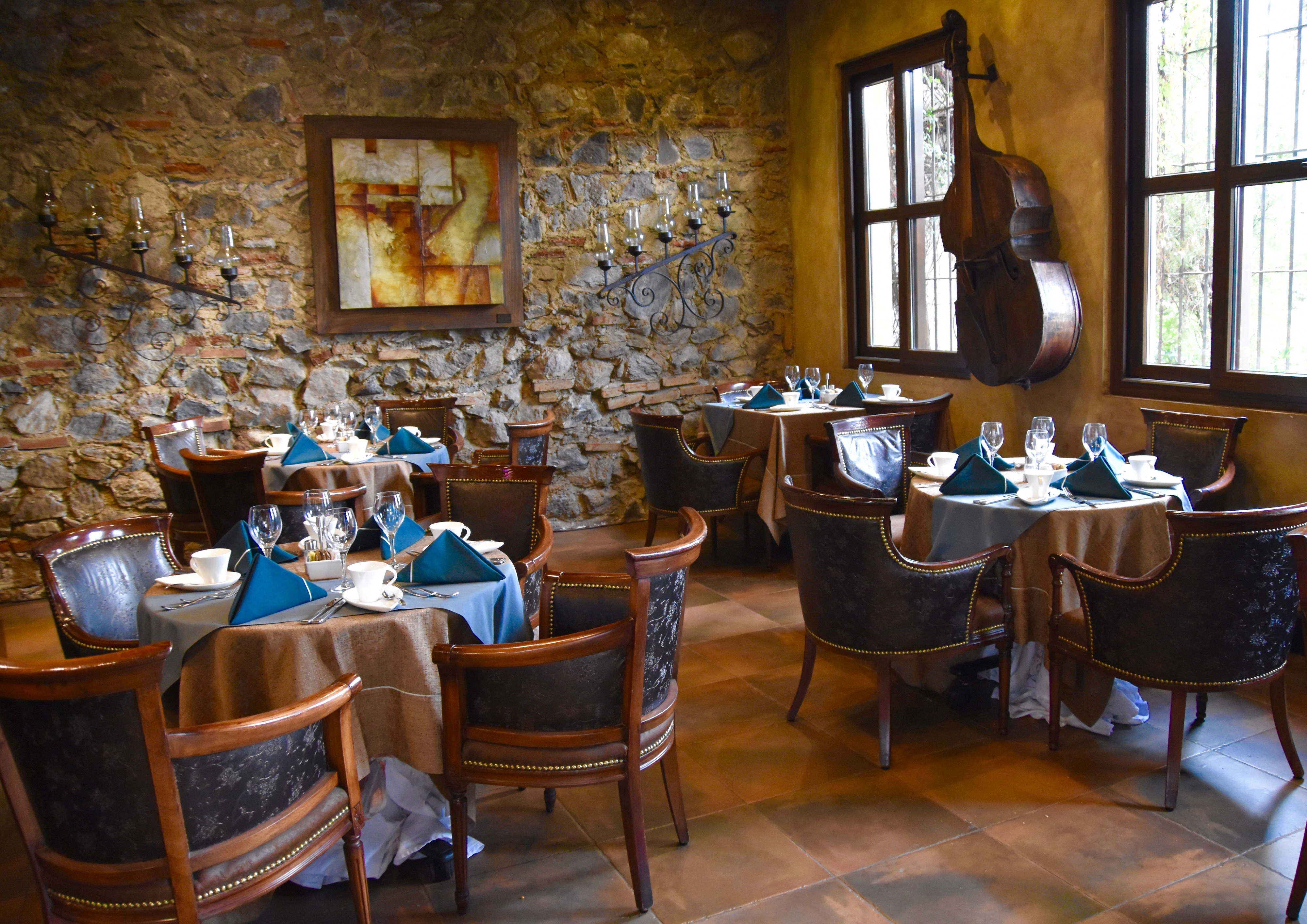 After a day of trekking the streets of Antigua some in our group enjoyed the pleasure of soaking in the large jacuzzi.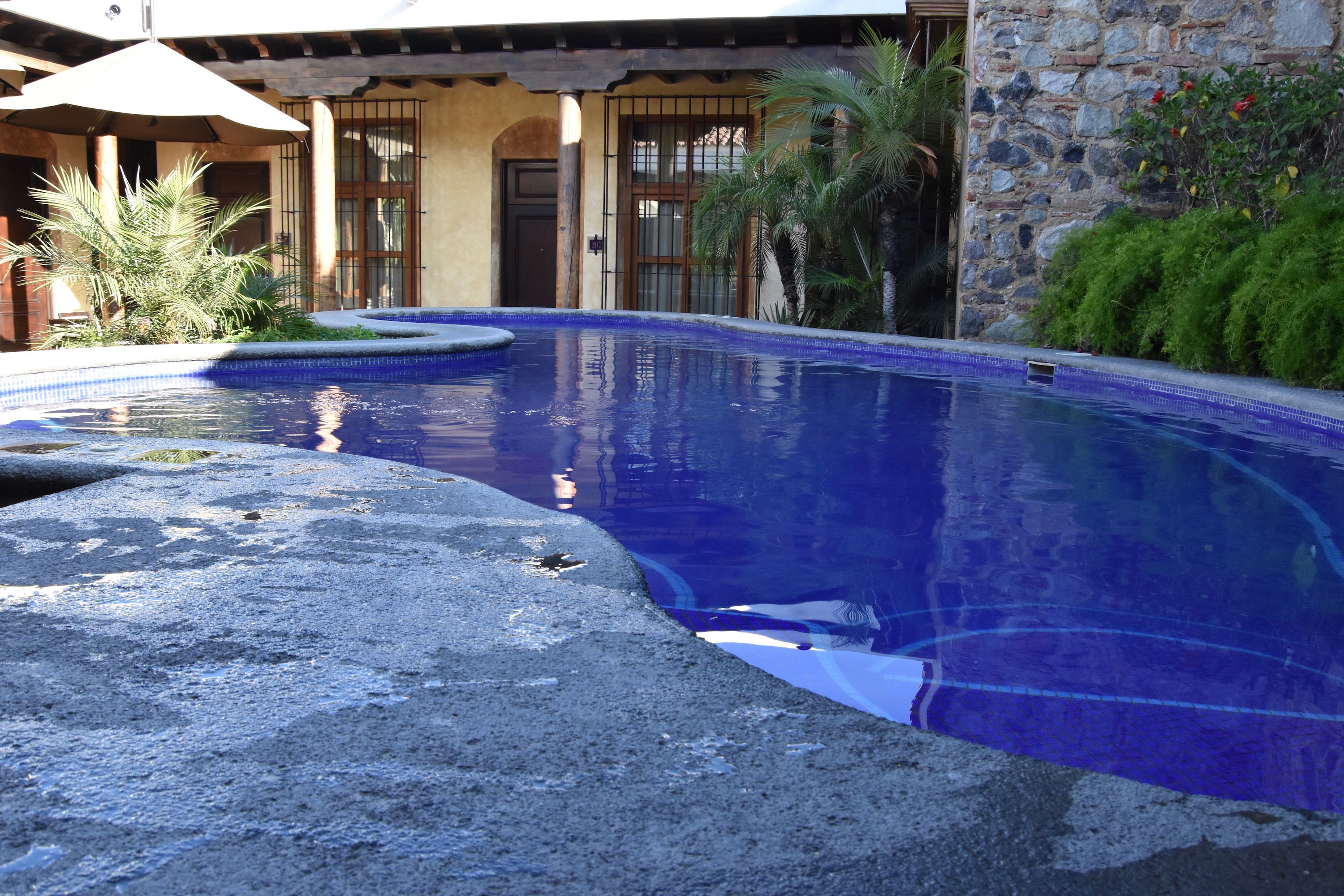 The Camino Real is the type of hotel where you might go just for the experience of relaxing without ever leaving the premises. It's an added bonus that it is just a short walk away from the centre of Antigua.
Exploring Antigua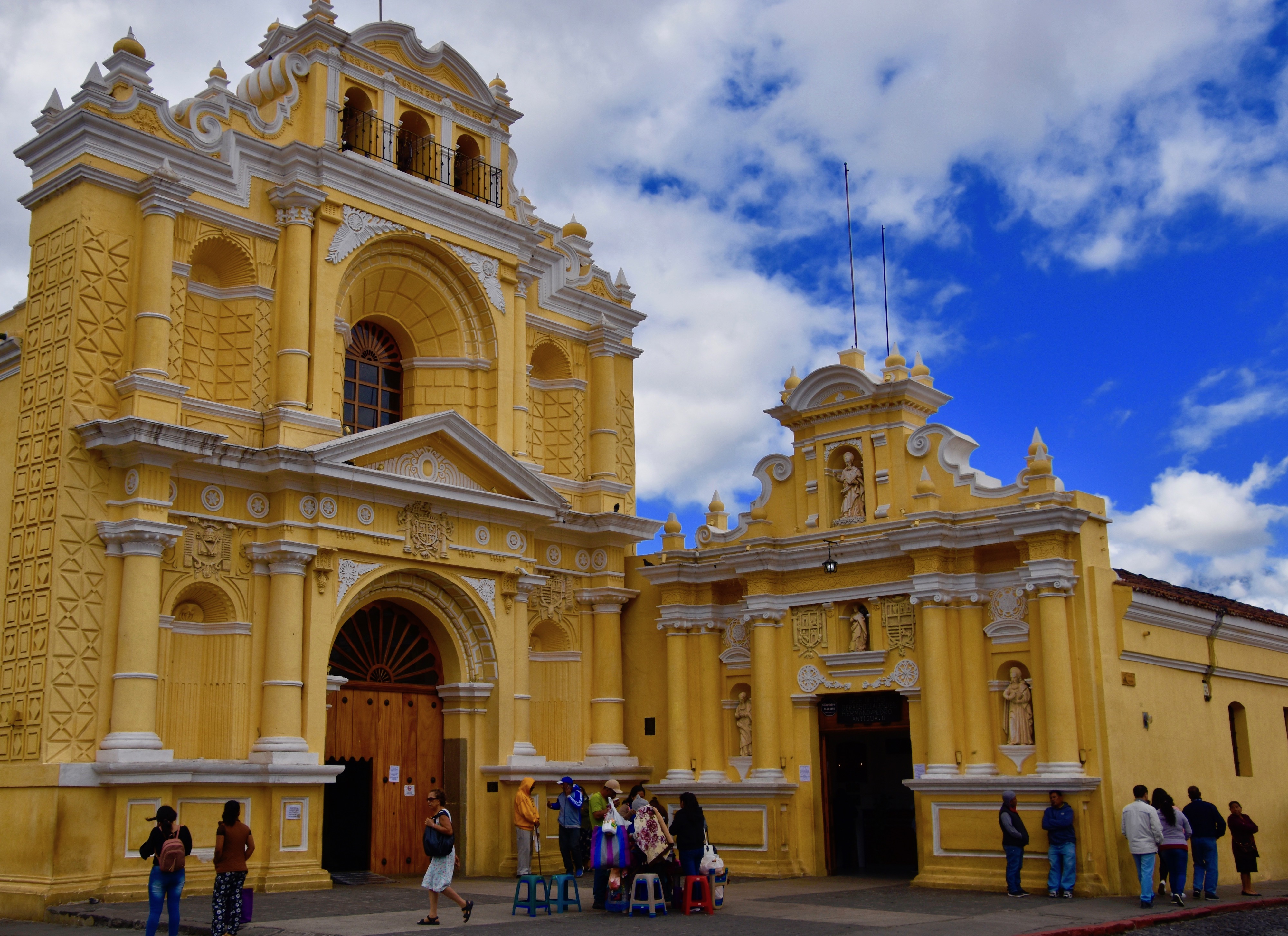 We had a couple of guided tours with our Guatemalan guide Tony, but for the purposes of this post I'm going to mix what we saw together. The bottom line is that there is a ton of things to see in Antigua and they are easy to walk between. If you get fatigued by one church or religious institution after another then this might not be your favourite Central American city. However, I can guarantee that you will not get tired of the ruins, especially those places that are partially ruins and partially working churches, convents or even hotels and restaurants.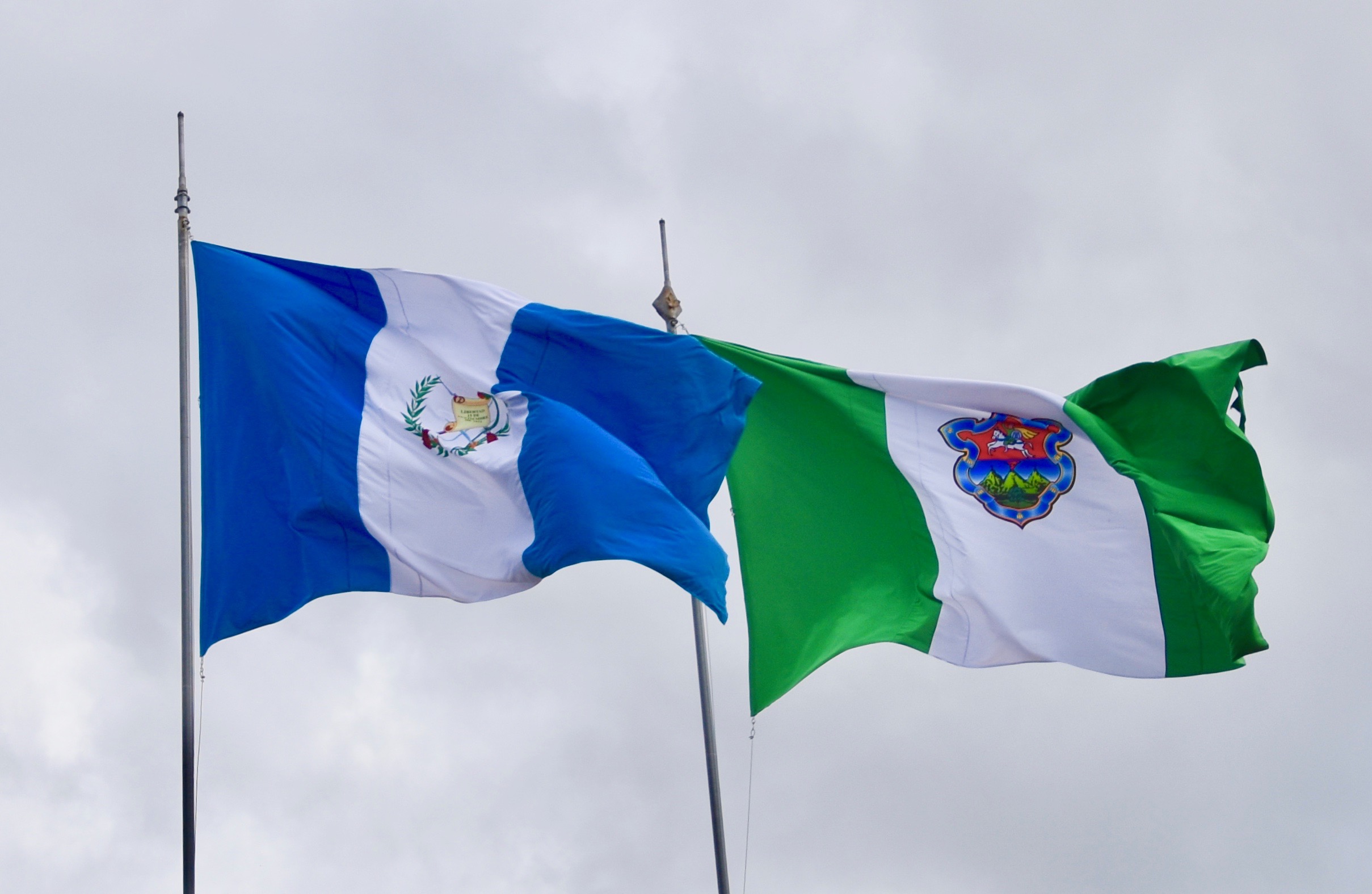 A good place to start is the Parque Central which is the city's equivalent of a Mexican zocalo with the Guatemalan and Antiguan flags flying overhead. It's the beating heart of Antigua with a mixture of locals and tourists with only a few annoying hawkers to avoid.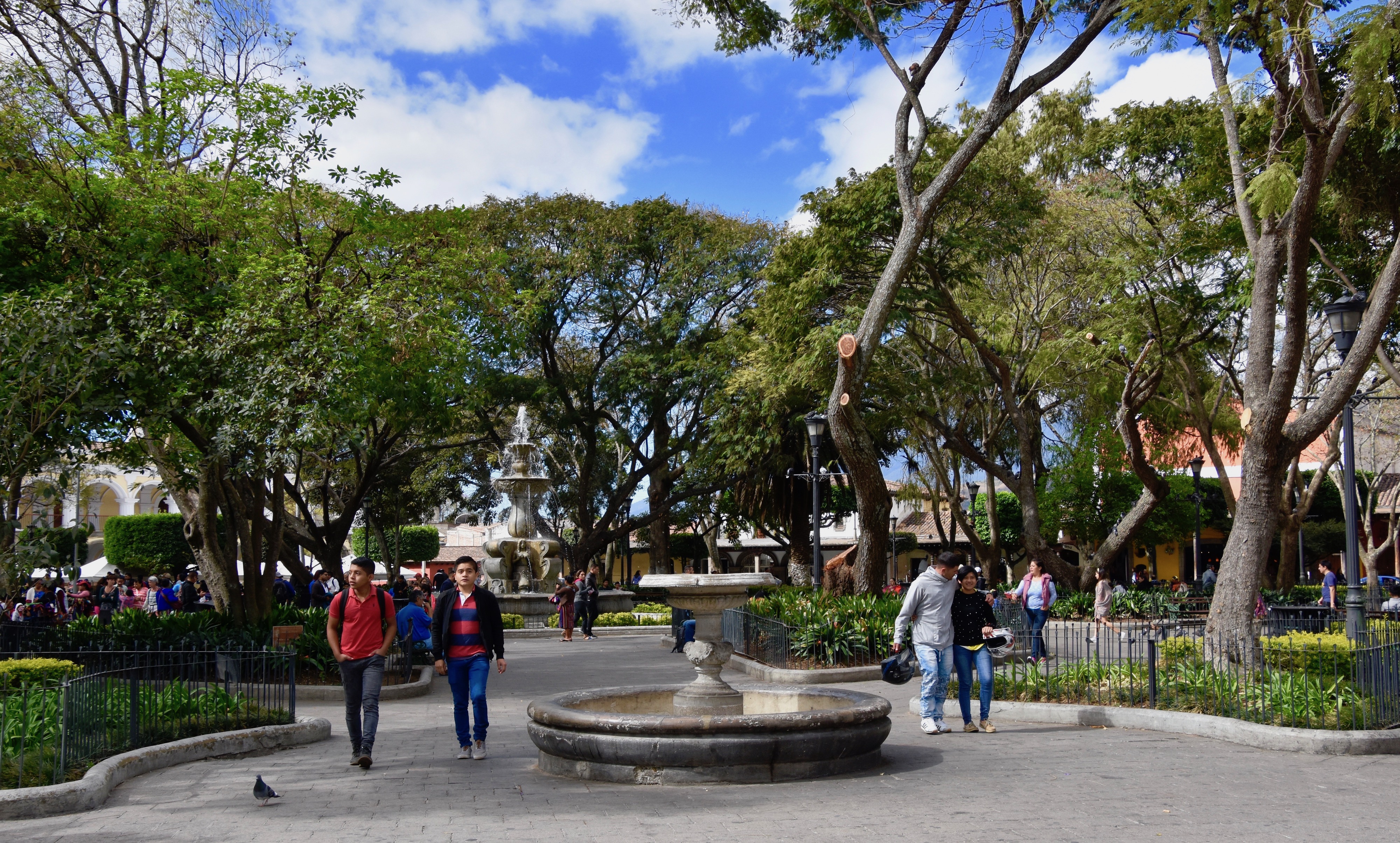 There is a reconstructed fountain that originally dated from 1737 with four mermaids squeezing water out from their ample bosoms. How did that get by the nuns and priests of 18th century Guatemala?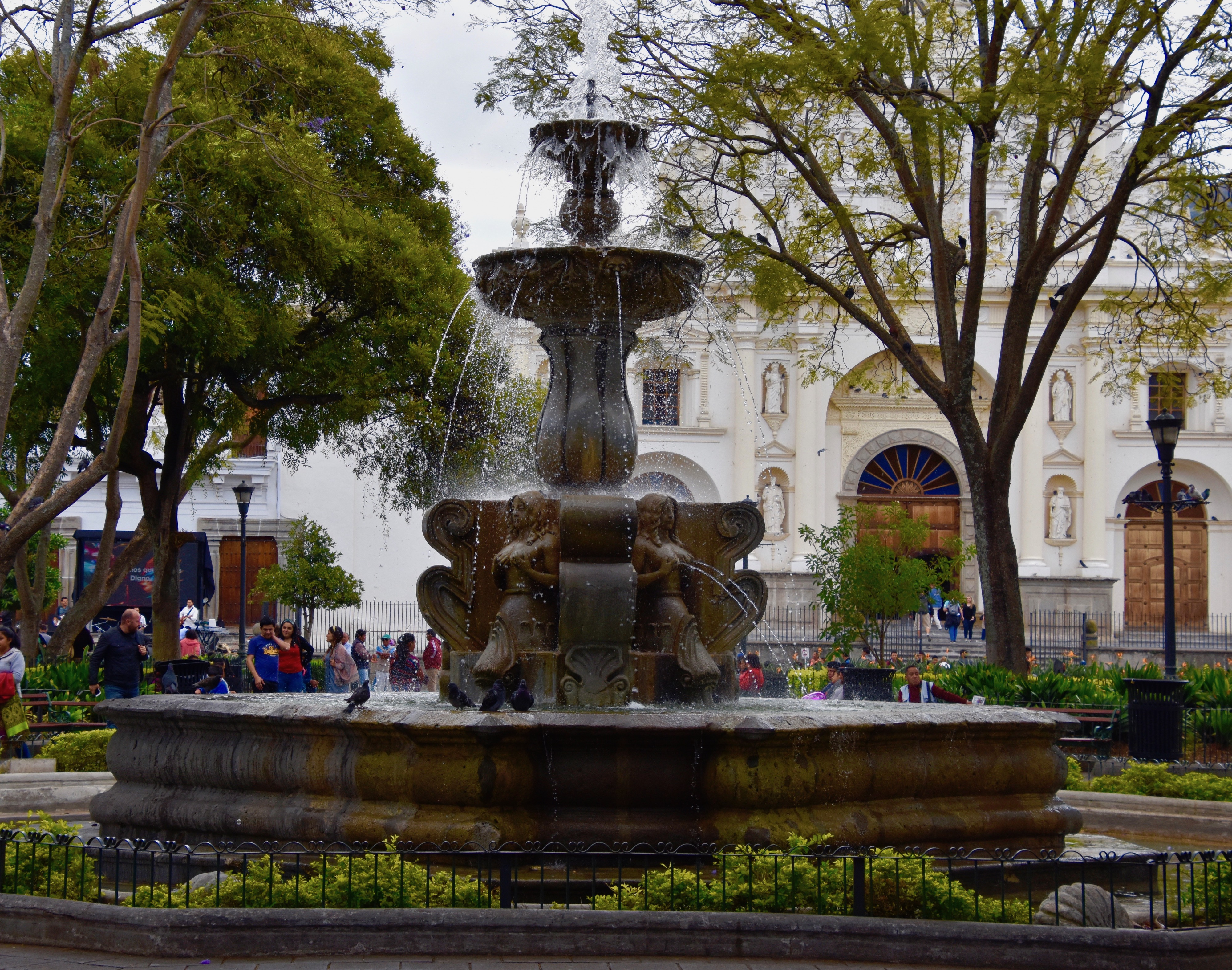 Behind the fountain is the Catedral de Santiago which was almost completely destroyed in the 1773 earthquake and only partially ever rebuilt. It's actually one of the less prepossessing buildings in the city.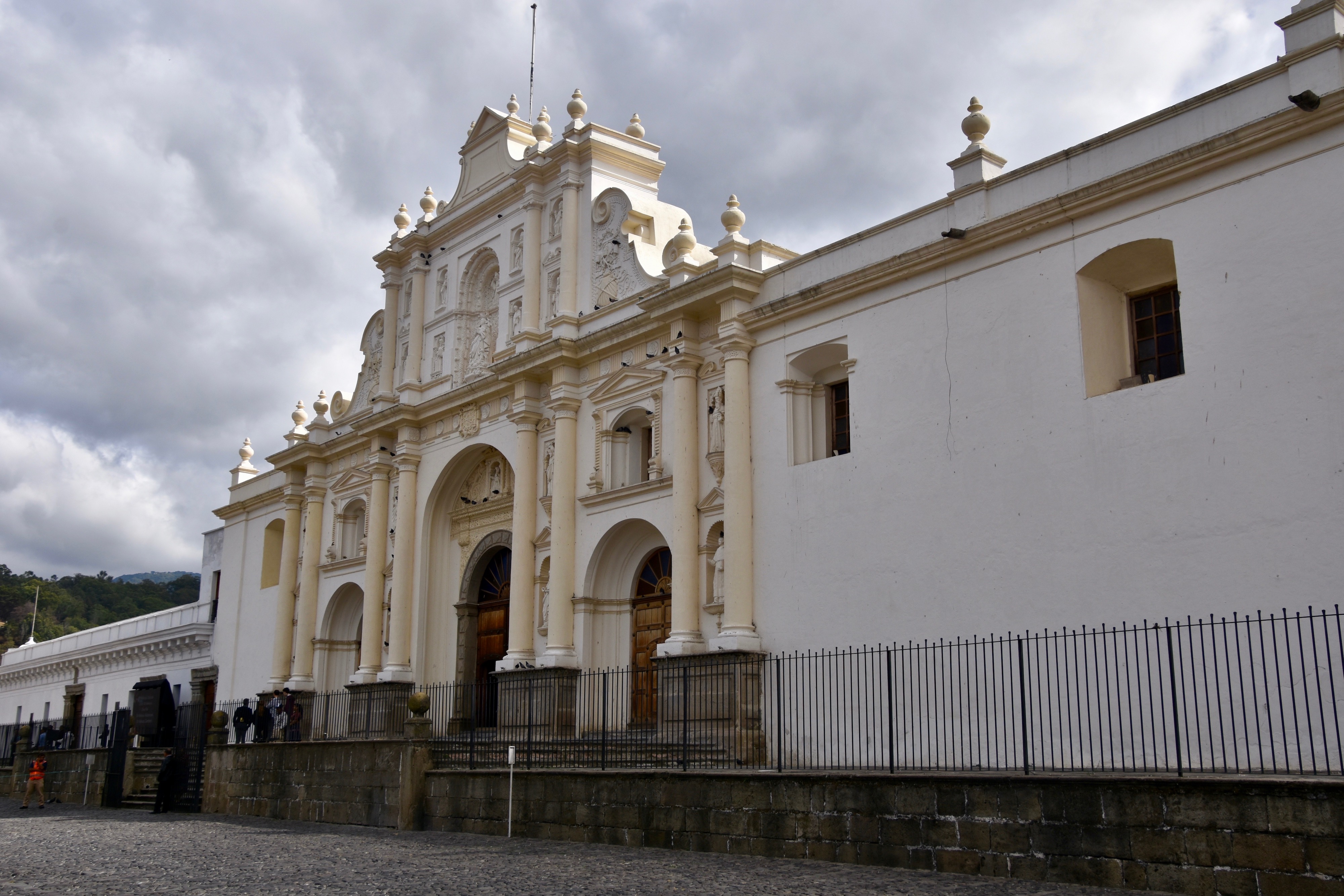 At right angles to the cathedral is the Palacio de los Capitaines General which is a two story colonnaded structure that once housed the administrative offices for the entire province of Guatemala. It too was severely damaged in the 1773 earthquake and abandoned for some time. Here is a woodcut from 1840 showing the cathedral and the palacio. Note the rubble in front of the palacio.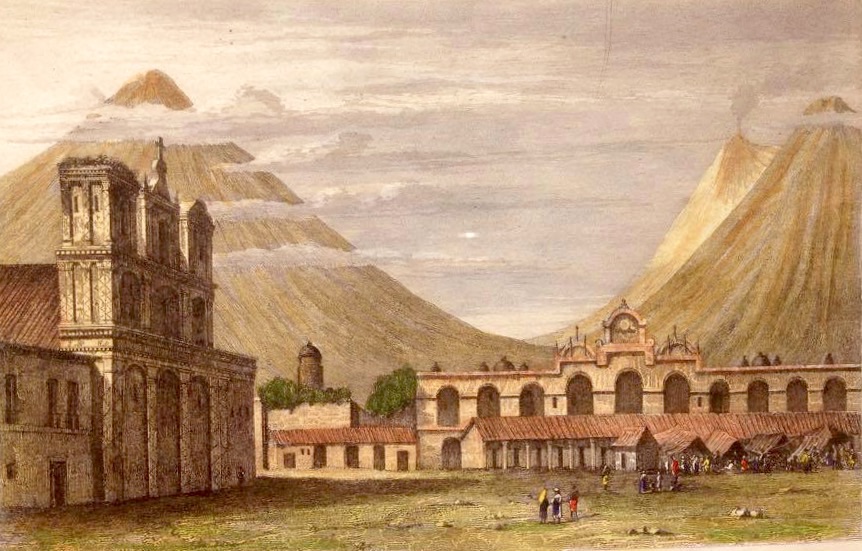 Today the colonnade provides welcome shade and houses a number of businesses and restaurants.
The woodcut makes it appear that Antigua is literally almost at the base of Volcan de Agua on the left and the twin peaks of Volcan Acatenango and Volcan Fuego on the right. This is a bit of an exaggeration, but the presence of these volcanoes cannot be ignored and in fact is what gives Antigua some of its romantic charm.
Vulcan de Agua was the one responsible for the mudslide that destroyed the second attempt by the Spanish to establish a city in the area. Although it has not erupted during recorded time (the mudslide apparently not qualifying as an eruption) it most definitely is not dormant. During our stay in Antigua it regularly sent out smoke signals.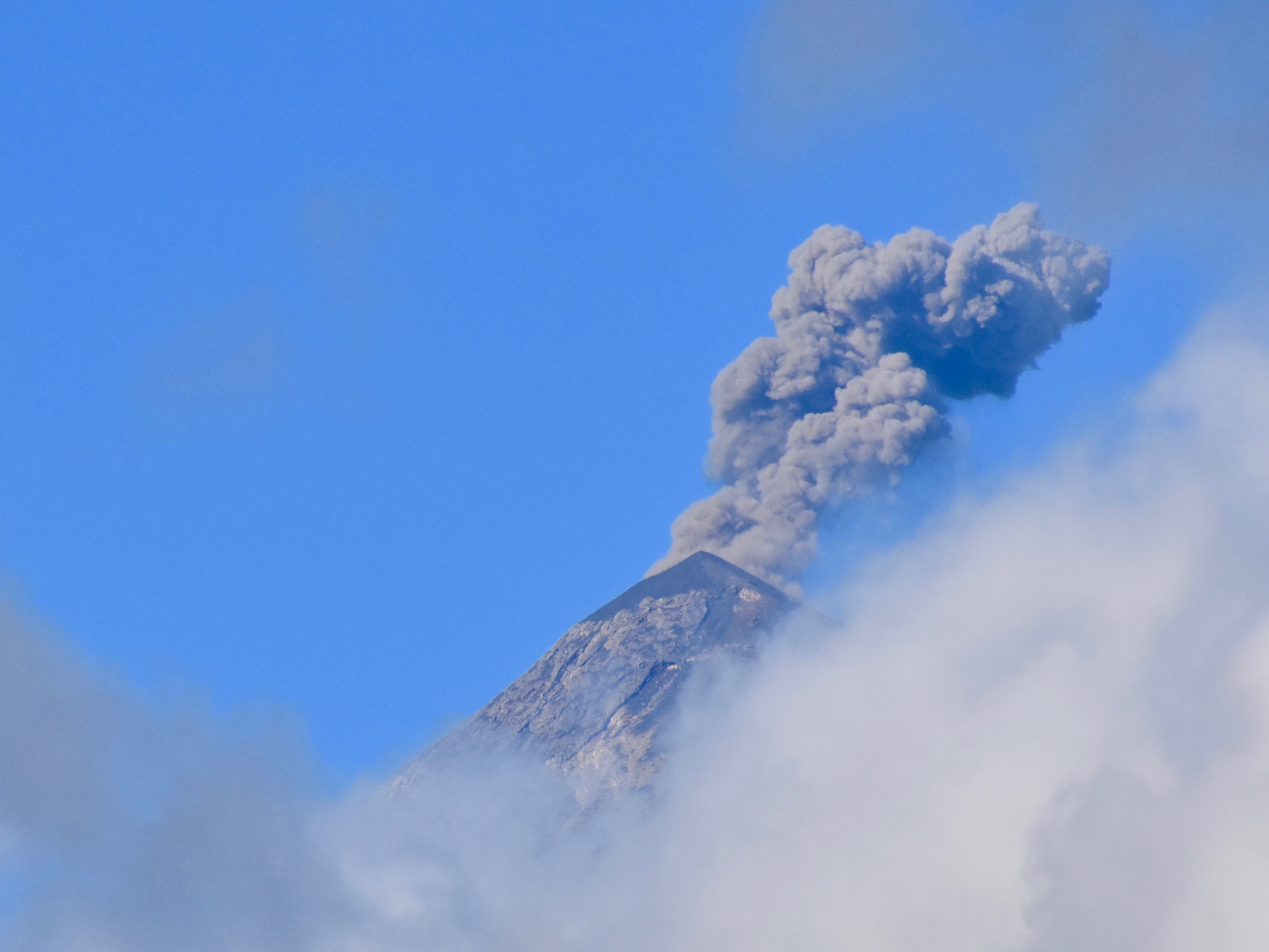 One of the more interesting of the partially ruined buildings is the large complex that was once the home of the Franciscan order in Antigua. They were the first to arrive in the area, even before the mudslide of 1541 and upon moving to the present site in 1579 set out building a huge church complete with cloisters and other buildings required to run a proper monastery. Despite set backs from numerous earthquakes they persevered until finally they were done in by the 1773 earthquake and heeded the order to move to Guatemala City.
The structures lay in ruins for almost two hundred years when the Franciscans returned in 1961 to start a five year reconstruction. Talk about a fixer upper project! The reconstruction is only partial so that today it looks like this.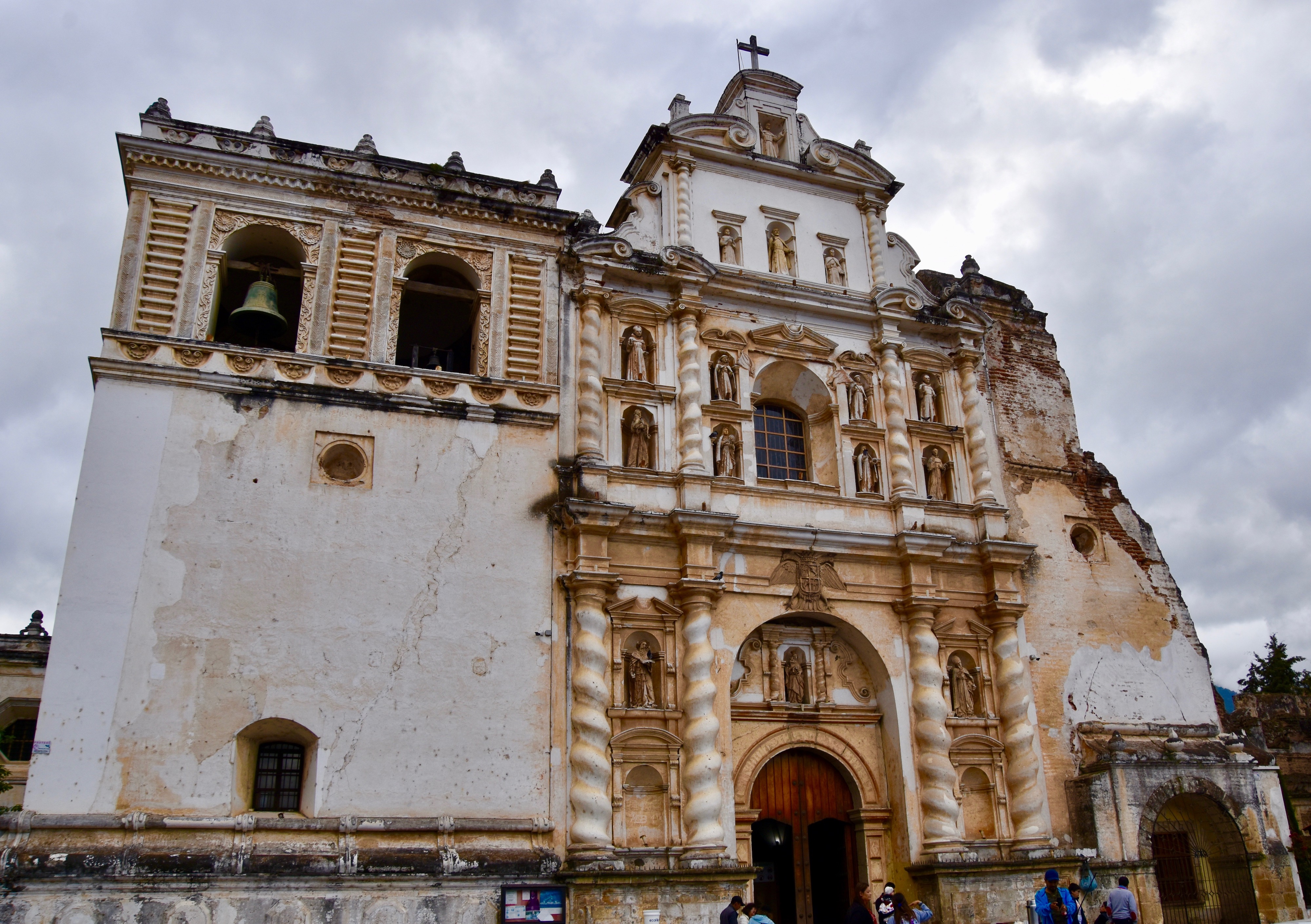 Tony points out the coat-of-arms over the front entrance to the church which is that of the Hapsburg's. This family once dominated Spain, Austria-Hungary, the low countries and much of Italy and Germany, but somehow I never associated them with the New World. Another travel related learning lesson.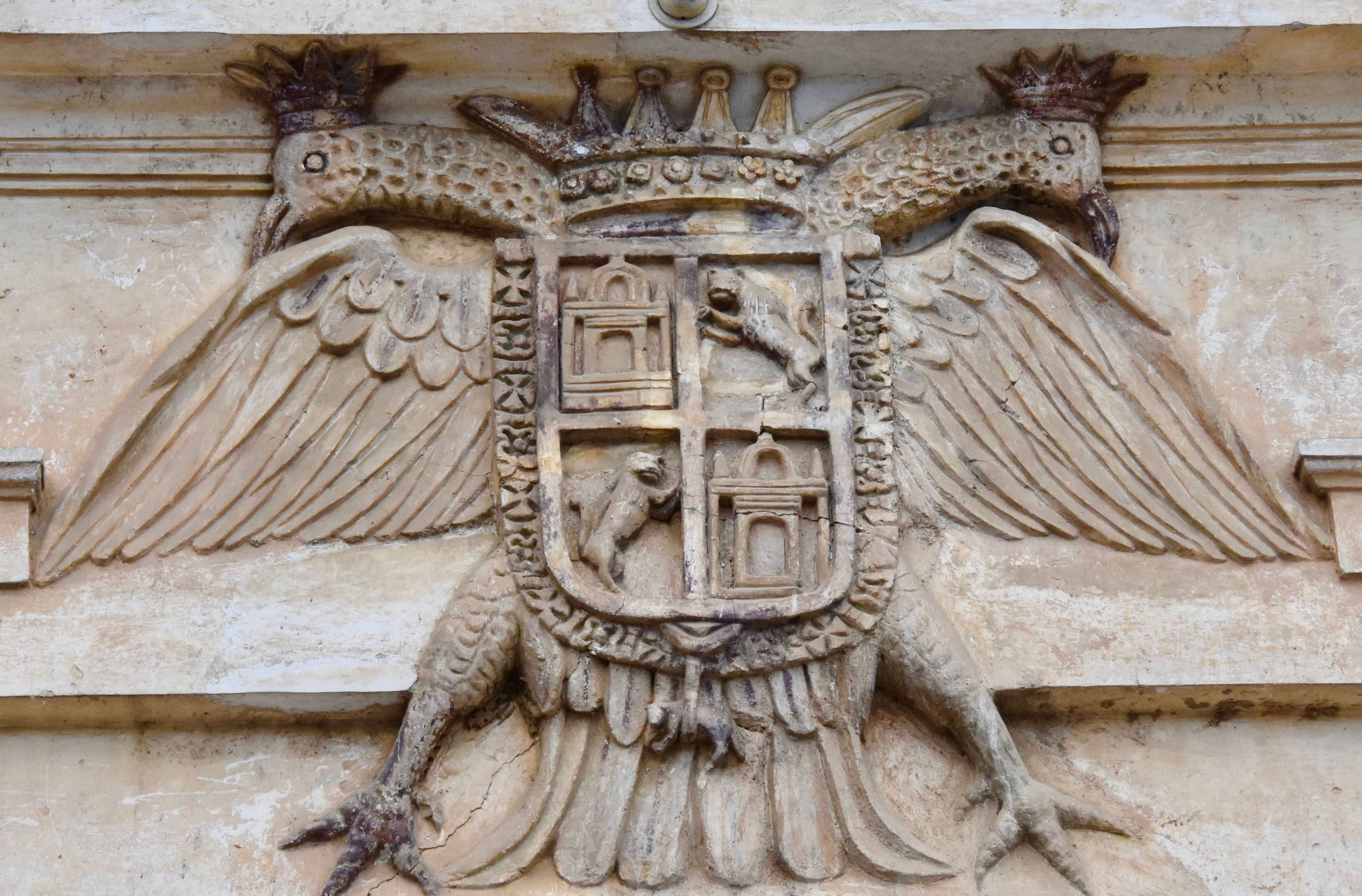 The area around the church is very busy with many fruit and vegetable vendors which this slimmed down version of Friar Tuck is checking out.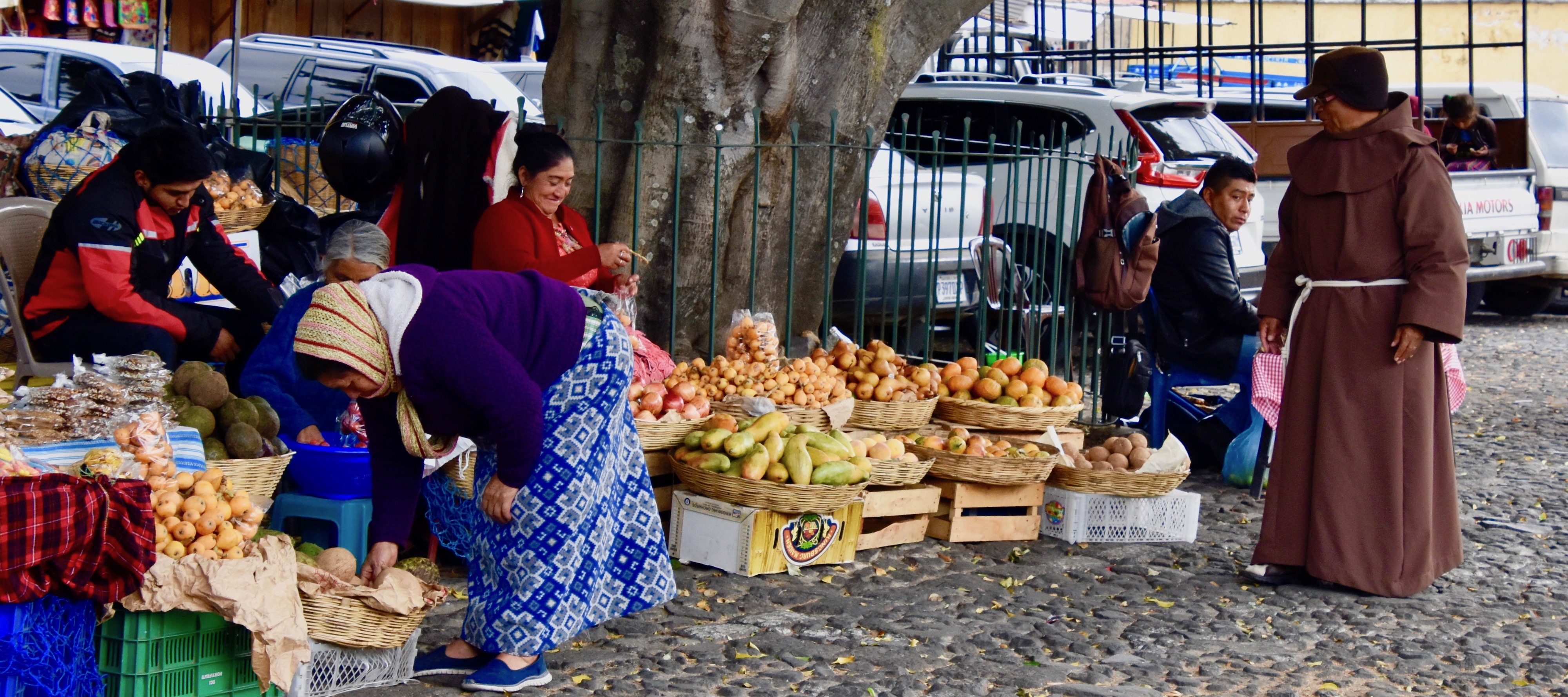 If you've got a sweet tooth then this stall is the place to come with a great variety of goodies available.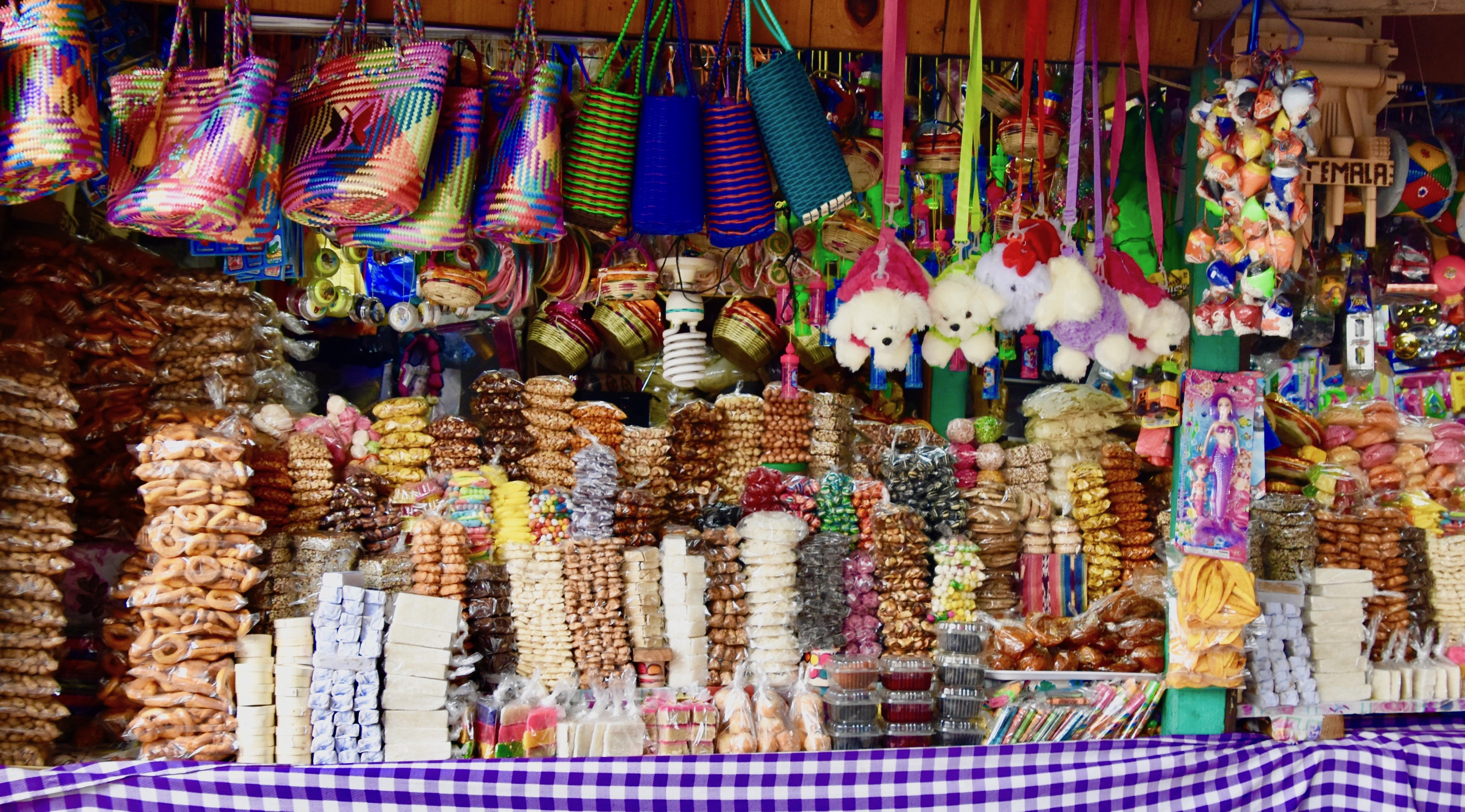 On the other hand, if you are desperate you might gravitate to this place.

Those are candles in the shape of body parts – limbs and various organs. Why would you want one of these you might ask? Because there is a saint buried in San Francisco Church and being of recent vintage his powers of healing are apparently very strong. Peter of Saint Joseph de Betancur or Hermano Pedro as he was usually called while alive in the 17th century, was a goatherd from the Canary Islands who made his way to Antigua and became a Franciscan brother. Using his experience with goats, he shepherded the sick, the poor and especially those imprisoned. He was that rarest of beings, a truly good man. In 2002 he was canonized by Pope John Paul II, becoming Guatemala's first saint and now people from all over Central America flock to this church seeking his divine intervention. There are many here today and Tony wisely suggests that we not disturb their prayers. While I don't believe in this stuff, I don't begrudge those that do as long as they respect my right to disbelieve and don't try to convert me.
The street that the Franciscan complex is on is called Calle de los Pasos which means 'street of the steps' and contains a number of stations of the cross where people congregate on Good Friday which is a big deal in Antigua. One thing I really like when visiting countries like Spain and those in Latin America is the tradition of using tiles or paint to give the street name a personality that we just don't do in North America. There's just something about this sign that makes you want to walk down this street.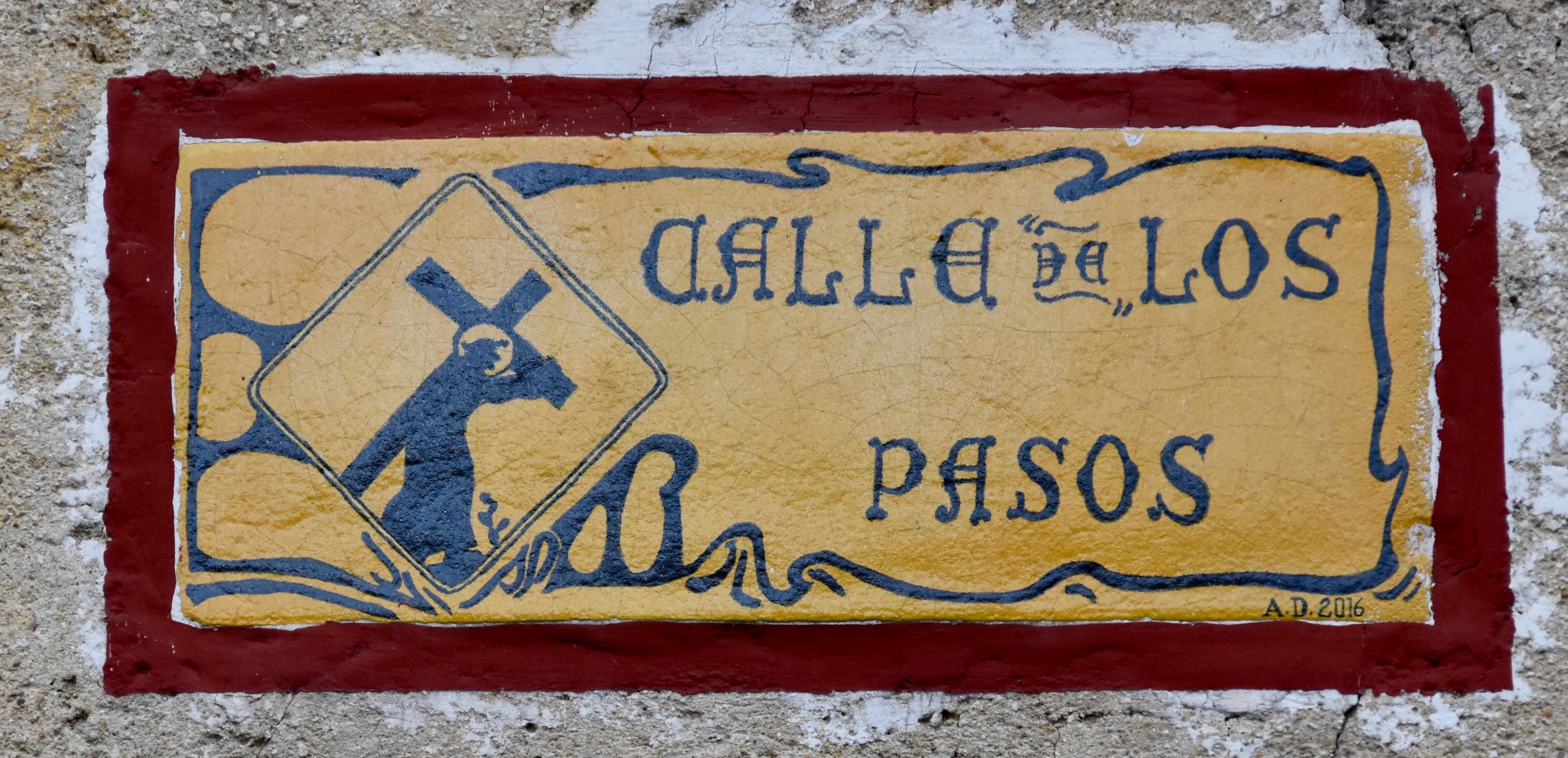 Undoubtedly the most famous landmark in Antigua is the Santa Catalina Archway that once connected two convents on either side of 5th avenue and viewed from the north side has a splendid backdrop of Volcan de Agua behind it. Although you can't tell from this photograph because I cropped it severely, this street was jam packed with tourists; the most I saw at any one place in Guatemala. Everyone wants their picture taken in front of the archway. Everyone except me – I figure if I took this picture, there was a good chance I was there.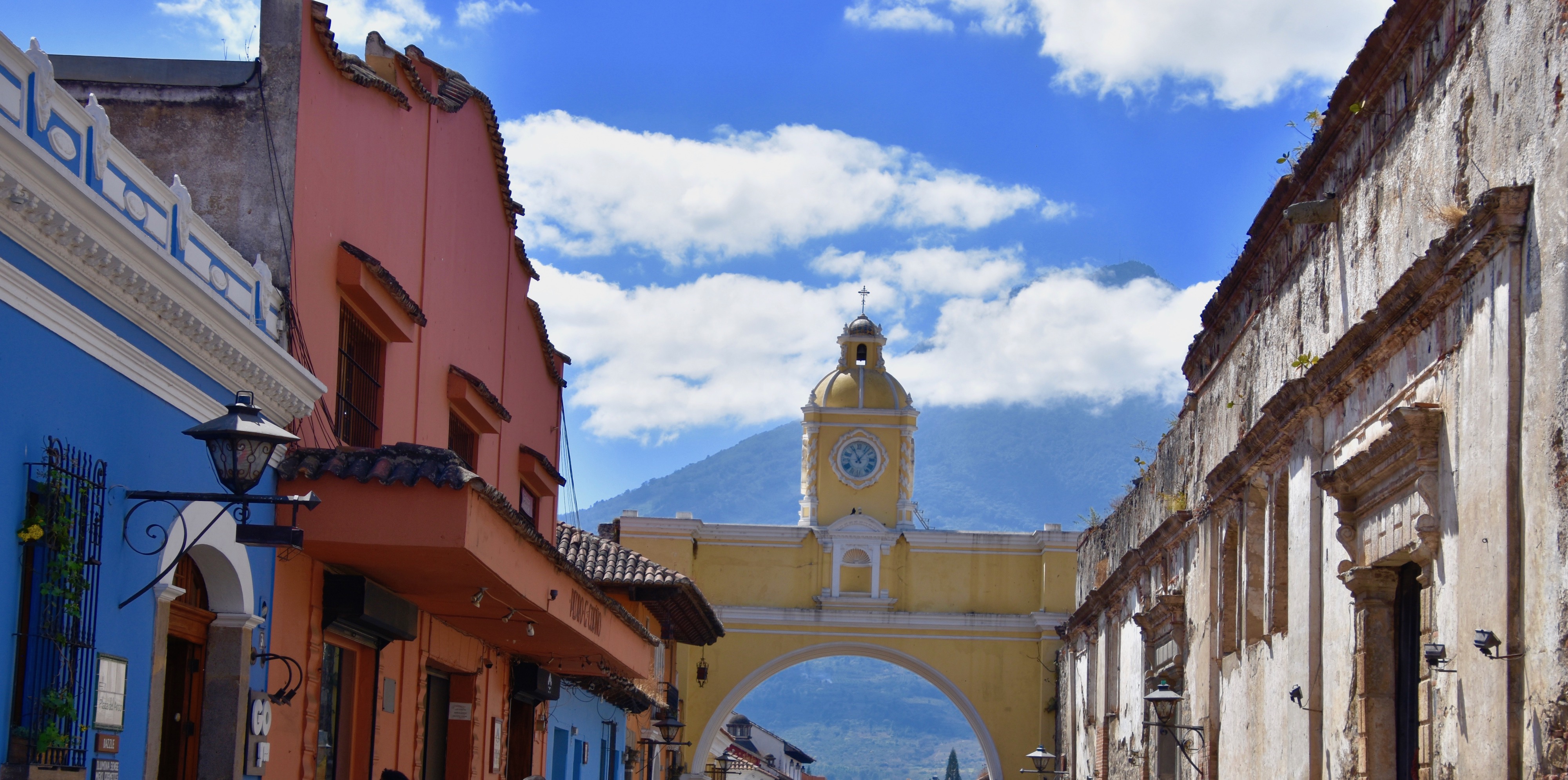 Time for lunch. There is a good selection of restaurants on two sides of the Parque Central and I don't include chain restaurants under the term 'good' although there is also a selection of them as well. Alison and I found a place inside the colonnade and she had potato and leek soup with side salad. I went with fagioli soup which I always enjoy and breaking the rules of not drinking beer with soup, had a local craft beer, Muy Noble Blonde Ale and it was.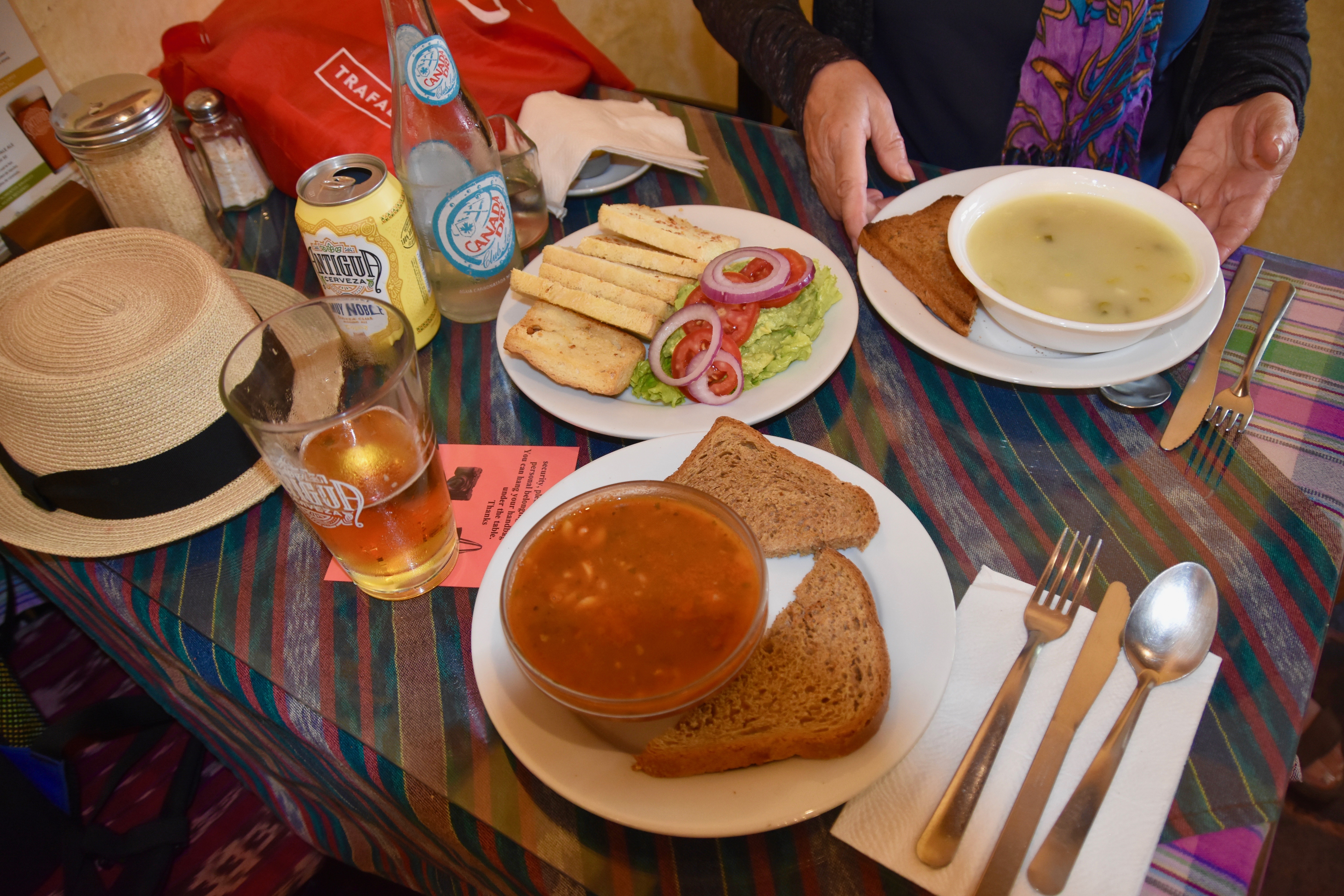 There's still a whole lot more to see in Antigua starting with another ruined monastery that has been repurposed as a series of museums and a luxury hotel. The former Dominican monastery, Santo Domingo de Cerro was one of the largest in Antigua until it was levelled in the 1773 earthquake and abandoned. It sat in ruins for even longer than San Francisco before being purchased and converted into the five star Caso Santo Domingo which opened in 1989. The building incorporates portions of the ruins directly into a modern structure in a way that very much preserves the feeling of being in a monastery, except one with spas, swimming pools, HDTVs and other modern amenities that monks could only dream of.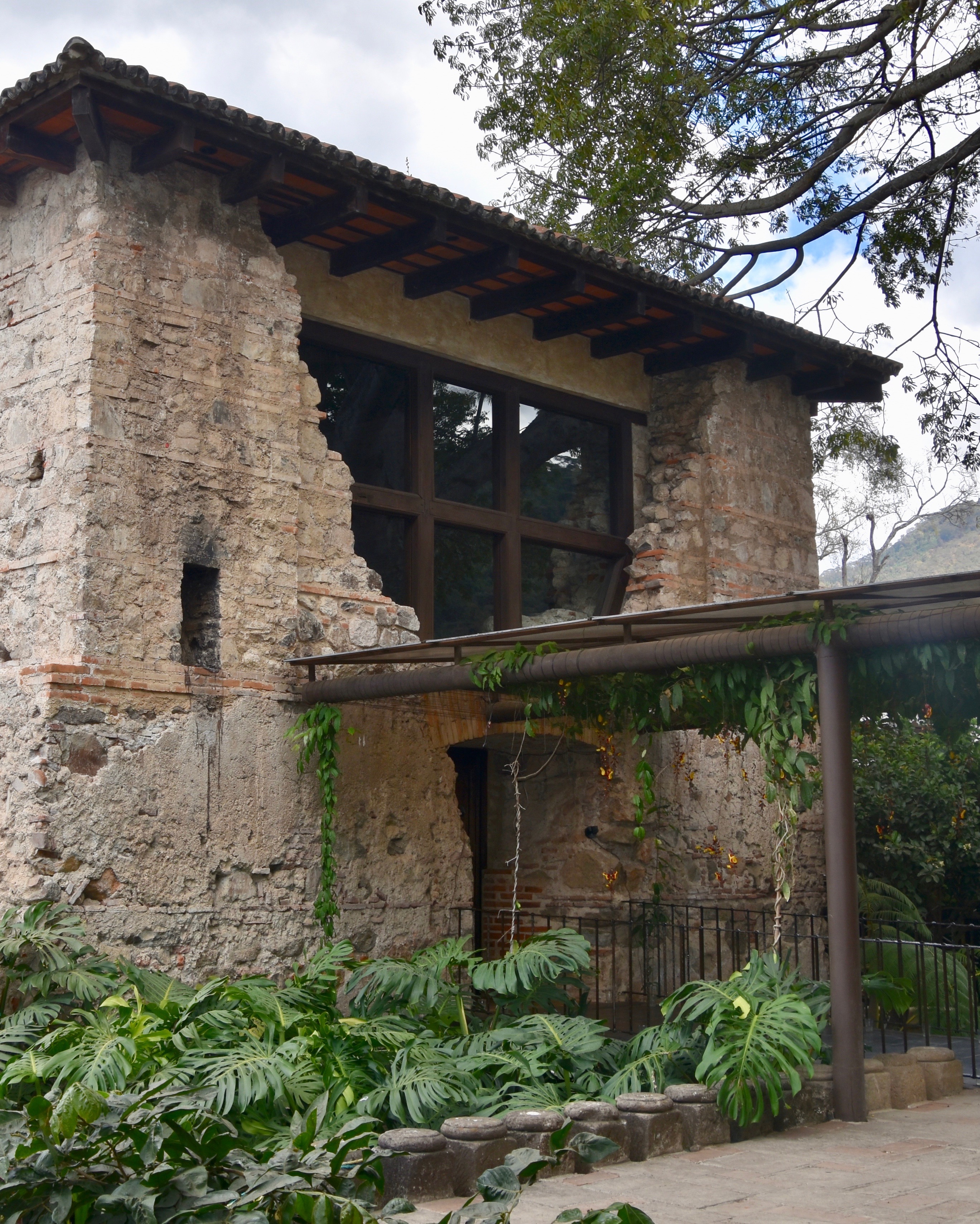 Non-guests are not allowed to just wander around the hotel, but they can visit some of the small museums on site including the catacombs where you can stand on plexiglass and look down at the remains of this nameless monk.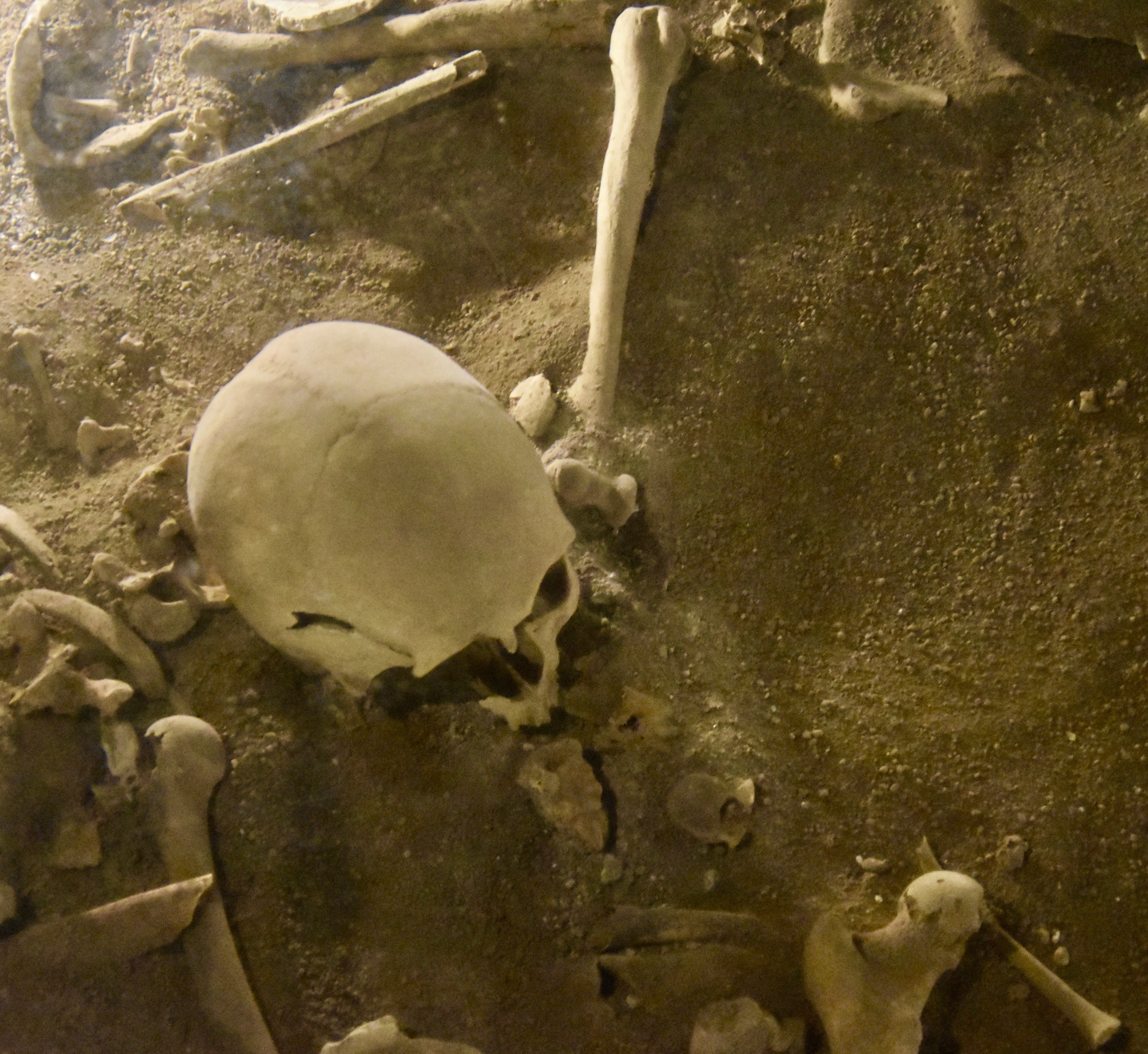 Here is another example of the combination of old and new, this time to create a work of art which I call 'Bells and Babies'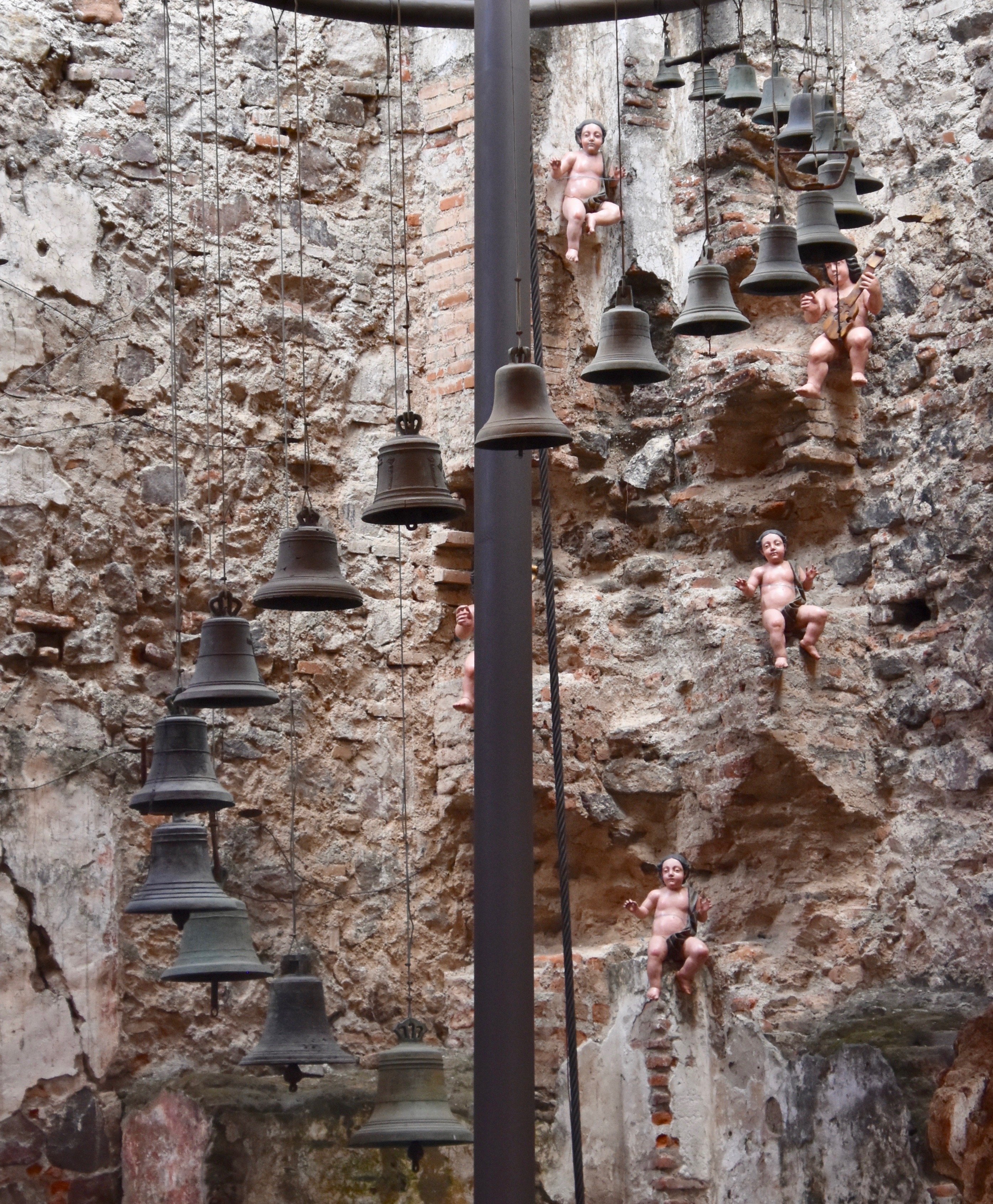 Tony drew our attention to this rendition of the Last Supper which is very unusual. If Tony had not pointed it out, I would not have noticed that Jesus was serving up tortillas and not the usual bread you would see in European versions. Another case of syncretism with the tortilla, which far predated Christianity in Guatemala, being incorporated into the new religion's rites.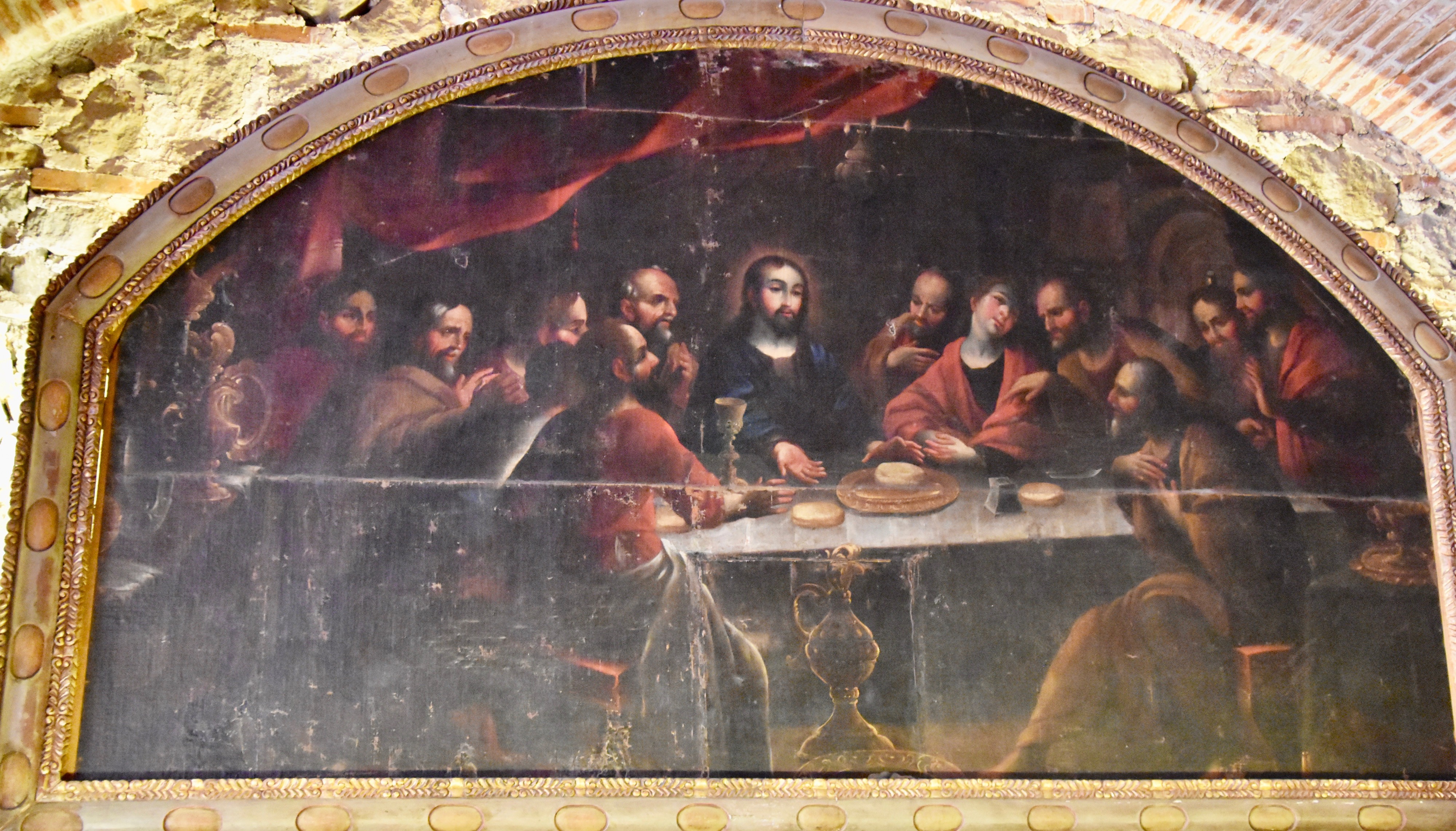 Now I'll just fast forward to a few more of the things we saw, lest the reader get bored with too much detail. This is the interior of the Colonial Art Museum which as you can see is not exactly overflowing with tourists.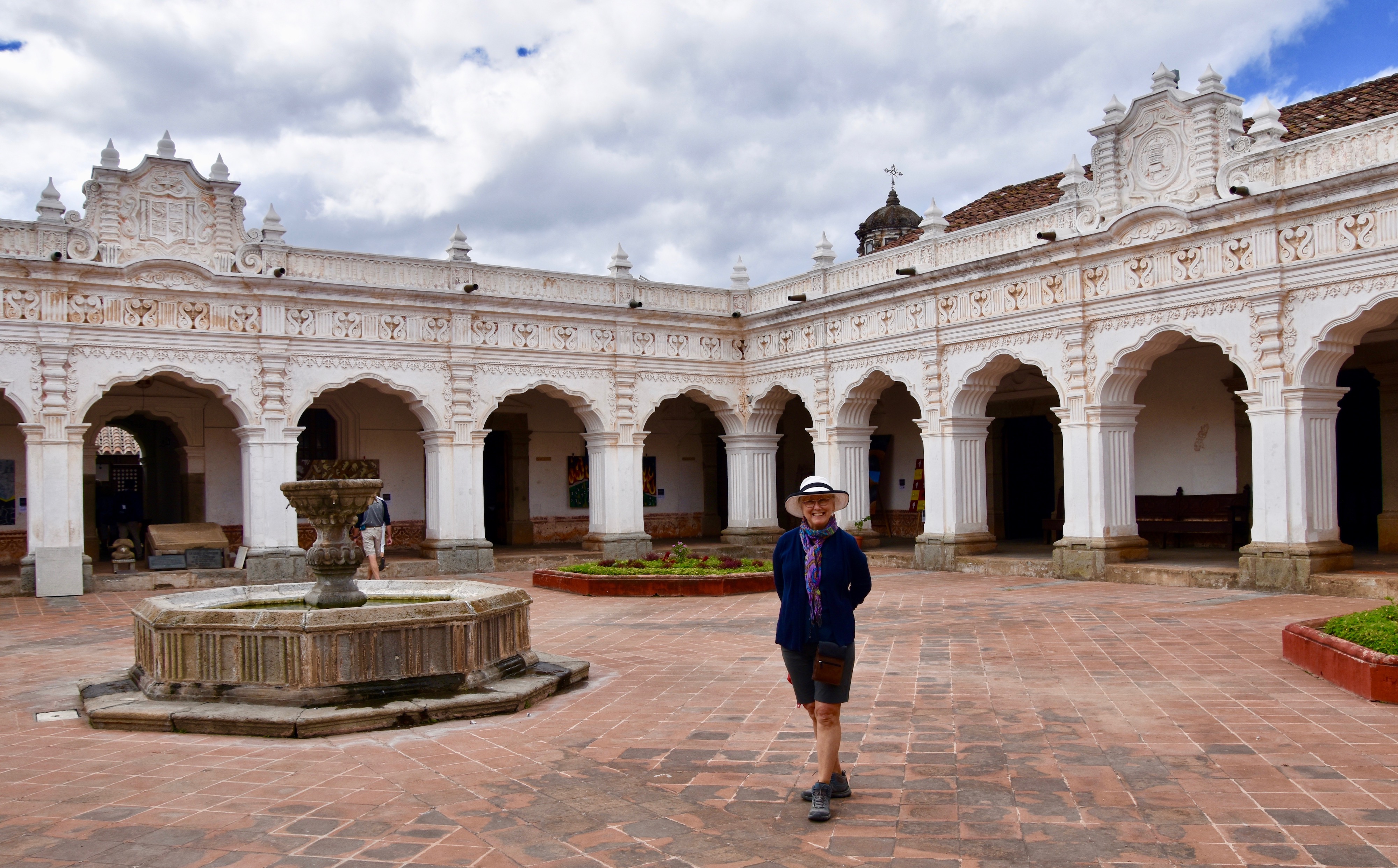 The architecture of this old palace was more interesting than the religious artifacts on display, although there was a modern art exhibit that featured famous disasters of Guatemala. Based on the number of paintings, they have a lot choose from.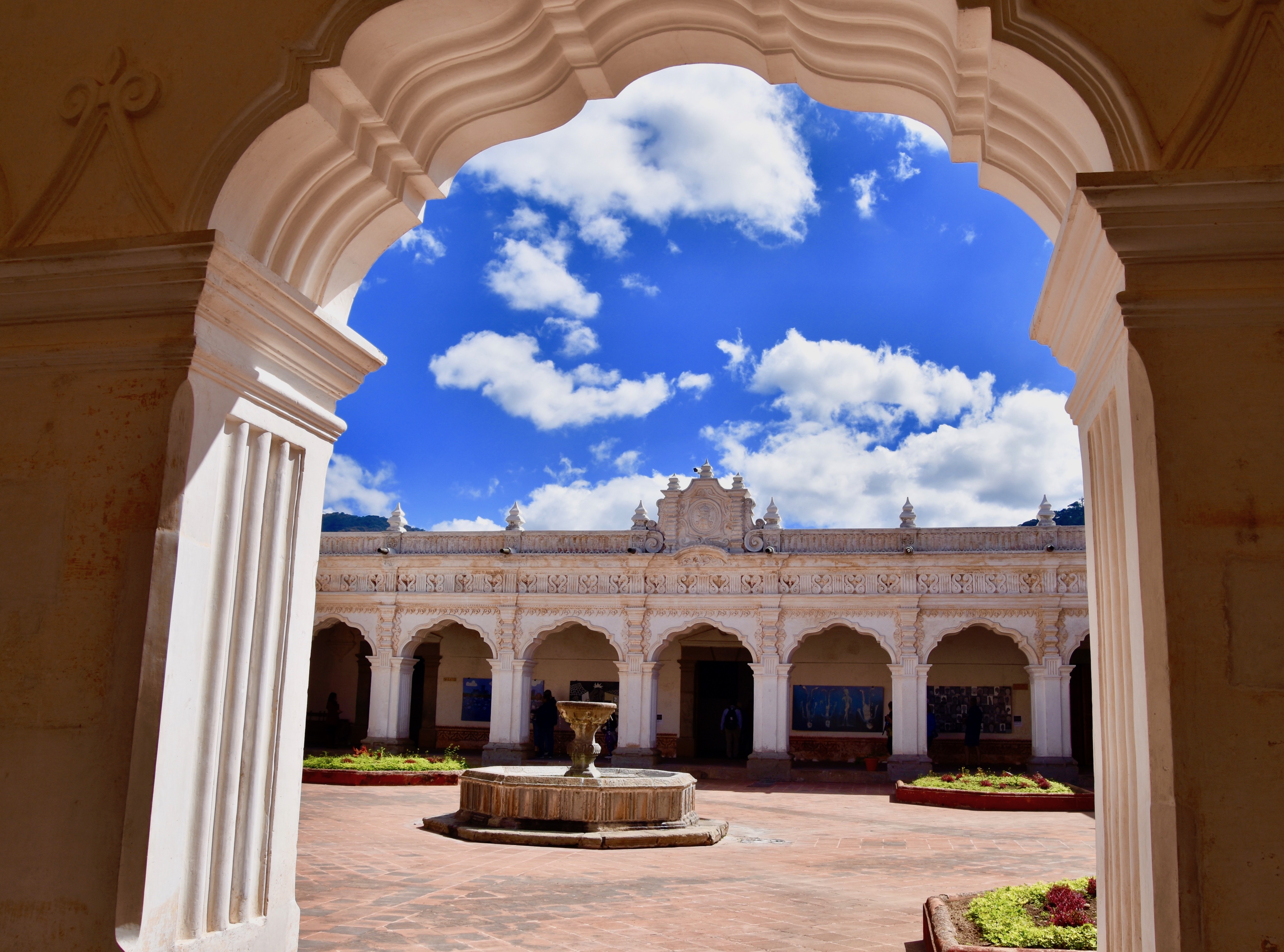 I don't want to give the impression that most of the ruins in Antigua have been repurposed, most have not. One of the most famous is Nuestra Senora del Carmen which actually survived relatively unscathed from the 18th century earthquakes only to be devastated by one in 1917 and again in 1976 when the dome collapsed. It is indeed a beautiful ruin and the presence of the small tourist oriented market doesn't detract in the least.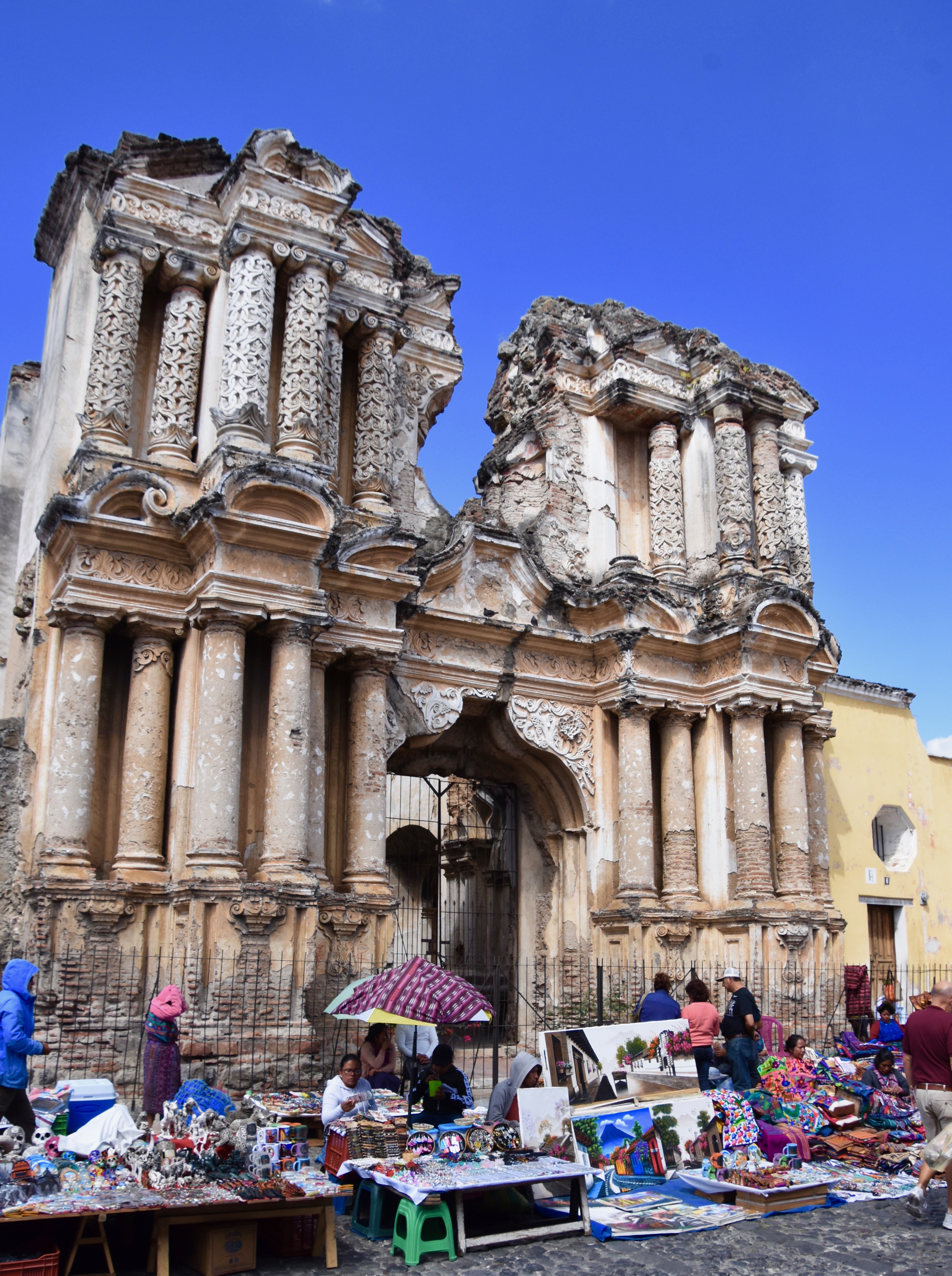 Antigua is one of the few places that still maintains a public laundry facility that is still used by residents.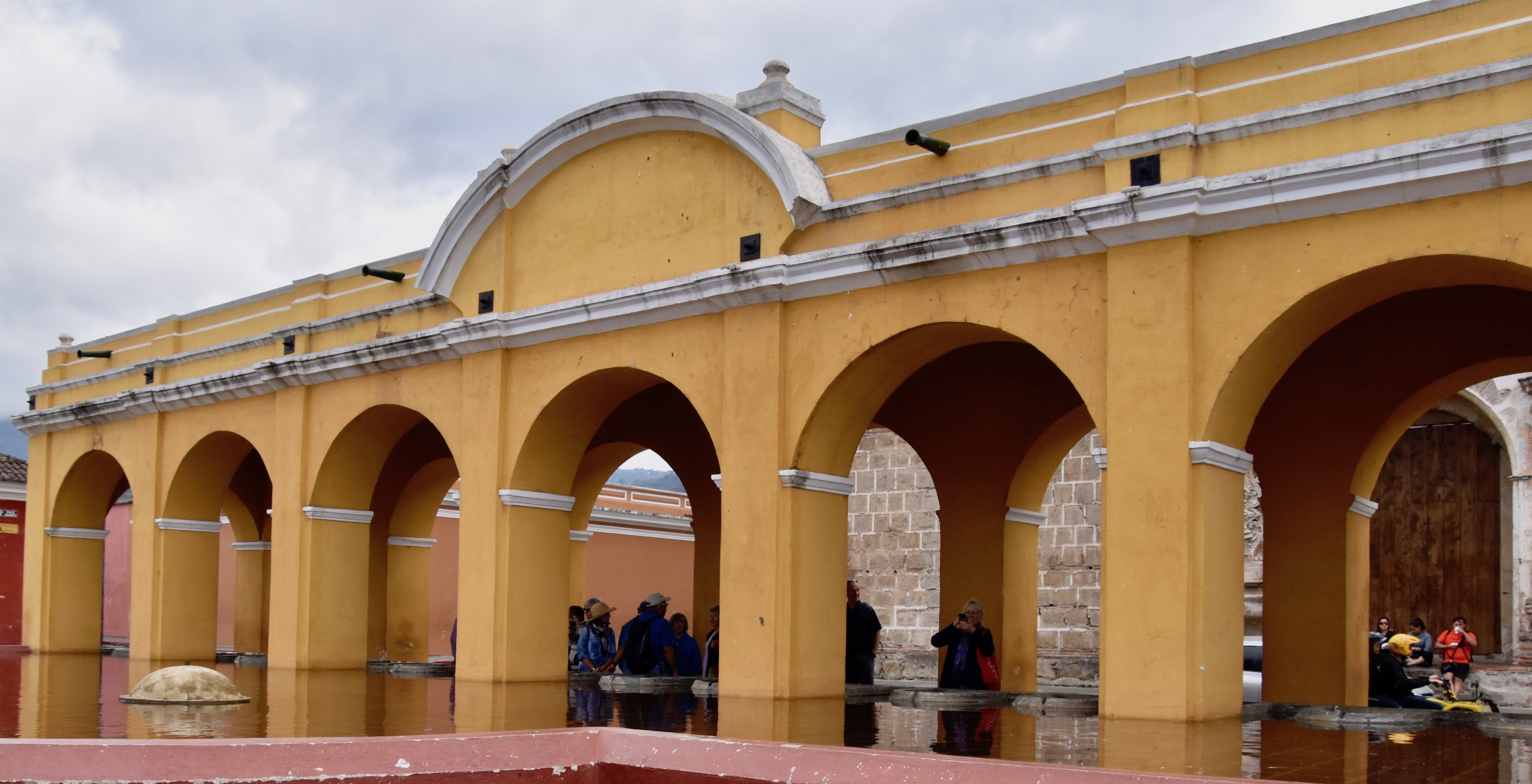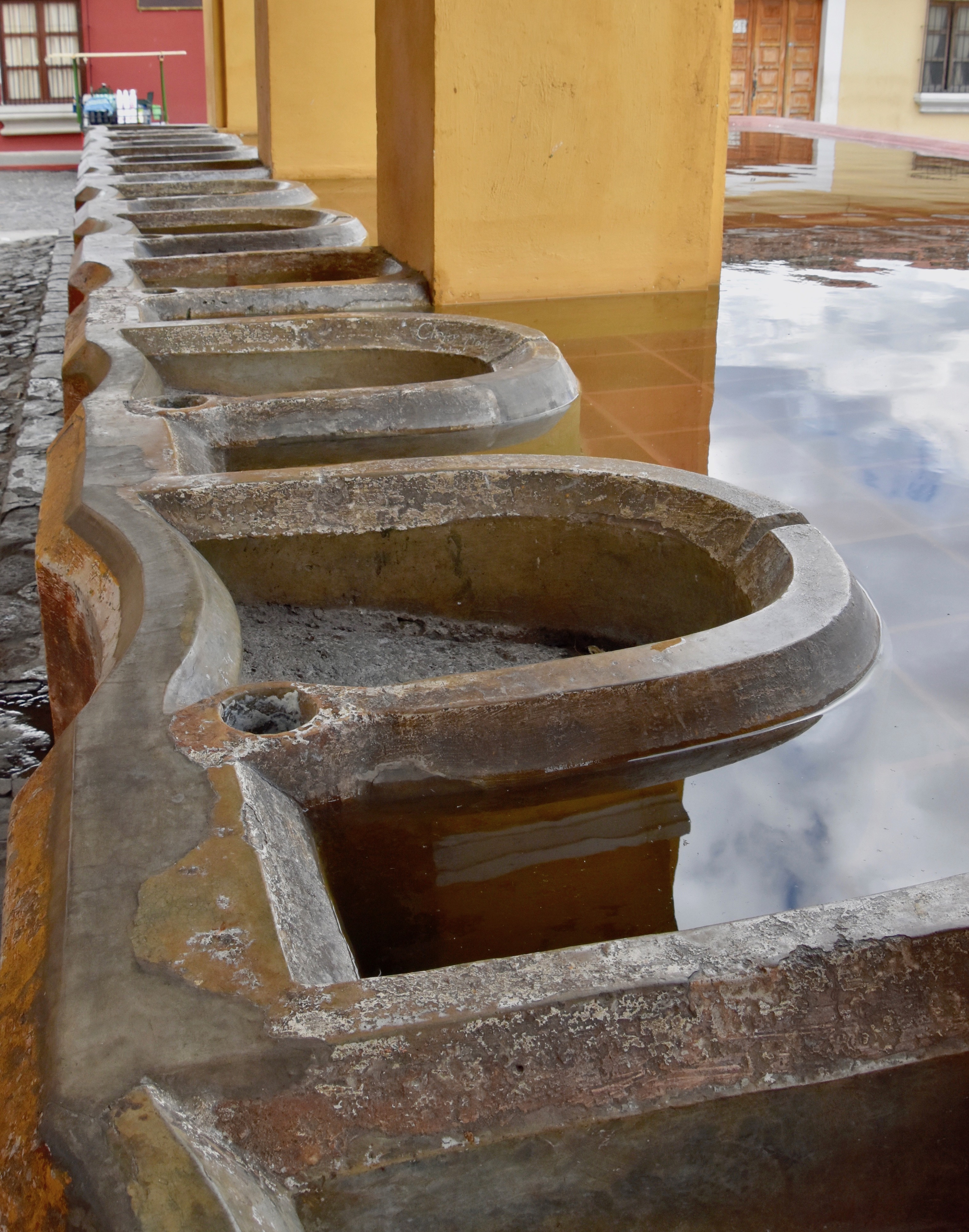 One more church and I promise it will be the last. These are photos of the exterior of La Merced another of the best examples of the baroque style for which the city is famous.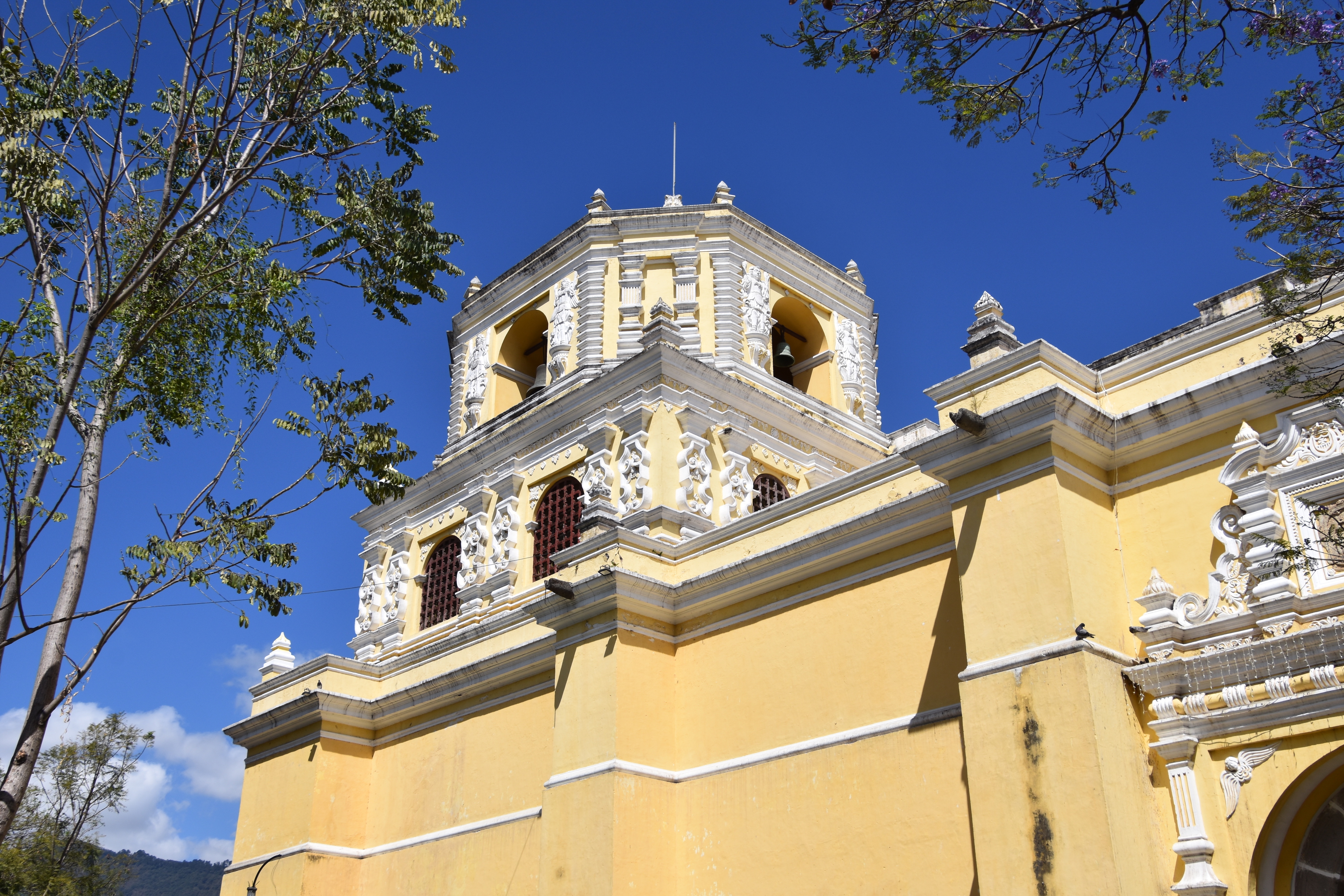 This is as ornate as it gets.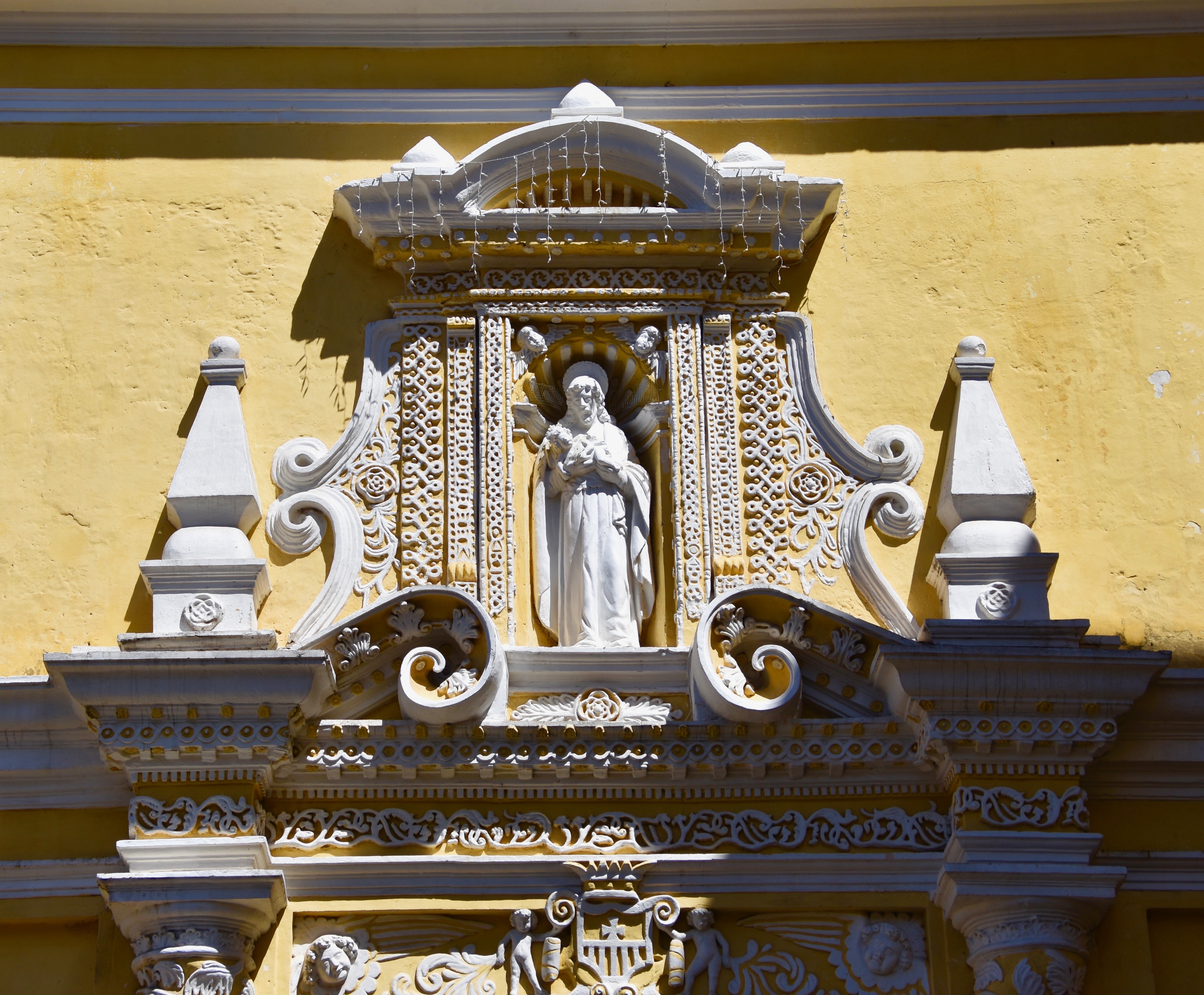 This was our final stop on our guided tour of Antigua. On the way back to the hotel I noticed this intriguing Station of the Cross showing the Deposition or removal from the cross after Jesus dies. Its a portable float that will be carried through the streets during Easter celebrations. That's something I'd like to see.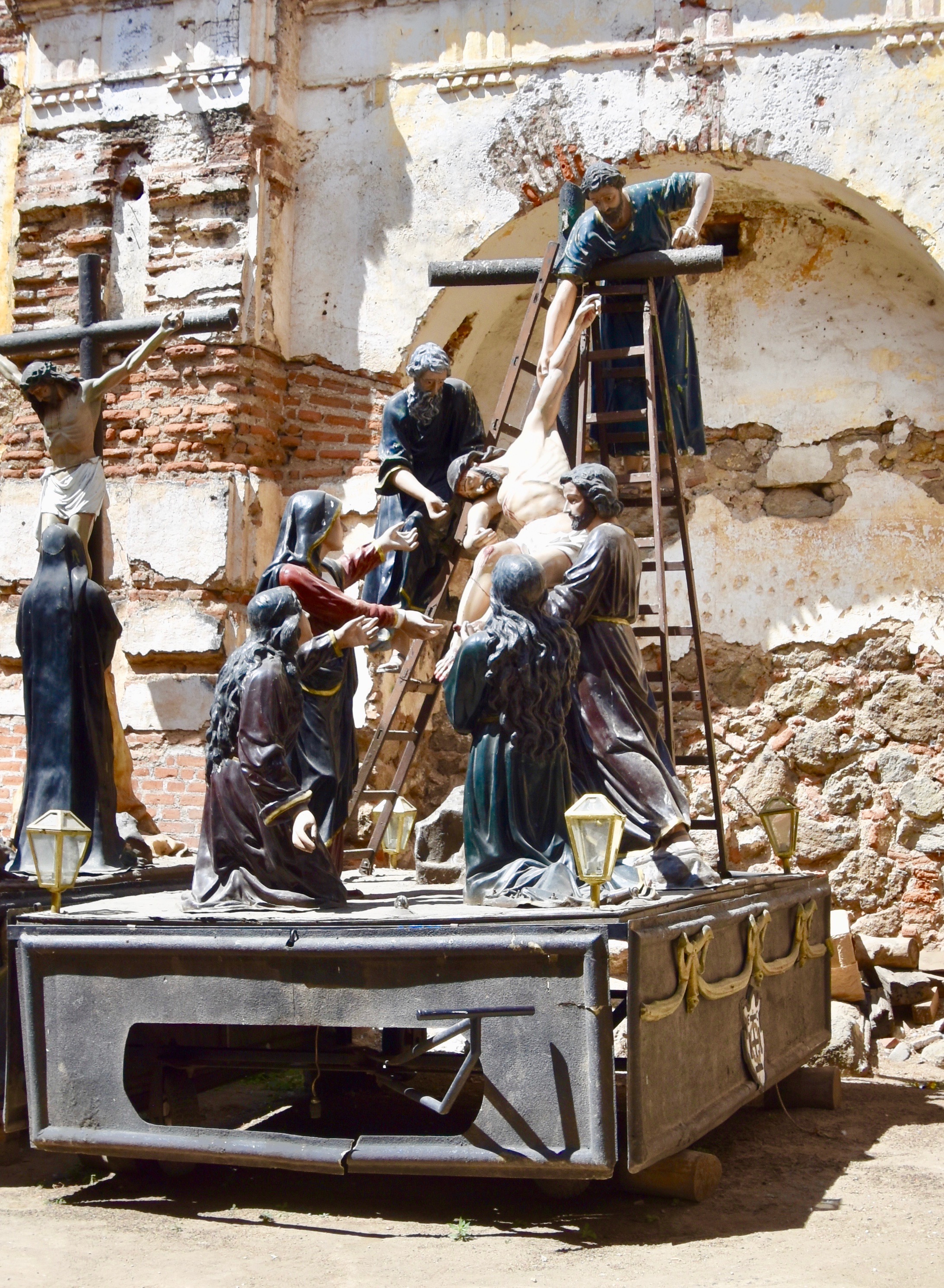 Cerro de la Cruz
We had a fair amount of free time to explore Antigua on our own and the one thing I would absolutely recommend doing is taking the walk up to the top of Cerro de la Cruz which is the wooded hill on the opposite side of the city from the volcanoes. It's not too taxing, involving a series of stairways. The view is outstanding with Volcan de Agua  and its classic pyramid shape we usually associate with volcanoes.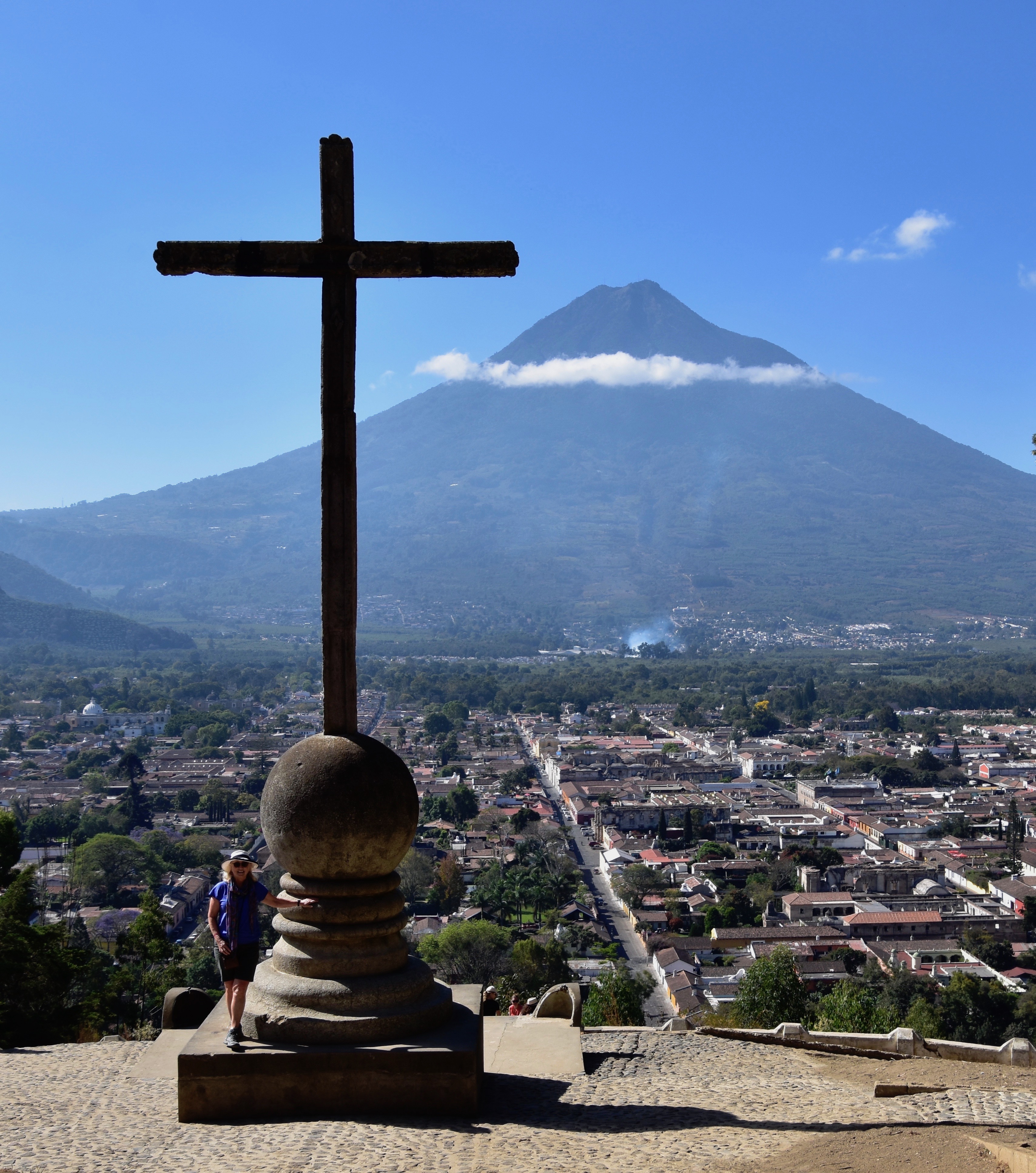 The city is laid out below and you get a much better idea of just how many convents and monasteries there once were and how big they were. This is a view of La Merced from Cerro de la Cruz.
And of course you are going to want to sit on the retaining wall and get your photo taken here. Even I succumbed to that.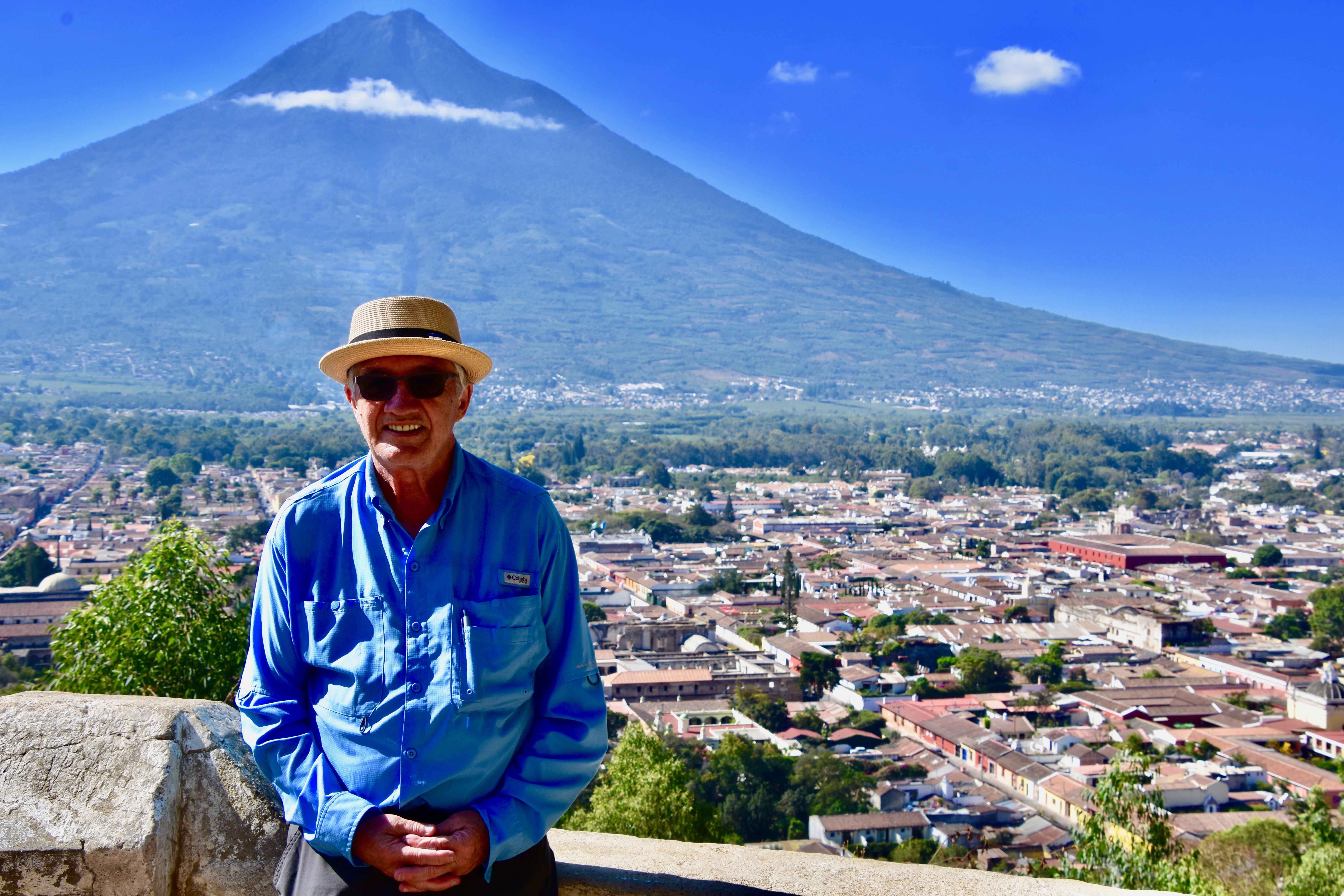 The Jade Factory and Museum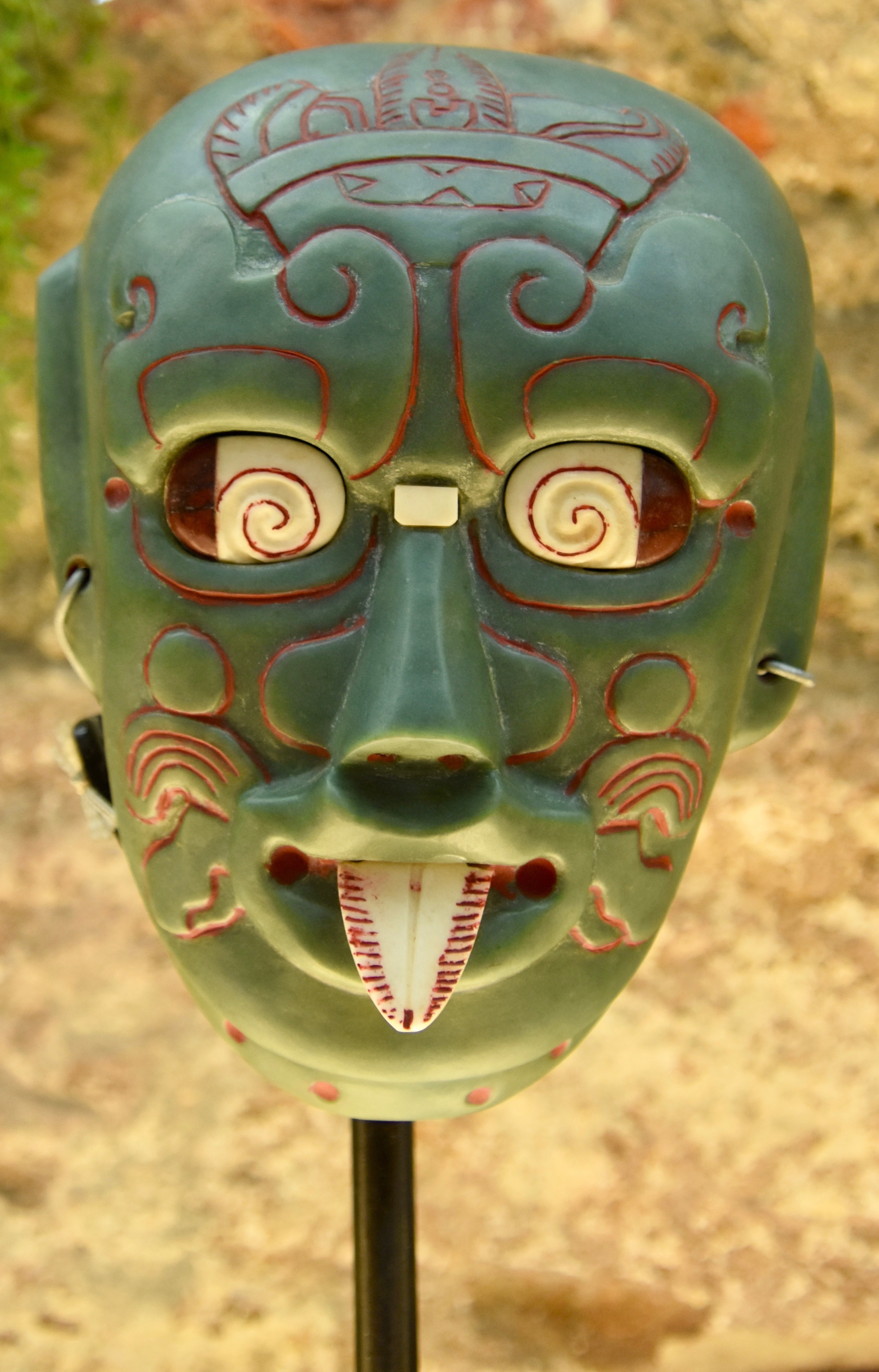 Jade was a big deal in the Mayan world. They had very little gold, no diamonds and few other precious gems so jade, which was reasonably abundant, took on an importance to the Mayans that remains to this day. Technically jade is a commercial term that applies to items made from either jadeite or nephrite which are two completely different minerals in composition, but look so alike that it was not until the 1800's that they were identified as distinct minerals. While most people associate jade with the shade of green of that name, it comes in many different colours depending upon impurities exist within it, as the natural colour is white.
We had been hoping to buy some decent jade while on this trip and Victor had advised us to wait until Antigua and the Jade Maya Museum and Factory where there would be no issues as to authenticity or quality. It was good advice.
Jade Maya is just off the Parque Centrale and features a guided tour followed by a chance to purchase some high quality jade products that are made on site.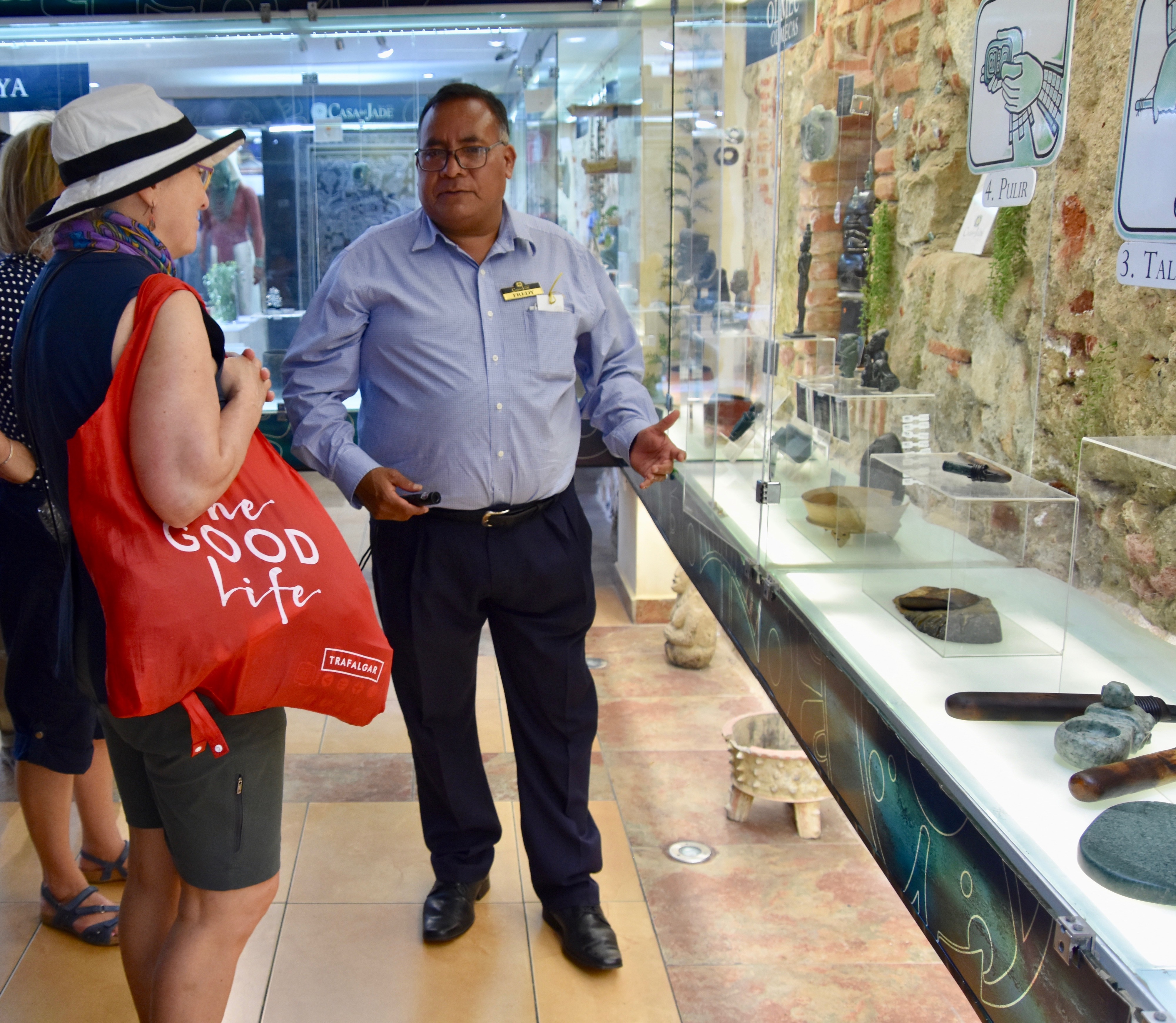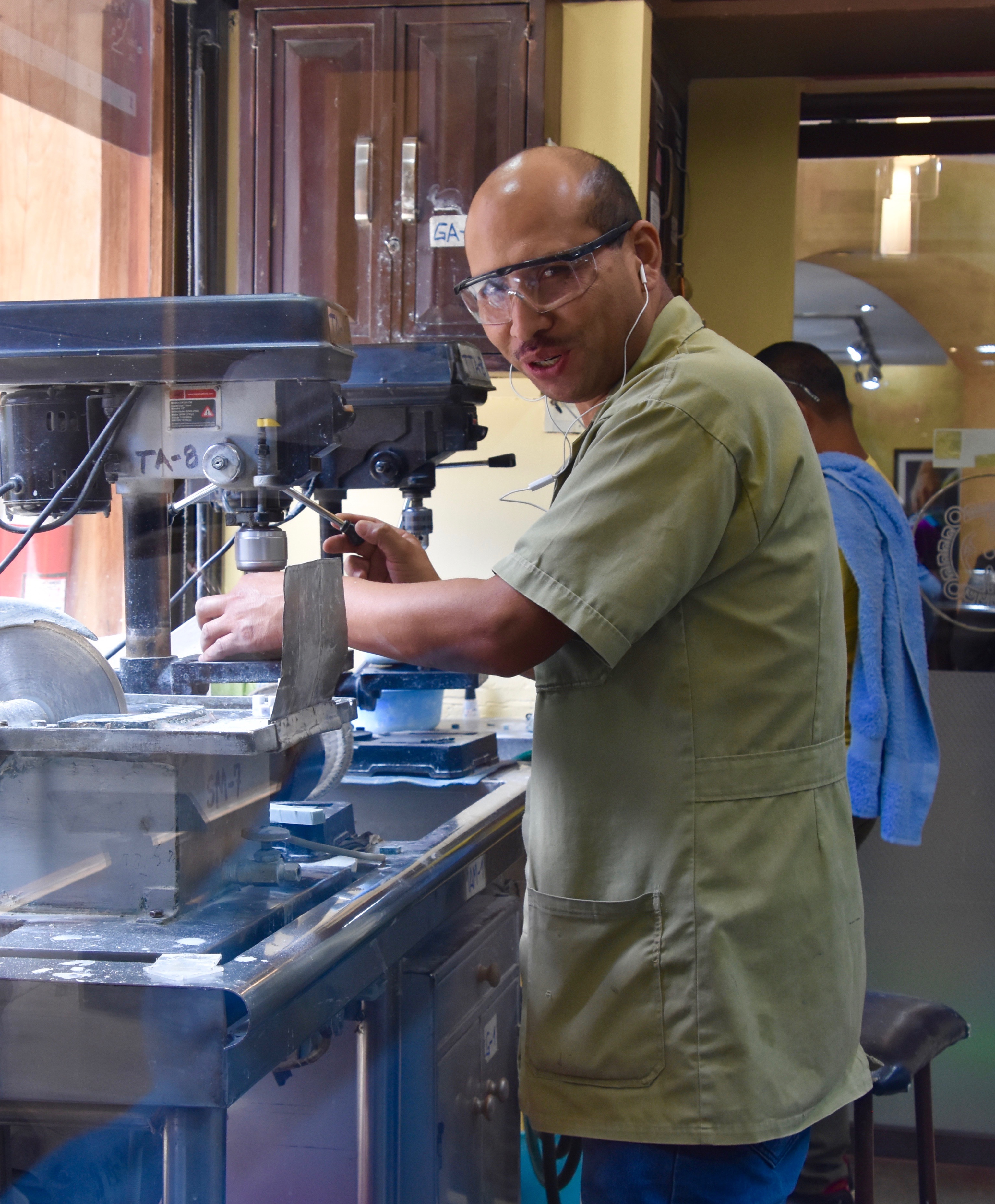 There are a number of exquisite masks on display including the one above and this one which is a full scale replica of the famous Mask of Tikal.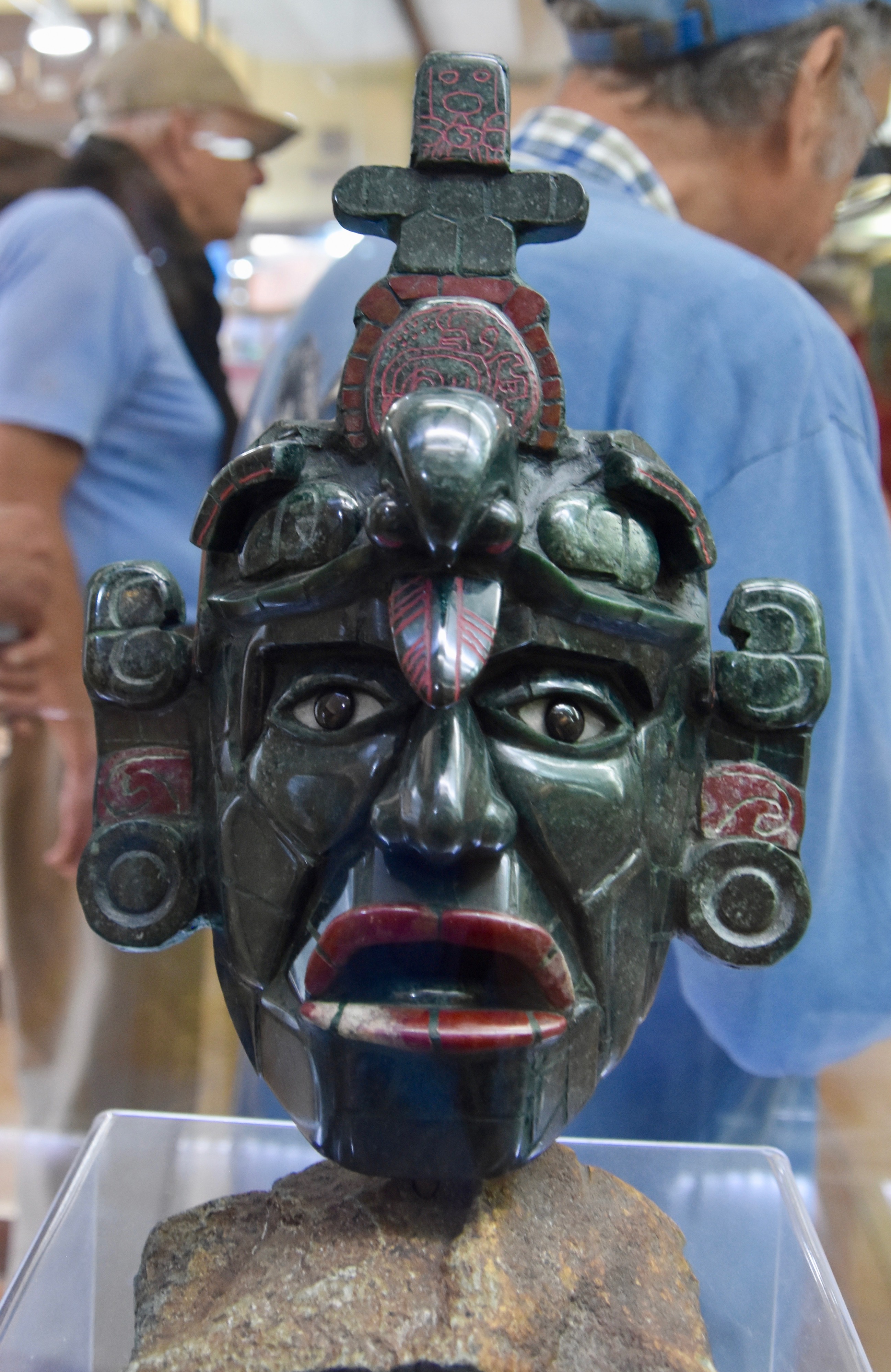 Upon seeing this beautiful piece I decided to buy my own, albeit a much smaller version. He now sits on the mantle of my fireplace at home and is a great reminder of our visit to this wonderful city of ruins.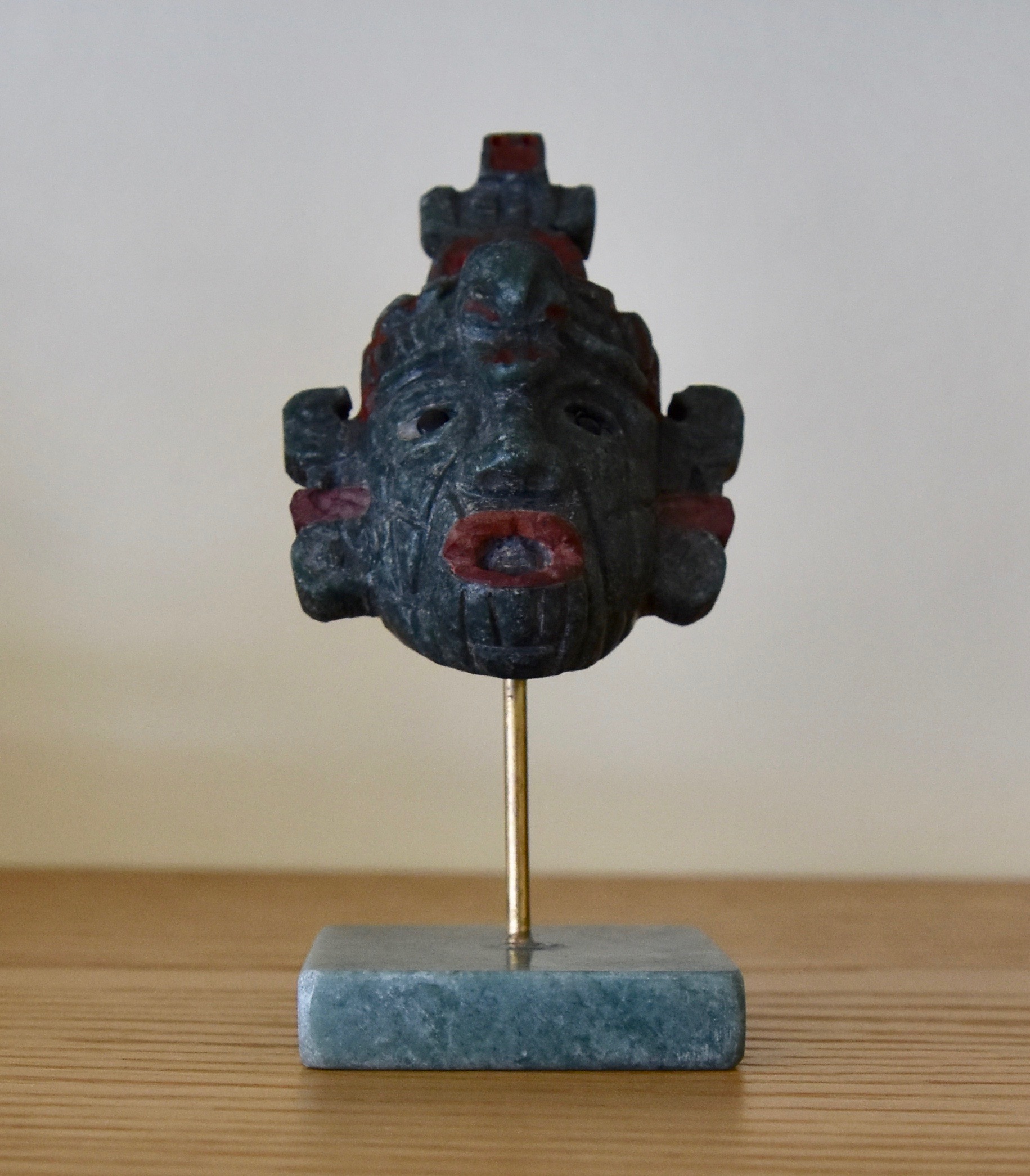 We end of visit to Guatemala by visiting one of the greatest of all Mayan cities, Tikal. Hope to see you there.