Belize – The Final Destination
I'm finding it hard to believe, but we are headed for the final country in Victor Romagnoli's guided tour of all seven Central American countries for Adventures Abroad. We have just wrapped up an amazing eight days in Guatemala capped off by a visit to the best Mayan site I've ever seen – Tikal. This morning we will drive through the Guatemalan rain forest for about 60 miles (100 kms.) to cross the border at Cuidad Melchor de Mencos into Belize. Please join us as we explore this former British colony which is the only non-Spanish speaking country in Latin America.
The drive to the border is relatively uneventful, but what happens there is anything but.

We are all required to get out of the bus and physically walk from Guatemala to Belize along a defined path, which is nothing unusual. What is, is that after moving along quite briskly, the line stops dead for a good half an hour without moving. Our group is about a hundred feet away from the small customs building and we can't see what's going on inside. It's also hot and muggy as hell and we each have to pull our luggage. Victor finally walks up to see what's going on and comes back to tell us that the group of Koreans we first ran into at the Guatemala City airport and yesterday at Tikal, is being refused entry because of concerns about Covid-19. This is way back in February of this year. The Koreans are not even allowed to use the washrooms. The bus that has brought them here has departed, thinking they would be picked up on the Belizean side. Talk about screwed!
Victor then learns that another bus has been ordered and they will be driven back to Flores and how they proceed from there is their problem. The irony of all this is that South Korea has one of the best records in dealing with the pandemic, way better than Canada, only 276 deaths compared to our 6,000 +. It was a very early lesson in how Covid-19 would turn the world on its head. It was with a big internal sigh of relief that I saw the first people in our group getting their passports stamped and proceeding onward.
A Bit About Belize
Belize, known until independence as British Honduras, has by far the smallest population of any country in Central America; around 400,000. Despite this it has an amalgam of various cultures including three distinct Mayan groups each with their own language, Creoles who are mostly the descendants of former slaves and have developed their own language, kriol which is a derivative of English although I doubt I could figure out a word of it, Garinagu who have both African and Indigenous Caribbean roots, Mestizos with Spanish and Mayan blood speaking "Kitchen Spanish', German speaking Mennonites and sundry other groups. Perhaps surprisingly given the plethora of languages, English is the only official language, although over half the people are multilingual.
What I found most interesting about the make up of the population is that almost nobody actually wanted to come to Belize. Whether it was the first Mayans or the late to the party Mennonites, they were all either forcibly brought here as slaves or were fleeing from slavery, warfare or persecution somewhere else, most notable neighbouring Guatemala and Mexico.
While in terms of size Belize ranks 147th in the world, about the size of New Jersey or Israel, it has a number of distinct geographical zones including tropical rainforest in much of the south, swampy coastal plains in the north, mangrove forests along much of the Caribbean coasts and offshore islands and cays. The one outstanding geographical feature is the Belize barrier reef which is the second longest in the world and the main reason why tourism is the fastest growing industry. However, the economy is still primarily agriculturally based with sugar and bananas the main  crops. This in turn means that the average Belizean is very poor by our standards, less than $5,000 USD per capita, but I've come to learn in my travels that monetary wealth has zero connection in many places with contentment or happiness.
The country does have a reputation for crime, with a high murder rate, but nowhere near as bad as El Salvador or Honduras, two countries we've already successfully navigated with no issues. However, the crime is almost all drug related and most takes place in Belize City between rival drug gangs. Although Victor advises us not to go wandering around at night when we get there, he's confident we'll be fine everywhere else in the country.
So, with that brief introduction let's make out first stop in Belize.
Xunantunich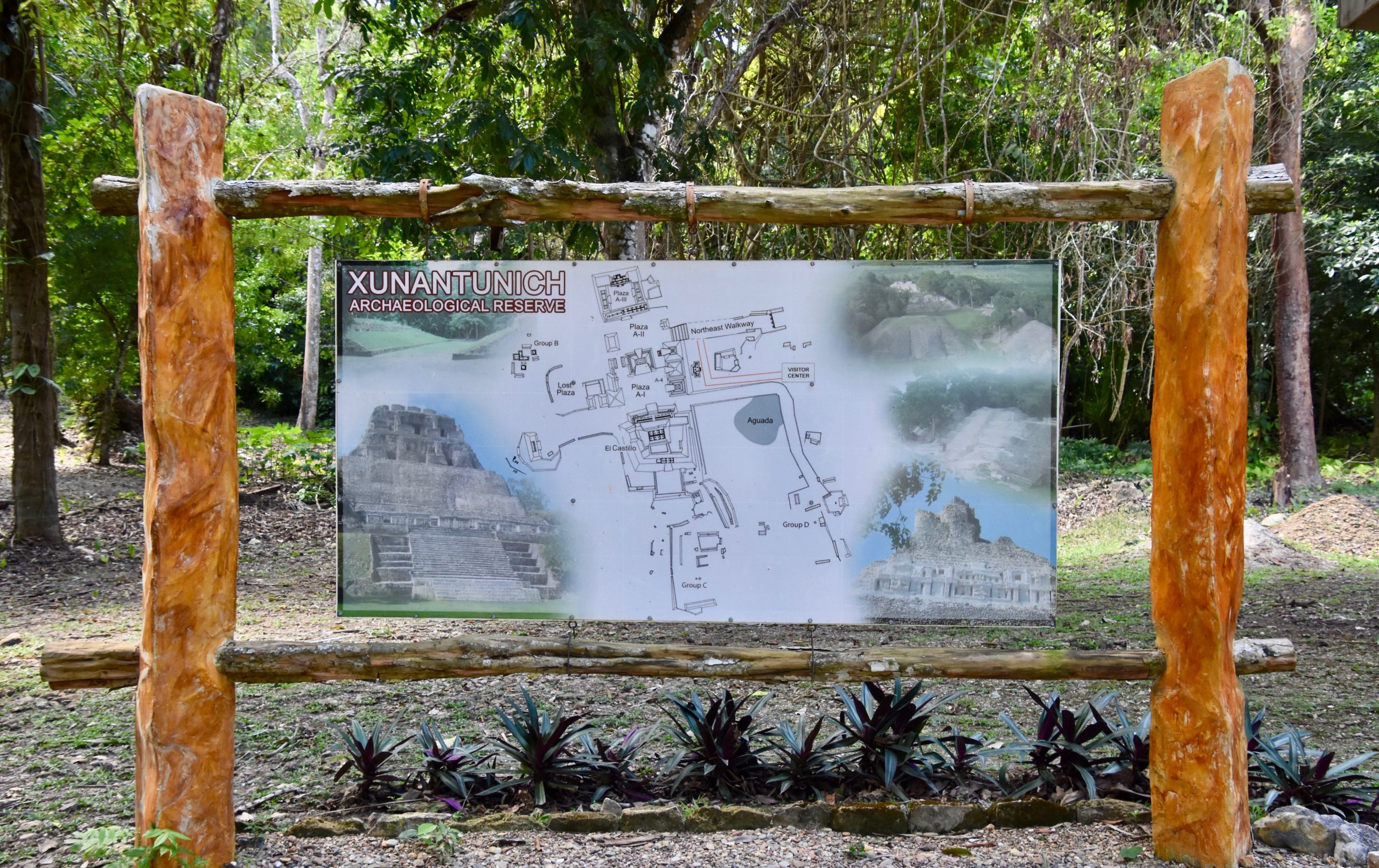 We make our first stop barely a mile inside the border when the bus pulls over and Victor says we are going for a ferry ride, but the bus can't come.
This is the mighty Mopan River which we must traverse to get to Xunantunich, one of a number of Mayan ruins we will visit in Belize.
We all head for this small ferry to make the crossing.
It's been a long time since I've been on a hand cranked ferry. There used to be a number of them crossing smaller rivers on the Canadian prairies, but I believe all have now been replaced by bridges. It was an interesting bit of nostalgia for me.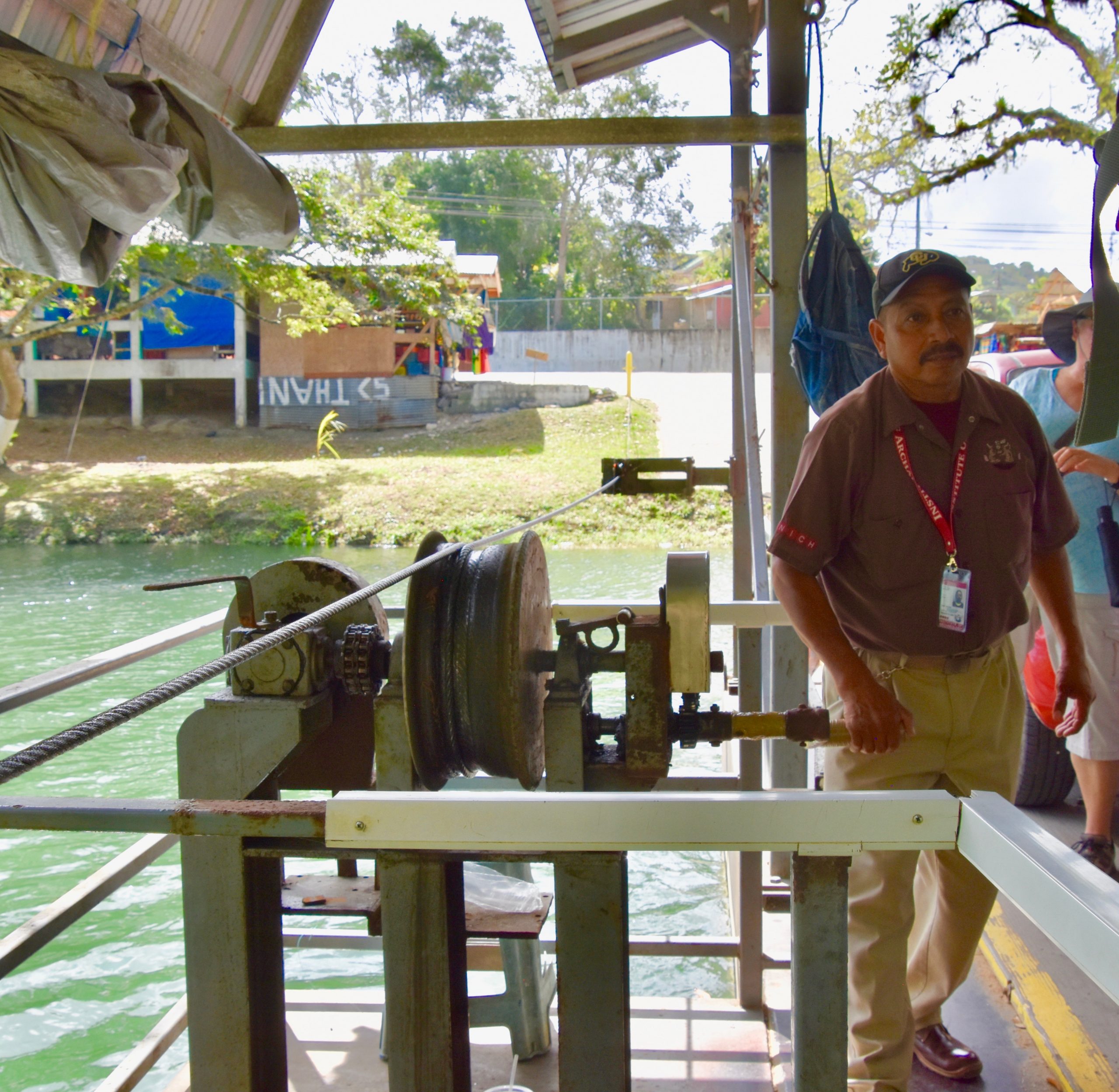 On the other side of the river, which we crossed in only a few minutes, there were vans waiting that transported us to the Xunantunich site not that far away. A number of backpackers were doing it on foot.
Xunantunich was not a name I was familiar with, but the largest monument on the site, El Castillo I had read of. The actual name of the Mayan city is unknown and the appellation Xunantunich only dates to the late 1800's and refers to an alleged 'stone lady', a ghost some claim to have seen walking about the ruins. I'll keep my eyes open.
Xunantunich is a much younger city than those we have visited previously on this tour, dating from the Late and Terminal Classic periods of Mayan civilization and was actually growing while other cities were collapsing. As soon became apparent once we got out of the vans and made our way on foot, the city was built on top of a hill – a big hill. This defensive position may explain its emergence late in Mayan times as city states were increasingly at war over ever dwindling resources. Still, that did not prevent its disappearance into the mists of time by no later than 1,000.
The site is not that big compared to Tikal or Copan, but it's definitely impressive. Like the ancient city of Monte Alban near Oaxaca, Mexico, Xunantunich was built on top of a hill that was levelled by hand to create an entirely flat surface upon which to build.
This is the view of the city from the first plaza that you come upon once you've regained your breath from the upward climb.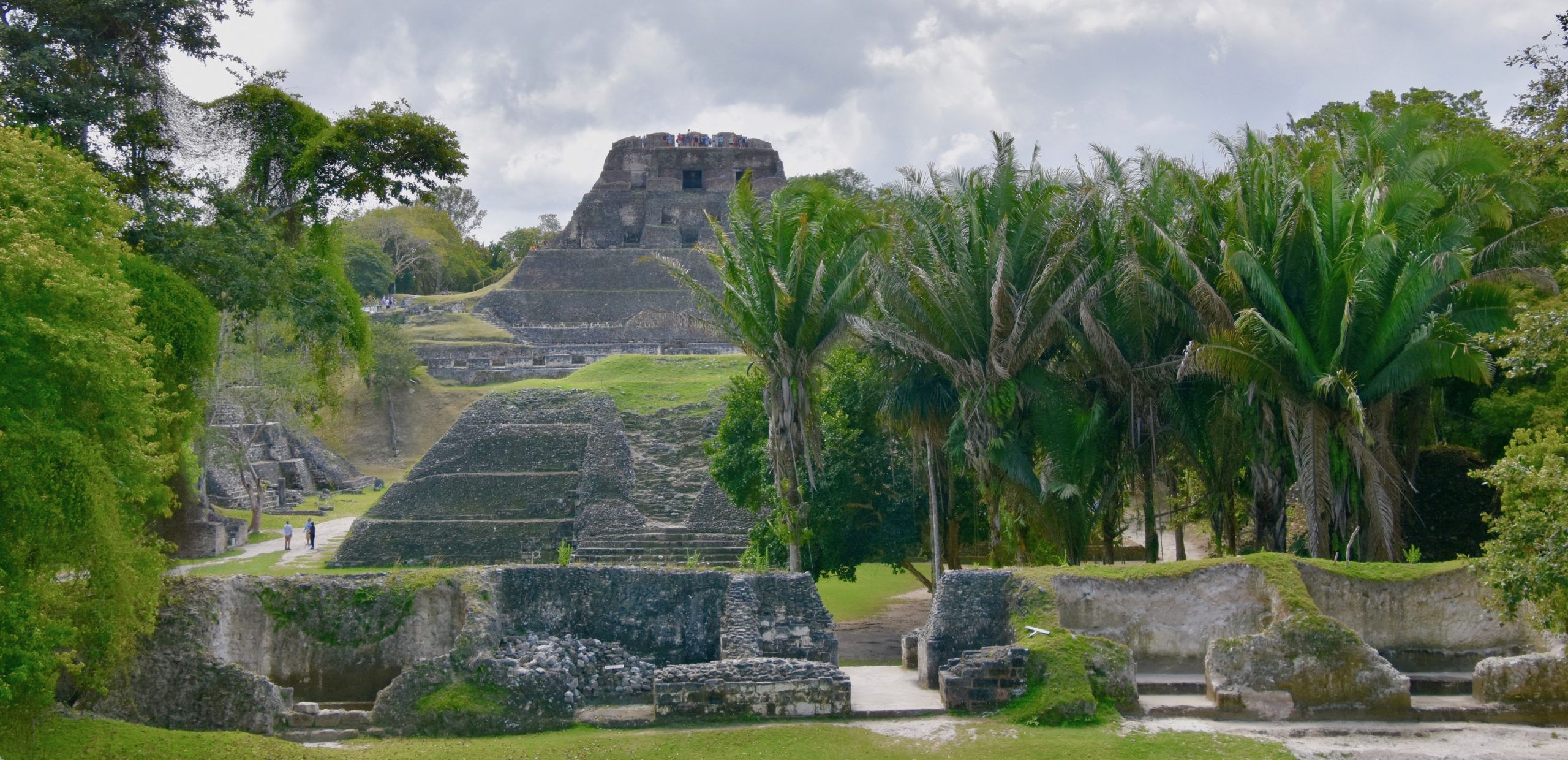 While there are a number of smaller temples and plazas at Xunantunich, I'll cut right to the chase. Everybody is here to see El Castillo which dominates the city like no other singular Mayan pyramid I have seen so far.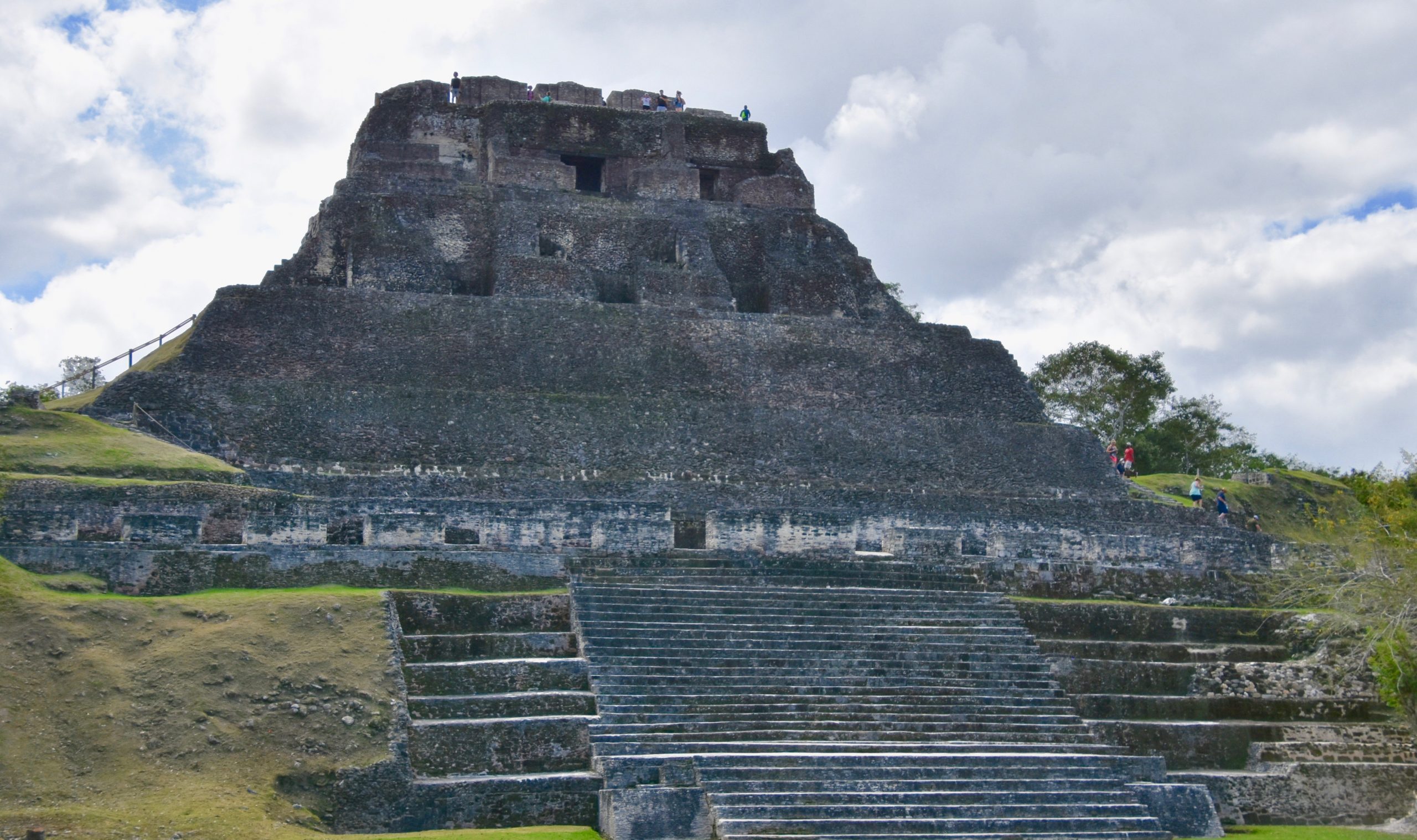 Unlike El Castillo at Chichen Itza, you can climb the one at Xunantunich and climb it we did after viewing this interesting sideways head at the base of the pyramid.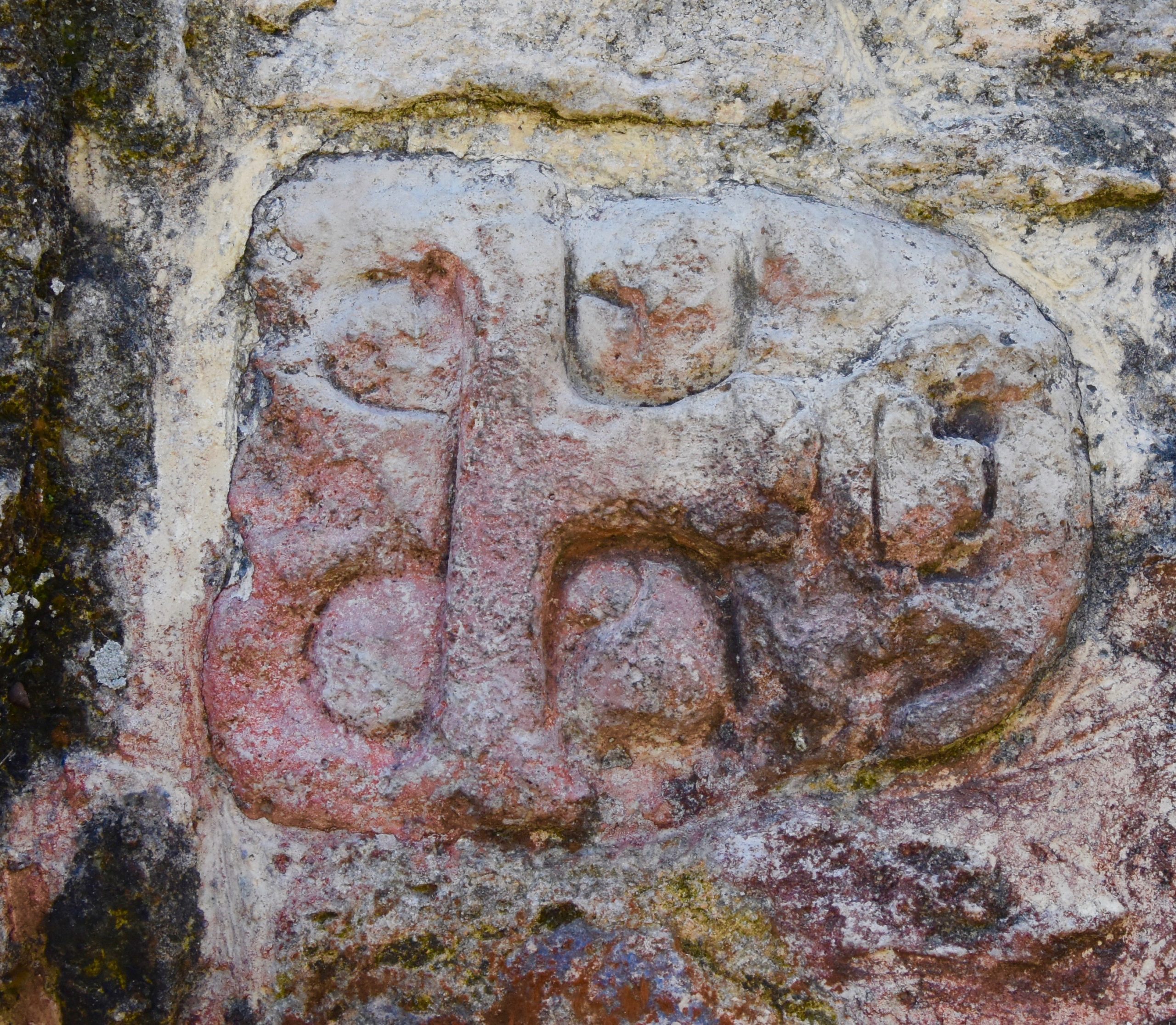 At one time El Castillo had a frieze that apparently went completely around it. Parts of it have been reproduced and it must have been pretty impressive in its time.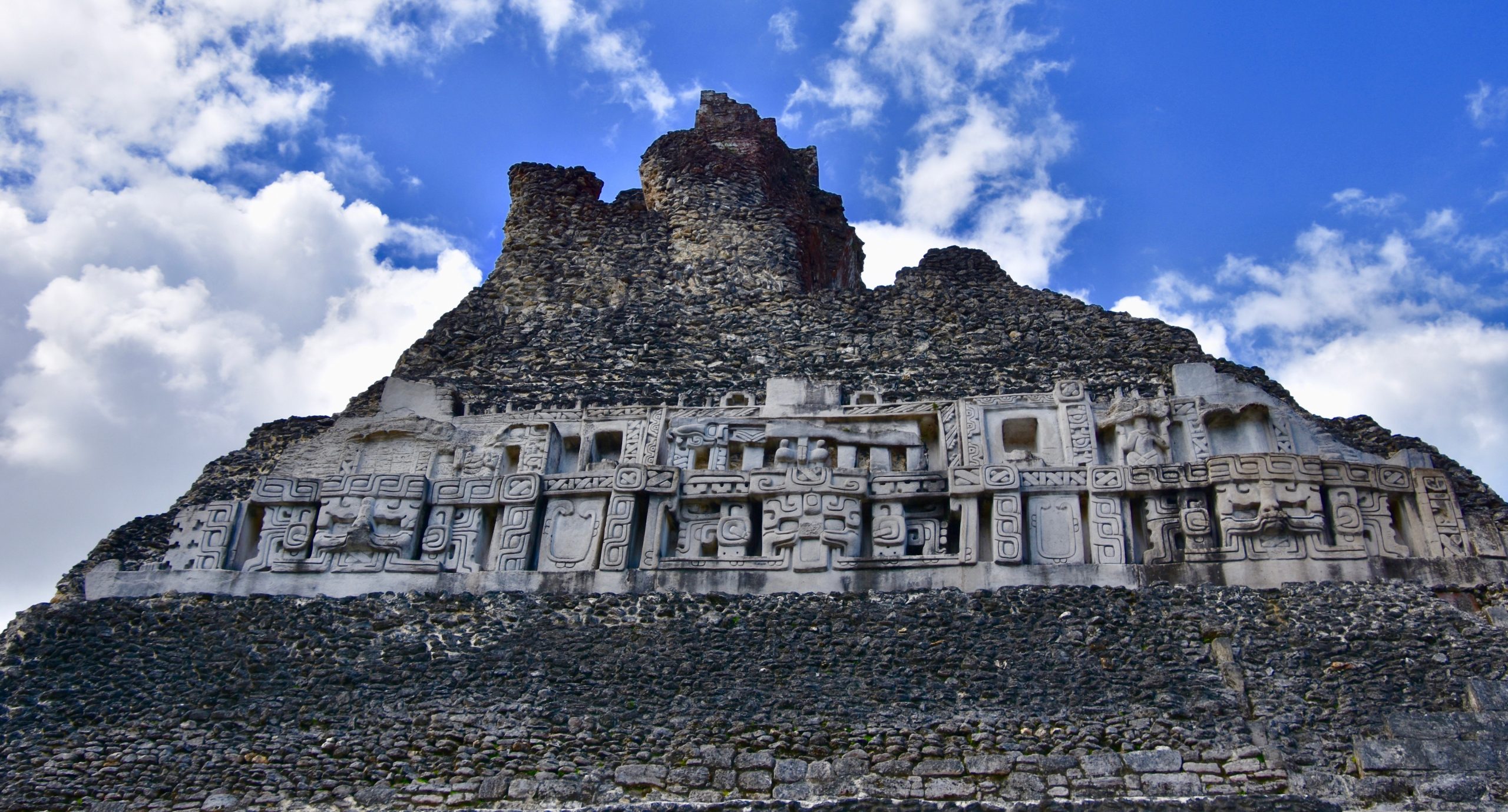 The way up to the top of El Castillo and then down is a continuous one-way route that everyone must follow. This is the second tallest structure in the entire country of Belize so we were a bit winded once we got to the top. This is Alison catching her breath atop El Castillo.
But what a view! This was more than worth the effort to get here. From here you can really tell that it is built on a hill that has been artificially flattened. And all this was done without benefit of the wheel.
You can also see that Xunantunich gets very few visitors and that you'll almost have the place to yourselves.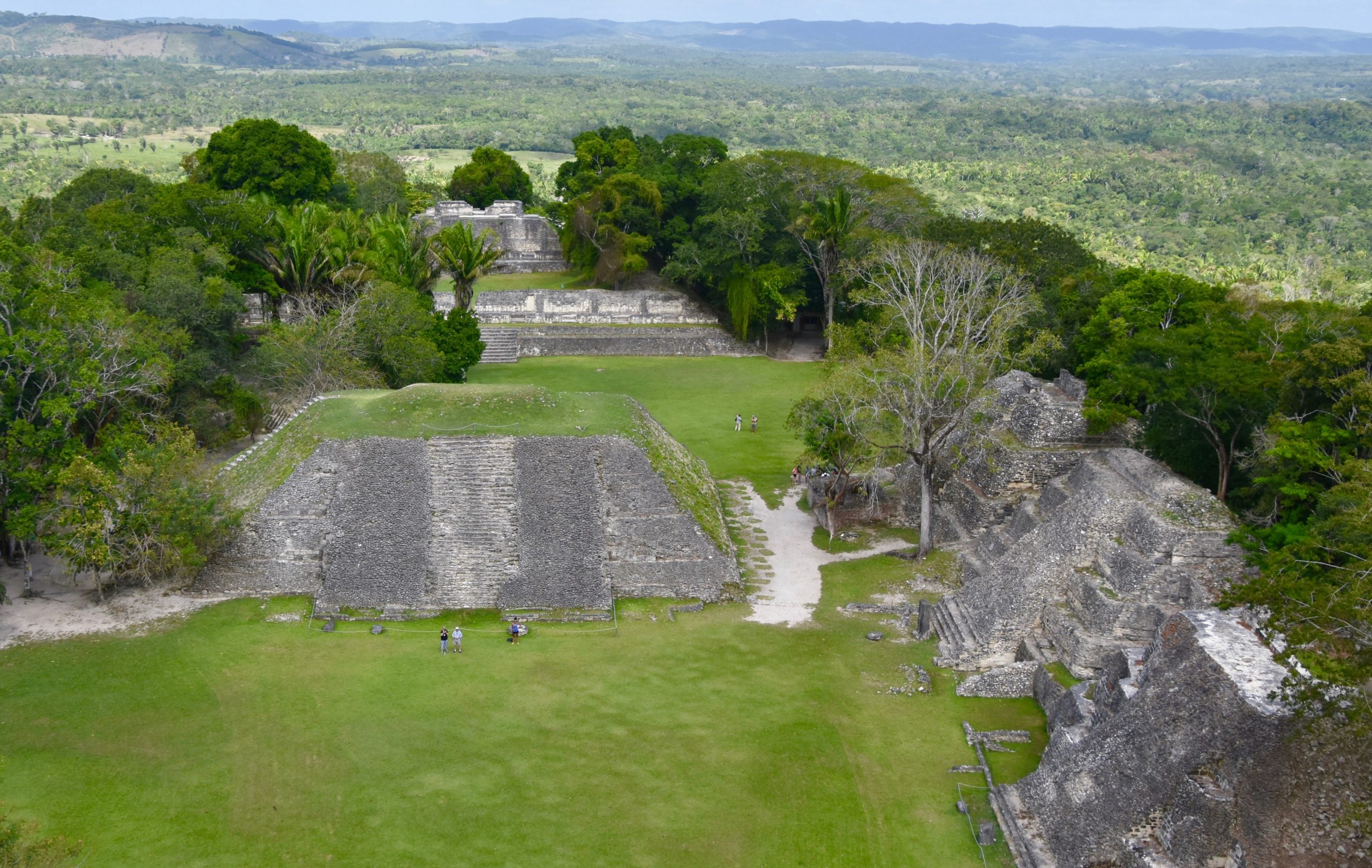 While getting up to the top of El Castillo was relatively easy, getting down was another story. At first glance this looks just like an iguana basking on the ruins, but if you look more closely you will see that it's not a picture of a solid rock, but rather just past the iguana's head there is a straight drop of at least eighty feet. The iguana is actually on a ledge that's no wider than a yard with no railing or anything to hold on to and you've got to make a right turn around the rocks without knowing what's on the other side. Despite the idea that this was a one-way route some people elected to return the same way that they came up rather than go down those steps to that ledge. I must admit it was the scariest moment of the entire trip, but I went down anyway and it wasn't as hard as it looked. You just didn't want to look down.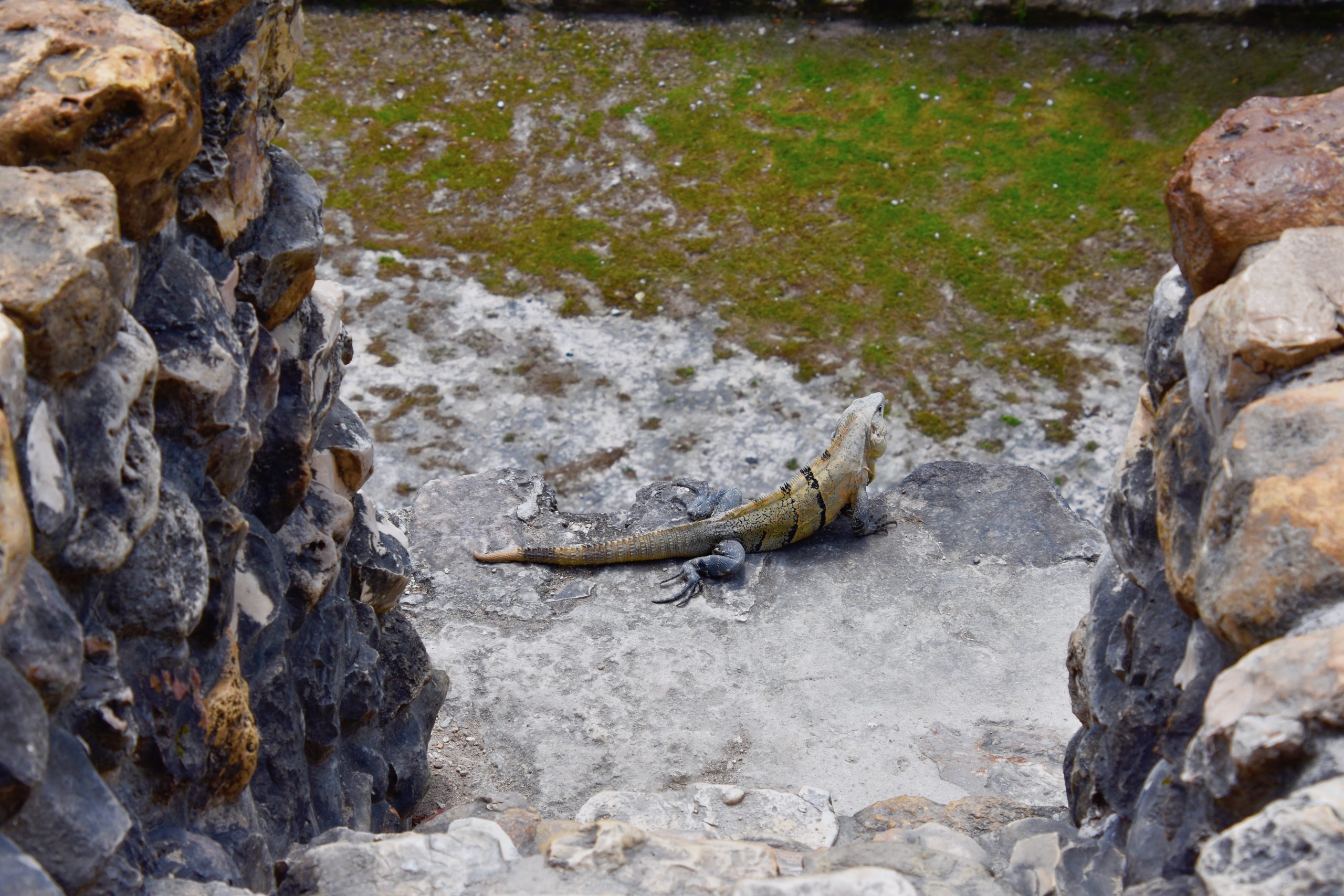 Here is Alison coming down after making it past the iguana guardian.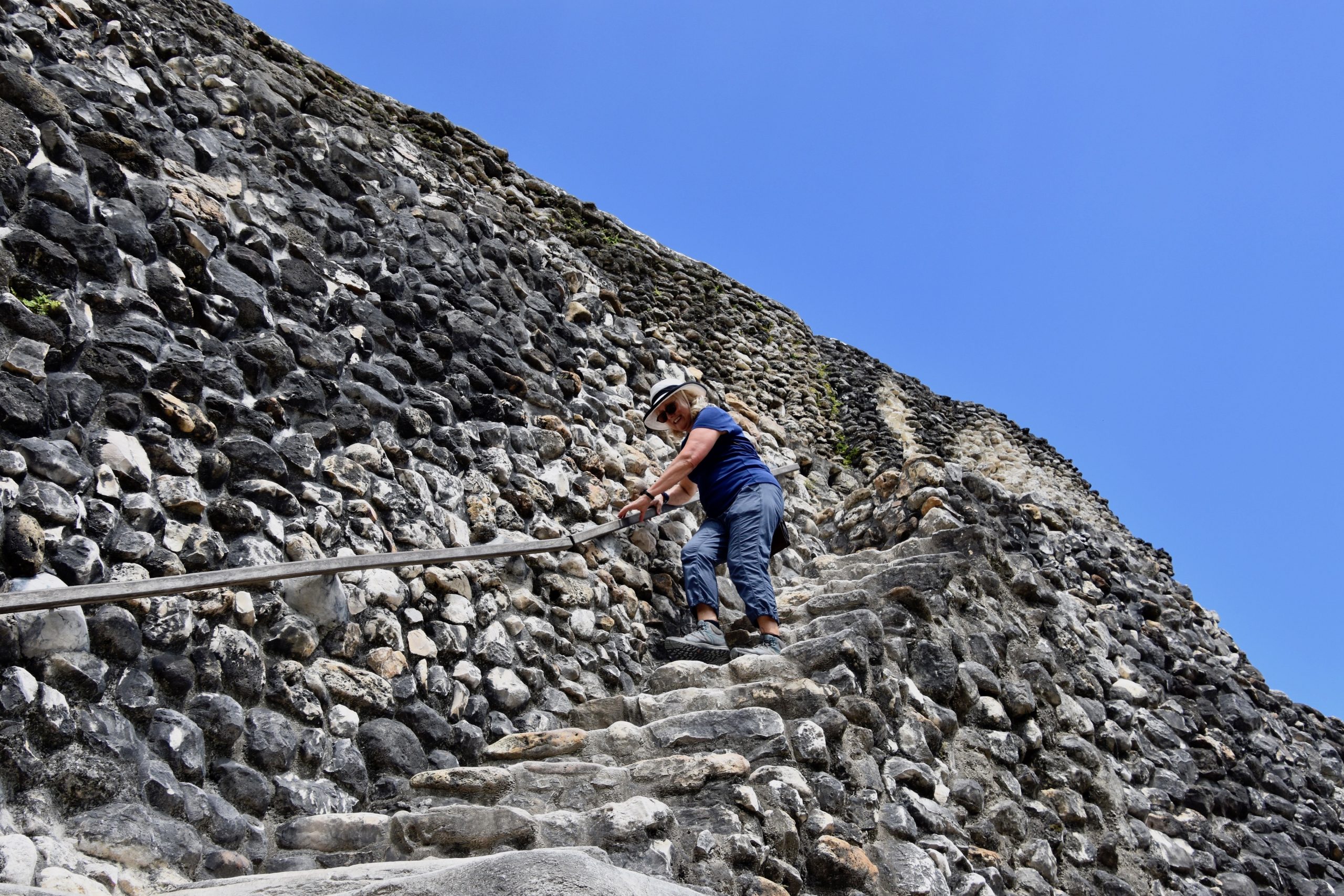 He continued to look over his jungle kingdom as our heart rates returned to normal.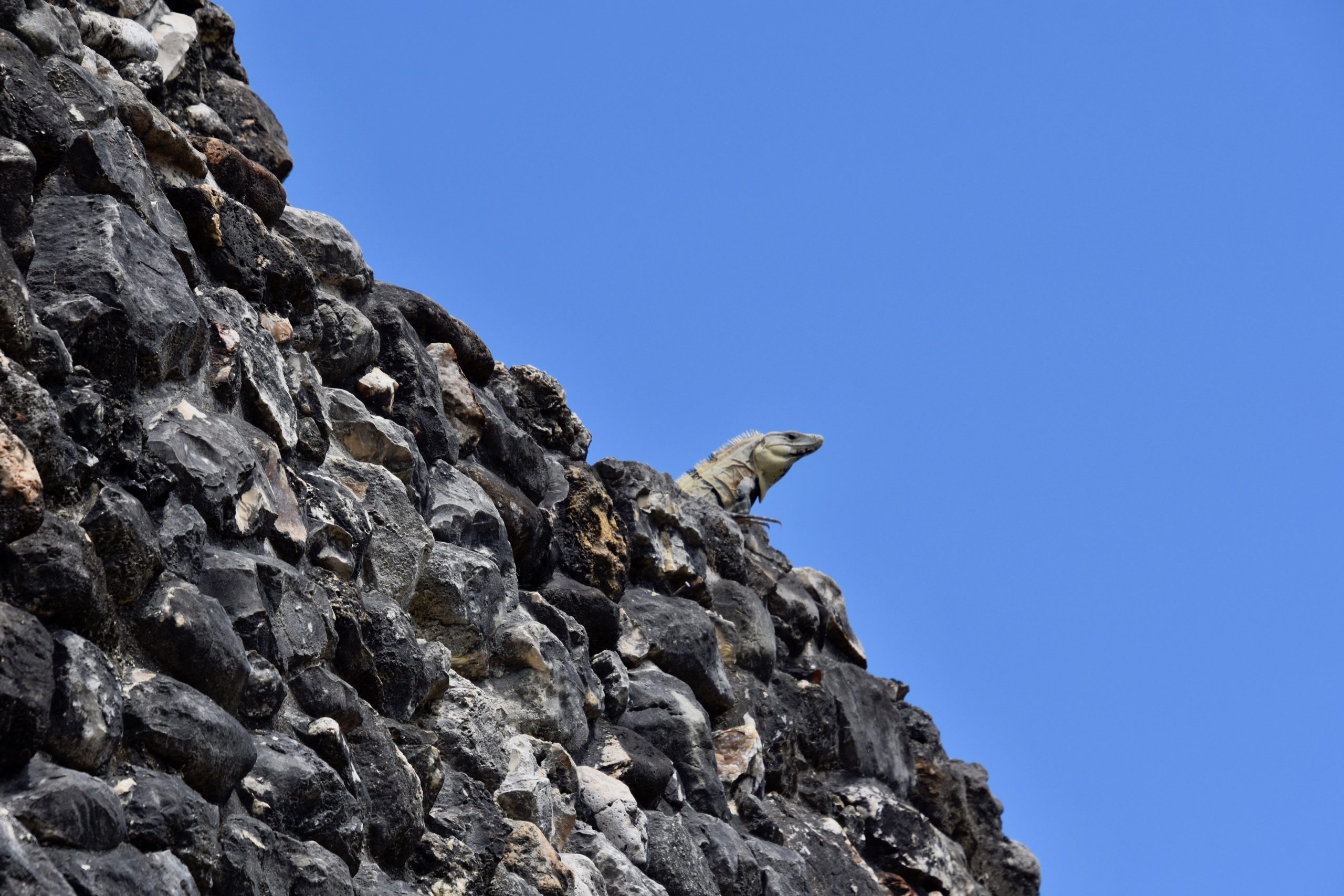 Waiting back in the shade at some picnic tables at the entrance we were entertained by this Red Throated Ant Tanager, another life lister for me.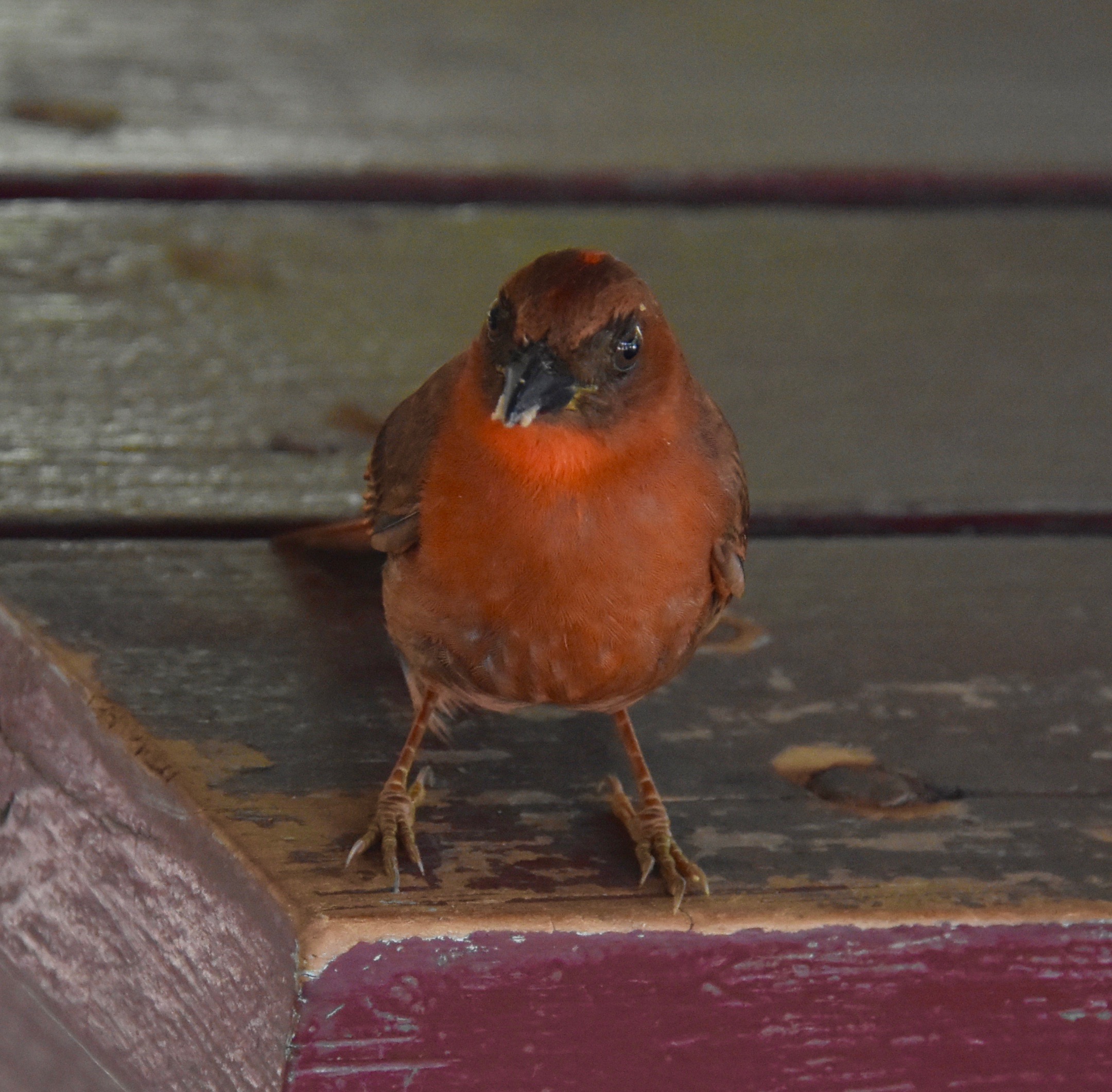 San Ignacio & Cahal Pech
Back on the bus we drove a short ways east on the surprisingly good Western Highway to the twin towns of San Ignacio and Santa Elena that face each other across the Macal River which is spanned by the only one-lane suspension bridge I have ever seen. With a population of just under 18,000 it's the second largest urban centre in the entire country of Belize. We left the bus and got out to look for a place to have a late lunch. Somehow this doesn't look like any kind of urban metropolis to me. It was a Monday and just for that good reason most of the restaurants were closed including the tandoori place on the right which had been recommended. I did find out that the national beer of Belize is Belikin which makes a number of brews including Lighthouse, but the one I came to prefer during my stay here was just called Belikin and had a picture of El Castillo on its label.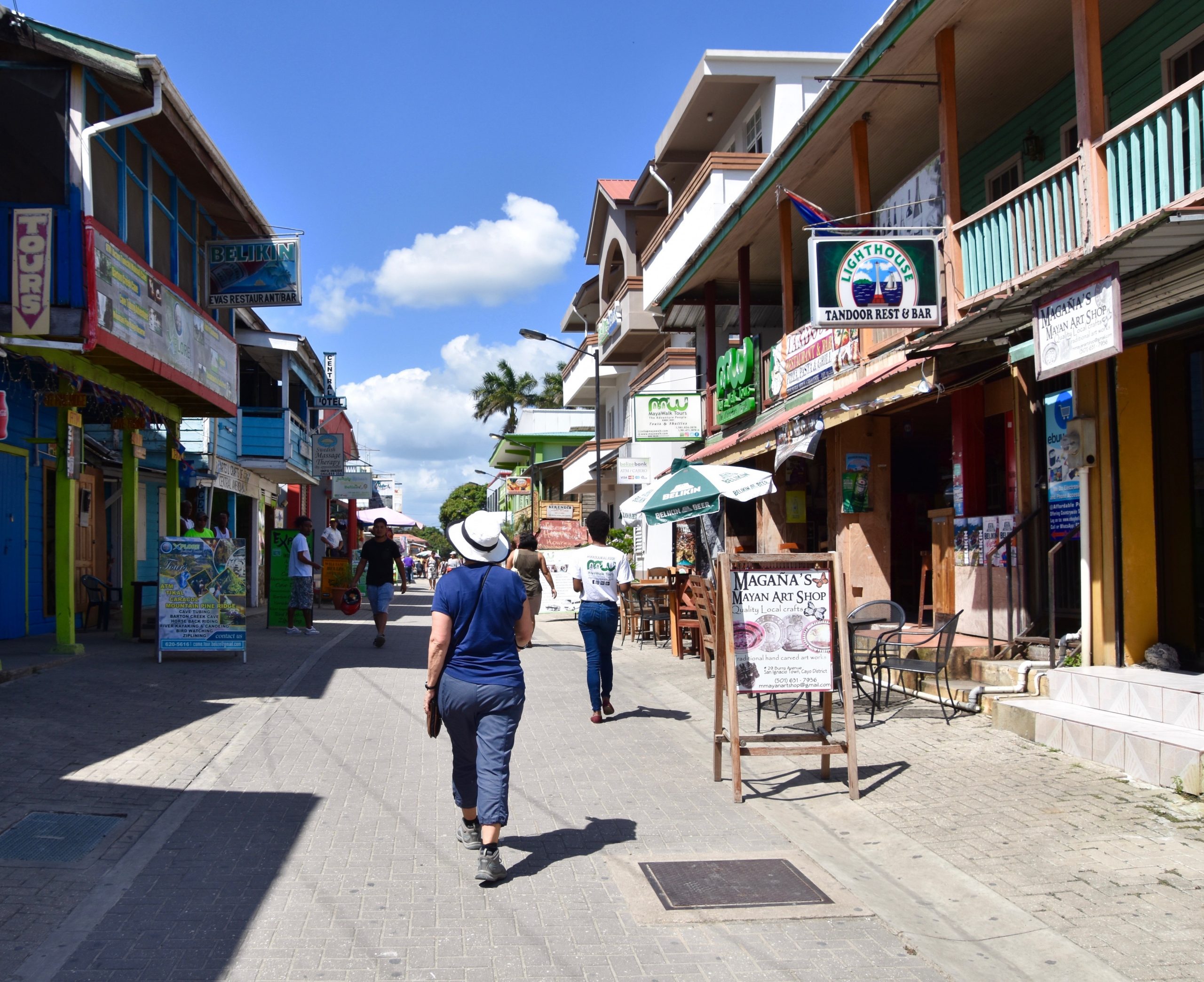 Eventually we did get something to eat, but it was not memorable. After lunch we gathered for the penultimate Mayan ruin visit at Cahal Pech which is actually right in San Ignacio. It is a relatively small site that was once pretty well a family compound for a powerful Mayan family. This is was it is believed to have looked like during its heyday.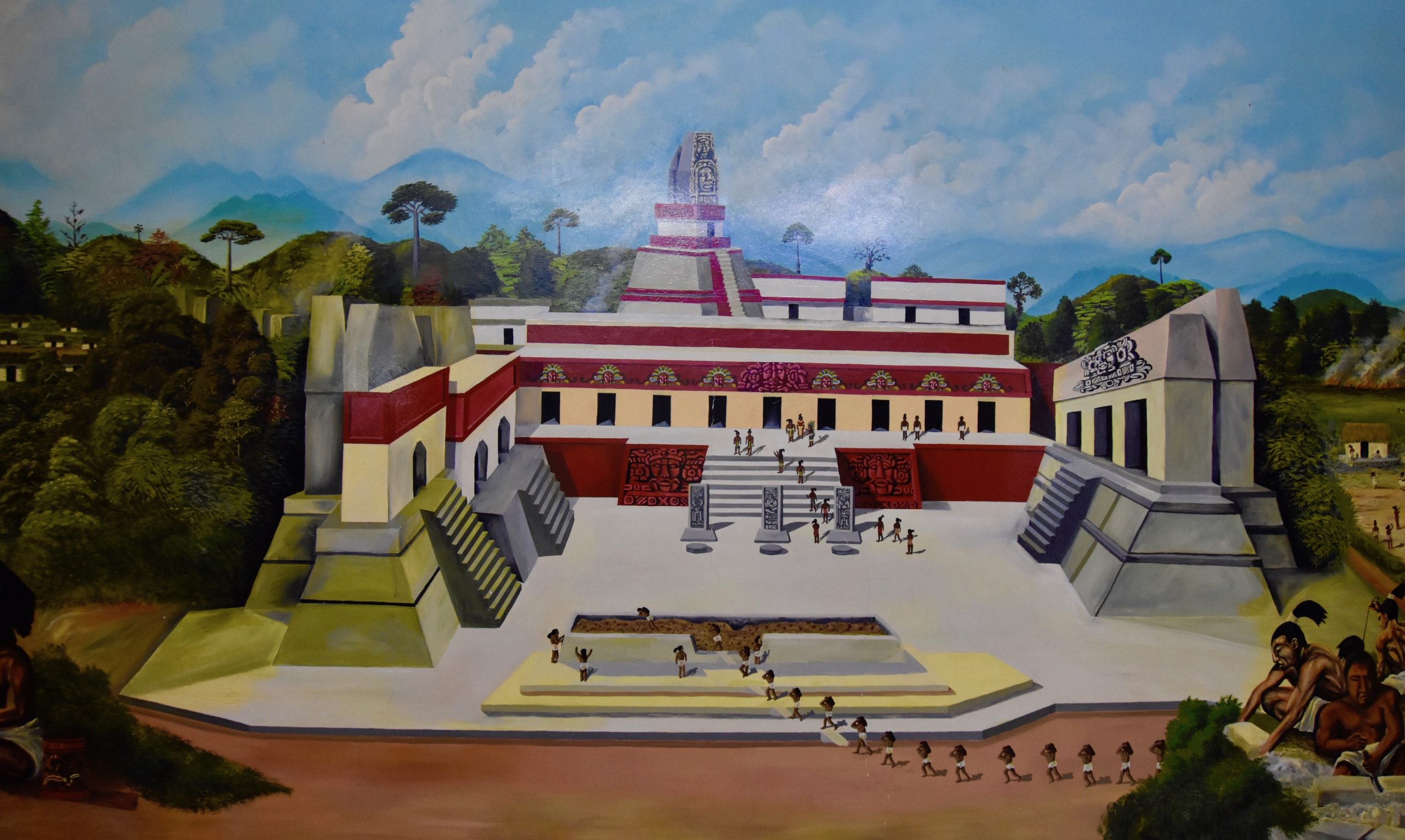 It was blazing hot and after Xunantunich most of us were 'ruined out' so we did a quick whirlwind tour, staying in the shade as much as possible.
The site definitely had more of a feel to it of a living quarters rather than as a ceremonial centre. There were a lot of small rooms and at one spot I thought I might have come across the 'stone lady' from Xunantunich, but it was Donna Celle looking very relaxed in the searing heat.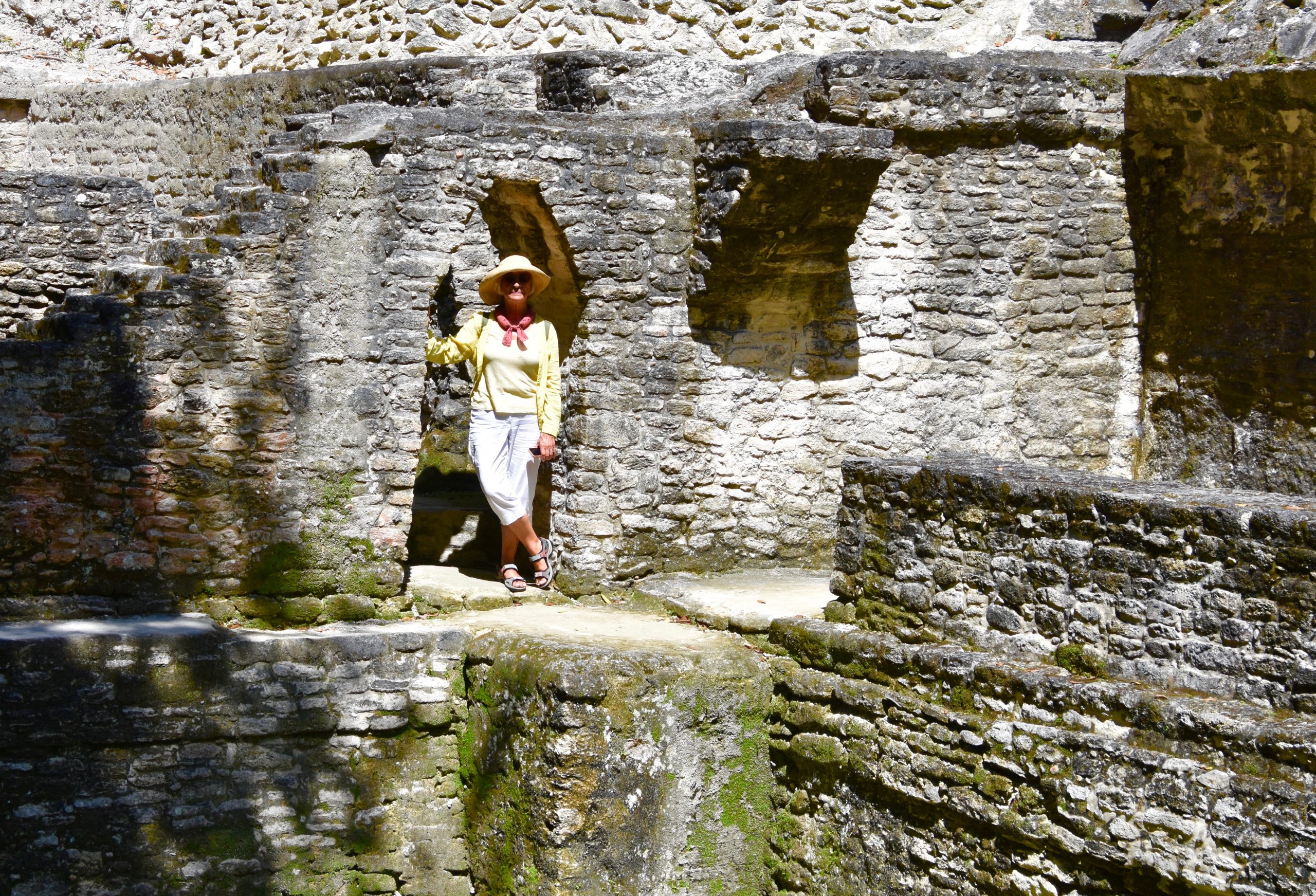 We were now ready to head for our lodgings for the next few days deep in the Belizean rain forest. It turned out to be a totally unique experience and I hope you'll read my next post to find out why.