Mill River Golf Course – Hole by Hole

This is my first post on travel in the time of a pandemic. Alison and I last travelled in late February when we ended our trip through Central America at Ambergris Caye in Belize. The next day we flew back to Canada and within a week the entire world changed as first international and then provincial borders became shuttered and every Canadian became a prisoner, willing or not, in their own province. Only recently did the borders between Nova Scotia, New Brunswick, Prince Edward Island and Newfoundland and Labrador reopen in what is known as "The Atlantic Bubble". As a travel writer and travel enthusiast I couldn't wait to see what it would be like to travel with Covid-19 still very much in the picture, although apparently under control in the four Atlantic provinces. What would be changed and what would be the same? Would the travel experience be severely diminished by new restrictions? I decided to find out by planning a golf trip to Prince Edward Island and chose Mill River Golf Resort as my first destination. In a later post, I'll document the experience getting into PEI and touring the western portion of the island, but in this one I want to concentrate on one of the island's best golf courses, Mill River and do a hole by hole description that might entice others to play this almost hidden gem.
Mill River is located a few miles north of the small town of O'Leary in the westernmost part of the island. The reason I call it an 'almost hidden gem' is that while the quality of this course is well known, its location is well away from the cluster of courses around Cavendish, Charlottetown or the east end of PEI. Thus it is often overlooked when golfers plan an itinerary for a golf vacation on this island known for its great golf.
It was opened in 1971 from a design by prolific Canadian golf architect Robbie Robinson who learned his trade from Canada's most famous golf architect, Stanley Thompson. In the 1990's Graham Cooke made changes to six holes. It has played host to the Golf Channel's Big Break PEI  and is closely associated with PEI native Lori Kane who won four times on the LPGA. Prior to today's game I had only played the course once and that was before the Graham Cooke alterations. My memories of the course were still vivid after forty years and I have been planning to return for many a year.

The first post Covid thing I noticed was that only three people at a time were allowed in the pro shop which is small to begin with. The staff remain behind the newly installed plexiglass which is becoming standard everywhere in every business. I wish I had shares in a plexiglass maker.
We shared a power cart which had the option of dropping down a heavy plastic divider between driver and passenger, but since we share a bed, we figured we could share a golf cart without this necessity. Also, Covid has meant the removal of ball washers from the tee boxes. I'm glad I don't own shares in whoever makes those.
Mill River has five sets of tee boxes and plays 6840 yards from the tips and as short as 5282 from the women's tees. I opted to play the seniors at just under 6,000 yards. Unfortunately the weather was not very cooperative with periods of drizzle interspersed with just gray skies. There was next to no wind. Not a great day for taking photos, but I have included ones from each hole, plus included an aerial view of each hole which I got from the Mill River website.
We had the second tee time of the day and followed a foursome that kindly let us play through on the third hole. Our total game time was well under four hours. So without further ado let's play Mill River.
No. 1 – Shady Lady – 366 Yard Par Four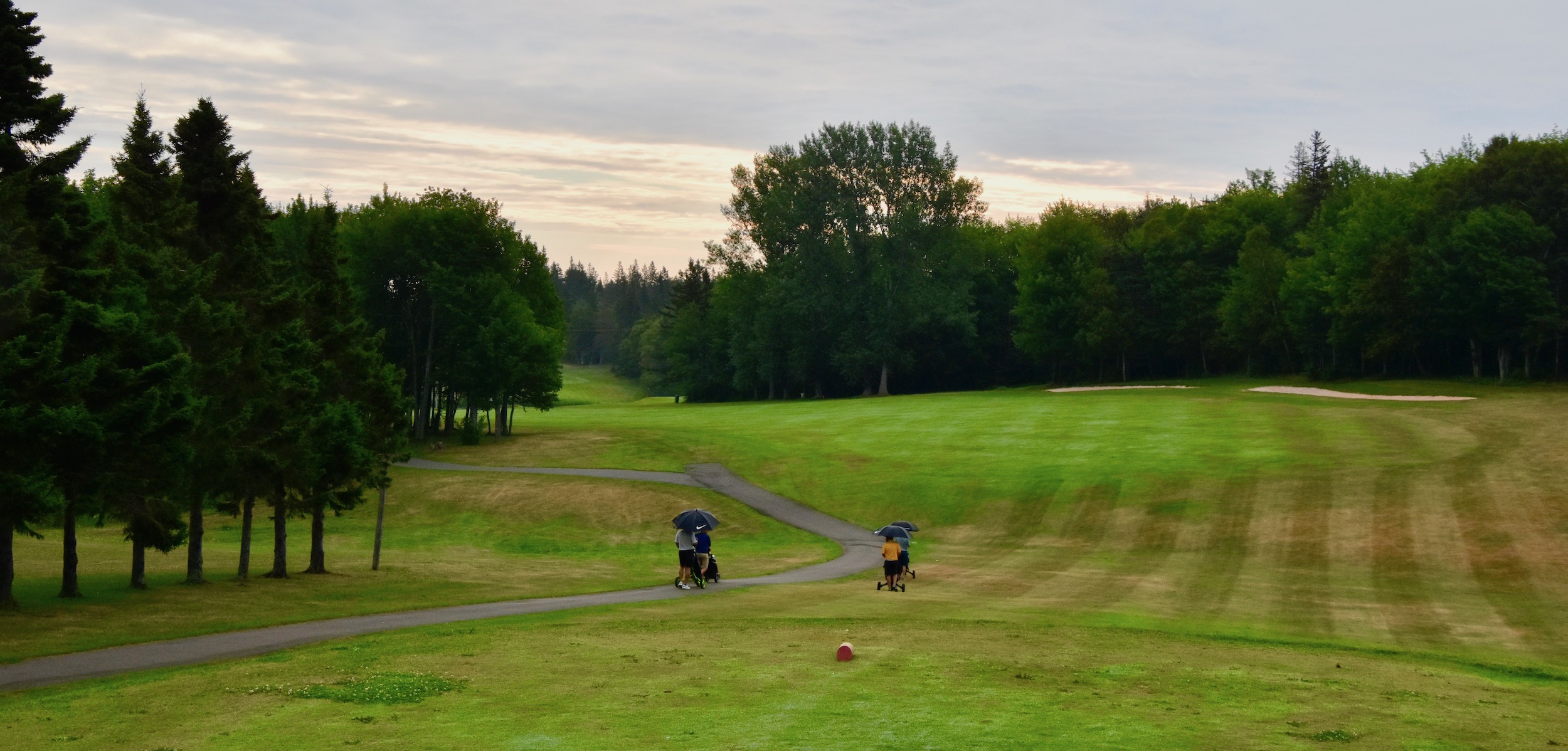 This is a really great starting hole if you are a left hander like me. The natural tendency of the ball to go left took it perfectly around the almost 90° dogleg. The photo also shows that although it's been a very dry summer (except for today of course) the fairways are in good shape. As Mill River is a parkland course the fairways are lined by mature trees, both hardwoods and softwoods, that give it a very pleasant easy on the eyes appearance.
The second shot here plays quite downhill to the first of eighteen very interesting bentgrass greens. What makes Mill River so memorable are a number of things including the undulations in the greens which are in excellent condition. You really need to know how to read breaks well and figure out the right pace to score on them. That being said and no doubt aided by the damp conditions, the greens were not punishingly fast. If they were, given their design they would be a nightmare, so not cutting them as short as possible makes for a very fair challenge – if you get the read and the pace right.
No. 2 – Old Mill – 525 yard Par Five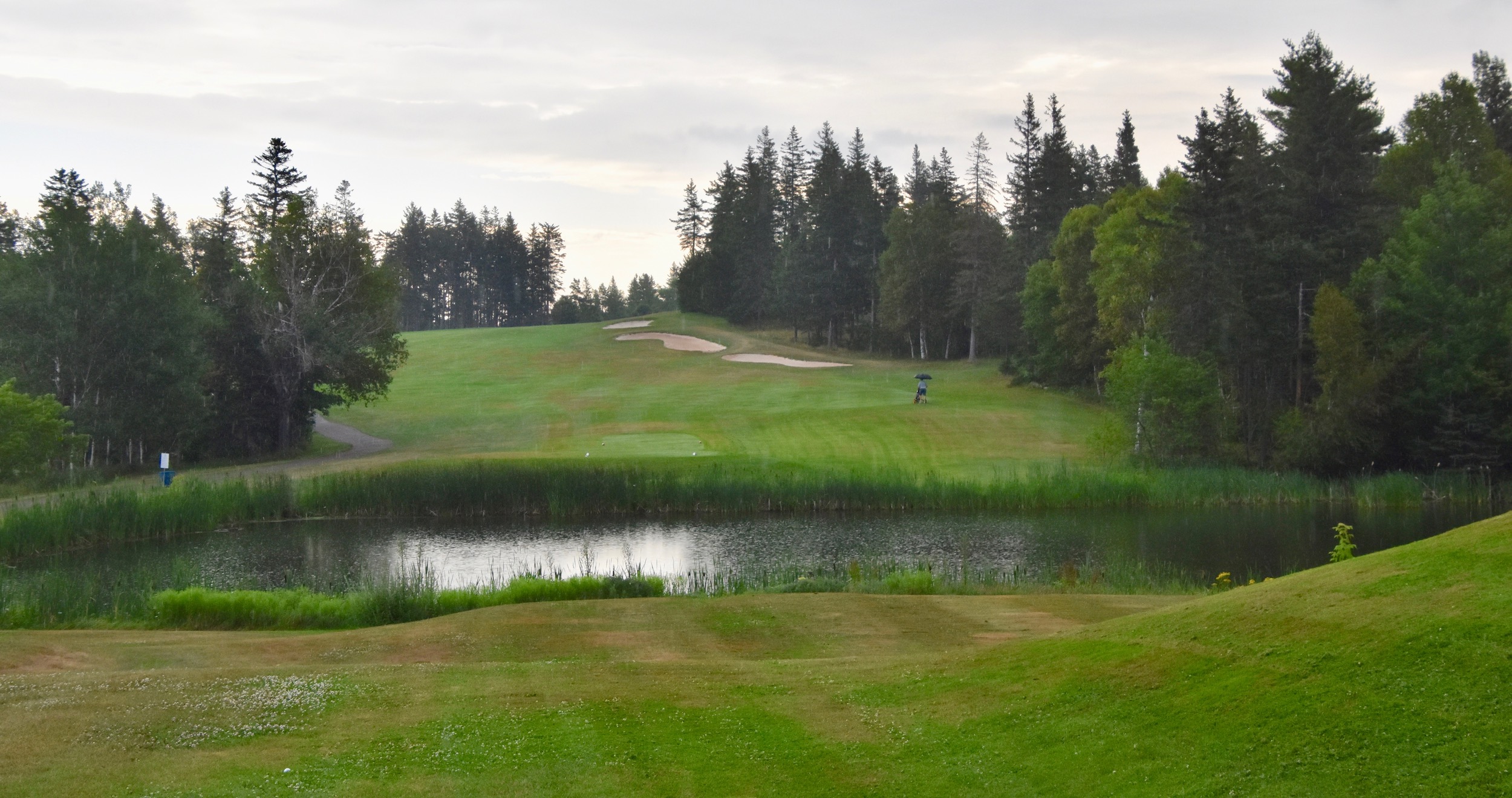 The water is not really in play from the tee box, but the traps on the right definitely are. This is an uphill dogleg right with a fairway that pushes everything to the left if you avoid the traps. For the ordinary golfer this is a very tough hole playing as long as it does uphill. Definitely a three shotter to the well trapped green.
No. 3 – The Challenge – 150 yard Par Three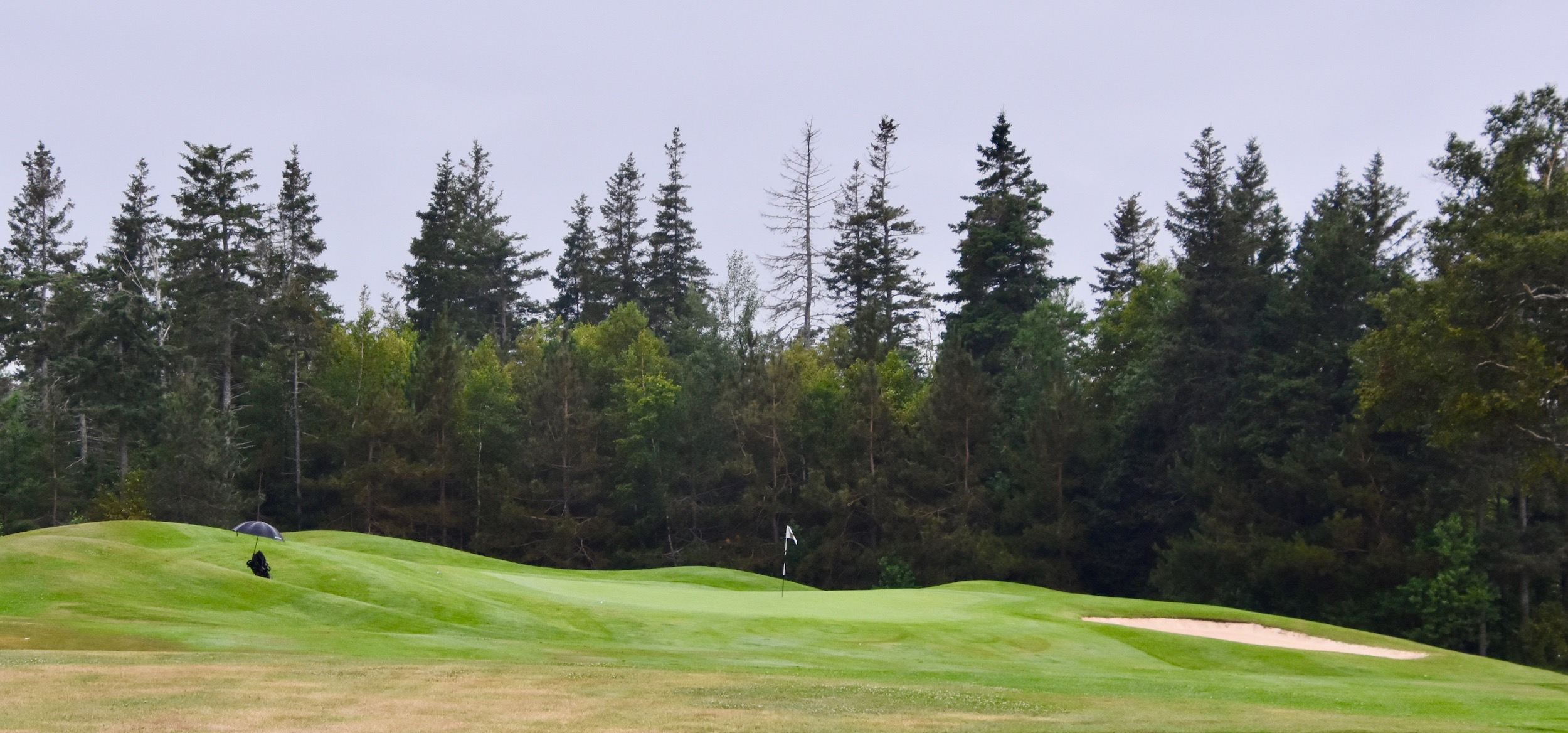 You don't really understand why this hole is named The Challenge standing on the tee. It looks like a fairly simple par three with a huge green. However, once you get up there you realize that the green is very tricky with a huge ridge in the middle that almost makes it two separate greens. If you are on the wrong side of the ridge from the flag a three putt is very much a possibility.
No. 4 – The Namesake – 290 Yard Par Four
This is a very deceptive hole. Although it's very short, the severe dogleg right makes it a very difficult drive for a lefty. The traps on either side are in play which makes the landing area very small. Choosing the right club to tee off with is the hardest chore on this hole. Who the namesake is, I have no idea.
No. 5 – The Lookout – 119 Yard Par Three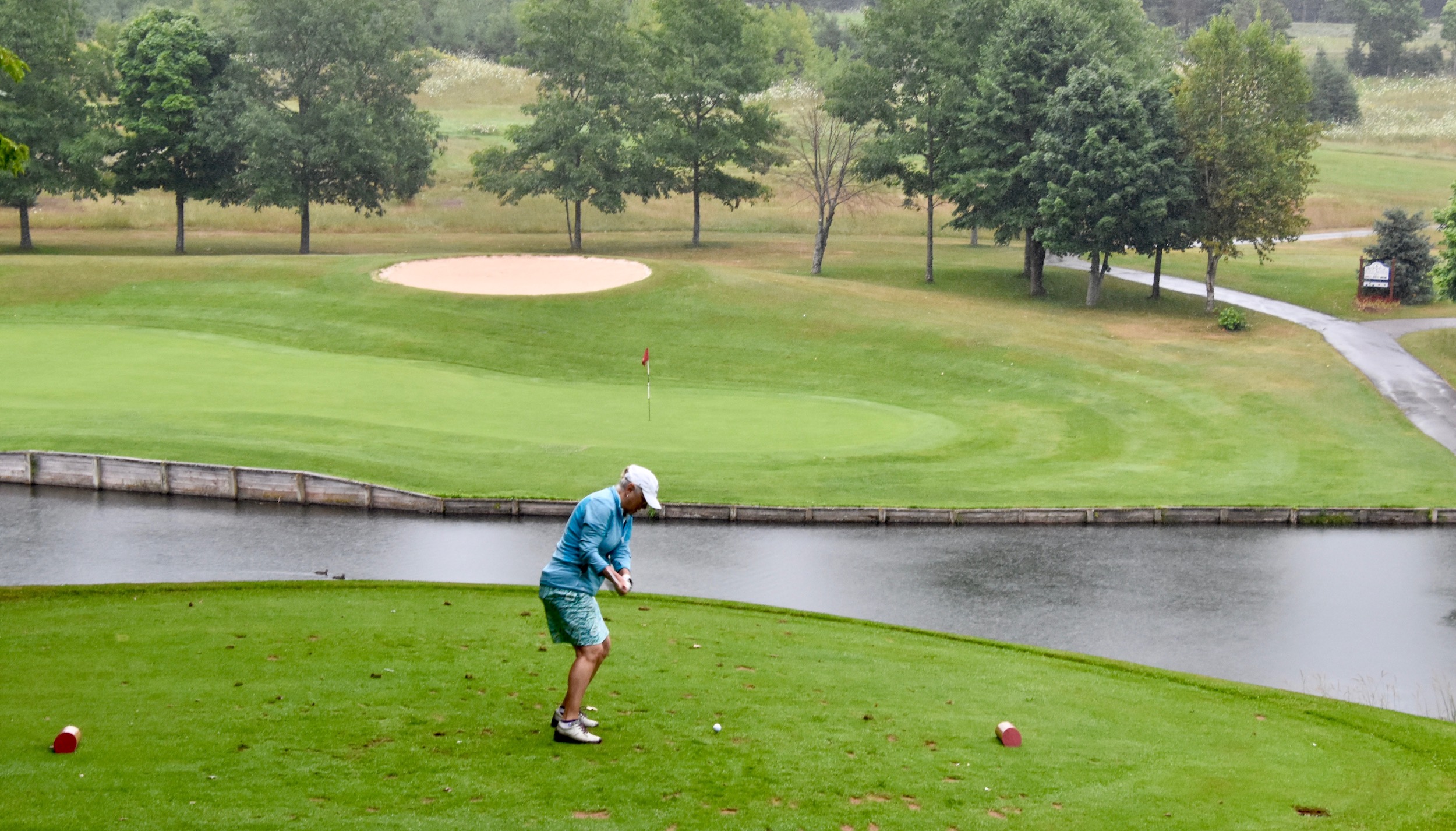 This is the first of a number of holes that could be the 'signature' of the course. A simply delightful par three with a very narrow green and an elevation change rarely seen on PEI.
No. 6 – Duncan Brothers – 502 Yard Par Five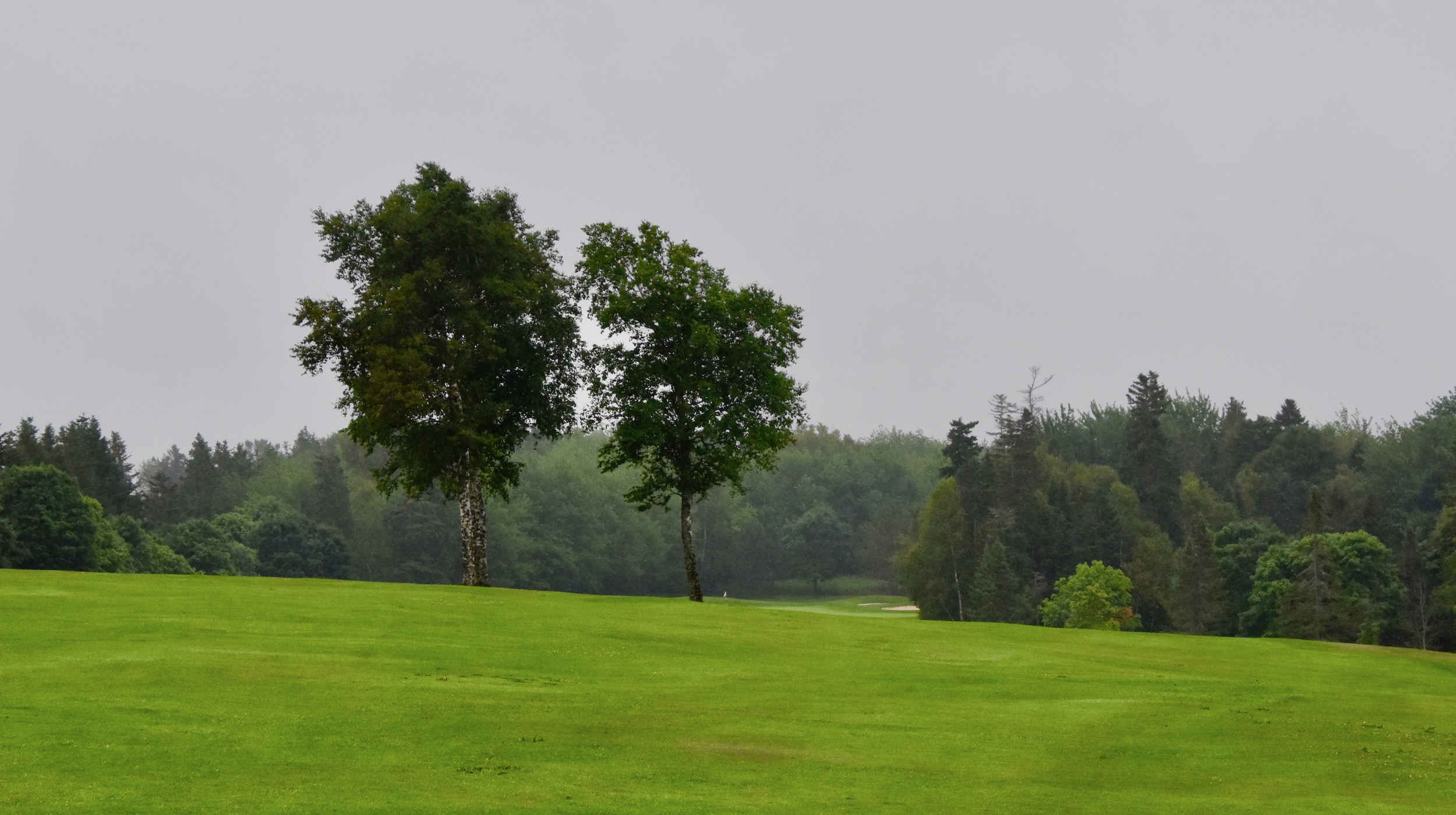 The hardest hole on the course can play as long as 602 yards, but 502 is plenty. The two trees (the Duncan Brothers?) are the target with a sharp drop just after them into a narrower fairway that gets positively tiny as you approach the small green.
No. 7 – Hunter's Spring – 358 Yard Par Four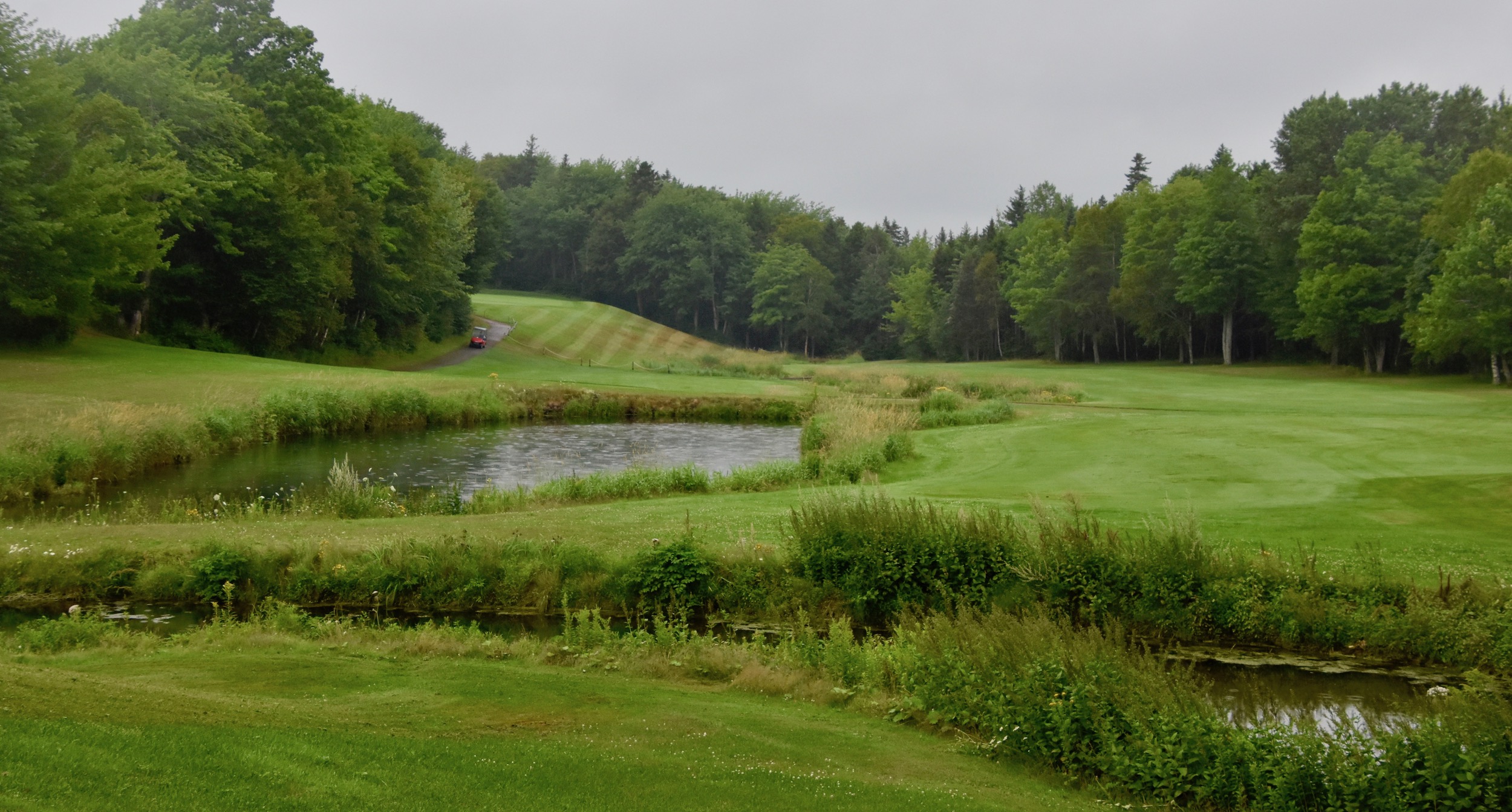 My favourite hole at Mill River is this truly unique par four that has a creek running right down the middle of its entire length making for two tiny fairways on each side. Assuming you do find one of them, preferably the right side, you need to take at least one extra club to compensate for the highly elevated green. This is one of the best holes in Atlantic Canada in my opinion.
No. 8 – Hidden Nook – 357 Yard Par Four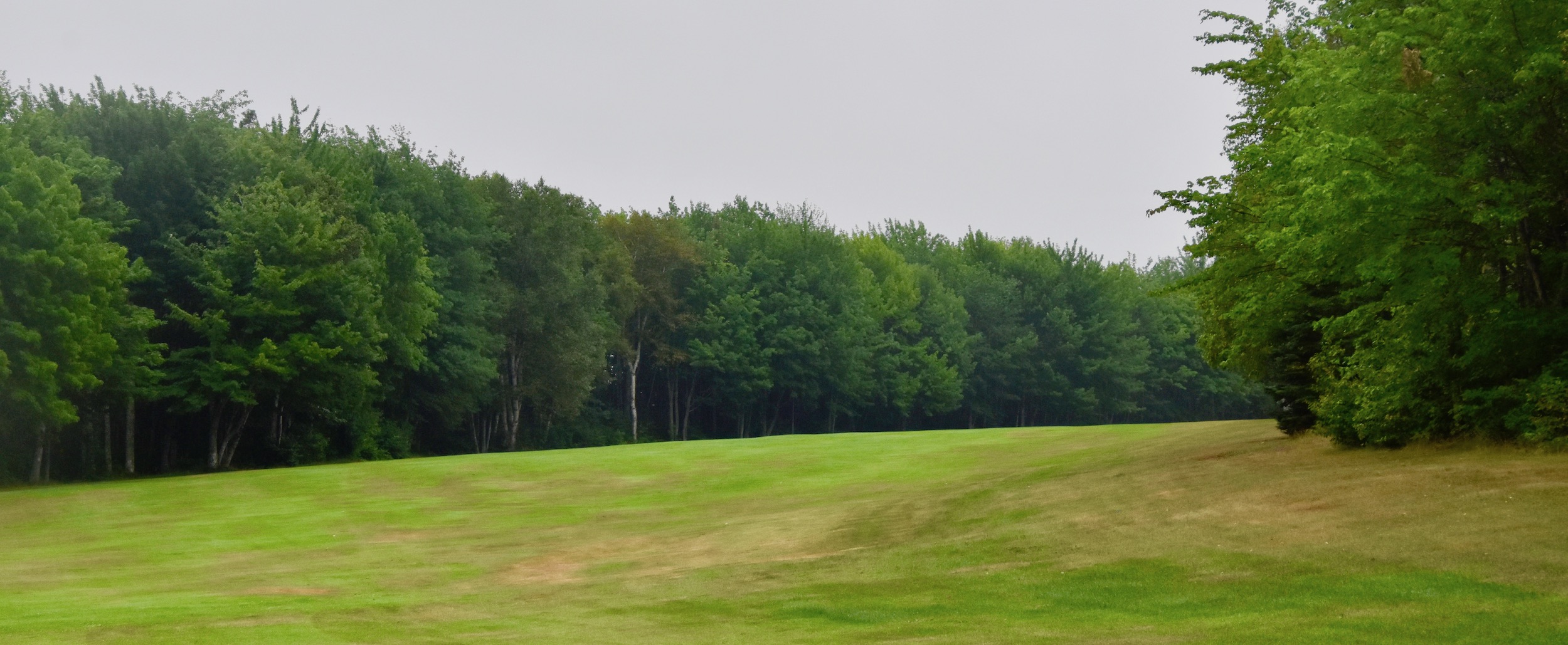 Right after my favourite hole comes one I detest. This mid-long dogleg right has a fairway that slants right to left which routinely delivers well struck left handed drives into the woods on the left. Then, if you find your ball it's a long way to the small green tucked i.e. hidden, among the trees. Right handers probably think this is a great hole.
No. 9 – The Homestead – 344 Yard Par Four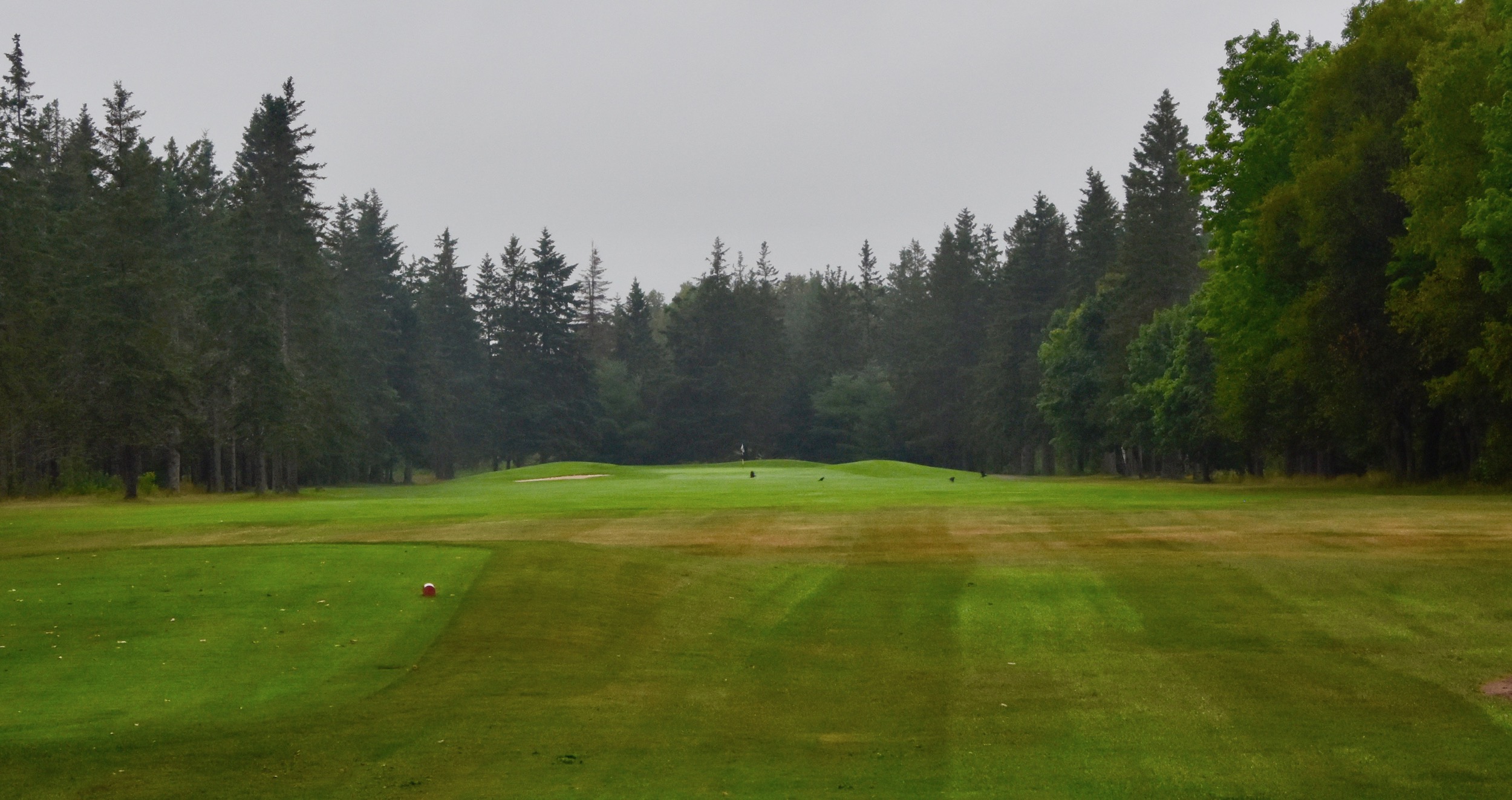 As straightforward a hole as you will find at Mill River. Keep you drive in play and this is a great birdie opportunity or an easy par. Nice respite after 8.
There is no return to the clubhouse after nine at Mill River. The homestead is a house just back of No. 10 tee.
No. 10 – Hernewood – 461 Yard Par Five
Another relatively easy hole, this short par five that doglegs left after the lone tree is almost reachable in two. With two goods shots there should be a very short approach making for another birdie chance. BTW I noticed that the local junior high is called Hernewood so I assume the name has local significance.
No. 11 – Easy Pickins – 155 Yard Par Three

Not as easy as the name implies, at least with this pin placement, still a straight drive with your 155 yard club should put you below the hole with two uphill puts for par. This is actually a severely sloping green which does require you to pound an uphill putt.
No. 12 – Mighty Limes – 363 Yard Par Four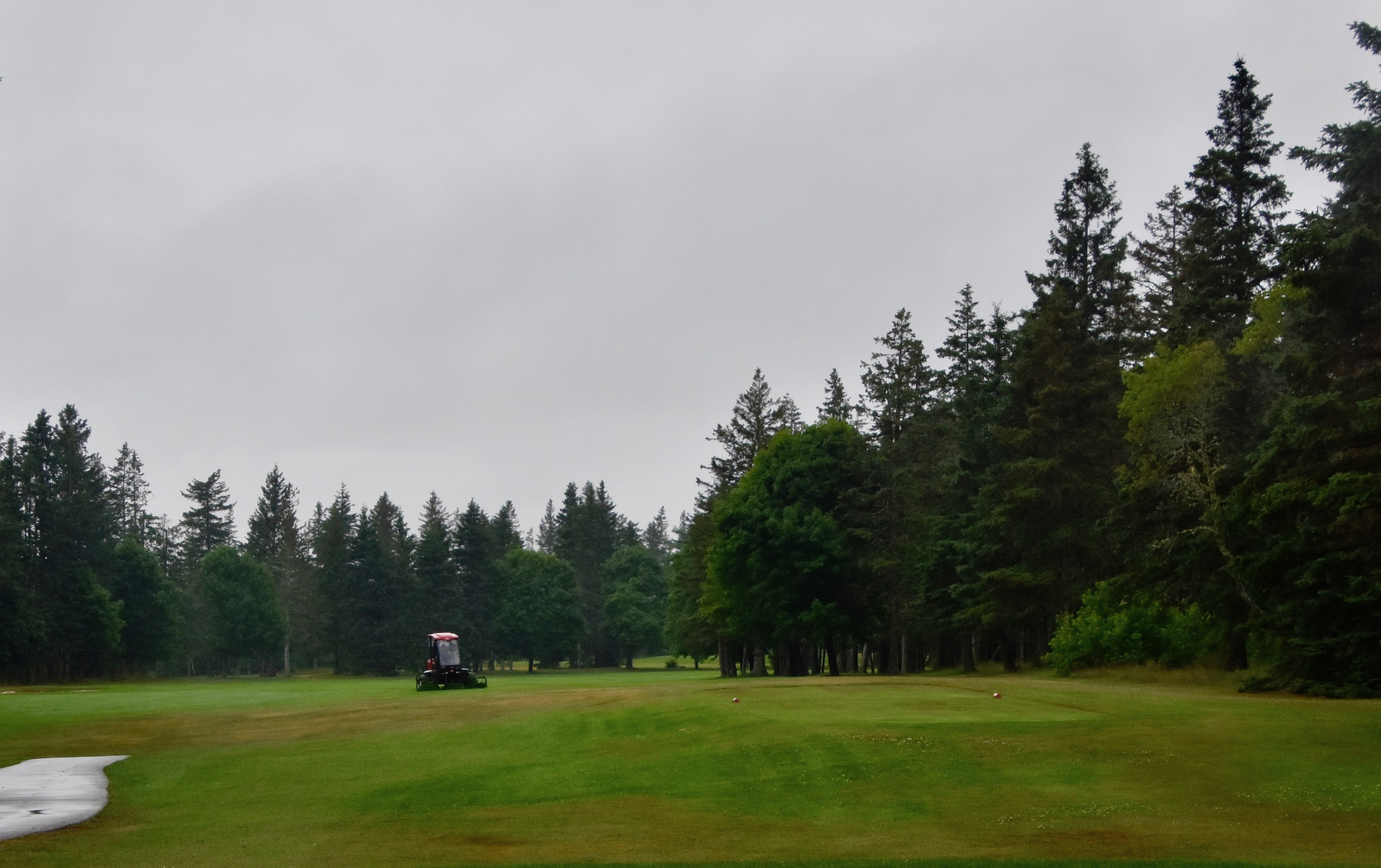 What the hell is a mighty lime? This is yet another severe dogleg right that won't let most lefties use a driver for fear of going through the fairway. If you do manage your drive expect one of the most severe greens on the course with three very different tiers. Depending on where the flag is you could have a very difficult putt.
No. 13 – Aqua Bound – 529 Yard Par Five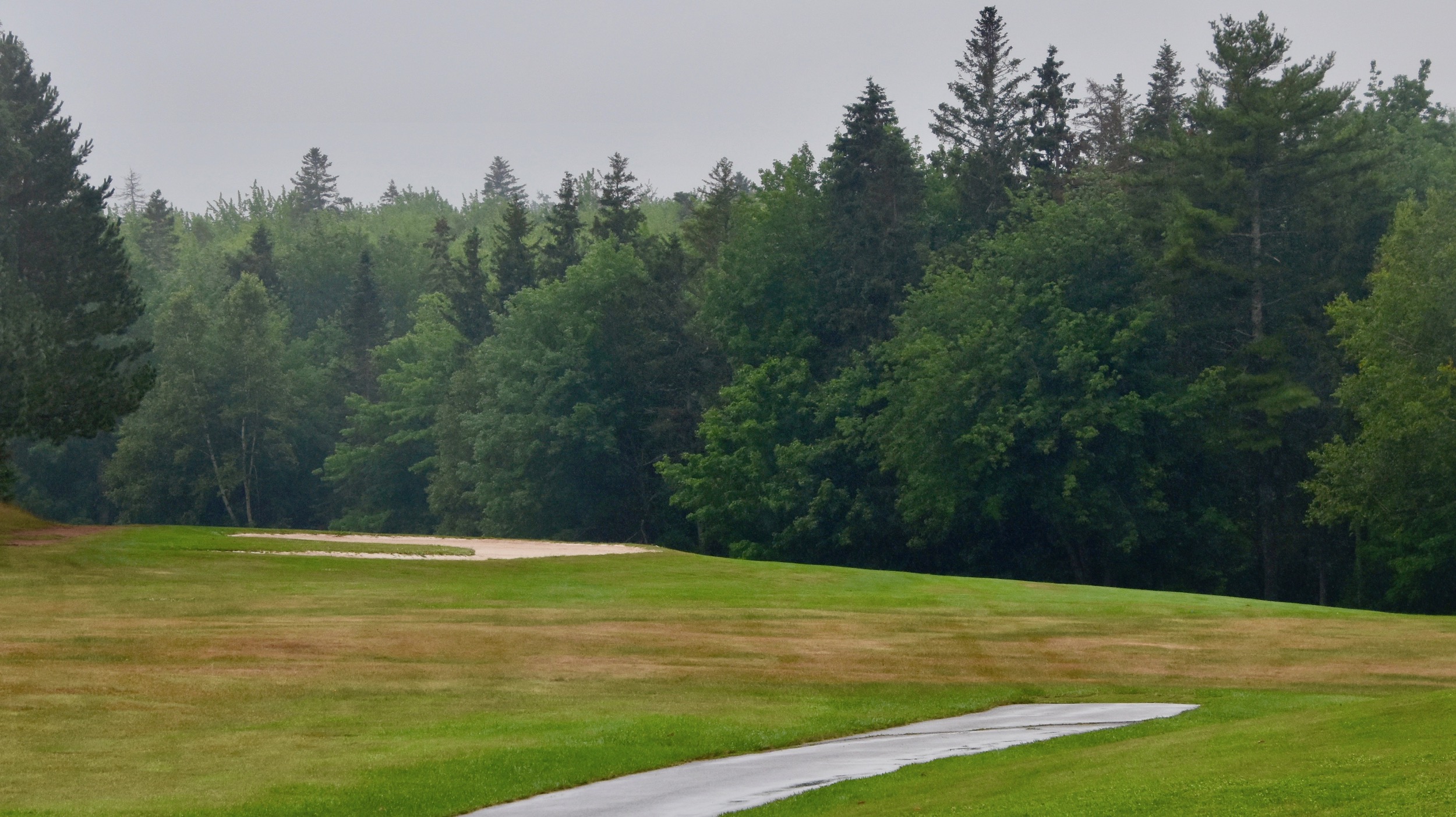 Aqua means water right? So my ball is bound for the water on this hole? What water? Actually this is a great par five and another candidate for signature hole – notice that they all involve water. This hole doglegs left and then downhill. You don't need a long drive – just avoid that damn bunker on the left.
You can't reach this in two so you just layup and have this view for the third shot. It's a bit daunting, but it's also a beautiful setting for a golf green. If you avoid the water and traps on both sides you still have to deal with this two-tiered green. Just a great par five.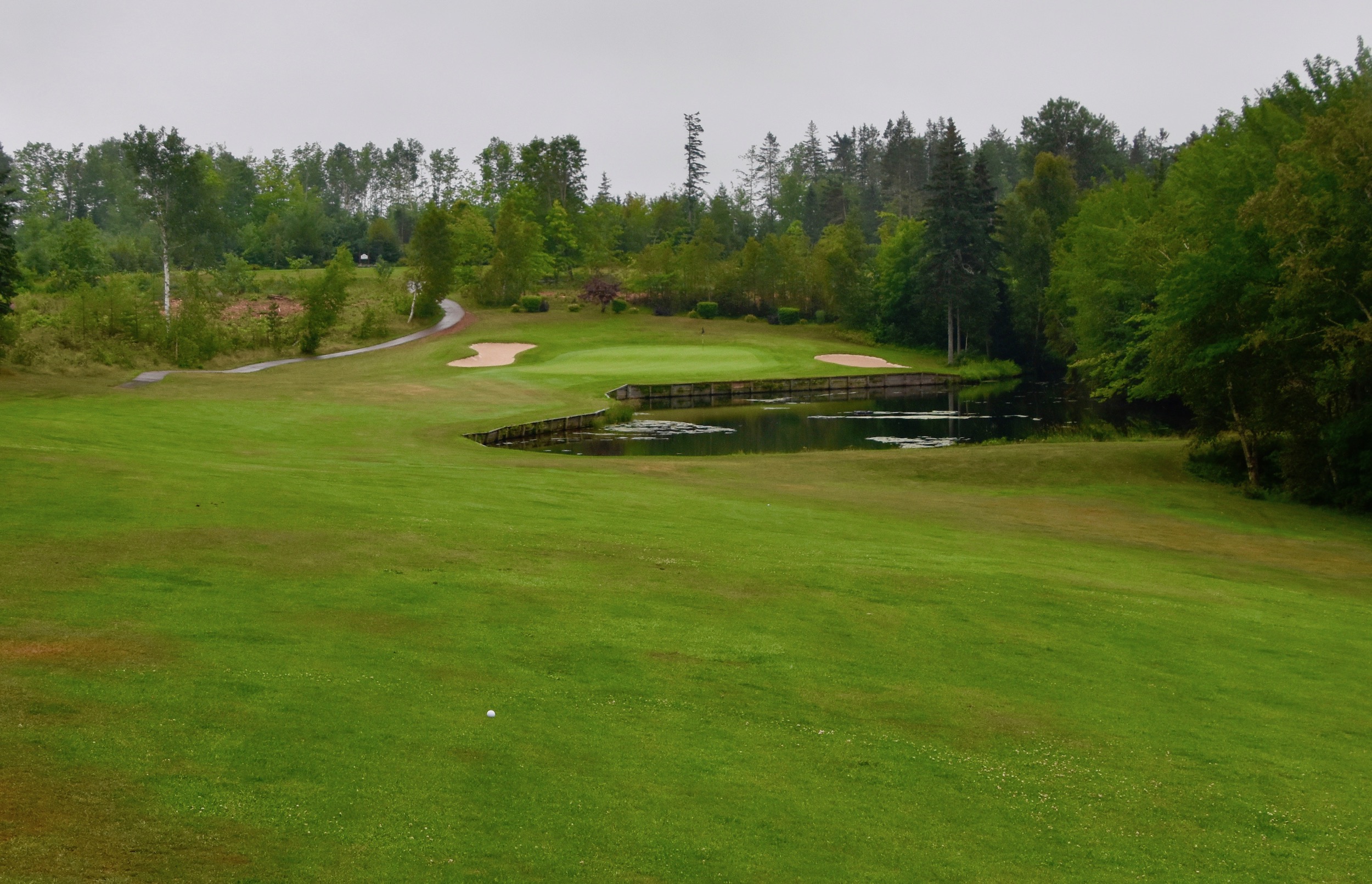 No. 14 – The Orchard – 338 Yard Par Four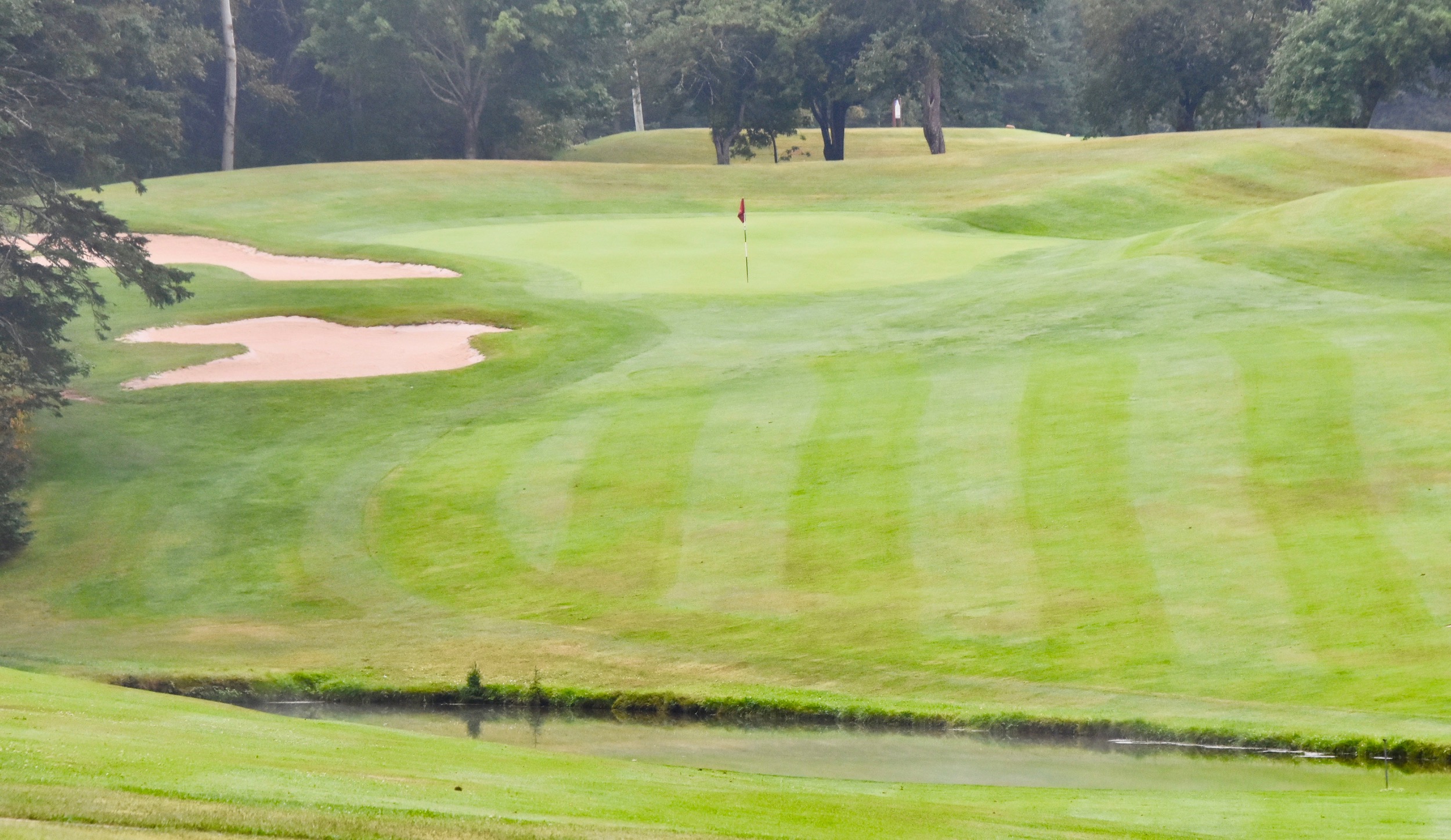 This is a risk reward hole if I ever saw one. You might clear the pond with a driver, but why take a chance? I hit five wood to the flat just before the water and had an easy uphill mid-iron to a receptive green. Another nice hole at Mill River.
No. 15 – Twin Birches – 408 Yard Par Four

Birches, what birches? Saw nary a one on this hole. This is a very tough par four requiring a good drive to get to the dogleg left. By now, you get the idea that Mill River has a lot of doglegs, right? The green slopes severely front to back and the fact that it's a long way in, makes staying on it difficult. A tough hole, but not unfair.
No. 16 – The Spinney – 355 Yard Par Four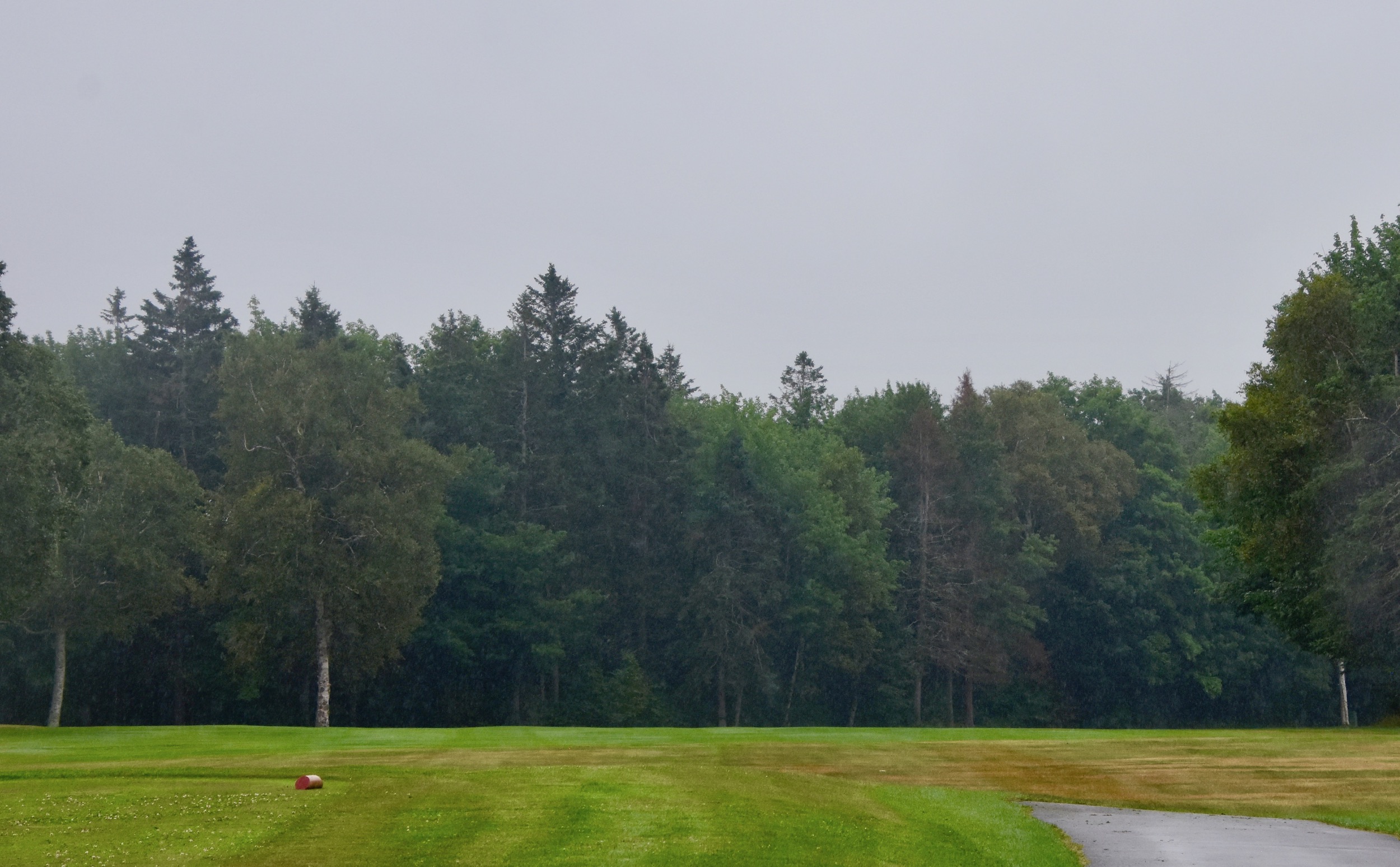 A spinney is defined as a small area of trees and bushes. Well there's lots of both on this hole including many of the twin birches missing in action on # 15. And guess what? It's another dogleg, this time to the right in an almost mirror image of the previous hole. This is one of the few holes that an average driver might think of cutting off some of the dogleg by going over the trees. Alternatively, you can hit a wood straight out and be prepared for a much longer approach. Decisions, decisions.
No. 17 – Bob's Way – 142 Yard Par Three

The easiest hole on the course, Bob's Way doesn't require a lot of skill, just a straight uphill mid-iron landing short of the pin for a birdie opportunity.
No. 18 – Robbie & Graham – 374 Yard Par Four

Named for the two architects responsible for Mill River, this is one of the best finishing holes you will find anywhere. This view from the tee box isn't much. You have tons of space between the two bunkers to land and have your ball roll downhill.
But once you broach the hill you get this look for your approach shot. Wow! What a way to end your round and head for the club house terrace and a well deserved quaff from one of PEI's many great craft breweries.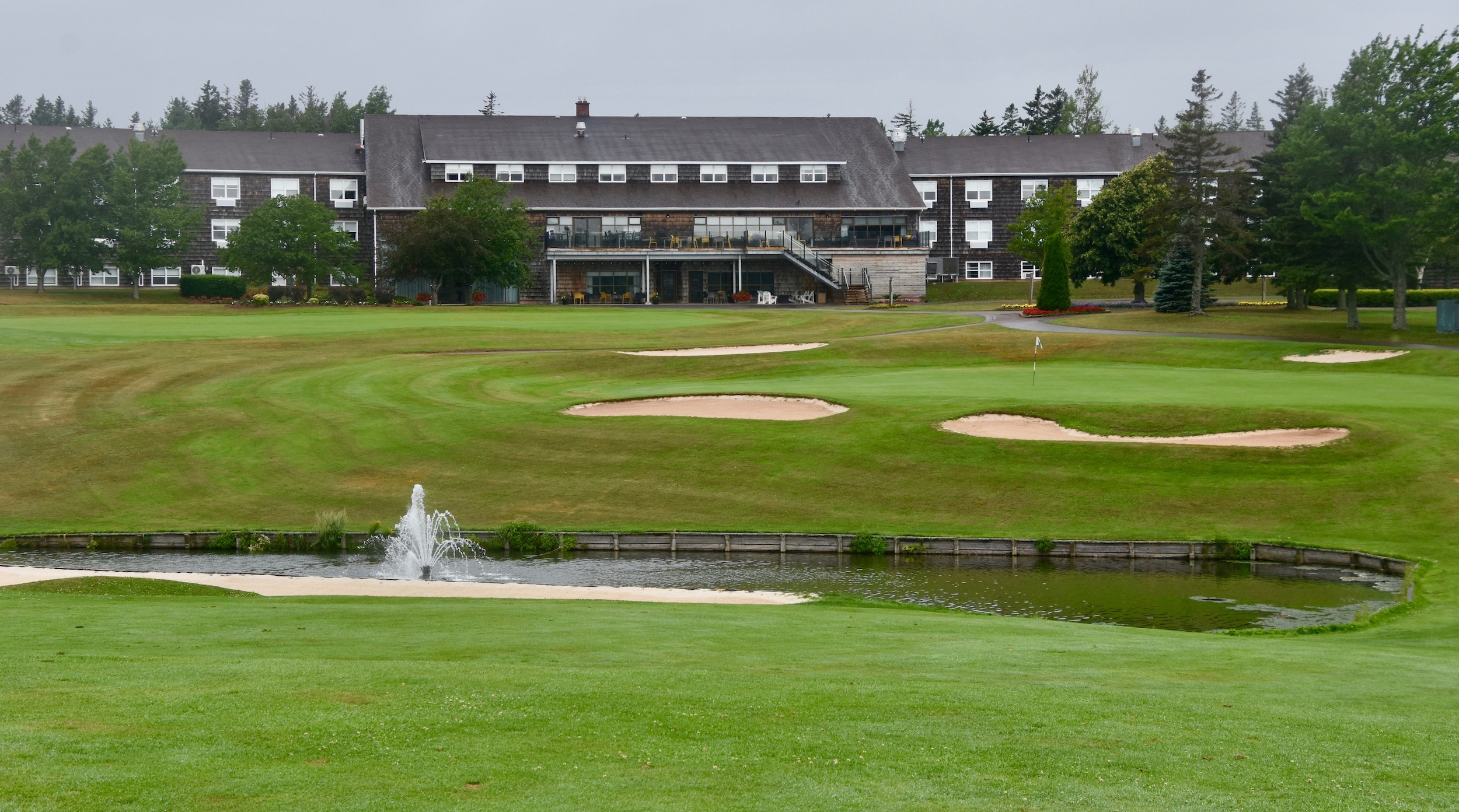 I hope you enjoyed this trip around Mill River Golf Course and will join me for a tour of western PEI in the next post.