Ambergris Caye – Almost UnBelizeable
This will be the final post from the amazing trip Alison and I took through Central America with Adventures Abroad last February, led by their extraordinary guide, Victor Romagnoli. In the last post we said goodbye to Victor and our fellow travellers (in the proper sense of that phrase), as they headed back to Canada and the United States or continued their journey on their own as we would do. Our destination for the final leg of the trip was Ambergris Caye, a fabled island just off the coast of Belize where we would fish, snorkel the longest reef in the Western Hemisphere and just chill out at Ramon's Village. Why don't you come along as well?
Ambergris Caye
Ambergris, literally 'gray amber', is one of the rarest substances on earth. It is the product of the bile ducts of sperm whales and is either vomited or shit out of just a few members of the species. That might not sound attractive, but it has properties that make it extremely useful to the perfumery industry as it enhances and extends the potency of their concoctions. Once egested, it floats and eventually gets washed up on shore, but looking quite like an ordinary rock. This piece of ambergris found by a boy on a beach in Dorset ended up being worth over $60,000.00 USD.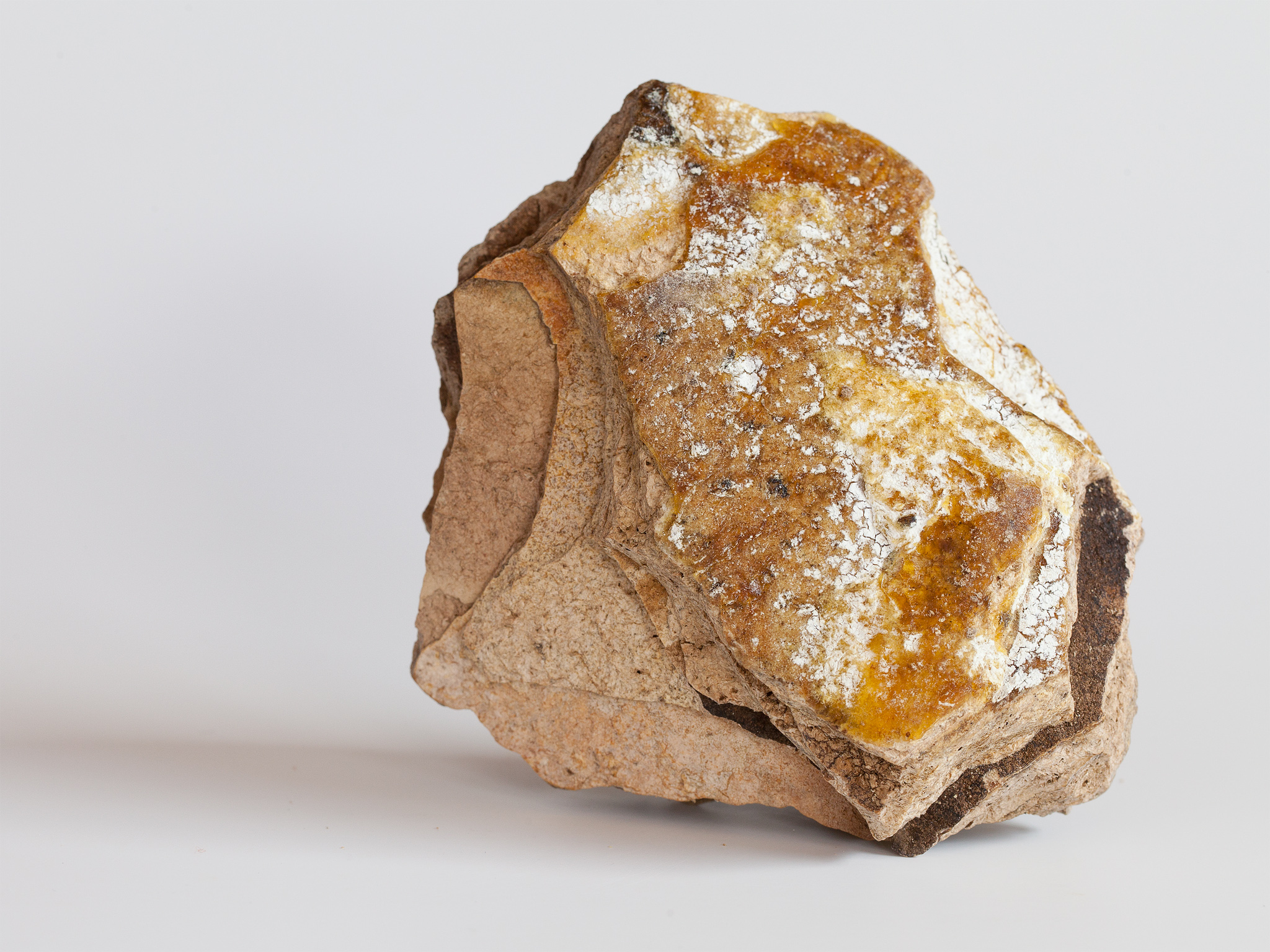 So that brings us to Ambergris Caye, so named because of the quantities of ambergris found washed up on its shores by early settlers. Alas, the number of sperm whales, while recovering after the ban on whaling in the 1980's, is but a fraction of what it would have been at one time and so your odds of finding a valuable piece of whale puke on Ambergris Caye today are slim, but there are plenty of other reasons to visit.
The island is 25 miles (40 kms.) long and no wider than 1.5 miles (2.4 kms.) in width. It is the largest and northernmost of the series of islands along Belize's barrier reef and by far the one most visited by tourists.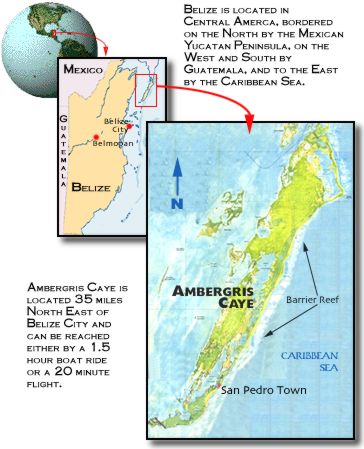 It is only a fifteen to twenty minute (yes, just 15 minutes!) flight from Philip Goldson International Airport north of Belize City. There is only one town, San Pedro, where pretty well all the tourist accommodations are found and that's where Alison and I are headed via Maya Air, one of two airlines that service Ambergris Caye. While most of the people at the small, but very busy airport are headed back to the United States or Canada, a few at the far end of the terminal are escorted out to the tarmac to board the nine seat Cessna 208, a model that has been around since 1986. The plane is boarded by weight with the heaviest passengers getting on first. One lucky person gets to sit up front in the co-pilot's seat. After take off there is a great view of the turquoise waters between the mainland and the various offshore islands.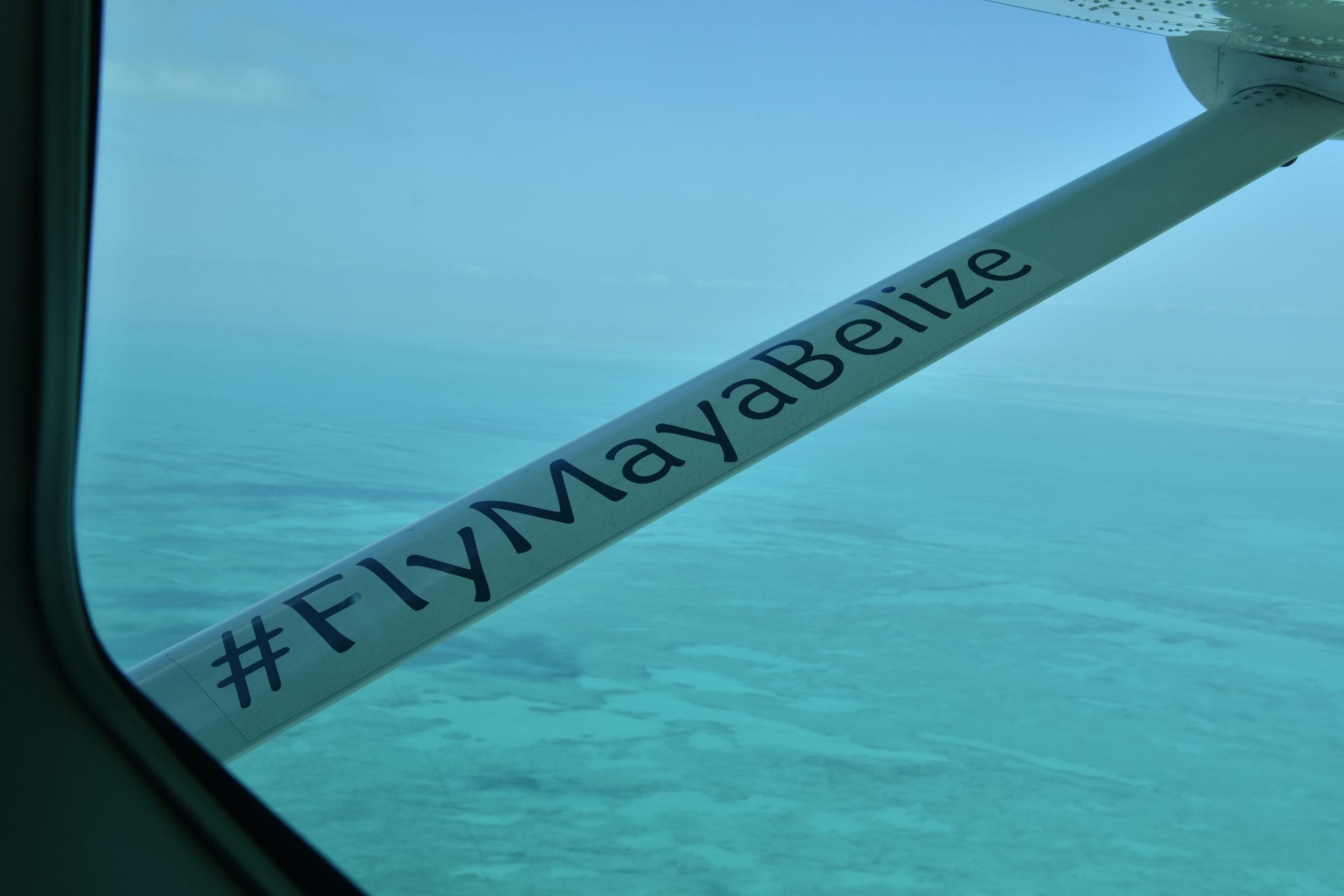 The airport on Ambergris Caye is literally right inside the town of San Pedro, with the main street passing down one side of the runway. Although many of the residents have cars or trucks, the majority of traffic on the island is golf carts. Somehow, whenever I arrive at a place where golf carts are the preferred means of transportation, I know that the pace of life here is going to be relaxed and carefree.
Ramon's Village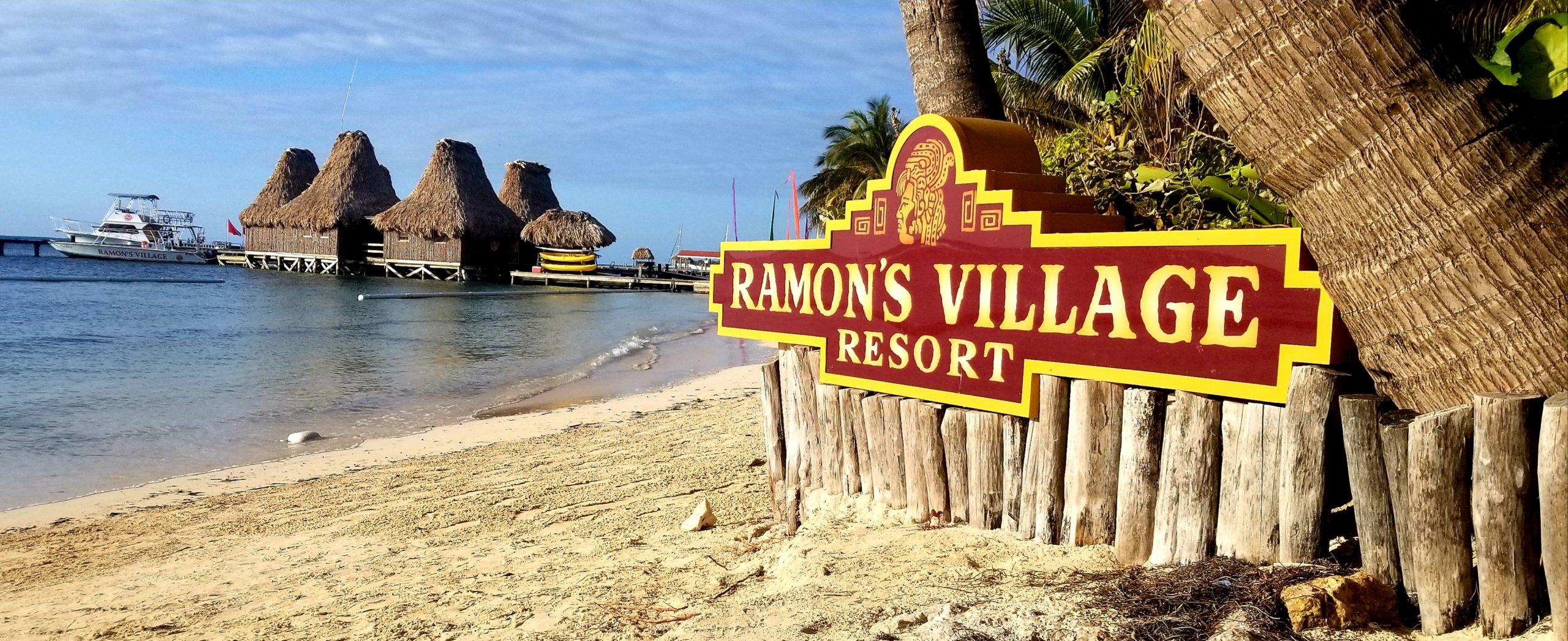 I have booked us into Ramon's Village, which my research indicates is probably the best resort on Ambergris Caye with a wide variety of things to do including doing nothing.  Before boarding the plane the people from Maya Air asked where we would be staying and so after collecting our luggage there is a large golf cart from Ramon's waiting for us and soon we are whisked away for the all of two minute drive to the entrance. While pricey, I opted for one of the few cottages that are literally a stone's throw from the water and have this view from the porch.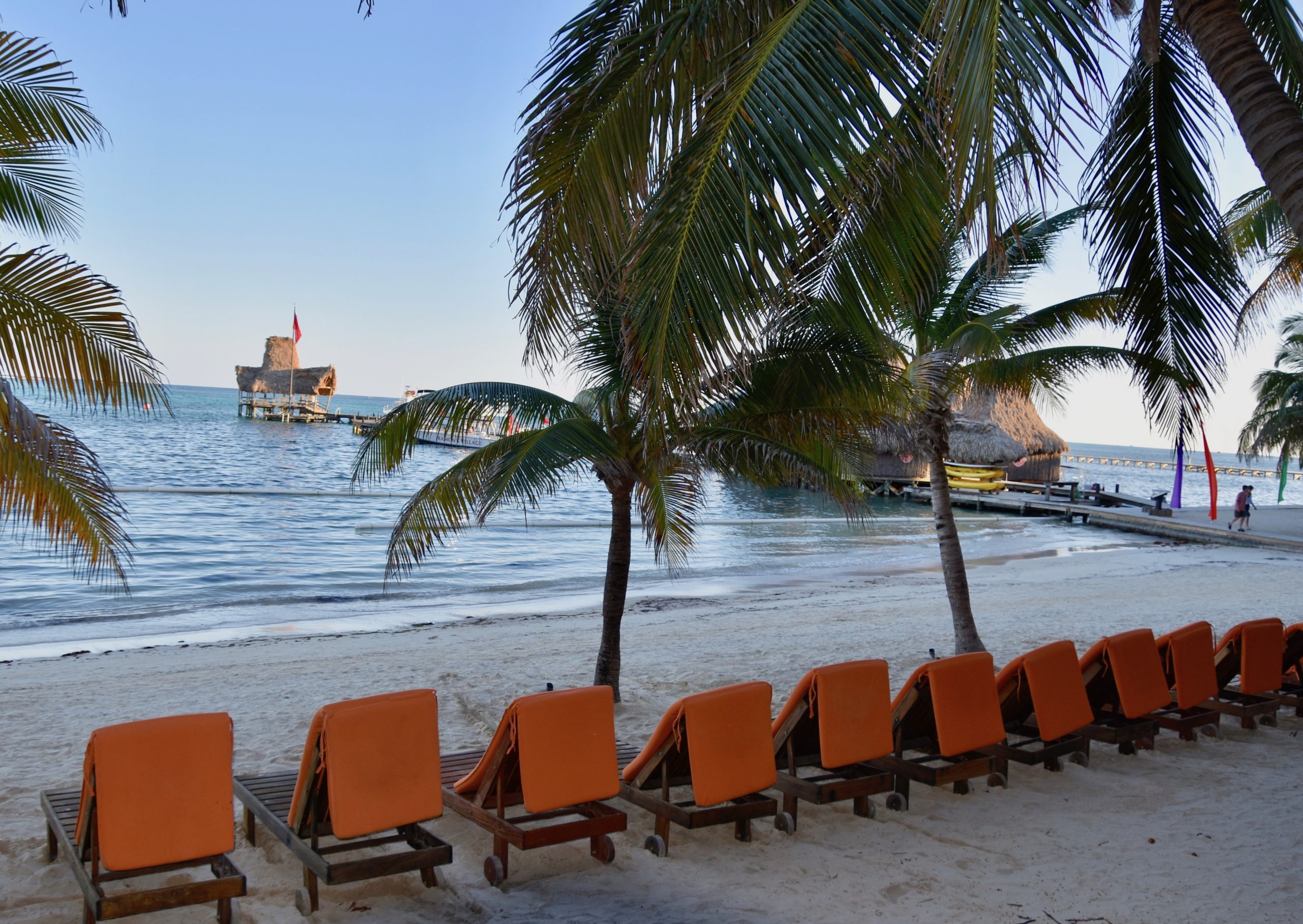 Chillin' out here is going to be remarkably easy.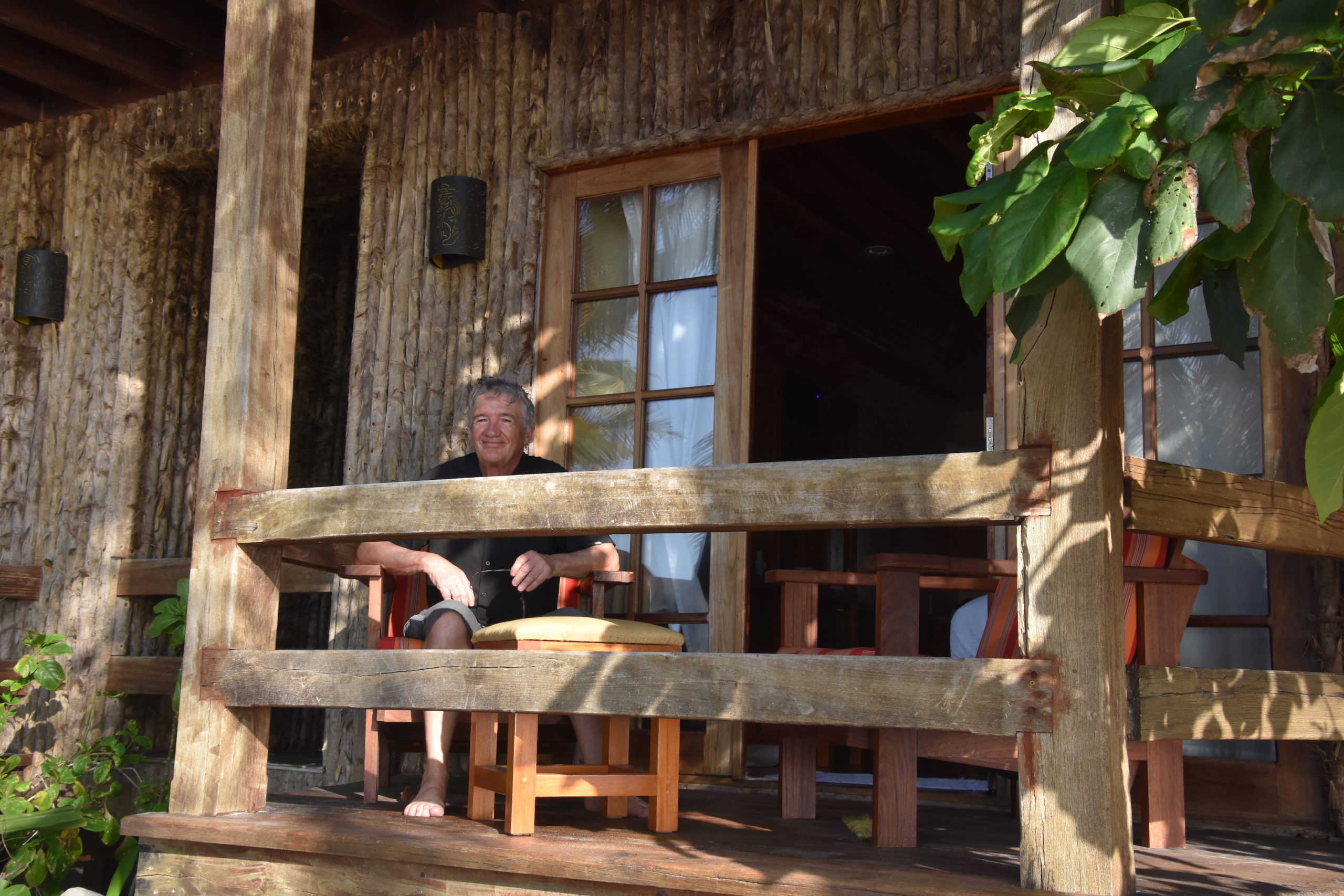 Our first order of business is to check out the restaurant for lunch and it does not disappoint. I have the shrimp ceviche.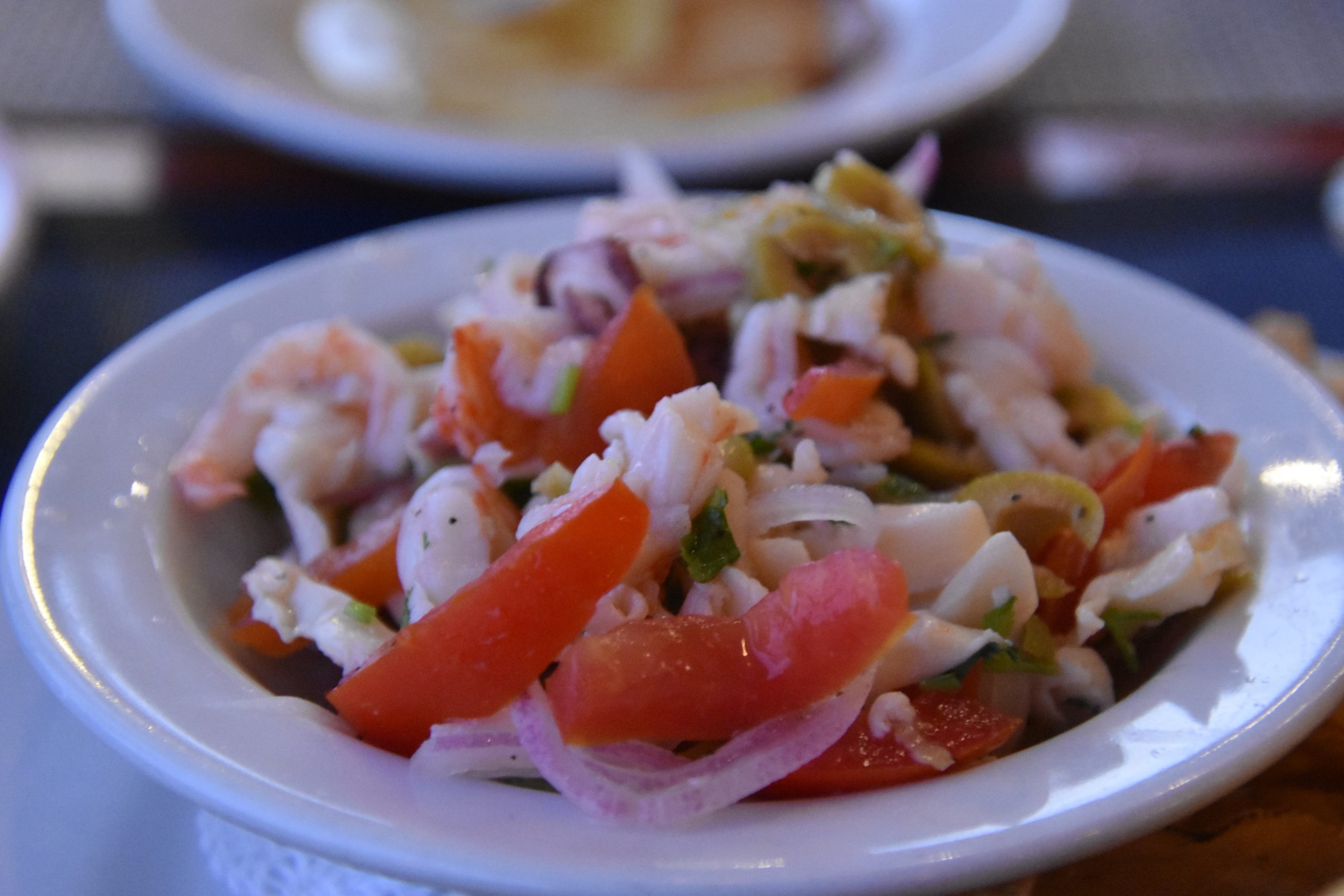 And Alison has this perfectly prepared octopus.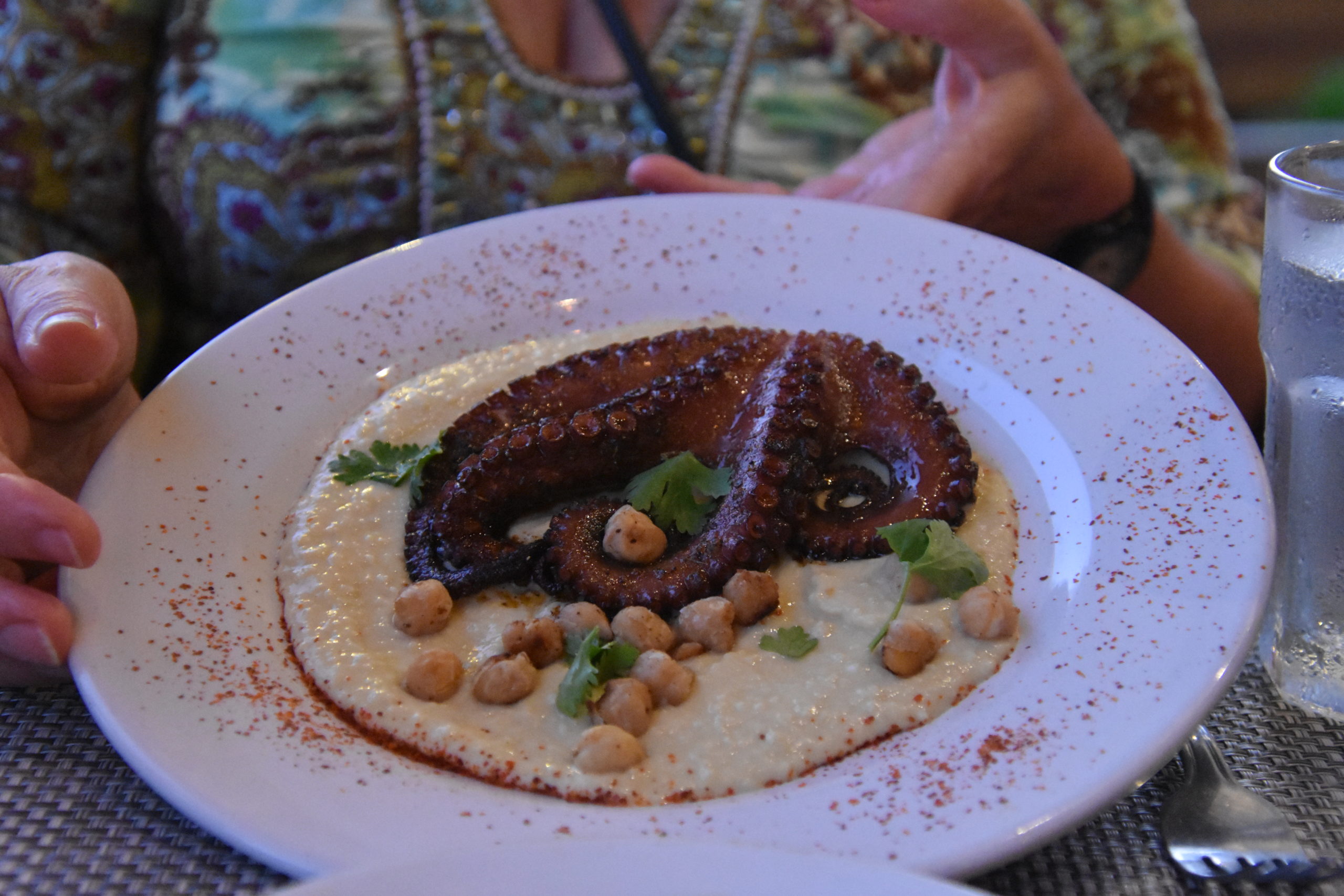 After lunch we take a stroll around the streets of San Pedro which is quite bustling with locals and tourists, but not to the point of being overcrowded. There's just a good vibe about this place. We come across DandE's Frozen Custard which really is ice cream and really good ice cream at that.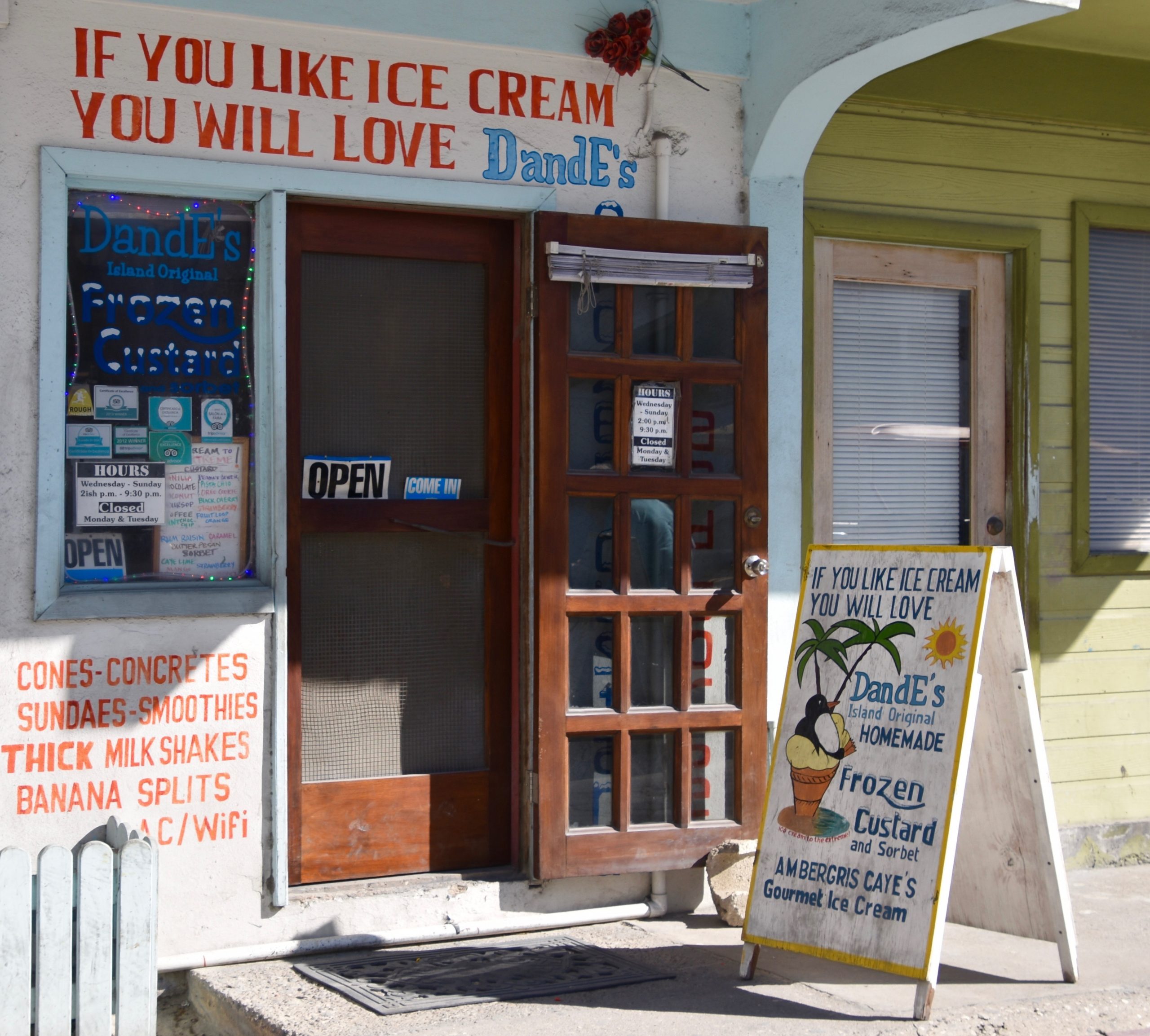 There are also several shops selling local pastries including fry jacks which are a Belizean breakfast specialty and a must try in San Pedro. The small shops that sell them, like Ruby's and Celi's, are frequented mostly by locals and over the next three mornings I got up early and brought home any number of different breakfast pastries at dirt cheap prices. It doesn't get much better than sitting on the porch sipping hot coffee and munching on a fry jack to start each day on Ambergris Caye.
Snorkelling Shark Alley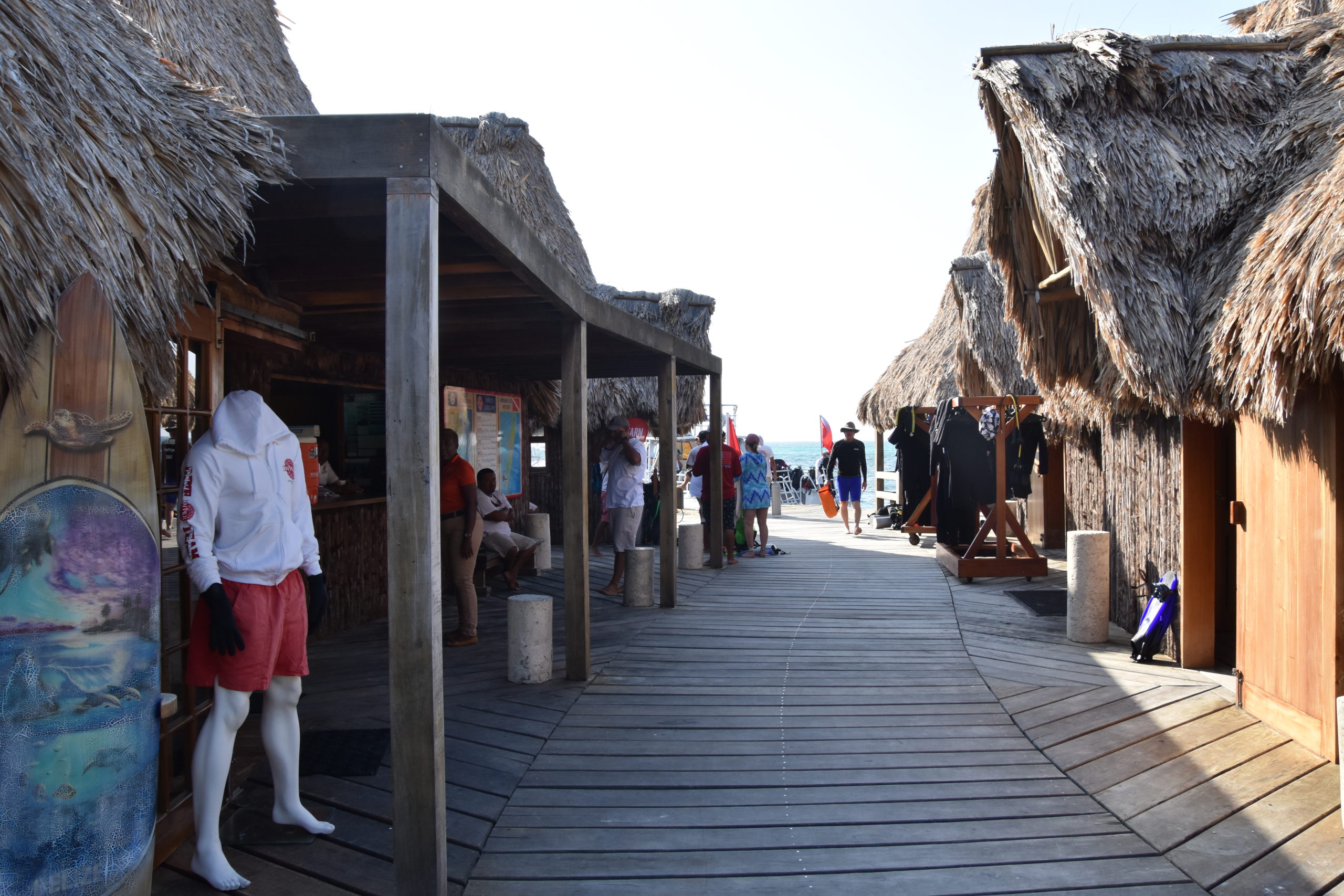 Not long after checking in, I ambled down to Ramon's Village dock and made reservations for a snorkelling trip the following day and also for a fishing guide the next day.
Many if not most tourists come to Ambergris Caye to either dive or snorkel portions of the Belize barrier reef, the second longest in the world. At San Pedro the reef is only about a half mile offshore and offers easy opportunities for snorkelling.
The boat, Lady Grace, holds about a dozen passengers along with two guides. It goes out for about three hours with two stops, one to explore a portion of the coral reef and the other to swim with the sharks and rays at Shark Alley.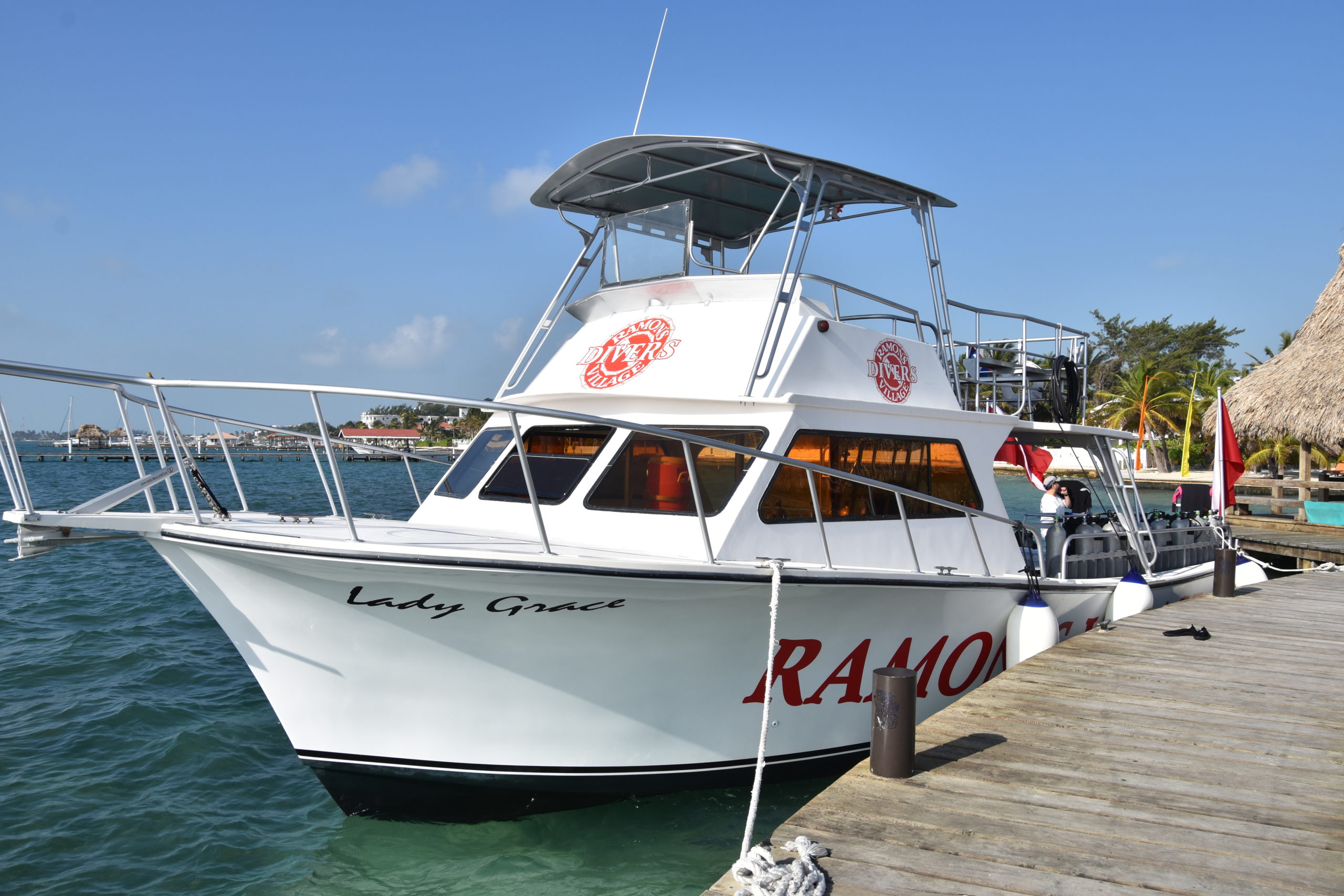 Just before boarding the boat I look down and see this hovering barracuda. Is that an omen?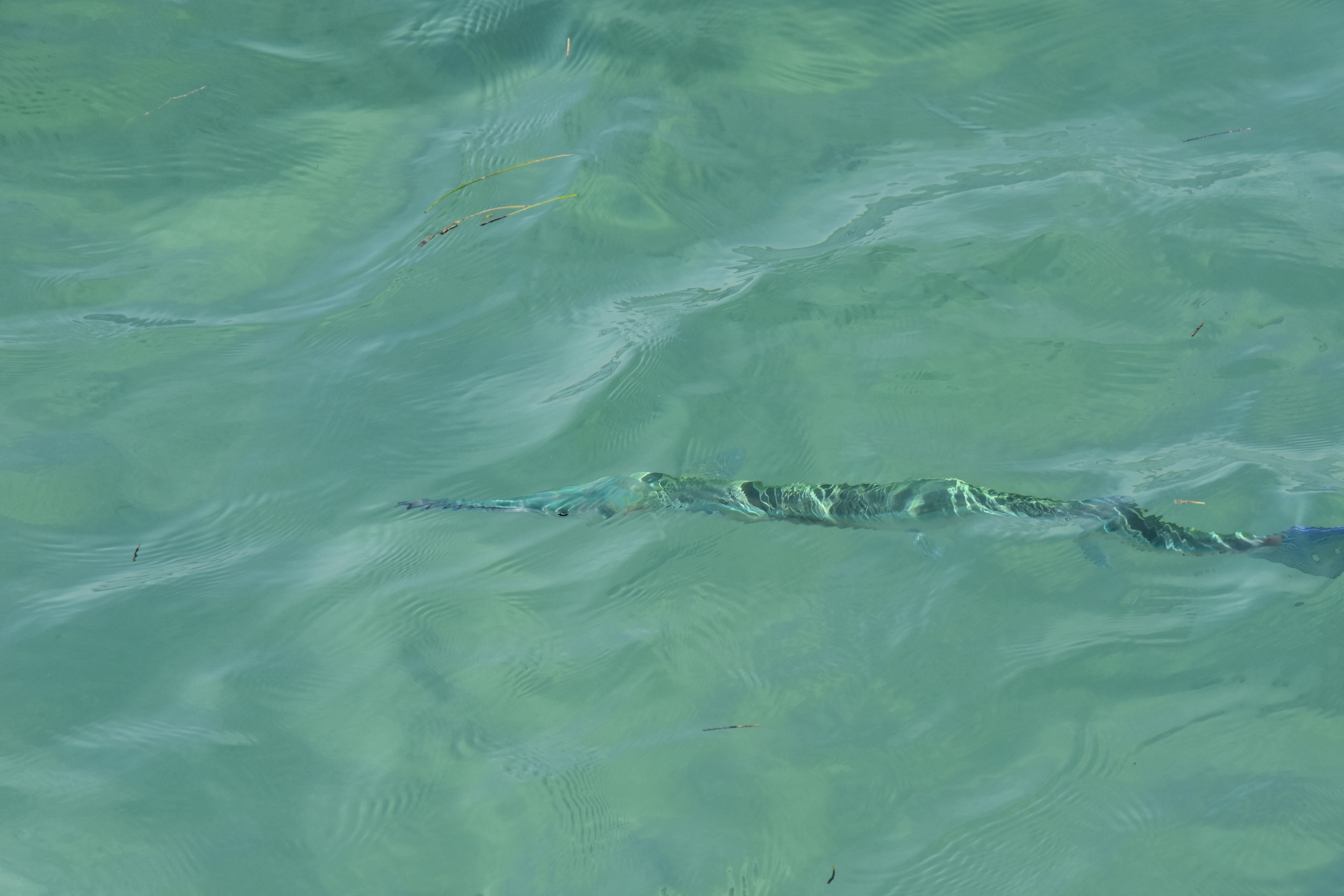 Actually we have snorkelled many times with barracudas in the water and while like morays, they look ominous, so far, knock on wood, we've never been bothered by one.
The snorkelling tours from Ramon's are a little different from others we have taken. You don't just anchor and everyone does there own thing until it's time to leave. Instead we are guided through a circular route by Guillermo with a sweeper in the rear. Once in the water there is a pretty good current so I'm more than happy to wear a small life belt that makes it much easier to stay horizontal in the water and to follow the guide.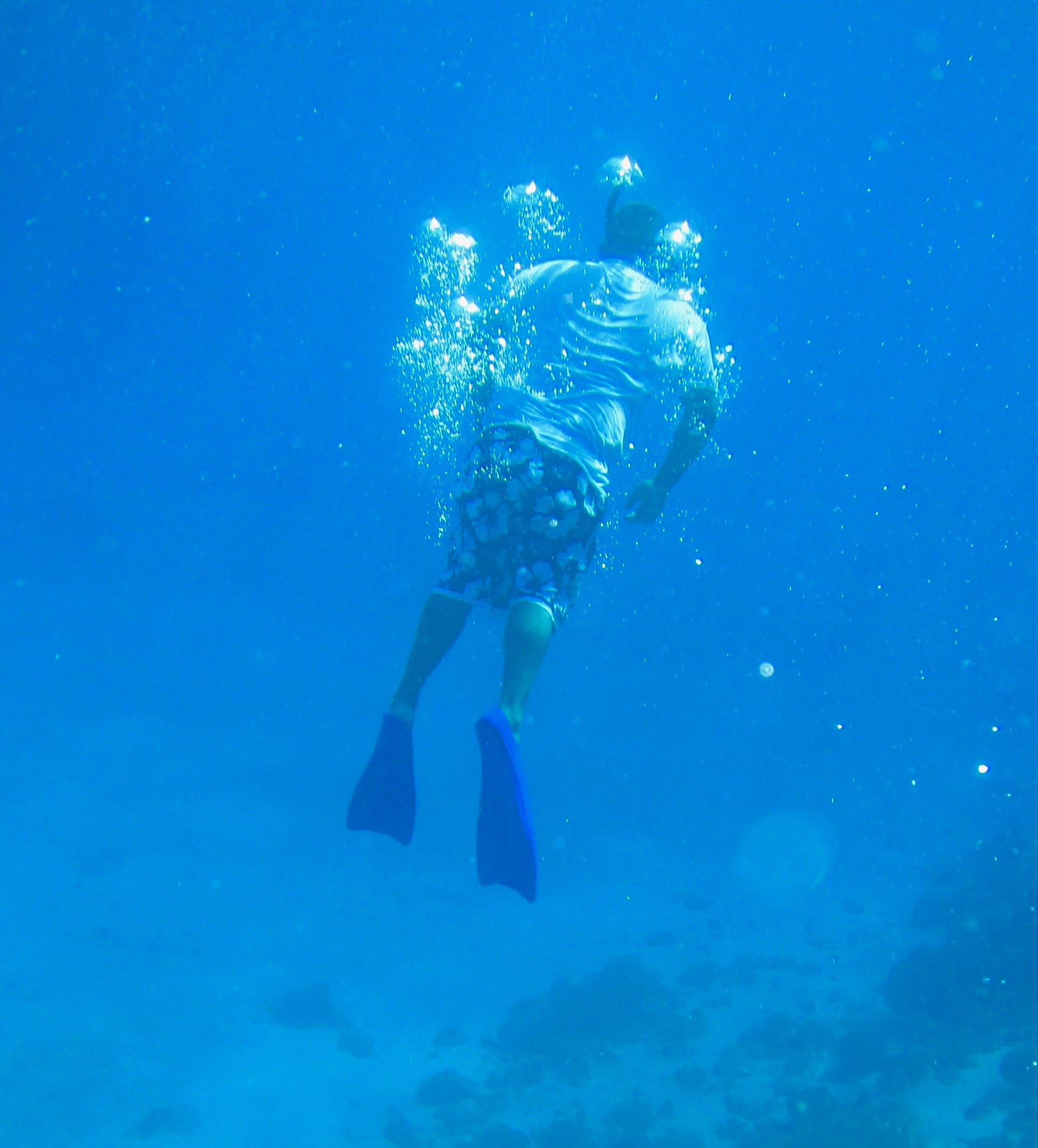 Long story short, the snorkelling is great with huge shoals of jacks and wrasse. While the numbers of species is not as great as in many other places we have snorkelled, the sheer number of fish is astonishing.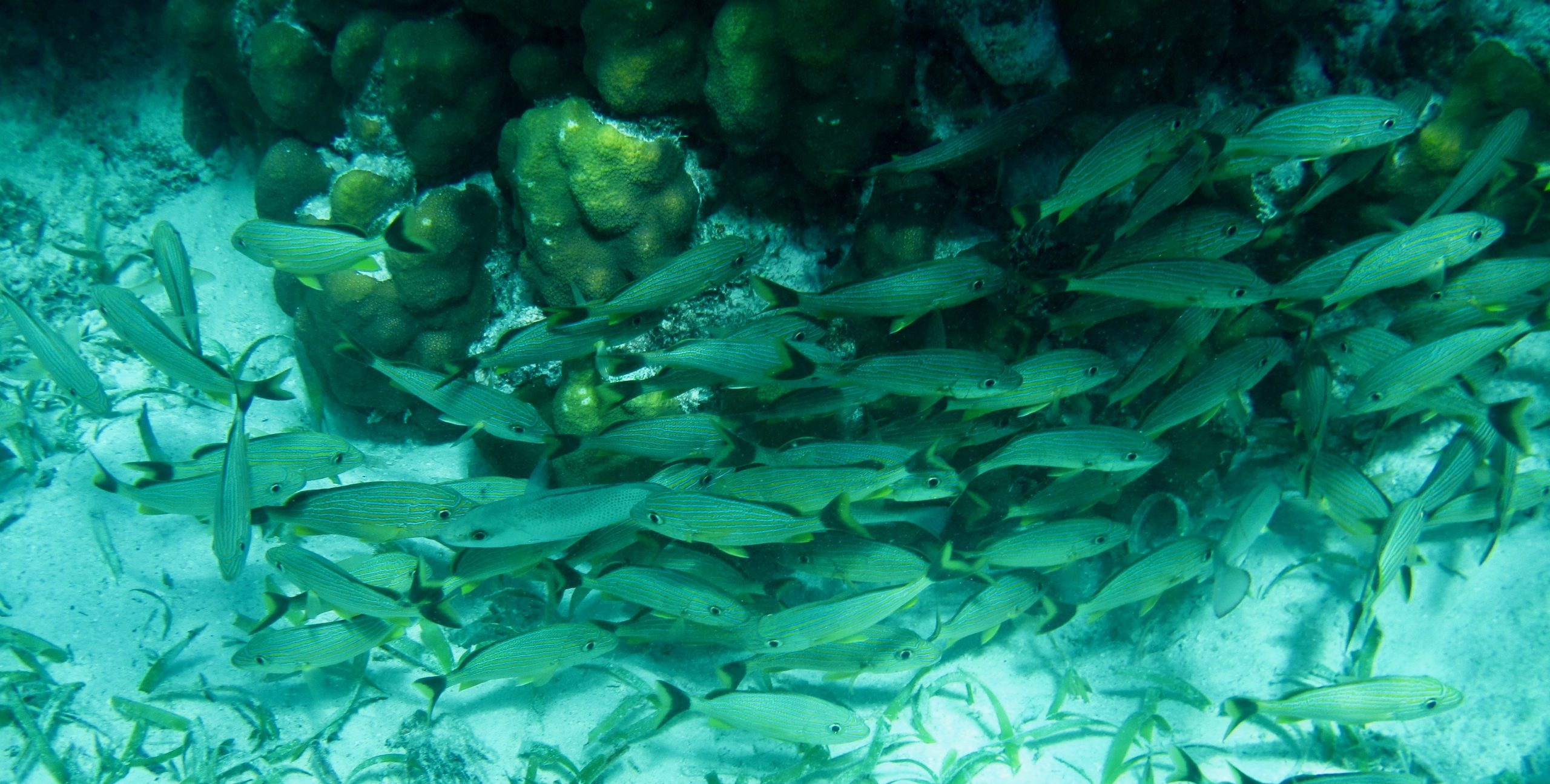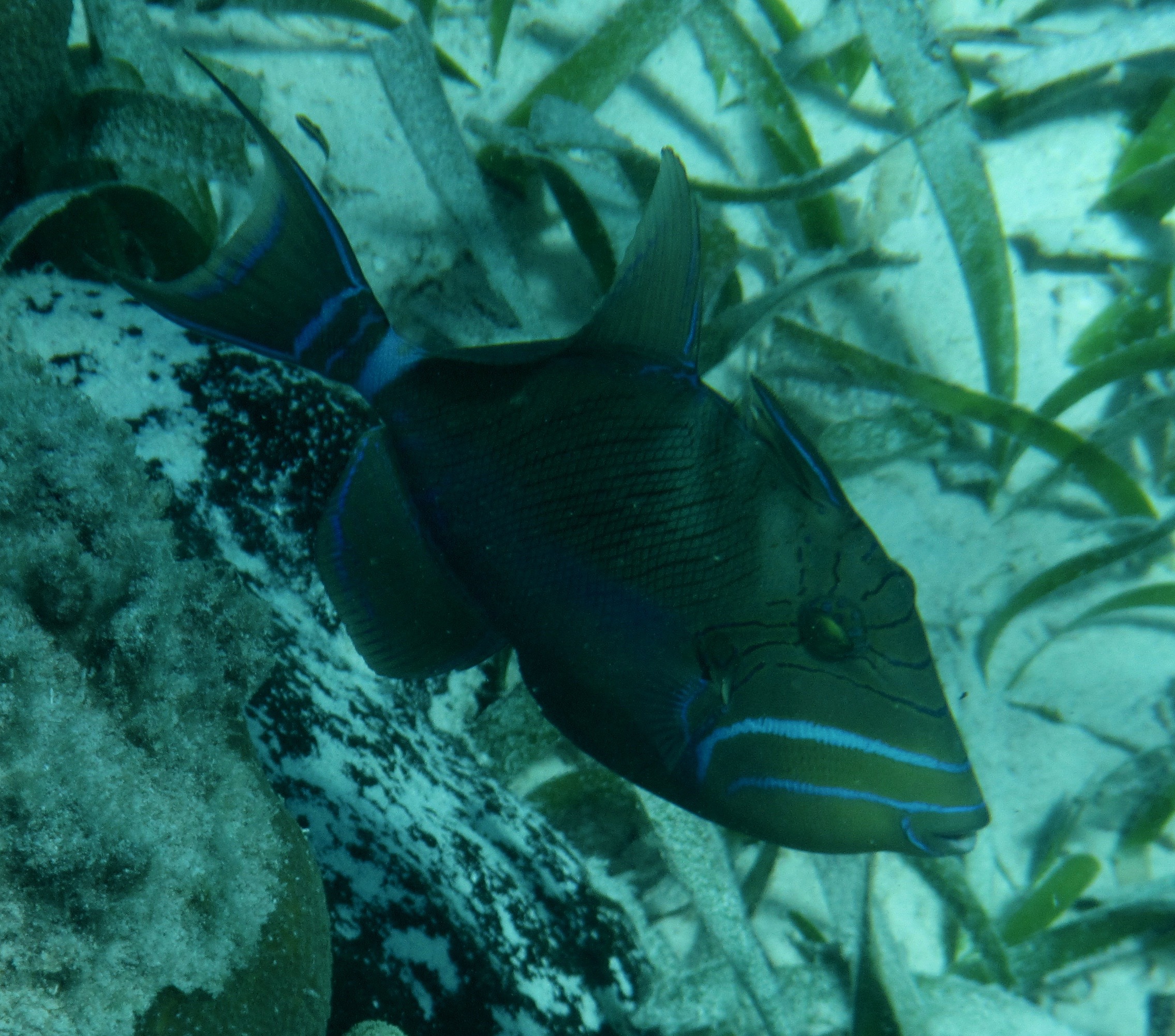 After about an hour I would say we return to the boat and head to Shark Alley. The way it works here is that each boat is allowed to chum for a few minutes to attract the sharks and rays and then you go into the water for maybe five to ten minutes before it is someone else's turn.
Now I know what you are thinking – "Go into the water with sharks in the midst of a feeding frenzy. Are you friggin' nuts?" Actually no. The sharks are nurse sharks which are generally harmless or at least I hope so. This is what it looks like from the boat just before you go in. Several people on board decline to do so, but not I.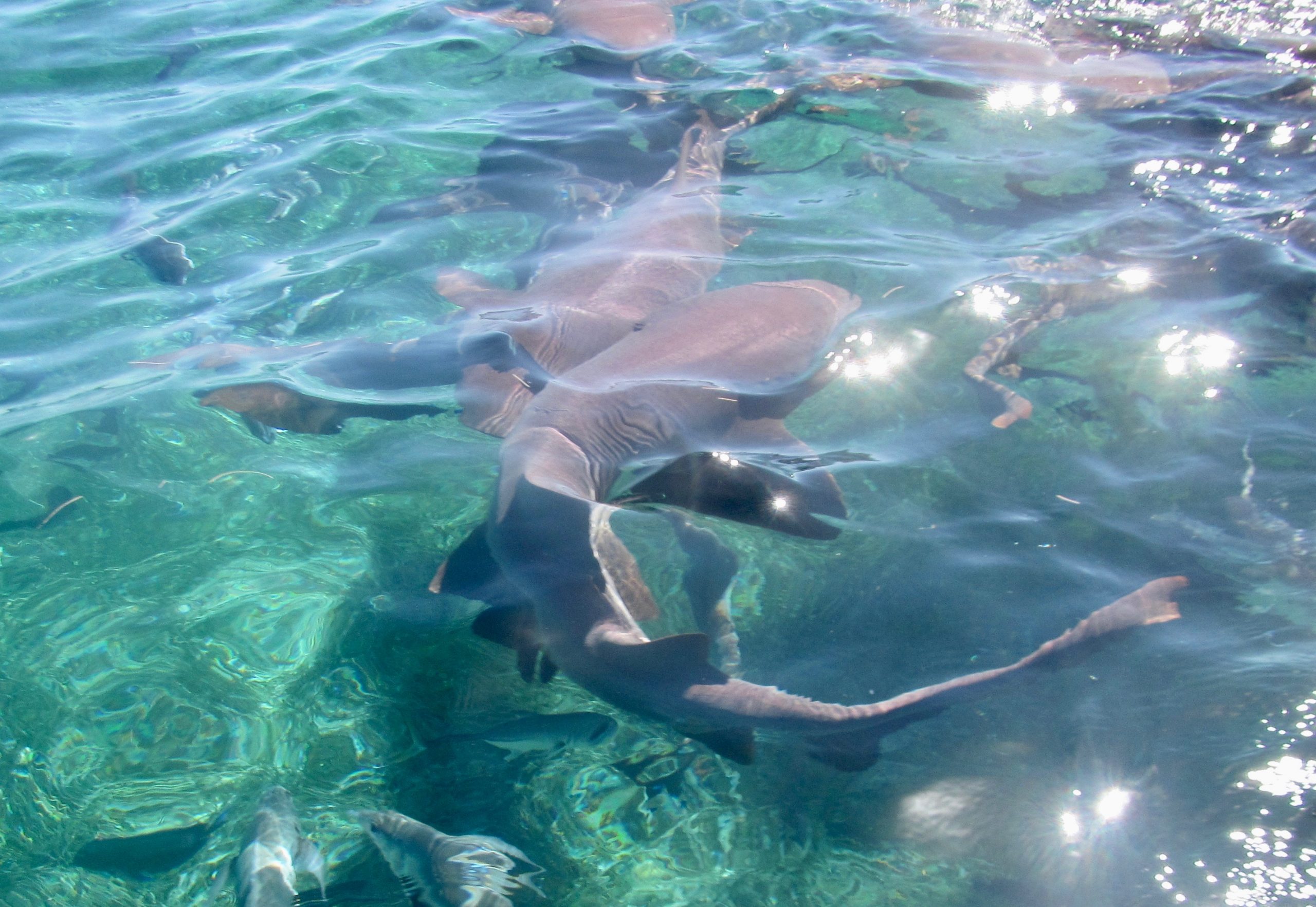 This is what it looks like from down under. The sharks and rays come so close that they actually brush against you at times, but make no aggressive moves or even seem to care that we are here.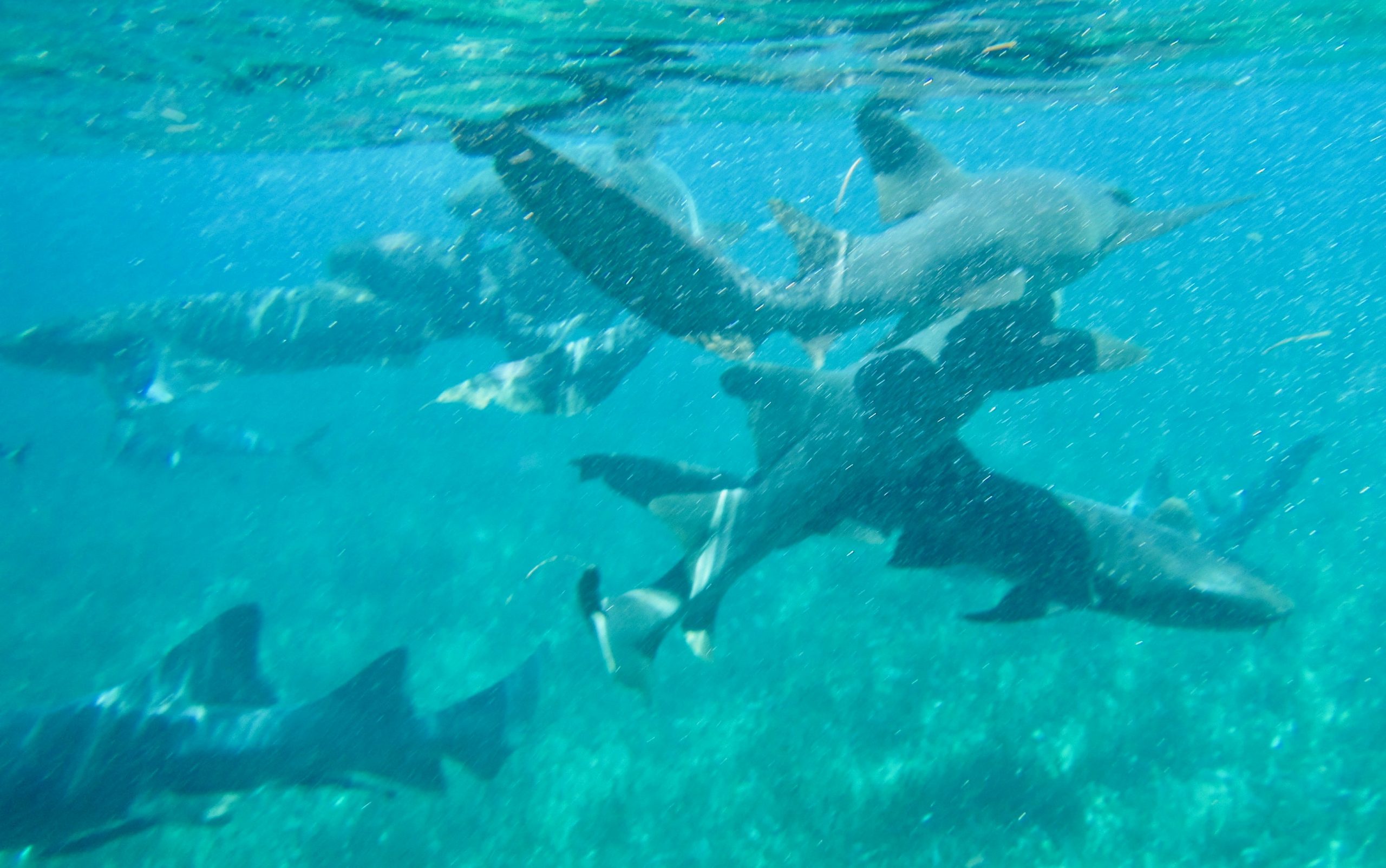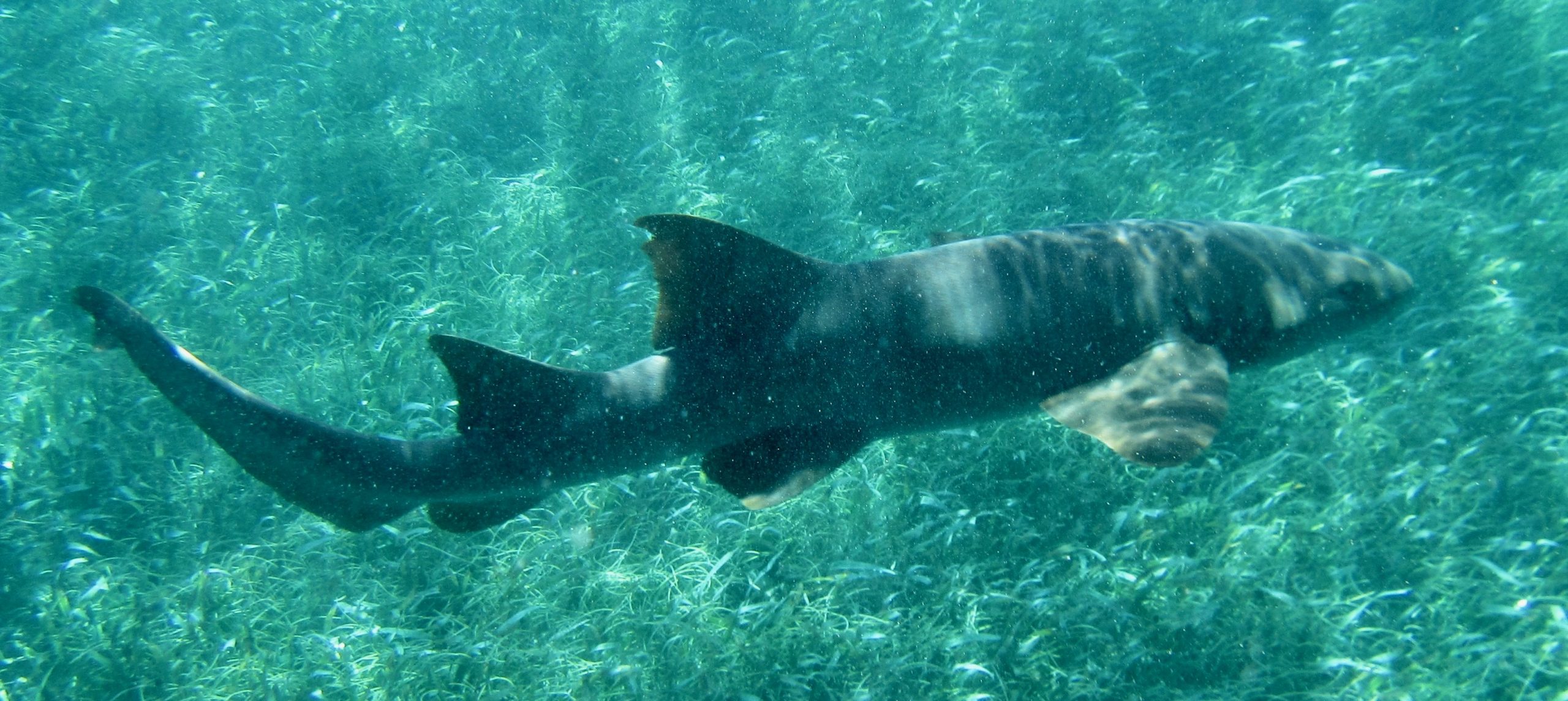 Shark Alley is definitely not for everyone, but for Alison and me, it was a great experience that we will remember for a long time.
Not So Secret Beach
Truth be told, while the sandy shoreline around San Pedro is great for walking on, it's not so great for swimming. There is a lot of sargasso seaweed to contend with. There is a platform at the end of Ramon's Village wharf which gets you into deeper water and you can snorkel from there as well, but many people prefer to seek out better beaches elsewhere on Ambergris Caye. The prime location is Secret Beach which is found on the opposite side of the island and does not have the seaweed problem San Pedro does. Almost everybody who goes there does so by renting a golf cart and Ramon's Village has its own fleet of them so we didn't have to go far to get one.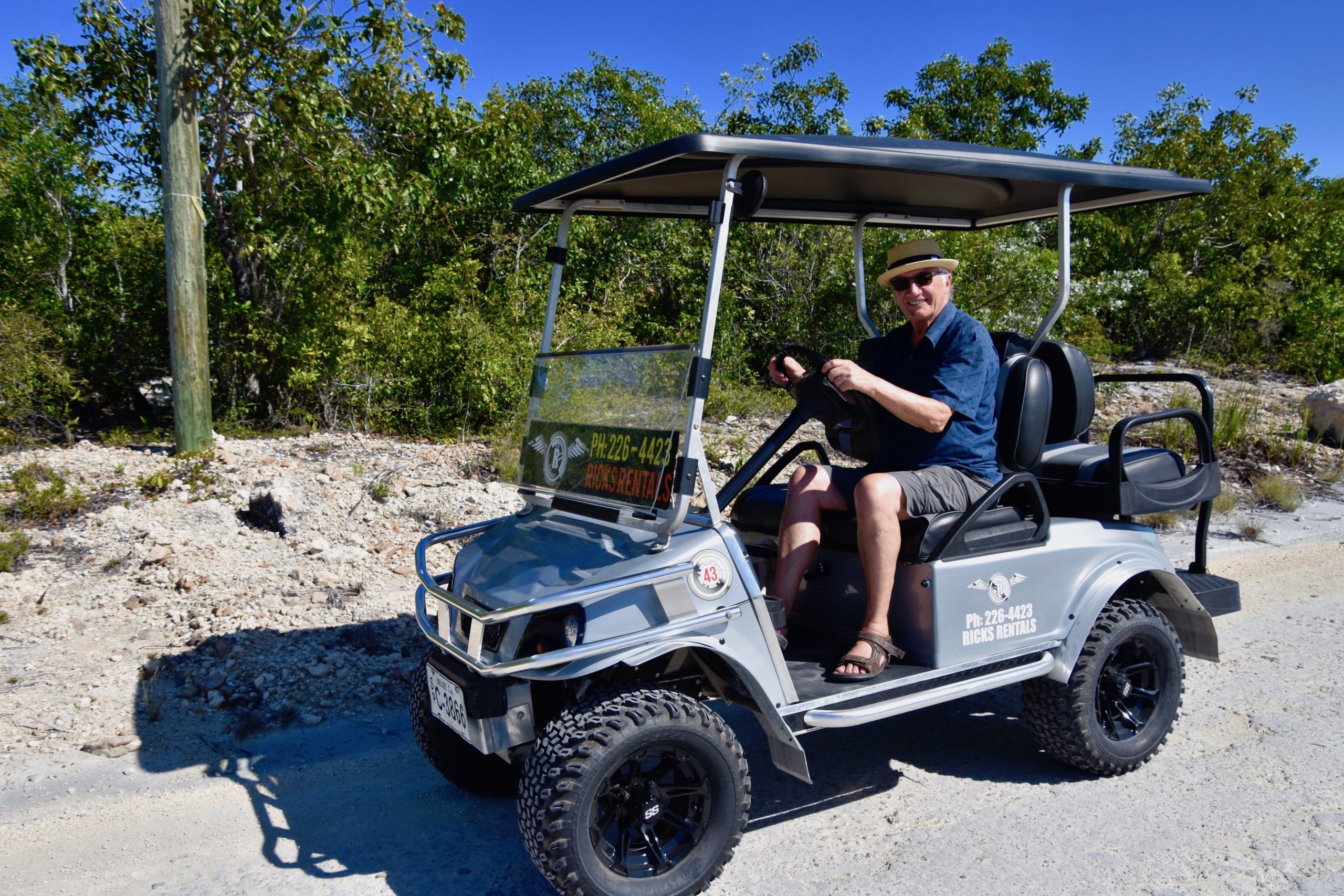 To get there you follow the main road north out of San Pedro which soon becomes pretty rugged once you are past the last bunch of condos and then turn due west and follow the road to Secret Beach which is quite well signed. There's not much to see along the way other than salt flats, mangrove swamps and scrubland. This video gives a slight idea of what the road is like.
However, once you arrive there's a whole other world awaiting you and it's anything but a secret as you can see from the carts in the parking lot.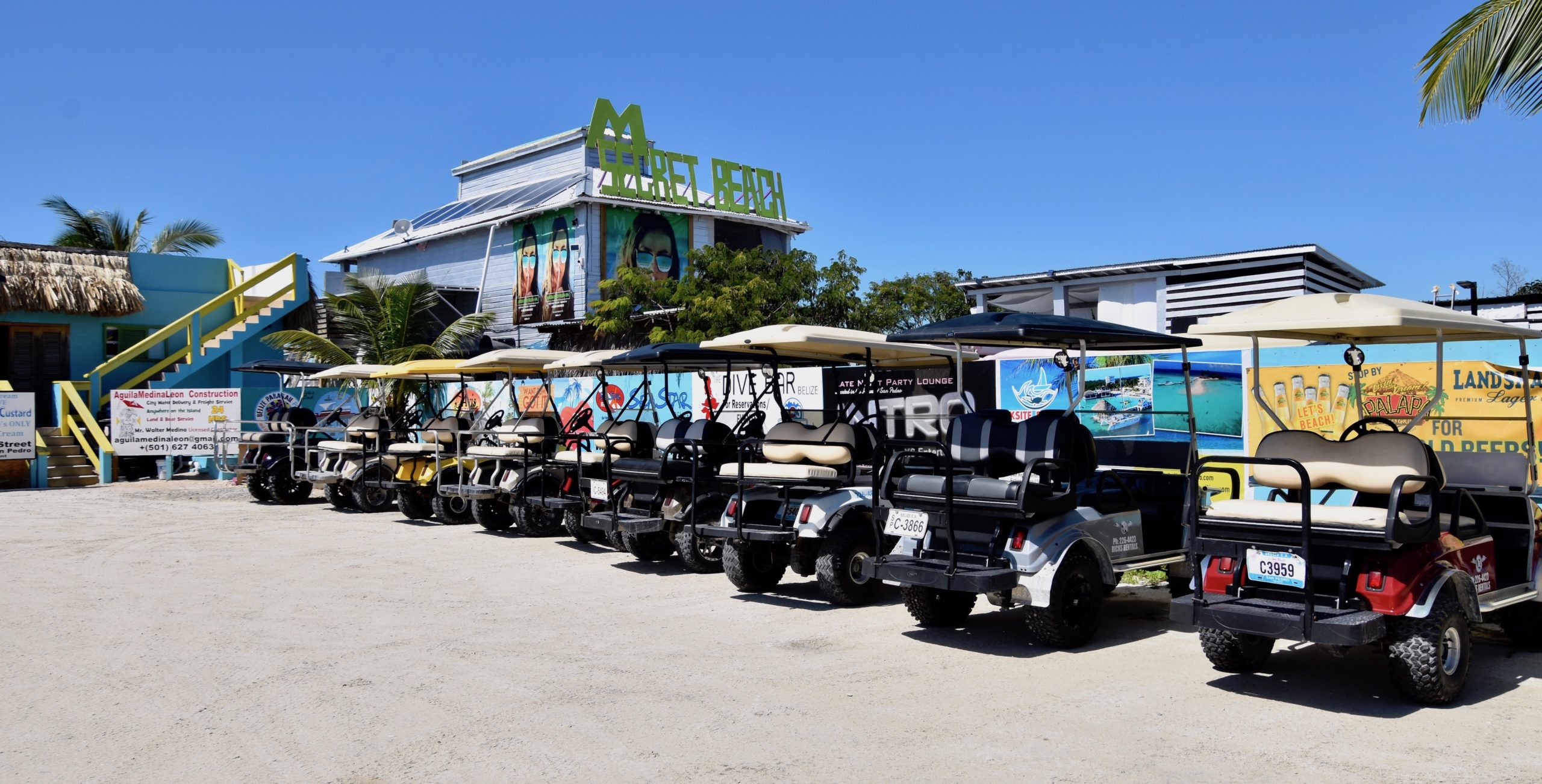 There are numerous bars and restaurants and people in full relaxation mode everywhere, both in and out of the water.

This is a slightly different version of beach volleyball than I am used to, but probably way more fun and refreshing too.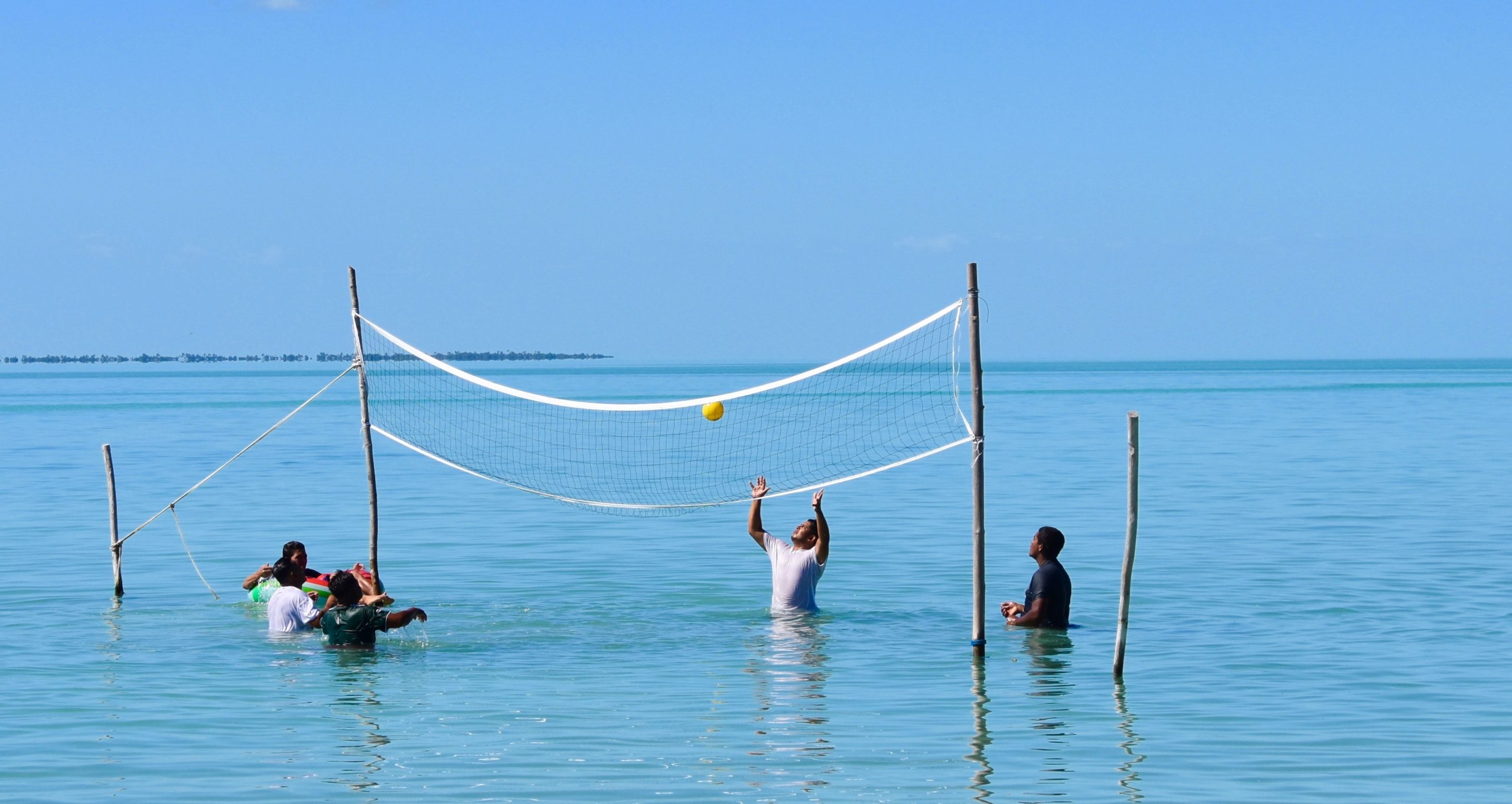 Speaking of refreshment, it was time to choose a bar for lunch. Truthfully they all seemed quite alike with your standard Caribbean decor complete with expats so brown they could almost pass for natives. If you were ever going to bump into Jimmy Buffett it would be in one these type of places.
We settled on  the Secret Paradise Bar which had very cold beer.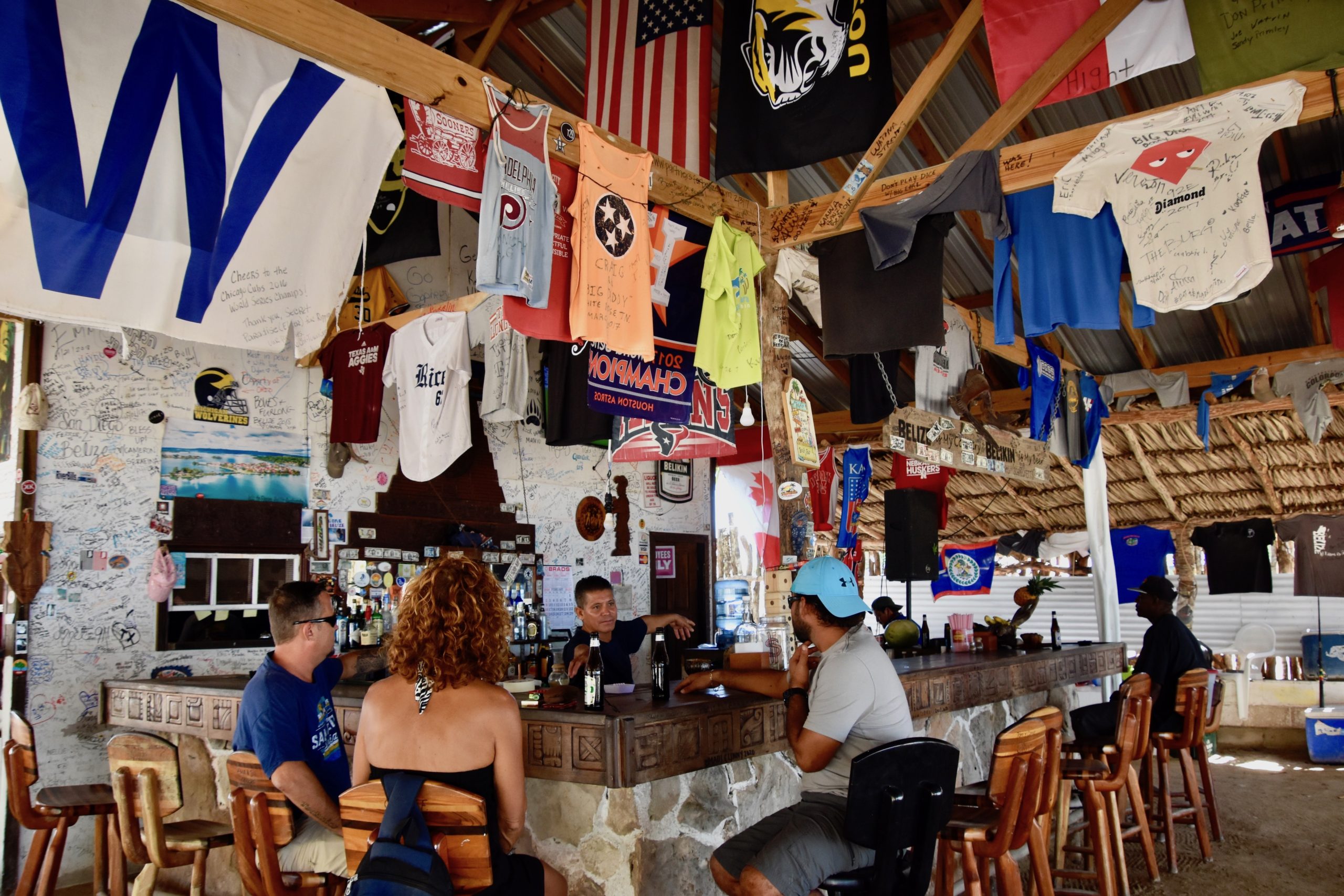 It also had surprisingly good food. Jerked chicken can sometimes be so tough that it is inedible, but the version served here was spiced just right and not from some old rooster on his last crow.
Alison had shrimp tacos that were also very good, especially with the pickled onion topping.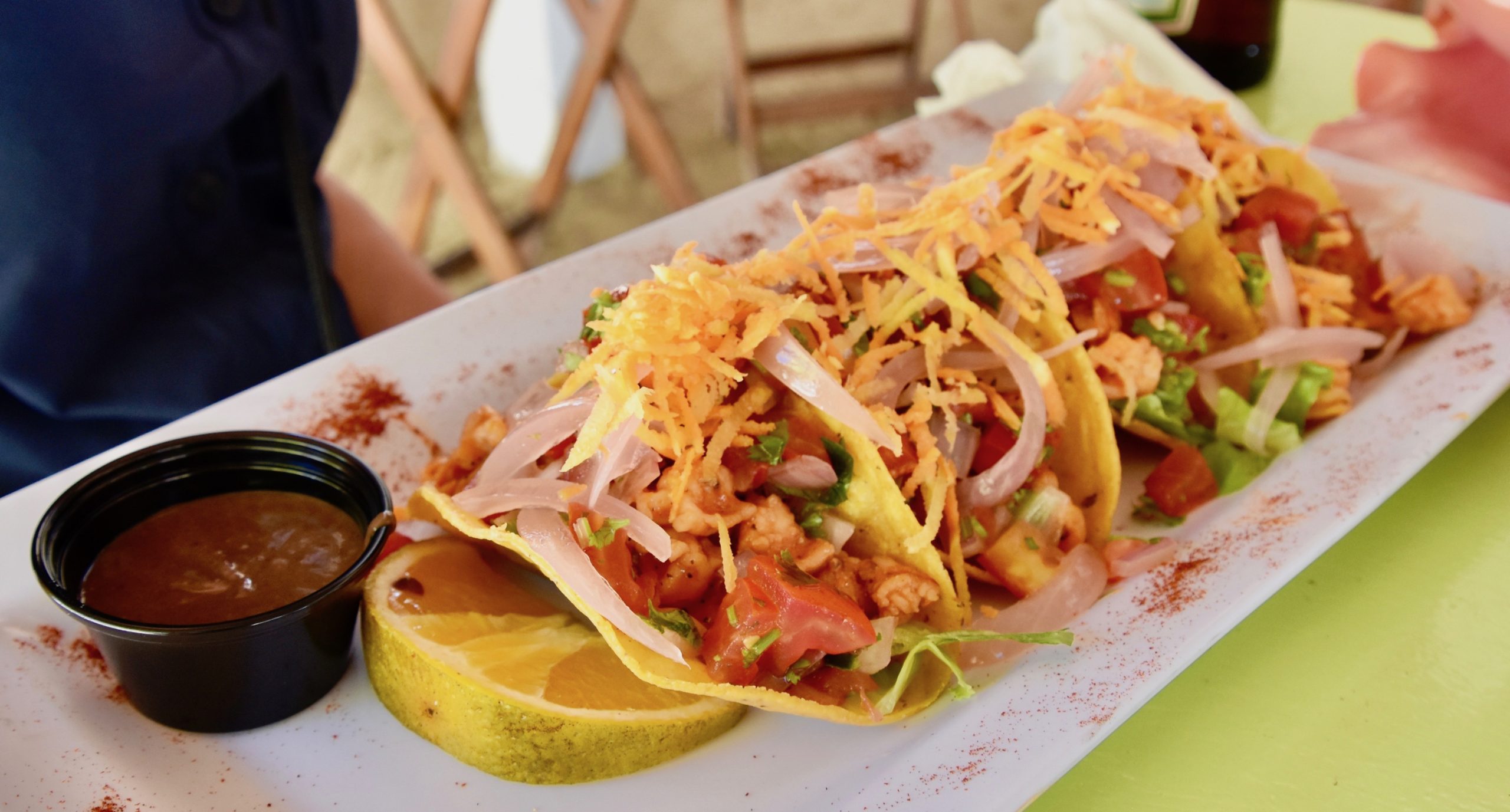 Looking back on that time and place in the midst of the Covid lockdown, I realize how important it is to savour moments like that because you never know if they'll come again. It was the perfect way to spend a Caribbean afternoon.
Bonefishing Ambergris Caye with Severiano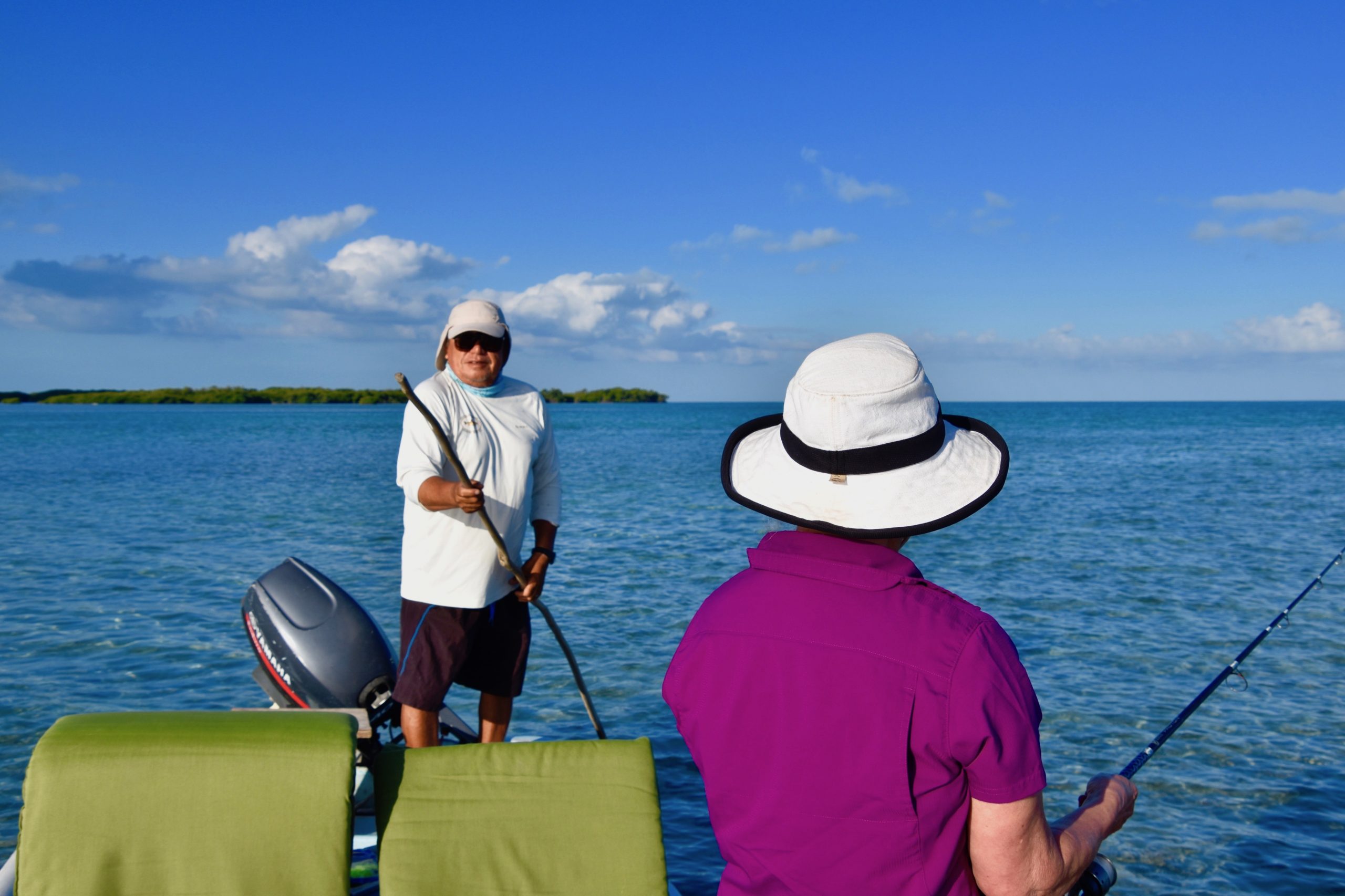 If the afternoon at Secret Beach was a memory to be cherished, so was the next morning when we went out on our private guided bonefishing trip with Severiano, a life long resident of Ambergris Caye who knew every bay, inlet and creek of the island. For me this was the fulfillment of a lifetime quest to land one of the most storied fighting fish on earth. Although not large these fish are considered, pound for pound, one of the toughest fighters in the sea and I couldn't wait to try my luck.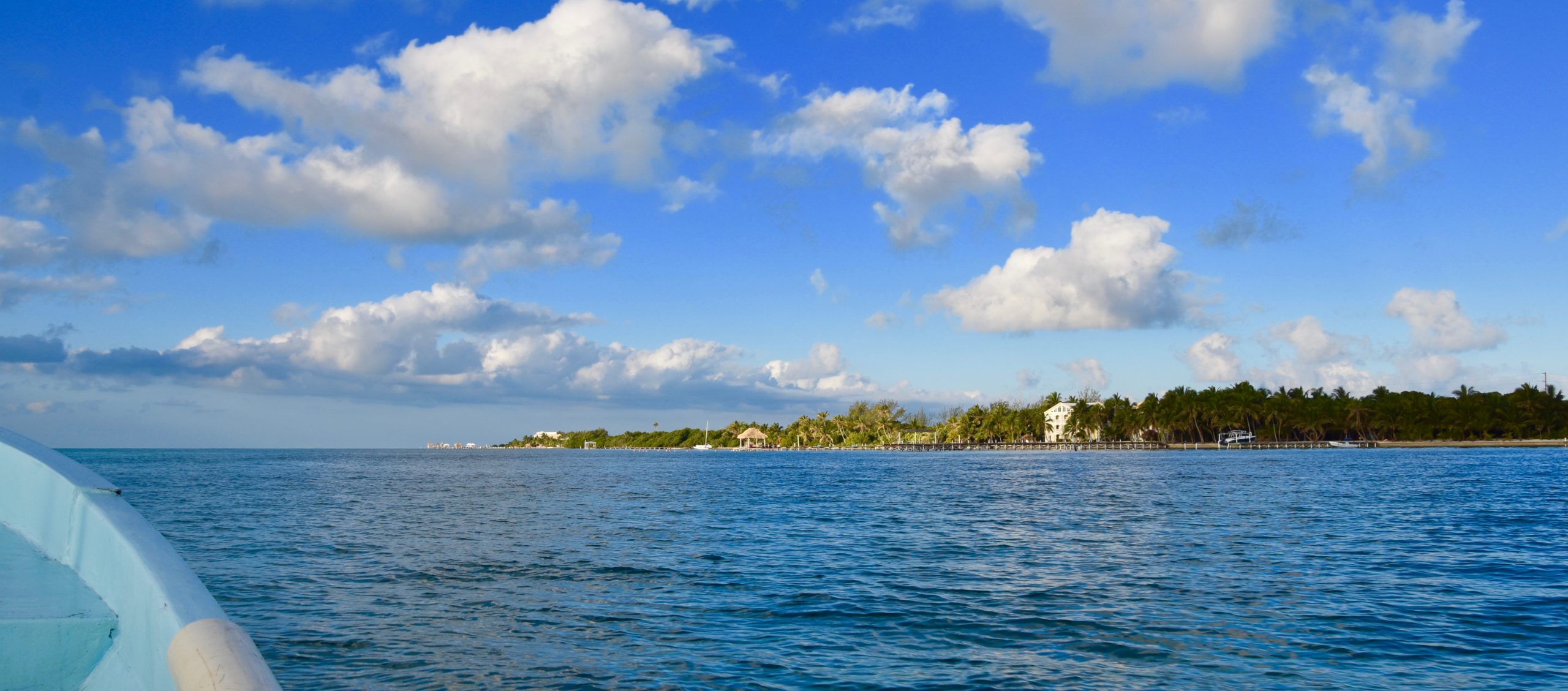 It was a wondrously beautiful morning as we left the wharf and Ramon's Village and headed due south along the shoreline until all traces of civilization were gone and we were alone in completely still waters surrounded by mangrove forest. No other boats, only pelicans, egrets and yes, bonefish. The bonefish are found in very shallow water where they feed on crabs, shellfish and other bottom dwellers. We could see them finning as they fed in schools on the shallows. Soon my quest for a bonefish was successful.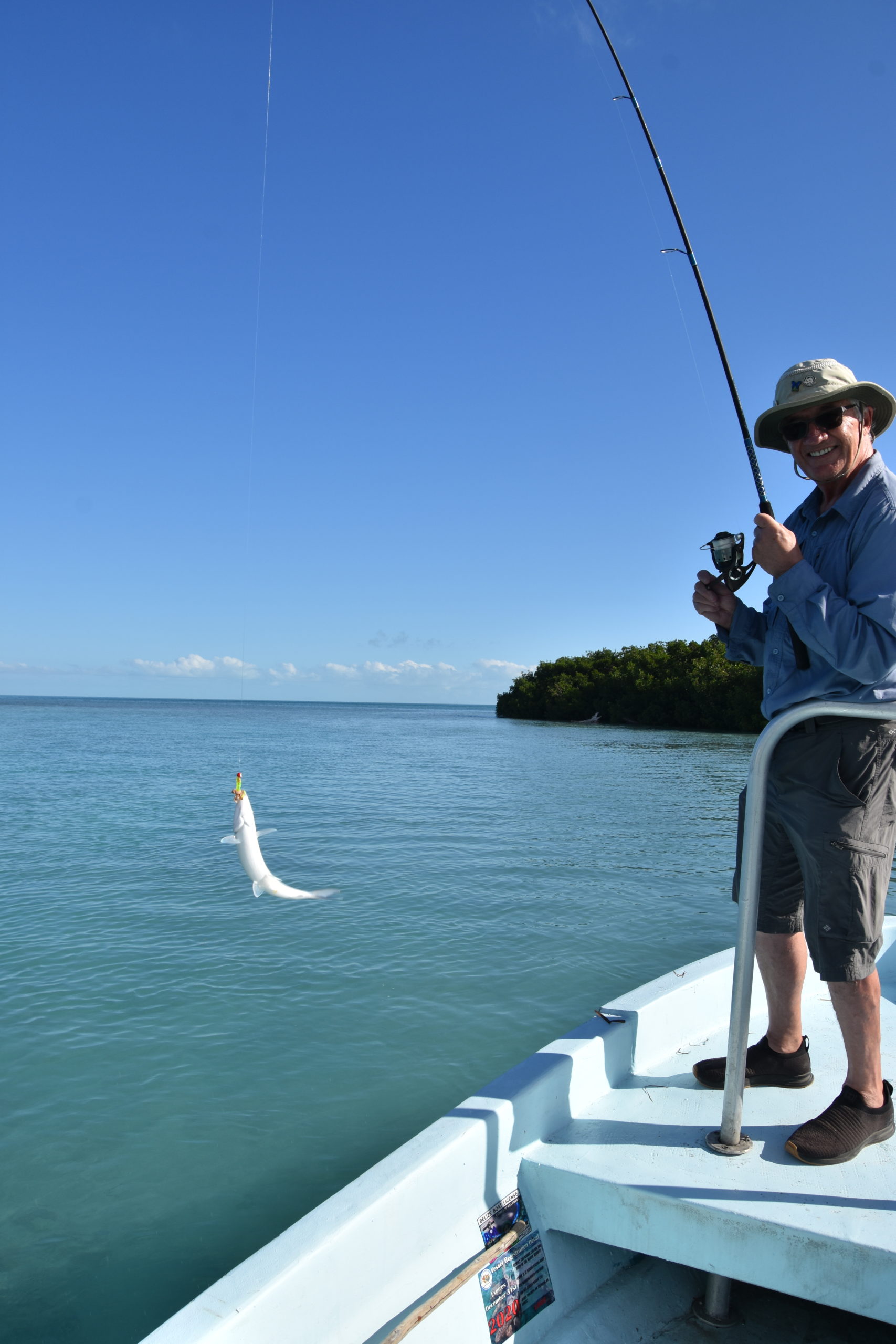 It wasn't a big one, but it did put up a hell of a fight.
Soon Alison had one on and this one was much tougher than mine.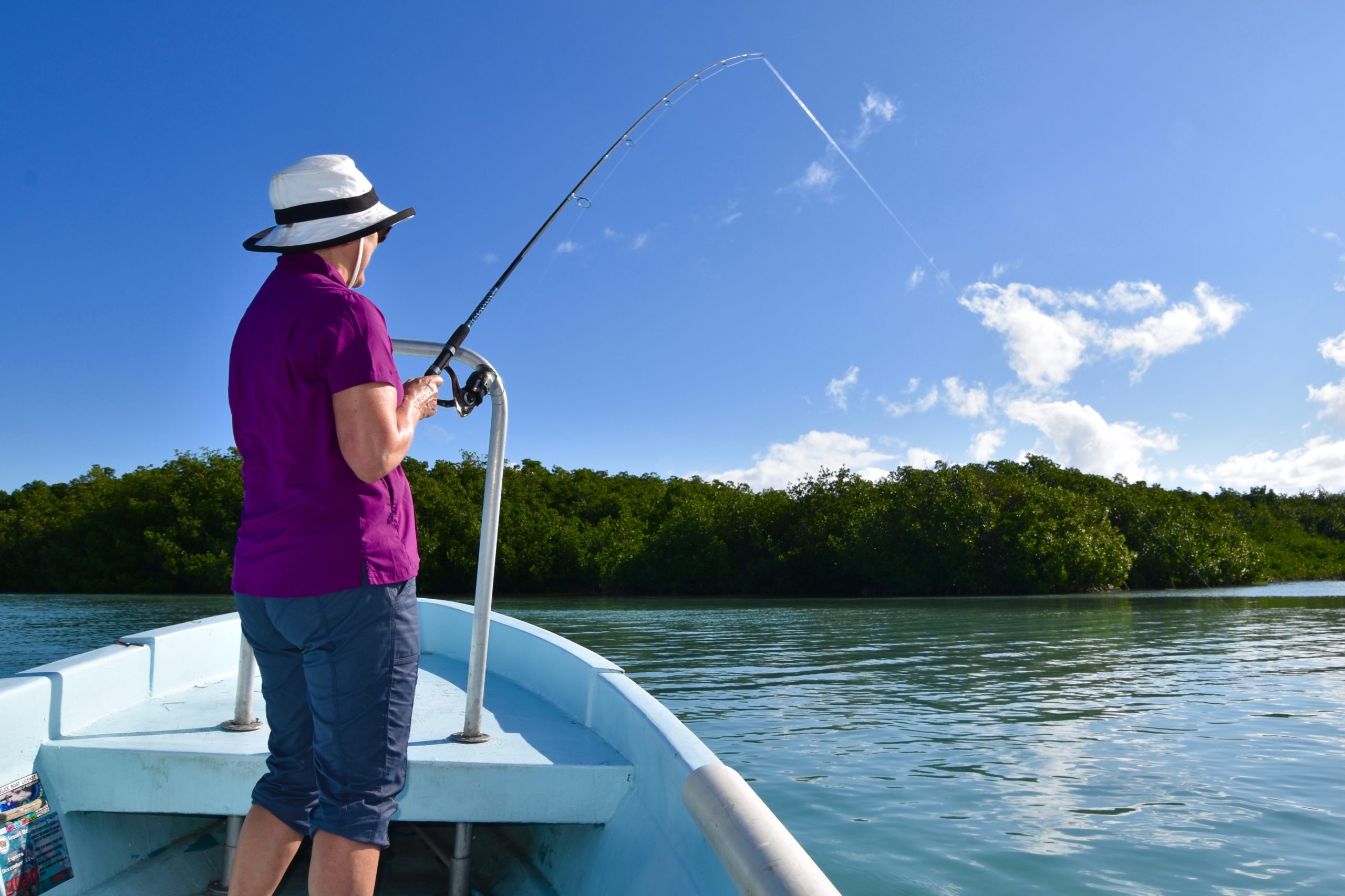 It took Alison almost ten minutes to land her first bonefish. Every time she got it to the boat it would make another run for it, peeling away the line like it was nothing. Finally, it was landed and it was a beauty.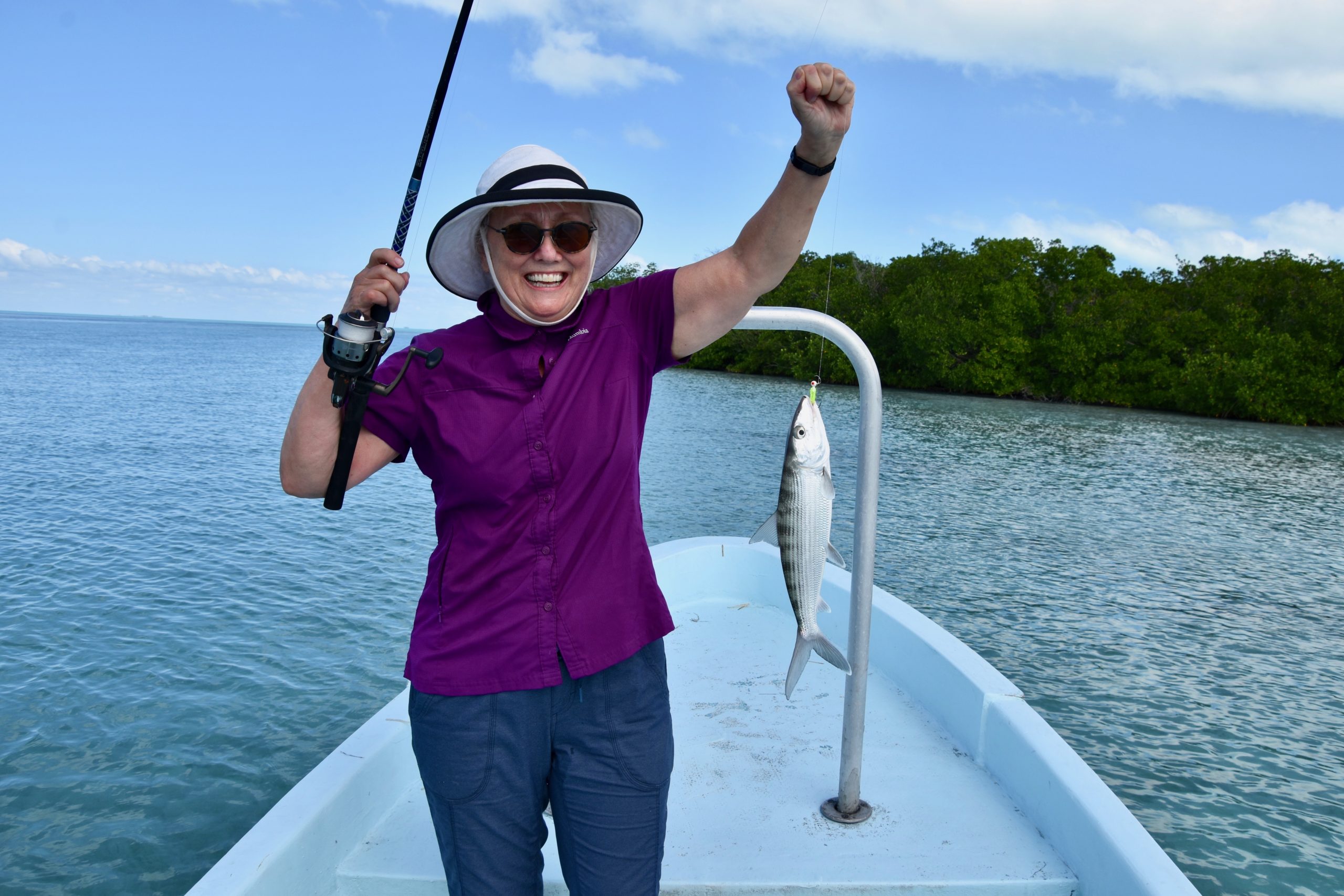 We caught many more bonefish that morning, all of which were released unharmed. Severiano asked us if we wanted to get some fish to eat and we said sure. Before long we were catching jacks and snappers almost every cast and saving the largest ones, like this guy.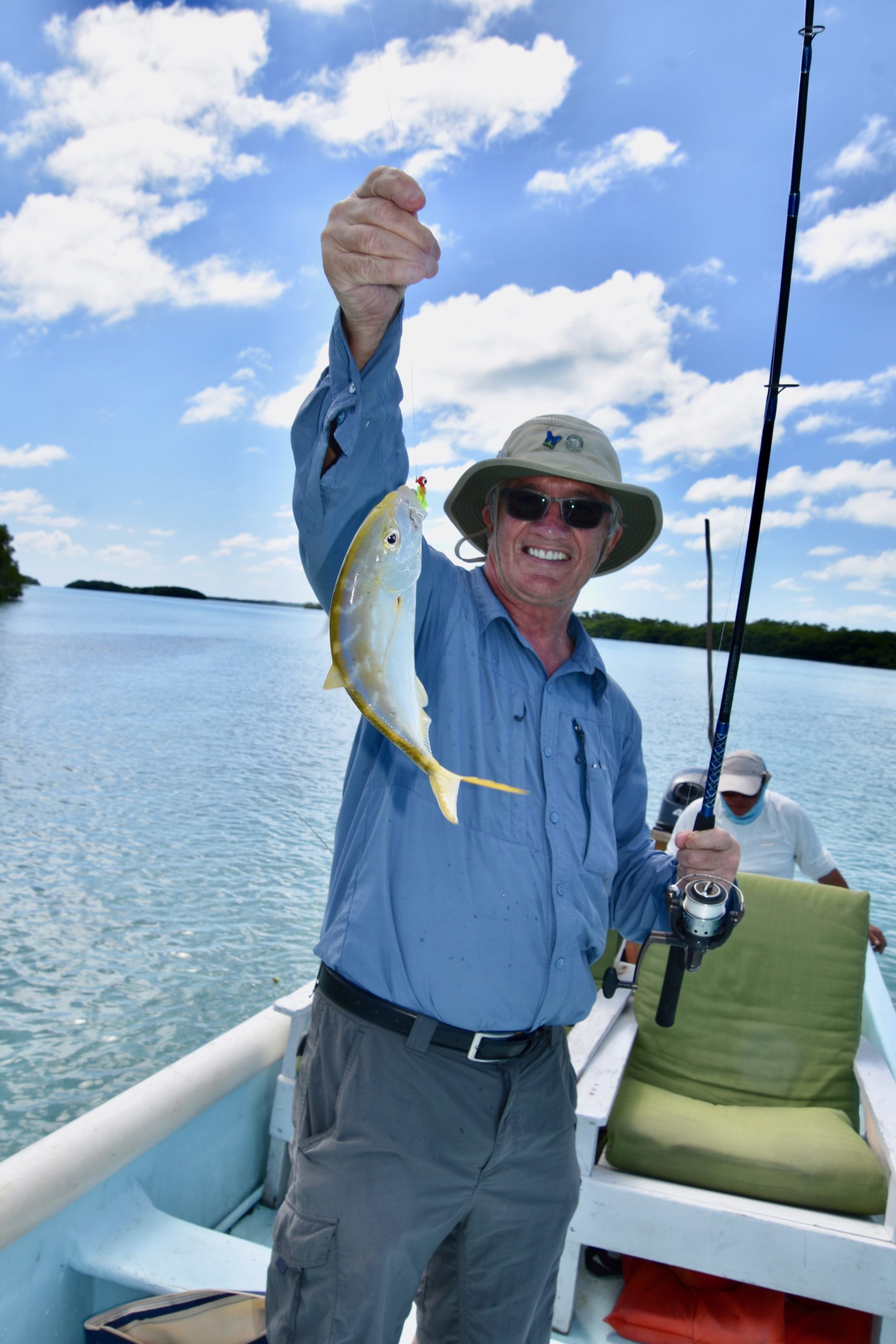 By the time it was time to head back, our arms were pretty well exhausted. It had been one of most successful fishing forays in many a year.
This is the view of Ramon's Village from the water as we returned to the wharf.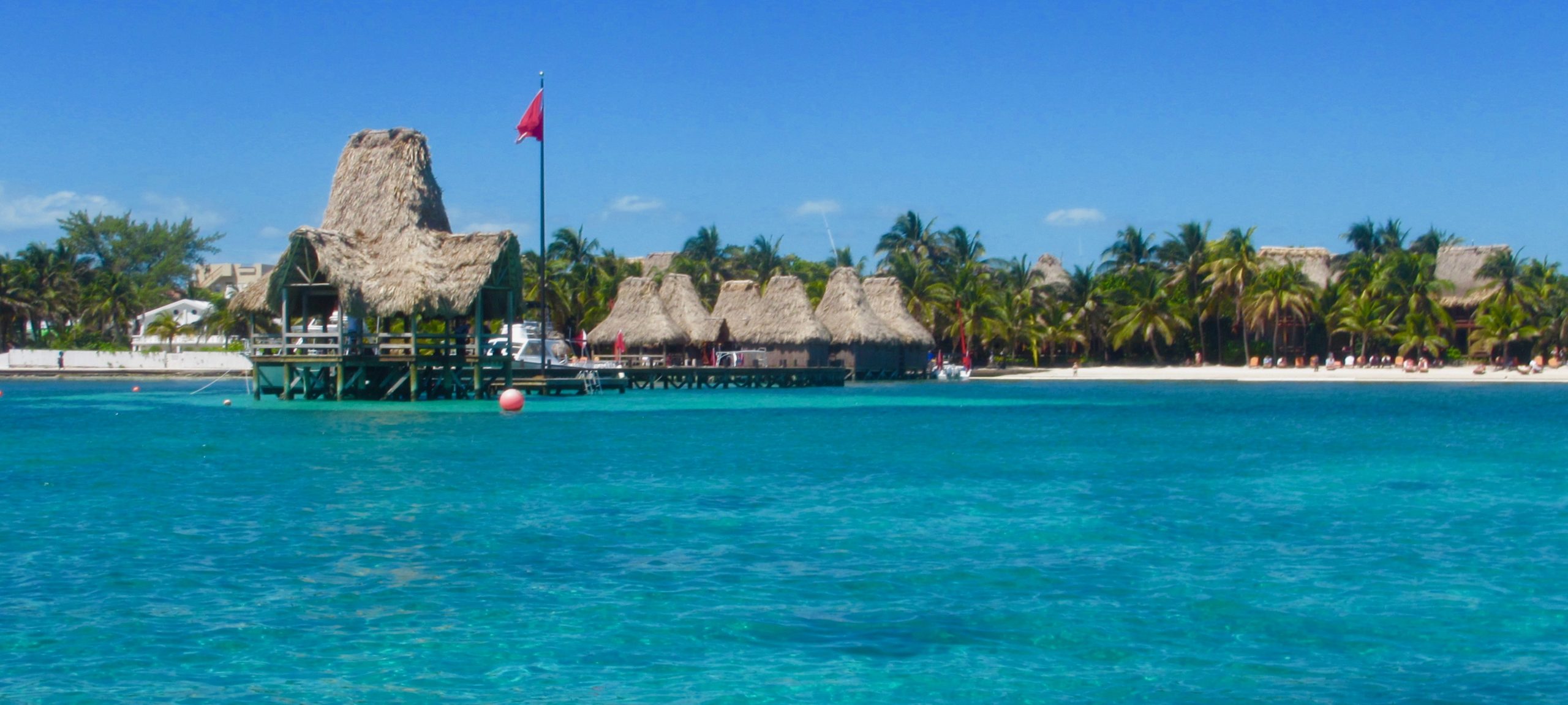 Severiano cleaned our fish, we gave him a generous tip and headed for the resort restaurant where the filleted fish were taken and returned looking like this. There are few things in life as good tasting as a properly prepared fish right out of the water and these were done perfectly. Another plus for Ramon's Village.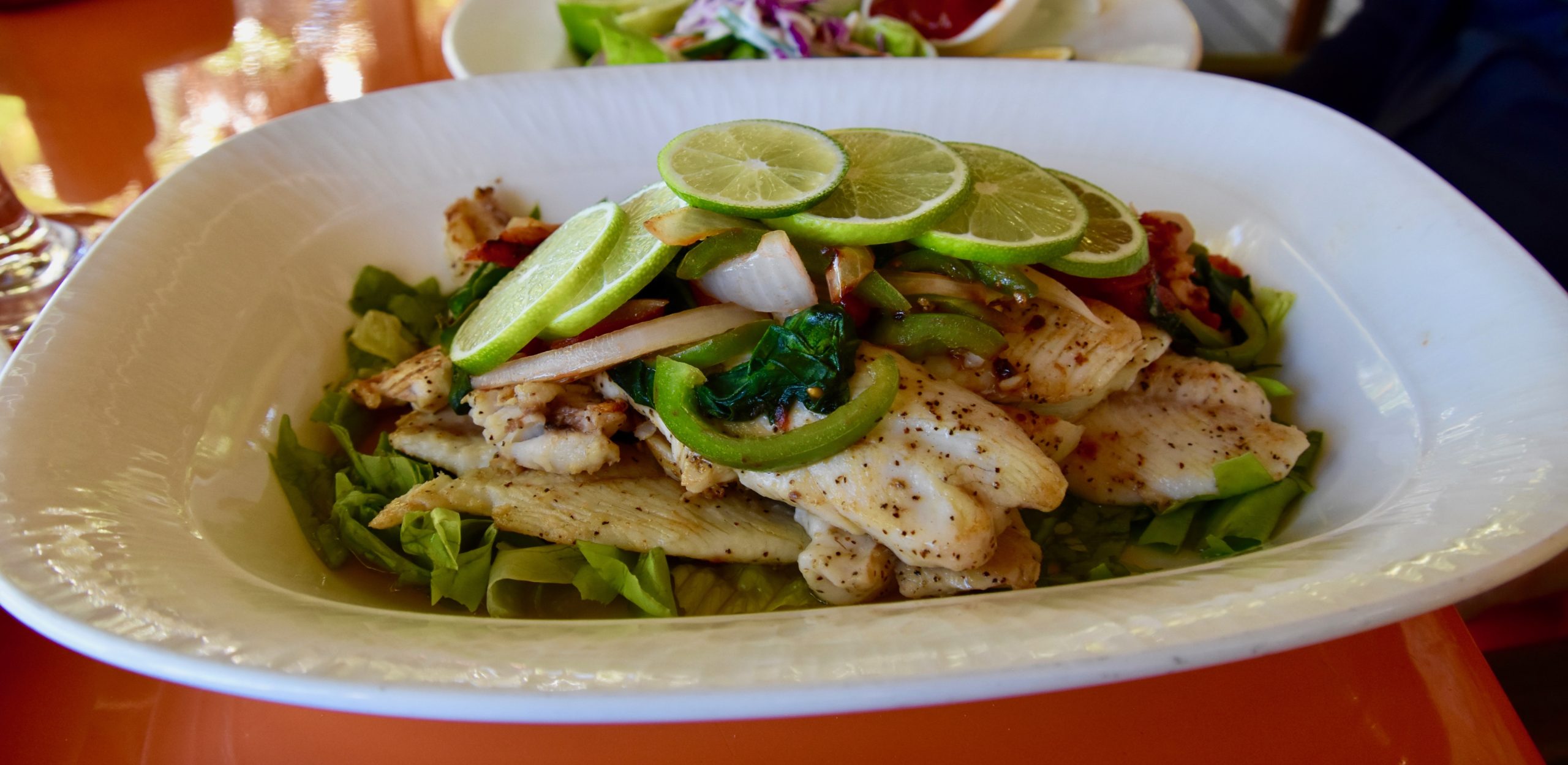 Last Supper at Blue Water Grill
There are a lot of restaurants on the San Pedro waterfront and it was a difficult choice as to which one to pick for our final dinner in Central America. It was this sign with the quote from Nelson Mandela that made us opt for the Blue Water Grill and it turned out to be a solid pick.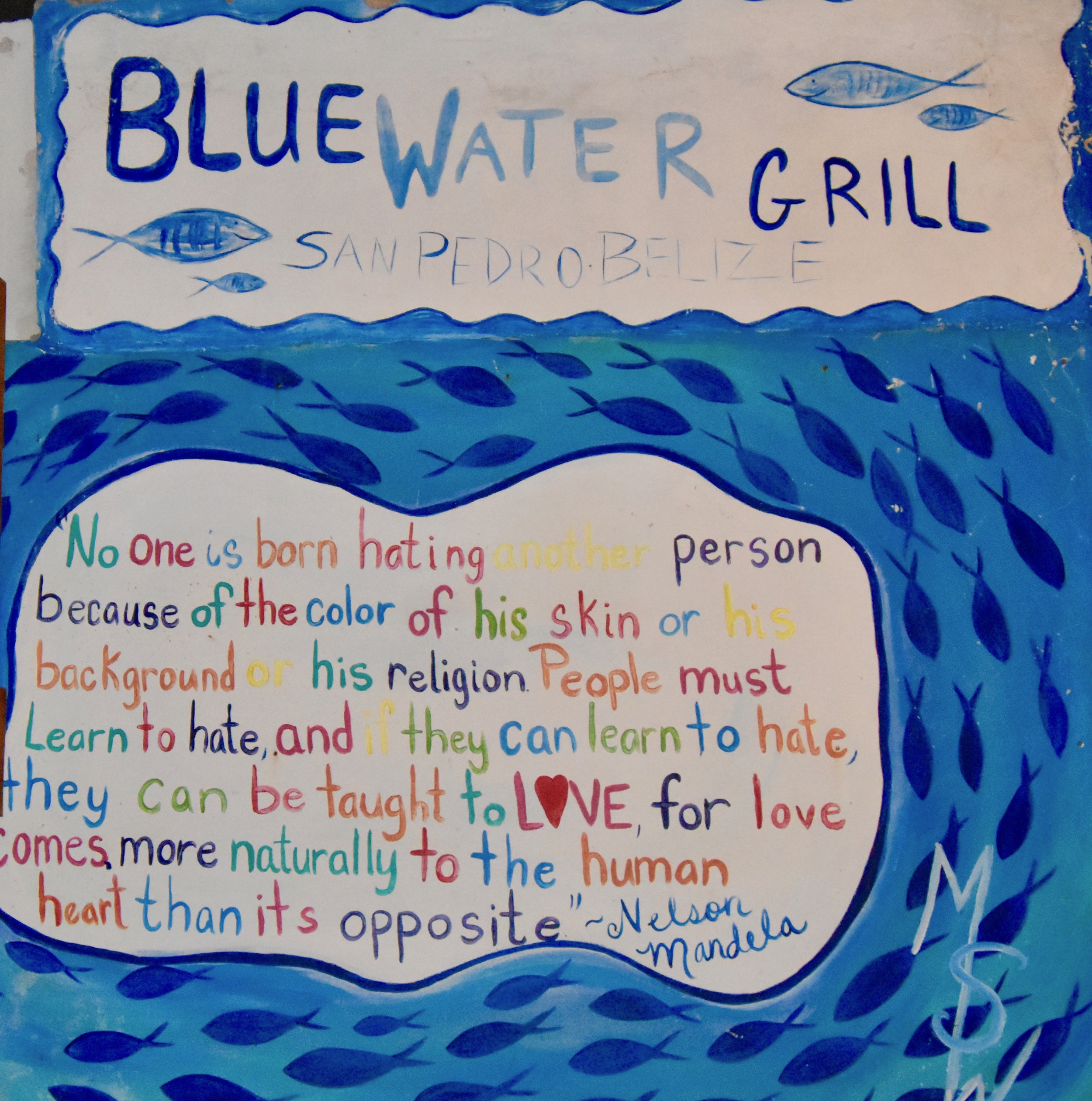 You would think we would be 'fished out' after our lunch today, but not so as Alison opted for the mahi mahi which contained two very generous fillets, some really good coleslaw and mashed potatoes. This may be her favourite fish on the planet and you can't get it back home so why not have fish again?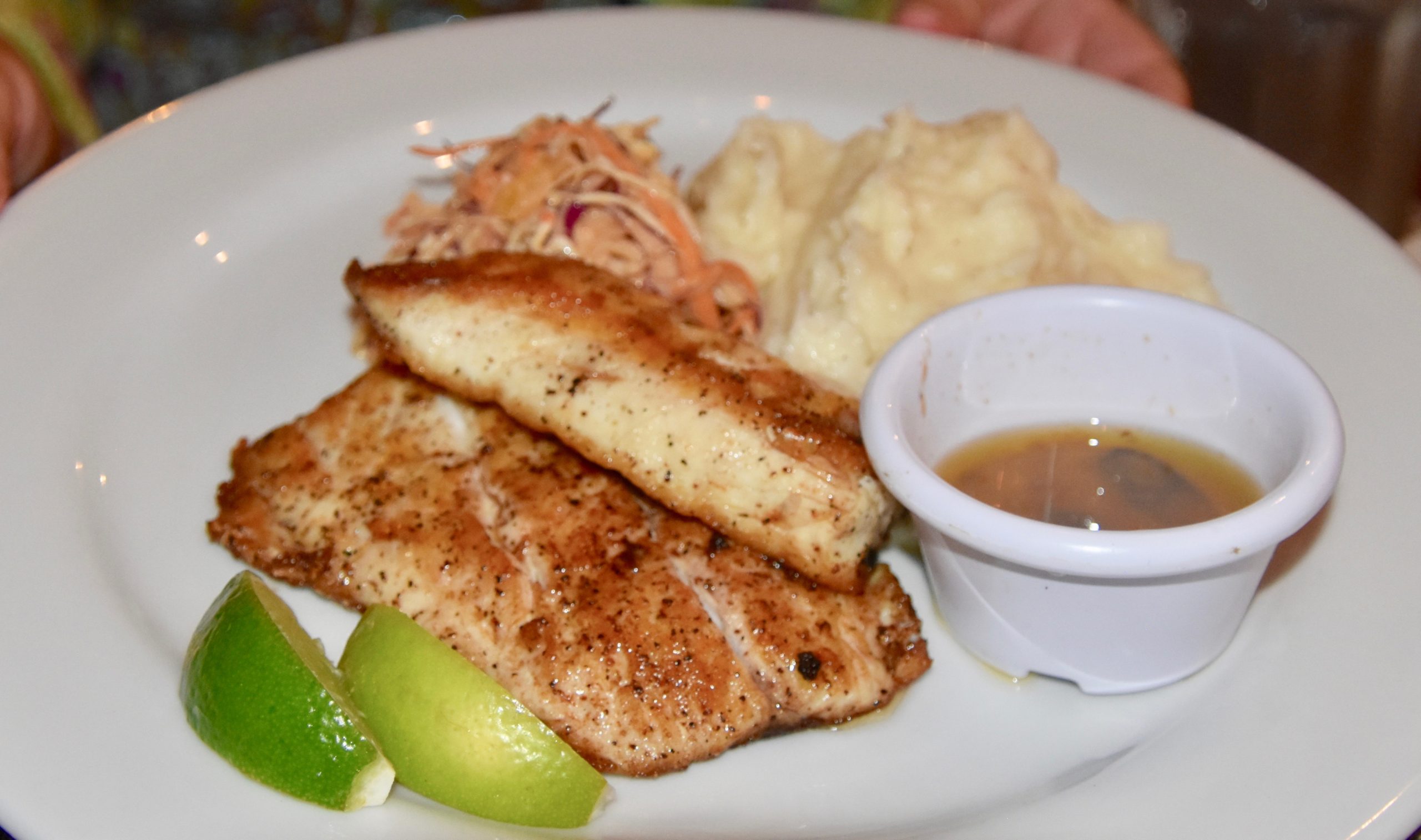 For dessert something you can get at home occasionally, but seldom does key lime pie taste as good as it does in the Caribbean or the Florida Keys.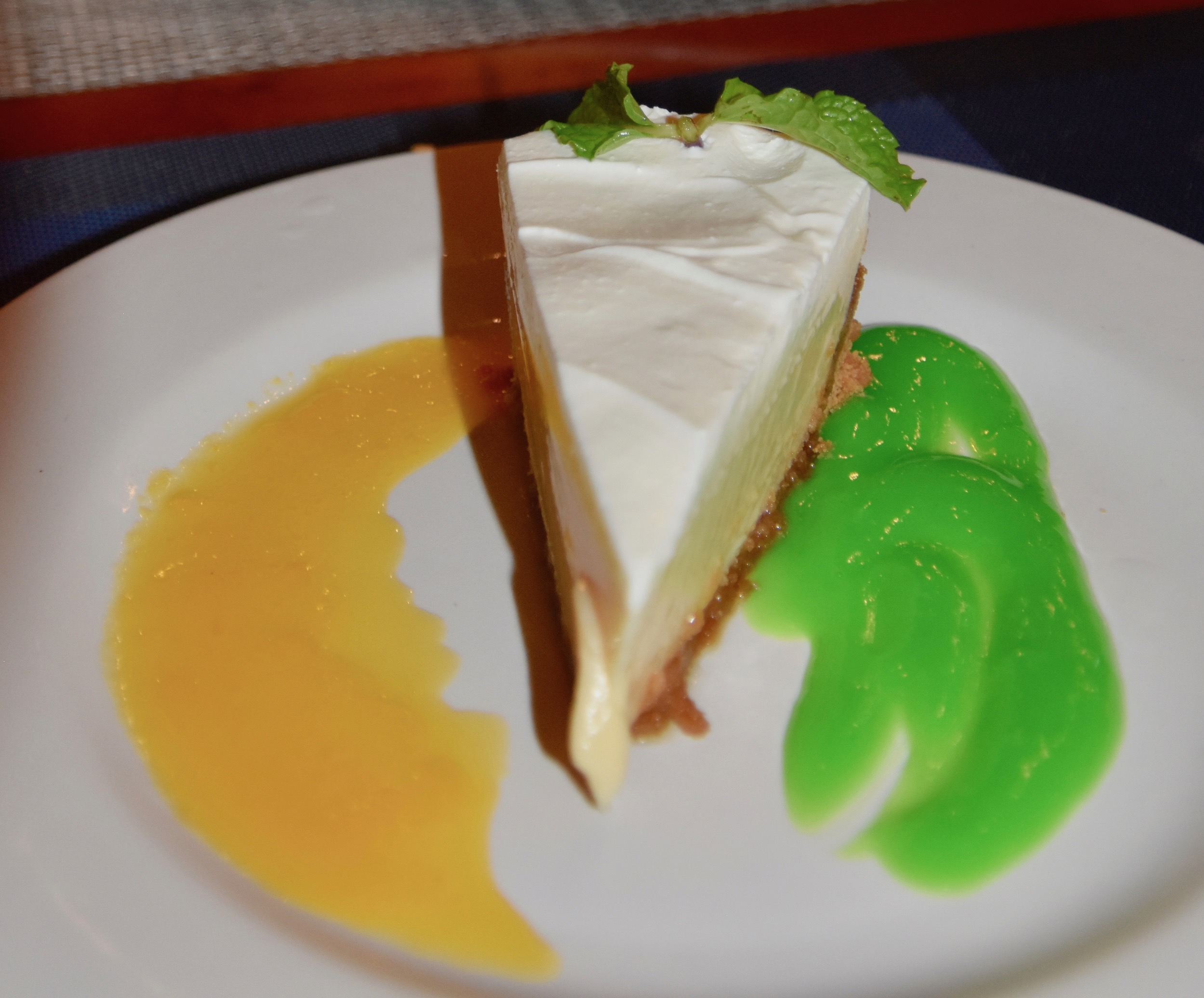 It's hard to believe, but this trip of a lifetime is over and we have no idea when we will be on the road again. Until then, here's a toast to all who enjoyed our trip to Central America and we hope to travel with you soon.