Dundarave Hole by Hole – Just Amazing
In my first post from a trip to Prince Edward Island a few years ago I featured a hole by hole post on the wonderful course at Mill River. From here Alison I moved east to Brudenell River Resort. While the resort itself was closed due to the Covid restrictions that have prevented it from getting the temporary foreign workers it relies upon to complement its staff, the two resort golf courses, Brudenell River and Dundarave were very much open. It was unfortunate that many off islanders thought that the whole resort was shut down and don't bother to check with the golf courses to determine their status. While we didn't get to stay at the resort, we did stay at an equally good option only minutes away.
Brudenell Fairways Chalets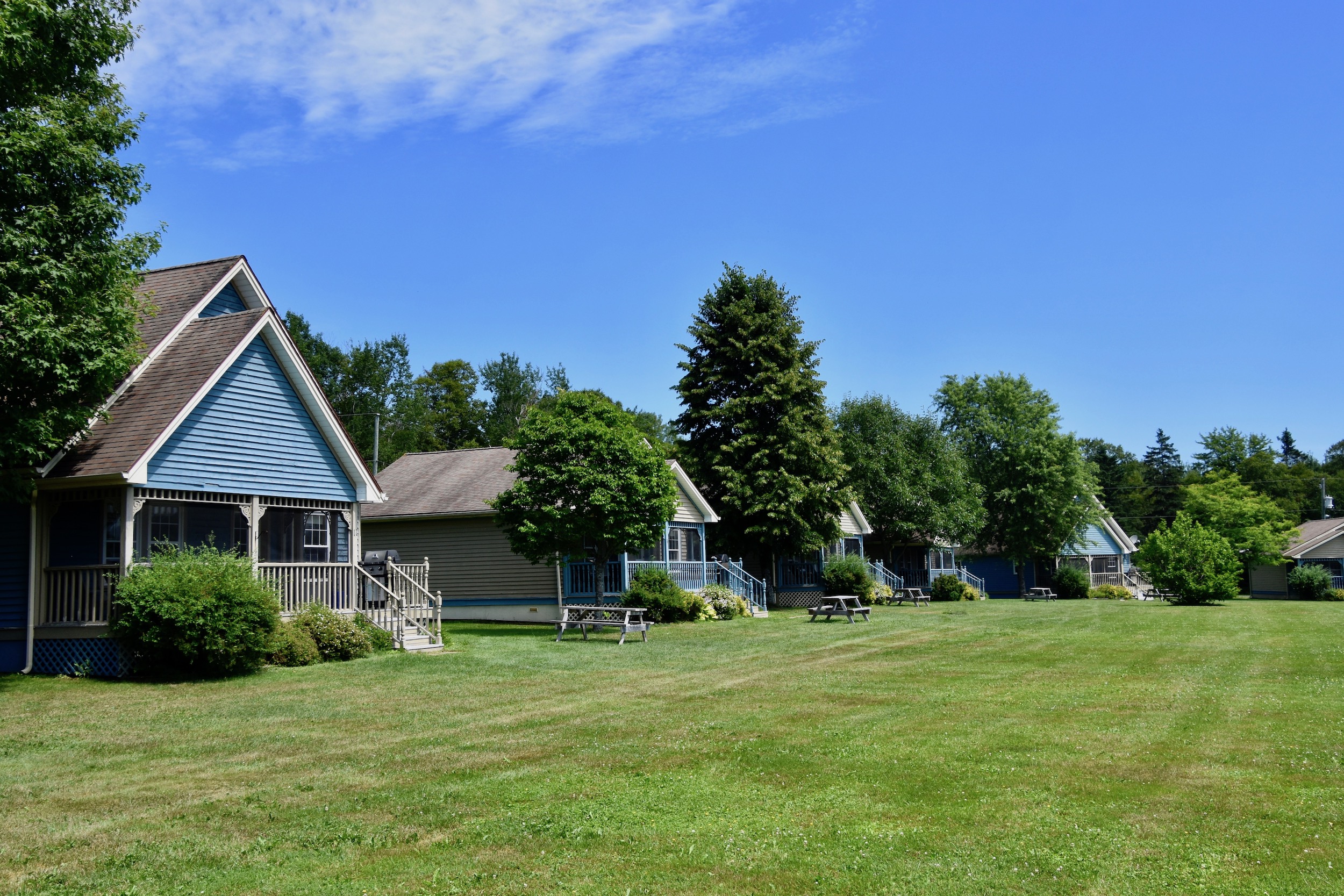 Located literally almost across the road from the entrance to Brudenell River Resort is Brudenell Fairways Chalets where you will find fifteen large cottages with full cooking facilities, screened in porches and a nice swimming pool to cool off in after golf. These are perfect for both families and golfers. If you are not up for doing your own cooking there are a number of good restaurants nearby in Georgetown, Cardigan and Montague.
Another real bonus about this place is that the Confederation Trail which runs the entire length of PEI goes right by the backyard. If you are a cyclist or walker you can turn right and go into Georgetown or left and head for Cardigan or Montague.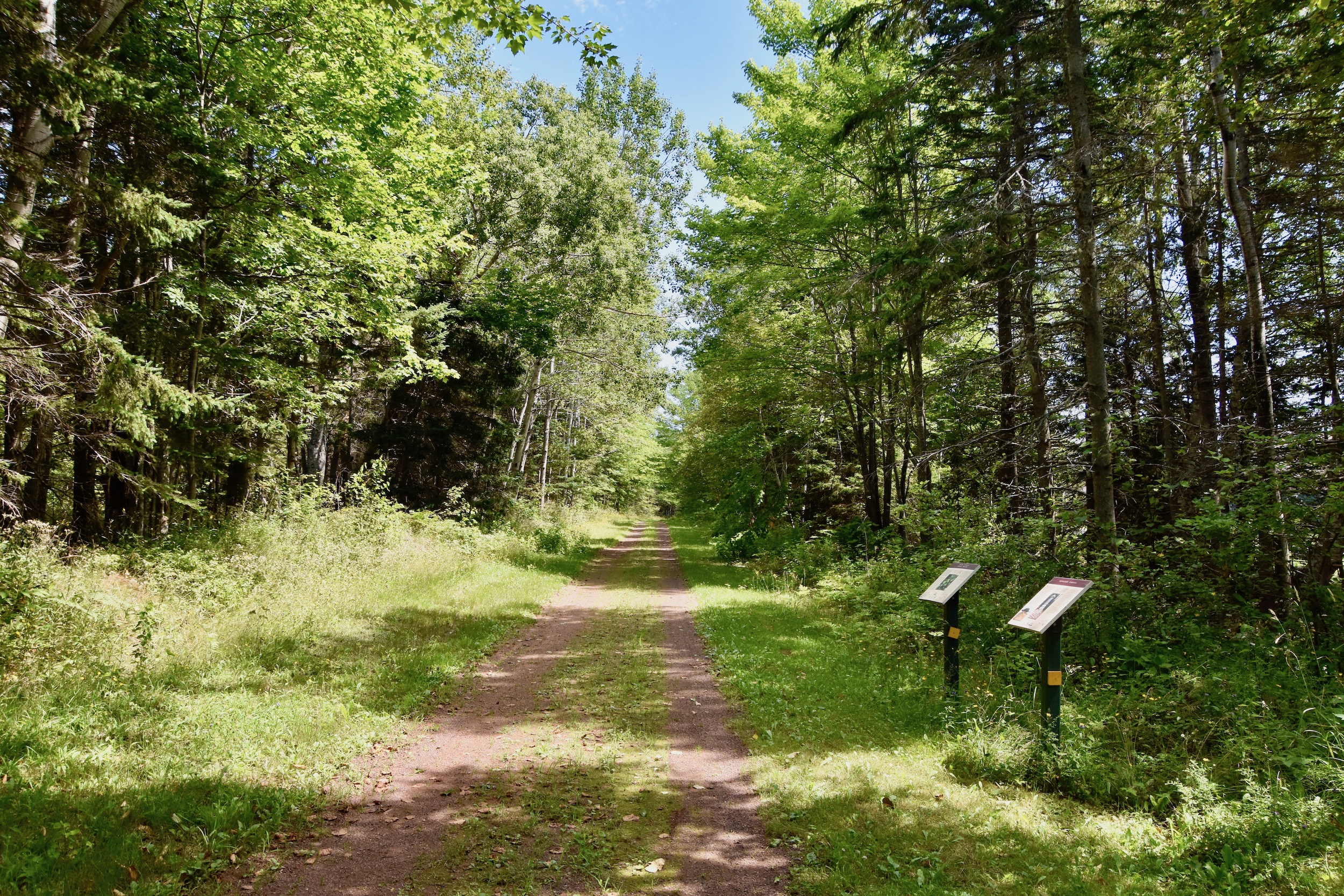 Confederation Trail at Brudenell Fairways
So there really was no excuse for not playing these two courses during Covid, but I am now updating this post to 2023 when Brudenell Resort is better than ever.
This is room 283, Brudenell River Resort which I stayed in on this 2023 visit.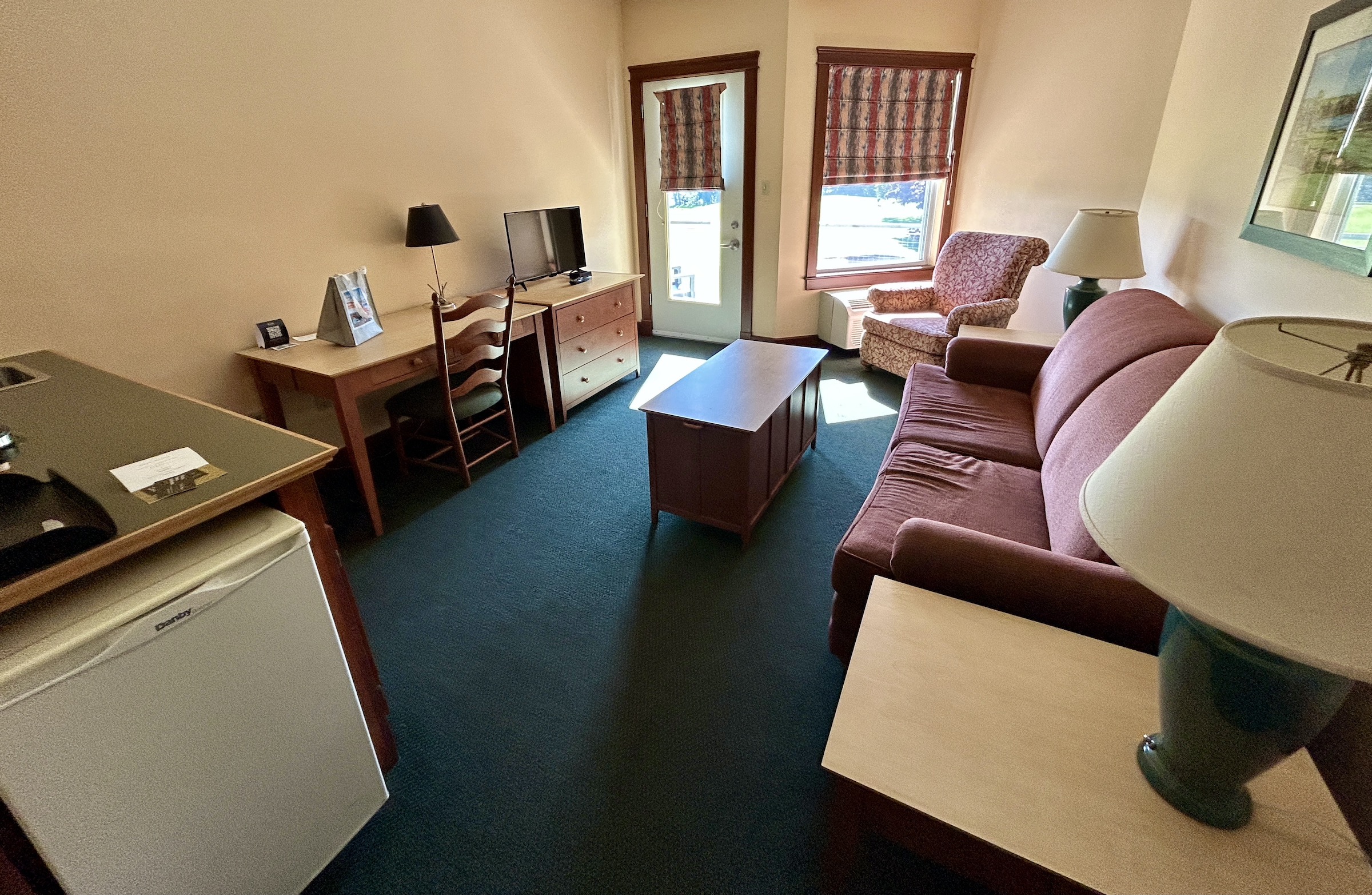 This is the view from the balcony which includes the infamous pond that must be cleared on #10 at the Brudenell River course.
Dundarave Golf Course
The two courses at Brudenell River Resort are both excellent, but Dundarave in my opinion and that of other golf writers is clearly the superior of the two. It comes in at #39 on Score Golf's rating of the top public courses in Canada, rising a few places every two years. Brudenell River Resort also scores highly as one of the top five best values in Atlantic Canada.
The design team of Dr. Michael Hurzdan and Dana Fry have been responsible for many great golf courses including Erin Hills, the site of the 2017 U.S.Open. They are perhaps best known in Canada for their Devil's Pulpit and Devil's Paintbrush courses just outside Toronto which are private and both rated in the to 25 courses in Canada. They are currently being rebranded as The Pulpit Club. I'm not sure who was responsible for convincing them to take on the building of a second course at Brudenell River in the late 1990's, but whoever it was should be given a medal. Dundarave is the consummate Prince Edward Island Course for a very simple reason – it makes full use of what Stompin' Tom Connors called 'the bright red mud' that makes the landscape of PEI unmistakeable. It's not mud of course, but the iron laden sandstone that makes up the substrata of the entire island.
While other courses on PEI have conventional sand traps with a white or sandy coloured look, Dundarave's 110 sand traps are red which gives it a unique appearance.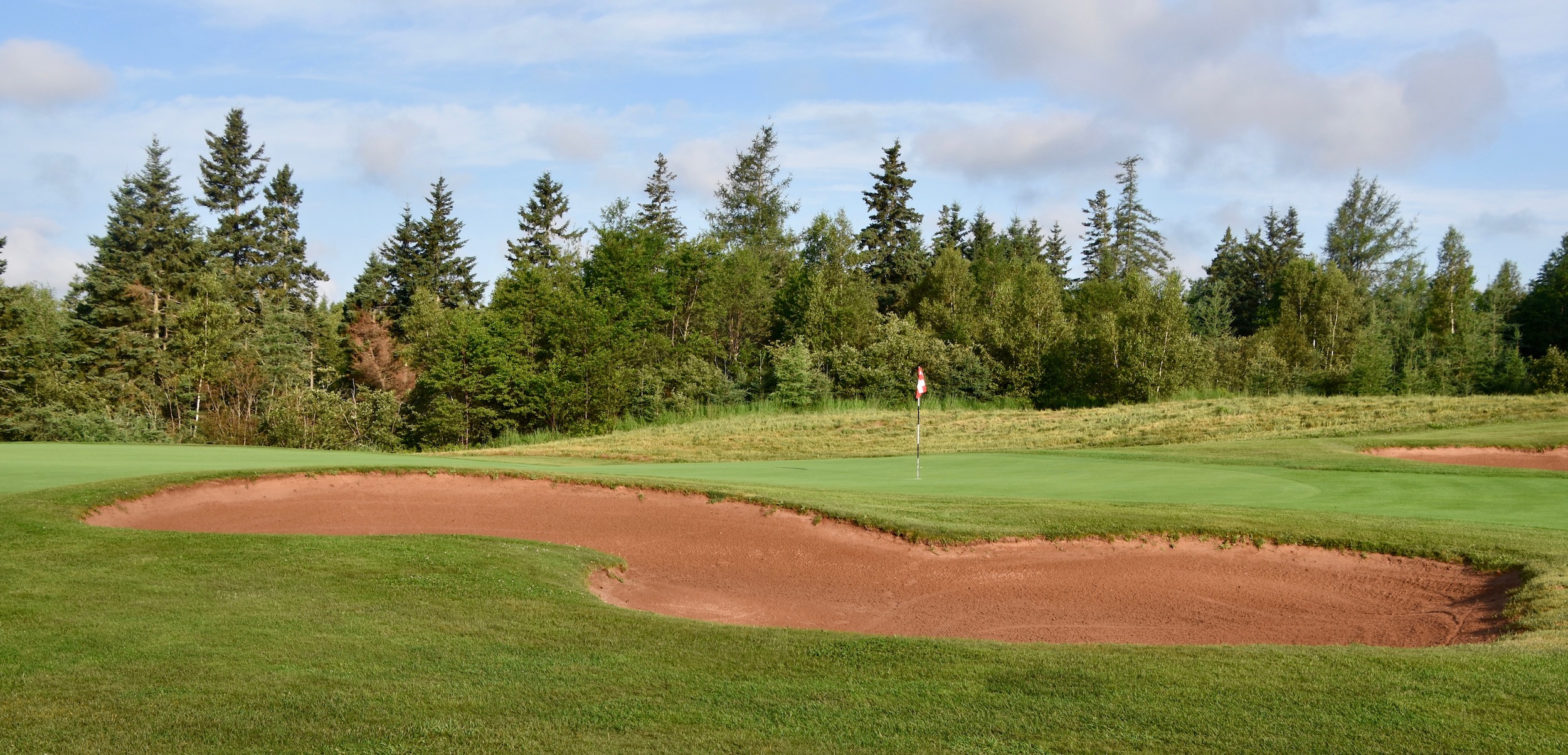 There are a couple of other features about the course that I find appealing and add to the pleasure of playing it. One is the different configuration of each of the eighteen hole markers. Every one has a sandstone slab with the hole number and par designation on it, but each one has a different artistic design incorporating driftwood, flowers and other materials to make them works of art. Here are a few of the best.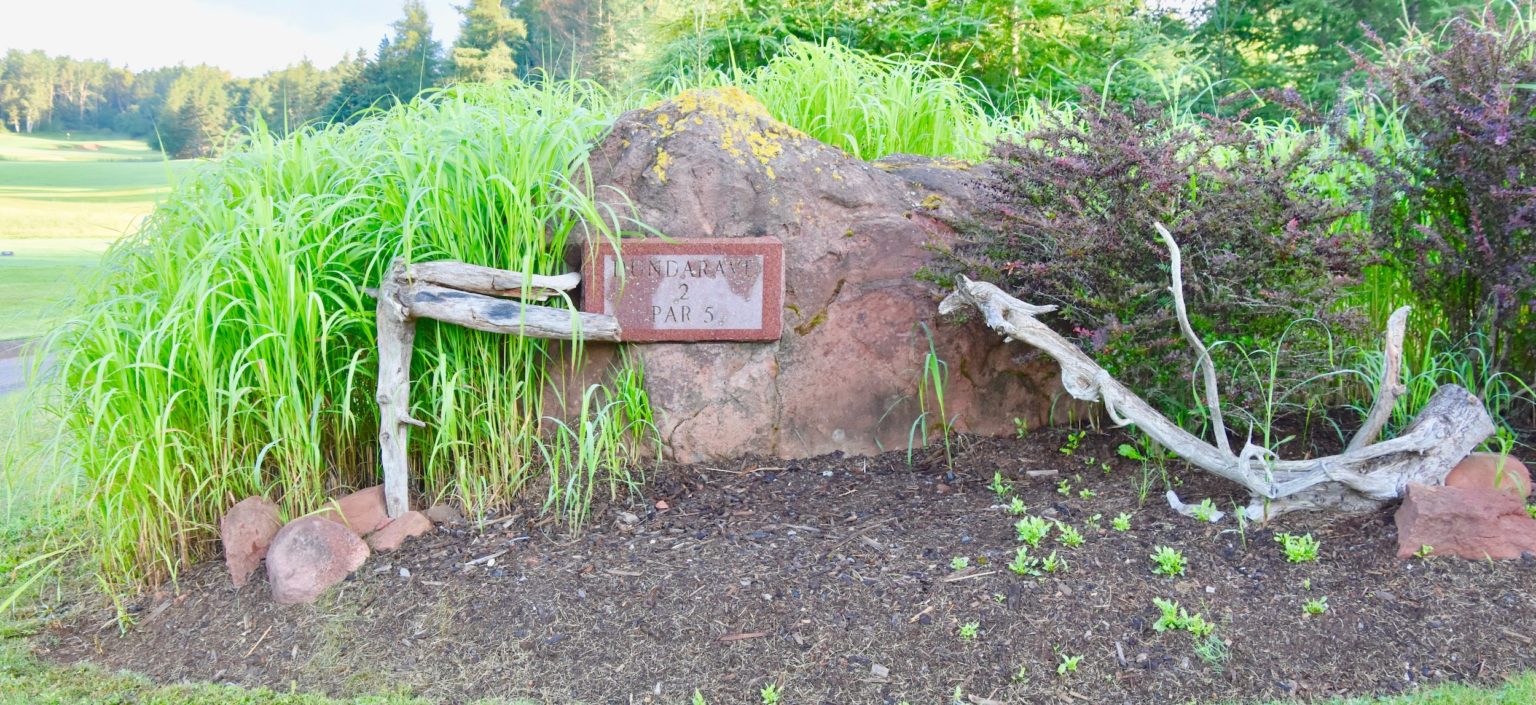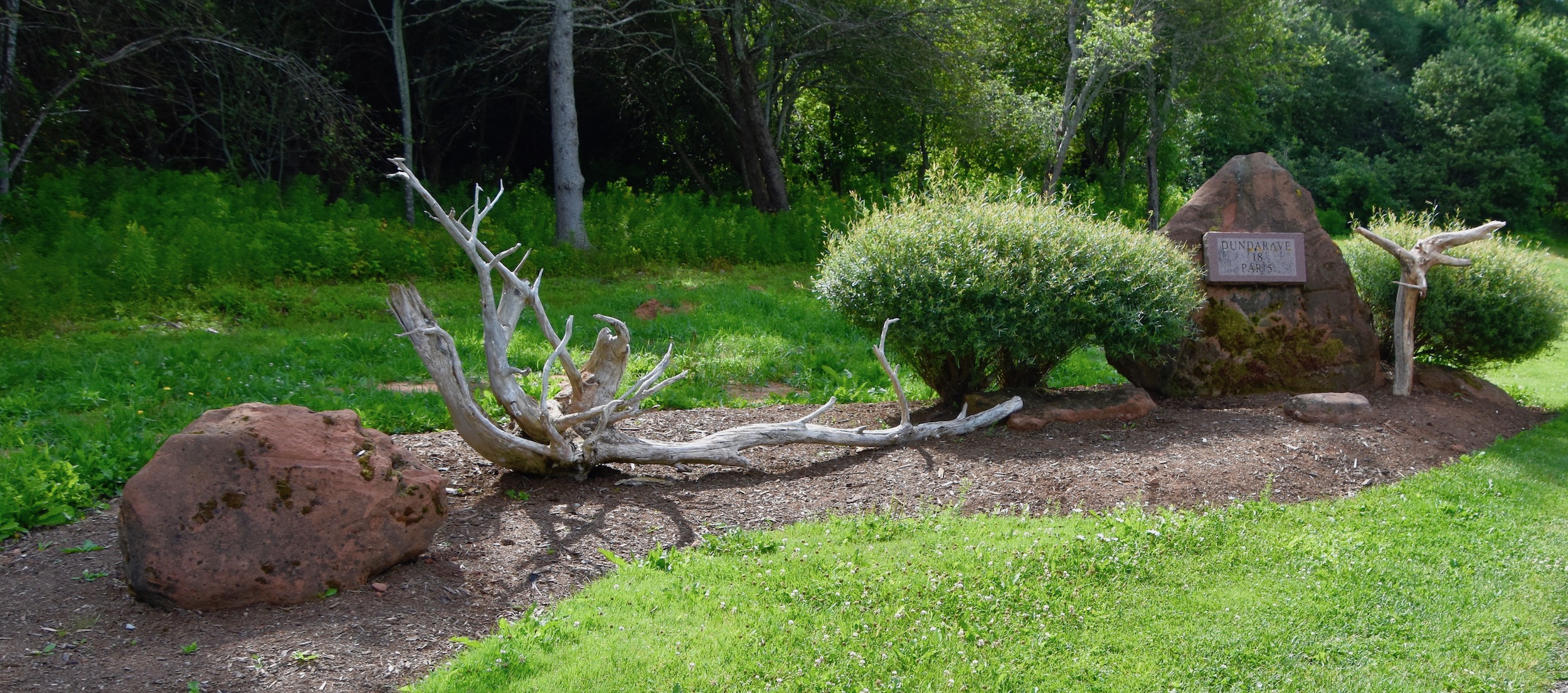 And then there's the Dundarave logo which is a mounted knight with an upraised sword and a shield with a Cross of Lorraine. What the heck it has to do with PEI I have no idea, but I just like it.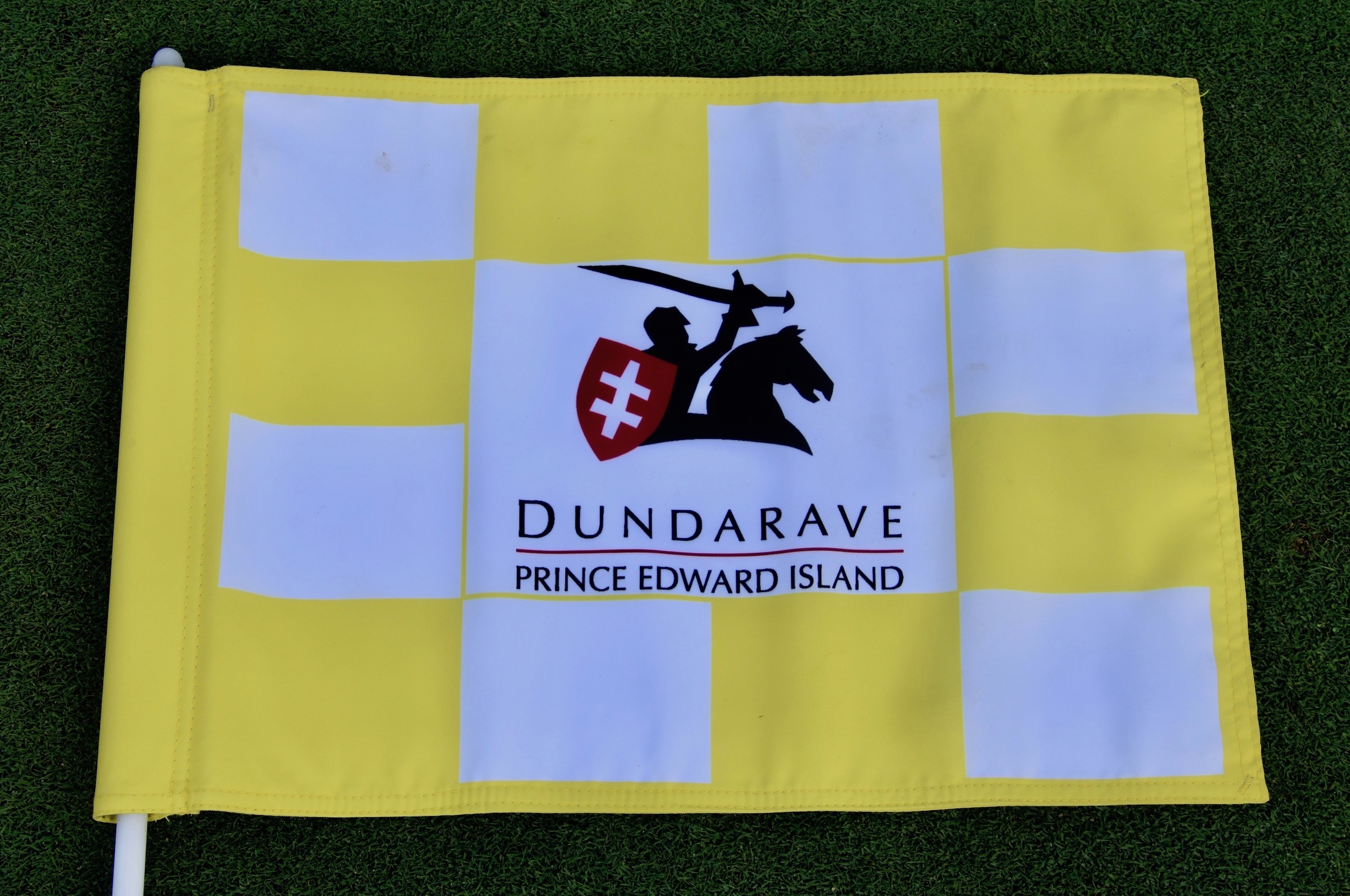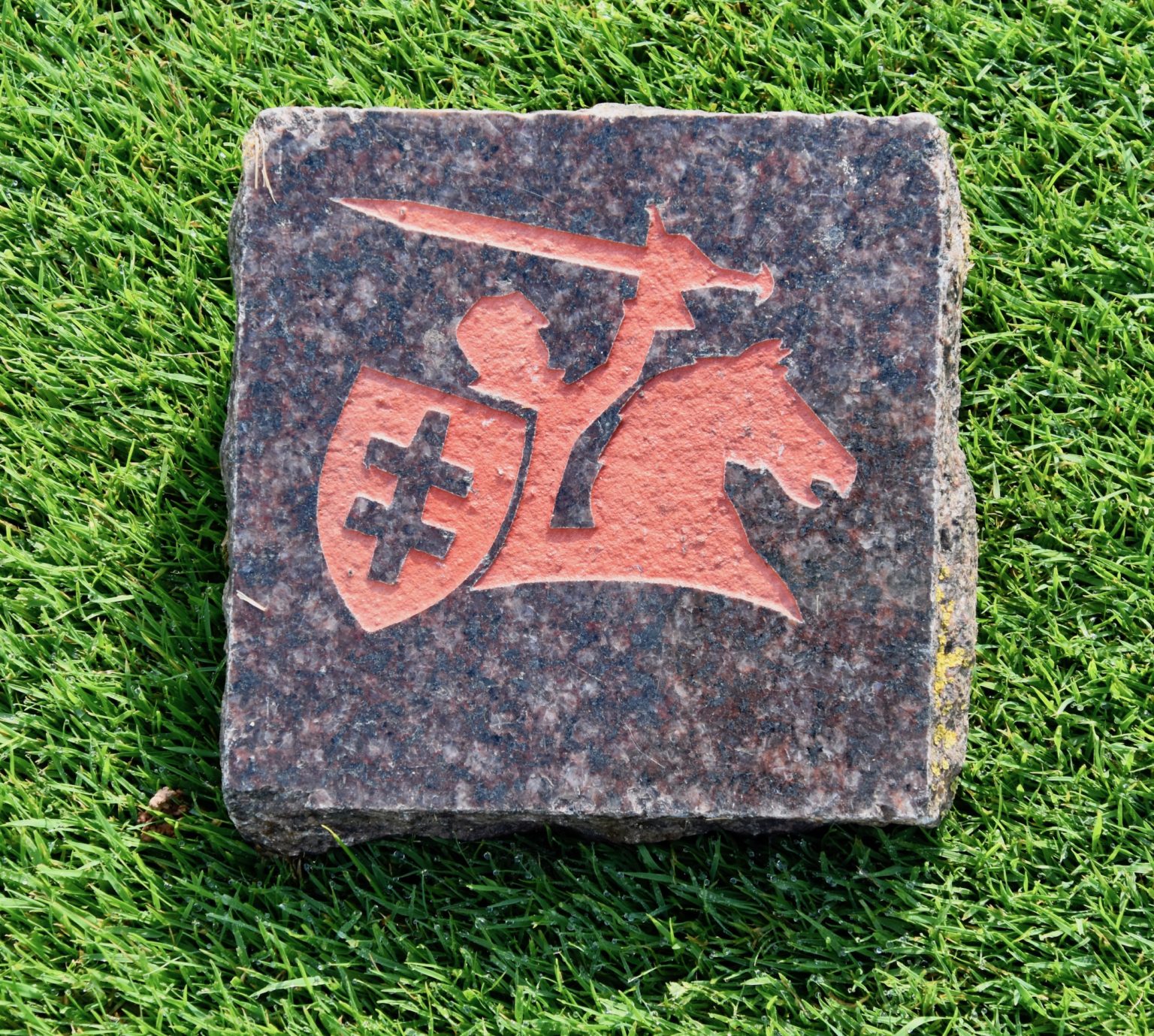 Okay, enough about everything but the golf. Let's go play Dundarave.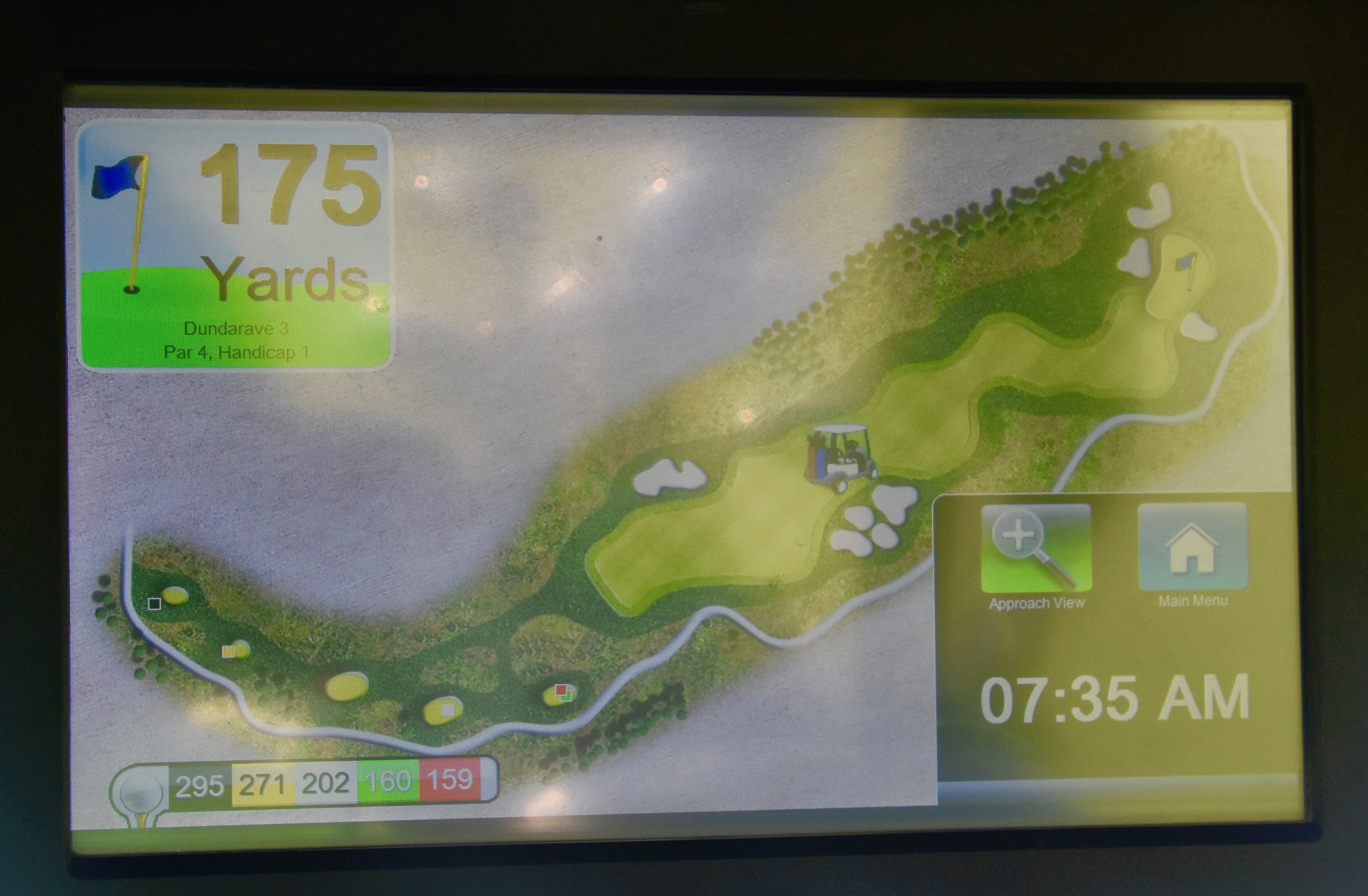 This is a photo of the GPS system on the carts at Dundarave and Brudenell River which share a common clubhouse. It is among the most advanced I have ever used giving exact cart locations and yardages to the hole and any other obstacle you might need to know about. While we didn't need to know where the groups were in front of us at Dundarave since there were none, it was invaluable on the many blind tee shots at Brudenell River.
Dundarave is a cart course with some huge distances between holes so don't try to walk it.
Dundarave #1 – Draw Bridge – 341 Yard Par Four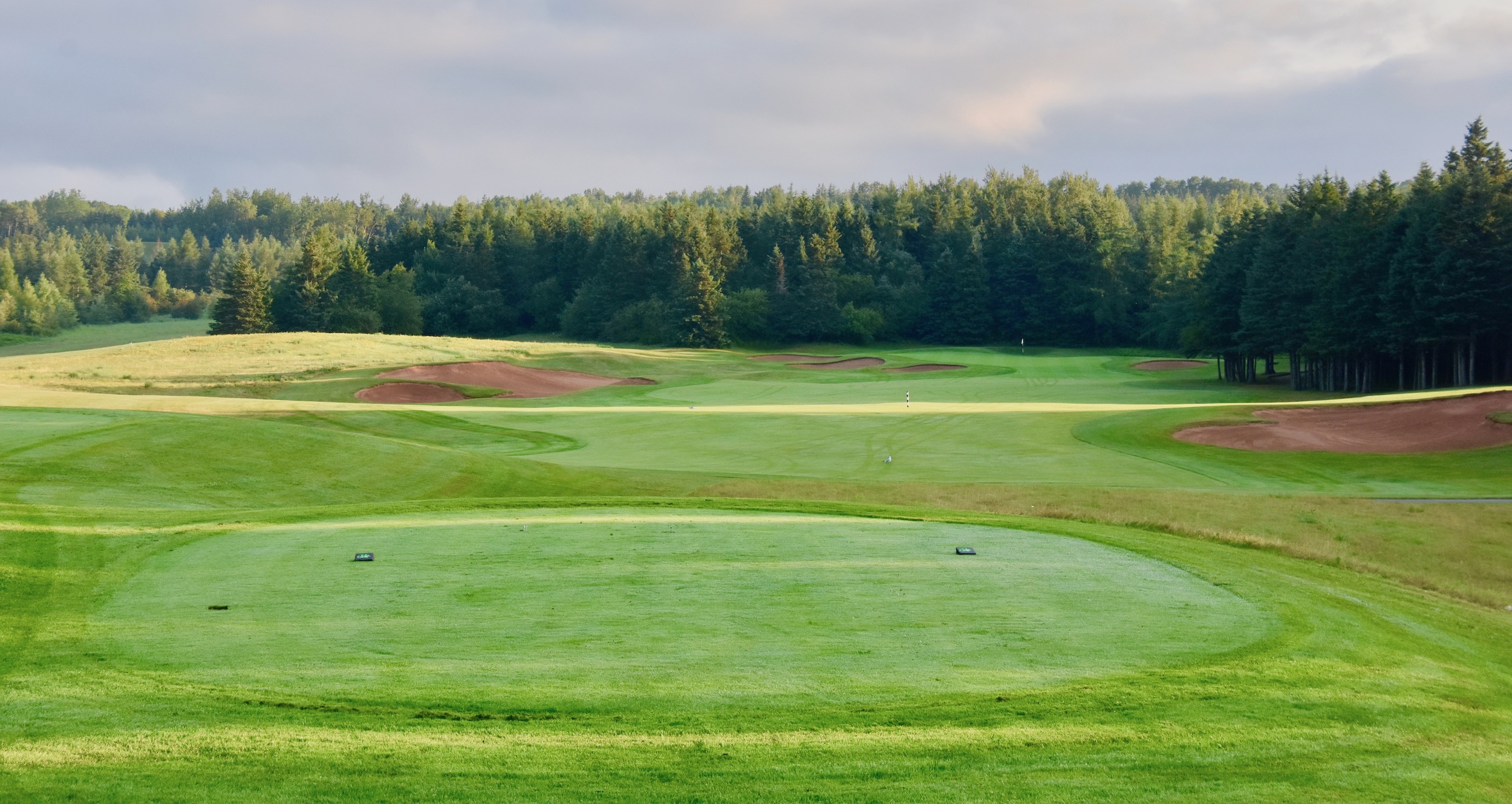 I'm playing from the white tees which is 6003 yards while Alison is playing the reds at 4820 yards. We have the first tee time of the day at 7:00 AM, there is virtually no wind, sunny skies and all is well with the world, at least standing here on the first tee of Dundarave. Covid? What Covid?
The course looks to be in absolutely perfect condition and at the end of the round I confirm that with the greens keeper. He says the combination of a mild winter and far less spring play than usual has allowed for more maintenance and the best shape the courses at Brudenell River have ever been in during his tenure here.
The look from the first tee confirms the unique look of Dundarave with the red traps standing out from the lush green fairways. This hole is pretty wide open and with the elevated tee plays fairly short. The greens at Dundarave are generally huge compared to other island courses and you can end up with fifty foot putts quite easily. The first green is immaculate and in the heat of the day will be very fast, but with the morning dew it plays slower. Still it has a lot of undulation that makes reading putts tricky. A very fair starting hole that should be a par or bogey.
#2 – Loch Fyne Mist – 469 Yard Par Five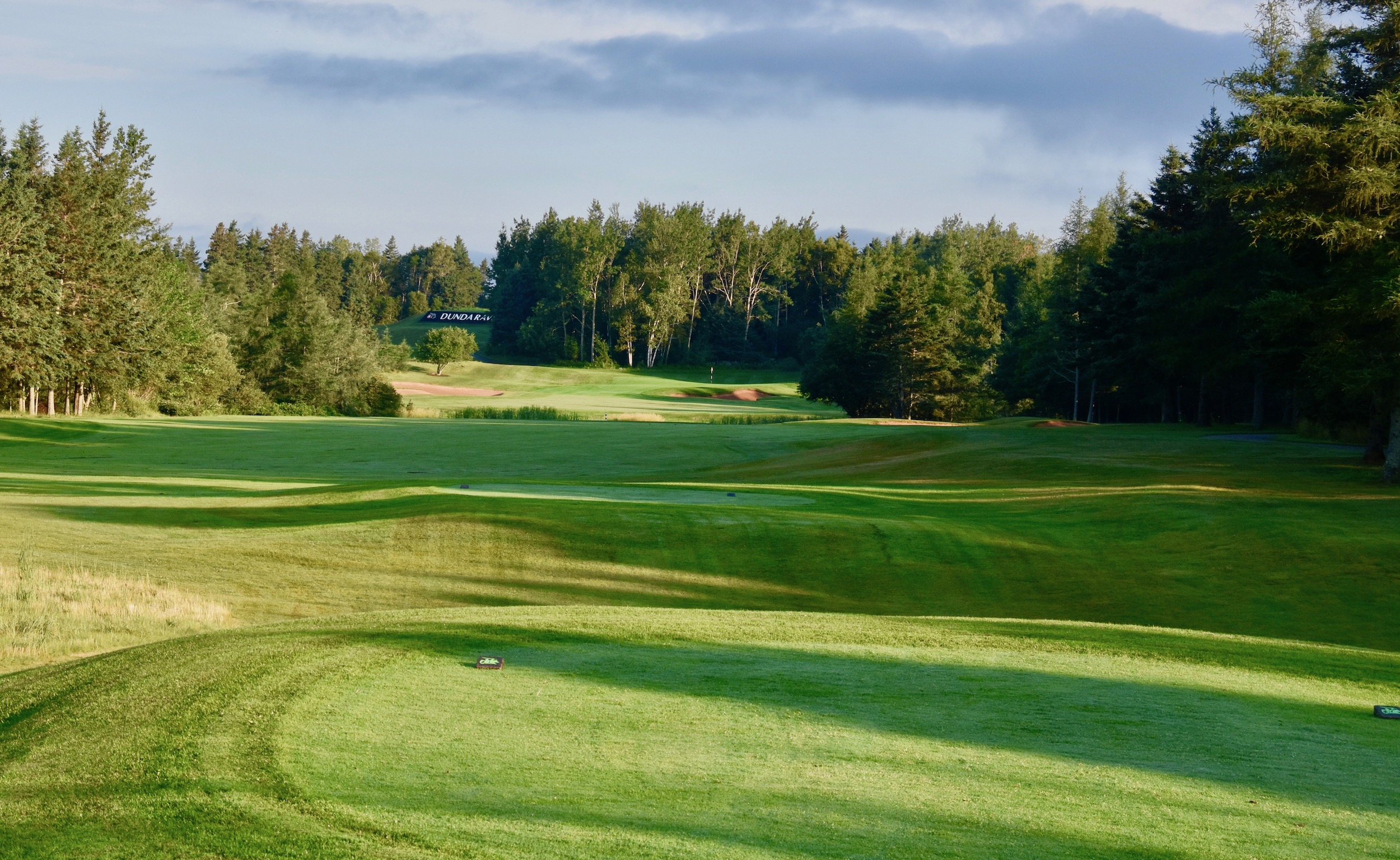 This first par five is rated at the #15 handivcap hole, but I find it plays much harder than that because you need to cross a sizeable marsh about three quarters of the way down the fairway. If you hit a really good drive you might clear it in two with a well struck wood, but odds are you won't make it. The other option of laying up is not much easier as the fairway narrows considerably in the lay up area. Even if successful that still leaves a long way in to an elevated green that makes the hole play much longer than its stated yardage. Still, all in all this is a very strong golf hole and you can just make out the Dundarave sign that you'll come to late in the round.
Dundarave #3 – Dig Deep – 399 Yard Par Four

This is the #1 stroke hole, but strangely I always seem to play it well. You do need a long reasonably straight drive and then another good shot, but the green is enormous and if you can manage to two putt then a par is feasible. Hell, if I can do it, anybody can.
That was hubris from a few years ago. This is where my drive ended up this morning resulting in a double.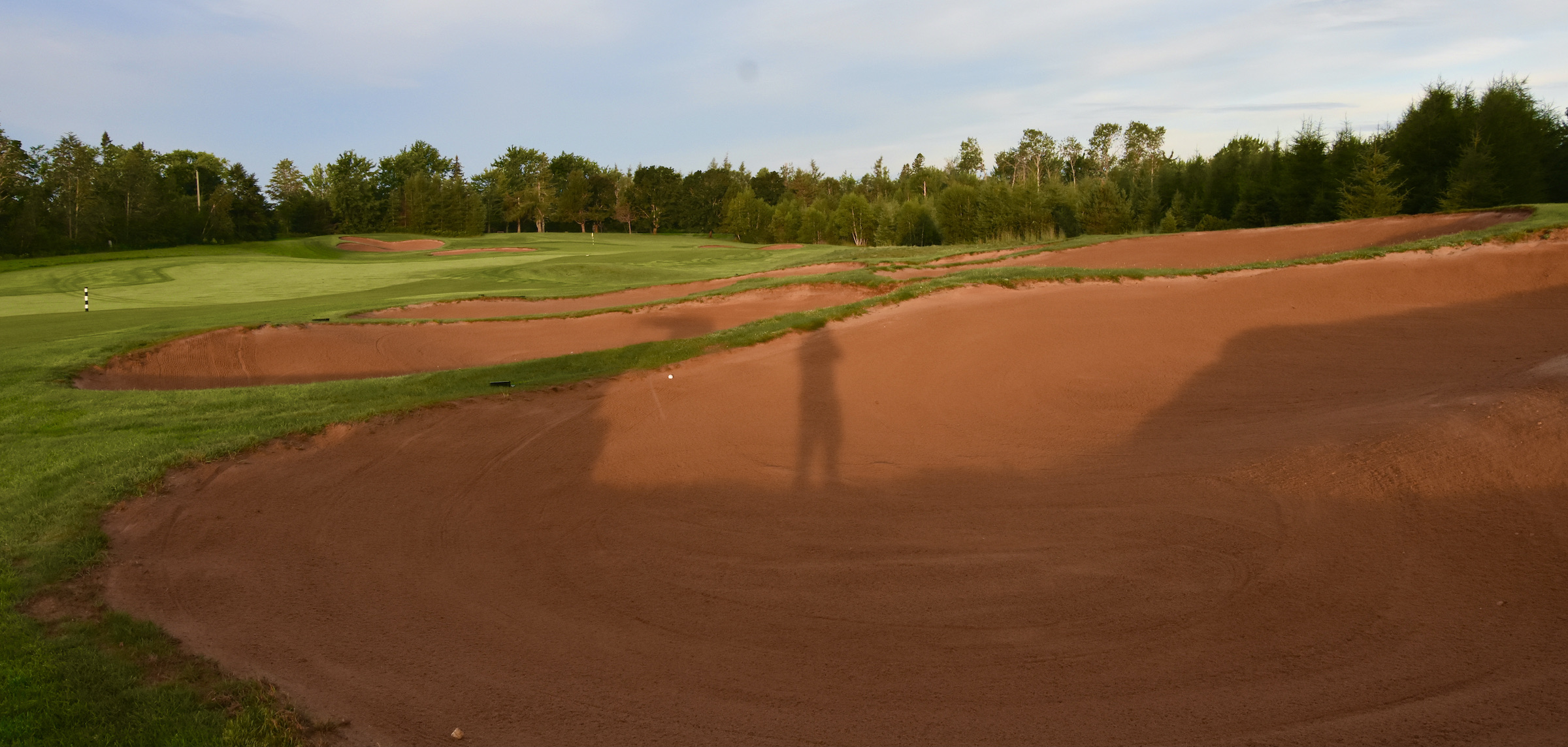 #4 – River Bound – 506 Yard Par Five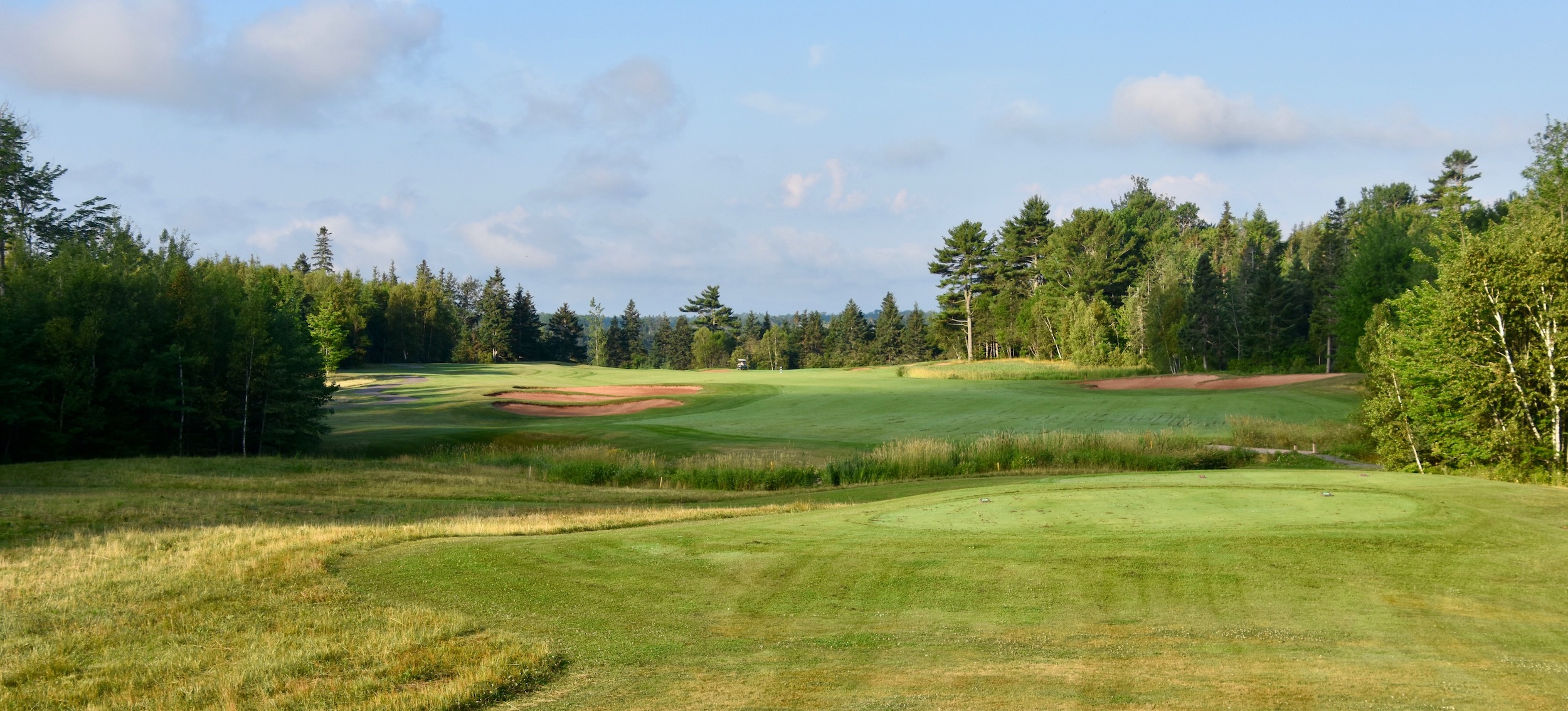 The second par five features a reasonably long carry off the tee to reach the fairway. Once that is accomplished you need to avoid the multiple fairway bunkers and a pond on the right hand side to get to one of the smaller greens on the course. Not the hardest of par fives if you use your head in positioning your three shots to the green.
Dundarave #5 – Tranquility – 124 Yard Par Three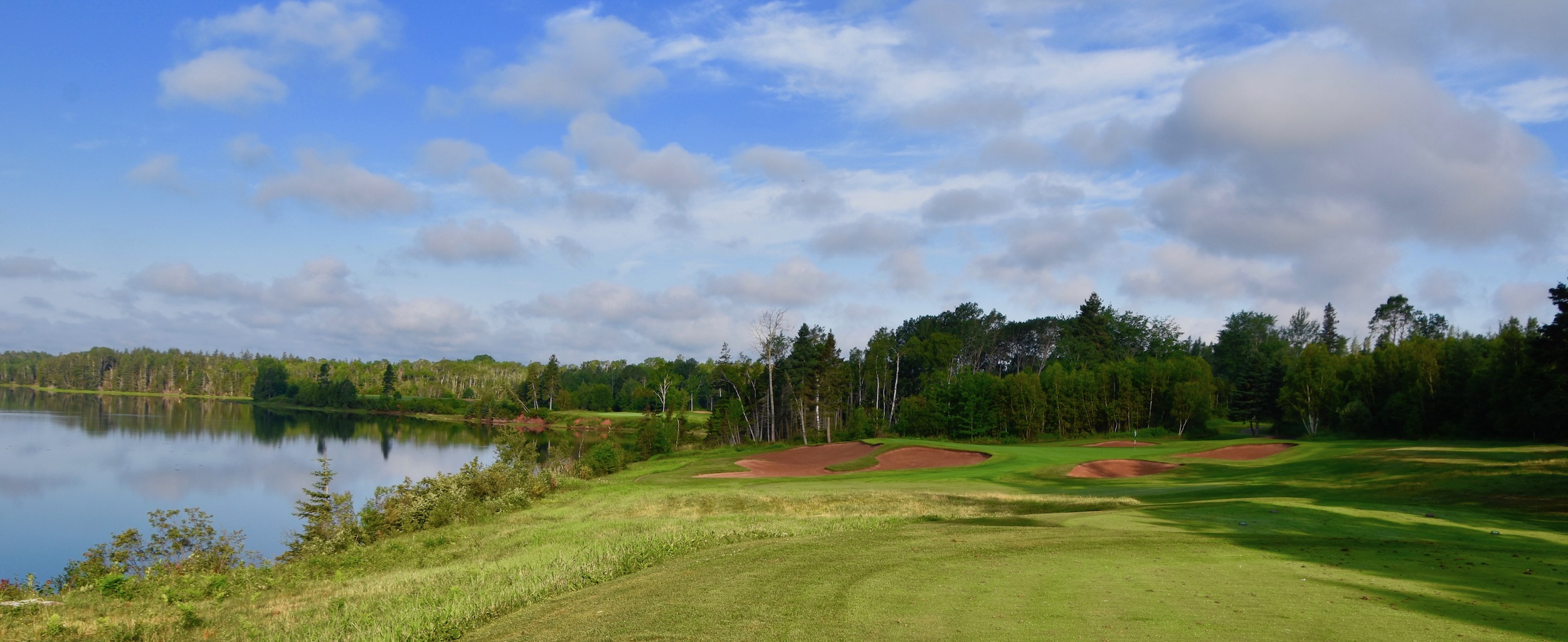 This morning Tranquility is a perfect name for this exceptional par three. The Brudenell River is on your left and more than willing to accept any errant tee shots, particularly by lefties like me. Although not a long par three, the green is completely encircled by bunkers so club selection is all important here.
As you walk toward the hole you can appreciate the beautiful morning beside the Brudenell River.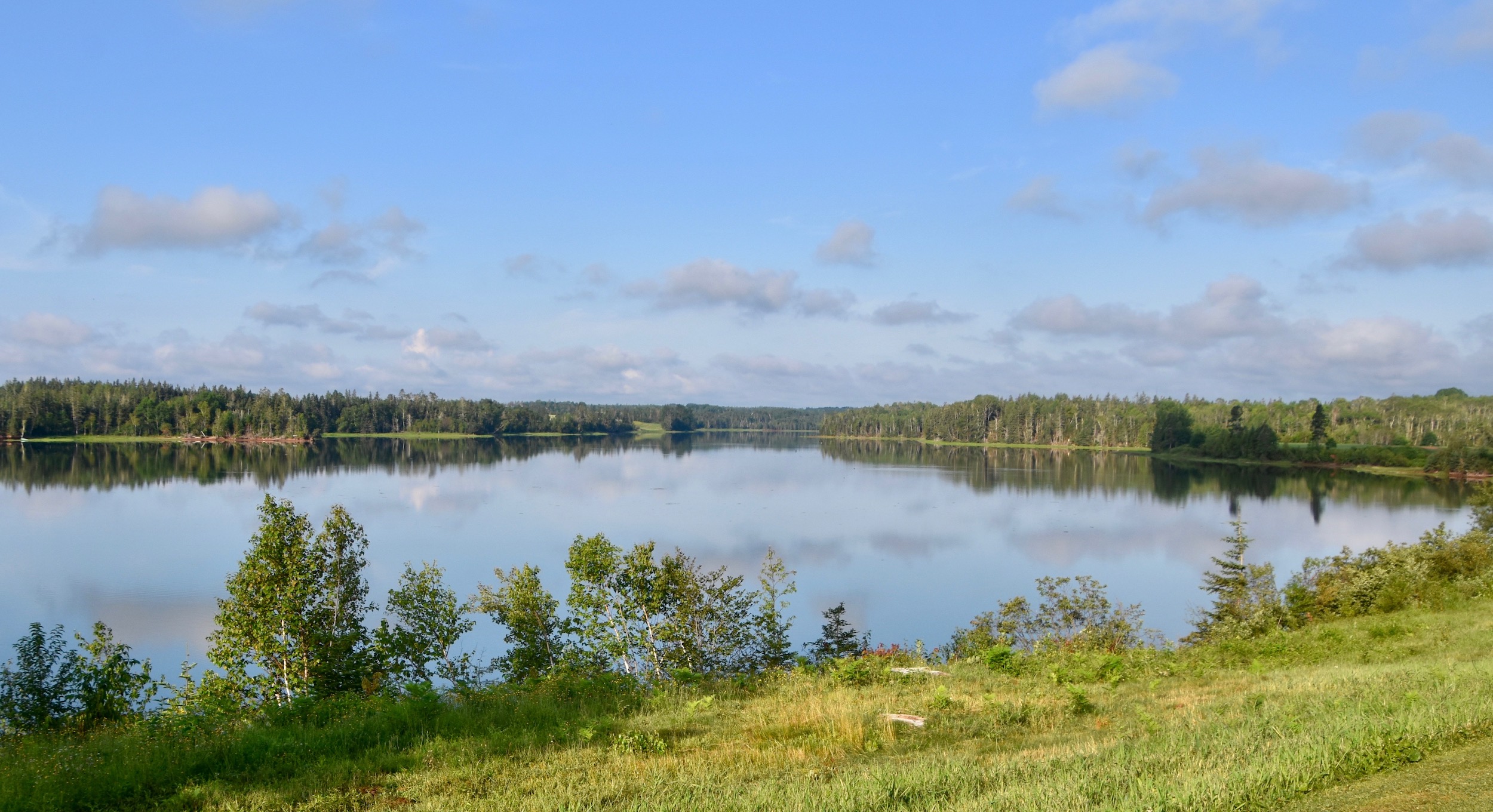 This is how the hole looked this morning.

#6 – Marsh Pines – 366 Yard Par Four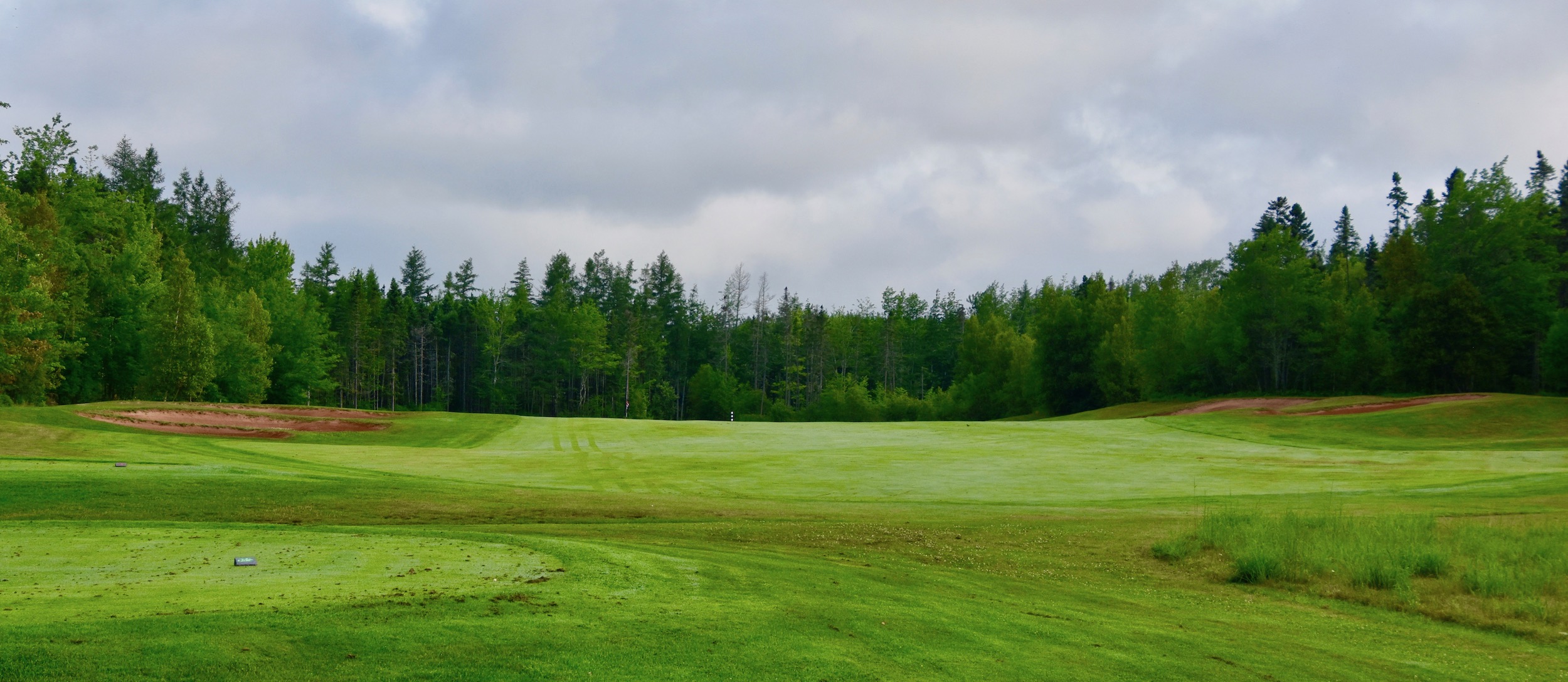 This is one of the very few blind tee shots at Dundarave. I'm never a fan of them because it slows play down to a crawl at times, but since we are first out that is not a worry today. If there was one hohum hole on the course this would probably be it, but what's coming up more than makes up for it.
Dundarave #7 – Confession Box – 161 Yard Par Three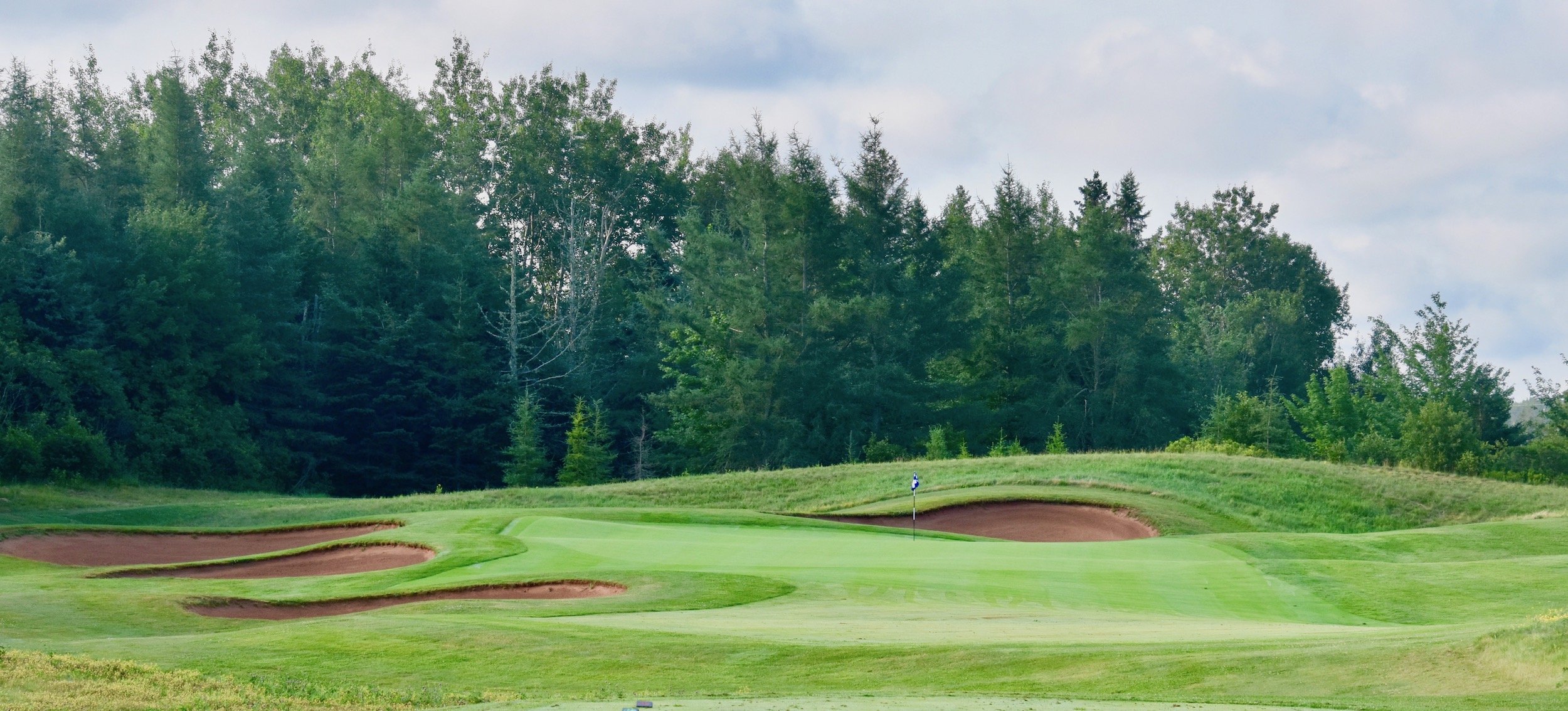 I have a confession to make – I really like and respect this mid length par three that requires a precision tee shot that can leak right, but definitely not left or long. One of the nicest greens on the course is long and fairly narrow with severe elevation changes so even if you hit it, a three putt is definitely a possibility.
#8 – Emerald Altar – 324 Yard Par Four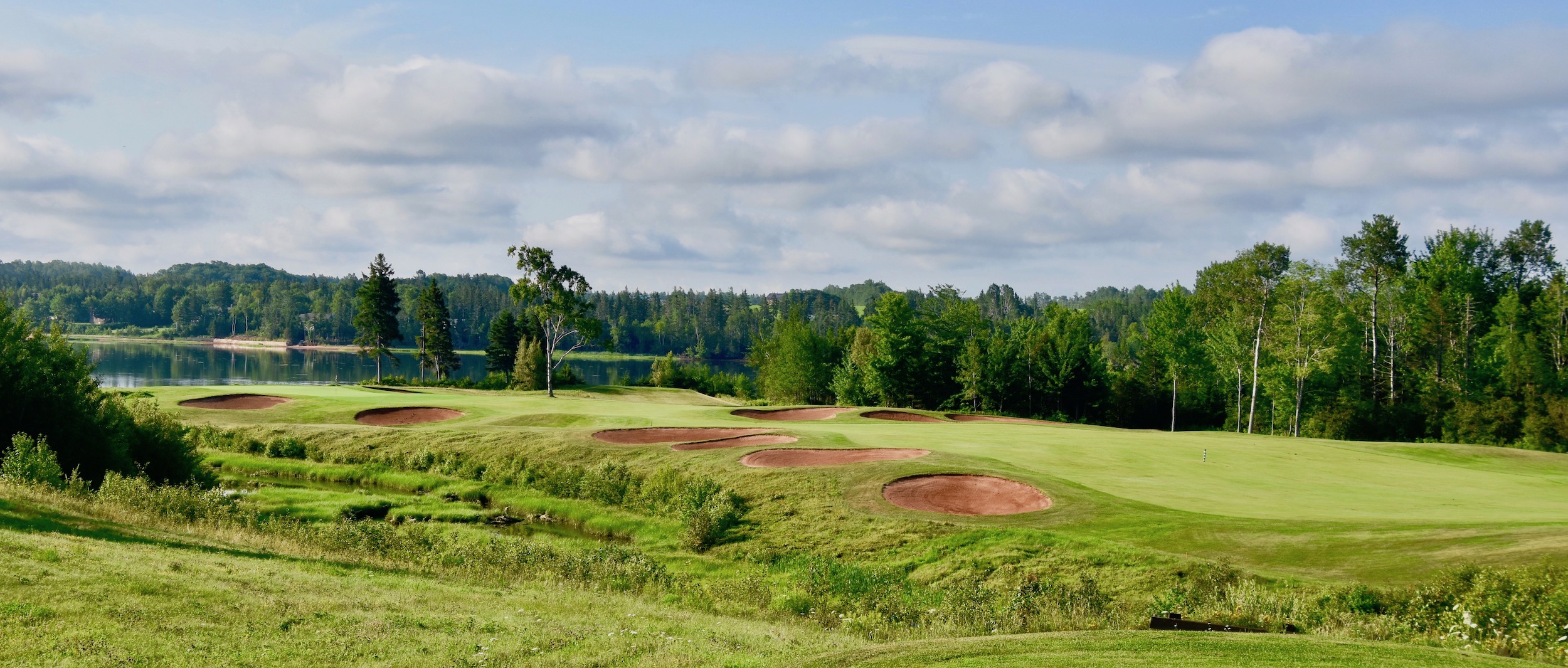 To my mind Emerald Altar is a contender for the best par four in PEI. It is not only gorgeous to look at with the great backdrop of the river behind the green, but it plays as two completely different holes from the men's and women's tees. Standing on the men's white tee you get this look which is daunting – how much of the hole do you try to cut off and where is the landing spot? Too long and you are in the woods, too short and you are in the marsh or bunker. Since it's very short the driver should stay in the bag, but what is the right club?
This is the view from the women's tee. It's now a straightforward short par four with none of the landing difficulties the men face, but the view is even more distracting. Just a brilliant golf hole.

This was Emerald Altar this morning. You can see there is a lot more morning dew this time around.

Dundarave #9 – Blue Heron's Perch – 314 Yard Par Four

This very short par four is the third hardest hole on the course. With a ninety degree dogleg right it is a risk reward hole that dares you to cut off as much as you dare. I find the more sensible play is to simply to hit a wood straight out to the generous landing area and then play a mid iron in.
If you hit drive as I did this morning you might end up not being able to see the pin which is exactly what happened to me. This photo with the wicked pin placement was 25 yards to the right of where my drive landed leaving me with a blind shot over trees. I made it, but not to the green and had a very difficult pitch over a trap and up to the green at least a dozen feet above my lie.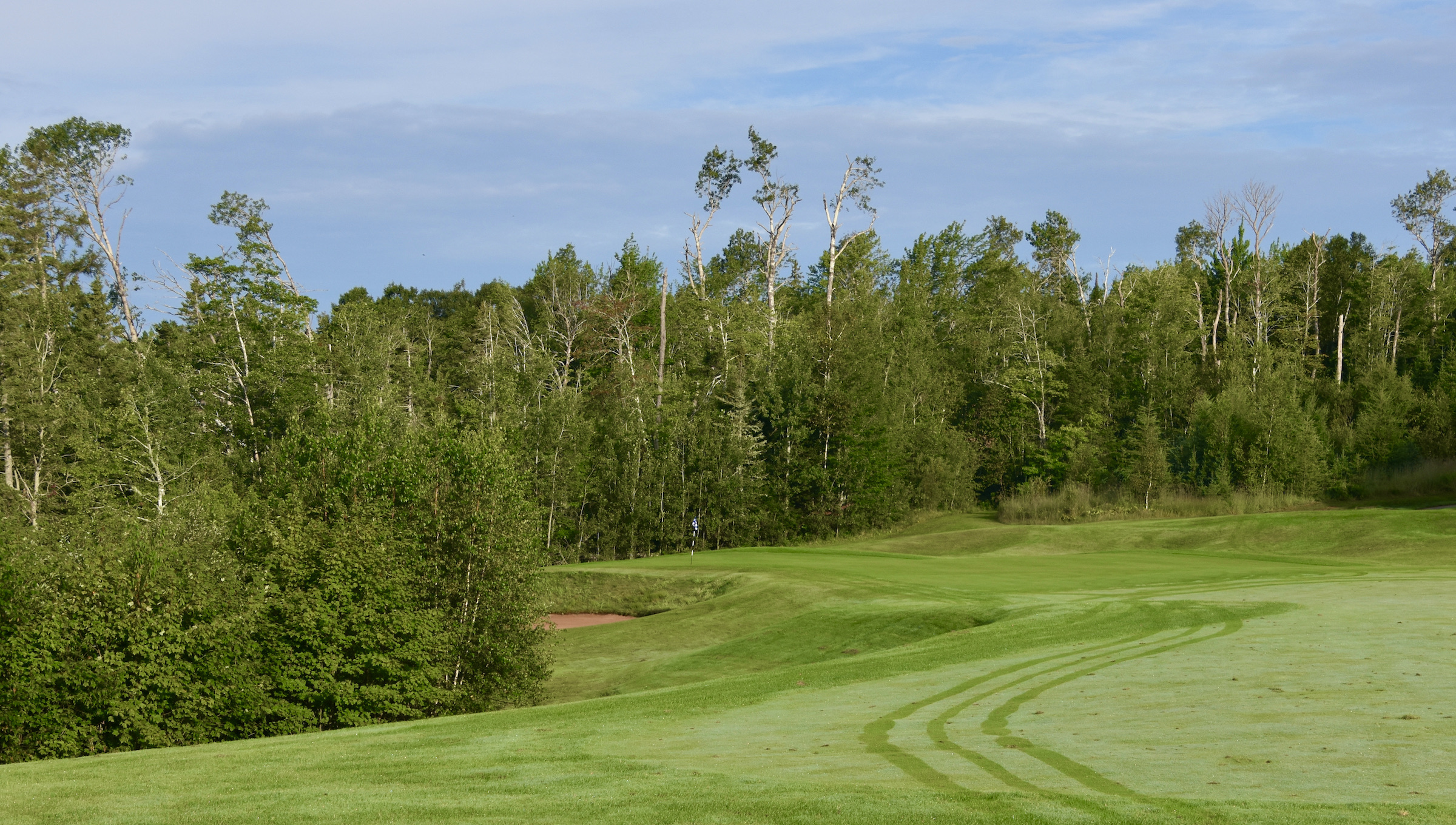 #10 – De Roma's Retreat – 429 Yard Par Five

The very short length of this par five makes it sound like an easy par, but once again Hurdzan and Fry make you think. There is a huge marsh that must be crossed, but when? You would hope on your second shot, but that requires two really good shots. As much as you don't like to just lay up with a short iron that is the smarter play for the average golfer.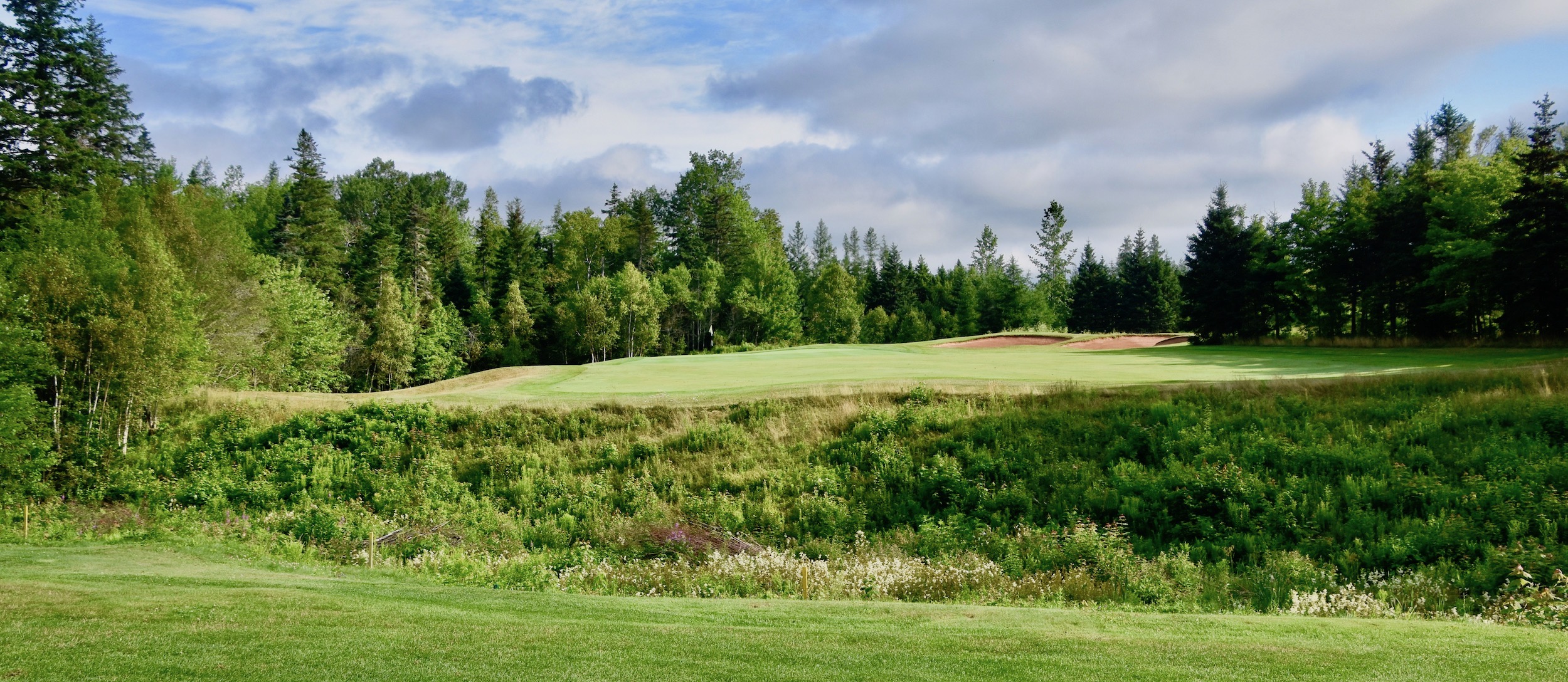 BTW Jean-Pierre Roma was a Frenchman who built a settlement at Brudenell Point on the river in the early 1700's so the name of this hole does have some significance.
Dundarave #11 – Seclusion – 350 Yard Par Four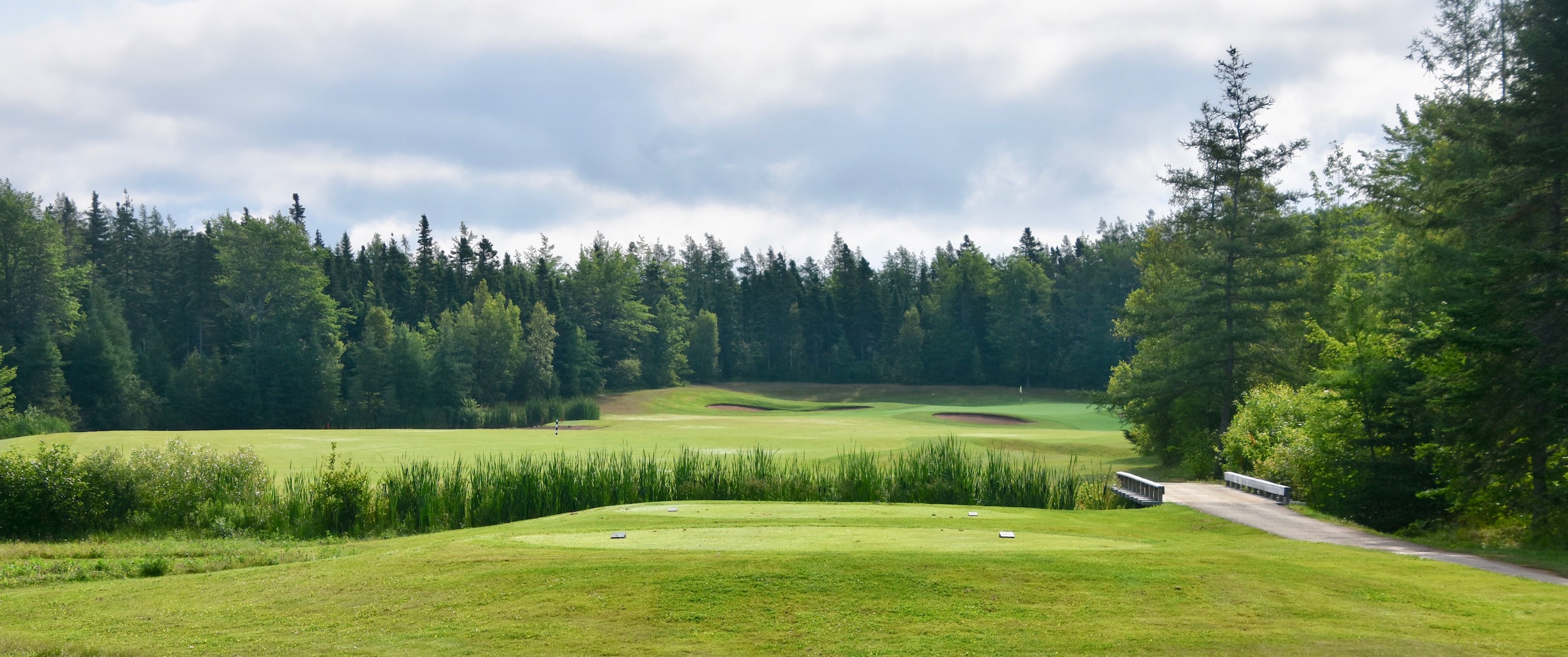 This is a very nice looking par four with a wide fairway. The difficulty comes on the second shot to a green well protected by bunkers. This is pretty well a classic parkland par four which Stanley Thompson first previewed on PEI at his Green Gables course. While ocean and river views are always nice to have, you don't necessarily need them to have a great golf hole.
#12 – Duck Island – 384 Yard Par Four
This hole should properly be called goose island because the large pond on the right is home to a fair number of Canada geese that have made parts of this fairway kinda messy. You'll be glad you are in a cart. Hole wise it's rated the toughest on the back nine with another second shot carry over a small marsh that crosses the fairway.
No problem with geese at all this morning and very little sign of their presence so I'm assuming they've got the situation under control.
Dundarave #13 – Bog – 364 Yard Par Four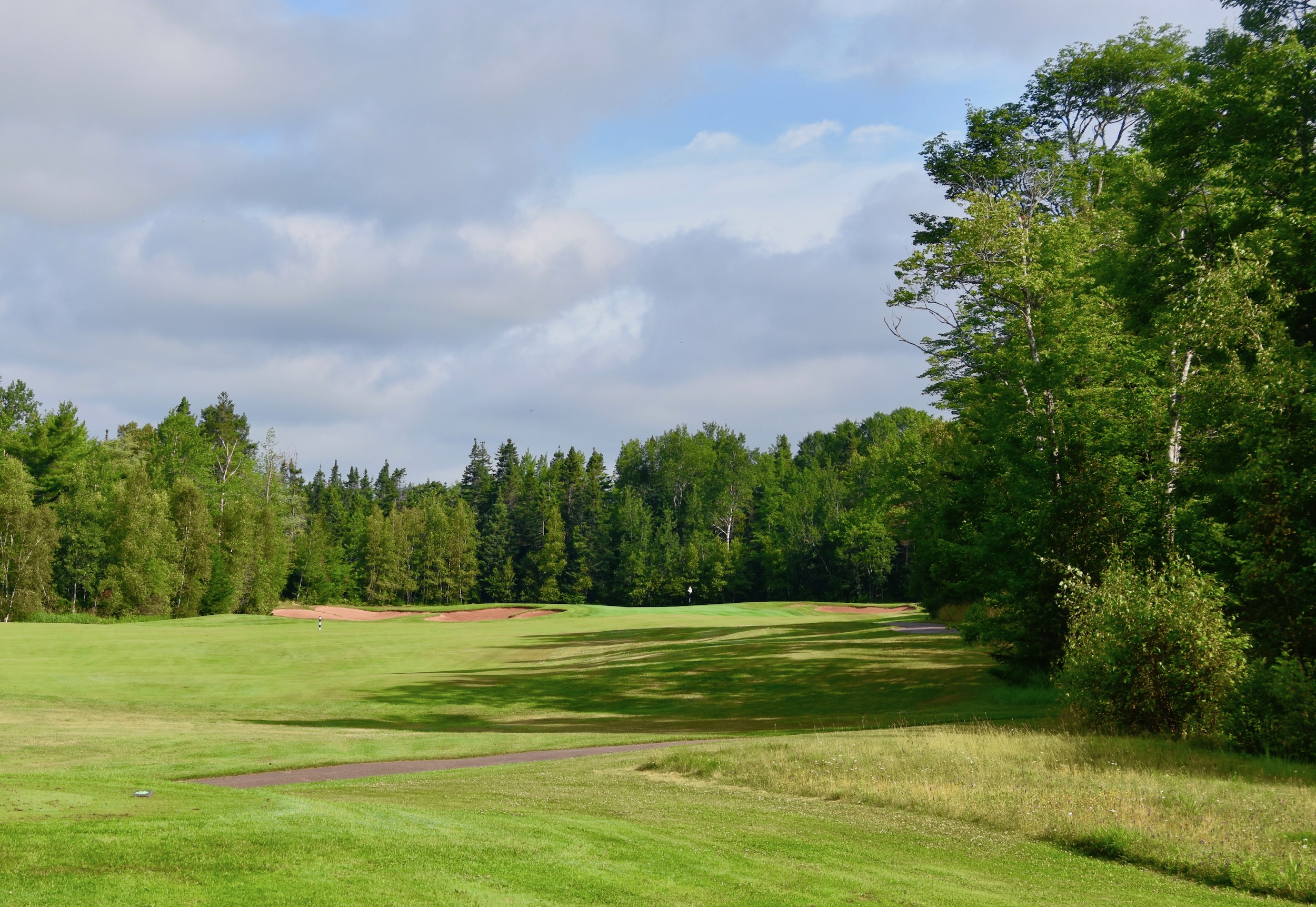 The third of five par fours in a six hole stretch Bog is probably the tightest par four on the course with one of the smallest greens. Rated the #4 stroke hole I think it's actually much tougher than #12, although shockingly, I parred them both.
Not today!
#14 – The Pit – 158 Yard Par Three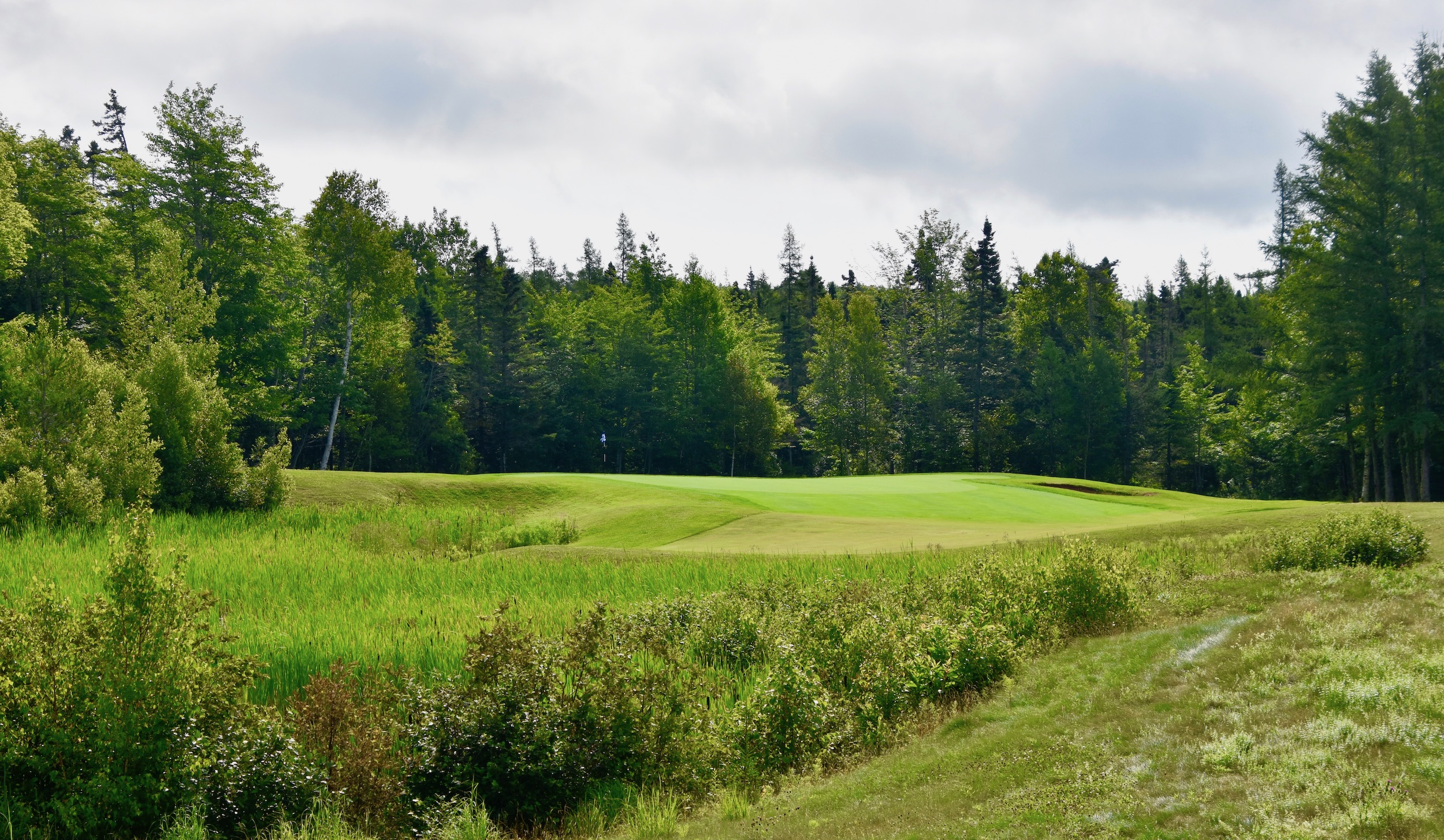 Two things make this a testy par three – the bog (nowhere to be seen on the previous hole) all down the left side and the severely tilted green. Today's pin placement was perfect for my right to left ball flight and left a decent putt for birdie – missed it of course.
Dundarave #15 – Tradition – 415 Yard Par Four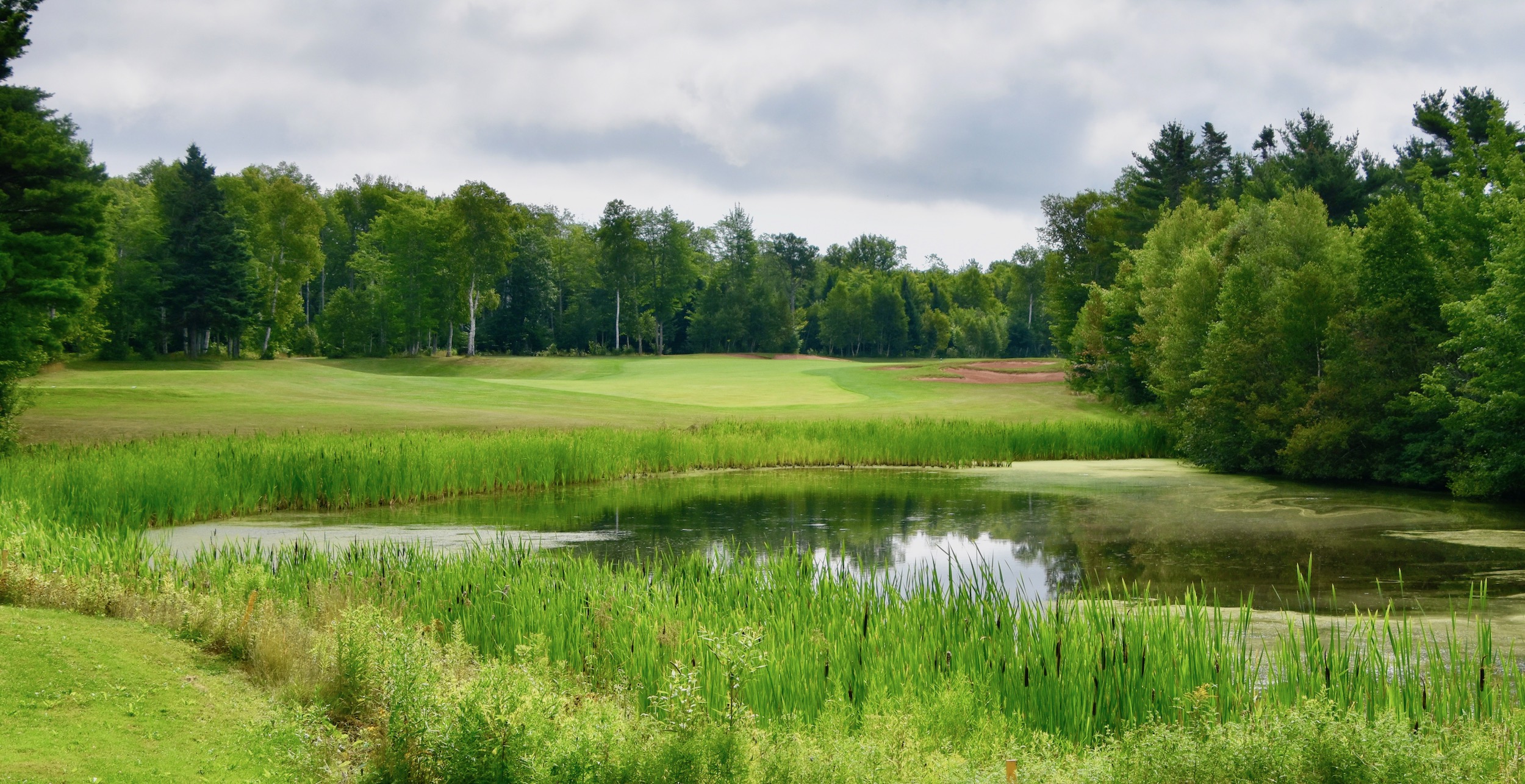 To my mind this is the toughest hole on the back nine. The water carry off the tee is not unsubstantial and you need a long drive to get a clear shot at the green. Even then, the length is going to be a killer for most golfers who use the white tees. My string of pars came to a crashing end on this hole.
#16 – Executioner's Workshop – 271 Yard Par Four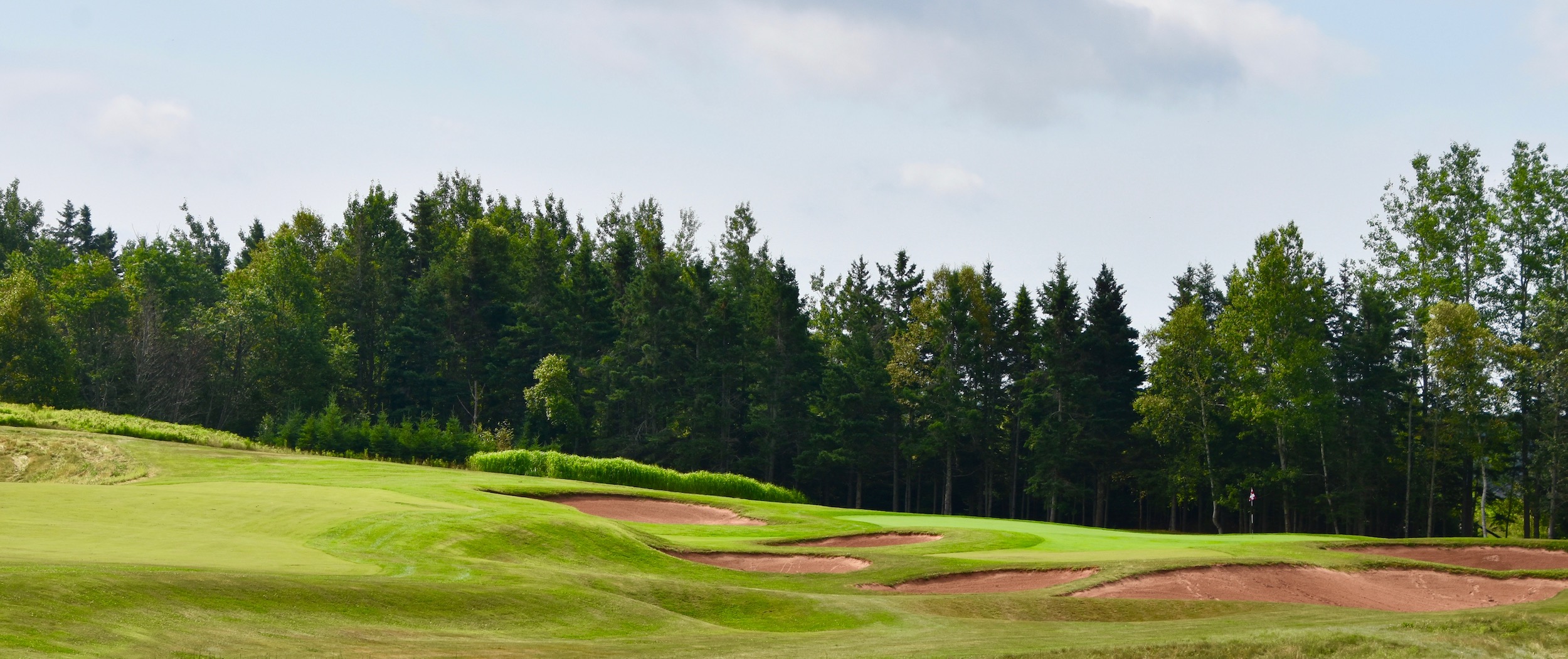 Despite the creepy name there is nothing on this hole to lose your head over unless you want to try to reach the green. Good luck with that. The smart play is to hit a hybrid straight out and then take a wedge in for an easy par and maybe a birdie. Everyone who plays this hole loves it.
Dundarave #17 – Postmaster's Balcony – 174 Yard Par Four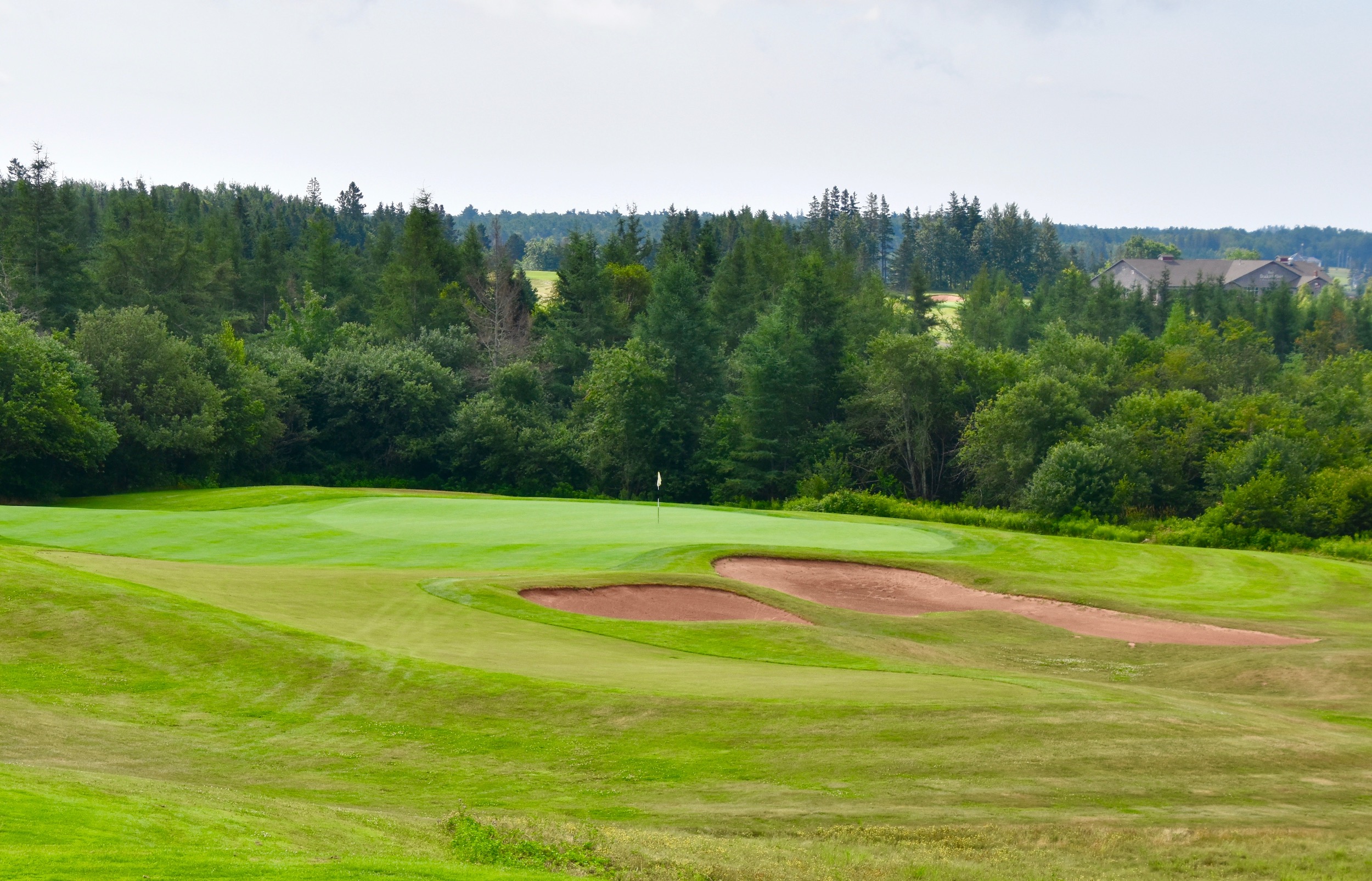 This is a very nice par three that plays considerably downhill and thus shorter than it stated yardage, but you do need to clear those bunkers so don't take too much off your shot. Make sure to turn around in the tee box and get your picture taken with the huge Dundarave sign. Hard to believe but some people don't even notice it.

#18 – Victory Chimes – 468 Par Five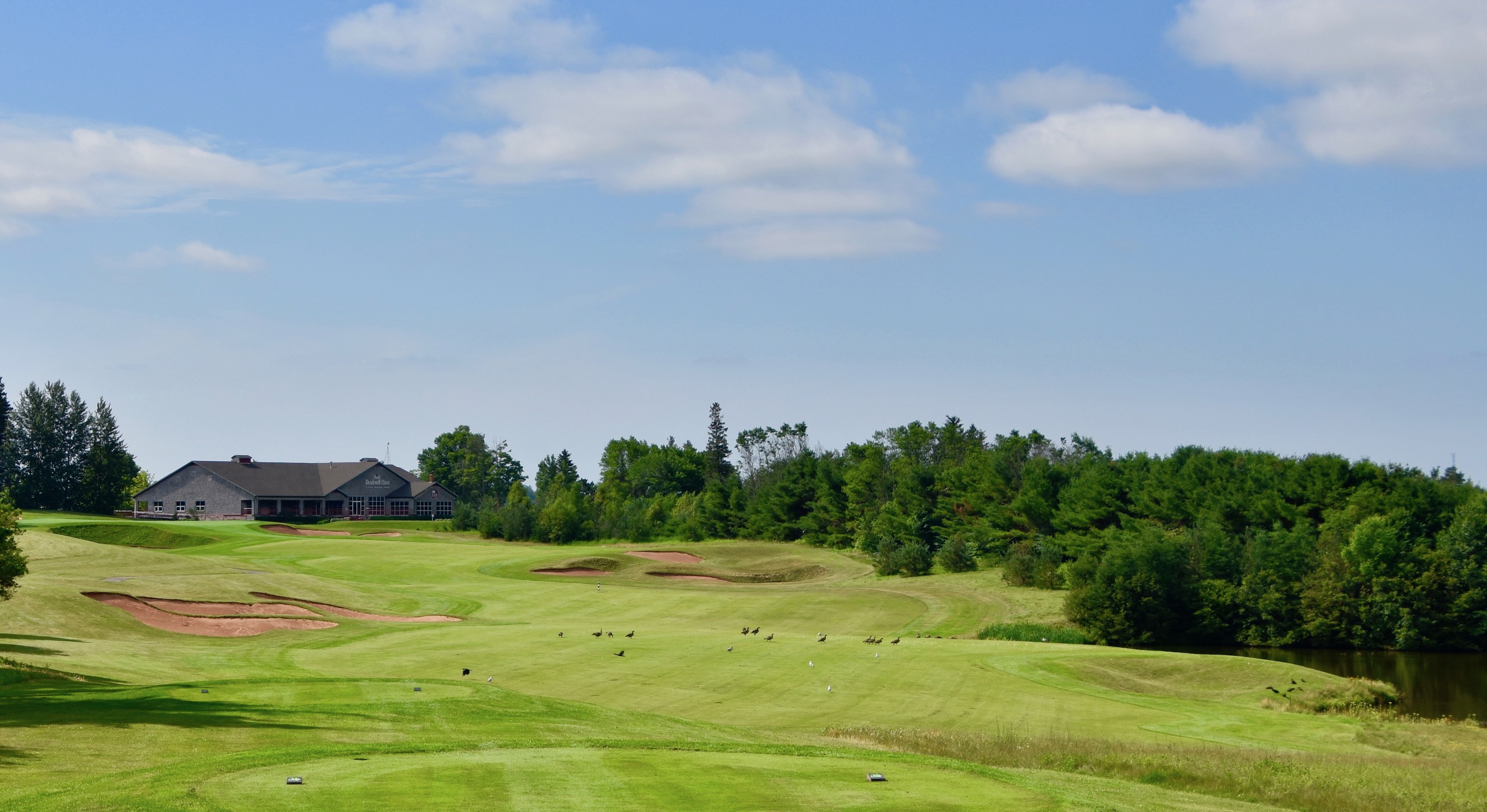 Whether you will be hearing the chimes of victory or are one for whom the bell tolls, you will like this finishing hole with its super generous fairway, unfortunately marred by the geese and gulls that frequent it. It's all uphill to the most elevated green on the course, but it's by far the easiest par five on the course if you choose the right club for your third shot.
Today the gulls were there, but not the geese.
With no one to hold us up we played in just over three hours with lots of stops for pics along the way.
A lot of people complain that Dundarave is a difficult course, largely because of the sand traps, but I think it's actually very fair and just requires some thought on how you are going to approach each hole. Hard or not, it is a must play course for any serious golfer coming to PEI. Tomorrow we will take on Dundarave's older sister Brudenell River. Please join us.