Brudenell River Golf Course Hole By Hole
This is my fifth post from a recent trip to Prince Edward Island and will feature a hole by hole description of Brudenell River Golf Course. I've posted previous hole by holes for Mill River and Dundarave, both of which are simply excellent courses in the best shape they've been in in many a year as well as an earlier post on PEI's highest rated course, Crowbush Cove. Brudenell River is the original course at the resort of the same name that unfortunately is closed this year due to the Covid pandemic, but the golf courses are very much still in operation. It is definitely worth one's while, if in the Atlantic bubble, to plan a late summer or fall visit to PEI to play the two courses at Brudenell plus Mill River and one or more of the Cavendish area courses. While at Brudenell I recommend booking a cottage at Brudenell Fairways Chalets which are literally a minute away from the two courses which share a common pro shop.
Brudenell River was designed by prolific Canadian golf architect Robbie Robinson who was also responsible for Mill River and a number of the most popular courses in Nova Scotia including Ken-Wo, Abercrombie and the greatly under appreciated Northumberland Golf Links. The course opened as an eighteen hole layout in 1969 and was one of a number that was initially financed by the provincial government in a largely successful effort to make PEI a 'golf destination'. I first played it in the late 1970's and have returned many times since. Today Alison and I are playing by ourselves in the third group out at 7:20. The weather is already starting to get hot, the wind is down and it's another perfect day for golf on The Gentle Island.
#1 – The Gordon – 375 Yard Par Four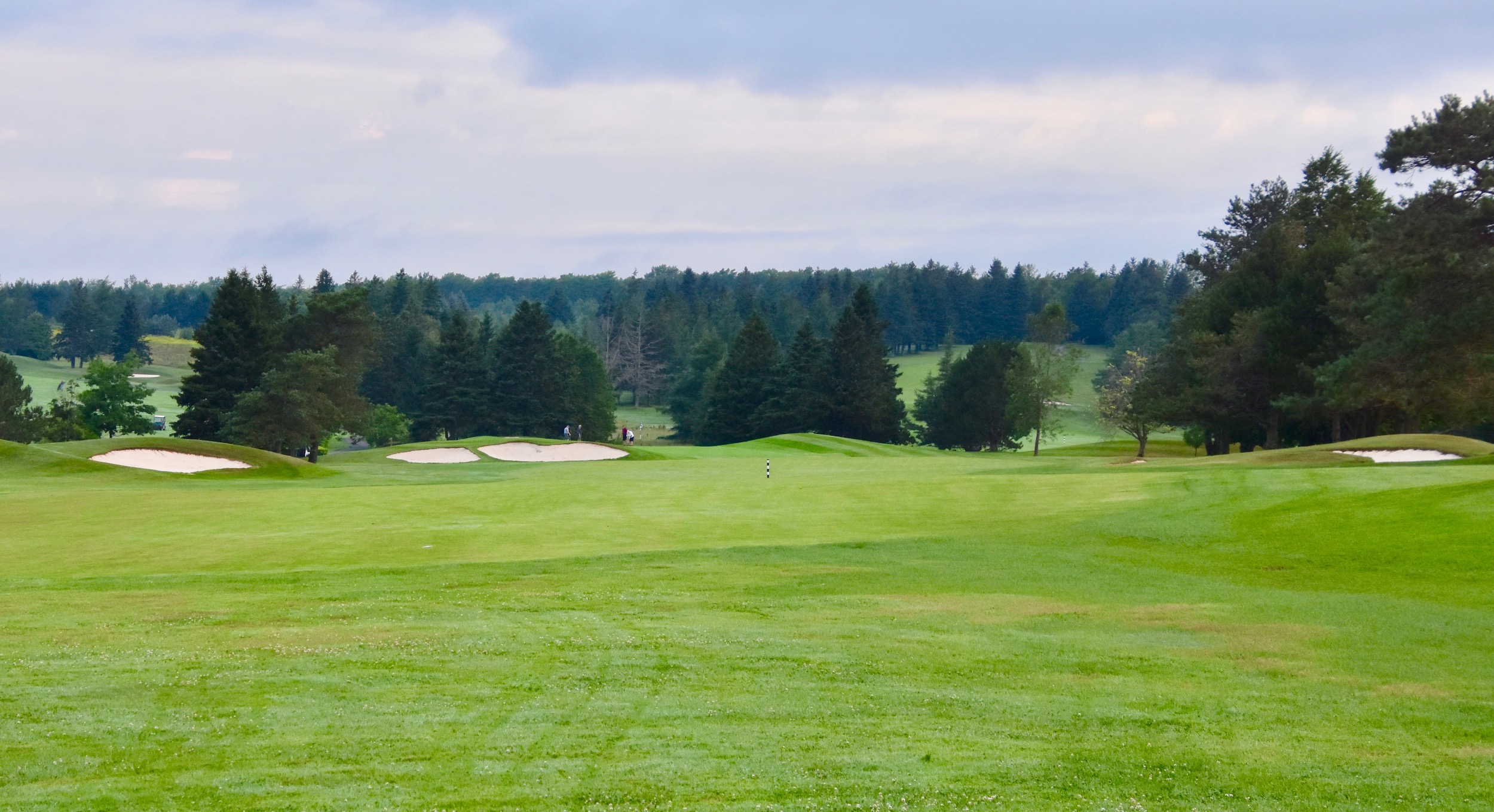 Brudenell River plays a reasonable 6055 yards from the whites with an unusual combination of six par fours, six par fives and six par threes. What is not so reasonable are the first two holes that are decidedly the toughest two starting holes in PEI. The Gordon plays a lot longer than its stated yardage and while you shouldn't have any trouble off the tee it is amazing how often those traps on the left of the green come into play, especially if the pin is at the back. You can see from the photo that the fairways are as green as can be and that the course, like Dundarave, is in absolutely excellent condition. Pars are hard to come by on this hole.
#2 – Lake Bonnell – 434 Par Four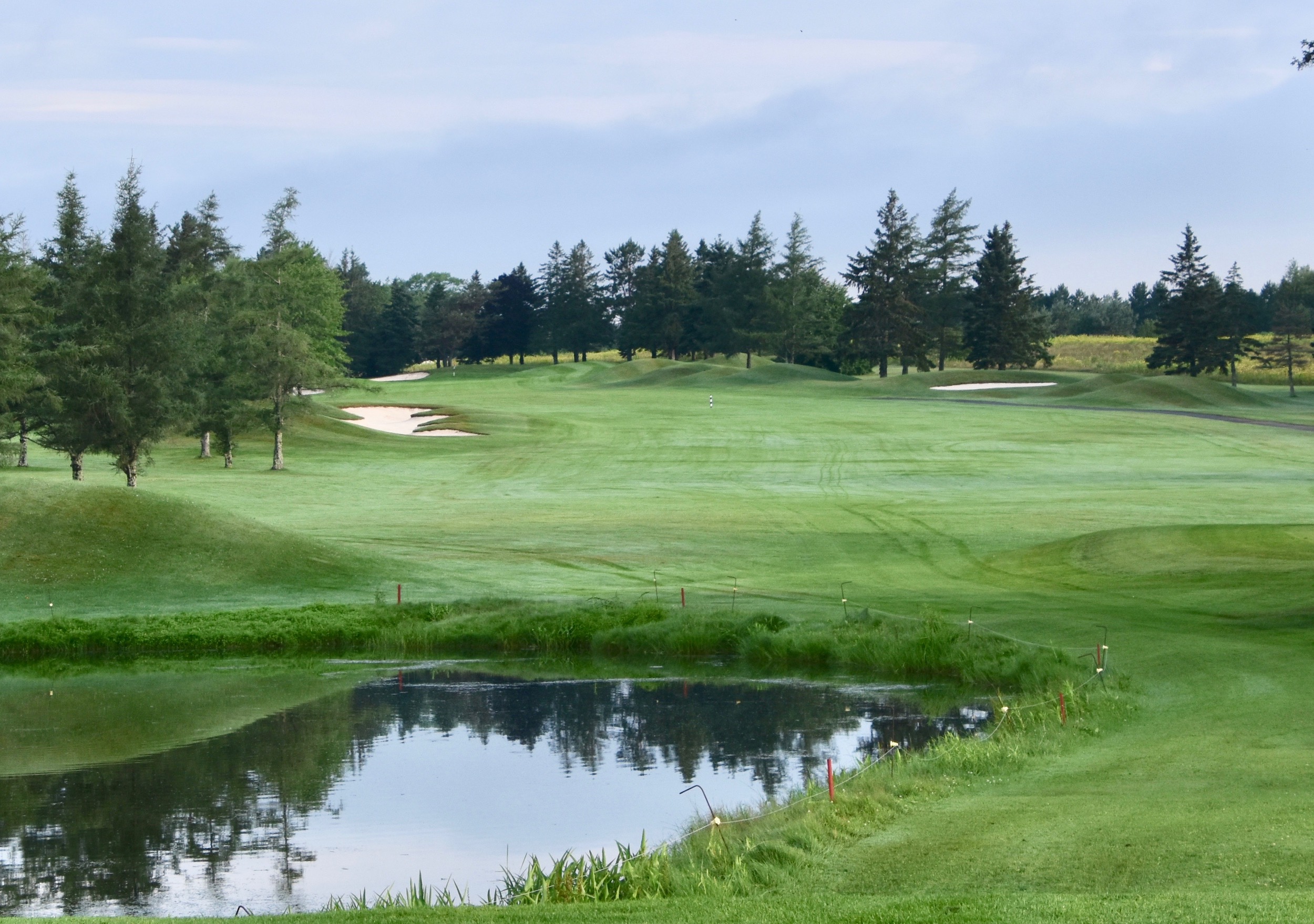 Robbie Robinson must have been in a sadistic mood when he designed this mammoth uphill par four, the hardest on the course by a mile. While the pond (aspiringly called a lake) is no problem off the tee there is zero chance of anyone playing from the whites reaching this green in two. It is harder than at least two of the par fives and you should play for bogie here and be glad to get it. I have seen many rounds, including my own, come apart on this hole with triples or worse. This is one hole you'll be glad to have behind you because now the fun begins.
#3 – The Dewar – 161 Yard Par Three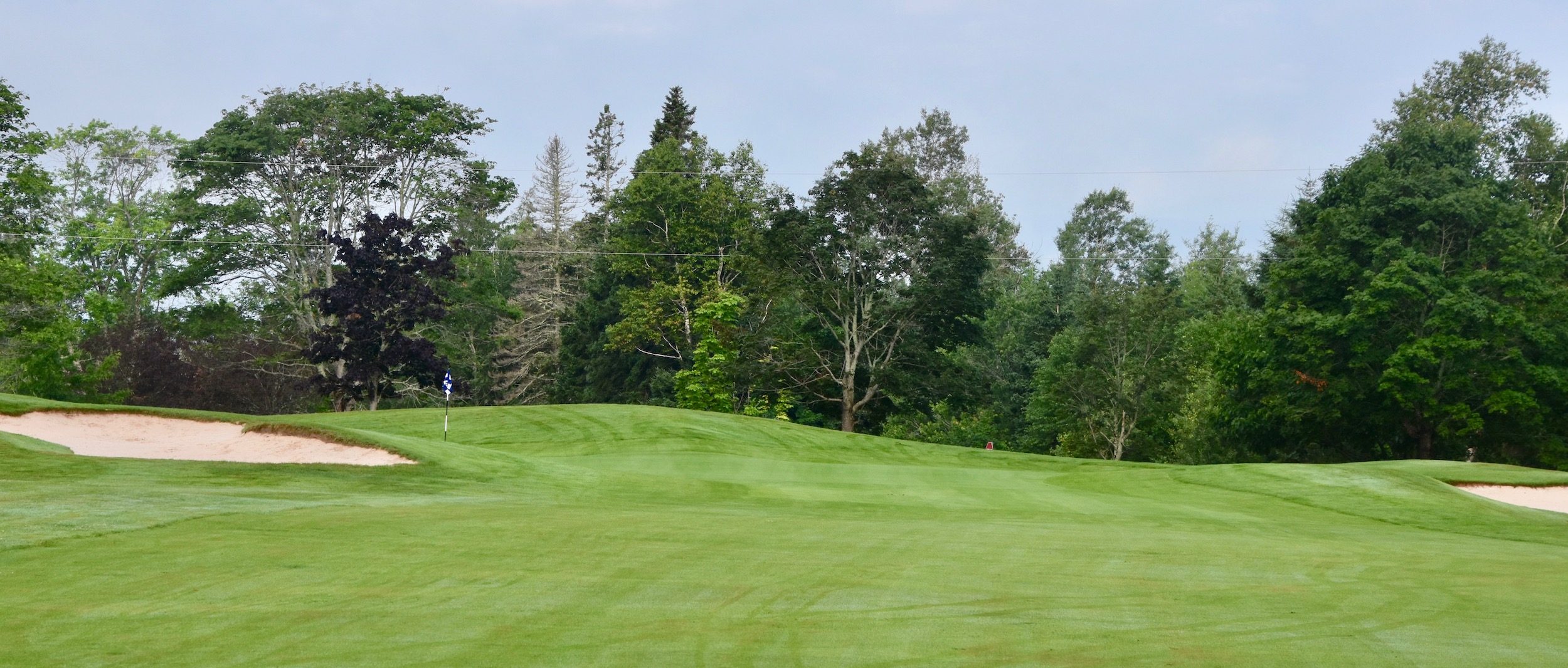 The first par three is definitely more uphill than it looks from the tee and it has taken me decades to realize that whatever club you choose here needs to be replaced and one more taken. The green slopes from back to front so in all likelihood you will have an uphill putt and the first good chance for par. The greens at Brudenell River are nowhere near as big as at Dundarave and have fewer undulations as well. Like the fairways, this year they are in superb condition, but not overly fast.
#4 – Lonely Monarch – 460 Yard Par Five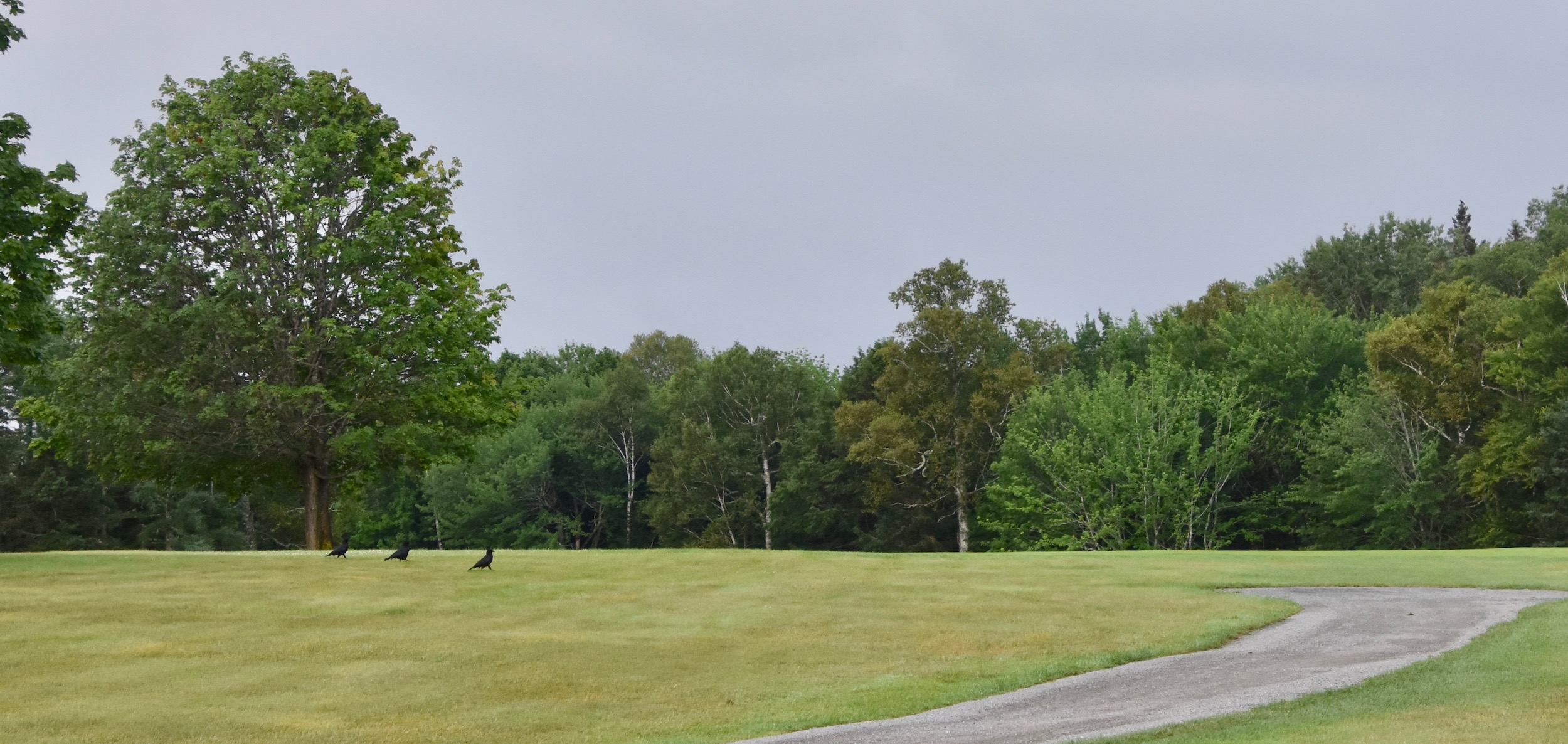 The first par five at Brudenell River is one of my favourite holes on the course. It is an almost 90° dogleg left that requires a precision drive. Hit a good one straight and you'll go through the fairway, but come up short on the left and you'll be blocked out by the trees. The lonely monarch is a huge oak that sits in the dead middle of a narrowing fairway just around the corner of the dogleg, but should not be an obstacle on most second shots. Here is the view from roughly beside that tree.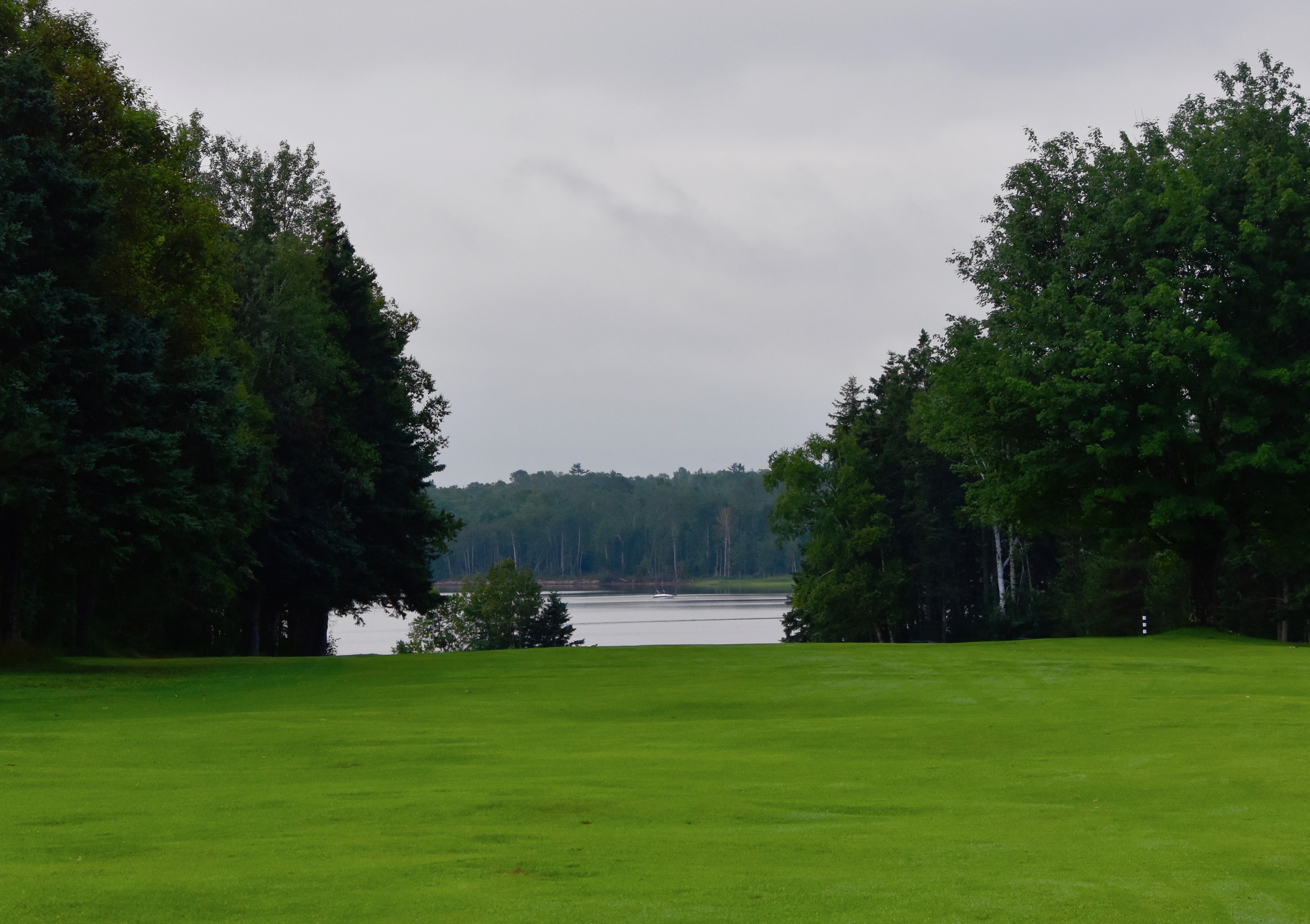 The fairway slopes quite dramatically downhill to a tiny green with the Brudenell River in the background. If you've managed to position your drive properly then the second shot should be quite close to the green leaving only a short chip for the first real birdie opportunity.
#5 – Ink Pot – 135 Yard Par Three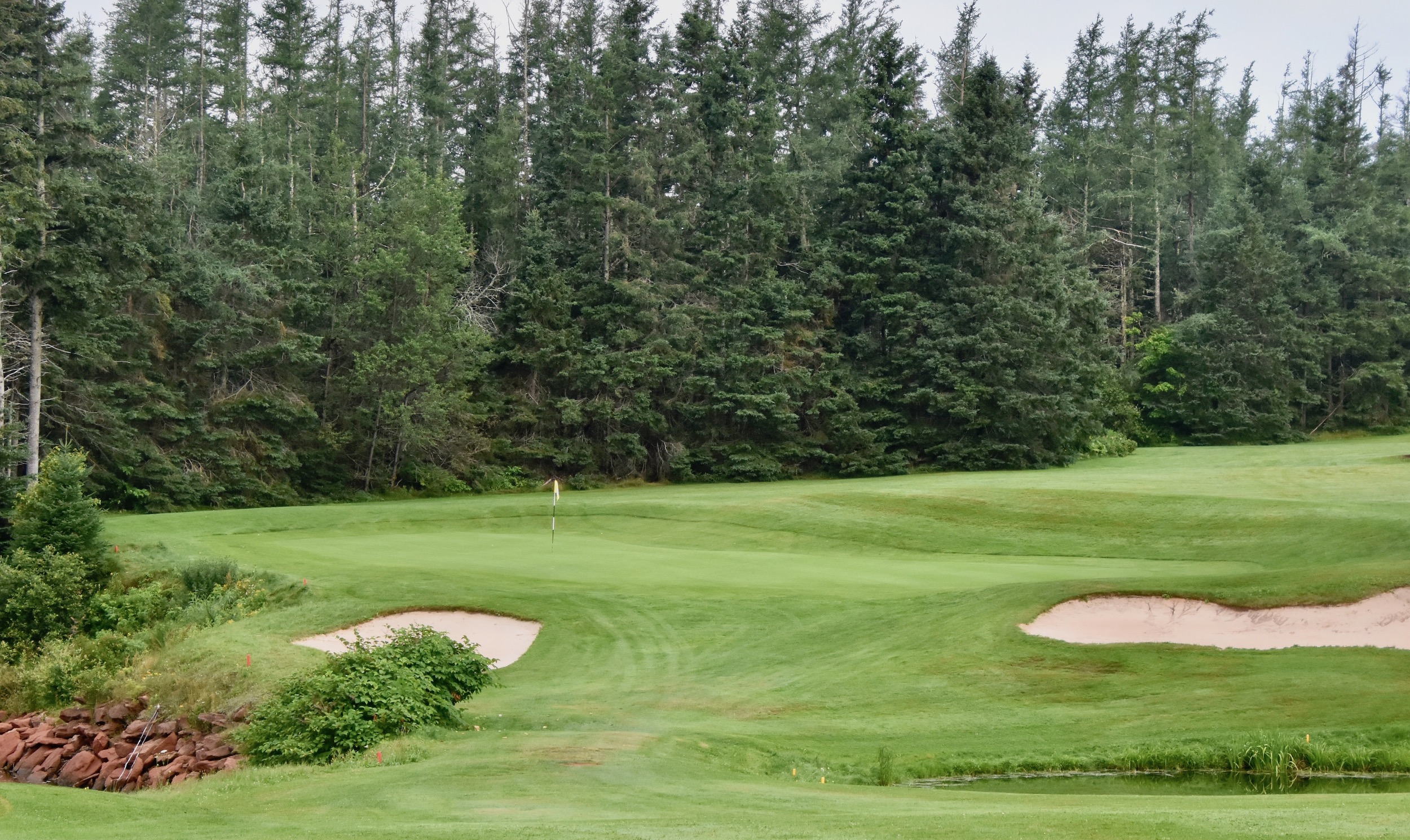 I love this little par three. Although the photo doesn't show it, the Brudenell River is in play on the left. It and the pond on the right tend to make people over club on this hole which is not a great thing because the bank is much steeper than it looks and makes the second shot difficult. The proper play here is to take a little off the number because it is slightly downhill and swing easy.
#6 – Twin Ponds – 475 Yard Par Five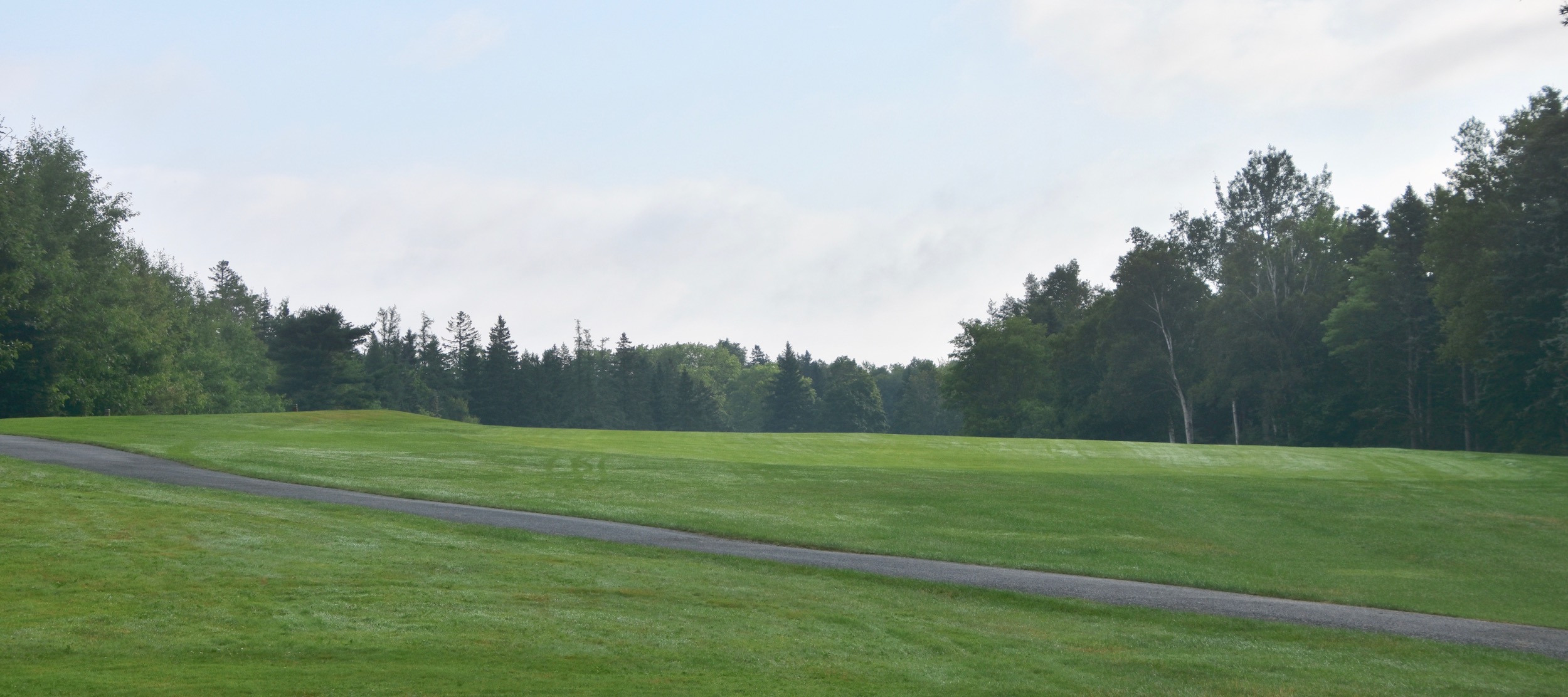 If I have one beef with Brudenell River it is the number of blind tee shots of which this is perhaps the most obvious. It is obviated to some degree by the excellent GPS systems that come with the carts and clearly show the position of the carts in front. However, if the group is not using carts you just have to go by instinct in knowing when to hit. The twin ponds cross the middle of the fairway about two thirds of the way to the green and do present a problem unless you've hit a good drive. In that case you should clear them easily on your second shot and have a very good chance for par.
#7 – Needle's Eye – 180 Yard Par Three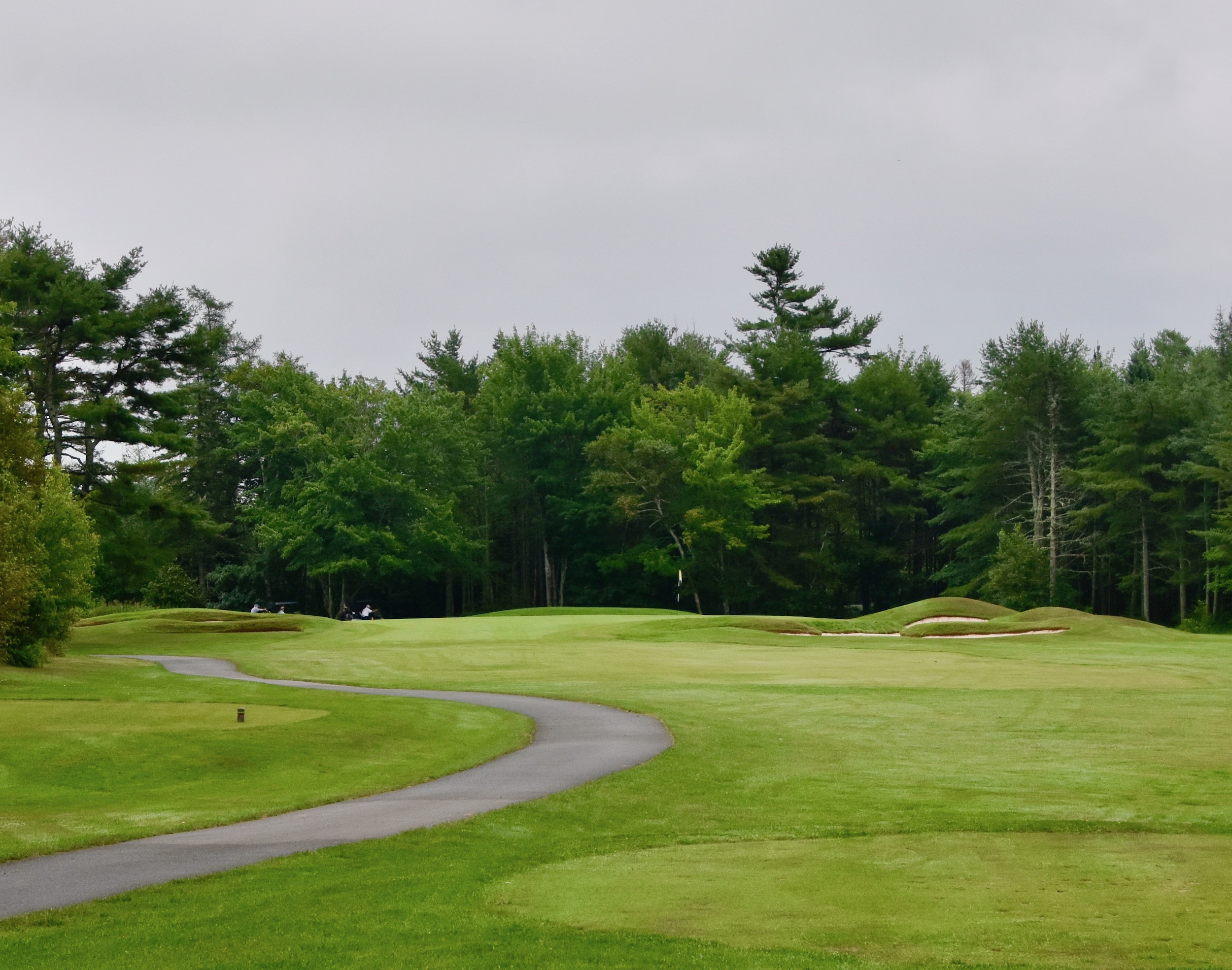 The longest par three at Brudenell River requires a decent hybrid or five wood to one of the largest greens on the course. I don't know why, but I've had more three putts on this hole than any other. Four is a very acceptable score here.
#8 – The Pine – 503 Yard Par Five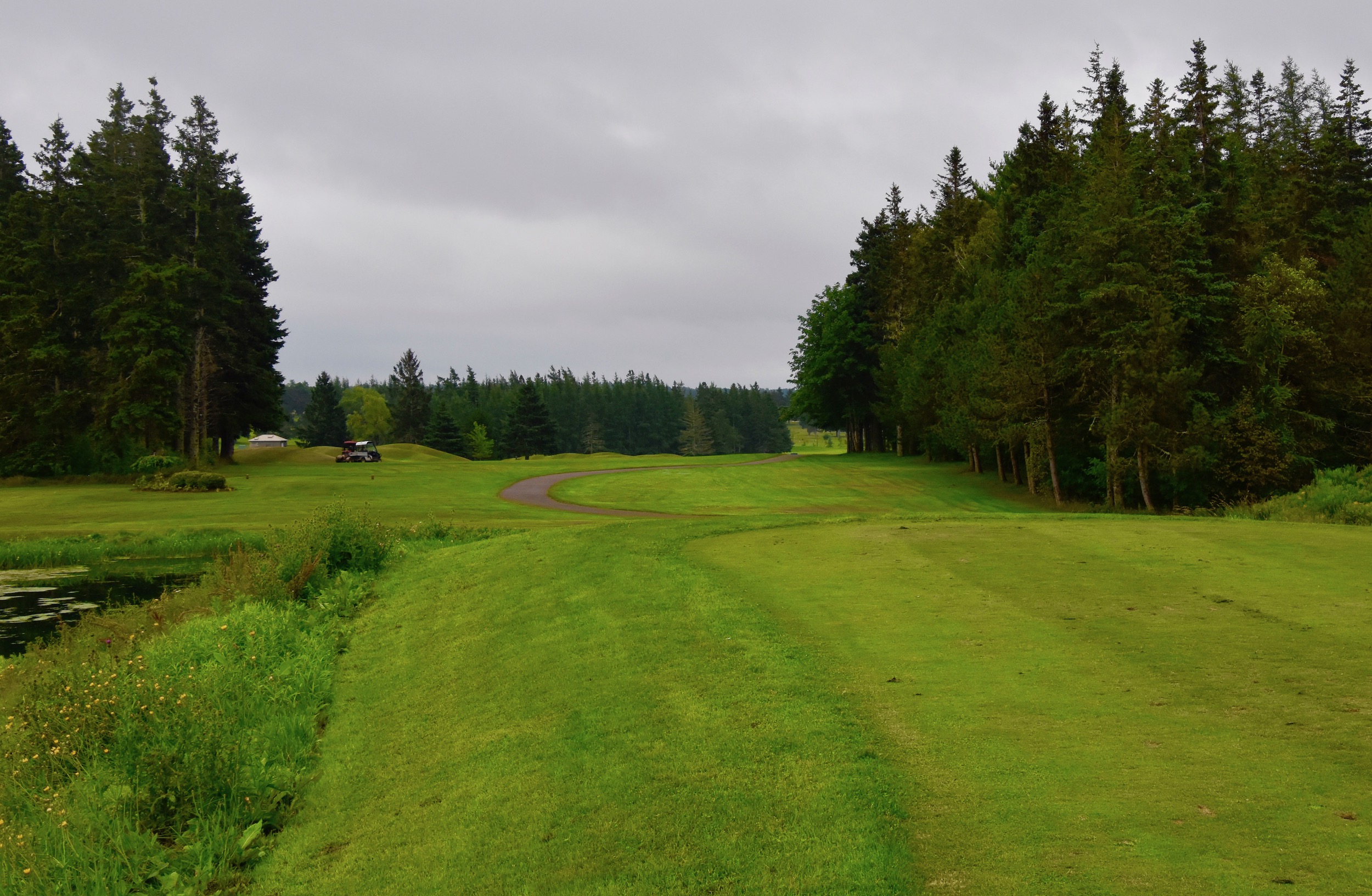 This is a relatively straightforward par five that is lined by spruce on both sides with nary a pine in sight. It is fairly tight with a large pond on the right that shouldn't be a problem if you play this sensibly by using a wood off the tee and then a second one to layup about 100 yards from the green. From there it's just a very short par three. Sounds easy, but in real life it's a different matter.
#9 – Island View – 322 Yard Par Four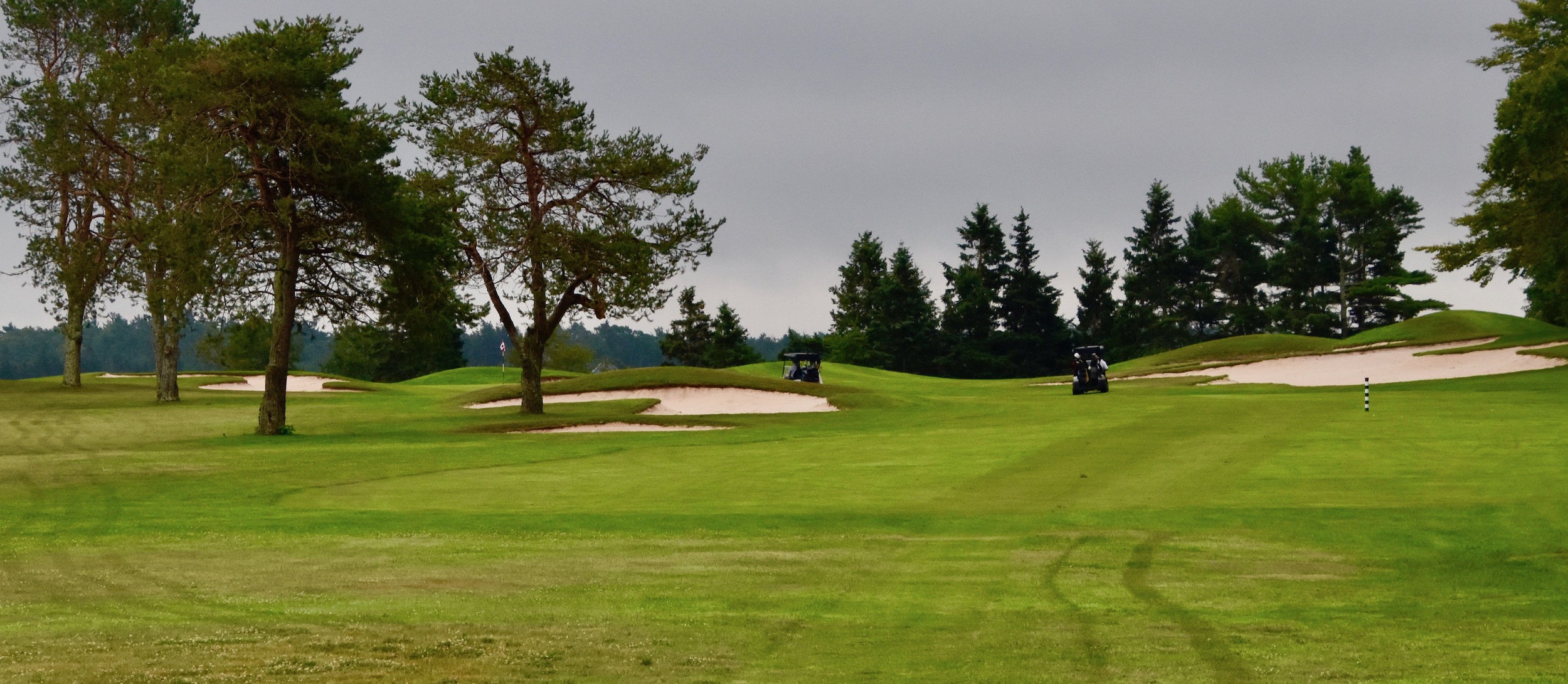 By now you might have noticed that you haven't played a par four since the second hole which is the longest stretch I am aware of on any par 72 course I've ever played. Island View goes a long way to make up for the nastiness of one and two. It's very short and all you need to do is avoid the traps which are the largest on the course. Being in the trees on the left is not usually a problem and often allows for a better look at the green than if you are in the fairway. This is definitely a potential birdie hole and will give you a chance to end the front nine on high note.
#10 – Shimmering Water – 131 Yard Par Three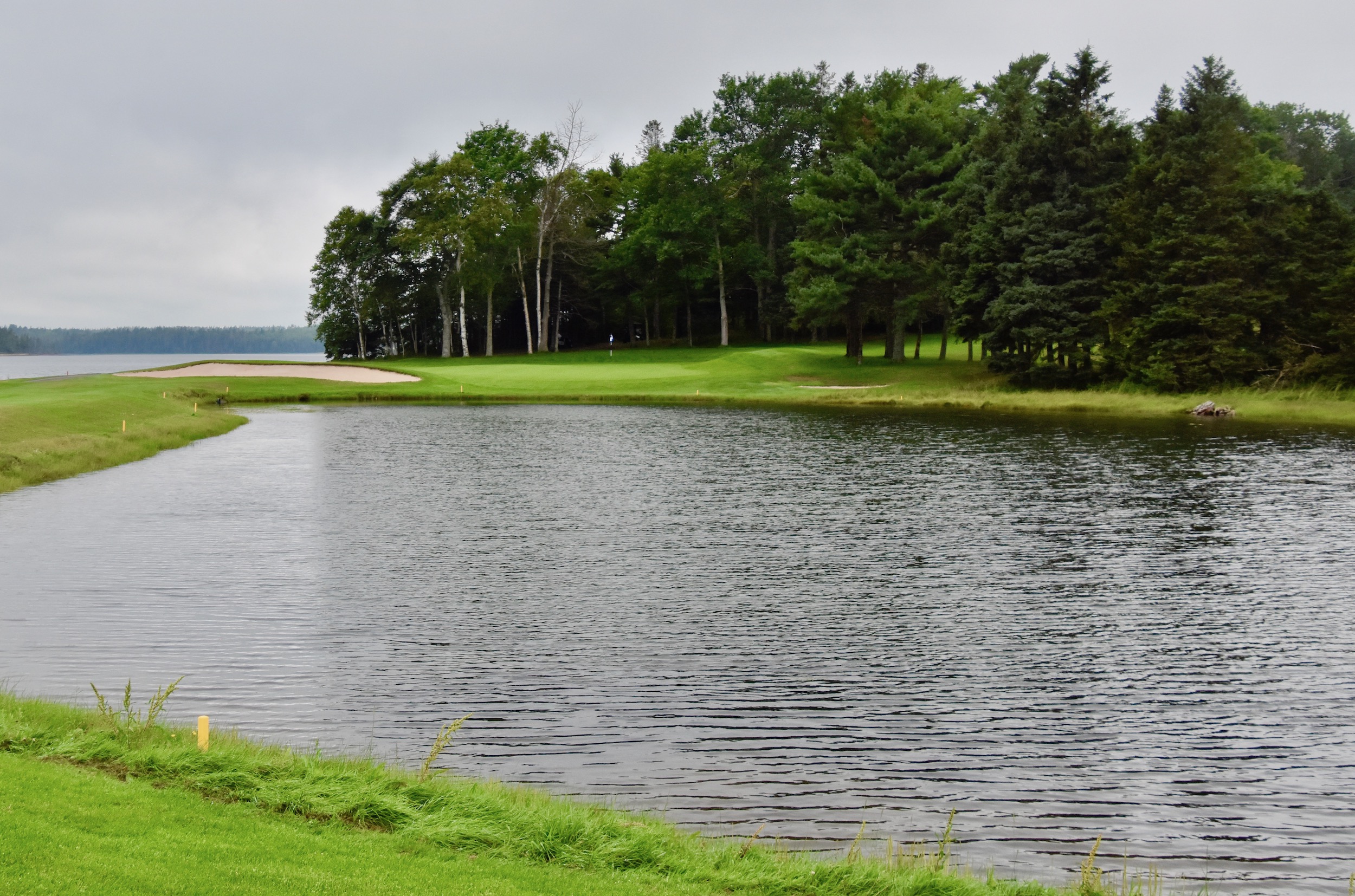 This is almost everyone's favourite hole at Brudenell River and I would call it the signature hole as well. While it's not long, it is all carry and the wind is, more often than not, in your face so club selection is vital. You just have to block out any thoughts of the water and swing easy.
#11 – Eagle's Eyrie – 434 Par Five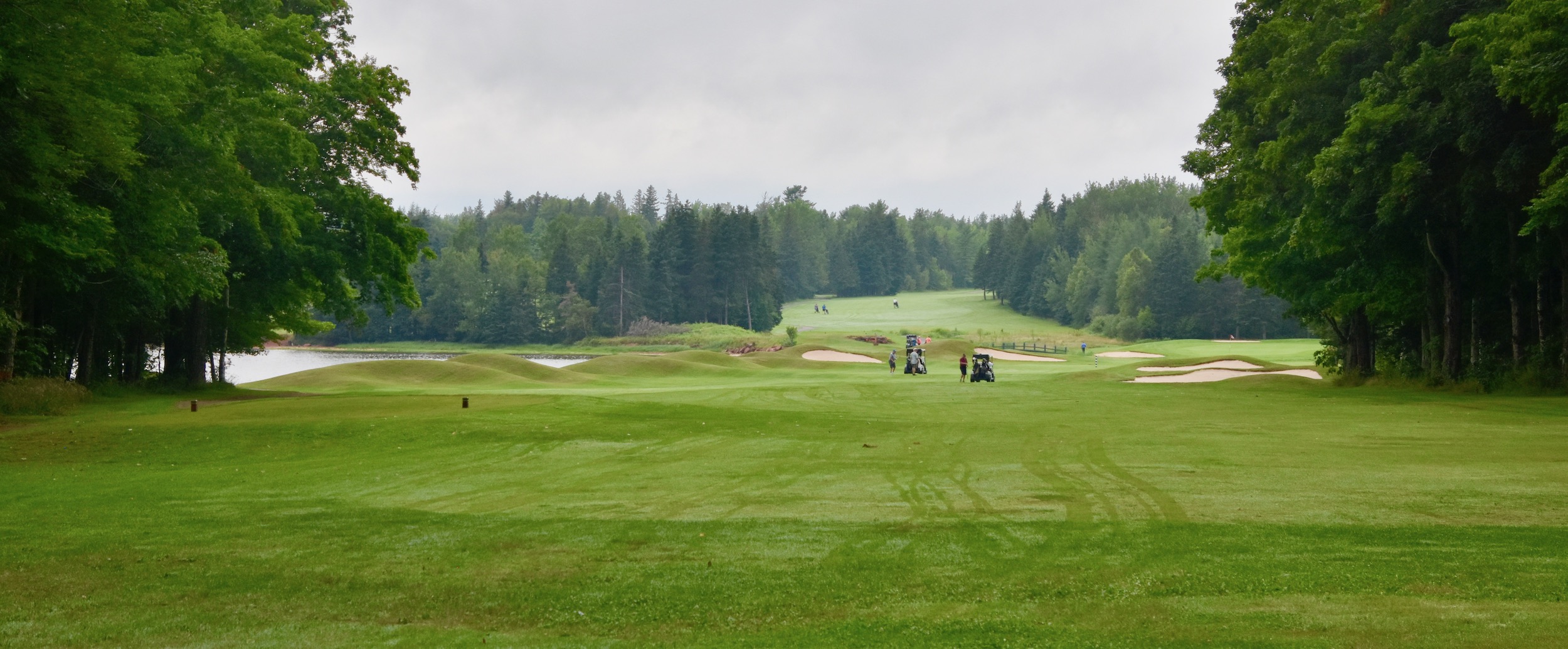 Note that this par five is the same distance as #2 and is not uphill so it's actually easier than that damned hole. There used to be two huge trees in the middle of the fairway where an eagle might have nested, but they are long gone making the drive fairly easy. The second shot requires a precise layup before a large pond that crosses the entire fairway. Only an idiot will try to hit this green in two. It's a very scenic hole that should be enjoyed by not playing the hero.
#12 – Crossroads – 360 Yard Par Four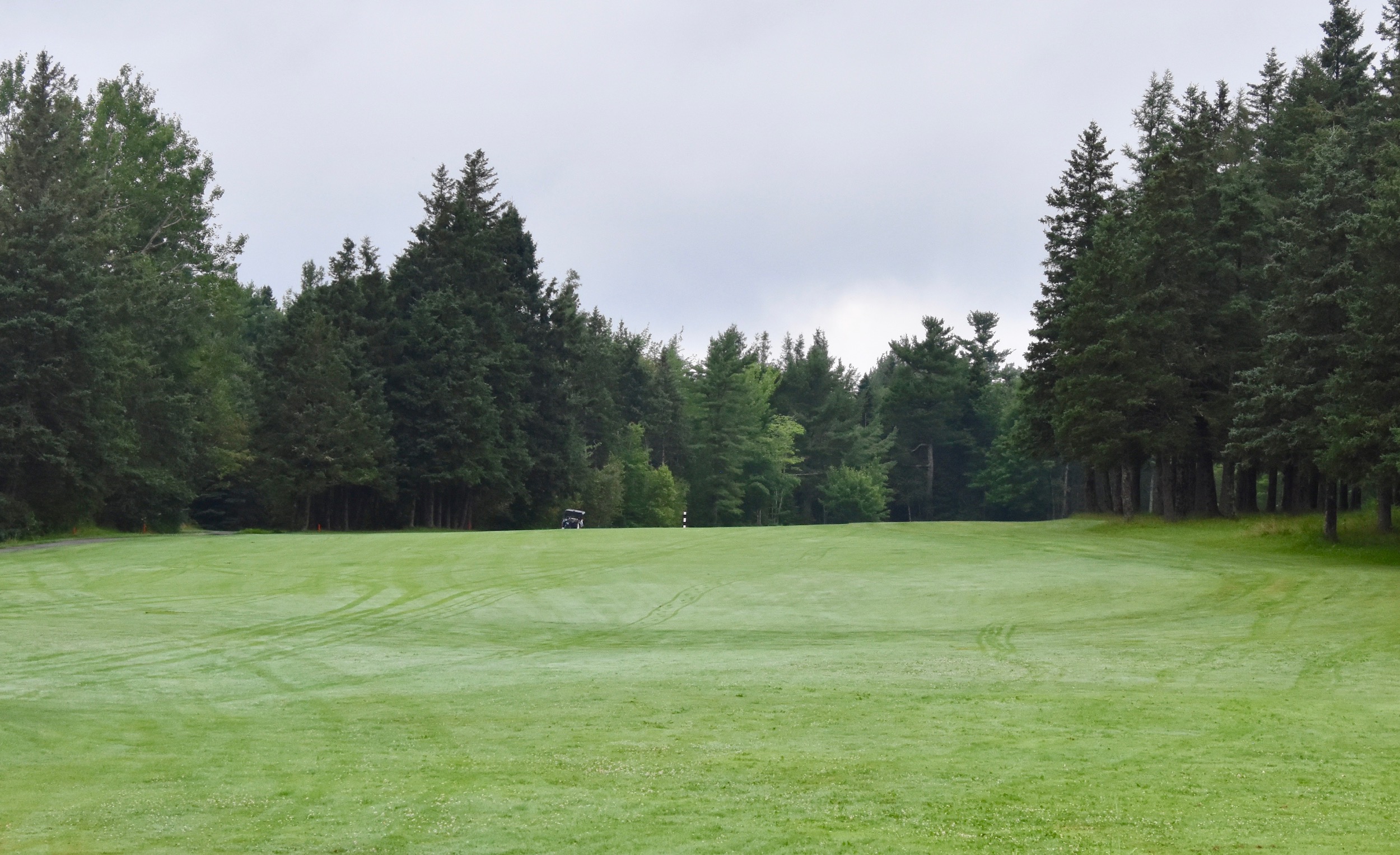 This is the second hardest hole on the course and is another blind tee shot. The difficulty comes on the second shot which is to a small green well protected by a number of traps. After three really enjoyable holes in a row this represents a return to reality for most average golfers.
#13 – The Sickle – 322 Yard Par Four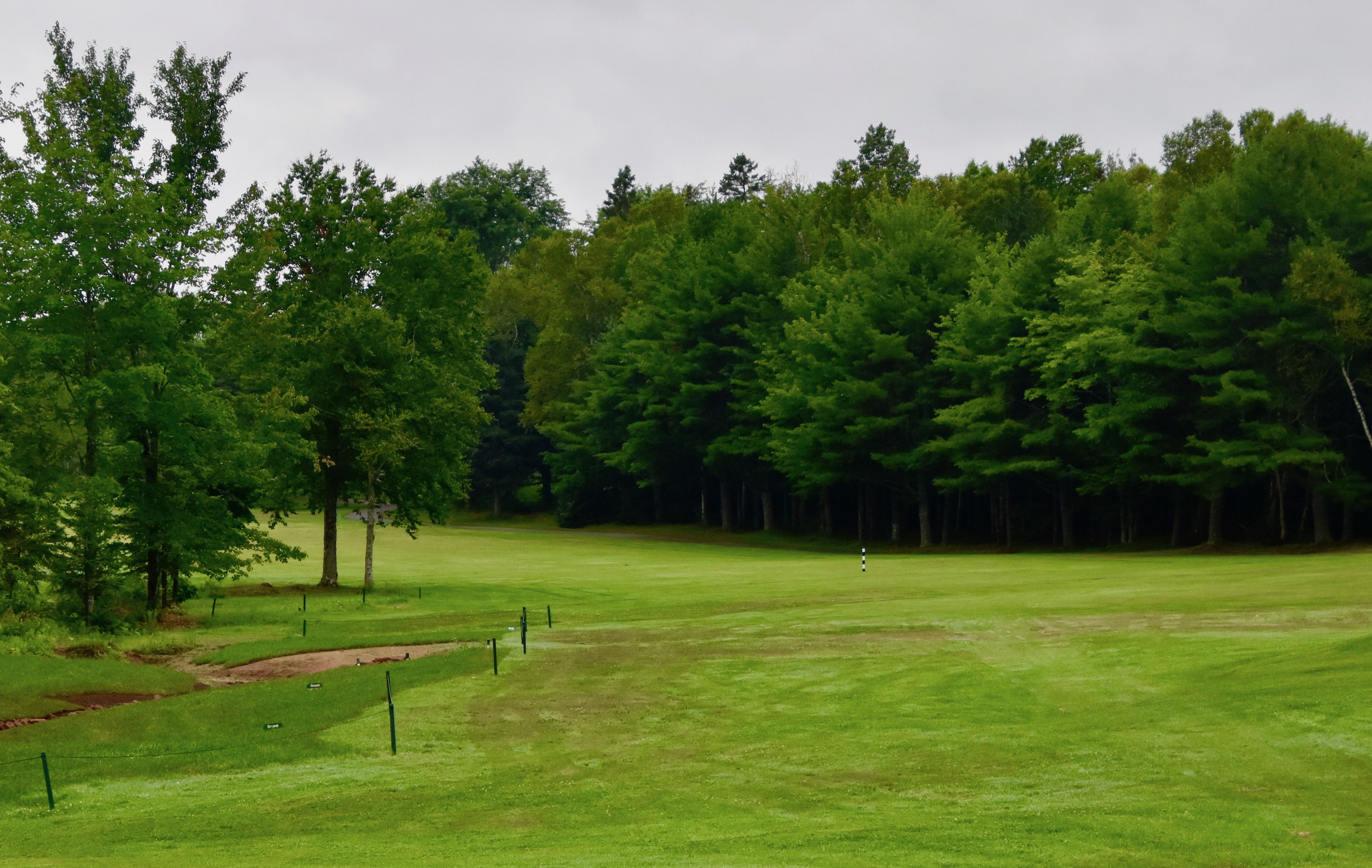 This is my favourite par four at Brudenell River as the sickle shape from right to left perfectly suits my left handed drives. Righties will need to leave the driver in the bag or risk going through the fairway. It's quite short so that if you position your drive properly, the second shot shouldn't be too difficult. This is definitely a birdie hole.
#14 – Sunny Brae – 174 Yard Par Three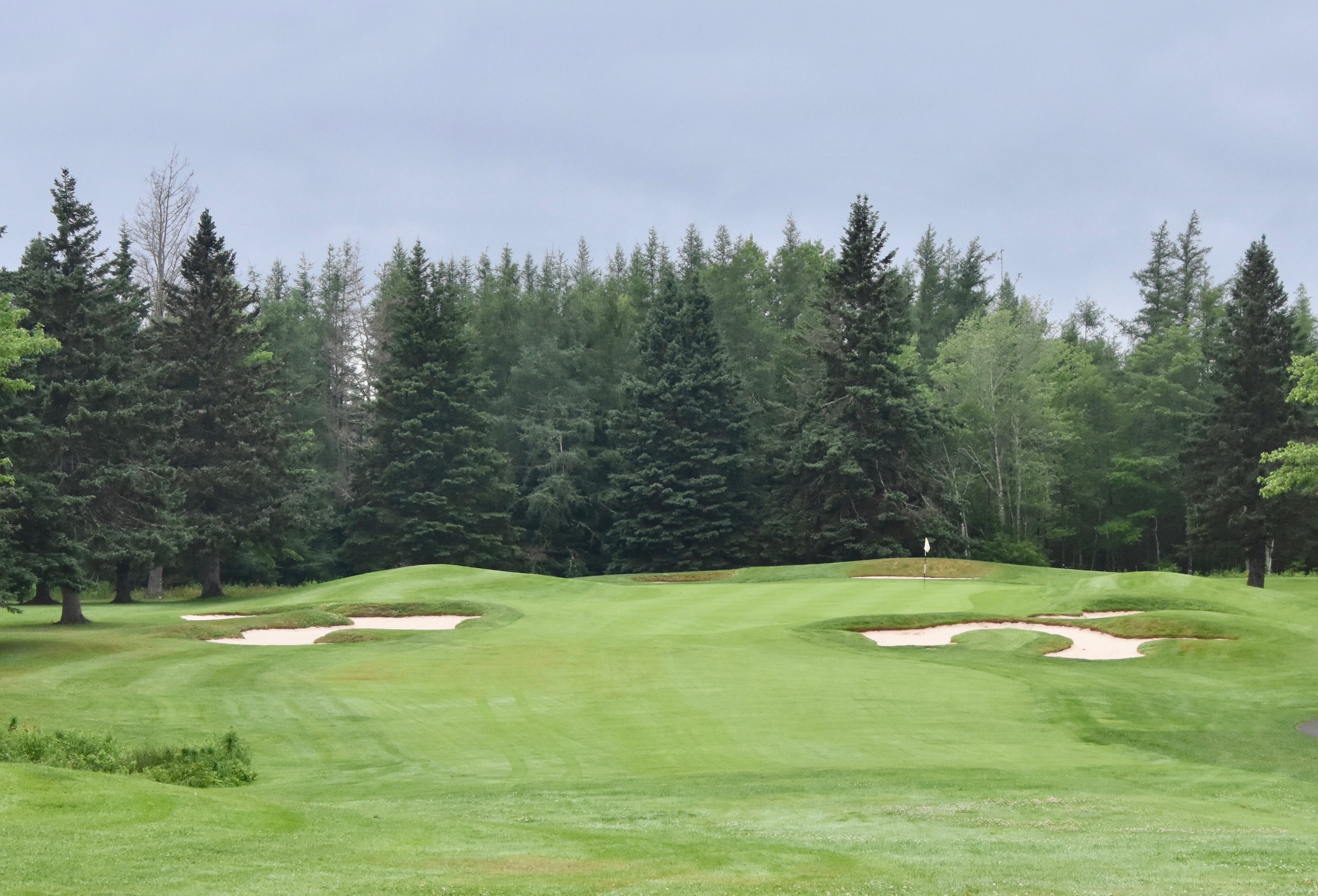 This par three plays downhill, but not as much as it looks from the tee box. Nine times out of ten you will come up short on this hole rather than long and that brings the traps into play. Just take a club for the stated yardage and don't try to kill it. Listed as the toughest of the par threes Sunny Brae can be handled with proper club selection.
#15 – High and Mighty – 529 Yard Par Five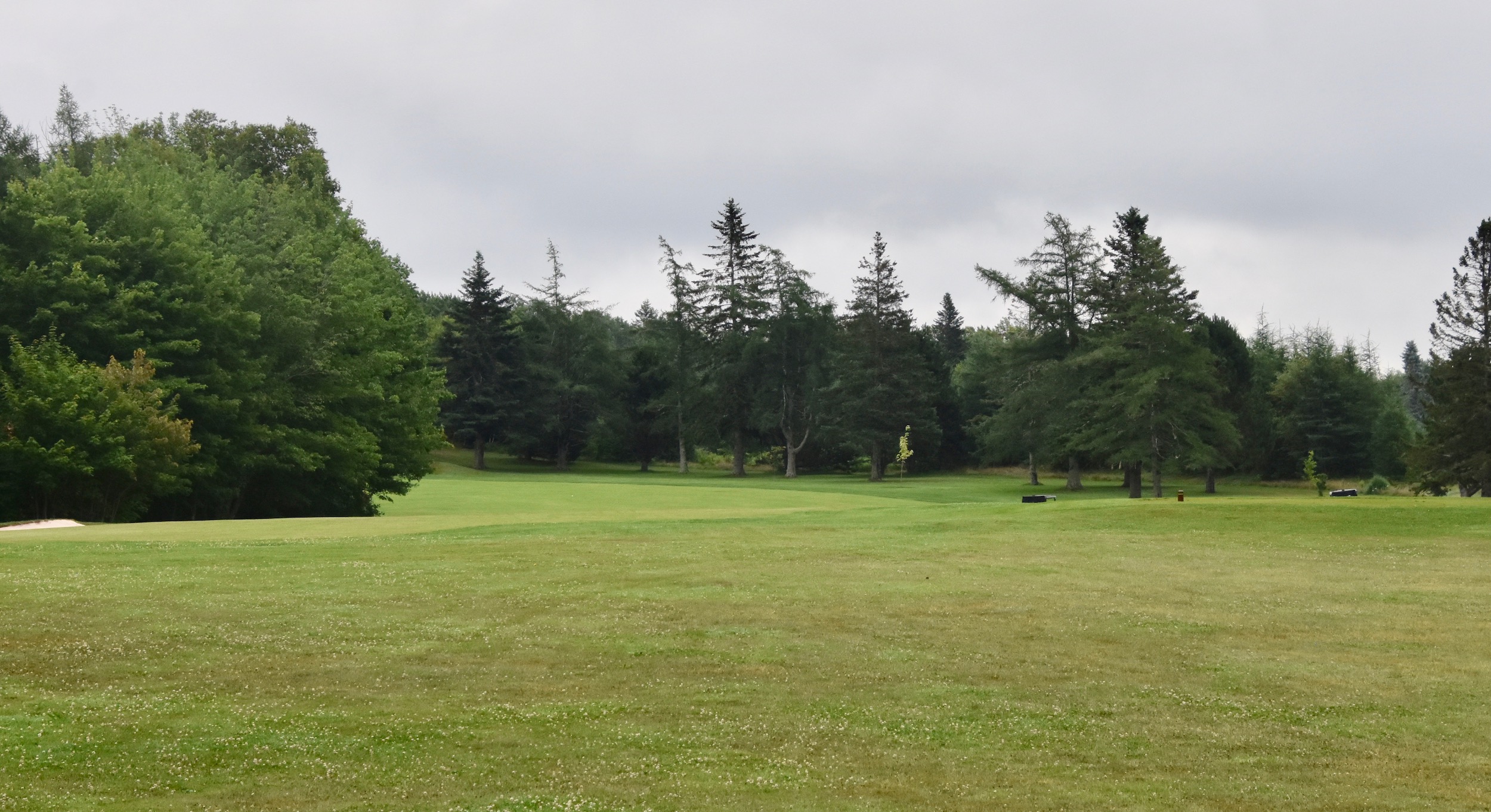 The penultimate par five is a dogleg left, but not as dramatic as The Sickle two holes ago. It is very lefty friendly and the easiest of the six par fives at Brudenell River. There are no obstacles to be overcome here as there are on #6 and #11, so just keeping the ball in play should give a wedge in on the third shot for an easy par or maybe even a birdie.
#16 – Easy Pickings – 170 Yard Par Three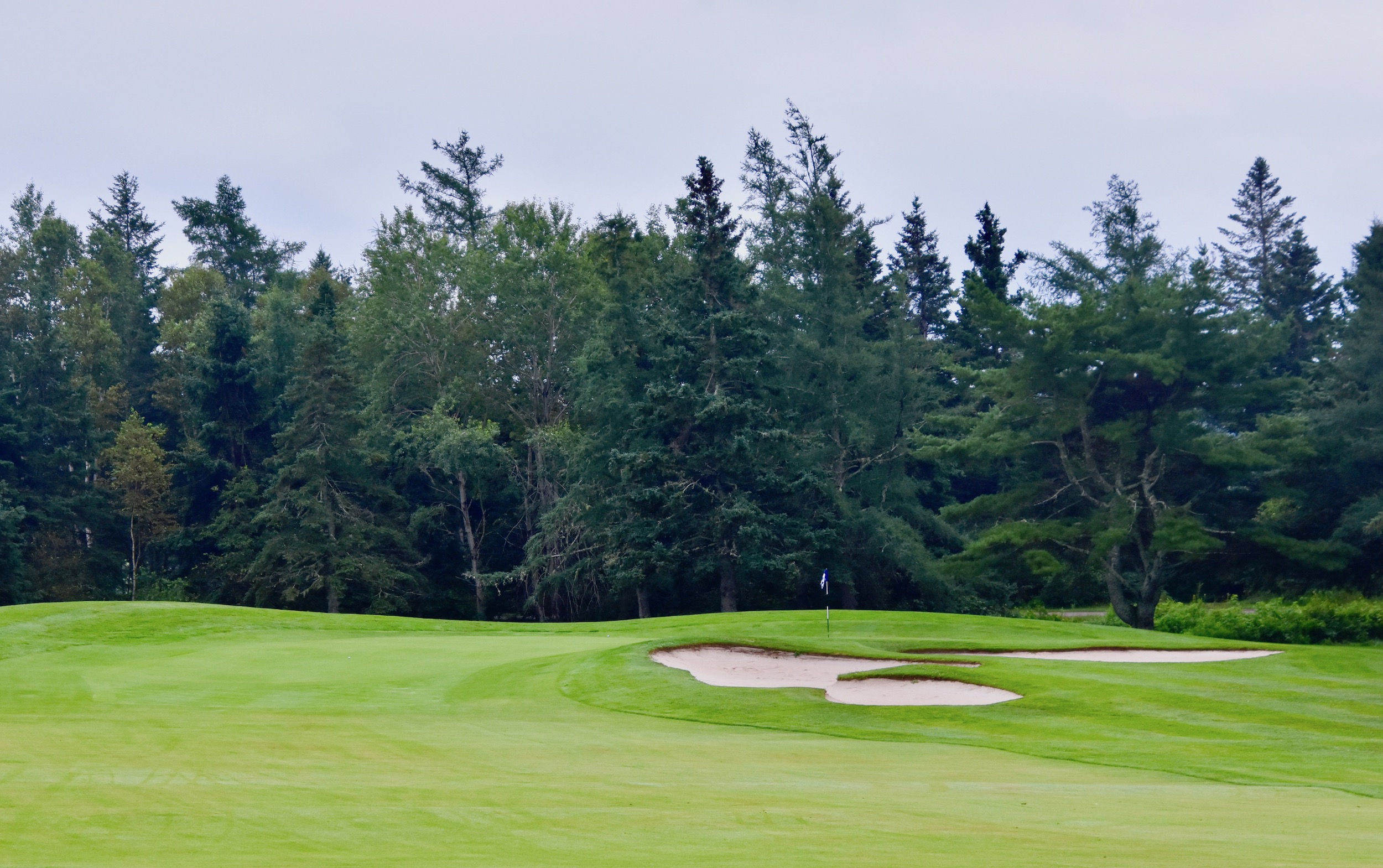 The final par three at Brudenell River might be easy pickings, but not really with that sucker pin placement directly behind the traps. Another hole that plays longer than its yardage and where being long is not necessarily a bad thing. Despite being only 170 yards I used a hybrid three to make sure the traps did not come into play.
#17 – Panorama – 536 Yard Par Five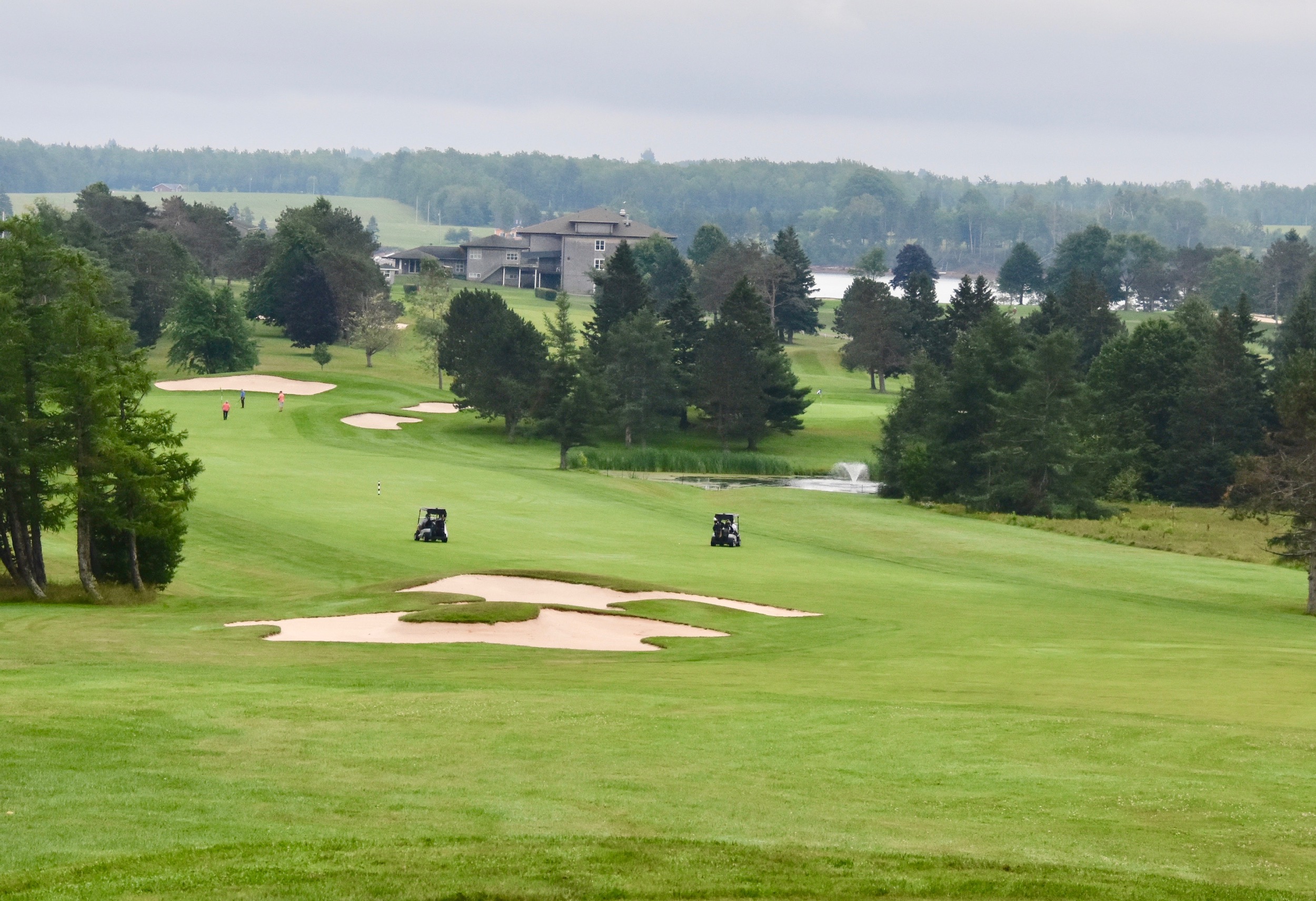 The last par five lives up to its name and is a gorgeous golf hole. Very much downhill off the tee, the traps should not be in play off the tee. A well struck wood on the second shot should come up not far from the green which makes avoiding the traps on the approach shot much easier. Despite the length, there is a very good chance for par or better on this hole. The only downside are the Canada geese that frequent this fairway and leave their calling cards behind. Watch where you step.
#18 – The Orchard – 354 Yard Par Four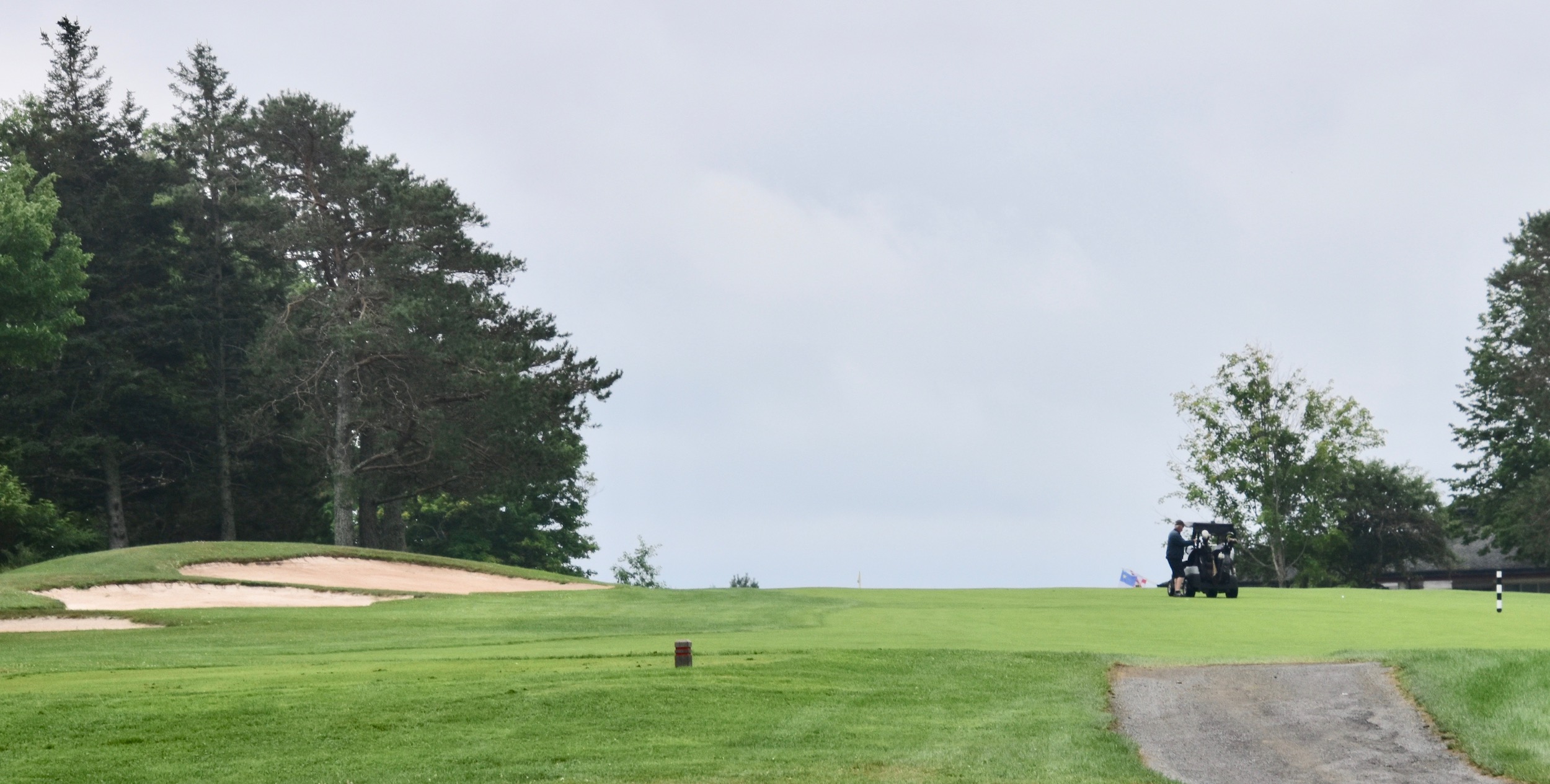 The final hole at Brudenell River is another blind tee shot to the most severely uphill fairway on the course. It plays way longer than its yardage, but if you take that into account there is no reason not to reach the green in two. This is actually a strong finishing hole with apple trees around the green.
Our round took about four hours and twenty minutes which was quite reasonable with two foursomes in front of us. All in all it reminded me of why we should be spending more time on the golf courses of PEI than we have been in recent years. In terms of a golf destination it is very hard to beat.