Oceanstone Resort & Rhubarb Restaurant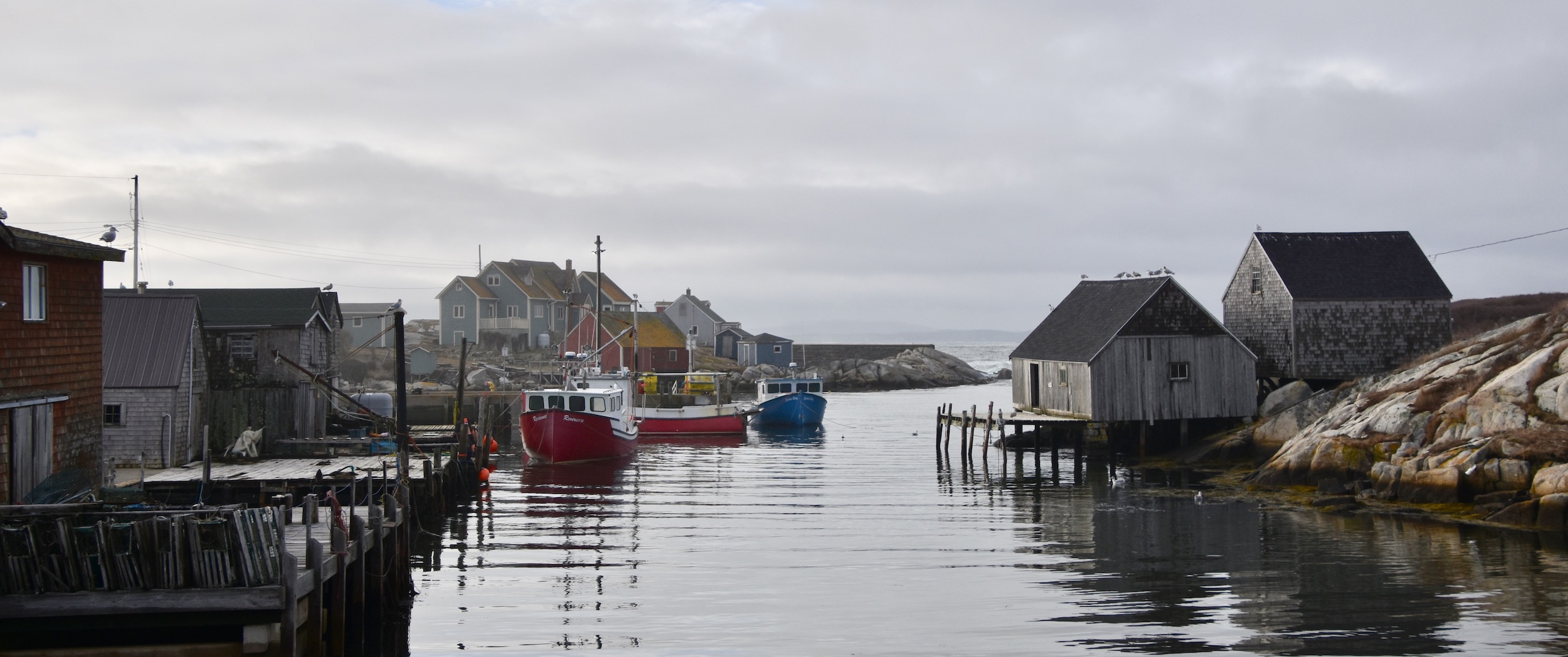 In my previous post I visited Peggy's Cove with the express intention of checking out the proposed changes that will include a viewing platform and other upgrades. My conclusion was that they will be a welcome addition and make the place far more accessible than it is now and create a much more sensible traffic flow pattern. At the end of the post I promised to tell the reader how they could enjoy an overnight stay in the Peggy's Cove area by staying at Oceanstone Seaside Resort and dining at the adjacent Rhubarb restaurant. In this post I'll keep that promise.
Oceanstone Seaside Resort
As I write this, we are one full year into the Covid-19 pandemic with no reasonable end in sight before late 2021 or early 2022 as the Canadian government has badly fumbled the vaccine acquisition and distribution program necessary to quell the virus. As a travel media writer I have witnessed first hand the devastation that Covid has wreaked on the travel and restaurant industry. Also as a travel writer, I have keenly missed the opportunity to simply get out and start exploring again. While the pandemic has destroyed many businesses, a few have thrived, albeit with protocols in place that would have been unimaginable only a year ago. Oceanstone Seaside Resort in Indian Harbour only five minutes from Peggy's Cove, is one of them. Here's a description of our recent stay and why, even with the Covid protocols, it was just as enjoyable as ever, maybe even better because there's just so few places we Nova Scotians can get out to enjoy our winter.
Alison and I have both stayed at Oceanstone a number of times over the past ten years, both on work related retreats and for a romantic getaway. We have recommended it in our chapter on visiting Peggy's Cove in our latest book The Nova Scotia Bucket List. It is the closest full facility resort to Peggy's Cove, yet has a distinct ambience of its own that would make it worthwhile to visit no matter where its location. However, we really had no idea of what the experience would be like in the middle of a pandemic and wanted to find out. The starting point was the Oceanstone website which offers a variety of packages to choose from. The property is made up of a dozen separate buildings, some of which have multiple suites, while others are completely separate cottages, one as large as three bedrooms. The most desirable are the five cottages that are literally right on the shore of the open Atlantic Ocean with great views of Paddy's Head lighthouse. If you want to go to sleep to the sound of crashing surf you can't do better than booking one of these.
Unfortunately they were all booked for the day we would be staying so we opted for the Ocean Vista suite which is on the upper floor of a building a bit away from the shore, but with a nice deck from which the sound of the sea is very evident. One thing I really appreciate about the Oceanstone website is that it has very good and honest pictures of all the suites and cottages so you know exactly what you are getting. This is the Ocean Vista suite as shown on the website.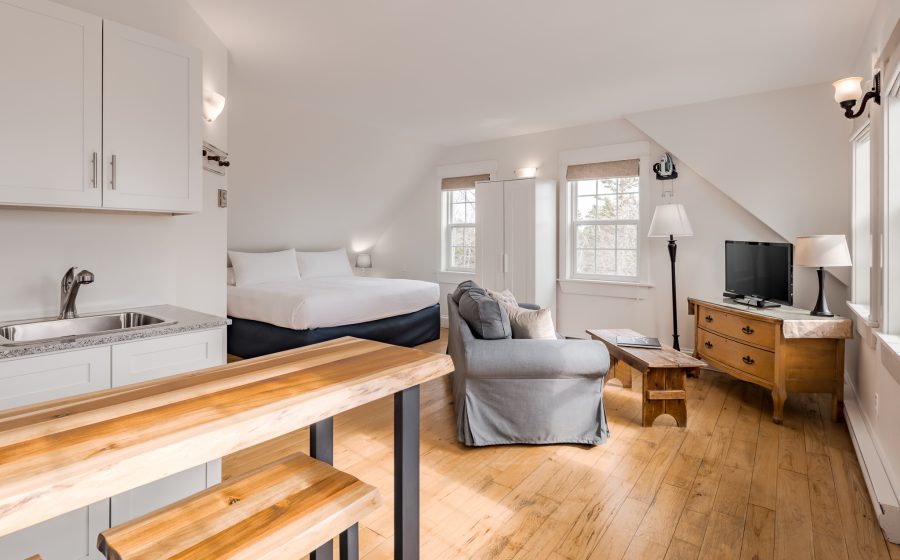 And this is my photo of the same unit.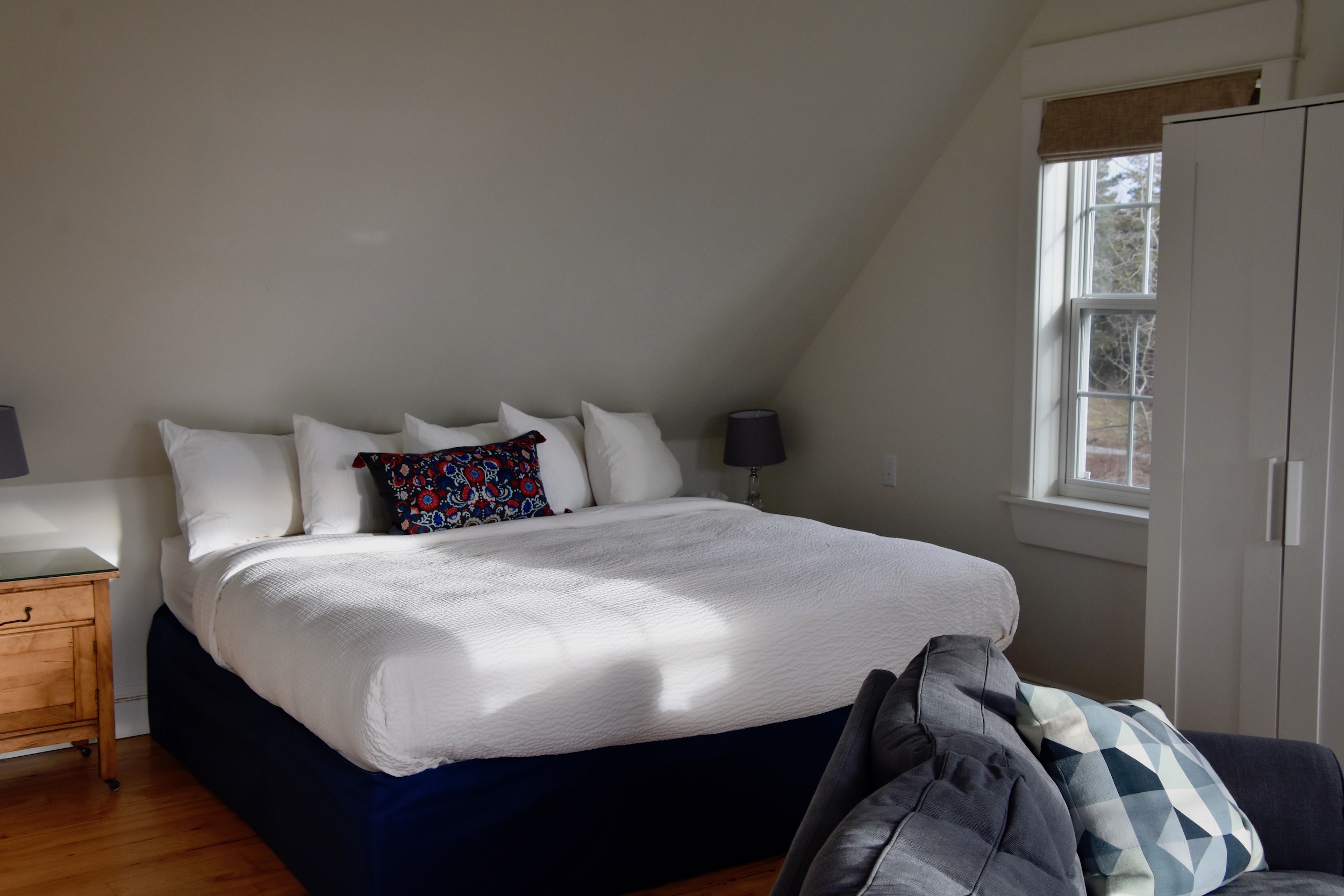 And the web photo of the bathroom.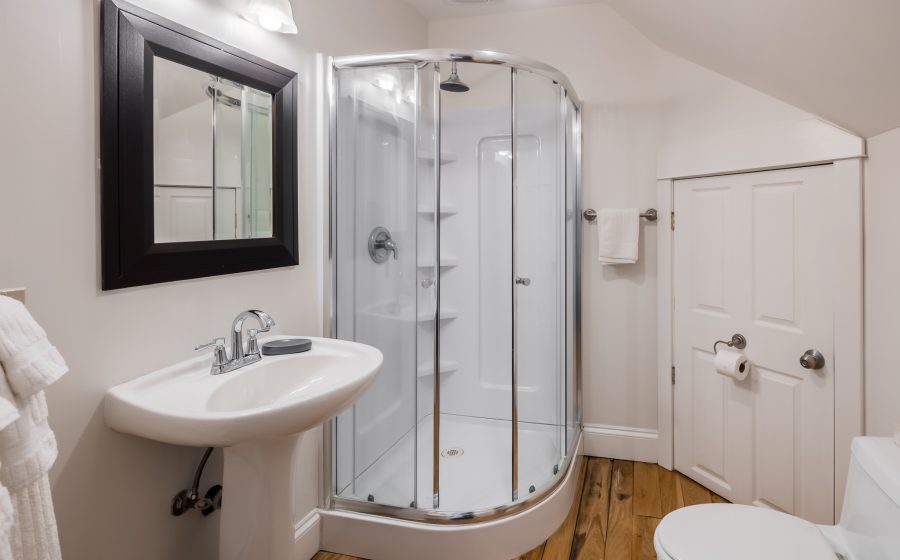 And my photo.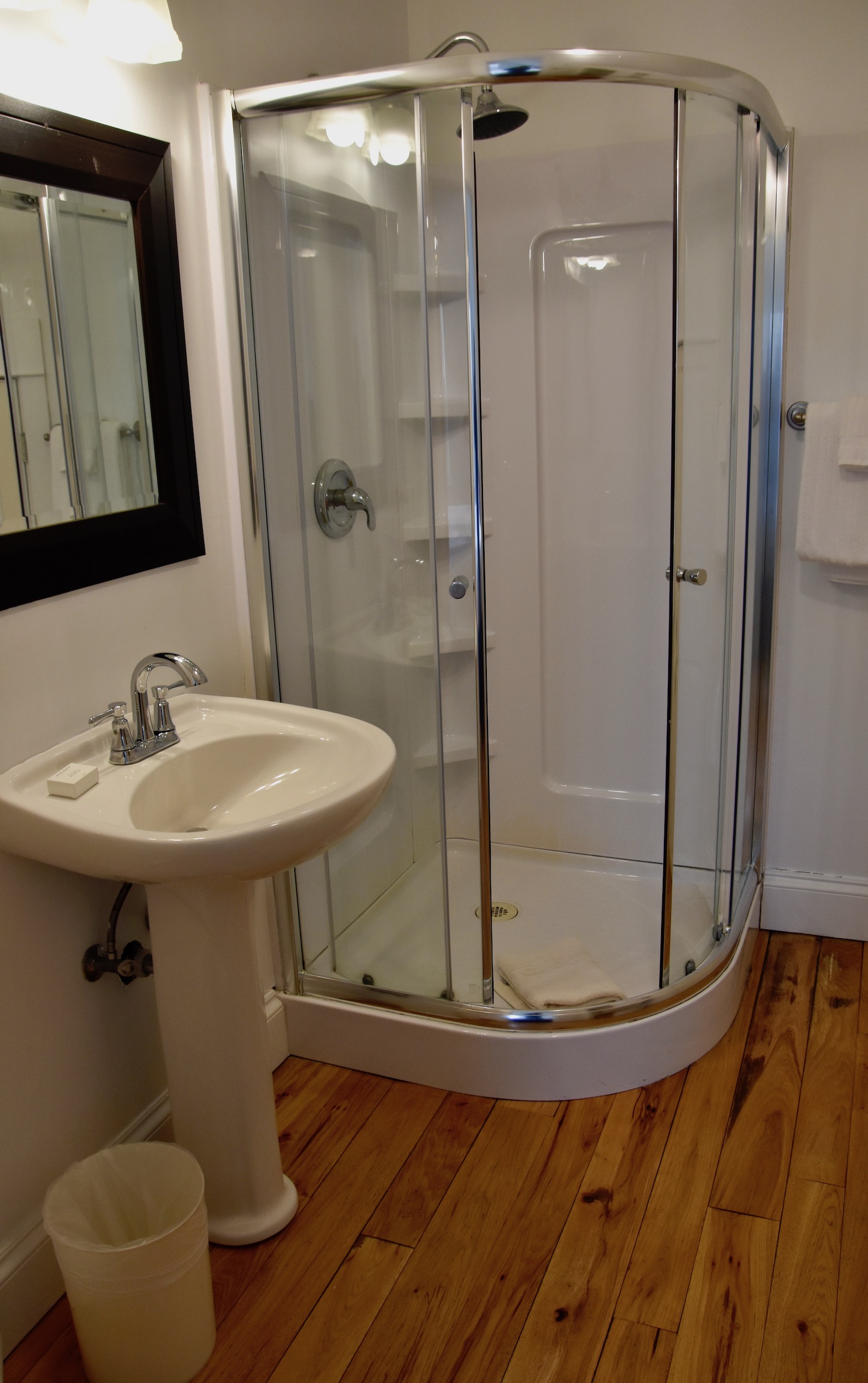 So what you see is what you get.
Here's where things are done differently due to Covid. After booking you receive a detailed email about your stay which includes the fact you don't need to physically check in. Arrive at or after check in time, park your vehicle and your room will be open with the key inside.
Our package included a charcuterie selection with a bottle of Jost Great Big Friggin' Red and this was what greeted us on arrival. The charcuterie was in the fridge and taken out for this picture.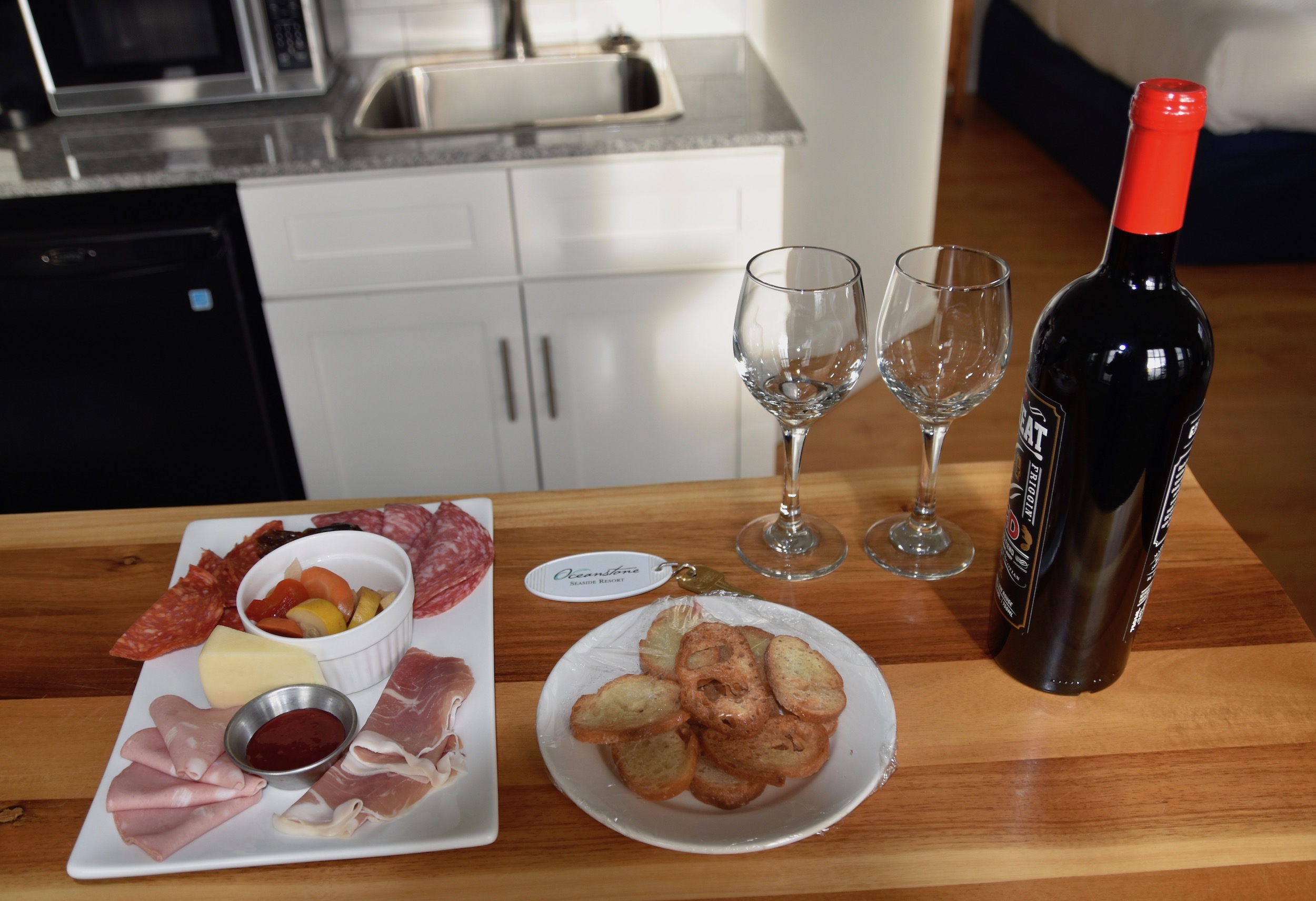 The wine was friggin' good and the charcuterie as well, in fact so good we saved about half to put on a homemade pizza the next night.
We had dinner that night at Rhubarb restaurant which I'll describe shortly. Oceanstone offers its own menu with 48 hours notice. Friends of ours who stayed for two nights highly recommended it, especially the desserts.
Fast forward to a great night's sleep with the sound of the surf a gentle murmur in the background. As part of our package we got a full breakfast served downstairs in the main lodge. Instead of a traditional breakfast buffet, which Covid has pretty well done away with, we were served individually by a very pleasant young lady behind plexiglass.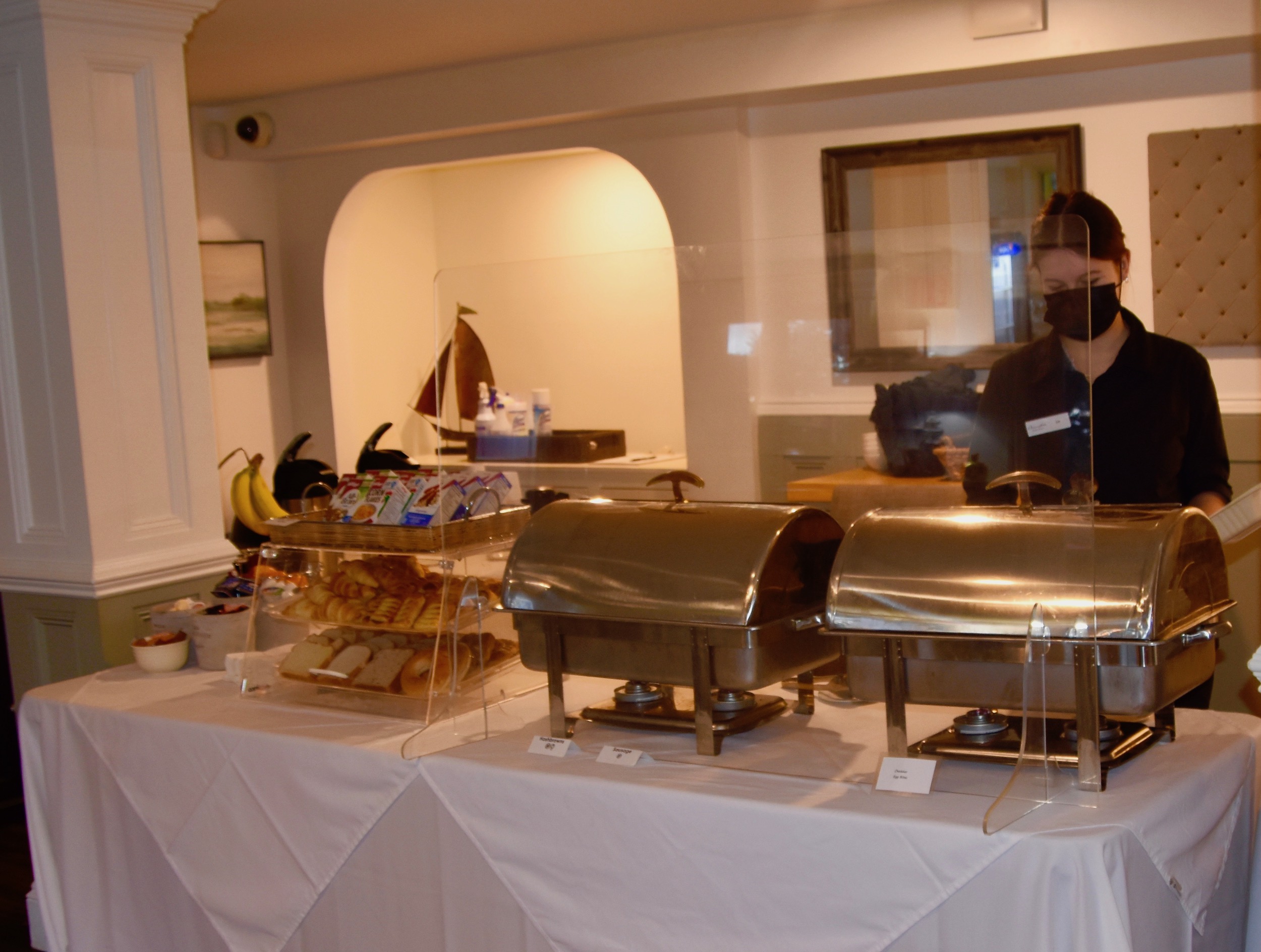 And here's the breakfast. There were a lot more options including yogurt, fruit or cereal.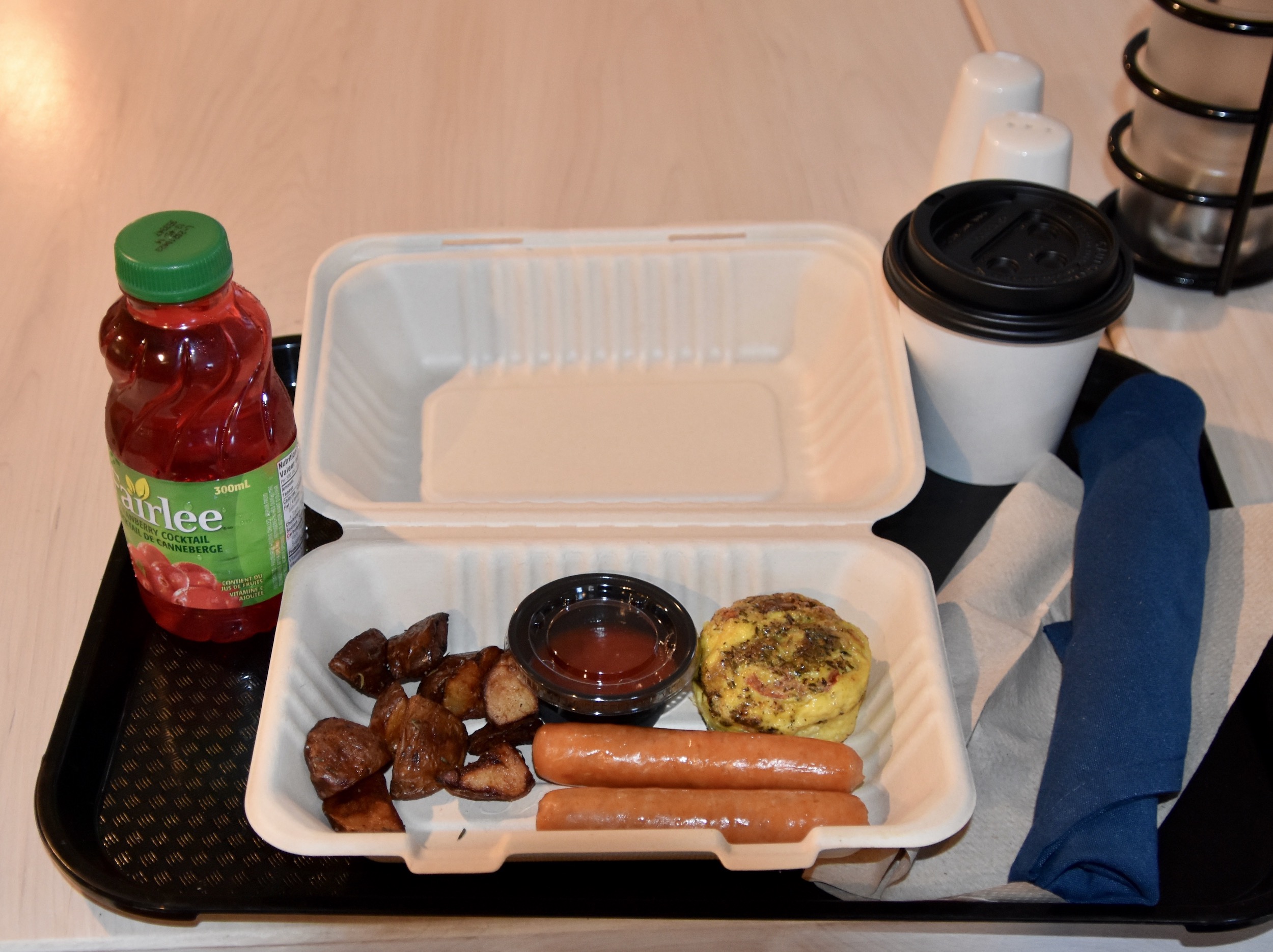 Looking out the window of the breakfast room I saw what looked like a large bird sitting on a glacial erratic on a small island just off shore. Sure enough, it was a bald eagle which was staring out at the nearby Cape Islander lobster boat which was hauling traps on a surprisingly warm and sunny February morning. What a great way to end our visit.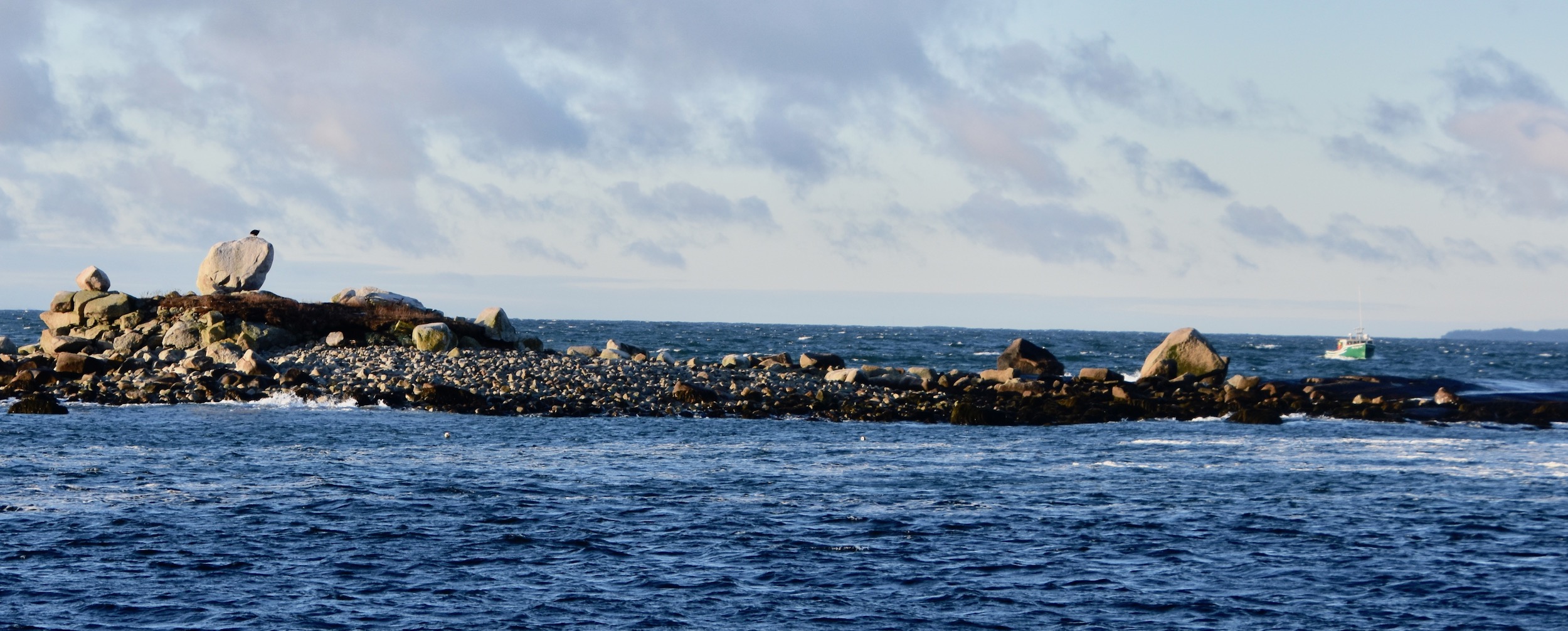 Rhubarb Restaurant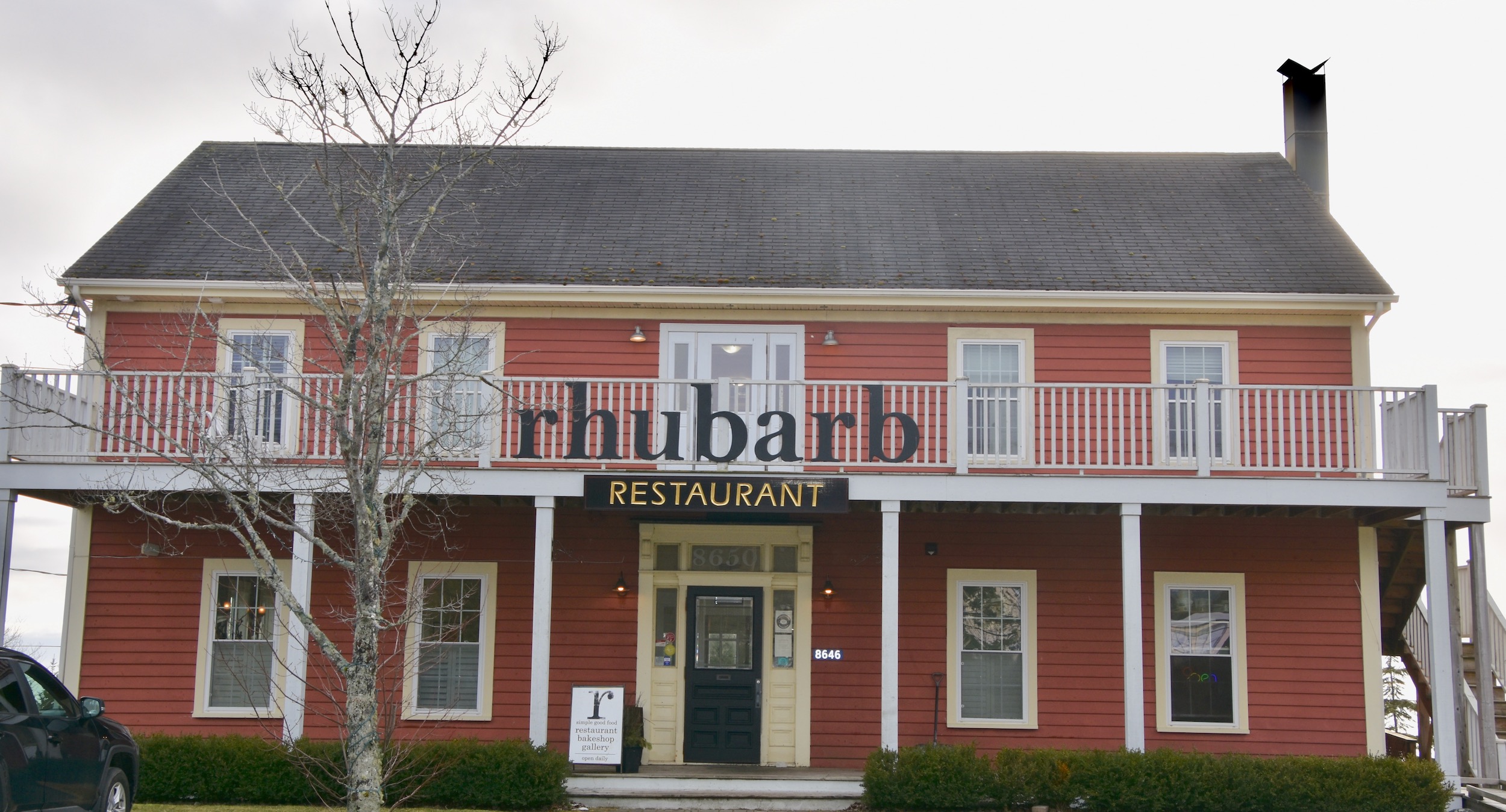 Rhubarb restaurant is right on Highway 333 at the entrance to Oceanstone. Although it is a separate operation, almost everyone who stays at Oceanstone eats here at least once. The symbiotic relationship between the two has helped both stay open throughout the pandemic. We have been coming here ever since it opened about fifteen years ago and consider it to be the best restaurant on the entire Peggy's Cove loop.
Covid has cut the number of tables in half, so I was lucky to reserve the last available table by calling the night before.
The interior of Rhubarb is a bit dark with a fireplace which gives it a homey atmosphere, especially in winter.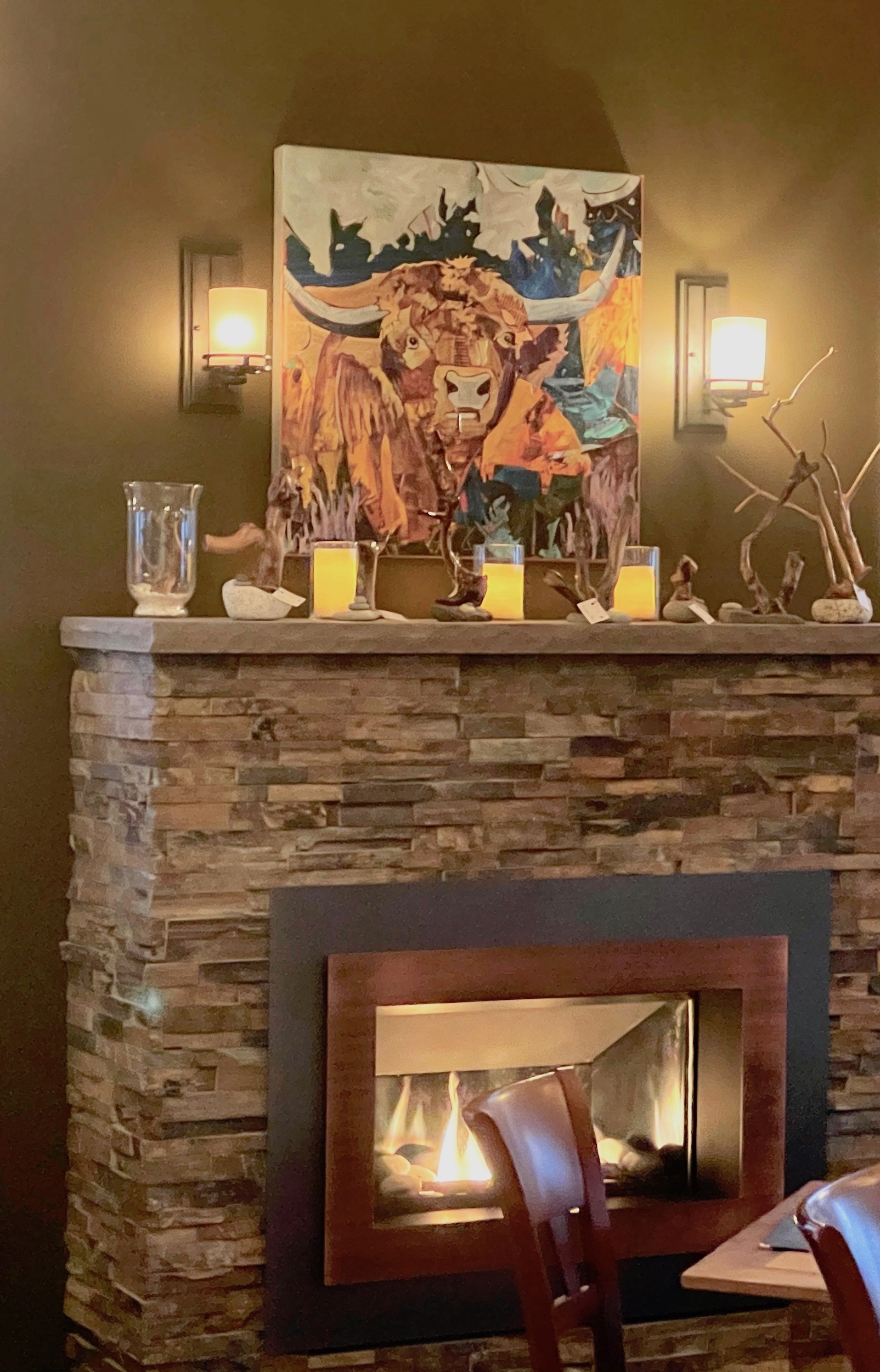 There is always a lot of folk art work that is both whimsical and quite good, most of which is for sale at reasonable prices.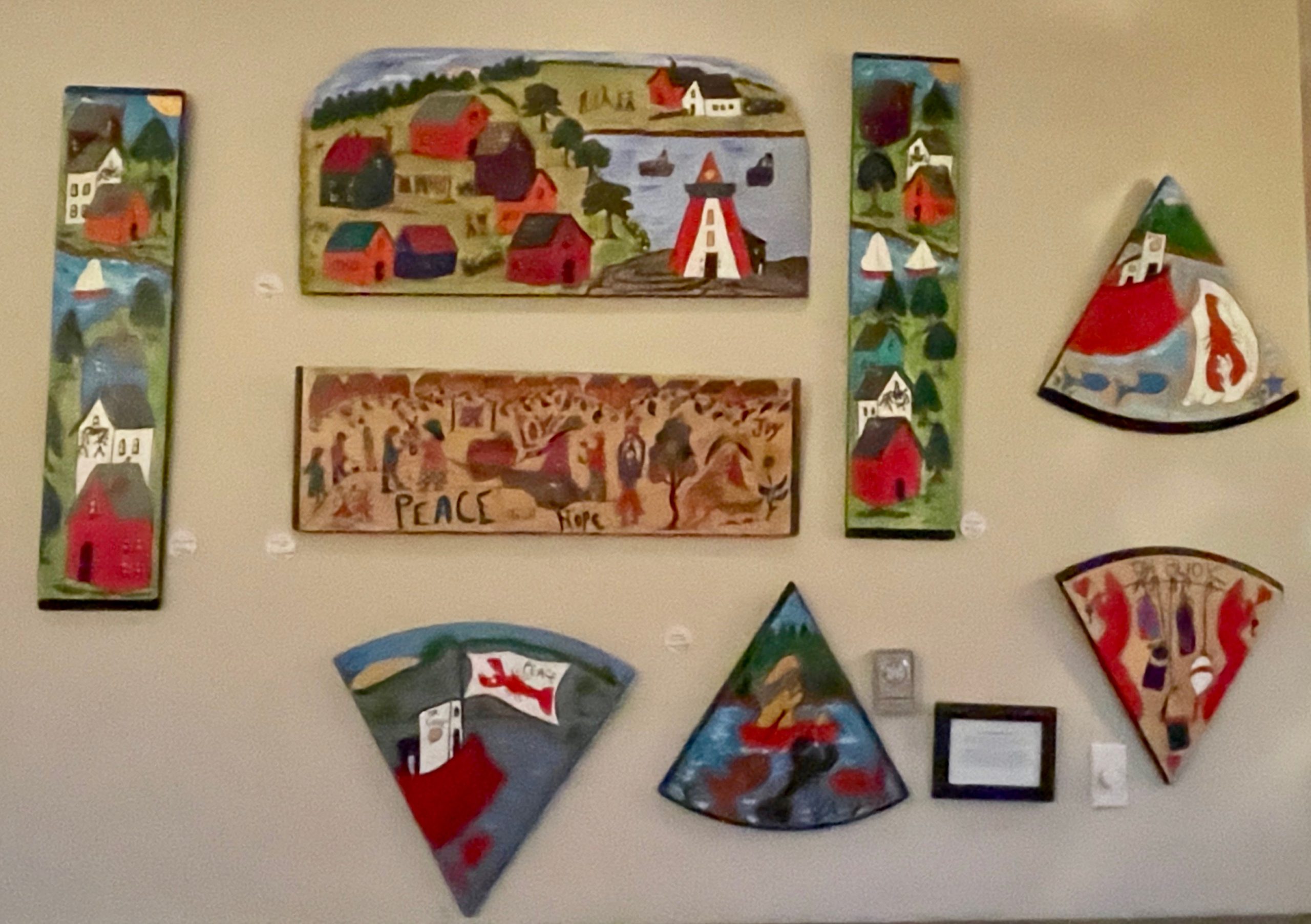 So the ambience is nice, but the food is better. When it first opened, Rhubarb specialized in a number of different types of mussel dishes, but gradually evolved away from that over the years. We were very pleasantly surprised to find that there was a mussels special that night. This is mussels in a cider broth with sliced apples, scallions and smoked bacon with tea biscuits to sop up the liquid. Man was it good!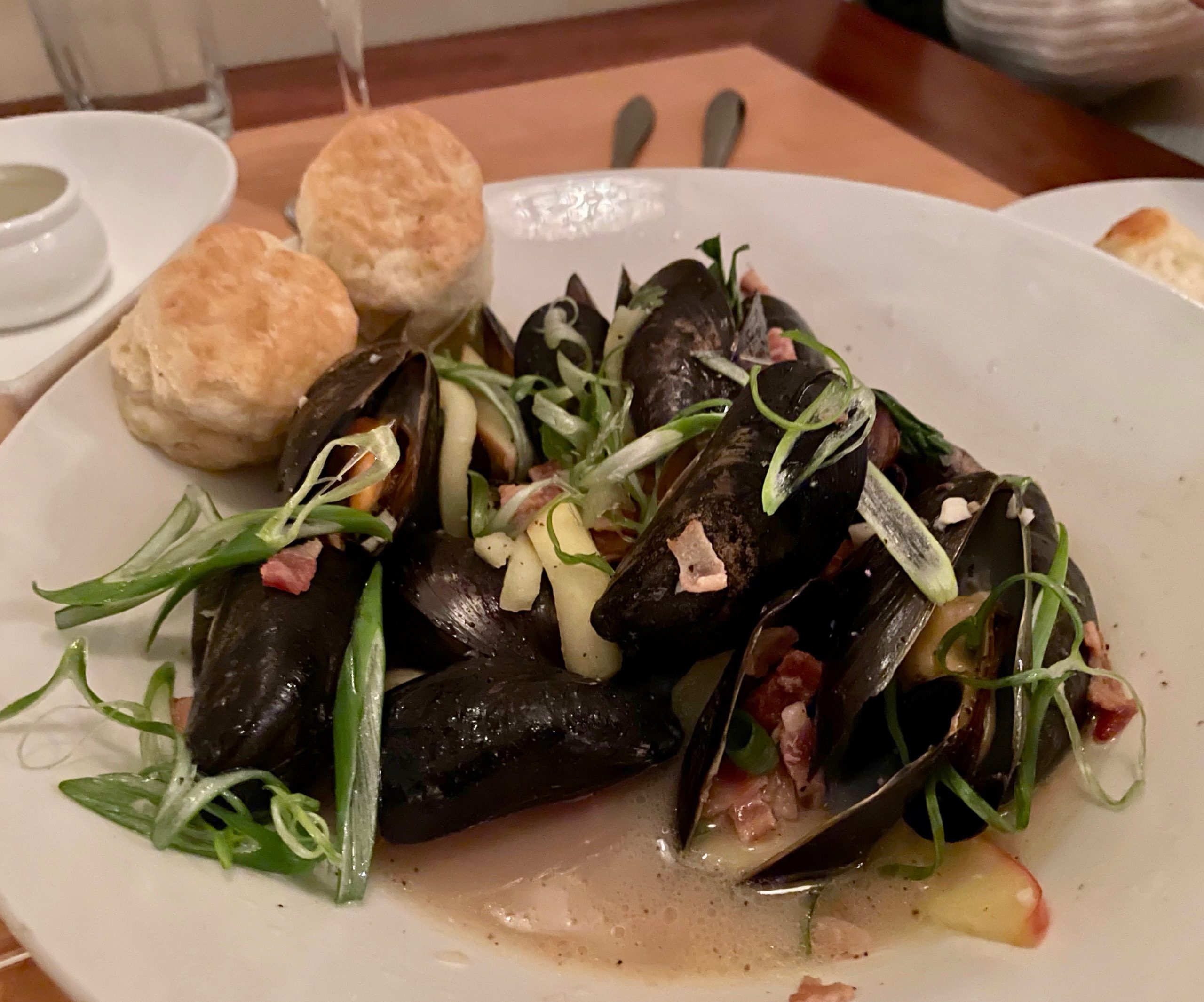 My main was Lou's Tortiere with a side of spicy tomato soup – a perfect mid-winter choice.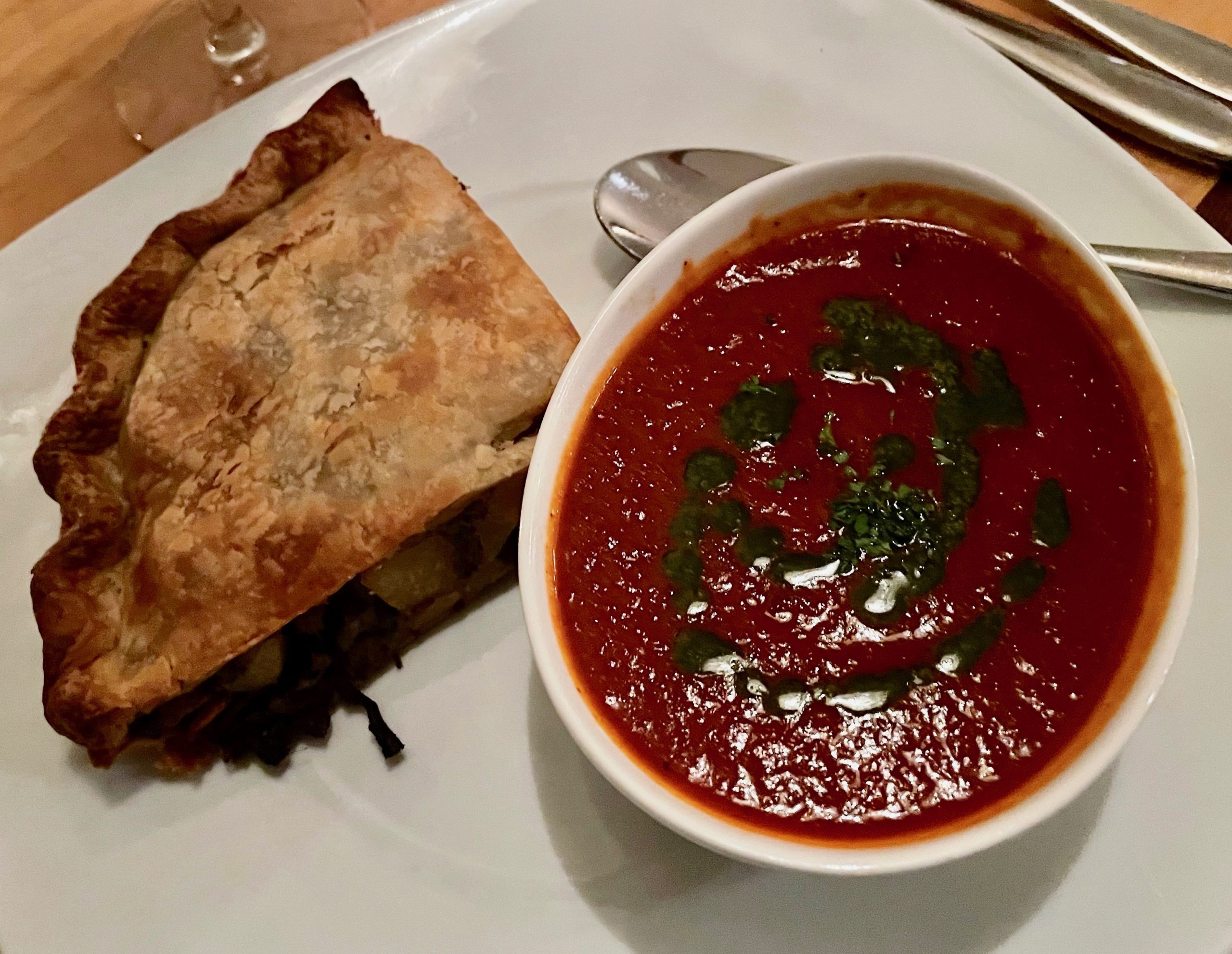 Alison had panko-crusted crispy haddock which came with two large pieces of fish, one of which served as a great sandwich for next day's lunch. It came with a chick pea coleslaw, which wouldn't be my first choice, but Alison said it was great.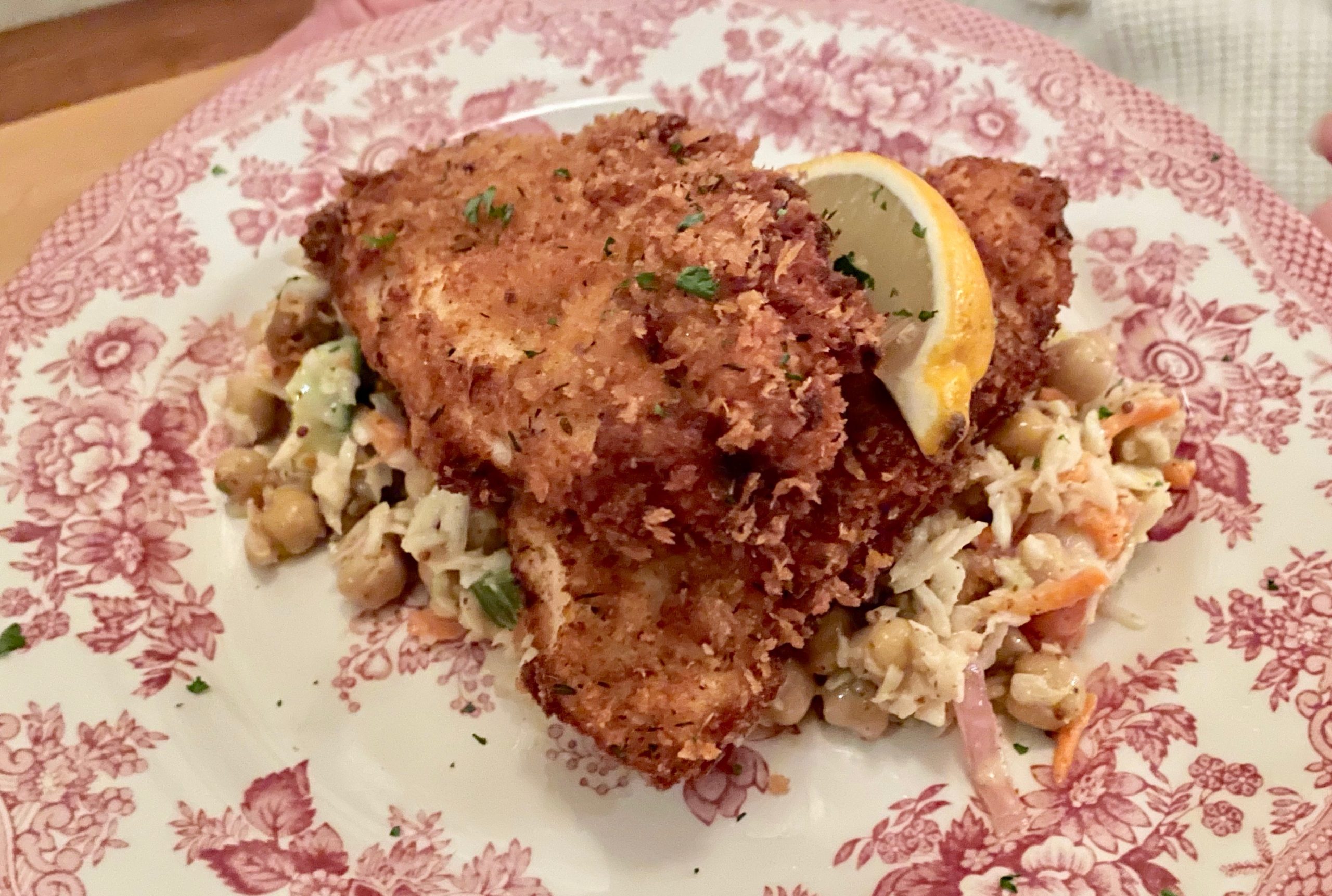 Because we had indulged in the charcuterie before coming to dinner, we did not have room for dessert. In over a dozen visits to Rhubarb we have never been disappointed in the food, service or value for money. I am so glad that it looks like they will survive the pandemic.
In closing, I want to stress that at both Oceanstone and Rhubarb we did not ask for or receive any special treatment or media discount. To paraphrase the GM ads, we paid what you would pay. So if you are feeling a bit down and who isn't these days, raise your spirits with an overnight stay or longer at Oceanstone. Be sure to check out the Peggy's Cove changes for yourself.