The Granite Coast – Start Exploring the Rock
It's our first full day in Newfoundland and Labrador and Alison and I are eager to get started exploring. We have a jam packed two week schedule that will take us to Labrador and the top of the Great Northern Peninsula. Along the way we will visit three UNESCO World Heritage Sites, a national park, many National Historic Sites and more. Please join us as we start our journey seeking out four lighthouses, a great waterfall and the Codroy Valley on the Granite Coast.
We arrived in Port aux Basques the evening before on the Marina Atlantic ferry Highlanders and saw our first lighthouse on the lighthouse route while entering the harbour, the slender pure white Channel Head lighthouse. It has been guiding ships safely into Port aux Basques since 1895.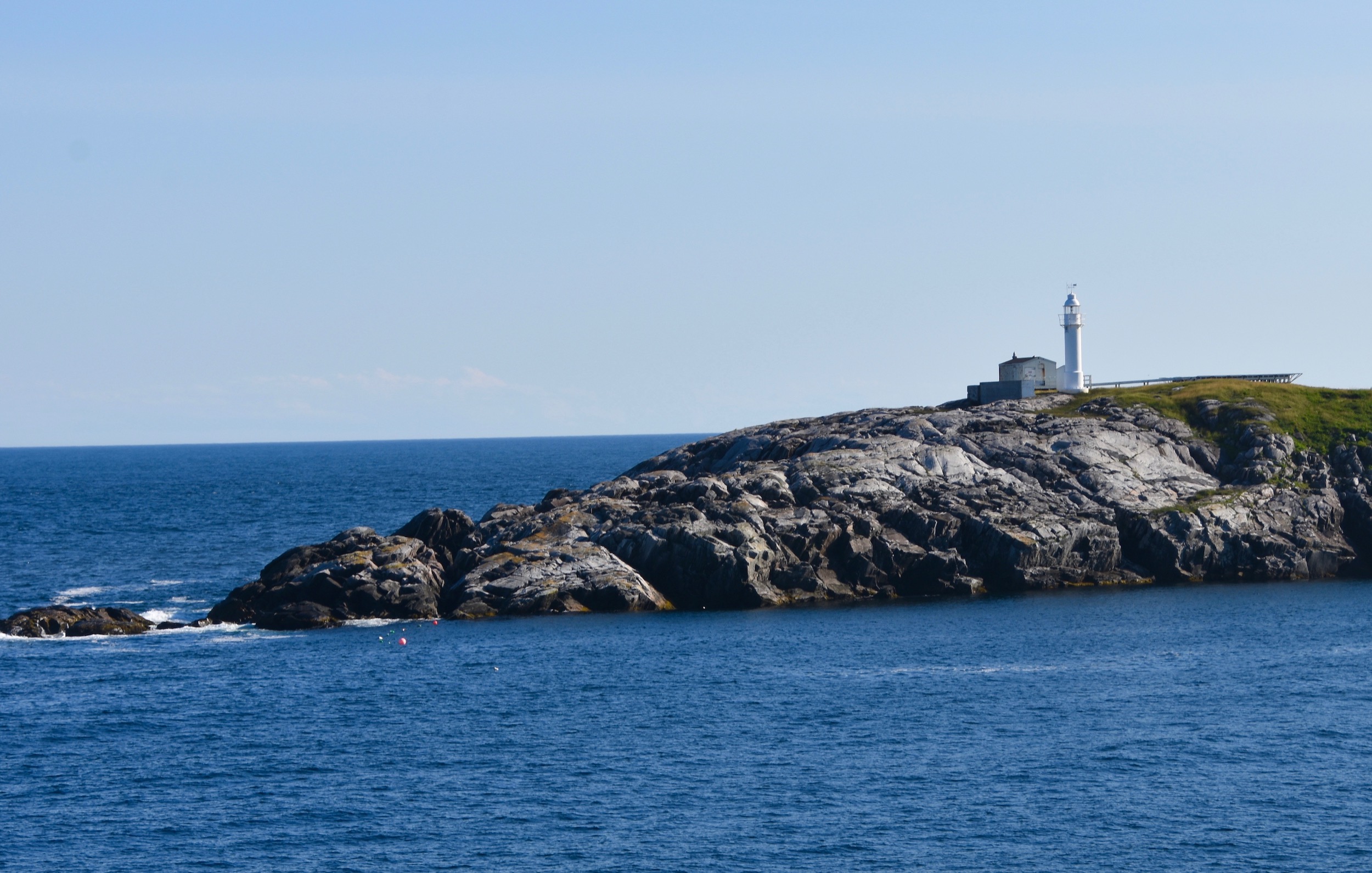 We enjoyed a nice stay at St. Christopher's Hotel which has a great location overlooking Scott's Cove park.  We couldn't wait to dig into some great traditional Newfoundland cuisine in the Captain's Room like these fishcakes for Alison.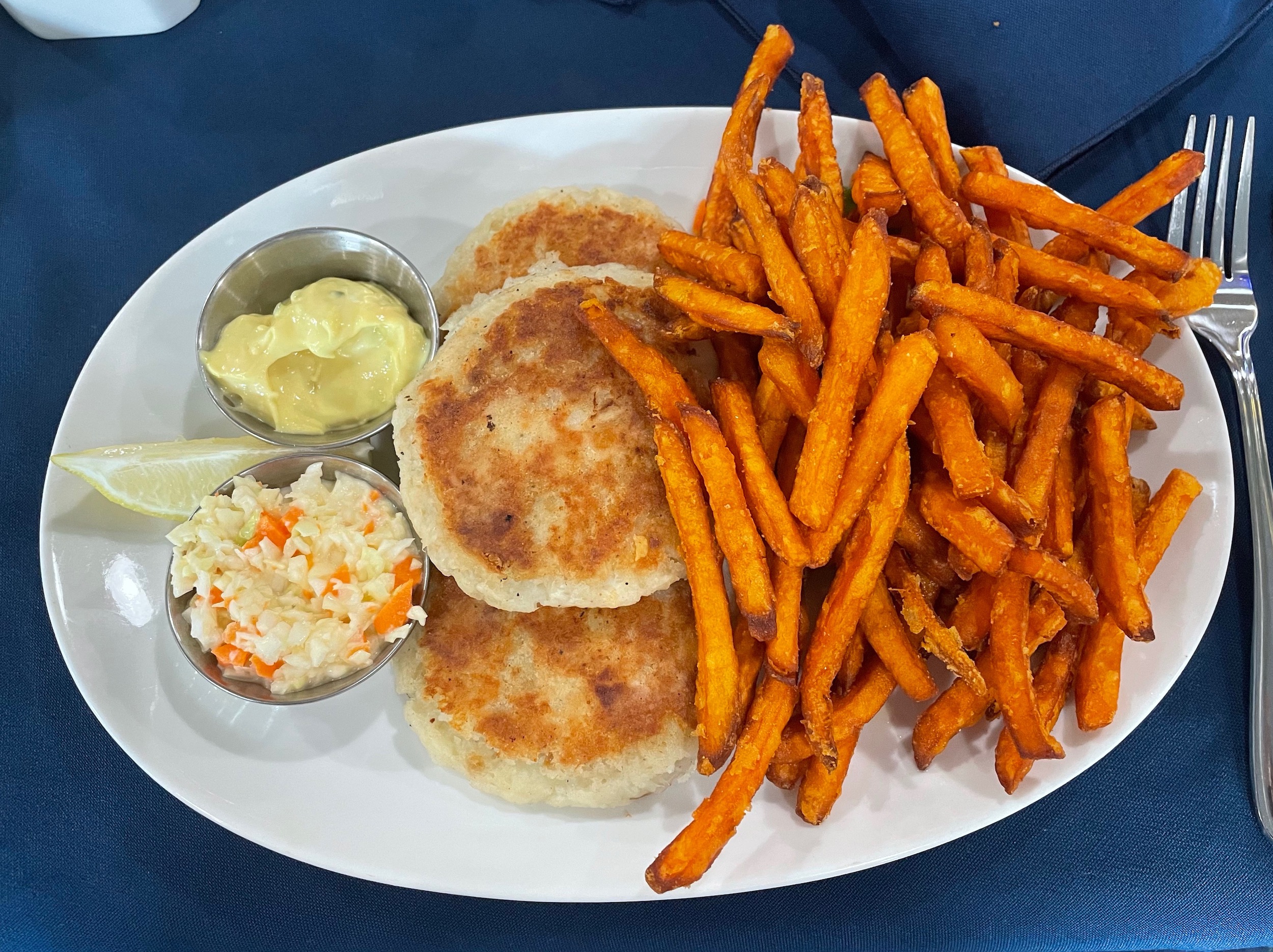 She washed them down with another Newfoundland specialty, Iceberg Beer which has a fast growing reputation for the purity of taste that comes from using iceberg water that is 20,000 years old.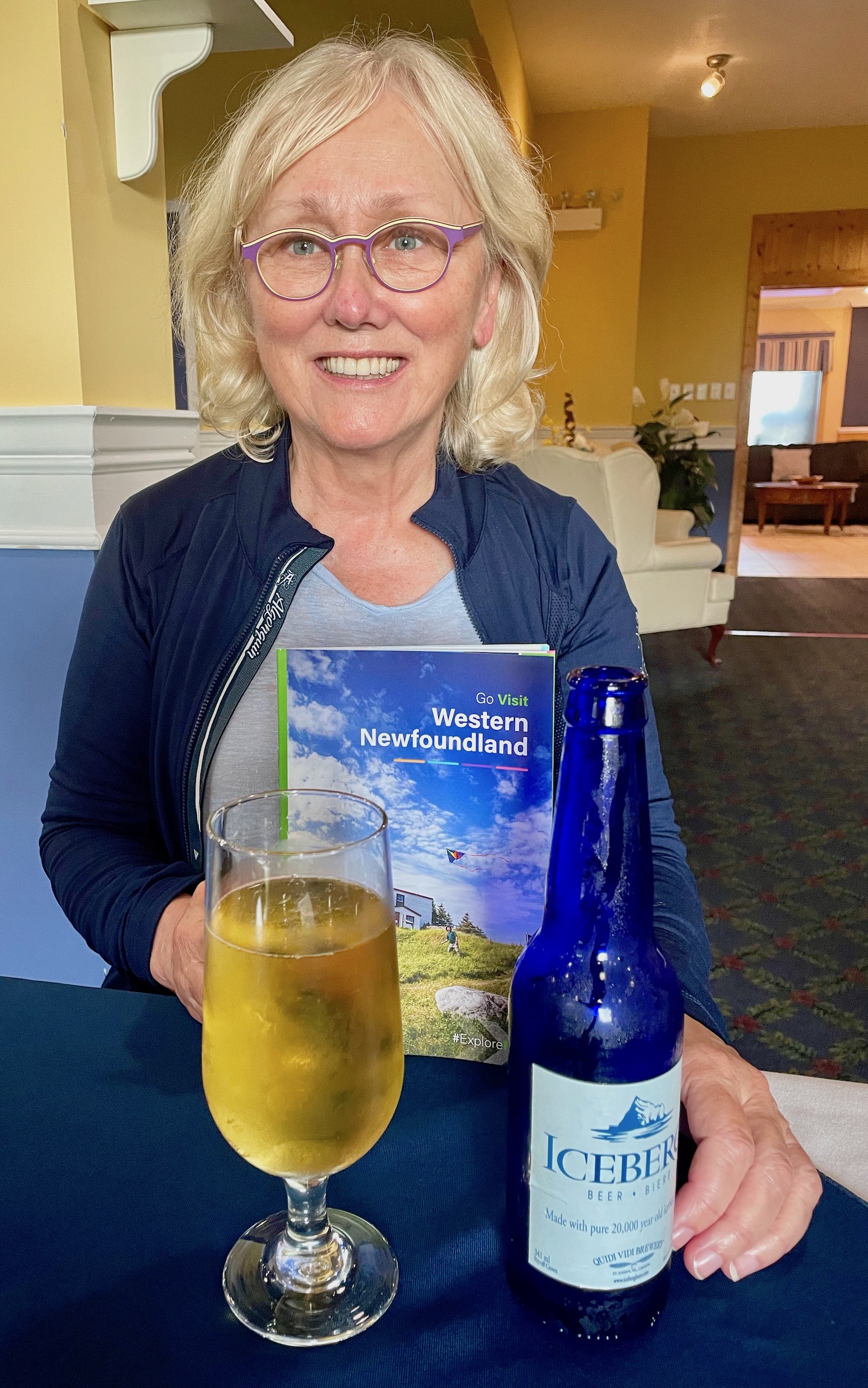 One specialty you can only get in Newfoundland is cod tongues and scrunchions. In case you don't know, scrunchions are fried salt pork rinds and I love them. I chose that natural accompaniment to cod tongues – a dry martini.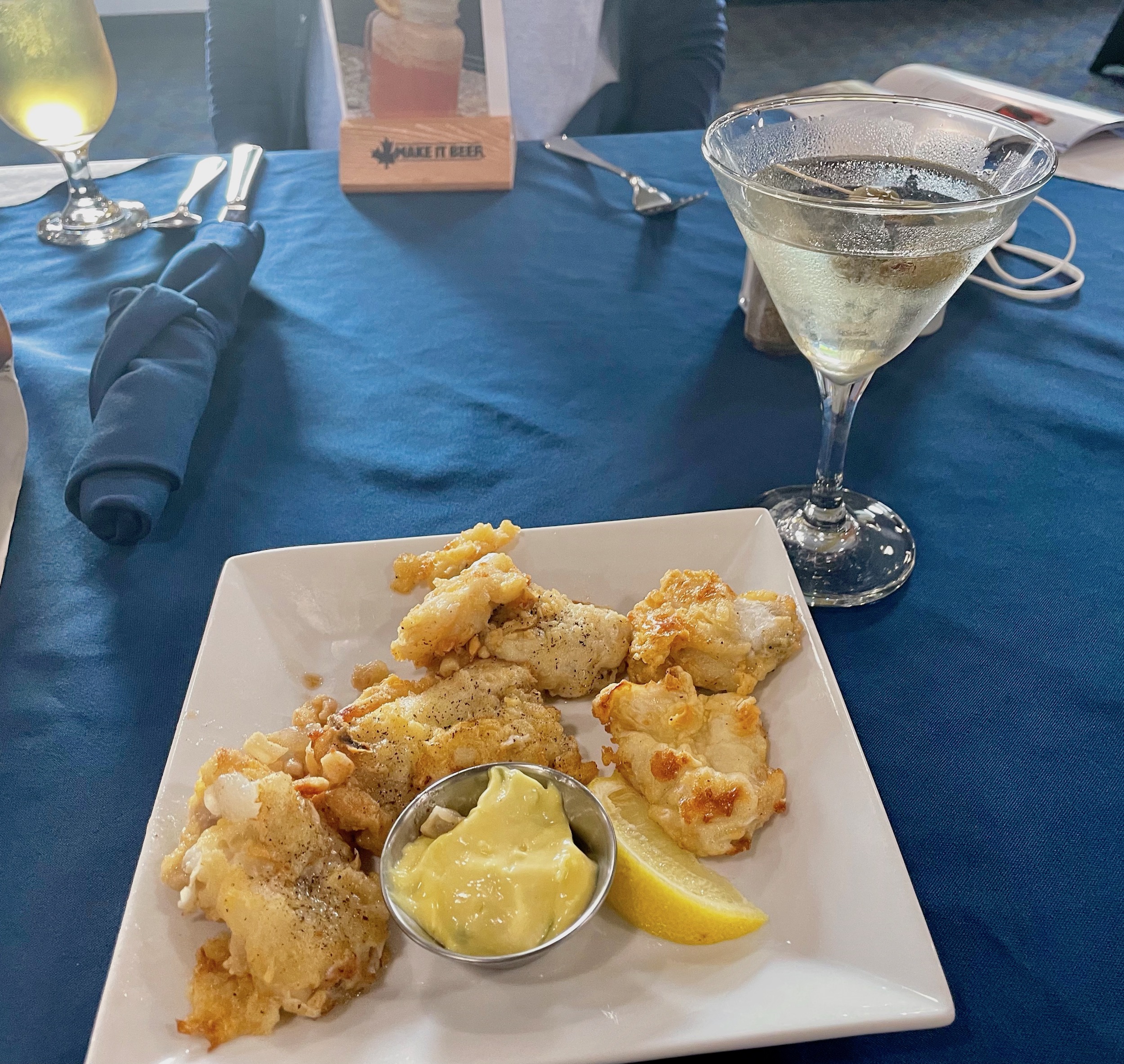 The next morning we awoke early and before heading out on the Granite Coast took a short stroll along the waterfront at Scott's Cove Park and enjoyed the tranquil morning water that provided perfect light for reflections. That's the St. Christopher's Hotel in the background and if it wasn't for Covid those colourful kiosks would be bustling with vendors later in the day and in the evening there would be music at the sail shaped stage. As I write this, Newfoundland and Labrador has lifted most of the more severe restrictions and hopefully by late August Scott's Cove Park will return to being the place to meet up in Port aux Basques.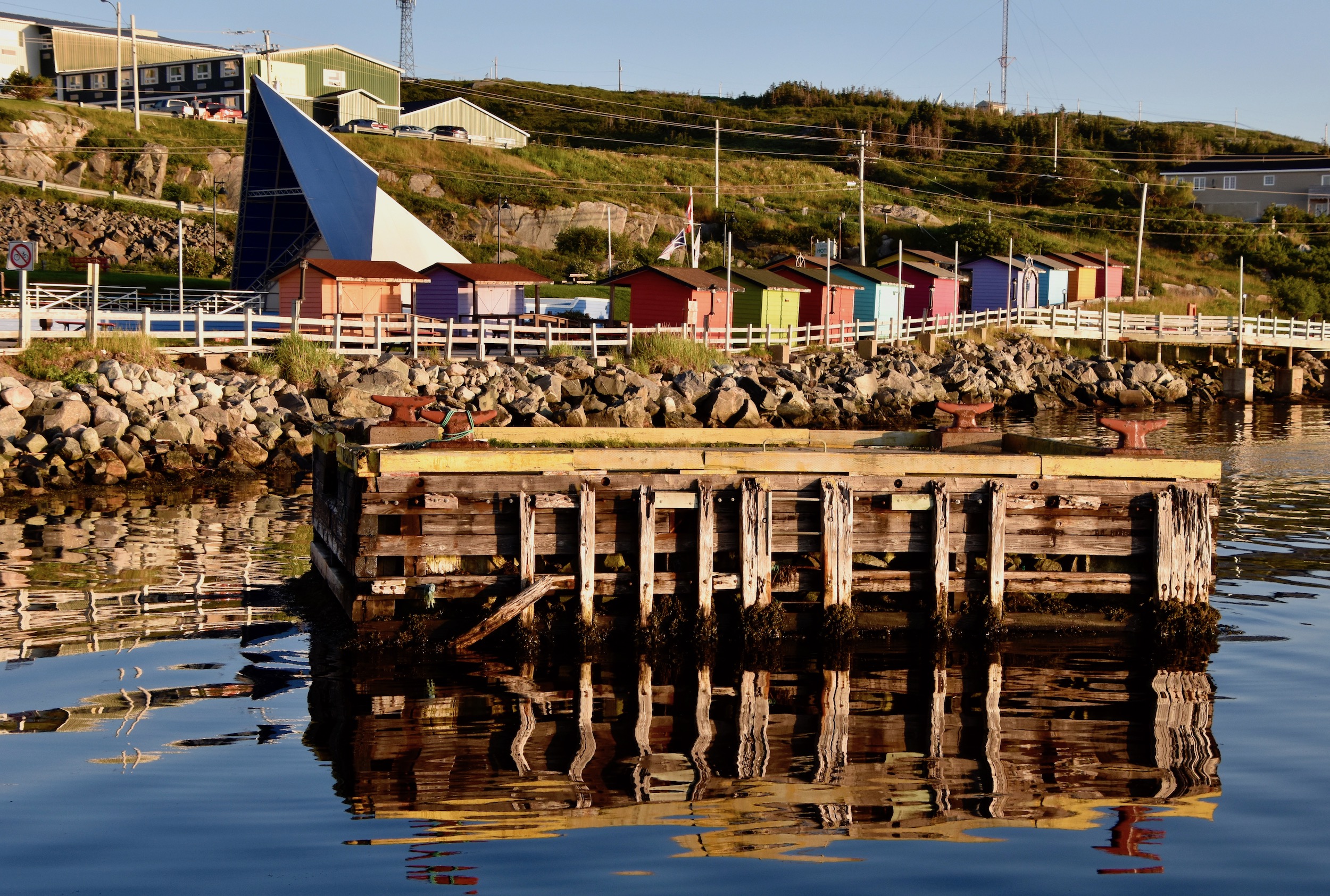 The mural in the park shows three women putting out salted cod to dry in a method that dates back centuries and until the widespread advent of refrigeration was common to see in Newfoundland and Labrador right up until the 1960's.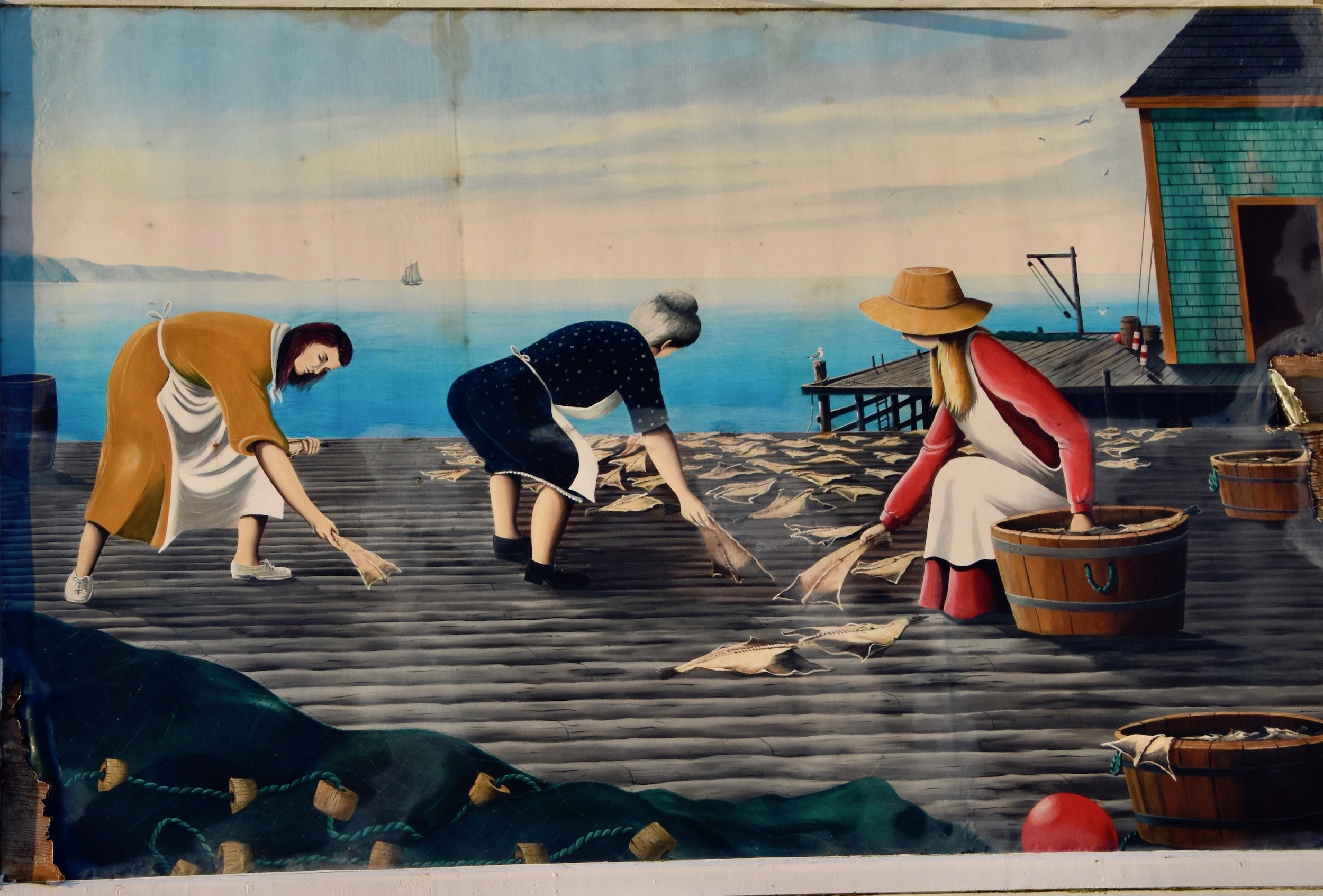 We watched the other Marine Atlantic ferry MV Blue Puttees come into port. It is named for the famed Newfoundland Regiment that fought so bravely and suffered so tragically at Beaumont Hamel in World War I. July 1st is Memorial Day in Newfoundland and Labrador and it commemorates this event.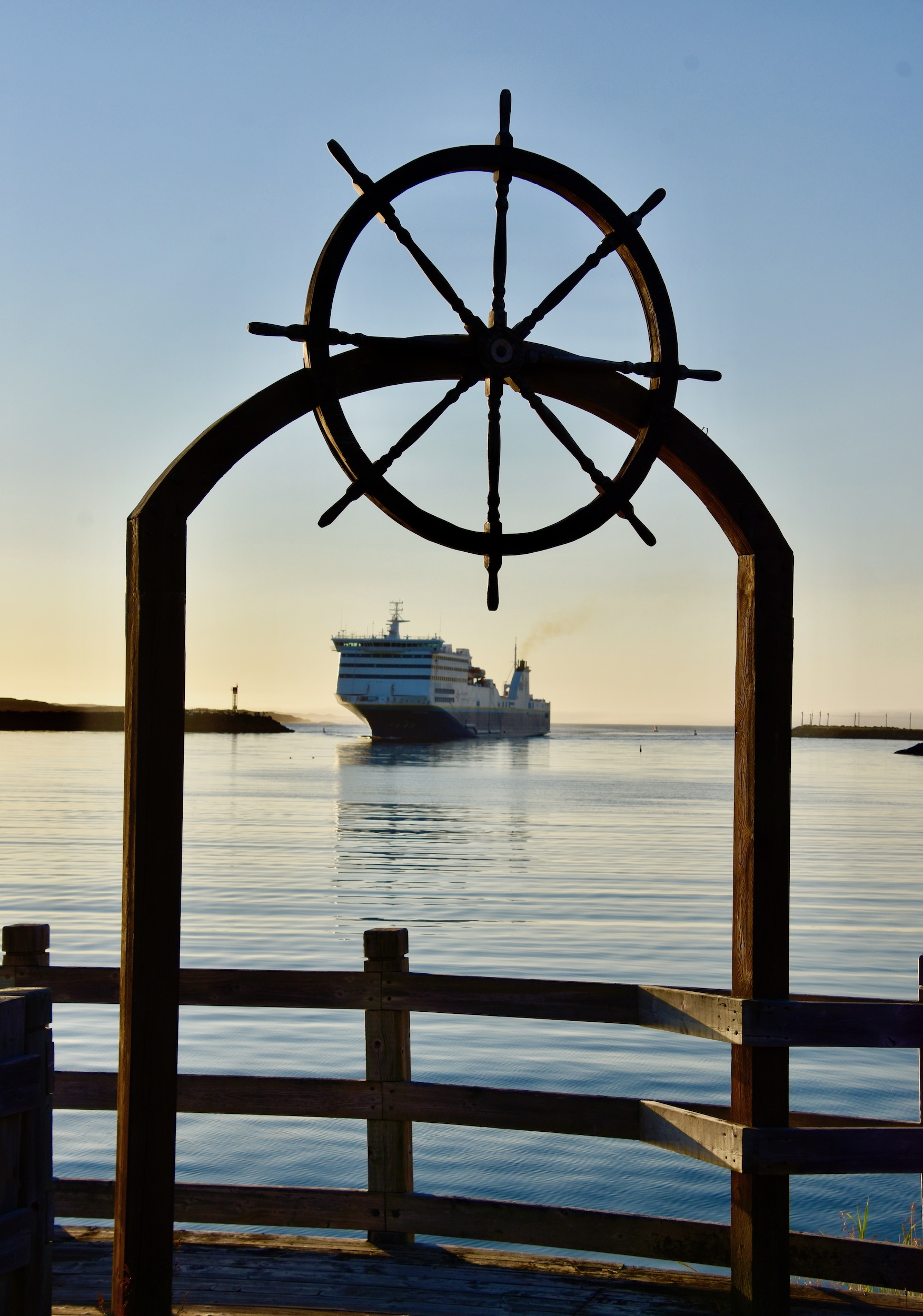 Leaving Port aux Basques we headed due south on Route 470, the Granite Coast, which dead ends at the town of Rose Blanche although you can keep going by passenger ferry to the tiny outport of La Poile if you are adventurous. Our first stop was the village of Margaree which is a name I always associated with Cape Breton. However, I did learn during this trip that a lot of Cape Bretoners migrated to Newfoundland in the 1800's, particularly to the southwest coast and the Port au Port peninsula which we will visit in the third post. The drive along the Granite Coast to Rose Blanche passes many scenic coves like this one from where you can look back and see the Channel Head lighthouse and Port aux Basques.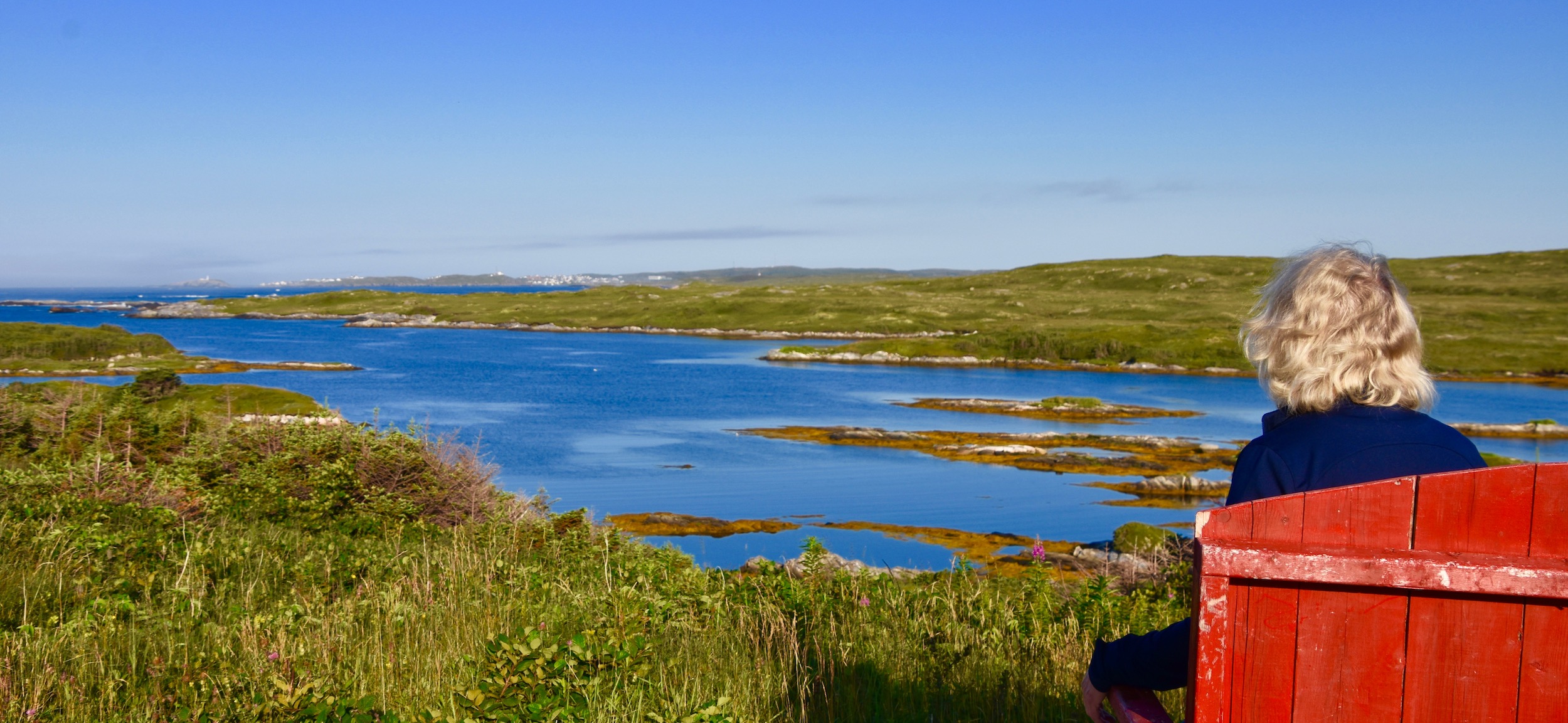 Continuing on the Granite Coast we reached the intriguingly named Isle aux Morts which got its portentous name from the many shipwrecks in the area that took so many lives that the place was literally an Island of the Dead. Almost paradoxically, it gained a reputation for saving lives through the exploits of the Harvey family and their Newfoundland dog Hairyman, who on two occasions rescued almost 200 ship wrecked people from almost certain death. Thus was born the legend of the Newfoundland dog.  Today you can walk the Harvey Trail close to where these rescues took place and visit the Harvey grave site on the way. For us, this will have to wait for our next visit.
The Granite Coast from Isle aux Morts to Rose Blanche is narrow, twisty and oh so beautiful. This was our first chance to appreciate the stark beauty of almost all of coastal Newfoundland. The highlight is almost certainly Barachois Falls which you can reach in an easy 20 minute walk along a wide path that is mostly on wooden steps or boardwalk.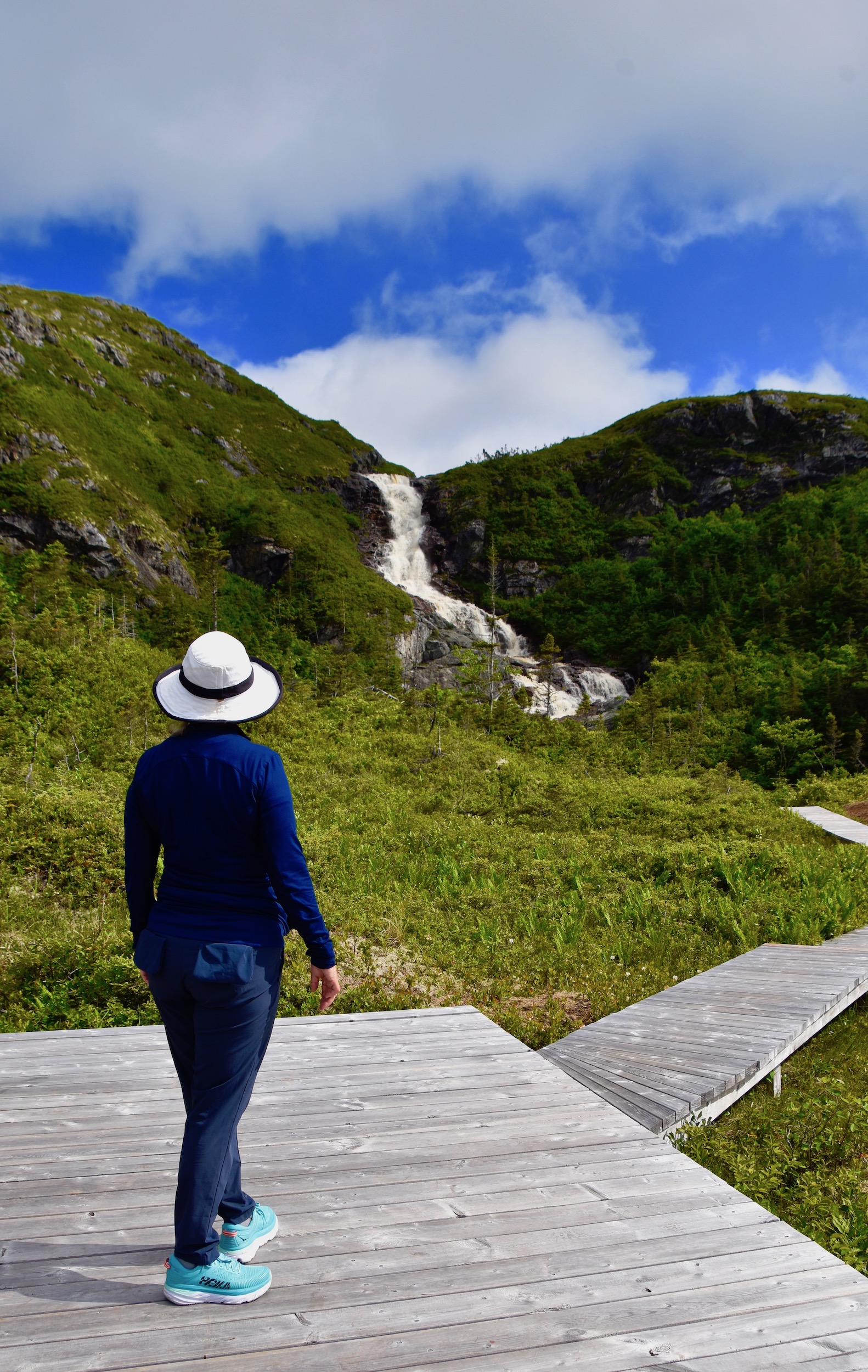 This was also the first place on the Granite Coast that we really started to notice the many amazing flowers and berries that are typically found in what at first appear to be nothing but barrens or scrub brush. It took Alison twice as long as me to reach the falls because she stopped to take dozens of photos on her smart phone.
But I'm here to look up not down. This what the falls look like from the base.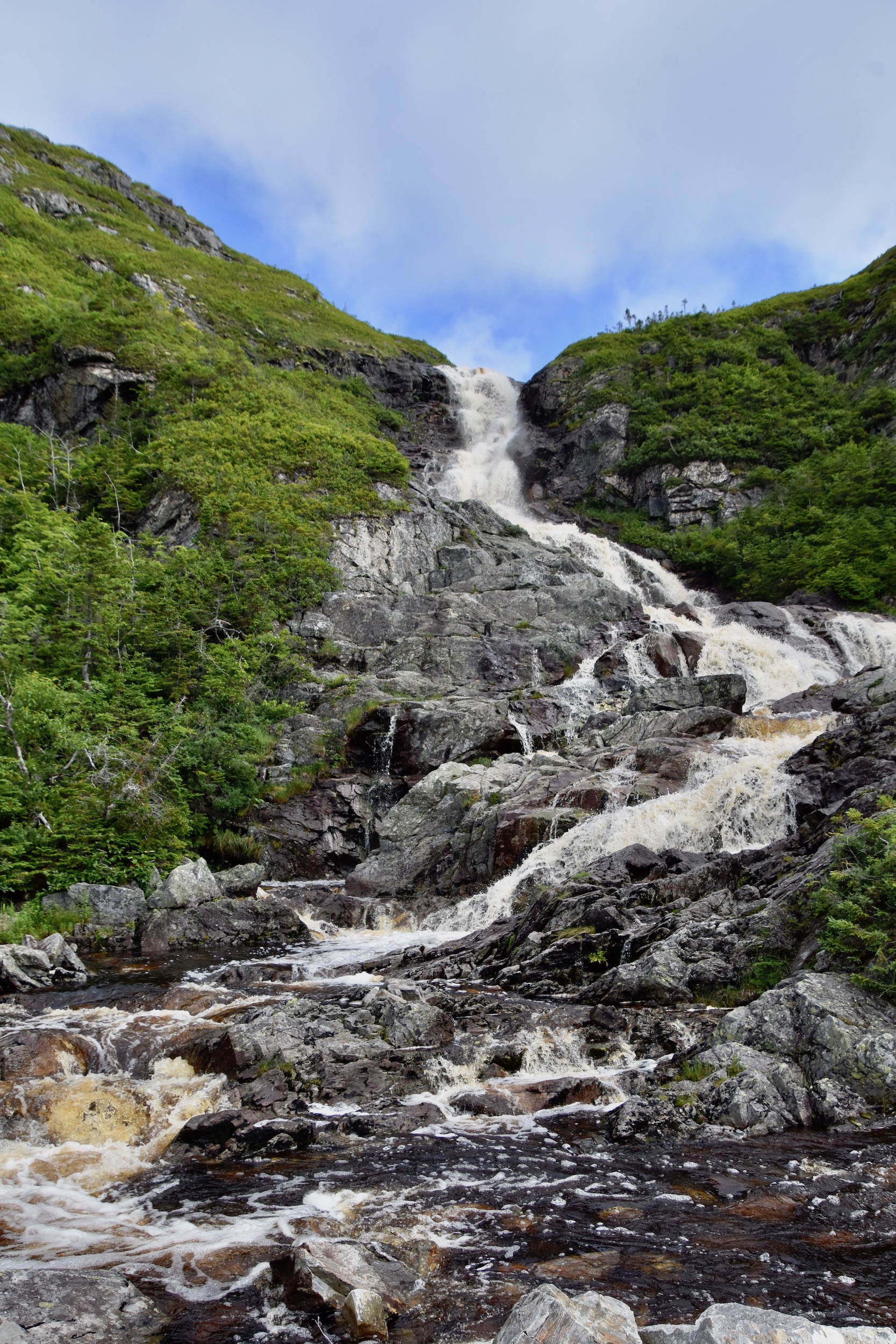 And this is the top where it goes over the ledge dropping 50 metres (over 150 feet) to the pool at the bottom.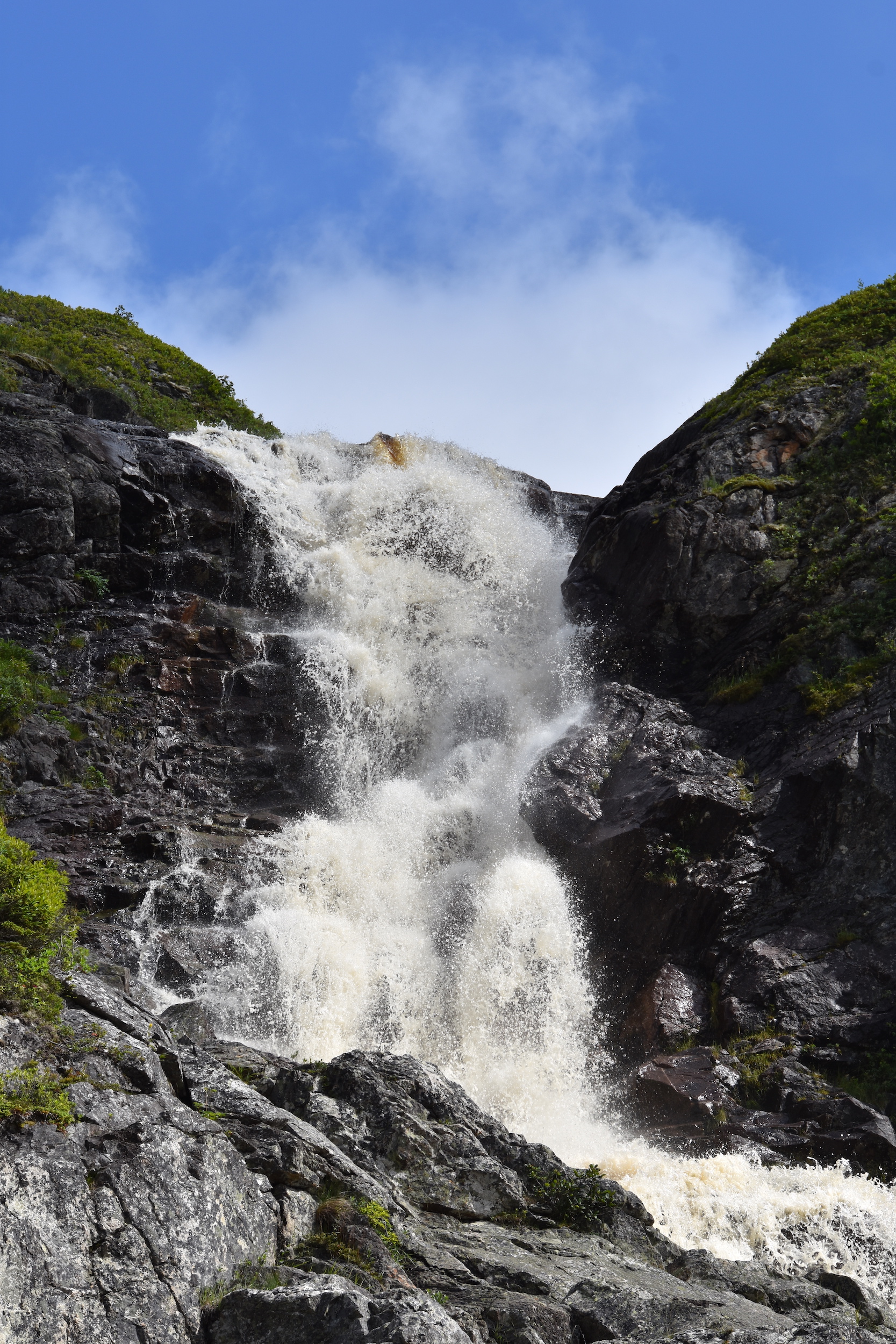 If the photos aren't enough to convince you that this is a must visit site, here is a video I took standing on a rock at the base of the falls. Barachois Falls was the first of many, many waterfalls we were to see during our time in Newfoundland and Labrador. If you are a fan of this type of natural phenomena, and who isn't, then western Newfoundland is a perfect destination for you.
Not far past Barachois Falls on the Granite Coast you come to the bumpy, but short road to the La Poile passenger ferry which services the tiny outport with less than 90 permanent residents. While we won't be taking that on this trip we did spend some time exploring the old cemetery nearby. Just as the outports are slowly dying, so too is this cemetery, which was becoming overgrown and eventually will all but disappear. Like the waterfalls, this was only the first of many abandoned cemeteries we would come across in Newfoundland and Labrador.

Rose Blanche Lighthouse, the Granite Coast
Contrary what one would think, Rose Blanche is not a French version of white rose, but rather a corruption of the term Roche Blanche or white rock. That becomes evident at Diamond Cove where you can see quartz veins wide enough to be seen from miles around and well out to sea. The town of Rose Blanche is a tale of boom and bust. Settled in the early 1800's it was a beneficiary of the outport resettlement programs that offered incentives for outport dwellers to leave their under served communities and move to larger ones. Once Rose Blanche got a road to it and electricity in 1961 it was a preferred spot for resettlement in southwest Newfoundland. It also got a large fish processing plant that provided employment for these resettlers. But, when the cod fishery collapsed so did Rose Blanche. There are fewer people here now than in 1869. But it does have one great thing going for it, the Rose Blanche Lighthouse which is unique in Newfoundland and most of North America for that matter.
The lighthouse was built in 1871, but it's no ordinary lighthouse. While the building itself was designed by the local lighthouse inspector, the lighting apparatus was designed by the legendary Stevenson family of Scotland of whom the writer Robert Louis Stevenson was also a member and an occasional lighthouse builder's apprentice. I've visited many Stevenson lighthouses in Scotland including this one at Turnberry, built on the site of a ruined castle where Robert the Bruce was born. They are considered to be the apex of lighthouse design and lighthouse aficionados come from around the world just to see and photograph them.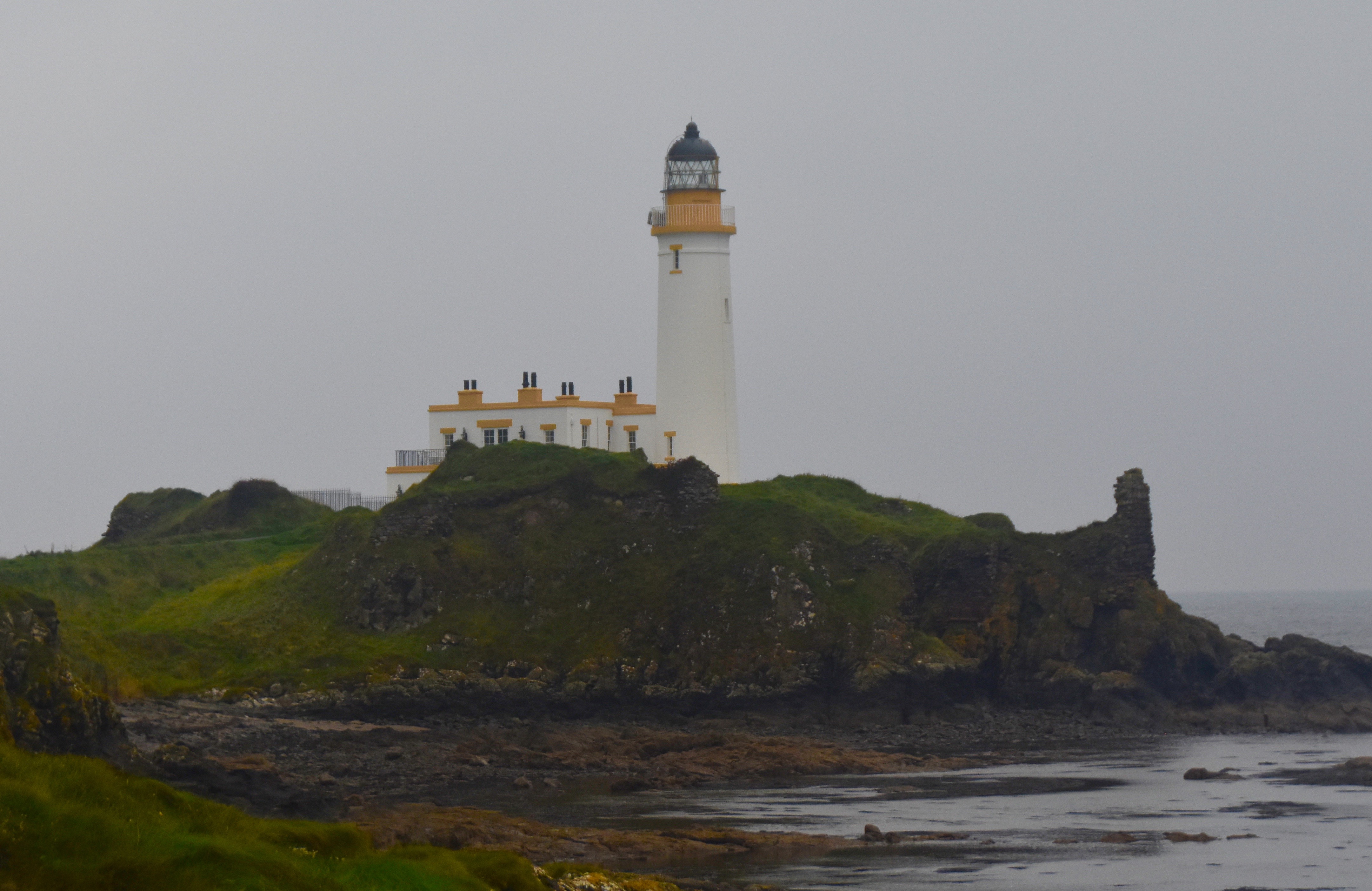 I can find no information as to how or why the then colony of Newfoundland convinced the Stevenson family to design the Rose Blanche light, for as far as I can tell, it is the only one they ever had a hand in constructing in Canada. After arriving at the small parking lot you pay a modest fee and take a circular path to the lighthouse. After rounding a corner this is what you see.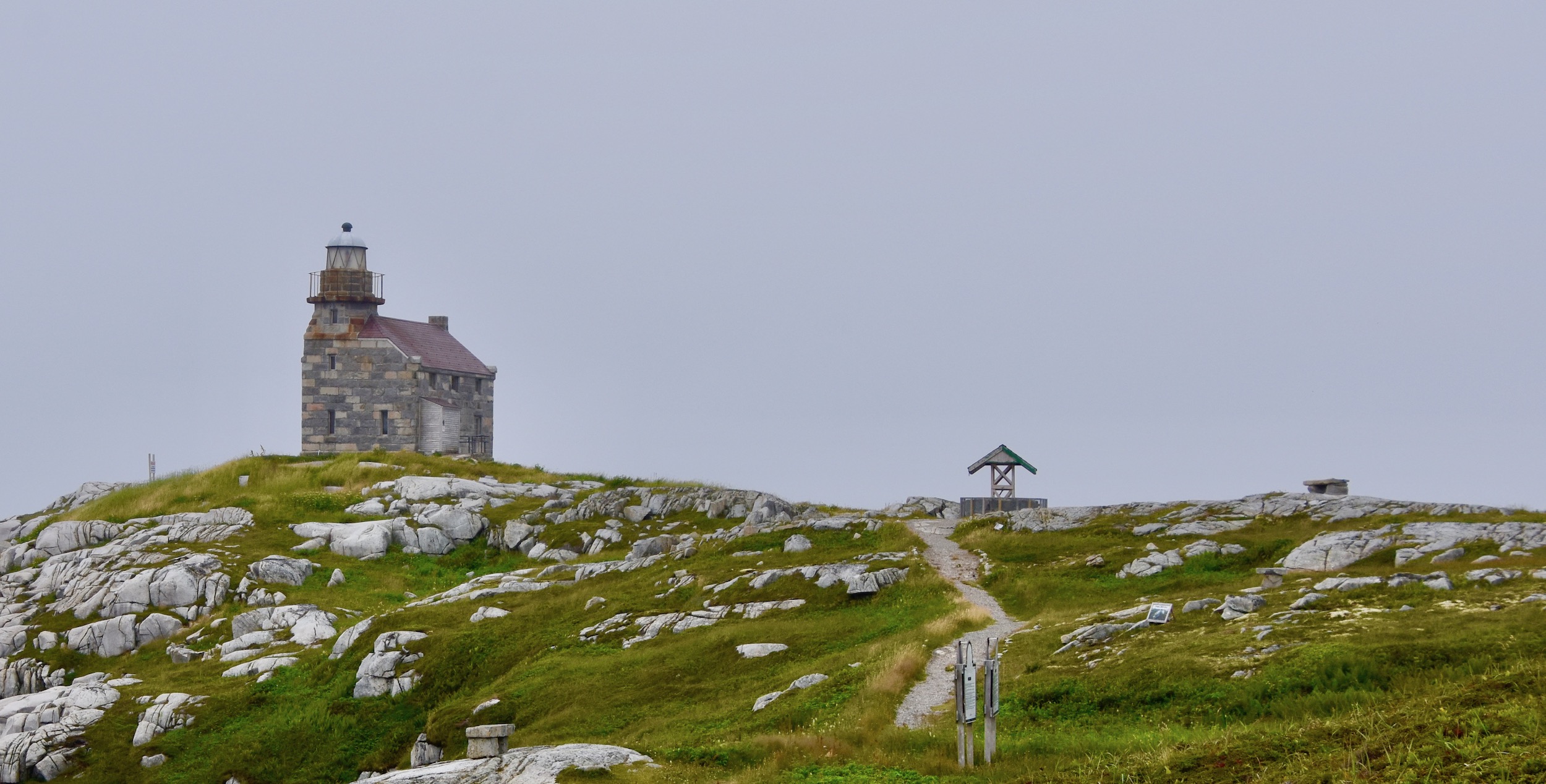 This is the view from closer up from where you can appreciate the various hues of the cut granite stone that make up the exterior.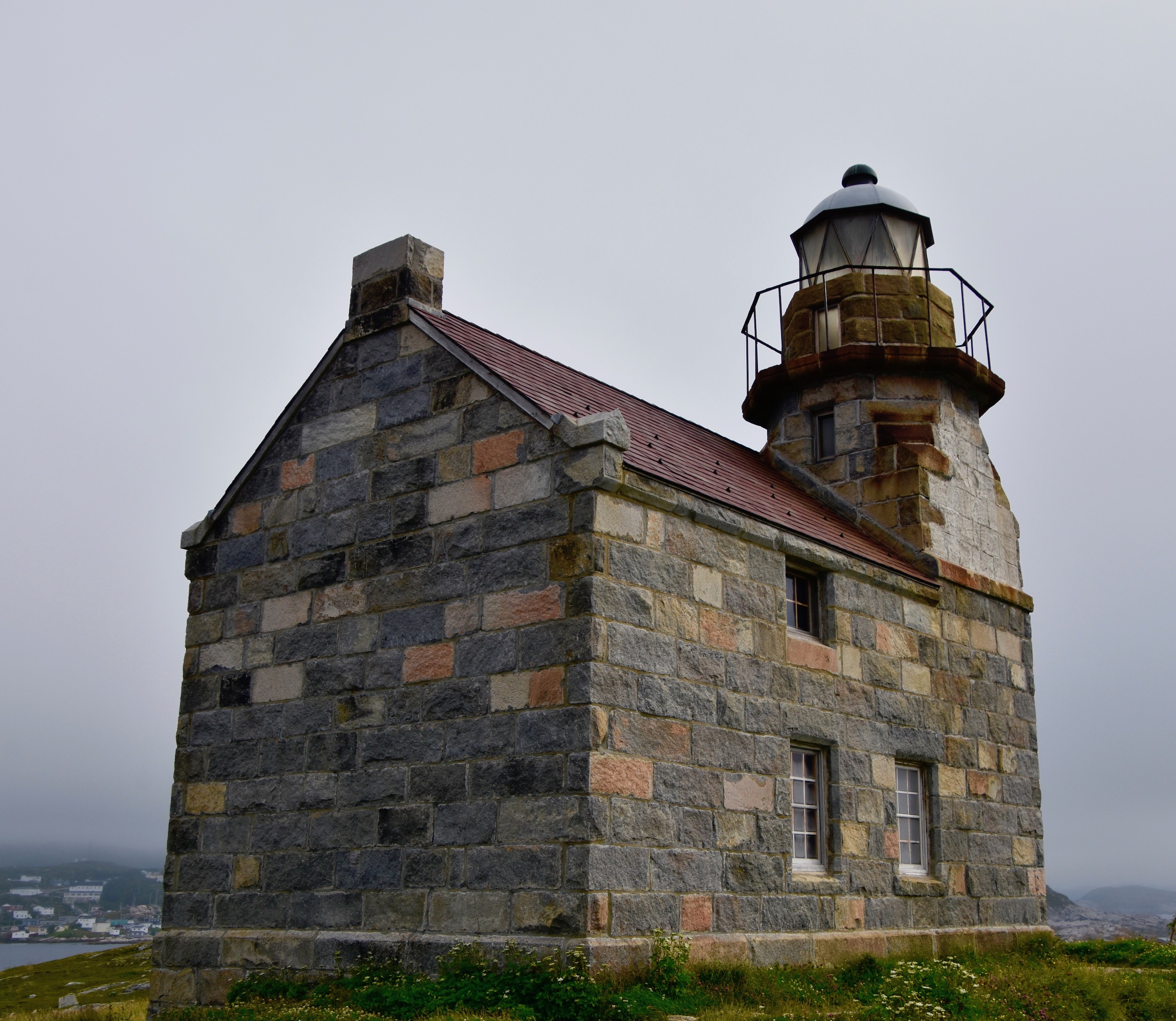 The lighthouse was occupied for over seventy years by various families and actually looks quite comfortable inside. This is the kitchen.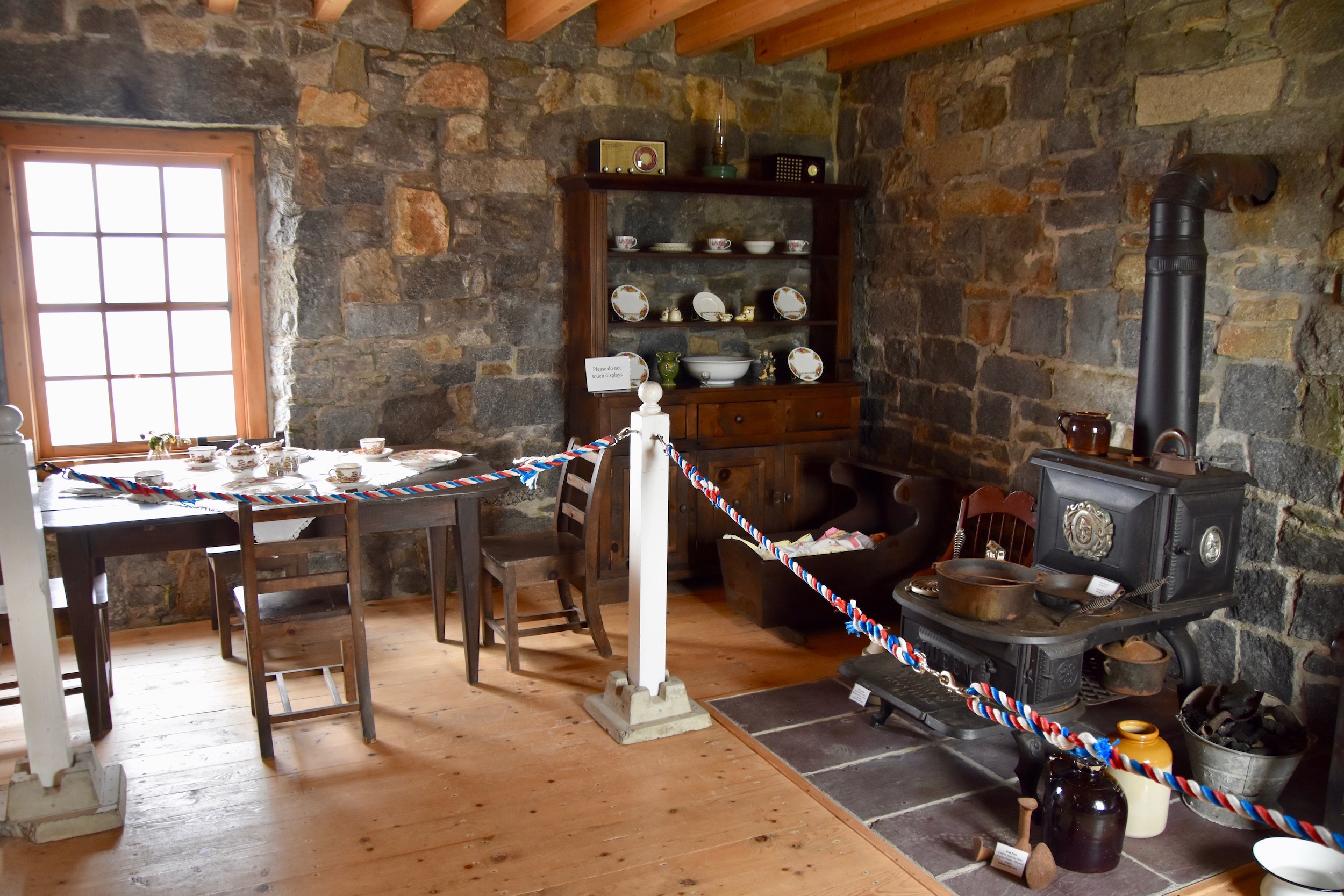 And the bedroom.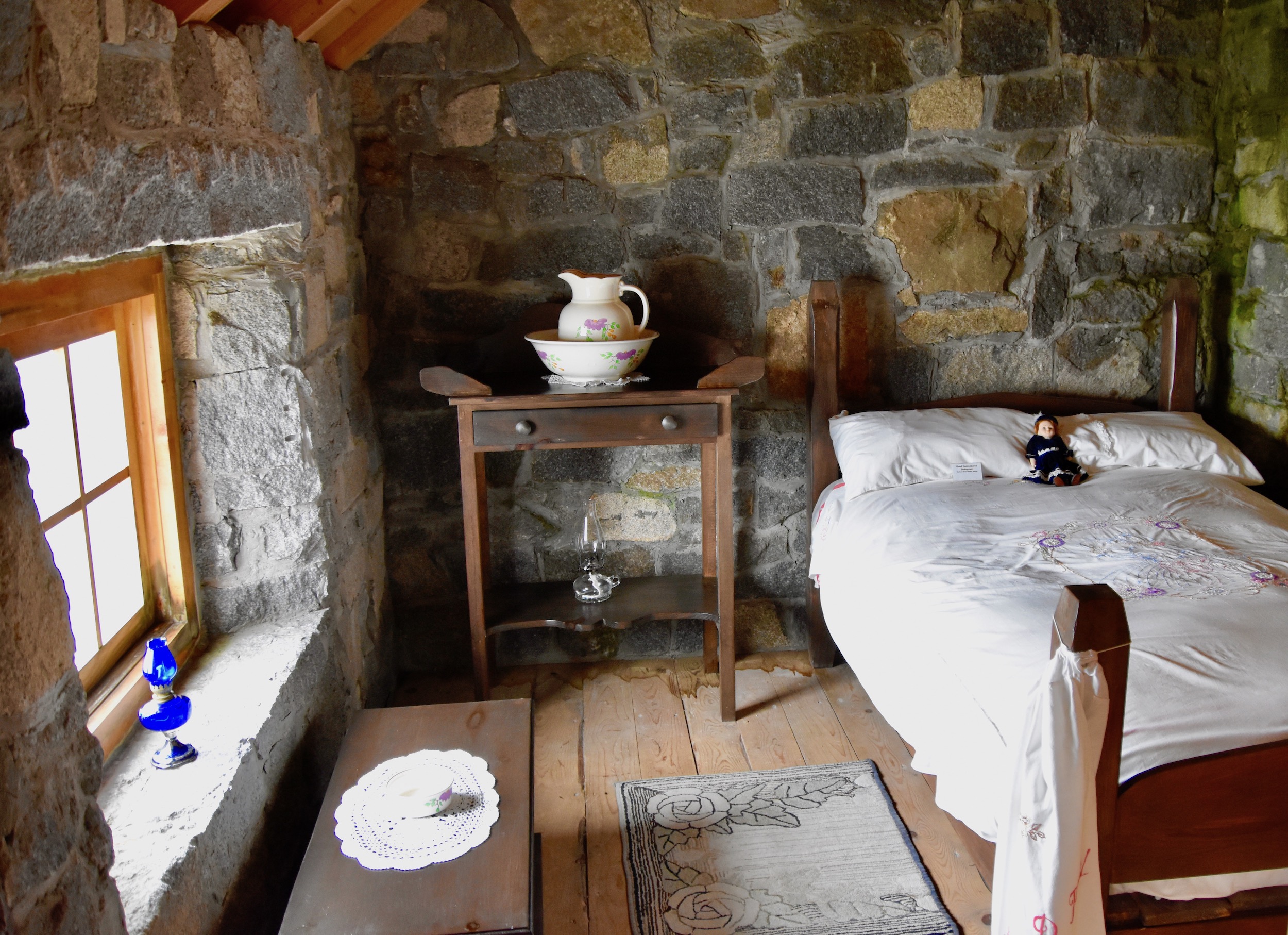 While you cannot climb up into the light you can climb the spiral staircase as far as the base of the ladder that leads to the top.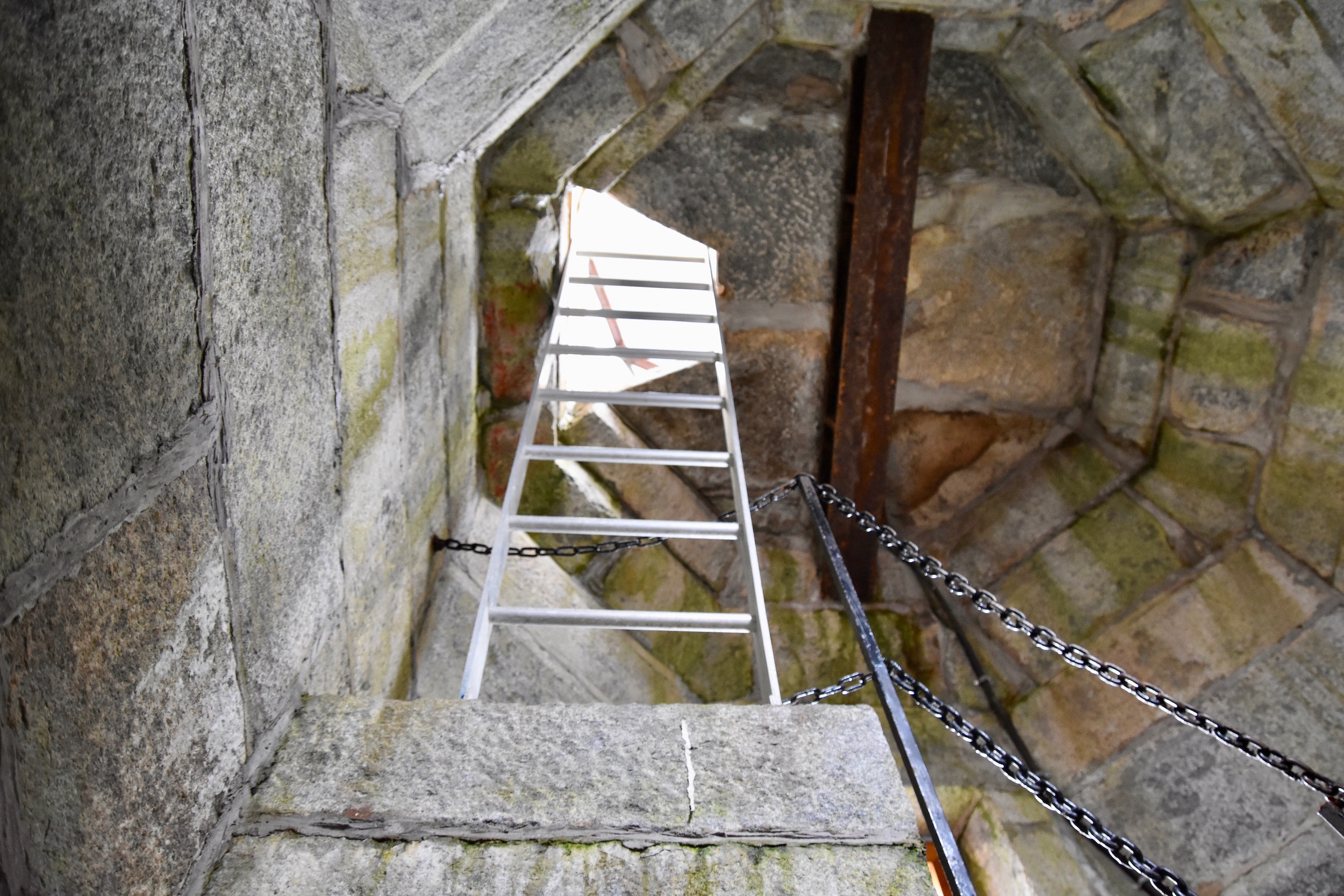 Sherman Hines, who taught me my first photography course, has published over seventy books on photography of which by far the most famous is Outhouses of the East. I don't know if Sherman made it to Rose Blanche or not, but if he had he surely would have included this outhouse in his collection.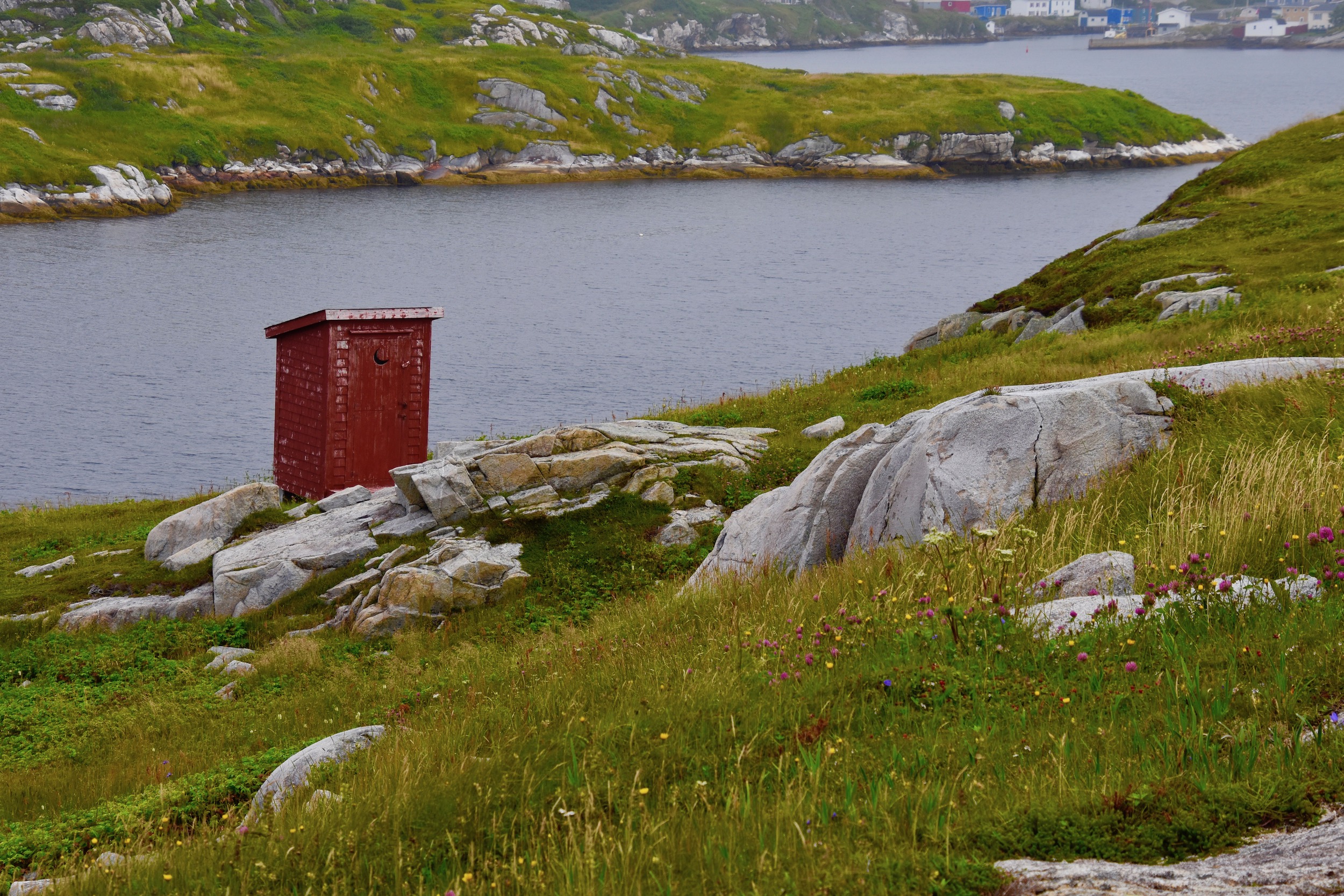 It is hard to overstate the sheer beauty of the Rose Blanche lighthouse and its surroundings. I took this video standing on the highest point on the trail and I think it will convince you that it is worth your while to go out of your way to visit this amazing place. Sorry for the lousy audio.
The Rose Blanche trail on the Granite Coast is also a great place to get a primer on Newfoundland wild flowers and berries. There are at least two dozen different plant species identified. This is crackerberry, a close relative of the more common bunchberry.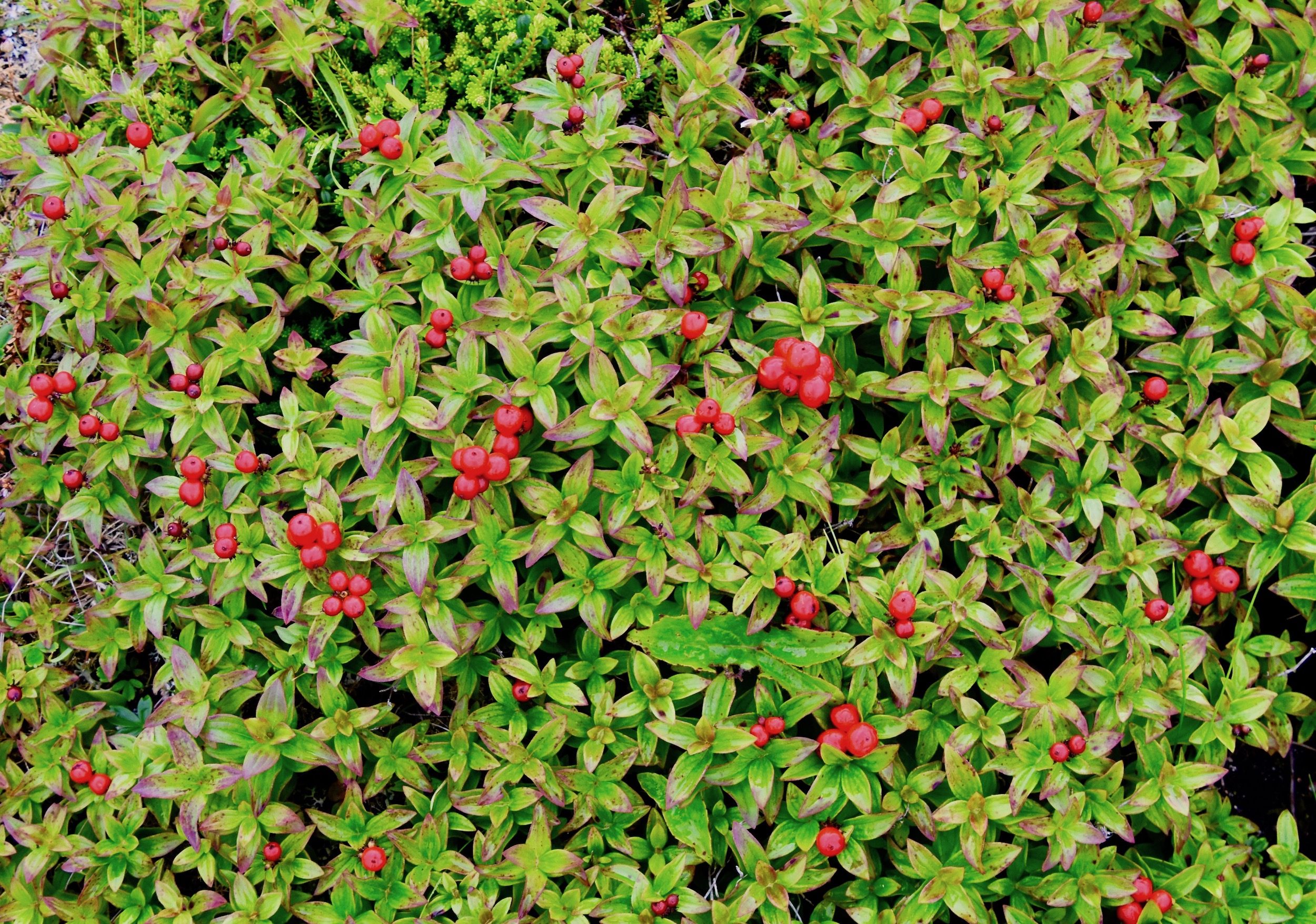 There is also this unusual rock formation, Praying Hands Rock made from the rock that gives the Granite Coast its name.
Back at the parking area it is definitely worth visiting the gift shop which has locally made crafts at ridiculously low prices. Alison bought this hand knit puffin doll for our granddaughter and the crocheted baby's blanket for a new born niece for less than $40.00. We were to find over the next two weeks that Newfoundland and Labrador is a veritable treasure chest of inexpensive yet high quality handicrafts and folk art.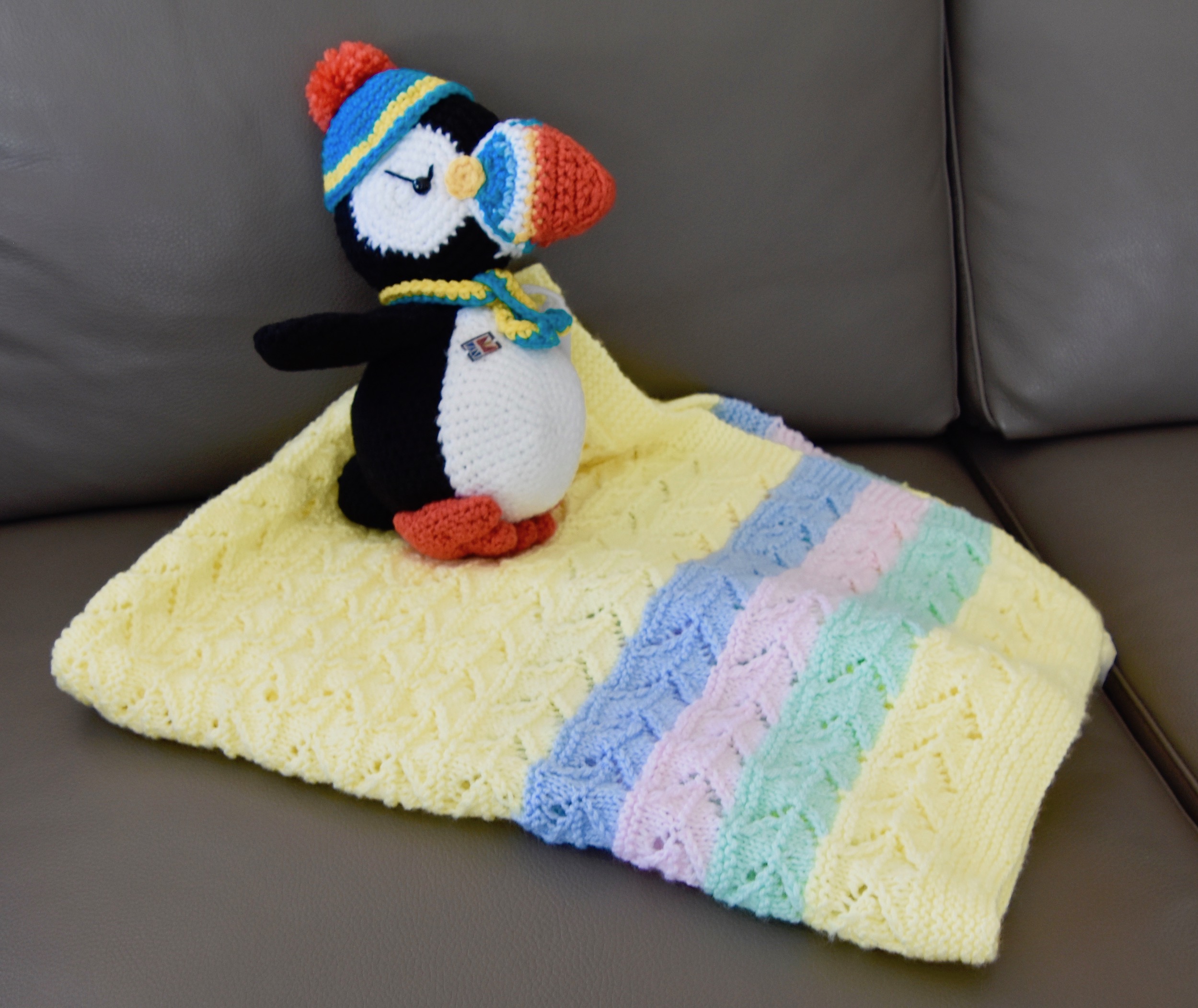 The other thing you can do at the gift shop is deck yourself out in a sou'wester and slicker to pose in front of this tableau. Alison opted to forego the outfit to assist in repairing this fishing net.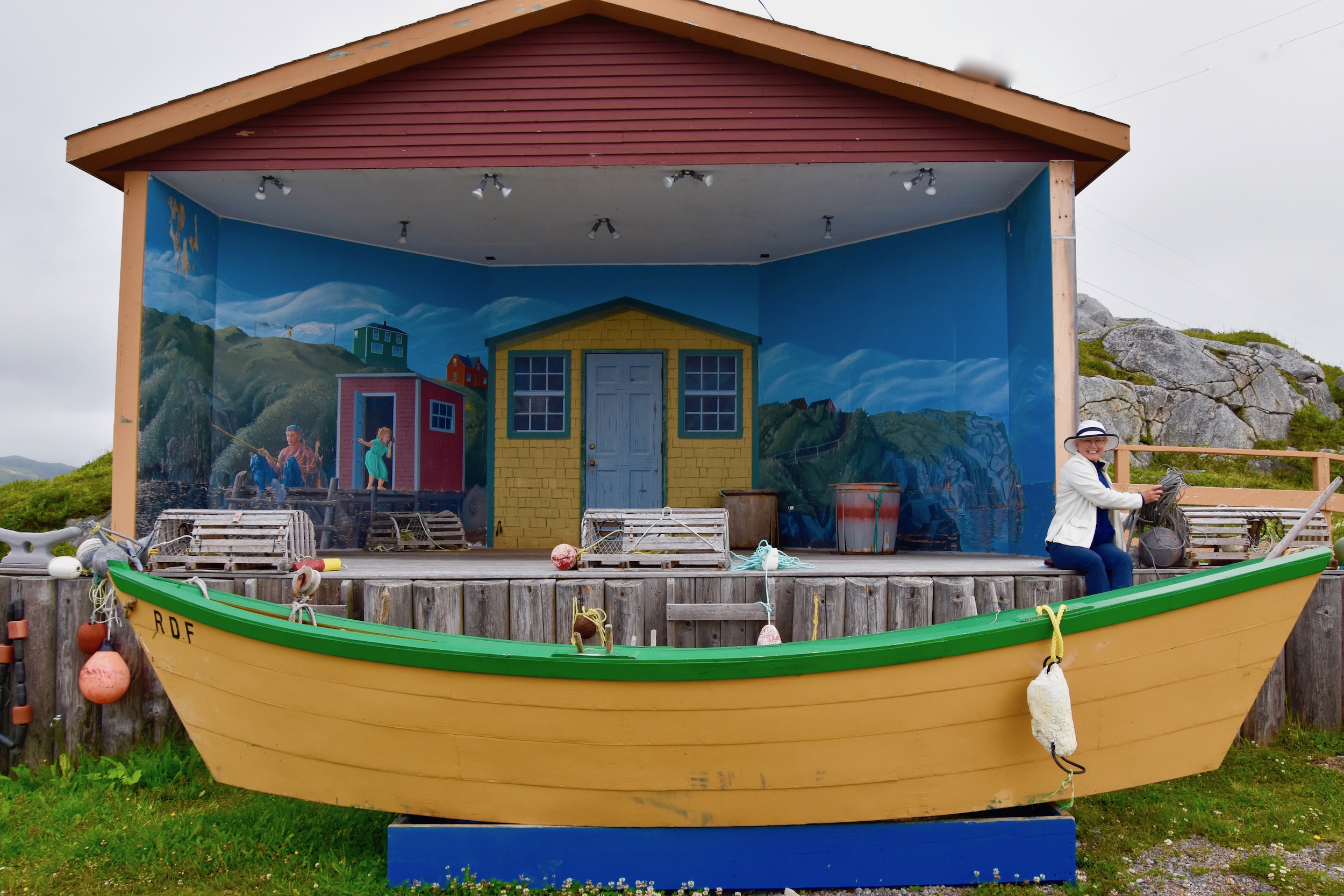 It is time now to retrace our steps on the Granite Coast to Port aux Basques and look for two more lighthouses before ending our first day in Newfoundland and Labrador. We'll do that in the next post. Hope you'll join us.