Bonne Bay – Discover Newfoundland's True Fjord
The word 'fjord' has magical qualities that evoke deep Scandinavian ocean inlets surrounded by massive cliffs that are considered, rightly so, as some of the most beautiful landscapes on this planet. People pay big bucks to take cruises into these fjords on lines like Viking and Norwegian, but did you know that Newfoundland has a fjord of its own? You don't have to cross the Atlantic to enjoy a cruise into a fjord. Join Alison and me on a boat tour of Bonne Bay, Newfoundland's only true fjord.
This is my fourth post on the many amazing things to do in UNESCO World Heritage Site Gros Morne National Park and it won't be the last. Previously we explored the Tablelands, debated the merits of climbing Gros Morne Mountain and checked out Bonne Bay from the Lookout Hills trail. In this post we will stay at sea level and view the grandeur of Gros Morne from the water, but first a recommendation of where to stay on the northern side of Bonne Bay.
Ocean View Hotel, Rocky Harbour

I previously recommended staying in Woody Point while exploring the south side of Bonne Bay which includes the Tablelands, the Discovery Centre and many excellent hiking trails. Once you've spent a few days in that part of Gros Morne you should relocate to the north side of Bonne Bay where you'll find the communities of Rocky Harbour and Norris Point. There are quite a few more accommodation choices on this side of the bay. Our favourite is the Ocean View Hotel in Rocky Harbour. It has a great location right on Rocky Harbour with balconies or patios with every room. It's also got a great feel to it that is created by the many pieces of art work that adorn its walls, like this school of fish.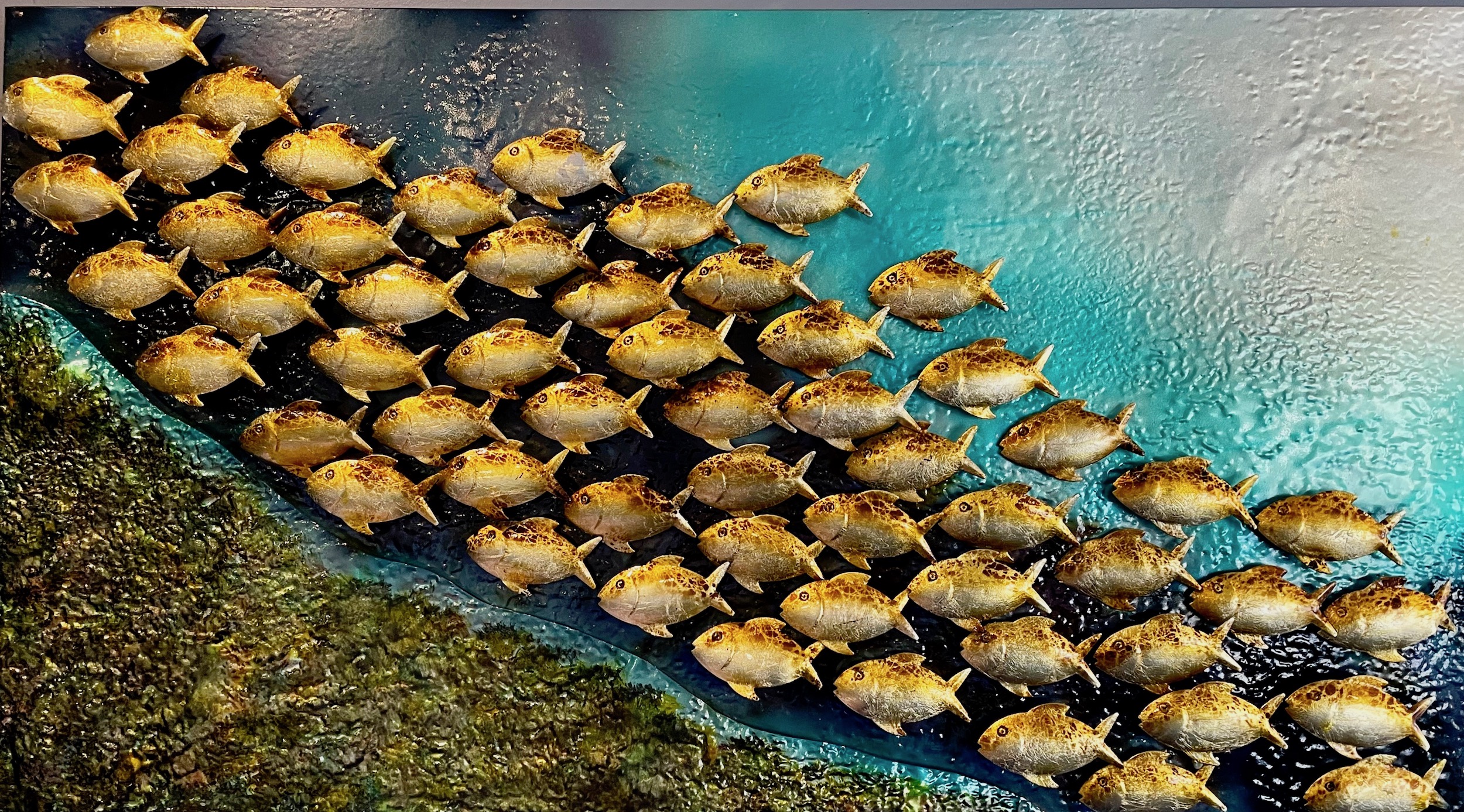 Throughout the common areas you will find folk art pieces by Port aux Choix resident Ben Ploughman which are for sale. They absolutely add something special to this place. Here are some of the pieces that caught my eye.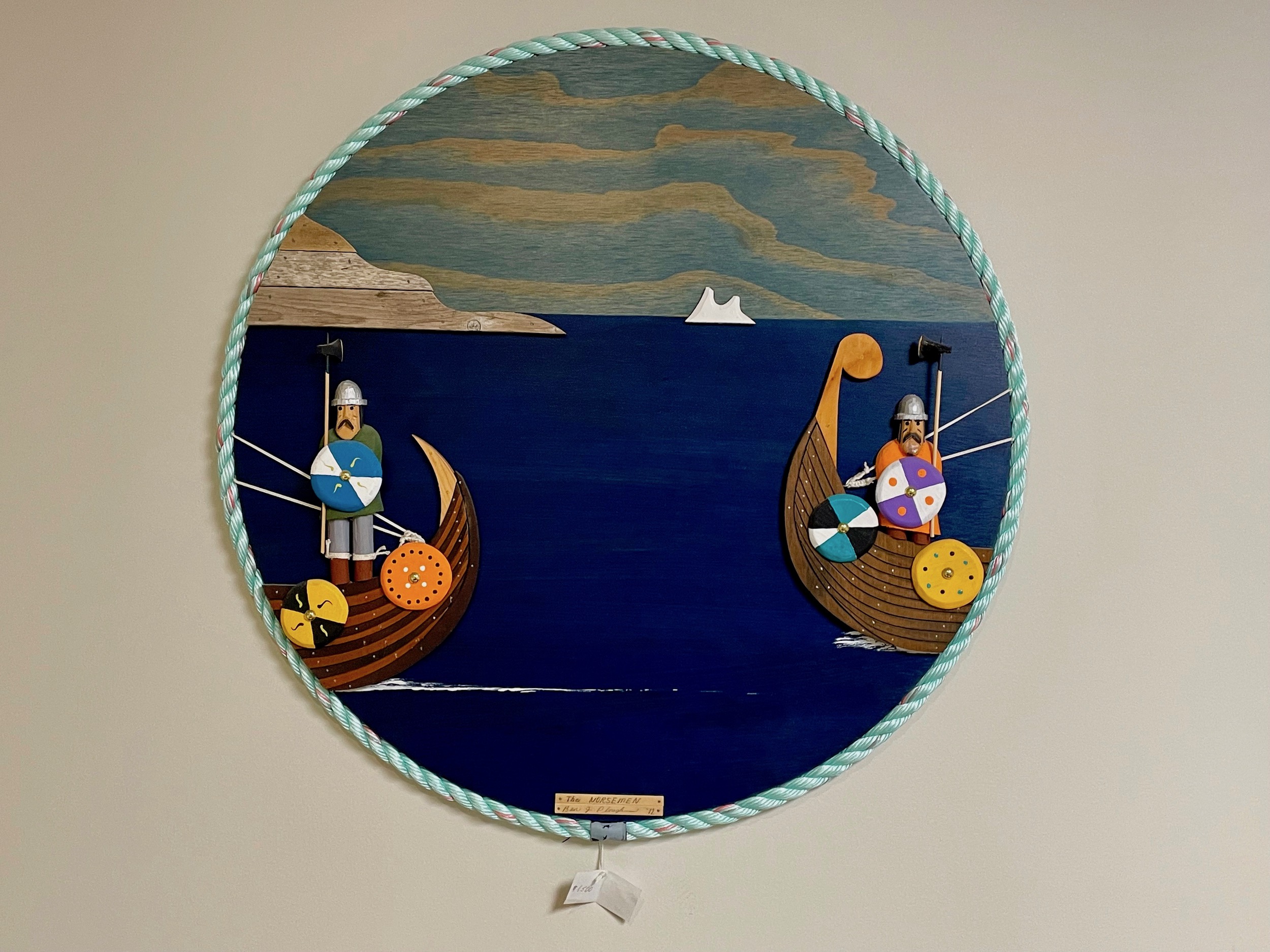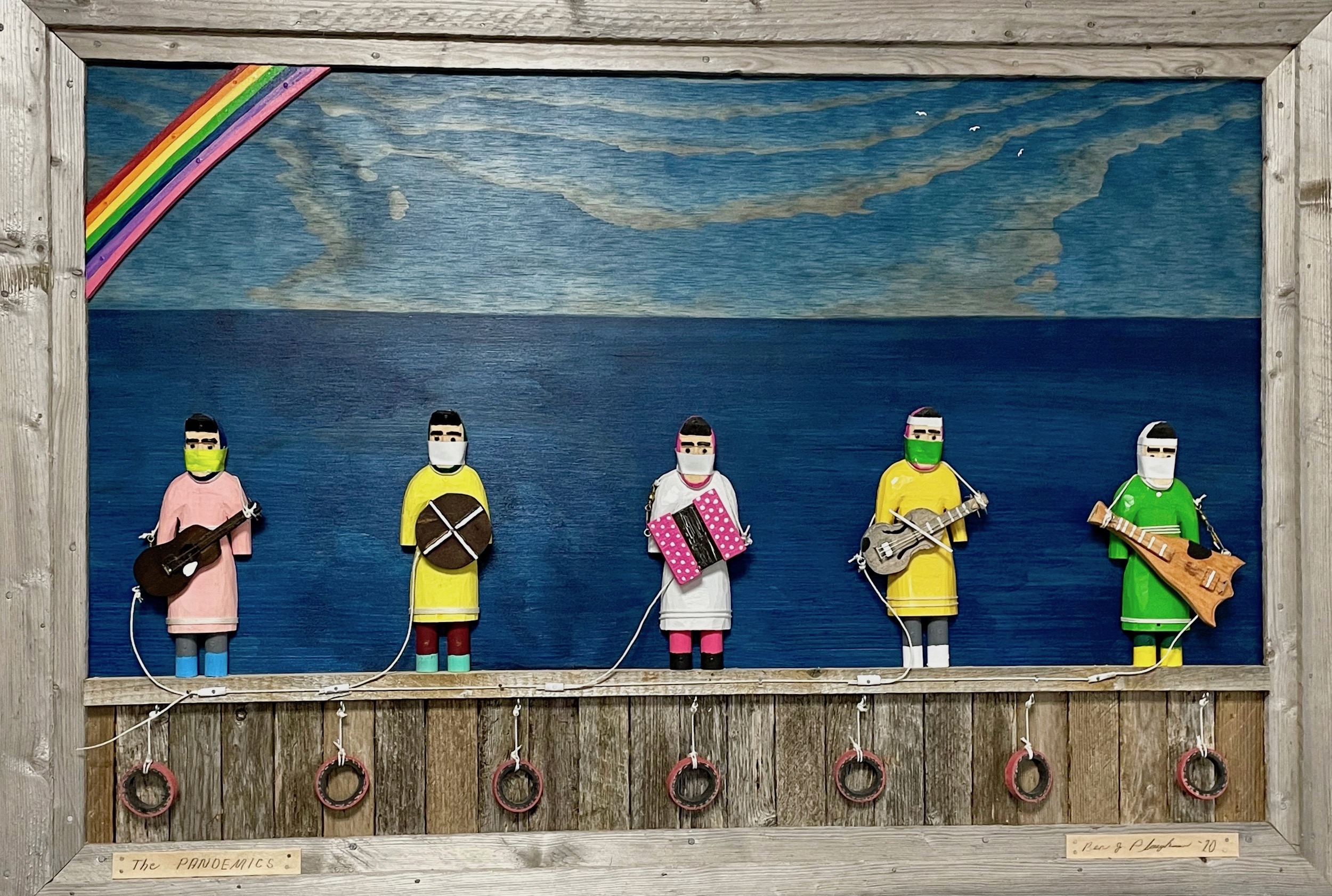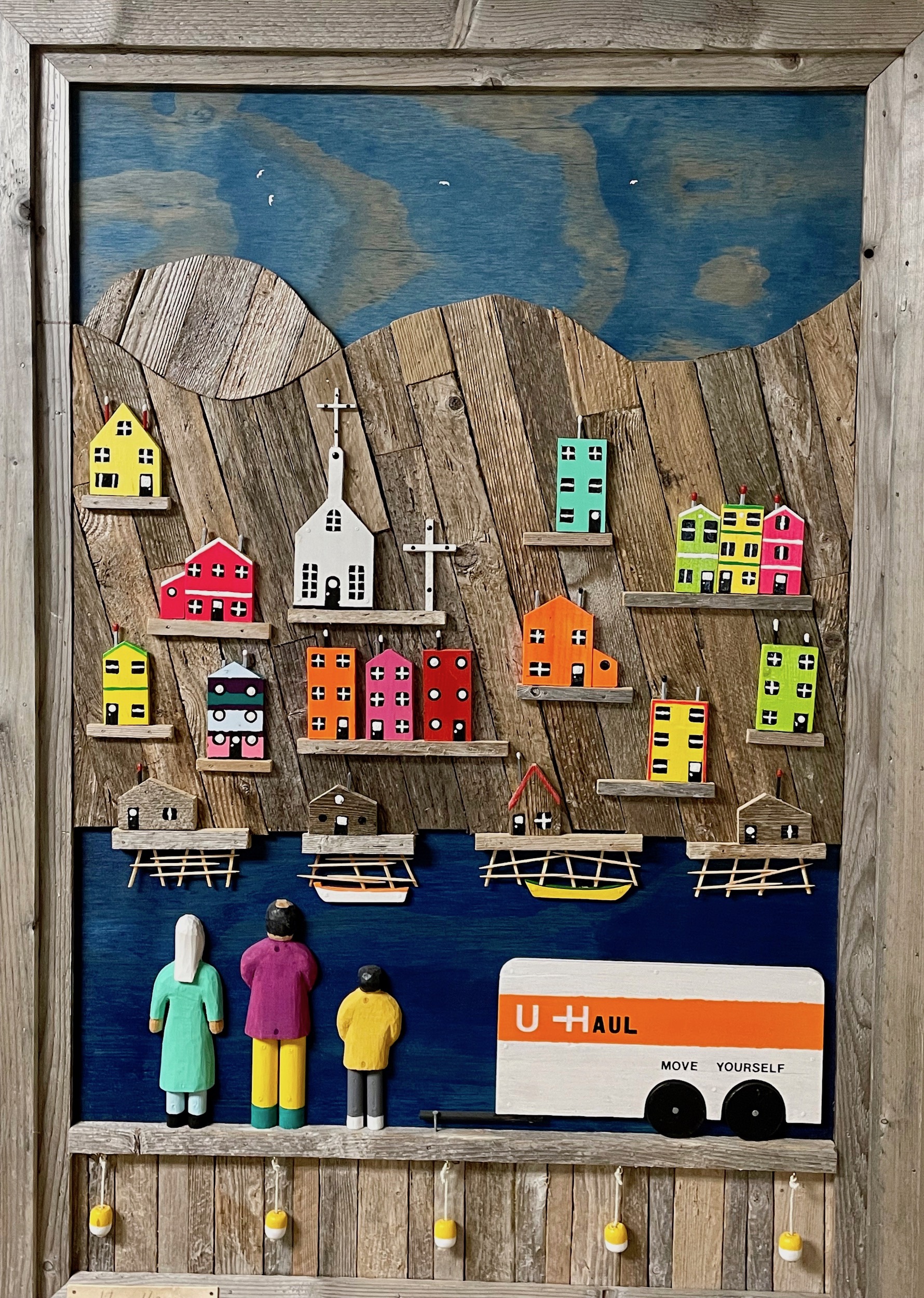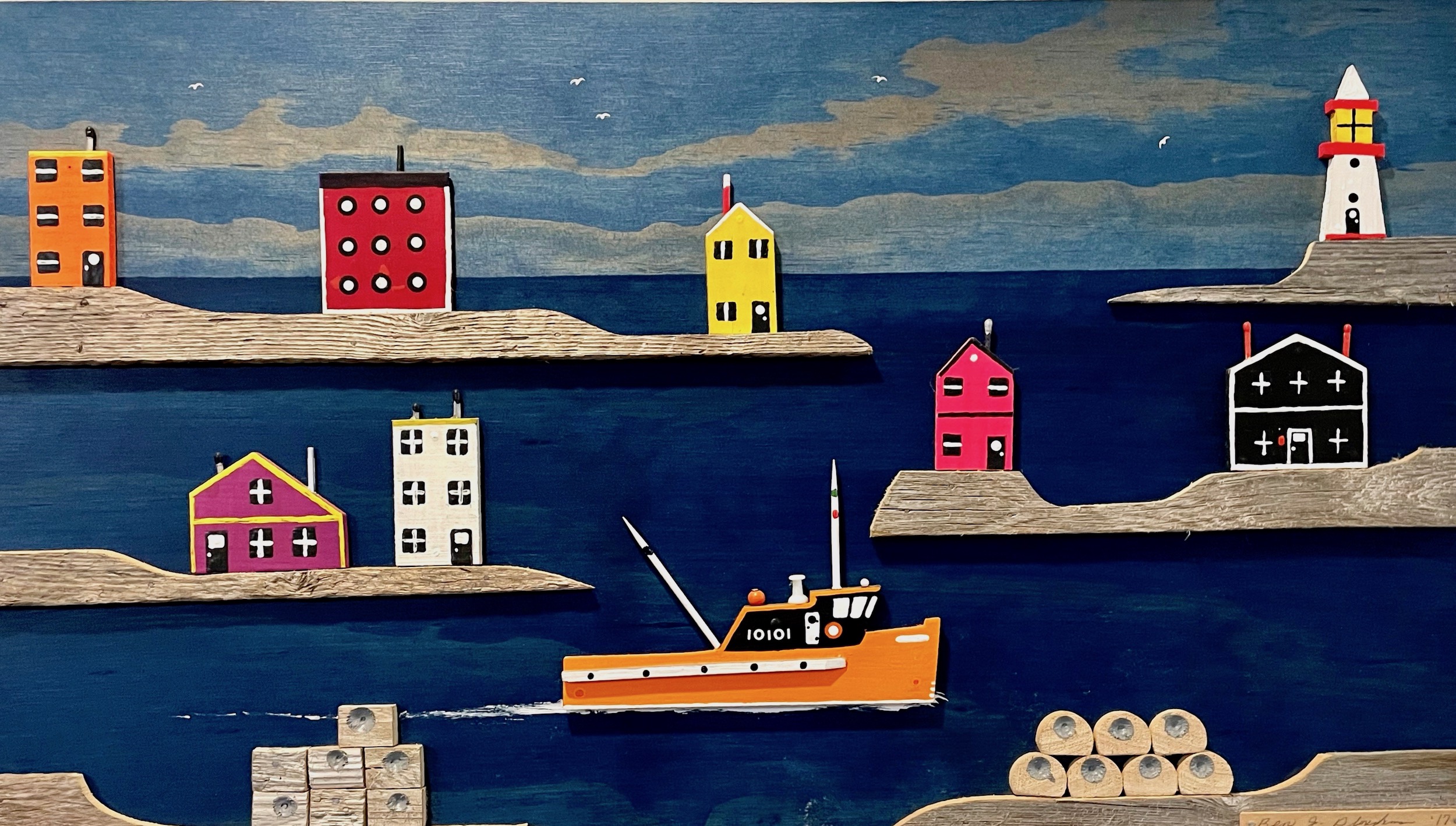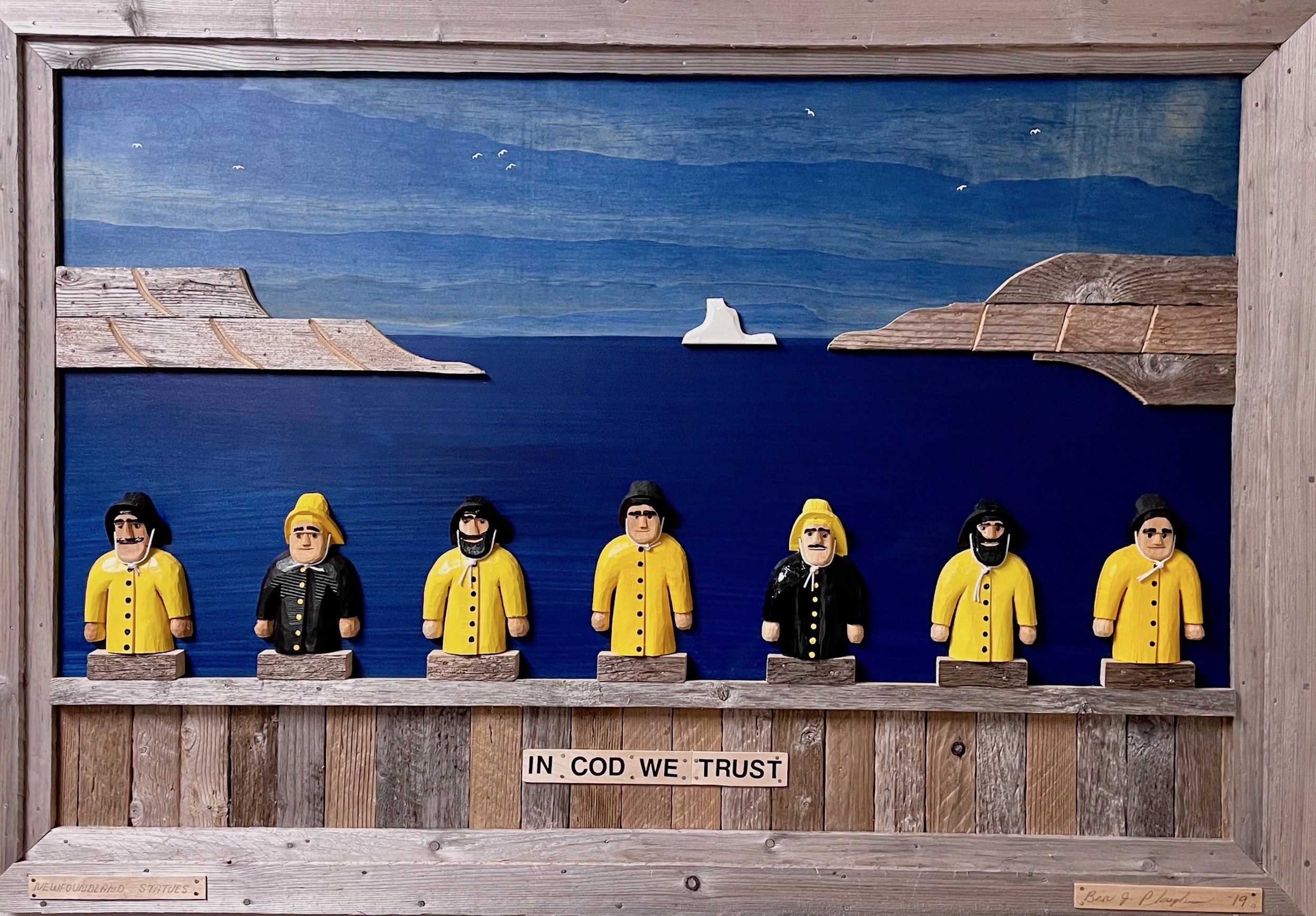 This last piece is evocative of the boat trip on Western Brook Pond which I will describe in the next post. After taking this trip I knew I had to buy it and it now hangs proudly in our home in St. Margaret's Bay, a reminder of a memory that will be treasured for the rest of my life.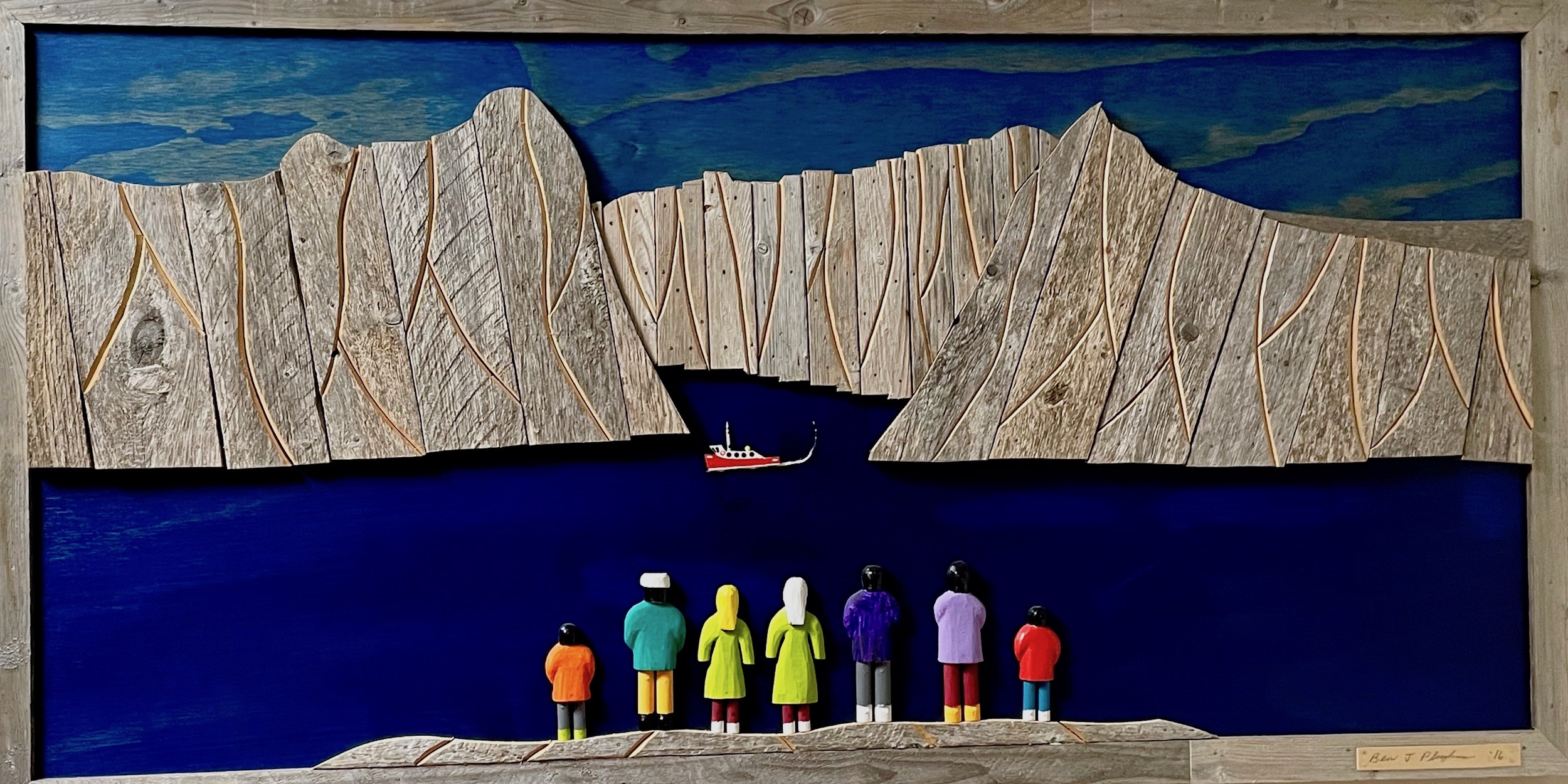 In addition to the art work, the Ocean View Hotel is one of the best places in western Newfoundland to attend a kitchen party. This is a celebration of Newfoundland music and story telling that no one who visits the Rock should miss. The Anchor Pub is the ideal place to do this and you can get screeched in here too! Lastly, the Oceans Room is one of the best places to eat in the Gros Morne area.
In case you are wondering, I do not get any consideration from the places I recommend and paid the same as you would for our stay at the Ocean Inn.
Bon Tours of Bonne Bay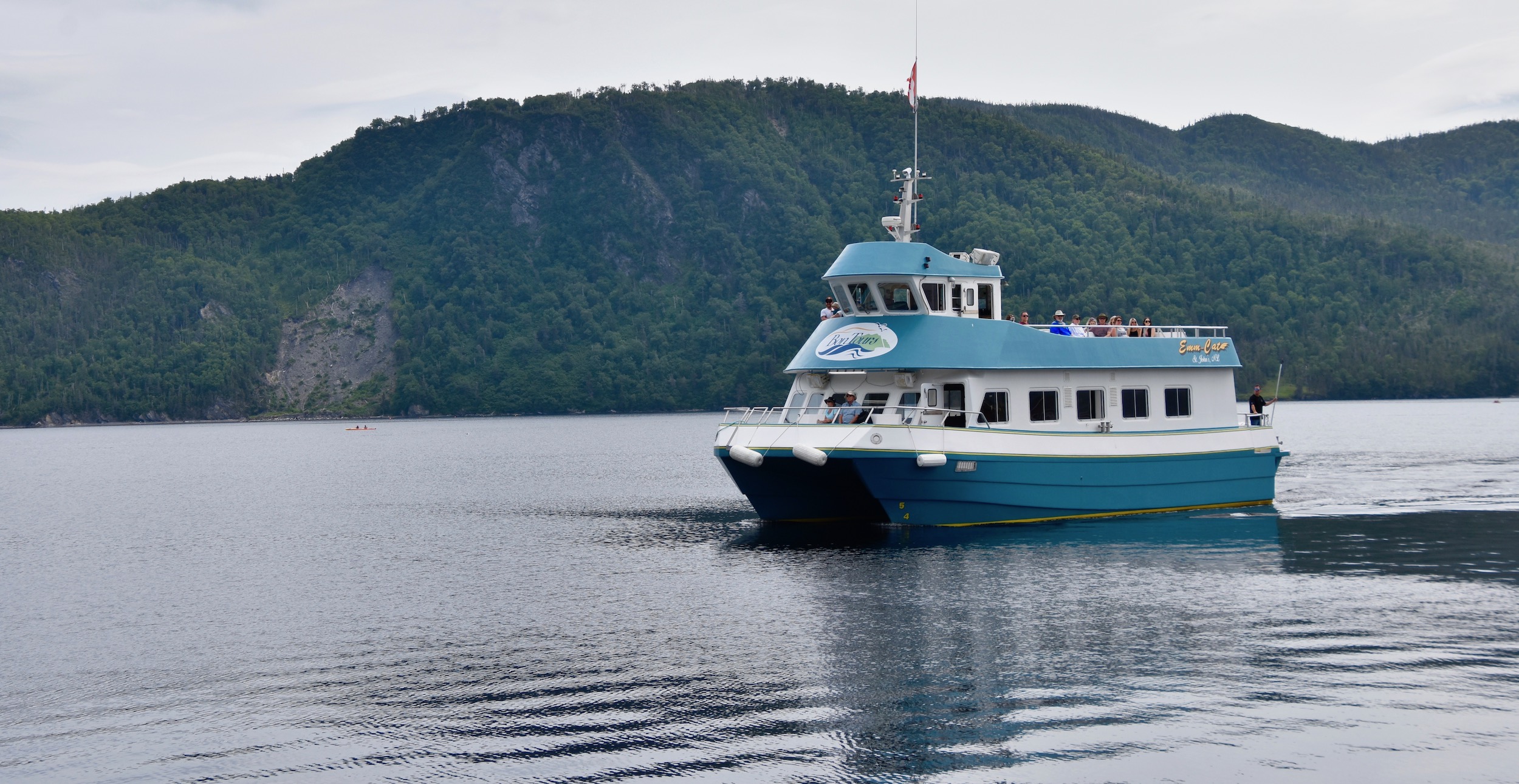 So why did I describe Bonne Bay as Newfoundland's true fjord? Simple, because it's accurate. A true fjord is one that is open to the sea and contains salt, not fresh water. Gros Morne does have two former fjords, Trout River Pond and Western Brook Pond, but as the weight of the glaciers that created them receded the land rose and cut them off from the sea. They are both amazing places to visit, but they are not true fjords.
Bon Tours offers a variety of boat tours on Bonne Bay, but the most popular is the one that leaves Norris Point at 2:00 PM every day during the season and takes tourists on a two and a half hour excursion along the shores of the fjord. It costs $48.00 for adults, $30.00 for 12-16 and $20.00 for children and is worth every penny. Although the Western Brook Pond Tour, which I'll describe in another post, is more spectacular it does require walking 3 kms. (1.85 miles) each way to reach the departure point. If this is something you do not think you can handle then the Bonne Bay tour is a good substitute. In truth, capable visitors should do both on a visit to Gros Morne.
The Emm-Cat departs from the Cat Stop Pub in Norris Point which allows visitors to enjoy a leisurely lunch on the waterfront before boarding. Alternatively, you can stop into the aquarium at Bonne Bay Marine Station which is right next door to see many of the denizens of the Bonne Bay area.
The tour begins by heading out to the mouth of Bonne Bay where you can see the Lobster Cove lighthouse in the distance. It then crosses to the south side of the bay where there are the sheer cliffs of the Lookout Hills.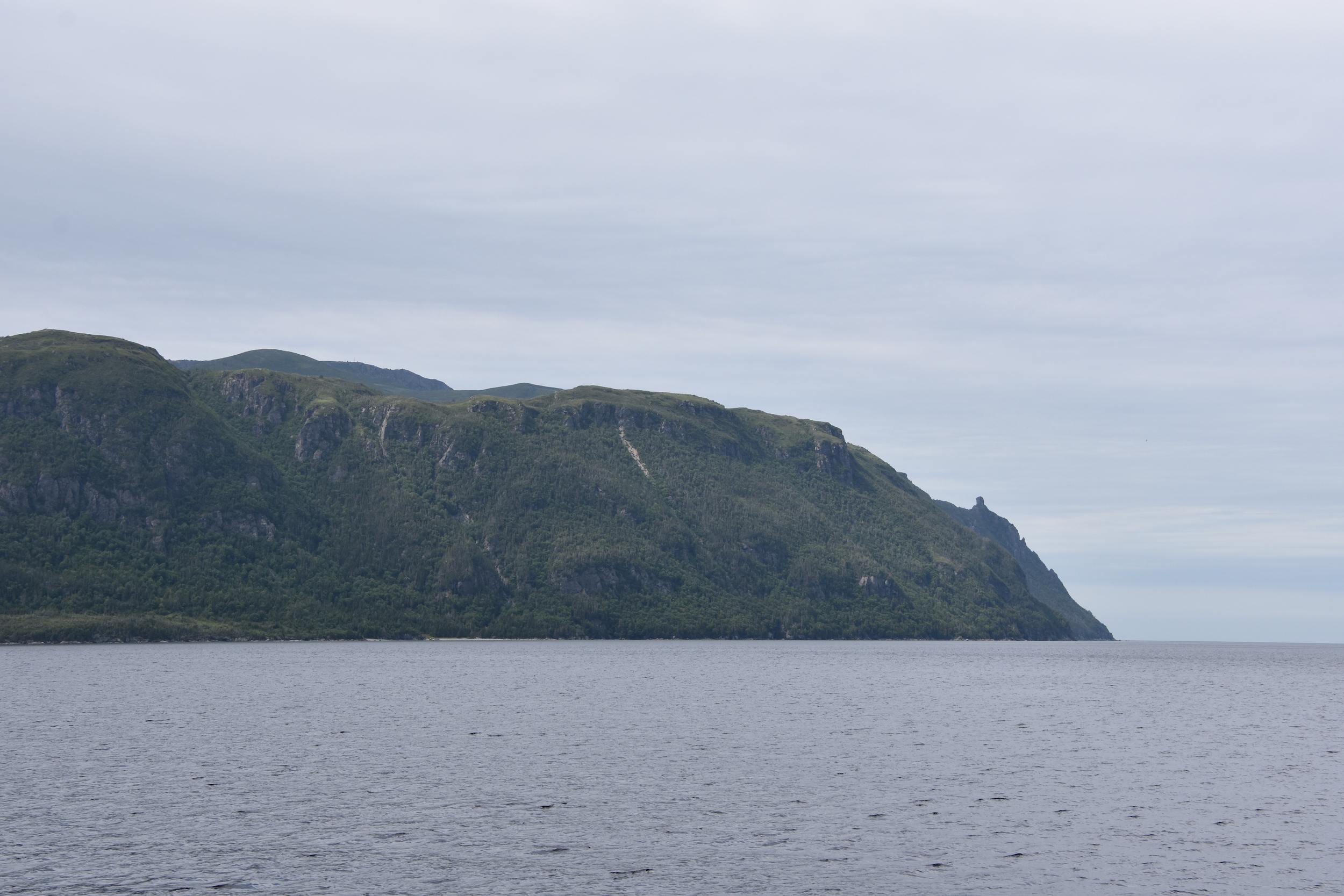 Here you will see a number of waterfalls.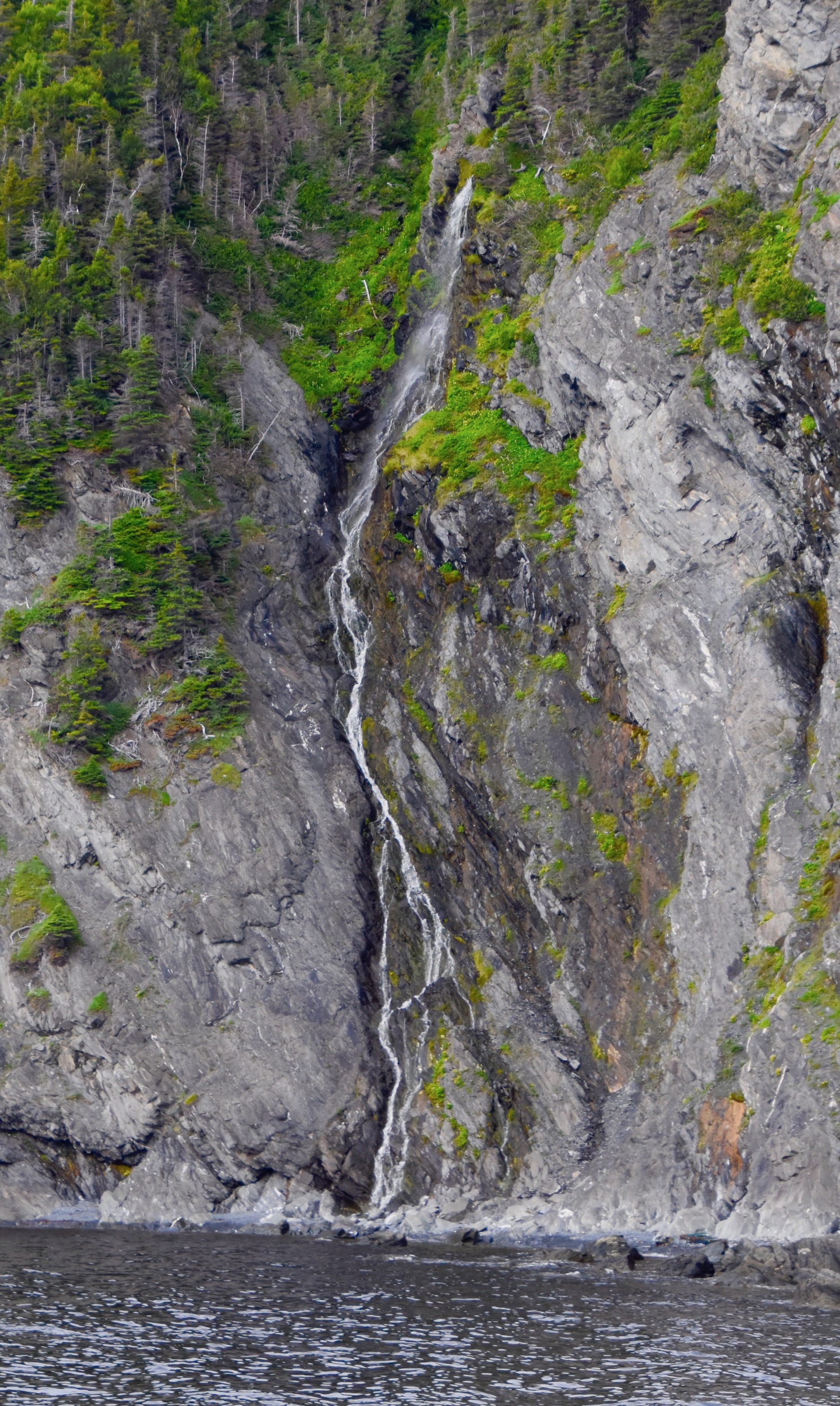 And a number of rock pinnacles like these below.
The tour is accompanied by raconteur from the crew mates with a number of humorous stories like the time they came across a couple of nude sunbathers at this tiny beach.

The tour then passes by the various communities that make up the town of Woody Point. This is the Woody Point lighthouse with the Tablelands lurking in the background.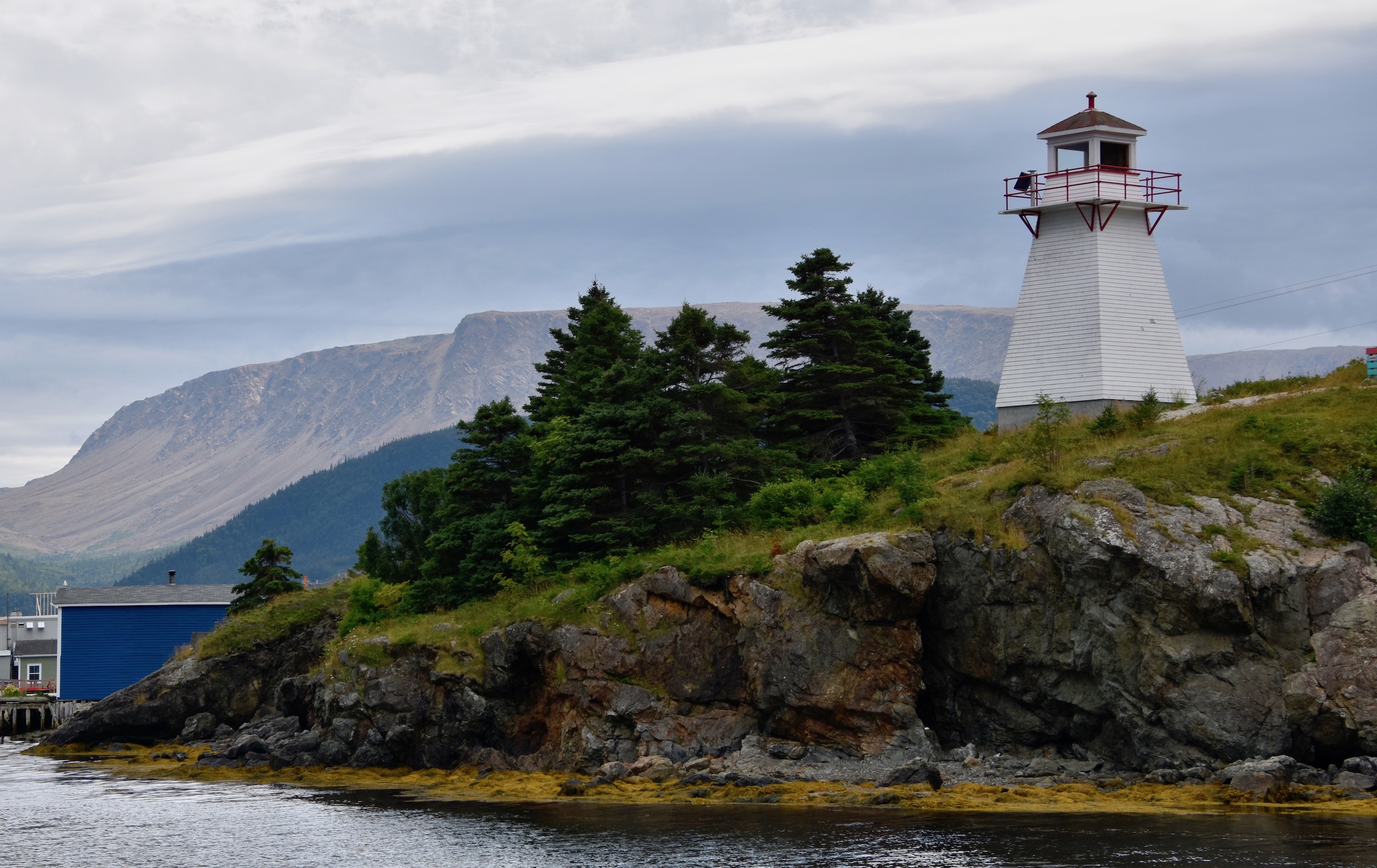 Woody Point has a number of unusual features in some of its buildings such as this strange second floor opening that the crew described as a mother-in-law door.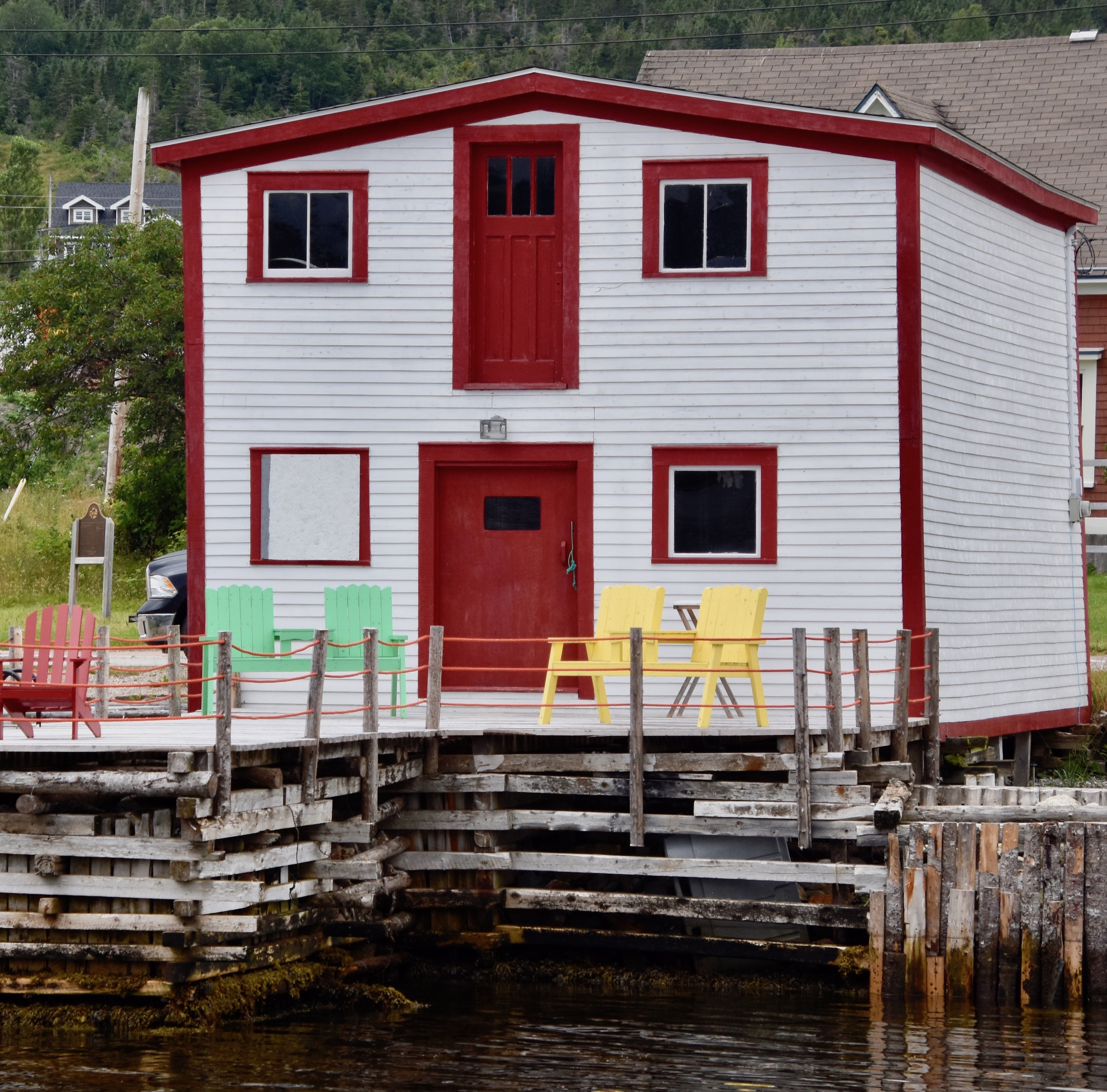 Notice how close the windows in these buildings are to the roof.

This is the Woody Point Heritage Theatre, probably the most unique building architecturally in the entire Gros Morne area. Originally an Orange Lodge it is now the home of the acclaimed Writers at Woody Point Festival which takes place every August and features writers, comedians and musicians from across Canada. It is one of the most widely anticipated events every year in western Newfoundland.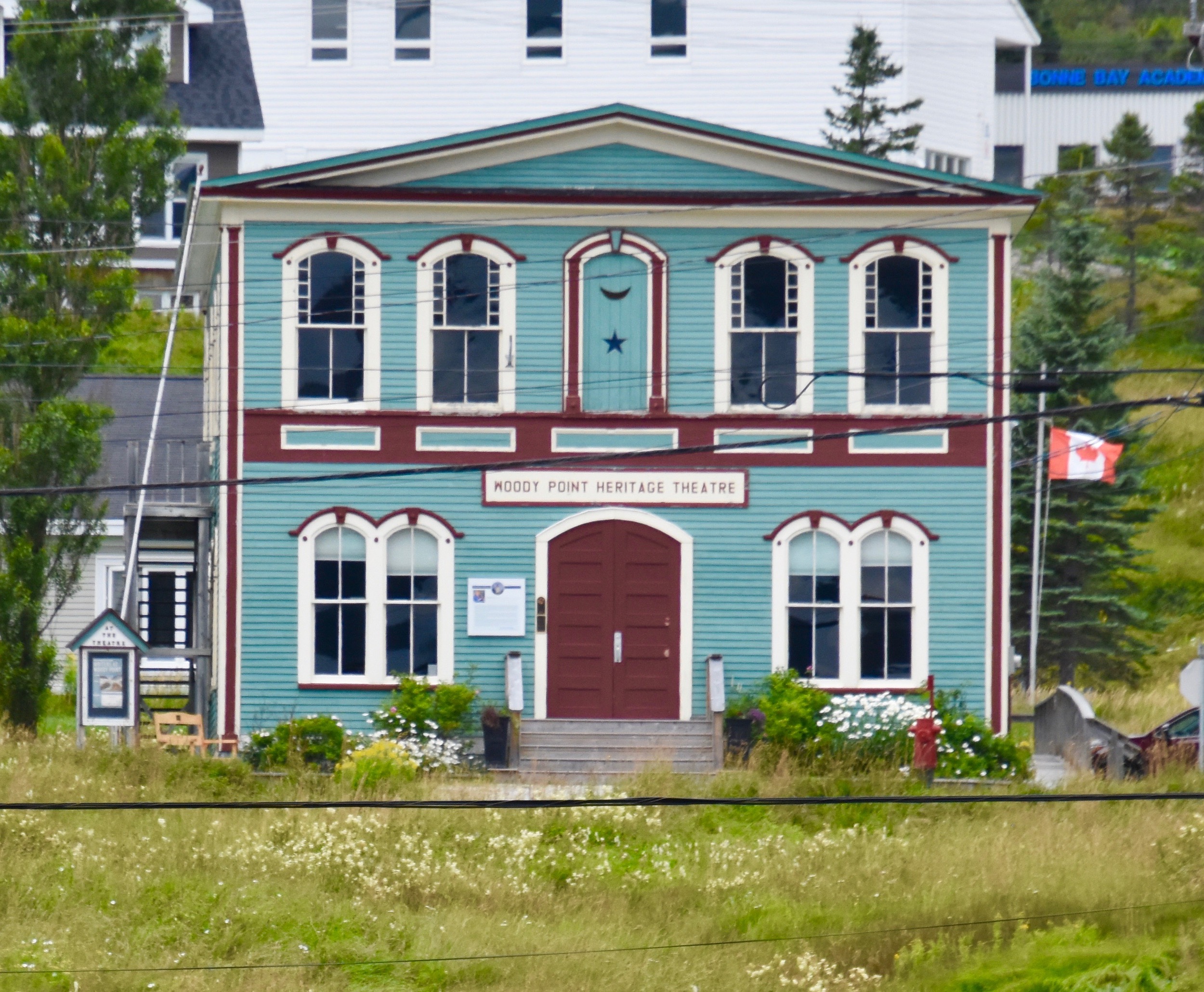 I couldn't help but notice this van parked in Woody Point. It is was from Freewheeling Adventures which is a bike and hike company based only a few minutes from where I live in St. Margaret's Bay, Nova Scotia. It was great to see that they were offering their Viking Trail bike trip once again after being shut down due to Covid for over a year.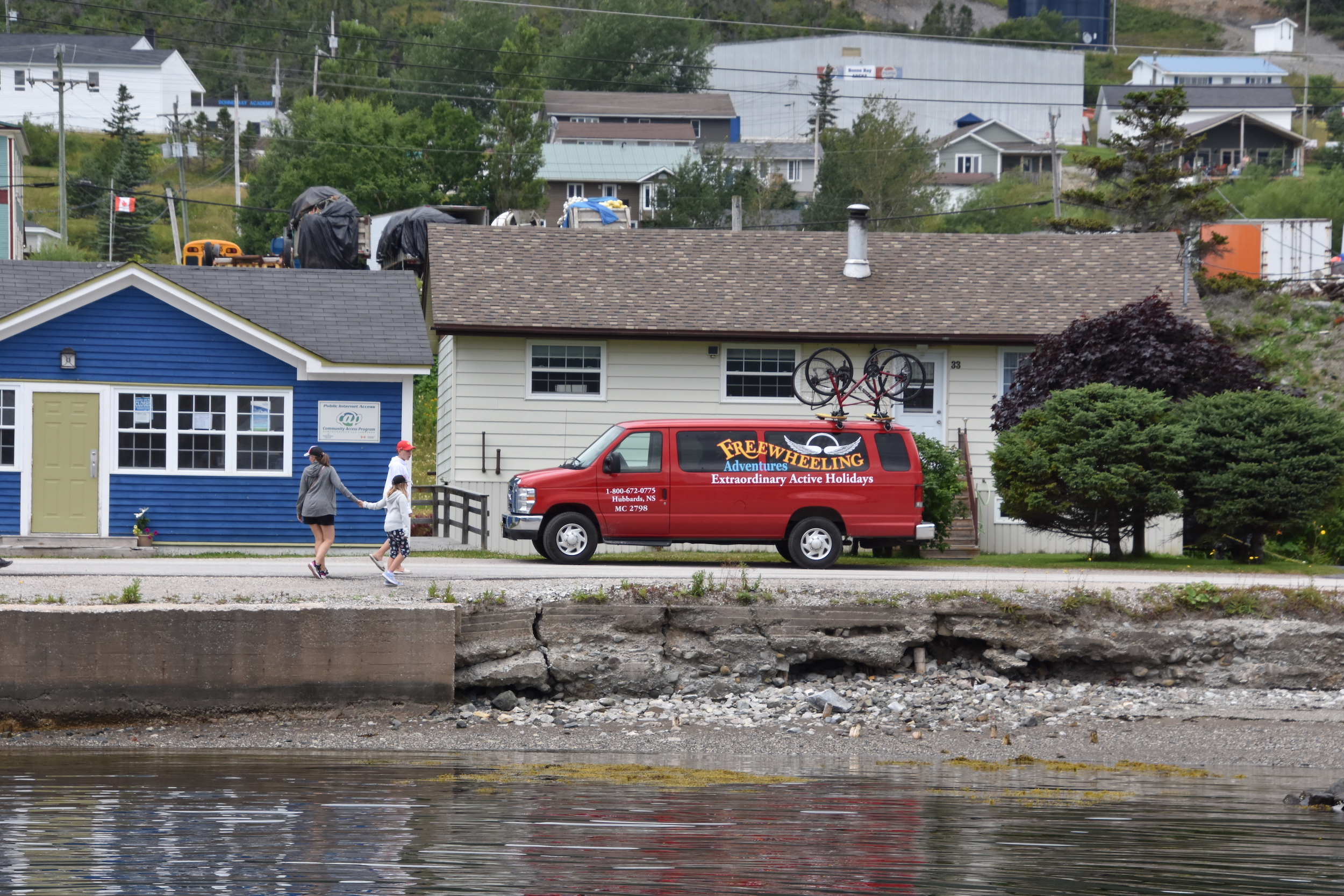 Despite being a very popular tourist destination, Woody Point is still very much a fishing community as attested by these fishing sheds or stages as they are called in Newfoundland and Labrador.

This is the Bonne Bay water taxi that Bon Tours runs between Norris Point and Woody Point and as you can see from those waiting at the wharf, it is very popular. If you are staying in Woody Point and want to go on the Bonne Bay tour you can take this over to Norris Point and back for free.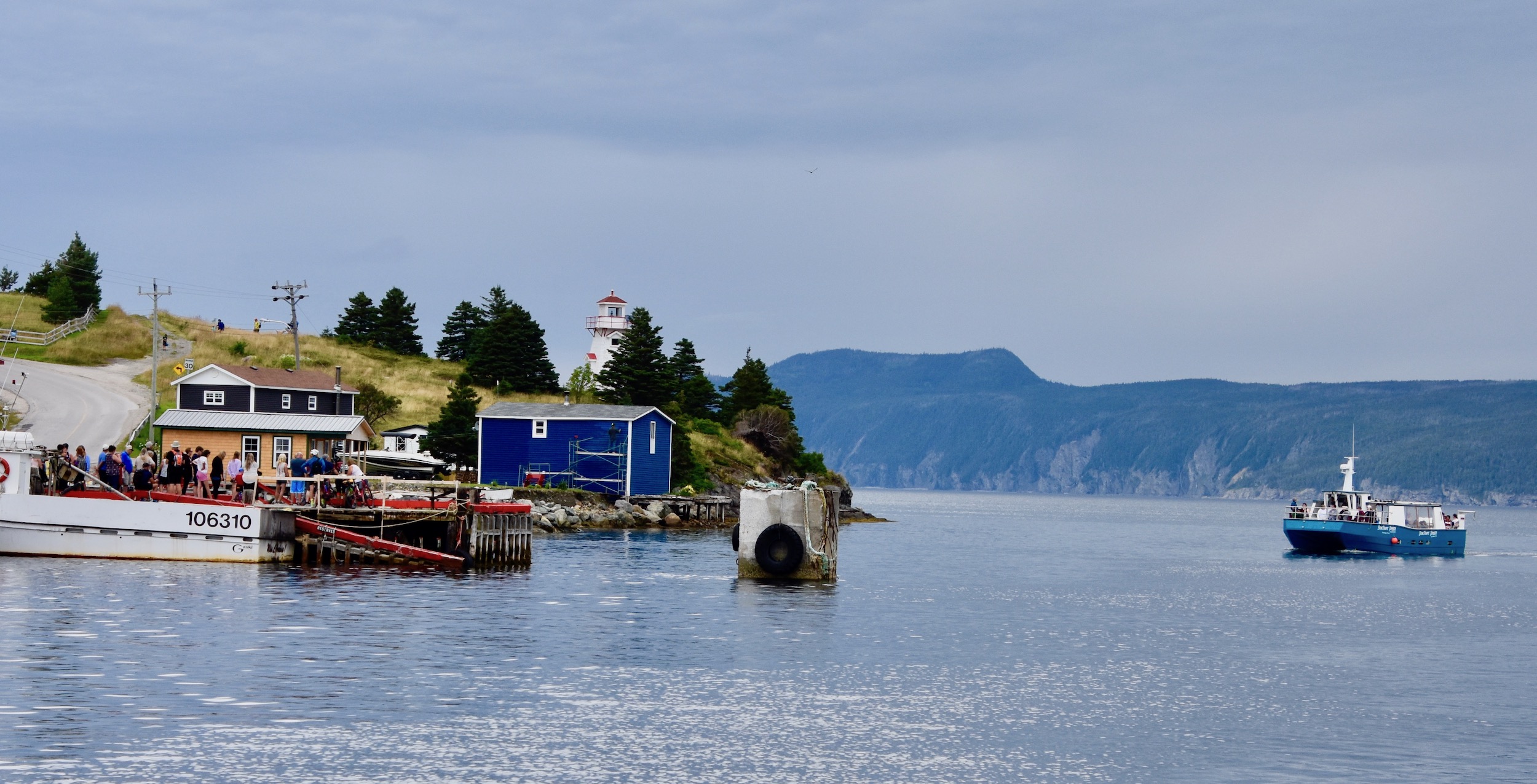 This is one of the Woody Point Cemeteries with three colourful dories on the beach. This is about as pure Newfoundland as it gets.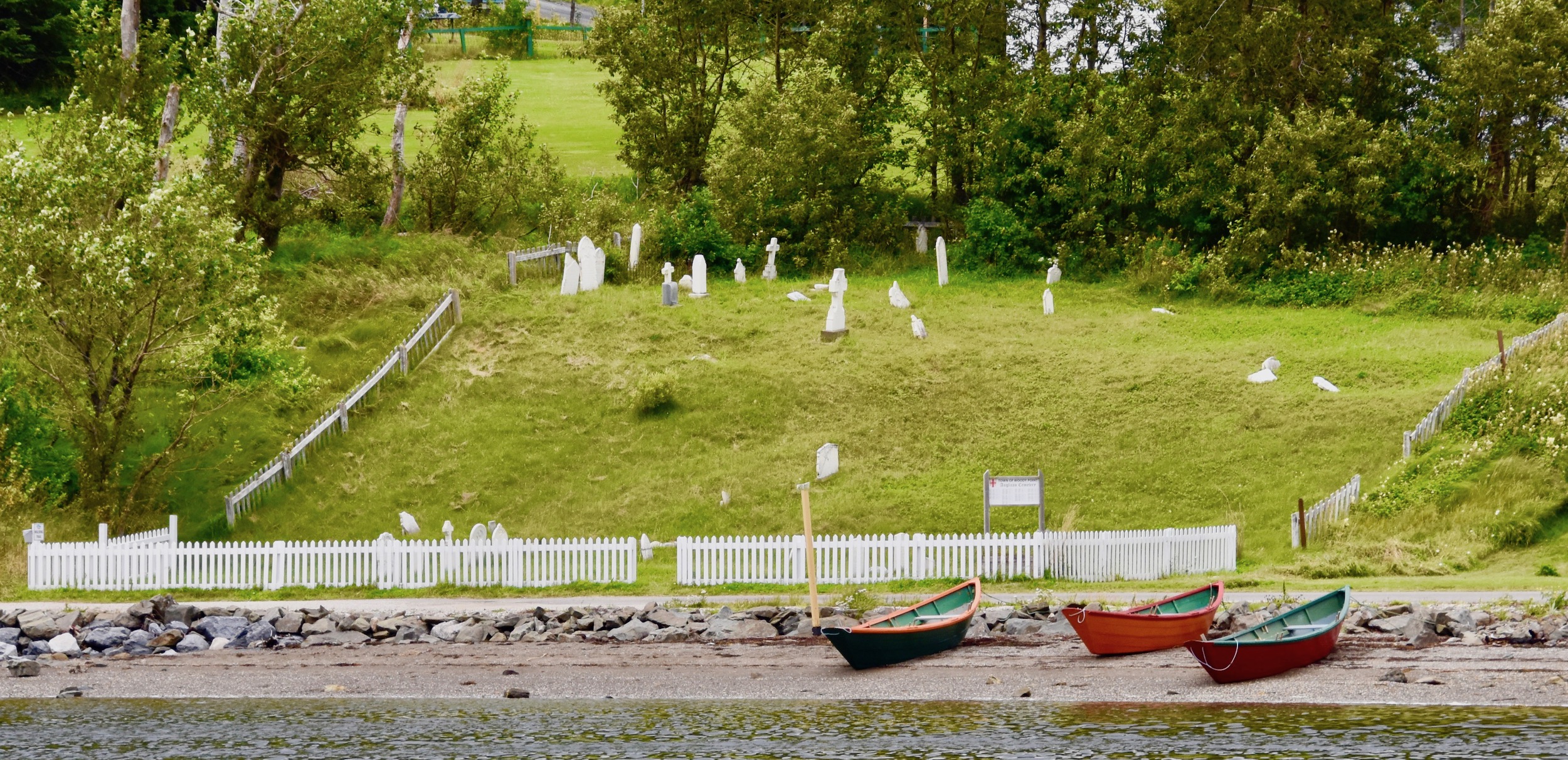 Just up from Woody Point you get a good view of the Discovery Centre.
One of the best reasons for taking the Bonne Bay boat tour is to see the Tablelands from the water. Previously we looked at them from above on the Lookout Hills trail and up close on the Tablelands trail and now here is a third perspective from the waters of Bonne Bay.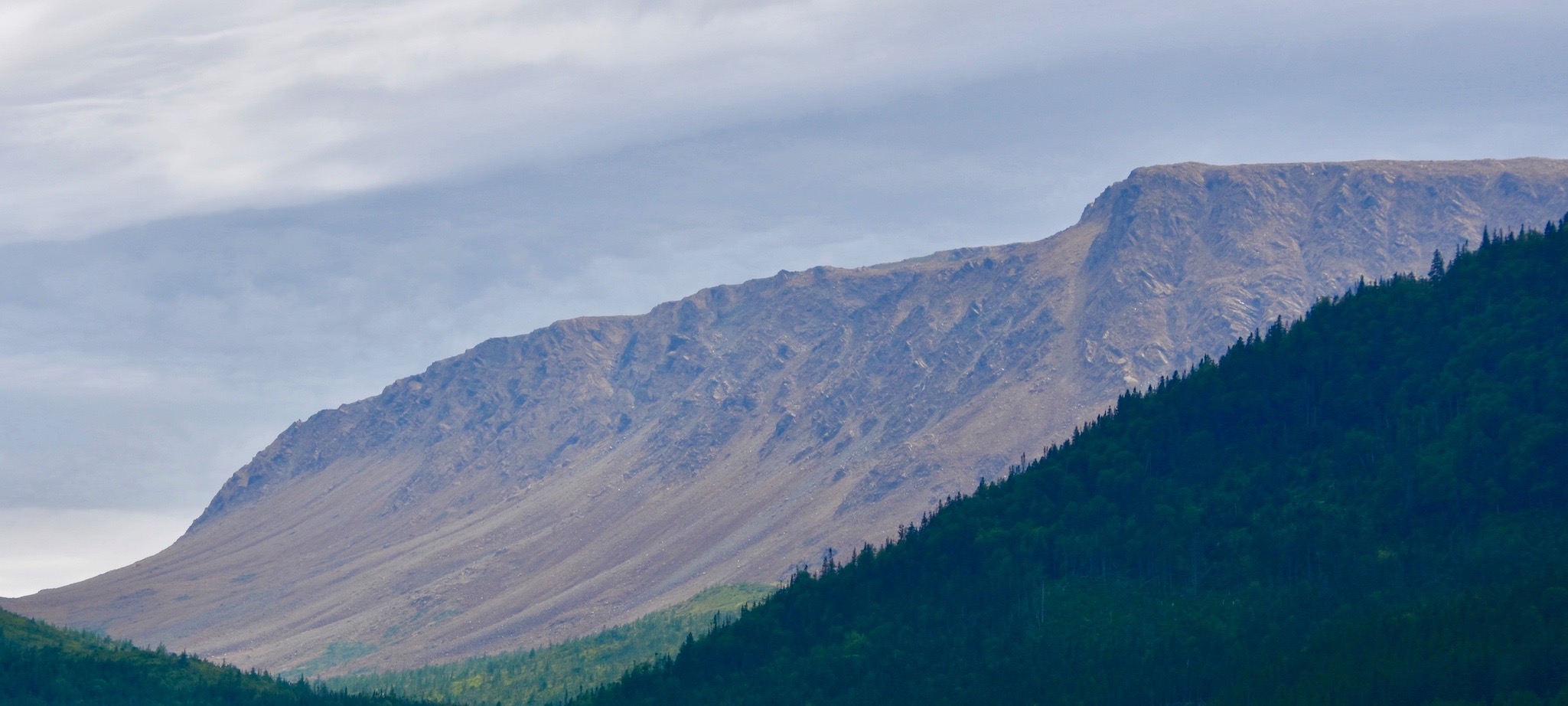 You'll have noticed that it was mostly cloudy during our tour which we had no control over, but the clouds themselves were interesting. Apparently another feature of Gros Morne is its unusual clouds which, believe or not, attract tourists whose principal interest is photographing rare and unusual cloud formations. Who knew?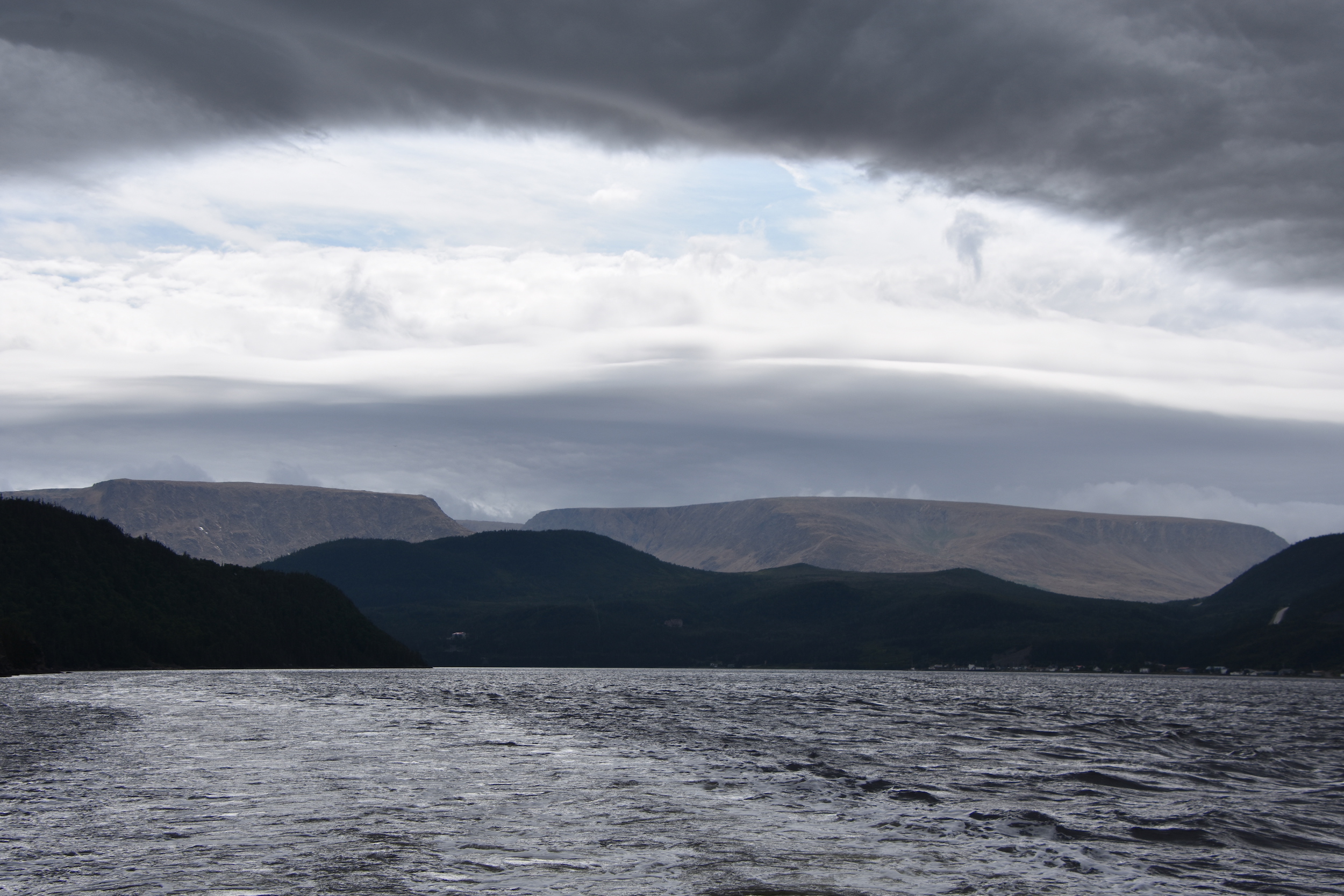 From Woody Point using the 400 mm. setting on my camera lens I could just make out the red chairs at the top of the Lookout Hills trail that we had sat in only a few days before.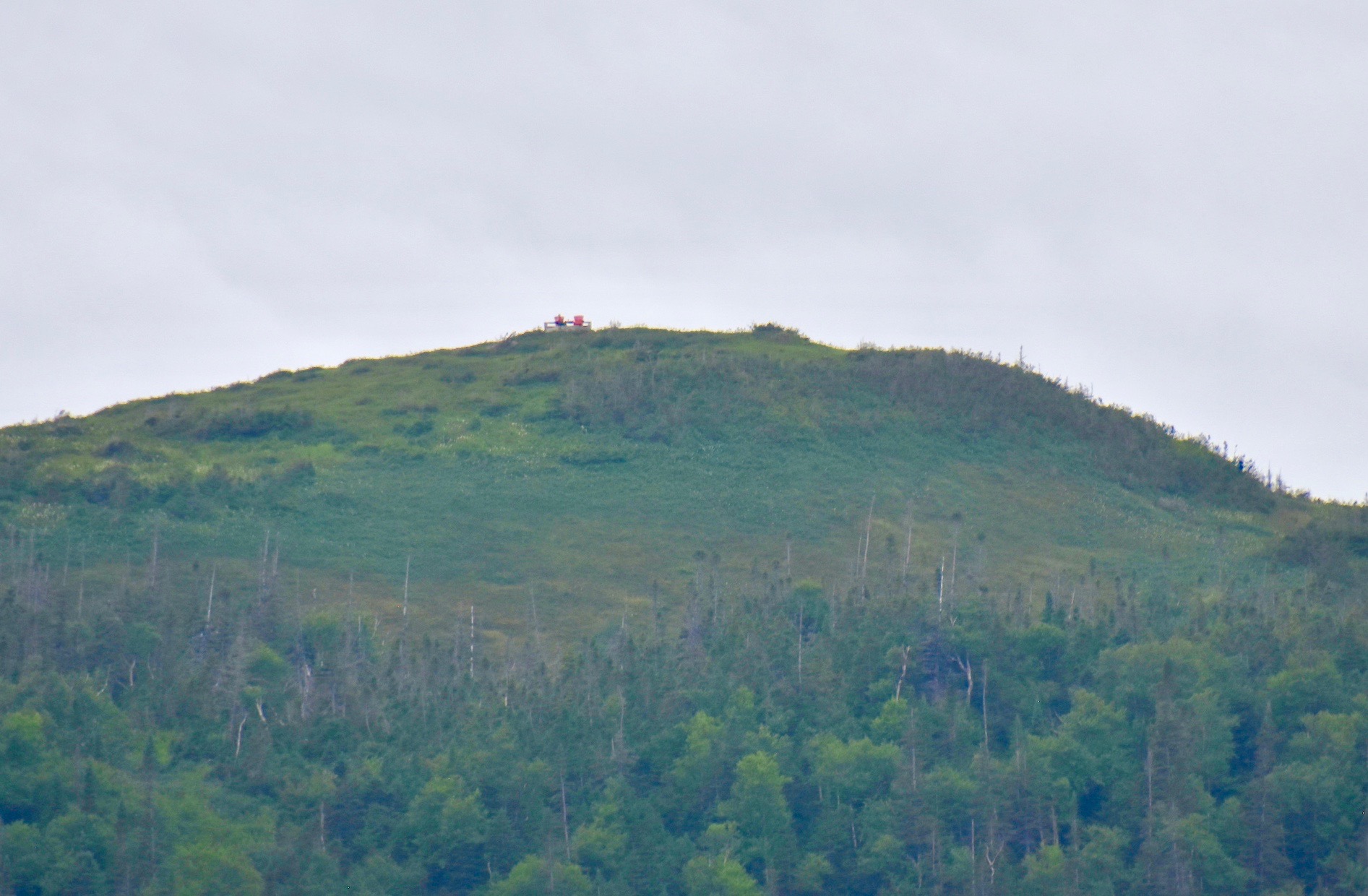 After passing by Woody Point the Emm Cat recrosses Bonne Bay to enter a sheltered cove where there is a great example of  upraised sedimentary rock that once would have been the ocean floor. Each of the bands in the rock represents thousands of years of silt and dead marine life accumulation eventually hardening into limestone.
Within these sediments are found some very strange intrusions which if you didn't know better might think were actually man made drawings. This definitely reminded me of a flock of frigate birds.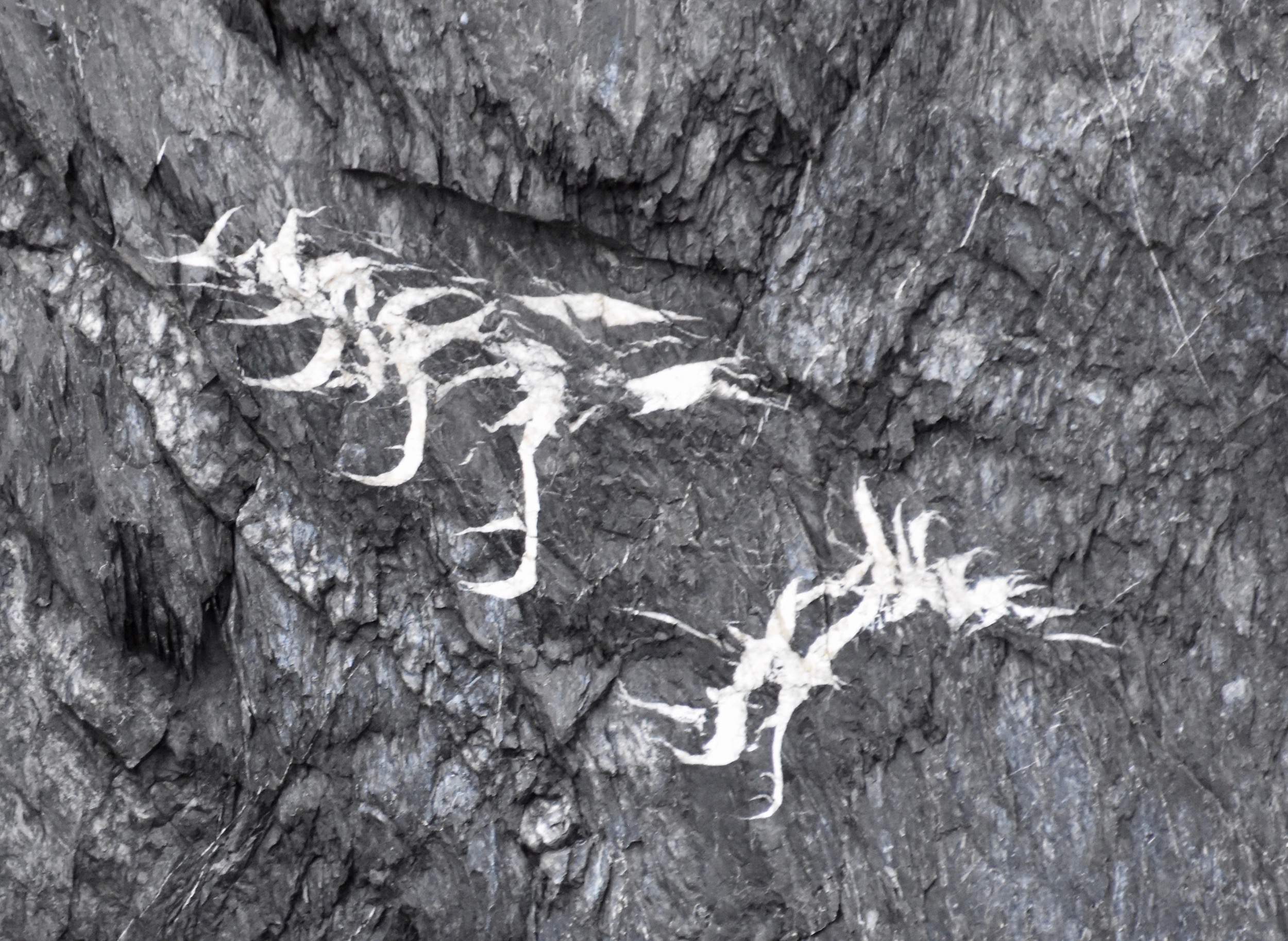 After leaving the cove it is only a short distance back to Norris Point and disembarkation, but not before the crew sang a few Newfoundland songs.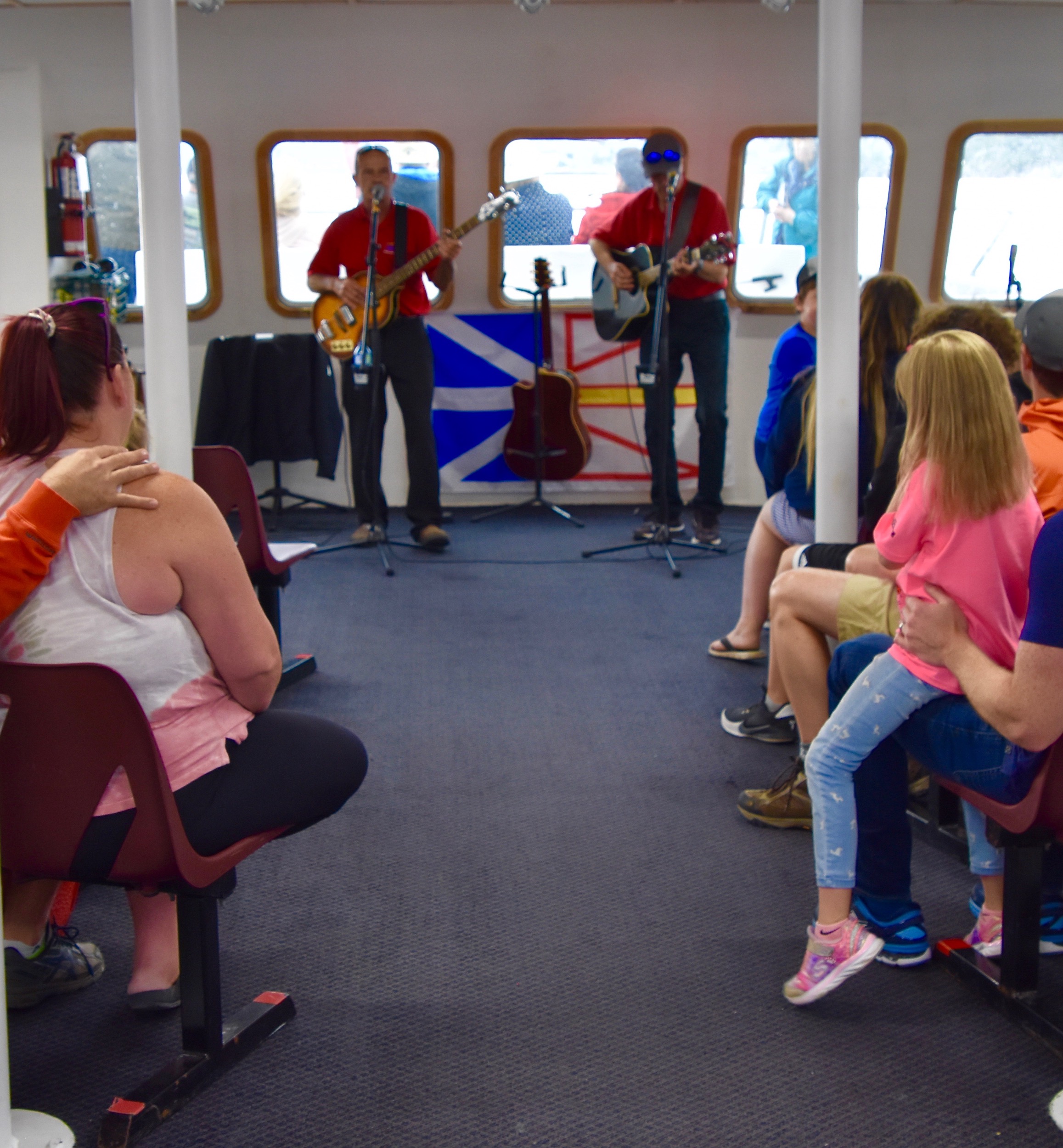 So there you have the Bonne Bay boat tour. Next we'll take the Western Brook Pond tour, but not before a few stops on the way. Please join us on what promises to be a great outing.