Kusadasi – Gateway to Ephesus
In the last two posts we visited the Roman acropolis of Pergamon and the Asclepeion where Galen learned his trade. These were both first time visits for Alison and me and definitely will be remembered as two of the highlights of this trip to western Turkey with Adventures Abroad. Now it's time to get back on the bus and make our way to the coastal city of Kusadasi which will serve as our base to explore the many wonders around the ancient site of Ephesus. It's a drive of just over two hours providing we don't get stuck in traffic as we pass the outskirts of Izmir, Turkey's third largest city. This is the route we will take marked in blue.
As I've noted in previous posts, Turkish highways are generally excellent and we have no problem getting past Izmir. The skyline with a number of very tall modern buildings is visible not far away and I ask myself what Homer, who was a resident of Izmir (then called Smyrna) would have thought about his town becoming a metropolis of over four million people.
At Selcuk we exit from the superhighway and follow a very scenic route down to the Aegean Sea and the popular resort town of Kusadasi. Actually it is no longer the town I remember from previous visits but a small city of over 120,000 people. New apartments and condos have covered the hillsides in all directions and any pretence that this is an idyllic little seaside resort is long gone. But no matter, Kusadasi is the gateway to some of the best archaeological sites in the world so I can overlook the fact that it has become wildly popular with vacationers from all over Europe and Asia.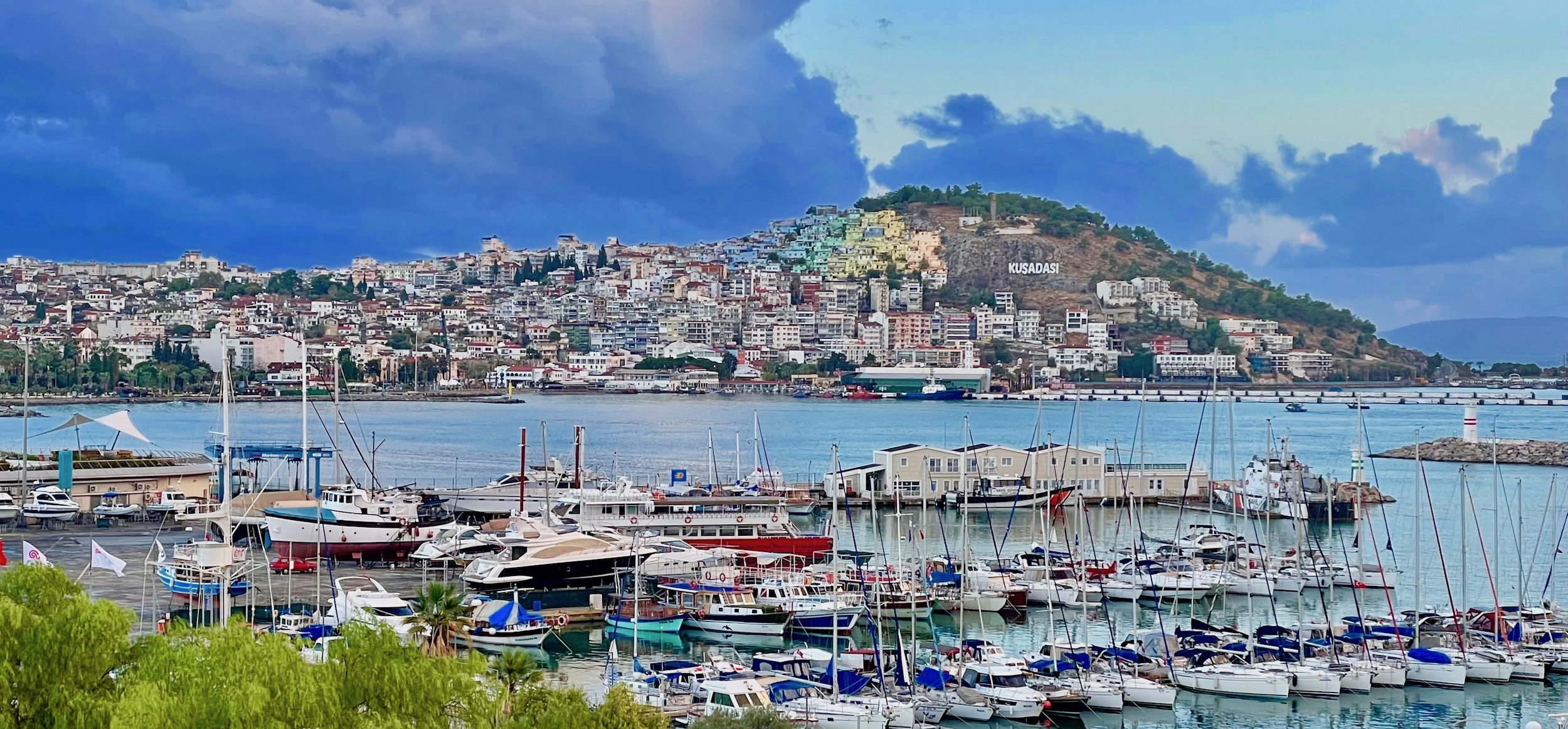 Our hotel for the next two nights is the ultra modern Hilton Doubletree.
This is a view looking down at the atrium. I think there might have been maybe a dozen other guests than us in this quite large hotel.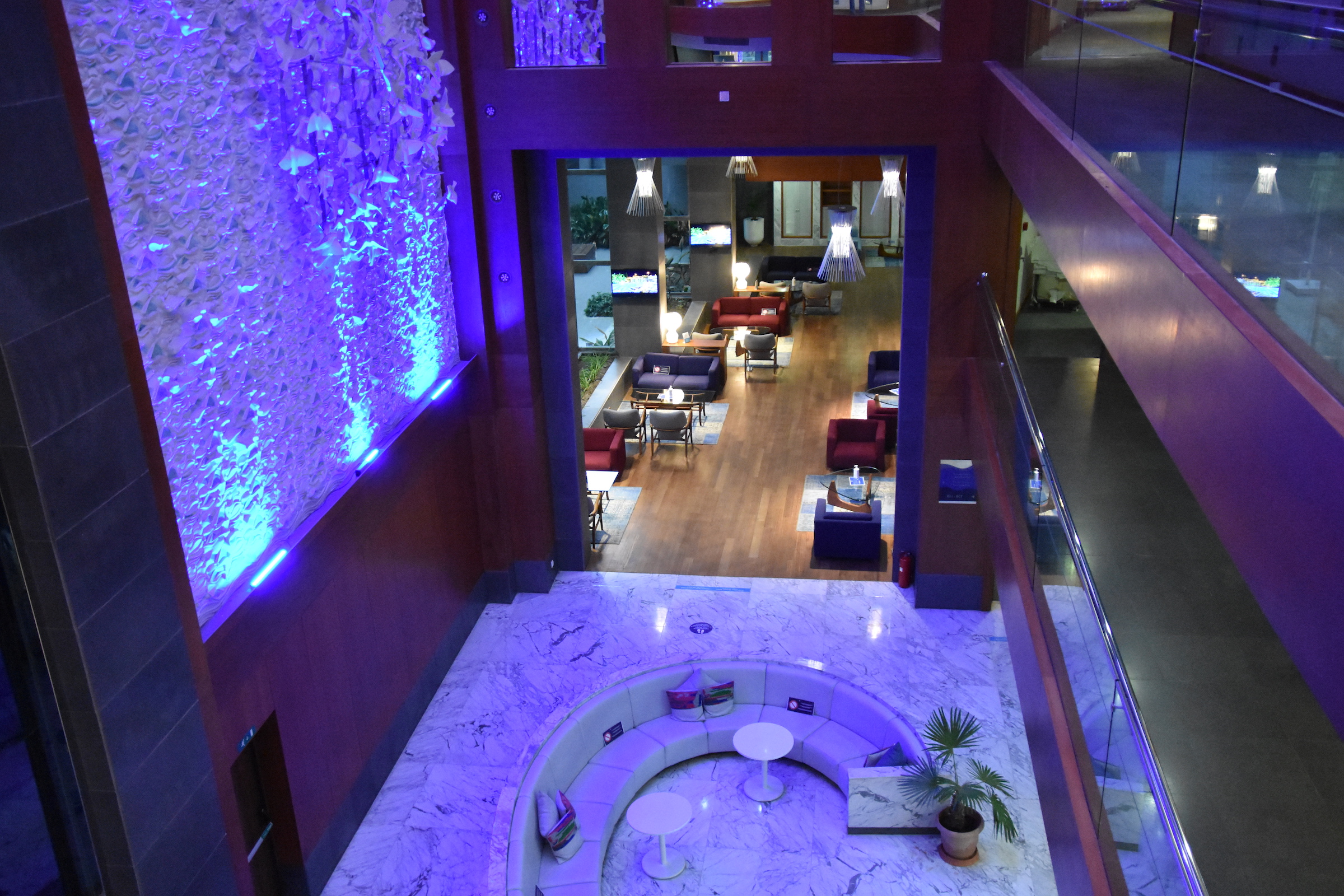 It had been another long day so we ate at the hotel restaurant Gió which is on the top floor and has a gorgeous view of the Kusadasi harbour. The photo of Kusadasi above was taken from the outdoor patio. It was nice to get a cold bottle of Idol Ugni Blanc/Chardonnay from Lucien Arkas Baglari vineyard to go with our entree which for some reason I forgot to photograph. I'm sure it was good because I never had a bad meal in Turkey. BTW this very nice wine goes for the princely sum of $17.75 USD or just over $20 Cdn.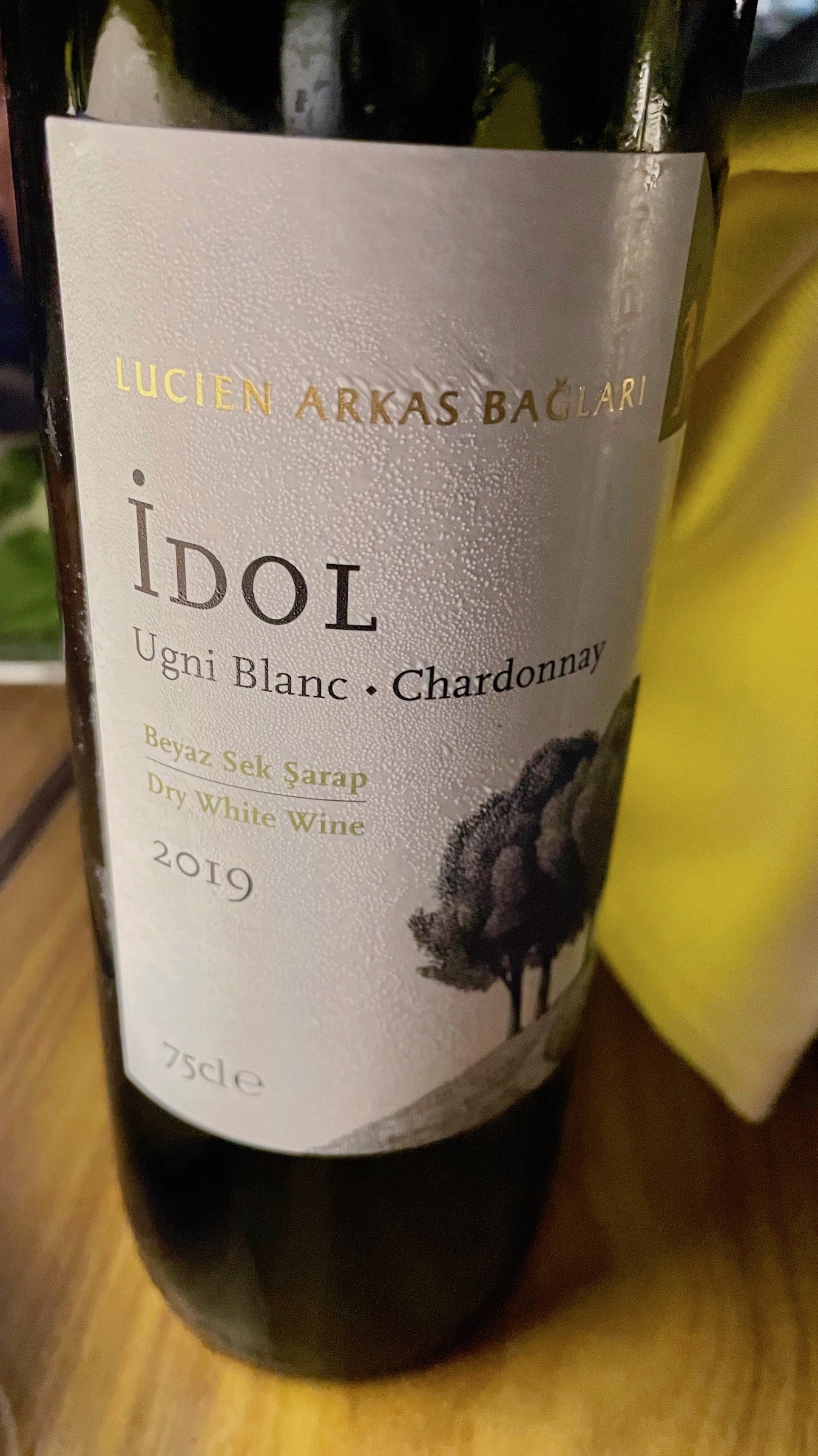 What I do remember is this mouth watering version of firinda sütlaç which is a type of rice pudding that is turbo charged by being put in the oven until caramelized. If you see it on the menu go for it, because it'll be the best rice pudding you have ever tasted.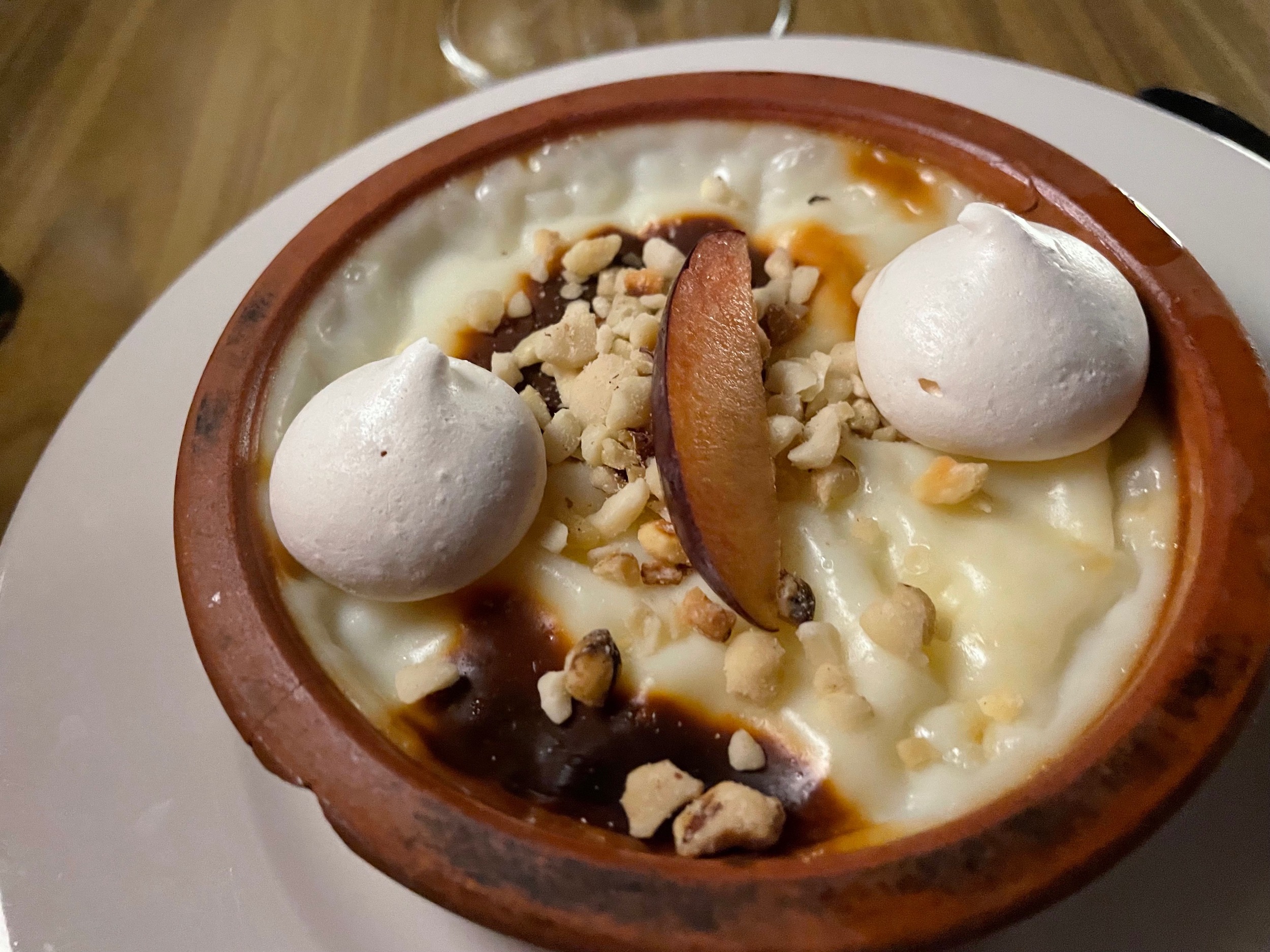 Breakfast was also on the rooftop at Gió and with this view was a great place to start the day.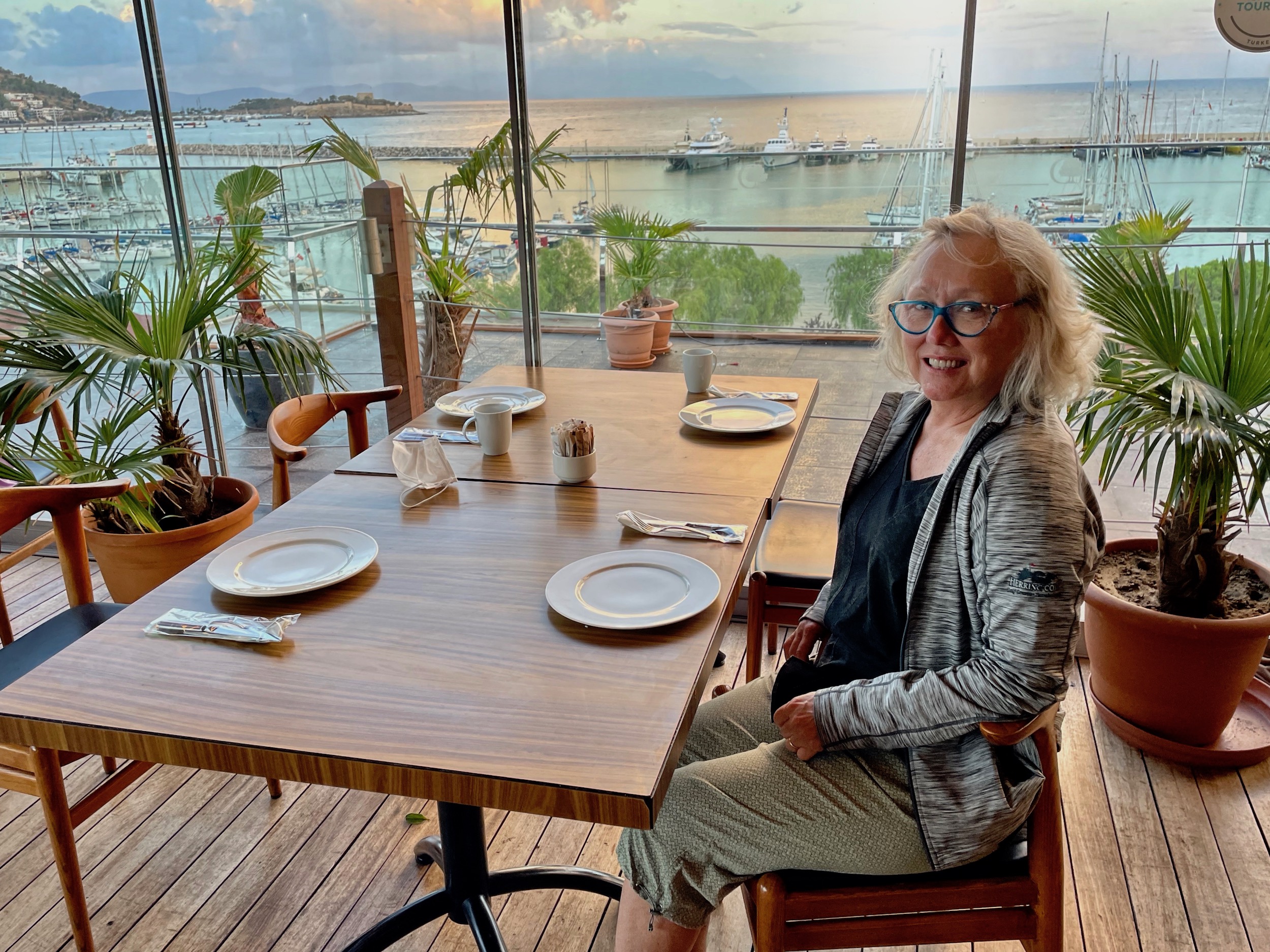 Unlike most places we stayed at it was not a buffet style, but from a menu. Perhaps because it was part of an American chain I do recall that the coffee was among the best we had on the trip. This is simit, probably my favourite of the many types of Turkish bread and described on the menu as a 'tire breakfast' for obvious reasons. The combination of soft cheese and cherry topping is exquisite.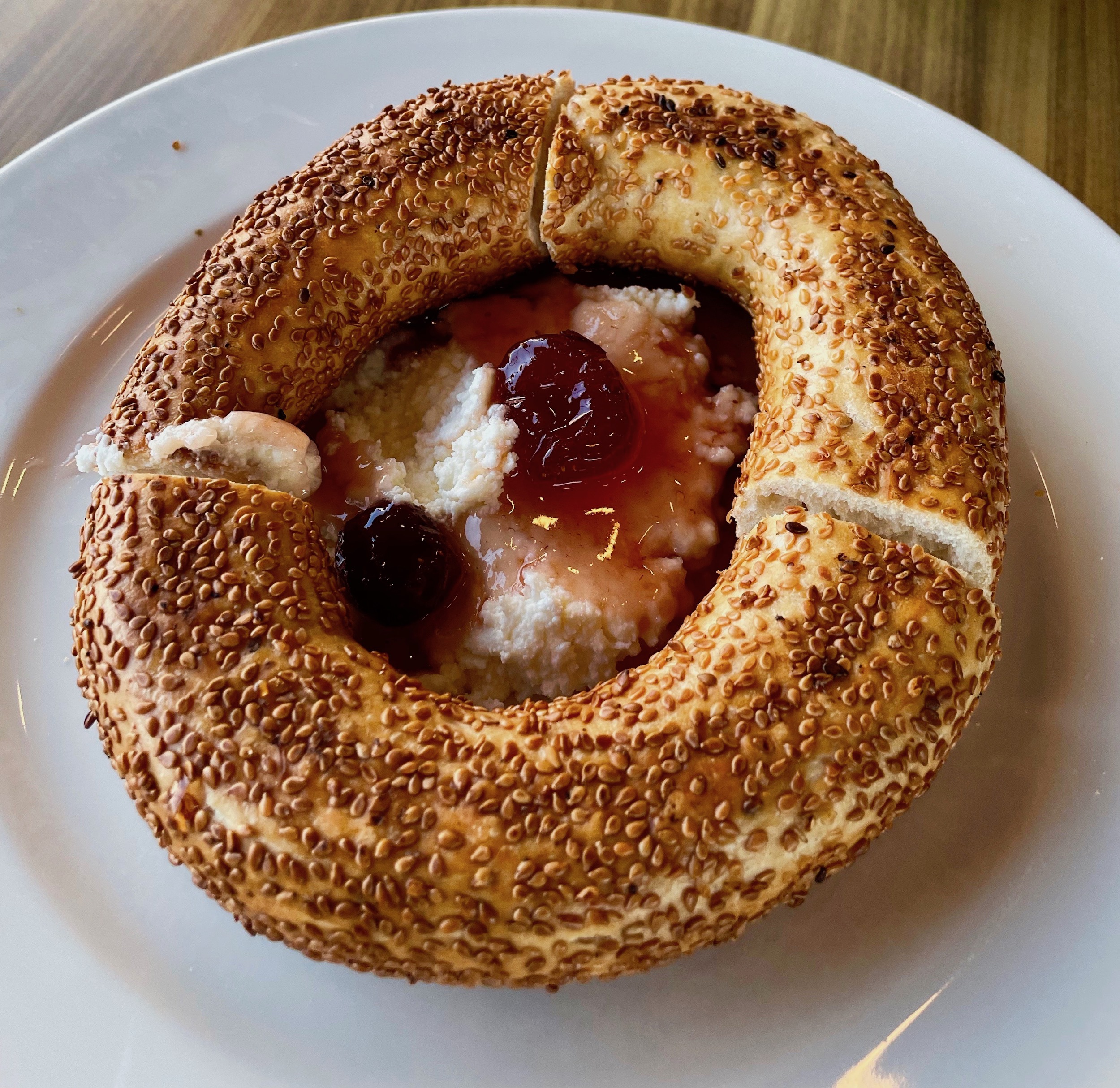 I'm now going to fast forward to the end of our day in Kusadasi as we returned to our hotel after a full day of touring the sites around Ephesus which I will describe in upcoming posts. Up until late this afternoon the weather had been perfect and I don't know what got Zeus so upset, but he unleashed a rain and thunderstorm the likes of which I haven't witnessed in a long time. Yasemin, our AA guide, had made arrangements for us to have a seafood dinner at a restaurant only a few hundred yards away, but the rain was so intense that we had to take taxis to get there and still got thoroughly soaked. However, eventually Zeus calmed down and sent this rainbow as a peace offering.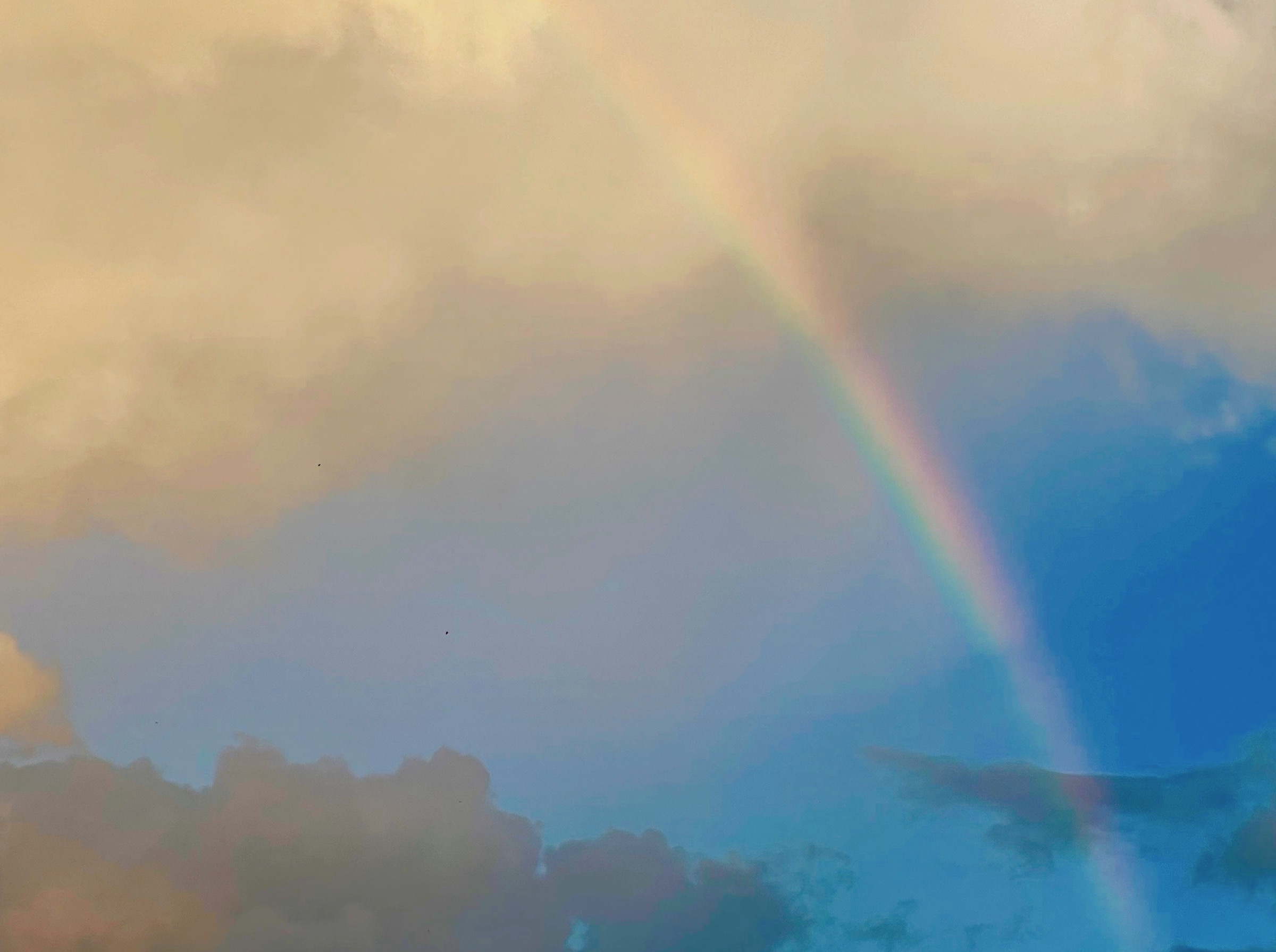 The restaurant was Sef and I could tell they were grateful that we had not bailed on them due to the rainstorm and after dining there I'm also glad we didn't. Yasemin had pre-ordered for us, but if you were here on your own there was a terrific selection of seafood to choose from.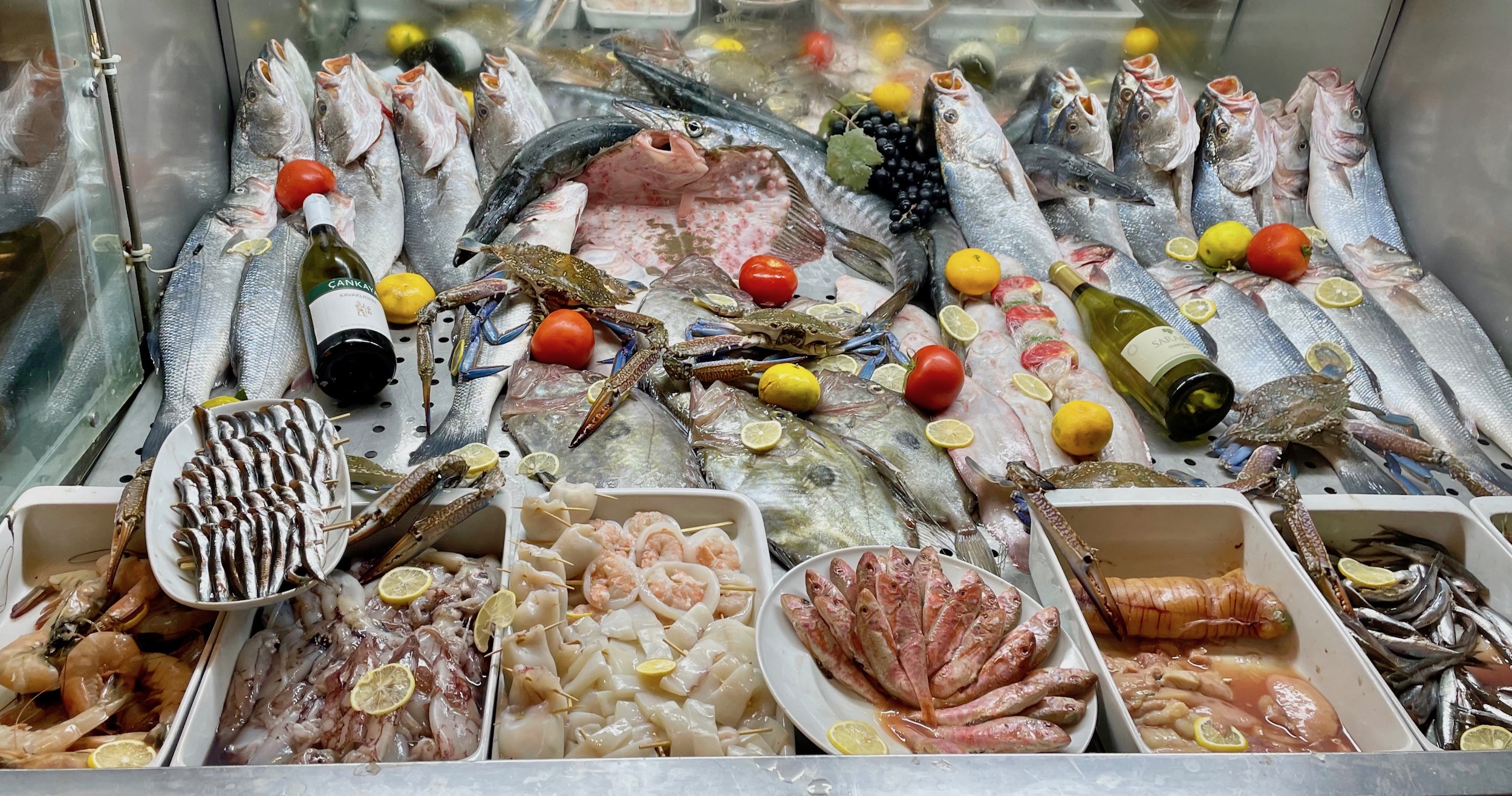 Most Turkish dinners start with an assortment of sharing plates or meze and Sef was no different. This was part of a large selection of meze on offer for this meal.

For our main dish we all had sea bream which is a moniker for a fish widely farmed throughout the Mediterranean. This version came with  a very light cheese sauce that enhanced what is otherwise a fairly mild flavour.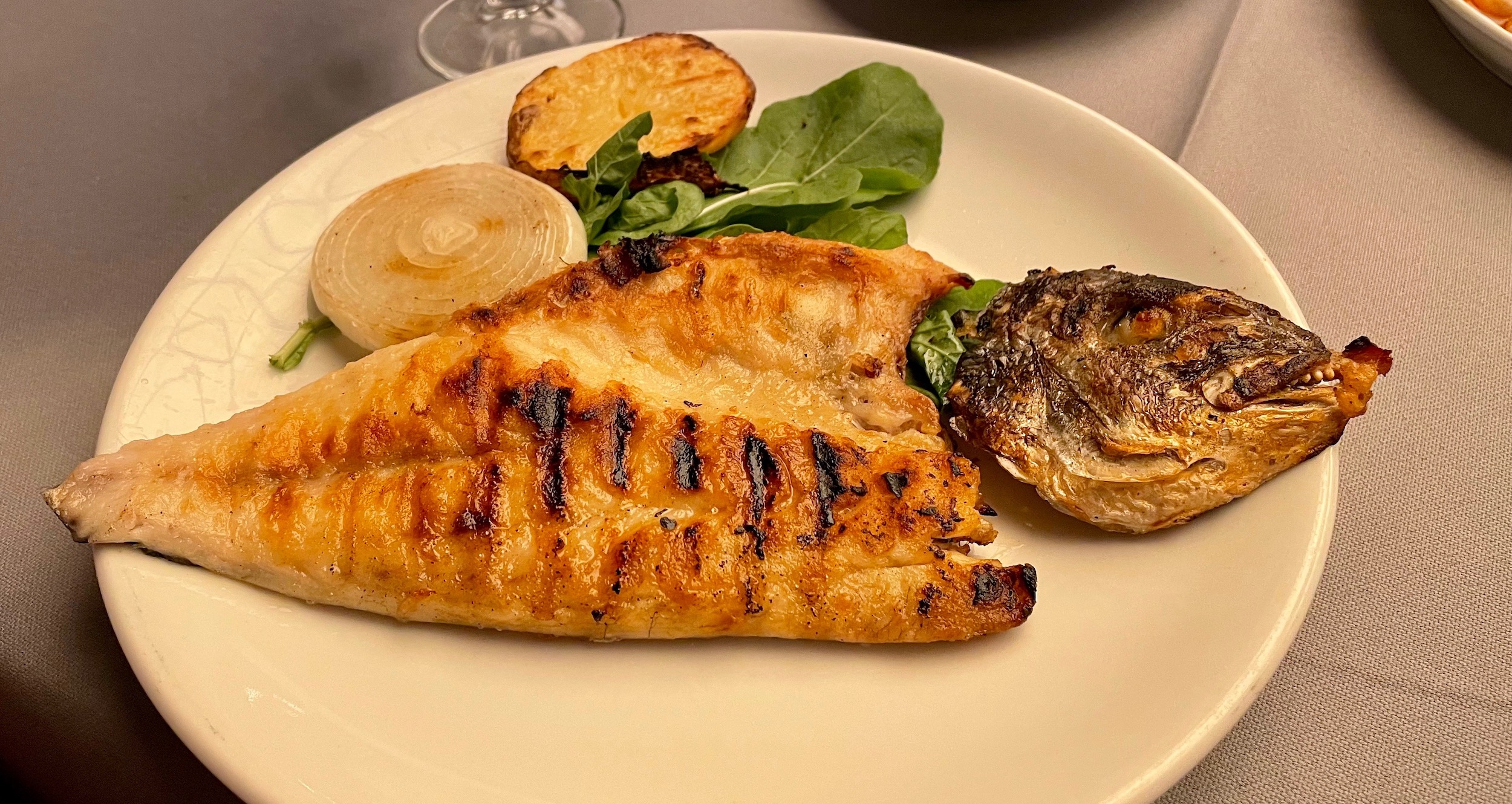 In concluding this short post on Kusadasi, I can say without reservation that you will enjoy your time here even though it does not have the charm of Bodrum or Kas which we will visit later in this trip. In the next post we'll head to the nearby town of Selcuk and begin our tour of the Ephesus area by visiting the museum there. Please join us.