Ua Pou – Marquesas' Cathedral Island
In the last post we made landfall at Nuku Hiva the first of the Marquesas Islands we visited on this Adventures Abroad French Polynesia tour. There, among other things, we were treated to a display of the traditional island drumming, chanting and dancing in the shade of a sacred banyan tree. In this post the Aranui 5 will motor some 50 kms. (30 miles) to the south to the island of Ua Pou which is also dubbed the Cathedral Island for its majestic peaks, the highest in the Marquesas. There we will witness another display of tribal ceremony, but this time by the high school students of the island. Please join us on another interesting onshore excursion.
This is a photo of the map we were provided with during our briefing on the various options available to us once we get ashore. As you can see the island is dominated by a series of mountains that divide the island in two. The highest Mount Oave at 1,203 metres (3946 feet) is also the highest in the Marquesas. Our landing point will be the village of Hakahau where will tie up at the pier. All of our activities during our stay in Oa Pou will be centred around this place which has almost all of the islands 2,300 residents.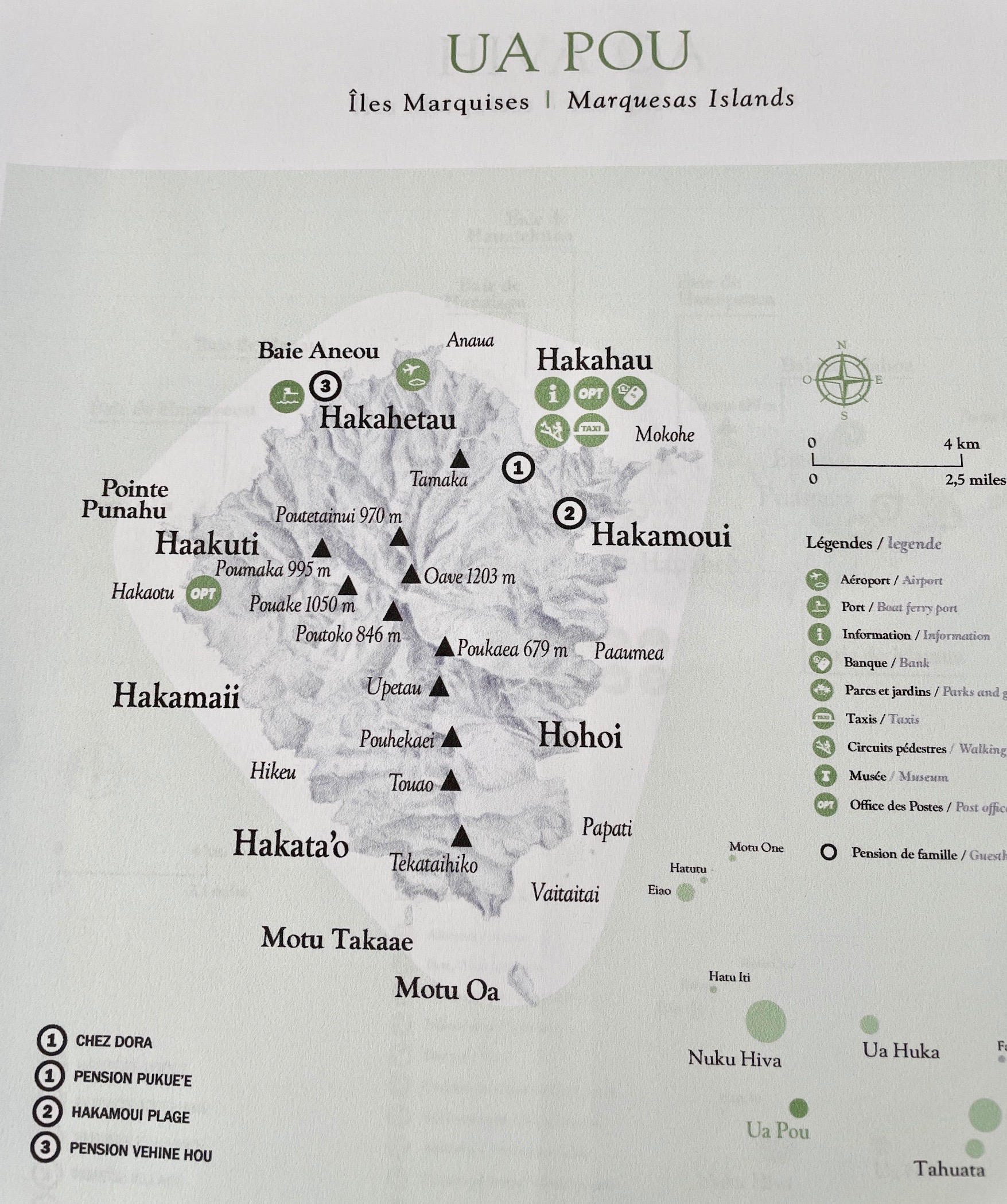 I was very much looking forward to seeing the landscape of Ua Pou and particularly the huge basalt pillars that give it its alternate name, the Cathedral Island, but Mother Nature was having none of it and this was about the closest I got to seeing the peaks.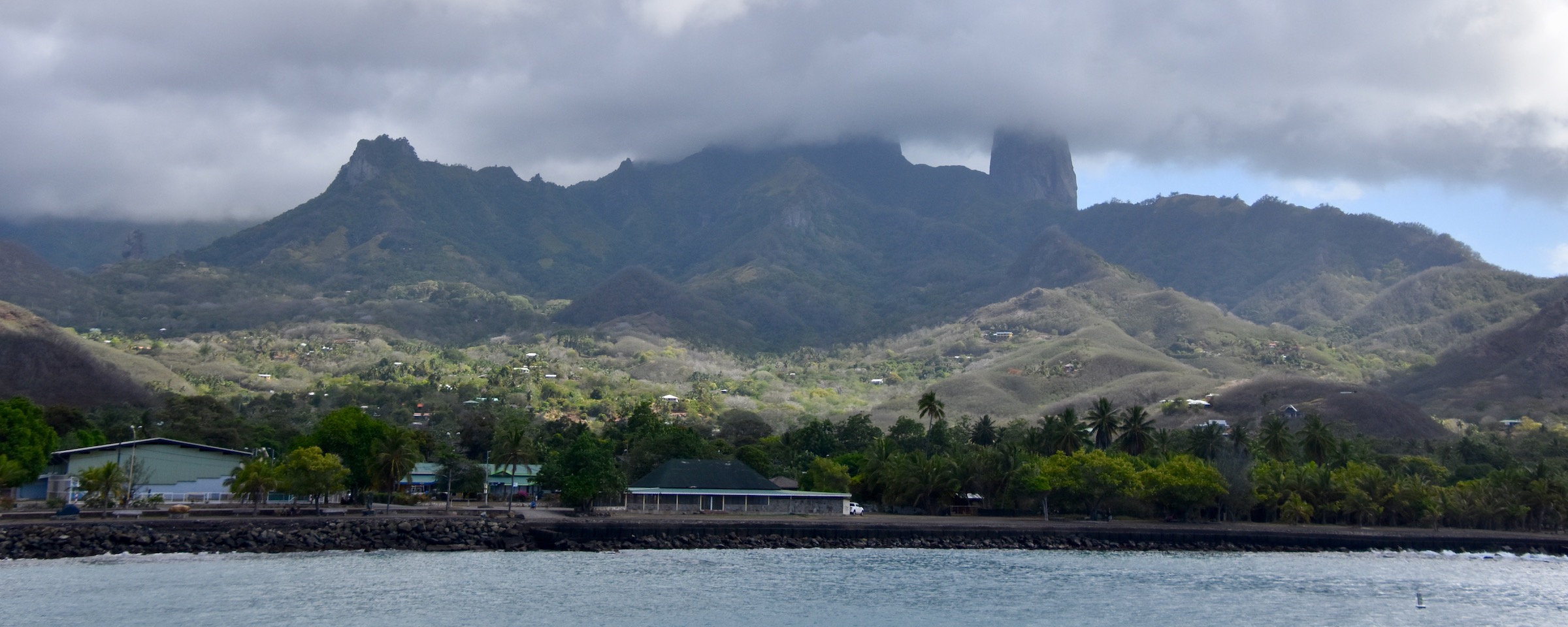 However, if you do get lucky on a future trip this is what you might see. Now those are what you might call some really neat pinnacles.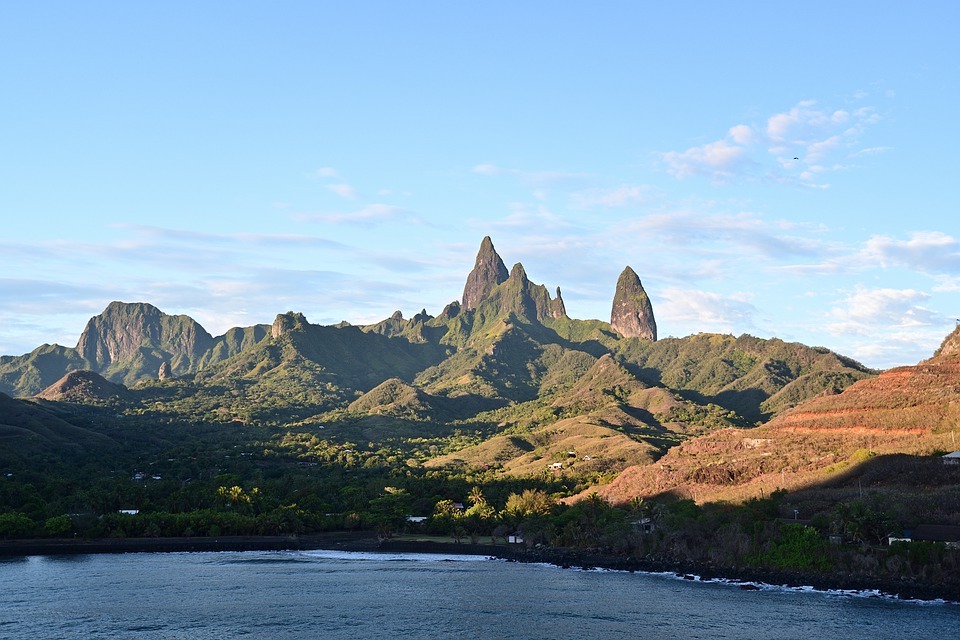 Aside from this minor disappointment everything else about our visit to Ua Pou was exceptional starting with the first hike of the trip up to a cross that overlooks the harbour. These hikes were included in the cost of the voyage, but you had to sign up for them the night before. Pretty well everyone in the Adventures Abroad group was on side and we departed the boat at 8:00 AM with a guide leading the way. However, that wasn't really necessary as the path which was mostly an old road was very clearly marked. That's the guide up front who went out like a jackrabbit and Alison trying to keep up.
It was listed as a forty minute hike, but it didn't take us that long to reach the top well before the rest of the group. That's three of the Adventures Abroad troops down below with the guide now making sure nobody took a wrong turn.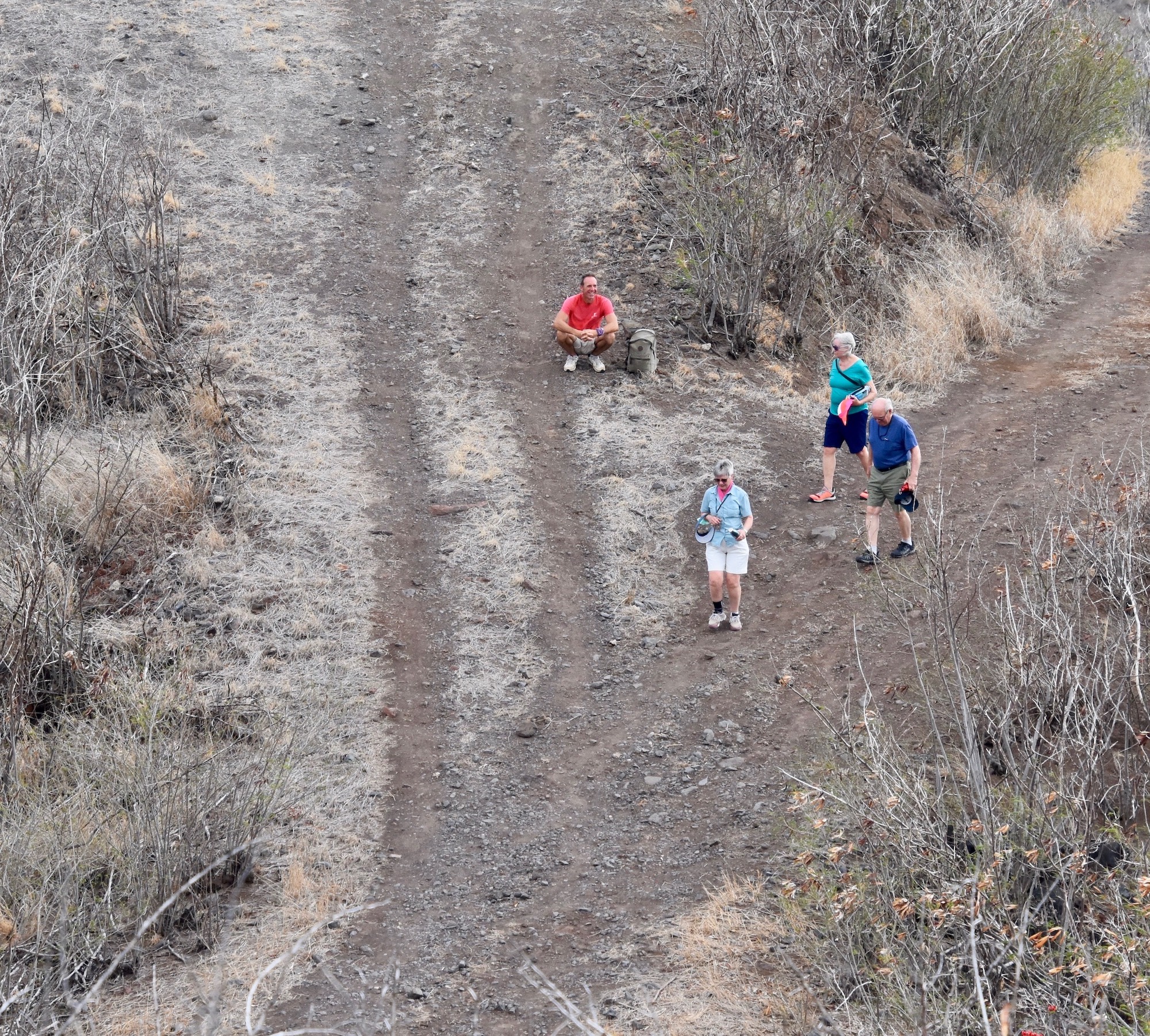 The view from up here was world class with the Aranui 5 moored far below. The mountain on the left bears an uncanny similarity to the famed Devil's Tower in Wyoming.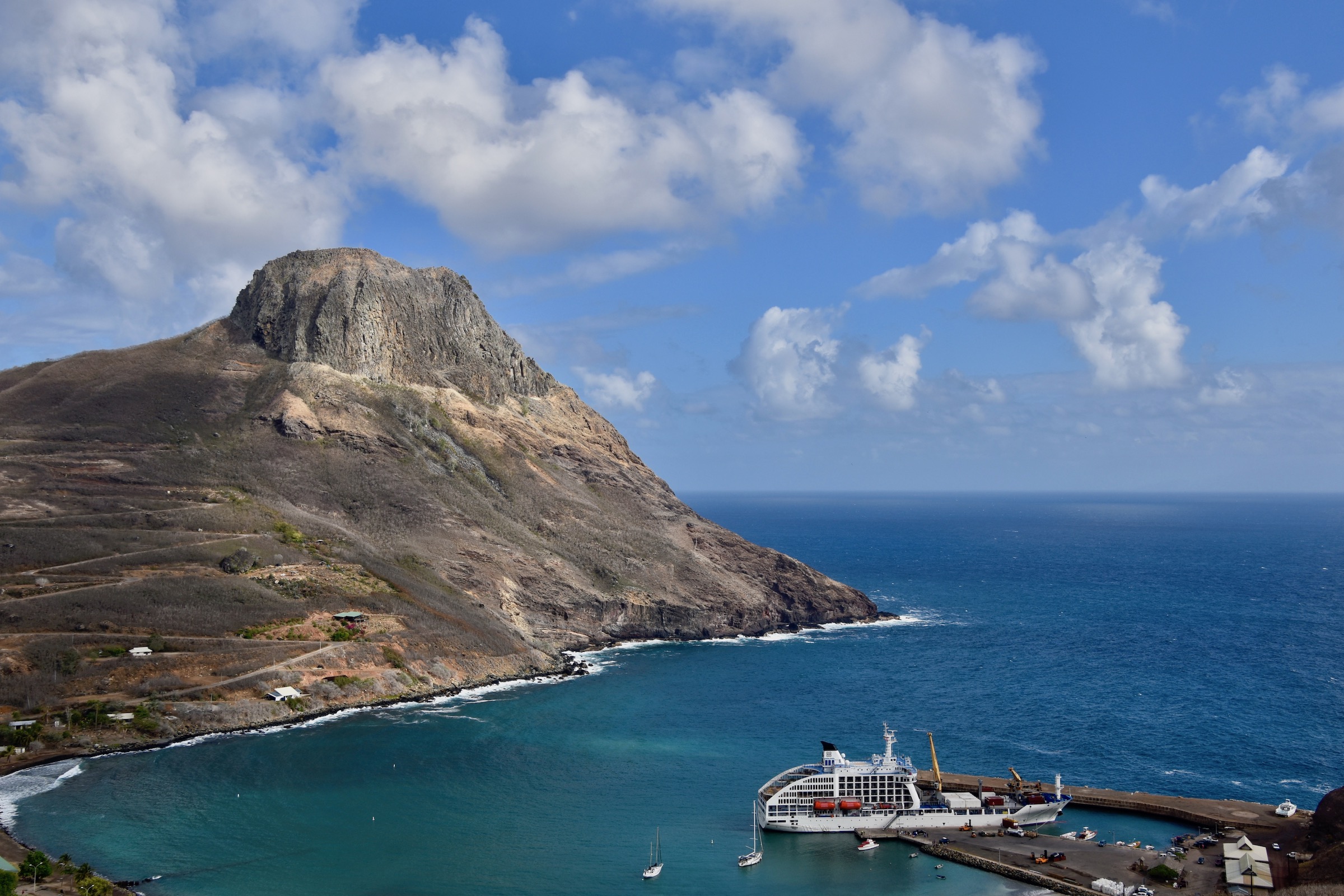 And of course you will want to get your photo taken up here which Martin Charlton our AA guide obliged.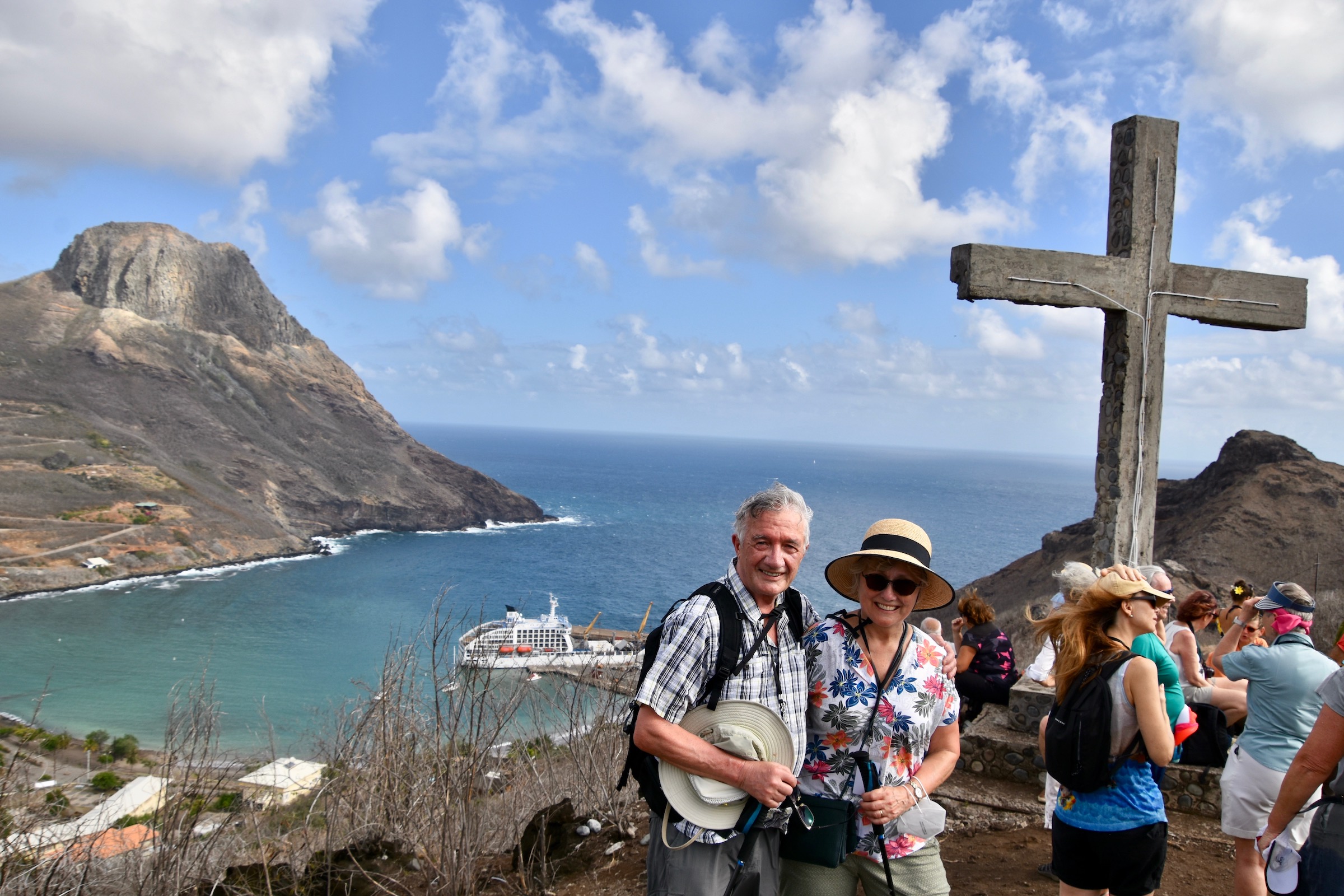 Heading back down I took one last look at the people on  Cross Hill, some of whom were just arriving. You'll note that in some pictures the sky is quite blue and in others gray like above. This was because if you were looking out to sea it was blue sky, but if you looked inland the peaks were almost always obscured by clouds.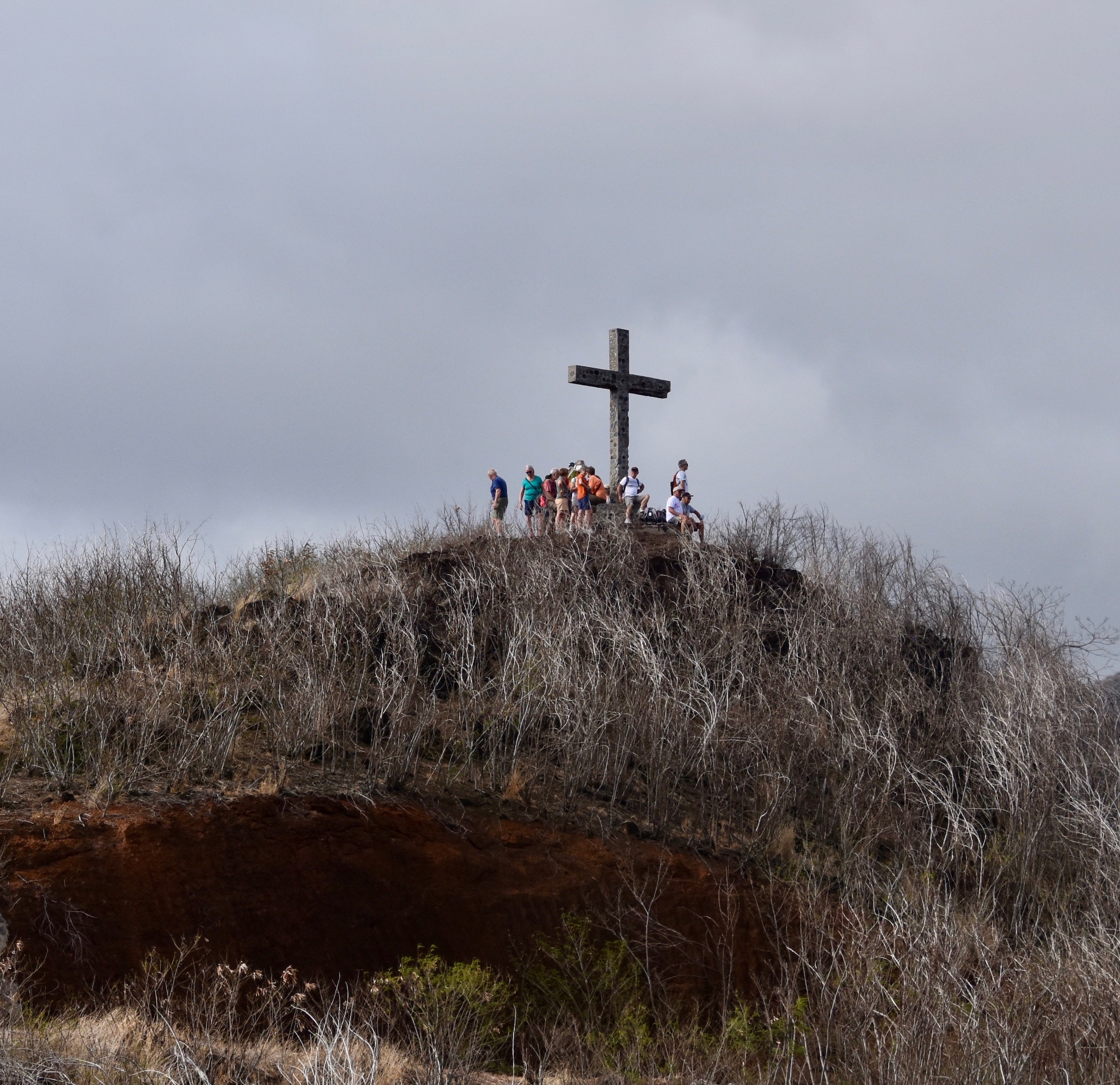 Hakahau, Ua Pou
Back in Hakahau we had free time to explore the village until a scheduled meeting for the performance at the Cultural Centre. Quite frankly I was amazed at the level of infrastructure in a place so remote and with so few people. This is the town hall with very intricate wood carvings on its facade.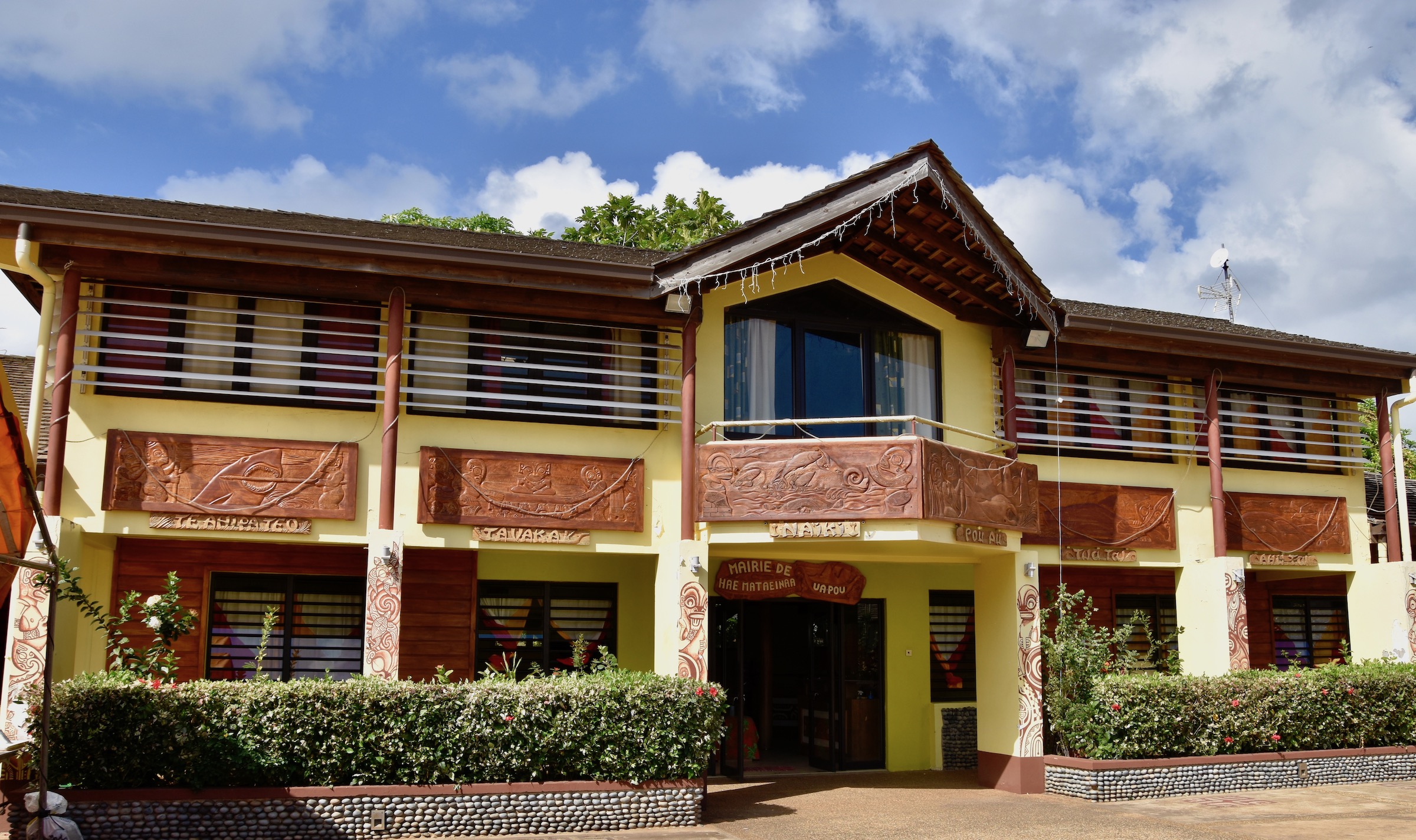 This is a closeup of one of the carvings depicting a Jaws like encounter with a very vicious looking shark.

Once again as in Kauehi and Nuke Hiva the most prominent structure in Hakahau was the Catholic church, Tepano Peato.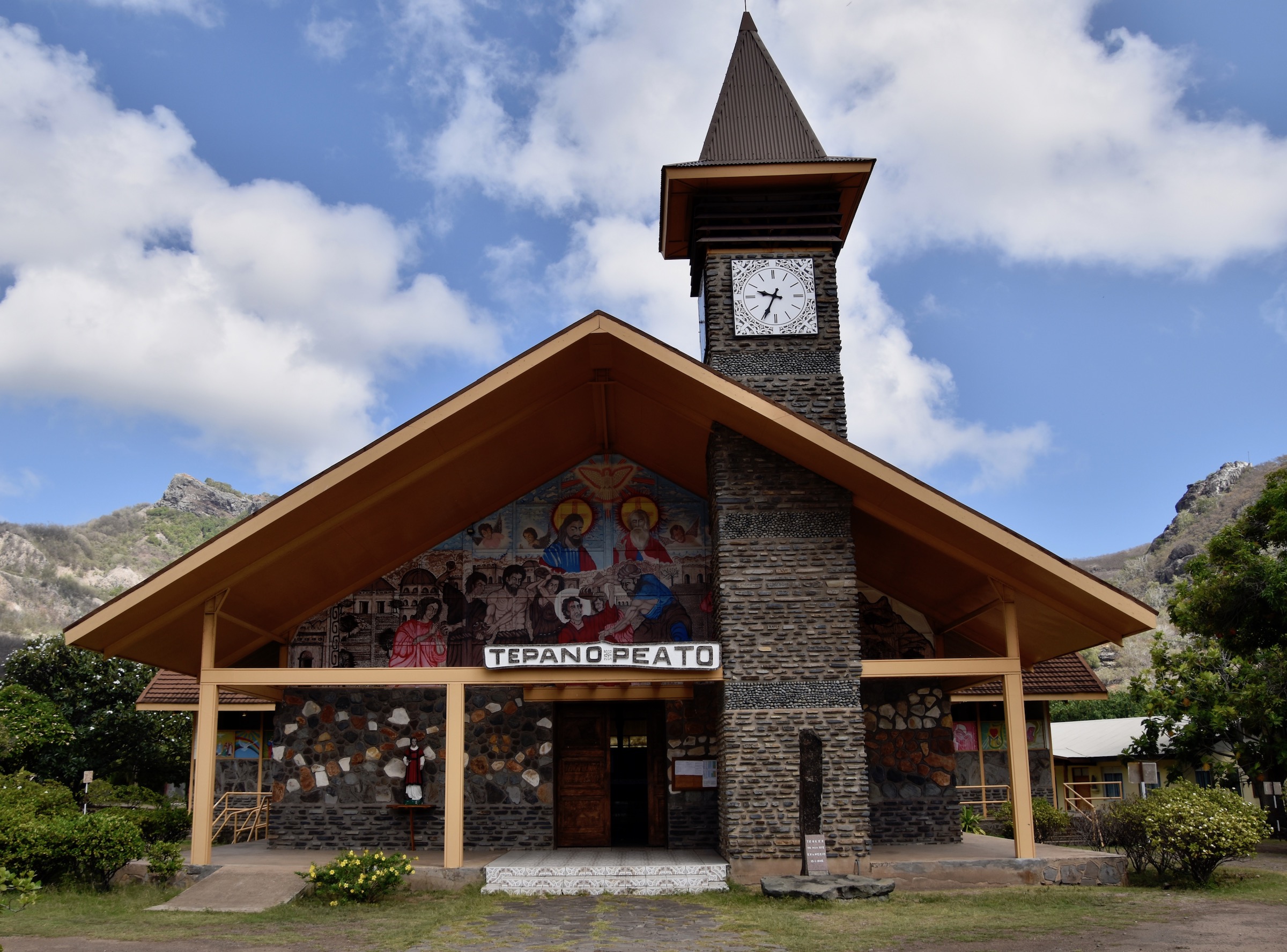 The interior features an amazing carved wooden pulpit in the form of a ship's prow with a myriad of sea creatures below.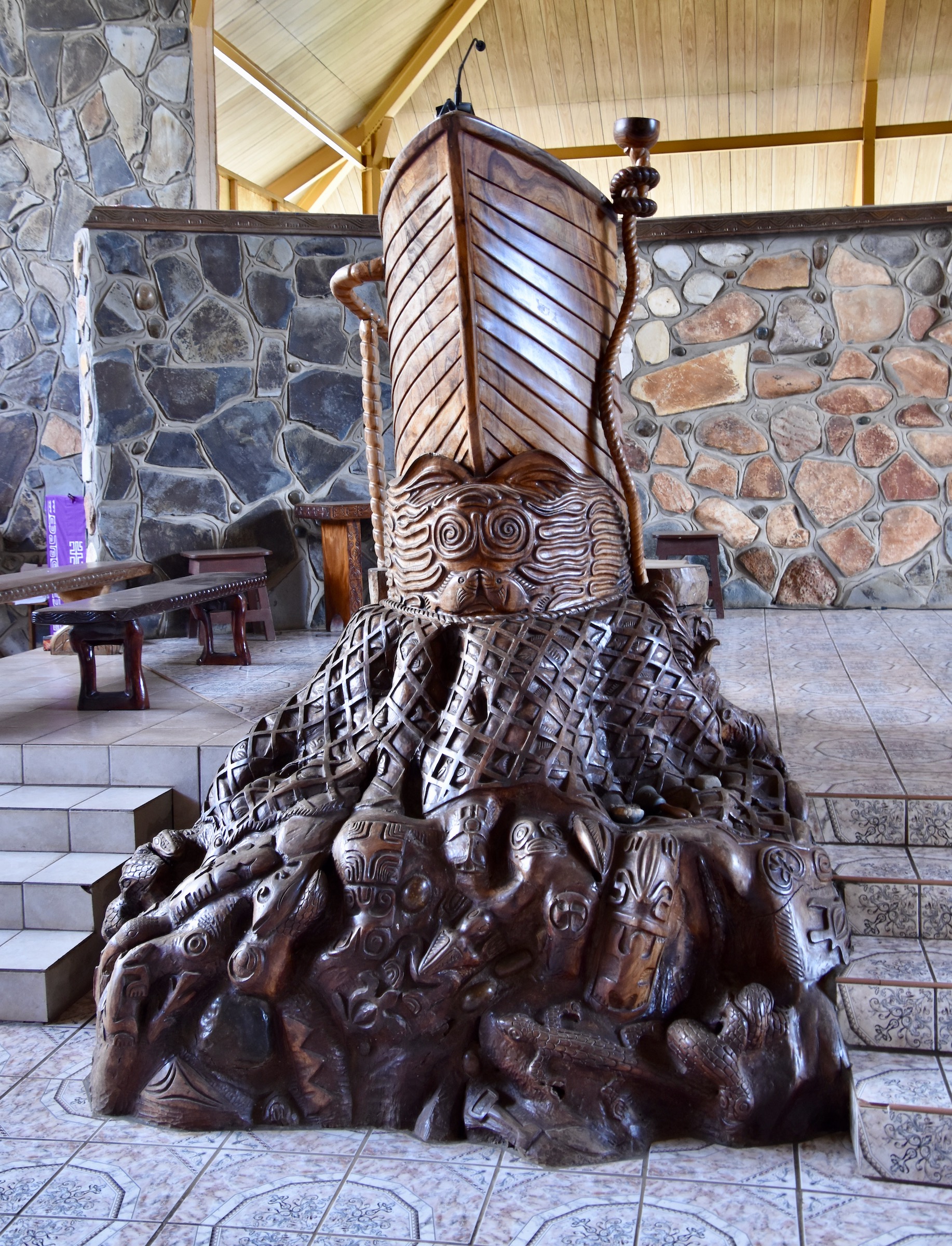 Also inside is this wonderful mural with the peaks of Ua Pou in the background.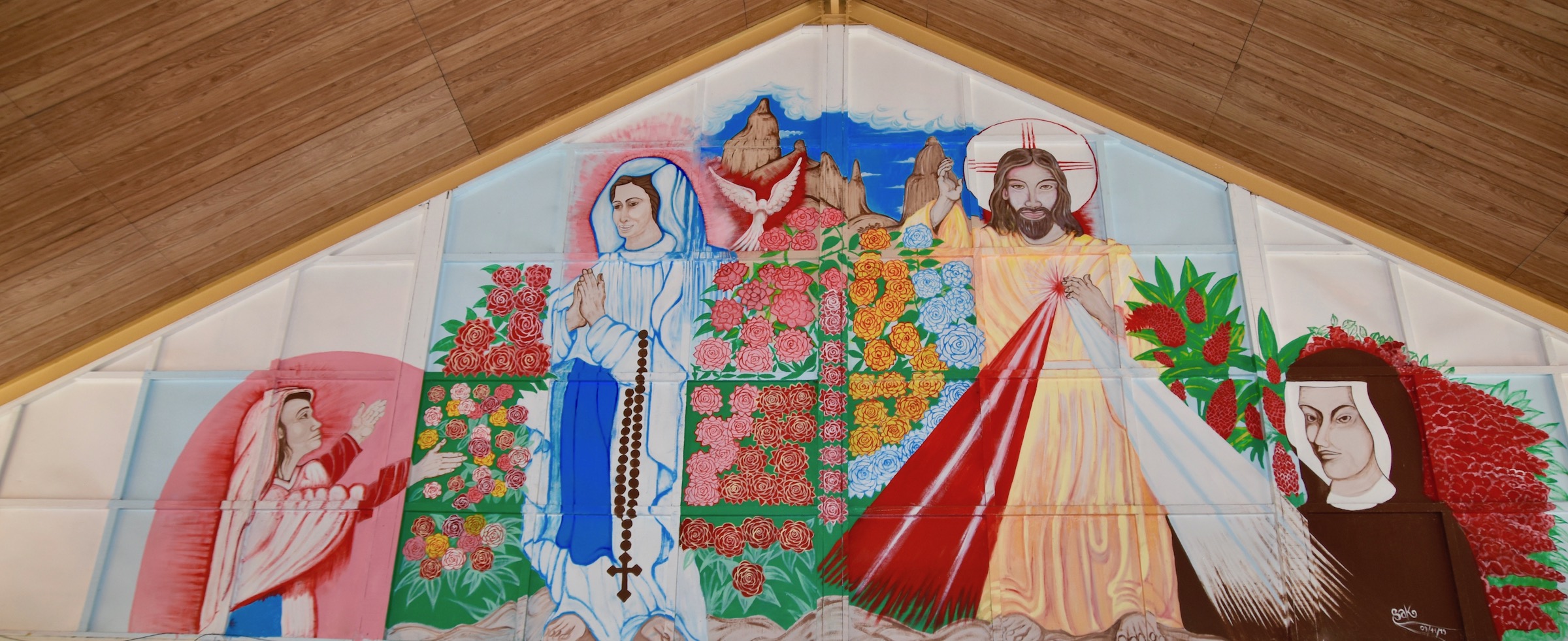 Leaving the church to continue ambling I took this photo with the church and the Devil's Tower twin in the background.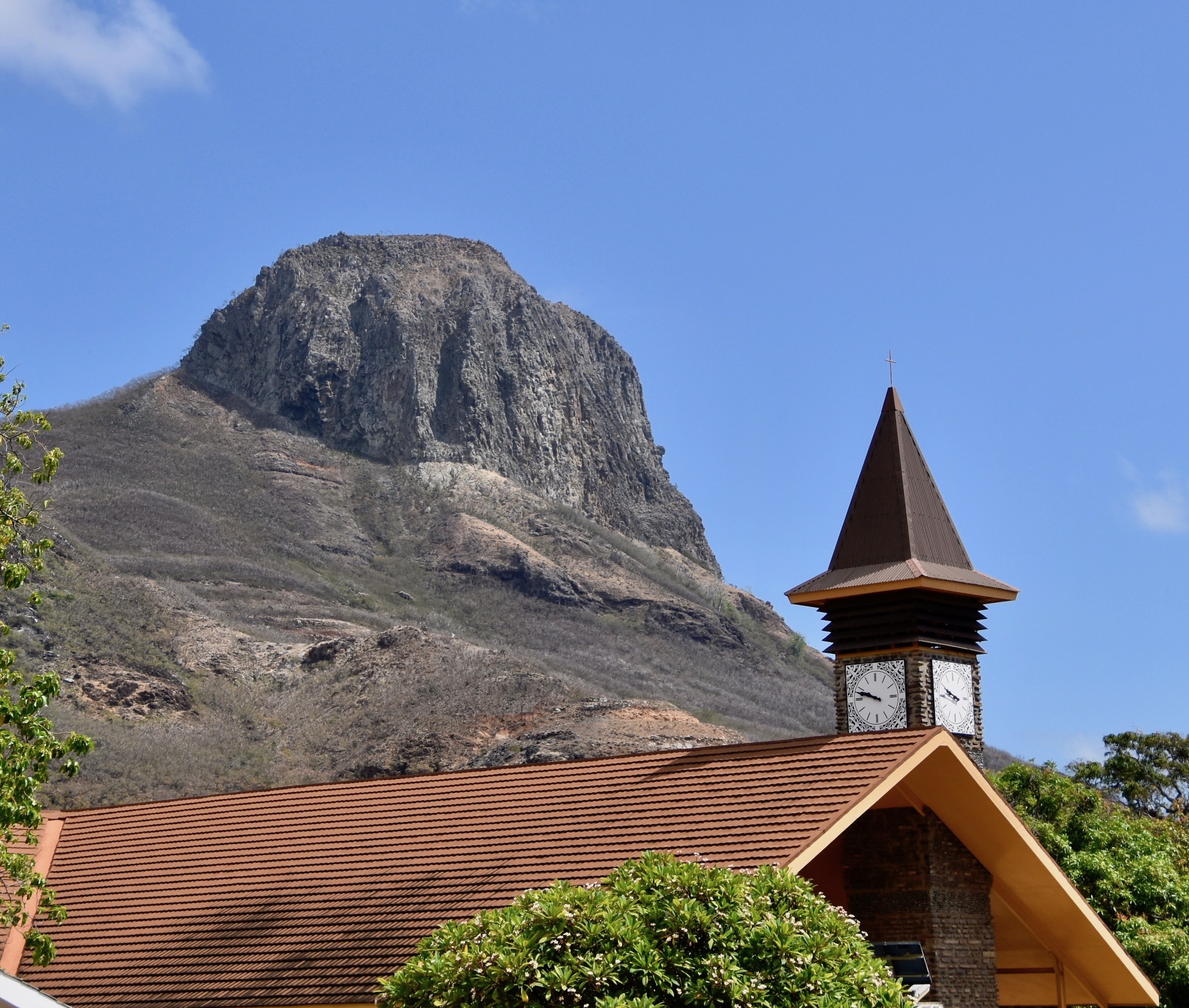 We continued our rambles along the largely deserted side streets of Hakahau. While the upper reaches of Ua Pou are quite arid, down at sea level you can see that it is lush with vegetation.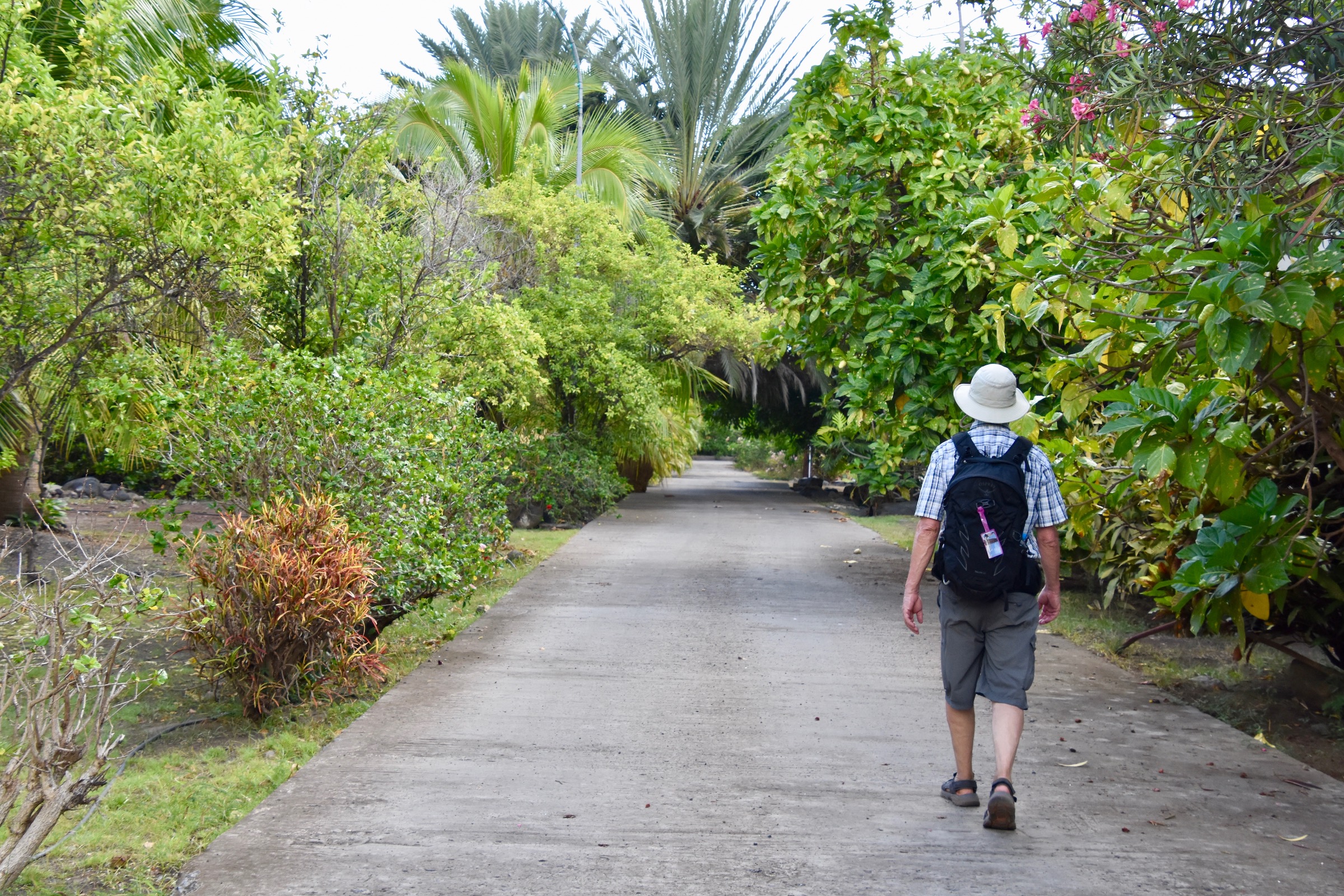 Despite my best efforts I am unable to identify this unusual flower that we only saw on Ua Pou. If any readers of this post know please get in touch and I'll update the photo caption.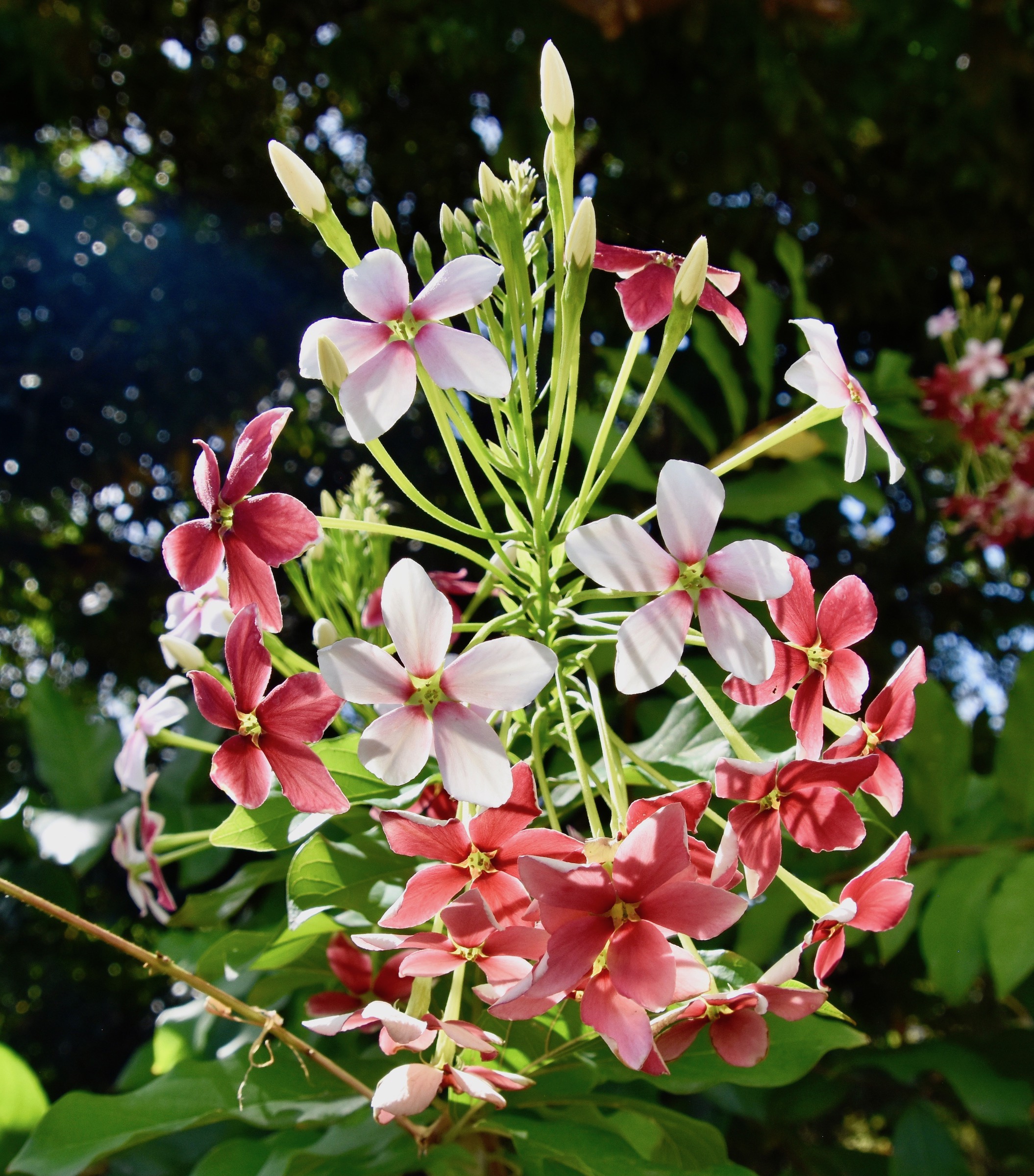 Flowers are not the only natural attraction in Hakahau. There were a number of bird species including the always interesting zebra dove which was probably introduced to the island as a pet and then escaped to form a wild population as it has done in many other places.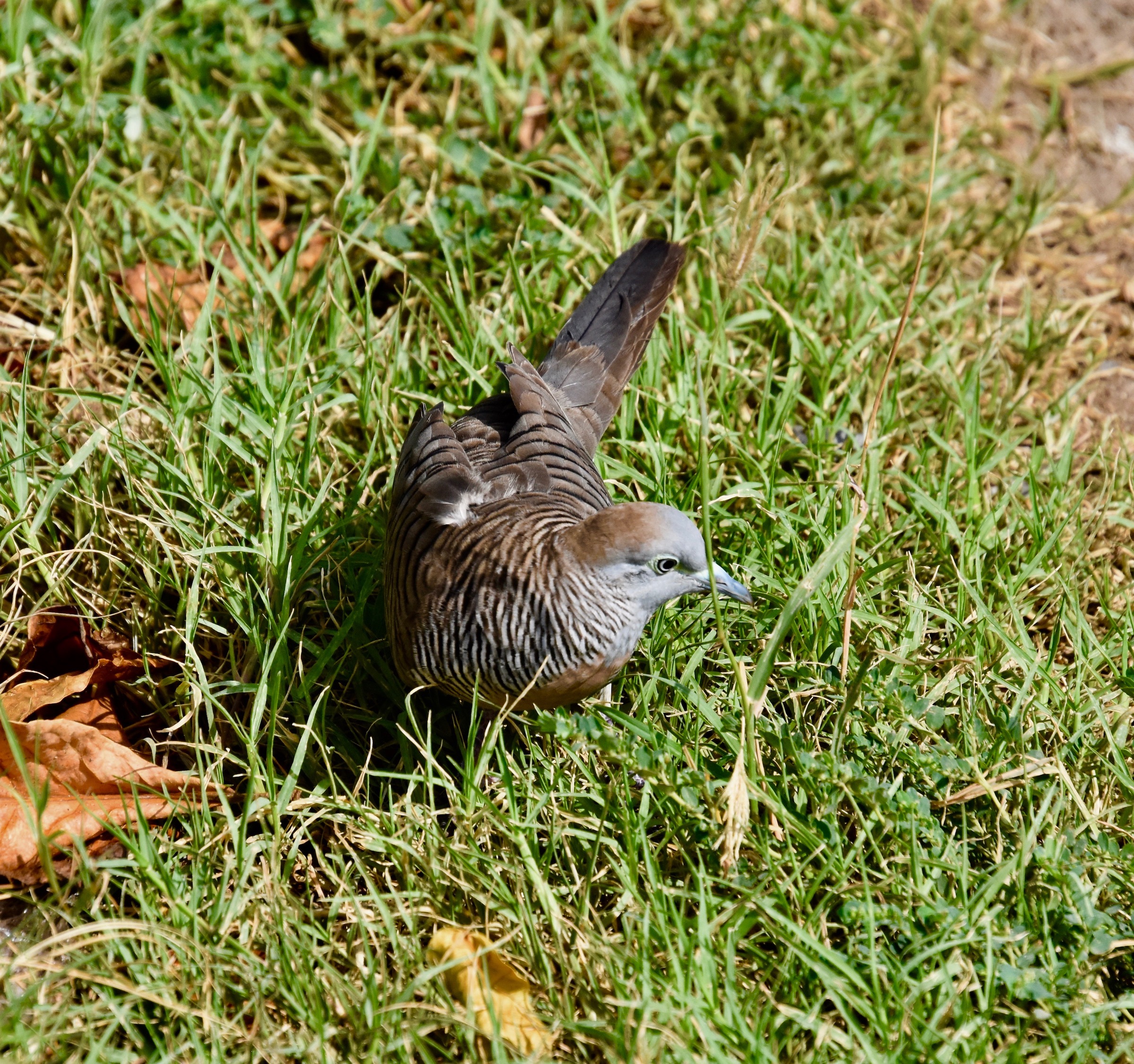 Also of interest in Hakahau are a number a large moais. This one was on the waterfront road from the pier to the centre of town.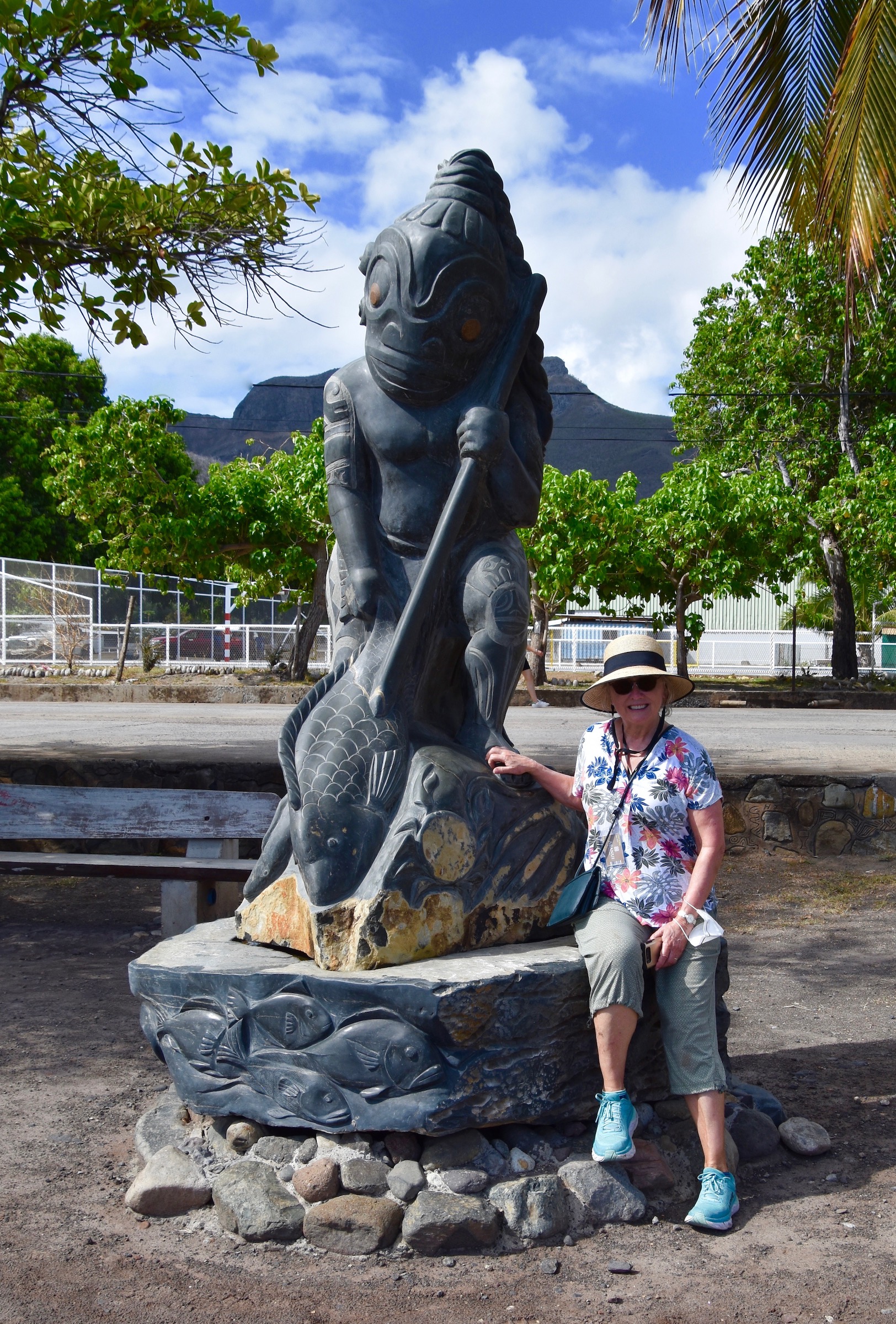 And this one was in front of the town hall.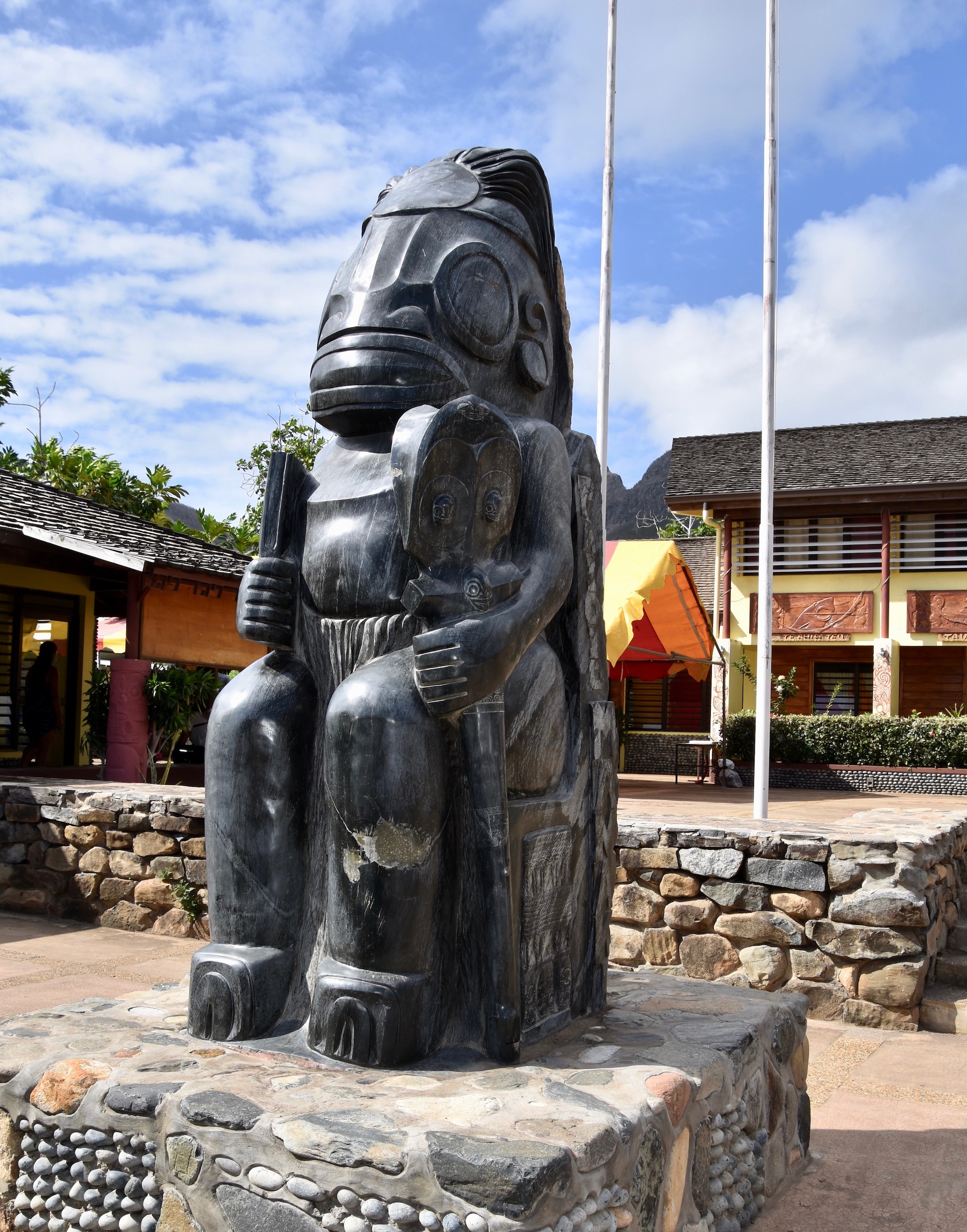 Now it was time to do a little shopping. Places like Ua Pou are so remote that it sees very few tourists and when they do arrive as we have today, it is a big deal and a chance to feature some of the local handicrafts. I am not normally a shopper, but I do like to find unique souvenirs from places I travel to and I knew exactly what I wanted to buy on Ua Pou. As I mentioned in the post on Nuku Hiva as we visited the cathedral there and saw the flower stones, they are only found on Ua Pou and in a remote part of Brazil. Carving of these stones is an art on the island as we immediately became aware after stepping into the community space where the artisans display their goods.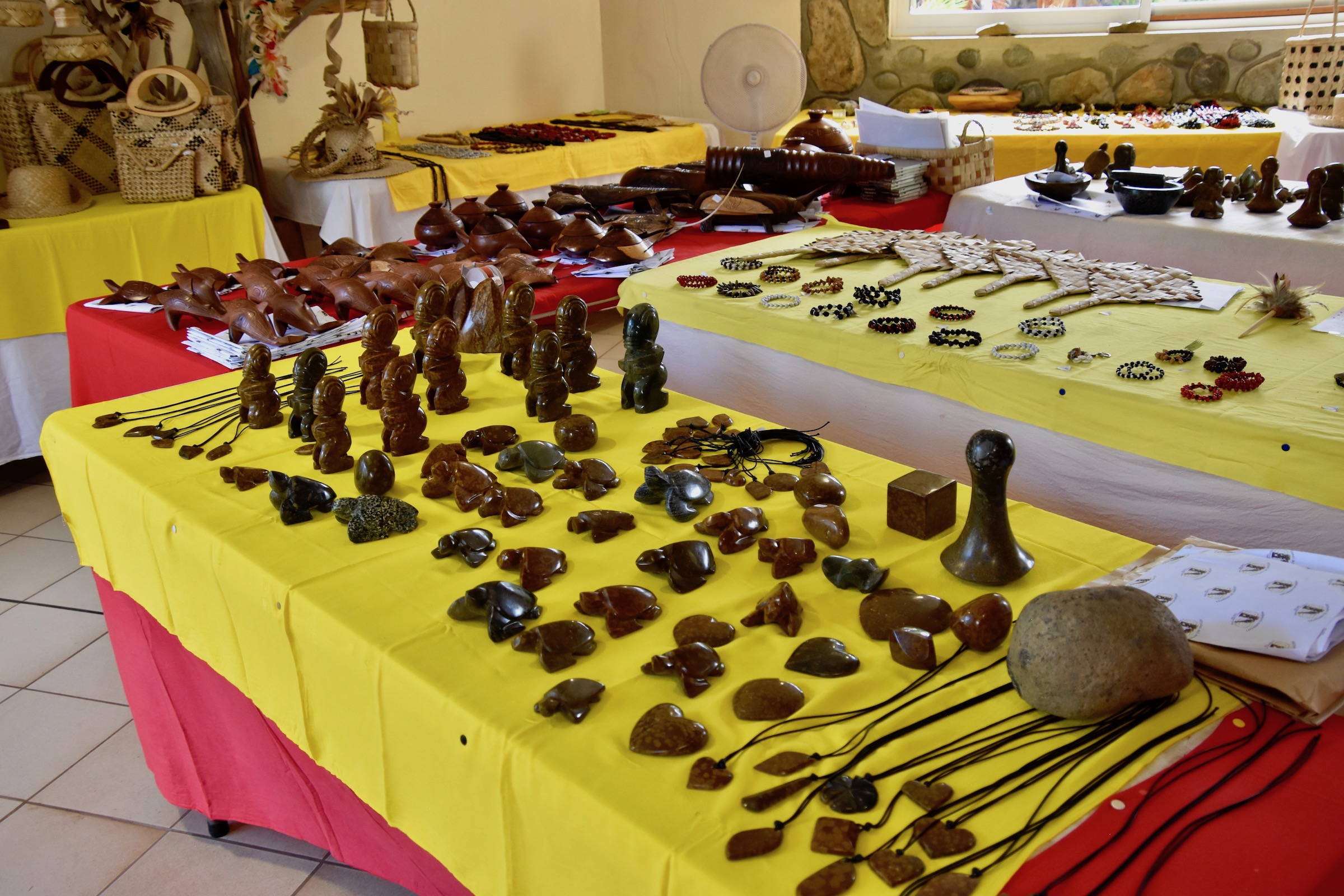 I chose this exquisite sea turtle which cost approximately $45.00 USD which to me was an excellent price. I had to go to an ATM to get the cash as the vendors do not have the facilities for credit or debit. You can clearly see the little flower shaped inclusions. What appear to be small cracks are actually natural lines which you cannot even feel. This piece now has a place of honour among our collectables.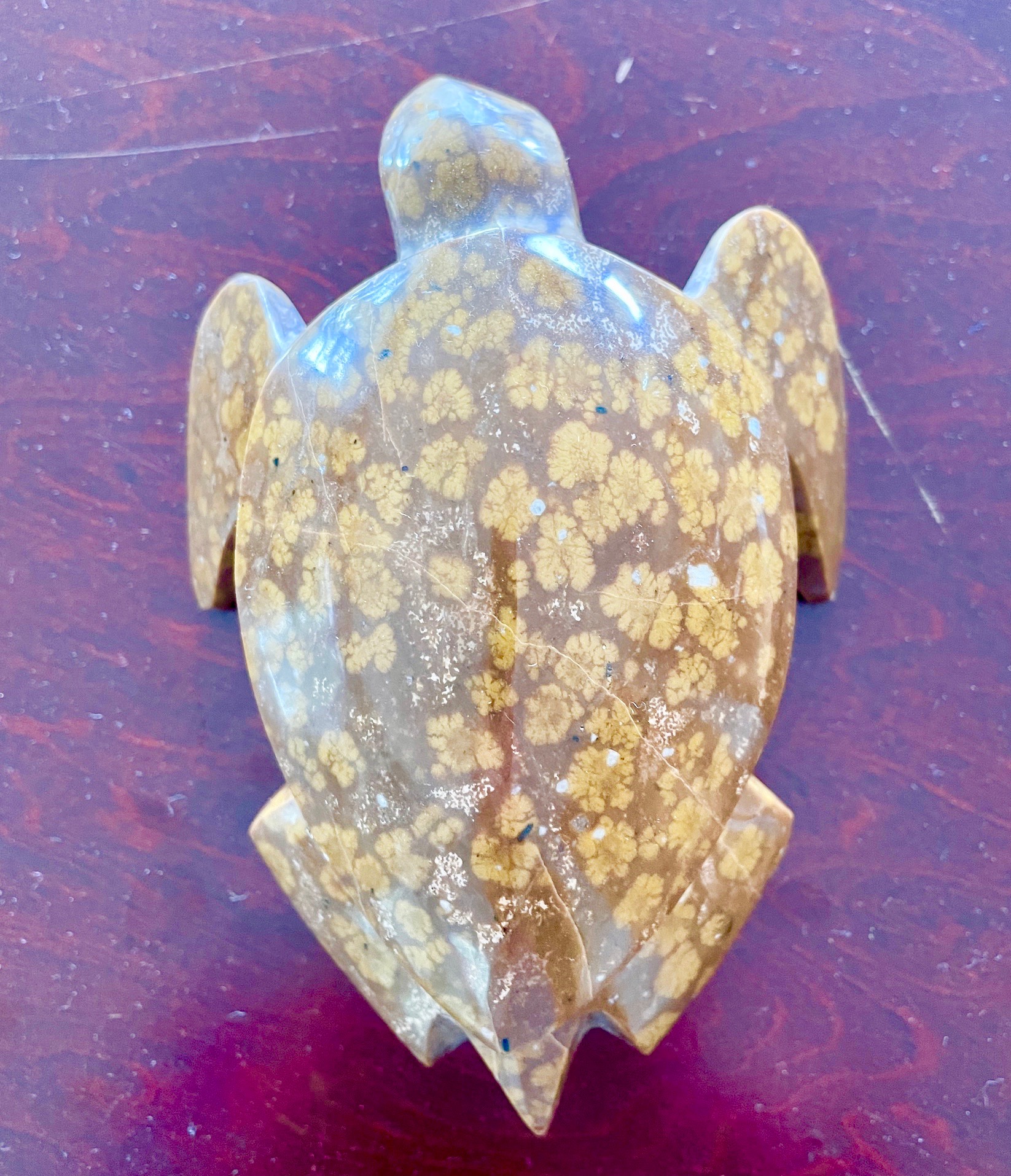 These little girls were busy with their colouring as their mothers tended the handicraft tables. I think colouring as a child is something almost universal and proves that we all start out with natural joy in our little hearts and it takes adults to blacken them.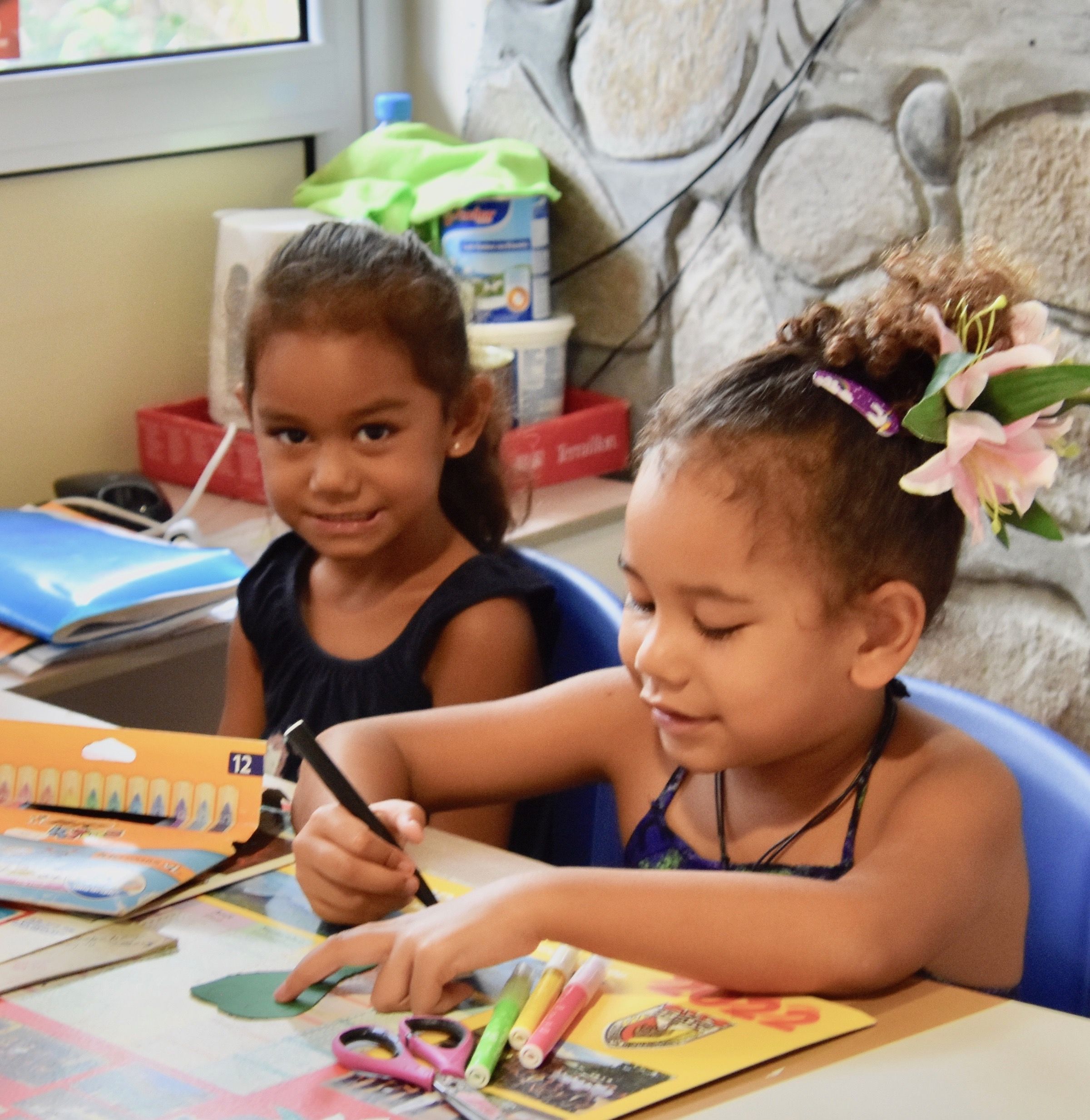 Just before the entertainment was about to begin we were all invited to partake in a Polynesian food tasting served on native leaves as plates, a common practice in French Polynesia and elsewhere in Oceania.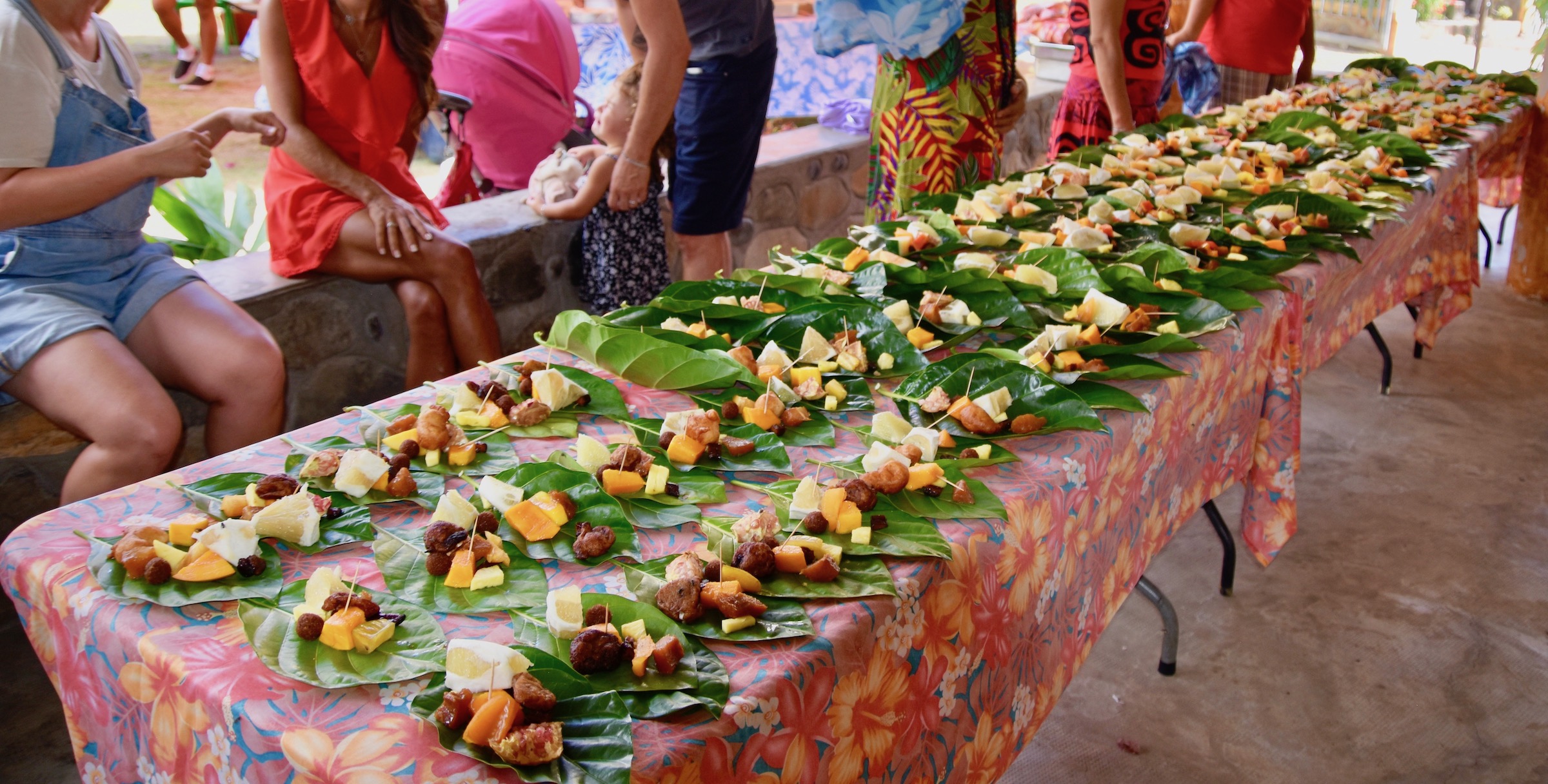 While we sat down and enjoyed the food we were entertained by the warm-up band which consisted of six or seven players and singers of all ages who went on just a little too long. Bring on the main act!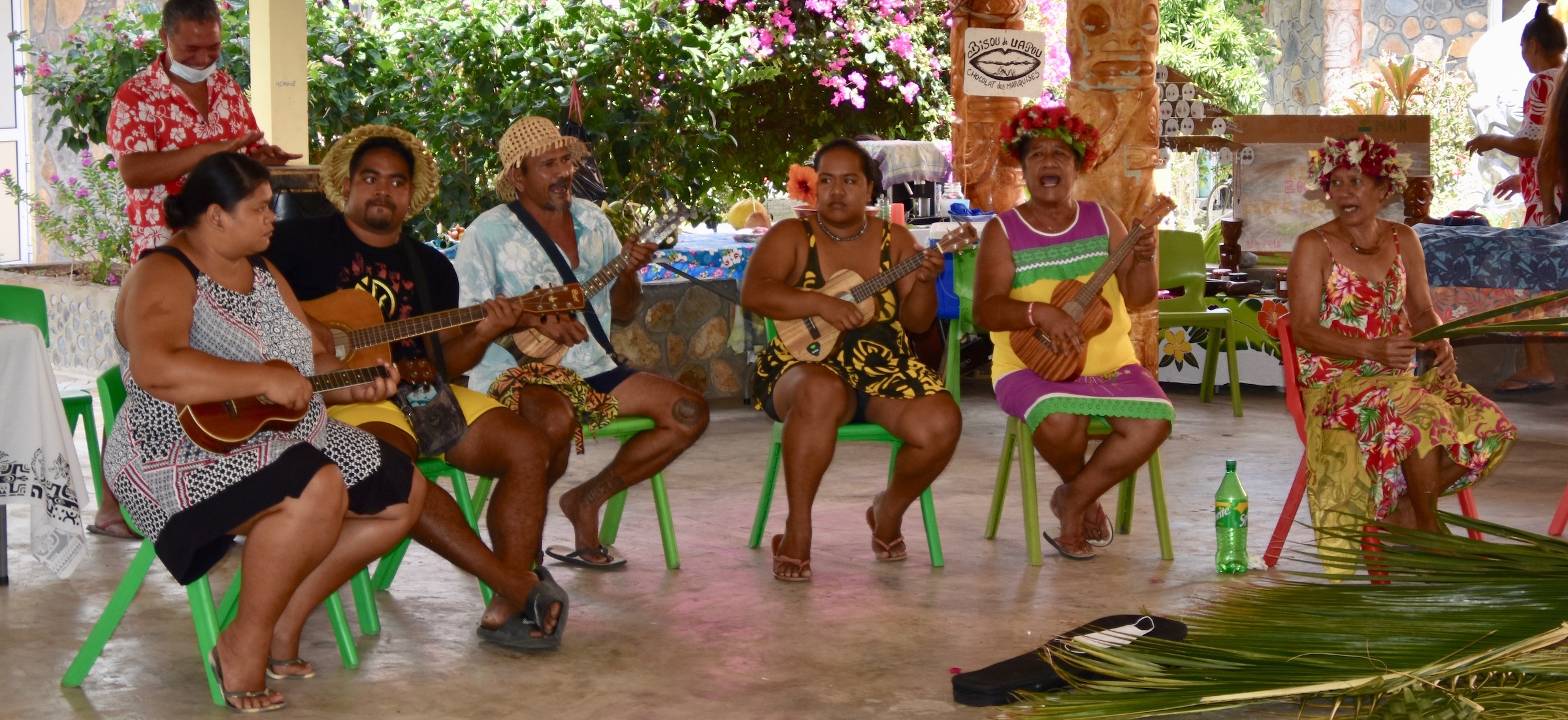 The highlight of this trip to Ua Pou was undoubtedly the performance put on by local high schoolers a portion of which I recorded and you can watch below. Their energy and stamina in the heat of midday was something to behold.
Here are a couple of still shots of the group.
This was the boy king.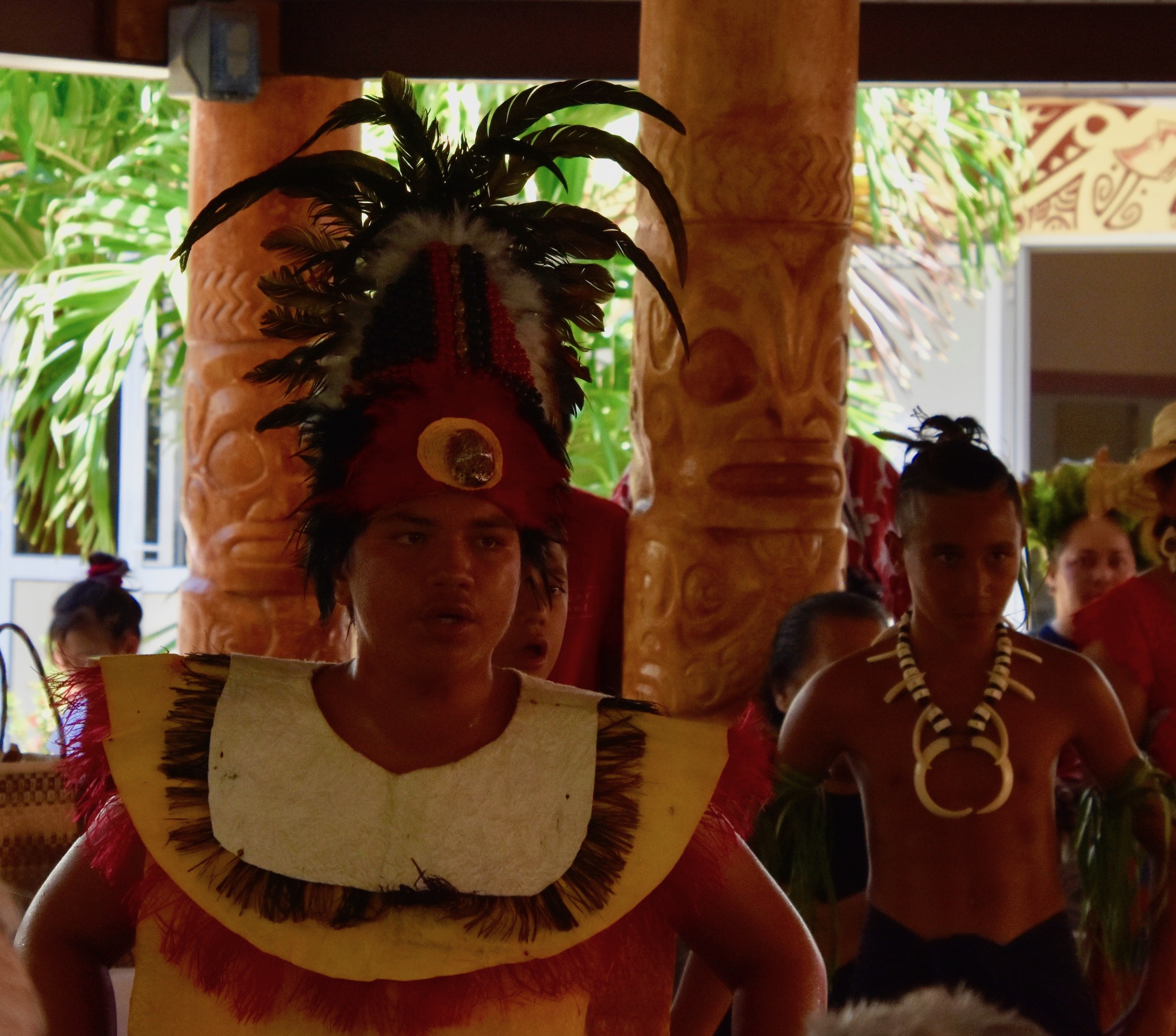 We returned to the boat where we still had a few hours before leaving Ua Pou. Sitting on our balcony I saw this scene of kids using one of the ships hawsers for both tightrope walking and hanging on contests. This would be unthinkable at any North American port, but here the ship was a source of pure joy. I could not believe the swimming and diving abilities of even kids as young as three or four.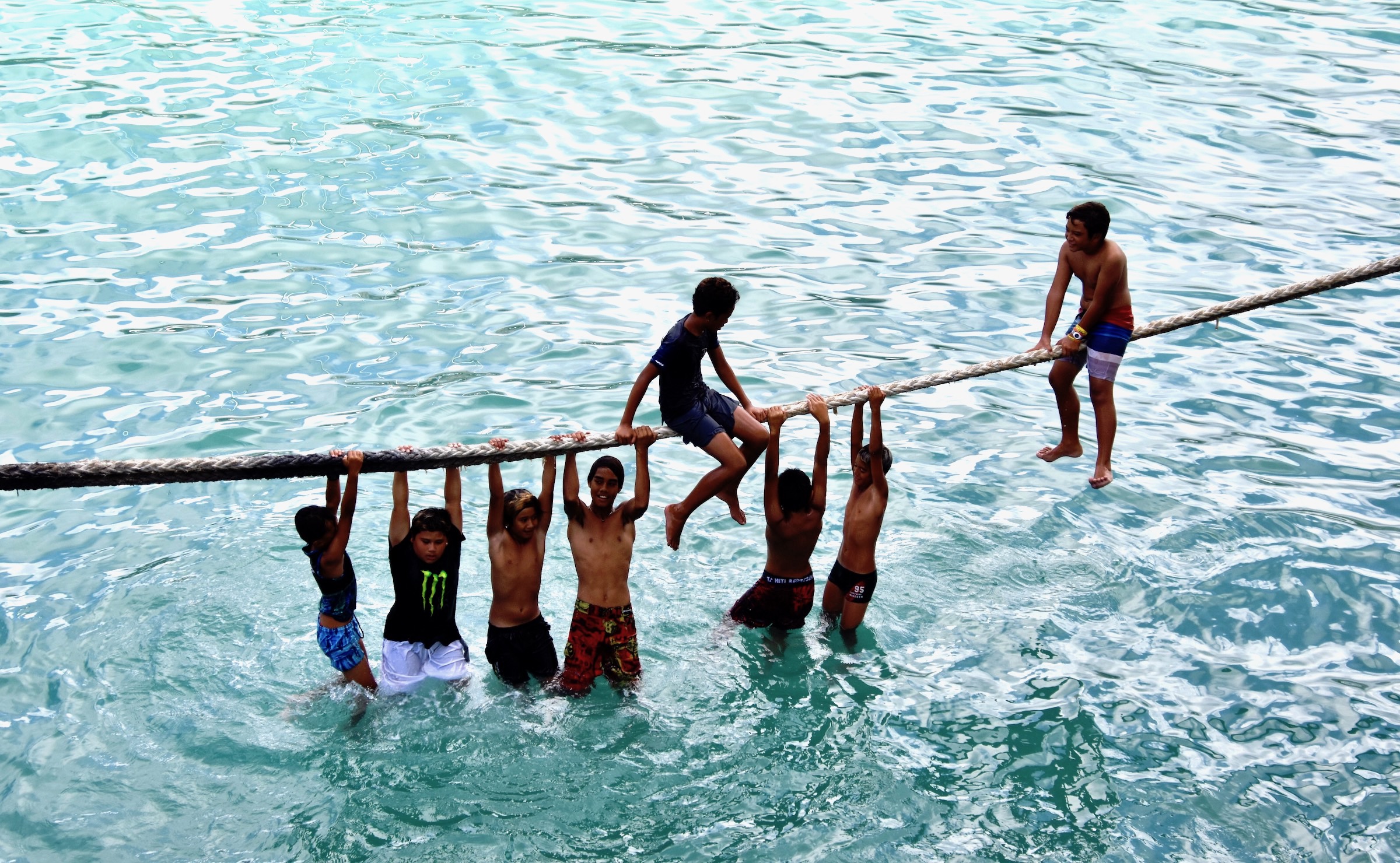 A little later on some of the bigger kids arrived including some who had been part of the entertainment and they just sat and laughed and laughed and laughed. These were children who had none of the so-called modern necessities like a smart phone, social media or $500 cross trainers. Yet they were a far happier lot than any of the stressed out teens I see walking around my home town with their faces perpetually downward looking at their devices worried they might miss something important on Facebook or Tik Tok.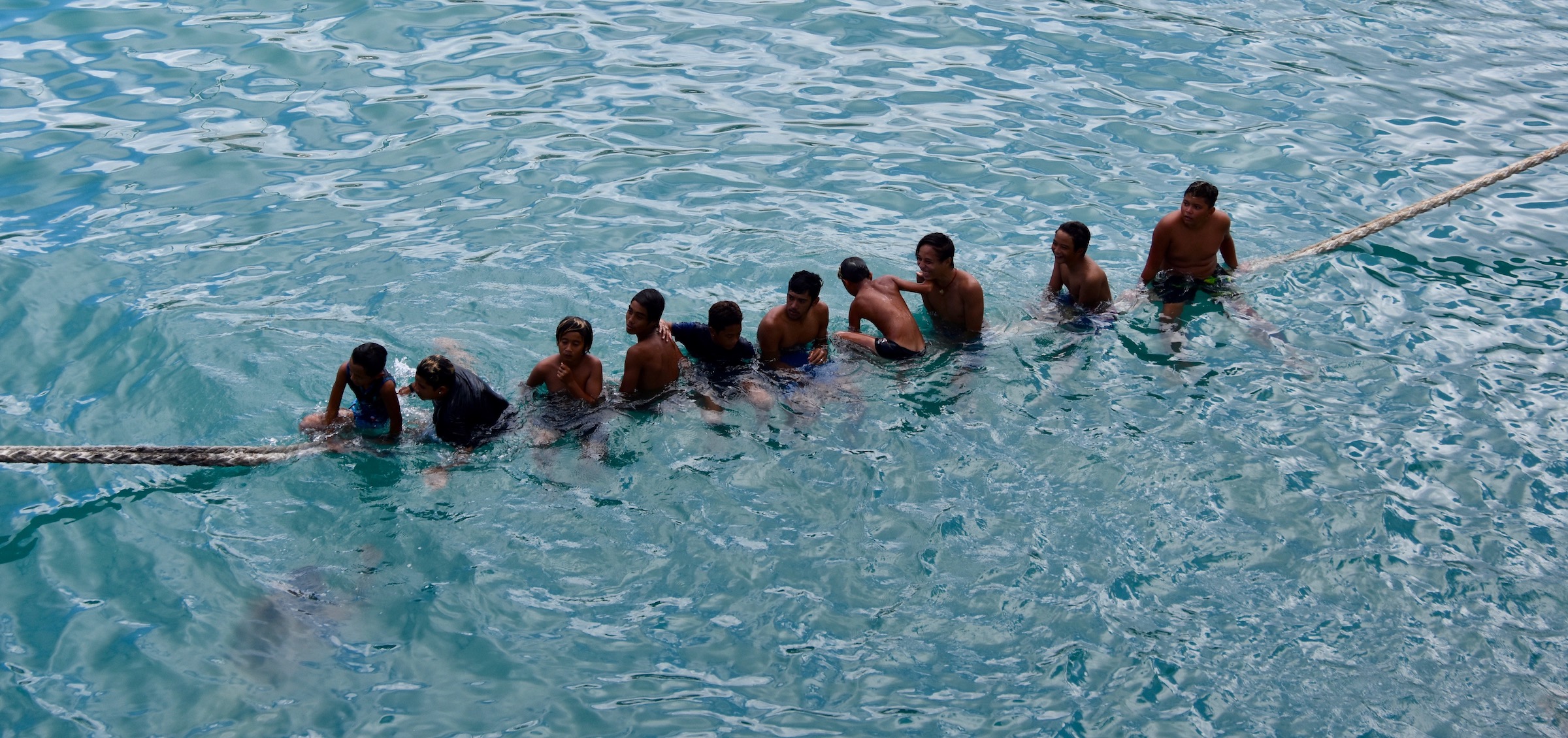 Our stop in Ua Pou was all too brief as we said goodbye to the Cathedral Island and headed for our next stop, Ua Huka. I hope to see you there.