Kunstmuseum Basel – A Must Visit Gallery
In the last post Alison and I explored the city of Basel and found it to be a wonderful place to discover while walking along both banks of the Rhine River. It truly is a much under appreciated Swiss destination by tourists who think only of the alpine regions on their journeys here. In this post I'll provide another reason to visit Basel, the Kunstmuseum Basel which I found to be one of the best small city art museums I have ever visited, maybe even the best. Here's why.
The Kunstmuseum Basel has one distinction it can never lose – it is the oldest public art gallery in world. In 1661 a prominent Basel family received an offer from Amsterdam to sell their private collection that included many works by Hans Holbein the Younger and many items associated with the great humanist Erasmus. The citizens of Basel in conjunction with the university matched the offer and so what is known as the Amerbach Cabinet became the foundation of the Kunstmuseum Basel. Rather than rest on the laurels of this illustrious collection the burgers of Basel continued to add to the collection by acquiring examples from almost every well known artist one can name from the 15th century onward. Today if you wanted to take someone who knew absolutely nothing about art and give them a quick precis of how it has evolved over the past five hundred years you could not pick a better place than the Kunstmuseum Basel.
So without further adieu let's go see some great art.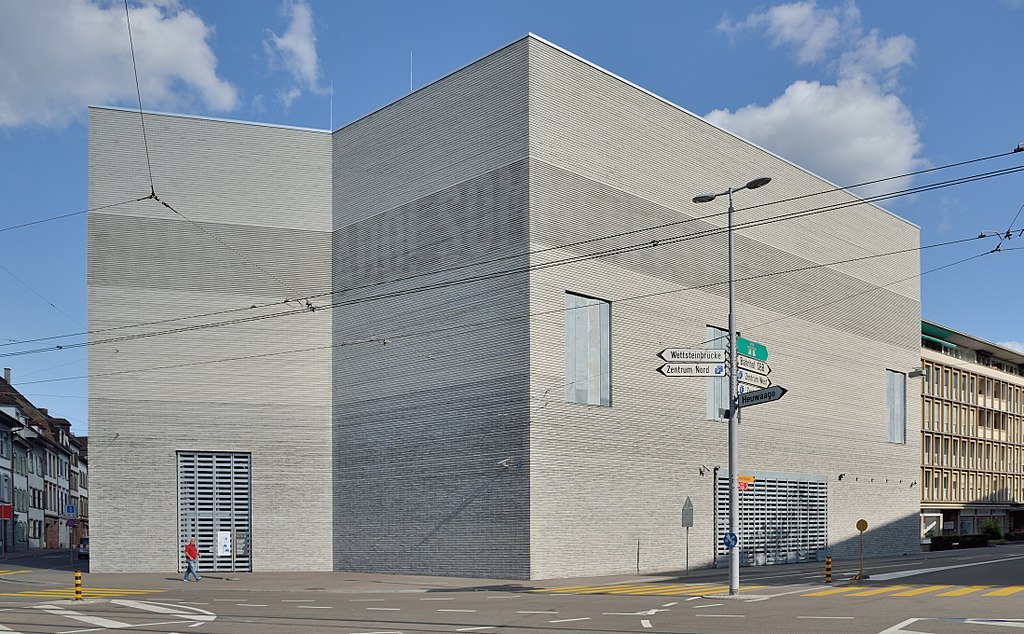 In 2016 the Kunstmuseum Basel opened the huge new extension you see above. I can't say I was enamoured by it, but it's what's inside that counts.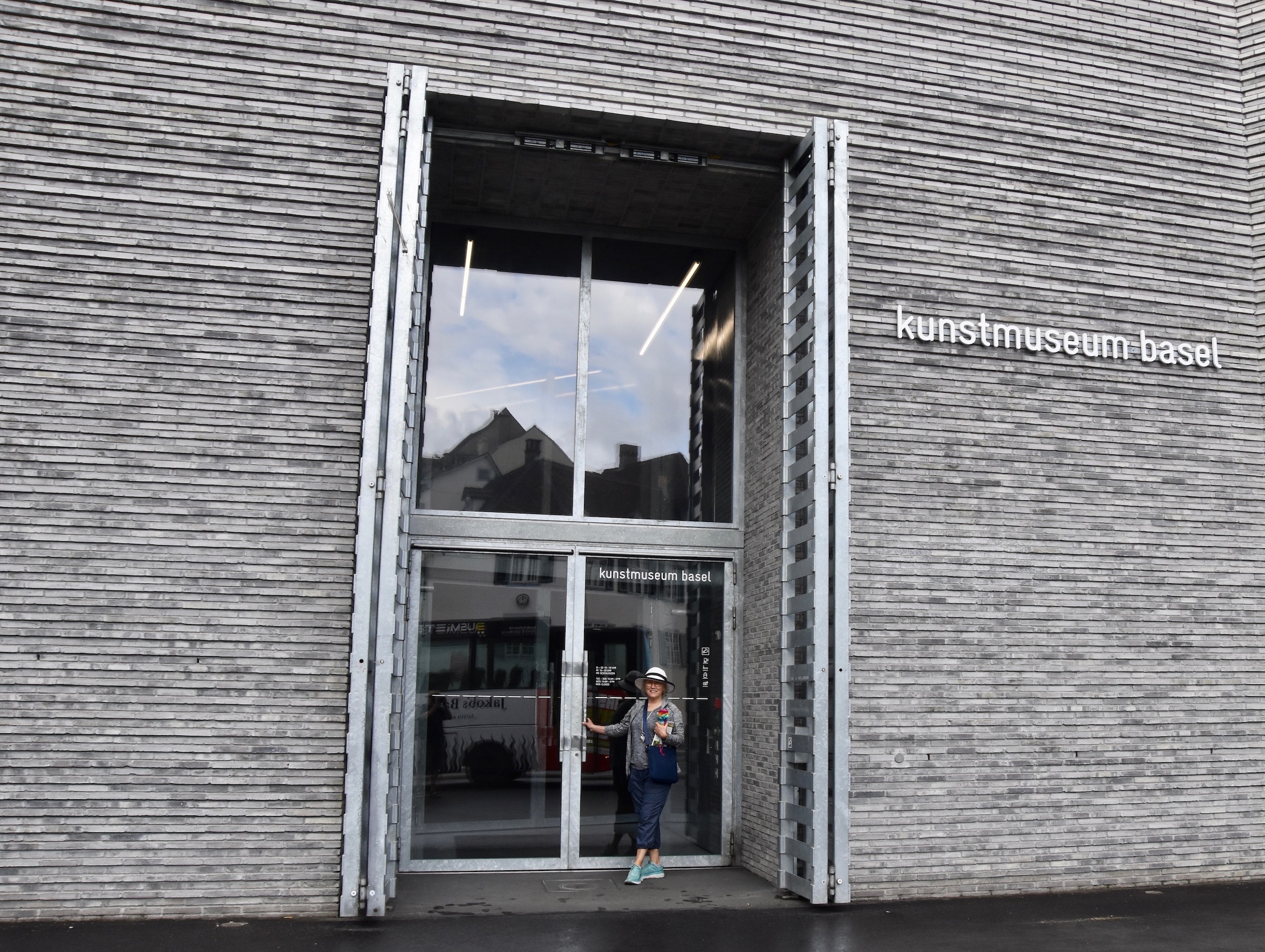 Entering on this side, after paying the entry fee you climb these stairs to get to the exhibits.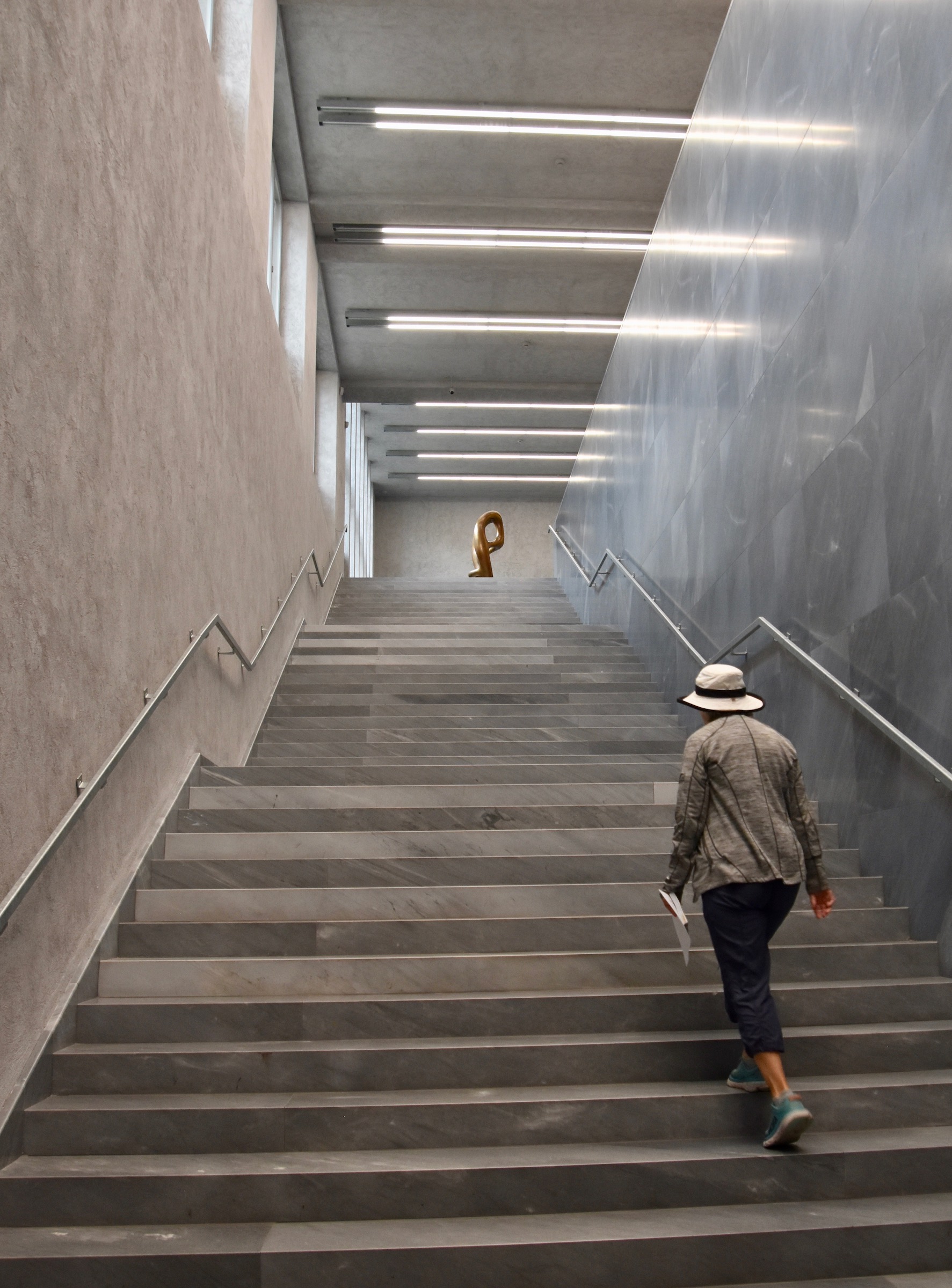 Near the top is one of American artist Jonathan Borofsky's flying man from his I Dreamed I Could Fly series. I first saw one these a few years earlier at the Boston Museum of Fine Arts and was immediately struck by the similarity to the opening sequence from the iconic TV series Mad Men. There is a much more stylized version in the Toronto Airport, but I prefer the more realistic ones.

I am now going to take the reader through the Kunstmuseum Basel in much the same order as I think most visitors would take. Although it starts off with some older galleries, after that it jumps around a bit so this is not a straight chronological record.
As you would expect there is a huge number of religious works from the medieval and Renaissance eras, but as most people's ability to truly appreciate art is limited to two or three hours (at least mine is), I'm not going to spend much time here.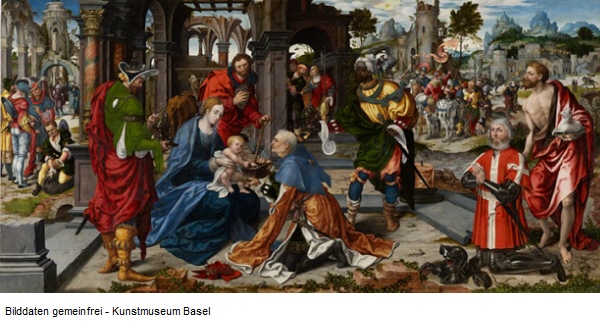 The one exception is this painting by Noël Bellemare, an obscure Mannerist painter from Antwerp. It is an Adoration of the Magi, a common theme in religious art, but what interested me was the person who commissioned it and is shown much more prominently than the actual magi. The kneeling figure is Phillipe de Villiers de L'Isle-Adam who was Grand Master of the Knights of Saint John. He was the one who was able to establish the order in Malta after they were expelled from Rhodes by Suleiman the Magnificent in 1523. We recently saw his tomb in the Co-Cathedral of Valletta on a visit to that island last fall. It struck me as a bit serendipitous to come across this painting which once resided in Rhodes and then Malta to end up here in Basel.
Speaking of serendipity, this next painting also had a connection to our visit to Malta or more precisely the sister island of Gozo.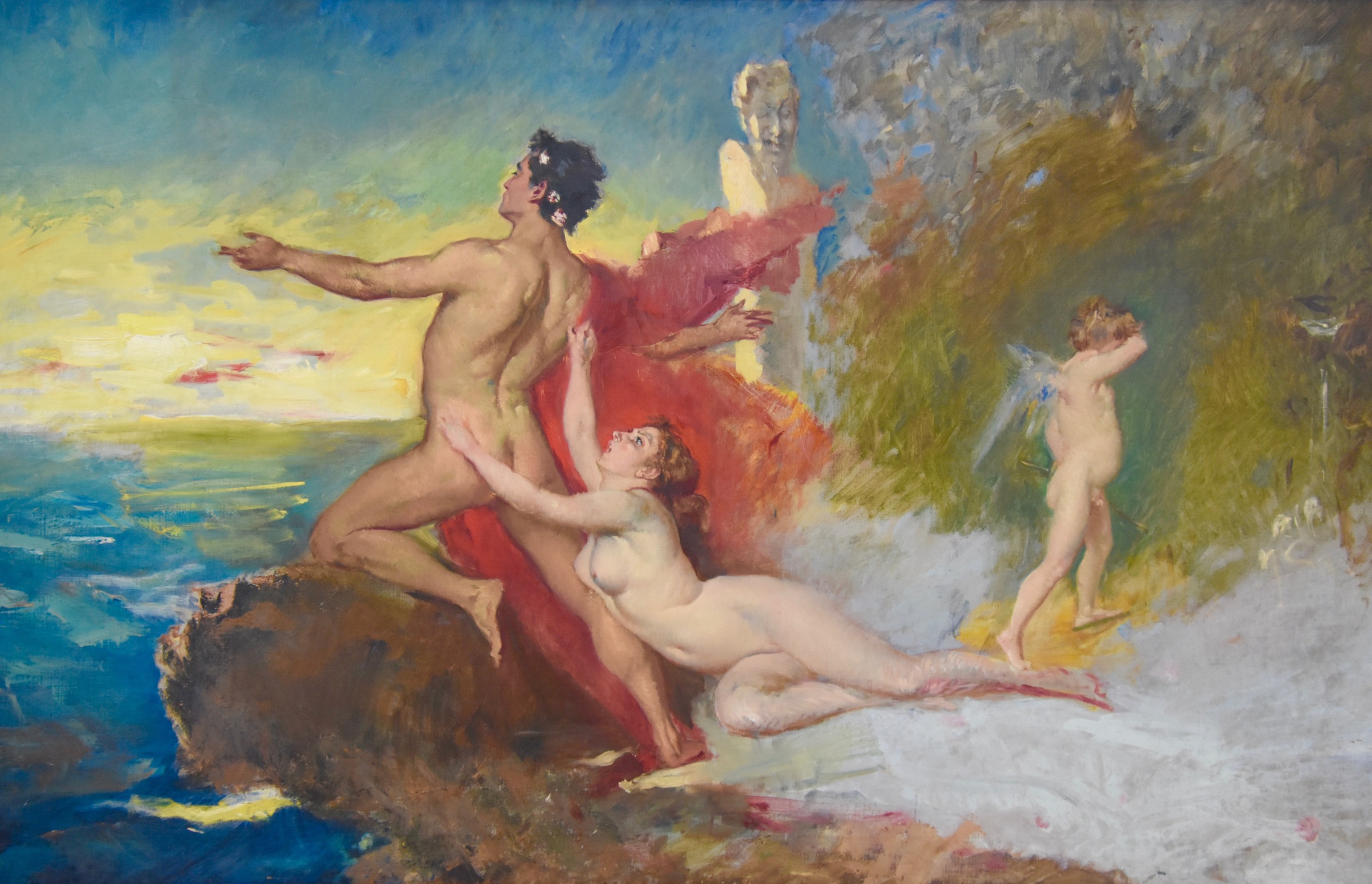 This is the nymph Calypso pleading with Odysseus not to abandon the cave in which they had co-habited for seven years by Swiss artist Frank Buchser. We had visited the site of this legendary cave during a day trip to Gozo. While this is by no means a great painting, the artist Buchser was a very interesting character who painted in a myriad of styles over his career. He is perhaps most famous for journeying to America and hooking up with a western expedition led by General Sherman whose portrait he painted along with others such as Robert E. Lee, President Andrew Johnson and William Seward.
Ok, let's look at some great paintings by well known artists. What struck me about the works in the Kunstmuseum Basel is that while they do not have great numbers of paintings by these artists what they do have are representative of the artist's at their peak. In other words these are among the very best of the best.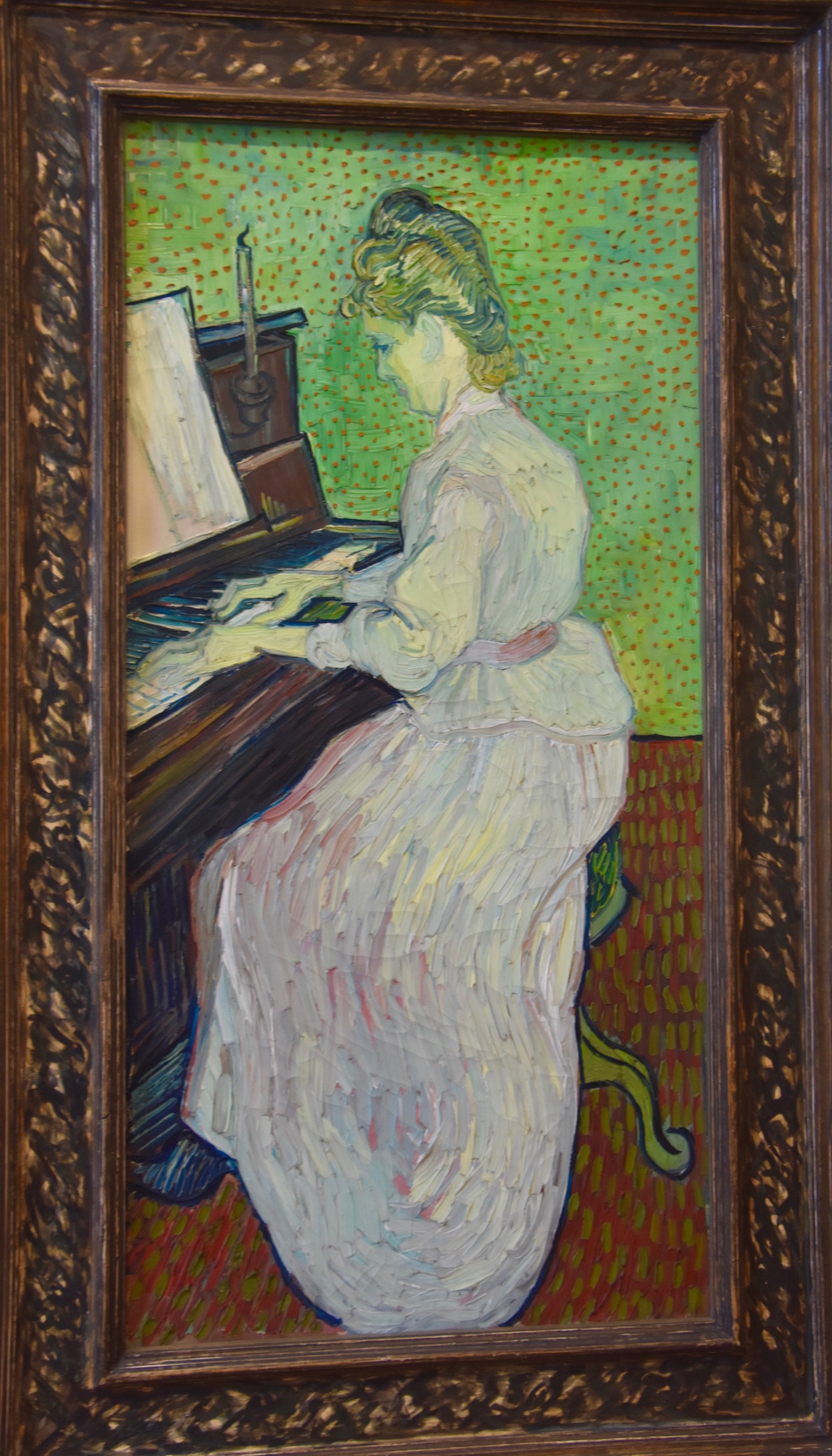 This portrait of Marguerite Gachet was one of the last paintings ever done by Vincent van Gogh. In 1890 he was in the small town of Auvers-sur-Oise just northwest of Paris seeking medical treatment from Dr. Paul Gachet, Marguerite's father. While there he completed this work in June and only a month later shot himself in the chest and died. He is buried in the village along with his brother Theo. Marguerite lived until 1949 some fifteen years after the Kunstmuseum Basel acquired her portrait.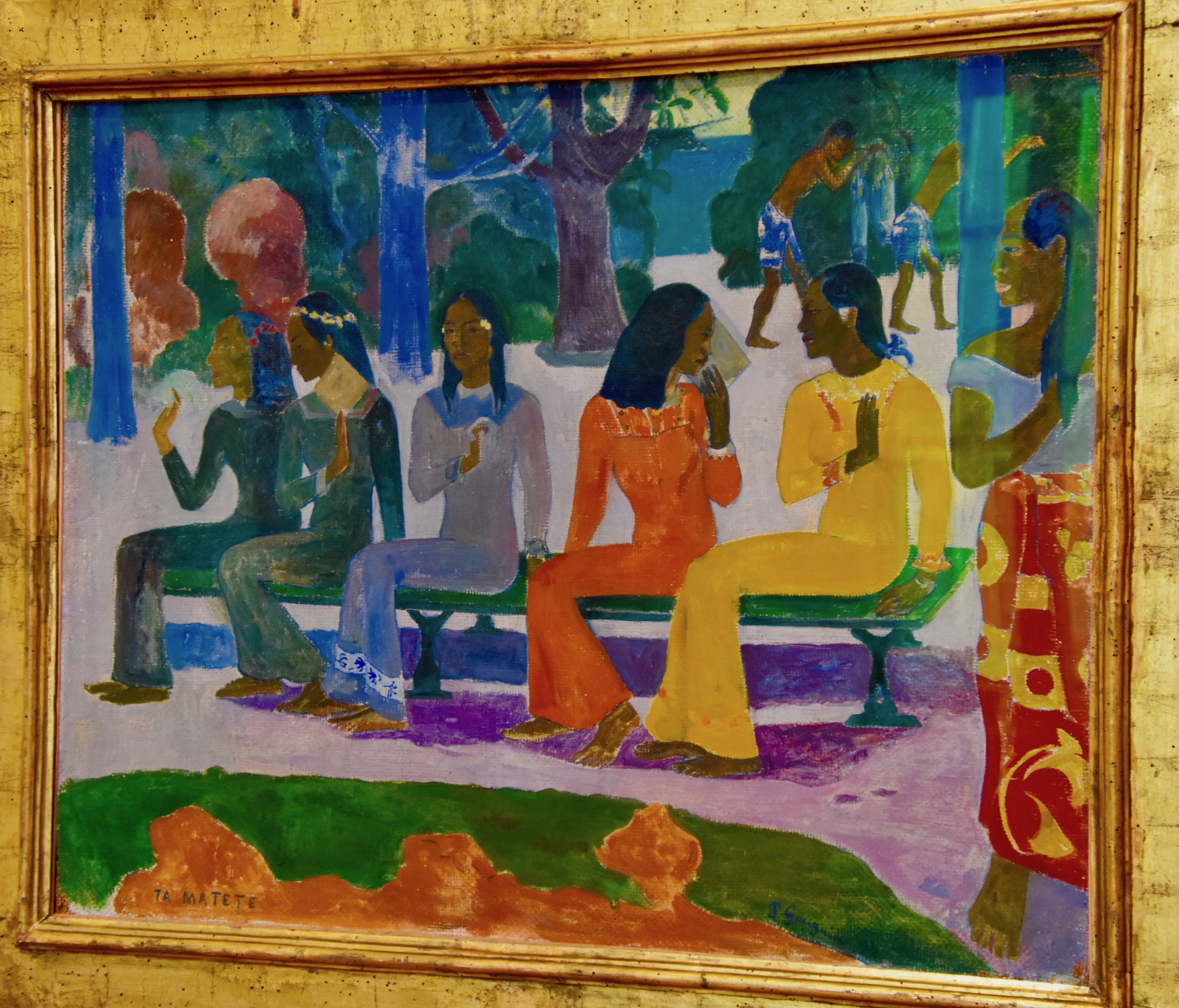 Paul Gauguin made two visits to French Polynesia and his paintings executed there are considered his finest works. The Market was painted during his first visit in 1892 which was confined to the island of Tahiti. With distinct reference to Egyptian two dimensional tomb painting, it depicts women for sale in the market at the Tahitian capital of Papeete. The Kunstmuseum Basel received it as a gift from Jewish emigre Dr. Robert von Hirsch who was a prominent Frankfurt industrialist and art collector. He fled Germany in 1933 to escape Nazi persecution.
Gauguin returned to French Polynesia in 1895 settling first in Tahiti, but later in the remote Marquesan Islands some 1000 miles (1400 kms.) from Tahiti. He set up his studio in the village of Atuan on the island of Hiva Oa where he died and is buried. By another coincidence we had visited his burial site only a few weeks before coming to Switzerland.
Next we have the second of the three Van Gogh's in the Kunstmuseum Basel collection.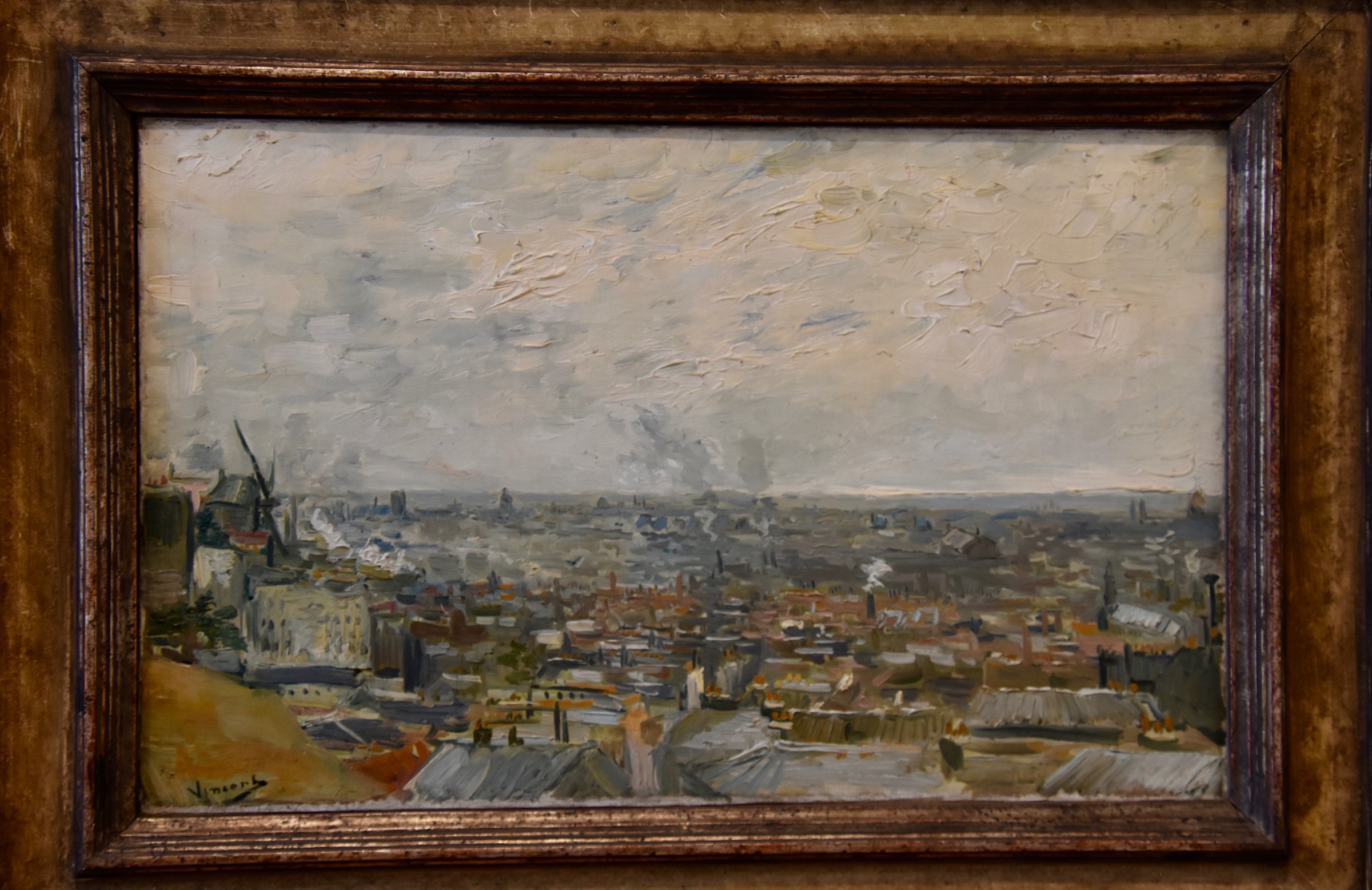 In 1886 Van Gogh set up his studio in the Montmartre area of Paris and painted a number of urban scenes collectively known as 'the roofs of Paris' series. The mill on the left side is La Radet, one of three still operating in Paris at the time. The strange thing is that you can stand on some of the highest points in Montmartre and see an urbanscape today that varies only a little from what Van Gogh painted over a 130 years ago.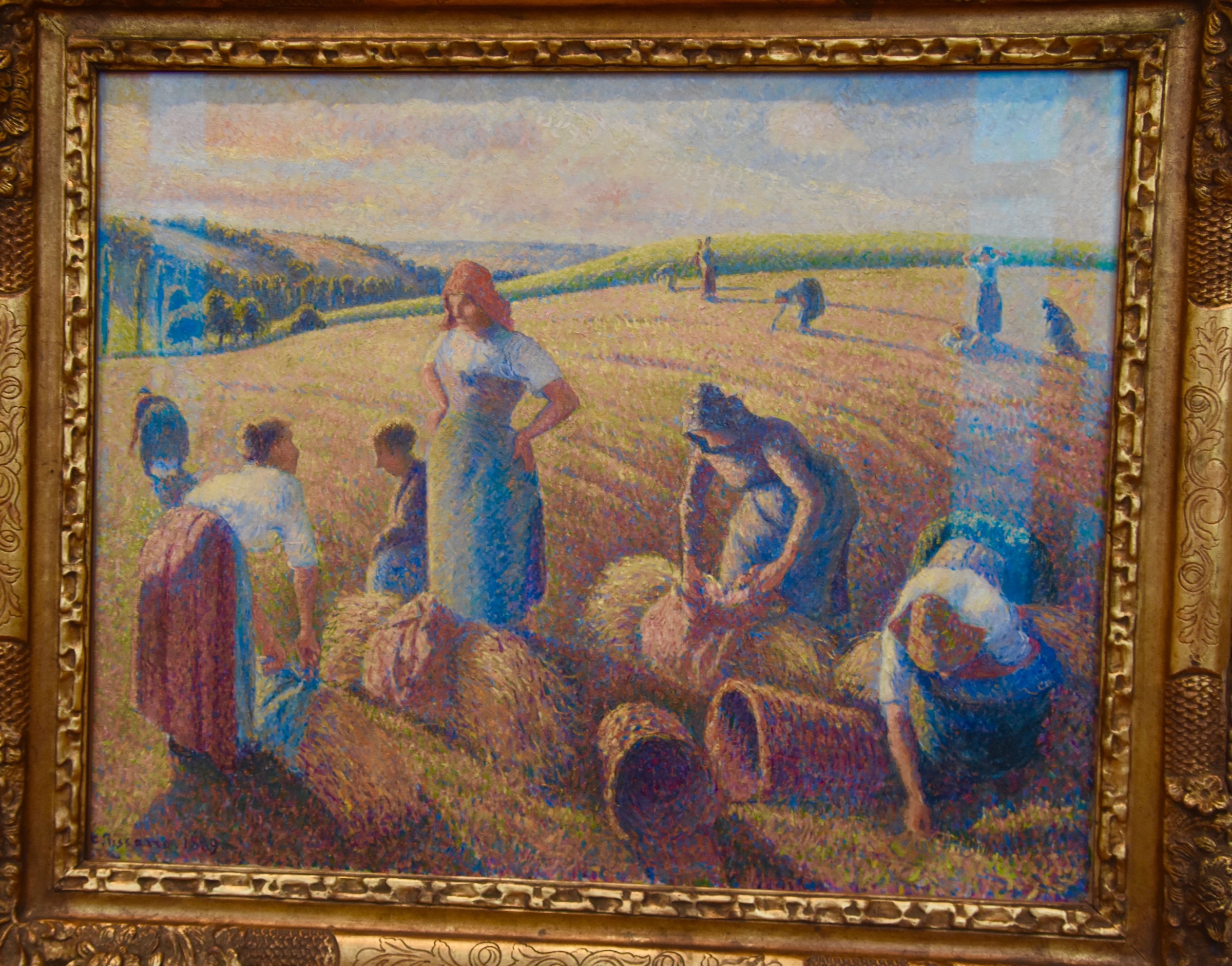 While Van Gogh and Gauguin need no introduction, Camille Pissarro is less well known. That is unfortunate because he was arguably the first of the Impressionists and his work provides a tangible bridge between that movement and the works of Gustave Courbet and Camille Corot, both of whom were mentors to Pissarro. This work, executed in the pointillism style, clearly pays tribute to Jean-François Millet's epic painting of the same title from 1857.
We now take a brief turn away from the greats of Impressionism to this painting by Italian artist Giovanni Segantini.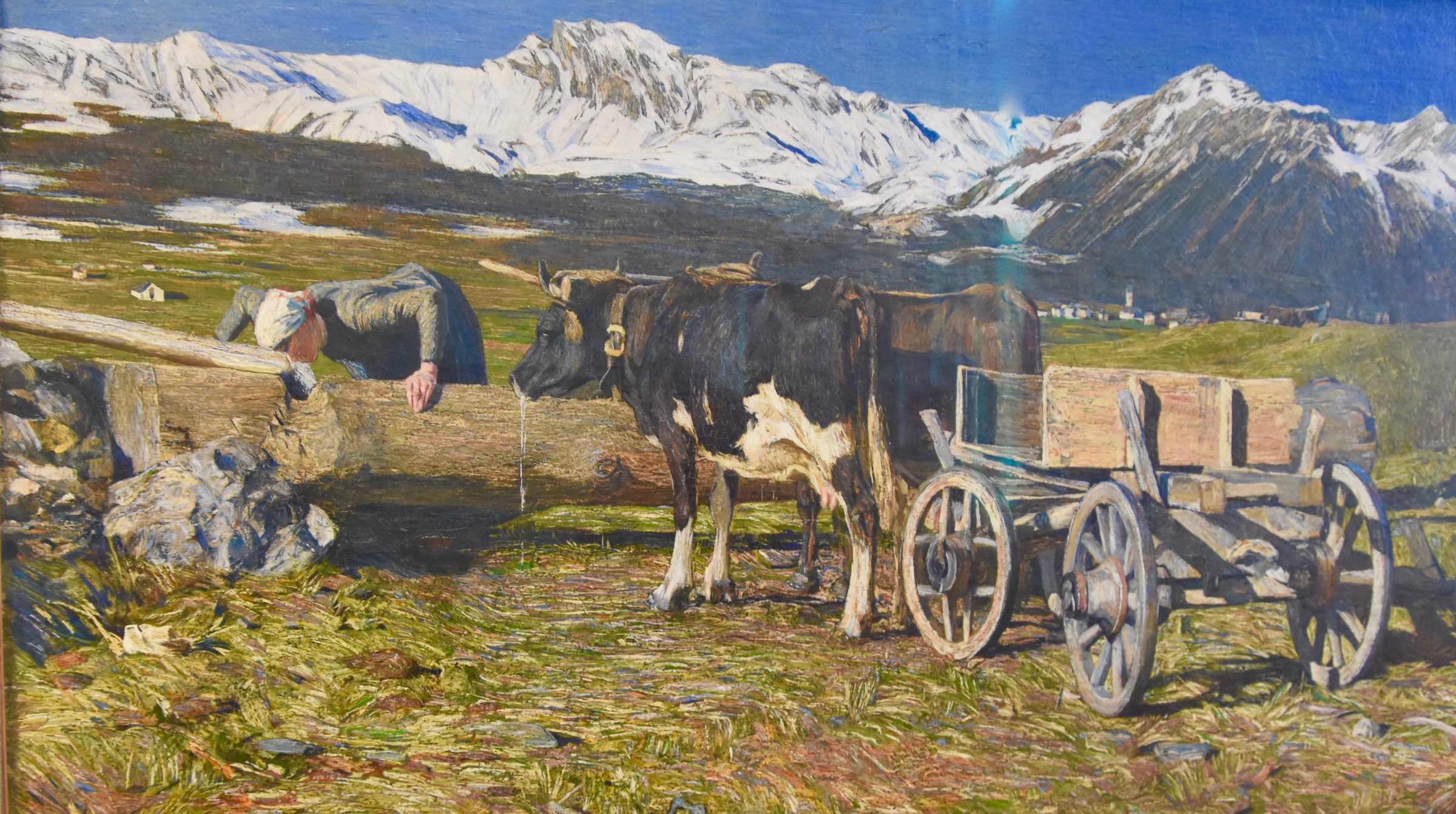 Segantini was renowned for his pastoral landscapes and I think this painting shows him at the height of his ability. It is very striking to see it in person.
Back to the more famous with Paul Cezanne, the father of the Post-Impressionists.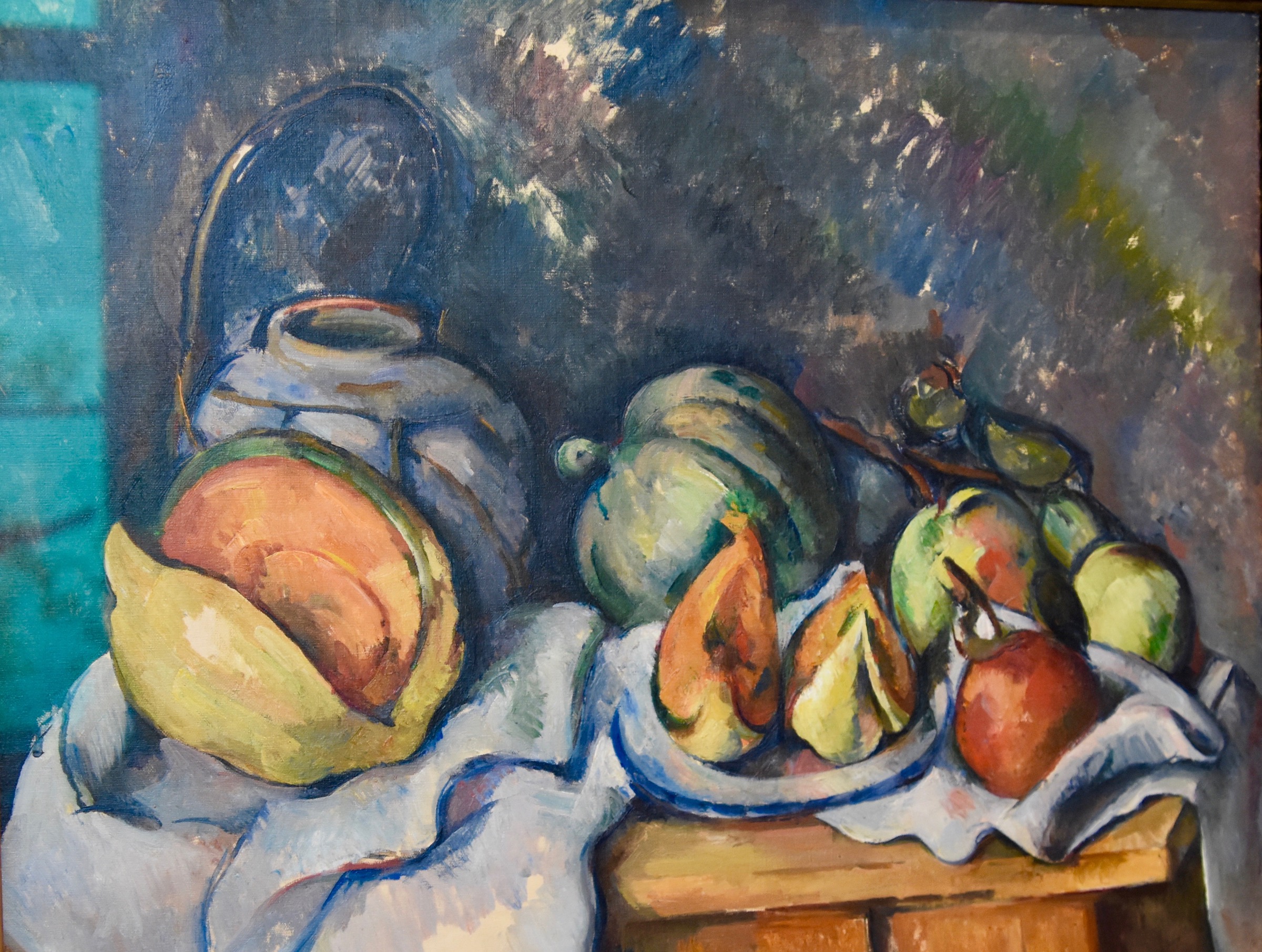 Cezanne painted hundreds of still lifes and this is an atypical example. You can see that Cubism is just around the corner, but we won't go there yet.
Instead here is a great example of genre painting by Albert Anker the most popular Swiss painter of the 19th century.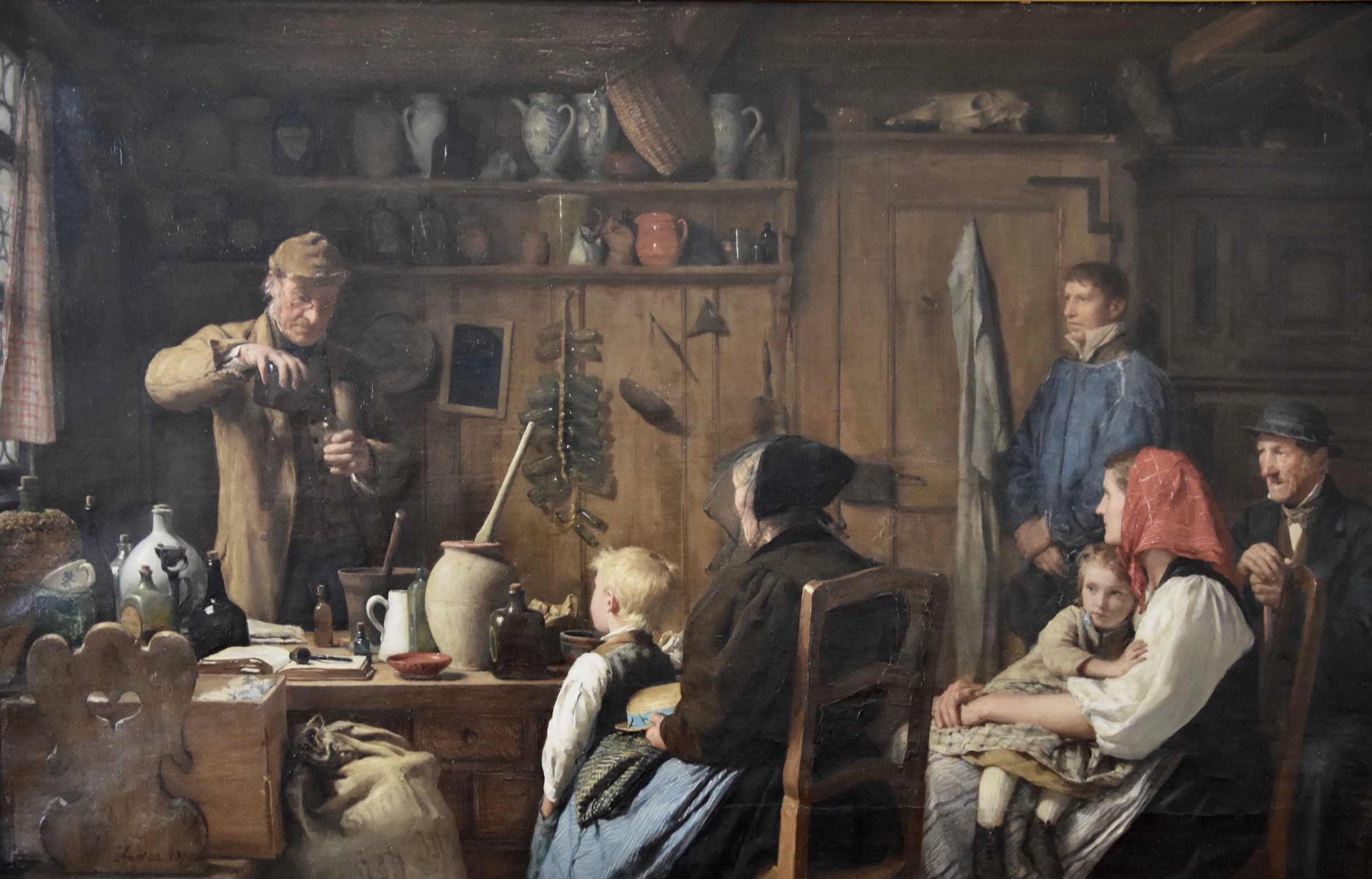 Anker usually portrayed scenes of Swiss daily life in an uncritical and complimentary fashion which helps explain his popularity in his home country. However, in this painting he gently jibes at the gullibility of the Swiss in falling for the quackery of travelling snake oil salesmen. He had been hoping to sell a painting to the Kunstmuseum Basel for years, but they demurred until he came up with this one which they bought from him in 1880.
I have always been a fan of the grand landscapes of the Hudson River School and Europe provides more than enough material for its own version. The Dusseldorf School produced well over a hundred artists whose primary focus was 'plein air' painting.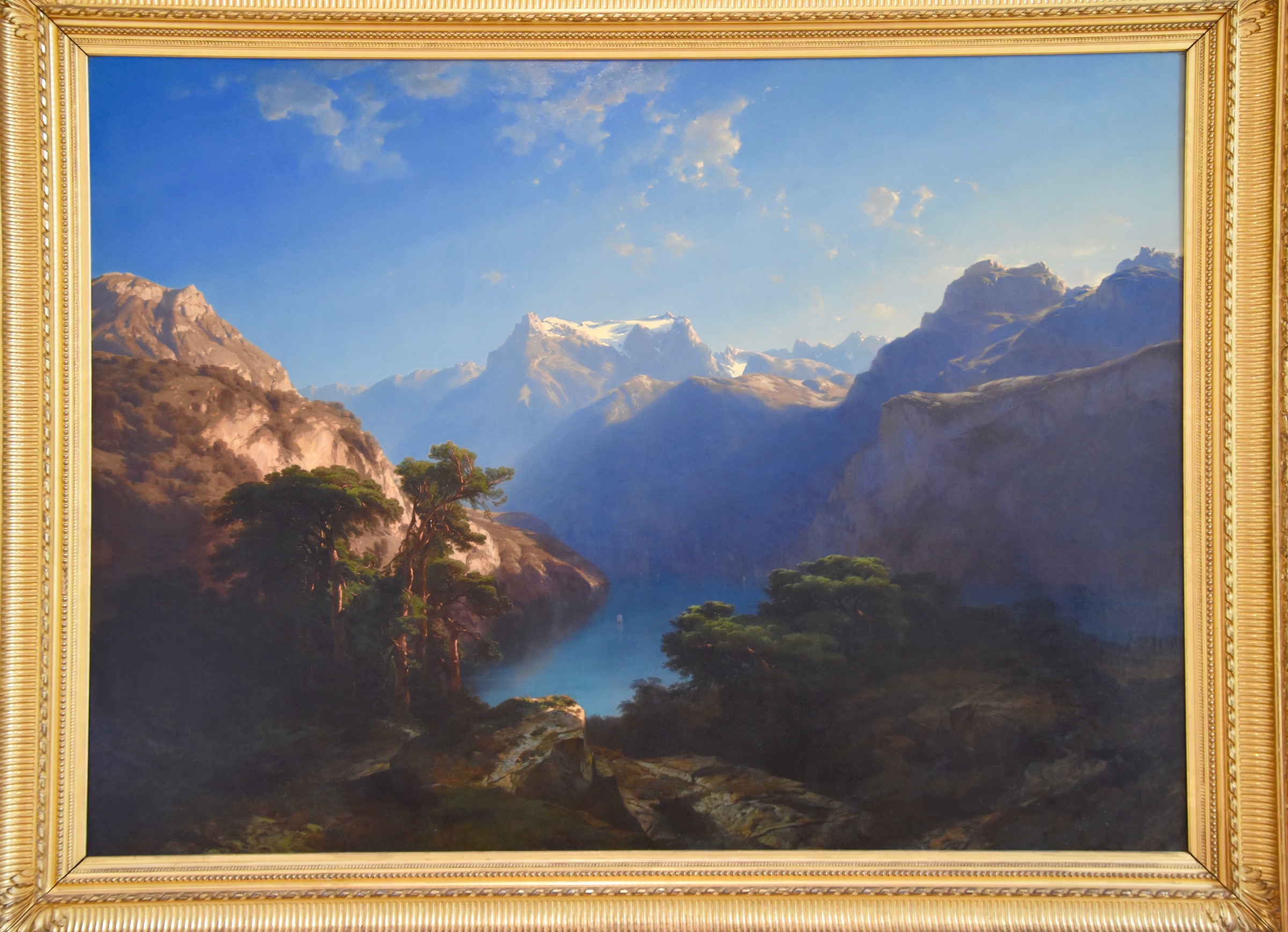 Alexandre Calame was the most prominent Swiss member of the Dusseldorf School and this painting is considered among his very best. It has a luminosity that draws the eye to the glacier atop the mountain in the centre of the painting.
After viewing this painting I happened to glance out a window and saw this piece of graffiti on a wall across the street from the Kunstmuseum Basel.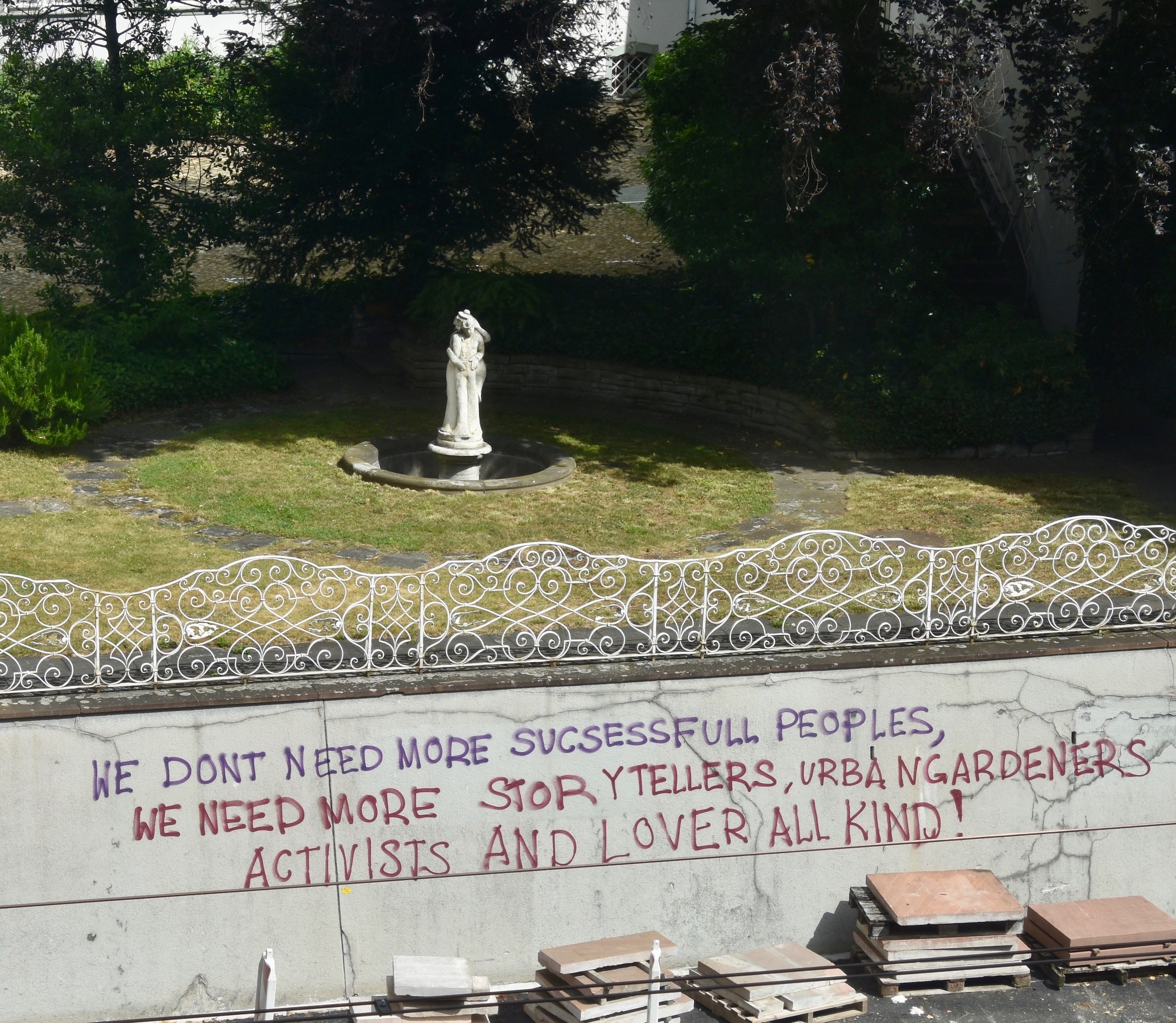 Perhaps even more needed was a lesson in English grammar and spelling.
We now take a turn to the macabre and nobody did that better than the Flemish artists Hieronymus Bosch and Pieter Brueghel the Elder. I have stood transfixed for what seemed like ages before Bosch's Garden of Earthly Delights and Brueghel's Triumph of Death in the Prado in Madrid. The number of ways in which they could dream up gruesome methods of torture and suffering was infinite.
While the Kunstmuseum Basel does not possess those great works it has the next best thing in this painting.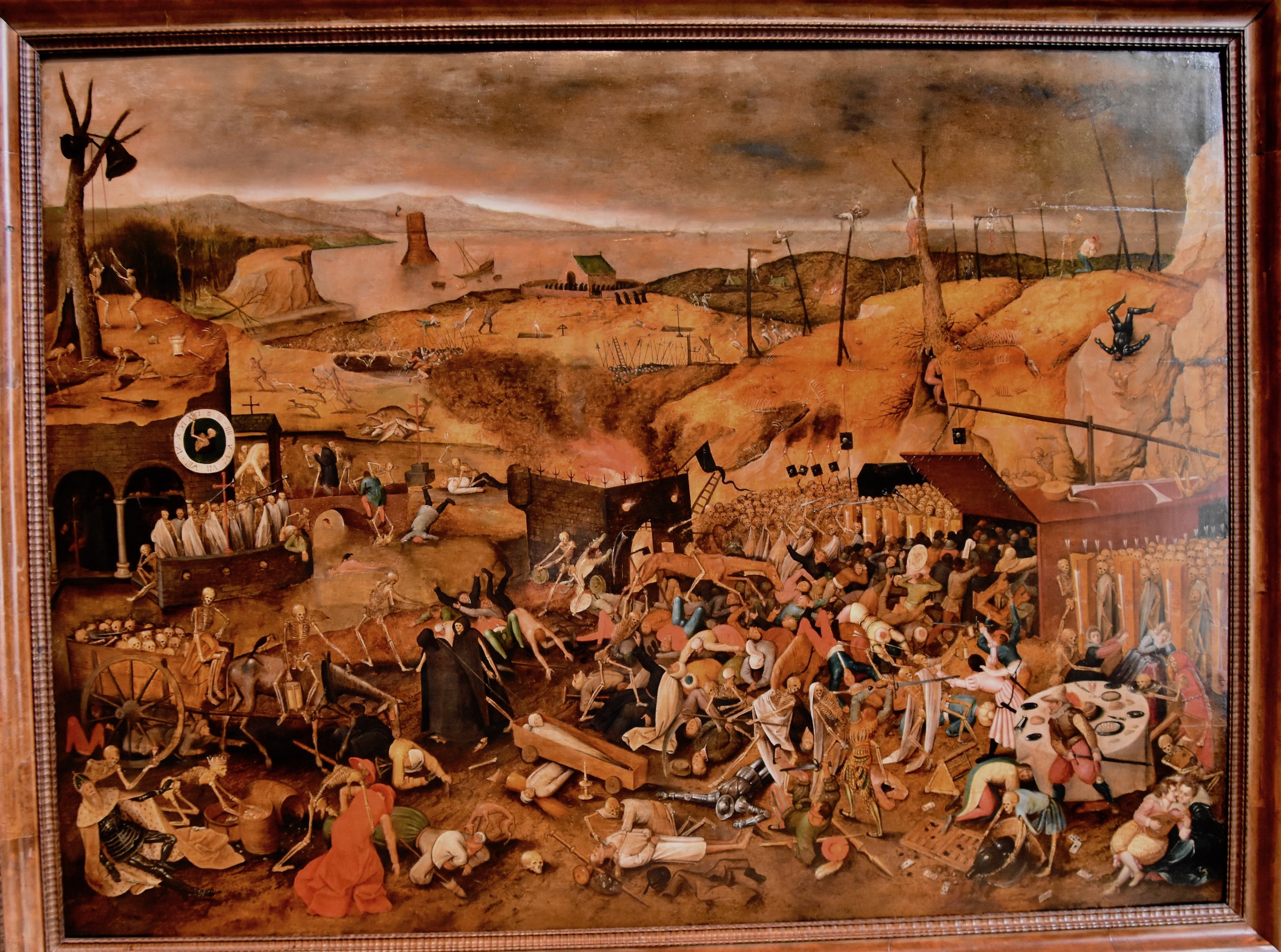 Pieter Brueghel the Younger knew he did not possess the talent of his father so he confined himself mostly to painting copies of his father's great works such as Triumph of Death. It is every bit as disturbing as the original.
I did not know that Hans Holbein the Younger was a resident of Basel for much of his life and produced a large number of works here, many of which are in the Kunstmuseum Basel. When I think of Holbein I think of his grand portraits of Henry VIII and Thomas More. I certainly didn't associate him with the macabre until I saw this painting.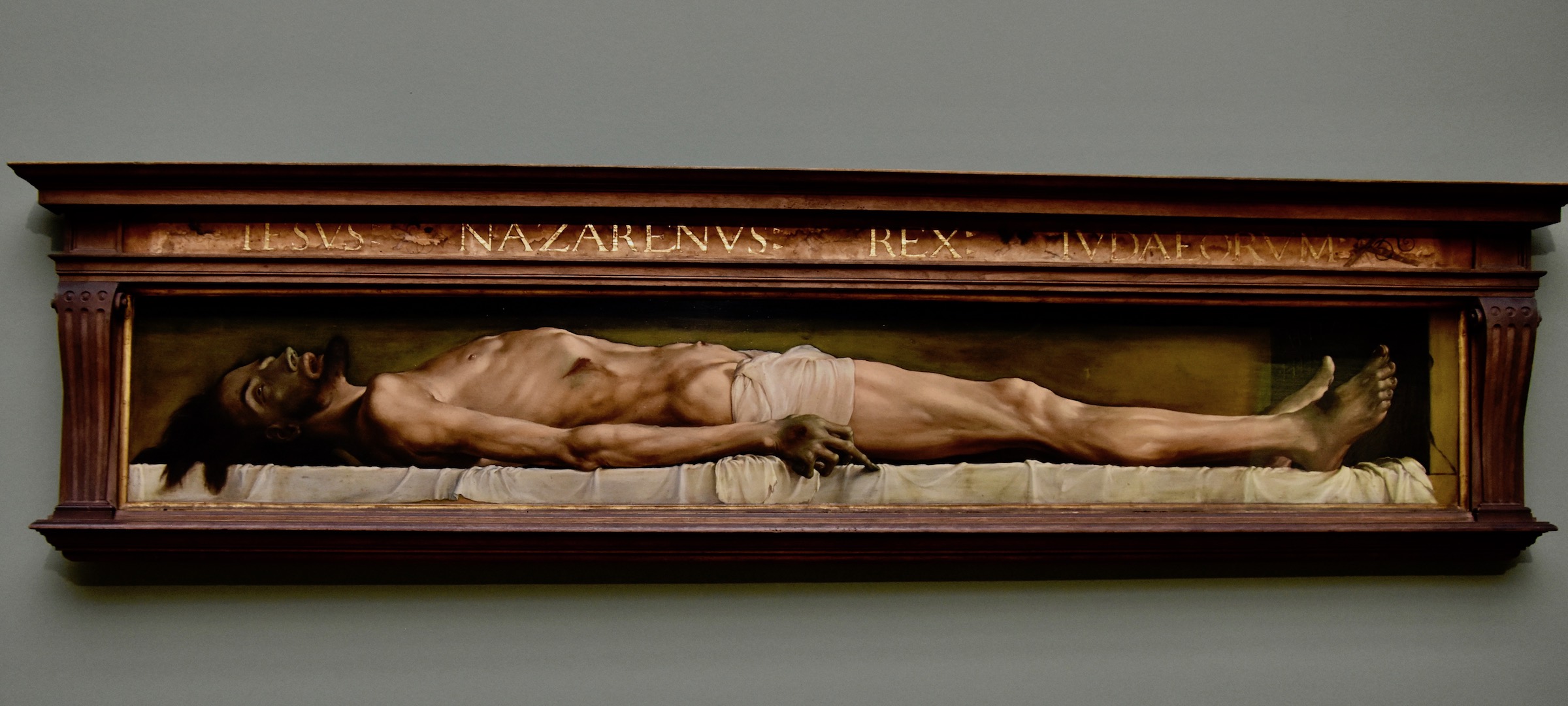 This is a spectacularly transfixing painting that depicts the dead Christ in a manner unlike any I have ever seen. The depiction of the Son of God as nothing more than putrefying flesh has excited some people to call it blasphemous. Fyodor Doetoevksy was captivated by this painting which he saw when living in Switzerland to avoid creditors in Russia. In his novel The Idiot the principal character Prince Myshkin, who is a Christlike figure, states after seeing this painting that it has the power to make the viewer lose his faith. Words cannot describe the power of this painting.
At this point we ascend the stairs to the second floor and are confronted with this enormous work by Swiss artist Ferdinand Hodler.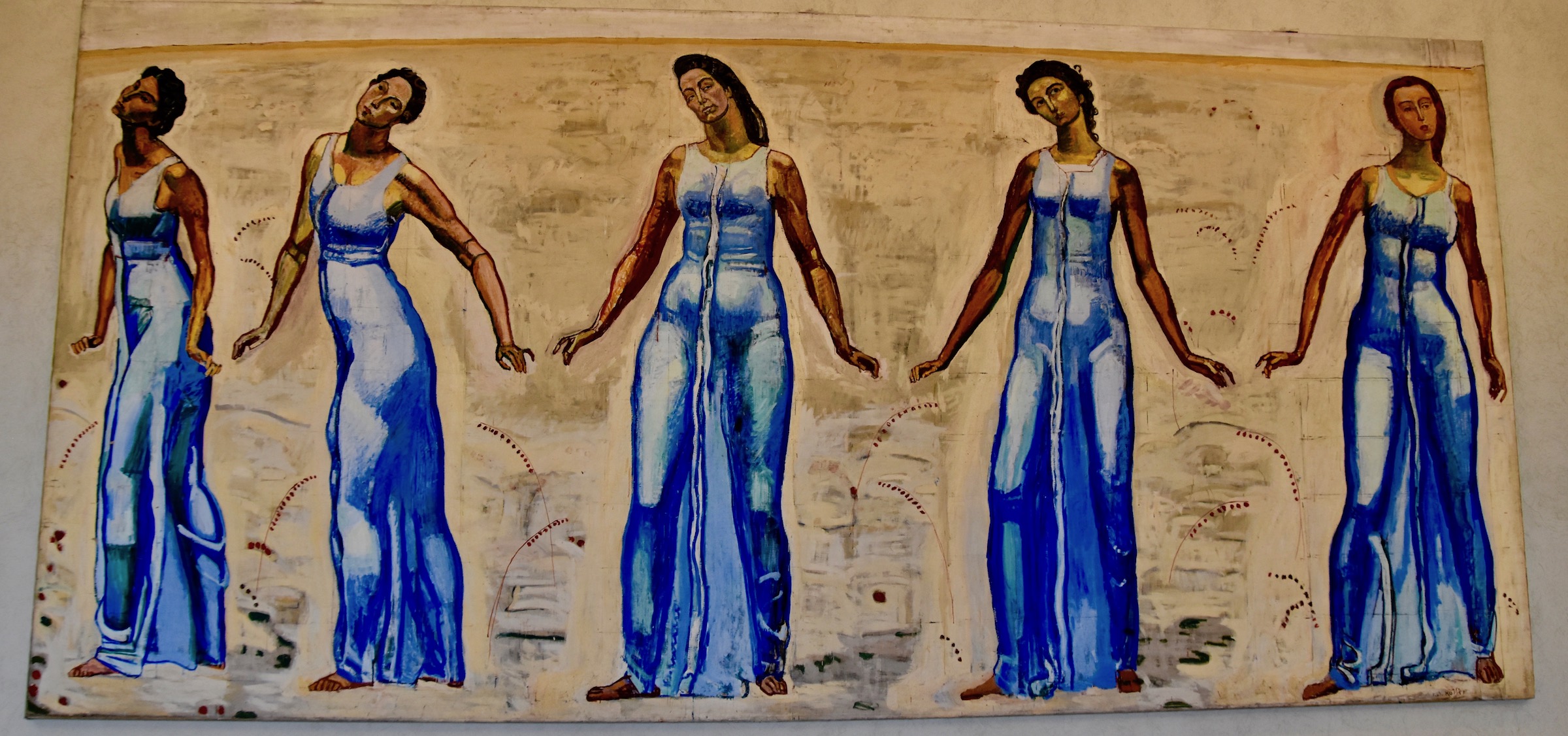 Hodler's mature style was a type of Art Nouveau known as parallelism and this painting is considered to be his greatest work. He did several versions of which this is the largest and most vibrant. I was not aware of Hodler before visiting the Kunstmuseum Basel, but seeing a number of his works here I can see why he was an influence on Gustave Klimt and Egon Schiele. Just after viewing the extreme horizontal claustrophobia of The Dead Christ in his Tomb this painting is an inspiring antidote.
We now embark on a series of some of the best paintings by the best known painters of the 20th century starting with these three works by the Cubist Georges Braque. They show the evolution of his style over a five year period from 1909 to 1914. The painting on the left is Jug and Violin from 1909. The one in the middle is The Immigrant from 1911 and is the first work in which he incorporated letters and stencils into the mixture. The one on the right is Violin and Glass from 1914 and represents what I think most people would consider his mature style.

I have mixed feelings about Henri Matisse as I think a lot of his work is pretentious crap, the result of becoming too famous too fast. Picasso and Dali also suffered from the same syndrome, but when these guys were on their game they produced works of genius like this.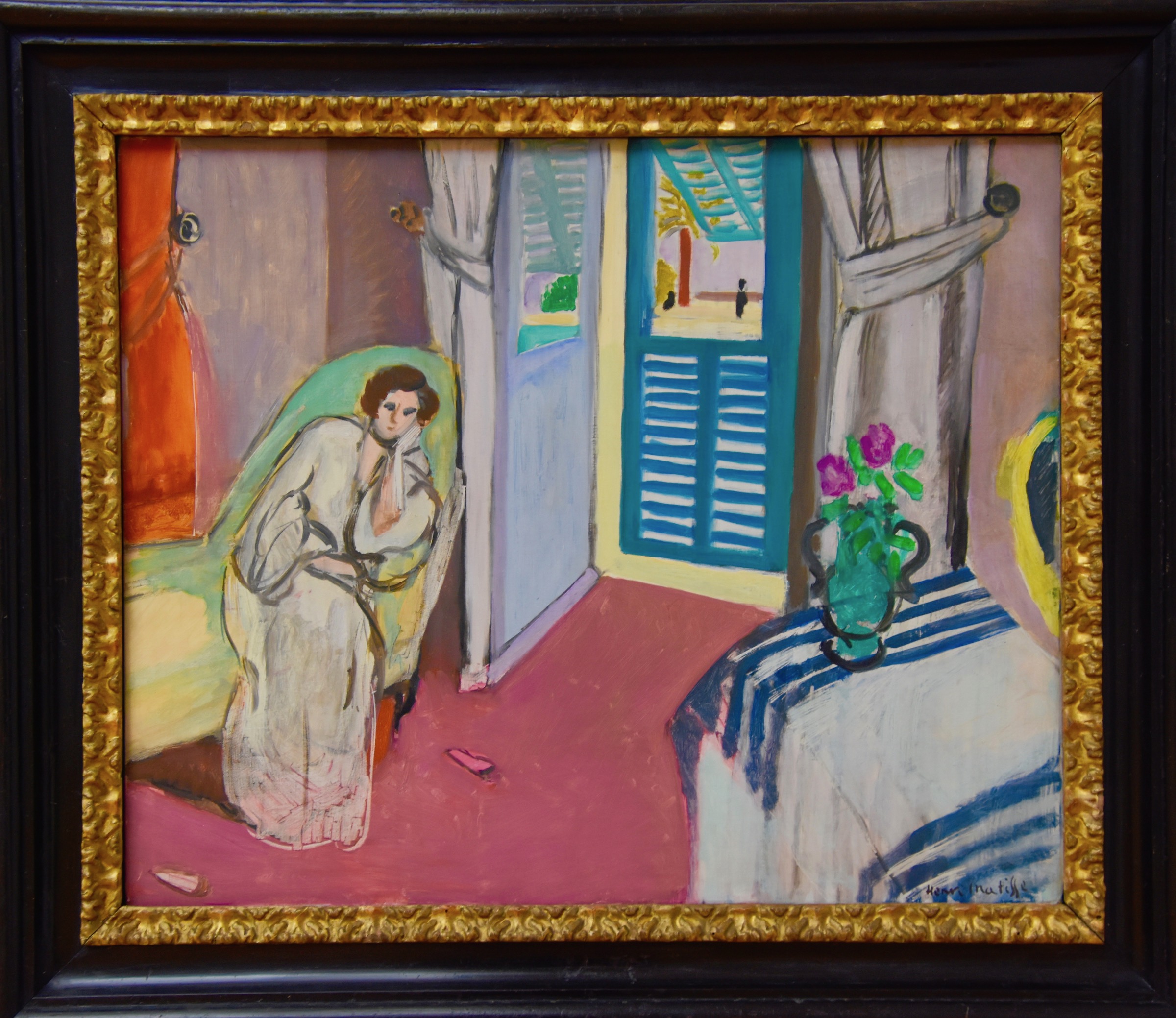 Matisse painted a number of interiors like this while in Nice from 1920 to 1921 of which this is one of the most admired. At first glance you might think 'Anybody could paint that', but the more you look at it and appreciate the interplay of the colours you realize that this is not child's play.
Speaking of Picasso. Here is one of my favourites from a number on display in the Kunstmuseum Basel. The embroidered jacket the model is wearing was a gift to Picasso from the great French polymath Jean Cocteau.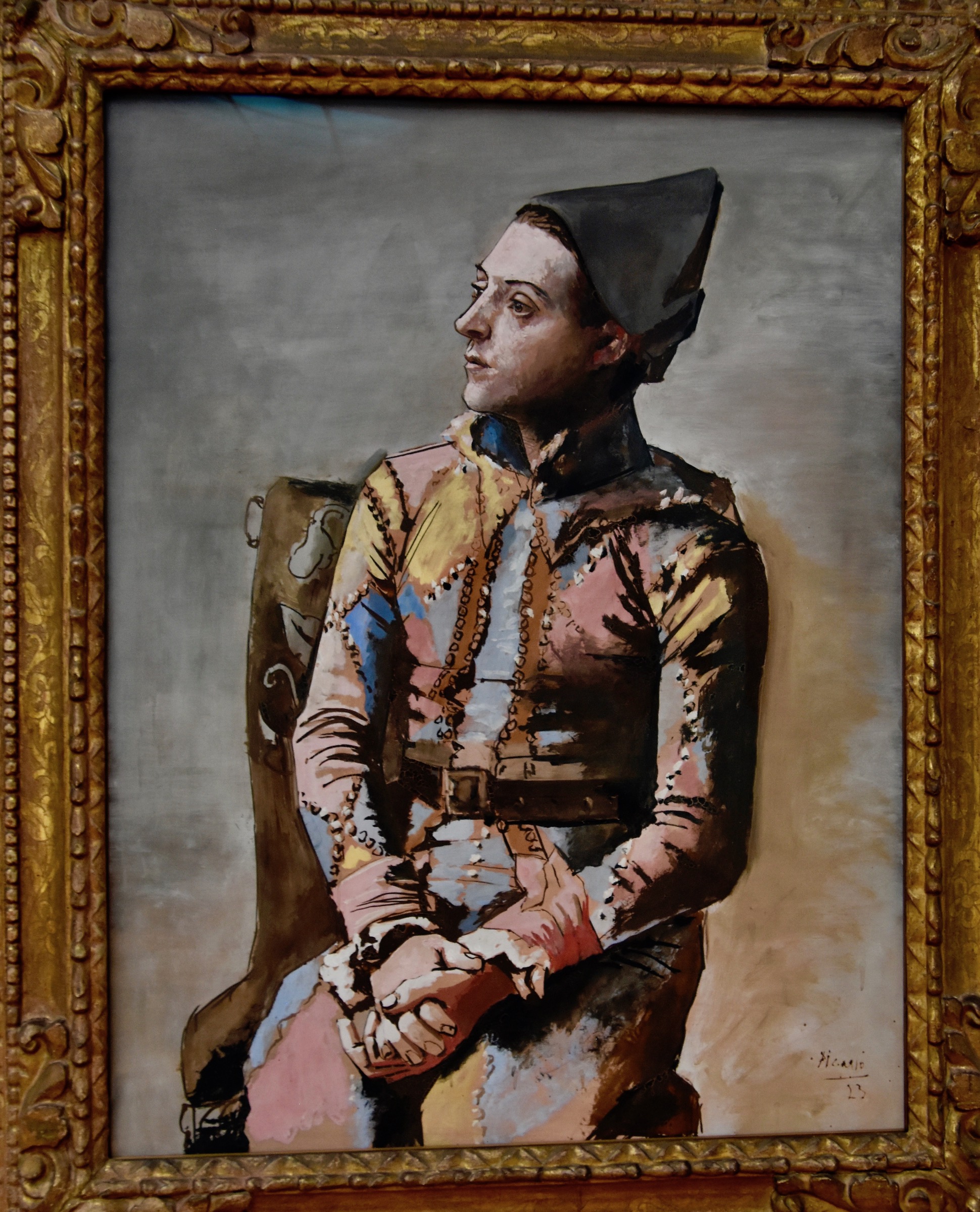 Although painted in 1923 this definitely harkens back a bit to Picasso's rose period from 1904 t0 1906.
I definitely did not expect to see any paintings from the greatest master of the Primitive movement, Henri Rousseau so it was a very pleasant surprise to see this ingenious work.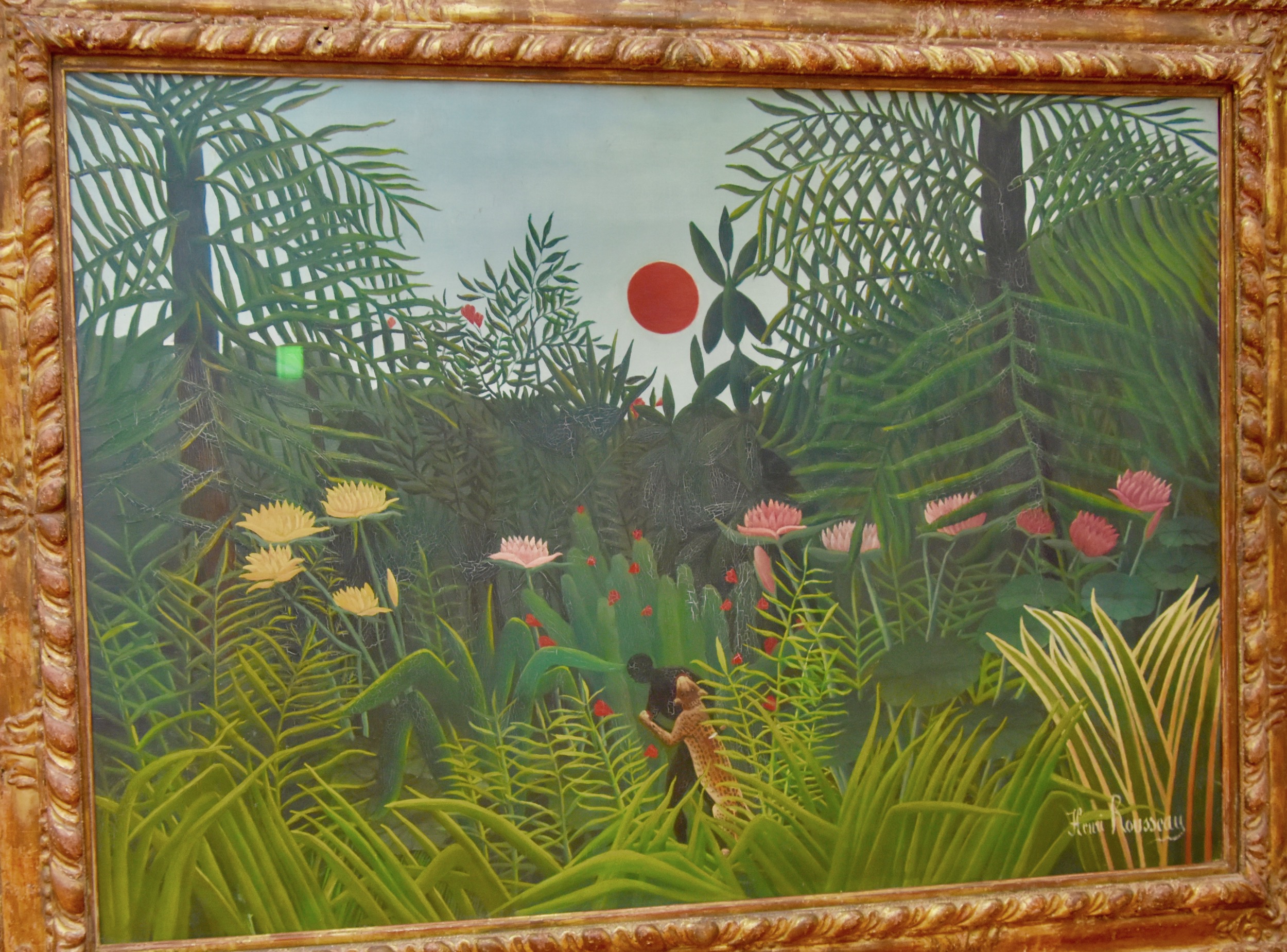 Late in his life Rousseau became obsessed with the jungle and executed some of his most famous paintings with this motif of which The Dream is probably the most famous. They all have undercurrents of mystery and lurking danger. In the case of this painting the danger is apparent as black man is being attacked by a jaguar. This was painted in 1910 only a few months before Rousseau's death.
If Georges Braque was originator of the depiction of musical instruments in the Cubist style, Juan Gris took it to another level as shown in this painting from 1916.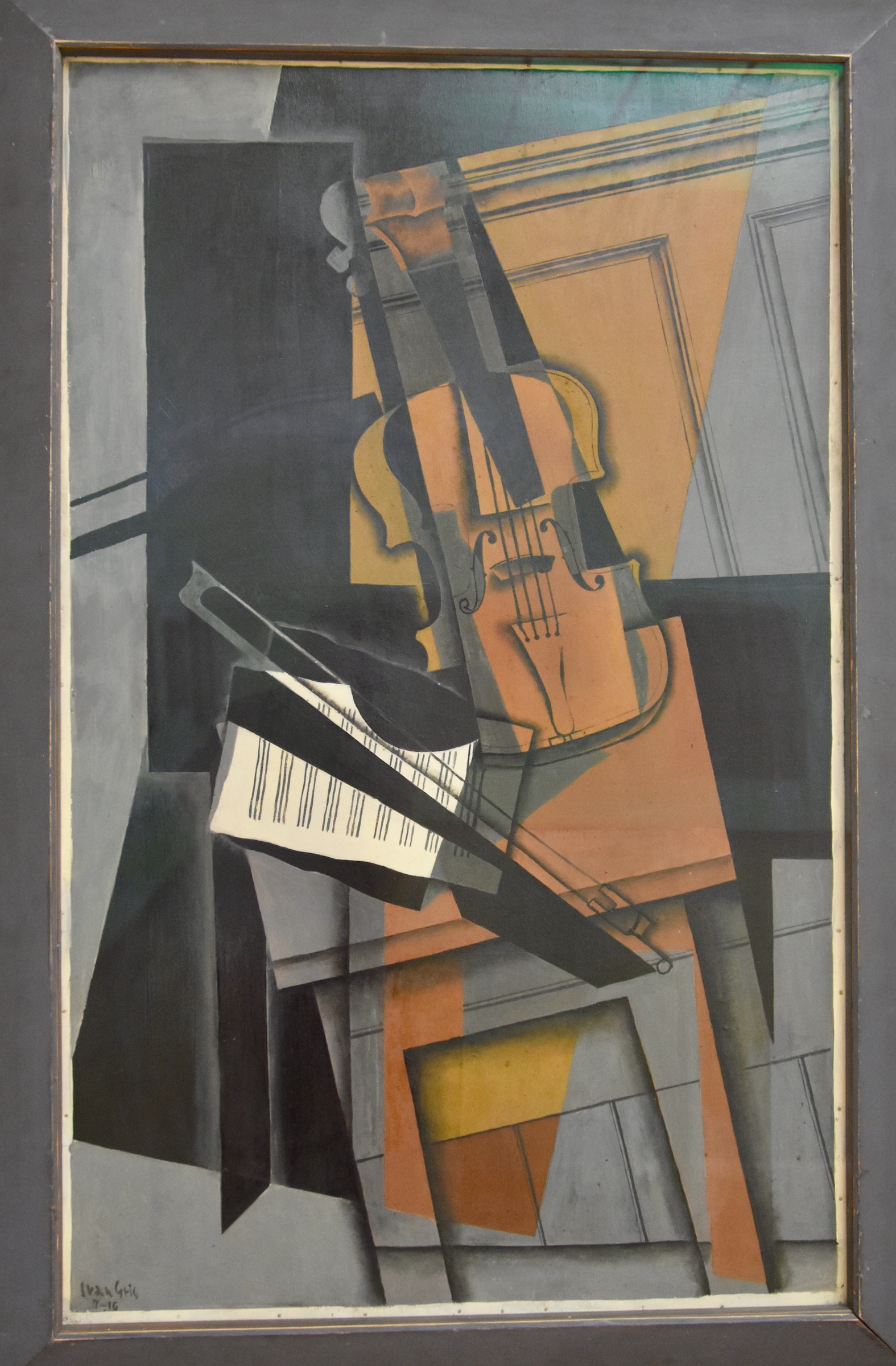 Fernand Leger started out as a Cubist, but gradually evolved into something called 'tubism' and from there a mature style all his own which was a forerunner to pop art. This Mother and Child is Leger at his best.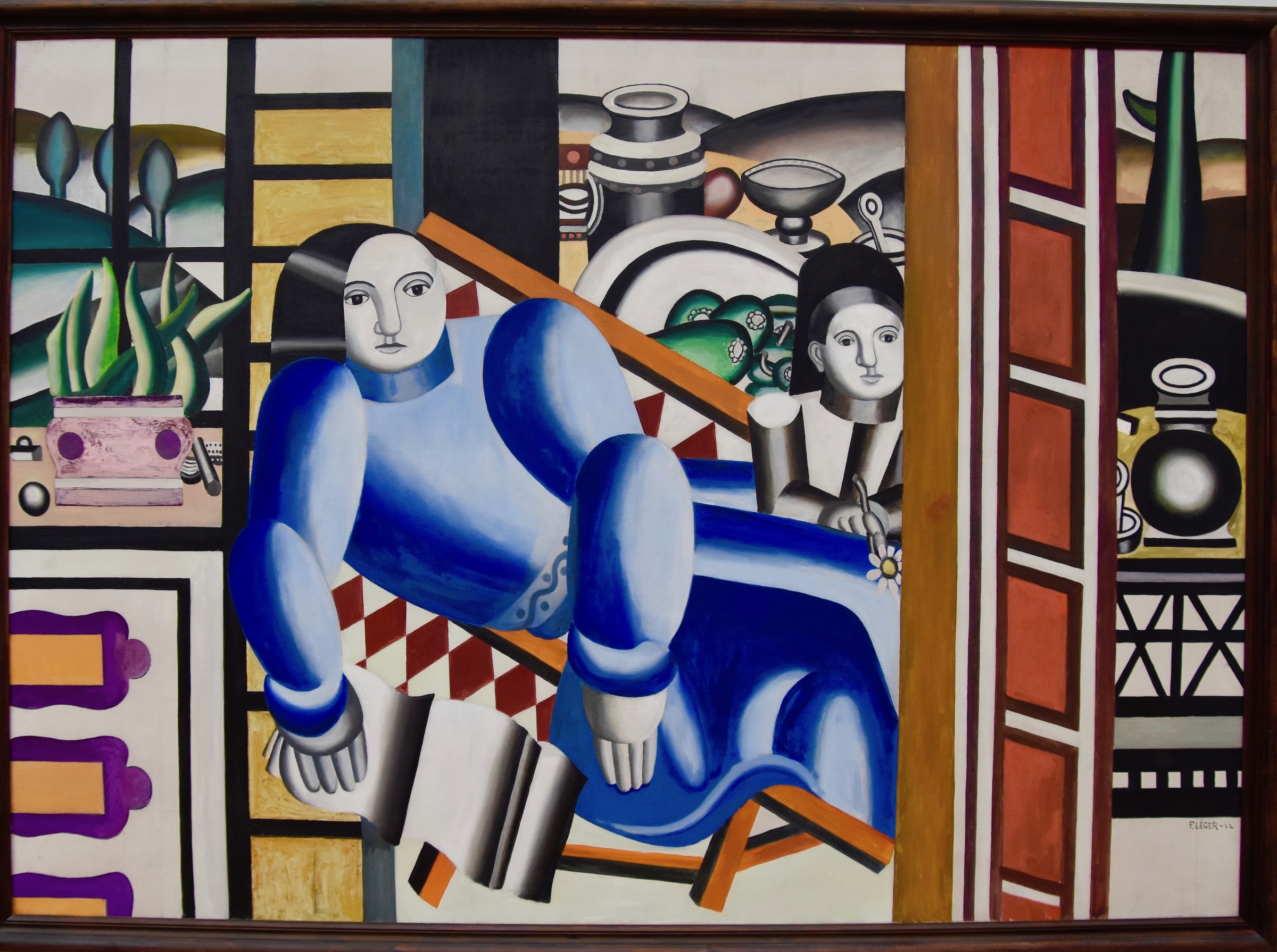 One modern artist whose stock keeps rising and rising is that of Amedeo Modigliani. In 2018 his Nu Couché sold for $157.2 million USD, a record for Sotheby's.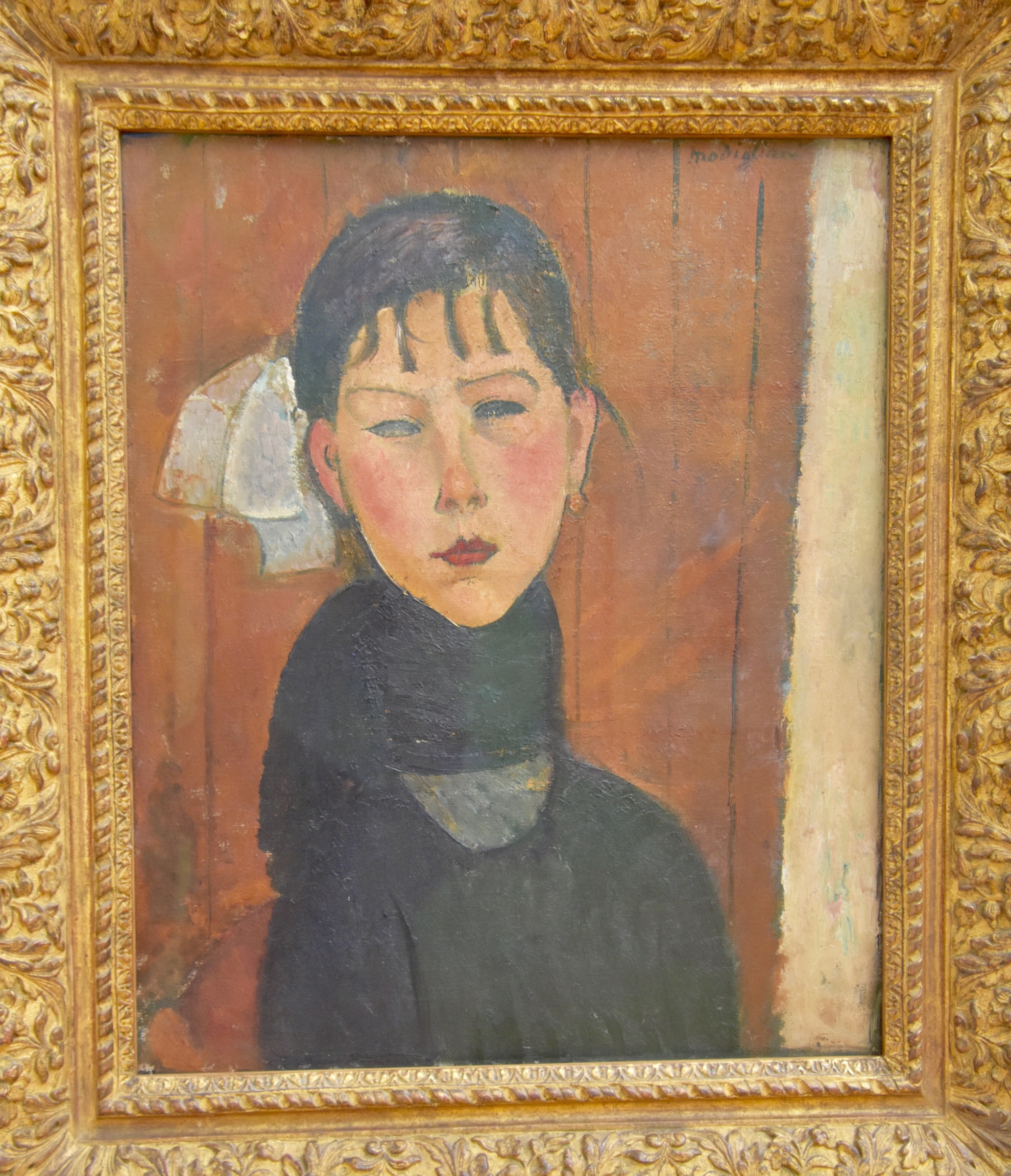 While you might confuse a Picasso with a Braque or a Braque with a Gris etc.etc., you will never confuse Modigliani's mature works with any other artist. His portraits and nudes are absolutely unique and strangely compelling as is this painting, one of only a few he did of a child. Modigliani died of tuberculosis related meningitis when he was only thirty-five. His works are heavily faked, but assuming this one is not, it is probably worth north of $200 million.
Speaking of artists who died way too young few are in the league that Egon Schiele appeared to be headed before his untimely death at age twenty-eight from Spanish influenza. Although he produced a fair amount of work during his short lifetime the great majority are drawings and full blown portraits like this one are quite rare. Known for the overt sexuality of his figures that comes across clearly in the face and the pose. There is another version of this painting in the National Gallery of London, but the one in the Kunstmuseum Basel has more oomph.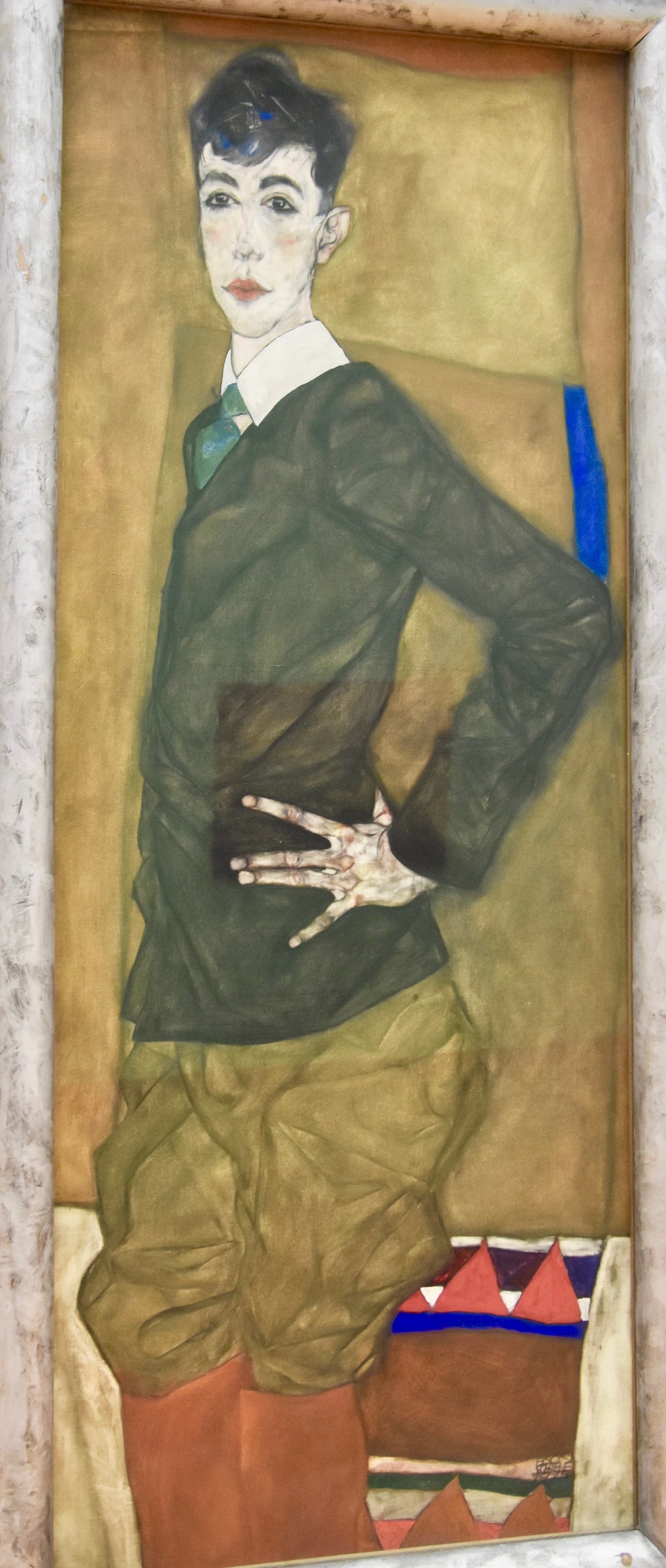 One artist who certainly lived a full life was Marc Chagall the Russian born modernist who lived to be 98 before dying in 1985, well past when most of his contemporaries had kicked the bucket. He was known not only for his paintings, but his stained glass as well and we will be seeing some examples of that when we get to Zurich. However, right now you are looking at one of Chagall's masterworks that took him twenty-four years to complete. It contains all the elements of Chagall's mature works – references from the Torah and the Bible, heavy use of symbolism and starkly contrasting colours.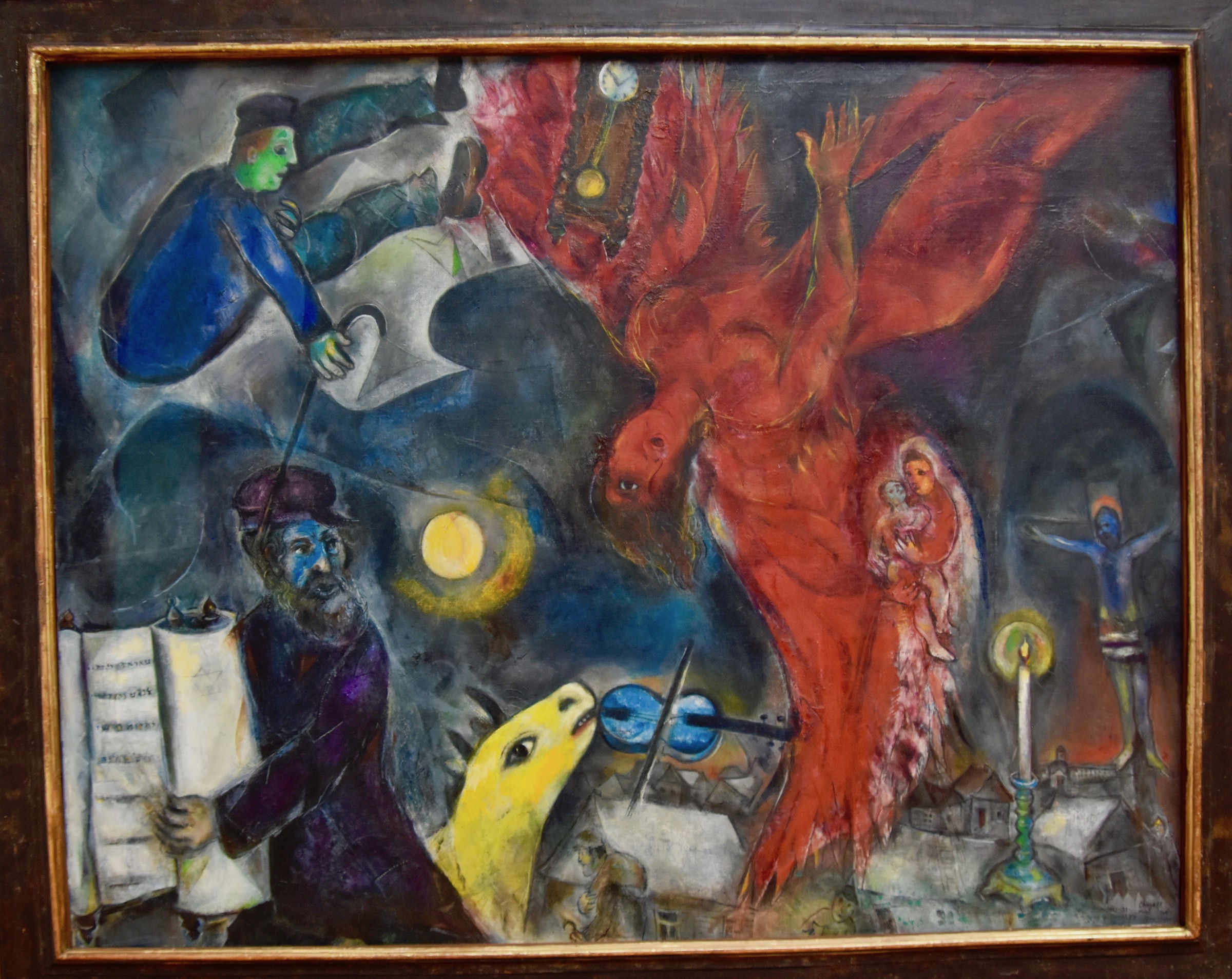 Even though the figure is a woman I believe the falling angel is Lucifer aka Satan being expelled from heaven after leading a revolt against God. This represents the presence or creation of evil and all the woes that will and have befallen humankind. Between the time Chagall started and finished this work the Holocaust had occurred and as a Jew he had witnessed the ultimate consequence of the fall of the angel. This may be the most important painting in the Kunstmuseum Basel.
Back to artists who died too young. Franz Marc was one of the leaders of the German expressionism movement. He along with Wassily Kandinsky founded the Blaue Reiter (Blue Rider) which was both an almanac and a series of exhibitions of their works just before WWI. Marc portrayed animals in almost all his paintings, but usually in a non-threatening manner. This painting is the one known exception.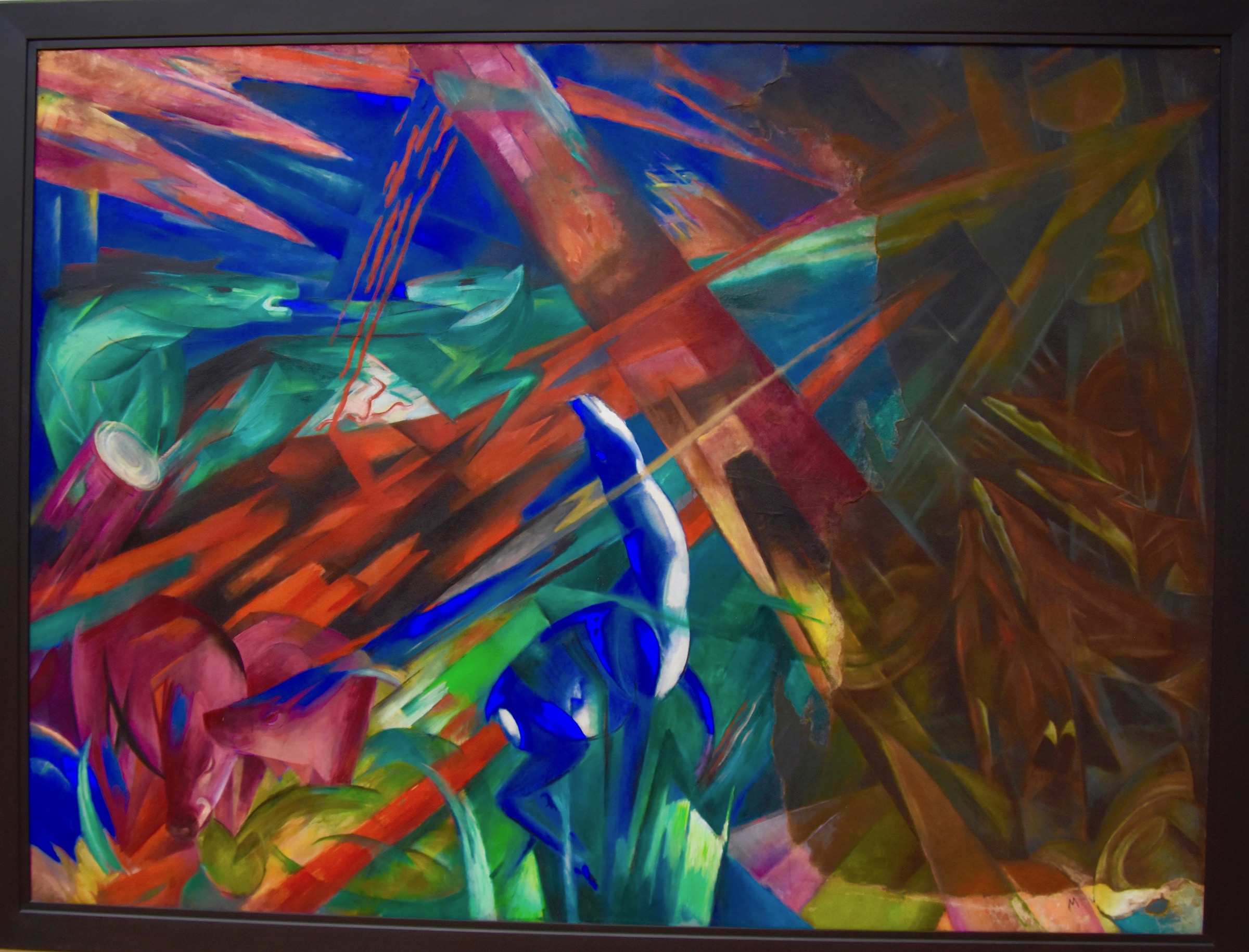 When you look at this painting at first all you see is the blue deer in the centre, but the more you look the more you see – wolves, horses and wild boars. Most scholars interpret the scene as being in the middle of a blazing forest fire and thus the title. I think it's brilliant. Painted in 1913 it was a premonition of what was to come, not only for the animals, but for Marc himself. Marc died in the trenches of Verdun in 1916.
Notice the discolouration on the right side. That was caused by a fire in a warehouse in 1916 where it was being stored. Paul Klee used photos of the painting to restore it as best he could. During the Nazi period Marc was classified as a 'degenerate artist' and many of his works auctioned off to non-German buyers. In 2022 his painting The Foxes sold for £42.6 million ($52 million USD). Not bad for a degenerate.
This next artist is probably the most famous Swiss artist of his time and maybe of all time, although I'm not quite sure why. I have never been a fan of Paul Klee. He always seemed to be more of a doodler than a true artist although there is one exception in the Kunstmuseum Basel that I did think worthy of discussion. This is Senecio which has been compared to African dolls as Klee was apparently fascinated with aspects of African culture although that covers one hell of a lot of territory. It's meant to be humorous, but really, if you have to be told that, is it?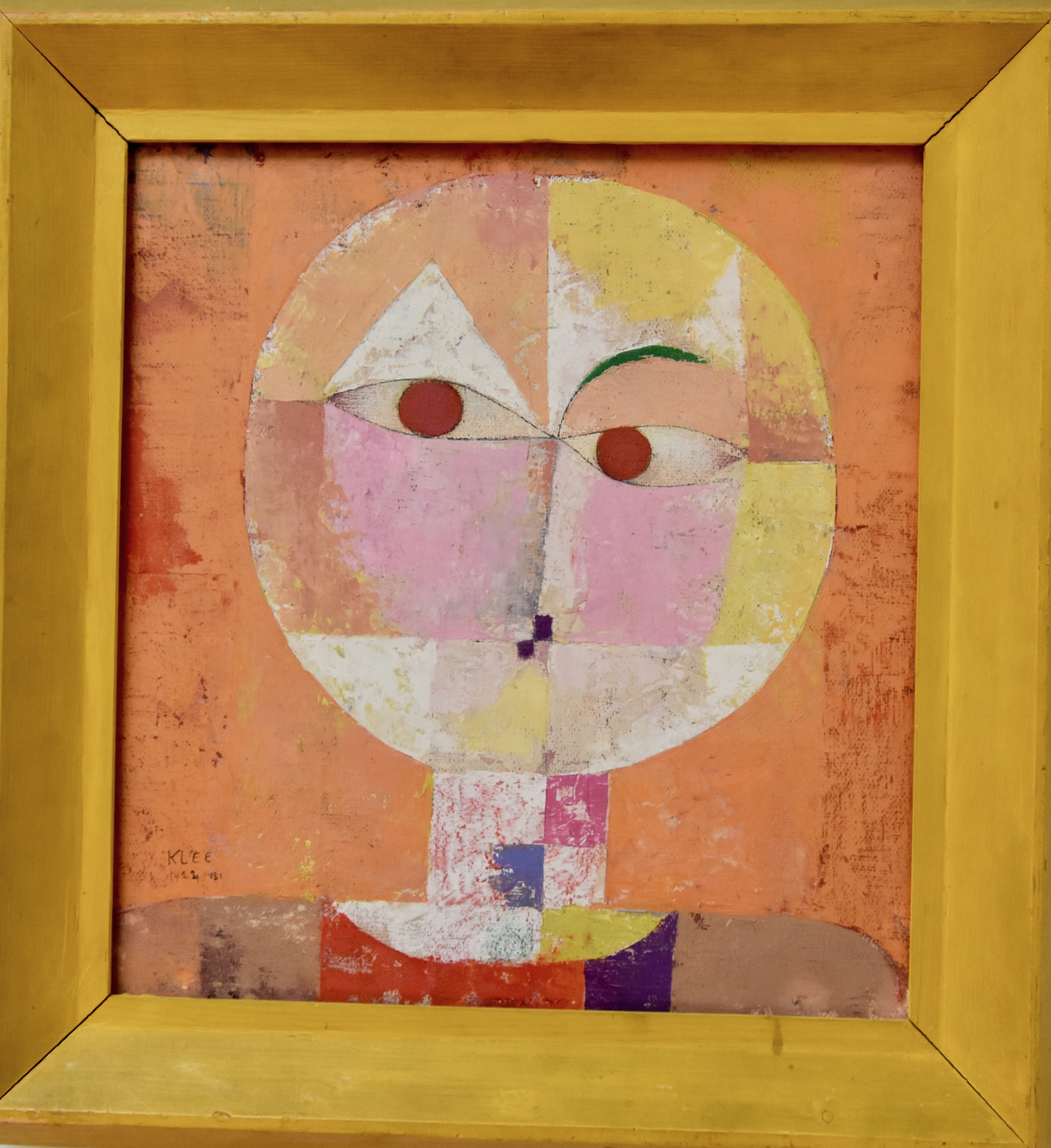 One artist I do have a lot of admiration for is Wassily Kandinsky the Russian artist who truly could be said to be one of the founders of the abstract art movement. From the Impressionists to the Expressionists to the Cubists one could always make out the intended subject of the painting, even if it sometimes took a little imagination. Not so with pure abstract art which has no subject, but is rather colour and shape oriented.
Kandinsky started out as a convention artist and over many years evolved into more and more abstract paintings. From 1909 to 1914 he executed a series of paintings which he called improvisations, a clear allusion to the work of composers creating music without any underlying theme. This was the final improvisation and I think it shows Kandinsky at his finest. You can almost feel him using his brush as a conductor would use a baton with wildly flailing gestures to get the orchestra to a fever pitch.
Kandinsky was among the first artists about whom many critics posed the oft asked question, "But is it art?" In his the case the answer is a definite yes.
Joan Miró is another artist about whom I have mixed feelings. He painted in a great variety of styles over his lifetime, but I think the work he will be remembered for falls squarely into the Surrealism category, even if he resisted being labelled as such. Not my favourite painting in the Kunstmuseum Basel by a long shot, but a good example of Miró at his best in my opinion.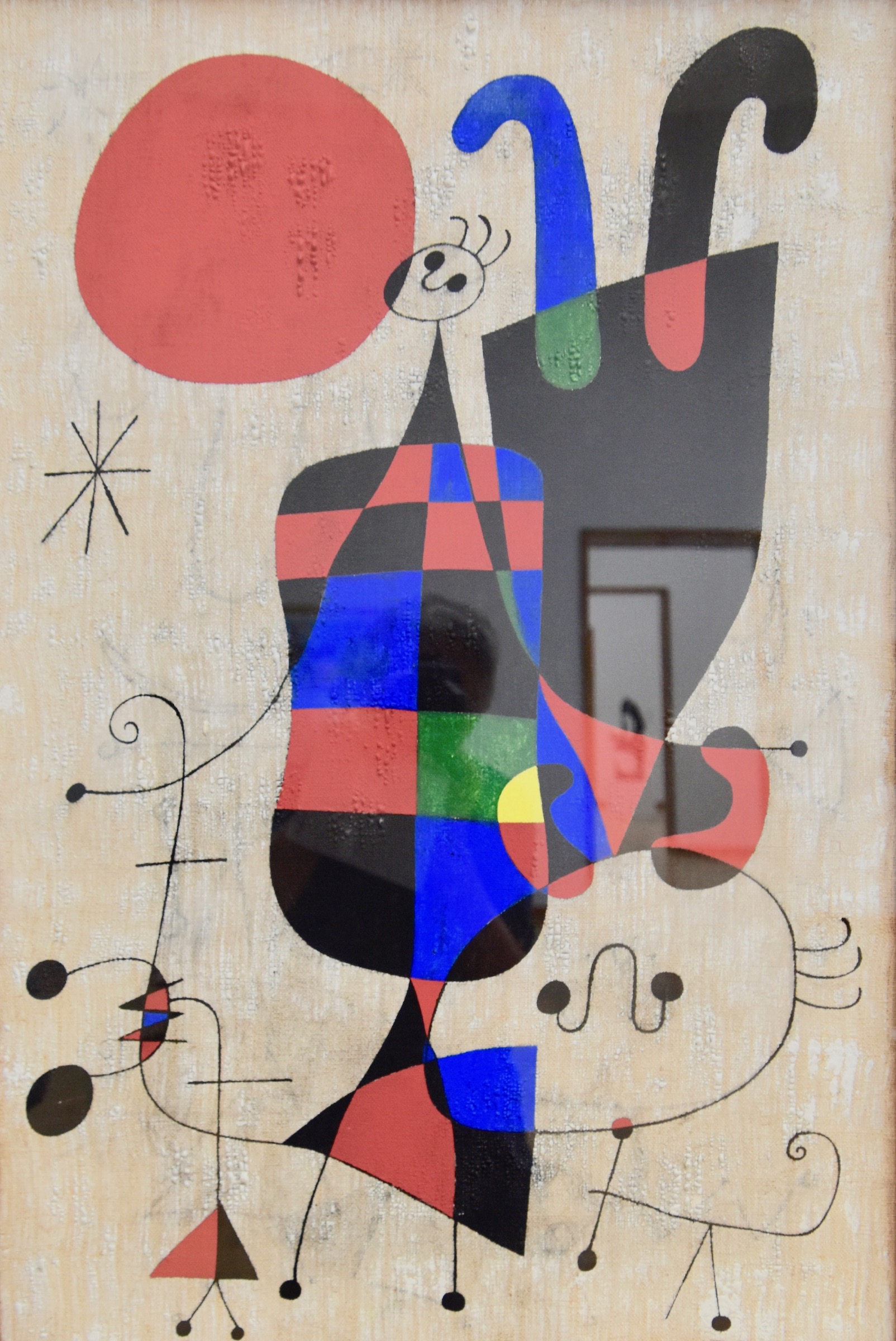 One figure indelibly associated with Surrealism is the great artist and poseur Salvador Dali who is represented with this dark and foreboding work.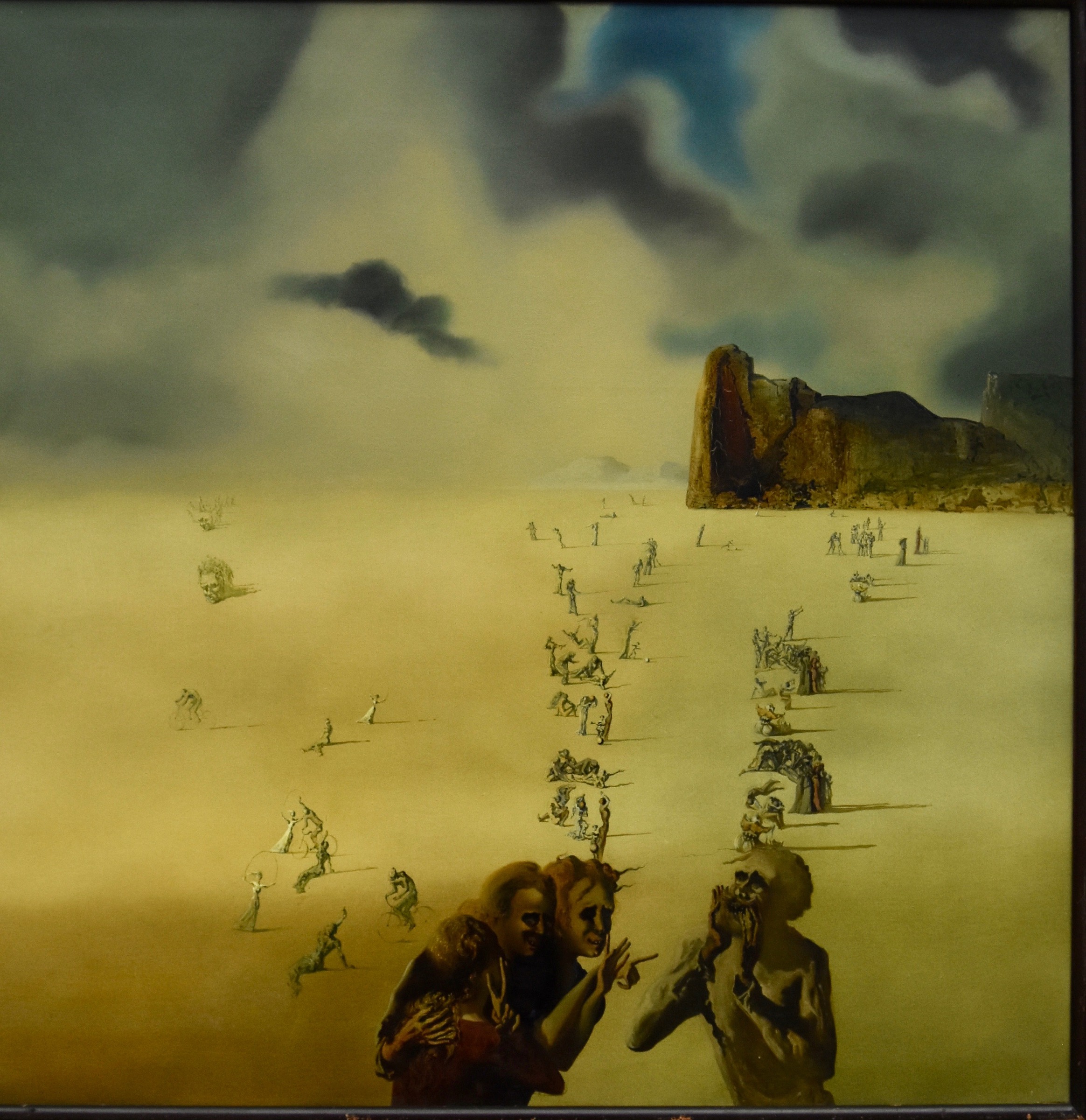 Dali could be very funny and light when he wanted to be and the very opposite such as in this terrifying piece that harkens back to Brueghel and Bosch. He is one my absolute favourite artists and I am always amazed a the different emotions his works can evoke, in this case, utter despair.
Another artist identified almost solely as a Surrealist was Yves Tanguy who only decided to become a painter after viewed a work by the Italian/Greek Surrealist Giorgio de Chirico. With absolutely no formal training he just decided to become a Surrealist on the spot and he became pretty good at it.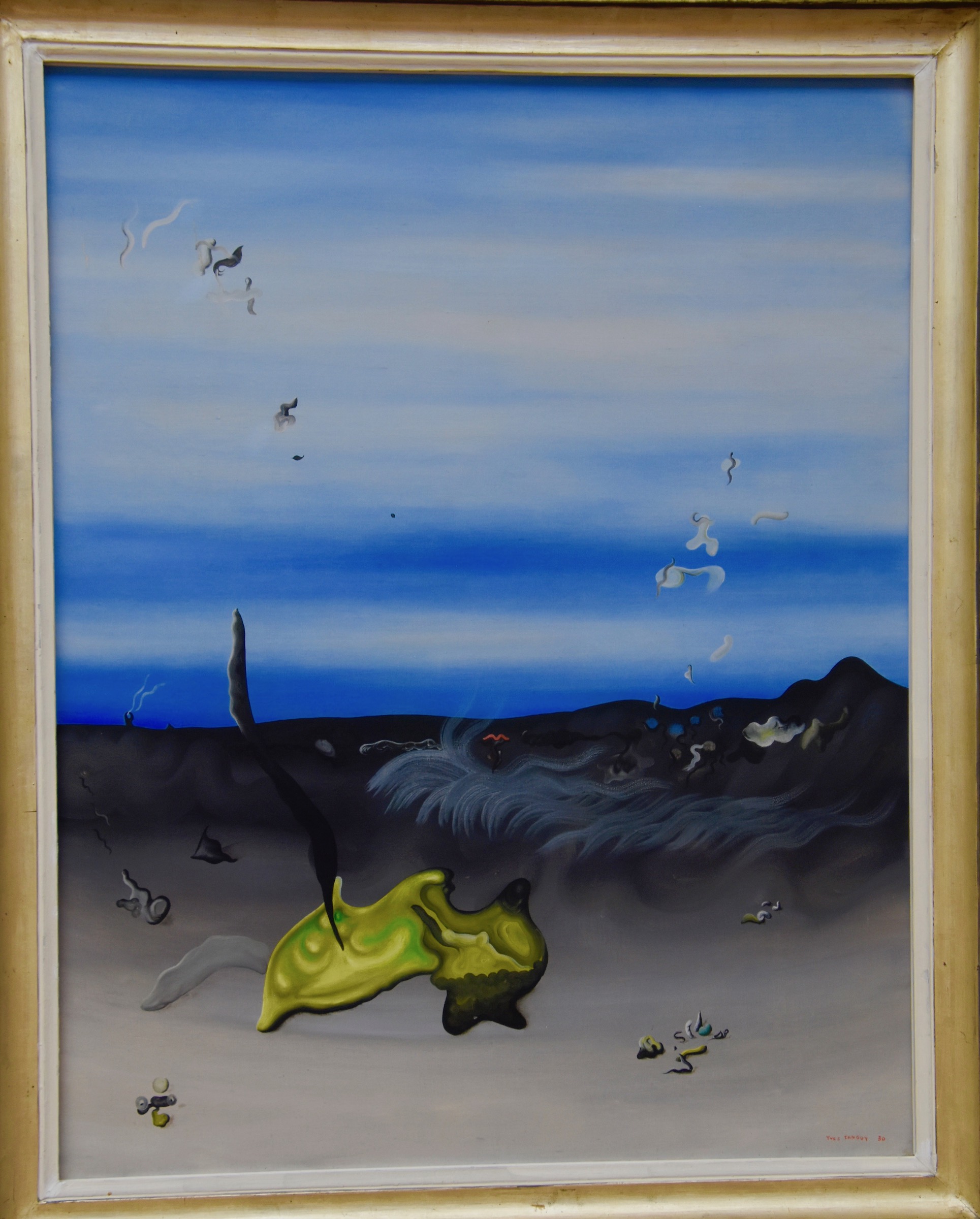 This painting was hanging on the wall of a Paris bistro in 1952 when it was bought on the spot by a Swiss collector who later donated it to the Kunstmuseum Basel.
The only artist other than Van Gogh for whom I will include two paintings is Pablo Picasso. He executed many modern versions of famous paintings from the past, in this case Gustave Courbet's Young Ladies by the Seine.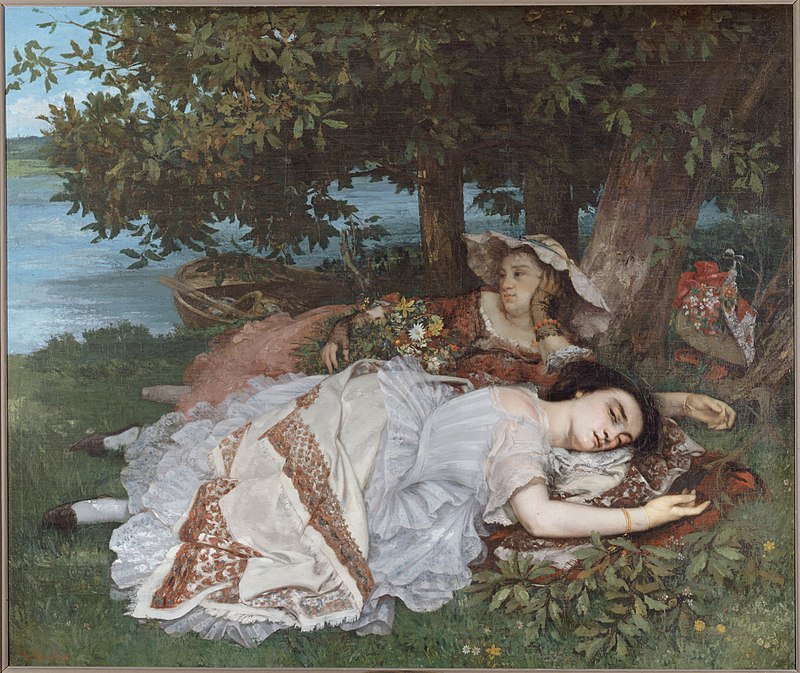 This is Picasso's Cubist take. Enough said.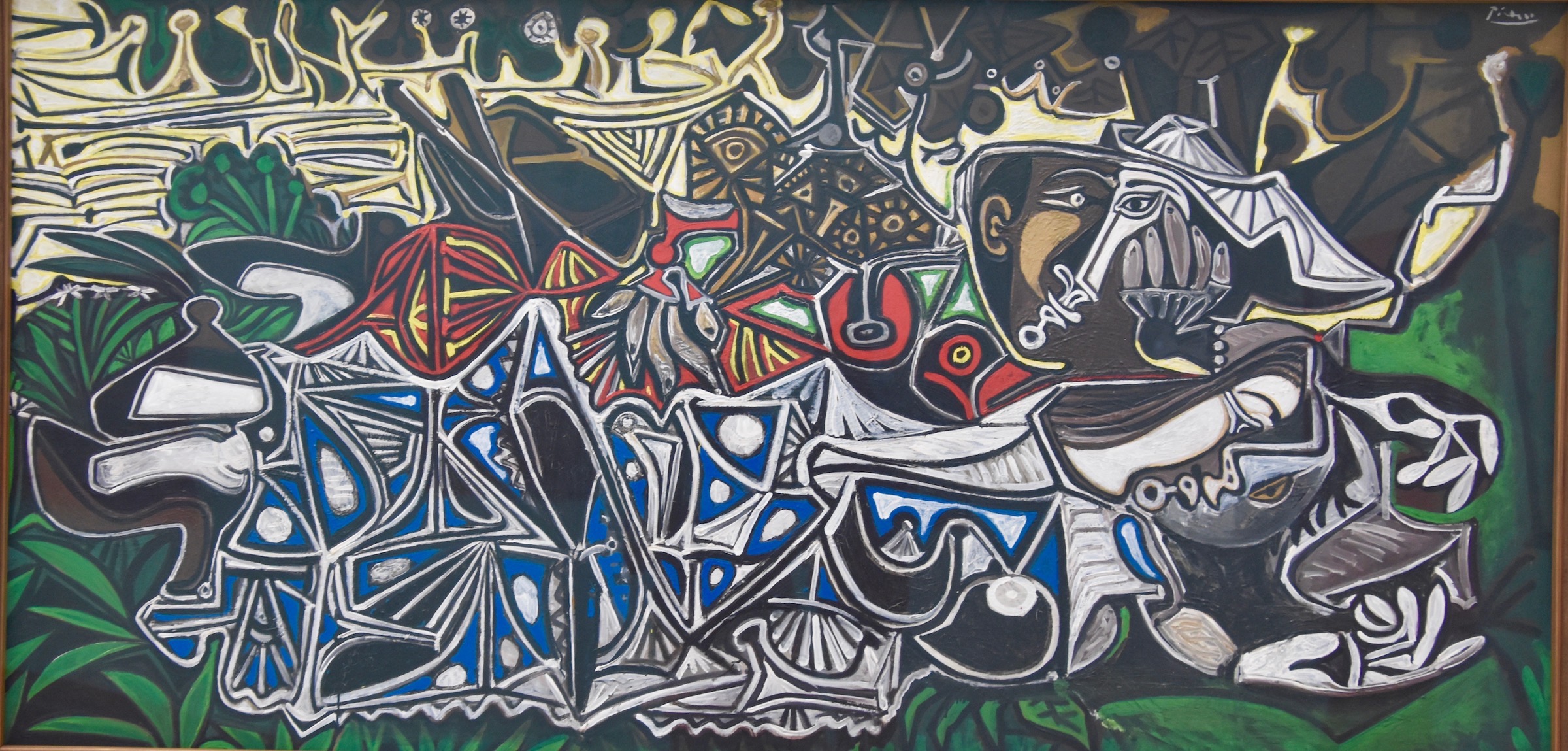 We are nearing the end with only three paintings left. Jean Dubuffet is among the last of what I would call the 20th century masters of the modern art form with this painting executed in 1962.It is part of his Hourloupe series that consist of cell-like structures that some find pleasing to the eye while others do not. I'm a fence sitter with Dubuffet.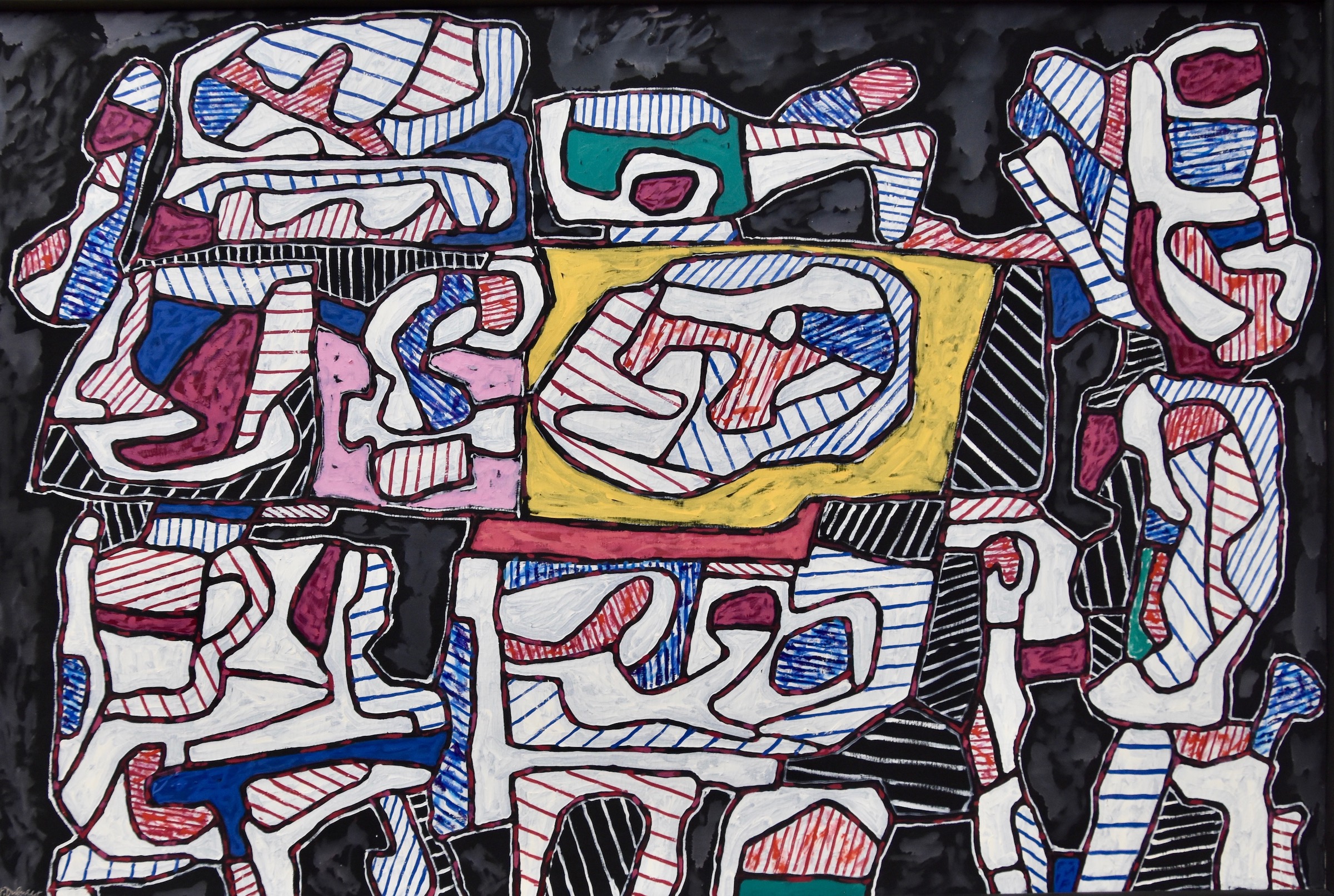 No review of 20th century modernism would be complete without a work from the Dutch artist Piet Mondrian which is so instantly recognizable that it could be from nobody but him.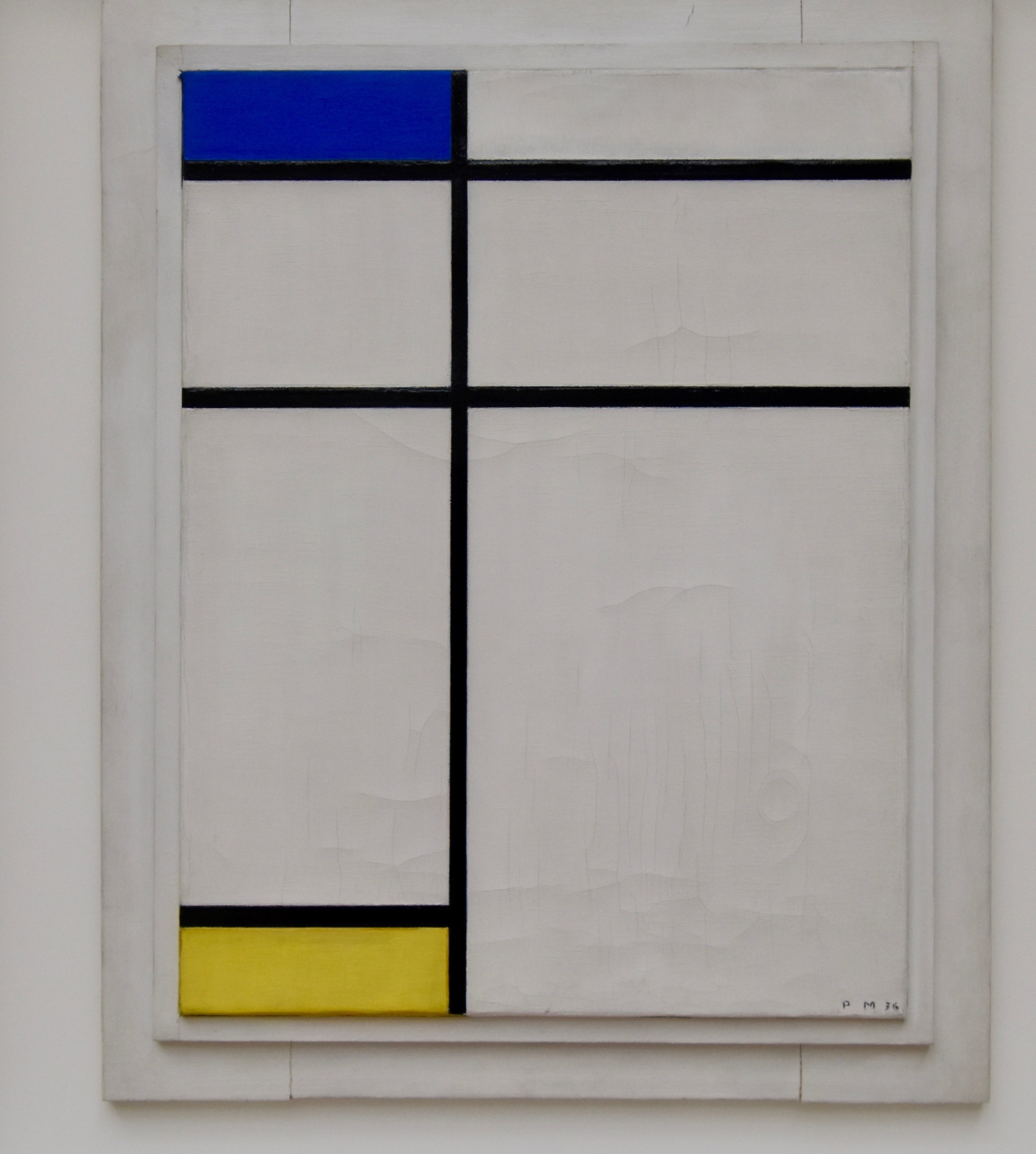 His mature works such as the one above use only the three primal colours red, blue and yellow and the three primary values black, white and gray in any number of vertical and horizontal combinations. The results speak for themselves. Komposition 8 is about as simple as Mondrian would ever get, yet there is something compelling in his works that so far has withstood the test of time.
Our last painting came as a bit of a shock to me.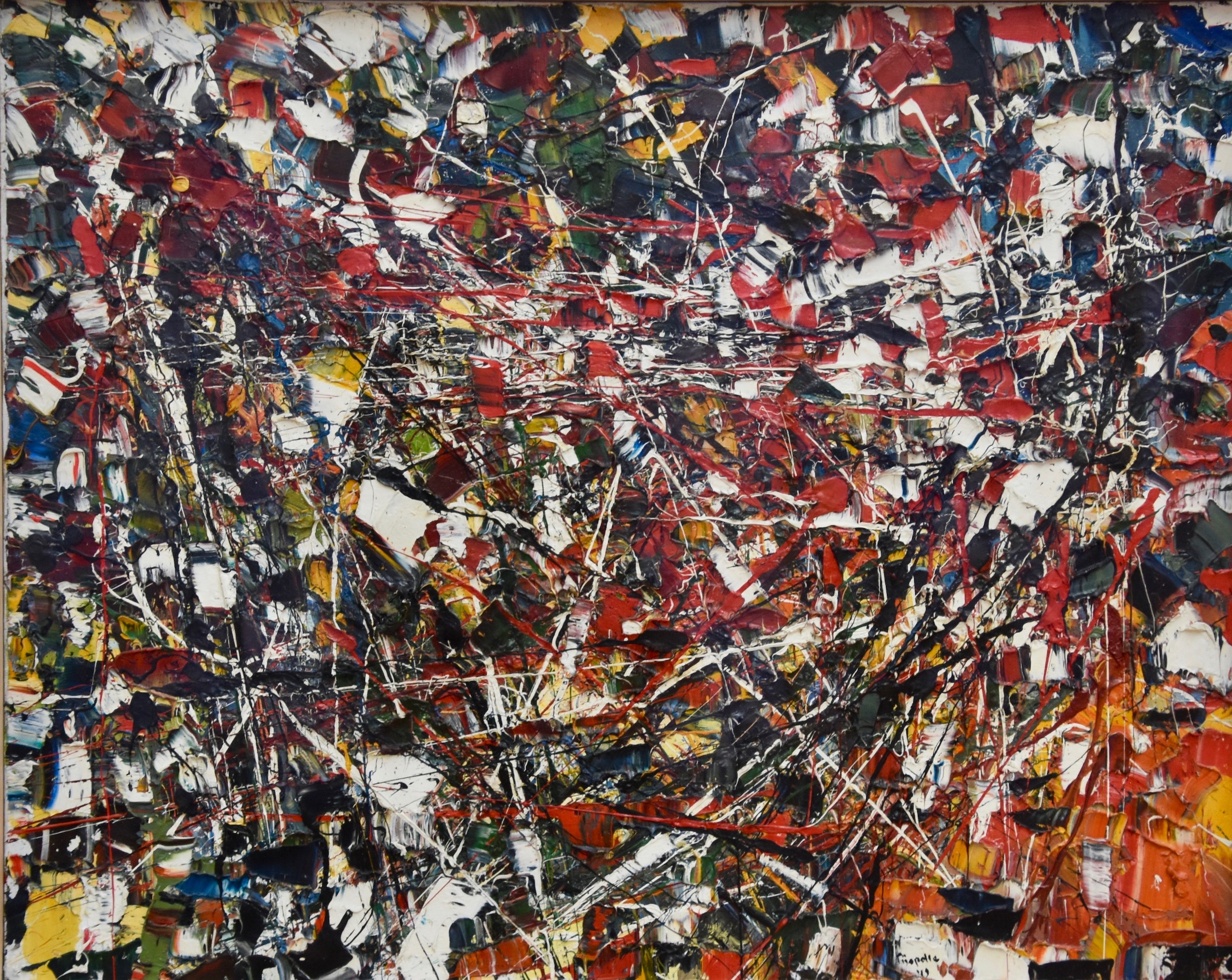 This is a work created by the Canadian painter Jean-Paul Riopelle in 1949. The fact that his work would be included in the same exhibits as those of the much better known artists is indeed a tribute to him. Note that there is not a single American painter included in this post. To be fair there are Warhols and other great American artists in the collection, but I saw none that were juxtaposed with the likes of Mondrian, Picasso and others highlighted in this post.
The comparison to Jackson Pollock seems obvious, only it's not. Pollock dripped paint onto his canvases while Riopelle used a palette knife to create his best works. No paintbrush ever came near the canvas above.
I don't know about you, but I'm exhausted looking at and contemplating this much great art in one place over a few short hours. This is where exit.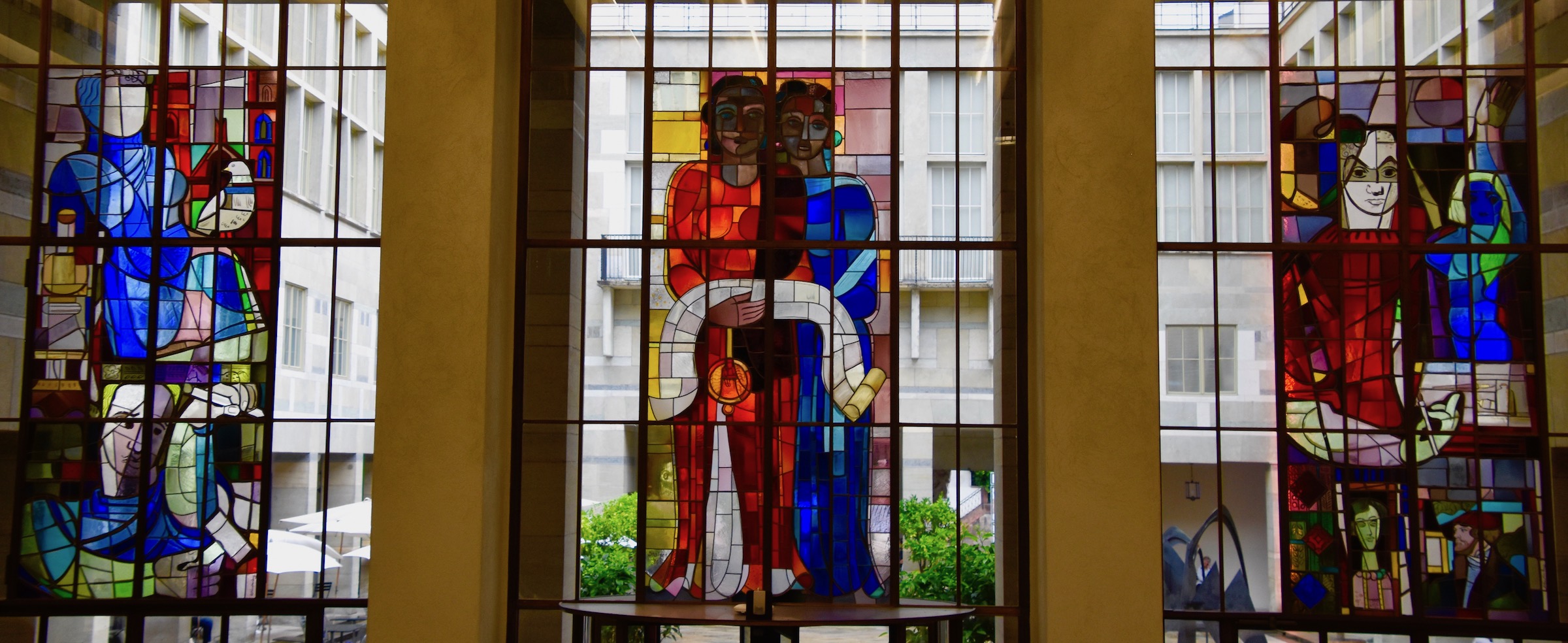 One final piece to appreciate is just outside the entrance. This is one of the twelve cast versions of Auguste Rodin's Burghers of Calais. It commemorates and event dating back to the Hundred Years War when the English King Edward III laid siege to the city. When it was clear it would fall Edward said he would spare the city if six of its burghers walked out with ropes around their necks to be executed in lieu of sacking the city. This is how Rodin portrayed the surrender in the original sculpture dedicated in Calais in 1895.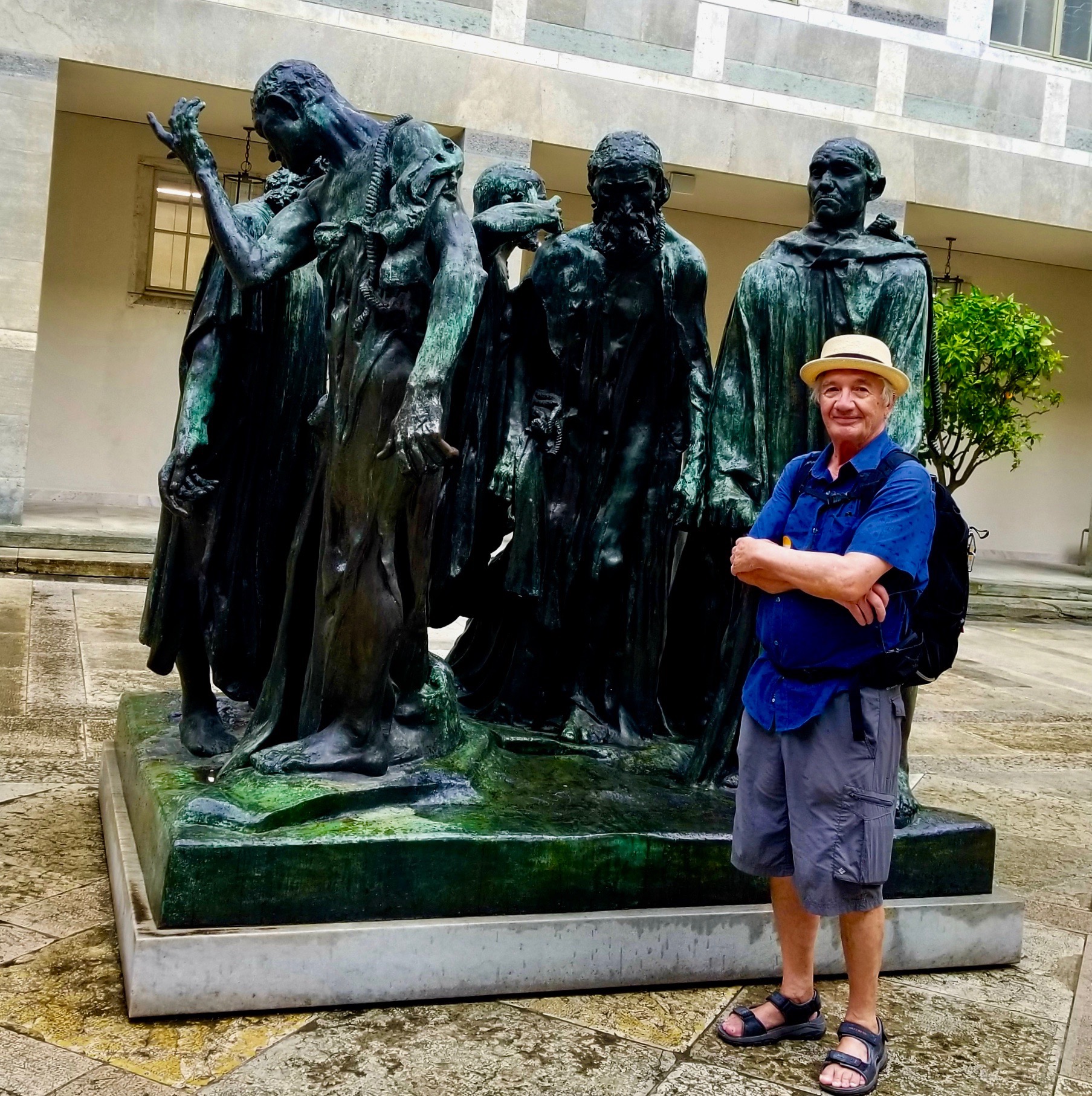 By French law only twelve casts can ever be made from an original mold. I have seen the version outside the Houses of Parliament in London many times and am always impressed with it. The version above was installed in 1948.
That concludes this lengthy post. In the next one Alison and I will meet up with our friend Victor Romagnoli and the rest of  the Adventures Abroad group in Zurich. Let the hiking begin!
PS The burghers were not executed thanks to the intervention of the English queen.