Royal Dornoch Hole by Hole
This is the second of six hole by hole posts from a recent golf trip to northeast Scotland organized by Platinum Golf Scotland. In the first post we played the underrated course at Nairn where we received a warm welcome and I was given a private tour of the course archives. In this post we'll play a course that's definitely not underrated. Royal Dornoch is currently the #3 rated course in the world outside the U.S. in the latest Golf Digest rankings and no worse than 12th in the world in many others. This #3 ranking puts it ahead of any course in Scotland including the Old Course at St. Andrews. I have been fortunate enough to play the #1 course, Royal County Down some years ago, but other than that this will be the highest rated course our group has ever played based on the Golf Digest ratings system. It's a pretty high bar and I'm anxious to see if it lives up to its billing.
History of Royal Dornoch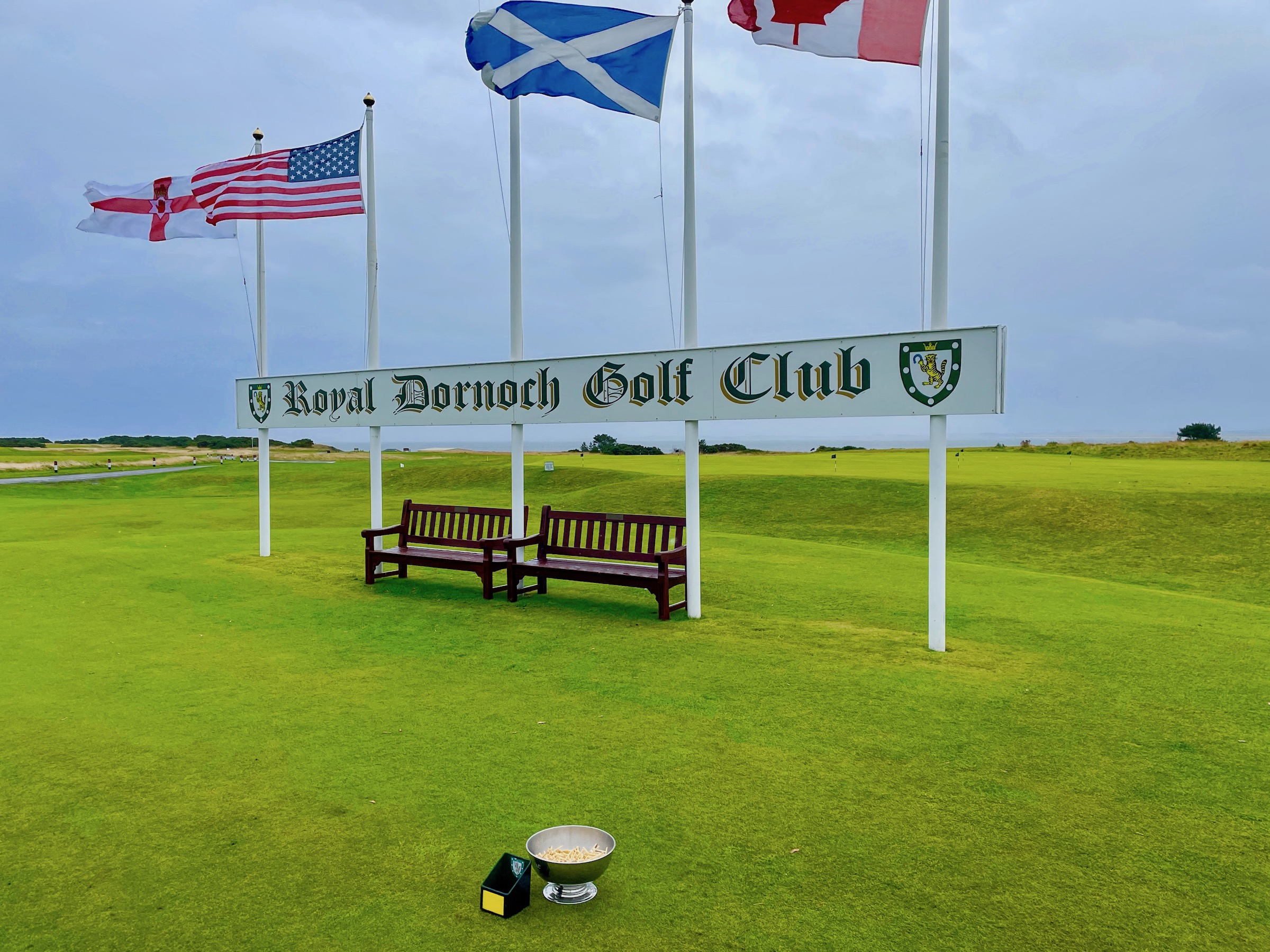 It is claimed that golf has been played on the natural links along the seashore at Dornoch since at least 1616, but it was not until 1877 that the burghers of Dornoch got together to formally establish a golf club. The original club was only nine holes, but everything changed in 1886 when the club invited Old Tom Morris to create an 18 hole layout. The Grand Old Man of Golf created a lasting legacy at Dornoch that has been lengthened over the years to  accommodate changes in equipment, especially by John Sutherland who ran the club for over 50 years. But essentially it remains one of Old Tom's great contributions to the game of golf.
Another of the legends of golf, Donald Ross had his roots at Royal Dornoch. He was born in the small village and grew up playing the course and eventually went on to become its first professional. After apprenticing with Old Tom Morris at St. Andrews, he and his brother Alec took what they had learned about all aspects of golf to America. There, Donald Ross became arguably the most famous and respected golf architect in history. No doubt the spectre of Royal Dornoch loomed large in his mind when designing courses like Seminole, Pinehurst #2 and East Lake.
In 1906 Edward VII bestowed the Royal designation on the course and that effectively guaranteed that it would be sought out by the best golfers in the world and it has been ever since. While Royal Dornoch is just too remote and now too short to host The Open it does attract the best golfers in the world. Tom Watson, an Honorary Member, stated that he had never had as much fun playing any course in his life.
My fellow member of the Golf Journalists Association of Canada Lorne Rubenstein is a Life Member. He was awarded this for his many years of championing Royal Dornoch starting with his book A Season in Dornoch which describes a summer he spent here over 20 years ago immersing himself not only in golf, but the Scottish highlands as well. Sean Connery wrote the foreword.
So we are once again about to have the privilege of stepping onto hallowed golf ground and playing in the shadow of Old Tom, Donald Ross and many others. These are always pinch me moments in my travel experiences and I hope I never get too old or jaded to continue to experience them.
The town of Dornoch is over 44 miles (41 kms.) due north from Inverness and it takes us a good hour to get to there. The weather is not cooperating and we arrive in driving rain and wind. Oh oh.
There really is no opportunity to warm up so we spend our time in the pro shop spending money instead. I bought this light pullover which is not really suitable for today's conditions, but will come in handy in dryer weather.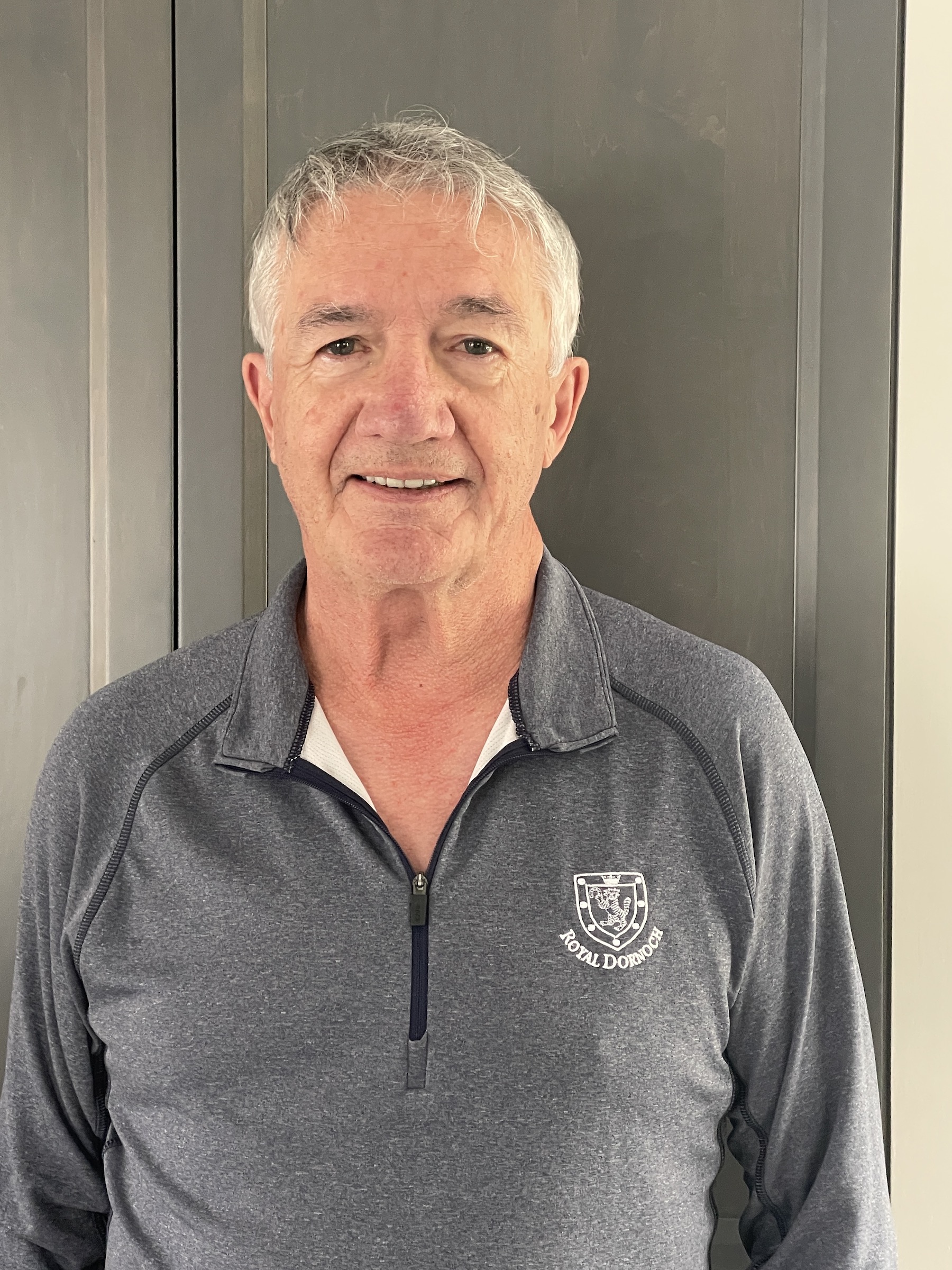 As our tee times approach we don our rain gear and head toward the starters hut where our exceedingly cheerful caddies await.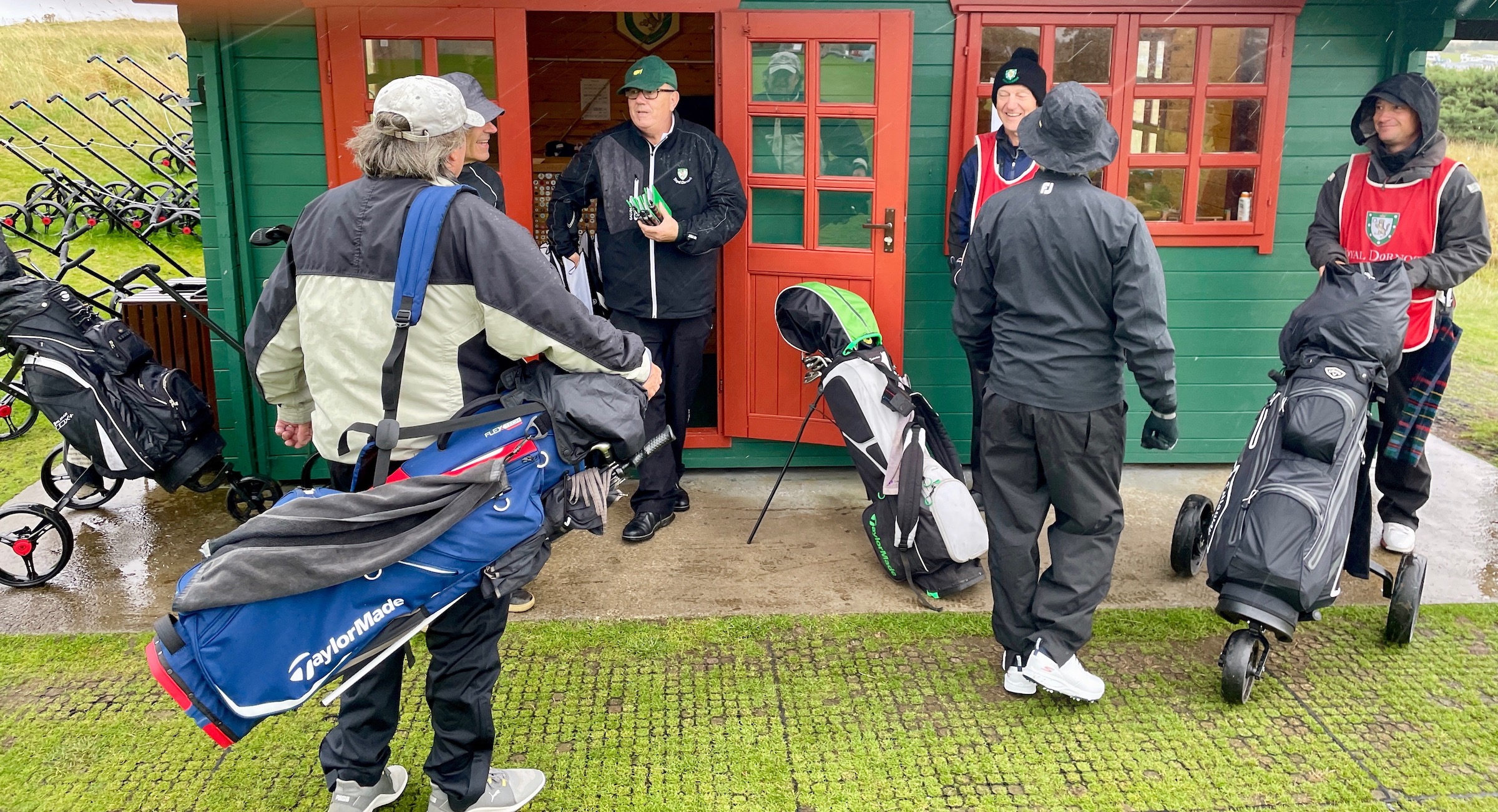 One of the things I really enjoyed about this trip were the excellent souvenir packages we received at every course that included a yardage book, course guide, ball markers and in the case of Royal Dornoch this nice bag tag with the catchphrase "Haste Ye Back' on it.  These three words say it all. For a place that is so highly rated there was an utter lack of pretentiousness or that somehow they were honouring you just by letting you play. Everyone we ran into at Royal Dornoch seemed genuinely pleased to have us as their guests.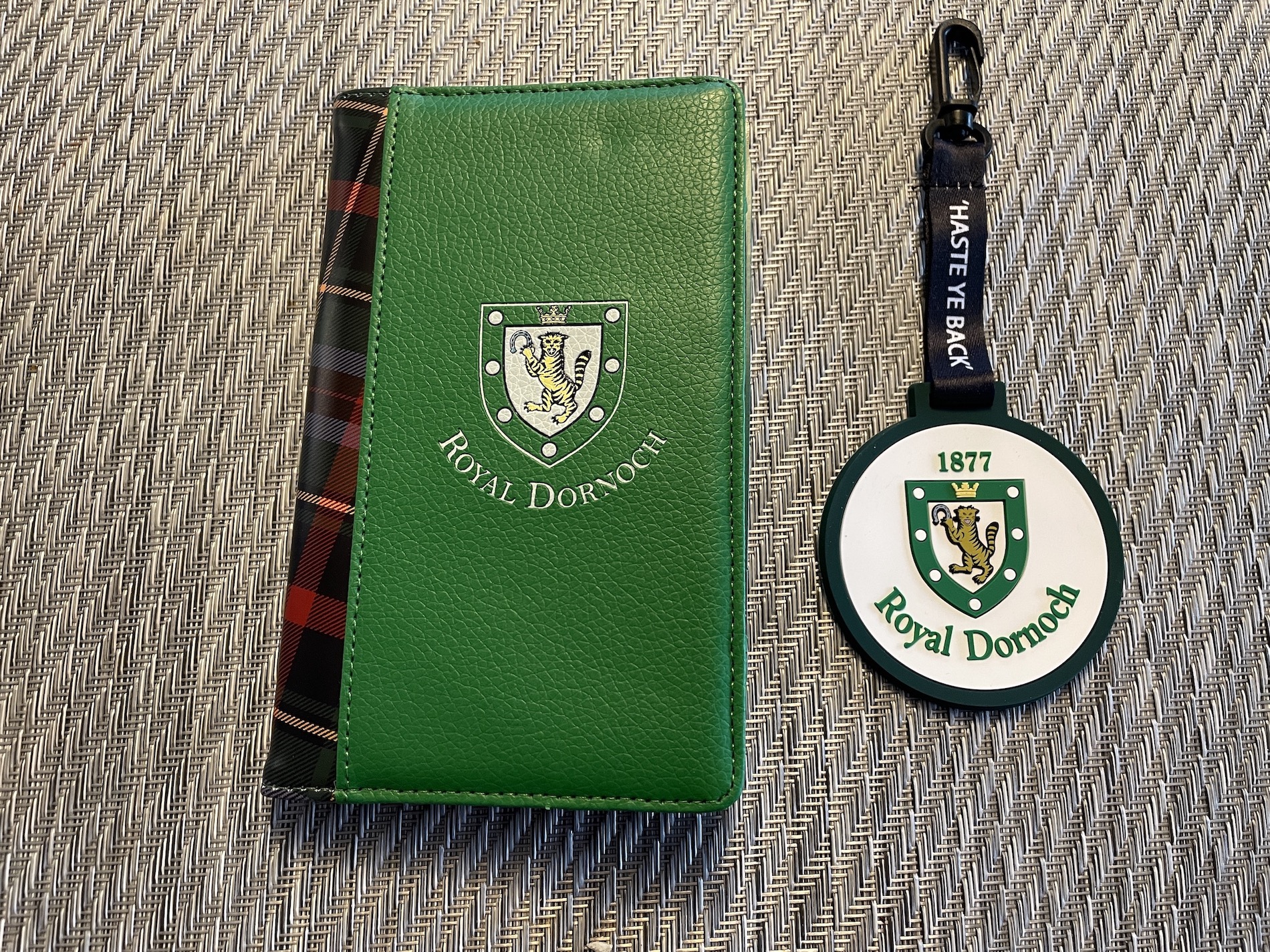 I ducked my head into the starter's hut to take a look at the huge collection of ball markers from around the world. This is just a small section of them.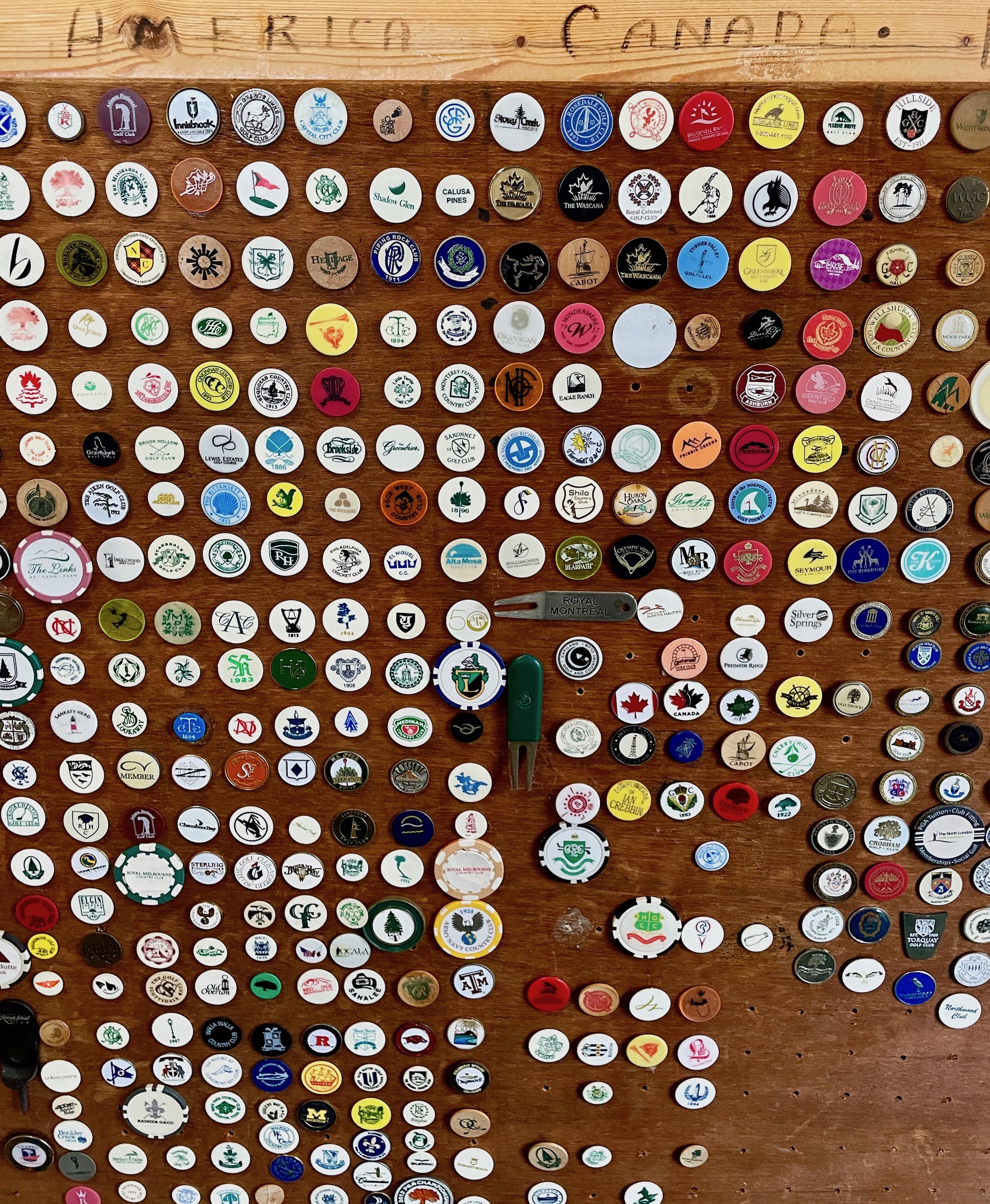 I looked closer to see if my home course of Ashburn was represented and sure enough there it was.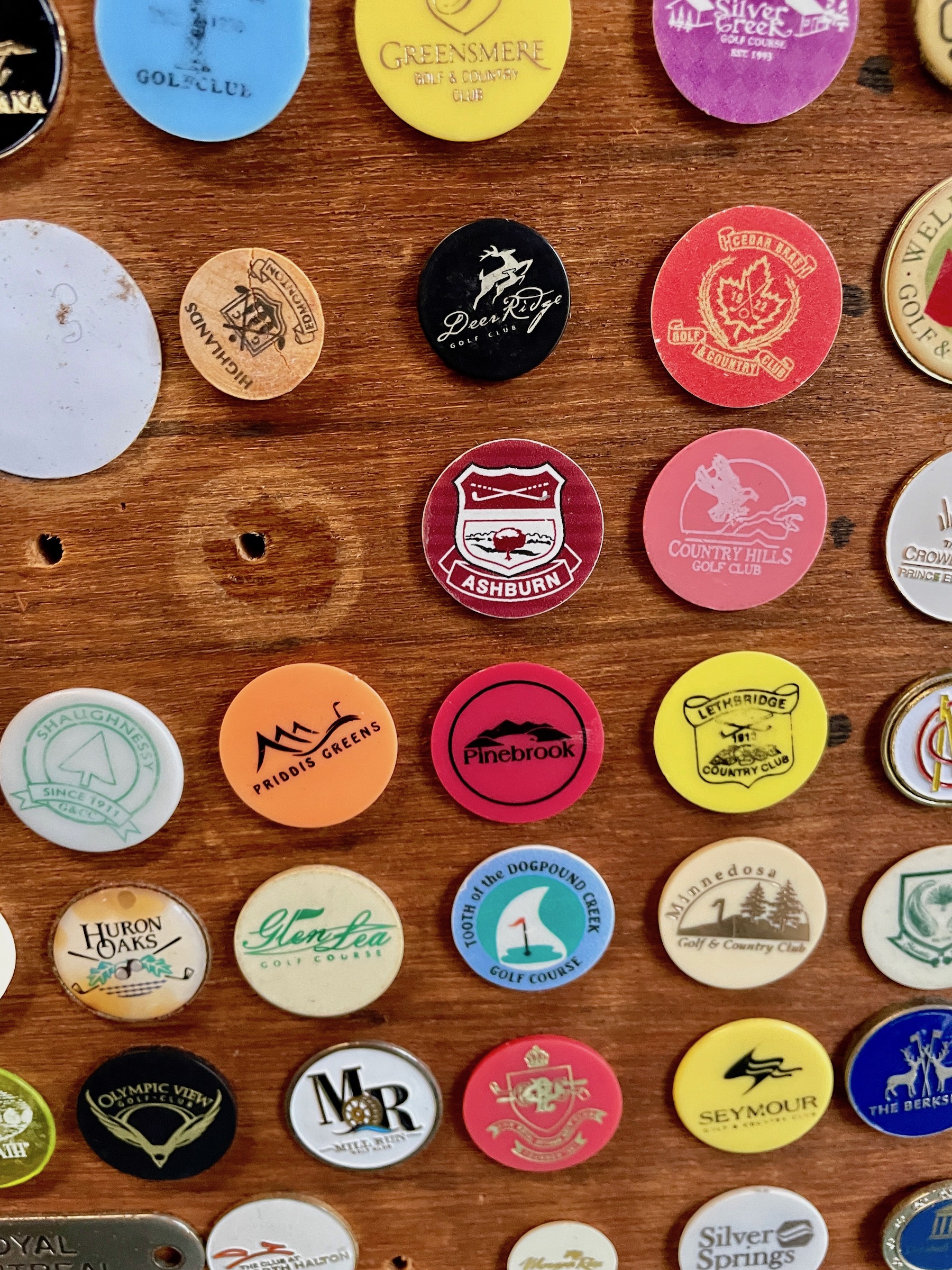 The weather was not getting any better, but there was no way we were not going to play. Besides the caddies said that it would clear up after a few holes. So let's play Royal Dornoch.
Royal Dornoch #1 First – 260 Yard Par Four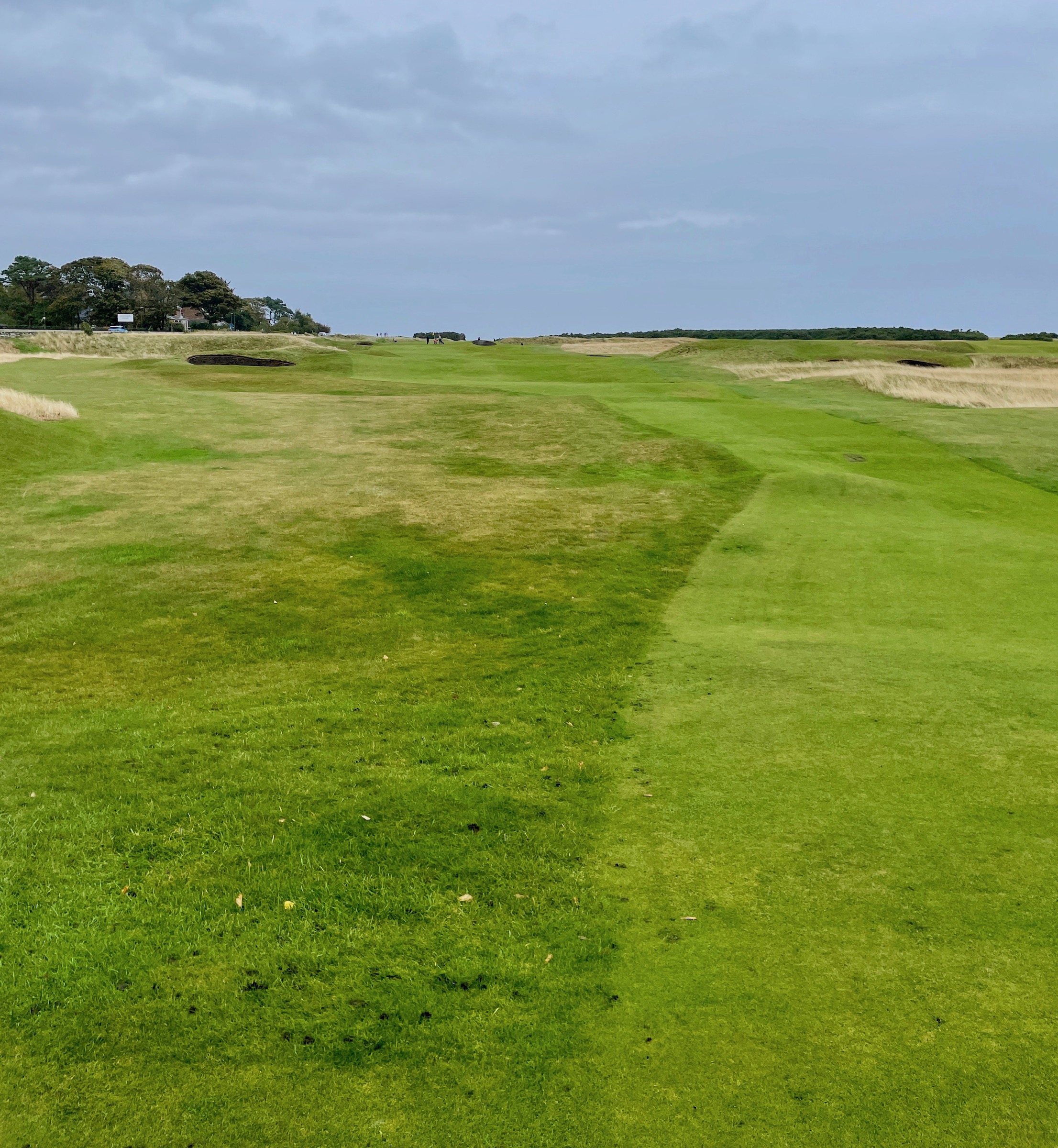 We have elected to play the Senior tees that play 5,927 yards which is plenty in this wind. The course plays to a par 70 with only two par fives so the short distance is not as manageable as it might at first glance appear.
The first hole seems pretty benign at only 260 yards, but the fairway is narrow and there are traps on either side of the fairway. The fescue is quite gentle and there's no reason to lose a ball in it. Ordinarily a well struck drive would get a lot of roll, but not in this wind and rain which is not that apparent from the photo. I had to use my iPhone for photos on the first six holes instead of the Nikon D7200 I would usually use. Thus pictures like the one below are not as crisp as I would have hoped.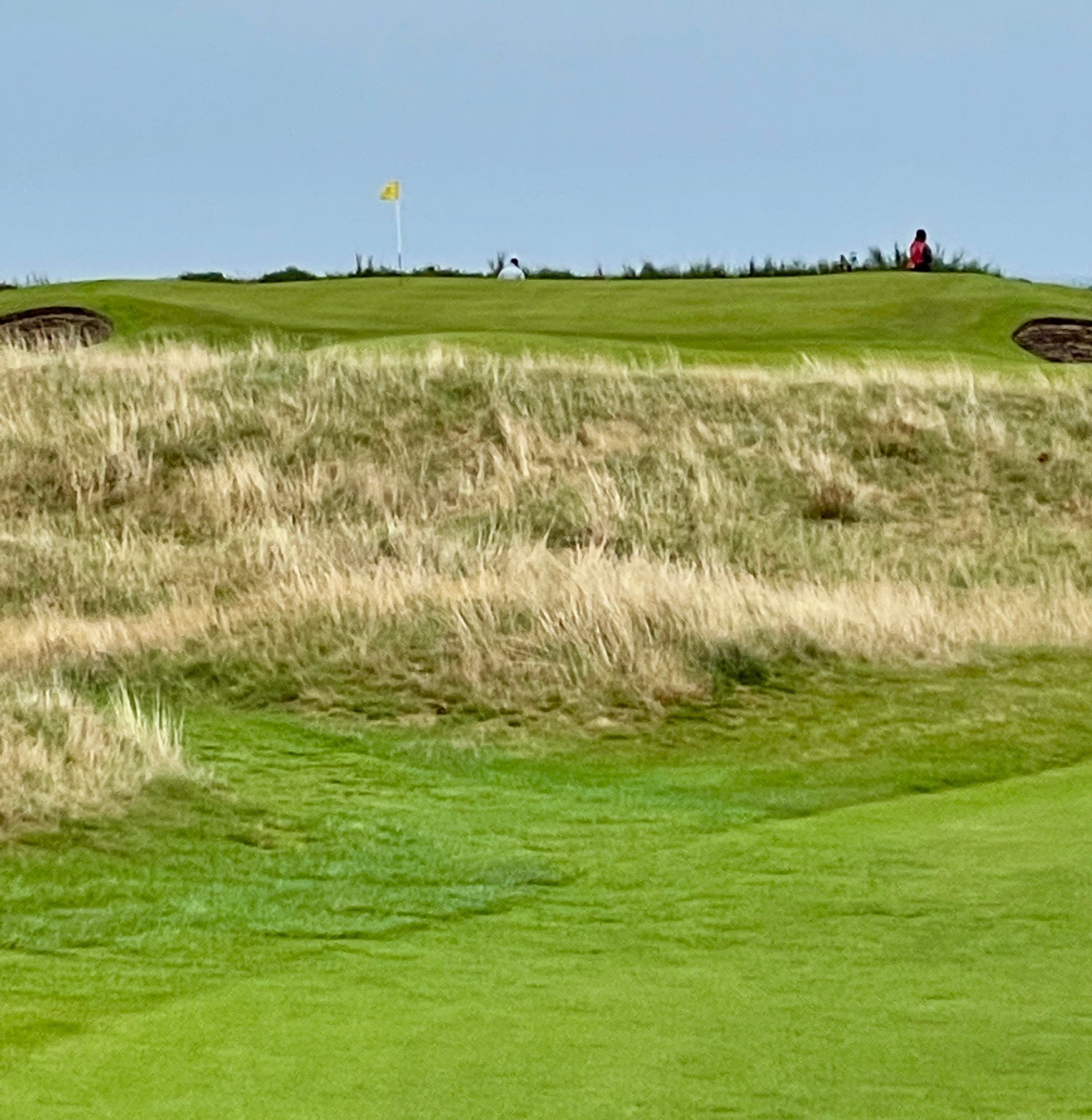 One of the things that makes Royal Dornoch such a challenge are the relatively small greens that are often a  plateau that runs off in all directions. That is perfectly illustrated right off the bat with a challenging approach even with a well placed drive.
As you would expect the greens at Royal Dornoch are in superb condition. We started putting them in the rain and even after it stopped they were obviously wet although very well drained. That combined with the wind makes is quite difficult for me to comment on their speed. We relied entirely on the caddies for the reads and quite a few times their calls on the breaks were completely different than what I thought I saw. They definitely saved us all strokes on the greens.
#2 Ord – 160 Yard Par Three
The second hole at Royal Dornoch is one of the most famous par threes in golf. Unfortunately it was raining so hard when we played it I couldn't even get a shot with the iPhone. Instead I have included this fly over from the Royal Dornoch website which makes it seem much longer than the 160 yards we played from.
The difficulty with this hole is that if you don't hit a perfect tee shot, and I mean perfect, there is no chance of staying on this green as everything rolls off in every direction. Tom Watson famously said the most difficult shot in golf was the second on this hole. Whether he was being facetious or not, in all probability you will be in one of the pot bunkers or facing a steeply uphill putt or pitch from off the green. This is one of those holes that can rapidly become a nightmare as it is possible to fail to stay on this green despite multiple attempts.
I am just sorry that we didn't get to play it in more benign conditions. A definite reason to return. BTW an ord is a Celtic word for a small hammer shaped hillock which is quite appropriate as more than one golf game has been hammered by this hole.
Royal Dornoch #3 Earl's Cross – 389 Yard Par Four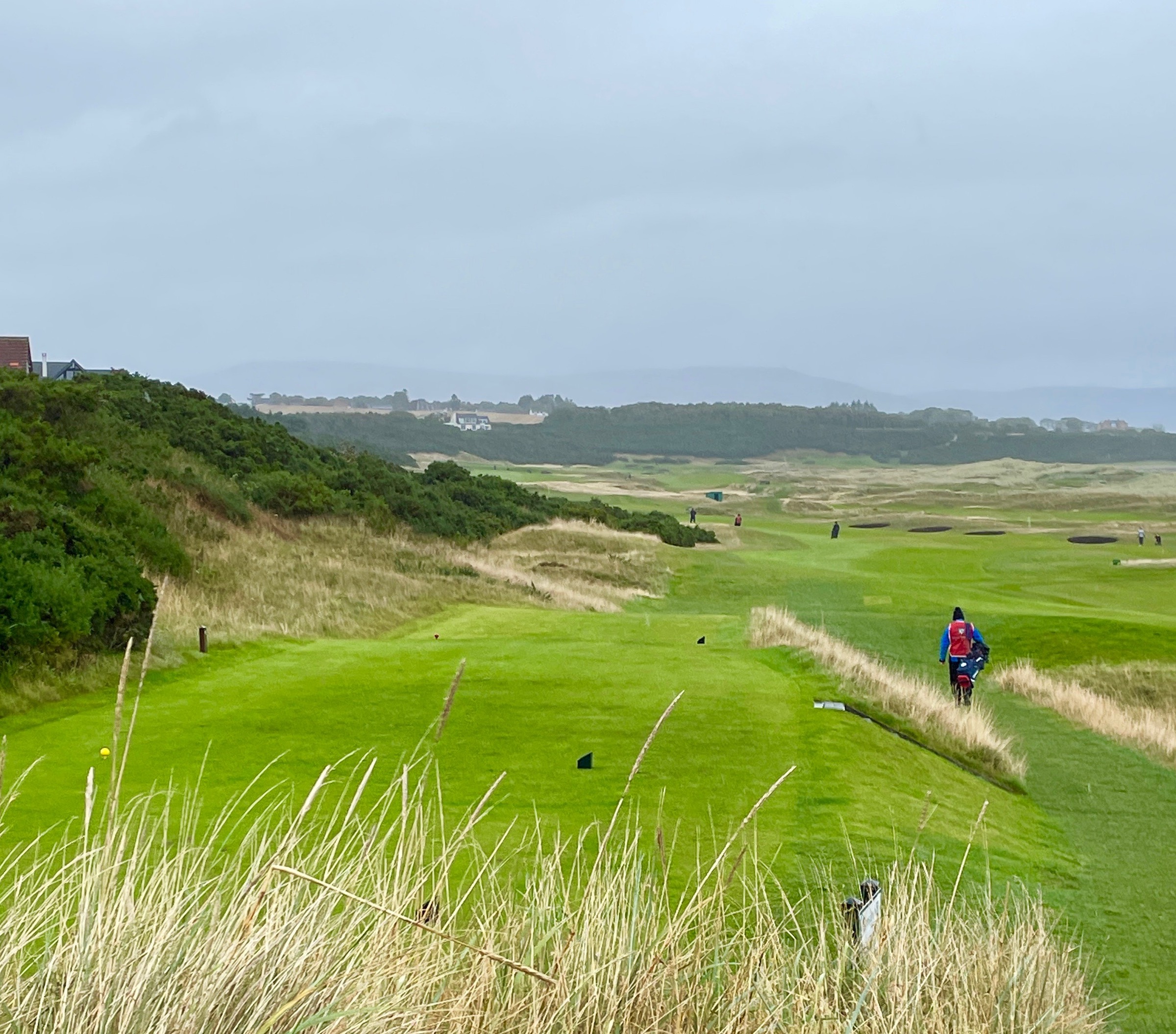 From the second green you walk through a swath cut through gorse and come out on a rise and there below you is the first great view of Royal Dornoch in all its splendour.  This is a wonderful dogleg left that can best be described as sweeping. In my first post from Nairn I stated that the gorse never really came into play in the other courses we would play as much as at Nairn. I must have completely forgot about this hole because the gorse is totally in play as several members of our foursome soon found out.  For my right to left ball flight this hole was perfect as I could aim at the bunkers and fade it into the fairway, well away from the gorse.
The approach to #3 is brutal with trouble seemingly everywhere including pot bunkers, gorse and not surprisingly, a tricky green to stay on. This was one hole where length really pays off as you want as short a club as possible to navigate all the hazards. For most, like me, it will be a hybrid at best on the second shot.
#4 Achinchanter – 392 Yard Par Four
This is the first of five holes at Royal Dornoch that are featured in  1001 Golf Holes You Must Play Before You Die a book every golfer should have in their library.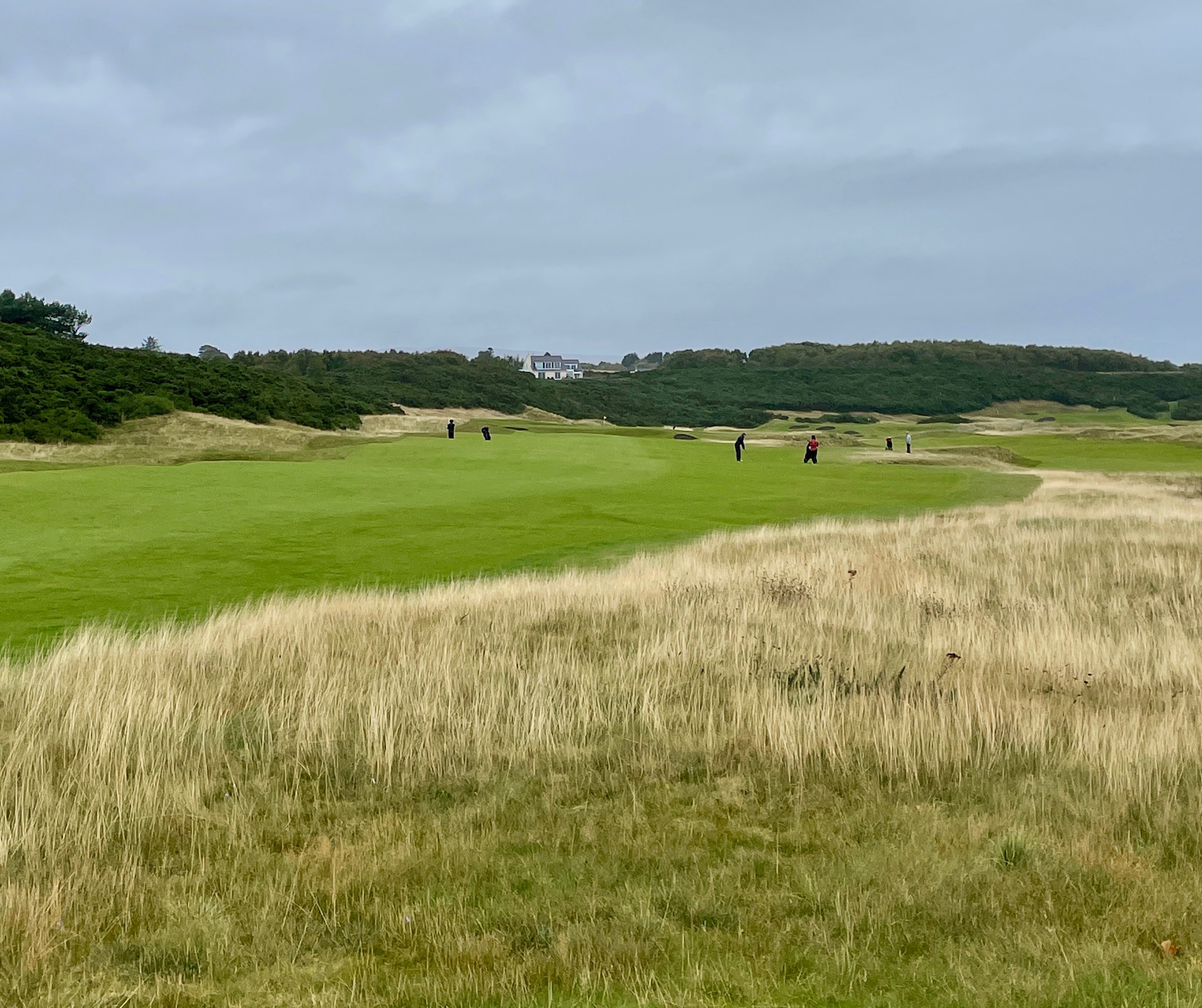 The second difficult par four in a row, at least in these conditions as we are not getting the roll that you can expect on a links course when it's dry. There's plenty of room off the tee, but everything runs off to the right. Several tee shots in our group looked great at first but ended up in the fescue.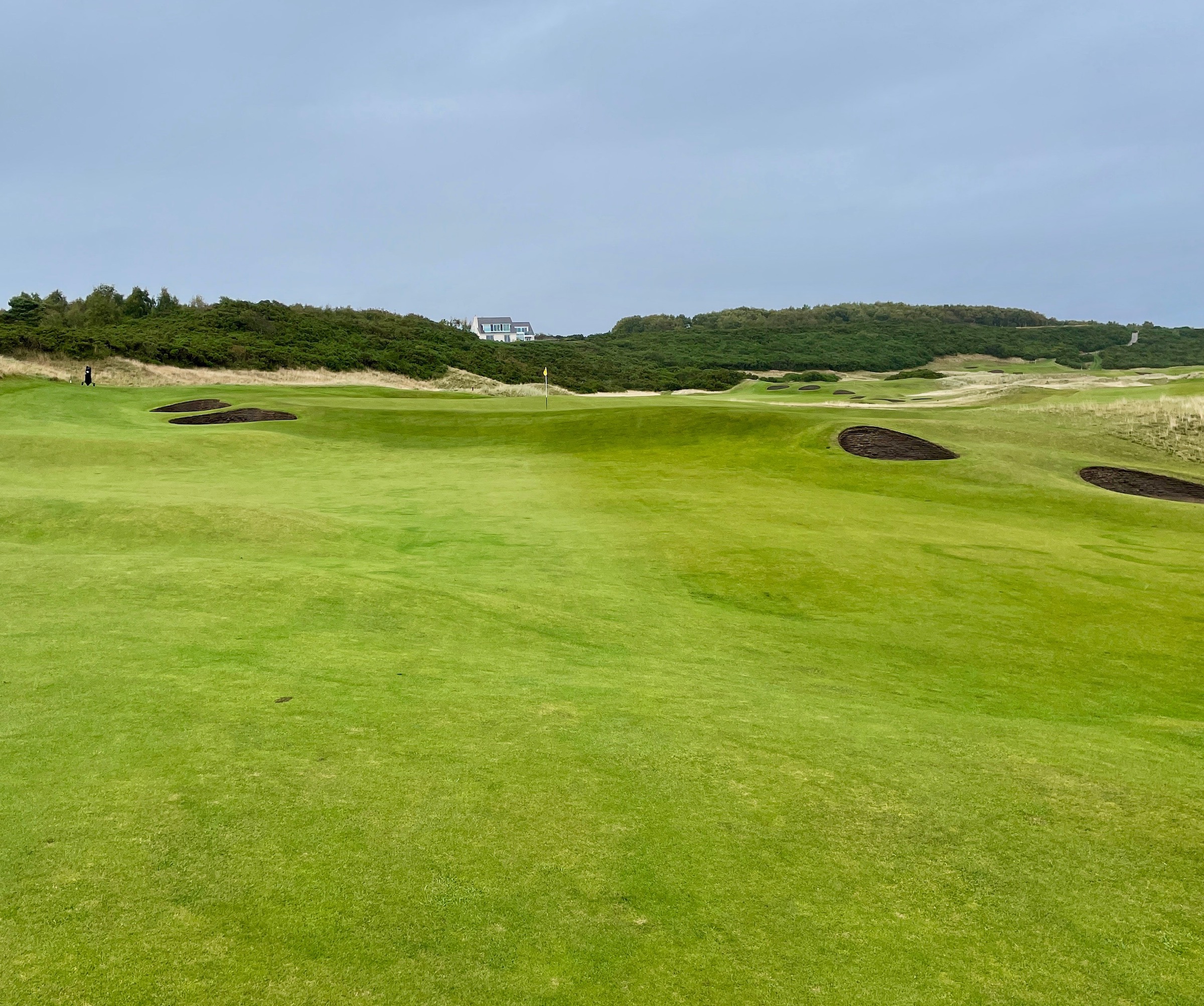 Yet another slightly elevated green awaits the approach shot. However this green is quite large and does not run off as severely as the first three.
Achinchanter is both the name of a large manor house in Dornoch and the site of a nearby archaeological dig which has revealed artifacts dating back to Roman times.
Royal Dornoch #5 Hilton – 306 Yard Par Four
This hole is also featured in 1001 Golf Holes.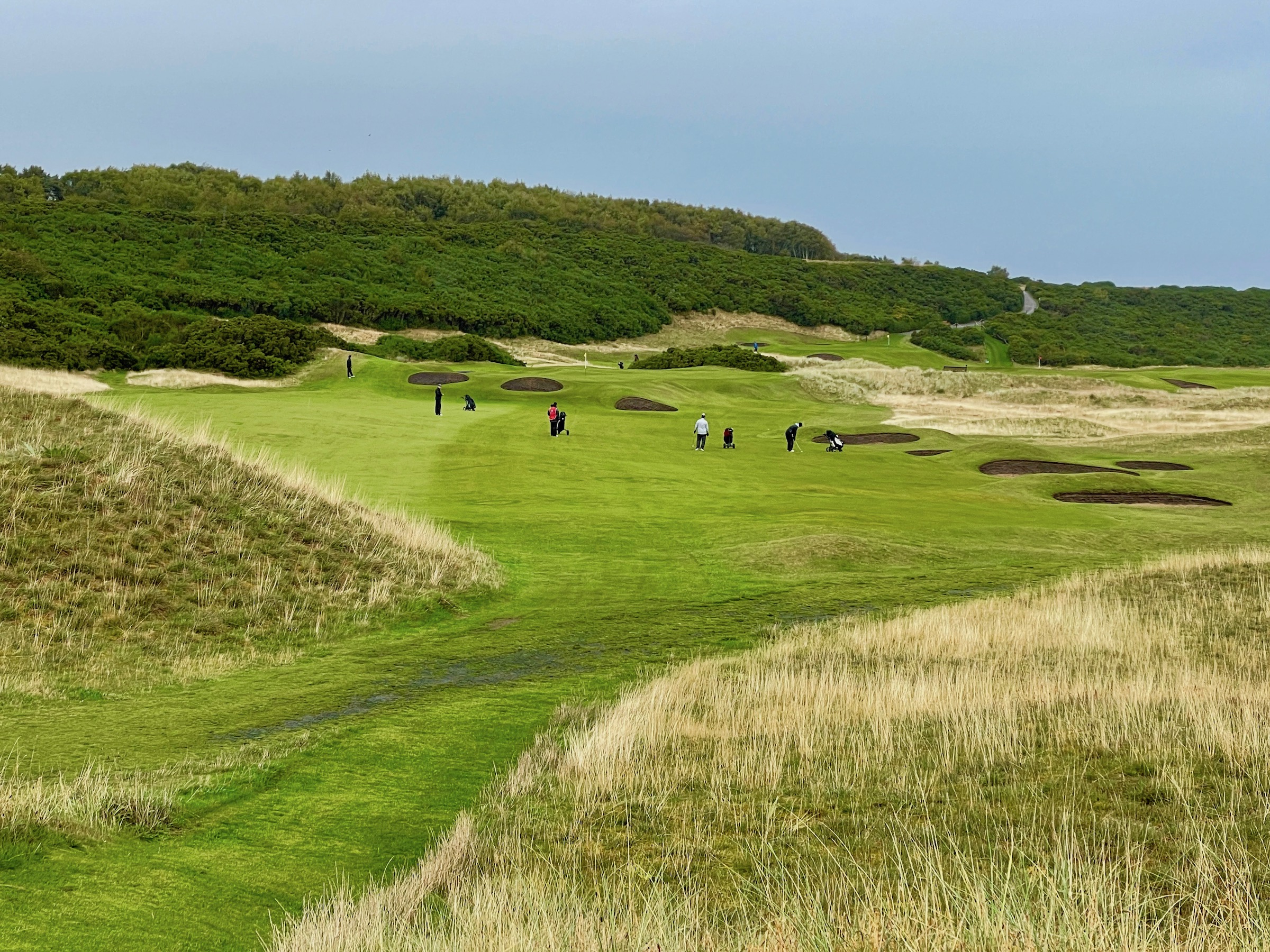 Another beautiful looking hole nestled below the gorse hills which would be spectacular in the spring when they are in full bloom. This is a classic hole design that has been replicated many times, but few as well as on this hole. There's lots of room on the left, but no matter how well you place your drive you will need to avoid the deep bunkers guarding the elevated green. What you can't see are two more bunkers on the left side of the green that will eat up any wayward approach shot to that side. By now we are all starting to realize that the greatness of Royal Dornoch lies in the fact that it requires masterful approach shots on almost every hole.
#6 Whinny Brae – 137 Yard Par Three
The third hole in a row featured in 1001 Golf Holes. I do not believe there is any other course that has that distinction. Whin is another name for gorse and brae is a Scottish hillside, so you are definitely facing a Whinny Brae on this hole.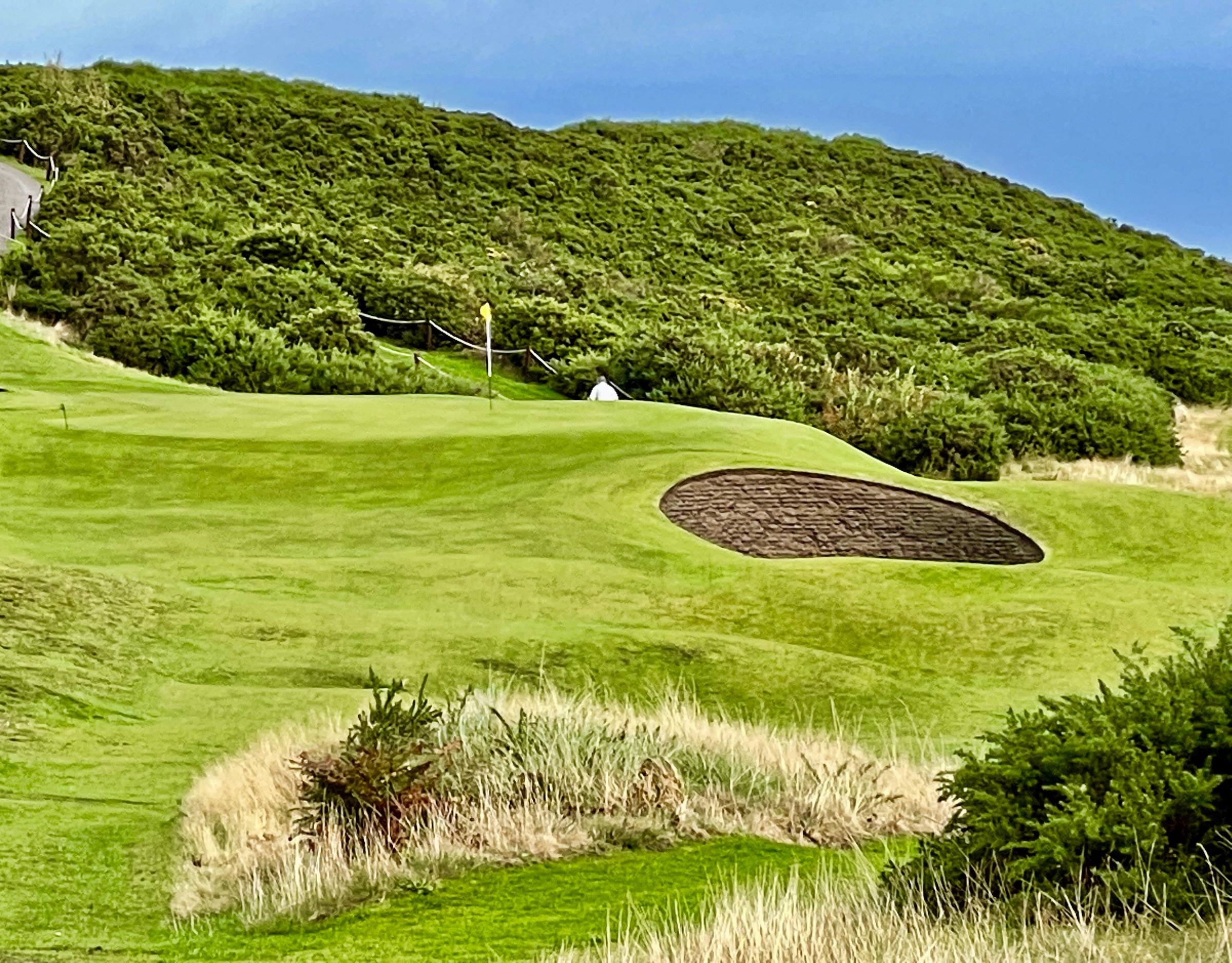 The folks at Golf Pass list this as one of the best par threes in all of Britain and Ireland and I can't disagree. The foreshortening of this photo makes it look a lot shorter than it is, but also shows the severe crown to this green. Once again you better hit your shot with confidence and find the landing spot your caddie has pointed out or you'll end up with a lie like Richard has. This hole can almost literally tie you up in knots.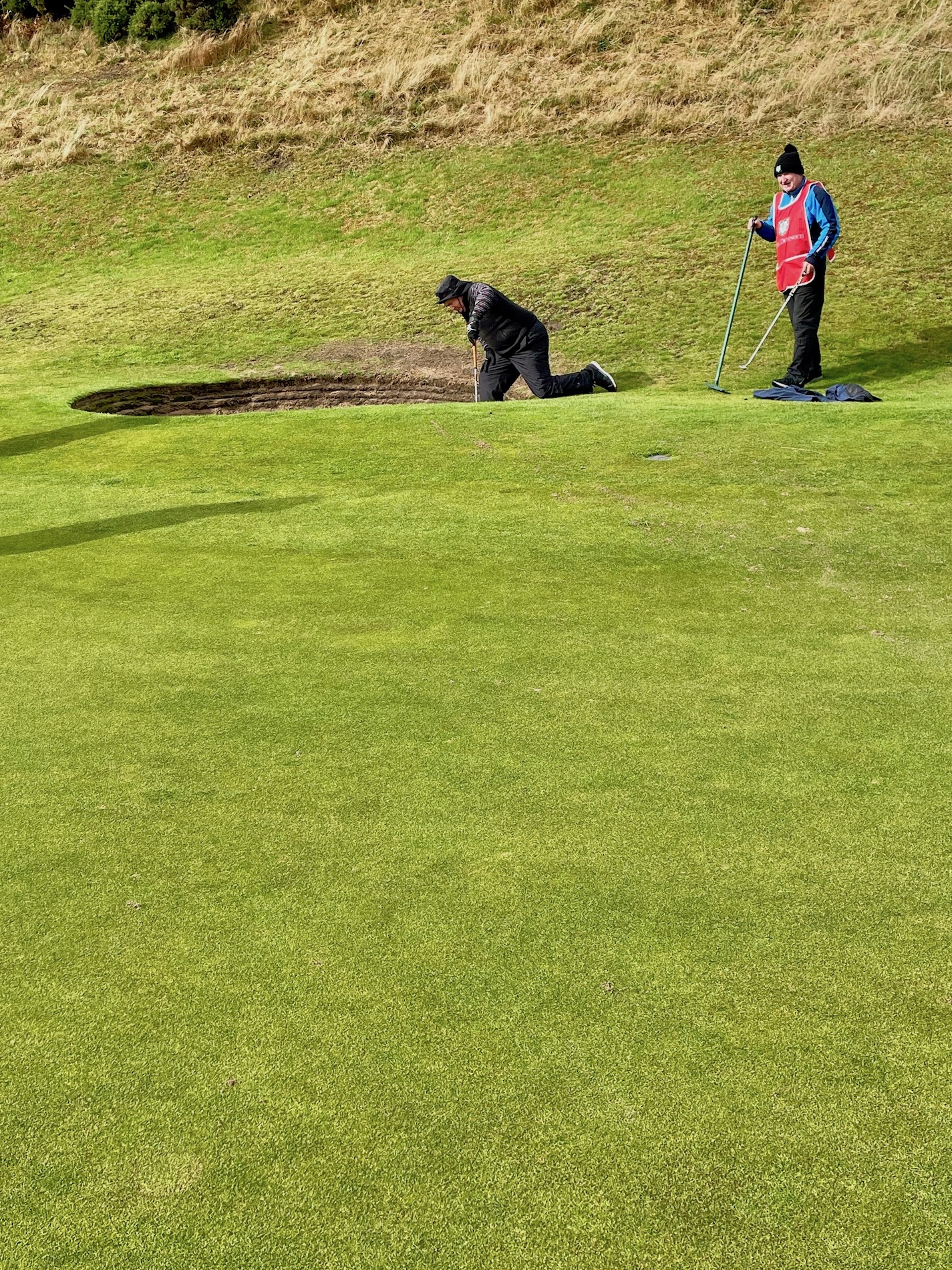 Without caddies our scores would have been much, much worse. Knowing where to aim on almost every shot at Royal Dornoch is essential.
The walk from the sixth green to the seventh tee is quite steep and you might be a bit out of breath when you get to the crest, but then you turn around and get one of the best views in all of golf.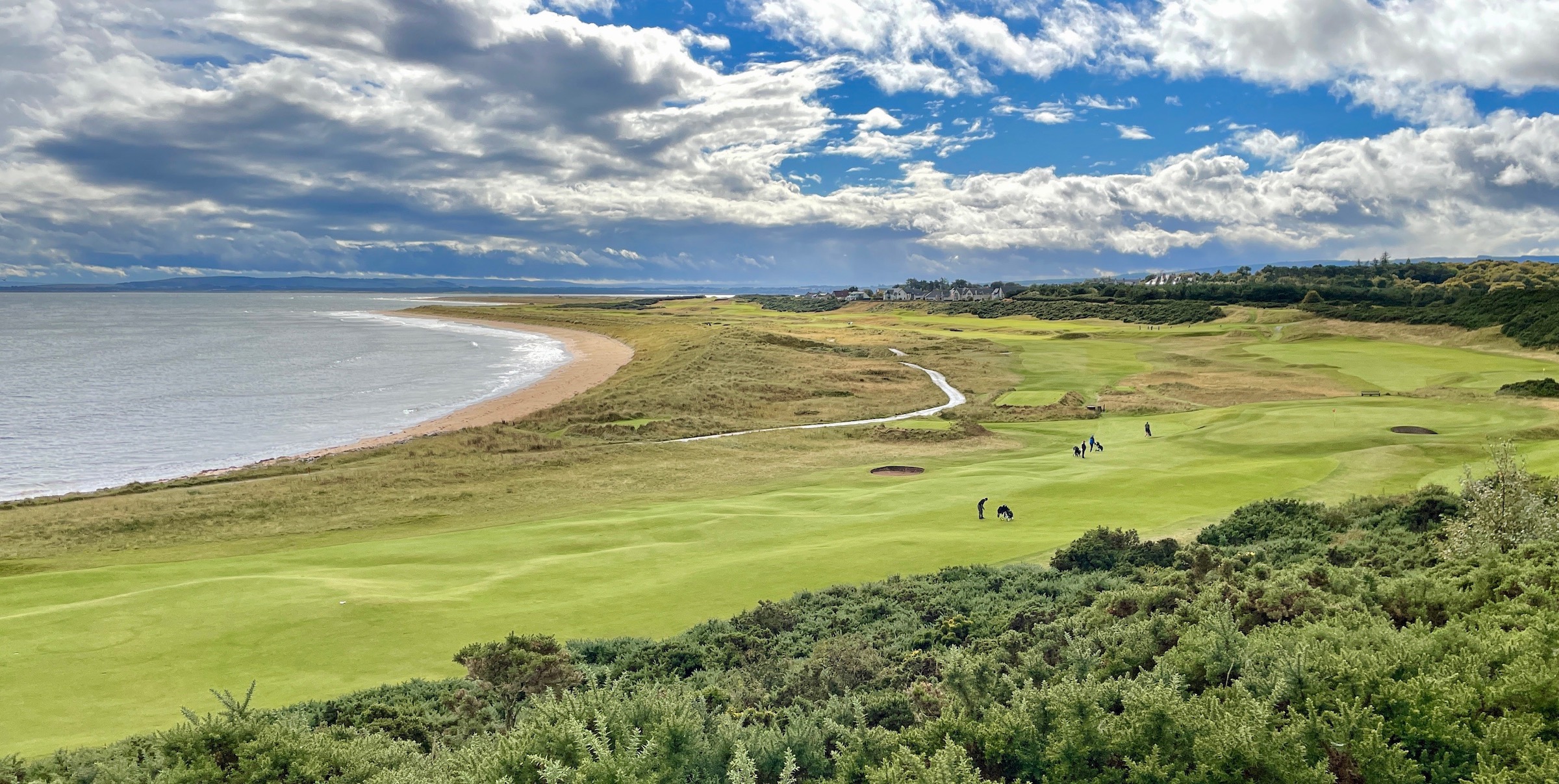 This is definitely the spot for the classic Royal Dornoch photo. To top it off the rain has stopped as the caddies predicted and we are able to shed our rain gear.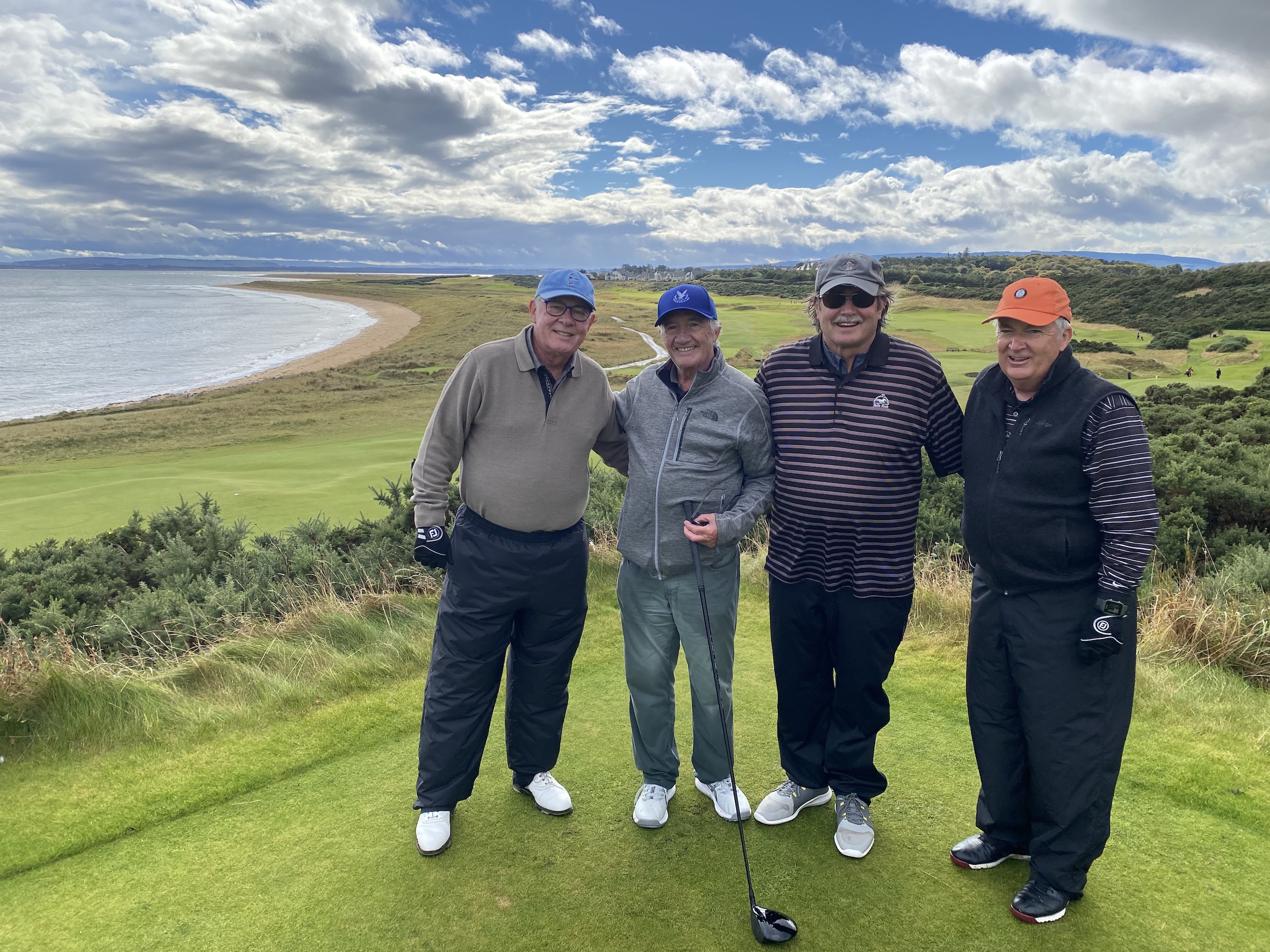 Many links courses like Muirfield, Carnoustie and Troon have very little elevation change while others like Lahinch, Waterville and Tralee have a lot. Royal Dornoch is kind of a hybrid in that the first six holes play out with some minor elevation changes, notably between two and three. Then you make the climb up to seven tee and have two holes that play down to the shores of Dornoch Firth and you finish with ten holes that are again relatively flat.
Royal Dornoch #7 Pier – 395 Yard Par Four
I was so mesmerized by the view from #7 tee that I forgot to take a picture of the hole from the tee so I borrowed this one from the Royal Dornoch website showing former Open champion Paul Lawrie teeing off. This is actually a brand new hole that opened only recently. It had been planned for some time, but Covid delayed the opening until September, 2000 when Mr. Lawrie became the first to officially play it.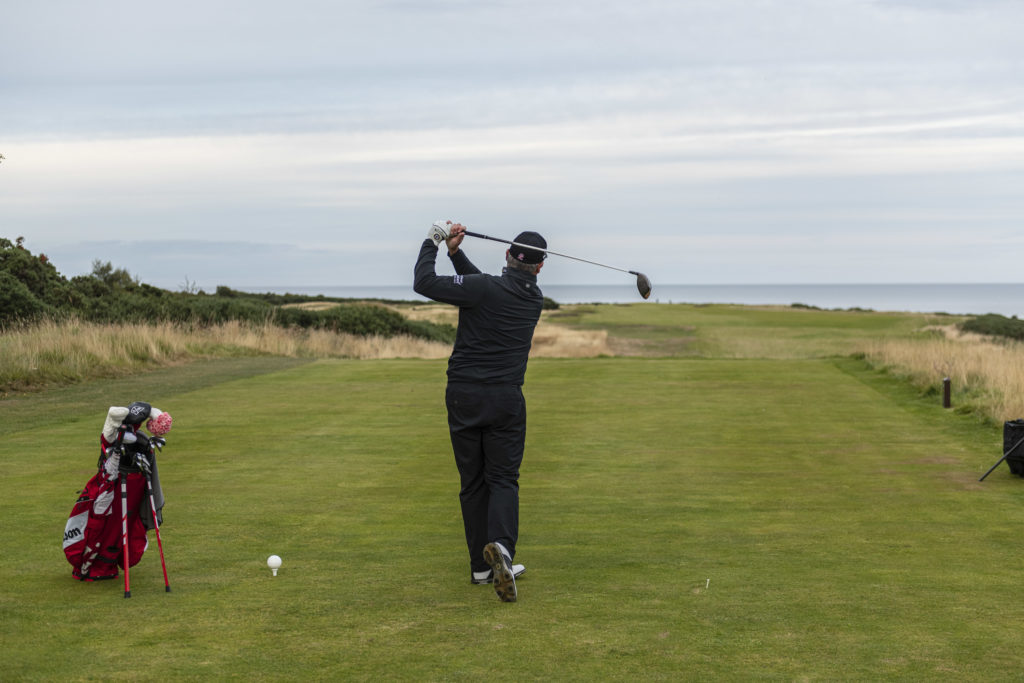 While the fairway is quite wide and it does play somewhat downhill, you will still have a fair ways in to a green that looks nothing like the first six. In effect this is an infinity green which appears to have nothing but ocean behind it.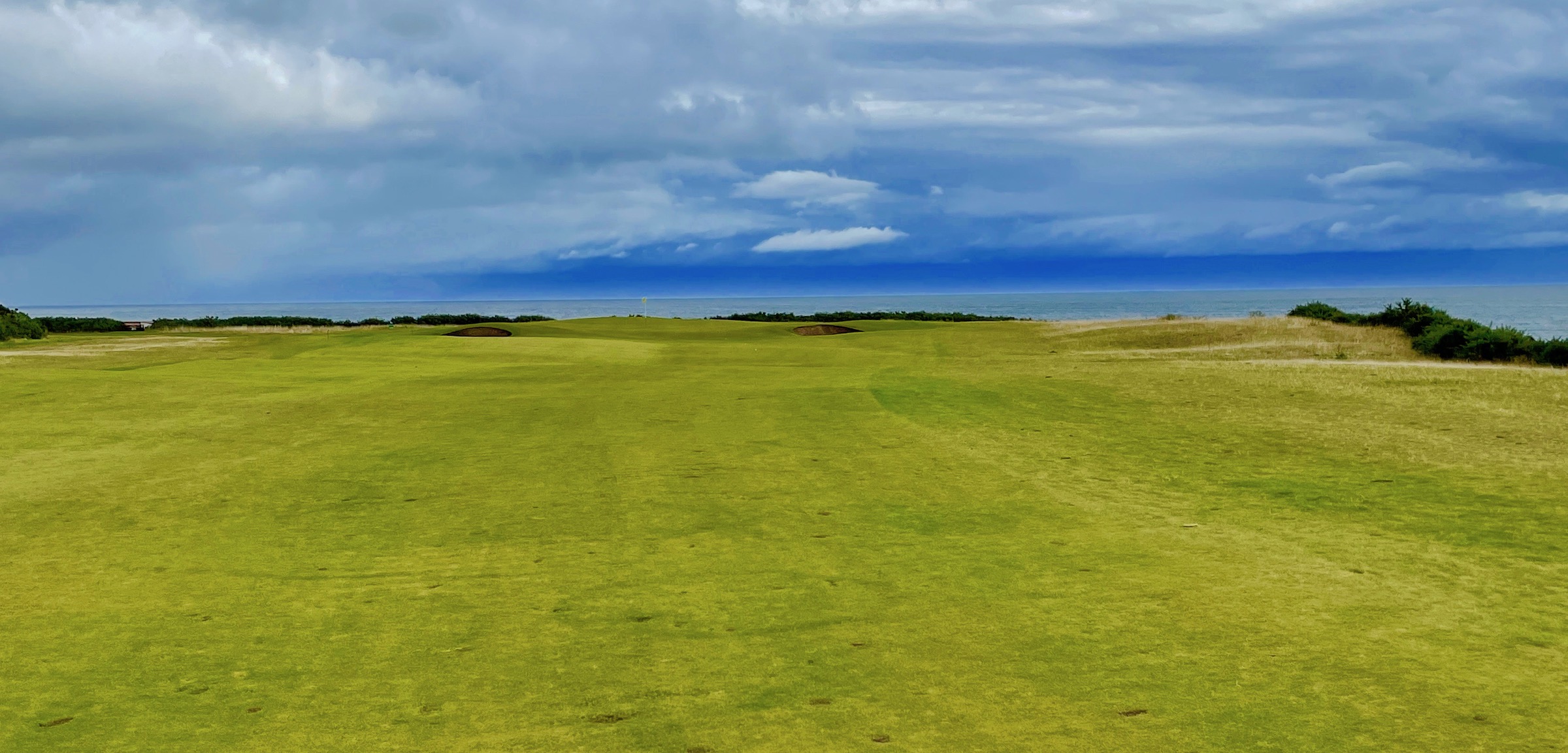 It reminded me very much of the second shot at #11 on the Algonquin course in New Brunswick, Canada.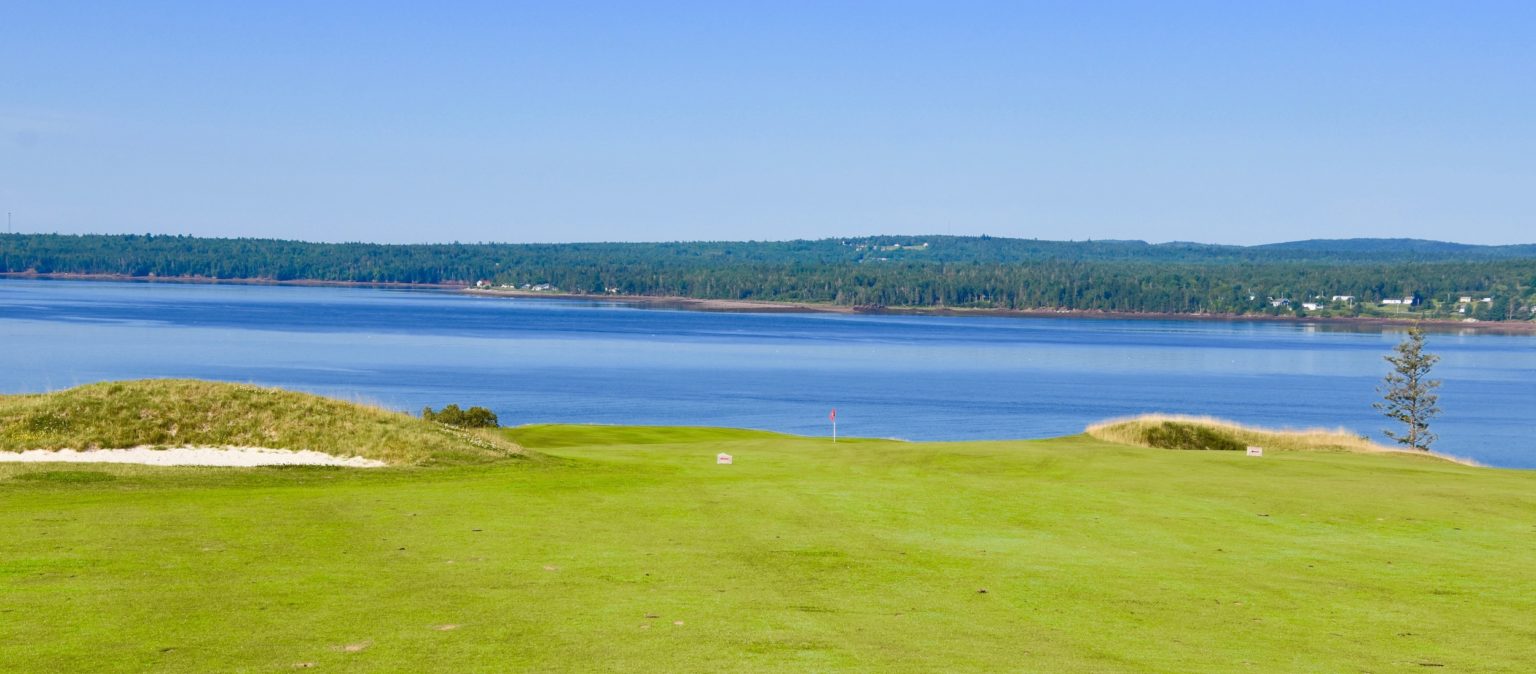 #8 Dunrobin – 375 Yard Par Four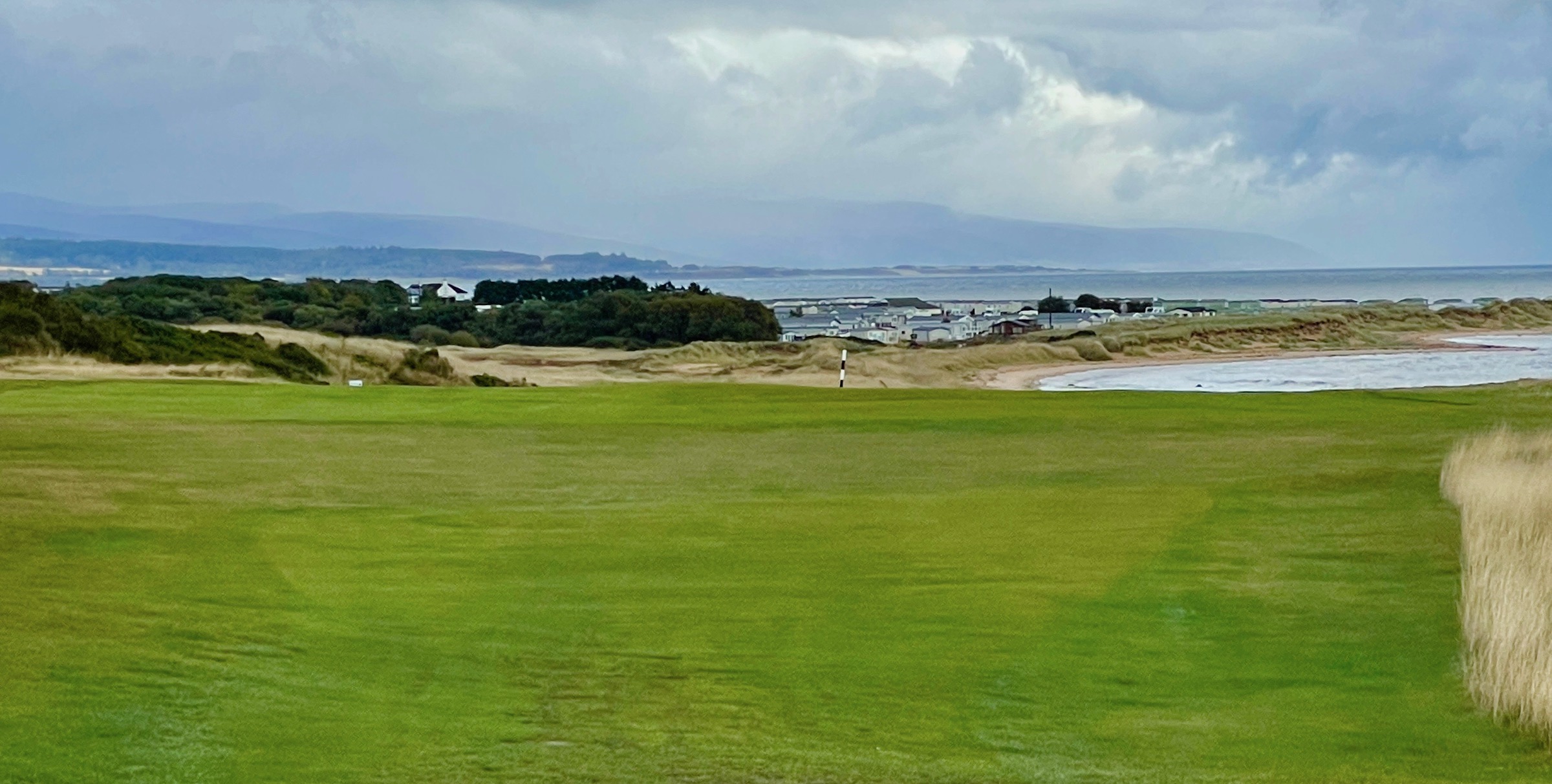 I absolutely loved the 8th at Royal Dornoch. Although you can't see the landing area from the tee box, you could hardly call this a blind tee shot. The view is terrific. On a clearer day apparently you can see Dunrobin Castle, one of the great houses of Scotland. There is a fifty foot drop in elevation on this hole.
A good drive will reach the edge of the ridge and roll forever. A so so one like mine is still pretty rewarding as you get this look on your second shot from on top of the ridge. For once the green is concave and quite receptive to a ball coming in from on high.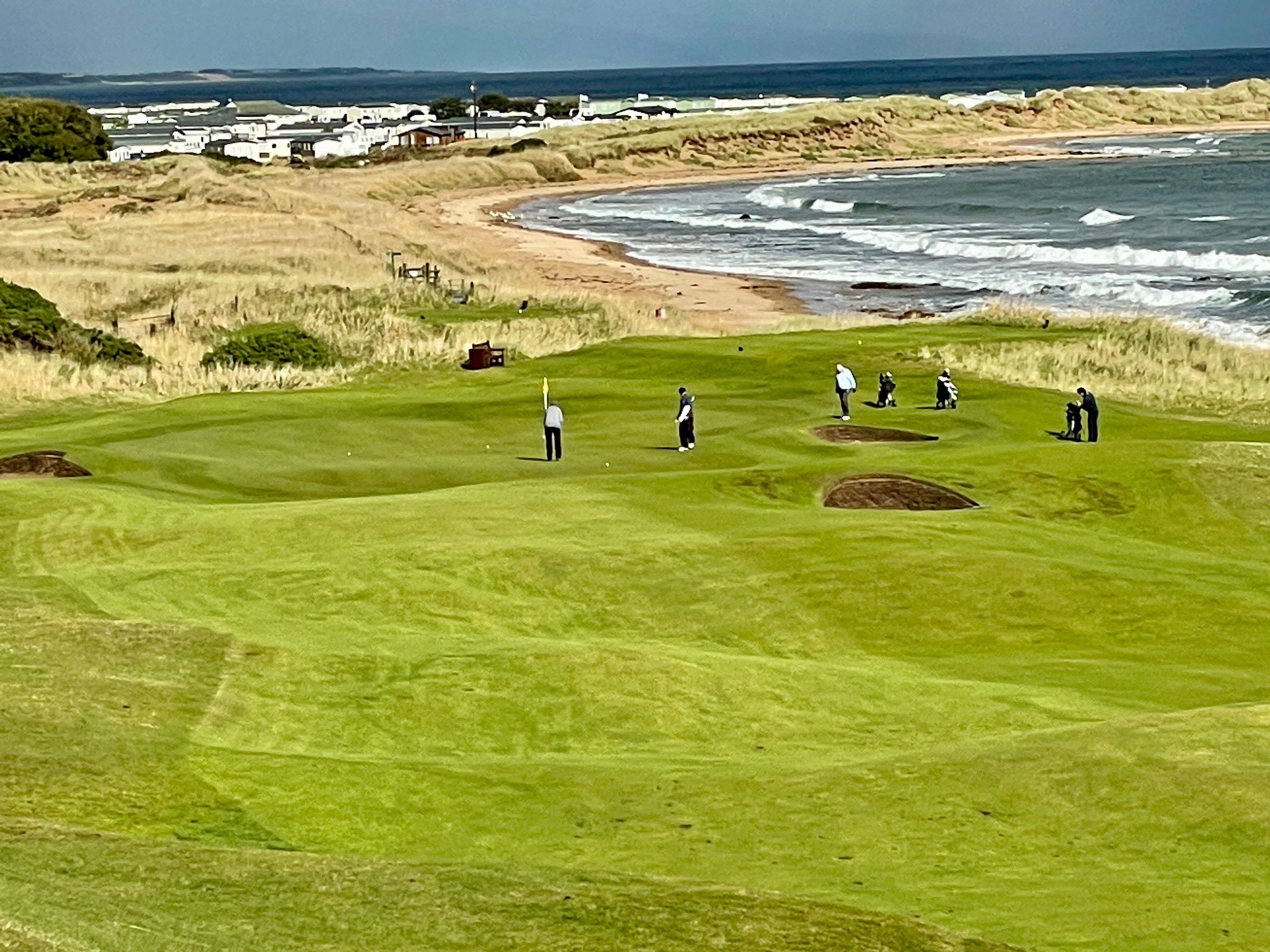 Royal Dornoch #9 Craigliath – 435 Yard Par Five
This the fourth hole on the front nine at Royal Dornoch to be featured in 1001 Golf Holes and no other course has that distinction either.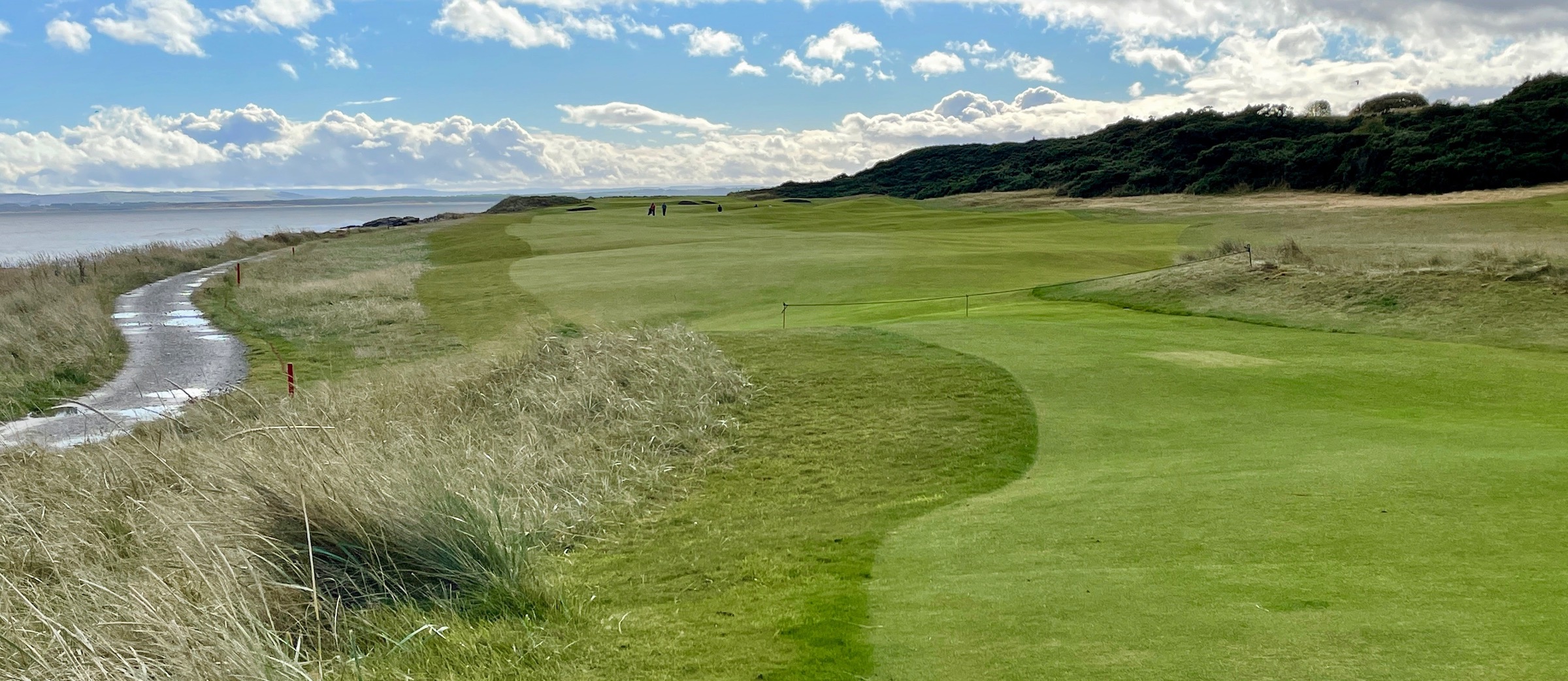 Here's the good news – the rain has completely let up. Here's the bad news, the wind has not and we will now play nine of the last ten holes into the wind. Fortunately the first par five at Royal Dornoch is not a ball breaker in length or too narrow. I found this to be one of the most enjoyable holes on the course that allowed one to relax just a bit after some very difficult holes. A decent drive followed by a wood leaves a very short pitch to a slightly elevated green. The wind will help prevent the ball from running off the green for once.
#10 Fuaran – 132 Yard Par Three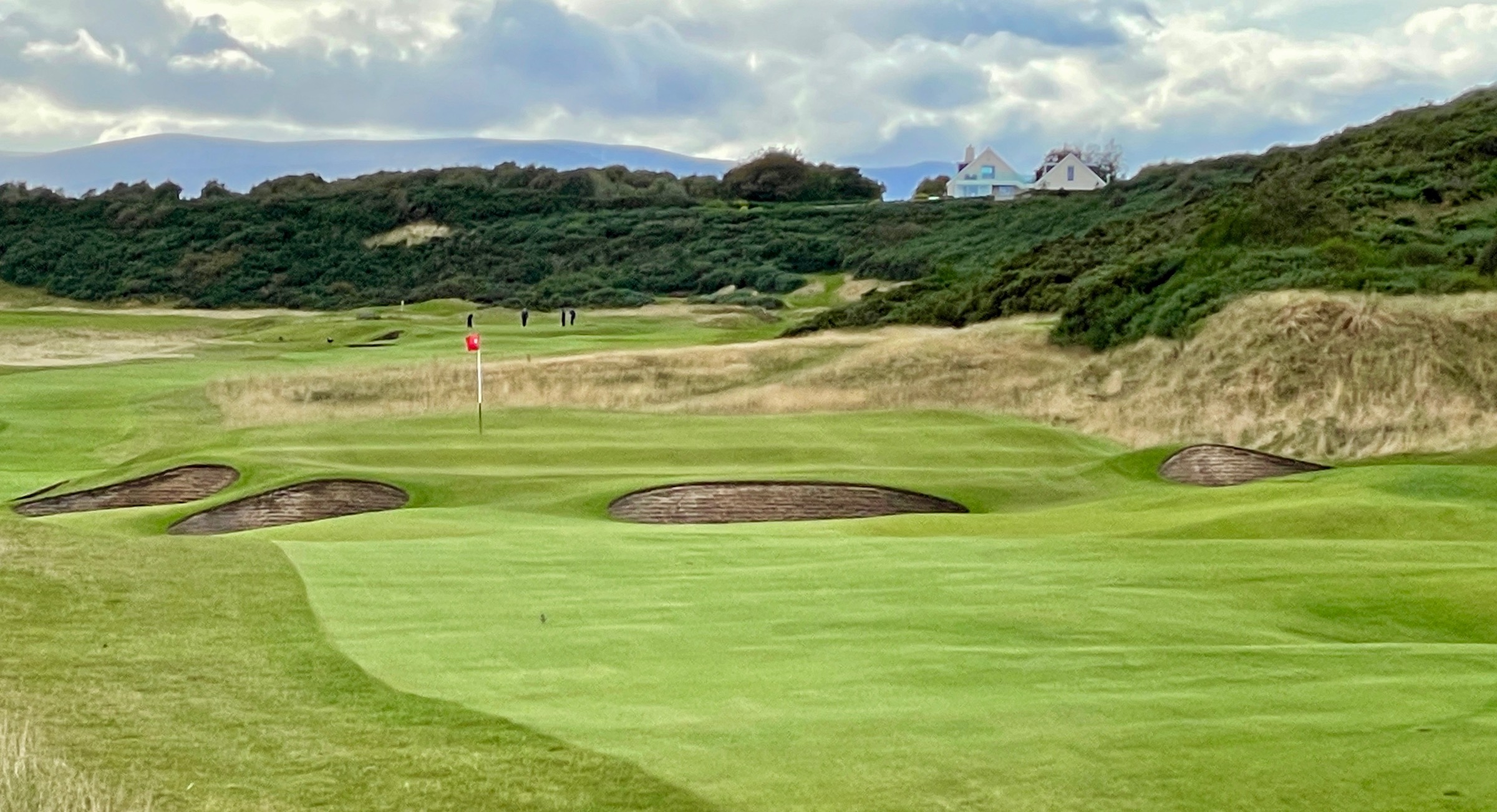 The back nine starts with this excellent par three that definitely plays easier into the wind. I would not want to try to hold this green with a stiff tailwind. Club selection is everything on this tee shot and by now our caddies have a pretty good idea of our yardages. No problem. Just don't be short, long, left or right and you might have a birdie putt.
The course guide tells us that a fuaran is a small spring and apparently there is one somewhere near this hole large enough for otters to be seen frolicking in it on occasion. I saw neither spring nor otters, but maybe if I'd read the course guide before playing the hole matters might have been different.
The halfway house is a bit past halfway at Royal Dornoch, located as it is just past the tenth green. I grabbed a very appropriate Tom Morris Scotch Ale and a tuna sandwich to fuel me for the last eight holes.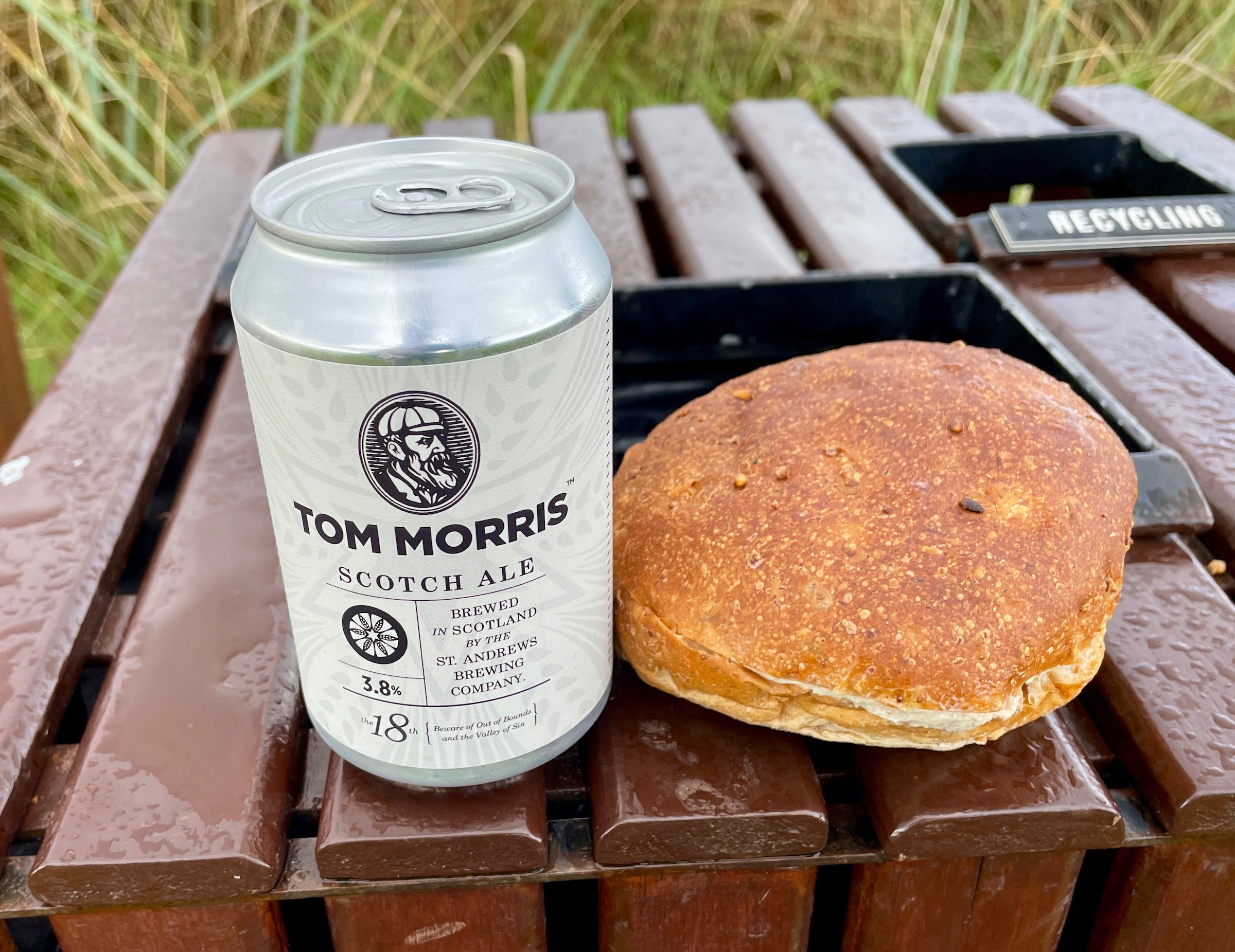 Royal Dornoch #11 A'chlach – 426 Yard Par Four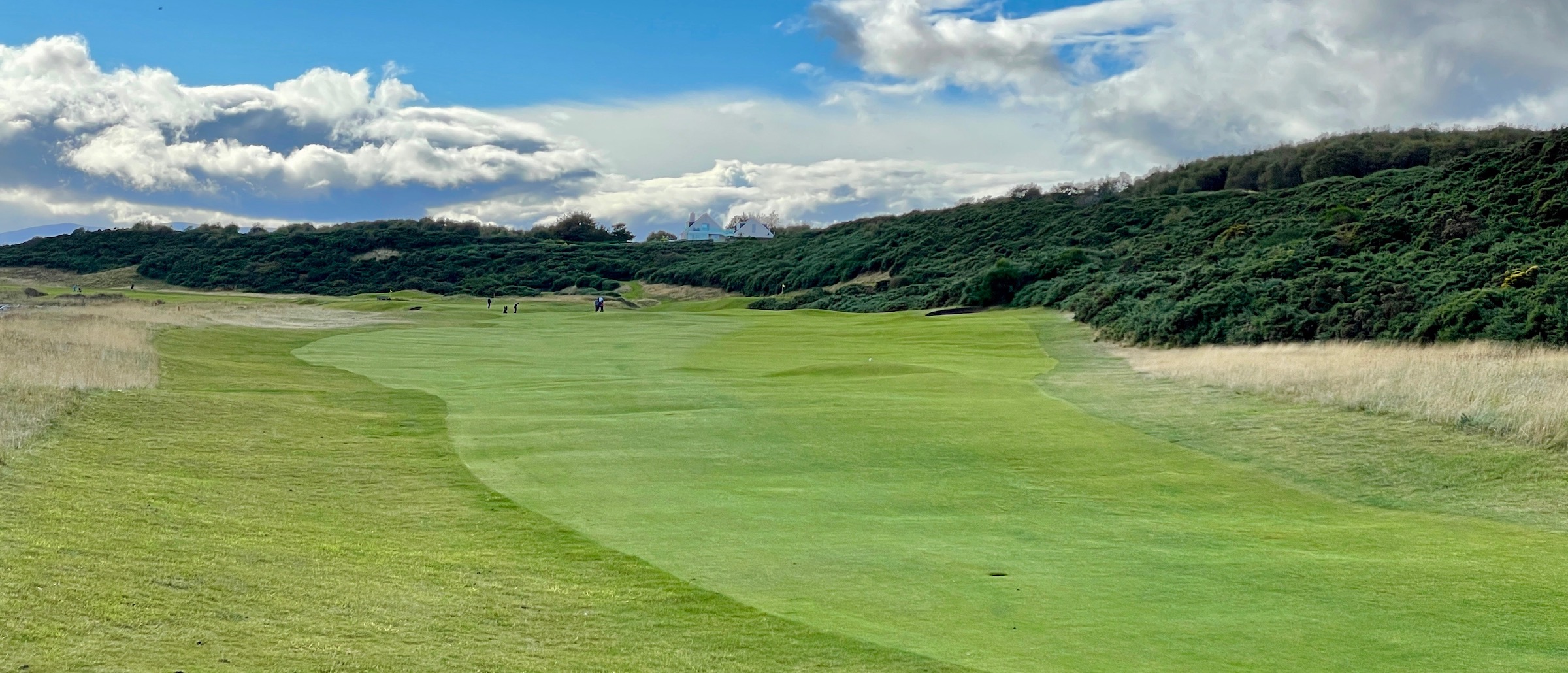 This really long par four should be played as a par five because at 426 yards into the wind no one in our group is going to be close after two shots, even good ones. There is a lot of room off the tee and even into the wind we get some pretty good roll, but the green is still a mile away. To top it off the green is elevated with a horrendous drop off to the left and a hidden pot bunker on the right. One suggestion I read for playing the second shot on this hole was to hit a low running 1 iron. WTF? Who carries a 1 iron and even if I did, as Lee Trevino famously said, "Even God can't hit a 1 iron."
Just enjoy your Tom Morris Ale while walking this hole and hope for a bogey. BTW A'clach is Gaelic for stone, but I'm pretty sure it's closer to what you will be saying as you mark your score after playing this hole.
#12 Sutherland – 478 Yard Par Five

The second par five at Royal Dornoch is a dogleg left that is perfect for my ball flight. The difficulty here will be on the third shot to the green where again there is a steep drop off to the left and a bunker guarding the right side. Other than #8 there has not been a single green so far that has not presented difficulty which really is the strength of Royal Dornoch and why it is such a challenge.
Royal Dornoch #13 Bents – 137 Yard Par Three
The final par three at Royal Dornoch comes all too soon. This foursome is as good a collection as I can recall and #13 is no exception. Guarded by seven pot bunkers it requires a precision tee shot, but as at #10 the headwind will help knock down a well struck iron and leave a chance for birdie. Land in one of the bunkers and five will be more likely than three.
#14 Foxy – 401 Yard Par Four
This is the fifth hole at Royal Dornoch to be featured in 1001 Golf Holes and some have described it as the most natural golf hole on earth.

This is a double dogleg that twists around that elevated mounds you see on the right. The green is quite elevated, but there are no bunkers to worry about on this hole. Still it plays as the hardest hole at Royal Dornoch and as you are desperately trying to keep you third shot on this tricky green you'll understand why.
Royal Dornoch #15 Stulaig – 290 Yard Par Four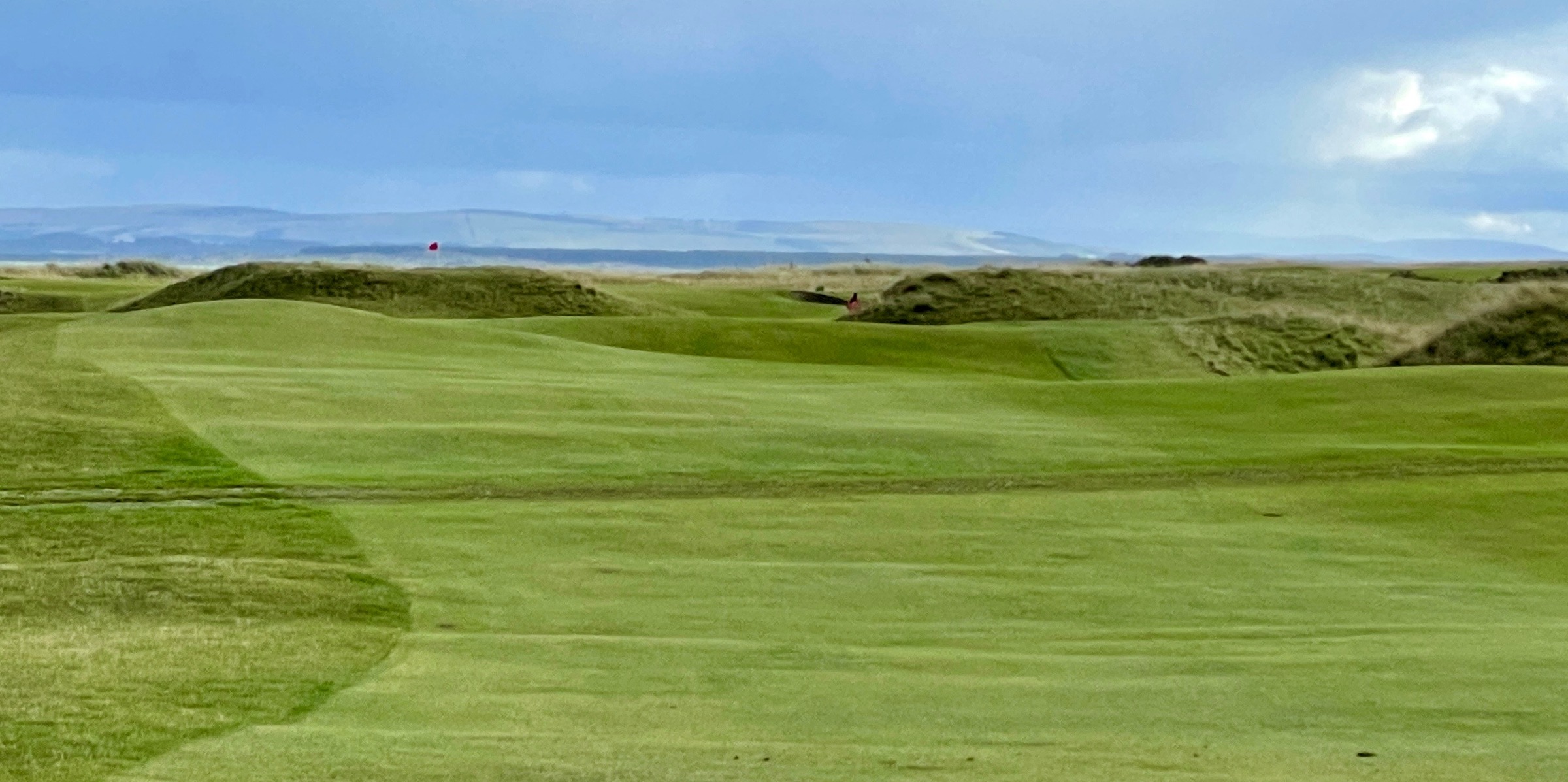 Next we go from the hardest hole to one of the easiest. It seems there are only two types of par four at Royal Dornoch – long and short. From the tee this looks like a tricky drive with little landing room. However there is more room to the right than it appears and if you can avoid getting behind that huge mound you should have an approach something like this.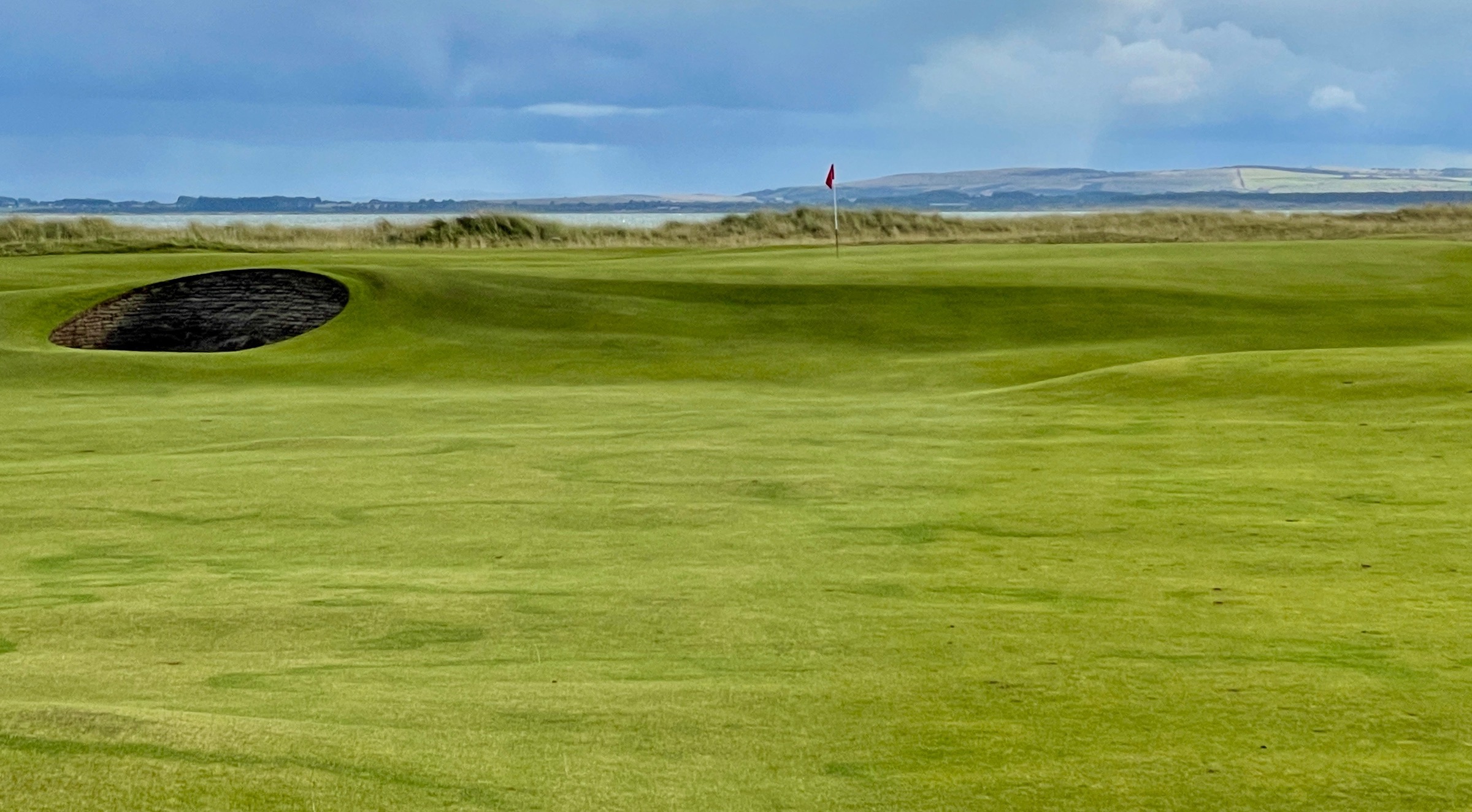 Of course it's another elevated green, but with no trap in the way you can try a bump and run here, but it's tricky. I really like this hole after the very difficult 124th.
#16 High Hole – 387 Yard Par Four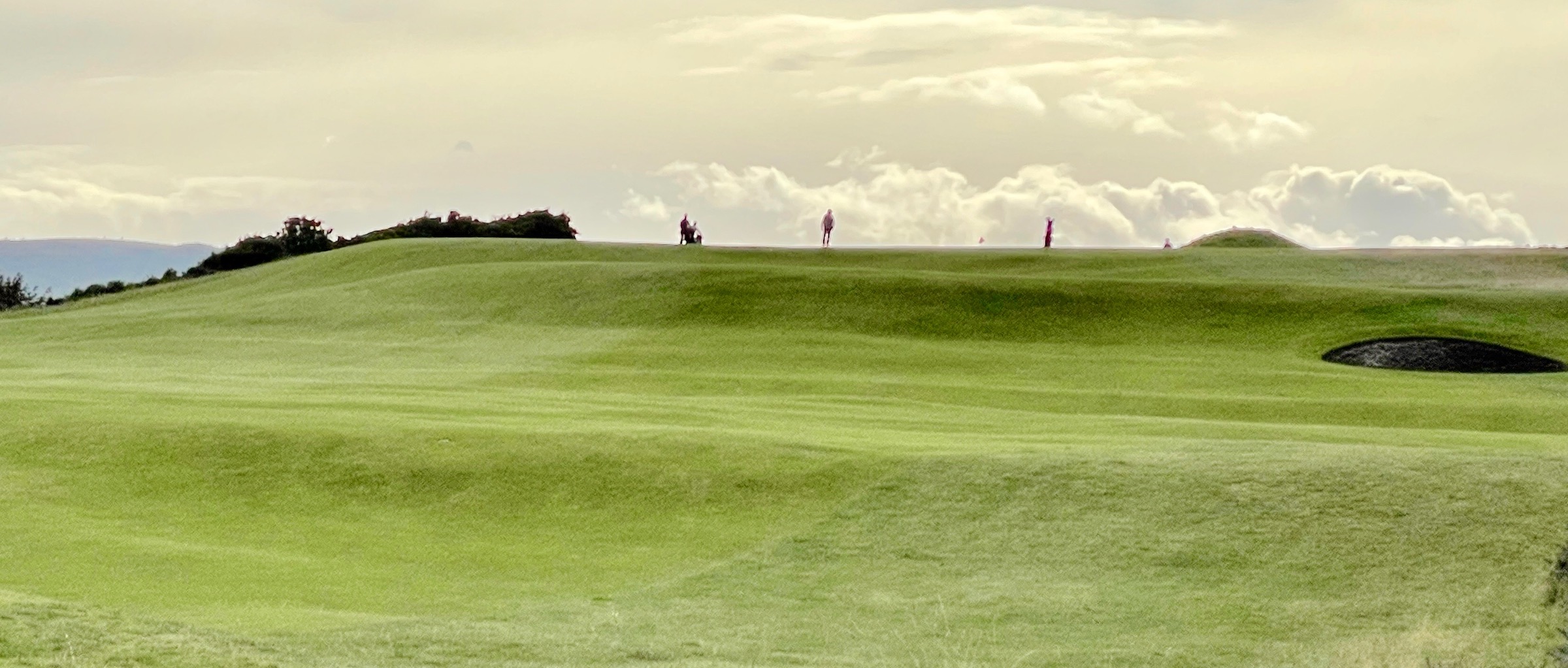 This is the only real blind tee shot at Royal Dornoch and it plays way longer than the stated yardage. Even with a good drive you still might not be able to see the green on your second shot.
However, once you get there you are rewarded with this great view of the beach at Dornoch.

Royal Dornoch #17 Valley – 384 Yard Par Four

This is the antidote to #16 as you go back down towards the water on the only hole on the back that did not play into the wind. The views from up here are terrific and like #8 the green is quite receptive.
#18 Glenmorangie – 437 Yard Par Four
For some reason I completely forgot to take a picture of #18 which is just as well as it's an uphill monster of a finishing hole. Unfortunately I couldn't find any decent public images to substitute, but take my word that you will be glad to see the clubhouse and head in for another Old Tom or two before saying goodbye to Royal Dornoch.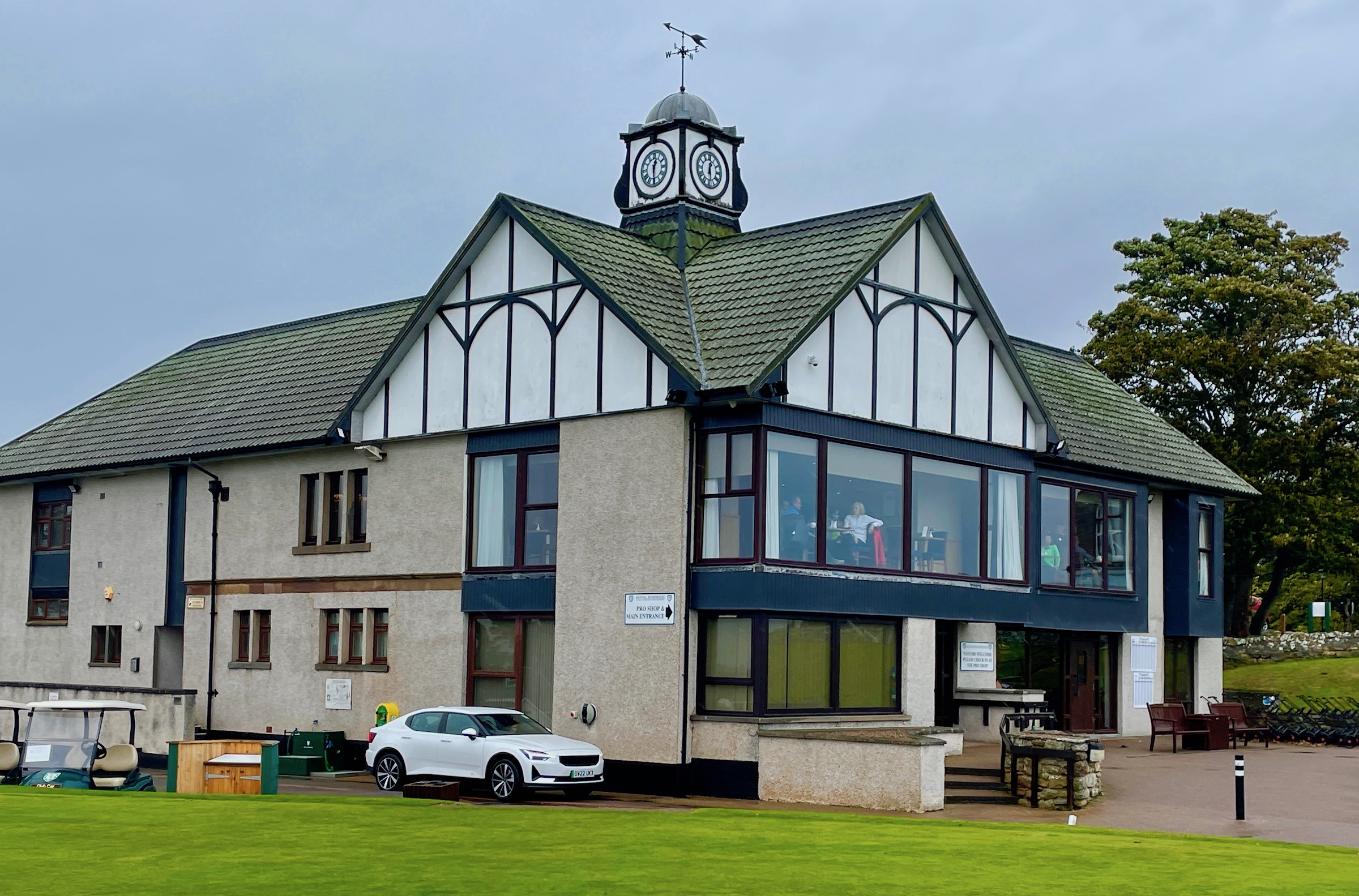 I'm really sorry we didn't have better weather today as I think this is a course that would shine even more than it did today if the sun also agreed to shine. Any time a course presents you with as many great holes as Royal Dornoch you know you have played one of the best in the world.
Next we'll head back to Moray Firth to play a relative upstart, Castle Stuart which recently cemented a bond with the folks from Cabot Golf in my home province of Nova Scotia. I hope to see you there.