Nairn Golf Club Hole by Hole
This is the first of a series of hole by hole posts I will be putting up over the next little while from a golfing trip to Scotland that I took along with seven friends in late September, 2022. Each will feature a hole by hole description of the six links courses we played on this trip starting with the Nairn Golf Club. However, before I get to that, a word or two about the company that made this trip possible.
Platinum Golf Scotland
This was the fourth golf trip to Great Britain and Ireland that I and my friends have made. The first three were set up by our Northern Ireland friend Barry McGuigan, but he's no longer in the business so we needed a new outfit to help us select the courses, accommodations and transportation. Peter Wedlake and Don Harding have been on all of our trips and jointly volunteered to work with a new provider. Barry recommended Platinum Golf Scotland which has been providing luxury golf holidays in all areas of Scotland since 2004. We could not have been better served. While I did not have a lot of contact with Stuart French the Managing Director and Lynda Robinson, Associate Director of Sales, Peter and Don did, including not only before but many times during our trip. They both took the time to meet us in person, buy a round or two of drinks and make sure everything was going smoothly. What I really appreciated is that they had made dinner reservations at a different place every night which forestalled the inevitable debate about where to eat. There was a good variety of places from traditional pubs to fine dining. There was not one place we ate at on this trip I would not go back to.
Our trip started out from Glasgow airport where the eight of us arrived from various destinations. Don and I came up from Oxford where we had spent a few days and the others flew in from Canada. Once we were all there our driver Mark Stevenson picked us up and we headed for Inverness where we would spend the first three days. We stopped about halfway at the amazing House of Bruar not far from Blair Castle which I had visited on a previous trip. I would call the House of Bruar the Scottish equivalent of L.L.Bean in Freeport, Maine. It is a sprawling modern complex that has something for everyone.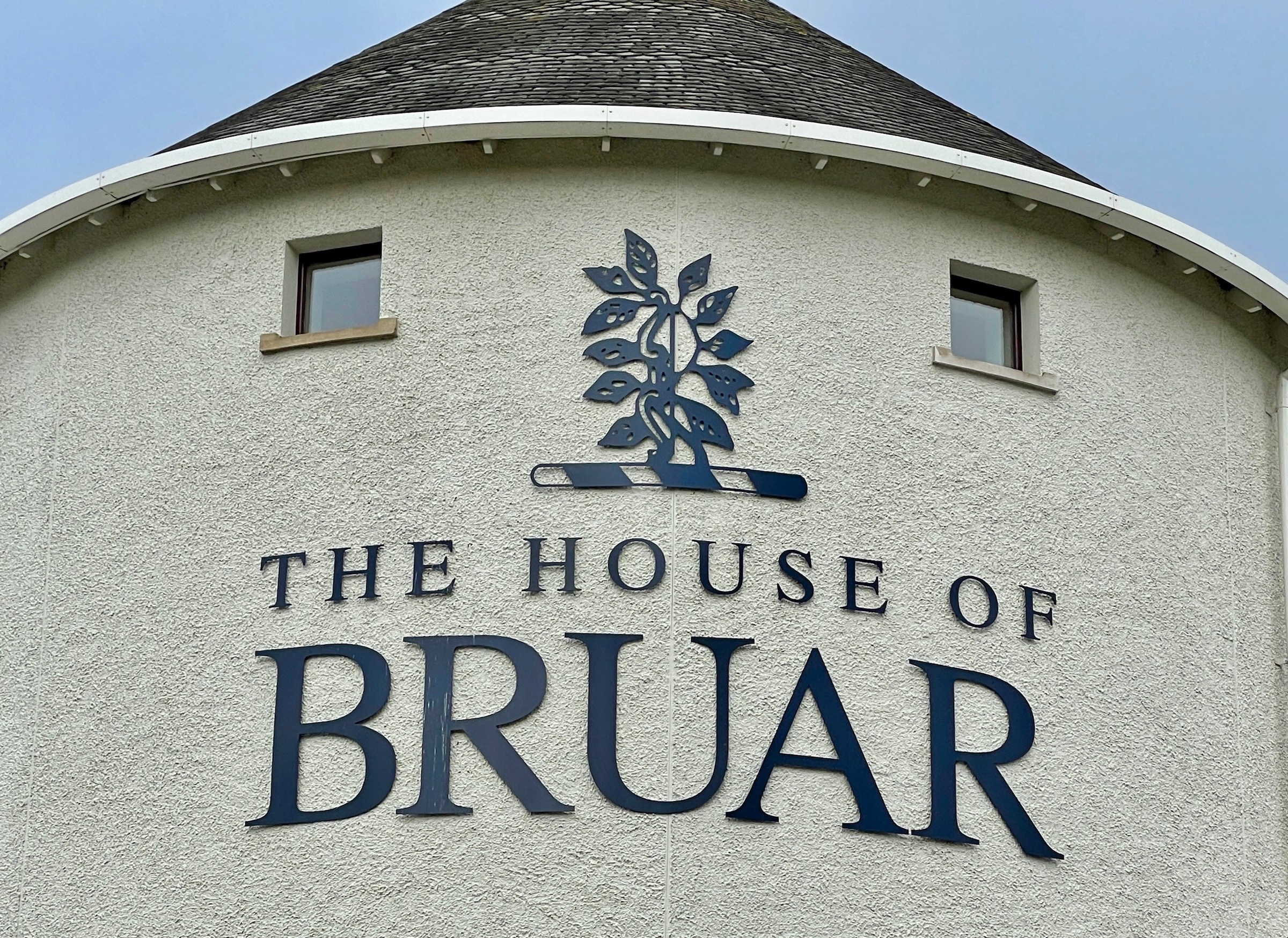 We were here for a late breakfast, but afterwards a walk around revealed an incredible selection of Scottish and other gins of which I stupidly bought none.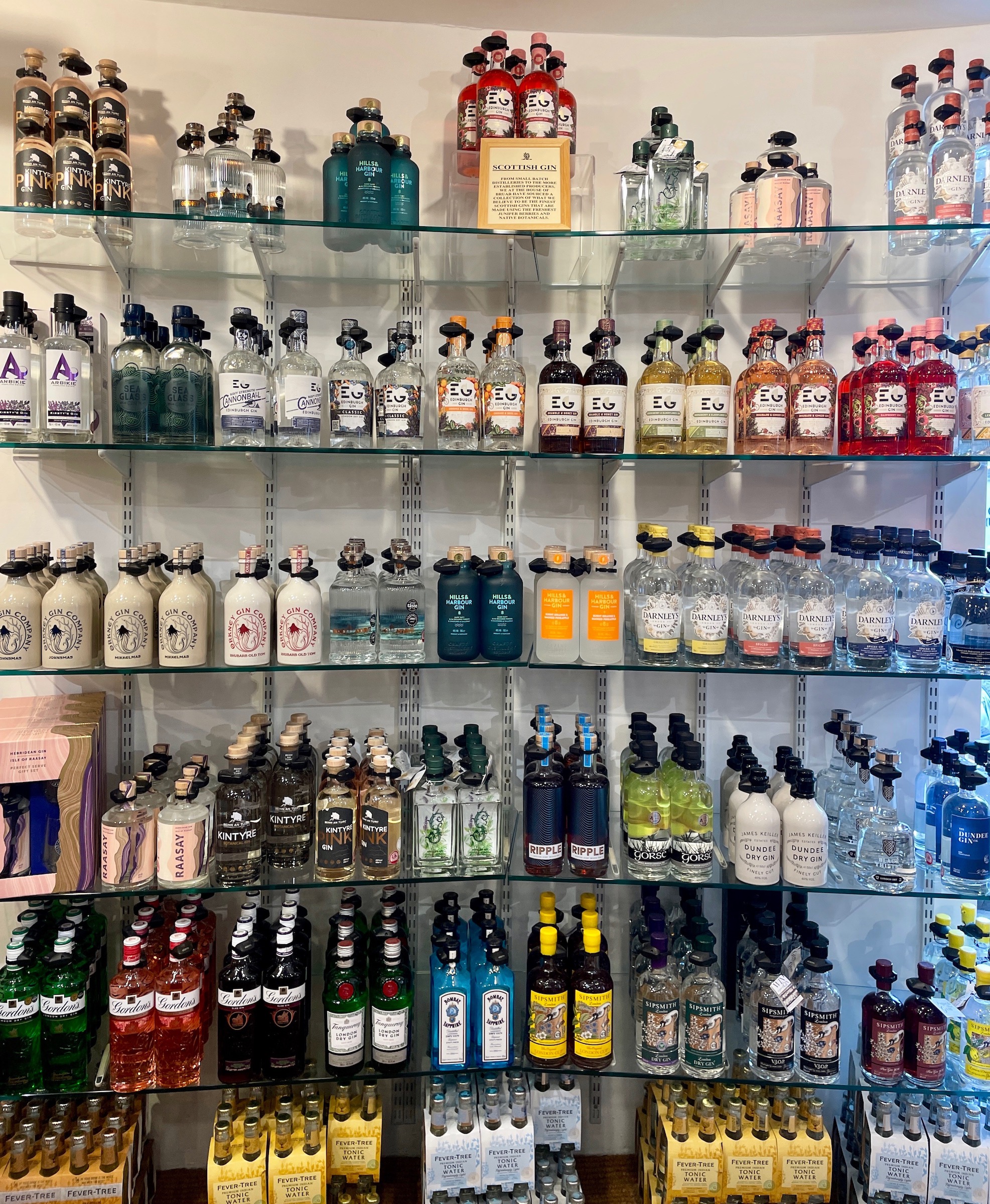 Less stupidly, I also did not buy the £30,000 bottle of scotch.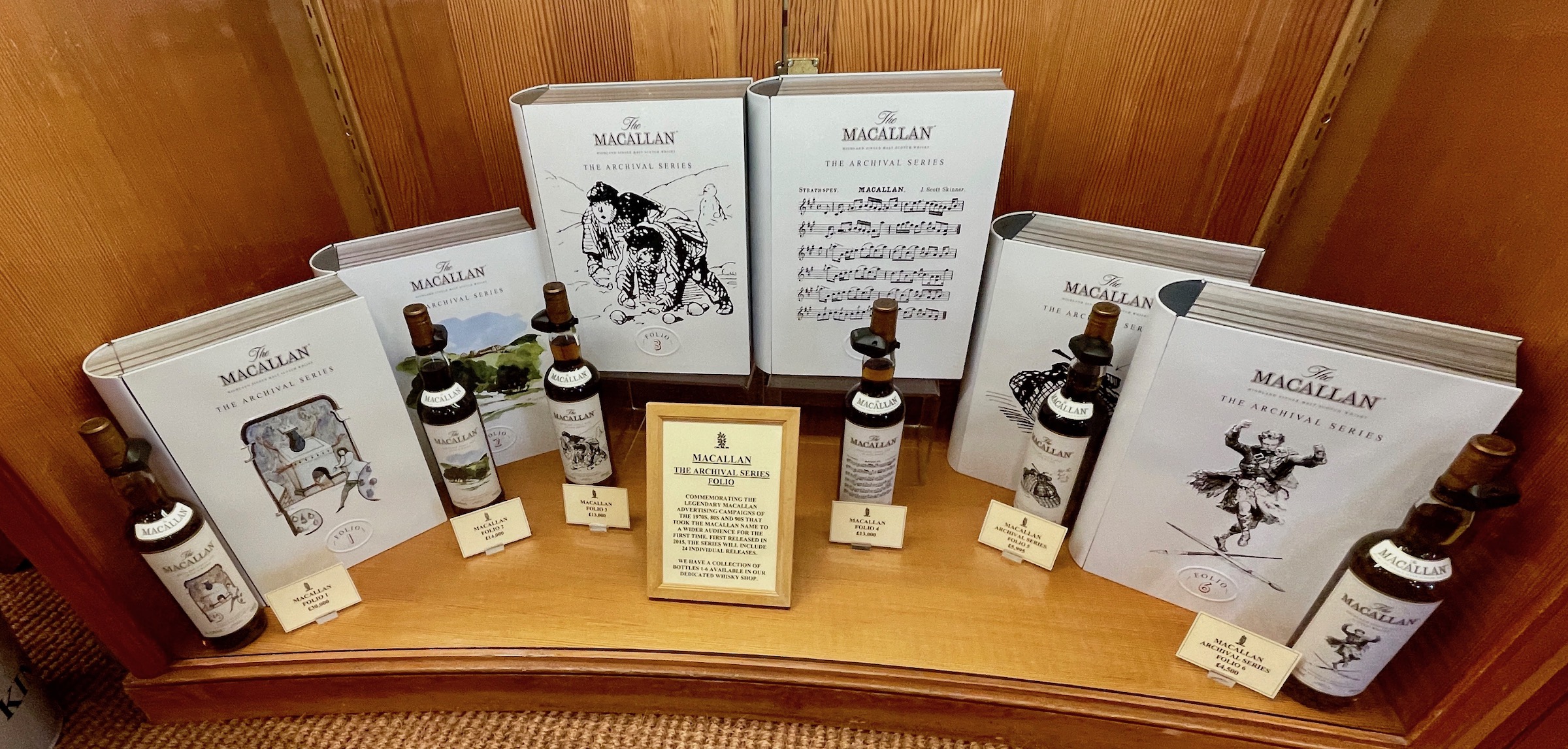 Here's the best suggestion I can give you about picking up something authentic and high quality for your better half – do it here. We came across nothing as remotely close to the breadth of selection of clothes, accessories, you name it, as at this place, even in Glasgow.
Our accommodation in Inverness was at the venerable Kingsmill Hotel which is housed in a grand manor that dates back to the 18th century where the Inglis family once hosted Robbie Burns. It has been a hotel since 1946. Our lodgings were not in the hotel proper but in the nearby Kingsclub which is much newer. This is a photo of my room 501, which contrary to what you might think, was on the ground level. I particularly enjoyed the patio which was only a stone's throw from Inverness Golf course where I watched early morning golfers enjoying a game.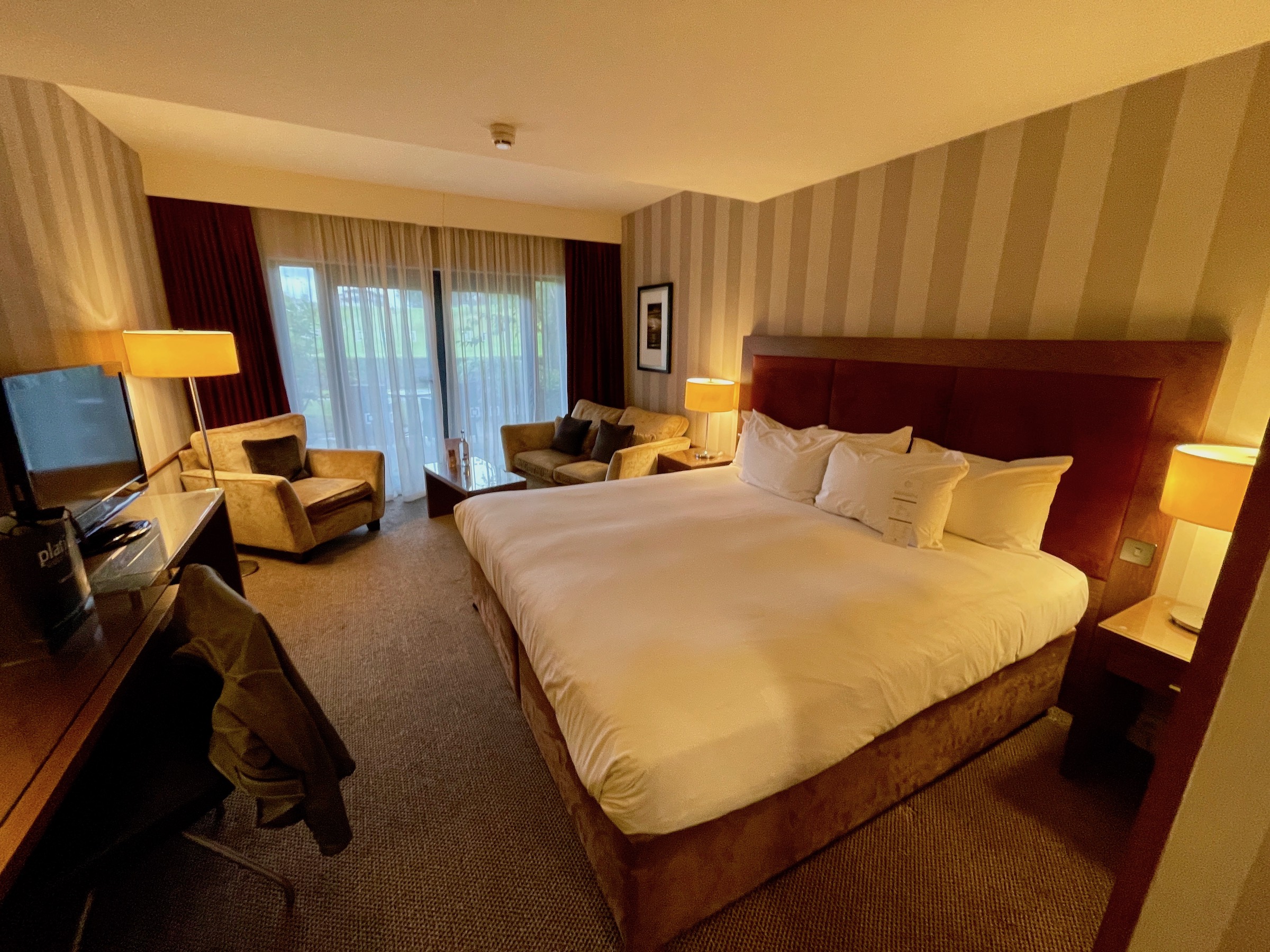 Platinum Golf had a very nice welcoming gift bag awaiting each of us with Gleneagles hats, golf balls, scotch and whisky cake.
Our first night we dined in the hotel and shared a few drinks afterward, much anticipating our first game of golf at Nairn the next day.
Nairn Golf Club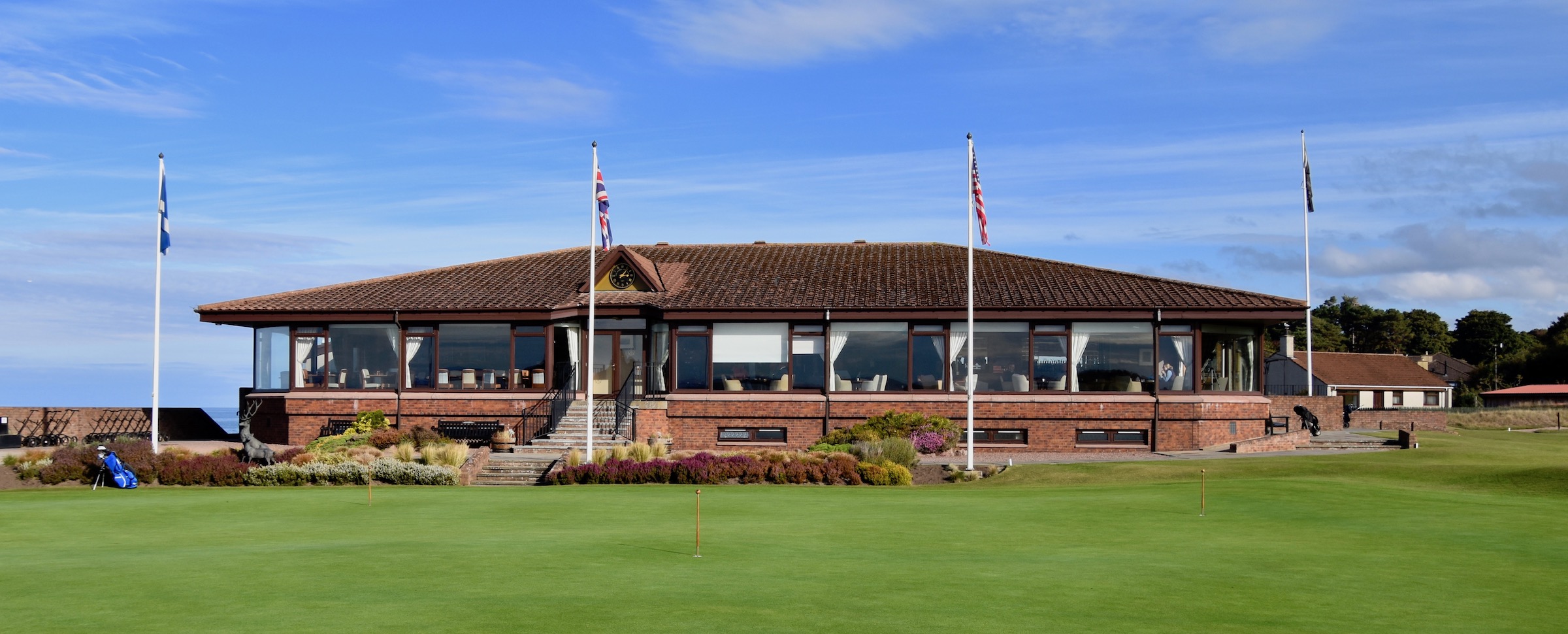 Nairn is a quite sizeable town (almost 10,000) 27 kms. (17 miles) east of Inverness located on the south side of Moray Firth. It has an ancient history as a fishing port and market town, but now is one of the fastest growing resort communities in the Highlands. It's a very prosperous looking place with almost every building made from stone. As we head toward the centre of town I keep my eyes open for, but don't see the Regal Ballroom where in May 1960 a backup band called the Silver Beetles touring with Liverpool based Johnny Gentle, played cover versions of songs by Elvis, Paul Anka, Ricky Nelson, Buddy Holly and Eddie Cochran. Boy I sure wish I had a recording of that gig as the Silver Beetles then sans Ringo went on to become the most popular rock and roll group in history. The same venue later played host to The Who, Pink Floyd and Fleetwood Mac. Not bad for such a small place.
But we're here to golf and not reminisce. The Nairn golf club is a relative newcomer to the Scottish golf scene, founded in 'only' 1887, more than three hundred years after St. Andrews. However, it is important to keep in mind that there is a difference between when a club was formally created and when the present day golf course was first opened for play. There is often a dramatic difference. For example the Royal Montreal Golf Club is the oldest in North America, established in 1873, but the actual courses the members play today date from only 1959.
In the case of Nairn, it has an association with some of the most famous names in golf including Old Tom Morris and five time Open champion James Braid who both made improvements to the original layout by Andrew Simpson, the head greenskeeper at Royal Aberdeen. Nevertheless, the course we will play today is in the original location chosen in 1887 and is thus actually one of the oldest layouts in the world.
In 1999 Nairn was host to the Walker Cup which is the amateur equivalent of the Ryder Cup, played biannually between United States and Great Britain and Ireland. The European side won handily and when I look at the relative rosters I can see why. The only names I recognize on the American squad are Matt Kuchar, Jonathan Byrd and Hunter Haas. On the opposing side were Paul Casey, Luke Donald and Simon Dyson among others. In 2012 the Curtis Cup, the women's amateur equivalent of the Solheim Cup was played here and once again Great Britain and Ireland prevailed, albeit by a much narrower margin. I do enjoy walking around clubhouses that have hosted famous tournaments and looking at the memorabilia and Nairn was no exception.
The modern clubhouse has a low profile that perfectly suits the relatively flat seaside terrain on this side of Moray Firth. We received a warm greeting at the pro shop and were given a package with a yardage book, some balls, markers etc. Golf Operations Manager Sean Burguess introduced himself and asked me to stop by after the round. I have a zillion golf hats, shirts, sweaters and other golf paraphernalia so opted to buy a Nairn wool toque which I would not need today, but came in handy later in the trip.
At our request Platinum Golf had arranged for each of our foursomes to have two caddies. We did not expect them to double bag which is something I really don't like as it seems like too much for one person. Instead the caddy would carry one set and the other would be on a pull cart or a trolley as they call them in Europe. The main reason for me to have a caddy is not to carry the clubs, but rather to recommend targets off the tee, point out unseen traps and other obstacles, give yardages and read greens. The best caddies will begin to club you after a few holes, but I find many of the younger ones are shy about doing that, but will certainly help if asked.
This first round I would share caddy Callum Ednie with Brian MacLellan who I have been golfing with for over 45 years. As you can see Callum is a strapping lad and a hell of a lot better golfer than any in this foursome that also includes Dr. Mitch Hatheway in the sunglasses on the right and Tom Anderson beside him. Tom is a newcomer to our group and has the lowest handicap of any of us.
Our first stop is the driving range which is a requisite as I have played next to no golf the previous two months because of a rotator cuff that has acted up.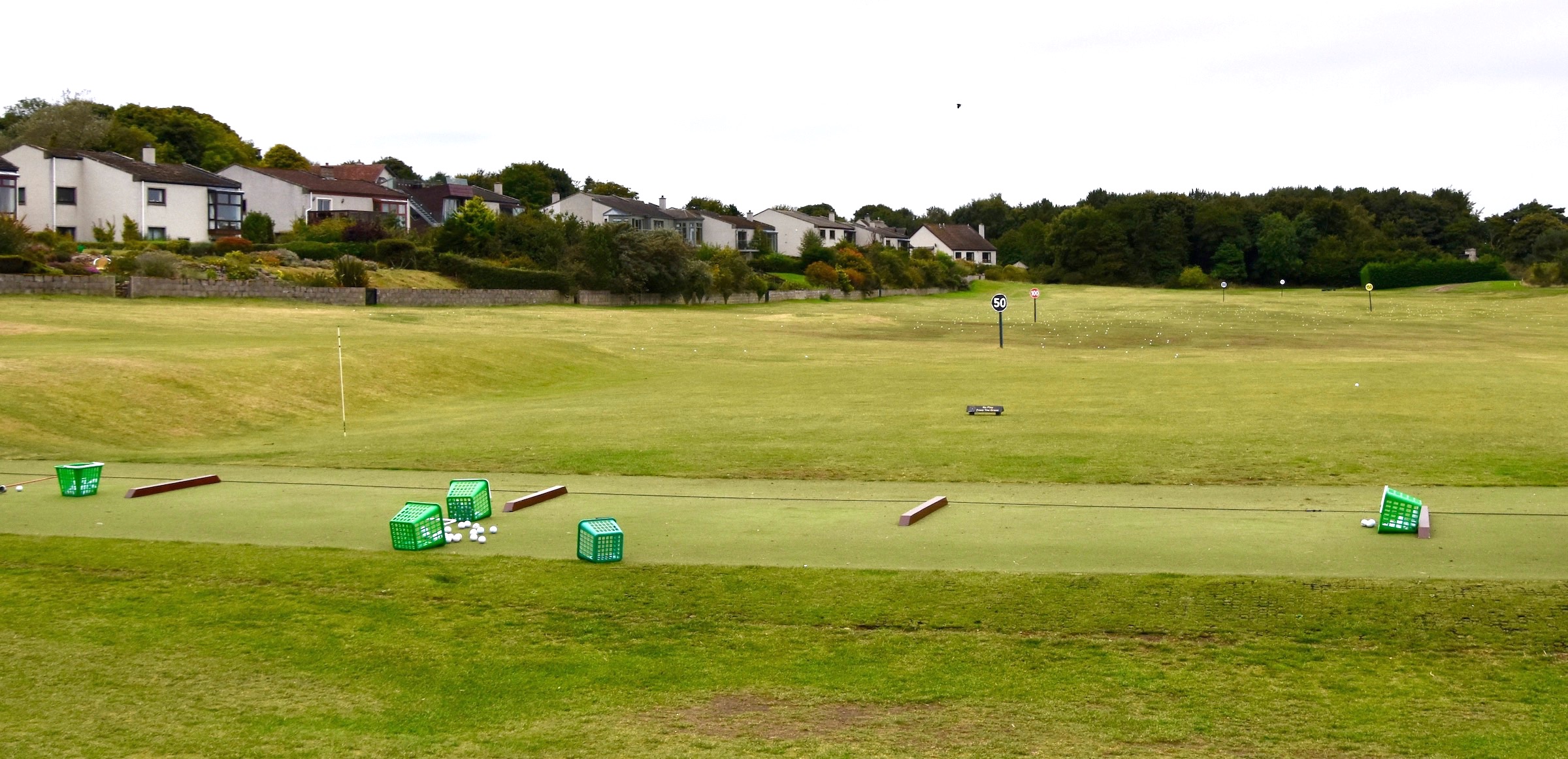 After that I attempt a few putts on the practice green which is between the clubhouse and the starter's hut. Attempt is the right word because 'make' does not seem to be in my putting vocabulary.
At last it is time to play our first round on this tour which has been delayed for two years because of Covid. There is definitely a feeling of excitement tingling in all of us so let's tee off.
Nairn #1 – Sea 370 Yard Par 4

Nairn is not a particularly long course, topping out a 6,832 yards from the competition tees. As we are all well into our senior years, we agree to play from the green tees which runs to a manageable 5,629 yards. That might not seem like much, but if you get a Scottish breeze i.e. gale in your face, it will feel a lot, lot longer.
Fortunately there is very little wind today and it's perfect golf weather.
Nairn is a true links golf course, fitting into everyone of the necessary categories for this much overused and abused golf term. It is on the seaside, has few trees, but lots of wild fescue and gorse and is essentially constructed over a sand base. It also has something else that not all links courses have, a view of the sea from every hole. In fact there are much better known links courses like Muirfield and Carnoustie where you are lucky to get a glimpse of the sea at all. So Nairn right off the bat scores high in my books for its scenery. I would consider this aptly named first hole about as emblematic of a links hole as you'll find anywhere.
The yardage book says this about hole #1. "Although the sea is in play on the right it takes a fairly wild drive to find it". So that's exactly where my first drive goes with a truly wild duck hook. Considering my ball flight is usually right to left that's quite an accomplishment.
Actually the far more likely problems off the first tee are the three fairway bunkers like this one on the right side. Bunkers on links courses tend to be much more natural looking than the more manicured ones we associate with parkland courses. The sand in them is usually very fine and getting out is not that difficult if you know how to hit a proper sand shot. This does not apply to the infamous links courses' pot bunkers which I'll get to when I get in one.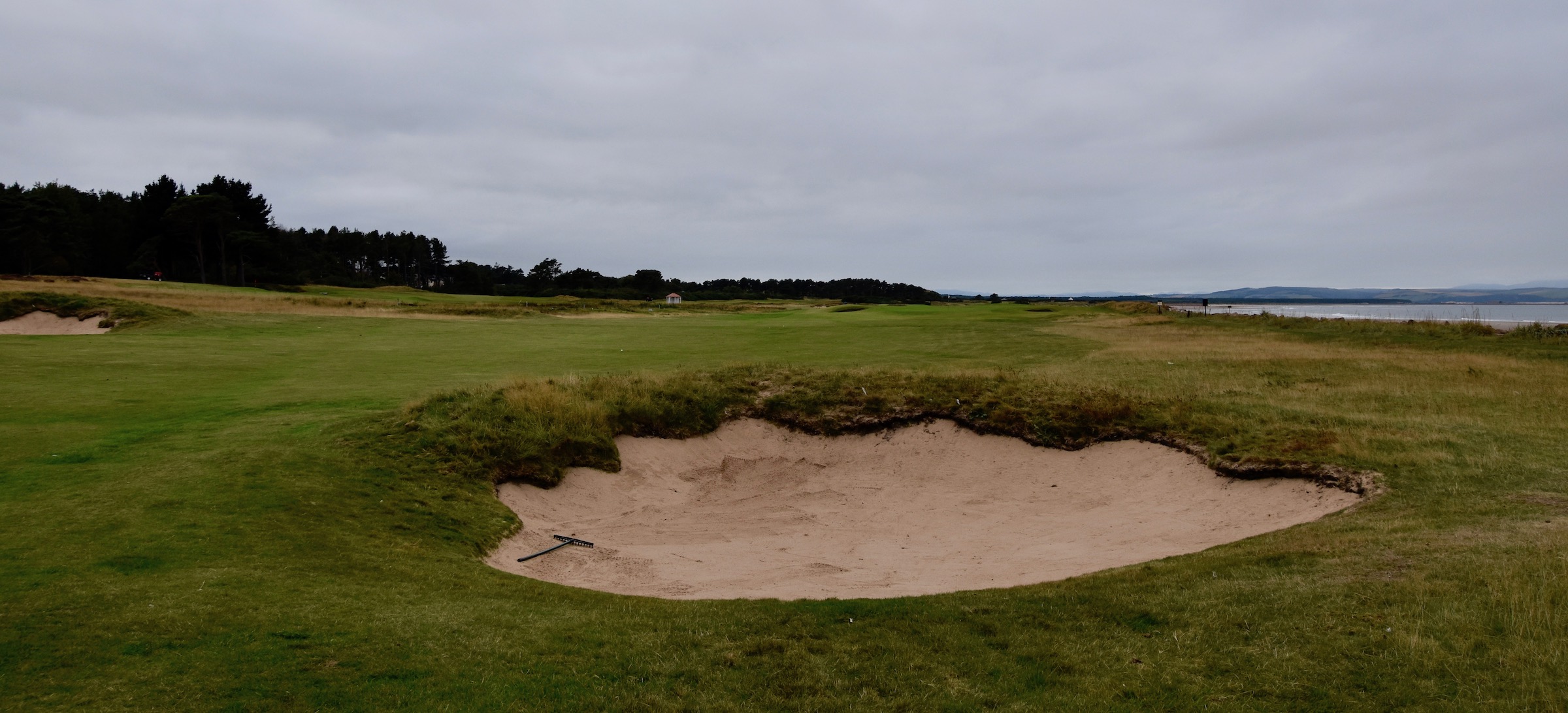 While I did avoid the bunkers with my mulligan this was the approach shot I was facing. It brings up another aspect of links golf which is that you get a hell of a lot of roll from a well struck drive. Often the ball only seems to stop when it finds a bunker or the rough such as this lie. However, the good news is that unlike some grasses, kikuyu in particular, that are notoriously difficult to play out of, the fescue on links courses is very forgiving and finding the rough is not a death sentence for par. Certainly that is the case at Nairn.

I'm going to get all the clichés about playing links courses over on this very first hole. This one is about the bump and run shot which is a golf maneuver which will serve one well on links courses, particularly if it is windy. In order to take those two green side bunkers out of play, a gently struck seven iron is a better choice than putting your ball at the mercy of the wind with a wedge. Today there is no appreciable wind, but usually there is and in preparation for coming over to Scotland to play these courses it might be wise to take a lesson on how to perfect the bump and run.
The bottom line is that #1 at Nairn is a classic links hole and a great one on which to start a round. I promise I won't be as wordy on the next 17 holes.
#2 Achareidh – 406 Yard Par 4

#2 at Nairn is quite similar to the first hole except on steroids. The fairway bunkers are once again very much in play and even with a good drive the second shot will probably be with long iron or hybrid. There is only the one bunker guarding the left side of the green, but if you give it too much deference you can easily put it on the beach which is not that far from the right side. While par is very much in the cards on #1, it will be much tougher to attain on Achareidh which incidentally is a neighbourhood of Nairn not far from here.
Nairn #3 – Nest  345 Yard Par 4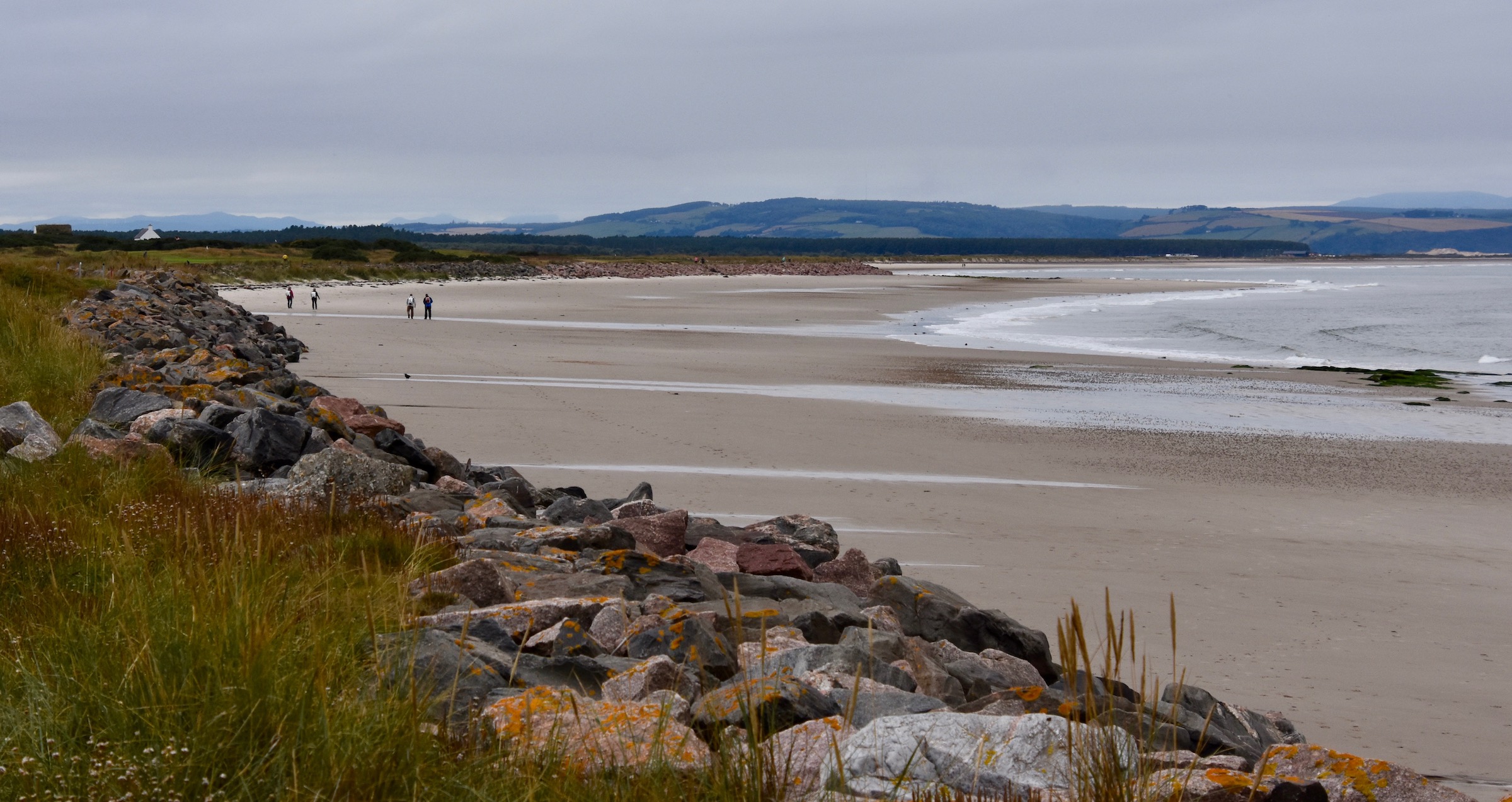 This is the view of the strand from the tee box on #3 which is typical of many of the views at Nairn. I find them very calming and a great antidote to a bad shot.

The tee shot on #3 is away from the seashore so you don't need to worry about putting it in the drink, but you do need to avoid what seems to be trouble everywhere. This is a hole where, without caddies, you wouldn't have a clue where to aim. There is actually more fairway than it appears from the tee, but you do need a good drive to get past most of the crap. The hole is a dogleg left with the green almost behind the red roof. Too far left as one of us was and you'll need to go over it.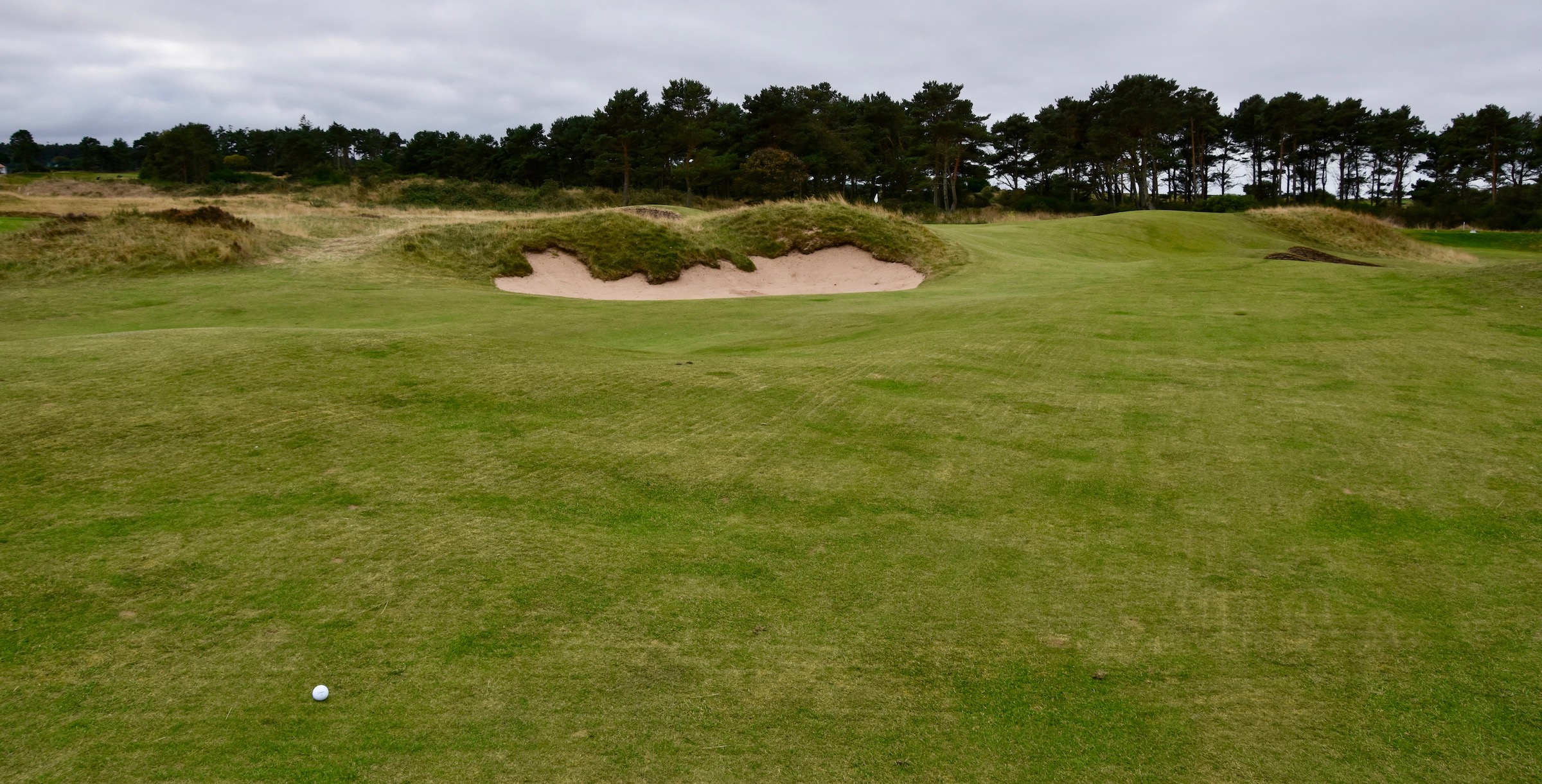 A decent drive will leave this approach to an elevated green guarded by four bunkers. No bump and run here. Long is better than short so taking an extra club probably won't hurt. Once again Callum's advice made this a much easier hole to play than it appeared at first glance. Nest is a very appropriate name for this excellent par four.
#4 Bunker – 132 Yard Par Three

The first par three at Nairn plays directly back to Moray Firth with the water very close to the long narrow green. Club selection is everything here.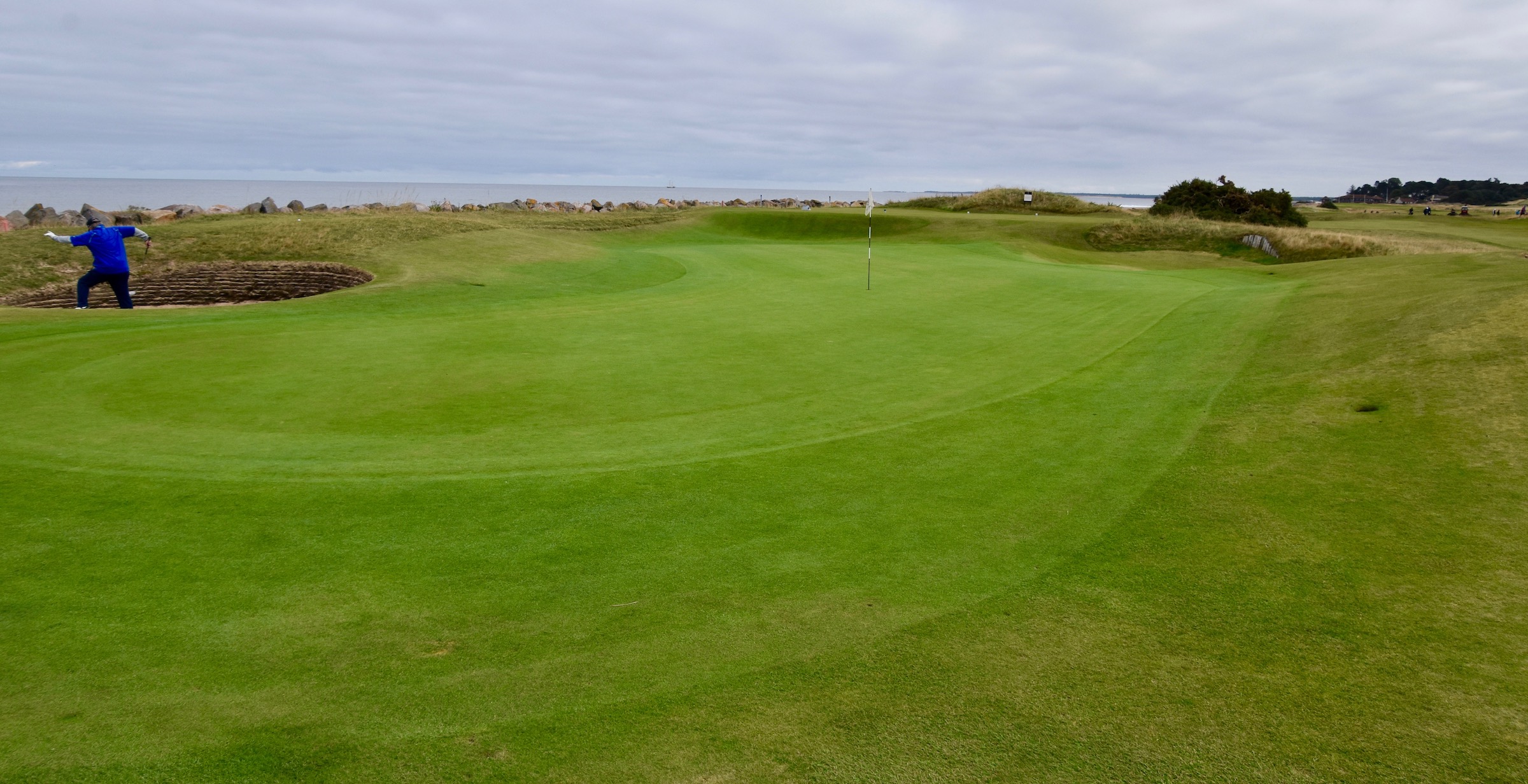 #4 is a good place to discuss the greens at Nairn which as you can see are in very good condition. Unlike a lot of links courses where the transition from fairway to green can sometimes be barely perceptible at Nairn the greens have a definitive collar. They are more subtle to read than most and the caddies definitely helped with that.  In terms of speed they were moderately fast, but not so as to make three putts the norm. I would describe them as being quite fair. There's nothing I hate more than playing well tee to green only to have the score fall apart because the greens are ridiculous. That won't happen at Nairn.
Nairn #5 – Nets 279 Yard Par Four

Not sure why this hole is called nets as I didn't see any, but perhaps years ago there were fishing nets to be seen from this really gorgeous looking hole. At only 279 yards it's rated the toughest at Nairn. Obviously the key here is to find the fairway and that means putting the driver away on this hole.

A well struck five wood will leave an approach shot like this. The position of the traps and the slightly elevated green requires a pitch shot rather than a chip.
This was the first of many short par fours that we played on this trip. Obviously playing from the forward tees shortens the course considerably, but I found these holes consistently fun to play because I always knew that I could reach the green with a short iron if I made the correct tee shot. Golf is supposed to be fun and not torture and short par fours are often what makes a course enjoyable as well as playable.
#6 – Ben Wyvis 137 Yard Par Three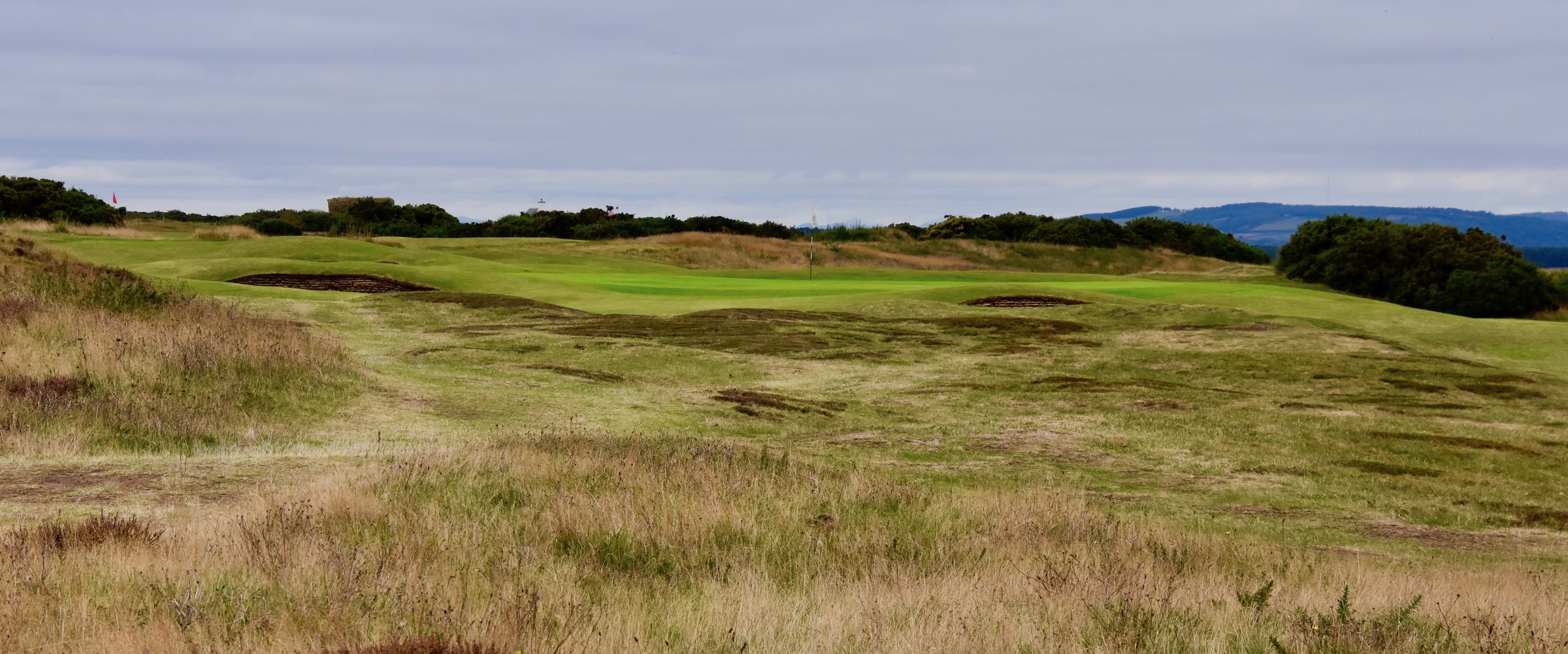 The second par three on the front has no fairway between tee and green, just heather. This is another hazard of links golf that we North Americans are not very familiar with. Depending on what type of heather you find yourself in you might have an easy shot out or you might have to take a preferred lie. The heather on this hole is not of the latter variety, but ideally one will traverse it with a decent seven or eight iron.
I did traverse it, but found my first bunker of the round. Mitch and Brian are patiently waiting for me to make a fool of myself in this fairly moderate pot bunker. This is another feature of links golf we have all seen on TV watching The Open, but seldom see in North America. They look very difficult to play out of and depending upon the lie can make a grown man cry. However, with a lie like this and with the reassurance of the caddy that it can be done if you do not quit on your swing, they are quite manageable.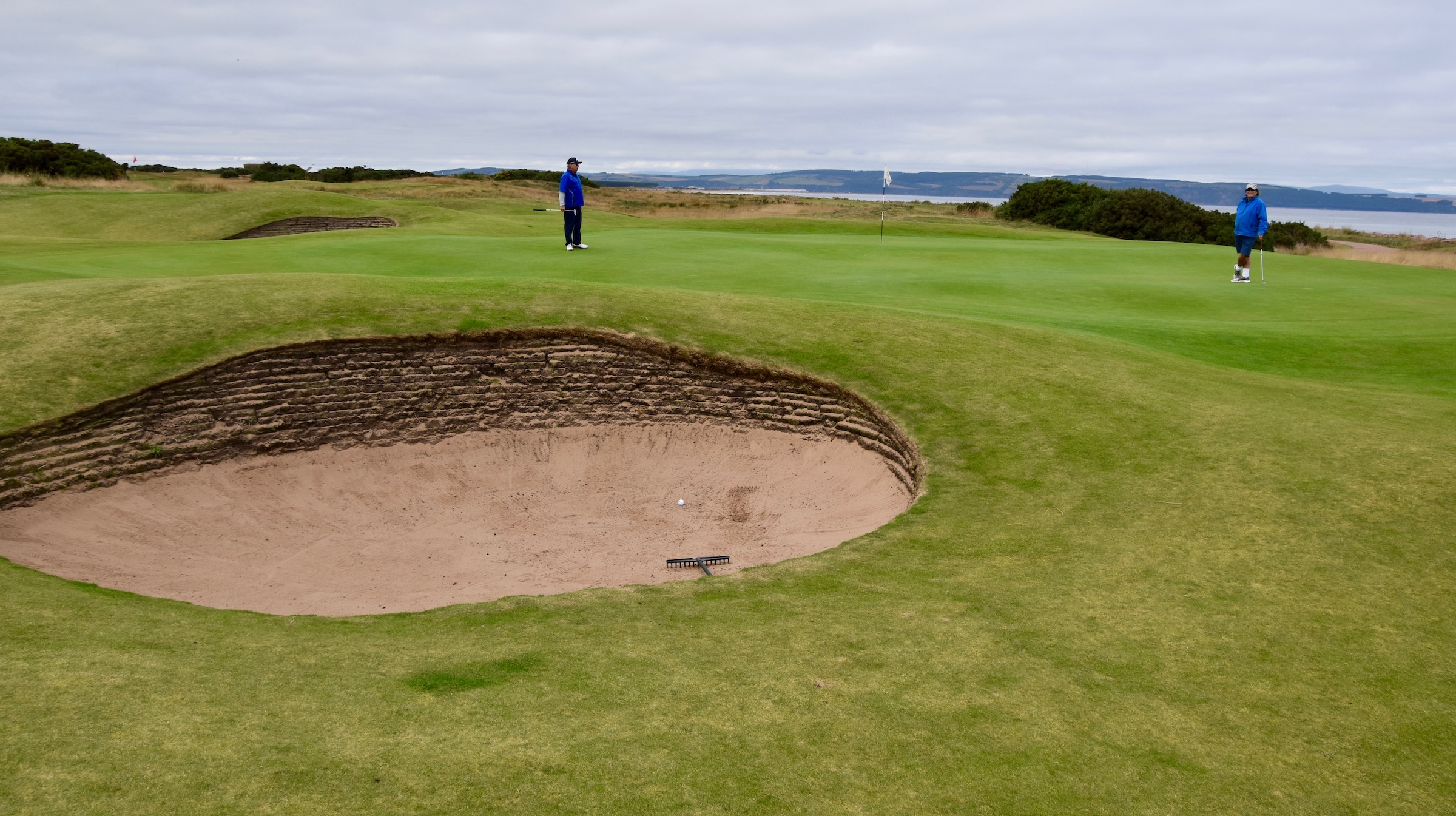 Ben Wyvis is one of the higher mountains of Scotland and I presume on a clearer day would be clearly visible from this hole.
Nairn #7 – Long 435 Yard Par Five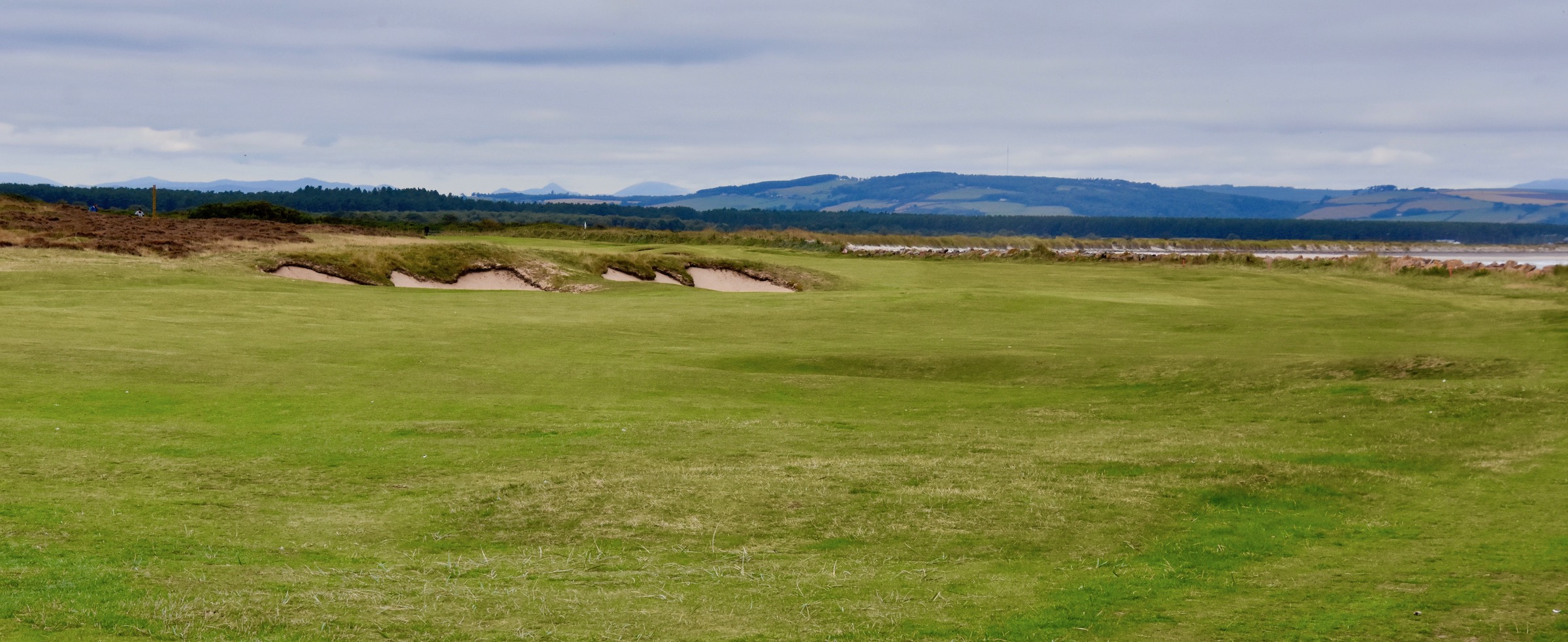 It took a while, but we get to our first par five at Nairn. This is another illustration of the benefits of playing from the forward tees once you get to the age that length is not your strength but your weakness. At 435 yards this becomes a very manageable par five. Using two woods to get to a position to be able to pitch or chip helps avoid the water all down the right side.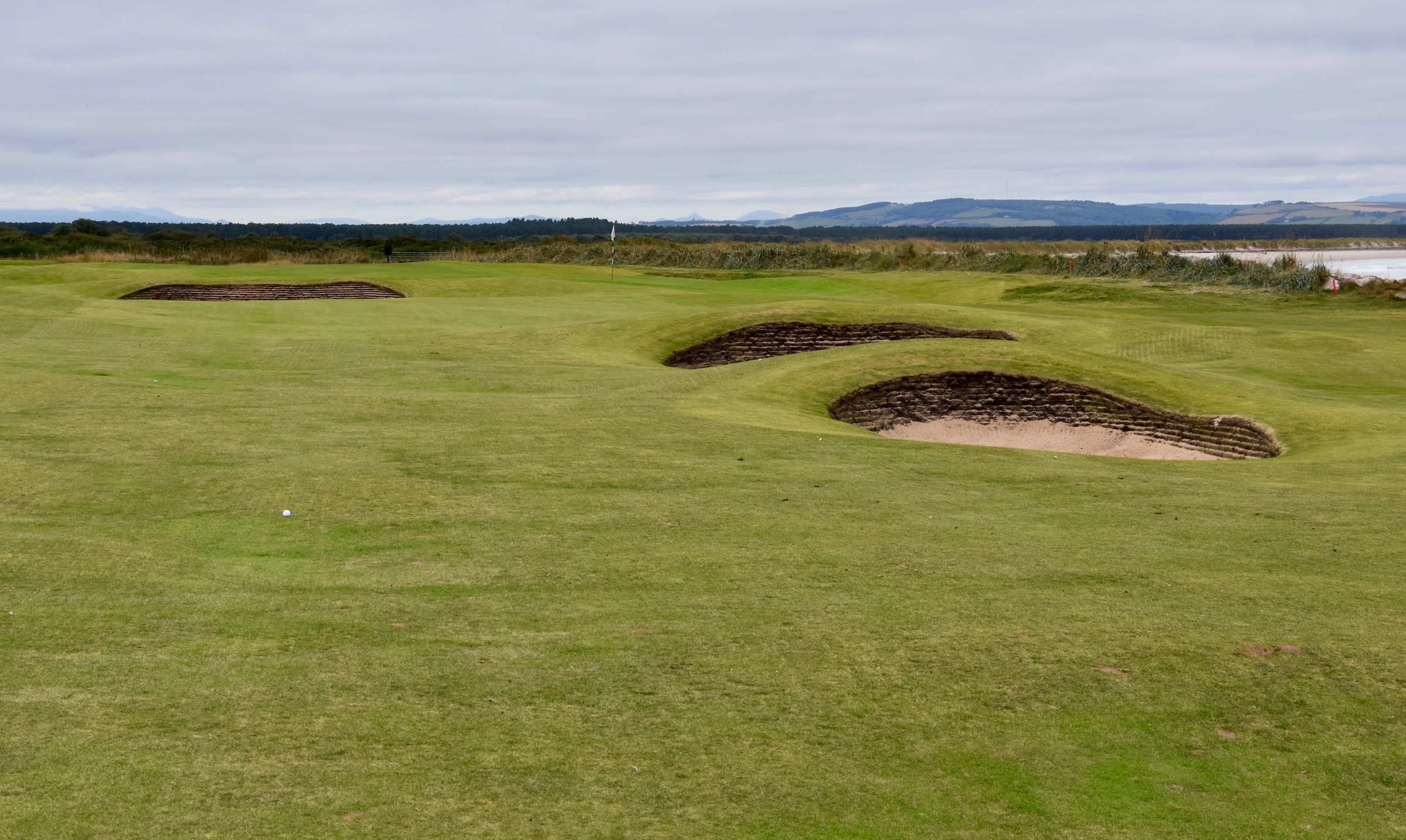 This was my approach position after two shots. With a long large green to hit into, par should be in the equation on #7.
This was the farthest extent of the Nairn golf course in terms of playing alongside the Moray Firth. It is indeed a wonderful stretch of holes ending with yet another view of the strand and the fields  and hills of the Black Isle peninsula across the water. I never get tired of photographing these type of scenes that are the essence of links golf.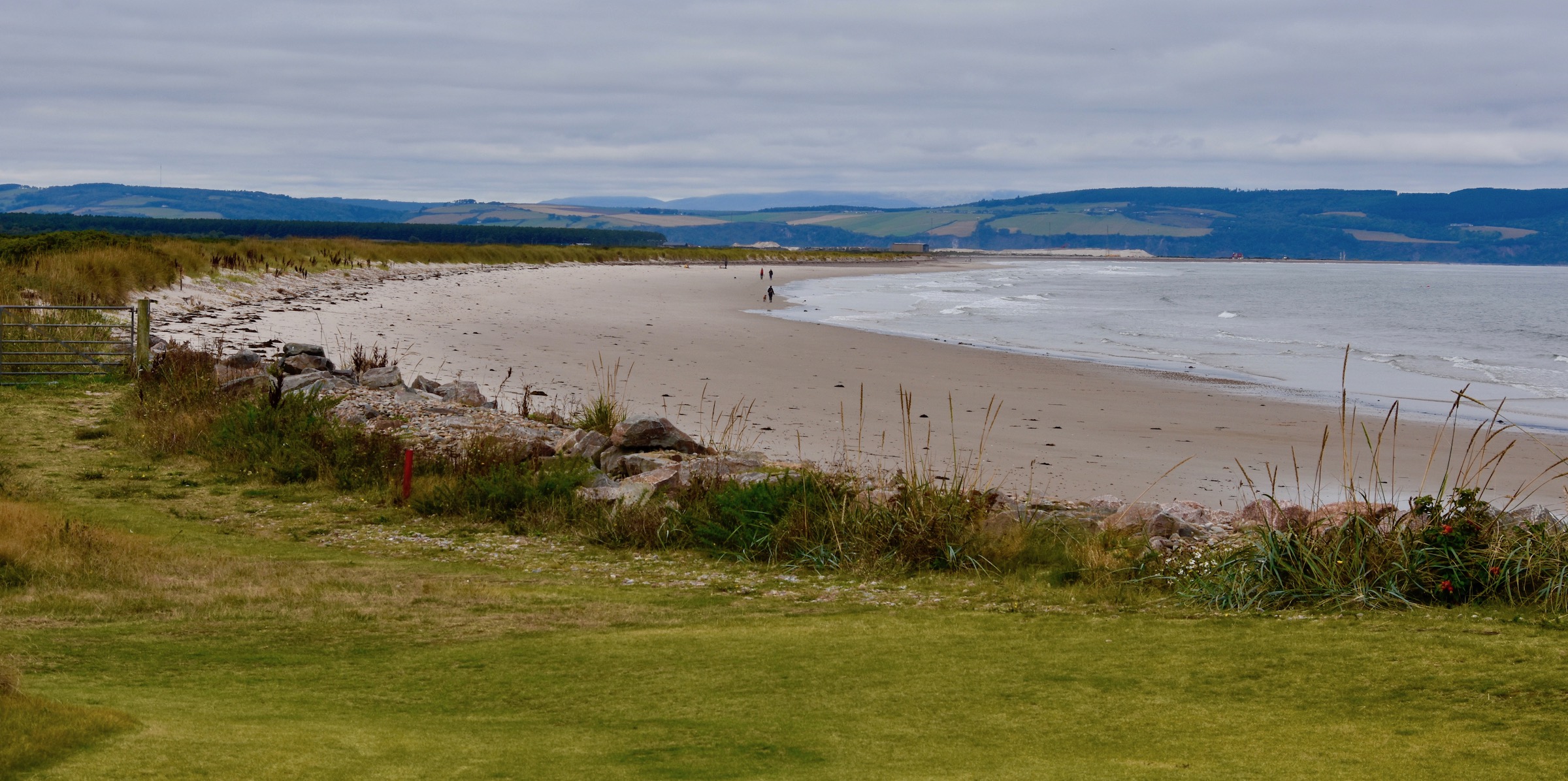 #8  Delnies – 276 Yard Par Four

Another baby par four that is made more difficult because it is a blind tee shot. Anyone who has read many of my other hole by hole posts will know I despise these type of holes. However, with a caddy you know exactly where to aim your drive, but that doesn't necessarily make it happen. I hit an absolutely terrible tee shot and finally and far too soon for my liking get to the most dreaded word in links golf – gorse. There is gorse on the right side of the fairway and I'm in it. Usually that means not even looking for the ball, but for some devil begotten reason I can see my ball. Not that I can play it, but I make the mistake of trying to pick it up and immediately find out (again) why gorse is so hated. It is a thorny shrub that causes prickly welts on whatever unprotected body part comes into contact with the damed thing.
So much for a baby par four.
BTW Delnies is an area near Nairn known for its secluded beach which is what I believe I photographed after walking off #7 green.
Nairn #9 – Ice House 274 Yard Par Four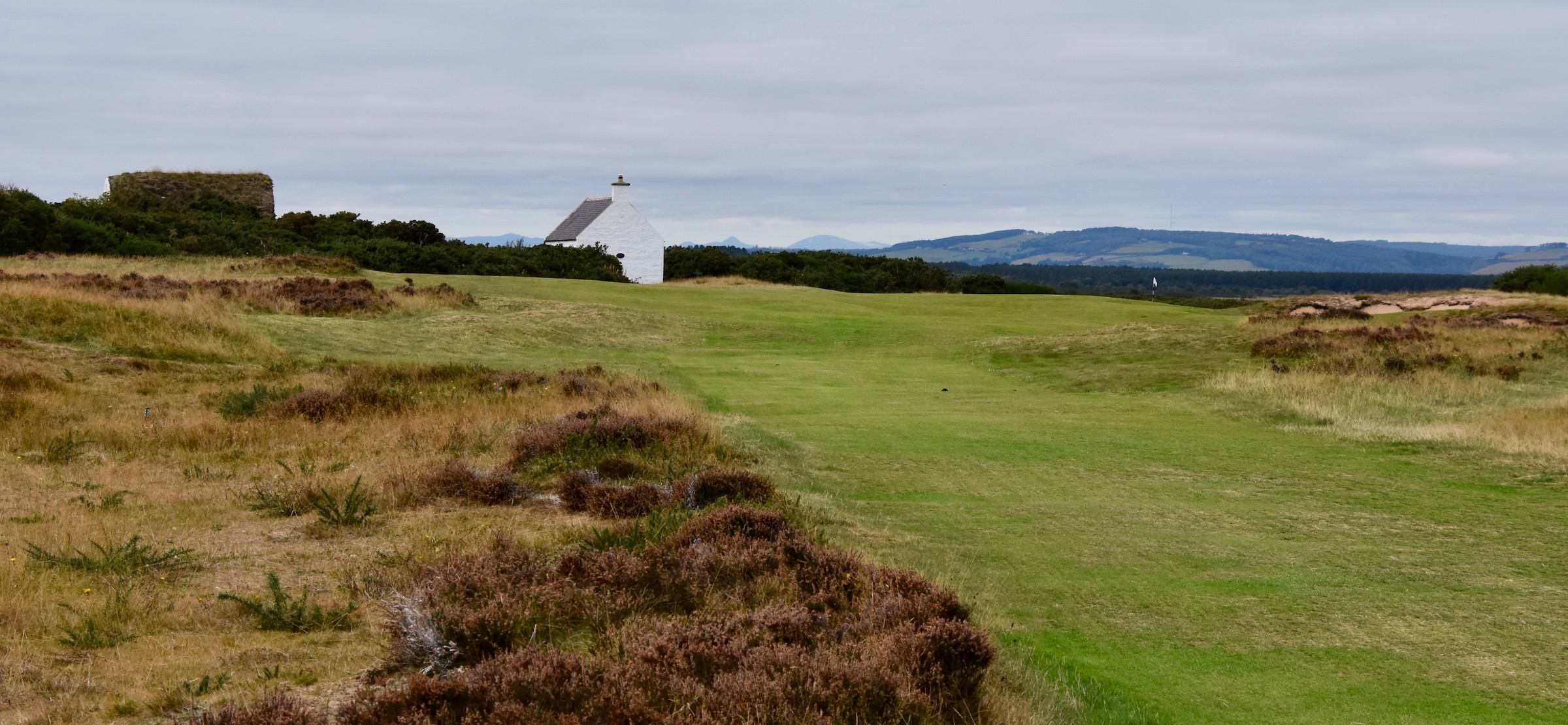 This hole plays parallel to #8 so that the gorse is once again on the right side, but now it shows up to the left as well. I'm not even thinking of anything that could get me in trouble so its a hybrid off the tee which is plenty to reach the green with a wedge on the second shot. A par here helped make up for the disaster on #8. It's also a very interesting hole visually with the old stone cottage they call bothys in Scotland with the rounded ice house beside it.
Another feature of most links courses is that they do not return to the clubhouse after nine, but go generally straight out and straight back. That can be very humbling if you play nine straight holes into the wind. Thank God that's not the case today as the weather continues to cooperate.
This is the ice house for which the 9th hole is named. Before the age of electricity ice could be keep in storage for months in buildings like these.
This is the halfway house or bothy which is one of the more interesting I have come across. It is certainly as old as the golf course and probably much older.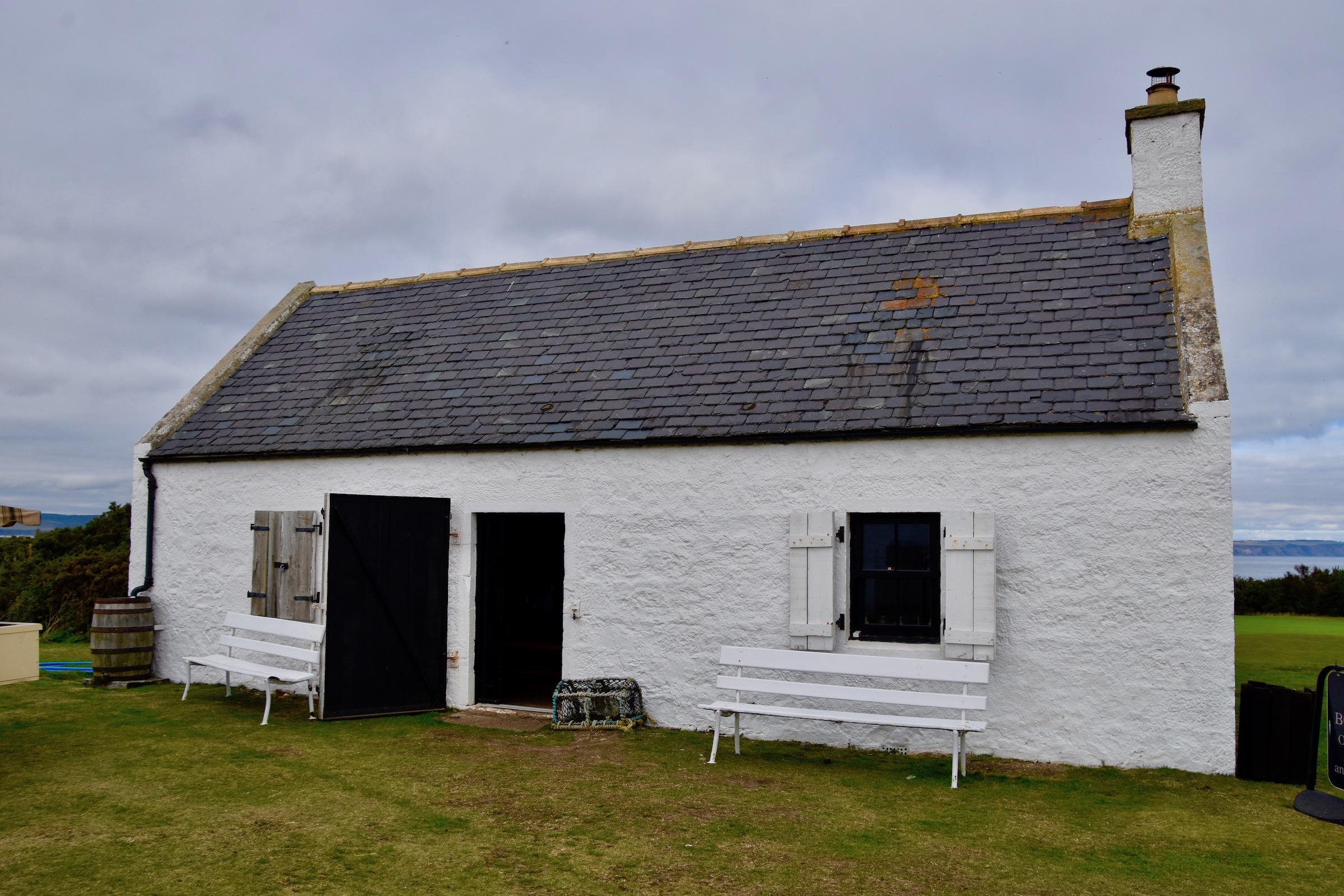 This is the interior where I pick up a few Scottish ales to allay the prickling in my hands from the gorse.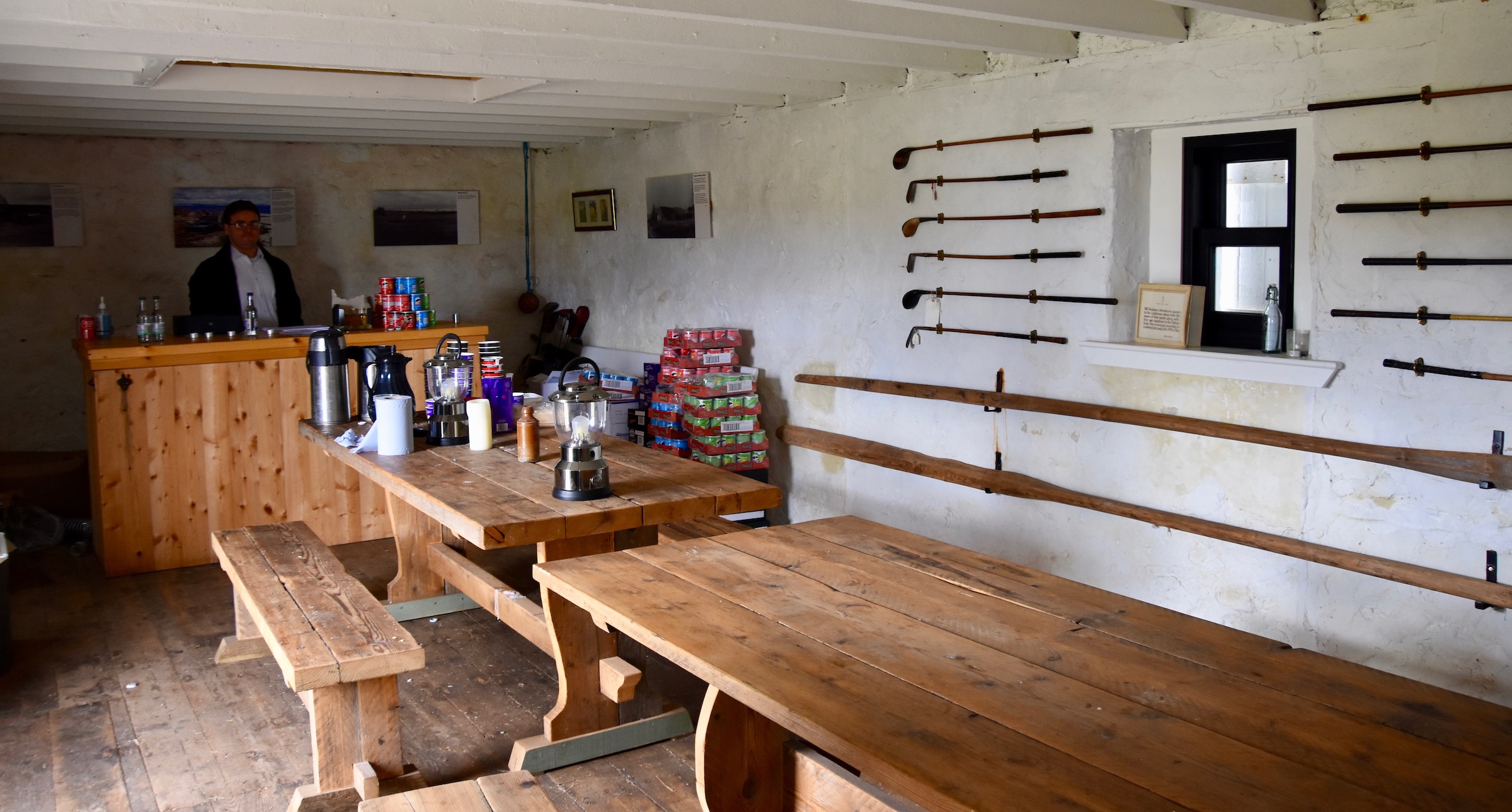 #10 Cawdor – 463 Yard Par Five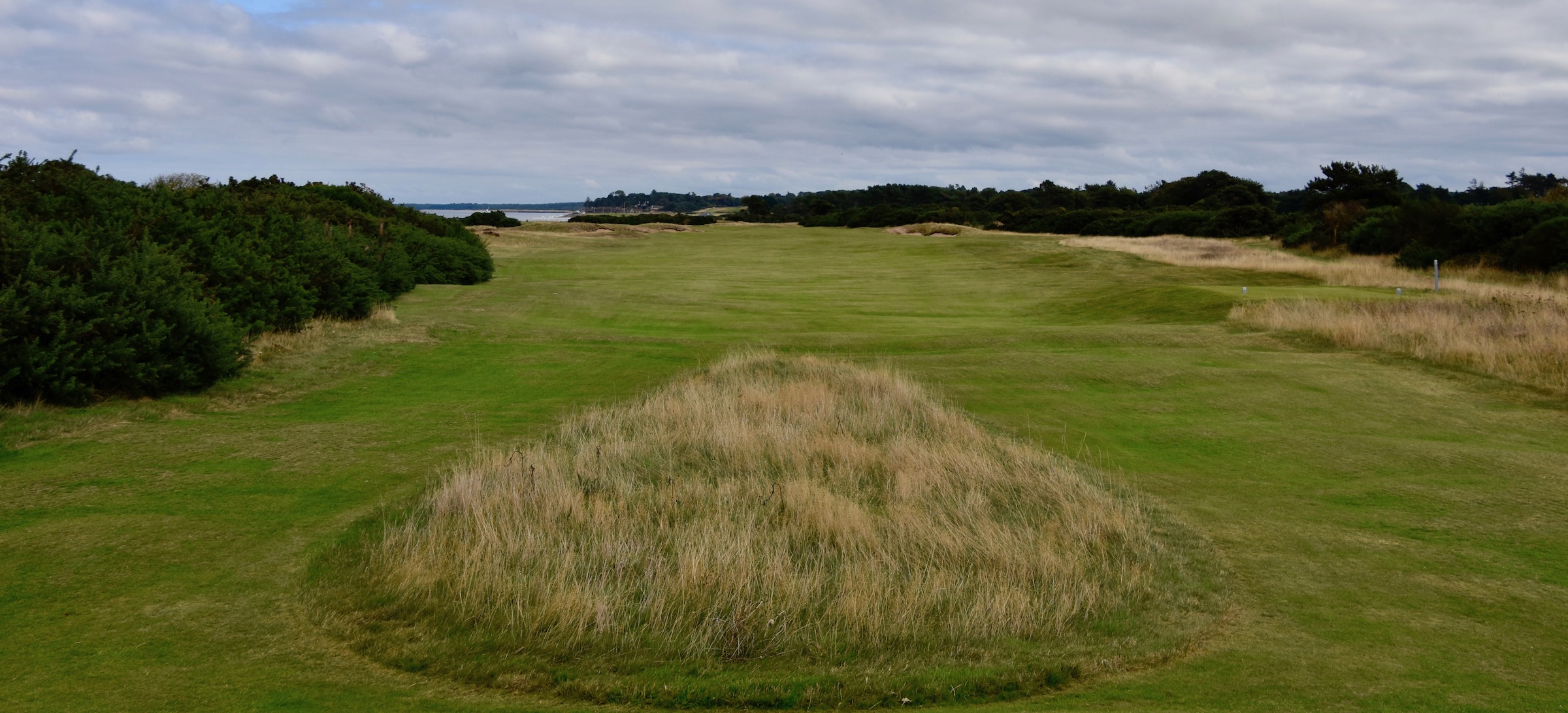 First of all as we start the back nine, the name of this hole might ring a bell with those of us who studied Shakespeare's Macbeth in high school or university. He was awarded the the title Thane of Cawdor after the previous holder was executed for treason by King Duncan. MacBeth showed his gratitude by murdering the king and usurping his throne. Historically there was a King MacBeth who did really exist and fought and killed the Thane of Cawdor. We might be standing on the spot where that happened. That's another thing about playing these Old World courses. You often come across places on or near the courses where famous events took place. As the crow flies we are only a few miles away from Culloden Moor where Bonnie Prince Charlie's dream of capturing the British throne came to a terrible end.
Ok, back to golf.
This is a terrifying drive for me. The gorse on this hole literally comes right up to the edge of the fairway. I put the driver away and use three wood instead. The fairway is actually quite wide and with two blows of the wood I end up here for the approach on this hole that doglegs quite a bit to the left.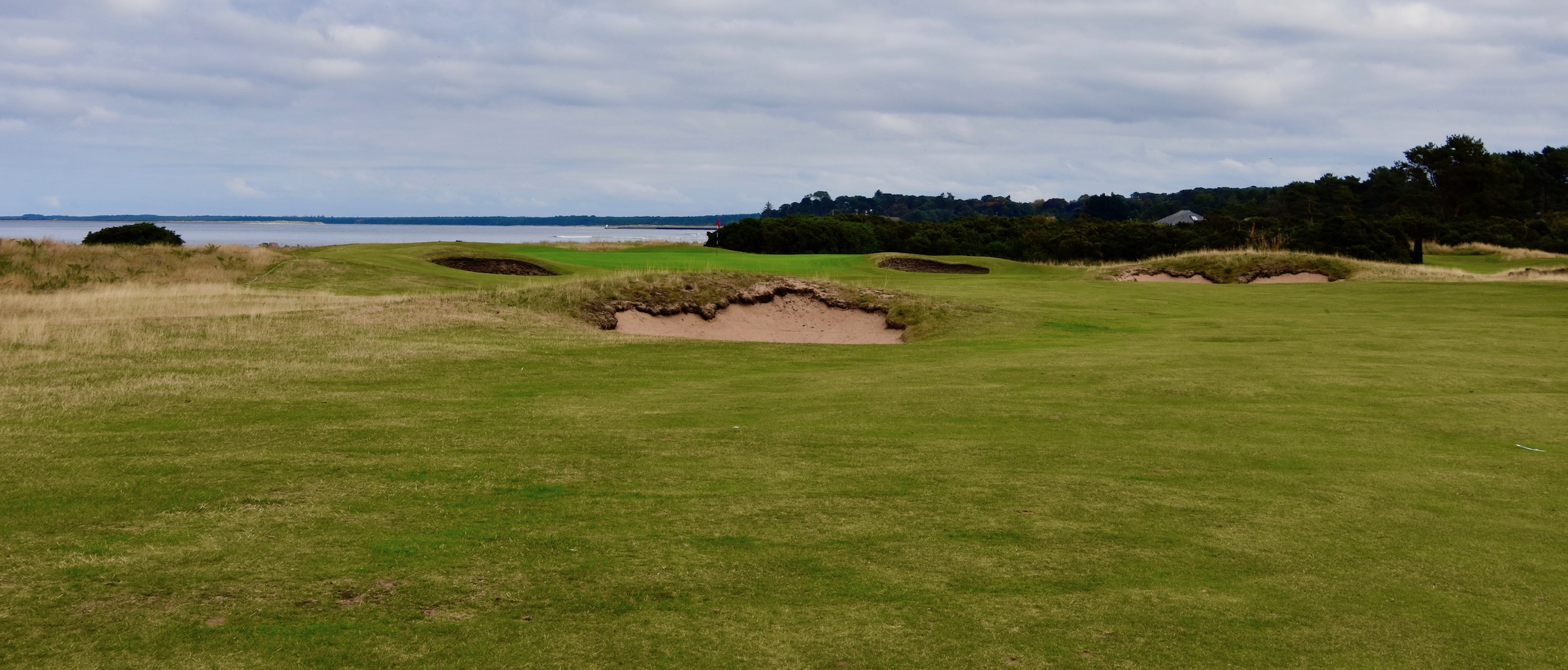 This is one of the smaller greens at Nairn and from this angle definitely requires a pinpoint approach shot. I'm just happy I made it this far without encountering the gorse. Bogey is just fine.
Nairn #11 – Gate 141 Yard Par Three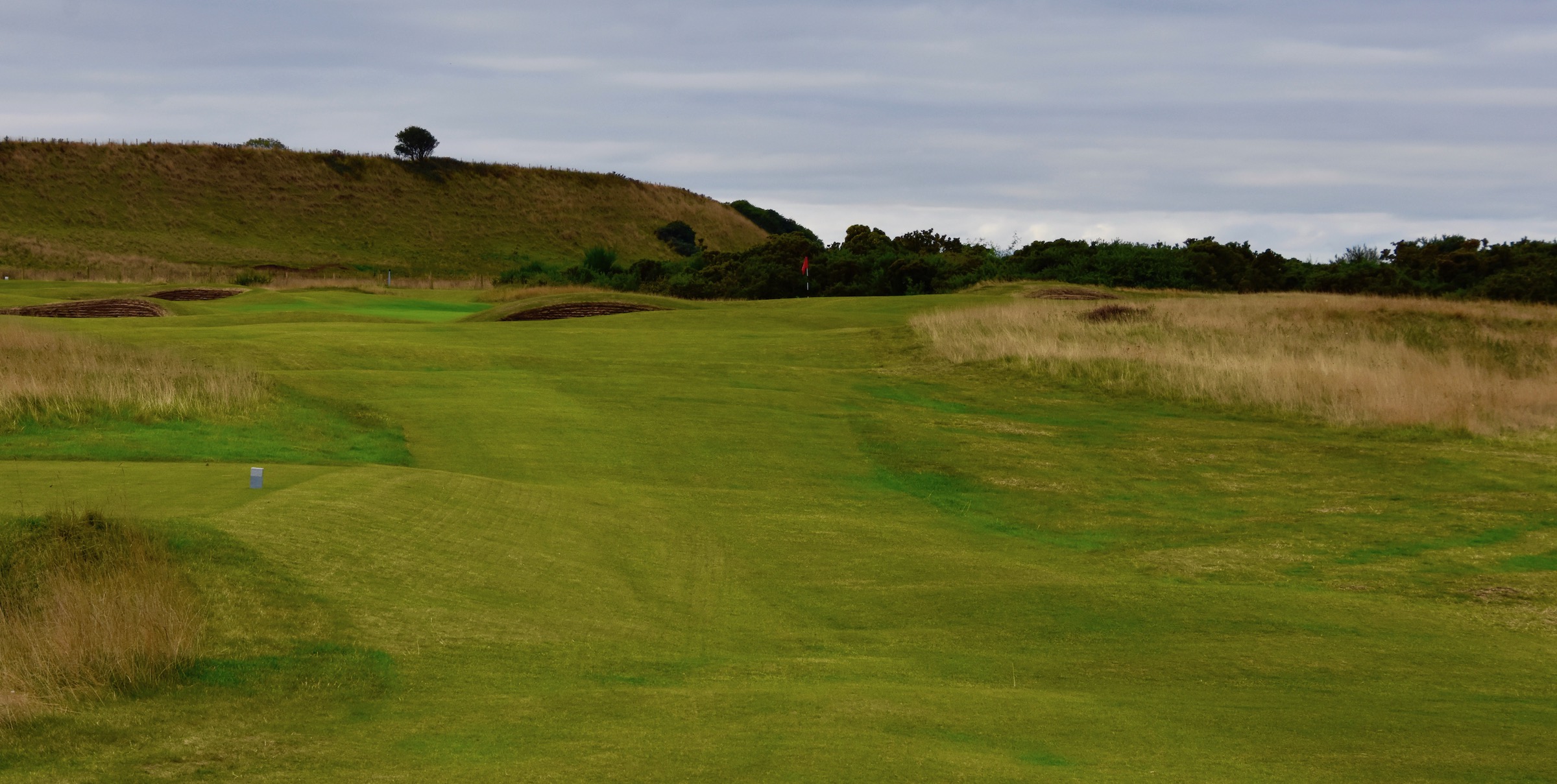 This uphill par three has four traps guarding the green, but no real trouble if you go just a bit long. Longer than that the gorse awaits. So at least one more club than normal is required to be safe and maybe two.
Here's what might happen if you don't heed that advice. Usually the caddies can tell if a ball is just too close to the edge of a pot bunker to go directly for the pin as is the case with Mitch's ball here. It is far better to take your lumps when in this situation and accept a bogey than flail away and end up with something like an eight.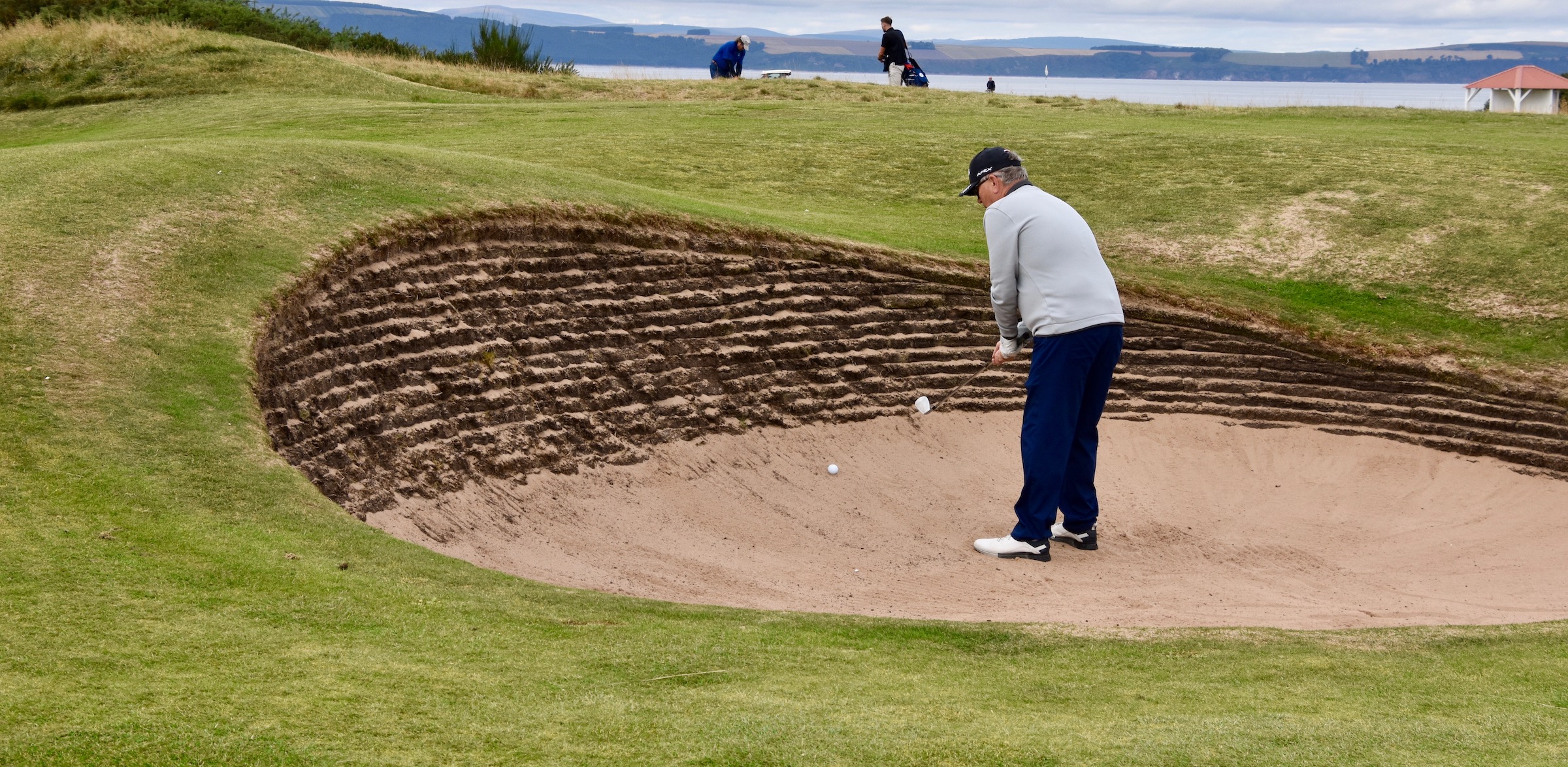 #12 Table – 400 Yard Par Four

This is a difficult par four. There is plenty of room off the tee as the fairway opens up a bit after about 170 yards. The problem is that you will have a very long approach shot to a small green that has a severe drop off to the back and left side.
Nairn #13 Crown – 397 Yard Par Four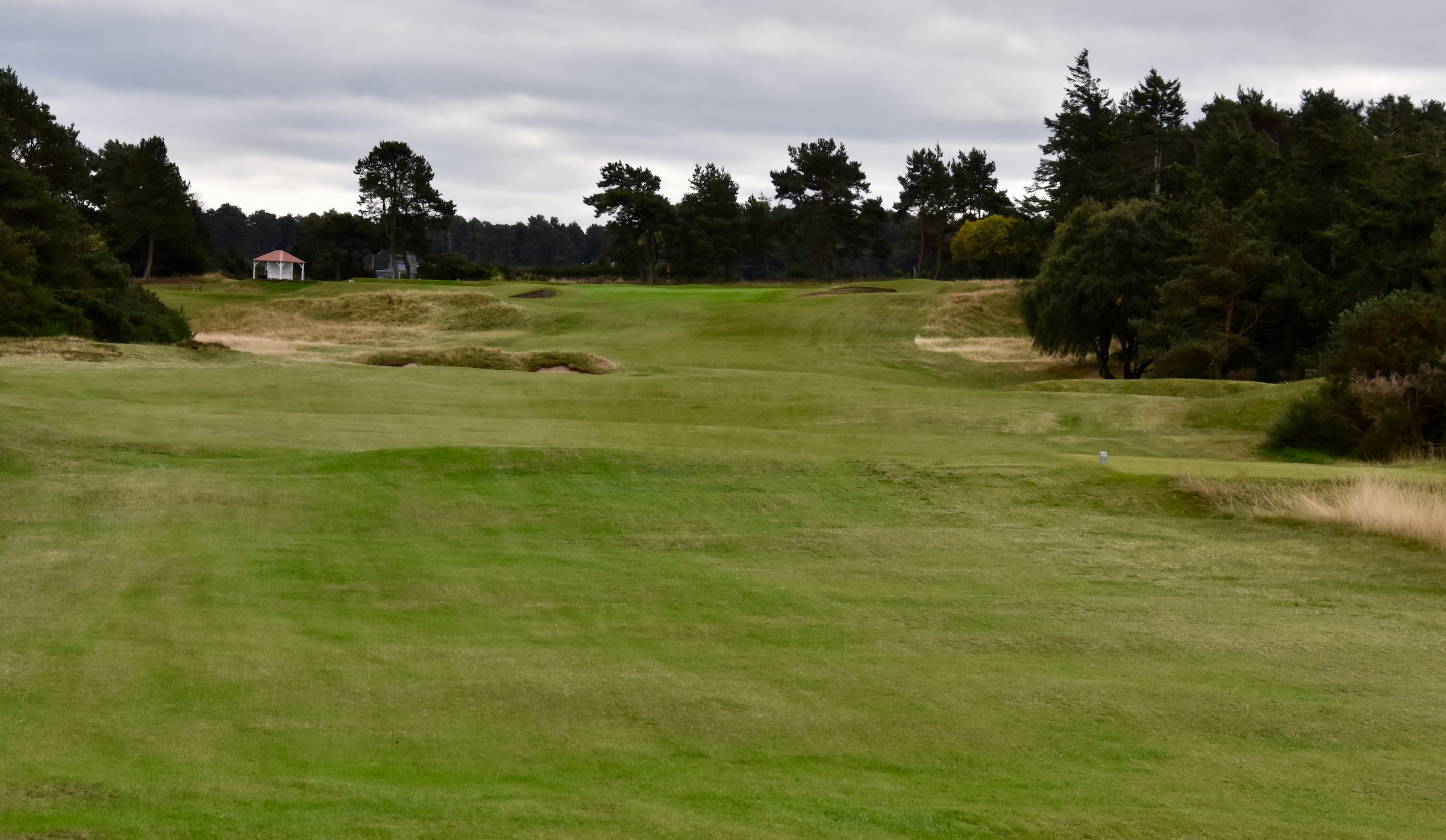 If #12 played long, this par four plays even longer. It is much more uphill than this photo portrays and there's a heap of trouble everywhere that's not fairway. Even with two decent shots you may well be left with a shot like this. Crown is a great name for this hole because if you don't get your approach shot well onto the green it is very likely to roll all the way back down. Even the pros can be fooled by shots like this.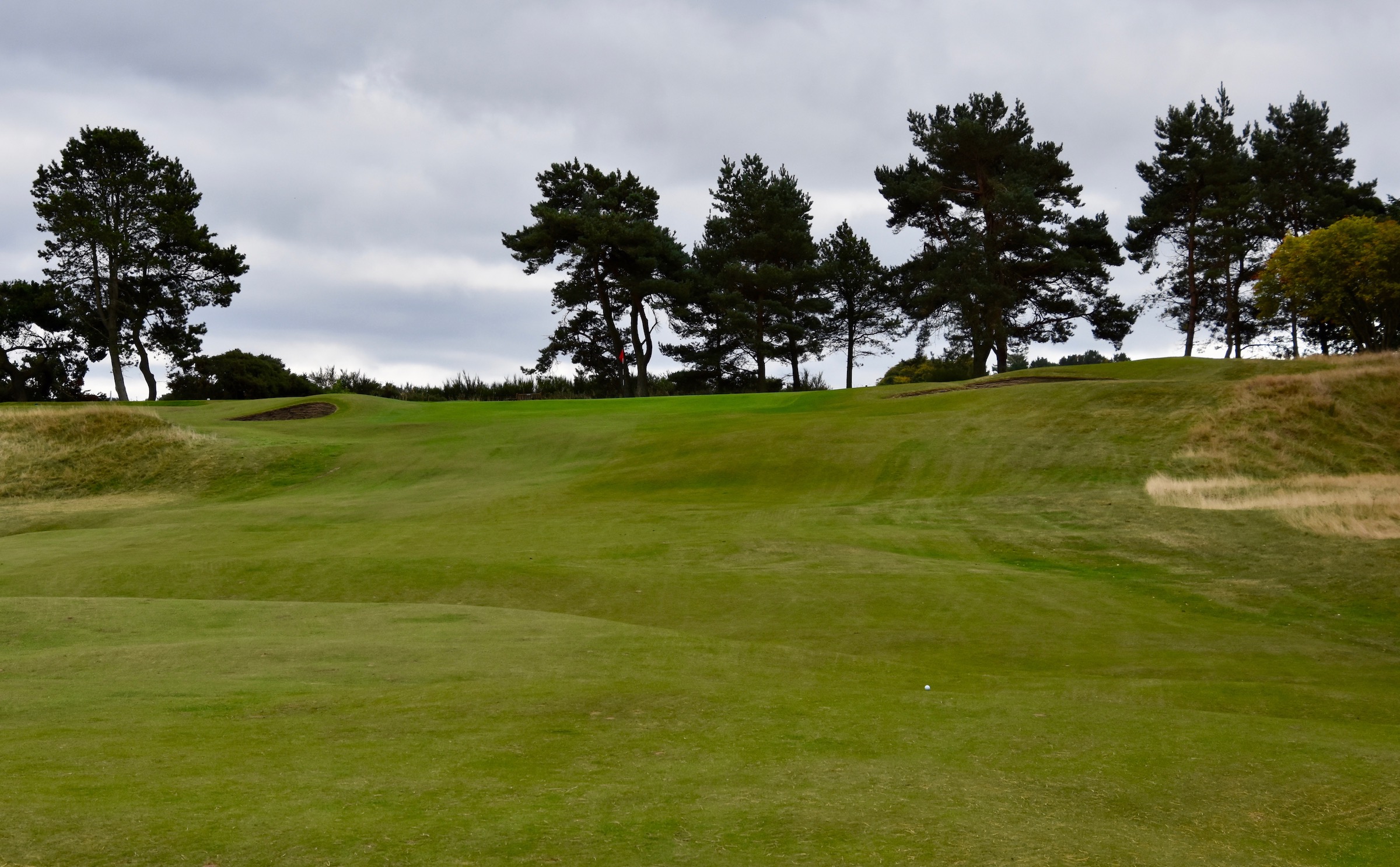 As links courses go Nairn is very flat and #13 is the only hole that plays seriously uphill. All I can say is thank God for that.
#14 Kopjes – 182 Yard Par Three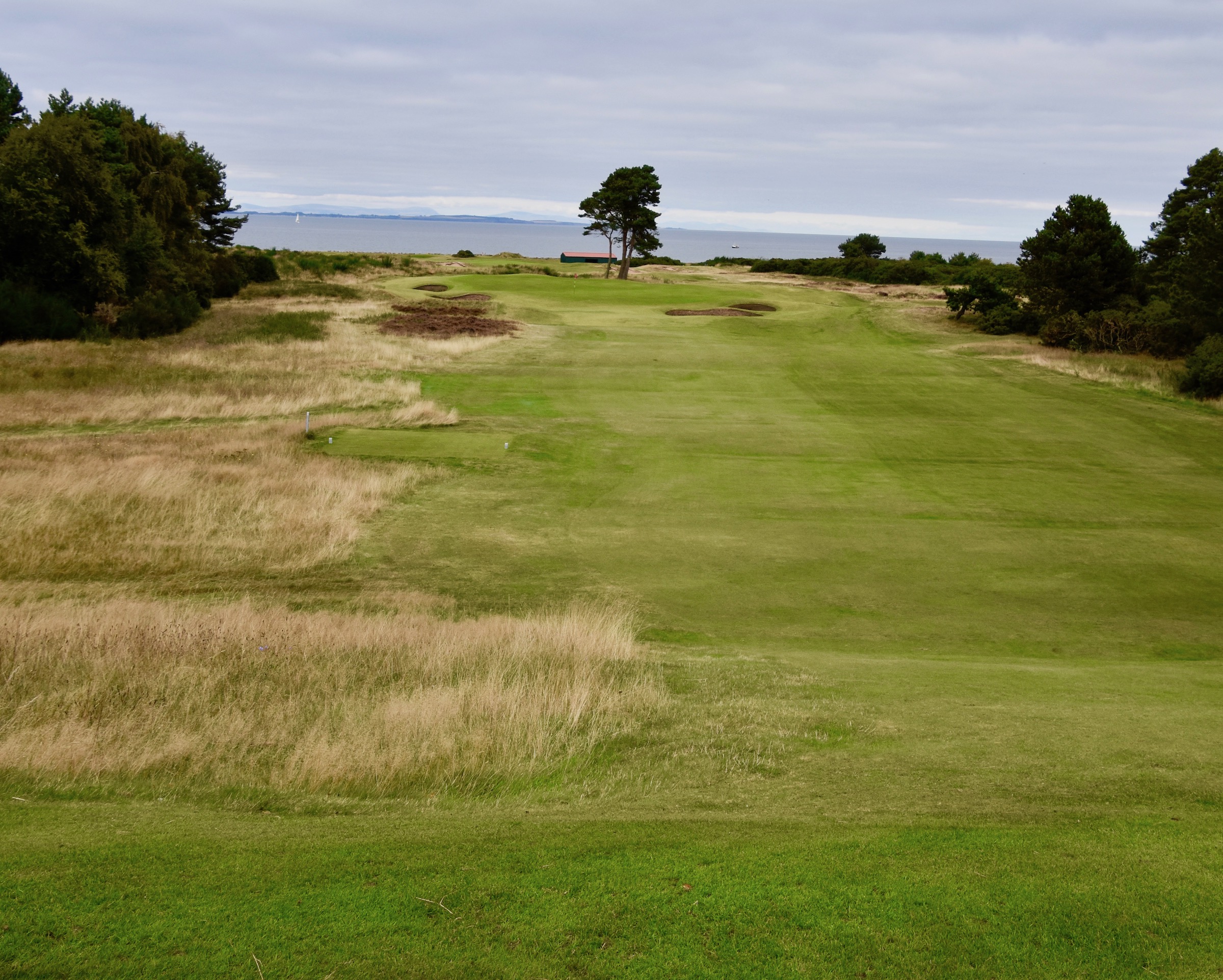 What goes up must come down and again my photo does not do justice to how severely downhill this holes nor to what a beautiful golf hole this is. The view of Moray Firth and Black Isle is outstanding and if there is one place on the Nairn course you want a group photo it is from this tee.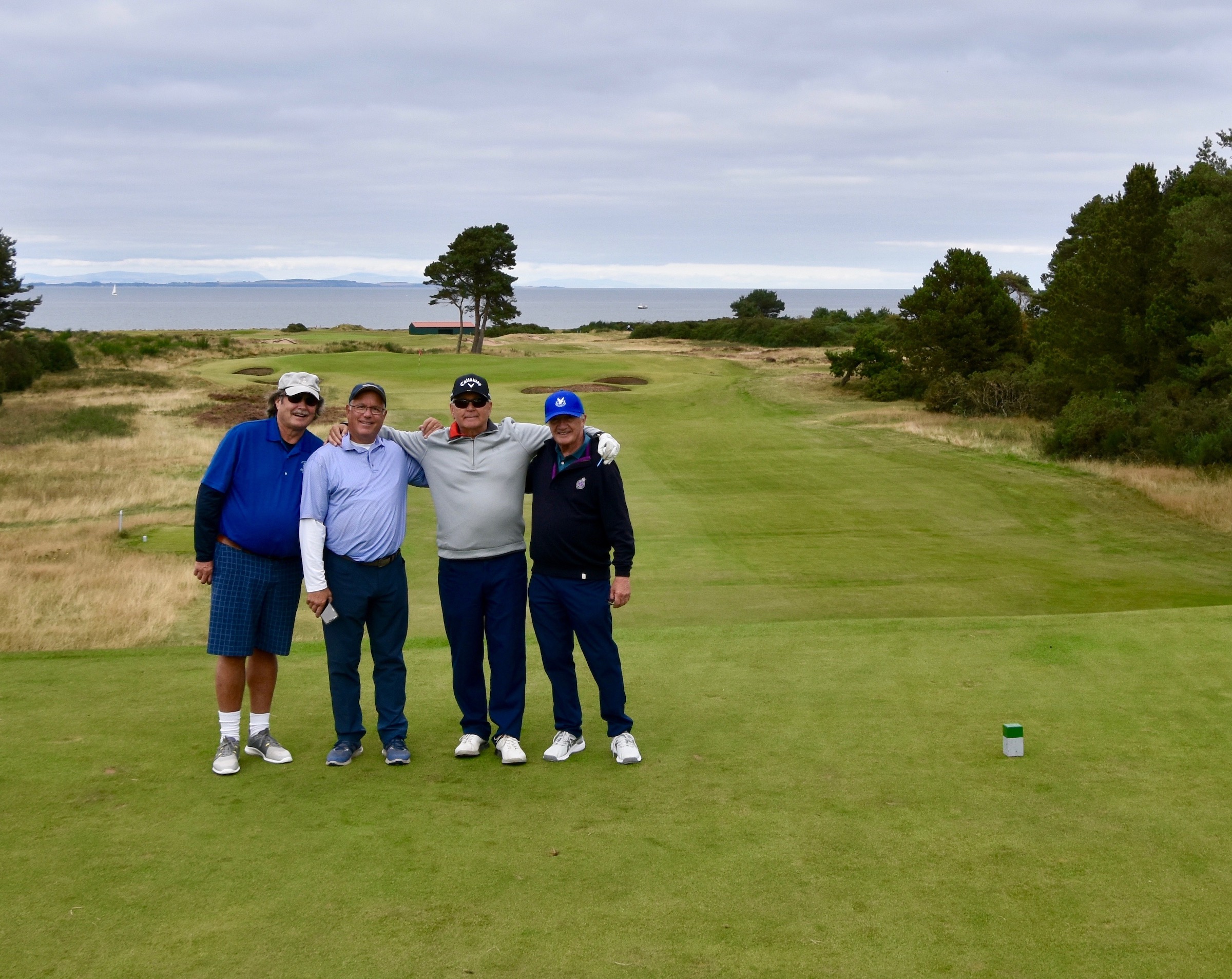 The green on this hole has a Biarritz gully through the middle that makes for some crazy putts. If there is a signature hole at Nairn I would recommend #14 for that honour.
BTW a kopjes is a South African word for a small hillock in a generally otherwise flat area.
Before reaching the #15 tee, Callum points out the very helpful location of the Nairn suggestion box.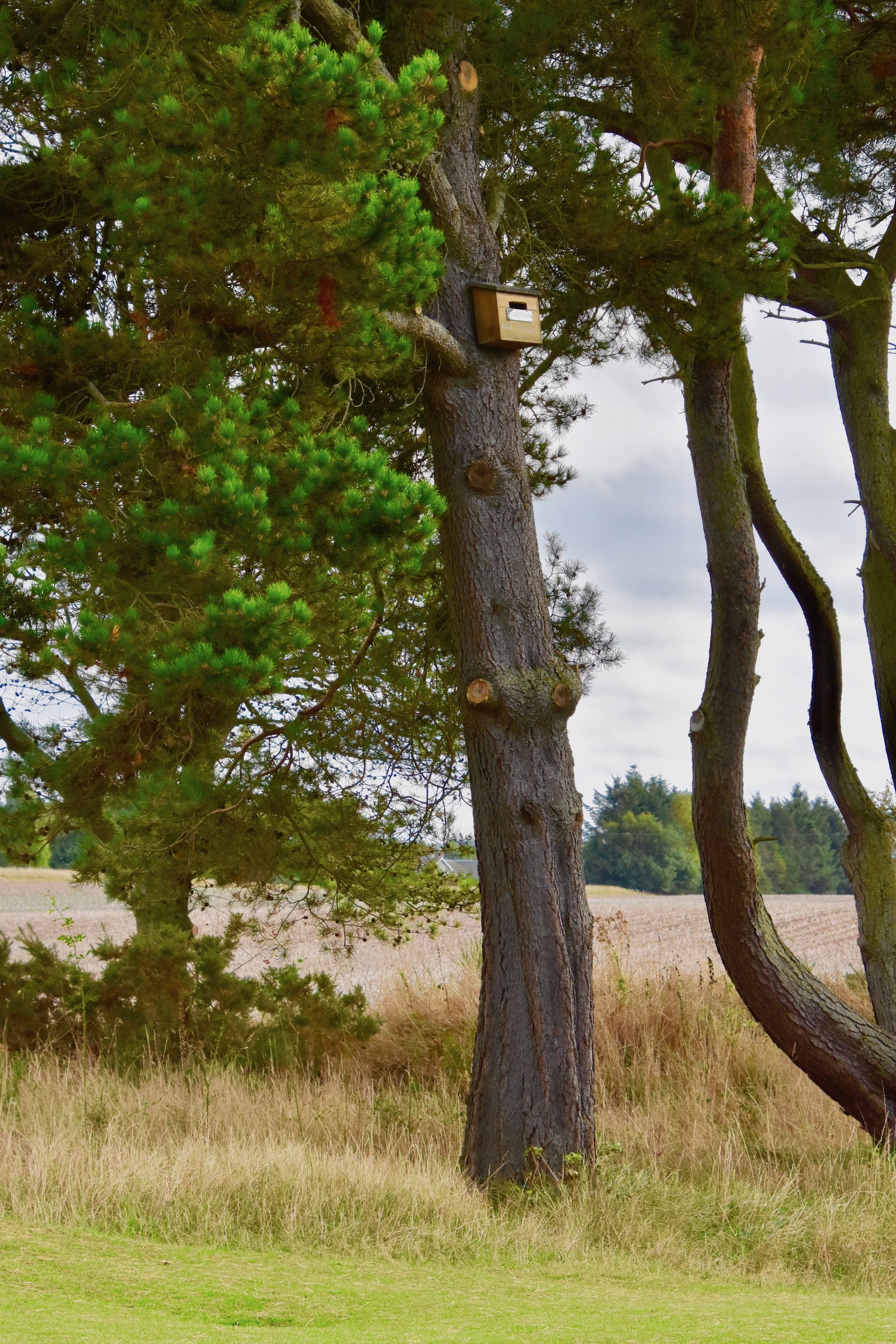 Nairn #15 Sutors – 220 Yard Par Four

This may well be the shortest par four you will ever play and frankly it's a welcome sight after three difficult holes in a row. It does present the real possibility of an eagle with a perfectly struck drive, but there is a world of trouble awaiting an errant drive. The smart play is to keep it in play with almost any club you might choose and then go for the birdie putt position with your approach.
Sutors is yet another hole named for a Nairn neighbourhood.
#16 Road – 385 Yard Par Four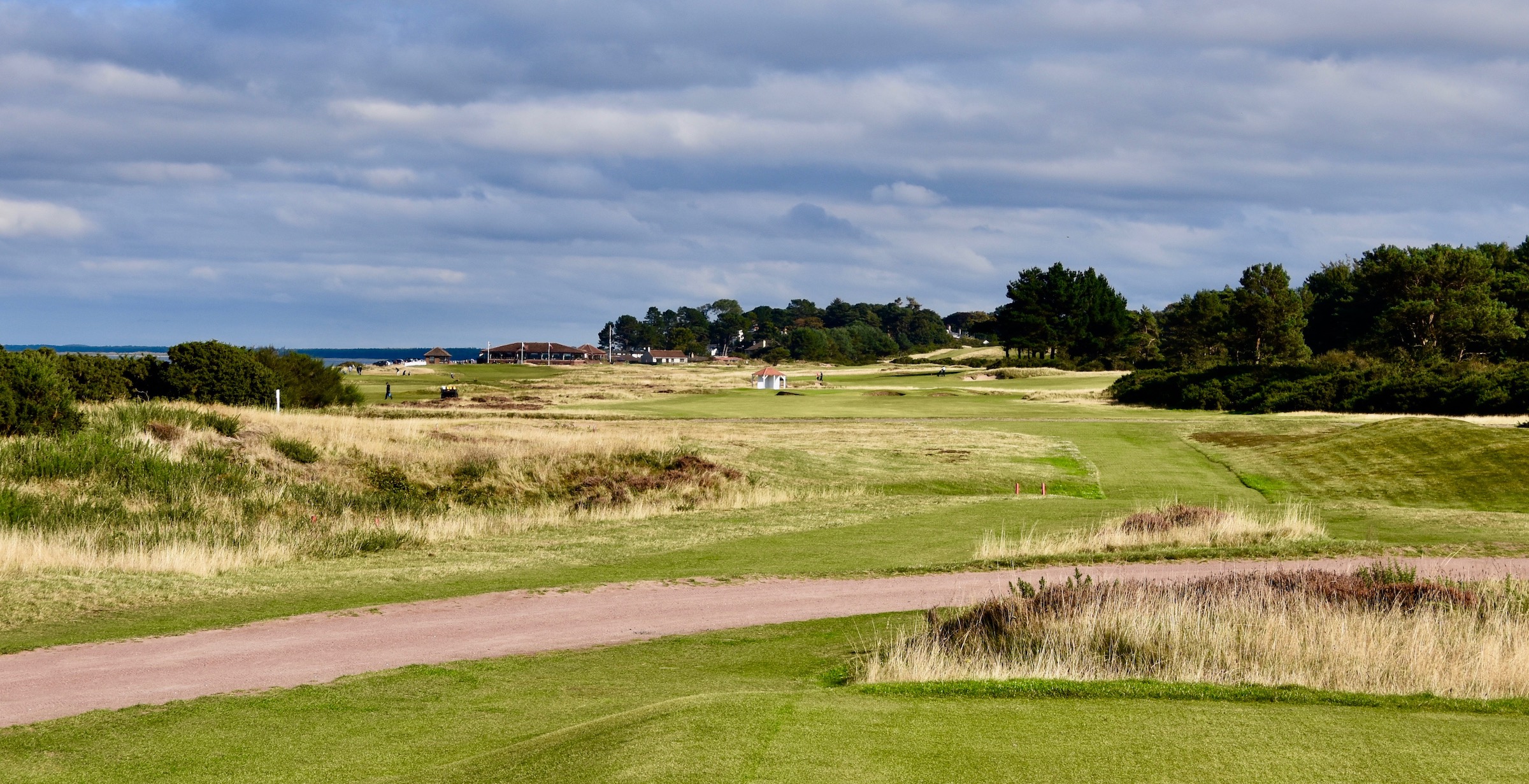 We're in the home stretch now and back to another difficult par four. There's gorse on the right and heather on the left. Pick your poison.
This is the most well protected green at Nairn and unless you have hit a huge drive you probably don't want to challenge those bunkers. I laid up to this position and was able to get my third shot close enough to save par. Miracles do happen.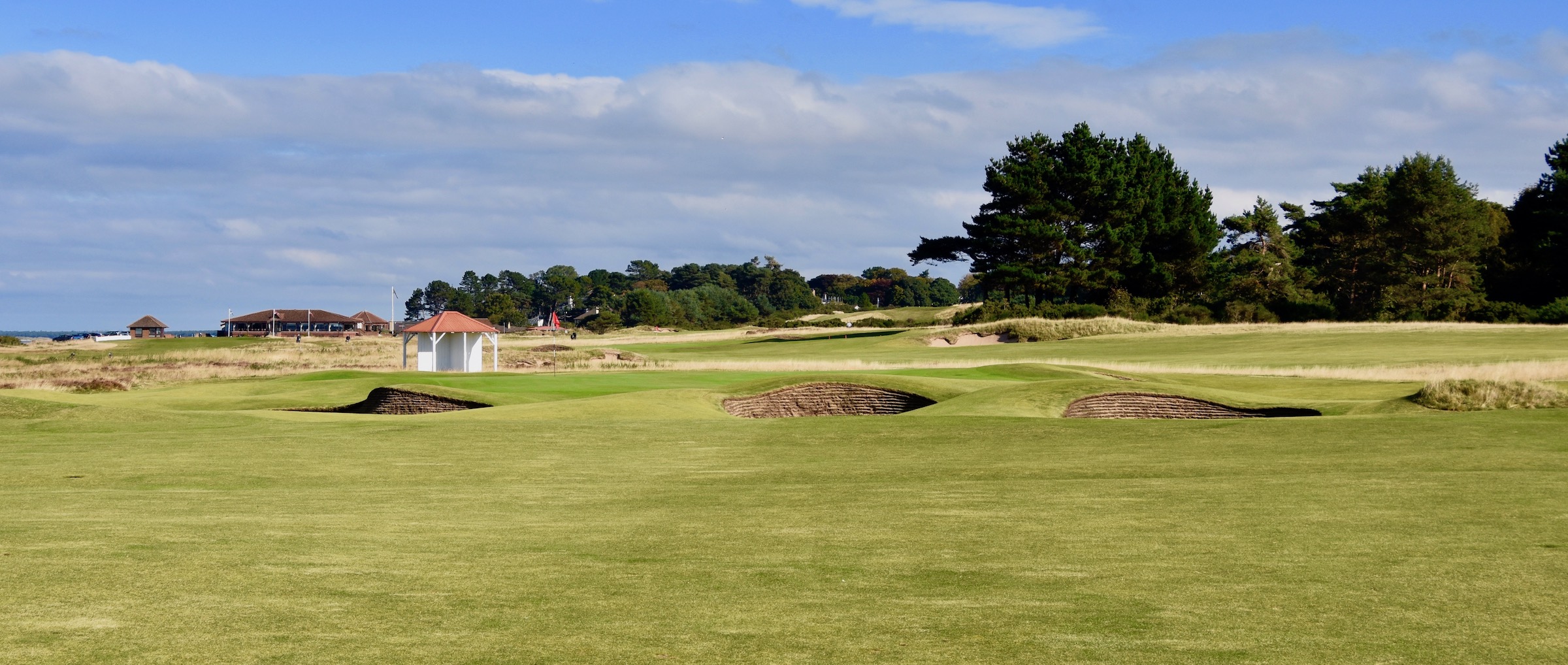 The weather was getting progressively brighter and I took this photo of Black Isle from the 16th green.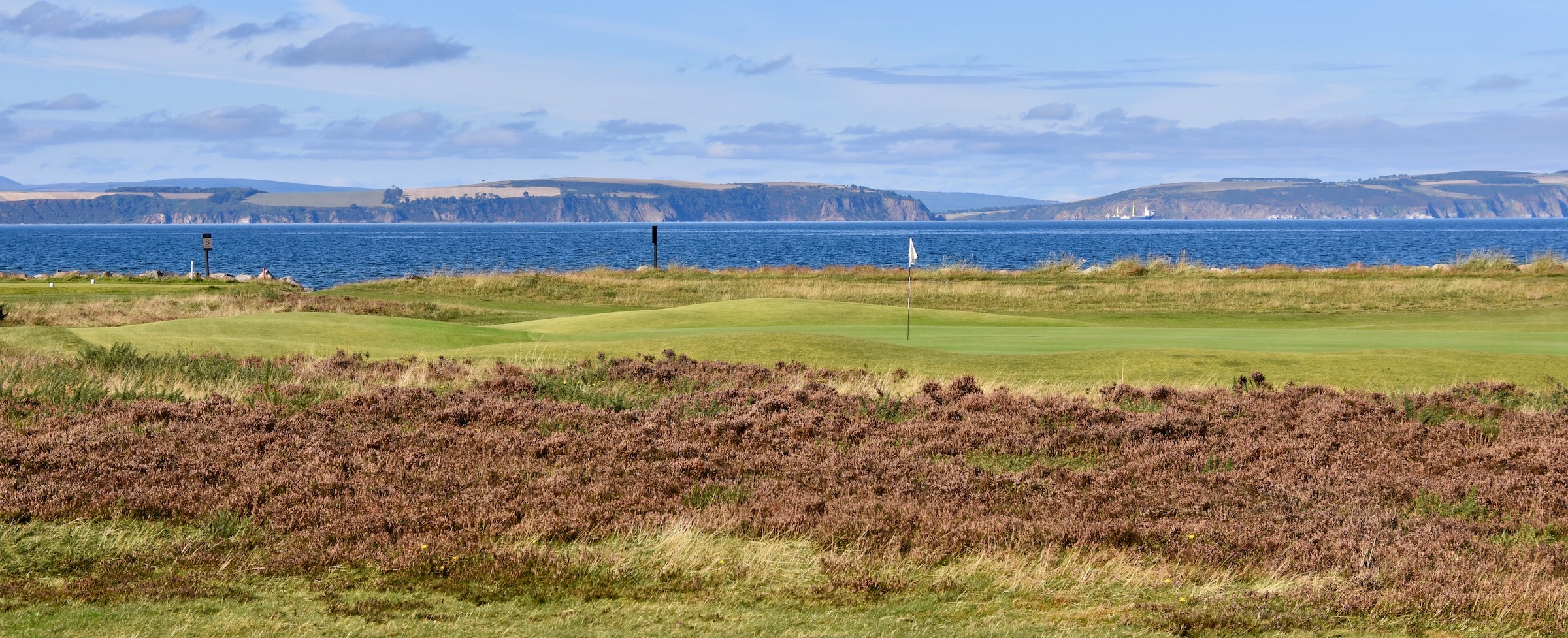 Nairn #17 Burn – 332 Yard Part Four

Anyone who watches The Open regularly will know that a burn is a Scottish term for what we would call a brook or stream. This is the only hole at Nairn that features a water hazard if you discount the Moray Firth. The burn runs just in front of the green, but the hole is short enough that it really should not present a problem if you have a decent drive.
#18 Home – 455 Yard Par Five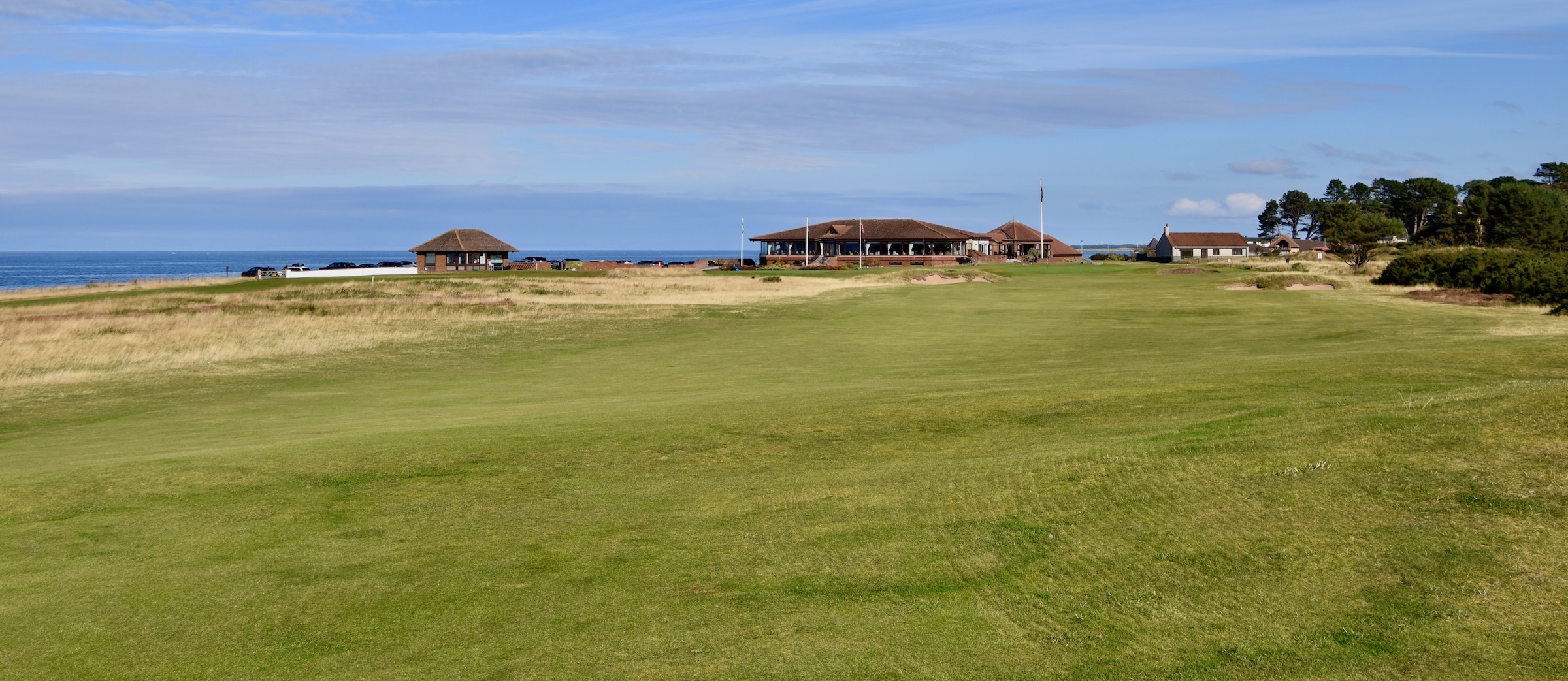 This par five finishing hole is a nice way to end the round at Nairn. There is a ton of room down the left hand side and the key is just to avoid the seven bunkers on this hole. If you keep those out of play then a par is very much in the cards.
Well, despite all my verbiage we played this round in under four hours. The scores were decent enough, particularly Tom's who is a long hitter. No doubt the great conditions helped. However, of the six links courses we played on this trip Nairn was the only one where the gorse was consistently a threat. On the others the gorse was much farther back from the fairways than here.
Overall Nairn features every aspect of what makes for a great links course. It may not be as storied as some of the other courses we will play, but it is definitely a must play and the perfect course to begin a tour of northeast Scotland.
As promised I looked up Sean after the round and while the others headed for the bar, he took Mitch and I on a tour of the Nairn archives which are under lock and key.
This is a true inner sanctum of golf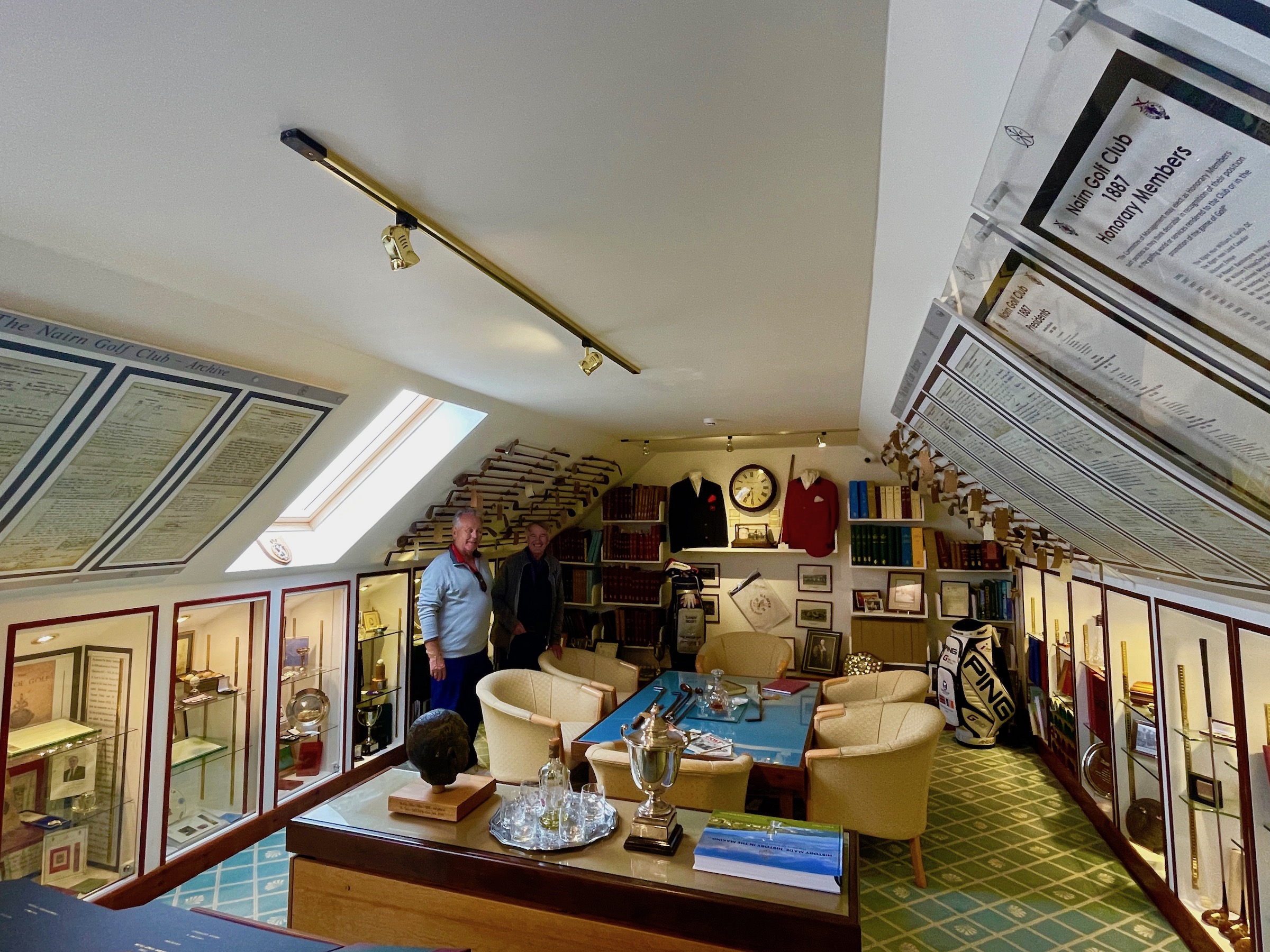 He showed us the original contract for the construction of the Nairn golf course signed in 1887. The projected cost was a whopping £30 to £40 pounds.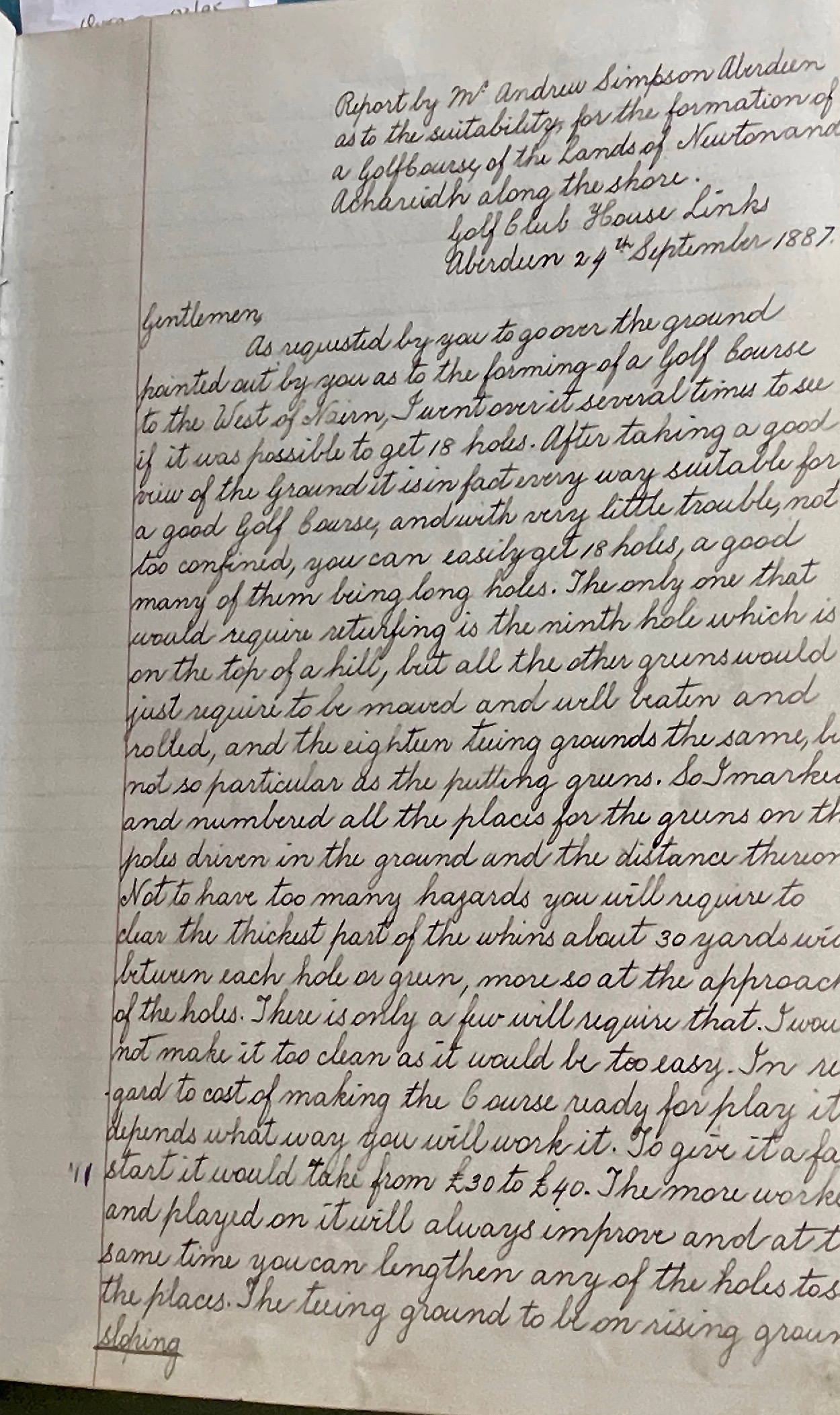 The archives contain dozens and dozens of interesting golf artifacts and I could do a post just on those, but I've rambled on long enough and will close with this shot of one of Bobby Jones' famed Calamity Jane putters which he used to win 13 major championships including his one and only visit to The Open in 1927.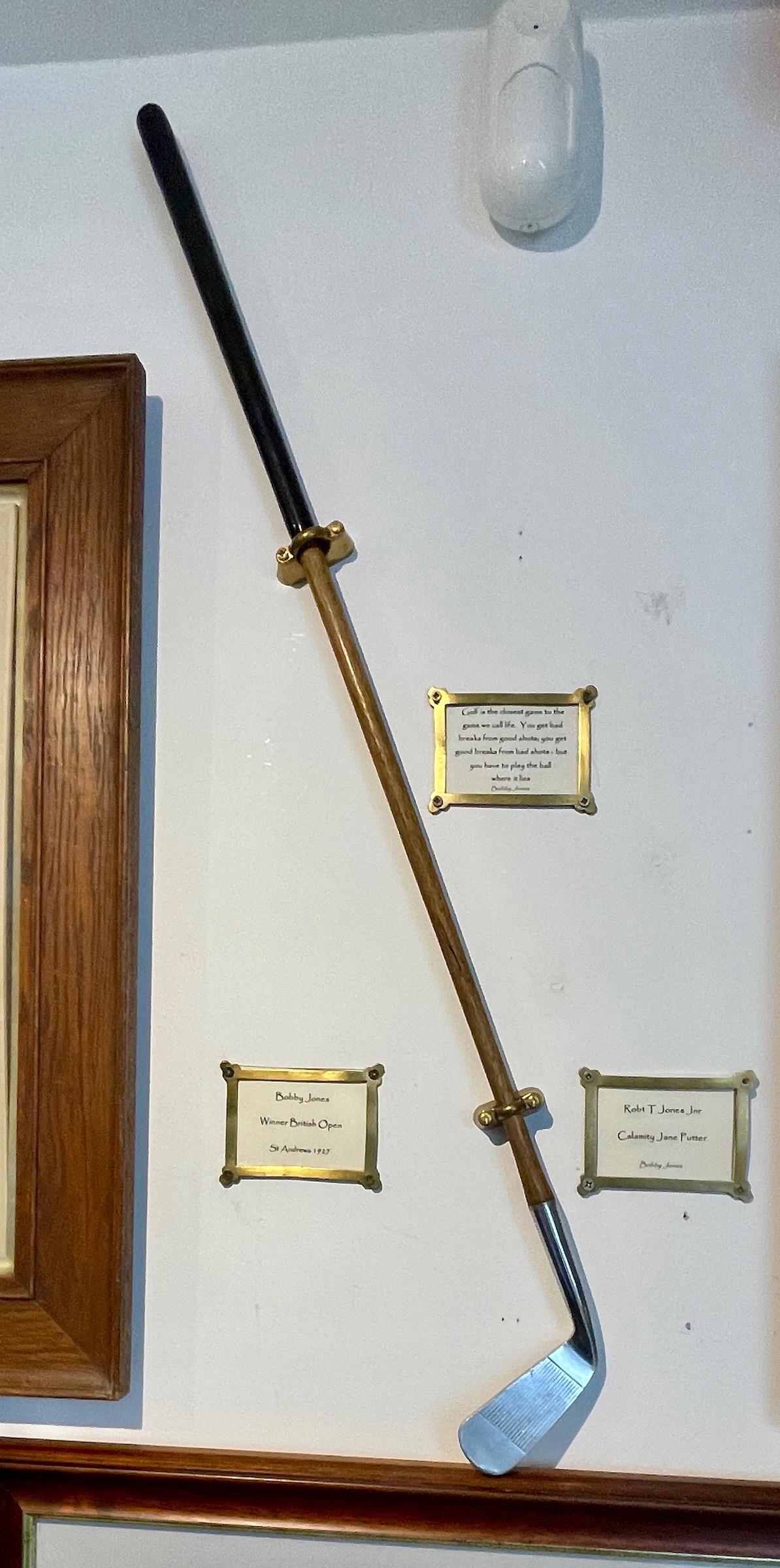 In the next post we will head to the legendary Royal Dornoch links. Hope you come along.