Beantown Blast day three
Boston, Boston - Sunday, March 2nd, 2014
Saturday March 1 comes in like a lion/lamb – cold as hell, but sunny with no wind. It was so calm that jets taking off from Logan miles away woke us around six. Looking out the window I could see the light was great so we each had a Nespresso from the machine in the room and set out on the Harborwalk. The Fairmont is at the north end of this great urban pathway that follows the ins and outs of the many historic wharfs that make up Boston's inner harbor.  Piet Mondrian would have been proud of this trail that is strictly one right angle turn after another.  What was once a bustling commercial and shipbuilding area (Old Ironsides was built not 100 feet from Battery Wharf) has now been transformed into some of the priciest condos and townhouses in  the city. The good news is that instead of tearing down these old wharfs, as most cities would do,  these were morphed into residences while maintaining the architectural integrity of the exteriors. Whatever your thoughts on gentrification I think most would agree that Boston is better off with what is there now than the rat infested derelict buildings that languished on the waterfront for decades.
The morning light is as good as it looked from the room, with great reflections on the water such as in this shot of a Coast Guard cutter directly across from the Fairmont.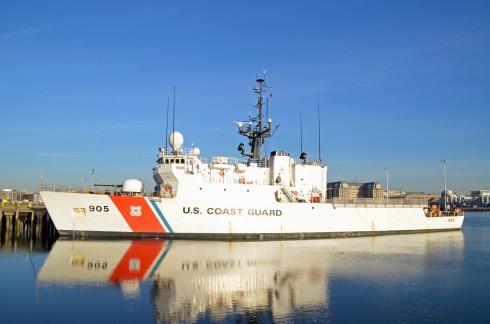 The shadows are also nice.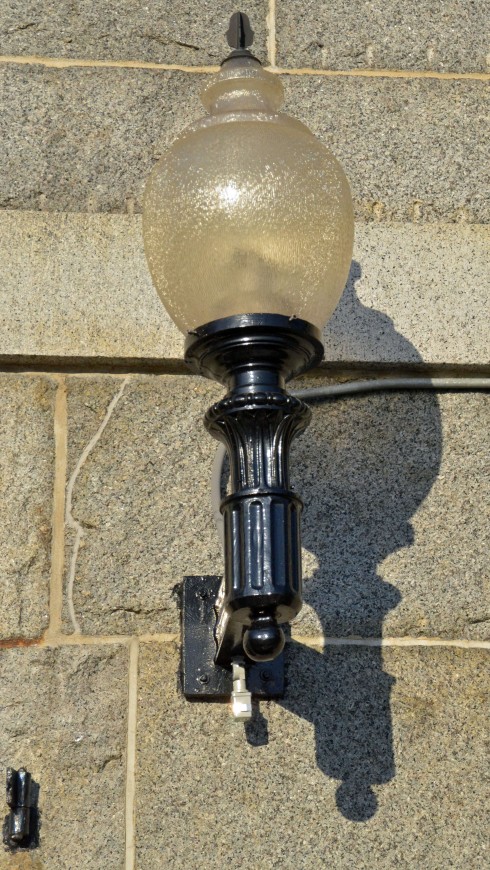 As always the Magic Hour didn't last long, but we strolled on for over two hours and walked the entire length of the Downtown/North End portion of the trail – Union wharf, Lewis Wharf, Commercial wharf, Columbus Park, Long wharf, New England Aquarium, Rowe's wharf, South Station. By the time we got to South Station we snapped out of early morning reverie and realized that we had overshot Quincy Market, our intended destination by a wide mark. Taking the direct route back via Federal and State Streets we literally walked into a movie set without knowing it.
I'd seen enough movie and TV shoots in Halifax to know that the trucks we started running into on Federal were support for some kind of shoot that was taking advantage of the early morning light.  We emerged from Milk Street at Congress to see barricades surrounding Norman B. Leventhal Park which was covered with tents and protesters meant to recreate the Occupy Wall Street movement that started in New York City in 2013. A security guard told us it was a pilot that was being shot for a series called Odyssey. We crossed Congress and walked up Post Office Road to get a closer look and I noticed that the parked cabs had New York plates and the police cars were NYPD.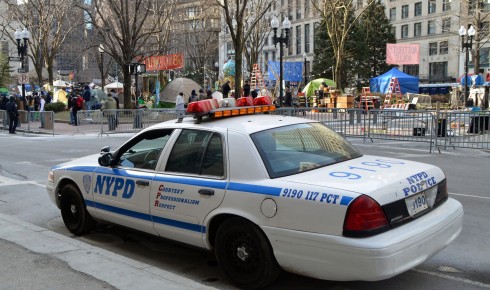 We were still a good 100 yards away from the actual cameras that were filming the faux protesters in the park. There were lots of spectators watching the filming from the other side of Post Office Road so we went closer to get a better look. At the corner of Post Office and Milk I took out the camera to get a shot of the shooting and someone said " Hey look – real tourists" I asked what she meant and soon learned that everybody I assumed were just gawkers like us, were really extras who all had a script and a part to play, including as tourists. This was just a bit too surreal for me so we backed away and I checked out everyone we passed for the next two blocks, but I couldn't tell who was real and who wasn't.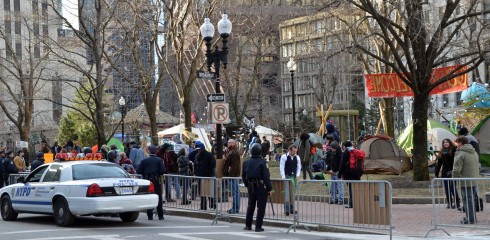 After a quick stop at Quincy Market for coffee and a cannoli we returned to the hotel to prepare for the raison d'etre for this road trip, the Bruins game which was slated for 1:00 PM.
We walked the short distance to TD Bank Gardens ( I love the way Canadian banks hide their true identities from Americans by using just their initials), Rob festooned with his Bruins jersey. We had opted to pay a little extra to get a seat in a box and it was more than worth it.  Boxes have their own washroom, TV sets, and server service. Also you don't have to worry about people standing in front of you or having to let the guy in and out who goes to the bathroom every 15 minutes.
As far as the game goes the B's didn't have any legs or defense for that matter and Alex Ovechkin feasted on them. 4-2 Caps and it could have been worse. As a Leaf fan I wasn't heartbroken.
After the game we got some shots of the iconic statue of Bobby Orr scoring the Stanley Cup winner against St. Louis.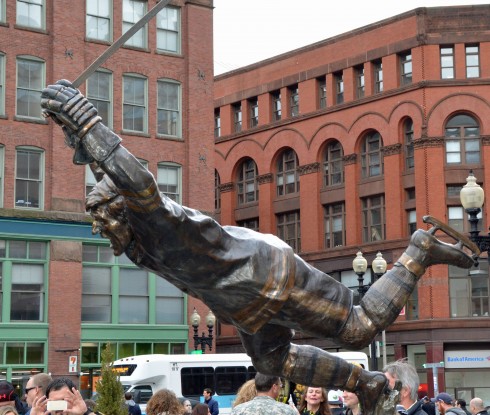 We had supper at Artu, one of the many, many Italian places on Hanover Street. The antipasto was excellent, especially the grilled octopus and the quite different bruschetta (no tomatoes). Main plates were good, but not exceptional.
No jazz tonight.
---
The Maritime Explorer Score:
"This is next on your list!"
Comments:
---
---
Did you enjoy this article? Please share it!:
---
More explorations: