Boston – How to Get the Most Out of a Three Night Visit in Winter
We'd had enough of the shitty Nova Scotia weather so a road trip was in order. I bought some Bruins tickets on line (more expensive than Leaf tickets if you can believe it), booked a room for three nights at the Battery Wharf Hotel and hit the road. Listening to Harlan Coben's excellent thriller Six Years made the drive down I-95 we have done at least thirty times before, quite bearable. We stayed at an old favourite, The Senator Inn in Augusta the first night and got a room with a king bed, a good dinner with martini and wine and a very decent continental breakfast for $150 USD all in. Can't beat that. Off to Boston on the morrow.
The next morning we skirted downtown Boston on the I-95 and got off at Quincy and then north to our destination the Kennedy Library.
The Kennedy Library, Boston
Just like every American, every Canadian of my vintage remembers where they were when President Kennedy was shot. Before the likes of Tricky Dick and 'W' took office, Canadians revered US Presidents as much or more than our own Prime Ministers so a visit to the Kennedy Library is on most Canuck's bucket list. Alison and I arrived on a beautiful clear and cold morning in Boston.
The location of library is exceptional with tremendous views of the Boston skyline across Dorchester Bay.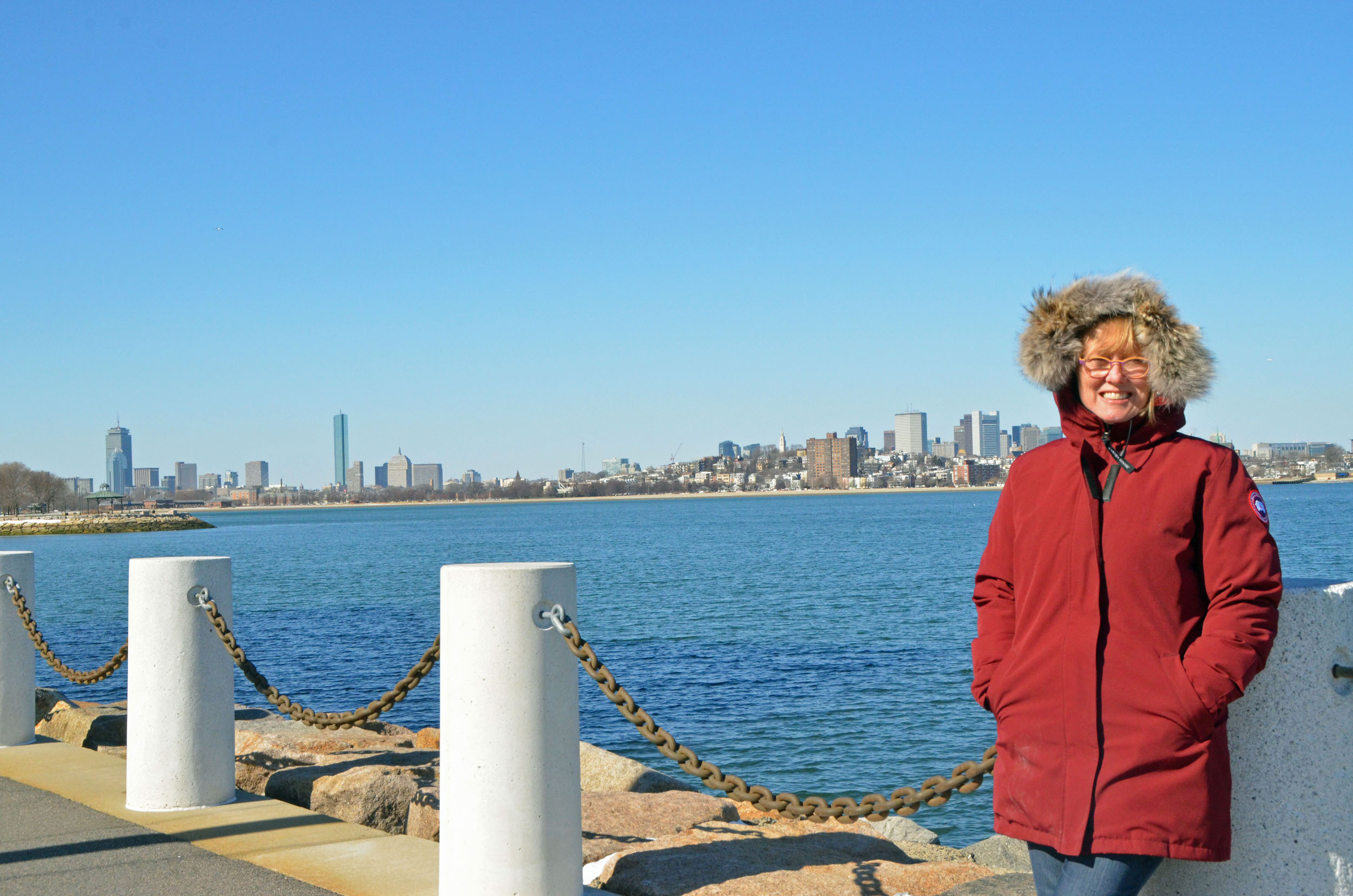 The building, by I.M. Pei is even more impressive with its soaring atrium and white marble exterior.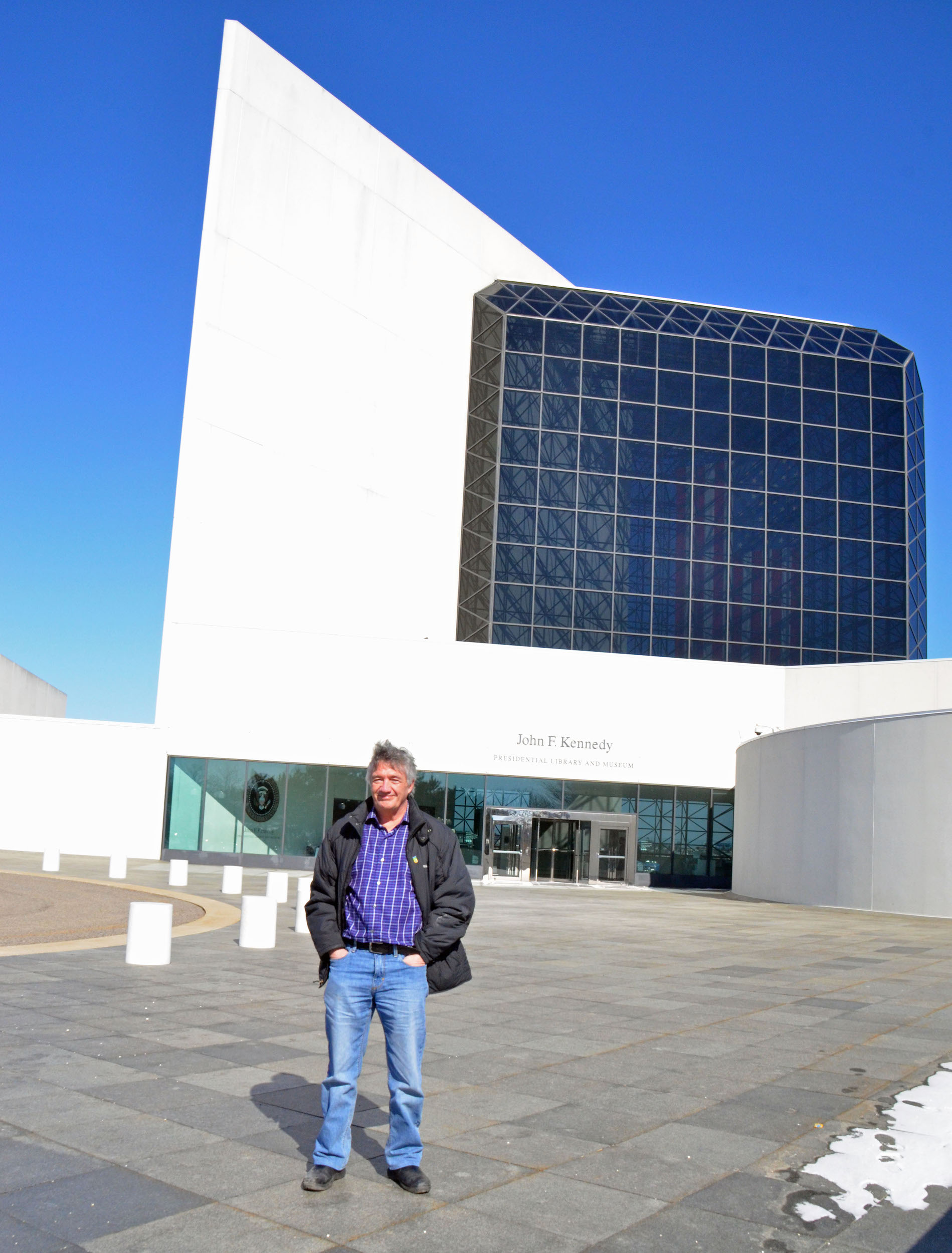 Just inside is a huge Presidential seal which makes for a great place to get photographed.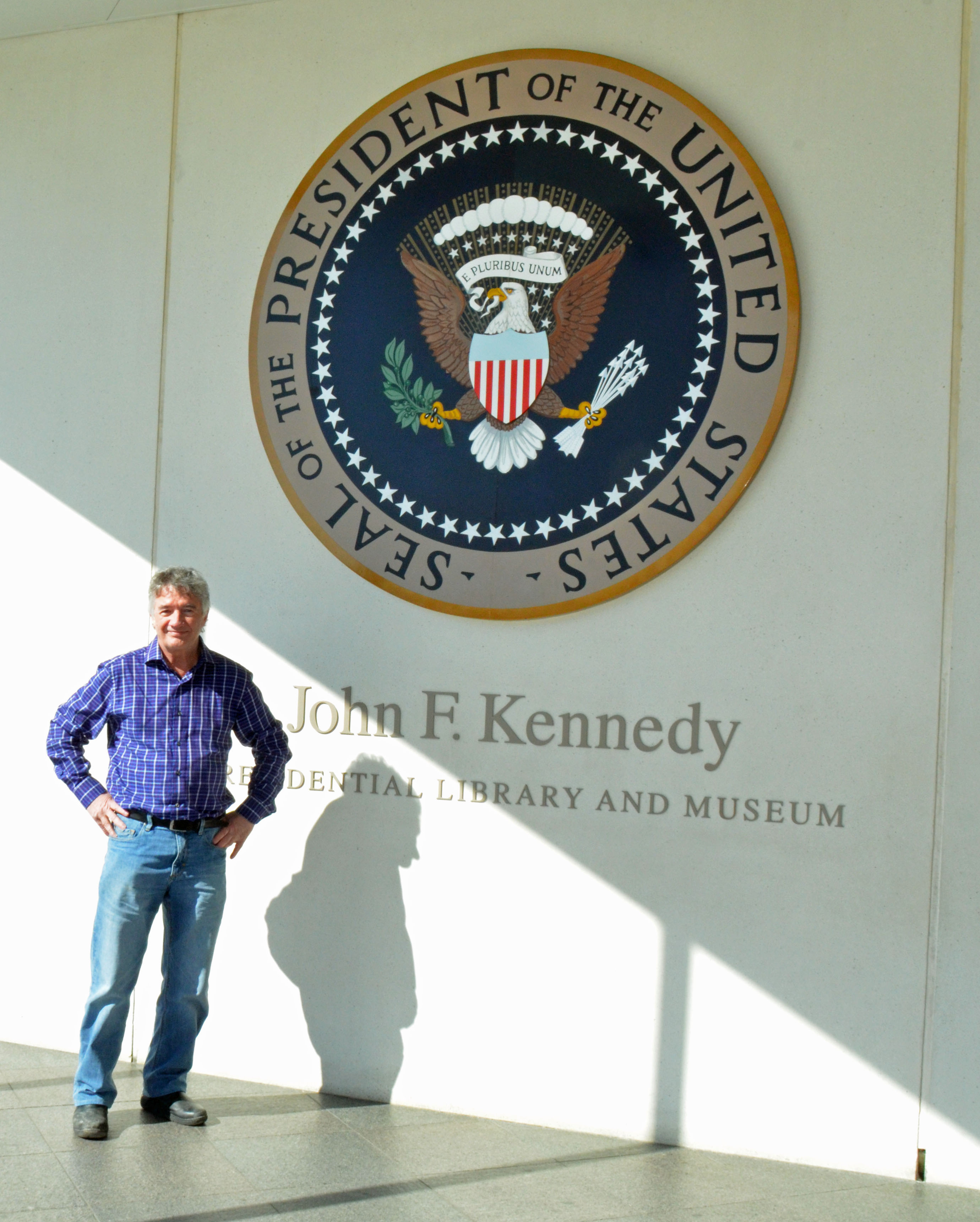 The visit starts with a thirty minute video of JFK's years leading up to his nomination for the Presidency in 1960. From there you follow a winding path that commences with the campaign and inevitably ends with the assassination, hitting the highlights of the accomplishments of the regime including the space race, civil rights and the Cuban missile crisis. There are also side rooms dedicated to Robert Kennedy and Jacquie Kennedy. A separate temporary exhibit had an excellent detailed examination of the Cuban Missile crisis with excerpts from secret tapes that JFK had made of the deliberations leading up to and during the crisis.
Also on display are some of many, many gifts that JFK and Jacquie received during his brief tenure as President. For me the most amazing and unexpected item on display was the actual Mercury 1 capsule that Alan Shepard climbed into and became the first American in space in 1961. It literally looks like something you would build in your garage out of spare parts and the idea that it could survive the forces necessary to propel it through the atmosphere and re-entry seems preposterous. The guts it must have taken to get into that thing are beyond brave.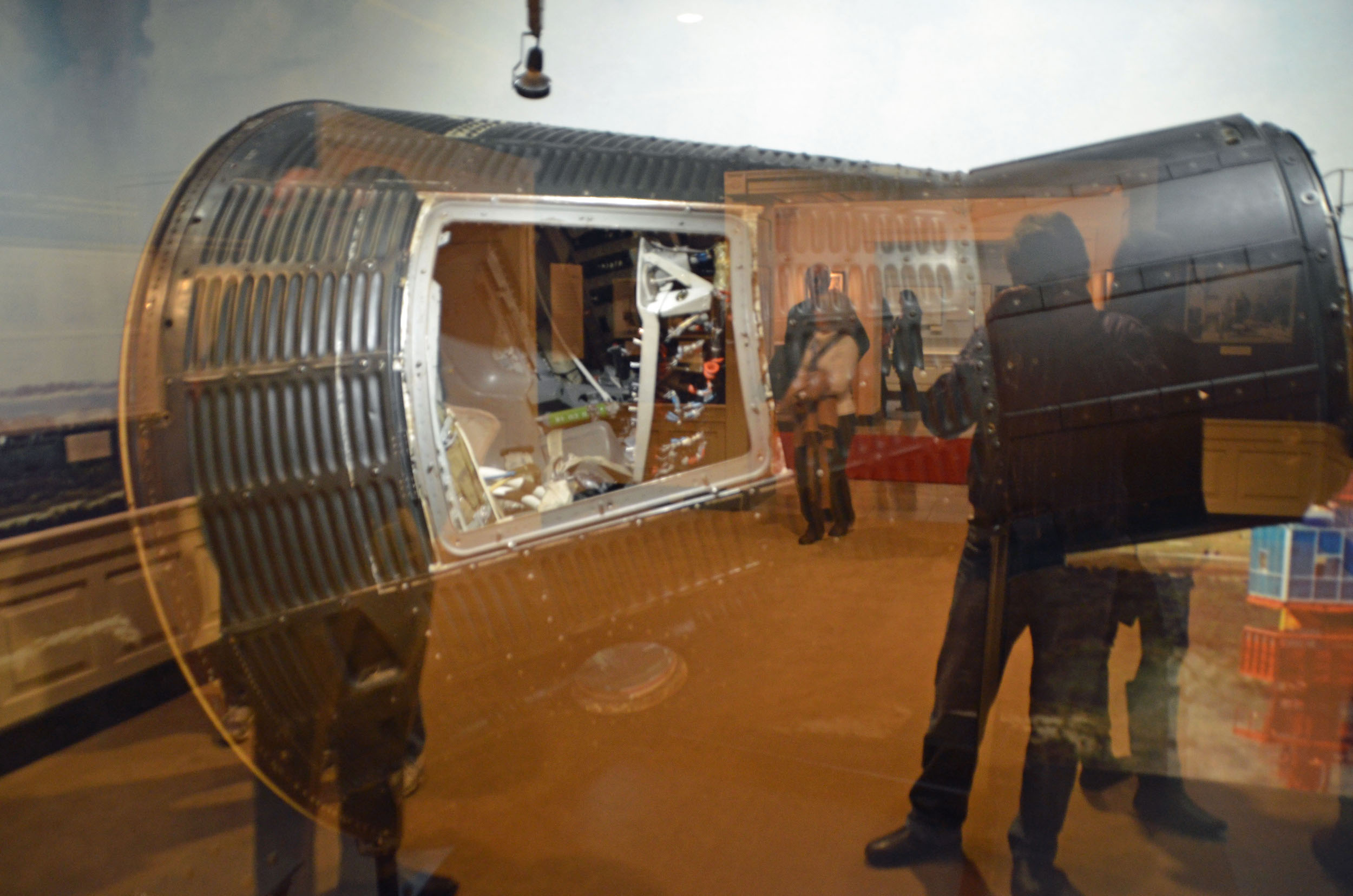 Finally, on our visit we walked down to the atrium with the massive Stars and Stripes hanging from the ceiling. It is impressive.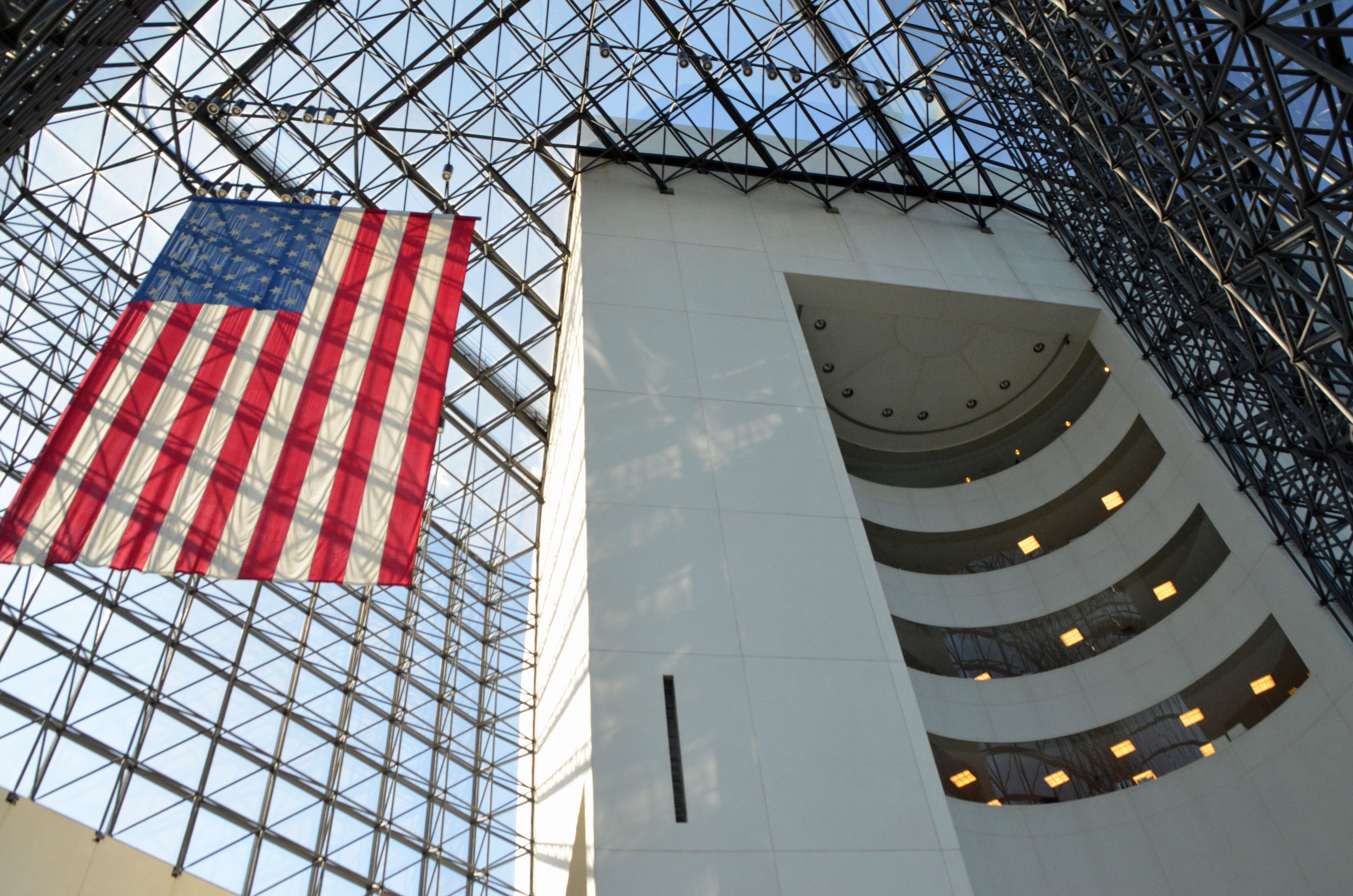 It's one thing to look at the Boston skyline and quite another to actually get into downtown Boston. Despite the billions spent on the Big Dig we spent almost two hours in bumper to bumper traffic on the I-93 crawling into the city centre. The scariest part was the underground expressway where traffic suddenly speeded up to a manic pace and I had to cross three lanes of traffic to get onto the exit ramp. Usually this would be no problem except for the cars coming up from behind with no lights on that were virtually impossible to see. It was a relief to come back to the surface on Causeway Street and then follow it to Commercial Street and our destination at the Battery Wharf Hotel. I handed the keys to the valet and said goodbye to driving for a couple of days.
Our friends Rob and Janet Purdy had flown in that morning and were already checked in. We got Room 3134 which was at ground level right on the Boston Harborwalk. Instead of looking at other buildings our view was all water, with a variety of seabirds bobbing on the dead calm surface.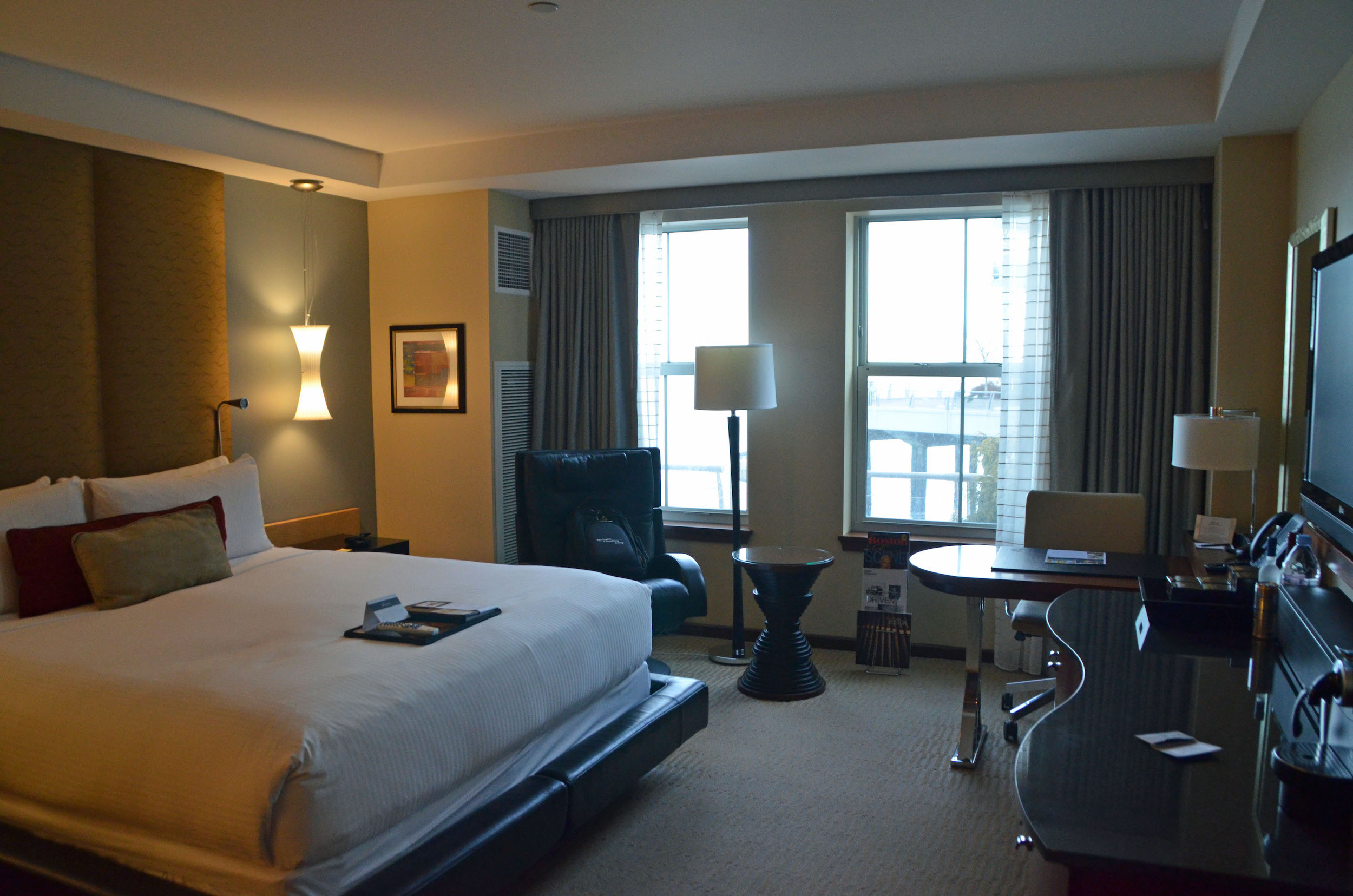 Tonight we had a great meal at Abe and Louie's which I reviewed here. Back at the hotel there was a jazz quarter with a trumpeter who played some very passable renditions of Miles Davis and Chet Baker standards. Rob and I made the mistake of ordering Irish coffees which was clearly something only lowbrows did in Boston. It arrived with straight coffee with a shot of whiskey and cream on the side. I switched to Knob Creek bourbon.
Saturday March 1 came in like a lion and a lamb – cold as hell, but sunny with no wind. It was so calm that jets taking off from Logan airport miles away woke us around six. Looking out the window I could see the light was great so we each had a Nespresso from the machine in the room and set out on the Harborwalk. The Battery Wharf Hotel is at the north end of this great urban pathway that follows the ins and outs of the many historic wharfs that make up Boston's inner harbour.  Piet Mondrian would have been proud of this trail that is strictly one right angle turn after another.  What was once a bustling commercial and shipbuilding area (Old Ironsides was built not 100 feet from Battery Wharf) has now been transformed into some of the priciest condos and townhouses in  the city. The good news is that instead of tearing down these old wharfs, as most cities would do, these were morphed into residences while maintaining the architectural integrity of the exteriors. Whatever your thoughts on gentrification, I think most would agree that Boston is better off with what is there now rather than the rat infested derelict buildings that languished on the waterfront for decades.
The morning light is as good as it looked from the room, with great reflections on the water such as in this shot of a Coast Guard cutter directly across from the hotel.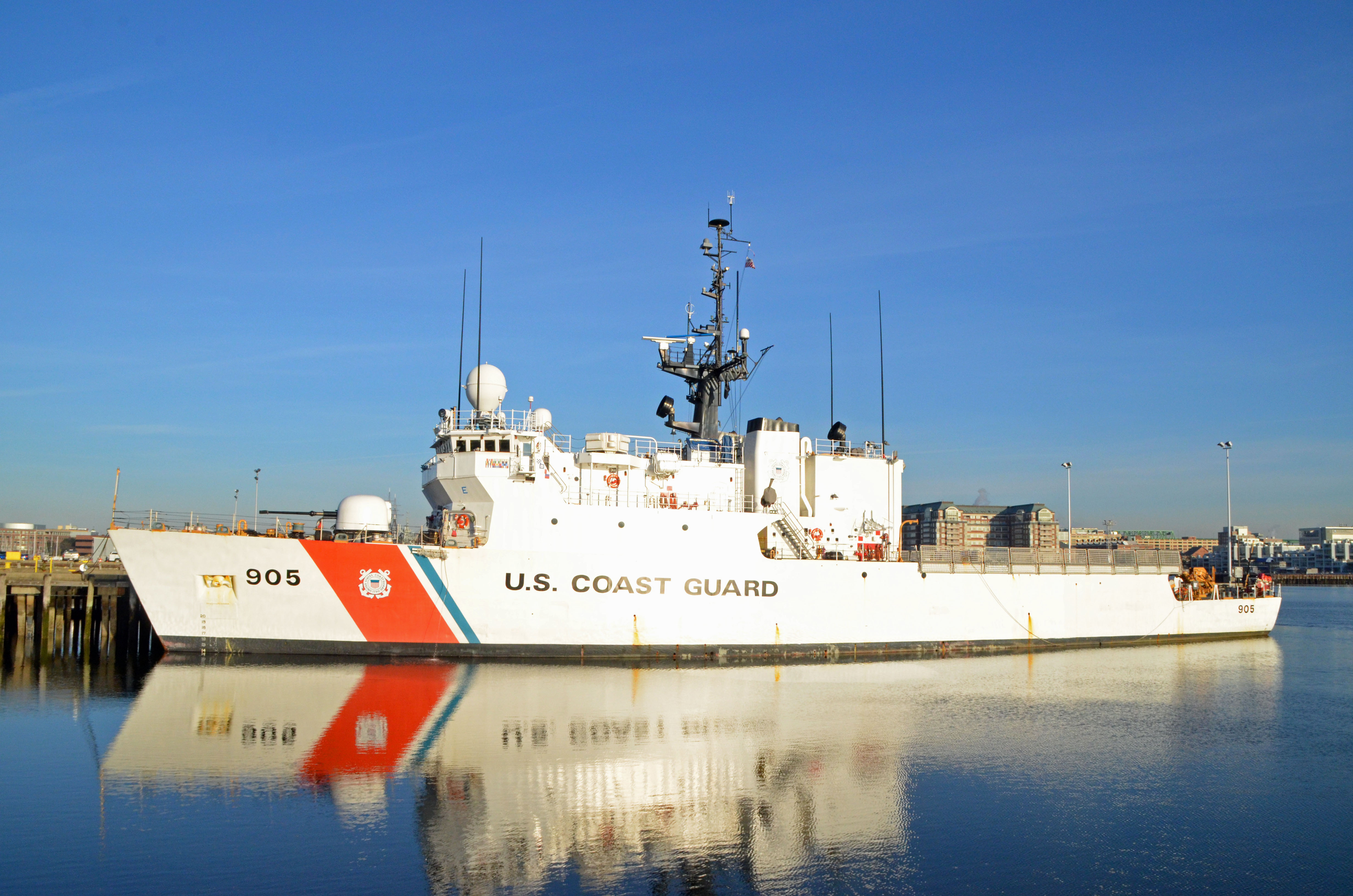 The shadows are also nice.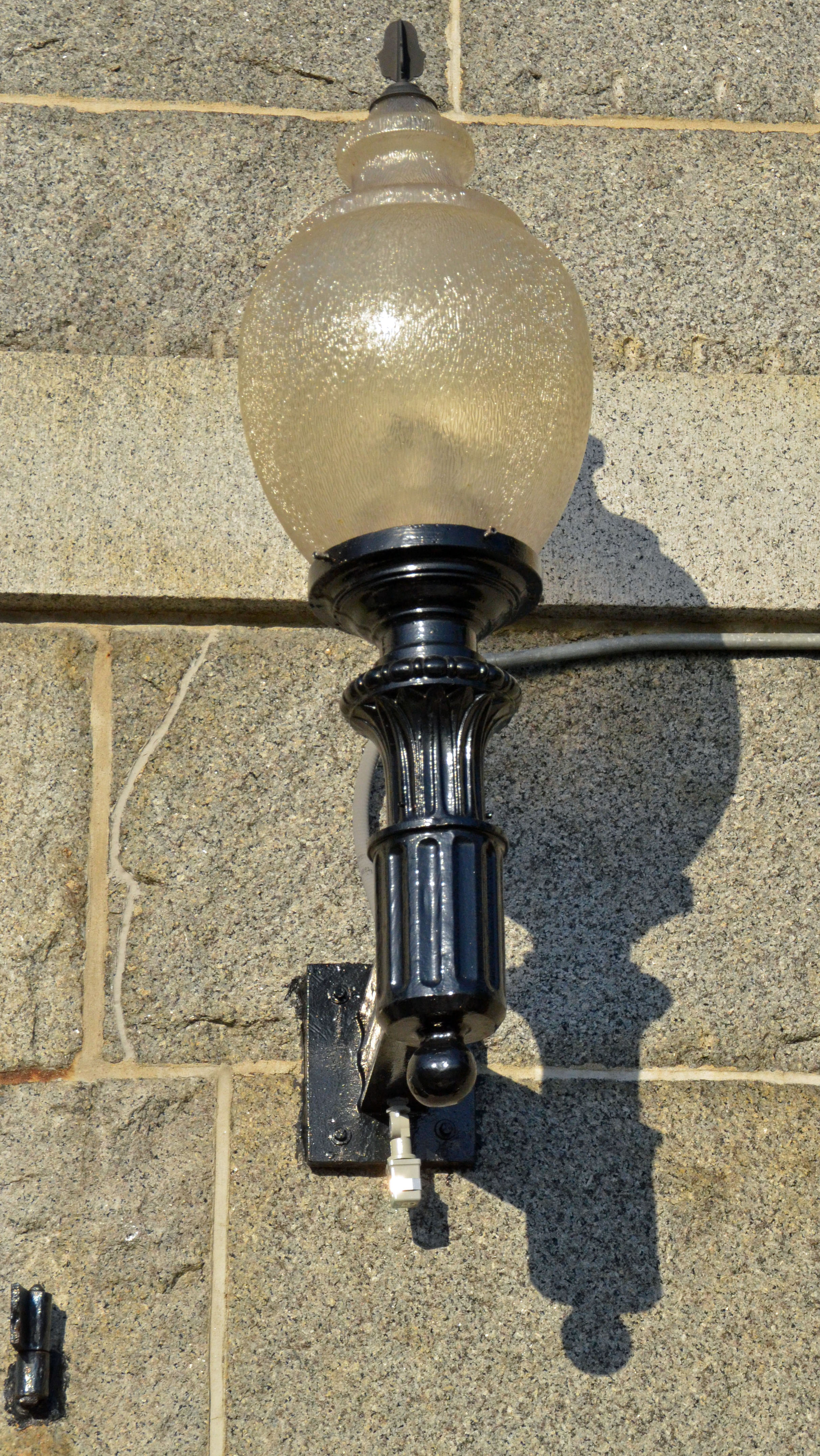 As always the Magic Hour didn't last long, but we strolled on for over two hours and walked the entire length of the Downtown/North End portion of the trail – Union wharf, Lewis Wharf, Commercial wharf, Columbus Park, Long wharf, New England Aquarium, Rowe's wharf, South Station. By the time we got to South Station we snapped out of early morning reverie and realized that we had overshot Quincy Market, our intended destination by a wide mark. Taking the direct route back via Federal and State Streets past the Old State House we literally walked into a movie set without knowing it.
I'd seen enough movie and TV shoots in Halifax to know that the trucks we started running into on Federal were support for some kind of shoot that was taking advantage of the early morning light.  We emerged from Milk Street at Congress to see barricades surrounding Norman B. Leventhal Park which was covered with tents and protesters meant to recreate the Occupy Wall Street movement that started in New York City in 2013. A security guard told us it was a pilot that was being shot for a series called Odyssey. We crossed Congress and walked up Post Office Road to get a closer look and I noticed that the parked cabs had New York plates and the police cars were NYPD.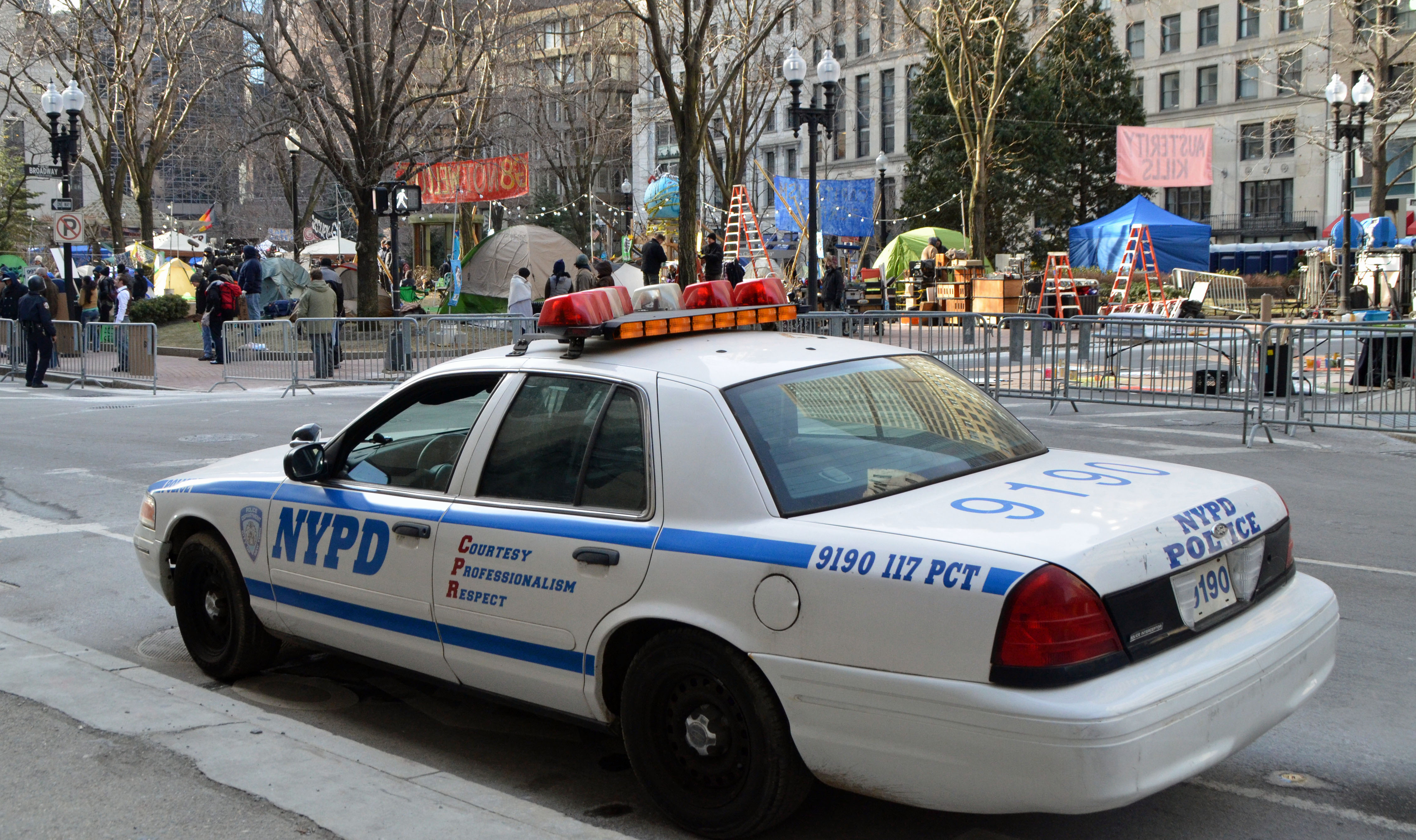 We were still a good 100 yards away from the actual cameras that were filming the faux protesters in the park. There were lots of spectators watching the filming from the other side of Post Office Road so we went closer to get a better look. At the corner of Post Office and Milk I took out the camera to get a shot of the shooting and someone said " Hey look – real tourists" I asked what she meant and soon learned that everybody I assumed were just gawkers like us, were really extras who all had a script and a part to play, including as tourists. This was just a bit too surreal for me so we backed away and I checked out everyone we passed for the next two blocks, but I couldn't tell who was real and who wasn't.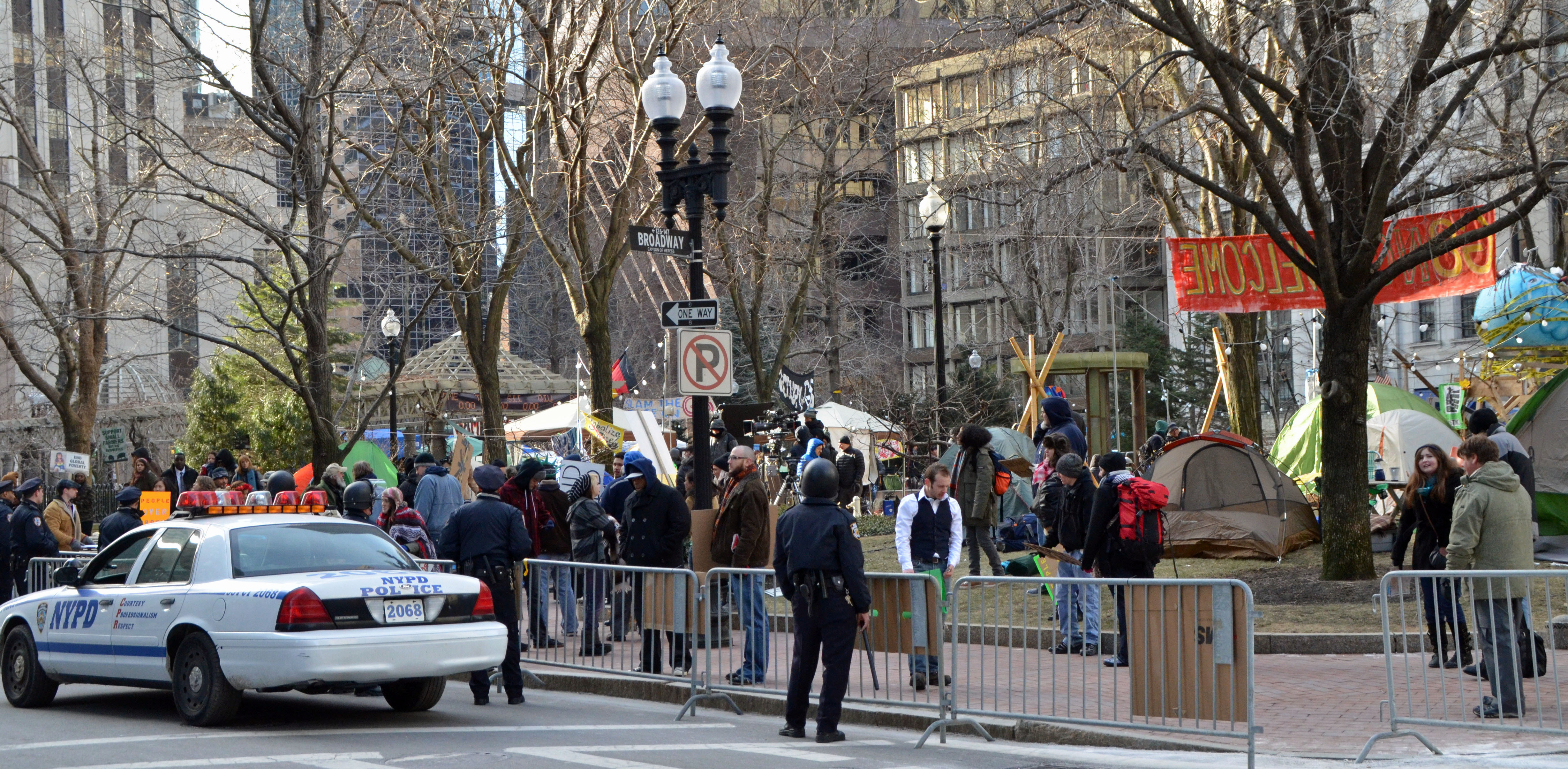 After a quick stop at Quincy Market for coffee and a cannoli we returned to the hotel to prepare for the raison d'etre for this road trip, the Bruins game which was slated for 1:00 PM.
We walked the short distance to TD Bank Gardens ( I love the way Canadian banks hide their true identities from Americans by using just their initials), Rob festooned with his Bruins jersey.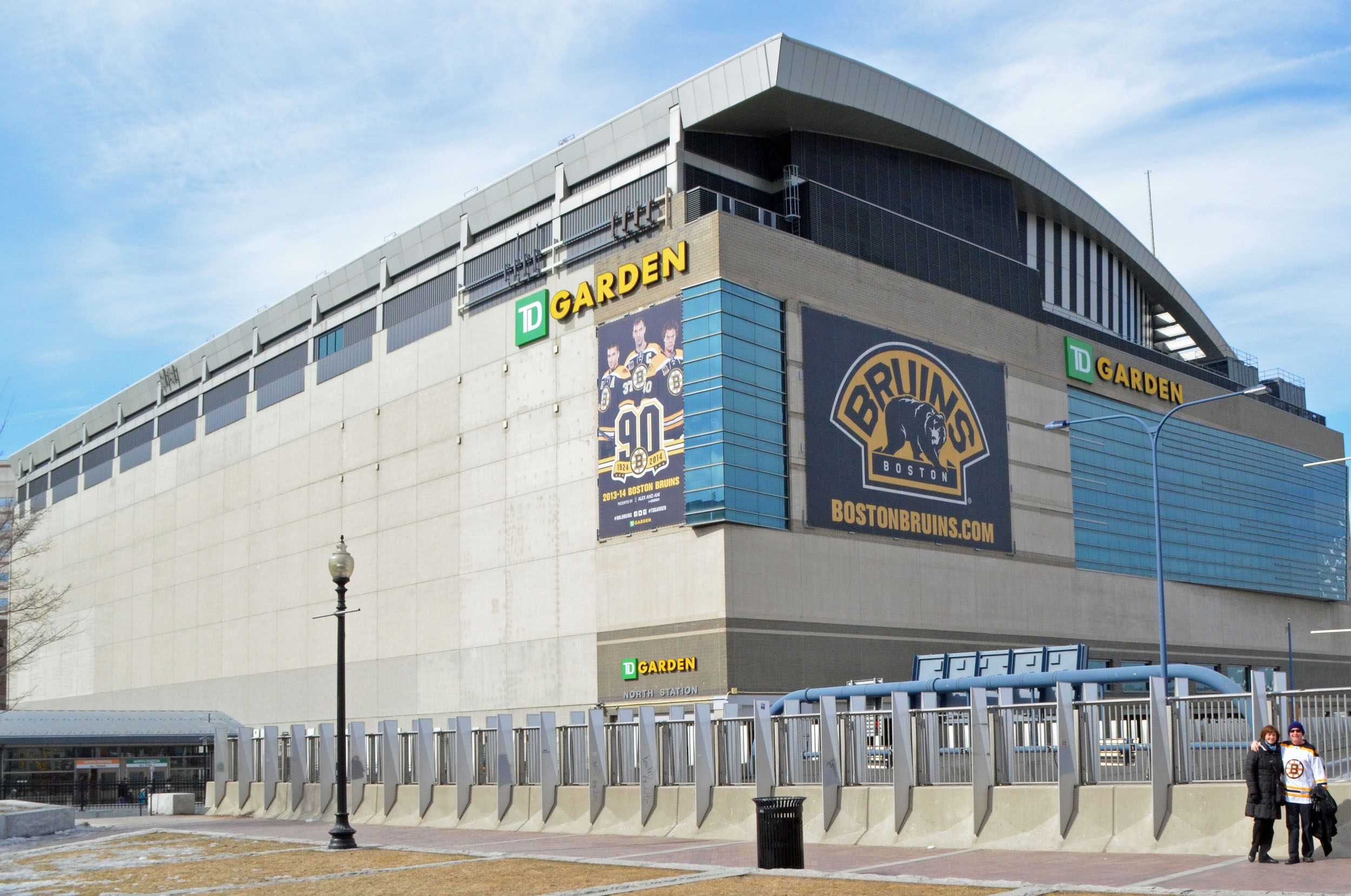 We had opted to pay a little extra to get a seat in a box and it was more than worth it.  Boxes have their own washroom, TV sets, and server service. Also you don't have to worry about people standing in front of you or having to let the guy in and out who goes to the bathroom every 15 minutes.
As far as the game goes the B's didn't have any legs or defense for that matter and Alex Ovechkin feasted on them. 4-2 Caps and it could have been worse. As a Leaf fan I wasn't heartbroken.
After the game we got some shots of the iconic statue of Bobby Orr scoring the Stanley Cup winner against St. Louis.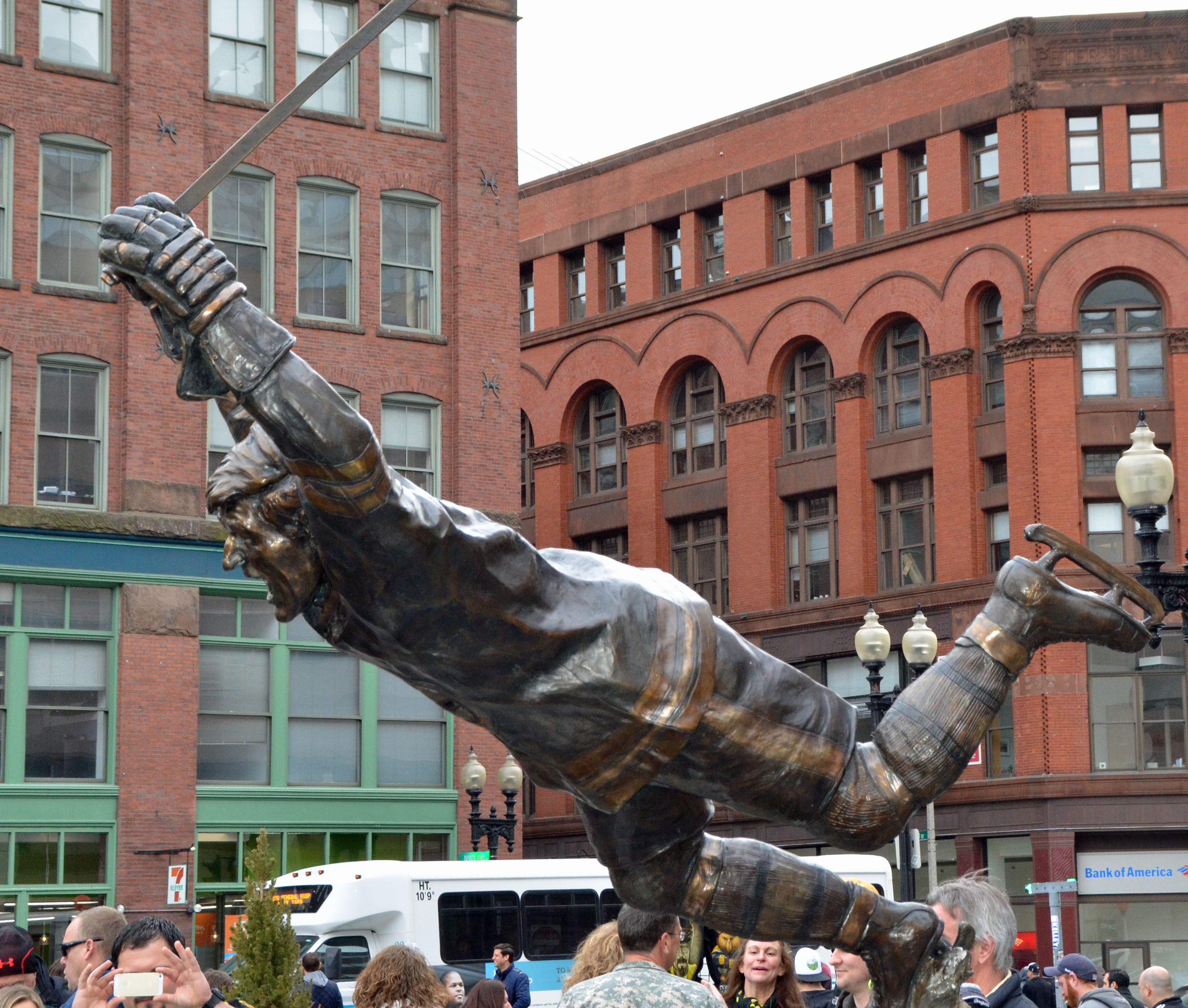 We had supper at Artu, one of the many, many Italian places on Hanover Street. The antipasto was excellent, especially the grilled octopus and the quite different bruschetta (no tomatoes). Main plates were good, but not exceptional.
No jazz tonight.
In the evening the lineups to get into Mike's Pastry are legendarily long. However, show up here at 8:00 on Sunday morning and there's no problem getting a table.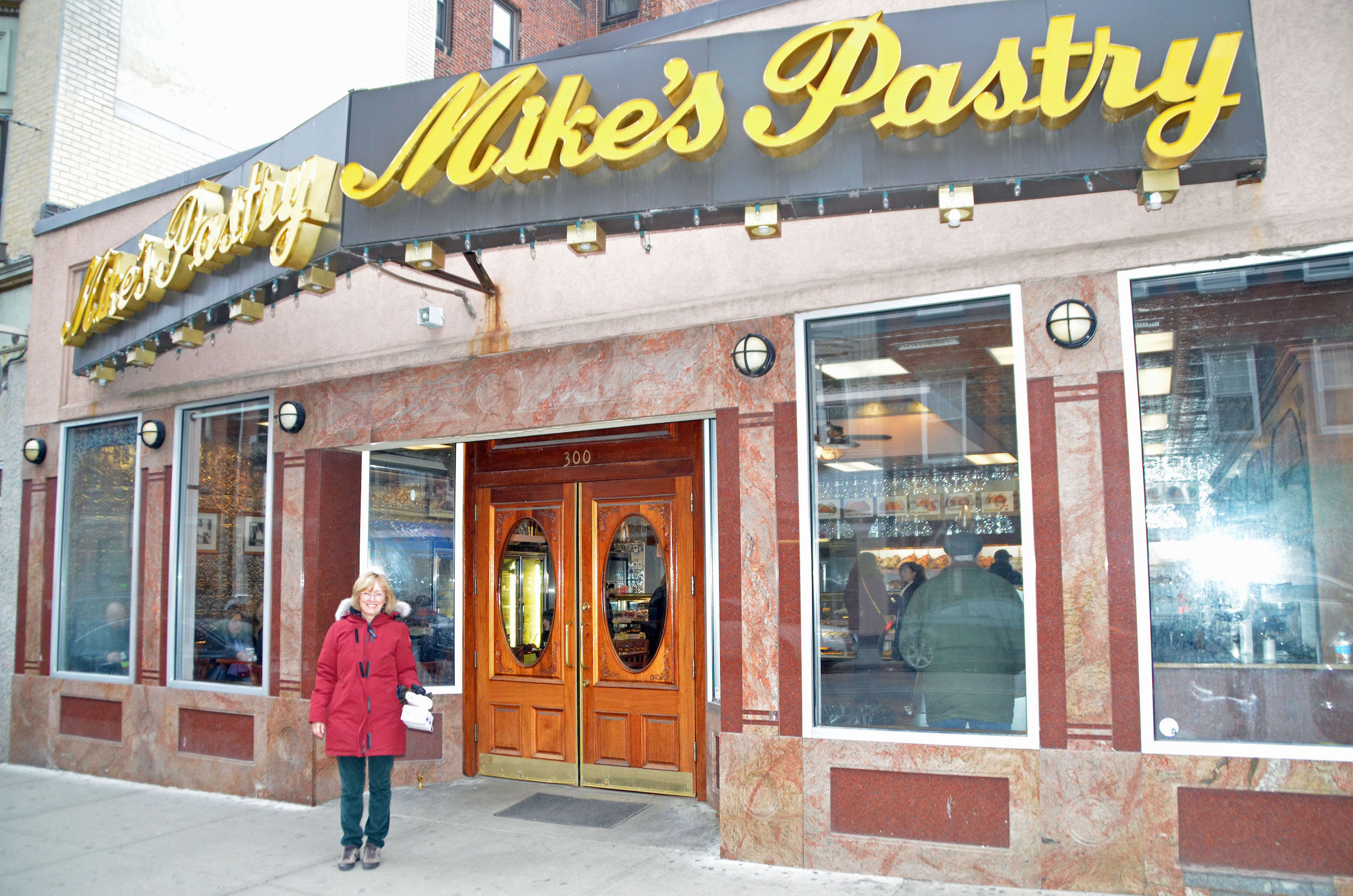 I still remember as a kid the story of Hansel and Gretel and thinking about when they first saw the witch's houses made entirely of delicious pastry and candy. What more could a child ask for? Of course there were some serious repercussions for Hansel and Gretel and there probably are for anyone who eats cannoli every day, but the first time you walk into Mike's Pastry is the equivalent of the 'kid in a candy store' metaphor; that is assuming you go there early in the morning before the crowds and can actually see the hundreds of pastries filling the shelves and glass cases.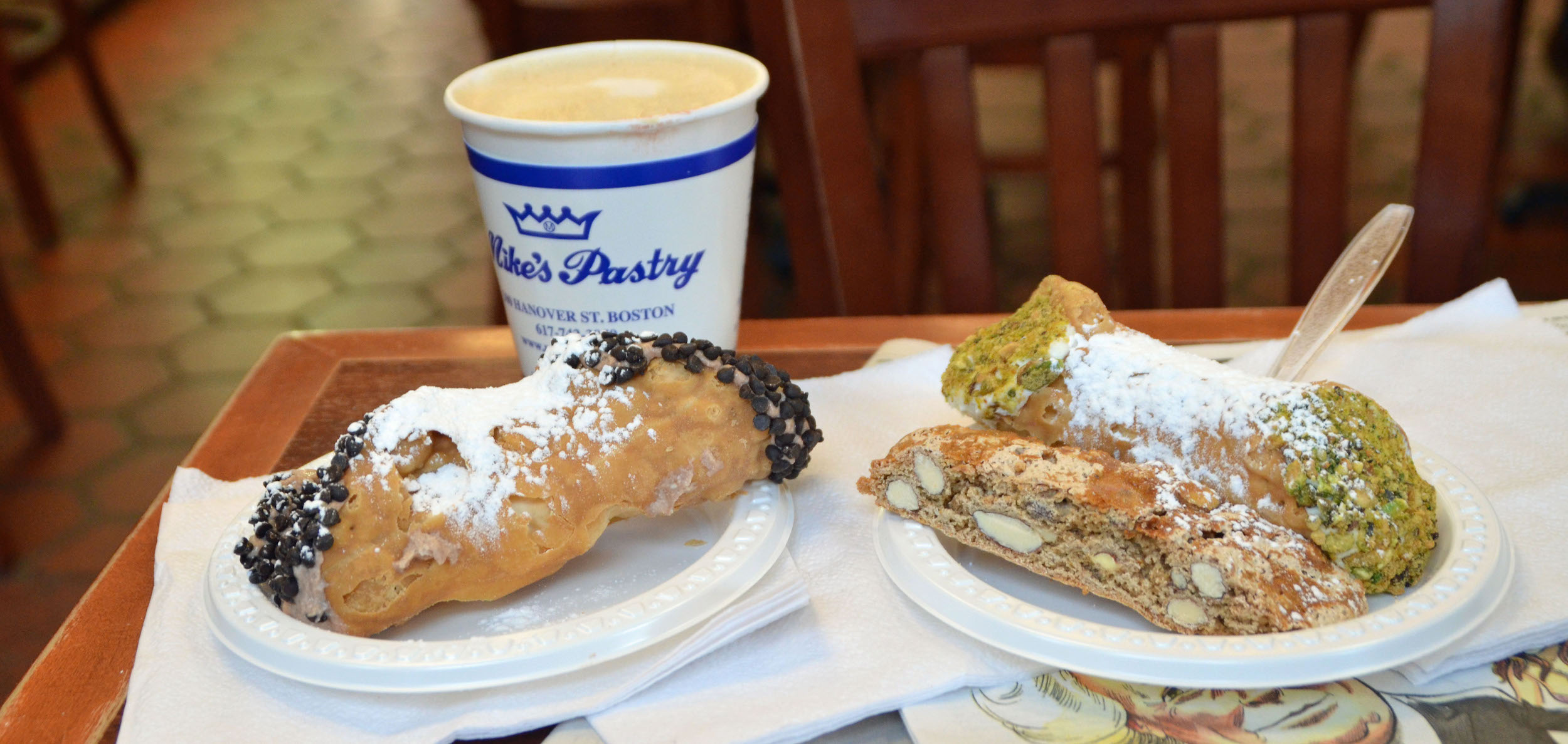 Mike's is about as basic as it gets. Everything is baked on site with prices that should make Starbucks and other chains blush with shame. There are only a few tables and it's cash only. The biggest problem at Mike's is what to order – there just don't seem to be any bad choices. For example, if you narrow it down to cannoli then you still have 18 choices. This is also one of the places where you can get Boston cream pie as it has been made since being invented at the Parker House in 1856. Interestingly, although Mike's offers well over a hundred different pastries there is only one variety of muffin and no bloody doughnuts – take that DD!
Seriously Mike's is an iconic place for pastry and as deserving of a visit as the Cafe du Monde in New Orleans or Versailles in Little Havana.
Museum of Fine Arts
The weather was overcast with that creepy chill that comes from moisture in the air. Even though the temperature was well above that of the day before, it felt cooler – a perfect day for visiting one of the world's great art galleries, the Boston Museum of Fine Arts or mfa as most Bostonians call it. I was not aware until my first visit to mfa that Boston was the first American city to really embrace Impressionism and that as a result it had a world class collection of impressionist art with a heavy emphasis on Monet. I still remember being visually overwhelmed by the huge canvasses in the Sidney and Esther Rabb Gallery.
Today we were there primarily to view a special exhibition of the best of the mfa impressionist collection as voted on by the general public, which seems have been assembled as a sop to the viewing public, while the Rabb Gallery was being renovated. The museum selected the fifty pieces that voters could choose from and the top thirty vote getters were on display through the end of May.
We always pick up the audio tours whenever they are available because it enhances the experience of visiting a museum or galley immensely. The mfa is no exception and for $6.00 you get the opportunity to get the story on the artist, the painting, the historical times surrounding the painting and other information that can't be contained in the brief descriptions beside the paintings and sculptures.
We spent about 30 minutes viewing the 30 award winners and then headed out for some highlights from the American collection. Here's Alison enjoying Sargent's magnificent Daughters of Edward Boit.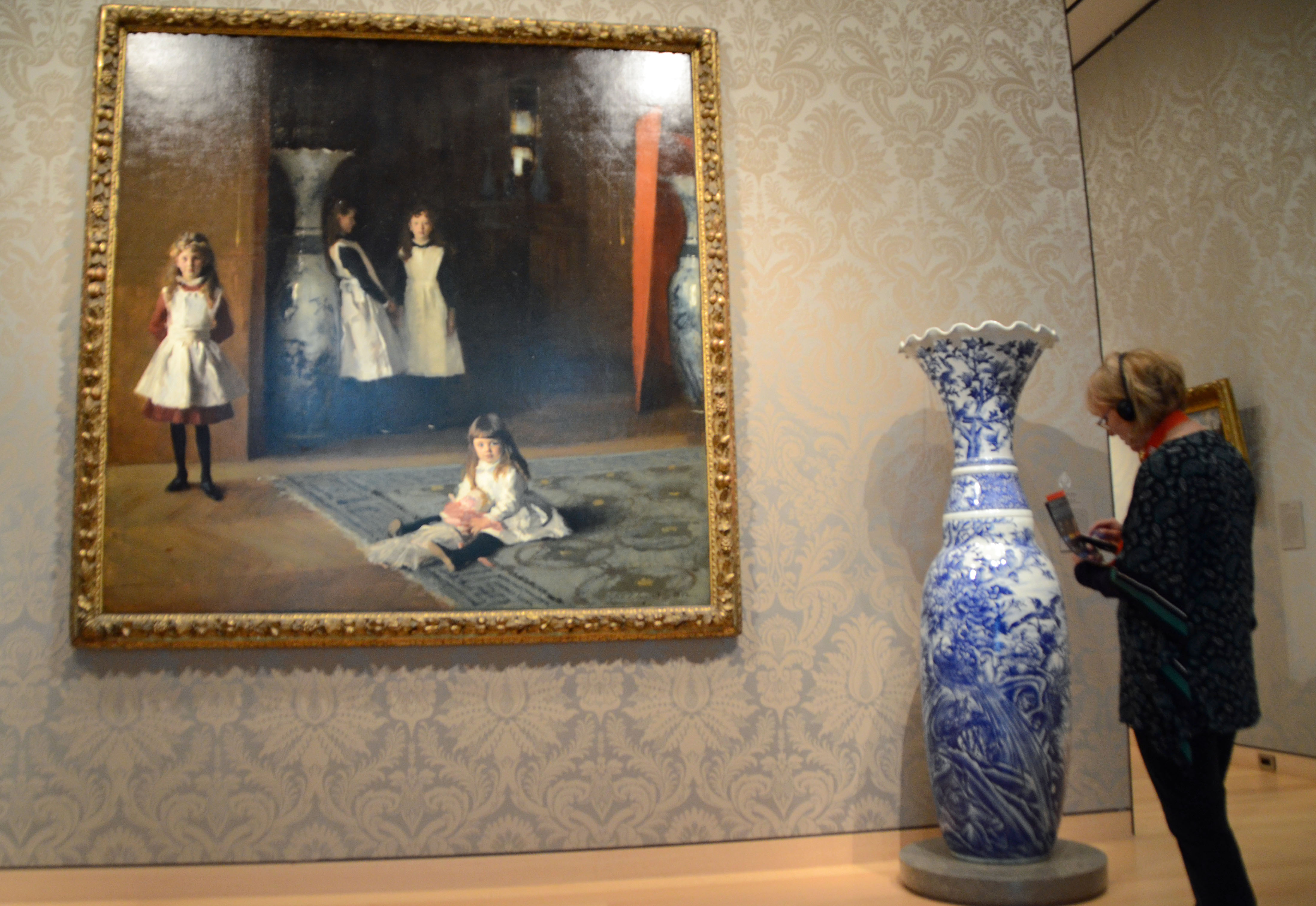 There were a couple of sculptures that were compelling for different reasons. First, Dale Chihuly's towering glass tree is just plain visually stunning, both from a distance and close up.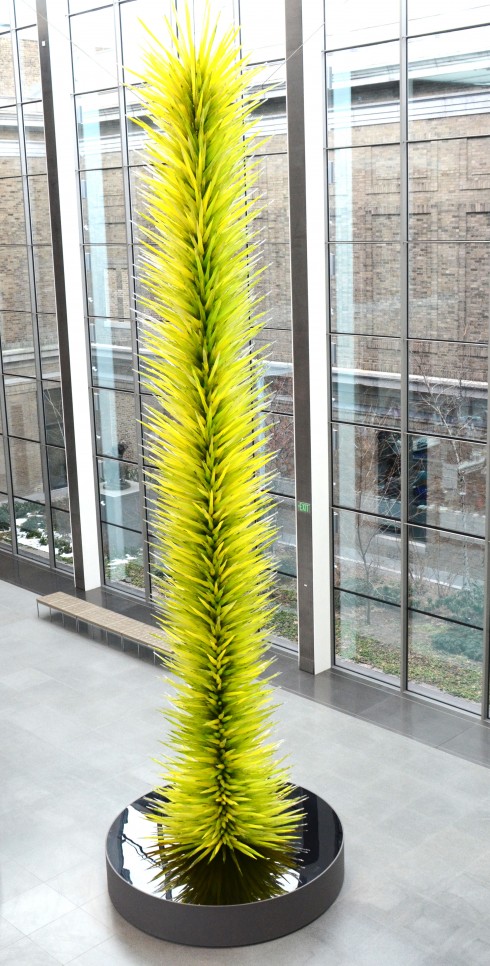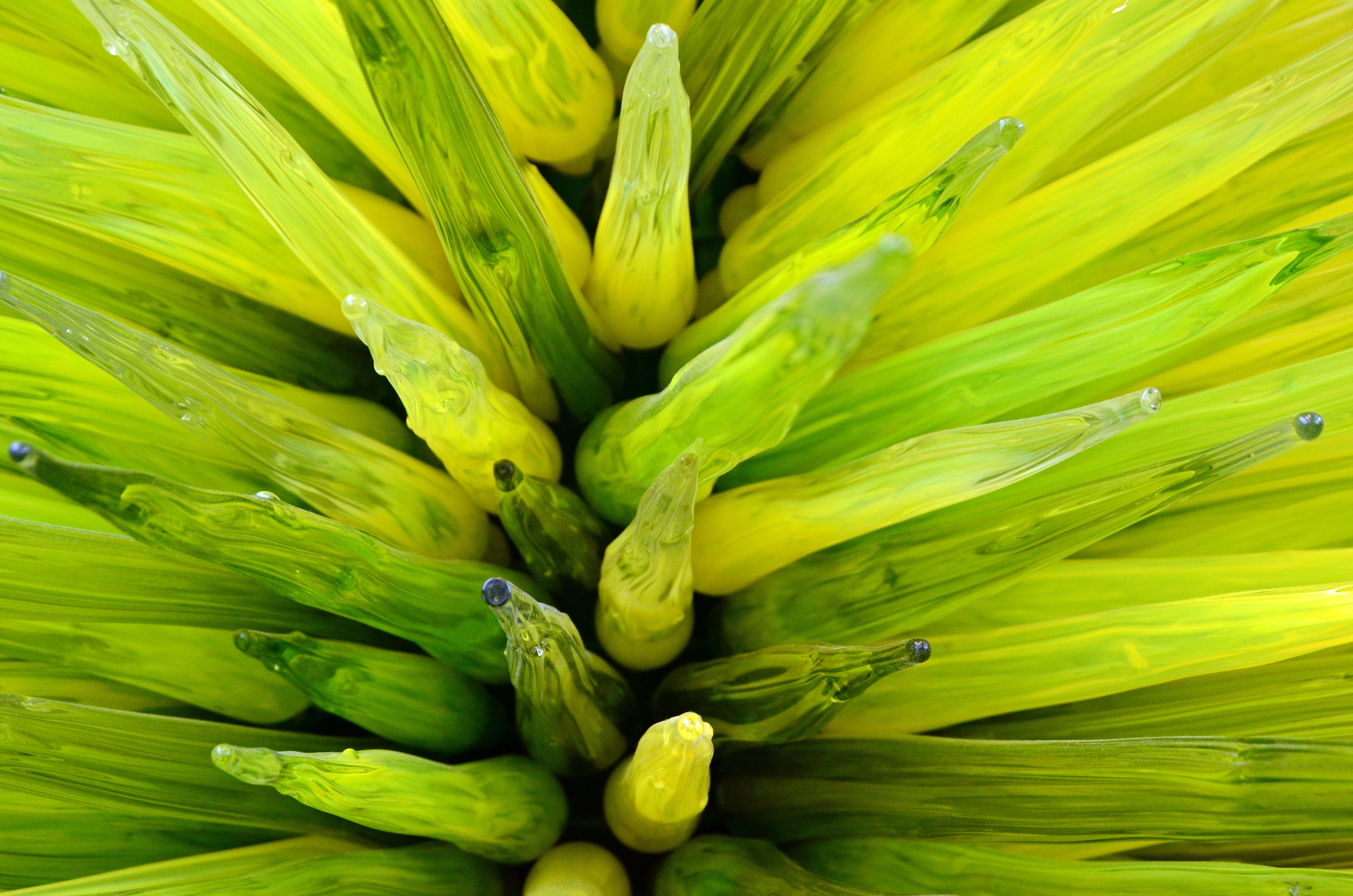 And the other is the falling men that are so completely Mad Men that it is eerie. I have to wonder which came first – these falling men or the series opener.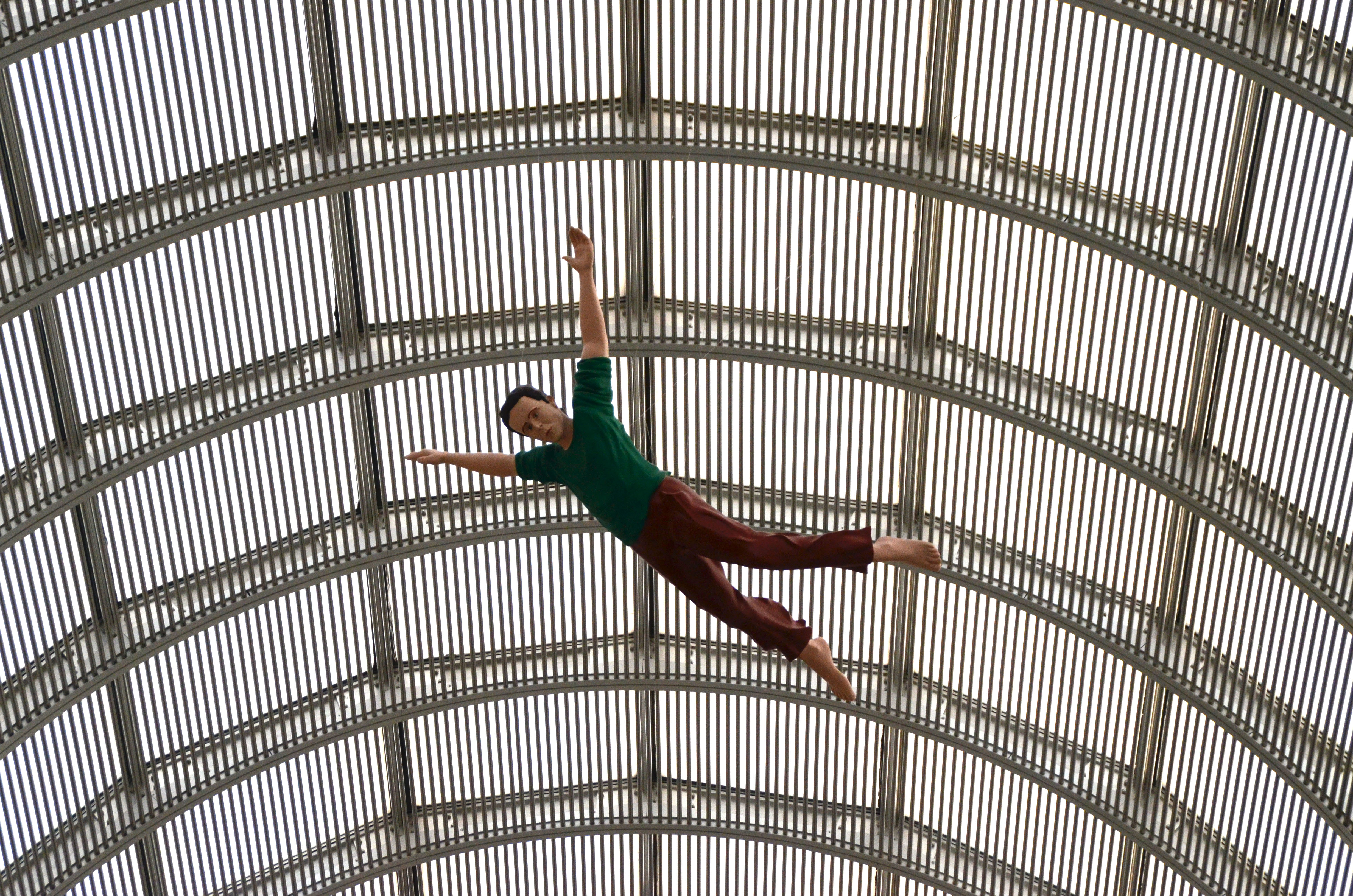 We spent just over three hours at the mfa which is about the attention span limit for any museum or gallery, after that everything becomes a blur.
Our final dinner in Boston was appropriately seafood at Atlantic Fish Company on Boylston. Turns out it is a sister restaurant to Abe & Louie's where we ate the first night. They did just as good a job on the seafood as they did on the beef; the cioppino was superb.
Once again Boston proved it is one of the most underrated cities in America. Another underrated city is Philadelphia which we visited on our way to Florida a few years after this visit to Boston.