Brussels – Is This Europe's Most Overlooked City? Here's Why it Might Be
My legal practice occasionally provides the opportunity to travel abroad and such was the case in October 2011 when I had to spend a few days in Hamburg. Rather than fly directly there via Heathrow my wife, who often accompanies me on business trips, and I decided to try something different – take the Chunnel to Brussels and spend a few days in Belgium.
Getting to Brussels was a snap. After landing at Heathrow on an overnight flight from Halifax it was into Paddington Station on the Heathrow express, a couple of lines on the underground to St. Pancras Station to board the Eurostar direct to Brussels via the Chunnel. From touchdown to arrival at the Eurostar departure it took less than 90 minutes. The trip to Brussels is just over 90 minutes to the Midi station from where it was a 12 euro taxi ride to the medieval centre of Brussels where any number of hotels are available. We stayed at Le Meridien (now the Hilton Grand Place) which was three minutes from the Grand Place.
Brussels is often overlooked by North American tourists who gravitate to the northern European cities of Paris, Berlin and Amsterdam. Europeans know better and congregate here in great numbers on weekends to enjoy the joie de vivre of the Grand Place as we were about to find out. Brussels is home to the headquarters for both NATO and the European Union which leads to very high hotel prices during the week, but Europeans know that when the taxpayers are not footing the bill the prices drop dramatically for Friday and Saturday nights. Bargains can be had by waiting until as late as possible to book a hotel.
Grand Place, Brussels
If a city has the nerve to call its principal civic square the Grand Place you know it has to be worthwhile visiting and UNESCO has agreed, naming the Grand Place a World Heritage Site in 1998. The site consists of a large rectangular open space which has been used as a market for a thousand years, surrounded by a unique collection of late 17th century buildings in the Flemish baroque style that are quite simply stunning. While the Hotel de Ville or town hall as we would call it, and many Flemish guilds were located here since Medieval times, in 1695 the French destroyed most of the facades with cannon fire. The Bruxellois took this as an opportunity and the facades were rebuilt in unified architectural style that makes the Grand Place one of a kind. Altogether there are seven magnificent structures that collectively form the best example of 17th century Flemish architecture in the world. Standing in the middle of the square is a great place to get a 360 degree video panorama.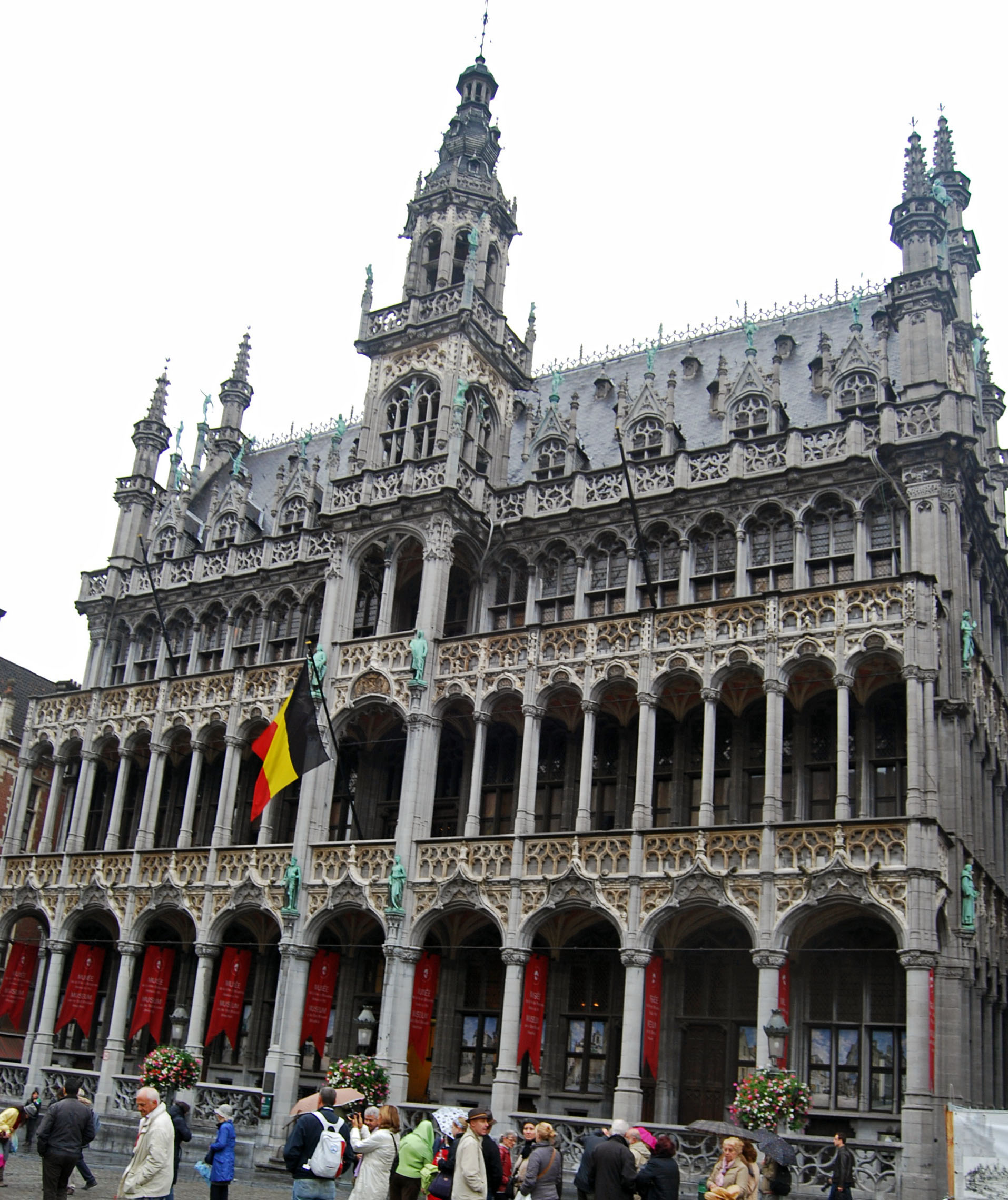 Walking up to the facades reveals hundreds of interesting architectural details that would take hours to properly appreciate – including intricate statues, gargoyles, gables, spires and domes. Many of the interiors are open to the public including the Hotel de Ville and the Maison du Roi, former residence of the Spanish monarchs who once controlled Belgium. Inside the Hotel de Ville you will find rare tapestries, ornately carved woodwork and enough gold gilt to satisfy even King Midas. On market days the Grand Place becomes a riot of colour as flower merchants set up shop selling live as well as cut flowers.. Although it was well past the gardening season when we visited, there were dozens of varieties of heath and heather on sale including one that was an absolute electric blue.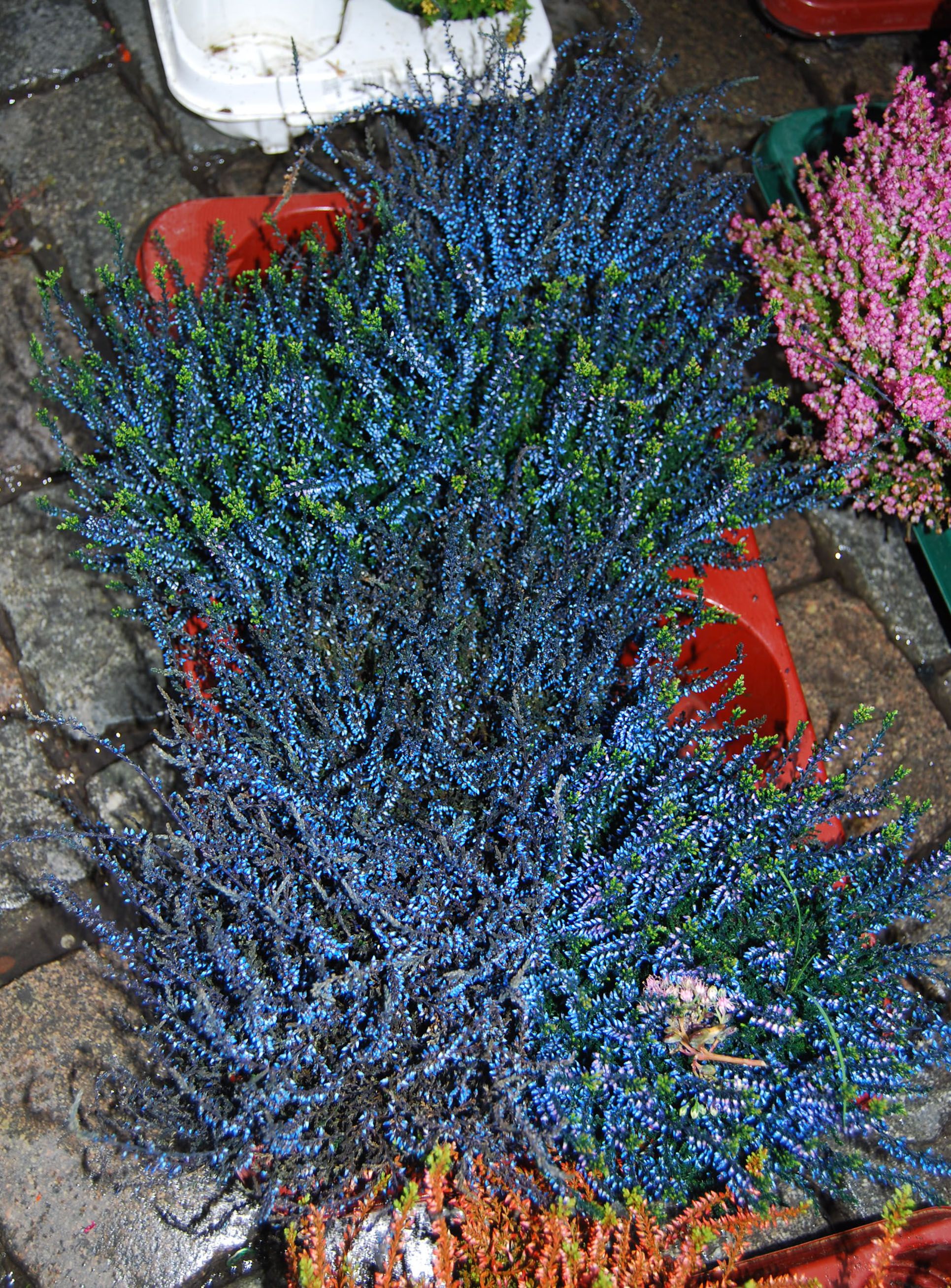 Seven well preserved medieval streets lead into the Grand Place and each is worth exploring for their wealth of chocolate, pastry and linen shops. One of the streets turns into the Galeries St. Hubert, reportedly the oldest enclosed shopping arcade in the world. Whether or not shopping is high on your list of things to do while vacationing, the Galeries are worth seeing more for their architecture than their shops, although we did find a great little patisserie with great croissants, coffee and English newspapers.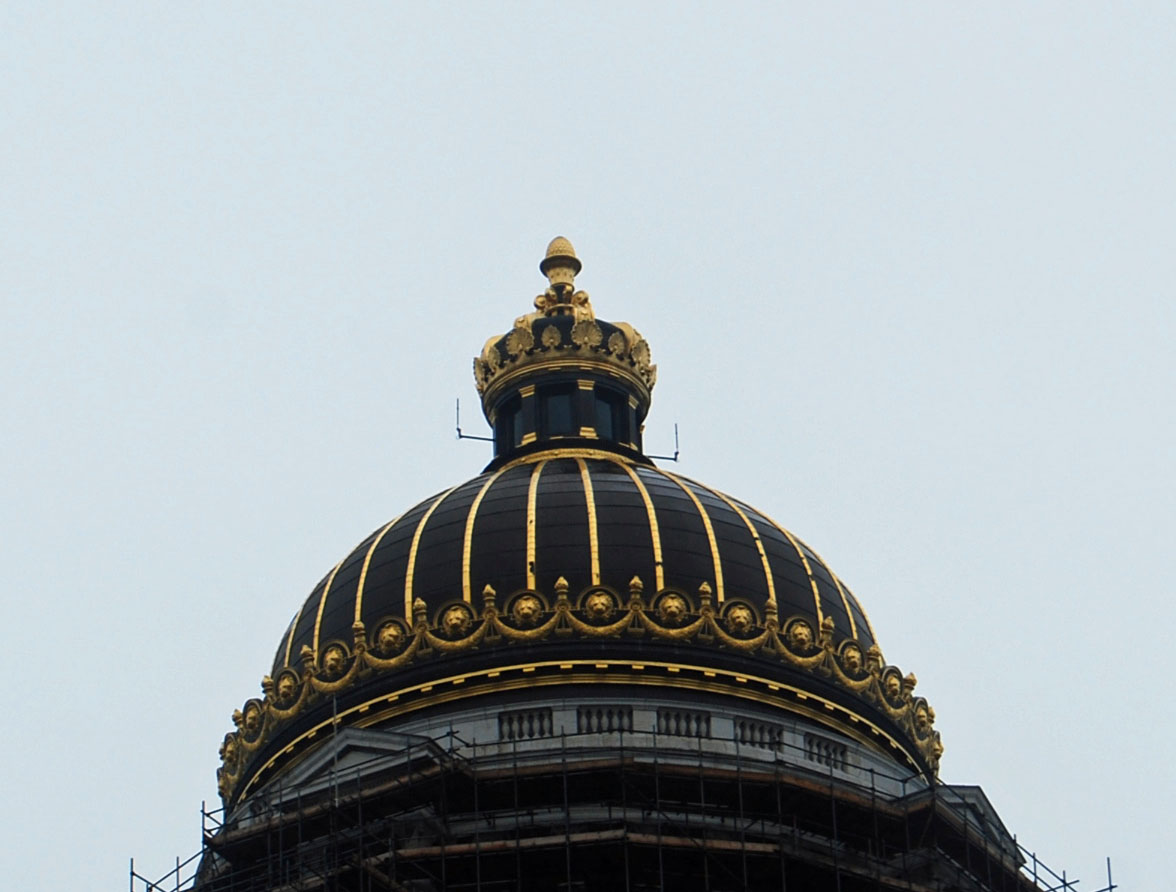 Brussels is a great city to walk and nothing seemed too far from the Grand Place. Traffic is not insane and the chances of getting run over quite minimal by European standards. You will quickly find that Flemish architecture is not the only style for which Brussels is famous – it also the home of the Beaux Arts movement which was a predecessor to Art Deco. There are a number of well preserved examples sprinkled throughout the Upper and Lower villes including the Old England building which is on a street that connects the two.  There is also a definite grandness to the place with one monumental 19th century Belle Epoque edifice after another. The dome of the Palais du Justice is as close to a giant crown as we've seen anywhere – very impressive.
Rene Magritte Museum and the Musee des Beaux Arts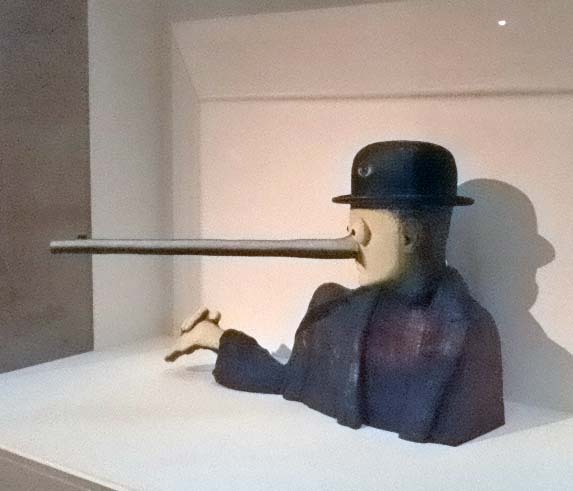 In planning the Brussels visit we had pencilled in the Rene Magritte Museum as a must visit, having probably realized we were first in love while tippling at the Bar Magritte in Coventry Garden some twenty years before. On a rainy Sunday morning the museum was a welcome if somewhat crowded place to spend two hours looking at this delightful artist's works. Here is a link to more Magritte at Artsy.net. Afterwords we had lunch at what was a really good and inexpensive (by art gallery standards) cafeteria. While we knew that what is really the Belgian national gallery was actually attached to the Magritte museum we had not planned to visit, two hours being our usual serious attention span for viewing art. Then I began leafing through a brochure on the Musees des Beaux Arts and almost choked on my quiche. This place displayed probably the best collection of Breughels, father and son, anywhere. We both agreed that we would pop in – just to see the Breughels.
To say that we were blown away with the quality of the art in this museum, relative to its international stature, would be the proverbial understatement. Not only did the museum display some of the most celebrated works of the Breughels, but it did so without guards viewing every visitor as a potential art thief or canvas despoiler. We were allowed to take non-flash pictures and despite being the usually busiest day of the week for galleries, there was almost no one around. We had the Breughels almost to ourselves and could, without guilt at denying other visitors a chance, pore over the munificent details that make these paintings so great. As a Canadian I was particularly intrigued to see what was clearly a 16th century version of hockey being played on the frozen canals of the Low Countries.
But it did not stop at the Breughels. On a number of occasions we entered a gallery to see some of the most stunning paintings ever put on canvas, having no idea they were in this museum. The one that most moved me was J.L.David's 'Death of Marat' which I had just assumed must be in the Louvre. There were other seminal works by Cranach, van der Weyden, Bosch, Rubens and Rembrandt. In another piece I called this museum the Rodney Dangerfield of great art galleries and I think that is not an exagerration.If you get to Brussels plan to spend the better part of a day at these two adjoining museums.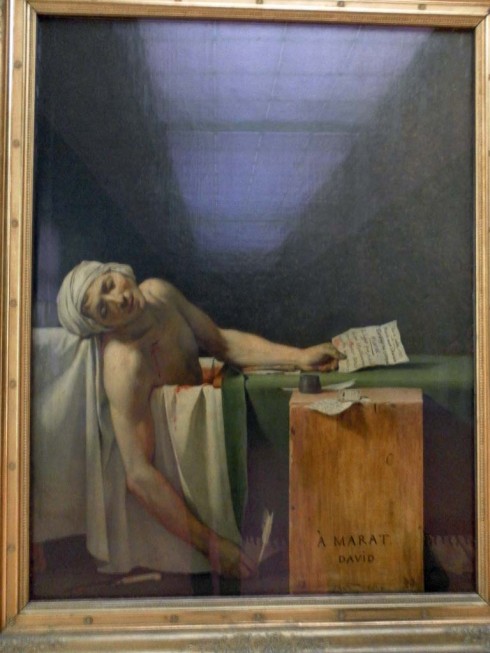 OK, enough about art and architecture – what about the chocolate, the beer and the steak frites. Well the good news is that they are all here, easy to find and not that expensive (unless you go really crazy at one of the high end chocolate places); that being the case there is no bad news (unless you go crazy on some of those high alcohol Belgian beers, in which case it could be really bad). The bottom line is that there are tons of places just off Grand Place, especially on or near the Rue du Bouchers which is Brussels restaurant row. However, unlike most of these type of streets, very few of the restaurants looked like ripoff joints and we had uniformly good food at reasonable prices. The Arcadi Cafe is one I don't hesitate to recommend although it's pretty hectic with what seemed to be mostly local patrons.
Two days in Brussels was nowhere near enough to enjoy this great city and we will be back soon.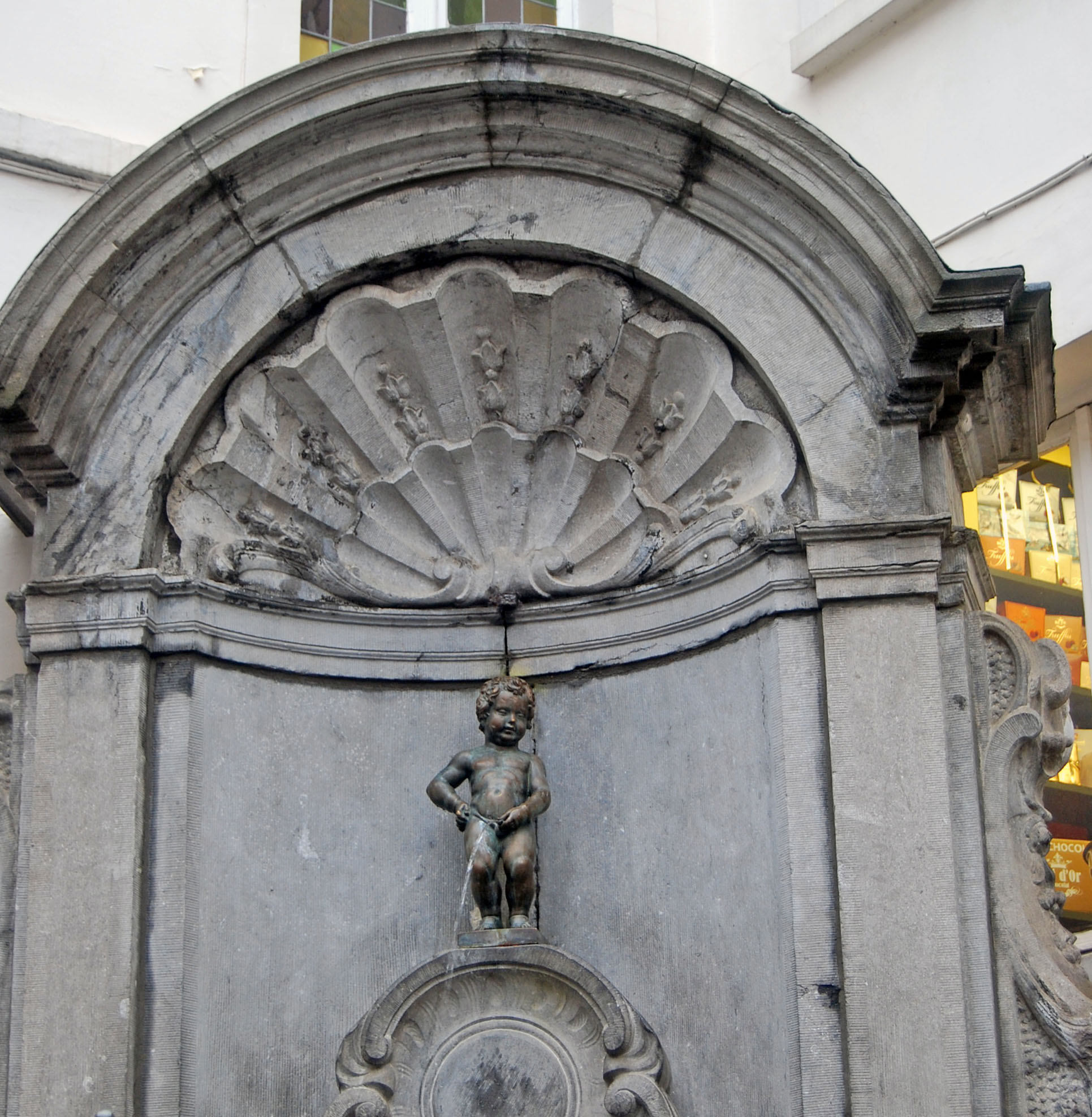 Oh, and if you want to get a good picture of Manneken Pis, the little pissing boy fountain that some claim is the symbol of Brussels, make sure you get there very early as the place gets swarmed by bus tours as early as 7:30 AM. For some reason the Asian tourists seem to be infinitely fascinated with the little guy – penis envy maybe?
For a more detailed look at Brussels check out my photo gallery.