Hawaii Shark Encounters – Not as Scary as You Might Think
This is one of a continuing series of posts on a visit to Hawaii's four main islands that Alison and I took a few years ago. It has been updated for accuracy as of 2021. In the last post we settled in at Turtle Bay Resort on Oahu's laid back North Shore, played some golf and just generally relaxed. Today we a going to do something that should definitely get our adrenalin pumping as we plan to join Hawaii Shark Encounters and come face to face with some seriously large sharks. Please jump in with us.
As lawyers Alison and I are used to jokes comparing members of our profession to sharks, bottom feeders and parasites e.g. What's 20 lawyers at the bottom of the ocean? – a good start. Funny, in 47 years of practice I've never had a person ask for my help where I was the one who created the problem; the problems exist long before the client seeks out a lawyer. Anyway I digress, time to talk about real sharks.
In planning the trip to Hawaii I had not planned to get into shark infested waters; if that happened it would be purely by mistake or an act of God. However, when we were getting supplies the day before I picked up a brochure for Hawaii Shark Encounters and back at the condo went to the website. It looked really interesting and assurances were offered that guests would be safe inside a steel and poly glass cage while the sharks cruised by, only a few feet away. I was up for it, but convincing Alison was another story. Rob acted as her defence counsel and claimed that only an insane person would voluntarily get into the water with sharks, cage or no cage. Therefore if she agreed to go she would be insane and thus incapable of giving informed consent. It was a good legal argument, but the fact that I was going to go with or without her, convinced Alison that we might as well die together. Before she could change her mind I called and made a reservation with Hawaii Shark Encounters for the next morning to go swimming with sharks.
The morning dawned on one of the finest days during our entire time in Hawaii. The drive to Haleiwa from where the boat departed was memorable as the mountains running out to Kaena Point, Oahu's western tip were highlighted by the rising sun.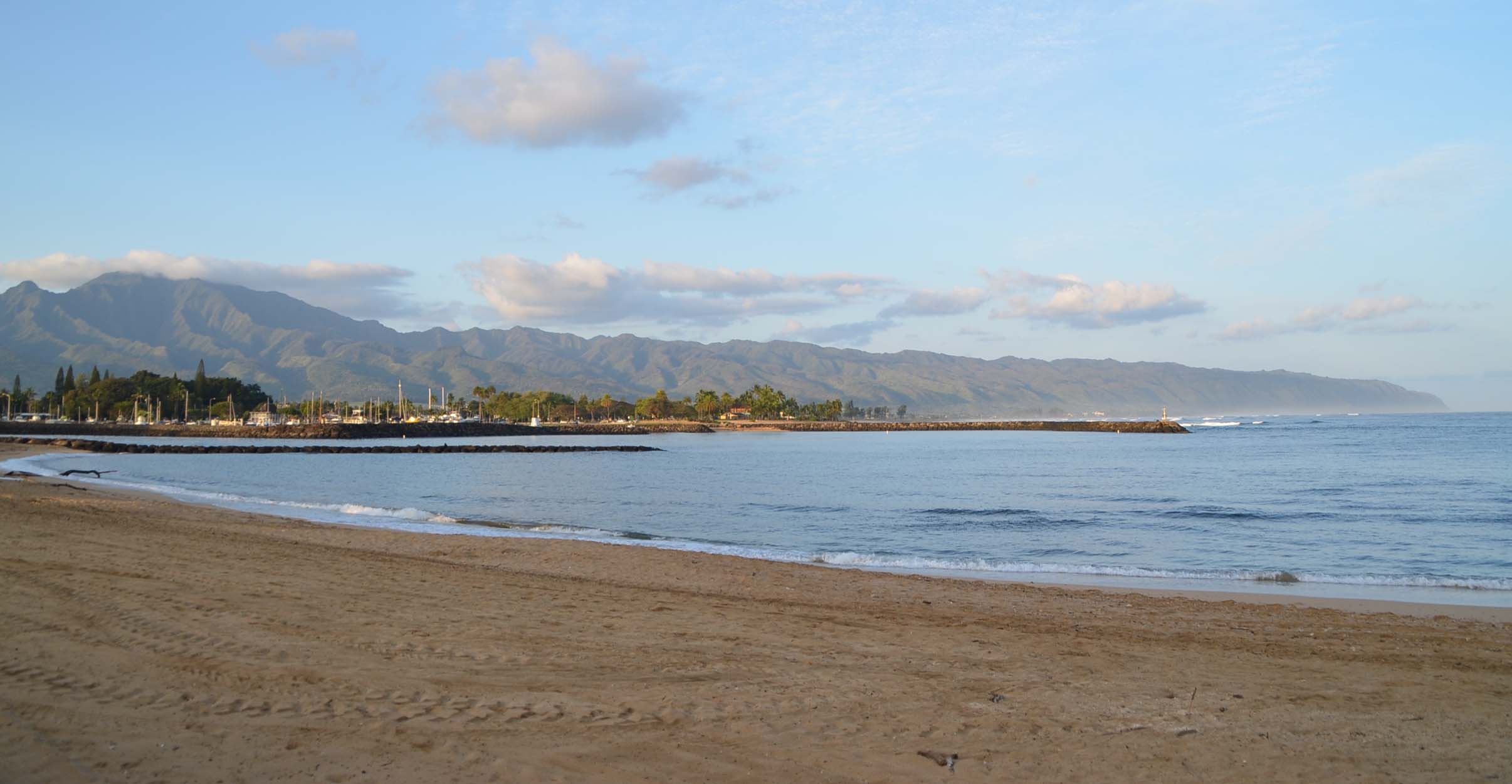 After going to the wrong spot twice, we finally found the Hawaii Shark Encounters boat Kainani almost ready to depart.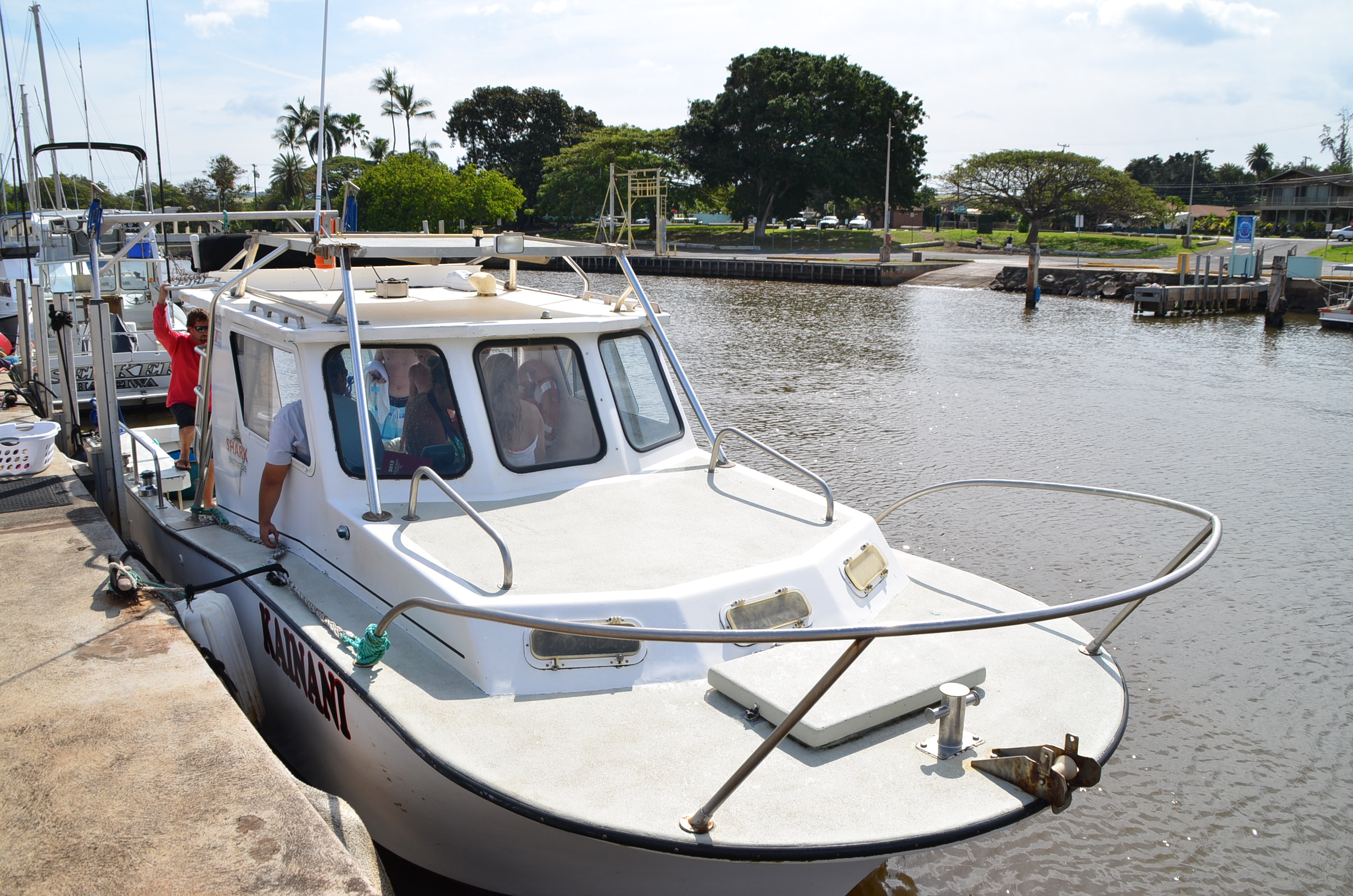 Already on board was a family of four, a couple on their honeymoon and two crew. I saw no sign of a cage anywhere and was told that it was tethered some miles off shore. After a quick briefing we were off. Once outside the breakwater it was apparent that the big seas we had seen in Kauai were present here as well. The waves were easily ten feet high and the small boat plunged up and down as it fought its way further and further out from the shore. This would not be a trip for those who get seasick, but if you don't and that includes Alison and I, it was a joy. There were humpback whales cavorting on all sides of the boat, the  views of Kaena Point exceptional and the water was incredibly blue.
On the way out the captain explained that sharks have always been sacred to Hawaiians who have never hunted or exploited them in any way. They are clearly more advanced in their thinking than those who would kill a shark just for its fin to make a god-awful tasting soup. After about half an hour we arrived at the cage and with some deft maneuvering the cage was tied to the lee side of the boat and despite the pitching and rocking the water in the cage was reasonably calm. Soon after, a number of large shadows appeared and began circling the cage. The captain said they were Galapagos sharks which made me wonder "What are they doing in Hawaii? Are they on vacation?" All told there were about half a dozen sharks ranging from eight to ten feet. According to Wikipedia their diet includes other sharks and sea lions, in which case we would just be a snack. As we prepared for the next step the sharks did what we they always do in movies – swim around menacingly with their dorsal fins out of the water and occasionally break the surface with their snouts. Even if you weren't prepared to get into the tank, the chance to see sharks this big and this close up was worth the price of the trip.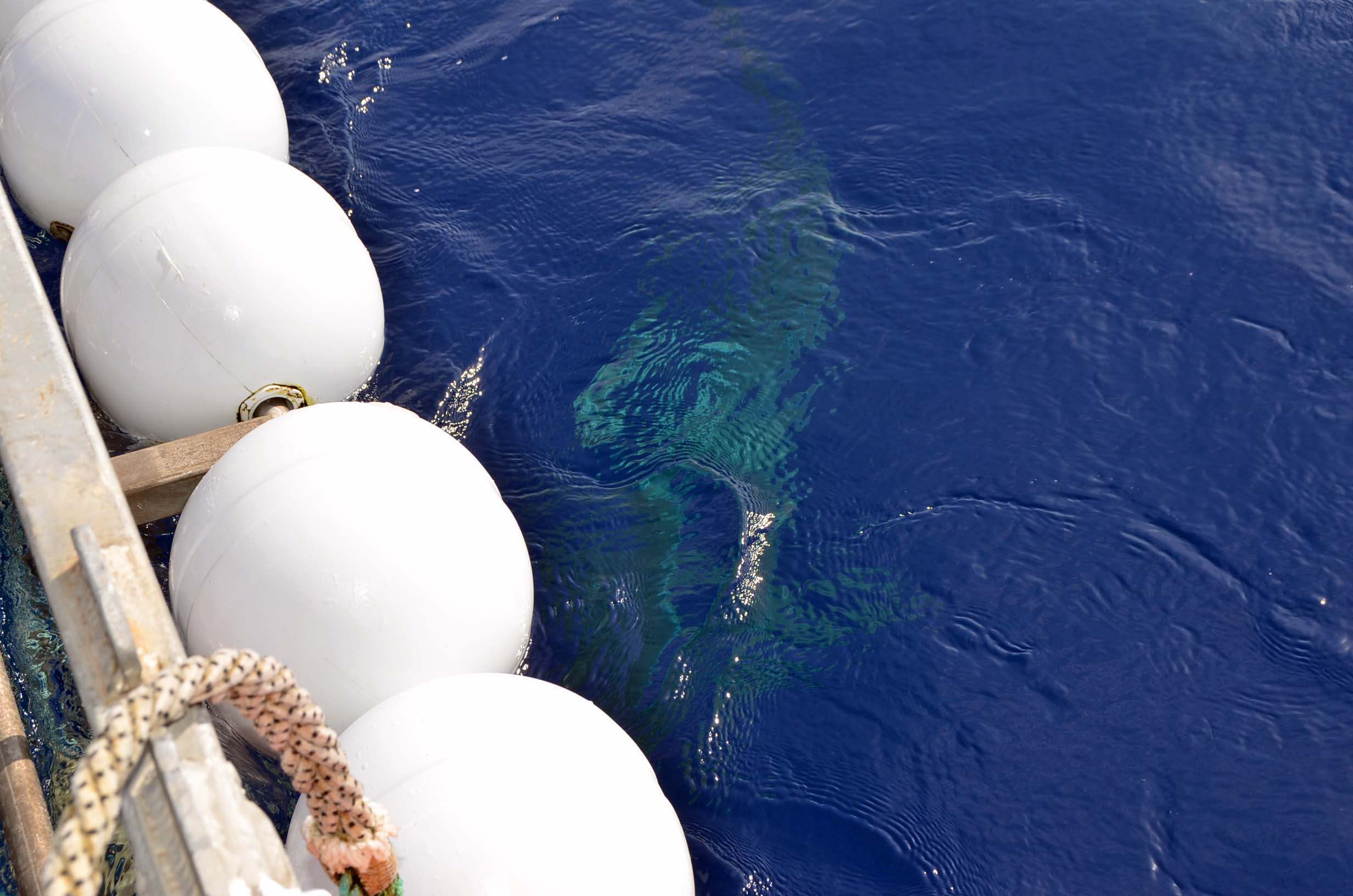 I asked how deep the water was here and told it was over 7,000 feet to the bottom, far deeper than any water I had ever been in and frankly, it gave me a creepy feeling. I couldn't help thinking about the cage breaking loose and slowly sinking with the occupants trapped inside, unable to escape and with lots of time to think about other choices they could have made that day. However, there was no top on the cage so if it did sink all that would happen is that you would be left in the middle of a bunch of big sharks who liked to eat sea lions – pleasant thought.
The cage held four people at a time and the family went in first, which was OK because we got to see that they were not being swarmed and seemed to be enjoying themselves. After twenty minutes of watching the sharks from the safety of the boat it was our turn. We donned mask and snorkel and climbed down into the cage.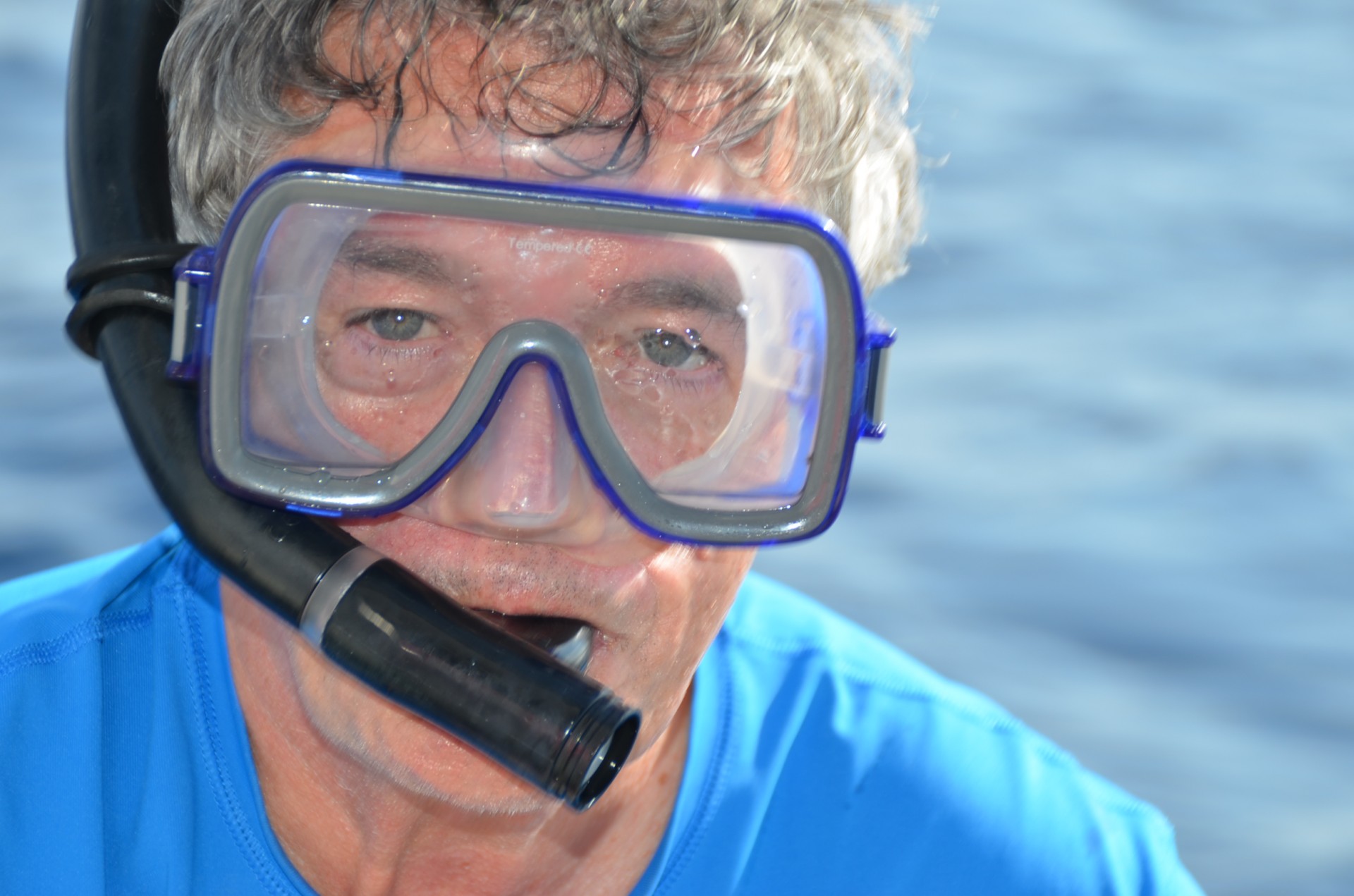 The first thing I noticed was how warm the water was and how much of a current was flowing. If not for the cage there is no doubt a solitary swimmer would be swept away. Next I noticed that the deep blue water was absolutely teeming with visible plankton – it was a veritable soup of tiny creatures pushed along by the current, destined to remain at the bottom of the food chain that led inevitably up to the huge sharks that were now not more than a foot away at times, just on the other side of the poly glass. Was I scared – no. I had the presence of mind to know that I was perfectly safe in the cage and unless I did something stupid like stick my arm out, nothing was going to happen. It was a once in a lifetime opportunity to come face to face with these magnificent creatures with their oh so malevolent looking eyes and fearsome teeth, some with gobbits of prey stuck very clearly to them.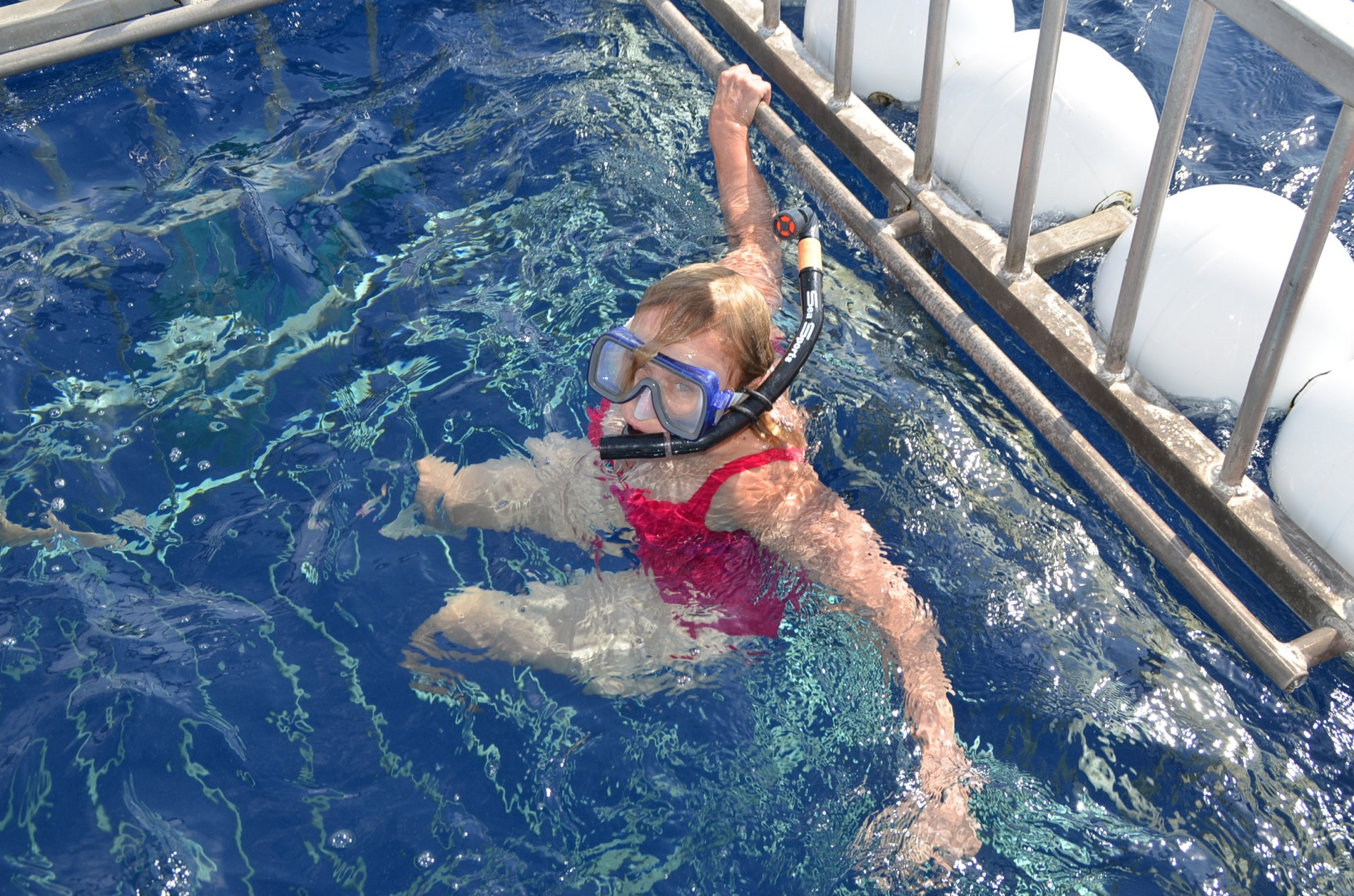 Almost immediately on getting into the cage I knew I had made a huge mistake in not buying a waterproof  video camera. However, without one we enjoyed our twenty minutes with the sharks, forced to rely on memory of the experience which is actually quite indelible given the nature of the experience, but I strongly suggest for anyone thinking of doing this – take a waterproof means of recording your adventure. I have poached a couple of photos from the Hawaii Shark Encounters website to give an idea of what we saw.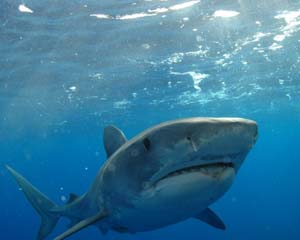 Despite all the meticulous planning that goes into any long term trip, it is almost always the things that you do on the spur of the moment that make for the greatest memories and this was definitely the case with the Hawaii Shark Encounters adventure. From the time we stepped into the boat it was a magical experience and one that I would highly recommend to anyone with a sense of adventure – there really is nothing to be afraid of and it's not dangerous.  When's the next time you'll get a chance to snorkel in water that is 7000 feet deep and full of sharks? Maybe never.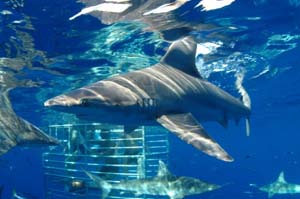 The trip back was as enjoyable as the trip out with the humpbacks continuing their breaching and the seas now pushing from behind causing the Kainani to almost surf atop the waves. It was almost disappointing when we entered the shelter of the breakwater and man once again became the dominant force over nature. We parted company with crew and fellow passengers secure in the knowledge that something that wasn't even on our 'bucket list' two days before was now a reality.
On the way to Haleiwa we had passed by Waimea Bay, one of the famous surfing spots named in the Beach Boys Surfin' USA. On the way back we turned into Waimea Valley  one of the most sacred areas in all of Hawaii with many archaeological sites and we first encountered a heiau which is essentially an Hawaiian place of traditional worship. It was a simple affair and unlike most places of worship, off limits to non-Hawaiians.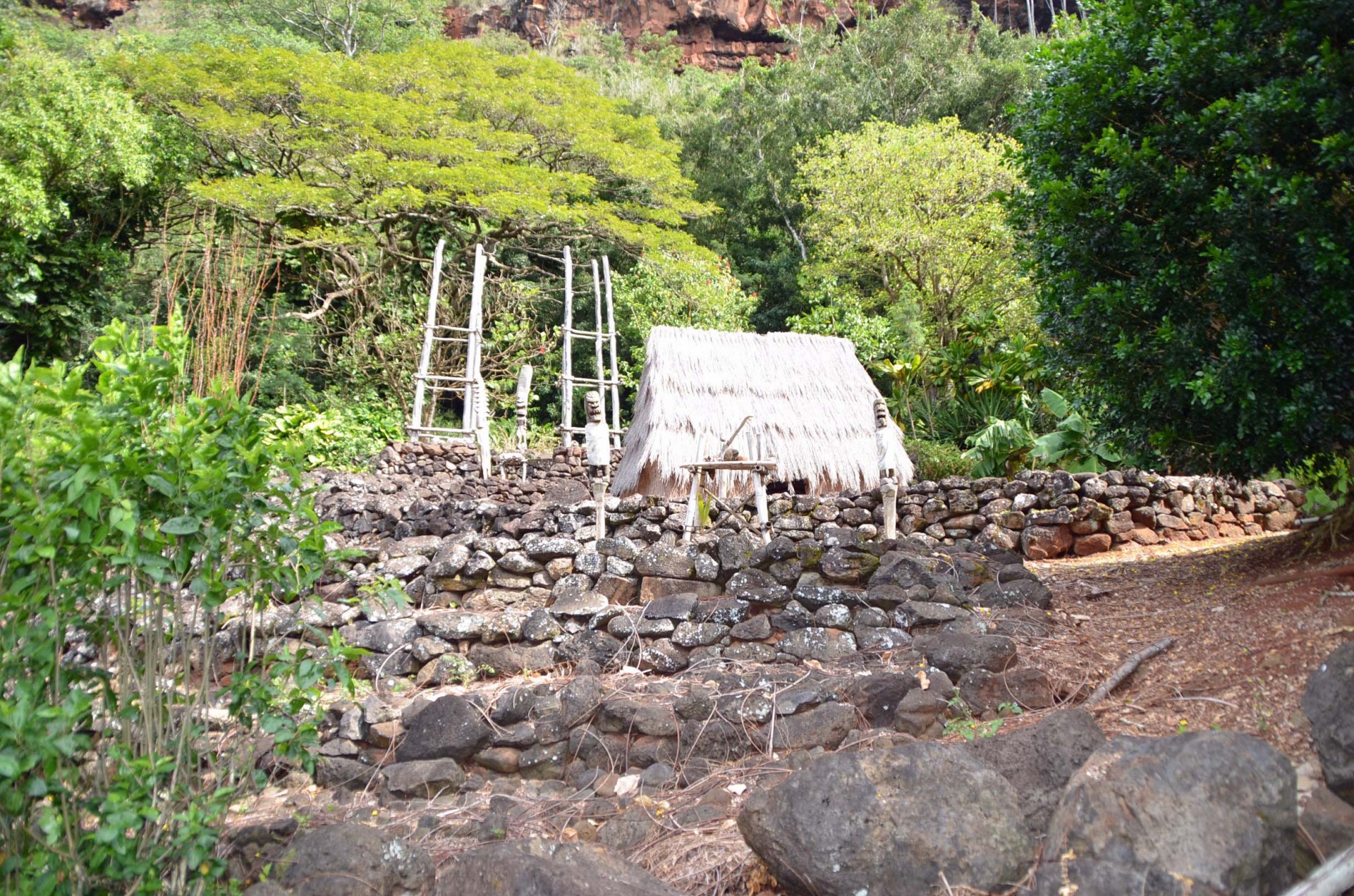 The primary attraction of the Waimea Valley is the walk through the Botanical Gardens to Waimea Falls. The admission fee was $20 and given that are legs had taken a pounding on the boat we decided to postpone it for another day – yet another reason to return to Hawaii again.
Back at the condo, Rob and Janet had just finished up another round of golf at the Fazio course. We just lazed away the rest of the day, had dinner at the condo and went to bed with visions of Hawaii Shark Encounters dancing in our heads.
Tomorrow we are going to slow the pace down a bit with golf at the Palmer Course at Turtle Bay. Please join us.