Kilauea Crater – Crown Jewel of Hawaiian Volcanoes N.P.
This is one of a continuing series of posts from a trip to the four main Hawaiian islands that Alison and I took a few years ago. It has been updated for accuracy as of 2021. In the last post we visited Maui's Mount Haleakala National Park which features a dormant volcano. In this post we'll visit Kilauea Crater in Hawaii Volcanoes National Park which is anything but dormant. Please join us.
While we had stayed in the same spot on Kauai and Maui and only moved a short distance in Oahu, this was just not going to be possible on the Big Island, which is what everyone we met referred to the island actually called Hawaii. It made sense if only to avoid confusion and it was also apt – in comparison to the other islands this is a giant. Bearing in mind that we wanted first and foremost to see the volcanoes and secondly the Kona coast area, it made sense to fly into the city of Hilo and then drive to the Hawaii Volcanoes National Park where we would stay for a few days and then continue on across the island to Kona where we would spend the rest of the week.
To that end we flew into Hilo from Kahului on a direct flight with Hawaiian Airlines that as usual was packed, on time and efficient. There were distinctly more native Hawaiians on this flight than any of the previous inter-island ones. Hilo is the state's second city and administrative centre for the Big Island. Although it vies for tourists, the fact that it is the rainiest city in the United States is not a great promotional asset, especially when the Kona Coast on the other side of the island is one of the sunniest places in the state. True to form it was drizzling as we picked up our rental car, a big Crown Vic that handled the Hawaiian roads very well and easily held all our luggage. Our destination was the village of Volcano, some forty-five minutes away. It rained steadily from Hilo to Volcano and we were climbing gradually into a landscape unlike any we had seen on the other islands – not surprisingly it was a rainforest.
Our spirits were lifted when we came to the entrance to Hawaii Volcanoes National Park. This was a place I had wanted to visit since first reading about it in National Geographic's America's Wonderlands, a book on United States national parks that I must have read and reread at least a dozen times. I still have my original copy which is water stained and dog eared. It's a third printing that dates from 1960. So here I was some fifty-three years later finally getting to a place I had dreamed about for half a century.  I have to admit I made a real mistake with the choice of accommodation on our visit to Hawaii Volcanoes National Park. My research had revealed that there was a place called Volcano House which apparently was right at National Park headquarters at Kilauea Crater, but from the material I read it was nothing more than a  glorified hostel and a rundown one at that. Someone should have pulled out the old Wile E. Coyote ass kicker and used it on me for this bungle. What I hadn't picked up on was that Volcano House had been closed for a complete makeover and had re-opened literally a few weeks before our arrival. As you can see from the photo the place is perched on the edge of the crater and has a clear view of the ongoing eruption. The view is much better at night as the red glow from the molten lava is much more readily seen. So if you take one piece of advice from this page, let it be that Volcano House is the place to stay if you want to actually see a volcano from your room.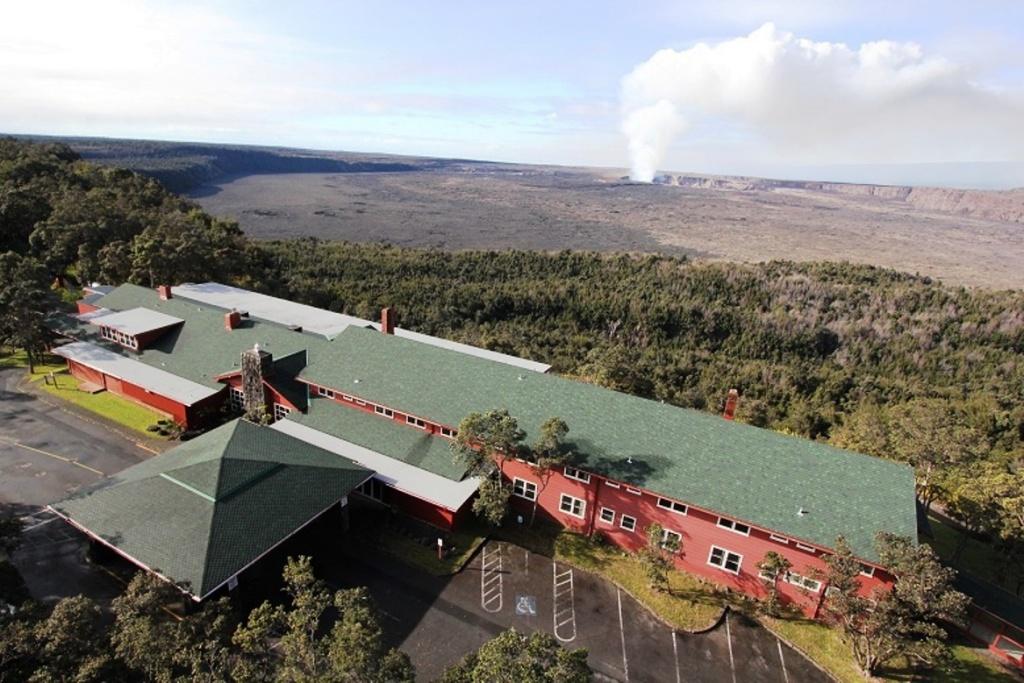 So where did we stay? Although there is a place called Volcano one would be hard to pressed to call it a village – it is a small collection of houses with very few services. Through the internet I had arranged to rent what turned out to be a real house set amidst what the  rainforest. I was looking forward to staying in such a place until we actually tried to find it. Volcano Village has a grid of tiny lanes with houses of all sizes from run down trailers to upscale mini-mansions, all surrounded by dense vegetation.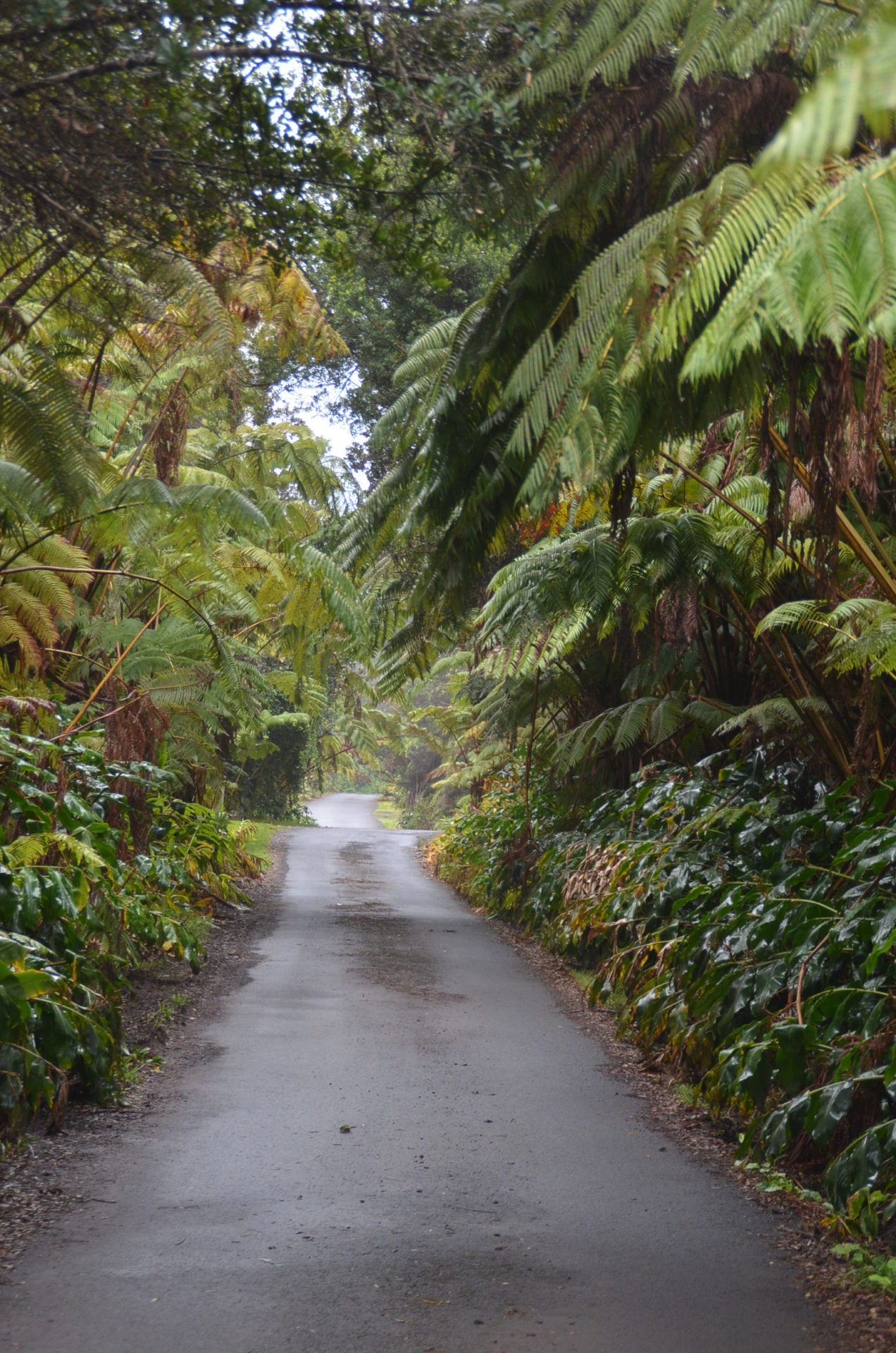 Everything had a sodden look, including the house when we found it. Inside it had the distinct odor of mold which is probably standard for most places in a rainforest. I'm not going to identify the place because it was otherwise a fine home dating from I would say the early 70's. Given the large number of board games, books and jigsaw puzzles I suspect guests spent a lot of time inside avoiding the rain. There is no grocery store in Volcano so we scrounged up what we could at a local general store/gas station and decided to revise our plans. Originally we were to spend three nights here, but the consensus was that given the mold, the rain which was projected to continue and the fact that the sunshine of Kona was beckoning that we would tour the park as best we could and move on to Kona the next day. I went to sleep knowing that my fifty three year wait was going to be extended for another few years and dreamed of ordering the ass kicking device from ACME.
Kilauea Crater
After packing up next morning we set out for the short drive to Kilauea Crater where the interpretive centre and Jagger Museum are located. Just after the park entrance we saw the first of many fumaroles, places where  gases in the form of steam are being exhaled by the planet. The picture is not out of focus – that is extremely hot steam between the camera and Alison, Rob and Janet.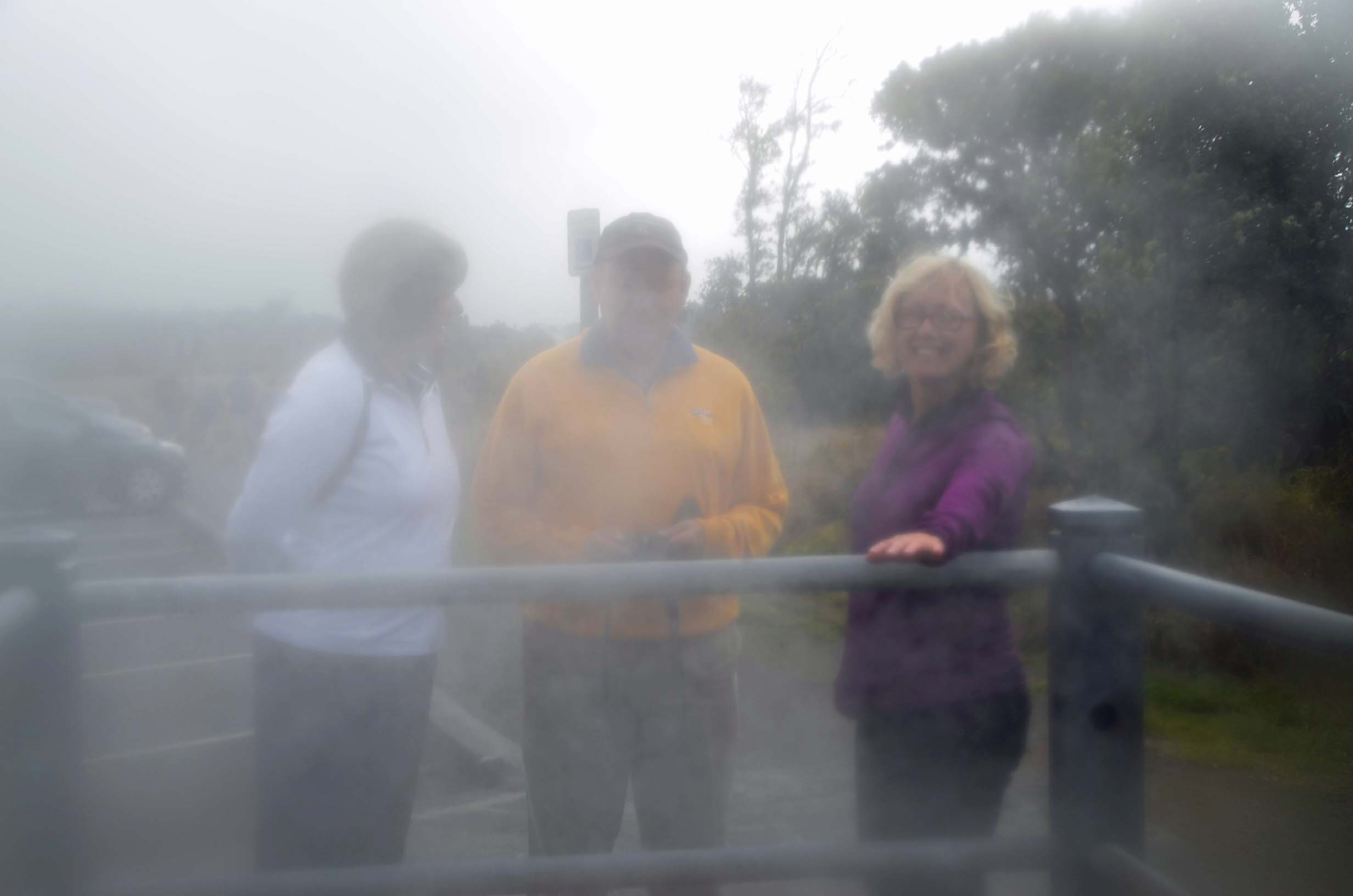 The interpretive centre and Jagger Museum were the next stop. The museum, which has nothing to do with Mick, gave us an excellent understanding of the volcanology of the area and why the volcanoes of Hawaii are among the most active in the world.
UPDATE: After our visit the Jagger Museum was subjected to a number of earthquakes and the land it sat on deemed unstable, so it closed for good in 2018. As of 2021 they are still looking for a place to display its former exhibits.
Stepping out on the viewing deck produces one of those "Wow" moments which we had come to expect in Hawaii. Directly below us on a huge scale was Kilauea Crater with its central plume of smoke drifting thousands of feet into the air. This picture does not remotely do justice to the magnificence of this view.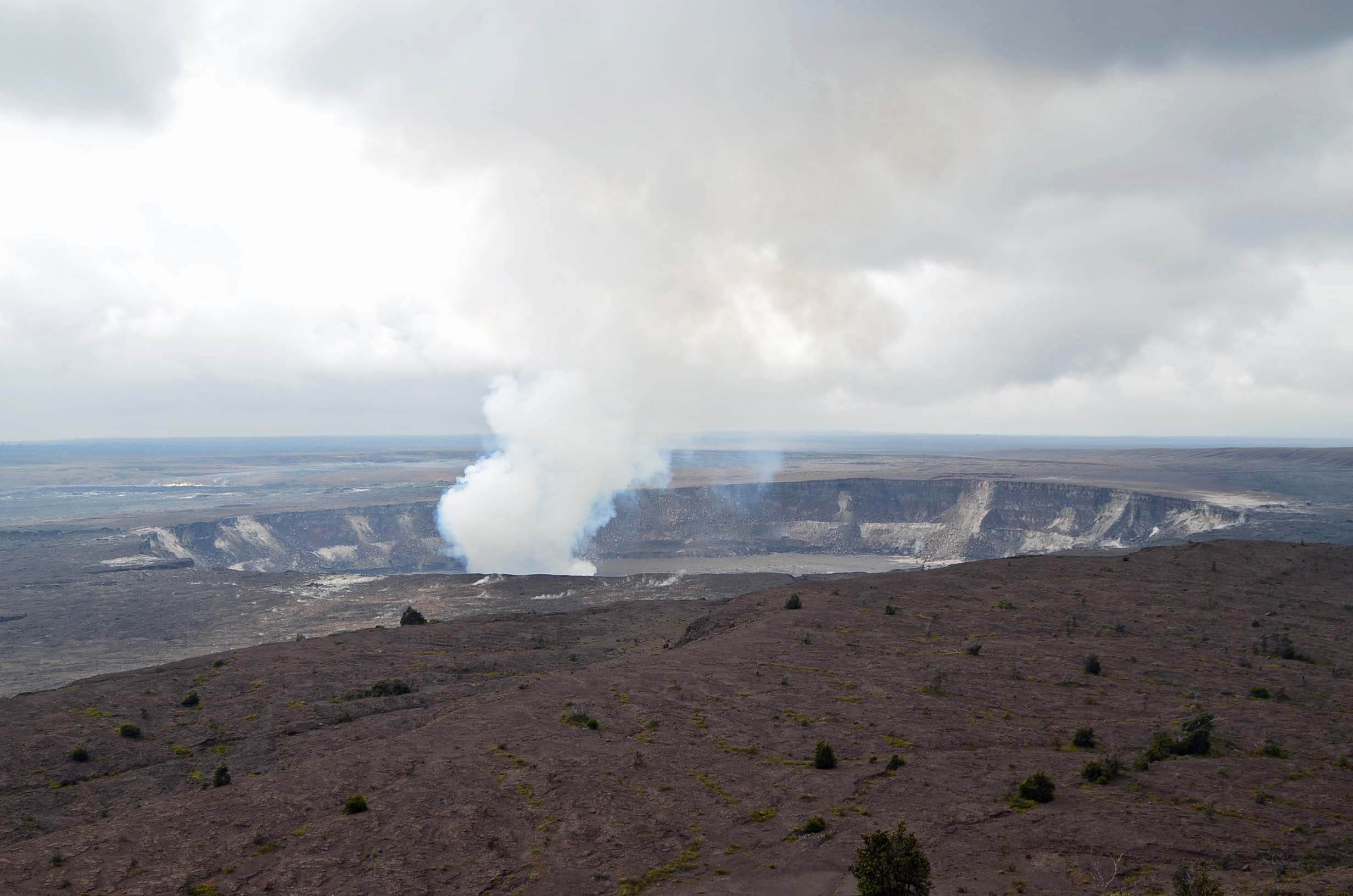 This picture with Alison gives a little better perspective.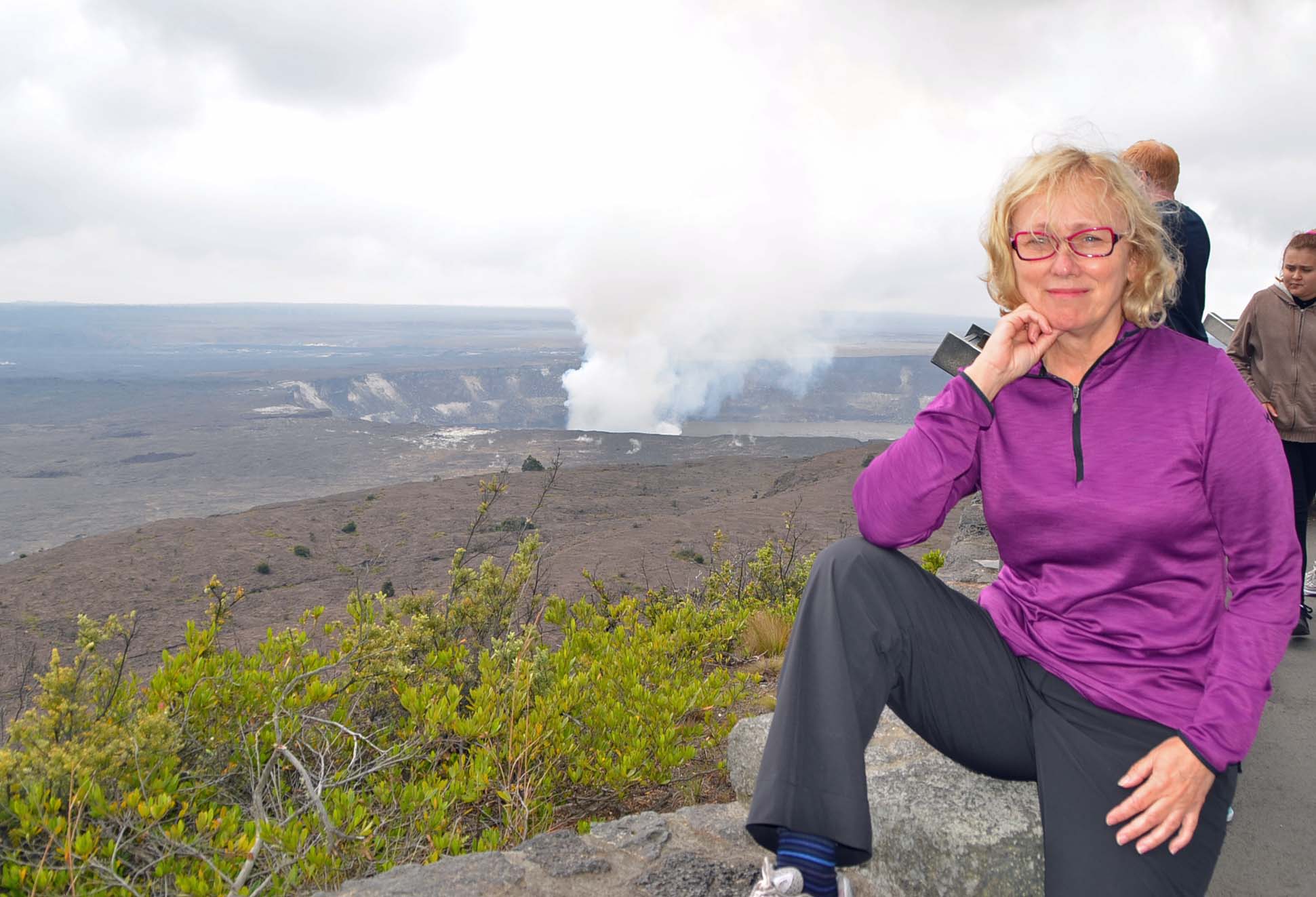 One thing you should not expect at Kilauea Crater is the sight of lava being thrown up into the air like you might see on the Discovery Channel. There is lava is being ejected, but you need to hike into the crater and closer to the eruption site to actually see it. That had been one of the things on the agenda, but was now not possible because of the change in plans. However, there was still a lot we could see and do.
When it was first built Crater Rim Drive circled the entire crater in a sixteen mile loop, but in recent years portions of the road have been closed due to high concentrations of sulphur dioxide gas in the air. However, you can still drive out to a number of attractions which we were glad we did. There were several excellent overlooks, some of which were trailheads for descents into Kilauea Iki, a smaller crater linked to the Kilauea proper. Probably the most interesting stop on the drive was at  Nāhuku (aka Thurston Lava Tube) where a short hike took us to and through a type of natural formation I'd never heard of before planning for the trip. Created by a river of rushing lava that cools from the outside in leaving  a circular tunnel something like a giant natural culvert, the lava tube was a unique experience for us.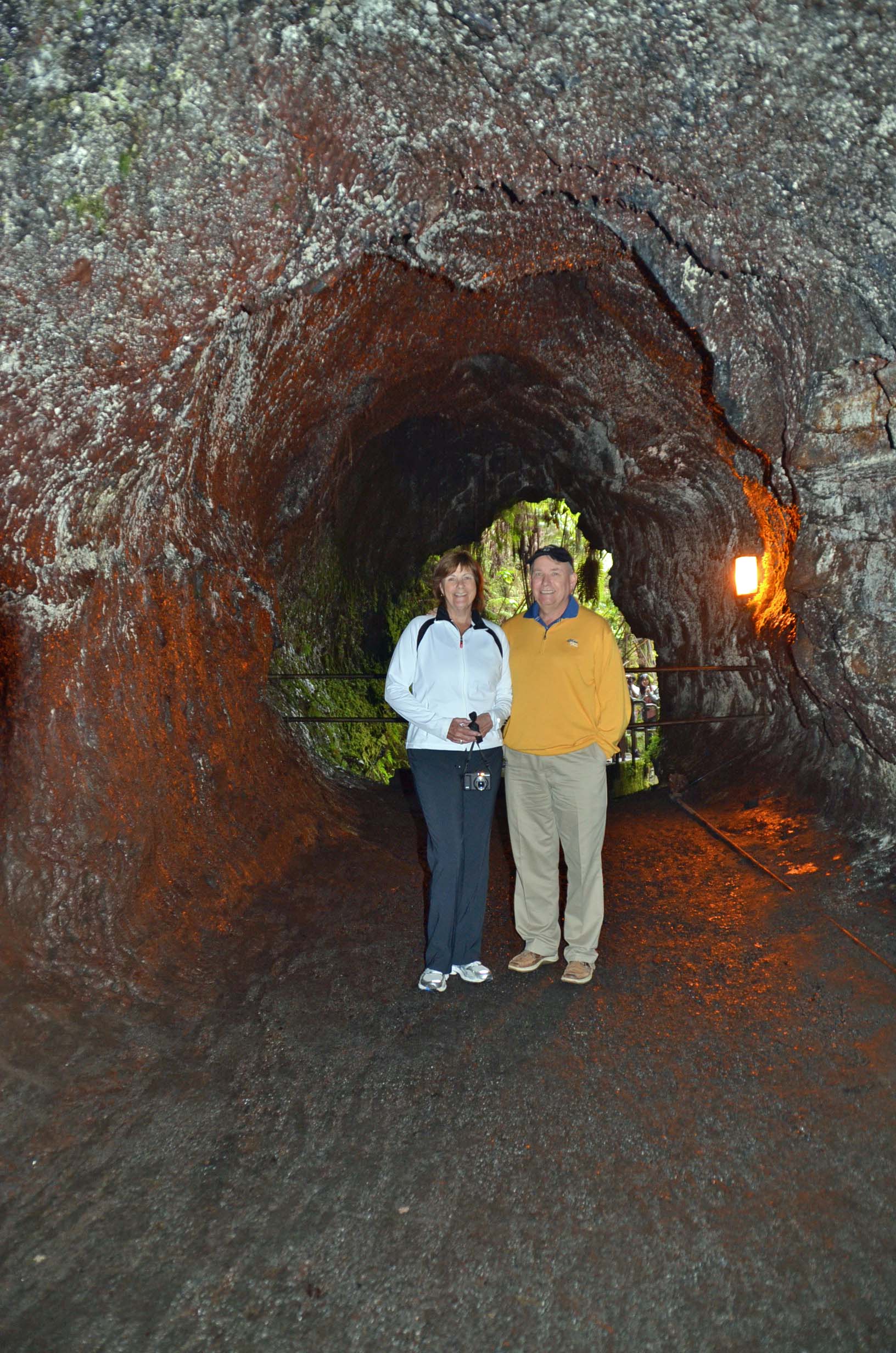 Equally fascinating was the rainforest flora and fauna in this area. The o'hio tree is among the first to grow in lava and its flower the o'hia lehua the official flower of the Big Island. There were many of these flowering trees along the path and I think you'll agree that they are beautiful. Flitting through the trees were many apapane birds, a beautiful native Hawaiian species of honeycreeper that relies on the nectar of the o'hio lehua, but they never sat still long enough for me to get a good photo.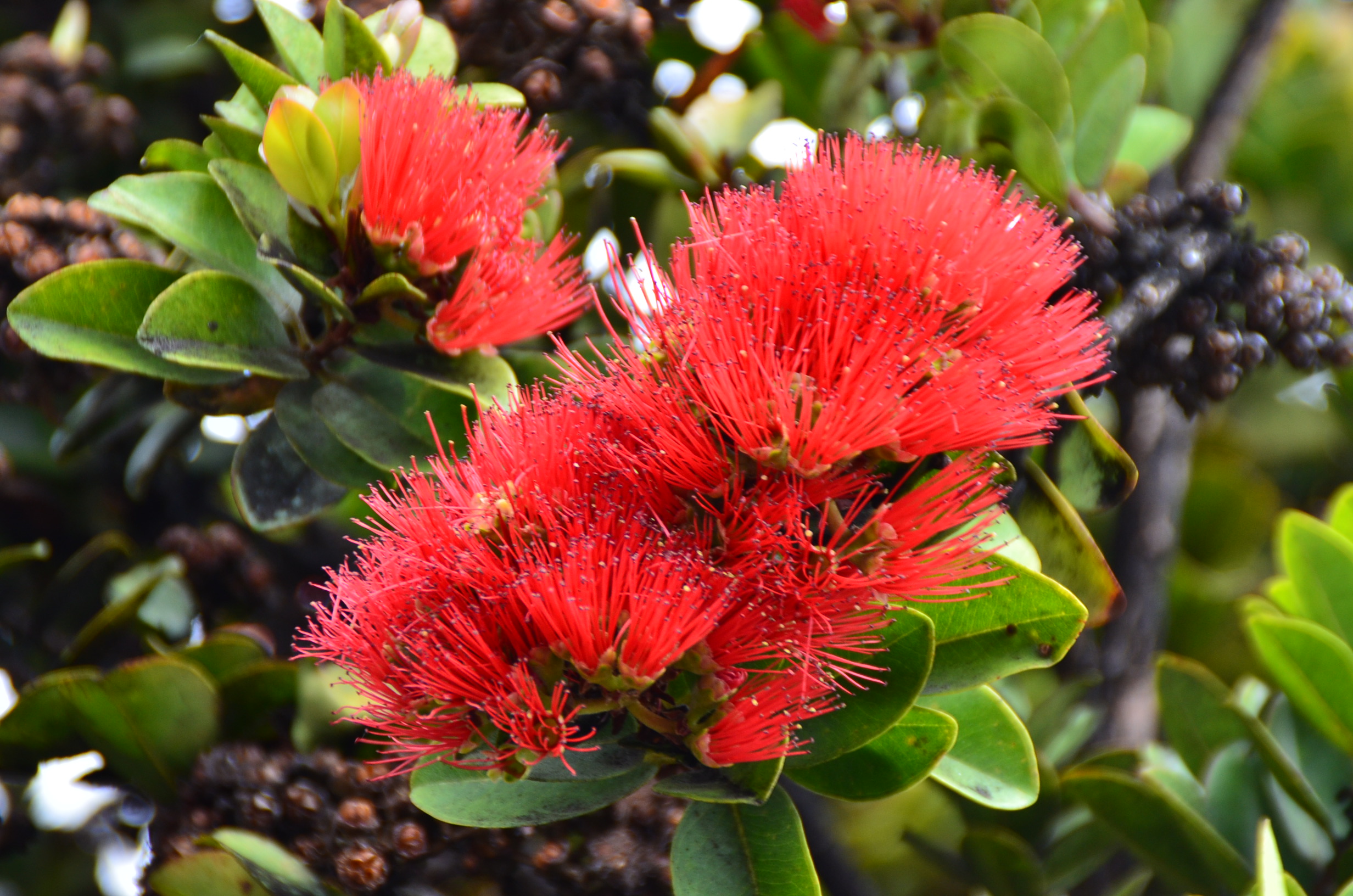 In addition to the flowers the trails were shaded by the biggest ferns we had ever seen. many of them well over twenty feet tall. This picture with Alison gives an idea of just how big they are. Kauai might have the Jurassic Coast, but the Big Island has the vegetation from which you might well expect a velociraptor to come charging out.
Our last stop on Crater Rim Drive was a complete contrast to the lush vegetation of the lava tubes; the name says it all – Devastation Trail. This was an area where Kilauea Iki had erupted in 1959 and it was still devastated as this picture attests.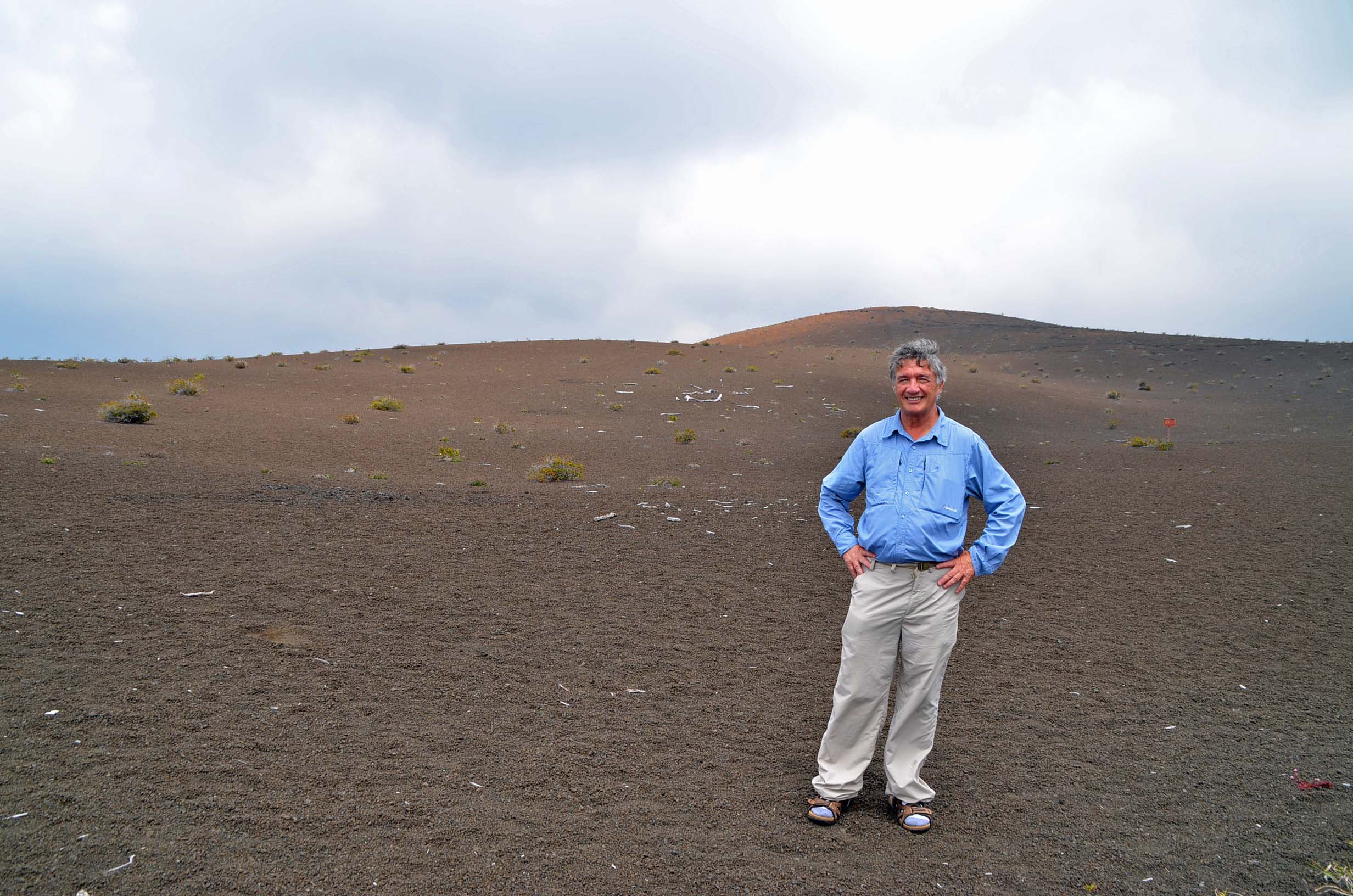 However, as is often the case, where you least expect to find beauty it appears, in this case a life affirming little succulent, blooming away like nobody's business.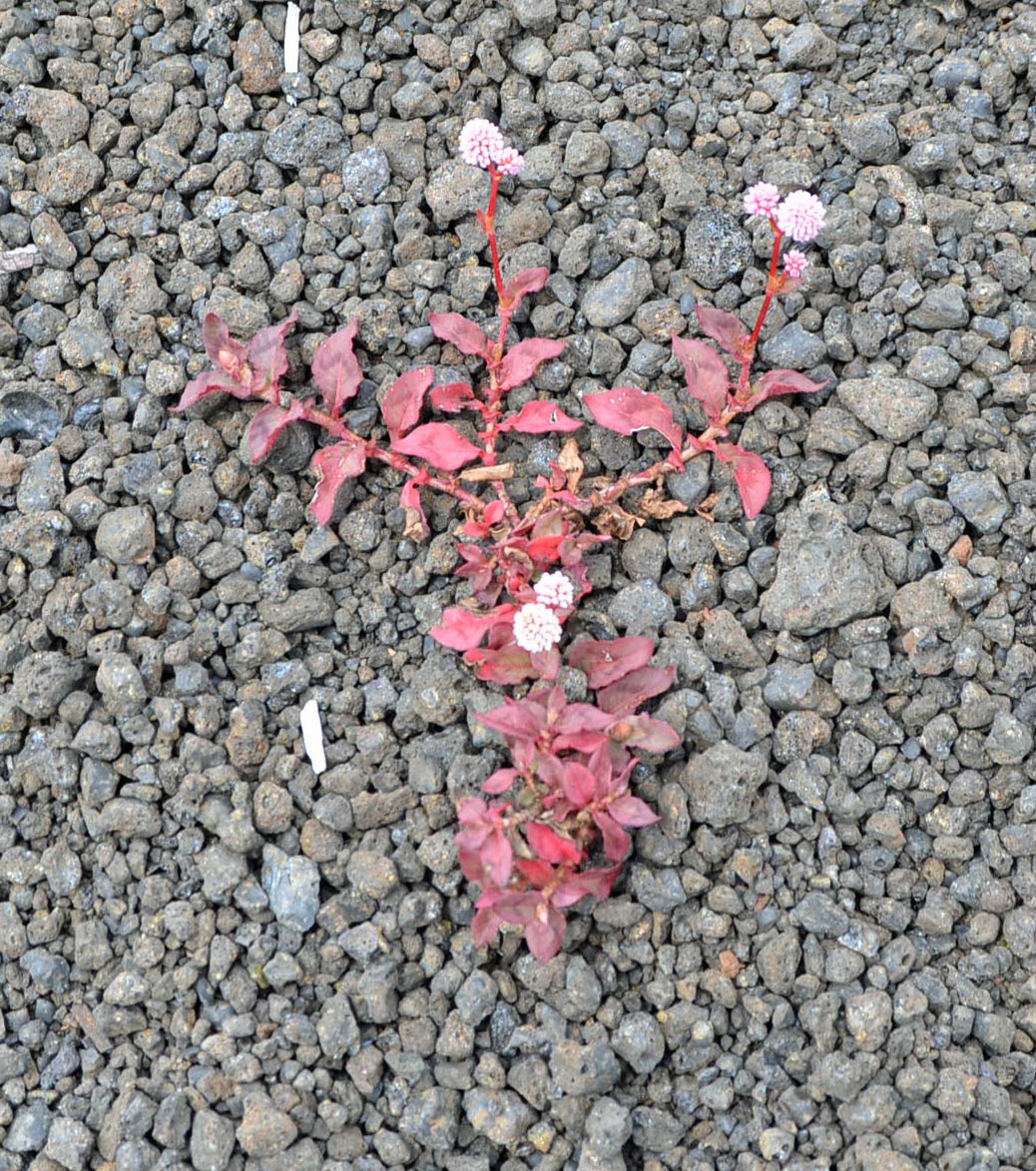 We left Hawaii Volcanoes National Park with the sense that we had only scratched the surface and with a determination to return. I couldn't help taking one jealous parting look at the people who were just checking into Volcano House as we pulled away.
It was a very pleasant drive down from Volcano to the coast at Na'alehu, the southernmost town in the entire United States. Here we had a really good meal at Hana Hou, the southernmost restaurant in the country. While there I went on Trip Advisor to look for a place in Kona and booked two rooms at the King Kamehameha Kona Hotel (now a Marriott Courtyard)which looked like it was on the water in the centre of downtown Kona. We had a condo booked for the next day, but enquiries to move in early indicated that it was booked. Once again this turned out to be a fortuitous circumstance as we enjoyed out stay right in Kona as much as any in Hawaii.

The drive from Na-alehu to Kona took longer than expected as we passed through one little village after another. The settlements were high up on the flanks of Mauna Loa with occasional views of the Pacific far below. It soon became apparent that we were in coffee country with many small places offering their particular Kona varieties for sale, although oddly enough we never actually saw any coffee plants growing. It was equally apparent that this was a very laid back place on a par with the north shore of Oahu. Descending into Kona or Kailua-Kona as it is officially called we soon found the hotel which was indeed right in the heart of old Kona only a stone's throw from where the Ironman triathlon starts.
The hotel occupies an historic location that has connections to Hawaiian royalty and in particular, our old friend Kamehameha the Great. The lobby area had some very interesting historical paintings by the same artist who did the paintings at the Royal Hawaiian in Honolulu, a huge outrigger canoe and the largest stuffed marlin I have ever seen. Kona it seems is one of about fifty places on earth that labels itself the "Fishing Capital of the World". We'd see about that later.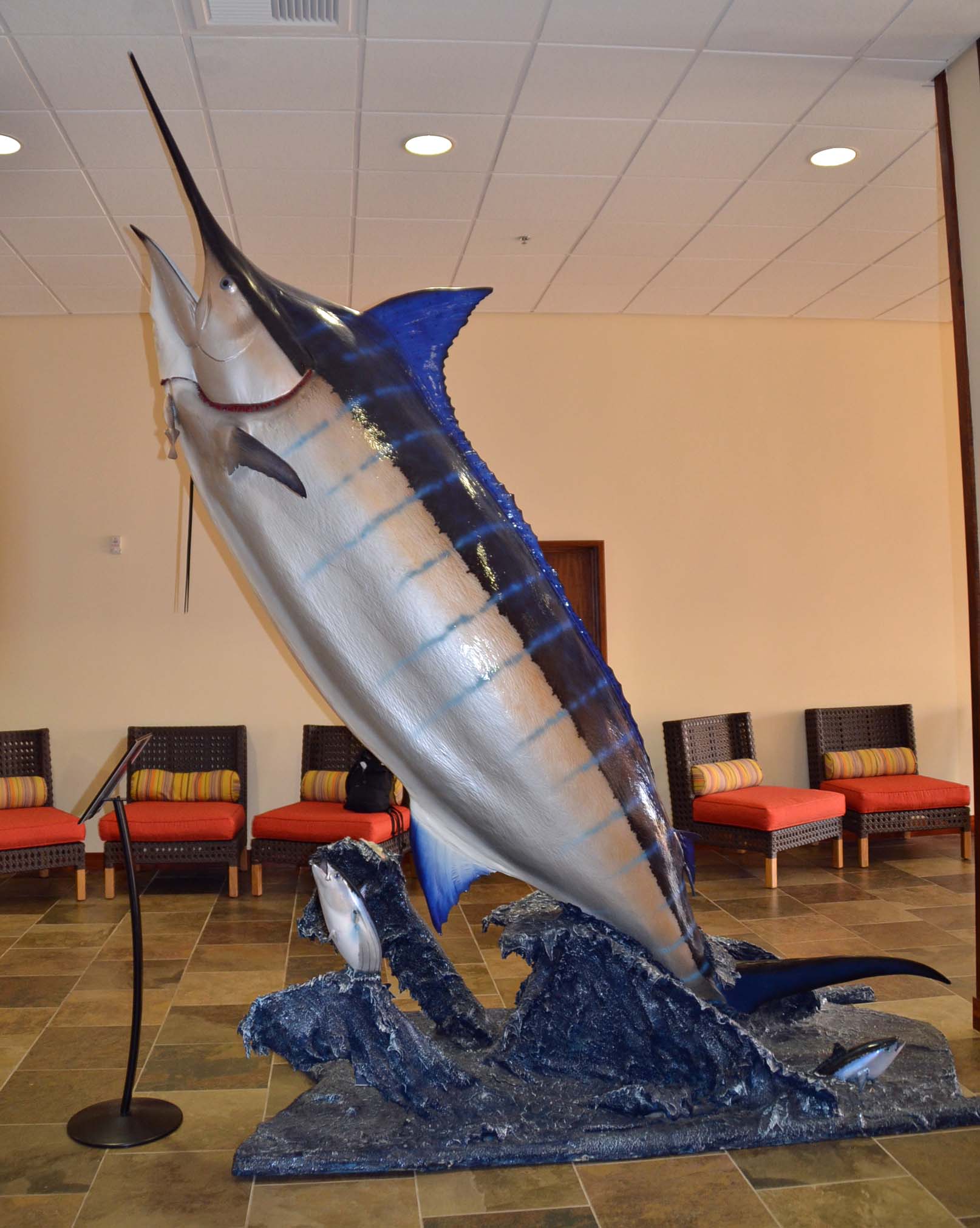 We had a romantic dinner that evening on the outside patio of the hotel which has a great view of the harbour and Ahuena Heiau, a small temple that is sacred to the Hawaiians. As we sipped our wine in 80 degree plus heat looking at the sun go down over the harbour and listening to the lilt of native Hawaiian being spoken, I couldn't help but think we had made the right choice in leaving Volcano ahead of schedule. Aloha.
Tomorrow we'll visit Pu'uhonua O Honaunau, Hawaii's Place of Refuge. Please join us.
Here is a link to the photo gallery from our week on the Big Island.