Skating Across Nova Scotia – How to Do it in One Day
Here's a story I wrote about an adventure I participated in a few years ago when my legs could still skate for six hours straight. That's the kind of endurance you require if you want to try skating across Nova Scotia in one day. Sounds impossible? Here's why it's not.
If you are a cross-country skier this year's winter has been abysmal. The lack of snow has had outdoor types looking for alternatives and this year there has been a silver lining in the no snow cloud. Once every few years weather systems and the elements combine to create perfect conditions for skating across Nova Scotia – in one day.
While that might sound impossible or limited to the Sydney Crosby's of the world, it is not. In fact anyone with good skating technique, stamina and decent navigational skills can do it under the right conditions. Here's how and why you might want to add your name to the list of the few people who have succeeded in skating across Nova Scotia in one day.
Looking at a map of Nova Scotia reveals that Panuke Lake cuts a diagonal swath through central Nova Scotia almost from Windsor to Hubbards. Putting in at Salmon Hole Dam you can skate the entire 30 km length to a series of portages that will take you into Dauphinee's Mill Lake from whence Highway 103 is readily accessible. As to the reasons for undertaking this arduous journey, there are many, but bragging rights for having crossed the province in a day has to be the simplest to explain.
The aboriginal people have used the Panuke Lake route to cross from the Bay of Fundy to the Atlantic Ocean for thousands of years. In more recent times it has been a route for canoeists willing to undertake the hilly and fairly lengthy portage from Panuke Lake to Westhaver Lake. Most canoe crossings take at least two to three days. Aside from retracing an historic transportation route, there is the thrill of skating on Nova Scotia's longest and best skating rink which far exceeds the famed Rideau Canal in length and natural beauty. There is an opportunity to view old growth hemlock and red spruce at Panuke Lake Nature Preserve and perhaps spot the elusive bobcat which is a denizen of Panuke Lake. Finally there is a chance to challenge yourself to a full day of vigorous, but not overwhelming exercise in skating across Nova Scotia.
The conditions necessary for the Nova Scotia traverse only occur once or twice every few years. First, there must be no snow cover on the lakes. Secondly temperatures must have been substantially below freezing for at least 10 to 12 days, allowing the lakes to freeze solidly. Thirdly the wind has to be mild or moderate – usually by starting at Salmon Hole Dam any wind will be at your back, but this cannot be counted on. Although not an absolute necessity, it is preferable that the trip be made on a weekday to avoid the ATVs and snowmobiles that regularly use the lake to get to the many cabins along the shore. Wednesday January 31, 2007 was such a day.
On Tuesday morning I received a call from Alan Rodger, a veteran of the crossing, advising that he and several others were heading to Panuke Lake the next day and asking if I was in. Without hesitation and despite the short notice, I said yes.  I knew the conditions had not been right for a crossing for almost five years and was keen to finally have a chance to experience this rare adventure. The next day dawned sunny with not a breath of wind – the only problem was that it was -22, the coldest day of the year so far. Appropriate clothing is the absolute key to enjoying skating across Nova Scotia.
Layers that can be easily added or removed are essential. Skating, due to the more rapid movement, is much colder than cross country skiing and this fact should not be ignored in choosing what clothing to take. Also mandatory are plenty of hot or cold fluids – I found black tea especially warming. Food that will supply ready energy, a cell phone, winter survival kit, compass and detailed topographic maps of the area, preferably with the portage sites marked on them in advance are also essential. It is important to remember that you will be out of touch with civilization for the entire crossing and to prepare accordingly. Lastly, take a hockey stick– it provides the balance required when your skates hit a crack or other obstacle that might otherwise send you flying and is also helpful as a walking stick when scrambling over icy parts of the portages, as I was to find out. Of course, no hockey stick is complete without a puck. Bring a couple.
After rendezvousing at Sunnyside Mall at 6:45 the four of us who would attempt the crossing that day were transported to the starting point by a good Samaratin who would drop us off and take the pickup vehicle to our ending point at Dauphinee's Mill Lake, some 100 kilometres away by road, although our route would be half that. The put in site is reached by following Highway 101 to the St. Croix exit and then turning left from Highway 1 onto Salmon Hole Dam Road just after passing the St. Croix River. This road ends at the impressive dam site some 5 kilometres away.
By the time we were ready to lace up, the temperature was up to a balmy -20. The only real problem was getting the laces tight enough with trembling frigid hands. Three of us were using conventional skates; mine 30 year old Super Tacks that had survived hundreds of hockey skirmishes, and the fourth had a pair of snazzy looking strap on blades that would render unnecessary changes skates for boots at the portages.
Setting off at about 8:15, the sun had not yet risen above the ridge that rises sharply along most of the length of Lake Panuke, but there was plenty of light. With nary a breath of wind there was a profound silence which was broken at frequent intervals by eerie groans that at first I couldn't place. Then I realized – it was the ice, and it was talking to us. I don't know if it is because the lake is so long and so narrow that this phenomenon occurs, but the fact was that we were accompanied by these groans and the occasional sharp crack during our entire time on the lake.
There was open water at the dam, so we had to move far enough away to make sure the ice was thick enough to support our weight. It was with some trepidation that I was the first one to shove off as it were, and head out. Within seconds it was apparent the ice depth was fine, in fact ATV and snowmobile treads were occasionally visible where there was a small amount of snow cover. Looking down the lake all I could see was ice in front of me and great trees coming down to waters edge on both sides. It was exhilarating.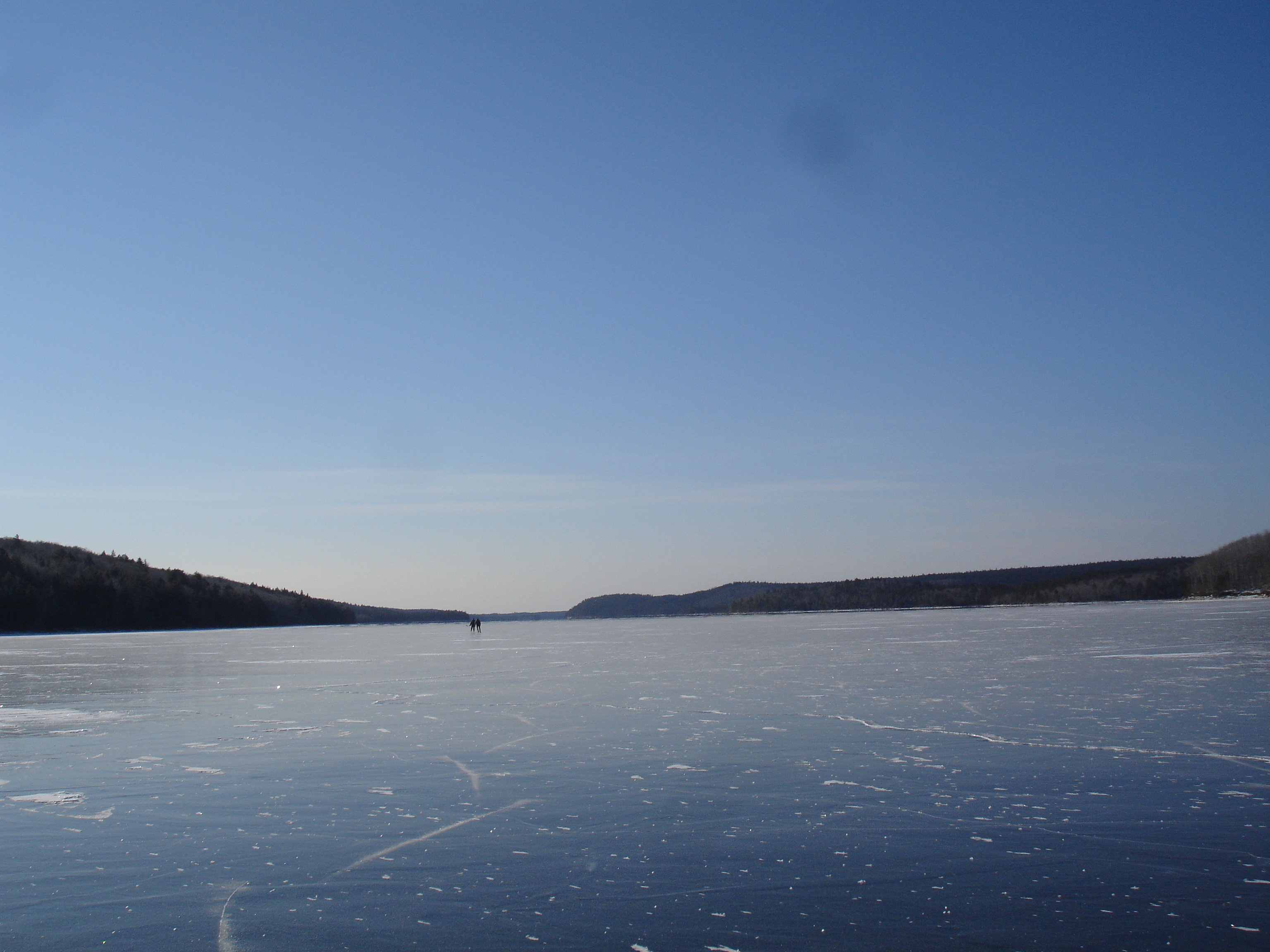 Trying hard, but somewhat unsuccessfully, to resist the temptation to tear off like someone coming out of the penalty box (we did have almost four straight hours of skating ahead of us on this lake alone), I was soon well ahead of my companions. Looking back I realized there was a problem. Skating back to the other three, it was apparent that the strap on blades weren't working. Apparently, their owner, who shall remain nameless, had neglected to try them out in real ice conditions. He had to call it quits. Luckily our driver had his cell phone on and was able to return to pick up the erstwhile strap on skater. Now we were three.
Anyone who has played any pond hockey knows that lake ice differs considerably from man made ice. Outdoor ice has a tendency to crack, buckle, pebble, and develop thin crusty layers and all kinds of nasty things that you don't encounter on artificial ice. Lake Panuke was no exception.  For the first half an hour or so the ice was pretty good by outdoor standards, but not great – there were lots of cracks, ridges and bumpy spots. Twice we had to skate to shore at narrow areas, to avoid large open cracks, but they were easily evaded without having to take the skates off and walk along the shore. All in all it felt good – this wasn't going to be a cakewalk, but then again ice conditions could be a lot worse. And then they were.
While for the first hour or so there had been only a few snow patches and it was easy to skate around them, suddenly almost with no transition, the lake was covered with snow. The snow in turn had attracted ATVs and snowmobiles like flies to you know what. These machines had compacted the snow into an almost impenetrable crust. The few bare patches were either covered with ruts from the ATV tires or with thin spots where the ice had started to melt and refroze leaving opaque little windows of ice that were a delight to crush as a kid, but is hell on skates. Getting any type of skating rhythm was impossible as it felt as if each of my legs had a 200 pound sled attached to them. Within minutes my thighs were screaming as badly as if I was on a never ending mogul run. There was no way I was going to make it if the rest of the lake was like this, and we were only a quarter of the way to the end. At least there were no worries now about the cold – the hard slogging had our hearts pumping like mad and peeling off layers of now surplus clothing. Trust me we were not as happy as this picture portrays.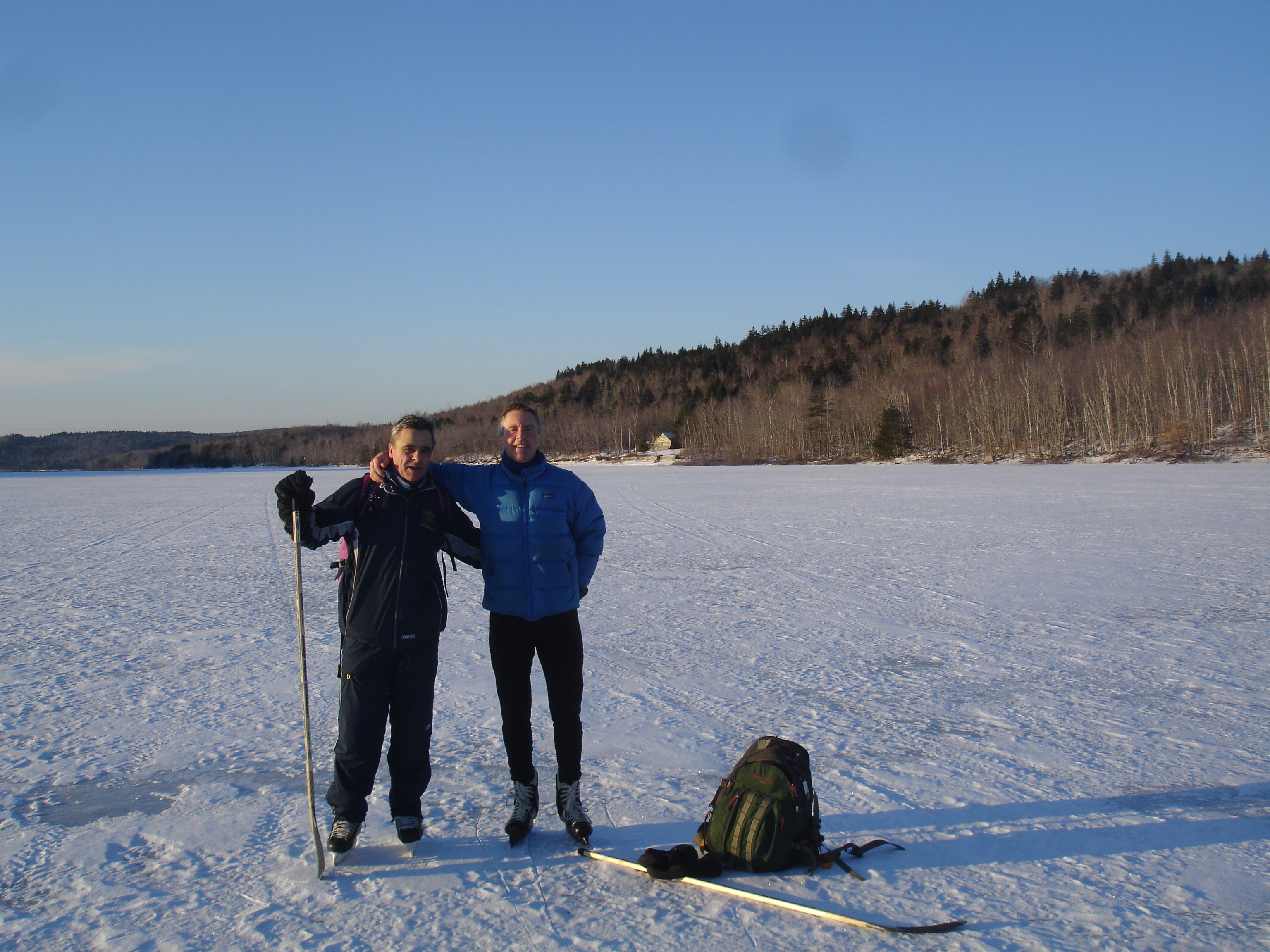 After what seemed like hours, but was really less than one, the snow cover and bad ice stopped as suddenly as it started and we could commence actually skating across Nova Scotia. I now saw a new type of ice. At first sight it appeared black, but I quickly realized that was the water below the ice. This ice was perfectly clear and infused with millions of tiny bubbles- frozen champagne, and if champagne powder is the king of all snows for skiers, then this ice was the equivalent for skaters. Never had I seen ice as beautiful as this. It was perfectly smooth, broken by minuscule crack lines by which you could see and tell exactly how thick the ice was- about six inches. Looking straight down produced a slight sense of vertigo as it seemed like I was skating on the surface of the water and somewhere in the back of my mind was a feeling that I should be sinking.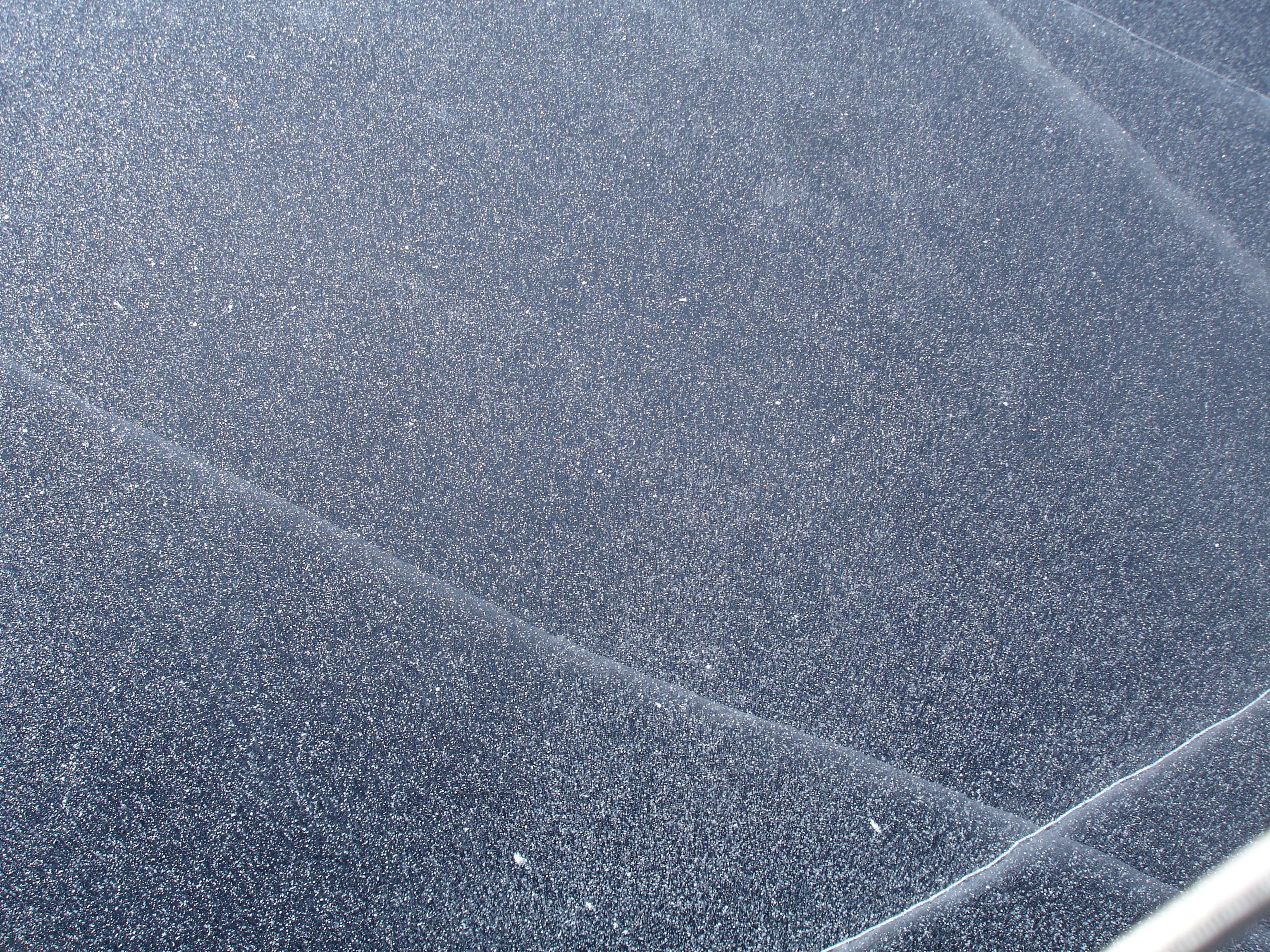 The next two hours was the most magical skating experience of my life as the impossibly perfect ice went on for mile after mile. The sky was a deep cerulean blue and the light hit the ice in a way that created the appearance of diamonds sparkling on top of the ice. A deep feeling of awe and well being came over me. If not for the hockey stick I would have clasped my hands behind me and skated in the fashion of the skaters as they appear in old paintings. As it was, in my pondering of the beauty of this place in time, I fell well behind my two companions who were passing a puck back and forth in what must have been one of the world's longest shinny rinks. Despite near effortless skating on ice of this perfection, by the time we reached the end of Lake Panuke it was almost noon and I was more than ready for a break.  Along the way we had passed the old growth hemlock and red pine forest of Panuke Lake Nature Preserve and saw bobcat and coyote tracks along the shore. Less alluring were the clear cuts and many new cottages that are springing up along the entire length of the lake. Apparently the logging roads have made it easier to bring in building supplies to what once was a remote area accessible only by water.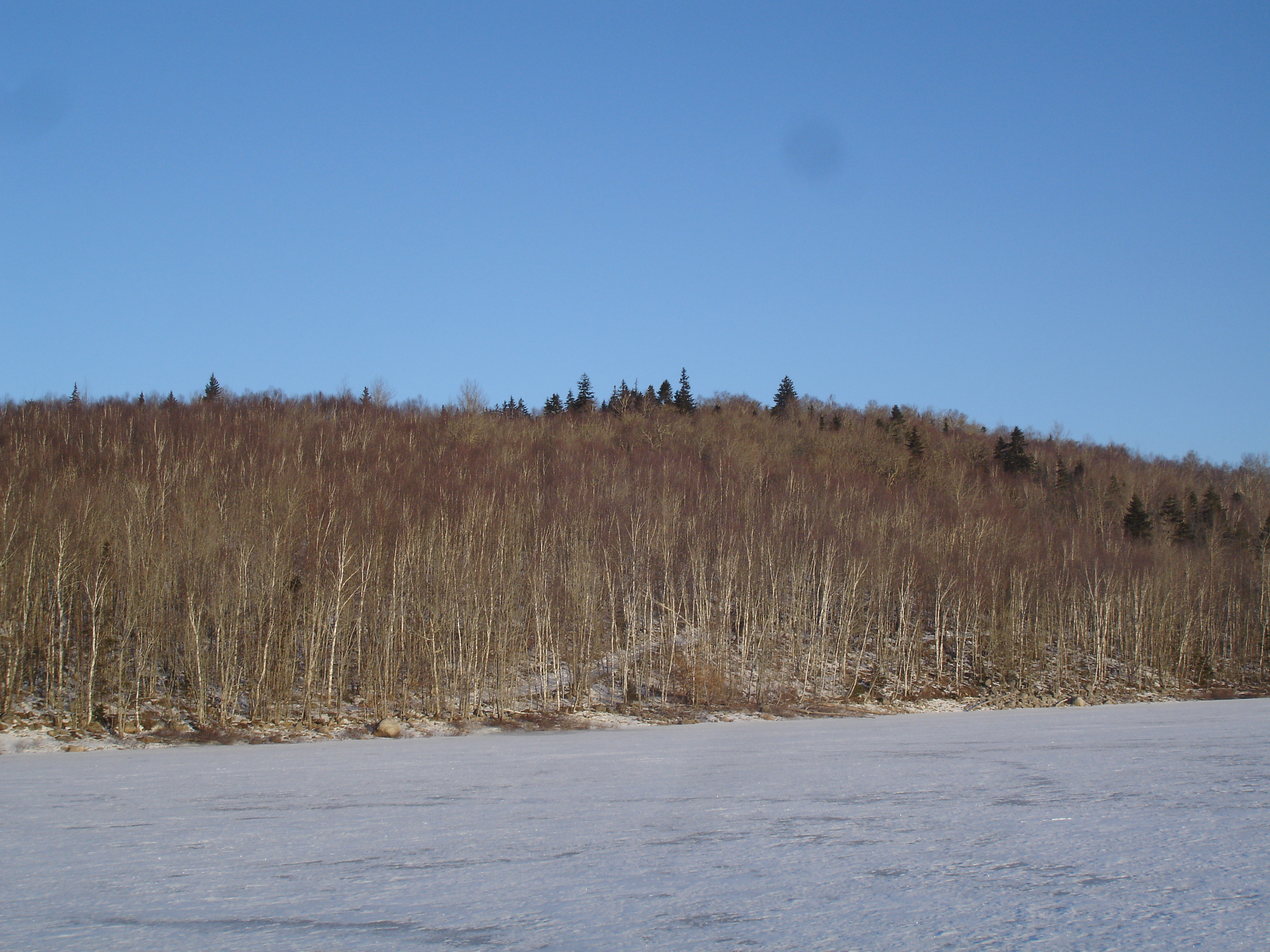 At the head of the lake a clearly posted portage sign indicated the trail to Westhaver Lake. Putting on hiking boots was a welcome change after four hours in skates. It was with some reluctance that we turned our backs on Lake Panuke for who knew when there might be another chance to come this way by skating. The trail rose quite steeply from the lake and due to rains that had fallen over two weeks before it was a treacherous sheet of ice. It was strange the many forms that ice could take. For the past two hours the lake ice had been benign, but now, on dry land it was a menace. There were more than a few tumbles and bruised kneecaps, but we made it to the crest by holding onto tree branches and using the hockey sticks as makeshift life lines from one to another.
Once at the top it was a pleasant half hour walk to Westhaver Lake. Halfway along we stopped for a welcome lunch in an open area where the snow seemed to reflect the sun's rays like a tanning lamp. It actually felt mild and warm, despite the fact the temperature was still at least -10. On the crossing to Westhaver Lake we passed over a new logging road which didn't bode well for the future of the forests in this area. At Westhaver Lake it was back to skating across Nova Scotia with the short journey across the small lake to Coolen Lake to which it was joined by an open stretch of fast running water. Without taking the skates off we bushwacked a short distance to find a safe spot upon which to set out on this next lake. From here it wasn't far to the next portage, but it did take some looking to find the portage sign which was partially obscured by branches.
This second portage was much shorter than the first and was marred by a recent clearcut which apparently wasn't there the last time the skate across Nova Scotia had been attempted. No doubt the new logging road we had come across would ensure there would be more clearcuts the next time around as well.  Dauphinee's Mill Lake is quite large and has been popular with outdoor enthusiasts for over a century. Near the small cove where the portage ended was a cottage on a small island with a dock that provided a good place to skate up for the last time. The lake is about five kilometres long as the crow flies, but there is a large peninsula that sticks out into the middle of the lake that makes the total skating length closer to seven kilometres. Here it was important to rely on the map which showed that we had to stay to the left to get around the peninsula even though to the naked eye it appeared to be a dead end.
As usual the map was right and we crossed through a narrow opening to come into the main body of the lake. From here it was a straight skate to the head of the lake and the parking lot where our vehicle was stationed. While my companions took the opportunity to put on a final burst of speed (where did they get the energy?), I savored the last moments of the journey by admiring once again the beautiful patterns in the ice, the sun glinting off the frozen lake and the deep blue clear sky. Arriving at the docks at the head of the lake we found it was just before 2:00, apparently a record for the crossing, due no doubt to the wonderful ice conditions.
Taking off the blades for the last time a feeling of contentment and accomplishment more than made up for the fact that every muscle in my legs was exhausted. Was I happy I had come – yes skating across Nova Scotia was a once in a lifetime experience. It is doubtful if anyone will ever find the ice any better than it had been today, except for the horrendous part that was snow covered. Would I do it again – my heart says yes, but my legs say "maybe".
If you're looking for other adventuresome ideas that not many have tried in Nova Scotia how about an overnight trip to mysterious Isle Haute or tackling the Three Sisters by land and sea?