Isle Haute – A Trip to this Most Mysterious of Nova Scotia Islands
I  have always had a special attraction to remote places and none up until now has had more attraction to me than Isle Haute. This is an island that is, to use a hackneyed term, 'shrouded in mystery'. First of all its appearance is anything but ordinary. Isle Haute sits by itself in the middle of the upper Bay of Fundy almost like an orphan not wanted by either Nova Scotia or New Brunswick. It has cliffs that are three hundred feet high which explains why Samuel de Champlain  named it 'High Island'. The combination of the cliffs with the Bay of Fundy tides and fog often creates the impression that the island is floating on the water, which in turn explains why early settlers and perhaps aboriginals believed that it did actually float and was liable to disappear and reappear in various places in the bay. Add to this the very real stories of buried treasure, ghosts and Mi'kmaw legends and you've got yourself a "I gotta get there" destination. This photo I found on Flickr is perhaps the best at capturing the allure of Isle Haute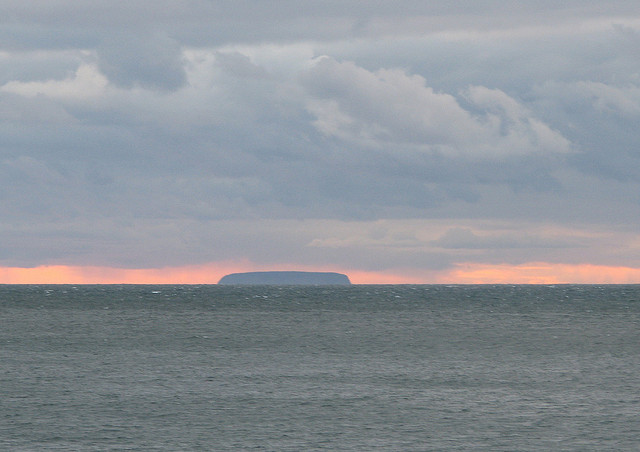 My preparation for the expedition to Isle Haute began well over a year in advance and included reading all the material I could find on the island, including this very detailed description of the island's history, archealogy, geology and flora and fauna by the Nova Scotia Museum in 1997. Click the link and then download the 73 page pdf. document. Also helpful was the chapter on Isle Haute in Mike Parker's Ghost Islands of Nova Scotia. From these and other sources I learned the following:
1. The aboriginals were frequent visitors to Isle Haute and arrowheads and other implements made of materials not found on the island were commonly found.
2. The notorious pirate Edward 'Ned' Low was reputed to have buried treasure here and left a beheaded crewman behind to create the ghost that is always necessary to protect purloined loot. Many efforts had been made to find the treasure including one apparently successful described in a 1952 story in Life magazine as Red-Taped Gold wherein Edward Snow, an American, reportedly found gold coins on the island that were subsequently seized by Canadian customs officials. The story is on page 37, but the whole magazine is worth perusing just for a glimpse of the way people viewed the world in the early 1950's.
3. The island has only one land mammal, the deer mouse, but to make up for this deficiency it has an abundance of flora not usually found anywhere else in Nova Scotia. It also has a colony of grey seals and numerous seabirds.
4. There once was a working farm here that produced a veritable cornucopia of products that were sold on the mainland.
5. The last manned lighthouse was destroyed by fire in 1956 and there is now only a light tower on the highest point of land.
6. In the 1800's large parties of visitors would descend on the island for picnics, weddings and other entertainments, but today the wharf is long gone and so are the visitors.
7. Isle Haute is Crown land and currently under the control of the Canadian Coast Guard who are apparently in the process of transferring title to the Canadian Wildlife Service. Technically you need permission from the CCG base in Saint John to land, but after speaking to Dan Conlin who has visited Isle Haute over a dozen times I concluded that this would be nothing but a bureaucratic hassle and thus became a trespasser on public property.
OK, so I knew why I wanted to go, but how to get there was another issue. After some searching on the web I learned that Advocate Boat Tours offered tours around the island so I got in touch with co-owner Else Marie Ostermann and inquired as to whether or not they could land a party of ten on the island for an overnight stay. From the moment we first spoke I knew I was dealing with true professionals who were the right choice for job. They own a zodiac that carries five passengers at a time so it would involve two trips of about a half an hour each, depending on whether it was foggy or not. Else Marie also pointed out to me the importance of planning the trip at the right tides which turned out to be the first week in August. Not only did she make the arrangements for getting us to Isle Haute, but also assisted in booking Driftwood Park Retreat chalets for the night before and after and getting us reservations at Wild Caraway on a night it was supposed to be closed. She also lined up kayaking with NovaShores which I will describe in another post. In short Else Marie, while small in stature, is big in heart and helpfulness.
Originally my plan was to make this an Explorer's Club event as George Burden and I had done two years earlier on a trip to Sable Island, but so many of my friends that I often travel with on these type of trips wanted to go that I agreed it would be the first ten that signed up. Unfortunately, due to unforeseen circumstances one couple had to drop out and only one replacement was found so we went as a group of nine. I was joined by my wife Alison Scott, Dr. George Burden (or the Baron of Seabegs as he actually titled), his friend Carla DiGiorgios, intrepid world traveller Allan Rodger and his friend Dr. Judy Rice, world famous kayaker and canoeist Eric Fiander and Dan Soucoup who as former publisher at Nimbus is probably responsible for more books on the Nova Scotia outdoors than anyone else. Our final member was a relative youngster, Ryan Barry who is the owner of Great Earth Expeditions which specializes in off the beaten track explorations.
I have always maintained that the portion of the Glooscap Trail from Glenholme to Joggins has more to see and do on it than any other comparable stretch in Nova Scotia – hard to believe it does not have its own website. Hello Tourism Nova Scotia. Alison and I departed just after two in the afternoon and arrived in Advocate Harbour just before five. The drive had been great until just after Spencer's Island when the fog rolled in . By the time we reached Driftwood Park Retreat it was almost impenetrable. I knew from previous visits that Isle Haute was out there, but I could barely see the water's edge let alone anything further.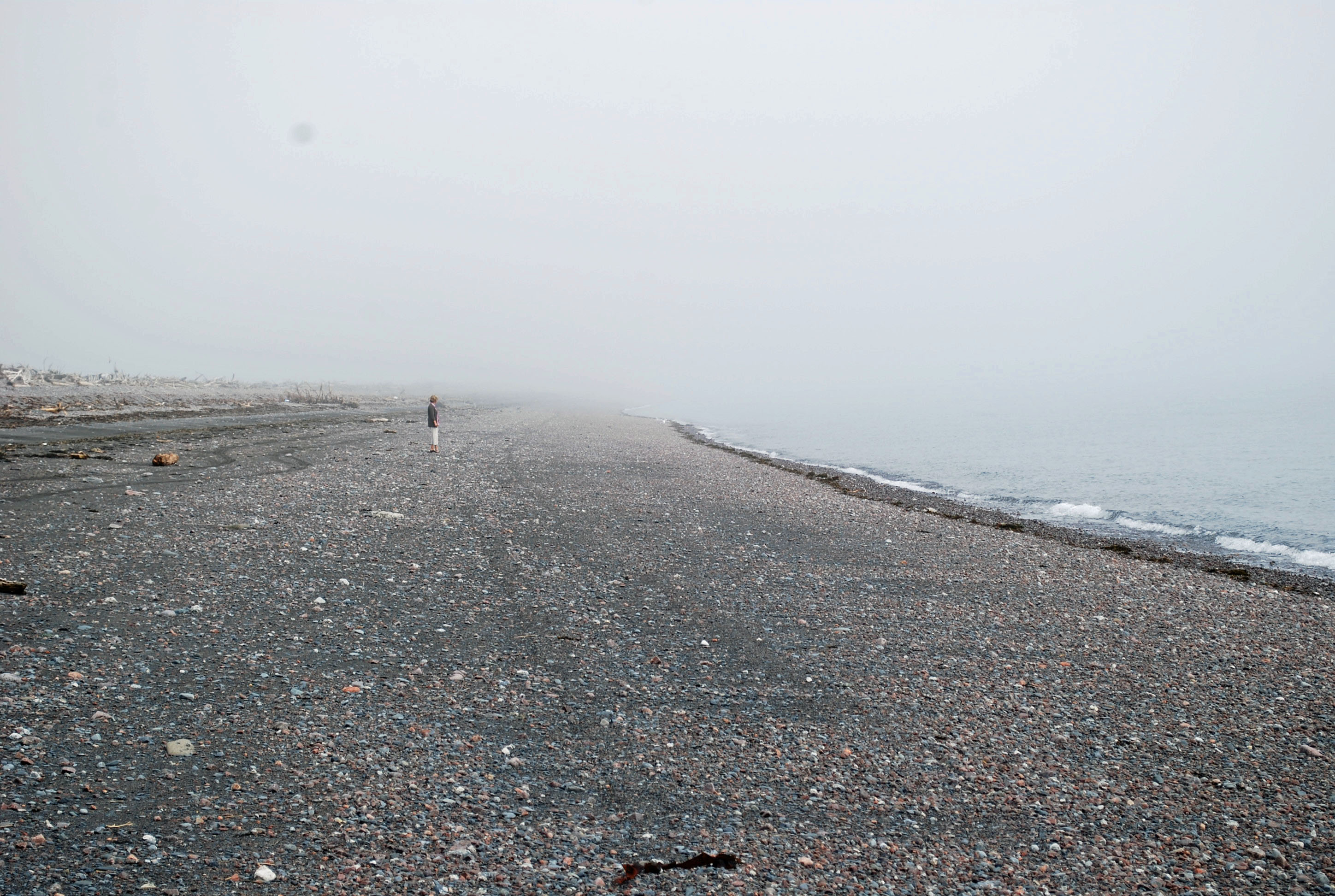 A word about Driftwood Park Retreat. It is one of my favourite places to stay in Nova Scotia. Why? It has a fantastic location right behind Advocate Harbour Beach and is close to the entrance to Cape Chignecto Provincial Park. Hiking, kayaking, beachcombing and great food nearby are just a few more reasons. Su and John Kelley are two of the most hospitable hosts you will find anywhere and they have built six chalets that are lacking not a single thing except wifi and you can get that by sitting on the bench outside the office. And yes, it is very appropriately named – there is driftwood everywhere.Here's what it looks like with no fog.
Here's what it looked like last Tuesday.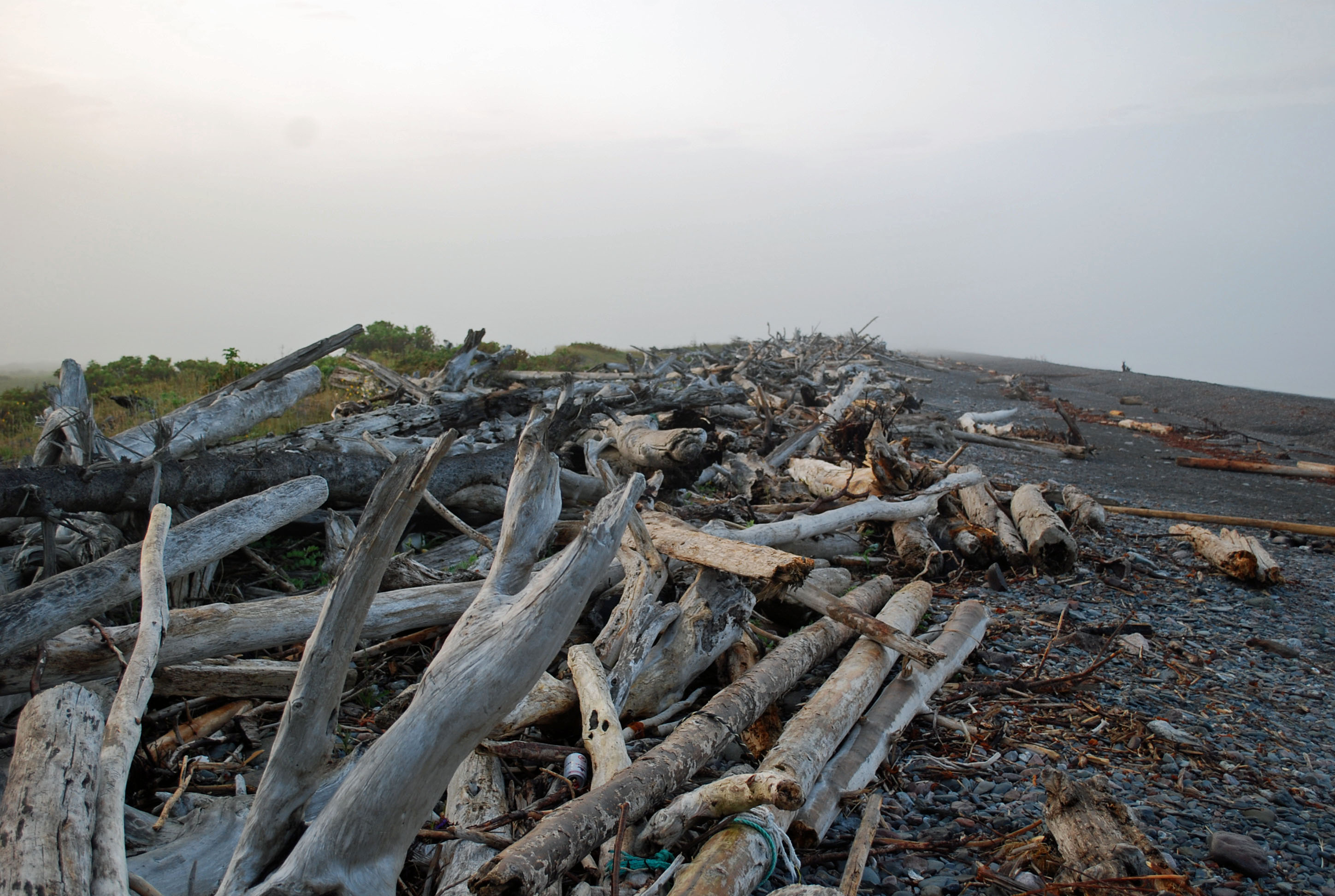 Ryan, George and Carla were already checked in and the other four idiots were going to get up at four in the morning and drive up for an estimated eight o'clock departure forsaking a meal at the fantastic Wild Caraway restaurant. Usually Wild Caraway is closed on Tuesday's but Else Marie had convinced them to open just for us when I thought I had a party of ten. When I knew it would only be five I expected they would say no dice, but thankfully they didn't.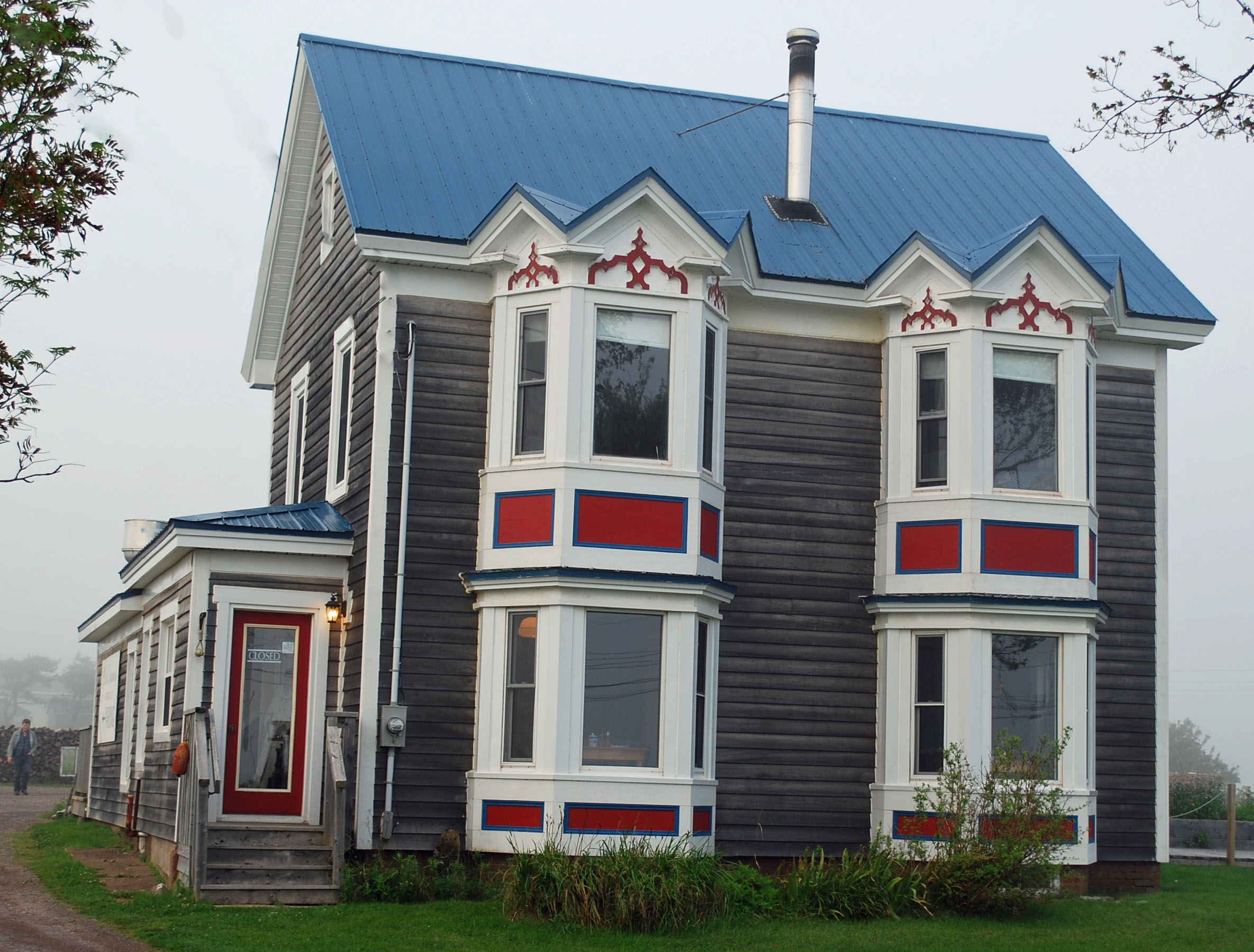 The Wild Caraway is located in a building more than a century old and has a very inviting exterior. The interior is equally welcoming with surprisingly well stocked bar. There is an ancient red Philco refrigerator still in use. I was also relieved to see that several other couples had showed up so the loss of half our group was made up for somewhat.
The menu at Wild Caraway is not large with three starters, five mains and three desserts, but if someone can't find something divine on that short list then maybe they should go to MacDonald's, except there isn't one for sixty miles. Between our group we managed to try most of the offerings.
First and foremost Wild Caraway is about fresh local ingredients, many of which are by no means 'traditional', but would have been known to the early settlers or the aboriginals. We were presented first with an amuse bouche that featured the heart of a cattail root – amazing taste. Next were small rolls that contained the seeds of wild caraway – the signature feature of the restaurant – again an amazingly unique taste and texture. I don't generally care that much for caraway as a flavour, but this wild caraway was much more subtle than the seeds found in commercially baked products.
For starters my wife had the lobster bisque which was excellent, but perhaps even better was the Fritto Misto which the rest of us shared. It featured a mixture of local seafood which was to die for and could have caused a fistfight for the last few pieces if we were not so civilized. Squid is a big catch in this area and prepared calamari style it was the best of the starter followed by really good smoked mackerel, halibut cakes and haddock. The smoky fry sauce for dipping the seafood enhanced the other flavours.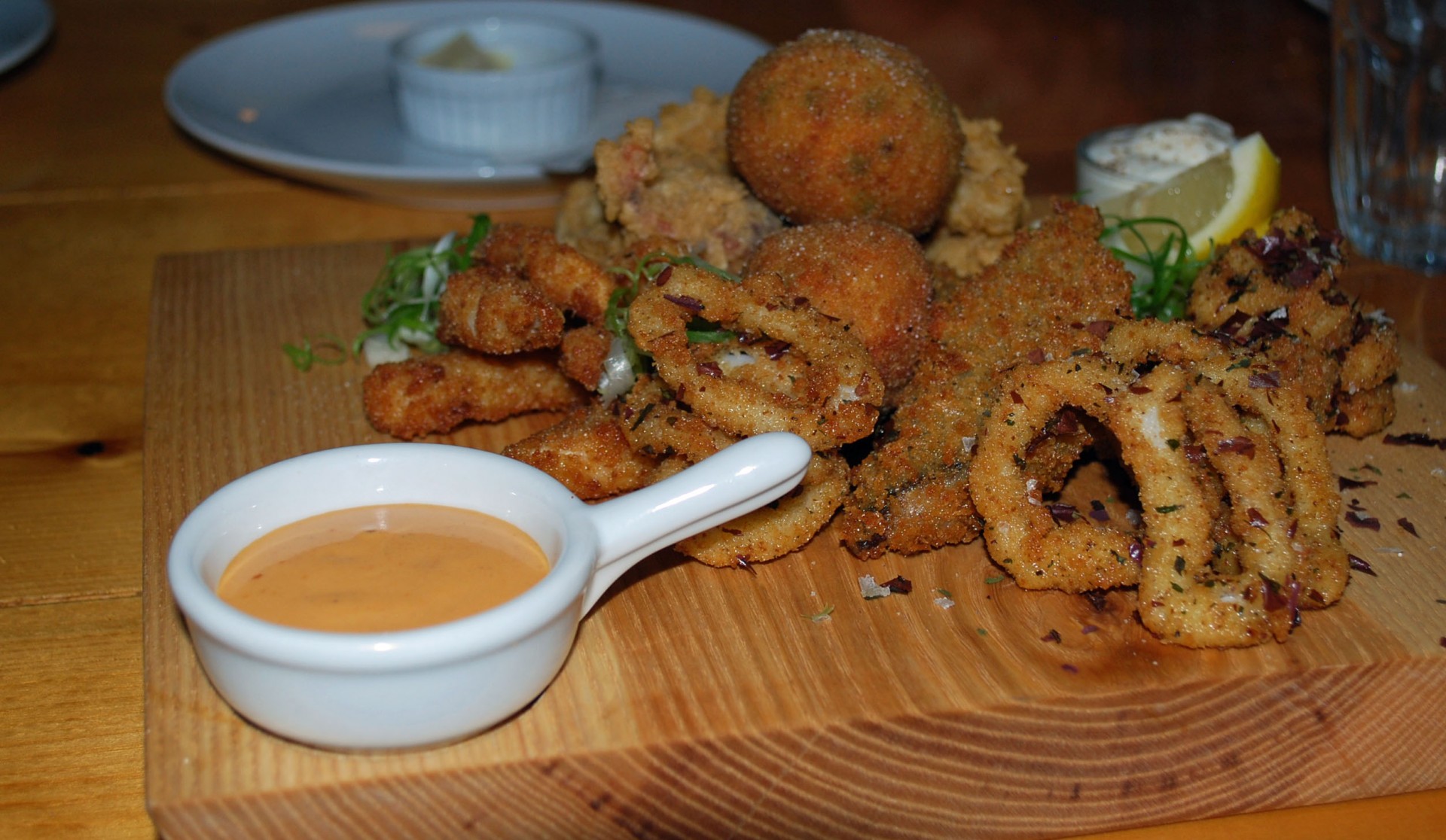 I had roasted Nova Scotia lamb which was perfectly cooked and served with a medley of vegetables grown in the restaurant's garden. Unbelievably fresh!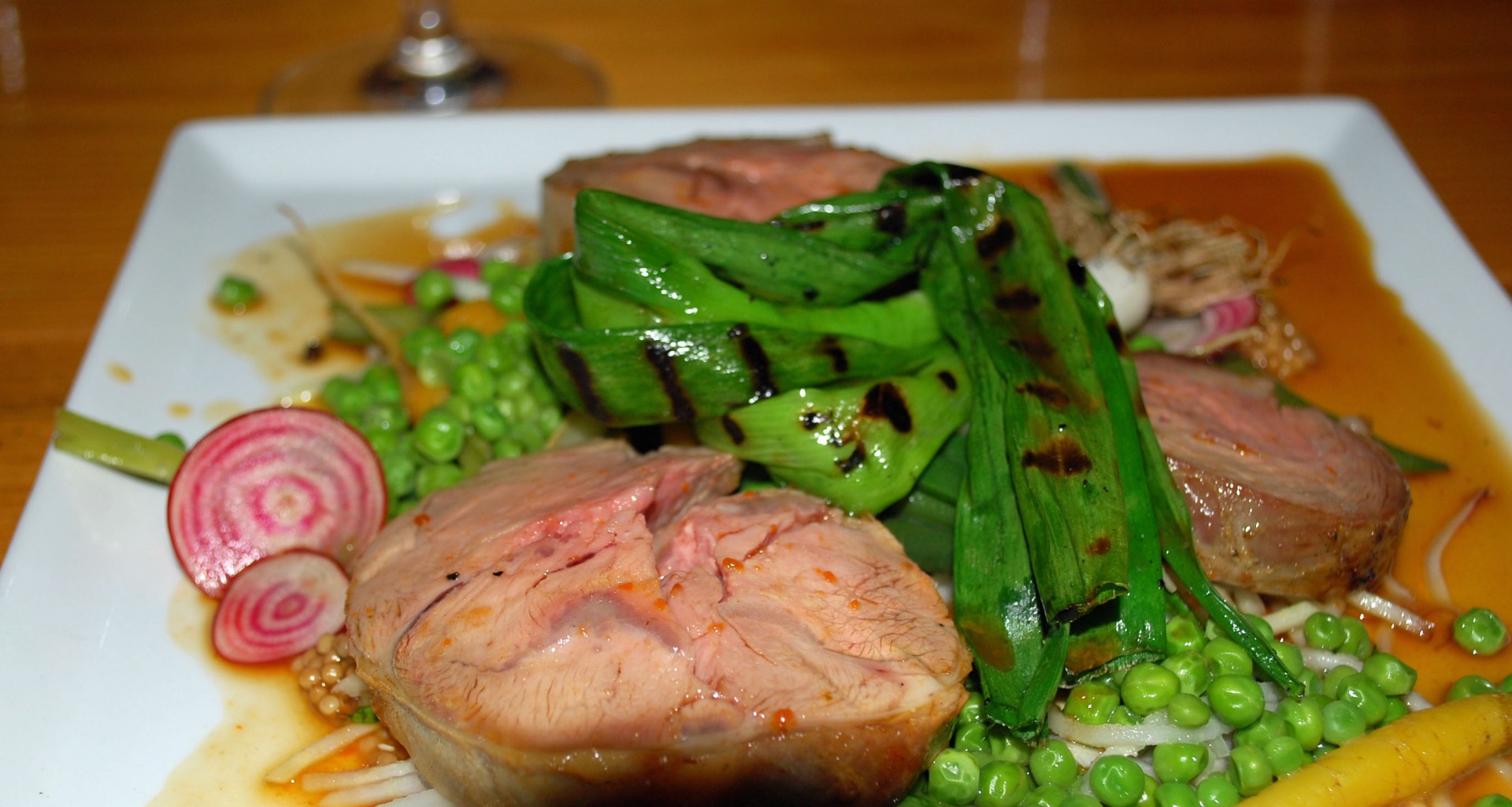 Alison had a chicken duo that was served with chanterelles – one of the tastiest mushrooms you can ever find and picked that day in the nearby forest. Several of us asked if we could have a side order of these and again the answer was 'no problem'. If you have never tasted chanterelles you need to get yourself to the Wild Caraway asap.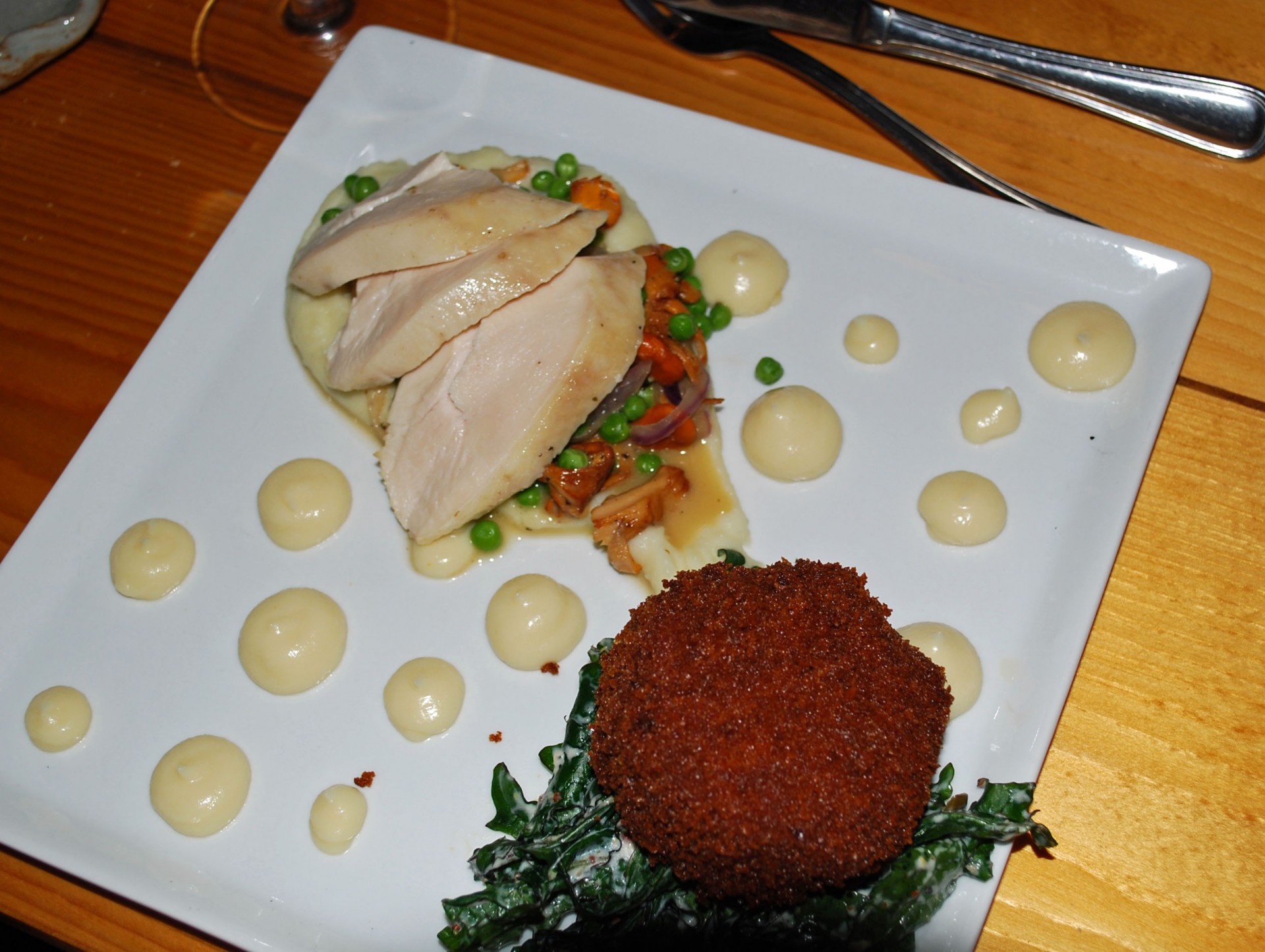 Ryan had the halibut which was served on a hodgepodge of vegetables, cream and herbs. He said it was the best halibut he has ever tasted.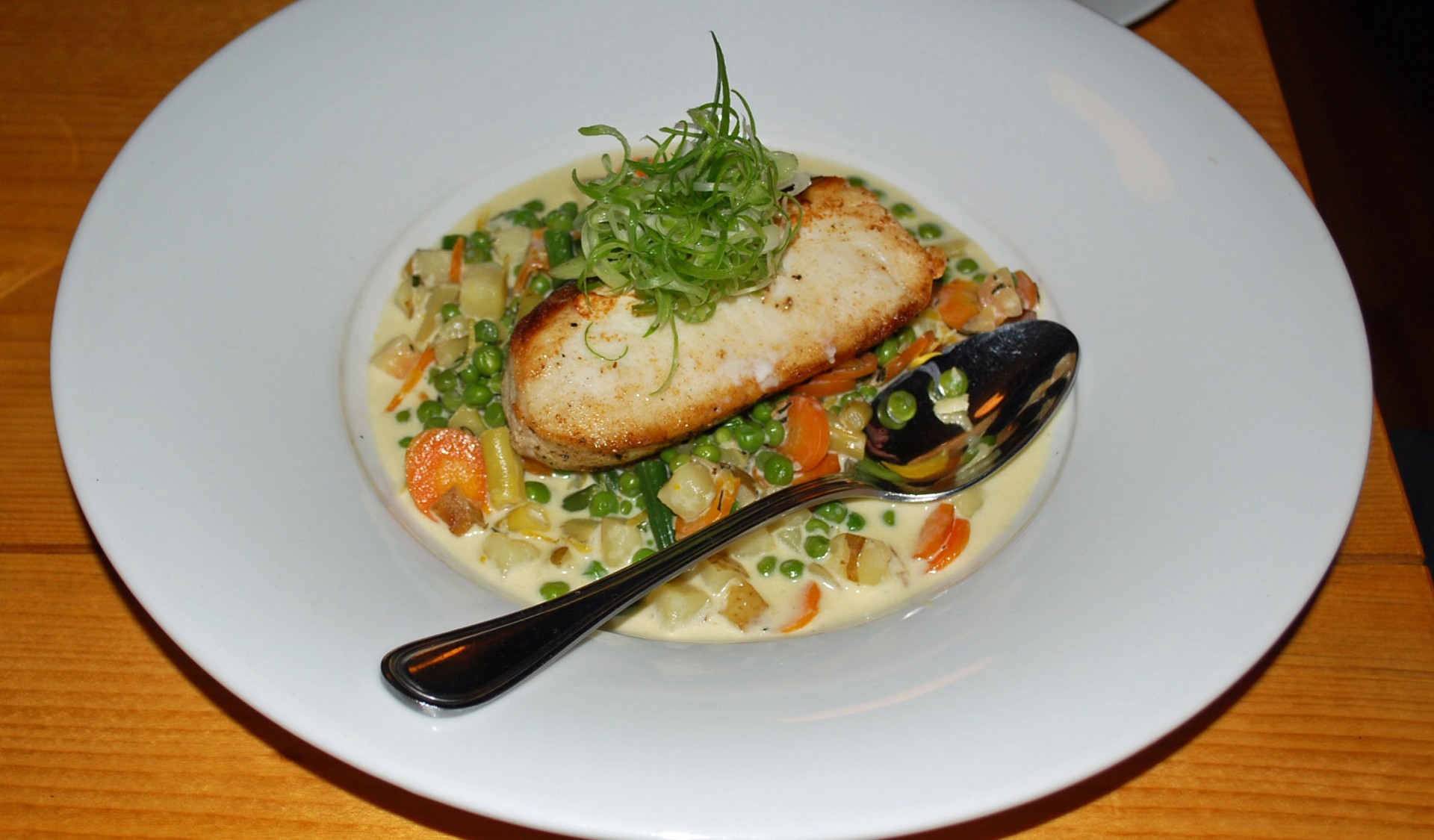 For dessert I could not resist the vanilla creme brûlée while others had berry crisp. Again these dishes were faultless.
The restaurant has a number of wines for sale by the glass, including some of the better Nova Scotian offerings. Service was great – after all they opened just for us!
Total for five with a good tip was $300.00.
A few days later after we returned from Isle Haute we tried to get a table for lunch and found the parking lot jam packed with a thirty minute wait. We returned at 5:30 and even though the restaurant was fully booked the owners said we could sit outside on one of the picnic tables and they would serve us. This time I had the fish and chips and I may be risking my neck, but I think they are the best in Nova Scotia. The batter is ultra thin and the haddock cooked exactly right. It literally flakes apart in your mouth. Add the fact that the fries are fresh and not frozen, cooked properly and served with a great house made tartar sauce and you have the recipe for greatness.If the pictures  don't get you excited about eating here then you might be dead. I can't wait to go back.
Before heading out to eat we had dropped into the house where Else Marie and Werner Ostermann live and operate their business. We ponied up $170.00 each for the drop off and pickup which would also include a tour around the island on the way back. There were red survival suits sitting on the deck chairs outside which reminded me of cooked lobsters. Else Marie explained we would need to wear them because the water was so cold that falling in would cause almost instant hypothermia without one.  That gave me a bit of a pause, but I was glad that safety was their highest priority.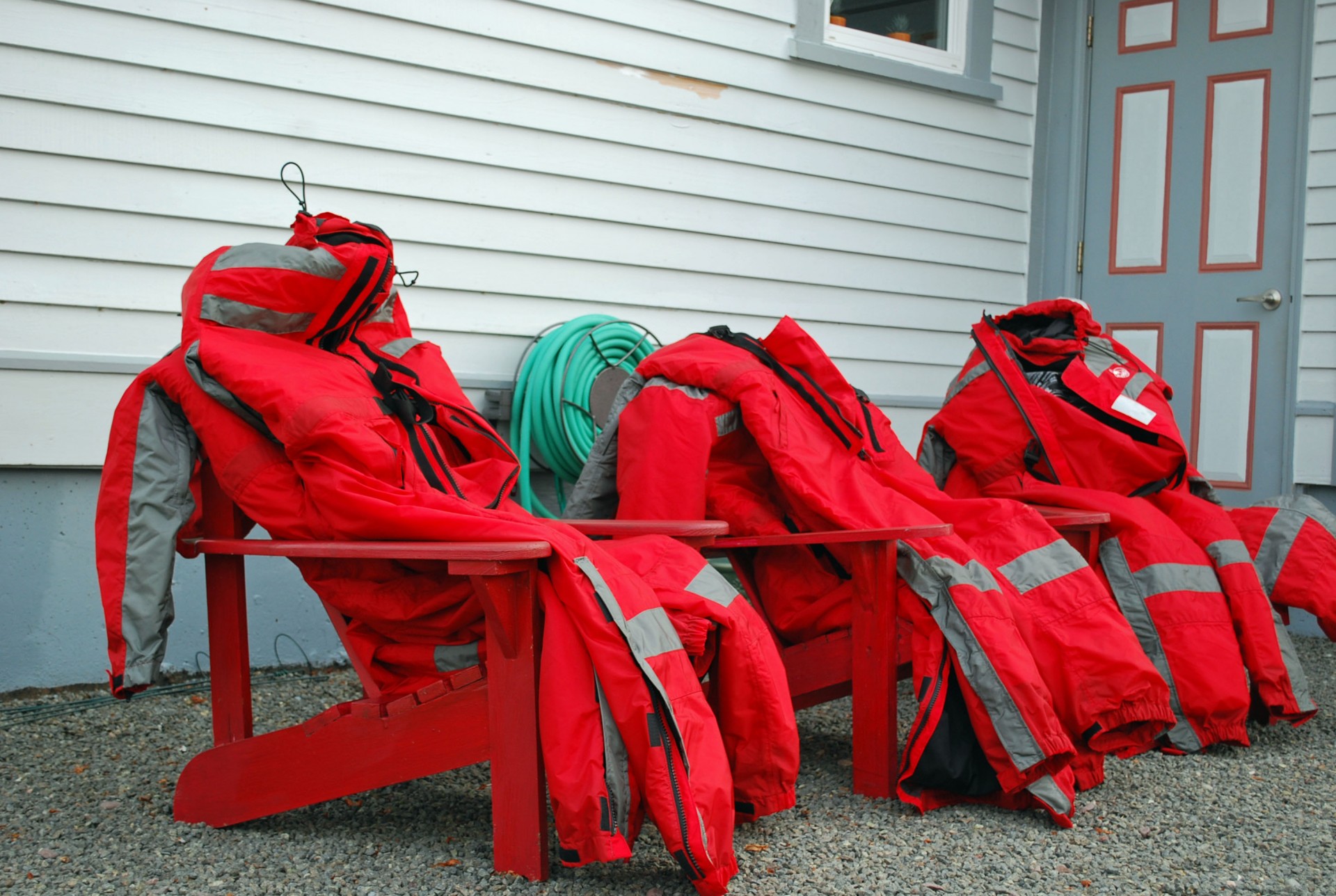 We slept very well that night just metres away from the fog enshrouded shore with nary a breath of wind. Departure was to be at seven o'clock from Advocate Beach boat ramp not far from the chalets. Arriving at 6:45 Werner and Else Marie already had the zodiac on the beach ready to launch. Now it might look from the picture that this is a pretty small boat in which to carry five passengers with their gear and two crew out onto the swells of the open ocean, but zodiacs are incredibly stable and especially made to handle rough conditions. As you can also see the fog had not lifted and we would be heading out totally in reliance on the zodiac's navigation instruments.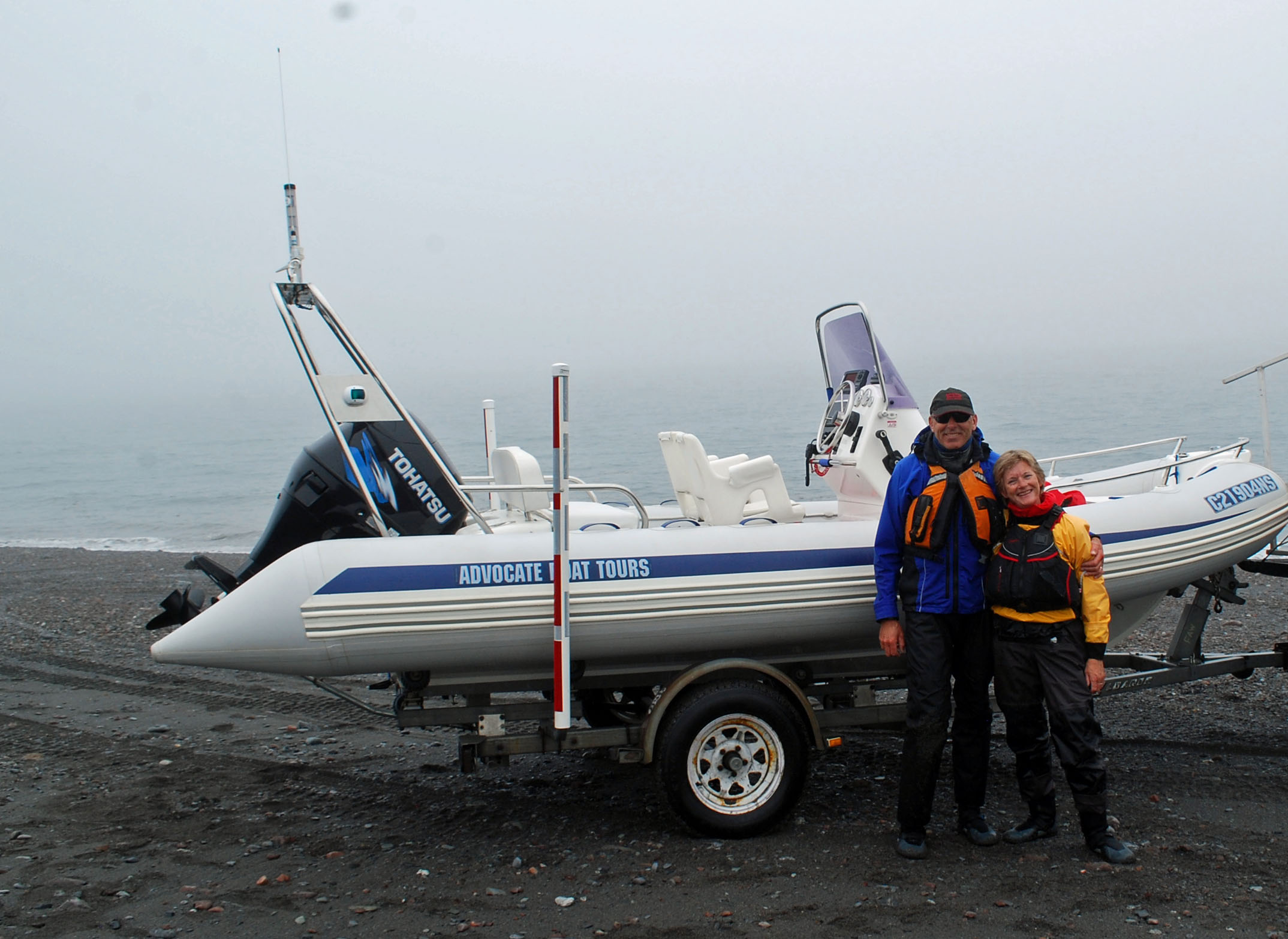 The boat was launched in what seemed like less than a few minutes and steered up to a ramp from which we formed a bucket brigade and passed our stuff to Else Marie for stowage. Then the five of us trekked on board and we were off into the wild gray yonder.
Sitting behind Werner I could see our progress on the digital chart and the shape of Isle Haute which is 19.5 kms from Advocate Harbour and a little less from the beach. Werner had to go slower than expected due to the fog and the fact that this part of Minas Basin is loaded with driftwood – hitting a semi-submerged tree a high speed could put a quick end to our trip and maybe our lives.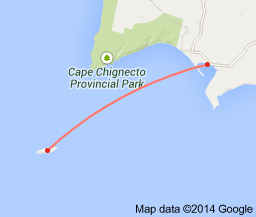 In order to make better progress Werner headed towards the Cape Chignecto coast and we broke out of the fog to glorious views of the huge cliffs, passing by Refugee Cove where we hiked into many years before. My camera was stowed, but Ryan got this picture of us in the zodiac.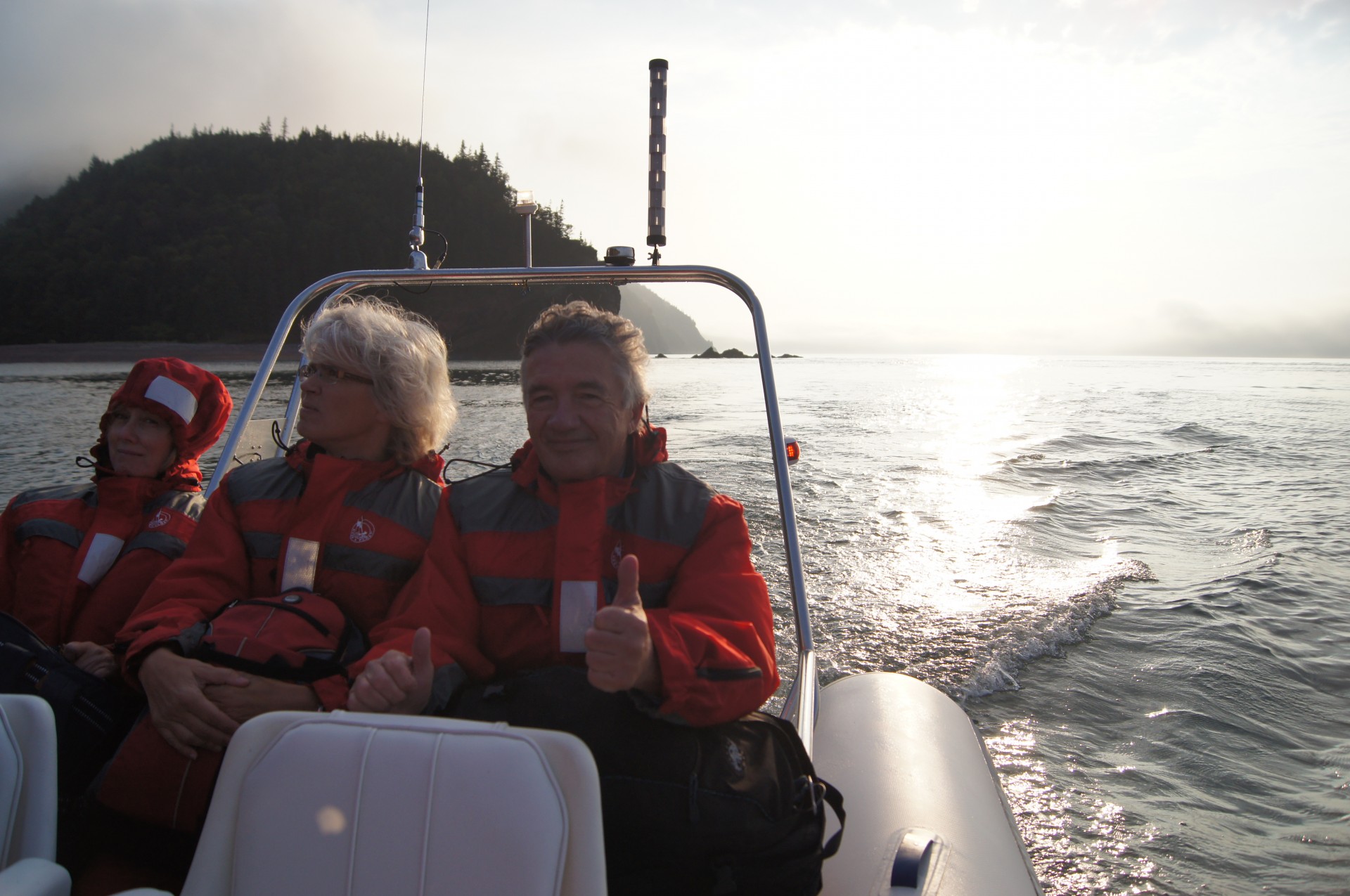 After passing Cape Chignecto it was back into the fog and I watched the tiny arrow on the navigation screen get closer and closer to Isle Haute until I thought we must be about to crash into it and then we almost did. At the last moment Werner expertly turned the boat away from the looming beach and cut the power looking for a place to land. The only place you can get close to shore on Isle Haute is the cobble beach at the eastern end of the island. Here is a picture that the Ostermann's took that shows the two landing places on each side of the bar that extends well out from the island at low tide. Unfortunately we were in a dense fog and the tide was high. Werner determined that the beach on what would be the right side of this picture, was too rough so we went around the now submerged bar and landed on the left side.
Getting ashore was going to be a little different proposition than getting aboard. We had to remove our survival suits, boots and socks and get into the water which was about knee high. Werner jumped in and stabilized the boat while we unburdened ourselves and then one by one in we went into the frigid water. George, Ryan and I formed a line in the water from the boat to shore and Else Marie passed us our things to us which we relayed to Alison and Carla on the beach. Here is a photo of the second group preparing to disembark. Although the water temperature was tolerable for a short period of time it was the slippery rocks underfoot that made for treacherous footing and I fully expected that someone's gear was going to get wet and that just what happened to Ryan's Coleman stove and our only means of cooking. However, it was retrieved with dispatch and seemed no worse for wear until we found out the grill had somehow slipped out and probably washed ashore somewhere on the island.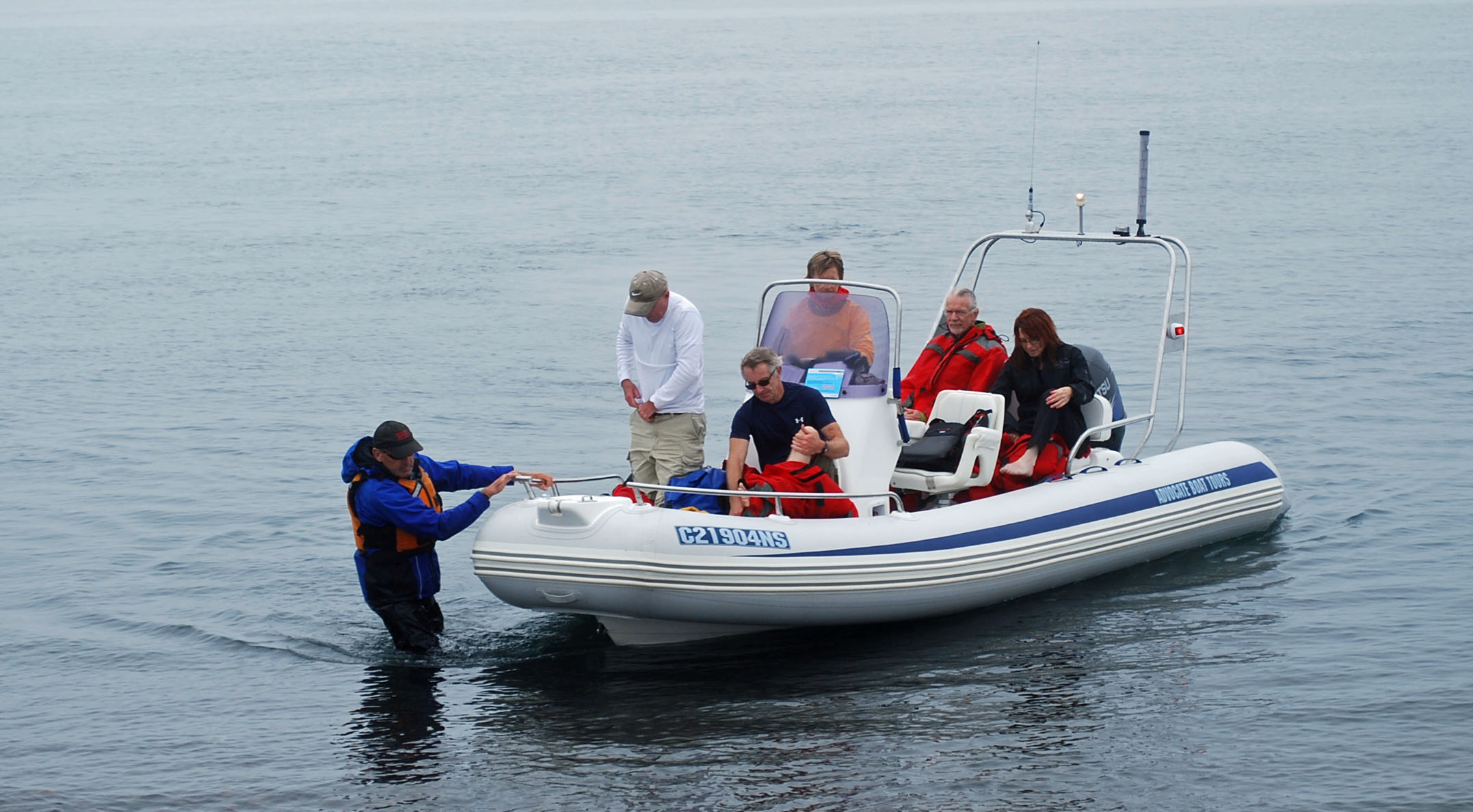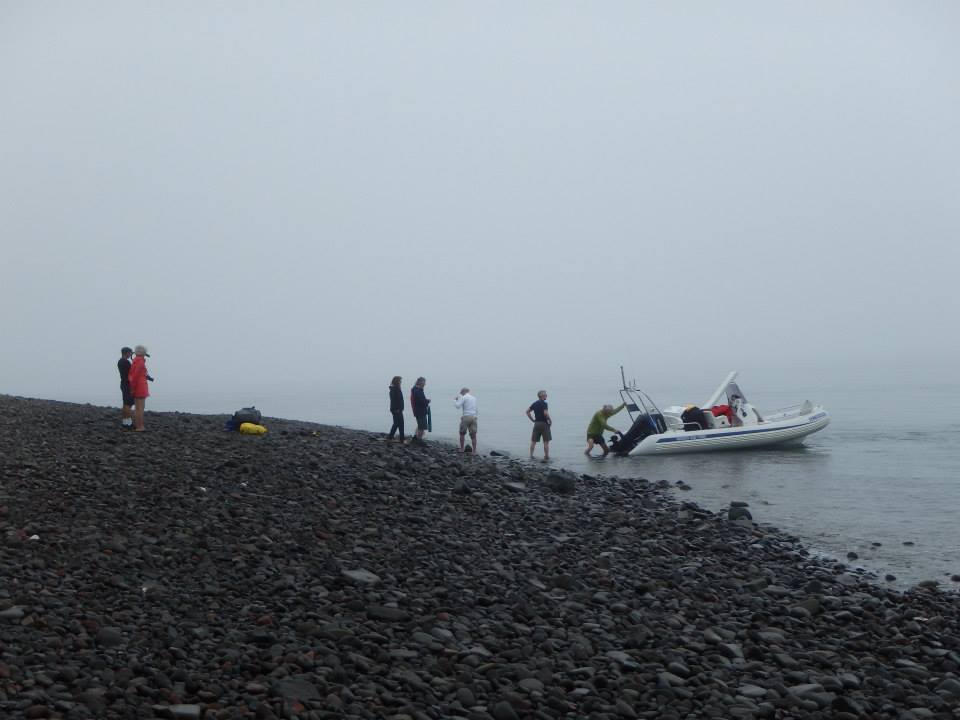 Once we got all the gear safely above the waterline it was time to reconnoiter for a campsite. The cobble beach at Isle Haute is very pretty to look at and pretty terrible to walk on. You literally trudge on this stuff.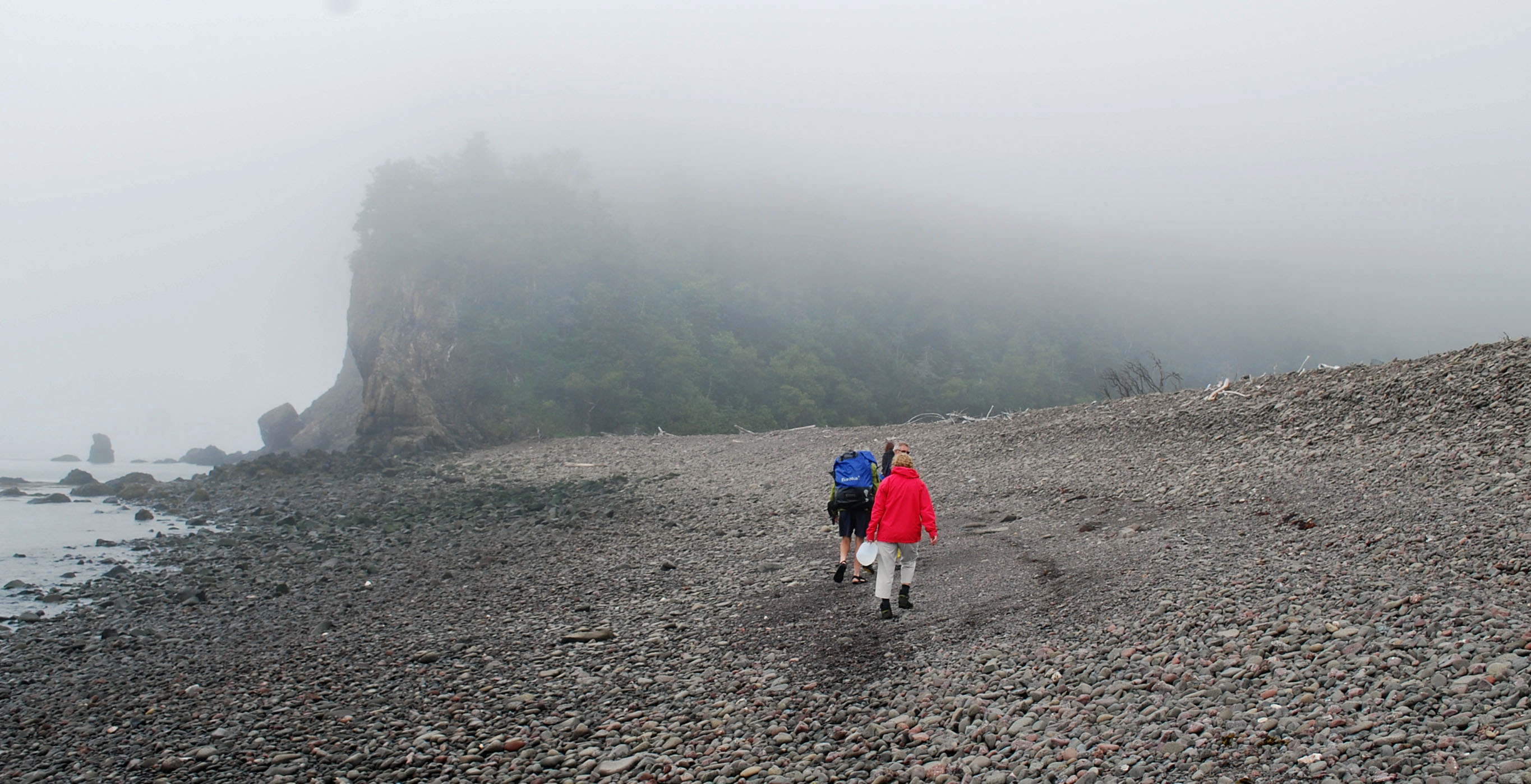 Just behind this beach there is an enclosed lagoon which appeared to have been used as a campsite before even though it was pretty rocky as you can see from the picture below. We decided not to try to carry our gear the extra kilometre or so to the preferred camping site where Werner had first tried to land . If we were here for a few days it would be worth the effort, but not for one night. So George, Ryan and I pitched our respective tents, got out the sleeping bags and other gear and got ready to go exploring.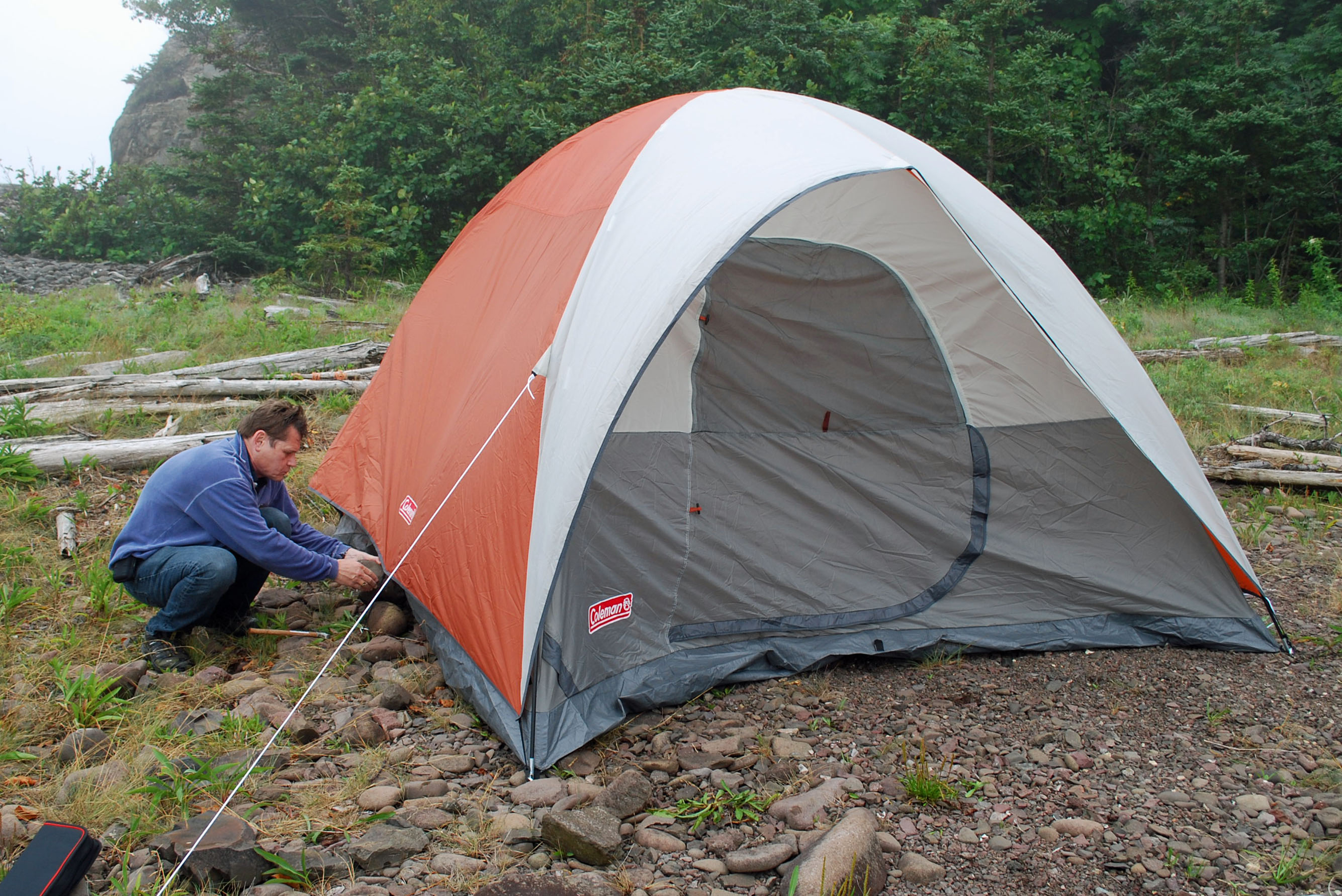 Another reason we decided on this campsite was that it was close to the site listed as 'The Place' on a copy of the map that Edward Snow had allegedly used to find pirate Low's treasure. Using the map it didn't take long to find evidence of treasure seekers. There were numerous pits that had been dug and abandoned and one that had been carefully filled in.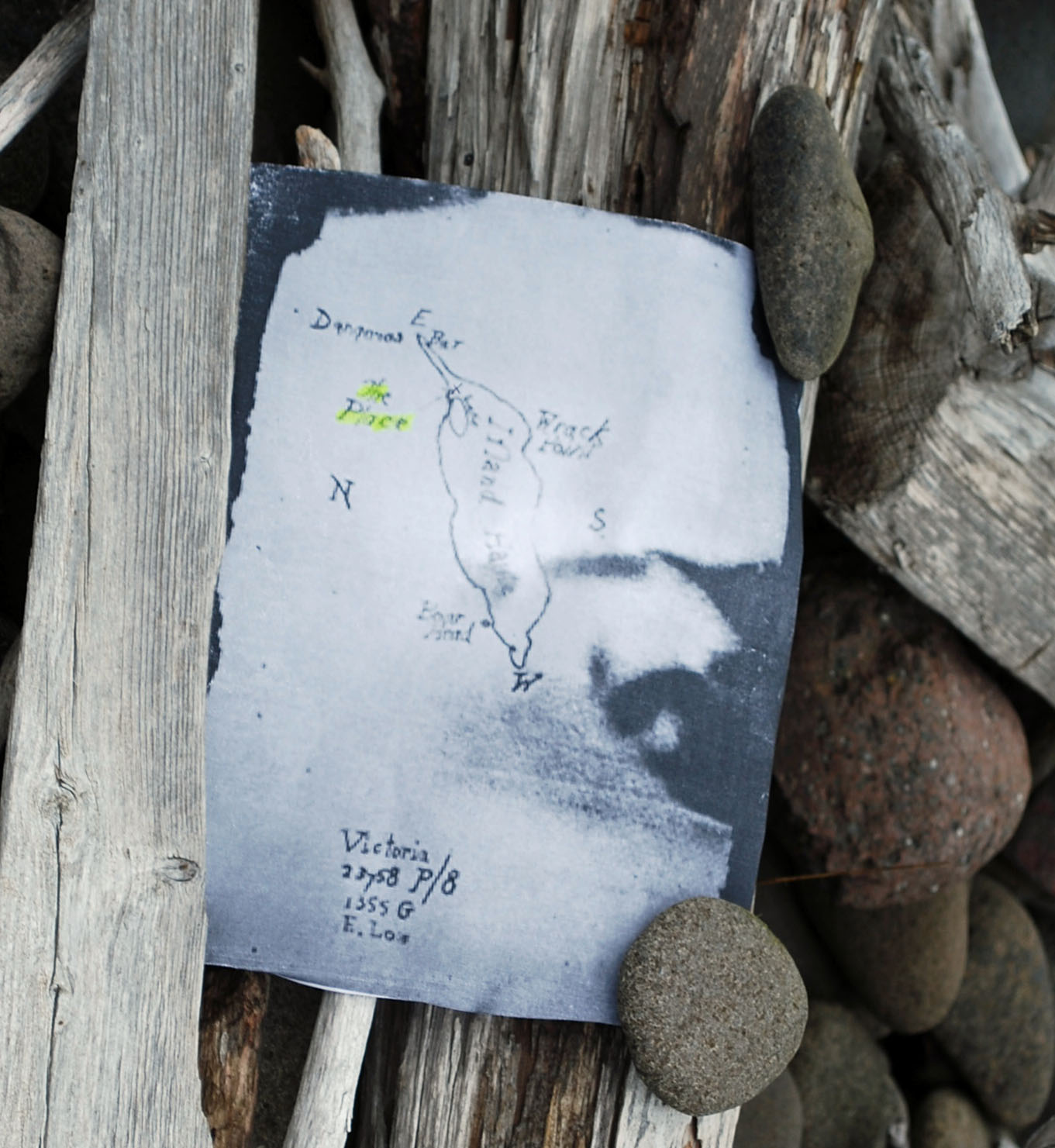 George had brought along a metal detector and sure enough he got a hit while standing in the deepest of the pits. Digging around he came out with – wait for it – a piece of iron binding from a small cask.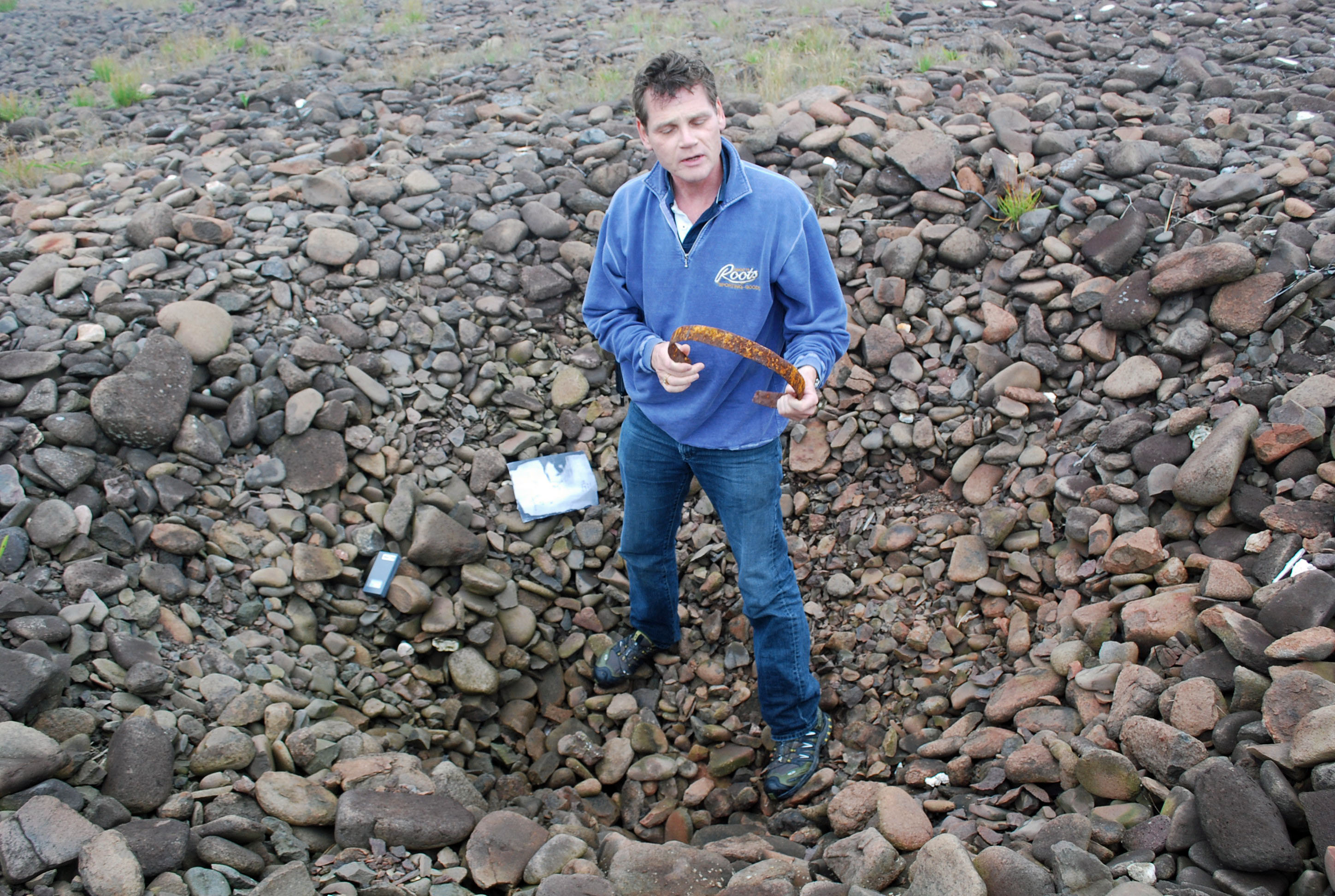 While it was pretty apparent that any treasure that might have been buried here was long gone, it was pretty neat to actually see evidence of treasure hunting based on a genuine belief that someone had buried something of value on Isle Haute. During the course of our stay on the island we came across many more spots around the lagoon where people had dug for treasure. The other thing I noticed around the lagoon was that it and the beach around it were crawling or perhaps sidling with green crabs. I had never encountered this invasive species before and had never seen crabs on land before in Nova Scotia so it was a bit surprising to come across these little monsters well away from the shoreline. Unlike other crabs these guys don't run away from something as large as a human, but turn and face you with their claws thrust out almost like they are trying to say "You want a piece of me?" Here is one guarding the piece of metal George had just found.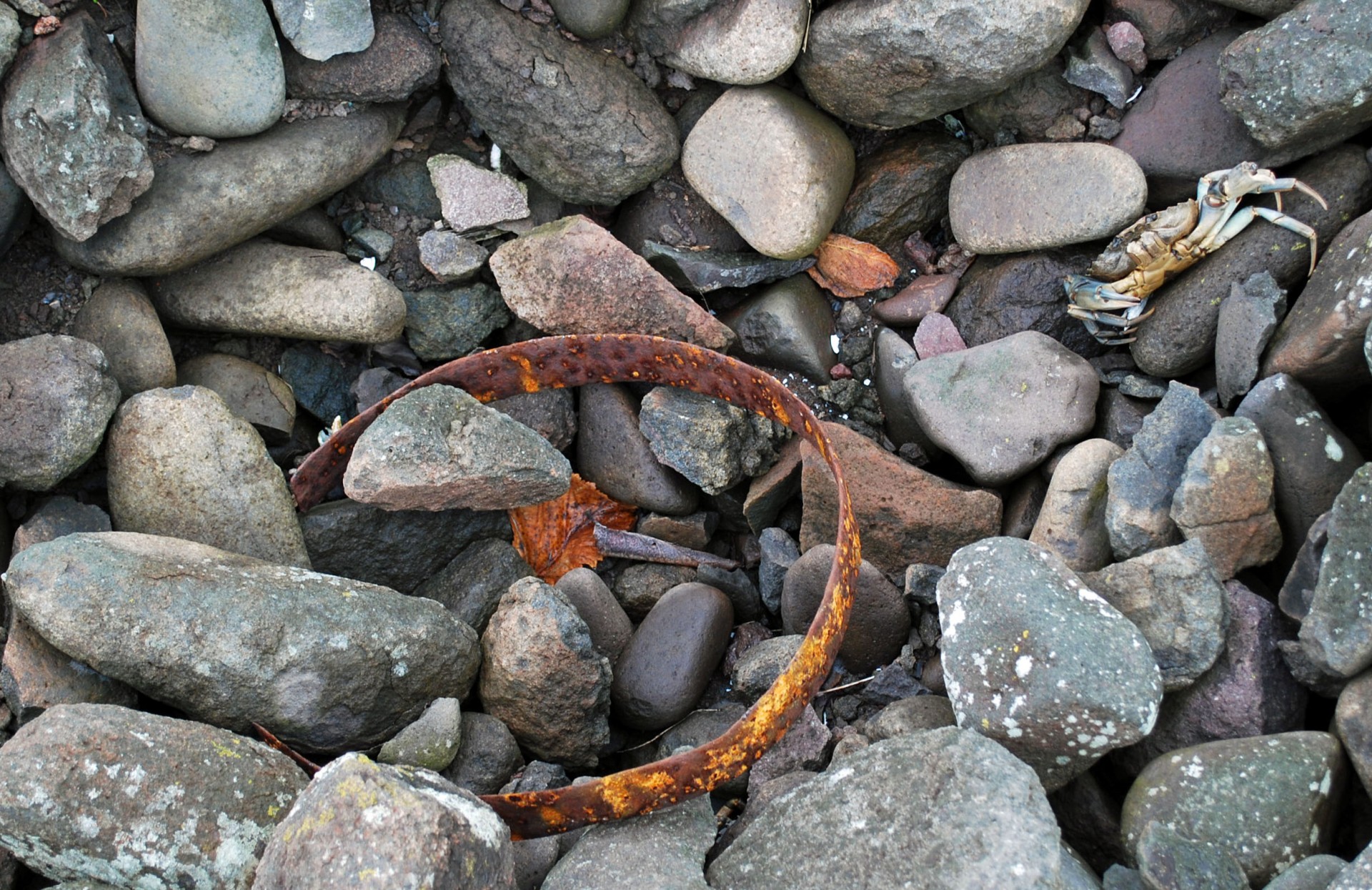 We heard the sound of the zodiac returning long before we saw it as it glided out of the fog with our other four adventurers. Soon they were on land and even though these guys have been on all seven continents, hiked, kayaked and biked hundreds of thousands of miles they still manage to act like tenderfoots on occasion and this was one. Even though he has plenty of his own, Eric had borrowed a tent from a friend and not bothered to set it up before leaving. Between Eric, Allan and Dan there was an hour's entertainment as they tried to set up a tent that couldn't be because parts were broken or missing – some friend. Luckily Judy had brought a tent big enough for two as had Allan so there was enough space to accommodate the second coming.
After chowing down our lunches we got organized to make the hike to the top of the island and find the light tower. Else Marie had given us a detailed map of the island which showed the clearly defined path to the top. Heading down the side of the lagoon we came across this creation which I have to think might have been a grave marker.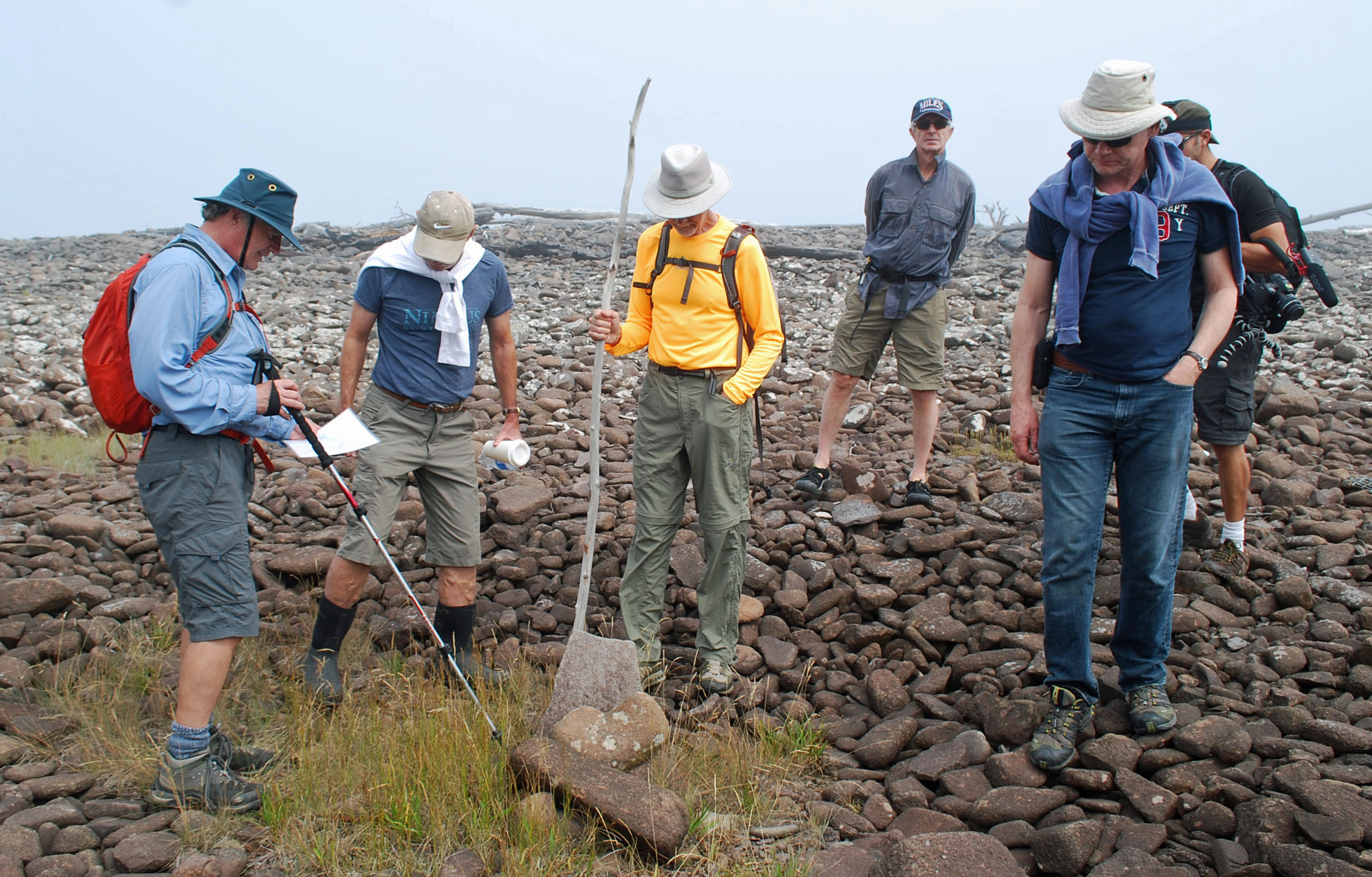 Arriving at the other campsite we immediately recognized it as far superior to ours with grass instead of rocks, a picnic table and this great latrine which literally puts the meaning into 'sitting on the throne'.  We also found the same spring as Samuel de Champlain did in 1604, still in working condition although someone had put a rubber pipe into it to make water easier to collect. There was a cache of usable materials including toilet paper, utensils and half a bottle of rum.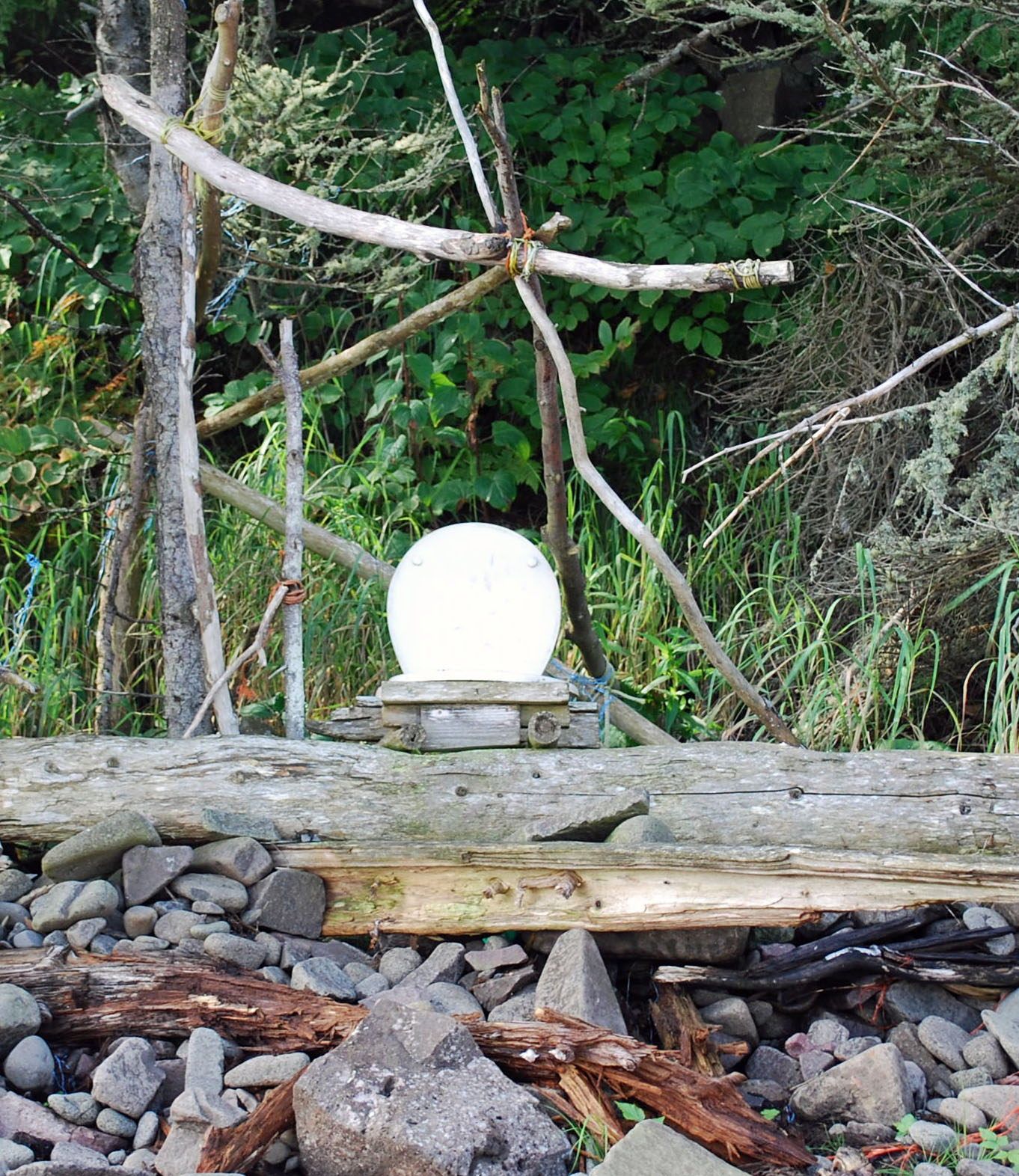 After poking around for a while we found what we thought was the path up to the top. For the first 100 yards it was a gentle slope, but then the person leading, who shall go unnamed, decided that it took a steep turn and before long we were on hands and knees scrambling straight up a very steep slope that without trees and roots to grab would have been unclimbable. I didn't even want to think of what it was going to be like coming back down.  After what seemed like an eternity, but was only about fifteen minutes we reached the top and found ourselves in what the map called 'dense brush'. I have to think in retrospect that this could only mean that you would have to be dense to end up here. We spent the next half hour climbing over and under one deadfall after another deluding ourselves that this was a path. We kept on expecting to come out into the clearing we knew existed in the middle of the island, only to thrash around uselessly until Ryan turned on his iPhone and googled our location. First of all it is a miracle you can get cell coverage on Isle Haute, because you can't get it in most of Advocate Harbour. Secondly we were way off track and in serious danger of walking off the cliff. When you look up from below you can see that the trees grow right up to the very edge and we would not be the first to plunge to their deaths while not paying proper attention to where we were going.
Using the iPhone as a guide we did find the path and in only a few minutes reached the clearing where there was a light tower and of all things, a helipad. Some of us joked, only half seriously, about calling in a helicopter rather than trying to go down the way we came up. George climbed the tower and most of the others flaked out on the helipad. Take a look at these two pictures to see how quickly the weather changes on Isle Haute. In the first George is clearly (no pun intended) in the fog.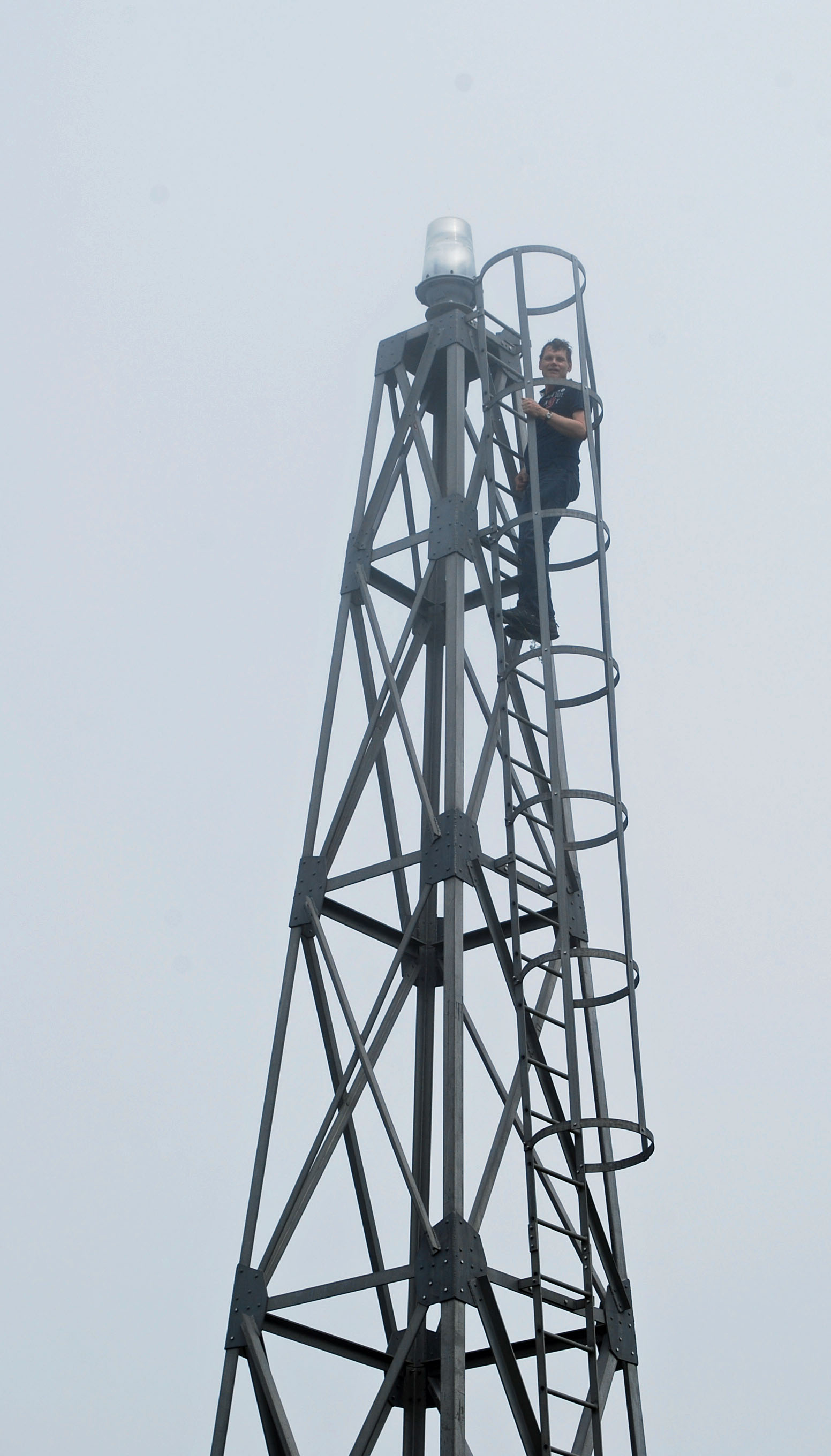 In the second, taken only minutes after the first, everyone's relaxing in the sunlight. Allan appears to be mesmerized by his phone while George, Carla and Alison take in the rays.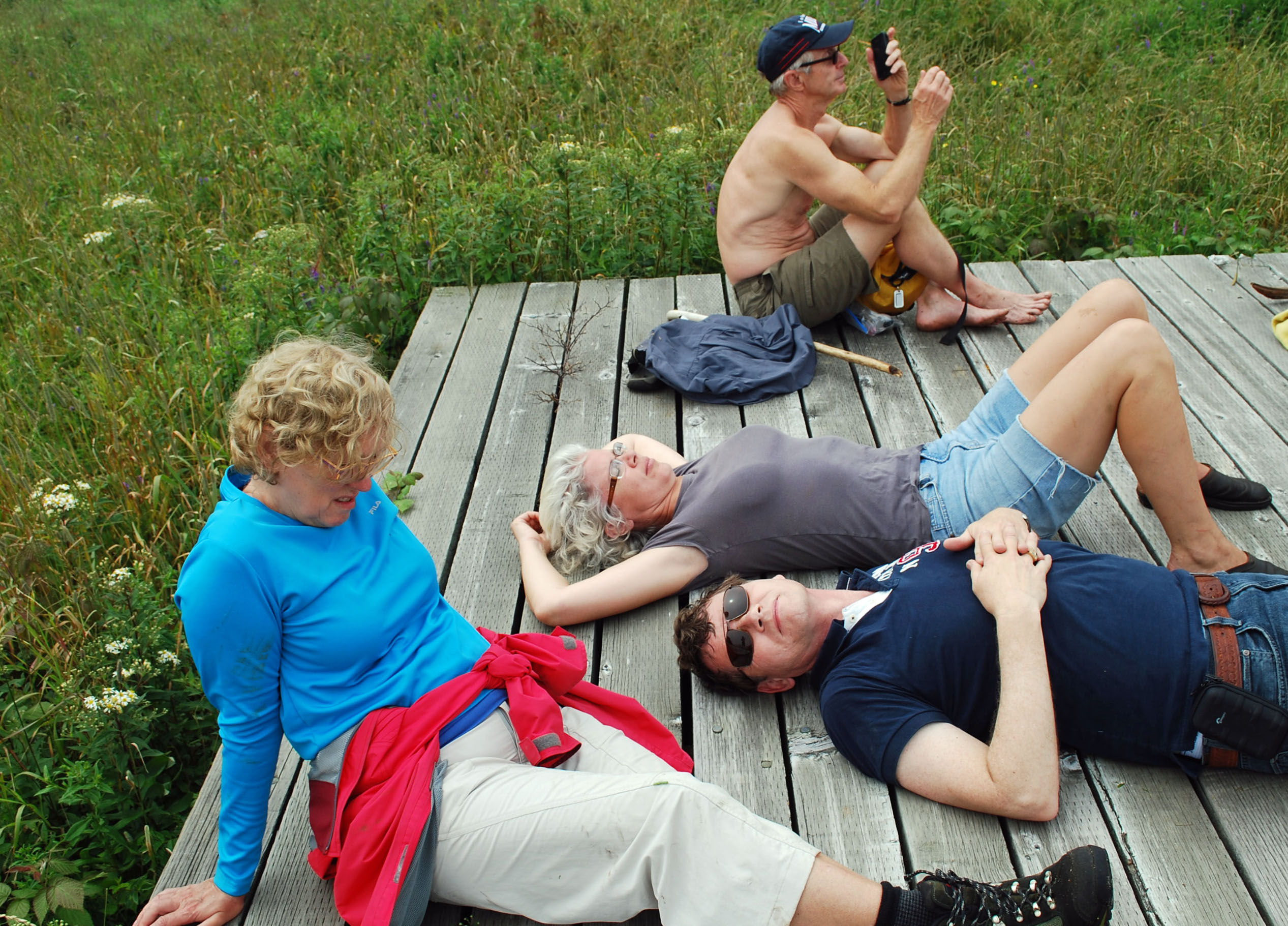 Ryan took this photo of the group as proof we actually did make it to the top.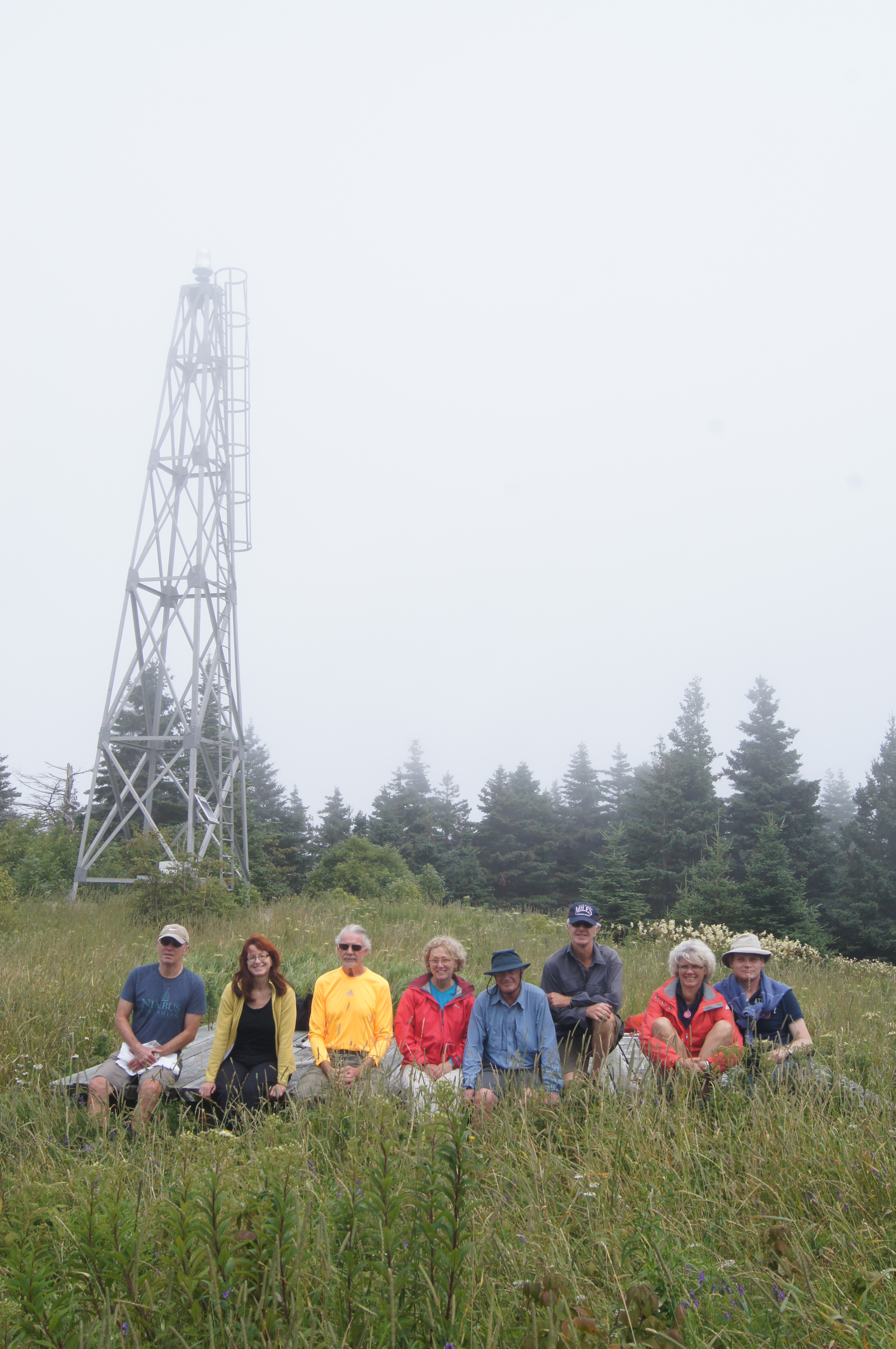 The one thing I really noticed about Isle Haute was the great variety of vegetation. It was quite different from the mainland with great numbers of wildflowers and shrubs not commonly seen elsewhere including trillium, ash trees, sumac and other unusual species. I don't know if it is because there are no deer or other ungulates, but it's worth getting to the top of Isle Haute if just for this reason. Here are pictures of a post bloom trillium and Indian pipe that Alison took.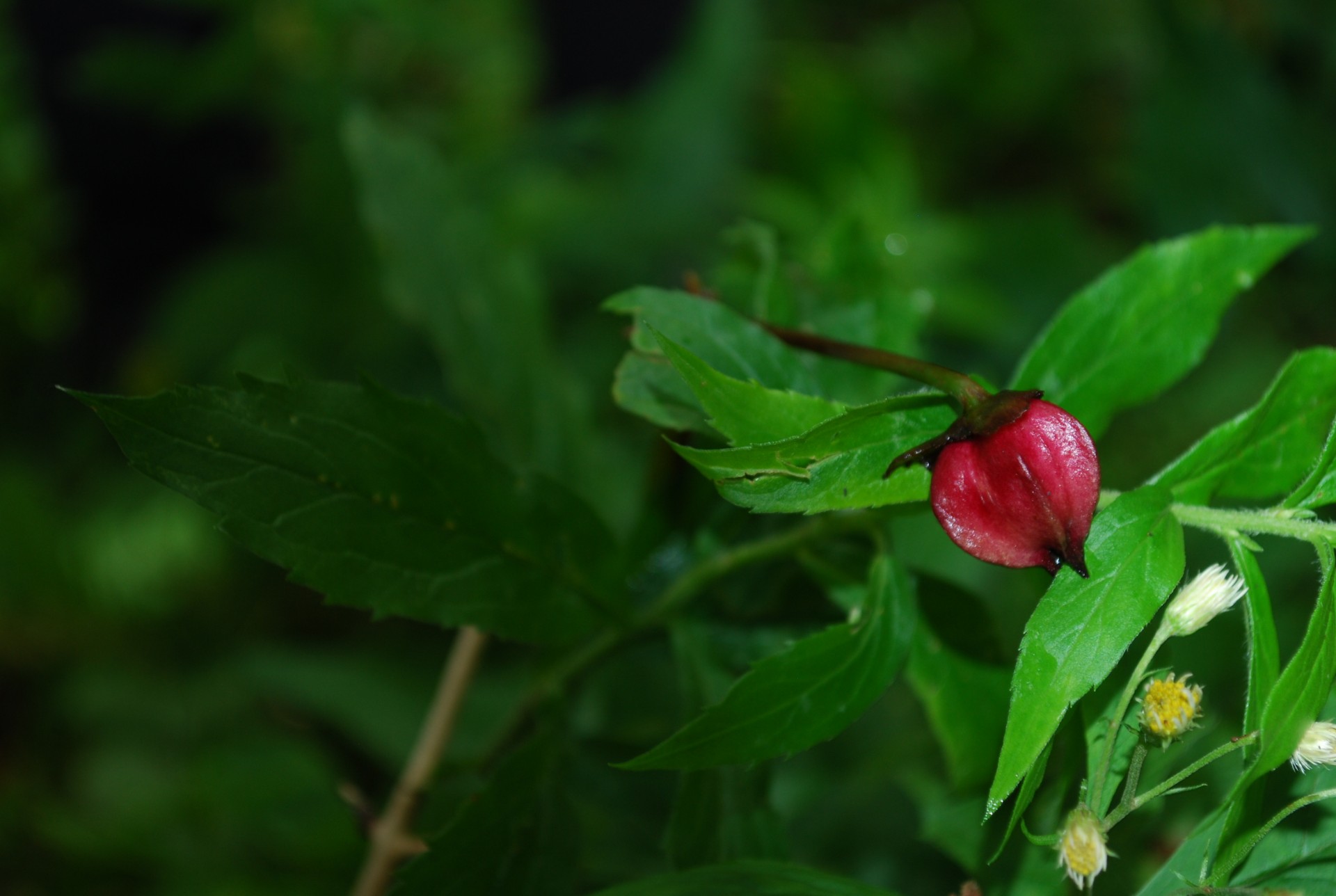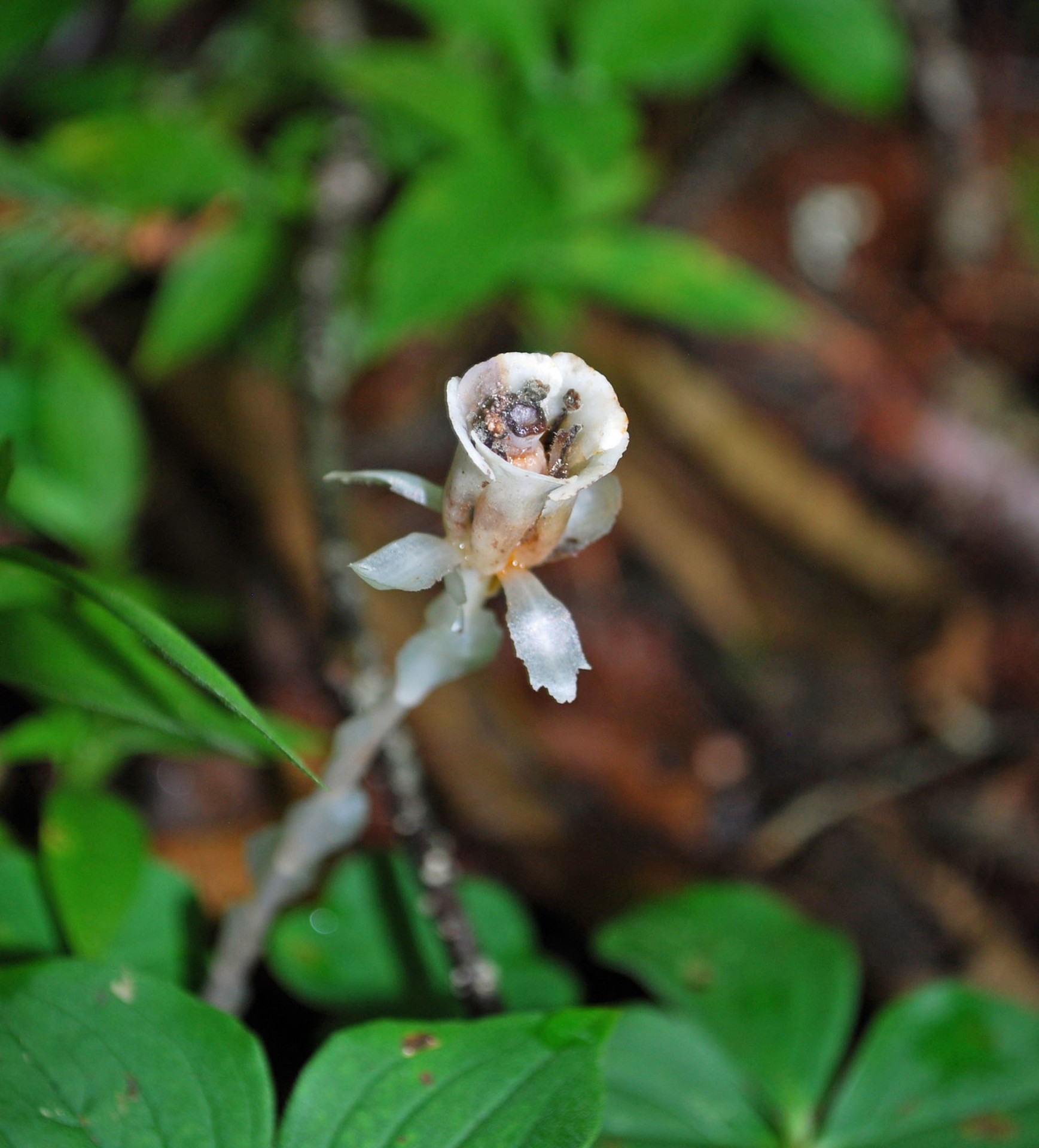 This yarrow is identical to one I have in my garden.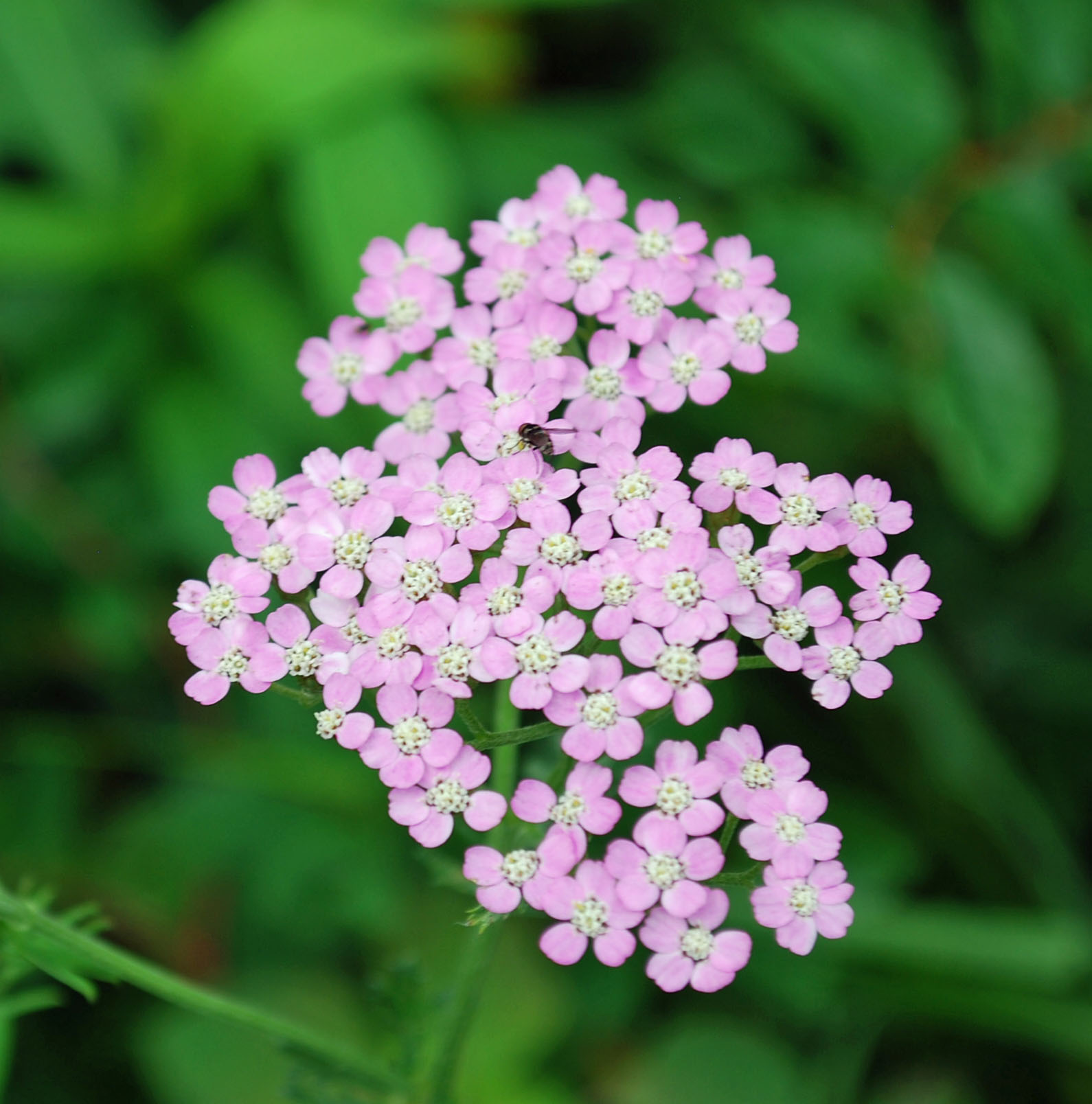 Spirea has gone crazy on the top of Isle Haute.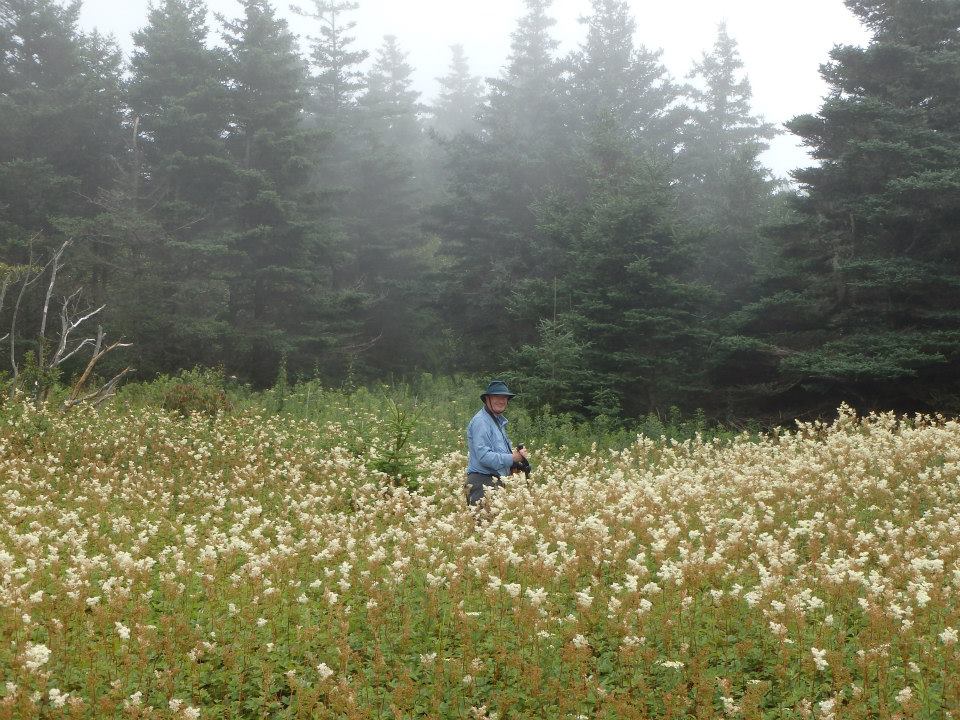 We were all dreading the hike back down, so being the patient person I am, I volunteered to go first and am glad to say that yours truly found the real path back down which was much easier and did not involve any scrambling. Ryan returned later in the day to post a sign for future groups so they wouldn't make the same mistake we did.
We returned to the encampment which was still in the fog.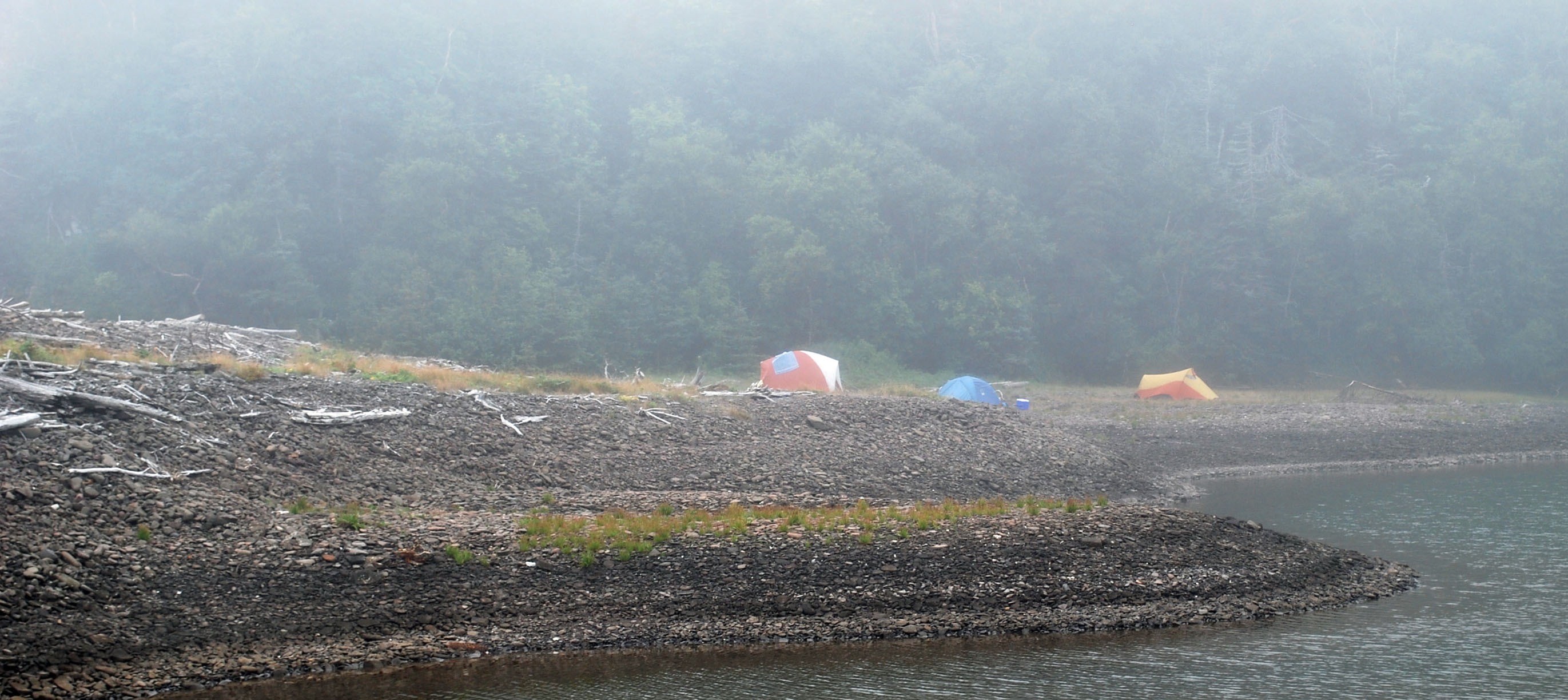 The tide was well out by now so I decided to do a little exploration at the base of the cliffs and came across some huge gray basalt boulders that had a thick covering of dark seaweed that made them resemble giant shrunken heads.
One thing you quickly learn anytime you are on a beach that has few visitors is how much god-damned plastic there is in this world. It didn't take more than half an hour to fill a very large plastic bad with water bottles, bleach bottles, gatorade bottles, plastic and nylon rope and anything else that will float. Despite our efforts we barely made a dent in the amount of plastic that was washed ashore. 
By now we were all hungry and Ryan, after replacing the grill that got away with one we found on the beach, cooked up a very satisfactory pasta supper that went over so well that Allan had four helpings. While Ryan prepared the meal the rest of us collected driftwood and made a fire pit, dragging some big logs to us as seats. We soon had a roaring fire around which sat and exchanged stories for a few hours until it started to rain about nine o'clock. That was the signal to turn in and spend most of the night tossing and turning trying to find a place that wasn't as hard as a bumpy rock – no such luck.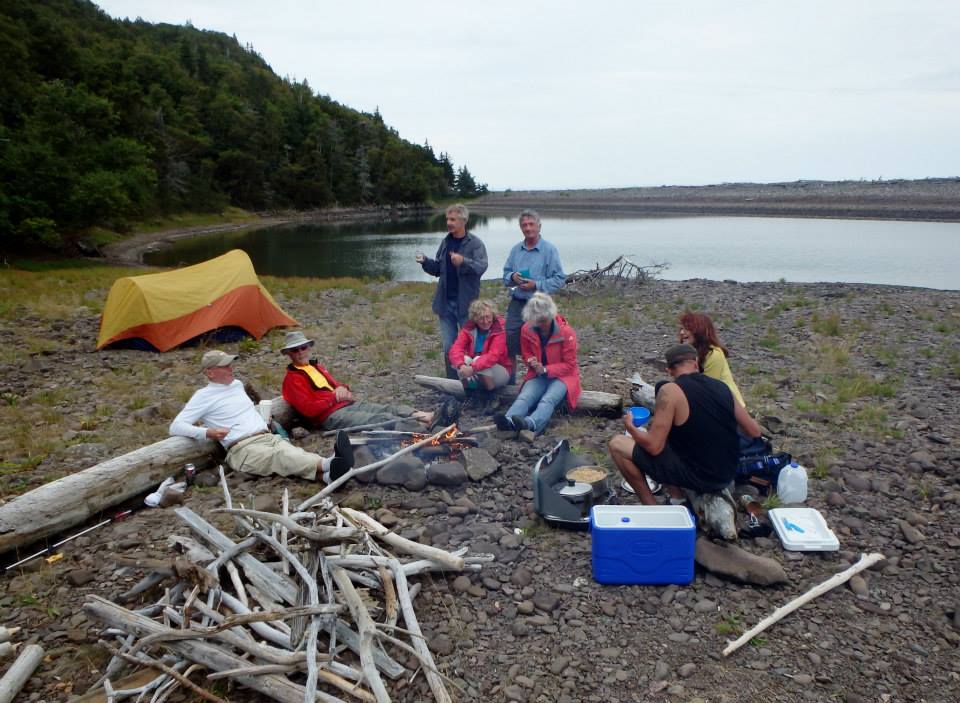 I got up early and couldn't believe my eyes – there was no fog! The lagoon was tranquil as was the ocean.
Here is a view of the beach when you can actually see it. Doesn't it look great.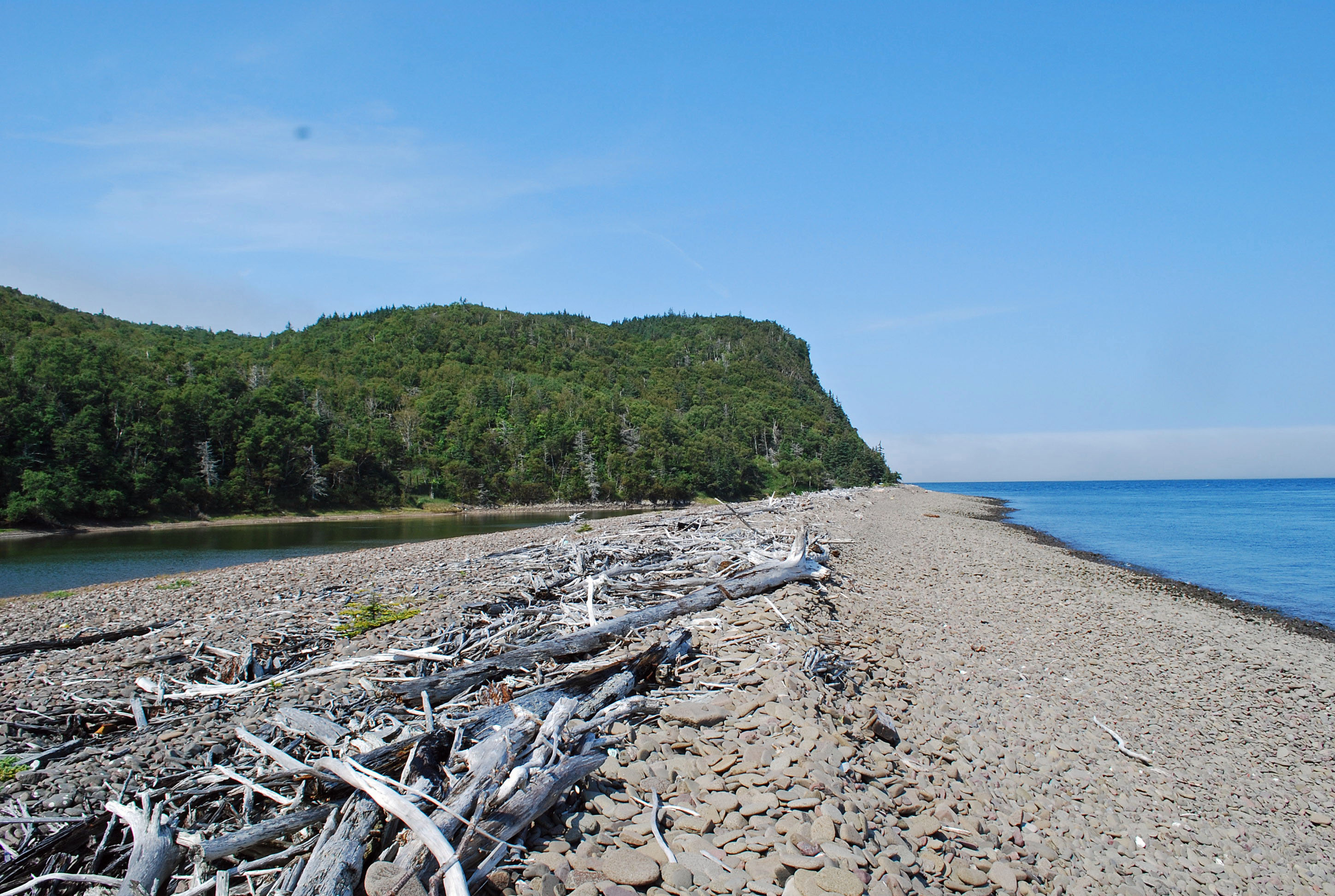 The first departure was scheduled for 9:00 and by then the fog was back although there were intermittent periods of blue sky. There was a dense fog bank just offshore and precisely on time Werner and Else Marie appeared out of the gray and took Eric, Dan, Judy and Allan on board and headed back into the fog. Werner told us that the wind was scheduled to pick up and with the tide going out he said it was doubtful we could do the tour of the island. Given the fog situation we probably could not have seen much anyway.
After the boat left I noticed that the water was receding quite rapidly and that a whirlpool appeared to be forming off the north side of the bar which had waves crashing over it from both sides. The waters did not look all that inviting.

Putting aside any thoughts of getting stranded Alison and I took one last walk down the beach to the primary campsite and found the log book that was contained in the cache. It went back to 2009 and was started by Dan Conlin who had spent a week here alone then.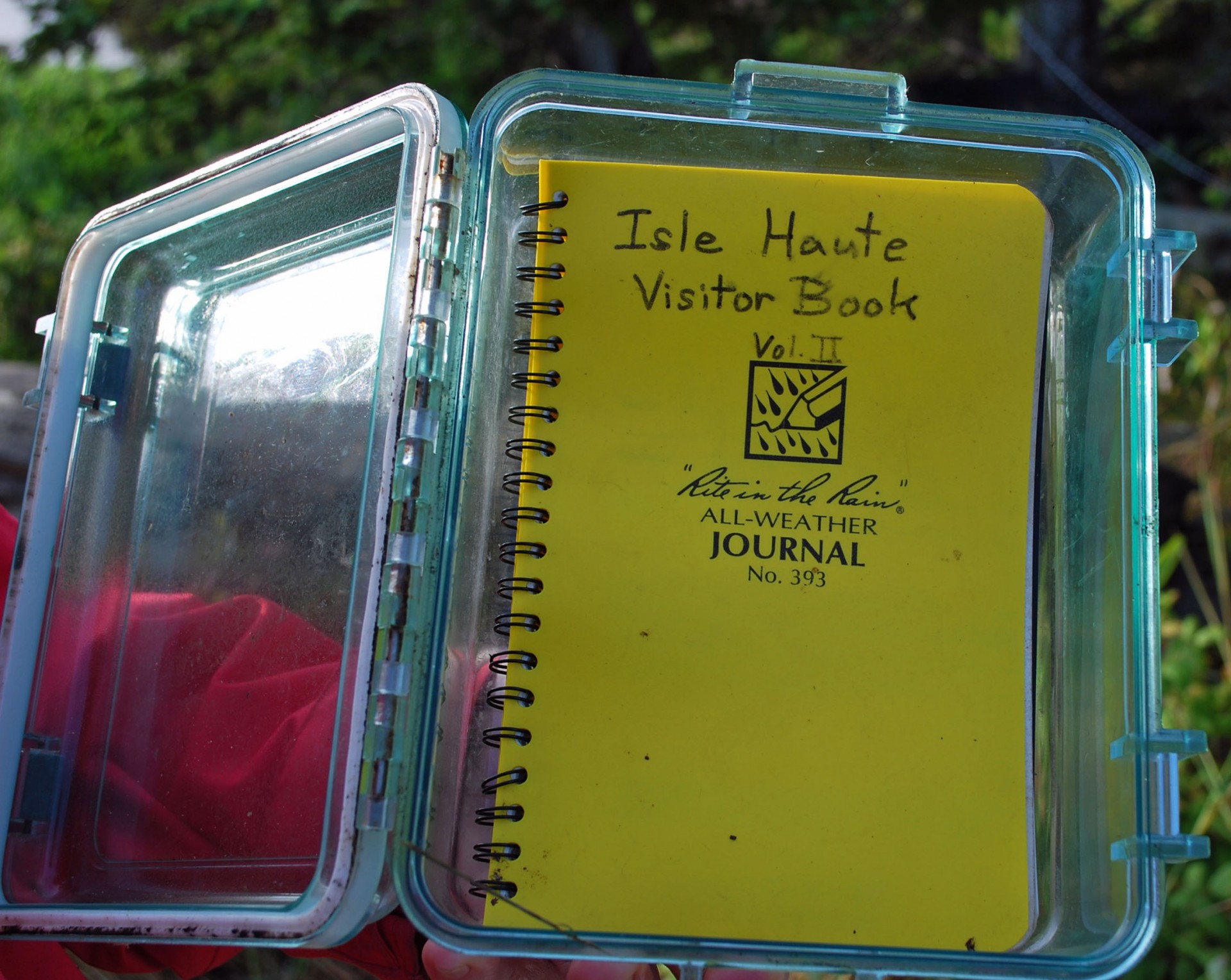 I entered our names and our observations including the fact we had put up a new trail sign. As you can see the fog was back once again. It appeared to me that Isle Haute is the opposite of the Mark Twain adage about the New England weather that 'If you don't like it, wait five minutes'. Here if you do like the weather it won't last five minutes before turning foggy again or worse.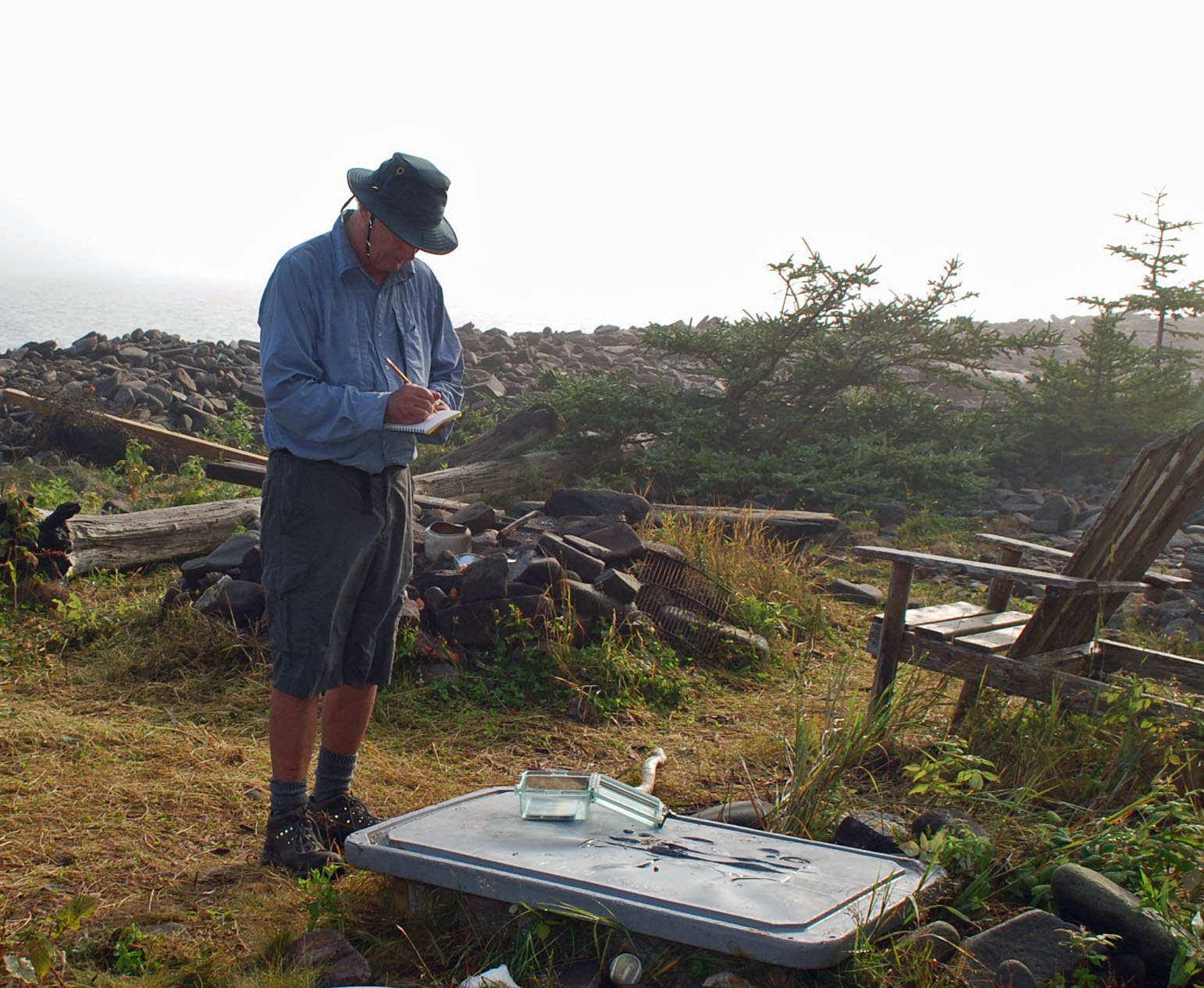 The final departure was a bit problematic as there was a good rip tide moving alongside the beach so that keeping the boat steady took all of Werner's efforts. Once again we formed a bucket brigade line and passed our gear to Else Marie and then one by one waded to the ladder on the back of the boat as the current pushed sideways. We all got on without a hitch and seconds later we were off into the fog. Here is a parting shot as miraculously the fog parted for just a few minutes.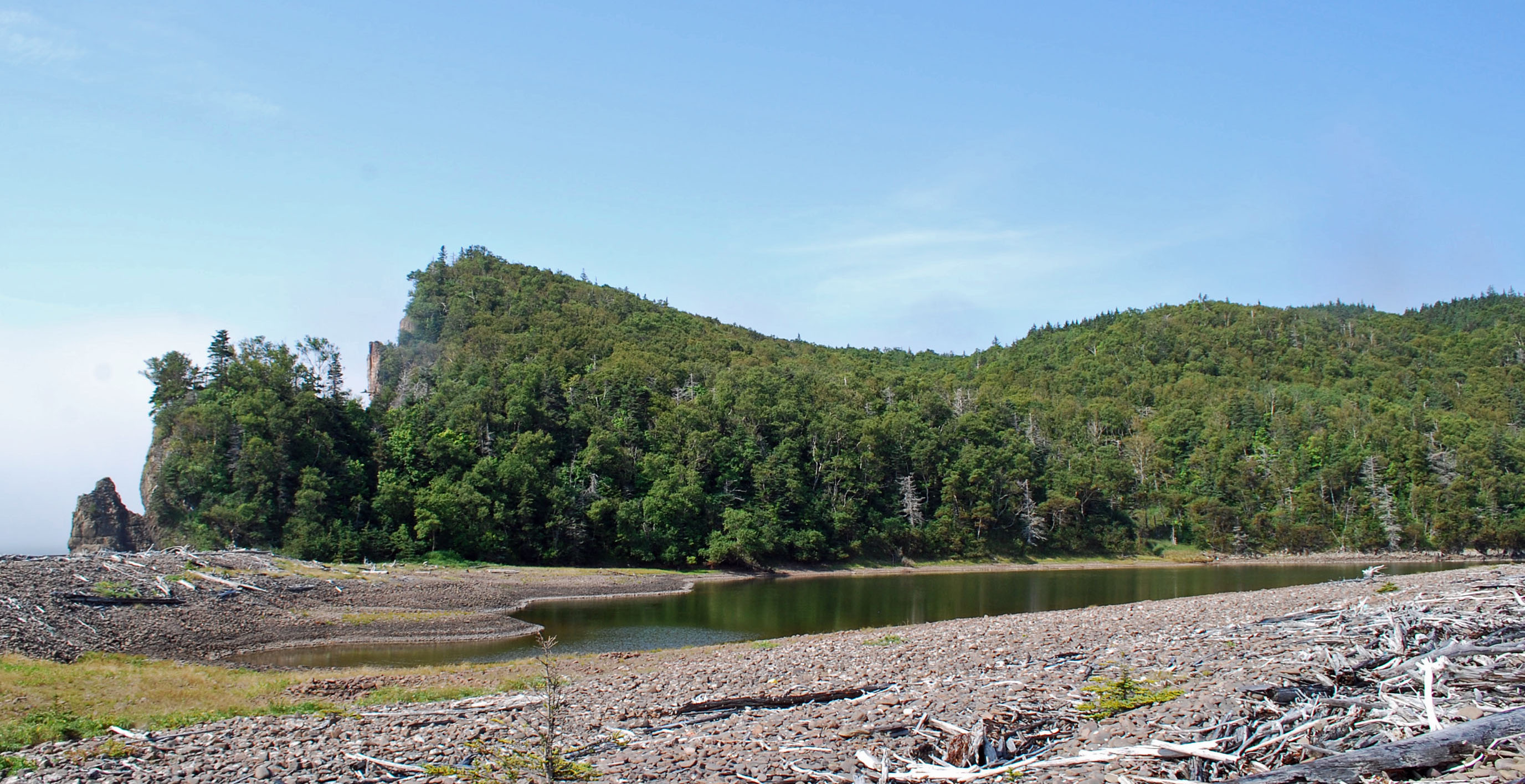 The boat ride back was entirely in the fog, but otherwise uneventful.  It seemed almost too fast that we disembarked and within minutes were saying our goodbyes to Werner and Else Marie and to the others that were heading back to Halifax, including Alison.
That evening the fog lifted completely and here is what I saw. There she was, plain as day with no veil of fog – if there ever was an island that could justifiably be call a c*** teaser, it is Isle Haute. I don't know if I will ever get back, but I'll never forget her.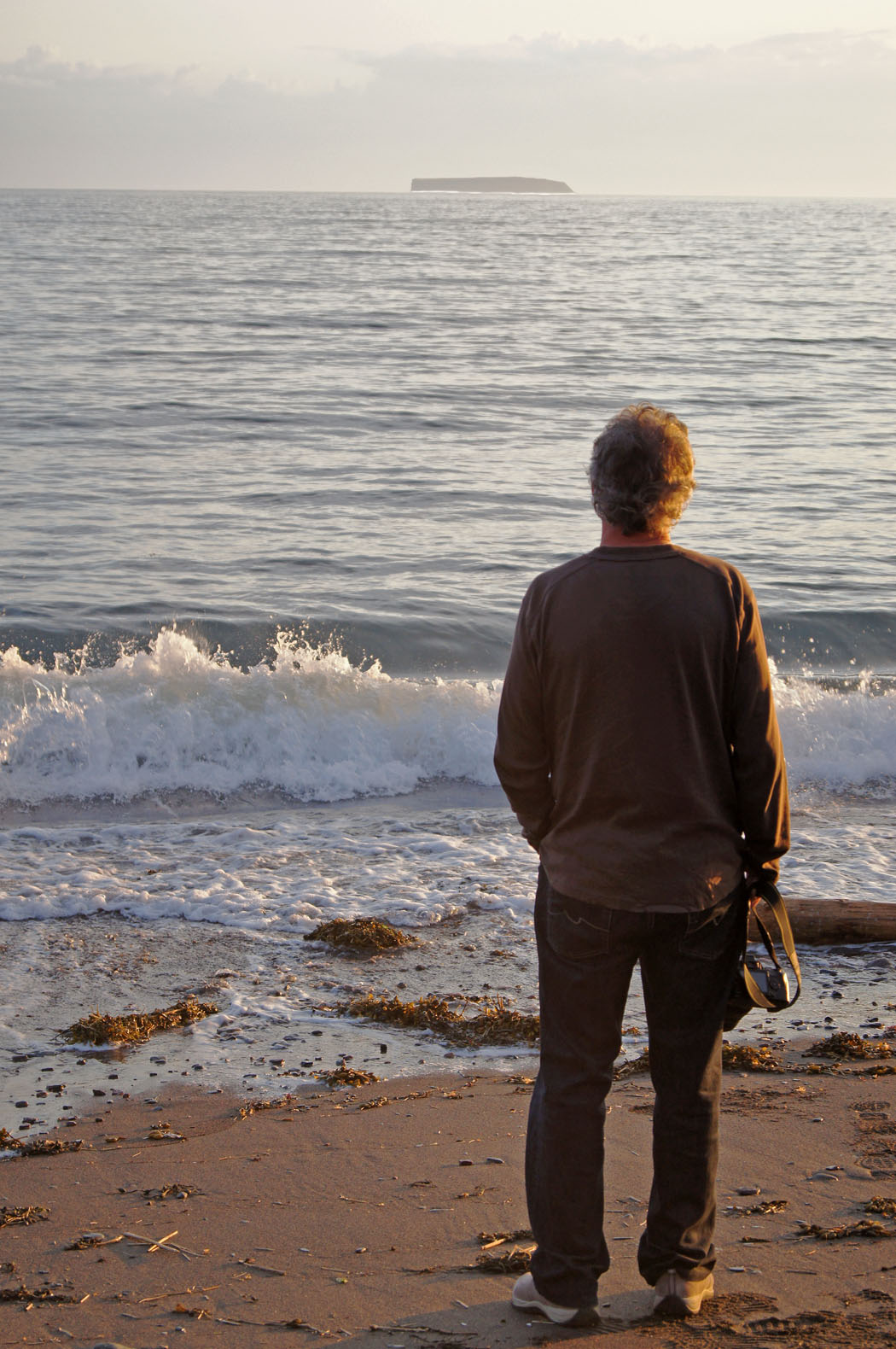 While the rest of the group are returning to Halifax, Ryan and I are staying on to hike and kayak to the famous Three Sisters sea stacks.
I will also be visiting Nova Scotia's other famous treasure seeking site Oak Island later this year. Please join me and Alison there with the Lagina brothers from The Curse of Oak Island. However, if you are looking for another truly exotic and rare experience in Nova Scotia consider skating across the province in one day. Yes, it can be done.