Amsterdam First Impressions – Blooms, Bikes and Boats
In my previous post I explained why we were coming to the Netherlands for a bike and barge tour and today it's finally time to fly to Amsterdam. After a minor scare that we would miss the flight from Newark to Amsterdam because the Halifax/Newark flight was delayed three hours, it turned out we had plenty of time and things went apace after that. The trans-Atlantic flight was smooth, there was a meal served that was actually pretty good and I watched American Hustle, which didn't live up to its hype, but was a great way to wile away two hours. As morning dawned in Western Europe the cloud cover that had been present since we flew back over Nova Scotia broke just over the North Sea and I got  the same excited feeling that I always get watching the sun rise as a plane flies east. Starting a trip with the dawning of a new sunny day is always a good portent (well probably not in scientific terms), but it just feels like you are going in the right direction.
I marvelled at the tremendous amount of shipping that plies the North Sea waters and saw two huge offshore wind farms that no doubt would be opposed to death if proposed for a progressive place like Nova Scotia. As we descended below 5,000 feet I  almost could not believe my eyes – this countryside, with a latitude the same as Saskatoon's, was ariot in bloom. Spring, that elusive season that seldom makes more than a token appearance in my part of the world, had clearly taken hold of Holland – almost everything was green! And the parts that weren't were white, pink, lilac, cerise, mauve – anything but brown and gray. My secret fears that we had just left one shitty place with no spring to replace it with another were dispelled. Thank you Holland!
We cleared customs and both of our bags were on the carousel, thus batting above average for us on European trips. After a few minutes of the usual confusion as to how to decipher the local transit system we boarded a train for the short trip to Amsterdam Zuid station. As an aside, I think anyone who could invent an app that immediately let you know how to buy a train/bus/tram ticket wherever you were and how to use your own phone without getting a zillion dollars in roaming charges, would be more admired than Steve Jobs and just as wealthy.
Our destination was the citizenM hotel in Amsterdam which advertised itself as within easy walking distance of the station and that was true, except for the bikes. It was morning rush hour and crossing the designated bike lanes was a risky proposition as there was just no break in the hundreds of businessmen in suits that all seemed to think they were in the Tour de France and not on the way to a dismal day job. Even before we exited the station the overwhelming role that bicycles play in the ordinary lives of the Dutch became readily apparent. Bikes are everywhere. Just as apparently American's own as many guns as there are people in the U.S., so the same goes for the Dutch and bikes. They are as fanatic about preserving their right to own a bike as Americans are about the right to bear arms. Fortunately, we realized that if you did attempt to cross a bike path at a marked crosswalk they would stop, or at least most of them.
Actually seeing the Dutch bike culture in action is quite eye opening. The most obvious thing is that since these people are riding bikes they are not driving cars. The gridlock you would expect to see in any North American city during rush hour, especially on the eve of a major holiday, was non-existent. Aside from the bikers, the train, tram and bus system was carrying tens of thousands of Amsterdamers into the central city. There were cars of course and quite a few Vespa-like small motorcycles that travel in the bike lanes and are almost as quiet as the bikes. The contrast between the insanity of Athens and Rome where the louder and stinkier your motorcycle is the more the owner is certain that people are noticing and Amsterdam, couldn't be greater. The Dutch know you do not have to make noise to be noticeable and as a whole they are noticeable in general appearance. Their somewhat weather beaten and florid faces could be right out of a Breughel painting, but the riotous mayhem often depicting in his works was nowhere on display. Maybe that's reserved for the tourist areas where it is everyone but the Dutch committing the mayhem. Alison also pointed how many very tall people there were, especially women. Mixed in with the more traditional northern European types were a goodly number of smaller and mostly darker skinned people who I assume represent the many people whose fore bearers immigrated from one of the many Dutch colonies, especially Indonesia. According to Russell Shorto in his book Amsterdam: A History of the World's Most Liberal City there is a distinct group of Amsterdamers who are descended from Dutch fathers and Indonesian mothers who are referred to, without pejorative intent, as 'indos' and there were indeed  people of mixed race intermingled with almost every group of schoolchildren, teenagers or adults we encountered. One thing is for sure – with all the bike riding the Amsterdamers are in a hell of a lot better shape than the average Canadian.  Maybe I'm too mean spirited, but it was nice to see a population that was not riddled with potential walking heart attack, stroke and diabetes victims that would strain any health care system to the max.
I chose the citizenM hotel for a number of reasons. Firstly,  it was reasonably priced compared to more centrally located Amsterdam hotels which surprised me with how expensive they were. At the time of booking I didn't realize that we would be here during Easter which brings in thousands of extra tourists to the city to celebrate the religious holiday – not because of the religious aspect, but rather the holiday aspect.  So at other times of year prices in the main tourist areas may be more reasonable. The second reason for choosing citizenM is that I am a sucker for hotels that are described, not by themselves, but by others as hip, trendy and on the edge. My research indicated that citizenM was considered to be all of these.  A third reason was that citizenM offers a service I think all hotels should offer – the ability to check in really early for an addition fee of 20 euros if there is a room available. By now you have figured out that citizenM has French revolutionary undertones – everybody is  a citizen and a citizen is treated equally, therefore all the rooms are the same size and composition and therefore if there are any rooms not occupied you can check in even at 7:00 in the morning, which is exactly what we did. The ability to go right to your room to have a shower and get ready to start exploring immediately, rather than wandering around in a daze in the same clothes you have had on for 24 hours or more waiting for check-in time, is inestimable.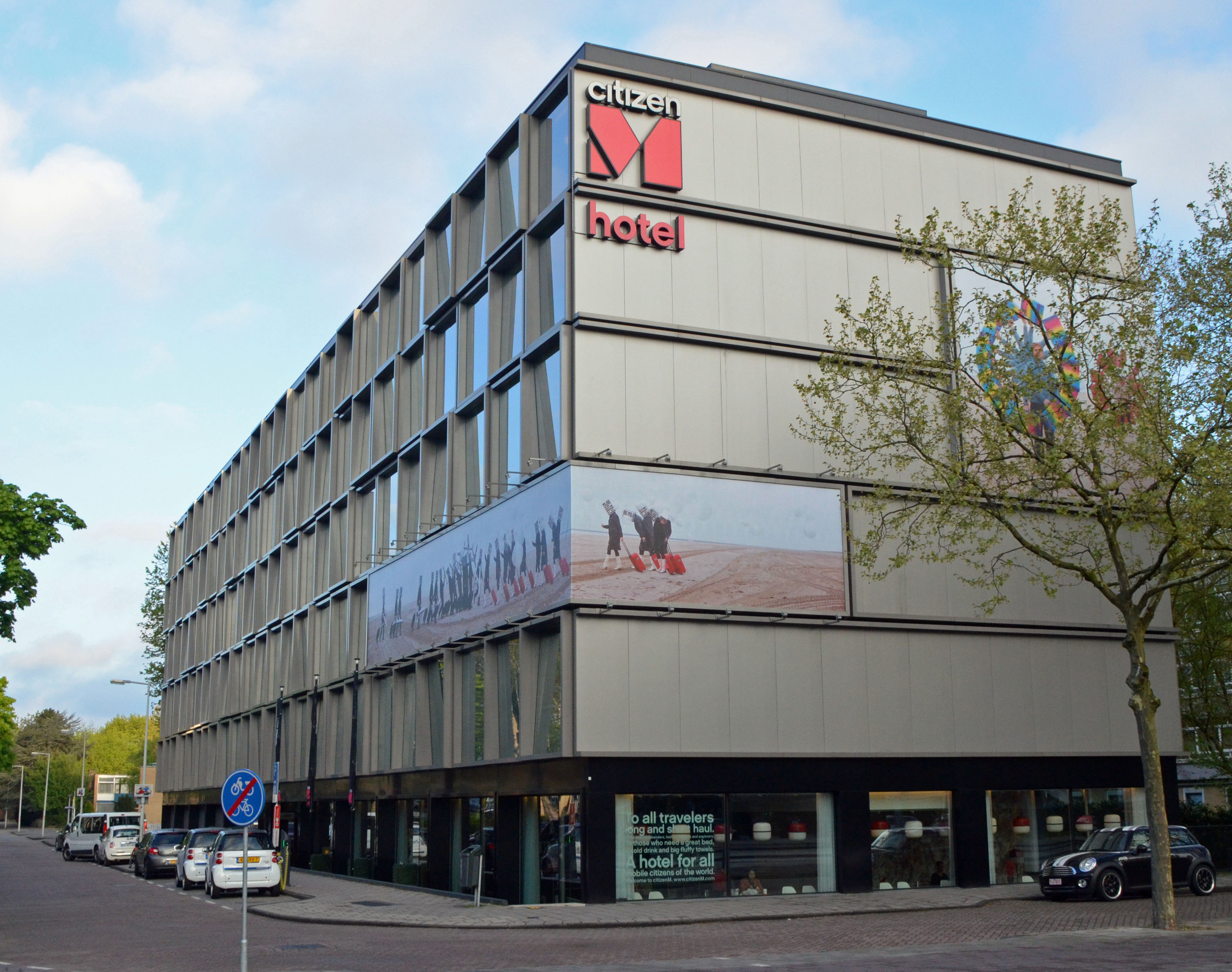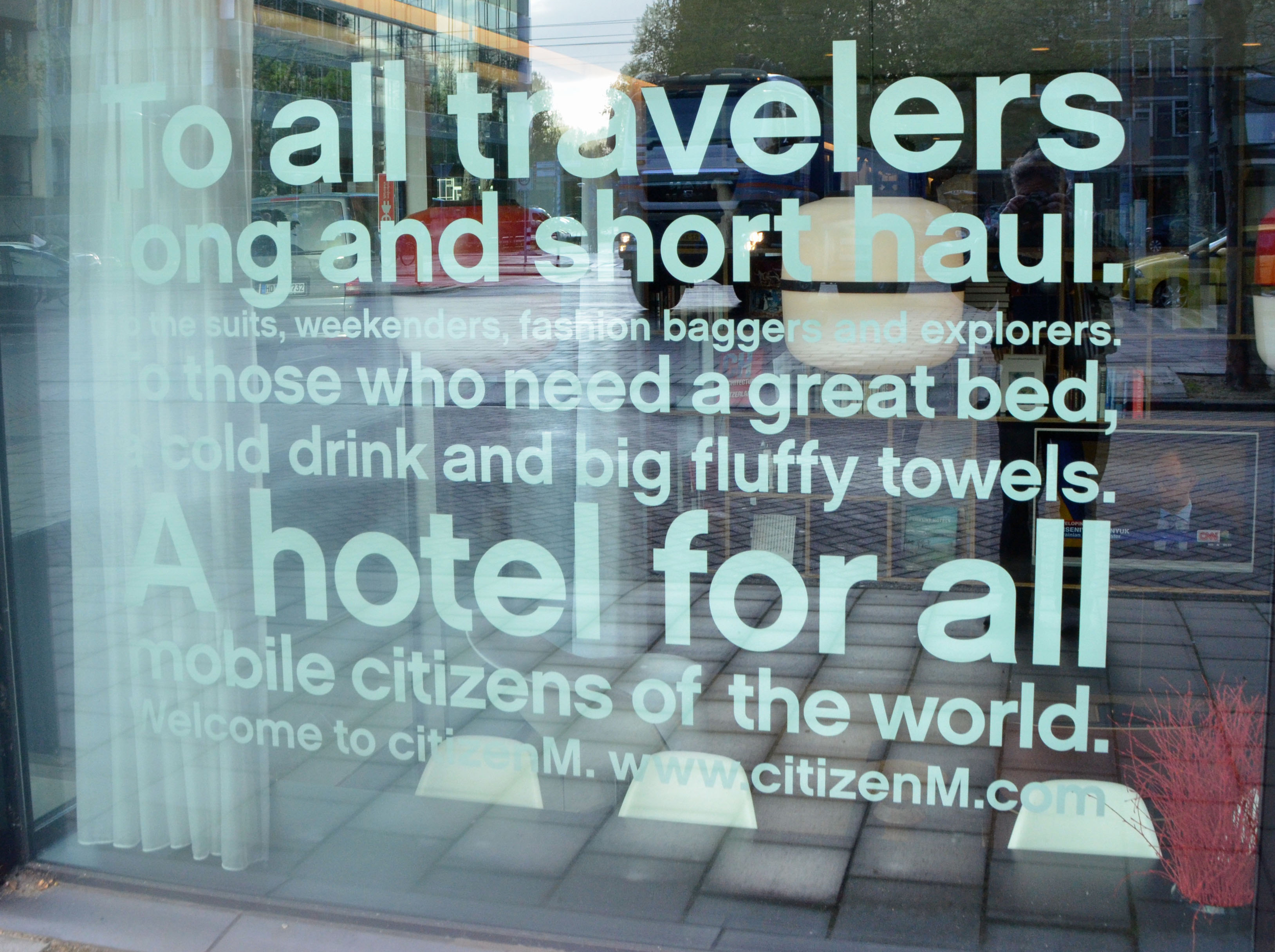 From the moment you walk into citizenM you get the immediate feeling "This place is cool". The staff are called Ambassadors. Dressed in stylish black and red colours, they are uniformly young, multi-lingual, happy and helpful. The signs of the most up to date technology are everywhere, from the self-service kiosks where you check yourself in, to the excellent sound system with its ever present ambient background music to the instant wifi throughout the hotel. No need to find a hotspot, it's all a hotspot. Even this early in the morning there were lots of people sitting throughout the several distinct common areas, including the square bar/restaurant that is just off the lobby.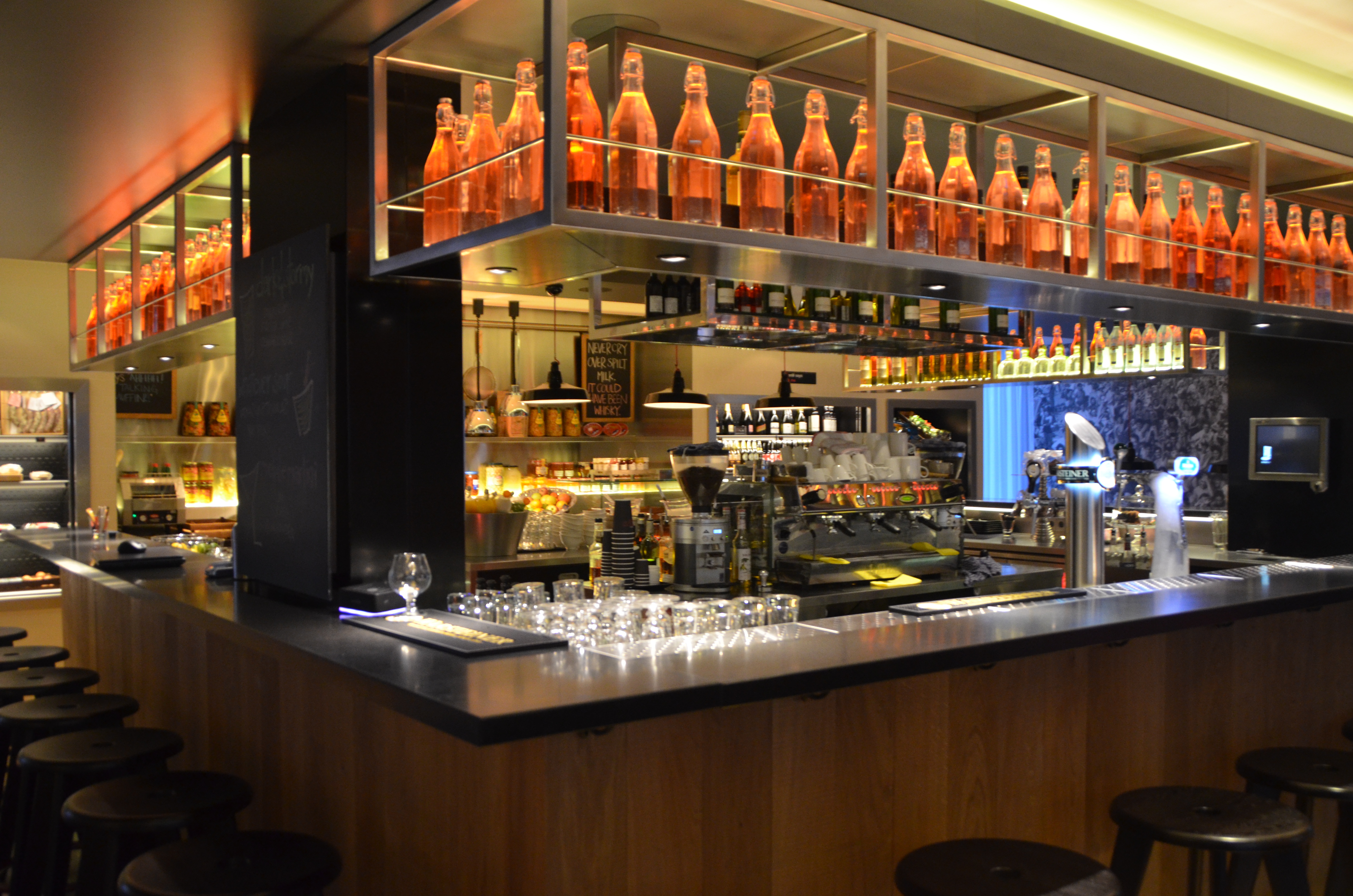 The only thing I was not prepared for was the room itself – it was only the width of the king-sized bed and about as long as a small ship's container. Inadvertently I had picked probably the best room I could have to prepare for the tiny cabin that we will no doubt have on the barge. Once we got over our initial surprise we gradually warmed to the room and it went from being tiny to cozy. The bed is huge and the shower unit looks like it was modelled on the transporter from the original Star Trek TV series. There is a gizmo that controls everything in the room including changing the colour of the lighting to suit our mood. It is probably the most hi-tech room we've ever stayed in.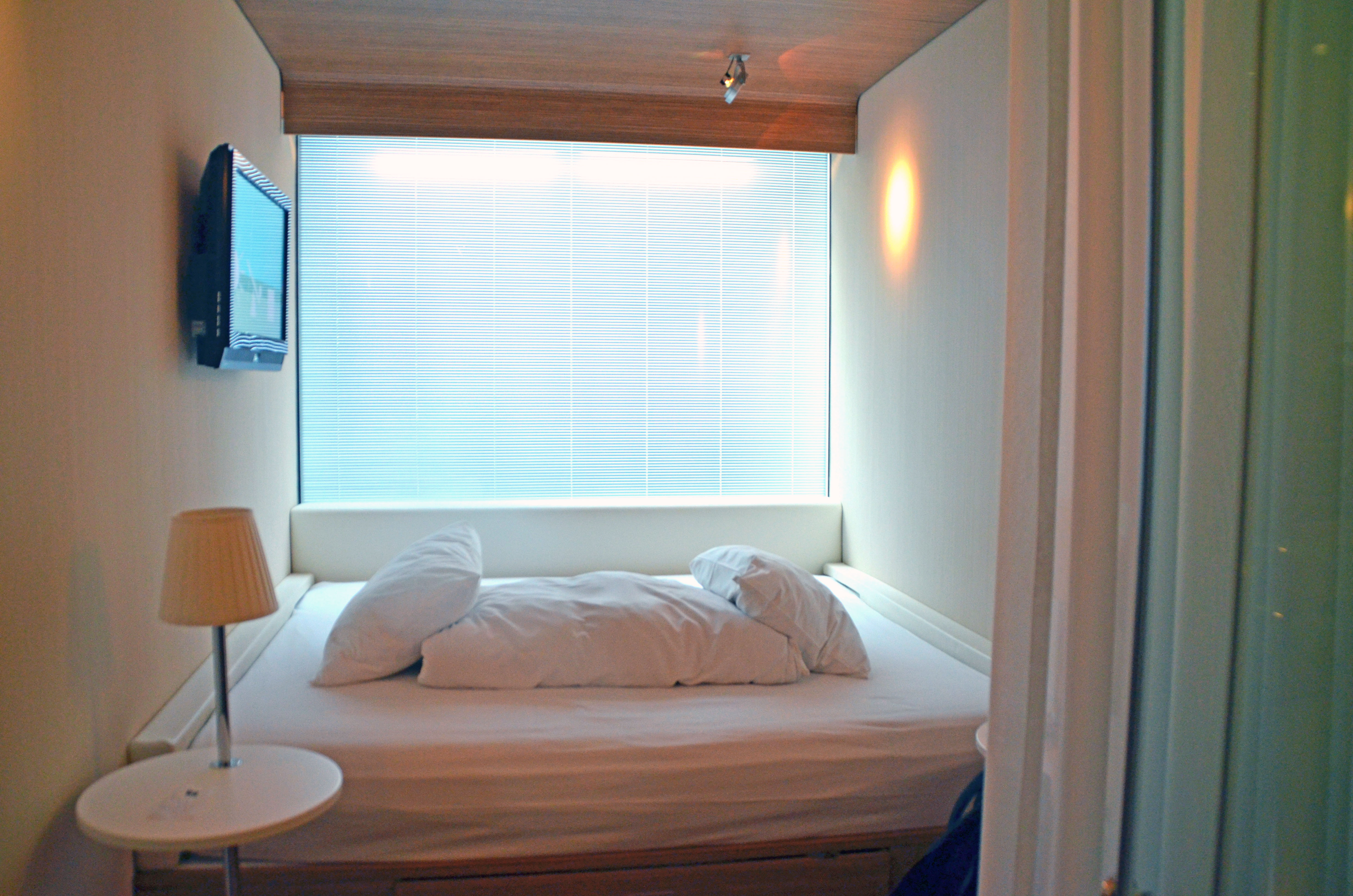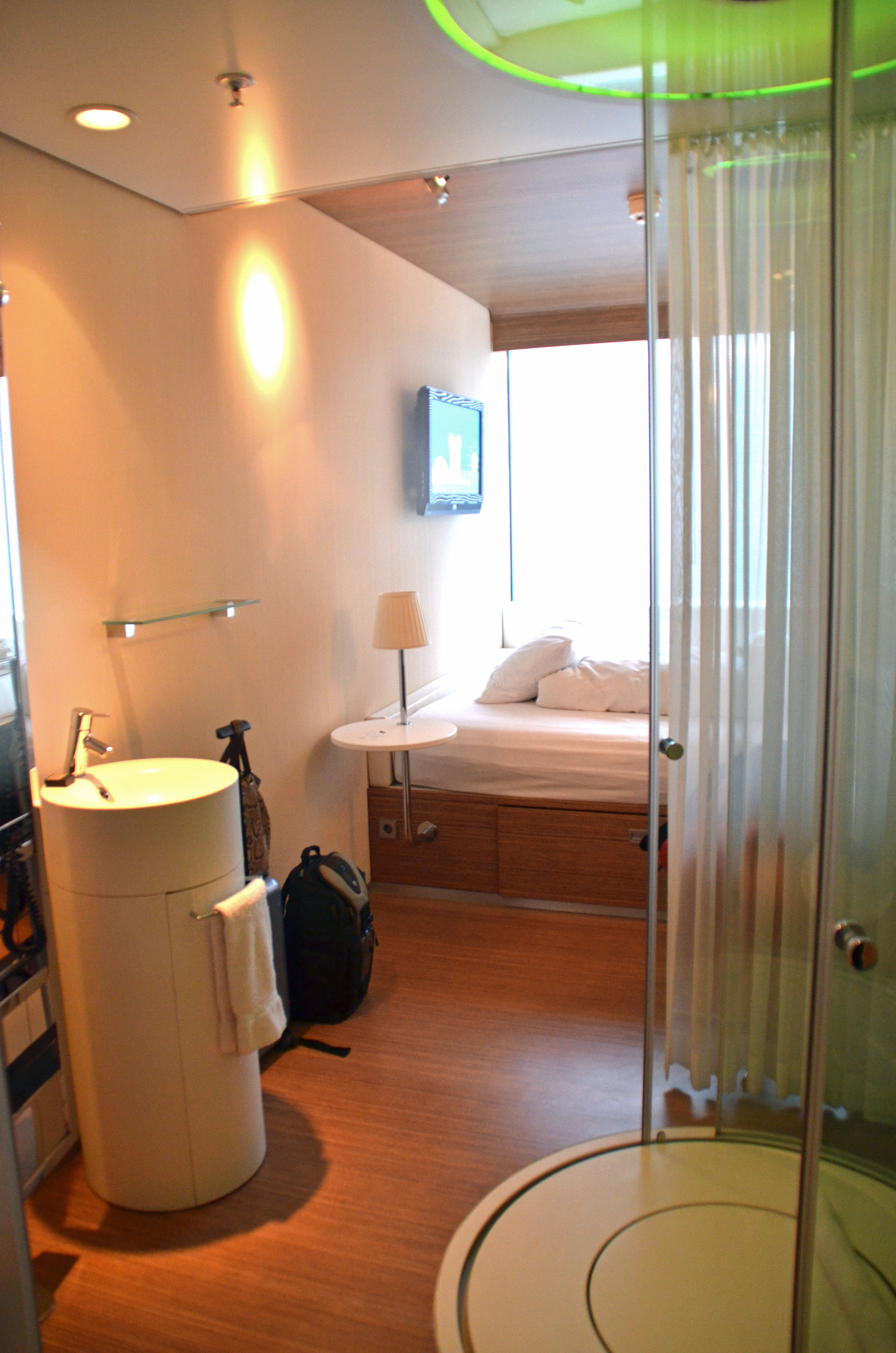 After freshening up I set out to find the Amsterdam tourism office which I knew was directly across from  Central Station. I returned to Zuid Station thinking that since it was the first stop on the Schipol/Central Station route I could just buy a ticket to Central, but neen, I had to return to Schipol first according to the ticket seller. I was about to do this when a fellow who had overheard my conversation said I could take the No. 5 tram directly there and showed me where to get on. This seemed to be typical of the Dutch as throughout the day I saw numerous examples of natives volunteering to help tourists with directions, advice and translation.
The No. 5 did indeed take me to Central Station and the Amsterdam Tourism office. My purpose in going here was not to get information, but pick up a 72 hour Iamsterdam card. Many cities offer variations on cards you can buy to get into major attractions without having to pay multiple entry fees, but the Iamsterdam card is even better because it covers all the public transportation in the city as well. I had arranged for the card in advance so did not have to wait in the lineups at the tourism office to buy one. The best tip I can give anyone going to Amsterdam is buy one of these cards and do it online. It will save you a lot of money and hassle.
I activated the card by using it on the No. 5 back to the hotel to pick up Alison and start our Amsterdam exploration.
Did I mention it was a beautiful spring day in Amsterdam and the entire city seemed to be in a great mood with Easter coming up. Instead of taking the tram which was blocked by an inexplicably abandoned car on the tracks, we headed for our first destination, the Van Gogh Museum, on foot. It was a very pleasant walk down Beethovenstraat to Van Baerlestraat to Museumplein which is a huge open space from where there is a great view of the Rijksmuseum.
There were hundreds of people out enjoying the spring day, particularly around the reflecting pond which had islands of tulips strategically placed within it.

There were also scores of young people climbing over, under and into the Iamsterdam sculpture that sits at the end of the reflecting pool. I couldn't help but think of demands that The Wave sculpture on our Halifax waterfront be fenced off lest someone get hurt climbing it. These Amsterdamers were clearly involved in risky behavior and, God forbid, they don't wear bicycle helmets either!

The zeitgeist on the Museumplein was definitely uplifting and overwhelmingly positive. It was almost a shame to leave the sun, the sun seekers and the tulips behind to go indoors, but the Van Gogh beckoned.
The Van Gogh Museum, Amsterdam
Now I have to confess to cheating on getting into the Van Gogh Museum. I had arranged for a press pass which allowed us to avoid the huge lineups that were waiting at the entrance. Even those who had prepaid tickets faced an hour line up in the 'fast lane'. The regular line was more like two hours – not quite the incredible line ups to get into the Vatican, but not far off either. At least the weather was nice for those who had to wait in line. I wouldn't want to do it in the rain, which is usually when you want to go to a museum. As with all extremely popular museums and galleries, timing is everything. Being there at opening hour makes for a far better experience than showing up after 10:00 when the bus tours with their pre-scheduled visits start arriving and the ordinary Joes are left standing in line.
This may be heresy, but I suspect the majority of visitors to the Van Gogh are not there because they appreciate the artist, but because he is currently the most famous artist on the planet. That certainly seemed to be the case today when scores of teenagers and young adults were spending more time looking at their  iPhones than at the paintings. It also might be heresy to suggest that while this is the largest collection of Van Gogh's, it might not be the best. Certainly there are at least twenty of his most iconic paintings including some of my favourites, The Potato Eaters, Wheatfield with Crows, several brilliant self-portraits and the truly stunning Irises. The famous Sunflowers was on loan to the British National Gallery. However, if you are looking for most of his best known works you will need to look elsewhere.
What the Van Gogh does better than any other museum of its sort is show how Van Gogh developed as an artist. The earliest works show an artist struggling to simply learn how to paint, while the middle period shows an accomplished painter trying to develop his own style while the final period shows the fully mature Van Gogh who in an explosion of energy between 1888-90 painted some of the greatest works ever produced by anyone, anywhere. This is what you should expect to take away from your visit – at least that's what I did.
Taking a Canal Cruise
If you ask any potential first time visitor to Amsterdam what they most want to see or do my bet is that most will answer "Take a cruise on the canals". It probably is on everyone's bucket list and it sure was on mine, until today when I crossed it off. The Iamsterdam card includes a free canal cruise with two companies to choose from and I opted for the 100 Highlights Tour on  Holland International Canal Cruises without realizing that the fifteen minute longer City Canal Cruise on Blue Boat Company left from much closer to the Van Gogh Museum than the 100 Highlights which required us to return to Central Station. There were two other things I learned that could impact one's enjoyment of these cruises. Firstly, a lot of the boats have train style seats whereby half the seats face forward and half backward. I don't know about you, but I want to be facing forward on any type cruise, however half the cruisers are going to be facing backwards on these type of boats. From what I could see about half the Holland International boats that pulled up had these type of seats, including the boat we took. In the interests of fair reporting to my readers I took a backward facing seat and at the end of an hour my neck was sore from straining to look forward. Other things that could impact enjoyment of the cruise as regards the boat are the number of windows that open (pictures taken through plexiglass will invariably be crappy) and whether or not there is an open space at the back of the boat where you can get a view unimpeded by the roof. The Holland International boats that I saw did not have these open areas. I don't know if the Blue Boat Company had these or not. The second thing to be concerned about is the narration. On the Holland International boat it was over a loud speaker in Dutch, German and English. The Blue Boat Company offers personal audio systems in seventeen languages. So why didn't we take the Blue Boat cruise? Because I didn't do my homework and I'm hoping others who read this won't have to.
There was about a 40 minute wait from the time we bought our ticket until we got on our boat, but once we got going the cruise itself was awesome. After a brief tour of the harbour where we saw some interesting modern architecture including the Amsterdam EYE Filmmuseum.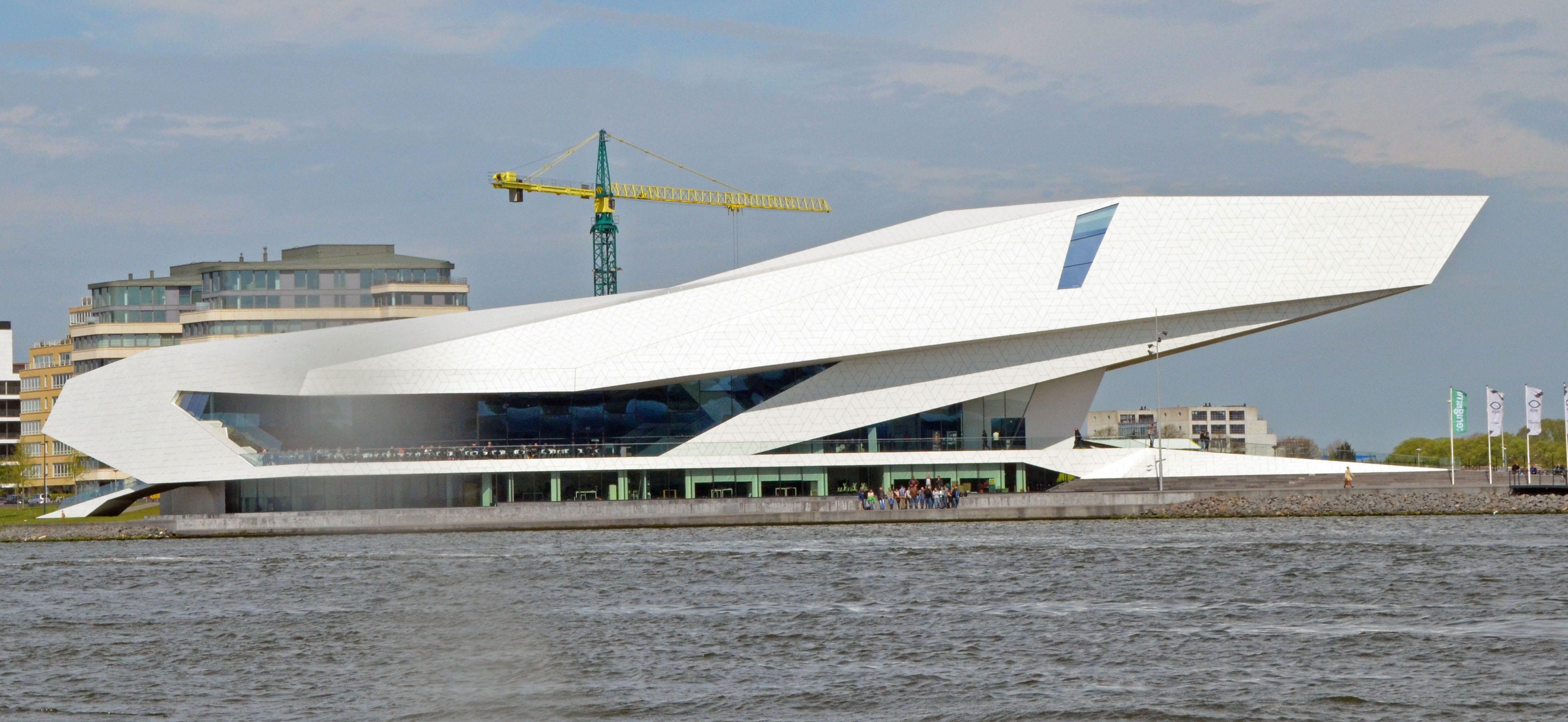 This interesting building beside it.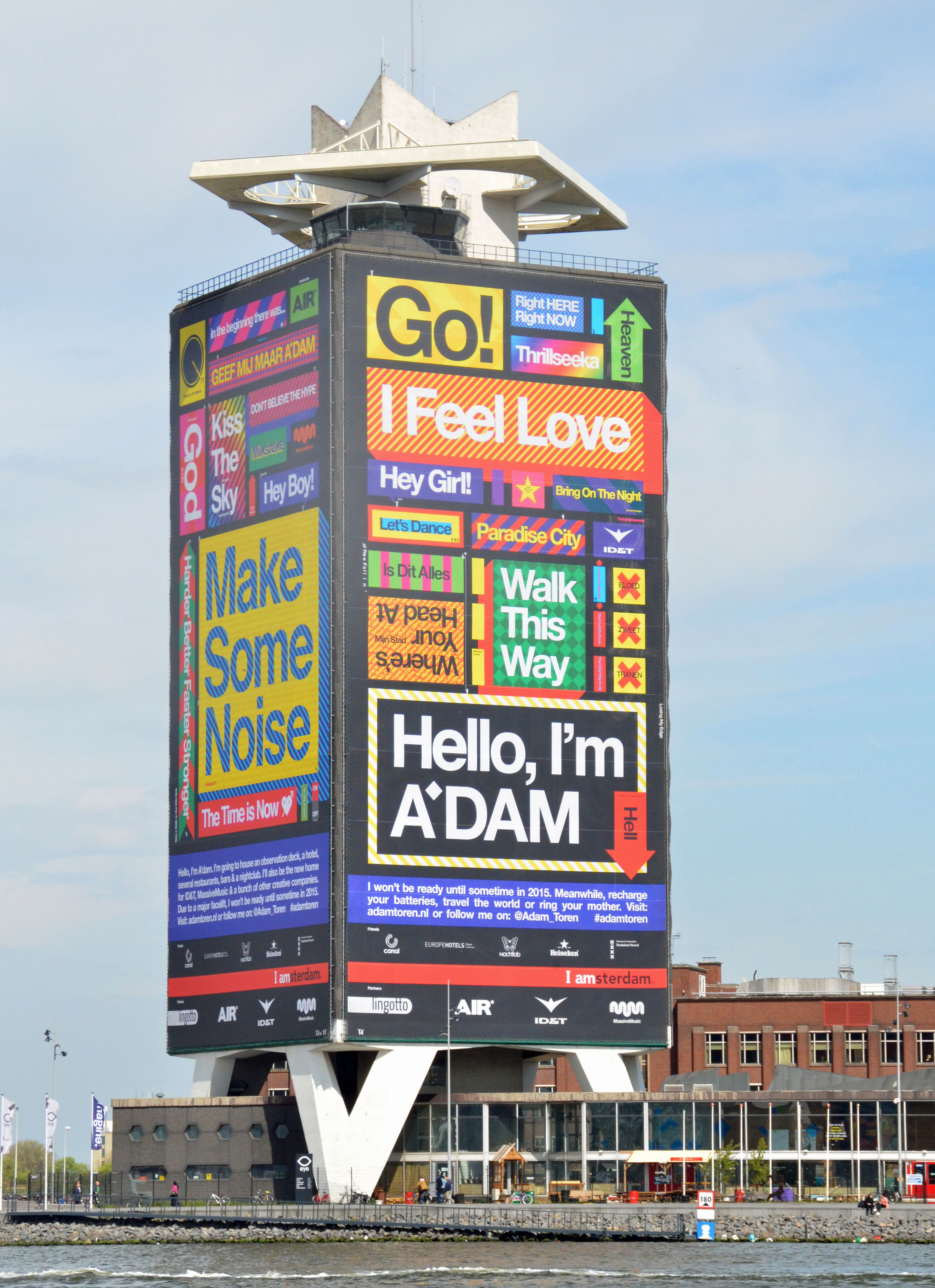 And the NEMO Science centre with its unique boat shaped architecture.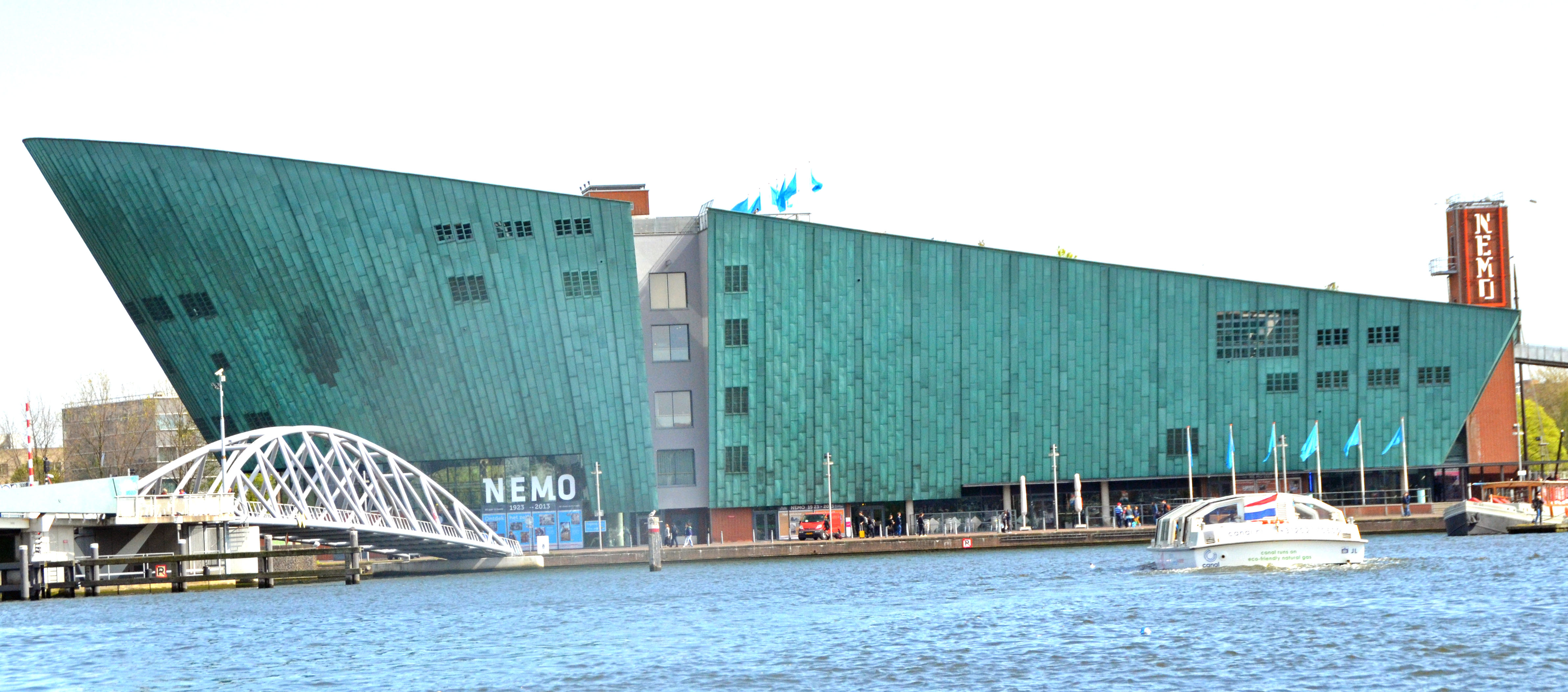 Once we got into the canals modernity quickly faded away and the unique Flemish architecture that makes Amsterdam so special took over. It really is hard to believe that so many of these 17th century buildings survive intact, including entire blocks of them along the three inner canals that are now a UNESCO World Heritage site.  The amazing story of how the canals were dug out by hand and the houses constructed on pilings driven deep into what was then a marsh by gangs of men hauling up huge weights and dropping them onto logs brought all the way from Sweden is one worthy of man's inventiveness and perseverance at its best. I was so entranced by these building that I forgot to take any pictures except for this one of the houses on the Prinsengracht.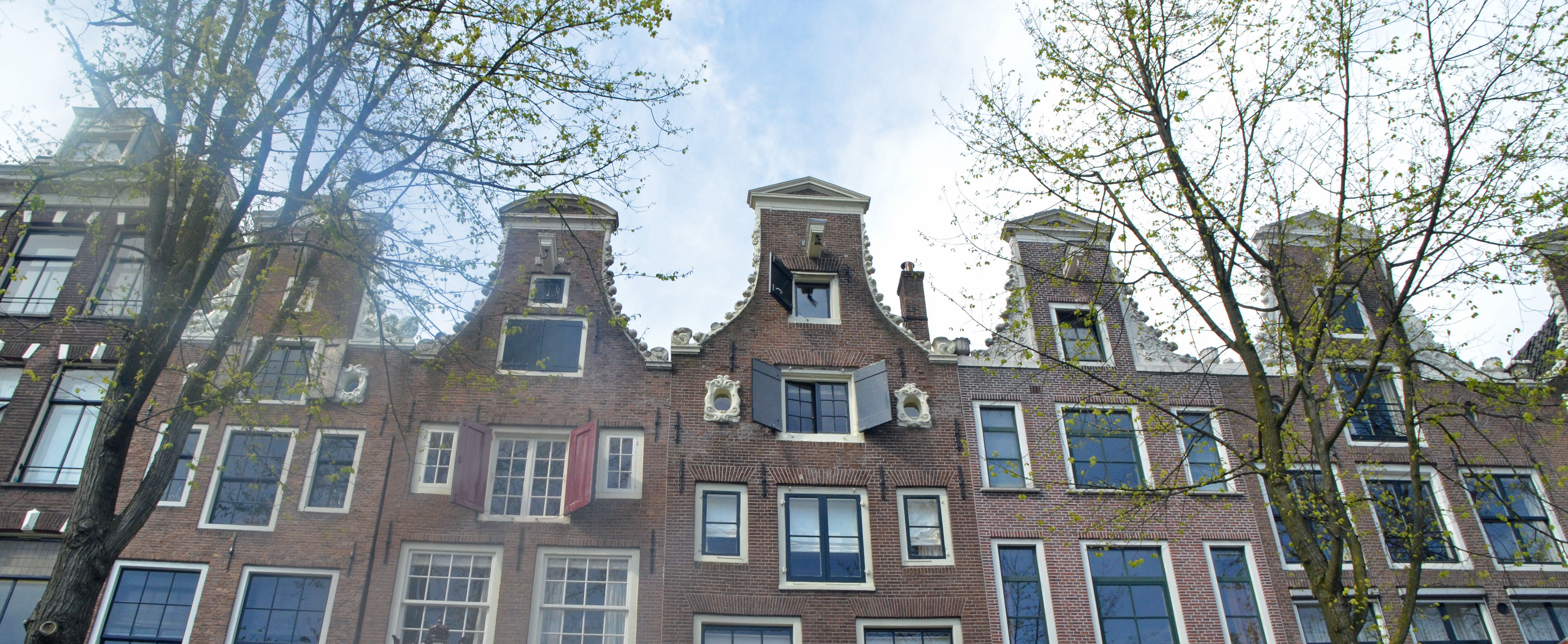 Equally interesting were many of the dozens of bridges we passed under or saw from a distance including the Langlois bridge, which we had seen in a painting by Van Gogh only a few hours before.

After the cruise we took the by now familiar No.5 back to our hotel and I asked if I could get a beer to take back to the room. The ambassador suggested I try Heineken draft instead of a bottle and poured me a tall one. It was the first time I can recall being allowed to take a draft beer up to my room in a hotel and what a draft it is as I am sipping it now as I write. Fresh ice cold Heineken draft only miles away from where it was brewed – priceless, yet it cost me only six euros.
Puri Mas Indonesian Restaurant
We had reservations for dinner at Puri Mas, an Indonesian restaurant recommended by Henny Groenendijk, the Canadian tourism rep for the Netherlands. I had never tasted Indonesian cuisine before, but knowing it is a Muslim country I was not expecting pork chops, ham or bacon. The Dutch colonized what was then referred to as the East Indies (where Columbus was trying to go) by Europeans and like the Brits with curry, cottoned on to the local cooking so much that it is now a staple of the Dutch restaurant scene. Puri Mas is on the second floor of a building on Lange Leidsedwarstraat in the Leidseplein area of the city which is heavily touristy and featured way too many restaurants with hawkers outside urging passersby to try the delights of their Mexican, Argentinian, Greek, Spanish, Italian, you name it food, for my liking. It reminded me a bit of the Plaka in Athens or the Rue de Bouchers in Brussels. Every time I have succumbed to the charms of one of these charlatans, and I'm sorry to say I have,  I have had a bad experience, both in terms of the lousy food and the price. The last thing a  good restaurant needs is someone outside telling you how great it is.
So I was a bit leery as we ran the gauntlet to get to Puri Mas which had a simple green and white awning and nothing but the menu on display. We were greeted very amiably by the host who I would guess was probably also the owner as it did seem like a family operation. As we were taken to our table I was reassured to see not only other tourists, but some locals as well. Our table had a view of the street below where I could watch the antics of a barker for the pizza place across the street as he feigned instant love for any party of women that strolled by and complete heartbreak as they kept on walking.
After an Indonesian brewed Bintang beer (good, but no Heineken) we were served a trio of delicious appetizers – martabak (seasoned pastry), loempia (an Indonesian spring roll) and udang goreng (deep fried prawn). The prawn was definitely the first star of this trio. Then it was on to rijsttafel, the Dutch version of a classic Indonesian feast whereby up to forty different small plates are served over rice. In the interests of sanity we limited our plates to six- brochettes of lamb, chicken and somewhat surprisingly pork and three other more spicier dishes. All these were accompanied by a selection of smaller toppings which ranged from mild to hot. The overall effect was a smorgasbord of flavour, texture and aroma that has me hooked on rijsttafel.  Here is what it looked like and how we felt about it.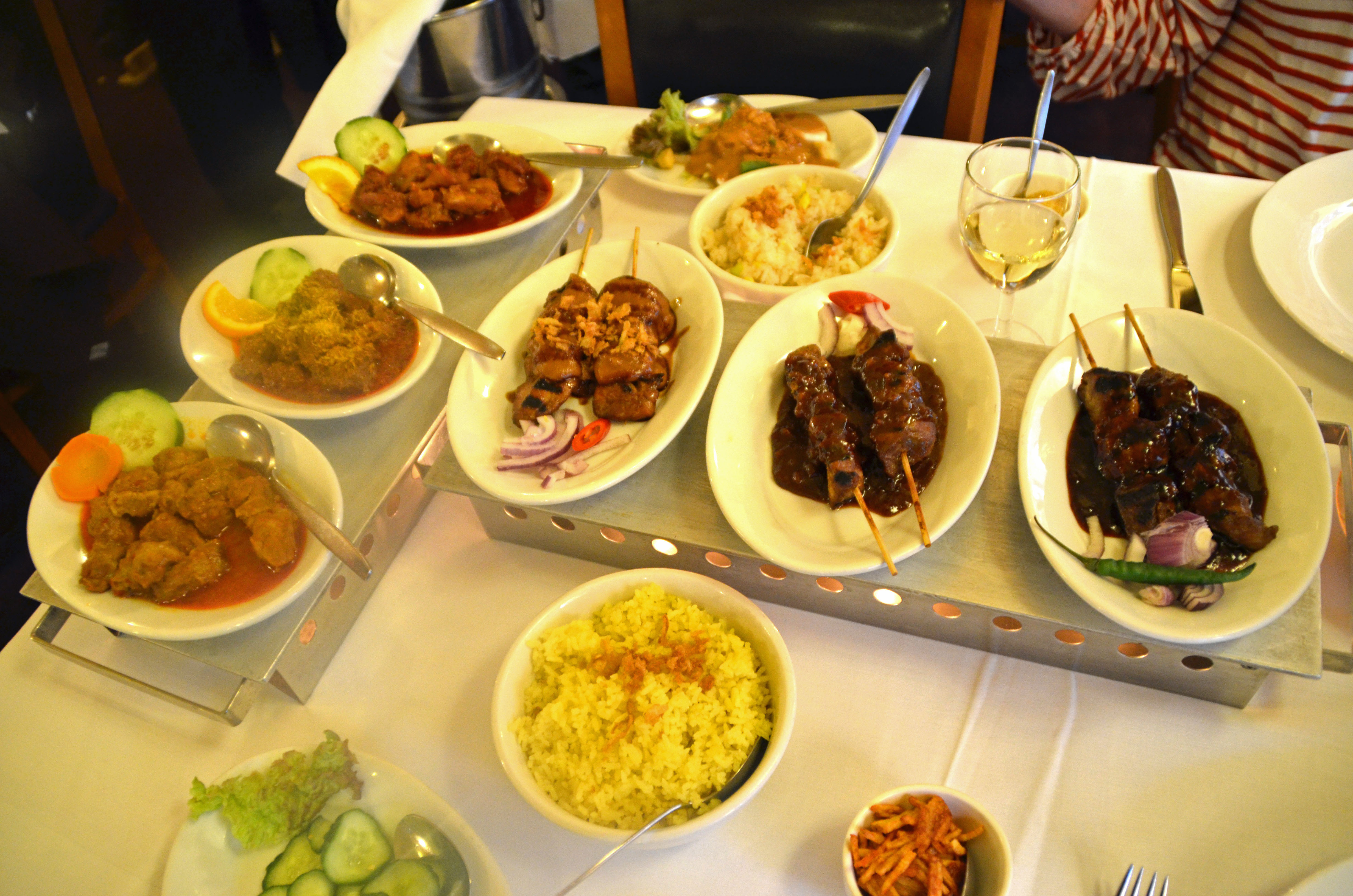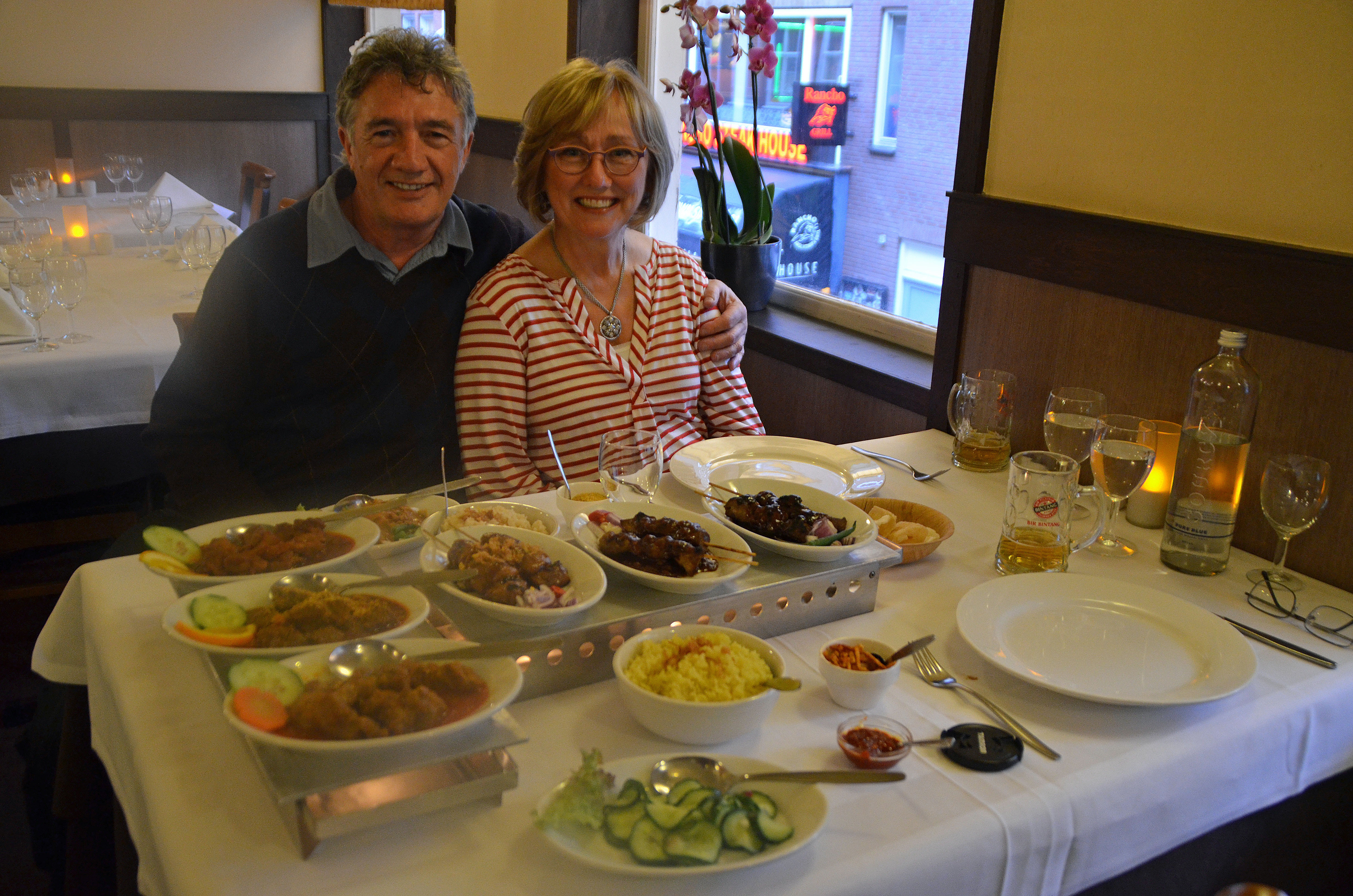 It was finished off with a small scoop of exquisite coconut ice cream. After returning to the hotel we bought a bottle of wine at the bar and were given an ice bucket to accompany it. Back in the room we basically debriefed what had been one hell of first day in Holland.
Despite being up now for well over twenty four hours we had managed to tackle jet lag head on and I expect we will be on European time tomorrow. Tot ziens.
UPDATE:
Sadly Puri Mas closed in 2020 after thirty years in business so you'll need to look elsewhere for rijksttafel.