The Zwaan – Our Home Away from Home in Holland
In a previous post I explained how we came to decide upon Cycletours for our bike and barge tour of Holland which we are starting today. We have just finished two glorious days in Amsterdam visiting the Van Gogh and Rijksmusuem as well taking a boat cruise on the city's famed canals. Now it was time to check out of the citizenM Hotel and look for our barge, the Zwaan which will be our home away from home for the next week..
Actually the Zwaan was very easy to find, berthed as it was in the inner harbour near the NEMO building we had seen from the canal cruise, along with about twenty other tourist barges each identified by the company with which it was affiliated. We arrived at noon for a 2:00 departure, parked our luggage on the small lounge deck and set out to kill and hour an a half.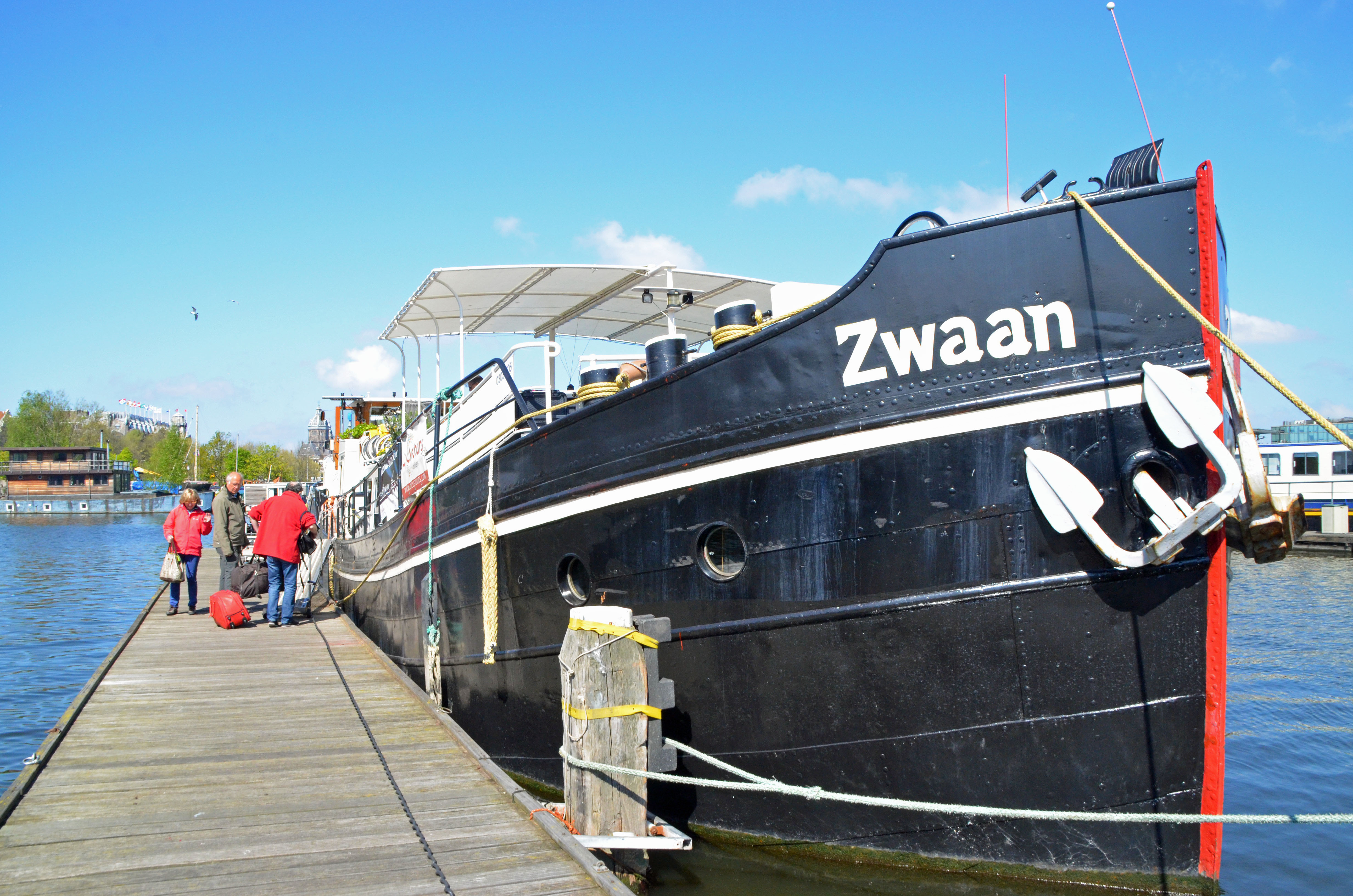 I'm one of those people who can't wait once a new adventure beckons so an hour and a half seemed like a lifetime, but it was turning into a beautiful afternoon. We joined the legions of Amsterdamers who were climbing the backside of the NEMO building from which there are great views of the old Amsterdam skyline, the many ships in the harbour (including the Zwaan, unattainable until 1:30, ) and is also a great place to just chill out in the sunshine.

Here is a view down to the barges with the Zwaan in the upper right corner.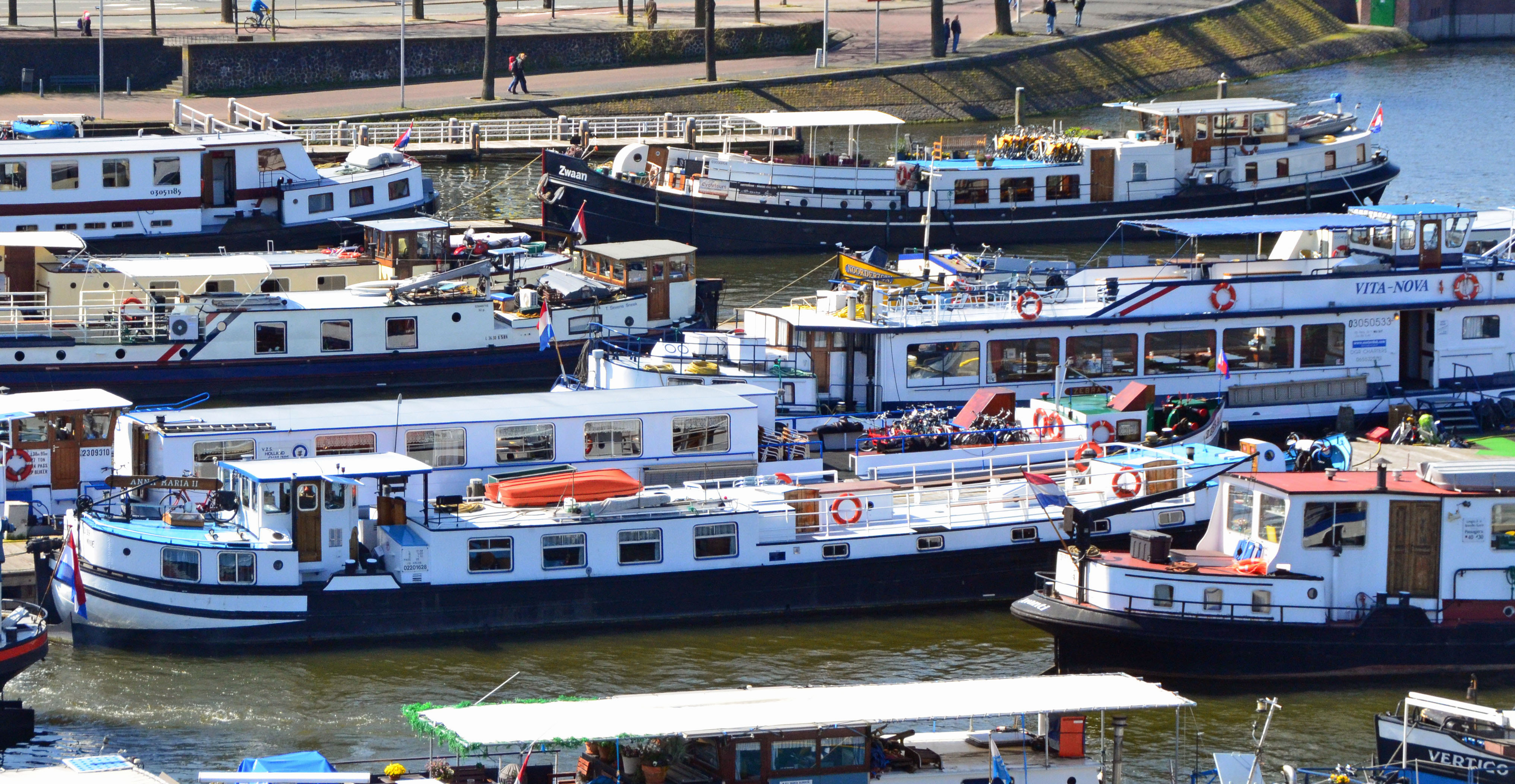 One thirty came at last and we returned to the Zwaan to be assigned our room and cast off. My suspicions that zwaan meant swan in English were immediately confirmed on entering the inside lounge area where a large reproduction of Jan Asselyn's The Threatened Swan dominated the room. We had seen the original just the day before in the Rijksmuseum and it is an impressive painting. I never noticed the reason for the swan's anger, the head of a dog barely visible in the lower left corner, until I saw the original. Here is the Zwaan's copy.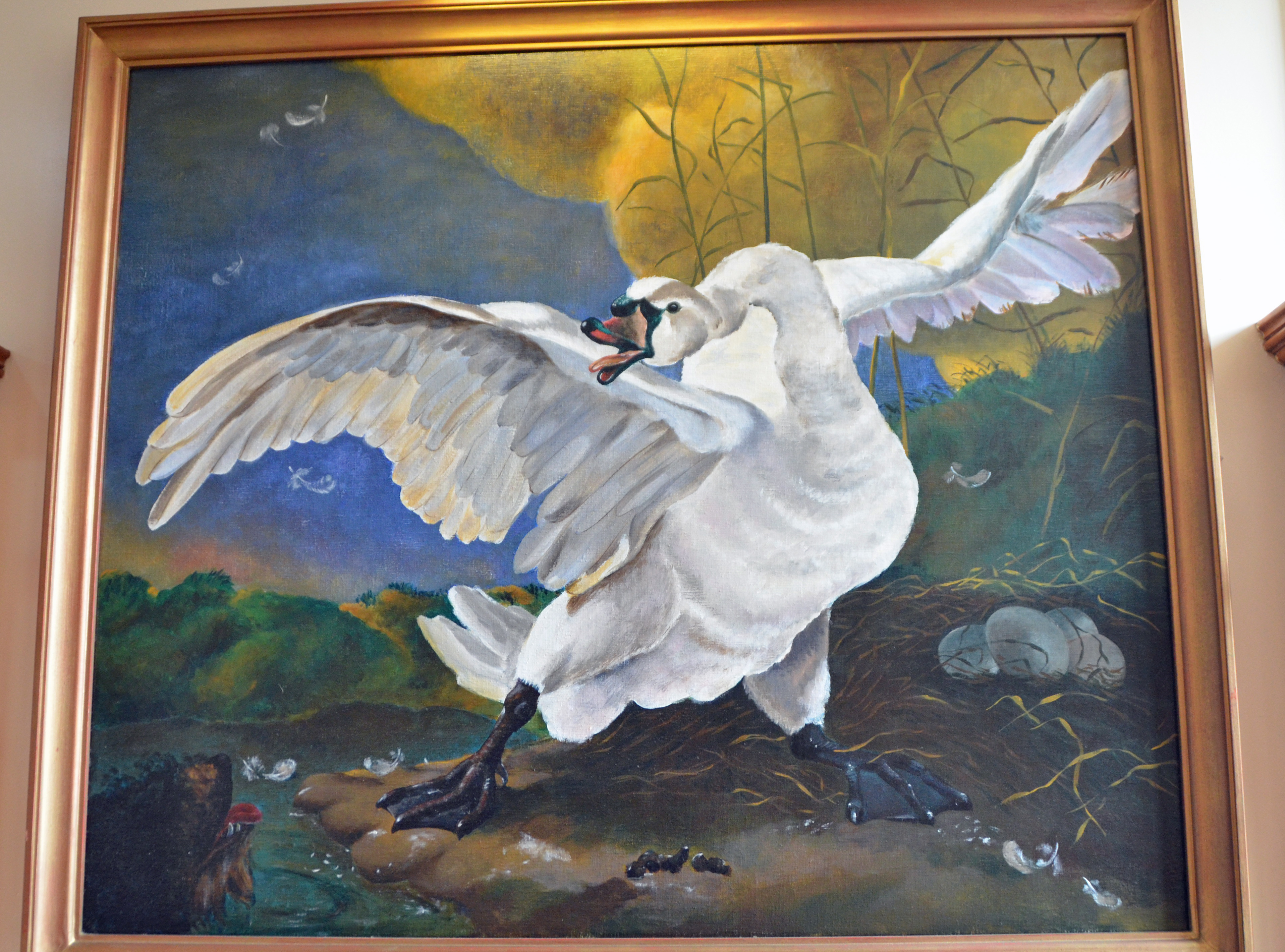 We were assigned cabin 2 which featured two twin beds, a storage space big enough for our clothes and a decent bathroom with a good shower. There was room to store the suitcases under the bed. It was pretty well exactly what I expected – no frills, but quite acceptable. This is our room, excuse the mess.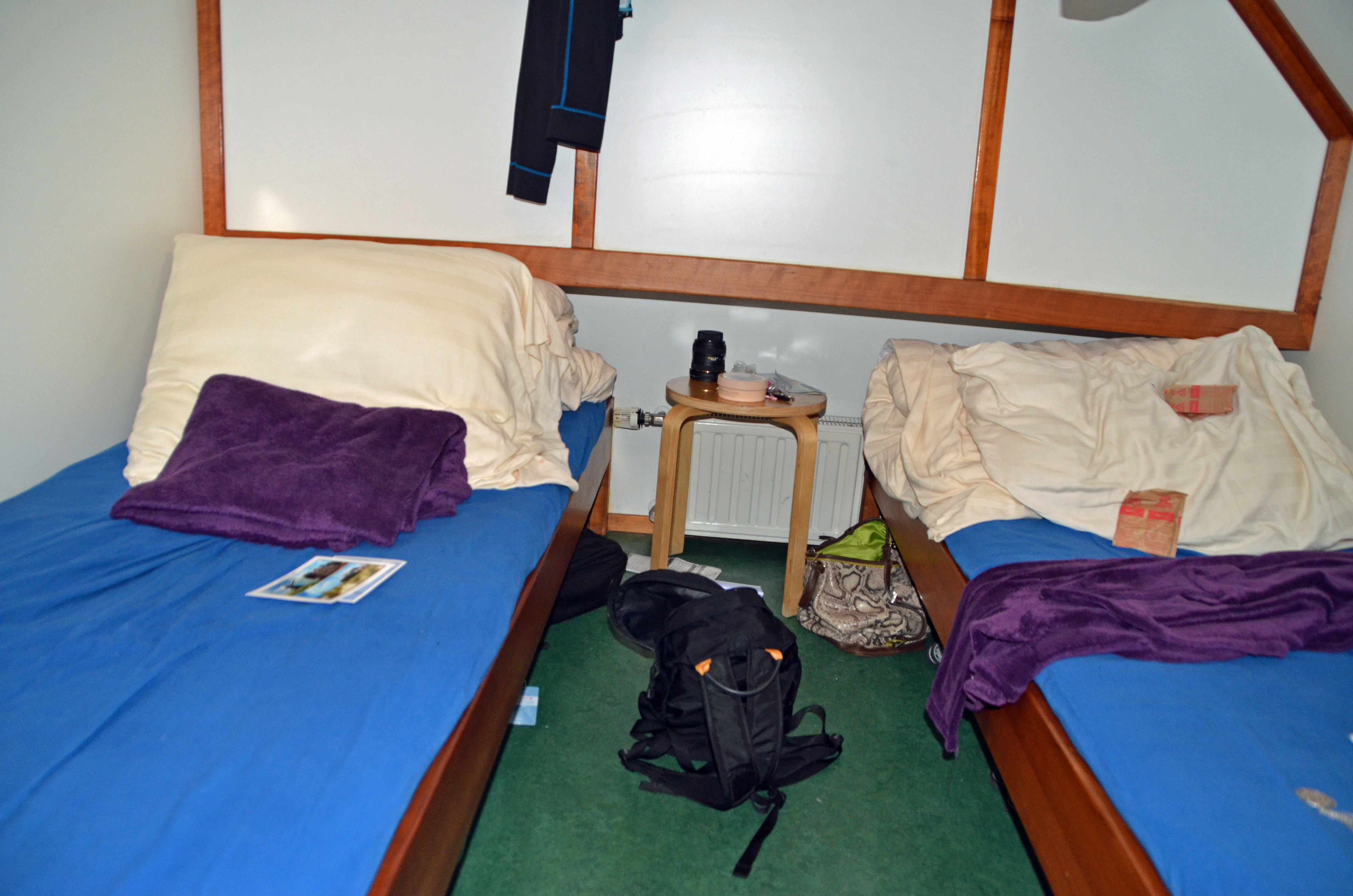 The other areas where we will spend some time are the dining area and the outside lounge which is pictured here.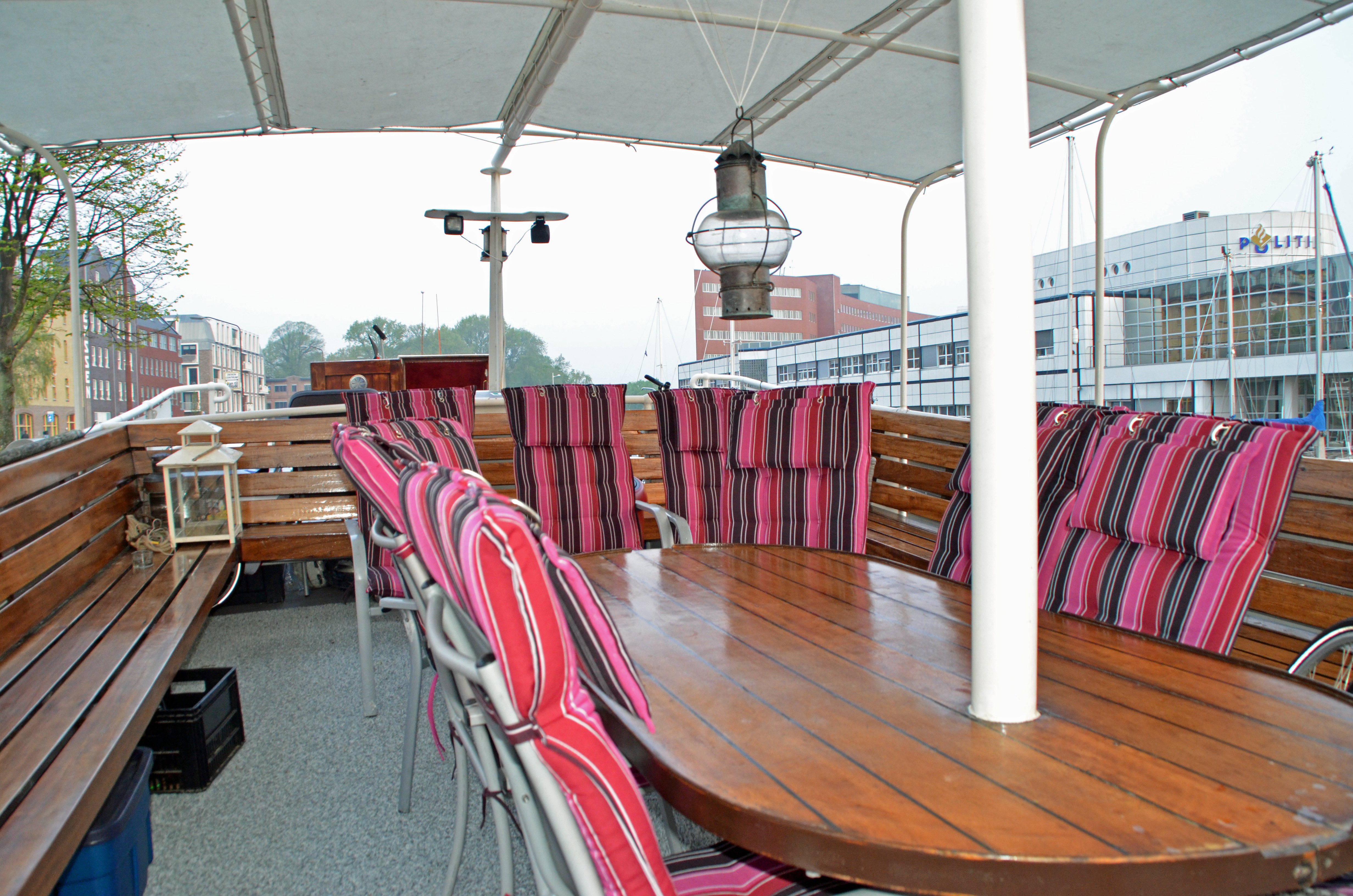 It's pretty comfortable right now as we await the arrival of the other passengers. Remember what I wrote about wanting a variety of different nationalities as shipmates, well that ain't gonna happen on this voyage. Our fellow travellers have arrived and they are all French except for a grandmother and granddaughter, Liz and Emma, from the Princeville area of Kauai, a place we are actually quite familiar with from our visit the year before, so we have something in common with them. The French are composed of four couples who often travel together and I would judge to be about our age and a much younger Marielle who is traveling on her own. Only one of the French group, Katherine, speaks any English and it is not that much better than my French. However, she is very outgoing and makes it clear she wants to improve her English on this trip and I oblige by saying my French could use some improving as well.
The French couples seem to break out into hysterical laughter at even the most trivial incident or joke and I wonder if they are just a bit nervous or if we have unwittingly embarked on a trip with a bunch of lunatics. Only time will tell.
Now let me introduce the crew. The Captain is Ilja, as in Illya Kuryakin in the Man from U.N.C.L.E. He is an affable sort who seems unlikely to keel haul any unruly or mutinous passengers, when walking the plank will do.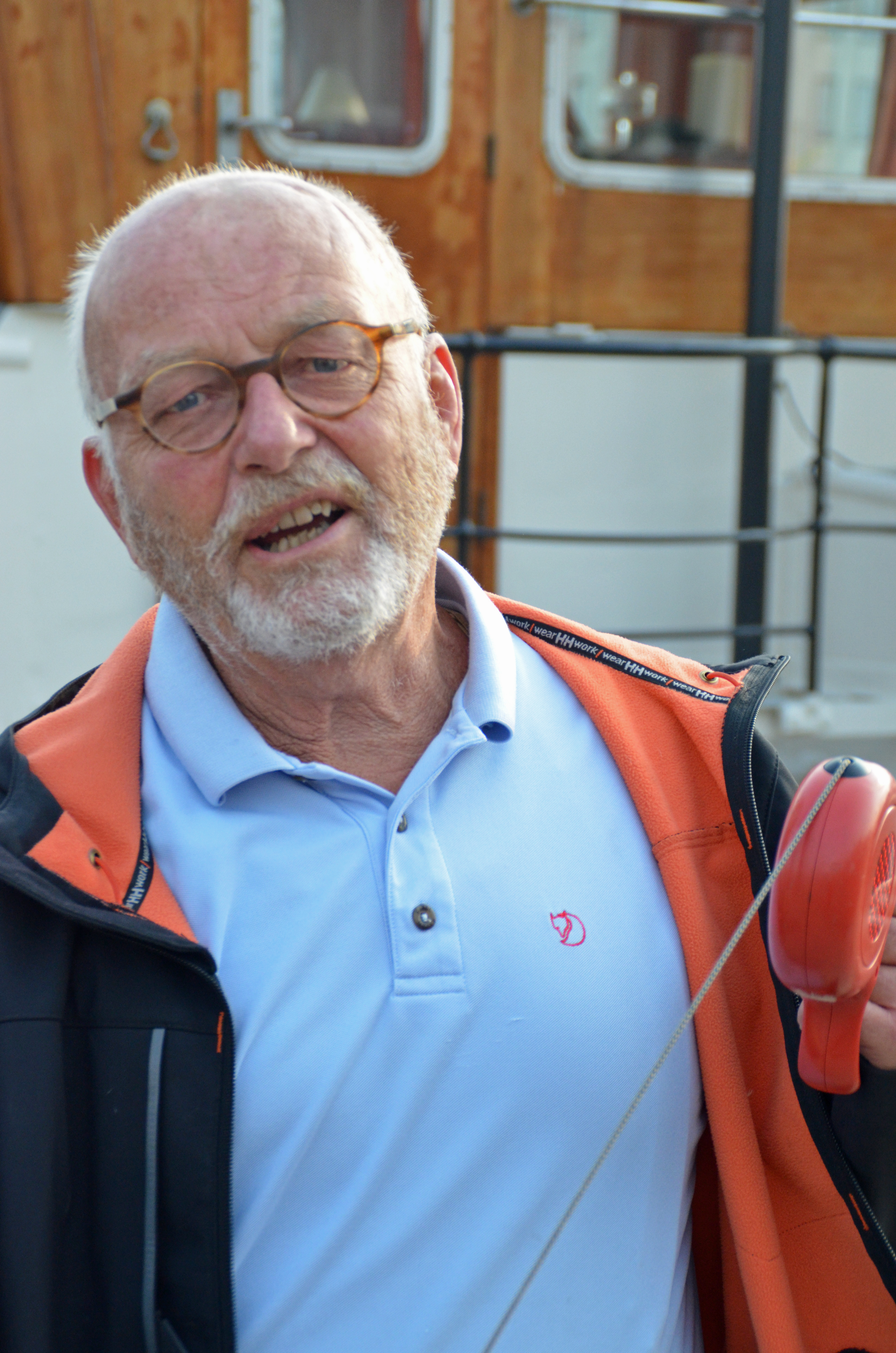 The steward, purser, room chambermaid and real boss of the ship is Ilja'a wife Marije, as in They call the wind Maria. I later learn that she is a former KLM stewie who gave up the friendly skies for the even friendlier waters of the Dutch canals.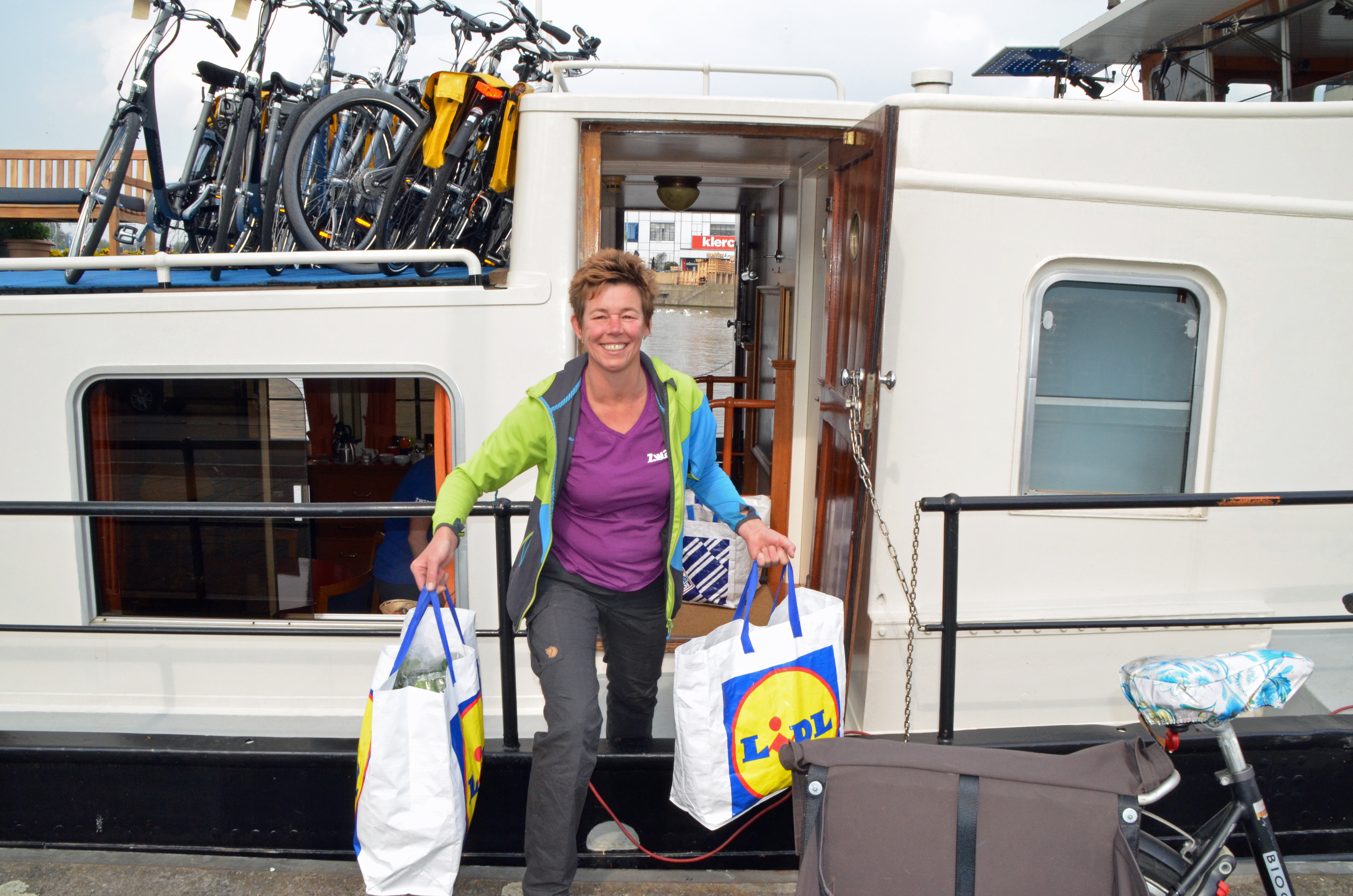 Next up is the very young looking Dorus, as in Doris Day, who will be our chef. I wonder how that will turn out as the quality of the meals can be make or break a trip like this.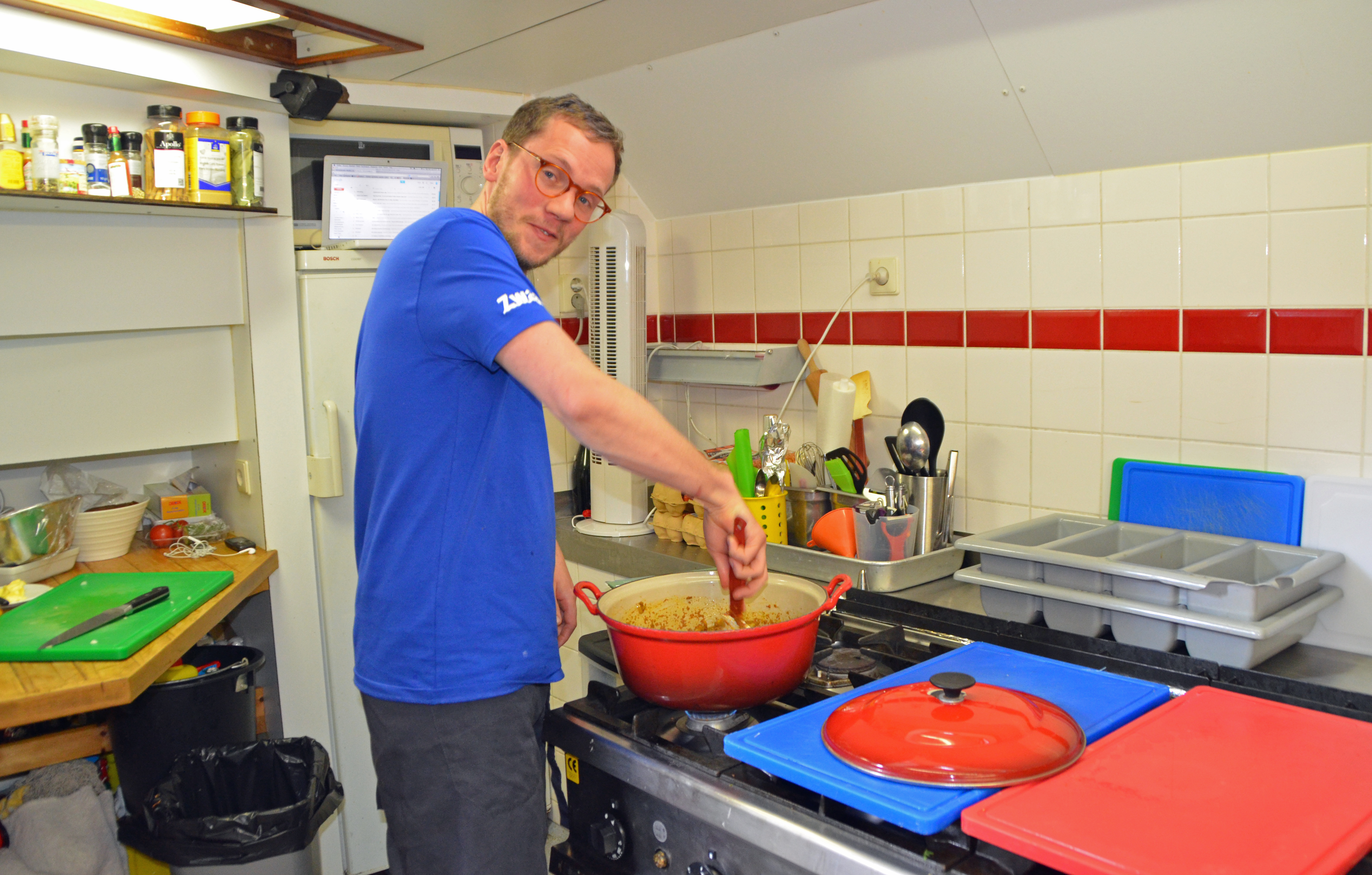 Our intrepid guide will be Albert as in Albert Camus, who will attempt to lead this ragtag band of over the hill. mostly out of shape, mostly grandparents, on a trip through the heart of Holland and do it in two languages. Good luck Albert!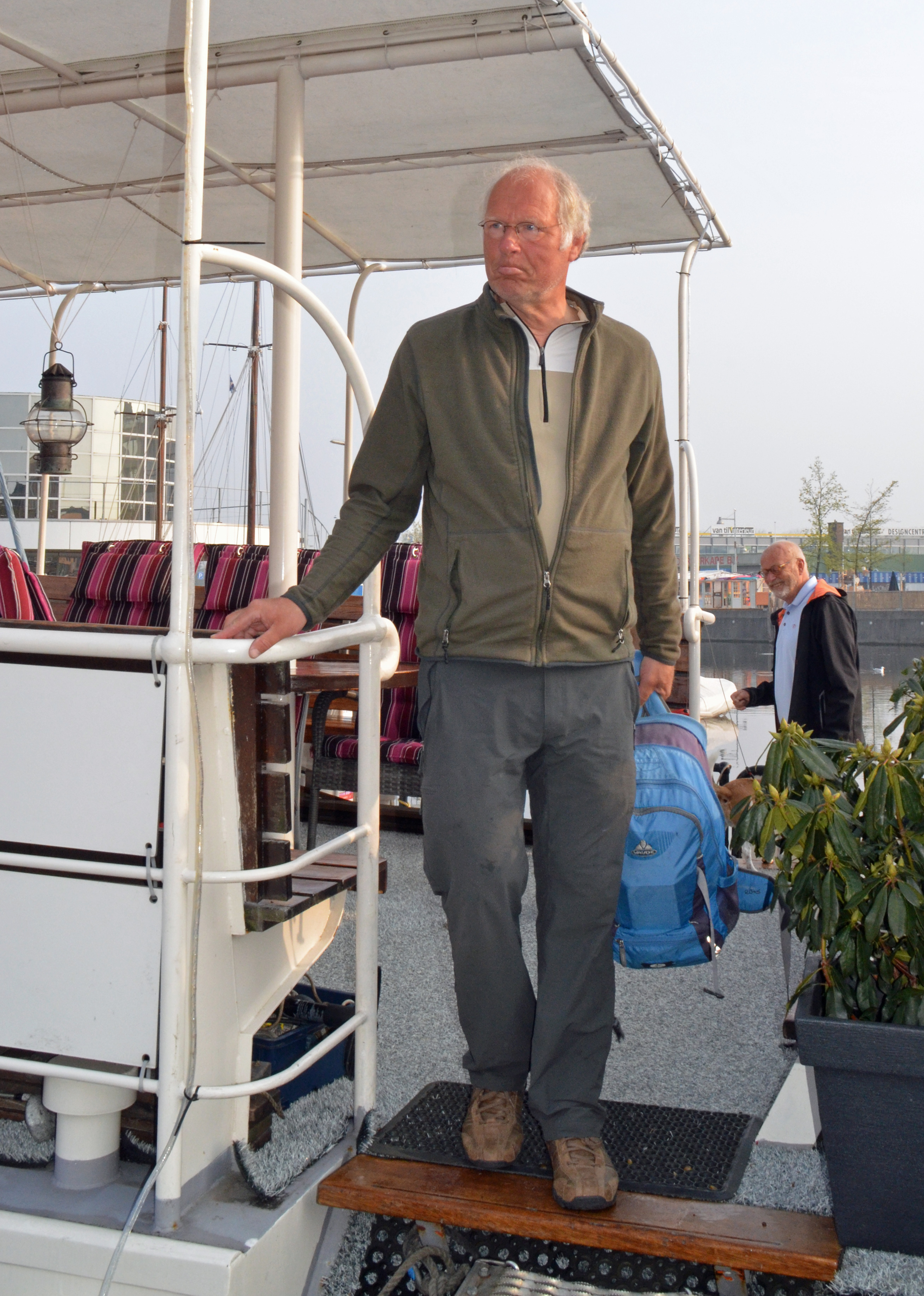 Last and definitely least in more ways than one is the ship's guardian Jippee, as in There's a Yippey in my Bippey, who much more appropriately should be called Yappy as he breaks into frenzied barking at such dangers as passing ducks, shadows and scariest of all – bridges.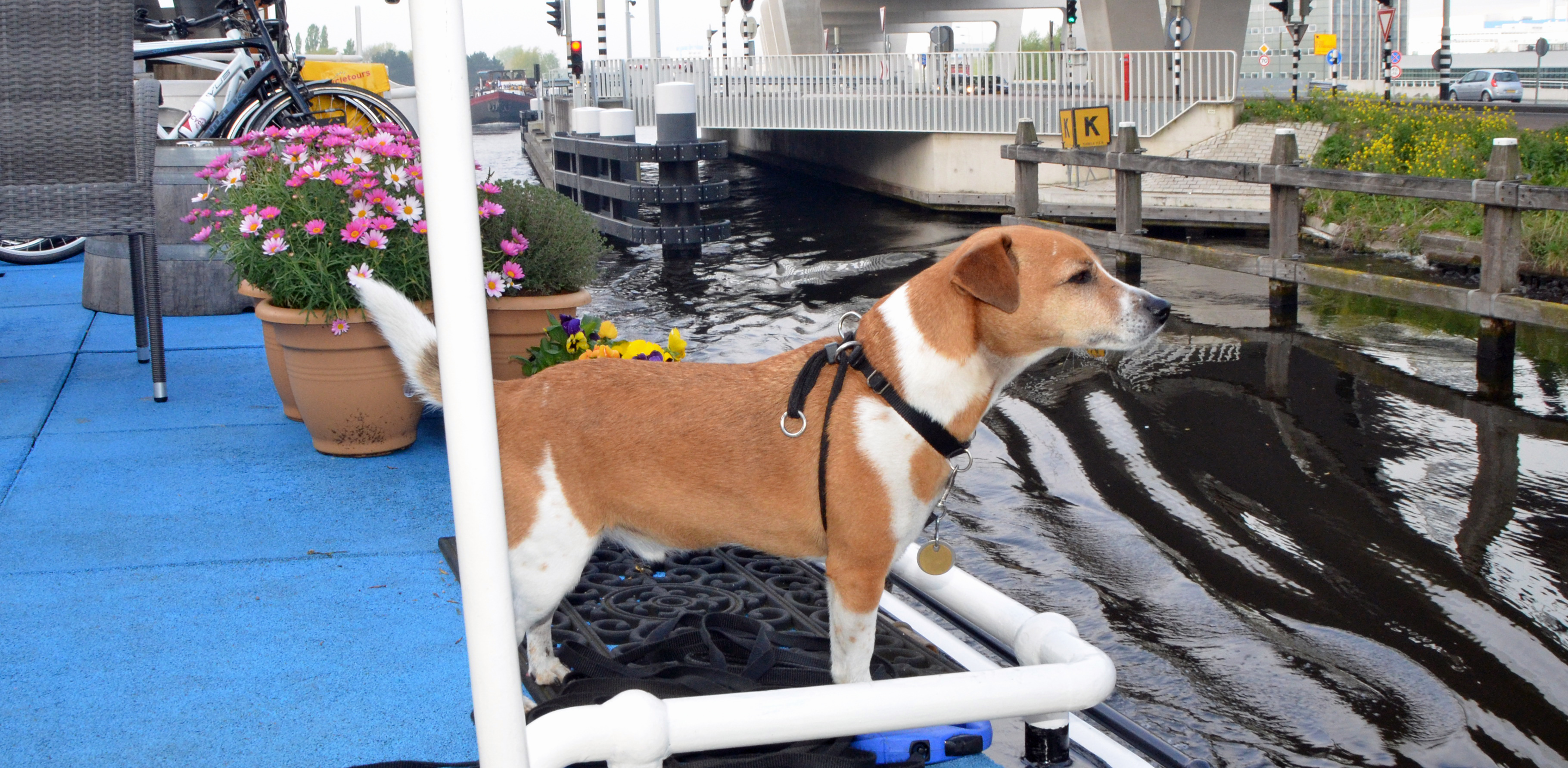 By now everyone has stowed their gear and we are anxious to shove off. I have noticed that a barge has been leaving about every fifteen minutes and we are now one of the few left – anyone who knows me would know how I would feel about being the last off the mark, but I control my desire to yell at the Captain to "Let's get this ship on the road!".
Albert explains that we are going to sail out of Amsterdam harbour on the north canal toward the North sea and then enter a side canal to Spaarndam where will disembark and ride into Haarlem. Sounds like a plan – let's do it! At last we cast off, without any waving crowds, and chug out into the main canal. I am definitely psyched. We see some of same sights as we saw from the canal boat cruise, but as we move toward the North Sea the area becomes much more industrial and it is apparent that Amsterdam has some serious shipyards including this one doing major repairs on a large container ship.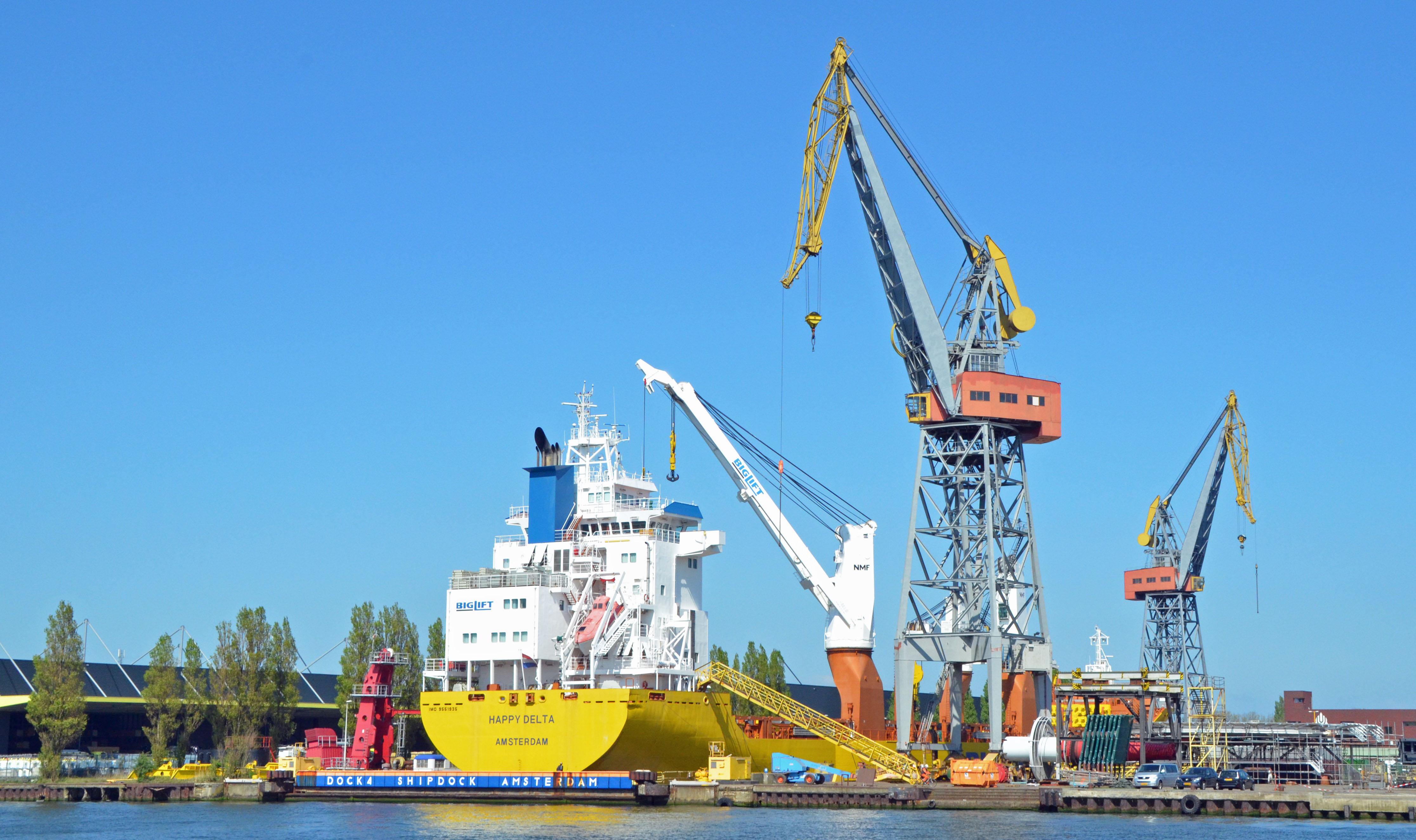 One very unexpected sight is the legendary Greenpeace ship Rainbow Warrior which looks different than I recall from pictures of the ship in its battles with Japanese whaling ships. Turns out it is the newest version of the ship and was built specifically for Greenpeace. What is interesting is that the Dutch are one of the very few nations that will allow Greenpeace to operate without fear of state interference. Even though Greenpeace was started in Canada, the Rainbow Warrior would not be allowed in a Canadian port today. Pretty ironic, eh?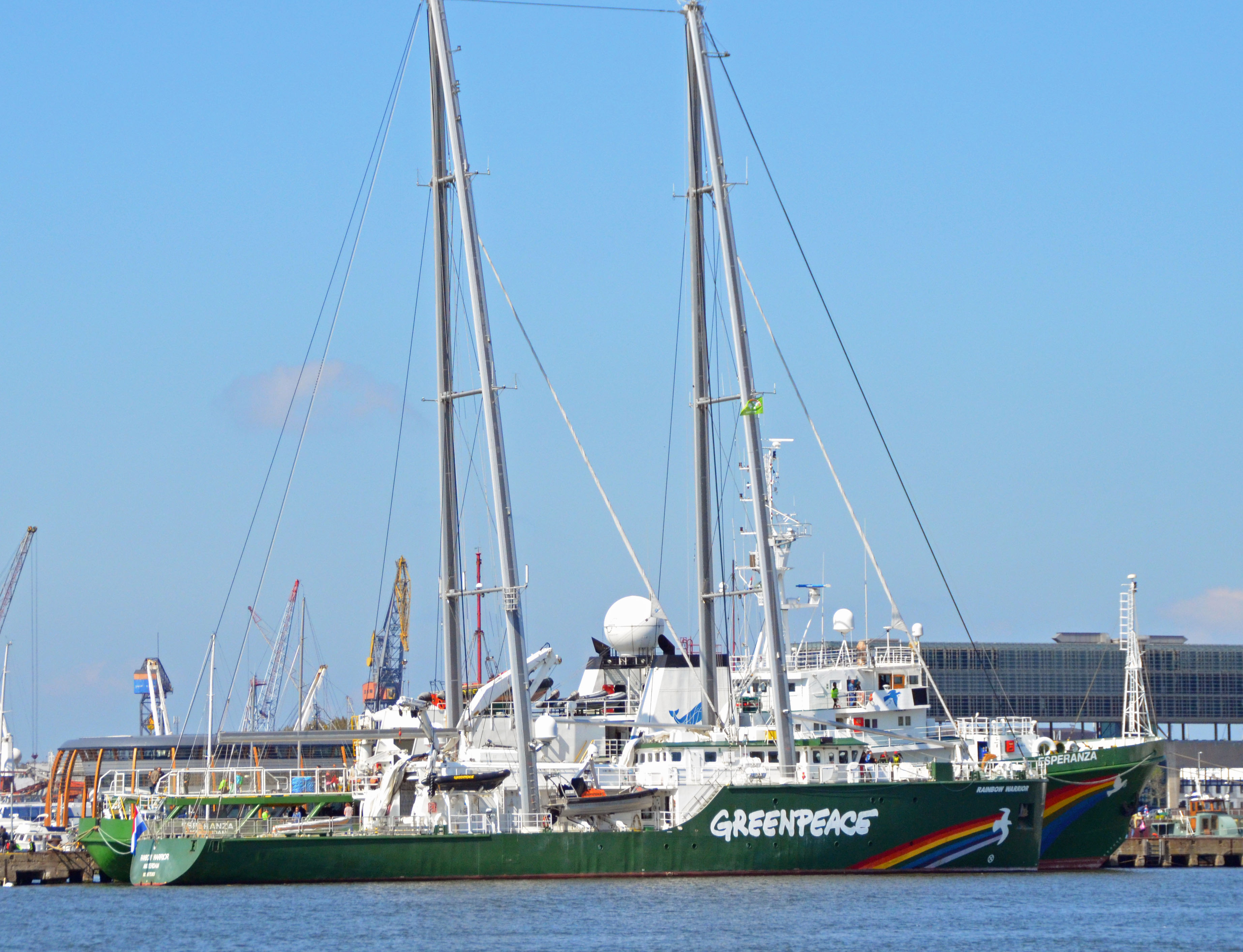 Another interesting contrast is a giant cruise ship that passes by. It is twelve stories high and probably has at least 5,000 crew and passengers while we total 17. Passengers on both ships wave to each other, both sides no doubt thinking," Poor bastards". Not long after we enter the Zijkcanaal which runs south from the Noordzee Canal to Spaarndam where the mighty Zwaan enters a lock and we prepare for our first cycling experience on the tour.
Everybody had ordered the type of bike they wanted in advance at time of booking. Alison and I had picked regular bikes, but four of the French have opted for electric bikes. The first task was getting the bikes off the boat and on to the landing. All the men pitch in and it is soon apparent that the electric bikes are very heavy in comparison to the regular deal – will this create a problem? Stay tuned.
To helmet or not to helmet? Being Canadians we are used to being coerced by the state into doing things that we wouldn't otherwise probably all do. Some are good, like seat belts and airbags in cars, but others are, to me at least, debatable. Helmets for bikers is one of them.
I never wore a helmet in hockey until I was over fifty and then I couldn't help but notice how many times I got hit in the head by sticks, pucks and even skates. Surely I would have noticed this even more without a helmet, but I didn't. The Dutch found out something similar about bike helmet use – while helmets reduce the risk of a serious head injury, they also lead to an increase in the number of accidents involving helmeted cyclists. There are lots of studies, pro and con, but most agree that the Dutch have a unique bike culture that reduces the risks of not wearing a helmet so even though Alison and I ordered helmets they will be staying on board. We don't want to be the only ones in our group wearing something we don't like or want. Sorry Canada.
On the other hand, one of the large Cycletours group which we encounter is entirely North American and they are 100 % helmeted. Peer pressure anyone?
The bikes Alison and I have been given are brand new 24 speed Dutch made Batavus touring models. They have only been used once by the previous week's group and are a delight to ride. The gear shifts are easy to navigate, the brakes are responsive and the seat is comfortable. No matter what happens we won't be able to blame it on the bikes. In preparation for the trip we have purchased bike shorts (extra padding for the ass), riding gloves and a couple of bike jerseys. The rest of the stuff is recycled (no pun intended) cross country ski gear. Here is Captain Canada ready to go.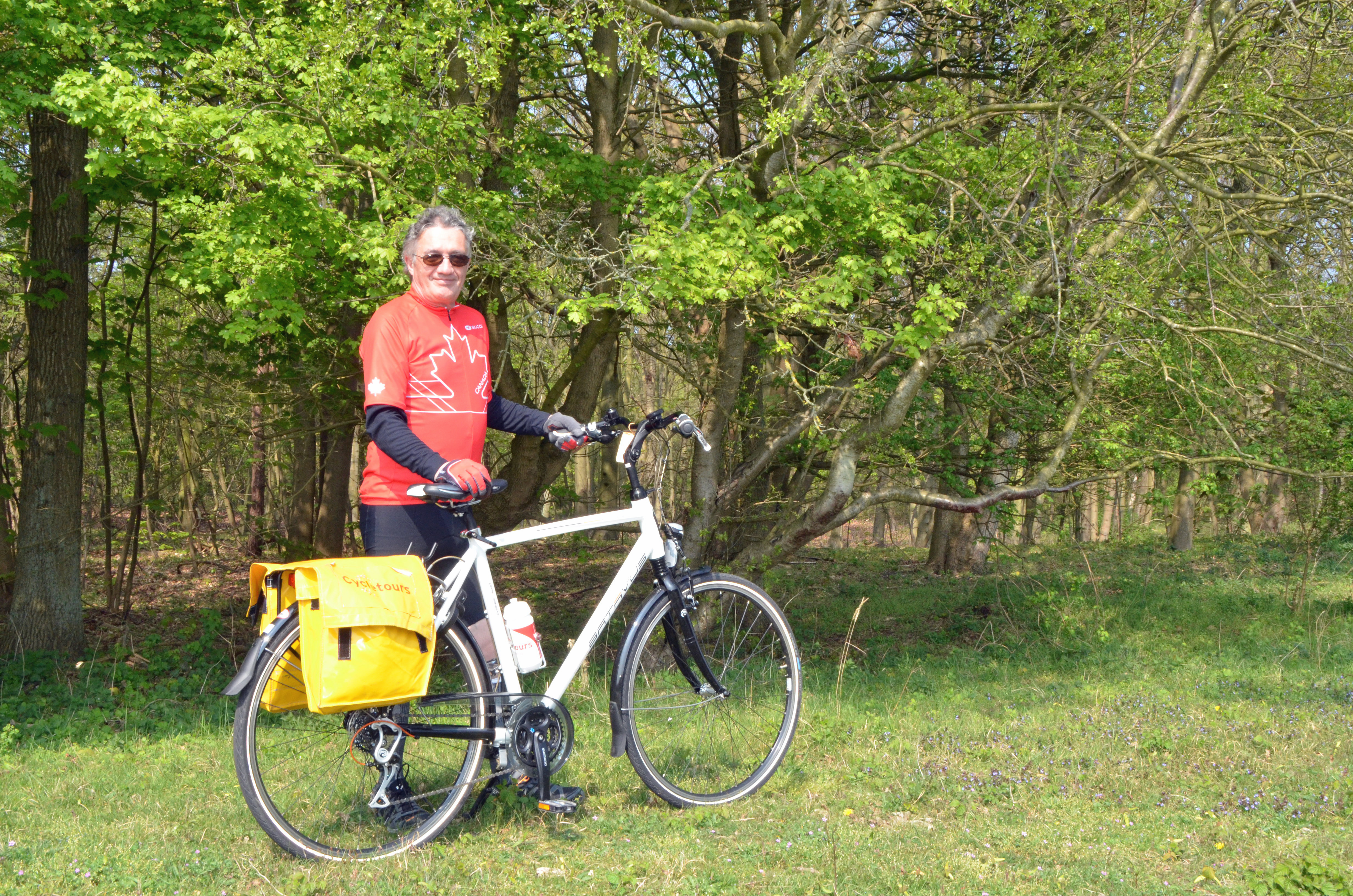 After a few minutes of riding around in circles it is apparent that there are no real or even fake Lance Armstrong's in our group. Despite being home to the Tour de France, our French ladies are having trouble with the electric bikes – their extra weight makes them difficult to get moving. Albert is very patient not only in explaining the proper technique for getting these things going, but in putting up with the gales of laughter that greet his every word. I never thought that learning how not to drive into a canal could be so hilarious. About half an hour after disembarking we finally get going with Marije waving as if we are leaving for good and Jippee barking his encouragement.
We have barely gone a 100 yards when Albert gets us to stop, park the bikes and walk a short distance to a bronze statue of a boy with his finger in a dyke. I think I remember this story from the children's book Hans Brinker or the Silver Skates, by an American writer; a story so sappy that it made me laugh the first and only time I read it. Turns out this is the place where the fictional little Dutch boy put his finger in the dyke to save the fictional people who were threatened by the fictional dyke collapse. Nothing like a harrowing untrue story to start off the trip.
Walking back to the bikes I couldn't help but notice the beautiful little gardens behind every house in Spaarndam and that this was a lovely little village. The houses are almost all made out of brick and many contain unique identifying features over the lintels that make it clear that the houses are way older than they look. It turns out the third little pig was right and brick makes for a very durable house.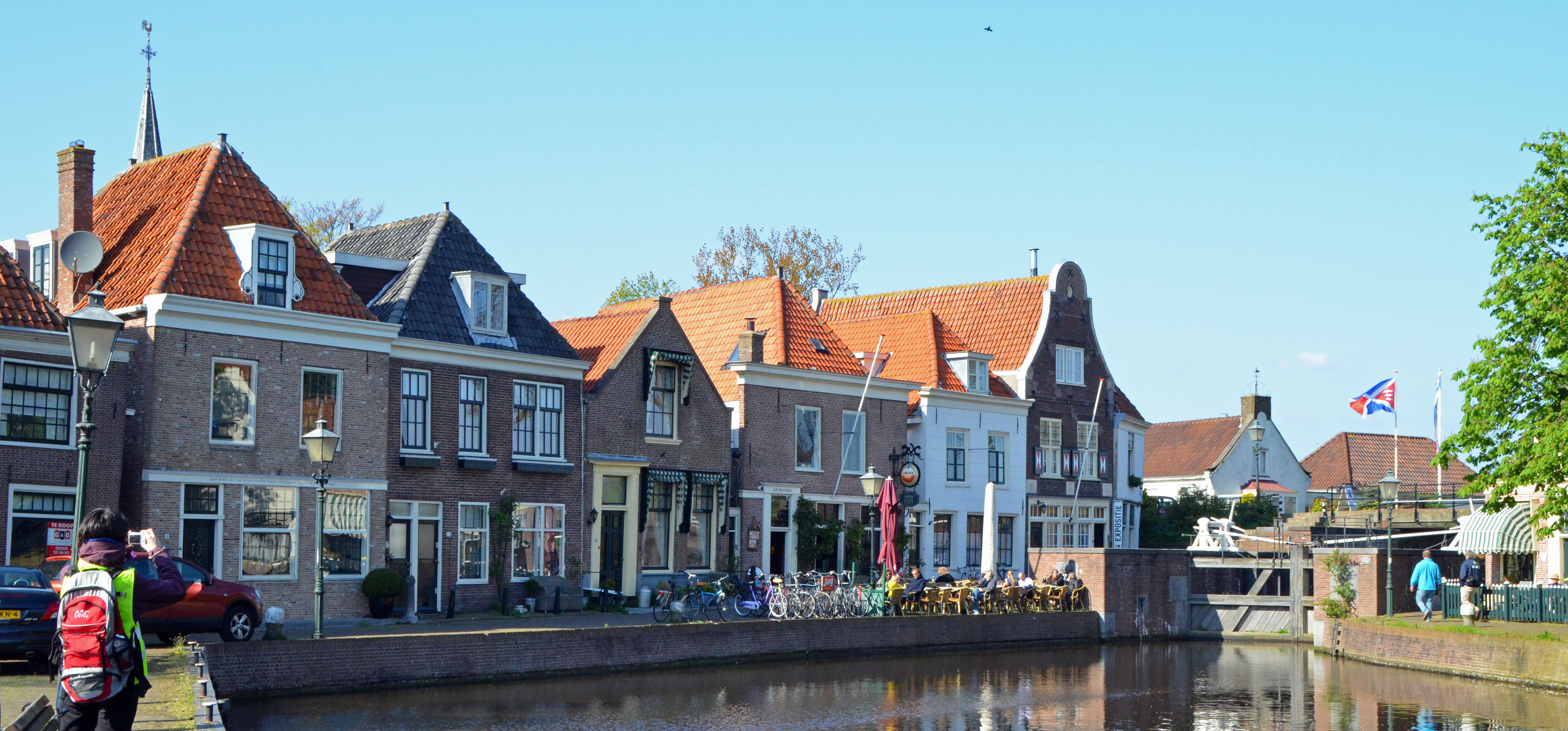 From Spaarndam to Haarlem was not far, but since it was the first time riding according to Dutch rules it took a little getting used to. In Holland almost all roads have dedicated bikes lanes that are made of red paving tiles or red asphalt. In these lanes bikes have priority over all other traffic, motorized or pedestrian. The first time Albert drove straight into a round about without any regard to the cars I thought he was a goner, but the cars did stop to respect the red bike lane. After about half an hour of mostly modern buildings and industries we entered the old centre of Haarlem and found the Zwaan moored along with the other Cycletours barges in the main canal.
Haarlem is the first of several historic cities we will visit it on this trip and if first impressions are any indication then we are in for an architectural feast. Note that the Dutch Haarlem is spelled with two a's and not one as is its American namesake. The Dutch never settle for one 'a' where two will do just as well.
After loading the bikes on the barge we relaxed on deck waiting for the 6:30 dinner bell. The Zwaan has an honour bar where there are a good selection of beers, wines and non-alcoholic drinks for sale at reasonable prices. We plan to use it faithfully each day. There are also pitchers of ice cold water with mint, tea and coffee awaiting us. I grabbed a Grolsch and Alison had a glass of wine as did Liz the very young looking American grandmother from Kauai. We learned that Emma, her granddaughter was studying at an English school in Paris which she had selected on her own. Emma looks and comports herself like an 18 year old so we are quite surprised to learn she is only 15.
Other than Katherine, the French group stays by themselves and to my surprise they drink only water or tea. I am starting to doubt their authenticity. From Katherine we learn that most of them work in one capacity as another for various organizations doing good works – in Katherine's case, helping prevent female guest workers in France from being exploited. Shortly after the dinner bell rings and we begin a nightly ritual of Dorus explaining what he has prepared, in English and French, always ending off with 'une petite surprise', followed by a minute of silence at Albert's request and ending with expressions of delight as the food is served. The group is small enough that we can all be accommodated at a communal table and this makes it much easier to break the ice with our French compatriots. Katherine makes a point of sitting between Albert and Emma, while I sit beside her husband Josee.
From the moment the first dishes are laid before us there is no doubt about Dorus' ability as a chef. He starts us off with a red pepper soup that is as good as any I've had in any restaurant. It is followed by a Mediterranean chicken and green olive dish that we sometimes make at home. Combined with a salad of fresh tomatoes and arugula, it is smashingly good. The 'surprise' is a somewhere in between a chocolate mousse and a pate in texture and I eat not only mine, but half of Alison's as well. If all the meals are going to be this good, then we have really lucked into something here on the Zwaan. It makes the price of the trip that much more reasonable – these would be expensive meals in a restaurant. I notice that the French do take wine with their meals, but only one glass.
After dinner Alison and I go for a stroll. The weather is perfect and in combination with the pleasant feeling of having had just enough to eat, Haarlem looks just wonderful. While we have observed the world famous Flemish architecture in Amsterdam it does not fail to impress in Haarlem as well. Here is a photo of two 17th century houses on the right and two modern houses on the left built to maintain the architectural integrity of the streetscape. Note the masts on the new houses giving a nod to Haarlem's dependence on the sea for its existence.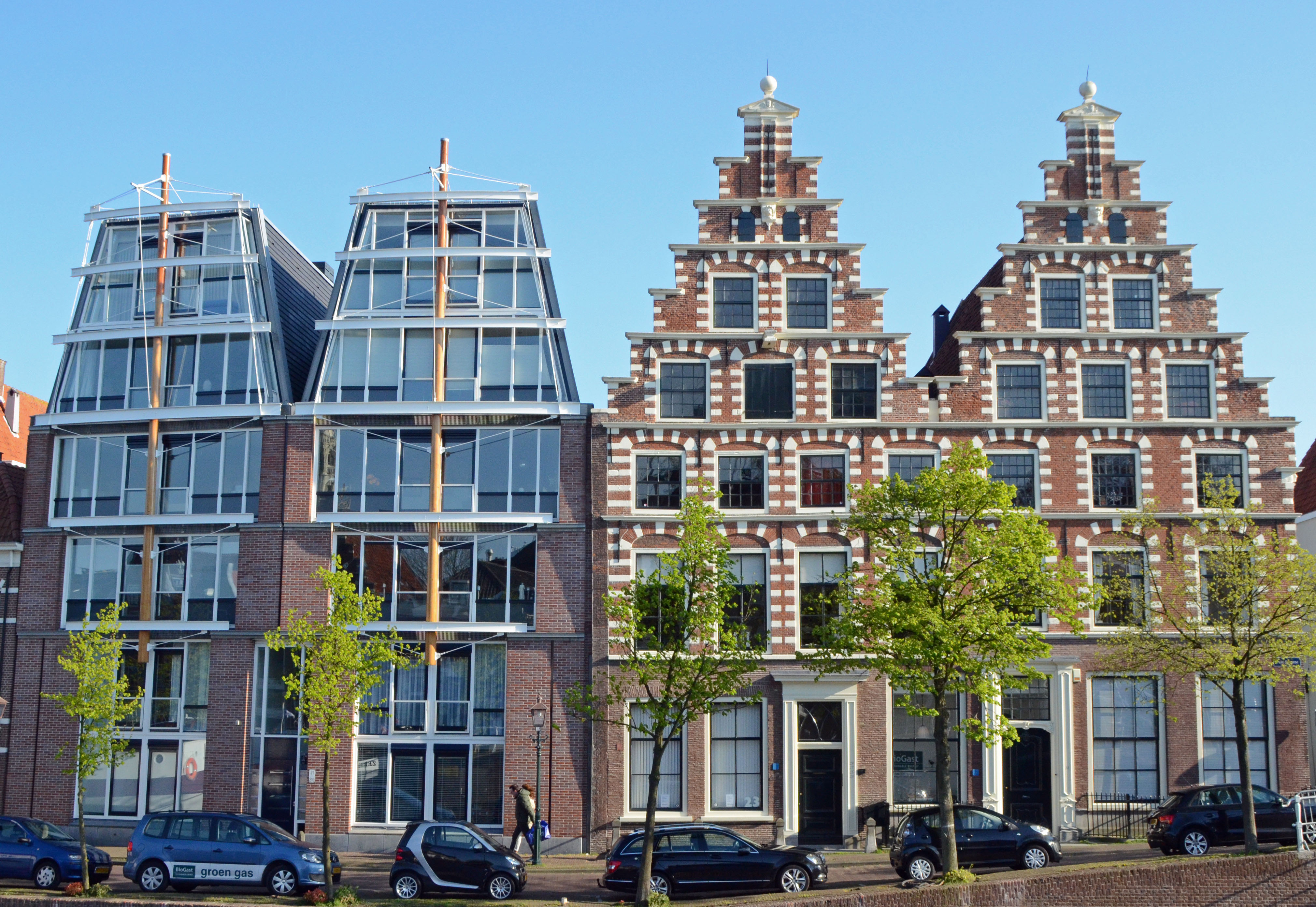 Haarlem also has some notable bridges including the Gravestenenbrug which opens regularly to let the barge traffic pass through. Bicycles may have priority over cars, but in Holland boats are the trump card in terms of right of way.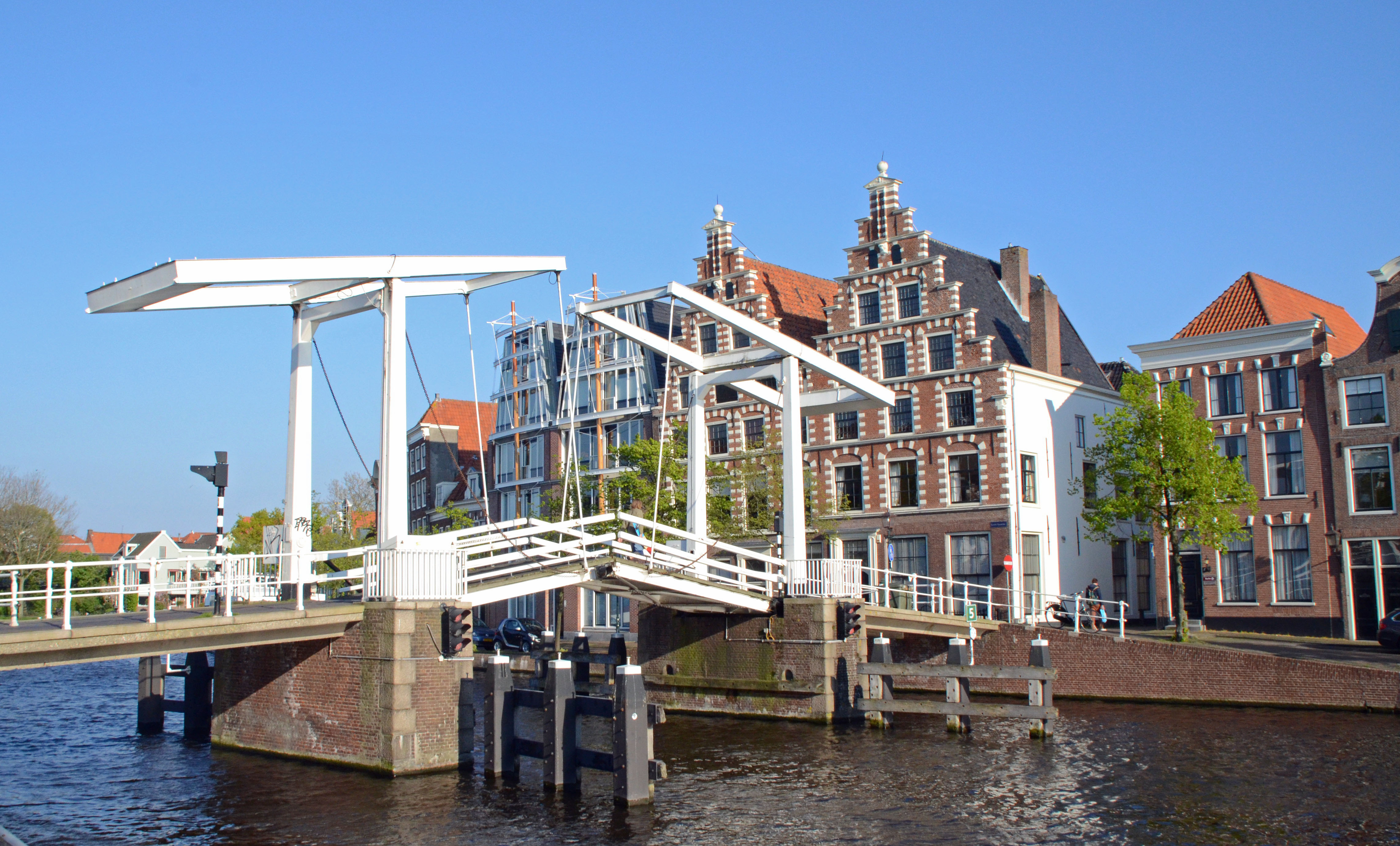 Wandering away from the river we came to the market square and the what the Dutch call the Grote Kerk or St. Bavokerk, the large medieval cathedral at the centre of the city. All of these old Gothic churches were originally built as Catholic cathedrals, but later were converted to just plain Protestant churches or kerks as the Dutch call them. All of them seem to have impressive steeples with a huge flag pole sticking out at right angles, giving a somewhat peculiar look to them. Hopefully we'll see one with a flag on it to see if the incongruous flagpole is worth it or not.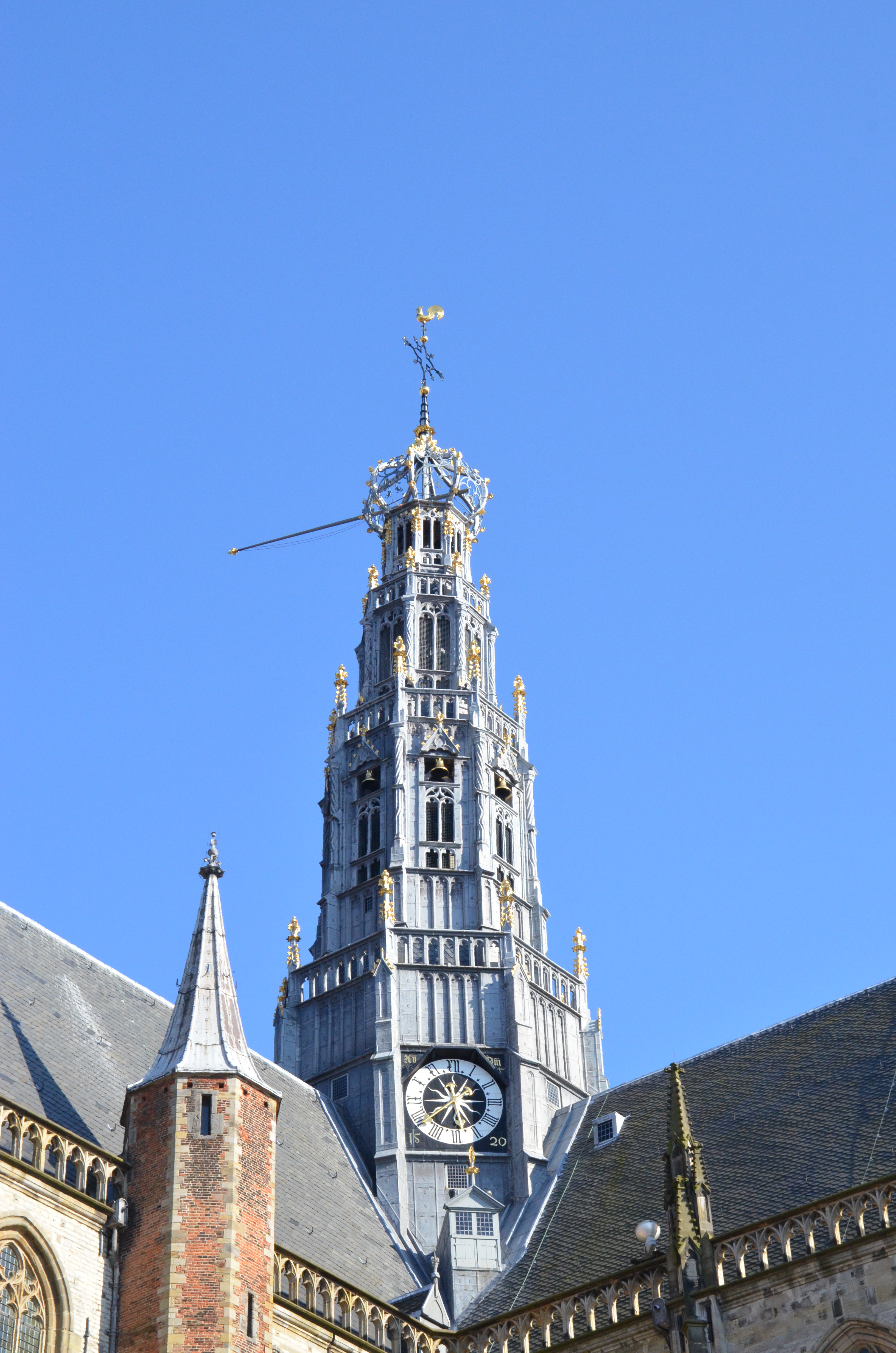 Walking down a narrow street we came upon a modern looking building with some very unusual looking markings on it. There were no windows and its purpose was not obvious. Rounding the corner I saw this.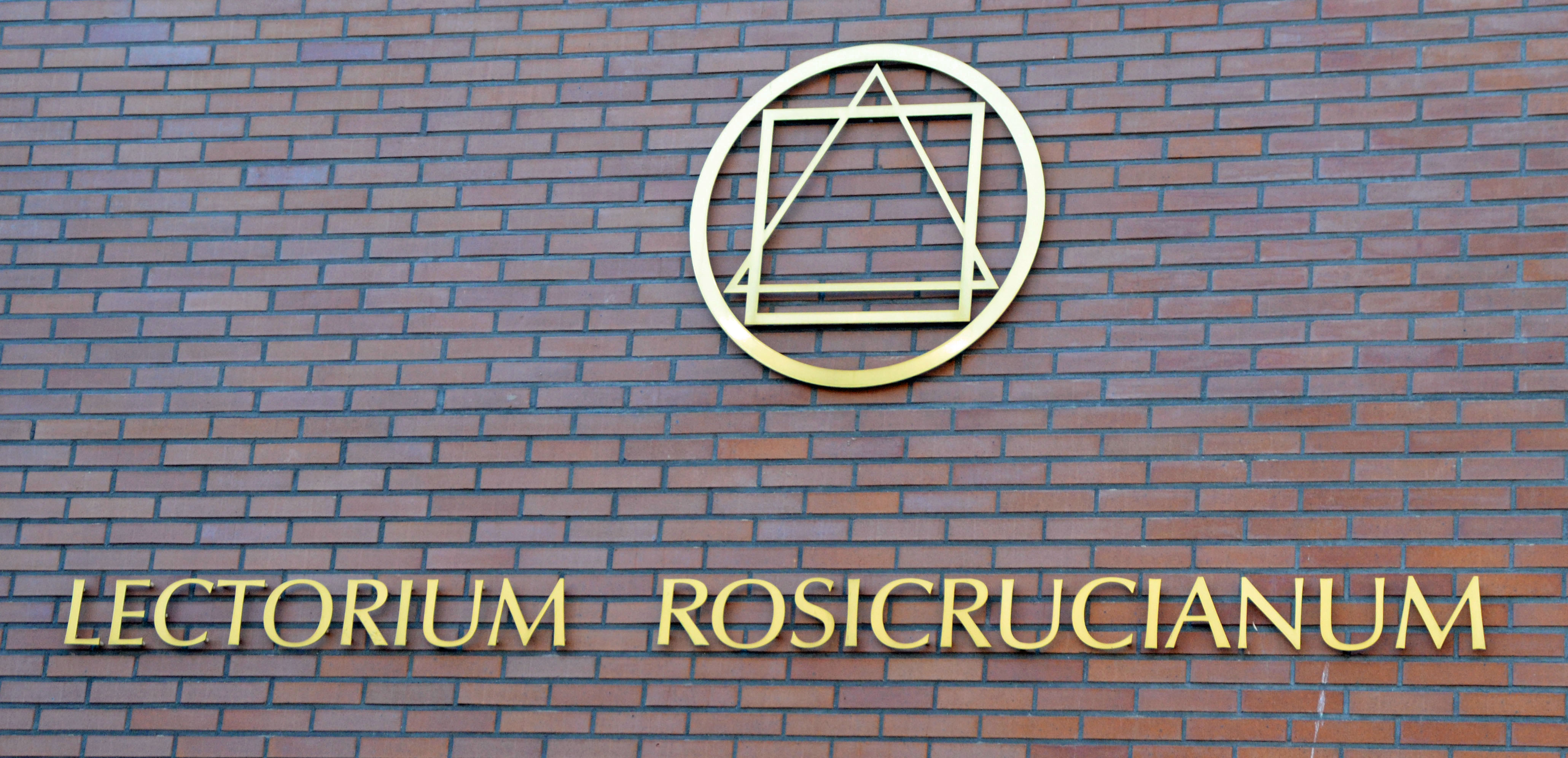 My God, we had stumbled upon the headquarters of the legendary Rosicrucians, one of the most famous secret societies in the world and responsible for more good or evil (pick your choice) than the Masons. A little research later on the boat confirmed that this was indeed what I thought it was. I declined to follow in the footsteps of Dan Brown and dig deeper into the arcana of these mysterious chaps – I didn't want to end up like that poor guy in the Louvre.
Returning to the canal we came across our first authentic Dutch windmill. It was a huge affair that was and still is used to grind grain for the town. Some folks apparently still prefer stone ground over machine milled. It was the first of many to come.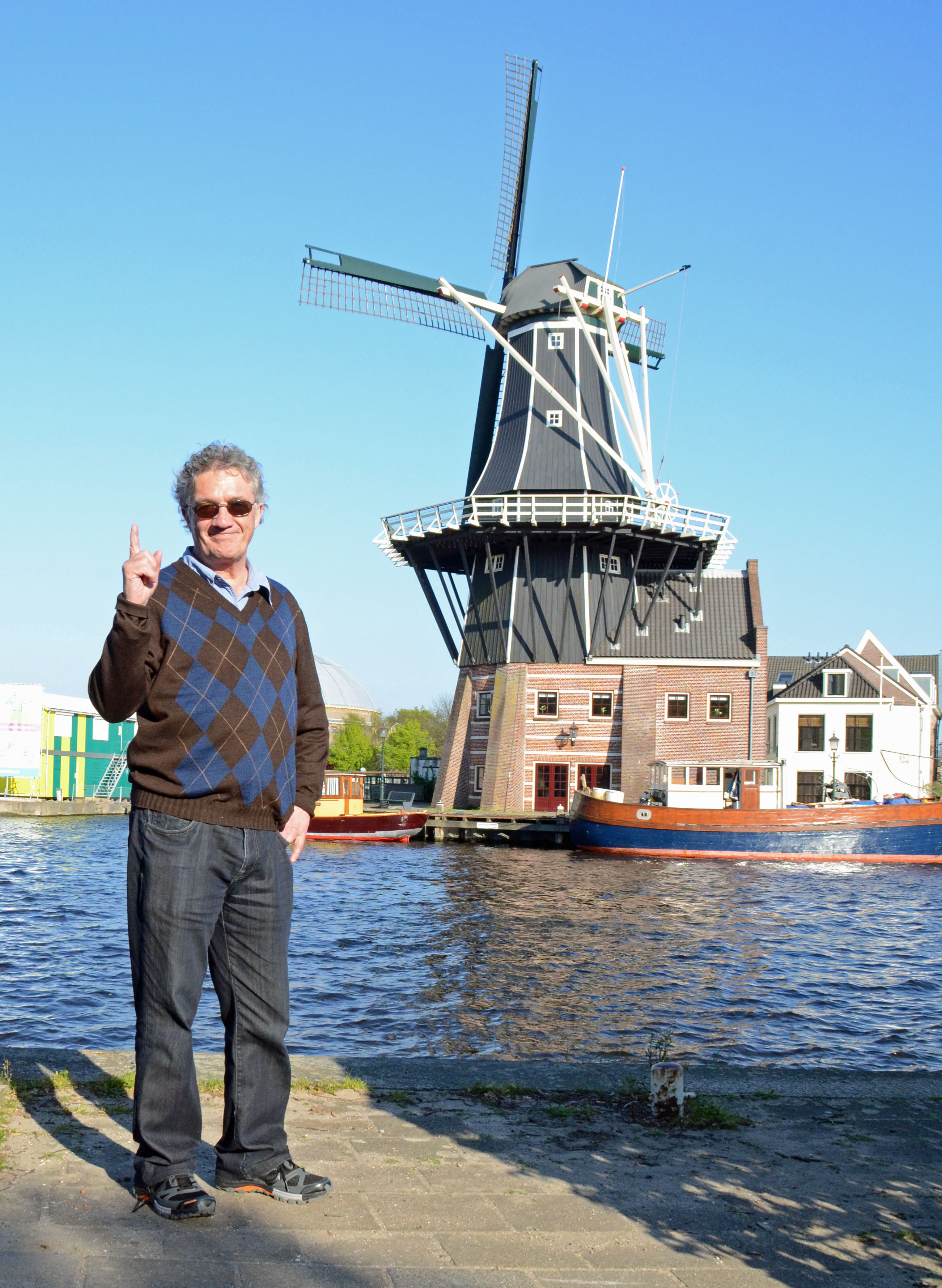 Shortly after it was back to the boat. If this first day is any indication of what is to come then we are blessed indeed. Tot ziens.