Rijksmuseum, Rembrandt & the Five Flies Restaurant
In my previous post I described our first day in Amsterdam which included a visit to the Van Gogh Museum and a boat ride through the city's UNESCO World Heritage Site canals. Day 2 in Amsterdam promises to be just as interesting with a tour of the world famous Rijksmuseum, a visit to Rembrandt's house, a quick trip through the red light district and an evening meal at one of the oldest and quirkiest restaurants in Europe. Please join Alison and me in continuing to explore this great city.
We began with an early morning stroll along the Zuider Amstelkanal which is not far from the citizenM hotel where we are staying.. This is a residential area and many of the residents were out walking their dogs amid the flowing cherries, crabapples, magnolia, golden chain trees and viburnum among others. The greenery is like a balm to my winter weary eyes. The canal is alive with ducks, coots, moorhens and a great blue heron.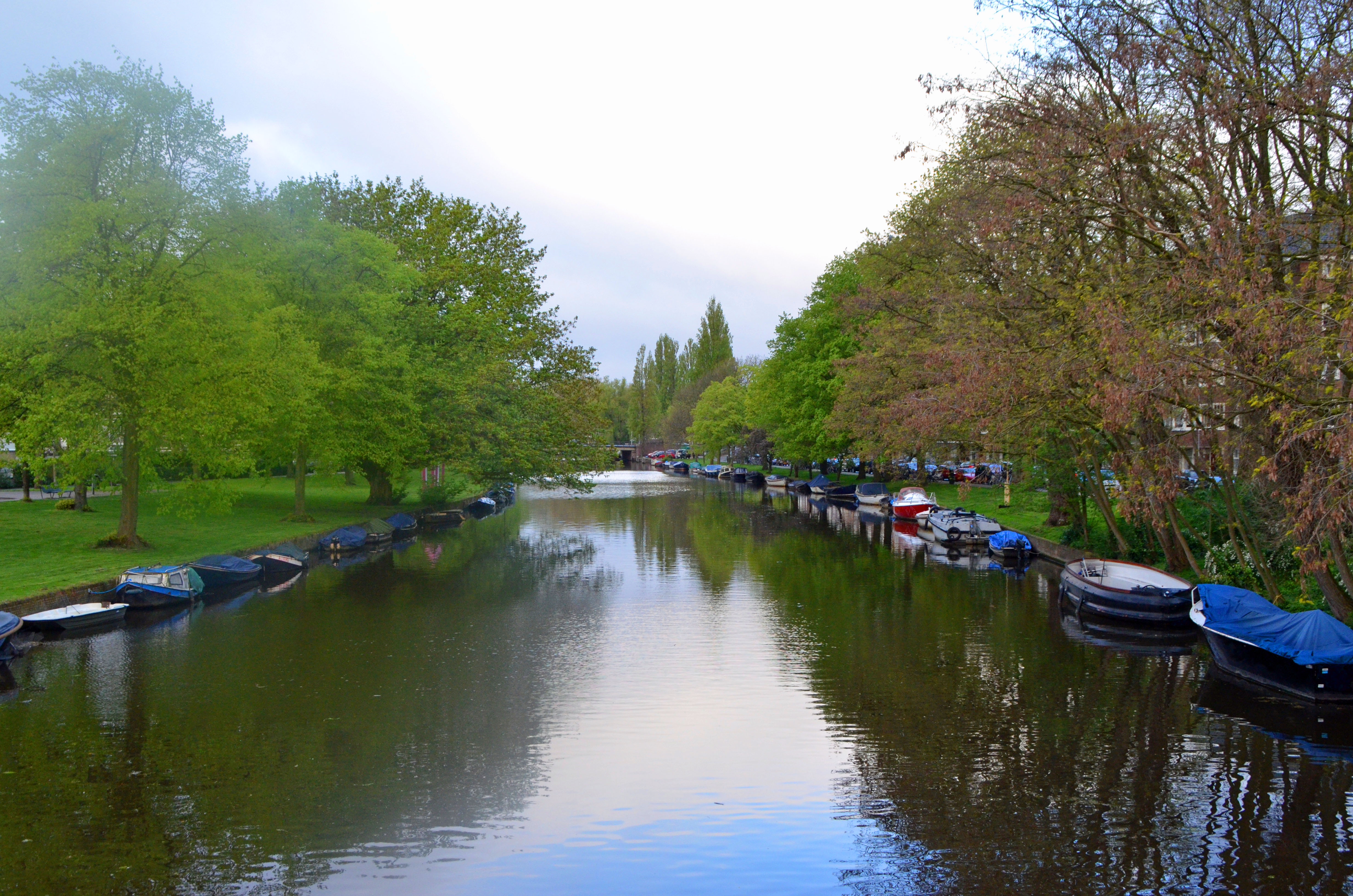 I came across a pair of great crested grebes doing their celebrated mating dance, but by the time I got my camera out they promptly stopped and looked at me like I was crazy. This happened several times until I began to feel like the hapless character in the Looney Tunes cartoon who comes across a frog that dances and sings "Hello my baby, Hello my honey,Hello my ragtime gal", but every time he tries to point this out to others the frog just sits there and says" ribbitt" until the guy goes crazy. Anyway here is a picture of the male faker and a link to a youtube video showing the real thing.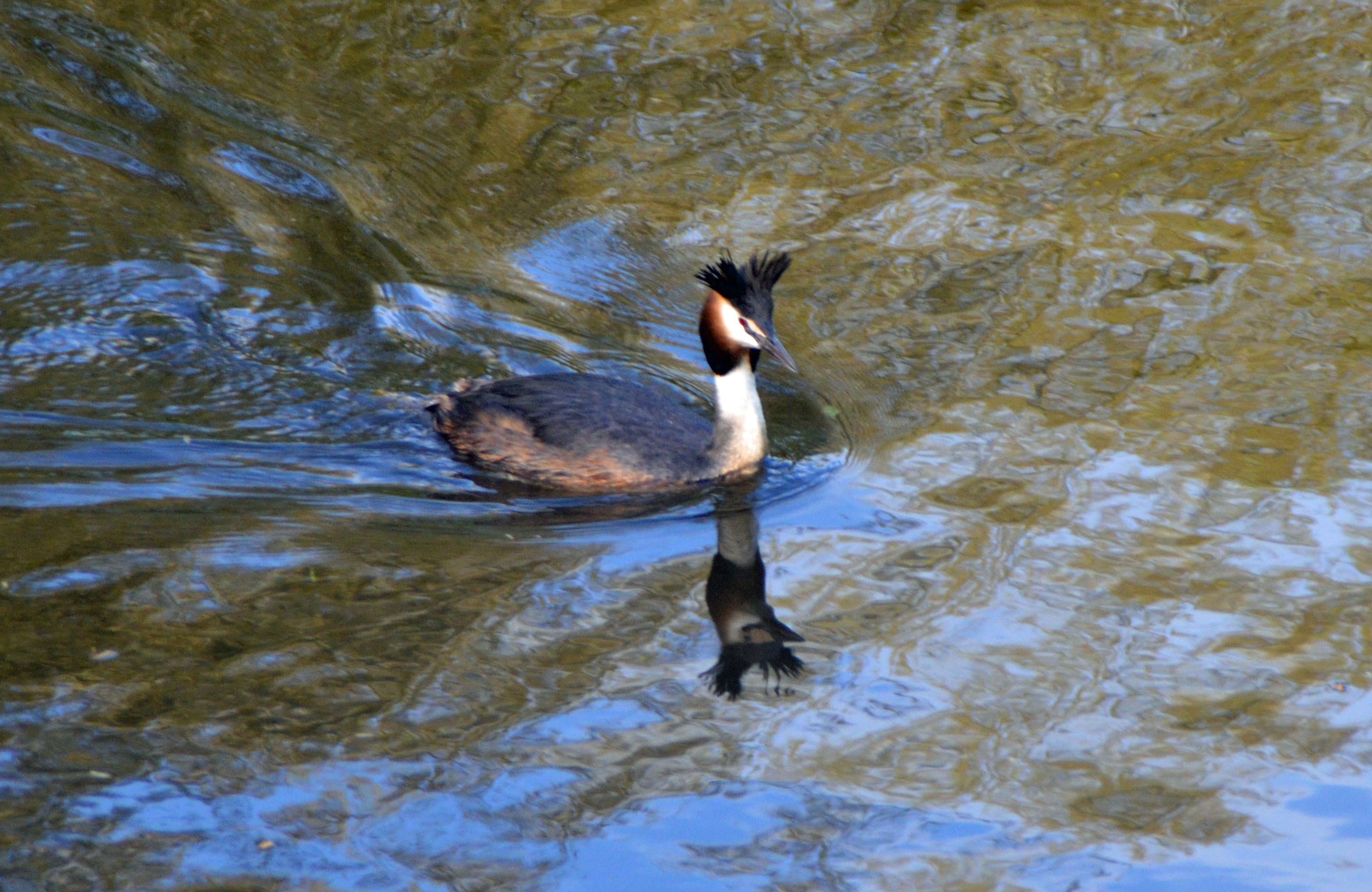 We walked as far as the 1928 Olympic Stadium when the skies opened up and I had to take a tram back to the hotel. Our initial destination today is the Rijksmuseum of which I had memories dating back almost fifty years. When I was about twelve my grandparents took me on a tour of Europe that included visiting a number of famous art galleries. In those days the overwhelming number of tourists were North American and the actual numbers were a fraction of what they are today. One could actually walk right up to the Mona Lisa and study it at leisure without being jostled or urged to move on, as we did at the Louvre. As impressive as the Louvre was my most striking memory of that trip was walking into the Rijksmuseum and being overwhelmed by the majesty and shear size of Rembrandt's The Night Watch. I can date my love of art to that very moment, so returning to the Rijksmuseum was a special occasion for me.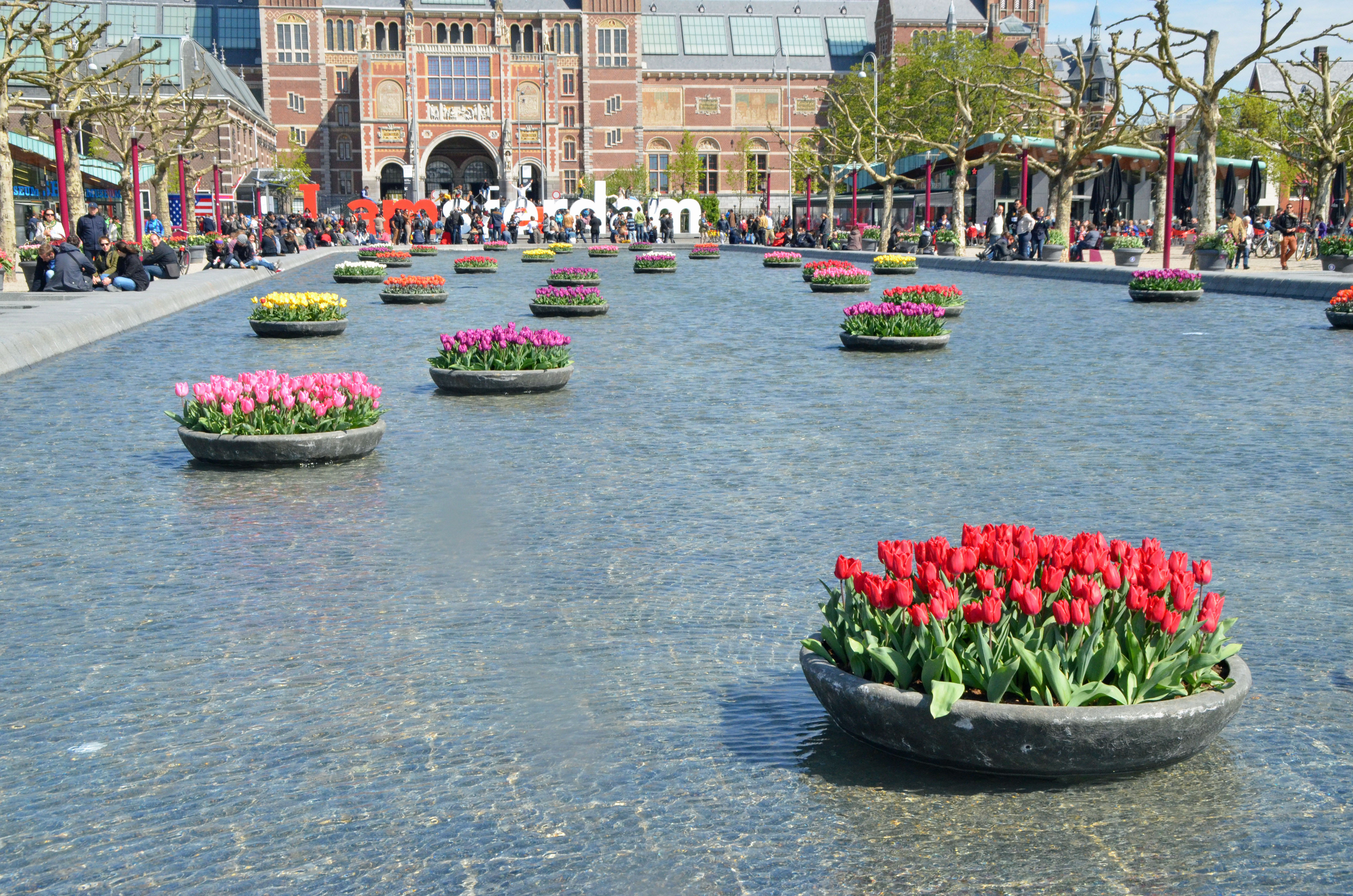 Once I again I used my travel connections to have an admissions pass to the Rijksmuseum waiting for us at the information desk and thus skirted the line for the ticket wicket. We were there close to opening so the lines were not overly long, but there were still throngs of people in the large entrance hall. The Rijksmuseum was one of the earliest buildings to be purposely built to showcase great art. Pierre Cuypers was considered the finest Dutch architect of his time  and he delivered a building that is magnificent both externally and internally. The Great Hall  with its stained glass windows and barrel vaulted ceiling is one of the most visually striking entryways to any museum anywhere. From 2004 to 2013  the museum underwent a complete renovation that restored Cuypers' original design. We almost always get an audio guided tour if there is one and the Rijksmuseum has one of the best I've seen. One audio player offers a variety of tours including a highlights tour with visual walking instructions as well as greater detail than you usually find on such audio players. There are also a number of special effects of which a changing collage of all of Rembrandt's self-portraits from a very young man with great promise to a defeated old soul who achieved and then threw away that promise to die bankrupt and disgraced by lawsuits with jilted mistresses, is outstanding.
I could choose to harp on the unbearable crowds at the Rijksmuseum with a cacophony of languages that reminded me of the Tower of Babel, but that would send the wrong message. There is a reason that people from all over the world want to come to the Rijksmuseum and why they are prepared to put up with some pretty severe distractions to do so – the art, particularly that of the Dutch renaissance is one of a kind. The four exquisite Vermeer's combined with The Night Watch are reason enough to put up with the hassle. We spent about two and half hours at the Rijksmuseum, had lunch at the cafe and then headed out for an afternoon of walking central Amsterdam. By now the line up was longer than that at the Van Gogh the day before, but having finished our visit we had this view.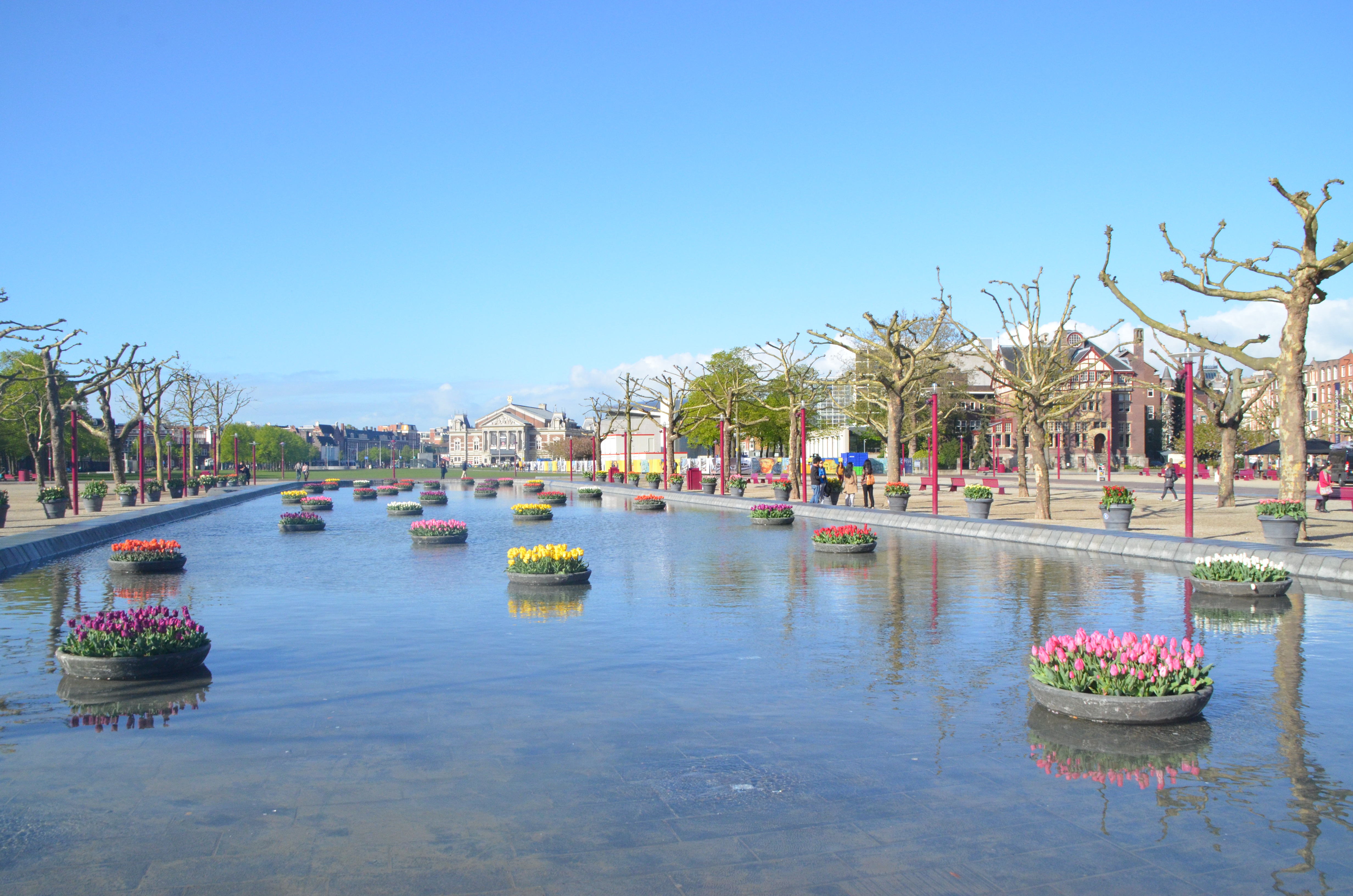 I also got a chance to prove I was in Amsterdam, while Alison was outside.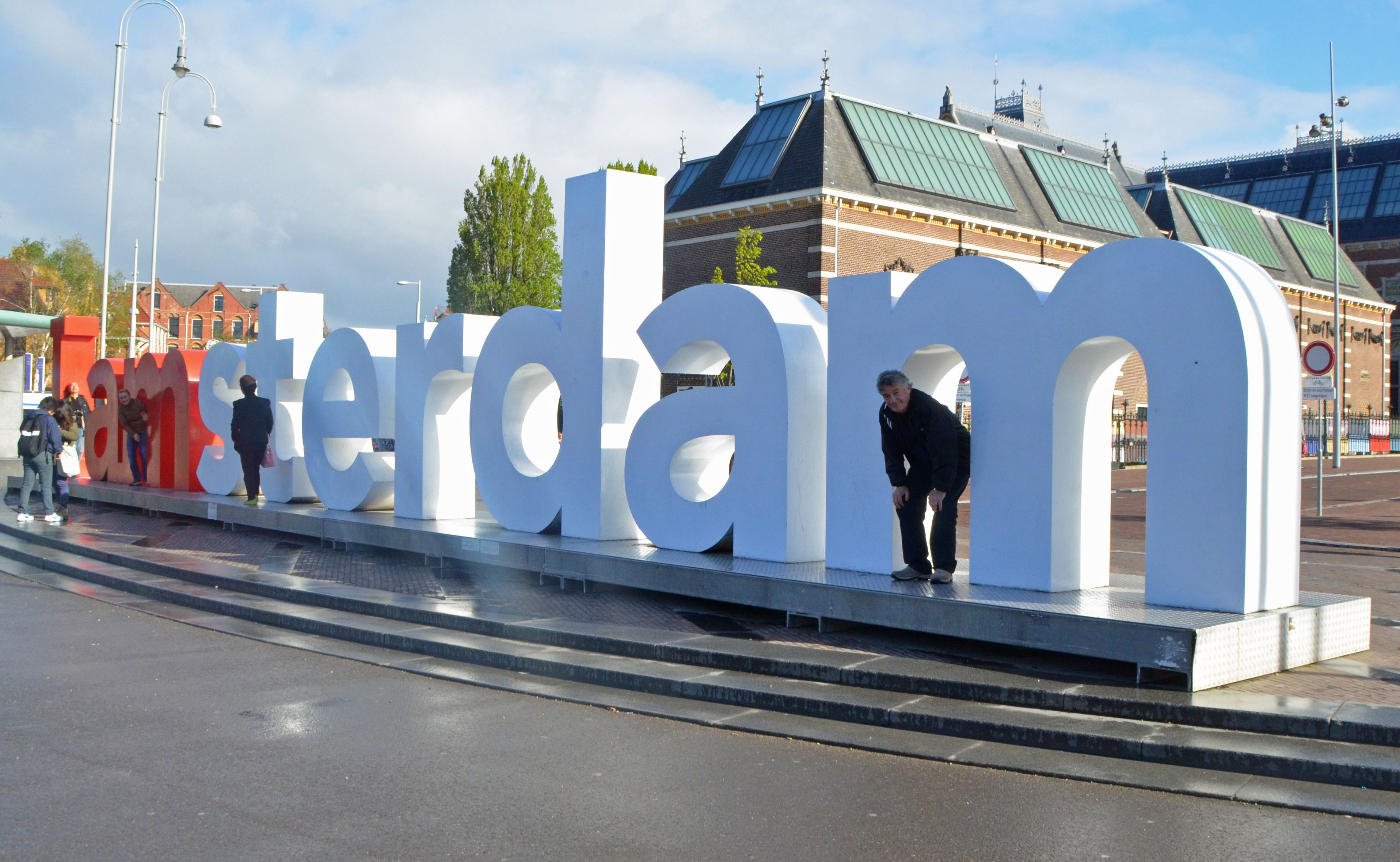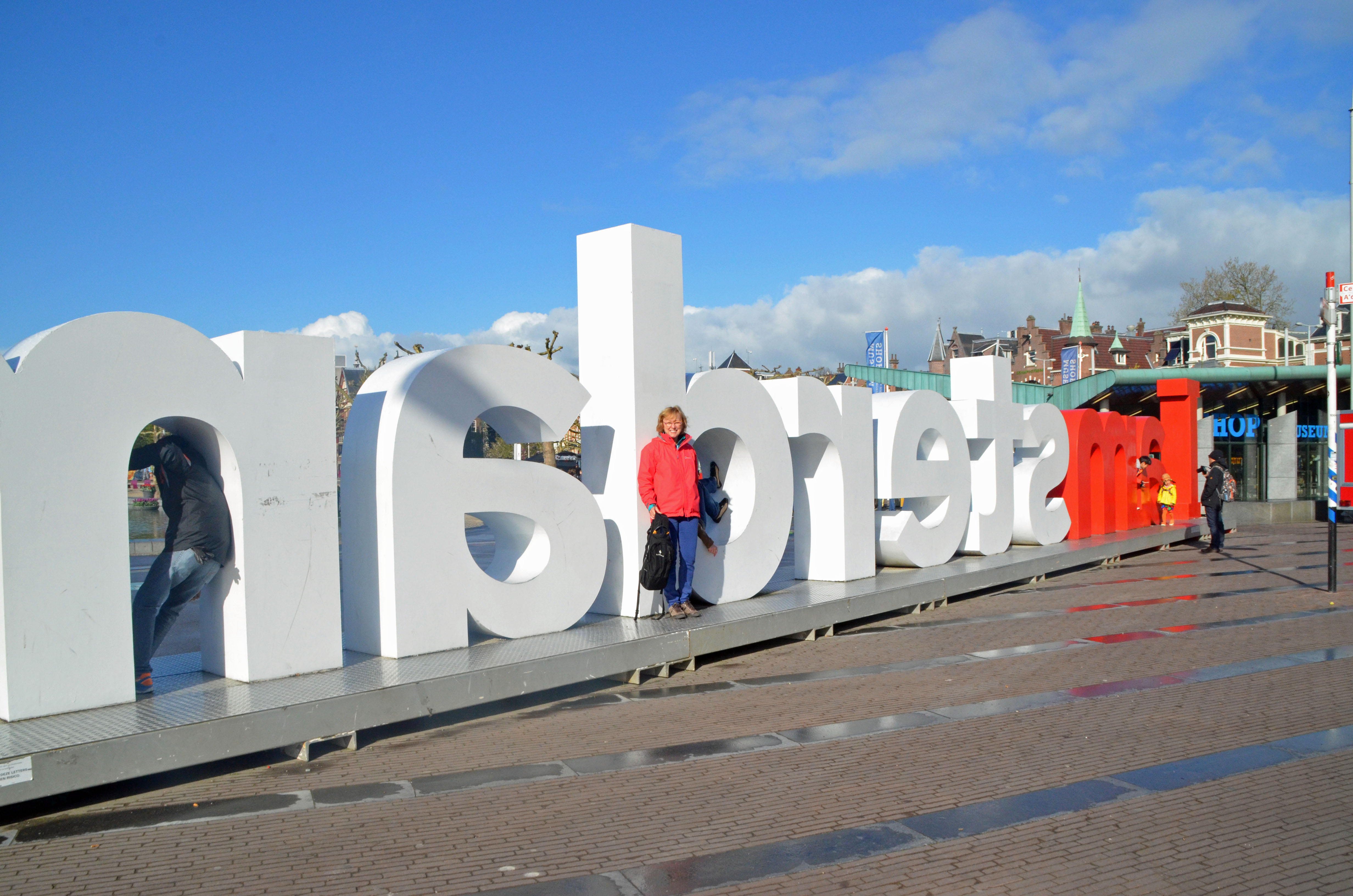 We wandered without any specific purpose along the three inner ring canals Princengracht, Keizersgracht and Herengracht as the weather alternated between light showers and partial sunshine. We came across these two busts on a canal house that were clear indications that the owner's wealth was built on the slave trade. I have come across similar designs in Brussels and London. The look of abject horror in the eyes of these two figures is chilling.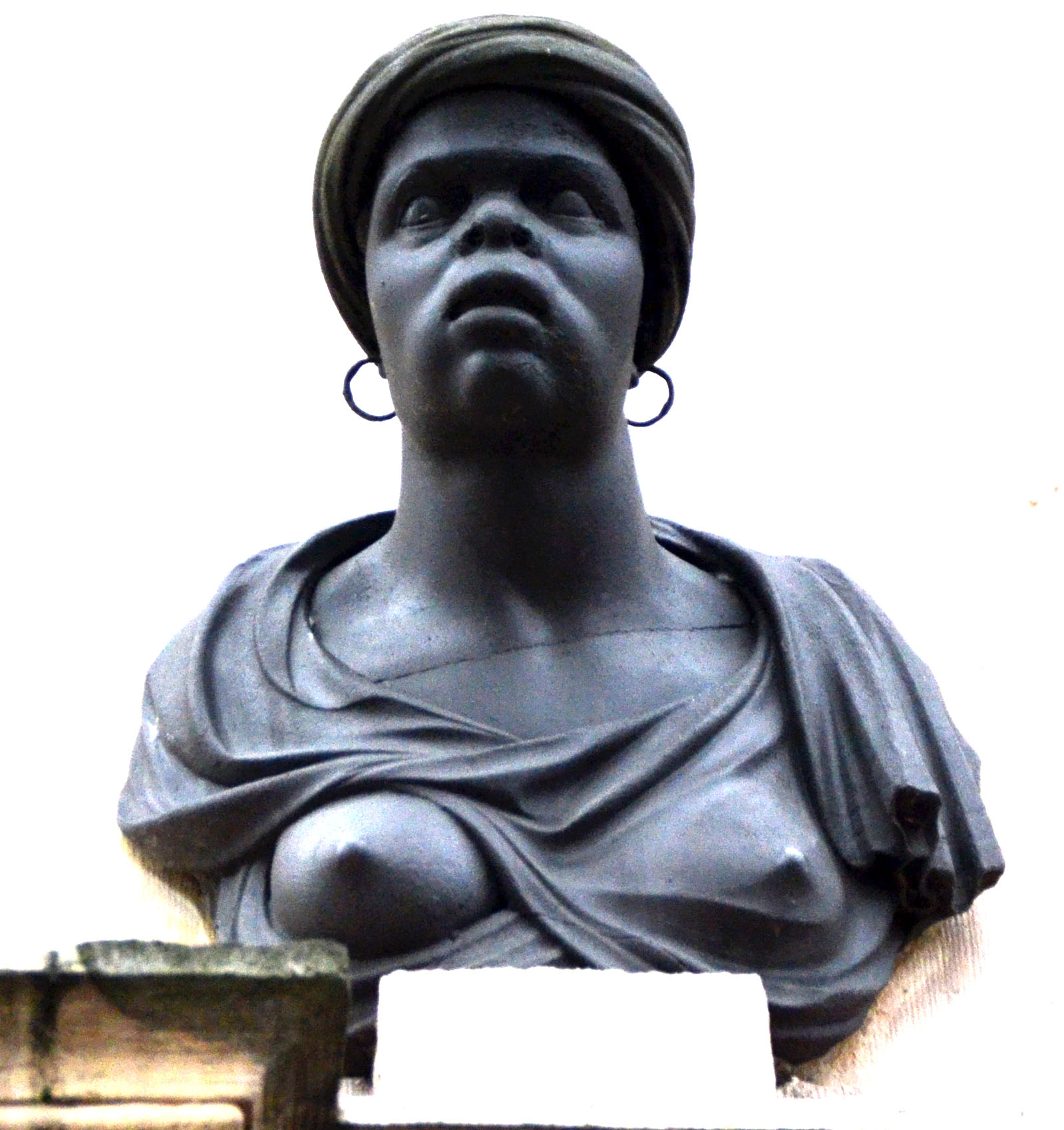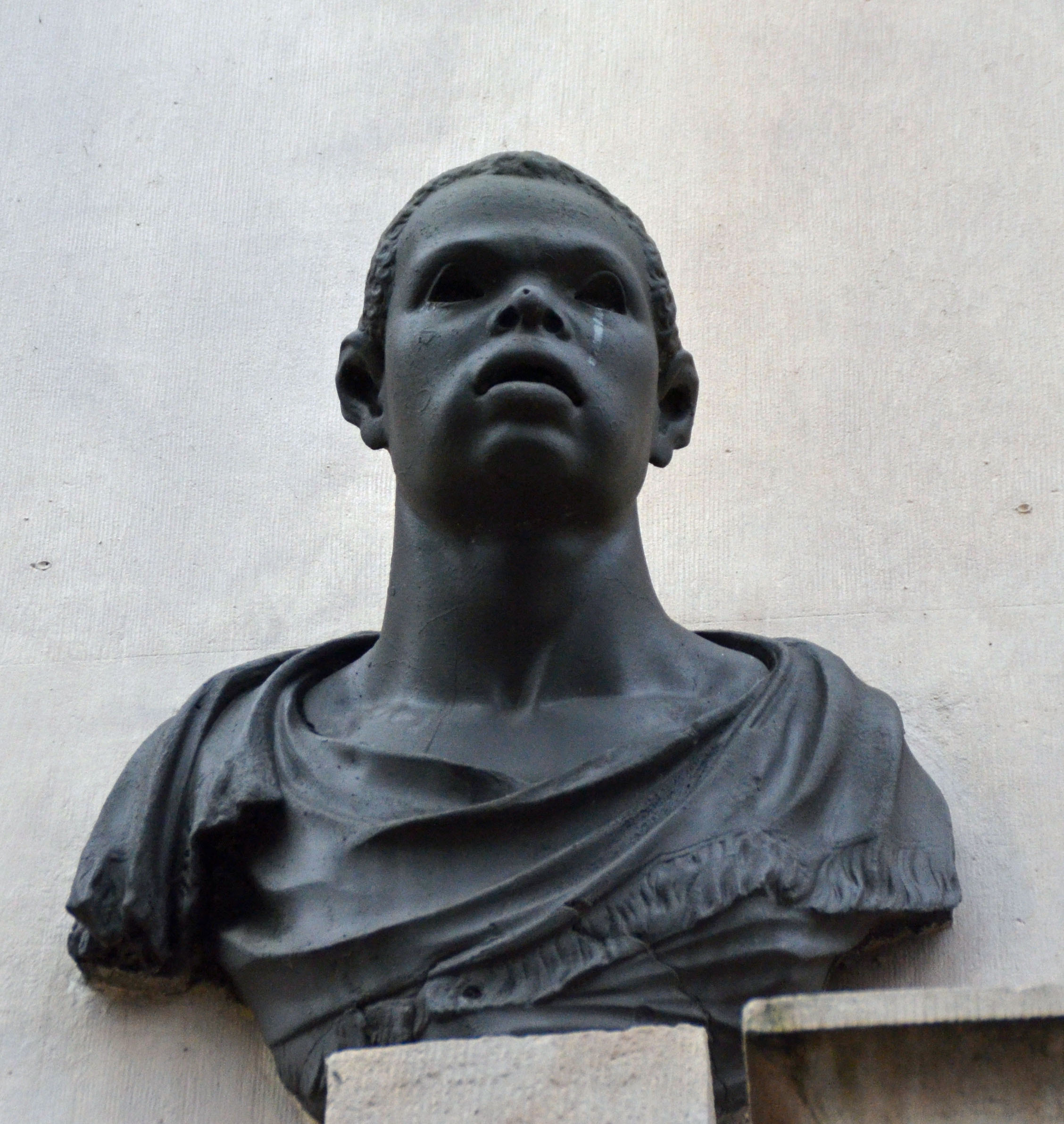 UPDATE:  Years after writing this post I visited the Kura Hulanda Museum in the former Dutch colony of Curacao which is dedicated to the history of the Dutch slave trade which was horrific indeed.
We continued on and came across a much more pleasant scene, the statue of Rembrandt by Louis Royer in Rembrandtplein and the unbelievably good rendition of The Night Watch in 3-D sculpture by the Russian artists Mikhail Dronov and Alexander Taratnyov that plays out in front of it. Created to celebrate Rembrandt's 400 birthday in 2006 the idea behind these sculptures is brilliant as it allows visitors to interact with the various characters in the painting. This was a total surprise to me, but I think it should be on everybody's must see list in Amsterdam, especially after seeing the painting itself at the Rijksmuseum.
Here I am sitting on the little dog that is only a sketch in the real painting so I don't feel guilty about blocking him out of the scene.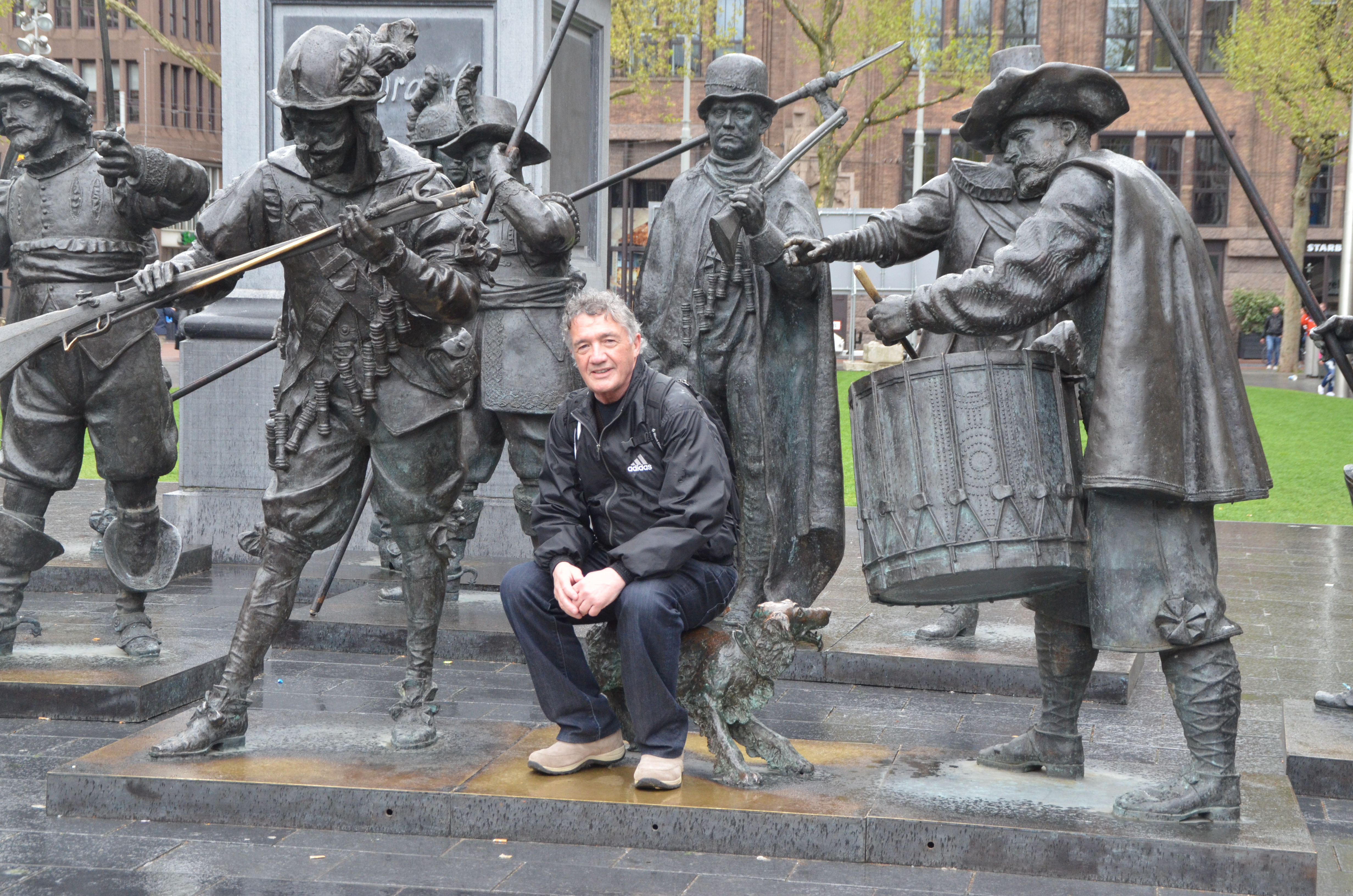 We meandered on, crossing the Amstel River and eventually came to the last Rembrandt siting of the day, his former home on Jodenbreestraat which is now the Rembrandt House Museum, admission to which is included in the Iamsterdam card. We didn't have time to visit, but I took this picture of Alison in front of the house. Note the strange British couple who, as much as they professed an attempt to get out of the picture, made sure they got in it.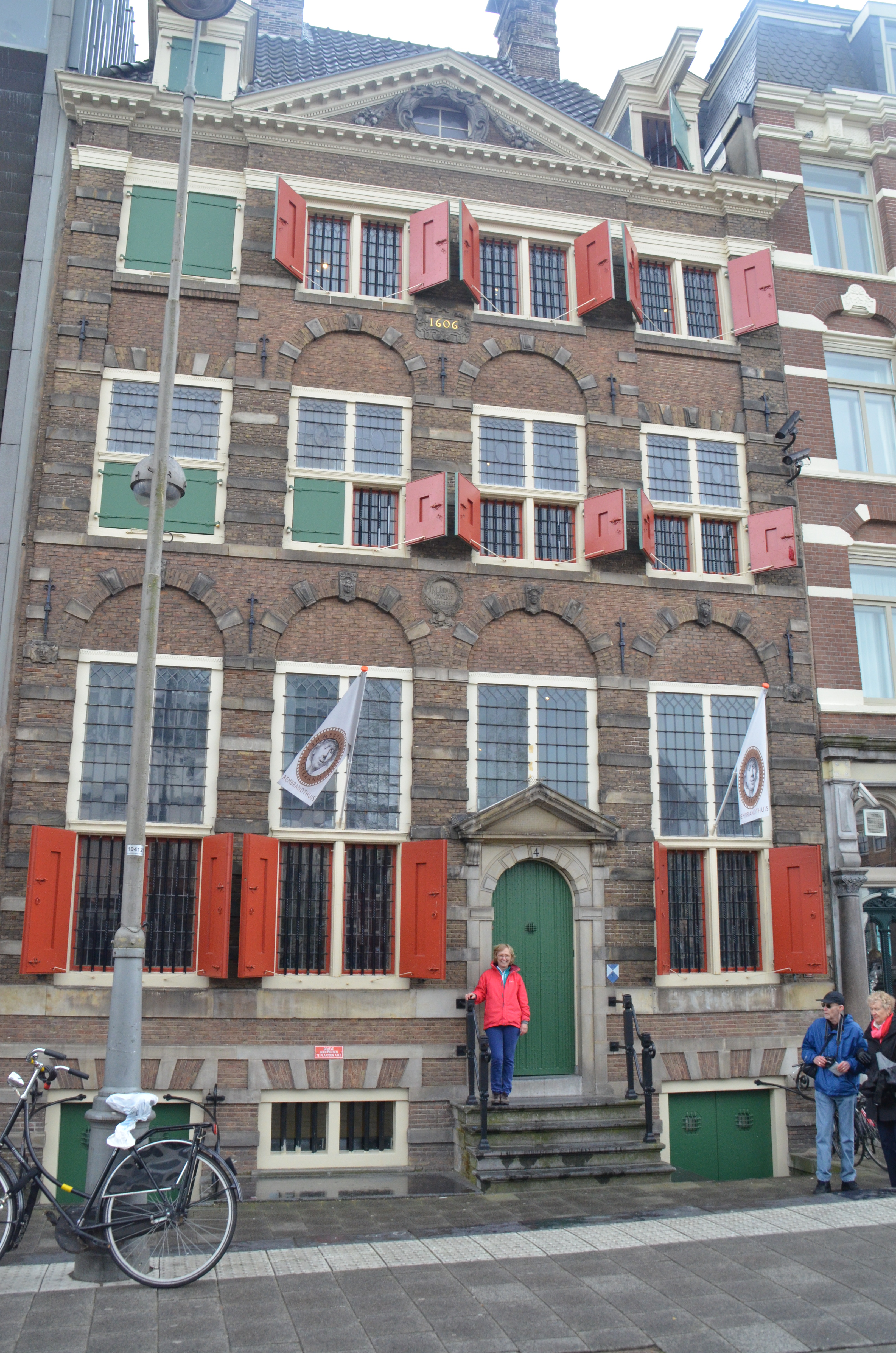 Before long we were well away from the Rijksmuseum area and in the red light district which, as far as areas that are supposed to be sleazy, was pretty tasteful. Yes there are lots of sex shops, the aroma of ganja wafts through the air and there are the infamous prostitutes in their windows. Before commenting on that it should be noted that unlike any seedy area in North America where degenerates are the norm, that is not the case in Amsterdam. Instead there were families with strollers mingling with the coffeeshop customers, elderly people going about their business and of course tourists of all shapes and sizes. There was absolutely no feeling that this was a dangerous place.
About the prostitutes; even though this was mid-afternoon, there were a number on display in their windows. Since I wasn't in the market I didn't inspect them too closely (the fact that Alison was with me might have had something to do with it as well), but those I did see were very attractive, one I would say was beautiful, and as about as far removed from a North American drug-addled streetwalker as you could find. Maybe legalization is the answer. The most interesting site we saw in the red light district was a group of a half dozen English schoolboys, none older than sixteen who were queued up outside the window of a prostitute whose figure was the definition of voluptuous. The door to the prostitute's room was opened and inside was another schoolboy who was clearly the negotiator. Even though it was Good Friday these boys were up to no good. The looks on their faces as they anticipated losing their virginity to what really did look like a hooker with a heart of gold, was priceless. Central Station is not far from the red light district and we were soon back at the hotel. We had dinner reservations at 6:00 for reasons I will explain.
I always feel a bit embarrassed when I give an "Excellent" rating to a restaurant on a Trip Advisor review and then it asks if this was one of the best meals I have ever had in a restaurant. The answer is almost always no, because there can only be a limited number of truly once in a lifetime meals. However in the case of the Five Flies I can say without hesitation that the combination of the food and the overall dining experience at the meal we had tonight did meet that extra level of enjoyment that will make it memorable for a long, long time.
I had never heard of the  D'Vijff Vlieghen or the Five Flies in English and it was not on my radar screen until I asked a friend in the tourism business to recommend a restaurant where we could sample genuine Dutch cuisine. I was well aware of the joke that there is no such thing, but I presumed we would get a recommendation to a place that did the best that it could with traditional Dutch ingredients. She recommended the Five Flies because of its history and helped us get a reservation at the opening time of 6:00, which would allow us a few minutes to explore the restaurant before it became busy. After looking at the website I booked a four course meal, which given the reputation of traditional Dutch cooking as 'heavy', seemed sensible.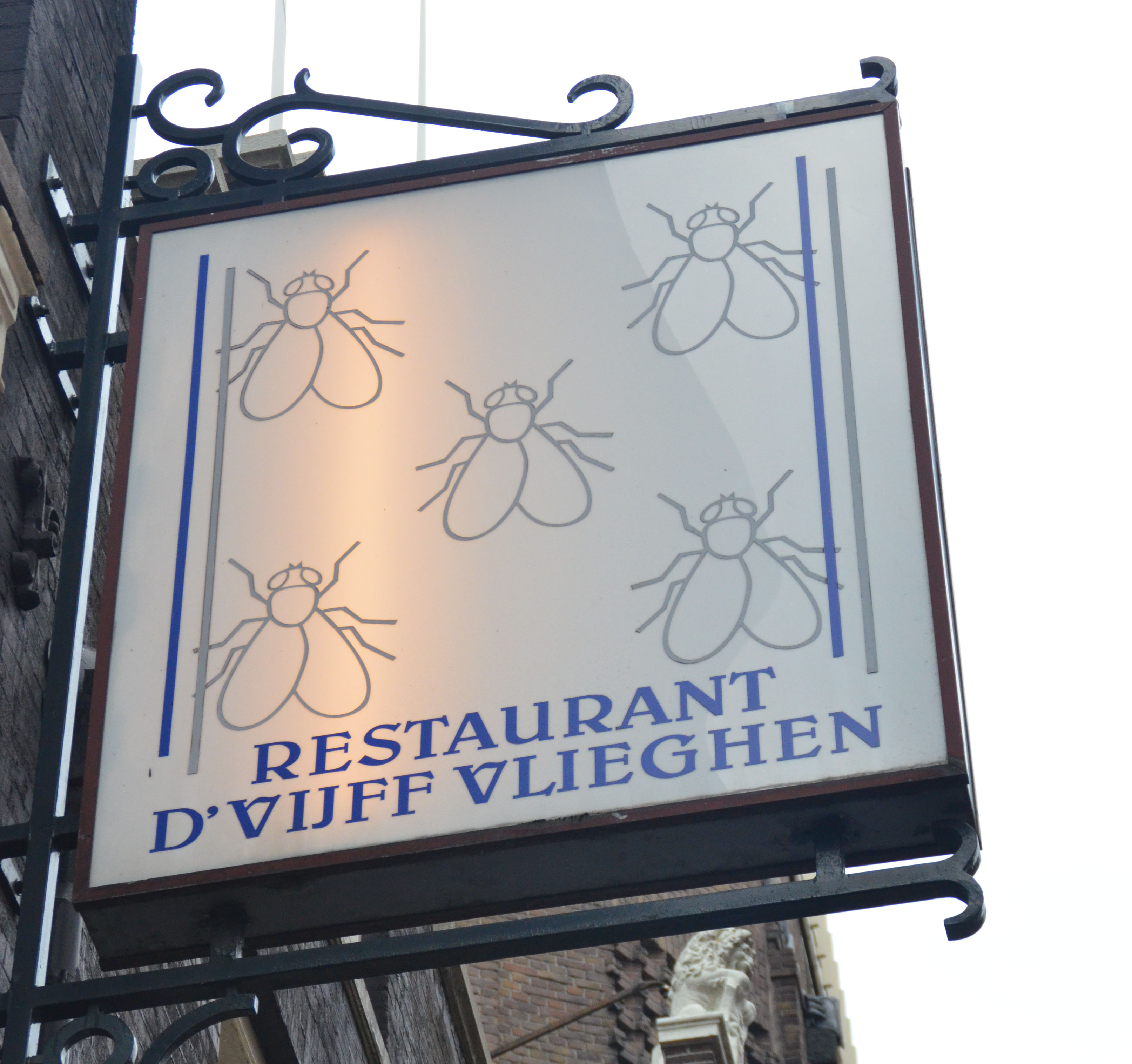 The restaurant is no more than a two minute walk from the No.5 tram stop in Prui, an attractive area of the city between the Museum Quarter where the Rijksmuseum is and Central Station. The buildings in this area almost all date from the 17th century. The entrance was off a small back lane and we were warmly greeted by a hostess who offered us a choice of a number of settings for two in what was clearly a very old building. One choice was a table with two small original Rembrandt etchings above it, so we picked that one.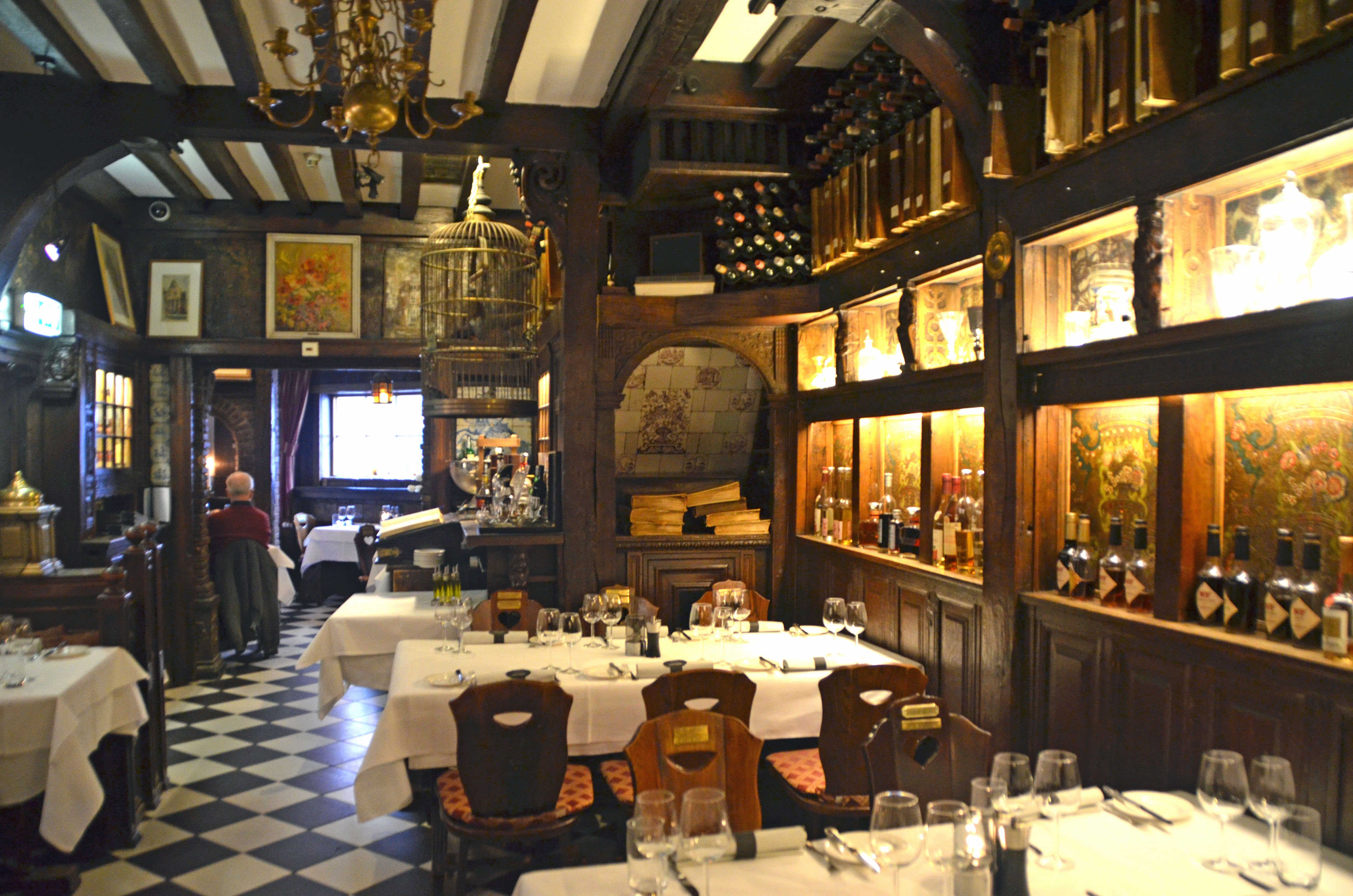 After being offered a glass of cava with an edible hibiscus flower from Australia deposited in the bottom of the glass (our first hint this was not a "traditional Dutch" restaurant) we were asked by the hostess if we would like to take a quick tour of the various rooms in the restaurant and so our adventure at the Five Flies began. She first explained the restaurant's name. The first owner of the building in which we stood was nick-named "The Fly" because he was quick of mind body and spirit or maybe he just ran around like the proverbial blue-arsed fly.  He eventually assembled five adjacent buildings and so the founder of today's restaurant named his enterprise Five Flies. The various rooms are more like a private museum than anything I have encountered as the owner was an inveterate collector and each of the rooms has a theme, as for example the glass room with fine examples of early Dutch glass.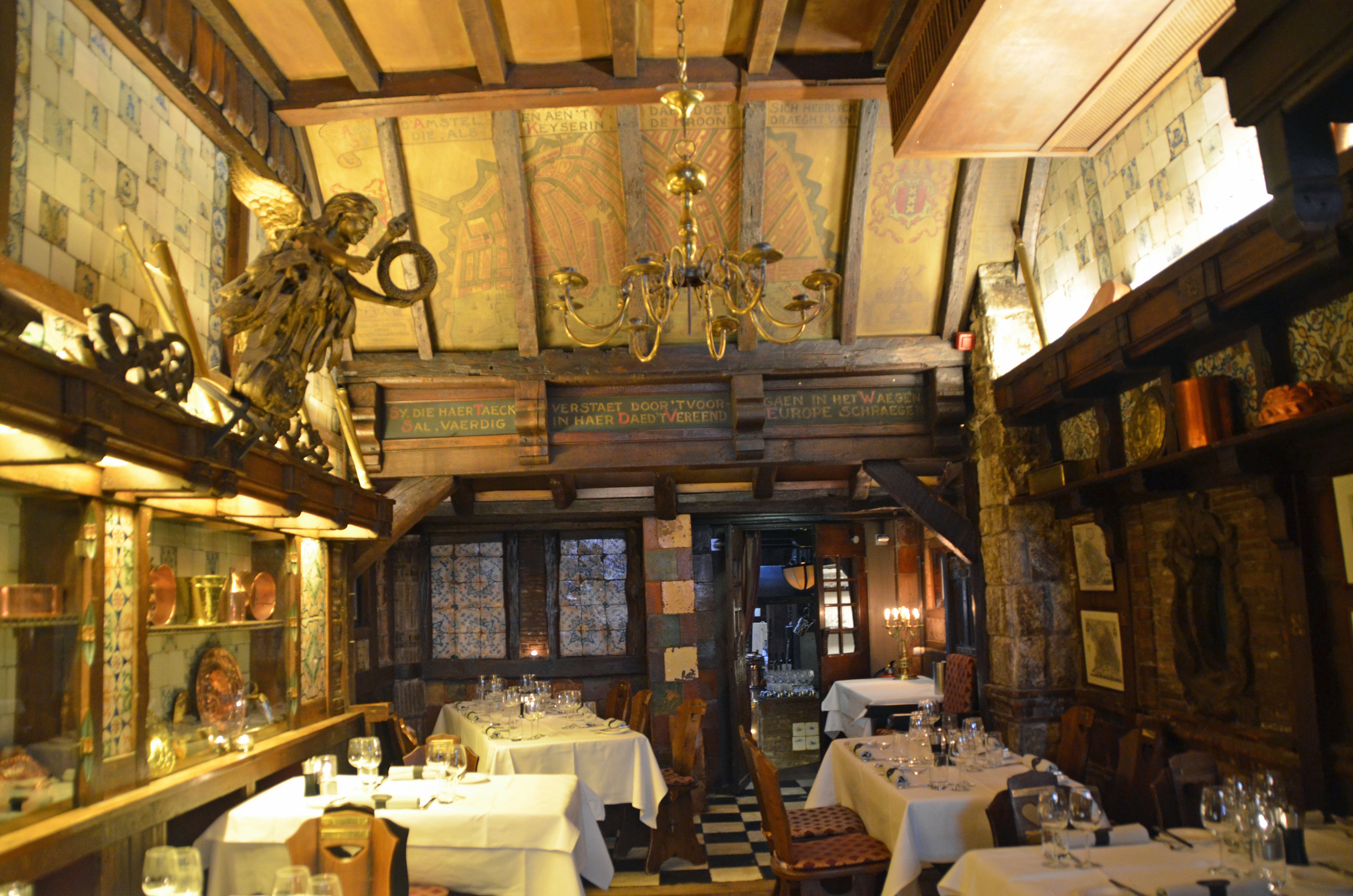 The owner was also a great self-promoter who travelled far and wide to beat the drum for the Five Flies and it worked. The place is lined with dozens of guest books dating back to the 1930's. Our host brought out a couple and what she showed us was amazing. Here is a series of drawings by Walt Disney who visited shortly after Alice in Wonderland came out.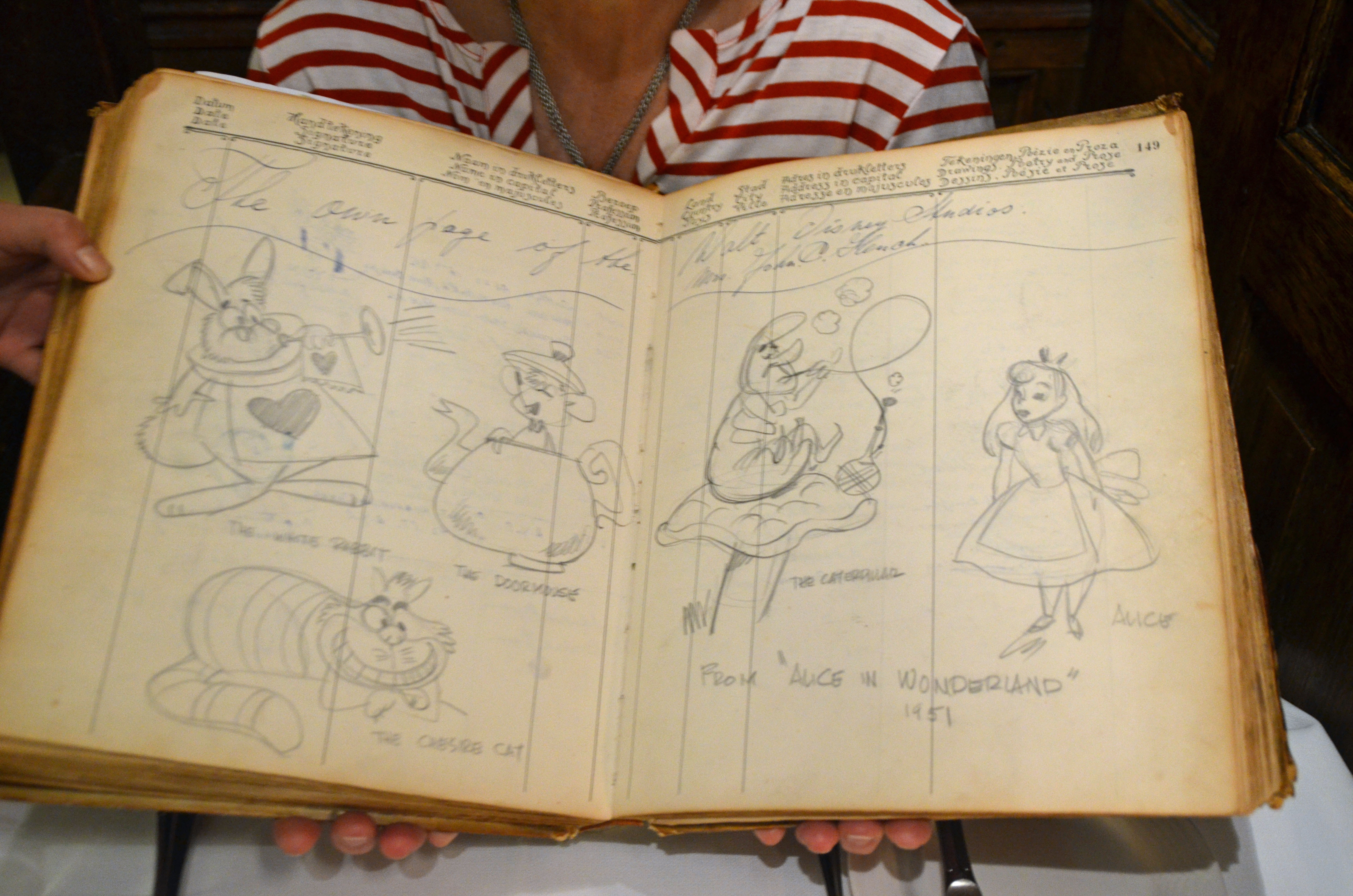 Here is another with drawings by the great Walter Lantz, creator of one of my favourite cartoon characters, Woody Woodpecker.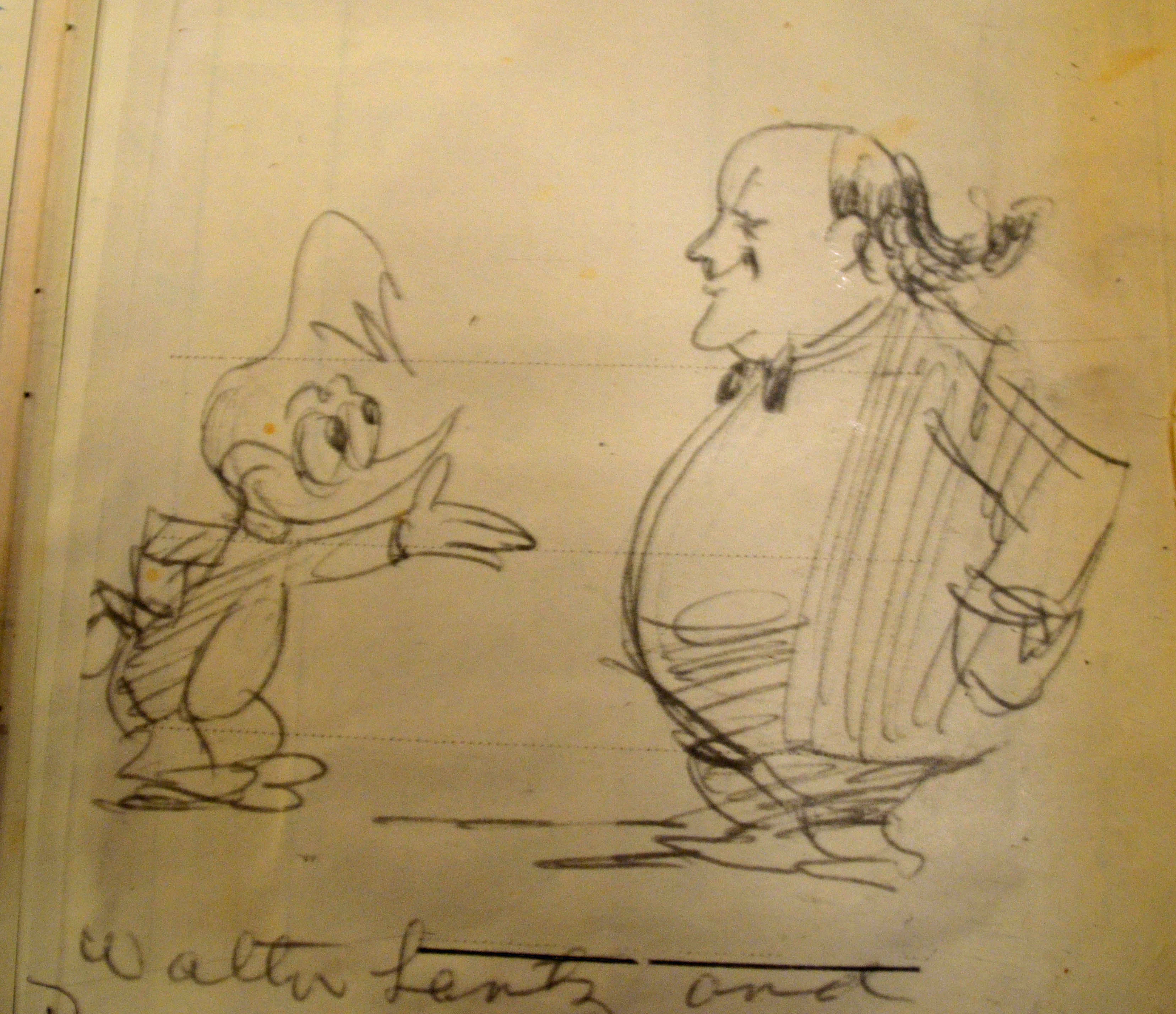 By now other guests were coming into the restaurant and the hostess was glad to show them the guest books as well so weren't getting any special treatment.
Unfortunately for the original owner, as with many grand schemes, it was just too much and he eventually went bankrupt. The restaurant is now owned by the Spanish NH Hotel chain, but it is hands off as far as the restaurant's operation is concerned.
So there was a lot of tradition in this place, but did it extend to the food? The answer is resoundingly yes and no – the food at The Five Flies is as cutting edge as any we've had anywhere. The last thing I expected was to find that the chef was clearly a disciple of the legendary Catalan chef Ferran Adria who invented 'molecular gastronomy' or deconstructivist cooking at el Bulli, outside Barcelona in  the 1970's.
In total we had five plates including the amuse bouche and each was not only beautiful to look, but contained a myriad of flavours that seemed to explode on the palate. As always seems to be the case when wanting to photograph food plates my camera did not cooperate (despite having a food setting), so I'll do my best to describe each one.
1. Amuse bouche -a small plate of shrimp tartare, Japanese seaweed and cucumber puree, topped with a tiny sesame seed cookie that packed a huge punch of flavour, a chef's creation airy lemon marshmallow and a scampi tail over and exquisite white sauce.
2.First course – gambas over chickpea puree topped once again with one of those delicious tiny sesame cookies, tuna tartare garnished with radish slivers, and to add colour and texture to the presentation, a small portion of the Japanese seaweed as described above with tiny dollops of apple puree for added depth in flavour artfully completing the presentation.
3. Second course – oven roast pulled pork, oven roast cauliflower, morels over a beet root reduction.
4. Third course – the most succulent tender lamb loin we have ever tasted, drizzled with mint gravy, served with a rich and creamy green pea, mint and hazelnut puree, white asparagus and tiny oven roast potatoes.
5. Dessert – orange pound cake, with melon gelatine, lemon powder sugar and small scoop of chocolate ice cream which had the depth of flavour of a good chocolate pate, with the chilled creaminess of the best gelato.
It is important to understand at this point the portions were not large, but just right given the variety and texture of the dishes. Each plate had its own wine pairings with selections  from around the world including Europe, the New World and South Africa.
I would be remiss not to mention the remarkable service from Chrystos, our Greek server, who was very knowledgeable about other famous restaurants around the world. We had a good discussion about the merits of Canadian Costas Spliliades and his explosion of  Milos restaurants around the world from his original base in Montreal. We both agreed that it was mostly overpriced hype.
So was it expensive? Not by the standards of some of very best meals I have had over the years in New York. London and Barcelona, but apparently too rich for the Dutch who leave it mostly for the tourists. That's their loss. Thank you Henny for the tip and I suspect you had a little chuckle in sending us to the most nontraditional Dutch cooking to be found in Amsterdam.
The Rijksmuseum to start and the Five Flies to finish – what a great way to end our first full day in Amsterdam. Tot ziens.
Tomorrow we embark upon our bike and barge tour with Cycletours. Please join us.