Laval – Finding a Rose Among the Thorns of Montreal's Sister City
What you might ask what am I doing in Laval, Quebec, a city so overlooked that Mississauga looks famous in comparison? Golf fans will know that the RBC Canadian Open is being played this week in Montreal. That being the case the Golf Journalists Association of Canada holds its annual meeting and golf tournament in the same city on the Monday before the tournament. This year we are playing at one of the most revered old courses in Canada, Laval-sur-le-Lac. However, before I get to the course I have a morning to kill and have decided not to visit Montreal, but to see what I might stumble upon in the city of Laval that will revise my opinion of it; you see I didn't get off to a good start yesterday.
Freelance writers are notorious cheapskates. Usually I would choose my own accommodation, but I wanted to stay where most of the others were – I only get to see most of these guys once a year. It seems a contest started to see who could find the cheapest place to stay in Laval and at $65.00 a night the Olux hotel was the winner. So I booked in for two nights, not even bothering to look it up on TripAdvisor first. I don't know if the letter O added to Lux means the absolute opposite of DeLuxe, but after a night here I am convinced that's what it must mean.
I picked up a car at Dorval and drove the twenty minutes to the Olux on Laurentides Boulevard which is essentially a mixed bag of heavy and light industry, some sketchy bars and strip joints, a few chain restaurants and not much to make it attractive to any but the weirdest tourist. Driving into the place there is a huge picture of a very modern looking room that would be not seem to fit the shabby exterior.  Here is the Olux from the outside.

Instead of walking into a lobby, you go through a door and hand your ID and credit card to a guy hiding behind I presume bulletproof plexiglass. On either side of him is a large selection of beer, wine and liquor – since when can you buy hard liquor at the front desk? Now comes the bait and switch – for only $10.00 more a night I can get a 'new' room. I go for it and also pay a $20 deposit for a two-bit room key and am handed the TV controls as well. Taking one last look at the sign stating they are not responsible for theft and vandalism I head for the room. It is up a run down set of stairs that leads to a covered glass hallway which is hotter than a sauna. As I head to my room I pass an open window with a naked women having a shower – I'm not making this up. Only later on reflection and seeing what appeared to be ladies of the night hanging around outside a bar next to the hotel, does it dawn on me that maybe it was intentional and an invitation to join her in the shower.
The room itself it tiny, but OK – definitely a step up from the exterior, but nothing remotely like the room pictured on the hotel entrance. It is hot as Hades and the very noisy air conditioner takes a while to make it bearable. The TV has a button switch from TV to XXX – interesting. At least there is a fridge and declining to patronize the front desk liquor store I get a few Molson Exports at the depanneur down the street and a Black Angus sub from Quiznos across the street. It is on my return that I note the two scantily dressed ladies outside the bar.
At night the lights outside are turned on so bright that in combination with the security cameras over almost every room it feels more like a stalag than a hotel. I close the drapes and fall asleep to the gasping of the air conditioner.
Waking early – before six, I wonder what the hell I'm going to do until the meeting at 2:00 that afternoon. I wander over to the lobby and get a glass of juice and a cup of coffee to ponder my dilemma and then it hits me – "Hey Dale, you are actually a travel writer – find something good to write about this place (not the Olux, but Laval)!" So I'm off shortly after 6:30 to explore. I did spend fifteen minutes on the web looking for Laval's great attractions and a lot of them seem to involve some kind of Latin word torture – funtropolis, centropolis, cosmodome and a movie theater so big it is a colossus. However looking at Google maps I do see that there are a fair number of green spaces and roads that completely circumnavigate Ile de Jesus whereon Laval is located. So I'll drive these and see what I see.
Two attempts to buy a map at gas stations draw a quizzical look from the clerks – "Avez vous un carte de Laval?" is met with an "of course not you idiot, don't you have a smartphone?" look. Yes I do, but I prefer the tactile presence of a map. Who knew that gas stations no longer sell maps? OK, I'll play it by ear, starting on the south side of the island. After accidentally crossing over to Montreal I re-enter Laval and take Boulevard Levesque Est which stays close to the river. Even though everyone thinks Montreal is on the St. Lawrence River that technically not the case. The river on the south side of Montreal is the St. Lawrence, but the one on the north is Riviere des Prairies. As far as Ile de Jesus goes, its south side is Riviere des Prairies and the north side Riviere des Mille Iles. If you look at a map you'll see that what is actually going on is that the Ottawa River tries to merge with the St. Lawrence at the west end of Montreal, but doesn't quite manage it and splits in two and then divides again into the Riviere des Prairies and Riviere des Mille Iles where it reaches Ile de Jesus. So that's how you get three different rivers passing Montreal.
The city itself is named after the first bishop of Quebec Francois de Laval, who I was surprised to learn has just been made a saint by Pope Francis – how did I miss that? Jesuits were here even before Maisonneuve founded Montreal, but it seems that not much went on for about two hundred more years other than farming. Now at over 400,000 it is Canada's 13th largest city. It has certainly been flying below the radar. So I'm not really sure what to expect on my circuit de Ile de Jesus.
Boulevard Levesque is a strange amalgam of the old and the new with some really big houses and some run down ones. Quebecois love gardening and most are really well landscaped and some are a riot of summer blooms. There are frequent views of the river with a number of areas to park and walk to the river's edge. My first stop is to check out this power station. I've always been a sucker for photographing dams, whether made by humans or beavers.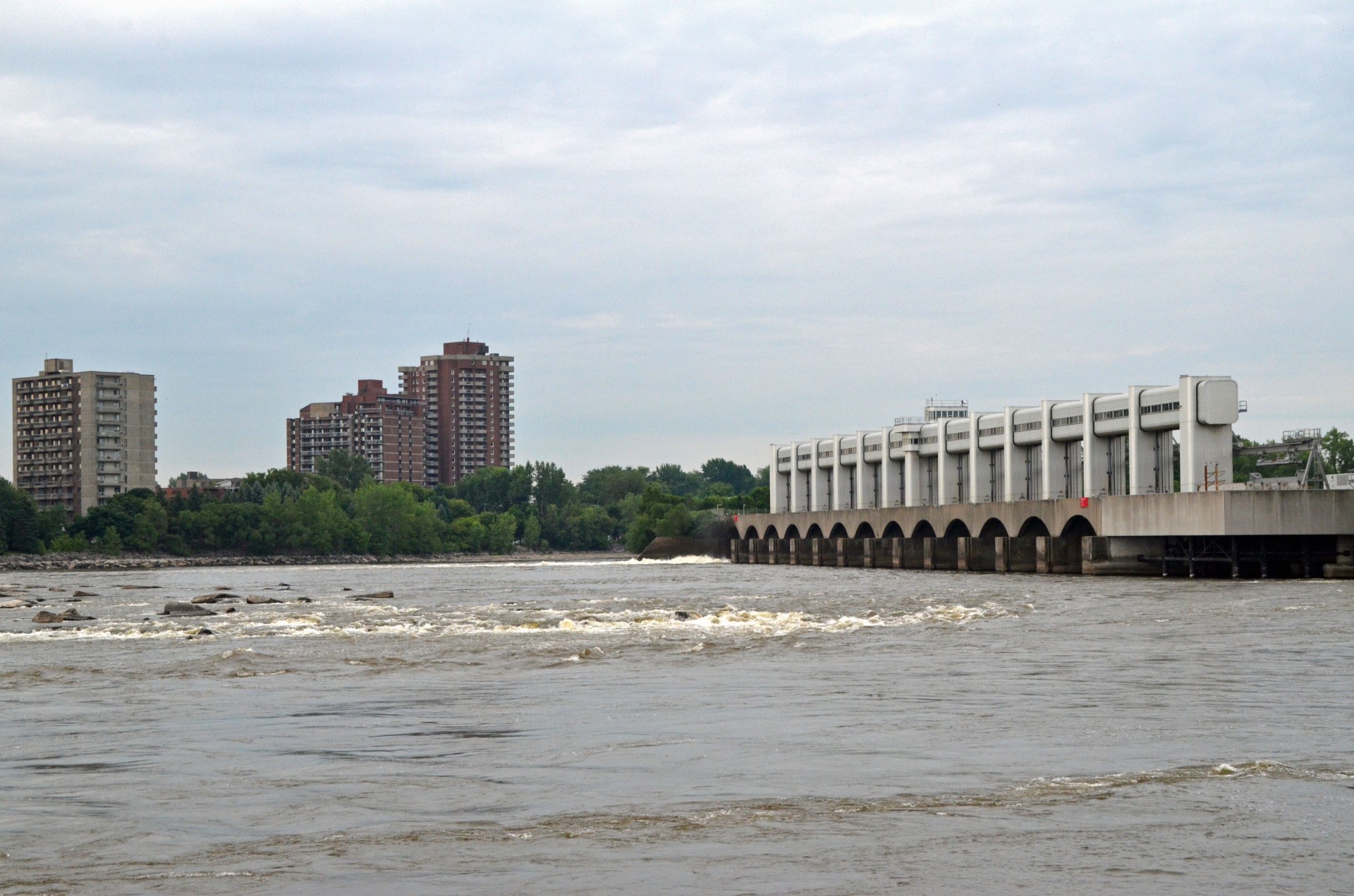 Further on I got this shot of the Olivier-Charbonneau bridge

After passing this bridge the countryside began to turn from urban to rural. Although the overwhelming number of houses were modern there were some such as this one that clearly dated back to seigniorial times in Quebec.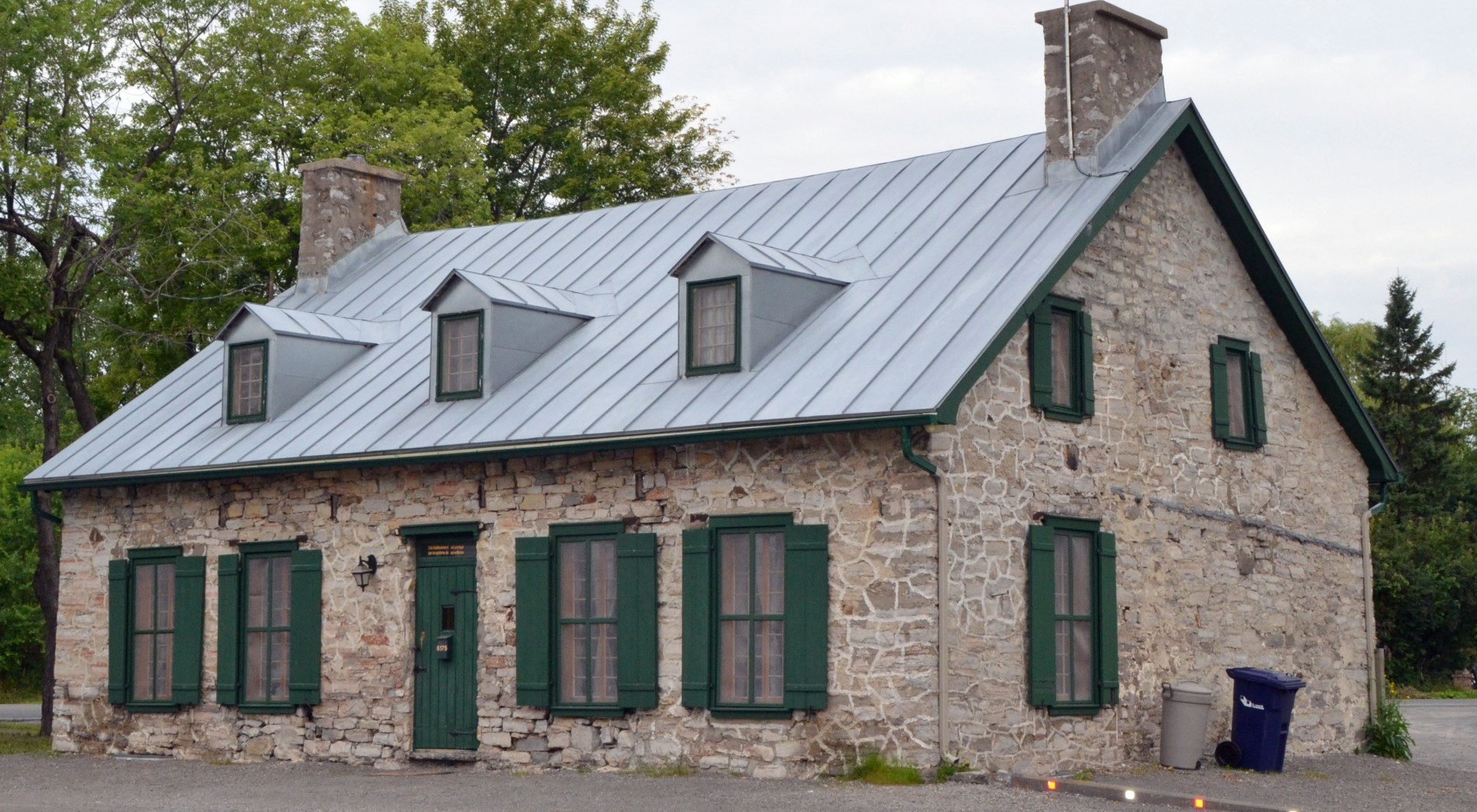 By the time I reached the end of Boulevard Levesque on the eastern tip of Ile de Jesus I was definitely in the country. Here is a few of Pointe aux Trembles from Ile de Jesus.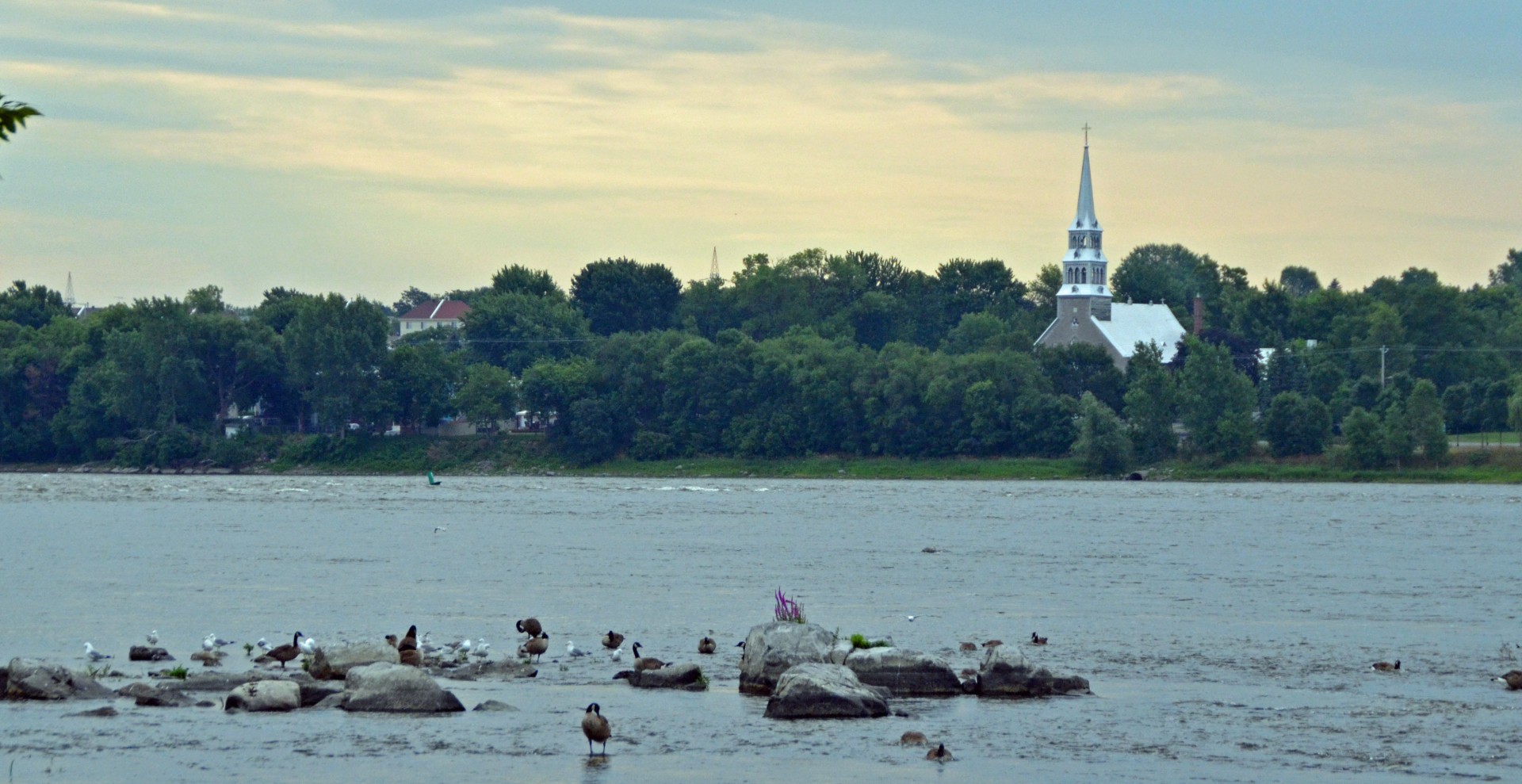 Boulevard des Mille Iles which follows the northern shore of the island was far more interesting than the south shore. There were some real large dairy farms and the pastoral nature of the land reminded me of Ile de Orleans just outside Quebec City.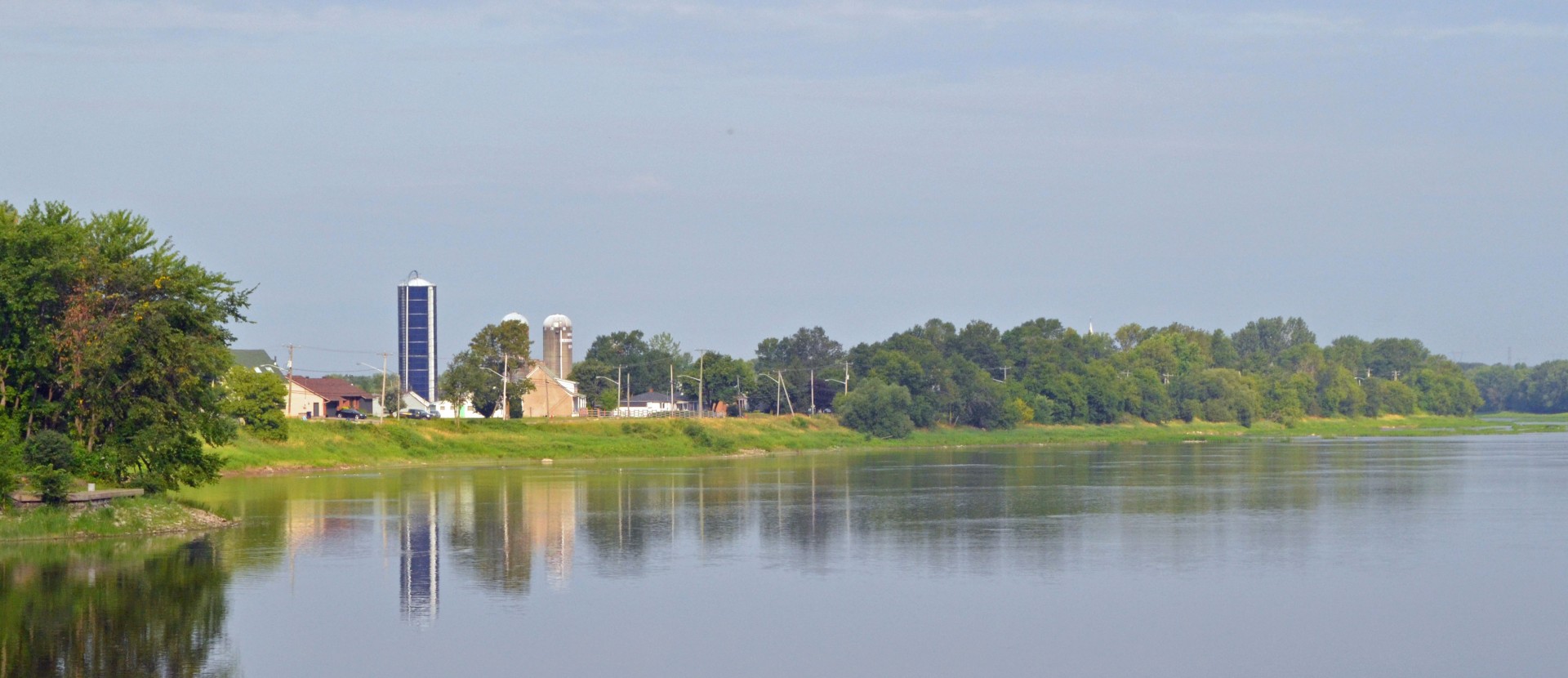 There were a lot more older houses on this side, a lot less traffic and a few strange sights like this stranded stork and collapsed horned triceratops. I won't even try to guess why they were here.
There were clearly more recreational opportunities on this side as I saw numerous places where boats, canoes and kayaks were available for rent. This group of fisherman were just getting ready to head out.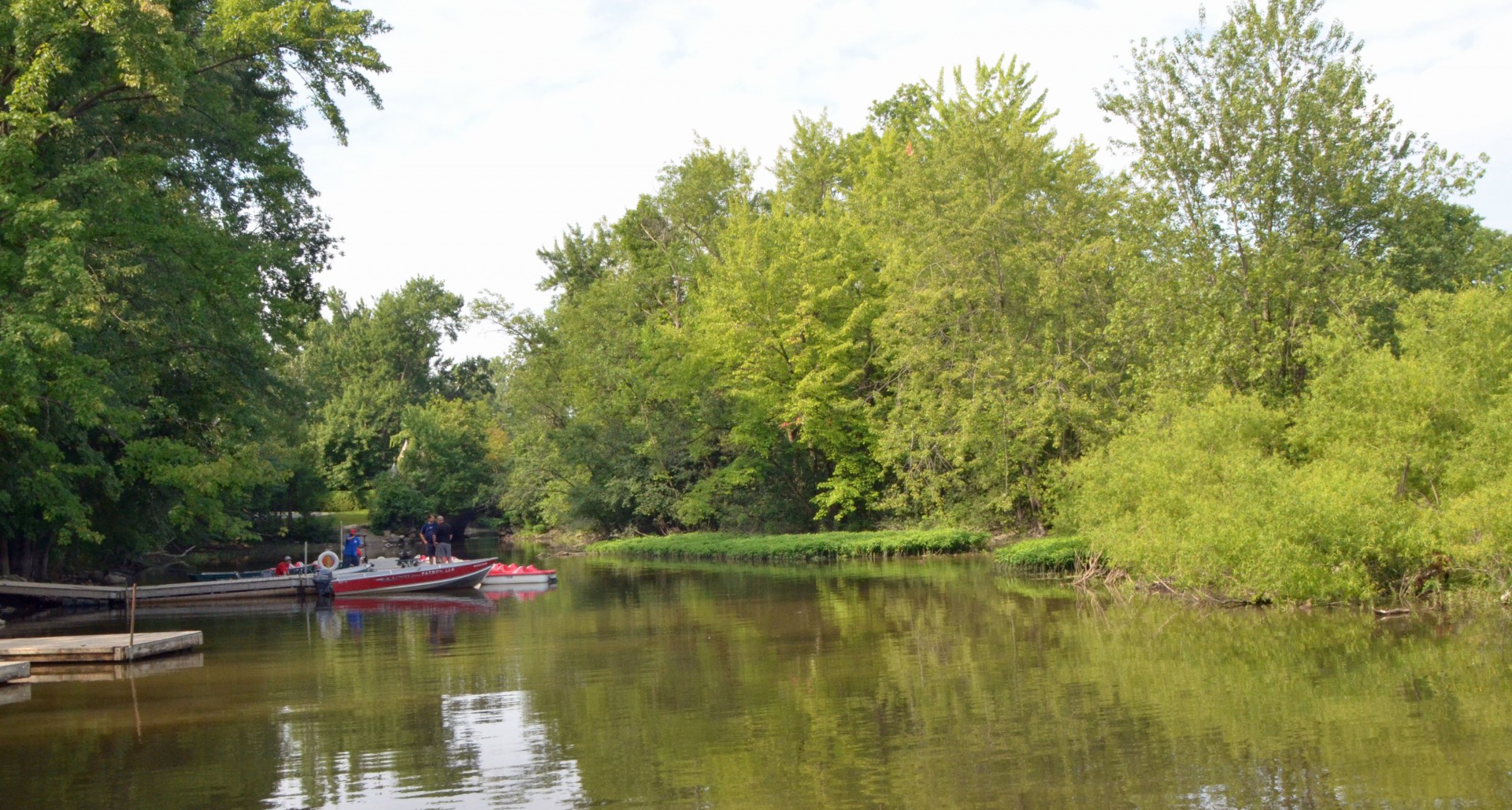 While I was enjoying my drive around Ile de Jesus I wasn't really blown away by anything until I came to Sainte Rose which was clearly an interesting place so I parked by the large Centre d'Interpretion de l'eau . I didn't have time for a visit, but I did spend half an hour walking around this interesting part of Laval, starting with the great variety of well preserved homes and other buildings.
Sainte Rose is a classic small Quebec town that preserves examples of many of the types of architecture that are characteristic of the late 18th and 19th centuries. Here many of them have been converted to restaurants such as Trattoria Casa Rinacchio.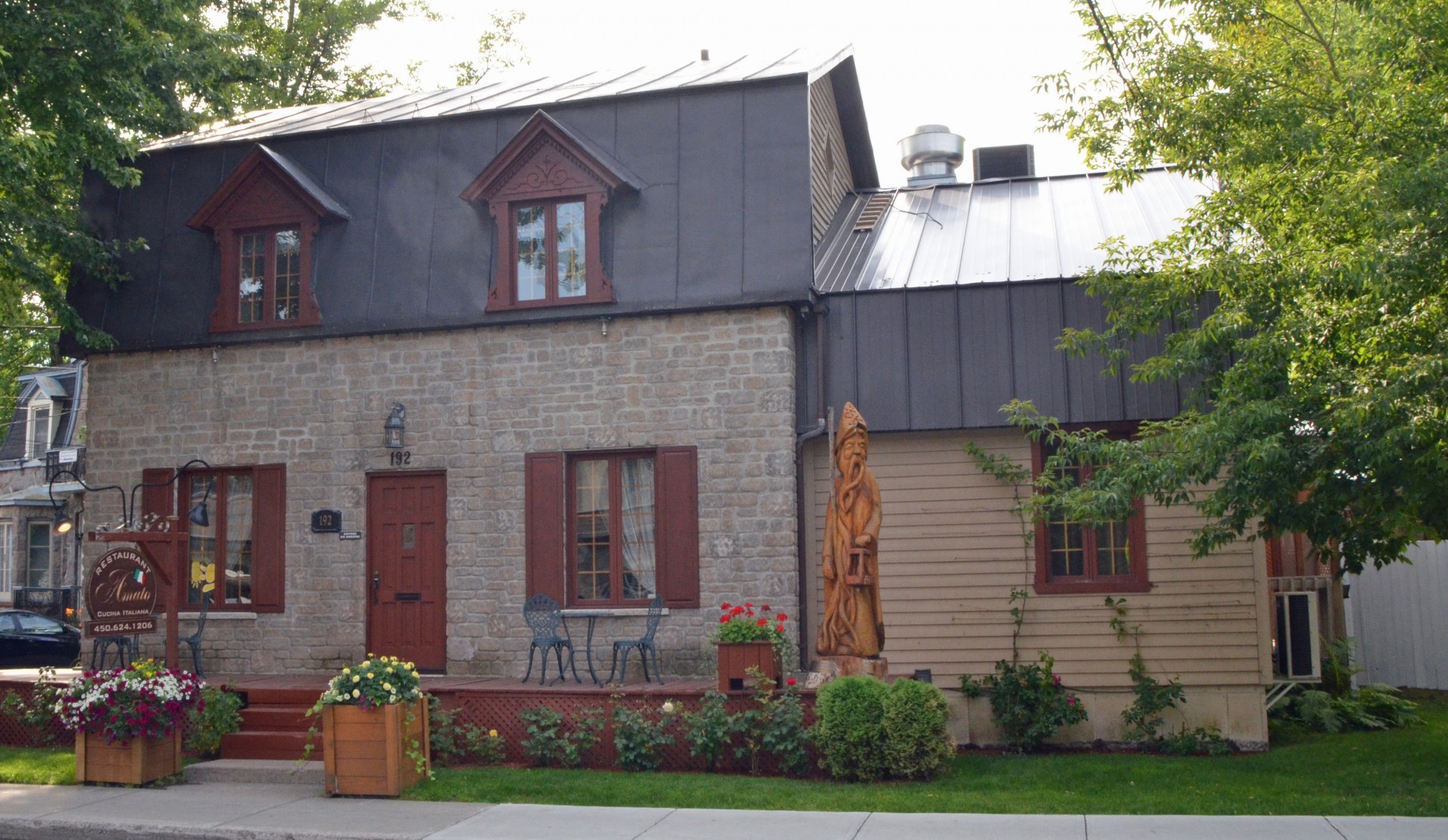 Others serve as small shops selling some pretty cool stuff like Aux Girouettes. I'm a sucker for weathervanes and tiffany style lamps and this place had nice examples of both. Also I love typical Quebec style sheet metal roofs, especially in red.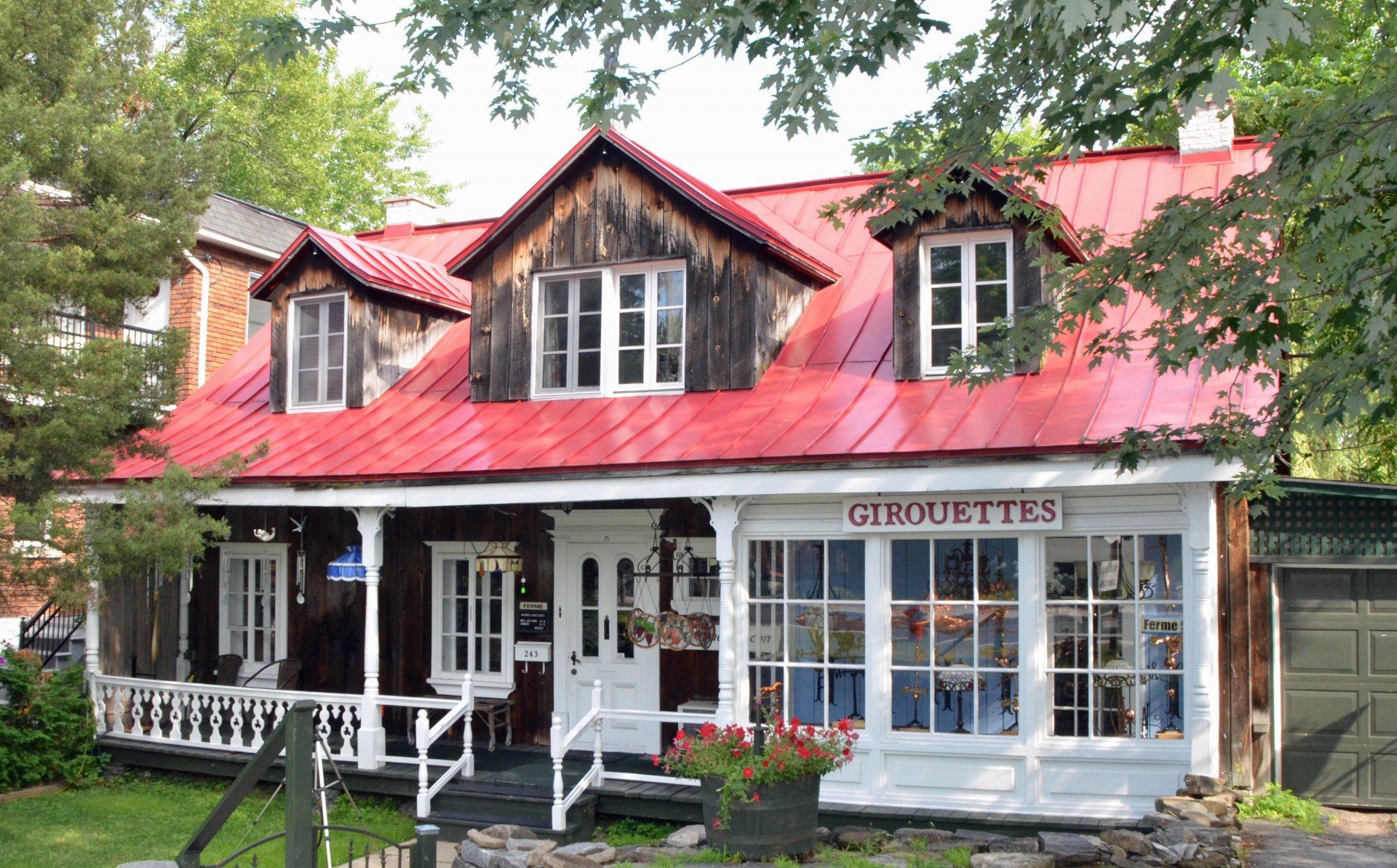 Here is a beautiful brick house of a later construction and perhaps more typical of Ontario, but still common in Quebec.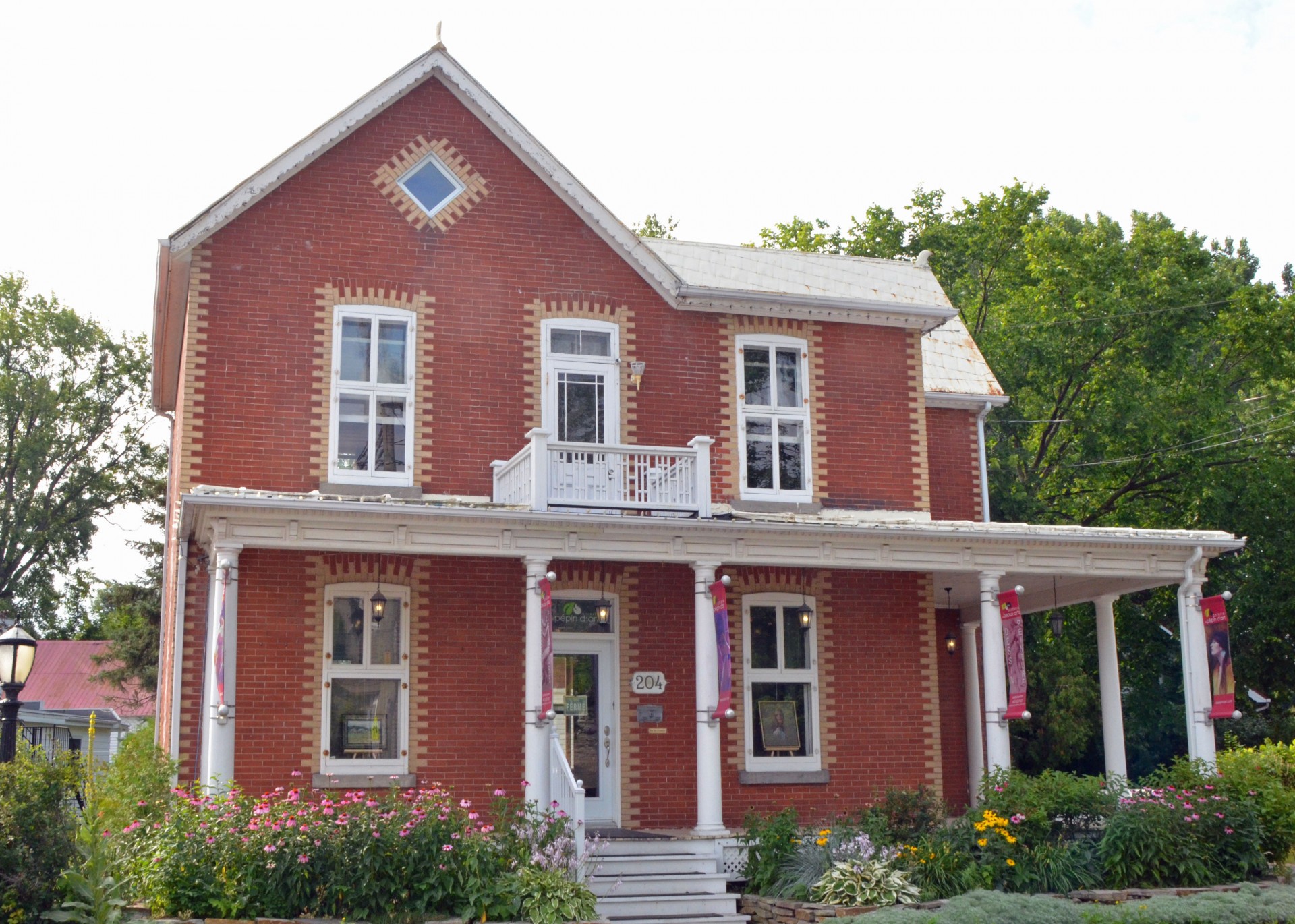 This interesting and well landscaped wooden building is Les Menus Plaisirs Auberge and Restaurant; and to think I could have stayed here instead of the OLux. Idiot!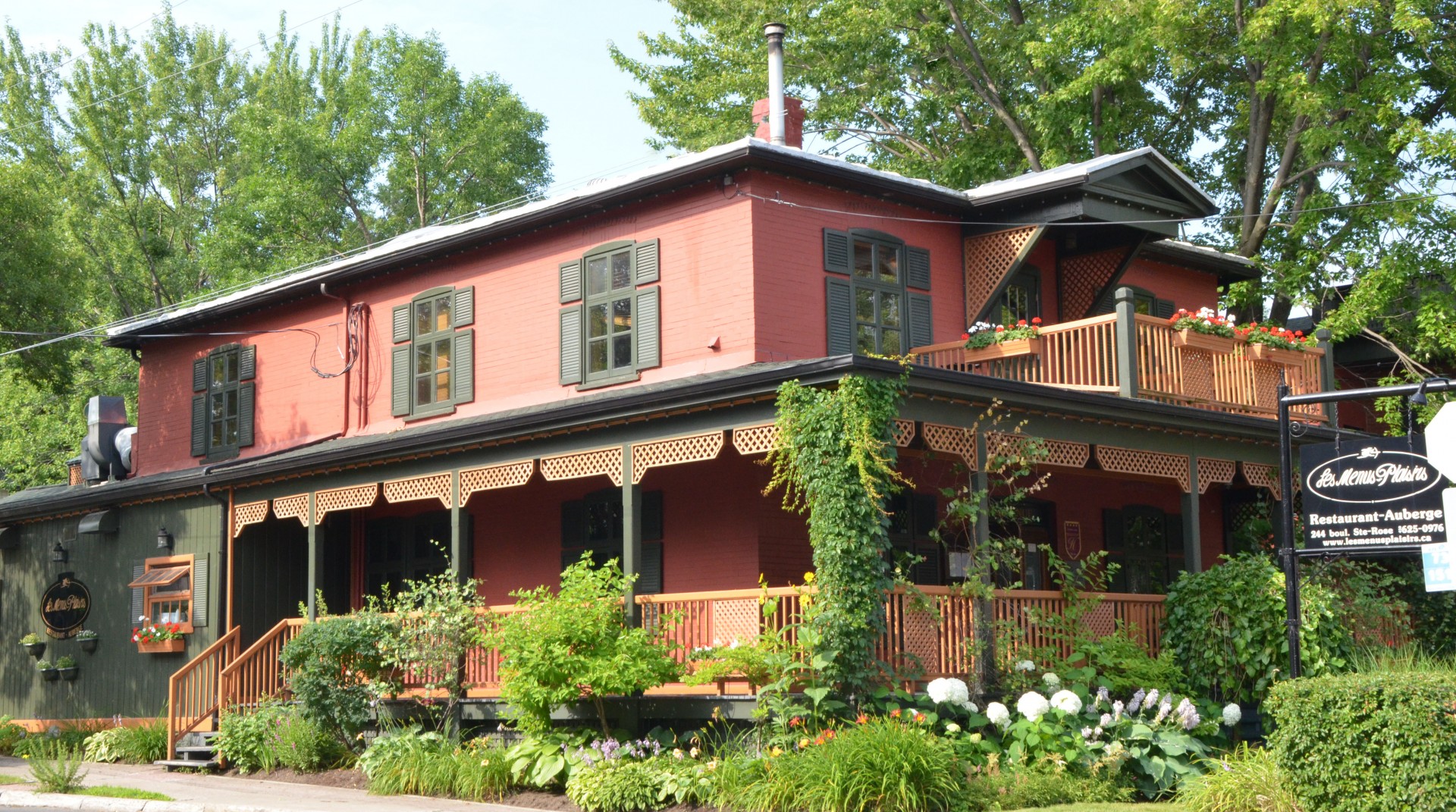 No Quebec town is complete without its religious architecture and Sainte Rose is no exception, although it appeared that only the Sainte Rose de Lima church dating from 1850 was still in use. This building appeared to be a former seminary.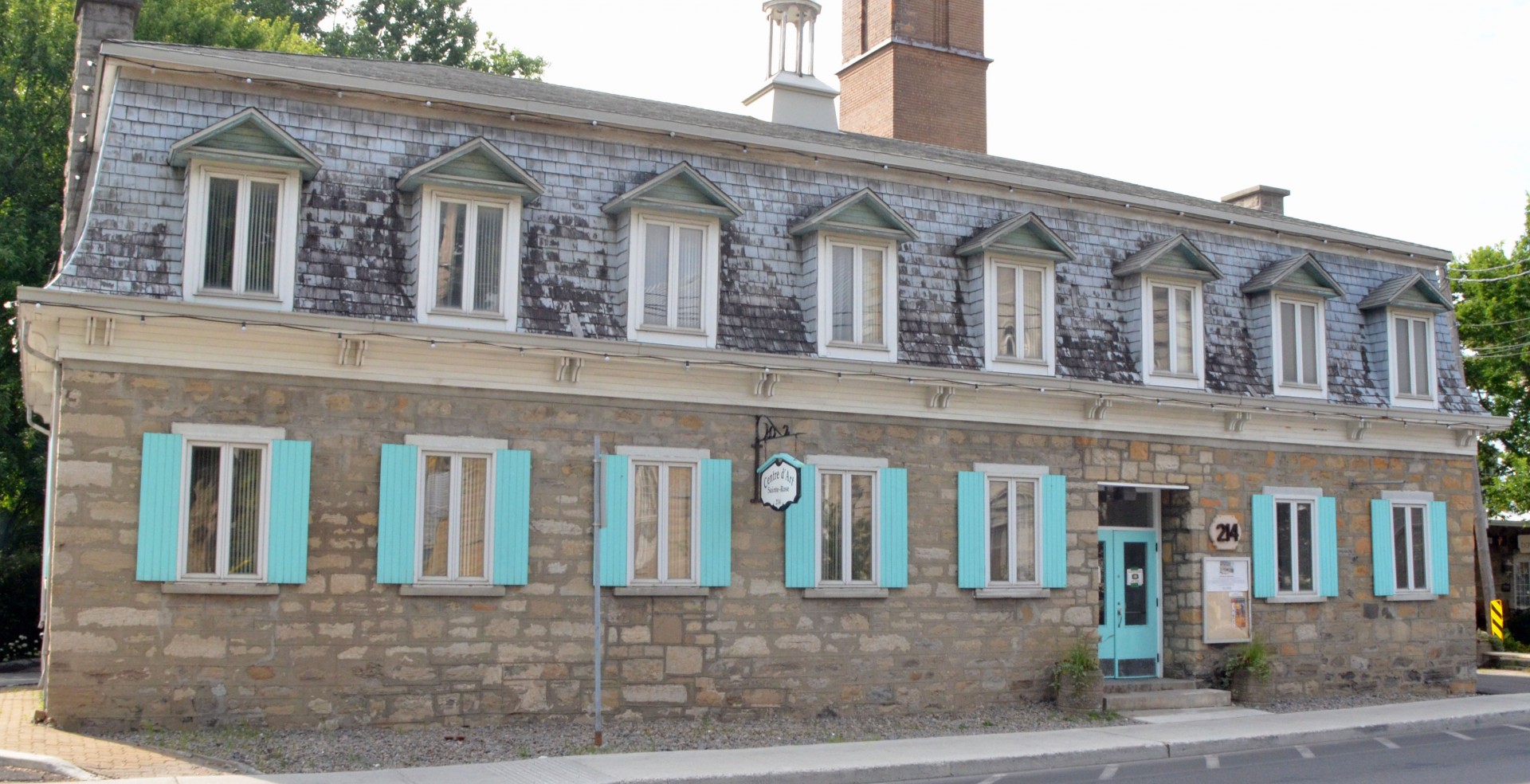 While what was clearly the clergy house was now occupied by a number of businesses providing health care services.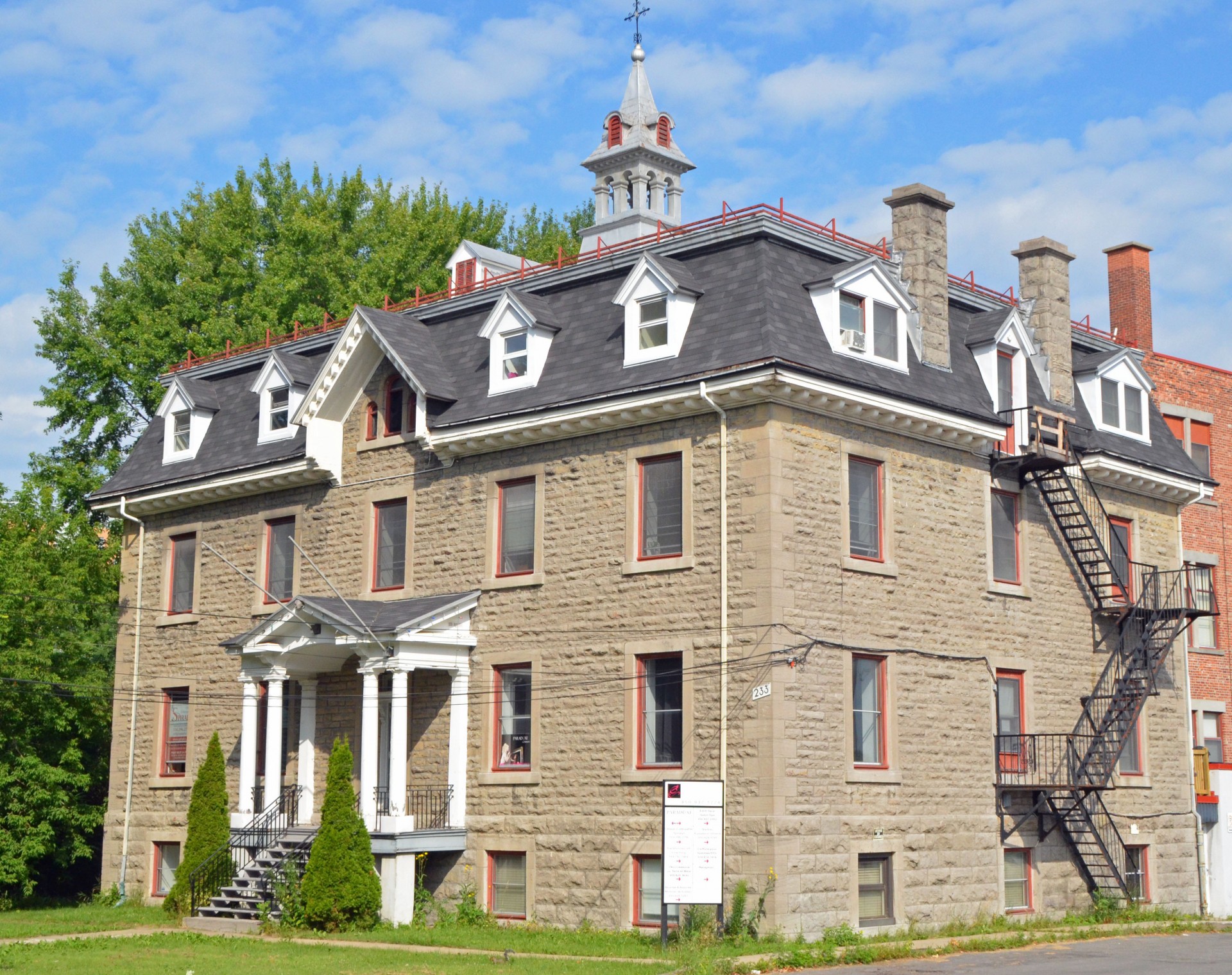 Returning to the car I took this shot of Sainte Rose de Lima.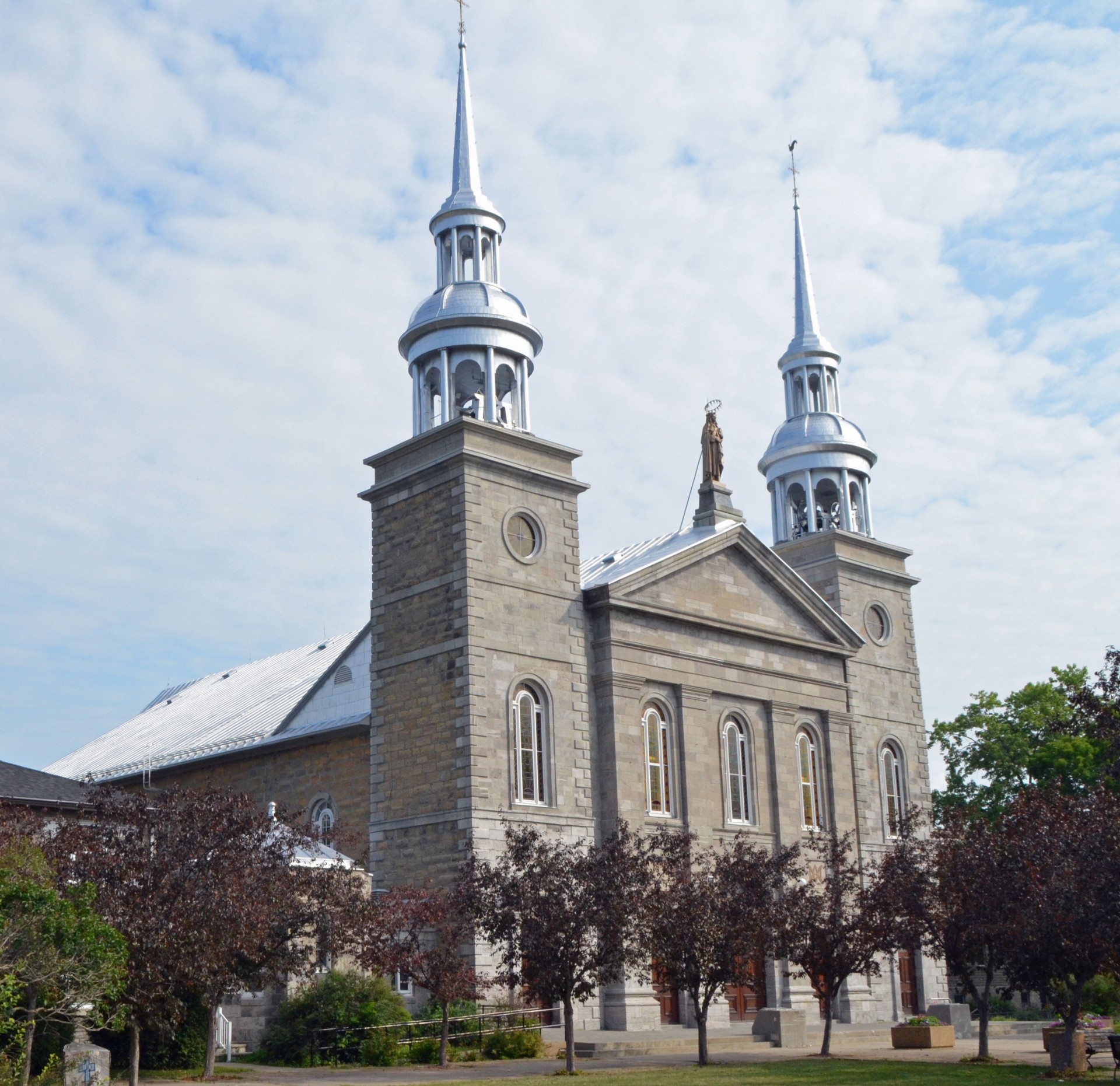 I took a look up at Jesus and could only pray that I would have the brains in the future to seek out places like Sainte Rose instead of ending up at the Olux.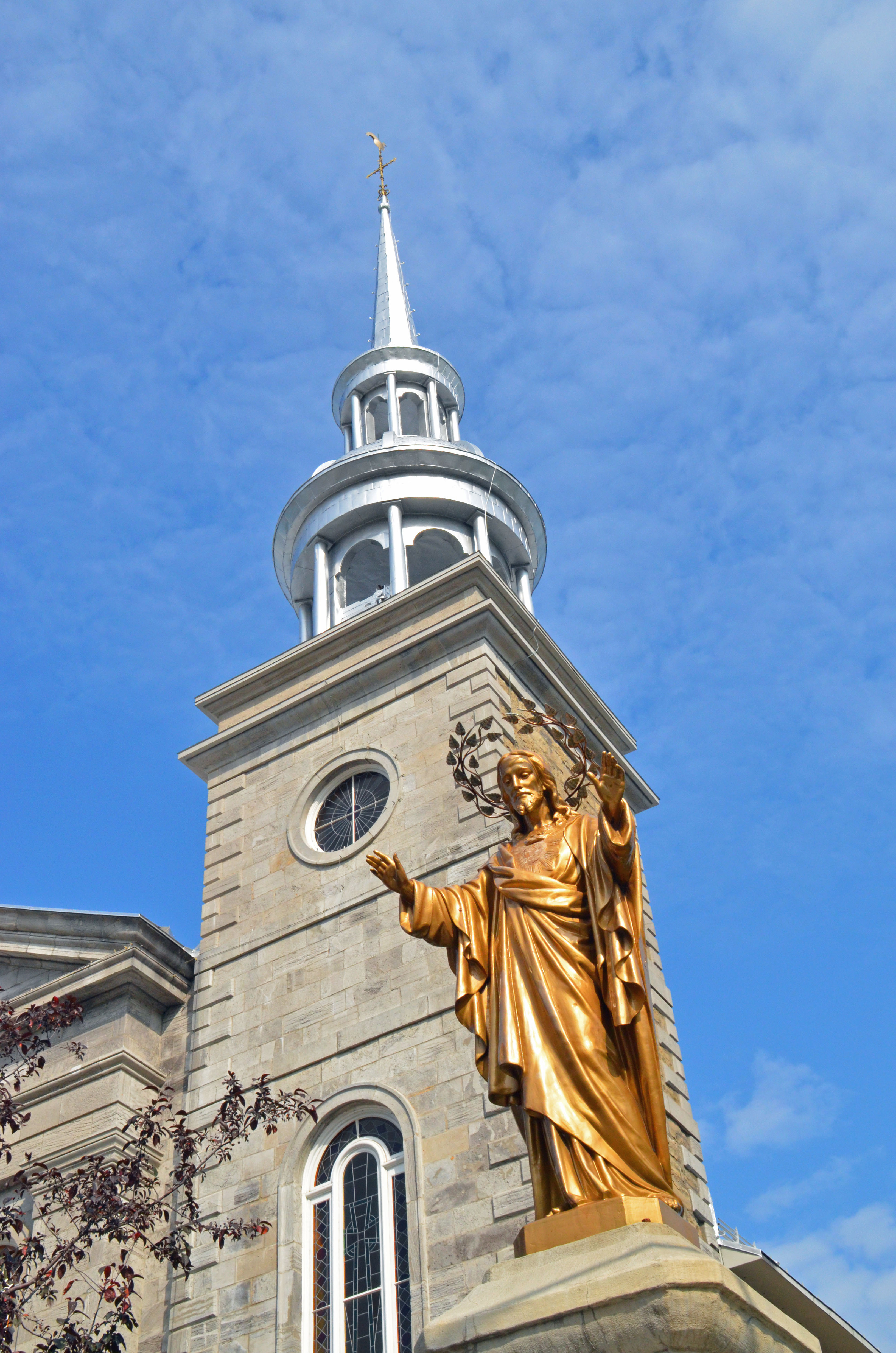 Off to play golf!
For a more interesting village to visit in Quebec read my post on Wakefield.