Wakefield Quebec and the Gatineau Area
The Quebec RV trip has gotten off to a great start with two fantastic days and nights at Camp Leslie in Otter Lake which we used as an outpost to visit the fantastic adventure park at Chutes du Coulonge. However, there are places to go and people to see, so my adult son Dale and I are off to visit one of my all time favourite Canadian small towns, Wakefield.
Wakefield
If there is a quintessential Canadian small town then Wakefield, Quebec may be it. It has a gorgeous location on the Gatineau River where it widens into a small lake. It is the jumping off point for exploring the Gatineau highlands extensive hiking, biking, canoeing, cross-country skiing and snowshoeing trail systems. The people are both laid back and adventuresome at the same time so it has an active arts community with the attendant galleries that make exploring places like Wakefield so pleasant. There are no MacDonald's, Starbucks or other chains to ruin the ambience. The town has preserved its 19th century look and the coffee shops, restaurants and other businesses  are locally owned. It has a world class inn attached to an old mill. It has a dramatic covered bridge. As if that isn't enough, it's also a town of peace. I'll explain why later.
Wakefield is only a short drive north of the Ottawa area, but today we are coming from the Pontiac region of the Outaouais tourist area and it is a very pleasant drive through rolling hills and and century old farms before turning north at Eardley where the Gatineaus rise abruptly from the Ottawa River valley. Arriving at Wakefield Dale, who has not been here before, immediately recognizes that this is no ordinary town. We agree that we will spend a couple of hours just wandering around, but first I want to show him a couple of things.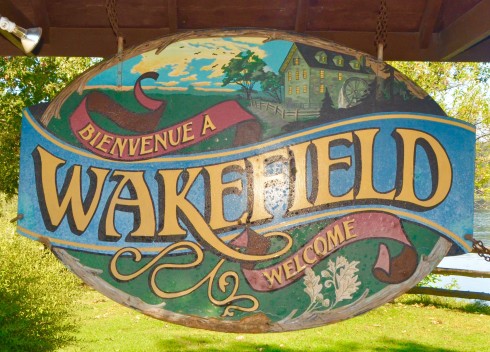 The first is apparent as you can see it quite clearly across the lake from Wakefield's main street. It is the Wakefield covered bridge which was restored by persons of foresight in 1997 after some assholes burned it down in 1984. It had stood unharmed for the previous seventy years.

The bridge is now a major tourist attraction and pedestrians and cyclist cross it many times a day. It has long been an absolute must visit for aspiring photographers. Even I can't screw up a picture of this bridge.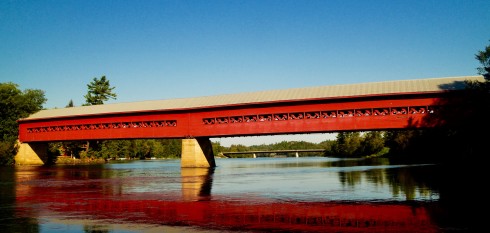 Here is Dale looking out from the interior in his own version of Where's Waldo.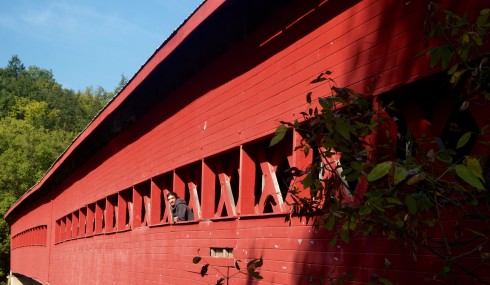 After visiting the bridge we recrossed the river and headed to the Wakefield Mill and Spa of which I have very fond memories from previous stays in summer and winter. Unfortunately for us there is a major meeting going on so there is no opportunity to properly photograph the place. All I can say to the readers of this post, make sure you at least drop into it on a visit to Wakefield, although a stay would be better. In any event that is not my main reason for coming this way; it's to visit one of my favourite Canadian cemeteries.
MacLaren cemetery not only has a great location on a hill just above the Wakefield Mill, but is also has some very interesting grave markers and one very famous resident. That resident is the only Canadian to ever win the Nobel Peace Prize, former Prime Minister and statesman, Lester B. Pearson. Here I am paying my respects to the last Liberal leader I truly admired.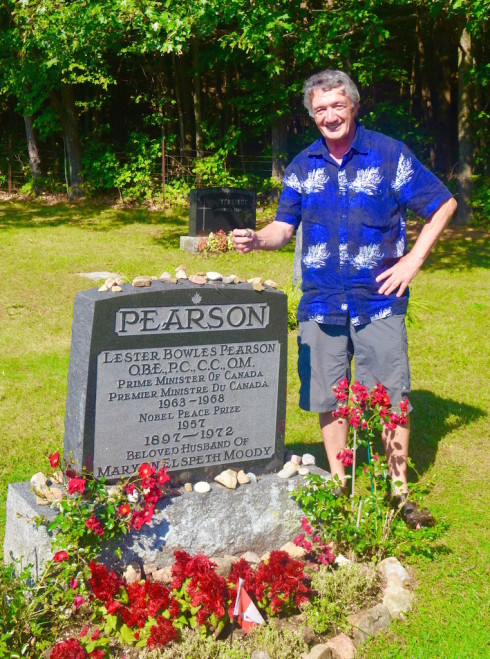 Nearby I noticed this gravestone.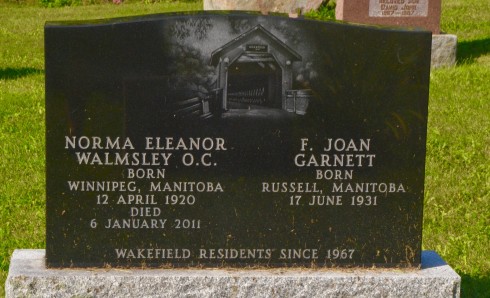 I hadn't heard of Norma Walmsley, but the fact she was a member of the Order of Canada and that she was buried with another woman intrigued me. It turns out Norma was an RCAF volunteer, McGill professor, passionate peace advocate and as you can see from the gravestone, an ardent proponent for the restoration of the Wakefield bridge. She also was an early pioneer for gay rights, living in an openly gay relationship for 54 years. You learn the most interesting things by looking up the names on gravestones.
Not much to learn about this guy other than that he has a wonderfully simple gravesite, then again read his obituary and you'll find out he was far from a simple guy and died far too young.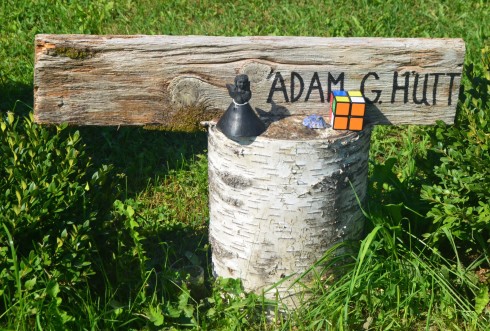 I could spend a lot of time in MacLaren cemetery, but the town beckons. Dale goes off to explore and I go into ARIEs coffee shop to use the internet and have a couple of lattes. Afterwords I cross the street to a small park where this memorial stands.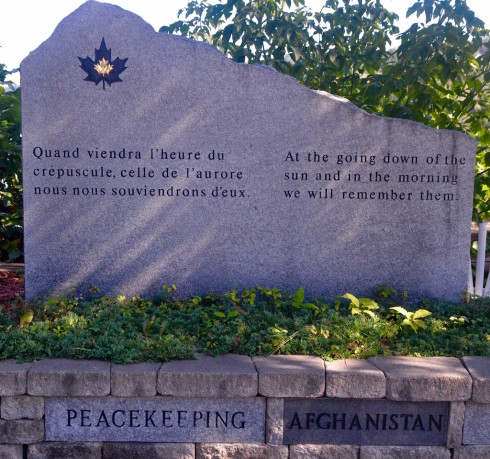 As I mentioned, Wakefield Quebec is very much about peace. While I'm looking at this memorial I almost step on this little guy.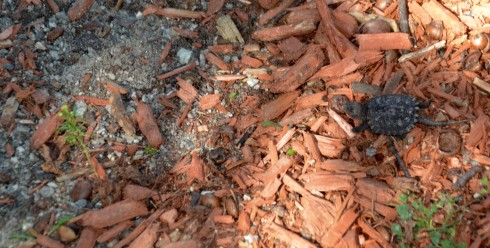 It's a baby snapping turtle that could not have hatched more than a few days ago. In the spirit of peace I pick him up and direct him back toward the river before someone else steps on him.
Les Brasseurs du Temps
Time now to leave Wakefield, however reluctantly, and head to Gatineau or what used to be called Hull. There's a great brew pub there and we are both ready for lunch. BDT is short for Les Brasseurs du Temps and it makes some wicked brews and serves up great food. It's located in an old mill not far from downtown Gatineau and to make it even more alluring, it has a museum of beer making in Quebec that's not only interesting, but free.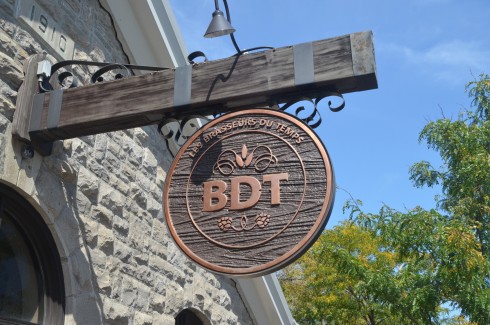 After putting in our orders, we take a spiral ramp down to the bottom of the pub where the brewing is taking place and look at the various displays related to beer making. Here's some early beer making implements.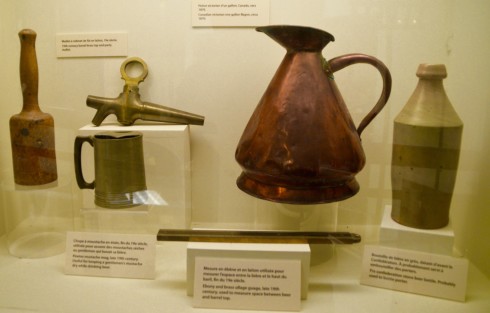 And here's where you can decide if you prefer Molson's.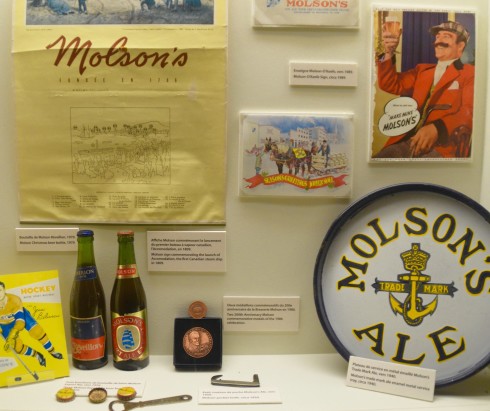 Or Carling's.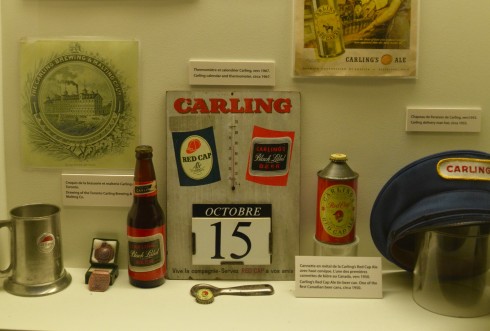 or maybe O'keefe's?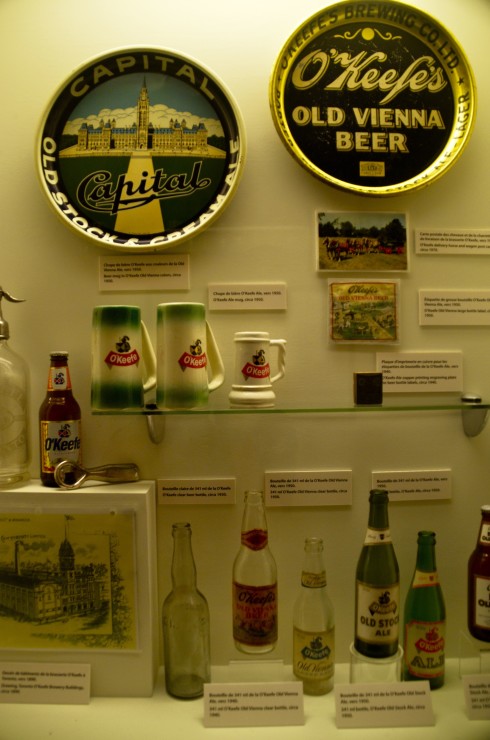 All great Quebec beer making families and a great way to spend the time waiting for your meal. Here's mine which I have to confess is Prohibition Poutine – braised pork with Korean BBQ sauce.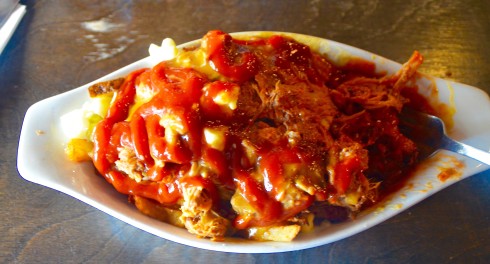 Looks gross – tastes great. Dale has an excellent reuben sandwich which is packed with a ridiculous amount of smoked meat. You can't go wrong in Quebec with poutine and smoked meat. Your doctor will hate you, but your stomach will thank you.
Canadian Museum of History
There's another place I want to take Dale before we leave the Ottawa area behind and that is the Canadian Museum of History or the Canadian Museum of Civilization as it was known up until 2013.  No one should miss a visit to this iconic building designed by aboriginal Canadian architect Douglas Cardinal which lies directly across the river from the Parliament buildings.
The museum was undergoing major renovations during our visit, but I always thought that the main hall with its unparalleled collection of totem poles and West Coast native architecture is worth the price of admission alone. I'm glad to see it has the same effect on Dale as we gaze down from the entry floor to the grand hall.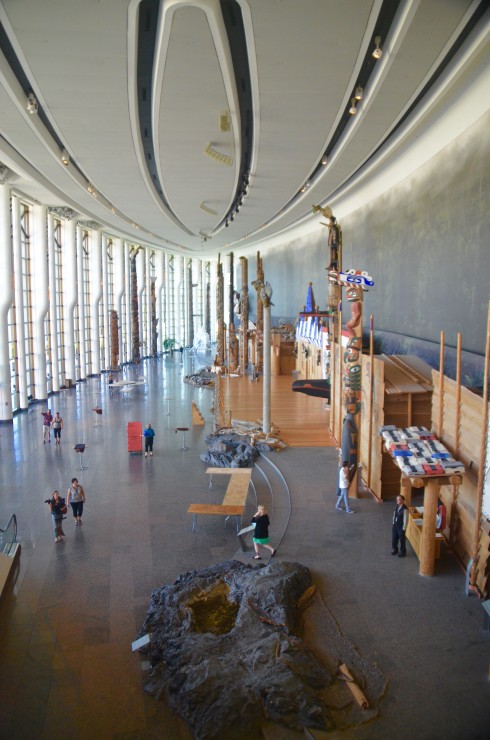 Down on the floor of the Great Hall the totem poles are even more impressive.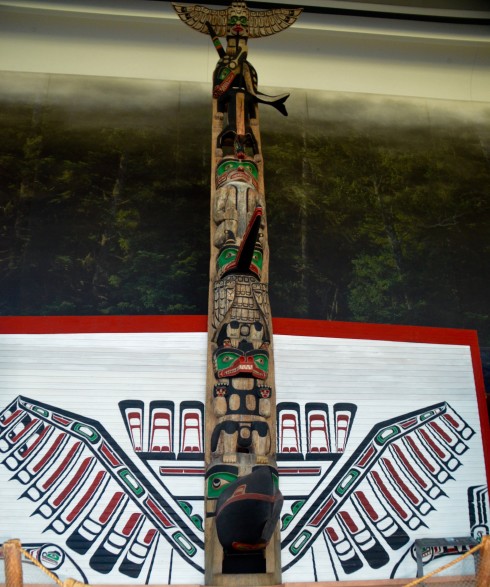 Unfortunately we don't have anywhere near the time to truly appreciate this museum as we are already running late, but I do have to take a quick look at the temporary exhibition The Greeks – Agamemnon to Alexander. I am a hopeless romantic when it comes to Greek myths and ancient Greek history. This is a great exhibit that covers all of ancient Greek history and has some outstanding artifacts from twenty-one different Greek museums. Many I have seen in Greece, but there is an outstanding collection of eight bronze helmets that have been recovered in recent years from a single unearthed cemetery in northern Greece that has not been on display before. Well worth going out of your way to see if it arrives in a museum near you.
Leaving the museum I have Dale pull the RV up just past the entrance to get this shot (which later appears on the cover of Canadian RVing).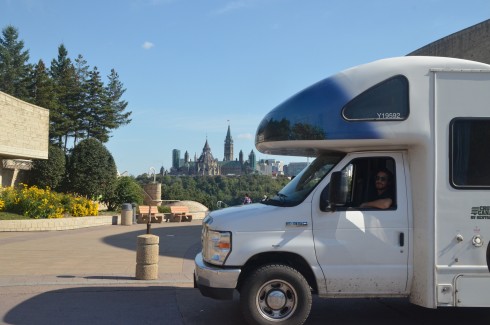 It's time to leave Gatineau and continue down the Ottawa River valley to our stopping place for the night, Plaisance National Park just outside Thurso. If you repeat this route make sure to take Highway 50 as far as the Thurso exit, otherwise you'll endure miles of suburbia. Thurso is the hometown of Guy LaFleur and as you head into town look for the arena named after him.
When I describe Plaisance as a national park, I am not referring to the Canadian national park system, but rather Quebec's park system which denotes what most of us would call provincial parks as national parks. The SEPAQ system as it is known has some of the best parks in Canada and you can always expect top quality campgrounds, facilities and a myriad of things to do. Most of Plaisance, which means a pleasure ground in French, is located on two presqu'ile just east of Thurso. Presqu'ile is a word one encounters quite often in geography and it simple means 'almost an island' and that's exactly what this place is – a haven of fields, forests and marshes surrounded by water on almost all sides.
We are assigned a campsite that sits on a bluff overlooking the river amid an Appalachian lowland forest that contains a much wider range of trees, shrubs and flowers than we encountered at Camp Leslie where pines are dominant. Once again there are not that many people around and we settle in for another quiet night, but before we do so we walk over to explore one of the Huttopia tents which are a feature of many SEPAQ parks. They are large tents with a floor, beds and cooking facilities and are specifically aimed at families who don't want the bother of pitching a tent or setting up a tent trailer. The ones at Plaisance are not occupied so we sit in the comfortable chairs provided and watch a stunning crescent moon set followed by the emergence of thousands of stars. Another great day in Quebec comes to an end.
Tomorrow we'll visit the beautiful village of Montebello on the way to Yamaska National Park.
Bonne nuit.
BTW, not all explorations in Quebec turn out as well as today's did as I found out a few years ago when I stayed in Laval.