Kitchener – Canoeing the Grand River and Seeing the City
My son Dale and I are on our annual RV trip and this year we have chosen the Waterloo region of southern Ontario as our destination. The trip got off to a great start yesterday with a visit to the interesting town of St. Jacob's followed by a tour of Mount Hope Cemetery in Waterloo. Today we will be spending our time in and around Waterloo's twin city of Kitchener starting off with a canoe trip on the Grand River. Please join us.
The morning of the second day dawned bright and sunny which inspired Dale to cook up bacon and eggs. I made the coffee to go along with my breakfast of cranberry juice, yogurt and coffee – lot's of it. Need fuel for to canoe!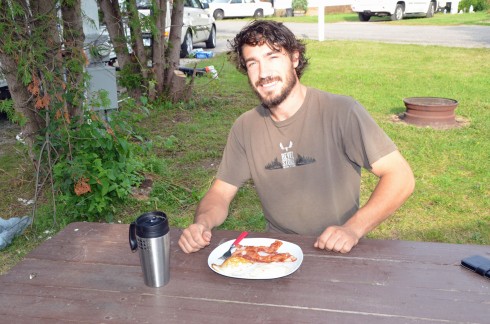 Canoeing the Grand River
The Grand River drains a huge watershed in Southern Ontario and has been at the centre of the area's history since humans first set eyes on it. While not as big or well known as the St. Lawrence it is arguably as important to Ontario as the St. Lawrence is to Quebec. It has been designated as a Canadian Heritage River  and is currently under the management of the Grand River Conservation Authority. During my time in the Kitchener/Waterloo region I intend to find out if the Grand is really grand or just famous because it happens to be close to Toronto. It starts this morning with a canoe trip.
Canoeing the Grand has been providing services to canoeists and kayakers for more than twenty years and this year added tubing as well. The concept is simplicity itself. You park you vehicle at the company parking lot which is right on the Grand on the outskirts of Kitchener, rent whatever type of transportation you want to use, get in a shuttle and then get dropped off at the starting point and paddle/kayak/tube back to the where you car is. It was recommended that we start at Breslau which would be a two-three hour paddle back to base. No problem – we're easy to please.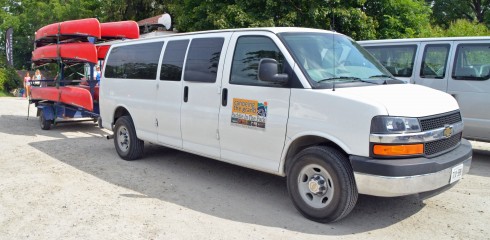 We were dropped off with two other couples after first stopping at a spot much closer to the ending point where a family of tubers got off. It didn't take any time to get underway. The river at this point was about 100 feet wide with a gentle current. One of the other couples was apparently going to fish as the husband struggled to put together a fishing rod while his wife would do the paddling. Instead she was plunging the paddle straight up and down in the water and they were going around in circles – reminded me of Three Men in a Tub.  Needless to say we left them behind very quickly.
We spent the next two hours on an easy paddle back to base with nary a sign of civilization. I was really hard to believe we were in close proximity to the millions of people of Southern Ontario. Here's what it looked like most of the way.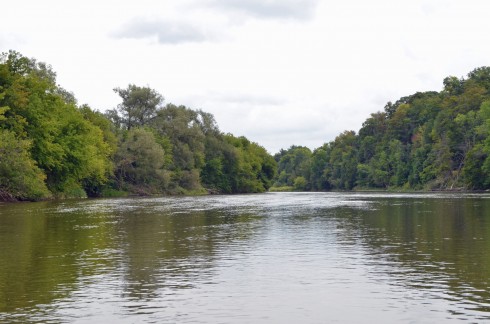 One of the attractions to me was the great variety of hardwoods that are found in the Carolinian forest  through which the Grand flows.  Hickory, tulip tree, sycamore, walnut and sassafras are not species you will find in 99% of Canada. I've canoed a lot of places in this country, but none with such an abundance of species of trees and shrubs. Yellow and pink jewelweed added colour to the riverbank.
There was plenty of bird life on display – you could almost call the Grand a mallard and goose factory given the number of these we saw including this foursome.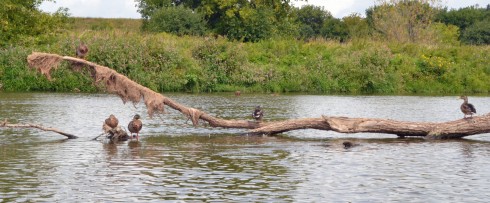 Other sightings included great blue heron, osprey, many kingfishers, gulls by the dozen and one unfortunate robin being chased by what I believe was a Cooper's Hawk. This great blue seemed nonplussed by the geese and ducks swimming in his fishing territory.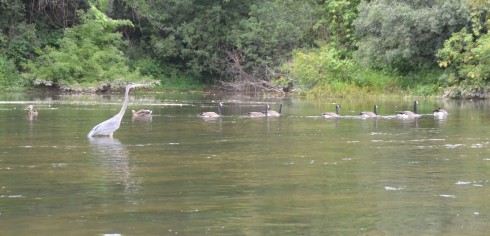 We also came upon this painted turtle sunning itself like turtles seem to spend all their time doing.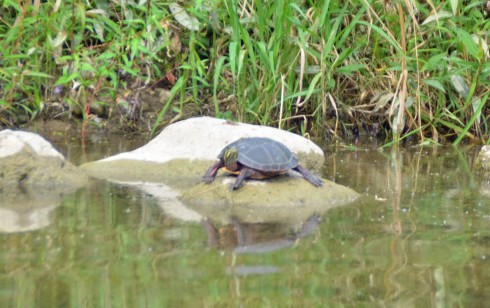 There were a few signs of civilization like this railway bridge which had the requisite graffiti painted on the side – how do these nitwits manage to do it?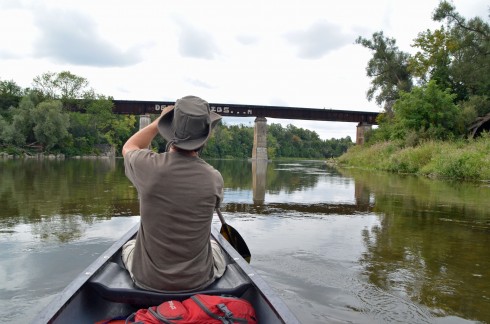 It didn't take us long to catch up to the tubers who were gathered in circles in a stillwater. There were quite a few of these with little or no current and I had to wonder how they would manage to get through them, especially when a headwind developed that basically cancelled out the current.
There were a few riffles (baby rapids), but absolutely nothing that should concern any but the most brainless. We were back at base and I advised the attendant about my concerns that the tubers would never get back. He was unconcerned and said it would take them four or five hours, but they'd get there. I hope so.
Touring Kitchener/Waterloo
We had each grabbed an Extreme Italian from Tim Horton's and eaten them on the canoe trip so we didn't need lunch and decided to tour the cities of Kitchener-Waterloo. The two cities are connected by one main drag, King Street which runs for miles and miles from the countryside at one end to the countryside at the other. There are two distinct city cores. Waterloo is home to both Waterloo and Wilfred Laurier Universities which makes it a college town with all that entails, including lots of interesting bars, restaurants and bookstores. We were here on the day before registration and it was eerily quiet for what I knew from personal experience would be an explosion of activity the next day.
Kitchener on the other hand was and perhaps still is the blue collar city where they actually make things instead of learning how to make them. To Kitchener natives Waterloo is sort of the real life version of 'those who can't – teach'. However, instead of acting like a s*** disturber stirring up trouble where there is none, perhaps I should actually look around.
First stop is at Woodside National Historic Site the boyhood home of our longest serving and definitely Canada's weirdest Prime Minister, Mackenzie King. I had been to Kingsmere  his grand estate in the Gatineaus and wrongly assumed he was from the Ottawa area. He was in fact a native of Kitchener, born and raised. While the estate was closed to the public for reasons unknown, probably budget cuts, we still had a chance to admire this fine building and its grounds. Fortunately since writing this post the home has reopened for public guided tours.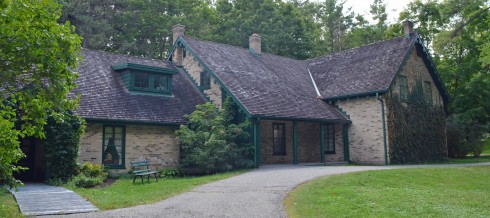 Further proof of King's upbringing in Kitchener can be found at the high school he attended where he's still hanging around, three piece suit and all.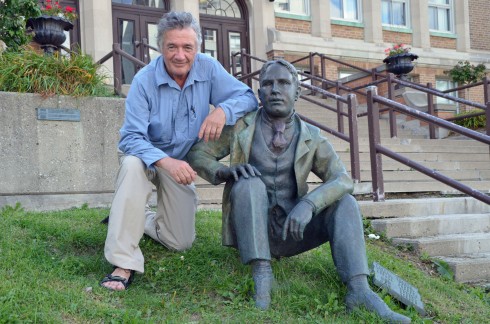 We parked the car and got out to stroll the King Street area of Kitchener. I was immediately struck by the number of huge industrial buildings that had escaped the wrecker's ball and were now being put to different uses. Each of the buildings bore the name of someone whose grave we had visited yesterday with Wayne in Mount Hope. First there was the Lang Tanning Company, once the largest in the British Empire, now being used as a hi-tech hub for companies like Google.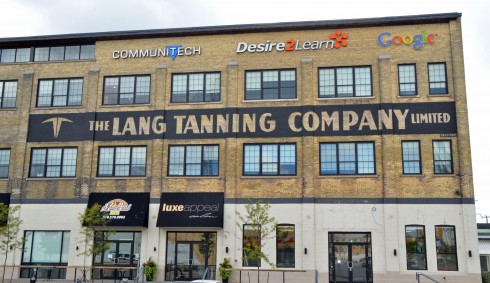 Then we saw the Breithaupt building which was being converted to condos.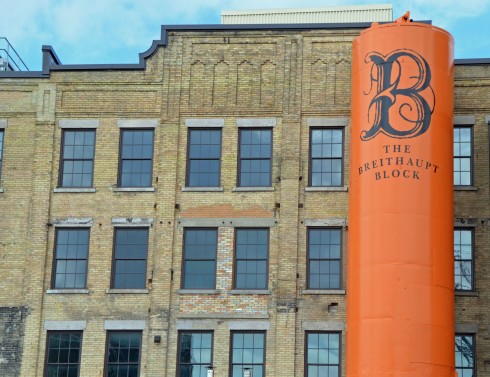 The Kaufman Shoe Co. building encompasses an entire city block.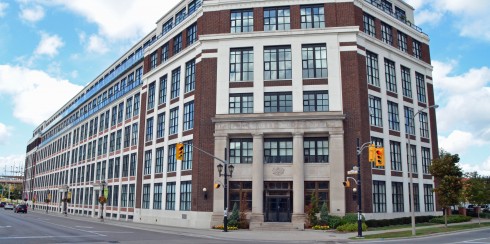 And lastly, the astonishingly large Seagram Distillery building now used as the headquarters for The Centre for International Governance Innovation (CIGI)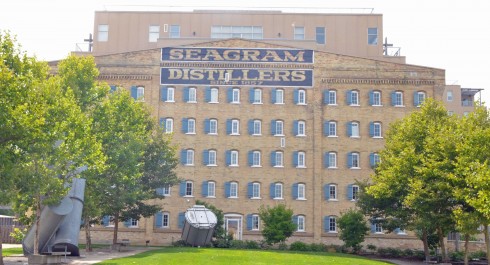 Kitchener also has a very attractive City Hall.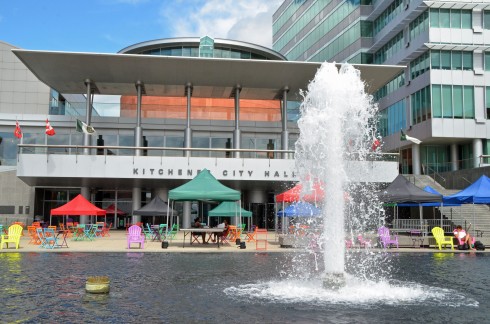 By now we were thirsty and dropped into a place called Imbibe at 10 King Street West which had a list of craft brews from which I chose the Lake of Bays Crosswind Pale Ale and Dale the Block 3 Dead Now Dubbel another high alcohol percenter at 7.2. I had noticed that Block 3 was located in St. Jacob's right beside the model railroad. Both were excellent quaffs and by now it was becoming pretty obvious that Southern Ontario was exploding with craft breweries and that if you liked beer and cider there would be plenty of opportunity to indulge.
We chatted with the very friendly pink-haired bartender who convinced us we should have an order of pretzels accompanied by aoili and hot mustard dipping sauces. I always think of pretzels as those hard thin twisted things that are about dead last on my list of snack options, but real pretzels right out of the oven with dipping sauce are a thing of olfactory and taste beauty. For $7.00 this was a steal. It turned out this was the last day before the bartender would return to university where she was studying Peace and Conflict Resolution. Good luck getting a job with that degree.
Back at Bingemans Camping Resort where we were staying, we went for a walk around the entire park and discovered that there were much better sites in the lower part of the campground. Some were close to the Grand River and most were well shaded. One thing I did notice and liked about Bingemans is that they don't try to isolate the tenters from the RVers like they are two distinct species of animal. At Bingemans, especially in the lower sites by the river, RVers and tenters were side by side. We will return to Bingemans for our last night on this trip and I will definitely make sure we get one of these lower camp sites.
It's been a long and fun filled day. Auf Weidersehen.
Tomorrow we head for Elora Gorge via Mennonite country and follow that up with horseback riding along the Conestogo River. Please join us.