Grand River Fly Fishing – Bass Masters We are Not
This is day four of the 2014 RV trip that my son Dale and I took to the Kitchener/Waterloo area of southern Ontario. So far we have canoed the Grand River, shopped at the famed St. Jacob's market, explored Elora Gorge and much more. Today we are scheduled to return to the Grand River with fly fishing rods instead of paddles. Please join us.
The morning dawned nice enough with the sun peeping through the trees on our Nith River campsite.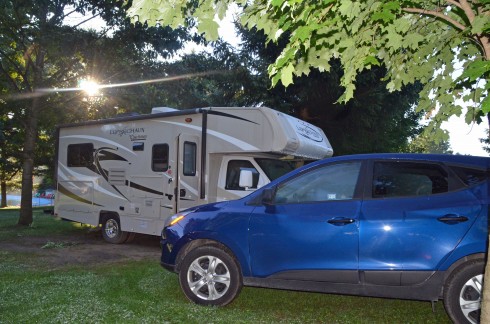 We headed out to meet our guide for  fly fishing on the Grand River Dan Kennaley whose day job is head of Engineering and Planning for the Township of  Woolwich, but whose true passion is fly fishing. Dan is also the fishing editor for Ontario Out of Doors magazine. He has written numerous articles on fishing for many different species including smallmouth bass, which is our quarry for today. So if we don't have any luck we can hardly blame it on our guide.
Our meeting spot is on River Road not far from the small town of Paris in Brant County. One look at Dan's vehicle and it's easy to know we've come to the right spot.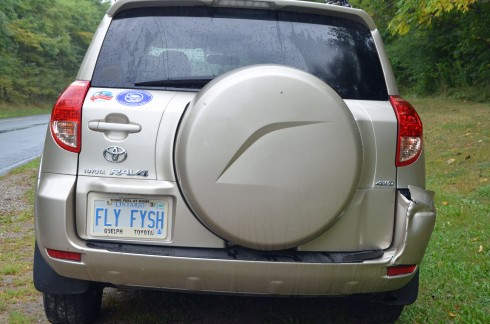 My track record as a fly fisherman is dismal. I've spent a week on the Upsalquitch in New Brunswick not even getting a bite, while Alison, on a similar trip landed a fifteen pounder within the first half hour of fishing. Dale has never fly fished in his life, so Dan has his work cut out for him. He starts by unveiling an amazing array of fishing paraphernalia stored in the back of his SUV including hip waders, rods, reels and seemingly thousands of flies.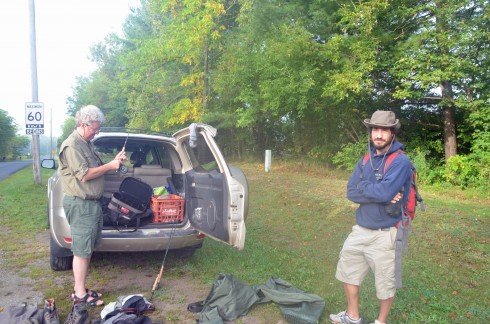 After a short while we climb down a fairly steep embankment and follow a path that leads to an old railway bed where a high bridge once crossed the Grand River. There is now a look out post with great views up and down the river. It's also a good spot to pose with our rods – bring on the bass!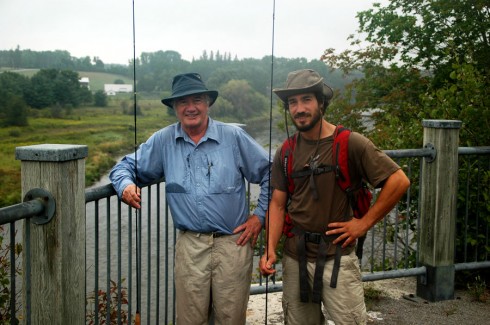 The Grand River is home to a great variety of fish including brown, rainbow and brook trout as well as both largemouth and smallmouth bass. Dan explains that the area we are going to fish is most conducive to bass as opposed to trout that are found further up river in colder waters. Unlike Nova Scotia where smallmouth bass have been illegally introduced to our lakes and streams to the detriment of the native brook trout, in Ontario bass are a native species that has achieved an equilibrium with the trout and other fish populations.
We walk down the railroad bed about a quarter mile and then down another steep bank to the Grand River directly across from this stately old country house.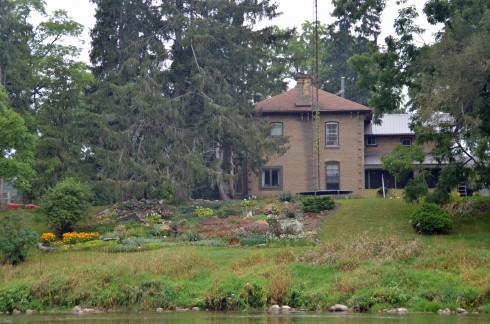 Here is the view downriver to the abandoned railway bridge. As you can see the Grand River is quite wide here with a fairly steep drop off about twenty fee from shore. The bottom is very rocky and I'm pretty sure that one of the Dale's is going to end up in the water.

Dan gets the rods ready as we pull on the hip waders. The flies we are going to use are 'Woolly Crayfish' a variation on the famous Woolly Bugger in a pattern that Dan has invented and tied himself. They are meant to resemble the tiny crayfish that inhabit this part of the river and they are to bass what a southern crawfish is to a Cajun – irresistible.
Dan demonstrates the proper technique for casting a wet fly which does not require the multiple back and forth false casting that is necessary with a dry fly. For those readers who are not fly fishing aficionados, wet flies are meant to sink and imitate creatures that live in the river while dry flies remain on the surface imitating newly hatched mayflies or other insects that might land on the surface. Fly fishing is one of those things like riding a bike – once you know how to do it, it does not take long to recall the skills no matter how long between sessions. Dale is a very quick study and soon looks like he was born to be a fly fisherman.
I wish I could include pictures of all the fish we caught on the Grand River this morning, but they were very camera shy. Dan did catch a few right off the bat and had them released before I could get a shot and then he got a really decent fish on that escaped at the last minute. Dale did catch one that fell off the hook literally one second before I got the picture. I kept my track record perfect, lots of bites, a few mini skirmishes and zero landings. But we all know the old saying about the worst day of fishing is better than the best day at the office and it sure was true today.  I am by no means the first to appreciate that there is something zen-like in the sport of fly fishing that produces a feeling of well being that is entirely independent of actually catching anything. That's why I'm always up to try it again and will be for as long as I can cast a fly. The famous angler and writer Izaak Walton lived to be ninety and fished to the very end. It's also a great way to spend time with your kids.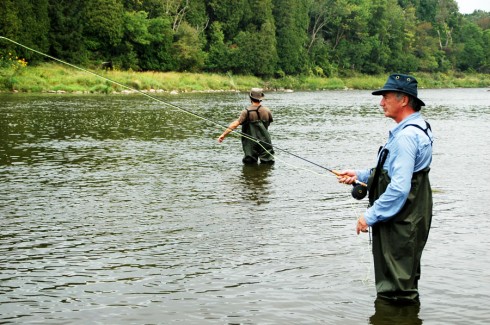 About 11:00 the wind picked up and the fish abruptly stopped biting and Dan expected that it would stay that way for the next few hours, so we returned to our vehicle, said our thanks and goodbye to Dan and headed back to Nith River to don our golfing duds.
We were scheduled to play Whistle Bear golf course, just outside of Cambridge at 2:00, but by the time we got back to home base the skies had opened up and there was thunder and lightning, so golf was out of the question. We spent the afternoon in the RV, with me catching up on these posts and office work while Dale read Zen and the Art of Motorcycle Maintenance which I swear he has been doing for five years. It seemed somehow appropriate as the rain drummed on the roof and the occasional thunderclap rocked the RV.
Minto Schneider who had set the itinerary for our trip had arranged for us to have dinner with her and her husband Eric at the Lancaster Smokehouse in Kitchener and by the time we arrived the rain had desisted and it was looking rosy. I don't know anyone other than vegans who can resist a good barbecue joint. I've been to great ones in just about every southern state and am always on the lookout for new finds cruising the back roads of Florida when we make our annual Sanibel pilgrimage. However, once you get north of the Mason-Dixon line, barbecue becomes very hit and miss. In my experience the majority of northern places have an ersazt feeling about them – they are pretending to be barbecue joints and not really succeeding.
Not so the Lancaster Smokehouse. From the moment you walk in the smell, actually aroma is the better word, and the look of the place scream authenticity. Real barbecue joints never look classy, fancy or well scrubbed – it's all about the meat and that has to be smoked on site, as it is here. The place was hopping on a Tuesday night and we soon found out why – it was rib night. A full rack of ribs was being offered for $16.00 rather than the usual $21.00. It was an offer we could not refuse. To wash down the really excellent ribs there was yet another opportunity to chose from a great selection of Ontario craft beers. I had a Lugtread Lagered Ale from Beau's while Dale tried the Mad Tom IPA from Muskoka Brewery – both were totally perfect with the ribs. For sides we split onion rings, collared greens and seasonal vegetables. Dessert was some type of peanut butter based creation that all four of us attacked.
Minto did not know I was a lawyer and I didn't know her husband Eric was one as well, so once we found that out it didn't take long to realize that we had mutual acquaintances in the business and we may have bored Minto and Dale with stories of legendary legal battles, won and lost. Neither Dale or I could finish an entire side of ribs so we left with plenty to eat tomorrow. We said our goodbyes to Minto and Eric and promised to keep an invitation to visit them at their cottage on Georgian Bay as soon as we could, and I mean to keep that promise.
Unfortunately the rain and thunder returned and it poured all night. Hopefully Mr. Bat is safe and sound in his tree and not afraid of lightning. I went to sleep dreaming of catching a world record bass on the Grand River as only in my dreams would that really happen. Auf Weidersehen.
Tomorrow we'll cycle the Kissing Bridge Trailway through Ontario's Mennonite country. Please join us.