Blackwolf Run – You Must Play These Two Pete Dye Masterpieces
The American Club Resort in Kohler, Wisconsin has four Pete Dye designed courses that are all in the top 60 of U.S. courses that anyone can play. Well anyone with enough money. The courses are located in two distinct areas. The Whistling Straits and Irish courses are right on Lake Michigan twenty minutes from the town of Kohler. The River and Meadow Valleys courses are along the Sheboygan River area in a place called Blackwolf Run not far from main resort accommodations in Kohler.  In this post i will tell you why the latter two are must play courses and under no circumstances should you come to the Kohler area just to play Whistling Straits. Let's start with the Meadow Valleys course which is currently #57 on Golf Digest's list of the 100 best public courses in the United States.
A word about of the course and its designer Pete Dye, and then we'll tee off. As a member of the Golf Journalists Association of Canada I'm supposed to know something about course design, which I really don't, but I do know that of all the golf course architects of the late 20th and early 21st century, Pete Dye is considered by most who do know, the standard by which others are measured. He is an innovator of astounding originality and has designed courses that are meant to challenge and in some cases, bring to their knees, the very best players in the world. His designs at TPC Sawgrass with its famous 17th island green, Sea Pines at Hilton Head with its iconic lighthouse on the finishing hole and the Ocean Course at Kiawah Island where the 1991 Ryder Cup became known as 'The War on the Shore', are all now considered to be modern classics.
I never miss a chance to play a Pete Dye course and in the past year added a couple of new to me courses at Mystic Rock at the Nemacolin Resort near Pittsburgh and the Dye Course at PGA Village in Port St. Lucie, Florida. The links are to my Trip Advisor reviews.
The two courses at Blackwolf Run have been combined on two occasions to host the U.S. Women's Open in 1998 and 2012 so I have to expect U.S. Open type greens that are notoriously fast. Chuck and Brian confirm that this was the case yesterday on the River course. This combined with the fact I have played virtually no golf since July in P.E.I. gives me all the excuses I need to expect a shitty score, but there is one more. Because of heavy rains last night the course is cart paths only. Normally I hate cart path golf, but with a caddie giving you the yardage from his range finder the usual problem of not having the right club is not an issue.
OK enough already – let's play some friggin' golf!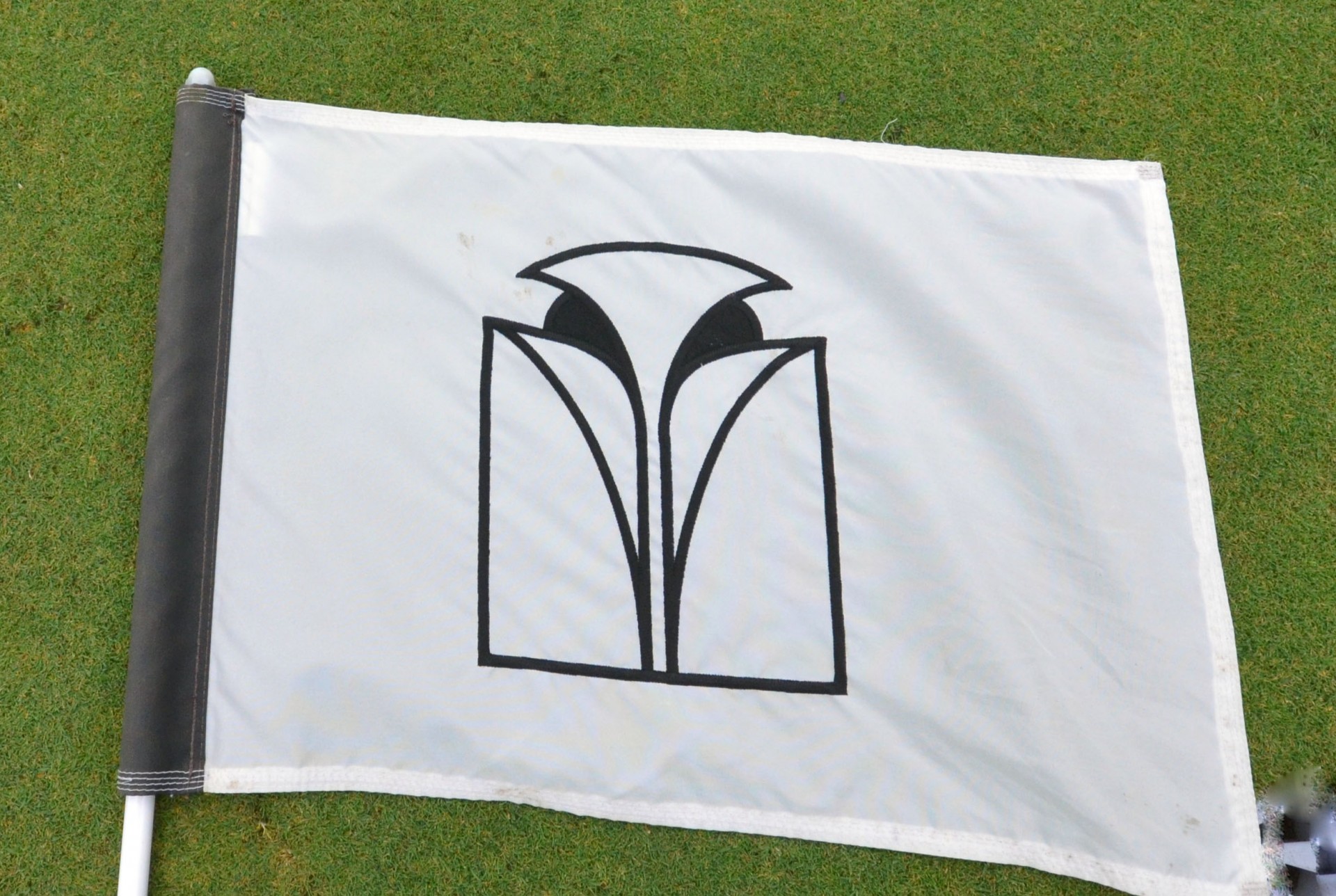 Meadow Valleys, Blackwolf Run
Unfortunately the weather forecast is not that great – misty with periods of rain and it gets worse as the day goes on. We have an 8:30 tee time for two groups of four at the Meadow Valleys course at Blackwolf Run, but Don wants his 13 year old son Oliver to play if he can and we are accommodated as three threesomes without any problem. That seems to be becoming a theme at this place – if you want something we can provide it, we don't consider it a hassle.
The American Club Resort has a large stable, if that's the right word, of caddies available at all four of its courses, but you are only required to hire one at the Whistling Straits course. On the other three you can walk or take a cart. Our group sans me, having already played The Straits course, are sold on the value of a good caddy so Brian MacLellan, who will be playing the four courses with me and I plan to utilize a caddy each day. Brian has arranged for Scott Scheurell, who he has used for the past two days to meet us at the clubhouse.
Scott is a very affable guy who Brian says, has a plethora of great golfing stories and not surprisingly is a rabid Packers fan. This should be interesting – I'm a Vikings fan, Brian's a Bears fan and Scott's a Packers fan – three of the strongest rivalries in the NFL. I'll keep an open mind and follow Scott's advice on anything golf related, but not football.
The third member of our threesome is Chuck Johnstone, the ever tireless organizer of our summer Olympics and co-ordinator with me on the golf/football trips. Traditionally he is a much better golfer than Brian and me, but he can have his off days, especially if his driver goes south.We are the first of the threesomes to tee off and immediately notice that the group in front of us are hackers. They do have one caddie for four of them, but seem to have the uncanny ability to put four balls as far apart from each other as  humanly possible. The poor caddie, who Scott identifies as Pete, will end up walking a few extra miles today courtesy of this bunch who insist upon playing from the green tees which are way too long for these guys. They should start from the women's tees, because after a few holes it is obvious that two of them can't reach these tees from the greens. It could be a long day.
As we tee off it is overcast with a mild drizzle, but it's not really cold and I have rain gear on. Unfortunately this makes for lousy picture taking weather so I don't have a lot of good shots of this course, but I have borrowed some from the resort's files. This is the first tee with water all down the right side. As you can see the tee box and fairway are immaculate and that set the standard for this course for the rest of the day. If course conditioning is important to you, then this course won't disappoint.
Here is the view of the approach shot.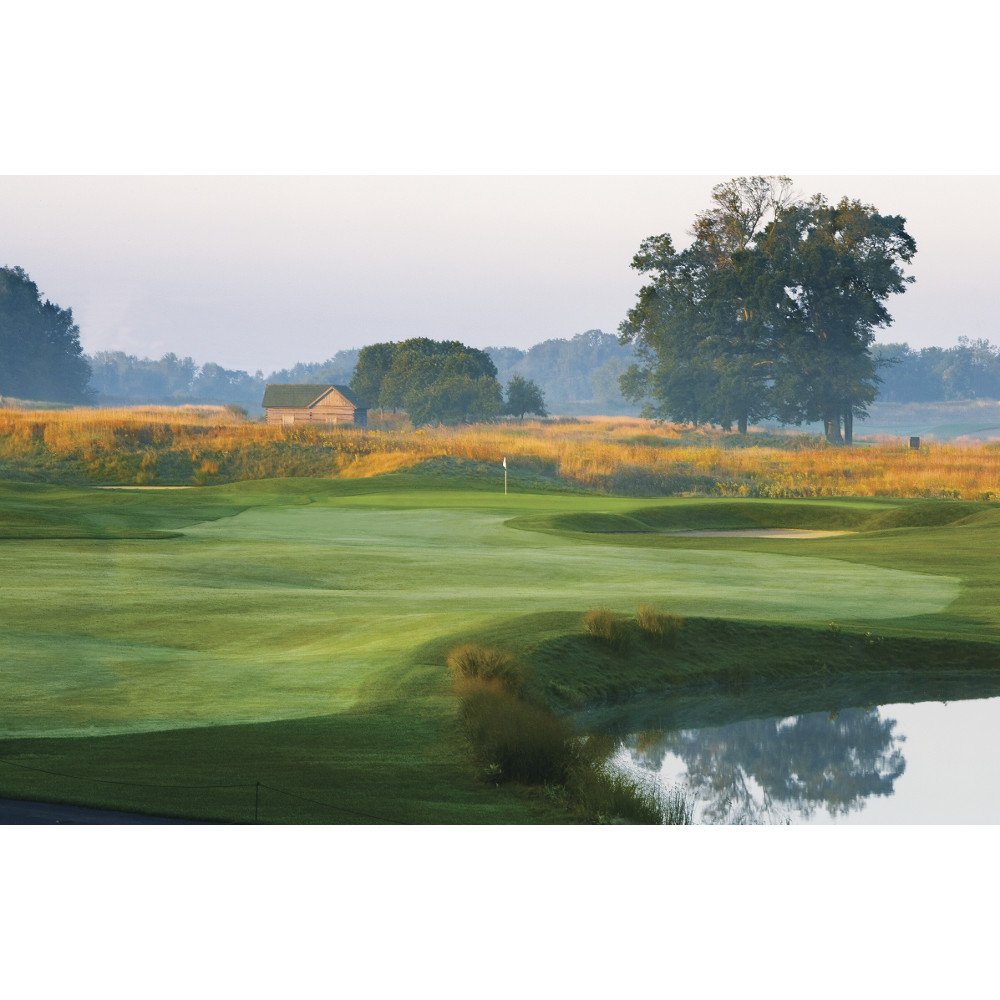 The greens are in quite simply wonderful condition and because of the rains are actually not as treacherous as I anticipated. However, without Scott giving me the reads it would have been a very different story. The breaks are subtle. We are all happy with a 5 on the first hole. Then things go downhill for a few holes, but luckily nothing worse than a 7 on the par 5 second.
Unlike most Pete Dye courses this one is not overkill on the bunkers. They are in strategic places, but not to the point of ridiculousness. If you are in them the sand is quite fine and getting out is not a two shot proposition, which is a lie because it took me two to get out of the very first one, but only the once I swear.
The first hole of real note is No. 5 Tree Stand where the green is guarded by mature trees on both sides that make it appear as if it is impossible to reach, but as usual with Dye it is an optical illusion and there is in fact room to avoid the trees.  This is the approach to 5 assuming you've hit a perfect drive.
No. 9 Deer Hunt will make you feel like a deer in the headlights as you try to avoid water, sand and woods on a 400 yard + hole. Considering we've been watching the clowns in front of us for over two hours in a continuing drizzle, the canteen at the turn is a welcome sight, serving up great Wisconsin brats and locally brewed Spotted Cow ale.
The fun on this course really starts on the back nine as Weeden Creek comes into play on a lot of holes. No. 14 Nature's Course is a stunning hole with a peninsular green surrounded by trouble everywhere.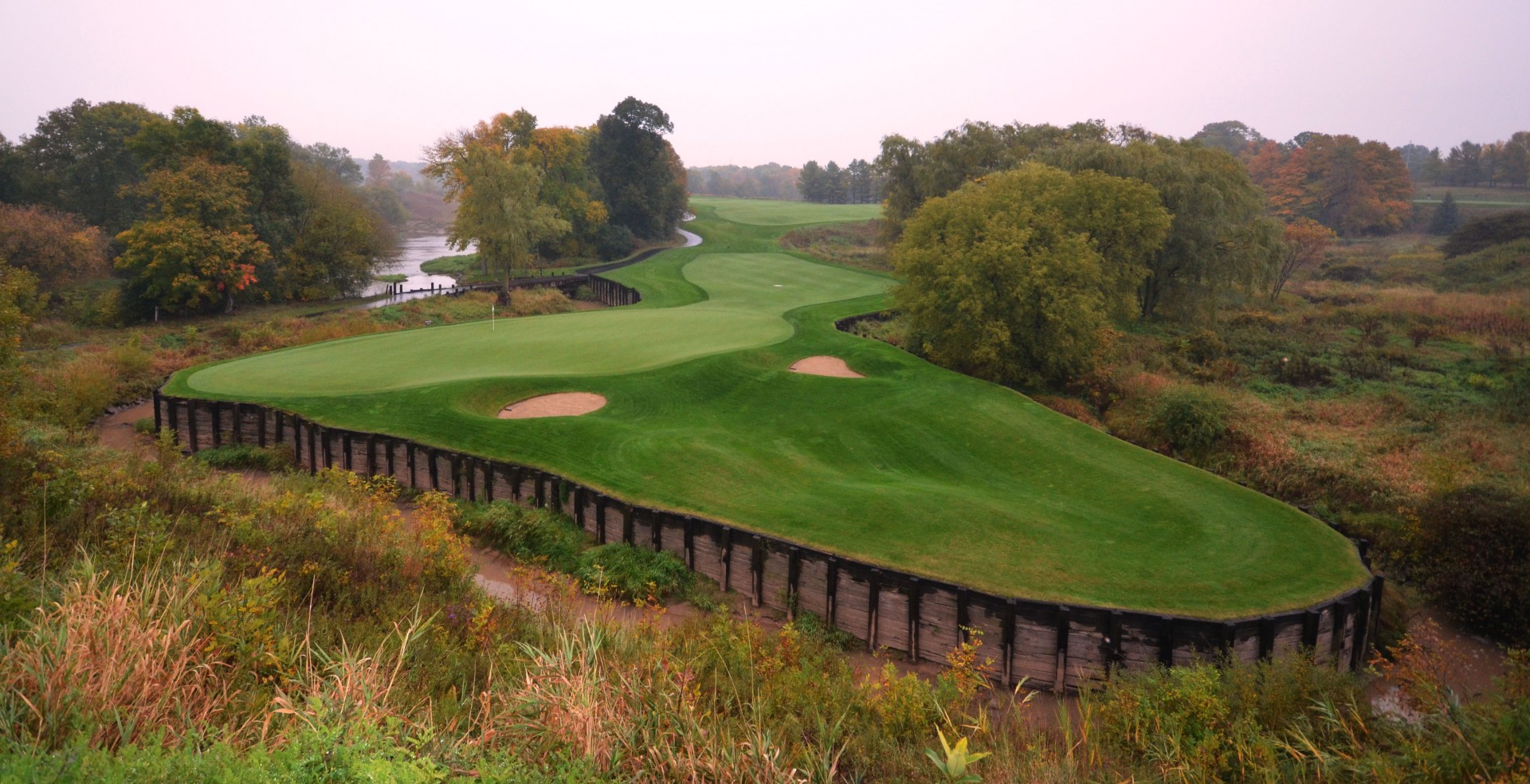 No. 15 Mercy is an all-carry par three with a big green that feeds a good shot to the hole which we all hit and Brian and me get pars while Chuck, who is having an off-day, three putts.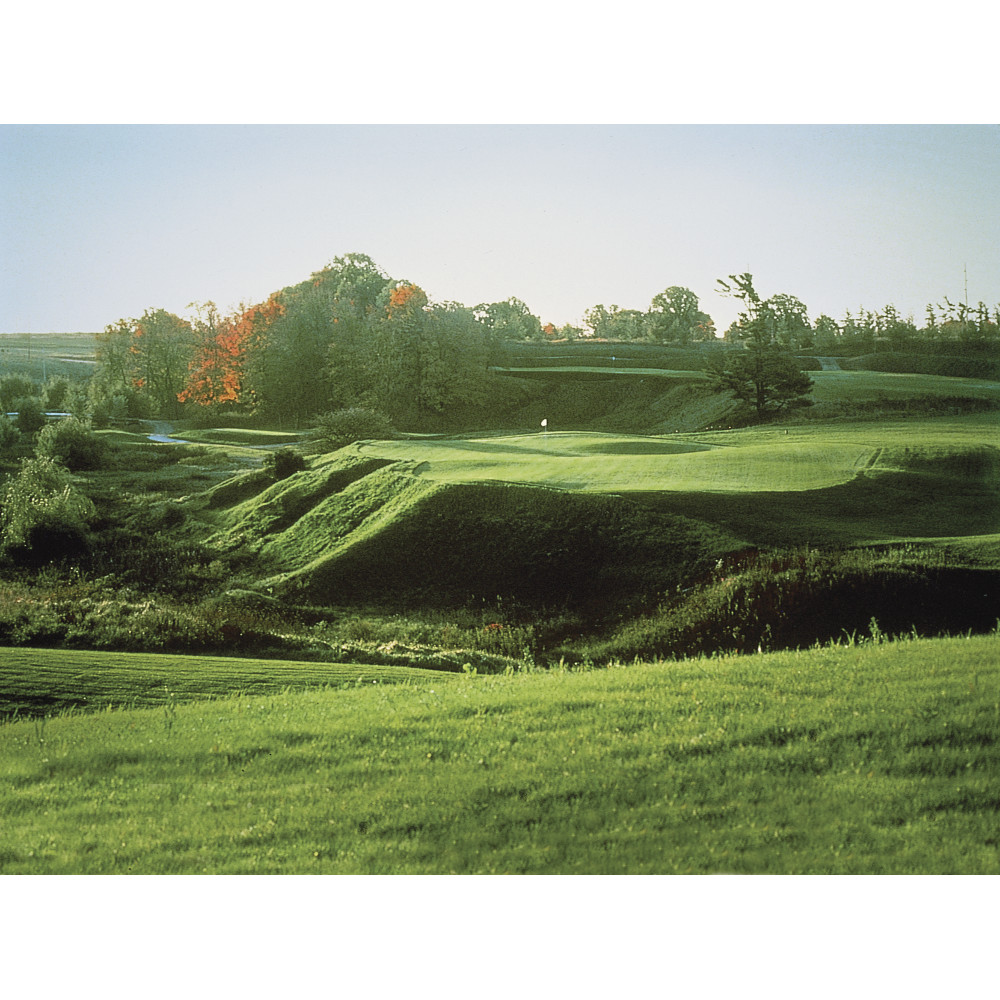 Between 15 and 16 they have preserved this old milking barn that now doubles as the washrooms.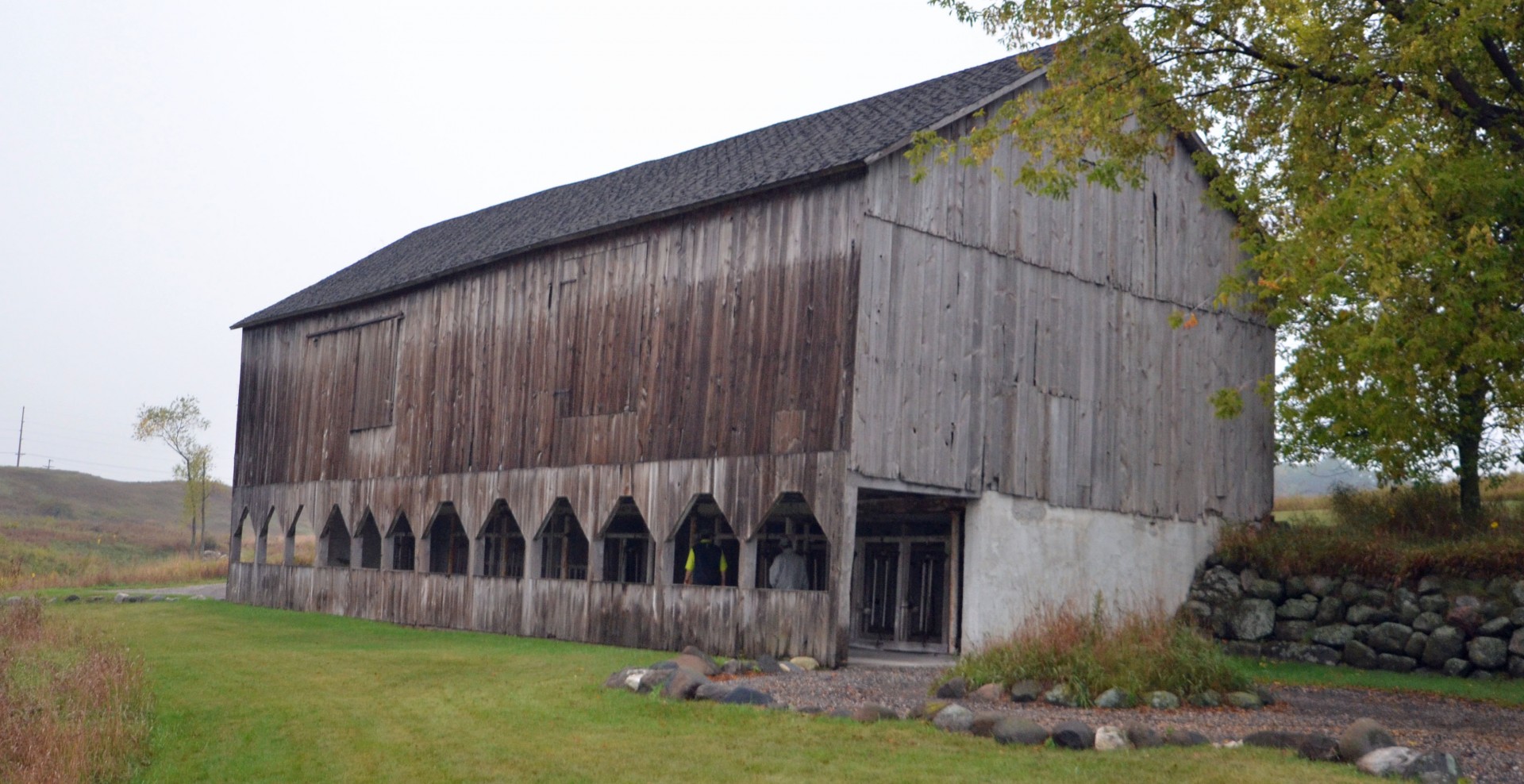 At this Meadow Valleys Pete has saved the best for last. No. 18, Salmon Trap is the one I noticed yesterday that shares its green with No. 18 on the River course. This hole requires a difficult carry over the Sheboygan River.  I layed up and it paid off with a bogey while Chuck and Brian hit the drink with their attempts to cross on the second shot. As we approached the river I could immediately see why this hole was called Salmon Trap – it was loaded with huge salmon that were attempting to migrate up the river to spawn. While I have seen migrating Atlantic salmon on various Atlantic Canadian rivers, I have never seen fish in the numbers that were here today – there were hundreds of them. It turns out that Pacific salmon were only introduced into Lake Michigan just over fifty years ago and have been a roaring success. Often introduced species cause more harm than good, but in this case over fishing of native lake trout had decimated the population of large fish leaving few predators for alewifes and other smaller species that exploded in numbers. With a ready made source of food the salmon took to Lake Michigan like a fish to water.
After three years in the lake the salmon return to rivers like the Sheboygan to spawn and like all Pacific salmon, die in the process. It was hard to fathom that all these beautiful, sleek looking fish would be dead in a matter of days, driven to exhaustion by an instinct over which they have no control. Looking into the river I could see that there were already a few dead ones in the Salmon Trap. Here's a picture of the river and if you look closely you can see the shapes of the salmon on the left hand side.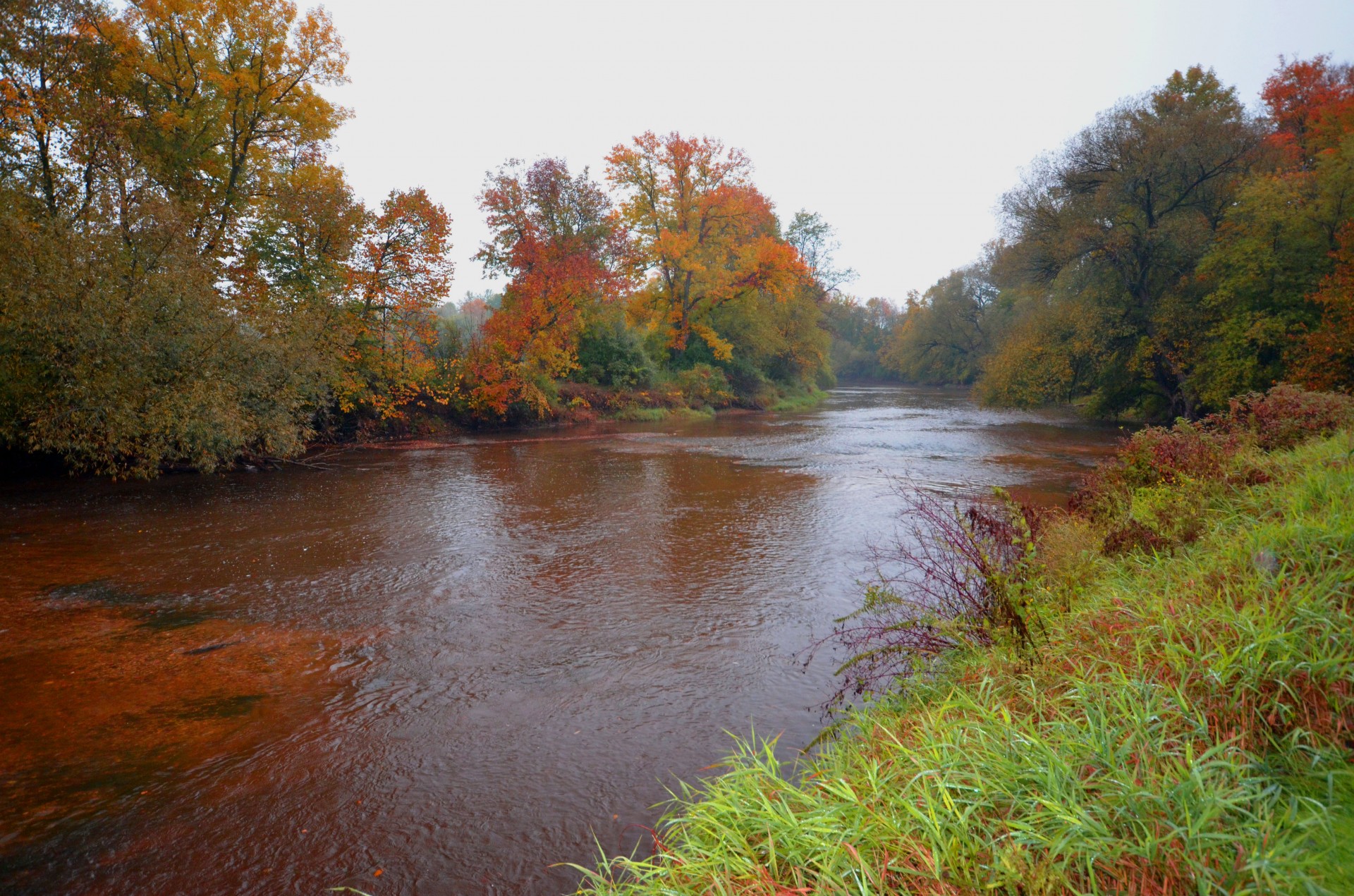 Crossing the bridge to the 18th green there is not only a great view of the river, but the great log clubhouse as well.

Here's the view you would get if you were a spectator on the clubhouse balcony.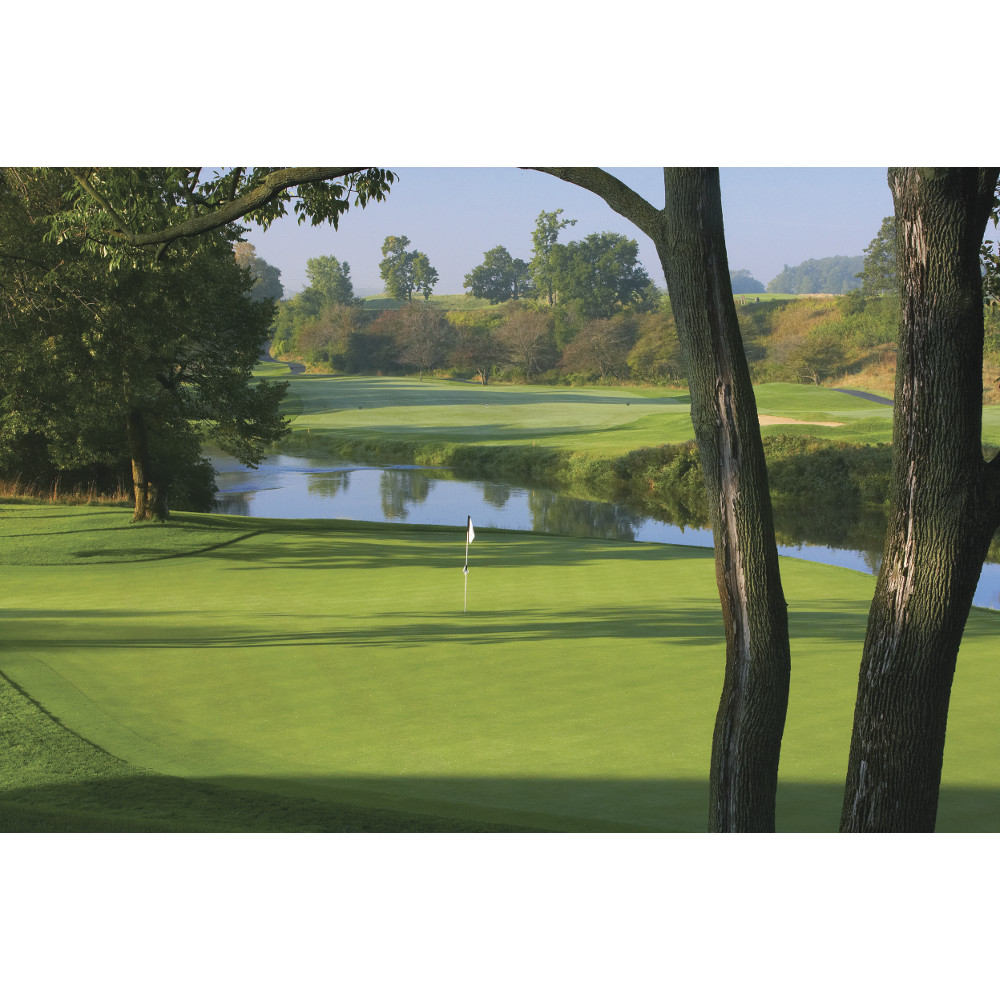 Despite the drizzle and somewhat slow pace of play it had been a great round of golf, enlivened by caddie Scott Schuerell's many stories and banter between us on how the Vikings were going to do tonight at Lambeau Field. Brian and I will be returning tomorrow to play the River course so we left our clubs at the Blackwolf Run clubhouse.
The River Course
I was in recovery from the trauma of last night's thrashing of the Vikes by the merciless Packers and had had nightmares of Christian Ponder starting every game for them for the next fifty years. The continental breakfast at the Microtel was one of those kinds that only added to the misery – orange juice so thin that you'd wish they'd bring back Tang, coffee so bland that instant would have tasted like Kona in comparison and things wrapped in plastic that passed for muffins and donuts, but I think in reality must have been salvaged from the Chernobyl reactor. To top it off a very cheery Oliver appeared still wearing that damn Packer's jersey he'd had on for the last 24 hours. Then I thought, "Hey, except for Brian and me, the rest of these guys are going home! We've still got three games of golf, starting with the Blackwolf Run River Course, and Chicago in store." That produced instant Vikings' amnesia and my mood changed for the much better. It was a bit sad to say goodbye to the rest of the guys, but life goes on. I'll see them all next year on Kiawah Island, if not sooner – actually much sooner for most as we are headed to Ireland together next August.
Originally I had scheduled a mid afternoon tee time for that day because I wasn't sure how long it would take to get from Appleton to Kohler, but once I knew it was less than ninety minutes I had changed the time to 11:00. Again a request for a change and again the same answer – no problem.
As the boys headed out in the Suburban headed for Chicago, Brian and I headed back to Kohler via county backroads that took us through typical Wisconsin dairyland and places with names like New Holstein and Kiel that clearly identified the original settlers as from north Germany. We got back to Kohler with half an hour to spare and headed directly to the resort where we were to play the Blackwolf Run River Course. I won't repeat what I've written in the previous post about the architect Pete Dye, but I will repeat that this course is rate #14 in Golf Digest's rankings of U.S. public courses.
Scott was waiting for us at the staging area and I gave him a glare to forestall any mention of last night's game. He gave a nod of his head with a big grin and then pointed to a short distance away where the same group of hackers who had plagued us yesterday were getting ready to go out. A doleful looking Pete was standing with his hands in his pockets as if waiting to be led into an execution chamber. Scott whispered that if we hurried we could get out in front of them which didn't take us more than thirty seconds to do as he hopped on the back of the cart and I drove as fast as it would go to the first tee.
Once again the weather was not great, but better than yesterday. It was still cart paths only so Scott's range finder proved invaluable.
Writing this after having played the course, I can honestly say that the River course is one of the prettiest courses I've ever played. While Pete Dye is known for moving a lot of earth, which we will really see in the next two days at Whistling Straits, he didn't have to here. The Sheboygan River, with a little help from the glaciers, has shaped a beautiful landscape of hardwood hills through which the river meanders on its way to Lake Michigan. This is a perfect time of year with the trees in multi-hued autumnal foliage, geese and ducks winging their way south and salmon fighting their way upstream.
Like most Pete Dye courses, this one is by no means easy; in fact, it is difficult enough to have hosted the U.S. Women's Open twice and the World Championship of Golf in the 1990's producing winners of the caliber of Greg Norman and Ernie Els. I do know that the guys who played this course the day I arrived could not believe the speed of the greens.
Alright, let's play some golf. We are joined on the first tee by a guy in his thirties from Chicago who is here with his wife who opted for the spa instead of the golf course and proves throughout the round to be a good sport who doesn't take the game or himself too seriously. Good thing, because if he did he would definitely have joined the wrong twosome.
The first hole is called Snake because it snakes alongside the river for its entire length. Once again, because the weather wasn't the best I'm going to intersperse my photos with some I have downloaded from the Kohler online media gallery.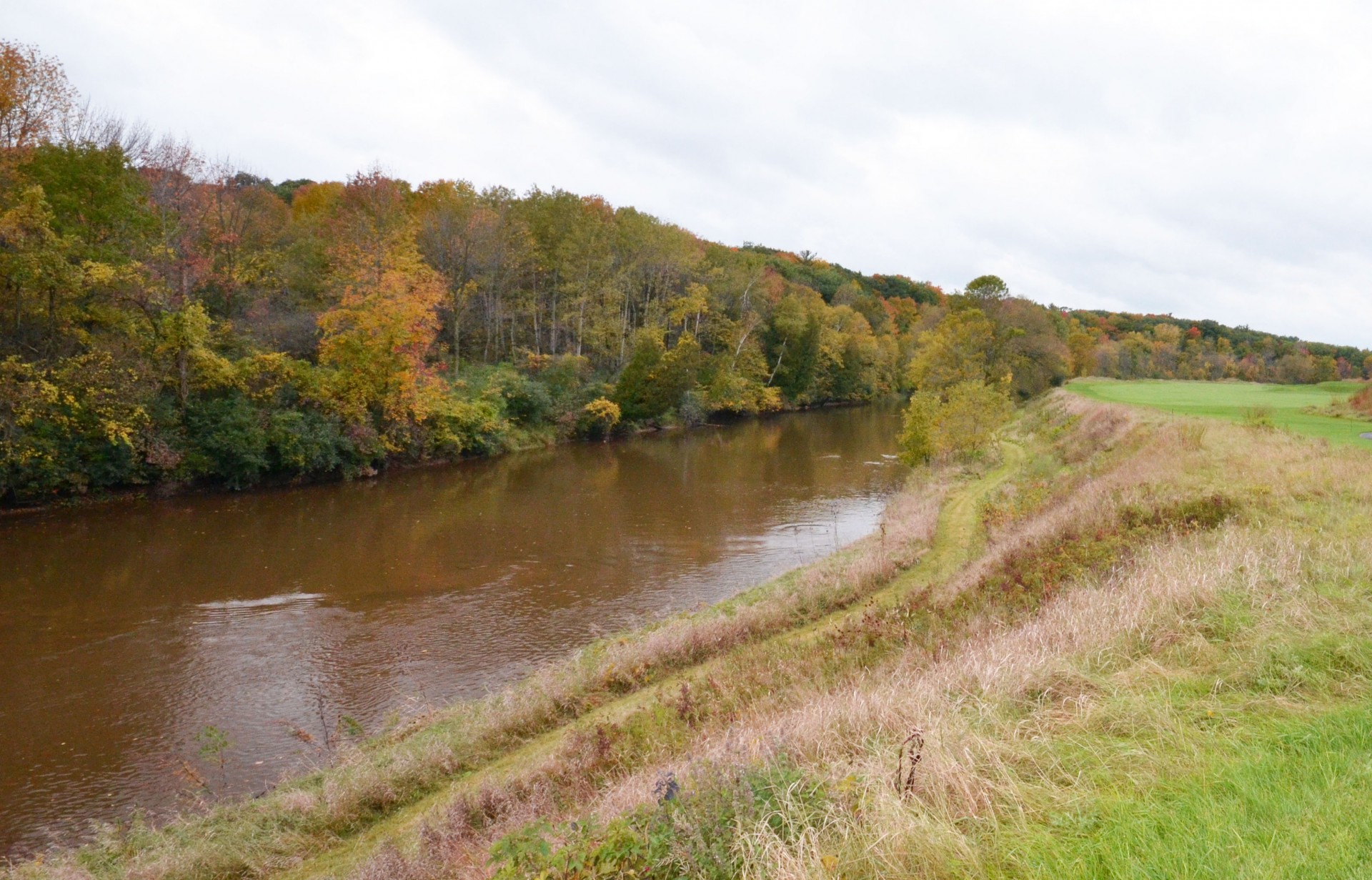 In this picture you can see a fly fisherman in the river. We did in fact see people fishing at a number of spots for the migrating salmon which I discussed in yesterday's post.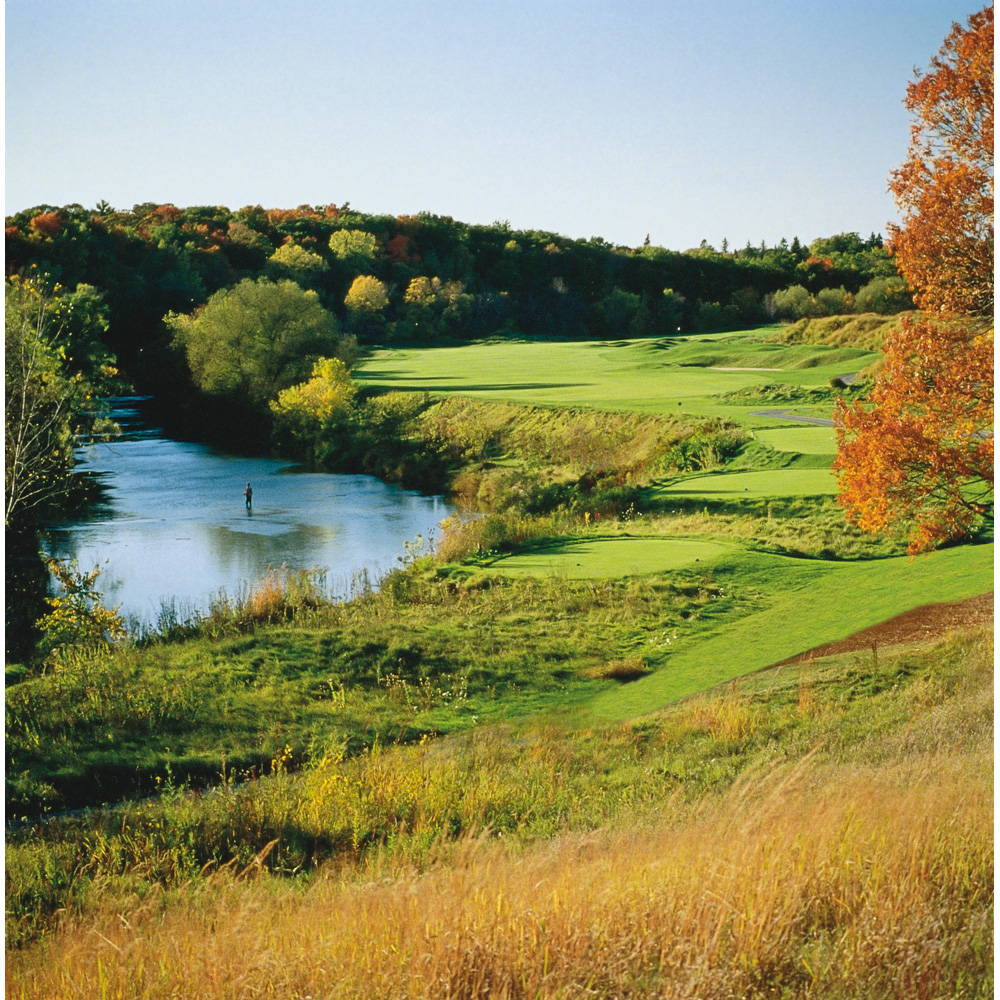 Luckily the rains of the past few days had slowed the greens down to the point where three putts weren't automatic, although I did have my share, even with Scott's accurate calls on the breaks.
Just past the second green Scott took us on a short stroll to where there was a dam which was obviously a serious obstacle for the salmon as the pool below it was loaded with fish and fishermen. It was a pretty sight, but somehow didn't seem quite fair to the fish.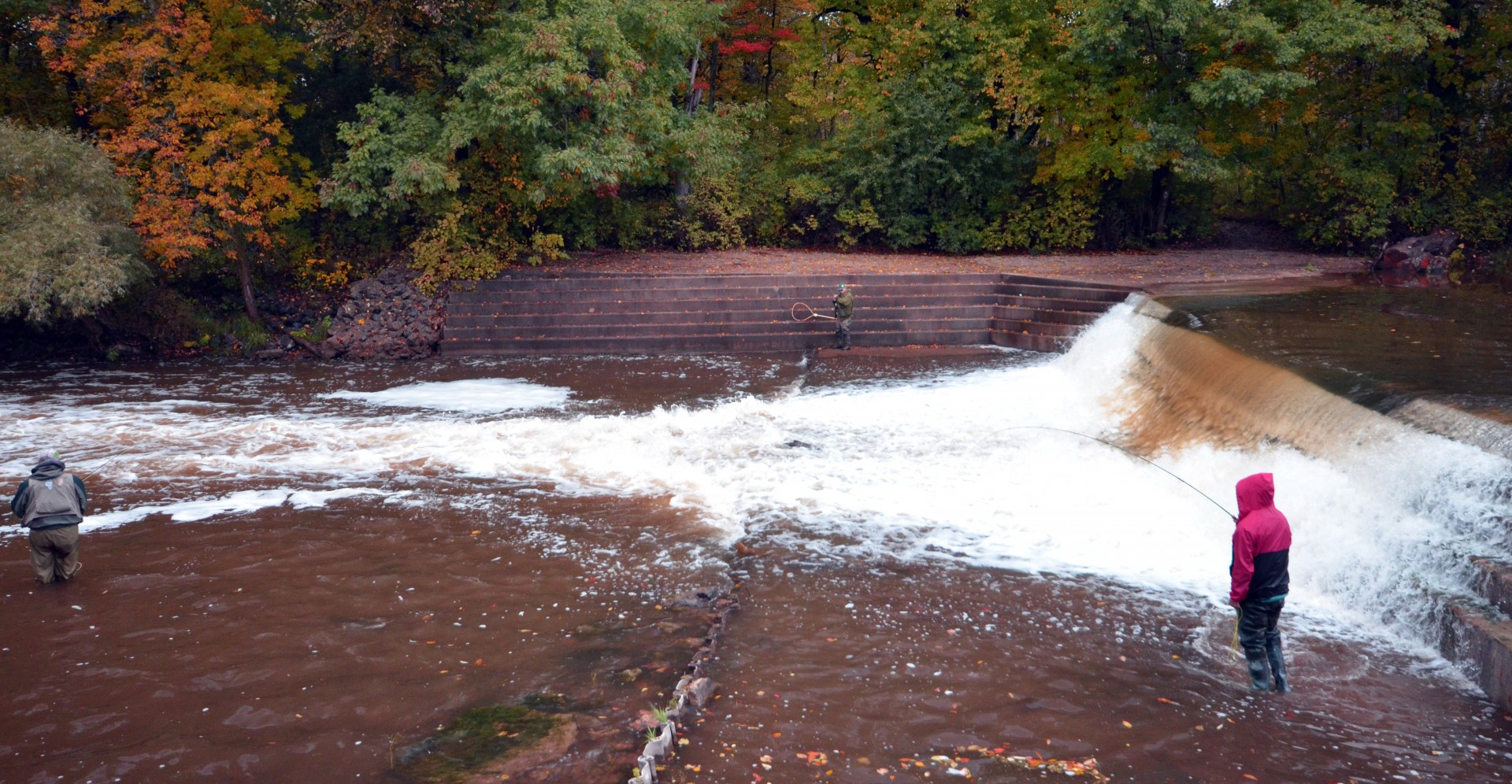 The first par three is a real beauty called Swan Lake because there are swans in what is really a large pond, but hey Swan Lake sounds a lot better than Swan Pond. If you look closely you can see a swan just beside the green. Naturally as a left hander I bailed out totally to the left which was better than going right – might kill a swan.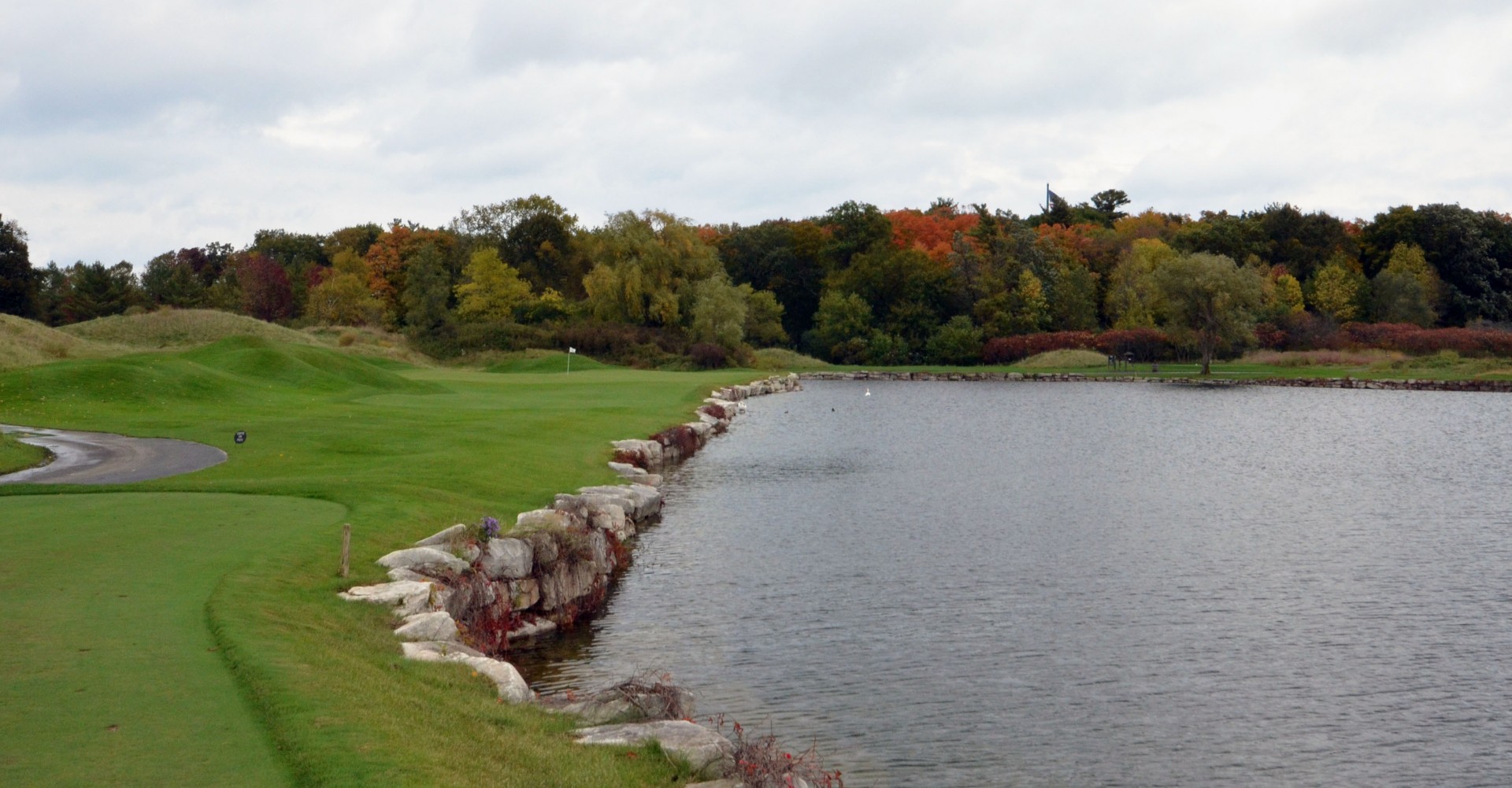 There is a great view back over the pond to #14 green and clubhouse.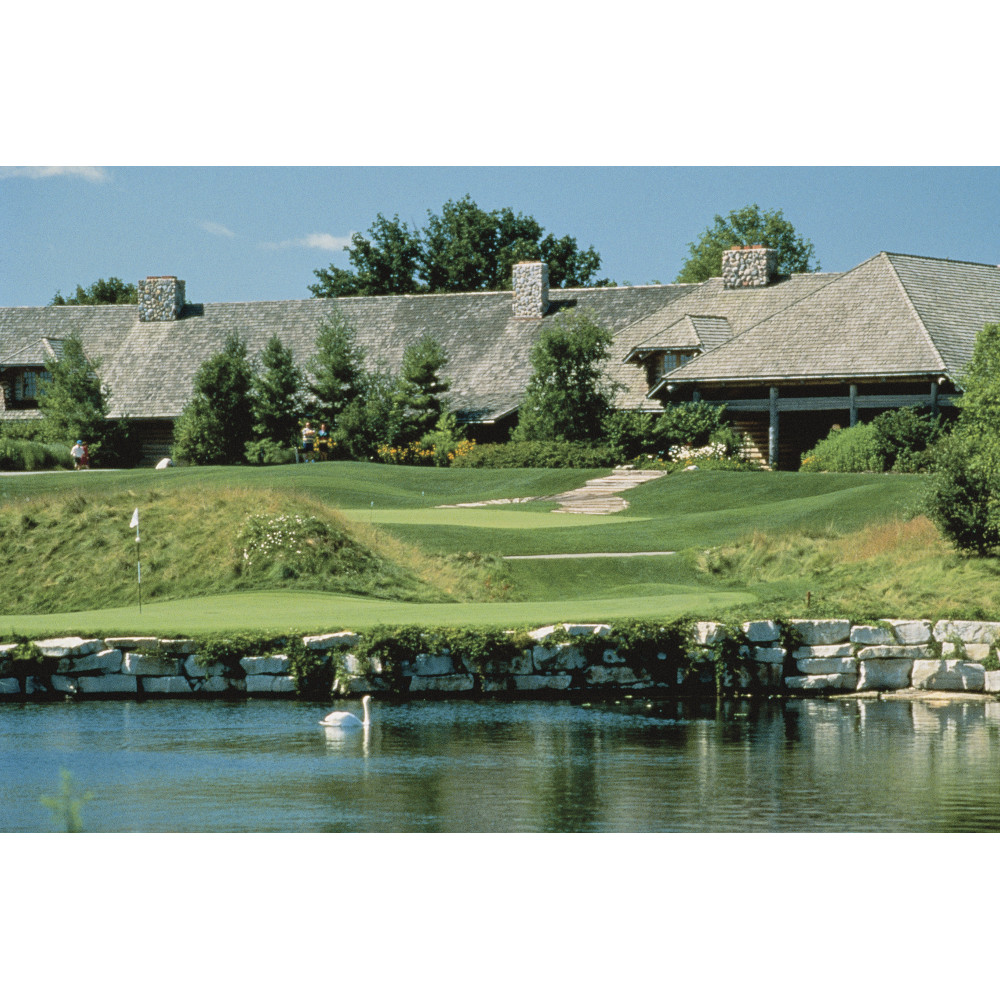 No 5 – Made in Heaven is an absolutely gorgeous golf hole with an elevated tee that features the river and a huge bunker on one side and just one damn clump of trees on the other, but guess where I ended up.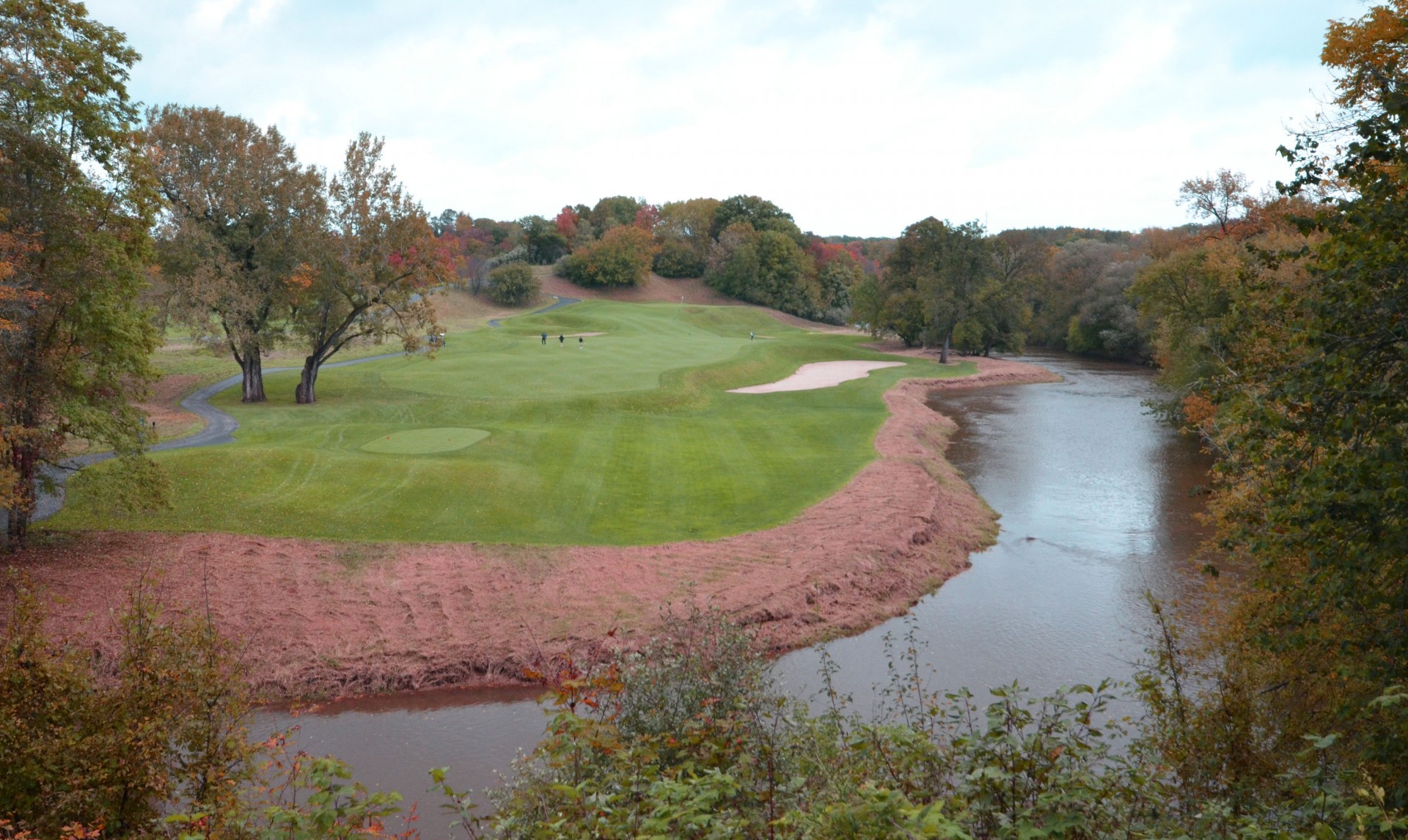 I would put the stretch of holes from 8 to 13 up against any six holes in a row anywhere. The river is in play on all but No. 8 and it has its own perils, including falling straight down fifty or so feet from the tee box if you get too caught up in admiring the view. The Kohler factory can be seen far in the distance – someone has to work.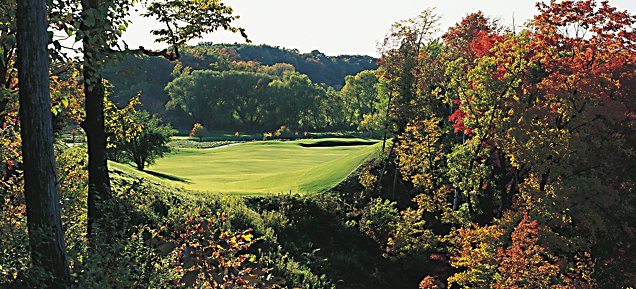 #11 – Rise and Fall is 522 yard par five dogleg right that must be one of the nicest golf holes I've ever played.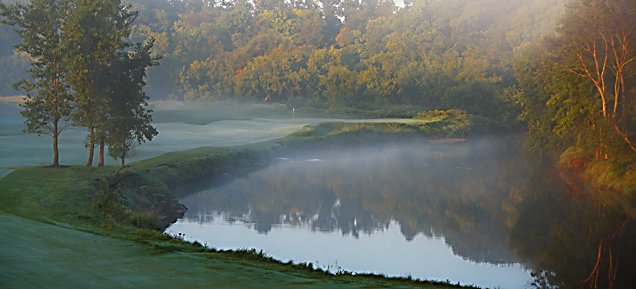 This great run of holes ends at the spectacular Tall Timbers, a par three for the ages.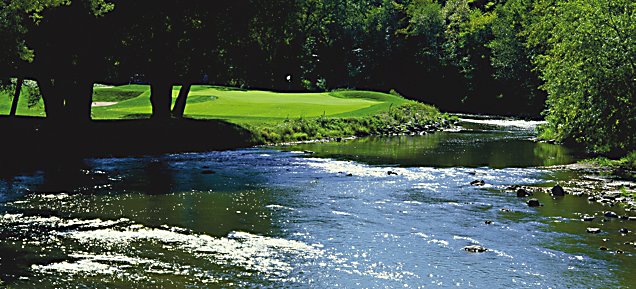 #16 – Unter Der Linden is another great par five where the Pete Dye signature railway ties come into play one of the few times at Blackwolf Run.
I'd already seen the 18th green yesterday as it has the unique position of being the finishing green on two different golf courses. Still the green on #18 – Dyehard (a great name) seemed completely different than that on the River Meadows course. That's yet another PeteDye masterstroke.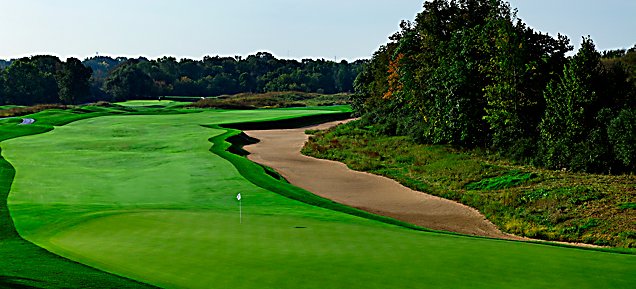 So that's an all too brief discussion of why you must play the two courses at Blackwolf Run. Next up are the other two great courses at the American Club Resort – Whistling Straits and the Irish course. Please join me on those rounds.