Barbados Bound – The Start of a Visit to this Friendly Caribbean Country
This is the first of thirteen posts from my first visit to Barbados in 2015. I returned in 2018 and found things very much as I had on the first visit and added this post on Apes Hill Golf Course which every golfer should play while on the island.
I will be the first to admit to having been remiss in my efforts to visit the Caribbean. My first trip was to St. Lucia a few years ago, but now I am determined to make up for lost ground and spend the next decade or more until my mind or body goes south, visiting as many islands as possible.  I'll be starting today with Barbados. Why Barbados you might ask, given the vast choices. Here's why.
First, our good friends Don Harding and Helle Jorgensen have been coming here for some time and have been urging us to join them, which we are doing for the first week of February. Second, from my research on Barbados it is clearly a sophisticated island that is very much up to date in terms of twenty-first century amenities that a lot of tourists expect. Although these are not essential to me, having easy access to wi-fi, clean drinking water and safe streets and street food are generally a plus. One thing that is essential is great cuisine and I am anticipating that in Barbados, particularly the Bajan seafood. Here is a great article on the best Bajan dishes and where to find them. I will be doing my best and already have reservations at a few of these places.
So what else brings one to Barbados? The weather is obviously a major factor – if you like your temperatures on the hotter side, but not ridiculously so then it's hard to beat the consistency of Barbados where the trade winds moderate the effects of the hotter days. I fully expect Goldilocks weather – not too hot and definitely not too cold. Another obvious reason to visit is just that fact that "You're in the Caribbean!" with all that connotes – warm multi-hued waters lapping soft sandy beaches, sailing, fishing, drinking rum, pirates and every other possible type of cliche associated with this fabled sea. I plan to do them all, except maybe for the piracy thing. On land you've got great historical places to explore including the UNESCO World Heritage site of Bridgetown, numerous botanical gardens, old sugar mills, rum distilleries and small villages and hamlets tucked away from the coastal tourist areas. If you like your on land activities a little more active you can golf, hike, horseback ride, bike or explore the island in a rental car. And if you get a bit overheated with all this excitement you can bring your pulse way down by watching a cricket match. OK, I'm ready to go – are you?
Toronto is a balmy – 12 Celsius or plus 10 Fahrenheit and without winter coats Alison and I make the short outside dash from the Alt Hotel to the Terminal Link and once inside expect to say goodbye to winter for the next 10 days. We are flying WestJet and I have paid the extra fee  to upgrade to Plus seating which is a bargain.  For $50.00 you get a seat in the first four rows, priority boarding, free food and booze and best of all, families with screaming brats are well behind you. Getting off first also usually means you get to customs that much quicker. We'll see if that works today.
The flight is a good one with little turbulence and for the first time in my experience we fly right over New York City and literally get the view from 40,000 feet. From here we head over a very angry looking Atlantic Ocean and I don't see another sign of civilization for another three hours when the island of Antigua comes into view. I can see that the waters of the Caribbean are calm and aqua blue along the Antiguan coastline, every cove dotted with tiny specs that are sailboats. Not long after the plane descends and the distinctive shape of Barbados comes into view – I say distinctive because every rum drinker knows what the island looks like from the map on bottles of Mount Gay rum. I am surprised at how densely populated it appears, but am not surprised to see that it is relatively flat, particularly when compared to its closest neighbour St. Lucia. Unlike it and the other members of the Lesser Antilles, Barbados is not the result of volcanic activity, but rather the elevation of coral reefs that built up on an ocean uprise just off South America. In terms of geologic cousins the Bahamas and Florida are closer relatives than the other Caribbean islands which is another reason it is unique in the region.
As the plane landed I could see that there were two huge Airbuses on the tarmac ahead of us and I starting thinking about spending an hour or more in customs, so I rushed ahead and left Alison to carry the bags, but still had time to take this picture.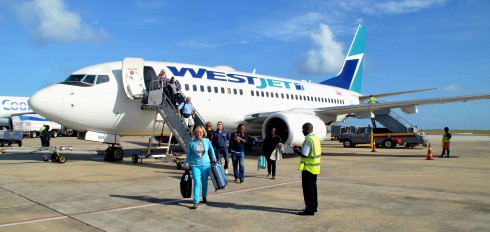 My fears were misplaced. Although there were a ton of people clearing customs Barbados had every one of it's twenty custom posts opened and we were through in less than ten minutes, our passports were stamped with the resounding urgency that seems to propel people into that field of endeavour. I know there are a lot of customs officials that are just plain abusive assholes, but I think just as many just love to hear that sound of the stamping gadget hitting the passport as they pull their hand away with a flourish and say with a smile "Welcome to …" Anyway that was our official today and he and the efficiency of the entire entry system was impressive and left a great first impression.
Getting a taxi was no problem and within twenty minutes we were at our destination, Bougainvillea Beach Resort on the south shore of Barbados about half way between the airport and Bridgetown. Cab fare is $42.00 Barbadian Dollars or BDS which is pegged at one half the value of the U.S. dollar. That used to make it easier to calculate exactly what something in Barbados costs and it still is for Americans; however with every other currency tanking against the greenback it's not that easy anymore. In real terms it does mean Barbados just got more expensive for everyone but the Americans, but before I create a panic, the actual fare in Canadian dollars was just over $27.00. It cost us $85.00 with tip to go from our house to the Halifax airport, so Barbados looks pretty good in comparison – plus the ride was a hell of a lot nicer. I'll take palm trees over black spruce any day.
The Bougainvillea is where Don and Helle have stayed many times before on Barbados and I was not about to disagree with their choice, especially after checking out the prices of the resorts in the Sandy Lane area further north. I almost choked on my beer when I saw that the Fairmont  wanted over $1100 USD a night for just a room and over $1500 for a suite, while the  Sandy Lane was offering a rate of $345 USD per day per person based on a family of four which is $1380 a day. At the Bougainvillea I booked a one bedroom deluxe suite for $400 USD of which I had already paid half back when the Canadian dollar was relatively close to the USD. At check in we are offered a choice of a rum punch or an iced tea concoction – always nice to be greeted with a local specialty. We are assigned room 5307 which is on the third floor overlooking the pool and the ocean beach about 75 metres away.
It doesn't take long to realize, al least in comparative terms, that our room is exactly what we wanted – a large bedroom, nice bathroom, fully equipped kitchen, sitting area with widescreen TV and best of all a large patio from where the crashing surf is the predominant sound. The place is really more like a one bedroom condo than a suite. Here's the bedroom.
And the view from the balcony.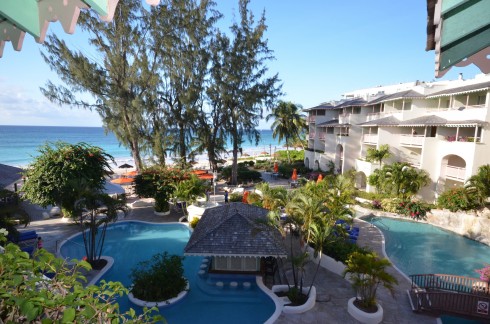 Don and Helle spot us as we check in and after getting the luggage unpacked we join them at the poolside bar where it is happy hour. Don brings over two cold Banks beers which is brewed in Barbados. It is a deliciously light golden lager that benefits from the naturally limestone filtered water that makes Barbadian drinking water among the finest in the world.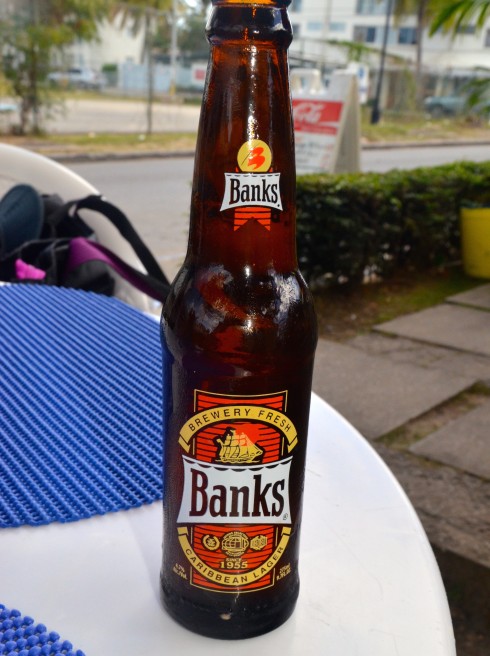 Although Bougainvillea has two restaurants Helle has made reservations for every night to take us to some of her favourites on the south coast and tonight we are starting with Apsara Samudra in nearby St. Lawrence Gap.
You can save a lot of money on taxis by taking advantage of the local transportation options that include the regular bus routes and the smaller ZR private vans that are always white and have ZR on the license plates. They travel regular routes and often have someone on board who acts as conductor. The good news is that whether a regular bus or a ZR comes along first the price is the same – $2 BDS. I know there are people who almost faint at the idea of hopping in a crowded ZR bus full of black men and women, but I'm not one and have found that you can learn a lot by actually mingling with the locals in places like Barbados.
It's a three minute walk from the hotel to the main highway and the first two ZRs are jammed to the gunnels, but we manage to squeeze into a third one and we careen along the road to 'The Gap' in just a few minutes. There are tons of people out and about here and plenty of spots to eat. Apsara Samudra looks more like a colonial manor house than a restaurant from the outside.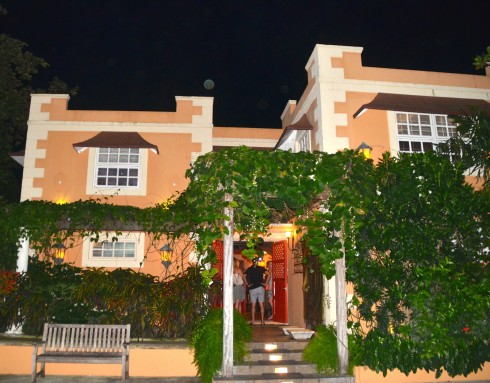 Inside the place is gorgeous and instead of the East Indians that usually staff these type of restaurants the waitstaff is, as far as I can see, all Barbadians. However, on the website as the chefs are described as being from India and Thailand. I couldn't care less if they were from Mars as long as they can cook.

I've done a little research on Bajan restaurants and know that tables by the seaside or 'the railings' as they are called here are in great demand and must be reserved sometimes months in advance. After passing through the gorgeous interior we come out to an even more beautiful outdoor seating area that overlooks the Caribbean. There are tables right beside the water, but they are occupied, however ours is one row back and elevated high enough that we also have a great view. The outdoor terrace is decorated in Asian style with a huge head of Buddha almost right beside our table.
There are menus for both Indian and Thai cuisine and since Don is allergic to seafood we opt to stick to chicken and lamb dishes so we can mix and match. Simply put the food was wonderful and matched up very well with a New Zealand pinot gris. Here are some pictures.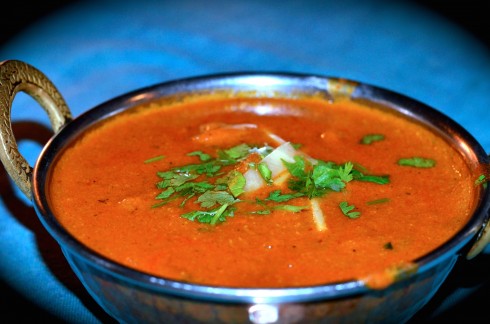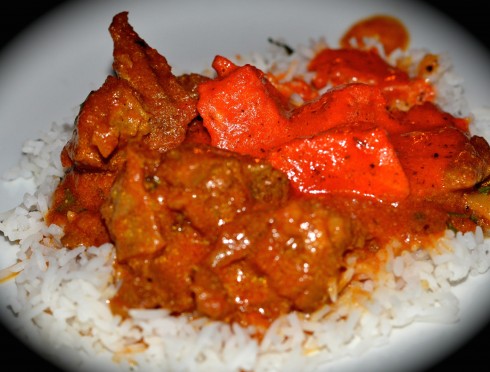 A dessert of coconut ice cream is the perfect way to cool down the palate from the heat of the main dishes.
Wandering the main street of The Gap after dinner is very pleasant with a lot of people out and about – locals as well as tourists patronizing food trucks, street vendors and local bars. Instead of taking a ZR back Don leads the way through a narrow opening onto Dover Beach from where we make our way back along the ocean with a near full moon providing more than enough illumination. It reminds of the beginning of the Matthew Arnold poem of the same name,
The sea is calm tonight.The tide is full, the moon lies fair upon the straits
Great finish to a great start.
In my next post I'll tell go into more detail as to why I thought the Bougainvillea Beach Resort was the perfect place to stay. After that we'll start exploring. Hope you'll join us. Also, please read this post on how to get most out of your Bajan vacation.